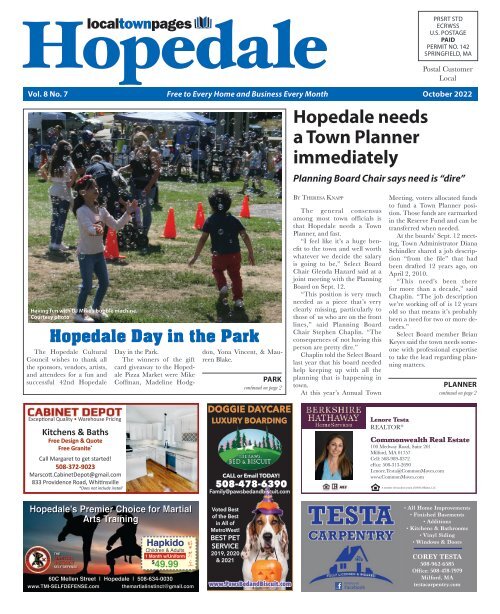 Hopedale October 2022
Hopedale October 2022
Hopedale October 2022
SHOW MORE
SHOW LESS
Create successful ePaper yourself
Turn your PDF publications into a flip-book with our unique Google optimized e-Paper software.
Hopedale

localtownpages

PRSRT STD

ECRWSS

U.S. POSTAGE

PAID

PERMIT NO. 142

SPRINGFIELD, MA

Postal Customer

Local

Vol. 8 No. 7 Free to Every Home and Business Every Month October 2022

Hopedale needs

a Town Planner

immediately

Planning Board Chair says need is "dire"

Having fun with DJ Mike's bubble machine.

Courtesy photo

Hopedale Day in the Park

The Hopedale Cultural

Council wishes to thank all

the sponsors, vendors, artists,

and attendees for a fun and

successful 42nd Hopedale

Day in the Park.

The winners of the gift

card giveaway to the Hopedale

Pizza Market were Mike

Coffman, Madeline Hodgdon,

Yona Vincent, & Maureen

Blake.

PARK

continued on page 2

By Theresa Knapp

The general consensus

among most town officials is

that Hopedale needs a Town

Planner, and fast.

"I feel like it's a huge benefit

to the town and well worth

whatever we decide the salary

is going to be," Select Board

Chair Glenda Hazard said at a

joint meeting with the Planning

Board on Sept. 12.

"This position is very much

needed as a piece that's very

clearly missing, particularly to

those of us who are on the front

lines," said Planning Board

Chair Stephen Chaplin. "The

consequences of not having this

person are pretty dire."

Chaplin told the Select Board

last year that his board needed

help keeping up with all the

planning that is happening in

town.

At this year's Annual Town

Meeting, voters allocated funds

to fund a Town Planner position.

Those funds are earmarked

in the Reserve Fund and can be

transferred when needed.

At the boards' Sept. 12 meeting,

Town Administrator Diana

Schindler shared a job description

"from the file" that had

been drafted 12 years ago, on

April 2, 2010.

"This need's been there

for more than a decade," said

Chaplin. "The job description

we're working off of is 12 years

old so that means it's probably

been a need for two or more decades."

Select Board member Brian

Keyes said the town needs someone

with professional expertise

to take the lead regarding planning

matters.

PLANNER

continued on page 2

Exceptional Quality • Warehouse Pricing

Kitchens & Baths

Free Design & Quote

Free Granite *

Call Margaret to get started!

508-372-9023

Marscott.CabinetDepot@gmail.com

833 Providence Road, Whitinsville

*Does not include install

Hopedale's Premier Choice for Martial

Arts Training

THE

MARTIAL

INSTINCT

SELF DEFENSE

Hapkido

Children & Adults

1 Month w/Uniform

$

49.99

60C Mellen Street | Hopedale | 508-634-0030

www.TMI-SELFDEFENSE.com themartialinstinct@gmail.com

DOGGIE DAYCARE

LUXURY BOARDING

CALL or Email TODAY!

508-478-6390

Family@pawsbedandbiscuit.com

Voted Best

of the Best

in All of

MetroWest!

BEST PET

SERVICE

2019, 2020

& 2021

www.PawsBedandBiscuit.com

Lenore Testa

REALTOR ®

Commonwealth Real Estate

100 Medway Road, Suite 201

Milford, MA 01757

Cell: 508-989-8372

eFax: 508-313-2690

Lenore.Testa@CommonMoves.com

www.CommonMoves.com

A member of franchise system of BHH Affiliates, LLC

• All Home Improvements

• Finished Basements

• Additions

• Kitchens & Bathrooms

• Vinyl Siding

• Windows & Doors

COREY TESTA

508-962-6585

Office: 508-478-7979

Milford, MA

testacarpentry.com
---
Page 2 Hopedale Local Town Pages | www.hopedaletownnews.com October 2022

PARK

continued from page 1

Art Show Winners:

Purchase Prize:

Bright Insurance- Deborah Bottomley

"Forest Glow"

Milford Federal - Jean Pellerin

"Hopedale Relic"

Atria Draper Place - Karina

James "The Duck Pond"

GFI Partners - Billi Manning

"Rock Harbor"

Caroline's Cannabis - Nancy

Russo "Quiet Road"

Watercolor 1st - Merilyn Rocks

"Girl at the Pow Wow"

Watercolor 2nd - Jean Pellerin

"Hopedale Relic"

Watercolor 3rd - Jackie Stein "Incoming

Bills"

Photography 1st - Francesca

Tramboulais "Calm Before the

Storm-Death Valley"

Photography 2nd - Billi Manning

"Rustic Bridge Hopedale"

Photograph 3rd - Billi Manning

"Rock Harbor"

Mixed Medium 1st - Deborah

Bottomley "Spring Planting"

Mixed Medium 2nd - Karina

James "Izalco Volcano"

Mixed Medium 3rd - Cailyn

O'Brien "Mittens Ballerina:

Acyrlic/Oil 1st - Deborah Bottomley

"Forest Glow"

Acylic/Oil 2nd - Jackie Stein

"Crowvid"

Acyrlic/Oil 3rd - Merilyn Rocks

"Rest & Renew"

The Viewers Choice Award was

won by Karina James

Hopedale Cultural

Council Day in the Park

Sponsors- as of 9/1/22

Platinum: ​

DJF Painting

Hopedale Handyman

Frank's Appliance

Imperial Cars

Homefield Credit Union

Hopedale Community House

​Seven Hills Foundation

T J Café and Games

UniBank

DQ Grill and Chill

Hopedale Technologies Computer

Sales and Service

Gold:​​

The Cozy Nook

Daniel Soares, Electrician

Virginia and Francis Larkin

Antonia C. Maki, MD

Hopedale Pizza Market

Hopedale Dental Center

Dean Bank

Buma-Sargeant Funeral Home

Silver:

​Hens and Chicks Cookie Company

Bronze:​

Watson Colonial Funeral Home

Art Show Purchase Prize Awards

​Bright Insurance

​Milford Federal Bank

Atria Draper Place

Caroline's Cannabis

Clockwise from left: Miniature

painting with the Jolly Good Giant;

Bunnies from Animal Craze

Petting Zoo; The fire department

sold T-shirts for Scarlet's Tribe;

Having fun at the games; A tortoise

from Rainforest Reptiles.

Courtesy photos

New England

Inc.

Ballistic Services

Instant cash paid for

your valuable firearms.

Call today for a confidential consultation

508-381-0230 • www.neballistic.com

Sacred Heart Church "Twice Blessed" Thrift Shop

Our thoughts and prayers are with all who are directly impacted by Covid-19.

CHRISTMAS IN OCTOBER SALE! SATURDAY,

OCTOBER 1 ST 8:30 a.m. – 12:00 p.m.

Items Priced To Go! Starting at $1 Other In-Store Specials

• Glassware • Tableware

• Fall Décor

• Ceramic tea sets and pots

• Halloween Costumes & Décor

• Decanters • And More!

• Light Fall Clothing** • And More!

• Except special priced items**

Special Thrift Shop Hours

8:30 A.M. – 12:00 P.M. (First Saturday each month except when there is a holiday)

Sacred Heart of Jesus Church • sacredhearthopdale.org

Like us on Facebook: www.facebook.com/twiceblessedthriftshophopedale/

187 Hopedale Street | Hopedale, MA 01747 | 508.473.1900

PLANNER

continued from page 1

"We have more going on as

far as development in this town

right now than we have probably

had in the last five years,"

said Keyes. "The problem is

the Town of Hopedale can't

get out of its own way and we

don't have anyone giving any

sort of direction."

He said the town needs help

or, "at the end of the day, we're

either going to go bankrupt or

we're going to get annexed to a

neighboring town because we

just cannot keep doing this, it's

not sustainable."

The boards will work to refine

the job description, review

the current market to gauge

the proper salary and job qualifications,

and will consider the

merits of hiring a third-party

consultant or a temporary person.

At press time, they were

set to continue discussions in

September.

Schindler estimated it would

take two months to fill the position,

once the job description

was finalized.

TM

Pre-Targeting: The New Way to Buy Online Display Ads

Pre-Targeting selects the sites by the concentration of audience interest rather than specific content.

100% REACH 100% VIEWABILITY

100% TRANSPARENCY

Want to reach your target audience?

Contact Susanne Odell Farber at 508-954-8148

or by email at sue@sueodellconsult.com today for more information.
---
September 2022 Find Us On Facebook | Hopedale Town News Page 3

Hopedale officials sign new Order of Taking

Restarts clock while town awaits court ruling

By Theresa Knapp

After town meeting approved

a new order of taking

of land at 364 West Street, land

currently in legal limbo with the

Grafton & Upton Railroad, the

Hopedale Select Board signed

that order but the GURR opposed

the taking and now the

parties are waiting for a ruling

from the court.

At a Select Board meeting

on Aug. 24, attorney Mina

Markarious, who is assisting the

town in this matter, explained

that a taking typically needs to

be filed within 30 days and that

time will likely expire before

they receive a ruling from the

court. He, therefore, asked the

board to sign a new taking.

The vote was to reaffirm and

renew the vote the board took

on Aug. 1.

"It's a bit of a formality,"

Markarious said, noting there

was no difference in the vote

they took previously, just the

date, and the Aug. 24 signed

document would be the one

filed with the court.

Markarious said he advised

GURR counsel that the board

would take this step.

The motion to reaffirm

and renew the vote passed 2-1

with selectman Brian Keyes

opposed. He said he was still

opposed to the "current strategy"

and opposed to the town

wasting time and money on this

matter.

Select Board Chair Glenda

Hazard said the legal fees on

this matter are being paid by a

donor, but Keyes disagreed.

Selectman Bernie Stock supported

the taking. "I think what

we're doing is simply a reflection

of what the voters have

told us in two town meetings,

that's where I'm coming from,

I'm representing what they

want."

Hopedale Early Voting

Hopedale Town Clerk's Office (Draper Room)

Saturday, Oct. 22: 9 a.m. - 1 p.m.

Monday-Thursday, Oct. 24-27: 9 a.m. - 3 p.m.

Friday, Oct. 28: 9 a.m. - Noon

Saturday, Oct. 29: 9 a.m. - 1 p.m.

Monday-Thursday, Oct. 31 - Nov. 3: 9 a.m. - 3 p.m.

Friday, Nov. 4: 9 a.m. - Noon

LAST DAY TO REGISTER TO VOTE:

Friday, Oct. 29, 2022

STATE ELECTION DAY

Tuesday, November 8, 2022

7 a.m. - 8 p.m.

Draper Gym, 13 Dutcher Street, Hopedale, MA

HEY HOPEDALE!

FOLLOW US ON FACEBOOK!

Reliable Pet Sitting

Professional Dog, Cat and Horse Care at Your Home

CALL MAGGIE

508-529-6402 or 508-769-9634

• Very Dependable

• Year-Round Reliability

• References Available

35 Years Professional Experience

Hey Ladies ...

looking for wide shoes?

Women's Fashion Shoes in

hard-to-find sizes

Sizes 6.5ww - 11ww, also 12m

That's right,

Hopedale Town News

has its own Facebook page!

Like Hopedale Town News on Facebook to keep

up-to-date with articles, events, giveaways

and contest announcements for Hopedale!

Hopedale

localtownpages

And as always, find us online at hopedaletownnews.com

Come See All The New Fall Shoes!

The Forgotten Foot

"It's Worth the Trip!"

WE'VE MOVED!

1255 Worcester Road, Framingham

Hours: Mon. - Sat. 11 a.m. - 6 p.m. • Sun. 12 - 4 p.m.

508-879-3290
---
Page 4 Hopedale Local Town Pages | www.hopedaletownnews.com October 2022

HCA approved for Green Mountain Chocolate &

Cannabis Co.

Town approves first step to revitalize

closed chocolatier

By Theresa Knapp

The Hopedale Select Board

has approved a Host Community

Agreement for Manufacturing

and Tier 1 Cultivation for

Green Mountain Chocolate &

Cannabis Company at 1 Rosenfeld

Drive.

The site was the previous

home of Green Mountain

Chocolate which closed its doors

in June 2021.

The new owners plan to bake

cannabis-infused chocolates at

this location.

"The initial plans are to lean

into the experience, the expertise

and frankly recipes of what

was there before, so infused

chocolates, other edible goods,"

explained Blake Mensing of

The Mensing Group LLC, a

Boston cannabis advisory firm

localtownpages

Published Monthly

Mailed FREE to the

Community of Hopedale

Circulation: 2,576

households & businesses

Publisher

Chuck Tashjian

Editorial

Susan Manning

Send Editorial to:

editor@hopedaletownnews.com

Advertising Sales

Susanne Odell Farber

508-954-8148

sue@sodellconsult.com

Advertising Sales Manager

Jen Schofield

508-570-6544

jenschofield@localtownpages.com

Creative Design & Layout

Michelle McSherry

Kim Vasseur

Ad Deadline is the

15th of each month.

Localtownpages assumes no

financial liability for errors or

omissions in printed advertising and

reserves the right to reject/edit

advertising or editorial submissions.

© Copyright 2022 LocalTownPages

that represents the new owners.

"Really just making use of the

commercial kitchen, infusing

wholesale distillate (purchased

from another licensed producer

within the state).

The owners listed on the

HCA are Timothy Phillips and

Kevin MacConnell with an address

of 660 Douglas Street,

Suite 400, in Uxbridge, also the

home of Yamna Cannabis. Neither

owner was present at the

meeting.

The HCA is the first step

in a lengthy process to get approval.

This proposal is for a

business-to-business setup with

no customer aspect proposed,

according to Mensing.

"The only available customer

base to this facility would be a

licensed retail establishment,

a wholesale delivery operator,

or I suppose a manufacturer

could take a product and turn it

into a cake or something," said

Mensing, and also indicated the

owner might expand its operations

on the parcel in the future.

While the agreement was

Our Roofs will weather the storm!

Thank You for making us your #1 choice.

Deal directly with the owner Rob Chaille. No outside salesman!

ROOFING • VINYL SIDING • WINDOWS

CHIMNEY REPAIRS • SEAMLESS GUTTERS

SPRAY FOAM INSULATION

~Over 36 Years Experience~

Residential & Commercial

From a hole in your roof...to a whole new roof!

508-NOR-EAST / 508-667-3278

www.NoreasterRoofing.com

UXBRIDGE, MA

Call us for a FREE Estimate

CS#69907 HIC#160483

CHARRON

Tree Quality Timely Service!

BELLINGHAM, MA

508-883-8823

FREE ESTIMATES • FULLY INSURED

KEVIN LEMIRE, OWNER

All employees are covered under Workers' Comp Ins.

being signed, Michael Scott

(who was identified as "Todd's

partner") asked when the town

would make a decision on the

number of marijuana establishments

it would allow into town,

and also said they would be interested

in opening a bakery

in the future. Selectman Brian

Keyes said the town boards are

still discussing a possible quota,

and that a bakery could be a

possibility in the future.

Town one step closer to marijuana overlay

district bylaw

By Theresa Knapp

The Planning Board and Select

Board met again in August

to discuss a possible marijuana

overlay district that could address

the several cannabis establishments

that are in Hopedale,

or hope to be in Hopedale, in the

near future.

Select Board members Brian

Keyes and Bernie Stock joined

the Planning Board's meeting on

Aug. 24 to review a draft bylaw

that was the result of a similar

meeting held on Aug. 3.

"Tonight we're workshopping

a working draft," said Planning

Board Chair Stephen Chaplin,

noting the town is 'writing the

rulebook' as it relates to marijuana.

"This will culminate in a public

hearing that we publish and

hold subsequent meetings on,

and that public hearing process

will culminate in a recommendation

to Town Meeting," Chaplin

explained. "At this point our goal

is to essentially get a rough draft

in place so that we can move

this towards a published hearing

where we can, at the end of that

process, make a specific recommendation

to town meeting."

The boards agreed on the

purpose of the Marijuana Overlay

District Bylaw which "is to

provide for the placement of

Medical Marijuana Treatment

Centers ("MMTCs") and Adult

Use Marijuana Establishments

("MEs") in locations suitable for

such uses in accordance with

G.L. c. 94G and all applicable

regulations, including 935 CMR

500.000 and 935 CMR 501.000,

in order to support the public's

RESIDENTIAL & COMMERCIAL

• Tree Removal

• Pruning/Trimming

• Storm Damage

• Land Clearing

• Stump Grinding

BYLAW

continued on page 5

CharronTreeService.com
---
September 2022 Find Us On Facebook | Hopedale Town News Page 5

Your Money, Your Independence

Eye Opening Costs At Open Enrollment?

Pop Quiz: Per U.S. government

data, over past 12 months

(8/21 - 8/22) which has increased

the most in price?

A) Household Energy

B) Unleaded Regular Gasoline

C) Bread

D) Health Insurance

In fairness, you've experienced

A) 21.2%, B) 24.1%, and

C) 16.2%, however for many fall

brings Open Enrollment to work

benefits so sticker shock of D)

24.2% health insurance has yet

to be realized.

That's right, health insurance

increased ~3X greater than

8.3% US inflation and same as

gas. Think of the promotions

or actions you've taken to save

$5-15 at the pump. Well, this is

greater for family paying $500

a month on a corporate health

plan and facing ~$1,440 annual

increase.

What can you do?

Understand Plan Changes &

Your Situation: In a PPO due to

your doctor, but you've visited

him/her twice in the last 3 years?

What's the highest annual outof-pocket

medical expenses total

Glenn Brown

the last 3-5 years? Expect high

out-of-pocket expenses in 2023?

These and other questions will

help you run the numbers.

Case for High Deductible

Health Plans (HDHP): People

get scared by maximum outof-pocket

costs for HDHP and

dub HDHP "for the healthy and

wealthy". Yes, a PPO will have

lower maximums and deductibles,

but you're guaranteed to

pay more to obtain.

Compare PPO costing $247

biweekly with $6,000 maximum

out-of-pocket versus HDHP at

$142, a $13,000 maximum outof-pocket,

and employer providing

$1,500 to enroll in Health

Savings Account (HSA).

PPO guarantees $6,422 paid

in premiums while HDHP is

$3,692 less $1,500 given by employer

to contribute to HSA, thus

equals $2,192 or $4,230 less than

the PPO. Thus, maximum outof-pocket

expenses differential

is $2,770 and not $7,000. Furthermore,

you'd need $10,230 of

out-of-pocket medical expenses

to make this PPO breakeven with

this HDHP.

About Health Savings Accounts

(HSAs): Tax-exempt savings

plans paired with a HDHP

meeting certain criteria. HSA is

not "Use It or Lose It" like Flex

Spending Account (FSA) and

upon leaving a company or retirement,

you maintain your HSA.

Key HSA facts:

• In 2023, individual can contribute

$3850 and family up

to $7,750.

• Over age 55 an additional

$1,000.

• All contributions are tax-free:

federal, state, and FICA (Social

Security and Medicare).

• No federal taxes on HSA

funds spent on qualified

health care expenses.

• Excess HSA funds can be invested

for tax-free growth to

compound for years.

Unlike other tax-advantaged

savings plans, HSAs offer "triple

tax benefits": tax-free contributions,

tax-free earnings, and taxfree

distributions.

Get The Tax Savings: Consider

a family in 24% tax bracket

contributing $4,000 to HSA, it

would be tax savings of $1,466

($960 federal 24% + $200 state

MA 5% + $306 FICA 7.65%).

Earners in 32% bracket can max

out 2023 contributions and gain

tax savings of $3,460.

Set Some Time and Seek

Help: Open enrollment is the

once-a-year opportunity to make

changes to your work benefits

without needing a life event. Beyond

insurance and retirement

benefits, these elections help

maximize your savings, estate

planning and taxes for 2023 and

beyond.

The opinions voiced in this

material are for general information

only and are not intended to

provide specific advice or recommendations

for any individual.

Glenn Brown is a Holliston

resident and owner of PlanDynamic,

LLC, www.PlanDynamic.

com. Glenn is a fee-only Certified

Financial Planner helping

motivated people take control of

their planning and investing, so

they can balance kids, aging parents

and financial independence.

Sponsored articles are submitted by

our advertisers. The advertiser is solely

responsible for the content of this article.

Want to get noticed?

Contact Susanne today at

508-954-8148 or by email at

sue@sodellconsult.com and find out how

you can reach more than 153,000 homes

and businesses each month!

BYLAW

continued from page 4

right to access marijuana and

marijuana products while mitigating

community impacts and

protecting public health, safety

and welfare."

During a 2.5-hour discussion,

the boards combed through the

six-page draft bylaw, considered

buffer zones, and expressed the

need to update the town's zoning

map and agreed to speak

with the Central Massachusetts

Regional Planning Commission

about doing that work.

Suggested marijuana locations

included the "south part of

town with a little bit of area right

around Cumberland Farms, and

one parcel up around [Route]

140."

The Planning Board will

share the discussion and edits

with town counsel who will make

the suggested revisions.

"And then we will formally

notice a public hearing where we

will solicit comments from the

public on the resulting draft,"

said Chaplin. "Then, at the end

of that public hearing process,

we will make a recommendation

to Town Meeting."

Want financial independence?

Are you building with:

■ Fee-only Certified Financial Planner

■ Strategies for budget, cash flow & debt

■ Low-cost investments ■ Growing income streams

■ Maximizing work, government & health benefits

■ Tax planning ■ Insurance analysis ■ Estate planning

■ College savings for kids ■ Care for elderly parents

We help you take control of planning and investing,

so you can balance kids, aging parents

and financial independence.

$5 OFF

Dine-in/Take-out orders on purchase $10 or more

VALID ON FOOD ONLY

H

NEAPOLITAN PIZZA!

Beer & Wine Now Available (DINE-IN ONLY)

1 Menfi Way, Hopedale • 508-381-3292 • myhopedalepizza.com

Glenn Brown,

CFP®, CRPC

508-834-7733

www.PlanDynamic.com

PlanDynamic, LLC is a registered investment advisor. Please visit our website for important disclosures.
---
Page 6 Hopedale Local Town Pages | www.hopedaletownnews.com October 2022

Thanks To Yanks Makes Impact

On Veterans, Active Military

Hopedale veterans, first responders

and Girl Scouts are

just a few local groups helped by

Thanks to Yanks.

"In Hopedale, we have

worked with the Girl Scouts in

the collection of cookies that we

then send overseas to those deployed.

We have the Scouts cut

out the stars of American Flags

prior to proper disposal, we then

have the stars laminated and

given out to veterans as a thank

you.

"Thanks to Yanks also supports

First Responders, we had

custom coffee roasted called

Hopedale Firehouse roast and

donated to the Hopedale fire department,"

said Mike Shain, who

runs the organization.

Many years ago, Shain became

inspired to support veterans

after attending a lunch-in for

a post memorial day parade, and

decided to start Thanks to Yanks,

a non-political 501(c)(3) organization

whose mission is to support

military members, veterans,

and their families.

"Thanks to Yanks is for saying

thank you. It is an attitude of

appreciation for those who serve

and especially for the families of

those who serve," he said.

Shain said he comes across

many people don't know there

are servicemen who are deployed.

"While yes, it's true they aren't

in Afghanistan, we do have people

overseas. There is actually a

mass contingency of the Mass

National Guard in the Middle

East, so we just sent them girl

scout cookies," he said

In addition to sending over

the sweet treats, Thanks to Yanks

also sent over thank you cards

written by the Milford Senior

Center.

Shain touched on a photo of

soldiers sipping Dunkin' coffee

on the Thanks to Yanks website,

noting the coffees in one hand

and guns in the other.

"These soldiers were doing

sniper training for another government.

I reached out to them

and asked them what they can

use and everyone drinks coffee,"

Hopedale Mini-Storage

Hopedale Mini-Storage

Storage For All Your Needs

Storage For All Your Needs

Located at 6 Business Way in Hopedale

Located at 6 Business Way in Hopedale

he said.

He said the soldiers requested

K-cups, so Shain reached out to

the franchise owner of Dunkin'

who is based in Holliston and

owns many Dunkin' shops in

the area. Shain said he provided

Thanks to Yanks with the K-cups

to send over to the soldiers.

Aside from sending the cookies,

cards and coffee, Thanks to

Yanks also runs a program called

Hope for Heroes, which is held

near veterans day each year.

At the event, volunteers collect

items for veteran homeless

shelters. Additionally, they collect

items such as snacks and games

to fill care packages.

"A taste of home is always appreciated,"

Shain said.

He explained that post 9/11,

he believed there should be a way

to thank military families for the

service of their loved ones, so he

organized the 9/11 dinner, an

event for military families to dine

together, which lasted for 13 years.

In addition to commemorating

military servicemen and their

loved ones, the dinner also celebrates

the fallen first responders

of 9/11.

"We had 450 guests who all

came for free. Again, it was just

a way for us to say thank you for

MERCURY RECOVERY PROGRAM

Mercury is an element that can be harmful to human

health and the environment if not disposed of properly.

Mercury is found in products such as:

your service, thank you for your

sacrifice," he said.

Shain added that during the

last three years of the dinner,

the Medal of Liberty, an award

given to the families of a soldier

who died in action, was awarded

to a family.

"We were blessed to be able to

incorporate the Medal of Liberty

Ceremony into our 9/11 dinner,"

he said.

Thanks to Yanks Volunteer

Maggie McIssac said working

with Shain is "an absolute pleasure"

and that he "puts his heart

and soul" into the organization.

"You can see his excitement

at an event when he is selflessly

helping and doing good things

for others. Mike is a great listener

with innovative ideas while also

offering sound, wise advice. He

has the best intentions with what

he is doing and he is always incredibly

grateful to all those who

help contribute to the cause, no

matter how big or small that contribution

may be," she said.

McIssac touched on the impact

of Thanks to Yanks.

"Thanks to Yanks is such an

important organization because

there are not a lot of civilian lead

support groups for active military,

veterans, and their families in the

area. The outreach from the proceeds

raised over the years has

extended to areas all over New

England and worldwide," she said.

McIssac continued, "Mike

and his organization has touched

the lives of so many countless

service men and women and

their families. There will also be

a need to support the military

veterans in so many various capacities,

and that is why it is so

important to have a nonprofit

group like Thanks To Yanks."

(508) 478-6996 or (888) 317-4910

(508) 478-6996 or (888) 317-4910

Open 7 Days a Week

Security Fence & Lighting

Open 7 Days a Week

Month-to-Month Leasing

Commercial & Residential

Three Unit Sizes

Insurance Available

Security Fence & Lighting

Month-to-Month Leasing

Commercial & Residential

Three Unit Sizes

Insurance Available

Thermostats Thermometers Mercury Switches Fluorescent

Lamps

Please contact your local Board of Health or

Department of Public Works for information

on where to safely dispose of these items.

keepmercuryfromrising.org

SPONSORED BY
---
October 2022 Find Us On Facebook | Hopedale Town News Page 7

Bancroft Memorial Library - Library - October

50 Hopedale Street, Hopedale

MA 01747

Contact: Tricia Perry, Library

Director 508-634-2209 tperry@

cwmars.org

Columbus Day

The Bancroft Memorial Library

will be closed on Monday,

October 10 in observance of Columbus

Day.

First Annual Pumpkin

Decorating Contest!

Participate in the Library's

first annual pumpkin decorating

contest! Decorate a faux/

foam pumpkin at home (no real

pumpkins please - they don't

keep well inside) and drop it off at

the Bancroft Memorial Library

beginning Tuesday, October 11.

Vote with a non-perishable food

item for your favorite pumpkin

from October 12-26. The entry

with the most votes wins a prize,

so vote early and vote often! All

food items will be donated to

The Daily Bread Food Pantry in

Milford. The Library will have a

limited number of pumpkins to

give out while supplies last, but

feel free to provide your own in

whatever size/color/shape you'd

like! Good luck and happy decorating!

Intellectual Freedom:

Fighting the Good Fight

with Martin Garnar, PhD

On Wednesday, October 19

at 7pm, the Hopedale Unitarian

Parish and The Friends of the

Hopedale

Library invite you to join in a

community conversation led by

Martin Garnar, Director of the

Amherst

College Library, Chair of

116 Main St, Medway

(508) 533-6655

32 Hasting St, Rte 16. Mendon

(508) 381-0249

the ALA Intellectual Freedom

Committee, and Editor of the

10th edition of the Intellectual

Freedom Manual. Across the

country there has been an overwhelming

increase in the number

of materials challenged in school

districts and public libraries. Join

us as we explore the themes of

freedom of expression, the intersection

of intellectual freedom

and social justice, and the rights

of readers. To sign up, please call

the Library at (508)634-2209.

Ongoing Monthly Library

Events

Helen Symonds Book Group

The Helen Symonds Book

Group meets in the Library Program

Room at 1:00 pm on the

first Wednesday

of every month. Everyone is

welcome to join the group. If interested,

please call the Library at

(508)634-2209 to request a copy

of the discussion book.

The group will meet on October

5 at 1:00pm to discuss

11/22/63 by Stephen King.

"Receiving a horrific essay from

a GED student with a traumatic

past, high-school English teacher

Jake Epping is enlisted by a

friend to travel back in time to

prevent the assassination of John

F. Kennedy, a mission for which

he must befriend troubled loner

Lee Harvey Oswald." –adapted

from CW MARS catalog

Join the group in November

to discuss The Paris Architect by

Charles Belfoure. "A Parisian

architect is paid handsomely to

devise secret hiding spaces for

Jews in his Nazi-occupied country

but struggles with risking his

life for a cause he is ambivalent

towards, until a personal failure

brings home their suffering." –

NOW OPEN!

296 Washington St

Westwood, MA

CW MARS catalog

Wednesday Needlework

Group

Join us for an evening of needlework

every Wednesday night

from 6:00pm until 7:45pm. Bring

your latest project. No commitment

required – come when you

can!

The Friends of the

Hopedale Library

The Friends of the Hopedale

Library are pleased to present

The Doll-Maker's Ghost and

Stories on Wednesday, October

12th at 6:30 pm. This hourlong

program will be held in

the downstairs program room.

Join us as actress and puppeteer

Charlotte Anne Dore presents

three creepy stories. This show

uses real antiques and objects

that come to life as Charlotte tells

the stories of The Doll maker's

Ghost, Jessica's Well and Dr Joseph

White. The intended audience

is teens and adults. There is

no charge to attend this program,

but registration is required. To

register, please stop by the upstairs

circulation desk or call 508-

634-2209. You do not have to be

a Friend of the Library to attend.

The Friends hold their meetings

on the second Wednesday of the

month at 6:30 pm. New members

are always welcome!

News from the Marjorie Hattersley

Children's Room

"Check It Out"

The Library's annual "Check

It Out" contest for grades K-3

at Memorial Elementary School

is here! During this four-week

contest (October 1-31), children

are urged to visit the Library and

earn points for their class. Check

out an item and tell us your grade

and teacher. Each visit with a

43 Main St, Hopkinton

(508) 625-8100

325 N. Main St, Natick

(508) 647-0500

checkout = 1 class point. Come

every day if you like! The winning

class will win a pizza dinner

and special evening event chosen

just for them at the Library, along

with a basket of fun items for the

classroom. This annual competition

is sponsored by The Friends

of the Hopedale Library and

Memorial Elementary School.

"Kids Plus One"Book Club

Join our newest book club for

kids in grades 3 and 4 on Monday

evenings (Oct 3 & 17) from

6-7pm! Bring an adult of your

choice and discuss books! Books

will be provided. Please call Mrs.

Kraimer to register at (508)634-

2209.

Homeschool Hangout!

Join homeschool families from

the Hopedale area to learn, engage,

and socialize on Tuesday

mornings 11am-12pm. All ages

invited!

Story Hour with Mrs.

Kraimer

Join Mrs. Kraimer for stories,

flannel boards, music, and crafts

on October 4 & 11 at 3:30pm!

Please call to register at (508)634-

2209. Ages 3-6

Mother Goose

It's Mother Goose time! Enjoy

stories, puppets, music, and

rhymes on Thursday mornings

at 10:30am on October 6 & 13.

Please call Mrs. Kraimer to register

at (508)634-2209. Ages 2+

Come Sail with Me!

Sail away with Mrs. Kraimer

on Saturday, October 15 at

11am! Listen to nautical tales

and make a wooden sailboat!

Please call Mrs. Kraimer to register

at 508-634-2209. Ages 3+

Halloween Fun

Celebrate Halloween with us

on Wednesday, October 26 at

6:30pm! Check our website for

details.

For updates throughout the

month, Friend us on Facebook

and sign up at www.wowbrary.

org to

discover the Library's newest

books, movies and music. The

library webpage is https://www.

hopedale-ma.gov/bancroft-memorial-library

.

Looking to advertise?

Contact Susanne today at 508-954-8148

or by email at sue@sodellconsult.com

When the right coverage counts,

you can count on our

LOCAL, PERSONAL & KNOWLEDGEABLE

staff to take care of your

Home • Auto • Business • Life

711 1

J4Jright

Insurance Agency

Don't stand in line!

ONLINE ORDERING

NOW AVAILABLE!

muffinhousecafe.com

Open Daily

Bakery with Fresh Muffins/Pastries

Receive 10% off any cake

with this coupon

All our cakes are made from scratch on the premises

HOP

Expires 10-31-2022

MUFFIN HOUSE

CAFE

Muffinhousecafe

Breakfast and Lunch Sandwiches

Best Blueberry Muffins Since Jordan Marsh

FREE SMALL COFFEE

with a purchase of a muffin with this coupon

Expires 10-31-2022

HOP

*

nsen

heehan

Insurance Agency

6 Congress St, Milford • 54 Central St, Holliston
---
Page 8 Hopedale Local Town Pages | www.hopedaletownnews.com October 2022

Hopedale residents to

participate in Boston Marathon

Jimmy Fund Walk

Two residents from Hopedale

will participate in the Boston

Marathon Jimmy Fund

Walk presented by Hyundai on

Sunday, Oct. 2.

Ashley Clinton and Melissa

Butler, along with thousands of

other walkers, will participate

in the iconic annual event that

will unite the community to raise

funds to support all forms of

adult and pediatric care and cancer

research at the nation's premier

cancer center, Dana-Farber

Cancer Institute. The Jimmy

Fund Walk has raised more than

$155 million for Dana-Farber

Cancer Institute in its 33-year

history.

"Throughout the past 33

years, the Jimmy Fund Walk has

NEW ENGLAND REGLAZE

Don't replace

your old tub, reglaze it!

Tubs, tile sinks and

much more

We do any TUB!

CALL US NOW

617-895-7771

www.newenglandreglaze.com

Fixed Annuities Current Rate Information is Available!

In today's economic environment, fixed annuities can offer compound growth without the

anxiety associated with stock market volatility. In addition to safety, other fixed annuity

advantages can include attractive yields, tax efficiency, and liquidity.

To determine if a fixed annuity is right for your current financial situation and your

long-term investment goals, contact Alan today.

5-Year Term

Insurer Rating* Rate**

Athene IA A+ 4.30 %

Brighthouse Life Insurance Company A+ 4.30 %

Midland National Life A+ 4.25%

3-Year Term

continuously supported life-saving

research and cancer care at

Dana-Farber. And the pandemic

didn't stop us," said Zack Blackburn,

Director of the Jimmy

Fund Walk. "Over the past two

years, participants walked virtually

and celebrated in their own

unique ways. Now, we welcome

them to walk the course in person.

We are back, we are together,

and we are stronger than

ever."

Participants have the flexibility

to choose from four distance

options: 5K Walk (3.1 miles

from Dana-Farber Cancer Institute),

10K Walk (6.2 miles from

Newton), Half Marathon Walk

(13.1 miles from Wellesley), or

Marathon Walk (26.2 miles from

Reg. $ 399

Color, travel, may apply.

NOW $ 299. 00

SAVE

$100

WITH AD

Fixed Annuity Rates - Effective September 13, 2022

Insurer Rating* Rate**

Athene IA A+ 3.90 %

Midland National Life A+ 4.05 %

United Life Insurance Company A- 3.95%

* Financial rating from Standard and Poor's Global Ratings. ** Rates are subject to change.

Contact an Infinex investment program representative for current rates.

Alan Hadad

Infinex Financial Consultant

ahadad@infinexgroup.com

Office: 508-381-5212

Cell: 774-573-7253

Investment and insurance products and services are offered through INFINEX INVESTMENTS, INC. Member FINRA/SIPC. Milford Federal

Investment Services is a trade name of Milford Federal Bank. Infinex and the bank are not affiliated. Products and services offered by Infinex are:

NOT FDIC INSURED NO BANK GUARANTEE MAY LOSE VALUE NOT A BANK DEPOSIT NOT INSURED BY ANY FEDERAL GOVERNMENT AGENCY

Milford | Whitinsville | Woonsocket

Hopkinton). Participants can also

choose to join the event virtually

by "walking their way" from

wherever they are most comfortable—in

their neighborhood, on

a favorite hiking trail, or on a

treadmill at home. Virtual programming

and supporting materials

are available.

Along the course, walkers are

treated to 12 refueling stations as

well as poster-sized photographs

of patients – Jimmy Fund Walk

Heroes – displayed at each mile

and half-mile marker as inspiration.

All four routes of the Jimmy

Fund Walk end at the Copley

Square Finish Line Powered by

Schneider Electric with a celebration

complete with food,

music, and a speaking program.

WE WANT TO HEAR FROM YOU!

Have an upcoming event? Do you have a concern about

things happening around town? Email us at

editor@hopedaletownnews.com and let us know!

Rodents are Ra

Rodents are Rampant!

CALL NOW

to protect your

health and home!

FREE Inspection

WPC Pest &

Termite Control

508-435-2211

nobugsnopests.com

he

F

W

Ter

5

nob
---
October 2022 Fall Home Improvement Page 19

Thank you to our sponsors:

At Best Tile, our design and technical

experts will help you select the right

products and create stunning rooms.

Since 1956, homeowners, designers,

builders and contractors alike have trusted

Best Tile for beautiful products, inspired

professional design, expert technical

advice, and superior customer service.

Request a quote at BestTile.com or

visit a showroom near you!
---
Page 10 Fall Home Improvement October 2022

Page 2 Fall Home Improvement October 2022

A beginner's guide to fall planting and maintenance

Spring and summer are perhaps

the busiest times of year for

gardeners. However, fall also is a

prime time to tend to gardens.

The tree and bare root retailer

Bower & Branch advises that soil

temperatures in many regions of

the country may still be warm

enough to encourage root growth

well into the start of winter. Furthermore,

fall is often the ideal

time to plant, fertilize and keep

a garden going or to get a head

start on next year's bounty.

Here are some tips to make

the most of the fall gardening

season.

• Think about fall annuals and

bulb planting. Near the end

of September, start planting

cool-weather-loving pansies

and violas for pops of color

as summer flowers fade.

Also, it's a good idea to stock

up on bulbs that will bloom

in the months to come before

they sell out in stores.

Wait until the temperatures

really cool down before

planting them in desired

spots for spring sprouts.

• Sow salad seeds. Lettuce,

spinach, radishes, and arugula

tolerate cooler temperatures.

Try new and interesting

lettuce varieties and

enjoy salads well into the fall

season.

• Take inventory of the sun.

Positioning a garden carefully

means maximizing

hours of sunlight, which

begin to dwindle in the fall.

Experts say gardens grow

best in sunny locations that

receive six hours of direct

sunlight each day. This is

where container gardens

can be helpful, as they allow

gardeners to move plants

into spots that will get ample

sunlight.

• Fill in landscaping gaps.

Some fall plants can add

color around the landscape

and brighten up homes to

add curb appeal. In addition

to pansies and violas,

asters, kale and chrysanthemums

are fall blooms. Keep

in mind that mums can

come back year after year.

So take them out of those

flower pots and get them

into the ground. They can

be enjoyed next year as well,

sprouting in early spring

and developing leaves and

buds through late summer.

• Clean up unwanted growth.

Fall is an ideal time to cut

back spent vegetable plants

and get rid of errant weeds.

Rather than bagging leaves,

mow them with a grass

catcher and then add the

mix to a vegetable garden

as an excellent soil insulator.

The nitrogen and carbon

will fertilize the soil, enhancing

growing possibilities and

limiting weed growth.

• Propagate plants in the fall.

As temperatures gradually

begin to cool, start taking

cuttings from perennials,

gathering seed pods from

azaleas and rhododendrons

and dividing hardwood cuttings,

says the resource Gardening

Know How. Consult

with a garden center or

horticulturist on the proper

ways to propagate stems using

rooting hormone and

other techniques.

• Continue to water plants.

Water is essential in the fall

and winter as roots can still

be growing. Gradually reduce

watering duration as

plants go dormant.

Fall planting and maintenance

can extend gardening season and

improve the chances of growing

a healthy spring garden.

Free Estimates

Licensed & Insured

Roofing • Windows

Gutters • Skylights

Offering

LIFETIME

Architectural

Shingles

Financing

Available

We Accept

781-910-3842

WWW.DVITOROOFING.COM
---
October 2022 Fall Home Improvement Page 11

October 2022 Fall Home Improvement Page 3

Spruce up your home for

the Fall and Holiday Season

LET THE EXPERTS FROM UNDER PRESSURE HANDLE IT!

Get started today!

Call 508.944.6644 or scan

the QR code to learn more.

GUTTER CLEANING

HOUSE WASHING

ROOF WASHING

Custom Holiday Lighting

Certified Technicians

• We design and install

• We maintain the lights

• We take down at the

end of the season

and store

EXTERIOR

CLEANING

PROFESSIONALS

ENVIROMENTALLY

RESPONSIBLE

CLEANING

SEASONAL

MAINTENANCE

PLANS

IN YOUR NEIGHBORHOOD

SINCE 1999

UnderPressureWash.com | 508.944.6644

UPPWASH

UNDERPRESSUREWASH
---
Page 412 Fall Home Improvement October 2022

ONE CALL SENDS A ROOFER, NOT A SALESMAN

Robert Roofing & Gutters,

Inc. is a second-generation company

based in Norfolk. It is a

full-service roofing and home

improvement company that

provides free estimates and affordable

solutions to your roofing,

gutters, siding, and window

needs.

Robert "Rob" Greene

founded the company in 1980

and runs it today with his son

Robert Jr. "Robbie." Their goal

is to provide top-notch workmanship

at an affordable price.

"I decided to start my own

business after I noticed that

homeowners were being charged

very high prices for a mediocre

job," says Rob. "This bothered

me. I knew that if I could offer

customers an exceptional job

with fair pricing, that I could

make a difference."

Rob himself started roofing

at the age of 13 with his father

for his father's construction company.

Rob learned everything

about roofing from the "great

old-timers" who were up on the

roof working right along with

Rob, teaching him everything he

now knows.

Today, Robert Roofing is

fully licensed and insured, and

performs work on residential

and commercial buildings plus

new construction. They have

an "amazing crew" that offers

various types of roofing (asphalt,

rubber, low-slope, specialty shingles,

etc.) as well as other services

including gutter installation, new

downspouts, vinyl and wood siding,

coil stock metal coverage,

soffits, and chimney repointing

and flashing.

Did you know fall is peak

roofing season? Rob says it is

very important to have your roof

evaluated before the cold winter

months. If you need a new roof,

or roof repairs, now is the time

to do it.

"It's easy to brush off some

minor wear and tear water damage

or damaged shingles but

these are strong indicators that

you need to replace your roof.

Solutions for Kitchens and Bathrooms

… from design to installation

"Robert Roofing and Gutters is everything

you want a contractor to be: Honest,

reasonably priced, expert in what he is doing.

Nothing flashy, just good work."

Don't wait until spring to replace

your roof, as doing so can exacerbate

your problems. Any damage

that you've discovered can only

get worse during the winter with

freezing rain, ice, snow and sleet.

It's best to be proactive instead

of dealing with emergency roof

repairs at the last minute."

Robert Roofing will try their

best to restore your roof and not

sell you a new one. But if you

need a new roof, their expert installers

will make sure the job is

done right the first time.

For the warmer months, Rob

stresses the importance of roof

ventilation which can also help

with energy savings.

David Williams

"The proper roof ventilation

allows proper airflow between

the attic and the outdoors. If a

roof isn't properly ventilated, hot

air can become trapped inside

the attic and cause your entire

house to heat up gradually like

any oven. This puts a huge strain

on your home's cooling system

and leads to a noticeable rise in

your monthly energy bills."

For a full list of services available,

visit www.robertroofingandgutters.com

or call 857-247-8709

where you can also arrange a free

estimate with Rob.

PAID ADVERTISEMENT

Let Us Meet Your

Septic Tank Needs

Creating functional and stylish spaces since 2014

See us online at NortheastKandB.com

Fully licensed and insured

Call today! 617.650.8814

Family Owned and Operated Since 1920

• Title V Inspections

• Installations & Repairs

• Backhoe & Dozer Services

• Professional Service

• Maintenance

24 Hour

Emergency

Support

508-435-3381 • JCParmenterSeptic.com

$10 OFF

your next service with

same day payment
---
October 2022 Fall Home Improvement Page 13

October 2022 Fall Home Improvement Page 5

EXPERT TREE CARE

• Tree Removals

• Tree Pruning & Trimming

• Emergency Services

• Storm Damage

• Lot Clearing

• Stump Grinding

H Reliable Service Since 1996

H FREE Estimates

H All Calls Returned

H DISCOUNTS

for Senior Citizens & Veterans

H All Major Credit Cards Accepted

Mention this Ad for a HOMETOWN DISCOUNT

508-690-4871

INFO@AMERICANCLIMBERS.COM

AMERICANCLIMBERS.COM

FULLY

INSURED

$2,000,000

Liability &

Workers' Comp

Top Rated on

Angie's List
---
E

Page 14 6 Fall Home Improvement October 2022

Under Pressure gets homes ready for the holiday season

By Christie Vogt

ContriButing Writer

In anticipation of fall bonfires,

winter holiday gatherings

and cold weather challenges, exterior

cleaning company Under

Pressure is busy preparing and

sprucing up homes for the season.

"The work we do is like a

tune-up of the house from top to

bottom, from roofs to gutters to

windows to patios," says owner

Mark Mercer. "We're helping

people to love their home again,

especially around the holidays,

and to refocus attention on the

importance of the health of a

house."

Mercer says that cleaning exteriors

in late summer and early

fall is an optimal time because

houses stay cleaner for longer

due to less pollen, landscaping

debris and humidity-induced

mildew. Under Pressure is also

able to wash surfaces later in

the year — even as temperatures

drop to the 30s — thanks

to water heating mechanisms in

its trucks. "Winter is long, and

homeowners should be asking

themselves at this time whether

their house ROOFING

ROOFING

is prepared for the

changing weather ahead," Mercer

says.

In addition to washing,

Under Pressure offers shrinkwrapping

to protect outdoor

furniture, water features, garden

monuments and other items

that need to be shielded from

the elements. "Shrink-wrapping

is a great alternative to covering

things with weatherproof

fabric, which often gets chewed

through by critters," Mercer

says. "Shrink-wrapping also

saves space because we can push

everything into one tight bundle

in your yard rather than having

your patio furniture take up

square footage in your garage or

basement."

Under Pressure also offers

safe and efficient ice dam and

snow removal services. Its gentle

but powerful steam method

quickly remedies problematic

areas on roofs without damaging

a home's structure.

SIDING

(781)

(781) BEFORE 329-2895

329-2895

https:\\brownbrosroofing.net

https:\\brownbrosroofing.net

info@brownbrosroofing.net

info@brownbrosroofing.net

website: brownbrosroofing.net

Routine maintenance and

cleaning services like these are

important, but Under Pressure

is also eager to bring a bit of

magic to customers this year in

the form of custom-designed

holiday lighting. "We are really

excited about SIDING this new offering,"

SIDING

Roofing — is your roof nearing end of life? Do you have leaks? Are there missing

ROOFING shingles? Are shingles dry GUTTERS and cracked? Do you get ice dams? SIDING

Siding — is siding cracking, falling off, allowing air/water in?

GUTTER GUARDS

WINDOWS Gutters — gutters clogged? Broken? Seams separated? Downspouts GUTTERS

not connecting?

CHIMNEYS ROOFING Walkways/masonry / MASONRY BEFORE stairs — are walkways failing? AFTER Is GUTTER surface uneven? GUARDS Is mortar

cracked and falling BEFORE out?

AFTER

WINDOWS Chimneys — is your chimney leaning?

BEFORE

Mortar cracked? Chimney

AFTER

leaks?

Decks and Porches — are your decks and porches loose? Damaged? Wood rot?

CHIMNEYS/MASONRY

With 90 years in the business, Brown Bros can help you prepare your home for the

SIDING changing season. Give us a call for a free estimate for your home improvement

ONRY

GUTTERS

WINDOWS

WINDOWS

CHIMNEYS

CHIMNEYS

/

/

MASONRY

MASONRY

GUTTER GUARDS

ROOFING

OPEN HOSE

• MASONRY • DECKS

AFTER

(781) 329-2895

https:\\brownbrosroofing.net

info@brownbrosroofing.net

AFTER

GUTTERS

GUTTERS

GUTTER

GUTTER

GUARDS

GUARDS

SIDING

WINDOWS

GUTTERS

Tired of hot weather? CHIMNEYS / Ready MASONRY for refreshing fall GUTTER air? GUARDS

• ROOFING

• SIDING

• SKYLIGHTS

CSSL# 105934

HIC# 172337

You might be BUT is your home?

• WINDOWS

• GUTTERS

• GUTTER GUARDS

CSSL# 105934

HIC# 172337

CSSL#

CSSL#

105934

105934

1069 HIC#

HIC# East 172337

172337 Street, Dedham

info@brownbrosroofing.net

Mercer says. "It's amazing what

you can do with a home nowadays

with new light technologies,

and customers have been

asking us for years for a service

like this."

Under Pressure's team has

gone through weeks of training

and safety courses in order

to design and install holiday

lights that cater to customers'

imaginations. "The designs are

only limited by homeowners'

creativity," Mercer says. The

company uses LED lights and

can illuminate an entire house

with one extension cord and a

timer. Homeowners don't have

to worry about maintenance or

storage either; Under Pressure

Quality Craftmanship for over 30 years!

Excellent preparation work and customer service has made

Prottas Painting owner operated for 30 years.

Interior/

Exterior

Painting

Specializing in exterior painting and carpentry repairs.

Expect attention to detail and custom interior work.

Color consultation is also available on request.

Please call or email:

9 Overhill Road, Natick MA 01760

508-650-3909 • glennprottas@hotmail.com

www.Prottaspainting.net

will take the lights down at the

end of the season and store the

equipment until homeowners

want to reinstall a display in the

coming year.

"We can decorate homes for

Halloween, Christmas, Hannukah,

New Years — any winter

holiday that people want to celebrate,"

Mercer says. "Holiday

lighting creates a special feeling;

there's just something about

the warmth that it brings to a

place."

To learn more or receive an

estimate, visit underpressurewash.

com, call 508-944-6644 or email

info@underpressurewash.com.

PAID ADVERTISEMENT
---
F looring Sale

October 2022 Fall Home Improvement Page 15 7

Fireplace trends help create

attractive, comfortable rooms

PET-APPROVED

Fireplaces are useful features in

a home. Fireplaces are sources of

ambient heat and also add style to

indoor spaces.

Fireplaces can complement just

about any interior style. Fireplaces

can be traditional and burn wood

or connect to a home's natural

gas supply for on-demand ambiance.

What's more, fireplaces may

come in vented or ventless varieties,

depending on homeowners'

preferences and what is allowed by

community building codes. That

means a chimney or flue may not

be needed — expanding the list of

rooms where a fireplace can be installed.

Certain trends have emerged

among fireplace fans in recent

years. Here's a look at what's getting

consumers fired up about

these home decor elements.

• Minimalist style: Many fireplaces

are designed in neutral colors

with minimal trim that directs

focus on the fire and not the appliance.

When the fireplace is not in

use, it blends in with surroundings

and will not compete for attention

with other design elements.

• Convertible fireplaces: Homeowners

can choose between open

or sealed fireplaces. A convertible

fireplace enables homeowners to

FLOORS THAT PERFORM

F looring Sale

have the best features of these options.

A convertible fireplace can

be converted to wood from gas, or

the opposite, in as little as 30 minutes.

• Nature-inspired materials:

Natural stone continues to be a

material of choice in fireplace surrounds.

Light colors work well for

a fireplace, and also fit with today's

lighter color interior design preferences.

Natural stone also works

perfectly with both contemporary

and rustic decor.

• Vintage fireplaces: Vintage

continues to be a buzzword in

2022, and the choice to go vintage

also applies to fireplace styles. A

room decorated in vintage elements

can be complemented with

a vintage fireplace or one designed

to look vintage.

• Integrate into wall decor:

Fireplaces that are built right into

a wall save space. One can have a

television and a fireplace on the

same wall. These types of fireplaces

work well in modern home

Mount Vista ★ ★ ★ ★ ★

Functional, Waterproof, Easy to Care for

SQ.

designs. Other fireplaces may be $4.99

$4.99

DesignCenter

FT.

built into bookshelves or other wall

features.

Fireplaces can improve the ap-

"Your Resource for Beautiful Floors"

peal of a home. Various trends

are popular this year, making fireplaces

highly coveted features.

F looring Sale

SAVE

$50 *

DesignCenter

Rival & Delightful ★ ★ ★ ★ ★

Warm and cozy – your pet will love it!

"Your resource for beautiful floors"

SAVINGS

and

TAKE UP TO 36 MONTHS

TO PAY WITH NO

INTEREST!

SAVINGS

30 DAYS ONLY!

and

SAVINGS

*

CORK

TAKE UP TO 36 MONTHS TO

PAY WITH HARDWOOD

NO INTEREST!*

TAKE UP TO 36 MONTHS TO

30 PAY CARPET DAYS WITH AREA NO ONLY!

INTEREST! RUGS

LUXURY CORK 30 • HARDWOOD DAYS VINYL ONLY! • PLANK CARPET

AREA CORK RUGS HARDWOOD • LUXURY VINYL • CARPET PLANK

AREA RUGS LUXURY VINYL PLANK

and

3 WAYS TO SHOP

In-Stock Online At-Home

CALL 508-655-1393

FREE Open FREE Monday FREE - Saturday FREE

Room Functional, LVP Waterproof, Carpet Easy to Carpet care for!

measure delivery & pad & pad

& estimate

SQ.

rip out haul away

950 $ Chestnut

FT.

St., Franklin

SQ.

"Your Resource for Beautiful Floors"

FT.

Mount Vista

Rival & Delightful

Functional, Waterproof, Easy to care for!

1276 Worcester St., Rt. 9, Natick

Warm and Cozy - your pet will love it!

"Your resource for beautiful floors"

Mount Vista

4.99

SHOWROOMS SQ.

OPEN TO PUBLIC

SQ.

$ 4.99 FT.

$ 4.99 FT.

950 Chestnut St., Franklin

FlooringAmerica1.com

1276 Worcester St., Rte 9, Natick

FlooringAmerica1.com 508-520-2632

*See Store for Details

TA

P

CO

FINANCING

AVAILABLE

• 12 Months

• No Interest

• No Payments

• Free Estimates

• Get Instant Estimate Online

@ https://robertevansjrinc.com/

Or Call

508-877-3500

Millis, MA 02054

Fully Licensed & Insured

CSL 056746

HIC 108807

$500 OFF

Full Roof

Replacement

On 28 Square Feet or More

Exp. Oct. 31, 2022 • Offers May Not be Combined

5

STAR

Lifetime

Roof Guarantee

Get a FREE Upgrade to a

Lifetime Guarantee

Exp. Oct. 31, 2022

Offers May Not be Combined

ROOFING • SIDING • WINDOWS
---
Roof Streaks? Moss?

can make it look NEW!

Page 16 8 Fall Home Improvement October 2022

Black Roof Streaks? SCAN Moss?

NOW FOR Wood floor installation

AN INSTANT QUOTE

We can make it look NEW! Book Your dos and don'ts

Pool Patios

Book & Your Decks

Pool Patios Now!

& Decks

Now!

(401) 595-0726 Free Estimates

Book Your

Pool Patios

& Decks

Now!

www.PowerWashJM.com

We accept Cash, Check, Debit & Credit Cards

Jaw-dropping features can sell

a home in a heartbeat. A penthouse

apartment with floor-toceiling

windows and a panoramic

view of a city skyline likely won't

prove a hard sell, nor will a home

with an infinity pool overlooking

a landscape of rolling hills. As

awe-inspiring as such features

can be, some more subtle components,

such as authentic hardwood

floors, also can do much to

make a home more appealing to

prospective buyers.

Licensed & Insured License #37288

Drive-up access Temperature-controlled RV & boat storage

NO INFLATION HERE!

While other local storage

facilities are raising prices,

KEY STORAGE is committed to

keeping our prices low.

300 Units with Drive-Up Access • Secure Facility

Automatic Entry Gate for 24/7/365 Access

Temperature-Controlled Units

Locally Owned and Operated

KeyStorage1.com

Motorcycle & Auto Storage with electricity for battery tendering

RV, Camper & Boat Storage • Online space selection & account setup

508-278-3846 | info@keystorage1.com

50 DEPOT STREET, UXBRIDGE, MA

Hardwood flooring is a

sought-after commodity. Data

from the National Association

of Realtors indicates that 54 percent

of home buyers are willing

to pay more for hardwood floors.

In fact, NAR figures indicate that

28 percent of buyers between

the ages of 35 and 54 consider

hardwood floors "very important"

when looking for a home.

Homeowners who are considering

selling their homes, or those

who simply want to upgrade

their existing flooring, may want

to consider installing hardwood

flooring. Though it's a project

best left to professionals, hardwood

flooring can be installed by

skilled DIYers. In such instances,

homeowners may want to keep

these dos and don'ts in mind.

DO hire a professional if you

have limited or no DIY flooring

experience. Hardwood flooring

installation is not generally a

project for novice DIYers. Hardwood

flooring projects may present

some common challenges,

but no two homes are the same.

So unless they have prior experience

installing floors in multiple

rooms or homes, homeowners

may save themselves time, trouble

and a significant amount of

money hiring a professional to do

the job.

DON'T ignore the subfloor.

New hardwoods won't erase the

problem of subfloors in poor

condition. According to the

home renovation experts at Bob-

Vila.com, squeaky floors could

be an indication that the subfloor

has begun to warp or twist.

Sinking floors are another indicator

of deteriorating subfloors.

Subfloors should be somewhat

level before new hardwoods are

installed, so DIYers should inspect

and address subfloor issues

before installing new flooring.

DO expose wood flooring to

the elements in your home prior

to installation. The home improvement

resource BuildDirect

recommends acclimating hardwoods

to the space where they

will be installed. Skipping this

important step could result in

gaps during the winter and cupping

over the summer. To acclimate

hardwoods, open the boxes

and spread them out for about

a week while running the air

conditioner or heater at normal

levels. When storing hardwoods

prior to installation, avoid keeping

them in potentially moist

areas like a basement.

DON'T skimp on tools. A

DIY hardwood flooring installation

might be less expensive than

hiring a professional, but homeowners

should resist any temptation

to increase those savings

further by purchasing less costly

tools or fewer tools than is necessary

to complete the job. Build-

Direct notes that DIYers will

need at least a miter saw, table

saw, cleat-nailer or stapler, finish

nailer, compressor, jamb saw,

chalk line, nail set, and tape measurer

when installing hardwood

floors. Purchase all necessary

tools and read product reviews to

ensure each tool is up to the task.

Wood floors can be awe-inspiring.

Some homeowners can

install such flooring on their own,

and the project can be much easier

if they learn as much about

installation as possible prior to

beginning the project.
---
October 2022 Fall Home Improvement Page 17 9

Signs your gutters are in need of repair

Fall is a great time to tackle

projects around the house. The

weather each fall allows homeowners

to make improvements

to their homes' exteriors without

worrying about extreme heat

or cold, while interior projects

like painting are made easier

because homeowners can open

the windows to allow for proper

ventilation.

Fall also marks a great time to

prepare for upcoming projects

that can make winter work that

much easier. For example, fall is

a great time to take stock of your

gutters so you can address any

issues before leaves begin to fall

or the first snowstorm touches

down. Compromised gutters

can contribute to water issues

in basements and adversely affect

a home's foundation if not

addressed immediately, so it behooves

homeowners to learn the

signs that gutters are in need of

repair or replacement.

• Gutters hanging off the home:

Gutters were once installed

predominantly with spikes.

However, many industry professionals

now install gutters

with hanger brackets. Why

the change? Spikes loosen

over time, leading to the gutters

hanging off the home.

That can contribute to serious

issues if left untreated. Gutters

hanging off the home need not

necessarily be replaced, but

rather secured to the home,

ideally with hanger brackets

instead of spikes. Brackets

hook into the front of the

gutter and are then screwed

into the fascia of a home. A

professional who specializes in

gutter repair can perform this

task relatively quickly, and it's

an inexpensive yet highly effective

solution.

• Gutter separation: Gutters

that are no longer fastened

together can leak and contribute

to issues that affect

the home's foundation, siding

and appearance. Clogs and

the accumulation of debris

can cause gutters to separate

because they are not designed

to hold too much weight. Replacement

of separated gutters

may or may not be necessary

depending on how big

the problem is and the condition

of the existing gutters. If

replacement is not necessary,

separated gutters may be remedied

by securing the joints,

another relatively simple and

inexpensive fix.

• Peeling exterior paint: Paint

that appears to be peeling off

of your home may indicate

that water is seeping over the

edge of the gutter closest to

your home. When that happens,

water is coming down

the side of the house, causing

the paint to peel. In such instances,

replacing the gutters

is often necessary.

• Basement flooding: Not all

signs of deteriorating gutters

are outside a home. Many a

homeowner has been flummoxed

by flooding in their

basements, and such flooding

can be caused by aging, ineffective

gutters. That's because

deteriorating gutters sometimes

allow water to leak near

the foundation of a home,

contributing to basement

flooding.

Fall is an ideal time to inspect

gutters and have any issues fixed

before leaves begin to fall or

harsh winter weather arrives.
---
Page 10 18 Fall Home Improvement October 2022

DON'T LET YOUR

FALL TO-DO LIST

YOU!

SPOOK YOU!

New Roof Installation

Fascia, Soffit, Trim

Seamless Gutters

Chimney Re-Leading

Window Installation

Skylight Installation

Siding

Let Robert Roofing

& Gutters help!

• Free Estimates

• Licensed & Insured

• Serving the South Shore

& Surrounding Areas

Robert Greene

857-247-8709

robertroofingandgutters.com

One Call Sends a Roofer, Not a Salesman
---
October 2022 Find Us On Facebook | Hopedale Town News Page 19

OCTOBER 2022 - HOPEDALE SENIOR CENTER ACTIVITIES (508)634-2208

Monday Tuesday Wednesday Thursday Friday

9:00 am Panera

10:00 am Low Impact

Exercise

12:30 pm BINGO

3

9:00 am Yoga with

Crystal

12:30 pm Mah-Jongg

1:00 pm Bridge

4

5

10:00 am Low Impact

Exercise

11:00 am Meditation

12:30 pm Literature

1:00 pm Cribbage

10:00 am Watercolor Class

10:00 am Move, Groove and

Sculpt

1:00 pm Tai Chi

6

9:00 am Re-boot Strength &

Balance

Sr. Center closes at 12:00 pm

7

CLOSED FOR

10

9:00 am Yoga with

Crystal

12:30 pm Mah-Jongg

1:00 pm Bridge

11

12

10:00 am Low Impact

Exercise

11:00 am Meditation

12:30 pm Literature

1:00 pm Cribbage

10:00 am Watercolor Class

10:00 am Move, Groove and

Sculpt

1:00 pm Tai Chi

4:00 pm - 6:00 pm Flu Clinic

13

9:00 am Re-boot Strength &

Balance

Sr. Center closes at 12:00 pm

14

17

9:00 am Panera

10:00 am Low Impact

Exercise

12:30 pm BINGO

1:00 pm Matinee Movie

Elvis

24

9:00 am Panera

10:00 am Low Impact

Exercise

12:30 pm BINGO

1:00 pm Medicare Open

Enrollment 2023

Seminar

9:00 am Yoga with

Crystal

12:30 pm Mah-Jongg

1:00 pm Bridge

9:00 am Yoga with

Crystal

12:30 pm Mah-Jongg

1:00 pm Bridge

18

25

19

9:30 am Nurse Clinic

10:00 am Low Impact

Exercise

11:00 am Meditation

12:30 pm Literature

1:00 pm Cribbage

26

10:00 am Low Impact

Exercise

11:00 am Meditation

12:30 pm Literature

1:00 pm Cribbage

20

10:00 am Watercolor Class

10:00 am Knitters' Group

10:00 am Move, Groove and

Sculpt

1:00 pm COA Board Meeting

1:00 pm Tai Chi

2:00 pm Tech Assistance

27

10:00 am Watercolor Class

10:00 am Move, Groove and

Sculpt

12:00 pm Lunch and

Halloween Party

1:00 pm Tai Chi

4:00 pm - 6:00 pm Flu Clinic

9:00 am Re-boot Strength &

Balance

Sr. Center closes at 12:00 pm

21

28

9:00 am Re-boot Strength &

Balance

Sr. Center closes at 12:00 pm

9:00 am Panera

10:00 am Low Impact

Exercise

12:30 pm BINGO

31

Senior Center notes

It's Medicare Open

Enrollment Time!

OCTOBER 15, - December

7, 2022

• Would you like to review

your current coverages?

• Are you a caregiver or an

individual trying to assist a family

member with their Medicare

coverage and associated supplemental

plan options?

• Are you getting ready to

transition to coverage under the

Medicare System?

• Are you wondering why it all

seems so complicated and why

there are so many choices?

We know Medicare and can

help!

Medicare Open Enrollment

Seminar

Monday Oct. 24, 2022, 1 pm

Q & A follows

Free of Charge

Call to sign-up: 508-634-2208

Program Open to Hopedale

Residents and Guests

Walk-ins Welcome

Refreshments

Hopedale Sr. Center - Inside

the Community House

Honoring Hopedale

Veterans

The Hopedale Sr. Center

and The Hopedale Community

House will once again place signs

on the lawn of the Community

House honoring living and deceased

Hopedale Veterans . We

have all the signs from prior

years. Please call to confirm that

we have your prior years' sign.

There is a firm deadline for

DOGGIE DAYCARE • LUXURY BOARDING • TRAINING

• Pet Spa Services, Behavior Consults & Training available

• Doggie Daycare where your furry kids can relax & have fun

• Luxury Modern Dog Boarding at our Doggie Chalet

The P.A.W.S.

Canine Behavior School

Voted Best of the Best in All of MetroWest!

BEST PET SERVICE 2019 & 2020 & 2021

CALL or Email TODAY!

508-478-6390

Family@pawsbedandbiscuit.com

new signs which is 10/21/22.

The lawn signs will be displayed

VETERINARIAN

RECOMMENDED

SENIOR CENTER

continued on page 21

www.PawsBedandBiscuit.com I 97 Millville Rd., Mendon I 508-478-6390
---
Page 20 Hopedale Local Town Pages | www.hopedaletownnews.com October 2022

World-Class Eyecare and Cataract Surgery Closer to Home

By: Roger M. Kaldawy, M.D.

Milford Franklin Eye Center

Cataract surgery is by far

the most common surgery performed

in the United States.

With advanced technology and

if you choose an experienced

and highly skilled surgeon, modern

cataract surgery should be

a rather quick outpatient and a

minimal risk procedure. If you

are considering cataract surgery,

your expectations should not only

be to improve your vision, reduce

glare at night, see more vivid colors

and improve your day to day

activities, but you should also be

given an opportunity to reduce

your dependence on glasses or

contacts and in many cases eliminate

this need. Your expectations

should also be to have your

surgery by a world-class surgeon

close to where you live and not

be told to travel hours for testing

Living Healthy

and surgery. Many choices exist

on where to have the surgery and

by whom. Here are the specific

questions to ask when it's time to

have the surgery:

1. Why are you referring me to

this surgeon? Your optometrist

may ask you to travel

miles and hours away from

home to have your surgery

with a particular surgeon

of their choice. When you

have experienced surgeons

within minutes from where

you live and when those

top-notch ethical surgeons

with excellent nationwide

reputation will perform

your surgery in a state-ofthe-art

surgery center closer

to home. Ask your provider

why they want you to travel

hours and miles away.

Unfortunately, if you dig

enough, you will find the

only reason for this remote

referral is financial and

business-related interest

your provider has with the

far-away surgeon. Beware

referral bias. In our center,

100% of the surgeries are

performed in a state-of-theart

facility in Milford. Very

close to home. Your interest

comes first.

2. What is my cost? Did you

know that when your optometrist

refers you to a

surgeon who will perform

your surgery at a hospital

your insurance deductible

and co-insurance will be

higher at a hospital? If this

is happening to you, we are

available for a second opinion!

All our surgeries are

performed at an ambulatory

surgery center in Milford

with potential cost savings

to you.

MILFORD - FRANKLIN

EYE CENTER

Roger M. Kaldawy, M.D. John F. Hatch, M.D. Bryan Hong, M.D.

Caroline Perriello Consigli, O.D.

Optical

Shop

On-Site

Donald L. Conn, O.D.

Dr. Mai-Khuyen Nguyen, O.D.

Michael R. Adams, O.D.

Saturday &

After Hours

Available

World-Class Eye Care & Surgery in Milford

New Patients Receive a Free Pair of Select Glasses

FRANKLIN OFFICE

750 Union St.

508-528-3344

SMILEFORVISION.COM

MILFORD OFFICE

160 South Main St.

508-473-7939

MILLIS OFFICE

730 Main St.

508-528-3344

Dr. Purvi Patel, O.D.

SURGERY CENTER MILFORD

45 West St.

508-381-6040

3. What type of anesthesia am

I going to get? With modern

cataract surgery, most

surgeries should be completed

under topical anesthesia.

This means that the

surgery eye becomes numb

with drops. No need for

injections or shots around

or behind your eye. No

shots will reduce the risk of

bleeding and serious complications

from the shots.

Ask about the techniques of

the surgeon you are being

ask to travel to see. In our

center, 100% of the surgeries

are performed under

topical simple anesthesia.

4. What are the risks? One of

the most dreaded risks of

cataract surgery is accidental

damage to the posterior

capsule, which is the back

wall of the bag holding your

lens. Ask about the complication

rate of the surgeon

you are being asked to travel

to. In our center this rate

is close to zero percent.

5. What is the rate of infections

in your center? Another

potentially devastating

risk of cataract surgery

is an infection inside the eye

called "endophthalmitis".

Ask the complication rate

of the surgeon you are being

asked to travel to. In our

center this rate is close to

zero percent.

6. What type of technology

is available at your surgery

facility? Different centers

have different equipment

and resources. For instance,

Massachusetts has only few

centers offering laser-assisted

bladeless cataract surgery.

This should be an option

if you want to reduce

dependence on glasses and

treat low grades of astigmatism

at the same time as

your cataract surgery. Our

center was among the first

in the State and New England

to offer this technology.

Did you know that many

hospitals and other centers

do not offer laser-assisted

bladeless cataract surgery?

We do!

7. What type of implant am I

going to get? Different lens

implants can be used during

cataract surgery with different

materials, quality and

ability to reduce your need

for glasses. Ask your referring

provider about his/her

surgeon choice of implants.

Our center was the first in

the greater Boston area to

offer the new diffractive and

extended-focus implants.

With those implants you

can see clearly at distance,

close and intermediate like

your phone and computer

screen with little or no dependance

on glasses.

8. Will my need to wear glasses

be reduced? Cataract

surgery is a wonderful opportunity

to limit or eliminate

your need for glasses.

As the surgeon removes the

cataract, there is an opportunity

to replace the cloudy

lens with a special high-tech

implant able to achieve

this goal. Ask your referring

provider about his/her

surgeon of choice ability to

achieve those goals. Our

center has many happy and

glasses free patients.

9. Will I have stitches? It is

ideal to eliminate the need

for stitches such as the surgery

is a no-stitch surgery.

Placing a stitch can be complicated

by stitch induced

astigmatism, a foreign body

sensation and a broken and

irritating stitch. Ask your

EYES

continued on page 21
---
October 2022 Find Us On Facebook | Hopedale Town News Page 21

SENIOR CENTER

continued from page 19

starting in November. Please call

(508)634-2208 with any questions.

Drive our van!

The Hopedale Sr. Center

is looking for an experienced

driver for our 8 passenger van.

The schedule is as needed, on

Tuesdays and Thursdays for approximately

4 hours each day.

All driving is to local area towns.

A paid train-ing in general operation

and CPR is required

through the MWRTA (MetroWest

Regional Transit Authority).

If you or anyone you know

would like to help the Sr. Center

continue this valued service,

please contact Carole Mullen at

(508)634-2208.

Meditation

Program for Stress Reduction

Instructor Faith Kennedy, will

lead a series of four (4) classes focusing

on meditation basics for

stress reduction.

Thursdays - 11:30 am - 12:30 pm

August 11 and August 25

September 1 and September 8

$20.00 for the series. Sign-up is

required.

Call the Sr. Center at 508-

634-2208.

Free Anxiety and Stress

Reduction Classes

The Senior Center is offering

free classes that combine Yoga

and meditation.

Anxiety Management classes

will teach you easy and fun ways

to help you feel better and look at

situations in new ways.

There are six sessions that are

a little over an hour each. The

classes will explain what anxiety

is, how it affects your thoughts

and body and how anxiety affects

the ways you relate to other

people.

The dates of the classes will

be determined. At least 12 participants

are needed to hold

classes. This is a continuation of

the posting from the April 2022

newsletter. Call the Senior Center

for sign-up at 508-634-2208.

Do You Need Help Paying

for Prescription Drugs?

Each year thousands of Medicare

beneficiaries reach a gap

in their Medi-care prescription

drug plan, often referred to as the

"donut hole."

If you reach that gap, you will

see your prescription drug costs

increase dramatically! Don't let

this happen to you. Prescription

Advantage can help.

Prescription Advantage is a

state-sponsored program that

supplements your Medicare drug

plan to fill the gap.

For more information about

Prescription Advantage, call the

Sr. Center at 508-634-2208 or go

to prescriptionadvantagema.org.

Knitters' Group

Meets at the Senior Center on

the 3rd Thursday of each month

at 10 a.m.

Bring a bag lunch and we will

provide dessert. All levels of knitters

and crocheters are welcome.

Our group is very welcoming

and eager to help new knitters.

We have loads of free yarn and

beautiful patterns to share. We

donate all items we make to local

charities. Quilters and sewers

welcome too!

Come play with us!

Mah-Jongg, Tuesdays 12:30

p.m.

Bridge, Mondays, 9 a.m. &

Tuesdays, 12:30 p.m.

Cribbage, Wednesdays, 1 p.m.

Local Town Pages Is

Looking for Writers!

Our Town Publishing is currently seeking freelance

writers local to the Metrowest area to cover stories for

our nine publications which cover the towns of Ashland,

Bellingham, Franklin, Holliston, Hopedale, Natick,

Norfolk, Norwood, Medway, Millis, and Wrentham.

If you're interested, please send a resume and two

writing samples to editor@franklintownnews.com.

EYES

continued from page 20

referring provider if his/

her surgeon of choice is

still using stitches. 100% of

our cataract procedures are

stich-free.

10. What will be my vision on

day 1 after the surgery?

One of the measurements

defining quality of outcomes

after cataract surgery

is the quality of vision on

day 1 after the surgery. Surgeons

should strive to make

the vision correct to as close

to best as possible on day 1.

Ask your referring provider

about his/her surgeon of

choice ability to achieve this

outcome. Our center has

many patients with happy

20/20 vision on day 1 after

cataract surgery.

Cataract surgery is all about

better precision, more safety

and excellent outcomes. At Milford

Franklin Eye Center, Dr.

Kaldawy is proud to have been

the first surgeon in the area and

among the first in Massachusetts

to offer bladeless laser assisted

cataract surgery and the first surgeon

in the greater Boston area

to implant the PanOptix and

Vivity lens implants. We offer

bladeless laser cataract surgery.

We implant high quality premium

lenses, with correction for

distance, near and everything in

between. Many cases of astigmatism

are no longer a problem.

Our percentage of posterior capsule

complications and infections

is one of the lowest in the Nation.

No more need to travel hours for

your cataract surgery! You do not

even have to travel to Attleboro!

We operate in a state-of-the-art

surgery center in Milford offering

bladeless laser cataract surgery.

Our surgery center passed certification

and accreditation by the

most rigorous State and National

accreditation agencies. 100%

of the surgeries are performed

under topical anesthesia, so only

drops, no need for shots and no

need for stitches. Brand new gorgeous

office in Franklin, a second

location in Milford and a third in

Millis. Over 30 thousand procedures

performed and 8 providers

with your interest in mind offering

the best cost-efficient surgical

care in an ambulatory surgery

center closer to home.

For more details, see our ad on

page 20.

Sponsored articles are submitted by

our advertisers. The advertiser is solely

responsible for the content of this article.

John C. Park, DMD

Cosmetic & Family Dentistry

Relaxed, Friendly Atmosphere

u Cleaning & Exams

u Fillings

u Invisalign ®

u Teeth Whitening

u Bridges

u One-Day Crowns

u Children Welcome

508-473-6500

parkplacedentalma.com

54 Hopedale St., Suite 8, Hopedale

Welcoming

NEW

Patients

Additional location in Hopkinton – HopkintonDMD.com
---
Page 22 Hopedale Local Town Pages | www.hopedaletownnews.com October 2022

Sports

Young Field Hockey Team Looking To Make Some Noise

By Christopher Tremblay

Staff Sports Writer

Coach Shelly Hynes is entering

her third year at the helm of

the Hopedale field hockey team

and although the squad has only

one senior, the Blue Raiders are

looking to do some damage in

the Dual Valley Conference.

"We graduated six seniors,

4 whom were staters, and have

only one senior on this year's

team," Hynes said. "There is no

one superstar; in order for our

team to succeed all 15 girls are

going to have to not only work

together, but trust and learn from

each other."

Defender, most likely, Ari Kotopoulos

is Hopedale's one and

only senior this fall. In addition

to being one of the four quadcaptains,

Hynes is penciling the

senior in on defense, although no

one has actually locked up anything

as of yet as tryouts were

still in progress at the time of this

writing. Kotopoulos has been

with the varsity squad since her

sophomore campaign and is a

very solid defender who should

bring leadership to the backfield.

The three other captains are

juniors Lizzie Brytowski, the

team's starting goalie since her

freshman year; Emma Gosselin,

a center-midfielder who has

been playing on the varsity since

eighth grade. She is also probably

the strongest and most talented

individual on the field for

Hopedale. She, like the final captain,

Alyssa MacNeil, play field

hockey for club team Premier.

MacNeil has graced the varsity

Orthopedic Surgeon

Accepting New Patients

We are proud to welcome our new orthopedic surgeon,

Brendan Kiernan, MD, to Milford Regional Physician Group.

Dr. Kiernan is a Massachusetts native and comes to MRPG

from University of California-Davis, where he completed a

fellowship in adult joint reconstruction.

Earning his medical degree from Georgetown University

School of Medicine, Dr. Kiernan completed his orthopedic

surgery residency at UMass Memorial.

Dr. Kiernan looks forward to taking care of patients with a

variety of hip and knee problems (such as arthritis) and other

joint conditions. His practice focuses on partial and total

knee and hip replacement including revision procedures.

In addition, Dr. Kiernan specializes in a direct anterior

approach to joint reconstruction, resulting in decreased

post-operative pain and faster recovery.

For an appointment,

please call 508-478-7135

Brendan Kiernan, MD

98 Prospect Street • Milford, MA

508-478-7135 • milfordregionalphysicians.org

Member of the Milford Regional Healthcare System

team since her freshman year

playing forward and has aspirations

of continuing to play field

hockey in college.

Hynes is looking for her captains

to lead by example both on

and off the field, while being an

extension of the coaching staff

in terms of communication. She

is also hoping that they become

role models and support the

younger players.

Other returners to the field

this fall will be junior forwards

Abbie Aldrich and Alexis Abbruzzese.

Aldrich has been developing

nicely according to the coach,

and Abbruzzese, who was not a

starter last year but did see a lot

of action, should find herself in a

starting role for the Blue Raiders.

The coach is hoping that April

Dresseier, another junior, will

see more time on defense this fall

and develop into that role.

As freshmen last fall playing

in their first season, Hopedale

will have now sophomores Emily

Frohn in the midfield and Leah

Hodgdon playing defense. Hynes

is hoping both take a step forward

this year.

Another athlete with experience

will be transfer student

Victoria Miranda. Coming over

FIELD HOCKEY

continued on page 23
---
October 2022 Find Us On Facebook | Hopedale Town News Page 23

FIELD HOCKEY

continued from page 22

from Blackstone Millville, she

was quite a surprise for Hynes.

"From what she has told me,

she plays midfield and forward,"

the Hopedale Coach said. "Most

likely we'll use her in the midfield

as that is where she is needed. I

have only seen her play a few

days, but I have seen that she is

a hard worker and has a great attitude."

Rounding out the 2022 team

will be sophomore Olivia Mc-

Govern, a defender and midfielder

who played on the JV

team last fall and eighth-graders

Alexis Carroll (forward) and

Layla Huntley (defense). The

field hockey coach noted that

both girls played JV and are

good athletes and will be much

better served on the varsity

team where they can continue

to learn.

hoping that the girls can pick up

some wins earlier in the season

this year and in order to do that

the team is going to need to support

one another while playing

their roles.

If the Blue Raiders play to

their potential and can stay

close to their ranked opponents

this fall with the MIAA's power

rankings, they should once again

be able to advance into the tournament.

Recent Home Sales

Date Hopedale Amount

09/16/2022 5 Daniels Street $492,500

09/15/2022 3 Jackson Way $679,900

09/15/2022 79 Dutcher Street $361,000

09/06/2022 32 Westcott Road $510,000

09/01/2022 5 Dennett Street $421,000

08/30/2022 1 Fieldstone Way $495,000

08/29/2022 256 S Main Street, A $365,000

08/29/2022 1 Hazel Street $480,000

08/26/2022 27 Northrop Street $589,000

Source: www.zillow.com / Compiled by Local Town Pages

5 Dennett Street in Hopedale recently sold for $421,000

Image credit: www.zillow.com

Hopedale will also have two

other juniors, both who saw

junior varsity action last year,

move up to the top squad. Defenders

Mia Terenzi and Sarah

Hunt will patrol the defense for

the Blue Raiders and according

to their coach both have good

attitudes, while developing their

skills so they belong on the varsity

team. Hynes also noted that

both girls understand their roles

and playing time.

Although the season had yet

to begin at press time, Hynes is

looking to be competitive once

again in addition to placing at

the top of the DVC, earning

themselves a spot in the post

season.

Last fall Hopedale started off

relatively slow until they found

their groove and ended up finishing

9-7-2 to earn themselves a

number 18 seed in the Division

4 State Championship. Hynes is

The Blue Raiders, who play

their home games on grass, have

five turf games scheduled this

season which, according to the

coach, is great for the team but

it actually puts them at a disadvantage

having to play a much

faster game. Nonetheless, she

feels the squad will be successful

this fall.

Jack Broderick

Realtor, ABR

Cell: 774-248-4787

Office: 508-478-7286

Fax: 508-478-0664

jbroderickhomes@comcast.net

jbroderick@afonsore.com

www.afonsorealestate.com

Looking to

advertise in our

Real Estate Corner?

Contact

Susanne Odell Farber

at 508-954-8148

or by email at

sue@sodellconsult.com
---
Page 24 Hopedale Local Town Pages | www.hopedaletownnews.com October 2022

Reach more than

87,000 homes with

our annual

Holiday

Guide

This holiday season, showcase your business in our

Holiday Guide. Drive shoppers to your door with

great gift ideas, catering options and everything to

make the holidays joyful and bright.

Coming November 2022

Space is limited,

call today!

Reserve your space today by contacting

Susanne Odell Farber at 508-954-8148 or by email

at sue@sodellconsult.com

localtownpages

Ashland | Bellingham | Franklin | Holliston | Hopedale

Medway/Millis | Natick | Norfolk/Wrentham | Norwood