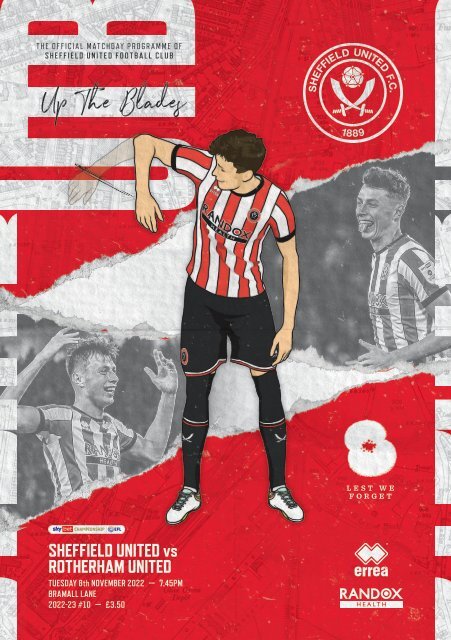 Sheffield United vs Rotherham United
UTB | Official Matchday Programme of Sheffield United | Issue 10 Sheffield United vs Rotherham United | Sky Bet Championship Tuesday 8th November, 2022 | KO 7.45pm | Bramall Lane
UTB | Official Matchday Programme of Sheffield United | Issue 10
Sheffield United vs Rotherham United | Sky Bet Championship
Tuesday 8th November, 2022 | KO 7.45pm | Bramall Lane
SHOW MORE
SHOW LESS
Create successful ePaper yourself
Turn your PDF publications into a flip-book with our unique Google optimized e-Paper software.
THE OFFICIAL MATCHDAY PROGRAMME OF

SHEFFIELD UNITED FOOTBALL CLUB

l e s t w e

f o r g e t

SHEFFIELD UNITED vs

ROTHERHAM UNITED

TUESDAY 8th NOVEMBER 2022 — 7.45PM

BRAMALL LANE

2022-23 #10 — £3.50
---
Even the sharpest blades need testing.

Cover all bases with

our Full Body health

checks capable of

reporting on over 21

key health areas such

as heart, hormonal and

thyroid health

Choose from 8

at-home test kits

available to

order online at

randoxhealth.com

Personalised health

plan explaining results

and with advice from

our team of health

scientists

USE CODE RDX1889 AT CHECKOUT FOR 10% OFF

SCAN HERE

TO BOOK
---
UTB 03

CONTACT US

Main Switchboard

0114 253 7200

Email

info@sufc.co.uk

Website

www.sufc.co.uk

twitter.com/sheffieldunited

facebook.com/

sheffieldunited

instagram.com/

sheffieldunited

youtube.com/

sheffieldunited

DIRECTORY

CHAIRMAN

Yusuf Giansiracusa

BOARD OF DIRECTORS

Princess Reem Bint

Abdullah Al Saud

Abdullah Alghamdi

CHIEF EXECUTIVE OFFICER

Stephen Bettis

VICE PRESIDENTS

Graham Moore MBE

Martin Green

Darren Baker

Mark Ross

Steve Naylor

BLADES AMBASSADOR

Tony Currie

SUPPORTERS'

LIAISON OFFICER

Jon Helliwell

jon.helliwell@sufc.co.uk

UTB

PROGRAMME TEAM

Editor: Matthew Young

Photography by:

Sport Image, Shutterstock

Produced by:

Ignition Sports Media

Design: Alex Guildford

Printed by: S&G Group

Cover Illustration:

Nick Bianco

The views expressed by

individual contributors are

not necessarily the views of

Sheffield United FC or the Editor

SHEFFIELD UNITED vs

ROTHERHAM UNITED

KEY FEATURES…

10

27

43

83

We check in with Sander Berge as he explains

he can't wait to hear the Bramall Lane buzz again

as he continues his recovery from injury.

We welcome charity partners Weston Park who join

us at Bramall Lane today for their Takeover Day.

Les Payne looks back over the career of

former boss Reg Freeman who played a major

role here and at our visitors Rotherham.

This week Ollie Norwood is next up to

take part in the Favourites Q&A.

SHEFFIELD UNITED vs ROTHERHAM UNITED
---
04 UTB

SHEFFIELD UNITED vs ROTHERHAM UNITED
---
UTB 05

Paul Heckingbot tom

MANAGER'S NOTES

It has been pleasing to see

everyone's hard work being

rewarded recently.

Interestingly, or coincidentally, our return

to winning form has been whilst the live

TV cameras have been on us. Three wins

in seven days has, I hope, highlighted that

we are a team that has to be respected

and are capable of winning matches in

different ways. At West Brom we deserved

it, at Bristol City we dug in and on Saturday

we were impressive in ending Burnley's

unbeaten run – a fantastic team effort

which, it seemed, lifted Blades fans who

were inside Bramall Lane. The character

of the team showed and everyone was

understandably delighted at full-time.

We played our way back into the game

after a challenging start and the response

following Burnley's second goal set us

up to get on top in the second half. We

played how we wanted to, we worked

on our approach at the end of last week

and it would have been foolish not to take

into account where we would have an

advantage.

There was lots to be pleased with,

particularly in the second half, we were

adamant we didn't want Burnley to come

and have it their way and make it a game

they wanted, we wanted to make it about

how we want to play. Even though a few

things went against us, we went out and

showed belief to keep executing what we

wanted and did it extremely well.

We didn't rest and we were quickly

back thinking about tonight's game – the

work that goes on away from the lights by

everyone with a Blades badge on their

chest is extensive and is aimed at getting

the most out of what we've got. It's a quick

turn around and there's many points to

consider when we are talking about the

availability of players and we, like every

club, are careful with the information

we give out. We don't want to give the

opposition an advantage by knowing who

is or isn't available and it isn't a secret that

we've had one or two issues with injuries.

The on-going situation is something that is

talked about frequently and it is frustration

for all involved, but we will not use it as

an excuse. Recently, we've had one eye

on the World Cup break with the hope of

giving the players that need it a rest or

extra time to rehabilitate as we plan for a

busy December and festive period.

All of the above considered, we remain

competitive and there can be no question,

after the last couple of fixtures, that the

Lane is the place for entertainment and

despite not having the cameras to shine

in front of tonight, hopefully we can

continue impressing. This will be a good

test because Matt Taylor and his team will

make it difficult for us. Myself and Macca

were at Turf Moor on Wednesday where

we watched Rotherham leading against

Burnley until they went down to 10 men

and lost to a heart breaking 100th minute

goal. This South Yorkshire derby tonight

will be another big test for us. We have to

be prepared, teams will want to beat us

or stop us from playing our way, but our

aim remains to be strong, dominate the

ball where possible and entertain, that's

important with in excess of 27,000 home

supporters here on a midweek evening.

With it being our last home game for a

month, let's all enjoy it, we want and need

to keep collecting points in this tough,

tough division.

Hecky

SHEFFIELD UNITED vs ROTHERHAM UNITED
---
06 UTB

CIARAN WELCOMES COMPETITION

After recently

returning from the

sidelines, Ciaran

Clark is relishing the battle

for a starting place as

United's left side starts to

look strong again.

After a tough run on

the injury front, Ciaran's

return from the bench in

the recent win at Bristol

City has coincided with

returns for fellow left siders

Jack Robinson and Enda

Stevens who played major

roles in United's impressive

win over Burnley.

The high standards are

driving everyone forward

as United look to push

back up the table following

a sticky patch, with the

Newcastle loanee keen to

play his part now he is fit

and available once again.

He told SUTV: "It has

been good to be back on

the training field and to

get some minutes on the

pitch as well has been a

bonus. It's great to be back

in and pleased to be over

the injury.

"Everyone knew at the

start of the season, there

was always going to be

competition for places.

We've had a lot of injuries

but hopefully now we are

seeing a lot of the boys

come back and we'll see

PLAYER FOCUS

that competition and we'll

be in a strong position as

a team."

Whilst the World Cup

break will be seen as a

blessing for some, it has

come at a bad time for

the Republic of Ireland

international who is keen

to get back to playing

competitively again, in

a side which showed its

defensive mettle with clean

sheets against West Brom

and Bristol City recently.

He added: "It's arrived

just as I've managed to

get fit. But it is part of the

game, we all knew that

▲ Ciaran Clark returned from the sidelines for the win at Bristol City

there was going to be a

break at this point in the

season, so I think it's just

a case of focusing on the

games coming up and then

individually we'll look at

it and see where we are

at and see what fitness

we'll need.

"It's great to get clean

sheets, it gives you that

platform to then go on and

win games and over the

last few months the boys

have been brilliant and

that's one thing we want

to try and keep doing and

build on the clean sheets

we're getting."

SHEFFIELD UNITED vs ROTHERHAM UNITED
---
UTB 07

ANEL DELIGHTED TO BE A BLADE

Anel Ahmedhodžić

says the freedom

to play his game is

ensuring he is loving life at

Sheffield United as he

continues to develop in S2.

Since joining the club in

the summer from Malmo,

the Bosnian international

has impressed both

in defence and with

his contribution going

forward, as he quickly

settles into life at

Bramall Lane.

The 23-year-old netted

his fourth of the season

in the 5-2 victory over

league leaders Burnley and

pointed to the freedom to

express himself at Bramall

Lane as a huge factor

behind his enjoyment of

being a Blade.

He remarked: "The

freedom I get when we

play, it is amazing. The

only thing we have to do

here is the basics, which

is to work hard, win your

duels and work as a

team. After that, we are

allowed to be creative and

be yourself, I really like

that here.

"I'm happy. I was

gutted when my goal was

disallowed for offside

against Blackpool. Now

I am happy to be back on

the scoresheet."

PLAYER FOCUS

Anel is adamant his

move to the Steel City is

one of the 'best decisions'

he's made in his short

career and has highlighted

the contribution of Paul

Heckingbottom, the

staff and senior players

– most notably Chris

Basham – in his continued

improvement.

He said: "Coming

here is one of the best

decisions I have ever

made, I am thriving. It's a

good environment with

professional people here

and I am very thankful

for getting the chance to

prove myself.

"I think he's (Paul

Heckingbottom) great. If

I am not 100% in training or

games, I hear it. I respond

well to strong leadership

and he's showing that.

Strong leadership is what

a good Championship

side needs. The way he

has managed me, and the

group has been amazing.

I have no complaints.

"Bash has been very

helpful. He has got the

position perfect, and he

has helped me a lot. He's

a very good player and is

a great person. He helped

me integrate into the

club; he's been amazing.

He's always encouraging

in games and training;

I ask for advice and he's

helpful. He's a very good

person."

▲ Anel is happy to be a Blade

SHEFFIELD UNITED vs ROTHERHAM UNITED
---
08 UTB

errea.com

We stand for Clean sport.

Even for your skin.

Sport is the most beautiful thing in the world, and nothing must be allowed to pollute that beauty. That is why, besides developing

increasingly high-performance materials that have a low impact on the environment, we at Erreà are the first teamwear company in

Europe to have been awarded STANDARD 100 by OEKO-TEX ® certification. This certification sets extremely strict limits for

substances harmful to health, which is why our fabrics are highly safe in all conditions. With Erreà, sport and health run side by side.

SHEFFIELD UNITED vs ROTHERHAM UNITED
---
UTB 09

BLADES SHOWING CHARACTER – GEORGE

United wing-back

George Baldock

highlighted the

team's character to

bounce back from a

mini-slump to win the last

three Championship

fixtures.

After a blistering

start to the campaign, a

sticky patch after the last

international break saw

the Blades drop off the

pace slightly until wins

over West Bromwich

Albion, Bristol City and

leaders Burnley dragged

Paul Heckingbottom's

side back to the summit of

the table.

Greece international

George hailed the

determination of the team

to bounce back from some

recent disappointments

as the Championship

continues to be as

unpredictable as always

with the season closing in

on the World Cup break.

He said: "It's not easy

in this league, it is going

to be a slog, and you are

going to have patches

which we have just had,

but as long as we can

stay consistent with our

performances, then we'll

have a great chance.

We're doing okay at the

minute, we haven't got as

PLAYER FOCUS

many points as we would

have wanted, that's me

being honest, but we have

shown great character and

bounced back from a bit of

a difficult patch.

"You don't get promoted

at this stage, obviously

we want to be in there,

and want to be there all

season. Like I've said in

interviews before, we want

to be the hunted. We've

shown we can hunt other

teams down, but we want

to be at the top of the

table and that's our aim."

George played a

pivotal role in United's

impressive 5-2 win over

Burnley at the weekend,

where he expressed his

greatest admiration for

defender Jack Robinson

who recovered from an

error to net in the Blades'

emphatic win.

He added: "I thought

we applied ourselves

well and we really

showed what we are

about. I think it has been

coming, winning a game

at Bramall Lane, getting

the crowd on their feet

and scoring lots of goals.

Absolutely delighted for

the goalscorers, especially

Robbo, he was obviously

disappointed with the

error but that happens.

He's been brilliant aside

from that one error and

fully deserved his goal."

▲ Another impressive showing from

George in the win over Burnley

SHEFFIELD UNITED vs ROTHERHAM UNITED
---
UTB 11

SITTING DOWN WITH

SANDER Sander Berge

BERGE

The timing of the forthcoming World Cup

has divided the opinion of many and has

raised a few eyebrows, but one of United's

most influential performers, who is currently

absent through injury, is delighted it is just

around the corner.

Speaking exclusively to UTB, Sander Berge

revealed the showpiece event in Qatar can't come

soon enough for him personally because it will

mean second tier football is suspended for close

to four weeks meaning he isn't missing any crucial

Championship action.

And the good news doesn't end there for one of

the most popular figures in Paul Heckingbottom's

squad, with the imposing Norwegian international

in confident mood that he'll return to action sooner

rather than later following an issue picked up in the

fixture against QPR last month.

Sander is likely to be at the Lane this evening

for what promises to be an intriguing South

Yorkshire derby and understandably the midfielder

acknowledged he'd rather be in the Blades

engine room against the Millers, rather than sitting

in the stand.

His presence may have been missed on the

pitch, having not featured since early October, but

his contribution to the cause hasn't diminished as

he looks to keep the spirits high amongst those

in the treatment room, namely young duo Rhys

Norrington-Davies and Rhian Brewster.

SHEFFIELD UNITED vs ROTHERHAM UNITED
---
UTB 13

UTB: Firstly, how is your

rehabilitation going and is there

already an air of excitement

about when you might be able to

return to competitive action?

SB: "I'm getting better and

better now thankfully, and my

sole focus is on returning to

action as soon as possible. It is

always a blow and there is never

a good time to be out injured but

I'm getting stronger now and in

some ways the World Cup break

that is coming up is at an ideal

time for me because it means I'm

not missing so many games and

I'm hoping to be back to help the

lads as soon as possible. It was

frustrating and disappointing to

have picked up the injury, but

I always try and remain positive

about the situation and come into

work every day with the goal of

returning to help the team. I can

focus only on United with Norway

not in the World Cup so that has

helped in a sense."

"WE'VE STOOD TOGETHER

AS A GROUP, LIKE WE DID

TOWARDS THE END OF THE

LAST SEASON AND WE'RE

OVERCOMING THE ISSUES TO

STILL ENJOY A PROMISING

START TO THE SEASON"

UTB: Paul Heckingbottom

spoke about his feelings of the

challenge that caused you to

pick up the injury at the time, did

that add to your frustration?

SB: "It is an unfortunate part of

the game. The injury came in a

challenge when we were chasing

the game against QPR and not

only did we not get the penalty,

but we lost the game, and I left

the field with the injury too. We

probably should have had a

penalty and a point, but football,

particularly in this division is

decided on fine margins and

unfortunately, I was off balance

and the contact from the

challenge led to the problem."

UTB: How much of a united

effort has it been this season

so far this campaign, given the

number of players who have

been sidelined at different times?

SB: "It is not nice to see other

lads picking up injuries and we've

had a tough season and some

bad luck on that front so far. It

doesn't make it easier having

your team-mates around you

because like me they'd rather be

fit and in contention for selection,

giving the manager more options

to choose from. I've hated seeing

lads go down in recent games,

but whoever it is they will rehab

properly here and get the full

support of Hecky and his staff,

there is always a good vibe in the

dressing room even when some

lads have suffered bad injuries.

We've stood together as a group,

like we did towards the end of the

last season and we're overcoming

the issues to still enjoy a

promising start to the season

so everyone, the coaching staff,

medical and players are united

and making the best of what we

have had to deal with. The club is

in a good place under Hecky and

everyone on and off the pitch has

played a part and done their job."

SHEFFIELD UNITED vs ROTHERHAM UNITED
---
14 UTB

UTB: Do you feel the break will

benefit the team in the long-term

and how important is it to ensure

a positive end to the current run

of fixtures this week?

SB: "The break will do

everyone at the club good for

sure. We know how strong we

are, so if we can keep adding

the points as the players return

to the squad then it will put us

into a very good position for

when the action resumes in

December. We know we can

beat anyone in this division, but

we also respect that anyone

can beat anyone else and we've

shown great consistency for long

periods since Hecky took charge

last season. We've obviously hit

some bumps recently but we've

bounced back and having shown

the potential last season we've

really kicked on this time, and if

we keep pushing and believing

then hopefully we'll get even

better in the second part of the

season."

UTB: Has the aforementioned

injury enabled you to have any

free time to try a new hobby

perhaps, or is it about trying to

reset the body both mentally

and physically?

SB: "When I return to the pitch,

I aim to return even stronger

physically and I'll be hungry to

start contributing quickly and

trying to help the team win

promotion this season, that is

the aim of the group and we

all know where we want to get

to. I will comeback recharged

and refreshed, I'm only 24 and

this setback is part of being

a professional athlete but

injuries can give you a different

perspective on things because

you have time to reflect. I look

a lot into the game of football,

it is my life and passion, it is my

career and I love it the most. I'm

not a person who gets stressed

in these situations, I'm just trying

to relax away from the club whilst

with family and friends. The

key for me is to remain positive

because it will only aid my

rehab."

UTB: Are you a good or bad

watcher of games?

SB: "It depends really, but

nothing can ever beat playing.

I enjoy coming down to Bramall

Lane and watching the boys, the

Norwich game was a fantastic

atmosphere and you see so

much more of the game when

you are at the stadium. All the

injured lads come to the home

matches so you sit and watch

it with them around you

and obviously that makes

everyone feel part of the

group because you are so

close to the action sat

behind the dugouts,

but you just want to

be out there playing.

I personally watch

the games much

calmer at home

on the television,

I certainly enjoyed

the recent

televised away

wins at West

Brom and

Bristol City,

although the

SHEFFIELD UNITED vs ROTHERHAM UNITED
---
UTB 15

conditions at Ashton Gate looked

really tough. I know I'm injured

and can't fight with the boys, but

it is what it is and I'm counting

down the games and the days

until I'm back out there having

memorable moments with my

team-mates. Hopefully we've

regained some momentum now

and I honestly believe we are

going to get stronger like we did

last year as the season enters the

new year."

UTB: In recent games, both

Rhys Norrington-Davies and

Rhian Brewster have been dealt

significant injury blows, have

you managed to offer them any

advice?

SB: "Yes, firstly I'm gutted for

the young lads, but I've managed

to speak to both Rhys and Rhian.

It is a big blow personally for

Rhys to miss the World Cup

with Wales, he has been in and

around their squad for a while

SHEFFIELD UNITED vs ROTHERHAM UNITED
---
16 UTB

SHEFFIELD UNITED vs ROTHERHAM UNITED
---
UTB 17

now and has been one of our

most consistent performers

this season having built on

an encouraging first season

around the first-team last year.

For Rhian it is the second injury

he has suffered in 2022 and it

will be tough to accept now but

they both must remain positive

and upbeat because everyone

around them, from family and

friends to the lads and the staff

at the club, are right behind

them because we're all in this

together."

UTB: Back to you, just how

excited are you right now about

the prospect of pulling on that

number 8 shirt again in the

coming weeks?

SB: "It is all I'm thinking about

every day, how quickly can

I realistically get back out there

and into the action. I just want

to be out there playing a big

part again and I do whatever

I can every day to push myself

forward and meet the goals in my

rehab. I want to make a positive

impact from the first moment

I return because when you are

on the sidelines and not able

to entertain the supporters it

makes you realise how lucky you

are to be a footballer and how

much happiness you can bring

those who follow the club you

are representing. I'll never take

anything for granted in my life

because you know it can be

taken away and from me.

I play every game like it

is a big game because

when you aren't playing

it is tough."

UTB: Finally, a word for the

fans who have always had your

back as a Blade. Have you

received plenty of well wishes in

recent weeks?

SB: "The fans have always

been right behind me and are

very much behind the manager

and the rest of the players

which is so important if you are

going to be successful together.

I still remember my debut at

Crystal Palace like it was only

yesterday and the reception

I received at the end of that

victory. The support here has

always been there through

thick and thin as they say and

it has been simply amazing so

I know in my own mind the fans

will always be here for me and

this team, but right now it is

about the team needing their

back heading into the break.

I want to give something back in

performances when I'm fit again

and that is my aim every day,

to get that bit closer. I come

off social media when I'm out

through injury because there is

a lot of good and bad on there

as we know, and I just want

to stay focused and positive

because I'll be back very soon."

"THE FANS HAVE ALWAYS

BEEN RIGHT BEHIND ME

AND ARE VERY MUCH

BEHIND THE MANAGER AND

THE REST OF THE PLAYERS

WHICH IS SO IMPORTANT

IF YOU ARE GOING TO BE

SUCCESSFUL TOGETHER"

SHEFFIELD UNITED vs ROTHERHAM UNITED
---
18 UTB

SHEFFIELD UNITED vs ROTHERHAM UNITED
---
UTB 19

25 YEARS OF UNITED'S

DIGITAL ARCHIVE

To commemorate 25 years since the

creation of the club's official digital

photo archive, UTB delves into the

folders to celebrate some of the lesser

known and quirky images from our

recent past.

SEASIDE SOCIAL…

Another from the Neil Warnock era here

as the Blades boss takes his United side

on a bonding trip to Scarborough.

This image was taken during the

2004-05 season, and you can see a

cameraman in the background as filming

continued on the now famous Warnock

documentary.

Here Michael Tonge prepares for his

attempt at skimming stones as the full

squad enjoy a day out on Scarborough's

south bay beach.

SHEFFIELD UNITED vs ROTHERHAM UNITED
---
20 UTB

SHEFFIELD UNITED vs ROTHERHAM UNITED
---
UTB 21

UNDER-21s UPDATE

United slipped to a first defeat

since the opening month of the

season following a 3-0 loss in the

South Yorkshire derby against Barnsley.

The Reds fielded a strong side with first

teamer Jasper Moon opening the scoring

after six minutes when his powerful effort

beat Dylan Wharton.

Experienced Barnsley stopper Jack

Walton was called into action to deny Jili

Buyabu on two occasions, with one effort

tipped onto the post.

Louie Marsh also struck a post for

United as Micky Collins's side tried to find

a way back into the contest.

Just before half time Will Hondermarck

headed in a second for Barnsley but

United kept at it when Marsh saw another

effort held by Walton.

With 15 minutes remaining Fabio Jalo

slotted in a third before Moon was sent off

late on for a second bookable offence.

TEAM (vs Barnsley): Wharton, Barratt (L. Williams

65), Buyabu (Gomis 77), Potter, Gordon, Freckleton,

Hampson, Maguire, Gaxha (Aston 65), Marsh,

Staniland. Unused: Hiddleston, Pitan.

AUG

SEP

OCT

NOV

DEC

JAN

DATE KO/F-A OPPOSITION VENUE/SCORER

TUE 9 u 2-0 READING McBURNIE, OSULA

MON 15 v 3-5 CHARLTON ATHLETIC SACHDEV, OSULA (2)

TUE 23 v 0-3 CARDIFF CITY –

TUE 30 u 2-0 QUEENS PARK RANGERS BROADBENT, MARSH

TUE 6 u 2-0 WATFORD PECK, MARSH

TUE 13 u 2-1 PETERBOROUGH UNITED BROADBENT, MARSH

WED 21 u 2-0 WIGAN ATHLETIC WILLIAMS 2

TUE 27 s 1-1 HULL CITY MARSH

MON 3 u 3-0 SHEFFIELD WEDNESDAY MARSH (2), BROOKS

TUE 11 u 3-0 COVENTRY CITY PECK, HAMPSON, WILLIAMS

MON 24 u 3-2 BURNLEY ARBLASTER, MARSH (2)

TUE 1 v 0-3 BARNSLEY –

FRI 4 s 0-0 BIRMINGHAM CITY –

MON 14 7PM CRYSTAL PALACE (PLC) BRAMALL LANE

MON 21 2PM BRISTOL CITY (PLC) BRAMALL LANE

FRI 25 2PM CREWE ALEXANDRA

LNER COMMUNITY

STADIUM, YORK

MON 28 3PM NEWCASTLE UNITED (PLC) BRAMALL LANE

MON 5 7PM NEWCASTLE UNITED (PLC) WHITLEY PARK

FRI 9 7PM CRYSTAL PALACE (PLC) COPERS COPE ROAD

MON 19 1PM BRISTOL CITY (PLC)

TUE 10 5PM WIGAN ATHLETIC

ROBINS HIGH

PERFORMANCE CENTRE

LNER COMMUNITY

STADIUM, YORK

MON 16 7PM HULL CITY NORTH FERRIBY FC

TUE 24 5PM COVENTRY CITY

LNER COMMUNITY

STADIUM, YORK

TUE 31 2PM BIRMINGHAM CITY BRAMALL LANE

MON 13 1PM CREWE ALEXANDRA ALEXANDRA PARK

FEB

MON 20 7PM SHEFFIELD WEDNESDAY BRAMALL LANE

TUE 28 1.30PM PETERBOROUGH UNITED IDVERDE TRAINING GROUND

MAR

FRI 3 1PM BARNSLEY OAKWELL

TUE 21 2PM BURNLEY BRAMALL LANE

TUE 4 1PM BRISTOL CITY ASHTON GATE

APR

TUE 18 1PM MILLWALL

LNER COMMUNITY

STADIUM, YORK

MON 24 2PM SWANSEA CITY LANDORE ACADEMY

MAY

TUE 2 2PM COLCHESTER UNITED BRAMALL LANE

FRI 5 1PM IPSWICH TOWN PORTMAN ROAD

▲ Jili Buyabu went close for United in defeat to Barnsley

HOME GAMES IN BOLD – PLC - PREMIER LEAGUE CUP

SHEFFIELD UNITED vs ROTHERHAM UNITED
---
22 UTB

SHEFFIELD UNITED vs ROTHERHAM UNITED
---
UTB 23

UNDER-18s UPDATE

United moved level on points with

leaders Barnsley after an

impressive 2-0 win away at

Peterborough United.

United made a good start and Ben

Drake and Kurtis Havenhand had both

gone close before the Blades were

awarded a penalty. Mekhi Haughton-

Parris was tripped inside the box and that

allowed Owen Hampson to step up and

send the goalkeeper the wrong way from

the penalty spot.

Just before the break it was 2-0 when

good work from Charlie Staniland saw him

play in Havenhand who fired beyond the

'keeper from just inside the area.

Havenhand came close to a second

when he struck the post just a minute later.

After the game, boss Paul Quinn said:

"It was a very good performance. We

got ourselves in front and then I thought

second half was what you need away from

home. Didn't take any risks, didn't give

them any opportunities, their only chance

came at the end in stoppage time."

TEAM (vs Peterborough): Yam, Clarke (Blacker 57),

Drake, Staniland, Pitan, Waldron, Cummings (Oluleye

68), Ly, Havenhand, Hampson, Haughton-Parris.

Unused: Hewitson, Trialist, Ciccarelli.

AUG

SEP

OCT

NOV

DEC

JAN

FEB

DATE KO/F-A OPPOSITION VENUE/SCORER

SAT 13 u 1-0 MILLWALL HAVENHAND

SAT 20 v 0-3 CHARLTON ATHLETIC –

SAT 27 u 2-0 READING BLACKER (2)

SAT 3 u 2-1 LEEDS UNITED (PLC) DICKINSON, BLACKER

SAT 17 s 0-0 COLCHESTER UNITED –

SAT 24 u 1-0 CREWE ALEXANDRA PITAN

SAT 1 v 1-3 WIGAN ATHLETIC DRAKE

SAT 8 v 1-2 CRYSTAL PALACE (PLC) HAMPSON

SAT 15 v 1-2 BARNSLEY WALDRON

SAT 22 u 5-1 BIRMINGHAM CITY

STANILAND, MIDWOOD,

HAMPSON, DICKINSON (2)

SAT 29 u 2-0 PETERBOROUGH UNITED HAMPSON, HAVENHAND

SAT 5 u 2-0 BRIGHTON (PLC) HAVENHAND, HAMPSON

FRI 18 3PM SHEFFIELD WEDNESDAY MIDDLEWOOD ROAD

SAT 26 12PM BURNLEY RANDOX HEALTH ACADEMY

SAT 3 11AM COVENTRY CITY RANDOX HEALTH ACADEMY

SAT 10 11AM HULL CITY BISHOP BURTON COLLEGE

SAT 7 11AM SHEFFIELD WEDNESDAY RANDOX HEALTH ACADEMY

SAT 14 12PM WIGAN ATHLETIC

SAT 21 12PM BURNLEY

CHRISTOPHER PARK

TRAINING GROUND

BARNFIELD

TRAINING CENTRE

SAT 28 11AM HULL CITY RANDOX HEALTH ACADEMY

SAT 18 11AM CREWE ALEXANDRA RANDOX HEALTH ACADEMY

SAT 25 11AM BARNSLEY RANDOX HEALTH ACADEMY

SAT 4 11AM COVENTRY CITY ALAN HIGGS CENTRE

MAR

SAT 11 11AM PETERBOROUGH UNITED RANDOX HEALTH ACADEMY

SAT 18 11.30AM IPSWICH TOWN

IPSWICH TOWN

TRAINING GROUND

SAT 25 11AM BRISTOL CITY ROBINS TRAINING CENTRE

SAT 1 11AM CARDIFF CITY RANDOX HEALTH ACADEMY

APR

SAT 15 11AM SWANSEA CITY

LANDORE

TRAINING GROUND

SAT 22 11AM WATFORD RANDOX HEALTH ACADEMY

SAT 29 11AM QUEENS PARK RANGERS QPR TRAINING GROUND

MAY

SAT 6 7PM BIRMINGHAM CITY ST ANDREW'S STADIUM

▲ Kurtis Havenhand on target in the win over Peterborough

HOME GAMES IN BOLD – PLC - PREMIER LEAGUE CUP

SHEFFIELD UNITED vs ROTHERHAM UNITED
---
24 UTB

IS THERE

A BETTER

WAY TO

BUY YOUR

NEXT CAR?

CAZOO

YEAH!

Buy or finance a car online and we'll deliver it to

your door with a 7-Day Money Back Guarantee.

SHEFFIELD UNITED vs ROTHERHAM UNITED
---
UTB 25

United suffered late heartbreak

after a 97th minute goal won the

game for Birmingham City at St.

Andrew's.

It was a match which was going so well

for Neil Redfearn's side, and despite losing

Rhema Lord-Mears to injury, United took

the lead just before the break when some

brilliant work from Alethea Paul down the

left saw her pick out Courtney Sweetman-

Kirk who found the top corner to make 1-0.

After the break United went close to

adding more goals through Georgia

Walters, whilst Bex Rayner and Sweetman-

Kirk saw efforts deflected wide.

With 20 minutes remaining, Birmingham

levelled when a header from Louise Quinn

looped over Bethan Davies to make it 1-1.

Both sides pushed for a winner, but just

when it looked as though it was going to

end in stalemate Quinn found the corner

with a powerful effort from range to win it

for the hosts.

TEAM (vs Birmingham): Davies, Newsham, Hartley,

Riglar, Sweetman-Kirk, Cusack, Rayner, Paul, Walters

(Enderby 71), Lord-Mears (Muir 38), Brown (E. Wilson

86). Unused: N. Wilson, Wilcock, Haywood, Docherty,

Francis-Jones, Miller.

AUG

SEP

OCT

NOV

DEC

JAN

FEB

DATE KO/F-A OPPOSITION VENUE/SCORER

SUN 21 v 0-1 BLACKBURN ROVERS –

SAT 27 u 2-0 DURHAM SWEETMAN-KIRK (2)

SUN 11 P-P SUNDERLAND

SUN 18 u 8-0 COVENTRY UNITED

EPPLETON COLLIERY

WELFARE GROUND

RIGLAR, LORD-MEARS, CUSACK (2),

NEWSHAM, ENDERBY (2), RAYNER

SUN 25 s 2-2 LEWES OG, NEWSHAM

SUN 2 s 3-3* DURHAM (CC) WALTERS (2), RAYNER

SUN 16 v 1-3 BRISTOL CITY ENDERBY

SUN 23 v 0-1 SOUTHAMPTON –

SUN 30 v 1-2 BIRMINGHAM CITY SWEETMAN-KIRK

SUN 6 P-P CRYSTAL PALACE HAYES LANE

SUN 20 2PM LONDON CITY LIONESSES BRAMALL LANE

SAT 26 5PM EVERTON (CC) TBC

SUN 4 2PM CHARLTON ATHLETIC THE OAKWOOD

WED 7 7.30PM ASTON VILLA (CC) TBC

SUN 18 12PM MANCHESTER UNITED LEIGH SPORTS VILLAGE

SUN 15 2PM BIRMINGHAM CITY BRAMALL LANE

SUN 22 2PM BLACKBURN ROVERS BRAMALL LANE

SUN 5 12PM DURHAM MAIDEN CASTLE

SUN 12 2PM CHARLTON ATHLETIC BRAMALL LANE

SUN 5 2PM LONDON CITY LIONESSES PRINCES PARK

MAR

SUN 12 2PM CRYSTAL PALACE BRAMALL LANE

SUN 26 12OM LEWES BRAMALL LANE

SUN 2 3PM BRISTOL CITY

ROBINS HIGH

PERFORMANCE CENTRE

APR

SUN 16 2PM COVENTRY UNITED BUTTS PARK ARENA

SUN 23 2PM SUNDERLAND BRAMALL LANE

SUN 30 2PM SOUTHAMPTON TESTWOOD STADIUM

▲ Courtney Sweetman-Kirk scores in the

defeat to Birmingham City

HOME GAMES IN BOLD CC CONTINENTAL CUP

**DURHAM WIN 5-4 ON PENALTIES

SHEFFIELD UNITED vs ROTHERHAM UNITED
---
26 UTB

L I V E N O W >>>>

NEXT-GEN

FANTASY

FOOTBALL

ULTIMATE CHAMPPIONS

HOME OF 10+ EFL CLUBS

NFT COLLECTIBLE

N O W >>>>>
---
28 UTB

We're a family

run business

undertaking both residential and commercial work.

BALFOUR CARPETS is a well-established

Carpet and Flooring business located in the Old Balfour Cinema

building on Staniforth Road, Darnall, Sheffield. Our large warehouse

is open to the public, whether you want to look at the huge stocks

available or browse the sample catalogues, you can be guaranteed

you'll find the perfect floor covering for you.

Supplier of:

• Carpets

• Cushion Floor

• Laminate

• Luxury Vinyl Tile (LVT)

• Commercial Flooring

• Artificial Grass

SHEFFIELD UNITED vs ROTHERHAM UNITED

505 Staniforth Road, Darnall, Sheffield S9 4RA

t 0114 244 8150

e sales@balfourcarpets.com

www.balfourcarpets.com
---
UTB 29

BLADES REMEMBER

Tonight's game against Rotherham United

marks our closest home game to Remembrance

Sunday, and as such the club have arranged an

appropriate tribute to mark the occasion.

We are delighted to welcome some Armed

Forces personnel who will be laying wreaths on

the pitch as a mark of respect before the game.

United welcome Corporal Jason Ashton (RAF),

Corporal Mike Hawksworth (Royal Air Force),

Captain David Hawksworth (British Army), Petty

Officer Mark Oxley of the Royal Navy and Major

Garry Hemmingway, who will all play a major part

in our commemorations. The Last Post will also be

played by bugler Glyn Beyington.

As always, we invite all supporters to join us to

help pay our respects at tonight's game.

Happy Birthdays

Happy Birthday

to Joey Hill

- 9 years old

today! Lots of

love from Mum,

Dad and sister

Amelia

Happy 9th

Birthday to our

football crazy

son Dexter

Thompson.

Love always

Mum, Dad,

Ellie and all the

family xXx

WELCOME HARRISON

Harrison Walch was diagnosed with cancer in

April 2019.

He spent over 300 nights in Sheffield

Children's Hospital and endured seven rounds of

chemotherapy and two bone marrow transplants.

His teenage years have been very tough.

However, on 9th September, Harrison turned

18 and his family and friends are celebrating and

wishing him a healthy and happy future.

Today, he joins us with his family as a guest of

our principal partner Randox Health, who have

donated their corporate box as a special birthday

treat. We hope that you enjoy your night with us

Harrison. From family friends, Mum, Dad and Daisy.

Happy 2nd Birthday to Scarlett

Young. Lots of love Mummy,

Daddy and all the family.

Happy Birthday to the best dad

and grandad. Lots of love Maria,

Dan, Daniel and Ben

SHEFFIELD UNITED vs ROTHERHAM UNITED
---
30 UTB

SHEFFIELD UNITED vs ROTHERHAM UNITED
---
UTB 31

CHAMPIONS

FOR MONTY

John MacPhail, key member of the 1981-

82 Fourth Division title-winning team,

had a terrible fall last year, one that has

left him in need of permanent care and

resulted in his home needing adapting.

Friends and family have been helping

to raise funds to make this happen

and Sheffield United would also like to

play its part and help to get John back

where he belongs.

The club is delighted to announce that

on 24th November, at the Platinum Suite

at Bramall Lane, teammates from that

memorable season, with some special

guests, will join Club Heritage Manager

John Garrett on stage for an evening with

the "Champions for Monty". Monty was the

nickname given to John at a number of

clubs he played for.

Tony Kenworthy, Colin Morris, Keith

Waugh and Steve Charles will be joined by

Paul Stancliffe and Club Ambassador Tony

Currie to take a look back at a campaign

that set the club back on course after the

disappointment of relegation and the part

that John played in its success.

The doors will open at 7pm when

the signature pie and peas meal will be

served (please specify of you require a

vegetarian option on booking or gluten

free) before our guests take the stage

at 8pm. The cost per head, including

the meal is just £30, and £20 of this

will also go directly to the fund to get

John back home.

Tickets can be purchased for the SUFC

Box Office from tickets.sufc.co.uk/en-GB/

categories/events

There will be a raffle on the night as well

as retro shirts from that season available.

As this evening has a very clear

purpose, no items will be allowed in the

room in the usual way, should you wish to

have something personalised there will

a charge of an additional £10 payable on

the night. This will allow three items to be

brought and autographed, all funds raised

will go to the John MacPhail fund.

SHEFFIELD UNITED vs ROTHERHAM UNITED
---
32 UTB

MATCH ACTION

2 - 2

OSBORN 62, Mc BURNIE 71

PUKKI 3, 16

SATURDAY 22ND OCTOBER — SKY BET CHAMPIONSHIP — VENUE: BRAMALL LANE

BLADES: DAVIES, BALDOCK, FLECK (DOYLE 57), BASHAM, BREWSTER

(McBURNIE 64), SHARP (KHADRA 80), EGAN, AHMEDHODZIC, NORWOOD,

OSBORN, Mc ATEE (NDIAYE 45). UNUSED: AMISSAH, ROBINSON, BUYABU.

Ben Osborn nets his first of the season

SHEFFIELD UNITED vs ROTHERHAM UNITED
---
UTB 33

Tommy Doyle shoots from distance

Ben enjoys netting in front of the Kop

A sixth of the season for United's number nine

Adam Davies saves Teemu Pukki's penalty

SHEFFIELD UNITED vs ROTHERHAM UNITED
---
GAME

CHANGER

footballfoundation.org.uk

AD-105x148-FF-Game Changer.indd 1 01/08/2019 09:21
---
UTB 35

John Garrett's

FABLES & FOLKLORE

Blades historian JOHN GARRETT'S long-running inimitable

account of following the Blades always provides a talking point

as UTB again extends a platform for his popular article...

All that Glitters...

I suppose that, down the years, all

football clubs need people

around them prepared to spend

money to ensure the continued day-today

running of a club.

For a start, a football club isn't cheap

to run at the best of times, and as the

demand for success increases, the amount

they cost to finance gets more and more.

Back in the day, those who sat in

positions of power at places like Bramall

Lane were quite often prominent local

businessmen who, by the standards of

the average supporter, had 'done well for

themselves'.

The man credited for being essentially

our founder, Charles Stokes, was

Sheffield's first proper dentist. Now, I am

not saying that dentists are poor – in fact,

I don't know what they earn, and that's the

tooth (sorry!).

One of the big figures in our early history

was director of football Tom Bott, and he

▲ Fatty' Foulkes' title winning medal – one of

many priceless exhibits in the museum

SHEFFIELD UNITED vs ROTHERHAM UNITED
---
36 UTB

earned his money as a local fishmonger,

and that's not a red herring. Taxi anyone?

Other examples include the Cattells

who had a thriving fruit and veg family

business, George Lawrence - the man who

put the roof on the Kop - owned Laurel

Blades, the Laver family were legendary

in timber and building supplies and in the

modern era for instance, Bernard Proctor

was the owner of Sheaf Motors and had

a farm at Holmsfield. These were local

people who had earned a few bob and

decided they wanted to play a part in the

club and its ambitions.

I was lucky to work under the great

Derek Dooley for many years and he along

with Bernard always had a calming effect

on proceedings that couldn't be ignored

and was of great value to the owners at

all times.

Many directors also saved the club on

numerous occasions down the years.

I have been on the staff when all were

told that there wasn't any money to pay

the wages for that month and that we

would see Mr. Laver one at a time to be

paid by him and by cheque, and that's

▲ United's Legends of the Lane museum has

been a popular addition to Bramall Lane

not that long ago in the grand scheme

of things. I also know many others have

stepped in on occasion to make sure that

we stayed afloat and solvent. I wouldn't

embarrass any of them by naming names,

but there are many who have played a

part in making sure that Sheffield United

is still here today, and they all deserve our

thanks for that.

Others play a part in different ways.

Every season ticket holder that pays

their money up front year in, year out, all

corporate members that dine in the suites

and elect to have that bit more comfort,

the box holders, the sponsors - I could

keep going on and on.

Then there are those who play a part

in preserving the club and its heritage in

other ways and often without knowing.

Our museum and its collection has been

recognised as one of the very best in

the game and, in the past, we have been

fortunate when times have been good to

be able to acquire pieces for the archive

to ensure that future generations can

understand what the legends of the Lane

have truly done to make the club what it

is today.

Again, directors have also put their

hands in their pockets and secured

important artifacts when made available

and put them on permanent loan with us

but, in times of struggle, there was no way

that the owners of the time would have

been inclined to sanction buying medals,

caps and shirts when staff hadn't seen a

pay rise in years and the club languished

in League One.

As curator of the collection, I didn't want

anything of value to Sheffield United to

just go on the open market and be sold

at auction. Once it has gone, it has gone

as I know only too well at this club and

from bitter experience, so I was fortunate

to identify several Blades who were

keen to save our past. One of them, Don

SHEFFIELD UNITED vs ROTHERHAM UNITED
---
UTB 37

▲ Inside the museum back in 2006-07

Dickinson, was the man who pretty much

saved our past for the future.

If you see a van around with the name

Dendale on the side, then you have seen

one of his vehicles. Civil engineer, builder

and above all Blade. 40 odd years of graft

meant that, for the right item, he was able

to help the club keep it in sight and on

display and make sure that it was there

to be put on show. This isn't bank rolling

a League title or FA Cup, but to Sheffield

United it's every bit as important, trust

me on that scale. To know where you

are going, you just have to know where

you have come from and how you did it.

Names are just that - names. The further

time goes, the more feint they get. It's

nearly 40 years since my dad died, and

I can still see him, just, but unless I see

a photograph of him or hold his referee

whistle, he gets further away with each

passing year. I make sure that when

I want to remind myself or my sons about

him, I have those things near to me just

to illustrate what he was all about, and

football memorabilia is just that.

I know who 'Fatty' Foulkes was and

what he did for us. I know what 'Nudger'

Needham looked like, where Tommy

Morren lived and how many appearances

Joe Shaw made for us, but the further

away it gets, the less it means to fans, and

that's why the preservation of such things

is so vital. This comes at a cost, and you

have to be in a position to be able to do

something about it, which is where Don

has come in.

It was some journey, and I was fortunate

to be able to curate it and also to liaise

between our patron and those that came

forward. Many a time, I felt just like Indiana

Jones when the lid of the chest is opened,

and the glittering treasures kept secret

within shone for the outside world for

the first time in years. I have found FA

Cup winning medals along with England

caps in shoe boxes, title winning medals

in kitchen draws, 'Fatty' Foulkes shirts

folded at the bottom of linen chests, and

each time we were able to make sure that

the collections stayed together and came

back to the city. Truly priceless.

The worry always was what would

happen, if and when, Don decided it was

time to pass the collection on to another

custodian, and I suppose that's always

SHEFFIELD UNITED vs ROTHERHAM UNITED
---
*Effective against enveloped viruses **vs representative Gram-negative bacterium. Always practise good hand hygiene.

Use biocides safely. Always read the label and product information before use. 99.9% OF BACTERIA
---
UTB 39

the problem when something of such

importance belongs, in essence, to a third

party. All I ever hoped was that, if and

when such a time came to pass, that we

would be in a better place and able to at

least attempt to keep some of it together

in the collection. My heart sunk when, as

myself and the missus were on the way

up to Northumberland last year for our

wedding anniversary, the dreaded call

came that he felt it was time to let go.

One of the best parts of the journey with

Don is that he has become a much-valued

friend, and that in itself, along with his

desire for it to stay where it was, at least

gave hope. I honestly thought that when

I approached Stephen Bettis about the

idea it would get laughed out of S2. Not

this time. The board asked me to appraise

the significance of Don's hoard and also

to justify item by item the importance

of everything to Sheffield United, its

supporters and, of course, football history

on the whole. No easy task, even for a

born salesman like me, or at least that's

what I thought.

"AS WE LOOK TO MOVE THE MUSEUM

INTO NEW PREMISES, THE LEGACY

THAT HAS NOW BEEN PRESERVED BY

PRINCE ABDULLAH AND THE BOARD,

ENSURES THE STORY OF UNITED CAN

BE TOLD TO ALL THOSE WHO WANT

TO LEARN ABOUT WHAT BUILT THE

BLADES FOR GENERATIONS TO COME"

It was only when I got into talking about

each piece, I realised what had been

created and what it meant to us. Our

lives before any of us were here let alone

supporting the club, the foundations of all

we are today, and that really is something

very special. To the board it wasn't about

the money, it was about doing the right

thing and preserving that culture and

▲ Chris Morgan helps with the opening of the museum in 2006

tradition. I was a tad emotional when the

green light was given to get all parties

around the table to agree how it could

happen, and that was some day.

Now I am delighted to tell all that its

ours, and that's something special. As

we look to move the museum into new

premises, the legacy that has now been

preserved by Prince Abdullah and the

board, ensures the story of United can be

told to all those who want to learn about

what built the Blades for generations

to come.

None of this would have been possible

without Don Dickinson having the passion

and love for the club and thankfully the

wherewithal to be able to back what

amounted to my advice and believe in

me, and it means that as a result of that

kindness and support, the owners have

been able to make it their gift to the fans

of Sheffield United by preserving our

heritage.

It's something that, after all the years

I have spent building the collection, I will

never forget.

SHEFFIELD UNITED vs ROTHERHAM UNITED
---
40 UTB

WHAT'S

THE STORY?

In every issue of UTB this season, our regular

contributor DAVE BURKINSHAW features a

Blades related photograph from his personal

archive and reveals the story behind it…

As the Blades entered the

1967-68 season, it was a

significant landmark in the club's

history with it being the 50th in the old

First Division.

Having finished 10th in the table the

previous season, there was no reason to

believe they could not at least emulate

this. There had been no new close season

signings with the club again proud of the

fact that the majority of team had been

produced via its own youth system.

In the event, the team made a stuttering

start to the season and had won only one

of their first six games when Arsenal visited

Bramall Lane on 9th September 1967.

The featured photograph was taken

during this game and shows Arsenal's

second goal scored by George Graham.

The Gunners ran out 4-2 winners to extend

the Blades' difficult start to the season.

This game had actually started well

for United when star striker Mick Jones

opened the scoring after 11 minutes. The

Gunners equalised three minutes later

through Colin Addison before the goal

featured in this photograph was scored in

the 23rd minute.

Arsenal extended their lead in the

second half through another Graham

goal and although another of the Blades'

youth policy players, Alan Birchenall,

pulled one back, the Gunners scored their

fourth through Frank McLintock to secure

the points.

This photograph was taken at the

Bramall Lane end of ground and clearly

shown in the background is the old cricket

pavilion. At the time Bramall Lane was

still a three-sided ground and Yorkshire

County Cricket Club still played here in

the summer.

The players featured in the photograph

include United goalkeeper Alan

Hodgkinson, watching helplessly as the

ball enters the goal. Jumping but failing to

SHEFFIELD UNITED vs ROTHERHAM UNITED
---
UTB 41

keep the ball out of his team's net is fullback

Bernard Shaw. Guarding the other

post is Len Badger. Central defender Ken

Mallender is stood behind Shaw watching

as the ball enters the net. For Arsenal the

actual goalscorer, Graham, is not in this

image. He has placed a powerful header

to perfection into United's goal. The only

Arsenal player featured in the image is

Addison watching the action unfold.

By the time the return fixture was played

on 13th January 1968, the Blades were

fully involved in the battle to stay up.

There had been numerous changes to

personnel as well in the weeks after the

first game. The two United players who

had scored in the home game, Jones and

Birchenall, had scored what had turned

out to be their final league goals for the

club. Between September and November,

Jones had been sold to Leeds United

and Birchenall to Chelsea for £100K each

much to the disappointment and anger of

United fans. As one of their replacements,

Arsenal's Addison had been signed

by the Blades in late November for a

reported £40K.

The return fixture at Highbury was

featured on BBC's Match of the Day and

ended in a 1-1 draw. Ironically the scorer

for the Blades was Addison whilst the

Gunners' Graham continued to torment

United by scoring the equaliser.

At the end of the season United were

relegated on the final day of the campaign

whilst Arsenal finished 10th.

SHEFFIELD UNITED vs ROTHERHAM UNITED
---
42 UTB

TRAGIC END FOR THE MAN

WHO MADE HISTORY HERE

AND AT ROTHERHAM

Former Star and Green Un sports writer LES PAYNE notes the admired manager who had a

successful impact at both of today's clubs but whose career was tragically cut short...

Imagine the scenario if a spot of

Blades-Millers history had been

repeated today. Sheffield United

proudly top of The Championship and

newly-promoted Rotherham just behind

them in second place. One difference for

sure - the attendance wouldn't have

topped the 52,000 who packed into a

three-sided Bramall Lane all those

years ago.

Significantly, it was a game which

strengthened belief amongst the Sheffield

United hierarchy over the identity of the

man they might like to be their manager

one day.

At the season's end, they did lure

manager Reg Freeman away from Millmoor

but his brief, successful time at Bramall

Lane was tragically cut short which hit hard

at both clubs.

He did great things at Millmoor and then,

in his first season in charge of the Blades,

brought top flight football back to Bramall

Lane only for his managerial career there

to be sadly ended so quickly.

Reg Freeman is the man regarded as

'moulding' the modern Rotherham United

in the years immediately after WW2,

▲ Reg Freeman left Rotherham for United in 1952

SHEFFIELD UNITED vs ROTHERHAM UNITED
---
UTB 43

turning a perennially struggling club into a

successful one, leading them for the first

time into football's second tier (now The

Championship where they were to remain

for 18 years until the late 1960s).

The hierarchy at Sheffield United did

not let Freeman's achievements, nor their

knowledge of his management style, pass

them by. They were not to regret bringing

him a few miles up the road but it was to

last only three years before his death.

On his arrival at Bramall Lane, Freeman

was at the forefront of a more modern way

of managing when he took over here.

He was put in sole charge of team affairs,

ie picking the team, and was the first

Blades manager to do so. Until his arrival

in the Summer of 1952, those Directors

on the club's Football Committee had

been the ones picking the team. Freeman

changed that!

Highly regarded as a player, Reg joined

Rotherham from Middlesbrough with whom

he had played in the old First Division, the

top one.

After four years, and close to the end

of his career, he was appointed Playermanager

although he never actually

performed the 'Player' part once he

took charge.

Freeman's impact on a struggling club

was soon evident but it was in the years

immediately after WW2, in the late 1940s

and start of the 1950s that Freeman

oversaw an exciting, attack-minded

Rotherham side which was the first EFL

side to score 100 goals after the War.

They were in the third tier, then Division

Three North, and for three successive

seasons finished runners-up at a time

when only the champions were promoted

(and no Play-Offs!).

Then, after a sixth place finish, they

finally achieved their goal, becoming

▲ Reg sadly passed away in 1955 aged 61

champions in 1950-51 for the club's first

ever promotion.

Their attacking style in the second tier

earned considerably high praise far and

wide, not least with a 5-3 win on their first

ever League visit to Hillsborough.

Three weeks later, in October 1951, they

were paying a first ever League visit to

Bramall Lane in a top v second clash which

created huge interest, hence the 52,000-

plus crowd, the biggest of the season

and even bigger than the 51,000 for the

Sheffield Derby a month earlier when

United trounced Wednesday 7-3.

This was much tighter, the Blades

winning 1-0 but helped by Rotherham

defender Norman Noble missing a penalty.

Both clubs were to fall away, United

finishing 11th and Rotherham ninth.

SHEFFIELD UNITED vs ROTHERHAM UNITED
---
44 UTB

DESIGN

INSTALL

TEST

MAINTAIN

HE Barnes can provide customers with

'end to end' Mechanical and Electrical

services; consisting of pre-construction

estimations, design, installation and testing.

WHY CHOOSE US...

• Reliable, efficient and innovative

• Holistic service to match each individual client

• A long, rich heritage with over 90 years experience

www.hebarnes.com

t. 0114 275 1210 e. enquiries@hebarnes.com

SHEFFIELD UNITED vs ROTHERHAM UNITED

Unit 16, President Buildings, Savile Street East, Sheffield, S4 7UQ
---
UTB 45

But the die had been cast and Freeman

learned of United's interest in a manner

that seems quite remarkable today.

Man in charge at the Lane, Teddy

Davison, was Secretary-Manager, a role

which combined both jobs. He decided to

step aside from both roles in the Summer

of 1952 but had informed Freeman that he

was going to do this.

"IRONICALLY, AND PERHAPS

FITTINGLY, HIS FINAL 'DOMESTIC'

GAME AS UNITED MANAGER HAD

BEEN BACK AT HIS OLD HAUNT,

MILLMOOR, AGAINST ROTHERHAM

UNITED IN THE OLD COUNTY CUP"

Davison was then able to report back

to the Blades' Directors that Freeman -

Rotherham's manager for 18 years - would

be interested in the manager's job.

So it came to pass - with a five-year

contract to boot!

In that first season, 1952-53, Freeman

led United to the Division Two title - the

first and ONLY time they have been

champions of the game's second tier, all

other promotions to the top flight being as

runners-up.

They stayed up, just, in that first season

whereupon Freeman did something

which seems quite remarkable and almost

certainly wouldn't be copied today!

The Directors asked him to spend

£30,000 on new players. Freeman said

he knew the club could not afford it so he

declined saying his own young players

would pull things round. They did. United

finished that 1954-55 top flight season

in 13th.

Interestingly, it was said Freeman's

manner enabled him to get more out of

younger players than other managers.

▲ Teddy Davison stepped aside to allow Freeman to join United

At the end of that season, United

embarked on a tour to (West) Germany

but Freeman, already ill and having

complained for a long time about what he

thought was rheumatism in his shoulder,

came home early. The hospital diagnosis

was not good news.

He died a few months later, in August

1955, aged just 61.

Ironically, and perhaps fittingly, his final

'domestic' game as United manager had

been back at his old haunt, Millmoor,

against Rotherham United in the old

County Cup.

SHEFFIELD UNITED vs ROTHERHAM UNITED
---
46 UTB

NZONE FAN

NE FANZONE FANZO

ANZONE FANZONE F

ONE FANZONE FANZ

FANZONE FANZONE

ZONE FANZONE FAN

E FANZONE FANZON

NZONE FANZONE FA

NE FANZONE FANZO

ANZONE FANZONE F

ZONE FANZ

NE

FANZONE

Matchday Activities

UNITED

CASHBACK

INITIATIVE

Tonight, on our United

Cashback Initiative, we

would like to give a huge

welcome to Sheffield All

Stars, visiting Beautiful

Downtown Bramall Lane.

Sheffield All Stars is a

grassroots football club,

founded in 2019. During

the years, they have grown

and developed as a family.

Initially starting with only

four teams, they now have

eight teams with dedicated

players, coaches and

volunteers. Affiliated to

the Sheffield and District

Junior Sunday league, they

are a Charter Standard

CONTACT...

JON HELLIWELL, United's fan engagement

lead, keeps the supporters informed…

club and England Football

Accredited.

They are based at

Shortbrook Primary School

in Westfield and their club

ethos is to provide a safe

and fun environment for all

of their players and teams,

in order to not only improve

their football skills, but

also form friendships, team

building and acceptance

of all. Their U9s are proud

to represent the club at

tonight's game.

As part of our United

Cashback Initiative,

Sheffield All Stars have

raised funds for their club

to spend on anything they

wish, from new kits to an

end of season presentation

evening, the choice is

theirs!

For further information regarding any of our matchday and non-matchday initiatives, you can keep

up to date at the below links:

TWITTER TWITTER: @SUFCServices FACEBOOK FACEBOOK: 'Sheffield United Fan Services' page

On our dedicated Fan Experience page at: www.sufc.co.uk/fans/families-juniors

On our dedicated Disabled Supporters page at:

www.sufc.co.uk/fans/disabled-supporters-information

Alternatively, you can contact our supporter liaison and disability access manager, Jon Helliwell,

at jon.helliwell@sufc.co.uk

SHEFFIELD UNITED vs ROTHERHAM UNITED
---
N

ANZONE FAN

ONE FANZONE FAN

FANZONE FANZONE

ZONE FANZONE FAN

E FANZONE FANZON

NZONE FANZONE FA

NE FANZONE FANZO

ANZONE FANZONE

ONE FANZONE FANZ

FANZONE FANZONE

NZONE FAN

BLADES MASCOTS...

A warm welcome to tonight's mascots…

DREW

WINSLADE

Age: 12

Favourite Player:

Billy Sharp

HARVEY

WELLS

Age: 8

Favourite Player:

Billy Sharp

SONNY

WINSLADE

Age: 8

Favourite Player:

Iliman Ndiaye

CARTER

BURLEY

Age: 8

Favourite Player:

Chris Burley

RONNIE

CHRISPIN

Age: 8

Favourite Player:

Billy Sharp

EVAN

HODGE

Age: 13

Favourite Player:

Billy Sharp

AWAY MASCOT

JACK

WOOLLAS

Age: 8

Favourite Player:

Dan Barlaser

CAPTAIN BLADE CLUB...

Tonight, on our Captain Blade Club,

we have:

— Harrison

— Diane

We hope you have a fantastic night

and enjoy the lead up to kick-off with

Captain Blade himself!

BLADES FAMILY

GALLERY...

UTB 47

If you've been part of our United

Cashback Initiative, Home Debut

Scheme, Captain Blade Club, visited

the Blades Family Hub or took part

in our John Street Family Stand

entertainment, see if you can spot

yourself in our Blades Family Gallery

each matchday on our Sheffield

United Fan Services Facebook page,

or by visiting www.sufc.co.uk/fans/

families-juniors

SHEFFIELD UNITED vs ROTHERHAM UNITED
---
48 UTB

BLAST FROM THE PAST

Each week PAUL HOLLAND looks back on a prominent game

from the past between the Blades and our opponents…

SHEFFIELD UNITED 1-0 ROTHERHAM UNITED

SATURDAY 13th OCTOBER 1951

An impressive

53,537 attended

this Second

Division fixture which saw

United escape with a

1-0 victory.

The Blades maintained a

100% home record, having

won seven matches,

during which United

claimed a 7-3 victory over

Sheffield Wednesday

and a 5-0 success

over Swansea.

Against Rotherham, the

score was goalless at the

break. The home faithful

will have been relieved

that they had not fallen

behind when the Millers

failed to convert a first-half

spot-kick. Jack Grainger's

cross was met by the head

of Peter Wragg, who would

later become a Blades

player, his goalbound

effort was handled on

the line by Harry Latham,

resulting in a penalty.

Norman Noble took the

spot kick but hit the post,

and as the ball rebounded

to him, he smashed it over

the bar. United, however,

could have taken the lead

as early as the first minute

after Alf Ringstead's free

kick found Jimmy Hagan

but Millers' stopper

Danny Bolton saved the

low effort.

The Blades too

were unfortunate. The

impressive Hagan had

delivered a quality ball to

Ringstead inside the box,

his effort was good, but

Grainger cleared, and in

doing so, almost dragged

the ball over the line.

The winning goal arrived

with 20 minutes remaining.

United were awarded a

free kick on the edge of

Rotherham's penalty area

and after positioning his

players, Hagan dinked a

ball into the box which saw

Harold Brook swing and

fire past Bolton.

The hosts were guilty

of wasting golden

opportunities to extend

their lead as Brook flashed

over the bar from Hagan's

hard work, and Ringstead

missed two efforts in as

many minutes.

SHEFFIELD UNITED vs ROTHERHAM UNITED
---
UTB 49

1986

Ian Porterfield's mid-table

side were looking to kickstart

their season as they travelled to

struggling Blackburn. Having lost a Full

Members Cup tie at Ewood Park just

four days before, United gained revenge

when a Tony Daws double earned a 2-0

win. It was Daws' first league start of the

season, but he would net just one more

time before departing in 1987.

ON THIS DAY

UTB looks back into the archives to find out what

happened on this day in United's history…

2003 United

had made

a strong start to the

campaign, sitting

third and one point

off the automatic

promotion places

ahead of a home

game with Burnley.

The Blades edged

a tight contest

thanks to a Michael

Tonge goal. The

win put United

second, but a poor

run towards the

end of the season

saw the Blades

finish outside the play-offs.

NOVEMBER

8

Against the odds, United

1992 were again trying to maintain

top flight status on a limited budget as

Wednesday visited for the first ever Steel

City Premier League derby. The Sky

Sports cameras arrived at Bramall Lane

for the first time as Adrian Littlejohn

gave United the lead before David Hirst

equalised for the Owls as the points

were shared.

2008

The Blades were sat in the

Championship play-off zone

ahead of this South Yorkshire derby

against Barnsley at Oakwell. Danny

Webber teed up James Beattie to open

the scoring for United, but the game

then turned sour when United's Ugo

Ehiogu and Barnsley's Anderson De

Silva were shown straight red cards for

violent conduct. Beattie added a second

from the spot before Kayode Odejayi

headed in a consolation.

SHEFFIELD UNITED vs ROTHERHAM UNITED
---
50 UTB

WHO WOULD BE

A MANAGER?

Our regular contributor DAVE BURKINSHAW casts a glance over former

United players who have tried their hand at management...

Andy Scott...

Amongst United

manager Dave

Bassett's many

bargain buys was forward

Andy Scott, signed from

Sutton United in

November 1992.

He made a memorable

full debut for the Blades

scoring in the 4-2 home

win against Chelsea on 8th

May 1993. Andy went on

to play for the Blades until

November 1997 making

75 league appearances,

scoring seven goals.

He also played for

Chesterfield and Bury on

loan before having spells

with Brentford, Oxford

United and Leyton Orient

after leaving Bramall Lane.

Whilst with Brentford

▲ Andy managing Aldershot back in 2014

he played a key role in

helping them win the Third

Division (now League Two)

championship. He played in

a number of other positions

later in his career including

on the wing, midfield and

full back.

After retiring from playing

in 2005 he became coach

of the Leyton Orient youth

team. He then moved to

SHEFFIELD UNITED vs ROTHERHAM UNITED
---
UTB 51

his former club Brentford

as assistant manager to

former England defender

Terry Butcher. As the Bees

struggled in League Two,

Butcher was dismissed, and

Andy was appointed as his

replacement.

He stabilised the club and

with some successful loan

signings, including future

Blade Billy Clarke. The

Bees won the League Two

championship at the end

of the 2008-09 season. It

meant he had won league

titles with Brentford as both

a player and a manager.

After a solid first season

back in the third tier

in 2009-10, Brentford

struggled the following

season but did enjoy a

great run in the League

Cup including knocking out

Premier League Everton

via a penalty shootout.

Unfortunately for Andy

league results continued

to be disappointing

and he was sacked in

February 2011.

He was soon returning

to management when

Rotherham United

appointed him on a threeyear

deal in April 2011. After

a strong start to the 2011-12

League Two season, when

Andy won the Manager

of the Month award for

August, results dipped

and with the Millers in a

mid-table position he left in

March 2012.

▲ Andy enjoyed a successful stint as boss of Brentford

Andy's next managerial

role came at struggling

League Two club Aldershot

Town in February 2013.

The Shots were battling to

stay in the EFL and despite

Andy's best efforts, the

club was relegated to the

Conference at the end of

the season. The club also

endured difficult financial

circumstances and were

placed into administration.

Against such a tough

background, Andy did

well to keep the club in

the Conference in 2013-

14. However, Aldershot

continued to struggle in the

2014-15 season and Andy

was relieved of his duties in

January 2015.

After what has to date

turned out to be Andy's

last job as a manager, he

has successfully worked

in roles involving scouting

and recruiting new players.

He had a spell at old

club Brentford as chief

scout and then head of

recruitment before taking

on similar roles (although

often with different job

titles) at Watford and

Swansea City. At Swansea

he worked under their then

first team manager Steve

Cooper. Since Cooper

was appointed manager

at Nottingham Forest last

season, Andy followed him

to the City Ground where

he was head of scouting

until recently.

As for a future return

to management, Andy

said in a recent press

interview that it was

unlikely he would return,

stating: "I didn't want to

be a journeyman manager

applying for every job. Now

I'm forging a new career

where I'm fortunate to be in

the position I am."

SHEFFIELD UNITED vs ROTHERHAM UNITED
---
52 UTB

AVAILABLE AT

SHEFFIELD UNITED vs ROTHERHAM UNITED
---
UTB 53

STAFF UNDERGOING FUNDRAISING CHALLENGE

THE CLUB NEEDS YOUR BACKING!

Well, Paul Heckingbottom and his

backroom staff do as they are undergoing

a 30-day challenge as part of the

Prostate United team.

The Prostate United Challenge, which

runs through November, was started

earlier this year due to the World Cup

break, to allow the team to complete the

challenge together with a fighting spirit.

Additionally, staff from our Academy

have signed up to do the challenge

throughout November and continue to

raise the awareness of Prostate Cancer

and generate more valuable donations

for Prostate Cancer UK, to support the

fantastic work that they do.

Participating in the challenge along

with the boss is Nathan Winder, Lee

McMahon, Paul Evans, Matt Duke, Jack

Lester, Stuart McCall, Olly Cree, Hayden

Whiting, Adam Geelan, Ryan Flannagan,

Ignatious Szuba, Rob Rayner, Chris Senior,

Tom Little, Subhashis Basu, Paul Mitchell,

Archie Ogden, Harry Jell, Chris Howarth,

Joe Sowden and Toby Welch who are

tackling one run/bike each day (3/10k,

5/10k, 10/25k) based on their physical

capabilities. This allows more people

to participate each day throughout the

month.

Fans can donate to support the Blades

and more importantly Prostate United

2002 which is run by Prostate Cancer UK

For further details visit justgiving.com/

fundraising/prostateunited-2022-24261.

IN MEMORY...

In loving memory of

Andrew Howell age 67.

A true Blade xx

SHEFFIELD UNITED vs ROTHERHAM UNITED
---
HOLE NEW BALL GAME A WHOLE NEW BALL GAME A WHOLE NEW BALL GA

54 UTB

A WHOLE

NEW

BALL

GAME

The season rolled into December as United welcomed

struggling Everton to Bramall Lane for this Premier

League clash on Saturday 12th December 1992.

The Blades were again looking over their shoulder after

a disappointing 2-0 away defeat at Crystal Palace, only the

London club's second win of the campaign.

United were now just one place and three points above

the drop zone, but this 1-0 win over the Toffees moved

Dave Bassett's side above their opponents in the table.

United's winning goal on 34 minutes came from striker Adrian

Littlejohn.

SHEFFIELD UNITED vs ROTHERHAM UNITED

This year marks the 30th

anniversary of the inaugural

Premier League season.

To mark this milestone,

UTB delves into our

programme archive to

reminisce about United's

part in this historic

campaign, whilst also

talking to those who were

there at the start of what

has since grown into the

most talked about domestic

competition on the planet.

As well as looking back

on United's campaign, we

tell the full story of the 1992-

93 season and also test

your knowledge about how

much you remember three

decades on.

So, wind the clock back

30 years to relive this

special season throughout

each edition of UTB.
---
UTB 55

SHEFFIELD UNITED vs ROTHERHAM UNITED

HOLE NEW BALL GAME A WHOLE NEW BALL GAME A WHOLE NEW BALL GA
---
HOLE NEW BALL GAME A WHOLE NEW BALL GAME A WHOLE NEW BALL GA

56 UTB

A WHOLE NEW BALL GAME

INSIDE THE

PROGRAMME…

CORK'S FUTURE AMBITION…

Striker Alan Cork was the main interview feature in the programme with the then

33-year-old talking about his future ambitions to coach or manage. Cork, who would

eventually become assistant manager to Micky Adams here many years later, chats

about taking part in coaching qualifications, whilst also insisting he'll keep playing…

'as long as I've got a bit of hair!'

SHEFFIELD UNITED vs ROTHERHAM UNITED
---
UTB 57

DAVE BASSETT…

Dave Bassett moved quickly to address some of his post-match comments from the

game against Palace. What he described as 'off the cuff' and 'light-hearted' remarks,

words he didn't really repeat in these notes, were apparently taken as 'gospel'. The

manager also spoke about the recent release of Brian Marwood, admitting the move

hadn't worked but the wide man was wished well as he departed Bramall Lane.

SHEFFIELD UNITED vs ROTHERHAM UNITED

HOLE NEW BALL GAME A WHOLE NEW BALL GAME A WHOLE NEW BALL GA
---
HOLE NEW BALL GAME A WHOLE NEW BALL GAME A WHOLE NEW BALL GA

58 UTB

MATCH ACTION…

There was an action spread included of United's recent 2-1 defeat to league leaders

Norwich City.

SHEFFIELD UNITED vs ROTHERHAM UNITED
---
NEW ROLE FOR PEMBO…

The Lane News section focused on the recent return to Selhurst Park for former

Palace duo John Pemberton and Glyn Hodges. The article goes on to talk about

Pemberton filling in for Brian Gayle at centre-half, a new position for the full-back.

UTB 59

CHRISTMAS CRACKER…

With the season moving into December, gift ideas for the festive season appeared in

the programme. This included a new VHS featuring all the action from the first half of

the campaign, priced at a princely sum of £12.99.

BLADES TEAM…

United's team for this 1-0 win was as follows…

Kelly, Gage, Pemberton, Beesley, Barnes, Ward, Gannon, Rogers,

Hodges, Littlejohn, Deane. Subs: Cork, Hoyland, Veysey

SHEFFIELD UNITED vs ROTHERHAM UNITED

HOLE NEW BALL GAME A WHOLE NEW BALL GAME A WHOLE NEW BALL GA
---
HOLE NEW BALL GAME A WHOLE NEW BALL GAME A WHOLE NEW BALL GA

60 UTB

THE SEASON SO FAR…

IN PICTURES

As the season edged towards the half-way mark, United had already

played their part in some historic fixtures.

The Blades, and Brian Deane, had the honour of scoring the Premier

League's first ever goal in the win against Manchester United, whilst

Bramall Lane welcomed the Sky Sports cameras for the very first time for

the Steel City derby against Wednesday.

Here are some images from the time, some of which have remained in the

Bramall Lane vault for 30 years…

SHEFFIELD UNITED vs ROTHERHAM UNITED

1) Sky brings intrigue…

the Sky Sports cameras

visit the Lane for the

first time against

Wednesday with the

apprentices keen to

see how its done.

2) We're winning

away…Brian Deane

celebrates as United

defeat Chelsea for a

first away win of the

campaign.

3) Anyone for a Steel

City derby? The Kop

is electric prior to

United's home draw

with Wednesday.
---
UTB 61

4) A Manchester United fan

expresses his disappointment at

Peter Schmeichel as the Blades

defeat the Red Devils on the

opening day.

5) One old stager helps out

another as United's Alan Cork

tends to an injured Ray Wilkins in

the game at QPR.

6) Not sure you can tackle like

this anymore, Carl Bradshaw? The

versatile ace gets stuck in against

Middlesbrough at Ayresome Park.

7) Incoming! Villa's Nigel Spink

doesn't hold back as Adrian

Littlejohn feels the full force of

this challenge in the home game

with Villa.

SHEFFIELD UNITED vs ROTHERHAM UNITED

HOLE NEW BALL GAME A WHOLE NEW BALL GAME A WHOLE NEW BALL GA
---
HOLE NEW BALL GAME A WHOLE NEW BALL GAME A WHOLE NEW BALL GA

62 UTB

WHAT HAPPENED

ELSEWHERE

THE STATE OF PLAY…

Norwich still had a healthy eightpoint

lead but below them just

two points separated second

placed Blackburn and seventh

placed Arsenal in the table. It

was starting to look equally

congested at the bottom too,

with Forest four points adrift

at the foot of the division but

just four points separated 21st

placed Palace with Everton in

17th. The previous week, Eric

Cantona made his Manchester

United debut as a sub as they

beat Manchester City 2-1 for a

third win on the spin. Elsewhere,

in the same week Everton's

Peter Beardsley became only the

second player to score for both

clubs in a Merseyside derby as

Everton defeated Liverpool 2-1.

THE GAMES…

After clawing their way as

high as second at one stage,

Arsenal continued to endure

an alarming dip in form and

also lost the north London

derby bragging rights after Paul

Allen's goal gave Spurs a 1-0

win over their bitter rivals. At

SHEFFIELD UNITED vs ROTHERHAM UNITED

1992-93

During this particular week back in 1992-93,

how did the rest of the Premier League get on?

We look back on what happened elsewhere…

— SATURDAY 12th DECEMBER 1992 —

▲ Action from

Tottenham's north

London derby win

over Arsenal

the bottom, there was a big win

for Wimbledon who hammered

fellow strugglers Oldham 5-2,

whilst Crystal Palace gave their

season a real boost with Eddie

McGoldrick netting twice as the

Eagles beat QPR 3-1. Elsewhere,

Leeds beat Wednesday in the

Yorkshire derby 3-1, with ex-

Owls Lee Chapman and Imre

Varadi on the scoresheet.
---
PREMIER LEAGUE TABLE…

Here's how things stood…

UTB 63

POS TEAM PLD W D L GF GA GD PTS

1 NORWICH CITY 19 12 3 4 34 32 2 39

2 ASTON VILLA 19 9 7 3 30 20 10 34

3 MANCHESTER UNITED 19 9 6 4 21 13 8 33

4 CHELSEA 19 9 5 5 26 20 6 32

5 BLACKBURN ROVERS 19 8 7 4 29 17 12 31

6 IPSWICH TOWN 19 6 11 2 27 22 5 29

7 QUEENS PARK RANGERS 19 8 5 6 26 22 4 29

8 ARSENAL 19 9 2 8 22 20 2 29

9 LIVERPOOL 19 8 4 7 33 27 6 28

10 COVENTRY CITY 19 6 8 5 25 26 -1 26

11 MANCHESTER CITY 19 7 4 8 26 22 4 25

12 MIDDLESBROUGH 19 6 7 6 30 29 1 25

13 TOTTENHAM HOTSPUR 19 6 7 6 19 24 -5 25

14 LEEDS UNITED 19 6 6 7 32 33 -1 24

15 SOUTHAMPTON 19 5 8 6 19 21 -2 23

16 SHEFFIELD UNITED 19 5 6 8 18 25 -7 21

17 SHEFFIELD WEDNESDAY 19 4 8 7 21 25 -4 20

18 EVERTON 19 5 4 10 15 23 -8 19

19 WIMBLEDON 19 4 6 9 25 30 -5 18

20 OLDHAM ATHLETIC 19 4 6 9 31 38 -7 18

21 CRYSTAL PALACE 19 3 9 7 25 33 -8 18

22 NOTTINGHAM FOREST 19 3 5 11 18 30 -12 14

HEADLINE ACT…

This was a potential season

defining fixture as Manchester

United's win over Norwich

brought the Canaries back

within reach. Had Norwich won

this game, it would have given

them a 12-point advantage, as it

was Mark Hughes' 59th minute

goal earned a 1-0 win for Alex

Ferguson's side and moved

them third and within six points

of the summit.

ANY OTHER BUSINESS?

At the back end of November,

UEFA confirms that England will

host Euro 96.

⊳ Mark Hughes scored a vital winner for

Manchester United against Norwich City

SHEFFIELD UNITED vs ROTHERHAM UNITED

HOLE NEW BALL GAME A WHOLE NEW BALL GAME A WHOLE NEW BALL GA
---
HOLE NEW BALL GAME A WHOLE NEW BALL GAME A WHOLE NEW BALL GA

64 UTB

TEST YOUR MEMORY…

TAKE 5...

Each week, we put your memory to the test as we celebrate the

30th anniversary of the Premier League with a special quiz...

1. Earlier we mentioned

Peter Beardsley

became the second

player to score

for both clubs in a

Merseyside derby.

Who was the first?

2. Ipswich Town signed

striker Bontcho

Guentchev from

Sporting Lisbon for

£250,000, he was

an international for

which country?

3. United defeated

Everton in a crucial

game at the

bottom, who was

the manager of the

Merseyside club at

this time?

4. Southampton played

their home matches

at which ground

during the 1992-93

season?

5. Which club were

sponsored by

McEwan's Lager?

ANSWERS: 1. David Johnson,

2. Bulgaria, 3. Howard

Kendall, 4. The Dell, 5.

Blackburn Rovers, 6. Mark

Wright, 7. Iain Dowie.

SHEFFIELD UNITED vs ROTHERHAM UNITED

1992-93

PICTURE ROUND...

Can you guess the names of these players

who graced the inaugural season of the

Premier League…

6. Who is this Liverpool defender challenging

Arsenal's Ian Wright?

7. Who is this striker who was leading the line for

Southampton?
---
UTB 65

SHEFFIELD UNITED vs ROTHERHAM UNITED

HOLE NEW BALL GAME A WHOLE NEW BALL GAME A WHOLE NEW BALL GA
---
66 UTB

Your winning

local law

firm!

a trading name of SSB Group Limited

Supporting your claim for:

Personal Injury Data Breach Timeshare Mis-selling

Defective Cavity Wall Insulation Medical Negligence

SHEFFIELD UNITED vs ROTHERHAM UNITED

Plevin PPI Mortgage Mis-Selling And much more…
---
UTB 67

RAINBOW

BLADES

This week Rainbow Blades member Jack

pens the notes…

BE YOUR OWN 'GAME

OF TWO HALVES'

As a young lad, I always struggled to

make both halves of me play together –

my feminine side and my masculine side.

I wanted to paint my nails, play with dolls, do

ballet and dance but I also wanted to play in

the mud, dig up worms and have a kickabout

with the lads.

When you're young and throughout your

life, embracing all aspects of you as a person

can be hard, especially when there's so

much pressure on how to act or behave –

regardless of who you are or how you identify.

Much like our beloved football, we're all

a 'game of two halves', and as they say, 'the

game's not played on paper', so why try to be

a pre-determined paper-thin stereotype?

The older I got, the more I realised we have

to embrace every aspect of who we are, just

as we do with every aspect of footy. Take the

beauty with the ugliness, the wins with the

losses – paint your nails red and black, pull

on your Blades shirt, get the lads and lasses

together, chant and cheer until your throat's

sore and never lose your voice!

Jack De Graaf (he/him),

Bond Bryan (Rainbow Blades sponsor)

If you would like to find out more and join Rainbow

Blades, please follow the links below...

FACEBOOK FACEBOOK: /BladesRainbow

TWITTER TWITTER: @rainbow_blades

INSTAGRA INSTAGRAM: @rainbowblades

Membership sign up: bit.ly/joinrainbowblades

Website: rainbowblades.com

AN UPDATE FROM OUR

SENIOR BLADES

2022/2023

SENIOR BLADES

SPONSORED PLAYER

Some of our members were

aware that the original player

Senior Blades had sponsored for

this season was promising young

player, Will Osula. As you will

know, Will is currently on loan at

Derby County where

he is progressing well

in his development.

We therefore

consulted with

commercial at Sheffield

United and are now

sponsoring the away

kit of our number 9 –

Oli McBurnie, and as

with all our sponsored

kits these last few

years, we will be

having a charity raffle

for this kit in 2023.

We have been receiving

enquiries asking how to join

Senior Blades. Below are the

options available and we look

forward to welcoming you as

a member.

Membership forms are

available here in the Box Office.

Contact our secretary on

0114 2366466

Email: info@seniorblades.com

Website: www.seniorblades.co.uk

SHEFFIELD UNITED vs ROTHERHAM UNITED
---
68 UTB

Sheffield United Community Foundation is a charity working in the areas of education and training, health and

wellbeing and participation and inclusion. For more community news, follow us on social media @CommunitySUFC,

visit www.sufc-community.com, email enquiries@sufc-community.co.uk or call 0114 253 7200 (OPTION 6)...

COLLEGE OPEN EVENING

Sheffield United

Community College are

pleased to announce their

upcoming Open Evening

at Bramall Lane.

Staff from the college will

be on hand to talk about all

their post-16 opportunities

on Tuesday 22nd

November, 6.30pm-8pm in

the Platinum Suite (Cherry

Street, S2 4SU).

The college offers

a post-16 sport study

programme for school

leavers that would like to

play football alongside

studying, with pathways

tailored for both elite and

recreational players. If

playing football isn't for

you, the college offers

a "your course, your

choice" approach featuring

enrichment pathways in

Esports and fitness.

If you're interested

in attending the Open

Evening, please register

your details at bit.ly/

SUCFOpenEvening.

We also have taster

sessions for next year's

programmes on Tuesday

13th, Wednesday 14th

and Thursday 15th

December all 6.30pm-

8pm at our college sites

– Handsworth JSC (S9

4PA) and Leisure United

Westfield (S20 8FA). A

taster session for our

Esports course will be held

on Wed 14th December,

6.30pm-8pm at Bramall

Lane (S2 4SU). For more

information about these

taster sessions please

contact Joe Lancashire

at joe.lancashire@sufccommunity.co.uk

or 07496

931539.

SHEFFIELD UNITED vs ROTHERHAM UNITED
---
UTB 69

FOOTBALL

CAMPS

RECAP

We had a great turn out for our

football camps at Handsworth,

Graves, Westfield and Wisewood

this past October half-term.

We were also thrilled to have

so many Blades players make

appearances too!

Places on our Christmas

camps go on sale soon, check

out officialsoccerschools.co.uk/

sheffieldunited/ as we get closer to

the Christmas holidays!

FANS FC ANNUAL PARTY

Our annual Fans FC party is nearly here!

Join us in the Platinum Suite (Cherry

Street, S2 4SU) from 6pm on Friday 11th

November to celebrate our Fans Fighting

Cancer programme.

Beth Wragg, our health and wellbeing

officer, said: "Everyone is welcome

whether you are participating in the

programme or not. The aim is to all get

together and have a good evening out!

The party is free to attend, and pie and

peas will be provided alongside local

singer Kaz Wilson performing Motown,

Soul and Disco classics! If you would

like to attend, please email me at beth.

wragg@sufc-community.co.uk or call/text

07949 375726."

Fans FC is a free programme run in

conjunction with Sheffield Hospitals

Charity and NHS Charities Together

that consists of 18 weekly sessions. Our

variety of sessions focus on physical and

mental wellbeing for people diagnosed

with cancer and/or other long-term

illnesses and people affected by cancer

(family and friends). These physical and

social activity sessions take place both

virtually and face-to-face to ensure

everyone can get the help they need.

To learn more about Fans FC and

to view our full activities and session

timetable, head to sufc-community.com.

SHEFFIELD UNITED vs ROTHERHAM UNITED
---
70 UTB

ITED ROTHE

ROTHERHAM UNITE

ERHAM UNITED ROT

UNITED ROTHERHAM

D ROTHERHAM UNI

HERHAM UNITED R

M UNITED ROTHERH

TED ROTHERHAM U

OTHERHAM UNITED

AM UNITED ROTHER

OTHERHAM

TE

— OPPOSITION FOCUS

FOUNDED: 1925

NICKNAME: THE MILLERS

GROUND: NEW YORK STADIUM

CAPACITY: 12,021

CHAIRMAN: TONY STEWART

LAST FINISH: 2/24 SKY BET LEAGUE ONE ↑

SHEFFIELD UNITED vs ROTHERHAM UNITED
---
D

HERHAM UN

UNITED ROTHERHA

TED ROTHERHAM UN

OTHERHAM UNITED

AM UNITED ROTHER

NITED ROTHERHAM

ROTHERHAM UNITE

HAM UNITED ROTHE

UNITED ROTHERHA

D ROTHERHAM UNIT

UNITED ROT

Rotherham are aiming to end the

first half of this Championship

season on a high, with away

games against Sheffield United and Luton

on their agenda before the break for the

World Cup this weekend.

It has been a challenging opening to the

campaign for the Millers, with manager Paul

Warne leaving his post in mid-September

and replaced by Matt Taylor.

Finding your feet in a new league is

always a big challenge for newly promoted

clubs, but Rotherham have shown signs that

they are bedding down some foundations

in the Championship after their elevation

from League One last season.

A recent success at Stoke showed

Rotherham's ability to win on the road,

whilst they also looked set to upset leaders

Burnley at Turf Moor before the hosts

struck with two stoppage time goals.

With two away games to come in the next

few days, there is a real opportunity for

Rotherham to end this phase of the season

on a high.

UTB 71

SHEFFIELD UNITED vs ROTHERHAM UNITED
---
72 UTB

ITED ROTHE

ROTHERHAM UNITE

ERHAM UNITED ROT

UNITED ROTHERHAM

D ROTHERHAM UNI

HERHAM UNITED R

M UNITED ROTHERH

TED ROTHERHAM U

OTHERHAM UNITED

AM UNITED ROTHER

OTHERHAM

TE

— OPPOSITION FOCUS

STAR MAN

Rotherham attacking star

Chiedozie Ogbene has made

a big mark for himself since

he committed his international future

to the Republic of Ireland last year.

Born in Nigeria and raised in

Ireland, Ogbene has scored three

goals for Ireland in the last year and

he is relishing the experience of

international football after accepting

an offer of a call-up from Ireland boss

Stephen Kenny.

"I grew up in Cork, so I see myself

as an Irishman but obviously I am

Nigerian by birth," states Ogbene,

who scored in the tight 3-2

defeat against promotion

chasing Burnley

last week.

"I'm sure there are

many players who grew

up in Ireland and were

born somewhere

else and are

obviously having

trouble with their

decision. I want to

create a pathway

for them to show

that if you live

there you get these

opportunities.

"Republic of

Ireland is a big

nation with so

SHEFFIELD UNITED vs ROTHERHAM UNITED

Chiedozie OGBENE

11 PREVIOUS

DATE OF BIRTH: 01/05/97

POSITION: FORWARD

CLUB: BRENTFORD

many talented players and to be

considered and to be called, honestly,

I am honoured to be here.

"I feel like I am doing very well.

Stephen (Kenny) made contact with

me a few times. We had to do some

documents and, personally, I was

quite shocked when he called to say

he was looking to take me on board.

International football is something

I have dreamed about so to be with

Ireland is truly a blessing."

Ogbene has also

made some big

contributions

for Rotherham

since joining

the club from

Brentford in the

summer of 2019,

scoring three goals

in the promotion

success last season

and also firing in a fine

goal at Wembley as

the Millers won the EFL

Trophy against Sutton United

last April.
---
D

HERHAM UN

UNITED ROTHERHA

TED ROTHERHAM UN

OTHERHAM UNITED

AM UNITED ROTHER

NITED ROTHERHAM

ROTHERHAM UNITE

HAM UNITED ROTHE

UNITED ROTHERHA

D ROTHERHAM UNIT

UNITED ROT

Richard WOOD

6

THE CAPTAIN...

Date of Birth: 05/07/85

Previous club: Charlton

Wood joined the Millers in

2014 and has been a fine

leader on and off the pitch.

This defender started at

Sheffield Wednesday and

had spells at Coventry and

Charlton before finding

a home at Rotherham,

where he is closing in on

250 appearances. Wood

has already scored four

Championship goals this

season.

Ben WILES

8

YOUNG GUN...

Date of Birth: 17/04/99

Previous club: –

LAST TIME WE MET...

Conor WASHINGTON

14

Rotherham's youth team

set-up has produced some

fine players in recent

years and Wiles is one of

the best. He has been a

first team regular since

the 2019-20 campaign

and played a full role in

the promotion success

last season, scoring eight

valuable goals as the

Millers returned to the

Championship.

SHEFFIELD UNITED 2-0 ROTHERHAM UNITED

Saturday 9th March 2019

Sheffield United continued their push for promotion

with a seventh successive home win as they

beat 10-man Rotherham United at Bramall Lane.

Defender Jack O'Connell gave the Blades the

perfect start by turning in Oliver Norwood's clever

corner, before Rotherham's Will Vaulks was sent

off. Mark Duffy's second half goal sealed the win.

ONE TO WATCH...

Date of Birth: 18/05/92

Previous club: Charlton

UTB 73

Experience and goals will

be vital for Rotherham as

they look to find their feet

in the Championship and

former Blade Washington

brings both. He scored his

first goal of the season in

the win against Reading

in August, with this former

Peterborough and QPR

striker also on target

against Huddersfield and

Coventry last month.

SHEFFIELD UNITED vs ROTHERHAM UNITED
---
74 UTB

ITED ROTHE

ROTHERHAM UNITE

ERHAM UNITED ROT

UNITED ROTHERHAM

D ROTHERHAM UNI

HERHAM UNITED R

M UNITED ROTHERH

TED ROTHERHAM U

OTHERHAM UNITED

AM UNITED ROTHER

OTHERHAM

TE

— OPPOSITION FOCUS

NUMBERS COUNT...

8

91

—

130

—

621

—

— The minute when

Rotherham's Jamie Green

netted against Barnet in 2008.

It proved to be the club's last

competitive goal at their old

Millmoor ground.

The record number of points

collected by a Rotherham

side, as they won promotion

in Division Two in the 2000-01

season.

Gladstone Guest holds the

record for most goals scored by

a Rotherham player in a Millers

career that ran for a decade

from 1946.

Danny Williams set an

appearance record for

Rotherham in a career that

started in 1943 and concluded

in 1965.

SHEFFIELD UNITED vs ROTHERHAM UNITED

Ronnie Moore

ROTHERHAM LEGEND...

Both as a player and a manager,

Ronnie Moore gave everything to the

Rotherham United cause.

His playing career included 125

appearances between 1980 and 1983,

but it was as a manager that Moore

made a lasting mark.

The Liverpudlian took charge of 398

games in his first spell in charge, guiding

the club from the lower reaches of the

fourth tier of the English game and into

the Championship in a glorious run of

success.

Moore returned for a second spell as

Millers boss in 2009 and while that was

not as successful, he will forever be a

legend in the eyes of Rotherham fans.
---
D

HERHAM UN

UNITED ROTHERHA

TED ROTHERHAM UN

OTHERHAM UNITED

AM UNITED ROTHER

NITED ROTHERHAM

ROTHERHAM UNITE

HAM UNITED ROTHE

UNITED ROTHERHA

D ROTHERHAM UNIT

UNITED ROT

Matt Taylor

FROM THE TOUCHLINE

It was all change at

into that already. We want them to

Rotherham United last month keep on buying into it and keep

as Matt Taylor was introduced bringing their energy and support,

as the club's new manager.

week-in-week-out."

After making his mark as coach with Following a 16-year playing career,

Exeter City, this former centre-back which included spells with Exeter,

was lured to Rotherham to continue Charlton and Cheltenham Town,

his coaching journey and he is Taylor first went into management with

relishing the challenge of getting the Exeter in 2018, replacing long-serving

Millers firing in the Championship. boss, Paul Tisdale.

"There's a group of players who A little over a month into his spell

I could see something within, in as Rotherham boss, Taylor admits the

relation to how they've performed hectic nature of the Championship

so far this season and what their has made it tough to implement his

success has been built on in the past," philosophy at the club.

states Taylor.

"We have only been able to

"All of the elements of that are influence a certain amount because

exactly the same with what I have of the game schedule," he added. "If

done previously in my career, be it as you have time to work on the training

a manager, coach or a player.

ground, you can get your messages

"Anyone who has seen me speak across, but it has been a case of game

previously hopefully agrees that I'm an and recover every week.

open and honest person.

"It's part and parcel of the league,

"I'll always say it how I see it and we can't complain about it and we

how it is. I won't talk falsely about have to look forward to it. Physically

anything that has happened. It is we have to keep them fresh. We may

all about being honest with each have a slightly different look about us

other. The players have to be honest away from home, as we may sacrifice

with each other and we do as staff. certain areas of the pitch to help

Hopefully the fans buy into that. the team.

"We said that we won't be changing "We have points to play for before

too much too soon because we don't the World Cup break, so we have

need to. This club and this group to focus on these remaining games

of players are moving in the right before we have a few weeks to

direction and the fans have bought recover."

UTB 75

SHEFFIELD UNITED vs ROTHERHAM UNITED
---
76 UTB

ITED ROTHE

ROTHERHAM UNITE

ERHAM UNITED ROT

UNITED ROTHERHAM

D ROTHERHAM UNI

HERHAM UNITED R

M UNITED ROTHERH

TED ROTHERHAM U

OTHERHAM UNITED

AM UNITED ROTHER

OTHERHAM

TE

— OPPOSITION FOCUS

Rotherham United's

NON-LEAGUE NUGGETS

Football historian LEIGH EDWARDS profiles six notable Rotherham players signed from non-League clubs...

JACK GRAINGER

England B international

winger Jack Grainger

was leading marksman

as Rotherham United

narrowly missed

promotion to the top-flight

on goal average in 1954-

55. From a football family,

his brother Colin played

for England and the

Blades, he impressed with

Frickley Colliery before

moving to Rotherham

in November 1945 and

starred in their 1950-51

Third Division (North) title

triumph. Scoring twice

as they beat holders

Newcastle in the 1952-53

FA Cup fourth round, he

netted 112 goals in 352

League outings prior to

joining Lincoln City in

June 1957. He later played

for Burton Albion and

Denaby United, residing

in Havercroft until his

death in January 1983.

SHEFFIELD UNITED vs ROTHERHAM UNITED

ROY LAMBERT

Hard-tackling right-half

Roy Lambert appeared

for Rotherham United in

the 1961 League Cup final.

A former miner at Barley

Hall Colliery, he played

for Thorncliffe Welfare

prior to joining Rotherham

in July 1954. He made

his League debut in their

3-1 defeat at Nottingham

Forest in January 1957

and was ever-present in

1959-60, helping to beat

Arsenal in the FA Cup

third round. Ever-present

again in 1962-63, he

netted six goals in 307

League games, moving

to Barnsley in November

1965. He coached back

at Rotherham, then was

youth coach and chief

scout at Huddersfield.

Later a machinist for

Gerrard Industries at

Kilnhurst, he died in

February 2022.

GERRY FORREST

Right-back Gerry Forrest

featured prominently

in Rotherham's 1980-

81 Third Division title

triumph. He impressed

with South Bank before

moving to Millmoor in

February 1977 and starred

in the defeat of Arsenal

in the 1978-79 League

Cup second round. Also

helping the Millers to

reach the League Cup

fifth round in 1983-84, he

joined Southampton for

£100,000 in December

1985 and was a League

Cup semi-finalist in

1986-87. He re-joined

Rotherham in August

1990 and netted eight

goals in 391 League

games overall prior to

joining Gateshead in

August 1991. Settling in

Stockton, he has since

run his own kitchen fitting

business.
---
D

HERHAM UN

UNITED ROTHERHA

TED ROTHERHAM UN

OTHERHAM UNITED

AM UNITED ROTHER

NITED ROTHERHAM

ROTHERHAM UNITE

HAM UNITED ROTHE

UNITED ROTHERHA

D ROTHERHAM UNIT

UNITED ROT

Jack Grainger &

Roy Lambert

MICK GOODING

Midfielder Mick Gooding

was ever-present for

Rotherham United in

1986-87. Starting with

Bishop Auckland, he

joined Rotherham in July

1979, starring in their

1980-81 Third Division

title triumph. He joined

Chesterfield in December

1982 but returned to

Rotherham nine months

later and netted 42 goals

in 258 League games

overall before joining

Peterborough United in

August 1987. Moving to

Wolves in September

1988, he helped win

the Third Division title

and joined Reading in

December 1989. Starring

as they won the Second

Division title in 1993-94,

he became joint playermanager,

then had a spell

at Southend and was

Walsall's youth coach.

ALLY PICKERING

Right-back Ally Pickering

helped Rotherham United

win promotion in 1991-

92. Initially with Buxton,

he joined Rotherham

for a then club record

£16,500 in February 1990.

He scored twice in 88

League games while at

Millmoor before moving to

Coventry City for £80,000

in October 1993 and

appeared regularly in the

Premier League. Sold to

Stoke City for £280,000

in August 1996, he was

ever-present in 1997-98

and joined Burnley in

December 1998. He then

played for Altrincham,

Cambridge United,

Chester City, Hyde

United, Gainsborough

Trinity and Mossley. Later

managing Mossley, he

then had spells in charge

of Woodley Sports and

New Mills.

DARREN GARNER

UTB 77

Midfielder Darren

Garner featured in

Rotherham United's

1996 Auto Windscreens

Shield final triumph.

Starting with hometown

Plymouth Argyle, he

joined Dorchester Town

in August 1994 and

moved to Rotherham for

£30,000 in June 1995.

He helped them qualify

for the Third Division

play-offs in 1998-99, then

win promotion in two

consecutive seasons.

Scoring 23 goals in 264

League games for the

Millers, he joined Torquay

United initially on loan in

March 2005. He later had

spells at Newport County,

Launceston, Truro City,

Bodmin Town and

returned to Launceston

as player-manager, since

working for a recruitment

agency back in Plymouth.

SHEFFIELD UNITED vs ROTHERHAM UNITED
---
ITED ROTHE

ROTHERHAM UNITE

ERHAM UNITED ROT

UNITED ROTHERHAM

D ROTHERHAM UNI

HERHAM UNITED R

M UNITED ROTHERH

TED ROTHERHAM U

OTHERHAM UNITED

AM UNITED ROTHER

OTHERHAM

TE

SteelPhalt has been developing and manufacturing high

performance asphalt products for the UK roadmaking

industry since the 1960's.

Based in South Yorkshire, SteelPhalt is ideally located to source slag

cost-effectively from the surrounding steel industry - a sustainable

way of making asphalt since at least 95% of the product is recycled.

With a reputation for first class products matched by a commitment

to innovation and sustainability, SteelPhalt works in partnership with

councils, local authorities and contractors nationwide to deliver

durable roads for a sustainable world.

Within our 7 brands we have asphalt products for every situation

& application... from pot hole repairs to hazardous intersections!

SteelPhalt, Sheffield Road, The Ickles, Rotherham, South Yorkshire S60 1DR

Tel: +44 (0) 1709 300500 Email: info@steelphalt.com www.steelphalt.com
---
D

HERHAM UN

UNITED ROTHERHA

TED ROTHERHAM UN

OTHERHAM UNITED

AM UNITED ROTHER

NITED ROTHERHAM

ROTHERHAM UNITE

HAM UNITED ROTHE

UNITED ROTHERHA

D ROTHERHAM UNIT

UNITED ROT

— OPPOSITION FOCUS

THE LOWDOWN...

...on Rotherham United

Each week UTB takes an alternative look over our opponents...

INAUGURAL CUP FINALISTS

Rotherham were denied a place in

the top-flight by goal average in 1955,

having beaten Liverpool 6-1 in what was

a memorable campaign. The Millers also

competed in the inaugural League Cup

final in 1961, losing 3-2 on aggregate to

Aston Villa, despite winning the first leg at

Millmoor.

UPS AND DOWNS

Rotherham have yo-yoed between

the second and third tier since being

relegated in 2016-17. Since then, the

Millers have bounced back to the

Championship at the first attempt on three

consecutive occasions, including last term

when they finished runners-up to Wigan

Athletic in addition to lifting the Papa

John's Trophy at Wembley.

YOU ARE THE REF!

UTB 79

Former Premier League referee Howard

Webb is an avid follower of the Millers and

is a regular at the New York Stadium. Wellknown

actor Dean Andrews is also a fan

of Matt Taylor's side, along with the club's

honorary vice president Paul Chuckle and

his late brother Barry.

WARNOCK'S GREAT ESCAPE

Former Blades boss Neil Warnock kept

Rotherham up against the odds in 2016.

Appointed as Neil Redfern's successor

with just 16 games to go and with the

Millers in the relegation zone, the

veteran boss masterminded an 11-game

unbeaten run, including a 1-0 win at

Hillsborough to steer the club to safety.

SHEFFIELD UNITED vs ROTHERHAM UNITED
---
80 UTB

TICKETS &

TRAVEL

OPENING HOURS

Monday-Friday: 9am–5pm

Saturday (Non-Matchday): 9am–12noon

Saturday (Matchday): 9am–half time

Matchday (Evening): 9am–kick off

CONTACT DETAILS

Tel: 0114 253 7200 (option 1)

Visit: tickets.sufc.co.uk Email: boxoffice@sufc.co.uk

*A £1 booking fee applies to all telephone and online orders

AWAY BLADE

Coach Travel – Under-16s Policy

Sheffield United continue to ensure that the club

complies with safeguarding procedures and to

make sure that all young supporters travelling

on the official Away Blade transport are properly

supervised. Therefore, juniors, aged U16, will not

be allowed to travel on the Away Blade coaches

without a responsible adult, aged 25 or above.

A maximum of two juniors U16 may travel with a

responsible adult. For more information contact

0114 253 7200.

2022-23 MATCHDAY PRICES

STAND TYPE CAT. A* CAT. A CAT. B

KOP STAND

CHERRY STREET

SOUTH STAND

& JOHN STREET

FAMILY ENCLOSURE

& FAMILY CORNER

BRAMALL LANE

UPPER CORNER &

BRAMALL LANE

UPPER TIER

ADULT £35 £31 £26

OVER 60 / DISABLED £29 £24 £20

YA U22 / STUDENT £24 £20 £17

UNDER 18 £17 £14 £12

JUNIOR BLADES £15 £12 £10

ADULT £40 £35 £31

OVER 60 / DISABLED £32 £27 £23

YA U22 / STUDENT £26 £21 £20

UNDER 18 £21 £17 £14

JUNIOR BLADES £19 £15 £12

ADULT £37 £33 £29

OVER 60 / DISABLED £31 £26 £21

YA U22 / STUDENT £25 £21 £18

UNDER 18 £20 £16 £13

JUNIOR BLADES £18 £14 £11

AWAY

vs CARDIFF CITY

Saturday 12th November

Sky Bet Championship

Kick Off 3pm

This match is ALL TICKET for

Blades supporters. We have

been allocated 2801 tickets.

TICKET PRICES:

Adults: ......................................£23

Seniors (60+): ......................... £18

Young Adult (16-21): .............£12

Under 16: ................................ £10

Q DISABLED TICKET INFORMATION

12 pairs of wheelchair/

personal assistant tickets

are available at £19 adults,

£15 seniors, £12 young adults

and £9 under 16s with the

personal assistant FOC.

Ambulant tickets are available

from the main allocation at

the age appropriate price with

the personal assistant FOC

(subject to qualification). 12

disabled parking spaces are

available directly from Cardiff

on a first come first served

basis by contacting ben.

jones@cardiffcityfc.co.uk

IMPORTANT INFORMATION

Blocks 121 and 122 have safe

standing areas within them

(rail seats), these are clearly

marked on the plan and also

SHEFFIELD UNITED vs ROTHERHAM UNITED
---
UTB 81

on your ticket – standing will

not be permitted in other

areas. These blocks also

have a small amount of nonstanding

tickets. Under 14s

will not be permitted entry into

the stadium without an adult

aged 18+.

AWAY BLADES COACH TRAVEL

Price: £40

Departing Bramall Lane at

8:00am, prompt.

HOME

vs HUDDERSFIELD TOWN

Saturday 10th December

Sky Bet Championship

Kick Off 3pm

This match is a Category A

fixture. Tickets now on general

sale. Supporters will be

allocated 100 loyalty points.

Tickets now on general sale.

TICKETS ARE PRICED FROM:

Adults: ...................................... £31

Seniors: ....................................£24

Young Adults / Students: ...£20

Juniors: .....................................£14

Junior Blade Members: .......£12

Information correct at the time

of going to print. Please check

www.sufc.co.uk for up-to-date

information.

TC VISITS MILLERS

MEMORY CLUB

You will have seen TC's recent visit to Rotherham's

Millers Memory Club in a recent edition of UTB,

and he was present again recently as he looks to

put together a version right here at Bramall Lane.

Founded by former Millers defender and

assistant manager John Breckin, the club aims to

support those suffering with or directly affected by

memory-related illnesses by providing a safe and

friendly environment for all who attend.

After seeing his former England colleague Dave

Watson at New York Stadium recently, TC was back

for a chat with Breckin as he looks to implement a

Blades version in the coming months.

TC said: "I had a really good chat with Breck,

and I've been impressed with what he's created at

Rotherham. I'll look forward to catching up with him

if I see him at today's game.

"I've made some steps here regarding hosting

something similar, and I've already had some

interest. If there are any former players keen to

attend or who want to help in any way, please get

in touch."

▲ TC chatting to John Breckin at the Millers Memory Club

SHEFFIELD UNITED vs ROTHERHAM UNITED
---
82 UTB

THE EX-FILES

David McGoldrick

EACH WEEK UTB CATCHES UP WITH THE PROGRESS OF SOME OF THE NAMES WHO ONCE

GRACED BRAMALL LANE, BUT ARE NOW CONTINUING THEIR CAREER ELSEWHERE…

David McGoldrick is off the mark

for his new club Derby County

after scoring a dramatic stoppage

time winner recently against

Peterborough United.

Trailing 1-0 and down to 10 men,

things looked bleak for the Rams

until an equaliser from Jason

Knight on 88 minutes was followed

up by McGoldrick's winner from

12 yards.

After missing the first four games

of the campaign through injury,

McGoldrick is now finding his

feet at Pride Park after his highly

successful stint at Bramall Lane

came to an end at the conclusion

of last season.

"As a striker you enjoy your

goals, and especially when

they come as a winner as well,"

McGoldrick said of his first strike.

"We hadn't scored for a few

games, so to get two right at the

end was nice. It was a pleasing day

all around and it's always special

to turn it around late on.

"We are all together as one in

the dressing room and it helps with

the team bonding too, celebrating

together at the end, especially

as quite a few of us have come

through the door this summer.

The changing room was very

happy after."

Grateful to be back fit again after

recovering from the injury which

curtailed his final season in S2, the

ex-Forest front man is now focused

on a strong run in the side.

He added: "I feel I am getting

fitter. I came here after a four or

five-month spell out, following an

operation. I've been building my

fitness up and I had a setback by

doing too much too soon, but now

I am building things up slowly."

▲ Didzy celebrates his first for Derby

against Peterborough

SHEFFIELD UNITED vs ROTHERHAM UNITED
---
UTB 83

FAVOURITES

with Ollie Norwood

IN EVERY EDITION OF UTB THIS SEASON,

WE TALK TO A CURRENT MEMBER OF

UNITED'S FIRST TEAM SQUAD TO FIND OUT

SOME OF THEIR FAVOURITE THINGS...

FAVOURITE...

BOX SET/TV SERIES... Probably The Office, with Ricky Gervais.

FILM... I'll say Mrs. Doubtfire. I love watching that

one with the family. Some of the young

lads here won't even know what that is!

PHONE APP... I could do without a phone

to be honest, but I'll say Whatsapp.

It's what I use the most.

HOLIDAY DESTINATION... I've been lucky to have

been to some nice places. I like to go

different places and see different things.

I enjoyed Dubai and also Portugal.

OTHER SPORT TO PLAY... I'll say golf or

cricket. I love playing both.

OTHER SPORT TO WATCH... I enjoy watching

boxing. Not that I'd ever get in the ring!

SPORTSMAN... Like I said I enjoy my

boxing, so I'll go for Tyson Fury. He's

had some journey back to the top.

COMEDIAN... I'll say Ricky Gervais.

CURRENT TEAMMATE... None of them!

GROUND TO PLAY AT... Other than Bramall Lane? Okay,

I'll go for Windsor Park. I had some great

times playing there for Northern Ireland.

It was, and still is, a special atmosphere.

MEAL... You can't beat fish and chips.

Easy choice if you are from up north!

CHOCOLATE BAR... Standard Dairy Milk.

KARAOKE SONG… I haven't done karaoke for years!

I remember when I signed here my initiation

song was Summer of 69 by Bryan Adams.

SHEFFIELD UNITED vs ROTHERHAM UNITED
---
KIT SPONSORS

Do you want to sponsor a player's kit? Contact us at 0114 253 7200 (option 2) or email commercial@sufc.co.uk.

A player kit sponsorship package is priced at £700 plus VAT per player and includes the following:

Match worn kit of your chosen player — Video message from your chosen player

Christmas card from your chosen player — Invitation to annual sponsor training event

Advertising on club website — Stadium big screen and within the matchday programme

DAVIES

DAVIES

BALDOCK

BALDOCK

STEVENS

STEVENS

FLECK

FLECK

S2S

GROUP

–

ARAGON LAND

& PLANNING

BALFOUR

CARPETS

BENGALINE

GROUP

TOTLEY

PHARMACY

H E

BARNES

PAUL

KEY

O'CONNELL

O'CONNELL

BASHAM

BASHAM

BREWSTER

BREWSTER

BERGE

BERGE

– –

SHEFFIELD

TRANSMISSION

SHEFFIELD

TRANSMISSION

KIED

CONSULTING

PARAMEDICAL

FIRST AID

VERTICAL

EDITIONS

BOOKS

YEC ASSET

MANAGEMENT

McBURNIE

McBURNIE

SHARP

SHARP

KHADRA

KHADRA

EGAN

EGAN

BLINKFIRE

ANALYTICS

SENIOR

BLADES

DOOR

MAINTENANCE

2003 LTD

SIMON

AVIS

PEXTON

FLEMING LTD

PARAMEDICAL

FIRST AID

H E

BARNES

VERTICAL

EDITIONS

BOOKS

LOWE

LOWE

AHMEDHODZIC

AHMEDHODZIC

NORWOOD

NORWOOD

COULIBALY

COULIBALY

– –

BALFOUR

CARPETS

KIED

CONSULTING

CLIVE EYRE

LIMITED

IPS

ELECTRICAL

– –

FODERINGHAM

FODERINGHAM

ROBINSON

ROBINSON

BOGLE

BOGLE

DOYLE

DOYLE

PETERMAN

FORKLIFT

TRUCKS

LANDIN

WILCOCK

& CO

LOUIS

NICHOLLS

–

B2W

NES

ASBESTOS

VALORUM

CARE GROUP

S2S

GROUP

OSBORN

OSBORN

CLARK

CLARK

McATEE

McATEE

NDIAYE

NDIAYE

ANDREW

TREHERNE

P.J.M LANDSCAPE

& CONSTRUCTION

LTD

HARVEY &

ROWAN FRASER

H E

BARNES

JPM FINANCIAL

MANAGEMENT

PEXTON

FLEMING LTD

SIMON

AVIS

PARAMEDICAL

FIRST AID

N'-DAVIES

N'-DAVIES

JEBBISON

JEBBISON

M

HECKINGBOTTOM

CJ SIGNS –

PAUL

KEY

SRH-EC

LTD

–
---
UTB 85

UNITED IN BUSINESS

Head of Commercial PAUL REEVES provides UTB with the latest

corporate news. To discuss how you could benefit from our opportunities

to develop your business, contact Paul on 07983 425066…

Good evening and welcome back

to Bramall Lane for tonight's

re-arranged fixture against

Rotherham United.

As always, we are delighted to introduce

our sponsors who join us for this local

derby against the Millers.

Our first main match sponsor is

Rotherham Glass and Glazing Ltd, a

business with over 30 years' experience

and as a member of the Federation of

Small Businesses, they know what it takes

to go that extra mile for our customers.

If you are looking to personalise your

home with decorative windows, then

contact them to discuss your designs.

For a free quotation on any glazing

services, call 01709 525555 or visit www.

rotherhamglass.co.uk

We have a second main match sponsor

today, Pyramid Carpets.They are a

family run business with over 70 years of

experience delivering the highest quality

selection of carpets, rugs and flooring to

both commercial and domestic customers

throughout Yorkshire. For more details

visit www.pyramidcarpets.co.uk

Tonight's programme sponsor is

Eagle Platforms. From their head office

in Sheffield and regional hubs across

the UK, they can supply all your access

needs, 24 hours a day, seven days a

week with an exclusive range of machines

from the world's leading manufacturers.

In addition to this, their award-winning

service and training teams can ensure

the complete support for all aspects of

your MEWP requirements. Visit www.

eagleplatforms.com

Finally, our match ball sponsor is

National Timber Group. They are the

largest independent timber distribution

and processing group in the UK.

The group was created through the

acquisitions of market-leading brands

Thornbridge, NYTimber, Rembrand

Timber and Arnold Laver. The group

serves a diverse customer base including

joiners, housebuilders, and contractors,

and is a favoured supplier of large-scale

infrastructure projects. For further details,

visit www.nationaltimbergroup.com

We hope that you all enjoy your evening

with us. UTB!

Paul Reeves

Head of Commercial

▲ Thanks to our sponsors for the recent game against Norwich City

SHEFFIELD UNITED vs ROTHERHAM UNITED
---
86 UTB

MATCH ACTION

0 - 2

–

NDIAYE 11, Mc BURNIE 23

SATURDAY 29TH OCTOBER — SKY BET CHAMPIONSHIP — VENUE: THE HAWTHORNS

BLADES:DAVIES, BALDOCK (ROBINSON 76), FLECK (BREWSTER 65, SHARP 76),

BASHAM (STEVENS 85), Mc BURNIE, EGAN, AHMEDHODŽIĆ, NORWOOD,

DOYLE, OSBORN, NDIAYE. UNUSED: AMISSAH, KHADRA, MCATEE.

Iliman Ndiaye makes it 1-0 Blades

SHEFFIELD UNITED vs ROTHERHAM UNITED
---
UTB 87

Oli McBurnie makes it 2-0

Oli celebrates his seventh of the season

Iliman 's goal joy

Chris Basham makes a telling clearance

SHEFFIELD UNITED vs ROTHERHAM UNITED
---
88 UTB

ANYONE WHO ENTERS THE PITCH WITHOUT

PERMISSION AND THOSE CARRYING OR USING

SMOKE BOMBS OR PYROS WILL NOW RECEIVE

AN AUTOMATIC CLUB BAN.

'LOVE FOOTBALL. PROTECT THE GAME'

A message about anti-social and criminal behaviour

To mark the new season, we want to

make you aware of new measures

being taken across all of football

to ensure everyone can have a safe

and enjoyable experience. We are

supporting strong action from the

FA, Premier League and EFL to tackle

anti-social and criminal behaviours

that put all of us at risk.

This reflects the seriousness of

the risks to fans and staff – pyros

can burn at 2000 degrees Celsius

and cause lifechanging injuries,

while entering the pitch endangers

players, managers and match

officials.

We know those who commit these

illegal acts do not represent the

majority of supporters.

#LoveFootball #ProtectTheGame

SHEFFIELD UNITED vs ROTHERHAM UNITED
---
UTB 89

T he Story So Far...

Catching up and recording events from Bramall Lane…

— SUNDAY 23rd OCTOBER

United Women are

narrowly beaten 1-0 at

home to Southampton

at Bramall Lane in the

Women's Championship.

— MONDAY 24th OCTOBER

United's U21s maintained

their lead at the top

of the Professional

Development League

after a 3-2 win over

Burnley. Goals from

Oliver Arblaster and

Louie Marsh (2) cement

another three points.

— SATURDAY 29th OCTOBER

Norwood, Doyle, Osborn, Ndiaye.

Unused: Amissah, Khadra,

McAtee.

Referee: D. Whitestone

Attendance: 22,270

United end a six game

winless run after an

impressive 2-0 away

win at West Brom. Iliman

Ndiaye gave United the

lead before Oli McBurnie

made it 2-0 with a tidy

finish into the corner after

a fine run from Ndiaye.

The Blades looked solid

throughout, earning a

first clean sheet since the

middle of September in

the process.

— SUNDAY 30th OCTOBER

United Women are

beaten 2-1 by Birmingham

City with Courtney

Sweetman-Kirk on target

for the Blades.

— TUESDAY 1st NOVEMBER

United's U21s are

defeated 3-0 by an

experienced Barnsley

side in the Professional

Development League.

United's U18s defeat

Peterborough 2-0 thanks

to goals from Owen

Hampson and Kurtis

Havenhand.

CHAMPIONSHIP

WEST BROMWICH

ALBION 0

–

SHEFFIELD UNITED 2

NDIAYE 11, McBURNIE 23

West Brom: Palmer, Furlong,

Townsend (Reach 76), O'Shea,

Livermore (Molumby 58), Phillips,

Diangana, Pieters, Wallace (Swift

58), Grant, Gardner-Hickman

(Thomas-Asante 85). Unused:

Button, Kelly, Yokuslu.

Blades: Davies, Baldock

(Robinson 76), Fleck (Brewster 65,

Sharp 76), Basham (Stevens 85),

McBurnie, Egan, Ahmedhodžić,

▲ Iliman Ndiaye and Oli McBurnie congratulate each other in the win at West Brom

SHEFFIELD UNITED vs ROTHERHAM UNITED
---
HERE'S

A ST AT

I BET

YOU

DIDN'T

KN

W
---
OVER HALF A MILLION

SKY BET CUSTOMERS USE DEPOSIT LIMITS

TO MANAGE THEIR BETTING BUDGET.

THAT'S ENOUGH TO FILL:

6 WEMBLEYS.

201 ALLY PALLYS.

OR 8 CHELTENHAM GOLD CUP DAYS.

(THAT'S A LOT OF TWEED)

ALL GOOD BOOKMAKERS

HAVE DEPOSIT LIMITS.

SO WHOEVER YOU BET WITH,

SET AN APPROPRIATE ONE FOR YOU

AND THEN ENJOY THE SPORT.

DEPOSIT LIMITS

THAT'S BETTING BETTER.
---
92 UTB

FACTS&FIGURES 2022-23

SHEFFIELD UNITED 2022-23 ROLLCALL

2022-23

LEAGUE

2022-23

CUP

UNITED

CAREER

2022-23

RECORD

Player DOB POB App Sub Gls App Sub Gls App Sub Gls Assists ■ ■

1 ADAM DAVIES 17.07.92 RINTEIN, GER 3 - - - - - 3 - - - - -

2 GEORGE BALDOCK 09.03.93 BUCKINGHAM 18 - - - - - 176 8 5 2 3 -

3 ENDA STEVENS 09.07.90 DUBLIN 2 2 - - - - 188 5 9 1 1 -

4 JOHN FLECK 24.08.91 GLASGOW 8 2 - 1 - - 237 19 15 2 2 -

5 JACK O'CONNELL 29.03.94 LIVERPOOL - - - - - - 172 5 9 - - -

6 CHRIS BASHAM 30.05.88 PETERBOROUGH 11 4 - - - - 343 22 14 - - -

7 RHIAN BREWSTER 01.04.00 CHADWELL HEATH 5 11 1 1 - - 31 32 5 1 1 -

8 SANDER BERGE 14.02.98 ASKER 12 - 3 - 1 - 64 15 11 3 1 -

9 OLI McBURNIE 04.06.96 LEEDS 11 5 9 - - - 61 51 17 1 6 -

10 BILLY SHARP 05.02.86 SHEFFIELD 4 9 - - 1 - 259 87 126 2 3 -

11 REDA KHADRA 04.07.01 BERLIN 4 7 1 1 - - 5 7 1 - - -

12 JOHN EGAN 22.10.92 CORK 19 - - 1 - - 185 1 5 2 3 -

13 MAX LOWE 11.05.97 SOUTH NORMANTON 6 1 1 1 - - 16 3 1 2 1 -

15 ANEL AHMEDHODŽIĆ 26.03.99 MALMO, SWE 12 2 4 1 - - 13 2 4 2 5 -

16 OLLIE NORWOOD 12.04.91 BURNLEY 19 - 2 1 - - 179 12 9 4 4 -

17 ISMAILA COULIBALY 25.12.00 MALI - - - - - - - - - - - -

18 WES FODERINGHAM 14.01.91 HAMMERSMITH 16 - - 1 - - 54 - - 1 1 1

19 JACK ROBINSON 01.09.93 WARRINGTON 2 1 1 - - - 50 6 4 - - -

20 JAYDEN BOGLE 27.07.00 READING 1 1 - - - - 38 7 6 - 1 -

22 TOMMY DOYLE 17.10.01 MANCHESTER 9 4 - - 1 - 9 5 - 1 1 -

23 BEN OSBORN 05.08.94 DERBY 6 3 1 - 1 - 61 33 5 1 - -

26 CIARAN CLARK 26.09.89 HARROW 2 1 - - 1 - 2 2 - - 3 -

28 JAMES McATEE 18.10.02 SALFORD 5 8 1 1 - - 6 8 1 2 4 -

29 ILIMAN NDIAYE 06.03.00 ROUEN, FRA 17 2 9 - - - 43 12 16 3 3 -

30 OLIVER ARBLASTER 08.01.04 SHEFFIELD - 3 - 1 - - 1 3 - - - -

32 WILL OSULA 04.08.03 COPENHAGEN - - - - - - - 5 - - - -

33 RHYS NORRINGTON-DAVIES 22.04.99 RIYADH, SAU 15 - - - - - 38 3 - - 3 -

34 KYRON GORDON 24.05.02 SHEFFIELD 1 - - 1 - - 9 1 - - - -

35 ANDRE BROOKS 20.08.03 SHEFFIELD - 1 - - - - - 1 - - - -

36 DANIEL JEBBISON 13.08.03 OAKVILLE, CAN 1 2 - - - - 6 12 1 - - -

37 JORDAN AMISSAH 02.08.01 HERNE - 1 - - - - - 1 - - - -

39 SAI SACHDEV 09.03.05 LEICESTER - 1 - - - - - 1 - - - -

OWN GOALS: 1

SHEFFIELD UNITED ON THE ROAD 2022-23

BIRMINGHAM CITY 2,714 - -

BLACKBURN ROVERS 1,536 - -

BLACKPOOL 1,499 - -

BRISTOL CITY - 781 356

BURNLEY 2,683 - -

CARDIFF CITY - - -

COVENTRY CITY - 1,857 168

HUDDERSFIELD TOWN - - -

HULL CITY - 2,288 132

LUTON TOWN - 1,032 258

NORWICH CITY 2,643 - -

MIDDLESBROUGH - 2,183 202

MILLWALL 1,270 - -

PRESTON NORTH END - 4,428 150

QUEENS PARK RANGERS 668 - -

READING 566 - -

ROTHERHAM UNITED - - -

STOKE CITY - 2,553 144

SUNDERLAND 2,572 - -

SWANSEA CITY - 560 462

WATFORD - 1,908 292

WEST BROMWICH ALBION - 1,936 180

WIGAN ATHLETIC - - -

CARABAO CUP

WEST BROMWICH ALBION - 739 174

● AWAY FANS AT THE LANE ● BLADES AWAY FANS

● ROUND TRIP (MILES)

GOAL TIMES

F A

0-15 5 4

16-30 6 3

31-45 3 3

46-60 5 4

61-75 11 1

76-90 4 3

EXTRA-TIME - -

GOALS THE BREAKDOWN

SHOTS 27

HEADERS 6

PENALTIES -

OWN GOALS 1

OTHERS -

LEAGUE RECORD

HOME AWAY TOTAL

P 2477 2478 4955

W 1318 677 1995

D 617 609 1226

L 542 1192 1734

F 4537 2988 7525

A 2708 4293 7001

STAT SNIPPET...

Andre Brooks made his

professional debut from

the bench for the Blades in

the 5-2 win over Burnley.

SHEFFIELD UNITED vs ROTHERHAM UNITED
---
UTB 93

CHAMPIONSHIP TOP 5s 2022-23

GOALS

ILIMAN NDIAYE

Sheffield United 9

OLI McBURNIE

Sheffield United 9

JERRY YATES

Blackpool 9

JAY RODRIGUEZ

Burnley 9

BEN BRERETON DIAZ

Blackburn Rovers 9

ASSISTS

DAN BARLASER

Rotherham United 6

SORBA THOMAS

Huddersfield Town 6

ILIAS CHAIR

Queens Park Rangers 6

JACK CLARKE

Sunderland 6

STEFAN JOHANSEN

Queens Park Rangers 6

CLEAN SHEETS

FREDDIE WOODMAN

Preston North End 11

BEN WILSON

Coventry City 8

ETHAN HORVATH

Luton Town 8

THOMAS KAMINSKI

Blackburn Rovers 7

WES FODERINGHAM

Sheffield United 7

GOALS SCORED FROM BENCH

MANUEL BENSON

Burnley 3

OLIVIER NTCHAM

Swansea City 3

ANTOINE SEMENYO

Bristol City 3

GEORGIE KELLY

Rotherham United 3

ILIMAN NDIAYE

Sheffield United 2

GOALS SCORED

BURNLEY

37

SHEFFIELD

UNITED 34

NORWICH

CITY 28

BRISTOL

CITY 27

WATFORD

26

POINTS WON AFTER FALLING BEHIND

SWANSEA

CITY 12

BURNLEY

11

WATFORD

8

MILLWALL

8

SUNDERLAND

8

SHEFFIELD UNITED vs ROTHERHAM UNITED
---
94 UTB

SHEFFIELD UNITED vs ROTHERHAM UNITED
---
UTB 95

FACTS&FIGURES

HOME

AWAY

P TEAM P W D L F A W D L F A GD PTS

1 BURNLEY 20 6 4 0 20 10 4 4 2 17 13 +14 38

2 BLACKBURN ROVERS 20 8 0 2 17 7 4 0 6 7 12 +5 36

3 SHEFFIELD UNITED 19 5 3 1 22 10 5 2 3 12 8 +16 35

4 NORWICH CITY 20 5 3 2 17 10 4 2 4 11 11 +7 32

5 QUEENS PARK RANGERS 19 5 2 2 14 8 4 2 4 11 12 +5 31

6 PRESTON NORTH END 20 3 4 3 5 7 5 3 2 11 9 0 31

7 WATFORD 19 5 1 3 15 10 3 4 3 11 12 +4 29

8 LUTON TOWN 19 2 6 2 13 11 5 2 2 9 8 +3 29

9 SWANSEA CITY 19 5 2 3 15 13 3 3 3 10 13 -1 29

10 MILLWALL 19 7 1 2 16 7 1 3 5 6 13 +2 28

11 BIRMINGHAM CITY 19 3 4 2 10 6 4 2 4 10 10 +4 27

12 READING 19 6 1 3 15 11 2 1 6 6 16 -6 26

13 SUNDERLAND 19 2 4 3 10 10 4 2 4 14 12 +2 24

14 CARDIFF CITY 19 4 2 3 7 6 3 1 6 8 15 -6 24

15 COVENTRY CITY 17 3 1 3 6 6 3 4 3 11 12 -1 23

16 BRISTOL CITY 20 4 2 4 13 10 2 3 5 14 19 -2 23

17 ROTHERHAM UNITED 19 4 3 3 17 12 1 4 4 6 13 -2 22

18 BLACKPOOL 19 3 1 5 12 13 3 3 4 11 15 -5 22

19 STOKE CITY 19 2 2 5 9 14 4 2 4 11 11 -5 22

20 MIDDLESBROUGH 19 3 5 2 11 10 2 1 6 13 15 -1 21

21 HULL CITY 19 4 0 6 10 18 2 3 4 11 17 -14 21

22 WEST BROMWICH ALBION 19 2 4 4 12 14 2 4 3 10 10 -2 20

23 WIGAN ATHLETIC 19 1 3 6 6 17 4 2 3 13 11 -9 20

24 HUDDERSFIELD TOWN 18 4 1 5 10 10 0 2 6 7 15 -8 15

FA WOMEN'S CHAMPIONSHIP 2022-23

P TEAM P W D L F A GD PTS

1 BRISTOL CITY 7 6 1 0 13 2 11 19

2 LONDON CITY LIONESSES 8 5 2 1 17 6 11 17

3 SOUTHAMPTON 8 5 2 1 11 6 5 17

4 CHARLTON ATHLETIC 8 4 1 3 16 13 3 13

5 CRYSTAL PALACE 7 4 0 3 9 8 1 12

6 BLACKBURN ROVERS 8 3 2 3 9 12 -3 11

7 BIRMINGHAM CITY 7 3 1 3 11 10 1 10

8 LEWES 7 2 4 1 8 7 1 10

9 SHEFFIELD UNITED 7 2 1 4 14 9 5 7

10 DURHAM WOMEN 7 2 1 4 7 11 -4 7

11 SUNDERLAND 8 1 1 6 5 13 -8 4

12 COVENTRY UNITED 8 0 0 8 4 27 -23 0

LEAGUE

TABLES

2022-23

U21 PROFESSIONAL DEVELOPMENT LEAGUE NORTH 2022-23*

P TEAM P W D L F A GD PTS

1 SHEFFIELD UNITED 13 8 2 3 23 15 8 26

2 WIGAN ATHLETIC 13 5 2 6 21 19 2 17

3 BURNLEY 12 5 2 5 20 25 -5 17

4 HULL CITY 12 5 1 6 30 23 7 16

5 BIRMINGHAM CITY 12 4 4 4 21 19 2 16

6 PETERBOROUGH UNITED 13 3 4 6 22 28 -6 13

7 COVENTRY CITY 11 3 2 6 17 21 -4 11

8 CREWE ALEXANDRA 9 2 4 3 11 14 -3 10

9 BARNSLEY 10 2 3 5 13 17 -4 9

10 SHEFFIELD WEDNESDAY 13 3 0 10 12 33 -21 9

U18 PROFESSIONAL DEVELOPMENT LEAGUE NORTH 2022-23*

P TEAM P W D L F A GD PTS

1 BARNSLEY 8 5 1 2 20 12 8 16

2 SHEFFIELD UNITED 9 5 1 3 13 9 4 16

3 BURNLEY 9 4 3 2 18 16 2 15

4 PETERBOROUGH UNITED 9 4 0 5 16 23 -7 12

5 WIGAN ATHLETIC 9 3 1 5 14 14 0 10

6 SHEFFIELD WEDNESDAY 8 2 3 3 8 8 0 9

7 CREWE ALEXANDRA 8 2 2 4 10 13 -3 8

8 COVENTRY CITY 7 2 1 4 11 13 -2 7

9 BIRMINGHAM CITY 8 2 1 5 16 20 -4 7

10 HULL CITY 8 1 1 6 10 28 -18 4

*PLEASE NOTE, GAMES AGAINST TEAMS FROM THE SOUTH LEAGUE CONTRIBUTE TOWARDS NORTH TABLE

UPDATED AS OF 06/11/22

SHEFFIELD UNITED vs ROTHERHAM UNITED
---
96 UTB

SEASON STATS

2022-23

AUG

SEP

OCT

NOV

DEC

JAN

FEB

MAR

APR

M

DATE KO OPPOSITION F-A ATT POS 1 2 3 4 5 6 7

MON 1 20:00 WATFORD 0-1 19,536 (1,908) 23 FOD'HAM BALDOCK CLARK EGAN N'-DAVIES STEVENS BERGE

SAT 6 15:00 MILLWALL 2-0 27,738 (1,270) 7 FOD'HAM BALDOCK AHMED'ZIC EGAN CLARK N'-DAVIES BERGE 1

THU 11 20:00 WEST BROM CC1 0-1 6,747 (739) – FOD'HAM GORDON AHMED'ZIC EGAN LOWE NORWOOD ARBLASTER

SUN 14 14:00 MIDDLESBROUGH 2-2 26,056 (2,183) 9 FOD'HAM BALDOCK AHMED'ZIC EGAN N'-DAVIES LOWE BERGE 1

WED 17 20:00 SUNDERLAND 2-1 28,597 (2,572) 4 FOD'HAM BALDOCK AHMED'ZIC 1 EGAN N'-DAVIES LOWE 1 BERGE

SAT 20 15:00 BLACKBURN ROVERS 3-0 27,859 (1,536) 1 FOD'HAM BALDOCK AHMED'ZIC EGAN N'-DAVIES LOWE BERGE

FRI 26 20:00 LUTON TOWN 1-1 9,882 (1,032) 2 FOD'HAM BALDOCK BASHAM EGAN N'-DAVIES LOWE BERGE

TUE 30 19:45 READING 4-0 27,810 (566) 1 FOD'HAM BALDOCK AHMED'ZIC 2 EGAN N'-DAVIES LOWE BERGE

SUN 4 15:00 HULL CITY 2-0 20,426 (2,288) 1 FOD'HAM BALDOCK AHMED'ZIC EGAN N'-DAVIES LOWE BERGE 1

TUE 13 19:45 SWANSEA CITY 1-0 15,458 (560) 1 FOD'HAM BALDOCK BASHAM EGAN AHMED'ZIC N'-DAVIES BERGE

SAT 17 15:00 PRESTON NORTH END 2-0 18,412 (4,428) 1 FOD'HAM BALDOCK AHMED'ZIC EGAN BASHAM N'-DAVIES BERGE

SAT 1 15:00 BIRMINGHAM CITY 1-1 29,927 (2,714) 1 FOD'HAM BALDOCK BASHAM EGAN N'-DAVIES KHADRA BERGE

TUE 4 19:45 QUEENS PARK RANGERS 0-1 26,666 (668) 1 FOD'HAM BALDOCK BASHAM EGAN N'-DAVIES BOGLE BERGE

SAT 8 15:00 STOKE CITY 1-3 22,008 (2,553) 1 FOD'HAM GORDON BASHAM EGAN N'-DAVIES DOYLE NORWOOD

SAT 15 15:00 BLACKPOOL 3-3 28,455 (1,499) 2 FOD'HAM BALDOCK BASHAM EGAN N'-DAVIES OSBORN DOYLE

WED 19 19:45 COVENTRY CITY 0-1 17,913 (1,857) 4 DAVIES BALDOCK AHMED'ZIC EGAN BASHAM N'-DAVIES OSBORN

SAT 22 15:00 NORWICH CITY 2-2 30,035 (2,643) 5 DAVIES BALDOCK AHMED'ZIC EGAN BASHAM OSBORN 1 FLECK

SAT 29 12:30 WEST BROMWICH ALBION 2-0 22,270 (1,936) 4 DAVIES BALDOCK AHMED'ZIC EGAN BASHAM OSBORN FLECK

TUE 1 20:00 BRISTOL CITY 1-0 17,437 (781) 3 FOD'HAM BALDOCK BASHAM EGAN ROBINSON OSBORN FLECK

SAT 5 12:30 BURNLEY 5-2 28,924 (2,683) 3 FOD'HAM BALDOCK AHMED'ZIC 1 EGAN ROBINSON 1 STEVENS FLECK

TUE 8 19:45 ROTHERHAM UNITED

SAT 12 15:00 CARDIFF CITY

SAT 10 15:00 HUDDERSFIELD TOWN

MON 19 20:00 WIGAN ATHLETIC

MON 26 15:00 COVENTRY CITY

THU 29 20:15 BLACKPOOL

MON 2 20:00 QUEENS PARK RANGERS

SAT 14 15:00 STOKE CITY

FRI 20 19:45 HULL CITY

SAT 28 15:00 READING

SAT 4 15:00 ROTHERHAM UNITED

SAT 11 15:00 SWANSEA CITY

WED 15 19:45 MIDDLESBROUGH

SAT 18 15:00 MILLWALL

SAT 25 15:00 WATFORD

SAT 4 15:00 BLACKBURN ROVERS

SAT 11 15:00 LUTON TOWN

WED 15 19:45 SUNDERLAND

SAT 18 15:00 WEST BROMWICH ALBION

SAT 1 15:00 NORWICH CITY

FRI 7

15:00 WIGAN ATHLETIC

MON 10 15:00 BURNLEY

SAT 15 15:00 CARDIFF CITY

TUE 18 19:45 BRISTOL CITY

SAT 22 15:00 HUDDERSFIELD TOWN

SAT 29 15:00 PRESTON NORTH END

SAT 6 15:00 BIRMINGHAM CITY

REMEMBRANCE DAY EDUCATION

FOR UNITED'S U12s…

As valued members of the education

programme, Sheffield United have

been invited to the U12 Christmas Truce

Tournament taking place on November 13th.

The competition, taking place at Cosford

Royal Air Force base, will see the club take

part in an education project alongside

28 other clubs from the Premier League

and Category One academies, with an

opportunity to progress to the Premier

League Truce Tournament in Belgium.

The U12s, with support from educational and

football staff, are putting together a project that

will support Remembrance Day in promoting

the Flanders Fields poem, their poppy design,

social activities, which will be communicated

across the whole club, and most importantly

what this project means to them. Some fantastic

work has been done by the U12 group and we

wish them the best of luck in the competition.

SHEFFIELD UNITED vs ROTHERHAM UNITED
---
UTB 97

HOME GAMES IN BOLD

1 NUMBER SIGNIFIES GOALS SCORED

OG = INDICATES AN OWN GOAL – P = PENALTY

BOOKED – SENT-OFF

(9) = SUBSTITUTE USED (NUMBER DENOTES PLAYER REPLACED)

8 9 10 11 SUBSTITUTES REFEREE

NORWOOD FLECK JEBBISON NDIAYE LOWE (6), BREWSTER (10), KHADRA (3), OSBORN (8), SHARP (11), GORDON, AMISSAH J. SMITH

NORWOOD FLECK BREWSTER NIDAYE 1 SHARP (10), JEBBISON (11), OSBORN (9), LOWE, KHADRA, McATEE, AMISSAH D. COOTE

FLECK McATEE KHADRA BREWSTER OSBORN (8), CLARK (3), DOYLE (9), SHARP (10), BERGE (12), BALDOCK, N'-DAVIES, JEBBISON, AMISSAH D. WEBB

NORWOOD FLECK SHARP NDIAYE BREWSTER (10), McBURNIE (11), GORDON, DOYLE, KHADRA, McATEE, AMISSAH OG A. MARRINER

NORWOOD McATEE BREWSTER NDIAYE FLECK (9), KHADRA (10), McBURNIE (11), DOYLE, BASHAM, JEBBISON, AMISSAH J. LININGTON

NORWOOD 1 FLECK KHADRA McBURNIE NDIAYE (10) 2 , BASHAM (2), BREWSTER (11), DOYLE (7), McATEE, JEBBISON, AMISSAH L. DOUGHTY

NORWOOD McATEE McBURNIE 1 NDIAYE DOYLE (9), AMISSAH (1), AHMEDHODZIC (5), BREWSTER (11), ARBLASTER, OSULA, JEBBISON D. WEBB

NORWOOD DOYLE McBURNIE 1 NDIAYE 1 KHADRA (11), BREWSTER (10), BASHAM (2), McATEE (9), ARBLASTER, JEBBISON, AMISSAH G. WARD

NORWOOD DOYLE McBURNIE 1 NDIAYE BASHAM (6), BREWSTER (10) , McATEE (7), ARBLASTER (9), KHADRA, GORDON, AMISSAH M. DONOHUE

NORWOOD DOYLE McBURNIE NDIAYE McATEE (9), BREWSTER (10), KHADRA (11) 1, JEBBISON, BROOKS, GORDON, AMISSAH D. BOND

NORWOOD NDIAYE 1 McBURNIE 1 BREWSTER DOYLE (11), SHARP (10), McATEE (9), KHADRA, BROOKS, GORDON, AMISSAH J. SIMPSON

NORWOOD DOYLE McBURNIE 1 NDIAYE BOGLE (6), BREWSTER (9), SHARP (10), McATEE (11), ARBLASTER, GORDON, DAVIES D. BOND

NORWOOD DOYLE McBURNIE NDIAYE KHADRA (2), BREWSTER (9), SHARP (10), McATEE (6), ARBLASTER, GORDON, DAVIES J. LININGTON

McATEE NDIAYE KHADRA BREWSTER 1 SHARP (10), ARBLASTER (8), SACHDEV (2), JEBBISON (11), OSBORN (6), BROOKS, DAVIES P. BANKES

NORWOOD 1 McATEE 1 SHARP NDIAYE 1 BREWSTER (10), McBURNIE (6), AHMEDHODZIC (9), KHADRA (2), ARBLASTER, ROBINSON, DAVIES D. WEBB

NORWOOD DOYLE McBURNIE NIDAYE McATEE (6) Y, FLECK (9), SHARP (5), KHADRA, BREWSTER, ROBINSON, AMISSAH K. STROUD

NORWOOD McATEE SHARP BREWSTER NDIAYE (9), DOYLE (7), McBURNIE (11) 1, KHADRA (10), BUYABU, ROBINSON, AMISSAH J. SMITH

NORWOOD DOYLE McBURNIE 1 NDIAYE 1 BREWSTER (7), SHARP (12), ROBINSON (2), STEVENS (5), KHADRA, McATEE, AMISSAH D. WHITESTONE

NORWOOD NDIAYE 1 SHARP KHADRA McATEE (11), McBURNIE (10), STEVENS (7), CLARK (3), SACHDEV, BROOKS, DAVIES S. MARTIN

NORWOOD OSBORN McBURNIE 2 NDIAYE 1 BASHAM (6), SHARP (10), ARBLASTER (7), BROOKS (2), CLARK, KHADRA, DAVIES D. BOND

SHEFFIELD UNITED vs ROTHERHAM UNITED
---
98 UTB

BLADES STATISTICIAN ANDREW KIRKHAM DELVES INTO THE

ARCHIVES TO ENLIGHTEN UNITEDITES WITH TOPICAL FIGURES…

MORE ABOUT UNITED'S INTERNATIONALS...

Firstly, another thank you to Phil

Whitaker for pointing out some errors

and omissions in my recent item about

United's internationals. After some

corrections both ways our figures now

agree.

10 TO 19 CAPS

I omitted Sander Berge with 12 and Petr

Katchouro with 10.

TOTALS

We have 100 players with international

caps, the 100th being Iliman Ndiaye when

he played for Senegal against Benin on

4th June 2022. Those 100 players have

gained a total of 638 caps.

GOALS

37 of our internationals have scored a

total of 106 international goals. Those with

three or more goals are:

Goals Games

Peter Ndlovu 20 25 Zimbabwe

Billy Gillespie 13 25 Ireland

Alf Ringstead 7 20 Republic of Ireland

Luton Shelton 7 9 Jamaica

Jimmy Dunne 6 8 Ireland*

Jostein Flo 5 23 Norway

Paul Ifill 5 5 Barbados

Ernest Needham 3 16 England

David Carney 3 13 Australia

Colin Grainger 3 6 England

John Egan 3 26 Republic of Ireland

Some of Jimmy Dunne's appearances were for the

Republic of Ireland and his earlier ones could be

classed as for Northern Ireland.

THE COUNTRIES

Our 100 internationals represented the

following countries, with the number of

players who did so, the total caps and the

totals goals scored:

Players Caps Goals

England 34 101 18

Cameroon 1 142 2

Wales 21 116 8

Canada 1 4 0

Republic of Ireland 9 119 14

China 1 5 0

Scotland 7 40 0

Cote d'Ivoire 1 1 0

Northern Ireland 7 74 19

Egypt 1 3 1

Australia 3 25 6

Estonia 1 3 0

Norway 3 50 5

Haiti 1 2 0

Malta 2 16 0

Jamaica 1 9 7

Greece 2 8 0

Senegal 1 2 0

Barbados 1 5 5

Turkey 1 1 0

Belarus 1 10 1

Zimbabwe 1 25 20

Belize 1 5 0

The 'players' totals

include Jimmy Dunne

for both Northern

Ireland and the Republic

of Ireland and Bob

Evans for both England

and Wales.

⊲ Some of Jimmy Dunne's

earlier appearances

could be classed as

for Northern Ireland

SHEFFIELD UNITED vs ROTHERHAM UNITED
---
SHEFFIELD UNITED

1 O Adam DAVIES

2 O George BALDOCK

3 O Enda STEVENS

4 O John FLECK

5 O Jack O'CONNELL

6 O Chris BASHAM

7 O Rhian BREWSTER

8 O Sander BERGE

9 O Oli McBURNIE

10 O Billy SHARP

11 O Reda KHADRA

12 O John EGAN

13 O Max LOWE

15 O Anel AHMEDHODŽIĆ

16 O Ollie NORWOOD

17 O Ismaila COULIBALY

18 O Wes FODERINGHAM

19 O Jack ROBINSON

20 O Jayden BOGLE

22 O Tommy DOYLE

23 O Ben OSBORN

26 O Ciaran CLARK

28 O James McATEE

29 O Iliman NDIAYE

30 O Oliver ARBLASTER

33 O Rhys NORRINGTON-DAVIES

34 O Kyron GORDON

36 O Daniel JEBBISON

37 O Jordan AMISSAH

39 O Sai SACHDEV

ROTHERHAM UNITED

1 O Viktor JOHANSSON

2 O Wes HARDING

3 O Cohen BRAMALL

4 O Daniel BARLASER

5 O Jamie McCART

6 O Richard WOOD

7 O Scott HIGH

8 O Ben WILES

9 O Tom EAVES

10 O Brooke NORTON-CUFFY

11 O Chiedozie OGBENE

12 O Georgie KELLY

14 O Conor WASHINGTON

15 O Tolaji BOLA

16 O Jamie LINDSAY

17 O Shane FERGUSON

18 O Oliver RATHBONE

20 O Grant HALL

21 O Lee PELTIER

22 O Hakeem ODOFFIN

24 O Cameron HUMPHREYS

25 O Jake HULL

26 O Robbie HEMFREY

30 O Peter KIOSO

31 O Josh VICKERS

REFEREE

KEITH STROUD

ASSISTANT REFEREE 1

IAN COOPER

ASSISTANT REFEREE 2

GEORGE BYRNE

FOURTH OFFICIAL

ANTHONY BACKHOUSE

MAIN MATCH SPONSOR: ROTHERHAM GLASS — PYRAMID CARPETS

PROGRAMME SPONSOR: EAGLE PLATFORMS — MATCH BALL SPONSOR: NATIONAL TIMBER GROUP

EMERGENCY PROCEDURE:

In the event of any emergency you will hear a safety

message over the PA system. Remain where you are

and listen carefully to the announcement. Comply

immediately if it affects your area. Stewards, Police

Officers and Officials will direct you to safe areas,

which may be through Exit Doors/Gates to the street

or on to the playing area. If you are disabled or

feel unsafe in a large crowd, remain where you are

until stewards assist you. Remain calm and do not

move unless the announcement affects your area.