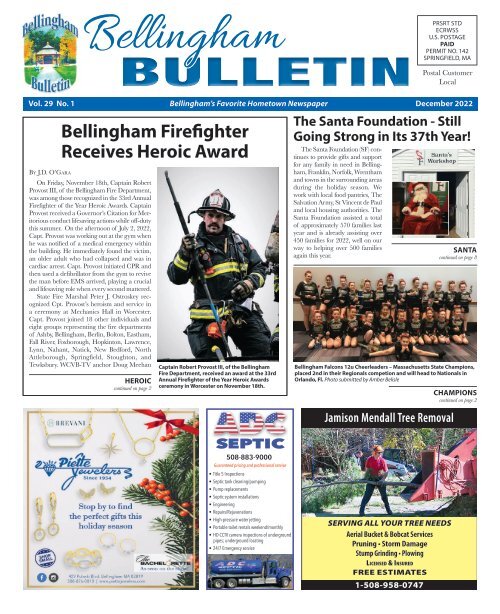 Bellingham Bulletin December 2022
Bellingham Bulletin December 2022
Bellingham Bulletin December 2022
SHOW MORE
SHOW LESS
Create successful ePaper yourself
Turn your PDF publications into a flip-book with our unique Google optimized e-Paper software.
Bellingham

BULLETIN

PRSRT STD

ECRWSS

U.S. POSTAGE

PAID

PERMIT NO. 142

SPRINGFIELD, MA

Postal Customer

Local

Vol. 29 No. 1 Bellingham's Favorite Hometown Newspaper December 2022

By J.D. O'Gara

Bellingham Firefighter

Receives Heroic Award

On Friday, November 18th, Captain Robert

Provost III, of the Bellingham Fire Department,

was among those recognized in the 33rd Annual

Firefighter of the Year Heroic Awards. Captain

Provost received a Governor's Citation for Meritorious

conduct lifesaving actions while off-duty

this summer. On the afternoon of July 2, 2022,

Capt. Provost was working out at the gym when

he was notified of a medical emergency within

the building. He immediately found the victim,

an older adult who had collapsed and was in

cardiac arrest. Capt. Provost initiated CPR and

then used a defibrillator from the gym to revive

the man before EMS arrived, playing a crucial

and lifesaving role when every second mattered.

State Fire Marshal Peter J. Ostroskey recognized

Cpt. Provost's heroism and service in

a ceremony at Mechanics Hall in Worcester.

Capt. Provost joined 18 other individuals and

eight groups representing the fire departments

of Ashby, Bellingham, Berlin, Bolton, Eastham,

Fall River, Foxborough, Hopkinton, Lawrence,

Lynn, Nahant, Natick, New Bedford, North

Attleborough, Springfield, Stoughton, and

Tewksbury. WCVB-TV anchor Doug Meehan

HEROIC

continued on page 2

Captain Robert Provost III, of the Bellingham

Fire Department, received an award at the 33rd

Annual Firefighter of the Year Heroic Awards

ceremony in Worcester on November 18th.

The Santa Foundation - Still

Going Strong in Its 37th Year!

The Santa Foundation (SF) continues

to provide gifts and support

for any family in need in Bellingham,

Franklin, Norfolk, Wrentham

and towns in the surrounding areas

during the holiday season. We

work with local food pantries, The

Salvation Army, St Vincent de Paul

and local housing authorities. The

Santa Foundation assisted a total

of approximately 570 families last

year and is already assisting over

450 families for 2022, well on our

way to helping over 500 families

again this year.

Jamison Mendall Tree Removal

SANTA

continued on page 8

Bellingham Falcons 12u Cheerleaders – Massachusetts State Champions,

placed 2nd in their Regionals competion and will head to Nationals in

Orlando, Fl. Photo submitted by Amber Belisle

CHAMPIONS

continued on page 2

SEPTIC

508-883-9000

Guaranteed pricing and professional service

• Title 5 Inspections

• Septic tank cleaning/pumping

• Pump replacements

• Septic system installations

• Engineering

• Repairs/Rejuvenations

• High-pressure water jetting

• Portable toilet rentals weekend/monthly

• HD CCTV camera inspections of underground

pipes; underground locating

• 24/7 Emergency service

SERVING ALL YOUR TREE NEEDS

Aerial Bucket & Bobcat Services

Pruning • Storm Damage

Stump Grinding • Plowing

Licensed & insured

FREE ESTIMATES

1-508-958-0747
---
Page 2 Bellingham Bulletin Local Town Pages | www.bellinghambulletin.com December 2022

HEROIC

continued from page 1

emceed the event. Firefighters

were honored in front of family

members, previous award recipients,

elected officials, fire chiefs

from across the Commonwealth,

and members of the public safety

community.

As his Chief, I'm very proud of

what he did," says Chief Gentile,

of the Bellingham Fire Department.

"When you're a firefighter,

you're a firefighter whether

you're working or whether you're

not. Captain Provost exemplified

that that day, when he saved that

man's life using nothing but a defibrillator

and his knowledge (of

CPR)." Gentile adds," This community

can be safe knowing they

never know who we are or where

we are, but we always jump in

and help out. That's what exemplifies,

to me, being what a firefighter

is all about."

CHAMPIONS

continued from page 1

Congratulations to the Bellingham

Falcons 12u Cheerleaders

– Massachusetts State

Champions for the second

time! The team took first place

in their States competition on

November 5th, second place at

Regionals on November 19th,

and at press time, were raising

funds for a trip to Nationals in

Orlando, Florida.

At press time, the group was

seeking sponsorships as follows:

• Donations of $100 or greater

will guarantee you or

your company a spot on our

Nationals sponsorship shirt.

Below are some of the suggested

donation amounts:

• PLATINUM PLUS: Your

company name will be

prominently featured at the

top of the national fundraising

sponsor shirt. You will

also be featured on our website,

receive an individual

social media shoutout and

receive a donation plaque

that you can display in your

Massachusetts State Champions, Again!

home or office: $1,000

• PLATINUM: Your company

name will be prominently

featured at the top

of the national fundraising

sponsor shirt. You will also

be featured on our website

and receive an individual

social media shoutout: $500

• GOLD: Your company

name will be featured on the

national fundraising sponsor

shirt. You will also be

featured on our website and

a group social media shoutout:

$250

• SILVER: Your company

name will be sponsored on

our national fundraising

sponsor shirt. Your company

will also be featured on

our website: $100

Donations can be made by

Cash, Check to BAYFC, or via

Paypal at Paypal.me/BellinghamAYFC.

If you are paying by

Paypal you will still need to complete

a sponsorship form.

At press time, Bellingham

Youth Cheer was also planning

a Dinner with Santa event on

December 4, 2022, at the Bellingham

VFW Post 7272, 940

S. Main St., Bellingham. The

event will have two sessions,

4:30-6 p.m. and 6:30-8 p.m. and

will include salad, bread, pasta,

meatballs, dessert and of course,

photos with Santa! There will

also be raffle baskets (donations

still being accepted) and a 50/50

raffle! The cost is $15 pp: $10 for

children 10 and under.

Visit LINKTR.EE/BAYFC

to reserve tickets or for sponsorship,

or scan the QR code accompanying

this article.

Please email bellinghamyouthcheer@gmail.com

for more

information on tax receipts.

Thimble Pleasures Quilt

Guild Accepting Applications

for 2023 Scholarship

The Thimble Pleasures

Quilt Guild is pleased to announce

that they will again be

awarding a $1,000 scholarship

to a graduating senior who is

pursuing a course of study in

the field of visual arts, design,

or textiles. Applications for the

scholarship are available in their

high school's Guidance Office

or are available to download at

www.thimblepleasures.orgl. The

deadline for submission is May

1, 2023.

localtownpages

Founded by

Pamela Johnson

Published Monthly

Mailed FREE to the

Community of Bellingham

Circulation: 7,500

households & businesses

Publisher

Chuck Tashjian

Editor

J.D. O'Gara

Send Editorial to:

bellinghambulletineditor@

gmail.com

Advertising Sales Manager

Jen Schofield

508-570-6544

jenschofield@localtownpages.com

Creative Design & Layout

Michelle McSherry

Kim Vasseur

Ad Deadline is the

15th of each month.

Localtownpages assumes

no financial liability for errors

or omissions in printed

advertising and reserves the

right to reject/edit advertising

or editorial submissions.

© Copyright 2022 LocalTownPages

Bellingham Bulletin

COMMUNITY SPONSOR

This local newspaper is sponsored in part by:

Wishing You The Blessings of the Season from

The Tole Booth

Treasures for the Home, From the Heart

Í

Prints

Angels

Snowmen

Ornaments

Trees, Wreaths

and Garlands

Gift Certificates

Candles & Rosehips

Complimentary Gift

Bag Wrap! & so

much

more!

The shop is brimming with all your

gift-giving and decorating needs.

HOURS: Wed-Sat 10-5 | Sun 12-5

Call for Extended Hours

129 Main St. (Rte. 122) • Blackstone, MA 01504

508-876-8900

FOR UPDATES

Insured MA

u Serving Bellingham since 1991 u

VALLEE'S

EXTERIOR

HOME IMPROVEMENT, INC.

u Siding u Windows u Roofing u

Call for your Free Estimate!

508-883-7912

BELLINGHAM

MA License

SALES • TOWING • COLLISION REPAIR

All Work Guaranteed • Enterprise ® Rentals Available

508-883-3108

RS#2912
---
December 2022 Find us on Facebook | bellinghambulletin Page 3

Trail Riders Important Supporters of SNETT

By Dave Dunbar

A well-known multi-use recreational

trail – "SNETT" –

runs from Franklin in the east to

Douglas in the west, terminating

in Connecticut. The Southern

New England Trunkline Trail

receives support from the Commonwealth

of Massachusetts

and a variety of local volunteer

and non-profit organizations.

One of them is the Bay

State Trail Riders Association

(BSTRA).

"It's a labor of love," says

Becky Kalagher, president of

the 285-member equestrian organization

established in 1973

and based in Douglas, Mass. "I

seriously believe that the horseback

riding community must

be part of the solution and be

involved especially at the local

level. If you are willing to invest

sweat equity, time, or money,

land-owning agencies are more

willing to work with you as a

partner because they know you

care."

One of BSTRA's founding

members is a Bellingham

resident who began organizing

the association almost 50 years

ago. "Ed Whalley was instrumental

in convincing the state

to purchase the abandoned railroad

bed to be used as a trail,"

says Kalagher. "He had a vision

of this trail becoming the

backbone of huge trail system

that we could all enjoy, not just

horseback riders." Whalley, who

lived around Silver Lake, passed

away a few years ago. Kalagher

became president in 1990.

"Our goal," she explains,

"was to start at one end of the

trail in Connecticut and work

towards the other end at Franklin

State Park. We are glad that

residents of Franklin and Bellingham

came together to advocate

and work on those sections,

too! The more that people are

involved, the better it is for all of

us that use the SNETT."

Rose Zariczny is the organization's

Recording Secretary

who joined in the early 1980's.

Her favorite activity is camping

with the horses. "It's usually

a long weekend," she says,

"and we pack up our trailers and

trucks and horses and head out

to a campground." Her favorite

spot is Miles Standish State Forest

in Carver, Mass.

The Bay State Trail Riders Association is an organization whose

number one priority is keeping trails, like the SNETT, open for

equestrian use.

"I love horse people," she

smiles. "And riding in areas

where we might otherwise not

go."

Looking forward into 2023,

BSTRA is planning a celebration

of its 50th anniversary. And

there's lots of work to be done

along the length of the trail itself.

"Now, if we can establish

a place to park some truck and

trailer rigs, then local horseback

riders and visitors will be able

to enjoy the SNETT and ride

to the Franklin State Park," says

Kalagher.

357 West Central St.

Franklin, MA 02038

I'll show you the

HO HO

HOME

of Your Dreams!

Whether you're a Buyer

or a Seller, call

RO KILDUFF—

Ro knows the

Bellingham/Franklin

market inside & out.

NOBODY KNOWS

IT BETTER!

Zariczny adds that the association

is always on the lookout

for new, younger members. "We

need people to follow in our

footsteps, so we encourage involvement.

We love horses and

people… and we'd like to share

the love and keep this going."

According to its website, the

Bay State Trail Riders Association

is an organization whose

number one priority is keeping

trails open for equestrian use.

It also advocates for multi-use

trails that are horse-friendly

such as hiking, mountain biking,

snowmobiling, cross country skiing,

running, and snowshoeing.

HAPPY

HOLIDAYS!

Ro (Caddick) Kilduff

508-561-4992

Email: ro@rocaddick.com

MEMBER OF THE BELLINGHAM

BUSINESS ASSOCIATION

Congratulations to the winners in my Annual Giveaway!

~ THANKSGIVING GIVEAWAY ~

Winners of a $ 25 GIFT CERTIFICATE to a local supermarket are

Mike Young, Carolyn Denise, Mary Jane locklin, Shiela Chartier

Jacinta Lavallee, All of Bellingham

~ HOLIDAY SHOPPING SPREE ~

Winners of a $ 50 GIFT CERTIFICATE to Wal-Mart, Target or Home Depot

are Catherine May and Bruce Saperstein

CHECK LISTINGS AT MY WEBSITE, ROCADDICK.COM

Kalagher adds, "Since we

started doing work on trails in

1989, we have put over $712,000

back into trails, and that is something

we are very proud of. This

is in the form of volunteer labor,

donated machine work/materials,

grants, and cash."

BSTRA members participate

in a variety of events including

pleasure and competitive trail

Bellingham Shirts Make Great ANYTIME Gifts!

HIGH-QUALITY APPAREL

TEES • LONG-SLEEVE TEES • SWEATSHIRTS

Different landmarks on FRONT & BACK

printed IN 5 INK colors;

Women's in white or ash

Men's in ash only

AVAILABLE AT

Ernie's

191 Mechanic St./Rte. 140 • Bellingham, MA 02019

Tel: 508-657-1043

or order online at www.BellinghamStuff.com

DALPE'S P&M SVCS., LTD.

MA Lic.# 11226

RI Lic.# 1719

DBA

from the Collision &

Towing Experts at

RS# 3256

Bellingham, MA

LIQUORS

46 NO. MAIN ST./RTE. 126

rides, workdays, raffles/opportunity

drawings, fund-raisers,

silent auctions, campouts, and

an annual awards presentation.

You can learn more about

the Bay State Trail Riders Association

at www.bstra.org and by

visiting the organization's Facebook

page. Or by calling (508)

476-3960.

Visit Us for All Your Collision Repairs!

Free delivery within Bellingham

Joe The Plumber

508-962-5225

JothePlumber314@aol.com

24-HR. TOWING: 508-966-1008

Magnets, too!

Repairs • Installations

Kitchen & Bath Remodels • Gas Piping

Gas & Oil Heating System

Installations • Conversions

Joe Corriveau

Master Plumber
---
Page 4 Bellingham Bulletin Local Town Pages | www.bellinghambulletin.com December 2022

Shelter Full of Animals Seeking Love around the Holidays

By J.D. O'Gara

Is pet adoption the wrong

thing to do around the holiday

season?

Baypath Humane Society's

Kathy Lundgren says it depends.

"There's always so much

going on around the holidays to

adopt a pet," says the Baypath

volunteer, "It's not an ideal time

if you're going to have company

over and a lot of people coming

and going at your house. It is

ideal for some people who have

time off from work and can acclimate

them to their homes. It

really depends on what people

are expecting, company, and the

holiday hustle and bustle."

Adopting a pet as a surprise

gift? Lundgren says no.

"We always want to be talking

to (potential owners), to

meet them or at least talk to

them to make sure everyone is

on board," says the volunteer,

"It's not fair to the animal to

bounce them around. Rather

than a lot of paperwork, she

says, "We find out more about

Maia and Max were recently saved from a Korean meat market. Thanks

to a generous grant, these two potential adoptees will come with a free

positive training package.

Layla is one of the puppy

dogs available for adoption at

Baypath Humane Society. See

her story at Layla and a video:

https://www.youtube.com/

watch?v=jUMNukemxGA&t=16s

people just by having a conversation

with them. If you live in

an apartment, we want to make

sure your landlord is ok with

it, if you're adopting a dog, we

want to make sure there's no

breed restrictions, and if you

have a pet at home, we like to

ask for the vet information. We

can find out a lot just by talking

to the veterinarian's office, like

if someone has 10 pets at home

and is overwhelmed, or that this

person is a great pet owner."

During COVID, says Lundgren,

"a lot of people were

bored – they were home, and

they were getting pets and trying

to entertain the kids." Sometimes,

she says, that could be the

"wrong reason for getting a pet

One-year-old Margarita is a current

resident of Baypath in search of a

new home with lots of love.

that's going to live with you for

18 years." Asking how long a

potential owner has wanted a

pet, she says, "avoids knee jerk

reactions. We didn't want those

bounce backs, but now, we're

getting a lot more of those

bounce backs."

In fact, a higher number of

the animals than usual are local

surrenders, says Lundgren.

"That's unusual for us," she

says, "and it's really tough. We

only have room in our shelters

for 20 dogs, so we rely on fosters

a lot. The other 50% are a few

from down south and, believe it

or not, Korea. We have four dogs

from the Korean meat market."

Baypath has worked with the International

Humane Society to

save these dogs from Korea and

has, and you can watch the story

of two of the dogs at https://

youtu.be/zxFiaSFCzVc . Many

of the current rescue dogs from

south U.S. are beagles removed

from Envigo, and you can view

their stories at https://youtu.

be/eqhZ92VgFxs.

Most cats, she says, come

from the local area.

"There are still little colonies

of cats. I know in Franklin there

was a group of people who were

tracking, neutering, and spaying

cats. We also work with a couple

different vets on that," says Lundgren.

At the press time, about

25 cats were available for adoption.

For a staff of only about 10,

Baypath Humane Society, which

has been around for 40 years,

manages to adopt out about 900

dogs and cats per year.

"We get out a lot of animals,

we have an incredible staff, only

about 10 people that work very

hard," says Lundgren, "Ninety

percent of our business is run

by volunteers. It's a pretty welloiled

machine."

Baypath Humane Society,

located at 500 Legacy Farms in

Hopkinton, is currently closed

for public drop-ins, although

they are still actively taking in,

caring for and rehoming cats

and dogs. Those interested are

encouraged to call (508) 435-

6938 between 9 a.m. to 5 p.m.

weekdays, and 10 a.m. to 4 p.m.

on weekends. To view available

animals up for adoption

and learn more, visit www.baypathhumane.org,

or follow @

BaypathHumane on Twitter,

Facebook, and Instagram.

NOW

OPEN!

We are by appointment only.

Book your appointment at:

HOLIDAY SPECIAL

10 free units of botox,

Jeauvue or Xeomin.

Minimum 30 units.

$100 OFF Filler

New clients only

expiration 1/31/2023

Services include:

• BOTOX Injections

• Dermal Fillers

• Chemical Peel

• Hair Restoration

• Microneedling

• Vitamin Injections

We love our customers, so feel free

to call, text or email us anytime.

Bella Bela Aesthetics

Main Street, Millis, MA

857-800-3597

bellabela617@hotmail.com

Don't just watch TV — Make it!

Come on down to the ABMI-TV studio

and learn the "ins-and-outs"

of video production…

We're always looking for

interested volunteers!

Access Bellingham-Mendon, Inc.

10 WILLIAM WAY (OFF RTE. 140) • BELLINGHAM, MA 02019

Tel: 508-966-3234 • Email: abmi8@comcast.net

Visit us on the web at abmi8.org
---
December 2022 Find us on Facebook | bellinghambulletin Page 5

Your Money, Your Independence

Perfection is the Enemy of Good, Focus on Executing Improvements.

Glenn Brown

While 2022 has been a challenging

investment environment,

it has been a fantastic year to see

the benefits of executing financial

plans over the past few years.

Were all outcomes perfect?

No, and they never can be. See

by seeking the perfect opportunity

or waiting for the perfect

time, one prevents the implementation

of good improvements.

Consider the good done by executing

on a remodel or outdoor

project in 2017-19 or refinancing

your mortgage and/or auto loans

in 2020-21. More recently, how

about deleveraging variable debt,

establishing access to equity, raising

emergency funds availability,

modeling for variables such as

inflation on expenses as well as

remaining true to your risk tolerance.

Sure, it's easy to bemoan

things that's didn't go as planned

with investments, like bonds not

playing their role portfolio stability

in 2022. But this too shall pass

as Fed pivots away from their feverishly

raising of interest rates

next year. Can the same be said

next year about an opportunity

to lock in your mortgage under

3% or get your remodel done at

30-40% less?

There's still some good improvements

you can do by yearend,

if appropriate.

Roth Conversion. Have sizable

Traditional IRAs? Think

taxes are going up? You believe

your holdings will rebound? With

a strong handle on your sources

of income and capital gains for

2022, consider modeling tax liability

of different amounts converted

to a Roth IRA.

Remember, unlike a few years

ago, you can no longer undo a

conversion via "recharacterization",

so what's done is done.

Tax-Loss Harvesting. Sell investments

for large gains earlier

in the year? Sitting on sizable unrealized

losses? Consider selling

to realize tax-losses that can offset

current year gains or be carried

forward against future year gains

as well as write off up to $3,000

against ordinary income.

Recall the IRS wash-sale

rule prohibits selling an investment

for a loss and replacing it

with the same or a "substantially

identical" investment across all

household portfolios 30 days before

or after the sale. So if you

are going to sell and buy back,

verify it's clean 30 days prior and

then wait 31 days.

Last minute 401(k), 403(b)

and 457 plan contributions. Ideally,

you'd be at $20,500 maximum

contributions limits ($27,00

if 50 or older). If not, many

plans allow online changes up to

50% of wages. Have a year-end

bonus? Can forgo a paycheck or

two? Act quickly as plans require

a pay cycle for updates to take effect.

And if you're late to impact

2022, then see how long you go

with higher contributions to front

load towards 2023 contributions

limits of $22,500 ($30,000 if 50

or older).

Still waiting for perfect, instead

of executing on the good?

Ok, there's this 30-year old

"genius" that founded a crypto

exchange in the Bahamas and

issued their own coin for trading.

In 3 years, he's worth $25

billion and his firm's Marketing/

PR includes Tom Brady, Stephen

Curry, MLB, NBA, plus TV personalities

call him a modern-day

J.P. Morgan and has clout as 2nd

largest US political donor in

2022.

Perfect, right?

Please note the sarcasm, and

put the work in towards the good.

May you and those closest to

you enjoy a happy and safe holiday

season.

Full Boneless

PRIME RIB

Feeds approx. 14 people

INCLUDES: Mashed potatoes,

au jus and dessert

$499.99

The opinions voiced in this

material are for general information

only and are not intended to

provide specific advice or recommendations

for any individual.

Glenn Brown is a Holliston

resident and owner of PlanDynamic,

LLC, www.PlanDynamic.

com. Glenn is a fee-only Certified

Financial Planner helping

motivated people take control of

their planning and investing, so

they can balance kids, aging parents

and financial independence.

Sponsored articles are submitted by

our advertisers. The advertiser is solely

responsible for the content of this article.

New England Steak and Seafood

11 UXBRIDGE ROAD, MENDON

ROAST PRIME RIB OF BEEF

CHOOSE COOKED FOR YOU ($10 UPCHARGE) OR READY TO COOK

REHEATING OR COOKING DIRECTIONS INCLUDED

Let Us Do The Work For You!

Half Boneless

PRIME RIB

Feeds approx. 7 people

INCLUDES: Mashed potatoes,

au jus and dessert

$259.99

Pumpkin Bread

$15.99 dz.

Cinnamon Rolls

$15.99 dz.

Onion Rolls

$15.99 dz.

PLEASE ORDER EARLY! CALL 508-478-0871

ALL ORDERS MUST BE IN BY DEC. 22 ND AND PICKED UP ON DEC. 24 TH BETWEEN 1 & 3 PM

Want financial independence?

Are you building with:

■ Fee-only Certified Financial Planner

■ Strategies for budget, cash flow & debt

■ Low-cost investments ■ Growing income streams

■ Maximizing work, government & health benefits

■ Tax planning ■ Insurance analysis ■ Estate planning

■ College savings for kids ■ Care for elderly parents

We help you take control of planning and investing,

so you can balance kids, aging parents

and financial independence.

Glenn Brown,

CFP®, CRPC

508-834-7733

www.PlanDynamic.com

PlanDynamic, LLC is a registered investment advisor. Please visit our website for important disclosures.

SAFE

SAFE IN

IN YOUR

YOUR HANDS WITH

HANDS WI-FI

WITH WI-FI ® ®

®

SAFE IN YOUR HANDS WITH WI-FI ®

®

LiftMaster © 87504

LiftMaster Garage LiftMaster Door

© 87504

© 87504

Garage Opener LiftMaster Garage Door Door ©

87504

Opener Garage

LiftMaster OpenerDoor

© 87504

Opener

Garage Door

Opener

With a Wi-FI garage door door

opener,

With a Wi-FI garage door

you'll

opener,

you'll always

you'll

always know

always

know your

know your

your

little With Wi-FI garage door

little With ones

opener, little ones a

ones

Wi-FI are

are

protected.

you'll are

garage protected.

always door

know your

opener, you'll

little ones You are can

always

protected. check

know

if the

your

little ones You are You can protected.

check if the

garage door was left

open

garage You can — and

door check close

was if the

left

You

garage can check

door was if the

it open — right — and from close your left

it garage

open it — right door

and from was

close

your left

smartphone.

smartphone.

open

it — and close

right from your

it — right from your

smartphone.

smartphone.

JOLICOEUR OVERHEAD DOORS

745 JOLICOEUR South Main St., OVERHEAD Bellingham, MA DOORS 02019

JOLICOEUR OVERHEAD DOORS

508-883-4522 745 South Main • St., www.mygaragedoor.com

Bellingham, MA 02019

745 JOLICOEUR South Main

508-883-4522 OVERHEAD St., Bellingham,

• www.mygaragedoor.com

DOORS MA 02019

508-883-4522 745 JOLICOEUR South Main OVERHEAD • St., www.mygaragedoor.com

Bellingham, DOORS MA 02019

745 508-883-4522 South JOLICOEUR Main St., • www.mygaragedoor.com

Bellingham, OVERHEAD MA DOORS 02019

508-883-4522 • www.mygaragedoor.com

745 South Main St., Bellingham, MA 02019

©2018 LiftMaster All Rights Reserved. Wi-Fi is a registered trademark of Wi-Fi Alliance. Apple ® and iPhone ® are registered trademarks of Apple Inc.

©2018 LiftMaster All Rights Reserved. Wi-Fi is a registered trademark of Wi-Fi Alliance. Apple ® and iPhone ® are registered trademarks of Apple Inc.

©2018 LiftMaster All Rights Reserved. Wi-Fi is a registered trademark of Wi-Fi Alliance. Apple ® and iPhone ® are registered trademarks of Apple Inc.

©2018 LiftMaster All Rights Reserved. Wi-Fi is a registered trademark of Wi-Fi Alliance. Apple ® and iPhone ® are registered trademarks of Apple Inc.

©2018 LiftMaster All Rights Reserved. Wi-Fi is a registered trademark of Wi-Fi Alliance. Apple ® and iPhone ® are registered trademarks of Apple Inc.

508-883-4522 • www.mygaragedoor.com
---
Page 6 Bellingham Bulletin Local Town Pages | www.bellinghambulletin.com December 2022

Municipal Spotlight:

Road Project Completion Now Set for June 2023

By KEN HAMWEY,

Bulletin Staff Writer

Residents traveling through

the center of Bellingham where

routes 126 and 140 intersect

probably are wondering if the

road-widening project there will

ever be completed.

Last winter in January, The

Bulletin detailed what the project

involved and when it would

be completed. At that time, the

date for completion was June 30,

2022. Now, five months after that

projected date and with plenty

of work still remaining, there's

a new finish date. And, there's

an explanation why the original

timeline failed.

The new date to finish the job

is June 30, 2023, a year later than

the first timeline.

"New utility poles were installed

on time,'' said Town

Administrator Denis Fraine.

"However, old poles with wires

attached were not removed because

Verizon, the utility firm

dealing with the poles, said

their removal was extremely

complicated and the transfer of

lines impacted numerous local

customers and businesses. The

delays, unfortunately, were substantial.

"We expected this work to be

done in the spring, but it wasn't

finished until mid-October. The

delays prohibited the contractor

(Walsh Construction) from paving

the roads and installing new

sidewalks. We've had delays with

other projects, but never to this

extent.''

The project, called "Town

Center Improvements,'' will add

a lane that leads to North Main

Street. So, there'll be two lanes

from Walgreen's to the old Town

Hall (yellow building) that will

merge into one lane traveling

northbound towards the former

Santander Bank. Land-taking

occurred at Walgreen's, at Domino's,

at the park in front of the

Municipal Center, at the Town

Hall and at two houses past

Town Hall. The Dominos building,

which the town purchased,

has been demolished because of

Share the Joy

with Chocolates from Mt. St. Mary's Abbey

Tom Degnan, the DPW's project manager, inspecting the demolition

work at the site of the former Dominos building.

its proximity to the new lane.

Another area undergoing

change is at Rockland Trust,

which has lost a chunk of its

parking lot at the downtown traffic

light. It's a widening procedure

that creates an added lane

as North Main Street motorists

approach Rockland Trust and

Route 140.

"There'll be a dedicated right

turn lane to Route 140 going to

Mendon,'' Fraine noted. "The

existing lane at the downtown

light will allow traffic to go either

to Route 140 (Mechanic

Street) or to Route 126 (South

Main Street). The dedicated lane

should help lessen the downtown

backups that occur on North

Main Street.''

The final phase of the work

involves a shared-use bicycle path

from Mechanic Street to North

Main Street and wider sidewalks.

"It'll be more pedestrianfriendly,''

Fraine said. "The State

now requires shared bike-paths

on new road construction.''

Work that is continuing

through the end of this month

includes traffic-light wiring and

widening of lanes. Here's what's

on tap for next spring — connection

of all underground utilities;

granite removal; road grading

and paving; and signal activation.

"Our expectation is that the

project will run smoothly in the

spring and be completed on

time,'' Fraine said. "People were

annoyed by the delay, but I think

they recognized that construction

projects face delays. We appreciate

their patience.''

Tom Degnan, the DPW's

Project Manager, noted that

"word got out about the delays

and our office wasn't inundated

with phone calls.''

Another road improvement

is underway — the South Main

Street Traffic Improvement Project

— and it covers the roadway

from the town center to Douglas

Drive.

A $7-million grant will be

used to improve and widen the

road, create wider shoulders,

install sidewalks on both sides,

improve drainage and make the

stretch bicycle and pedestrianfriendly.

The town's share of the

cost is $1 million for design and

easements. The Mass. Department

of Transportation is overseeing

the project, which is slated

for completion in 2023.

"Amorillo Construction Company

of Worcester is the contractor

and work is moving along

quickly,'' Degnan said. "A very

aggressive schedule is being followed.''

Degnan listed five other roadimprovement

projects that have

recently been completed.

The first includes paving of

29 streets located in the Douglas/Easy

Street neighborhood,

the Newland Avenue/Lizotte

Drive neighborhood, Maple and

Farm Streets, Harper's Boulevard,

Candace Road and Stonehedge

Road.

The second was sealcoating

of 30-plus roads and the third

was town-wide painting of crosswalks,

intersections and double

yellow lines. The fourth involved

drainage work on seven streets

and the fifth involved multiple

repairs townwide, raising and

paving of catch basins and manhole

covers.

Roadwork upgrades and repair

seem to be a priority in

Bellingham and that can only be

good news — as long as nagging

delays don't interfere along the

way.

local expertise you can trust

Our Abbey Candy Shop is now open from 10:00 am – 6:30 pm.

scan here to place

your order today!

Benjamin Insurance Agency

cbenjamin@allstate.com

401-767-2061

72 South Main Street

Bellingham, MA

401-765-5000

125 Eddie Dowling Highway

North Smithfield, RI

Mt. St. Mary's Abbey

300 Arnold St., Wrentham

http://www.trappistinecandy.com/

Now Hiring/Willing to Train.

Subject to terms, conditions and availability. Allstate Fire and Casualty Ins. Co & affiliates:

2775 Sanders Rd Northbrook IL 60062. © 2021 Allstate Insurance Co.

15646235
---
December 2022 Find us on Facebook | bellinghambulletin Page 7

FREE!

$20 Towards Your

Next Delivery Order

($50 minimum)

Text 508-687-6138 to get started!

• Green Cleaner (hypoallergenic & biodegradable detergents)

• FREE Pickup & Delivery

• Barcodes - garment tracking

• Texting - text and communicate through text and receive a

text in real time when you're orders ready

• Concierge service

279 5-Star Google Reviews!

508 376 9100

Text us: 508-687-6138

969 Main Street, Unit 1 • Millis, MA

qualitycleanersmillis.com

HOURS

Monday: 8 am - 5 pm

Tuesday: (Delivery) 8 am - 5 pm

Wednesday - Thursday: 8 am - 5 pm

Friday: (Delivery) 8 am - 5 pm

Saturday: 8 am - 1 pm

Sunday: Closed
---
Page 8 Bellingham Bulletin Local Town Pages | www.bellinghambulletin.com December 2022

SANTA

continued from page 1

Serving the community for over 65 years

The Santa foundation

couldn't do what it does without

the support of many local

businesses (many are listed on

our website sfjoy.org) and local

community support. We are

overwhelmed with the constant

influx of support through donations,

adopting families and gifts

from our local giving trees (see

the list below, all you need to

do is pick a tag off the tree, buy

the gift listed, tape the name tag

to the unwrapped gift, and the

Santa Foundation will get the

gift delivered! Dick Tomaino

coordinates getting all the tags

delivered and picking up the

gifts as needed.

• Franklin Police Department,

911 Panther Way, Franklin

• Grove Street Auto, 79 Grove

Street, Franklin

• James Roadside Café, 850

Franklin St., Wrentham

• King Street Cafe, 390 King

St., Franklin

• Medway Police Department,

315 Village St.,

Franklin

• Middlesex Bank, 1000

Franklin Village Drive,

Franklin

• Norfolk Credit Union, 194

Main St., Norfolk

• Norfolk Fire Department,

117 Main St, Norfolk

• Postal Center, 279 E Central

Street, Franklin

• Postal Center, 9 Medway

Rd., Ste. C, Milford

• Postal Center, 14 Milliston

Rd., Millis

• Zuzu's Petals ,19 Dean

Street, Franklin

Our volunteers that work at

The Santa Foundation are still

concerned about the ongoing

COVID, Flu and RSV risks, so

we're operating with a light staff.

This does mean longer days

and hours for Jan Prentice, Lia

Thomas, and Patty Toney, who

are the best Santa Helpers in the

world. They all work hard getting

the wish lists, getting information

to adopting families, and

coordinating the pickup of gifts

when everything is accounted

for. We also have two younger

volunteers, Patrick Timmons

and Karina Thomas, who help

maintain our website and assist

with our annual fundraisers

at La Cantina Winery and the

well-loved November Calendar

raffle.

People always ask what we

need! Santa Foundation President

Richard Timmons says,

"The best gifts for most recipients

are still gift cards. Walmart,

Target and local food chains

are gifts that allow families to

get a gift but also go shopping

for clothes and food as needed."

This year, there is a concern on

increasing prices, and inflation

is a big concern this year with

electric, oil and gas prices all significantly

higher. We have had a

few recipients' requests for gas

cards to lighten the burden, so

this may be a new gift idea.

The Santa Foundation not

only provides families with

gifts during the holiday season,

but also helps families in need

throughout the year. We have

paid rent, utilities, and expenses

for daily necessities as needed.

Jan and Lia note the current

needs for families this year are,

"Pampers of all sizes, clothes for

boys and girls under age 5, gifts

for teenagers, and gift cards."

Donations of these items can be

purchased and dropped off at

the Santa Foundation located at

1 Joy Street Franklin Ma.

Says Timmons, "The generosity

we see from everyone is

amazing during the timeframe

from now until Christmas. I wish

everyone could see the faces and

hear the thank you as the gifts

are given to the recipients.

The Santa Foundation wishes

everyone a Merry Christmas,

Happy Holidays, and Happy

healthy New Year."

To reach the Santa Foundation,

located at 1 Joy Street in

Franklin, visit www.sfjoy.org, or

find them on Facebook. You can

also call (508) 528-4715 or email

hello@sfjoy.org.

Curveballs happen.

Be ready to swing back.

The funds you need when you need them.

Whether you need to renovate, update or consolidate, a Dean Bank

Home Equity Loan or Line of Credit is always there for you. Just like us.

LIFE'S CURVEBALLS SOLVED

Home Equity Line of Credit

6.75% APR*

Fixed Rate Home Equity Loan

5 YEARS

5.250% APR**

Apply online at deanbank.com or visit a branch today.

Other rates and terms are available. Scan the code for details.

*The interest rate is currently based on the Wall Street Journal Prime Rate as published in the Wall Street Journal on the first business day of each month

minus 0.25%. Rates are subject to change monthly and may increase after consummation. The maximum APR is 18% and the minimum is 3.25%.

**Annual Percentage Rate (APR) effective as of 11/8/22. Minimum loan amount is $10,000. Maximum loan amount cannot exceed 80% of the home's current

appraised value less any existing mortgage liens. If loan is higher than $250,000, a full appraisal is required. Offer applies to new loans only and is valid on

owner-occupied 1-2 family residential properties and 1 unit second homes. Homeowners insurance is required. Flood insurance may be required. Monthly

payment example for a $10,000 loan is $189.90 for 60 months at 5.250% APR. Payments will not include taxes or insurance; these will be the responsibility

of the borrower. No closing costs (unless a full appraisal is needed or other fees are required outside of standard bank fees). Subject to our normal credit

approval requirements. Offer is subject to change without notice.

deanbank.com • (508) 528-0088

Member FDIC Member DIF NMLS#412095
---
December 2022 Find us on Facebook | bellinghambulletin Page 9

Holiday Happenings 2022

By Ashley Kazijian

It's the most wonderful time of the

year! And with that, comes many wonderful

experiences waiting to be had. Grab

your hot cocoa (or cup of cheer!) and

get ready to hit one of the many intown

and/or local events that are guaranteed to

make your spirits bright. Don't forget to

check out the interactive maps for sledding

and Christmas light viewing to add that

extra bit of holiday magic to your season!

Several of the events listed below require

registration/ticket purchase prior to

the event- please visit the event webpage

to complete this process.

Polar Express Extravaganza

Bellingham Public Library

Saturday December 3rd, 5-6:30 p.m.

online registration required, please visit

the Library's online calendar of events to

register

*free event

Holiday Yarn Wreath Making

Bellingham Public Library

Monday December 12th, 6-8 p.m.

online registration required, please visit

the Library's online calendar of events to

register

*free event

Winter Candyland Christmas

Fair at St. Blaise Parish

Located in the parish hall on 1158 S

Main St, Bellingham

Saturday December 10th, 9 a.m.-3

p.m.

*free event

Bellingham Police Department's

'Munchkins with Santa'

30 Blackstone Street, Bellingham

Saturday December 3rd, 11 a.m. – 2

p.m.

*free event

BHS Op-Grad Holiday Craft and

Vendor Fair

Located in the High School at 60

Blackstone Street, Bellingham

Saturday December 3rd, 9 a.m. – 3

p.m.

*free event

Bellingham Senior Center

If you are a member of the BESG

(Bellingham Elder Service Group), please

note the venue for the Christmas Party

(Saturday December 10th) and the New

Year's Eve Party (Friday December 30th)

has been changed to the VFW Post located

at 940 S Main St. in Bellingham.

Winter Wonderland Farm

Festival at Fairmount Fruit Farm

885 Lincoln Street, Franklin

Saturday, December 17th at 10 a.m. –

3 p.m.

*free event

Winter Wonderland and the

Festival of Illumination at

Southwick's Zoo

2 Southwick Street, Mendon

Now through December 31

Wednesday - Sunday evenings

Closed Monday and Tuesday evenings

Advanced online discount ticket $27/person;

Door $32/person at the door

Bass Pro Santa's Wonderland

1 Bass Pro Drive, Foxboro

November 5th through December

24th, 2022

Reservations for photo with Santa recommended

and can be made online

*Free photo with Santa

Magic of Lights Drive Through

at Gillette Stadium

1 Patriot Place, Foxboro

November 18th through December

31st, 2022

5-10 p.m. (Closed 11/20-11/21, 12/1,

and 12/24-12/25)

Tickets must be purchased online, $23-$40/

per vehicle

Winter Skate at Patriot Place

closed for the season due to

ongoing construction

Festival of Lights at La Salette

Shrine

947 Park Street, Attleboro

November 24th through January 31st,

2023

Illuminated daily from 5-9 p.m.

*Free admission

Winter Sledding map

For a list of local spots to go sledding,

please visit https://communitykangaroo.

com/sledding/ and search by town. This

interactive map can be searched by hill

size (large/small) making it a perfect tool

to find something for all ages.

Christmas Lights map

Community Kangaroo also provides

an interactive map of local light displays

to really get the family in a jolly mood!

Please visit https://communitykangaroo.

com/lights/ and search by area, load up

the car and be on your merry way!

Route 109

Medway Millis
---
Page 10 Bellingham Bulletin Local Town Pages | www.bellinghambulletin.com December 2022

Bellingham is Open for Business Grant Program

The Bellingham Library

has been awarded a grant to assist

Bellingham area businesses

with meeting the challenges of

the 21st century by offering resources,

courses, and business

counseling from experts on the

topics the business community

identifies as important to their

success.

This $10,000 grant is from

the Library Services & Technology

Act (LSTA) program of the

Institute of Museum & Library

Services (IMLS). This grant is

administered by the Massachusetts

Board of Library Commissioners

(MBLC).

This grant will enable the library

to offer the following services

and resources:

• Update and increase our collections,

both print and electronic,

to meet the identified

needs of the business community.

– Purchase books, both in

print and electronic on

topics identified as priorities,

including: Starting

and Growing a Business,

Accounting & Financial

Management, Human

NOW OPEN

Resources Management,

Marketing, and Software

& Computer Training.

– Purchase a Meeting Owl

Pro from OWL Labs. The

Owl Pro is a 360-degree

camera, microphone and

speaker that can be used

for hybrid meetings and

integrates with Zoom, Microsoft

Teams and other

online platforms.

– Purchase a subscription

to Universal Class, which

offers hundreds of online,

work at your own pace,

continuing education

courses facilitated by expert

instructors. These are

in-depth courses, most requiring

between 5 and 32

hours to complete.

Shiplap & Chandeliers is creating an experience for all shoppers –

focusing on handmade and unique gifts, refinished furniture, home

décor & accessories. With more than 50 vendors & small businesses

in 6,000 sq. ft. in the historic Winsmith Mill Market – Shiplap &

Chandeliers is more than a shopping venue, it's a destination!

– Courses are available

on the following business

topics: Accounting &

Bookkeeping, Excel, Business

Analysis, Budgeting,

Quickbooks, Goal Setting,

Writing a Business Plan,

Leadership & Supervision,

Strategic Planning,

HR Management, Delegation

Skills, Compensation

& Benefits, Managing

Teams, Virtual Meetings,

Remote Workforce, Microsoft

Office, Creating Websites,

Google Workspace,

Running a Business Online,

Business Branding,

Social Media Marketing,

Networking, LinkedIn

– Purchase a subscription

to the A to Z Databases,

a reference and marketing

subscription website

that provides details on

businesses and households

within the US. It is ideal

for: small businesses to

finds sales leads and mailing

lists to grow their business

and entrepreneurs to

find similar businesses and

competitors. It is also used

by students and government

agencies, as well as

people searching to locate

friends and relatives. It

provides job seekers with

job searching tools and

resume templates and information

about income

and home values in a given

neighborhood.

• Offer workshops and other

training to meet the needs

of the current business

community, as well as those

planning on starting a new

business. We will hold 12-15

workshops between January

and September of 2023.

– The workshops will be on

topics identified by the

business community as important.

– The workshops will be in

person, remote or hybrid,

depending upon what participants

prefer.

– Workshops will also be offered

on issues faced by the

minority-owned business

community, which we have

defined as businesses owned

by women, racial minorities,

veterans, and those with disabilities.

• Create a physical space in

the library, as well as a section

on the library website,

that we hope will become

the "go to" places for the

local business community

seeking answers, ways to resolve

problems, and links to

resources. We will also create

a "Bellingham is Open for

Business" Facebook Group

to share events, workshops

and other grant news.

• In September of 2023 we

will host a Local Business

Fair, tentatively being called

the Bellingham Business

Expo. This event will offer

the business community the

opportunity to share their

business products and services

with the community at

what we hope could become

an annual event. We envision

members of the community

coming to the library

to celebrate our local businesses

in a fun, friendly and

informative atmosphere.

• Save the date! The Kick-

Off Event is planned for

Monday, January 23rd at

6:30 p.m. with Jeff Belanger

speaking about how to turn

your passion into your business.

Jeff turned his love of

folklore and legends into

a career. He is an award

winning, Emmy nominated

host, writer and producer of

the New England Legends

series on PBS and Amazon

Prime, and the author of

over a dozen books.

The library staff is looking

forward to working with the Bellingham

Business Community

and other local businesses and

business leaders to make this program

a great success!

expanded holiday hours!

Friday & Saturday 9 am to 6pm; Sundays 10am to 7pm

winsmith mill market • 61 Endicott St. - norwood

shiplap-chandeliers.com

WHY RISK IT?

HIRE A TAX PROFESSIONAL!

Don't take a gamble!

We can take the "risk" out of your taxes.

Call soon to schedule an appointment.

Laura J. Smith, E.A.

Bayberry Accounting & Tax Service

508-966-1685

Reasonable Rates ◆ Quality Service

Accurate Tax Returns ◆ Confidentiality ◆ Electronic Filing

CLIP & SAVE!

NEW CLIENT SPECIAL

SAVE 20%

Laura J. Smith, E.A.

508-966-1685

LSmith33@aol.com
---
December 2022 Find us on Facebook | bellinghambulletin Page 11

Parent Input Will Be Key to DESE Review of Bellingham

Schools

During the week of March

6, 2023, the Department of Elementary

and Secondary Education's

Office of Public School

Monitoring (PSM) will conduct

a Tiered Focused Monitoring

Review of Bellingham Public

Schools. The Office of Public

School Monitoring visits each

district and charter school every

three years to monitor compliance

with federal and state special

education and civil rights

regulations. Areas of review related

to special education include

student assessments, determination

of eligibility, the Individualized

Education Program (IEP)

Team process, and IEP development

and implementation. Areas

of review related to civil rights include

bullying, student discipline,

physical restraint, and equal access

to school programs for all

students.

In addition to the onsite visit,

parent outreach is an important

part of the review process. The

review chairperson from the Office

of Public School Monitoring

will send all parents of students

with disabilities an online survey

that focuses on key areas of

their child's special education

program. Survey results will contribute

to the development of

a report. During the onsite review,

the Office of Public School

Monitoring will interview the

chairperson(s) of the district's

Special Education Parent Advisory

Council (SEPAC). Other

onsite activities may include interviews

of district staff and administrators,

reviews of student

records, and onsite observations.

Parents and other individuals

may call Michael McDonald,

Public School Monitoring Chairperson,

at (781) 338-3746 to request

a telephone interview. If

an individual requires an accommodation,

such as translation,

to participate in an interview,

the Department will make the

necessary arrangements. Within

approximately 60 business days

after the onsite visit, the review

chairperson will provide the

Bellingham Public Schools with

a report with information about

areas in which the Bellingham

Public Schools meets or exceeds

regulatory requirements and

areas in which the Bellingham

Public Schools requires assistance

to correct or improve practices.

The public will be able to access

the report at http://www.doe.

mass.edu/psm/tfm/reports/

Deadline December 14th to Enter

2nd Annual Bellingham Lions

Holiday House Decorating Contest

The Bellingham Lions are

sponsoring a Holiday House

Decorating Contest for this holiday

season. The Lions are asking

for a $10 donation to enter,

with all donations going to Lions'

charities locally and globally.

Prizes will be awarded for 1st

place $100, 2nd place $50, and

3rd place $25.

Displays will be judged based

on:

• Presentation & Theme (all

holidays are welcome)

• Creativity

• Wow Factor

Participation is open to all

Bellingham residents, and you

must ensure the displays are on

and visible between 6 p.m. and

9 p.m. on Saturday December

17th and Sunday December18th

for judging. Winners will be announced

the week of Monday

December 19th. The contest is

limited to outdoor displays only.

You can register using this

link https://www.zeffy.com/

en-US/ticketing/3fa1ca42-a79f-

4162-8f7a-e7940c06828a use

the below QR code. Information

can also be found on the Bellingham

Lions Club Facebook page.

All entries MUST be received

by Wednesday December 14th,

2022.

For or any questions contact

Brian Salisbury bellinghamlights@gmail.com.

Solutions for Kitchens and Bathrooms

… from design to installation

Creating functional and stylish spaces since 2014

See us online at NortheastKandB.com

Fully licensed and insured

Call today! 617.650.8814

Get your

MA

Inspection

HERE!

11

$5 OFF

Dine-in/Take-out orders on purchase $10 or more

VALID ON FOOD ONLY

B

NEAPOLITAN PIZZA!

Beer & Wine Now Available (DINE-IN ONLY)

1 Menfi Way, Hopedale • 508-381-3292 • myhopedalepizza.com

COMPLETE AUTO REPAIRS

MA State Inspections

Oil & Filter Change

Tires—All Brands

Computer Engine Analysis

Mufflers

Shocks & Struts

Brakes & Tune-ups

Axles & CV Joints

633 Rathbun St.

Blackstone, MA 01504

508-883-8881

Open SaturdayS, 8am–nOOn
---
Page 12 Bellingham Bulletin Local Town Pages | www.bellinghambulletin.com December 2022

Glaucoma Treatment: DURYSTA

Commonly Asked Questions

By: Roger M. Kaldawy, M.D.

Milford Franklin Eye Center

Glaucoma is a condition that

can damage our field of vision.

It affects us when the pressure inside

the eye is higher than what

the eye can tolerate. Glaucoma

is treatable with drops targeted at

lowering the eye pressure. There

are patients who have problems

remembering to use the drops

and sometimes the preservative

in the drop cause irritation, redness

and intolerance to the drops.

In other instances, one can be

traveling and forget to carry the

eye drops during the trip. In

those instances, a novel treatment

using DURYSTA glaucoma implants

can help manage the

pressure while reducing or eliminating

the need for drops.

What is Durysta?

Durysta is a breakthrough

in the treatment of open-angle

glaucoma and ocular hypertension

with FDA approval.

Durysta (made by Allergan) will

be a game-changer for those patients

who have difficulty taking

Shalin Zia, O.D.

Optical

Shop

On-Site

daily medicated eye drops for

glaucoma because it frees patients

from having to apply drops

altogether.

How does Durysta work?

Durysta is the first biodegradable

sustained-release implant

that continuously delivers Bimatoprost,

a prostaglandin analog,

within the eye that helps reduce

and maintain healthy eye pressure

levels. The preservative-free

medication is housed within a

tiny rod-shaped cartridge that

is inserted in the eye's anterior

chamber by an ophthalmologist

during a safe 5-minute office procedure.

The implant comes preloaded

with 10 mcg of Bimatoprost

in a single-use applicator

that your ophthalmologist uses

to inject the implant directly into

the front side of your eye. This

means that the drug delivery

system is a one-time use sterile

applicator used on you and you

alone.

The bimatoprost implant is

biodegradable and breaks down

MILFORD - FRANKLIN

EYE CENTER

Roger M. Kaldawy, M.D. John F. Hatch, M.D. Bryan Hong, M.D.

Donald L. Conn, O.D.

Dr. Mai-Khuyen Nguyen, O.D.

SMILEFORVISION.COM

naturally over time, so you do not

require another procedure to remove

the delivery system. It simply

dissolves and is eliminated by

your body. In fact, most patients

continue to have controlled intraocular

pressure levels even after

Durysta has broken down.

How long does Durysta last?

The great news for patients

with open-angle glaucoma and

ocular hypertension is that the

Durysta implant is designed to

last up to 6 months. However,

most patients continue to have

controlled intraocular pressure

levels after Durysta has broken

down. This means you'll continue

to benefit from Durysta for

months and sometimes a year

or 2 later. Meanwhile, you'll be

free from having to deal with

inserting eye drops and worrying

about whether the correct

amount of medication actually

got into your eye.

Michael R. Adams, O.D.

Dr. Purvi Patel, O.D.

Saturday &

After Hours

Available

World-Class Eye Care & Surgery in Milford

New Patients Receive a Free Pair of Select Glasses

Who is a candidate for Durysta?

Durysta is indicated for people

diagnosed with open-angle

glaucoma and ocular hypertension.

That said, not everyone is

an ideal candidate for Durysta

and it is contraindicated under

the following circumstances:

• If you have an infection

within or surrounding your

eye

• If you have undergone a

corneal transplant

• If you are diagnosed with

corneal endothelial cell

dystrophy

• If your posterior lens

capsule is ruptured or absent

• If you are allergic to

bimatoprost or to the

components of the implant

What are the side effects of

Durysta?

As with any medication, clinical

trials have shown that some

people can experience side effects

from Durysta. However, the interesting

thing about the Durysta

trials was that patients who were

randomized to receive Durysta

actually experienced fewer side

effects than the control group patients

taking standard glaucoma

eye drops.

It's highly unusual for a new

medication to exhibit fewer side

effects than the standard medicine

it's being compared to, but

that's exactly what happened

with Durysta. The Durysta patients

had fewer complaints and

tolerated the medication better

than the patients using traditional

glaucoma eye drops. Fewer side

effects and better eye pressure

control make for a compelling

argument to consider switching

to Durysta.

Some adverse events for Durysta

patients can include:

• Eye redness

• Eye irritation

• Eye pain

• A foreign body sensation

within the eye

• Light sensitivity

(photophobia)

• Blurred vision

• Headache

• Conjunctival hemorrhage

• Iritis

• Increased intraocular

pressure

This is not a complete list of

side effects and others may occur.

Also, the safety of taking Durysta

during pregnancy has not been

studied.

Is Durysta for me?

If you have tried other treatments

for glaucoma, including

eye drops and they did not work,

or If you've found eye drops

are challenging or you can't use

them as prescribed, contact us.

Eye drops are not always the

best option for every patient, and

Durysta may be a better solution.

At Milford Franklin Eye Center,

Dr. Kaldawy was among the

first surgeons in the area to offer

Durysta. We perform the procedure

in a state-of-the-art surgery

center in Milford and closer

to home. We can also offer the

same in our procedure room

in Franklin. With those centers

available to you here in your

backyard there is no reason to

travel hours to have eye surgery

and laser glaucoma surgery. If

your eye provider is still recommending

you travel far away to

have eye surgery, we are available

for a second opinion. We are

proud to offer excellence in glaucoma

management and surgery

with world class outcomes and

here is the great news: Closer to

home than ever before!

For more details, see our ad on

page 12.

Sponsored articles are submitted by

our advertisers. The advertiser is solely

responsible for the content of this article.

FRANKLIN OFFICE

750 Union St.

508-528-3344

MILFORD OFFICE

160 South Main St.

508-473-7939

MILLIS OFFICE

730 Main St.

508-528-3344

SURGERY CENTER MILFORD

45 West St.

508-381-6040
---
December 2022 Find us on Facebook | bellinghambulletin Page 13

Santa makes many lists,

including his own Wish List!

New Roof Installation

Fascia, Soffit, Trim

Seamless Gutters

Chimney Re-Leading

Window Installation

Skylight Installation

Siding

PEACE OF MIND

Luckily for Santa, Robert Roofing & Gutters

can help with them all!

• Free Estimates

• Licensed & Insured

• Serving the North Pole,

South Shore &

Surrounding Areas

Robert Greene

857-247-8709

robertroofingandgutters.com

One Call Sends a Roofer, Not a Salesman
---
Page 14 Bellingham Bulletin Local Town Pages | www.bellinghambulletin.com December 2022

BWOT Holiday Activities

Muffins with Santa

The Bellingham Women of

Today will welcome Santa for

their 30th year of Muffins with

Santa on Saturday, December

17th from 9 – 11:30 a.m. at St.

Blaise Church Hall, 1158 S.

Main St., Bellingham. Admission

fee is $5 per child with a

maximum charge of $15 per

family. Children can meet Santa,

give him their Christmas wish

list while you are welcome to

take your phone or camera photos.

We will offer muffins, bagels,

juice, milk and coffee. Food and

beverage items are $1- $2 each.

There will be free crafts and coloring

pages for kids as well as

raffle baskets and holiday items

for sale. All proceeds will benefit

local BWOT charities.

HEAT

is just a phone call away!

Letters from Santa

Santa and his elves are so busy

preparing for Christmas the Bellingham

Women of Today will be

helping him send personalized

letters to anyone on your list.

They are a great gift for children,

seniors, college students and anyone

young at heart. The cost is $2

for each letter or three for $5. We

will be taking requests at Muffins

with Santa, December 17th, 9 to

11:30 a.m. at St. Blaise Church

Hall in Bellingham, or send the

name and address of child/children

along with your name and

phone number, payment, and

any information you would like

added to the letter, to BWOT,

PO Box 405, Bellingham, MA

02019 before December 15th.

About BWOT

The BWOT is a nonprofit

civic organization that has served

Bellingham and surrounding

communities for over 30 years.

We would like you to join us

as we continue to serve our

community. We meet the 2nd

Monday of the month at 7:30,

September through June, in the

Police department's conference

room on Blackstone St. Bellingham.

Contact us at BWOTmaevents@hotmail.com

and visit us

on Facebook.

Sandy Hook Vigil

Dec. 14

On Wednesday, December 14 a candlelight vigil will be

held to honor the memories of the victims of the Sandy

Hook Elementary School shooting. The vigil will be held at

Bellingham Town Common at 6:30 p.m. All are welcome.

Free Legal Help

Available for Norfolk

County

The Bar Association of Norfolk County's next Free Legal Clinic

will be in person on Tuesday, December 6, 2022 from 6 p.m. - 8

p.m. at the Quincy District Court, 1 Dennis Ryan Pkwy., Quincy,

Mass. for those in need of legal assistance. Attorneys experienced in

all areas of the law will be available for a free one on one confidential

consultation, to those who have questions or concerns regarding

a legal issue.

www.EastcoOil.com

EASTCO OIL: 508-883-9371

FREE ESTIMATES FOR ALL

ASPECTS OF SITE WORK!

Including:

Septic System Installations • Town Sewer Hook-ups

Water Service Repairs & Connections

Foundations Excavated • Stumps Removed

Rough & Finish Grading

FULLY

INSURED

434 Center St.

Bellingham, MA 02019

NO TRUCKING FEE

for earth materials delivered

in Bellingham!

Screened Loam .................$20/yd.*

Stone available; call for pricing

*Price subject to change

F.E. MORSE

ENTERPRISES

INC.

508-883-9700

Quality Timely Service!

508-883-8823

FREE ESTIMATES • FULLY INSURED

RESIDENTIAL & COMMERCIAL

• Tree Removal

• Pruning/Trimming • Storm Damage

• Land Clearing • Stump Grinding

CharronTreeService.com

KEVIN LEMIRE - Owner

All Employees Are Covered Under Workers' Comp Insurance

1060 Pulaski Blvd

Bellingham, MA 02019
---
December 2022 Find us on Facebook | bellinghambulletin Page 15

Yankee Swap Provides Laughter

Diana McDonald opens bag with dancing, ear-flapping, musical

Snoopy. Denyse Lyden, Mrs. Clause and MC, mixes names up in the

bowl for Diana to draw the next name.

One of the favorite meetings

of the year was held on November

10 where 32 members of

the Ladies of St. Anne Sodality

chose Christmas themed gifts.

In the tradition of the Yankee

Swap, some of those gifts moved

(sometimes several times!) from

one Lady to another as each

lady chose a mystery gift bag or

an opened gift they liked from

another lady. Popular gifts that

moved several times included

wine glasses with bottle of wine

and soft throw, stuffed gnomes,

angel and stuffed animals playing

Christmas songs.

During the business part of

the meeting the Ladies approved

a donation of $200 to the Loaves

and Fishes Food Pantry in honor

and memory of Mildred "Millie"

Woodman. Millie, who

passed away on October 31,

was a long-standing Lady and

instrumental in establishing the

food pantry.

The Christmas Gala committee

chairwoman, Ann-Marie

Lavallee-Kell, provided info

about the Gala. It will be held

on December 15, 2022, 6 pm,

at Restaurant 45, in Medway,

MA. A buffet menu will include

Chicken Parmesan, Baked

Haddock and Steak Tips. Also,

garden salad, roasted potatoes,

vegetables, Italian bread, coffee,

tea & vanilla ice cream. A

bakery cake with surprise theme

topping will be provided by the

Gala committee. The cost is

$32 per person. Payment, either

www.CircleCGFarm.com

cash or check made out to St.

Blaise with "LoSA Gala" on the

Memo line, is due by December

4. You can give payment to

Ann-Marie or put it in an envelope

addressed to Ladies of St.

Anne and place it in the collection

basket during Mass. If you

have questions, please contact

Ann-Marie at (508) 488-8528.

The Ladies also raffled 6

Thanksgiving Baskets on November

20th after the 10 a.m.

Mass. Members donated food,

wine, and gift cards to make up

the holiday baskets.

Linda & Rob Daley

508-966-1136

131 N. Main St. (Rt. 126)

Bellingham, MA

Member Bellingham Business Association

FOR ALL YOUR TIRE & MECHANICAL NEEDS!

Suzanne Ranieri, REALTOR®

220 Franklin Village Drive, Franklin

508-380-1643

sueranierisellsrealestate.net

Greetings...

SUZANNE RANIERI

There is no better time than the holidays to express

my sincere gratitude to the residents of Bellingham

for allowing me to continue being the #1 Realtor R

in our great town.

May all the best the season has

to offer be yours throughout the

upcoming new year.

Happy Holidays

from my family to yours!

Suzanne Ranieri

508-380-1643 or 508-883-1477

Thank you for your support and for helping me to achieve the MyFm 101.3 Quest for the

Best Gold Awards for top residential and commercial Suzanne.Ranieri@NEMoves.com

agent along with the Silver Award

for customer service. I am truly appreciative to all who voted for me and supported me

throughout my career in real estate. For over 35 years, Bellingham's I have strived #1 to REALTOR provide my

®

clients with the personalized quality service they deserve and Vice my President goals of have the BBA always

been to make every real estate transaction as worry-free as possible. I look forward to

helping new clients and always welcome personal referrals. Just give me a call.

Everything Sue Touches Turns To Sold!

Affiliated real estate agents are independent contractor sales associates, not employees. ©2021 Coldwell Banker. All Rights Reserved. Coldwell Banker and the Coldwell Banker logos are

trademarks of Coldwell Banker Real Estate LLC. The Coldwell Banker® System is comprised of company owned offices which are owned by a subsidiary of Realogy Brokerage Group LLC and

franchised offices which are independently owned and operated. The Coldwell Banker System fully supports the principles of the Fair Housing Act and the Equal Opportunity Act.

CHARLIE'S TIRE & SERVICE CENTER

825 So. Main Street, Rte. 126, Bellingham, MA 02019

508-883-1211 • www.CharliesTires.com

MOST TIRE BRANDS AVAILABLE

Be SUMMER

Road-Ready!

STAY SAFE ON THE ROAD.

Check your tire tread, tire pressure,

lights, windshield wipers, brakes,

batteries, and belts & fluids.

Call Jay Wright,

Service Manager

TODAY!

"THANKS FOR 45 GREAT YEARS!"

FOREIGN & DOMESTIC

Tune-ups • Brakes • Exhaust • Struts • Shocks

Wheel Alignment • Batteries • Front-End Work

Water Pumps • Alternators • Starters

Transmission & Radiator Flush Service • etc.
---
Page 16 Bellingham Bulletin Local Town Pages | www.bellinghambulletin.com December 2022

Bellingham Scouts Attend Annual Rocket Trip

By Jennifer Russo

Bellingham Troop 14 Scouts

were focused on building model

rockets in a recent meeting, but

these rockets weren't intended to

sit on a shelf on display. A longstanding

tradition for Boy Scouts

of America is their annual rocket

trip, where scouts take the rockets

they have built and test them out

on the field.

Scouts are given rocket kits

and instructions, which they

must follow very closely. The

success of the launch will rely on

the proper build. It's an excellent

way for the kids to learn attention

to detail and following directions.

For the launch itself, there

are strict safety requirements

enforced by the National Association

of Rocketry (NAR),

including adult supervision,

mandatory countdowns, launch

rod height, a safety circle around

the launch site, and a minimum

200-foot open area away from

tall trees and power lines. Wind

conditions are also considered.

The scout code also advocates

for taking a PAUSE for safety, a

clever acronym meaning: Pause

before you start. Assess possible

Hey Ladies ...

looking for wide shoes?

Women's Fashion Shoes in

hard-to-find sizes

Sizes 6.5ww - 11ww, also 12m

The Forgotten Foot

"It's Worth the Trip!"

WE'VE MOVED!

1255 Worcester Road, Framingham

Hours: Mon. - Sat. 11 a.m. - 6 p.m. • Sun. 12 - 4 p.m.

508-879-3290

Testing the rockets in the field is the highlight of the Boy Scouts'

annual rocket trip.

hazards. Understand how to proceed

safely. Share your plan with

others. Execute the activity safely.

This year, the event happened

from November 18-20 at Camp

Holiday Special

Trotters best selling Loafer

Now $49 !

Reg. $110

Mention or bring this ad

Squanto in Plymouth, Mass.

Cub Scout Webelos also take

part in the rocket building and

attend the event, as it is a requirement

for them to move into the

Boy Scout level.

"As an Arrow of Light requirement,

Webelos need to go

to a Scouts BSA troop meeting

where the Scouts of Troop 14

help the Webelos build rockets to

Amy N. Azza, experienced attorney of 21 years, is

accepting new clients for their estate planning needs for will,

trusts, power of attorney and health care proxies.

WHY YOU NEED A WILL

Wills can distribute your property, name an executor, name guardians for

children, forgive debts and more. Having a will also means that you, rather

than your state's laws, decide who gets your property when you die.

WHY YOU NEED A HEALTH CARE PROXY

A health care proxy is a document that names someone you trust as your

proxy, or agent, to express your wishes and make health care decisions for

you if you are unable to speak for yourself.

WHY YOU NEED A DURABLE POWER OF ATTORNEY

A Durable Power of Attorney provides extensive power to the

individual who is assigned that role. Absent an appointed Agent in a

Durable Power of Attorney, it would be necessary for a family member

or loved one to petition the court to become the guardian over the

incapacitated person.

Discover the Azza Difference

and call Amy Azza at 508 517 4310

or email azzalaw@outlook.com

51 Whitehall Way, Bellingham, MA 02019

Ph: 508.517.4310

Email: AzzaLaw@Outlook.com

launch on the campout. The trip

is a fun filled day that includes a

tour of the camp, a Thanksgiving

Dinner (featuring a 'Trash Can

Turkey'), launching of the rockets,

and a campfire program. We

find this trip to be a great way for

the Webelos to see what Scouts

BSA has in store for them when

they are ready to cross over," says

scoutmaster John Ansell.

Though the rocket launch is

the biggest purpose of the trip,

Scouts spend the two nights in

scout cabins or tents and gain

other valuable outdoor skills like

fire safety, whittling, and archery,

along with lessons in teamwork

and diligence.

If you are interested in signing

your child up for the Bellingham

Scouts, taking a leadership position

within the troop, or would

just like to learn more about the

program, please visit www.beascout.org

.

Scoutsrockebuild4.jpg and

scoutsrocketbuild5.jpg (use caption

for both)

Bellingham Troop 14 Scouts

received instructions on building

their rockets, which they had to

follow very closely.
---
December 2022 Find us on Facebook | bellinghambulletin Page 17

Milford Regional to Continue Health Center at BVT

Need for Adolescent Services Continues to Increase

In keeping with its goal to

provide exceptional community

healthcare services to those in

its service region, Milford Regional

Medical Center (MRMC)

has secured a grant to continue

its School Based Health Center

(SBHC) at Blackstone Valley Regional

Vocational Technical High

School in Upton. The grant was

welcome funding as the need for

adolescent services continues to

grow.

The ten-year renewable

$150,000 per year grant was

awarded by the Massachusetts

Executive Office of Health and

Human Services Department

of Public Health. It will be utilized

to fund the salaries of the

SBHC's Nurse Practitioner and

Officer Coordinator/Community

Outreach, who MRMC

employs, and mental health services

provided through Riverside

Community Care clinicians.

For more than 20 years, Milford

Regional's School Based

Health Center has been collaborating

with BVT's nurses

and counselors to offer students

access to healthcare, including

mental health services. Services

provided at the School Based

Health Center include diagnosing

and treating acute and

chronic medical conditions,

physical exams for sports, school,

and employment, support and

education regarding healthy relationships,

and consultations with

primary care providers.

Through its counselors, the

SBHC program also provides

mental health evaluations and

on-campus counseling for depression,

anxiety, substance

abuse, relationships, and self-esteem.

Nutrition education, such

as assessments, diabetes support,

and counseling to maximize

healthy living, is available at the

Health Center.

"I'm proud to contribute to

the collaboration between Milford

Regional and BVT," said

Maureen Menard, MRMC's

SBHC Office Coordinator/

Community Outreach. "In this

role, I work closely with the

School Counselors and local

Community Outreach Programs.

In addition to the many SBHC

services and supports, we also

help with food assistance/holiday

donations for BVT students and

their families, another welcomed

resource."

"We are so grateful for the

ongoing collaboration between

Milford Regional and BVT,"

said Joni Brown, MRMC's Senior

Director of Rehabilitation

and Sports Medicine and School

Based Health Services. "The

School Based Health Center

continues to provide many crucial

services that allows students

not only access to care but the

ability to stay in school instead of

forgoing an entire day or more."

The need for the School

Based Health Center has greatly

increased over the past several

years, particularly with the onset

of COVID-19. According to

some of the latest data, during

the 2020-21 school year, there

were a total of 1,132 visits to

the Health Center. In December

2020, 27 percent of SBHC visits

at BVT were medical provider

visits, and 73 percent of visits

were mental health provider visits.

The following year, in December

2021, 10 percent of SBHC

visits were medical provider visits,

while 90 percent of visits were

mental health provider visits.

Recent data also indicates a 17

percent increase in student need

for SBHC mental health services

within the past year.

"BVT values our relationship

with Milford Regional Medical

Center and the additional resources

and services we are able

to provide to our students because

of this partnership," said

lc

Yvette Martin, Director of Student

Services at BVT.

"Thanks to the recent grant

and our partnership with Milford

Regional Medical Center,

our students have convenient and

timely access to health services,"

said BVT's Superintendent-Director,

Dr. Michael F. Fitzpatrick.

"This high-quality grant ensures

convenient student-focused

health care is available on our

campus for years to come."

Same Day Service Mon-Fri (In by 9:00 a.m.)

Medway Food

Pantry is in

need of Food!

Donate today at

our Drop Off !

Hours: M-F 8 a.m. - 6 p.m. Sat: 8 a.m. - 3 p.m.

Gould's Plaza, 74 Main St., Rte. 109

Medway, MA 02053

508-533-6641

Mass Lottery Tickets sold here!

CLEANERS, INC.

Family-Owned since 1985

Eco-Friendly

www.tlcdrycleaners1.com

Warmest Wishes

for a Merry Christmas

& Happy New Year!

Offering secure package

pickup for Amazon

customers!

We are now an

$5 OFF

$30 or more Dry Cleaning

Laundered Shirts, Leather, Suede,

Furs & Alterations excluded.

Incoming Orders only

Expires 12/31/22

B

One tasteful gift.

Give a $100 Gift Card,

Get a $20 Gift Card Free.

®

onebistro.com

From 12/1 to 12/26
---
Page 18 Bellingham Bulletin Local Town Pages | www.bellinghambulletin.com December 2022

Renown Artist Donates Original Piece to Winter Candyland Fair

Peter B. Houk has been Artistic

Director of the W. David

Kingery Ceramics and Glass

Lab at MIT since 1997. Much

of his work is concerned with the

integration of imagery with the

transparent and translucent qualities

of glass. Throughout his career

in glass, Houk has remained

fixated on the unique ability of

glass to convey the transient

qualities of light. His painted

and sandblasted work has been

exhibited in many galleries and

private collections and is held in

the museum collections of the

Corning Museum of Glass, the

Tacoma Museum of Glass, and

the American Museum of Glass.

We are most fortunate to have

Peter Houk's spectacular bowl,

pictured below, as a raffle item

at the St. Blaise Winter Candyland

Fair. The Fair, to be held

in the St. Blaise Parish Hall, will

open at 9 a.m. on December 10

and feature many favorite games

and activities, such as the card

game/win a theme basket every

game. At 9:30 a.m. Santa will

arrive and be available, by the

Come to the fair for a chance to

win this bowl donated by artist

Peter Houk.

stage, for pictures and to listen to

the Christmas wishes of kids of

any age. As you move around the

Hall, you can try your luck with

the Twisty Game. The Main

Raffle table will have prizes like

gift cards, small appliances, hand

crocheted blankets, custom designed

pillows, toys, and ceramics.

Stop and admire the donated

Christmas wreaths, decorated

with various items and gift cards,

that are mounted on doors for

an idea of how they may look on

your door, to be raffled. Maybe

you'll be drawn to the Lottery

Ticket Tree Raffle. There will be

many opportunities to win in all

the raffles!

Winter Candyland committee members crafting for fair on December 10th

Crafters have been busy creating

many Christmas home

decorations and gifts for you

to purchase at very reasonable

prices...great in this economy!

The children will love the new

expanded game area featuring a

kids' fishing game, Pick a Pocket,

the season game, bean bag toss,

and the Nativity Scavenger

Hunt. Everyone can try to guess

how many Kisses are in the Jar!

Of course, Candyland wouldn't

be complete without a Penny

Candy table. The baked goods

table or "Saint's Sweet Shoppe"

will have home-baked muffins,

breads, cakes, cookies, pies, and

brownies. Items will be packaged

in various sizes, either to take

home or enjoy there.

Our kitchen will be open for

lunch beginning at 11 a.m. Dynamites,

walking tacos, chili,

hamburgers, and hot dogs are

some of the choices. Coffee and

donuts will be available before

lunch.

Please mark December 10th

on your calendar and join us at

St. Blaise for a wonderful family

event.

Bellingham Lions

Senior Luncheon

The Bellingham Lions Club will provide boxed holiday meals

for our seniors at the Bellingham Council for Aging Senior Center.

This year's event will take place on Saturday, December 3rd

with pickup between 11:30 a.m. and 1 p.m. Reservations should

be made in advance. A full Thanksgiving dinner will be catered

by Dinner & Company.

Share the Warmth of

the Season with Our

Holiday Sharing Tree.

Take a mitten tag from our Sharing Tree.

Help bring some holiday cheer to a local child. Beginning

November 18th, just take a "mitten tag," listing age and gift

ideas for area children from the Sharing Tree in our lobby and

return all wrapped gifts to us by December 10th. Lobby

hours are Mon-Wed & Fri 8:30 to 4pm, Thurs 8:30 to 6pm

and Saturday 8:30 to 12:30pm. For more information call

Share the Warmth of

the Season with Our

Holiday Sharing Tree.

Take a mitten tag from our Sharing Tree.

781-762-1800 or email us at webmail@norwoodbank.com.

Help bring some holiday cheer to a local child.

11 Central Street Norwood, MA 02062

www.norwoodbank.com 781-762-1800

Member FDIC DIF

Beginning November 21st, just take a "mitten tag,"

listing age and gift ideas for area children from the

Sharing Tree in our lobby and return all wrapped gifts to

us by December 12th. Lobby hours are Mon- Fri 8:30 to

4pm and Saturday 8:30 to 12:30pm. For more

information call 781-762-1800 or email us at

webmail@norwoodbank.com.

Call, text or email for an appointment

New England's Newest Auto Mile

IMPERIAL CARS.com

Bellingham Resident for 34 Years!

Cell: 774-291-9188

LyndaG@ImperialCars.com

Lynda Glassey

Sales & Leasing

Consultant

HANDYMAN SOLUTIONS

774-571-0738

HandymansSolutions111@gmail.com

For all your

Home Improvement

and Repair Needs

Joseph O'Connor

INSURED

MA HIC REG# 173344
---
December 2022 Find us on Facebook | bellinghambulletin Page 19

Library News & Events for December

For updates to library programs

and services, please see

the library website, www.bellinghamlibrary.org.

The Library is open until 8 p.m.

Monday through Thursday!

Monday - Thursday 9:30

a.m. to 8 p.m.

Friday 9:30 a.m. – 3 p.m.

The library is closed December

24-26 for the Christmas

Holiday.

The library is closed December

31-January 2 for the New

Year's Holiday.

Special Programs

Polar Express Extravaganza -

Saturday, December 3, 5-6:30 p.m.

For families. The Polar Express

Extravaganza is back with

the famous story, Santa, seasonal

crafts and a visit from Elsa! Also,

see the library lit up at night.

Please sign up to attend. You

can come and go as desired between

the 5 pm and 6:30 p.m.

time frame.

Yoga with Carol, Tuesdays

from 8:30 to 9:40 and Thursdays

from 6:15-7:30 Are you

feeling See the website for details

and to register. Carol, the

instructor, is a long-time yoga

practitioner and a 200-hr Kripalu*

yoga teacher. Please wear

loose-fitting clothing, bring your

own yoga mat, 2 blocks and a

strap. Additionally, a blanket is

nice to bring, especially if you

have issues with your knees.

Please arrive 10 minutes early to

sign a waiver if you are new to

class. Space is limited so please

register for each class separately

in the series. **Visit www.kripalu.org

for more information

on this style of yoga.

Holiday Yarn Wreath Making -

Monday, December 12th 6-8 p.m.

Looking for an easy and fun

holiday project that doesn't require

any experience? Join Ana

Mendes, owner of Afonsoway.

com, and learn how to create

your unique holiday-themed

yarn-wrapped wreath. You

will have several yarn colors

and textures to choose from.

Some florals, ornaments, and

holiday decorative items will be

provided, but feel free to bring

in what you would like to use.

Space is limited so registration

is necessary. This program is

made possible by support from

the Friends of the Bellingham

Public Library

Updated Ongoing Children's

Program Schedule

Starting December 1 the library

will offer the following

programs for children ages 0-12.

Sensory Story Time with Miss

Melissa - Mondays & Wednesdays

at 10:30 to 11:45 a.m.

Join us for stories, songs,

crafts and open play! Similar

to a traditional story time, with

movement breaks and supports

built in. For children ages 2-5

of all abilities. The program will

start at 10:30 and will be structured

through 11:15, but remain

open until 11:45 for those needing

extra time or wishing for

open play time. Registration is

limited, so please register early!

No class school vacation week.

Magic: The Gathering Club –

Mondays at 2:30 p.m.

For grades 4-8. The Magic:

The Gathering Club at the Bellingham

Library welcomes all

4th to 8th graders to join the fun

each Monday after school from

2:30-4:30 p.m. Discover the

original collectible card game

in this free program. Magic

is the ultimate tabletop game,

combining the skills of strategy,

probability, reading, math, bluffing

and more for a fun and engaging

experience like no other.

Learn to play or hone your skill

each week as we explore a variety

of ways to play. Please sign

up once to attend any and all

meet-ups!

Ring a Ding – Tuesdays and

Fridays at 10 a.m.

For ages 0-5. Songs, a story,

music, instruments, and beach

balls = a lot of noisy fun! Join

us! No registration required.

PLEASE NOTE: For the foreseeable

future there will only be

one session of Ring a Ding on

each day. No class December

23rd through January 2nd.

All Things STEAM – Thursdays at

4 p.m.

Join Miss Melissa for the

STEAM Project of the Week.

For Grades 1-3. Please register

for each week you plan to

attend. No class on December

29th.

Baby Time – Fridays at 11:15 a.m.

For children under 2, older

siblings welcome. Songs, stories,

and play/discussion time

for you and your baby/toddler.

Please sign up. You only need

to sign up once to attend each

Baby Time. No class December

23rd or 30th.

Fun Fridays on December 23rd

will run from 10:45-1:45.

After School Programs

Our After School Programs

are ongoing! We have two programs

for kids in grades 4 and

up. Both programs are Monday

through Friday. Even though

the library closes at 3 p.m. on

Fridays, the Community Room

will be open on Fridays after

school for Fun Fridays!! Miss

Amanda and Miss Diane will

stay until 5 p.m. at the latest.

They will be planning activities

for this time so check the library

calendar for details.

• After School Kids (ASK) –

for grades 4-6. When school

is in session, ASK meets

Monday-Thursday from

401-769-9125 www.GladuSelfStorage.com

Best Prices &

Great Service

Servicing Southern

MA & RI

10 - 15 - 20 - 25 yd.

Dumpster Rentals

2:30 p.m.-4:45 p.m. Stop

by the Community Room

after school to make crafts,

use a Chromebook, play on

the Wii, play board games

and hang out with friends!

Registration is required for

this program, so pick up a

registration form during library

hours or after school.

Questions? Contact Diane

Nelson, dnelson@cwmars.

org. Parents/caregivers of

all registrants are signed up

for our Constant Contact

Newsletter.

• Teen Room Activities – for

grades 7-12. When school

is in session, Teen Room Activities

are available Monday-Thursday

from 2-4:45

p.m. Stop by the Teen Room

to use computers, play on

the WiiU and XBox1, play

board games and hang out

with friends! There is no

registration needed to attend

this program. Questions?

Contact Amanda

Maclure,amaclure@cwmars.org.

Storage Units

5x10 • 10x10 • 10x15 • 10x20

165 Poplar St., Woonsocket, RI

www.GladuWrecking.com

Other Adult Programs

Additional details of these

programs are available on the

library calendar (https://bit.

ly/3xMECCt)

• Book Club generally meets

on the first Monday of the

month, email Reference Librarian

Cecily Christensen

at cchriste@cwmars.org for

details.

• Friends of the Library generally

meet on the second

Tuesday of the month at 7

p.m. Email library@bellinghamlibrary.org

for details.

• The Library Board of

Trustees generally meets on

the second Thursday of the

month at 7 p.m. Email library@bellinghamlibrary.

org for details.

• Adult Writing Group will

now meet at the Bellingham

Historical Museum on

the second Thursday of the

month at 6:30 p.m. Email

marjorie@marjorieturner.

com for details.

Store Your

Stuff With Us.

You'll Be

GLAD U Did!
---
Page 20 Bellingham Bulletin Local Town Pages | www.bellinghambulletin.com December 2022

Coming Up at the Bellingham Senior Center

The Bellingham Senior Center

is located at 40 Blackstone

St., Bellingham. Reach them

at (508) 966-0398 or visit www.

bellinghamma.org.

4

Gift Certificates Available

CHRISTMAS PARTY: The

Christmas Party will be held on

Saturday, December 10 at the

Senior Center beginning with a

catered lunch at noon.

KEVIN J. TAGLIAFERRI

ATTORNEY AT LAW

CRIMINAL DEFENSE • BANKRUPTCY

OUI RE-TRIALS • JUVENILE LAW

508-533-1600

Email: KevLaw2@verizon.net • www.KevLaw2.com

165 MAIN ST., STE. 210, MEDWAY, MA 02053

15 North Main St., Bellingham, MA 02019

www.chamberlainpines.com

(508) 966-2187 chamberlainpines@gmail.com

NEW YEAR'S EVE PARTY: The

New Year's Eve Party will be

held on Friday, December 30 at

the VFW on South Main Street

beginning at noon. $15 per person

for the Christmas Party and

$5 for New Year's Eve.

Please call the Senior Center

to reserve.

TAX WORK-OFF PROGRAM:

Offer your services to the town

to get up to $1,425 off your annual

property tax bill. Work

up to 100 hours at the rate of

$14.25 per hour. This is for an

individual only, couples working

can make up to $1,500.

The program is open to seniors

60+ and qualified veterans

at any age. Positions available

include: DPW Parks & Beaches,

Town Common, Town Recycle

Center, Town Carpenter's, COA

Kitchen and Supportive Day,

and Bellingham schools. Learn

more at an information session

hosted at the Center by Director

Josie Dutil on Friday, December

16, at 10:30 a.m. (please call

ahead to reserve your seat).

New program starts December

1 and ends November 30,

2023.

To sign up for Tax Work-Off,

please call Melissa Paquette at

(508) 657-2801. She is located

on the lower level of the Municipal

Building.

HOSPICE VS. PALLIATIVE CARE:

HOW ARE THEY DIFFERENT? Presenter,

Evy Amato, will discuss

several scenarios and clarify

common myths and misconceptions

when it comes to comfort

care. There will be time for

questions and answers at the end

of the presentation.

Join us on Tuesday, December

13 at 1 p.m.… and please call the

Center to sign up.

SHINE — Open enrollment

will soon end on December 7th,

however, if you are currently

in a Medicare Advantage plan

you can still make the switch

to another plan or to original

Medicare (and join a separate

Medicare drug plan Part D) between

January 1-March 31. This

is a one-time change during this

period and can be accomplished

by calling the customer service

department for your plan of

choice. To discuss options, call

(508) 977-0398 to set up an appointment

with Judy Higgins,

the Shine Councilor.

SMOC FUEL ASSISTANCE:

Please note that we are still

taking appointments. Call the

Senior Center to schedule an

appointment. Many who are

approved for fuel assistance also

qualify for SNAP food assistance.

Please in-quire as we can

assist you in applying.

YOUTH SINGERS: Members of

the 7th and 8th grade choirs at

the Bellingham Middle School

will come to the Center on Friday,

December 16, at 1 p.m. It's

a holiday sing-a-long, and they'll

perform selections from their

Winter Concert. Reserve your

seat; call the Center.

Wishing you a happy Holiday Season

and a wonderful New Year.

Please note our special holiday hours

Christmas Eve • Saturday, December 24th • Closed

Christmas Day (Observed) • Monday, December 26th • Closed

New Year's Eve • Saturday, December 31st • Open 9:00 am – 1:00 pm

New Year's Day (Observed) • Monday, January 2nd • Closed

Hours may be subject to change due to weather.

Visit CharlesRiverBank.com for up to date information.

Stay connected.

❅ Mobile Banking & Check Deposit

– Download the app

❅ Online Banking & Bill Payment

– CharlesRiverBank.com

❅ Surcharge-Free ATMs

❅ And More!

Follow

us on

70 Main Street, Medway | 2 South Maple Street, Bellingham

1 Hastings Street, Mendon

CharlesRiverBank.com | 508-533-8661

Equal Housing Lender

Member FDIC • Member DIF
---
December 2022 Find us on Facebook | bellinghambulletin Page 21

Bellingham High Holds STEM Career Showcase

Bellingham High School held

its STEM Week Challenge Showcase

at the Bellingham High

School gymnasium on October

25, 2022. Over 300 Bellingham

students from grades 6-12 showcased

group multimedia products

they created by interviewing professionals

in STEM occupations

that they found most interesting

and relevant to their career aspirations.

Students interviewed a

wide range of professionals, from

aviators, cardiac sonographers,

and dental hygienists to physical,

music and art therapists, estheticians,

graphic designers, morticians,

tattoo artists and more,

learning about their fields of

expertise and presenting various

projects to visitors.

Rep. Mike Soter and Congressman

Jake Auchincloss attended

the event.

Showing their support for children's learning about STEM fields,

Congressman Jake Auchincloss and Rep. Mike Soter attended the

STEM Week Challenge Showcase at Bellingham High School. From left,

Mike Reed, Bellingham School Committee, Karen Ares, BHS Internship

Coordinator, Rep. Mike Soter,

Congressman Jake Auchincloss,

and Jessica Lorenz, BHS Science

Coordinator

Lainee Briggs, Alexia Handy and

Lily Crawford were all drawn to

psychology.

Tori, Liv, and Ananya found a

common interest in Interior

Design.

Devin Dewar,

Abby Pelletier,

and Taylor Callery

worked together to

learn about career

options in Health

Sciences.

Brady Carroll stood by to talk

about what he learned about

chemical engineering.

421 Pulaski Blv

Bellingham, MA 02019

774-460-6084

Alexa, Owen, Brianna, and Alexandre went to the Seagraves

Observatory in Scituate to learn about their common interest –

astronomy.

375 Putnam Pike

Smithfield, RI 02917

401-757-6872

Bellingham Kenpo Karate

ONE MONTH FREE TRIAL!

Traditional Values & Training

Family-Oriented Environment

Karate & Aikido

Cardio Kickboxing 1-hour class for $ 5.00

A place where kids can learn discipline, respect, self-control,

and focus, and gain confidence.

Adults can get in shape, relieve stress, and learn

self-defense. A place that is affordable and offers discounts to

families so that they can bond and share experiences as they

learn and progress through the ranks of martial arts together.

Bellingham Kenpo Karate

116 Mechanic St., Bellingham MA

(directly across from post office)

781-856-5914

KarateBellingham.com

ReleafCenter1@gmail.com

CURBSIDE PICKUP OR YOU CAN COME IN!

HOURS:

MON–SAT,

10AM–7PM;

SUNDAY,

11AM–4PM

421 Pulaski Blvd,

Bellingham, MA 02019

Happy Holidays!

Please celebrate safely.

www.myCBDreleafcenter.com

MONEY-SAVING COUPON!

MENTION THIS AD & RECEIVE

10% OFF

YOUR NEXT PURCHASE!

774-460-6084 Limited time offer; not valid with any other offers.

New Location!

32 Hastings Street

Mendon, MA

Discounts

Available for

Seniors &

Veterans

"CBD" stands for cannabidiol. It is a non-intoxicating

cannabinoid found in cannabis.

https://weedmaps.com/learn/dictionary/cbd
---
Page 22 Bellingham Bulletin Local Town Pages | www.bellinghambulletin.com December 2022

Support Comfort Quilts with Raffle Purchase!

Rhododendron Needlers

Quilt Guild, with members

from Franklin and surrounding

communities, invites you to visit

Emma's Quilt Cupboard during

December to purchase your Raffle

Tickets for this year's Raffle

Quilt "Blue Plate Specials."

The Raffle Quilt features 42

Dresden plates in a variety of

beautiful blues, greens, purples

and more. The quilt measures

81 X 93 inches and was cooperatively

made by over 35 guild

members. It was designed by

Laura Rosenspan and quilted

by Diana R. Annis, a nationally

known long arm quilter. Tickets

are 3 for $5 and $2 each.

Raffle ticket sales support

the guild's philanthropy, specifically

to purchase fabric and batting

for the over 100 Comfort

Quilts a year that are supplied

to local homeless shelters, nursing

homes, college counseling

centers, pediatric ICUs, veterans

and foster care agencies.

Emma's Quilt Cupboard is located

in the Horace Mann Plaza

on East Central Street, Franklin.

Tickets are also available

via the guild's email raffletix@

rnqg.com Check out the website

www.RNQG.org for information

about the guild and their

upcoming show "A Community

of Quilters" March 18-19, 2023

at Blue Hills Regional Vocational

School.

Joan Fantini

508-446-3073

Leo Fantini

508-446-3538

Kayla Normand

508-488-7371

Erin Herrick

508-523-6782

Michelle O'Mara

508-254-2819

Rene A. Rua*

508-488-6617

*English/Spanish

Abbi Normand

508-488-0373

Contact us 24/7

for help with

• Real Estate Marketing & Sales

• Buyer/Seller Representation

• Rentals

• Short Sales

• Foreclosures

• Staging

Property

for Sale

Brian Sequin

774-266-6291

2022 RNQG Raffle Quilt "Blue Plate Specials"

Massachusett Real Estate Group

Tamra Saegh

781-492-4687

Bob Wilson

508-361-9539

CORPORATE OFFICE:

24 North Main Street,

Bellingham, MA 02019

508-966-2424

www.MARealEstateGroup.com

HOURS: by Appointment

At Your Convenience

24/7 EMAIL:

MainOffice@MARealEstateGroup.com

Lynne Roberts

508-982-3086

Francesca Casasanta

508-654-4592
---
December 2022 Find us on Facebook | bellinghambulletin Page 23

BVT Celebrates with Multicultural Festival

Food, music, and art are great

unifiers, connecting people from

different backgrounds and experiences.

Traditional recipes

carefully passed down from one

generation to the next can be a

source of pride and an expression

of cultural identity. Making

and sharing those foods is a simple

way to celebrate one's heritage

with others. It is also one of

the many ways Blackstone Valley

Regional Vocational Technical

High School students and

staff contributed to an authentic

celebration at its second annual

Multicultural Festival.

The interdisciplinary event

held at the school on October

28th included a Multicultural

Center featuring student-run

booths representing many countries

and, in the process, diverse

traditions that make each of

the students unique. Members

of our Multicultural Club presented

thoughtfully prepared

posters with items and goods

from countries and cultures

worldwide. The students and

staff enjoyed sampling the tasty

offerings at the student-run

booths.

If you were open to trying

foods from other countries, you

might have stopped by one of

these booths, African American

Culture by Keyara Jones, an assortment

of cornbread muffins.

Colombia by Colby Duncan

and Ayala Gonzalez, Colombian

soda samples. Ecuador by

Nico Alvarez-Benincasa, Jacob

Selby, and Kylie French, plantain

chips. France by Maura

Cleary and Madison Maynard,

eclairs, and coconut macaroons.

Ireland by Zoey Dauderis and

Gabrielle Mathis, slices of Irish

soda bread. Mexico by Kevin

Flores and Natalia Vazquez,

sweet pastries. Vietnam by Jackson

Doan, spring rolls.

"I was proud to see our students

sharing their cultures and

traditions with their peers, and

the overwhelmingly positive response

from the students and

staff who visited is what the Multicultural

Festival is all about,"

said Luanne Pehl, Multicultural

Club Advisor. "I hope we learn

from this experience that there is

unity in diversity!"

"I enjoyed speaking with

my peers and instructors about

Ecuador during the Multicultural

Festival. It is a magnificent

country," said Kylie French of

Upton, a sophomore in Painting

& Design Technology. "We

discussed food, music, and art. I

also shared photos taken while

visiting Ecuador. While presenting

the poster, I incorporated

my experience, memories, and

knowledge of Ecuador into

the presentation. For example,

we offered samples of plantain

chips, a popular food snack, that

came from having tried them for

the first time in Ecuador. The

plantains there are prepared

in many ways, but I especially

loved them fried and served with

the main course or as dessert."

In addition to the studentrun

booths, there were Day of

the Dead activities, a visiting artist,

dance lessons, and a cultural

performance. J&L Dance Studio

instructors shared a brief history

with those who had signed

up for a lesson and taught the

basic steps to dance Salsa and

Merengue. While GP Vahan,

an Armenian artist from the Armenian

Museum of America,

discussed culture in artwork and

assisted students in creating a

personalized wheel of eternity.

The day also included a cultural

performance by Crocodile

River Music, which shared the

universal influence of African

rhythms, melodies, and traditional

African outfits.

The interdisciplinary event

was a successful collaborative effort

supported in part by grants

from the Douglas, Hopedale,

Millbury, Sutton, Upton, and

Uxbridge Cultural Councils,

local agencies supported by the

Mass Cultural Council, a state

agency.

Join in the celebration and

explore the various cultural offerings

by viewing a video produced

by student videographer

Jenna Dolber showcasing the

event:

www.valleytech.k12.ma.us/

multiculturalfestival2022

TREE CLIMBER & LABORER WANTED

Year round – Full time/Part Time

Driver's License Required

Up to 104K for the right person

Call Kathy @ 617.924.8322 (Texts Not Accepted)

$1,000.00 Sign on Bonus*

Conditions Apply

Equal Opportunity Employer

AN AWARD-WINNING CATHOLIC, COLLEGE-PREPARATORY, CO-ED ACADEMY FOR GRADES 6-12

It's time to sign up for an Entrance

Exam or an In-Person Interview

Mount Saint Charles Academy recognizes the uniqueness

of every student, and we give you choices to fit your unique

strengths when you apply: a traditional entrance exam or

an in-person interview.

Both help us learn more about you. And whichever one you choose,

you will be taking the best next step toward your future.

• Entrance Exam on Saturday, December 3

• Entrance Exam on Saturday, December 10

• In-person Interviews - the date and time that works

best for you

Register for an Entrance Exam OR In-Person Interview today!

Free daily transportation for students • Financial Aid Available • Visit mountsaintcharles.org
---
Page 24 Bellingham Bulletin Local Town Pages | www.bellinghambulletin.com December 2022

MASSCAP, DHCD, Community Action Agencies, MEDA

Launch Annual Statewide Heating Help Awareness

Campaign

Home Energy Assistance Available Now

MASSCAP, Self Help Inc.,

along with the Massachusetts

Department of Housing and

Community Development

(DHCD), the network of Community

Action Agencies (CAAs)

in Massachusetts and the Massachusetts

Energy Directors

Association (MEDA), recently

launched its annual statewide

awareness campaign to ensure

that vulnerable Massachusetts

households are able to stay safe,

warm and healthy this winter.

Households of all kinds may be

eligible for help with their home

winter heating bills, no matter

the energy source.

Applications for home energy

assistance are currently being

accepted online, and incomeeligible

households may receive

help from November 1, 2022

through April 28, 2023. Both

renters and homeowners are eligible

for assistance. Depending

on your heat source, households

may be eligible for more than

$1,000 in assistance.

Applying has never been

easier with the ability to apply

online directly to the agency

serving your town. The website

www.heatinghelpMA.org (connected

to the MASSCAP website)

provides information for

those in need of heating assistance

as well as energy efficiency

program information and a link

to DHCD's online application

portal, www.toapply.org/Mass-

LIHEAP.

This winter, heating costs

are anticipated to the rise significantly

across the region. The

awareness campaign will include

local outreach, television

and billboard advertising, and

$0 DOWN!

You Own the

System

will place a special emphasis on

digital marketing and a push

to reach families with children

under 6.

The campaign started with

a kickoff event at Self Help Inc.

office in Brockton that was also

streamed on theMASSCAP

YouTube Channel. Speakers

included Congressman Stephen

F. Lynch, U.S. Congress,

8th District of Massachusetts,

Senator Michael Brady, Second

Plymouth & Bristol, Representative

Michelle Dubois, 10th

Plymouth, Elizabeth Berube,

Executive Director, Citizens

for Citizens (CFC), Jonathan

Carlson, CEO, Self Help Inc.,

Joseph Diamond, Executive

Director, MASSCAP, Janice B.

Fitzgerald, Director, Brockton

Council on Aging, Mary Knittle,

Energy Director, Worcester

Community Action Council

(WCAC), Louis Martin, Director,

Division of Community Services,

Department of Housing

and Community Development

(DHCD), John Messia, Director

of Constituent Services, Mayor's

Office, City of Brockton,

Peter Ostrosky, Massachusetts

Fire Marshal, and a couple of

Self Help clients that have benefitted

from the programs. We

also heard video messages from

Senator Edward Markey and

Senator Elizabeth Warren.

"As the temperature drops,

families across the Commonwealth

are struggling to keep up

with the rising cost of energy,

caused by the ongoing impacts

of the COVID-19 pandemic

and Putin's war of aggression in

Ukraine," said Senator Markey.

"Now more than ever, we need

to ensure that we're fueling the

Low Income Home Energy

Assistance Program with the

funding and support it needs,

so that it can in turn help heat

households across the Commonwealth

this winter. I look

forward to continuing to work

alongside MASSCAP, Self Help

Inc., and the Massachusetts Energy

Directors Association keep

LIHEAP on full blast in the

months ahead."

In her video, Senator Warren

reminds us that "No family

should have to make the decision

between paying their bills to keep

their children warm, putting food

on the table, and keeping the

lights on. LIHEAP helps families

avoid having to make that terrible

choice." She went to say, "I

pushed consistently in the Senate

for more and for expedited LI-

HEAP funding, and I am going

to keep on doing so with all of

my Senate colleagues."

"We are proud to work with

excellent local partners at Community

Action Agencies to provide

relief to families across the

state," said Jennifer Maddox,

Undersecretary, Massachusetts

Department of Housing and

Community Development. "We

encourage anyone who may

need assistance paying their

winter heating bills to explore

their eligibility, and we ask others

who know loved ones or

neighbors who could benefit

from this free resource to apply,

as well. No one should have to

worry about their ability to access

adequate heating."

ENERGY

continued on page 25

GROUND MOUNT • ROOF MOUNT • PRODUCTION GUARANTEE

Based in Bellingham • Installing Solar in Bellingham since 2009

References Available

MIKE KELLEY

508-657-1116 or mkelley@massrenewables.net

www.MassRenewables.net

Clean-Ups • Mowing • Mulch & More

Book your FREE ESTIMATE todayl

508-962-3926 or

PrecisionGreenLandscaping@gmail.com

CALL

NOW

FOR MORE

INFO!

NEW ENGLAND REGLAZE

Don't replace

your old tub, reglaze it!

Tubs, tile sinks and

much more

We do any TUB!

CALL US NOW

617-895-7771

www.newenglandreglaze.com

Reg. $ 399

Color, travel, may apply.

NOW $ 299. 00

SAVE

$100

WITH AD
---
www.junkitnow.u

www.junkitnow.u

December 2022 Find us on Facebook | bellinghambulletin Page 25

ENERGY

continued from page 24

Joe Diamond, Executive Director,

MASSCAP explained,

"Every year we update the state

legislature on the need for state

resources. We are grateful for

their past support including resources

early in 2022. In light

of the extreme rise in the cost

to heat your home for all fuel

sources, we are asking the state

to consider providing resources

of up to $50M for this season.

Diamond also notes, "The goals

that we pursue have everything

to do with helping our vulnerable

friends and neighbors living

with low incomes to become

economically stable and mobile.

The Home Energy Assistance

Program is a comprehensive

approach to helping so many

households across the Commonwealth

heat their homes

safely and efficiently. We work

closely with allied organizations

to help us reach the people we

know need it the most."

Home energy assistance

is offered through the federal

program (LIHEAP) that helps

households making less than

60% of state median income to

address home energy costs. In

Massachusetts, the program is

administered by DHCD in partnership

with community-based

organizations, CAAs, and the

City of Cambridge. Eligibility

***We ***We now now empty empty your your (3 cubic (3 cubic yards) yards)

junk junk bags bags and and leave leave for for your your next next

cleanout. Call Call for for pricing.***

TOM TOM CASSIDY CASSIDY

***We now empty your (3 cubic yards)

***We We now now empty empty your (3 your cubic (3 yards) cubic yards)

OWNER OWNER

junk junk bags and bags leave for and your next leave

cleanout. Call for pricing.***

junk bags and for leave your for next your next cleanout. Call for Pricing!

cleanout. Call for pricing.***

COUPONS COUPONS FOR FOR CLEANOUTS ONLY. ONLY. INSIDE/OUTSIDE YOUR YOUR HOME. HOME.

Coupons for cleanouts only. Inside/Outside

JUNK JUNK BAGS BAGS REMOVAL REMOVAL FEE SEPARATE. FEE CALL CALL FOR FOR PRICING. PRICING.

your home. Junk bags

PLEASE PLEASE

removal

GIVE GIVE ONE

fee

ONE TO

separate.

A TO FRIEND A FRIEND

Call for Pricing. Please give one to a friend. TOM CASSIDY

TOM CASSIDY

OWNER

COUPONS FOR CLEANOUTS ONLY. INSIDE/OUTSIDE YOUR HOME.

JUNK BAGS REMOVAL FEE SEPARATE. CALL FOR PRICING.

PLEASE GIVE ONE TO A FRIEND

www.junkitnow.us

www.junkitnow.us

for LIHEAP is based on several

factors, including household

size and combined gross annual

income of residents 18 and

older. The program provides assistance

for all sources of heat,

including oil, electricity, natural

gas, propane, kerosene, wood

and coal. For example, a family

of four, making up to $81,000

would be eligible for help.

Through related programs

available through the same application,

there are home energy

efficiency opportunities

that provide not only payment

relief and utility discounts, but

also life-saving emergency heating

repair and replacement and

stabilizing, full scale energy efficiency

measures. These holistic

programs allow both renters

and homeowners to spend a

smaller percentage of their income

to meet their energy costs.

"This coming winter, market

manipulation by the gas and oil

lobby will cause sky high home

heating prices. Thankfully for

Brockton we have Self Help

that will distribute federal and

state heating dollars to individuals

and families in need," State

Representative (10th Plymouth)

Michelle Dubois proclaimed. "I

encourage everyone who is worried

about how they are going

to heat their homes to apply for

Fuel Assistance."

"Fuel assistance is a lifesaving

program, plain and simple,

and with the sustained high cost

www.junkitnow.us

www.junkitnow.us

OWNER

***We now empty your (3 cubic yards)

junk bags and leave for your next

cleanout. Call for pricing.***

TOM CASSIDY

OWNER

Tom Cassidy

COUPONS Owner FOR CLEANOUTS ONLY. Disposables

INSIDE/OUTSIDE YOUR HOME.

JUNK BAGS REMOVAL FEE SEPARATE. CALL FOR PRICING.

PLEASE GIVE ONE TO A FRIEND

COUPONS FOR CLEANOUTS ONLY. INSIDE/OUTSIDE YOUR HOME.

JUNK BAGS REMOVAL FEE SEPARATE. CALL FOR PRICING.

PLEASE GIVE ONE TO A FRIEND

www.junkitnow.us

www.junkitnow.us

www.junkitnow.us

of energy and utility costs, and

the unprecedented cost of living

increases, our clients are facing

a financial storm not seen in a

generation," reported Jon Carlson,

Executive Director, Self

Help Inc. "We are grateful to

Congressman Lynch for his tremendous

support and advocacy

in Congress, as well as our local

legislations, for their continued

effort, especially this past year,

with the releasing funds that has

been critical in helping those

that are of low-income stay

warm."

"Getting fuel assistance and

a new heating system has made

such a difference in my life, and

being on a fixed income, I would

not have been able to stay in my

home, I will forever be grateful

to Self Help, Inc.," Eva Haynes

from Brockton declared.

Eligibility guidelines (snapshot

of guidelines below) can be

found atwww.heatinghelpma.

org. It is important to note that

eligibility is based on the last

four weeks of gross income and

that any additional stimulus

funds or pandemic unemployment

assistance funds do not

count toward income.

www.junkitnow.us

WE ARE HIRING!

GROW YOUR BUSINESS

with ¡estamos Local Town contratand

Pages!

Call Today! Jen 508-570-6544

GREAT PAY & MEDICAL BENEFITS!

Milford, MA

¡estamos contratand

WE ARE HIRING!

GREAT PAY & MEDICAL BENEFITS!

Restaurant Depot

is Now Hiring!

Milford, MA

NOW • Cashiers HIRING

• Receiving

• Stockers

• Hi-Lo Drivers

• Porters • Managers

• Receiving

• Hi-Lo Drivers

• Managers

• Cashiers

• Stockers

• Porters

100 Dear Street,

Milford, MA 01757

100 Deer Street

Milford, MA 01757

Apply Online @ www.restaurantdepotcareers.com

or send resume to: tliberatore@jetrord.com

Apply online @

www.restaurantdepotcareers.com

Hot Gifts for the Holidays!

CBD

Trusted Brands

Local Sources

Free Samples

Brochures

VAPORIZERS

Devices, Juice

FINE CIGARS

Cutters

Torches • Ashtrays

Humidors

Cleanups • Mowing

Mulching • Planting

Tree Work

RUSS ANZIVINO

owner

OUTDOOR MAINTENANCE CO.

or send resume to:

tliberatore@jetrord.com

Candles, Art, Tapestries

Backpacks, Seeds

Exotic Snacks

1,000s of

Smoking

Accessories

508-883-3564 (Office)

508-498-7297 (Cell)

www.mycornernews.com

Brush Chipping • Firewood

Rototilling • Snowplowing

Stump Grinding

RYAN ANZIVINO

certified arborist

DISC GOLF

Disc • Bags

(Home of the Dacey)

Lost & Found

Sneakers

Hats

Apparel

PIPES

Handblown Glass

Handpipes &

Waterpipes

20% OFF ANY ONE ITEM (SOME EXCLUSIONS APPLY)

191 MECHANIC ST. #2

BELLINGHAM

508.657.0960
---
Page 26 Bellingham Bulletin Local Town Pages | www.bellinghambulletin.com December 2022

Blackstone Valley Tech 2022 Annual Report Now Available

Blackstone Valley Tech is

proud to announce that copies of

its annual report are now available

to residents of the Blackstone

Valley Vocational Regional

School District. The report titled

powerful driving force spans the

2022 fiscal year and highlights

f

Residential &

Commercial Roofing Contractor

Bellingham's #1 Choice in Roofers

508-966-0306 or 1-800-662-4443

f

d

d

Visit our website at:

www.cooksroofing.com

SNOW

PLOWING

SANDING

SALTING

QUALITY MASTER

MA Lic. #116815 RI Lic. #9058

d

the remarkable achievements of

students and staff in addition to

financial information.

According to Superintendent-

Director Dr. Michael F. Fitzpatrick,

the document plays a role in

keeping the community informed

about its vocational-technical education

system. "With your continued

support, we prepare our

students for personal and professional

success in an internationally

competitive society through

a fusion of rigorous vocational,

technical, and academic skills,"

said Fitzpatrick. "Therefore, it is

d

f

f

our custom to go beyond sharing

the facts and figures of our operation

in the pages of our annual

report and share student success

stories and district achievements

that exemplify our mission."

Demonstrating what is

achievable with their high-quality

education, BVT alums are the

best ambassadors for vocationaltechnical

education. The annual

report includes a profile of Lindsey

Testa, a 2019 graduate of the

Dental Assisting program. With

an open mind and skilled hands,

she, like many BVT graduates,

is taking what she learned and

shaping the future workforce

while giving back to her alma

mater. You'll want to read about

her drive, passion, and call to

action in the annual report or

by visiting the school website at

www.valleytech.k12.ma.us/alumnispotlights.

You can obtain the annual

report at www.valleytech.k12.

ma.us/annualreport or by contacting

the Superintendent-Director's

office at (508) 529–7758

x3037.

North Pole Claims

1. Fin the elf has an at-home business making and selling holiday wreaths. If a client goes to pick

up a wreath at Fin's house and slips on ice and is injured, would Fin's traditional homeowner

policy cover the injuries?

2. Connell is working hard in Santa's workshop when he accidentally smacks his hand with a

hammer. Connell's hand is severely broken. Will Santa's workers compensation policy pay for

the claim even through it was Connell's own fault for getting hurt?

3. Sarah hosts all the elves at her house on Christmas morning. She orders a custom Reese's cake

for all the elves to enjoy, but the cake is destroyed during the shipping process. Would Sarah's

home insurance cover the damage to the destroyed cake during the shipping process?

Answers: 1. No, Fin needed the Permitted Incidental

Occupancies endorsement included on his policy to cover

minor at-home business exposures. 2. Yes, the workers

compensation policy would pay. 3. No, there is no coverage.

Paul Ostrander Calling - Proud Bellingham to call Hopkinton home for my 35+ home years! for 31 years!

Paul@OstranderInsurance.com 508.966.1116

OSTRANDERINSURANCE.COM

Register O'Donnell Announces

2022 Holiday Food Drive

through December 13th

As inflation rates continue to

rise and the cost of living becomes

an increasing challenge

for some families across Norfolk

County, Register of Deeds William

O'Donnell is asking people

to take a moment to contribute

to the Annual Registry of Deeds

Food Drive, starting Monday

November 14th and running

through Tuesday December

13th.

"There is no doubt that Norfolk

County is a desirable place

to live and to work. However,

there are people throughout the

county that are truly hurting.

This year we, as a community,

have seen an unprecedented rise

in inflation rates, especially in

the cost of food. Some Norfolk

County families are hit harder by

these increased costs and worry

about putting food on the table

this holiday season."

Today, according to the latest

Project Bread statistics, 19.6% of

households in Massachusetts are

considered food insecure. Furthermore,

22% of children in

the state are also considered food

insecure. The increasing cost of

housing and food are likely factors

that contribute to the rising

rates of food insecurity.

Non-perishable food items

can be brought directly to the

Registry of Deeds, which is

located at 649 High Street in

Dedham. A donation bin will

be set-up in the Registry's lobby

and food can be dropped off

Monday through Friday between

8:00 a.m. to 4:30 p.m. Suggested

donations include canned goods,

breakfast cereals, pasta, sauces,

toiletries, and paper products.

If you can't get to the Registry

of Deeds building to drop off

food, you can check the Registry

website at www.norfolkdeeds.

org for a pantry location in your

community.

Working together, we can

truly make a huge difference this

holiday season," concluded Register

O'Donnell.
---
December 2022 Find us on Facebook | bellinghambulletin Page 27
---
Page 28 Bellingham Bulletin Local Town Pages | www.bellinghambulletin.com December 2022

Bellingham Veterans Day, 2022

Bellingham Public Library

was packed for the town's annual

Veterans Day Ceremony this

year. After presentation of the

colors by The Blackstone Valley

Young Marines, the National

Anthem performed by Robert

Oliver III, and an invocation by

Pastor Baron Rodrigues of the

First Baptist Church, Bellingham

Library Director Bernadette Rivard

welcomed guests, and Jim

Hastings, from the Bellingham

Memorial and Veterans Day

Committee, gave opening remarks.

Featured guest speakers

included Bellingham residents

James Begley, (US Nav-RET)

and Bill Eltzroth (US Nav-RET),

with Lt. Col. Andrew A. White,

Commander for the US Army

Garrison at Natick Soldier Systems

Center as keynote speaker.

Lt. Col. White began with a

discussion of Armistice Day's

origins, quoting Gen. Douglas

MacArthur in that it is the soldier

who must suffer the wounds

of war, acknowledging the service

and sacrifice "of the men

and women who have donned

the uniform and defended this

country," adding "I can tell you,

I have served in the company of

heroes," and that "may we feel a

deep sense of gratitude for the

service and sacrifice of veterans"

and their families.

Following guest speakers, Lori

Fafard presented the three winners

of the 2022 Veterans' Day

4th Grade Memorial School

poster contest. They included

Logan King, Addison Boyer and

Leah Taychack.

HELP WANTED

GENERAL LABORER

JACK OF ALL TRADES

Some vehicle cleaning, yard cleaning,

and house painting (knowledge of carpentry a

plus). Winter duties will include snow

removal, some shoveling, cleaning off vehicles

and plowing. Must have a valid driver license

and clean driving record. Must be able to take

directions and work alone.

Call Mark's Transportation

561-654-9881

Following that presentation

and Oliver's performance of

"Possible Dream," Rep. Mike

Soter gave remarks, encouraging

guests to remember veterans

have fought for freedom and democracy

and not to let that die.

Soonafter, Andrew Bolliro, of

The Blackstone Valley Young

VETERANS

continued on page 30
---
December 2022 Find us on Facebook | bellinghambulletin Page 29

Sports

DuTremble Excels for BHS Eleven in Unsung Fashion

Guard-Nose Tackle a Dynamic Competitor

By KEN HAMWEY,

Staff Sports Writer

Most athletic teams at every

level invariably have an unsung

player — a competitor who gets

a job done quietly, effectively and

without any fanfare. Sean Du-

Tremble definitely fits that description

for Bellingham High's

football team.

The 6-foot, 307-pound junior,

who started at guard as a sophomore,

also plays nose tackle on

defense. His work on both sides

of the ball was dynamic and

helped the Blackhawks to qualify

for the playoffs for the fourth

straight year.

After eight games, coach

Dan Haddad's squad surprised

its fans by posting a 5-3 record,

good enough to earn a berth in

the post-season tourney, where

the Blackhawks were eliminated

by Lynnfield, 38-7, in the first

round.

BHS was an underdog all season

long, because it was a sophomore-junior

team that lacked

in-game experience. It had lost

nine seniors and had only five

experienced players return.

"It was a rebuilding year, but

I hated to use that word because

I knew our players had the ability

and the desire to surprise

people,'' Haddad said. "We were

eliminated in the playoffs, but to

get there was very satisfying.''

What also was satisfying for

Haddad was watching DuTremble

in practice and during games.

It was like observing a master

craftsman.

"Sean is one of the best linemen

I've ever coached,'' Haddad

offered. "He's got all the ingredients

for success. His work ethic is

great, he's got a high football IQ,

he's athletic, and he's quick and

strong. When you watch him,

you never know if we're winning

or losing because he keeps going

until the last whistle. He treats

each game like a professional,

and his mental toughness is incredible.''

The 17-year-old DuTremble

is acutely aware that his work in

the trenches goes unnoticed but

his passion for football never dips

below 100-percent effort. He embraces

playing guard and nose

tackle.

"I like playing guard where I

can clear a path for our running

backs and provide protection,''

he emphasized. "It's great when

the guards pull and knock our

opponents off their feet. The key

at guard is hand-and-foot placement,

strength and quickness. I

also like nose tackle. It's where

I get low and maintain leverage,

enabling me to throw an opposing

lineman off balance and get a

sack. I like the one-on-one competition.''

DuTremble, who started playing

football as a seven-year-old at

the Pop Warner level, had admirable

goals when the 2022 season

started. He wanted to improve

daily and play the best he could,

qualify for the playoffs, advance

and get to the Super Bowl. Some

of his objectives were fulfilled,

but getting eliminated from the

playoffs was disappointing.

"It was tough to bow out in

the opening round,'' he said.

"Lynnfield gave our defense

trouble early, scoring 22 points

in the first half, and we couldn't

generate offense. I felt bad for all

my teammates, especially the seniors

who worked so hard. But,

I was happy we qualified. Our

lines did their job after losing two

players for several games during

the season, and we didn't have

two other players available for

the Lynnfield game.''

What was rewarding was the

way the Blackhawks progressed

and beat teams like Dedham and

Medfield and came close to defeating

Dover-Sherborn, the Tri

Valley League Small champion.

"Some people might have been

surprised at our achievements,

but I always felt we could do well

because our players kept pushing

themselves, and our coaches

were very motivating,'' DuTremble

emphasized.

It's easy to understand why

DuTremble calls Bellingham's

6-0 victory over Medfield his best

game. "I had eight tackles, five of

them for losses, and three sacks,''

he recalled. "It was fun beating a

TVL large school. That victory

boosted our confidence because

we had lost to Westwood, 40-7,

the previous week.''

At the Bulletin's deadline,

the Blackhawks were 5-5, giving

Sean DuTremble enjoys playing

guard where he can clear a path

for running backs and provide

protection.

them a .500 record after losing a

non-playoff game to Seekonk. A

victory over Norton on Thanksgiving

would ensure them of a

winning season.

DuTremble knew what it took

to have a winning effort in the

weight room. The Bellingham

native rates winning the "King

of the Weight Room'' award two

straight years as his top thrill.

"Whoever lifts the most weight

for three days during the last

week of the offseason gets that

trophy,'' he said. "I lifted 1,375

pounds last August.''

DuTremble has a high regard

for colleagues who fall into the

unsung category. Three linemen

he admires are junior center

Donovan Turner and senior

tackles Ethan Silva and Connor

LaLonde. "Donovan and Ethan

are captains who are motivators,

they're inspiring, and they're talented.

Connor is a hard-worker

who gives 100% all the time.''

Calling Haddad a "great

guy,'' DuTremble, who calls his

coaches and his parents, Jamie

and Melissa, his role models, says

his coach "is a top-notch motivator,

very solid tactically, and encouraging,

always eager to push

us to be at our best.''

"If you're giving your best and

striving to reach your potential,

then winning usually follows,'' he

emphasized. "I also compete in

track (shot put and discus), and

both sports have helped me learn

valuable life lessons — like being

resilient, being a good teammate,

to work hard and to be able to

rely on others and have them rely

on me.''

Sean DuTremble has won the "King of the Weight Room'' award two

straight years. The trophy goes to whomever lifts the most weight for a

three-day stretch at the end of the offseason. In August, he lifted 1,375

pounds.

Merry Christmas!

Spreading Holiday Shears

from

Runways

Salon

Experience the

Difference!

Unsure of where he'll attend

college or what he'll study, the

honor student would like to continue

his gridiron career. "I don't

know what division I'll play in,

but I'm looking forward to collegiate

football,'' he said.

One situation won't change

for DuTremble. He'll still be unsung

— blocking and tackling

with little notice and hardly any

fanfare.

"A lineman knows what he

does is important, and coaches

respect what we do,'' he said.

"We play football without looking

for praise, but it's nice when

we do get recognized.''

Richard (Rick) Lamothe

Electrical Contractor

Electrician — Master License in MA & RI

CELL: (508) 397-1916

Small jobs, service upgrades, fire alarms

All phases of old and new construction

Since 1997

66 MENDON ST. • RTE. 140 BELLINGHAM, MA 02019

www.RunwaysSalon.com

508-966-2809

Gift Cards Always Available
---
Page 30 Bellingham Bulletin Local Town Pages | www.bellinghambulletin.com December 2022

VETERANS

continued from page 28

Marines, was recognized for his

contributions, Pastor David Mullen,

of St. Brendan's Church, gave

closing remarks, and the proceedings

moved outdoors for laying of

the wreath by James Begley, Bill

Eltzroth, and Andrew A. White.

Chaplain Rick Marcoux (RET)

of Bellingham Fire Department,

gave final closing remarks.

Shown are some images of the

event.

McGovern Applauds $159 Million for Massachusetts to

Help Families with Rising Home Heating Costs this Winter

Massachusetts' Second District

- With cold weather on the

horizon, Congressman James P.

McGovern (MA-02) announced

Check Back Each Check

Check Month Back

Back for Each

Each more Month

Month Helpful for more

for more Ways Helpful

Helpful to Save! Ways to Save!

Ways to Save!

today that Massachusetts has

been awarded $159 million in

funding for the Low Income

Home Energy Assistance Program

(LIHEAP). Administered

through the Administration for

Children and Families at the

U.S. Department of Health and

Sponsored by Sponsored

Sponsored

the Bellingham by the

by the

DPW Bellingham DPW

Bellingham DPW

Human Services, this funding

will help low-income individuals

and families pay for home heating

costs this winter and cover

unpaid utility bills. These funds

will also help families make costeffective

home energy repairs to

lower their heating and cooling

bills.

"LIHEAP has been essential

to ensuring that Massachusetts

families can stary warm during

the winter," said McGovern. "As

Big Oil continues to rip off consumers

and the war in Ukraine

continues to drive up energy

costs, our delegation requested

an expedited release of home

heating assistance, and I'm

proud to see this huge amount

of funding moving quickly into

the hands of folks who need it."

Democrats in Congress allocated

an additional $1 billion

nationwide to address rising energy

costs and another $100 million

through President Biden's

Bipartisan Infrastructure Investment

and Jobs Act—providing

an additional cushion of home

energy assistance for Massachusetts

households.

"Our number one priority is

working to lower costs and getting

money into the pockets of

working families, and that's what

this LIHEAP funding will do for

thousands of households across

the Commonwealth," added

McGovern.

The $158.9 million awarded

to Massachusetts includes $118

million from regular LIHEAP

funding, an extra $36 million

in supplemental funding from

Congress, and $3.7 million in

funding from President Biden's

Bipartisan Infrastructure Investment

and Jobs Act.

For more than 40 years, the

Low Income Home Energy Assistance

Program (LIHEAP)

has provided federally funded

assistance to help individuals

and families maintain safe and

healthy indoor temperatures.

LIHEAP helps low-income

households pay home heating

and cooling bills, prevent energy

shutoffs, restore services,

make minor energy-related

home repairs, and weatherize

homes to make them more energy

efficient. The U.S. Department

of Health and Human

Services announced the release

of $4,492,719,317 through

LIHEAP to all 50 states, the

District of Columbia, three

territories, and more than 125

tribes. Individuals interested in

applying for energy assistance

can visit energyhelp.us or call

the National Energy Assistance

Referral (NEAR) hotline tollfree

at 1-866-674-6327.
---
December 2022 Find us on Facebook | bellinghambulletin Page 31

Calendar

December 2

December 4

December 10

December 15

Bellforge Arts Center 8th Annual

Holiday Stroll, 4-9 p.m., 30+ local artist

vendors, carolers, ice sculpture demonstrations,

and festive activities in Downtown

Medfield. All events within walking

distance of Main Street, 3 indoor sites:.

Zullo Gallery, the United Church of

Christ, and the Memorial Public Library.

MyFM 101.3 Annual Toys For Kids

and Teens Drive, 9 a.m.-3 p.m., outside

Walmart in Bellingham.

December 3

Operation Graduation Craft Fair, 9 a.m.

– 3 p.m., Bellingham High School, 60

Blackstone St., Bellingham

Winter Farmers Market, 10 a.m. – 2

p.m., Fairmount Fruit Farm, Franklin,

local farms, vendors, artisans and crafters

MyFM 101.3 Annual Toys For Kids

and Teens Drive, 9 a.m.-3 p.m., outside

Walmart in Bellingham.

SL "Hay" Ride, 3-6 p.m. (registration

required), Fairmount Fruit Farm, lit up

tractor a wagon ride with cocoa, blankets,

holiday jingles around orchard, $10

pp

Bellingham Youth Cheer Dinner with

Santa, 4:30-6 p.m. or 6:30-8 p.m., Bellingham

VFW Post 7272, 940 S. Main St.,

Bellingham, will include salad, bread,

pasta, meatballs, dessert and of course,

photos with Santa, as well as raffle baskets

and a 50/50 raffle! $15 pp; $10 for

children 10 and under. Visit LINKTR.

EE/BAYFC to reserve tickets

The Charles River Chorale Winter Concert,

2 p.m., Medway High School Auditorium.

Doors open at 1:30 p.m. $20

adults, $15 for seniors and students. Children

5 and under free. Purchase tickets

at www.charlesriverchorale.com/tickets.

Tickets can also be purchased at the door

with payment by cash or check.

December 7

Bellingham Business Association

Holiday Party, 6 p.m., Savini's Pomodoro

Italian Kitchen & Bar, 476 Ratburn St.,

Woonsocket, RI, $35 members, significant

others, employees, contact@bellinghambusinessassociation.org

St. Blaise Winter Candyland Fair, 9 a.m.,

St. Blaise Parish Hall, features many favorite

games and activities, such as the

card game/win a theme basket every

game, 9:30 a.m. Santa will arrive and be

available for pictures and to listen to the

Christmas wishes of kids of any age.

SL "Hay" Ride, 3-6 p.m. (registration required),

Fairmount Fruit Farm, 885 Lincoln

St., Franklin, lit up tractor a wagon

ride with cocoa, blankets, holiday jingles

around orchard, $10 pp

December 14

Sandy Hook Vigil, 6:30 p.m., candlelight

vigil to honor the memories of the

victims of the Sandy Hook Elementary

School shooting. All welcome.

Ladies of St. Anne Sodality Christmas

Gala, 6 pm, at Restaurant 45, in Medway,

buffet menu will include main entrees

Chicken Parmesan, Baked Haddock and

Steak Tips and sides and cake with surprise

theme topping provided by the Gala

committee. $32 per person. Payment, either

cash or check made out to St. Blaise

with "LoSA Gala" on the Memo line, is

due by December 4. Questions to Ann-

Marie at (508) 488-8528.

December 17

BWOT Muffins with Santa, 9-11 a.m.,

St. Blaise Church, 1158 S. Main St.,

Bellingham

Winter Farmers Market, 10 a.m. – 2

p.m., Fairmount Fruit Farm, 885 Lincoln

St., Franklin, local farms, vendors, artisans,

and crafters

SL "Hay" Ride, 3-6 p.m. (registration required),

Fairmount Fruit Farm, 885 Lincoln

St., Franklin, lit up tractor a wagon

ride with cocoa, blankets, holiday jingles

around orchard, $10 pp

FROM OUR HOMES

TO YOURS…

hopes that all of

your Holiday Wishes

come true!

FAMILY OWNED & OPERATED SINCE 1980

Fully Insured including Workers Compensation

Residential & Commercial

SERVICES INCLUDE:

Tree Removals & Pruning

Ornamental Tree Pruning Is Our Specialty

Natural Hand Pruning of Shrubs

Cabling & Bracing

*

FREE ESTIMATES

~ FULL-TIME EMPLOYMENT OPPORTUNITIES

*

~

• Climber/Driver Wanted • Ground Person/Driver Wanted

Michelle Sebio Savje

508-561-4257

Remember, if you want to BUY or SELL, call Michelle!

Email: butlertree80@yahoo.com • Find us on Facebook

Visit us online at www.butlerandsonstreeservice.com
---
Page 32 Bellingham Bulletin Local Town Pages | www.bellinghambulletin.com December 2022

DRIVERS WANTED

Mark's Transportation LLC

Call today for

more information

561-654-9881

WE PAY MORE

$1,000 Sign-On Bonus*

*New applicants only; restrictions apply

Only 20 Positions Available!

Transport students and adults.

NO COL Required, 7D Certificate Only.

We'll help you get the certificate.

Split shifts: Early morning & afternoon.

Must be 21 or older with valid driver's

license.

Great job for retired person or someone

needing part-time work with 20 to 35

hours per week available.

If you love to help people and want to

earn some extra money, this is the place

to bel

OFFICE IS LOCATED AT 51 EAST MAIN STREET, MILFORD, MA • OFFICE HOURS ARE MONDAY—FRIDAY, 9:00 AM—5 PM