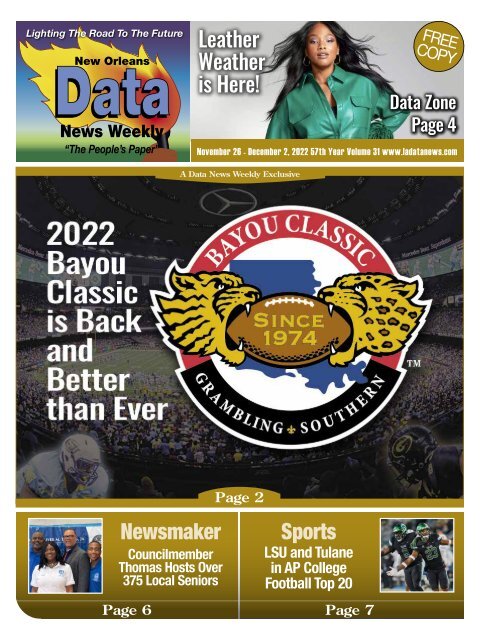 You also want an ePaper? Increase the reach of your titles
YUMPU automatically turns print PDFs into web optimized ePapers that Google loves.
Lighting The Road To The Future

"The People's Paper"

Leather

Weather

is Here!

Data Zone

Page 4

November 26 - December 2, 2022 57th Year Volume 31 www.ladatanews.com

A Data News Weekly Exclusive

Page 2

Newsmaker

Councilmember

Thomas Hosts Over

375 Local Seniors

Sports

LSU and Tulane

in AP College

Football Top 20

Page 6 Page 7
---
Page 2

November 26 - December 2, 2022

Cover Story

www.ladatanews.com

2022 Bayou Classic is Back

and Better than Ever

Data News Staff Edited

Report

Bayou Classic is the historic

gridiron rivalry between Grambling

State University and Southern University,

encompassing a weekend

series of entertaining and socially

enriching events from november

25th – 30th in New Orleans, La. The

framed classic embodies a familyfriendly

atmosphere and fosters an

economic impact of $50 million to

the greater city of New Orleans.

With record-breaking attendance

in 2015 since the classic returned

to New Orleans following Katrina

in 2006 after a one-year hiatus in

Houston, the Battle Of The Bands

& Greek Show boosted its attendance

numbers to 29,652 and 62,907

for the 42nd Annual Bayou Classic

game. The 44th Annual Bayou Classic

in 2017, pushed the Bayou Classic

to the top spot as the #1 HBCU

Classic, and the most attended football

game in the FCS division. Last

year, the 46th Annual Bayou Classic

held the #1 HBCU Classic title for

the third year with a game attendance

of 68,341 fans.

Events taking place:

Business At Bayou

Classic

A Black Business Showcase in

partnership with the Louisiana

Chamber Of Commerce Foundation

Networking * Technical Assistance

* Business Marketplace

Business at bayou is a business

expo that showcases nonprofit,

corporate, and local businesses.

Students, alumni, and visitors

are invited to stop by the business

at bayou to purchase items

from small black businesses

and learn more about networking

opportunities.

Friday, November 25th

10:30 Am - 4:00 pm

Hyatt Regency New Orleans:

Empire Ballroom Foyer

Free and open to the public

NBCU Academy

Seminar

NBCU Academy will be conducting

a seminar during the Bayou

Classic with select students from

Xavier University of Louisiana,

Grambling State University, Southern

University and A&M College,

Dillard University and Southern

University at New Orleans.

Students will hear from Nbcu

Academy and NBC Sports leaders

on their career paths, industry

insight and a robust presentation

on professional development. This

event will take place from 10:30

am -11:45 am CT on Friday November

25th at the Hyatt Regency

St. Louis.

Friday, November 25th

10:30 am - 11:45 am

Hyatt Regency New Orleans

Cover Story, Continued on page 3.

INSIDE DATA

DATA NEWS WEEKLY

P.O. Box 57347, New Orleans, LA 70157-7347 | Phone: (504) 821-7421 | Fax: (504) 821-7622

editorial: datanewseditor@bellsouth.net | advertising: datanewsad@bellsouth.net

Terry B. Jones

Contributors

Art Direction &

Cover Story . . . . . . 2

Data Zone . . . . . . . 4

Newsmaker. . . . . . 6

Commentary . . . . . . 6

Sports . . . . . . . . . . 7

State & Local News . . 7

CEO/Publisher

Edwin Buggage

Editor

Sharonda Green

Executive Assistant

June Hazeur

Fleur De Lis

N.O. Agenda

DNW Staff Writers

Tracee Dundas

Production

Pubinator.com

Editorial and

Advertising Inquiries

datanewsweeklyad

@gmail.com

Distribution

Accounting

Stacy M. Brown

by Terrence Lee

Please call 504-309-9913 for subscription information or to obtain a back issue of the paper ONLY.

Dated material two weeks in advance. Not responsible for publishing or return of unsolicited manuscripts or photos.
---
Cover Story

www.ladatanews.com November 26 - December 2, 2022

Page 3

Cover Story, Continued from page 2.

Bayou Classic

Coaches Luncheon

(Invite Only)

Friday, November 25th

Noon

Hyatt Regency New Orleans

Bayou Classic

Vendor Village

Friday, November 25th &

Saturday, November 26th

Poydras Street At Loyola

Avenue

Greek Show & Battle

Of The Bands

Greek Show presented by

Procter & Gamble

Battle Of The Bands Presented

By CDW

Friday, November 25th

Doors 5:00 pm;

Event 6:00 pm

Caesars Superdome

For battle of the bands & greek

show, Southern University "Human

Jukebox" Marching Band will

be on the south end zone side of

the Caesars Superdome and the

Grambling State University Tiger

Marching Band will be on the

north end zone side.

Please note: clear bag policy for

entrance

Bayou Classic Battle

Of Bands Young

Alumni After Party

Event is presented by Herewego

Entertainment, Big Stan Productions

& Gee Willie

Friday, November 25th

11:30 Pm

Metropolitan Nightclub (generations

hall - Downtown Nola) 310

Andrew Higgins Boulevard

For tickets visit: www.Herewegoent.com

Annual Bayou

Classic Parade

Saturday, November 26th

9:00 Am

Downtown New Orleans

Route: parade begins on Elysian

fields Avenue at N. Peters Street;

proceeds down Peters street onto

Decatur Street; turns right on Canal

Street; turns left on St. Charles

Avenue; turns right on Poydras

Street; turns right on Loyola

avenue; Parade ends at Duncan

Plaza located on Loyola Avenue at

Perdido Street.

2nd Annual Special

Olympics Louisiana

Unified Flag Football

Rivalry Game

Saturday, November 26th

9:00 Am - 10:30 am

Kipp Booker T. Washington

practice field (3900 block of

Erato Street)

Annual Bayou

Classic Fan Festival

Embrace the culture fan fest

stage, presented by the city of

new orleans, the office of cultural

economy and New Orleans tourism

& cultural fund

Saturday, November 26th

9:00 Am - noon

Champions Square at the

Caesars Superdome

Please note: clear bag policy for

entrance

Live performances from: Dj Raj

Smoove Fresh X Reckless Allie

Baby Krewcial Denisia Stone Cold

Jzzle Flagboy Giz Dj Jubilee Neno

Calvin

Bayou Classic

Invitational High

School Battle Of The

Bands

Presented during the annual

Cover Story, Continued

on page 7.

Powering

Entergy powers the moments you live for. That

responsibility reaches beyond the power grid.

We believe supporting our communities means

supporting our schools, sports and the arts. This

game should be a moment for the record books.

entergy-neworleans.com

ahead to first

and goal

A message from Entergy New Orleans, LLC ©2022 Entergy Services, LLC. All Rights Reserved
---
Page 4

November 26 - December 2, 2022

Data Zone

www.ladatanews.com

Leather Weather is Here!

Tracee Dundas

Fashion Stylist

New Orleans may be the Deep

South and historically tagged

as one of the hottest cities in the

country, but don't get it twisted,

southern fashion aficionados have

a great appreciation for leather

weather. As soon as the temperature

drops to 65 or below, every

southern fashionista is pulling

out their leather fashions. It's that

Data Zone, Continued

on page 5.

Black faux-leather, one-and-done, jumpsuit with cap

sleeves, plunging neckline and tie-belt, side pockets

from I.N.C. Concepts at Macy's.

Royal Blue, faux-leather mini dress with square

neckline, puffed sleeves from Fashion Nova

Brown, faux-leather ankle-length, sleeves,

front slit, fitted A-line dress from Zara.

Paid for by the

U.S. Department of Health

and Human Services.

Keep Your COVID Protection On Point!

Updated vaccines protect us against the original COVID virus

and Omicron. Get your updated vaccine today and protect

yourself and those you love.

Find updated COVID vaccines for

everyone 5+ at vaccines.gov
---
www.ladatanews.com

Data Zone

November 26 - December 2, 2022

Data Zone, Continued from page 4.

Page 5

time of year when summer

apparel is pushed aside and

outcomes the leather goods.

Afterall, leather and cold

weather is a combination

that goes hand in hand with

the winter season. From

moto jackets to jumpsuits,

in faux or suede; get ready

for leather outfits for both

men and women with high

impact. The key is to style

it thoughtfully to avoid "The

Matrix" effect. The secret is

to break it up, include layers

and a touch of drama.

Mixing textures by pairing

your leather piece with knit

sweaters, feather touches,

and sequins can elevate your

style for a flawless look that

will have everyone doing a

double take. Accessories can

also be an excellent way to

add leather accents to your

outfit. From above-the-knee

boots to a wide leather Gucci

belt or a statement handbag;

beautiful, buttery leather

accessories can build upon

basic outfit and take it to the

next level without breaking

the bank. It just has to look

like you did.

Irish Green,

faux-fur

cuffs add

a dramatic

effect to this

stunning

leather jacket

and straight

leg pants

from I.N.C.

International

Concepts at

Macy's.

Olive Green,

Bolangaro

Trevor Men's

leather suit,

singlebreasted

style

jacket, straight

leg pants from

ASOS Design.

Black, men's

leather biker

jacket, lapel

collar, snap

button detail

with zipper

cuff and

asymmetrical

front closure

from Zara.

Khaki, fallen shoulder

statement style with

gather bodice, belted,

midi pencil dress with

front slit from ASOS

Design.

PHOTO 7: Black,

waist length relaxed

fit, leather jacket with

zebra print, 2-piece

set and above the

knee black leather

boots from All Saints.

Red, leather

knee-length,

long sleeve

dress, front

ruching with

gold buttons,

black beret,

black above

the knee

boots and

clutch from

New York &

Co.

innocence that graced

a movement

On November 14, 1960, four six-year-old girls

desegregated New Orleans schools. Ruby Bridges

entered William Frantz Elementary School and

Leona Tate, Tessie Provost and Gail Etienne

attended McDonogh 19 Elementary School.

www.louisianacivilrightstrail.com

LIEUTENANT GOVERNOR

BILLY NUNGESSER

LACRT - Half Page Ad - 10.5 x 7 in.indd 1

11/2/2022 4:02:50 PM
---
Page 6

November 26 - December 2, 2022

Newsmaker

www.ladatanews.com

Councilmember Thomas Hosts

Over 375 Local Seniors at Annual

Thanksgiving Luncheon

Data News Staff Edited

Report

In his post as Councilmember

of District E, Oliver Thomas is

bringing a brand of leadership

that is all inclusive. Last week,

Councilmember Oliver Thomas

hosted his Annual Thanksgiving

Luncheon today for local seniors

at The Sanchez Center. This year's

event was hugely successful, serving

free meals to over 375 senior

citizens from all fourteen citywide

community centers.

Also, the event included a series

of gift card raffles and, of course, a

delicious selection of Thanksgiving

dishes and southern cuisine. Entertainment

was provided by Captain

District E City Councilmember Oliver Thomas (c) pictured with his staff at recent Thanksgiving Luncheon

held for local seniors at the Sanchez Center located in the Lower Ninth Ward.

Charles, PinStripe Brass Band,

The Baby Dolls, King Zulu 2022,

and The Zulu Tramps. The New

Orleans Ballet Association also provided

a Thanksgiving skit by the

Lower 9th Ward as well as seated

exercises for the seniors.

"My staff and I look forward to

this event all year, and are incredibly

overwhelmed by this year's

turnout," said Councilmember

Thomas. "Thank you to all the musicians,

chefs, community partners,

and volunteers for helping to pull

this off for our seniors, who have

helped to build and shape the city

we know today. This is the least we

can do to show our appreciation,

and I look forward to continuing

the tradition next year."

Commentary

Has Black Friday Lost its Luster?

Depends on Whom You Ask

Despite the relatively small sample size in the survey, a growing number

of shoppers said Black Friday had lost its appeal.

Stacy M. Brown

NNPA Newswire Senior

Correspondent

According to a survey conducted

in October, nearly 70 percent

of consumers plan to skip Black

Friday and holiday shopping altogether

this year.

While some believed retailers

manipulated shoppers, a relatively

large amount (18%) said they won't

shop because of large crowds.

Despite the relatively small

sample size in the survey, a growing

number of shoppers said Black

Friday had lost its appeal.

"While Black Friday sales provide

a great opportunity for brands

to keep customers coming back for

more, it also presents noteworthy

risks for shoppers around buying

too much," said Michael Podolsky,

CEO, and co-founder of PissedConsumer.com,

which conducted the

survey.

"Consumers are now savvier

with their purchases and how much

they spend. That is not just inflation

causing the shift in consumer behavior,"

Podolsky stated.

"The survey revealed that 85%

of shoppers now rely on online reviews

when buying as they intend

to avoid general unhappiness with

shopping."

Small business growth expert

Stephanie Scheller of Grow Disrupt

said there's little question that the

days of getting excited about the

day after Thanksgiving shopping

sprees have ended.

"While there are still 'doorbusters'

at some places that are

worth participating in, most places

offer great deals online or are starting

so early that it's not worth the

fight for Black Friday beyond tradition,"

Scheller offered.

"I think that the problem with

this is that we'll end up diluting the

power of the concept, and while

overall shopping numbers might be

okay, the one-powerful-day for generating

sales for the holiday season

concept is likely to fade."

According to Adobe Analytics,

Black Friday 2021 raked in $14.04

billion in online sales, with $8.9

billion spent on Black Friday and

$5.14 billion on Thanksgiving.

The spending represented a .63%

decrease from 2020 when Black Friday

sales raked in $14.13 billion in

online sales.

At the height of the coronavirus

pandemic in 2020, 100 million consumers

shopped online, while inperson

Black Friday shopping fell

37 percent from 2019.

"Digitalization has encouraged

the growth of online stores, due to

which special deals and offers remain

no more exclusive," said Matt

Gillman, founder of SMB Compass.

"People prefer online stores

more than regular stores, which

affects Black Fridays. And this is

because of the perks online stores

offer at the same costs. So, along

with the low prices, we can focus

on providing a better shopping environment."

Despite declining sales and enthusiasm

from many corners of the

nation, some still enjoy the tradition

of leaving the dinner table early to

stand in the long lines that often accompany

Black Friday sales.

"I usually think of shopping as

therapy; therefore, I always look

forward to Black Friday for the excellent

prices," said

Sean Harris, managing editor at

Family Destinations Guide, which

provides information and reviews

of resorts, hotels, and global destinations.

"Black Friday not only allows

me to fill my closet with the newest

styles at discount prices, but it

also makes it possible for me to find

some excellent offers on electronics

and books," Harris exclaimed.

"I primarily rely on gadgets to

simplify my life as a tech-savvy individual.

Therefore, I require everything,

from an air purifier to a

coffee foaming machine.

"As a result, Black Friday will

never lose its appeal to me because

I can obtain incredible electronics

discounts online.

"The same is true for books,

which are a staple of mine and are

available in bulk in specially curated

best-seller collections every Black

Friday Sale."

Emily Saunders, Chief Revenue

Officer for eLuxury, noted that

Black Friday always loses its luster

during an economic downturn,

but she said she's skeptical about

whether those declines are permanent.

"Brick-and-mortar retail is fading,

but Black Friday still has a

strong heartbeat when economic

times are good," Saunders asserted.

"It recovered with a vengeance

once the Great Recession was over,

and online shopping had become

an established alternative.

"I equate it to network television.

Everything aired on major

networks is being watched by far

fewer people compared to the prestreaming

days, but you'd never

know that on Super Bowl Sunday. It

still elicits around 100 million viewers

each year."
---
Sports

www.ladatanews.com November 26 - December 2, 2022

Page 7

Fleur De Lis

Data News Weekly

Contributor

LSU and Tulane in AP

College Football Top 20

The two may possibly face-off in Cotton Bowl

This was a great week for Louisiana

football. LSU under Head

Coach Brian Kelly continues to

roll being ranked No. 6 in the new

Association Press Top 25 college

football rankings released Sunday

(Nov. 20th), after beating the University

of Alabama-Birmingham,

41-10. This came on the heels of

their stunning defeat of their archrival

Alabama Crimson Tide, led by

LSU Coach Nick Saban. This year,

they are showing they have what it

takes to win.

Closer to home the Tulane

Green Wave under Head Coach

Willie Fritz are 9-2 and moved

up two spots in the poll to No.

19 after shutting down SMU, 59-

24. This week the Green Wave

are on the road where they will

face off against the 21st-ranked

Cincinnati Bearcats, who are

(9-2). If Tulane wins this game,

they'll host the AAC Championship

Game.

Depending on how both teams

State & Local News Cover Story/ Continued from page 3.

Scholars at G.W. Carver High School

Led New Orleans in Academic

New Orleans Agenda

Louisiana Department of Education

officials released 2021-22

School Performance Scores this

week. G.W. Carver High School

took the top spot among all nonselective

high schools in New

Orleans in the magnitude of academic

growth that students made

across core subjects.

Growth in 2021-22

Additionally, Carver students

achieved higher ACT scores in

2021-22 than the year prior, indicating

school-wide progress and

strong academic preparation for

graduates.

Congratulations, Carver students

and families! We are so

proud of you!

Great work, Carver teammates

and educators!

Bayou Classic Fan Festival

The bayou classic invitational high

school battle of the bands is sure

to add tremendous excitement to

the already popular bayou classic

fan fest. Scheduled from 11:15am

to noon on saturday november

26th at champions square, this

inaugural event will feature six

of new orleans top high school

marching bands – st. Augustine,

l.B. Laundry, Edna Karr, g.W.

Carver, abramson sci academy

and mcdonough 35, who will compete

for an amazing array of music

education prizes provided by the

ludwig, a division of conn selmer,

as well as trophies. Curtis akeem,

a ludwig percussionist, and social

network influencer known for his

dolla watson comedic character,

will entertain as the celebrity mc.

Saturday, November 26th

11:00 am

Champions Square At The

Caesars Superdome

Please note: clear bag policy for

entrance

49th Annual Bayou

Classic Football Game

fair in the coming games we may

see a match-up between the two

Louisiana powerhouse football

teams playing in the Cotton Bowl.

Presented by Procter & Gamble

Saturday, November 26th

Kick off 1:00 pm

Doors open at 11:30 am

Caesars Superdome

The Southern University Jaguars

will be the home team mainly sitting

on the west side near sections

129-156 of the caesars superdome

and the Grambling University

Tigers will be the visiting team

mainly sitting on the east side

near sections 101-128

Please note: clear bag policy for

entrance

Bayou Classic

Celebrity After Party

Event is presented by Herewego

Entertainment, Big Stan Productions

& Gee Willie

Saturday, November 26th

10:00 pm

Metropolitan Nightclub

(Generations Hall - Downtown

Nola) 310 Andrew Higgins

Boulevard

For tickets visit:

www.herewegoent.com

ladatanews.com - The People's Website

DATA CLASSIFIED

Call 504-821-7421 to

place your classified ad.

Job Opportunity

Freelance

Writers

Wanted

Data News Weekly, "The

People's Paper, is looking

for freelence writers

to join our team print

and digital team. We

need writers who can

cover New Orleans news

stories, ranging from

local high school sports,

community events, City

Hall and entertainment.

Experience in print is

necessary, experience in

digital and social media

are encouraged.

Compensation is

competitive and great

story ideas will be

appreciated.

If you are interested,

please email your resume

and 3 writing samples to:

terrybjones@bellsouth.

net and datanewseditor@

bellsouth.net.

We can't wait to

hear from you!

Job Opportunity

Administrative

Assistant

Wanted

Data News Weekly, "The

People's Paper, is looking

for an administrative

assistant.

Compensation is

competitive and detail

orientation will be

appreciated.

If you are interested,

please email

your resume to:

terrybjones@bellsouth.net

This space can be

yours for only $80

Call Now!

504-821-7421
---
Page 8

November 26 - December 2, 2022

www.ladatanews.com

" Early detection gave us time to

adapt together, as a family."

If you're noticing changes, it

could be Alzheimer's. Talk about

visiting a doctor together.

ALZ.org/TimeToTalk