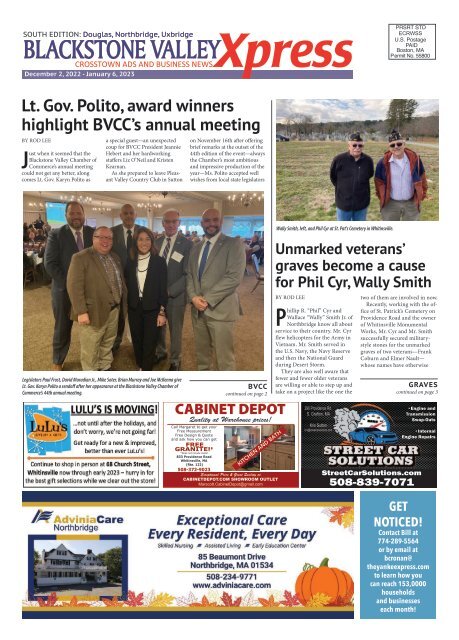 Blackstone Valley December 2, 2022
Blackstone Valley December 2, 2022
Blackstone Valley December 2, 2022
SHOW MORE
SHOW LESS
Create successful ePaper yourself
Turn your PDF publications into a flip-book with our unique Google optimized e-Paper software.
NORTH EDITION: Grafton, Millbury, Sutton, Upton

SOUTH EDITION: Douglas, Northbridge, Uxbridge

BLACKSTONE VALLEY

CROSSTOWN ADS AND BUSINESS NEWS

December 2, 2022 - January 6, 2023

formerly The Yankee Xpress

INSIDE

PRSRT STD

ECRWSS

U.S. Postage

PAID

Boston, MA

Permit No. 55800

Lt. Gov. Polito, award winners

highlight BVCC's annual meeting

BY ROD LEE

Just when it seemed that the

Blackstone Valley Chamber of

Commerce's annual meeting

could not get any better, along

comes Lt. Gov. Karyn Polito as

a special guest—an unexpected

coup for BVCC President Jeannie

Hebert and her hardworking

staffers Liz O'Neil and Kristen

Kearnan.

As she prepared to leave Pleasant

Valley Country Club in Sutton

on November 16th after offering

brief remarks at the outset of the

44th edition of the event—always

the Chamber's most ambitious

and impressive production of the

year—Ms. Polito accepted well

wishes from local state legislators

Legislators Paul Frost, David Muradian Jr., Mike Soter, Brian Murray and Joe McKenna give

Lt. Gov. Karyn Polito a sendoff after her appearance at the Blackstone Valley Chamber of

Commerce's 44th annual meeting.

BVCC

continued on page 2

CABINET DEPOT

Quality at Warehouse prices!

Call Margaret to get your

Free Measurement

Free Design & Quote

and ask how you can get

FREE

GRANITE!*

*Does not include install

833 Providence Road

Whitinsville, MA

(Rte. 122)

508-372-9023

Exceptional Price & Great Quality at

CABINETDEPOT.COM SHOWROOM OUTLET

Marscott.CabinetDepot@gmail.com

KITCHEN AND BATH

Wally Smith, left, and Phil Cyr at St. Pat's Cemetery in Whitinsville.

Unmarked veterans'

graves become a cause

for Phil Cyr, Wally Smith

BY ROD LEE

Phillip R. "Phil" Cyr and

Wallace "Wally" Smith Jr. of

Northbridge know all about

service to their country. Mr. Cyr

flew helicopters for the Army in

Vietnam. Mr. Smith served in

the U.S. Navy, the Navy Reserve

and then the National Guard

during Desert Storm.

They are also well aware that

fewer and fewer older veterans

are willing or able to step up and

take on a project like the one the

290 Providence Rd.

S. Grafton, MA

Kris Sutton

kris@streetcarsolutions.com

two of them are involved in now.

Recently, working with the office

of St. Patrick's Cemetery on

Providence Road and the owner

of Whitinsville Monumental

Works, Mr. Cyr and Mr. Smith

successfully secured militarystyle

stones for the unmarked

graves of two veterans—Frank

Coburn and Elmer Nault—

whose names have otherwise

GRAVES

continued on page 3

•Engine and

Transmission

Swap-Outs

•Internal

Engine Repairs

StreetCarSolutions.com

508-839-7071

GET

NOTICED!

Contact Bill at

774-289-5564

or by email at

bcronan@

theyankeexpress.com

to learn how you

can reach 153,0000

households

and businesses

each month!
---
2 The Blackstone Valley Xpress • www.blackstonevalleyxpress.com • December 2, 2022

BVCC

continued from page 1

who crowded around her.

Like Gov. Charlie Baker, she

did not seek re-election in

2022.

"How was that for a nice

surprise?" Ms. Hebert said

to an appreciative audience.

"You must have some

plans going forward, right?"

Ms. Polito was asked, on

her way out.

"You will see me again!"

she responded with a smile,

leaving everyone within

earshot left to speculate

about what future endeavors

she might be referring

to.

The breakfast meeting

itself was crammed

with all of the Chamber's

usual signature ingredients,

including a chairman's

report from Kevin Hayes

of Millbury Federal Credit

89 Southbridge St.

Auburn, MA

(across from Sword St.)

Union, Ms. Hebert's yearin-review

comments and

recognition of a number

of member businesses

celebrating anniversaries—

UniBank topping the list as

it marks a 150th. UniBank

President Mike Welch acknowledged

his own role in

the institution's long history

in asserting "you can tell by

my hairline that I have been

here" for a while.

Both Mr. Hayes and Ms.

Hebert cited the Chamber's

prowess in obtaining

funding for businesses,

organizations and economic

development projects—totaling

millions of dollars—

as one of the achievements

they are proudest of having

made happen over the past

twelve months. With the

help of "our amazing legislators,"

Ms. Hebert said.

Even after experiencing

a devastating flood in their

Vacuums

always 75¢

BIG KAHUNA

•BIG KAHUNA CARNUBA WAX

•UNDERCARRIAGE WASH W/ROCKER BLASTER

•X2 PASS FOAMING PRESOAK

•HIGH PRESSURE WASH

FOAMING POLISH

SHIELD "HIGH GLOSS

TOTAL PROTECTANT"

•SPOT FREE RINSE

•LASERDRI

$

18

DELUXE WASH

•UNDERCARRIAGE WASH W/ROCKER BLASTER

•X2 PASS FOAMING PRESOAK

•HIGH PRESSURE WASH

FOAMING POLISH

SHIELD "HIGH GLOSS

TOTAL PROTECTANT"

•SPOT FREE RINSE

•LASERDRI

$

15

SUPER WASH

•UNDERCARRIAGE WASH W/ROCKER BLASTER

•X2 PASS FOAMING PRESOAK

•HIGH PRESSURE WASH

SHIELD "HIGH GLOSS

TOTAL PROTECTANT"

•SPOT FREE RINSE

•LASERDRI

BASIC WASH

•X2 PASS FOAMING PRESOAK

$

9

•HIGH PRESSURE WASH

SHIELD "HIGH GLOSS

TOTAL PROTECTANT"

•SPOT FREE RINSE

•LASERDRI

Bob Minarik, left, received the Economic Development Award and Glenn King, right, was presented with the Gerry

Gaudette Extra Mile Award at the Blackstone Valley Chamber of Commerce's 44th annual meeting. Rushford and

Sons Brewhouse (Cornerstone Award) and Alise Breton of MCU (Volunteer of the Year) were also honored.

Linwood Mill offices in

January, Ms. Hebert and her

aides carried on. "It took us

months to recover," she said.

Mr. Hayes and Ms.

Hebert pointed to such

other prized pieces of the

Chamber's toolbox as the

Blackstone Valley Hub

for Workforce Development,

now in operation for

three years with expanded

curriculums for training

high school students and

adult learners, and custom

retraining for members'

incumbent employees; a

new and stronger connection

with the Blackstone

Valley Education Foundation;

and "our online format

at 'Ed2Go,'" which provides

courses in everything from

business leadership to certificate

courses.

As is the case every fall,

the Chamber saluted a

number of deserving individuals.

Bob Minarik received the

Economic Development

Award for spearheading

creation of "The Cubes

at Gilboa" in the town

of Douglas to meet the

high demand for modern

distribution space with an

1.1 million-square-foot

warehouse being built on

83.8 acres in close proximity

to the Mass Pike and

Interstates 495 and 395. Mr.

Minarik was introduced by

UniBank's Mike Welch.

The Chamber's Cornerstone

Award went to Rushford

and Sons Brewhouse

in Upton, a nano brewery

founded by childhood

friends Mike Rushford

and Brian Goodman, and

Eric Martin. In accepting

the award from Sen. Ryan

Fattman, Mr. Goodman

$

12

Experienced

said "I couldn't think

Adult

of a and

Day

chair of the

Health

Chamber's

Program

better present for my 40th Women's Success Network.

birthday."

All that the Blackstone

serving your community since 1985

Presenting the Gerry

Gaudette Extra Mile Award

for the eighteenth time in

Valley Chamber of Com-

Family Owned merce and has Operated

accomplished

Adult Day Health Program

serving your community

Proven and reliable partner in assisting

families with their individual situations

Offering Skilled Nursing, Personal Care,

Case Management, Recreational

Programming, and Transportation Services

in a secure facility.

memory of his father, Lee

Gaudette of Gaudette Insurance

lauded winner Glenn

King's many contributions

to community life—signified

most recently by

leading the way on the town

of Northbridge's purchase

of the Castle Hill Farm

property, which will be preserved

for recreation and as

conservation land.

Alise Breton of MCU was

recognized with the Chamber's

Volunteer of the Year

Award for her stellar work

in a male-dominated profession.

As Heather Elster

of the Whitin Community

Center put it in introducing

Ms. Breton, "when

she started in banking she

didn't even know how to

complete a deposit ticket."

Now she is vice president

of retail banking at MCU

was not lost on Guest

Speaker John Penrose of

Leading Indicator Systems

(LIS), a Boston-based

human capital assessment

firm. Mr. Penrose spoke

about how emotions play a

pivotal role in the performance

of "the agile mind."

In noting the results of

a survey Chamber members

took that revealed

how they organize their

lives and careers in four

areas—Self, Material, Social

and Spiritual—Mr. Penrose

said he was impressed that

the Chamber's focus is not

about monetary gain.

"You're here for the collective

good and it's really

remarkable," Mr. Penrose

said.

Contact Rod Lee at

rodlee.1963@gmail.com or

774-232-2999.

Family Owned and Operated

Published on Published Fridays, four on times 2nd a and month. 4th Direct Fridays mailed of the to 68,470 month. unique homes

and Direct businesses mailed each to month 63,000 and unique available homes on news and stands businesses throughout each the month region.

1st Friday and SOUTH available COUNTY: on Charlton, news stands Dudley, throughout Oxford and Webster. the region.

Stay healthy, socialize, make friends!

22,600 homes and businesses.

2nd Friday: BLACKSTONE Auburn, Charlton, VALLEY Dudley, South: Douglas, Oxford and Mendon, Webster, Northbridge 1/2 all addresses. and Uxbridge.

2nd Friday BLACKSTONE 18,910 VALLEY homes South: and businesses. Douglas, Northbridge and Uxbridge.

Structured Programming

3rd

4th

Friday

Friday:

ROUTES

Auburn,

12

Charlton,

& 20: Auburn,

Dudley,

Oxford

Oxford

and

and

Webster

Webster, other 1/2. Cognitive and gross motor recreational programming including:

19,270 homes and businesses.

4th 4th Friday Friday BLACKSTONE VALLEY VALLEY North: North: Grafton, Grafton, Millbury, Millbury Sutton, and Sutton. Upton

Baking Club, Bowling League, Live Entertainment

20,805 homes and businesses.

For Spring/Summer: Garden Club

DIRECTORY

•Reliable Partner Assisting Families

Rod Lee, Editor • rodlee.1963@gmail.com

•Offering Skilled Nursing •Personal Care

Submit business news Barbara and community Van Reed, events Publisher/Editor

news@TheYankeeXpress.com TESTIMONIAL:

bvanreed@TheYankeeXpress.com

•Case "When Management my mother's •Recreation dementia progressed •Homey, to Fun the & point Secure that

she was no longer able to live by herself; I was in desperate need of help and

168 Gore Billing Road, and Webster, advertising MA information 01570 PHONE: Laura Gleim 508-943-8784 lgleim@TheYankeeXpress.com

FAX: 508-943-8129 •Nutrition and Transportation Services

found it with the folks at Accord.

-Marcia T

(Auburn, Charlton, Dudley, Oxford, Webster) ads@TheYankeeXpress.com

Submit Bill business Cronan, news Sales and (Blackstone community Valley) events bcronan@TheYankeeXpress.com

to news@TheYankeeXpress.com

•We Follow CDC/MA COVID-19 Guidelines

Request advertising information: ads@TheYankeeXpress.com

Submit The Newspaper classified ads: Press, ads@TheYankeeXpress.com

LLC / contents copyright 2022

TESTIMONIAL: "When my mother's

10 Cudworth Road • Webster, MA 01570

General advertising information: Kim Vasseur, Laura Production Gleim, lgleim@TheYankeeXpress.com

Manager

dementia progressed to the point that

Sally Patterson, Graphic Artist Carol Kosth, Graphic Artist

she 508-949-3598

was no longer able to live by herself;

Contributing Tony DiScepolo, writers Sales and columnists: Bill Cronan, Tom D'Agostino, Sales

www.accorddaycenter.com

I was in desperate need of help and found

Send letters, Christine comments, Galeone, and Amy tips Palumbo-Leclaire, to news@The Yankee Janet Stoica Express.com

it with the folks at Accord."

10 Cudworth Road, Webster, MA 01570

168 Gore Road, The Newspaper Webster, MA Press, 01570 LLC PHONE: Telephone: 508-943-8784 508-943-8784 FAX: 508-943-8129

--Marcia T

508-949-3598

www.accorddaycenter.com

Sally Patterson, Production Manager Carol Kosth, Graphic Artist

Contributing writers and columnists: Peter Coyle, Tom D'Agostino, Magda Dakin, Christine Galeone

Rod Lee, Amy Palumbo-LeClaire, John Paul, Jason Poquette, Andrew Smith, Janet Stoica
---
December 2, 2022 • www.blackstonevalleyxpress.com • The Blackstone Valley Xpress 3

GRAVES

continued from page 1

been mostly lost to history.

Mr. Coburn served with

Company G of the 1st

Rhode Island Cavalry in

the Civil War. Mr. Nault

served in the U.S. Army

during World War I.

the younger members

don't want to get involved,"

Mr. Cyr said on November

16th. In terms of the time

commitment, "the only

thing I've got to do is play

with my three dogs," he

said.

For years, Mr. Cyr and

Mr. Smith have been

among members of the

this to me it just clicked."

Although information

on Mr. Coburn and Mr.

Nault was practically nonexistent,

Mr. Cyr and Mr.

Smith with an assist from

the caretaker at St. Pats

were able to locate both

unmarked graves, one by

walking thirty feet from a

bench at the front of the

unmarked graves are being

identified and provided

with a stone "deserve it,

and I enjoy doing it," Mr.

Smith said.

The initiative began

with a letter to the editor

Mr. Smith wrote, which

helped raise the necessary

financial support to get

the first two markers done.

To say that carrying the

project forward is going

to be a challenge "would

be an understatement,"

Mr. Cyr said. "Pine Grove

has been taken over by the

town so we would have to

consult old lists that DPW

and the town clerk have;"

there is also the ongoing

expense involved.

Mr. Cyr said there are

fourteen cemeteries in the

town of Northbridge but

only three—St. Pats, Pine

Grove and Riverdale—are

presently "operational. We

have heard there might be

up to sixteen unmarked

veterans' graves at Pine

Grove," he said.

"First we have to do the

research, and then obtain

the funding."

So far, Mr. Smith said,

"it has all come together.

It's nice to see people from

the community" embrace a

worthy cause of this kind.

Donations on behalf of

the project can be made to

the Northbridge American

Legion Post 343, 198

Church Ave., Northbridge

MA 01534.

Contact Rod Lee at

rodlee.1963@gmail.com

or 774-232-2999.

MICKEY'S DETAIL SHOP

& PET WASH ARE OPEN!

BOOK ON-LINE AT

MICKEYSCARWASH.COM

Mickey's Store is also open!

We have all the products that we use in our

Detail Shop available to purchase for the

DIYer!

Above, the marker placed on the previously unmarked grave of Civil War Veteran Frank Coburn at St. Pats

Cemetery in Whitinsville. The marker was provided by Whitinsville Monumental Works after the company was

approached for assistance by Phil Cyr and Wally Smith.

Below, World War I Army Veteran Elmer Nault finally also has a marker on his grave at St. Pats.

We have the most advanced technology

available in the industry featuring CARPRO

CQUARTZ Ceramic Products and everything

that you could possibly need to detail your

car yourself.

We are also a Life is Good Retailer and have lots of great Holiday Gift Options.

16 Galaxy Pass ~ Sutton MA ~ 1-888-Mickeys

> edwardjones.com | Me

> edwardjones.com | Member SIPC

Inspired by what they

have accomplished, Mr.

Cyr and Mr. Smith are

hoping to see stones

placed at other unmarked

graves of veterans, a number

of whom are buried at

Pine Grove Cemetery on

Linwood Ave.

"My dad and fatherin-law

are both buried

at Riverdale Cemetery,"

Mr. Smith said during a

conversation at McDonald's

on November 14th,

in citing his motivation

for finding the unmarked

graves of veterans who,

unlike Wallace Smith Sr.

and Romeo Vruneau, have

not yet been accorded the

honor of a stone.

"The DAV, the American

Legion and the VFW

are losing members, and

American Legion and

other volunteers who put

flags out for veterans on

Memorial Day. Mr. Smith

says that when Mr. Cyr

told him "hey, there's a

World War I vet buried

in this spot" at St. Pats, "I

said OK, let's fix this—it's

not right. I have known

Phil only for a few years

but when he mentioned

Touch of Class

13 Mendon St.

Uxbridge, MA

508-278-5040

Steve Guilliani, Master Barber

cemetery and another in

a space between two markers

that was "just grass,"

Mr. Cyr said.

Thomas Delfanti, the

longtime proprietor of

Whitinsville Monumental

Works, furnished the

markers "at cost," Mr.

Smith said. "He really

went out on a limb for us."

The veterans whose

Tuesday

is Senior Day

$

12

HAIRCUTS

HOURS

Closed Sun. & Mon.; Tues. 9:30-5; Wed. 10-5;

Thurs. 9:30-5; Fri. 10-6; Sat. 7:30-12:30

Compare our CD Rates

Compare our CD Rates

Bank-issued, FDIC-insured

Bank-issued, FDIC-insured

> edwardjones.com | Member SIPC

6-month

4.45%

%

4.45%

APY*

% Compare 6-monthour CD Rates % APY*

Bank-issued, FDIC-insured

9-month

4.60%

% APY*

6-month

1-year

4.70% 4.45%

4.60%

% 9-month

% APY*

APY*

9-month % APY*

Call or visit your local 4.60% 4.70%

1-year financial advisor today. % APY*

Frank Randall % APY*

Financial Advisor

4.70 % APY*

1-year

4.70%

1097 Pleasant St Suite E

Call or visit Worcester, your local MA financial 01602-1248 advisor today.

508-459-0140

Frank

Frank

Randall

Randall

Financial Advisor

Call or visit your local financial advisor today.

Financial Advisor

1097 Pleasant St Suite E

Worcester,

1097

MA

Pleasant

01602-1248

St Suite E

508-459-0140 Worcester, MA 01602-1248

* Annual Percentage Yield (APY) 508-459-0140

effective 11/15/2022. CDs offered by Edward Jones are bank-issued and

FDIC-insured up to $250,000 (principal and interest accrued but not yet paid) per depositor, per insured

depository institution, for each account ownership category. Please visit www.fdic.gov or contact your financial

advisor for additional information. Subject to availability and price change. CD values are subject to interest rate

risk such that when interest rates rise, the prices of CDs can decrease. If CDs are sold prior to maturity, the

investor * Annual can lose Percentage principal Yield value. (APY) FDIC effective insurance 11/15/2022. does not CDs cover offered losses by Edward in market Jones value. are bank-issued Early withdrawal and may

not be FDIC-insured permitted. Yields up to $250,000 quoted are (principal net of all and commissions. interest accrued CDs but require not yet paid) the distribution per depositor, of per interest insured and do not

allow interest depository institution, compound. for CDs each offered account through ownership Edward category. Jones Please are visit issued www.fdic.gov by banks or and contact thrifts your nationwide. financial All

CDs sold advisor by Edward for additional Jones information. are registered Subject with to the availability Depository and price Trust change. Corp. CD (DTC). values are subject to interest rate

risk such that when interest rates rise, the prices of CDs can decrease. If CDs are sold prior to maturity, the

* investor Annual can Percentage lose principal value. Yield FDIC (APY) insurance effective does not cover 11/15/2022. losses in market CDs value. offered Early withdrawal by Edward may Jones are bank-issu

FDIC-insured not be permitted. Yields up to quoted $250,000 are net of (principal all commissions. and CDs interest require the accrued distribution but of interest not yet and paid) do not per depositor, per in

FDI-1867L-A allow interest © 2022 to EDWARD compound. D. CDs JONES offered & CO., through L.P. Edward ALL RIGHTS Jones are RESERVED. issued by banks AECSPAD and thrifts nationwide. All

depository

CDs sold by Edward

institution,

Jones are registered

for each

with

account

the Depository

ownership

Trust Corp.

category.

(DTC).

Please visit www.fdic.gov or contact yo

advisor for additional information. Subject to availability and price change. CD values are subject to

risk such that when interest rates rise, the prices of CDs can decrease. If CDs are sold prior to matu

FDI-1867L-A © 2022 EDWARD D. JONES & CO., L.P. ALL RIGHTS RESERVED. AECSPAD

investor can lose principal value. FDIC insurance does not cover losses in market value. Early withdr

not be permitted. Yields quoted are net of all commissions. CDs require the distribution of interest a

allow interest to compound. CDs offered through Edward Jones are issued by banks and thrifts natio

CDs sold by Edward Jones are registered with the Depository Trust Corp. (DTC).
---
4 The Blackstone Valley Xpress • www.blackstonevalleyxpress.com • December 2, 2022

Corridor pays tribute to Margaret Carroll in Millville

The late Margaret M. Carroll

was remembered in and the John H. Chaffee Conservation & Recreation ment for the Corridor:

unteers-in-Parks program sachusetts Department of teer & Community Engage-

appropriate fashion on Blackstone River Valley is working on installing a "I continue to be blown

October 27th with a ribboncutting

National Heritage Corridor, sign and a memorial bench away by our Volunteers-in-

ceremony at the Ms. Carroll was well known at the site.

Parks volunteers and their

Blackstone River Greenway and highly regarded for her

incredible commitment

in Millville.

contributions to community VOLUNTEER PROGRAM to the work they do in the

A town historian, educator,

preservationist and ated the Margaret M. Carroll A message from Molly National Heritage Corridor

life. Recent legislation cre-

FLOURISHING

Blackstone River Valley

charter member of the Memorial Greenway Access Cardoza, director of Volun-

and Blackstone River Valley

Blackstone River Valley Vol-

Area in Millville. The Mas-

National Historical Park.

Fall in Love with Sound Again!

Pictured from left to right at the ribbon-cutting ceremony for the new

Margaret M. Carroll Greenway Access Area in Millville are Carroll McGahan,

Maureen McGahan, former State Sen. Richard T. Moore, Jody Madden,

Jeannie Hebert, Helen Kennedy, State Rep. Mike Soter and Jack Carroll.

In the back row are Kylie Gibbons, Donna Williams, Devon Kurtz, and Val

Stegemoen. Not pictured: State Sen. Ryan Fattman.

Have you been putting off taking

care of your hearing, tinnitus or

hearing aids? Make this Autumn

a fresh start.

WE ARE HERE TO HELP!

www.hearjoyaudiology.com for online booking

HEAR JOY IS AN

INDEPENDENT PRACTICE

Dr. Mary Ellen Rancourt

43 Main Street

S. Grafton, MA

774-293-1515

Dr. Rancourt has over

30 years of experience

as an audiologist, serving

newborns to elders.

Thank you to everyone who

has led programs, conserved

historic cemeteries, cleaned

up our watershed, maintained

our natural resources

and so much more this year!

"A personal thank you for

the warm welcome you have

given me in my first year at

BRVNHC. This first year has

exceeded my expectations

and goals for the volunteer

program."

The numbers are in for

the Volunteers-in-Parks program

for FY 2022. Volunteers

logged 30,607 hours at

a total value of $916,679.

MILLBURY SCOUTS RECOG-

NIZED FOR WORK

Five Millbury scouts from

Troop 109 recently earned

their Resource Stewardship

Scout Ranger Badge and two

earned their Scout Ranger

Certificate. These Scouts, led

by Eagle Scout Candidate

Adam Moroney, worked

to create a path and make

the spillway of the former

Asa Waters Armory—a

gun manufacturer in the

1800s—accessible as a recreational

space. This spillway

historically flowed into the

Blackstone River, which is

visible from this location

behind the present-day

Millbury VFW.

Lydia Taft House

Short-Term Rehab

Exceptional

Getting back to your active life is your goal and ours too.

The Lydia Taft House is professionally staffed and equipped to

provide you with Exceptional Medical & Rehabilitation Therapy

between Hospital & Home.

60 Quaker Hwy (Rt 146 A) Uxbridge, MA

www.rehabassociates.com/lydiataft

Long Term Care

(508)278-9500

Medicare/Medicaid

Certified
---
December 2, 2022 • www.blackstonevalleyxpress.com • The Blackstone Valley Xpress 5

Xpressly Yours ... a letter from the editor

Coin celebrates a town's 250th, and a State Police icon

That creation of the new

Massachusetts State

Police Museum and

Learning Center at Memorial

Square in Whitinsville

has been a labor of love for

John H. "Jack" Crawford

and associates is reflected

in the extensive array of

artifacts and memorabilia

they have made available

for viewing by patrons on

Tuesdays and Saturdays

from 11:00 a.m. to 4:00 p.m.

Mr. Crawford's work

is not done, however. He

is now busy promoting a

freshly minted commemorative

"challenge coin" as a

way to raise monies for the

museum.

"I already sold two coins

at McDonald's this morning

and one man gave me

an extra five dollars, which

throws my accounting

off!" Mr. Crawford said

on November 12th just

after opening the door of

museum, which is situated

in the old Whitinsville Bank

Building.

The handsome coin pays

homage to both the town

of Northbridge on its 250th

anniversary (1772-2022)

and to Samuel Judson

Fletcher, an adopted native

Oil Burner Service, Inc.

son, who served as a state

constable from 1867 to

1875.

The coin costs just

twenty-five dollars and is

available at the museum.

Mr. Crawford enjoys

telling the story of Samuel

Judson Fletcher. Born in

Solon, Maine, Mr. Fletcher

was educated at Brown University,

graduating in 1857

with a degree in Engineering.

He enlisted as a private

with the Fifteenth Massachusetts

Volunteer Infantry

on July 12, 1861. His brothers,

James Brainerd Fletcher

and George Fergo Fletcher,

and his cousin Edward

Fletcher Chapin, all served

with him in Company H of

the Fifteenth.

Samuel was promoted

to first lieutenant and was

shot through the jaw at

Antietam, but survived.

He was promoted to first

lieutenant in November

of 1862. On July 3, 1863,

he was wounded at Gettysburg

while leading his

men into battle and was

presented with a "Sword of

Bravery" by the regimental

commander. He was then

promoted to captain.

Samuel's brother James

died at Antietam at the

age of twenty-three, shot

through the head; Samuel

caught him as he fell. His

brother George was killed

in the Battle of Gettysburg

at the age of nineteen.

Samuel was the only family

member to return home

alive.

On March 8, 1864, he

married Emma A. Luther

in Ashland. He mustered

out of the Fifteenth on

July 28, 1864. Residents of

Northbridge elected him

to the Massachusetts State

Legislature's Eighteenth

Worcester District in 1865.

He was appointed a state

police deputy constable for

Worcester

County

on July 26,

1867.

In May of

1870, Sam

was stabbed

and thought

killed during

a raid in

Uxbridge.

Several

people were arrested and

tried for assault.

He continued as a state

constable until February of

1875 when the state detective

force was established.

In April of 1875 he was

appointed a constable in

Northbridge.

He and his wife had

four children, Nellie, Alice,

Bertha and Edward.

Around 1912, the family

moved to Gill, Massachusetts,

where Samuel Judson

Fletcher died at the age of

ninety three on July 11,

1924.

He is buried at Pine Hill

Cemetery in Sherborn,

Massachusetts.

Mr. Fletcher is among

those deputy constables

of the Commonwealth

featured in "The First

to Serve," by Ronald J.

Guilmette, who retired in

1999 as a lieutenant colonel

in the Massachusetts State

Now

Offering

Propane!

• Budget Pricing Programs

• Propane

• HVAC/Air-Conditioning

• Heat Pump Installations

Inset, an image of Samuel Judson Fletcher graces one side of a commemorative coin that also celebrates the 250th

anniversary of the town of Northbridge. The coin is available for purchase at the State Police Museum. Above, at the

new Massachusetts State Police Museum and Learning Center in Whitinsville are, from the left, Paul Landry, Benji

Feliciano and his wife Liz, Lisa Haley, Jack Crawford and Barry O'Connor and Mr. O'Connor's son Bailey.

Police.

Mr. Guilmette's book was

published in 2018.

The Massachusetts State

Police Museum and Learning

Center is dedicated to

preserving the history and

traditions of the nation's

first state police organization.

It has been made

421 Pulaski Blv

Bellingham, MA 02019

774-460-6084

ReleafCenter1@gmail.com

HOURS:

MON–SAT,

10AM–7PM;

SUNDAY,

11AM–4PM

possible by the generous

support of a number of

individuals and companies

including Vincent Osterman,

Access TCA and

Sunshine Sign.

About thirty people have

already ordered the commemorative

challenge coin,

of the one hundred that

were initially minted.

For more information

about the museum, go to

mspmlc.org.

Contact Rod Lee at

rodlee.1963@gmail.com or

774-232-2999.

375 Putnam Pike

Smithfield, RI 02917

401-757-6872

www.myCBDreleafcenter.com

CURBSIDE PICKUP OR YOU CAN COME IN!

Happy

Holidays!

New Location!

32 Hastings Street

Mendon, MA

Please celebrate safely.

Discounts Available for

Seniors & Veterans

"CBD" stands for cannabidiol. It is a non-intoxicating

cannabinoid found in cannabis.

https://weedmaps.com/learn/dictionary/cbd

103 Gendron Street

Northbridge, MA

508.234.3026

morrissetteoil.com

info@morrissetteoil.com

Family Owned and

Operated Since 1992

Serving the Blackstone Valley

for Over 29 Years

Call us today to

schedule your annual

tune-up and ask about

our pricing plans!

421 Pulaski Blvd,

Bellingham, MA 02019

774-460-6084

MONEY-SAVING COUPON!

MENTION THIS AD & RECEIVE

10 % OFF

YOUR NEXT PURCHASE!

Limited time offer; not valid with any other offers.
---
6 The Blackstone Valley Xpress • www.blackstonevalleyxpress.com • December 2, 2022

Magician, veterans' breakfast and more at busy

Plummer Place

The Northbridge Senior

Center "at Plummer

Place" is quickly

becoming known for the

quantity and quality of the

events it hosts. A Halloween

Party on October 27th with

the theme of "Pumpkins

and Pranks," and a breakfast

celebrating veterans on November

10th, both of which

were organized by Amy

Cowen, the Senior Center's

programs and volunteer

coordinator, are among the

latest examples.

A crowd of more than

seventy people, including

members of the Senior Center

staff, was on hand for a

post-luncheon performance

by Magician Steve Charrette

at Pumpkins and Pranks.

Mr. Charrette has been

doing magic for forty-seven

years, spent about ten of

Personalized Approach to Achieving Your Educational Goals

Helping students with

• Secondary School Admission

• College Admission

Hourly services and comprehensive

packages available

Schedule a Consultation to discuss

your student's needs.

Contact Christine

Christine@champmaneducation.org

617.823.5403

BUYING

•Coins & Currency

•Gold & Silver

•Diamonds •Comics

•Action Figures

•Vintage Sports Cards

•And Many Other Items

Call for an Appointment:

Mike 774-280-4333

Whitinsville, MA

CNECAMike@gmail.com

Central New England

COLLECTIBLE AUTHORITY

Counter clockwise from top left: Magician Steve Charrette displays his sleight of hand at the Northbridge Senior

Center at a "Pumpkins and Pranks" luncheon. Matt Reilly, who served in the Marine Corps, and Bob Taylor, who

served in the Navy, were among those in attendance at a breakfast for veterans. Sen. Michael Moore of Millbury

was thanked by Senior Center Director Kelly Bol that morning for his support of the facility and local seniors.

those years on the QE2, and

owns four hundred magic

books.

"It's a full-time job," he

said, before snatching the

hat off a man's head, turning

it over, and pulling a yellow

ribbon out of it.

"I went to college for

psychology but magic has

been a hobby of mine since

age nine."

"This is such fun and everyone's

enjoying it having

a good time," Ms. Cowen

said.

Custom prizes were

handed out at two o'clock.

The first-ever breakfast

for veterans to thank "all

who served" was put on

with support from Sen.

Ryan Fattman of Sutton,

Rep. David Muradian of

Grafton and the Northbridge

Police and Fire

departments. It was catered

by Creedon & Co.

"This is something we

Wishing You The Blessings of the Season from

The Tole Booth

Treasures for the Home, From the Heart

Prints

Angels

Snowmen

Ornaments

Trees, Wreaths

and Garlands

Gift Certificates

Candles & Rosehips

Complimentary Gift

Bag Wrap! & so

much

more!

have always wanted to do!"

Senior Center Director

Kelly Bol told a large crowd.

In welcoming those in

attendance, Ms. Cowen said

"every branch of the service

is represented here today."

She identified herself as "an

Army spouse for the last

twenty years."

A highlight of the

breakfast was recognition

by Ms. Bol of Sen. Michael

Moore of Millbury for his

longtime support of seniors

in Northbridge. Because of

The shop is brimming with all your

gift-giving and decorating needs.

Country

Primitive

Decorative Decor

and a Whole

Lot More

redistricting, Sen. Moore

will no longer be representing

the town of Northbridge

in the Legislature.

Ms. Cowen partnered

with Project Hope and

Northbridge Middle School

students under the direction

of "Mr. Ashby and Ms.

Williams" to craft cards that

were handed out to veterans

in attendance.

Ed Briand played taps to

close the program.

129 Main St. (Rte. 122) Blackstone, MA 01504

(508) 876-8900 Wed.-Sat. 10-5 • Sun 12-5
---
Ross Weaver leads

intrepid band of Sutton

cemetery ambassadors

BY ROD LEE

Two nights before Halloween,

Ross Weaver,

Brian Stevenson, John

Belculfine, Dave Pizzi and

others involved with restoration

work done in the

Sutton Center Cemetery

behind the Gen. Rufus

Putnam Hall on Uxbridge

St. could be found at the

site, eager to show off the

results of their labors as

part of a tour by flashlight

open to the public from

6:00 to 9:00 p.m.

They had every reason

to be proud of what has

been accomplished in stabilizing

gravestones that

were leaning or otherwise

falling into disrepair at the

Sutton Center Cemetery

and several of the other

approximately thirty cemeteries

located in town.

Mr. Weaver said the

project was initiated with

a Blackstone River Valley

National Heritage Corridor-sponsored

presentation

by Carlo and Betty

Mencucci of Burrillville,

Leaning gravestones, and others that needed cleaning or repair, are among

those that Ross Weaver and his fellow ambassadors have restored in the

Sutton Center Cemetery, which dates to the early 1700s.

Rhode Island, which was

followed by a workday at

the Sutton Center Cemetery

with hands-on instruction

from the couple

on cleaning, resetting and

repairing gravestones.

The Sutton project was

launched in the fall of

2019, around the same

time the Corridor created

the Cemetery Conservation

Ambassadors as a

component of its Volunteers

in Parks program.

The Corridor's VIP

program is run in collaboration

with the National

Park Service and has

involved cleaning of the

river basin, providing docents

at historic sites and

CEMETERY

continued on page 9

The only Energy

company

you'll ever need.

Introducing your neighborhood consultant, Jeff Richards - 13 year resident

of Douglas as well as a combined 12 years in Uxbridge and Northbridge!

December 2, 2022 • www.blackstonevalleyxpress.com • The Blackstone Valley Xpress 7

ADVANCED

Gutter Systems, Inc.

Autumn Repairs

"Shore up your roof for the winter to come!"

• Carpentry • Roofing

Installations

• Repairs

• Cleaning

• Aluminum Seamless Gutters

• Copper Gutters • Gutter Guard

Happy Holidays from our family to yours!

• Replacement Windows

• House Cleanouts

• Handyman Services

RESIDENTIAL & COMMERCIAL

(508) 278-2202

FULLY INSURED • FREE ESTIMATES

www.gutters-downspouts.com

10% OFF Any Job *

*With this ad. Cannot be combined with other offers.

MASS. REG.#128580

CSL #104402

Fuels

• Heating Oil

• Propane

• Diesel

• Bagged Coal

Installations

• Oil & propane

heating systems

and water heaters

• Oil to propane

conversions

Programs

• Flexible pricing and

budget praograms

• Ask about our Veteran,

Military, Police and

Fire discount.

Service

• Emergency

service 24-7

• Oil & gas fired

equipment

FREE: 100 gallons of home heating oil or propane*

FREE: $ 100 Account credit towards your first tune-up or service plan*

*APPLIES TO WHOLE HOUSE HEAT CUSTOMERS ONLY. ASK FOR DETAILS.

*New automatic delivery customers only. Offer ends the last day of the month.

800-649-5949

jeffrichards@medwayoil.com

Give us a call today! 800-649-5949

www.medwayoilpropane.com

info@medwayoilpropane.com
---
8 The Blackstone Valley Xpress • www.blackstonevalleyxpress.com • December 2, 2022

The Green Plate's growth saluted on eve of Shop Small 01588

BY ROD LEE

Danielle Desrosiers of

The Green Plate has

more reason than

ever to look forward to this

year's Shop Small 01588

event, which begins on

Saturday, November 26 in

downtown Whitinsville and

continues in and around

Church St. all of the following

week, through Saturday,

December 3rd.

COIN SHOW

EVERY 3 RD WEDNESDAY

MONTHLY COIN SHOW

December 21, 2022

3-8 p.m.

FREE APPRAISALS - BRING YOUR COINS

Dealers selling & buying U.S. and Foreign Coins, Currency,

Gold, Silver, Tokens, Medals & Other Collectibles.

At VFW Post 1385, 16 Cross Rd.,

Uxbridge, MA 01569

FREE ADMISSION (door prize)

Contact Mike (774) 280-4333

HELP WANTED

Other participating businesses

are equally excited,

as Shop Small 01588 organizers

celebrate the start of

another holiday gift-buying

season. Among the new

venues are the Neighborhood

Kitchen, Koopman's

with a pop-up tent in the

Crafty Nest, and Blue Zone

Integrated Fitness. Also,

Carr Funeral Home is hosting

a drive-through drop off

on the 26th.

Christine Guanipa of Little

Man Handbags, Heather

Glode of LuLu's Jewelry &

Gifts and Jessie Scotanus of

Schotanus Design Center

encourage residents to

check out their Facebook

Submit Resume to: portatree@portatree.com

Job Location: 594 Blackstone St, Uxbridge, MA 01569

Company Description: Portatree specializes in the design/

sale of drag racing timing equipment and practice trees.

Position Description: We're looking for a full-time Office

Assistant with the opportunity to grow into the position of

Office Manager. Experience with Microsoft Word, Microsoft

Excel, and QuickBooks needed. Knowledge of drag racing

is preferred, but not required.

Responsibilities: Answer phones, take orders, quote customers,

invoicing, manager customer & employee records

Let the Sun SHINE

If you want to increase natural lighting and improve the

energy efficiency and curb appeal of your home,

skylights are a great tool. Skylights come in many

shapes and sizes, and can be customized to fit the

unique dimensions and slope of your roof. Shine

Construction Inc. is an experienced skylight expert,

so for help finding the perfect skylights for your home,

don't hesitate to call our knowledgeable specialists.

page ShopSmall01588 and

Instagram@shopsmall01588

for updates.

The Green Plate with its

health-oriented Signature

Bowls, Signature Pizzas,

frozen heat-and-eat meals,

wraps, bunless burgers,

salads and wraps and sweet

treats marked five years in

business and expansion into

SHINE In!

Danielle Desrosiers of The Green Plate, center, is joined by Sen. Ryan Fattman, Rep. David Muradian, Jeannie Hebert

of the Blackstone Valley Chamber of Commerce and Sen. Michael Moore after receiving legislature recognition

on the business's fifth anniversary and continuing growth.

an adjoining storefront

on November

7th with

a festive and

well-attended

ribbon-cutting

ceremony.

"You have

built quite a following,"

Jeannie

Hebert, president

and CEO of the

Blackstone Valley

Chamber of Commerce,

told Ms. Desrosiers,

in congratulating her on the

success of The Green Plate.

"To have thrived in

a pandemic is quite an

achievement," Sen. Michael

Moore of Millbury told her.

Sen. Ryan Fattman of

Sutton added "most businesses,

90% of them don't

make it to five years."

Rep. David Muradian

Jr. of Grafton echoed these

sentiments, telling Ms. Desrosiers

"your commitment

to make the community

better is greatly appreciated."

Northbridge Town

Manager Adam Gaudette

expressed what many in

attendance were feeling,

too, when he said "I look

forward to ten years" for

The Green Plate as well.

Not only is The Green

Plate acquiring the storefront

previously occupied

by The Welcoming

Lantern, next door, Ms.

Desrosiers is now aiming to

franchise.

"Own a Green Plate

franchise!" are the words

written on a postcard-like

message she distributed.

Ms. Desrosiers said franchisees

will tap into a support

system "with training,

business operations and

resources for success."

Choking up as she addressed

the gathering, Ms.

Desrosiers said "five years

comes so quick. Everything

fell in place the way

it needed to. The town, my

customers, my team, so

much around me, that's why

I'm growing" the business.

"Now you are franchising,"

Ms. Hebert told her.

"We will have Green Plates

SHOP SMALL

continued on page 9

Fully Licensed and Insured

Roofing • Siding • Skylights • Gutters • Chimneys • Windows

shineconstructioninc.com

508.278.3300

Residential & Commercial Electrical Services

DEADY

ELECTRIC

Inc.

RALPH J.

DEADY

Master Electrician

Licensed

& Insured

Sherborn, MA

Grafton, MA

Lie. #E 33048

Lie. #A 13710

Call (508) 655-4470

ralphdeady@gmail.com
---
December 2, 2022 • www.blackstonevalleyxpress.com • The Blackstone Valley Xpress 9

CEMETERY

continued from page 7

facilities, and maintaining

walking and bicycle paths.

"Almost 1900 hours of

volunteer time has been

recorded" on the cemetery

work in town so far, Mr.

Weaver said.

Gravestones, twentyone

of which belong to

Revolutionary War veterans

buried in Sutton Center

Cemetery, were given

long-overdue attention by

a group that included Boy

Scouts, over a period of

three years.

No one has been buried

in the Sutton Center Cemetery

since 1937; also, Mr.

Weaver points out, "there

are certainly more buried

here than we know about."

Mr. Weaver credited the

town's Cemetery Commission,

the Sutton Historical

Society and the Dudley

Gendron American Legion

Post for the encouragement

and assistance they

have provided to the

project.

"The King family plot,"

and gravestones bearing

the names of prominent

members of the community

who even have roads

SHOP SMALL

continued from page 8

4

all over!"

Watching this, Ms. Desrosiers'

father said "she has

done extraordinarily well.

I'm very proud of her."

Businesses planning to

be a part of Shop Small

01588 this year are:

Barbara Connors Art

Glass Studio; Blue Zone

Integrated Fitness; Carr

Funeral Home; Daily Grind

Barbershop; Driven Self

Defense; Family Karate

Center; Furiends Gourmet

Pet Treats; The Green

Plate; Harbro Auto Sales;

Katalina's Boutique; Koopman

Lumber; Little Man

Handbags; LuLuRoe Kathy

Bartlett; LuLu's Jewelry

& Gifts; Neighborhood

Kitchen; Schotanus Design

Center; The Crafty Nest;

The Flower Shop; UniBank;

Whitin Community Center;

and Woodshop@933.

Shoppers can pick up a

Shop Small 01588 Passport

at any of these businesses

and get it stamped to enjoy

in-store specials, giveaways

and holiday promotions.

American Express

in town named after them,

like Harback—"all of the

Harback family except for

wife Ruth," for instance—

are among those buried in

the Sutton Center Cemetery.

Mr. Weaver noted

that "33% percent of these

gravestones were severely

leaning." In some instances

the lettering on the

gravestones was "mostly

indistinguishable."

A walk-through of

Sutton Center Cemetery

just before the tour began

revealed interesting information

about some of the

people buried there. Abigail

Moore, for example,

"was married three times,

all pastors." Eight members

of the Harback family

died in a thirteen-year period.

A crypt contains the

remains of the Rev. David

Hall, a Harvard grad who

served as minister of the

Congregational Church

for sixty years.

Of the more than four

hundred "humanly placed"

stones in the Sutton Center

Cemetery, 384 were

cleaned, 273 were plumed,

others required cosmetic

work, and 68 needed restoration

and resetting.

In a number of cases,

ambassadors had "reinforcement

pieces" placed

behind the original headstone.

In other cases, slate

replaced marble "because

it holds up better," he said.

For his own leadership

role in the project, Mr.

Weaver was presented

with the Blackstone River

Valley National Heritage

Corridor's 2021 John H.

Chaffee Heritage Award.

In joining those saluting

Mr. Weaver, James Smith,

Sutton's town manager,

said "Ross has become

Sutton's unsung hero in

our rural world of cemetery

conservation…collectively

[Mr. Weaver and

his fellow volunteers] have

made amazing progress in

local historical cemetery

conservation. He has

worked tirelessly to preserve

our cemeteries while

promoting (our) cultural

heritage."

In all, 340 memorials in

the Sutton Center Cemetery

have been uploaded

to Find-a-Grave and are

accessible to anyone with

Internet access. A QR code

sign, funded with a grant

from the Sutton Cultural

Council, is located between

the Gen. Rufus Putnam

Museum and Town

Hall. This QR code directs

launched Shop Small

Saturday in the midst of a

recession in 2010. The inaugural

event was a hit and

has grown since. In 2020

alone, American Express

notes, the company spent

approximately $200 million

on initiatives to support

small business around the

globe.

Contact Rod Lee at

rodlee.1963@gmail.com or

774-232-2999.

visitors to a self-guided

tour of the cemetery along

with other historic sites in

town.

There are 482 head and

foot stones, and one crypt,

in the cemetery.

The volunteers' efforts

to restore gravestones in

the Sutton Center Cemetery

were noticed by

Suzanne Buchanan, the

Corridor's volunteer coordinator,

and Ms. Buchanan

included Mr. Weaver on

a panel to discuss the

Cemetery Conservation

Ambassadors program

Professional Birth and

Postpartum Doula

Serving Worcester County and

Northern RI

As a birth and postpartum doula, my goal is to support

and empower you so you can have the best birth and

postpartum experience possible.

Contact me:

Phone: (401) 545-0936

Email: beccasbirthservices@gmail.com

Website: www.beccasbirthservices.com

WE ARE HIRING!

¡estamos contratand

WE ARE HIRING!

GREAT PAY & MEDICAL BENEFITS!

¡estamos contratand

GREAT PAY & MEDICAL BENEFITS!

Milford, MA

Milford, MA

and how volunteers could

work together and share

resources.

Contact Rod Lee at

rodlee.1963@gmail.com

or 774-232-2999.

Restaurant Depot

is Now Hiring!

NOW HIRING • Cashiers

• Cashiers • Receiving Stockers

• Stockers • Hi-Lo Drivers

• Porters • Managers Porters

• Receiving

100 Dear Street,

• Hi-Lo Drivers 100 Milford, Deer MA Street 01757

Milford, MA 01757

Apply Online @• Managers www.restaurantdepotcareers.com

or send resume to: tliberatore@jetrord.com

Apply online @

www.restaurantdepotcareers.com

or send resume to:

tliberatore@jetrord.com

QUALITY BUILDING MATERIALS

FOR ALL YOUR NEW CONSTRUCTION AND REMODELING NEEDS!

Special Membership Offer Thru November

15 North Main St., Bellingham, MA 02019

www.chamberlainpines.com

(508) 966-2187 chamberlainpines@gmail.com

PROFESSIONAL SERVICE • FREE DELIVERY • ESTIMATING

Lumber & Plywood • Windows • Doors • Millwork • Roofing • Insulation • Decking

Rail Systems • Siding • Hardwood • Fasteners • and Much More!

CHARRON

Tree Quality Timely Service!

BELLINGHAM, MA

508-883-8823

FREE ESTIMATES • FULLY INSURED

KEVIN LEMIRE, OWNER

All employees are covered under Workers' Comp Ins.

RESIDENTIAL

& COMMERCIAL

• Tree Removal

• Pruning/Trimming

• Storm Damage

• Land Clearing

• Stump Grinding

CharronTreeService.com

Family Owned And Operated Since 1952.

124 Main St., Millbury

cslumberco.com • 508-865-4822

508-865-4288

Mon. - Fri. 7:30 a.m. - 5 p.m. • Sat. 7:30 a.m. - Noon

HOMEOWNERS

WELCOME!

VISIT US FOR YOUR NEXT PROJECT!
---
10 The Blackstone Valley Xpress • www.blackstonevalleyxpress.com • December 2, 2022

Grafton artists are among

award winners at 5th

annual Festival

BY ROD LEE

Whether you're building or buying a new home,

want to make improvements to your current

home or looking to refinance, we have

the loan you need.

Our experts have been serving the financial

needs of the community for over 152 years!

Call or email Karen for

competitive rates for

conventional and jumbo

mortgages today!

Karen Beane

VP, Mortgage Consultant

Karen.Beane@unibank.com

508.769.3816 • NMLS #485228

Connecting all offices: 1.800.578.4270 • www.unibank.com

UniBank NMLS #583135 • Member FDIC/Member DIF

This year's fifth annual

Small Stones Festival

of the Arts attracted

entrants from far and

wide, but there was also

no shortage of strong local

talent.

The People's Choice

awards for the 2022 version

of the Festival were captured

by Bonnie Frederico

in the Fine Art category for

her oil painting "Peonies"

and Amanda Conyers in

the Photography category

for her "Eye to Eye."

Both live in the town of

Grafton.

Also, Ria Hill of Uxbridge

placed first in the

Juror's Choice for Fine Art

with her "Crow on Top."

Opening Night of the

Festival in the Great Hall

saw artists mingling with

those checking out the

painting and photography

on display and marking

their choices for first, second

and third in each category.

Excitement carried

throughout the week as

"Crow on Top" by Ria Hill of Uxbridge was deemed the winner in the Juror's

Choice Fine Art category at the Small Stones Festival of the Arts.

the Festival's other events

took place. A highlight for

many were remarks made

by Grafton's own Nicholas

Gage on "A Writer's Life,"

with special attention

given to his mother Eleni,

who was executed during

the Greek Civil War while

trying to help her children

escape to safety.

Reading from notes, Mr.

Gage struggled to control

his emotions as he talked

about his mother.

Ms. Frederico has been
---
December 2, 2022 • www.blackstonevalleyxpress.com • The Blackstone Valley Xpress 11

MA & ISA Certified Arborist

Full Circle

Insect and disease diagnosis

and treatment #16339

Specimen and

ornamental tree

and shrub care

Since 1989

a decorative painter since

1973 and says she was

interested in painting from

early childhood, "even if it

just meant helping to paint

my family home. As the

years passed, my enthusiasm

didn't change."

The first place awards

in the juried Fine Art

painting and photography

exhibition held at the

Great Hall, One Grafton

Common, were Pam

Short of Lancaster for her

pastel "Beauty in My Own

Back Yard" and Kenneth

Salmone of Attleborough

for his photograph "On the

Rocks."

An accomplished artist,

Ms. Short entered her

painting on a whim and

was surprised and delighted

to learn she had

taken first place, according

to SSFA Publicist Dana

Wilson. Ms. Short enjoys

painting landscapes, seascapes,

animals and wildlife

and buildings. Pastels

are her preferred medium.

She believes "beauty is everywhere

if you choose to

see it." Her work has been

featured in the Fruitland

Museum Shop, Petersham

Craft Center and at the

NOA Gallery at the Groton

Inn.

Mr. Salmone quoted

Henry David Thoreau in

asserting that "It's not what

you look at that matters,

it's what you see" to explain

his approach to photography.

He has traveled extensively

to find beautiful

places but says "I still manage

to discover overlooked

and often unseen snippets

of beauty within the small,

natural worlds" close to

home.

Ms. Short and Mr. Salmone

both received $500

first-place winnings for

their work.

The exhibition featured

contributions by ninety

artists with one hundred

forty-three pieces on

display at the Great Hall.

Five regional art organizations—Apple

Tree Arts,

the Blackstone Valley Art

Association, the Claflin

Hill Symphony Orchestra,

the Shakespeare Club of

Grafton and the Worcester

County Camera Club—

collaborated to develop a

NEW ENGLAND REGLAZE

Don't replace

your old tub, reglaze it!

Tubs, tile sinks and

much more

We do any TUB!

CALL US NOW

617-895-7771

www.newenglandreglaze.com

• Siding • Windows • Gutters

Owner

• Siding

Rob

• Windows

Chaille - CSL#

• Gutters

Owner Rob Chaille 69907 - HIC# Visit 160483 our

Owner Rob Chaille - CSL# 69907 - HIC# 160483 Showroom at

NorEasterRoofing.com

1 Providence

172

172 Pond

Pond

Pond Street

Street

Street

508-NOR-EAST

508-NOR-EAST Lane in

Uxbridge,

Uxbridge, Ma 01569

MA Ma 01569 01569 508-677-3278 Whitinsville

508-667-3278

Grafton's Amanda Conyers captured first place in the People's Choice

Photography category at the fifth annual SSFA.

T∙R∙E∙E C∙A∙R∙E

Dwight A. Bristowe

Office: 508-476-3258

Cell: 508-523-9631

www.FullCircleTreeCare.com

Reg. $ 399

Color, travel, may apply.

NOW $ 299. 00

SAVE

$100

WITH AD

508-NOR-EAST

508-677-3278

multi-genre festival with a

variety of programs illuminating

different art forms.

Lectures by prominent

authors and educators, a

dramatic reenactment of

a literary figure, a musical

lecture on abstract form

and structure and talks of

interest to artists and art

supporters were offered.

The Festival's hardback

printed exhibition catalog

is available online at

https://smallstonesfestival.

org. Participating artists

reside in communities in

Massachusetts, Connecticut,

Rhode Island, Maine,

Vermont—and elsewhere.

Planning for the 2023

Small Stones Festival of

the Arts will start early

next year. The Organizing

Committee is considering

a midsummer date for the

Art Call. Contact Ken Cramer

at ken@graftonarts.

org if you are interested.

Contact Rod Lee at

rodlee.1963@gmail.com or

774-232-2999.

Landscape & Masonry

Materials

2677 Broncos Highway. Nasonville, RI

401-769-4286

Ice Melt • Shovels and Snow Stakes

Bulk Loam • Mulch • Stone • Fertilizers

Grass Seed • Drainage Pipe • Fire Pits

Bluestone • PA Fieldstone • Granite • Flagstone

Cobblestone • Palletized Stone • Wood Pellets

Chimney Supplies • Concrete & Mason Sand

Concrete & Mortar Products

UniLock Pavers and Walls

Monday - Friday 7am - 4pm

66th Evergreen

Christmas Fair

on tap

The Congregational Church of Westborough will

hold its 66th traditional Evergreen Christmas Fair

from 9:00 a.m. to 3:00 p.m. on Saturday December

2nd at 57 W. Main St., next to the Westborough

library. Known for its fresh greenery arrangements

and abundant hand-decorated fresh balsam wreaths,

the gingerbread-themed fair will also feature a

Grandma's Attic (flea market style), a Grandma's

Treasures Attic (antiques, etc.), handmade items and

ornaments, knitted things, the ever-popular jewelry

tables, homemade baked goods, silent auction

items, jams and jellies, children's craft rooms, Santa's

workshop and a luncheon with homemade chicken

noodle soup, sandwiches, mac and cheese, beans,

child, corn chowder and more. Santa and Mrs. Claus

will be present to greet the children. Proceeds benefit

the church's missions program.

Delivery

Available

Call today for your FREE In-Home Consultation

SUPER

HOLIDAY

SALE

Block that

damaging SUN

Save 20%

on all sliding door

treatments

Save 25%

on all Honeycomb

and Solar/Roller

Cannot be combined with any other coupons or offers.

Offer valid until 11/30/22

Independently Owned & Operated

by Sue Adams

Local: 508-865-9300

Homeowners

& Contractors

Welcome!
---
12 The Blackstone Valley Xpress • www.blackstonevalleyxpress.com • December 2, 2022

Gifts for

every wish ...

Quaker

Gift

Certificates

Make Great

Gifts

Ask About our

Cash Deal

Ask about our

Dine-In Cash Deal

Quaker

Tavern

466 Quaker Highway • Rte. 146A Uxbridge, MA

TUESDAYS

TRIVIA

NIGHT

in the

Lounge

Reservations

Recommended

LIVE

MUSIC

Saturday

Nights

in the

Lounge

(508) 779-0901

Open Tues. through Sat. Noon to 9pm

WEDNESDAY

WINE

SPECIAL

Any bottle of wine

1/2 price

with any entree

(dine-in only)

~It's Christmas In The Hollow ~

The Shop is filled with holiday and every day

treasures for your decorating & gift giving needs!

Gift Certificates available in any denomination

HOURS

107 S. Main St. (Rte. 122)

Wed.-Sat. 10-5

Uxbridge, MA 508-278-0909

Sunday 12-4

$

2.00 OFF

Must

Gourmet Nut Shop

OVER 100 DIFFERENT VARIETIES

FINE NUTS • SNACKS • CANDIES • DRIED FRUITS

Taste The Difference Quality Makes

any purchase of $15 or more

not be combined with other

special offers. Offer with coupon expires

December 31, 2022. Type HOLIDAY22 to redeem online.

Arcade Industries Inc.

205 Southbridge St., Auburn, MA • 508-832-6300

www.arcadesnacks.com

Open 7 days a week in December, Mon - Fri 8:30am-5:00pm; Sat. 9-4pm; Sunday 12-4pm

Gift

Certificates

Available

Join us December 21st for a PERSONAL CONVENIENT SHOPPING EXPERIENCE

Holiday facebook live at 7pm for great gift ideas and you will be entered

to win weekly Chevere Credit Prizes

Shop your loved ones' Wish List

on December 14th from 11 am to 8 pm

336 N. Main St., Uxbridge, MA 01569 • 508-278-5566

• www.shopchevere.com •

Hours: Sun. & Mon. by Appt.; Tues, Wed. & Fri. 11-4; Thurs. 12-6 and Sat. 10-4

1 Small Coffee with $5 or more purchase

(With this Coupon. One per customer. Exp. 12/31/22)

Gift Certificates Available

Greek inspired lunches, desserts and pastries * Catering Sized Party Platters

Custom Cakes * Dietary Friendly Options Available

49 Elm Street, Millbury, MA 01527 • www.mykonosbakery.com • 508.917.8127

Work remote with our FREE WI-FI

Order Ahead For Your Convenience!

The Fudge Lady

Handmade Specialty Fudge

• Always Made Fresh • Pre-orders or Walk-ins •20+ Gourmet Flavors

• Also Available in Gift Boxes or Party Platters

Gift Certificates Available

TheFudgeLadyUxbridge@gmail.com

11 So. Main Street, Uxbridge, MA • (508) 446-2518

Give the gift of Galliford's!

Purchase $100 in Galliford's

Restaurant & Tavern gift cards and

receive one free $20 gift card!

Offer ends 12/23/2018

12/24/2022

5 Southwick St • Mendon, MA 01756

WWW.GALLIFORDS.COM • 508-928-0928

SCHULTZY'S PLACE

Breakfast & Lunch

$

3 00

OFF

on any order of

$20.00 or more

One coupon per party or table. Expires 1/31/23

Gift Certificates

Winner of Worcester's

Hot Dog Safari's Golden Hot Dog

Available In Any Denomination

3 Boston Road (Heritage Plaza) Sutton, MA • (508) 865-6777

Hours Mon.-Sat. 5:30am-2pm

Sundays 6:30am to 2pm
---
December 2, 2022 • www.blackstonevalleyxpress.com • The Blackstone Valley Xpress 13

For

Every

The Post Office Pub

Rt. 140 & Ray Street

Holiday

$ 25 spent

North Grafton, MA

508-839-6106

Holiday Gift Cards

Get

Additional $

5

Offer valid 12/1/22 through 12/31/22

DJ's Sportscards

Baseball • Football • Hockey • Basketball MTG

• Pokemon • Yu-gi-oh • Autos • Supplies

Gift Certificates

Available

5 Sutton Ave., Oxford, MA 01540 • Next to RR Tracks

1-508-987-0012 • e-mail: djscrds@aol.com

EBAY: DJSCRDS • Hours: Tues.-Fri. 12-6 p.m. - Sat. 10 a.m.-2 p.m.

Stocking

Stuffers

Your Holiday Gift Connection!!

•Fudge •Boxed Chocolates •Baskets •Novelties...

THE

CANDY SHOPPE

Homemade Chocolates

Gift

Certificates

in any

Amount!

"A Chocolatier for over 26 Years!"

19 Main Street, Millbury, MA • (508) 865-0085

Hrs.: Monday-Friday 10am-6pm; Saturday 10am-5pm & Sunday 11am-3pm

Gift Certificates Available in Any Denomination!

Give The

Gift That

Shines!

OWNER OPERATED

85 WORCESTER STREET, NO. GRAFTON, MA

508-839-5250

www.fitzyscarwash.com

10% OFF

All

Gift Cards

With this coupon

"Your destination for all things clean"

Shop our Pro Shop for Someone Special this Holiday Season!

New England Steak & Seafood

11 Uxbridge Road • Route 16 • Mendon, MA 01756

Casual Elegant Dining & Banquets

Tel. (508) 473-5079 • (508) 478-0871

email: nesteakhouse@aol.com

www.nesteakandseafood.com

& The John Henry Tavern

Gift

Certificates

Make Great

Gifts!!

Gift Certificates

can be used in

the Pro Shop

and the

Tavern

42 Magill Dr., Grafton (508) 839-1945 ext.222

www.highfieldsgolfcc.com • Pro Shop is open 7am -6pm Mon. – Sun.

AnnMarie Mong • AnnMarie@Highfieldsgolfcc.com

Gift Card Special

$300 for just $250

$100 for just $85

$50 for just $45

Exp. 12/31/22 - Not to be combined.

Japanese Hibachi Steakhouse

900 Victory Hwy., Suite 3, North Smithfield, RI

401-597-0885 • www.yamafujiri.com

SEASONAL

DRINK

SPECIALS!

Gift Certificates Available

Sushi Bar • Full Bar Lounge

Buy $100 in gift cards, get a voucher for $20

redeemable for museum tickets, membership, or gift shop.

Voucher must be used by 12/31/23.

Gift cards can be purchased in denominations

of $25, $50 or $100 and can be used for

tickets, membership or gift shop.

To purchase stop by the museum gift shop during open hours,

email admin@samuelslaterexperience.org or call 508-461-2955

31 Ray Street, Webster, MA 01570 • www.samuelslaterexperience.org

We're Family

Gift Certificate Giveaway!

December 1 - December 31

Purchase 1 Gift Certificate of

$65 or more, and get $15 OFF!

NOTE: Offer is not transferable. Limit one coupon per customer, per

transaction. May not be used in combination with any other offer,

coupon, discount or insurance discount. By attempting to redeem

this offer, user unconditionally agrees that decisions of the Whitin

Community Center are final on all matters of interpretation, fact and

procedure with respect to this offer.

60 Main St. Whitinsville, MA 01588 | www.WhitinCommunityCenter.com

Lodging ~ Daycare ~ Grooming

Training ~ Pet Supplies

Hours:

Mon.-Thurs. 6:30am-6pm

Fri. 9:30am-4pm

Closed for lunch 12-1pm

Sat. 8am to Noon

Sun. 5pm-6pm only

139 Upton St. (Rte. 140)

Grafton, MA • 508-839-1757

Grafton@GibsonsNaturalPet.com

www.GibsonsNaturalPet.com

Gift Cards

in any

amount

for the

Holidays!
---
14 The Blackstone Valley Xpress • www.blackstonevalleyxpress.com • December 2, 2022

BY ROD LEE

Lisa Moon has no previous

experience in the food

industry, but this would

not be apparent from the

strong start The Neighborhood

Kitchen is enjoying on

Church Street in downtown

Whitinsville.

Open since January 5th,

The Neighborhood Kitchen

is building a clientele for

dine-in or takeout on a menu

of "American comfort food"

for lunch or dinner.

The restaurant is closed on

Tuesdays.

From such "Starters" as

onion strings, clam cakes

and buffalo chicken tenders

to an array of noon-hour

sandwiches (served all day)

to Entrees like Pasta and

Lisa Moon aims high with

The Neighborhood Kitchen

Meatballs, Shepherd's Pie,

Turkey Dinner, American

Chop Suey, Meatloaf and

Haddock and Hand-Cut

Fries (Thursdays and Fridays

only), the restaurant is

"where family and friends

gather to eat," Ms. Moon said

on November 17th.

She even has a kiosk at

her husband Mark Moon's

nearby Sparetime Recreation

so that bowlers can order

food.

Arrangements with Door

Dash, Uber Eats and Grub

Hub and "an amazing cook

staff" are leading the way

in establishing The Neighborhood

Kitchen as the

town's most promising new

restaurant.

The menu is complemented

by several exotic "shakes."

Fruity Pebbles, Orange

Dreamsicle, Cotton Candy

Unicorn and Cup of Dirt—

for example.

The interior of what was

previously mostly a pizza

place has been completely

renovated and upgraded with

tables crafted by Mr. Moon

and a neighborhood-themed

mural spray painted on one

Lisa Moon, owner of The Neighborhood Kitchen, with De Shauna Bates and

David Place Sr.

of the long interior walls.

Ryan Gardell, an artist, did

the honors and the mural is

impressive.

Ms. Moon has set an

ambitious tone that even

included "breakfast and

pre-order your dinner go

to for Thanksgiving, with a

meal featuring fresh-roasted

turkey, mashed potatoes, butternut

squash, corn, stuffing,

cranberry sauce, gravy and a

roll-for $14.95.

She is more than willing to

take on any job necessary.

"I cook, wash dishes,

clean, wait on tables. That's

what I think an owner should

do," she says.

Contact Rod Lee at

rodlee.1963@gmail.com or

774-232-2999.

Classic & Gourmet Pizzas Paninis

Piadinas Salads Gluten Free

27-C Galaxy Pass, Sutton

Open: Tues.-Fri. 11:30-9:30; Sat. 4-9:30; Sun. 11:30-9

(508) 917-8182

Gift Certificates Make Great Gifts

Full Boneless

Buy PRIME 3 Small, RIB1

Feeds approx. 14 people.

Topping Pizzas

for $ and Dessert

6.00 each

+tax

Online ordering

Christmas Dinner To Go!

New England Steak and Seafood

11 UXBRIDGE RD., MENDON, MA

Announces

ROAST PRIME RIB OF BEEF

Cooked $10 upcharge or ready to cook

YOUR CHOICE

LET US DO THE WORK FOR YOU!

508-478-0871

Half Boneless Pumpkin Bread

FAMILY SPECIAL $15.99 dz.

PRIME RIB

(2) Large Pizzas Cinnamon Rolls

(1cheese &

Feeds approx. 7 people.

1 topping)

INCLUDES: Mashed INCLUDES: Mashed $15.99

with choice of a $

26 99

dz.

Potatoes Au Jus

Potatoes Au Jus

and Greek Dessert

Onion Rolls

salad or

$499.99 $259.99 $15.99 dz.

chix wings & 2 ltr.

+tax

BONELESS FOR YOUR CONVENIENCE Includes Prime Rib Cooked or Uncooked.

Mashed Potatoes Au Jus and Dessert

303 Main Street, Douglas, MA

ALL ORDERS MUST BE IN BY 508-476-2552

DEC. 22ND AND PICKED UP ON DEC. 24TH BETWEEN 1PM & 3PM

"NOTE PLEASE ORDER EARLY"!!!!

Gift Card

Special

$300 for just $250

$100 for just $85

$50 for just $45

Exp. 12/31/21. Not to be combined.

Japanese Hibachi Steakhouse

900 Victory Hwy., Suite 3, North Smithfield, RI

401-597-0885 • www.yamafujiri.com

Gift Certificates Available

Sushi Bar • Full Bar Lounge

GREGORY'S

restaurant & pizzaria

303 Main Street, Douglas, MA

508-476-2552

SEASONAL

DRINK SPECIALS!

ONLY

Location is

Douglas, MA

ORDER ONLINE

at

www.gregorys-restaurant.com

or you could use Gregory's restaurant app
---
December 2, 2022 • www.blackstonevalleyxpress.com • The Blackstone Valley Xpress 15

Happenings!

NOTE: Community bulletin boardtype

items are welcome for inclusion

in the Happenings! section

of the Xpress newspapers. Please

allow enough lead time for publication.

Email your calendar or event

notice to rodlee.1963@gmail.com.

ONGOING

• The "Arsenal of Democracy"

exhibit at the American Heritage

Museum, 568 Main St., Hudson,

celebrates the phrase FDR coined

during a radio broadcast on

December 29, 1940, to signal

that the then-still-neutral United

States would use all of its industrial

might to build the weapons

needed by the last struggling

democracies to save themselves

from fascism. The American Heritage

Museum is open Wednesday-

Sunday.

FRIDAY, DECEMBER 2

• The Oxford Senior Center's Senior

Book Club meets at 12:45 p.m. to

discuss "A Redbird Christmas" by

Fannie Flagg; at the Senior Center,

323 Main St.

SATURDAY, DECEMBER 3

• St. Gabriel's Church, 151 Mendon

St., Upton, will host its Christmas

Fair from 9 a.m. - 2 p.m. with a

variety of fresh balsam wreaths,

cemetery baskets and table-top

arrangements. Raffles available. A

new gift boutique featuring new

and "like new" items, Oldye Tyme

Christmas decorations, gems,

jewels seasonal décor will be

included along with a Bake Table.

Face masks are encouraged.

• The 25th anniversary of the

Uxbridge First Holiday Night

Celebration and Parade, a family

tradition, will be held. Volunteers

are welcome for the event. Stop

by the Mendon Street Kitchen for

more information.

• The Uxbridge PSG 2023 is hosting

a Jack-a-doo Holiday Vendor Fair

from 10 a.m. to 3 p.m. at Uxbridge

High School, 300 Quaker Highway.

More than thirty local vendors

with unique gifts for the holidays.

Contact PSG for more information

at psguxbridge@gmail.com or

check Facebook, UxbridgePSG2023-

ParentsforSafeGraduation.

• The Sutton Chain of Lights: 10

a.m. to 4 p.m., featuring family

fun with free trolleys, boutique

shops, local products, handmade

gifts, specialty items and services

for all the people on your Christmas

list.

• "Christmas in New England"

will return for a live concert with

a performance at the Rockdale

Congregational Church, 42 Fowler

Road, Northbridge, at 7:30 p.m.

Admission is $15 at the door only.

Doors open at 6:30 p.m. Desserts

and beverages will be available at

intermission along with a Cookie

Walk. For more information, visit

www.christmasinnewengland.net

or call 617-429-0347.

SUNDAY, DECEMBER 4

• "Grafton Celebrates the Holidays"

at the Grafton Public Library, 35

Grafton Common, from noon to 4

p.m., in partnership with Grafton

RISE. Girl Scouts Gingerbread

Contest; Friends of the Library

Bookstore; Henna artist; Central

Massachusetts Foster/Adopt MA

giveaways and activities; Girl

Scouts singing holiday tunes.

• Visit the Baptist Church of Grafton,

1 South St., to view its annual

Creche Display in the sanctuary

as part of "Grafton Celebrates the

Holidays." The display features a

variety of manger scenes drawn

from artistic styles from around

the world—a truly international

depiction.

• The New England Country Music

Club presents the Rhode Island

Rednecks at the Progressive Club,

18 Whitin St., Uxbridge. Doors:

12:30 p.m. with live dancing and

entertainment from 1-5 p.m. www.

facebook.com/NECountryMusic-

Club.

TUESDAY, DECEMBER 6

• The Webster Dudley Business

Alliance's Hoilday Party will take

place from 5-7 p.m. at Booklovers'

Gourmet, 72 E. Main St., Webster.

WEDNESDAY, DECEMBER 7

• A Holiday Sing-a-Long with

Diane Pollard is scheduled at 2:30

p.m. at the Northbridge Senior

Center (Plummer Place), 20

Highland St., Whitinsville. Sign up

in the main office.

THURSDAY, DECEMBER 8

• Explore the benefits of The

Zentangle Method while unleashing

your inner artist and creative

capabilities, at the Northbridge

Senior Center (Plummer Place),

20 Highland St., Whitinsville, from

10:00 to 11:00 a.m. Did you know

that Zentangle was developed

HAPPENINGS!

continued on page 16

EXTRA!

EXTRA!

Follow

The Yankee Xpress

on Facebook!

Like The Yankee Xpress on

Facebook to keep up-to-date

with articles, events,

giveaways and

contest announcements!

GROUP

SEATING

DISCOUNTS

AVAILABLE

7 Medford Street, Arlington Center
---
16 The Blackstone Valley Xpress • www.blackstonevalleyxpress.com • December 2, 2022

508-949-2024

T-Shirts

Banners

Lawn Signs

Coffee Mugs

Embroidery

Business Cards

Business Cards

Canvas Banners Prints

Posters T-shirts

And MORE!

Graphics

Gifts for Christmas

YOUR #1 CHOICE FOR CUSTOM:

Customizable

Gift Items

•Canvas Prints •T-shirts

•Mugs •Embroidery

CUSTOM BUSINESS PRODUCTS

Lawn Signs

Embroidery

Polo Shirts

Bags

Etc.

505 S. S. Main St., St, Webster, MA

Info@Choice1Graphics.com

www.Choice1Graphics.com

HAPPENINGS!

continued from page 15

right here in Whitinsville? Sign up

at the main office.

• The Auburn Chamber of Commerce's

annual Holiday Party

- 5:30-7:30 p.m. at the Realtor

Association of Central Massachusetts,

492 Washington St., Auburn.

Bring an unwrapped toy and a

door prize. All donations will

benefit Auburn Youth & Family

Services.

• A book-folding workshop will

take place at the Grafton Public

Library, 35 Grafton Common, 6:30-

8:30 p.m.

Goods

Primitive

146 Mendon Street

Uxbridge, MA

(508) 278-2700

TUESDAY, DECEMBER 13

• The Charlton Public Library, 40

Main St., presents the Shepherd

Hill Choir Holiday Concert at 12:30

p.m. in Dexter Hall.

WEDNESDAY, DECEMBER 14

• A Grafton Ukele Musicians Jam:

Grafton Public Library, 35 Grafton

Common, from 6:30 to 8:00 p.m.

THURSDAY, DECEMBER 15

• "All That Glitters is Snow," a

holiday party, will be held at

the Northbridge Senior Center

(Plummer Place), 20 Highland

December 10 & 11

Come pick a discount percentage card out

for our Holiday Drawing Bowl!!

• Outdoor Items • Garden & Patriotic

• Furniture • Antiques to Farmhouse

• Village Paint • Primitive & Country

• Candles • Handmades

Hours: Thurs.-Sun.

10 a.m.-5 p.m.

email us on

St., Whitinsville, from noon to

2 p.m. A catered lunch will be

served and there will be Victorian

carolers. Tickets are $5 and must be

purchased at Plummer Place. Doors

open at 11:45 a.m.

• A book-folding workshop will take

place at the Grafton Public Library,

35 Grafton Common, 6:30-8:30 p.m.

December 22 & 23

20% OFF

One

Christmas

item

(item must be

$20 or more)

Gift Cards Are

Always A

Great Idea!!

ontact Us!

Exceptional Outpatient Rehabilitation

Getting back to your active life is your goal and ours too.

Our Physical Therapists are professionally trained and equipped to provide you

with Exceptional Outpatient Post-Surgical Rehabilitation Therapy.

Located at 60 Quaker Hwy (RT 146A) Uxbridge, MA 01569

www.rehabassociates.com/uxbridgeorthopedic

(508) 278-7810
---
December 2, 2022 • www.blackstonevalleyxpress.com • The Blackstone Valley Xpress 17
---
18 The Blackstone Valley Xpress • www.blackstonevalleyxpress.com • December 2, 2022

BY AMY LECLAIRE

154 Riverlin St.

Millbury, Ma. 01527

508-865-8155

• Grooming

• Daycare

• Boarding

by Kelly Hauk

LIVING WITH LUKE

The stars align for Luke

Valentino – parking lot peril

Every Dog Mom relates.

There's always one

frightening incident,

the dog story to be told and

retold. The one that can't be

topped. I thought losing

Luke to the shadowy cave

of the fox den last spring

was my scary story, and the

one to be placed up on a

high shelf. He was a curious

three-month old pup, still

learning his boundaries, yet,

incidentally, my smartest

dog to date. Luke is a thinker

and he aims to please.

"I'm coming, Momma! I

just needed to sniff the muddy

leaves across the street!"

My puppy isn't perfect. He

loves to explore but always

comes back on command,

and expects to be rewarded

for good intentions. "How

about a few blueberries since

I listened so well?" My horror

was not surprising, then,

when after a full ten minutes

of searching the yard, I still

couldn't find little Luke

on that chilly, spring day.

Worse, Daddy Fox had been

checking him out on more

than one occasion. I knew a

clever carnivore when I saw

one. Little did I know that

my fear of losing the pup

that stole my heart (even

after losing King Lincoln)

was about to rekindle.

We had just visited the

dog park. After parking and

guiding him to jump from

BEST OF CENTRAL MASS

Best Pet Groomer 2016 & 2017

dog crate (perched in the

trunk) to ground, I allowed

him to grab his leash and

gallop up to the dog park

gate. The park is safely

located on a high hill at

the end of a long, driveway

flanked by woods. The small

liberty offered, I've learned,

has helped Luke to gain

confidence with unfamiliar

ground. He loves to survey

the play scene before making

a grand entrance. "My

name is Luke Valentino and

I'm here to play! I excel in a

defensive game of wrestling

and/or chase, but preferably

wrestling because I'm

not built for speed. Oh, and

my Mom might not let me

play with you if you're a Pitt.

Who's ready?" The spirit

of the dog park, though

fun and free, served as an

www.barknbubblesmillbury.com

SM

JOCELYN COWAN, DVM

DEBORAH VEO, DVM

ALYSSA ALI O'HAGAN, VINCENT, DVM DVM

ALI JESS O'HAGAN, MACHO, DVM

Preventative Medicine, Surgery, Dentistry,

In-House Laboratory, Digital Radiography,

Acupuncture, Chiropractic and Laser

Therapy for Dogs and Cats.

Ultrasound & Surgical Specialists

Available by Consultation.

Specialty services available as well as

night and weekend appointments.

510 555 Hartford Hazel Street Ave Uxbridge, W, Uxbridge, MA 01569 MA 01569

P. 508.278.5869 | F. 508.278.9384 | info@uxbridgeanimalhospital.com

"More ice, please."

unhelpful precedent to our

next destination.

I had a lunch date

planned with a friend at

Panera, the outdoor café

of which Luke had come

to know and love. "How

old is your puppy? He's so

well behaved! I once had a

Golden that looked just like

him!" Friend after friend

came over to meet and greet

my social (now) ten-month

old puppy. His favorite

server, Ryan, filled his water

bowl and made sure to add

enough ice (a recurrent Valentino

request). The Panera

experience had become a

vision that danced through

my puppy's head like a slab

of moist chicken.

"Hey, I know this place!

This is where I meet new

adults and children! And

Ryan brings me water! And

my Mom gives me a slice

of—"

After noting the scene

through the backseat

window, his four legs found

the ground as they usually

do, with his leash clipped

and exuberant thirst for life

turned on. I fumbled with

his backpack, adjusted my

keys to lock the car, and

rushed to the unsafe speed

of a puppy in a hurry, a

puppy pulling me forward,

a puppy who had suddenly

broken free!

What happened next

plays out now in my mind

like a slow-motion film

featuring someone else's

pup. Luke, unaware of the

vehicles surrounding him,

galloped through the midsection

of the parking lot

to then cross over the main

road running parallel to the

restaurant's front entrance.

A car was coming. It wasn't

speeding. But it wasn't moving

slowly either. It was simply

moving forward casually,

a ship sailing to the motion

of a breeze. The driver

(though I'm not absolutely

sure) seemed unaware of

the puppy heading in front

of her car. Likewise, Luke

was unaware of the danger.

I could not scream his name

because stopping him in his

tracks would have derailed

the physics of what was to

become a perfect storm.

My heart sank in my chest

and I screamed his name

a thousand times while

running forward to witness

what stars look like when

aligned. The exact speed of

Luke's gallop had aligned

perfectly with that of the

oblivious driver, so that the

two moving parts, pup and

car, had sailed seamlessly by

each other. Had the driver

accelerated a beat faster,

Luke would have been hit.

Had Luke moved a few steps

slower, ditto. A small crowd

amyleclaire@hotmail.com

had already formed on the

patio to protect the galloping

puppy.

"Oh my gosh." I made it to

him and gasped while he sat

regally, completely oblivious

to what had just transpired.

"Look at all of these amazing

people to greet, Momma!"

For as long as I live, I

don't think I'll ever forget

the compassion shown in

the eyes of a girl who came

to our side. "It's okay. It just

happened." She had bright,

punk style hair and kind

eyes.

"That was completely my

fault," I said back, feeling

dizzy.

"Sometimes things just

happen and we don't know

why. He's alright. Your

puppy is going to be alright

and so aren't you."

I've always said that dogs

are better than people. But

on that particular day, I

learned that sometimes the

stars align, and people are

just as good.

Tell me your dog story.

Write to me amyleclaire@

hotmail.com

Follow Luke on IG:

@livingwithlukevalentino

WWW.TLCPETHAVEN.COM

Over 30 years

in Business

Denise and

Bill Jones

Dog and Cat

Grooming & Boarding

Luxury Suites Available

Doggie Daycare

In-Home Services Available

PET HAVEN & Mobile Groom-In-Vans

68 US Route 146, Sutton MA • 508-865-3180
---
December 2, 2022 • www.blackstonevalleyxpress.com • The Blackstone Valley Xpress 19

TALES FROM BEYOND

tomdagostino.com

Otherworldly voices and forms haunt The Dover Mills

BY THOMAS D'AGOSTINO

The Dover Mills still sits

at One Washington

Center in the heart

of downtown Dover, New

Hampshire. The mill's

history is ripe with tales of

prosperity and woe. Perhaps

that is why its walls are

full of ghosts and ethereal

noises passing through the

time barrier.

The mills go back to the

early days of the Industrial

Revolution. John Williams

and fellow investors formed

the Dover Cotton Factory

in 1812 along the Cochecho

River. In 1823 the name was

changed to Dover Manufacturing

Company because

they began manufacturing

other items along with the

cotton.

Factory life was hard. Mr.

Williams paid his worker

girls forty-seven cents a day.

They received room and

board and put two cents per

day towards medical. The

workers toiled for eleven to

twelve hours a day. From

March thru October, the

workday ran from 6:30 AM

to 6:30 PM with forty-five

minutes for lunch.

John Williams moved to

Boston around 1828, leaving

James Curtis in charge

of the business. He was

harsh and insensitive to the

woman employees. He cut

their wages from fifty-eight

cents a day to fifty-three

cents. He even imposed a

fine of twelve and onehalf

cents for anyone who

showed up late.

On December 30, 1828,

about four hundred of

the eight hundred female

workers stormed off the

job and took up a picket

line in front of the factory.

This was the first strike by

women in the workforce of

the United States. Unfortunately,

the strike was a failure.

The mill owners placed

an ad for replacements, and

the women were forced to

return to their jobs on January

1, 1829, with a reduction

in pay.

Expansion created another

building to manufacture

cloths and other

related goods. This branch

was named the Cocheco

Manufacturing Company.

The spelling error

in the name was due to an

oversight by the state clerk

when recording the birth of

the business. Even the river

now bears the name with

the missing "H."

Years passed, and the mill

grew into several buildings.

One building of particular

interest was the new Building

#1, built at the bend of

the river, known as "The

Beach." This building is the

site of the tragic fire that

occurred on January 26,

1907. The fire broke out on

the fourth floor at about

6:30 PM. Since the sprinkler

system was down, the fire

spread quickly. Workers had

to leap from the windows,

and many were injured. The

firefighters fought the blaze

for one and a half days in

temperatures that plummeted

as low as twenty-six

degrees below zero.

In the end, four people

were lost to the fire, and

the building was gutted.

They rebuilt the structure

and by 1908, it was back in

business.

In 1909 the factory was

sold to Pacific Mills of Lawrence,

Massachusetts. At the

end of World War I, things

took a turn for the worse.

Then came the Depression,

and in 1937, the great

facility finally closed its

doors. In 1940 the town of

Dover bought the mill at an

auction for the sum of fiftyfour

thousand dollars.

They rented the complex

to small businesses, but the

buildings had fallen into

a sad state of disrepair. By

the 1960s, only the ghosts

inhabited the empty shells

that loomed over the center

of town. In 1984 the mill

was purchased and renovated

into office and business

spaces. The building lives

once more with the advent

of present-day industry and

the revenants of the past.

People standing outside

of the building after business

hours have claimed to

see strange glowing lights

hovering around the upper

floor windows. Voices of

the long-dead still echo

through the building as if

calling out over the clamor

of the machinery that once

graced its walls. Other

noises frequently heard are

the clanging of old machinery.

The sounds resemble

old looms and other manufacturing

machines starting

and stopping. A custodian

working the night shift

often heard the phantom

machinery running while

he was working.

Otherworldly voices and

forms have been witnessed

in one of the towers. Eerie

lights sometimes emanate

from the basement windows.

This would not seem

so strange if it was not for

the fact that the basement

has been securely sealed for

many years.

Could the workers of

the past still be drawn to

their duties long after their

mortal time on earth? Is

the machinery that maimed

or claimed the lives also

part of the spirit world; or

is it just a byproduct of the

ghost's never-ending tenure

at the haunted Cocheco

Mill?

Resort

Bob Clark's

Doggie Day Care

is now open!

510 Hartford Avenue

Uxbridge, MA 01569

www.bobclarksdogtraining.com

Lodging Daycare Grooming

Training Pet Supplies

To reserve a spot please go to

bobclarksdogtraining.com/contact/

or call me at 774-573-2959

Hours:

Mon.-Thurs.

6:30am to 6pm

Fri. 9:30am-4pm

Sat. 8am-noon

Sun. 5pm - 6pm only

139 Upton St. (Rt. 140), Grafton, Ma 01519

Phone: 508-839-1757 Fax: 508-839-1736

Grafton@GibsonsNaturalPet.com

www.GibsonsNaturalPet.com
---
20 The Blackstone Valley Xpress • www.blackstonevalleyxpress.com • December 2, 2022

43 East Main Street

Webster, MA 01570

Office: 508.943.4333

Fax: 860.935.5624

Cell: 508.525.0611

Web: hope2own.com

Email: lsullivan@hope2own.com

Laurie Sullivan

REALTOR ®

Licensed in MA & CT

REAL ESTATE ON THE RISE!

Mark Marzeotti

Realtor

Mark

Marzeotti

Realtor

ADVANTAGE 1

25 Union Street, 4th Floor

Worcester, MA 01608

617-519-1871

MLMarzeotti@gmail.com

www.MarzeottiGroup.com

There's no place like

Home

for the holidays!

Victoria Virgilio • 774-696-4120

Victoria.Virgilio@commonmoves.com

VictoriaVirgilioRealtor.com

A member of the franchise system of BHH Affliliates, LLC.

BERKSHIRE

HATHAWAY

HomeServices

Commonwealth

Real Estate

REAL ESTATE

BY MARK MARZEOTTI

Now that the end of

2022 is close, you

may be wondering

what's going to happen in

the housing market next

year and what that may

mean if you're thinking

about buying a home.

Here's a look at the latest

expert insights on both

mortgage rates and home

prices so you can make

your best move possible.

Mortgage rates will

SERVING THOSE WHO SERVE OUR COUNTRY

M I L I T A R Y R E L O C A T I O N S P E C I A L I S T

What's ahead for mortgage

rates and home prices?

continue to respond to

inflation. There's no doubt

mortgage rates have skyrocketed

this year as the

market responded to high

inflation. The increases

we've seen were fast and

the average 30-year fixed

mortgage rate even surpassed

7% at the end of

last month. In fact, it's the

first time they have risen

this high in over 20 years.

Just one year ago, rates

were under 3%. This

means that while mortgage

rates are not as high as

they were in the 80's, they

have more than doubled

in the past year. Mortgage

rates have never doubled

in twelve months before.

Because we are in unprecedented

territory, it's

hard to say with certainty

where mortgage rates will

go from here. Projecting

the future of mortgage

rates is far from an exact

science, but experts do

agree that, moving forward,

mortgage rates will

continue to respond to

inflation. If inflation stays

high, mortgage rates likely

will too.

Home price changes will

vary by market. As buyer

demand has eased this

year in response to those

higher mortgage rates,

home prices have leveled

off in many markets too.

In terms of the forecast for

next year, expert projections

are mixed. The

general consensus is home

price appreciation will

vary by local market, with

more significant changes

happening in overheated

areas.

Basically, some areas

may still see slight price

growth while others may

see slight price declines.

It all depends on other

factors at play in that

local market, like the

balance between supply

and demand. This may be

why experts are divided

on their latest national

forecasts.

If you want to know

what's happening with

home prices or mortgage

rates, reach out to

the Marzeotti Group or

a trusted realtor for the

latest on what experts

are saying and what that

means for your local area.

GET NOTICED!

Contact Bill at 774-289-5564 or by email at bcronan@theyankeexpress.com to learn how

you can reach 153,0000 households and businesses each month!

Seasonal Cleaning

LICENSED IN MASSACHUSETTS & RHODE ISLAND

Now

accepting

yard waste

NORTH ATTELBORO

S LD!

$275,000

ATTELBORO

Under Agreement

for buyer, beat multiple offers

HARWICHPORT

Under Agreement

with multiple offers

Angela Green and our family had a heck of a ride! Through several years in the craziest job

market, she stayed by our side through thick and thin. We had so many obstacles and road

blocks in our way, but Angela navigated through it all with such ease and professionalism.

She always had a plan B, C, knew what we needed to change to come back stronger, and

got us our dream home! Angela made the stressful process of buying a home as smooth and

easy as possible. We couldn't have found a better realtor to help us with our home buying

journey and we CANNOT recommend her enough!!!!

- N & M, Charlton, MA

S C A N H E R E F O R R E V I E W S

& S A L E S H I S T O R Y

5 0 8 . 2 7 7 . 1 8 7 3

430 Main St., Oxford, MA

We repair all makes and

models of Garage Doors and

Electric Openers

- Commercial and Residential -

Visit our display by appointment

Sales • Service • Installation

Renew your home's appeal

with a new garage door.

Many new styles and colors

to choose from.

800-605-9030 508-987-8600

www.countrysidedoors.com email: countrysidedoors@aol.com

Liberate Your Property!

REMOVAL OF BRUSH, BRIARS, BRAMBLES, VINES,

UNWANTED SAPLINGS, DEAD TREES, LOGS, STUMPS,

OVERGROWN WEEDS & GRASS!

• BRUSH CUTTING

• SHED SITE PADS & PREP

• BOBCAT / SKID STEER WORK

• FIELD MOWING

• STUMP GRINDING

• PROPERTY CLEARING

• BRUSH PILE / JUNK REMOVAL

• TRIAXLE DUMP TRUCK SERVICES

DAN KASANOVICH HAULING & RECOVERY LLC

NORTHBRIDGE, MA

CALL / TEXT: 774.280.1691 OR VISIT US

AT WWW.DKHAUL.COM
---
end.

please fix auction section-please have

it read see leo for upcoming field auctiom

in june (no sale )

Ad is BEAUTIFUL!!

December 2, 2022 • www.blackstonevalleyxpress.com • The Blackstone Valley Xpress 21

THE CAR DOCTOR

Yes, you can buy an American-made car

BY JOHN PAUL

Q.

This isn't a car

repair question; I

would like to buy

an American car, what

cars are made in America?

A.

There was a time

that this was an

easy question to

answer. Ford, General

Motors and Chrysler were

all American cars, made

for the most part in the

United States or at least

North America. Traditional

import cars have

manufacturing or assembly

plants from the Carolinas

to California. You

could buy Honda Accord

made in Ohio, a Toyota

Camry made in Kentucky,

Hyundai made in

Alabama. The Last Buick I

drove was made in China

so it gets quite confusing.

Although it even seems

odd for me to say (might

be a generational issue)

Tesla may be the most

American car company.

Trucks from GM and Ford

are very American as are

the Chevrolet Corvette

and Ford Mustang. As you

are car shopping look at

the window sticker, it will

tell you where the car is

made and the percentage

of American parts.

Q.

My Ford Explorer

with 321,000

makes a noise if

I'm driving more than 45

miles per hour. When I accelerate

its fine, when I let

off the gas, there is a loud

fan-like noise. What could

cause that?

A.

Generally, the

differential pinion

bearing will make

this type of growling

noise. Typically, the noise

gets louder the faster you

drive. Four-wheel drive

vehicles like yours can

sometimes be a little hard

to diagnose. As a general

rule the front pinion bearing

will be noisy when

coasting and the rear

pinion bearing will make

noise under load.

Q.

Gasoline is still

too expensive, and

my question is can

tires actually save gas? I

have been hearing about

tires that can cause the

car to use less fuel, is this

true?

A.

I have seen some

comparison studies

that found that

low rolling resistance tires

such as Michelin Energy

Saver and Bridgestone

Ecopia can actually save

fuel. In a test with a Toyota

Prius the difference between

tested tires with the

lowest rolling resistance

and the highest, resulted

in the savings of 21 gallons

of fuel over 15,000 miles

without any trade-offs for

performance and tire life.

Now of course this isn't

a huge saving, but every

little bit helps. Without

spending more money on

tires, keep the tires you

have properly inflated,

accelerate and brake gently

and combine trips when

possible.

Q.

We love our Honda

Odyssey because

of its reliability,

fuel efficiency, comfort

and its quiet car- like ride.

We need a vehicle like the

Odyssey because of our

kids, our dog and we are

teachers and get the summer

off and always plan

long road trips. One of the

other reasons we like the

Honda is because of the

built in vacuum. Do you

think the new Honda is

still a good choice?

still believe that

the Honda Odys-

A.

I

sey is one of the

best vehicles of its type on

the market. It rides well,

gets decent fuel mileage

and is very versatile. The

Toyota Sienna is also a

good choice and stands

apart from the mini-van

crowd with all-wheeldrive.

The Sienna as well

as the Chrysler Pacifica

also have hybrid options.

I do have one bit of bad

news about the Honda

Odyssey, the last time I

looked due to supply chain

issues, the built in Honda-

Vac was unavailable.

Q.

I just bought a

2002 Lexus SC430

with 70,000 miles

on it from a neighbor and

it is in stunning condition.

Most people who look at

the car think it is a new

model. Would you recommend

due to age that I

replace the timing belt

and water pump? I think

the manual recommends

90,000 miles but considering

the car is 20 years old,

I'm thinking it might be

the right thing to do.

A.

Considering the

age of the car it

would make sense

to replace the timing

belt and belt tensioner as

well as the alternator and

power steering belts. Regarding

the water pump,

I would also replace it

since it is an integral part

of the timing belt system.

The labor to replace the

timing belt in just under

five hours and it is only

another 18 minutes to

replace the water pump.

When replacing the belts

and water pump give

the coolant hoses a good

look too. In my opinion

although a little costly

replacing these items

could prevent a costly

breakdown and would be

money very well spent.

John Paul is AAA Northeast's

Car Doctor. He has

over forty years' experience

and is an ASE-certified

master technician. He will

answer readers' questions

each week. Email your car

questions to jpaul@aaanortheast.com.

Follow John

on Twitter @johnfpaul and

Classic Car Service

and Repair

151 Davis St,

Douglas MA

(508) 476-3926

jpaul@aaanortheast.com

TRANSMISSION SPECIALISTS

& AUTOMOTIVE SERVICES

(508) 476-3926

friend him on Facebook,

mrjohnfpaul.

KearnS

K

COLLISION

Repair

FREE ESTIMATES • QUALITY SERVICE

1734 Providence Rd., Northbridge, MA•508-234-5211

Thomas F. Colonair Jr.

www.kearnscollision.com

• Brakes

• Tires

• Shocks

• Exhaust

• Alignments

• Tune-Ups

• All General

Repairs

Specializing in Transmissions

Located 1.5 miles off of Route 146

exit 3 on Route 16 in Douglas

PAYING $150-$600 CASH

Bloem's Auto Repair

Diagnostics • Tires • Brakes • Batteries • Oil Changes • Tune-Ups

Quality Pre-Owned Vehicles Now Available!

WE DO IT ALL

Total Car

Care!

194 N. Main St.

Uxbridge, MA 01569

508-278-4302

Complete Auto

GlAss speCiAlists

• Chip & Crack Repair

• Windshield Replacement

• FREE Mobile Service

moBile Auto GlAss speCiAlist

Insurance Company Preferred Shop.

• Certified technicians to your location

• Foreign & domestic auto, truck, bus,

motor home, windows & sunroofs

• Construction equipment, heavy duty vehicles

• Fabrication of flat glass

• Vehicles equipped with convertible or vinyl roof

• In-shop service • Free mobile service

• Saturday service

• Free pick-up and delivery within a 10 mile radius

• Quality workmanship guaranteed

• Customer safety and satisfaction is our first priority

• Servicing customers for over 25 years

201 W. Main Street, Dudley, MA 01571

800-479-7697 • 508-949-1327

Monday-Friday 8am to 5pm • Saturday 8am to 12pm

Visit Us at roysautoglass.net
---
22 The Blackstone Valley Xpress • www.blackstonevalleyxpress.com • December 2, 2022

Mickey's, four businesses in one

"The detailing world is

starting to catch on," Jose

Navedo said at the grand

opening of Mickey's Car

Wash in the Pleasant Valley

Crossing plaza in Sutton

on November 12th. Mr.

Navedo heads up the Auto

Detailing component of

an operation that now also

includes a Pet Wash and a

Retail Shop. The day-long

grand opening brought out

new customers, who enjoyed

a festive atmosphere that

included food, beverages

and entertainment.

RESOURCE DIRECTORY

MARK SARKISIAN, JR.

markjr@capitolsiding.com

www.capitolsiding.com

CAPITOL SIDING &

HOME IMPROVEMENT

COMPANY, INC.

Custom Exteriors • Vinyl Siding

Replacement Windows

Roofing • Seamless Gutters

30 Auburn Street

Auburn, MA 01501

Tel 508-832-5981

Fax (508) 832-0464

home

Septic Tank Pumping • Septic Systems Maintenance and Repairs

Sewer & Water Service • Grease Trap Pumping • Excavation Service

MILLBURY

774.276.6970

BLACKSTONESEPTICSERVICE.COM

ATTN: Retired Machinists!

HELP

WANTED!

APPLY TODAY!

175 Davis St. Douglas, MA

508-476-1508

danielle@jtmachineinc.com

www.jtmachineinc.com

ads@TheYankeeXpress.com

automotive

Machine Operators

CNC Machinists

A.P. Mandella Landscaping

STUMP GRINDING

Chip Removal

LOAM & SEED

Small Backhoe services

Economy Canvas & Awning Co.

Retractable & Stationary Awnings

Boat & Truck Covers and Related Products

Pool Cover Repairs

Over 34 years of service in the community

• Full Awning Service - Installation, Removal & Cleaning

• Manufacture & Repair All Canvas Products

508-278-9924

& Truck Trailer Repair

Call Anthony @ 508-340-1640

Auburn, MA

MASTER PLUMBER

LIC. NO. 9216

Fully Insured

Free Estimates

MASTER SHEET METAL

LIC. NO. 115

Valley Plumbing & Heating, Inc.

PLUMBING • HEATING • GAS FITTING

BIG OR SMALL, WE DO IT ALL...

SENIOR DISCOUNT

RICHARD J. WUNSCHEL

(508) 234-3649 TELEPHONE

(774) 696-7449 CELL

Prayer

30 LACKEY DAM ROAD

SUTTON, MA 01590-2714

Our Father, who art in heaven, hallowed be thy

name, thy kingdom come, thy will be done on

earth as it is in Heaven. Give us this day, our

daily bread, and forgive us our trespasses as we

forgive those who trespass against us, and lead

us not into temptation, but deliver us from evil

(intention), Amen.

If you pray three times a day, three consecutive

days, you will receive your intention, no matter

how impossible it may seem. Praise and Thanksgiving please

the Heart of God. Believer

508-765-5921

www.EconomyCanvasAndAwning.com

115 Hamilton St., Southbridge, MA

13 Cook Street

E. Douglas, MA

508-476-2278

FUEL OIL - PROPANE - KEROSENE

SALES • SERVICE • INSTALLATION

Serving: WHITINSVILLE, UXBRIDGE, DOUGLAS, SUTTON,

MILLVILLE, MENDON, UPTON, MILLBURY, WEBSTER,

GRAFTON, OXFORD, DUDLEY, HOPEDALE

www.SochiasOil.com

Heating - Air Conditioning

24 Hour Burner Service

FOLLOW US ON

FACEBOOK AT

FACEBOOK.COM/

THEYANKEEXPRESS

& Truck Trailer Repair

508-278-9924

U-KNIGHTED

AUTO & TRUCK REPAIR

"We perform all your car care needs"

45 East Hartford Ave., Uxbridge

508-526-3169

December Special: 10% off all repairs (ask for details)

Custom Exhaust Experts

Engines • Transmissions • Tires

Oil Changes • Brakes •Converters

Welding & Fabrication Services

Get a Last Wax in

Before Winter Assaults Your Car!

Professional Car Cleaning

Motorcycles & Boats

Now offering Ceramic Coating

218 Worcester St.

N. Grafton, MA 01536

774-272-0815

shineitup2@yahoo.com

catacchio

AUTO

DETAIL
---
December 2, 2022 • www.blackstonevalleyxpress.com • The Blackstone Valley Xpress 23

Legislature passes massive economic development bill

The Massachusetts Legislature

has passed a wide-ranging

$3.76 billion relief package

to provide targeted energy

assistance, support ongoing

transportation needs, and invest

in the state's small businesses,

caregivers, health care system,

affordable housing, and efforts to

fight climate change.

"Massachusetts families are

facing rising costs and tighter

budgets every day," said Senator

Michael Moore (D-Millbury).

"Yesterday, the Legislature passed

a wide-ranging bill focused on

supporting essential industries

and services, easing the burden

of soaring energy costs for lowincome

households, and spurring

economic development across the

Commonwealth – actions that

will make a meaningful difference

to Bay Staters. I want to thank

Senators Gobi and Chandler for

their partnership in securing

these funds for our constituents."

"I would like to express

my sincere appreciation for

my colleagues in the House of

Representatives and the Senate,

in passing An Act relating to

the economic growth and relief

for the Commonwealth. This

bill provides essential funding

for organizations and initiatives

throughout the state during a

time of prolonged economic

instability," said Senator Harriette

Chandler (D-Worcester). "The

work of my fellow legislators from

Central Massachusetts was vital in

securing funding for a wide range

of programs, including street improvements

and downtown revitalization

in the City of Worcester,

as well as upgrades to municipal

buildings in central Massachusetts

towns, and critical funding for

non-profits throughout the region

that are essential to the functions

of organizations that benefit the

Greater Worcester community."

"I am grateful for my partnership

with Senator Moore and

Senator Chandler. Together,

we ensured a pathway forward

to support our Veterans. It is

right that Massachusetts should

empower veterans to build

sustainable futures after all their

sacrifices," Senator Anne Gobi (D-

Spencer) said.

The local earmarks secured in

the final Economic Development

bill include:

$450,000 to fund Veterans Inc,

a Veterans' service provider and

substance use community support

program in the Worcester area.

"We are so incredibly grateful

to Senators Moore, Chandler, and

Gobi, and the rest of the Central

MA Congressional delegation

for their help in obtaining these

funds," said Vincent J. Perrone (Lt.

Col., USAF, retired), President

and CEO of Veterans Inc. "The

Homeless Veterans Reintegration

Program (HVRP) is a crucial

part of our employment services,

integrating homeless Veterans

into the labor force and funding

the development of the innovative

service delivery systems that are

essential for Veterans in need."

$750,000, in collaboration with

Senator Harriette Chandler, to

fund road improvements at the

intersection of Ararat Street and C

Street in the Greendale neighborhood

of Worcester.

"These infrastructure funds are

critical to improve and upgrade

the roadway system in the

Greendale section of Worcester,"

said Craig L Blais, President of the

Worcester Business development

Corporation. "We are so grateful

to Senators Chandler and Moore

and Representative O'Day for

offering these amendments to the

legislation."

$100,000 to fund Centro Las

Americas' food pantry program in

Worcester

"With winter right around the

corner and energy costs expected

to skyrocket, community food

pantries will be more important

JOHN THE ROOFER CO.

MA HIC # 111318 MA CSL # 97139

Is There Any Real Competition After Being

In Business For Over 7 Decades!!??

"Hire the BEST, because you live under that roof!"

•Shingles

•Rubber & TPO

•Standing Seam Metal

Spectacular

Fall

Specials

than ever," said Juan Gomez,

President of Centro Las Americas.

"This $100,000 grant will ensure

Centro's Food Pantry is prepared

to serve as a critical source of food

for those who may have gone

hungry otherwise. I want to thank

Senators Moore, Gobi, and Chandler

for securing this funding for

the people of Worcester."

$100,000 to fund the Blackstone

Valley EdHub Collaborative

Workforce Pipeline, a nonprofit

economic and workforce

development program run by the

Blackstone Valley Chamber of

Commerce.

$35,000 to fund Dismas House

in Worcester

In addition to $3.76 billion

in direct investments, this compromise

legislation ensures that

the Commonwealth responsibly

pays for the historic $3 billion

one-time tax relief that will be

returned to an estimated three

•Vinyl Siding

•Replacement Windows

•Carpentry Services

TOLL FREE 866-906-ROOF (7663)

www.johntheroofer.com

million taxpayers over the coming

weeks. Combined, this $6.76 billion

in tax relief and direct investments

will provide much-needed

breathing room for families, small

businesses and individuals feeling

the pinch of inflation. Notably, the

bill closes the books on Fiscal Year

2022 and dedicates $500 million

in federal American Rescue Plan

Act (ARPA), leaving a balance of

$1.75 billion in federal resources

for future use.
---
24 The Blackstone Valley Xpress • www.blackstonevalleyxpress.com • December 2, 2022

THERE'S A SMARTER

WAY TO HEAT ANY

ROOM THIS WINTER.

Heat the rooms you live in …

without wasting energy on

the rooms you don't.

Uses 25-50% less energy

to heat your home.

Employs allergen filtration

to reduce germs, bacteria

and viruses.

Provides year-round

comfort that keeps you

cool in the summer too.

Requires no ductwork,

so installation is quick

and easy.

FOR ALL YOUR FUEL NEEDS

NEW BOILER INSTALLS

• Crown Boilers

•Williamson Furnaces

• Oil Tank Installs

Central air conditioning

and ductless mini splits

ALL NEW

INSTALLS COME WITH

A 3 YEAR PARTS

AND LABOR WARRANTY,

AS WELL AS THE

MANUFACTURERS

WARRANTY.

We do NOT

Sell Biofuel!

Which will help prevent

system breakdowns.

HELP WANTED -

Class B CDL driver with air brake, tanker and hazmat

endorsements. Must have DOT Medical Card.

© 2013 Mitsubishi Electric © 2015 Mitsubishi Electric

Choose Morrissette & Son as your installer, and receive:

-Upgraded Diamond Dealer Parts & Compressor Warranty to 12 years

(from standard 5 years parts/7 years on compressor)

-Finance through MassSave with 0% HeatLoan

-Rebates through MassSave & Processing on Your Behalf

-Extended Labor Warranty Available

-Highly Trained Technicians with Installation & Service

Looking to replace your electric heat? Ask us about additional

rebate opportunities through MassSave!

AMERICA'S #1

SELLING BRAND OF

DUCTLESS

HUGE REBATES AVAILABLE FOR

DISPLACEMENT OF ELECTRIC, OIL

AND PROPANE HEAT!

Contact us today for a no cost in-home

assessment!

A Full Service Oil Company

24-Hour Emergency Service

WWW.LMTOIL.COM • WE DO ONLINE ORDERING