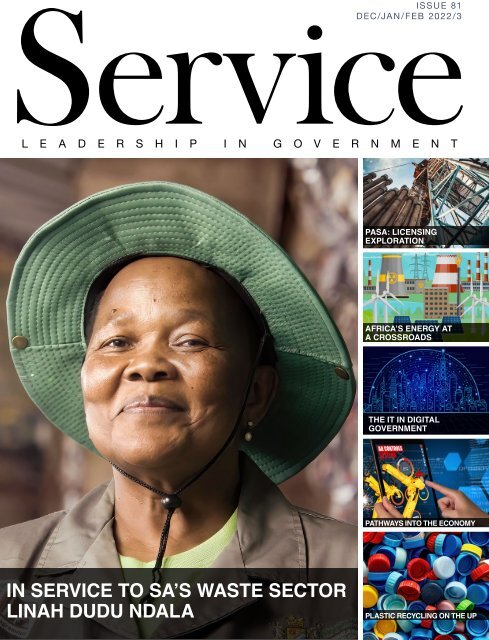 Service Issue 81
Service magazine addresses key issues related to government leadership and service delivery in South Africa.
Service magazine addresses key issues related to government leadership and service delivery in South Africa.
SHOW MORE
SHOW LESS
You also want an ePaper? Increase the reach of your titles
YUMPU automatically turns print PDFs into web optimized ePapers that Google loves.
ISSUE 81

DEC/JAN/FEB 2022/3

L E A D E R S H I P I N G O V E R N M E N T

PASA: LICENSING

EXPLORATION

AFRICA'S ENERGY AT

A CROSSROADS

THE IT IN DIGITAL

GOVERNMENT

PATHWAYS INTO THE ECONOMY

IN SERVICE TO SA'S WASTE SECTOR

LINAH DUDU NDALA

PLASTIC RECYCLING ON THE UP
---
Reimagine government

Enhance citizen engagement through a

digital government

Digital technology is the greatest opportunity for

governments to enhance efficiencies. Greater value

for citizens can be unlocked with the right tools,

technology and partner. Additionally, important

social challenges can be tackled and addressed.

At BCX, we have the expertise, product and service

innovation for governments to address their specific

challenges in order to create exceptional service

delivery.

Visit www.bcx.co.za for more.

Our most important customer, is yours.

#RenewingSociety
---
S

editor's note

Servicing SA's

socio-economic development

When it comes to the development of Africa, the decisions facing the

continent's leaders today are of historical significance.

More than anything else, energy systems are the very fabric of

Wbusiness and society. Countries across Africa want to make good

on their objective of building huge amounts of new generation

capacity to get ahead on vast increases in energy demand and set

the continent on the path of growth it deserves. Africa knows where

it needs to go. The big question is how. And more specifically: what

is the most cost-effective energy mix that can be built to deliver all

the new electricity capacity that is needed? (Page 8)

South Africa will have to clear some tough socio-economic hurdles

to achieve a just transition away from fossil fuels. These hurdles will

be overcome by a combination of reallocating capital from areas

with high fossil fuel exposure towards renewables and ongoing

engagements with listed companies on their transition plans (page 10).

A major issue affecting existing investors is the current public

negativity towards any activity related to oil and gas exploration.

Together with the Department of Mineral Resources and Energy,

PASA is doing its utmost to educate the public of the many potential

benefits that exploitation of indigenous oil and gas resources could

bring. There is currently a major series of engagement initiatives

underway to achieve this (page 6).

Undoubtedly, one of the major challenges in the development of

Africa – a continent with a population of approximately 65% young

people – is youth unemployment. Alarmingly, it is estimated that

50% of the youth in Africa will be economically inactive by 2025.

Furthermore, the vocational system in South Africa suffers from

insufficient relationships with business, leaving training institutes

ill-equipped to meet employers' skill requirements and young

people largely either underexposed or not exposed at all to quality

career guidance that would allow them to transition into the world

of work (page 20).

And nearly every government in the world knows it needs to go

digital – to automate processes, support service delivery, become

more efficient and improve citizens' lives. The complexity of these

IT environments is expensive to manage and with governments

under significant pressure to cut costs, funding for transformation

programmes is limited. Within that massive spending there is a

tremendous opportunity for governments to acquire the necessary

IT infrastructure services more affordably and with better

performance (page 14).

The country has made significant progress since 1996 in

expanding basic water supply services, especially within the

vulnerable areas. But inequality in access to basic services is still a

reality. Progress with water supply and sanitation service delivery has

been slow and, in some instances, it's deteriorating. Water is a critical

resource. Its provision should be seen as an enabler that facilitates

socio-economic development (page 22).

It seems South Africa needs a handful of enablers to set it on the

path of growth it deserves. Service seems to be a significant enabler.

The big question is how.

Alexis Knipe

Editor

Editor: Alexis Knipe | Publishing director: Chris Whales | Managing director: Clive During | Online editor: Christoff Scholtz | Design: Brent Meder

Production: Yonella Ngaba | Ad sales: Venesia Fowler, Tennyson Naidoo, Graeme February, Tahlia Wyngaard and Vanessa Wallace

Administration & accounts: Charlene Steynberg, Kathy Wootton | Distribution & circulation manager: Edward MacDonald | Printing: FA Print

Service magazine is published by Global Africa Network Media (Pty) Ltd | Company Registration No: 2004/004982/07

Directors: Clive During, Chris Whales | Physical address: 28 Main Road, Rondebosch 7700

Postal: PO Box 292, Newlands 7701 | Tel: +27 21 657 6200 | Email: info@gan.co.za | Website: www.gan.co.za

No portion of this book may be reproduced without written consent of the copyright owner. The opinions expressed are not necessarily those of

Service magazine, nor the publisher, none of whom accept liability of any nature arising out of, or in connection with, the contents of this book. The

publishers would like to express thanks to those who Support this publication by their submission of articles and with their advertising. All rights reserved.

Member of the Audit Bureau

of Circulations

2 | Service magazine
---
contents

S

IN THIS ISSUE | SERVICE 81 | JANUARY/FEBRUARY/MARCH 2023

SERVE AND DELIVER

A round-up of news, snippets and trends

SA CAN ACHIEVE

ENERGY SECURITY

PASA is licensing exploration in pursuit of

energy security

AFRICA'S ENERGY FUTURE AT A

CROSSROAD

Africa should adopt renewable energy on a

massive scale

4

CAPITAL ALLOCATORS FOR

CLIMATE CHANGE

The role of capital allocation in climate

change

6

8

IT INFRASTRUCTURE

A pillar of digital government

10

PATHWAYS INTO THE ECONOMY

For Africa's youth

BASIC WATER SERVICES IN DECAY

After years of progress

14

WASTE SECTOR INCOME

IS ON THE UP

And so is plastic recycling

20

PACKA-CHING KA-CHING KA-CHING

A rapid influx of community recycling

projects is welcome

22

A GREENER FUTURE

Decreasing Africa's landfills

24

PETCO IS MAKING A DIFFERENCE

By partnering with municipalities

26

27 28

Service magazine | 3
---
S

snippets

SERVE AND DELIVER

PRESIDENT APPLAUDS GROWTH INDICATORS

President Ramaphosa has welcomed the 1.6% growth in Gross

Domestic Product (GDP) recorded in the third quarter of 2022 as

an encouraging indication that the Economic Reconstruction and

Recovery Plan is bearing fruit. The agriculture, finance, transport

and manufacturing industries were the main drivers of growth on the

supply side of the economy. The demand side of the economy was

lifted by a rise in exports and government consumption.

Real GDP, measured by production, was R1.161-billion in the

third quarter, which is above the previous peak of R1.152-billion

recorded in the fourth quarter of 2018. For Quarter 3, the official

unemployment rate had decreased by one percentage point

compared with Quarter 2. About 204 000 more people had been

employed in Quarter 3 compared to the previous three months.

Ramaphosa said: "Given the condition of our economy, we have no

room to be complacent, but we do have room to acknowledge that

our economic recovery is in progress."

DOWN TO DATA

To protect locals from the ongoing impacts of loadshedding, the City

of Cape Town recently issued a tender that will establish third-party

aggregators who will reward customers for reducing their power usage

when the grid is constrained.

"In principle, this sounds great, but whether it will work or not comes

down to the detail," says Roger Hislop, energy management systems

executive at CBI:Electric. His first concern is how numerous loads

scattered across thousands of locations will be turned off. "The

technology exists but has not yet been tested in widespread deployment.

The back-end management systems will need to be more complex."

He points out that the City of Cape Town will need to check their numbers

on the supply side against those produced by the aggregators with the

thousands of load control devices under its management. "Essentially,

what this means is that quite a lot of work will need to go into exactly

how the data is captured and how the incentives are paid out to ensure

that the model is economically viable. Most municipalities in South Africa

derive a substantial amount of their revenue from the markup they make

on the electricity they

resell from Eskom. The City

of Cape Town will be faced

with a double whammy –

they'll make less money

from the electricity they

sell, and they'll also be

paying out discretionary

loadshedding incentives."

SUSTAINABLE WATER SUPPLY

The massive population increase in South Africa over the past decades and

failing water infrastructure have compounded the current water crisis in

the country, says Hans van Kamp, CEO of Kampwater, a Stellenbosch-based

water treatment supplier.

"Water supply systems and the distribution networks are high on

maintenance. In Gqeberha, it is estimated that 40% of the municipal water

is lost due to leaking pipes. In the rest of the country, large amounts of

treated drinkable water is lost daily because of the thousands of leaks that

characterise South Africa's water piping system.

"A major part of the maintenance budget should be spent on the

infrastructure, the current pipework network. However, most

municipalities are struggling to keep up and prevent the system from

collapsing. There are some exceptions but not many," says Van Kamp.

"In 1994, Cape Town had 2.384-million residents and water usage of

roughly 300 megalitres per day (MLD). This year, there are 4.760-million

people in the same area and water usage of 769 MLD. That is more than a

100% increase in 28 years with a system that did not grow at the same

rate to provide for this increase," says Van Kamp.

He says if all the new dams identified by the government are built as

promised, it will help to alleviate the pressure. These include the dam

on the Mzimvubu River (Eastern Cape), the expansion of the Clanwilliam

Dam (Western Cape), Nwamitwa and Tzaneen dams (Limpopo),

Hazelmere Dam (KwaZulu-Natal) and Polihali Dam (Lesotho), which will

provide water to Gauteng. But, says Van Kamp, for at least the next six

years, water supply will get tighter.

"People need to know that there is going to be a squeeze on water

supply. This information is essential if communities and households are

to play their part. People will not change their behaviour unless they are

told what is happening and how to avoid a crisis," says Van Kamp.

4 | Service magazine
---
snippets

S

SERVE AND DELIVER

MUNICIPALITIES' ROLE IN RESOLVING ENERGY SUPPLY

Craig Kesson, PwC South Africa advisory partner and cities leader, says:

"Resolving the energy shortfall requires a collective effort across private

and public sectors, including, and especially, by municipalities who play a

fundamental role in the development of sustainable energy strategies. By

playing a key role in resolving the energy supply gap, municipalities will

be able to contribute to local economic development and job creation."

PwC's newly released report, The cities' role in managing the energy

supply challenges, outlines what can be done in the municipal sphere

to help fix the country's energy shortage, and discusses how these

solutions can have potential revenue benefits for municipalities.

A VICIOUS CYCLE

South African municipalities have a constitutional mandate to distribute

electricity to their citizens. They predominantly purchase power directly

from Eskom and distribute and sell power to consumers or reimburse

Eskom for direct distribution to them. The on-sell of electricity is a key

source of revenue for municipalities and has accounted for almost 30%

of municipal revenues in recent years. Without this revenue stream,

which often leaves municipalities with surplus funds, many are not able

to cross-subsidise other debt and expenditure items.

Nasreen Mosam, PwC international development partner, says: "This

culminates in a cycle where the rising cost of electricity leads to rising

prices for consumers, which in turn results in more people being unable

to pay service charges. This further increases costs and reduces revenue

for municipalities, increasing the negative impact on municipal finances,

which means that providing key services such as public security, housing

and maintaining public spaces is also affected."

WHAT CITIES CAN DO

"Cities' energy strategies will play a major role in achieving sustainability

and energy stability in the long run," Kesson says. "The ideal scenario

would be for municipalities to purchase electricity from different

suppliers in a competitive market at competitive prices, which will allow

for resale at a surplus and transmission at lower cost to consumers.

Efforts are underway to achieve this through the unbundling of Eskom

and opening of the energy market to competition from the private sector."

PwC's report outlines seven immediate measures to

help bridge the energy supply gap. These solutions include

municipalities:

• Enabling wheeling of energy generation

• Supporting the installation of microgrids and small-scale embedded

generation

• Supporting the purchase of power from Independent Power Producers

(IPPs)

• Prioritising spending on maintenance of infrastructure.

Mosam says municipal efforts to close the energy supply gap and bring down

energy prices can also set the course for sustainable municipal revenue

sources to finance spending.

Kesson adds: "Ideally, we would see the private sector generate renewable

energy and distribute it more cost-effectively to consumers through

municipalities. Municipalities would have long-term contracts with private

IPPs to purchase renewable electricity at guaranteed prices that are lower

in a competitive market, and municipalities would win because they would

obtain revenue for their role in distribution. Consumers would win because

electricity prices would likely come down in a competitive system. The

lower cost of electricity and higher certainty of supply would contribute to a

virtuous cycle of economic growth, rising property values, customers paying

accounts, employment, and greater socio-economic development outcomes."

Municipalities need to act now to mitigate supply gaps in the short

run by putting in place the necessary policy frameworks, mobilising

resources that will enable wheeling, and re-entering small and medium

scale generation into the municipal grid. Crucially, municipalities

will need to establish a long-term strategy regarding their own role in

electricity provision going forward. This will include modelling the optimal

mix of different energy sources needed to optimise supply and meet

demand, as well as attracting and retaining strong, capable teams to

accommodate the new skill sets required to operate in this market. This

way, municipalities will be able to retain their role in energy generation

and be part of a sustainable energy solution that works for producers

and consumers.

25 YEARS OF CCMA

The Commission for Conciliation Mediation and Arbitration (CCMA) has saved 171 000 jobs through its dispute resolution initiatives – this as the organisation

celebrates 25 years of its existence. "We are an institution of statutory creation – born out of the belly of South Africa's Constitution led by the values of the

Constitution – and we live those values," says executive director Advocate Sello Morajane. Since opening its doors, the CCMA has handled more than 3.7-million

cases. In the process, the CCMA issued more than 547 000 awards and 130 000 of those awards were enforced.

Service magazine | 5
---
S

energy security

SOUTH AFRICA

CAN ACHIEVE

ENERGY SECURITY

Petroleum Agency South Africa is licensing exploration in pursuit of the goal of energy security.

PPetroleum Agency South Africa (PASA) strongly believes that the

development of indigenous hydrocarbons, and especially gas, has a

role to play in building South Africa's economy and in facilitating a

just transition to new energy sources. A recent report published by

the International Energy Association (IEA) argues against framing

the debate in that way. Both can and should be used, according to

Africa Energy Outlook 2022. A key factor in allowing Africa to continue

to industrialise will be an uptick in the discovery and use of gas. If all

the gas so far discovered in and off Africa was used, the continent's

share of global emissions would rise by 0.5% to 3.5%.

The enactment of the Upstream Petroleum Resources

Development (UPRD) bill by the South African parliament will

put PASA in a stronger position to attract further investment in

the upstream sector. The Agency is preparing for this by constantly

evaluating prospectivity and preparing for future licensing rounds

and new data acquisition.

The bill will change the main mechanism for granting exploration

licences to an invitation-to-bid or licence-round system, as opposed

to the current direct application method. This will improve PASA's

ability to manage the allocation of exploration acreage, making it

more accessible, inclusive and equitable. The bill will also improve the

regulator's ability to control acreage relinquishment. This will improve

the availability of exploration opportunities.

If South Africa can increase its own energy resources and at the

same time expand the type of resources being exploited (for example,

natural gas) so that there is more flexibility in supply, the country will

be able to wean itself off imports and move closer to energy security.

If energy independence or something approaching independence

could be achieved, there would be obvious consequences for stability

and economic growth.

From a legislative and government perspective, there is support for

prospecting for new resources. The Minister of Mineral Resources

and Energy, Gwede Mantashe, has argued that South Africa's

indigenous oil and gas resources must have a role to play in South

Africa's future energy mix.In addition, President Cyril Ramaphosa is

paving the way for independent power production is likely to give a

major boost to investment in developing gas discoveries for electricity

generation.

POSITIVE FINDS

The large Brulpadda and Luiperd discoveries made by TotalEnergies

and their partners in the last few years have opened up a worldclass

hydrocarbon play in the deep ocean off South Africa's south

coast. These discoveries are extremely encouraging and all evidence

suggests far more potential in the area.

In the first week of September 2022, TotalEnergies applied to PASA

for production rights for most of the area where their prospecting

had been successful.

In addition, the recent successes offshore Namibia are extremely

significant and encouraging for South Africa as the same geological

6 | Service magazine

Countries with energy security or independence have an advantage in terms of stability and the potential for economic growth.

Credit: Shutterstock
---
energy security

S

Renergen, through its subsidiary Tetra4, is the only holder of an onshore petroleum production licence issued by the Department of Mineral

Resources and Energy through PASA. The massive resources of natural gas that Renergen has been working on for the last few years

reached commercial production in October 2022 in the northern Free State.

sedimentary basin continues into South African territory, extending

from the border with Namibia to offshore Cape Town and far out to

sea, comprising an area of over 160 000 square kilometres. Shell holds

exploration acreage in the South African southern sector of the basin

together with partners TotalEnergies and PetroSA. TotalEnergies

holds further acreage in the South Africa sector of the Orange Basin

with partners Sezigyn in ER343 and Impact Africa in ER335. To the

east and north-east of these blocks is ER339 where Eco Atlantic holds

an interest.

ADDRESSING ENVIRONMENTAL CONCERNS

A major issue affecting existing investors is the current public

negativity towards any activity related to oil and gas exploration.

Together with the Department of Mineral Resources and Energy

(DMRE), PASA is doing its utmost to educate and inform the public

of the many potential benefits that exploitation of indigenous oil and

gas resources could bring. There is currently a major series of public

consultation and engagement initiatives underway to achieve this.

This included a series of meeting that were held during 2022 and

culminated in a joint DMRE, PASA and Department of Forestry,

Fisheries and the Environment (DFFE) colloquium. At this event,

environmental impact considerations of upstream oil and gas activities

were comprehensively discussed.

In a television interview broadcast from the African Mining

Indaba held in 2022, PASA CEO Dr Phindile Masangane said the

following about seismic surveys, the environment and economic

growth:

We acknowledge that exploration and production of oil and gas

entails risks to our environment but technology has advanced and

South Africa has adopted those technological advancements that

help us to minimise the risk to our environment.

What does this exploration entail? A lot has been said about

seismic surveys in the media. Seismic surveys are actually a

very old technology that has been used and it is now a mature

technology, to make sure that the impact on our marine ecosystem

is minimised.

There is also a big misconception in the public that these seismic

surveys are purely for the oil and gas industry. As there is pushback

on seismic surveys, we must be careful as a country to note that this

technology is used not just for oil and gas. It is actually used to define

our maritime borders and it is used in other countries for offshore

wind technologies.

What do these seismic surveys entail? This is literally the releasing

of pressurised air into our seabed and then we collect the signal as the

sound bounces back into the bottom of the ship. That's what helps us

to collect data to know where the oil and gas is located underneath

the seabed. In terms of other technologies, for example offshore wind,

they know from the data where to locate the wind turbines on the

seabed because they know what the geological subsurface looks like

and they know which are the points where the wind turbines can be

constructed.

It is a very, very useful technology. The impacts are well known

and there are mitigation measure that can be used to minimise those

impacts. S

Service magazine | 7
---
S

energy

Africa's energy

future at a crossroad

Africa can adopt renewable energy on a massive scale and save billions along the way.

With Kenneth Engblom, vice president, Wartsila Energy

W

When it comes to building the future of energy in Africa, the

decisions facing the continent's leaders today are nothing less than

of historical significance. Energy systems are the very fabric of

business and society. Countries across Africa want to make good on

their objective of building huge amounts of new generation capacity

to anticipate vast increases in energy demand and set the continent

on the path of development it deserves.

Africa knows where it needs to go. The big question is how. And

more specifically: what is the most cost-effective energy mix that can

be built to deliver all the new electricity capacity that is needed?

BILLIONS OF DOLLARS AT STAKE

Technologies that are right for Europe based on its existing

infrastructure, population density and natural resources can be

wrong for others. Each region must find its own optimal way to build

its energy system. Many African countries have one important point

in common: maybe more than anywhere else, the models indicate

that the best path to building the most cost-optimal energy system is

to maximise the use of renewable energy.

The cost of renewable energy equipment has decreased very

rapidly in recent years and when this equipment runs on Africa's

massive solar and wind resources, what you have is a cost per KW/h

produced that beats all other electricity technologies hands-down.

If you add the fact that most electricity grids on the continent

are relatively underdeveloped, favouring renewable energy over

traditional power generation like coal or gas turbine power plants

becomes a no-brainer.

Although relatively ambitious renewable energy targets have been

set by governments across the continent, these do not always go far

enough. Contrary to what some industry and political leaders may

believe, maximising the amount of renewable energy that can be

built in the system is by far the cheapest strategy available, while at

the same time ensuring a stable, reliable network.

In Africa, renewables must become the new baseload. And yes,

renewables are intermittent. But combining them with flexible

power generation capacities will guarantee the stability of the grid

and save billions of dollars along the way.

THE INTERMITTENCY OF RENEWABLES

It would be misguided to consider the intermittency of renewables

as a showstopper. It is not, provided they are paired up with highlyflexible

forms of electricity generation like gas engine power plants.

To maintain a balanced system, flexible back-up and peak power

must be available to ramp up production at the same rate that wind

or solar production fluctuates, but also to match the fluctuating

energy demand within the day. The systems must be able to respond

to huge daily variations in a matter of seconds or minutes.

A WINNING ENERGY STRATEGY

Highly ambitious renewable energy objectives in Africa are not only

achievable, but they are also the soundest and cheapest strategy for

the successful electrification of the continent. Making smart strategy

decisions will lead to more resilient electricity systems and offer

vastly superior whole-system efficiencies. S

8 | Service magazine
---
energy

S

CLIMATE CHANGE AND SERVICE DELIVERY

By Blessing Bongani Sibande, ACTIVATE! Change Drivers

Regardless of the impact, climate change will require reassessing risks, costs and levels

of service as well as the trade-offs among these for providing different services because

the conditions are changing. What this means is that municipalities cannot continue to

maintain the status quo as it may be more expensive in the long term and lead to lower

climate change resilience.

Municipalities should plan to evaluate service delivery planning, day-to-day operations, as

well as the maintenance and replacement of infrastructure with climate change in mind.

Climate considerations in service delivery

• Use climate scenarios to understand how demands on infrastructure will change over time.

• Monitor maintenance and repairs schedules to reflect changing conditions.

• Update levels of service to mirror climate risks, including type, size and scale of services.

• Evaluate changing risks, including the impact of climate change on asset lifespan.

• Monitor and update environmental programmes and service delivery plans as additional

information becomes available.

Blessing Bongani Sibande

• Identify and plan for adapting to new opportunities across services.

• Determine appropriate timing for capital investments for adaptation, leveraging asset replacement and renewal.

• Identify the impact of climate change on natural assets and the services that they provide.

• Rehabilitate or protect natural assets that increase the resilience of service delivery systems.

• Update design parameters to changing conditions.

Service magazine | 9
---
S

energy

CAPITAL ALLOCATORS

FOR CLIMATE CHANGE

The role of capital allocation is one of the single-most vital tools in the world's climate change response to date.

By Robert Lewenson, head of responsible investment, Old Mutual Investment Group

At COP26, it was announced that South Africa had secured

funding commitments totalling US$8.5-billion from developed

countries to invest towards a just transition to net-zero carbon

emissions. The funding is an opportunity to reset, not only from a

governance perspective, but also to imagine a new reindustrialisation

pathway for the South African economy. Global listed markets have

already seen a big shift away from primary producers of fossil fuels,

which today account for only 2.5% of the MSCI World Index. But

decarbonisation is not as simple as steering portfolio investments

towards listed companies with high ESG ratings.

Yes, investors should start thinking about decarbonising their

investment portfolios; but we must also consider the real-world

infrastructure investments in, for example, renewable energy,

needed to achieve net-zero targets over the next three to four

decades. Support for portfolios that achieve ESG outcomes,

including decarbonisation, is on the rise thanks to growing

evidence that sustainable investing enhances rather than impedes

investment returns. Stewardship will emerge as our biggest impact

in delivering sustainable development outcomes; our North Star is

to achieve impact-aligned sustainable development goals through

our proactive stewardship.

In this context, all stakeholder engagements take place in

cognisance of factors like climate risk, ethical leadership, social

inequality, sound pay as well as social justice and transformation.

South Africa will have to clear some tough socio-economic hurdles

to achieve a just transition away from fossil fuels. These hurdles will

10 | Service magazine
---
energy

S

be overcome by a combination of reallocating capital from areas

with high fossil fuel exposure towards renewables and ongoing

engagements with listed companies on their transition plans.

The country's main carbon culprits are easily identifiable, offering

clear wins for purposeful policymakers. More than 50% of the

JSE's carbon intensity links to electricity use which in turn causes

electricity grid emissions from Eskom's ageing coal-fired power

infrastructure, while much of Sasol's carbon footprint stems from

its steam reformation hydrogen extraction process.

AN ACCELERATED SHIFT

South Africa is in the top 5% of the world in terms of the quality

of both our solar and wind resources; and modelling has been

done to show that our base load peak demand can be met with

renewable energy. Our private sector developers and funders, in

partnership with the government, already have a solid track record

of bringing solar and wind power projects on stream, quickly. All that

is needed for South Africa to meet its 2050 net-zero emissions target

is to scale our renewables response. S

Dr Nkosazana Dlamini Zuma

Photo ParliamentofRSA

"In charting the path towards an appropriate energy mix and a just energy supply we require more and

not less state. Everywhere in the world, it is the state that drives generation and distribution towards

social goals such as education, rural development, health and recreation. Even in the most capitalist

of countries, it is the state that issues conditional licensing for private generation and distribution,

which is tied to social outcomes. Often it is the local state that takes this licensing responsibility if it

does not produce itself.

The American Public Power Association makes a strong case on how "not-for-profit, communityowned

locally-controlled" utilities provide better services at lower rates than privately-owned utilities

while also providing jobs and revenue for their local communities. It says, "Public power utilities also

deliver more reliable electric service. Outside of major adverse events (eg storms), customers of a

public power utility are likely to be without power for less time – 62 minutes a year, compared to 150

minutes a year for customers of private utilities."

These municipal and community utilities are important in powering local economic development, as

they can be more responsive to local needs while supporting the local revenue base as well as local

businesses. Of course, our problem with regards to ownership in South Africa is not the private, but

the drive to unjustifiably privatise the already uncompetitive, pricey and monopolistic public entity.

Even as the unbundling is being planned, it is planned with private owners in mind and not with the most logical and more social justice

prone municipal and community/cooperative models in mind.

We must therefore pay attention to the specific challenges that have not enabled our municipalities and their entities to position

themselves as Independent Power Producers (IPPs). A study recently undertaken by Sustainable Energy Africa, found that only 50% of

our municipalities are equipped with any form of small-scale embedded generation processes. A further 25% do not have the internal

capacity to establish or manage these processes, while the remaining 25% are not in a state to handle any additional responsibilities

owing to governance and financial challenges. Thus, we should not just theorise and speak of the research, but we must find ways to

establish the capacities to develop and maintain the energy infrastructure capabilities of all municipalities.

As we propose communal and municipal ownership, we must maintain certain national norms and standards which will ensure better

education, health, recreational, cultural and economic outcomes. We must remember that ours is a unitary state which functions through

the cooperation of all spheres and entities of government and collective governance. We must maintain reasonable costs and reliability,

which must be observed throughout the country. We must remain cognisant that a sustainable and clean energy transition must be

underpinned by economic justice."

Dr Nkosazana Dlamini Zuma at the 2022 Association of Municipal Electricity Utilities Convention, 3 October 2022.

Service magazine | 11
---
Aim higher and connect more

with Telkom Naledi Packages.

Take your star-studded team or your home connectivity to new heights

with exclusive Telkom Naledi packages that offer a loyalty programme,

a convergence app, and more value.

Book a presentation appointment now.

Email us: RT15Enquiries@telkom.co.za
---
Next-level connectivity.

Groundbreaking mobile solutions.

Enjoy dedicated streaming bundles, uncapped data with no FUP and more.

RT15

Exclusive Offers

Advantages

Telkom Naledi Gold

Uncapped data

20GB streaming data

Unlimited closed user group minutes

(Telkom-to-Telkom calls including

Telkom landline)

200 Other-network minutes

Unlimited SMS

SIM-only R350

Mobile service with mobile device

Uncapped data with no FUP

applied to the package. Data

access will never be terminated

or stopped. Includes WhatsApp.

Naledi packages come with

a dedicated streaming bundle

for YouTube, TelkomONE app,

Facebook, Facebook Messenger,

Twitter, Instagram and LinkedIn.

Network-based CUG. Telkom is

the only company that can offer

this converged voice call solution

across fixed and mobile numbers,

which will result in significant

voice-calling savings.

Telkom Naledi Platinum

Uncapped data

20GB streaming data

Unlimited closed user group minutes

(Telkom-to-Telkom calls including

Telkom landline)

600 Other-network minutes

Unlimited SMS

SIM-only R500

Mobile service with mobile device

State users on top-up options

can top up their all-net minutes

at the discounted State OOB

rate of R0.45 (36% discount).

Full allocation of all package

bundles and benefits even if a

SIM is activated mid-month. No

proration applied as we would

do normally.

Event billing and premium-rated

events can be blocked at a SIM

level, backed by the setting

of a zero spend limit.

Book a presentation appointment now.

Email us: RT15Enquiries@telkom.co.za
---
S

technology

IT INFRASTRUCTURE:

pillar of digital government

As governments aim to become more citizen-centric, a strong IT infrastructure

will help them meet the expectations of today's tech-savvy citizens.

By Kearney Consulting

D

Digital government offers an appealing vision of the future:

citizens communicating with government departments anywhere

and anytime using integrated channels; governments being more

inclusive and responsive to constituents' needs; departments

collaborating and integrating their services to provide seamless

services to citizens.

And nearly every government in the world knows it needs to go

digital – to automate processes, support service delivery, become

more efficient and improve citizens' lives. Research suggests

that government leaders recognise that technology improves

synergies among departments, citizens and the private sector. IT

also enhances institutional connections within the government,

increasing transparency and accountability for public services,

and creating stronger social equity and citizen inclusion and

hence sustainable development. 1

To support the digital transition,

many governments have formulated IT

strategies, hired chief technology officers

and developed enterprise systems and

infrastructure. However, a few have thrived

by taking a truly holistic approach to

identifying an overall IT operating model

that guarantees effective IT services for

departments and citizens. The complexity

of these IT environments is expensive

to manage and with governments under

significant pressure to cut costs, funding

for transformation programmes is limited.

Within that massive spending there is a

tremendous opportunity for governments

to acquire the necessary IT infrastructure

services more affordably and with better

performance.

individual departments can make in-house decisions related to their

line-of-business applications while transferring decisions about

commodity IT infrastructure and enterprise applications to a shared

entity (see figure 1).

Note:

Integrated front-end channels give citizens a one-stop shopping

experience whether face-to-face, over the phone, at kiosks, on the

Internet, via mobile devices or with third parties. Centralised portals

provide personalised access to all stakeholders from citizens and

businesses to other governments and non-residents. An integration

hub centralises online systems for authentication, participation,

voting, petitions, content management and business intelligence. It

offers unified registers and databases of information about citizens

and vehicles and has a technical component containing applications

and data for system interoperability. Centralised infrastructure and

A CITIZEN-CENTRIC

CAPABILITY MODEL

All government departments have a

common customer: citizens. But the services

those departments provide and the daily

operational activities they conduct are

different. We advise using an operating

model based on coordination, so that

1. United Nations E-Government Survey

2012: E-Government for the People

LoB app is line of business application. BI is business intelligence.

Credit AT Kearney Analysis

14 | Service magazine
---
technology

S

enterprise applications allow cost optimisation, build scalability, and

increase agility and flexibility for new services.

The result is that citizens get what they have come to expect nearly

everywhere else: technology that functions seamlessly. In the pursuit

of digitisation, choosing the right operating model will be essential

to success.

ENABLING BEST-IN-CLASS IT INFRASTRUCTURE SERVICES

In today's world, consumers expect a technological ecosystem rather

than a disconnected set of websites, call centres and offices. In the

private sector, companies have improved the customer experience

with cloud technologies that reduce operating costs and limit the

need for expensive processing centres. At the same time, payper-use

and cost transparency have become crucial non-technical

requirements for IT service consumers in both the public and

private sectors.

Credit: AT Kearney Analysis

Consequently, having the right operating model to enable best-inclass

IT infrastructure services is key. Three elements are vital:

1. Have a central agency oversee it infrastructure and manage

the complex relationships across departments and suppliers

While external market players can more efficiently deliver

commodity IT services, including IT infrastructure and enterprise

applications, a central agency can serve as something of a broker

between individual departments and suppliers (see figure 2). The

agency can lead the consolidation and develop government-wide

standards for IT applications, data sharing and infrastructure,

integrated service management, supplier and contract management

as well as ownership of the integration layer. Without a central

agency, coordinating these activities will be difficult. Governments

would be wise to choose external suppliers for these IT services,

addressing security and privacy concerns with them, and then

giving departments the flexibility to choose the services they want.

Depending on the situation and the mandates the government can

enforce, the central agency takes on various levels of oversight and

value addition. There are three levels of roles central agencies can

take (see figure 3 on next page):

Engager. In the engager role, the central agency manages IT

sourcing processes, negotiates contracts on behalf of departments

and manages vendor relationships. The Netherlands acts as an

engager and has two organisations. The first, GovUnited, enforces

national technology standards, aggregates municipalities' demands

and leverages economies of scale to source IT services from the

market. Municipalities pay GovUnited for basic services based on

fees tiered to their size. 2 The other, Dimpact, helps municipalities

implement digital products and services, including a multichannel

front- and mid-office solution.

Manager. As manager, the agency takes on several roles,

developing the overall information and communications

technology (ICT) strategy, ensuring compliance with government

standards, maintaining accountability of service

levels with departments through all vendors,

forecasting demand and tracking technology

innovation. Among these three central-agency

models, this one is often the best choice as

it optimises the level of control and value

addition.

Integrator. Integrators ensure that service

management is integrated across vendors and

IT services; it also is accountable for delivering

key services such as security. South Africa's

State Information Technology Agency plays this

role, providing a mix of mandatory and nonmandatory

services to agencies. While it oversees

IT procurement, elective services include

application development and maintenance,

infrastructure maintenance as well as IT

consulting and training.

2. Guide the transition to the

central agency model

The biggest challenge governments face when

pursuing centralisation is getting buy-in from departments and

agencies, which often fear losing flexibility and control and prefer

to pursue what suits their own needs. Another barrier is many

departments' lack of funding for a transition, coupled with a

perception by many that new suppliers may cost less initially but will

be more expensive – and harder to leave – in the long term.

Picking the right transition model, based on existing government

structure and an agency's level of mandate, can help manage these

challenges and ensure the desired level of supplier competition and

department flexibility for provisioning IT infrastructure services.

3. Source infrastructure services by buying market-ready

packages and maintaining supply-side competition

When sourcing IT infrastructure services from the market, consider

the move from two perspectives: the supply side (how the market

provides these services) and the demand side (how departments

consume the services).

1. www.govunited.nl

Service magazine | 15
---
S

technology

Credit: AT Kearney Analysis

Supply. There are three affinities within IT infrastructure services

on the supply side. The first centres on processing and storage for

hosting services, the second on the end-user and the third on the

BEST PRACTICE

Keep IoT devices up to date with the latest software and

security patches.

Change default passwords on IoT devices.

Use strong passwords for all devices connected on the

IoT network.

Check the privacy settings of IoT devices to ensure there

are no weak spots.

Activate multi-factor authentication on devices.

network. 3 While hosting services

are self-contained, end-user and network services can be bought in

multiple variants. For example, some elements in the end-user service

tower can be purchased separately for some users, including desktop

offerings (with no custom enterprise applications, including all

licence costs), email (such as Google's enterprise offering) and office

productivity products (like Office 365). Unified communications

such as Voice-over-Internet-protocol (VoIP) telephony and desktop

integration are specialised services that can be bought separately

from suppliers with a communications pedigree.

3 Processing may include server management, middleware

management as well as security and data centre management.

Storage may include various management forms (a storage area

network, network-attached storage or direct-attached storage)

as well as backup and recovery. End-user may include desktop

management and collaboration (email, video conferencing and

messaging). Network may include local area network, wide area

network or a metropolitan area network management.

16 | Service magazine
---
technology

S

Similarly, network services have a strong affinity for data carriage and

voice services typically bought from telecommunication providers.

Some elements of wide area network services are bought as part

of the data carriage, which may include a managed router, network

monitoring and cross-site network service management.

As mentioned, the typical objective of sourcing IT infrastructure

services is effective service delivery at a reduced cost of ownership.

Encouraging supplier competition is one of the best ways to meet

this goal. In IT infrastructure procurement, there are two ways to

achieve this: by buying standardised services (such as cloud) that

have competition built in or by buying customised services from

multiple suppliers.

Buying standardised services in the cloud (data as a service,

IaaS, PaaS and to an extent, SaaS) opens numerous options. When

demand is strong, suppliers tend to innovate rapidly to compete on

pricing or enhanced services, both of which benefit customers. There

is low entrenchment, so switching suppliers is easier. Comparability

leads to better benchmarking and automatic price adjustment in

the market. However, custom requirements will not be met in many

cases, which could push costs into more expensive areas of the stack

to achieve application remediation.

For non-standard services, where much of the legacy platform

would be, competitiveness is best encouraged through multiple

suppliers in each service tower. Benchmarking can also be used

to manage supplier performance, but effectiveness is limited by

comparability issues in the custom service offering. Obtaining

services from multiple suppliers should be done carefully because

it could lead to lingering problems such as poor service delivery

due to lack of coordination, higher integration, governance and

operational costs.

Demand. On the demand side, the prices for IT infrastructure

services that a central agency publishes may differ from those

available in the market.

This could be because department-facing services are acquired as

part of a bundle or because of a transformation where the agency

owns the financial risk. Departments may also be less interested in

supply-side unit costs and more interested in per-user IT costs and

matching IT costs to business outcomes.

Service magazine | 17
---
S

technology

PROTECTING SMART CITIES

Today, one of the most pervasive risks is ransomware attacking various

government services, and cities are susceptible to attacks on network

equipment and items. Websites and applications connected to IoT are

at risk of exposure. And targeted attacks on infrastructure facilities are

serious incidents.

From energy and water management, video surveillance and others, IoT is a

core part of enabling smart cities. Efforts around protecting the environment

should encompass every level of the smart city ecosystem.

"Unfortunately, many IoT devices have little or no protection at the software

and infrastructure levels. They are often unsupported and have no updates

from the vendor. Implementing IoT solutions on top of existing legacy

systems, which were once standalone and unconnected, will also create

vulnerable targets for cyberattacks," says Bethwel Opil, enterprise client

lead at Kaspersky in Africa.

To respond to these IoT security challenges and provide help to companies

and government departments requiring specific cybersecurity protection,

activities on different levels must emerge. Fortunately, there is movement

towards standardising the development and implementation of IoT platforms

to make them more dependable and secure by design.

"Effectively, smart cities can only be successful when all the stakeholders

across specialist IT, business, government and the private sector work

effectively together. No single service provider, government department or

private sector business can try to do everything to deliver the environment

for a smart city to succeed. For example, from a security perspective,

Kaspersky contributes to this process by designing and developing

components, including IoT gateways and other solutions based on the

principles of cyber immunity," adds Opil.

This cyber immunity approach is a means to create solutions that are

virtually impossible to compromise and that minimise the number of

potential vulnerabilities. For smart cities this means protecting systems for

buildings and public services such as those that enable public administration

managers to control the consumption of water and heat – and much more.

A smart city is a cyber-physical system, meaning both physical safety and

digital security are essential for the smooth operation of city services.

Cybersecurity practices for smart cities should include basic measures,

such as encryption and strict password policies, vulnerability management,

network segmentation and a zero-trust model, as well as firewalls and

dedicated protection for any cloud infrastructures that the smart city's

systems and applications are connected to. Dedicated IoT security solutions,

such as security gateways, need to be in place to connect IoT devices with

business applications while ensuring the security of the communications and

data transferring through them. In organisations where the IT infrastructure

is connected to smart city objects and systems, endpoint and network

protection with the ability to detect and respond to diverse threats should

be used.

"The harmonious fusion of the digital and physical worlds in a smart city can

significantly improve citizens' quality of life, increase the efficiency of urban

utilities and strengthen the position of cities in the global digital economy,

making them attractive to investors and contributing to dynamic growth.

However, cybersecurity measures must be considered every step of the

way if such cities of the future are to flourish," concludes Opil.

This has implications for market packages. All

service unit costs should be attributable to one or more

departments. This is straightforward when there is

one-to-one matching between users and the services

consumed. When platforms are shared or there are

services that underpin other user-facing services, this

clarity is lost. Hence, the packages must ensure some

sort of an allocation of service-tower costs for shared

elements.

BEGIN WITH THE END IN MIND

After transforming current-state services for IT

infrastructure, the next challenge is articulating

future-state services. Instead of defining these services,

central agencies should focus on articulating high-level

target-state requirements. They highlight the relative

prioritisation of emerging technology trends, as well as

the change in user segments and their needs.

An effective strategy is to focus on target-state

requirements to help suppliers understand the direction

the central agency is headed and to signal a businessoutcomes

focus in delivering IT infrastructure services.

Short-term service needs, such as logical next steps

for current and ongoing projects, should be clearly

articulated. However, these needs should be positioned

as directional, using the breadth of market capabilities

to bring a fresh perspective to the business problems

that these technical solutions are attempting to solve.

BRINGING IT ALL TOGETHER

Which service elements stay in-house depends on

the approach chosen to ensure effective service

management. There are many models to choose from

based on size, complexity and final accountability for

success.

At one end of the spectrum is the monolithic model

for integrated service management, where one supplier

provides all service towers and is accountable for endto-end

service delivery. The main issue with this model

is supplier entrenchment and lack of competitiveness,

which often leads to higher costs and a possible hostage

situation. A variant of this, the prime subcontractor

model, lowers the risks, but only slightly.

A second model sources integrated service

management through a supplier that is not delivering

services in any of the service towers. This is typically

combined with the help desk tower for a closed-loop

service offering.

The issue here is that the service manager cannot

contractually take accountability for service levels

achieved by the other suppliers because they are not

under its control. Full accountability may be possible

but at a significant price premium.

In a third model, the central agency overseeing IT

infrastructure drives integrated service management

centrally, through the departments, or with a

18 | Service magazine
---
technology

S

combination of both, depending on the department size and

segregation of infrastructure. The central agency holds the supplier

contracts that define service levels expected from each service tower.

The main risk with this model is in execution should the right

people not be in place. While this requires fewer people, staff should

have above-average capabilities in commercial, technical and servicedelivery

roles. If risk appears insurmountable, then the central

agency can use the second model above on a best-efforts basis using

a third-party service manager.

THE JOURNEY TO DIGITAL GOVERNMENT

A well-planned agency approach that works effectively within the

government structure and has a clear transition plan can produce

results within a couple of years. Understanding the market by using

collaborative procurement models and competitive service contracts

with vendors should allow for needed flexibility as technology and

the government's specific technology needs evolve – all with an eye

towards creating a digital government that can serve a municipality

well for years to come. S

Service magazine | 19
---
S

skills development

Pathways into the

economy for Africa's youth

How investing in the employability of young people remains a powerful lever for creating paths into the economy.

By Nozuko Mzamo, social investment specialist, Tshikululu Social Investments

A

An estimated 1.8-billion youth worldwide will not have the skills

or qualifications required to participate in the workforce by 2030.

As the workplace changes due to the Fourth Industrial Revolution,

there will need to be a shift in how young people are equipped with

the necessary skills and know-how.

In the 2018 Global Business Coalition for Education's report

on preparing tomorrow's workforce for the Fourth Industrial

Revolution, it was estimated that across the globe, 260-million

children were out of school and more

than 800-million youth were not on

track to learn the basic skills needed to

enter the workforce by 2030.

The disruption of Covid-19 has

accelerated change and further

exacerbated the existing inequalities

that young people face, making

the attainment of Sustainable

Development Goal 4, "Ensuring

inclusive and equitable quality

education and promoting life-long

learning opportunities for all," ever

more elusive. The World Bank predicts

that the current global cohort of today's youth generation, because of

the pandemic, are at risk of losing USD17-trillion in future earnings.

If young people do not develop vastly different skill sets from

previous generations, they will face a growingly uncertain future.

Undoubtedly, one of the major challenges in South Africa's

development, and the African continent — a continent with

a population of approximately 65% young people — is youth

unemployment. Alarmingly, the African Development Bank has

estimated that 50% of the youth in Africa will be unemployed and

economically inactive by 2025.

According to the Department of Higher Education and Training,

8.8-million people in South Africa aged 15-34 are youth Not in

Education, Employment or Training (NEET). Approximately

5-million are inactive (not looking for work) and 3.8-million are

unemployed (actively seeking employment and available to work).

A total of 52% of the 8.8-million people who are youth NEET

are female. By the end of the first quarter in 2022, 46% of people

between 15 and 34 years of age remained outside of employment,

education and training.

A total of 50% of the youth in

Africa will be unemployed and

economically inactive by 2025.

The higher education system is faced with challenges ranging

from high attrition rates at universities; outdated curricula; low

throughput rates in Technical and Vocational Education and Training

(TVET) institutions; as well as a wide variation in quality and control

within the Sector Education and Training Authorities. Additionally,

the vocational system suffers from insufficient relationships with

business and industry, leaving vocational training institutes illequipped

to meet employers' skill requirements and young people

largely either underexposed or

not exposed at all to quality career

guidance and work-readiness training

that would allow them to transition

into the world of work.

While concerns abound globally, in

South Africa in particular, the nature

of vocational system quality makes

addressing critical issues exceedingly

challenging. Given this complex

context, what are the opportunities for

social investors to create meaningful

pathways for young people?

Notwithstanding the intricate

challenges in the higher education system and the overall South

African labour market, our research confirms that employability

programmes are a meaningful avenue to the economy for young

people.

The 2022 Global Business Coalition for Education report exploring

the materiality of education highlights the imperative for businesses

to invest in skills and education for the youth to equip them for the

new world of work and help drive economic growth. If education

challenges are left unaddressed, companies will struggle with

developing and retaining the workforce pipeline. This directly

threatens the opportunities available for businesses to enter new

markets and expand to ensure sustainable supply chains are built

and maintained.

Tangible education, development and training positively

drives diversity, equity and inclusion as well as human capital

management metrics. Investing specifically in youth employability

could allow companies to meaningfully tackle the "S" in their ESG

agendas while helping to build a more resilient, inclusive and

sustainable society. S

20 | Service magazine
---
skills development

S

FIRST-CLASS INDUSTRY 4.0

"I recently received the report of the Ministerial Task Team (MTT) on the implications of 4IR to our post-school education and training

(PSET) system. The report provides insights into how the PSET policy-making mechanism can respond to the challenges posed by

rapid shifts in the way we learn, live and conduct our business.

[The report says] our PSET sector must place great emphasis on developing curricula, programmes and courses that are informed by

the demands of the labour market. Being demand-led in this way requires customised initiatives that respond directly to the needs of

groups of similarly focused employers and result in employment or self-employment of the young person.

However, the relevance of PSET programmes cannot be exclusively dictated by the demands of the labour market. There is a need

to equally ensure ongoing curriculum development that prepares students to thrive as the needs of the labour market change and to

become active agents in shaping the future of both South African society and its economy.

I am proud that two of our Sector Education and Training Authorities (SETAs), the Chemical Industries Education and Training Authority

(CHIETA) and the Media, Information and Communication Technologies (MICT) SETA, collaborated with the Freeport Saldanha Bay

Industrial Development Zone and other partners to establish this SMART Skills Centre.

This centre is part of our bigger plan to revolutionise digital skills development in all our nine provinces and to cater for SMME

development. The centre will offer various digital skills development programmes, based on technologies such as blockchain, artificial

intelligence, software development, data science and mobile repairs.

CHIETA forecasts that a minimum of 10 000 unemployed youth from surrounding rural communities will benefit from the centre over the

next five years. CHIETA and its stakeholders will provide various online learning platforms for unemployed youth to start up scalable

data-driven commercial businesses that will provide technological solutions.

As the great Nelson Mandela famously said: "Education is the most powerful weapon which you can use to change the world." This

state-of-the-art centre is a fulfilment of what Madiba represented.

We agreed that all SETAs must develop partnerships with other institutions within the PSET sector such as TVET, Community

Education Colleges (CET) and the National Skills Fund. Partnerships must also be developed with other government departments

and their agencies.

Through this centre, CHIETA must now further identify and collaborate with both the TVET and CET colleges in the Western Cape. This

will ensure that we rapidly enhance the potential of these colleges to harness open learning to increase access to the PSET learning

opportunities that are closely linked to the needs of the labour market and help to drive growth in local employment.

This principle must be integrated in the concept of this SMART centre and be applied to the two SMART Skills Centres that will be

launched in the current financial year in the Eastern Cape and KwaZulu-Natal.

These centres must ensure that we place our TVET graduates for in-service training, learnerships and internships as President Cyril

Ramaphosa announced during his 2022 State of the Nation Address that the government must place 10 000 unemployed TVET

graduates for in-service training.

In all our project conceptualisation, integrated delivery models that work at district and regional levels and that enable PSET institutions

in common localities to work with each other as well as with public and private enterprises, social structures and the communities they

serve as well as with local, district and provincial government will always ensure that we create articulated, seamless, responsive

development opportunities to the benefit of our economy."

Address by the Minister of Higher Education, Science and Innovation, Dr Blade Nzimande, at the launch of the CHIETA SMART

Skills Centre, Saldanha Bay, 25 October 2022.

Service magazine | 21
---
S

water

Decay after progress: South

Africa's basic water supply services

Water is at the heart of health and wellbeing for people and nature. Access to it is a human rights

issue recognised by international declarations and national standards. It is vital for education

and economic productivity. Ultimately, it connects the environment to society.

By Anja du Plessis*

TThe most recent statistics (2020) show a general global trend

of positive progress in access to water. The proportion of

the global population using safely managed drinking water

services increased from 70.2% in 2015 to 74.3% in 2020. But despite

this progress, in 2020, two-billion people still lacked safely managed

drinking water. The Sub-Saharan African region has the largest

numbers, with 387-million people without access to basic drinking

water services. Current coverage of access to regulated drinking

water is estimated at only 54% of the region's population.

In South Africa, the right to water is enshrined in the Constitution.

Before the country's transition to democracy in 1994, government

policies were focused on the advancement of the white minority.

The development of the country's water

resources did not consider improving the

position of the mostly black, poor majority.

South Africa has made significant

progress since then in expanding water

services, especially within the disadvantaged,

vulnerable communities and rural areas.

But inequality in access to basic services is

still a reality. Progress with water supply and

sanitation service delivery has been slow and

in some instances, it's deteriorating.

Water is a critical resource. Its provision

should be seen as an enabler that

facilitates socioeconomic development.

Water infrastructure needs to be suitably

maintained – and upgraded – to ensure

water access and reliable supply to guarantee

water security.

development, improving the quantity and the quality of water supply

to citizens. This created a comprehensive legislative framework for

the provision of water and sanitation services.

Progress was subsequently made by advancing and extending

water supply to rural areas and previously under-serviced areas.

During the first decade of democracy, an estimated 13.4-million

more people had access to basic water supply services.

WATER ACCESS REALITY

South Africa's water situation has since deteriorated. The reliability

of water services and infrastructure – as shown by frequent water

supply interruptions – has been on a downward trend. It's important

PROGRESS IN SOUTH AFRICA

In 1994, about 14-million people (35%)

in South Africa didn't have basic water

supply services. The minimum standard

of these services is defined as clean, piped

water delivered within 200 metres of a

household at a minimum flow rate of 10

litres per minute, for 300 days a year, with

any interruption not lasting longer than two

days at a time.

The government adopted various policies

and programmes aimed at sustainable water

Water infrastructure delivered versus vs water supply in 2021.

Credit: National Integrated Water Information System.

22 | Service magazine
---
water

S

South Africa is facing the

stark reality of a third of all its

water infrastructure not being

fully operational.

Article courtesy The Conversation

to note that even when communities have access to water through

infrastructure, this does not guarantee the delivery of basic water

supply services.

The number of households with access to clean water grew

from 67% in 1993 to an estimated 85% in 2015 and 96% in 2018.

However, the portion of households with reliable and safe water

supply services — such as having clean water sources not too far

from their household — decreased by 64% in 2018.

The deterioration of the country's water infrastructure

and actual delivery of reliable and safe water supply can be

attributed to under-investment in infrastructure maintenance and

delays in the renewal of old infrastructure. Other contributing

factors include limited budgets, poor revenue management by

local municipalities, misappropriation of funds, lack of capacity or

necessary technical skills related to water services and sanitation

operation and maintenance.

South Africa is facing the stark reality of a third of all its

water infrastructure not being fully operational, which is against

the global trend of making positive progress. In addition, the

government's planned budget to rebuild deteriorated water

infrastructure is already R333-billion short of the estimated R898-

billion said to be required by the National Water and Sanitation

Master Plan published in 2018.

GOING FORWARD

Based on my research in integrated water resource management,

I propose that South Africa takes some of the following steps

to avoid a major water crisis and improve water security. These

recommendations are also in the country's National Water

Security Framework:

• Address inefficient water use and wastage.

• Investigate the possible impacts of climate change and what effect

these may have on the country's water resources.

• Invest in infrastructure maintenance.

• Correct inadequate management systems and record-keeping.

• Develop and implement an institutional and regulatory

framework and ensure compliance thereof.

• Work on minimising the current skills deficit. The capacity of key

national government departments and municipalities needs to be

evaluated in an objective manner.

South Africa must move away from simply constructing water

supply systems to ensuring that the basic levels of service are

provided to all. S

* Anya du Plessis is an associate professor and research specialist in integrated

water resource management at the University of South Africa.

Service magazine | 23
---
S

waste

Waste sector

income is on the up

More than 40 local, district and metropolitan municipalities countrywide have seen the socioeconomic

benefits of strategic waste management for their communities thanks to successful

partnerships with South Africa's leading plastic producer responsibility organisation PETCO.

OOne such drive involves the Zonda Insila Programme (ZIP) which

was launched in Breyton in 2019 with only four projects and now

boasts 14 projects supporting 240 community members spanning

the Nkangala, Gert Sibande and Ehlanzeni district municipalities

in Mpumalanga.

"With the level of interest shown and the growing number of

informal waste pickers, there is no doubt that ZIP is encouraging

more and more young people to shift their thinking towards waste

as a form of potential income generation. To say waste is trash is

outdated," says ZIP coordinator Linah Duduzile Ndala.

For the past 17 years, South Africa's most experienced plastic

producer responsibility organisation (PRO), PETCO, together with

its members, has been engaging with municipalities on sustainability

programmes to improve effective waste management and recycling

rates. Key among municipal waste management priorities is

the diversion of waste that has value from landfills, as well as

accommodating waste pickers in the recycling value chain.

"Waste is not trash, it is economy," Ndala continues. "The role of

stakeholders like municipalities, PETCO and the province is very

important because they need to take the lead."

PETCO's role in such municipal waste management partnership

projects comes in the form of equipment provision and infrastructure

support for waste pickers and buy-back centres – with the goal of

incorporating waste pickers in the formal recycling sector – as well

as training and skills development for municipal employees involved

in waste management.

"Currently, there are very few municipal separation-at-source

collection systems, so we work with interested municipalities to

establish collection projects and expand PET collection into new

areas," says PETCO CEO Cheri Scholtz. "We help grow sustainable

businesses and sponsor infrastructure and equipment to unlock

collections and improve the quantity and quality of post-consumer

PET collected," she says.

Another successful drive has seen the Drakenstein Municipality

reaping the rewards of a recycling programme launched four years

ago at the Wellington Landfill Site, with several success stories

emanating from it. According to Thys Serfontein, senior manager:

solid waste and landfill management at Drakenstein Municipality,

PETCO had been "amazingly supportive of this project right from

the start and still are today".

Drakenstein Municipality has been one of the first municipalities

to successfully complete the "integration of waste pickers into

the formal waste industry at municipal level – one of national

government's focus areas," Serfontein says.

"As soon as our Material Recovery Facility and Refuse Transfer

Station are fully functional in 2022/23, these wastepreneurs will be

accommodated. They will be able to increase their production and

it will also mean that approximately 50 tons less material will reach

the landfill site," says Serfontein.

Zonda Insila Programme Coordinator, Linah Duduzile Ndala.

24 | Service magazine
---
waste

S

To say waste is trash

is outdated.

metres of municipal landfill space.

A further R1.2-billion was injected

into the economy from the sale of

recycled materials."

Scholtz adds: "The impact of

partnerships on the recycling value

chain cannot be underestimated, and

collaboration is critical to ensuring

that change can be implemented at a

national scale."

Plans are currently underway

to assist a further 21 sustainability

projects with equipment, branding

and accredited training. S

PETCO CEO Cheri Scholtz says waste

pickers "play an important role in

diverting waste from landfill and will

play an increasingly valuable role in

municipal waste collection systems and

rolling out kerbside projects".

"Their integration advances

South Africa's priorities such as

job creation, poverty alleviation,

environmental protection and economic

transformation," Scholtz says, adding

that PETCO's experience in working

with the entire PET value chain made

it qualified to assist municipalities with

sustainability efforts.

"In the past year alone, PETCO and

our partners ensured that 90 402 tons

of post-consumer PET, which equates

to 2.1-billion bottles, was collected

for recycling, saving 560 495 cubic

Service magazine | 25
---
S

waste

PACKA-CHING

KA-CHING KA-CHING

South Africa's waste management and recycling sector has welcomed a rapid influx of innovative

community recycling projects in response to the country's need to divert waste from landfill.

R

Recognised for its successful and easily replicable model,

Polyco's Packa-Ching project recently won the Conscientious Spirit

Award at the 25th WasteCon. "The drive for sustainability in our

waste management sector has largely been determined by keeping

waste streams out of landfill and economically repurposing materials,

realising the environmental and social benefits of recycling," says

Patricia Pillay, CEO of Polyco.

"Our Packa-Ching project has been successful in this by

bringing an enterprise-operated mobile recycling service to many

communities across our country. Through this project we are

uplifting communities and keeping recyclable packaging waste,

including plastic, paper, glass and cans out of the environment

and landfill."

Since the launch of Polyco's Packa-Ching project in 2017, more

than 7.2-million kilograms of waste has been diverted from landfill

with more than R6.4-million earned by community members, in

exchange for their recyclables.

"Through our partnerships with Sasol and the Shoprite Group,

we have managed to successfully roll out 10 mobile Packa-Ching

units across six provinces. Our newest, in Nelspruit, launched in

October 2022 and is driven by local waste entrepreneurs, I-WASTE.

"With Packa-Ching, we have been working with small business

owners and entrepreneurs within the waste sector, empowering them

with resources to scale up their businesses within the communities in

which they operate," says Pillay.

"A mobile recycling truck and trailer is a great solution to bring a

'recycling drop-off' site to a wider community. We have seen that this

has been quickly adopted, with community members bringing their

recyclables to be weighed in and exchanged for an instant payment

made via a cashless eWallet solution to their cell phone."

Hosted by the Institute of Waste Management of Southern

Africa (IWMSA), WasteCon is the country's flagship waste

management conference and awards event. The biannual event

is a premier showcase of the best practices and solutions for

sustainable waste management. The Conscientious Spirit Award is

given to the organisation, project or person that has demonstrated

conscientiousness in a project or service beyond normal ethical

behaviour in pursuit of the IWMSA's goals. Some of these goals

include improving waste management standards, training, and

awareness creation on waste management, and promoting the value

of waste as a resource.

"We are so honoured that our work with Packa-Ching has been

recognised with this award. It's the perfect end to what has been a

great year," says Pillay. "We would like to make special mention to

our sponsors, the Shoprite Group as well as Sasol for the continued

support and for helping to make Packa-Ching the success it is today.

"We've seen the positive impact of this programme on various

local communities – both for the employees and those generating an

income from recyclables. Not only does it promote removing waste

from our communities and recycling it, but it also makes recycling

more accessible," adds Sanjeev Raghubir, the Shoprite Group's

sustainability manager. S

To find out more, visit www.packaching.co.za.

26 | Service magazine
---
waste

S

CREATING A

GREENER FUTURE

There is concern that the country is on the verge of an environmental crisis because landfills

are rapidly filling up and illegal dumping sites are popping up in communities.

Illegal dumping sites are a threat to the environment and the

Iwellbeing of communities. More than 90% of waste generated

in Africa is disposed of at uncontrolled dumpsites and landfills,

often with associated open burning, causing a need for waste

management. Refuse is often seen as a cumbersome issue and many

businesses avoid taking responsibility for their waste.

As Africa's urban growth spiked by 3.55% per annum over

the last two decades – a trend expected to continue well into

the future – the problem has only become more acute. Africa's

waste generation is expected to reach 244-million tons per year

by 2025. This conundrum is a concern that Mafiso Xulu, the

founder of MFT Waste Solutions, is addressing through his waste

management business. Xulu helps companies reuse and repurpose

their waste to avoid it ending up in landfills. Businesses operating

in South Africa are legally required to comply with national

standards of waste management which stipulate that they must take

responsibility for their waste to avoid being prosecuted.

Entrepreneurs like Xulu are entering the waste management

sector to make a meaningful impact. Getting the business up-andrunning

was not easy for Xulu. He initially struggled to secure a

warehouse to operate from due to financial difficulties. Thereafter,

he had to ensure that the warehouse met health and safety

requirements and he also had to purchase expensive machinery.

"Once I met all the legal requirements, I was able to start

working with big companies like Unilever. We help Unilever to keep

hazardous waste out of landfills by treating their waste or crushing

it before returning it to the company to reuse," he says.

JOB CREATION

OPPORTUNITIES

With the 244-million tons of

waste predicted to be produced

in Africa within the next decade,

this creates an opportunity for

waste to be collected, reused and

recycled and jobs can be created.

"I currently employ over 60

people and 37 of them are from

the Tembisa Self-Help Association

of the Disabled (T-SHAD) that

I work closely with," he says

proudly. As the fight against

waste intensifies, there will be

plenty of business opportunities

that can lead to economic growth

and job creation. Xulu adds that

there is always work to be done in

the waste sector. There is a need

for more businesses to work in

unserved areas where there are

illegal dumping sites.

Mafiso Xulu, the founder of

MFT Waste Solutions.

"I don't mind getting my hands dirty because I am passionate

about eradicating landfills and helping companies and communities

repurpose their waste," he says. The growth strategy for MFT Waste

Solutions is to collaborate with global companies that are reducing

marine litter and pollution.

Xulu is excited about the future and is proud that his business is

creating jobs and positively contributing towards reducing pollution. S

There is always work to be

done in the waste sector.

Service magazine | 27
---
S

waste

PETCO partners with

municipalities to make a difference

More than 40 local, district and provincial municipalities countrywide have seen the socio-economic

benefits of strategic waste management for their communities thanks to successful partnerships

with South Africa's leading plastic producer responsibility organisation PETCO.

For the past 17 years, PETCO has been engaging with municipalities

towards the shared goal of effective waste management and recycling.

Key among municipal waste management priorities is the

integration of waste pickers into the formal sector. The informal

collectors operating in the country play an important role in

municipal waste collection systems and in diverting waste from

landfill. Their integration advances government priorities such

as job creation, poverty alleviation, environmental protection and

economic transformation.

PETCO's experience in working with the entire polyethylene

terephthalate (PET) value chain makes it eminently qualified to

assist municipalities with sustainability efforts. In the past year alone,

PETCO and partners ensured that 90 402 tons of post-consumer

PET, which equates to 2.1-billion bottles, was collected for recycling,

saving 560 495 cubic metres of municipal landfill space. A further

R1.2-billion was injected into the national economy from the sale of

recycled materials.

Municipalities are, by law, required to develop integrated

waste management plans (IWMP) to drive implementation of

the National Waste Management Strategy. Although legislation

requiring producer responsibility organisations to co-operate with

municipalities came into effect in November 2021, PETCO had been

doing so since 2008.

The impact of partnerships

on the recycling value chain

cannot be underestimated.

"Currently, there are very

few municipal separation-atsource

collection systems, so

we work with municipalities

to establish kerbside collection

projects and expand PET collection into new areas," says PETCO

collections and training project manager Belinda Booker.

In addition, PETCO provides skills development training

and mentorship for waste pickers registered with participating

municipalities. "This year so far, we have conducted 28 basic training

workshops for 1 357 collectors in eight provinces, and a further three

accredited business training workshops," says Booker.

"We help them to grow sustainable businesses, and sponsor

infrastructure and equipment to unlock collections and improve the

quantity and quality of post-consumer polyethylene terephthalate

collected," she explains.

Msinga Local Municipality in northern KwaZulu-Natal, which

covers two towns and six traditional authority areas, is one recent

example where PETCO is assisting with waste picker integration.

The municipality has registered 138 street- and landfillbased

waste pickers and provided them with a material

recovery facility within the landfill site to operate and store

their recyclable materials. The municipality collects 15 tons of

PET each month and sells it to buy-back centres in Greytown

and Pietermaritzburg.

PETCO recently presented a basic recycling workshop

for waste pickers in conjunction with Dannhauser Local

Municipality and sponsored an H15 baling machine and 25

bulk storage bags alongside polymer producer Safripol.

"The impact of partnerships on the recycling value chain

cannot be underestimated and collaboration is critical to

ensuring that change can be implemented at a national scale,"

says Booker.

Plans are currently underway to assist a further 21 pilot

projects in the City of Cape Town with equipment, branding

and accredited training. S

To collaborate with PETCO, please contact Belinda Booker:

belinda.booker@petco.co.za

38 Service magazine

28 | Service magazine
---
NINE PROVINCES.

ONE MISSION.

2206239_FP_E
---
The hottest

Annual

Seminar on

the circuit

39 TH ANNUAL SEMINAR

2023

EVERY YEAR, THE SALLR TEAM DEALS WITH THE

LATEST DEVELOPMENTS IN LABOUR LAW, HUMAN RESOURCES AND EMPLOYEE

RELATIONS BY PROVIDING DELEGATES WITH INSIGHT AND SOLUTIONS TO DEAL

WITH 'SLIP AND TRIP' ISSUES – AND 2023 WILL BE NO EXCEPTION

SALLR SEMINAR PACKAGE OPTIONS

OPTION 1 OPTION 2

Countrywide, in-person and face-to-face seminars

Live broadcast of the in-person and

face-to-face SALLR seminar in Cape Town

on 19 September 2023

DATE(S), PLACE(S) AND VENUE(S)

• Tuesday, 22/8/2023:

Gqeberha, The Boardwalk Hotel

• Thursday, 24/8/2023:

Bloemfontein, Kopano Nokeng Hotel

• Tuesday, 29/8/2023:

Johannesburg (Sandton), The Maslow Hotel

• Thursday, 31/8/2023:

Durban, The Oyster Box Hotel

• Tuesday, 5/9/2023:

Pretoria, Sun Time Square

• Thursday, 14/9/2023:

Johannesburg (Boksburg), Birchwood Hotel

• Tuesday, 19/9/2023:

Cape Town, The Table Bay

• Tuesday, 19/9/2023:

In the comfort of your office, home, etc.

39

YEARS

CELEBRATING

of

SALLR SEMINARS

Reserve your seat now: www.sallr.co.za/sallr-2023

Tel: 041 373 4322 l Email: pa@vanzylrudd.co.za

South African Labour Law Reports @Brian_VZR Brian van Zyl

Van Zyl Rudd House, 3 Mill Park Road, Mill Park, Gqeberha, 6001 • PO Box 12758, Centrahil, Gqeberha, 6006