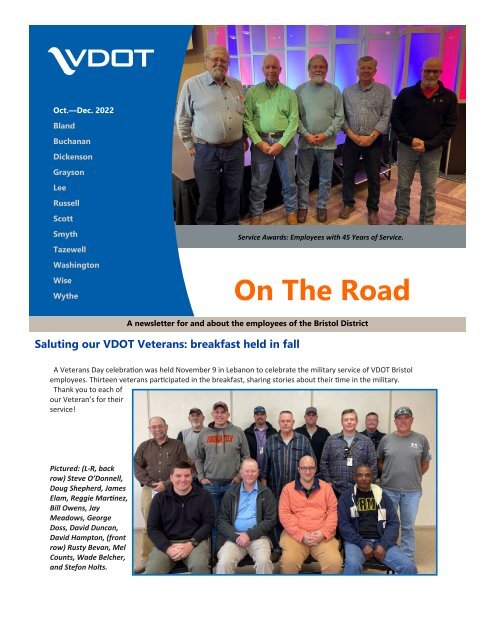 Bristol - On the Road - Oct-Dec 2022
You also want an ePaper? Increase the reach of your titles
YUMPU automatically turns print PDFs into web optimized ePapers that Google loves.
Oct.—Dec. 2022

Bland

Buchanan

Dickenson

Grayson

Lee

Russell

Scott

Smyth

Tazewell

Washington

Wise

Wythe

Service Awards: Employees with 45 Years of Service.

On The Road

A newsletter for and about the employees of the Bristol District

Saluting our VDOT Veterans: breakfast held in fall

A Veterans Day celebraon was held November 9 in Lebanon to celebrate the military service of VDOT Bristol

employees. Thirteen veterans parcipated in the breakfast, sharing stories about their me in the military.

Thank you to each of

our Veteran's for their

service!

Pictured: (L‐R, back

row) Steve O'Donnell,

Doug Shepherd, James

Elam, Reggie Marnez,

Bill Owens, Jay

Meadows, George

Doss, David Duncan,

David Hampton, (front

row) Rusty Bevan, Mel

Counts, Wade Belcher,

and Stefon Holts.
---
2022 Service Awards luncheon held, almost 1,500 years of service represented

A luncheon was held November 30 to celebrate approximately 90 employees' years of service to VDOT,

from those with five years of service to seven employees with 45 years of service. Combined, the

employees represent just under 1,500 years of service to the department.

45 Years of Service

Tony Dockery Fort Blackmore AHQ

Tim Cregger Abingdon Residency

James Dowell Roadside Management

Phil East Contract Administraon

Billy Gibson East Stone Gap AHQ

David Grubb Traffic Operaons

Steven Hopkins Locaon & Design

Timothy Layne Speedwell AHQ

Jerry Leonard Materials

40 Years of Service

James Hayes Abingdon AHQ

35 Years of Service

Jeffrey Ausn Bridge

Robert Cornwell Springville AHQ

Robert Hurt Bridge

Peggy Lawson Wise Residency Business Services

Steven Mullins Materials

Mark Oaks Dryden AHQ

Joe Yates Equipment

30 Years of Service

Bob Barr Abingdon AHQ

Brian Cole Materials

Mark Denny Environmental

Jeff Huff Lebanon AHQ

Jimmy Melton Marion AHQ

Kirk Osborne Glamorgan AHQ

Marion Stowers Speedwell AHQ

25 Years of Service

William Brewster Traffic Operaons

Bryan Glover Traffic Operaons

Jeffrey Goodpasture Construcon

Jerry Gordon Traffic Operaons

Michael Holmes Traff Operaons

Richard Lefler Wytheville AHQ

Dennis Lewis Abingdon Shop

David Lively Bridge

Joe Robinson Traffic Operaons

Charles Ward Wise Residency Maintenance

20 Years of Service

Richard Buckingham Locaon & Design

15 Years of Service

Robert Baker Construcon

Larry Hatcher Traffic Operaons

Tina Neal Administraon

Frankie O'Quinn Abingdon AHQ

10 Years of Service

John Bechtold Bridge

Jason Begley Fort Blackmore AHQ

Jeff Buchanan Lebanon Residency Administraon

Lance Click Bridge

Howard Ellio Construcon

Daniel Sco Fleenor Jonesville Shop

Adam Fogleman Traffic Operaons

Michael Fogleman Bridge

Greg Gibson Construcon

Jason Graham Bridge

Timmie Hawkins Dryden AHQ

Ronnie Horton Ewing AHQ

Calvin Saltz Abingdon AHQ

Elizabeth Stevens Lebanon Residency

Russell Trent Abingdon AHQ

Darrell Wess Tazewell Shop

5 Years of Service

Anthony Akers Speedwell AHQ

Roger Barton Deskins AHQ

Tiffany Canter Bridge

Emily Collins Bridge

Tabitha Crowder Administraon

Travis Deel Bland AHQ

Robert Gibson District Shop

Johnathan Halsey Volney AHQ

Logan Jackson Highpoint AHQ

Gerald Johnson Speedwell AHQ

John Jones Wytheville Shop

George Kraynak Fremont AHQ

Robert Large Bridge

Christopher Lewis North Bristol AHQ

Josh Lewis Locaon & Design

Corey Lowe Lebanon AHQ

Woody McCowan Locaon & Design

Shane Morrison Bridge

Marcus O'Quinn Oakwood AHQ

Kim Orfield Programming Inv Mngmt

Jason Peak Glamorgan AHQ

James Phillippi Marion AHQ

Emerson Phillips Fremont AHQ

Michael Plaster Tazewell / Bland Bridge

Michael Seymore Locaon & Design

David Sisk Wytheville AHQ

Eddie Stapleton East Stone Gap AHQ

Kermit Thomas North Bristol AHQ

Pam Venable Accounng

Josh Ward Traffic Operaons

Wes Wya Abingdon Residency

(Le

2

Bristol District: On The Road
---
Five Years of Service

Ten Years of Service

Plum-

Fieen Years of Service

Twenty Years of Service

Twenty Five Years of Service

Thirty Years of Service

Lane Farm

Thirty Five Years of Service

Forty Years of Service

*Photo of employees with 45 Years of Service is on the front cover.

The

Repass

Bristol District: On The Road

3
---
District Engineer's Corner: 2022 in Review

What a year 2022 was!

Over the course of the

year, the Bristol District

has accomplished a long

list of items including

filling nearly 90 positions,

establishing the Interstate

Maintenance Office at the

district, and continuing efforts to stand up

the Operations Division in the district. I even

learned how to operate a motor grader for

the Statewide Roadeo in July!

There were 18 snow events in 2022, one being

around Christmas that had the potential to

create very hazardous conditions. Luckily, that

didn't happen but our response was strong

and I say "thank you" to each of you for your

efforts over the holiday.

We responded to two flood events, one in

Wise County and the other in the Whitewood

area of Buchanan County. Since the event

occurred in Whitewood, we have removed

approx. 27,000+ cubic yards of debris. The

price tag for flood repairs to date is over $6.1

million.

Maintenance accomplishments for 2022

include:

Cleaned 673.8 miles of ditches

Cleaned, repaired or replaced 7,217 pipes

Performed tree trimming and brush

removal on 2,252 shoulder miles

Mowed 47,245 acres of roadside

Graded 9,067 miles on unpaved roads

Repaired 4,292 miles of unpaved

shoulders

Area Headquarters personnel collected

field measurements and location

information to inventory 13,086 pipes on

secondary routes.

We tried a few new things, such as in

December celebrating employees with years of

service ranging from five years to 45 years.

This issue contains information about those

celebrating service awards. Kudos to each of

you!

One of the new things we organized was a

districtwide event to celebrate our

Veterans. This event is highlighted on page 1.

As part of a statewide effort to standardize

Traffic Engineering and Operations, the Big

Walker and East River Mountain Tunnels

returned to the Bristol District. The two

tunnels were a part of the Salem District

(Southwest Region) for 15 years.

Also, the Big Walker Mountain Tunnel

celebrated a big milestone. On June 29, the

tunnel celebrated its 50 th anniversary.

Other 2022 highlights include:

Jason Harris, Equipment Division TOII,

represented VDOT as the statewide tractor

truck w/ lowboy trailer competor in the

Southeastern Regional Equipment

Operators Rodeo in Baton Rouge.

This fall, we transioned the

Interstate Maintenance Operaons to the

district office which included

establishment of a new District

Command Center.

Bristol won the statewide paving award for

a maintenance project (paving

schedule) this past year (also highlighted in

this edion of the newsleer on page 6).

(connued on page 5)

(Le

4

Bristol District: On The Road
---
Project Development: finished fiscal year

2022 with 89% of our projects on me

(goal 70%) and 84% on budget (goal

74%).

Project Delivery: finished fiscal year 2022

with 85% of our projects on me (goal

77%) and 89% on budget (goal 85%).

Completed Construction of 43

projects in calendar 2022.

Developed three apps – Crew Locator,

Pool Car Schedule, and Digital

Inventory Management System.

22 total applications were submitted for

Bristol District.

Location and Design (L&D) has scoped 14

projects and has advertised 14 projects

this year with a total value of over $37

million.

During the past year, the Environmental

section completed 439 environmental

reviews, 381 Permit Determinations and

completed 97 NEPA documents. The

section has obtained 104 U.S. Army Corps

of Engineers RP‐11 Permits and

conducted 150 HazMat Project reviews.

Plum-

Business Team developed to

centralize support funcons at the

district complex.

Completed more than 30 facility

projects throughout the district.

The Planning section completed five

Project Pipeline studies which

resulted in a total of seven Round 5

SMART SCALE applications for various

localities throughout the district. Overall,

Looking forward to 2023, the Bristol District

will be hosting the Commonwealth

Transportation Board for their monthly

meeting in April.

Seeing all these items really brings to light

how hard we worked in 2022 to Keep

Virginia Moving! I look forward to seeing

what great things we accomplish in 2023.

‐ Tabitha Crowder, P.E

CVC Campaign totals

Congratulaons for the district's outstanding

donaons to the 2022 Commonwealth of

Virginia Campaign.

The district donated $2,655 worth of toys to Toys

for Tots. In 2021, the district donated

$500.

Lebanon Residency collected $402 for the

Appalachian Agency for Senior Cizens,

purchasing gis for five Silver Angels.

Fiscal collected $550 for the Isaiah 117 House

and purchased a Walmart gi card for the

organizaon to use for much‐needed items for the

Lane Farm

children who visit the Isaiah 117 House.

A total of $3,607 was raised by Bristol

District, not including individual pledges/

contribuons

to CVC.

Thank you

for making

this a great

year!

Bristol District: On The Road

5
---
AHQ Teams make school visits in Fall 2022

Kudos to two of Bristol's residencies for geng out in the community to meet with local school

children this fall, generously giving of their me and resources.

Wytheville Residency's Wytheville AHQ sponsored two preschool classes from Clinch Valley

Community Acon Head Start in Fort Chiswell to a trip to the local pumpkin patch, raising over $300 for the

event. Employees also provided a truck and motor grader to the school in October and gave out coloring

books.

Members of the Abingdon Residency and Chilhowie AHQ visited Chilhowie Elementary during their

annual fall fesval, providing VDOT equipment to the school for the kids to get an up‐close view and providing

candy to the students.

Thanks to each area for reaching out to area school children, familiarizing them with VDOT and what we do

in the community.

(L‐R) Wytheville AHQ's Derek Alexander,

Jeremy Bishop and Trey Skeens.

(L‐R): Richard Buckingham, Jeff Jones, Mahew

Lewis, Ben Creasy, and Rusty Bevan at

Chilhowie Elementary.

VDOT Bristol wins 2021 Asphalt Association Paving Award

The Virginia Department of Transportaon (VDOT) recently received the Virginia Asphalt Associaon's

2021 Pavement Award.

The recognion is for maintenance paving located on Interstate 77 in Wythe County between mile

markers 25 and 29. It scored the

highest for all maintenance projects in

2021.

Construcon Engineer James Parsons,

P.E., Area Construcon Engineer Brian

Plummer, P.E., and Construcon

Manager David Lamie worked on the

project and accepted the award.

Contractor W&L Construcon & Paving

and Consultant MBP's Richard Woodard

were also involved in the project.

Photo Capon: VDOT recognized for

excellence in paving (L‐R) James Parsons,

Brian Plummer and David Lamie.

(Le

6

Bristol District: On The Road
---
Employee updates from Human Resources

Rerements:

Darshan Bansa, Engineer Senior Supervisor Structure

and Bridge, 5 Years of Service

Jeffrey Huff, Deskins AHQ Crew Leader Maintenance,

30 Years of Service

James Jones, Engineer Project Manager, 22 Years of

Service

Samuel Page, Wise Residency Roadside Manager, 36

Years of Service

Jerry Townsend, North Bristol AHQ Operator

Maintenance, 44 Years of Service

New Hires

Joey Barker, Communicaons Specialist Senior

Rebecca Brewster, Accounng Specialist

Joshua Brown, Speedwell AHQ Operator Maintenance

Randal Ciccheo, Fremont AHQ Operator Maintenance

Ronald Clark, SWRO East River Tunnel

Christopher Coleman, Operator Sign Crew

Bradley Davis, SWRO Big Walker Tunnel

David Feldes, E. River Mtn. Tunnel Electrician Specialist

Michael Hand, Operator Maintenance N. Bristol AHQ

Jeff Harrison, Abingdon Residency Administrator

Thomas Irvin, Operator Maintenance Sign Crew

Josh Jessee, Equipment Repair Abingdon

Orville Jessee, Construcon Inspector Apprence

Randall Kiser, Operator Traffic

Nancy Lester, Business Coordinator Facilies

Mahew Marshall, Speedwell AHQ Operator

Maintenance

Brandy Miller, Environmental Planner

Chris Musick, Equipment Repair Abingdon

Tony Nuckolls, Speedwell AHQ Operator Maintenance

James Phillips, Coeburn Sub‐AHQ Operator

Maintenance

James Roop, Operator Bridge Washington/Smyth

counes

Caleb Russell, N. Bristol AHQ Operator Maintenance

Gabe Tolliver, Paonsville AHQ Operator Maintenance

Olivia Ward, Ft. Blackmore AHQ Operator Maintenance

Transfers, Promoons and Role Changes

Albert Asbury, promoted to Springville AHQ Supt.

Chrisna Arnold, promoted to HR Benefits Specialist

Mark Arnold, transferred to Maintenance Operator

Wytheville AHQ from Salem

Christopher Bartley, promoted to Bridge Crew Leader

Donald Andy Brewer, transferred to Speedwell AHQ

Supv.

Johnathan Bridgers, promoted to Bland AHQ Crew

Leader Maintenance

Tim Byington, tranferred to TOII Fort Blackmore AHQ

Jeff Campbell, promoted to Fort Blackmore AHQ Supt.

John Couch, promoted to Crew Leader Coeburn

Sub‐AHQ

Travis Deel, transferred to Sign Operator

Tom Fisher, promoted to Glamorgan Maintenance

Supv.

Charles Gunter, transferred to Operator Bridge

Ricky Henry, promoted to Crew Leader Maintenance

Christopher Hicks, promoted to Ft. Blackmore Crew

Leader Maintenance

Jeremy Horton, promoted to crew leader Paonsville

AHQ

Johnny Ingle, promoted to Paonsville AHQ

Maintenance Supv.

Todd Jessee, promoted to Paonsville Maintenance

Supt.

Joseph Kadar, transferred to Contract Monitor Big

Walker Mountain Tunnel

Richard Lefler, promoted to Wytheville Maintenance

Supt.

Josh Lewis, transferred to Architect/Engineer II

Hydraulics

Mahew Lewis, transferred to Interstate Maintenance

Operaons Mgr.

Jacob Mangrum, promoted to Eng Tech Drill Crew

Craig Mullins, promoted to Highpoint AHQ

Maintenance Supv.

Michael Plaster, transferred to Operator Bridge

Kelly Pritchard, promoted to Sr. HR Consultant

James Robinson, promoted to Traffic Signal Supv.

James Lane Shoemaker, Farm transferred to TOII Paonsville AHQ

Tyler Shumate, promoted to Wytheville AHQ Crew

Leader Maintenance

Richard Trey Skeens, promoted to Wytheville

Maintenance Supv.

McKinsey Taylor, promoted to Inspector Supervisor

Bridge

Jessica Wilson, transferred to Interstate Maintenance

Office Business Coordinator

Lois Woods, transferred to Lebanon Residency

Business Administrator

Reece Wya, transferred to Roadside Manager

Patrick Yates, promoted to Big Rock AHQ Supv.

Plum-

The

Repass

Bristol District: On The Road

7
---
Technician of The Year:

Chris Harris

Oakwood Shop Senior Equipment

Technician ll Chris Harris has been

named the Bristol District's 2022

AEMP Foundaon Technician of the

Year. The annual award is presented

to the individual who exemplifies the

heavy equipment profession's best

technician.

Harris has been employed with VDOT

for more than four years. Before

VDOT, Chris was employed for more

than 18 years at Ford as a senior

diagnosc diesel mechanic, and also

spent three years as a diesel

instructor at the Southwest Virginia

Community College.

Within his first two years at VDOT,

Chris became a Tech ll by successfully

acquiring all the relevant ASE

cerficaons. Chris has been known

at mes to go to other district shops

to assist in diagnosc work. His

supervisor, Dave Adams, shared

examples of how Chris has saved

VDOT and the public me and money

by successfully diagnosing and

addressing issues in a mely and

fiscally responsible manner.

Safety Spotlight: The Cold Stress Equation

The Cold Stress Equaon: Low Temps + Wind Speed + Wetness = Injuries &

Illness

When the body is unable to warm itself, serious cold‐related illnesses may

occur, and permanent ssue damage and death may result. Hypothermia

and frostbite are two ways cold weather can have a negave impact on your

health.

Frostbite is an injury to body ssues caused by exposure to extreme cold,

typically affecng the nose, fingers, or toes.

Hypothermia is the condion of having an abnormally low body

temperature, typically one that is dangerously low.

For informaon on what to do when someone experiences hypothermia or

frostbite, visit cdc.gov and search "hypothermia."

How to Protect Workers

Learn the signs and symptoms of cold‐induced illnesses/injuries and

what to do to help the worker.

Recognize the environmental and workplace condions that lead to

potenal cold‐induced illnesses and injuries.

Select proper clothing for cold, wet and windy condions. Layer

clothing to adjust to changing environmental temperatures. Wear a hat

and gloves, in addion to underwear that will keep water away from

the skin (polypropylene).

Take frequent short breaks in warm, dry shelters to allow the body to

warm up.

Chris describes his hobbies as "Doing

Mechanic Work." He owns a garage

in the

community

where he lives

and the garage is

usually busy with

friends and

family seeking

his mechanical

advice and in his

own words,

"watching me work."

Perform work during the warmest

part of the day.

Avoid exhauson or fague

because energy is needed to keep

muscles warm.

Use the buddy system (work in

pairs).

Virginia Department of Transportation

Bristol District - Office of Public Affairs

2111 Bonham Road

Bristol, VA 24201

276-669-6151

michelle.earl@VDOT.Virginia.gov