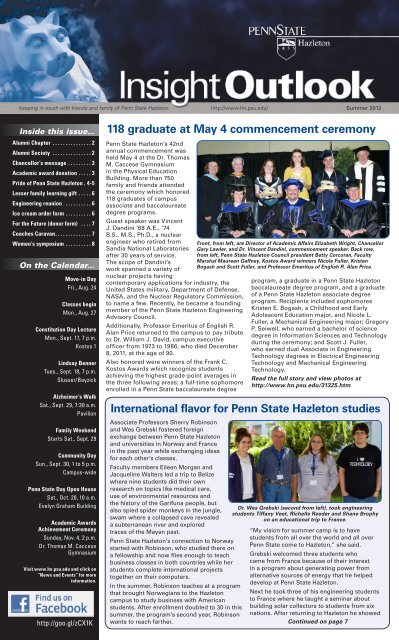 118 graduate at May 4 commencement ceremony - Penn State ...
118 graduate at May 4 commencement ceremony - Penn State ...
118 graduate at May 4 commencement ceremony - Penn State ...
SHOW MORE
SHOW LESS
You also want an ePaper? Increase the reach of your titles
YUMPU automatically turns print PDFs into web optimized ePapers that Google loves.
Keeping in touch with friends and family of Penn State Hazleton http://www.hn.psu.edu/ Summer 2012

Inside this issue...

Alumni Chapter ...............2

Alumni Society ...............2

Chancellor's message . ........3

Academic award donation . ....3

Pride of Penn State Hazleton . 4-5

Lesser family learning gift .....6

Engineering reunion ..........6

Ice cream order form . .........6

For the Future (donor form) ....7

Coaches Caravan. .............7

Women's symposium . .........8

On the Calendar...

Move-in Day

Fri., Aug. 24

Classes begin

Mon., Aug. 27

Constitution Day Lecture

Mon., Sept. 17, 7 p.m.

Kostos 1

Lindsay Benner

Tues., Sept. 18, 7 p.m.

Slusser/Bayzick

Alzheimer's Walk

Sat., Sept. 29, 7:30 a.m.

Pavilion

Family Weekend

Starts Sat., Sept. 29

Community Day

Sun., Sept. 30, 1 to 5 p.m.

Campus-wide

Penn State Day Open House

Sat., Oct. 20, 10 a.m.

Evelyn Graham Building

Academic Awards

Achievement Ceremony

Sunday, Nov. 4, 2 p.m.

Dr. Thomas M. Caccese

Gymnasium

Visit www.hn.psu.edu and click on

"News and Events" for more

information.

http://goo.gl/zCX1K

118 graduate at May 4 commencement ceremony

Penn State Hazleton's 42nd

annual commencement was

held May 4 at the Dr. Thomas

M. Caccese Gymnasium

in the Physical Education

Building. More than 750

family and friends attended

the ceremony which honored

118 graduates of campus

associate and baccalaureate

degree programs.

Guest speaker was Vincent

J. Dandini '68 A.E., '74

B.S., M.S., Ph.D., a nuclear

engineer who retired from

Sandia National Laboratories

after 30 years of service.

The scope of Dandini's

work spanned a variety of

nuclear projects having

contemporary applications for industry, the

United States military, Department of Defense,

NASA, and the Nuclear Regulatory Commission,

to name a few. Recently, he became a founding

member of the Penn State Hazleton Engineering

Advisory Council.

Additionally, Professor Emeritus of English R.

Alan Price returned to the campus to pay tribute

to Dr. William J. David, campus executive

officer from 1973 to 1986, who died December

8, 2011, at the age of 90.

Also honored were winners of the Frank C.

Kostos Awards which recognize students

achieving the highest grade-point averages in

the three following areas: a full-time sophomore

enrolled in a Penn State baccalaureate degree

Front, from left, are Director of Academic Affairs Elizabeth Wright, Chancellor

Gary Lawler, and Dr. Vincent Dandini, commencement speaker. Back row,

from left, Penn State Hazleton Council president Betty Corcoran, Faculty

Marshal Maureen Gaffney, Kostos Award winners Nicole Fuller, Kristen

Bogash and Scott Fuller, and Professor Emeritus of English R. Alan Price.

program, a graduate in a Penn State Hazleton

baccalaureate degree program, and a graduate

of a Penn State Hazleton associate degree

program. Recipients included sophomores

Kristen E. Bogash, a Childhood and Early

Adolescent Education major, and Nicole L.

Fuller, a Mechanical Engineering major; Gregory

P. Seiwell, who earned a bachelor of science

degree in Information Sciences and Technology

during the ceremony; and Scott J. Fuller,

who earned dual Associate in Engineering

Technology degrees in Electrical Engineering

Technology and Mechanical Engineering

Technology.

Read the full story and view photos at

http://www.hn.psu.edu/31325.htm

International flavor for Penn State Hazleton studies

Associate Professors Sherry Robinson

and Wes Grebski fostered foreign

exchange between Penn State Hazleton

and universities in Norway and France

in the past year while exchanging ideas

for each other's classes.

Faculty members Eileen Morgan and

Jacqueline Walters led a trip to Belize

where nine students did their own

research on topics like medical care,

use of environmental resources and

the history of the Garifuna people, but

also spied spider monkeys in the jungle,

swam where a collapsed cave revealed

a subterranean river and explored

traces of the Mayan past.

Penn State Hazleton's connection to Norway

started with Robinson, who studied there on

a fellowship and now flies enough to teach

business classes in both countries while her

students complete international projects

together on their computers.

In the summer, Robinson teaches at a program

that brought Norwegians to the Hazleton

campus to study business with American

students. After enrollment doubled to 30 in this

summer, the program's second year, Robinson

wants to reach farther.

Dr. Wes Grebski (second from left), took engineering

students Tiffany Veet, Richelle Reeder and Shane Brophy

on an educational trip to France.

"My vision for summer camp is to have

students from all over the world and all over

Penn State come to Hazleton," she said.

Grebski welcomed three students who

came from France because of their interest

in a program about generating power from

alternative sources of energy that he helped

develop at Penn State Hazleton.

Next he took three of his engineering students

to France where he taught a seminar about

building solar collectors to students from six

nations. After returning to Hazleton he showed

Continued on page 7
---
page 2

w

Alumni Society

"Making connections" a key focus of alumni society

"Making connections – with fellow and future

alumni" is the mantra for Penn State Hazleton's

constituent organization, the Hazleton Alumni

Society. Two program groups have been

especially outstanding in connecting with and

supporting their alma mater.

The engineering alumni pioneers, formerly and

fondly known as "The '59ers," have continued

to meet each spring at Penn State Hazleton.

Now, they are joined by engineering grads from

more recent years, as well. This year's meeting,

preceded by the inaugural gathering of the

Engineering Advisory Council (see Spring 2012

Insight/Outlook story),

was one of the most well

attended reunions to date.

Engineering student

Shane Brophy

demonstrated his

customized Segway

to the engineers

attending the recent

engineering reunion.

Alumni Chapter

Alumni and guests were treated

to student project demonstrations

highlighting the levels of research

and interest of our engineering

students. Three student interns from

the Universite d'Artois in France also

took part and joined our alumni and

students for dinner (see story on

page 6).

At the other end of the seniority

spectrum from our engineering

pioneers are the alumni of the

Bachelor of Science in Business

degree program which has just

produced its tenth class of graduates.

This calls for a celebration and

gathering of all BSBCC alumni,

during Community Day on Sunday,

September 30. Program alumni

and society board members Joe

The Greater Hazleton Alumni

Chapter has been extremely

active this spring, serving as

both a regional link to the Penn

State Alumni Association for

Penn Staters and friends in

the Hazleton area, and as a

campus/community liaison.

No better example of this

relationship exists than the

chapter's annual golf outing

held this year on May 18

at Sand Springs Golf Club

in Drums. The chapter put

together a very enjoyable day

of food, golf, Penn State and other prizes, and ensured that

no participant left empty-handed! The support of area alumni

and friends for this event ensured that the

chapter would be able to make a substantial

contribution toward their recently created

academic award at Penn State Hazleton. This

award benefits local students who attend

the campus and is the chapter's second

endowment.

In addition, the chapter was again one

of several regional alumni affiliates to

co-sponsor the third annual "Penn State

Day at Knoebels" on May 12. More than

600 alumni, friends and families enjoyed a

picnic lunch, performances by the Alumni

Blue Band, blue-and-white cupcakes, and

Penn State Hazleton senior Zena

Lewoc poses with a Nittany Lion

at the senior send-off.

Matukonis '03 and Marie Hayes '08

and fellow program alum and member

of the first class Bill Van Horn '02 are

spearheading this effort. Watch for

email invitations and updates regarding

the event on the society and campus

Facebook pages.

The Hazleton Society also continued to

support events this spring in recognition

of our newest alumni. The campus and

University Park "Senior Send-offs"

were well attended and provided a solid

connection with our recent class of

graduates and campus alumni.

We look forward to keeping in touch

with all of our alumni – through social media, our campus

website information

update form, and events

that we will plan for and

with you in various parts

of the country. One recent

event, a partnership with

the Alumni Association's

City Lights series, found us

joining New York City area

alumni at the 9-11 Memorial

for a lecture and tour.

Several alumni and friends

had the opportunity to

reacquaint with each other

and enjoy the company of

more than 100 fellow Penn

Staters. Please let us know

if you would like to help

us arrange a gathering of

alumni in your area!

Alumni Chapter helping connect alumni and community

door prizes. The Nittany Lion

enjoyed the day with all of the

attendees, too! The popularity

and success of this event

lead to its nomination for and

receipt of a Penn State Alumni

Association Volunteer Award!

Representatives from each

alumni group involved will be

recognized at the awards dinner

during the fall 2012 Alumni

Council meeting at

University Park.

Hazleton alumni attending the City

Lights event in New York were from

left, Carol Ann Mastroianni '60, Fran

(Gendimenico) Kaufmann '70 and

David Sobocinski '69.

The chapter closed out its

program year with the annual

meeting and dinner at Mea's

Restaurant in downtown Hazleton, celebrating another

year of progress, support and collaboration.

Featured guests were Patrick Chambers, the

Nittany Lion men's head varsity basketball

coach, and former Penn State varsity baseball

player and philanthropist Anthony Lubrano.

Both spent time prior to the dinner posing for

photos with guests and signing autographs,

and each offered his own insights on the

importance of support for the students who

attend Penn State. A formal presentation of

the chapter's check toward their academic

award to Chancellor Gary Lawler took place,

and the evening ended with the awarding of

door prizes and additional social time.
---
Chancellor's Message

The Hazleton Chapter of the Penn State Alumni

Association donated an additional $4,000 to the

group's academic award at the campus which will be

used to support students. The contribution was made

during the annual dinner and meeting held June 5.

This is the second endowment at the campus by the

group; they also have a scholarship.

Participating in the check presentation were, from

left, chapter officers John Skwierz '76, treasurer; Mike

Heon '99, first vice-president; and Mary Homanko '74,

president; Chancellor Gary Lawler, Patrick Chambers,

men's basketball coach; and Anthony Lubrano '82,

trustee-elect and University donor.

http://www.hn.psu.edu/

A message from the chancellor

To our Penn State Hazleton family and friends,

I hope this communication finds you all enjoying your summer. Summer at Penn State

Hazleton, as always, is a busy time with lots of folks on campus. We recently welcomed new

students to meet with academic advisers to determine their interests and plan their course

schedules as they begin their Penn State education this fall. We welcomed a contingent of

34 international students for an entrepreneurship program. And, we were the first campus to

host a Coaches Caravan event, a traveling road show of athletic coaches from University Park

featuring Coach Bill O'Brien.

This activity extends to our alumni, as well. We are fortunate to have the support and

involvement of so many alumni locally and around the country. They assist us in expanding

and improving academic offerings, access for students, and interaction with the community.

Many alumni and legislators expressed support for the University during the recent state

budget process, when a 30 percent cut in appropriations for the state-related schools was

proposed. Thankfully, state legislators reaffirmed their commitment to higher education and kept funding levels the

same as last year.

This funding is crucial as we look to increase the number of degree programs at our campus. The recent addition

of the Bachelor of Science degree in Engineering has garnered support from alumni and industry leaders. In fact,

Dr. Wes Grebski, program coordinator, and three students recently returned from an international conference on

sustainability in France. You'll read more about the connections we're making and the opportunities we're providing

to prepare students for the global economy.

As we continue to move forward, I want to acknowledge all those who have contributed to our progress through the

years, three of whom will be retiring shortly.

• Anne Hester, instructor in psychology and coordinator of the Letters, Arts, and Sciences degree program, will be

retiring after 11 years at Penn State Hazleton. Anne has been instrumental in expanding her program and is well

known across campus as being student-focused.

• Sally McGuire, director of Continuing Education, will be retiring after 15 years of service, during which she

helped to introduce new programming to our campus which has provided community members and local

industry with Penn State expertise and skills that help us fulfill the outreach portion of our land grant mission.

• And Judy O'Donnell, advising program coordinator and instructor in English, who will retire with more than 25

years of part- and full-time service. Judy has faithfully served our students and faculty members in all aspects of

academic advising, from working one-on-one with students to training faculty members and planning the initial

advising visit for new students each year.

We wish them all the best as they begin a new chapter of their lives.

In closing, I want to let you know how grateful I've been for the continued support and interest of alumni and friends

in the wake of great challenges across the University. Additionally, you continue to touch the lives and futures of

many of our students and staff through your philanthropic gifts. For that, I thank you on behalf of our recipients, as it

makes a profound difference.

I invite you to stay in touch with us by visiting www.hn.psu.edu, connecting with us on Facebook, and coming back

to campus. Our annual Community Day is scheduled for Sun., Sept. 30 from 1 to 5 p.m. Make plans to meet up with

old friends and bring your family – there will be something for everyone.

Enjoy the rest of your summer and I hope to see you sometime soon.

Sincerely,

Chancellor

Gary M. Lawler

Alumni Chapter makes additional donation to academic award fund

page 3
---
The

page 4

Pride of

Penn State Hazleton

By Kevin J. Salaway

Director of Development and University Relations

Kathryn Thaller '55 and Lawrence

Thaller '55 invited me to their

home in Bluffton, S.C., and

took me to their club were we

visited over lunch. Kathryn was

a chemistry and microbiology

major who went to work in a

hospital after graduation. They

married right after graduation, and

Larry went on to Northwestern

to get his Ph.D. while Kathryn

earned a teaching certificate

from a local college and began

teaching biology at a local high

school. Three children and two

grandchildren later, Kathryn and

Larry are enjoying retirement:

Kathryn from teaching and a life of

volunteer work and Larry from an

engineering career which included

positions at NASA. Kathryn

remembered Henry Giuliani and

Dominic Landro and she is looking

forward to their sixtieth high

school class reunion later this

summer.

Tamra Feifer '92 and I met at her

offices at the Dramatist where she

serves as director of operations.

The Dramatist is a licensing and

publication company serving

the theater industry in New

York. Tammy, who is pursuing

a lifelong dream of working in

the theater, told me that she

had held just about every job

there is in the theater business,

including paid audience member,

set designer and stage manager.

She commented at how amazing

it was for her, as a freshman,

at the Hazleton campus to be

charged with building the set for

a performance of "Barefoot in the

Park." She was very impressed

that young lower-division

students were given that level of

responsibility. [Still true at Penn

State Hazleton, Tammy!]

William Palfey '81 and I met near

the Pentagon where he works for

Calibre Systems, Inc., a contractor

to the Department of Defense.

Bill came to the campus and

joined the ROTC program. Upon

graduation, he went directly into

the service as a commissioned

officer and subsequently returned

to Penn State to get a master's

degree in advanced civil studies.

He is one of four siblings who

attended the Hazleton campus.

Bill and his wife, Janet, have

two children. Their daughter is

a graduate of the University of

Colorado and their son, a junior

in high school, is considering an

engineering career.

Gregg Bielen '84 is senior director

of finance at AOL where he has

worked for the past 15 years.

Gregg started in finance at E

Systems and stayed on for several

years after it was purchased

by Raytheon before coming to

AOL. Gregg and his wife, Cheryl,

have three children, a son and

twin daughters. He came to the

campus from Hometown where

he worked part-time at the IGA

that was owned by the Zukovich

family. He is also a friend of Walter

Kruczek '68. Gregg remembered

English Professor Alan Price from

the campus, as well as several

classmates to whom he sends

best wishes.

Greg Mutchler '78, '82 is the

CFO for Mid South Building

Supply, managing all financial

activities for the company across

multiple locations. He has been

with Mid South since graduation

from Penn State, starting in the

Harrisburg location at an entry

level. Greg has been in the Fairfax

County, Virginia, area for about

30 years after being promoted

several times and ultimately as

the top financial officer in the

company. Greg remembered a

number of people at the campus,

most notably Nick Skimbo, Elliot

Eisenberg and Carl Frankel. Greg

grew up in Williamsport.

Joe Fisher '49 was an English

professor at the campus

during the 1950s and is fondly

Kathryn Thaller '55 and

Lawrence Thaller '55

Tamra Feifer '92

William Palfey '81

Gregg Bielen '84

Greg Mutchler '78, '82

Joe Fisher '49
---
Andrew Tomsho '78

John Cusatis '85

Brandon Murphy '02

Matt Conn '98 and

Becky Conn '96

Steven Duvall '82

Nick Pecone '70

http://www.hn.psu.edu/

remembered by our alumni of

the period. (Coincidentally, I had

just met with Bert Lofstrom '54

a week prior and, knowing that I

was to meet with Joe and his wife,

Kathleen, the following week,

Bert asked me to extend his best

wishes, which I did, of course.)

Joe and Kathleen and I met over

lunch near their home in Virginia.

Joe and Kathleen are both well,

keeping busy with children and

grandchildren. They walk each day

as part of their fitness regimen

at the mall where we had lunch.

Joe, now 92 years of age and

an inspiring example of healthy

living, wishes the very best to "all

those youngsters" that he taught

in the 1950s.

Andrew Tomsho '78 and I met at

his offices at Wells Fargo where he

serves as chief portfolio manager.

Upon graduation, Andy went to

work at the Bank of New Jersey in

a management training program.

The branch was located in

Piscataway and he lived in Edison.

Andy grew up in the Heights of

Hazleton and his father still lives

in the family home. Andy and

his wife, Lynne, have two sons:

one is a student at UNC and the

other is a high school sophomore.

The latter son is in the process

of looking at schools and may be

considering Penn State, where he

would be welcomed, I'm sure!

John Cusatis '85 and I met at the

Charleston County School of the

Arts where he teaches English

and writing and also serves as the

adviser to the school newspaper.

John earned his degree in English

from Penn State and, based on his

discussions with and the advice he

received from Dr. Michael Santulli

at the campus, he went on to get

a teaching certificate from Wilkes

College. John conveyed a deep

appreciation for the counsel that

he received from Dr. Santulli and

how transformative it was. John is

also a musician who plays guitar.

He told me that the first time

that he performed in public was

on the Hazleton campus in the

Commons, now Slusser/Bayzick.

Brandon Murphy '02 grew up in

Weatherly, but moved to South

Carolina during high school. He

is now a manager with the Kickin'

Chicken, a regional franchise

of prepared chicken in South

Carolina. Brandon had initially

majored in Hotel, Restaurant and

Institutional Management, but

changed his degree to liberal arts.

While in Charleston he attended

Trident Tech and got his degree

in Hospitality Management. He

is very active with track and field

sports and he is coaching track at

a local high school. He told me

that will be fulfilling a lifelong

dream of attending the Olympics

this summer in London. Brandon

had some fond memories of

the campus and in particular

mentioned Patrick O'Neil who

teaches art history at the campus,

and biology Professor Carl

Frankel.

Becky Conn '96 and Matt Conn

'98 live in Bluffton, SC with

their two-year-old son, Duncan

Matthew. Becky is a vice president

at Atlantic Community Bank,

working in the compliance and

loan areas. Matt runs their family

business, Low Country Realty, a

real estate business focused on all

three primary real estate business

sectors - sales, rentals and rental

management. While Becky is an

alumna of the Hazleton campus,

Matt is a Smeal alumnus who

started at the York campus.

Steven Duvall '82 has been

in the banking industry since

graduation and is now at PNC

Bank Corp. in New Brunswick,

NJ, where he serves as senior

vice president overseeing the

commercial lending business for

the northeastern region. Steve is

married and his wife, Patty, is a

full-time homemaker. Steve came

to the campus from his hometown

of Lancaster. He remembered Nick

Skimbo, accounting instructor,

who was particularly inspiring

for him.

Nick Pecone '70 is at Goodwill

Industries in Savannah where he

serves as executive director of

rehabilitation. Nick came to the

campus after moving from upstate

New York to the Hazleton area.

This role follows a diverse career

and life experience path that

included serving in the military,

teaching at a private school in

Devon, and completing a 33-year

career with the Pennsylvania State

Office of Rehabilitation. He and his

wife have two sons.

page 5
---
Alumni

page 6

Development

Lessers support learning center through additional gift

Paul Lesser '75 and his mother, Anna, recently

made an additional contribution to their endowment

supporting the Teaching and Learning Resource

Center located in the Charles T. Butler Center. In

April 2011, they established the Anna Lesser and

Paul Lesser Scholarship in Business and, in addition,

secured the naming rights of the director's office in

the learning center through an additional gift. The

office is named in memory of John Evancho, Paul's

uncle, to honor his commitment to lifelong learning.

Their most recent gift in March is a continued

expression of support to learning and the

advancement of students.

Campus engineering alumni return for meeting and reunion

Engineering alumni from around the country arrived back on campus

on April 13 for the inaugural meeting of the Penn State Hazleton

Engineering Advisory Council (HEAC) and for the annual engineering

reunion.

Engineers, spouses, instructors, and students came together to enjoy

the program which highlighted enhancements to the Penn State

Hazleton engineering program. Also featured were presentations by

students showcasing their research and capstone projects, including

Shane Brophy and his customized Segway, Anthony Trezza and his

parabolic mirror for high-speed cooking using solar energy, and Beau

Quick and his enhancements to a spool for wire.

The evening was capped off by dinner and socializing in the atrium

lobby of the Evelyn Graham Academic Building.

Engineering alumni have been strong supporters of the degree

program through input on advisory boards, attendance at

engineering events, and contributions to the program and

scholarships for students.

The event was co-sponsored by the Hazleton Alumni Society and

the campus development office.

*** CREAMERY ICE CREAM PRE-ORDER FORM ***

Community Day at Penn State Hazleton

Join us for great events, activities and fun for the whole family!

Sun., Sept. 30, 2012, 1-5 p.m.

Alumni open house

Student groups and displays

Musical and theatrical performances

Nittany Lion Cubs Den activities

Hand-dipped Creamery ice cream

Bookstore open

Faculty lectures/presentations

Photos with the Nittany Lion

Events and exhibits at Library... plus much more!

Order your ice cream today!

(Deadline is Friday, August 24)

Pre-order half gallons of Creamery ice

cream and pick them up on Community Day

at the Highacres Café from 1-5 p.m.

Visit www.hn.psu.edu for

the most current

Community Day schedule.

Pictured, from left, are Chancellor Gary Lawler, Jane Waitkus, learning center

director and instructor in English, and Paul Lesser '75.

___________________________________________________

Last Name First Name MI

___________________________________________________

Home address City State Zip

___________________________________________________

Home phone Cell phone Email Address

■ Each half gallon costs $7.00

■ Order by mail. Deadline is Friday, August 24

Number of Number of

1/2 gallons Flavor 1/2 gallons Flavor

__________ WPSU Coffee Break _________ Vanilla

__________ Butter Pecan _________ Chocolate

__________ Peanut Butter Swirl _________ Strawberry

__________ Cookie Dough _________ Coconut Chip

__________ Total Quantity

__________ Total Cost (Qty. x $7.00)

Engineering student Anthony Trezza, left, talks with

Alan Blamey '84, chief of fuel inspection for the Nuclear

Regulatory Commission for Region II, who traveled from

Georgia to attend the event.

Make checks payable to "Penn State University"

Mail to: Penn State Hazleton, Student Affairs,

76 University Drive, Hazleton, PA 18202

■ Pick up orders Sept. 30 from 1 to 5 p.m.

■ Sorry, we can't accept orders by telephone
---
Academics

http://www.hn.psu.edu/

International studies (continued from page 1)

the visiting Norwegians how to bake

bread with the sun.

"Engineering is a global profession. In

order to stay on the cutting edge of the

technology, international cooperation is

necessary," he said.

Sustainability was one of the themes

at a conference Grebski attended at

the Universite d'Artois in Bethune,

France, and of the two-week camp on

entrepreneurship in Hazleton where

Robinson taught students from Norway.

During their visit, the students traveled to

Lancaster and Washington, D.C.

"It's an excellent way not only to get

introduced to entrepreneurship, but to

get to know and interact with people

from another country," Penn State

Events

Coaches Caravan comes to Penn State Hazleton

The Coaches Caravan hit the road this spring for 18 stops

in nine days, providing fans the chance to meet and hear

from some of the leaders of Penn State Athletics. Penn

State Hazleton was the first campus to host one of the

events which had stops scheduled in seven states and

Washington, D.C.

First-year football coach Bill O'Brien headlined the bus

tour which also featured men's golf coach Greg Nye

and women's basketball coach Coquese Washington

at a lunch for more than 200 alumni and friends in the

Dr. Thomas M. Caccese Gymnasium in the Physical

Education Building.

The coaches participated in a media conference in the

Evelyn Graham Academic Building prior to the lunch and

signed autographs and posed for photos with attendees.

Sponsored by the Nittany Lion Club and the Penn State

Alumni Association, the local event received support

from the Penn State Hazleton Alumni Society. Members

of the society and the Hazleton Alumni Chapter served

as ambassadors, welcoming and assisting guests at the

event.

___ Yes, I/we want to support Penn State Hazleton with a gift to the For the Future Campaign.

Name: ___________________________________________________________________________

Address: __________________________________________________________________________

City: __________________________________________ State: _______ Zip: __________________

Employer: __________________________________________ Matching gift company? __ Yes __ No

My Penn State Affiliation: __ Alumnus _____________________________ (Year, Campus)

__ Friend __ Parent __ Other (specify) __________________________

Direct my gift to support:

_____ Hazleton Future Fund (XBHFF)

_____ Hazleton Campus General Scholarship Fund (SBHGN)

Chancellor Gary Lawler said.

Lawler has sought exchanges between

students and professors at the Hazleton

campus and their counterparts from the

world over.

He visited India to help with a program

that brings students who had studied

for two years or more at their homeland

universities to Hazleton to gain degrees

from Penn State.

The first three students, after spending

more than a year in Hazleton, have

returned to India with bachelor's degrees

in Information Sciences and Technology.

Lawler will seek out partnerships with

Indian universities that can send students

to Hazleton and other Penn State

campuses.

Above: From left, Penn State

coaches Bill O'Brien, Greg Nye

and Coquese Washington spoke

to more than 200 alumni and

friends during the Coaches

Caravan at Penn State Hazleton.

Right: Coach O'Brien signed

many items for alumni and

friends, including a mini

football for Penn State Hazleton

Council member John Meier.

_____ Annual Fund for the Honors Program (XBHHH)

_____ Faculty Scholarly Activities Fund (XBHFS)

Check Payment: Gift Enclosed: $ _______________ Please make checks payable to Penn State University

Please return to: Penn State Hazleton, Attn: Kevin Salaway, 76 University Drive, Hazleton, PA 18202

For credit card payments and electronic fund transfers, go to: www.hn.psu.edu/giving/givetoday.htm

As with the venture in Belize, the trip that

Grebski took to France with engineering

students Shane Brophy, Tiffany Veet and

Richelle Reeder was brief.

Although in France for just two weeks,

Reeder joined a group of students that

designed logistics for an imaginary

company. They also considered how to

reduce the company's environmental

impact. Group members came from

Germany, Romania, Italy and United

States.

For the Future: The Campaign

page 7

The experience of attending Penn State

Hazleton and interning with a local

company during a three-month stay in

the United States fit into the career plans

of Yann Le Moing, one of three French

students who came to the campus this

spring.

for Penn State Students will be a

defining effort for the University and Penn

State Hazleton. Please consider making

a gift today. Contact Kevin Salaway at

570-450-3175 or email kjs27@psu.edu to

discuss your interest in supporting this

effort in other ways, or with a major gift.

Remember...

Your pledge stays right here

at Penn State Hazleton!

AD30N
---
InsightOutlook

76 University Drive

Hazleton, PA 18202

(570) 450-3000

www.hn.psu.edu

ADDRESS SERVICE REQUESTED

InsightOutlook is published three times a year by the Office of Development and University Relations at Penn State

Hazleton. We welcome your comments and future story ideas.

Layout and design by Precision Design, 100 W. Broad St., Suite 301, Hazleton, PA 18201 · www.precisiondesignonline.com

Nonprofit Org.

U.S. Postage

PAID

Hazleton, PA

Permit No. 11

Alumna tells story of perseverance at Symposium

Penn State Alumna Antonella

Nester speaks about her QVC

television network career

during the 6th Annual Women's

Symposium in March.

InsightOutlook Volume

X, Number 3

Office of Development and University Relations · Penn State Hazleton · 76 University Drive · Hazleton, PA 18202

Kevin J. Salaway

Director

Phone: (570) 450-3015

E-mail: kjs27@psu.edu

Susan M. Bartal

University Relations

Phone: (570) 450-3179

E-mail: smb16@psu.edu

QVC program host and Penn State alumna

Antonella Nester provided the keynote

address at Penn State Hazleton's sixth

annual Symposium on Contemporary

Women's Issues on March 18. The theme,

"Empowered for Life: Navigating YOUR

Career Path," focused on various topics

to help women achieve personal and

professional success.

Nestor openly related her personal career

quest, all while encouraging attendees to

believe in themselves and to not give up.

Prior to joining QVC, Nester spent more

than 15 years as a medical technologist

and served as an actor in instructional

videos for a major drug store chain.

Following the keynote address, three

breakout sessions were held. Joining

Nestor and the breakout session

presenters for a panel discussion on

Carole H. Shearer

Alumni Relations

Phone: (570) 450-3016

E-mail: chs14@psu.edu

To learn more about Penn State Hazleton and its academic programs, events and activities, visit us at www.hn.psu.edu.

career paths were Eileen Chapman, J.D.,

L.L.M.; U.S. Marines, retired; lawyer

and executive director of AGAPE in

Bloomsburg, and Beth Terrell, BFA; owner

and design director, Lizden Industries, Inc.

Funded through an endowment

established by local business woman E.

Lee Beard, the Women's Symposium is

designed to engage women's interest in

topics related to professional and personal

development. Each year, the symposium

focuses on a new theme, and all women

are encouraged to attend the free event.

Additional support for the symposium was

provided by the Penn State Commission

for Women, Penn State Hazleton Student

Activities Fund, and Penn State Hazleton

Women's Symposium Committee. Locally,

PPL has been a sponsor of the event since

the event was created.

Jackie B. Scarcella

Administrative Support Assistant

Phone: (570) 450-3560

E-mail: jbs22@psu.edu

This publication is available in alternative media on request. The Pennsylvania State University is committed to the policy that all persons shall have equal access to programs, facilities,

admission, and employment without regard to personal characteristics not related to ability, performance, or qualifications as determined by University policy or by state or federal

authorities. It is the policy of the University to maintain an academic and work environment free of discrimination, including harassment. The Pennsylvania State University prohibits

discrimination and harassment against any person because of age, ancestry, color, disability or handicap, national origin, race, religious creed, sex, sexual orientation, or veteran status.

Discrimination or harassment against faculty, staff, or students will not be tolerated at The Pennsylvania State University. Direct all inquiries regarding the nondiscrimination policy to the

Affirmative Action Director, The Pennsylvania State University, 328 Boucke Building, University Park, PA 16802-5901; Tel 814-865-4700/V, 814-863-1150/TTY. U. Ed. HNO 12-3.