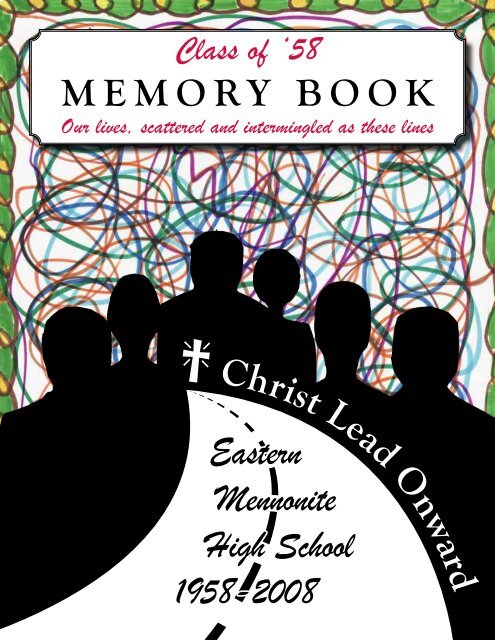 Class Of - Shawn Snider
Class Of - Shawn Snider
Class Of - Shawn Snider
SHOW MORE
SHOW LESS
Create successful ePaper yourself
Turn your PDF publications into a flip-book with our unique Google optimized e-Paper software.
Class of '58

M e M o r y B o o k

Our lives, scattered and intermingled as these lines

Eastern

Mennonite

High School

1958-2008
---
A Wword From theClass Sponsor

Vivian Beachy (class sponsor)

(302) 349-5109 • 12091 Sunset Ln, Greenwood, DE 19950

Leonard Beachy

(513) 931-5654 • 9729 Paul Farm Ln, Cincinnati, OH 45231

ruth (Beachy) Delp

(574) 875-4266 • 58121 CR 23, Goshen, IN 46528

ruth (Benner) Dean

(540) 867-5207 • 3527 Apple Tree Dr, Harrisonburg, VA 22802

Vernon Birky

(574) 534-3527 • 407 S 5th St, Goshen, IN 46526

Phyllis (Bontrager) rhodes

(620) 327-4154 • 203 Kingsway, Hesston, KS 67062

Chester Bradfield

(540) 828-2907 • 9219 Centerville Rd, Bridgewater, VA 22812

Marjorie (Brenneman) roach

(307) 742-8005 • Stetson Court, Laramie, WY 82070 (summer)

(623) 214-7841 • 17722 N El Dorado Way, Surprise, AZ 85374 (winter)

Doris (Brubaker) Heatwole

(540) 828-1891 • 9 Richard Ct, Bridgewater, VA 22812

Jane Burkholder

(540) 434-8227 • 1034 College Ave, Harrisonburg, VA 22802

Shelby (Campbell) Fryling

(818) 352-7432 • 9429 Trebert Pl, Tujunga, CA 91042

Norman Coffman

(856) 795-4598 • 7 Macarthur Blvd #1602, Haddon Township, NJ 08108

Marlene (Collins) Showalter

(540) 896-9412 • PO Box 335, Broadway, VA 22815

earlene (Delp) Wallick

(216) 752-5205 • 3320 Avalon Rd, Cleveland, OH 44120

50th Reunion 3

Greetings to you all from Delaware:

Yes, I've returned to Delaware after 50 plus years in Virginia. I'm living in a country retirement center and

enjoying the leisure life after 45 years of teaching. One of these was in Honduras and two in Ethiopia. During one

sabbatical I studied in Birmingham, England; from there I traveled to all four coasts of the isle.

I've enjoyed traveling; at least I set foot in all 50 states and have visited six continents. I know Antarctica is too

cold for me to enjoy.

My years in Africa afforded opportunity for extensive travel there with the privilege to come home through the

Middle East, and Honduras opened doors to travel in Central America. I've taken 10 cruises--the coldest to the

Arctic Circle, and the hottest through the Panama Canal. This past June, I returned from a tour/cruise to Alaska

with TourMagination. What beautiful scenes of a flight around Mt. McKinley have dominated the mindscape!

After retiring from teaching, I trained for hospital chaplaincy. Work at RMH filled the eight-year gap before my

moving back to DE. I'm so blest to be with family again; yet I'm in my own home and free from maintenance and

ground cares.

However, I'm still venturing into new areas. This past November I underwent bi-lateral knee replacements. Now

I'm enjoying my 2.2 mile-walk each morning down a country road between corn and soy bean fields and woods. I've

just recuperated from cancer surgery and am on the threshold of chemo-radiation cycles. I pray for healing, but only

if it's God's best for me. My life has been so richly blest; I don't want anything outside of His plan.

Hoping to get to the reunion, but if I don't, I'll be praying for each one of you by name (as I did when you were

my students.) Blessings of joy and peace.

—Vivian Beachy

Class of '58 Directory

Vivian Beachy

earl Delp

(574) 875-4266 • 58121 CR 23, Goshen, IN 46528

Betty (Deputy) Holder

(785) 537-7853 • 3018 Tumbleweed Ter, Manhattan, KS 66502

ronald L. Deputy

(540) 833-6005 • 9380 Frank Lane Rd, Singers Glen, VA 22850

Lorena (Detwiler) Penner

(574) 642-3436 • 67613 CR 37, Millersburg, IN 46543

Nelson Driver

(540) 942-3570 • 45 Shalom Rd, Waynesboro, VA 22980

eleanor (eby) Mumaw

(540) 434-8856 • 165 Belmont Dr, Harrisonburg, VA 22801

Janet (esch) Firmani

(301) 596-7762 • 7466 Weather Worn Way, Columbia, MD 21046

Audrey (eshleman) Clopper

(717) 597-5010 • 451 Moss Spring Ave, Greencastle, PA 17225

ruth (eshleman) Schrock

(219) 533-0279 • 1428 Hampton Cir, Goshen, IN 46526

Mae (Funk) Morris

(540) 943-7795 • 100 Longview Cir, Fishersville, VA 22939

Carolyn (Gerber) Martin

(330) 698-1006 • 6543 E Messner Rd, Apple Creek, OH 44606

ervie Glick

(540) 434-1640 • 426 Greenwood St, Harrisonburg, VA 22801

Cynthia (Good) Chitwood

(319) 656-2501 • 1404 J Pl, Kalona, IA 52247

(

Wilson Good

(505) 438-2019 • 26 Crazy Rabbit Rd, Santa Fe, NM 87508

©2008 EMHS Class of '58 v Editors: Gloria Snider & Phyllis Ramer v Typist: Eleanor Mumaw & Gloria Snider v Design: Shawn Snider v Cover Art: Jane Burkholder v Printing: Liberty Press
---
4 Class of '58

Gloria (Harman) Snider

(540) 896-3049 • 324 Copper Dr, Broadway, VA 22815

Alice (Hartzler) Hostetter

(540) 943-9614 • 2657 Lyndhurst Rd, Waynesboro, VA 22980

Philip Hartzler

(540) 949-6596 • 824 Maple Ave, Waynesboro, VA 22980

roy Heishman

(540) 434-2496 • 973 College Ave, Harrisonburg, VA 22802

erma (Horst) Taylor

(540) 433-2063 • 2120 Mint Springs Rd, Harrisonburg, VA 22801

James Horst

(540) 234-0497 • 197 Wayside Dr, Weyers Cave, VA 24486

rachel (Horst) Witmer

(330) 823-2848 • 1300 Winesap Ln, Alliance, OH 44601

Stanley Hostetter

(540) 943-9614 • 2657 Lyndhurst Rd, Waynesboro, VA 22980

Merrill Hunsberger

(519) 746-1714 • 619 Sandringham Dr, Waterloo, ON N2K 3L8, Canada

edith (Jantzi) rice

(757) 249-0670 • 51 Scufflefield Rd, Newport News, VA 23602

Josephine (kanagy) yoder

(717) 898-8098 • 3120 Windsor Dr, Landisville, VA 17538

John kauffman

(715) 943-2285 • 10824 W St Rt 48, Exeland, WI 54835

Lowell kauffman

(540) 867-5383 • 359 Bellview Rd, Harrisonburg, VA 22802

robert kauffman (deceased)

Ann (keeler) Heishman

(304) 874-3356 • 28846 State Rd 55, Wardensville, WV 26851

ellen (kiser) Wyant

79 Stuart Ave, Stuarts Draft, VA 24477

Jeanette (Landes) Goad

(803) 642-9750 • 321 Magnolia Lake Ct, Aiken, SC 29803

C. Sheldon Layman

(540) 879-2471 • 771 Hillview Dr, Dayton, VA 22821

Margaret (Layman) Shank

(540) 564-2484 • 1160 Dale Cir, Harrisonburg, VA 22801

richard Layman

(540) 298-8222 • 3069 N East Side Hwy, Elkton, VA 22827

Marilyn (Mast) Schlabach

(330) 674-1855 • 6565 CR 625, Millersburg, OH 44654

Maribeth (Messner) kreider

(304) 457-2987 • 221 S High St, Philippi, WV 26416

Arley Miller

(717) 737-3202 • 440 Brentwater Rd, Camp Hill, PA 17011

elsa (Miller) Wittmer

(216) 877-3675 • 1948 State St NE, North Canton, OH 44721

Joyce (Miller) Thieszen

(941) 371-8407 • 4290 Molokai Dr, Sarasota, FL 34241

Mamie (Miller) Mellinger

(540) 433-1752 • 2926 Koffee Ln, Harrisonburg, VA 22801

Barbara (Mohler) Gerber

(231) 529-6276 • PO Box 526, Brutus, MI 49716

Janet (Mohler) Moore

5419 S 22nd St, St Joseph, MO 64503

Martha (Mullet) yoder

(330) 877-2867 • 9388 Market Ave N, Hartville, OH 44632

Mary (Mullet) Miller

(330) 852-4144 • PO Box 143, Walnut Cr, OH 44687

David Mumaw

(540) 434-8856 • 165 Belmont Dr, Harrisonburg, VA 22801

Mary (oberholtzer) Flory (deceased)

Mary (rollins) Hinkle

50 Oak Apple Ln, Hendersonville, NC 28792

Sara (roth) Detwiler

(989) 848-2305 • 1361 Helmer Lake Rd, Fairview, MI 48621

eleanor ruth (deceased)

Albert Schlabach

(585) 442-7429 • 204 Valley Rd, Rochester, NY 14618

eunice (Schrock) Mast

(509) 935-4948 • 305 W Franklin Ave, Chewelah, WA 99109

eldon Shank

6301 Blakely Sq Apt 101, Virginia Beach, VA 23464

oren Shank

(540) 896-8695 • 5925 Trissels Rd, Broadway, VA 22815

Phyllis (Showalter) ramer

(540) 896-3971 • 5923 Trissels Rd, Broadway, VA 22815

John Stahl

(540) 433-8504 • 409 Summit St, Harrisonburg, VA 22802

Sharon (Stalter) Dietzel

(989) 375-2262 • 5680 Geiger Rd, Elkton, MI 48731

robert Steckley

(541) 823-8138 • 1277 College Green Dr, Ontario, OR 97914

Corrine (Steffen) Helmuth

(330) 857-3411 • 13965 Western Rd, Apple Creek, OH 44606

Mahlon Steffen

(330) 857-8484 • 6548 Kidron Rd, Apple Creek, OH 44606

ethel (Steiner) Hoffman

(574) 533-9738 • 925 Lucerne Dr, Goshen, IN 46526

eugene Stoltzfus

(807) 274-0138 • PO Box 1482, International Falls, MN 56649

Miriam (Strong) Valido

(813) 884-4468 • 13226 Cypress Cove Rd, Lutz, FL 33549

John Swartz

(540) 337-4856 • 100 Virginia Ave, Stuarts Draft, VA 24477

karen (Swartz) Bontrager

(517) 676-2602 • 40 W Harper Rd, Mason, MI 48854

Lowell Turner

(540) 896-7794 • 12844 Turleytown Rd, Broadway, VA 22815

Carl Wenger

526 Moorings Cir, Arnold, MD 21012

robert Wenger

International College, PO Box 11-0236, Beruit, Lebanon

katie (Wengerd) Troyer

(330) 857-0305 • 362 Woodbury Cir, Dalton, OH 44618

Homer Witmer

(519) 664-0426 • 105-1070 Printery Rd, St Jacobs, ON N0B 2N0, Canada

Margaret (Witmer) Wenger

(941) 870-3737 • 4418 Winston Ln, Sarasota, FL 34235

Betty Jane (yoder) Anderson

(301) 729-2683 • 13831 Maple Tree Ln SW, Cumberland, MD 21502

Charlotte (Zehr) klingelsmith

1286 Townline Rd, Alden, NY 14004

John Zehr (deceased)
---
Letters From Your Classmates

50th Reunion 5

Welcome to the 50 th edition of letters from members of the class of 1958! We, who have worked on putting

this book together, hope you enjoy it. Since it is the 50 th year edition we have tried to make it more special.

Thanks to the technology of the 2000's we have been able to use pictures. It has been a fun project and I have

also enjoyed working with my youngest son, who did the layout work and chasing his 19 month old Colin (such

hardship!) while Shawn was busy.

Thinking back to those graduates in '58; we have all lived such varied lives and have done so many different

things. Who would have thought or dreamed what we would become? Only God knew our paths and the

choices we would make. There are times when each one of us has allowed ourselves to wander from our motto

of allowing Christ to lead us onward but God has used us and he has led us…and still does!

You will find the letters arranged as we were listed in the '58 Shenandoah. For those who married

classmates, and wrote a combined letter you will find only one letter but the pictures are found alphabetically,

not together as you might expect. Have fun catching up with many of our classmates.

After graduation I spent the next five years earning my CRNA degree.

While still in school I married Carolyn Troyer.

We moved to Newport, KY to assist with a church plant in 1965. I was blessed with a great employment

opportunity and we settled into the Midwest permanently.

Carolyn and I are the parents of three sons. Each are married and have children of their own, giving us 11

grandchildren.

There are many things I enjoy doing but working on a project with one of our sons tops the list. I also enjoy

watching sporting events, especially ones where a grandchild is playing.

Wood working projects, Sudoku and reading are favorite pastimes.

I am currently semi-retired, administering anesthesia four mornings a week at a surgery center. This allows

time for church related activities and enjoying life at our lake home.

God has blessed my life and I am grateful for His love and protection.

—Leonard Beachy

Timeline of the Highlights of Our Lives since High School:

1962 – Earl graduates from EMC with history major. Ruth receives R.N. certification from Riverside Hospital

School of Nursing. August 18, we unite in marriage in Pigeon, Michigan.

1962-1964 – Earl teaches high school social studies at Belleville Mennonite School. Ruth begins career in

obstetric nursing.

1964-1965 – Earl does course work for M.A. at Penn State University while Ruth works at the hospital near State

College.

1965-1995 – Earl pursues teaching and coaching career at Madison High School, Madison, Ohio. Ruth works at

Geneva Memorial Hospital in Obstetrics, Coronary Care and Emergency Room.

1967 – Son, Eric, is born. He graduates with an engineering degree from Wright State University in 1990 and

later acquires his M.B.A. from I. U. Today he lives in Union, Kentucky, where he works in management for Toyota.

1970 – Daughter, Shana, is born. She graduates from Kent State University with a degree in applied

mathematics. Since her college graduation, she has acquired an Actuary Fellowship and works as an insurance

actuary at Mennonite Mutual Aid.

1975 – Son, Joel, is born. He receives a bachelor's degree from Indiana Wesleyan University and MBA and

Masters of Divinity degrees from North Park Seminary in Chicago.

1991 – Marriage of Shana to James O'Dell. They have three daughters and live very near us in Goshen.

1995 – Earl retires from full time teaching and we move to Goshen, Indiana. We travel to Japan for the wedding

of Eric and Fumiko Ito. They now have two daughters.

2002 – Joel marries Kimberly Carter. Kim has acquired her B.S. in nursing and is currently finishing

requirements to be a nurse practitioner. Kim and Joel are commissioned as missionaries to Ecuador and plan to go

to that field next year.

1999-2008 – After working at part-time jobs like substitute teaching, Earl retires in 1999. Ruth retires in 1999 as

Leonard Beachy

Ruth (Beachy) Delp

(
---
6 Class of '58

'

Ruth (Benner) Dean

Vernon Birky

well from Goshen Hospital Progressive Care Unit. We

stay active with travel, gardening, numerous volunteer

projects in our church ad community, and most

especially, enjoying our grandchildren.

—Earl and Ruth (Beachy) Delp

Dear Classmates,

My husband, Herb, and I live 4 ½ miles west of

Harrisonburg on Apple Tree Drive. Our three children

are married and live in the Harrisonburg area. We feel

fortunate to have them and our six grandchildren live

close to us.

I retired from Virginia Mennonite Retirement

Community last year after working there for 25

½ years. Herb is also retired. We enjoy camping,

gardening, helping care for our grandchildren and

attending their ball games, recitals, etc.

Sincerely,

—Ruth Benner Dean

Christ Lead Onward

John Stahl

When we eager youth, O Lord, we mount the upward way

To meet each challenge and gain new heights to follow Thee,

We pray, give us new vigor when we may weary be

To bravely thus declare; Our saving Christ lean onward.

Lord to thee we give our lives to climb this rugged path

And to help the wayward find this way that leads to thee.

Give faith to follow on through the path we cannot see,

And grant us faith to say; Our guiding Christ lead onward.

Let us ever onward press and gain the greater height

Until the top is won and to Christ our praise we give.

O, Christ, help us to see this goal and for Thee to live.

We'll ever sing to Thee; Our loving Christ lead onward.

Classmates: After graduation, I worked for a short time as a DHIA milk tester in my hometown area of

Pennsylvania. I then went into VS for two years, serving time in Both Colorado & Ohio working with Juvenile

Delinquents. I also had a short work time in Hesston, KS doing construction at Showalter Villa. After my

VS term, I was married to Carol Dintaman who was from Indiana. We have made our home in Indiana since

'63. I worked at numerous jobs, mostly related to farming and construction. I have been self-employed in

construction/remodeling for the past 25 years. I am currently semi-retired, working mostly on our own home

in Goshen, IN. Ten years ago, we purchased an old house( built in 1885). We are in the process of doing some

restoration which we find very time consuming but enjoyable!

Carol & I have two biological children plus another son who arrived at age 5yrs! We have been blessed with

5 grandchildren who keep us active and interested in many things. Our son Tim and his family live in Bucks

Co. PA. Our daughter Amy lives here in Goshen. Her husband is a soccer coach at GHS. Needless to say, we

can often be found helping with two little grandsons at the soccer games! We have been host parents to several

students from Puerto Rico who came to Goshen to attend Bethany Christian High School. We still keep in

touch with them and recently spent spring break with them in PR. They have children of their own now and

have informed us they will be coming to Bethany and living with us! Not sure I'm up to that experience again!

I'm looking forward to seeing everyone in October.

—Vernon Birky

Little did I imagine as a high school senior in 1958 that I would be one of those seniors (now of another sort)

invading EMHS for my 50-year high school reunion. My mind says that this can't be possible, however, as I look

into the mirror reality stares back at me – quite a different reality from the one I faced in 1958, a time before

additional education, career, family, travel, living abroad, and retirement.

Music has been very real in my life, in fact, it was my career. I received my BA in Music Education from Goshen

College and did my graduate studies at the University of Oregon. Teaching, performing, and music in general have

allowed me to explore and express who I am, and, I hope, provided joyful learning and inspiration for my students.

Except for the four years when our two oldest children were little, I've been in the classroom. I've taught music to

children from Kindergarten through 9 th grade in Goshen, Indiana (5 years), Kalona, Iowa (11 years), and Hesston,

Kansas (21 years).

My life as a wife and mother has kept me busy, challenged, loved, and always in touch with reality. In 1965, I

married Dave Rhodes, a music student and graduate of Goshen College. We have 3 children: Ingrid (40 – can't

believe it!), our older daughter, married a young man from Hamburg, Germany where they now live and are rearing

their two bilingual children. Our son, Shawn (38), now single, lives here in Hesston and also has two wonderful

children. Gretchen (31), the youngest in our family, lives in Maui, Hawaii, where she works and performs. People

sometimes want to know what it's like to have our children spread across the world and we respond by saying that

we'll take responsibility for this situation since we made a determined effort to expose our kids to life outside of
---
50th Reunion 7

small town USA.

Travel, especially to Europe, has provided many adventures and friendships, and perhaps more importantly,

given me a small glimpse into this part of the world. My travel was frequently combined with musical performances

which allowed me to communicate and connect at more than the tourist level. In addition to connecting through

music, we, Dave and I, were hosted in homes by people with whom we have developed significant friendships.

(Our travel has been enhanced by the fact that Dave began a travel agency which specializes in tours to Europe,

especially music tours.) Of all the tours I've been a part of, two especially stand out: a two week tour to Romania

with a choir from Houston, TX, and a two week bell choir tour to Ukraine with a group of LCC International

University students.

I've discovered that the best way to try to understand the reality of other people is to live among them. Dave and

I have had the opportunity to live outside the USA. My first experience with living outside the country was when we

did graduate work in Germany. (That's another story - one about living in a small German village, graduate studies,

dear friends, a one-year-old daughter, and a son born on Valentines Day!) Years later when Gretchen was in eighth

grade, the three of us spent a sabbatical year in Vienna, Austria. Since Vienna was located close to what once was

the Soviet border, we were able to observe some of changes which occurred with the fall of the Soviet Union, and in

addition, explore parts of Czechoslovakia – now two countries, Hungary, and Poland. At the end of that year and

after Dave and Gretchen went back to the States, I spent the summer in Hungary at the Kodaly International Institute

of Music where I not only studied the Kodaly approach to teaching music, but, where I developed relationships with

people from Central Europe and points beyond. I now realize that these experiences were preparing me for still

another "reality" in my life.

A couple of years after our return to Hesston from Vienna, I decided to take additional classes in order to become

certified in TEFL (Teaching English as a Foreign Language) so that my dream for teaching English in a foreign setting

could become a reality – there aren't many openings for music teachers. At about the same time good friends of ours,

Jim and Virginia Mininger, decided to go to Lithuania to become president of a new American-style Liberal Arts

Christian university. In the summers of '94 and '96 I gained some TEFL experience by teaching at their Summer

English Language Institute. Finally in 2002, I decided to take early retirement from the Hesston school system – Dave

said he can do his travel business from anywhere on his computer – and we moved to Lithuania as volunteers at LCC

International University with the intention of staying for only one year but which, instead, became six years. I again

found myself in the classroom, only this time I was teaching English Writing to first year university students. My years

there has been some of my most exciting, challenging, frustrating, stimulating, and rewarding.

We moved back to Hesston this spring and I'm asked the question, "What are you going to do with yourself

now?" Sometimes I want to say, "I'm 68 years old, do I have to do anything?" In reality though, I know myself well

enough to realize that I'll be frustrated if I don't have a worthwhile challenge. So, will I stay close home to help care

for our grandchildren? Perhaps! Will I take photography and design classes at WSU? Perhaps! Will I travel to visit

our girls? Probably! Will I go teach English in India? Really, I hope so! Hmmmmm, that's a whole different reality!!! I

need another 50 years!

—Phyllis Rhodes

Phyllis (Bontrager) Rhodes

I have been married to Nancy for 47 years. We met at Madison College now JMU and have three single

adult children.

After graduation from Madison, we lived in Alexandria, Virginia, for two years while I worked for Price

Waterhouse in D.C. and passed my CPA exam. We returned to the Shenandoah Valley in 1964 when I joined

Good Printers. For 29 years, we lived in Dayton very near Sheldon Layman. In 1990, we purchased a 100 acre farm

near Bridgewater and moved into our new home in 1993. We have hosted several class reunions—EMHS and JMU

and many classic car events. I started collecting Studebakers in 1978 and have managed to fill up several garages.

On March 10 after 44 years, I retired from Good Printers and sold my interest in the company. Don Nair

(class of '59 and a sophomore roommate of mine) and Oren Shank worked with me for over 35 years.

We enjoy traveling and go on many tours with our classic cars and trucks. Nelson Driver got me into a

touring club "The VMCCA" in 2000.

We both enjoy staying busy and are thankful to God for our children, our health, and many friends. We

have been truly blessed and hope to see many of you at future reunions.

Call and visit if you are ever in the area.

(

Blessings to all.

—Chester Chester Bradfield
---
8 Class of '58

'

Marjorie (Brenneman) Roach

Doris (Brubaker) Heatwole

What I learned at EMHS:

• How to wash windows…lots and lots of windows.

• How to dig weeds on the front lawn.

• How to keep my elbows covered…so not to excite the guys!

• How to play soccer and basketball with a skirt and covering…talk about exciting the guys!

• How to wear fake stockings to breakfast on Saturday mornings…using an eyebrow pencil.

• How to try sneaking in the dorm after hours, and getting caught.

• How to finagle $5.00 out of my brother to get the required "bonnet" to wear to DC for the senior trip.

• How to make lots of great friends.

• How to be forever grateful for a first class education!!

What I learned after graduating EMHS:

• That "life" is a lot more difficult than going to school.

• That after spending 3 years in India at Woodstock School, India really is the land of sixty six distinct

stinks.

• That sometimes love doesn't last.

• That moving to Denver, CO wasn't just a physical move.

• That "cupid" can strike again when you least expect it.

• That being in the fish bowl of a major university athletic dept. is character building.

• That having 3 sons grow up to be fabulous, responsible adults…priceless!!

• That being a Christian Democrat is an oxymoron to the Religious Right!

• That being a grandma is the greatest.

• That having gray hair doesn't mean I can't still play golf.

• That "wintering" in Arizona adds "gold" to the golden age.

• That all of you are precious to my heart.

—Marjorie Ann Brenneman Roach

Dear EMHS Classmates of 1958:

Isn't it great we do not get old by ourselves, but we have friends who walk a similar path with us?

When we were in our teens, fifty years seemed like a very long time, but now it is fifty years since we

graduated from high school. WHERE DID THE TIME GO?

For me, it was marriage in September 1958.

Soon it was living at the Lincoln Homestead Dairy Farm for six years. While there, my husband,

Charles, and I had four children—three daughters and a son.

Next, was the purchase of a farm east of Harrisonburg, which my husband's parents had owned. We

lived there for thirty-eight years and then moved in March 2003 to a retirement house at Bridgewater,

Virginia.

During these years, our son was killed operating a skid loader, and then another little daughter joined

our family. All four daughters are married and we are blessed with fourteen grandchildren. The oldest

grandchild also joined the married ranks and as of February 27, 2008, we became great-grandparents to a

very precious little great-grandson.

The Lord has richly blessed us as we committed our lives to Him. Since 1963, my husband has been

involved in the ministry. This has given direction to most of our energies along with pastoring in the

City of Harrisonburg, Rockingham and Highland Counties. While my husband has retired twice from

pastoring, we are currently in a short-term assignment at a small church west of Dayton, Virginia. Along

with pastoring, we have been involved with work in Haiti, Puerto Rico, Los Angeles, and Washington,

D.C. Particularly in Los Angeles, the ministry was directed more to people on the street, including

skid row, and the homeless. We have also volunteered for some disaster recovery work with Christian

Aid Ministries. These involvements with the church and other ministries have been very rewarding,

challenging, and stretching! We are truly blessed with the spiritual heritage that is ours, and the material

blessings and opportunities that have come our way.

My husband and I are still enjoying good health. We currently are focused on celebrating our fifty

years of married life! And so in recognition of this very important and enjoyable event in our lives, we're

now packing for an Alaska cruise and land tour.

As we observe world events, natural disasters, etc., we are impressed with the fact that our world is a

very troubled one, and conclude that we are probably living in the last of the last days. May these things

remind us to look up knowing that our REDEMPTION DRAWETH NIGH. The greatest reunion of all
---
will be when we meet our Lord and are forever with HIM.

Sincerely,

—Doris Brubaker Heatwole

50th Reunion 9

Dear Classmates,

Fifty years and we are still saying Christ Lead Onward. I have our class motto hanging where I can see it

often and it brings back good memories of when I was young.

What have I done with fifty years? Interesting things. Right after high school, I got a little art training

through the mail and worked at Park View Press for a while in the lay-out, past-up department. From there,

I went to college and taught school for six years to pay off my debt, then worked for two years at Rivendale,

a home for emotionally disturbed boys. I seemed to find my niche in working in homes by the hour. I got a

satisfaction in helping people and learned to know a lot of wonderful people as I worked for them. Sometimes

it was housework and sometimes it was nurse-aid type work. In any case, the people seemed to appreciate it so

much. Now, I'm retired but am working about half time.

I've enjoyed fun things along the way like helping with music in some way and teaching Bible school and

Sunday school. I'm from a big family and enjoy family get togethers. I've just been to Atlanta, Georgia, for

the Annual National Festival Gathering of the Network of Biblical Storytellers. People memorize Bible stories

and tell them with gestures and voice inflections. I listened enthralled and took some workshops.

I've taken some time to look at my life and decided that God has been good to me and that I should be

thankful. I think God controls society by the way people are brought up, but we can change if we ask Him for

help. Life is hard at times, but we can be as responsible as we can for the things we do.

I am looking forward to seeing the group of people I was with in high school.

Take care,

—Jane Burkholder

Dear Classmates,

How exciting to measure time with the coming of a class reunion. I find it a great reference point in my life

to remember, with you, one of the happiest times in my life—school.

In the passing of five years, I have cleaned, cooked, been a caregiver, shuttle service driver, and dinner party

server. A highlight was my cruise to Alaska. I enjoy tennis, gardening, and walking.

I always have time for Chase, 11, and Ethan, 1 ½, my precious grandbabies.

I am now in Harrisonburg taking care of my mother who has cancer. She lives in Park Village at VMRC. I

am here indefinitely; actually, I tried to move back but waited too long and lost the best housing market to sell.

My daughter and I still hope to move back (imagine!!), but later. We are excited with the plans.

—Shelby Jean (Campbell) Fryling

Hello Everyone:

Summarizing 50 years of my life in 450-500 words does indeed appear to be an interesting proposition. The

question I'm trying to answer for myself is whether 9-10 words per year is more or less than can be justified? "..for

what will a person give/get in exchange for.." fifty years of his/her life. Anyway, "fools rush in" so here goes.

1958 – Graduated from EMHS.

Worked one year and then spent the next three years getting a BS degree at EMC.

1962-64 - Worked in the clinical chemistry lab at University Hospitals in Cleveland (IW). Fell in love with and

married Petrea Ziemke, a medical technologist) in 1964. At this very minute she is baking me a fresh peach pie; her

pastry is the best I've ever eaten. Yum!!

1964-1970 - Moved to Cincinnati for graduate school. After 5 1/2 years, which included one year of teaching

chemistry at Olivet College in Michigan, I got a Ph.D. in chemistry.

1970-2004 - Had two children, Michael, a paralegal, and Linda, a veterinarian. They have enriched my life

with two kids-in-law – and with Margo, Carmen, Andy, and Lizzie, four of the cutest and smartest grandchildren

ever – honest. Kept body and soul together by working as a clinical chemist and clinical toxicologist in Iowa, West

Virginia, and Pennsylvania/New Jersey. Retired in March of 2004; Petrea retired a couple of months later.

Now that I am retired I have more time to observe and try to make sense of this world; the journey is very

exciting. My feet have now trod the good soil and good rocks of each one of the 50 states and have been to Europe

a few times. (If it weren't for the good rocks, there wouldn't be any good soil and then we could not grow any grapes

to make wine.)

Jane Burkholder

Shelby (Campbell) Fryling

(

Norman Coffman
---
10 Class of '58

'

Marlene (Collins) Showalter

Earl Delp

Earlene (Delp) Wallick

At the tender age of 68 – you know, tender feet,

tender knees, and tender backs – Petrea and I spent

about 20 days hiking 115 miles over the Yorkshire

hills and dales of northern England. English food

is actually delicious. So far, 2008 has taken us to

Michigan for a couple of weeks with grandkids, to

the Copper Canyon region of Mexico, to a couple

of weeks traveling as tourists in Ohio (cheese

festival and banana split festival), Indiana (musket

shoot), Kentucky (mutton BBQ and beans), and to

West Virginia for a week in a primitive cabin with

two of my brothers and all our wives. Late August

we'll be heading to southern Utah and northern

Arizona for about 14 days. Geology lessons from

the Teaching Company are helping prepare us to

appreciate the rocks of that canyon-land area.

Just as exciting as the physical adventures are the

mental ones. As a retiree, I can audit classes for free

at Rutgers University. Some of the more exciting

classes have been physical chemistry, philosophy of

art, forensic psychology, Aristotle, medical ethics,

intro to political science, and microeconomics. I

Ruth Beachy, with other classmates, on the senior class trip to

Washington, DC.

plan to audit more in the fall. Life indeed is making more and more sense as I age. Also, I volunteer one day a week

at the Edgar Allen Poe house in Philadelphia.

Between all this I try to keep my grandchildren guessing just what this old man is up to anyway. It ain't a bad life.

See you in October,

—Norm Coffman

Hi!

How exciting it will be to see you again! All but four of our class members are still alive!

I always enjoyed roller coasters and that describes my life. Besides the usual roles as wife, mother of

three '67 to '70, grandmother of six ('01-'03), I have enjoyed gardening, tennis, bridge, golf, tango, traveling,

teaching Math and Psy. at JMU, life as a PhD student in psychology at UNC- Chapel Hill in '89-'92 and

especially skiing in the West.

The lows included a brain aneurysm '96 which interrupted my completing of a dissertation, and a life

threatening interstitial lung disease '05-'07 when I was on oxygen 24-7 for several months and massive doses

of prednisone for a year. Thankfully that is behind me -- including some of the pounds I gained. Hmm!

Last winter in celebration of my good health, I combined two favorite roles by skiing the slopes in

Jackson Hole, Wyoming, with all six grandchildren ages 3-6, as well as our three children and spouses. For a

week in August, we hosted two grandsons, one granddaughter, and one tomboy-granddaughter (my genes),

all ages 4-6. During their stay, we built bamboo forts on the tennis court, made Shrinky-Dink jewelry, went

to Endless Caverns, Rockingham County Fair, Massanutten Water Park, Harrisonburg Children's Museum,

and the library, and ate fresh corn on the cob, garden tomatoes and squash. The next week I rested.

WHEW!

My husband, Don, is still practicing law, playing golf and collecting four plus acres of horticultural

specimens. In November, we plan to travel to Australia and New Zealand. Life is good and keeps getting

better. How amazing that the older we get the more like ourselves we become.

Fondly,

—Marlene Collins Showalter

It seems impossible we have reached this point in our lives. Time certainly marches on quickly.

I continue to work as a Radiologic Technologist for Dr. John Collis, a prominent neurosurgeon.

My passions are travel, photography, and scrapbooking. I also love flower gardening. Some of the

places I have visited include China, Israel, most European countries and various Caribbean Islands. My

husband and I are going to vacation in Los Cabos, Mexico, in September.
---
50th Reunion 11

My husband, Don, is a research scientist in cardiovascular medicine at The Cleveland Clinic.

We have two daughters. The oldest, Starla graduated from EMU with a BA in English, French, and

German. A few years ago, she received a MFA from the University of Arkansas. She is currently searching

for a publishing company to have a novel, which she translated from German into English published. She

is married to Yan Ling, a wonderful Chinese-American, and they live in Cleveland Heights, Ohio.

Our youngest daughter, Alicia, graduated from Bethel College in Indiana with a BA in Criminal Justice

and Human Services. She is employed as a CO in Elkhart, Indiana. Her goal is to become a parole officer.

It will be good to hear from all of you again.

—Earlene (Delp) Wallick

Hi, Class of 1958,

Who would have thought ten years could go by so fast!!!

I thought I would be there for the BIG 50 th but plans have changed. My mother, Norma Deputy, is at

VMRC in the Alzheimer's unit. My sister, Lois Huffman, and I try to come and see her as often as we can.

We were there in May of this year and will be going again in September. September was better for my sister

to make the trip.

My life is a very busy one. You hear stories about retired people being so busy, that's me. I retired from

banking after 34 years with the same bank. My husband was also a banker. He retired after 33 years.

I have three stepdaughters, six grandchildren, and two great-grandchildren. Do I feel old? Sometimes.

I am active in a sorority and was president of my Pilot Club the past year. I got to come to a convention

in Norfolk, Virginia, during my term which was fun. I teach Sunday school at our church which is

Westview Community.

We just purchased a home at The Villages in Florida. We will be spending time there. My sister lives

there. I love spending time with her.

My hobbies and the things I enjoy are pretty much the same as ten years ago--going to the Rec Center,

swimming, shopping, travel, cooking, and knitting, spending time on the computer, and listening to my

husband, Tom, play his sax. His hobby is being a musician.

I've rambled on long enough. Enclosed is a photo of hubby and me, if you need pictures.

I will be thinking of you guys, wishing you all a fun time and maybe in another five or ten years, we will

be able to meet again.

God bless each one,

—Betty Deputy Holder

I worked at Shenandoah Manufacturing for 18 years, and then I have been with Early Equipment for 32

years. We have four children and 7 and ½ grandchildren (one due in January).

We are currently active with Weaver's Church and the Singers Glen Ruritan Club which is where we now

live. I have most recently been helping out with the Brethren Mennonite Center and with the moving of the

Old Salem church into Singers Glen.

Son - Ronald L. Deputy Jr. married to Nancy

Granddaughter Megan

Grandson Matthew

Daughter - Reba Deputy Heizer married to David

Grandson Benjamin - married

Granddaughter Leah

Granddaughter Emily

Grandson Levi

Son – Anthony L. Deputy

Son – Raleigh J. Deputy married to Shandra

Granddaughter Fae

To be announced - due in January

—Ronald L. Deputy

Hello, Classmates:

I don't know how one can do a quick update of 50 years, but I shall try. After graduation, I went to work

for Dad in the family heating oil business (I'm still there). After three years, I returned to EMC (fall of 1961)

Betty (Deputy) Holder

Ronald L. Deputy

Lorena (Detwiler) Penner

(no

(

letter)
---
12 Class of '58

'

Nelson Driver

Eleanor (Eby) Mumaw

for a two-year term graduating in the spring of

1963. By the fall of 1963, the Selective Service

caught up with me, and I contacted MCC and

was accepted into the PAX program. I left home

in February 1964 expecting to go to Algeria.

However, during orientation, MCC changed

my assignment to Basel, Switzerland, to help

with printing in a publishing house run by the

Swiss Mennonites. This was the beginning of

a lesson that I was to learn eventually. To be

a truly useful volunteer to an organization like

MCC, one needs to be flexible and willing to

make changes when necessary; it took me a

while to learn that. After 8 months, I was sent

to Wissembourg, France, to do construction

and maintenance work at a home for retarded

children run by the French Mennonites. I

was at this location for the rest of the two

years except for one month in Kaiserslautern,

Germany, (another change). Looking back, I

am very glad for the varied experiences and the

many people I got to know. In the process, I

Erma Horst is queen of the fountain! Carolyn Gerber is not

very impressed.

picked up German and French to add to the Spanish I took in college.

In February of 1966, I returned home to the results of a large snowstorm and went to work for Dad again

hauling oil. He was anxious for more help! For the next 20 years or so, I gradually assumed more and more

responsibility and Dad began making plans to retire. When his health began to fail, we contracted a buy-sell

agreement. He died in 1991, and I assumed full ownership of the business. I am still working and people

are starting to ask me when I plan to retire. As of this writing, I have no firm plans.

In 2004, our church, Springdale Mennonite, began to discuss the idea of establishing a sister church

relationship with another Mennonite church somewhere. Very soon, we were put in contact with a church

in Metapan, El Salvador, and plans were made to exchange visits. In May of 2005, I was privileged to be one

of three to make the first visit to them, and I spent a totally delightful week among some of the nicest people

you could ever hope to know. However, there was only one little problem. My Spanish wasn't nearly as

good as I thought it was, and I am working to improve it. Since then, there have been subsequent visits and

communications, and I hope to stay involved. Also, I hope to attend the Mennonite World Conference in

Paraguay next year.

As to spare time, hobbies, and etc., I have numerous interests. Music is a big one; I have almost always

been in some sort of singing group. I love travel (when I can afford it) and am interested in foreign

languages. However, my biggest passion is antique cars. By now, I have several which I enjoy taking to shows

and driving on antique car tours in various parts of the country.

I look forward to hearing from the rest of you and wish you all the best.

Sincerely,

—Nelson Driver

Hello classmates!

Since high school graduation, I have worked as a secretary in various offices taking time off to be with my

daughters until they started school. I retired in December 2006 after working as a receptionist for 20 years at

Oak Lea Nursing Home on the campus of Virginia Mennonite Retirement Community. Since then, I have

been volunteering at A World of Good Thrift Store cleaning and pricing house wares which I thoroughly enjoy.

David and I have spent five winters in Arizona—two in Tucson and the last three in Glendale. Two of

those winters, we were involved in the SOOP (Service Opportunities for Older People) program. We helped at

food banks, a thrift store and at Glencroft Retirement Community. We have plans to go to Glendale again in

January 2009 for two months and volunteer at Glencroft.

David and I toured Europe from July 6-21, 2008. One highlight for me was visiting my pen pal, Iris. She

and her daughter came to our hotel in London the day we arrived and we had a very nice five-hour visit.

Fifty-five years ago, Iris received a "Christmas Bundle" from me, and she wrote a "thank-you" letter using the
---
50th Reunion 13

self-addressed envelope that my mother had tucked inside the bundle. We have been writing and exchanging

birthday and Christmas gifts ever since.

Hope to see you at the class reunion.

—Eleanor (Eby) Mumaw

Graduation of 1958 is a distant and somewhat vague memory; however, in many ways I feel like the same

seventeen-year-old girl who I was, but with many more wrinkles, more memories, only a few more aches, a greater

ability to love, and a bit more control over my emotions.

My family has been central to my life: a daughter, Melinda, who graduated from Hood College in Frederick,

Maryland, and continued her studies at Otterbein College in Columbus, Ohio. There her future husband, Bradford

Coupe, was getting a Ph.D in Evolution, Ecology, and Organismal Biology at OSU. They married there, and now

live in Poultney, Vermont. Brad teaches at nearby Castleton, College, and Melinda teaches at Fair Haven Elementary

School. Together they are restoring a farmhouse and until eight months ago that activity took most of their

time. However, on November 27, 2007, their son, Brenden Stewart Coupe was born and their attention has been

dramatically altered.

My husband, Don Firmani, recently sold his partnership in Northeast Ironworks in Washington D. C., a business

his father started in the 1930's when he came to the U.S. from Italy. Instead of having a "real" retirement, however,

Don continues his work as a clinical therapist in a small private practice in Silver Spring, Maryland, and at Catholic

Charities in Arlington Virginia. He has just begun a post-master's program, which may become a Ph.D program, at

Loyola College. It is fortunate that we have done some traveling to Italy and Sicily and the Northwest of the United

States with visits, of course, to Arizona, where my father lived until his death in 1996. Now our travels gravitate to

Vermont where we bought the 110-acre farm attached to the "restoration project" of our daughter and son-in-law.

Brenden, our grandson, is a joy to us. We believe him to be, at eight months, the most beautiful baby in the world—

truly a Gerber baby. And we plan to build a small house on the farm beside the corn fields, slate ridges and woods,

and wet lands. Since the farm is encircled with stone walls, I can act out Robert Frost's "Mending Wall" for the rest of

my life. Living in the Southwest had been our plan but now we hope to make Vermont the place of our retirement.

Six years ago I retired from teaching English to high school students. Miss Beachy and Mr. Landis have been

excellent examples to me. I taught Advanced Placement and International Baccalaureate English to juniors and

seniors during my last 15 years in the public schools close to Columbia, Maryland, where we live. I truly loved

teaching—many years I felt as if my classroom were a small United Nations. After the 9/11 incident in New York City,

we had several Afghani classmates speak to the current issues. I received an excellent education in the geography and

cultures of Asia, Africa, India and the Middle East from my students. My last year of the thirty-four in public school

education was the best and most enjoyable of my teaching life. I retired because I wanted to be free from the constant

paper work: the bane of grading of essays.

The last six years have been full although the first year of retirement was spent resting and reading books. Then I

joined the Baltimore Applique Society! The group works for the preservation of antique Baltimore Applique Quilts

and pursues the art of applique by teaching and visiting textile exhibits in museums and historical societies—and of

course by going to quilt shows and buying a lot of fabric. At my first meeting, the Society needed an editor for its

newsletter and I received the job. I learned quickly about the organization and its focus in the following two and onehalf

years. Now I am feature writer of the newsletter. I interview and write articles about our outstanding applique

quilters, a group that includes members from across the United States. I am making my second Baltimore Album

quilt: the first for my daughter with quilt blocks showing important events of her life (hence the word "album") and

the second of my family of origin. I have also completed several small quilts with such themes as Peter Rabbit for my

special grandson.

I attend a weekly art studio where I paint in water color. Gardening is my physical exercise. I believe our house is

the only one in Columbia with no grass in the front yard—only perennial flowering plants, ferns and hosta. The deer

and I are not friends. Bambi needs to be banned.

Together Don and I have become part of a wonderful community with good neighbors and friends. I finally

have time for lunch! We enjoy theater in Baltimore and Washington D.C. Don kayaks in the rivers and bays near

Bethany Beach, Delaware, and close to our beach house that we enjoy, especially in the spring and the fall. I am still

procrastinating about buying my own little kayak and I think I will continue to do so. I remain athletically challenged.

My brother and sister, Clair and Ruth, with their spouses, live in Silver Spring, near enough to be in close touch.

And my entire family, that has grown to be a large group of thirty-two members of three generations, meet yearly with

some of us sharing holidays and visits. This year we are grieving together because of the loss of our oldest sister, Joan.

She was both sister and mother to me and I miss her so.

Don and I plan to attend the reunion in Harrisonburg. We will be able to visit my nephew, Kirk Shisler, and his

Janet (Esch) Firmani

(
---
14 Class of '58

'

Audrey (Eshleman) Clopper

(no letter)

Ruth (Eshleman) Schrock

Mae (Funk) Morris

family. He has continued the connection to EMC started by my mother and father in 1928, he being the president

of his senior class, at EMS. Kirk is now working as Vice President for Advancement at EMU. The Mennonite high

school and college in "the Blue Ridge Mountains of Virginia" has been an important "spot" for me and for my family.

—Janet Esch Firmani

Dear Classmates,

How does one condense fifty years into several paragraphs? I'll attempt to include the most significant details.

After graduation, I entered the EMC/Riverside nursing Program, which included a year at EMC and two years at

Riverside Hospital in Newport News. I then opted for a fourth year at EMC to complete a B.S. in 1962.

Following graduation from college, I began my first employment as a psychiatric nurse at Brooklane in

Hagerstown, Maryland. It was there I met and married Dana Sherman from Goshen, Indiana. Following his I-W

service there, we spent six years in Lancaster County, Pennsylvania. There, I worked as a case manager for the

state welfare department. We also began our family, which included two sons, Chad and Brett. When they were

one and three, we moved to Goshen, Indiana, where Dana was invited to take a position as controller at Goshen

College. His position enabled me to pursue my love of art tuition free. I completed an art major in 1981. I

then worked as a photographer for the college information service for several years before pursuing my real love,

interior design, which I have been involved with since 1984.

In 1985, Dana died of cancer at the age of forty-four. Chad and Brett were fifteen and seventeen. The next

eight years were devoted to getting my sons through college, building a condominium, and developing my career.

In 1993, I married Devon Schrock whom I had known as my sons' high school English teacher. Our blended

family now includes five children, nine grandchildren, and three in-laws.

I continue my free-lance interior design business mainly because I enjoy it and a little additional income.

Devon, while retired from teaching, continues that passion by tutoring ESL students from around the world—

Bangladesh, Cuba, Morocco, and South Korea.

Care giving for my ninety-eight year-old mother with advanced dementia and Devon's adopted daughter with

schizoid-affective disorder and her seventeen year-old son occupy much of our time and energy.

In my spare time, I enjoy reading and flower gardening. Devon is an avid reader and spends a lot of time at

our cabin and woods just west of Goshen.

We make frequent trips to the Washington, DC, and Hartford, CT, areas to see my children, their spouses,

and our grandchildren. The Schrock clan all live nearby.

Last summer, we visited Williamsburg, which brought back memories of our junior trip. This time I didn't

have to wear a bonnet!

—Ruth Eshleman Schrock

Mae (Funk) Morris worked at GE for seven years before becoming a stay at home mom. She attends a

Brethren church in Fishersville. She has two sons and two grandsons. Her husband retired 15 years ago. She

will not be able to come to the reunion.

—Mae Morris

Dear Classmates,

Has it been 50 years since our high school graduation? Time flies when you're having fun. A lot has happened

in the last 50 years. I graduated from nursing school at Riverside Hospital in 1961. Got married to Glenn Martin

in 1962, who I met in Washington, DC, while on affiliation in nursing school. He was in voluntary service and we

went to the same church. After our marriage, we lived in Baltimore, Maryland, for several years where I worked as

a staff nurse and Glenn as a respiratory therapist We had two girls while there and kept a lot of "I-W" boys in our

home and so did a lot of entertaining.

In 1969, we moved to Salisbury, Maryland, and had another baby girl. In 1971, we moved to York, Pennsylvania.

During this time, I was a "stay-at-home Mom." Took care of our three daughters and was involved in the church

and neighborhood Bible studies. My husband was in respiratory therapy and during this time, he became a minister

through the "lot" method; so, I became a pastor's wife. Glenn decided to be a full-time pastor, so we moved to

Orrville, Ohio, in 1979. Things did not work out for us so Glenn went to work as respiratory therapist and I went

back to work at Brenn-field Nursing Center in Orrville as a charge nurse. Our children were growing up. Our

oldest daughter, Teresa, graduated from EMU in the spring of 1985 with a degree in elementary education. She is

teaching in the Harrisonburg school system as a third grade teacher. She also has her master's degree. Our second

daughter, Debra, was in a car accident in her senior year in high school. She was in the hospital for nine weeks and
---
50th Reunion 15

came home in a body cast for six more weeks. She married John Weaver and they had three daughters. All of them

were premature babies. Debra recently graduated from University of Akron with a degree in elementary education.

She will be teaching third grade in a local school. John is a farmer. Our oldest granddaughter, Jenna, is in Alaska

with Service Adventure. We visited her last fall. Our second granddaughter is pursuing a degree in nursing. She

plans to be married in 2009. Our third granddaughter is in tenth grade. She is a great soccer player.

In 1988, we moved to Johnsville, Ohio, where Glenn was bi-vocational. He worked in respiratory therapy and

was a pastor. I worked at Woodside Village Care Center in Mt. Gilead, Ohio, as a charge nurse and also worked

part time with helping teach a Homemaker/Home Health Aide course for Human Services.

Our third daughter, Carmela, graduated from EMU in the spring of 1992 with a degree in English education.

She went to California for a year in voluntary service and then decided to live in Indianapolis due to a job offer.

There, she met Kevin Rosner and they got married in the fall of 1998. They have two sons: Isaiah who is 5 and

Jonah who is 3.

After living in Johnsville, Ohio, for 12 years, we moved to Trenton, Ohio, where Glenn accepted a full-time

pastoral position at the Trenton Mennonite Church. We served there five years.

We retired two years ago and moved to Apple Creek, Ohio, near our daughter, Debra. We have had a full and

busy life with children and grandchildren. We have met many different kinds of people and have enjoyed each

one. We are still in contact with many of them. We have traveled many places. Been to almost all the Mennonite

Conventions and General Assemblies. Also, every other year, we vacation with our children and grandchildren.

This year, we will be going to Surfside Beach in South Carolina. I have also been on two cruises--one with my sisters

in the Caribbean and one with several of my family in Alaska. This is a quick trip of my journey the last 50 years.

So you see I have been very busy but a "good busy." I have seen a lot of change over the years. I have changed,

hopefully, for the better. I still do not have a cell phone, email, and not computer knowledgeable. So, I still have

some changing to do. It will be good to see each of you again. I don't think I have been to any reunions; so if I

don't know you, don't be offended. I'm sure I will remember you. May God bless each of you as you continue on

in your life.

Love,

—Carolyn Gerber Martin

Dear Classmates of '58:

I retired in August, 2004, after 34 years of teaching and college administration, the last 17 of which were at

EMU. After our phenomenal class split up in June, 1958, I continued in college at EMC for two years. It seems

somehow providential that I was able to bring my family back to the Shenandoah Valley, our favorite place to live,

exactly 30 years later in 1987. We had lived in Indiana, Minnesota, Kansas, and Germany during those 30 years,

but raised our four daughters essentially here in the Valley. The oldest of these, Amy, lives in Orrville, Ohio, with

her family of three kids and plays violin in the Akron Symphony. One of our twins, Laura, lives here in the 'Burg,

teaches nursing at EMU, and mothers two. A son was born August 18 just this week. The other twin, Christine,

resides near Stuarts Draft, so we get to see her three girls rather often. And Rachel, the youngest, is in the process

of settling in Massachusetts as an ESL teacher in a Montessori school in Springfield. Our girls have given us eight

grandchildren—so far!

Adjustment to retirement after exhilarating years of teaching has gone quite well. It is hard to accept the fact

that EMU has decided to drop German from their offerings, as that had been my primary love in academia. It is

a trend in small colleges across the country, but at a Mennonite college intended for a constituency of primarily

German ethnicity, the move seems ill advised. I had gone into PAX service with MCC after my sophomore year at

EMC, learned to love the language and culture of Germany and Austria, and finished college at Goshen to become

a teacher of German for most of the rest of my career. I devoted myself to training students to become proficient in

cross-cultural skills of language and international understanding. I worked in admissions for Goshen and led a year

of Study-Service Term, along with my wife, Mary, in Guadeloupe, French West Indies. After graduate school at

Indiana University, I took a position as Division Chair at the University of Minnesota, Crookston campus, teaching

humanities courses half time. Hesston College then lured me to Kansas, where I served as associate dean and,

again, half time teaching German and humanities course. After five years there, Goshen invited me back to fill

in as German professor while their regular prof administered the Brethren Colleges Abroad program in Marburg,

Germany, for two years. I then took that position when he returned. By then, our four girls were of school age, so

we enrolled them in a Gymnasium in Marburg, where they thrived and mastered German admirably during our

two year stint there. It was during the second year in Germany when the EMC position became available, and my

application was thankfully accepted. And here I am, now retired and reflecting a lot on those fulfilling years.

My wife, Mary (Yoder), whom I met at Goshen, is from Kalona, Iowa. She is a hospice nurse for Rockingham

Carolyn (Gerber) Martin

Ervie Glick

(
---
16 Class of '58

'

Cynthia (Good) Chitwood

Wilson Good

(no letter)

Gloria (Harman) Snider

Memorial Hospital. She is an avid bicycler,

riding some 20-30 miles several times a week.

She has twice done the MCC ride through the

Shenandoah Valley and across Skyline Drive, as

well as the annual RAGRBRAI ride-across-Iowa,

also twice.

My retiree activities include two mornings

weekly volunteering for Booksavers of Virginia,

as well as carrying responsibility for grounds and

facilities at CrossRoads, the Valley Brethren-

Mennonite Heritage Center. Be sure to pay a visit

to this emerging open-air historical museum of

Anabaptist contributions to Shenandoah Valley

culture and history sometime before you leave

Harrisonburg. I have been doing stone masonry

for them, including a forge and chimney in the

blacksmith shop. Currently, I am building a

massive fireplace in the washhouse/summer

kitchen on a Civil War era farmstead. Here I am

using skills I learned in Germany as a PAX man,

another interesting loop back to my youthful years.

I am eager to see you all and to read your

contributions. See you soon!

—Ervie Glick

Alice Hartzler gives a ride to Phyllis Bontrager in the

women's dorm.

Thank you for the notice of the upcoming class of '58 October event. Fifty years, oh where have they gone.

I know we have all been busy living lives full of happy times and, yes, sad times. I will not be able to attend the

reunion, but do wish to receive the memorial book you spoke of in the letter. Let me know the cost.

Just a quick review of the past 50 years. I lived in Knoxville, Tennessee, where I met and married Clifford

Chitwood in '62. In 1970, we moved to New Mexico where we lived for the next 37 years. We have three

(3) wonderful children and six (6) super wonderful grandchildren. Joel lives in Thronton, Colorado, Darla

Warner in Kalona, Iowa, and John in Rio Rancho, New Mexico. In New Mexico we owned a Motel and

Campground in Mountainair, New Mexico, for 17 years. I also went to work for Wells Fargo Bank for 23 years

until I retired April 2007. In June 2007, Clifford and I moved to Kalona, Iowa, to be close to family, our daughter

Darla and also my sister, Marilyn, who lives in Kalona. Clifford passed away November 23, 2007. I have a part

time job at Mercy Medical Services Clinic, so that keeps me going with outside interests. Could go on and on, but

this is just a quick snapshot of my past 50 years.

—Cynthia (Good) Chitwood

Like all the rest of you condensing 50 years into a short epistle is not easy! My life as a whole has been

blessed and I thank God for my wonderful husband of 46 years and our precious children and grandchildren.

After graduation, I spent the next school year in Sarasota, Florida, being a Nanny for my nieces. Then that

fall I began college at EMC. There I met Sanford (Sandy) Snider and we married August 11, 1962. We lived in

Newport News, Virginia, for eight years. Sandy taught in Hampton and I taught at Warwick River Christian

School until we had the first of our 3 sons. Craig '66 and Daryl '68 were born at Riverside Hospital in Newport

News. Shawn '78 was born when we lived in Richmond.

We moved to Richmond for Sandy to be Supervisor of Guidance for Henrico County Schools. After the

boys were in school, I directed and taught preschool for 25 years in a Presbyterian Church nearby. We were

quite involved in First Mennonite Church there in Richmond. I served as SS & VBS teacher, superintendent,

and on different committees.

We have not had a large family but we have had quite a few people to call our home their home for awhile

and they have enriched our lives. We even have "grandchildren and great grandchildren" that are not blood

related. But we are happy to be their grandparents.

Three years ago, we moved to Broadway, Sandy, who had polio as a child, needed a home without steps

and we decided to move nearer the children. We are thoroughly enjoying our retirement years together and
---
50th Reunion 17

our grandchildren (Becky 15, Nate 11, Tim 9 and Colin 17 months). We enjoy being near so we can baby sit,

or watch the kids for busy Moms and Dads. I also am glad I can fix Sunday meals for us to enjoy family time

together.

Sandy's bout with AML a type of leukemia two years ago also made us aware of how fragile our lives are and

we thank God for each day he gives us to love him and each other. These years God has given us have sped by

quickly and we are now saying "How short life is"… seems like I remember my mother saying the same thing!

–Gloria Snider

Dear Classmates,

Wow! Fifty years! Who would have thought 50 years would go by so fast? And who would have thought

how things would change since we were the young students dreaming and preparing ourselves for life ahead?

To summarize our lives the past 50 years, (Alice Hartzler and Stanley Hostetter), I would have to start with

my earning an R.N. degree from Harrisburg Hospital in Pennsylvania. Except for a few years when our children

were small, I worked as a surgical nurse for 34 years. Stan spent most of his working years as a tool and die

maker for GE/Genicom here in Waynesboro. We were married in 1962 and have lived here in the Waynesboro

area since that time except for two years of I-W service in Wilmington, Delaware. Both of our children were

born in Delaware. Marie, who is a medical technologist, married and is the mother of four children. Steve is

married, the father of two, and is a building contractor in the Harrisonburg area.

When our children were young and still at home, we had a boat and enjoyed water skiing, going to the beach

and fishing on the Chesapeake Bay. We still have a boat but fishing isn't like it used to be and with the price of

gas today, those trips get fewer and fewer. For a number of years, we enjoyed square dancing, but then, I injured

my knee playing softball and had to give up some activities. That eventually led to a total knee replacement and

now I'm anticipating having the other knee done in the near future.

Stan retired in 2000 and I followed with retirement in 2002. Stan enjoys working in his garden and we enjoy

sharing the fruits of his labor with our family and friends. And of course, he is still an avid hunter. We have

done more traveling in the past 5-6 years, including several cruises, and we are looking forward to visiting the

Holy Land next year. We both participated in a week of MDA service in Florida several years ago and Stan also

went to Honduras on a short mission trip. Retirement has also given us more time for reading and helping with

the grandchildren. I spend a lot of spare time sewing school kit bags that are then filled and sent to MCC for

distribution. We are members of Springdale Mennonite Church here in Waynesboro, Virginia.

Getting older also has its downside with our calendars filling up with doctor appointments! Stan and I both

had several back surgeries in the past and so we find ourselves as caregivers to each other for a time of recovery.

But God has been good and we have a lot to be thankful for. And so we look forward to seeing all of you again

and reminiscing about the past.

Sincerely,

—Alice and Stan

After graduation from high school, I worked at various jobs, including two years of V.S. in Washington, D.C.

I spread four years of college over a ten year period at EMC, graduating in 1968.

In 1969, I took a job at Woodrow Wilson Rehabilitation Center in Fishersville, Va. I worked as an evaluator

of job skills, and have had the same job ever since, which I enjoy. Also in 1969, I married my wife, Ginny, and

the following year we had a son, Michael. He is now married and living just a few blocks away from us. In 2007,

Mike and his wife, Melissa, went to China to adopt and bring home our granddaughter, Anne Marie, who is the

light of our life. She is now two years old.

About six years ago, I was diagnosed with prostate cancer. But it was detected in time and I chose radiation

seeds (brachytherapy) as my treatment. I am considered cancer free now. Aside from taking a statin drug for high

cholesterol, and my back going out from time to time, I am healthy and happy.

I have been the head deacon and a Sunday School teacher at our church, Waynesboro Mennonite, for many

years now. My wife is a deacon there also, and manages the prayer and information line from our home phone.

About two years ago, I retired from the Rehab Center, but I still work there part time, which works out to

about half time. This gives me plenty of time for our church work and babysitting.

My mother and my wife's mother both passed away last year and that was a hard time for us, but life is good

right now and we are both so very thankful for the life and opportunities that God has given us.

—Phil Hartzler

Alice (Hartzler) Hostetter

Philip

(

Hartzler
---
18 Class of '58

'

Roy Heishman

(no letter)

Erma (Horst) Taylor

James Horst

Rachel (Horst) Witmer

Fifty years have brought Don and me Full

Circle. We met in 1958 at then EMC, I a high

school student, he one of those wiser college

students.

We married in 1961 after my graduation

from Riverside Hospital School of Nursing. We

lived 13 years in HIS home state, Pennsylvania,

then moved to HER home state, Ohio, where

we worked at HIS and HER hospitals. Now, 50

years later, we've relocated to The Valley where

we like our proximity to our two daughters,

Donna van Horn and Heather Taylor, and their

families. Our son, Chris, and his wife, Mary, live

in Albuquerque; we have a "standing" invitation

to "winter over" in New Mexico.

Milestones. That seems to be THE operative

word of our "mature years." This year in Ohio,

we celebrated with our church family there 25

years of God's faithfulness at Peace Mennonite

Church. The church began in 1983 when a core

group first met for three months, each Sunday, in

our home. (No, I'm not an advocate of HOUSE

CHURCH!) We were fascinated to learn that

Staunton Mennonite Church, in which beginning

Don and I were both involved (YPCA outreach of

then EMC), celebrated 50 years this year.

We celebrated Don's 70th birthday with

a party HERE shortly after our move to

(Left to right) John Zehr, Vernon Birky, and Mahlon Steffen

study together in the men's dorm (above).

Harrisonburg. His 92-year-old mother, Catherine, was here from New Holland, Pennsylvania, as well as his 97year-old

aunt, Dora Taylor, a VMRC resident.

During our "moving" adventure, all kinds of treasures surfaced or re-surfaced! The 1958 yearbooks, HIS

(college) and HERS (high school), came to see the light of day – just in time for the 50-year reunion of the class

of '58. I continue to read and enjoy OLD correspondence; so much that was forgotten can be enjoyed/re-lived

through old letters, notes, announcements, etc. (I'm a FAN of the written word.) I'm especially grateful to the

friend of my mother Melissa who also kept some such "valuables." By a circuitous route one of MY "vintage"

birth announcements (none of which I possessed or had ever before seen), traveled from Harrisonburg to

Orrville, Ohio, to my youngest sister who presented it to me; 68 years after Mom Melissa wrote it and sent it to

her "twin" in Harrisonburg, Virginia.

My personal milestone past the Breast Cancer experience is 16 years this October. Yes!

Mark Twain advised: DANCE like nobody's watching; LOVE like you've never been hurt; SING like

nobody's listening; LIVE like it's heaven on earth.

–Erma H. Taylor

Dear Classmates,

We can all say 50 years is a short time. Since graduation, I have been married for 46 years. We have 2

daughters and 3 grandchildren; ages 17, 3, and 1. I operated a dairy farm for 37 years. I had Registered Holstein

cattle and sold some throughout the U.S. and several foreign countries.

At present we live at Weyers Cave, Virginia. and I work full time for a small business. I have served in

various duties in our church. I do some volunteer work for VMRC.

—James Horst

Dear Class of 1958,

Fifty years sounds incredibly long, and of course, it is. Forty-five of those years post high school have been

spent married to my husband, Jim, and the adventures that we have had together have been truly excellent. Our

four daughters are grown, married and have provided us not only with sons, but also with twelve grandchildren.
---
50th Reunion 19

We share many of their events with joy and the abandon that children provide.

The twin occupations of nurse and teacher are still part of my life. I think about retiring at times but my

two-days-a-week schedule is well adapted for my life at this time. Jim continues to practice pediatrics three days a

week, and so we have adequate time for gardening, travel, and growing a variety of things on our farm. We have

taken our medical skills to other countries, this year, Jamaica, and last year, Nepal.

The simplicity of life that we experienced at EMHS has provided a base for some of the musing that I have

done. The angst of an election year, uncertainties of the future (when has it ever been certain?) and the honesty

of the mirror, remind me of the passage of time. So I commit myself to some of the realities of 1958: songs to

be sung, words to be spoken, walks to be taken, prayers to be uttered, faith to be matured, life to be lived.

See you in October!

—Rachel (Horst) Witmer

Dear Classmates,

After graduating from EMHS, I packed up my gear and headed back to Buffalo, New York, with my family.

As we journeyed home, my mom made the diagnosis that she thought she was pregnant. She was! Two days

after Christmas, my youngest sister was born…an added Christmas bonus gift! (Mom was 44 years old) Because

of this event, I didn't immediately return to collage to pursue my dream of becoming a nurse. I cleaned homes

… private and newly constructed … and I did lots of "babysitting" at home and for other families. I was needed

at home to help. My father was gone having evangelistic meetings most of the time.

When Paula Jan was 7 months old, we moved to Sarasota, Florida and my youngest sister and brother still

reside there. My middle sister and parents are deceased.

In 1961, I entered EMC as a freshman in the pre-nursing course. Fortunately, I was accepted in the affiliated

nursing program the following spring, 1962, at Riverside Hospital School of Professional Nursing in Newport

News, Virginia.

We graduated in August 1964 and made special memories along the way. While on affiliation in

Washington, DC, JFK was assassinated, an unforgettable event! Beryl Hartzler Brubaker, retired Provost of

EMU, was one of our classmates.

I was offered a job in the ER (my first love) upon graduation and that began my next 38 years at Riverside

Hospital as an RN.

I met my husband in the ER; Layton was a Newport News policeman. We married in 1968 and bought our

first home here. In 1975, our only child, Jeffery, was born. He graduated from VA TECH and is employed as a

Park Ranger for our 35 parks. We feel so blessed to have him here in our town.

I continued to work at RH in various departments: medical, rehab, surgery and then one day surgery for last

25 years before I retired in 2002. I really enjoyed my career and the friends I made along the way; patients, their

families, and my co-workers.

My husband spent his last 6 years in law enforcement as the Jail Administrator for the N N Sheriff. He

retired and built a new home for us, 16 years ago. We have lived on this property since 1972 and built behind

our old house. (It was moved to another site.) We are blessed to live on a tidal inlet surrounded by trees and a

"rural-like" setting while the convenience of stores and shopping centers are within a mile.

We attend Liberty Baptist Church. Even though it is a very large church, it is a warm and welcoming

congregation.

In 2005, I fell and fractured my left femur. Surgery, rehab and then after being home for 2 ½ days, the head

of the femur shattered and another surgery and rehab followed. That has slowed me down along with working

on cement floors for 40 years.

So I now have a cane for a walking companion and my "honey" who has stuck by me for 40 years of "for

better or for worse." The "golden years" are ones that you take your gold to the physicians' office and leave it

there!

I want to thank each of you for contributing to the pieces of my life. It has been an interesting and learning

trip! God bless you and yours !

Your "mature" classmate,

—Edith Joyce Jantzi Rice

I am looking forward to catching up with all of you!

Squashing fifty years into a few pages is going to be a real art for me!

I left high school headed for nursing school and found myself participating in the Riverside Hospital/EMU

program. After my time at Riverside, I spent one year as staff nurse at the State Hospital for Crippled Children in

Stanley Hostetter

(letter under Alice Hartzler)

Merrill Hunsberger

(no letter)

Edith (Jantzi) Rice

(
---
20 Class of '58

'

Josephine (Kanagy) Yoder

John Kauffman

Lowell Kauffman

(no letter)

Pennsylvania starting off with my desire to be a pediatric nurse. After that year, I returned to EMU for my BSN.

At the end of the senior year, some enlarged lymph nodes gave me "pause" and the biopsy told the tale…I

had Thyroid cancer. I spent several years angry but ok but ran from God too long after. After the initial surgery

I came back to PA as night duty staff nurse on pediatrics at Lancaster General Hospital. After eight months,

they asked me to be nurse manager of all shifts for the department. This led to teaching in their school of

nursing for two years. In 1969 I elected to go to Harrisburg Hospital School of Nursing which later closed and

then on to Harrisburg Area Community College to teach. I also got my Master's degree from Temple University

at this time.

While at Harrisburg I was introduced to my first husband who worked for the federal government as a fiscal

manager with the Comptroller of the Currency, Department of Treasury. I taught one year then became director

of nursing of the local hospital in the county where we lived. We were not following the Lord. He never did and

it took me awhile to return but oh the joy I have now!

After a bit over a year of our marriage, Matt was born. He is now 31 and lives in Reading. I stayed home

with him and worked part time in the building business. Our marriage collapsed with a prior life incident in my

husband's life which he refused to give up. Matt and I were basically abandoned so I returned to Pennsylvania.

Another director of nursing job in Harrisburg convinced me in 1981 that nursing and hospital politics was

not for me and I became a realtor for 27 years; I am loving this business. I am an associate broker and work with

the brokerage of Prudential Homesale Services Group primarily in the Central Pennsylvania area. We are the

largest real estate firm in Central Pennsylvania.

I also create my own marketing vehicles and make and write greeting cards using my trade name Creations by

Jodi.

Now for the best part … four and one-half years ago I met a widower who I am now married to … Harold

Yoder. He spoils Matt and me and his four children and grandkids rotten … actually together we do the kids

proud. Matt finally knows the true joy of having a father. We are expecting another grandbaby in February.

Life is good, fun, happy and very blessed.

He works part time and is the Eastern Board coordinator for Wheels for the World, a ministry of Joni and

Friends.

We are members of Manor Church.

—Jodi Yoder

EMHS Class of 1958 Golden Anniversary Letter

How does one summarize fifty years in a letter! I will focus on three areas of importance in my life since my

year in Eastern Mennonite High School. They are FAMILY, FAITH, AND FARMING.

FAMILY: I was married to Mary Ellen Bucher in 1961 and we had three children: Richard, Judith, and

John W. We lived on a dairy farm on the Chippewa River near the village of Exeland in northern Wisconsin

where we raised our three children, dairy cattle, and a variety of crops. Our children all attended at least one

year in a Mennonite school or college, married and gave us seven grandchildren. Richard has a master's degree

in environmental health, works for the Center for Disease Control in Seattle, Washington. He and his wife,

Hilary, have a son, Mark. Our daughter, Judy, married Dave, a local farm boy and they farm near Exeland.

They have four children: Lindsay, Seth, Jared, and Kristina. Lindsay graduated from EMU this spring and is

getting married in September. John W. has a degree in computer programming and works near Fort Wayne,

Indiana. He and Jan have two girls, Katie and Allison. Katie will be attending Bluffton College this fall. We

enjoy our family very much, but need to travel a lot to keep up with the grandchildren and all their activities.

FAITH: We have attended a small rural church all these years, so I have had an opportunity to serve in

various positions there, such as Sunday school superintendent, church council chairman, and I have taught

the adult Sunday school class for the last 20 some years. As our church also belongs to one of the smallest area

conferences in the Mennonite Church, I have had opportunity to serve on the conference level as well, such as

commissions, secretary, and now conference historian. I have served as conference representative to the MC

general board and now serve as conference representative on MCUSA Constituency Leaders Council. Since

northern Wisconsin is far from the large Mennonite communities this has been a blessing to be involved in the

broader church, traveling to meetings and interacting with others around the Mennonite Church. We have had

the privilege to attend all the General Assemblies since 1979, except last year when we had to be in Seattle to

help Richard and Hilary through a difficult health emergency.

FARMING: I began my farm business one year out of high school, building a dairy herd and taking over

the operation from my parents. We milked a small herd of Holsteins for about forty years before moving off

the dairy farm and offering an apprentice partnership with younger families interested in entering the dairy
---
50th Reunion 21

business. So, for the last twenty years, we had six families attempt to get a start in farming with four of them

now on their own farms. Last year, we retired the dairy setup and the sixty-one acre riverfront property is up for

sale. We still raise specialty crops such as sunflowers for birdseed and organic crops for the neighboring organic

dairy farms. We are thinking it is about time to retire, but have yet to learn how!! Over the years, I have been

involved in various farm organizations, serving thirty-five years with Associate Milk Producers, 18 of those years

on the corporate board. I now serve with Wisconsin Farm Bureau as county president.

For hobbies, I collect agriculture books and do cross-country bicycling. In 2004, I biked 1,200 miles crosscountry

to central Montana. I found out I should not have waited until I was 64!

The last few years, we have discovered why people winter in Arizona. We spent a few weeks south the last

four years. We want to do some volunteer work in the south somewhere next year. Hope to turn more farming

into SOOP (Service Opportunities for Older People).

My one year at EMHS was very important in my life to help prepare me for the challenges over the past fifty

years. God has blessed us greatly! I am anticipating a great time together over homecoming weekend!!

—John I. Kauffman

It has been a long time since I have heard from a lot of you so it is exciting to have our reunion coming up

soon. As much as I dislike writing letters, I am looking forward to hearing from the rest of you.

A month after graduation, I married Irvin (class of '57) and joined him in Cleveland, Ohio, where he was

doing his IW service. We both worked at University Hospitals until his service was completed. We both

enjoyed our jobs and living in the city but we wanted to come back to the Shenandoah Valley to raise our family.

We lived in Harrisonburg until our sons were in early elementary school. Irvin's job moved us to Manassas

where we lived for 40-plus years. Irvin and I both worked for Rockingham Construction Company. I worked at

various jobs during these years: receptionist, payroll, billing and office manager for the Manassas Branch.

We attended and became members of the Manassas Church of the Brethren and enjoyed involvement in a

lot of jobs there, Irvin & I worked together as youth leaders and as members of the Annual Disaster Response

Auction committee. I enjoyed helping with cooking and decorating for many meals, weddings, receptions

both at church and at home. A hobby of decorating birthday cakes turned into doing shower, wedding and

anniversary cakes. It was and still is a joy to help in such special occasions.

Before we retired, we purchased Irvin's mother's homeplace which was built around 1825. After 13 years

of restoring the house and outbuildings, our home was chosen to be the featured house of the Hardy County

Heritage Weekend Festival. Also during this time we purchased, operated and remodeled a restuarant. I now

work one day a week baking pies for the new owner.

Things we enjoy doing are: hunting antiques, gardening, entertaining, decorating, arranging flowers, making

wedding cakes on occasion and most important, spending time with grandchildren. We have two sons, Irvin, a

pastor and Douglas, a 4th grade teacher. Two daughters after many years and 4 grandchildren. Our oldest is a

freshman at EMU.

Sincerely,

—Ann

Dear Friends,

One of those senior moments that we read about but think it will never happen to "me" and when we

least expect it, it happens. My husband, Henry and I were so busy raising funds for the trip to Bay St Louis/

Waveland, Mississippi, in July to remember when we were to have our reservations in for the class reunion

and it was well after August 1 st when I thought about it.

So I will write a letter and hope it isn't too late to at least have it available for those who would like to read

it and know about some of the things that have happened in my life over the last 50 years. Has it been that

long? Time does have a way of getting away from us. Immediately after graduation in '58 I went to work at

Waynesboro Community Hospital as lab assistant, washing test tubes and placing reports on patient charts.

November 1959, I left for Voluntary Service ending up in Portland, Oregon, for a year, working as a

nursing assistant and then returned home to Virginia. I worked for the Virginia Mennonite Home for 1-1

½ years then went to Waynesboro School of Practical Nursing, graduating in 1963. In September, took and

passed state boards and then married in October. We moved to Harleysville, Pennsylvania, for 2 ½ years

where my husband worked for Keller's Creamery and I worked in nursing.

On October 2, 1965, our 1 st daughter, Serita was born and we moved home to Dayton, Virginia, in 1966.

Lewis was engaged in farming and I was a homemaker and mother. July 4, 1967, Bevan, our 1 st son joined

Robert Kauffman

(deceased)

Ann (Keeler) Heishman

Ellen

(

(Kiser) Wyant
---
22 Class of '58

'

Jeanette (Landes) Goad

C. Sheldon Layman

Margaret (Layman) Shank

the family. We moved to the farm that Lewis worked on in 1969 and purchased the farm in the spring of

1970 and a son, Landon, was born September 3, 1974. During those and ensuing years, I did my share of the

milking.

In 1985, that marriage ended in divorce. I worked for RMH on the maternity floor for 5 years and for

Virginia Mennonite Community from 1987-1990. In June of 1990, I moved back to Augusta County to care

for my dad who had suffered a major TIA. My youngest son and I lived with him for 2 years until he was well

enough to care for himself and I bought a house in Stuarts Draft.

I went to work for Augusta Medical Center—Home Health Dept in 1991, working with a quad for most of

the next 15 years. In June 2006, I retired from the hospital and in December went to work for Interim with

the same patient and worked for another 8 months, retiring in August 2007.

In 1993, I met Henry and we were married a year later at Cornerstone Church of Augusta. In April 1993,

I was privileged to be a part of the medical mission team that went to Albania for 2 weeks. In 1995, we were

again part of a mission team that went back to Albania. Since then we have been on numerous short term

teams to China, Africa, India and to the Gulf States following hurricane Katrina.

We were in Bay St Louis/Waveland, Mississippi, this summer on a short term mission team with the

youth and served as cooks for our group of 22 plus 42 persons from Ohio and for the staff members of Camp

Salvage or helpers of the staff there.

As you can see we are still active members of the Cornerstone Church of Augusta and will be until the

Lord moves us or calls us home.

God bless you all,

—Henry and Ellen (Kiser) Wyant

Since high school graduation I completed nursing, got married and had 3 sons. After living in Virginia for

11 years (in Blacksburg and Newport News), we moved to Jacksonville, Florida, and after 13 years there, we were

transferred to Pittsburgh, Pennsylvania. After 5 years there, we were transferred to Aiken, South Carolina, where

I currently reside. I worked off and on but was mostly a stay at home Mom. Frank died of cancer in 1994. In '97

I married Ken, inherited 5 children and 8 grandchildren AND the Smith's finally had 2 little girl grandchildren.

Ken and I are both retired and I enjoy our grandchildren, traveling, gardening and watercolor painting.

—Jeannette Landes Goad

Marilee and I have been married for 46 years now and still live at 771 Hillview Drive in Dayton, Virginia,

22821. We were married one week after I was graduated with a BA from JMU in 1962 and moved to

Alexandria, Virginia, in October, 1962, where I took my first job as a corporate auditor with IRS. This allowed

me to have practical field work while I passed the CPA exam.

Marilee taught school until we had our children, Michele and Michael, who have blessed us with five

grandchildren, three boys and two girls who make our lives even happier than before.

We are still very active in our internet marketing business, Layman International and have no plans to retire,

as it has helped us to have a very different lifestyle of leadership training, education, and charitable enterprises.

We also travel globally with our business as is necessary which has allowed us to visit many parts of God's

beautiful world.

Looking forward to visiting with the class of 1958 in October!

God bless and Godspeed!

—Sheldon Layman

Hello Classmates of '58,

What an exciting 50 years it has been. I can't believe retirement is at hand. So much has happened in 50

years but all in all, life has been good. During the years, I worked for several churches as secretary. First, it

was the United Methodist, then the Lutheran, and being Mennonite, religion was a good part of my life. Very

interesting! In 1988, I started working for W. J. Miller, CPA, and that has been and still is a very rewarding job.

I was married and enjoyed raising two children, Allen and Teresa. Allen lives at Bridgewater and owns and

operates a dairy farm. Teresa is married to Tom Shipe and they live in Augusta County. She works as a CNA

at an assisted living facility. Tom works for McKee Baking Company, so I get quite a few Little Debbie cakes. I

enjoy interacting with my grandchildren as they pursue their college educations. Jonathan graduated Magna

Cum Laude at Lynchburg College in May and is working toward his master's degree in history. Jessica graduated

Cum Laude from Blue Ridge Community College and has transferred to James Madison University where she is
---
50th Reunion 23

continuing her bachelor's degree in health education and plans a career in physical therapy.

A large part of my time, when I'm not working, is spent piecing quilts. I have three Mennonite women who

hand quilt them for me. I sell some, donate some for raffles, and have made several for the Mennonite Relief

Sale. Mark and I enjoy volunteering at Oak Lea Nursing Home helping the residents get to church on Sunday

mornings. I like the phrase Mark makes, "Maybe the more time I spend there now, maybe I won't have to spend

so much time there later." Upon retirement (don't know when), plans are to do some traveling.

—Margaret Layman Shank

Married Betty Williams in 1964.

Dairy farmer until 1986, then changed beef cow/calf operation. Rural mail carrier 15 years.

4 children:

Andrew — single and running the farm until he died June 27, 2008, of cancer.

Brent and Maria live in Colorado and have one son Martin.

Cynthia and Kent live in Northern Virginia and have two children — Isaiah and Kacy.

Diana and John live in Northern Virginia and have two children — Amelia and Anthony.

Now in process of making major change since the death of our son. Plan to sell the cows and machinery and

rent the farm out so maybe I can really retire.

Attend church at New Covenant Fellowship which meets at the VFW hall in Elkton. George Yoder is our pastor.

—Richard Layman

Spouse: Dr. Roy Schlabach, doctor of optometry. Working full time with husband at office.

Children: Renee, doctor of family medicine; Rachelle (Lyndaker) Schlabach, MCC Director, Washington,

DC, and husband Keith Lyndaker

Married 42 years on 8/19/08. Attend Walnut Creek Mennonite Church

Live at Millersburg, OH

—Marilyn (Mast) Schlabach

Dear '58ers,

How special that each of us could be in that class together. A few highlights since then:

1962 – College graduation and marriage to Elvin – best thing I ever did.

1963 – Ruptured appendix while two months' pregnant with Brenda who now is a voice teacher at JMU.

1965 – Three fascinating years in Algeria where Kenny was born. He now has his art studio at home.

1970 – We call Philippi, West Virginia, our home after living here for 38 years. Steven was born here. He is an

occupational therapist in Hawaii. Then came Karen who loves to be a full-time mom (which I thoroughly enjoyed, too.)

Music is still very important to me. I try to sing praise songs daily with my Omni Z Chord. ("The more I

praise you, the more I see who YOU really are.")

We enjoy wildlife on our back slope—deer, turkeys, squirrels, and chipmunks. And we watch parent birds of

many kinds feeding their babies on our grass.

I'm eager to see each of you in October.

Love,

—Maribeth Messner Kreider

I had forgotten what happened 50 years ago until I got Phyllis's letter reminding me we graduated from High

School. The next year I flunked out of EMC, too many cut classes in New and Old Testament History. Returning

to EMC didn't seem like a good idea since I had no credits after one year there. For the next 5 years, I worked as

a brick mason in the Lancaster, Pennsylvania, area. In 1963, I got married to Shirley, a musician and teacher. In

1964, we moved to Chicago where I attended DeVry Institute of Technology and received a degree in Electronic

Engineering. That took three years, no religion classes, and then I worked at Zenith Radio in Evanston for several

years. In January of 1970, we moved to central Pennsylvania and have lived in Camp Hill for the past 28 years.

I worked for AMP Inc. until 1998 when the company was purchased by Tyco. I remember visiting some

AMP plants in the Shenandoah Valley. I started with AMP as an engineer and moved to other jobs with in the

company until I reached my level of incompetence. The company offered an early retirement program in the

summer of 1998 to anyone over 55 years old. It was an interesting opportunity since most of my friends retired

at the same time. About 25 of us started an active group of sports enthusiasts (golf, fishing and bicycling) and

volunteering (habitat for humanity, soup kitchens, etc).

Richard Layman

Marilyn (Mast) Schlabach

(

Maribeth (Messner) Kreider
---
24 Class of '58

'

Arley Miller

Elsa (Miller) Wittmer

Joyce (Miller) Thieszen

(no letter)

Mamie (Miller) Mellinger

Shirley and I have done some traveling to

some interesting places with Friendship Force

International and Pennsylvania Ambassadors

of Music. The latest trip was to China with a

performing orchestra (Shirley played violin) and

I learned to eat with chop sticks. Other activities

keeping me busy in recent years, Elder/Trustee at

church (Presbyterian) and President of the West

Shore CC.

—Arley Miller

Dear Classmates,

Greetings in Jesus' name. Is it possible 50 years

have already passed? I married Joseph Wittmer in

June 1962. I had 3 children: Shana- born in 1966,

Shawn – born in 1969 and Andre – born in 1972.

Where's the rest of the class? In a posed photo for the Shen, (left

to right) David Mumaw, Mary Rollins, Eugene Miller, Ruth

Eshleman, Jane Burkholder, and Mae Funk emulate studiousness.

Andre died 15 minutes after delivery. Our daughter Shana lives in Ohio and adopted her foster child in 2007. Her

name is Ciera Elana she is 3 years old. My son, Shawn and his wife Trishea, live about a mile from us and they

have 3 children, Hunter – age 11, Brooke – age 9, and Denver – age 7. I dearly love my 4 grandchildren and spend

as much time with them as possible.

After I graduated I worked in banking for 2 years. Then went to Denver, Colorado and lived there for 6

months. When I came home I got married, had my children and returned to banking for 10 years. I went to

California and studied Iridology (the study of the body by looking at the tissue in the eyes) with Dr. Bernard

Jenson. Years later I went to work at Hartville True Value Hardware. I have worked there for 30 years. I work on

the computer doing receiving and pricing for the store. I enjoy my work and I do have good people to work for.

My parents have gone home to be with the Lord. My mother passed away in 1992 and my father in 2000.

I have had many health challenges. In 1987, I decided to change some things and since then I have been very

interested in natural and herbal health. I have done much studying in the field of Chinese herbs and Alternative

Medicine and now I feel very good!

I attend the Chapel in North Canton. My faith in Jesus Christ is by far the most important thing in my life.

He is everything to me as I hope He is to all of you!

I am sorry that I cannot see all of you. I sure would enjoy that. I look forward to reading your letters and seeing

your pictures.

I pray God will be with all of you until we meet again, probably not on this earth. May I encourage all of you to

be ready when Christ returns.

Sincerely,

—Elsa (Miller) Wittmer

Classmates, All,

We remember what we thought of people coming to campus for their 50th reunion … well, here we are.

And, I for one, am happy about that.

I have been and continue to be happily engaged in nursing. I did retire from being Director of Health

Services (basically, campus nurse) at EMU. I taught in the nursing department for 11 years, did the director

stuff for 20, retired and taught another year. I currently work part time for a home health agency and I enjoy my

volunteer position at the Harrisonburg Free Clinic.

Clair Mellinger and I have been married 42 years. Son, Ryan, is a glassblower and lives in Seattle/unmarried.

Celia lives with her husband, Jonathan Dueck, in Durham, NC. and they are expecting our first grandchild.

Since retiring we have been working hard on projects around the house that have been neglected for many

years. We eagerly anticipate traveling.

I am currently president of the Mennonite Nurses Association. That and church related activities keep me

occupied and thankful for health and family.

I am looking forward to seeing you at our reunion.

May God grant you peace,

—Mamie Miller Mellinger
---
50th Reunion 25

History from 1958 to present.

Graduated from EMU in 1963 in El. Ed. and married John Wayne Mast in 1964.

Taught 4th grade in Ephrata, Pennsylvania, for 3 years.

Served in Nigeria in Teachers Abroad program from 1966-1969.

Lived in Lititz, Pennsylvania, from 1969 to 1974 and then moved to Philadelphia, Pennsylvania.

Doreen was born in Nigeria in 1968 and Steven in Ephrata, Pennsylvania, in 1972.

We lived in Philadelphia for about 10 years where John decided to go to Podiatry School. I taught PreK and K

at Cedar Grove Academy for most of those years.

In 1985, we moved to the Eastern Shore of Virginia, where John practiced Podiatry.

In 1991, John was diagnosed with multiple myeloma and fought a good fight for 2 years. While in Virginia I

taught school at the Westover Christian School, a part of the Westover Mennonite Church in Maryland. After

John passed away, I moved to Westover, Maryland, for 2 years and then back to Pennsylvania in 1995. I helped with

my parents who were in their late 80's and also did substitute teaching.

In 1997, I went to Mennonite Assembly in Orlando, Florida, and met Marilyn Troyer, who had been in Nigeria

with us. She eventually introduced me to Jim Gerber, from Brutus, Michigan. In September, 1998, we were married

and I moved to Brutus where Jim had been pastoring for a number of years. So, I became a pastor's wife which

changed my life dramatically. We were busy with church and community activities.

In 2002, we were asked to go on a mission trip to Liberia to help rebuild after the war. We worked with ACFI

(African Christian Fellowship International) in rebuilding and helping with orphanages, etc. We have returned to

Liberia each year up to 2006.

In 2008, Jim had open heart surgery for aortic stenosis and has recovered well. We traveled to New Zealand in

April/May of this year to visit my son, Steve, and his wife Christy, who was working there as a research scientist.

Jim just finished an interim pastorate and is now overseer of several congregations, so we do a lot of traveling

to churches, and also visiting family. I now have11 grandchildren and with my extended family have gained 3 more

children. In the future, we plan to do more volunteer work in various organizations.

Blessings to all,

—Barb Gerber

Dear Classmates,

Fifty years have come and gone very quickly. Each stage of our lives seems to have been the best yet.

After graduating from EMHS, I enrolled in the cadet-teaching program at EMC and taught school for

one year. In 1961, I got married to Daniel Miller. For the next four years, I worked at OSU hospital while he

attended medical school. After doing a residency in California, we returned to our home area. I worked part

time in the doctor's office and settled in raising our four children.

One of my primary interests over the years has been music. I am still involved in adult and children's music

in our local Mennonite congregation. In addition, I play cello in a local orchestra, in an ensemble for special

events (weddings) and sing in a semi-professional singing group.

Since my husband retired four years ago, we have continued to travel extensively, and I am still involved in

our family-owned hospitality company – Dutchman Hospitality Group.

We now have ten grandchildren. All our children, in-laws, and grandchildren are actively and happily

engaged in various life activities. This and all the blessings we have been privileged with makes life good.

—Mary Mullet Miller

Dear Classmates,

Eleanor and I just completed a two-week tour of ten western European countries. There's nothing quite like

going back to the Old Country and checking on one's family roots.

After high school graduation, I went to EMC for four years earning a B.S. degree with a biology major. What

else!? I had planned to go to graduate school but was asked to teach biology at EMHS for one year. I did.

Eleanor and I got married August 24, 1963, and moved to the small town of Blacksburg, Virginia, where I

attended VPI and earned a M.S. degree in Wildlife Management.

There were very few job openings with state wildlife agencies in 1965, and I was asked to come back and

teach biology at EMHS. I had enjoyed my one year of teaching and so I accepted the invitation and as they say,

"the rest is history"!

I taught biology, earth science and driver's ed at EMHS for 38 years. During the summers, I worked for the

Bureau of Sport Fisheries and Wildlife, National Park Service, National Forest Service, did construction work,

taxidermy, taught driver's education, traveled, etc.

Barbara (Mohler) Gerber

Janet (Mohler) Moore

(no letter)

Martha (Mullet) Yoder

(no letter)

(

Mary (Mullet) Miller
---
26 Class of '58

'

David Mumaw

Mary (Oberholtzer) Flory

(deceased)

Mary (Rollins) Hinkle

I had four sabbatical leaves. I taught a year in Seward, Alaska, and one year in the Amazon River basin at

Yarinacocha, Peru, with Wycliffe Bible Translators. Eleanor and I traveled around the continent of Australia

and finally spent a semester studying the natural history of the Sonoran Desert around Tucson, Arizona.

Since 1990, Eleanor and I have enjoyed many hours helping refugees from the Ukraine, Belarusia, Cuba,

Iran, and Iraq.

In 2002, I retired from teaching and have enjoyed many days of volunteering, spending as much time as

possible with our grandchildren, and working and hunting on the Shenandoah Mountain where we have a

cabin. I also take our boat to Lake Moomaw or Lake Anna.

We have two daughters. Marci is a registered dietitian and is married to Jeff Rittenhouse who is a medical

practitioner at Norlanco Clinic in Lancaster County, Pennsylvania. They have three children: Lydia, Daniel

and Benjamin (twins).

Our daughter, Lisa, is a registered nurse and works at Rockingham Eye Physicians in Harrisonburg. She is

married to Jerry Hertzler who teaches biology at Harrisonburg High School. They have two children: Rebekah

and Luke.

Life is good. My motto: "Every evening is Friday evening, every morning is Saturday morning, and there are

no Mondays!"

—David Mumaw

Hello, Classmates of 1958!

I've been writing this letter in my mind for the last few days, trying to include the important events without its

becoming a boring treatise. It is hard to believe that our class has reached that "50 th reunion" year!

Just to be somewhat organized, I'll write first about my career highlights, then family events and conclude with

where I am and what I am doing now in my life.

After high school graduation in 1958, I went on to college at EMC – along with many of you – and graduated

in 1962 with a B.A. in English.. My goal, which had been a dream since my early teens, was to become a high

school English teacher. My first job was a compromise, teaching a class of sixth-grade slow learners in an elementary

school near Harrisonburg; the year was a disappointment and caused me to re-think my career goals. When my

husband and I moved to New Hampshire where he was attending graduate school, I worked in the University

of New Hampshire Library and, during that year, discovered a new career direction. I knew from my years of

student employment in the EMC library that I would find librarianship rewarding. In the following years, I was

a homemaker while my son was small, returned to work in the Miami University Library in Oxford, Ohio, then

graduated with a Masters in Library Science degree from Indiana University in 1974. I accepted a position at

the Virginia Tech Library in Blacksburg, Virginia, and worked there, in various positions, until 1990, when my

husband and I re-located to Indianapolis, Indiana. The remainder of my career, I worked in large public libraries

in Indianapolis and in Baltimore County, Maryland. Librarianship was for me a rewarding, varied, stimulating and

ever-changing career, one which I enjoyed until my retirement in early 2006.

My personal life, too, has not necessarily followed the path of my dreams, but has been varied, with both joys and

sorrows. I find the times of difficulty and change have been the times of greatest growth…and I now know that my

life is and will be full of surprises, discoveries and change. I was first married after my sophomore year in college and

my son Charles was born in 1965. My first marriage ended in divorce. I was re-married in 1980 to Dennis Hinkle,

whom I met in Blacksburg where we were both on the Virginia Tech faculty. The years of my marriage to Dennis

were some of the happiest of my life, also full of career and personal challenges and surprises for both of us. This

part of my life ended abruptly when Dennis passed away unexpectedly at age 60 in 2003. Coming to terms with his

death has been the most difficult time of my life, but acceptance and peace and the will to move forward do return.

When Dennis and I married, I gained a step-daughter, Anya; life with her was not always easy during her growing-up

years, but she and I are now very dear friends. I also have two wonderful grandchildren, born to my son and his wife

– seven-year-old Ben and three-year-old Ellie.

In early 2006, I sold my home in Maryland, gave away many of my possessions and moved to Hendersonville,

NC, where I now live in a small cottage with a wonderful mountain view, beautiful weather and a slower pace of life.

I chose this particular part of North Carolina partly because my son, daughter-in-law and two grandchildren live in

Charlotte, an easy two-hour drive away. My son Chaz has his own business designing websites for small companies.

Six months after my move to North Carolina, my step-daughter and her husband moved to Asheville, about 20 miles

from me. She is assistant director of a biological field station in Highlands, NC, and in her spare time, a successful

bluegrass musician in Asheville. I feel truly blessed to be near all my family; we are close and see each other often.

Since moving here, I've become more involved in quilting as a hobby, am a member of several quilting groups

and am exploring the new world of creating art quilts. I continue to run and walk regularly, which I've done for
---
50th Reunion 27

many years. I'm active in the local Episcopal Church, take tai chi, enroll in occasional classes at a nearby community

college, do some hiking. Hendersonville has a diverse population of people who have moved here from all over

the U.S., so I've made many interesting new friends. I've also recently started volunteering one day a week at the

information desk of a new visitors' center on the Blue Ridge Parkway. I feel I have found a beautiful, exciting and

soul-nourishing place to make my home.

I will not be attending our reunion. I am spending a month in Australia and New Zealand and will be returning

home just a few days before the reunion. I will miss seeing everyone and would enjoy hearing from all of you, either

by e-mail or by letter.

Peace and happiness to each of you,

—Mary Rollins Hinkle

Dear Classmates:

Here we are--50 years since our graduation! I remember when we had our 25th and how we thought those

50 year graduates were pretty ancient. But I don't think we are, do you?

Reuel and I are both semi-retired. We live in Michigan 6 months and Sarasota, Florida, for 6 months. We

have a place in Orange Acres at 1-75 Clark Road exit. We meet up with different classmates who visit Sarasota

and enjoy playing cards with classmate Sharon Stalter Dietzel and husband a couple times a winter.

We still have two vacation cottages on a small lake that we rent out by the week in the summer, and our

nephew manages them during the winter. Our website is www.detweilerchalets.com.

I volunteer at the Family Bookshelf once a week in Fairview and at the "Attic" (MCC thrift store) in

Sarasota. For relaxation, I enjoy perennial and annual flower gardening, reading, and spending time with our

grandchildren. We have 3 and they are ages 16, 13, and 2. They all live in Goshen, IN. We have spent 4 weeks

there this summer doing a remodeling project for our son, Craig.

During the past year, we took two trips to Belize for service projects--in Sept. 2007, to do planning (and some

work) for the Feb. 2008 trip with a group of 17 from our church. In the Feb. trip, some of us stayed for 6 more

days to sightsee and vacation. It is a beautiful country, but we worked in some extreme poverty areas.

We look forward to hearing from all of you in our class newsletter.

—Sara (Roth) Detweiler

Bert Schlabach's story since Graduation

From EMC's High School now EMHS, I have had an interesting and varied life experience so far.

1958 – H.S. Graduation! Barely!

1958 – 1961 – Worked with my Father as a masonry contractor building fireplaces & chimneys.

1961– 1963 - Served my CO term in Voluntary Service at Brooklane Psychiatric Hospital near Hagerstown, MD

1964 – Spring Semester I started College at Goshen College.

1964 – Met Mary Beth Kaufmann – A Graduating Nurse.

1965 – April 10, I married Beth – Best decision I ever made! Very grateful for her decision!

1966 – August – Moved to Colorado Springs, Colorado. Worked for an Engineering Firm doing Surveying and

Soil Testing.

1968 – January – Moved to Boulder, Colorado, to attend Architecture School. Couldn't do the math.

1968 – March – Worked for an Architect – Learned design & drafting, supervised construction, ran the

office while my boss taught at the University. We designed several award winning projects. One note worthy

accomplishment – we designed the corporate logo for the K2 Ski/Sports company, and it is still in use.

1970 – August – moved to NYC to attend Parsons School of Design.

1973 – Graduated from Parsons. Designed furniture for a contract furniture manufacturing company. Did store

design and display for the Workbench. A high end contemporary/Scandinavian furniture store. Got a Gold Medal

award from the NYC Merchants Assoc. for window display. Beth got an MS at the Bank Street College of Education.

1975 – Moved to Brockport, New York, near Rochester – Beth teaches Community Health at the State

University College at Brockport. I work for a local contractor. I design and build restaurants, kitchens and baths.

1975 – We have our first child. She is Anna.

1976 – October – My brother Marty & I open a contemporary home furnishings store, called Shelter

Goods. We design & build furniture and sell other fine crafts from other crafts people. We also sell other home

furnishings that are manufactured with environmental sensitivity and with good design and functionality.

1977 – We have our second child. She is Sara.

1980 – Beth goes to work in the City of Rochester for the County Health Dept. She does home visits and later

Sara (Roth) Detwiler

Eleanor Ruth

(deceased)

(
---
28 Class of '58

'

Albert Schlabach

Eunice (Schrock) Mast

she will work as a School Nurse. We move the store into the city and we move to the city.

1987 – We move to the suburbs and sell the store. I begin to work for a design firm. We design various

products, such as toys, etc. and we design exhibits for tradeshows and museums.

1991 – In the next few years, I work for two other exhibit houses and start my own exhibit firm. My clients have

included Kodak, Xerox, Bausch & Lomb & numerous other clients.

2002 – I close my business. I look for work but, other exhibit companies think I am too old to be creative, so

I go to work for a contract electronics manufacturing company. I am hired to layout printed circuit boards. It

was an experiment to see if a designer could do the layouts easier and more effectively than an engineer. It was a

success, and I very much enjoyed exposing and expanding my abilities this late in my career.

So I ended my working career at a company called Alden Scientific.

I continue to work/volunteer as the Building & Grounds Facilities Manager for our Church. I have been

doing this work for the past 10 years. The First Unitarian Church in Rochester, NY was designed by architect

Louis Kahn. He is one of the 20 th century's most renowned architects and this is his only church. We have people

interested in architecture visit our church from all over the world. I very much enjoy organizing a great group of

volunteers and doing hands on work as we maintain and enhance our building and grounds.

Beth has retired from her job as School Nurse Supervisor for the Schools of the City of Rochester. She

continues to work, part time, in a consulting position for the American Lung Association as she coordinates a

program that seeks to keep children with asthma healthy at home and at school.

Both of our daughters have married good men and we now have 3 wonderful grandchildren. They all live in

northern Virginia near DC. So we are on the road a lot as we travel down to visit and to do our grandparent task

of spoiling them. We have 2 ½ year old Jamie, 2 year old Molly and 8 month old Lainey.

In spite of some bumps in the road, I have very much enjoyed my life. I have a wonderful family and I have

done some very cool stuff along the way.

I continue to enjoy nature and bird watching. I very much enjoy photography and computers. I enjoy being

Santa Claus. We love to take trips to visit family and friends. And we enjoy working in our community garden.

We think of moving south to warmer climes and to be closer to our children, but have yet to put together a plan.

In the meantime we enjoy western NY and the Finger Lakes region. Come visit some time.

—Bert Schlabach

"THE LINES ARE FALLEN UNTO ME IN PLEASANT PLACES; YEA I HAVE A GOODLY

HERITAGE." Psalm 16:6

Dear Classmates,

How did we get to this stage of life so fast?! I know I can't cover 50 years of living but will share a few things.

After marriage in '61 to James Mast of Virginia, we lived in my home area of Oregon for three years, then moved

to his Virginia home community for 40 years, and now have been in Washington State for over three years.

James had a heat stroke years ago which is one of the reasons we moved here, 45 minutes to an hour north of

Spokane, where we don't experience the high humidity that Virginia contends with.

Some folks would say that I was unemployed or didn't have a job all these years, but I will say that I

WORKED! We had our joys and sorrows like anyone else as we were blessed from 1962 to 1983 with 13

children, including a set of twins. So I had the most important job in the world, being a wife and mother.

When you work with eternal souls, you realize the seriousness of life, and we are only given one chance to lead

them back to God who gave them. And we can say with the apostle John in III John 4 that "I have no greater

joy than to hear that my children walk in truth." What a job!

We had large gardens and canned and froze lots of food; the record summer, we put away over 2000 quarts.

During our busiest years, we used 36 loaves of homemade bread every two weeks. We had lots of guests,

especially as our children got older and brought home friends. Our record on that was 125 visitors for meals or

overnight or both, in a six-week period. My busiest years were when we had five pre-schoolers and it seemed I

was always racing the clock. We did some traveling as we could…we took 10 children to Mexico and the western

U.S.; another time, we and 12 children were to western Canada and Oregon. More frequently, there were

shorter trips, closer to home. And in recent years, James and I finally made it to Guatemala for a five-week visit

where we were with three of our sons and families (16 grandchildren), visiting the missions and sightseeing, and

counting our blessings. We have so much!

Through the years, James did many kinds of construction, a bit of dairy farming, lots of truck driving, and we

raised broilers for Tyson.

Our health has been mostly good. James especially so. I have contended with diabetes for the past 25 years

but didn't slow down a lot because of it. Since we live here, James had a painful bout of gout, and an even more
---
50th Reunion 29

painful torn rotator cuff with all six of the ligaments torn loose. Surgery and therapy and answered prayer did

wonders. We never had large hospital bills with the children, getting by with just stitches and some broken

bones. We were and are grateful for the healthy bunch.

I lost my parents suddenly in 1997 in a car accident, where my father and the driver died instantly and my

mother died eight days later. In 2001, a 22 month-old grandson was killed in a farm accident. Seven months

after we moved to Chewelah, Washington, we went through the trauma of the accident that took the lives of

the five Schrock children here, which you likely heard about. Their father, Jeffrey, who was seriously injured

and made a miraculous recovery is my nephew. So many people helped us over funeral time which 1600 people

attended, including 116 Schrocks (and 12 of our children).

Last year, the last of our children who weren't married decided to take that step and did it in three months'

time in Virginia, Pennsylvania, and Washington, so we did some traveling! All 72 of our family members at that

time, were here for the last one on June 1, 2007.

That was very special as our family is scattered throughout the U.S., Canada and Guatemala. Fast forward

to 2008. Our 50 th grandchild was born in June and our first grandchild to marry (second in age) plans a

September wedding in Virginia. I think I'm to suddenly feel old!

Nearly ten years ago, I compiled and published a book on the Mast family. It is in story form and covers

many years, up until the year 2001. I believe a copy is in the historical library at EMU. James' parents are still

living in Virginia and are now 89 and 90 years of age.

I look forward with much anticipation to the proposed MEMORY BOOK and hearing from you. Anyway, I

hope I can get a copy even if I can't make it to the reunion.

—Eunice Schrock Mast

Dear Class,

Fifty years has gotten here quicker than I thought it would. I've seen a lot of changes from High School, to

College, to work, to wife and 3 children. God has been good! I have so much to be thankful for.

August 29 was my retirement date from Good Printers having worked there for 42 years. The last 20 years

as Estimator Planner. Chester Bradfield and Don Nair were owners and managers. I married Phyllis Showalter

Ramer's sister Janet. She taught 4th grade for 5 years, took off for 8 years to be with our children, Anjanette,

Peter, and Crystal, then taught 6th grade till June 2008. We now have time to visit our children. Our oldest,

Anji, is married to Rick Zook living in Papua New Guinea with New Tribes Missions. They have two children

Kira, 7 years and Keane 5 years. Peter is married to Barb Davis. They have a son Micah, 2 years old and live in

Telford, Pennsylvania. Pete works for an insurance company that insures Nuclear Power Plants. His job is fire

prevention. Crystal is married to Daryl Haarer lives in Goshen, Indiana, with 3 children, Hope, 3 years, Silas, 2

years, and a baby due in Oct. 2008. Crystal is a stay at home mom, while Daryl is a 5th grade teacher and sells

investments.

The reason that we will not be at the reunion is that we will be visiting Anji and family in PNG this Oct.

I've been thinking about the next stage in life. God put me here for a purpose and I need to be useful

while I'm here. Looking forward to seeing how this will work out. My hobbies are bicycle riding and some light

carpenter work. I will miss you all and wish you God's blessings.

—Oren Shank

Dear Class:

Fifty years ago takes us back to 1958! I'll see what I can remember. I entered the nursing program at EMC

that September, graduated with an R.N. in 1961, got married one week later and moved to Alberta, Canada. If

that wasn't enough of a shock—the prairies were flat and not very heavily settled. I worked in a 65-bed hospital

till we moved to the city of Edmonton.

More surprises as I knew only one person there, the temperature could go to 40 degrees below zero, it was

a city where everyone ice skated, and it could snow in August! We raised our three sons there so I spent many

hours in ice hockey arenas.

I ended up working in a neonatal intensive care unit in the University Hospital part time for 17 years, at the

bedside and then as a research nurse. The smallest baby I took care of was 1 lb. 2 oz., and we received many

unusual cases from all over Alberta and north to the Arctic Circle. One "fun" thing was helping to arrange a

reunion of our "graduates" from 15 years, a well-attended affair.

In 1987, we moved to Scottdale, Pennsylvania, where Robert became publisher at the Mennonite Publishing

House. I worked at a special care nursery in Pittsburgh until requiring back surgery in 2002, and I then took

Eldon Shank

(no letter)

Oren Shank

(
---
30 Class of '58

'

Phyllis (Showalter) Ramer

early retirement. At that time, my parents here in

Broadway were moving to the retirement home

so we moved into their house on the hill in the

country. Many days are so beautiful, I could sit all

day looking out over the Valley, but with several

volunteer commitments, I haven't been able to do

that! I also like to work crossword puzzles, travel,

read, try out new recipes, and visit grandchildren

in Williamsburg, Virginia; Princeton, New Jersey;

and Edmonton, Alberta. I also spend time with

my 90-year-old mother in VMRC.

Adult life has provided many surprises. Who

would have dreamed I would take a Northern

Survival Course (in case the plane went down on

a transport of a sick newborn)? Or that I would

learn to know and love hockey? (One son could

have made hockey his career?) Or that I would

take a course at the University of Alberta (for

a neonatal care certification)? Or that I would

often run into people I learned to know at EMHS

or EMC? Or that I would visit every state except

Oklahoma, Hawaii, and Alaska? I could go on

and on, but Gloria said to keep this compact!

Our class motto "Christ Lead Onward" has guided me over these 50 years.

Blessings to all,

—Phyllis Showalter Ramer

Miss Beachy enjoys the birthday cake that the class baked and

decorated for her.

Dear Classmates of eMHS 1958 – 50 years!

Schooling (after high school)

I entered EMC (EMU) in the fall of 1958 after graduating from high school. I graduated with a number

of my high school classmates in 1962 with a BS degree (although I also completed requirements for a BA)

and majors in chemistry and mathematics. I then applied to the biochemistry program at Virginia Tech and

was awarded a research assistantship. I studied there in the summer of 1962, but returned to EMU to teach

chemistry instead of continuing at Tech. While teaching I took seminary classes.

After leaving EMU in 1965 and moving to Johnstown Pennsylvania, I began studies in chemistry during the

summers at Bowling Green State University in Ohio with an NSF grant. I graduated with an MA in Chemistry

in 1969. I also studied some education and geology at James Madison University. Later I studied higher

education at the University of Michigan and completed a PhD in Education in 1985. After my initial work

retirement in 2001 I returned to Eastern Mennonite Seminary and completed an MAR degree in 2007. It would

appear that I have been an almost perpetual student. It has been a challenging, but good experience. For the

present I have no other formal education plans.

Work Career

I started regular part-time employment as janitor of Park School several years after completing my elementary

education there. (Some of my high school class mates were in elementary school with me.) During college years

I worked part-time as an orderly at Rockingham Memorial Hospital, which enabled me to graduate from college

without debt. I then taught at EMU from 1962 to 1965 as a faculty assistant in chemistry. Merle Jacobs and I

made up the chemistry department during those years, but D. Ralph Hostetter served as my teaching mentor.

In 1965, Susan and I moved to Johnstown, and I taught at Johnstown Mennonite School. In those years, I

taught about anything from 8 th grade health, world religions, English Literature, chemistry, physics, beginning

math, algebra, coaching soccer and more than I can remember just now. However, I discovered that I felt more

at home in the college classroom, so in 1968 I taught chemistry at the University of Pittsburgh at Johnstown.

Then in 1969, I returned to teach chemistry at EMU. I also taught geology after D. Ralph Hostetter retired. I

got sidetracked into administrative work in institutional research and planning, and one year worked a quarter

time for the Council of Independent Colleges and Universities. I wrote or helped write training manuals for

institutional research, and conducted research on the staffing of these colleges and universities, which later

became my PhD dissertation. I also co-taught, with Ernie Martin of EMHS, a course for the University of
---
50th Reunion 31

Virginia on doing self-study for accreditation. I completed my career at EMU in 1985 as the Chief Financial

Officer. I then began private consulting and built an oak post and beam house, that Susan and I designed, on

the wooded hillside just west of EMU along Lincolnshire drive.

In 1988, I began working for Computer Management and Development Services which later became

Janzebar. I retired from that company in 2001. During those years, I helped to develop computer software for

colleges, wrote training manuals and trained administrators to use software. I worked with some 200 colleges,

universities and seminaries all around the country from southern California to Alaska and Florida to Maine.

Some of my most interesting experiences were in Native American Colleges and in seminaries. While at

Princeton Seminary, I walked to campus past Albert Einstein's house each day. In Barrow, Alaska, the sun never

set while I was there, and I had a meal in the home of the Acting President whose wife and himself were both

descendents of the original 12 Mormon Apostles. I was at Southern Baptist Seminary when the Board decided

that no professor could accept ordination of women. The registrar that I was working with was a woman who

had been a pastor and her husband was an OT professor who accepted ordination of women. That was a tense

time to do training. Most of my travel was by air. I took off once to have smoke coming from the cockpit – it

turned out alright. My plane was struck by lightening once, and once we circled for an hour or so with sparks

coming from one engine and on landing were followed by fire trucks. Nevertheless I loved to fly.

Church Involvement

While in college Earl Delp, Jr. and I served as YPCA pastors/teachers, following David Augsburger, at Crest

Hill Mennonite Church in Wardensville, W. Va. Then I started teaching Sunday school at Woodland Mennonite

Church, another Y-church. I became pastor there for one year in 1964, the first year Susan and I were married.

Then we moved to Johnstown to teach and I became the first paid pastor at Carpenter Park Mennonite Church.

After returning to Harrisonburg we were members at Park View Mennonite Church for 25 years. In 1994, we

became part of Immanuel Mennonite Church, in the historic black community of Harrisonburg. I became an

associate pastor part-time there about 5 years ago and continue as part-time pastor along with Angie Williams

who is also serving part-time on an interim basis. This has been a rich experience. In 2004, Susan and I were part

of a team that did service work at the Mennonite Theological College in Eastern Africa in Tanzania. We visited

Immanuel members there and at Roslyn Academy in Nairobi, Kenya. I have also done volunteer work on a short

term basis in Belize and Jamaica. These have been very educational and rewarding occasions.

Family

In 1964, Susan Leaman and I were married, after she completed her BS in Nursing at EMU. Susan worked

in the medical area for many years, but now has her own licensed infant care business. We were blessed with

three children in about that many years. Timothy arrived near Christmas in 1965, Aletha in 1966 and Theodore

in 1968. They all graduated from EMHS. Tim and Theo graduated from EMU, but Aletha chose Goshen

College. Subsequently she completed a PhD in comparative literature at the University of Iowa. Tim married a

fellow EMU student, Belinda Wilfong, and they live in Hagerstown, Maryland. They own and operate Keystone

Sporting Goods. They have two children: Audrey who just turned seven, and Benjamin who turned three.

Aletha married Neal Baker, but kept her name as a professional. They have a son, Luc, who will turn seven

shortly, and lives in a world that includes French as well as English. Both Aletha and Neal are faculty at Earlham

College, a Quaker school in Richmond, Indiana. Theo is not married. He owns a house at Rawley Springs near

Harrisonburg, and works in the commercial irrigation business. JMU is the biggest client. Did you know that

artificial turf is watered before football games? We also serve as grandparents to JR, Josh, Liz and Rachel of the

Basil Marin family.

I have been greatly blessed. I thank God for the many challenging opportunities that have come to me over

these years and for continuing relatively good health. My EMHS experience was a blessing that continued in

many other learning and service experiences. My best wishes to each of you, my high school classmates of 50

years, and to our class adviser! We do have much to celebrate.

—John Stahl, your class poet. (You probably forgot that.)

Dear Classmates,

Fifty years since graduation! I thought only old people had 50 year class reunions.

We still live in Elkton on the farm, but do not farm it ourselves. We rent it out but are in process of selling

part of it. We keep really busy with a big lawn, big garden, freezing corn, canning tomatoes and a lot of weeding

and cultivating. I love the flowers the best. Pick'm, bring them in and enjoy them. Our summers are very busy

and some days I feel like we need to start down sizing.

After working at the Bad Axe Public Schools at the administration office as a bookkeeper for almost 30 years

(29 ½) I retired in 2002. I loved my work there but also knew when it was time to leave.

John Stahl

(
---
32 Class of '58

'

Sharon (Stalter) Dietzel

Robert Steckley

Don retired from farming in '90 then went to work at our local elevator. It was farm related and he really

liked it. Then it closed and now he works only in the fall at the sugar factory during the sugar beet harvest. He

does like to golf also.

We are really enjoying the Retirement thing. We have my parents place in Sarasota, Florida, and are really

enjoying it. We have been down there for 5 winters now. Our youngest daughter and family lives in Plant City

only 1 hour and 15 minutes away from us. We get to see them often and enjoy being with our 5 and 7 year old

grandsons.

Our oldest daughter and family lives near Holland, MI. Her children are 27, 19, 18, 14 and we do not get to

see them as often as we would like. None married. We would go and watch them play soccer and they did a great

job at it. The youngest one still plays soccer and is also a swimmer.

Some of the things other than work, are being involved with our church, Sunday school, Gideons, and YFC

which has been an important part of our lives. I also volunteer at the hospital about once a week except in the

winter. I love meeting the people and helping them get to where they need to go.

This winter in Florida one morning I had the strangest call. The voice on the other end was a lady and she

asked me for directions to get to our house. She said we knew each other years ago in high school in Virginia.

I gave her the directions but she would not tell me her name. When she and her husband got to our place

her face looked familiar but I could not say her first name. All that came out was Yoder. It was Marian Yoder

Delagrange from Barhamsville, Virginia. She was in our class for the 1st semester of our Junior year. I'm sure

some of you will remember her. It was so good to see her after 50 years. We got together with Arletha Albrecht

Johnson who was a senior back then. We had a great time catching up and I'm sure we will see each other this

winter again.

At our MCC relief sale in Fairview, Michigan, I usually get to see Sara Roth Detweiler, Karen Swartz

Bontrager and Barb Moehler Mast Gerber. It is always so good to see classmates.

I'm looking forward to seeing everyone again on our 50th. I hope I recognize Gene – "Fus"

—Sharon Stalter Dietzel

Fifty Years of History for Bob Steckley, (Steck)

• 1961 Graduated from EMC, Associates Degree

• 1963 Graduated from Madison College

• 1963 to 1966 Business Education teacher and bookkeeper at Central Christian High School, Kidron, Ohio

• Married Macy Friedt from Orrville, Ohio

• 1966 to 1971 Controller at Malone College, Canton Ohio

• Moved to Southern California in 1972

• 1972 to 1986 CFO at Antelope Valley Hospital Medical Center, Lancaster, California

• Adopted David, our son at 5 ½ months in 1977

• Adopted Deanna our daughter as an infant in 1978

• 1987 to 1997 CFO/Assistant Administrator at Lompoc Hospital District in Lompoc California

• Moved to Peshtigo, Wisconsin in 1997

• 1997 to 1999 Controller at Bay Area Medical Center, Marinette, Wisconsin

• 1999 Business Manager for an Orthopedic Surgeon

• Moved to Eastern Oregon in 2000

• 2000 to 2006 Controller at Holy Rosary Medical Center, Ontario, Oregon

• Retired in 2006

• 2007 to present — working as CFO at Warm Springs Medical Center, Warm Springs, Georgia. Work three

weeks and home one week each month in Oregon

Other tidbits

• Churches—Sang in church choirs; Macy was choir director and soloist.

o Beech Mennonite, Louisville, Ohio

o First United Methodist, Lancaster California

o First Presbyterian, Lancaster, California

o First United Methodist, Lompoc California

o First Presbyterian, Menominee, Michigan

o First United Methodist, Payette, Idaho

o First United Methodist, Manchester, Georgia

• Played fast pitch softball as pitcher from 1963 to 1985 in Ohio and California. In Ohio averaged 60 games
---
each summer; was all-star and was inducted into Kidron Merchants hall of fame in 1986

• Have done a lot of camping in RV.

• First grandchild expected in November 2008

• IT IS A WONDERFUL LIFE!

—Robert Steckley

50th Reunion 33

To my classmates of 50 years ago:

It will be good to see all of you in about six weeks. We have definitely arrived in the period of time called

'retirement' and are quite comfortable falling asleep in our chairs as we try and make it through the evening

news and newspaper reading. I guess that's the result of still feeling the need to wake up at 5 or 6:00 in the

morning. Isn't it wonderful being a 'morning person'? The other reason is that it is more productive being

at work at MCC Connections Thrift Store before a lot of other volunteers arrive. Yes, we both enjoy our time

spent volunteering there several times a week.

A lot of our traveling is to visit our children. We may not see them as often as some of you who have your

children nearby but it's wonderful to spend 3-7 days and 3 meals a day with them when we travel to visit them.

And they seem to know we come more quickly when they have work projects for us so they plan a small remodel

job or need help with canning vegetables, or need the wood pile restocked for the winter. Our three daughters

live with their families in Akron, Pennsylvania, Harrisonburg, Virginia, and Kernersville North Carolina—each

trip taking 7 hours from our home in Ohio. Our son is in Columbus, Ohio, with his wife and four children

and that's almost a 2 hour drive. Our grandchildren number ten with the oldest one having graduated from

high school in June.

Some of our other travel has been to help in MDS in Louisiana and Florida and a couple of months ago we

spent a week volunteering at Wilderness Wind Camp in Minnesota.

Yes, it seems retirement for us means volunteering and traveling, and all because we have a Great God to

serve. May we all be found faithful.

Blessings,

—Corrine (Steffen) Helmuth

To my 1958 H.S. Classmates,

I doubt that I ever considered in 1958 the possibility of a 50 year reunion — boy won't that be fun! The

Shenandoah caption under my name called me a Wayne County Sod Buster, (among other things) and so true

to that caption I have spent my years close to the Wayne County sod with the exception of two years of alternate

service at Fort Wayne Children's Home, Frontier Boy's Camp and Memorial Hospital in Colorado.

In 1961, Jean Gerber (known as Jeannie in the '59 Shenandoah) and I were married. Our honeymoon to the

East Coast has given us a life long affinity for the ocean. Our favorite spot has become Jekyll Island, Georgia.

Jean and I have two girls and two boys. We also have seven grandkids, ranging in ages from 4 to 21.

Beside my career in Ag which I will describe later, we were always active in church and community

activities. We were also certified as foster parents for the county. Eventually one of these foster kids was adopted

into our family.

Different periods of my life also found me involved as a partner, consultant, and care taker in various

situations. We were blessed with a variety of travel opportunities through my business relationships.

In all of this I often thank God for guidance, wisdom, and protection. I believe God honors our sincere

desires even though we fail at times. I especially thank God for a loving wife and great kids. They helped me

stay focused and heading in the right direction.

My vocational career went something like this:

Three years as an employee at the local feed company (production, sales and service).

Two years of alternate service (Indiana and Colorado).

Fifteen years in (more or less) duel role as a feed company employee and farmer. I was building acreage

hoping to be a full time farmer soon. This goal was suddenly interupted by an industrial accident which left me

unable to pursue full time grain farming.

Twenty years were then spent in sales and service to veal growers in a four-state area.

For five years I have been trying to retire. I now consider my self semi retired.

When Phyllis called about this letter she caught me on the house roof replacing shingles. Is that retired or

what!!

—Mahlon Steffen

Corrine (Steffen) Helmuth

Mahlon Steffen

(
---
34 Class of '58

'

Ethel (Steiner) Hoffman

Eugene Stoltzfus

Look-a-likes! Edith Jantzi (left), Joyce Miller (center), and Lorena Detwiler, dressed as triplets, stand in front of where the

"new" gym will be under construction during their senior year.

Dear Classmates of 1958,

It doesn't seem like it's been 50 years since we were in high school together! On the one hand, it sounds like

a long time but, on the other hand, in reflection, it doesn't seem very long ago.

I don't think I'll make it to the reunion and will be glad to see the "Memory Book."

In the fall of 2006, we moved from Elkhart to Goshen. Keith and I are both working in Goshen and we

wanted to move out of the neighborhood we were in.

I am working at College Mennonite Church, Goshen, as an administrative assistant. It is interesting and

busy. I work with the finances and the congregational database and have a lot of other responsibilities also.

Keith works at Maple Tronics selling computers. They are a local internet provider, give software and

hardware support, and have a training center, among other services.

We have two daughters and two grandchildren. The family with the two grandchildren lives in Nappanee,

about 12 miles from us, for which we are grateful. Our oldest daughter doesn't have any children.

I have had many experiences during the 50 years since we graduated. Some challenges are ongoing. I am

thankful to God for his presence with us at all times.

Have a happy reunion!

—Ethel (Steiner) Hoffman

Dear Classmates,

Looking back over 50 years since we completed our study and play together helps me to look forward in a

personal and global way that challenges my openness to surprise and unexpected opportunities. It renews my

conviction and faith that in retirement a new space for the gifts of life are created.

When we parted ways after our graduation, I continued my studies only to realize later that all of life is a

classroom spread with abundant opportunities for still more learning and testing. Eventually, my studies in

seminary and international relations helped me complete only the formal process. The informal opportunity

for intuitive learning had just begun in the longer pathway of peacemaking and peace living that has been the

theme of my life. The grounding for and ability to hone the skills of this journey began in the 1960s in Viet

Nam in the midst of a cruel war that touched all of our lives in some way.

It was there that I learned that the way of peacemaking included words, action and a confidence in one's

inner life, so much of which was begun in my days with you, my classmates and faculty, during my high school

years. I consider it a gift to have come to consciousness about the dangerous and deceptive nature of our world

in the days of civil rights and to have my life so rooted in that oft maligned decade of the 60s. Little did I know

then that my moments of mischievousness and confusion when we were together were in fact a gift for what

may be in store later when a balance of confidence in the midst of chaos was the best place from which to move

forward despite danger, broken lives and violence.

My work in peacemaking built towards giving leadership in the birth period and the creation of Christian

Peacemaker Teams that began as an infant idea twenty-four years ago at a Mennonite World Conference.

Ironically I often thought back to the athletic teams, the literary society experiences and the many ways in which

I begun to study and work together in teams as a student. In those days, our coaches were our teachers and

occasionally other more experienced people among us. The teamwork I experienced at EMHS and the coaching

became a metaphor for the way in which I tried to build the work of peacemaking in the Americas and around

the world. When asked how I understood my work, I often replied with the language of coaching because I had
---
50th Reunion 35

come to believe it gave space to grow and blessing to serious effort.

Today, I live in a relatively isolated part of Canada in Northwest Ontario, near Manitoba with my Canadian

wife, Dorothy Friesen. We do not have children of our own but we have coworkers with whom we worked

in teams all over the world including many of you who continue to inspire me with the surprise of life and

the power of truth. In these years, I have learned to listen for the signs of hope in the neighbourhoods where

I have lived in Park View, Goshen; Nha Trang (Viet Nam), Saigon; Washington, DC; Newton, Kansas; Pati

(Indonesian); Davao (Philippines); Manila; Bangkok; Palestine; and finally Chicago where I lived for 25 years.

My life has been immeasurably influenced by others I have been with, including Afghan villagers, native

people who live near me here, and Iraqi families whose members have disappeared forever but shared their

stories in the face of pain and risk. I have learned to listen with all the skills I observed among teachers and

fellow students when I was with you in Virginia as well as from the added confidence that time and experience

provides.

I believe that these threads within my life that began more than 50 years ago are worth remembering and

worth deepening. I eagerly await the surprises that the present chapter of life has in store too.

—Gene Stoltzfus

Greetings Classmates:

Well here I am trying to write a letter that Phyllis says I need to write telling about the last 50 years of my

existence.

Needless to say, I don't like writing anymore in 2008 than I did in 1958, but here goes.

In the fall of 1959, a friend and I went to Goshen, Indiana, to do our 1W service at Goshen College.

During this two-year term I met a neat local gal named Connie and we were married 4/22/1962. After we were

married, I worked construction in the summer and attended Goshen College for two years and decided being

smart wasn't for me. I worked construction full time and we started a family. The Lord and Connie gave me

John Thomas 10/10/68 and Kent Olen 11/30/70. Connie now had three boys to raise.

We left Goshen in 1972 and moved to Roanoke, Virginia, and started a guttering business in 1978. We

moved back to Stuarts Draft, Virginia. Connie and I are in our 47th year of marriage. We have two great

daughters-in-law. We have one wonderful grandson, Kyle Oden.

I have been self employed since 1970. Two years ago, I took my Social Security, closed my business, and am

now working for another contractor. I'm still trying to figure what I want to be when I grow up.

God has been very good to me; a wife who patiently stayed around while I grew up, and sons and their

families, and good health.

Enough about the past, I'll see you soon. I look forward to each day to see what surprises God may have for

me.

Your friend in Christ

—Johnny Swartz

Dear Classmates,

It has been a long time since I've seen or talked to most of you. We did attend my 40 th year class reunion. I

do remember that!

The past nine years have brought many changes into my life. My husband, Ivan, of 41 years, passed away

nine years ago on September 7, 1999. He was only sick for nine months. He had a very rare disease diagnosed

as Progressive Supranuclear Palsy, similar to Lou Gehrig's disease. We were going to the Cleveland Clinic for

several months before they could tell us what was wrong. They say it is a deterioration of the nerves in the brain

stem. I had a wonderful husband and miss him very much.

We have four sons who are all married and we have 12 grandchildren, 7 boys and 5 girls. I have a loving,

supportive family who is a big help to me. Three sons live close by and one lives in Michigan.

Two years ago, I sold my property at Mt. Hope, Ohio, (after living there for 34 years) and bought a condo

in Kidron, Ohio. Yes, I did downsize big time! I like it here. I live close to a few of the "58" classmates. My

mother lives with me, and she just had her 89 th birthday. She can take care of herself but needs a little assistance

now and then. My sister lives close by and helps out when I need her.

As of March 1 st , I quit working at the Fabric Store in Mt. Hope which my brother owned and where I worked

for about 24 years. I only worked 2-3 days a week and really enjoyed the work. He sold the store so I decided

I'm old enough to quit and retire. Now, I have more time to do other things.

I'm looking forward to our 50 th class reunion and hope to see most of you there. It is only two months away.

Miriam (Strong) Valido

(no letter)

John Swartz

Karen (Swartz) Bontrager

(no letter)

Lowell Turner

(no letter)

Carl

(

Wenger

(no letter)
---
36 Class of '58

'

Robert Wenger

(no letter)

Katie (Wengerd) Troyer

May the Lord bless each of you as you keep on

serving Him.

Sincerely,

—Katie Ann (Wengerd) Troyer

After high school I returned home to Ohio to

help with the farming. I knew that farming was

not something I wanted to pursue for life, but in

my community one remained at home and helped

with the work until they were age twenty-one. At

twenty-one, one was age of majority legally and

could keep his wages and pursue life goals.

In our family, when a boy acquired age twentyone

my father gave us as wages for our staying

home half the cost of a new Chevy of that year.

A Chevy was not in my plans. I wanted to go to

John Zehr (left) and Robert Steckley relax on the lawn on a

pleasant spring afternoon.

college. I asked for and got the money so I could go to EMU. January, 1962 found me in the gilded halls of

Eastern Mennonite University beginning my university life, unsure as to be a teacher or social worker when I

entered. During my second year, I answered a call for a teacher in a one room school in the mountains of West

Virginia. I did not get the job. "It was not God's plan for me," I decided.

I struggled as to where I would spend the summer, 1964. But I was not returning to Ohio. I would find

a job elsewhere. MCC came to the campus to recruit help in their programs. I applied for a position in a

Mennonite Mental Hospital in Reedley, California. I also applied at the State mental hospital in Staunton, Va.

When the letters came, I was accepted at both places. I had a chance to go to California. This was a Mennonite

facility and I could do my 1-W there too. I went to California in June to begin work at Kingsview Hospital,

Reedley, California, July 1, 1964.

Before leaving for California, I went to the Ohio Draft Board and told them of my plans. They looked

for my file and "could not find it." So they told me to "go to California and register there." I did, took my

armed forces physical, flunked it. "Medical discharge." I was disappointed, as I wanted to serve the Church

somewhere. Next thought, "I am in California, have a job and love it here," and stayed, thinking I can serve the

Church here without doing 1-W.

After living in California six months, I was considered a resident and could enter any one of their

Universities tuition-free. I applied at San Francisco State University, was accepted September 1966 and

graduated June 1969 with a BA in Psychology.

While attending the university, I acquired a job at the University of California Medical Center as an orderly

in the kidney transplant and vascular surgery department. I enjoyed this experience extremely. I enjoyed the

hospital. One of my favorite memories is standing beside a patient in surgery while he was having a kidney

transplant.

My university life had its challenges. I left EMU during my second semester, December 1962, for the

Cleveland Clinic Hospital for the unknown. I was diagnosed with Cushings Disease. Little was known about

the condition at that time. Dr. Eshleman told me "this condition is caused by a tumor on the pituitary gland

and affects the adrenal glands." Every Sunday, I had wondered as I entered Church if this was my last Sunday

on earth.

This was before CT and MRI scans and all the other toys medical researchers have today to identify medical

conditions. Cleveland Clinic told me "if you don't have surgery, you have six months to live. If you do have the

surgery, you have five years to live." I had a total, bilateral adrenalectomy. Brain surgery would be next if this

was not satisfactory.

While under anesthesia God came to me and said, "Even though you walk through the valley of the shadow

of death, I am with you. You are not going to die, I have work for you to do." With this message, I healed very

quickly, returned to EMU, went to CA in 1964 to work and study. But I knew that I had only "five years" to do

all this. Forty plus years later, God still has work for me to do!

It is easy when one leaves home to forsake one's parent's teaching and forget the Church. I told God, "I will

be in Church every Sunday. If I have to work mornings, I will be there in the evenings." That promise protected

me from a lot of temptation.

I returned to Ohio for a visit in 1971. While home, I was asked to direct a children's camp in Northern

Canada for August. When the summer was over the administration asked if I would stay as director of the
---
50th Reunion 37

camp. In 1972, I became the director of Fraser Lake Camp, Bancroft, Ontario; a camp owned by Mennonites,

designed to get city children out of the city into a healthy environment, physically and spiritually. The children

came from the great cities in Southern Ontario.

While directing a camp, a director must keep his mind on his business. However, he can see a beautiful

woman when she comes along. Loreen Wideman was a RN who had been in VS in New Mexico among the

Navajo Indians. She came to Fraser Lake the last two weeks of August 1973. On Easter Sunday, April 14, 1974,

I married her. In January, 1975, Loreen was in surgery with a brain tumor. She was given six months to live.

Fourteen years later she had another brain tumor surgery and she lived 6.5 more years. June 3, 1995 Loreen

graduated to Glory, having completed her life's work.

During the twenty intervening years, she worked nearly eight years full time as a labor and delivery nurse.

We traveled to Alaska, California, Mexico, Florida and other interesting places including EMU. There comes a

time in life when all one has left is memories. Some are as clear as the day they occurred. I still laugh at some.

Some I cry. But I thank God for those memories. They are a sentinel of a life well lived.

All of my years in Canada, I worked in social work. My work included teens, children (many emotionally

disturbed) and the mentally challenged. It was an interesting and challenging life.

God led me to found several programs: In two churches where I attended, I got a monthly hymn sing going.

One continues today. In Dunnville, Ontario, I saw youth standing around the town just hanging out. The

Lord persuaded me to develop a youth center. With the help of a committee of Christian towns people, we

opened the Dunnville Youth Impact Centre. While director of Fraser Lake Camp, I wanted to continue the

year of camping. I asked several single adults if they were in favor of a retreat for singles at Fraser Lake. The

answer was affirmative. With their help on a committee, we created the Inter-Mennonite Singles Retreat. Every

Thanksgiving weekend (first weekend in October) for thirty years many young and not so young single adults

returned to the north woods of Ontario and worshiped in the Word, singing and physical activities. Some

highlights: A canoe race on Sunday afternoon. Canadian waters at that time of the year can be very cold,

especially for those who tipped their canoes, and the study sessions that always dealt with issues of the Single

Person in light of God's Word.

Following Loreen's death, I followed a leading (from most of my life that did not materialize) to go to

Seminary. I entered McMaster Divinity College at McMaster University, Hamilton, Ontario. In 2003, I

graduated with a Masters in Divinity. I focused my studies on chaplaincy. After graduation, I pastored in

Associated Gospel Church in Hamilton, Ontario, for two years. Today, I am chaplain in a senior's home in

Hamilton, Ontario. People are hungry for the Word of God. It was fun watching the Bibles disappear when I

brought extra large print Bibles for them to use. God is SO GOOD!!

My very last big event was in 2007. I sold my three bedroom home of 28 years as well as all of my and

Loreen's possessions (a very hard thing to do) and moved into a retirement apartment building in St Jacobs,

Ontario. I am alone, have no children and a large house seemed poor stewardship. The biggest problem is,

I don't feel I am old enough to be here. One has to be at least fifty five. So I got a part time job, of each day

helping a handicapped man get ready for the day. Hence, I am sure God has a plan for me here too.

May God's Blessings continue upon each one of you. Again, it is good to reconnect with all of you, Class of

'58. I am looking forward to seeing you and hearing where all your life maps have taken you in the last 50 years.

—Homer Witmer

Dear Classmates,

Time marches on and now we are at the 50 year mark of being connected to each other by virtue of being

part of the class of '58 at Eastern Mennonite High School. I am sure that many of us, including myself, look

back and see this as a major step in our journey with God.

After high school, I returned to EMC for college. However, after two years my father died and I needed

to remain at home with my mother. A year later, Paul Wenger and I were married and we moved to Goshen,

Indiana, where he was enrolled in seminary. After one year, he took an assignment in Chicago as pastor of

Mennonite Community Chapel on 18th Street. We were in Chicago for four years. Both of our children (Ron

and Charity) were born there.

In 1966, we moved to Richmond, Virginia, where Paul was pastor of First Mennonite Church for the next

ten years. In Richmond, our children grew up, I went back to school. I became an elementary school teacher,

and Paul moved from pastoring a church to a full time administrator in Henrico County Schools.

In 1982, Paul received a call to become the superintendent of Sarasota Christian School in Sarasota,

Florida. We accepted the call, sold our home in Richmond, and moved to Sarasota believing that we were

following God's call. Both of our children were beginning their adult lives at this point and they quickly

Homer Witmer

(
---
38 Class of '58

'

Margaret (Witmer) Wenger

Betty Jane (Yoder) Anderson

Charlotte (Zehr) Klingelsmith

(no letter)

John Zehr

(deceased)

found their places in churches and jobs. I went to work for Sarasota County Schools as an elementary school

teacher, and Paul took on the heavy responsibility of managing an entire school (elementary, middle, & high)

of nearly 500 students.

The years between '82 and '90 seem to be mostly transitional. Both children were married and began their

own households, Ron in Kidron, Ohio, and Charity in Sarasota, Florida. Grandchildren began to appear on

the scene during these years. In all, we have five wonderful grandchildren, three boys and two girls, ranging

in ages from nine to twenty-two. My career flourished into not only a teacher of children, but also a mentor

for other teachers. Paul left Sarasota Christian School after five years. The next two years were a real search

concerning God's will for our lives. We learned a great deal about forgiveness, and we learned how to walk

through and beyond disappointment and heartache. We also learned how to see and understand God from

other perspectives.

In 1990, we decided to move back to Virginia where we spent four years in Lancaster County working in

public schools. In Lancaster, we continued to learn much at the feet of our Savior. We learned to work with,

and develop friendships with people who didn't particularly like us, because we were suspect of bringing

change to their small village. It was also a time of deepening family relationships.

In 1994, we returned to Richmond where we again worked in Henrico County Schools. Both Paul and

I had assistant administrative jobs. This was a huge growing time for me as I took on the responsibilities of

working with teachers and school-wide discipline. During this time, I returned to EMU to earn my masters

degree in Curriculum and Instruction. That experience was so enlarging and benficial.

In 2000, we retired from Henrico County Schools and returned to Sarasota to be near our daughter's

family. The relationship between our two families is precious and certainly a gift from our Heavenly Father. I

continued teaching in Sarasota for seven more years, going back into the same school and the same classroom

I left in '90. Paul served as chaplain of Sunnyside Village during some of those years. In 2006, we both

retired.

I now teach Spiritual Formation classes, serve as a hostess at the food pantry, and tutor students in an

after school program. All of these are programs associated with the church to which we belong. My latest

venture is to return to EMS for the summer institute on Spiritual Formation. In three years I hope to be a

certified spiritual director.

Our hearts are full of praise and thanksgiving to a God who has, and is, navigating our journey. We thank

him for blessings beyond measure, for the opportunities we have along the way, for the beautiful family he has

given us, and for friends to walk with us on the journey.

Sincerely,

—Margaret (Witmer) Wenger

Hello, this is Betty Jane (Yoder) Anderson,

I still live in Pinto, Maryland, where I have lived all my life. My husband, Al, is from St. Paul, Pennsylvania,

near Salisbury. We met in 1967 and got married in 1969. It will be 40 years on January 11. We have two

children, a daughter Lori Kornhaus in San Antonio, Texas. She is 37 with a daughter 13, and son 10. Our son,

Paul, is 33 and lives near Falling Water, West Virginia. He and his wife, Jeannine, have a 3-year-old daughter.

I became a beautician after a year of training in 1967. My now husband was renting a room from my aunt

when she got us together. I was 27 and Al 24 at that time. Al came to work at the Kelly Springfield Tire Co.,

but it shut down before he got retirement. When I had Lori, I decided to be a stay at home mom. I did not

want someone else raising my kids.

After three months of LPN training, I worked at Brooklane Hospital in Hagerstown, Maryland. In 1960,

I worked at our Miracle-Mart store for four years. It was like our Wal-Mart, only smaller. In 1965, I entered

voluntary service in Portland, Oregon, till January 1966.

Al and I help with many church activities and have so much going on, I don't think we can be at the

reunion.

God bless you all.

—Betty Jane (Yoder) Anderson