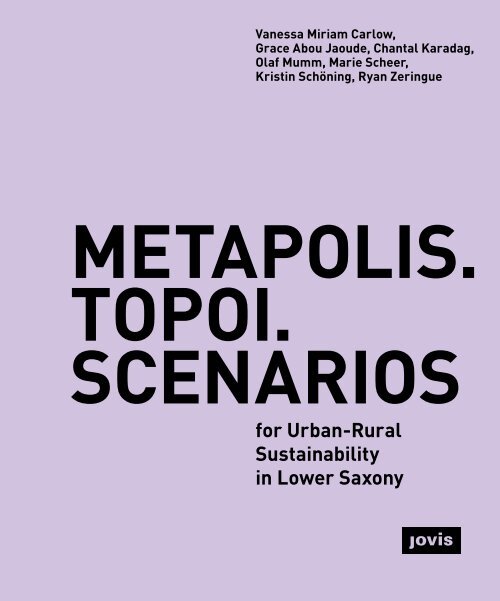 Metapolis. Topoi. Scenarios
ISBN 978-3-86859-725-7
ISBN 978-3-86859-725-7
SHOW MORE
SHOW LESS
You also want an ePaper? Increase the reach of your titles
YUMPU automatically turns print PDFs into web optimized ePapers that Google loves.
Vanessa Miriam Carlow,

Grace Abou Jaoude, Chantal Karadag,

Olaf Mumm, Marie Scheer,

Kristin Schöning, Ryan Zeringue

METAPOLIS.

TOPOI.

SCENARIOS

for Urban-Rural

Sustainability

in Lower Saxony
---
INTRO 7

1. The Lower Saxony Metapolis –

From an Open Call for Cooperation

to a Fundamental Understanding

of Urban-Rural Relations 8

Vanessa Miriam Carlow

PERSPECTIVES IN

URBAN-RURAL

PLANNING 13

2. TOPOI – A Scientific Approach

for Understanding Urban-Rural

Linkages 14

Vanessa Miriam Carlow, Olaf Mumm

2.1. Introduction 14

2.2. Lower Saxony Metapolis 15

2.3. The TOPOI Method 16

2.4. The TOPOI Types of Lower Saxony 21

2.5. Conclusion 24

3. Four Scenarios for Lower

Saxony 2050 26

Grace Abou Jaoude, Vanessa Miriam Carlow

3.1. Introduction 26

3.2. Scenario Planning Approaches 30

3.3. Case Study: The METAPOLIS Project 32

3.4. Evaluation of the Scenario Building

Workshop 35

3.5. Four Scenarios for Lower Saxony 36

3.6. Conclusion 39

CASE STUDIES 43

Vanessa Miriam Carlow, Chantal Karadag,

Olaf Mumm, Marie Scheer, Kristin Schöning,

Ryan Zeringue

4. PROTOTYPE I:

Eydelstedt, a Disseminated Hamlet 44

4.1. TOPOI Description 47

4.2. Four Futures for Eydelstedt 52

4.3. Scenario A: The Green Communities

of Eydelstedt 54

4.4. Scenario B: A Happy Future

Planned for Eydelstedt? 66

4.5. Scenario C: New Settlers

in Eydelstedt 78

4.6. Scenario D: Eydelstedt Repurposed! 90

5. PROTOTYPE II:

Detmerode, an Exo Satellite Town 102

5.1. TOPOI Description 105

5.2. Four Futures for Detmerode 110

5.3. Scenario A: The Green Communities

of Detmerode 112

5.4. Scenario B: A Happy Future

Planned for Detmerode? 124

5.5. Scenario C: New Settlers

in Detmerode 136

5.6. Scenario D: Detmerode Repurposed! 148
---
6. PROTOTYPE III:

Schöppenstedt, a Periurban Village 160

6.1. TOPOI Description 163

6.2. Four Futures for Schöppenstedt 168

6.3. Scenario A: The Green Communities

of Schöppenstedt 170

6.4. Scenario B: A Happy Future Planned

for Schöppenstedt? 182

6.5. Scenario C: New Settlers

in Schöppenstedt 194

6.6. Scenario D: Schöppenstedt

Repurposed! 206

URBAN-RURAL

INTERVENTION

CATALOG 223

Vanessa Miriam Carlow, Chantal Karadag,

Olaf Mumm, Marie Scheer, Kristin Schöning

8. Urban-Rural Intervention Catalog 224

8.1. Introduction 224

8.2. Building Types (B) 225

8.3. Streets, Mobility, Public Space (M) 228

8.4. Green and Blue Networks (G+B) 231

8.5. Functions (F) 234

7. Discussion and Evaluation of the

Scenarios for the three Prototypes

Eydelstedt, Detmerode, and

Schöppenstedt 218

7.1. Eydelstedt 219

7.2. Detmerode 220

7.3. Schöppenstedt 221

OUTLOOK 239

9. From Local Measures to Regional

Sustainability – An Attempt of

Upscaling 240

Olaf Mumm, Ryan Zeringue,

Vanessa Miriam Carlow

APPENDIX 253

References 254

Acknowledgements 262

Imprint 264
---
1.

The Lower Saxony

Metapolis –

From an Open Call

for Cooperation

to a Fundamental

Understanding of

Urban-Rural Relations

Vanessa Miriam Carlow

In 2015, the ISU – Institute for Sustainable Urbanism

at Technische Universität Braunschweig published

an open call for cooperation: "Have space. Want

ideas? Not afraid of students?" via our professional

networks. The open call was an offer to municipalities

and NGOs worldwide. The ultimate ambition was

to apply the talent of our students and ISU to existing

real-life problems. By cooperating with real-world

actors, we envisioned our students – future urbanists

– to get a glimpse of the everyday reality of their

chosen profession from the very beginning of their

studies. We also wanted to move away from an architectural

and urban design education where students

work on problems that their professors have "made

up". In addition, we aimed to advocate work in public

administration as a rewarding professional alternative

to the classic career path in an architects' office.

Through meetings with citizens, mayors, or chief

planners, we hoped to give our students an idea of

the responsibilities and joys the work of an architect

can entail.

The response was amazing! We received feedback

from municipalities around the world. However, most

expressions of interest in cooperation came from

villages and small towns in Lower Saxony, a federal

state in the north of Germany, where ISU and our

Technische Universität Braunschweig are located.

We kept our promise and conducted several urban

design workshops and master classes based on

the responses to our open call. We worked with the

Gowanus Canal Initiative in Brooklyn, New York – and

also held a design-to-build workshop in Brome, a village

near the city of Wolfsburg, and other more rural

municipalities. "We work with Brooklyn and Brome"

soon became a punch line at ISU.

8 INTRO
---
In response to the open call, we met in person with the

mayors or chief planners of all of the municipalities in

Lower Saxony that had replied. We became intrigued

by the specific challenges those communities, mainly

small towns and villages, were facing. Consequently,

we started to conduct preliminary research and established

the Academy of Rural Spaces (Carlow et al.

2019) – a forum for cooperation between ISU and our

partner municipalities. Eventually, in 2016 we hosted

the international conference RURALISM. The future

of small towns and villages in an urbanizing world

(Carlow and ISU 2016).

We realized a number of things over the course of all

these intense exchanges:

While rural spaces have long been understood as

backward, they have – just like cities – undergone

drastic changes in the past decades, too. The industrialization

of agriculture, the change of lifestyles,

and other effects of the globalized, networked economy

have had a major impact on areas that were formerly

dominated by traditional agriculture, and have

led to enormous, also physical and spatial transformations

that are still on-going. In addition, prevailing

challenges such as resource and land consumption,

the need for better participation, and sustainable mobility

strategies are not only problems that concern

cities but also rural areas (Carlow and ISU 2016;

Carlow et al. 2021; Mühlbach et al. 2021).

Rural spaces are often depicted as peripheral and

being dependent on large cities. However, in Lower

Saxony, as in the whole of Germany and many other

European countries, the majority of the population does

not live in the large metropolises and metropolitan

areas, but outside of these – in towns, small suburbs,

and villages. This ultimately challenges inherited

concepts of urbanity, centrality, and accessibility

(Carlow et al. 2021).

We also observed that for a long time, concepts and

strategies for sustainable transformation have focused

almost exclusively on large cities and metropolitan

regions. However, there are many interlinkages

between spaces once considered urban or rural.

A holistic approach to understanding urban and rural

spaces in an integrated way may offer a new path towards

a more sustainable future. At the same time,

this is being challenged by traditional planning systems

that strongly differentiate between urban and

rural areas (Carlow et al. 2022).

Ultimately, no two places are alike, and rural or urban

are too broad categories to describe the lived reality

in cities, towns, or villages. Prosperous villages and

shrinking cities or vice versa, new functional designations

or changing lifestyles – a closer look is often

needed to understand the challenges that arise in

urban and rural development.

TOPOI. METAPOLIS. SCENARIOS for Urban-Rural

Sustainability in Lower Saxony presents the current

results of our ongoing work and analysis of urban and

rural communities in Lower Saxony. We developed a

new data-driven method called TOPOI to analyze

urban-rural settlement patterns (Carlow et al. 2022).

The method is introduced in Chapter 2. Based on

the insights we gained, we developed scenarios for

the sustainable development of different settlement

types and exemplary communities in the interconnected

network of cities, towns, and villages. In Chapter

3 we elaborate on the method we used to develop

these scenarios. The exemplary proposals we derived

for different possible and sustainable futures are

presented in Chapters 4, 5, and 6. Throughout their

The Lower Saxony Metapolis

9
---
development, these have been extensively deliberated

with our cooperating partners. Chapter 7 presents

a summary of our discussions. Chapter 8 is a

summary of the different design proposals that we

developed for the scenarios. In the concluding Chapter

9, we will show how an incremental change in the

communities may have a major impact on the larger

urban-rural system.

I would like to thank all of our cooperation partners,

mayors, planners, local politicians, activists, and

citizens of Barnstorf, Bersenbrück, Braunschweig,

Bremen, Bremerhaven, Brome, Elm-Asse, Detmerode,

Eydelstedt, Nienburg (Weser), Schöppenstedt,

Vechelde, Verden (Aller), Wittingen, Wolfenbüttel,

Wolfsburg, and Wolfshagen (Harz). With this book we

want to acknowledge your passion in the quest for a

good and sustainable future for (y)our communities.

I would also like to thank my colleagues at Technische

Universität Braunschweig and Leibniz Universität

Hannover for their constructive cooperation on our

joined research project METAPOLIS. An inter- and

transdisciplinary platform for a sustainable development

of urban-rural relations, funded by the

Volkswagen Foundation and the Lower Saxony Ministry

of Science and Culture (MWK).

This book is an invitation to continue the discussion

on the fundamental understanding of urban-rural

relations and the future sustainable development.

Amidst a pandemic, severe social disruptions due to

wars, climate change with severe draughts, storm

surges, and floods, and with global resources dwindling,

we all realize that radical shifts in the way we

live are necessary. This book provides a glimpse into

a positive future based on radical changes – we can

do this!

10 INTRO
---
1.1 Academy of Future

Rural Spaces in Lower

Saxony

Workshop in Barnstorf

2019 – ISU students

together with the mayor

Jürgen Lübbers

1.2 Academy of Future

Rural Spaces in Lower

Saxony

Conference on urbanrural

development at

TU Braunschweig with

experts, ISU students,

and representatives

of our partner municipalities

The Lower Saxony Metapolis

11
---
proximity with often unsustainable effects, such as a

high rate of land take and dense commuting patterns,

have been characteristic of recent and current developments

(MSGG 2013; Mühlbach et al. 2021).

Figure 2.1 shows Lower Saxon settlements in relation

to different landscape types based on the classification

of the Lower Saxony State Office for Mining,

Energy and Geology (LBEG 1995). This map includes

the two large cities of Hamburg and Bremen, which

are two independent city states within the German

federal system and surrounded by Lower Saxon territory.

Depending on the landscape type, Lower Saxon

settlements show different sizes and distribution patterns.

The larger cities are situated along the river

bodies and on the foothills with fertile soils, whereas

in the heathland, on the coast, and in the hilly areas

of the Harz Mountains, settlement units are considerably

smaller and more scattered.

For the development and testing of our TOPOI method,

we selected two study regions on the basis of their distinct

development history, urbanization, and landscape

patterns. Both study regions include municipalities

from our partner network. The western study region

Vechta-Diepholz-Verden (A, Figure 2.1) is characterized

by a large number of evenly distributed, mainly

prospering small to medium-sized towns and many

villages in a sandy soil or heath landscape (Geest).

Founded on rather infertile soils, today the region is

characterized by intensive livestock husbandry and agriculture

(Tamásy 2013). The study region of the larger

Braunschweig area (B, Figure 2.1) includes both thriving

cities and declining municipalities in immediate

vicinity. The landscape of foothills is characterized by

very fertile loess soils (Börde), which led to an early and

relatively dense formation of settlements in the region.

2.3. The TOPOI Method

With the data-based TOPOI method, we analyzed the

settlement structures based on eleven planning parameters

of form (area, compactness, building density,

open space ratio), function (functional variety,

population density, retail and services ratio, agricultural

building ratio) and spatial linkages (settlement

density, public transport connectivity, proximity to regional

train stations) (see Table 2.1).

While our method can be studied in detail in several

scientific articles (Carlow et al. 2021; Mühlbach et al.

2021; Carlow et al. 2022; Mumm et al. 2022; Zhu et

al. 2022), in this book, we do not want to focus on the

technicalities of the method but rather on some of the

findings obtained by its application. The first results

concern the definition of settlement units. While the

traditional classification method of the Federal Office

for Building and Regional Planning – BBSR (Figure

2.2) differentiates four main settlement categories,

namely City (independent), Urban County, Rural

County with Densification Tendencies, and Sparsely

Populated Rural County, our TOPOI approach provides

a more detailed and fine-grained understanding

of the diversity of settlement units and their characteristics

due to the defined eleven indicators.

Other findings concern the unequal access to public

transport options, which the TOPOI method helped

us reveal. We found out that roughly 60 % of the area

in our two study regions had a densification potential

based on public transport provision in relation

to population density. On the other hand, approximately

50,000 people have no or only limited access

to public transport (Carlow et al. 2021).

16 PERSPECTIVES IN URBAN-RURAL PLANNING
---
OLDENBURG BREMEN HANNOVER BRAUNSCHWEIG

A

B

OSNABRÜCK GÖTTINGEN WOLFSBURG

0 20km

Study Regions River / Waterway Foothills

2.1 Built-up Areas and Landscape Types

of Lower Saxony and the two METAPOLIS study regions:

(A) Vechta-Diepholz-Verden and (B) Larger Braunschweig

region. Source: Carlow et Motorway al. 2022; Data: BKG 2012a,b;

ESRI 2018; LBEG 1995.

Main Road

Study Regions

Built-Up Area

Motorway

Main Road

River/ Waterway

Coastal Holocene

River Landscapes

Geest

River Landscapes

Geest

Foothills

Highland

Low Mountain Range

(Harz)

Built up Area Coastal Holocene Highland

Low Mountain Range (

25

km

TOPOI

17
---
0 1km

0 1km

0 250m

2.6

Exo Satellite Towns, too, can be

found at the urban fringes. As typical

large housing estates from

the 1950s, 60s or 70s, they have a

high functional variety, high population

density, but a low public

transport connectivity. There are

nine Exo Satellite Towns in our

study regions.

2.7

Periurban Villages are also located

at the urban fringes. They are

typically smaller than Periurban

Towns or Exo Satellite Towns.

Nevertheless, they usually have a

medium to high functional diversity

and a medium population density.

A special characteristic is that

they are located close to or have

their own regional train stations.

There are 42 settlement units of

this kind.

2.8

The 37 Small Periurban Villages

we identified usually have a smaller

footprint than the Periurban

Villages but nevertheless a high

functional diversity. However, their

connectivity is relatively low.

0 250m 0 250m

0 250m

2.9

Exo Villages, of which we found

524 in our study regions, are rather

isolated. Nevertheless, they

show a medium to high functional

diversity. They usually have a medium

population density and low

connectivity.

2.10

Small Exo Villages are also isolated.

The 73 we identified show

a high number of buildings with

agricultural use. They are characterized

by a large distance to the

next train station and a low connectivity

in general.

2.11

Disseminated Villages also include

agricultural buildings but at a lower

proportion than Small Exo Villages.

They are dispersed throughout the

territory, are located at a large distance

from train stations, and have

a generally low connectivity.

22

PERSPECTIVES IN URBAN-RURAL PLANNING
---
0 250m

0 250m

2.12

Agri Villages have a large proportion

of agricultural buildings and

at the same time a high building

density. Like many of the other

village types, they are rather scattered

and have a low connectivity.

There are 35 of them in our study

regions.

2.13

Disseminated Hamlets, of which we

made out 1,071, were the second

most common settlement type.

They are dispersed throughout

the territory, show a high building

density, a large distance from the

nearest train station, and a very

low connectivity.

0 250m

0 250m

2.14

Disseminated Living Agri Hamlets

are the most common TOPOI in

our two study regions, where 4,283

could be identified. This is the

smallest settlement type that is

distinguished by a very low connectivity

and a high building density

with a large share of agricultural

buildings.

2.15

The Exo Industrial Zone is a very

special TOPOS. As a typical industrial

area outside of cities and

towns, it usually contains a small

number of functions, has no population,

a high open space ratio,

low building density, and very low

public transport connectivity.

TOPOI

23
---
preferred technique – where each axis represents the

range of desirable and undesirable futures. Participants

then explore each scenario's characteristics,

provide a title for each future, and detail the narratives.

Finally, participants explore the implications of each

scenario through a set of indicators and develop contingent

and robust plans, policies, and strategies that

are refined into recommendations with timelines (Stapleton

2020; Abou Jaoude, Mumm, and Carlow 2022).

Increasing environmental, socioeconomic, or technological

challenges are likely to produce uncertainties

in the built environment and require scenario planning

processes, given their nature and long-term

implications. Thus, exploratory scenario planning is

recommended when external uncertainties (structural

uncertainty) are critical and imminent; conflicting

values and views between stakeholders exist (value

uncertainty); solutions require cooperation between

different scales; or problems and issues are unknown

(Abbott 2005; Avin 2007; Avin, Cambridge Systematica,

and Patnode 2016; Goodspeed 2020). Exploratory

scenario planning fosters systems thinking and seeks

to broaden the range of possible futures. Indeed, this

approach enables users to adequately account and

adapt to uncertainties.

Exploratory approaches to scenario-based planning

ideally result in robust and contingent plans and policies

that help communities better adapt to the future.

However, many scenario planning efforts fail to achieve

this theoretical goal and instead yield only insights

and recommendations or are often not followed up

after presenting the narratives (Avin and Goodspeed

2020). Scenario-based planning projects may involve

public participation and integrate quantitative and

qualitative data (Goodspeed 2020). Various exercises

may use models and sketch tools to generate, assess,

and visualize scenarios and understand future

development patterns and dynamics. Tools and

models are particularly necessary when iterations

are needed to refine and replicate results, or stakeholders

are faced with difficult decisions that require

the consideration of impacts and trade-offs between

scenarios. While many scenario-based planning projects

are essentially qualitative, it is often only regional-scale

projects and large organizations and cities

that undertake and can afford a quantitative level of

analysis. Through various case studies, Stapleton

(2020) demonstrated that effective exploratory scenario

planning does not require the use of tools and

models but rather a structured process and method

that can, alone, yield insights and guide policy. Compared

to traditional urban planning methods, scenario

planning can be a complex, time-consuming, and

costly exercise (Avin 2007). The cost and complexity

of a scenario planning project is contingent upon the

scale (regional, local, etc.), topics, and range of external

forces considered; digital and analysis tools used;

number of experts consulted; meetings held, etc.

3.3. Case Study: The METAPOLIS Project

Several workshops were undertaken as part of the

METAPOLIS research project to formulate four qualitative

scenarios for Lower Saxony. The research

project was conducted at Technische Universität

Braunschweig and Leibniz Universität Hannover in

cooperation with several Lower Saxon municipalities.

The workshops aimed to analyze physical, ecological,

social, and information networks and identify

32

PERSPECTIVES IN URBAN-RURAL PLANNING
---
3.3 Public Participation

Citizens participating in the scenario process had the opportunity to discuss and

select their preferred futures for the sustainable development of Lower Saxony.

Four Scenarios for Lower Saxony 2050

33
---
synergies across the urban-rural gradient in Lower

Saxony. Scenarios were then applied to the three

sample communities of Eydelstedt, Detmerode,

and Schöppenstedt. The expert meetings and workshops

were held between 2018 and 2019. Prior to the

scenario development process, an interdisciplinary

team of architects, planners and geoecologists had

devised a systematized process and considered the

13 identified TOPOI types (Figure 3.5; settlement

types or units) and their characteristics, namely

form, functions, and linkages (Carlow et al. 2022). In

subsequent workshops under the METAPOLIS project,

the participants represented more diverse disciplines

including political scientists, data scientists, environmental

scientists and traffic planners, to depict the

future of settlement types and their relations.

An exploratory scenario planning approach and the

scenario-axis technique were selected prior to the

commencement of the project. Initially, experts, academics,

and municipality representatives convened

to discuss their aspirations and visions for different

towns and villages in Lower Saxony (Figure 3.1). Apart

from stakeholders' values and interests, three guiding

principles were derived from this workshop, namely

green and blue networks, five-minute city, and livable

communities. Data and GIS-based maps were later

collected and analyzed by the researchers to understand

the current conditions in the selected study

areas. Semi-structured interviews were carried out

with academic experts to gather more insights and

learn about the history, challenges and opportunities

pertaining to each discipline. Drawing on the interviews,

the project team collectively created an extensive

list of drivers, including population, migration, age,

disruptive technologies and energy consumption, and

questions that were later illustrated on cards. Key

drivers were also borrowed from the Sustainability

Strategy for Lower Saxony report (MUEBK 2017). The

indicator report of the German Environment Agency

(2017) and the interviews conducted by Böttger,

Carsten, and Engel (2016) on the future of Germany

were consulted, too. These reports and the book were

also crucial for framing questions that addressed diverse

disciplinary perspectives. For example, questions

regarding future urban development included:

(1) will density increase in major urban centers

in the two study areas or will there be more sprawl

especially around big urban centers? (2) What are

the common building types in the two study areas?

(3) Which spatial configurations will help achieve

higher densities? During a series of meetings, the

identified drivers were presented and the purpose,

scope, and timeframe of the scenario exercise were

determined.

During a second workshop, twelve participants convened

to formulate scenarios for the future of the two

study areas (Figure 3.2). Along with a deck of cards

describing previous studies, the questions were used

to initiate discussions. Participants were divided into

two groups and then encouraged to draw causal loop

diagrams and cluster drivers. Cards and questions

served as generative tools to prompt participants

to think beyond their disciplinary perspectives and

overcome presumed assumptions. An uncertainty

and impact matrix, otherwise known as the Wilson

matrix, was employed to help participants prioritize

and narrow down their selection of critical drivers.

Through the scenario-axis technique and plenary

discussions among groups, 'lifestyles' and 'governance'

were selected as critical drivers to formulate

34

PERSPECTIVES IN URBAN-RURAL PLANNING
---
four first-generation scenarios, namely: Green Communities,

Planned Happy Futures?, New Settlers, and

Communities Repurposed! (Figure 3.4). Each scenario

narrative depicted diverse disciplinary perspectives

and considered issues that emerged during the discussions.

The scenarios reflected interests of stakeholders

(municipal representatives, funding agents,

and expert groups) and were formulated along the

three main guiding principles. After the workshop,

the project team drafted and refined the narratives,

which were later shared and presented to the participants

to solicit their feedback. The scenarios were

then visualized and presented to the public during a

public event at Technische Universität Braunschweig

(Figure 3.3). In a survey consisting of a series of

multiple-choice questions, visitors could select their

preferences for the future of Lower Saxony. The combination

of preferences was then supposed to lead

to a specific scenario. This exercise was intended to

raise awareness among lay audiences of the implications

of their choices and decisions and to discuss the

scenarios with the public.

3.4. Evaluation of the Scenario Building

Workshop

Various unanticipated challenges emerged throughout

the scenario building process. Although regarded as

a well-established 'standard' technique in scenario

planning, the workshop revealed the discrepancy

between theory and implementation of the scenario-

axis technique. The technique's prevalence and

wide appeal are due to its clear, simple, and communicable

structure (Ramirez and Wilkinson 2014).

However, narrowing down the number of drivers to

two critical driving forces required extensive discussions

among participants a considerable amount of

time. Moreover, reaching consensus among interdisciplinary

experts was not easily achieved. Indeed,

selecting the two most impactful and uncertain

drivers required trade-offs between participants,

who reflected on the interests of various stakeholders.

This process has ultimately led to the loss of

insights gained during discussions on causal relationships

and drivers. Some participants noted

that the critical driving forces – lifestyle and governance

– did not closely relate to the project's focus

or the two study areas. Throughout the workshop,

contrasting perspectives were not perceived as impediments

but rather as opportunities to consider

a broader range of possibilities. A short questionnaire

containing nine questions was handed out

to participants at the end of the workshop. The

questionnaire consisted of free-text and closeended

questions requiring participants to rank

certain tools. Overall, participants were satisfied

with the tools used in the workshop and the plenary

discussions. However, they were critical of the

scenario-axes technique and the short duration of

the workshop, which lasted four hours. While the

workshop employed an exploratory approach to

develop possible future alternatives, some participants

noted that the guiding principles where

strongly embedded in the scenarios and thus reflected

normative aspirations.

Four Scenarios for Lower Saxony 2050

35
---
4.

PROTOTYPE I:

Eydelstedt,

a Disseminated

Hamlet

4.1 Detached Houses

in the north of Eydelstedt

44 CASE STUDIES
---
4.2 Historical and Listed Farm Buildings

testify to Eydelstedt's agricultural origins.

PROTOTYPE I: Eydelstedt

45
---
4.3 The Bargeriede River

cuts through Eydelstedt and is sometimes more,

sometimes less accessible to all.

46 CASE STUDIES
---
4.1. TOPOI Description

Eydelstedt is one of the 1,071 Disseminated Hamlets

in our two study regions. Disseminated Hamlets are

the second largest TOPOI group after the Disseminated

Living Agri Hamlet, of which there are 4,283.

Eydelstedt has a population of approximately 250

people. It is part of the municipality of Barnstorf. Altogether,

about 25,000 people live in Disseminated

Hamlets in our two study regions. Most Disseminated

Hamlets are located in the north-western study region

of Vechta-Diepholz-Verden, including Eydelstedt.

Disseminated Hamlets are characterized by their

high building density. They are dispersed throughout

the territory, are located a long distance from train

stations, and have a very low connectivity. Since no or

only a few public transport options are available, they

are primarily reached via individual mobility. On average,

the nearest regional railway station is located

7 km from Disseminated Hamlets. They usually feature

three different functions, including housing, but

no retail. Disseminated Hamlets are usually surrounded

by many other settlements.

Eydelstedt is a village. Spatially, it can be described

as a rather dispersed accumulation of historical

farm ensembles and newer residences, mainly singlefamily

homes. Only few of the historical farms are

still used as such. Today, most former farm buildings

have been converted into residences or small business

premises, such as hair salons or law offices. In

the hamlets, single-family houses have been added

to complement historical buildings. Overall, housing

is the predominant function in Eydelstedt. Vacancies

are not a phenomenon in the village. Besides the few

existing small businesses, there is also an elementary

school and a fire station. However, there is no grocery

store, pub, or café.

The small river Bargeriede is the dominant landscape

feature in Eydelstedt. West of Eydelstedt, it

joins the larger river Hunte. According to a municipal

regulation, areas along the Bargeriede are considered

flood plains where construction is not permitted.

The main potential of Eydelstedt seems to be its remoteness

and the beauty of the surrounding landscape.

The scenic environment with a rich tree population,

tree-lined avenues, and the two rivers offer a

lush environment and many opportunities for outdoor

activities. The building type of historical farm houses

holds enormous potential for reuse. Housing and

small-scale businesses are the dominant uses in the

village. Accessibility by public transport is relatively

low. There is an elementary school bus service eight

times a day. The next train station is located in the

neighboring larger settlement of Barnstorf and approximately

4 kilometers away.

Table 4.1 Attributes of the Disseminated Hamlet of Eydelstedt

A Area [ha] 12.31

C Compactness [%] 65

BD Building Density [buildings/ha] 6.24

OSR Open Space Ratio [%] 93

FR Functional Richness 5.25

PD Population Density [inhabitants/ha] 4.27

RSR Retail and Service Ratio [%] 1

AFR Agricultural Facilities Ratio [%] 14

SUD Settlement Units Density 35.75

PTC Public Transport Connectivity 1.75

PRTS Proximity to Regional Train Station [km] 4.32

PROTOTYPE I: Eydelstedt

47
---
Scenario A:

The Green Communities of Eydelstedt

LIVING

COMMON

uF.11

FARM

LIVING

FARM CAFÉ

uB.4

uM.2

DENSIFICATION

BETWEEN BUILDINGS

TEMPORARY

STREET GREEN AND

STREET LIGHT

HARVEST

FESTIVAL

DENSIFICATION OF THE

PERIMETER BLOCK

DEVELOPMENT

4.20

64 CASE STUDIES
---
uF.14

M

FARM

uF.2

uB.13

COMMON

uM.3

LIVING

uG+B.5

COMMON GREEN SPACE

uG+B.8

ACCESS TO BARGERIEDE

MIXED FUNCTIONS WITH

COMMON SPACE

RIDE-SHARE BENCH

PROTOTYPE I: Eydelstedt

65
---
4.5. Scenario C:

New Settlers in Eydelstedt

E

E

E

E

E

E

E

4.27

78 CASE STUDIES
---
Dear residents of Eydelstedt,

E

STRIP

It's nice to have a communal garden that serves as a

multigenerational meeting point! Here in Eydelstedt,

in our new row house, we enjoy all the advantages of

owning our own home, yet without the disadvantage of

having to take care of our own garden. Our children have

the feeling of living at a playground. We enjoy evenings

in the barbecue area. There is always someone who waters

the plants, simply because we are a big neighborhood

community, where people like to help each other.

Whether it's doing gardening together, having a chat at

one of the charging stations for our e-cars or at a neighborhood

meeting over a delicious cup of coffee: you always

meet someone you know. When I recently removed

the seats from our car to transport a cabinet, Stefan,

my next-door neighbor, offered his help – that's really

worth a lot! And when we were on our way to Barnstorf,

passing wildflower meadows and fields, he told me that

he was very sceptic about moving into a row house. He

remembered all the row houses from his childhood

with very monotonous facades and gardens as small as

towels. But our houses here in Eydelstedt are anything

but boring and monotonous. The idea of a modular basic

structure that can be expanded according to one's own

ideas, budget, and needs has really led to great and diverse

houses. I definitely had these concerns too, but

as I said, it was not just the large community garden

that convinced me in the end. I was also impressed by

offers such as the mobile food and medical service for

the elderly or people who are not mobile. Or the idea of

non-hierarchical streets, so that you can let your children

walk to school without worrying: these are strong

arguments for moving here.

Best from the future!

PROTOTYPE I: Eydelstedt

79
---
Scenario D:

Eydelstedt Repurposed!

4.37 Legend

Residential

Mixed Use

Industrial

Public

Leisure

Forestry

Solidary and Organic

Agriculture

Commercial

Energy

Transformation Area

TOPOS Boundary

Existing Buildings

New Buildings

Existing Streets

New Streets

Green

Water

Agriculture

0.25

km

98 CASE STUDIES
---
Functions

Since agriculture undergoes a restructuring from

mono-crop farming to vertically organized food production

in modern greenhouses, Eydelstedt, too,

is facing a transformation. New hybrid buildings

emerge that contain spaces for food production,

sales, co-working, for leisure activities, and even

housing.

I. Aquaponics

New production techniques offer the possibility to

grow certain fruit and vegetables with the help of the

circular aquaponic method. This method combines

the rearing of fish or other aquatic animals with food

production. The nutrient-rich water from the fish

tanks is fed to the plants, which are thus not only

watered but also receive valuable nutrients through

the addition of bacteria. The excess water can flow

back into the fish tanks via hoses, closing the circle.

With this method, high-quality food can be produced

on significantly less space with almost no emissions.

II. Hybrid Use

The new Productive Neighborhood or Productive

Rooftop building type allows for hybrid building uses,

contributing to a more vibrant village life. The ground

floor zones are used for public purposes such as a

café or a shop selling the produces grown on the upper

floors, a kindergarten, or other necessary functions.

In addition to this contribution to public life, synergies

are also created between the various uses in the

building, e.g., the use of waste heat for heating the

greenhouses, or the use of geothermal energy via the

foundations of the buildings.

PROTOTYPE I: Eydelstedt

99
---
5.

PROTOTYPE II:

Detmerode,

an Exo Satellite Town

5.1 Center of Detmerode

The shopping center of the Exo Satellite Town is nearby and

easily accessible for the residents.

102 CASE STUDIES
---
5.2 Detmerode Residential Area

There are different types of housing in Detmerode.

Here on Geschwister-Scholl-Ring, row houses are lined up.

PROTOTYPE II: Detmerode

103
---
5.2.

Four Futures

for Detmerode

We developed four scenarios for Detmerode and all

the other sample municipalities. While the scenarios

are equal in terms of their drivers, the way they

develop spatially is, of course, different for each of

the municipalities. However, each scenario follows a

certain development logic.

Scenario A is called Green Communities. It is derived

from a collaborative approach of living and working

in dense settlement structures. Scenario B is called

Planned Happy Future?. Here, the focus is on the efficient

use of land as a resource and the strengthening

of rural and suburban spaces as against the urban

cores in urban-rural agglomerations. Scenario C,

New Settlers, demonstrates how spatial expansion

can be steered in a more sustainable way than with

laissez-faire approaches. The scenario Communities

Repurposed! addresses the spatial and functional

transformation of the different TOPOI types. Unlike

other scenario approaches, all four scenarios are

intended to present a desirable future, even though

some seem to be more desirable and sustainable

than others. All four scenarios follow a certain spatial

logic in the way the community develops as a whole,

in certain subareas, or where transformation takes

place.

Scenario A:

In Green Communities, the focus is on reusing the

existing building stock and internal densification.

Scenario B:

In Planned Happy Future?, the existing building

stock is upgraded in terms of energy efficiency, redeveloped

and potentially extended. In this scenario,

transformation areas are mainly located within today's

settlement boundaries.

Scenario C:

In New Settlers, today's settlement boundaries are

expanded to accommodate growth. This scenario is

an exception as it allows new land consumption outside

existing settlement boundaries, whereby new

developments must meet certain sustainability criteria.

Scenario D:

Communities Repurposed! is a scenario that investigates

the redevelopment within existing settlement

boundaries. However, preference is not always given

to maintaining the existing building stock.

110 CASE STUDIES
---
e1cdb9

Areas of Transformation

5.11 Scenario A: Green Communities 5.12 Scenario B: Planned Happy Future?

5.13 Scenario C: New Settlers 5.14 Scenario D: Communities Repurposed!

Legend

Areas of Transformation

Water

Traffic

TOPOI boundary

Buildings

PROTOTYPE II: Detmerode

111
---
Scenario C:

New Settlers in Detmerode

uB.17

FRUIT

TREES

uM.7

COMMON GREEN SPACE

uG+B.4

uG+B.8

EXTENSION OF

PUBLIC GREEN

COMMON GARDENS

SHARED GARDEN SPACE

5.32

146

CASE STUDIES
---
uB.11

LIVING

uF.12

COMMON

LIVING

LIVING

uG+B.12

LIVING

LIVING

uM.6

COMMON

LIVING

COMMON

uF.16

E-VEHICLES AND

CHARGING STATION

HIGH-RISE WITH RESIDENTIAL

COMMON SPACES

MONOCULTURE

PROTOTYPE II: Detmerode

147
---
6.

PROTOTYPE III:

Schöppenstedt,

a Periurban Village

6.1 Schöppenstedt Railway Station

Mobility hub and the connection to Braunschweig

160

CASE STUDIES
---
6.2 Schöppenstedt Market Square

Centrally located in the village and with access to the river Altenau

PROTOTYPE III: Schöppenstedt 161
---
Scenario C:

New Settlers in Schöppenstedt

6.29 Legend

E-Charging Station

Car Lane

Existing Bus Stop

Railway Station

Railway

Railway Station Radius

600m

Bypass Cars

Car Park

Transformation Area

TOPOS Boundary

Existing Buildings

New Buildings

Existing Streets

New Streets

Green

Water

Agriculture

0.5

km

198 CASE STUDIES
---
Streets, Mobility, Public Space

This scenario entails an increase in traffic areas,

which are designed to be as sustainable as possible

through careful planning. Permeable street surfaces,

the visual separation of lanes, and roadside

greenery make the streets safer.

I. Sustainable Street Design

Since this scenario envisages new development areas,

it allows a new type of street design in terms of

layout and materials used. The newly built roads are

efficient and laid out without dead ends to ensure a

steady traffic flow. In addition, they are designed with

all road users in mind and include a visual separation

of the road space, for example, through differently

colored lanes for cyclists, pedestrians, and motorized

road users. The road surface is permeable to water,

so that rain water can be absorbed in the ground. This

makes the roads both safer for all users and more

environmentally friendly.

II. Charging Stations for E-Cars

In the course of construction works, charging stations

for electric vehicles are installed primarily at the mobility

hubs for arriving motorists and at the most frequented

streets; every new building is equipped with

its own wallbox. In addition, five new charging stations

are distributed across the town, some of them

next to an existing bus stop.

III. Bypass for the Town Center

Even though sustainable private transport is encouraged

in this scenario, motorized traffic should

not run directly through the center. To make this

possible, three parking lots are planned in walking

distance to the town center: one next to the railway

station, another one close to the industrial area, and

the third one at the western edge of the town center.

Furthermore, a new bypass road is constructed

to avoid heavy traffic in the center, which allows the

transformation of historical streets and preservation

of their human scale.

PROTOTYPE III: Schöppenstedt

199
---
SURFACE FROM

NATURAL,

POROUS

MATERIAL

EFFICIENT

TRAFFIC

8.31

u M.13 PERMEABLE ROAD SURFACES

Sealing of land should be avoided,

as this destroys the habitat for many

creatures and increases the danger

of local flooding in the event of heavy

rainfalls. The permeable road surface

is a solution to decrease gray areas, in

particular in villages. Where asphalt

surfaces disappear, streets built from

natural materials such as stones are a

good option to increase permeability.

(inspired by DAV 2007)

PARKING LOTS

AS PUBLIC SPACE

8.32

u M.14 TRANSFORMED PARKING LOTS

New uses can be envisioned for parking

lots that are empty most of the day.

A pocket garden, a place to play outdoor

chess, an extension of the local

bakery for outdoor seating, a bench to

rest, bike stands etc.; on just 12.5 sqm

of parking space, many uses can be

imagined.

(inspired by Fabian Lippert, LKA Berlin, RBG

(db 2014); Lokale Agenda 21 Wien 2021)

8.33

u M.15 AUTONOMOUS VEHICLES

Autonomous vehicles could be a

solution to make traffic and space

consumption as efficient as possible.

These vehicles transport locally produced

goods from A to B and can also

be used by all inhabitants; they help

transform streets into a safe space for

pedestrians.

(inspired by Senatsverwaltung für Umwelt

Berlin 2021)

CAR LANE

TRANSPORTATION

OF FREIGHT

VIA RAIL

CYCLE LANE

8.34

u M.16 CYCLE LANE

An additional cycle lane is intended to

reduce car traffic in the village. Safe

and convenient use will make it easy

and attractive to switch from car to

bike.

(inspired by Aichinger and Frehn 2017)

8.35

u M.17 RE-ACTIVATION OF

RAILROAD LINES

Reopening old railroad lines shifts

freight traffic back to rails, thereby

reducing car traffic in towns and villages.

Of course, local public transport

around the villages can also benefit

from this. This is a sustainable alternative

to transporting goods by truck

and to individual transport by car.

(inspired by Dostert 2021; MW 2022)

BUS STOPS

SUPPORTING

THE FIVE-MINUTE

CITY PRINCIPLE

8.36

u M.18 SMART DISTRIBUTION OF

PUBLIC TRANSPORT

With a clever distribution of bus stops,

the principle of the five-minute city,

where daily goods and services can

be reached within a five-minute walk,

can be transferred to rural areas,

which often lack public transport options.

On-call mobility solutions could

also benefit from this.

(inspired by Carlow and Hong 2016; Carlow

2022b)

230 URBAN-RURAL INTERVENTION CATALOG
---
8.4. Green and Blue Networks (G+B)

PLANTS

SPACE FOR

RECREATION

FRUITS +

VEGETABLES

8.37

u G+B.1 GREEN ROOFTOPS

AND FACADES

Due to the shading and thermal buffer

provided by plants, their insulating

effect and evaporative cooling, green

roofs and facades are an innovative

solution for saving energy in buildings

and cooling the immediate surroundings.

In addition, these green spaces

can serve as a habitat for animals.

(inspired by TOPOTEK1 2022)

8.38

u G+B.2 PUBLIC PLAYGROUND

As a meeting place and play area, public

playgrounds are an ideal retreat

for children in cities, small towns, and

sometimes also villages. By greening

them, the relationship to nature can be

strengthened and many things can be

experienced and learned.

(inspired by LML 2022b)

8.39

u G+B.3 LOCAL FOOD PRODUCTION

Food is produced locally using green

areas where fruit and vegetables can

be grown and processed. If done in a

sustainable way, this can decrease the

ecological footprint of food production.

(inspired by Prinzessinnengärten Kollektiv

Berlin 2022)

SOCIAL SPACES

LOCAL GARDENS

8.40

u G+B.4 SPACES OF SOCIAL

ENCOUNTERS

Places of social encounters can have

many forms. They serve as meeting

areas for residents and are important

for a functioning community.

Here, neighbors of all ages and

backgrounds can engage in common

outdoor activities such as gardening,

barbecueing, or playing.

(inspired by LML 2022b; TOPOTEK1 2020)

RECREATIONAL

WATERCOURSE

8.41

u G+B.5 PUBLIC ACCESS TO WATER

Where a watercourse exists, it should

be made accessible to the general

public as a recreational and play area.

(inspired by Atelier Loidl, BPR (Bundesstiftung

Baukultur 2022m))

8.42

u G+B.6 COMMUNITY GARDENING

To provide food locally, new green

spaces are established where the

community can grow seasonal fruit

and vegetables for their own consumption.

For this purpose, underused

green spaces are detected.

(inspired by Gemeinschaftsgarten Allmende-

Kontor e.V. 2022)

Green and Blue Networks

231
---
IMPRINT

© 2022 by jovis Verlag GmbH

Texts by kind permission of the authors.

Pictures by kind permission of the photographers /

holders of the picture rights.

All rights reserved.

Cover design: Johanna Siebein, Studio Laucke Siebein

Cover image: SpACE Lab at ISU – Institute for Sustainable

Urbanism, TU Braunschweig (spacelab-isu.org)

All diagrams, maps, drawings, and photographs were created

by SpACE Lab at ISU – Institute for Sustainable Urbanism,

unless otherwise noted.

Copyediting: Bianca Murphy

Concept: Vanessa Miriam Carlow, Chantal Karadag,

Olaf Mumm, Kristin Schöning

Design: jovis + Johanna Uhrmann (johannauhrmann.at)

Lithography: Bild1Druck Berlin

Printed in the European Union.

Note by the editors: We have made all possible efforts to

trace references to texts, works or photographs back to their

authors and give them the appropriate credit. We apologize

for any omissions and will correct them in the next issue.

Bibliographic information published by the Deutsche

Nationalbibliothek

The Deutsche Nationalbibliothek lists this publication in the

Deutsche Nationalbibliografie; detailed bibliographic data

are available on the Internet at http://dnb.d-nb.de

jovis Verlag GmbH

Lützowstraße 33

10785 Berlin

www.jovis.de

jovis books are available worldwide in selected bookstores.

Please contact your nearest bookseller or visit www.jovis.de

for information concerning your local distribution.

ISBN 978-3-86859-725-7 (Softcover)

ISBN 978-3-86859-988-6 (E-PDF)