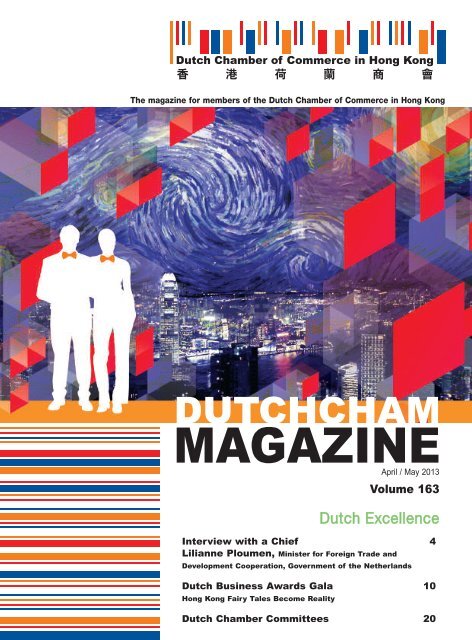 Dutch Excellence - Dutch Chamber of Commerce in Hong Kong
Dutch Excellence - Dutch Chamber of Commerce in Hong Kong
Dutch Excellence - Dutch Chamber of Commerce in Hong Kong
SHOW MORE
SHOW LESS
Create successful ePaper yourself
Turn your PDF publications into a flip-book with our unique Google optimized e-Paper software.
April / May 2013

Volume 163

Dutch Excellence

Interview with a Chief 4

Lilianne Ploumen, Minister for Foreign Trade and

Development Cooperation, Government of the Netherlands

Dutch Business Awards Gala 10

Hong Kong Fairy Tales Become Reality

Dutch Chamber Committees 20
---
The magazine for members of the Dutch

Chamber of Commerce in Hong Kong

Unit 2402B, 24th Floor

Great Eagle Centre

23 Harbour Road

Wan Chai

Hong Kong

E-mail: info@dutchchamber.hk

Website: www.dutchchamber.hk

Skype: Dutchchamberhk

Editorial Committee

Alexander de Nerée tot Babberich (Chairman)

Candice Lee

Willem van den Ende

Mirjam Achthoven

Editor

Kristen Beattie

Desktop publisher

Jean Michel Caille

General Manager

Jacqueline Baud

Cover Design

Marleen Walz, TWIG

Advertisers

ABN AMRO

BLUE 8 PREMIUM

HEINEKEN

HKWJ TAX LAW & PARTNERS LTD.

ING COMMERCIAL BANKING

KLM ROYAL DUTCH AIRLINES

KPMG

LOYENS & LOEFF

ORANGEFIELD ICS

PHILIPS

RABOBANK

ROYALE INTERNATIONAL

WINESHOP ASIA

Contents

3 Chairman's Note

4 News and Views

Interview with a Chief

10 Dutch Business Awards

20 Dutch Chamber Committees

26 Lifestyle

30 Members' Corner

32 Events

34 Enquiries and Information

35 Go Green

World Environment Week

36 Dutchcham Information

z This magazine is distributed free of charge to all members and relations of the Dutch Chamber of Commerce in Hong Kong.

z For annual subscription, please mail your business card and a crossed cheque for HK$490 to the above address. Cheques should be made payable to "The Dutch Chamber

of Commerce in Hong Kong".

z The content of this magazine is largely based on information from third parties. The editors do not necessarily agree with the views expressed therein. All rights are

reserved by the Dutch Chamber of Commerce. Permission may be granted for reprints in any format upon request.

z To enable us to improve our service and avoid multiple mailings or errors with company details, please send us your latest information so that we can update our database.

1
---
DutchCham Board of Directors

Mr Robert Scholten

Chairman; Managing Director & Country Manager Greater China

of ING Commercial Banking

Mr René Theil

Vice-Chairman and Chairman of the SME Committee;

Managing Director of Blue 8 Premium

Mr Arend Oldenziel

Treasurer; Principal of KPMG

Mr Alexander de Nerée tot Babberich

Chairman of the Public Relations & Publication Committee;

Local Partner, Stibbe

Mr Harold van Kooten

Co-Chair of the China Committee;

Special Counsel, Baker & McKenzie

Mr Daniël de Blocq van Scheltinga

Co-Chair of the China Committee;

Managing Partner of Polarwide Ltd.

Mr Tom Voûte

Chairman of the Membership Committee;

Chief Executive Officer of Algorithmic Trading Group Ltd.

DutchCham Advisory Board

Mr Wilfred Mohr

Chairman; Consul-General of the Kingdom of the Netherlands

Mr K. K. Yeung Chairman of KK Yeung Management Consultants Ltd.

Mr Wiebo Vaartjes Chairman of Philips Electronics Hong Kong Ltd.

Mr Paul Zimmerman Founding member of Designing Hong Kong

Southern District Councillor

Mr Dennis Ziengs Senior Advisor, SwissRE

Mr Frank Koster CEO ING Insurance Asia Pacific

Mr Lodewijk Lamaison van den Berg

Senior Vice President of EFG Bank

DutchCham Office

Mrs Jacqueline Baud

General Manager

Ms Mirjam Achthoven

Marketing & Communication

Manager

Mrs Helen Yong

Office Manager

Excellence Prevails

Finally in March after months of

preparation, secret rounds of nominations

and general excitement, it

was time for the Dutch Chamber of

Commerce in Hong Kong's "Hong Kong

Fairy Tale Business Awards Gala".

If the feedback we got is anything to go by, this event was unanimously

received very positively. Not in the least because of the wonderful

program which kicked off with the world famous keynote

speaker, Jim Thompson, founding father of the Crown Group. His

story of how he grew his company from a small office in Japan is

an inspiration of excellence for anyone; Dutch or otherwise.

Our emcee, Case Everaert, seamlessly and expertly joined the

different parts of the evening together and our eloquent Daniel

Scheltinga finally relieved us from the suspense by revealing the

award winners with great gusto.

The real stars of the evening were of course the four extraordinary

award winners. These examples of Dutch ingenuity overseas show

us that wherever you are and whatever state the economy is in,

excellence prevails. Congratulations to our winners: Ricco

deBlank of Sun Hung Kai Properties, Randstad, Pieter Onderwater

of the Orange Tree and Manó Markovits of 3 P.M. These stories

of excellence were even picked up by the Dutch press; glowing

reviews of the Gala appeared in the Dutch paper De Telegraaf and

the magazine Quote. Many thanks to all involved in making this

event happen; not in the least our sponsors.

Having barely recovered from the Gala, the Chamber welcomed

Mrs Lilianne Ploumen, Minister for Foreign Trade and

Development Cooperation during her successful visit to Hong

Kong in early May. We are especially thankful to her for taking

part in the insightful interview with us, featured here on pages 4-

5. During her stay in Hong Kong, Mrs. Ploumen has very successfully

promoted Dutch expertise in environmental protection

and safety (including waste management technology); something

which has not gone unnoticed by the Hong Kong government.

We hope to welcome her again during her time in office.

It is not all fun and games at the Dutch Chamber. On 19th of June

2013 we will explain to all our members what we have achieved this

year and what we hope to gain in the next year during our AGM.

I hope that many of you will join this meeting; for which

Rabobank was so kind as to lend us their office. I would especially

like urge all our new members - and there are many this

year - to take part. Your suggestions and views will be invaluable

in setting the direction for our Chamber; which now is also

yours. Separate invitations to come in due course.

Happy reading and I look forward to seeing you on the 19th June.

Robert Scholten

DutchCham Chairman

Chairman's Note

3
---
News and Views

Interview with a Chief

Lilianne Ploumen, Minister for Foreign Trade and

Development Cooperation, Government of the Netherlands

In November 2012, Lilianne Ploumen was appointed Minister

for Foreign Trade and Development Cooperation,

Government of the Netherlands. We caught up with her to

find out more about her new position, her views on the new

monarchy and the importance of foreign trade and development

cooperation just as she is about to embark on her first

official visit to Hong Kong and China.

z By Kristen Beattie

How has your career path progressed over the years?

My career kicked off while I was still at university – I

began working as a community outreach worker in the

Crooswijk area of Rotterdam. Two years later I joined

the Institute of Psychological Market Research (IPM), working in

the statistics department and as a research project leader. In 1995

I founded the Ploumen Projecten, an organisation specialising in

market research and innovation for commercial and non-profit

clients and also began fundraising for 'Mama Cash', an

international fund supporting women's initiatives, going on to

become director of the organisation from 1996 to 2001.

My career then took me to the development organisation

Cordaid, first as head of quality and strategy and later as

director of international programmes. I was Chair of the Labour

Party (PvdA) from October 2007 to January 2012 and on 5 th

November, 2012 I was appointed Minister for Foreign Trade

and Development Cooperation in the Rutte-Asscher

government.

What does your day-to-day work consist of? How

much travelling do you do?

Every day is different, but they are all dedicated to supporting

Dutch companies abroad in their trade activities, international

cooperation and expanding the mutual benefits of free, fair and

sustainable trade relations. Most of that work can't be done

from behind a desk and requires me to travel intensively. This

year, I have some forty international trips planned.

Your Queen will abdicate on 30th April and hand over

the crown to her son, Willem Alexander. Have you met

the new King to be, Willem Alexander? How do you

think his monarchy will be different?

Just like his mother, Queen Beatrix, Crown Prince Willem

Alexander is a huge contributor to the excellent relations the

Netherlands has with other countries. Most visible is their

4

Lilianne Ploumen

leadership of numerous state visits and trade missions all around

the world. Over the past months I have accompanied them on

missions to Singapore, Brunei and Brazil. And the next one will

be soon after the coronation: to Germany in June.

The Netherlands currently has a high unemployment

rate. How can foreign trade and development cooperation

help the Dutch economy?

Our unemployment rate is around 6.5 percent, higher than we

are used to and indeed higher than China's at 4.5 percent or

Hong Kong's 3 percent. But it is moderate in comparison to the

Eurozone average of 12 percent or even the OECD average of

over 8 percent. Still, every unemployed person is one too many.

For the Dutch economy, trade is our way out of the crisis.

Foreign trade creates domestic jobs. We remain strong in being

the gateway to Europe, but for growth and economic

dynamism we look beyond our neighbors to countries like

China; and even beyond the BRICs to new markets in places

like Africa.

I believe you are planning a visit to China and

Hong Kong soon?

Yes, in early May I will visit Hong Kong and China. This will be

my first visit in the capacity of Minister for Foreign Trade and

Development Cooperation.

What do you hope to achieve during your visit to

Hong Kong?

During my visit, I want to learn more about the Hong Kong

economy and its synergies with ours. Trade relations between

Hong Kong and the Netherlands are already vibrant and

there is potential for much more. Already around 200 Dutch

companies have an office in Hong Kong; many of which use

it as a hub to service the rest of China and the wider Asia-

Pacific region. Strengthening these relations is in our mutual

interest.
---
Minister Ploumen visits Dutch drinking water company

PWN-Techologies in Singapore

To give an example, it seems there are

great opportunities for closer cooperation

in the waste management sector. Hong

Kong has sizable plans to overhaul its

waste management policies. It wants to

move away from landfills and focus more

on recycling and waste2energy plants.

During my visit some of our companies

and knowledge institutions will present

state-of-the-art technical solutions that can contribute to

implementing these plans.

How do you hope to develop the bilateral relationship

between the Netherlands and China?

Our relations cover a broad range of areas. The Netherlands is an

open, reliable and innovative country and foreign trade is crucial

to our economy. We are the second largest European trading

partner of China and we wish to further increase our cooperation.

Our knowledge and expertise in sectors like water, agro/food and

creative industries are well known all over the world. These are

also important sectors in China. With our expertise and

technology we can support China's efforts to manage

urbanization, sustainability and technological development.

During my visit I will explore possibilities to increase cooperation

News and Views

A Philippine entrepreneur

explains her social business

model to Minister Ploumen

in these fields. I look forward to establishing a good relationship

with the new Chinese minister of Commerce and to work together

on promoting trade and investments between our countries. I will

visit Beijing, Shanghai and Chengdu during my visit to the

mainland and intend to make regular visits to China.

What are you most looking forward to on this trip?

An important focus of my policy is making trade and economic

growth more sustainable and socially responsible. The world

faces an increasing number of problems that no state, company

or international organization can solve on its own, such as

climate change, extreme poverty, food insecurity and water

safety. China is an indispensable partner in this regard and I look

forward to exchanging views on how these problems can be

tackled.

5
---
News and Views

Good Food Made in Holland

Dutch Excellence - Leading in Innovation – Health and Sustainability –

Solutions for Global Issues

z By Consulate General of the Kingdom of the Netherlands

The Netherlands is the second-largest exporter of agri-food

products in the world, only after the United States which

is 296 times bigger than the Netherlands. The Dutch

annually export 7.5% of global food exports. Hard work and

smart working practices have resulted in the highest added value

per FTE in Europe.

Priority sector

Companies, knowledge institutes and government work together

in the top team agri-food. The aim of this team is to help the

sector to continue to strengthen its sustainable, innovative and

internationally competitive edge. The agri-food sector generates

€ 48 billion in added value, which equals almost 10% of the

Dutch economy, and employs 660,000 people in total.

Europe or global?

More than 80% of the Dutch exports are destined for Europe,

primarily Germany and other neighbouring countries. However,

Dutch companies are venturing increasingly further abroad,

especially to the green fields of Asia. Everyone in Hong Kong has

heard of Friesland Campina. Except perhaps for the carefree Lan

Kwai Fung singles who deliberately ignore baby formula…

Safe urban food

In 2050, 70% of the world's population will live in cities. This

puts enormous pressure on food production and food safety.

Metropolitan food security is therefore high on the international

agenda of researchers and governments. Dutch researchers are

making plans for sustainable urban food clusters on a global

scale. Wageningen University, for example, is advising on the

construction of Ecovalley on the outskirts of Beijing.

It is always a nice pastime to look at the websites of large

corporations and to read company slogans or pay-offs. Where

'Sense and simplicity' can be seen as a rather clear and practical

approach, 'Make.believe' (Sony) is already more spiritual. 'Life's

Good' may be nicely abbreviated to its owner LG, but doesn't

give any distinction at all. And could you tell what companies

use(d) the slogans: 'Where do you want to go today',

'Imagination at work' and 'High Performance, Delivered'?

I believe a good slogan should set a company apart from the rest.

However, only few companies use such slogans. The reason

behind might be that most companies are having a hard time in

determining what their distinction is. What makes them excellent

innovators, manufacturers, distributors or service companies?

A good slogan is appealing, but also explains the unique selling

point of the company. Ebay makes it easy to trade: 'Buy it, Sell

it, Love it'. Nescafe uses 'Coffee at its Best'. M&M has 'Melts in

6

It tastes like chicken

Flexitarians eat less meat than average or than they used to,

which means they can still eat more meat than the average

person… The Dutch company Ojah received the Dutch SME

Innovation Award for cleverly mixing compressed flour and

water. This product, called Beeter, is made from vegetable

proteins that take on a structure similar to meat when heated at

a high temperature. Beeter formula:

flour + water + heat = almost chicken. Great food for

flexitarians.

Crisis, what crisis?

Despite the economic difficulties of the last years, the Dutch

agri-food continues to grow. With growing awareness of food

safety and increasing purchasing power in Asia to buy the best

and most trusted foods and brands, the Dutch agri-food sector

will continue to thrive – and deliver quality food products to

Asian consumers.

Further reading:

Top Institute Food and Nutrition: www.tifn.nl

Dutch Federation of Agriculture and Horticulture: www.lto.nl/english

www.hollandtrade.com/business-information

Striving for Excellence Through Partnerships

z By Alfred Griffioen, Alliance Experts

your mouth, not in your hands'. And Nokia was 'Connecting

people', until Facebook started to help people not only to

connect, but also to share.

Creating a really unique proposition requires focus. Focus on

what your company can excel at. Medium-sized and smaller

companies especially need to direct all their efforts on their

cutting edge. If this is innovation and product development; then

find a partner for production and distribution. If you have a

distribution network, then find a partner who can provide you

with the right services.

What a pity for the marketing communication boys and girls!

The slogan should not be leading the company, it should just

follow what the company is good at. Whether it is 'I'm loving it',

'Everything we do is driven by you' (Ford) or 'Specialists in

partnerships', it starts with defining your own excellence and

leaving the rest to others.
---
News and Views

Nederlandse Vereniging

in Hong Kong

z By Rinske Kuiper & Ente Breed

Together with the Dutch Chamber and the Consulate

General, the Nederlandse Vereniging (Dutch Association)

forms the Dutch triangle in Hong Kong. And together we

make it very easy for the 6,000 Dutch people to survive in this

city!

The Nederlandse Vereniging was founded as a Dutch social

centre and to promote solidarity amongst the Dutch in Hong

Kong. The eight board members of the association and an

enthusiastic group of other volunteers put in a lot of effort to

make this happen. Together we do all we can to organise great

events, but it's the more than 800 association members who

turn whatever we put on the calendar into successful

happenings.

Each of our board members has their own specific

responsibilities, which reflect the many duties of our

association. Gouke van Voorst is responsible for a smooth

organisation of all our events; the most crucial service to our

members. Mariska Kes practically knows all association

members by name, since she spends many hours working on the

membership administration. Hilde Kerstens is in charge of the

finances; she makes sure the costs we make are in balance with

8

the (moderate) membership fees and generous sponsor

donations. Ente Breed takes care of our communication on

Facebook, on www.nedverhk.com and in our digital newsletter.

He also is responsible for our magazine, the Hollandse Nieuwe,

which is created by a talented group of writers and designers.

Yen Fai Chau has been our faithful registrar for years; he

prepares our board meeting, takes its minutes and makes sure

we're properly administered with the authorities. Yukki Ngay

keeps in touch with our sponsors, without whom our

association wouldn't be able to thrive. Since the beginning of

this membership year, we have been working hard on creating a

new website. Roald Andersen has taken charge of this nice

project. And last, but not least, Rinske Kuiper has been our

chair for almost two years now. She keeps the board motivated

and helps the association stay healthy and growing.

All of the board members are involved in organizing events in

one way or another. With the help of many other volunteers, we

for instance arrange each year for the hero of all Dutch

children, Sinterklaas, to visit Hong Kong. We also go iceskating

and we hunt for Easter eggs in the garden of the Consul-

General. Knick knacks in need of a new owner are sold at the

Vrijmarkt, which takes place around Queensday (Kingsday

from next year).

Every first Thurday of the month, all Dutch Hongkongers and

their friends can meet at Linq on Pottinger Street for a drink

and a chance to meet new people. We also try to show a Dutch

movie each year. Last year we watched De Heineken

Ontvoering and this year we enjoyed Alles is Familie. You

definitely want to clear your calendar for our big events like

"Leids Ontzet" and our Orange Ball. This year, because of the

abdication of Queen Beatrix, the ball is named "Kroningsbal"

(Crowning Ball). It will be held on May 11 th and it's promising

to be one very special night. Other things we organize include

excursions, comedy, coffee mornings, and Dragon Boat racing.

Besides all the events, we also make sure everyone is kept up-todate

on Dutch things that are going on in the city. We send out

digital newsletters with information we get from our members,

the Dutch Chamber, the Consulate-General, and other

interested parties. The magazine Hollandse Nieuwe is published

four times a year. It displays pictures and stories about the

events, and other subjects that connect Hong Kong with the

Netherlands.

It's great being part of this group of Dutch enthusiasts who

share the ins and outs of the city that they have gotten to know.

Let us know you if would also like to participate!

Nederlandse Vereniging in Hong Kong

vz@nedervhk.com - nieuws@nedverhk.com

www.nedverhk.com

Facebook.com/nedverhkBy Rinske Kuiper & Ente Breed
---
ING Commercial Bank

When and where did you company start?

In the 19th century, ING Insurance started in its first venture in

Xiamen, China. The Hong Kong office has been open for more

than thirty years.

How many employees do you have in the Hong Kong

office?

ING Asia works with the concept of Greater China, consisting

of 3 branches in Taiwan, Shanghai, Hong Kong and a

representative office in Beijing. Around 200 employers work in

these four locations. On top of that, we have a minority stake in

the Bank of Beijing, the largest city commercial bank in China.

We were also the first bank to open a representative office in

Mongolia five years ago, which is a token of ING's

entrepreneurship in Asia.

What makes your company unique?

ING has been active in this region for more than twenty years. We

are proud to say that a large part of our client base has been with

us for that same period of time. We have grown with our local

customers, which started as small, local players and have now

become large, global players. What makes ING stand out is its

excellent network in Europe and in Asia. Since we have long and

strong connections with our clients in both regions and have

extensive knowledge of their markets, we can come up with tailormade

solutions for Asian clients who would like to expand their

business in Europe and vice versa. What also makes ING different

is its loyal staff (many employees have been with us for more than

Business Awards Gala Sponsor

Robert Scholten and Jean-Charles Casier of ING talk to us about the history of the company, what makes them unique, about their

business in Hong Kong and why they are an example of Dutch Excellence.

10, 15 and in some cases even longer than 20 years (that's our

Chairman, Robert Scholten).

What is your company's specialization in Hong Kong?

We are a true commercial bank with investment banking capabilities.

Main strengths include our international network, and expertise in

commodity finance (as do Rabobank, and ABN AMRO) and deep

understanding of sectors such Telecommunications, Transport,

Natural Resources and the Utility sector. Our client base is a mix of

state-owned enterprises, commodity traders, MNCs, financial

institutions and Blue Chips in HK and China.

What does Dutch Excellence mean to you?

Dutch Excellence means that we focus on building long-term

trust with our clients. Mutual understanding is very important to

us, as well as quick, direct and pragmatic execution of work.

Why is your company an example of Dutch

Excellence?

We do not only build trust and mutual understanding with our

clients, but also find it very important to build up a good

communication between the different departments within the

bank and across the offices in our cluster. The front office,

middle office and back office all work aligned, and together

form a very efficient chain. Collaboration is key.

What are your company's future ambitions in Asia?

We want to be the preferred European bank for our customers.

9
---
Dutch Business Awards 2013

Hong Kong Fairy Tales Become Reality

On Friday the 15th of March, 2013, the Dutch Chamber of

Commerce hosted its biggest, most prominent event of

the year: 'the Hong Kong Fairy Tale Business Awards

Gala'. After entering the beautiful Star Room of the Langham

Place Hotel, sipping glasses of sparkling wine and greeting our

Prince on the White Horse, our Dutch kings and queens were

seated at one of the fifteen Fairy Tables. At their tables, our

guests could enjoy excellent wines and a five-course dinner, while

listening to the jazzy sounds of our live band and watching the

hilarious improvisational comedy show by 'The Three Dudes'.

The program of the night was opened by our honorary guest speaker

Mr. Jim Thompson, Founder, of the Crown Worldwide Group.

Starting off with only 1,000 USD in his bank account in 1965 and

having managed to expand his company to the largest privately

owned company in international removals today, Mr. Thompson's

story is the perfect example of our idea of the Hong Kong Fairy Tale.

Inspired by stories like Mr. Thompson's, we invited our own

Dutch companies and business leaders to share their fairy tales

with us. Over the past months, our jury interviewed many

different businesses and individuals, in search of examples of real

'Dutch Excellence' in Hong Kong.

We were very proud that on this Fairy Special Evening, we could

award two companies and two individuals for their outstanding

achievements and successes in this vibrant, fast and challenging city.

The Awards went to the following businesses and individuals:

• Dutch Multinational 2013: Randstad Hong Kong

• Dutch SME 2013: OrangeTree Restaurant

• Business Leader 2013: Mr. Ricco deBlank,

CEO of Sun Hung Kai Properties Hotels

• Special Achievement Award 2013: Mr. Manó Markovits,

Founder & CEO of 3 P.M.

The stories of these four winners have all made a unique and

inspiring contribution to the Dutch business community in Hong

Kong. Warm thanks go to all the other nominees who took the

challenge of sharing their fairy tales with us. We are proud to

have so many examples of Dutch excellence in Hong Kong, and

hope that this gala has inspired each of you to make your own

fairy tale become reality.

This fairy special evening could not have been possible without

the generous contributions of our sponsors. We would like to

thank our Frog Prince Rabobank, our Cinderella sponsors Loyens

& Loeff, ABN AMRO, Orangefield, ING and KPMG and our

Snow White sponsors Philips and Randstad. A big thank you also

to our fairy event sponsors: KLM Royal Dutch Airlines, Garuda

Indonesia, Hong Kong Philharmonic, Mandarin Oriental, Philips,

Sun Hung Kai Properties Hotels and Wineshop Asia. We would

also like to thank everyone who helped make this evening a great

success: our MC Case Everaert, the Gala Organisation

Committee, the Gala Jury Committee and the Jury.

Last but not least, we would like to thank all of you who

attended this event. Together with you, we made the Hong Kong

Fairy Tale Business Awards an unforgettable evening!

The net proceeds of the lucky draw ticket sales (39,400 HKD)

were donated to Bring me a Book Hong Kong.

10
---
Dutch Business Awards 2013

11
---
Dutch Business Awards 2013

Manó Markovits, Founder & CEO of 3 P.M.

Winner of the Dutchcham Special Achievement Award 2013!

We talked to Manó Markovits, Founder & CEO of 3 P.M. about the

challenges he faces operating a factory in Mainland China and as a

foreign investment company there, his company's future ambitions in

the Region and how his family is settling into Hong Kong life.

z By Kristen Beattie

Can you tell us about your business?

3P.M. China Manufacturing Ltd produces mainly two types

of products (1) protective cases or accessories for mobile

phones (2) Display Phones which are the none working

mobile phones you find for example at SmartTone or other

telecom shops.

How long has your company operated in HKG?

3 P.M. Limited, a Hong Kong Trading Company, was found in

1996. In 2004 we established 3 P.M. China Manufacturing Ltd,

our manufacturing activities in China. In the mean time we

opened offices in the USA, Japan and soon in Korea.

What are the main challenges you face daily operating

a factory on the Mainland?

Ha Ha, I can write a book about the challenges I face in

Manufacturing. Running a factory in China makes it even

more adventurous. Our objectives is to translate the overseas

customers idea's / requirements and design / build high end products

in a short period of time at a competitive price level. Translating the

Japanese or Western requirements and having it executed in mass

production by operators in the assembly lines require proper process

and tight process control. Furthermore, the ongoing manufacturing

costs increase, cost control and resource planning require a lot of

attention. Being a foreign investment company in China makes it

more challenging as our mainland competitors interpret the laws

and regulations in a different way than we can.

12

We hear you family has recently joined you to live in

Hong Kong – how are they settling in?

Yes indeed, Barbara and my 11 years old twin daughters moved

to HKG. In 2009 we had a 3 months trial period and in 2010 we

moved to HKG for a "short" period. We are having a very good

time in Hong Kong and I'm very pleased to spend much more

time with the family than before. The very first year

was definitely the most difficult one for the three ladies at home

because of numerous reasons. Now the Markovits Family are

enjoying the Hong Kong lifestyle and love to explore the Asia

Pacific region during the holidays. The pollution in Hong Kong

is the main down side.

What are your company's future ambitions in the

region?

We initiated activities in Korea and we expect to have our own

office in Seoul later this year. Furthermore, we see a healthy

increase in demand which would mean that we need to expand

our production capacity by means of a 2nd factory. Having that

said, we not that long ago learnt that the demand can plunge in

a very short period of time too. So we carefully look at short

term flexible capacity increase and long term solutions.

Any advice for budding entrepreneurs trying to set up

manufacturing in China?

Make sure you have good people around you who you can trust

100% and who have faith in your strategies.
---
Were you in Hong Kong before you started at SHKP

Hotels?

Iwas in Japan for 6 years before moving to Hong Kong;

although I did live in Hong Kong for my first time in the late

90's. Having been here for the past 4 years I guess this is the

place I like to stay.

It is rumoured your style of management is 'hands off'

– how does this translate to your day-to-day activities?

I think that a strong leader is one who does not micro manage

the business and has great managers around him or her. So my

day-to-day is rather spent on more strategic matters instead of

on organizational and operations issues.

Are you involved in executive hiring decisions for the

group's hotels? What qualities do you look for in your

staff?

Yes, I interview all our general managers of our hotels and look

for leaders that are hard workers and are committed to

delivering excellence. IQ is good but EQ is also equally

important. They have to be a people person. Lastly, I ask myself

if I would enjoy spending the evening having dinner with this

person - and if the answer is yes, I would probably know this

person would be a good fit.

Dutch Business Awards 2013

Ricco deBlank, CEO of Sun Hung Kai

Properties Hotels

Winner of Dutchcham Business Leader Award 2013!

We caught up with Ricco deBlank, CEO of Sun Hung Kai Properties

Hotels to find out more about his particular style of management,

what he looks for in an employee, which hotel he is most proud of

and how feels about winning this award.

z By Kristen Beattie

Which hotel in your portfolio are you most currently

most proud of and why?

That is a tough and unfair question, like asking which of my two

kids do I love more? But let me refer back to many years ago

when I met Enzo Ferrari and I asked him which of his Ferrari's

was his favorite? I expected him to say the 1956 GTO …but he

said: The next one: it will always be better, stronger, faster, more

efficient, etc. So I guess my answer will be: My next hotel!

What does Dutch excellence mean to you?

Dutch excellence means people that are flexible, who can move

at a second notice, who will work very hard for a company

which they admire and stay with that company even if there are

other offers being presented. Dutch excellence is about having

fun and loving what you do. We, the Dutch don't take ourselves

that seriously but we take our work very seriously. In general,

whenever one knows there is a Dutch person at the helm, you

can bet you are going in the right direction. And because we are

very competitive, in the most efficient way with the least effort

possible.

How did you feel about winning the award?

It is a great honor and my family were especially very proud.

Thank you.

13
---
Dutch Business Awards 2013

The Orange Tree restaurant

Winner of the Dutchcham Dutch SME Award 2013!

We talked to Pieter Onderwater, Owner and Head Chef at The Orange

Tree restaurant in Hong Kong about how he has managed to keep his

business going and profitable over the years in such a tough market and

what Dutch excellence means to him.

z By Kristen Beattie

How did you end up in Hong Kong?

Whilst working on a cruise ship as a cook, I came to

Hong Kong, really liked it and decided to stay. I found

a job at the Jockey Club as a chef where I worked for

a number of years.

How long has the Orange Tree been in business in HK?

We opened in September 1997 – it was the perfect time to set up

my own business. We are located high up on the Midlevels

escalator between Caine Road and Mosque Junction in Soho.

What kind of food does the restaurant serve?

The restaurant serves high quality Dutch and Continental food

made with the freshest imported ingredients available.

How have you managed to keep your business profitable

in such a tough market?

By being hands on in every aspect of the business, good

communications with suppliers, landlord and staff helped us

through tough times. The restaurant business in Hong Kong is

highly competitive so it is not easy for a small 'niche' restaurant

to run a profitable business.

What does Dutch Excellence mean to you?

Just try to do things as well as you can.

14

What percentage of your clientele is Dutch or European

versus local?

We are very lucky that 50 % of our guests are local, that has

always helped us.

How did you feel about winning the award?

Long overdue! No just joking, I feel very privileged to receive the

SME award, there are so many Dutch SME's in HK, and it's

great publicity.

Any plans to open another restaurant in Hong Kong –

or even in Singapore?

Not at the moment, but if the Orange Tree has to close at its

present location we will open elsewhere in Hong Kong.

Orange Tree Restaurant

17 Shelley Street

Mid Levels

Hong Kong

Restaurant@orangetree.com.hk

Tel 2838 9352

Fax 2524 0688

Opening Hours

Daily from 6pm

A private room is available for parties up to 20 guests
---
Randstad Hong Kong

Winner of the Dutch Multinational Award 2013!

What is Randstad's main business?

Randstad specialises in the field of recruitment and

HR solutions. We are taking the lead in shaping the world of

work, by matching people with companies that will help

them develop their potential, and matching companies with people

who will work to develop their business. In addition, we support the

creation of modern and flexible labour markets around the world.

In Hong Kong, we cover 95% of the labour market and

currently in growth mode with our team and financial

results tripling in the last twelve months with continued growth

planned for 2013. Our business operations in Hong Kong are

focused on banking and financial service, information

technology, retail and luxury brands, procurement and supply

chain, accounting, human resources, sales and marketing,

business support and construction property and engineering. We

also provide a number of HR and recruitment solutions

including Recruitment Process Outsourcing, Managed Service

Programme, payrolling, employee development and

psychometric solutions to mention a few.

How long has Randstad operated in HKG?

We have grown from a "start up" with just under 50 headcount

and a revenue of $9M HKD in 2009 to over $40M HKD in 2012.

What makes the Hong Kong market unique?

Numerous benefits make Hong Kong unique, but at a practical

perspective it would be the ease of doing business, from setting

up a company swiftly through to engaging clients and driving

revenue. Also, in Asia companies and people are not afraid to

work hard, grow, develop, and improve themselves and the

company they work for. It gives great opportunities for

companies (and its people) to achieve above expectation. In this

vertical city, literally 'the sky is the limit'.

Why is Randstad a good example of Dutch excellence?

It has been said for many years that people, not capital, is an

organisation's most important asset. With this in mind we play a

critical part in assisting local, regional and global organisations

in finding the best talent, retaining and developing their people.

Throughout history, the Dutch have been recognised as avid

traders, bringing knowledge and goods to distant continents. For

over 52 years, we have shaped the world of work in the

Netherlands and have proudly 'exported' best practice labour

knowledge and research to the rest of the world. We provide this

information through our 'World of Work' annual report,

Dutch Business Awards 2013

We talked to Peter Yu, Associate Director - Banking, Financial

Services, HR & Information Technology at Randstad Hong Kong about

the Company, what makes the Hong Kong market unique and the

significance of winning this award. z By Kristen Beattie

quarterly 'WorkMonitor' reports, regular thought leadership

events (i.e HR Director Luncheons), the 'Randstad Award'

employer branding research and surveys as well as other

qualitative and quantitative data and Whitepaper publications.

How did you feel about winning the award?

Our mission is 'Shaping the World of Work', so both globally

and locally having a positive impact on our community is an

important part of what makes Randstad unique. We are

immensely proud to have been recognised as one of the most

influential Dutch businesses in the Hong Kong community and

winning along-side well established Dutch brands like KLM,

Heineken and Orangefield ICS is a feat in itself.

What are your company's future ambitions in the region?

Firstly, success is measured in a number of ways; financial

success (exceeding budgets and forecasts) is only one part. We

also measure people success in our engagement surveys. Brand

success is measured through analysing our brand recognition

and 'share of voice' in the media against our competitors.

Secondly, we operate in cyclical markets with structural growth.

Randstad aims to further strengthen its positions in the countries

we already operate in and indentify potential growth markets to

enter. Ultimately however, our strategy has been designed to

capitalize on the structural growth in the markets in which we

operate, while shaping the world of work as a whole, adhering

to our founding ethos 'to know, to serve, to trust', and always

applying our core value 'striving for perfection and simultaneous

promotion of all interests'.

15
---
Business Awards Gala Sponsor

Rabobank Hong Kong

Rabobank talks to us about their main business in Hong Kong, their area of specialization, the significance of Rabobank's Dutch roots

in shaping it to the company it is today, their presence in Asia, what makes them unique, the importance of sustainability and more.

How long have you been operating in HK?

Our presence in Hong Kong began 27 years ago, when we started

as a rep office which later became a full serviced bank.

What is Rabobank's main business?

Rabobank International is the Rabobank Group's international

banking wholesale and retail banking division, primarily focusing

on servicing food and agribusiness (F&A) companies and

commodity traders around the world. In 2012, EuroMoney

voted Rabobank the best soft commodity finance bank.

Rabobank has extensive knowledge at every step of the F&A supply

chain, – more F&A specialist knowledge than any other

financial services company in the world. That's because

Rabobank has been financing agriculture for over a century, and

understands like no other the natural cycles of the F&A industry.

To what extent have its Dutch roots allowed Rabobank

to become the company it is today?

Rabobank has been funding farming and agriculture for more

than 110 years, since it was first established by farmers as a

Dutch co-operative in the 1890s. Today Rabobank Group is a

global leader in financial services, recognised for its F&A focus,

sound capital structure and sustainable business practices.

How strong a presence do you have in Asia?

Rabobank has more than 25 years' experience financing food

and agribusiness in Asia, reflecting established networks, a deep

knowledge of and long term commitment to the region. Today

Rabobank has offices in Singapore, Hong Kong, China, Japan,

Indonesia, Malaysia and India. Singapore services Thailand, the

Philippines and Vietnam, while the Shanghai business services

South Korea and Taiwan.

What makes Rabobank unique?

Rabobank is owned by 138 member banks in the Netherlands.

Our cooperative structure is founded on sustainable business

principals where customers come first. Our international network

connects food and agribusiness companies in Asia,- the

epicentre of food trade flows and the global demand for food –

to the rest of the world.

We partner with customers to provide innovative structured

finance and commercial banking solutions throughout the supply

chain. We have a deep understanding of Asia's food and agribusiness

challenges and the needs of food and agribusiness customers.

16

Rabobank's expertise lies in the Food and Agribusiness.

What are you doing to leverage on this expertise?

The food and agribusiness sector is in Rabobank's blood so we're

passionate about its future. Looking to 2050, the Asia region will

be home to 56% of the world's population with the average consumption

of food per person expected to increase with income

growth in the future. Helping Asia's food and agriculture sector

to grow efficiently and sustainably to meet this demand is a very

exciting opportunity for Rabobank. That's why we're sharing our

specialist food and agriculture knowledge, developing new

finance solutions and creating new strategies - to help Asia's food

and agribusiness companies grow for tomorrow.

Rabobank International has a dedicated Food & Agribusiness

Research and Advisory team (FAR) comprised of a global team of

food and agribusiness professionals, offering clients local on-theground

Asian market knowledge. The FAR team analysis specialises

in seven commodities sectors - Animal Protein, Beverages,

Dairy, Grains & Oilseeds, Farm Inputs, Sugar and Value Added

Processing. We use this deep industry knowledge to benefit our

clients, sharing industry insights to enable clients to foresee market

developments and advising them on strategic business decisions.

Where in China are you operating?

China is one of the largest agricultural producers in the world.

Naturally, we are committed to growing our business in China.

Currently we have offices in Shanghai and Beijing.

How important is sustainability at Rabobank?

Sustainability is one of Rabobank Group's core values. Our

roots in agriculture and co-operative structure means we are

especially aware of the need for sustainable development. We

specifically have a variety of teams dedicated to sustainability:

Renewable Energy & Infrastructure Finance, providing for sustainable

investment solutions and sustainability in the F&A supply

chain to name a few.

Why did you sponsor the Dutchcham Business Awards

Gala?

Rabobank is a Dutch bank and we feel that it is important to support

Dutch businesses in the local market where we are located.

Contact details:

Jeroen Nijsen – CEO Asia, Rabobank International

Claire Worp – Corporate Communications Manager
---
How Excellent Are We?

Ihad a whole thing written about how excellent our banking system is and

how utterly crap the banks in Hong Kong are. Our banks are a breeze to

work with, internet banking is simple and ATM cards are not suddenly taken

off the Cirrus network making it now possible to withdraw money while in Iraq

or Yemen, but leaving you penniless after having arrived at Schiphol Airport

(yes, HSBC, I am talking to you!).

But just when I wanted to submit my piece, ABN and especially ING

experienced nothing but trouble with their online banking, SNS Bank fell over

due to idiotic managers and our savings are no longer… safe. Back to the

drawing board!

When meeting foreigners, the first thing they will mention, is that we are

excellent football players. And we are. Or actually, they are, because I can't

play to save my life. But then I recollected the horrible Euro-campaign in

Poland and Ukraine last year….

The Dutch are multilingual? Well, most try to be and unashamedly speak

Dutch loudly with a German accent and then claim to be fluent in German. I

have come across Dutch who will still ask for the 'card' or the 'map' in a

restaurant… And everyone knows someone having lived in Hong Kong for

over 5 years who still doesn't know how to ask for the bill in Cantonese. We

are not afraid to speak a language, but fluently….? Not really. Nowadays,

there are even Americans that speak Putonghua rather well!

Are we great diplomats then? The last international diplomat we had will

mainly be remembered for allegedly pinching ladies' behinds. I think Belgians

are the true diplomats as they never feel the need to tell everyone how things

are or should be. We just have very big mouths that get us places and make

sure we are not forgotten, but our straightforwardness often makes us step on

some toes over and over again. Still, we are adventurous and boldly go where

no-one has gone before; although society in the homeland is very

discouraging and disapproving of anything out of the ordinary.

But, I hear you say: in the 17th century we sailed the seven seas and fought

the many beasts! The VOC was the first multinational and we…. yeah, yeah,

but if Abel Tasman had not been such a slacker, Australians and Kiwis would

speak Dutch by now and don't get me started on Manhattan... Who trades

New York City for Suriname, a great city for great food? Not sure.

Finally, I found it! Inventiveness!! To name a few Dutch inventions: the

microscope, telescope, fire hose, submarine, stock market, 4WD car, speed

camera, electric shaver, cassette tape, Laser disc and the CD-player all came

from Dutch minds. How excellent is that? I wonder what will be next.

News and Views

By Mark Scholz,

ms@presenttime.com

17
---
ABN AMRO

Capability-led Growth - ABN AMRO

Business Awards Gala Sponsor

Financial turmoil has reshaped the financial industry in the last few years. ABN AMRO today is a new entity created from

the legal merger of ABN AMRO's former Dutch business and Fortis Bank Nederland in 2010. We have emerged as a smaller

but stronger and focused institution with scale and international growth ambition. We are a leading retail and commercial

bank in the Netherlands with a dual international strategy of supporting the activities of our Dutch clients around the world,

while also building the global positions of our capability led businesses: Energy, Commodities & Transportation (ECT), Private

Banking and Clearing. Today, we have 23,000 employees across 23 countries and territories, serving some 6.8 million clients.

Hong Kong, with all the above business lines present with significant and growing market positions, is a unique foothold of ABN

AMRO. One of the world's premier financial centres, Hong Kong, has historically been one of the ABN AMRO's most important

markets, particularly considering its role as gateway to and from China. Our goal is to continue this tradition and to grow ABN

AMRO in Hong Kong in line with our international ambition of capability led growth. In 2012, ABN AMRO opened a new

representative office in Shanghai focusing on supporting the clients in the region. The latest addition to the ABN AMRO Hong

Kong family is Escrow & Settlement, a vital service for all our clients in the above-mentioned businesses.

Aiming for excellence always, our clients in 2012 voted ABN AMRO the 'Best Commodity Trade Finance Bank in Asia-Pacific'

in Trade Finance Magazine's Awards for Excellence. ABN AMRO Private Banking Asia holds the title of 'Overall Best Private

Bank in Singapore' as well as the 'Top 5 Best Global Private Banks' in the Asiamoney Private Banking Poll 2012 – both awards

which are based on the votes of our high net worth individuals. In 2012, Datamonitor – which undertook a competitive

benchmarking and ranking of the world's largest private wealth managers, also named ABN AMRO, one of the top 10 global

players in the Wealth Management Super League.

With a strong growth ambition in Asia and the Middle East, we continue to strive to offer our clients the best opportunities

presented by the regions' growth, by combining our global strengths and local knowhow.

Left & top right: ABN AMRO office in the Netherlands Bottom right: ABN AMRO office in Hong Kong

19
---
Dutch Chamber Committees

Focus: Dutch Chamber Committees

China Committee

z By Harold van Kooten and Daniel de Blocq van Scheltinga

As one of the oldest committees of the Dutch Chamber, the

China Committee aims to inform the Dutch Chamber's members

of the latest developments in Mainland China in the economic,

social, environmental and political field.

From its early days years before the handover to the present,

the members of the committee strive to uphold this aim by,

among other things, organizing the annual China Seminar

and a various, smaller events informal events.

Topics of the various events therefore tend to reflect current

affairs on the other side of the Sheung Shui border. Recent China

Seminars dealt with the increase of purchasing power of consumers

in Mainland China, the PRC's blueprint for its development

based on its eleventh five-year plan, and, most recently, with

China's ambitious outbound investment plans and its implications

for various regions that are on the receiving end of this

investment. The more informal events touched upon matters as

registration of a corporate China presence, practical strategies to

deal with disputes submitted to the People's Courts, and tips on

investing in Chinese modern art and French wines. In all, a broad

range of subjects in each instance addressed by experts in the relevant

field, from CEOs, senior business executives from household-name

multinationals, economists and individual business

owners, to globe-trotting diplomats and reputable journalists.

Indeed, a diversity in topic and speakers that reflects the different

aspects of the PRC, the members of the Dutch Chamber and the

background and composition of the China Committee members.

The China Committee currently has seven members, being five

volunteers from the business community and Dutch Chamber

members Jacqueline Baud and Mirjam Achthoven. It is one of

the few committees that actually is co-chaired, namely by Daniel

de Blocq van Scheltinga, a seasoned banker and entrepreneur

with contacts in highest business circles in Beijing, and Harold

van Kooten, a jurist who has been dealing with legal issues in the

PRC for the last 17 years and currently is plying his trade with

Baker & McKenzie. Both chairmen spend considerable time in

the mainland, resulting in the decision to share the responsibility

to manage the China Committee. Other members include

Connie Leung of Intertrust and Maarten Koning of ING, who

both are based in Hong Kong. Diederik Maessen of De Brauw

provides support from the capital from time to time.

20

Every blue Monday, following good Dutch tradition, people

tend to challenge the relevance of the Dutch Chamber having a

China committee. The argument often is raised that everybody

tends to be far more familiar with China if compared with the

early days of the Dutch Business Association and that a focus on

a country rather than on a specialty or business sector therefore

seems to have outlived its usefulness. These dissenting voices are

useful and always welcome. (Who doesn't like to win an argument?)

Although the title of this article actually already sums it

up quite nicely, it does not seem the right place to provide a

rebuttal. For those readers that are not convinced, it might be

best to keep an eye out on the activities that the China

Committee organizes and attend! Rest assured that if not the

event itself, then any member of the China Committee present

will be able give you your money's worth and something to

remember.

SME Committee

We talk to René Theil, Chairman of the SME Committee about

how he got involved in the Committee, what its goals are and

what the Chamber means to him.

Ihave been in Hong Kong since January 2000.When I arrived

I was in the personal finance business which I left around

2005 to start my own companies. We are distributor in Asia

for a few niche Promotional / Premium Products which we

design and personalise in house. After years of operating as

PromoClip Asia we recently rebranded to BLUE 8 PREMIUM

LIMITED.

My function on the board is Vice Chairman. This was born from

the fact that our Chairman travels quite a bit and therefore I

could step in to attend functions and chair the chamber in his

absence. I have been active quite a number of years now indeed.

The goal of our Committee is predominantly to organise useful

and topical events for our SME Members - events that really

bring new knowledge and insights to our members in an

environment where they also have the chance to network and

connect with people. We also feel it our task to have our

members know each other's businesses so we initiated the

'Munch on the Move' where companies can show (off) their
---
office, their business and share what they do and how they

achieved this all.

Then we make sure there are a few social events a year that do

have a business touch but are mostly to socially engage with one

another and have some drinks.

In the years I have been with the Chamber I have seen quite a

number of changes. We changed our mission statement and

really focussed on serving our members the way they like to be

served. We created many events bringing people together to

connect to share knowledge and develop business relationships.

Other changes are that we added new "special interest"

platforms for our members. The need for this is changing all the

time with people wanting to focus, network and connect with

likeminded others.

The Chamber means quite a bit to me. As a Dutchman in Hong

Kong and a business owner, it is great to network, connect and

build relationships with other Dutch businesses and share and

exchange knowledge, feedback that is helpful to run our

business in this very dynamic and fast moving city. I have the

privilege to be part of bringing people together through my

functions in the Chamber, something which is also fulfilling on a

personal level. Then of course there is also the fact that it is

sometimes nice to just "talk Dutch" and drink beer with fellow

Dutchmen and women!

Women in Business

Find out more about what the Women Committee does, why our

members feel it's important for women to have dedicated events

for women and details of some of these events:

Agroup of executive women within the Dutch Chamber of

Commerce, Jacqueline Baud, Henrike Hartemink and

Maaike van Meer, have taken the initiative to organize

dedicated events for women as the "Dutch Chamber - Women in

Business". The goal of this group is to network and socialize and also

to support leading business women in Hong Kong.

This initiative coincides with initiatives in Hong Kong to promote the

participation of women in boards. Following a market consultation

in the Autumn of 2012, the Hong Kong Exchanges and Clearing

decided last December it will require all listed companies to report on

their board diversity policy as of September 2013. Other initiatives

followed, such as the launch of the 30% Club in Hong Kong by the

Women's Foundation in March of this year, established by 41

Leading Chairman as founding members, which aims to support

sustainable business-led voluntary change to improve the current

gender balance on Hong Kong boards.

Dutch Chamber Committees

A first luncheon was held on November 7, with guest speaker Dr.

Nirmala Menon, Head of South Asia at ING Insurance Pacific.

Before moving to Hong Kong, Dr. Nirmala Menon was the wellknown

first female CEO of ING Insurance Malaysia. She has been

running diversity programs within ING and shared her journey with

a group of over 20 business women.

Maaike Steinebach, Country Executive ABN Amro Hong Kong, was

the guest speaker of the next Women in Business luncheon, an

invitation-only event held on April 17. The theme of Maaike's

presentation was Leadership dilemmas.

Membership Committee

Membership Committee's Chairman, Tom Voûte talked to us

about his role within the Chamber, what it means to him and

the activities and goals of the Membership committee.

What is your name, what do you do and how long have

you been in Hong Kong?

I'm Tom Voûte. My company is Algorithmic Trading Group

(ATG) Ltd since 2009 with 15 employees in Hong Kong and an

office in The Netherlands and Curacao. My wife and I have been

in Hong Kong for 6 years now and have 3 children of 6, 4 and

2 years old.

21
---
Dutch Chamber Committees

What is your function in the board and why?

I am the chairman of the Membership Committee and I am a

member of the board because that chairman is by default a

member of the board.

How long have you been active within the Chamber?

I became a member of the Dutch Chamber in 2009 because I felt

that Dutch Chamber was the business version of the Dutch

Association. I prefer to talk business over beer rather than

housing and children over beer.

Have you seen a lot of change within the Chamber

while being a board member?

I like the quality of the activities. Not only content wise, but also

the caliber of the participants makes these a great networking

opportunity.

What does the Chamber mean to you?

To me, the Chamber means learning and networking.

What are the activities and goals of the Membership

Committee?

The Membership Committee is made of Matthew Hoyle, Ellen

van Haandel, Bram Eijsbouts, Baud, Mirjam Achthoven and

myself. We market the Dutch Chamber to new and old business

people in Hong Kong – to allow them to expand their

knowledge and network. We invite anyone interested in finding

out more, for drinks every last Tuesday of the month.

If you know any people interested, bring them along. We start at

6pm. Normally there are 10-20 people and we don't go home early!

22

PR & PUB Committee

For seventeen years Jean-Michel Caille has published and

printed the Dutch Chamber magazine; making him one of the

most enduring elements in the Dutch Chamber history. About

time we speak with Jean-Michel in detail about his work.

When did you set up your company, Encre de Chine?

In 1992, I set up my first company Printing in Asia Limited in

Hong Kong; then Encre de Chine Limited in 2001 when we

moved to Dongguan City.

Before you moved from France, did you also work for a

printer there?

I am from a printing family. My grandfather started the business in

1953 and my father followed his footsteps. I worked as an

apprentice in the family factory in order to learn the trade from an

early age. I started with folding & binding sheets of paper to setting

up a 4-colour print press. After I graduated I worked in the family

business for 7 years until the plant burned down in an accident.

I learnt desktop publishing from my mother using a machine

called "Compugraphic". This machine could print text on film

directly. After that we would mount the film together with the

photo film registration by hand and make the offset plates

necessary for printing.

Our main business in France at that time was catalogues for

Auctions with reproduction of the paintings. My father's company

was one of the appointed printers of the Auctioneer Chamber in

Paris. When I move to Hong Kong, I invested in an Apple computer.
---
What are the advantages and disadvantages

of having your company based in

Dongguan?

The advantage is the proximity to many types of

factories in the Guangdong area with a decent

quality standard. It is very important because we

can conduct tight and frequent quality controls on

our projects and respond faster in case of

problems.

Here's a story. In 2007, the labor shortage started in

Southern China. Even our main partner scaled down

from 10,000 to 1,500 workers. That year we had a

tender of 12.5 millions gift packets to be produced

within 2.5 months during the summer peak season; a

project with a value of 1 million euros. The designs were

complicated and involved difficult materials and a lot of

handwork.

One month and half before the deadline, my printing partner

could only put 10 workers on this project instead of the 500

originally planned. The only solution to meet the deadline was to

split the job among several sub-contractors. So we worked 16hour

days to control the quality and monitor the progress of those

6 suppliers, around over Shenzhen and Dongguan. During those 6

weeks, we drove over 20,000 km for the daily rounds. We

managed to make the deadline, and client was happy with the

quality.

We even flew to the client's warehouse in Paris when the twelve

40'HC containers had arrived - just to make sure that the

Dutch Chamber Committees

products were physically there

and in good shape. The

warehouse manager took a

photo of us in front of the

open container, which he

framed and kept in his office.

After that project we stopped

bidding for this tender as the

labor shortage persisted and

the risk was too high.

The disadvantage is that we

have to travel almost 2 hours

back to Hong Kong for good

restaurants.

In what ways did you contribute to making the Dutch

Chamber magazine as it is today?

I always enjoy the energy that the editor and the Dutchcham

team put into the magazine. It is a team effort that makes it what

it is and it's been a pleasure to be part of the team.

Is there a funny story you would like to share with us

about working with the Dutch Chamber through the

years?

Not a funny story, but a fortuitous one. I remember for the first

Award Event, Lottie my business partner (who's also an artist)

did some sculptures of tulips as the Award trophies, and I made

the packaging boxes. After that project, our gift packaging

business started to bloom and we produced about 1,500,000 box

sets in these few years. The tulip turned out to be a lucky flower!

23
---
Business Awards Gala Sponsor

Loyens & Loeff

When and where did your company start?

After about half a year of preparation, Loyens & Loeff started

in February 2012 with a grand opening in our brand new office

on the 28th floor on 8 Wyndham street, Central. Ambassador

Rudolf Bekink and Consul General Robert Schuddeboom

officially opened our office, together with our managing partner

and myself in the presence of some 200 guests. We have been up

and running since.

Our roots go back to the beginning of the 20th century. Since the

merger in 2000 between the tax advisers of Loyens & Volkmaars

and part of the law firm Loeff Claeys Verbeke, we are the largest

firm to offer widespread integrated legal and tax advice in the

Netherlands, Belgium and Luxembourg.

How many employees do you have in the HK office?

As the largest Benelux law firm, the vast majority of our lawyers

and advisors work in the Netherlands and also Luxembourg and

Belgium. In the eleven offices outside the Benelux, we work with

smaller teams to assist clients in the local market. We found it

utmost important to start with a full legal team in Hong Kong

lead by two senior partners and currently have three associates.

The team is supported by one office manager, so six in total.

What makes your company unique?

We are an independent international full-service law firm

specialised in providing legal and tax advice to enterprises,

24

financial organisations and governments. The unique

collaboration between our tax and legal advisers works to the

client's advantage, as issues are tackled from different angles,

creating synergy and increasing efficiency. The combination of

transaction capabilities and deal (and group) structuring from

a tax perspective, is unmatched in our field.

What is your company's specialization in Hong Kong?

We particularly focus on advising multinational corporations,

major financial institutions, private equity and real estate

investment funds, fund managers, high-net-worth individuals,

and others doing business in Asia on their cross border

transactions, in particular outbound investments.

Why is your company an example of Dutch Excellence?

Loyens & Loeff has a long history of exploring possibilities

abroad. About 40 years ago we were one of the first foreign

law firms to set up an office in New York.

Many others followed us since. We have continued this ever

since. Also in Hong Kong, we were the first Dutch law firm to

open here in Hong Kong and focus on a new market in Asia:

outbound investments.

What are your company's future ambitions in Asia?

We want to increase our Asian client base and build-up the same

reputation we have in the Benelux and other countries we are

present in.
---
Orangefield ICS

When and where did your company start?

Our history as Orangefield began in the late 1970s with ING Trust

in The Netherlands. A decade later, the Hong Kong office was

established. In 2001, ING Trust acquired the Dutch company Intra

Beheer, and ING Trust Luxembourg later merged with BBL Trust in

2003. Supported by an investment company in 2007, the activities

of ING Trust worldwide continued under the name of Orangefield.

Since then, we have strategically expanded our network with offices

across Asia, Africa, Americas, Europe and the Caribbean. Our head

office remains in the Netherlands, Amsterdam.

In 2012, Orangefield Hong Kong acquired ICS Trust, and

renamed it to Orangefield ICS. Adding to our global offering is

over 30 years of experience in Doing Business in China.

What makes your company unique?

It is not a cliché that the people makes the company, especially

in the services' industry, and in our case, it really does, which

ultimately comes from us being part of a global group that is

Dutch based whilst being tolerant of the various customs and

cultures whilst doing business. Moreover, we feel that our

entrepreneurial, "can do" attitude meets the needs of our client.

Why is your company an example of Dutch Excellence?

We continuously aim to build upon our international reputation

by being an expert in our field of business and in providing

Business Awards Gala Sponsor

exceptional service to all our clients across the world. With 19

offices spanning the Americas, Europe, Africa, Asia, Caribbean

and still expanding, we are in an excellent position to serve our

clients with a range of tailored solutions while still remaining a

Dutch organization with Dutch staff in key positions within our

company

As a global company and global citizen, we actively play a part

in bridging the different cultures whilst taking advantages of

opportunities that arise to facilitate a global marketplace. One of

our core services, Doing Business in China, creates a channel

that connects western companies with China, and similarly,

China with the outside world.

What are your company's future ambitions in Asia?

Towards 2013, Orangefield ICS has plans for both the global

and local markets in relation to Asia. Globally, to provide

support to the many Canadian and European clients that are

doing business in China for the first time. Locally, we launched

a Shanghai office last year and will be looking to open more

offices in China soon to assist mainland businesses in exploring

international markets.

Further, we pay a lot of attention to the developments within

China and the opportunities this will bring to us to support

Chinese clients doing business abroad. We have seen similar

developments with other countries in the region (Japan,

Korea, Taiwan) and will strive to create successful

relationships with clients and business partners in these

emerging economies.

25
---
Lifestyle

Of Course We Play Rugby

z By Case Everaert

Diederik Blanken and Mick van den Heuvel of Valley Fort U6

with England Player Mike Ellery.

The question is always the same and almost sounds like an

accusation: "Case, why on earth is a Dutchman running

the mini rugby in Hong Kong? You guys don't even play

rugby."

Of course we play rugby! I was always a bit low on ammunition

to tackle this statement until the recent 2013 Hong Kong Sevens.

That's when the Dutch Ladies Sevens team showed up in Hong

Kong and thrashed Singapore and China to make it to the Cup

semi-final. Unfortunately, the girls were beaten by Australia or

we would have had a Dutch team play rugby in Hong Kong

stadium for the first time since 2003. The Dutch Sevens Ladies

went on to win the bronze medal, a great effort from the team.

The success of the Dutch Ladies in Hong Kong may come as a

surprise to some but Holland have had a good ladies Sevens

team for quite some time now. Our girls are well on their way to

Olympic qualification and are within shouting distance of a

bronze medal.

26

Dutch Sevens Ladies

The Sevens Ladies with the young Dutch rugby

crowd on the staircase of the residence.

HKSRFUR Level One Referee Ralph Ybema and his

daughter Anjalika of the South Lantau Buffaloes.

It was therefore appropriate that Consul-General Wilfred

Mohr invited the Dutch Ladies to his residence when they

arrived in Hong Kong before the Sevens. A larger than

expected crowd awaited them there: the Dutch rugby playing

children and their parents had been invited to come to The

Peak to welcome the team and they turned out en masse. At

one stage the garden looked like a rugby field as the national

team started throwing an oval ball around with the kids. It was

great to watch.

There are many Dutch youngsters playing rugby in Hong Kong.

Youth rugby consists of mini rugby (age 5 through 12) and colts

rugby (age 13 through 18). Quite a few people arriving from

overseas will be surprised at the popularity of the mini rugby

programme in Hong Kong and the enormous amounts of kids

that play it. The Hong Kong Mini Rugby Football Union

(HKMRFU) is the Guinness World Record holder for most

children ever playing rugby together in a tournament (2,610)

which was set in October 2010.
---
Double Dutch: HKMRFU Chairman Case Everaert

and Hong Kong U19 National Squad player Sjors Laurijsen

The HKMRFU consists of 20 mini rugby clubs, spread all over

Hong Kong. No matter where you live, there's always an

opportunity for a child to play rugby. In the south there's Valley

Fort in Stanley, up north close to the border with Shenzhen you

will find the Flying Kukris, in the east reside the Sai Kung

Stingrays and in the west you will find the Discovery Bay Pirates

and South Lantau Buffaloes. All these clubs have Dutch kids

playing for them.

Some of them play very well. Julian Onderwater was part of the

Discovery Bay Pirates team that won the Richard Hawkes Cup,

Lifestyle

We're not only active on a

playing level. On an

organizational level Ralph

Ybema has become a Level

One referee who refereed

at the Youth Showcase

during the recent HK

Sevens

the season trophy for U12, and Joeri Brons won

the Bowl for the same club. And we can all be

excited that there is a Dutch player representing

Hong Kong at U19 level: Sjors Laurijsen

recently went on tour with the Hong Kong

national squad to Taiwan where he won "Man

of the Match".

We're not only active on a playing level. On an organizational

level Ralph Ybema has become a Level One referee who refereed

at the Youth Showcase during the recent HK Sevens while I have

been chairman of the HKMRFU for the past two years.

In the coming years I expect more and more Dutch players to

make their mark on the local rugby scene, including girls. And

you never know, one of them may eventually be able to join the

Dutch Ladies Sevens team and represent The Netherlands at the

2016 Olympics in Rio.

27
---
Business Awards Gala Sponsor

Wineshopasia.com - Hong Kong's newest

online wine shop

Special Promotion for Dutch residents – 20% off most wines!

Wine Shop Asia is a new Hong Kong-based online shop, selling wine to Hong Kong customers.

With around 700 products from over 50 family-owned wine labels, Wine Shop Asia exclusively imports well-known brands such as

Antinori, Tignanello, Guado Al Tasso, Louis Roederer, Cristal, Torbreck, Shaw + Smith, Louis Latour, Billecart-Salmon, to name a few.

A large portfolio of wines is available from over 50 family-owned wineries from all major wine regions.

Wines range from $40 to $400,000!

Wine Shop Asia's climate-controlled Hong Kong warehouse stocks all of the listed wines which can be delivered anywhere in Hong Kong

within 24 hours after your order has been placed.

Register on the site as a member to receive special offers and invitations to wine tasting events and dinners with winemakers! The Vice

President of Louis Roederer champagne, Mr. Michel Janneau, will be hosting a lunch on May 3 rd . Ms. Alberia Antinori, 27 th Generation

owner of Italy's famous – and world's oldest winery - Antinori wines, will be guest speaking at another lunch on May 31 st . Don't miss

out!

Check out Wine Shop Asia if you are looking to buy wine in Hong Kong!

www.wineshopasia.com – Tel: +852 3621-0456 – Email: enquire@wineshopasia.com

Mailing Address: 18/F, 200 Gloucester Road, Wan Chai, Hong Kong

28

Use this promotional code upon

checkout: WSAFRIENDS

*not valid for accessories,

items on sale, specials or some wines
---
Lifestyle

Third Culture Kids (TCK's)

z By Barbara Markovits-Spaans, Managing Director of the Dutch School De Oranje Sampan Hong Kong (directeur@oranjesampan.org).

Children in Hong Kong know all about achieving

Excellence, which is the subject of this year's issue of

DutchCham Magazine. Upon my arrival in Hong Kong,

now 3 years ago, I was very surprised to see young children

receiving extra tuition at the age of 3 in order to excel, be it at

the English language or playing the violin.

Still, it turned out to be contagious, because no parent wants

their child to be behind in their development. If you are hoping

to be accepted at a good international school in Hong Kong,

tuition could be considered an important part of preparation.

Further, extra Dutch language lessons are important to keep

their Dutch roots while growing up as a Third Culture Kid.

Since the term Third Culture Kid (TCK) was coined by

sociologist Ruth Hill Useem in the 1960's, TCKs have become a

heavily studied global subculture.

After WWII more and more people started moving away from

their home countries. Initially this was mostly military staff, but

this shifted gradually with more and more executives who took

their families to exotic places.

TCKs are children who live abroad with their parents. They are

exposed to a wide diversity of cultural and educational

influences causing them to become internationally-oriented. The

child is developing and does not identify with the first or second

culture (stipulated below). TCK's have more in common with

one another, regardless of nationality, than they do with non-

TCK's from their own country.

1. The first culture is about citizenship

2. The second all about which countries they live in.

3. The third is all about community, others with the same

experience growing up internationally.

The advantages of these global citizens are that they connect

with others easily, they are generally highly sociable as well as

having the ability to speak several languages. They observe,

adapt easily and appreciate diversity.

Disadvantages of this lifestyle may become apparent during

adolescence or when TCKs go back to The Netherlands for their

further studies. They are often not familiar with the Dutch

cultural norms. Many TCKs take years to readjust to their

passport countries. They often suffer a reverse culture shock

upon their return, and are often perpetually homesick for their

adopted country. Many third culture kids face an identity crisis.

The sense of identity and culture is lacking, they experience

problems figuring out who or what they are, where they belong

and where they are from.

Culture is learned behaviour which influences our way of

thinking, feeling and our behaviour in general. Culture even

influences our perception and our judgment of others. If we, as

parents don't spend enough attention raising our children with the

Dutch language and culture, they will eventually disassociate from

their background. Continue to speak Dutch at home, expose them

to Dutch language by reading to them or having them read Dutch

books themselves, play Dutch music in the car, watch Dutch TV

like 'Jeugdjournaal'. Besides language skills, cultural values can be

taught by honouring Dutch traditions and customs and by going

on holiday in the home country. All these tools combined can help

children to continue to identify with their background.

In Hong Kong, there are three Dutch schools which offer Dutch

language and culture lessons to children aged 4-12 years. We

offer Dutch library books, Computer Assisted Learning and an

opportunity for children to socialize with other Dutch children.

The home environment is paramount and for that reason a

prerequisite for acceptance is that Dutch is spoken consistently by

at least one parent and that the child has a foundation in the

Dutch language with reasonable age appropriate vocabulary. It is

wonderful to see that several Dutch fathers with foreign wives try

their best to have their children attend Dutch School every week!

Of course the students don't always feel like coming after a full

day at the international school, but attending Dutch lessons does

provide opportunities for them. A good alternative to attending

Dutch School is the educational programme "Edufax" through

the Internet. Language is culture too! This has been a reason for

me as a parent to become involved with the Dutch School and to

continue to stimulate children to stay connected with Dutch

language and culture. This way, they can achieve Excellence in

their native language!

Books to read about this topic:

• David Pollock and Ruth van Reken; "Third Culture Kids"

(the experience of growing up amongst worlds)" explain

what these children and youngsters experience when

transitioning to their passport culture, university and young

adulthood.

• Marjanne Simons; 'Opgroeien in het buitenland', and 'Terug

naar Nederland' (for parents)

• Marjanne Simons; 'Ik heb het niet bedacht...' (for 10+

children)

• A beautiful documentary in English: "Les Passagers: a TCK

story" by Kalen Haymen. It is about what TCK's are and

their search for their "home".

Websites:

• www.en.wikipedia.org

• www.drieculturen.blogspot.hk (interesting for teens and parents)

• www.Edufax.nl

Children in Hong Kong can be guided by means of a playful

workshop. A child behaviour specialist and Dutch psychologist

have developed workshops to stimulate confidence in children.

More information: www.happykids.com

29
---
Members' Corner

NEW SME MEMBER

Roger KAM – R & T Consulting Group

R & T Consulting Group is a professional consulting firm

comprising of experienced Professional Consultants

specialized in business consulting and compliance services.

Through our Hong Kong headquarters and our branches in

Shanghai, Shenzhen and Beijing, our regional teams focus

on delivering local knowledge and global reach to assist

global clients to manage local compliance and reporting

obligations. Our bespoke compliance services include, but

are not limited to, business set up and maintenance,

accounting, tax reporting and consulting. Other business

consulting services include M&A and transaction advisory, due diligence, investment

advisory, business restructuring, cross-border tax optimization, financial advisory

and cost management services. We operate together with our twin core firm, Roger

Kam & Co. Certified Public Accountants (Practising) (www.rogerkam.com). Thanks

to our China offices R & T Consulting Group can benefit from a strong presence in

the Chinese market, providing our clients with the best expertise for business

consulting and regulatory compliance. In addition to our service portfolio, our

regional teams in China are able to provide the most effective solutions for company

set-up and maintenance and local taxation compliance, in full accordance with

outstanding legislation. Most of our clients come from overseas, including major

European and Asian countries. We are also a founder member of a strategic alliance

in major Asian cities and have a strong joint venture with a renowned European

consulting group for providing global business advisory services to our international

clients. All these enable us to offer a truly comprehensive solution to your business.

• Room(s) 301-303, 3/F., Golden Gate Commercial Building,

136-138 Austin Road, Tsim Sha Tsui, Kownloon, Hong Kong

Tel. +852 3105 8968 – Fax +852 2381 3938

info@rnt-consulting.com – www.rnt-consulting.com

NEW SME MEMBER

Oscar SALET – Alliance Experts

Alliance experts is a unique consultancy that focuses

on creating and optimising partnerships and strategic

collaboration. We are headquartered in The

Netherlands with branches in Hong Kong and

Singapore.

Strategic collaborations and partnerships can have

benefits to almost any type of business that seeks

expansion or growth; with limited investment, a

company can build a partner network for product

development, distribution or for achieving economies of scale. Alliance

experts has developed tools, workshops and benchmark data to simplify

and add transparency to the partnership strategy, search and development

process. With our focus on partnership advice, we are a leading party in the

field in East Asia.

The Hong Kong branch facilitates incoming business development projects

out of the EU and ASEAN, advising clients on their China strategy and

paving the way for their expansion. It also acts as the front office for East

Asian clients that need strategic advice and assistance with business

development into ASEAN and EU markets.

• Room 907, Silvercord Tower 2, 30 Canton Road,

Tsim Sha Tsui, Hong Kong

Tel: +852 5348 5336 - oscar.salet@allianceexperts.com,

www.allianceexperts.com

30

NEW SME MEMBER

Mars MA – Trans Global Logistics Group Ltd.

As a 15 year veteran of the Logistics industry, I

recently joined Trans Global Logistics, a leading

Asia-based 3PL based company. With our expansive

network in Asia and in the US, TGL is uniquely

positioned to service the 'Gateway to Europe', the

Netherlands, through a strategic partnership with a

leading Dutch based logistics company.

Having spent a considerable part of my professional

career developing logistics solutions to and from the

EU, I am acutely aware of the challenges associated with this region and the

ability to address those opportunities with a company that specializes in the

U.S. and Asia trade lanes is something I am extremely excited about.

My colleagues and I can provide comprehensive and customized solutions

to help your company get your products to the right market at the right

time.

For more information, please feel free to contact me at

mars_ma@tglogistics.net or visit us at www.tglogistics.net

• Unit 2512 - 25, 25/F, Metro Plaza Tower One

223 Hing Fong Road, Kwai Fong, Hong Kong

Tel. +852 2375 5922 – (+852 2375 5755)

mars_ma@tglogistics.net – www.tglogistics.net

NEW ASSOCIATE MEMBER

Arthur SCHOOF – APM Terminals

My name is Arthur Schoof and I am Client Director

for APM Terminals. APM Terminals is one of the

top-3 leading container terminal operators in the

world and part of the A.P. Moller Maersk Group

based in Copenhagen (Denmark). APM Terminals

has its global headquarter in The Hague since 2005

and operates a sales office in Hong Kong to cover its

Asian customers. I moved to Hong Kong in mid

2012 after having lived in Shanghai for 3.5 years.

APM Terminals operates more than 60 ocean terminals at all continents

except Australia, and even more inland facilities as container depots, repair

and reefer inspection facilities. My job is to work close to five of our Asian

customers to attract their business to any of the facilities we manage in the

world. In Rotterdam we are already operating a container terminal, while

we are developing a new fully-automated facility at Maasvlakte II.

• 10/F, Miramar Tower, 132 Nathan Road

Tsim Sha Tsui, Hong Kong

Tel. +852 3765 2276 – Fax +852 2972 0627)

arthur.schoof@apmterminals.com – www.apmterminals.com
---
NEW ASSOCIATE MEMBER

Odette UMALI – Cathay Pacific Airways Ltd.

Odette came across the Dutch Chamber of Commerce

when she led the coordination of the Global Field Study to

the Netherlands by her Executive -MBA class at the Chinese

University of Hong Kong (CUHK). She is set to complete

the program by July 2013. She also recently completed the

Adult Training and Education Course from the Hong Kong

University.

However, Odette is not a professional student. She has been

connected with Cathay Pacific Airways Ltd. for more than

15 years and is currently a Learning and Development Executive in its In-flight

Services Department. She has handled flight attendant training for First Class,

Business Class and Economy Class as well as some specialized courses.

Odette likes to learn continuously and share her learnings with others. She is one of

the founders of SeaTack Ltd, a venture dedicated to making sailing as a corporate

team building and leisure activity. She is also an Anusara-certified Yoga instructor.

• 2nd Floor Central Tower, Inflight Services Department

N0. 8 Scenic Road HK Int'l Airport, Lantau, Hong Kong

Tel. +852 2747 2541 – Fax +852 2141 6614

odetteaaa@gmail.com – www.cathaypacific.com

NEW MEMBERS OF THE DUTCH CHAMBER

NEW CORPORATE MEMBER:

TELSTRA GLOBAL

Contact: Martijn BLANKEN – Managing Director

Address: 43/F, One Island East, 18 Westlands Road, Quarry Bay,

Hong Kong

Tel: +852 2531 0588 – martijn.blanken@team.telstra.com

Website: www.telstraglobal.com

NEW ASSOCIATE MEMBERS:

NUTRECO ASIA CO. LTD.

Contact: Rik VAN WESTENDORP – Finance Director

Address: 3304, 33rd Floor AIA Tower, 183 Electric Road

North Point, Hong Kong

Tel: +852 9878 6725 – rik.van.westendorp@nutreco.com

Website: www.nutreco.com

MERGERS & ACQUISITIONS STANDARD

CHARTERED BANK

Contact: Lodewijk MEENS – Managing Director

Address: 25/F Standard Chartered Bank Building

4-4A Des Voeux Road, Central, Hong Kong

Tel: +852 2820 3789 – lmeens@gmail.com

Contact: Maaike VAN MEER

Address: House E, 37 Tung Tau Wan Road, Stanley, Hong Kong

Tel: +852 9682 5515, maaike_van_meer@hotmail.com

NEW OVERSEAS MEMBER

Rob CRINS – GBO PROJECTS BV.

Members' Corner

GBO PROJECTS is a full service production company

founded in 2008 in extension to the services of GBO

DESIGN, founded in 1989. GBO PROJECTS takes care of

product implementation, tooling, production, assembly,

packing, quality control, logistics, warehousing and

financing.

Having worked with experienced production partners in

Europe and Asia for years and years, the whole process

from design to production is safe with us. GBO

PROJECTS' one-stop-shop approach has reinforced our current network of suppliers

and partners. This network enables us to lead projects from offices in the

Netherlands, Belgium and Hong Kong under Dutch management. These projects

include professional and consumer products, components, premiums and

packagings.

Clients are multinationals and SMEs like Bavaria, Bosch, Bruynzeel Storage Systems,

Campbells, Coca Cola / Chaudfontaine, Dagravit, DCVF, Dremel, eldoLED,

Ergonomique, Fatboy the Original, FrieslandCampina, Mutracx, Neways, PostNL,

Print Point Displays, Royco, SeeMe Displays, Smaac, Spirotech, Tele2, Van de Velde,

Van Gansewinkel, Vemedia etc.

• NL Office: Wethouder den Oudenstraat 6

5706 ST Helmond, The Netherlands

B Office: Vlaamse Kaai 76, 2000 Antwerp, Belgium

HK Office: Fu Fai Commercial Centre, 27 Hillier Street

Sheung Wan, Hong Kong

Tel. +31 492 599555

rcrins@gbo-projects.eu – www.gbo-projects.eu / www.gbo.eu

NEW SME MEMBERS:

PERFORMANCE BY PEOPLE LIMITED

Contact: Aleida MIENSTRA – Director

Address: Unit 3709, 37/F, Tower II, Lippo Centre, 89 Queensway

Admiralty, Hong Kong

Tel: +852 9665 5217 – aleida@performancebypeople.com

Website: www.performancebypeople.com

DOPPER ASIA LTD.

Contact: Lisa CHRISTENSEN – Co-Founder & CEO

Address: Level 2, 10 On Wo Lane, Central, Hong Kong

Tel: +852 2868 5585 – lisa@dopper.com

Website: www.dopper.com

BLUE FUZION GROUP LTD.

Contact: Simon Kim VAN DER HART – Business Director

Address: 303 Laford Centre, 838 Lai Chi Kok Road

Lai Chi Kok, Kowloon, Hong Kong

Tel: +852 2335 6700 – svdh@bfgroup.asia

NEW YOUNG PROFESSIONAL MEMBERS:

GLOBALEYE

Contact: Charles WOOD – Business Development Manager

Address: Suite 504, Level 5 Two Exchange Square

8 Connaught Place, Central, Hong Kong

Tel: +852 5689 8102 – charles.wood49@gmail.com

Website: www.globaleye.com

TWIG LIMITED

Contact: Marleen SPREEUWENBERG-WALZ – Director

Address: House 2, Silver Shore Villas, 33 Cheung Fu Street

Cheung Sha, Lantau, Hong Kong

Tel: +852 6351 8923 - marleen@twig-design.com

Website: www.twig-design.com

31
---
Events

52nd Young Professional Cocktail

The52nd Young Professional Cocktail was organized by the Austrian and New Zealand Chambers. The event was attended by 450

Young Professionals from different Chambers of Commerce. The InterCham cocktails are organized every quarter and are a perfect

networking opportunity. The event proceeds have been donated to the Home of Loving Faithfulness.

32

Wednesday 6 February, 18:30 – 20:30, Beijing Club, 2 Wellington Str., Central, Hong Kong

Dutch Creatives Talk by Paul Mijksenaar

The Dutch Creatives attended a lecture by information designer Paul Mijksenaar. In his talk 'Why we get lost', Mijksenaar spoke about the

way travellers try to find their way and often fail out of anxiety. His speech included aspects like orientation, routing and information in

public space and buildings, all seen through the eyes of the laymen users like ourselves.

Wednesday 27 February, 18:00 - 19:00, Room A122 (Courtyard), School of Design, PolyU, Hung Hom, Hong Kong

InterSME Event: How to use E-Commerce in your Marketing Strategy?

This sold-out InterSME event was organized by the Dutch, Swedish and Italian Chambers and co-hosted by ten Chambers of Commerce.

A panel of four speakers focused on the topic of E-commerce by exposing some of the tools and strategies as well as providing practical

examples that can help SMEs to boost their E-commerce business.

Thursday 28 Feb, 12:30 – 14:00, The Royal Hong Kong Yacht Club, Kellett Island, Causeway Bay, Hong Kong

Finance Lunch with Vincent Piket

The finance committee invited Vincent Piket, Head of Office of the European Union to Hong Kong and Macau, to come and present his

thoughts on the Future of the Eurozone and the European Union. Vincent is a senior EU diplomat and during this lunch he shared some

interesting insides into the workings of the European Union.

Thursday 28 Feb, 12:30 – 14:00, 208 Duecento Otto, 208 Hollywood Road, Sheung Wan, Hong Kong
---
The World of Wine

Events

The China Committee and the Finance Committee joined forces together to organize The World of Wine. Andrew della Casa, director of

The Wine Investment Fund presented his strategies and knowledge on wine investments, after which Hugo Spencer, Senior Fine Wine Broker

at Corney and Barrow, hosted an interactive wine tasting session.

Wednesday 6 March, 17:30 - 20:00, Residence of the Dutch Consul General, 24 Mount Cameron Road, The Peak, Hong Kong

MUNCH on the Move to Stibbe The lunch was sponsored by Stibbe

Alexander de Nerée tot Babberich and Jan Bogaert, two local partners of Stibbe (a leading full-service Benelux law firm) provided insight

on the functioning of a law firm, spoke about the issues their clients face in the region, and elaborated on their own experiences in setting

up a new branch of a law firm in Asia.

Thursday 7 March, 12:30 - 14:00, Stibbe, Suite 1008-1009, 10/F, Hutchison House, 10 Harcourt Road, Central, Hong Kong

Joint Business Community Luncheon

The Honourable John Tsang, Financial Secretary of the HKSARG

Mr Tsang gave a speech to the Hong Kong business community to eludicate his budget speech for 2013-2014. The Financial Secretary shared

his plans on how we can sustain economic prosperity for future growth and maintain Hong Kong's competitiveness.

Monday 18 March, 12:15 - 14:00, Convention Hall, Hong Kong Convention and Exhibition Centre

Kick-Off Event for Inspire!, Young Professionals of the Dutch Chamber

The new young professional programme of the Dutch Chamber, Inspire!, was launched on the 27th of March in Libertine. We celebrated

this new programme together with YPs of the French, Swedish and Italian Chambers, and invited guest speaker Vincent Piket to share his

experiences on his career within the EU.

Wednesday 27 March, 19:00 - 21:00, Libertine, 26 Aberdeen Str., Central, Hong Kong

Upcoming Events - See on page 34

33
---
Enquiries & Information

Upcoming Events

w Interactive guided art tour at Art Basel with Jeanette ten Kate 26 May, 11:00 – 12:00 AM, HK Convention and Exhibition Centre

w 10th InterCham Connecting People Cocktail 28 May, 18:30 – 21:30, WET Deck, 76/F, W Hong Kong – Kowloon

w Annual SME Spring Event - The Travel Edition 31 May, 19:00 – 22:00, SME Spring Event, The Royal HK Yacht Club

w AGM 19 June, 19:00 - 21:00, Rabobank Office, 32/F Three Pacific Place

w Rabobank Herring Party 26 June, 18:30 – 22:00, Orange Tree Restaurant

TRADE SHOW CALENDAR

IN THE NETHERLANDS

Electronics & Automation

Location: Jaarbeurs Utrecht Hall 8

Date: 28-30 May 2013

Exhibit: ICT & electronics

Organizer: FHI

Email: i.van.der.zwaag@fhi.nl

Website: www.eabeurs.nl

PLMA's World of Private Label

Location: Amsterdam RAI

Date: 28-29 May 2013

Exhibit: trendy & fashion

Organizer: PLMA International Council

Email: visitorinfo@prima.nl

Website: www.plma.nl

Smart City Event

Location: Amsterdam RAI

Date: 29-30 May 2013

Organizer: Euroforum BV

Email: g.de.boer@euroforum.nl

Website: www.smartcityevent.com

Regio Business Dagen

Location: Jaarbeurs Utrecht, Hall 7,8 &9

Date: 29 & 30 May 2013

Exhibit: business in general

Organizer: Organisatie Groupe Zuid

Email: daatje@ogz.nl

Website: www.rbdutrecht.nl

Vakbeurs Gebouwbeheer

Location: Jaarbeurs Utrecht

Date: 5-7 June 2013

Exhibit: building management

Website: www.vakbeursgebouwbeheer.nl

IN HONG KONG / CHINA

Hong Kong International Medical Devices

and Supplies Fair

Location: HKCEC

Date: 14-16 May 2013

Exhibit: medical & healthcare devices

Organiser: HKTDC

Email: fina.mc.yeung@hktdc.org

website: www.hktdc.com

Hong Kong Entrepreneur Day

Location: HKCEC

Date: 31 May and 01 June 2013

Organiser: HKTDC

Email: entrepreneurday@hktdc.org

website: www.hktdc.com/eday

Hong Kong Fashion Week for Spring /

Summer

Location: HKCEC

Date: 8-11 July 2013

Organiser: HKTDC

Email: exhibitions@hktdc.org

website: www.hktdc.com/fair/hkfashionweekss-en

Hong Kong Book Fair

Location: HKCEC

Date: 17-23 July 2013

Organiser: HKTDC

Email: exhibitions@hktdc.org

Website: http://hkbookfair.hktdc.com

These trade enquiries were received by the Economic Section of the Consulate-General of

the Netherlands in Hong Kong. Interested parties may approach the companies directly

or contact Betty Liu, the Consulate's trade officer, on (852) 2868 0690, by fax to

(852) 2868 5388 or via email economic.section@netherlands-cg.org.hk

Hong Kong Agents/ Importers wanted

Hong Kong Suppliers wanted

TRADE ENQUIRIES

Miffy LED lamp

Dangoo Electronics

Phone: 86 21 5426 4979 – Email: chenmeng@dangoo.com.cn

www.dangoo.com.cn – Contact: Ms. Regina Chen

Organic baby care product

Kaap Bossie

Email: info@kaapbossie.com

www.kaapbossie.com – Contact: Ms. Wilma Oudshoorn

34

PVC placemats / coasters

Braun Uitgeverij

Phone: 31 06 26 12 4516 – Email: info@braunuitgevers.nl

www.braunuitgevers.nl – Contact: Mr. Frits Braun

Solar panels

SolarNow Services Ltd.

Phone: 256 788 916 601 – Email: Ronald@solarnow.eu

www.solarnow.eu – Contact: Mr. Ronald Schuurhuizen
---
World Environment Week

z Presented by Ecozine.com and Dutch Design sensation, Dopper! (June 5-8th, 2013)

Merijn Everaarts, The Founder and Owner of

Dopper, riding the 'Dopper Plastic Wave' in San

Francisco on World Water Day at the Dopper US

and Canada Launch on March 22, 2013

Organized by Ecovision Asia, World Environment Week 2013

will bring together international thought leaders, local

heroes, NGOs, academics, companies and the community to

celebrate sustainability and highlight a powerful, positive approach

to the environmental issues we face.

The event is sponsored by Dopper, a Dutch designed sustainable

reusable water bottle, produced with a net zero carbon footprint, free

of BPAs.

Having recently won honourable mention at the prestigious Red Dot

Awards for design, Lisa Christensen, CEO and Founder of Ecovision

Asia and The Hong Kong Cleanup is delighted to bringing the

product to Asia. "The Dopper is set to be the trendiest eco-product

in Hong Kong, and will literally change the environmental waste

landscape by directly reducing the amount of single use plastic that

winds up choking our precious oceans ", she says with a big smile.

Dopper was founded by concerned father, ocean lover and

environmental entrepreneur, Merijn Everaarts. He made a choice

three years ago to leave the corporate world and follow his true

passion, to make the world a better place. In 2010, he held a

crowdsourcing design competition for a sustainable reusable water

bottle, and Rinke van Remortel was the winner. The Dopper was

profitable in less than three years, and now at least 3% per cent of

the Dutch population does not leave home without their Dopper.

Aside from its ingenious design, the Dopper is also a vehicle for good.

10% of all net proceeds from Dopper bottle sales go to the Dopper

Foundation, an organization that aims to bring clean water to those

who need it and educate the public on matters of waste management.

The Foundation currently funds several projects in Nepal.

With 1.1 million kg's of plastic enter our worlds' oceans every hour,

choking our seas, and killing marine life, we must CHOOSE TO

REUSE. Fresh drinking water is the most sustainable thirst-quencher

there is, with 0 calories. What's more, it's free!

Gold medal Dutch beach volleyball team, Meppelink and Van Gestal

are proudly representing Dopper!

Go Green

The World Environment Week series, which will serve to launch the

Dopper and also kick off the 2013 Hong Kong Cleanup, will include

the following events and much more: Film Premiere: A glittering redcarpet

movie night, featuring the award-winning film, Trashed

TEDxCentral: A high-profile symposium of inspiring speakers with

ideas worth sharing Party with a Purpose: The eco-friendly social

affair of the year!

The Dutch community will be invited to join in this celebration of

sustainability and use the opportunity to learn, share, and take action.

For more details, please contact Ecovision: (852) 2868-5585 or

info@ecovisionasia.com.

35
---
DutchCham Information

We are a member

driven organisation

enabling our

members to share

knowledge & to

develop business

relations in and

between the

Netherlands,

Hong Kong, Mainland

China and the Asia

Pacific Region.

Unit 2402B, 24th Floor

Great Eagle Centre

23 Harbour Road

Wan Chai

Hong Kong

Tel.: (852) 2815 2801

E-mail: info@dutchchamber.hk

Website: www.dutchchamber.hk

Skype: Dutchchamberhk

36

OUR SERVICES

The Dutch Chamber of

Commerce in Hong Kong offers

advice and assistance to its

members. Areas where we can

help include:

• Providing organising and

networking facilities;

• Planning programmes

for student groups

and overseas delegations;

• Providing updated information

on legal systems;

• Preparing specific promotions

or organising tailor-made

seminars;

• Providing updated information

about financial systems;

• Using our members' know how;

• Invitations to annual functions

such as the Dutch Business

Awards Gala Dinner and the

China Seminar; and

• Providing useful information

on our website.

MEMBERSHIP &

ANNUAL FEES

• Gold Member

HK$ 20,000

• Corporate Member

HK$ 8,500

• SME Member

HK$ 3,500

• Associate Member

HK$ 3,500

• Young Professional

HK$ 1,500

• Overseas Member

HK$ 2,500

NO JOINING FEE

GOLD, SME & CORPORATE

MEMBERS ENJOY VOTING

RIGHTS

PR AND PUBLICATION COMMITTEE

• Alexander de Nerée tot Babberich (Chairman)

• Kristen Beattie (editor)

• Willem van den Ende

• Candice Lee

• Mirjam Achthoven

MEMBERSHIP COMMITTEE

• Tom Voûte (Chairman)

• Matthew Hoyle

• Ellen van Haandel

• Mirjam Achthoven

• Bram Eijsbouts

CHINA COMMITTEE

• Harold van Kooten (Co-Chairman)

• Daniël de Blocq van Scheltinga (Co-Chairman)

• Connie Leung

• Diederik Maessen

• Maarten Koning

• Jacqueline Baud

• Mirjam Achthoven

SME COMMITTEE

• René Theil (Chairman)

• Bas Fransen

• Hans Pompen

• Tom Uiterwaal

• Ester van Steekelenburg

• Oscar Venhuis

• Jacqueline Baud

TAX COMMITTEE

• Sytske Kimman (Chairman)

• Carola van den Bruinhorst

• Jochem Temmerman

• Eric Kampman

• Willem Hoogland

• Jacqueline Baud

WOMEN'S COMMITTEE

• Maaike van Meer

• Henrike Hartemink

• Jacqueline Baud

FINANCE COMMITTEE

• Harmen Overdijk

• Lodewijk Meens

• Sander Holman

• Pieter van der Schaft

• Hidde Baars

• Jacqueline Baud

CREATIVE COMMITTEE

• Mike de Regt (Chairman)

• Caitlin Lam

• Candice Lee

• Marleen Walz

• Jacqueline Baud

• Mirjam Achthoven

DUTCHCHAM COMMITTEES