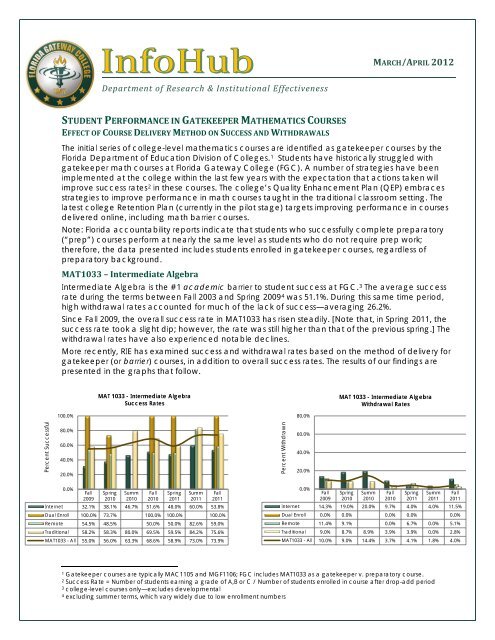 Mar-Apr 2012 - Florida Gateway College
Mar-Apr 2012 - Florida Gateway College
Mar-Apr 2012 - Florida Gateway College
SHOW MORE
SHOW LESS
You also want an ePaper? Increase the reach of your titles
YUMPU automatically turns print PDFs into web optimized ePapers that Google loves.
Percent Successful

Department of Research & Institutional Effectiveness

STUDENT PERFORMANCE IN GATEKEEPER MATHEMATICS COURSES

EFFECT OF COURSE DELIVERY METHOD ON SUCCESS AND WITHDRAWALS

The initial series of college-level mathematics courses are identified as gatekeeper courses by the

Florida Department of Education Division of Colleges. 1 Students have historically struggled with

gatekeeper math courses at Florida Gateway College (FGC). A number of strategies have been

implemented at the college within the last few years with the expectation that actions taken will

improve success rates2 in these courses. The college's Quality Enhancement Plan (QEP) embraces

strategies to improve performance in math courses taught in the traditional classroom setting. The

latest college Retention Plan (currently in the pilot stage) targets improving performance in courses

delivered online, including math barrier courses.

Note: Florida accountability reports indicate that students who successfully complete preparatory

("prep") courses perform at nearly the same level as students who do not require prep work;

therefore, the data presented includes students enrolled in gatekeeper courses, regardless of

preparatory background.

MAT1033 – Intermediate Algebra

Intermediate Algebra is the #1 academic barrier to student success at FGC. 3 The average success

rate during the terms between Fall 2003 and Spring 20094 was 51.1%. During this same time period,

high withdrawal rates accounted for much of the lack of success—averaging 26.2%.

Since Fall 2009, the overall success rate in MAT1033 has risen steadily. [Note that, in Spring 2011, the

success rate took a slight dip; however, the rate was still higher than that of the previous spring.] The

withdrawal rates have also experienced notable declines.

More recently, RIE has examined success and withdrawal rates based on the method of delivery for

gatekeeper (or barrier) courses, in addition to overall success rates. The results of our findings are

presented in the graphs that follow.

100.0%

80.0%

60.0%

40.0%

20.0%

0.0%

Fall

2009

MAT 1033 - Intermediate Algebra

Success Rates

Spring

2010

Summ

2010

Fall

2010

Spring

2011

Summ

2011

Fall

2011

Internet 32.1% 38.1% 46.7% 51.6% 48.0% 60.0% 53.8%

Dual Enroll 100.0% 73.7% 100.0% 100.0% 100.0%

Remote 54.5% 48.5% 50.0% 50.0% 82.6% 59.0%

Traditional 58.2% 58.3% 80.0% 69.5% 59.5% 84.2% 75.6%

MAT1033 - All 55.0% 56.0% 63.3% 68.6% 58.9% 73.0% 73.9%

1 Gatekeeper courses are typically MAC1105 and MGF1106; FGC includes MAT1033 as a gatekeeper v. preparatory course.

2 Success Rate = Number of students earning a grade of A,B or C / Number of students enrolled in course after drop-add period

3 college-level courses only—excludes developmental

4 excluding summer terms, which vary widely due to low enrollment numbers

Percent Withdrawn

80.0%

60.0%

40.0%

20.0%

0.0%

Fall

2009

Spring

2010

Summ

2010

MARCH/APRIL 2012

MAT 1033 - Intermediate Algebra

Withdrawal Rates

Fall

2010

Spring

2011

Summ

2011

Fall

2011

Internet 14.3% 19.0% 20.0% 9.7% 4.0% 4.0% 11.5%

Dual Enroll 0.0% 0.0% 0.0% 0.0% 0.0%

Remote 11.4% 9.1% 0.0% 6.7% 0.0% 5.1%

Traditional 9.0% 8.7% 8.9% 3.9% 3.9% 0.0% 2.8%

MAT1033 - All 10.0% 9.0% 14.4% 3.7% 4.1% 1.8% 4.0%
---
Percent Successful

Notable observations from the above:

On average, dual enrollment students taking classes at the high schools had higher success

rates than those in any other category. Typically, this group comprises less than 10% of the total

MAT1033 enrollment 5 ; however, with the continual growth in dual enrollment students at FGC,

13.6% of MAT1033 enrollments in Fall 2011 were delivered at area high schools.

Typically, since fall 2004, online sections of MAT1033 comprised an average of 10.8% of all

MAT1033 enrollments. That percentage has shown growth in the last couple of years. In fall 2011,

online courses represented nearly 15% of MAT1033 enrollments.

Interestingly, the percentage of summer 2010 and summer 2011 online enrollments were 50%

and 45%, respectively. Although success rates for traditional classes were still higher than those

taught online, the success rates for the combined summer sections were substantially higher

than for the preceding fall and spring terms.

Overall, withdrawal rates are declining. This may be partially due to a change in college policy

in Fall 2010 which no longer allowed faculty to withdraw students after the student-initiated

withdrawal deadline. Online course withdrawal rates are typically higher than traditional

classroom withdrawals, but there have been significant improvements in online retention in the

past year.

MAC 1105 – College Algebra

As the cornerstone of higher level mathematics, College Algebra generally has the highest

enrollment of any college-level math course. Success in this course is critical to those who plan to

continue with their studies in mathematics, the sciences, business, engineering, and a myriad of

other professions.

As in the case of Intermediate Algebra, overall success rates in College Algebra have also risen

steadily. The success rates for online sections of MAC1105 have improved somewhat, but are

significantly lower than the success rates for traditionally delivered sections. With the exception of an

anomaly noted in spring 2010, dual enrollment classes held at the high schools had the highest

success rates.

The graphs below depict success and withdrawal rates in MAC1105 by method of delivery.

100.0%

80.0%

60.0%

40.0%

20.0%

0.0%

Fall

2009

MAC 1105 - College Algebra

Success Rates

Spring

2010

Summ

2010

Fall

2010

Spring

2011

Summ

2011

Other points of note:

Overall, the average historical withdrawal rate for MAC1105 (Fall 2003 through Spring 2009,

excluding summer terms) was 20.2%. Currently, the withdrawal rates are less than half of the

historical averages.

5 since Fall 2005; source: FGC Student Database (SDB)

Fall

2011

Internet 35.7% 29.2% 37.9% 48.1% 38.5% 64.9% 40.8%

Dual Enroll 83.9% 59.4% 95.5% 96.2% 93.2%

Remote 0.0% 60.7% 57.1%

Traditional 56.8% 65.7% 53.8% 68.9% 64.4% 72.9% 73.1%

MAC1105 - All 57.1% 60.8% 48.1% 69.0% 66.9% 69.4% 72.8%

Percent Withdrawn

80.0%

60.0%

40.0%

20.0%

0.0%

Fall

2009

MAC 1105 - College Algebra

Withdrawal Rates

Spring

2010

Summ

2010

Fall

2010

Spring

2011

Summ

2011

Fall

2011

Internet 32.1% 25.0% 34.5% 18.5% 3.8% 13.5% 36.7%

Dual Enroll 6.5% 12.5% 4.5% 0.0% 2.7%

Remote 66.7% 14.3% 2.9%

Traditional 14.6% 7.2% 21.2% 4.9% 4.6% 12.5% 5.2%

MAC1105 - All 16.0% 10.4% 25.9% 6.6% 3.5% 12.9% 9.3%
---
Percent Successful

Online enrollments made up 14.6% of all MAC1105 enrollments in Fall 2011. The associated high

withdrawal rate in that term (36.7%) negatively impacted the overall rate of improvement in

online performance noted in the prior two years.

MGF 1106 – Math for Liberal Arts I

Math for Liberal Arts is an alternative to College Algebra for students who will not need higher level

mathematics in their studies. Although considered a gatekeeper course statewide, the overall

success rates—particularly in the traditional classroom setting—are amongst the highest of all

mathematics courses offered at FGC. It is included in this study primarily because the course is an

alternative to MAC1105 to meet general education and graduation requirements.

Success rates in online sections of MGF1106 have varied widely—closely mirroring that of the

traditional sections in the most recent terms; yet significantly lower in other terms. For the last couple

of years, MGF1106 online sections have made up over 25% of the course's enrollments.

100.0%

80.0%

60.0%

40.0%

20.0%

0.0%

Summary

Fall

2009

MGF 1106 - Math for Liberal Arts I

Success Rates

Spring

2010

Summ

2010

Fall

2010

Spring

2011

Summ

2011

Fall

2011

Internet 57.1% 61.5% 51.2% 41.4% 72.0% 57.4% 80.0%

Traditional 74.1% 71.4% 85.7% 82.1% 73.8% 92.7%

MGF1106 - All 69.6% 68.8% 56.3% 68.2% 73.3% 57.4% 88.8%

The Department of Research and Institutional Effectiveness has studied overall success rates for

traditionally taught and internet-delivered courses for the past several years. As a whole, the success

rates for the various methods of delivery have been very close. However, the results noted above

indicate that success rates in traditional classroom gatekeeper college-level math courses have

been substantially higher than those taught online.

When comparing like terms (fall-fall, spring-spring), there has been a notable improvement in

student performance in the traditionally-taught gatekeeper math courses since the inception of the

QEP. Although not all traditional sections incorporate QEP instruction techniques, the added

professional development and creative instruction brought forth since its start in 2010 has had a

positive impact on student success.

The college's Retention Plan focuses on better training and assessment measures for instructors of

online courses. Improved online course quality and high levels of faculty-student engagement in

online instruction is expected to lower course withdrawal rates by early identification of students

who are least likely to succeed in an online course, thereby raising the success rates for gatekeeper

courses to levels closer to that of the traditionally taught ones.

"The illiterate of the 21st century will not be those who cannot read and write, but those who cannot learn, unlearn, and relearn." ~ Alvin Toffler

Contact Gail Burdick, Research Specialist, (386)754-7843 for further information.

Percent Withdrawn

80.0%

60.0%

40.0%

20.0%

0.0%

Fall

2009

MGF 1106 - Math for Liberal Arts I

Withdrawal Rates

Spring

2010

Summ

2010

Fall

2010

Spring

2011

Summ

2011

Fall

2011

Internet 9.5% 3.8% 12.2% 17.2% 0.0% 8.5% 4.0%

Traditional 1.7% 4.3% 14.3% 5.4% 0.0% 0.0%

MGF1106 - All 3.8% 4.2% 12.5% 9.4% 0.0% 8.5% 1.3%