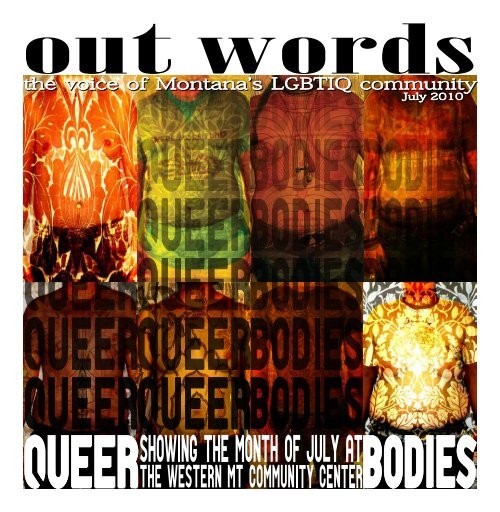 Out words - The Western Montana Community Center
Out words - The Western Montana Community Center
Out words - The Western Montana Community Center
SHOW MORE
SHOW LESS
You also want an ePaper? Increase the reach of your titles
YUMPU automatically turns print PDFs into web optimized ePapers that Google loves.
Editors: Suzie Reahard

A.D. Seibel

127 North Higgins, Suite 202

Missoula, MT 59802

Phone: 406-543-2224

E-mail: wmglcc@gaymontana.org

Website: www.gaymontana.org

Contributors: A.D. Seibel, Ron Blake, Tim Adams,

Cody Leatzow

Cover Art: Suzie Reahard

Advertising: Suzie Reahard & Tim Adams

Monthly Circulation: 3,000 copies

Serving the

LGBTIQ

Community

Since 1998 The Western

Montana

CommunityCenter Inside

Annual subscriptions cost $25. Mail a check to Out Words

via the Center address.

Submit letters to the editor at outwords@gaymontana.org

Center Board Members

Mija mija@gaymontana.org

Tim Adams tim.adams@gaymontana.org

David Herrara david.herrara@gaymontana.org

Angel Nordquist angel.nordquist@gaymontana.org

Acton Seibel acton.seibel@gaymontana.org

Bree Sutherland bree.sutherland@gaymontana.org

Linda Tracy linda.tracy@gaymontana.org

Kate Wenninger kate.wenninger@gaymontana.org

One copy of Out Words is available free of charge for each reader at current

distribution locations. Copies of Out Words which have not been picked up for

the purpose of reading them are the property of the Center. Any unauthorized

person who takes or moves multiple copies of Out Words to prevent other people

from seeing or reading them shall be considered guilty of theft. Violators will

be prosecuted.

Multiple copies can be sent to any distribution location. Please call or email us

for information.

The Western Montana Gay & Lesbian Community Center is a 501(c)3 organization

and cannot endorse any candidate for public office. Articles or advertising is strictly

the opinion of the writers or advertisers, not that of the Board of Directors,

members of the editorial staff of the Out Words, nor the Western Montana Gay

& Lesbian Community Center. Those who contribute, advertise and distribute Out

Words do not necessarily identify as LGBTIQ.

Out Words is distributed at the following locations:

Billings: Barjon Books, Hastings, YAP, The Loft, Good Earth Market

Bozeman: Bozeman Community Food Co-Op, Bridger Clinic, City Brew Coffee,

Gallatin Community Clinic, Leaf and Bean, Nova Café, Plonk

Helena: Bert & Ernie's Restaurant , Birds & Beaslies , No Sweat Café , Real

Food Market & Deli , Staggering Ox , Taco Del Sol , Tori's Antiques & Exquisite

Jewelry, GamePODS, Gaia's Galleria

Kalispell: City Brew Coffee, Dolce Villa, Flathead Valley Alliance, Starbucks

Livingston: Coffee Crossing, Montana Cup Coffee House and Bakery, The Owl

Missoula: The Badlander/Palace Billiards, Bernice's Bakery, Betty's Divine, Butterfly

Herbs, Catalyst, Chocolat, Crystal Video, Dan Fox Foster Homes, Dauphine's, Ear

Candy Records, Fact and Fiction, FDH & Associates, Forward Montana, Front

Street Pasta and Wraps, Taco Del Sol, Staggering Ox, The Good Food Store, The

Jeanette Rankin Peace Center, Liquid Planet, Missoula AIDS Council, Midnight

Dreams, Missoula Community Food Coop, Pita Pit, Public Library, ClubQ

Also distributed to: Havre MT, Browning MT, Butte MT, Culbertson MT, Victor MT,

Ancorage AK, Tacoma WA, Boise ID, Portland OR

This Edition of Out Words

News Briefs . . . . . . . . . . . . . . . . . . . . . . . . . . . . . . . . . . . . . . . . . . . . . . . . . . . . . . . . . . . . . . . . . . . 4-5

Kalispell Pride 2010. . . . . . . . . . . . . . . . . . . . . . . . . . . . . . . . . . . . . . . . . . . . . . . . . . . . . . . . . . . . . . . .6

The Future Belongs to Us . . . . . . . . . . . . . . . . . . . . . . . . . . . . . . . . . . . . . . . . . . . . . . . . . . . . . . . 6

Dance it Out: Fuse Caters to All . . . . . . . . . . . . . . . . . . . . . . . . . . . . . . . . . . . . . . . . . . . . . 6

Out Fest 2010 Preview . . . . . . . . . . . . . . . . . . . . . . . . . . . . . . . . . . . . . . . . . . . . . . . . . . . . . 7

Fitness Column . . . . . . . . . . . . . . . . . . . . . . . . . . . . . . . . . . . . . . . . . . . . . . . . . . . . . . . . . . . . . . . 8

Trans Awareness . . . . . . . . . . . . . . . . . . . . . . . . . . . . . . . . . . . . . . . . . . . . . . . . . . . . . . . . . . . . . . 9

Community Resources . . . . . . . . . . . . . . . . . . . . . . . . . . . . . . . . . . . . . . . . . . . . . . . . . . . . . . . . 10

Calender of Events. . . . . . . . . . . . . . . . . . . . . . . . . . . . . . . . . . . . . . . . . . . . . . . . . . . . . . . . . . . . 11

About thE CovEr Artist

The Western Montana Community Center will

be presenting Queer Bodies, featuring the work

of Susan Reahard. Through reclaimed materials,

metals, wood, various digital printing techniques,

photography, light boxes, and interactive media

Susan reveals her passion for the queer spirit and

body. Queer Bodies intertwines the conflicting

textures of salvaged wood and bamboo paper

to translate the digital images of our friends

and lovers. These images are as comforting as

they are striking as they offer up the question

of "how is your body like and not like mine",

regardless of your gender expression or sexual

identity. Susan has a BFA in Fiber Arts from

the Savannah College of Art and Design and is

currently studying Media Arts at the University

of Montana.
---
News

Briefs

by A.D. Seibel

June 1, 2010. McDonald's releases a gay ad in France. It's

cute and adorable and you can check it out on YouTube,

but all it really means is that McDonald's will still serve

you questionable food regardless of your sexuality. Oh

well, one step at a time.

June 6, 2010. Sao Paulo, Brazil reportedly throws the

world's biggest Gay Pride parade. Since, 1997 Brazil's

gay parade has eclipsed San Francisco and Sydney's gay

parades with this year's attendance topping three million

people. The state government finances the Sao Paulo

parade with sponsorship from Brazil's state run oil

company, Petrobras.

June 8, 2010. Umm…Elton John performs at Rush

Limbaugh's wedding for one million dollars? I guess I

would do anything for a million dollars too.

June 9, 2010. I don't know if you know this, but you

more than likely know someone who is, in fact, gay. CBS

recently did a poll calculating that 77% of Americans say

they know someone who is gay or lesbian. Long story

short, those of us who know some gays are more likely

to believe that gayness between consenting adults is

a-ok. Thanks CBS for the heads up.

June 10, 2010. The Church of Jesus Christ of Latterday

Saints gets a slap on the wrist for failing to report

contributions made to the Protect Marriage Coalition

during the last two weeks before the vote that banned

gay marriage in California. California's Fair Political

Practices Commission could have fined the church

$5,000 for each violation but opted to make a deal for a

one-time payment of $5,539.

June 11, 2010. Tel Aviv, Israel holds two competing

Gay Pride parades. Later, Al Krieger, mayor of Yuma

AZ, calls the gays "lacy-drawered" and "limp-wristed"

during a Memorial Day speech at a cemetery. Then

Iceland unanimously votes to pass gay marriage and caps

a seriously busy day.

June 14, 2010. The ban on gay men donating blood

is upheld. The Federal Advisory Committee on Blood

Safety and Availability voted 9 to 6 against lifting the ban.

Current FDA guidelines state that any dude who's had

gay sex since 1977, even once, cannot donate blood. The

American Red Cross and the National Gay and Lesbian

Task Force expressed their extreme disappointment in

the ruling by pointing out that 219,000 more pints of

blood could have been available per year and that deferral

periods should be, "applied fairly and consistently among

donors who engage in similar risk activities."

June 16, 2010. The saga seemingly continues and

we all wait with bated breath as closing arguments

begin in a lawsuit challenging California's ban on gay

marriage. It's the first federal trial to examine whether

gay marriage bans violate our civil rights and is expected

to go all the way to the Supreme Court. If that wasn't

enough, Prop. 8 supporters also want the state to stop

recognizing the same-sex marriages that were granted

before the measure took effect. They filed the previous

Tuesday asking the judge sitting on the case to rule that

government agencies, courts, and businesses no longer

have to recognize same-sex couples as married.

June 17, 2010. Surprise. Southern Baptists are against

the repeal of DADT. The Reverend Richard Land, the

Southern Baptists' public policy chief, announced at

an annual meeting for the denomination, that the U.S.

military would fall to ruin if gays were allowed to serve

openly. Rev. Land also predicted that troops will resign

in droves and that the Southern Baptists will be opposing

any efforts to overturn California's ban on gay marriage.

June 18, 2010. The oldest gay bar in the U.S., The Cedar

Brook Café, will be closing its doors as of June 26th.

Clem Bellairs, the current owner of the 71- year- old

institution, says that he can no longer afford to keep the

place open after new owners doubled his rent. Bellairs

pointed out that the bar was a life saver for him when he

was 21 and that the bar had a natural way of attracting

many from all walks of life.

June 19, 2010. The Montana GOP jumps on the "do as

we say not as we do" party wagon when they adopt their

2010 platform and reiterate a previous statement that

they support, "the clear will of the people of Montana

expressed by legislation to keep homosexual acts illegal."

If we ignore the fact that the current GOP stance violates

everyone's constitutional rights and start believing that

the government has the right to legislate the behavior

of consenting adults within the privacy of their own

homes, then, yeah, the 2010 GOP policy platform sounds

totally great. Check it out at www.mtgop.org/platform.

aspx. Oh by the way there's even a little love note at the

end expressing their support to the state of Arizona for

"securing their southern border" through intimidation

and discrimination.

June 20, 2010. Judith Butler refuses to accept the Civil

Courage Prize awarded to her by Berlin Pride. Judith

Butler, a philosopher well known for her works such as

Gender Trouble and Frames of War: When Is Life Grievable?,

stated that she would be unable to accept the award

because of the event's, "complicity with racism, including

anti-muslim racism." Hi-five to Butler for not just

refusing to attend and releasing a boring press release

stating why she could not accept the award, but for

actually taking the opportunity to articulate her case

before the media and completely scandalizing Berlin

Pride. The lady has got some serious brass.

June 21, 2010. The Labor Department plans to issue

regulations ordering businesses to give gay employees

equal treatment under a law permitting workers unpaid

time off to care for newborns or loved ones. The Labor

Department extended The Family and Medical Leave

Act, which allows workers to take up to 12 weeks of

unpaid leave each year to take care of their loved ones

or themselves, based on a new interpretation of the law.

They don't plan on asking Congress to change the law so

future presidents could potentially reverse the decision.

Labor Secretary, Hilda Solis announced the changes on

the following Wednesday.

June 22, 2010. Apparently, Texas Republicans forgot

that we live in America and not Nazis Germany, when

they recently unveiled part of a policy platform that

would make it a felony to issue a marriage license to

same-sex couples as well as for an official to perform

a marriage ceremony for gay partners wishing to wed.

The policy suggestion is part of a wider platform for

the Texas GOP that also includes advocating to outlaw

all "sexually-orientated businesses", including strip clubs

and "all pornography" while at the same time allowing

unrestricted access to oil and gas drilling. Check out

the Lone Star State's Republican ridiculousness at http://

static.texastribune.org/media/documents/FINAL_2010_

STATE_REPUBLICAN_PARTY_PLATFORM.pdf.

June 22, 2010. The government of Ireland withdraws

its appeal against a ruling by the High Court that current

Irish law violates transgender rights and is in breach of

the European Convention on Human Rights. This ends

a 13-year battle for Dr. Lydia Foy, a former dentist, who

was born male and has sought for legal recognition to

live as a woman. This will allow the government to

propose new legislation that provides a process for legal

recognition of transgender people, to set up a register for

such persons so they may obtain legal birth certificates

stating their reassigned gender, and an entitlement to

allow trans people to marry under their chosen gender.

Dr. Foy, who began her legal battle in 1997 stated, "I hope

this achievement will help others who have endured

the pain, abuse, isolation, humiliation, and fear that have

been the lot of those who are transgender." PS. Ireland,

we highly doubt that there are only 600 transgender

individuals in the country.

Out Words 4
---
June 23, 2010. The Reverend Tom Brock finds

himself outed by Lavender Magazine this month after

an undercover reporter writes an expose on his

attendance to Faith in Action meetings which seeks to, "

assist men an women with same-sex attractions in living

chaste lives in fellowship, truth and love." Rev. Brock

is well known for his anti-gay sentiments and regularly

criticizes the Evangelical Lutheran Church in America

for liberalizing its gay clergy policy. Lavender Magazine

president, Stephen Rocheford said that although they

have a policy of not outing people, the exception of the

rule are public figures who say one thing and do another.

Any way you cut it, it sounds like Faith in Action should

have its members sign a confidentiality agreement just

like real support groups do.

June 23, 2010. The city of Philadelphia loses its case to

evict a chapter of the Boy Scouts from a city building for

refusing to allow gay members. The city had argued that

nonprofits given free use of its property are expected

to abide by local antidiscrimination laws. A federal

jury, however, ruled on Wednesday the city's argument

violated the scouts' First Amendment rights. The judge

overseeing the case said he hoped that both "honorable

institutions" would be able to work something out.

Montana Cannabis

& Hemp Foundation

Montana 401 West Cannabis Broadway

& Hemp Foundation

Missoula Montana

401 West Broadway

Missoula Montana

Part of Montana's GLBT Community for over 30 years

Licensed Medical Professionals Helping with Pain Management

June 24, 2010. The Chicago Gay Hockey Association

invited the Blackhawks to join in on Chicago's Gay

Pride Parade…and they said 'yes.' Defenseman, Brent

Sopel and his wife will ride with the Cup who said he

volunteered to honor the late son of Toronto general

manager Brian Burke. Burke's son had recently come

out, but was killed in a tragic car accident three months

later. The Blackhawks earlier this year won their first

Stanley Cup title since 1961 and this will be the first

ever presentation of the Stanley Cup at a gay-themed

event. The Chicago Cubs will also loose their first gay

pride cherry as Hall of Famer, Ernie Banks will be riding

a float in this year's parade.

June 24, 2010. A Wisconsin court re-affirms what we

already know, that same-sex parents do not have equal

rights. Under Wisconsin law, a woman who raised two

adopted children for years in a same-sex relationship

is not considered their parent. The woman, identified

only as Wendy, sought legal guardianship of their two

adopted children after her partner and her decided to

dissolve their relationship. Same-sex couples do not

have adoption rights in Wisconsin, which means only

Part of Montana's GLBT Community for over 30 years

Reliable * Responsive * Caring

Licensed Medical Professionals Helping with Pain Management

Home Delivery Available

Reliable Mon-Fri 10-6, * Responsive Sat-Sun 10-4*

Caring

Home 728-1490

Delivery Available

Mon-Fri 10-6, Sat-Sun 10-4

728-1490

one of them can be considered the legal parent. Long

story short, Wendy is considered neither a biological

nor an adoptive parent, but the court did acknowledge

that she still shares custody with her ex-partner under

their previous and informal agreement. It's just that

Wendy potentially has no legal standing what so ever

if her partner was ever incapacitated in some way and

she needed to make key decisions about their kids.

June 25, 2010. The European Court of Human Rights

declares that same-sex marriage is not a universal

right and that countries are not obligated to allow gay

marriage. An Austrian couple, Horst Michael Schalk

and Johann Franz Kopf sought to force their country

to allow them to marry but the seven-judge panel

ruled unanimously that the couple was not covered by

the guarantee for the right to marry under Europe's

Human Rights Convention. The judges did concede

that there was a, "… European consensus towards legal

recognition of same-sex couples," but ultimately it is

up to individual European states to decide how that

should take place.

Hello Wonderful

Volunteers!

This is a note to let you in on the next volunteer orientation on

Tuesday July 6th 6pm at The Western Montana Community Center

(127 N. Higgins suite 202). For some of you this will be your first time

getting involved with the community center. Others of you have been

involved in the past but maybe aren't up to speed on today's happenings.

This orientation is for NEW & OLD volunteers. We are hoping

that the new volunteers can gain some insight/inspiration from previous

volunteers & maybe make some new friends! We also have a

new confidentiality form for volunteers & would like to get signatures

from the volunteers who have not had a chance to sign it. It should

be about 45min long with time for questions & poking around. If you

have any additional questions feel free to contact mija@gaymontana.

org or call (406) 543-2224 box 2. See you all there!

~Mija

WMCC Board Member

Volunteer Coordinator

Out Words 5
---
y A.D. Seibel

You know, I have to admit I was little reluctant to return to

Gay Pride in Kalispell this year. Perhaps I was feeling a little

gun shy after young men in big trucks sped by calling us faggots,

or that we didn't know our way around town very well and

struggled to find restaurants to eat at. Perhaps, it was because

I felt like a Gay Pride celebration should be more of a GAY

PRIDE celebration. You know, drag queens with enormous

headdresses dancing to Jennifer Lopez's dance remix of "If You

Had My Love," or gaggles of topless men and women hooting,

hollering, and waving multitudes of rainbow paraphernalia until

you realize you have literally gone "over the rainbow." But

that's just it, we don't live in San Francisco, or Seattle, or New

York, or anywhere close to a coast for that matter. We all live

in Montana and we Montanans have been doing it for ourselves

since the government decided to make us a state.

So I took my best friend's advice, I sucked it up and got

into the car to begin our journey to Gay Pride Kalispell 2010.

I mean, where else where we going to go and celebrate with a

bunch of queers at a fairground next door to a monster truck

rally? Let me set the scene for you (if you were there and this

is just rehash, just skip ahead), it was a gorgeous day in Kalispell,

MT a few Saturdays ago. I believe it was June 19th. It was preparade

line up. My co-pilot and I were late, as usual, but we

were caffeinated and ready to show our gay pride if it killed

us (it was more likely that our hangovers were killing us, but

never mind, I digress). We put on our big girl panties, tied on

our banner, and hung our rainbow tassels out the windows of

a late model Cadillac SRX. We waved, smiled, and car danced

through that parade as if we were in San Fran, Seattle, or New

York Pride. We were greeted with smiling faces, happy couples

and families, welcome signs and hoorays of encouragement. It

was hard not to feel exuberant with all the gay celebration

going on.

Later, back at the rally, I was reminded that all though

we struggle to obtain and maintain our rights to love who we

want, we would not have gotten so far without the hard work

of many individuals and organizations, such as Kim Abbott, Bree

Sutherland, Bobbie Zenker, Jamee Greer, the Montana Human

Rights Network, The Montana Pride Network, I.S.C.S.M,

PFLAG, and the Western MT Community Center just to name

a few. These incredible organizations full of incredible people

have put up with a lot a crap to win battles for the benefit of

our friends and families. Without their diligence and fortitude

the state of LGBTIQ rights in Montana might have been dismal.

Also, these people and ultimately all of Montana would have

missed the regulars, the locals, the everyday people who took

time off of work or school to travel to Kalispell to remind

everyone that they are here, they are queer, and their communities

benefit everyday from their presence.

The truth of the matter is I didn't need outlandish drag

queens with elaborate costumes, or miles of hot, hard-bodied

eye candy, or even a DJ playing some awesome dance music- I

just wanted, no, needed to be reminded that we're not the only

ones who are gay, lesbian, bisexual, or trans living in Montana. I

needed to be reminded by the Giant Ass Drum Corp and the

Gay Men's Chorus, by Empress 15 Gabrielle and the Glacier

UU Fellowship, and by the sweetest couple in all of Kalispell

that day who got married on beautiful summer afternoon underneath

a tree, that even though we might live far away from

each other we all share common experiences and we all deserve

the right to live free from oppression. We also deserve

to party like the gayest rock stars in all of western Montana.

by Tim Adams

Sometimes it becomes difficult to tell if there are any gay people

in Montana, or if there are gay people but they just prefer to

stay in hiding. As we again see our brothers and sisters at Gay

Pride and other local gay community events, I sometimes wonder

about the people who've chosen to stay home. Even as

current events conspire to cause the possible non-existence of

a local gay bar, I still pose the question, have the gays evolved

beyond physical space?

Back in the days of old, it wasn't even a question whether

or not a physical queer affirming space was important or not.

Before when people were out much less and there were less

ways to discretely meet other gay people, the importance of a

gay bar, a community center, or a gay dance couldn't be considered

more important. Even in 1998, just twelve short years ago,

members of this community came together with such passion

because of the importance they saw of having a physical gay

space like the community center.

How times have changed. Now, many cities and college

campuses have disbanded their gay groups and community centers

for lack of participation. Youth growing up today have so

much more exposure to gay role models, community members

and positive portrayals of gays in the media that things like coming

out, and self-identifying as queer are no longer the crosses

that their forefathers and mothers had to bear. The work of the

past generations has finally come to fruit, but at what expense?

In places like Missoula, it's almost an afterthought to go

to a gay bar. While many still visit the space, I would argue

the majority of queer folks here have managed to eek out fine

existences either without the gay bar, or the gay community

altogether. While past generations went on living their lives as

lawyers or teachers or business owners not identifying as gay

for fear of the repercussions, the new generation of gays do so

entirely out of personal choice. Most see their sexual orientation

as just one small aspect of their entire being, and not the

entirety of their existence.

Places like the Community Center no longer focus entirely

on affirmation and coming out to its members. While these are

still vital parts of our mission, we now look beyond, to things

like mental and physical health, and issues of the day like medical

marijuana, which isn't directly a gay issue, merely one that

affects some gay people. And while some may see this as the

disappearance of the gays, it would be better for organizations

to see this more of an evolution, and evolve accordingly.

While coming out resources are important and

should be maintained for people who need to walk that

journey, I believe we should keep an eye towards the current

and future challenges the gay community will face. It's

no surprise that as a generation of gays accepted themselves,

they now move onto other issues relevant to latter

stages of their lives. Gay marriage, gay adoption, medical

care and the growing segment of aging gays and lesbians

are issues which should be adapted to and focused on by

all organizations which label themselves as gay-oriented

and/or friendly.

Events like Gay Pride and local gay events remind

us of the great community we belong to, and the power

we have when we come together. But we should also be

mindful of our victories and the new challenges we now

face. In celebrating our power in solving the past problems

of the gay community, we can also focus that power

on to the new issues arisen from our victories with equal

passion and fire.

by A.D. Seibel

So, I don't know if you've noticed, dear readers, Missoula

sometimes comes up a little short when it comes to LGBTIQ

dance parties. Club Q had a bit of something going on for a

few years before losing their space at the Elk's and Amvets, a

popular dance spot in the past, has burned so many bridges one

wonders how they even manage to get enough cash together

to make so many Jell-O shots. Wait, I think I just answered my

own question. Mini cups filled with fruity gelatinous goo create

a stumbling cycle of young men and women buying 20 Jell-

O shots at a dollar a piece before they head on to their real

bar of choice, which is probably the only thing that keeps Amvets'

doors open. Well, there's always the Badlander, with their

Dead Hipster Dance Party every Thursday and Absolutely with

DJ Kris Moon and Monty Carlo every Saturday night. Between

these two nights I've seen enough gay boys dancing without

their shirts on and making out to almost make me want to do

a line of coke and wear incredibly skinny jeans… almost. But,

I want something gayer. The Western Montana Community

Center hosts dances, but nothing on a regular schedule as our

next dance is scheduled August 6th down at the Palace, which

brings me to Fuse Club at Deano's Casino near Airway blvd.

Now, Fuse Club describe themselves as a, "safe, alternative

venue for Montana's local community. We do not answer

discrimination with discrimination. Our doors are open to all

who wish to have fun and socialize in a clean, friendly environment."

I certainly felt safe when I attended the Summer Fun

Drag Show a couple of Saturdays ago, as the place was well

lit, had clean restrooms, and cold drinks. Plus, it was pretty

gay. Empress 15 Gabrielle hosted the evening's festivities as locals

performed in drag to the hoots and hollers of the crowd.

The music was danceable, there were pool tables, and at some

point we all got push pops from the travel plaza next door to

watch the rest of the show with. Some of my friends poo

poo'd a little bit as they seemed a little put off at attending a

drag show out by the airport. My response was, "So, what?

We've traveled much farther to have good times?" After that,

everyone settled back to have some fun. Seriously, it was

pretty fun. So feel free to check them out on July 10th as they

celebrate "The Boiz & Girlz of Rock 'n' Roll", a drag show for

kings and queens at Fuse (Deano's Casino & Lounge)

Out Words 6
---
In conjunction with the Missoula Downtown Association, the

Western Montana Community Center proudly invites you to

a celebration of GLBTIQ folk and the Missoula community in

the heart of Downtown, Caras Park!

From 10am to 10:30pm on Saturday, August 14th, WMCC

will be hosting a festival to showcase the gay/queer musicians,

crafters, artists, charities and business people and our

allies! It's a chance for WMCC to show the great wealth of

talent and work gay/queer folk and their allies do to keep

our community the down to earth, supportive town it has

become.

One main stage will include a variety of music for the day.

From bands to folk music to rock and disc jockeys, music will

be provided throughout the day. If you are or know a gay/

queer musician who would like to book a slot, please email

outfest@gaymontana.org for more information, time slots

are going fast! Later in the evening a special performance is

scheduled by local drag superstars of the Imperial Sovereign

Court of the State of Montana, as well as Super DJ Kris Moon

who will be spinning during the day.

The pavilion will include tables, tents, food and information

from local gay/queer supportive food vendors, charities,

political advocates and fundraisers. Bring the family down for

a day of seeing what Missoula's gay/queer community has to

offer here in Missoula.

If you are interested in setting up a booth, download the

Vendor Application from http://www.gaymontana.org/

OutFestVendor.pdf

Register before August 1st and your registration fee is only

$25!

Any other questions/concerns or information can be

requested from:

WMGLCC

127 N. Higgins #202 • Missoula, MT 59802

outfest@gaymontana.org • 406-543-2224

Hope to see you out on what promises to be a great, sunny

day in beautiful Missoula!

August 14th

caras park

How about a quickie?

RAPID HIV TESTING

We offer a safe, confidential and anonymous environment for free HIV testing with gay men testing and counseling other

gay and bisexual men. Accurate results in 20 minutes.9am-5pm M-F (weekend and evenings by appointment).

Call 829.8075 or e-mail fdh@mtgayhealth.org, or just stop by127 N. Higgins, Suite 205.

A service of the Montana Gay Men's Task Force, FDH & Associates, and the MT Dept. of Public Health and Human Services.

W O R D E N T H A N E P. C.

A T T O R N E Y S A T L A W

Shane A. Vannatta

Jane E. Cowley

Suite 600 The Florence • 111 N Higgins Ave

P.O. Box 4747 • Missoula, MT 59806

Suite 600 The (406) Florence 721-3400 • 111 N Higgins Ave

P.O. Box 4747 • Missoula, MT 59806

(406) 721-3400 • svannatta@wthlaw.net

Out Words 7
---
Sun Tzu Once

Said…

by Ron Blake

Sun Tzu was a management conflict philosopher and

author who lived in a time and land far, far away. He

had many grand things he laid out in his writings but

we shall focus on only one of his wise sayings: "All

battles are won before they are fought." My task today

is to make this relevant to your health and fitness

mode in your life.

You are on lunch hour and are driving down the

boulevard of broken diets and you are hungry. Three

of your best work buddies are in the car with you.

"We don't have much time and we need to just grab

something now," is the consensus from the backseat

and shotgun positions. You've already lost this battle

and you'll end up eating out of that fat trough with

Ronald, Hamburglar, and Grimace. This could have

been avoided with a little pre-lunch menu planning or

the sack lunch from home.

You haven't run in over five years but you used to

be the All-Conference runner back in your university

days. You grab those dusty Asics shoes and decide to

give that five mile race the old college try at the old

college pace. You've already lost this battle and will

end up limping and muttering obscenities for the next

four score and seven hours while you nurse that sore

Achilles. This could have been avoided with a gradual

training regimen and the purchase of some new shoes

before entering that charity 5K race.

After one round of Jose Cuervo you announce

your retirement from cigarettes beginning tomorrow.

After three rounds of Jose Cuervo you announce with

mucho gusto your intention to banish Joe Camel from

your life beginning tomorrow. After five rounds of Jose

Cuervo you boisterously and vehemently declare your

partnership with nicotine to be dissolved beginning

tomorrow. You've already lost this battle even before

the seventh round of Senor Tequila. This could have

been avoided by making a signed declaration to stop

smoking while you weren't half in the bag with agave

juice. The sober power of pen to paper has a great

effect on action.

Your class reunion is three months away and you

want to shed that freshman fifty that you've put on

since being named most likely to blah, blah, blah in

the Quill and Scroll Yearbook. You've joined the health

club and you want Donna Dixbottom to rue the day

she turned you down to prom. You'll show her the

error of her ways with that great body and that rented

Sebring convertible. You've already lost this battle

and Ms. Dixbottom will only treat you to a haughty

cursory glance at the festive soiree. You need more

than just a health club membership and a desire. You

need a daily workout routine and a trusty companion

to guide you to your fitness goals.

Think about what you want to accomplish in life.

You don't need to be Chinese, have a two syllable

name, or be a philosopher to achieve successes in

your time. You only need a well prepared plan and

action.

This health and fitness entrée is brought to you by

that guy who likes to read his fortune cookies between

the sheets or in his bed. That guy is Ron Blake and he

can be unwrapped at www.myblakefitness.com.

Fair Trade...Local Action...Peace of Mind…

Missoula's Birthplace of Peace.

Save the date for our annual Peace Party

Sunday, September 19, 2010

LOCATED ON THE HIP STRIP

519 S. HIGGINS AVE

406-543-3955

Visit us at JRPC.ORG and become a fan on

Out Words 8
---
Trans Awareness

By Cody Leatzow

I had the pleasure of attending the Tranny Roadshow some time ago, witnessed a team

of amazing, confident people, each bursting with creativity, each vibrant and beautiful in

a way completely unique unto themselves. With individual attitudes, skills, and stories

to tell, really the only thing binding this troupe together was a single shared experience,

over the course of a lifetime: each, either personally or through a loved one, had been

touched by the process of transition from one gender to another.

Though this phenomenon might be relatively new to the mainstream and the uneducated

conservative, transsexuality has actually been around for quite some time. Historically

speaking, there is abundant evidence and common knowledge of the practice

stretching back to Shakespeare's England, not to mention the comparatively sparse

records of "two-spirits" of Native America going back even farther – the Natives were

one of several spiritually advanced societies which regarded homosexuals and transsexuals

with honor and understanding as opposed to the "civilized" world's legacy

towards superstition and hate.

Though it seems to go unmentioned alongside the other atrocities of the time, transsexuality

was also a prominent target for the hell that was Nazi Germany. From the

end of the nineteenth century well into the present, the nature of transsexuality has

remained, being dealt with first as a curiosity, then as a form of mental illness, until

finally, being addressed as an indisputable truth of the world at large.

However they are regarded, the facts remain: there are people in this world, with each

generation, who live feeling out-of-place in their own skin, constrained by their own

bodies. They have endured the world's condemnation, its disrespect, its open maliciousness,

and society is finally reaching a place that will allow them to be who they truly are.

Although this was not my first experience with the concept, or with people so touched

by it, transsexuality is still relatively new to me. Ten years ago, I was completely unaware

that a transgeneration existed. Five years ago, I was too concerned with the developing

awareness of my own sexuality to focus too intently on anyone else. When the process

was finally explained to me, it was like hearing of a strange custom from a foreign country:

I had absolutely no basis of comparison, and I was inexplicably intrigued.

I became absolutely fascinated with the subject after the first time I started seeing a

beautiful young woman who was, shall we say, intimately aware of the process, and all

that it entailed. She was a trans-woman and a model, a combination that created, in my

eyes, an otherworldly beauty: she seemed beyond the reach of mortal men, and she

carried the best attributes that humanity had to offer, from either sex, in a combination

I have never seen before or since. She was confident and shy, nerdy and active, sweet

and cruel, not to mention a body that could only be described as "divinely made". I really

started looking into transsexuality, reading all I could on the subject, admittedly all

in an attempt to better understand her.

It was the interest in the subject that remained, after all was said and done. Ironically,

I think the sudden realization that one's gender could be changed helped me be more

comfortable and accepting of my own. Growing up, I had been intimidated by the

redneck "manly-man" mentality that was so common among my classmates. What's

worse, I was assured by my elders at every turn that some day, I would understand

such behavior.

The masculinity I had been surrounded by, the masculinity I saw within myself, ceased

to be a prisoner's chain as soon as I saw others shedding it like an unwanted burden.

As soon as I realized that it could be lost, or more accurately, cast off, I began to really

consider my latent masculinity, the series of little traits that still allowed me to define

myself as male.

Beyond my own experience, my continued interest in transsexuality would best be

described as scientific and sociological optimism. As it was explained to me, I found

it comparable to the idea of transhumanism: the idea that, through applied science,

humanity could improve itself in drastic and almost magical ways. Although transhumanism

typically refers to synthetically altering our selves to incorporate our tech-

nological advances, it could also be taken to include the biological modifications or

improvements medical science allows, that our bodies might better suit us. We remake

ourselves in our own image.

Humanity and science together have achieved the power previously held only by the

Almighty: the physical nature of mankind is now that of a canvas and artist, together.

Our identities as people are no longer constrained by the physical forms we inhabit.

We are capable of change outwardly, just as we change internally. The metamorphosis

is just as drastic, and just as difficult.

The process of changing from one gender to the other is long and arduous. It requires

a great deal of money, a level commitment that would benefit a married couple, and an

even greater amount of patience. The experience itself tests the person enduring it in

ways that most of us cannot fathom, honing their mind and spirit just as any rigorous

training would hone the body.

It has been said that God, in His wisdom, makes no mistakes. If this is to be believed,

perhaps this is the purpose of the transsexual: by being born into the "wrong" body, a

person experiences life differently than they would otherwise. They develop a unique

perspective from birth, and the process of claiming their true gender evolves their

perspective even further. If transsexuals are designed as they are by Divine Will (and I,

for one, believe this to be true) then surely this particular perspective is the intention.

In hindsight, I think the conservative men and women I grew up with could learn a thing

or two from the transgeneration that will soon surpass them; it seems to me that, in

their passion to be themselves, a trans-male has learned more about what it is to be a

man than any wife-beating redneck could ever imagine. It seems to me that the only remaining

Ladies and Gentlemen in this world are those that have been made thoroughly

aware of the alternative, and have deliberately chosen to be themselves.

Out Words 9
---
Community ResouRCes

Missoula

KisMiF

Keep It Simple Make It Fun AA meeting for gay lesbian

transgender queer intersex and friends every Monday 7

- p.m. at UCC 405 University Avenue. Contact Randy at

406-726-3525

Gay Men's Chorus

Meeting every Monday 7 - 9 p.m. at The Center,

127 N. Higgins Ave., Suite 202 - Contact Gary at 406-

370-9876

Gay Men's task Force

406-829-8075

imperial sovereign Court of the state of Montana

Call Rosalinda de la Luna at 406-499-0078 or visit:

http://www.iscsm.org

Keep it simple Al-Anon Family Group

LGBT and friends meeting every Thursday 5:30 - 6:30

p.m. at 1st Methodist Church, 300 E. Main, alley entrance,

classroom 3. Contact Randy at 406-726-3525.

Living Forward Group: Men Who Are Living With hiv

Meet Wednesday evenings 7 - 9 p.m. Call Andrew Laue at

406-327-9445

Missoula Aids Council

406-543-4770

Missoula Aids Council housing Assistance

Program

Short-term and long-term housing assistance is available

for HIV+ individuals living in Western MT. Call Annette

or Jordan at 543-4770.

Missoula City health department

406-258-4745

Missoula PFLAG

pflagmissoula@gmail.com or 406-240-2881.

Officer Nicole Pifari

LGBTI Liaison Officer Missoula Police Department

435 Ryman Street • Missoula, MT 59802

(406) 552-6300 (main)

Outfield Alliance

A Coalition of LGBTI faculty, graduate students, staff

and their supporters at the University of Montana. Email

caseycharles@umontana.edu or call 406-243-2762

transgender support Group

Contact the Clinical Psychology Center at (406)-243-

2367 and ask for Nick or Leslie..

u of M Lambda Alliance

406-243-5922

university Congregational Church

405 University Avenue, Missoula

http://www.uccmsla.org • 406-543-6952

MoNtaNa

bozeman GLbtiQ resource Center

www.BozemanRC.org, 406-600-3608,

info@BozemanRC.org

butte Men's support Group

Last Monday of the month 406-491-1378 or 406-490-6125

butte Aids support services

Meets 2nd Wednesday of each month at Blaine Center

BASS office. Call Rick 406-491-1378 or 406-490-6125.

www.buttebassonline.org

Flathead valley Alliance

www.flatheadvalleyalliance.org • 406-758-6707

Gallatin valley human rights task Force

www.EmbraceDiversity.org

Glacier unitarian universalists Fellowship

www.glacieruu.org • 406-755-9255

hamilton PFLAG

Monthly Chapter Meetings. Every 4th Thursday @ 7 P.M.

Contact Terry at 406-363-7656 for more information.

hot springs, Montana Gay and bisexual Men's

support Group

406-741-2810

hiv Positive support Group - butte

For information call 406-491-1378 or 406-490-6125 for

time and location.

hiv Positive support Group - helena

Meets monthly-Call Greg at 596-2013 for more info

LGbt - Friendly AA bozeman

406-599-3230

LGbt state-wide Events

www.qnewsmontana.com

Lewis & Clark Aids Project

530 S. Harris • Helena • 406-447-6030

MCC Montana

Great Falls • montanaboard@bresnan.net

Metropolitan Community Church

1220 17th Street South • Great Falls

406-771-1070 • www. mccmontana.org

Rev. Gina L. Hartung, Pastor

Sunday Worship: 10:30 a.m.

E-mail: bishman59401@hotmail.com

Montana department of Public health &

human services

www.dphhs.state.mt.us/hpsd

Montana targeted Prevention

Free and anonymous 20 min rapid HIV testing and free

Hepatitis C testing. www.bozemanrc.org/mtap.html for

sites around state.

open hands Foundation - Great Falls

www.openhandsfoundation.org • 406-868-8382

PFLAG Great Falls/Golden triangle

Meets on the 3rd Tue. of each month at the MCC Church

located at 1220 17th St. So. (406) 868-1064.

QsA - Msu

www.qsamsu.com •406-994-4636

seeker's harbor Faith Community

billings

www.seekersharbor.org • 406-661-1584

s.h.o.u.t Aids (students helping others

understand teen Aids) meets every Thursday

in BILLINGS at the yap office at 4pm ages 15-24. Any

questions contact Dustin (406)-591-0169

Yellowstone Aids Project housing Assistance

Program

Becky Taylor • beckyt@yapmt.org

victorian – hiv testing

406- 245-4293

Yellowstone City-County health

department

406-247-3376

Yellowstone Aids Project

406-245-2029

Pacific Northwest &

NatioNal resources

Advocates for Youth

www.advocatesforyouth.org

AEGis: Aids Education Global

information systems

www.endAIDSnow.org

Gay Men's health Crisis

www.gmhc.org

human rights Campaign

www.hrc.org

out spokane

www.outspokane.com

Pacific Northwest Gay Rodeo Association

www.pacificnwgra.org

Pride Foundation

www.pridefoundation.org

Queer Core

www.queercore.org

Stonewall News Northwest

www.stonewallnews.net

Wyoming rural Aids Prevention Project

www.wrapp.net

Do you have LGBTI resources you want listed? Email us

by the 20th of each month for the next issue!

The Western

Montana

CommunityCenter

Weekly Events

Monday

7 p.m. to 9 p.m. -

Gay Men's Chorus Rehearsal

Thursday

7 p.m. -

Gay Men Together, A safe and affirming place for gay &

bisexual men to meet.

Saturday

10 a.m. -

Beginners Yoga Classes

Serving the

LGBTIQ

Community

Since 1998
---
ecurring Events Around Montana

Center board Meeting, 3 rd Wednesday,

6 p.m. at the Center [Missoula]

Christian LGbti support Group meets on the 4th Wednesday of the month

7p.m. at the Center [Missoula]

LGbti Community Potluck, 3 rd Saturday every month, 7 p.m. at the University

Congregational Church - Fireside Room (405 University Avenue) [Missoula]

PFLAG Missoula / Five valleys meeting, 3 rd Saturday every month prior to

potluck at the University Congregational Church, call 406-721-5013 or 406-541-0163 for

more information. [Missoula]

hiv+ Monthly dinner, 3 rd Tuesday of every month, 6:30 p.m. at the University

Congregational Church, call Mike or Annette at

543-4770 [Missoula]

Gay & Lesbian AA Meeting, every Monday 7 to 8:30 p.m., call Randy at 406-726-

3525 [Missoula]

Keep it simple / Al-Anon Family Group LGBT and friends meeting every

Thursday 5:30 - 6:30 p.m. at 1st Methodist Church, 300 E. Main, alley entrance, classroom 3.

Contact Randy at 406-726-3525 [Missoula]

university of Montana LAMbdA Alliance General Meetings, every

Tuesday, 7 p.m. at the UC (Room 330), call 406-243-5922 for more information. [Missoula]

Living Forward Group: Men Who Are Living With hiv, every Wednesday

from 7 to 9 p.m., call Andrew Laue, LCSW for more information at 406-327-9445.

[Missoula]

hot springs, Montana, a Gay & bisexual Men's support Group meets

on Sunday evenings at 6 p.m.. Call 741-2810 for directions and information. [Missoula]

Capitol City Gay Men meet every Thursday at 7pm. Location: 80 East Lawrence

Street, Room 105, Helena MT 59601. For more information visit www.capitalcitygaymen.

org [Helena]

Women's Coffee and Chat meets on Thursdays at 7 p.m. Location: Fireside Coffee

House 1446 Euclid Ave, [Helena]

Women's Potluck, 1st Wednesday of the month at 6:30pm. Location changes.

Contact Sandy at 406-442-0200. [Helena]

GLbt open AA Meeting Every Thursday 7:30 p.m.

1417 13 St. West. Call Duane Nez at 406-861-8478 [Billings]

Cancer Patient support Group Every Other Friday: 12 p.m. 2835 Fort Missoula

Rd., Ste. 301, Call Joni or Susie at 406-721-1118 E-mail joni@drjudyschmidt.com

[Missoula]

billings Aidspirit Meeting 2nd Tuesday of the month at Holy Rosary Church, 521

Custer at 7:00 p.m. [Billings]

billings PFLAG Meeting 2nd Wednesday of the month held at the UCC Church in

Conference office located at 2016 Alderson at 7:00 p.m [Billings]

Client Advisory board Meeting 4th Monday of the Month at YAP at 6:00

PM [Billings]

POZ Night Monthly opportunity for socializing and fun! For more information contact

the Client Action Body at cab@yapmt.org or staff at (406) 245-2029. [Billings]

QsA General Forum Meetings Every Monday In the Strand Union Building room

276 at 7 p.m. [Bozeman]

JavaQ Coffee social - 7 p.m., every first, third, and fifth Thursday at International

Coffee Traders, 720 S 10th Ave. [Bozeman]

the bozeman resource Center bi-weekly meetings. At International Coffee

Traders, 720 S 10th Ave, the 2nd and 4th Mondays of each month. Contact John at 600-

3608 or at info@bozemanrc.org [Bozeman]

bozeman PFLAG Meeting 2nd Thursday of the month. Check out: bozemanpflag.

com for more information. [Bozeman]

bozeman hiv/Aids support Group meets the 1st Monday of each month.

Call Greg at 406-596-2013 for time and location. [Bozeman]

Poz Affected Pot Luck occurs on the 3rd Sunday of each month in

BOZEMAN. Contact AIDS Outreach at 406-551-1016 for details.[Bozeman]

Flathead valley Alliance monthly meeting, 1st Tuesday of the month at 7 p.m. in the

Flathead Count Library basement. [Kalispell]

Pride Committee meeting every Sunday – Call Dee or DJ at 756-0050 for time and

location – volunteers needed [Kalispell]

JuLY:

thursday, July 8th: The Crystal Theater is

proud to present NYC- based pianist/singersongwriter

Anna Dagmar in co-bill with

Missoula-based guitarist/singer-songwriter

Amy Martin at 8:00pm. Dagmar and Martin

have each released several original CD's,

performed and recorded with artists including

Ani DiFranco, Brandi Carlilse and Lucy

Kaplansky, and toured internationally.

saturday, July 10th: Fuse/Deano's presents

Boiz & Girls of Old Rock N Roll. This is a rock

and roll drag show/fundraiser, and a chance

for the "kings" to shine too. All the tips made

from the performances will be donated to the

I.S.C.S.M. Costumes are encouraged. Protocol

for performing is 8:30 PM so please bring your

music on a CD with you then. The show will

start at 10:00 followed by dancing until close.

There is no cover charge.

Friday, July 16th: Since the closing of

Snookums you know you are totally craving

some booty shaking and drink making.

From 8 pm to 1 am Kookie will be hosting

Kookie's 2010 Diva Reunion at Doug and

Schylar's Uptown Butte Loft @ 606 Utah Ave.

$5 Cover is donated 100% to Charity.

No Host Bar hosted By The Helsinki Bar

saturday, July 17th: Butte Step Down at

the Star Lanes Reception Hall in Butte. Jenny

D'Beer and DWonno Catch will be celebrating

their year in service and stepping down from

their city titles. Come celebrate with and help

elect Butte's next representatives.

saturday, July 17th: "We Love the 80's"

Dance at the Zebra: The Bozeman Resource

Center will be sponsoring a "We Love the '80's

Dance Party" on Saturday, July 17th hosted by

the Zebra Cocktail Lounge at 321 East Main

Street in Bozeman starting at 10pm. Cover is

$5.00 and is a 21+ event. Come have a totally

rad time dancing to some new wave favorites

and current hits. Poof up that hair and get

that mullet ready for some fun at the Zebra

Cocktail Lounge. Word to your mother! It

will be totally tubular to the max! For more

events: www.bozemanrc.org/Events.html

thursday, July 29th: Game Night at Nova

Cafe, 6-9pm: Looking for something fun to

do? How about board and card game night?

The Bozeman Resource Center will be

sponsoring a game night hosted by the Nova

Cafe, 312 East Main Street in Bozeman, as an

opportunity to socialize, meet new people

and play some games. We will be asking some

people to bring some games. We already have

Uno, Monopoly (Nintendo edition), Scrabble,

and Dirty Minds. For more events: www.

bozemanrc.org/Events.html

Don't see your event listed here?

Email the details to

outwords@gaymontana.org

by the 20th of each month.

It's free and a great way to draw a

crowd to your next event!

The Western Montana Community

Center will host a Community Dance

Saturday August 6th Palace Billiards 8pm to 2am.

With special guest DJ Kris Moon. $5 admission 21+
---
um......

YES!

Thanks for a

great time Kalispell

our fearless

organizers

dance it out!

say cheese

See you in

Bozeman in 2011!

love you Mom