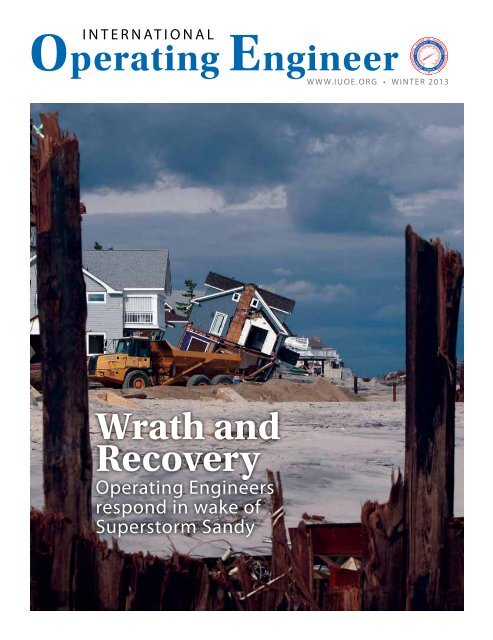 Operating Engineer - Winter 2013
The quarterly magazine of the International Union of Operating Engineers.
The quarterly magazine of the International Union of Operating Engineers.
SHOW MORE
SHOW LESS
Create successful ePaper yourself
Turn your PDF publications into a flip-book with our unique Google optimized e-Paper software.
i n t e r n at i o n a l

Operating Engineer

www.iuoe.org • WINTER 2013

Wrath and

Recovery

Operating Engineers

respond in wake of

Superstorm Sandy
---
2

international operating engineer
---
i n t e r n at i o n a l

Operating Engineer

Winter 2013 • Volume 156, No. 1

Brian E. Hickey, Editor

Jay Lederer, Managing Editor

08 Our Work: Energy

Threading a gas pipeline under the Hudson River

10 Member Spotlight

Operation Walk Nicaragua: A Reflection of Gratitude

14 Right-to-Work (for less)

What's at stake as states take aim at unions

16 Wrath and Recovery

Restoring communities in wake of Superstorm Sandy

Departments

05 From the General President

06 Education & Training

12 Politics & Legislation

20 Canadian News

22 HAZMAT

23 Healthcare

24 GEB Minutes

28 In Memorium

[cover] Operating Engineers throughout the Northeastern

United States have been part of recovery efforts in the

wake of Superstorm Sandy.

[photo] Tim Larsen/ NJ Governor's Office

[left] Local 302 members work to complete the Eva Creek

Wind Farm near Healy, Alaska.

[photo] Joe Ebertsch, Michels Wind Energy

WINTER 2013 3
---
International Operating Engineer

(ISSN 0020-8159) is published by the:

International Union of

Operating Engineers, AFL-CIO

1125 17 th Street, NW

Washington, DC 20036

Subscription Terms - $5 per year

Change of Address - Requests must

be submitted in writing to the IUOE

Membership Department (address

above). Include your new address,

registration and local union number.

POSTMASTERS – ATTENTION:

Change of address on Form 3579

should be sent to:

International Operating Engineer

Mailing List Dept.

1125 17th St., NW, 3rd Floor

Washington, DC 20036

Publications Mail Agreement No.

40843045

Return undeliverable Canadian

addresses to:

2835 Kew Drive

Windsor, ON N8T3B7

Printed in the U.S.A.

International Union of Operating Engineers

AFL-CIO

general officers

James T. Callahan, General President

Brian E. Hickey, General Secretary-Treasurer

William C. Waggoner, First Vice President

Patrick L. Sink, Second Vice President

Jerry Kalmar, Third Vice President

Russell E. Burns, Fourth Vice President

Rodger Kaminska, Fifth Vice President

James M. Sweeney, Sixth Vice President

Robert T. Heenan, Seventh Vice President

Daniel J. McGraw, Eighth Vice President

Daren Konopaski, Ninth Vice President

Michael Gallagher, Tenth Vice President

Greg Lalevee, Eleventh Vice President

Terrance E. McGowan, Twelfth Vice President

Louis G. Rasetta, Thirteenth Vice President

Mark Maierle, Fourteenth Vice President

trustees

John T. Ahern, Chairman

Kuba J. Brown, Trustee

Bruce Moffatt, Trustee

James T. Kunz, Jr., Trustee

Joseph F. Shanahan, Trustee

engineers action resPonse netWorK

Because elections matter

Make your voice heard • Register for EARN today

www.iuoe.org

4

international operating engineer
---
From the General President

A look back on the way forward

A new year brings opportunities and challenges

[James T. Callahan]

At the beginning of each New

Year, many of us resolve to make changes

that will improve our lives, whether

it is personally or professionally. These

decisions and the choices we make going

forward benefit from experiences

we have gained. This is also true of our

union. So before looking ahead, let's

look at what we can take away from the

past year.

In the course of one week last fall,

the Operating Engineers experienced

both tragedy and triumph. On October

29, Superstorm Sandy unleashed a fury

of wind and water upon the Northeastern

United States not seen in my lifetime.

Homes were shattered and communities

decimated. Over 500 fellow

Operating Engineers sustained damage

to homes and vehicles, and many

lost everything.

Despite the overwhelming devastation

and personal loss, thousands of

Operating Engineers mobilized, bringing

their skill and training, to assist

rescue crews and utility workers gain

access to homes and communities cut

off by flood waters and buried beneath

sand and debris. Just as quickly, our

locals reached out to members within

the affected areas offering aid, supplies

and a helping hand.

Last year, the IUOE National Charity

Fund paid out over $1.7 million in

claims resulting from the superstorm

and other natural disasters in the Gulf

Coast region. Our locals and many individual

members stepped up to help,

donating close to $500,000 to the Fund.

Our unity is our strength and together

we will rebuild our homes, our communities

and our states.

About a week later, we were buoyed

by news of a completely different

nature. After weeks and months of

hard work in the political campaign

trenches, IUOE members turned out

to vote in large numbers across the

United States and reelected President

Barack Obama. Member volunteers

and union staff on the ground in key

states were also instrumental in increasing

the number of labor-friendly

lawmakers, from both political parties,

to the House and Senate. By doing so,

we sent a message that we stand for a

strong middle class, better wages, quality

healthcare, safer working conditions

and a stronger voice in the workplace

for all Americans.

Although the campaigns have ended,

the real work is just beginning. We

must remain engaged and hold politicians

at every level accountable. Last

year, labor faced some of its fiercest anti-union

attacks from state legislatures.

Most notably, Indiana and Michigan

passed so called "right-to-work" laws.

Let's be clear, the term "right-to-work"

is a lie. Under these laws workers lose

rights and no work gets created – they

are a cynical attempt to cripple unions

and dismantle collective bargaining.

These laws drive down wages, on average

14%, which damages the overall

economy.

Backed by well funded, ultra-conservative

groups, "right-to-work" bills

and ballot petitions are being introduced

this year in places like Ohio,

Pennsylvania, Missouri, New Hampshire

and even Ontario, Canada. These

attacks provide a vivid reminder that

our enemies will use every opportunity

to roll back our rights and drive down

wages. The IUOE and our locals are

taking proactive steps and partnering

with allies to engage these attacks head

on. We must bring the fight to them

and we will.

A positive carry over from last year

is the economy, which finally started

to show signs of life as work increased.

We appear to have weathered the worst

of the Great Recession and Operating

Engineers are poised to seize the opportunities

of 2013. Leading economic

indicators point to steady and continued

growth in the construction industry

as many sectors of our economy

– oil, gas, power generation, housing

and manufacturing – anticipate growth

over the coming decade.

A major priority for IUOE will be in

infrastructure investment. The nation's

highways, bridges and rail systems

have been neglected and underfunded

far too long. Working in a bipartisan

way, we must make the case for a bold

and sustained commitment. President

Obama made multiple attempts in his

first term and has signaled that he will

continue to do so in his second, even

making mention of it his inaugural address.

We will work with the Administration

to make the case that smart and

strategic investments in infrastructure

are needed right now, both to support

jobs in the short term and to build a

productive economy for the long haul.

So it seems that this year's to-do

list isn't any shorter or less meaningful

than those in years past. We will continue

to bring the energy, talent and

resources necessary to create and seize

opportunities for IUOE members and

their families throughout the United

States and Canada. We will stand with

our signatory contractors and companies

to increase market share and work

to bring others on board. We will stand

up to those who wish to roll back workers'

rights and drive down wages. In all

these endeavors, let no one question

our resolve to see the job through.

Best wishes for a safe, healthy and

prosperous New Year.

WINTER 2013 5
---
Education & Training

Youth Helping Youth at

Pittsburgh Job Corps Project

The IUOE Job Corps National Training Fund

has again partnered with a local community organization

for a very positive outcome. Sponsored by IUOE Local 66,

the Pittsburgh Job Corps Center successfully completed

major renovations on a project for Hosanna House, a nonprofit

organization aimed to benefit at-risk families and

individuals located in Wilkinsburg, Pennsylvania. The

partnership between the organizations created a positive

Sherwood project could not have been completed. He went

on to say that the assisted value of work that the Job Corps

Program has completed in the past two years at Sherwood

totals well over $300,000.00.

Mr. Haynes pointed out that, clearly, the youth of

Wilkinsburg have benefited from the project, but equally

important was that every Job Corps student who participated

in the first year of the Sherwood project went on to become

members of the Local 66 Apprenticeship Program. In

appreciation of the work donated by the Job Corps students,

Mr. Joseph Dixon, (then) lead instructor for the Job Corps

program in Pittsburgh, was presented with the "Angel of

Hope" award for going above

and beyond in making a

difference in the lives of

young people.

The work at Sherwood,

as well as the positive

cooperation between the

Pittsburgh Job Corps Center

and Hosanna House, will

continue in coming years.

Future plans include

improvements to the storm

water management system,

installation of a deck

hockey rink donated by the

Pittsburgh Penguins, removal

of existing tennis courts

and the redesign of a large

parking area.

change for local youth, along with outstanding training for

future operating engineers.

Hosanna House joined with the Pittsburgh Job Corps

Center's program to create "Sherwood," a facility open for

youth of all ages, with a goal of helping them discover and

develop their maximum potential in several aspects of

their lives. Job Corps students worked to demolish many

old on-site structures, construct a large retaining wall to

accommodate the building of a new swimming pool, excavate

and grade the pool area and develop an all purpose activity

field. What makes the Sherwood project quite unique is that

youth looking for change through Job Corps helped create a

facility for youth needing a change at Hosanna House.

Mr. Leon Haynes, Director of Hosanna House, reported at

the Ambassador of Hope Gala held in December 2012, that

without the assistance of IUOE Local 66 and Job Corps, the

[top] Pittsburgh Job Corps members construct a retaining wall at

Hosanna House.

[above, l to r] Hosanna House Director Leon Haynes presents

Joseph Dixon with the "Angel of Hope" award. [photos: J. Dixon]

6

international operating engineer
---
Local 450's new Union Hall and

Training Center Dedicated

IUOE Local 450 covers a large geographical portion

of South-Central Texas including Houston, San Antonio,

Austin, and Beaumont, and is heavily involved in the Petro-

Chemical and pipeline industries. Early in 2009, Local 450

began an internal re-structuring process under International

supervision. In August of 2010, the Local conducted an

election which ushered in a new administration headed up

by Business Manager Mark Maher.

Part of the re-structuring process included a 300 acre land

purchase for the site of a new union hall and training center.

The new facilities were dedicated in October by General

President Callahan as part of the festivities enjoyed by Local

450 members and their families.

The new administration, facilities and training program

have proven to be a tremendous benefit to the members and

employers and represent a successful transition of returning

control of the Local 450 back to its membership.

Al Bove Elected to OECP Board of Directors

Albert C. Bove has been elected to the OECP Board

of Directors. Mr. Bove currently serves as Executive Vice

President and Chief Operating Officer of AmQuip Crane

Rental LLC headquartered in Trevose, Pennsylvania.

AmQuip Crane Rental is a leading provider of crane rentals

and related services in the United States. With eleven

locations throughout the country, it is one of the nation's

largest employers of Operating Engineers.

Mr. Bove joined AmQuip in 2010 and has over 40 years of

experience in senior management of crane rental companies.

As the former President and CEO of Maxim Crane Works, he

also has extensive experience in managing large multi-depot

crane facilities.

The OECP is a joint labo¬r-management, non-profit

testing entity that has been certifying crane operators

since 2002. The program is managed by a Board of

Directors representing both the International Union of

Operating Engineers and signatory contractors from

some of the nation's largest crane rental companies.

To date, the OECP has conducted over 17,000

written examinations and over 12,000 practical

(hands-on) tests for crane operators from all parts of

the United States. In addition, in 2008 the program was

officially recognized by Federal OSHA as meeting OSHA and

ASME (ANSI) requirements for crane operator competency.

The program is only available to IUOE members in good

standing, thereby ensuring that its efforts and resources are

not contributing to the support of non-union operators or

unsigned contractors.

Any member in good standing meeting the program's

eligibility requirements can participate in OECP testing

anywhere it is scheduled – even if not a member of the local

where the testing is being conducted. There are no out-ofpocket

expenses for IUOE members to participate in OECP

examinations.

WINTER 2013 7
---
Our Work: Energy

Operating Engineers Thread Mile-Plus-Long Pipeline

Under Hudson River to Expand Natural Gas Supply

Operating engineers joined in a dramatic

maneuver to connect New Jersey and midtown Manhattan

with a 5,400-foot natural gas pipeline 140-feet beneath the

Hudson River.

The connection was a critical piece of Spectra Energy's

15.5-mile natural gas pipeline extension between Linden, NJ,

through Bayonne, Jersey City and part of offshore Hoboken

to its destination in Manhattan. Portions of the project are

still under construction, which is scheduled for completion

later this year. Spectra Energy (NYSE SE) of Houston, TX,

is replacing and modifying existing facilities in New Jersey,

New York and Connecticut.

"Expanding pipeline capacity is intended to reduce

bottlenecks and fill the demand for clean, reliable energy in

the most densely populated areas of the country," said John

Rocco, Lead Engineer who works for contractor Henkels and

McCoy.

The Hudson River crossing followed months of

preparation. The length of pipe needed to span the width of

the river required approximately 135 forty-foot sections to

be welded together, x-rayed to verify integrity of each joint,

then doped. Each weld required a minimum of three hours,

according to Rocco.

Five thousand-foot lengths were assembled. A convoy of

15 side-booms transported each thousand-foot section along

busy 18th Street in Jersey City, parallel to the Hudson County

Light Rail line on the border with Hoboken. At the river's

edge, the pipe was handed off to six lattice cranes positioned

on barges in the river.

Crane operators hoisted the pipe into an arch and

guided it down to the water, where it was connected to the

drillhead that had burrowed across from Manhattan. Once

connected, it was slowly "pulled back" beneath the river. As

each thousand-foot section was pulled in, a new section was

[L to R] Fred Gear, Adam Snover, Billy

Gebhardt, John Rocco, Greg Lalevee

and Paul Izzo.

8

international operating engineer
---
It took 15 sidebooms, six cranes, a flotilla of tugboats and

barges and an army of Operating Engineers from 13 IUOE locals

throughout the country. Together, they snaked a mile-plus-long

Spectra Energy natural gas pipeline safely across the bottom of the

Hudson River, from Jersey City to midtown Manhattan.

welded to it at the river's edge until the entire 5,400 feet was

together. The pullback reached the Manhattan side over a

two-day period and was connected there.

"This achievement is a testament to the value of the

extensive pipeline training we provide our members through

our Local and through our International," said Greg Lalevee,

Business Manager of IUOE Local 825.

"One day before the pullback was scheduled, we were

asked to assemble an additional 36 engineers to take part,"

said Lalevee. "Even on that short notice, we brought together

an experienced team and integrated them seamlessly into

the core group. In the busiest, most densely populated areas

of the country, we executed this task flawlessly, safely and on

schedule."

IUOE Operating Engineers from around the country

participated, including Local 3 of Alameda, CA; Local 4 of

Medway, MA; Locals 14 and 15 of New York City; Local 49 of

Minneapolis, MN; Local 101 of Kansas City, MO; Local 137 of

Briarcliff Manor, NY; Local 139 of Pewaukee, WI; Local 147 of

Norfolk, VA; Local 178 of Fort Worth, TX; Local 624 of Jackson,

MS; Local 627 of Tulsa, OK; and Local 965 of Springfield, IL.

The project was approved by the Federal Energy

Regulatory Commission (FERC) earlier in 2012 to transport

new, critically needed natural gas supplies to high-demand

areas of northern New Jersey, New York City and Connecticut.

Local 825 has become known for its pipeline skills and

experience during the Millennium pipeline in 2007, which

connected Independence in Steuben County, NY, to Buena

Vista in Rockland County, NY, to help meet the energy needs

of Northeast markets.

[story & photos] Local 825/Bill Carlos, Avow Communications

WINTER 2013 9
---
Member Spotlight

In October 2012, around 60 medical professionals from Winnipeg and Los Angeles traveled to

Nicaragua with Operation Walk, an organization that offers knee and hip replacements free of

charge to people in North America and in developing nations. Clinical Engineering Technologist

and IUOE Local 987 member Tabatha Roper was there. This is her personal account.

Operation Walk Nicaragua

A Reflection of Gratitude

[above] Tabatha Roper (back row, fifth from right) stands with the Operation Walk Nicaragua team in front of Dr. Roberto Calderon hospital

in Managua, Nicaragua. [right] A makeshift wheel chair. [far right] Roper gets instruction from a member of Operation Walk Los Angeles

on how to operate a sterilizer. [story & photos] Tabatha Roper/IUOE Local 987

10

international operating engineer
---
As I stood in front of the Dr. Roberto Calderon Hospital

in Managua, Nicaragua, I couldn't help but compare it with

the medical facilities in my home town of Winnipeg, Canada.

The one-story, green plaster building was much smaller than

any of the community hospitals we have. It had many of the

same departments as a North American facility, only in a

fraction of the space. A room that would normally house four

patients housed eight. There were no linens or pillows on the

beds unless the patients brought them from home. Many

patients lay on bare mattresses, and visitors brought in their

own lawn chairs labelled with their names. There was also

no air conditioning on the wards and, with temperatures in

the mid to high 30sC (90sF), it made for a very different work

environment.

Still, the ingenuity they demonstrate

is impressive, especially the wheelchairs

fashioned out of plastic lawn furniture.

This was true back-to-basics medicine.

Some of the people seeking treatment are in far worse

shape than we'd ever see in Canada, because they're

conditions had gone untreated for so long. Some had to

be helped in by family members, and some of them hadn't

walked in years. They were very polite and grateful for the

treatment they were about to receive.

A lot of the equipment is ancient. Some of the adjustable

patient beds are rusted or seized into a permanent position. In

most cases, the medical gear we discard or retire in Winnipeg

is in better shape. Still, the ingenuity they demonstrate is

impressive, especially the wheelchairs fashioned out of

plastic lawn furniture. This was true back-to-basics medicine.

There was one patient who had been unable to walk for the

last ten years. He was so excited to be mobile again that, two

days after surgery, the physiotherapists had to remind him

to slow down while walking down the hall during exercises.

All in all it was hard work, but absolutely worth it. Over

the course of five days in October, the team performed 49

knee replacement surgeries on 38 patients. All the patients

spoke about what we gave them, but in the end it was

immeasurable what they gave to us. I feel so grateful to have

been a part of this experience.

Operation Walk Missions are 100% funded by the

generosity of donors to the cause. On behalf of Operation

Walk Winnipeg, Dr. Roberto Calderon Hospital and the

patients, I would like to express my most heartfelt thanks.

Your donations have done wonders. I would also like to

thank IUOE Local 987 for their generous gift to this mission.

Thanks to all who gave and participated!

WINTER 2013 11
---
Politics & Legislation

Election Season Comes to a Close, Now the Work Begins

Barack Obama was sworn in

for a second term as President of the

United States on January 21, 2013, after

winning the November election with

over 51% of the popular vote. He is the

only President to garner over 50% twice

since Dwight D. Eisenhower. Obama's

opponent, Mitt Romney, received 47%

of the popular vote.

Despite persistent high

unemployment and a sluggish

economic recovery from the Great

Recession, President Obama won

a commanding Electoral College

victory, 332-206. The Obama-Biden

ticket surprised many observers

by soundly defeating Mitt Romney

and his Republican running mate,

Representative Paul Ryan.

The IUOE endorsed the Obama-

Biden ticket for re-election. The

President's support for prevailing

wages, collective bargaining and

workers' rights, as well as investing in

all facets of America's infrastructure,

led to that support. Commenting on

the union's endorsement, General

President Callahan said, "We have

never doubted the President's

commitment to creating good jobs."

Mitt Romney also helped make it

a clear choice. As Romney received

the endorsement of the intensely

anti-union Associated Builders and

Contractors, he declared that on "day

one" he would prohibit Project Labor

Agreements, try to end Davis-Bacon

prevailing wages, and lead the charge

for a national "right to work" law. The

contrast could not have been sharper

on key bread-and-butter issues for

Operating Engineers. While the IUOE

has a number of solid Republican

supporters in Congress, far too many

Republicans think like Mitt Romney

when it comes to core labor issues.

In other federal elections,

Democrats added seats in both

chambers of Congress. Senate

Democrats picked up two additional

seats, creating a 55-45 majority. While

Republicans maintained their majority

in the House of Representatives,

Democrats added eight seats, making

it 234-201, after vacancies are filled.

The challenge now becomes

keeping our elected officials

accountable, including the President

of the United States. "Electing IUOEfriendly

politicians to office simply is

not enough. We need to be vigilant

throughout the year, developing

relationships and making our voices

heard from the halls of Congress to

city halls," stated General President

Callahan.

The Legislative Year Ahead

The 113th Congress (2013-2014)

will have a full agenda of IUOE

legislative priorities. After passage of

a 27-month highway bill in summer

2012, Congress will again be faced with

enactment of a long-term funding bill

for transportation. The current law,

called Moving Ahead for Progress in

the 21st Century or MAP-21, expires at

the end of September 2014.

The Highway Trust Fund – the lock

box for federal gas-tax revenue, which

must be invested in the nation's roads,

bridges, and transit systems – is quickly

running out of money due to increased

fuel efficiency and the growth in

alternative-fuel vehicles. Finding

a long-term solution to the United

States' transportation infrastructure

crisis is absolutely necessary. The

Highway Trust Fund will begin the

2014 fiscal year in a $14-billion hole.

12

international operating engineer
---
The competitiveness of the nation and

the livelihoods of Operating Engineers

simply cannot sustain a cut to this

program.

Other legislation to rebuild

America's infrastructure will also be

on the congressional agenda. The

Water Resources Development Act

– legislation that guides the nation's

investment in ports and waterways –

also requires reauthorization. In fact,

it is years overdue. Committee leaders

in the Senate appear ready to advance

legislation early in the first session of

Congress, though substantial obstacles

remain. The law to renew the federal

government's program to assist local

governments in financing water and

sewer systems is 15 years overdue.

The Clean Water Act-State Revolving

Fund provides low-interest loans and

other assistance to municipalities, but

Congress has failed to renew the law

since the late '80s, except on a stop-gap

basis.

2012 Political Program:

Building Power for Operating Engineers

Thousands of Operating

Engineers across the United States

engaged in the hard work of electing

IUOE-friendly politicians, whether

they were Republicans or Democrats,

to city councils, state legislatures,

Congress, and the White House. IUOE

members turned out to vote in record

numbers. In addition, thousands of

IUOE members knocked on doors,

made phone calls, passed out literature,

and talked with their friends, family

members, and co-workers about the

issues that matter most to Operating

Engineers and the middle class.

"I couldn't be more proud of

the work that Operating Engineers

did in 2012 to elect worker-friendly

politicians," said General President

Callahan. "Winning elections is not

all fun and games. It's a lot of hard

work, and the job of building power for

Operating Engineers is never done."

Coordinating closely with local

unions, the International Union

focused its field efforts on tough U.S.

Senate races and other key electoral

fights in four states. International

field staff joined local unions'

political operations in Massachusetts,

Michigan, Nevada, and Wisconsin.

The IUOE-endorsed Senate

candidate won in three out of four races.

The United States Senate welcomed

Tammy Baldwin from Wisconsin and

Elizabeth Warren of Massachusetts.

Senator Debbie Stabenow, of Michigan,

also won reelection to her third

term. Unfortunately, IUOE supporter

Shelley Berkley lost her effort to unseat

incumbent Senator Dean Heller in

Nevada.

[p. 14, top] President Obama, Vice President

Biden and their families celebrate on

election night. [photo] AP/Chris Carlson

[p. 14, left] Local 4 Business Manager and

International Vice President Louis Rasetta

and newly elected Sen. Elizabeth Warren

(D-MA). [photo] IUOE Local 4

[top] Using his GPS, Local 3 retiree Joel

Lanstra gets ready to drop fliers on

doorsteps for Obama in Nevada.

[photo] IUOE Local 3

[above] Local 3 members demonstrate

their opposition to California's Proposition

32. [photo] IUOE Local 3

WINTER 2013 13
---
Politics & Legislation

Michigan's "Right-to-Work" Law Confers No Rights and Creates No Work

Right-to-work laws confer no

rights and create no work — they're

an attempt by employers and the

politicians they bankroll to keep

workers unorganized, unrepresented

and underpaid.

Nevertheless, the lame-duck

Republican legislature in Michigan

recently passed a so-called right-towork

law, which was instantly signed

by the governor. Here's why that was

a big mistake for Michigan's

workers and economy.

Right-to-work proponents

claim to be fighting "forced

unionism." But under current

federal law, no worker is

required to join a labor union.

That same federal law,

however, requires unions to

represent everyone at a given

workplace — member or not —

in contract negotiations and in

settling work-related problems

with employers.

Since it's obviously not

fair for dues-paying union

members to pick up the tab for

services provided to nonunion

members, nonmembers are

sometimes charged a service,

or "agency," fee. None of the

money collected in agency fees

can be used for political, social

or any other activities besides

employment representation.

So in reality right-to-work

is "right-to-freeload" — to get

a very valuable service, union

representation, without paying for it.

As proof, consider that as labor

has declined in influence in the past

few decades under fierce attack by

big money interests, we've seen the

progress of the middle class stalled and

the nation's wealth gap widen.

But because unions still do a

good enough job of making sure the

economy works for their middle-class

members, the economic elite would

like them completely destroyed. Rightto-work

is their favored tool.

And it's effective. After all, if workers

can get free union services under rightto-work

laws, why would anyone pay

dues? As dues decline, so does the

strength of the union, until it finally

disappears.

Believers in the free market should

be offended by right-to-work laws.

They interpose the power of the state

between the employer and the union

by forbidding them to freely enter

into an agreement on the kind of

"union security clause" that creates

the nonmember agency fee. In other

words, it makes it illegal for the

agreement to require employees to pay

their fair share of representation.

Proponents of right-to-work laws

argue that enactment will lead to

economic growth through a more

business-friendly environment. Study

after study has found this claim to be

untrue.

For example, a 2011 study by Gordon

Lafer of the University of Oregon and

Sylvia Allegretto of the University of

California at Berkeley found

that right-to-work laws have not

positively impacted job growth.

One part of the study

examined the economic climate

in Oklahoma after the 2001

passage of right-to-work. The

study found that unemployment

had doubled in Oklahoma

since enactment and that new

business arrivals had actually

declined.

The study also found that

the lower wages and economic

insecurity of workers in right-towork

states could make business

less inclined to relocate because

of declining tax revenues and

consumer demand.

Studies like this and a simple

comparison of employment

rates and wages between rightto-work

states and non-rightto-work

states makes it fairly

certain that Michigan will not

reap any economic rewards

from the new law.

Instead, it represents a step

backward that the state cannot afford.

Until we and our elected officials come

to grips with the fact that a race-tothe-bottom

has no winners, workers

and the economy will continue to

suffer from the short-sightedness of the

misnamed "right-to-work" movement.

[article] Don Kusler, Executive Director of

Americans for Democratic Action.

Reprinted with permission.

14

international operating engineer
---
Local 18 Ramps Up the Fight Against Anti-Labor Legislation

Last year, a Tea Party affiliated

group filed a constitutional language

amendment to make Ohio a so called

"Right-to-Work" (RTW) state. The

petition language was approved by the

Attorney General and the amendment

was named the "Workplace Freedom

Act." The amendment seeks to prohibit

union security clauses in collective

bargaining agreements in both public

and private labor agreements.

In light of these developments,

Local 18 has taken action on several

fronts. They have beefed up the RTW

portion of the Labor History classes

the local has sponsored since 1994.

In addition, they have opened up the

classes to non-members, bringing

the message of RTW and its financial

impact to workers across the United

States to as many working people as

possible.

The local has also been working

with other union allies and invested

in polling and focus groups to gain a

better understanding of the public's

view on labor unions and RTW. The

results were eye opening and the

local promptly began a statewide

educational campaign on the issue.

The most visible aspect of the

campaign are billboard messages

across the state which brand the

Workplace Freedom Act as dangerous

for Ohio workers. Deemed somewhat

controversial, they garnered attention

in newspapers and on local broadcast

news stations when the billboards

first went up. But that exposure has

been another way to "spread the word

on the dangers of right-to-work to a

broader audience," according to Local

18 Business Manager and International

Vice President Patrick Sink.

" B i g

business has

stripped this

country of

good jobs by

outsourcing

to cheap labor

nations. Now

they want to

strip American

workers of

their ability to

have strong

unions, which

will weaken

collective

bargaining.

The attitudes and expectations of big

business are taken from the business

blueprints of the late 1800's," Sink said.

The local has also launched a

website and is using social media and

internet ads to get the word out. (see

www.protectohiosmiddleclass.org)

Financial support for these

initiatives is coming from several

sources. "After consulting with

General President Callahan, we have

garnered his support and assistance

to "educate the voters." In addition,

our membership overwhelmingly

approved a dues increase to begin

January 1 of this year and which is

earmarked specifically to fund this

effort," Sink reported. "We are also

working closely with the AFL-CIO and

"We Are Ohio" groups for statewide

education."

The goal is to continue educating

union members, their families and the

general public so that if the "Workplace

Freedom Act" appears on the ballot in

Ohio, it will be soundly defeated.

WINTER 2013 15
---
16

international operating engineer
---
Feature

Wrath and Recovery

Operating Engineers Lead Efforts to Restore Communities Hit by Superstorm

Three months after Superstorm Sandy slammed

into the Northeastern United States, many coastal

communities in New Jersey, New York and Connecticut are

still without power, water or natural gas. The magnitude of

the storm is stunning – over 150 lives lost, over $60 billion in

damage, and thousands still unable to return to their homes.

The National Hurricane Center now says tropical force

winds extended 820 miles at their widest. Sandy's pure kinetic

energy for storm surge and wave "destruction potential"

reached a 5.8 on the National Oceanic and Atmospheric

Administration's 0 to 6 scale, the highest ever measured.

Operating Engineers have also been picking up the pieces,

both personally and professionally. "While all of us were

touched in some way by the storm and its aftermath, about

50 of our members suffered devastating damage to their

homes as a result of flooding, wind and fallen trees. Many

of these brothers and sisters are still assessing the impact

and deciding whether to rebuild or move on," says Local 825

Business Manager and International Vice President Greg

Lalevee.

Despite their personal hardship, IUOE members from

hard hit areas and beyond answered the call. Within hours

of the storm's passing, heavy equipment operators took

the lead, digging through deep sand and debris, so that

rescue workers and utility crews could reach residents and

communities stricken by the storm.

The work has transitioned now, from emergency response

to recovery, but the need for skilled Operating Engineers has

only grown. Millions of tons of debris must still be cleared

and crews are busy fortifying sand dunes and replenishing

beaches to protect coastal communities from future weather

events.

Members Helping Members

Operating Engineers were also quick to respond to their

brothers and sisters in need. The IUOE National Charity

Fund received close to $500,000 in donations from locals

and individual members in the weeks immediately after the

storm. To date, the Fund has paid out more than $1.5 million

to more than 500 IUOE members who suffered storm related

damages.

"It was heartening to see Local 30's tradition of members

helping members continue, and as always, our great

International was there immediately to help," said Local 30

Business Manager and International Trustee Jack Ahern.

The first of the National Charity Fund checks for Local 30

members were handed out by Mr. Ahern in early November,

and since then Local 30 members have received 67 checks

from the Fund. Mr. Ahern expressed his heartfelt thanks to

General President Callahan and the IUOE General Executive

Board for their quick response and unwavering support in

the face of this natural disaster.

Federal Relief Package Finally Approved

On January 28, a staggering 91 days after Superstorm

Sandy struck, the Senate passed, on a vote of 62-36, federal

[left] A familiar scene throughout the storm ravaged region.

Operating engineers have been working steadily to remove storm

debris since late October. [photo] AP/Kathy Willens

[right] Flood waters surged through lower Manhattan, inundating

the World Trade Center construction site. [photo] AP/John

Minchillo

WINTER 2013 17
---
18

international operating engineer
---
legislation authorizing badly needed funding for recovery

efforts. All 36 votes against the measure were Republicans.

The House of Representatives had already passed the

measure, H.R. 152, two weeks earlier by a margin of 241-180.

Unfortunately, 179 Republicans saw fit to vote against the

legislation to rebuild major sections of New Jersey, New York,

and Connecticut, home to one in every six Americans. The

Senate passage of the bill sent the long-awaited measure to

President Obama's desk, where he quickly signed it into law.

Calling on Congress to pass the legislation, General

President Callahan said, "No region in the country is immune

to disaster…What is clear now is that the nation must come

together to assist the region. There is no time for delay."

The package included over $50 billion in resources to aid

people whose homes were damaged or destroyed, as well as

to business owners who had heavy losses. It will also pay for

replenishing shorelines, repairing subway and commuter

rail systems, fixing bridges and tunnels, and reimbursing

local governments for other emergency spending. These

resources are in addition to $9.7 billion Congress had already

approved for FEMA's Flood Insurance Program.

[left] High storm surge and heavy wave action washed away homes

and carved a channel from the ocean to the bay, cutting the town

of Mantoloking, NJ in half. A week later, Operating Engineers from

Local 825 had reconnected the island and opened access to rescue

workers and utility crews. [photo] AP/Doug Mills; AP, Mel Evans

[above] With NJ Governor Chris Christie looking on, Local 825

member Warren Kuhlthau operates the piledriver kicking off

reconstruction of the boardwalk in Belmar, NJ. [photo] Tim Larsen/

NJ Governor's Office

[right] Local 30 Business Manager and International Trustee Jack

Ahern (center) hands out some of the first checks to members from

the IUOE National Charity Fund. [photo] IUOE Local 30

fall 2012

19
---
Canadian News

Local 904, Province Invest $700,000 in crane Operator Training

The Newfoundland and

Labrador department of Advanced

Education and Skills announced it will

invest more than $490,000 towards a

tower crane operator training program

at the Operating Engineers College

in Holyrood, 45 kilometres west of St.

John's, intended to train workers for

offshore oil projects.

"A total investment of over $700,000

is being allocated

for this program,

provided through

the Provincial

Government, the

Operating Engineers

College and the

International

Union of Operating

Engineers, Local 904,"

the province stated in

a press release.

"There's a

shortage mobile

crane operators

and a shortage

of tower crane

persons, not only in

Newfoundland but

across Canada. Now

we're bringing them

in from across the United States," said

president and business manager of the

Operating Engineers, Local 904, Roy

Hawco.

Touted by the province as a

program that will help workers gain

qualifications to work on ExxonMobil

Canada's Hebron offshore oil project,

the program will include three 12-week

training sessions. Students will be able

to use a computerized simulator and

a 16-tonne tower crane, the province

stated.

Enrolled operators can get the

Red Seal certification required by

contractors for work on the Hebron

construction project. "The Tower

Crane Operator Training Program

will assist individuals in acquiring the

qualifications needed to work on the

Hebron construction site or any other

project within Newfoundland and

Labrador."

'We have apprentices but they aren't

Red Seal certified yet," said Hawco.

The tower crane training program

at the Operating Engineers College will

be the only one in the province tailored

towards training Red Seal tower crane

operators.

The Operating Engineers College

trained 48 tower crane operators for the

Hibernia project in the 1980s, which

has been producing oil since 1997.

IUOE Local 904 represents about 1,800

workers in the province.

The Hebron gravity-based structure

project will build an offshore oil

platform off the coast of St Johns, on the

island of Newfoundland, by 2017.

Local 793 Supports

Medical Research

Local 793 recently donated

$102,000 to the Toronto General &

Western Hospital Foundation. The

money will be used for research into

esophageal cancer. (L to R) Dr. Gail

Darling, director of thoracic surgery

clinical research at University Health

Network, accepted the cheque from

Local 793 business manager Mike

Gallagher and president Joe Redshaw.

The money was raised at the Gary

O'Neill Memorial Golf Tournament

held in summer 2011. The tournament

is named in honour of Gary O'Neill, late

president of Local 793.

20

international operating engineer
---
Protecting Canadian Workers' Rights, Local 115 Challenges

Federal Government

IUOE Local 115, in partnership

with the Building Trades of British

Columbia, has been in the media

spotlight nationally since early

November 2012 due to the high-profile

challenge of the Canadian Federal

Government's Temporary Foreign

Worker (TFW) Program.

Local 115 was prompted to

commence legal action when a company

called HD Mining (HD) was granted

TFW permits allowing it to conduct a

100,000-tonne coal sampling, using 201

workers brought in from China. "It was

an unacceptable situation," explained

Business Manager Brian Cochrane.

"We had qualified members on Local

115's dispatch lists and out of work

members of our sister locals throughout

Canada and the USA ready to assist

with the exploration in Murray River.

It was clear that HD hadn't made a

legitimate attempt to recruit Canadian

workers first which is a requirement of

the Federal Governments Temporary

Foreign Worker program."

The Canadian Federal Government

and HD Mining fought every step of

the way in court, resulting in numerous

pieces of litigation, from not only

the Federal Government, but from

HD and its shareholders as well. HD

threatened at one point to close down

other resource extraction projects in the

Murray River region, which they quickly

retracted.

Local 115's campaign has not been

an easy one. After first winning the right

to apply for a judicial review based on

considerations of public interest, Local

115 went on to win again in court to

obtain access to hundreds of documents

related to the approval of the Murray

River permits. In early January, when

key information was withheld by HD,

and the government argued that it was

unable to compel the firm to produce

the missing data, the local forced full

disclosure by filing a contempt of court

application against Canadian Human

Resources Minister Diane Finley. Again

Federal Court ruled in favor of Local 115,

stating the government must continue

to obtain the documents from HD.

In mid-January, HD finally complied

with the Court order and turned over

the 315 resumes of Canadians who

responded to their job ads. Although

HD Mining claimed there were no

Canadian applicants qualified to do this

work, the evidence from the resumes

clearly shows that was not factual.

Within days after releasing the

resumes as a part of the court order,

HD Mining announced it was going

to send the Chinese workers that had

already arrived in Canada back home

to China. Local 115 has now filed an

additional submission to the courts

after reviewing the resumes of the

people who had applied for these jobs.

"There were people who applied that

had over 30 years' experience and why

they were deemed unqualified by HD

Mining is completely absurd," said

Business Manager Cochrane in several

interviews with the media.

The real issue is the Temporary

Foreign Worker Program: it's a broken

system in urgent need of reform. Until

the TFW program is changed to be both

more effective and more transparent,

these kinds of abuses will continue. The

good news is that this story has garnered

national attention and overwhelming

positive support, and that puts pressure

on the federal government to set up

an independent review. The Local

wants to try and find a better solution

to protect Canadian jobs and provide

opportunities for IUOE members from

the United States when they become

available.

This campaign is not over, and there

are more legal battles on the forefront,

but taking on this challenge successfully

has brought the importance of unions

back into the national spotlight.

WINTER 2013 21
---
HAZMAT

Revised HAZARD COMMUNICATION Standard

OSHA published the final rule for the revised Hazard

Communication Standard on March 26, 2012. The changes

to the Hazard Communication standard include the long

anticipated move toward the Globally Harmonized System

(GHS) of Classification and Labeling of Chemicals. There

are three major changes to the Hazard Communication

Standard:

1. Hazard Classification: The definitions of hazards

have been changed to provide specific criteria for

classification of health and physical hazards, as well as

classification of mixtures. These specific criteria will

help to ensure that evaluations of hazardous effects are

consistent across manufacturers, making labels and

safety data sheets more accurate as a result.

2. Labels: Chemical manufacturers and importers will

be required to provide a label that includes a harmonized

signal word, pictogram, and hazard statement for each

hazard class and category. Precautionary statements

must also be provided.

3. Safety Data Sheets: The Safety Data Sheet will

replace the familiar Material Safety Data Sheet and will

now have a consistent 16-section format.

The new rule will have a phase-in period given that it is

such a widespread change. The table below summarizes

the phase-in dates required by the revised Hazard

Communication Standard:

The Hazard Communication standard of 1993 was referred

to as your right to know. The Hazard Communication standard

of 2012 is being referred to as your right to understand. The

system of hazard classifications communicated through the

revised labels, pictograms, signal words, hazard statements

and safety data sheets will provide workers with the tools

necessary to protect themselves on their jobsites.

The IUOE NTF National HAZMAT Program will provide

material and assistance to local unions and local union

instructors to meet the training requirements in the revised

Hazard Communication standard. IUOE trainers and

personnel are encouraged to order and review the new

material. If you have questions please contact us at (304)

253-8674 or hazmat@iuoehazmat.org.

Effective Completion Date Requirement(s) Who is Responsible

December 1, 2013

Train employees on the new label elements Employers

and safety data sheet (SDS) format.

June 1, 2015*

December 1, 2015

June 1, 2016

Transition Period to the effective

completion dates noted

above

Compliance with all modified provisions of

this final rule, except:

The Distributor shall not ship containers

labeled by the chemical manufacturer or

importer unless it is a GHS label.

Update alternative workplace labeling and

hazard communication program as necessary,

and provide additional employee training

for newly identified physical or health

hazards.

May comply with either 29 CFR 1910.1200

(the final standard), or the current standard,

or both

Chemical manufacturers, importers,

distributors and employers

Employers

Chemical manufacturers, importers,

distributors, and employers

*This date coincides with the European Union (EU) implementation date for classification of mixtures.

22

international operating engineer
---
Healthcare

Good Nutrition and Weight Loss:

Key to Longevity on the Job and Beyond

As Operating Engineers we work a

lifetime of long, physically demanding hours

often in remote locations away from home. With

this lifestyle we work up a strong appetite that is

too often satisfied by supersizing our burgers,

fries, sodas or adult beverages at the nearest

fast food joint or watering hole. We don't eat

properly, we don't have the energy or time to

exercise properly and getting a decent night of

sleep can be a challenge. In other words, we

work hard, we play hard and we eat and drink

too much.

Early in our careers we can seemingly get

away with theses routines, but as we age and

our systems start their inevitable slowdown

our once buff, hard bodies start to soften. The

calories we are accustomed to consuming and

burning off are now expanding our waistlines

and adding extra pounds to our frames.

Unfortunately, this added weight not only makes it increasingly difficult to fit into that old varsity jacket, it also results

in the development of a number of chronic conditions, too numerous to list here, that will impact your life financially and

qualitatively as well as the lives of those loved ones in your family.

For many of us these habits are very hard to change, but if you want to be around for the long haul and enjoy that well deserved

pension, make the effort. A comprehensive set of resources that will aid you in making these difficult lifestyle decisions can be

found online at www.nutrition.gov under the Nutrition and Health Issues section. So what do you say, give it a try!

HAZMAT continued

National HAZMAT Program 2013 Trainer Course Schedule

The 2013 Trainer

Courses are designed to

meet instructors' needs,

maintain instructor credentials,

and expand the

instructors' skills and

knowledge to meet the

changing requirements

of the local unions' membership.

A

four-hour

(HAZCOM) Globally Harmonized

System (GHS)

course has been added

to all trainer courses this

year, with the exception of

the OSHA 510 course.

2013 Dates* Trainer CouRSE # of Days

Apr 8-12 rigging and Signaling Safety Trainer; GHS 4.5 days

May 14-17 OSHA 3110 Fall Arrest Systems; GHS 3.5 days

Jun 3-13 HAZWOPER Train-the-Trainer; GHS 10 days w/ 1 day break

Aug 14-17 OSHA 510 Construction Industry Standards 3.5 days

Aug 19-22 OSHA 500 Construction Industry Trainer; GHS 4 days

Sep 10-12 OSHA 502 Construction Industry Update; GHS 3 days

Sep 16-19 OSHA 2264 Confined Space Trainer; GHS 4 days

Sep 17-19 MSHA Train-the-Trainer; GHS 3 days

Oct 7-8 oSHA 5602 Disaster Site Worker Update; GHS 1.5 days

Oct 7-10 oSHA 5600 Disaster Site Worker Trainer; GHS 4 days

Oct 21-24 OSHA 521 Industrial Hygiene/Monitoring; GHS 4 days

*Dates and courses are subject to change.

WINTER 2013 23
---
ENJOY •

International Union of Operating Engineers

1125 17 th Street, NW

Washington, DC 20036

NON PROFIT ORG

US POSTAGE

PAID

KELLY PRESS, INC.

Printed in the U.S.A.

•

SAVINGS

SERVICE

ONE OF

IT

SOLIDARIT Y

•

40

PLUS

BENEFITS

FROM UNION PLUS

UNION

RSAVINGS • SERVICE • SOLIDA

SAVE

15%

on AT&T

Wireless Services

We know you work hard for your money. That's why we've

created 40 programs to help you get more out of life. Your

AT&T benefits include:

● 15% off monthly service charges for most cell phone and

data plans

● $100 new smartphone rebate when you use your Union Plus Credit Card

and up to $100 more towards the cost of moving your service from another

carrier to AT&T

● SPECIAL OFFERS on AT&T cell phones and accessories

● AT&T the only wireless company that is "Proud to Be Union!"

If you visit your local AT&T

store use discount FAN #

3508840

UnionPlus.org/ATT

*All program plans for new and existing customers require a new two-year contract. This offer cannot be combined with any other

discounts. The 15% Union Plus AT&T wireless discount is not available on the non-3G iPhone, additional lines for family plans,

unlimited plans and Unity plans. Data services on secondary lines are not discounted.

**Union members can purchase the 3G and 3Gs iPhone at regular price and receive the 15% AT&T Wireless Union Plus discount off

the AT&T wireless service plan. NOTE: There will be no discount for service using the original iPhone.

01/13

24 international operating engineer