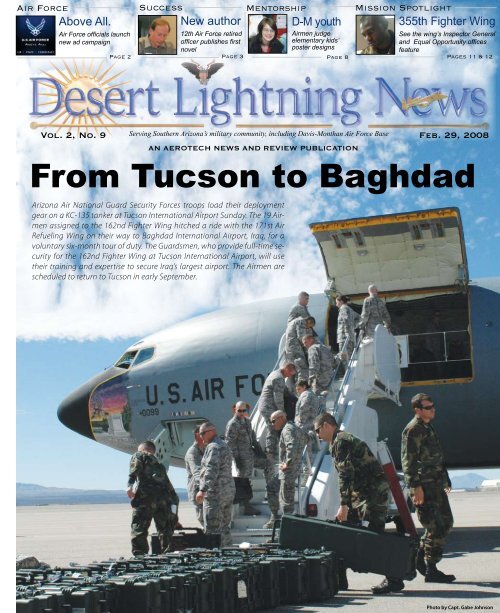 From Tucson to Baghdad - Davis-Monthan Air Force Base
From Tucson to Baghdad - Davis-Monthan Air Force Base
From Tucson to Baghdad - Davis-Monthan Air Force Base
SHOW MORE
SHOW LESS
You also want an ePaper? Increase the reach of your titles
YUMPU automatically turns print PDFs into web optimized ePapers that Google loves.
Air Force

Above All.

Air Force officials launch

new ad campaign

Page 2

Success

New author

12th Air Force retired

officer publishes first

novel

Page 3

Mentorship

D-M youth

Airmen judge

elementary kids'

poster designs

Page 8

Mission Spotlight

355th Fighter Wing

See the wing's Inspector General

and Equal Opportunity offices

feature

Pages 11 & 12

Vol. 2, No. 9 Serving Southern Arizona's military community, including Davis-Monthan Air Force Base Feb. 29, 2008

AN AEROTECH NEWS AND REVIEW PUBLICATION

From Tucson to Baghdad

Arizona Air National Guard Security Forces troops load their deployment

gear on a KC-135 tanker at Tucson International Airport Sunday. The 19 Airmen

assigned to the 162nd Fighter Wing hitched a ride with the 171st Air

Refueling Wing on their way to Baghdad International Airport, Iraq, for a

voluntary six-month tour of duty. The Guardsmen, who provide full-time security

for the 162nd Fighter Wing at Tucson International Airport, will use

their training and expertise to secure Iraq's largest airport. The Airmen are

scheduled to return to Tucson in early September.

Photo by Capt. Gabe Johnson
---
February 29, 2008

Desert Lightning News

Air Force is 'Above All'

By Staff Sgt. J.G. Buzanowski

Secretary of the Air Force Public Affairs

WASHINGTON (AFPN) — The Air Force

has a new advertising campaign to recruit the

next generation of Airmen as well as better inform

people about the Air Force mission:

"Above All."

"The new slogan is admittedly a bold one,"

said Col. Michael Caldwell, deputy director of

Air Force public affairs, "but so are Airmen." This

campaign accurately portrays Airmen and how

they're executing the Air Force mission to ensure

the security and safety of America now and in the

future.

"'Above All' is about what we do and how we

do it," Colonel Caldwell said. "The job of the Air

Force is to defend America and we do that by

dominating air, space and cyberspace. The new

campaign and slogan captures our roots, but also

illustrates where we're going as a service as the Air

Force prepares to contend with future threats."

The purpose of the campaign is to create a

dialogue with potential recruits, their parents

and those most likely to influence young people

to join the military about the critical role the Air

Force plays in defending America's future, Colonel

Caldwell said.

The "Above All" campaign kicks off this month

and will be prominent on television, in print and,

of course, in cyberspace. In addition to being

shown at several sporting events, "Above All" ads

will be seen in magazines and during commercial

breaks on many top-rated commercial and

television news and entertainment programs, the

colonel said.

The campaign will feature real Airmen performing

their missions, like Staff Sgt. Lee Jones

from Barksdale Air Force Base, La. He's featured

prominently in the campaign as a warrior on the

front lines of the Air Force's newest warfighting

domain, cyberspace.

"I'm excited to be a part of this and to represent

the Air Force this way," said Sergeant Jones,

a computer systems operator and cyberwarrior.

"'Above All' is a great slogan because it says how

we shine in what we do to defend our nation and

accomplish our mission."

The Above All slogan was chosen over several

other phrases as the best description of the Air

Force mission, Colonel Caldwell said.

"From all the research we did about how people

feel about the Air Force - including civilians,

Airmen and representatives from other services

- this was the phrase that stood out the most," he

said. "This campaign captures the professionalism

of our Airmen, our technological edge and our

ability to meet today's threats while at the same

time prepare for future challenges.

"When anyone in our Air Force family sees an

'Above All' ad, we hope it reminds them that their

role is important to America," Colonel Caldwell

said. "This campaign makes it clear the Air Force's

mission 'Above All' is national defense and protecting

the American people."

Air Force officials have

launched a new ad

campaign to accurately

portray Airmen and

how they're executing

the Air Force mission

to ensure the

security and safety

of America now

and in the future.

Graphic by Air Force News Agency
---
Desert Lightning News February 29, 2008

Desert Lightning community member publishes first novel

Courtesy photo

Retired Air Force major and new author, Joe Porrazzo signs a customer's copy of his first

novel, Solemnly Swear. Mr. Porrazzo is donating a portion of his book sales to Davis-Monthan's

Airman's Attic.

Story by Kristi LaBonte

Desert Lightning News

Photojournalist

A Desert Lightning team member,

retired Air Force Maj. Joe Porrazzo,

now a civilian with 12th Air Force and

Air Forces Southern at Davis-Monthan,

furthered his education through

his career with the Air Force and is

now a published novelist.

"Albeit a mystery thriller, Solemnly

Swear is my first novel and it was inspired

by my time teaching Air Force

Reserve Officer Training Corps at the

University of New Hampshire, and

while assigned to AFROTC headquarters

in the 2001 to 2003 time frame,"

Mr. Porrazzo said.

"After enlisting in the Air Force in

1981, I was lucky enough to have the

support of my supervisors to attend

classes off-duty," he said. "My commitment

to earn a degree never negatively

impacted my career. In fact,

higher education helped every step of

the way in my daily job performance,

and earning promotions and awards."

"The first thing I learned as a new

Airman was that I didn't have to

choose between my job, my family

and my education," Mr. Porrazzo said.

"The military was always a great way

of life for me because I needed the

structure and discipline it offered."

Although it was a slow process,

with Mr. Porrazzo moving from base

to base every three or four years, he

was able to complete his Community

College of the Air Force associate's

degree and bachelor's degree in business

by 1989.

He spent the next two years at Strategic

Air Command Headquarters,

starting a master's program in 1990.

After being promoted to technical

sergeant and earning his master's degree,

he was selected for Officer Training

School in May of 1992 and upon

graduation, he was commissioned.

"It was the busiest time of my life,

but I could never have done it all

without the daily love and support of

my wife, Diane, and three kids, Joey,

Alex and Maria," Mr. Porrazzo said.

"I will also never forget the support

I received from co-workers and my

leadership."

"During all of the academics, I always

made time for family and other

interests such as reading, running,

squadron softball, golf and flag football,"

he explained.

A student who enjoyed and excelled

in the business, organizational

behavior and human relations classes,

Mr. Porrazzo went on to teach a

lot of them, off duty, at both undergraduate

and graduate levels at

colleges and universities on and

off base.

"I enjoyed the classroom so much,

and still do, that I volunteered for a

career-broadening assignment as a

captain to teach Aerospace Science

in Air Force ROTC at the University

of New Hampshire in 1999," he

said.

"Teaching AFROTC at UNH was

one of the best assignments I ever

had and I would highly recommend

it to any officer or non-commissioned

officer who enjoys molding

young students and cadets into

professional officers," he said. "I still

get cards and e-mails from former

cadets from UNH and field training

because the experience brings

people together. But let there be no

doubt, I learned as much from my

cadets as they learned from me."

The plot for Solemnly Swear was

inspired by Mr. Porrazzo's time at

UNH; however it was when the Air

Force assigned him to the AFROTC

headquarters that the novel finally

came together.

"The protagonist is a retired

Air Force colonel and former OSI

agent who gets tangled up with the

Mafia," he explained. "The story includes

courtroom drama and fastpaced

excitement involving ROTC

cadets and other military personnel."

"Without giving anything away,

my ROTC time helped with the suspenseful

twists and turns that come

together and are rather unique and

believable, whether you have military

experience or not," he said.

In 2003, after being promoted

to major at the unit, Mr. Porrazzo

and his family came to D-M,

where he retired in 2005, after 25

years of military service. He now

enjoys being a Department of the

Air Force civilian, working at 12th

Air Force as the deputy director

of manpower, personnel and services.

"One of best things about active

duty in the Air Force is the friends

and mentors you maintain for life,"

he said. "I get the next best thing

by being able to stay with 12th Air

Force and help out during an important

time in their history, as we

transition to Air Forces Southern."

As the A1 deputy director at Air

Forces Southern's headquarters,

Mr. Porrazzo has daily insight into

how military manpower is distributed

around Central, South America

and the Caribbean. The director

speaks highly of his second in

charge.

"Mr. Porrazzo has impressed me

from day one. If he was a character

in a novel — he'd be the hero," said

Col. Paul Wuebold, the director of

Manpower, Personnel and Services

for 12th Air Force and Air Forces

Southern. "Joe is a strategic, operational

and tactical expert during

tough decision meetings — we're

thrilled that his dream of becoming

a published author has come true."

"He's worked tirelessly to achieve

this moment . . . all of his coworkers

are looking forward to getting their

own copies of his book signed," the

colonel said.

Throughout his career in the Air

force, Mr. Porrazzo has inspired

Airmen to "use their service time

and benefits wisely. Don't stop

learning and asking questions, and

don't lose your resolve for higher

education. Not only will your hard

work and sacrifice benefit daily,

while you serve, but the payoff after

you separate or retire never stops."

"Especially in today's high deployment

and operational tempo, I

have a great respect for those that

serve their country," he continued.

"But I have a greater respect and

admiration for those that manage

to serve and respect their loved

ones and themselves at the same

time. And while you're at it if one

of your life's goals is to run a marathon,

write a book or build someone

a house . . . just do it."

Mr. Porrazzo said he has had fun

with his writing and most people

who have read his first novel have

asked him when the second one is

coming. Although he didn't intend

on it, he is now hard at work on his

second book, which he feels Arizonans

can relate to, as it takes place

here in Tucson.

For more information on Joe

Porrazzo, or his book Solemnly

Swear, visit http://www.joeporrazzo.com/index.htm.
---
February 29, 2008

Desert Lightning News
---
Desert Lightning News February 29, 2008

Airmen donate blood, help depleting supply

By Senior Airman Jacqueline Hawkins

355th Fighter Wing Public Affairs

More than 90 Airmen and members from the Desert

Lightning community supported the American Red Cross

in replenishing its depleting blood supply at the Hope

Chapel here Feb. 20.

Twelve volunteers from the D-M community volunteered

their time to help make the event a success.

"A lot of people need the blood so I thought it was the

right thing to do to help someone else out," said Airman

Brady Polec, a member of the 355th Equipment Maintenance

Squadron and a blood donor.

For a single blood donation, one unit, which equates to one

pint of blood, is taken from each person. During this blood

drive the American Red Cross received 92 units of blood.

"The estimate is three lives are saved per productive unit.

However, surgeries and trauma cases vary, and depending

on complications, more blood could be required", said

Master Sgt. Frances Bracks-Miller, 355th Medical Group

first sergeant and base blood drive coordinator.

Currently, trauma cases throughout Tucson have created

a serious blood supply shortage.

Blood drives are held every two months (February, April,

June, August, October and December) at the Hope Chapel

Annex from 8 a.m. to 2 p.m. Blood donors must wait 60

days between donations.

"For every productive pint donated, a life is possibly

saved," added Sergeant Bracks-Miller. "Many people

have benefited from our D-M donors. There is no better

gift than the gift of life. That is why I encourage people

Photo by Todd Berenger

Staff Sgt. Joel Braymen from the William Beaumont Medical Center in Fort Bliss, Texas, disinfects Tech. Sgt. Joan

Ekeroma's arm before giving blood. Sergeant Ekeroma is from the 377th Medical Group and was donating blood

for the Armed Services Blood Program blood drive held recently.

to make a donation."

For more information about D-M blood drives, call Sergeant Bracks-Miller at

228-2909.

Now offeriNg

military

discouNt!

Free child

admission with

paid adult.

Must show ID

Where there's

always something

fun to do!

Tucson

Children's

Museum

200 S. 6th Ave.

in downtown

Tucson

(520) 792-9985

www.tucsonchildrensmuseum.org
---
February 29, 2008

Desert Lightning News

New Web-based assignment application debuts Monday

RANDOLPH AIR FORCE BASE, Texas

— The power to apply for your next homebasing

and follow-on assignment will soon

be literally at your fingertips.

Starting March 3, all active-duty enlisted

members and officers (lieutenant colonel and

below) who are slated to serve an unaccompanied

tour of 15 months or less will have

the ability to submit Web-based applications

from any location worldwide, 24/7.

The new self-service application process is

part of the Air Force's ongoing commitment

to Personnel Services Delivery Transformation.

"This change will help streamline the application

process by eliminating paperwork

and unnecessary trips to the military personnel

element," said Letty Inabinet, chief

of the assignment programs and procedures

branch at the Air Force Personnel Center

here. "Starting March 3, an Airman will be

able to fill out the application online, and if

eligible, the system will validate it on the spot

and send it to AFPC for consideration."

Even though the HB/FO assignment program

will be Web-based, the benefits remain

the same.

"The program continues to be a win-win

for the Air Force," Ms. Inabinet said. "It helps

reduce stress among our Airmen who don't

know where their next duty station will be

after they serve the unaccompanied tour, and

it provides stability for our Air Force families."

Home-basing assignments offer Airmen

an assignment back to the same continental

U.S. location, or long-tour location in Alaska

or Hawaii, from where they left. Follow-on

assignments offer Airmen assignment consideration

to a preferred Continental U.S. location

or the overseas long-tour location of

their choice. Airmen can choose up to eight

CONUS locations and up to eight overseas

choices.

For convenience and accessibility, the application

will be made available Monday at

the Virtual Military Personnel Flight Web

site at https://ww3.afpc.randolph.af.mil/

vmpf/Hub/Pages/Hub.asp. The program's

guidelines are outlined in Air Force Instruction

36-2110; applicants are encouraged to

thoroughly read the sections on entitlements

and restrictions before submitting their application.

For more information about the program,

visit AFPC's "Ask" Web site at http://ask.afpc.

randolph.af.mil and search for "Follow On."

The 24-hour Air Force Contact Center is

also available to answer questions at 1-800-

616-3775 or DSN 665-5000.

Military to Receive our

largest Discount

With Your Military ID

Your hands

have more

important

things to do!

LASIK *

Your Future Begins Now.

Dr. Timothy l. Hodges, MD

former chief Resident of Ophthalmology at

Walter Reed army Medical center and Flight Surgeon

CAll Now

for a FRee consultation

520-326-4321

0% Financing available

www.hodgeseyecare.com • 1502 N. Tucson Blvd. • Tucson, AZ

Earn a degree you can be proud of.

As a military professional, you have a lot to be proud of. Earn a degree that you

can be equally proud of as well.

At University of Phoenix, we enable you to earn a quality degree conveniently

and efficiently. With nearly 200 locations, online learning and a variety of degree

programs, we make higher education accessible to active duty service members,

their families and military civilian employees. In addition, special tuition

options may be available to members of the armed services.

We would be honored to assist you in achieving your educational goals.

Learn more today.

520.881.6512

phoenix.edu

University of Phoenix is a regionally accredited university and long-time member of Servicemembers Opportunity Colleges (SOC). No Federal or

Marine Corps endorsement of advertisers or sponsors is implied. University of Phoenix is accredited by The Higher Learning Commission and is

a member of the North Central Association (ncahlc.org). The University's central administration is located at 4615 E. Elwood St., Phoenix, AZ 85040.

The Online Campus is located at 3157 E. Elwood St., Phoenix, AZ 85034. © 2008 University of Phoenix, Inc. All rights reserved.

AY4023a
---
Desert Lightning News February 29, 2008

D-M members attend AAHC luncheon

By Senior Airman

Alesia D. Goosic

355th Fighter Wing

Public Affairs

Members of the D-M community

attended the African-

American Heritage luncheon at

the Mountain View Conference

Center Feb. 20 in recognition

of African-American History

Month.

The national theme for the

2008 African-American History

Month is "Dr. Carter G. Woodson

and the Origins of Multiculturalism,"

in honor of Dr.

Woodson's contributions to the

African-American community.

He first launched "Negro History

Week" in February 1926 and that expanded

to a month-long celebration

when the first African-American

History Month was held in 1976.

The luncheon began with opening

comments from Col. Kent

Laughbaum, 355th Fighter Wing

commander.

"This is an important day," he

said. "It is important that we know

from where we come, and that we

understand our heritage. For us, as

those who are charged to fight and

win our nation's wars, it gives us

strength, courage and wisdom to

win those wars."

More than 150 Airmen of all

ranks attended the luncheon.

One Airman in attendance, Airman

1st Class Rogerick Gordon,

said that he went to the luncheon to

learn more about African-American

Heritage Month.

"I attended the African-American

luncheon because I was interested

in discovering what type of program

would be hosted, and I must say I

wasn't the least bit surprised that it

was a phenomenal event," he said.

After lunch, a slide show presentation

was shown, singing and an

educational skit were performed,

followed by closing remarks from

1st Lt. Tammie Ellerbe, African-

American Heritage Association

president.

"The key to a successful future is

knowing our past — and not just our

African-American history, but also

our American history," she said.

This event, along with other

events held throughout the month

of February, was sponsored by the

African-American Heritage Committee.

"I would like to thank Davis-

Monthan Air Force Base's African-

American Heritage Committee,"

said Lieutenant Ellerbe. "Without

their hard work and tenacity, today's

event wouldn't have been successful."

15% Discount

on Regular

Menu Items

with Military ID!

Look No More... Call Us!

The Roberts & Norris Team

• Bob USAF - Retired

• Gary - U of A Alum

• Free Seller + Buyer Consults

• Over 100 Completed Transactions in 2006

• References Available

• Real Estate Made Easy

Call 520.419.1919

For detailed information about these properties call

1-800-439-7402 and enter the property code below

2175 W. Rainbowridge

$

219,800- $ 249,800

Rental on 10276 E. Mary

$

1,110/mo.

942 S. Sierra Nevada

$

227,900- $ 237,900

3Bdrm/2Bth - 1957 Sq. Ft.-West Side Location 3Bdrm/2Bth - 1432 Sq. Ft.-SE Side Location 3Bdrm/2Bth - 1422 Sq. Ft.-East Side of Town

CODE #173 CALL 419-1919 FOR MORE INFO CODE #073
---
February 29, 2008

Desert Lightning News

D-M Airmen judge child abuse posters

By Senior Airman Jacqueline Hawkins

355th Fighter Wing Public Affairs

Children from two fifth grade classes at Borman

Elementary School at Davis-Monthan

designed posters of what child abuse prevention

means to them, and Airmen judged and

picked their favorite.

The winning poster, designed by Celeste

Vasquez, displayed the slogan "Even though

we're a big world, we should all come together

and take a stand. Kids shouldn't be afraid to go

home." As the winner of the contest, her poster

will be used for the fifth annual Child Abuse

Prevention Month ad campaign and will be

displayed in various places around the base.

April is Child Abuse Prevention month and

consists of the Blue Ribbon Campaign, which

encourages everyone to wear blue ribbon pins

to raise awareness about child abuse. Speakers

will be invited to the base to educate about

child abuse prevention.

"All child abuse is preventable," said Marley

Smith, Family Advocacy Outreach manager.

"Davis-Monthan has a wealth of services for

families dealing with stressful day-to-day issues."

The winning poster, made by Celeste Vasquez, from the Child Abuse prevention contest.

Airmen from D-M, including Col. Kent

Laughbaum, 355th Fighter Wing commander,

volunteered at the poster contest.

"This is a wonderful program for the prevention

of child abuse," he said. "I appreciate all of

the volunteers at Davis-Monthan, who work

to prevent child abuse and the students at Borman

who participated in the poster contest."

Celeste Vasquez, winner of the Child Abuse prevention poster contest, poses for a photo with all of the participating fifth-graders at Borman Elementary

School, the Airmen who helped judge the contest and Col. Kent Laughbaum, 355th Fighter Wing commander.
---
Desert Lightning News February 29, 2008

Aerotech News and Review prepares all

editorial content for the Desert Lightning News. The

editor will edit or rewrite submitted material for clarity,

brevity or to conform to the Associated Press Style

Guide, local policy and Air Force style as required by

Air Force Instruction 35-101. Contributions for the

Desert Lightning News can be e-mailed to the

editor at shelly@aerotechnews.com or by calling

520-869-5717. Submission deadlines are noon

Monday's for Friday's publication. If submissions are

publishable, they run based on space available and

priority. The Desert Lightning News uses information

from the Armed Forces Information Service,

Air Force News Service, Air Combat Command,

staff writers and other sources. All advertising is

handled by Aerotech News and Review, 456 East

Ave. K-4, Suite 8, Lancaster, CA 93535. For business

advertising, call (520) 623-9321 or e-mail diane@

aero-az.com. For classified advertising, e-mail airmanclass@aerotechnews.com.

Military members

must call the 355th Fighter Wing Public Affairs Office

at 520-228-4570 for all submission requests.

Staff

Publisher...............................................................................Paul Kinison

Business Manager .................................................................Lisa Kinison

Managing Editor............................................................. Stuart Ibberson

Advertising Representative....................................................Diane Hasse

Subscriptions and Delivery.................................................. Chris Ramos

Editor............................................................................ Shelly A. McGuire

Photojournalist..................................................................Kristi LaBonte

The Desert Lightning News is published

by Aerotech News and Review, a

private firm in no way connected with the

U.S. Air Force, under written agreement

with the 355th Fighter Wing. Contents of

the Desert Lightning News are not necessarily

the official views of, or endorsed by,

the U.S. Government, Department of Defense

or the Department of the Air Force.

The appearance of advertising in this publication,

including inserts or supplements,

does not constitute endorsement by the

Department of Defense, the Department

of the Air Force or Aerotech News and

Review, of the products or services advertised.

Everything advertised in this publication

shall be made available for purchase,

use or patronage without regard to race,

color, religion, sex, national origin, age,

marital status, physical handicap, political

affiliation or any other non-merit factor of

the purchase, user or patron.

Harry Schlosser, M.D.

U.S.A.F. Reserve Col., Retired

OPHTHALMOLOGIST

Specializing in:

Cataract Surgery, Glaucoma, Eye Exams,

& Diabetic Eye Problems

We accept TriCare & MediCare

5635 E. Grant Rd.

Tucson, AZ 85712

Phone

520.721.7995
---
10 February 29, 2008

Desert Lightning News

Mission Spotlights

355 th Photos by Senior Airman Christina Kinsey

Fighter Wing Inspector General

Mission

The Inspector General is responsible to the commander, 355th Fighter

Wing, for the quality, credibility, and effectiveness of the inquiries,

complaints, and Fraud, Waste and Abuse programs at Davis-Monthan.

At the direction of the commander, the IG office investigates complaint

allegations and makes recommendations for resolution. It coordinates

with higher headquarters IG offices, Secretary of the Air Force/Legislative

Liaison, and Air Combat Command staff directorates to respond

to high-level inquiries. It manages, monitors and reports on the actions

of audit, inspection and investigation regarding Defense Hotline disclosures,

and acts as the wing liaison for all Congressional inquiries.

"I'm extremely proud of the role the IG plays in preserving

the rights of our Air Force community. We all must be

held accountable for our actions and abide by the same

set of rules and regulations. A quick, responsive system

to investigate, and then correct violations, is vital to

maintaining the morale and effectiveness of our wing."

Members

The Inspector General's

office consists of one military

and one civilian member:

Lt. Col. Paul Burrell, inspector

general, and Steve Nolan,

deputy inspector general.

— Lt. Col. Paul J. Burrell

355th Fighter Wing Inspector General

Steve Nolan (standing) reviews a complaint with the 355th Fighter

Wing Inspector General, Lt. Col. Paul Burrell, Feb. 25.

Vision Statement

To sustain a credible Air

Force Inspector General

system by ensuring the existence

of responsive complaint

investigations and

Fraud, Waste and Abuse

programs characterized by

objectivity, integrity and impartiality.

The 355th Fighter Wing Deputy Inspector General Steve Nolan sorts through files, while performing case maintenance at D-M Feb. 25.
---
Desert Lightning News February 29, 2008

11

355 th Fighter Wing Equal Opportunity

'Enhancing the mission through education and awareness'

"Equal Opportunity is a readiness issue. It should

be the goal of every Airmen, whether military

or civilian, to practice and foster equality within

their respective environment. Equal opportunity

is an integral part of maintaining a combat-ready

force. I am proud to be part of an Air Force and

the EO mission that promotes equal opportunity

and harmony amongst all members. I am proud to

serve with the finest EO personnel in the world."

— Barbara Dycus

355th Fighter Wing Equal Opportunity director

Mission

The 355th Fighter Wing Equal Opportunity office is committed

to providing superior support to senior leadership, unit leadership,

unit commanders, tenant organizations and the D-M community

by enhancing unit cohesion for maximum mission effectiveness in

areas concerning equal opportunity and human relations.

Recent Accomplishments/Awards

• 2007 Air Combat Command Outstanding Equal Opportunity

Office of the Year

• 2007 Air Combat Command Mission Support Senior NCO

of the Year

Tech. Sgt. Regina Harris, 355th Fighter Wing Equal Opportunity Office NCO in

charge, gives a briefing on human relations.

Vision Statement

The 355th Equal Opportunity office supports mission

readiness by ensuring individuals are provided

equal opportunity to fully use their abilities and talents

toward mission accomplishment and enhance morale

through the fair and just treatment of all personnel.

We endeavor to ensure harmonious relations among

Air Force people by promoting open communication,

cross-cultural awareness, understanding and respect.

Barbara Dycus, 355th Fighter Wing Equal Opportunity director, retrieves information for a

complaintant at Davis-Monthan Feb. 21.
---
12 February 29, 2008

Desert Lightning News

WASHINGTON (AFRNS) — The Internal Revenue

Service is warning taxpayers about several current

e-mail and telephone scams using the IRS name

as a lure. IRS officials expect such scams will continue

through the tax-return filing season and beyond.

Officials caution taxpayers to be aware of scams involving

proposed advance payment checks. Although

the government has not yet enacted an economic

stimulus package in which the IRS provides advance

payments, known informally as rebates to many Americans,

a scam using the proposed rebates as bait has

started.

The goal of the scams is to trick people into revealing

personal and financial information, such as Social

Security, bank account or credit card numbers, which

the scammers can use to commit identity theft.

Typically, identity thieves use a victim's personal and

financial data to empty financial accounts; use existing

credit cards; apply for new loans, credit cards, services

or benefits in the victim's name; or file fraudulent tax

returns. Most of these fraudulent activities can be committed

electronically from a remote location, including

overseas. Committing these activities in cyberspace

allows "scamsters" to act quickly and cover their tracks

before the victim becomes aware of the theft.

People whose identities have been stolen can spend

months or years — and money — cleaning up the mess

thieves have made of their reputations and credit records.

In the meantime, victims may lose job opportunities,

may be refused loans, education, housing or

cars, or even get arrested for crimes they did not commit.

Some examples of scams are listed below.

Rebate Phone Call

Scam: Consumers receive a phone call from someone

identifying himself as an IRS employee. The caller

tells the targeted victim that he or she is eligible for a

sizable rebate for filing his or her taxes early.

Fact: The IRS does not gather the information by

telephone.

Refund e-mail

Scam: The IRS has seen several variations of a refund-related

bogus e-mail, which falsely claims to

come from the IRS, telling the recipient that he or she

is eligible for a tax refund for a specific amount. The

e-mail instructs the recipient to click on a link in the

e-mail to access a refund claim form.

Fact: The IRS does not send unsolicited e-mail about

For Retirees, Veterans and their families

Service warns of e-mail, telephone scams using the IRS name

tax account matters to individuals or businesses.

Audit e-mail

Scam: An e-mail notifies a recipient that his or her

tax return will be audited. It may contain a salutation

in the body addressed to the specific recipient by

name.

Fact: The IRS does not send unsolicited, tax-account

related e-mails to taxpayers.

Paper Check Phone Call

Scam: In a current telephone scam, a caller claims

to be an IRS employee who is calling because the IRS

sent a check to the individual being called. The caller

states that because the check has not been cashed, the

IRS wants to verify the individual's bank account number.

Fact: The IRS does not contact taxpayers to verify

bank information.

The only official IRS Web site is located at http://

www.irs.gov. Anyone wishing to access the IRS Web

site should initiate contact by typing the IRS.gov address

into their Internet address window, rather than

clicking on a link in an e-mail or opening an attachment.

(Courtesy of the IRS)

Gentle Dental Care

Amy Minier & Daughters

• Quality Care for Your

Entire Family

• Military Dental Plan

• Located 5 minutes from

DMAFB (Craycroft & 5th)

10% DISCOUNT ON

TEETH WHITENING

WITH MILITARY ID

Amy Minier, D.D.S., P.C.

FREE SECOND OPINION

WITH MENTION OF THIS AD

5639 E. 5TH ST. #G • 571-8100

Robert G. Clark, Attorney

1161 N. El Dorado Place • Suite 345 • Tucson, AZ 85715 • 520.885.3511

Former Legal Officer at Davis-Monthan

Over 30 years experience in Tucson

Eastside location (Wilmot-Speedway area)

• Personal Injury • Automobile Accidents

• Divorce • Legal Separation • Child Support

• Child Custody • Wills • Trusts • Probate

FREE CONSULTATION

Discounts to active and retired military personnel and dependents

and to active and retired civilian employees and dependents
---
Desert Lightning News February 29, 2008

D-M Movies

13

Friday

27 Dresses

(PG-13) • 7 p.m.

Saturday

The Bucket List

(PG-13) • 7 p.m.

Sunday

Mad Money

(PG-13) • 2 p.m.

Admission is for those with base access and is $3.25 for adults, $2 for children 11 years and younger and for Sunday showing. Call 228-5694 for movie theater listings.

Davis-Monthan worship schedule

Catholic

• Saturday Mass at 5 p.m. at the

Desert Dove Chapel.

• Sunday Mass at 9:45 a.m. at the

Desert Dove Chapel.

• Monday through Friday — 11:30

a.m. at the Desert Dove Chapel

Protestant

• Traditional service is Sunday at

8 a.m. at the Hope Chapel.

• Desert Lightning Fellowship

(Contemporary Service) is Sunday at

9:45 a.m. at the Hope Chapel.

• Inspirational Gospel Service is

and events

Sunday at 11:30 a.m. at the Hope Chapel.

• Children's church will be held for young

children (at parents' discretion) during

each worship service.

Dorm Worship Service

• CBNR (Church But Not Really) – This

worship service meets in the Ground

Floor day room, Dorm 3500, Sundays

at 6:30 p.m. Come by at 5:30 p.m. for a

home-cooked meal.

Lunch-time Bible study

Everyone is invited to a lunch-time Bible

study held Tuesdays from 11 a.m. to

noon, located in the 355th Aircraft Maintenance

Squadron Conference Room, Bldg.

4810.

PWOC Bible study

The Protestant Women of the Chapel

join for music, fellowship and Bible study

every Tuesday from 9:30 to 11:45 a.m. at

the Desert Dove Annex. Children's ministry

is provided.

Protestant Youth of the Chapel

A new group is being formed for teens in

the seventh through 12th grades. The group

will meet weekly on Sundays at the Youth

Center from 4 to 5:30 p.m.

In Need of Storage?

Call Us Today!

• 3 Convenient Locations

• Vehicle/Boat & RV Parking

• Climate Controlled Units Available

• Open Weekends

• Budget Truck Rentals

Security Plus Self Storage

7340 E. Benson Hwy

520-663-0633

Kino Self Storage

1751 E. Benson Hwy

520-741-0273

Irvington Self Storage

1155 E. Irvington Rd.

520-889-8900

*10% Discount for Age 55+

*10% Discount to all

Military Personnel

(ID's Required)

Bring this Coupon &

Receive

10% OFF per Month

For Term of Lease

(New Tenants Only)

*NOT VALID WITH OTHER OFFERS
---
14 February 29, 2008

Desert Lightning News

Air Force leaders discuss future challenges

By Staff Sgt. Monique

Randolph

Secretary of the Air Force

Public Affairs

ORLANDO, Fla. (AFPN) — Air

Force major command commanders

spoke to Airmen, Air Force

Association members and other

attendees about the challenges

facing their organizations during

the AFA's 24th annual Air Warfare

Symposium and Technology Exposition

held in Orlando, Fla., Feb. 21

and 22.

Driving home the urgent need

to recapitalize the Air Force's aging

fleet of aircraft and space systems,

commanders outlined the effects

that operating decades-old equipment

has had on the ability of their

commands' Airmen to perform

their various missions.

"We are part of a team that supports

federal agencies to make sure

your families are protected," said

Gen. Victor E. Renuart Jr., commander

of North American Aerospace

Defense Command and U.S.

Northern Command at Peterson

Air Force Base, Colo. "Some countries

are developing and moving

rapidly toward a fifth-generation

capability, whether it's surface-toair

defense or air-to-air capability

in their fighters. Do we know if they

will be enemies or friends? The future

is uncertain. But can we afford

to lag behind them and wait and

see? I think not."

The terrorist threats we see today

are the same threats we will see for

some time in the future," he continued.

"If we don't anticipate where

the next threat may come from, and

if we don't begin to pull together air

and space power and cyber capability,

we're not doing our job to protect

the American people."

Gen. Carrol H. "Howie" Chandler,

commander of Pacific Air

Forces at Hickam Air Force Base,

Hawaii, briefed the audience about

organizational changes within PA-

CAF. Among those changes are

the creation of the 36th Contingency

Response Group at Andersen

Air Force Base, Guam, a group

of assets organized under a single

commander that can rapidly deploy

anywhere theater-wide to set

up an airfield. Also, plans continue

to beddown the Global Hawk unmanned

aerial vehicle at Andersen

beginning in 2009.

General Chandler also spoke

about the need to modernize the

tanker fleet at Hickam which ranges

in age from 44 to 51 years old.

These tankers provide the air bridge

necessary to move cargo and fighter

assets throughout the Pacific.

"I know I'm preaching to the

choir, but I'll say again as I've said

before, it's time to modernize the

fleet. And in sufficient numbers

to do it as quickly as possible," he

said.

Aircraft aren't the only Air Force

assets in urgent need of recapitalization.

U.S. Space Command is

also challenged with using aging

space systems to provide essential

capabilities for the Air Force.

Would-be adversaries know how

the U.S. uses space in its warfighting

capabilities, and understand

how challenging the Air Force on

that front can provide a way to contend

with American air power, said

Gen. C. Robert Kehler, commander

of Air Force Space Command at Peterson

Air Force Base.

General Kehler cited jamming

attempts of American global positioning

systems by foreign governments,

and the use of an anti-satellite

weapon by the Chinese last

year as examples of developing

threats for which the U.S. must be

prepared.

"Space power has helped shape

the American approach to warfare;

it gives our warfighters a precise

advantage," General Kehler said.

"Without space, military operations

would be far less precise, focused,

timely, coordinated and efficient,

and far more costly."

While the Air Force has made

and is making strides to develop

new systems and extend the life

of existing systems, there is still a

need for a new way of developing

and deploying space capabilities,

the general said.

Gen. Kevin P. Chilton, commander

of U.S. Strategic Command

at Offutt Air Force Base, Neb., spoke

of the need to reenergize the Air

Force's nuclear capabilities. With

nearly all the Airmen with experience

in nuclear programs retired,

and a waning focus on the nuclear

mission since the end of the Cold

War, nuclear capability is rapidly

deteriorating.

"Today and in the future, we

need a credible nuclear deterrent in

the U.S.," General Chilton said. "We

also need people with the expertise

to build, maintain and use them in

a deterrent scenario. We need infrastructure

to support that weapons

system. And the warfighters

need the tools to do the assigned

missions; the weapons and delivery

systems to pose a credible deterrent

for our adversaries."

Rounding out the conference,

Generals John D.W. Corley, Arthur

W. Lichte, Bruce Carlson and William

R. Looney spoke to conference

attendees on the second day.

General Corley, commander

of Air Combat Command, spoke

about the importance of maintaining

air dominance and learning

from previous conflicts and wars.

"Our ability to provide global

vigilance, reach and power is predicated

on the continued ability to

own the skies," he said. "Our ability

to achieve air dominance depends

on overmatch in both capability

and capacity. We must possess

and maintain overmatch, and today

that's becoming increasingly at

risk."

Over the years, rivals have come

to challenge the Air Force's capabilities,

General Corley said. Decades-old

fighters are overmatched

by newer operational fighters being

exploited by potential adversaries.

General Lichte echoed those

concerns for Air Mobility Command

aircraft.

"The size of the fleet and force

are decreasing, but airlift requirements

continue an upward trend,"

said the AMC commander.

The general compared the current

operations tempo to that of the

Berlin Airlift, the largest humanitarian

airlift effort in Air Force history.

During the Berlin Airlift, aircraft in

Berlin were taking off and landing

every 90 seconds. Today, aircraft

around the Air Force are conducting

operations at a similar pace; every

82 seconds an AMC aircraft is

taking off or landing somewhere in

the world, General Lichte said.

"Since we started the Global

War on Terror, our manpower has

gone down some six percent, and

we're doing this with some tired

aircraft as well," he said. "The mobility

air forces have just short of

500 KC-135s, and we operate the

oldest heavy airframes in the U.S.

(compared to civilian industry). We

should be thinking about moving

these aircraft through our fleet at a

much quicker pace so we can gain

efficiencies."

General Looney, commander of

Air Education and Training Command,

wrapped up the symposium

with a speech on the state of Air

Force education and training. He

pointed out that AETC is meeting

recruiting goals while maintaining

high standards, and discussed improvements

in training and educational

programs.

Air Force officials are working

toward offering scholarships for

Reserve Officer Training Corps cadets

interested in entering medical

career fields. They are also extending

combat skills training for basic

trainees beginning in October, and

expanding survival evasion resistance

escape training to more career

fields.

Additionally, in fiscal 2010, Common

Battlefield Airman Training

will be available for Airmen in certain

career fields that require additional

combat skills training for

operations outside the wire at deployed

locations.
---
Desert Lightning News February 29, 2008

15

D-M News Notes

MPOY Banquet

The location for the Maintenance

Professional of the Year Banquet has

been changed to the Phase Hanger, 3280

S. First St. in Building 1440, at 5:30 p.m.

March 16. The ceremony begins at 6 p.m.

For more information, call Master Sgt.

Cunningham at 228-1489.

Retired Officers'

Spouses Club

The Tucson Retired Officers' Spouses

Club will hold its monthly luncheon

Thursday at the Lodge on the Desert, 306

N. Alvernon Way. Social hour begins at 11

a.m., with lunch served at noon.

The price of the luncheon is $20. Reservations

and entrée choice are due by noon

Monday, by calling Dorothy Montgomery

at 296-6567, Jayn Underwood at 881-4828

or Virginia Gearhart at 290-8286.

Any spouse or widow of a retired military

officer is invited to join the Tucson

ROSC. There are no membership dues.

For more information, call Chairperson

Rita Dennis at 577-1741.

Military Family Scholarship

Park University is now accepting applications

for its annual Military Family Scholarship,

which is worth 15 credit hours of

tuition for the 2008/2009 academic school

year.

For more information, call Dorian Busby at

748-8266. The deadline to apply is Monday.

Munitions storage area closure

The munitions storage area will be

closed for a semi-annual inventory March

8 through 21. Only emergency issue requests

will be processed.

For more information, call Master Sgt.

Jensen at 228-8274 or Tech. Sgt. Barta at

228-8269.

Lunch-time Bible study

Everyone is invited to bring a lunch and

a Bible for a Bible study every Tuesday from

11 a.m. to noon at the 355th Aircraft Maintenance

Squadron Conference Room, Bldg.

4810.

Youth Bible study

A new Protestant youth group is being

formed for teens in the seventh through

12th grades. Meetings are held every Sunday

at the Youth Center from 4 to 5 p.m.

ALL OUT

DRAG RACING

Discount tickets

available at all

Quik Mart Stores

SPECTATOR ADMISSION

Wednesday, March 5 ...... $5

Thursday, March 6 ........ $10

Friday, March 7 ............. $20

Saturday, March 8 ........ $20

4-Day Pass .................... $50

Children 10 & under FREE with Paid Adult • $5 off with Military ID

March 5-8, 2008

EVENT SCHEDULE

WEDNESDAY, MARCH 5

Racing...

Noon-8pm

THURSDAY, MARCH 6

Test Session...

9am-8pm

FRIDAY, MARCH 7

Qualifying...

9am-8pm

SATURDAY, MARCH 8

Time Trials...

9am

ELIMINATIONS...

High Noon - 8pm

520.762.9700 www.SIRace.com
---
16 February 29, 2008

Desert Lightning News

Desert Lightning News Classifieds

Homes For Sale

Homes For Rent

Roommate Wanted

Cars & Trucks

Cars & Trucks

Employment Opportunities

$155,000. 2001 Spacious

1620sf, 3 Bdrm/2 Bath in Gated

Community w/Pool. 10-Minutes

to DMAFB. Floor Plan w/Stepdown

Kitchen/Den w/Fireplace.

Call 520-207-0333 or 520-419-

8818.

Tierra Vista Beauty! 3 Bedrooms/2.5

Bath, Former Model

Home w/Over $60K in Upgrades.

Open Floor Plan. $244,500. Call

Toll Free 866-392-2875.

Homes For Rent

Immaculate! Huge 3 Bdrm/2

Bath/2 Car Garage w/Many Upgrades.

1400sf, Washer/Dryer/

Refrigerator Included. Close to

Base, Stores, & Schools. Great

Location and Neighborhood.

Perfect for the Military Family.

Details at www.militarybyowner.

com. $1,250/mo. Ramon 520-

990-0912.

Brand New 2188sf, 4 Bdrm/2

Bath/3 Car Garage, 1-Acre Lot

w/Upgraded Kitchen, w/Appliances,

Window Coverings, &

Ceiling Fans. Vail Schools. I-10,

Sonoita Exit. $1,250/mo. Plus

Deposit. Call 520-647-2429.

Eastside Newer 3 Bdrm/2

Bath/2 Car Garage, 1560sf

w/Alarm System & Refridgerator

Included. A/C, Washer/

Dryer Hook-up. Non-Smoking

H o u s e . N o P e t s . $ 1 , 0 2 5 /

mo. 520-721-4400, Owner/

Agent.

Tucson, Golf Links & Harrison,

3 Bdrm/2 Bath Plus Den

& Workshop, Dishwasher,

Yard w/Trees, & Hot Tub.

Pets Okay. $1,265/mo. 520-

546-1611 or ilovelucymuch@

yahoo.com.

Rancho Sahuarita, 3 Bedroom

plus Office. Lots of Tile,

Wonderful Community. Newer

Home, 1690sf. $1,100/mo.

$1,000/Deposit. Check us out

at: www.4renttucson.com. 520-

250-8004.

Nice Rita Ranch Home for

Rent. 3 Bdrm/2 Full Bath.

Gas Dryer & Washer Included.

L a r g e L a n d s c a p e d B a c k -

yard w/Beautiful Pebble-tec

Swimming Pool. Pool Chemical

& Maintenance Service

Included! $1,100/mo. Plus

Deposit Negotiable. Please

Call 520-235-1022.

Smoking Deal! Roommate Needed

in Huge Brand New Home.

$475/mo. All Utilities Included.

10-Minutes from DMAFB. No

Pets. Call 773-895-4125.

Officer Seeks Roommate in

Large New Home w/Pool, near

Park & 10-Minutes from DMAFB.

No Pets. $650/mo. 520-979-

0510.

Cars & Trucks

2001 Saturn L300 Fully Loaded

V6. AT/AC/PS/PW/PDL/Keyless

plus More. 74K miles.

Has warranty. Below book.

$6,980. OBO. Must Sell. 520-

400-9087.

2004 Ford Mustang, 40th Anniversay

Edition. 5-Speed, New

Front Brakes, Great Gas Mileage,

Power Locks/Windows.

$10,500. OBO. Zach 520-207-

6332.

'05 Ford Excursion Limited

6 . 0 4 x 4 . B l a c k - o n - B l a c k ,

Leather Interior, Power Everything!

46K miles. $36,500.

Contact Scarlet 520-444-

3326.

'98 Chevy S-10. 4.3L V6,

4x4, Auto, 75K miles, CD,

MP3, 3-Door, Bedliner, Diamond

Plate Bedrail, White,

Gray Interior, 4" Lift, New

31" Tires, Mickey Thompson

Rims. Nice Truck, Reliable,

Looks Great! $8,500. OBO.

For More Information 661-

300-0584.

2004 Dodge Ram 1500 4x2

Pickup. Blue, Light Gray Interior,

60K miles. Power Everything.

Asking $15,000. Contact Scarlet

520-444-3326.

1999 Mercury Sable Wagon,

AT, AC, PW, PDL, 3rd Row

Seats. New Tires. Very Clean.

Only $3,950. OBO. 520-889-

2844.

2006 Jeep Unlimited Lifted

$26,000. Rockclimbing Vehicle

That Never Went. $25,000 NADA

plus $10K Aftermarket. Call

ASAP. 520-664-0344 or 210-

528-8912.

1 9 9 9 M i t s u b i s h i 3 0 0 0 G T

N e w B F G G - S p o r t Ti r e s .

Ice-Cold A/C, PW, 5-Speed,

PDL, PS, Spoiler. 90K miles,

More! $9,850. OBO. 520-

444-9461.

1999 Ford Ranger Super-

Cab V6, 4-Door, 105K miles

on Newer Engine. Bedliner,

Automatic. $5,300. OBO. 719-

271-7612.

2002 Jeep Grand Cherokee,

4-Wheel Drive, Tow Package,

Leather, 78K miles, and in Excellent

Condition. $10,900. OBO.

520-909-9906.

'07 F350XLT Diesel Crew-

Cab 4x4 Loaded. Lifted 20"

w h e e l s ! F u l l B u m p e r - t o -

Bumper Warranty. No Sales

Tax! pictures: pookiecls@

gmail.com. Only $40,950.

520-444-9461.

Garage & Yard Sales

M u l t i - F a m i l y Ya r d S a l e !

Clothes, Electronics, & More!

6 7 5 3 B S a r a t o g a Av e n u e .

7am-2pm, Saturday, March

1st.

Multi-Family Yard & PCS

S a l e , 6 5 8 0 C u n n i n g h a m .

Video Games, Electronics,

Toys, Baby Items, Clothes.

Saturday, March 1st, 7am-

?

EC-130 Course Instructor

Crew Training International,

Inc. (CTI) is the World Leader

in Fighter/Crew Resource

Management training. We

produce and deliver customized

"state of the art" training

systems for military and

commercial clients throughout

the world.

We are in the process of

hiring a qualified person as a

part-time Course Instructor.

You must have a Bachelors

Degree in Aviation or a related

field. Must have experience

within the past seven (7)

years and a minimum of 500

flying hours in the EC-130

aircraft.

For prompt consideration, forward

a detailed resume to the

attention of Human Resources.

All resumes will be held

in confidence. EOE Employer,

M/F, Vets/Disabled.

9198 Crestwyn Hills Drive

Memphis, TN 38125

Fax: 901-751-0836

Web: www.cti-crm.com

Dan Adler

520-275-2132

www.TeamAdlerTucson.com

"DM's Choice for Real Estate!"

Priced at $153,500!

A rare opportunity in Tucson these days: An affordable

home at an incredible price, completely remodeled for under

$200,000! 2bd/1ba condo, 815sqft. Tons of upgrades: 18" porcelain

tile throughout, new carpet, kitchen counters/cabinets, light

fixtures, tile counter & tub surround in bath, newer A/C & paint,

& like new appliances. A must see in central Tucson.

Veteran Officer - USAF • 30 years AZ Resident

Chairman's Club Producer - Top 3% of Realtors nationwide!

Email: DAdler@GoTucson.com

TROOPS TO TEACHERS

A federal program that helps

eligible military veterans to

become teachers.

Funding available.

Call us for more information

800-830-2134

www.proudtoserveagain.com

www.azed.gov/troops2teachers

Dan Comeau

Cell: 520-975-1643

www.DanComeau.Com

Perfect Home for

Family & Entertaining

– Retired Military

– U of A Graduate

– Relocation Specialist

– Accredited Buyer's Rep

– Luxury Home Specialist

12480 N. Lantern Way, $382,950

Adorable 2750 sqft 5 bed, 3 bath, trilevel

home with rec room. Home features

upgrades galore, custom paint, and 18

inch tile in common areas. The private

back yard has a pool, spa & amazing

mountain views. This is a must see.

MLS #20803540

To view this and other listings visit

www.dancomeau.com

Outstanding Agents

Outstanding Results
---
Desert Lightning News February 29, 2008

17

Desert Lightning News Classifieds

Employment Opportunities

DM THRIFT SHOP - Part-time

Employment Opportunity for

Manager, Assistant-Manager,

Bookkeeper, & Janitor. Send

Resumes to: DM Thrift Shop,

P.O. Box 1504, Tucson, AZ

85708, Attention Mary Laughbaum.

Any Questions: 520-

228-2120. Deadline: March

31, 2008.

Business Opportunities

Looking for Ambitious Entrepreneurs

Crave Energy Drink

Developed by the Original

Formulator of Red Bull

Launched in 40 Different

Countries

Safe for Dieters & Diabetics

Info: www.CraveTheFlavor.

com

Furniture & Appliances

Furniture & Appliances

ABSOLUTELY New! NASA

Memory Foam Mattress Set!

Asking $350. New Queen Cherrywood

Sleigh Bed. $325. In

Box w/Warranty. New Sofa &

Love Set $399. Can Deliver.

520-745-3060.

White Whirlpool Dishwasher, 3-

Years-Old, Original Owners. Only

$75. Call Bill 520-906-0376.

ALL NEW Pillowtop Mattress

Sets! Queen $130. King $195.

Full $110. Twin $99. All New,

Factory Sealed w/Original Warranty.

New Solid Wood Bedroom

Set $670. Can Deliver. 520-745-

3060.

Pets

Free 8-Month-Old Chihuahua/Pit

Mix, Some Training, Housebroken.

Can't Keep due to Growing

Family. Call for info 520-319-

8923.

Misc. For Sale

Hewlett-Packard mx70 17" Monitor

$40. Pictures Available. Call

Chad 520-609-2315.

2001 Upper Deck SP Legendary

Baseball Cards, Valued at

$300. Will Sell for $150. Chris

305-849-1386.

New Wolff Sunquest Canopy

2000S Tanning Bed. Pd $1,300.

Asking $975. OBO. Warranty.

Call 520-574-2480 Leave Message.

Pioneer VSX-D509S 5.1ch Receiver

$100. LG Microwave

w/13" Turntable $40. Pictures

Available. Call Chad 520-609-

2315.

Mint Playstation-3 w/Huge

120GB Hard-Drive & 40GB

E x t e r n a l H a r d - D r i v e .

C o m e s w / O r i g i n a l P a c k -

a g i n g & S p i d e r M a n , 3 -

Blu-Ray DVD. $500. OBO.

810-610-4805.

Change Your Life

In 3 Short Weeks!

Veteran's Benefits

Career Training

Cranes

Dozers

Loaders

Backhoes

Excavators

And More!

Become a Certified Heavy

Equipment Operator in

as little as 3 weeks!

www.Heavy6.com

Use Code "ANR1" or Call

888-254-4832

Nevada School of Construction

4405 E Colton, Ste 106, Las Vegas, NV 89115

ARRIVE ALIVE!

DON'T DRINK

& DRIVE!

is now Hiring

Delivery Drivers

with base access. $10-$15/Hour, includes base

pay, tips, plus a delivery reimbursement.

Applicant must be at least 18 years old with a car,

valid driver's license, insurance and acceptable

driving record. Part-time hours available

Please apply at 6305 E. 22nd Street at Wilmot

or call 747-0472

All New Pottery Barn style

Leather Sofa. Retails $850,

must sell $450. Brand New

Micro Fiber sofa and love

seat. Retail $999, asking

$575. In original box with

warranty. Can Deliver. Call

520-745-5874

7 PC all new solid wood

bedroom set. Retail $1750

asking $850. 4 Piece Queen

Cherry Wood Bedroom

Set. Was $950, just $425.

Designer King Complete

Bedroom set. All solid wood,

"Beautiful" must see $995

In original box with warranty.

Can Deliver

Call 520-745-5874

Misc. For Sale

Very nice new mattress sets

Queen $180. Full $160. Queen

Double Pillow Top Set $275.

King Double Pillow Top Set $375.

Twin Double Pillow Top $200.

520-573-6950.

New in Box, Magellan Maestro

3140 Bluetooth GPA,

w/extended 2-year warranty,

case, travel adapter. All for

$350. 520-574-2480 Leave

Message.

NAT'l OrgANIzATION

NOw HIrINg

Avg. Pay $20/hr

or $57K/yr.

Including

Federal Benefits

and OT

Offered by USWA

866-519-9026

PLAN YOUR FUTURE AT CSC

Applied Technology Division

CSC WINS AIR FORCE CONTRACT TO PROVIDE AVIATION

MAINTENANCE SUPPORT SERVICES AT NELLIS AFB

CSC will provide the personnel to manage and perform maintenance on U.S. Air Force aircraft,

components and equipment in support of the 57th Maintenance Group mission. CSC will also

provide flying and maintenance scheduling, database management and analysis, centralized

maintenance control and maintenance training for active duty 57th Maintenance Group

members. Teaming with CSC are Trailboss Government Services, Anchorage, AK; M1 Support

Services, Fort Worth, TX; and Opportunity Village, Las Vegas, NV.

Company Representatives will be available:

Friday, February 29, 10:00 a.m. – 4:00 p.m.

Saturday, March 1, 10:00 a.m. – 4:00 p.m.

Sam's Town Hotel (Goldfield Room)

5111 Boulder Hwy

Las Vegas, NV

• APG Mechanics

• Aero-Repair

• Structural Fabrication & Repair/

Low Observables

• Aerospace Ground Support

• Propulsion

• Egress/Survival Equipment

• NDI Technicians

• Fuels Systems Mechanics

• Armaments/Weapons Mechanics

• ELEC/ECS

• Maintenance Control

• Training

CSC-ATD offers excellent benefits and compensation. If you are unable to attend in

person, please visit csc.com/careers. Job postings for Nellis AFB are coming soon.

An Equal Opportunity Employer M/F/D/V
---
18 February 29, 2008

Desert Lightning News

Catalina Mission Apartments

Spacious One, Two and

Three Bedroom

Apartment Homes with All

the Amenities You Deserve!

We Support Our Troops!

Ask About Our Military Discount!

4880 E. 29th Street • Tucson, AZ 85711

520.745.1055

Specializing in Quality Engine Rebuilding

Reasonable Rates

748-7681

1920 17th Street

• Boring & Honing

• Rod Resizing

• Engine Balancing

• Head Rebuilding

• Pressure Testing

• Bore & Sleeving

• Crank Grinding

• And much more...

10% Military

Discount with I.D.

622.6868 •

534 n. 4th Ave

• tucson, AZ

10% Discount

For all military personnel

(with military id)

Sunday

1930 S. Wilmot Rd • 520-790-4426

Schedule of Services

Early Morning Worship

Sunday School (All Ages)

Worship Service

Evening Service

Wednesday

Family Night

8:30AM

9:45AM

10:45AM

7:00PM

7:00PM

We appreciate

your service...

We invite

you to ours!

www.eastsideassembly.org

Jobline2000 is your connection

to employment opportunities

from the eastern seaboard to the

Pacific and abroad. Job listings

for Aeronautical, Technical,

Professional, Medical and more

are updated each week, so the

job you've been waiting for could

be just a click away!

Check it out TODAY!

www.jobline2000.com

ROLLING HILLS

P E T C L I N I C

Karen C. McWhirter, DVM PC

Havah Haskell, DVM

Rolling Hills Square at

Golf Links and Kolb

7010 East Golf Links

Tucson, Arizona 85730

(520)790-4871

Small Animal Medicine, Surgery & Dentistry

Discounts for Active Military

Attorney at Law

MICHAEL H. GOTTESMAN, esq.

4400 E. Broadway Blvd., Suite 600, Tucson, AZ 85711

(520) 529-9558

FORMER MILITARY LEGAL OFFICER

Over 37 years experience including the Military

Central location (Broadway between Columbus & Swan)

Personal Injury - Automobile Accidents (10% and up)

~ Divorce ~ Legal Separation ~ Child Custody and Support

~ Wills ~ Trusts ~ Probate ~ Bankruptcy

FREE CONSULTATION

Discounts to active and retired military personnel and dependents

and to active and retired civilian government employees and dependents

FLAT FEES AVAILABLE
---
Desert Lightning News February 29, 2008

19

DESERT LIGHTNING NEWS

CLASSIFIED AD POLICIES AND FORM

FREE ADS

The ONLY personnel eligible to place free

ads in the Desert Lightning News are:

• Active Duty Military Stationed at Davis-Monthan

AFB and their dependents.*

The ONLY Classified ads that are available

as free ads to above listed personnel are:

• Pets - Free To Good Home

• Roommate Wanted

• Lost & Found

• Cars & Trucks (Except RV's)

• Furniture & Appliances

• Misc. For Sale

• Garage & Yard Sales

• Motorcycles

• Misc. Wanted

All other categories are paid.

*Retirees and DoD employees do not receive ads for free.

If you are eligible use the form below:

FREE CLASSIFIED AD FORM

AD COPY

One word, phone number, price per space.

PAID ADS

The following categories are paid ads:

• Homes For Sale

• Houses For Rent

• Apartments For Rent

• Lots

• Hotels & Motels

• Commercial Rentals

• Loans

• Investments

• Business Opportunities

The following ads are also considered paid ads if

you do not qualify under FREE ADS Guidelines.

• Pets - Free To Good Home

• Lost & Found

• Cars & Trucks (Except RV's)

• Furniture & Appliances

• Misc. For Sale

• Personals

• Recreational Vehicles

• Work Wanted

• Condos For Sale

• Townhomes

• Industrial Properties

• Mobiles For Sale

• Mobiles For Rent

• Garage & Yard Sales

• Motorcycles

• Misc. Wanted

• Roommate Wanted

• Rooms For Rent

For PAID ADS, use the form below:

HOMES FOR SALE

HOUSES FOR RENT

APTS FOR RENT

LOTS

HOTELS & MOTELS

COMMERCIAL RENTALS

LOANS

INVESTMENTS

BUSINESS OPPORTUNITIES

PERSONALS

RECREATION VEHICLES

MOTORCYCLES

WORK WANTED

LOST & FOUND

INDUSTRIAL PROPERTY

MOBILES FOR SALE

MOBILES FOR RENT

MISC. FOR RENT

ACREAGE

INCOME PROPERTY

FARMS & RANCHES

MISC. FOR SALE

SERVICES

EMPLOYMENT OPPORTUNITIES

PETS

CARS & TRUCKS

FURNITURE & APPLIANCES

MISC. WANTED

GARAGE & YARD SALES

CHILD CARE

CONDOS FOR RENT

• Misc. For Rent

• Acreage

• Income Property

• Farms & Ranches

• Services

• Employment

Opportunities

• Child care

• Condos For Rent

PAID CLASSIFIED AD FORM

ALL ADS MUST

BE PREPAID

AMOUNT$ ______________

CASH __________________

CHECK # _______________

AUTHORIZATION ________

DATE ___________________

AD COPY

One word, phone number, price per space.

Four lines ($18.00) minimum. Payment must accompany ad copy

20 Words Maximum.Limit 2 Free Ads Per Family, Per Week

Code:________________________________(For Aerotech Office Use Only)

To this line - $18.00 (minimum)

To this line - $22.00

Name:____________________________Rank:_______________________

Address:______________________________________________________

City:____________________________State:__________Zip:____________

Home Phone:_______________________ Duty Phone:____________________

Organization:___________________________________________________

To this line - $26.00

Each additional line $4.00

Code:

(For Aerotech Office Use Only)

Name:

Address:

City: State: Zip:

Visa/Mastercard/American Express #

Exp. Date:

Daytime Phone:

ALL ADS MUST BE RECEIVED BY TUESDAY NOON FOR THAT FRIDAY'S PAPER

To Submit Ads:

Public Affairs will no longer accept classified ads! Please submit your ads via one of the following methods:

BY MAIL:

BY FAX:

BY EMAIL:

BY PHONE:

Paid And Free Ads

456 E. Ave. K-4, Ste 8 Paid And Free Ads

Paid And Free Ads

Paid Ads Only

Lancaster, CA 93535

(877) 247-9188 airmanclass@aerotechnews.com (877) 247-9288
---
20 February 29, 2008

Desert Lightning News

Live Entertainment

Every Friday & Saturday Night

9PM 10PM 9PM

Friday, 2/29

Saturday, 3/1

Jadi Norris

Pacific Breeze

Friday, 2/29

Saturday, 3/1

Los Nawdy Dawgs

The Dinero Bros.

Friday, 2/29

Saturday, 3/1

Passion

Jadi Norris

Friday, 3/7

Saturday, 3/8

Jadi Norris

Mestizo

Friday, 3/7

Saturday, 3/8

Larry Diehl

The Dinero Bros.

Friday, 3/7

Saturday, 3/8

Passion

Jadi Norris

Casino Del Sol March Drink Specials

TECATE LIGHT DRAFT - $2.50 /// PACIFICO BOTTLES - $2.50

It's on the Card

Join Club Sol and earn cash back, concert tickets,

free meals and participate in exclusive promotions.

I-19, EXIT VALENCIA WEST

800.344.9435 • CASINODELSOL.COM

E n t e r p r i s e s O f T h e Pa s c u a Y a q u i T r i b e