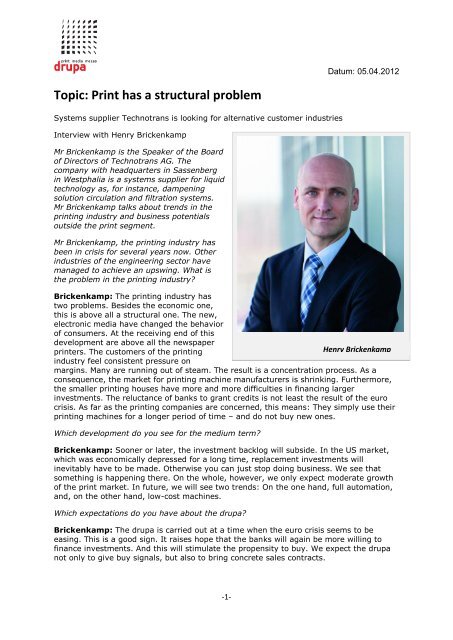 Topic: Print has a structural problem - Messe Düsseldorf
Topic: Print has a structural problem - Messe Düsseldorf
Topic: Print has a structural problem - Messe Düsseldorf
SHOW MORE
SHOW LESS
Create successful ePaper yourself
Turn your PDF publications into a flip-book with our unique Google optimized e-Paper software.
Topic: Print has a structural problem

Systems supplier Technotrans is looking for alternative customer industries

Interview with Henry Brickenkamp

Mr Brickenkamp is the Speaker of the Board

of Directors of Technotrans AG. The

company with headquarters in Sassenberg

in Westphalia is a systems supplier for liquid

technology as, for instance, dampening

solution circulation and filtration systems.

Mr Brickenkamp talks about trends in the

printing industry and business potentials

outside the print segment.

Mr Brickenkamp, the printing industry has

been in crisis for several years now. Other

industries of the engineering sector have

managed to achieve an upswing. What is

the problem in the printing industry?

-1-

Datum: 05.04.2012

Brickenkamp: The printing industry has

two problems. Besides the economic one,

this is above all a structural one. The new,

electronic media have changed the behavior

of consumers. At the receiving end of this

development are above all the newspaper

printers. The customers of the printing

Henry Brickenkamp

industry feel consistent pressure on

margins. Many are running out of steam. The result is a concentration process. As a

consequence, the market for printing machine manufacturers is shrinking. Furthermore,

the smaller printing houses have more and more difficulties in financing larger

investments. The reluctance of banks to grant credits is not least the result of the euro

crisis. As far as the printing companies are concerned, this means: They simply use their

printing machines for a longer period of time – and do not buy new ones.

Which development do you see for the medium term?

Brickenkamp: Sooner or later, the investment backlog will subside. In the US market,

which was economically depressed for a long time, replacement investments will

inevitably have to be made. Otherwise you can just stop doing business. We see that

something is happening there. On the whole, however, we only expect moderate growth

of the print market. In future, we will see two trends: On the one hand, full automation,

and, on the other hand, low-cost machines.

Which expectations do you have about the drupa?

Brickenkamp: The drupa is carried out at a time when the euro crisis seems to be

easing. This is a good sign. It raises hope that the banks will again be more willing to

finance investments. And this will stimulate the propensity to buy. We expect the drupa

not only to give buy signals, but also to bring concrete sales contracts.
---
Topic: Print has a structural problem

Can packaging printing compensate for what is lost in publication printing?

-2-

Datum: 05.04.2012

Brickenkamp: Packaging printing is a growth segment; and, in fact, specifically due to

the new media. If more and more goods are ordered and bought via the Internet, more

and more goods must be packed, printed and dispatched. In addition, the package is

gaining in importance as a distinguishing characteristic of products. It is difficult to say to

which extent this growth segment can make good for declines in other areas.

Are you also doing business with digital printing?

Brickenkamp: We are on the road with many manufacturers. Not at the lower end of

our product range. For Technotrans, it is getting interesting as soon as digital printing

machines are capable of moving into the performance range of offset printing. This is the

segment where we see positive growth tendencies.

In 2011,Technotrans had to cope with high value adjustments due to bad debt losses

caused by the insolvency of Manroland. Now, Manroland is back in the market with two

separate companies. Will Technotrans do business with them again?

Brickenkamp: We have held preliminary talks with both companies which emerged from

the insolvency. These talks were quite promising. I expect the webfed and the sheetfed

company to remain an important customer of Technotrans.

Technotrans wishes to decrease its dependence on the printing industry and increase the

portion of sales made outside this industry to 30 per cent in the course of the next three

years. How will you do that?

Brickenkamp: With the acquisition of Termotek AG last year, we entered the laser

cooling segment and thus opened the door to an interesting growth market. Most

recently we made a cooperation agreement with KLH-Kältetechnik. As a result, we are

now also present in industrial cooling and plant engineering. Furthermore, we have our

eye on other industries as well, for example, machine tool building. Technotrans

manufactures temperature control systems, with temperature being controlled above all

by means of fluids. There are a lot of industrial sections where they can be used. In the

medium term, we wish to make about 50 per cent of our sales with new customers in

new industrial sectors.

Other suppliers of the printing industry are looking for new industrial sectors as well in

order to reduce their dependence on this weakened industry. Do you run across your

existing competitors in the new business areas, too?

Brickenkamp: No. We have an outstanding market position in specific areas and with

specific products. This is where we are global market leaders, for instance, in

temperature control systems for dampening solutions. Other companies focus on other

processes. We don`t get in each other`s way, and this won`t be the case in other

industries and markets either.
---
Topic: Print has a structural problem

Key questions

Why is there a future for printing?

-3-

Datum: 05.04.2012

Brickenkamp: For three reasons. In spite of the electronic media, paper will continue to

be the major carrier for media because of its higher qualitative value. Secondly, the new

media also generate classic print business. I just mention the catchword "cross media".

And thirdly, packaging printing will continue to rise and push the printing industry.

The drupa turned 60 last year. Will there still be a drupa in 60 years from now on?

Brickenkamp: I don't think so, at least not in its present form. The large trade shows

will get smaller and, above all, shorter. This also applies to the so-called flagship fairs. In

addition, I see a tendency towards, for instance, in-house exhibitions in order to care

about customers very individually. On the other hand, flagship fairs are always important

market places where people meet and communicate. Business is always generated by

people; there is nothing that's more efficient. Nevertheless you`ve got to ask yourself

whether 14 days is not too long for a drupa already now, above all since the original

main reason for these two weeks, i.e., the installation of very large webfed printing

machines which simply wouldn`t be worth the trouble for just a few days, is to a large

extent no longer valid now.

Which further development was the most important one since the invention of letterpress

printing?

Brickenkamp: I wouldn`t say that there is just one special further development which

stands out in particular. On the contrary: From my point of view, it`s a continuing

process that pushes printing technology. The catchwords in this respect are automation

and print finishing. They have always been drivers of innovation.

The drupa trade fair takes place in Düsseldorf from 3 to 16 May 2012. A trade show

organized every four years, it is by far the largest event of the printing industry worldwide.

This is where trends are set for the years to come.

The German printing machinery industry is the global market leader and will continue to

maintain this status in future as well. Every month in the run-up to the drupa, the VDMA

will offer an interview with one exhibitor of the industry in the form of a press release.