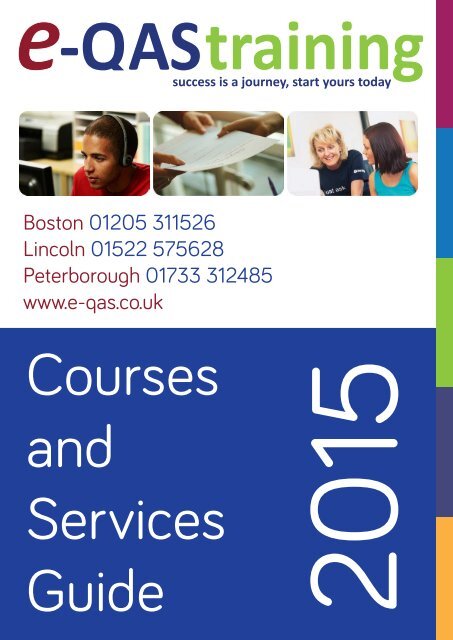 e-QAS Training Courses and Services Guide
e-QAS Training (e-Qualifications and Skills) is one of the largest and most successful training providers in the East of England and East Midlands. We provide training and recruitment needs whether you are an employer or an individual who wants to give your career a kick start. Check our Courses and Services Guide out to discover how we can put you on the road to a brighter future.
e-QAS Training (e-Qualifications and Skills) is one of the largest and most successful training providers in the East of England and East Midlands.

We provide training and recruitment needs whether you are an employer or an individual who wants to give your career a kick start.

Check our Courses and Services Guide out to discover how we can put you on the road to a brighter future.
SHOW MORE
SHOW LESS
You also want an ePaper? Increase the reach of your titles
YUMPU automatically turns print PDFs into web optimized ePapers that Google loves.
Boston 01205 311526

Lincoln 01522 575628

Peterborough 01733 312485

www.e-qas.co.uk

Courses

and

Services

Guide
---
Contents

Learning with e-QAS

Advice & Guidance

learndirect courses & qualifications

IT

English

Maths

Office Skills

Retail

Customer Service

Traineeships

Pitman Training courses

UK online

Success stories

Our promise

Contact and find us

2

3

4

5

6

7

8

9

10

11

12

13

14

15

16

1
---
Learning with

With e-QAS Training, rest assured that your

learning is in safe hands. With over 25

years of training experience, we're

committed to helping people gain skills

and qualifications to achieve their

employment and career ambitions.

At e-QAS we know that life can get busy

and sometimes things get in the way. That's

why the courses and services we offer are

flexible to you and your needs.

Each course we offer takes place in one of

our centres, where you undertake learning

at your own pace and are led through the

whole journey by one of our friendly,

dedicated tutors.

Learning through a centre is flexible, with

convenient session times for you to choose

from, including evening availibility. How

long a course takes to complete is

dependent on your needs and

circumstances, and will be individual to

each learner.

Before you enrol with us, we'll have a chat

with you to find out what it is you need, and

check the level and type of qualification

you should be working towards. We'll also

take into account any qualifications and

skills you already have, so we can tailor the

right programme of learning for you. This

means you only do the courses you need

to, and don't waste time covering things you

already know.

2
---
Careers help, advice & guidance

Whether you're struggling to find work, fancy a

new challenge or need some general career

advice, our advisors are here to help you. All

our advisors are fully trained and qualified so

they can give you the best possible options

and advice.

All our advice and guidance is accredited by

the 'Matrix standard' and provided through the

National Careers Service so you can be

confident that you're receiving the best

possible service from us.

Our personalised one-to-one appointments

can help with:

• Career management

• Progression advice

• CVs

• Cover letters

• Interview skills

• Creating an e-mail address

• Online job searching

• Universal Job Match (UJM) accounts

• Confidence building

• Communication skills

• Funded training

• And much more...

To make an appointment with

one of our National Careers

Service advisors, contact your

local centre on the phone

numbers provided on the

'Contact us' page (pg. 16)

All appointments are FREE, so book yourself in

today to access some fresh advice and ideas.

3
---
courses

Why learndirect

4

1

We can help you learn whatever your stage of life.

Whether you're unemployed and looking for a job,

or in work and looking to progress, we have

courses and qualifications right for you.

2

We help you get the qualifications employers are

looking for- in maths, English and IT, as well as in

a number of industries.

3

You can start at any time of year- we don't have

term times. When you learn is flexible so it can fit

around your life. We'll discuss what works for you

before you start.

4

What you learn will be based on your needs so

you focus on what matters for you and don't

waste time on things you already know. We'll chat

about this before you start.

5

You can choose where you learn- in a centre, at

work or online at home.

6

You'll get help and support when you need it.

7

We understand your goals- so we'll agree a

target end date with you as well as having

regular reviews to chat about how you're getting

on, keeping you on track to achieve what

you want.

8

We can help you work out how to pay for your

learning. Thanks to government funding your

course may be FREE.

9

We get results- 93 percent of our learners say

learning with learndirect has given them the

skills to help them in their working life.

10

We please our customers- 94 percent of

learners are satisfied with the services we

provide.
---
IT skills

Do you need an IT qualification to help

you get a job or get ahead at work

Whether you're a total beginner or just

need to gain a greater range of IT , we've

got a course and qualification for you.

Our functional skills IT courses are offered

from entry level, for the total beginner,

through to level 2, for those people who

wish to gain a qualification which proves

to employers they have the IT skills

they're looking for.

Depending on the level you start at, our IT

courses will cover a range of skills,

including:

• Computer basics

• Using computers to make day-to-day

tasks easier

• Using the Internet and e-mail

• Word processing and Spreadsheets

• Computer and Internet security

• Improving IT productivity

• Databases

Our entry level course usually takes place

as a workshop over a week long period,

with a dedicated tutor guiding you and

offering support. The level 1 & 2

qualifications take place in the centre with

your learning flexible to your needs and

circumstances.

5
---
English skills

Do you need an English qualification to

improve your CV or get a job Would you

like to boost your confidence in

punctuation, spelling or reading

If so, we can help. We understand that

English skills are part of our everyday

lives. If you need help writing your CV,

completing a job application form or

understanding what a leaflet is telling you,

then gaining our nationally recognised

English qualifications from City & Guilds

will help you apply your English skills in a

practical way.

Our courses are offered from entry level

through to level 2, and you'll be entered at

the level decided by your current ability

and learning needs. Through the courses

you'll cover subjects such as:

• Reading

• Writing

• Grammar and punctuation

• Spelling

• Vocabulary

• Speaking and listening

Learning takes place online at one of our

centres, with face-to-face support from

one of our friendly subject tutors.

6
---
Maths skills

Need a maths qualification to give your

CV boost and help get a job Want to

improve your everyday maths skills Then

we can help.

We know how important maths skills are

in everyday life- at work, at the shops and

even at home.

Our maths qualifications will help you gain

the essential skills you need to solve

number problems easily at work and at

home, and you'll get a city & Guilds

accredited qualification too.

In our courses you'll cover subjects like:

• Subtraction, addition, multiplication and

division

• Fractions and decimals

• Shapes and space

• Percentages

• Measurements

• Handling data

• Money

We offer courses from entry level to level

2, depending on what you need. Learning

takes place online at one of our centres,

with face-to-face support from one of our

friendly subject tutors.

7
---
Office skills

Do you want to understand how a business

really works, and develop the skills to use in a

huge range of industries

Then gaining a qualification in business

administration can help you. The 'Introduction

to Business Administration' course will give the

skills and knowledge you need to work in an

office based role, giving you that all important

advantage over competition when going for

jobs.

Not only will you learn new and relevant skills,

but upon completion you'll also gain a City &

Guilds accredited Level 1 Certificate in

Business and Administration.

Topics that are covered on the course include:

• Working in a business environment

• Different communication methods in the

business environment

• Managing and improving your performance

• Using office equipment, filing systems and

e-mail

• Working with others, greeting and welcoming

visitors, and making and receiving phone

calls

8

To learn more about the course, and how

learning takes place, please contact your local

centre on the details provided on page16.
---
Retail skills

A qualification in retail opens doors to a variety

of working environments to indulge your

interests- whether you love fashion or music,

DIY or food, there's a retail job perfect for you.

Our 'Introduction to Retail' course will give you

the skills and knowledge you need to work in

the retail sector, giving you the all important

advantage over competition when applying for

jobs.

You'll gain valuable technical knowledge of the

retail environment and upon completion you'll

also gain a City & Guilds accredited unit award

Level 1 qualification in 'Understanding

Customer Service in the Retail Sector'.

During the course, you'll cover topics such as:

• Customer service

• Looking after customers in a retail

environment

• Creating a positive retail impression

• Meeting the needs of individual customers

• Undertanding the importance of communication

in the delivery of customer service.

For more information about this course, and

how learning takes place, please contact your

local centre on the details provided on the

'Contact us' page (pg. 16).

9
---
Customer service skills

Our customer service course and qualification

can develop the skills you need to provide

excellent customer service, and can be applied

to hundreds of job roles across different

industries.

A qualification in customer service can help you

to:

• Make the right impression with customers

• Get a better understanding of what customers

really want

• Build confidence and a sense of achievement

• Gain an important advantage when applying

for jobs

Upon completion of the course you'll gain a City

& Guilds accredited Level 1 award in Customer

Service, and developed skills in the following

areas:

• Customer service essentials

• Communicating with customers

• Problem solving

• Relationship building

• Using information

• Continuing professional improvement

To find out more details about the course and

how learning takes place, please contact your

local centre on the details provided on the

'Contact us' page (pg. 16).

10
---
Traineeships from learndirect give 19-23 year olds the opportunity

to develop the skills and workplace experience that employers want,

and put them in a better position to compete for an apprenticeship

or job.

Finding a job can be tough, especially if you

don't have much work experience. Often

employers want people with previous work

history, but how do you get this experience

in the first place

There's no need to worry, learndirect can

help you take that first step and kick start

your career with a traineeship.

Real life work experience and the

training you need

You'll have the chance to develop the skills

that will prepare you for the workplace,

including CV writing, interview techniques,

time management, problem solving at work

and much more.

You'll be able to build your confidence with

practical work experience. You'll complete a

placement with a local company to really

help you gain the skills that employers are

looking for and the confidence that you can

use in future employment.

Not sure what type of work you'd like to

do

Don't worry, you can try out different work

environments to help you decide what

you're most interested in.

Supporting you

We'll support you every step of the

way. A mentor will give you one to one

support, be there to answer any

questions or concerns you have and

make sure you're getting the most

from your learning and work

experience

Do I have to pay anything

Your Traineeship could be funded by

the government. We'll discuss this with

you before you start

To find out more details, or if you are

eligible, please contact us on the

details provided on page 16.

Work

placement

Traineeship

English

& maths

Work

preparation training 11
---
Get the

Pitman

Advantage

Nowhere in the world offers anything like Pitman Training - because our

students receive a unique combination of benefits.

Whether you're interested in secretarial, Microsoft Office, keyboard skills, bookkeeping

and accounts, IT or any of our other courses, our training is designed to help

both boost your confidence and enhance your skills.

• Your CV will stand out from the crowd

Sir Isaac Pitman invented shorthand in 1837 and since then we've enjoyed an

unrivalled reputation; highly respected by employers. When you've trained the

Pitman Training way, you're already a cut above the rest.

• You can train anytime, full-time or part-time

We don't have rigid course timetables with fixed terms, like many others, which

means training can fit around your work and home lives.

• Help and support along the way

Experienced advisors and tutors are always on hand to help. Our exceptional levels

of support and guidance mean whenever you need advice or encouragement we'll

be right by your side.

Whether you want to improve your career prospects with one of our highly respected

diplomas, gain that promotion, get back to work or simply stand out from the crowd,

Pitman Training can help you like nobody else can.

The best way to get things started

Just give us a call on 01522 514863 for a chat with one of our friendly experts.

12

For further info and courses that are offered visit: www.pitman-training.com/lincoln
---
Computers and the Internet can open up whole new worlds!

Do more online

There are so many things you can do on

the Internet. It could make everyday tasks

a lot easier, save you time and money, and

allow you to do more of the things you like

doing best!

It can help you get in touch with people

wherever they are in the world at the click

of a button, and you can find information

on whatever you're interested in, from

fishing to football.

Millions of people use the Internet every

day as it helps make their life easier - and

you could join them!

Find the help and support you need

Whether you've never touched a computer

before and want to get started with the

basics, or can do a little but want to know

more, we're here to help you.

Our friendly tutors are on hand whatever

you want to learn about- from using a

mouse for the first time to finding jobs

online or keeping in touch with friends and

family. We'll give you a helping hand so

you're confident doing whatever you want

to do online.

13
---
Success stories

Don't just take our word for it, hear what our learners

have to say about their time with e-QAS

Judith, 48

"I was suffering from low confidence and thought my dyslexia would

stop me from learning. The tutors took all this on board, helping me

learn at my own pace and giving my confidence a much needed boost."

Due to health reasons Judith could no longer do the physical work that

she had done for most of her life. She had low self-esteem, held no

formal qualifications and little knowlege or experience of computers.

e-QAS was able to help by enroling Judith on fully-funded courses in IT

and Maths, and putting her through our employability workshop. Since

completing the employability programme, Judith has gone on to secure

a job with Gala Bingo while still completing her learning.

Paige, 22 and Brooke, 20

"The staff at e-QAS gave us the confidence to apply for jobs and

promote ourselves in an interview, opening up a future of possibilities."

14

Paige and Brooke (sisters) came to e-QAS eager to gain employment

and take on any suggestions we had to offer. We were able to help by

creating updated CVs that showed off the skills they had to offer.

They were also helped through one of our employability workshops,

which taught them to write cover letters, and provide practical advice

in gaining employment. Both sisters have since gone on to gain work at

'The Range' store in Boston, Brooke as a Sales Assistant and Paige as

a Cash Office Assistant.
---
Our promise to you

Whatever you want to achieve with e-QAS, we want to

make sure you enjoy it and receive the best possible

service from us.

We will:

• listen carefully to you and help you find the right learning, qualification or support to

achieve your goals

• ensure you know what to expect, who will support you and how they can help

• be flexible in how we support you and make it easy for you to get in touch with us

• understand your needs and circumstances to make sure you get the most out of your

time with us

• treat you fairly, politely and with respect

• ensure our staff are professional and have the skills and knowledge to support you

• provide help and support if you have a problem, question or complaint

• let you know if you're eligible for funding or how much you need to pay, and whether

you can get help with your costs

• help you work out what your next steps could be so you continue developing new

skills, whatever your age and circumstances

In return you should:

• complete the activities and work that you agree with us

• participate fully and actively in your programme

• treat staff, learners and customers fairly, politely and with respect

• talk to our staff regularly about your progress

• let us know if you need any extra support to help you achieve your goals

15
---
- Contact Us

Boston

t: 01205 311526

Unit D2

Boston Trade Park

Norfolk Street

Boston

PE21 9HG

Lincoln

t: 01522 575628

3rd Floor

Norwich Union House

Silver Street

Lincoln

LN2 1EA

Peterborough

t: 01733 312485

Crescent House

46 Priestgate

Peterborough

PE1 1LF

Find us online at www.e-qas.co.uk

e-mail: enquiries@e-qas.co.uk

www.facebook.com/eqastraining

16

www.twitter.com/eqastraining
---
Proud to work with:

*All information in this brochure is correct as of December 2014