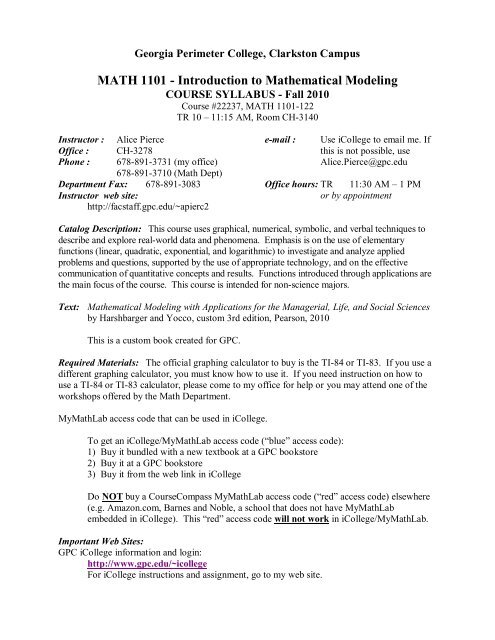 MATH 1101 Syllabus - Faculty & Staff, Georgia Perimeter College
MATH 1101 Syllabus - Faculty & Staff, Georgia Perimeter College
MATH 1101 Syllabus - Faculty & Staff, Georgia Perimeter College
SHOW MORE
SHOW LESS
Create successful ePaper yourself
Turn your PDF publications into a flip-book with our unique Google optimized e-Paper software.
Georgia Perimeter College, Clarkston Campus

MATH 1101 - Introduction to Mathematical Modeling

COURSE SYLLABUS - Fall 2010

Course #22237, MATH 1101-122

TR 10 – 11:15 AM, Room CH-3140

Instructor :

Office :

Phone :

Alice Pierce

CH-3278

678-891-3731 (my office)

678-891-3710 (Math Dept)

Department Fax: 678-891-3083

Instructor web site:

http://facstaff.gpc.edu/~apierc2

e-mail :

Use iCollege to email me. If

this is not possible, use

Alice.Pierce@gpc.edu

Office hours: TR 11:30 AM – 1 PM

or by appointment

Catalog Description: This course uses graphical, numerical, symbolic, and verbal techniques to

describe and explore real-world data and phenomena. Emphasis is on the use of elementary

functions (linear, quadratic, exponential, and logarithmic) to investigate and analyze applied

problems and questions, supported by the use of appropriate technology, and on the effective

communication of quantitative concepts and results. Functions introduced through applications are

the main focus of the course. This course is intended for non-science majors.

Text: Mathematical Modeling with Applications for the Managerial, Life, and Social Sciences

by Harshbarger and Yocco, custom 3rd edition, Pearson, 2010

This is a custom book created for GPC.

Required Materials: The official graphing calculator to buy is the TI-84 or TI-83. If you use a

different graphing calculator, you must know how to use it. If you need instruction on how to

use a TI-84 or TI-83 calculator, please come to my office for help or you may attend one of the

workshops offered by the Math Department.

MyMathLab access code that can be used in iCollege.

To get an iCollege/MyMathLab access code ("blue" access code):

1) Buy it bundled with a new textbook at a GPC bookstore

2) Buy it at a GPC bookstore

3) Buy it from the web link in iCollege

Do NOT buy a CourseCompass MyMathLab access code ("red" access code) elsewhere

(e.g. Amazon.com, Barnes and Noble, a school that does not have MyMathLab

embedded in iCollege). This "red" access code will not work in iCollege/MyMathLab.

Important Web Sites:

GPC iCollege information and login:

http://www.gpc.edu/~icollege

For iCollege instructions and assignment, go to my web site.
---
Clarkston Mathematics Department:

http://www.gpc.edu/~clamcse

This site lists important math department information and course information.

Clarkston Mathematics Department – Fall 2010 Information:

http://www.gpc.edu/~clamcse/department_info/dept_info_current.html

This site includes a list of important dates, information on the Math Lab, Open Computer

Lab, and the Academic Honesty Policy.

Expected Educational Results:

http://www.gpc.edu/~mcse/semccotg.htm

These are listed in the Common Course Outline (CCO) for Math 1101 on the web site for

the Mathematics Academic Discipline Group (all 5 campuses).

Grading :

Your course grade will be calculated as follows:

0.50 (test percentage)

0.15 (quiz, project, other assignments percentage)

0.25 (final exam percentage)

0.10 (MyMathLab homework percentage)

course grade percentage

Course grade percentage Grade Earned

90% and up A

80 – 89.9% B

70 – 79.9% C

60 – 69.9% D

Below 60%

F

Tests: 1) There will be 4 tests.

2) Each test is worth 100 points.

3) NO MAKEUPS. However, tests may be taken early. Be sure to give me

advance notice.

4) If your final exam score is higher than your lowest test score, it will replace your

lowest test score. There is one exception - a test score of zero due to dishonesty

will not be replaced with the final exam score.

Quizzes:

1) Approximately 10 quizzes will be given. Some quizzes may be unannounced.

2) NO MAKEUPS. Your 2 lowest quiz scores will be dropped.

3) Late students will not get extra time to take the quiz.

Projects: Two projects will be assigned. More details will be given with each project.

Homework : Doing homework is a critical part of being successful in mathematics. You are

expected to do the assigned problems in MyMathLab – they are not optional. Do your

homework regularly. Stay on top of things – do not get one or two sections behind. Be sure to

get help if you are having trouble or have questions.
---
Other assignments - In-Class Work, Worksheets, iCollege:

Occasionally, worksheets or other assignments will be done in class or outside of class. No

credit will be given if you are absent when an assignment is done in class.

1) Will usually be worth 3-10 points.

2) Cannot be made up for credit.

Final exam: The final exam is comprehensive and is worth 25% of your course grade. The

final exam is on Tuesday, December 7 at 10 AM – 12 PM.

Attendance:

"Student's academic success is the major priority of the College. Because regular participation

enhances the learning process, students are expected to adhere to the attendance policy set forth

by the College and individual faculty members. Differences in content and teaching styles exist

among courses, which can impact students' learning. Therefore, students are strongly

encouraged to attend all classes to better prepare them for assignments, tests, and other courserelated

activities. Students are accountable for assignments and material covered during an

absence".

If absence is unavoidable, read the textbook and get the lecture notes from a classmate.

Midpoint/Withdrawal:

The midpoint of the semester is Monday, October 11. This is the last day that you can

withdraw from the course with a grade of "W." If you withdraw after the midpoint, you will

receive a grade of "WF."

It is the responsibility of the student to complete the withdrawal process. The instructor will

NOT withdraw you from this class.

Classroom Courtesy:

Be on time to class.

If you need to leave class early, please let me know before class.

Turn off your cell phone (or put it on silent mode). No texting during class.

No headphones during class

HELP: I can help you during my office hours or by appointment. I also encourage you to post

your questions on our class' iCollege Discussion Board. Other great resources are the Learning

and Tutoring Center (LTC, also known as the Math Lab), your classmates (start a study group),

MyMathLab (guided homework, videos, tutoring center), and web sites (links are on our class'

iCollege web site). Don't sabotage your success by not asking for help or by waiting too long

to ask for help. Your time and money are too precious.

MAKE THIS CLASS A PRIORITY. DO YOUR HOMEWORK REGULARLY. ASK

QUESTIONS. THINK POSITIVE. I WANT YOU TO SUCCEED AND I KNOW THAT

YOU WANT TO SUCCEED.