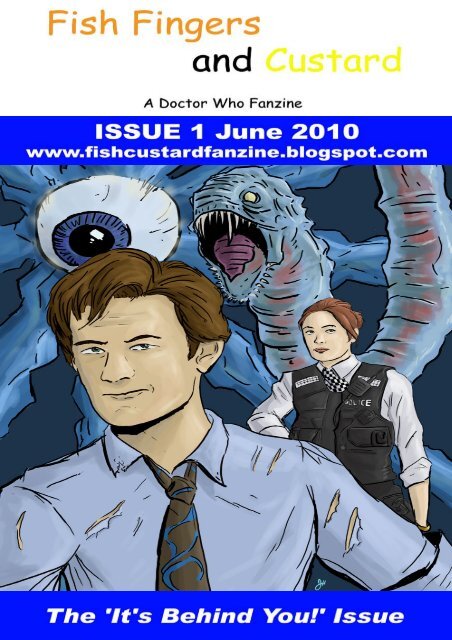 Fish Fingers and Custard Issue 1 - Fish Fingers and Custard Fanzine
Fish Fingers and Custard Issue 1 - Fish Fingers and Custard Fanzine
Fish Fingers and Custard Issue 1 - Fish Fingers and Custard Fanzine
SHOW MORE
SHOW LESS
You also want an ePaper? Increase the reach of your titles
YUMPU automatically turns print PDFs into web optimized ePapers that Google loves.
2

Fish Fingers and Custard Issue 1

The Sun Hasn't Yet Set…An Editorial

Greetings! Welcome to the first issue of 'Fingers and Custard'. Now I burden no shame

at ripping the title off THAT moment in the 'Eleventh Hour', as it just screamed

'legendary scene' at me! I predict in 25 years time, people will be holding that scene in

the same esteem as we (or just me, probably) hold the 'two wires moment' in Genesis of

the Daleks, or THAT camera shot of Peri's chest in 'The Caves of Androzani'. It was just

something out of the ordinary, something that proved that this man was an alien (instead

of a lovesick wannabe-human…) something that had normal, everyday people popping to

their local supermarket to buy fish fingers and custard and actually EAT it (which in itself

is ironic, as the actual scene used cakes!) That is the true magic of Doctor Who, folks!

This is the reason why I'm hoping to base this fanzine on the world of Doctor Who

fandom - simply because it's the best fandom in the world! My experience of fanzines

stems from football (or soccer, if you like - I don't!) which are arguably more popular

here in the UK than fanzines based on television programs. As a teenager, I would always

look forward to purchasing my team's latest fanzine, simply because it was written and

produced by the supporters and was miles better than the official program! The essays,

reports and cartoons were trounced in the sort of laddish humour, bad language and injokes

that you only get in your own little part of the world. It inspired me, it made me

want to read more, it made me want to write - just like how the team's results affect (and

still do) my mood!

Now what the bloody hell does have to do with Doctor Who, I hear you cry! I got into

Doctor Who in 2005. I make no apologies (and shouldn't really need to) for the fact that I

was born in the mid-80's and had no Doctor Who to speak of whilst I was growing up. So

when I got into the program, I came to fandom with a fresh perspective, without having to

endure 'the dark years'. The question is though, were they really 'the dark years'?

Doctor Who was kept alive via the avenues of books, comics, audios and yes, you've

guessed it – fanzines! All of these mediums have produced many of today's top television

talents, some of whom who work on the program today. Doctor Who had became worn

towards the end of its original run (not of its own doing mind, but that's a different rant

for a different issue!) and the 'dark years' was, in hindsight, probably a good thing.

My entry into fandom was via the interweb (which again, is probably another rant for

another issue!), which led to me attending conventions and meeting people who love

Doctor Who as much I do. I quickly realised that Doctor Who fandom was as loyal and

supportive than that of a football club. It was the fans that kept the show alive during

those 'dark years', it was those people who wrote/drew/recorded (and those who bought

that material) that kept the show in the public consciousness. I believe that if Doctor Who

was allowed to die, if the fans just moved on, then Doctor Who would NOT be back

today. Thankfully it is and the popularity of the show is arguably the greatest it's ever

been. For that folks, I salute you!
---
3

Fish Fingers and Custard Issue 1

A big part of fandom, back in the day, was fanzines. The late 80's/early 90's is

considered to be the 'golden age' of Doctor Who fanzines. Today, what with the internet,

plenty people consider that the fanzine is a thing of past. But why? Surely the internet

can be used as a tool to make fan-publications even more popular than they were? It can

be too easy to post on a forum, write a blog or whatever. I feel that these things miss that

sense of belonging, which is what makes a fandom what it is. A fanzine is something that

people do together - I know that I couldn't put this thing together without the talents of

others.

I was just browsing a fanzine section of a Doctor Who message board, looking at the

various downloadable PDF's and I just thought to myself - 'I love writing, I love fanzines

and I love Doctor Who'. The idea hit me in the head as hard as a woman does, when I

drunkenly try to chat them up in a club! I would do a Doctor Who fanzine and prove, first

to myself, that I could do it and secondly - that my theory of the internet not being the end

of fanzines but a useful tool instead, was right.

As soon as I decided to do this, my thoughts drifted to how I was going to do it. I looked

around and saw that there was a hell of a lot of downloadable PDF's and a few printed

fanzines knocking about. I'm a huge supporter of the printed medium, simply because I

lack the concentration of being able to read anything online for more than 10 minutes! So

I decided upon doing the fanzine on paper, but I thought back to my 'internet theory' and

realised that I could not exclude those who like to read stuff online. We are supposed to be

embracing new technology after all! A free-downloadable fanzine or a paper copy (with

glossy covers!) for a tiny production cost, would be the way that I present the fanzine. I

honestly believe that with quality content, that my contributors and I, can make this work.

The sun hasn't yet set on the age of fanzines!

Recently there has been a resurgence in fanzines. Be sure to check out downloadable

PDF's such as The Terrible Zodin (http://doctorwhottz.blogspot.com), Shooty Dog

Thing (http://brax-zine.blogspot.com), Whotopia (http://www.whotopia.ca) and paper

fanzines such as Rassilons Rod (on Facebook) and Blue Box

(http://www.blueboxfanzine.blogspot.com). It's these new breed of fanzines that have

inspired me to do my own. I hope that soon, more of you will be able to get together with

friends and produce your own, continuing the legacy that the fans of the classic series

have left us.

The content of this fanzine will be simply 'anything goes'. I feel we've got a great mix of

varying writing styles in here, the main thing I wanted this fanzine to be, was balanced -

and it certainly is! From my drunken attempts at hitting a keyboard and hoping something

good pops on the screen, to well-educated people writing a well presented essay about

Quarks or something!

If like to write or draw and want to see your work in the fanzine, or just want more

information, visit the blog at http://www.fishcustardfanzine.blogspot.com or drop me a

line at fishcustardfanzine@googlemail.com - it's that simple! Oh and you have to like

Doctor Who too. Not sure if I mentioned it!
---
4

Fish Fingers and Custard Issue 1

Anyway, enough of all this self-promotion! I hope you enjoy the issue, as much as I have

putting it together! Issue 2 will be out in September (hopefully…) so in the meantime,

enjoy the finale of Series 5 – I'm off down the pub!

Cheers!

Danny

P.S. This fanzine is non-profit and is distributed as a free PDF or in print, at a small cost

to cover production. If you enjoy our content, please consider slipping a few quid to our

adopted charity, KidsOut, whose aim is to bring a bit of fun to the lives of children, all

over the UK, who are ill, disabled or disadvantaged. You can view our JustGiving page at

http://www.justgiving.com/fishcustardfanzine (There's no pressure and I'm not going all

Bob Geldof on your arse – I know a lot about music for a start!) Many thanks!

Contributors

The following made Issue 1 of Fish Fingers and Custard possible:

Angel Bob: Daniel Gee

The Weeping Angels: Emma Donovan, Tom Spychalski, Tim Nolde, Amy

McKay, Tim Drury, David Rudden, Louis Trapani, AqueousSerenade, Betawho

and Harry Sedgewick.

Front Cover Art: Jon Wesley Huff

Back Cover Art: Jonny Eveson

Special Thanks To: Matt Smith, Karen Gillan, Steven Moffat and all the team,

past and present, down at Cardiff for making such a great program that we love

so much. Jon and Tracy Morter and the Back-up Ragers for just being simply

awesome and my Dad and Sister for putting up/watching WHO with me! Special,

special thanks to: The Tudor House Hotel for serving me when I was 16.

Whoops, not really officer!

For Mum x

Fish Fingers and Custard is a non-profit fan-made publication and is not for

resale. Although you can hire me as an escort. Doctor Who is ©BBC, no

copyright infringement is intended.

Blog: http://www.fishcustardfanzine.blogspot.com

Twitter: http://www.twitter.com/fishcustardzine

Facebook: Search - "Fish Custard Fanzine"
---
5

Fish Fingers and Custard Issue 1

Doctor Who and The Video Pirate

On November 22nd, 1987, a mysterious

thing happened on the shrouded mist

covered mass that was called 'The Horror

of Fang Rock', and it was not the attack

on a group of stranded boaters and

lighthouse workers by a glowing green

Ruton. Rather it was one of most infamous

cases of signal hijacking since Captain

Midnight had hijacked HBO's signal in

1986.

It began at another station in Chicago WGN channel nine, a superstation that

was also available on some cable packages at the time. At about 9:10 P.M., a

man wearing a Max Headroom mask (A mask of a science fiction TV show

character that had recently been seen in the US on ABC television, and a

popular Coca-Cola ad spokesperson), interrupted sportscaster Dan Roahn, for

about forty-five seconds during the recap of that days Chicago Bears football

game. The engineers at WGN television quickly changed the STL (Studio to

Transmitter Link), thwarting the hijackers attempt to further break into the

signal. The image had no sound at that time, and Roahn quickly apologized for

the intrusion, although a bit distracted by the event, and went on with the rest

of the newscast.

Almost exactly two hours later, at 11:15 P.M., the PBS station in Chicago,

WTTW channel eleven, was also struck by the same signal pirate during the

weekly broadcast of Doctor Who, in this case the excellent Tom Baker tale, 'The

Horror of Fang Rock'.

WTTW did not have the same luck as channel nine earlier in the evening, its STL

link not being able to be switched over as there were no engineers in the offices

atop the Sears Tower, where it transmitters are located, and they were unable

to switch successfully via remote control.

The small piece of footage goes on for about ninety seconds, with the

character in the mask's voice almost inaudible because of signal distortion, he

merrily goes about such tasks as whipping a can of Pepsi around (A parody of

Max Headroom's sponsorship of Coke), and doing several other odd things.

including putting on a glove that he claims is 'dirty', and wearing an 'adult toy'

on his middle finger of his right hand. At the very end of the footage, you can

tell the video is pre-recorded as the video pauses, for a brief moment. When we

next see Max he is bent over, pants down, and an unseen female accomplice in

a dress is slapping him on the behind while the person in the mask screams
---
6

Fish Fingers and Custard Issue 1

shouts of 'hit me'. Then the man in the mask waves a signal to the supposed

second accomplice, who is operating the camera, and the footage ends.

Audio on the tape was horrible, and the words are hard to make out. it would

seem that 'Max' had some kind of grudge at WGN at the time, as he mentions

that his break in is better than Chuck Swirsky, another WGN sports reporter at

the time, and that he has made a masterpiece all over 'those greatest worlds

newspaper nerds', an obvious reference to WGN, whose call letters stand for

'Worlds Greatest Newspaper', as they also own the Chicago Tribune newspaper.

The other parts of the audio are just as bad, but Max takes the time to parody

the Coke commercial ('Catch the wave!'), and sing for the viewers at home

('Your love is fading...').

When the sun rose over the city of Chicago, the next day the FCC (Federal

Communications Commission) was not at all in a joking mood about the antics of

the pirates the night before, starting a search of the Chicago land area for the

masked man and his accomplices. The head of engineering at WGN at the time,

Robert Strutzel said this incident was not a cheap prank to carry out, as quoted

to the Chicago Tribune, saying: "You need a significant amount of (transmitting)

power to do that.", while later an engineer for a station in Urbana Illinois said

that the kind of transmitter with the power to that sort of signal hijack would

cost between four hundred and six hundred thousand dollars.

The video pirates to this day have never been caught, and the city of Chicago,

while being partially amused by the signal hijack, also realized its seriousness as

well, as stated by Bill Baxman of Des Plaines, Illinois at the time of the

incident. "I was watching Doctor Who, when all of a sudden it came on.....I

thought it was you know, a little cute at the time, but when you think about it,

its not that cute...they could be interrupting something important."

Indeed they could like Doctor Who...

Besides being a footnote in Doctor Who history, this incident is one of the very

few successful signal hijacks in history, and the video itself is odd to behold, it's

even quite scary if you are in the right mood, and I cannot imagine what it was

like to have this just pop up on your television screen late at night in November.

If you intrigued by the video it can be found on You Tube with a simple search

of 'Pirate incident' Channel 11 WTTW'. It is worth it just for it's oddness and it

existence, and it's ever more scary then the Ruton.

Imagine that.

TOM SPYCHALSKI
---
7

Fish Fingers and Custard Issue 1

A BUNCH OF (DOCTOR WHO) FIVES

5 Things I Expect Matt Smith To Own

• At least one (full) football sticker album

• (Pirated) Classic Series' DVD's

• At least one item of one of Karen Gillan's

costumes

• (Broken) Doctor Who toys

• A vast collection of hats

5 Things I Suspect Steven Moffat Does

Whilst Writing

• Writes ideas on his hands before typing it

out

• Makes sure there is as much noise as

possible before he starts

• Drinks Irn Bru

• Curses under his breath as the dreaded

Microsoft Paperclip pops up

• Recycles lines from his previous works

5 Things I Want To See From Karen

Gillan

• More great facial expressions

• More wearing of tights

• Continued usage of the phrase 'ma boys'

• A dress littered with ?'s, ala the JNT era

• Her phone number

5 Actors Who Should Guest Star In

Doctor Who

• David Jason

• Rik Mayall

• Sean Pertwee

• Graham Norton

• Harry Sedgewick

5 Things That Tom Baker will do before

agreeing to do Big Finish stories

• Go hand gilding

• Be England's captain for the World Cup

and replace John Terry at centre-half

• Go to a convention and dress up as Tegan

• Land on the moon

• Guest star in the new series of Doctor Who,

as The Master

5 Big Finish characters who are better

than their television series counterparts

• Evelyn Smythe (played by Maggie Stables)

• Charlotte 'Charley' Pollard (India Fisher)

• Lucie Miller (Sheridan Smith)

• Thomas Hector 'Hex' Schofield (Philip

Oliver)

• Bernice 'Benny' Summerfield (Lisa

Bowerman)

5 Doctor Who Stories That Would Make

Good Adult Movie Titles

• The Pleasure Hive

• Planet of the Ooh

• Galaxy 4-Some

• Under-ware World

• The Girl in My-place

5 Doctor Who 'Agendas', Made Up By

Fans

• The 'Gay Agenda'

• The 'Scottish Agenda'

• The 'London Agenda'

• The 'Earth' Agenda

• The 'Poking Fun At Fans' Agenda

5 Pointless Castings In Doctor Who

• Hale and Pace

• Gerald Flood

• McFly

• Barbara Windsor

• Mike Skinner

5 Things That Would Happen If Doctor

Who or Torchwood Was Ever Broadcast

on FOX in the US

• It'll be subtitled

• Each episode would be 3 hours long,

thanks to advert breaks

• The name of the program will always be

shown as 'Doc. Who', whilst Torchwood

will be 'Torchwood:UK'

• Any gay/sexual references will be cut out.

• John Barrowman will be cut out
---
8

Fish Fingers and Custard Issue 1

5 David Tennant Things

• Sideburns

• Casanova

• WHAT!

• Terrorising Harry Potter

• Introducing Girls to Doctor Who fandom

5 Things I Suspect RTD Does Whilst

Writing

• Writes his ideas on cigarette packets before

typing it out

• Music of choice: Scissor Sisters

• Drinks Brains Bitter

• Curses under his breath as Tom MacRae

asks for another re-write

• Recycles ideas from Buffy/Angel/Stargate

5 Things People Do At A Doctor Who

Convention

• Attend talks

• Talk to other fans about the episodes

• Buy expensive official merchandise

• Get autographs

• Dress up as Doctor Who characters

5 Things The Fish Custard Fanzine Team

Do At Doctor Who Conventions

• Go to (and stay) at the bar

• Chat up a member of the opposite/same sex

• Buys cheap, unofficial merchandise

• Goes clubbing afterwards

• Gets back home/to the hotel at 7am

5 More Things That Tom Baker will do

before agreeing to do Big Finish stories

• Win Miss UK 2010

• Caddy for Tiger Woods and give him

advice on women

• Tell David Walliams and Matt Lucas that

they aren't funny, just embarrassing

• Have a Christmas No1 with a cover of

Shakira's 'My Hips Don't Lie'

• Do a BBC audio drama (or two)….

5 Big Finish Stories You Should Listen To

• Spare Parts (5 th Doctor)

• The Marian Conspiracy (6 th Doctor)

• Night Thoughts (7 th Doctor)

• Storm Warning (8 th Doctor)

• Medicinal Purposes (6 th Doctor)

5 Things I Suspect Michael Grade and

Jonathan Powell Do With Their Time

Nowadays

• Sit in their comfy wingback chairs all day,

shouting abuse at their housekeepers for no

reason at all

• Play golf with each other and other ex-

BBC colleagues for £50 an hole

• Steal sweets from children

• Michael tells anyone who'd listen that he

was the man who 'sacked Doctor Who'

• Jonathan tells anyone who'd listen that

Eldorado was a great idea and that the

money wouldn't have been better spent on

'rubbish like Doctor Who'

5 Terry Nation Things

• Daleks

• Blakes 7

• Survivors

• Rebecca's World

• The 1960's Dalek Movies

5 Jobs That Billie Piper Should Turn

Her Hand To (careful! – Ed)

• Dinner Lady

• Shop Assistant

• Agony Aunt

• Politician

• Pop Singer

5 Items You Could Write A List of Fives

On

• Beer mat

• Cigarette packet

• Toilet roll

• A wall.

• A small dog
---
9

Fish Fingers and Custard Issue 1

THE DOCTOR OF OZ

The Munchkin had been caught red-handed, trying to steal apples from the Wicked Witch's

personal orchard, a crime punishable by death in these fairytale lands, where fruit and veg

are prized beyond even gold. That's what happens when your country is surrounded on all

sides by an impassable desert.

The Munchkin hung his head in shame. All he'd wanted was a few apples for his Munchkin

wife and imminent Munchkin baby.

"I'll promise you my first born child if you let me go

!" he cried, terrified, as the Witch stood over him with her huge wand in her hand, its tip

sparkling menacingly. "You can do what you wish with her, only spare me!"

"I own you all anyway" the Witch scoffed. "So quit your bitching. Any Munchkin who steals

my apples will be executed, no exceptions!" She threw back her head and laughed,

showing off the crooked teeth and maniacal laughter of all the best evil despots.

The Munchkin fell to his knees, arms out in supplication. "No!" he squealed.

"Exterminate!!" laughed the Witch, raising her wand and aiming at him. "Exterminate!

Exterminate!"

A whooshing in the air...

In the sky the blue box appeared.

The Wicked Witch paused momentarily in her chastising of the bold Munchkin, gazing at

the spectacle. The Munchkin took the opportunity to turn and run.

Distracted by the escapee, the Witch turned after him, raising her wand, eager to end him.

And then -

CRASH!

The Munchkin stared in shock and awe as the box opened, and a man got out,

straightening his bowtie and coughing, smoke billowing out around him. It was hard to see

the inside, but the Munchkin thought for an impossible moment that the inside looked

decidedly bigger than the outside. He also realised that the Wicked Witch was now merely

a splat on the rough ground.

A pair of red shoes was just visible by the door of the box, twinkling in the sunshine.

The man glanced at them. The Munchkin was still staring, both at the man and the shoes,

jaw slack, barely daring to hope that just maybe, he wasn't going to die today.

The man grinned. "Whoops" he said, before turning and re-entering the box.

EMMA DONOVAN
---
10

Fish Fingers and Custard Issue 1

Playing Games: City of the Daleks

Mention 'playing games' to the editor of

the fanzine and he'll just beguile you

with tales of women and drink. So in

short – he doesn't have a clue about

computer games. So with this in mind,

we enlisted games expert Tim Nolde to

give us the lowdown on 'City of the

Daleks' part 1 of 4 FREE downloadable

games from the official Doctor Who

website.

Around the start of the new series of Doctor Who, the BBC announced that a four part

episodic game would also be released. The first part of this series of games was released,

in the last couple of weeks and can be found here -

http://www.bbc.co.uk/doctorwho/dw/theadventuregames - at the moment only the PC

version is the only one available but a Mac version will be out shortly.

The premise of the episode is that the Doctor and Amy have gone to 1963 London where

they have found that the Daleks have altered history by invading the Earth. The Doctor

and Amy must try to solve this problem, as well as trying to prevent Amy disappearing in

true 'Back to the Future' style.

I've finished the first episode and here are my thoughts on the game:

Elements of the game I liked (apart from being FREE!)

It has high production values

Obviously this is an official game from the BBC so of course a lot of the game would be

similar to the TV show, but I was impressed with how close they managed to get it. All

the music (from the series) can be found in the game and the right themes are placed in the

spots where you would imagine they'd be if this was on the TV. Matt Smith and Karen

Gillan voice the characters, which help to bring the computer-generated characters to life.

The game also has a prologue which leads into a polygonal representation of the Doctor

Who TV intro, which really helps make this feel like an episode of Doctor Who, the

credits are done in the same way as well.

All these elements together make a game which really feels like you're in an episode of

Doctor Who and for any fanatic of the show - they will really enjoy getting engrossed in

the game. Even the casual watcher of Doctor Who will enjoy the game, as the production

values make it feel very much like the TV show.
---
11

It's an Adventure Game

Fish Fingers and Custard Issue 1

I have always thought that Doctor Who would make a good 'point and click' adventure

game and I was right, as it plays very well. The controls are similar to how most 3D

adventure games control nowadays - with the character being controlled either using the

keyboard or by holding down the left mouse button. Selecting objects is a bit different, as

instead of a mouse cursor, you have to rotate the camera around to the object you wish to

interact with. The same method applies if you wish to use an item in your inventory.

Compared to many other adventure games, the interface seems to have been simplified,

probably because of a potential younger audience, but it works well and the controls will

not hamper your enjoyment of the game.

The adventure gameplay is fun to play through and some of the puzzles are interesting to

work out. As well as the standard adventure gameplay, there are also some puzzles which

require you to move objects through a maze or rewire circuit boards. As The Doctor does

not normally get into fights or gun battles, an adventure game setting really works in

making it feel like you are The Doctor and helps to it make an engrossing game to play

through. You also get to use the Sonic Screwdriver a fair bit, which adds to the

experience.

The Facts Are Actually Quite Interesting

Whilst playing this game, I realised why the BBC may have spent licence fee money on

creating these games and that is because of the educational facts in the game. The facts

are most prominent in the 1963 section of the game, when you go near certain objects

there is a prompt to click for a fact (for example - there is one about Nelson's Column).

Now I think these facts were put in to educate kids, who will mostly play these games, but

the facts themselves are actually quite interesting for adults to read. You might find that

you'll come across something which you never knew before and when it happened to me,

it certainly impressed me. A minor detail, but helped make the game more entertaining.

Extra Collectibles

During the game you can find and pick up cards. These cards contain different pieces of

information about the Doctor Who universe. If you're a big Doctor Who fan - you'll

certainly enjoy reading these cards! Just wait until you find the David Tennant one...

Parts I Didn't Like

Stealth Sections Can Be Annoying

Whilst having a good adventure game element, it seems that this game has fallen into a

trap that most games did post-MGS1 (Metal Gear Solid? – Ed) where there is a stealth

section in the game. During the game you have to avoid Daleks, whom patrol the levels,

with each Dalek having a vision cone which you can see. The game is fairly forgiving if

you're caught in one of these vision cones, as you have the chance to escape, but you
---
12

Fish Fingers and Custard Issue 1

might find yourself dying a lot in these sections. The checkpoints also don't help as you'll

have to replay whole sections to get through it again. These sections shouldn't put you off

the game, but they can become fairly annoying if you want to get through them quickly.

The Game is a Bit Buggy

This might be because I was running the game at the highest settings, but I found the

game's performance a bit unpredictable. There were some bits where the frame rate would

drop considerably and even one section where the whole level seemed to be collapsing or

disappearing. I also found some clipping issues with the game where I would fall through

the floor or go through walls, the game would react and put you back and it's not very

impressive to see happen. All very surprising, even though the game doesn't really push

the graphical department too far.

The Game is a Fairly Simple

As mentioned, I imagine this game was designed for the younger audience in mind.

Needless to say though - the puzzles are quite simple. A lot of them will involve finding

an item and returning it to a specific area and considering you can only hold four

inventory items - you probably won't get stuck for too long. The game will guide you

down the correct path, which removes some of the frustration of getting lost, but it does

mean it doesn't tax the brain too much. Due to the game being episodic, it isn't

considerably long either - I managed to finish it in about 2 hours. Not much of a

challenge if you're used to adventure games.

The Voice Acting Could Be Better

As mentioned the game stars Matt Smith and Karen Gillan and generally the voice acting

is very good. The voices of the two main characters does sound a bit like they don't want

to be there (Well it is a Dalek Earth, nobody wouldn't want to be there really! – Ed) and

doesn't match the acting found in the show. It is a minor complaint though as the voice

acting is by no means terrible, just could be improved.

Summary

For a first attempt this Doctor Who game is quite good. It certainly looks, sounds and

feels like you're in the TV show, with a good story to accompany it. There are some

minor issues with the gameplay and performance though, but since it is free - you

shouldn't let these issues stop you from having a go at the game.

If you're a massive Doctor Who fan, then you might have already played this game, but if

you haven't then you're in for a treat as it is filled with loads of content for the fans. If

you're a casual fan of Doctor Who, I would also recommend having a go.

You can read more of Tim's game reviews at http://www.timongames.co.uk/
---
13

Fish Fingers and Custard Issue 1

Journey To The Forbidden Planet –

A Rebecca's World Review

After hearing that Big Finish, mostly known for its extensive range of Doctor Who audio

dramas, was to do an audiobook of Terry Nation's 1976 novel, Rebecca's World, my

thoughts drifted towards a book, gathering dust on my bookshelf.

I was at Primary School and every few days, at the end of the day, the teacher would read

a bit out of a book. One of those books was Rebecca's World and from the moment the

teacher read it, a 10-year old me loved it. I loved it so much that I 'borrowed' it from the

school library and never returned it! It's now 14 years overdue, thankfully I don't think

schools fine you for returning books late! Not that I'm going to return it now!

Nation, famed for his Daleks, wrote the story for

his daughter Rebecca in 1976 and it's very much a

story that is perfectly made for a parent to read to

their child. Despite being re-printed on a number

of occasions, copies of book are rare and sell for

more than £10 on Ebay. So it's a really good idea

for Big Finish to produce an audio version. I was

left wondering though, whether or not they had

tried to get the rights to the printed version, as it's

likely to sell more copies than an audiobook. Just

out of interest - my copy is a 1994 re-print, that I

won't be selling - as it has a 'St. Marks C.E

Primary School' stamp on the inside cover!

The narrative follows a bored little girl (Rebecca, obviously!) who goes against her

father's wishes, sneaks into his study and plays around with his telescope. After looking

at a star, she finds herself on a strange world where there are no trees – just glass

buildings, owned by the wicked Mister Glister. Glister is able to exploit the people as the

world is under constant threat from creatures known as 'Ghosts'. Together with her new

found friends (Grisby, Captain K and Kovak) Rebecca must find a way of stopping the

Ghosts from taking over, end Mister Glister's tyranny and hope that she can get home!

The audio is performed (rather than read) in the same manner that the book is written –

each character is well-developed, everything has a purpose and the story itself moves at a

decent pace. Paul Darrow (who played Avon in Nation's television series, Blakes' 7) is

excellent as the narrator and provides a wide array of voices, so you know which character

is which! The underlying sound affects provide an extra layer to the story and it wasn't

something I was expecting, but they certainly help to pull you into the story that little bit

more!

One thing that you pick up from the story is that Nation has written in a couple of

'lessons' for children. There are warnings against bad habits, boredom and politeness, as
---
14

Fish Fingers and Custard Issue 1

well as how to problem-solve - as Rebecca and her new-found friends undergo various

tasks throughout the story. The plot also has a backdrop of deforestation, which happens

to be the reason for the planet being under threat. Terry Nation was certainly a man who

was ahead of his time - can you just imagine what his work would be like if he had the

benefit of studying today's world?

Overall, it's a wonderful story that if you just sit back, listen and don't take too seriously,

you will enjoy. It helps if you have a child, but it doesn't really matter to be honest! Paul

Darrow is on top form and I wasn't expecting him to have such a command of the story.

He really does pull you into Rebecca's strange world!

With the ridiculously-high prices that second-hand copies fetch, the audiobook is the next

best thing. You can order the story (CD or download) from

http://www.bigfinish.com/Rebeccas-World or from various bookshop retailers.

DANIEL GEE
---
15

Harry Who?

Fish Fingers and Custard Issue 1

Who, my scene in Skins was cut. Not

sure why.

I've just recently turned down an offer

from Eastenders, playing yet another

Mitchell relation. No matter how

destitute I am, I'm a proper actor and I

will NEVER lower myself to the

standards that the folks on Albert Square

do.

Get Me In Doctor Who!

In what (we hope) will be a regular

column in the fanzine, jobbing actor

(and part-time doorman of a

Manchester 'Gentleman's Club'),

Harry Sedgewick, will give us an

insight into what life in the acting

world is REALLY like. From sharing

cocktails with JNT to being arrested

by PC Tony Stamp - this man has

seen and done it all.

Greetings Who-people! My name is

Harry Sedgewick, an actor of many

years experience. You may know me

from my appearance as an evil clown

from the 1988 story 'The Greatest Show

in The Galaxy'. Sadly - my one line was

cut, as well as the rest of my

appearance, which included me being

tripped up by Sophie Aldred. I'm not at

all bitter, as I managed to steal one of

JNT's 'hilarious' Hawaiian shirts! It's

the best memento from my 25-year

acting career, so far.

Recently I stared in 'Silent Witness'

(playing a corpse) 'The Bill' (a cameo

as a petty thief, although I didn't realise

that there was filming going on) and as a

pervert in 'Skins'. In fact like Doctor

I was grateful to the editor for giving me

the chance to pen this column, as it's a

great opportunity to pimp myself for a

role on the new Doctor Who. Now that

Brussel T Davies has left - the

restraining order has expired so I'm able

to pepper the new producer with letters,

gifts and offers of discounted lap

dancers. But I need YOUR HELP to

put right the biggest travesty in acting

history. Please don't let me become the

'nearly man' of Doctor Who and help

me to appear in an episode that won't

see me cut!

I'll be a decent Rani. I hear he's a

popular Dalek with you fans!

Matt Superb

I must say that I've been thoroughly

enjoying the new Doctor Who series

with Matt Moffat. New producer

Stephen Smith has been doing a great

job (if you're reading Stephen - contact

the editor for my address, I'll play

anything!)

Those Crying Angel things have been

my favourite monster so far. One of my

first roles was as a 5 year-old, playing a

sheep in the school nativity play. I tried

to play it from a similar angel as the
---
16

Fish Fingers and Custard Issue 1

Angles in Doctor Who, but the teacher

didn't agree and threw a board duster at

me. Bit harsh, considering there wasn't

a blackboard in sight. Ah the 70's,

where the corporal punishment of young

children was acceptable!

Lovely Karen

I couldn't really talk about the new

Doctor Who series without mentioning

young Karen. Isn't she lovely? In the

past, Doctor Who has been accused of

casting young women just for the lads

and dads. To be honest – I'm all for it.

If it works for Blue Peter, it'll work for

Doctor Who.

Moose Women

Here in the UK we have a daytime

program for women called 'Loose

Women', I believe it's a version of a US

show, where women television

personalities, who you don't know,

basically talk rubbish and interview

celebrity guests, who obviously don't

want to be there, for an hour. Just like

all women then! Anyway, I'm now on

permanent stand-by for the show, just in

case nobody's arsed to turn up.

Thankfully, Pete the doorman is never

off sick, so he saves me the task of

travelling down to London to hold the

door open for Jane McDonald or any of

the others in her coven.

A Game of Singles

Speaking of daft women – my 4 th wife

has finally got sick of me and is filing

for divorce. She got wind of the fact

that I won £1000 on a scratch-card. She

doesn't know I've already spent it on a

summer holiday to Ibiza! Some young

ladies, who are heading to the Balearics

this summer, are going to get very lucky

indeed!

Apparently, her reasons for a divorce

are for 'abandonment and sexism'. As

you can tell - I'm the last person to

undertake those things!

I don't think she liked my reason for

divorce being 'because she's a fat cow',

however!

And Finally…Blood Work

At the moment, I'm doing double-shifts

at the club, but I'll be heading down

south to film a few episodes of Holby

City this month. I'll be playing a coma

patient and I'm very excited! I played a

coma patient in its parent show,

Casualty, in 1987. I wonder if it's the

same role?

Speaking of horrible faces, isn't it

wonderful that the UK now has David

Cameron as the new Prime Minister?

Personally, I think they should bring

Maggie Thatcher back, as she did

wonders for the working people of the

UK, especially here in Northern

England. Remember, political parties

are like lions - they never change their

spots.

So on that serious note, I bid you

goodnight! Don't forget to leave some

feedback and send that Stephen Smithbloke

letters about me appearing in the

next series!

All the best!

Harry x
---
17

Trap One

If you're a listener to the plethora of

Doctor Who podcasts that are out

there, you would have probably come

across Doctor Who: Podshock,

hosted by Louis Trapani, Ken Deep

and James Naughton. Podshock is

the oldest fan-made Doctor Who

podcast and is ran on the back of The

Gallifreyan Embassy, which was

originally set up as a fan club, in Long

Island, New York in 1985.

Fish Fingers and Custard Issue 1

This month sees The Gallifreyan Embassy celebrate its 25 th Anniversary. We put some

questions to Louis, who was hailed as 'The Godfather of Doctor Who podcasts' by fellow

podcasters at the recent Gallifrey convention!

Hi Louis! (A bit of an obvious one to kick off with!) How did the Gallifreyan Embassy

start?

The Gallifreyan Embassy started when in the early to mid-80's at that time in the US, when

Doctor Who was gathering a large and loyal following on PBS. Various local-based Doctor

Who organizations were forming so that people could find like-minded fans that enjoy their

interests. When I discovered there were none addressing my area, Long Island, New York,

I decided that there should be one. So it was in June 1985, that the Gallifreyan Embassy of

Long Island was founded. In time, our membership expanded well beyond that of Long

Island. Today we serve fandom worldwide.

Like the majority of North American Doctor Who fans, did you discover Doctor Who

via PBS?

Not originally. I became a real fan of the series via PBS, but I first discovered Doctor Who

when it was syndicated on a local commercial television station serving the New York

market. Unfortunately they aired two episodes every Saturday morning in the late 1970s.

At the time, I was employed delivering newspapers on a paper route which meant I would

often be out delivering papers when it was being shown. I still hadn't bought my first VCR

yet, so there was no way to time shift it. Which meant it was hard to follow because I would

often miss two episodes at a time, and with the majority of stories being aired being fourparters,

I would miss half the story often.

It wasn't until a few years later when my local PBS station started showing them daily in the

early evening that enabled me to get hooked on them.

What is the state of PBS nowadays? Is it still common for people to tune in?

Unfortunately, with some rather rare exceptions, Doctor Who is no longer found on PBS

stations across the US today. For the most part, in recent years you could only find them

on the Sci-Fi Channel ("syfy" whatever they are calling themselves today) and more

recently BBC America. If you want to see anything prior to the 9th Doctor on either, you
---
18

Fish Fingers and Custard Issue 1

would have to look elsewhere. Elsewhere mainly being DVDs and to some extent iTunes

and other similar services.

Do you have any standout memories from the pre-podshock days?

Many. Doctor Who: Podshock was launched on the 20th anniversary of the Gallifreyan

Embassy. So we already had 20 years experience before even starting Doctor Who:

Podshock. There were many friendships that formed over the years, and most date back to

the very beginning. Given that it has now been 25 years, we came through it altogether

rather well. That said, we did lose one good friend that played a big part back in the day in

a motor vehicle accident. Which goes to many standout memories of meeting and

interviewing so many people involved with the series who are no longer around today. You

were always assured a great time when you have Patrick Troughton and Jon Pertwee

competing with the then recent/current Doctors Peter Davison and Colin Baker together at

conventions. So much mayhem and fun. Of course, it was all in good fun and friendly

spirits.

So fast-forward to 2005. The Gallifreyan Embassy now has a presence on the

internet. What made you decide to do a podcast?

The origin of Doctor Who: Podshock is similar to that of the Gallifreyan Embassy in a way.

The series had been announced to come back to television in spring 2005. Podcasts were

a fledging new media distribution method (it still is in many ways). We had done printed

newsletters over the years, and we have even done video shows in the past which were

shown at our monthly meetings. It was 2005 and we needed to use the internet. Podcasts

were something I was already familiar with and there weren't any Doctor Who ones initially.

Unfortunately, before we could record anything, I came down with a bad case of bronchitis.

My voice sounded horrible for some time. So we pushed it off until I was feeling and

sounding better and we had the time to focus on it. It was the 20th anniversary of

Gallifreyan Embassy and with that we were also taking the then static website for the

organization and making it into an interactive one. All this was coinciding with the

anniversary, so it made sense to launch Doctor Who: Podshock at the same time as well.

You stumbled upon a podcast hosted by James and invited him on board. Was the

plan to always have 2 American hosts and 1 Brit, in order to have a perspective from

the 'home of Doctor Who'?

The podcast idea came first, I believe. It was during the planning stage of the show that it

made sense to have a host in the UK. Being that Doctor Who has always been an

institution in the UK it simply made sense to have someone on the show to give the

perspective of the new series in the UK. As you said, I heard James Naughton doing his

show (which was more or less a personal audio blog) and I listened long enough to know

that he would be a perfect fit with Ken and myself.

You've interviewed many Doctor Who actors/writers/producers in the past 25 years,

you've even had the foresight to record interviews with Patrick Troughton and Jon

Pertwee. For those who weren't around at the time, what was it like meeting and

interviewing Patrick and Jon?

This goes back to your earlier question about standout memories. It was a privilege as well

as a pleasure to interview both Patrick Troughton and Jon Pertwee. Not to mention the

time spent with them outside of the actual interview itself. We often had a chance to spend
---
19

Fish Fingers and Custard Issue 1

time with them before and after the interview as well. From a fan's perspective it offered

great insight and a wealth of knowledge to the series of days long gone by, but it was often

quite fun discussing matters outside of the Doctor Who as well. It was enormous fun.

Do you have a favourite encounter with someone from the show?

Wow. Oh several I would imagine. Be it demonstrating the latest technology from Apple at

the time, the Newton with Sylvester McCoy (which I had similarly done again with the

iPhone though this time with Colin Baker) to hanging out with John Nathan-Turner and

Gary Downey while they were doing a book signing in NY and hearing so many of their

stories off-the-record.

You recently attended the screening of 'The Eleventh Hour' in New York and got to

ask Matt Smith and Karen Gillan a few questions. What was it like meeting the

current incumbents of the TARDIS and actually interviewing them?

We had met Steven Moffat before, but it was the first time meeting Matt Smith and Karen

Gillan. Karen was a little taller than expected. She was delightful. Matt Smith was

incredible. Meeting him in person made it so clear why he was chosen for the role. He has

the energy and personality that is so well suited for the part. He is very personable.

Although it was the first time meeting him, it very much felt like meeting an old friend.

There was nothing pretentious about him.

Do you think Doctor Who is now starting to get a foothold in America, seeing as the

whole New York event seemed like a movie premier?

It is very weird now. It is far more commonly known in the US now than ever before,

although not 'mainstream' just yet. Which is a good thing. I always enjoyed Doctor Who

being sort of a secret treasure here in the States even among other sci-fi fans. Today,

every sci-fi fan knows of it... and more and more is it finding its way to the public at large.

The huge turn outs at the events in NYC in April is testimony to it. Whereas we were able

to spend an intimate afternoon with JNT at a book signing event in NYC in 1985 without

much in the way of large crowds, I don't think it would be the same today if Steven Moffat

were here doing one now.

With its live show, Podshock is now a regular feature at the annual Gallifrey

convention in Los Angles. If given the opportunity, would you like do more of these

live shows?

In addition to the live shows we do in person in California at the Gallifrey One conventions,

we also have been doing similar shows in New York over the years at the annual I-CON

convention in Stony Brook and just last month we performed a live show in New York City.

It's always fun doing the show live in front of an audience. You get that immediate

feedback that you often don't have doing studio shows. Each have their pros and cons.

Yes, if other conventions would like to bring us there to do a live show, we would

interested.

Many thanks to Louis for taking the time to answer our questions. You can check

out Doctor Who: Podshock at http://www.podshock.net or on ITunes.
---
20

Fish Fingers and Custard Issue 1

The Eleventh Hour Review

This fanzine owes Matt's Smith's first full episode, The Eleventh Hour, a lot.

Apart from obviously providing the name of the fanzine, it actually made me

fall in love with Doctor Who all over again and inspired me to start this

humble fanzine. Here is my review of The Eleventh Hour, written just a day

after the episode aired, after watching it for the third time!

I'm grinning like a loon at the moment. Not because the episode was so good, nor

the fact that the episode had very good viewing figures. I'm not even grinning

because I got in with a lady on Saturday night (actually that's a lie) - it's because

the normally-fickle fans of Doctor Who mostly agreed that Matt Smith was THE

Doctor and the episode was thoroughly enjoyable. The chances of the fans

unanimously agreeing on something, pre-Eleventh Hour, was about the same as

England winning the World Cup. Or indeed me getting in with a lady…

But wasn't it brilliant? From the moment the camera pans into Amelia Pond's

house, to when The Doctor whisks off Amy for adventures new - I was hooked all

the way. I honestly believe that someone who finds fault with this episode, is just

doing it for finding faults-sake. No real Doctor Who fan can pan something which

has such beautiful moments as when Amelia packs her little suitcase and waits

for The Doctor, who we know will never show. Or the moment when The Doctor

walks through the image of his previous incarnations and announces that he IS

The Doctor. Not the Matt Smith Doctor or the 11th Doctor, but THE Doctor. It's

something that I really was desperate for Steven Moffat to put across. The Doctor

is always the same man - just with a different face.

I really enjoyed the 'food scene' when The Doctor was trying out different tastes

for his mouth. Again, that was another point to drive home that this man was just

a new incarnation of the same person, which was why he now likes the taste of

fish fingers and custard, instead of apples! Oh and I loved his answer to when

little Amelia offered him carrots - 'Carrots – are you insane?' I suspect (hope?)

that was a reference to the 6th Doctor, as his last line in his criminally-short

tenure as The Doctor was 'Carrot Juice, Carrot Juice, Carrot Juice'!

What can I say about Amy Pond that hasn't been said already? Well not much, as

you probably can guess where this is going - but she is definitely one for the Lads

and Dads! But that's unfair, as most actresses cast in a similar mould can't

actually act, whereas Karen was pretty decent on her first outing! I thought she

made the best of what she was given and I loved her facial reactions, whenever

The Doctor spoke to her/riled her up. Generally, the response to her has been

warm, but I suppose it'll be better to judge her on her first full episode, as she

wasn't actually in this for its entirety!

Apart from the wonderful Matt Smith (who I'll get to later) the other star performer

in this was young Caitlin Blackwood, who played young Amy. Watching Doctor
---
21

Fish Fingers and Custard Issue 1

Who Confidential later (which was much improved, with less narration and more

interesting features, by the way) we learn that Caitlin has never acted on telly

before. I just thought that was absolutely incredible, as she looks like an absolute

natural. Like Karen, I really enjoyed her facial reactions, perhaps even more so

than her real-life cousin who played the older version!

Now then…Matt Smith. I must admit I (childishly) groaned and actually shouted at

the telly in frustration when he was announced as the new Doctor (which I regret

now of course!) Not many people had even heard of him, but as he was

interviewed during the special-Doctor Who Confidential, I could see why Moffat

and co. had cast him. Basically, as himself he is just a bit…erm…different! For

someone playing an alien time-traveller, that aspect of somebody's personality is

just perfect! If he behaves like that as himself, what's he going to be like once he

actually acts in the role? After his short scene in 'The End of Time' I can honestly

say that I was sold on him. I KNEW he would be wonderful. I know we're only one

episode in, but that can work both ways - we're one episode in, so he can get

even BETTER!

I notice that I haven't said much about the actual story, which I thought was

thoroughly well-written and loose ends were tidily knotted. That's what you get

with Steven Moffat - he is just a very careful writer who doesn't write anything for

effect/reaction. The whole Amelia giving The Doctor the smiley-face apple, then

he giving the grown up Amy it back, 12 years later (although barely an hour in his

timeline) was a great example of this.

I enjoyed the Prisoner Zero story and thought that it was scary and funny in all the

right places (scary for the kids, obviously…). Another aspect of Moffat's writing I

really like, is that he explains everything clearly. Sometimes plots that involve

shape-shifting aliens and galactic police can get really confusing, but Moffat wrote

some brilliant, but yet easy explanations as to why and how these things were

happening. I just hope it continues in the same vain throughout the series!

Overall, it was the best start we could have hoped for. Matt is just perfect in the

role and he seems to be relishing

it – he actually carries his sonic

screwdriver with him, even if it

means him getting stopped, whilst

boarding an airplane! I'm just

looking forward to 'The Beast

Below' next week, when we can

get a proper chance to judge Amy

Pond.

It can only get better, surely?

DANIEL GEE
---
Fish Fingers and Custard Issue 1

22
---
23

Fish Fingers and Custard Issue 1

CRACKS

An 11 th Doctor and Amy Story

By David Rudden

'They say,' murmured the Doctor, his ear pressed up against the TARDIS

console, 'All the truly great engineers can tell when a piece of machinery is about

to fail.'

He ran one long finger along the constellation of switches that adorned the

instrument panel and stuck it in his mouth speculatively, brow furrowed in

concentration. Around him, the ship gurgled and hummed, lights flashing in

nonsense patterns across brass-edged screens.

'Well they'd hardly be truly great if they couldn't, now would they?' retorted his

companion with an impudent grin, leaning back on her chair to watch the Doctor

tap one screen and then another, consternation spreading across his lean

features as he listened to the noise of screwdriver on glass.

He shot her an irritated look.

'No, well, yes, well- Look. Not what I meant. Before anyone else knew something

was wrong, before diagnostic scans, or instrument checks, before any hint of

strain manifested itself, these people, these masters of their craft... They knew. '

He paused for a moment, staring up into the chamber's vaulted ceiling.

'It's in the sound.'

Amy's smirk died on her face.

'You think there's something wrong with the TARDIS?'

He didn't appear to notice she had spoken, his fingers dancing lightly over the

controls. The TARDIS shuddered at his touch, lights flaring white and scarlet.

'It's the sound you don't hear until it stops... the wrong note, the discordance lost

in the greater song, so small no-one else would hear it unless you were immersed

in the symphony.'

The TARDIS suddenly stopped, the last shivers dying away under Amy's

whitened knuckles. The Doctor's voice was quiet.

'Unless you're listening, you'd never even know it was there.'

Amy tentatively loosened her grip on the railings, and pushed herself upright. The

lights had faded now, the ship silent. She had never heard it this silent. There had
---
24

Fish Fingers and Custard Issue 1

always been noise before; the hissing of spinning cogs, a quiet hum like the

reassuring murmur of a heartbeat. But now...

Silence.

'We are hanging,' the Doctor said, unable to keep a note of pride from his voice,

'in the space between one second and the next, right at the point where the

present becomes the future, right where now becomes next. Scientists and time

specialists have debated for centuries whether this point, the space between the

present and the future, even exists as a measurable point, whether it's even a

thing at all.'

He spun his screwdriver between his fingers.

'And I've parked us there.'

He dropped his screwdriver into a jacket pocket and swept imperiously off the

central platform towards the doors, motioning for Amy to follow. She did so

reluctantly, her mind still turning over the implications of what the Doctor had said.

If the TARDIS were to fail... Behind her, the instruments glowed, holding them

static in the space between one moment and the next, spinning the barest fraction

of a second out into eternity.

The Doctor's hand paused on the brass door handle. He turned to look at Amy,

and there was that utter seriousness on his face, that almost inhuman look of

focus that she had already begun to associate with fear, adventure and an

inordinate amount of running.

'This is it. The closest anyone can get to the cogs of the universe, the raw

workings of time and space. We've stepped behind the painted backdrop of the

cosmos, Miss Amy Pond, because something's very, very wrong.'

The doors of the TARDIS opened with a muted rattle, and Amy looked out on a

paused universe.

Nebulae hung in vast whorls of colour against the void of empty space, the

closest stars vast orbs of coruscating fire, the furthest glittering like shards of

frozen glass. She drew a shuddering breath, suddenly very conscious of the fact

that it was only the arcane technology of the TARDIS that was keeping that same

breath becoming leaden and icy in her chest.

The Doctor showed no such apprehension, bracing his feet against the TARDIS's

doorframe and stretching forward, head outthrust like a sailor leaning into a storm.

'Where we are now, even the velocity of light is slowing down to treacle so I

advise you to take a good look now, as things are about to get very, very dark.'
---
25

Fish Fingers and Custard Issue 1

'Doctor, I still don't understand. What are we looking for?'

'I'm not sure,' he said simply, 'but there's something. Something so big I can't see

the edges, something wrong across all of space and time that I can't see yet, like

an iceberg with all the sharp bits hidden underneath. Amy, I'm going to have to

ask you to be as quiet as you can, as I need to concentrate on this.'

She nodded, and he flashed her a brief, reassuring smile.

'Be right back.'

The Doctor closed his eyes and listened.

He filtered out the ever-present murmur of the TARDIS, too low for humans to

hear, as much a feeling as a sound, as familiar to him as the beating of his hearts.

There was the bird-quick patter of Amy's pulse, the liquid rustle of cloth on her

skin as she shifted nervously from foot to foot, her eyes fixed on him. She

exhaled, and he heard the whispering hiss of molecule against molecule before

that too faded to the white noise of irrelevance.

Under that, under everything, was the ever-present rhythm, the sound of the

universe itself as it slipped from one moment to the next, now frozen and inert,

laid bare for him to examine. The Doctor filtered out everything but that, the

constant susurrus that was the movement of time itself...

...and flinched at the missing notes.

On Andrestra Quintus in the year 4600, a child fell from a hotel balcony and never

hit the ground.

The Fourth Sontaran Army vanished before battle with a cadre of the Rutan Host

could be joined, their weapons unfired, their final cries not of fear or rage but of

childish confusion. It would have gone down in history as the only time any of that

race had retreated, had any mention of the Fourth Army remained. The Consular

of the Rutan cadre was executed soon afterwards for inexplicably deploying to an

empty battlefield.

In the Hephaestus Nebula, a star disappeared. Four ancient civilisations froze to

death, unable to remember ever having been warm.

The Doctor could hear it. His fingers tightened, the sound of shifting muscle

deafening to his heightened senses. Across a thousand systems, across a million

years, he could hear them opening like tears in fabric, like mouths hungry and

waiting.
---
26

Fish Fingers and Custard Issue 1

A rogue trading ship out of Hesperus fired their weapons desperately into

something their scanners told them couldn't exist, and the Doctor heard their

screams as the cold, cleansing white light fell over them.

Across the universe, people died and were forgotten in the same breath.

Everything they had ever done, everyone they had ever loved simply... skipped a

beat, and then continued.

As if nothing had ever happened.

'Doctor?'

He blinked, the sounds of the TARDIS suddenly rushing back in through the

cracks in his concentration. He scrubbed a hand through his hair and whirled to

face Amy, mouth twisted in irritation.

'I thought I said-'

He stopped when he saw the look on her face.

'Amy...' he said softly, in the tones of someone trying to prevent a small animal

from bolting, 'don't let it get to you. It's just... it's an illusion, a trick of where we

are. Paused light, that's nothing, that's just science, science isn't scary, it's just...

science.'

She didn't resist as he slipped his arms around her slim shoulders and fixed her

widened eyes with his own. He pushed all thought of icy, erasing white light from

his head and forced a reassuring smile.

'It's fine, Amy. Just don't look.'

Behind them, the stars continued to go out.
---
27

Fish Fingers and Custard Issue 1

Application To Be A Doctor Who Assistant

(Or 'Companion' if you're politically correct)

Name: ……………………………………

Gender: FEMALE/WOMAN

Age: 18-19/20-23/24-26

Would you be willing to wear as little clothes as possible? YES/YES

Can you run? YES/NO/A BIT

Can you scream at a decent pitch? YES/NO/LIKE MEL BUSH

Are you able to send down a steady stream of easy and/or complex questions to a leading actor?

YES/NO

Would you be willing to partake in any interview and have your picture taken, no matter how creepy

the journalist and photographer? YES/NO

Are you able to feed false information to/take the piss out of the press? YES/NO

Are you able to hide information from friends/family/pets? YES/NO

How easily are you scared by fans? EASILY/VERY EASILY/TERRIFIED OF THEM

Do you like/can put up with Children? YES/NO/I'VE SEEN NANNY McPHEE, SO I HAVE

AN IDEA

Would you be willing to go on children's television and endure the awful presenters, who are trying

to make something of themselves and impress you, because they failed terribly at drama school?

YES/NO

And would you be willing to laugh at their 'jokes'? YES/NO/I'LL TRY MY BEST

If/when your contract expires, would you be willing to return for a one-off appearance, a few times,

in case we need to ruin your perfectly good exit as well as the current storyline? YES/DO I HAVE

A CHOICE?*

In no more than 10 words, tell us how much you want this position?

Thank-you for filling out the application form!

*No, you don't have a choice (mwhahaha!)
---
28

Fish Fingers and Custard Issue 1

Convention Report: Invasion – May 2010

I've attended the Invasion conventions organised

by 10 th Planet Events since 2005, but this year's

event marked a change from the usual format of

holding panels and signing sessions throughout

the day and instead had the signings in the

morning and all the panels in the afternoon.

I found this a welcome change and led to the

event being way less stressful with the usual

convention woes of 'I'm missing that, because

I'm doing this'.

My day began with a train journey from my home

in Cambridge then a half hour tube journey to

Barking, where the convention was being held.

Barking Abbey Comprehensive School (where

the event was held) is an easy twenty minute

straight walk from Barking Station.

I'd opted just to get the one autograph and after registering at the front desk, the autograph

rooms were easy to find and queues seemed short too. I queued up and got Peter Purves's

scrawl, he was friendly asking everyone where they'd come from to the event.

I slightly regretted my decision to get just the one autograph, as I passed by a nearby room

which saw Fraser Hines signing, but as I like to get photos signed (and I'm trying to save

my money!) I realised there'd be other such opportunities.

The weather for the first half of the day was glorious and I sat outside in the sun to eat my

lunch and kill time, until the afternoon session started at 1pm.

Some have said on Gallifrey Base (and I'm tempted to agree with them) that a bit of

entertainment could have been provided to fill the gap between the morning and afternoon

sessions - an episode screening or some highlights of previous events would have been

welcome. I know from having attended Bad Wolf (another convention ran by 10 th Planet)

in the past, that they are not adverse to such an idea.

Although the panels were meant to start at 1pm, they were running several minutes late,

so I took this opportunity to head to the dealers room and buy a couple of CD's from Big

Finish, who were due on stage first, but told me they'd yet to be called.

The Big Finish panel finally kicked off some twenty minutes late and consisted of Marc

Platt, Rob Shearman, David Richardson, Lisa Bowerman and Nick Briggs. It was

surprisingly interesting, even if the guests were distracted at one point by an attendee

falling asleep near the front of the crowd!
---
29

Fish Fingers and Custard Issue 1

Next on stage was a panel celebrating the 60's story The Mind Robber, the guests were

Fraser Hines, Wendy Padbury and Hamish Wilson. All three of them were very

entertaining and kept the crowd laughing and enthralled throughout.

Next up were three guests I'd never seen at a con before, in a panel about Terry Nation's

1960's Dalek movies - Jill Curzon, Yvonne Antrobus and making her first convention

appearance, Shiela Stafal. They all had some interesting things to say about the films,

though their memories were clearly jaded by time, but this didn't matter that much as we

got to learn about their long and varied careers.

Up next on stage was the Monster Boys panel of Keith Guest, who'd played among others,

a Marshman (from the story Full Circle) and Graham Cole who'd played a Cyberman,

amongst others, but is now better know as PC Tony Stamp in The Bill. Keith in particular

made the point that, during the shoot, Tom Baker had actually helped the Marshmen out

by insisting their scenes were shot first so they could get out of costume.

The penultimate panel of the day, and the star

name for many, were the UNIT boys - Nick

Courtney and Richard Franklin. Nick was

praised for his recovery from recent health

problems, which earned him a round of

applause, as did quoting the classic line

"Women….not my field!" Richard talked

about working on the recent Hornet's Nest

CD's with Tom Baker and was able to tell us

that there would be some more of them.

The final panel of the day was Peter Purves, Steven Taylor in the Hartnell era, now better

known for his long stint as a Blue Peter presenter. He was the only guest I asked a

question of, which led to him regaling us with a very funny Blue Peter anecdote.

By this time, the weather had taken a turn for the worse and several of us stood by the exit

hoping the rain would ease off, but as I was meeting a friend in a pub near the station - I

had to make a move.

All in all a very successful event, sadly not as many dealers as in previous years, neither

was there a prop/costume display, which had also been a bit of a fixture at these events.

There's another Invasion convention in September, but presently the guest list isn't

attracting me.

TIM DRURY (You can view more of Tim's Invasion photos at

http://bit.ly/invasionpics. Tim also hosts his own Doctor Who podcast, 'Tim's Take On'

which you can catch at http://timstakeon.libsyn.com or on ITunes).
---
30

Fish Fingers and Custard Issue 1

Why We HEART Doctor Who

In a quest to take advantage of the 'social

networking' we have at our disposal nowadays, we

asked Doctor Who fans on Twitter why they loved

Doctor Who, in no more than a 'Tweet' (142

characters)

It's got nothing to do with being lazy and/or

attempting to fill these pages up, ok?

@TIMELORD23 "Because, as the 1990s proved, even if the show goes off the air,

the franchise can never die"

@CYBERTESTICLE "Adric dying"

@BULLITT33 "Peri in #PlanetOfFire is the obvious choice"

@CYBERTESTICLE "@fishcustardzine @Bullitt33 Peri in Planet of Fire, I forgot!

What a marvellous acting debut.....i think....i'd imagine...i didn't notice"

@TERRIBLEZODIN "It fired my childhood imagination and taught me the whole

universe was a wonderful place"

@WILLIAMTHEBLOOD "can't be done. Need much, much more than 140

characters..."

@DRWHOTIMEVORTEX "Because it is the maddest, funniest, scariest, saddest

and most brilliant show in the universe!"

@LTLOKISOL "what other show has transcended the generations? what man can

any guy aspire to be? #DoctorWho besides, there's time travel"

@SCSAUTTER "Five words: Spaghetti headed aliens in cravats! How can you not

love this show?"

@DOCTORWHONY "Because whatever mood you might be in, there's a

#DoctorWho story that matches it and it will lift your day and inspire!"

@DANNYDOGSNIPER "Because it gives me something to do, rather than smash

up bus shelters on a Saturday evening"

Don't forget you can follow the fanzine on Twitter at

http://www.twitter.com/fishcustardzine
---
31

Fish Fingers and Custard Issue 1

"It could have been a spin-off…"

Since the classic series, Doctor Who has been linked to spawning many spin-off's. In

1981 former companion, Sarah Jane Smith starred in 'K9 and Company' – the first Doctor

Who spin-off. The proposed series wasn't commissioned after the airing of the first

episode ('A Girl's Best Friend') and we had to wait until 2006 when Torchwood came

along. Sarah (no Jane? – Ed) eventually got her own spin-off in the shape of 'The Sarah

Jane Adventures'.

With these spin-offs, there have been many that haven't made it, most notably 'Rose

Tyler: Earth Defence' which was actually given a budget by the BBC, before Russell T.

Davies changed his mind and pulled the plug, because he thought it was 'a spin-off too

far'.

However, this hasn't stopped fans from speculating (hoping?) to have more spin-offs.

Some have been downright ridiculous, none of which deserve a look at. So here at Fish

Custard Towers (are you sure about that? – Ed) here are some spin-offs we would love to

see…

Mr and Mrs (Mickey) Smith

A comedy/drama series starring Mickey and Martha which see the pair trundle through

married life and run around knocking off rouge aliens in the absence of Torchwood. Like

Brad Pitt and Angelia Jolie, but better - and funnier. Verdict: Like a modern day Laurel

and Hardy, with guns – COMMISONED

Bush and Glitz

Mel Bush and Sabalom Glitz star in a 'space opera' that sees them travel around space

looking for jobs. Unbeknown to Mel, Glitz is STILL on the thieve, despite vowing to

change his ways and is being followed by a mysterious policeman… Verdict: Could be

decent, only if Mel doesn't scream – Put it on the MAYBE pile, just in case we need to

make something quick 'for tax reasons'

The K Factor

Forget the X Factor, or American Idol – The Kandy Man from the episode 'The

Happiness Patrol' hosts his own (fictional) talent contest, which attracts contestants from

all across space. At the end of each episode, KM will sing a classic number (to get

everyone 'bopping') and wear a 'very revealing garment'. There'll be phone votes (we

need to make a profit somehow) and the losers will be cooked by the KM. Hard luck!

Verdict: If Simon Cowell can do it… - COMMISONED WITH A FIVE YEAR

CONTRACT
---
32

Fish Fingers and Custard Issue 1

The Doctor's Rose

A love story about Doctor 10.5 and Rose Tyler, set in

the alternative universe. The series follows The Doctor

and Rose as they attempt to live together and settle in

their new life. There'll be plenty of ups and downs for

our couple, as The Doctor will be attracted by the old

slapper in the Queens Legs (a pub) and Rose will be

physically assaulted by her gruff younger-brother Tony,

on a regular basis. Not to mention the emotional

turmoil her and her mother (but mostly Rose, as she is

the only person that matters) have to go through as they try to readjust to this new

universe and the fact that her Dad isn't actually her real Dad, but he is (sort of). Can The

Doctor save Rose from going down the alcoholic route, which she does to comfort herself,

after everything becomes too much? Can their relationship survive? Will young Tony be

shopped to the police? Verdict: Go away now before I kill you – REJECTED

Travels With The Brig

A travelogue starring Nick Courtney as The Brig, which sees him travelling to some of the

world's oddest places, such as Peru and Stoke-on-Trent. The Brig is very open about why

he goes on these travels EVERY TIME Earth seems to get invaded and how a man in his

late 70's enjoys himself, without an internet connection. Verdict: Move over Michael

Palin, the Brig is in town – COMMISSONED

The Boy Who Lived

Adventure series starring a grown-up Matthew Waterhouse (again – are you sure? – Ed)

as Adric, as he fights to survive in prehistoric wilderness. Oh did we mention he survived

the crash? Anyway, each week sees Adric dodge dinosaurs and tries to make a life for

himself. Poor Adric then somehow manages to fall into a 'special pool' which makes him

immortal and sees the series move on a time period every few series'. Like Stargate but

better. Written by Eric Saward. Verdict: Sounds good but shite at the same time –

OFFERED TO FOX

Loose Kangs

All the Kang-gangs from 'Paradise Towers' get together to chat about daily life in the

tower block and about how being a young woman in there, isn't all its cracked up to be.

There'll be hard discussions about Kang fashion, reminisces about the 'Kang Games',

cooking lessons from the elderly and live music from the cleaners. Which Kangs are the

best? Well all of them, obviously! Verdict: Interesting, would be better if a well-known

actor was cast to give it some 'gravitas'… – PILOT EPISODE COMMISONED

So which ones would you watch? Send in your votes to the BBC!
---
33

Fish Fingers and Custard Issue 1

The Doctor…In Wonderland

Alice had been spending her afternoon quietly by the

river, skipping stones rather badly on its still surface,

when she saw a tall, skinny man in a bowtie run past,

muttering, "I'm late!"

This would not have been a major, out of the way

occurrence, if the man had not been brandishing a

strange metal apparatus that was glowing bright green at

the tip. Alice was immediately interested and after

throwing her last stone directly at her older sister's head,

to knock her out, she followed the man at a safe distance.

He was running rather fast and Alice found herself quite

out of breath by the time she caught up with him, at which

point he was standing by a large hole in a tree trunk,

pointing his metal wand at it with an expression of

extreme concentration.

"Shh" he said to Alice, as she stopped breathlessly by him. "I think," he continued, "that

this hole is the physical appearance of a severe rip in the fabric of space and time..." He

continued looking deeply into it and muttering to himself, before, to Alice's consternation,

jumping right in with a gay shout of "Geronimo!"

Alice, never one to be left behind when her curiosity was piqued, jumped right in after him.

It was not how she imagined.

Instead of a rather hard landing on solid earth, which she had expected, the rabbit hole

seemed to go forever, twisting and turning beneath the tree, with all manner of curious

objects catching her attention. Flying boxes made of iron, with no visible means of

support. Machines that played thousands of songs yet could fit in her hand. Gauntlets that

caused death. Her head spun...

After what seemed like an age, she hit solid ground with a bump. She opened her eyes

and stared around. She was in a cavernous room, a massive table beside her and all

around the walls were doors, some gigantic, some miniscule, all tempting. Beside her also

was the strange man with the bowtie. He looked at her with interest.

"Who are you then?" he asked.

"I'm Alice" she said. "Who might you be?"

He smiled. "I'm the Doctor," he said. He looked around. "We look like we're stuck, Alice,"

he said. "There's a key on that table up there, but it looks like it will only fit that door -"

(here he pointed to the tiniest door of all) "and we're both of us much too big to go through

that."

It was at that moment Alice noticed a small cake on the floor beside her. She picked it up

and examined it. "It says 'Eat Me'" she reported.
---
34

Fish Fingers and Custard Issue 1

"Alice" said the Doctor solemnly, "do you do everything that food tells you to do?"

"I've never had food instruct me before!" exclaimed Alice.

"Well then" he said, "there's a 50/50 chance that it will be good for you. Do you like those

odds?"

Alice considered the cake for a minute. It looked delicious. "Yes" she answered, and

swallowed it whole.

A strange feeling consumed her, as if she was being flattened in a wringer, being

squashed and compressed until nothing remained. She squeezed her eyes shut and tried

not to cry.

After what seemed like an eternity (but which was really just a moment) the feeling abated.

She cracked open an eyelid.

The table appeared suddenly to be a mountain, reaching for the sky. The Doctor, sitting by

the table watching her, seemed to be a giant, looming above her, guarding Mount Table

from mythical Billy goats.

On the bright side, the unlockable door was now the right size for her.

On the other hand, the key for it was now even further away.

Alice began to cry. Her tears fell hot and heavy upon her dress, and she fell to her knees,

sobbing. The Doctor awkwardly tried to pat her on the shoulder with his little finger. He

nearly sent her through the floor.

"Don't fret" he said. He knelt and shuffled forward to the door, metal apparatus in hand.

He pointed it at the door. It made a strange, almost whirring sound, and the tiny door

swung open.

Alice stopped her crying and looked up at the Doctor. "I'm going to go through" she said

bravely. "I'm going to see what's on the other side. Perhaps someone there can help me

home."

The Doctor nodded. "Here's hoping" he said, with an encouraging smile. "I bet you'll have

fabulous adventures, Alice. Just try not to waste too much time on the Caucus Race. If

there is such a thing. And be careful of the Queen. If there is one. I'm not saying there are

any of those things."

Alice gave him one last nod, and walked through the door, to the wondrous land on the

other side. However, just as she was passing through, she could have sworn she heard an

extraordinary whooshing sound, followed by a muted shout of "Amy! What the hell?! You

were supposed to be here ages ago!" but she put it from her mind. There were flowers

talking to each other right in front of her, after all.

EMMA DONOVAN
---
35

Fanscination

What is it about this show

that truly fascinates me so?

Dodgy monsters, flimsy plots,

amazing literature it's not.

Fish Fingers and Custard Issue 1

Then why does it so grab my

heart?

Make me smile, make me hurt?

Leave me wondering week by

week

what fascinating thing they'll meet.

Is it the monsters? Is it the girls?

Is it the man with the hair and

curls?

Is it the future and the past?

The possibilities and laughs?

Does it soothe my mind, light my

day

just because it's bright and gay?

It's not real deep, it's not real dire

but I always feel I'm lifted higher.

Maybe that's the thing I need

an escape from hate and greed.

A happy man, a cheerful ship

And all of space and time to rip.

Let's go!

BETAWHO

http://betawho.livejournal.com
---
Fish Fingers and Custard Issue 1

36