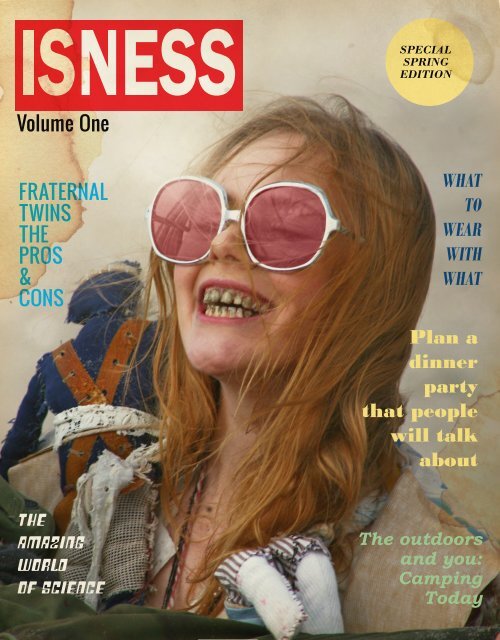 ISNESS Volume One
A photo-graphic novel about the last remaining family on earth. The story is set in the remains of the culture of the 1960's, somewhere in North America.
A photo-graphic novel about the last remaining family on earth. The story is set in the remains of the culture of the 1960's, somewhere in North America.
SHOW MORE
SHOW LESS
You also want an ePaper? Increase the reach of your titles
YUMPU automatically turns print PDFs into web optimized ePapers that Google loves.
SPECIAL

SPRING

EDITION

Volume One

FRATERNAL

TWINS

THE

PROS

&

CONS

WHAT

TO

WEAR

WITH

WHAT

Plan a

dinner

party

that people

will talk

about

The

amazing

world

of science

The outdoors

and you:

Camping

Today
---
HAPPIEST

MEAT FOR

SANDWICHES

Start with SPAM . . . let your appetite take over

to invent a hundred happy combinations.

Hot or cold, SPAM's unmatchable flavor

comes smiling through. Pure pork SPAM is

high in vital meat protein!

2
---
In the year 1969, The balance

of terror, which the world had

come to depend upon, for the

maintenance of peace, was

disrupted.

Volume One / ISNESS

3
---
4
---
T

he previous year had

marked a record in

the number of American

casualties in Vietnam and a

steep decline in support for the

war even among it's staunchest

proponents. In an attempt

to avoid imminent defeat,

U.S. leaders orchestrated an

invasion into North Vietnam,

Laos, and Cambodia.

The broadened offensive

involved the deployment of

U.S. forces to Thailand and

required the mobilization

of reserves. This escalation

prompted China to enter the

war with the Soviet Union as

an ally. The protracted ground

war that ensued galvanized

countries across the globe to

take sides.

Soon most non-aligned and

less developed countries joined

the coalitions of the two major

alliances.

5

Volume One / ISNESS 5
---
As the localized conflict escalated into a world war,

U.S. forces on the ground in Southeast Asia were

greatly outnumbered.

6
---
U.S. leaders decided to implement a plan long kept

under wraps, to use tactical nuclear attacks. These

attacks were to hit selective targets decisively with

relatively low-yield nuclear weapons.

Volume One / ISNESS

7
---
8 ISNESS / Volume One

8
---
They were to be aimed at ports, landing

places, supply lines, bridges, railways,

nuclear weapon facilities and airfields.

They were designed to bring the war

to an end, based on the model of World

War II.

But the U.S. had gravely

underestimated the reaction by

the Soviet-Chinese Alliance. A series

of nuclear retaliations proceeded,

dismantling communications and other

major infrastructures globally.

9

Volume One / ISNESS 9
---
Isolated command posts on both sides

continued dispatching nuclear attacks

indiscriminately in any perceived

direction of threat, producing massive,

globe-wide radiation and a complete

ozone collapse.

10 ISNESS / Volume One

10
---
11

Volume One / ISNESS 11
---
12
---
Within 9 days, the planet had

been thoroughly cleansed of all

humanity and most other life forms.

Scorched by sun, the remaining life

continued to dwindle. However, an

unforeseen, simultaneous process was

invisibly under way. The unprotected

planet became gradually awash in

waves of a previously unknown, counter

radiation. It possessed an aggressive

neutralizing effect on the ionizing
---
gamma rays. Within one journey around

the sun, earth was free of the deadly

radiation. Slowly, the planet began to

heal.

A

dome anomaly that had formed

over a 57 mile radius in the Pacific

ocean had shielded one lone couple from

all the devastation: an American soldier

healing from his Vietnam battle wounds

and a beautiful young flower girl who's

origins are unclear.

14
---
Volume One / ISNESS

15
---
16
---
But our story begins

20 years later, on a

partly cloudy spring

morning. . . .
---
18
---
20
---
21

Volume One / ISNESS 21
---
24

All I ever knew was this land, surrounded by brown water
---
A piece of heaven, as she called it

Volume One / ISNESS 25
---
26

Every morning a new sun appeared on the horizon

and in the night a new moon came up and chased after it.
---
Good

Morning!

Happy families

everywhere

drink

Creamnation

milk!

Twice as rich!

Doctor recommended!

Mother approved!

Volume One / ISNESS
---
VOLUME ONE

arden

of

GLil'

28
---
THESE WERE THE FIRST 29 PAGES OF ISNESS VOLUME ONE.

There are over 200 additional pages in this volume...

However, since the online visuals have nothing of the look and feel of a hard

copy magazine, which is the intended manifestation of this work, I chose to

limit the presence of this lesser, online format*

I want to encourage you to follow my Social media where I will be posting updates

about the journey towards print.

Whether it is printed by a publisher or self-published, you will be the first to

know.

Thank you for your patience!

Stavit

BLOG: www.countercomics.com

FACEBOOK: www.facebook.com/sallweis

TWITTER: www.twitter.com/StavitAllweis

Potential publishers: Please contact sallweis@countercomics.com for access to the full version.