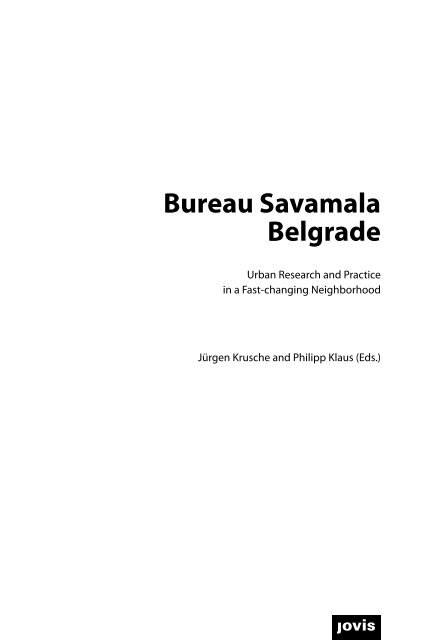 Bureau Savamala Belgrade
978-3-86859-359-4
978-3-86859-359-4
SHOW MORE
SHOW LESS
You also want an ePaper? Increase the reach of your titles
YUMPU automatically turns print PDFs into web optimized ePapers that Google loves.
Bureau Savamala

Belgrade

Urban Research and Practice

in a Fast-changing Neighborhood

Jürgen Krusche and Philipp Klaus (Eds.)
---
FOREWORD 7

Jürgen Krusche

1 Introduction

to Savamala

Bureau Savamala Belgrade 12

Jürgen Krusche

Kratak pregled istorije i izgradnje Beograda 24

A Brief Overview of Belgrade's History

and Development 25

Vladimir Dulović

Gentrification Research: A Brief introduction 42

Philipp Klaus

2 Bureau Savamala

The Role of Art and Culture in Gentrification

and upgrade of the Savamala Neighborhood 50

Philipp Klaus

SAVAMALA'S CHANGE AND REGENERATION 72

Results of Image-based Research 72

Changes Documented in the Project Area 74

Photo Documentation 77

Jürgen Krusche

LIKE / DISLIKE SAVAMALA 109

Jürgen Krusche
---


3 Projects of urban Incubator

Belgrade

Škola urbane prakse 120

The School of Urban Practices 121

Ivan Kucina

MODEL ZA SAVAMALU 130

A MODEL FOR SAVAMALA 131

Maja Popović Vračar / Boba Stanić

Mikroutopija Treći Beograd 140

The Third Belgrade Micro-Utopia 141

Selman Trtovac

Stare kafane Savamale 156

Old Kafanas in Savamala 157

Nina Todorović / Predrag Terzić

Camenzind // Kamenzind 164

Leila Peacock / Axel Humpert

4 and savamala's future?

Beograd na političkoj volji 172

Belgrade on Troubled Political Waters 173

Ljubica Slavković

Krv nije voda 186

Blood is Thicker than Water 187

Rastko Novaković

Otvoreno pismo građanima Beograda 194

Open Letter to the People of Belgrade 195

Biographies 202

Picture Credits 206

Imprint 207
---
7

Foreword

FOREWORD

A Small Urban Neighborhood in the Global Spotlight

Jürgen Krusche

In 1999, NATO bombed Belgrade and, to this day, debate continues as to whether

this represented a violation of human rights. The remnants of this attack can still

be seen: for example, the bombed and burned-out Ministry of Defense in the city

center. The "White City" has a difficult past to overcome; yet it has still managed to

make progress in moving closer to Europe. A direct train connection with Vienna

was reinstated at the end of 2014 and there are plans to further develop the line to

Budapest, which will immensely benefit the freight transport industry. The People's

Republic of China, which has strategically invested billions in diverse infrastructure

projects for Southeastern Europe, has great interest in modernizing the railway from

Belgrade to Budapest—and later extending it as far as the port of Piraeus. In the

future, Chinese goods will be transported quickly and safely via this new route to

Central Europe. 1 Serbia looks set to benefit from Beijing's global investment strategy,

in which the country is seen as part of western Eurasia. 2

This Chinese investment strategy benefits not only Serbia in general, but Savamala

in particular. The Chinese play a significant role in improving the quality of life in

Savamala—the neighborhood that this publication focuses on. For decades, heavy

trucks have thundered down Karadjordjeva in the middle of the otherwise tranquil

quarter. Most national and international north-south freight transport has to pass
---
11

Introduction to Savamala

1

Introduction

to Savamala
---
Bureau Savamala

Belgrade

Jürgen Krusche

Introduction

At the End, the Future

Bureau Savamala's research was wrapping up in summer 2014 when an exhibition

designed to inaugurate the future of Belgrade opened on Savamala's central square.

Abu Dhabi-based developer, Eagle Hills, presented its multi-billion dollar Belgrade

Waterfront project. The presentation used a large-scale model and computer-generated

pictures, and took place in one of Belgrade's most beautiful historic buildings,

the Geozavod Building, formerly the Belgrade Cooperative Building. 1 This vision for

the future—Belgrade Waterfront—is slated to be built on the Sava riverfront, starting

in 2015, with the support of the government and municipality. A 180-meter tower

is planned as its central landmark and "will put the site at the top of the rankings

of the must-see spots of the world", as the project's website proclaims. 2 The whole

development—which will house the largest shopping mall in the Balkans—plans to

create an image of what the future could look like, not only for Belgrade but Serbia

as a whole. (> 1) "We are changing Belgrade. We are changing the face of Serbia. The

whole country will shine like this high-rise!" said Prime Minister Aleksandar Vučić at

the exhibition's grand opening. 3

This vision of a new Belgrade marks the conclusion (for now) of a decades-long

discussion about an area that has also been known as the "Sava Amphitheater".
---
13

Introduction to Savamala

Today, the central train and bus stations are located here, in a southern part of Savamala

that was once a swamp known as the Gypsy Pond. Next to the huge shopping

mall and numerous offices, developers also plan to build over 5,000 new apartments

in the area over the next few years. With the goal of making this area presentable for

such an ambitious project, the 1907 Geozavod Building was renovated. The streets

and sidewalks were also redesigned, and the surrounding area was decorated with

hundreds of banners. (> 2) This summer of renovation gave one a sense of the effects

that large, well-funded development projects can have on an area. Even during the

initial stages, that is even before anything has been built, large developments projects

begin to change an area in a way that is at once both symbolic and superficial.

This vision for the future represents an admirable and surprising conclusion to the

project Bureau Savamala, for we at the project were able to follow the development

of the quarter in depth, from its initial small changes, to the expansion of the design

and club scenes, finally to this forward-looking vision. This project's task and goal

were to observe, document, and analyse the transformations taking place in Savamala

until fall 2014 and these two years turned out to be a pivotal period in the quarter's

development.

1 The Belgrade Waterfront project, computer rendering, 2014
---
methods should supplement these analyses. In contrast to gentrification processes,

upgrading is well suited to image-based research methods. Because upgrades can be

seen as forerunners to gentrification—or, at least, there exists a causal relationship

between the two—analyzing upgrades can contribute to a better understanding not

only of gentrification but also of a quarter's whole development path. Therefore, both

upgrading scenarios and gentrification processes played an important role in Bureau

Savamala's work.

Six Research Areas

The following six research areas were established in order to identify and capture the

neighborhood's changes on as many levels as possible:

1. Urban Incubator Projects

The Urban Incubator projects were evaluated via interviews and surveys of the project

leaders and participants about their goals, methods, and impact. In addition to verbal

surveys, a PDF questionnaire was sent to all project leaders.

2. Savamala Residents

Interviews: Standardized interviews were conducted with Savamala residents and

visitors, as well as with those who work in the area. A series of surveys were conducted

in May and October 2013, as well as in July and August 2014. The 2013 surveys

were carried out as interviews while the concluding surveys in 2014 were printed out

and distributed in Savamala in the form of questionnaires.

Appeal Profile: The surveys included a so-called appeal profile that gauged the appeal

the area held for respondents by asking them to express their feelings about

the quarter with a list of adjectives.

Substitutional Photo Inquiry: A substitutional photo inquiry of Savamala residents

accompanied the interviews and surveys. The results were presented as a

street exhibit in front of Bureau Savamala on 19 July 2013; they were also published

in the magazine Kamenzind. 8

Nightwatch: On 19 June 2013, a so-called nightwatch took place; assessing the

area's expanding nightlife scene, changes were tracked from the afternoon long

into the night.

3. Experts

The specialists who made their expertise available to project members included city

planners and architects, as well as the head of the Savski Venac district administration.
---
19

Introduction to Savamala

4. Buildings AND Public Spaces

Changes to the visible structure of Savamala's public spaces—such as changes to

street spaces, façades, businesses, workshops, sidewalks, and parks—were captured

through comparative photo documentation from 2013 and 2014. In addition, maps

were used to document and record commercial changes, such as new stores, bars, and

restaurants.

5. Media

The project team also regularly perused various daily newspapers and online magazines

in order to document discussion around Urban Incubator and the media's developing

perception of Savamala. Two tag clouds from 2013 and 2014 visually present

these results.

6. Statistics

The Savski Venac Statistics Bureau made census data available to the team, specifically

2002 and 2012 data concerning Savamala's demographic changes. The team

supplemented and improved this data by studying real estate and rental fluctuations

in Savamala.
---
Publication Contents

This publication provides insight into the work and outcomes of Bureau Savamala,

as well as selected Urban Incubator projects. It opens with an introduction to the

development of Belgrade and concludes with a discussion of the city's future with

reference to the controversial Belgrade Waterfront mega-project.

Introduction

Vladimir Dulović introduces the vicissitudes of Belgrade's urban history—a city

caught between the power struggles of the Habsburg and Ottoman Empires, a city

that was repeatedly destroyed and created anew. He demonstrates that Savamala—

with its central location on the Sava and its flourishing harbor—was once the heart

of the city and the residential seat of Belgrade high society; this sheds new light on

recent interest in this small neighborhood.

Gentrification has become a worldwide phenomenon. Cities wishing to improve

their economic situation must increasingly think and act in a global and neo-liberal

manner. Upgrading is a legitimate means of making a city more attractive and partaking

in global competition. The associated phenomenon, gentrification, seems to

be practically unavoidable. Philipp Klaus' text gives insight into the term's origins, its

development, and the various ways gentrification manifests itself today.

Bureau Savamala's Outcomes

The book's second part establishes Bureau Savamala's outcomes. Jürgen Krusche's

photographic documentation demonstrates the visible changes that took place between

2013 and 2014. This extensive image section depicts Savamala visually and

gives the reader a sense of the quarter's atmosphere. Simultaneously, the juxtaposition

of the photographs—which originated in two different years—makes evident

the changes that took place. The accompanying captions are short; apart from these,

the images show clearly enough without explanation what forms of upgrading have

taken place in the city: from small repairs and subtle changes to large-scale renovations

and new construction projects.

The photo survey "Like/Dislike Savamala" is an additional attempt to integrate images

into the research process, and it serves not as an illustration of discursive data

but as its own data set that "shows" what the texts cannot "say". The substitutional

photo inquiry can express respondents' subjective feelings through imagery. The

photographs and the accompanying commentary represent the voices of Savamala

residents.
---
21

Introduction to Savamala

Philipp Klaus' text, "The Role of Art and Culture in Gentrification and Upgrade of

the Savamala Neighborhood" conveys the main outcomes of Bureau Savamala's explorations.

The many interview series and appeal profiles, as well as data on real estate

purchase prices and rental prices, form a detailed picture of the transformation that

has taken place. These analyses are supplemented by two maps that illustrate changes

in businesses, bars, restaurants, and workshops since fall 2012.

Urban Incubator Projects

The book's third chapter depicts five selected Urban Incubator projects that are representative

of many Savamala activities from 2013. They approach a shared goal with

heterogeneous methods.

Belgrade architect, Ivan Kucina, introduces his project, C5. With students of Belgrade's

architectural school, he began a participatory project with the goal of collaborating

with the inhabitants of No. 5 Crnogorska to repurpose the rental property's inner

courtyard and transform it into a communal space. Kucina describes the project

span, including the inhabitants' resistance and the project's ultimate failure, and he

lists possible reasons for this failure.

Selman Trtovac, a co-founder of Belgrade artist group Treći Beograd/Third Belgrade,

details the project We Also Love the Art of Others and its background. According to his

concept of a micro-utopia, Savamala was declared a utopian space; through exhibitions,

workshops, talks, and other events, this action aimed to change its residents'

consciousness and enable them to take their fate into their own hands. In particular,

one of these exhibition projects, Old Kafanas in Savamala, is described in detail at the

conclusion of this chapter.

Old Kafanas in Savamala is a project by Belgrade artists, Nina Todorović and Predrag

Terzić. It is a research and exhibition project on the kafana, a typical Belgrade phenomenon.

The two artists identified these traditional coffeehouses in over 90 locations

in Savamala and documented them using dated photos. They juxtaposed this

image of old Belgrade, which could be easily romanticized, with today's reality. Their

contribution portrays selected kafanas then and now.

Architects, Maja Popović and Boba Stanić, present their project Model for Savamala.

With careful and painstaking attention to detail, they gathered a large quantity

of data, assisted by students and other helpers, and generated a 3D model that

portrays the historical, sociological, economic, and political reality of Savamala. In

subsequent workshops, different groups—from residents to business owners—were

introduced to the model and became familiar with it so that they could use it for

various tasks and projects; it aims to be a 3D model for Savamala, not just of it.
---
Kratak pregled

istorije i izgradnje

Beograda

Vladimir Dulović

Iako vrlo star grad, Beograd je imao tu nesreću da su mu istoriju obeležili brojni

diskontinuiteti. Rimski Singidunum nestao je u naletu Huna, srednjovekovni

Beograd je "preobraćen" u osmansko uporište da bi vek i po kasnije islamski

šeher do temelja uništili katolički Habzburzi. Nakon što je između 1688. i

1791. tri puta prelazio iz ruku Osmanlija u ruke Habzburga i obratno, Beograd

je početak XIX veka dočekao kao mala, zapuštena varoš od tek nekoliko hiljada

duša u senci velike tvrđave na granici dvaju zaraćenih carstava i dveju civilizacija.

U prethodnim krvavim i razornim sukobima nestalo je skoro sve iz njegove

prošlosti. Taj težak trenutak njegove istorije, kada je pao niže no u mnogim

stolećima pre toga, ujedno je i polazna tačka njegovog modernog razvoja.

Istorija savremenog Beograda neraskidivo je povezana sa istorijom samostalne srpske

države. Seme njene samostalnosti posejano je 1804. Prvim srpskim ustankom a

utvrđeno sultanovom potvrdom autonomije 1830. Suprotno očekivanjima Srba i

njihovog predvodnika kneza Miloša, Porta je tim fermanom u beogradskoj tvrđavi

zadržala turske vojnike a u varoši muslimansko stanovništvo. Beograd je ostao

podeljen grad sa dve uprave koje su zajedničke probleme teško rešavale. No dok se

muslimanski Beograd polako mirio sa sudbinom i propadao, srpski (koji je prilično

neopaženo 1841. postao prestonica Srbije) je sa nadom gledao u novo doba i shodno
---
25

Introduction to Savamala

A Brief Overview of

Belgrade's History and

Development

Vladimir Dulović

Although it is a very old city, Belgrade has the misfortune of having a history of numerous

discontinuities. Singidunum, Belgrade's Roman predecessor, vanished from

the map in the face of advancing Huns. Medieval Belgrade was "remodeled" as an

Ottoman stronghold and, a century and a half later, the Catholic Habsburgs razed

the Islamic town to the ground. Having changed hands between the Habsburgs and

Ottomans three times between 1688 and 1791, Belgrade entered the nineteenth

century as an all but deserted small town of a few thousand souls in the shadows of a

great fortress on the boundary between two warring kingdoms; indeed, between two

civilizations. Almost everything from its past had disappeared in bloody and destructive

conflicts. This difficult period of the city's history, harder perhaps than any in the

preceding centuries, was also the starting point for its modern development.

The modern history of Belgrade is inexorably linked with the history of an independent

Serbian state. The seeds of Serbia's independence were sown in 1804 with the

First Serbian Uprising, later to be reaffirmed with the granting of autonomy in 1830.

By the same decree that granted Serbian autonomy—and contrary to the expectations

of the Serbs and their leader, Prince Miloš—the Sublime Porte also retained a

Turkish garrison in the Belgrade Fortress and a Muslim population in the town itself.

Belgrade remained a divided city with two administrations struggling to solve com-
---
Gentrification

Research:

A Brief introduction

Philipp Klaus

The gentrification debate has to date centered around displacement—the matter of

residents being pushed out of their neighborhoods by newcomers with buying power.

It first appeared when Ruth Glass described displacement mechanisms in London's

working-class neighborhoods and coined the term gentrification. Since its inception

in the 1960s, the gentrification discourse has expanded and many aspects of it have

changed significantly—the way the process plays out, the causes and mechanisms of

displacement, and our understanding of it. On the one hand, this expansion has to

do with the proliferation of research into gentrification; on the other hand, it has to

do with the diverse changes that have occurred in the social, economic, and political

realms. This includes motivators such as the concentration and globalization of the

property market as well as the way it has melded with the financial markets, the privatization

of state-owned properties, and the general withdrawal of local and regional

government from the social housing sphere. Gentrification is increasingly being explained

in connection with and as an expression of the globally pervasive investment

mechanisms of the real estate market, as a result of targeted publicly funded efforts at

upgrading, and finally, as specific urban development strategies. 1

Over the years, two particular topics have opened up new lines of investigation for

the field of gentrification studies: reurbanization and new build gentrification—or
---
43

Introduction to Savamala

the back-to-the-city movement as Smith calls it 2 . Reurbanization can be described

as a widespread trend of middle- and upper-class individuals returning to downtown

neighborhoods; new build gentrification is a process of transforming whole city areas

through restructuring. Usually this is carried out in the interests of investors,

who are often globally active real estate firms. Apartments and lofts are built for

high-income households and various facilities are put in place for shopping, culture,

and leisure. 3

Restructuring causes spaces to become available at the same time as a city's growth incorporates

formerly peripheral areas into its downtown sphere: industrial areas, military

facilities, and harbor installations are some examples. The restructuring of these

areas promises great profits and immense ground rent. Hardly a single city has dared

to use these spaces to build apartments for low-income, underprivileged households.

Former factories and industrial areas were reconstructed and transformed into some

of the cities's trendiest spots. Multi-functional neighborhoods were built for new

urban middle and upper classes, who once again felt at home in the city, even when

living with children. The restructuring created an urban setting 4 of convenience and

entertainment that offers both everyday and luxury shopping, diverse cultural facilities,

museums, theatres, or sports stadiums. Since the 1990s, public-private partnerships

have facilitated many of these urban settings through official cooperation

between the public and private sectors. Starting at the end of the 1980s, it became

fashionable to sell land belonging to the city to investors and real estate companies in

order to generate income while avoiding the inopportune act of raising taxes. These

mechanisms of neo-liberal city politics are still in play today. Urban settings serve

city development strategies aimed at attracting (highly) qualified employees to the

city, with the idea that they will then form an indispensable resource for powerful

companies with a global presence. These employees, who are often referred to as the

creative class, make up nearly one-third of all employed individuals in the metropolitan

regions of North America and Europe. 5 They are lawyers, engineers, doctors,

bankers, software developers, planners, and to a lesser extent, individuals from the

creative industries (design, media, architecture, advertising, film) and the cultural

sector (performing arts, fine arts, and creative writing).

The Role of Art and Culture in Gentrification Processes

It is almost always a sign that gentrification has begun when the artists start moving

in. They enter former working-class neighborhoods where the rent is affordable

and which usually have a high percentage of residents with migrant backgrounds.
---
The Role of Art

and Culture in

Gentrification

and upgrade

of the Savamala

Neighborhood

Philipp Klaus

I see more and more young people here. Especially at night. I haven't noticed a lot of

change in Savamala. I don't really know if something is changing in Savamala. In any

case, there are plenty of problems in this neighborhood…, Olga, 63 years old, Interview

Bureau Savamala October 2013

Introduction

Many changes—large and small—have taken place in the two years, September 2012

to October 2014, that the research group Bureau Savamala spent studying the Savamala

neighborhood. Most recently, in summer 2014 the Serbian prime minister

announced that a new city quarter would be built along the Sava River with the support

of an Abu Dhabi investor. Bureau Savamala initiated its work with two guiding

questions: first of all, are gentrification processes taking place in Savamala? And secondly,

did the efforts of Goethe Institute Belgrade to facilitate positive development

through artistic and cultural projects (Urban Incubator Belgrade) spark gentrification

processes? A further goal was to encompass research parameters such as the lively

nightlife scene, usage changes, graffiti, and freight transport routes.

Savamala belongs to the Belgrade district of Savski Venac; other areas in this district

are the wealthy neighborhoods Dedinje, Senjak, and Diplomatska Kolonija.
---
51

Bureau Savamala

Brankov Bridge

1 Spanish House

2 KC Grad

3 Mikser House

4 Belgrade Cooperative

1

2

Braće

Krsmanovića

Karadjordjeva

3

Travnička

4

Svetozara Radića

Kraljevića Marka

Brankova

Jug-Bogdanova

Project Area

Mostarska

Hercegovačka

Bus Station

Zeleznička

Zvornička

Zagrebačka

Gavrila Principa

Old Sava Bridge

Lička

Zemunski Put

Sava River

Bus

Station

Karađjorđeva

Central Station

Map of Savamala with Project Area

Train

Project Area

0 50 100 150 m

1 The perimeter of the Savamala project
---
Simple methods and a DIY approach are used when

renovating many of the new cafés or bars, like this

café on Kraljevića Marka.
---
85

Bureau Savamala

Two additional, less-typical transformations:

on the southern end of Gavrilo Princip Street,

this place now serves Serbian food with grill

specialties instead of Chinese fast food, and in

the heart of Savamala one no longer finds the

winery Mala Toskana (which was there until

recently) but instead what appears to be a

nationalist café self-consciously named Kafana

SFRJ (Socialist Federal Republic of Yugoslavia).
---
Graffiti plays an important role

in every process of upgrading:

on the one hand, it boosts the

impression that those who are

socially disadvantaged are resisting

and protesting (NO GOV REAL

LIVE Ban Partizan or Gravediggers

South), and on the other hand, it

can make a space more attractive.

In the first case, people perceive

graffiti as defacement; it is seen as

a visible sign of a place's squalor

and is therefore painted over. In

the second case, people even

sometimes specifically commission

graffiti to make a place more

attractive.
---
101

Bureau Savamala
---
DISLIKE The Coach Station blocks access to the riverfront

and takes up a lot of space in Savamala. (Jelena)

LIKE I like the graffiti in Savamala. It makes the neighborhood

prettier. (Nataša)

LIKE The Ghost Project: one of the many arts

projects in Savamala (Jelena)

DISLIKE This façade needs to be fixed up for both safety and

aesthetic reasons. (Nataša)
---
117

Bureau Savamala

LIKE Even though this building isn't pretty, the people who

live there are trying to make it better. (Sara)

DISLIKE

Riverboat graveyard (Jelena)

LIKE

Dear tourists, welcome! (Sanja)

Ivan, 34 years old; Sanja, 29 years old; Nataša, 25 years old; Sara, 8 years old; Jelena, 41 years old
---
Savamale. Zatekli smo neregularnu bazu podataka, razlicite ambicije aktera i

neresenu vlasnicku strukturu. Svi su znali fragmente celine ali je bilo tesko opisati, i

vizualizovati specificnost Savamale u svoj njenoj kompleksnosti. Izgledala nam je kao

mesto bogato informacijama ali gde niko nije mogao da ovlada kompletnom slikom.

Savamala nam je delovala neuhvatljivo.

Model za Savamalu

Pocetkom 2013, na poziv Goethe Instituta iz Beograda da ucestvujemo u projektu

Urban Incubator, prepoznali smo jedinstvenu sansu da se nastanimo u Savamaloj

i izvedemo jedan istrazivacki projekat veceg obima a u sluzbi boljeg razumevanja

I razotkrivanja ove oblasti. Razmisljajuci u kontekstu buducnsti Savamale verovali

smo da je od ključnog značaja da oblast napravimo što transparentnijom. Smatrali

smo da će detaljan pregled situacije biti velika prednost za razvoj ove oblasti i da za

buduće planiranje moramo imati što jasnije ideje o tome šta je zapravo ta oblast, od

čega se sastoji, ko su njeni stanovnici, koje su njene aktivnosti, kakvi su interesi koji

su uključeni i kakvim ambicijama njeni akteri teže.

1, 2 3D model of Savamala, presented in November 2013 | Trodimenzionalni model Savamale,

predstavljen u novembru 2013. godine

Ideja da se sa jednim sveobuhvatnim istrazivackim radom stvori presek stanja ove

gradske cetvrti, u startu je distancirala projekat MODEL ZA SAVAMALU od

uobicajenih standardnih idejnih resenja arhitektonske prakse, već je imo za cilj da

područje napravi transparentnim i putem fizičkog 3D modela, prikaže informacije

vezane za istorijske, sociološke, ekonomske i političke činjenice.

Projekat smo programski podelili na dve celine, istrazivacki rad i kasniju produkciju.

U prvoj celini radili smo sa grupom od 25 studenata koji su mapirali oblast i tako

formirali osnovu za kasniju, slozeniju bazu podataka. Projekat je zamisljen tako da

obuhvata celu oblast Savamale koju smo definisali kroz razgovore i intervjue na
---
133

Projects of urban Incubator Belgrade

people, institutions, and traders to activists involved in the revitalization of Savamala.

We encountered incomplete databases, stakeholders with varying goals, and cases

of unresolved of ownership. All those working on the project had become familiar

with fragments of the whole, but it was difficult to describe or visualize the unique

characteristics of Savamala in all its complexity. The area seemed to be rich in information,

but no one was able to master the complete image. For us, Savamala seemed

to remain elusive.

A Model for Savamala

In early 2013, at the invitation of the Goethe Institute in Belgrade to participate in

the Urban Incubator project, we recognized a unique opportunity to settle in Savamala

and conduct a research project on a larger scale with the aim of improving our

understanding and ability to unpack the area. With the future of the area in mind,

we believe it is crucial that Savamala becomes more transparent. We felt that a detailed

review of the situation would be a great advantage for the development of the

quarter. In order to plan for the future we needed to have a clearer idea of what the

quarter is, what it consists of, who its inhabitants are, what its core activities are, what

interests are involved, and what the ambitions of local stakeholders are.

The idea to create an overview of this quarter through a single comprehensive research

project had already displaced A Model for Savamala from standard practice in

architectural concept design. Instead, we aimed to make the area transparent through

a physical 3D model that would display information on the historical, sociological,

economic, and political realities of the quarter.

The project was divided into two parts, research and production. The first part involved

work with a group of 25 students who mapped the area, forming a basis for

the compilation of a complex database. The project was designed to cover all of

Savamala as defined through interviews and discussions with locals. Four thematic

workshops were conducted with the aim of defining the concept of A Model for Savamala

(these were held in KC Grad, at the Mikser Festival Master Class workshop with

architect, Kaita Shinagawa, at the Camenzind offices and a presentation at Nova

Iskra). With this stage completed, the project could, having moved to the pavilion

in the Spanish House in July, progress to the second stage. At this point our team was

boosted by the addition of four co-creators—Ana Ugrinić, Daša Spasojević, Predrag

Milić, and Miloš Kašul Nikolić—young, local architects who had participated in

the project workshops.

The research portion of the project consisted of gathering information both in the

field and from relevant institutions (the Institute for the Protection of Cultural
---
Mikroutopija Treći

Beograd

za vreme i nakon projekta Urban Incubator

Selman Trtovac

Šta je bio Treći Beograd?

Struktura / Umetnička strategija / Politički i društveni kontekst u kome je

nastao Treći Beograd

Slobodna umetnička zadruga Treći Beograd 1 je nastala 2009. godine kao ideja o

jednom naročitom mestu, o privatnom ali istovremeno i javnom prostoru umetnosti.

Naknadno je ta ideja dopunjena kolektivnom strategijom grupe umetnika, sa željom

da se definiše mogući model mikroutopije. Ideja mikroutopije je u svojoj suštini

predstavljala umetnički rad, društvenu plastiku i otpor opštoj društvenoj hipokriziji,

vulgarnom obliku liberalnog kapitalizma i dekadentnoj paradigmi pozne postmoderne.

Zadruga, kao pojam i kao organizacioni model preuzet je od nekadašnjih

socijalističkih, seljačkih zadruga u kojima su seljaci udruživali lične resurse zarad

veće efikasnosti. Struktura Slobodne umetničke zadruge Treći Beograd je bila

nehijararhijska, odnosno rizomatska. Takva struktura je bila neophodna iz dva

razloga: prvo, zato što je zadruga bila sastavljena od izrazitih individualaca koji ne bi

pristali na hijararhijsku strukturu, drugo, što je postojala želja da se u praksi oproba

rizomatski oblik umetničkog organizovanja. Takva organizacija je sa jedne strane bila

utopijska, a sa druge strane najveća slabost zadruge.

Iz opšte ideje Trećeg Beograda i pomenute organizacione strukture se, kroz dijalog

umetnika, razvila i čitava umetnička strategija koja se sastojala od dva elementa. Prvi
---
141

Projects of urban Incubator Belgrade

The Third Belgrade

Micro-Utopia

During and after the Urban Incubator project

Selman Trtovac

What was Third Belgrade?

Structure / Artistic strategy / The political and social context in which Third

Belgrade emerged

Third Belgrade (Treći Beograd) 1 , a free artist collective, was founded in 2009 with

the aim of creating a unique space; a simultaneously private and public space for

art. The idea was subsequently augmented by the collaborative strategy of a group

of artists with a view to defining a possible model for a micro-utopia. The idea of a

micro-utopia, in essence, represents artistic creation, social elasticity, and resistance

to general social hypocrisy, the vulgarity of liberal capitalism, and the decadent

paradigm of late postmodernism.

The collective, as a concept and an organizational model, was lifted from former

socialist and rural cooperatives in which farmers would pool personal resources to

achieve increased efficiency. The structure of the Third Belgrade Free Artist Collective

was non-hierarchical, or rather rhizomatic. This structure was necessary for two

reasons: first, because the collective was composed of distinct individuals who

would not agree to a hierarchical structure and, second, because there was a desire

to attempt a rhizomatic form of artistic organization in practice. On the one hand,

such a structure was utopian but, on the other, it was the greatest weakness of the

collective.
---
Stare kafane Savamale

Nina Todorović / Predrag Terzić

Naziv kafana označava ugostiteljsku radnju u kojoj se kuva i služi kafa. Reč je preuzeta

od Turaka, koji su koristili reč kahvehane što je kovanica arapske reči qahve (kafa)

i persijske reči khane (kuća). Za razliku od drugih ugostiteljskih objekata koji su se

nalazili i van utvrđenih gradova i nudili i prenoćište, kafane su se nalazile isključivo

u gradu i služile su, osim kafe, i hranu i piće. Koncept kafane je bio okupljanje

muškaraca na piću i kafi, i raširen je od strane Otomanske imperije, a široko usvojen

na prostoru Balkana. Kafana je na ovom podneblju označavala i specifičan način

života; bila je prepuna stereotipa, predstavljala je utočište za nesrećne ljubavnike

koji svoju tugu utapaju u alkoholu, nezadovoljne muževe koji beže od svojih žena,

kancelariju političara i poslovnih ljudi, za obavljanje raznih, ponekad sumnjivih

poslova. Nosila je takođe i hedonistički duh, spori ritam života, sklonost porocima,

ali je i u kulturnom životu gradova na Balkanu odigrala veoma značajnu ulogu. Prva

kafana u Beogradu otvorena je 1552. godine, a u istoriji se kafane ponovo pominju

od 1738. godine, i to kao odvojeni ugostiteljski objekti, posebno za muslimane,

posebno za hrišćane. Nakon ukaza Miloša Obrenovića 1826, kada se uvodi alkohol

i porez na objekte, kafane dobijaju svoj sjaj koji je obeležio Beograd, a naročito

Savamalu (na obali reke Save, arhetipske granice između Austrougarske i Srbije) koja

tada doživljava potpuni preobražaj i procvat. Prvi put grad se spušta na rečnu obalu,

a taj deo grada postaje stecište kulturne elite tadašnjeg Beograda.
---
157

Projects of urban Incubator Belgrade

Old Kafanas in Savamala

Nina Todorović / Predrag Terzić

The term kafana denotes a public house where coffee is prepared and served, literally

a coffee house. The word is a corruption of the Turkish kahvehane, itself a compound

of the Arabic qahve (coffee) and the Persian khane (house). Unlike other inns and

taverns, which were located outside the walls of cities and offered room and board,

kafanas were located exclusively within the cities themselves and, along with coffee,

also served food and other beverages. The concept of the kafana was a gathering place

where men could go for a coffee or a drink and, spread by the Ottoman Empire,

it was widely adopted throughout the Balkans. In this region the kafana became a

by-word for a certain kind of lifestyle; often full of stereotypes, it was a refuge for

unfortunate lovers to drown their sorrows, for disgruntled husbands looking to get

away from their wives, and it was an office for politicians and businessmen to make,

sometimes shady, deals. Kafana culture represented a hedonistic spirit, a slower pace

to life, a penchant for vice, but it also played a very important part in the cultural

life of Balkan cities. The first kafana opened in Belgrade in 1552, and they were written

about again in 1738 as segregated hospitality establishments, with Muslims and

Christians each having their own kafanas. Following a decree by Miloš Obrenović in

1826, allowing the sale of alcohol and introducing a property tax, kafanas blossomed

and began to leave their mark on the character of the city. This was especially true in

Savamala which, located on the banks of the Sava, was a quintessential borderland
---
Manakova Kafana (Manak's Coffee House)

Gavrilo Princip 5

Venecija (Venice)

Brace Krsmanovic 3

Dobro Jutro (Good Morning)

At the corner of Balkanska and Nemanjina
---
163

Solun (Thessaloniki)

Savski Trg

Zeleni Venac

At the corner of Zeleni venac and Brankova

Zlatan Konj (Gold Horse)

At the corner of Brankova and Pop Lukina
---
Governments utilize a variety of resources to compete with other cities worldwide for

investment, tourism, and riches. The flagship project represents a popular tool in this

competition; it seeks to draw attention through so-called star architecture. Whereas

at the end of the 20th century it was enough to have diverse cultural content like

museums, theatres, and libraries as flagships, the competition between cities intensified

in the 21st century to include the building of ever-taller towers. The Burj Khalifa

in Dubai currently tops the list with a height of 828 meters.

It is not surprising, then, that the Belgrade Waterfront project includes plans for

construction of a central tower in Savamala. With a height of 180 meters, it is supposed

to serve as a beacon of Belgrade's future. The tower will house a hotel and gastronomic,

residential, and commercial spaces. However, the plans for the Belgrade

Waterfront project do not leave room for any cultural spaces, even though Belgrade's

National Museum and the Museum for Contemporary Art in New Belgrade have

been closed for years.
---
171

and savamala's future?

4

and

savamala's

future?

Instead, another familiar formula for urban economic success will be applied as a way

to boost Belgrade's economy: a shopping center. It will be the largest in all of the Balkans.

What will happen to the lively Belgrade downtown and its many shops? What

kind of effects will the shopping center have on traffic throughout the region?

While the Urban Incubator project used subtle interventions to breathe new life into

Savamala and engage its residents in participation within their own quarter, the Belgrade

Waterfront shows the opposite kind of city-planning ideology at work—a topdown

development strategy that uses international capital and completely excludes

Belgrade's population. The activist group Ministry of Space has been protesting this

project in a broad and creative manner, which has encouraged a public discussion;

they are trying to influence the planning process. However, Savamala's fate already

seems sealed.

The following entries analyze the impact of this mammoth project on the future of

Savamala and Belgrade through multiple lenses.

(PK)
---
Otvoreno pismo

građanima Beograda

Mi smo grupa od 50 naučnika i stručnjaka za urbani razvoj i planiranje iz raznih

delova sveta, koja je posetila Beograd povodom 24. godišnje konferencije naše

Međunarodne mreže za urbano istraživanje i akciju (INURA). Imamo bogato

iskustvo u radu na projektima razvoja priobalja u gradovima poput Londona,

Amsterdama, Hamburga, Barselone, Bostona, Njujorka, Toronta, Vankuvera, Hong

Konga, Sidneja i Melburna.

Veoma smo impresionirani jedinstvenim kvalitetima Beograda, a posebno

kompaktnošću i raznolikošću njegovih gradskih prostora. Veza grada sa vodom

mogla bi se obogatiti pažljivim razvojem oblasti između centra i reke Save. Jasno nam

je da je projekat Beograd na vodi inicijativa koja vodi upravo ka ostvarenju te veze i

pozdravljamo tu težnju. Međutim, videli smo i proučili planove i osećamo potrebu

da prenesemo našu ozbiljnu zabrinutost povodom samog predloga projekta.

Ekonomski rizici su veliki, a dobit za Beograd mala

Beograd na vodi, kako je trenutno osmišljen, nosi izuzetno visoke rizike. Pre svega,

mega projekti su uvek osetljivi na fluktuacije tržišta. Poveravanje čitavog projekta

jednom investitoru samo povećava taj rizik: ukoliko kompanija postane finansijski

neodrživa, Beogradu će ostati nedovršeni razvoj na ovoj centralnoj lokaciji.

Uključivanjem većeg broja investitora mogao bi se barem ublažiti ovaj rizik.

I sama očekivanja u vezi sa potencijalnim investitorom Eagle Hills su nerealna.

Predlog projekta predviđa izgradnju dvesta novih zgrada, ali je ekonomski kontekst

takav da samo oni objekti koji spadaju u tzv. "prvu A fazu" projekta imaju izgleda

da eventualno budu izgrađeni: dve stambene zgrade, dva hotela, kula-oblakoder i

"najveći tržni centar na Balkanu". Ovakav pristup ne može biti opravdan sve dok
---
195

and savamala's future?

Open Letter to the

People of Belgrade

We are a group of 50 international scholars and experts on planning and urban

development, visiting the city of Belgrade for our 24th annual conference. We have

expertise on waterfront developments in London, Amsterdam, Hamburg, Barcelona,

Boston, New York, Toronto, Vancouver, Hong Kong, Sydney, and Melbourne.

We are very impressed by the unique qualities of Belgrade, especially the fine-grained

and mixed urban spaces that this city provides. Belgrade has a very rich cultural heritage

and vibrant urban life, produced by its long history at the center of several European

cultures. The connection of the downtown and the water could be enriched by

a careful development of the area between the city center and the Sava River.

We understand that the Belgrade Waterfront project is an initiative to make this connection,

and we applaud the impulse. We have seen and studied the plans, however,

and want to communicate some serious concerns about the current proposal.

The economic risks are high and financial gains to Belgrade are low

Belgrade on the Water as currently framed carries very high risks. Megaprojects are

always vulnerable to market fluctuations. Giving the entire project to a single investor

increases the risk: if the company becomes financially unviable, or shifts focus to

another project, Belgrade will have an unfinished development on this prime site. At

the very least, ensuring diversity of developers can mitigate these possibilities.

The expectations of and for this investor are unrealistic. The proposal envisages 200

new buildings, but the global economic context is such that only what is referred

to as "the first A phase" of the project is likely to be constructed: two apartment

buildings, two hotels, a high-rise tower, and the "largest shopping mall in the Balkans".

The prospect of these structures standing unsold and isolated on a cleared site,
---
Biographies

Vladimir Dulović is a historian. He graduated at Belgrade's Faculty of Philosophy

and got his MA degree at CEU, Budapest. He is a researcher for the "New and

Ambiguous Nation-building in South-eastern Europe" project, which has resulted

in several publications such as The Ambiguous Nation: Case Studies from Southeastern

Europe in the 20th Century (Munich: Oldenbourg Verlag, 2013). He is the author of

several guidebooks (Serbia, Montenegro, Slovenia, Belgrade). He is also an associate

at the Tačka komunikacije organisation, through which he works on projects such

as Soundmap of Belgrade (www.zvucnamapabeograda.rs), Walk of the Century

(http://setnjaveka.rs), and Architecture for Neighbors.

Axel Humpert studied architecture at TU Graz and ETH Zurich. He is a board

member of Camenzind and partner at BHSF architects. From 2004 to 2007, he

worked for Meili, Peter architects in Zurich. Besides his practical work, he regularly

teaches or acts as a guest critic.

Philipp Klaus is a social and economic geographer. His research focuses on the

role of culture, arts, and creative industries in the competition among cities and the

impacts of cultural strategies on urban development. He runs the INURA Zurich
---
203

Biographies

Institute and is secretary of the International Network for Urban Research and Action

INURA. He teaches at the chair of sociology in architecture ETH Zurich and

the department of Geography, University of Zurich.

Jürgen Krusche is a cultural studies scholar, an artist, and a curator. In addition to

freelancing for curatorial and artistic projects, he has been teaching, researching, and

publishing since 2001 at Zurich University of the Arts. His primary area of research

involves neo-liberal city politics and their effect on public space, viewed through an

inter-culturally comparative lens. Between 2007 and 2011, he led the research project

Taking to the Streets at the Department of Architecture of the ETH Zurich. Since

2011, he has been responsible for the research focus Public City at the Institute for

Contemporary Art Research.

Ivan Kucina is an assistant professor at the School of Architecture, University of

Belgrade, and a guest professor at Parsons The New School for Design, New York,

Dessau International School of Architecture, and Polis University, Tirana. His research

is focused on the informal building strategies and participatory processes of

urban transformation of the post-socialist cities. He is a practicing architect and

runs an interdisciplinary architectural and design practice together with architect

Nenad Katić, with projects that range from urban design to residential buildings

and exhibitions.

Rastko Novaković is a filmmaker, housing activist, and trade unionist based in London.

He holds a degree in Contemporary Media Practice from the University of

Westminster and an MA in Research Architecture from Goldsmiths College. He is

currently touring his latest film Concrete Heart Land about the notorious "regeneration"

scheme of London's Heygate estate (www.concreteheartland.info). He is active

in a number of community groups fighting for the right to housing and the city.

www.rastko.co.uk

Leila Peacock is a an artist, writer, and editor from Great Britain. Her work focuses

on the space between writing and drawing. Her essays have been published in The

White Review, The Junket, and The Bulletin of The Serving Library. She lives and works

in Zurich.

Ljubica Slavković has graduated at Belgrade's Faculty of Architecture, University

of Belgrade. Besides her architectural practice, her main interest lies in the fields of
---
urban-cultural discourse, public spaces and the city-development, and the contemporary

architectural and urban planning theory and practice. She has published more

than 100 articles for various local and international magazines and has been awarded

by the 36th Annual Serbian Salon of Architecture in the category of Architectural

Criticism. She is a co-editor of Kamenzind magazine, a board member of Urban

Incubator, an architect and an editor at the Center for Cultural Decontamination in

Belgrade.

https://www.clippings.me/ljubicaslavkovic

Boba Stanić is an architect based in Amsterdam. Having finished his studies in Interior

Architecture at the University of Belgrade, he moved to the Netherlands where

he gained his Architectural Masters degree at the Academie van Bouwkunst in Arnhem.

His final year project, "The Lotus Project", was selected as one of the ten best

European sustainable projects by Cité de l'Architecture et du Patrimoine in Paris, and

in 2009 was nominated for Archiprix International held in Montevideo. He worked

at Claus en Kaan Architecten and Concrete Architectural Associates, both in Amsterdam.

Since 2010 he has run his own office for Architecture—Boba Stanić Architect

is based in Amsterdam and it participates in fields of architecture and interior design

in both national and international projects. His work was exhibited at the Venice

Architecture Biennale in 2008, CITE Paris, Conseil Economique et Social Européen

in Brussels, and Virserum Art Museum in Sweden.

Predrag Terzić graduated from the Belgrade Faculty of Fine Arts, Department of

Painting in 2000, Professor Čedomir Vasić's class and gained a Master's degree at the

same class (2003). In 2001, he became a member of the Association of Fine Artists

of Serbia (ULUS). He obtained his PhD in the Interdisciplinary Studies of Theory

of Art and Media, under the mentorship of Professor Divna Vuksanović, PhD, at the

University of Arts, Belgrade. He has had 15 solo exhibitions and participated in more

than 30 group exhibitions in Belgrade and abroad.

www.predragterzic.com

Nina Todorović graduated in 1999 from the Faculty of Fine Arts, Department of

Painting, class of Professor Čedomir Vasić, and continued her post-graduate studies

in the same class. In 2000, she became a member of the Serbian Association of Artists

as a freelancer, and in 2002 she attained her Master's Degree. In 2014 she obtained

her PhD in Art (Mentor Professor Mileta Prodanović, PhD). Since 1995 she has

had 37 solo shows and participated in more than 190 group shows and numerous
---
205

Biographies

art projects in Serbia and abroad. Winner of several awards, her works are present in

museums and collections in Serbia and beyond.

www.ninatodorovic.com / www.architectureofmemory.com /

www.ninatodorovic.blogspot.com

Selman Trtovac studied from 1990 until 1993 at the Faculty of Fine Arts Belgrade in

the department of painting. In 1993, he moved to Kunstakademie Düsseldorf, in the

art class of Professor Klaus Rinke, department of sculpture, where he was declared a

Master of Art. Membership in IKG—the International Arts committee in 2003. He

was also initiator and co-founder of Independent Artistic Association Third Belgrade

and Research Station for contemporary Arts Perpetuum Mobile. In 2012, he was

awarded Doctor of Fine Arts at the Art Academy in Belgrade. He lives and works in

Belgrade.

www.selmantrtovac.com

Dobrica Veselinović is a member of the Ministry of Space collective from Belgrade.

He studied political science at Belgrade University and attended a large number of

summer schools (i.e. Green academy, Vis Croatia 2011 and 2012, University of Social

democracy 2009 and 2010), seminars, and debates at home and abroad, and held the

same number of lectures and presentations. Areas of interest include political theory,

ecology, and urban development issues.

Maja Popović Vračar is an architect, educated at the Academy of Applied Arts in

Utrecht and the Academy of Architecture in Amsterdam. She is interested in sociopolitical

processes and their influence on the built environment within historical

city quarters and heritage sites. She acts through the fields of scientific and artistic

research, cultural and community activism, and curation. She is a member of a research

platform, Failed Architecture Amsterdam, and the Urban Incubator Belgrade

initiative. She lives in Copenhagen.