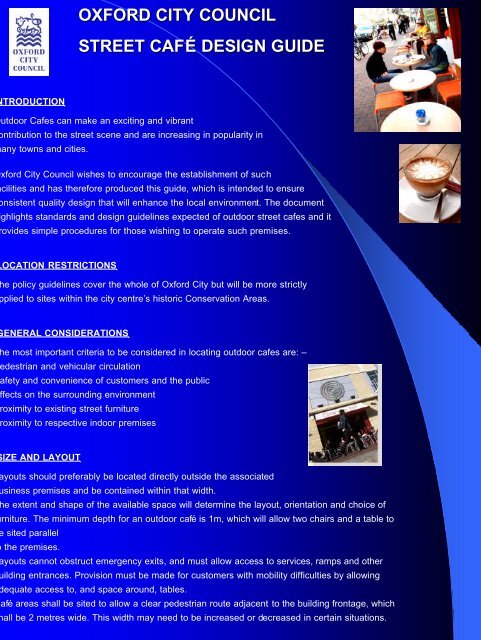 OXFORD CITY COUNCIL STREET CAFÉ DESIGN GUIDE
OXFORD CITY COUNCIL STREET CAFÉ DESIGN GUIDE
OXFORD CITY COUNCIL STREET CAFÉ DESIGN GUIDE
SHOW MORE
SHOW LESS
Create successful ePaper yourself
Turn your PDF publications into a flip-book with our unique Google optimized e-Paper software.
TRODUCTION

OXFORD CITY COUNCIL

STREET CAFÉ CAF DESIGN GUIDE

utdoor Cafes can make an exciting and vibrant

ntribution to the street scene and are increasing in popularity in

any towns and cities.

xford City Council wishes to encourage the establishment of such

cilities and has therefore produced this guide, which is intended to ensure

nsistent quality design that will enhance the local environment. The document

ghlights standards and design guidelines expected of outdoor street cafes and it

ovides simple procedures for those wishing to operate such premises.

OCATION RESTRICTIONS

e policy guidelines cover the whole of Oxford City but will be more strictly

plied to sites within the city centre's historic Conservation Areas.

ENERAL CONSIDERATIONS

e most important criteria to be considered in locating outdoor cafes are: –

destrian and vehicular circulation

fety and convenience of customers and the public

fects on the surrounding environment

oximity to existing street furniture

oximity to respective indoor premises

IZE AND LAYOUT

youts should preferably be located directly outside the associated

siness premises and be contained within that width.

e extent and shape of the available space will determine the layout, orientation and choice of

rniture. The minimum depth for an outdoor café is 1m, which will allow two chairs and a table to

sited parallel

the premises.

youts cannot obstruct emergency exits, and must allow access to services, ramps and other

ilding entrances. Provision must be made for customers with mobility difficulties by allowing

equate access to, and space around, tables.

afé areas shall be sited to allow a clear pedestrian route adjacent to the building frontage, which

all be 2 metres wide. This width may need to be increased or decreased in certain situations.
---
RRIERS, ENCLOSURE AND ADVERTISING

e use of barriers to demarcate the licence area may be required.

rriers for separating adjoining cafes may, however, be considered. These will need

be removed at the end of daily trading or designed as part of the integral open space.

here space permits, plant boxes may also be introduced, but these will also need to be

ored away, along with the furniture, outside business hours. Limited advertising of the

siness may be considered on barriers, umbrellas and freestanding boards, but will have

be considered on an individual basis.

RNITURE

rniture shall include Chairs, Tables, Umbrellas, Boards and Signs.

e design and style of these items shall make a positive contribution to

e street scene and integrate well with the surrounding architecture and cityscape.

rniture shall be of a high standard, well designed, creative and individual and be

iform in style within each area.

e furniture shall also be strong, waterproof, durable and weather proof, designed for

tside commercial use. Furniture colours must be fully detailed.

o sharp edges or moving parts that could cause injury to users, shall be present.

astic items, white and reflective furniture will be rejected. All furniture must be stackable

folding for easy storage indoors. Furniture shall be kept clean, be well maintained and

placed before falling into disrepair.

mbrellas must be securely fixed to withstand the effects of wind and shall be removed in

ery windy conditions. They shall not be fixed into the pavement and shall not overhang into

edestrian areas. They shall be at least 2.2 metres above ground level and be manufactured from

re retardant material. Any advertising shall conform to the conditions started elsewhere.

market, rather than beach style umbrella is preferred, using neutral or muted colours.

NVIRONMENTAL AND OTHER REQUIREMENTS

e proprietor shall carry out maintenance of the designated café area.

l food and drink remnants, litter, cans, etc shall be frequently removed from the pavement.

is shall also include washing the paved area on a daily basis to remove spilt food and drink and

ewing gum, so that the surface does not become discoloured and sticky.

l premises selling food must be registered with the Environmental Health Department and cafes

ust therefore comply with the relevant food safety requirements/regulations. Additional toilet and

ashing facilities may be required, which will depend on the numbers of new outdoor seats

ovided.

e use of unbreakable glasses is recommended together with a table service.