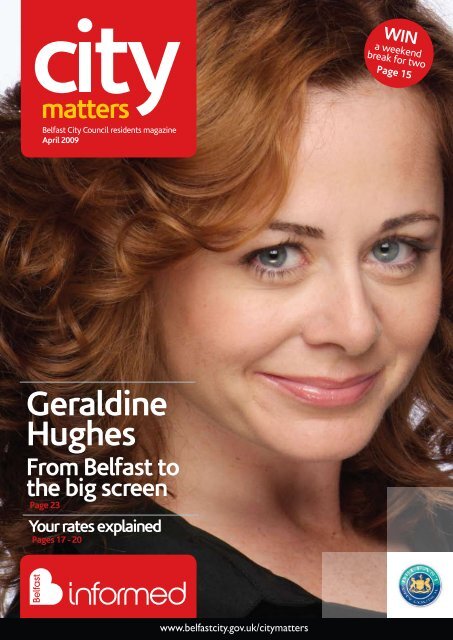 Geraldine Hughes - Belfast City Council
Geraldine Hughes - Belfast City Council
Geraldine Hughes - Belfast City Council
SHOW MORE
SHOW LESS
You also want an ePaper? Increase the reach of your titles
YUMPU automatically turns print PDFs into web optimized ePapers that Google loves.
Belfast City Council residents magazine

April 2009

Geraldine

Hughes

From Belfast to

the big screen

Page 23

Your rates explained

Pages 17 - 20

www.belfastcity.gov.uk/citymatters

WIN

a weekend

break for two

Page 15
---
Members directory

Members of

Belfast City Council

Balmoral Electoral Area

(Blackstaff, Finaghy, Malone, Musgrave, Upper Malone, Windsor)

Cllr Thomas Ekin All Tel: 028 9020 1714

Cllr Bernie Kelly SDLP Mob: 077 1093 1323

Cllr Niall Kelly SDLP Tel: 078 2873 3125

Cllr Jim Kirkpatrick DUP Tel: 028 9045 7341

Cllr Ruth Patterson DUP Mob: 078 1012 0553

Cllr Bob Stoker UUP Mob: 078 7635 8893

Castle Electoral Area

(Bellevue, Castleview, Cavehill, Chichester Park,

Duncairn, Fortwilliam)

Cllr David Browne,

Deputy Lord Mayor

(until June '09) UUP Tel: 028 9077 1757

Cllr Patrick Convery SDLP Tel: 028 9028 9380

Cllr Ian Crozier DUP Mob: 077 7165 7704

Cllr Tierna Cunningham SF Tel: 028 9074 0817

Cllr Nigel Dodds OBE DUP Tel: 028 9077 4774

Cllr Cathal Mullaghan SDLP Mob: 07962 115777

Court Electoral Area

(Crumlin, Glencairn, Highfield, Shankill, Woodvale)

Cllr Diane Dodds DUP Tel: 028 9074 4008

Cllr William Humphrey DUP Tel: 028 9074 4008

Cllr Frank McCoubrey IND

High Sheriff Tel: 028 9032 0202

Cllr Elaine McMillen DUP Mob: 077 2070 9405

Cllr Hugh Smyth OBE PUP Tel: 028 9032 6233

Laganbank Electoral Area

(Ballynafeigh, Botanic, Rosetta, Shaftesbury, Stranmillis)

Cllr Alex Maskey SF Tel: 028 9024 3194

Cllr Patrick McCarthy SDLP Mob: 077 1164 4275

Cllr Michael McGimpsey UUP Tel: 028 9024 5801

Cllr Peter O'Reilly SDLP Tel: 028 9064 6622

Cllr Christopher Stalford DUP Mob: 07795 387331

Lower Falls Electoral Area

(Beechmount, Clonard, Falls, Upper Springfield, Whiterock)

Cllr Janice Austin SF Tel: 028 9062 6670

Cllr Máire Cush SF Tel: 028 9062 6670

Cllr Tom Hartley,

Lord Mayor (until June '09) SF Tel: 028 9027 0215

Cllr Francis McCann SF Tel: 028 9050 8989

Cllr Marie Moore SF Tel: 028 9050 8989

Visit www.belfastcity.gov.uk/councillors for more

information on your local councillors.

(showing political affiliation as elected in May 2005)

Oldpark Electoral Area

(Ardoyne, Ballysillan, Cliftonville, Ligoniel, New Lodge, Waterworks)

Cllr Fred Cobain UUP Tel: 028 9032 0202

Cllr Daniel Lavery SF Tel: 028 9074 0817

Cllr Alban Maginness SDLP Tel: 028 9022 0520

Cllr Nelson McCausland DUP Tel: 028 9071 7072

Cllr Margaret

McClenaghan SF Tel: 028 9071 3272

Cllr Conor Maskey SF Tel: 028 9074 0817

Pottinger Electoral Area

(Ballymacarrett, Bloomfield, Orangefield,

Ravenhill, The Mount, Woodstock)

Cllr May Campbell DUP Tel: 028 9087 8587

Cllr Sir Reg Empey OBE UUP Tel: 028 9046 3900

Cllr Máire Hendron ALL Tel: 028 9065 0052

Cllr Margaret McKenzie DUP Tel: 028 9032 0202

Cllr Sammy Wilson DUP Tel: 028 2826 7722

Cllr John Kyle PUP Tel: 028 9022 5040

Upper Falls Electoral Area

(Andersonstown, Falls Park, Glencolin, Glen Road, Ladybrook)

Cllr Tim Attwood SDLP Tel: 028 9080 7808

Cllr Michael Browne SF Tel: 028 9080 8404

Cllr Paul Maskey SF Tel: 028 9080 8404

Cllr Chrissie

Mhic Giolla Mhín SF Tel: 028 9080 8404

Cllr Gerard O'Neill SF Tel: 028 9080 8404

Victoria Electoral Area

(Ballyhackamore, Belmont, Cherryvalley,

Island, Knock, Stormont, Sydenham)

Cllr Ian Adamson OBE UUP Tel: 028 9032 0202

Cllr Wallace Browne,

Lord Browne of Belmont DUP Tel: 028 9065 7785

Cllr Mervyn Jones ALL Tel: 028 9047 3420

Cllr Naomi Long ALL Tel: 028 9047 2004

Cllr Robin Newton DUP Tel: 028 9045 9500

Cllr Jim Rodgers OBE UUP Mob: 078 0188 2478

Cllr David Rodway DUP Tel: 028 9032 0202

ALL - Alliance

DUP - Democratic Unionist Party

IND - Independent

PUP - Progressive Unionist Party

SDLP - Social Democratic and Labour Party

SF - Sinn Féin

UUP - Ulster Unionist Party
---
Contents

5 2009 - a great year for Belfast

6 Seniors section

8 Flood advice

10 Public holiday bin collections

13 Youth Forum columnist

15 Win a weekend break for two

17 Understanding your rates

21 Things to do for free in Belfast

23 Cover story - Geraldine Hughes

25 Celebrated citizen - Stella Tsang

26 Happy birthday zoo

27 Memorial safety

30 Smithfield Market

32 What's on

35 A-Z of council services

Belfast City Council

Adelaide Exchange, 24-26 Adelaide Street,

Belfast BT2 8GD

Tel: 9032 0202

Textphone: 9027 0405

We are committed to making sure that

our services are available to all sections of

the community. City Matters is available in

Braille, DAISY, audio and large print. We

will consider providing it in other formats if

requested. Please call 9032 0202 ext 6276.

City Matters is published by Belfast City

Council and delivered to over 130,000

addresses in Belfast.

This magazine is printed

on 100% recycled paper.

© Belfast City Council 2009. No article or

photograph in this magazine may be reproduced

without the consent of the Editor.

The Ulster Orchestra performing at the newly opened Ulster Hall

Editorial

Welcome to the April edition of City Matters.

This issue includes a four page

guide on the rates in the centre

pages. Find out why this year's rise

is lower than expected, how your

bill is calculated and what your

rates pay for.

There's also a double page spread

on flooding (pages 8 and 9) along

with a handy pull-out flooding

guide for you to fold up and keep

in your wallet.

On page 5, we speak to Dawson

Stelfox (consultant architect on

the City Hall and Ulster Hall

refurbishments) about some of

the exciting developments being

unveiled in Belfast in 2009.

You'll find our usual seniors section

on pages 6 and 7 and we welcome

our new Youth Forum columnist

on page 13. In Anita Magee's first

article, she tells us why she joined

the Youth Forum.

And Belfast-born Hollywood

actress, Geraldine Hughes talks to

City Matters about her journey

to stardom in our cover story on

page 23.

Turn to page 32 for our guide on

Belfast events. We've also listed

some ideas about things you can

do for free page on 21.

And finally, don't forget to enter

our fabulous competition to win

a weekend break for two at the

Citywest Hotel Resort on page 15.

Have any comments or queries about City Matters?

Call us on 9032 0202 ext 6276 or

email corporatecommunications@belfastcity.gov.uk

CityMatters

April 2009

3
---
What's new

Belfast is still a

Fairtrade City

Belfast had its status as a

'Fairtrade City' renewed for a

further two years in January.

Fairtrade is about better prices,

decent working conditions, and

fair terms of trade for farmers and

workers in the developing world.

By getting companies to pay fair

prices, Fairtrade addresses the

injustices of modern trade, which

can punish the poorest producers.

It enables them to improve their

position and have more control over

their lives.

Christopher Stange, Secretary of the

Fairtrade Belfast organising committee

commented on the renewal:

"It is a fitting tribute to all the hard

work by all our voluntary members

to push Fairtrade products higher up

the shopping list."

You can do your bit

to support the work

of Fairtrade Belfast.

When shopping, look

for the Fairtrade Mark,

which signifies that

goods comply with internationally

agreed Fairtrade social, economic and

environmental standards.

For more information on Fairtrade

Belfast call Alastair Curran on

9032 0202 ext 3309 or go to

www.fairtradebelfast.org

4 CityMatters

April 2009

Getting

ready for

the Tall Ships

Belfast is preparing for one of

its biggest events in years – the

grand finale of the Tall Ships

Atlantic Challenge, which takes

place from 13 to 16 August.

The River Lagan quayside will be

transformed into a world class spectacle

as we welcome the ships from their

journey across the Atlantic Ocean.

Both sides of the river will be lined

with entertainment for the hundreds of

thousands of visitors who are expected

from Northern Ireland and beyond.

Earth Hour 2009

We have helped to heighten awareness

of the causes of climate change across

the city by taking part in

the World Wildlife Fund

(WWF) Earth Hour.

On 28 March at 8.30pm, we turned

off the lights at City Hall for one hour

as part of a coordinated global switchoff.

This event highlighted that climate

change is a global threat that needs

immediate global action.

WWF estimates that up to 1 billion

people in 1,000 cities took part in

this year's Earth Hour, including many

The event will bring an energy to the city and

a much-needed boost to the local economy.

Look out for more details about the

activities in the next edition of City Matters.

For more information call 9023 9026 or

visit www.belfastcity.gov.uk/tallships

Rosemary McNicholl (WWF) and Alastair Curran (Belfast City Council) with Newbridge Football Club who

played football with torches during Earth Hour at Avoniel Leisure Centre.

prominent landmarks such as the

Sydney Opera House and the CN

Tower in Toronto.

In December 2009, governments will

gather at the UN Climate Summit

in Copenhagen to debate a new

international agreement to tackle

climate change.

Earth Hour 2009 marks the launch of

WWF's Global Deal campaign to make

sure that any new agreement is as

effective as possible.

For more information on Earth Hour or

climate change go to www.wwf.org.uk
---
This is a very exciting time for

Belfast. All around there are signs

of confidence and optimism for

the future. Belfast is undergoing

a massive period of regeneration

and organisations are working

hard and investing millions of

pounds in projects which are

changing our city.

City Matters spoke to Dawson

Stelfox, consultant architect

on the magnificent restoration

projects taking place at City Hall

and Ulster Hall.

Born and bred in Belfast, Dawson

made history in 1993 when he

became the first Irishman to reach

the summit of Mount Everest.

"We have the re-opening of the

Ulster Hall, the City Hall, the Ulster

Museum and St Malachy's Church,

one of the finest churches in the

city, as well as new hotels, arts

centres, libraries and buildings being

constructed," said

Dawson.

"The message is that

Belfast is open and

coming back to life."

- a great year for Belfast

We'll see £500 million

worth of developments

unveiled, including a number

of landmark buildings opening

their doors to the public again

following extensive refurbishments.

And other major works include the

Belfast Sewers Project, the Belfast

Streets Ahead initiative and the M1

motorway and Westlink.

This year, the graduate of Queen's

University celebrates 25 years as an

architect. He said the main challenge

with the restoration of such iconic

buildings is "bringing such important

pieces of history up to 21st century

standard without losing their character

and uniqueness."

Belfast is open and

coming back to life

Discussing the Ulster Hall, he added:

"The building had gotten into a very

rundown state. It was very heavily used

over the last 150 years and it was very

worn out. It's such an important building

for the city and such an important

building culturally."

The two-year Ulster Hall refurbishment

programme cost £8.5 million. It

incorporates the refitting and

redecorating of the main

Belfast will also play host to the Tall Ships

Atlantic Challenge in August, when the

River Lagon quayside will be transformed

to welcome a large number of Tall Ships

from across the Atlantic (see page 4)

auditorium, the restoration of the metal

balcony balustrade to its original style,

a new roof and floors and a moveable

stage extension.

One of the most exciting tasks for the

architect, whose company Consarc

Design Group Ltd restored the city

centre's Albert Clock in 2002, was

replacing City Hall's spectacular

chandelier and marble flooring. City

Hall is due to re-open in August

having been temporarily closed since

October 2007.

"Putting the chandelier in was a highlight

as it is the centrepiece of the rotunda.

The marble was cracked and worn so

we sourced new marble from Italy and

had it specially made," he said.

For further information on these

exciting developments in Belfast,

call 9027 0347 or go to

www.belfastcity.gov.uk/2009

CityMatters

April 2009

5
---
Seniors section

Staying safe

Elderly people are particularly vulnerable

to the crimes of burglars, purse snatchers,

petty thieves, and con artists.

The Seniors Info directory developed

by Belfast Healthy Cities, offers advice to

help you stay safe and avoid becoming a

victim of crime.

Here are a few quick tips:

• Avoid having large sums of money at

home.

• When out and about, don't carry large

amounts of cash.

• Don't carry your house keys and

identification together.

• If you carry a handbag, use one which is

secured by a zip.

• Avoid keeping pin numbers with your

bank cards.

• Shred bank documents and utility bills

when you no longer need them.

• Secure your door bar or chain before

opening the door.

• Always ask to see a caller's identification

and double check their details.

• Keep all doors locked when you are in

the house.

• When you go out, close all windows

and lock doors.

• Don't leave spare keys under mats or

flower pots.

• Use timer switches with lamps to make

your house look occupied if you're out.

• Consider carrying a personal attack

alarm.

• Never leave valuable items on display in

your car.

To request a printed copy of Seniors

Info, contact Maura Ahern at Belfast

Healthy Cities on 9032 8811, or Aileen

Turley at Belfast City Council on 9027

0469. You can also download the pack

from our website at

www.belfastcity.gov.uk/seniorsinfo

6 CityMatters

April 2009

Uniting Against

Elder Abuse

As part of our work with seniors, we support Uniting Against

Elder Abuse, which tackles abuse against older people in

Northern Ireland.

Funded by Comic Relief, the project

brings together Age Concern

Northern Ireland, The Alzheimer's

Society, Carers Northern Ireland and

Help the Aged in Northern Ireland.

The specific aims are to:

• raise awareness of the problem of

elder abuse,

• provide access to independent

advice, and

• develop a therapeutic response

to support those who

experience abuse.

Elder abuse happens when

an older person is harmed,

mistreated, neglected or exploited.

A reported 10,000 older people

in Northern Ireland have been

abused by someone they should

be able to trust.

Our 'Be warm' home heating oil

collection scheme is still running

in north Belfast.

So far the public have bought over

£3,000 worth of our 'Be warm'

saving stamps which they can use

to pay for their home heating oil.

Be warm

To request

an information

leaflet, please call

9023 0666.

Types of abuse include physical, sexual,

financial, neglect and psychological.

Some signs of abuse to look out

for are changes in behaviour

and appearance, regular injuries,

unusual financial difficulties,

attention seeking, appearing

frightened and reduced appetite.

For more information contact one

of the Uniting Against Elder Abuse

partners:

• Age Concern Northern Ireland:

9032 5055

• The Alzheimer's Society:

9066 4100

• Carers Northern Ireland:

9043 9843

• Help the Aged free helpline:

0808 808 7575

Healthy Ageing Strategic Partnership

The Healthy Ageing Strategic Partnership encourages different agencies

from the community and voluntary sectors to work together to improve

the health and wellbeing of older people in Belfast. To help move this

forward, we're jointly funding a new role along with the health sector to

oversee the work of the partnership.

For more information please contact Elma Greer on 9032 0202.

If you have not started collecting

your stamps yet, you can still join

the scheme. Simply pick up a

collection card from any of the

participating retailers and start

collecting your stamps. You can also

get collection cards or stamps from

the Grove Wellbeing Centre.

For a full list of participating retailers and a list of oil companies who accept the

stamps, visit www.belfastcity.gov.uk/bewarm
---
Seniors Info training

In the last issue of City Matters we told you about the launch of a

Seniors Info directory and website, developed by Belfast Healthy

Cities to meet the needs of older people.

We've been training our staff on how

to use this new facility, particularly those

who meet older people during the

course of their work.

We provided the training internally with

the support of Belfast Healthy Cities and

will be tailoring it for other employees

throughout the year.

Roselawn bus

Due to the successful trial of our

free Roselawn bus service, we

will continue to provide buses

until March 2010.

The bus travels to and around the

grounds of Roselawn Cemetery and

the City of Belfast Crematorium so

that you can visit your family graves

and memorial trees.

The bus service operates on Tuesdays

and Fridays from designated pick-up

points throughout the city. The bus,

which is supplied by Disability Action,

can seat up to 15 people and can

accommodate wheelchairs.

If you would like a representative from

Belfast Healthy Cities to visit your

organisation and talk about the Seniors

Info resource, please contact Ruth Fleming

at Belfast Healthy Cities on 9032 8811.

If you would like a copy of the directory

please contact Aileen Turley on 9027

0469 or go to www.belfastcity.gov.uk/

seniorsinfo

You must book seats by telephoning

the number below during the

following hours.

Telephone: 9027 0296

Monday-Thursday: 8.30am – 5pm

Friday: 8.30am – 4.30pm

Saturday: 8.30am – 12.30pm

You can find more information on our

website at www.belfastcity.gov.uk/roselawn

Convention

2009

We are hosting our second

Senior Citizens' Convention on

Monday 18 May 2009 at

Belfast Waterfront.

The main topic of the day will be

managing personal finances. We will be

providing information on the support

available to older people in the current

economic climate in Northern Ireland.

Older people will also have access to

ministers and local councillors and will

get the opportunity to receive practical

assistance and guidance on financial

concerns.

We will be working with other

organisations and seniors groups

throughout Belfast to develop the

convention programme. If you are an

older person or represent a seniors

group, we would like to hear your ideas

for the convention.

For example, do you have suggestions for

speakers or are there organisations that

you would like to hear from on the day?

Please send your ideas to Adele Keys at

keysa@belfastcity.gov.uk or telephone

9027 0469.

If you are interested in attending the

event, please contact Aileen Turley on

9027 0469.

For more information go to

www.belfastcity.gov.uk/seniors

CityMatters

April 2009

7
---
Flood advice

Flooding

Please pull out

the attached

information card.

Over the past two summers, 957 homes in the Belfast City

Council area have suffered flooding.

Having your home flooded is a terrible experience, but you

can limit distress and disruption if you are prepared. Having a

plan in place will really help to calm a crisis.

You can find advice on planning for a flooding emergency on

our website. We have also produced the attached information

card, which you can fold up and keep in your wallet or purse

Here are some tips for staying safe during flooding.

If water enters your building:

• Move upstairs, if possible.

• Co-operate with advice you receive from emergency

services even if they ask you to leave your home for

your own safety.

• Keep warm using extra clothing and blankets.

• Listen to the local news on a battery-powered radio

for up-to-date advice. Keep a landline phone in your

home which does not need mains electricity.

• Do not use electrical equipment near water and stay well

clear of electrical fittings. Keep a battery powered torch.

• Do not use petrol or diesel generators or pumps

while indoors.

• Do not use cooking equipment which is not

designed for indoor use.

For more detailed information call 9027 0428 or go to

www.belfastcity.gov.uk/flooding

When outdoors:

• Don't try to walk or drive through flood water - six

inches of fast-flowing water can knock you over and two

feet of water will float your car.

• Watch out for moving objects or dangers like dislodged

manhole covers.

• Do not try to swim through flood water. It is impossible

to judge the current and the coldness of the water may

overwhelm you. It may also contain germs or chemicals.

• Only drive if it is absolutely essential. Do not drive

through deep water, but consider an alternative route.

If an alternative route is not available, you should drive

slowly on what appears to be the highest part of the

road and avoid stopping or allowing the engine to idle

otherwise water might travel up the exhaust pipe. Apply

your brakes gently afterwards.

If you believe your life or someone else's life is at risk, always ring 999.

Keep yourself

informed

The Met Office monitors the weather

24 hours a day, 365 days per year.

When severe or

extreme weather

is expected, it will

issue early warnings

through the National

Severe Weather Warning Service

(NSWWS).

When severe weather is expected, 'flash

warnings' of severe or extreme weather

will be issued.

Look out for weather, news and travel

bulletins on local radio or stations or

go to:

• Teletext - page 159

• BBC Ceefax - page 419

• Digital Ceefax - page 405

You can look up weather forecasts and current warnings for Northern Ireland or any

other location on the Met Office website at www.metoffice.gov.uk/weather

8 CityMatters

April 2009

Weather warnings for Northern

Ireland are illustrated by a traffic

light warning system.

No severe weather

Be aware

Remain alert and ensure you

access the latest weather forecast.

Be prepared

Remain vigilant and make sure

you access the latest weather

forecast. Take precautions where

possible.

Take action

Remain extra vigilant and

make sure you access the

latest weather forecast. Follow

orders and any advice given

by local authorities under all

circumstances and be prepared

for extraordinary measures.
---
Home insurance

Home insurance is usually made up of two separate policies,

one for buildings and one for contents. You can buy them

both from the same insurance company or you can get them

from two different insurers.

If you own your own home you should

have both buildings and contents insurance.

If you live in rented accommodation

(public or private), you should have

contents insurance. Your landlord should

have buildings insurance on the property.

You can buy home insurance from most

major insurance brokers, but you should

always choose a broker who is registered

through the Financial Services Authority

(FSA). Visit www.fsa.gov.uk

If flooding cover is included in your policy,

you will be able to claim against your

insurance and be reimbursed for the cost

of any flooding damage. Always read your

policy fully to check the different levels of

cover offered.

You are responsible for making sure that

what insurers call 'the sum insured' is

enough to cover the cost of a disaster.

The sum insured is the maximum amount

the insurance company will pay out if

everything you own is totally destroyed by

a fire or flood.

In the UK:

• The average annual household spend on

a buildings insurance policy is £205.

There is now a new easier way for you to report a flood.

The new single telephone number is 0300 2000 100.

• The average annual household spend on

a contents insurance policy is £172.

• The average annual household spend

on a combined buildings and contents

insurance policy is £351.

These figures are taken from the

UK Government's 'Expenditure and

Food' survey conducted in 2006. The

Association of British Insurers (ABI)

predicts the average annual spend will

remain stable since 2006.

For independent insurance advice,

contact ABI on 020 7600 3333 or

go to www.abi.org.uk

It is available 24 hours a day, 7 days a week.

You don't have to decide which organisation you need to ring and you don't have to

contact the Rivers Agency, Roads Service or NI Water. This will be done for you.

When you ring, a member of staff will take all your details and contact the appropriate

agency on your behalf.

CityMatters

April 2009

9
---
Green

Public holiday

bin collections

If the collection of your weekly black

bin falls on a public holiday during

April or May, we will now collect it as

follows:

Monday 13 April Monday 20 April

Tuesday 14 April Tuesday 21 April

Monday 4 May Saturday 2 May

Monday 25 May as normal

If the collection of your fortnightly

black, blue, or brown bin or your

weekly food waste caddy falls on a

public holiday during April or May, we

will now collect it as follows:

Tuesday 17 March as normal

Monday 13 April Saturday 11 April

Tuesday 14 April as normal

Monday 4 May Saturday 2 May

Monday 25 May as normal

For more information call 9027 0297 or visit

www.belfastcity.gov.uk/wastecollections

If the collection of your weekly Bryson

Recycling black box falls on a public

holiday during April or May, it will now

be collected as follows:

Tuesday 17 March as normal

Monday 13 April Monday 20 April

Tuesday 14 April Tuesday 21 April

Monday 4 May as normal

Monday 25 May as normal

For more information call 9084 8494 or go

to www.brysonrecycling.co.uk

10 CityMatters

April 2009

Bottle banks

We have over 40 bottle bank sites

across the city which are free for all

Belfast residents to use.

Glass bottles and jars cannot be put

into your blue recycling bin because

broken glass can cause injury to the

people who sort the contents.

Glass is one of the easiest materials

to recycle as it can be reprocessed

without using lots of chemicals. This

means that the glass in our banks is

recycled into new glass bottles and jars

without any loss in quality.

We are charged per tonne for

dumping at landfill sites, so due to

its weight, it is really important to

recycle as much glass as possible!

We are always looking for suitable

sites across Belfast to install bottle

banks, so if you know somewhere

that may be suitable, call us on

0800 032 8100.

Go to www.belfastcity.gov.uk/

waste and click on 'find my nearest'

to find a bottle bank near you.

Recession recycling

It has been reported in the press

that councils and waste companies

are storing recyclable materials

which they cannot find a market for.

Many people are confused and are

questioning whether or not recycling

is still worthwhile. Our answer is yes,

and here's why:

• Bryson Recycling (who collect your

kerbside box and sort and ship

our blue bin content) produce high

quality material which is still in high

demand and being sold to outside

markets.

• Recycling saves energy, reduces

pollution, preserves natural

resources and prevents waste

from going to landfill.

• It's cheaper to recycle. It is true that

the prices for recycling materials

have been fluctuating but it still

costs around £50 less per tonne to

recycle than to send to landfill.

Please help us by continuing to

put the correct materials into your

recycling bins.

For more information call

0800 032 8100 or go to

www.belfastcity.gov.uk/waste
---
Looking after

your black bin

Some areas have seen an increase in black bins being

vandalised or set on fire. Although we collect your black bin,

it is your responsibility to take care of it. If it is lost, stolen or

damaged, it is up to you to buy a replacement.

Here are a few helpful tips to help you

look after your bin and make sure your

waste is managed properly.

• Leave your bin at your kerbside by

7am on the day of collection and

avoid leaving it out overnight when

possible.

• Put all recyclable materials into your

blue and brown bins or kerbside box.

Contact us to order extra recycling

facilities if you need them.

• Only put your non-recyclable waste

inside your black bin and make sure

the lid closes properly. Do not leave

separate bags of waste beside or on

top of your bin.

• Do not put stones, rubble or any

heavy items into your bin. They could

injure our staff or damage your bin

and our machinery.

• If you have large items that don't fit

into your black bin, call 9027 0230 to

book a free bulky household waste

collection.

• Take your bin back to your property

as soon as possible after it has been

collected.

• Put your house number and address

(if possible) onto your bin so that

you can identify it more easily.

Come and talk rubbish

If you have any comments about

litter or street cleaning in your

area, come along to one of our

cleansing forums.

We hold these forums regularly,

throughout the year. Details of

the next sessions are listed here.

For more information

call 9050 0501 or go to

www.belfastcity.gov.uk/

streetcleaning

Ordering a new black bin

The way in which you order a black

bin depends on your circumstances.

If you own your home, you can order

a bin from us directly. Call 0800 032

8100 for more information.

If you are a Housing Executive tenant,

you should inform your local Housing

Executive District Office that you

need a new bin. They will then place

the order on your behalf.

If you live in rented accommodation,

check if your landlord will provide

you with a new bin.

For bin collection queries call

0800 032 8100.

For kerbside box queries call

9084 8494.

For more information on how to

manage your waste log on to

www.belfastcity.gov.uk/waste or

call us on 0800 032 8100.

North

Wednesday 10 June, 7.30pm

Salisbury Bowling Club

South

Tuesday 5 May, 7.30pm

Morton Community Centre

East

Monday 8 June, 7pm

Inverary Community Centre

West

To be confirmed. Please check website.

Blackstaff Way Recycling Centre

Remember to put your brown and

black bin out for collection on your

normal black bin collection day.

Please do not put food waste into

your brown bin until further notice.

Waste week

We'll be holding a selection of waste

events across Belfast during our seventh

annualWasteWeek from 1-5 June.

Waste Week aims to highlight waste

issues and help inform you about how

to manage your waste more responsibly.

And we hope that this year's event –

which focuses on saving money as well

as the environment - will be bigger and

better than ever.

Events will include:

• a waste exhibit and a display of

recycled sculptures in the City Hall

grounds;

• events for school children in our local

parks on recycling and biodiversity;

• a green conference and exhibition for

local businesses;

• hands on advice from experts on

how to customise and revive your

wardrobe without breaking the bank!

Keep an eye out for details about

what's happening in your area. For

more information log on to

www.belfastcity.gov.uk/waste or call

our Wasteline on 0800 032 8100.

CityMatters

April 2009

11
---
Park profile

Musgrave

Park

• Musgrave Park was presented to

Belfast Corporation (now Belfast City

Council) in 1921 by Henry Musgrave,

who lived nearby.

• Before the park opened, 250

labourers landscaped it as part of a

local unemployment scheme.

• Lady Edith Dixon (who later gave Lady

Dixon Park to Belfast) officially opened

Musgrave Park in 1924.

• Henry Musgrave's house became

part of Victoria College School and

his garden (off the Lisburn Road) was

opened as Drumglass Playcentre.

• The bowling green and putting green

opened in 1926.

• During World War II, allotments were

established and the iron railings were

removed and melted down as scrap

metal for the war effort.

• In the 1970s, the eastern corner of

Musgrave Park was sectioned off for

horticultural apprentices. This area,

known as Grovelands, is renowned for

its attractive gardens.

• Today, Musgrave Park has new playing

fields which St Brigid's Gaelic Athletic

Club helps to manage. The park also

contains a 'Highway to Health' walk to

encourage visitors to improve their

health through enjoyable exercise.

For further information, visit

www.belfastcity.gov.uk/parks

12 CityMatters

April 2009

Invasive

species

When we introduce plants and

animals from other parts of the world,

sometimes we can create unexpected

problems.

Without their natural predators, these

species can spread unchecked and can

damage local biodiversity. Biodiversity

is the total variety of life on Earth. It

includes everything from people and

animals to plants and micro-organisms. It

also covers genetic variation and habitats.

One such plant is Japanese knotweed,

which was introduced into Ireland in

1902 as an ornamental plant. It has spread

rapidly and is now widespread in Belfast.

Characteristics of Japanese knotweed:

• bamboo-like stems ,

• grows up to 3m high,

• often forms dense thickets,

• leaves grow in a distinctive zigzag

pattern up the stems,

• blossoms into clusters of creamy

white flowers during late summer

and early autumn.

This plant grows very quickly, displacing

other plants in the process. It can

also cause damage to buildings and

structures and can even grow through

asphalt and some other surfaces.

Another downside is that it dies back

in winter, leaving bare earth. This can

contribute to river bank erosion and

increases the risk of flooding.

For advice on how to deal with Japanese knotweed in your garden, contact Invasive

Species Ireland (ISI) on 9097 2265 or download the Best Practice Management Guide at

www.invasivespeciesireland.com/downloads

Don't miss our 1,000 Mile Walk in the Park on 6 June, from 12 - 2pm. Take part

in one of 12 one mile walks in our parks to help us meet a target of 1,000 miles.

Call 9091 8768 or visit www.belfastcity.gov.uk/parks for more information

Peace III update

We have developed a local action plan

along with key organisations and sectors

across the city to promote peace and

reconciliation.

The focus of this is to create shared space

which is both welcoming and open to

everyone. It will also focus on building

positive relations within the city.

So far, we've awarded funding to 22

organisations under the plan. This money is

for projects which demonstrate innovative

and creative approaches to tackling

sectarianism and racism in our society.

Work is continuing on other projects

within the plan such as major sporting

and youth programmes.

The Belfast Peace and Reconciliation Action

Plan forms part of the Peace III Programme

and is supported by the European Regional

Development Fund.

You can get more information from:

The Good Relations Unit, Chief Executive's

Department, Belfast City Council, 24-26

Adelaide Street, Belfast, BT2 8GD.

Telephone: 9027 0663.

Textphone: 9027 0405

Fax: 9027 0573

Email: goodrelations@belfastcity.gov.uk

Web: www.belfastcity.gov.uk/goodrelations
---
Tackling

antisocial

behaviour

In 2006, antisocial behaviour in our

parks and leisure properties was

costing us around £1 million per year.

Since then, we trialled a project

called the Safer Neighbourhood

Antisocial Behaviour Programme to

address this problem.

We tackled antisocial behaviour in

nine areas across the city, covering 17

different sites. The programme proved

so successful that we have now made

it a permanent project.

Work includes:

• cutting back vegetation in problem

areas;

• working with the Police Service

of Northern Ireland to improve

incident reporting;

• removing graffiti;

• organising educational awareness

sessions; and

• working with local communities to

reduce the fear of crime.

An independent evaluation showed

that antisocial behaviour has

decreased in all the pilot areas. We

want to continue this good work and

help make Belfast a safer city.

For more information about the

programme call 9091 8767 or go to

www.belfastcity.gov.uk/asb

Youth Forum

columnist

Before Christmas, we asked our Youth

Forum to get involved with City Matters

by giving them the chance to become a

columnist for the magazine.

We invited them to write a short article

entitled 'Why I joined the Youth Forum'

and enlisted the help of Belfast Telegraph

journalist Grainne McCarry to help us

judge the top three entries.

Competition was tough but we

managed to narrow it down to the

following three:

• First (columnist for three editions):

Anita Magee - front left

• Second (columnist for three editions):

Denise Fuenzalida - front right

• Third (columnist for three editions):

Martin McAuley - top

As well as getting the chance

to have their work published,

the young writers will also

come in and meet the City

Matters publications team.

Why I joined

the Youth Forum

The Youth Forum is a body of young

people, all from different areas and

backgrounds who work together to

represent the views of children and

the young people of Belfast.

The Youth Forum provides a channel

through which we can have our

opinions and voices heard, so that the

council can make Belfast a better place

for us all to live.

I joined the Youth Forum because I

wanted to represent the young people

of Belfast and be able to help and

contribute to society. After all, we've

all seen the negative way in which the

media often portray young people

today and I want to show people that

the majority of young people do care

about the place they live in and they

Youth Forum co-ordinator, Lorraine

Wallace said, "This will help to give

young people a voice through the

magazine. It's also something really

positive for their CVs."

For details on the

Youth Forum call

9050 0521 or go to

www.belfastcity.gov/youth

Anita Magee

Youth Forum

want to help bring around positive

changes in Belfast.

But since joining the Youth Forum, I've

discovered there's a lot more to it.

I've made lots of amazing new friends.

Everyone is really open and friendly so

we've all become quite close.

And it isn't all hard work - we have fun

too. We go on trips and residentials so

we can get to know each other better

and work together better as a team. Also

we do different workshops and activities

so we can learn new skills and build on

the ones we already have. Although, as

I've mentioned, there is some work

to be done, meetings to attend and

decisions to be made but it's always

worth it in the end because we get a lot

out of being on the Youth Forum.

CityMatters

April 2009

13
---
English classes

for migrants

Since last October we've been

running a free Basic English

class for migrants in our East

Belfast Neighbourhood Office

(EBNO) at Beersbridge Road.

We set up the class through our work

with the East Belfast Minority Ethnic

Support Network. The network was

set up a few years ago to address the

issues facing migrants arriving in Belfast.

Staff in the EBNO were among the

founding members.

One of the big issues identified by the

network was a lack of basic English

spoken by many people moving to the

city. In response, it set up its first Basic

English class in the Mountpottinger

Baptist Hall on Templemore Avenue.

This class runs every Monday night

from 7.30pm to 9.30pm.

Over time, it became apparent that

more classes were needed to help the

growing number of migrants moving

to the area. We set up the class in the

EBNO and it already attracts six to

eight regular attendees each week. The

class is held every Friday from 9.30am

to 11.30am.

Its aim is to develop the students' ability

to communicate with other people and

potential employers. It also helps them

to meet new people in similar situations.

For more information, contact

Joe Watson at the East Belfast

Neighbourhood Office on 9045 1137 or

email watsonj@belfastcity.gov.uk

14 CityMatters

April 2009

Belfast's 100th blue plaque was

unveiled in February at Queen's

University. It marks the life of

Sir William Whitla, a celebrated

Belfast medical practitioner.

Blue plaques are commemorative signs

produced by voluntary organisation,

the Ulster History Circle. They draw

attention to buildings of interest

because of their association with men

and women who've contributed to local

history.

We support this work as it celebrates

Belfast's past and contributes to our

wider aim of developing the city for

both tourists and residents.

It's now even easier for Queen's

University students to recycle thanks

to new recycling schemes at student

accommodation in Belfast.

We have introduced recycling

services at Queen's Elms, Mount

Charles, Guthrie House and

College Gardens to encourage

Belfast students to recycle more.

Blue plaques

So the next time you're out and about,

see if you can spot the plaques. Some

of the most recent plaques include:

• Joe Bambrick, the legendary football

player (Roden Street);

• Barney Hughes, a master baker

(College Square North);

• Gerard Dillon, a famous artist (Lower

Clonard Street);

• Amy Carmichael, the missionary and

writer (Cambrai Street); and

• Rinty Monaghan, the world flyweight

boxing champion (King's Hall).

For more information on the blue

plaques contact the Ulster History

Circle on 028 4483 1830 or go to

www.ulsterhistory.co.uk

Green Queen's

Students at Queen's Elms can now

recycle paper, cardboard, food and

drinks cans and plastic bottles on site.

We've also installed bottle banks for

glass bottles and jars. So far the new

services have been well used, cutting

down on the amount of waste being

sent to landfill sites.

Our student population makes up a

big part of our city so it is important

that they recycle as much as possible

to help us meet our recycling targets.

If you are a student living in private

accommodation and need a recycling

bin or box, please call our Wasteline

on 0800 032 8100.

To find out more about recycling

services in your area, log on to

www.belfastcity.gov.uk/waste or call

our Wasteline on 0800 032 8100.
---
Mark Neely, Eamon McConvey and Michael Millar of McConvey Cycles

Win a bike at

our fitness suites

From now until the end of March 2010, we

are giving our leisure centre users the chance

to win a bicycle each month.

If you use our fitness suites,

you can meet with our

highly-trained health and

fitness coaches and have a

personalised four-week fitness

programme designed. The

programme can help you

improve your general health

and reach your fitness goals.

After four weeks, you

will need to make an

appointment with your

coach to update your

programme and discuss

your progress. Your coach

will then put your name

forward to enter the prize

draw, where you will have

a chance to win a bicycle

worth up to £200.

This scheme will be available

for fitness suite users in eight

of our leisure centres:

• Andersonstown,

• Avoniel,

• Ballysillan,

• Falls,

• Grove Wellbeing,

• Olympia,

• Shankill, and

• Whiterock.

You can enjoy unlimited

access to our fitness suites if

you are a Maximum Boost

member. Boost is our leisure

discount scheme.

For more information

please contact your local

leisure centre or go to

www.belfastcity.gov.uk/boost

And the

winner is…

Congratulations to our

February winner, Anne Smith

who won a weekend break

for two at the luxury Mill

Park Hotel in Donegal.

Win a weekend break at the

4* Citywest Hotel Resort

Citywest Hotel is Ireland's largest premier

conference, leisure and golf resort and is regarded

as one of Europe's most popular international

conference destinations.

Situated just 15km from Dublin city centre, it is set in 380 acres

of luscious Irish countryside beneath the foothills of the Dublin

Mountains. It includes two stylish hotels next to each other, offering

over 1,100 rooms.

The conference facility, which can accommodate up to 4,000

delegates, is the ideal location for major business events.

The hotel also boasts lively bars and restaurants, a state-of-the-art

leisure centre and two superb golf courses designed by Christy

O'Connor Junior. The aim of Citywest Hotel Resort is to "exceed

your expectations".

To win a relaxing weekend break for two, including bed

and breakfast and one evening meal based on two people

sharing*, simply answer the following question:

How many kilometres is Citywest Hotel Resort from

Dublin city centre? a) 15 b) 20 c) 25

For more information on the Citywest Hotel Resort, please visit

www.citywesthotel.com

Name

Address

Postcode

Tel

Email

Competition

Terms and conditions

Only one entry per household. No

Belfast City Council employees may

enter the competition. You must live

within the Belfast City Council electoral

area to enter.

* Hotel booking and meal subject

to availability.

Send your entries by 8 May 2009.

The winner will be notified by 17

May 2009. There is no alternative to

the prize. Our decision is final and

no correspondence will be entered

into. Full terms and conditions are

available on request.

Please send your competition replies to: Belfast City Council,

Freepost BEL4010, Belfast BT1 5BR (no stamp required)

CityMatters

April 2009

15
---
Feedback

Your views

We hope you have enjoyed reading City Matters and

welcome your comments.

Please spare a minute or two to let us know what you

thought about this issue:

Please tell us what type of stories and features you

would like to see in future issues of City Matters:

Thank you for taking the time to tell us what you think.

Now return this coupon to:

Belfast City Council

FREEPOST BEL4010

Belfast BT1 5BR

(no stamp required)

Or email your comments to

corporatecommunications@belfastcity.gov.uk

16 CityMatters

April 2009

Your Ulster Hall

We want to make sure that the newly refurbished

Ulster Hall is enjoyed by people from all over the city

and beyond.

Since its opening in 1862, the 'Grand Dame' of Bedford

Street has hosted a diverse mix of music, sporting

and political events and has become one of Belfast's

oldest and most loved buildings. So we're celebrating

her rich heritage through a new series of permanent

interpretative displays which delve into the building's

fascinating history.

Those of you who have visited the newly refurbished

Ulster Hall since it reopened its doors last month will

hopefully have already enjoyed the memorabilia displays

and the restored Carey paintings.

We're also offering new weekly tours of the building,

a range of audio tours for visitors and a mouth

watering range of drinks and snacks at Café Grand

Dame. Visit www.ulsterhall.co.uk for details of

opening times and events.

We want to hear from you…

We're keen to encourage local organisations and

people to make full use of the Ulster Hall, so we

want to hear from you or your group if you'd like

to use its facilities.

We're currently looking at ways to develop and

make the most of the space and resources in the

building so we'd like to know:

• Do you belong to a community or youth

organisation and believe your members or

participants would benefit from using the Ulster

Hall?

• Are you involved in the arts and looking for a

workshop experience that would develop your

professional skills?

If so, please contact Róisín Whyte, the Ulster

Hall's new Education, Community Heritage and

Outreach Officer by emailing

whyter@belfastcity.gov.uk or calling 9033 4400.
---
A pull-out guide to the new Belfast City Council rates

Understanding

your rates

Below inflation increase on rates

Despite a challenging year,

we have been able to keep

the rate down to a net

2.88% increase – less than

the rate of inflation (3%)

and significantly lower than

expected. On average this

will result in a rates rise of

around 45p per week or less

than £24 per year.

To help achieve this, we have

made substantial efficiency

savings of £7 million over

the past four years and have

a plan in place to achieve

further efficiencies over the

next three years.

Our ratepayers are rightly

demanding value for money

What are rates

and why do

you have to pay

them?

In Northern Ireland, rates

are a property tax based

on the capital value of your

household.

The income from this tax

contributes towards the cost

of providing local and central

government services.

during these testing financial

times. As a council we are

fully committed to providing

efficient and effective services.

You've told us that your

main concerns are creating

a cleaner, greener, safer and

healthier city and these

continue to be our priorities.

We are also determined to

plan for and invest in the

future. We will play a leading

role in changing the face of

our city. This means taking

long term decisions that

will have a positive effect

not just now, but for future

generations.

Who sets the

rate?

The district rate is set by

individual councils and the

regional rate is set by central

government.

Your annual rates bill shows

the combined cost of the

district and regional rates.

How your rates bill is made up

Your rates bill is made up of

two parts:

• the regional rate (set by

central government), and

• the district rate (set by

local councils).

The regional rate currently

accounts for 57% of your

rates bill while the district

rate makes up the remainder.

Like last year, central

government have frozen the

regional rate at zero while

our district rate has risen by

6.97%. This means that Belfast

ratepayers will actually see a

net increase of 2.88% in their

rates bill.

How do I pay

my rates?

Your rates are collected by

Land and Property Services -

an executive agency within the

Department of Finance and

Personnel for Northern Ireland.

Rates can be paid in a number

of ways. For further information

contact them on 0845 300

6360 or log on to

www.lpsni.gov.uk

www.belfastcity.gov.uk/rates

Central government has been

able to freeze the regional

rate because it is only a very

small part of its overall income

and because of high regional

rate increases in recent years.

However, rates are the main

source of income for councils

(over 75% of our income

comes from rates) and a zero

increase is not feasible because

we have to meet rising costs.

But over the past few years

we have consistently been able

to set a rate below inflation.

And during the past decade,

we have been one of the top

three performing councils in

Northern Ireland in terms of

the lowest rates increases.

Where do we

get our money

from?

We get our money from

three key areas

Rates – from householders

(domestic) and business. This

is our main source of income.

Grants – for example from

central government.

Fees and charges – money

received for services like

leisure services, waste

disposal and building control.
---
Understanding your rates

How is my rates bill calculated?

We are not responsible for calculating rates bills. This is

the responsibility of Land and Property Services. Rates are

calculated on the amount the property could reasonably

have sold for on 1 January 2005.

What do my rates pay for?

Operating 10 leisure centres 22 community centres,

6 play centres and supporting 6 independently run

community centres across the city

Managing 2 city parks, 9 district parks, 5 country

parks, 36 local parks, 8 playing field sites, 76

playgrounds and 4 allotment sites across the city

covering an area of approximately 3,000 acres

Carrying out all aspects of waste collection and

disposal for the city. We currently operate 4 recycling

centres and every household has access to a kerbside

recycling service which has helped increase the city's

recycling rate to 29%. We also opperate 3 civic

amenity sites and provide a free bulky household

waste collection service.

Managing the City Hall, Waterfront Hall, Ulster Hall,

Belfast Castle, Malone House and Belfast Zoo

Cleaning over 444,000km of streets every year

Managing the Gasworks Business Park, St George's

Market, Smithfield Market, Duncrue and Balmoral

Industrial Estates and various other sites in the city

Providing a range of development programmes for

communities in the city

Operating a Consumer Advice Centre,

Neighbourhood Development Office and an

outreach support office for theTraveller community

Looking after 11,000 trees on streets across the city

Enforcing regulatory and licensing responsibilities,

in area such as environmental health, building

control, public health, pollution, street trading.

Considering planning applications within the city

council area and submitting views to the Planning

Service

Your rates bill is calculated as follows:

(Capital value of your property) x (District Rate +

Domestic Regional Rate) = Amount to be paid.

Go to www.lpsni.gov.uk for further information.

The regional element of the rate helps central government to fund services such as education, housing, agriculture and roads.

The district rate helps us to fund services such as the following:

£

Organising major civic events in the city including

Halloween and Christmas celebrations and the

Titanic 'Made in Belfast' Festival

Organising various sporting events including the Belfast

City Marathon

Providing grant aid to community groups, sports

groups and community relations projects across

Belfast

Registering births, deaths, marriages and civil

partnerships in the city

Delivering a wide range of business support

programmes to entrepreneurs and businesses

Promoting culture, arts and tourism in Belfast

Providing administrative support for the Belfast District

Policing Partnership and its 4 area sub-groups

Facilitating the Belfast City Council Youth Forum

Managing and maintaining 9 cemeteries and the City

of Belfast Crematorium

Providing public toilets at 15 sites across the city

Providing part-funding to the Belfast Visitor and

Convention Bureau (BVCB) and Belfast City Centre

Management (BCCM) in conjunction with private

and public sector partners

Working in partnership with many agencies

on joint initiatives including the Community

Safety Partnership, ARC21 Waste Management

Partnership, Belfast Healthy Cities, Investing for

Health and the Area Partnerships Boards

You can also find more information about all our services on our website and you can also download a copy of the

A-Z directory at www.belfastcity.gov.uk/atoz.
---
What will we spend your money on?

Today's action,

tomorrow's legacy –

investing in our city

• We have established a city investment

strategy to help fund projects which

will transform the face of Belfast such

as the new Lyric Theatre and the

Titanic Signature Project.

• In 2009 alone over £500 million

worth of public and private

developments will be unveiled in

Belfast. This includes many new

developments as well as the

reopening of buildings such as City

Hall and the Ulster Hall.

• We've invested in our leisure facilities

including the new Grove Wellbeing

Centre which includes leisure, health

and library facilities under one roof.

• We're planning to redevelop the

North Foreshore, the former landfill

site at Dargan Road.

• We are investing in major events

including £1.1 million for the Tall

Ships in August which should bring an

estimated 400,000 visitors and £10

million to Belfast.

• We are supporting the Connswater

Community Greenway project - an

environmental improvement project

connecting 379 acres of public open

space, building 43 bridges and creating

19km of cycle paths and walkways.

Safer city

• We are investing in community

safety with a focus on tackling

antisocial behaviour including

a community safety warden

scheme and alleygating. We also

assist community-based projects

and services around antisocial

behaviour, hate crime, fear of

crime and alcohol-related crime.

• We've invested a further

£250,000 on embedding our

Safer Neighbourhood Antisocial

Behaviour Programme which

aims to reduce antisocial

behaviour in and around our

parks and leisure centres.

Cleaner and greener city

• We spend around £19.5 million per

year on waste disposal and collection.

• We operate four recycling centres

and every household has access to

a kerbside recycling service which

has helped increase our recycling

rate to 29%.

• We will continue to look at

developing new schemes like our

food waste trial, to enable people to

recycle more.

• During the past six years, we've been

Health and wellbeing

• We are developing a strategy to

help meet the needs of young

people in Belfast.

• We are focusing on the health

and wellbeing of older people, for

example, we have introduced a free

bus service to Roselawn Cemetery

and will also be hosting our second

Seniors Convention in May.

• We will continue to make exercise

more affordable through our Boost

leisure discount scheme.

• We will improve the quality of our

parks, open spaces and playgrounds.

• We'll continue to monitor restaurants

and cafes on health and environmental

issues and apply the no smoking ban.

involved in a major campaign to

tackle littering. Research shows that

littering has reduced by 19% during

this period.

• We are lobbying central government

for stronger powers to deal

with litter, graffiti, flyposting and

abandoned vehicles.

• Our Renewing the Routes scheme

will continue to brighten and

enhance the appearance of the main

routes across the city.
---
Example only

What this year's increase means to you

The effect of the 2.88% rates increase on each home depends on the

capital valuation of the property, but we can give an average increase on

each type of property as a guide.

Type of property Rates Bill Rates Bill Annual

increase

Total spend by Belfast City Council 2009-10

Total spend

Financed by:

District rate

Fees and charges

Grants

Other

Weekly

increase

2008/09 2009/10 in Rate Bill in Rate Bill

Domestic Properties £ £ £ £

Terrace House 531.34 546.64 15.30 0.29

3-Bed Semi-Detached House 812.60 835.99 23.39 0.45

4-Bed Detached House 1,806.55 1,858.56 52.01 1.00

Apartment 512.61 527.37 14.76 0.28

Why has my rates bill gone up?

• Increased utility costs – like

everyone else, we've been hit hard

by the steep increases in fuel and

electricity charges and have had to

find an additional £1.6 million in our

budget to cover theses costs.

• Falling income – the economic

downturn has led to a fall of £2.6

million in external revenue from

areas such as Building Control and

IT services and a loss of interest on

investment income. We're also losing

out on rates from vacant properties.

• Rising waste management costs –

we've faced high costs in relation

to the closure of our landfill site

at Dargan Road and the need to

meet the challenging EU waste

management and recycling targets.

In these circumstances it was a

challenge to keep the rates increase

low but our focus on efficiency over

the past number of years has helped.

We have made efficiency savings of £7

million over the past four years, without

affecting our services. Without these

savings it is likely that the rates increase

would have been in the region of 16%.

We must assume that the current

financial downturn will continue for

the foreseeable future. As a council,

we are committed to showing

responsible leadership by striking

the balance between continued

investment in our city and providing

value for money services.

£158.4m

£117.3m

£18.9m

£11.9m

£10.3m

Dealing with the

'credit crunch'

We know that the current economic

climate is having an impact on our

ratepayers. Here are some of the

things we're doing to support local

communities and businesses during

these uncertain times:

• offering general advice through our

Consumer Advice Centre;

• using our facilities to signpost

information about help, advice and

support;

• trialling a fuel stamp saving scheme

to help householders budget for

home heating oil;

• promoting our Boost leisure

membership discount scheme,

• using local suppliers where possible

and encouraging early payment of

accounts.

For advice on coping with the credit

crunch, please contact our Consumer

Advice Centre on 9032 8260 or go to

www.belfastcity.gov.uk/money

For more information on rates, contact Financial Services on 9027 0248 or go to www.belfastcity.gov.uk/rates

If you have a query about your rates, how to pay your rates bill or to find out about the capital value of your property, please

contact Land and Property Services on 0845 300 6360 or go to www.lpsni.gov.uk

www.belfastcity.gov.uk/rates
---
Things to do

for free in Belfast

Many of us are having to tighten our purse strings in this current

financial climate. But there is still plenty to do in Belfast without

spending a penny. Here are a few ideas for free local activities:

Art galleries

Many art galleries in Belfast

have free admission so why

not find out

what events

and exhibitions

are coming up

at your local

gallery?

Belfast Castle

Call in to Cave

Hill Visitors'

Centre on the

second floor of

Belfast Castle, potter around

the antique shop or take a

hike around the Cave Hill

Country Park.

Call 9077 6925 or go to

www.belfastcastle.co.uk

Belfast Zoo

Seniors

(60 years

and older),

people with disabilities and

children under four can visit

the zoo for free. The zoo

also provides reduced rates

for large parties of people.

Call 9077 6277 or go to

www.belfastzoo.co.uk

Community centres

We look after 23 community

centres across Belfast. They

provide some free activities

for children, adults and

senior citizens.

Call 9027 0505 or go to

www.belfastcity.gov.uk/

communitycentres

Events

Many of

our events in

Belfast are free

including:

Belfast Titanic Society

Display (13 April),.

Walking tours - Thomas

Andrews' Belfast

(11-19 April), and

Music in the Parks, from

10 May - call 9091 8768.

Call 9024 6609 or go to

www.belfastcity.gov.uk/events

Local parks

Get fit for free at our local

parks. We have put together

information about walking

and cycling routes to make

exercise more fun. Call

9032 0202 or go to www.

belfastcity.gov.uk/parks

Malone House

Why not go for

a walk in Barnett

Demesne where you

can visit the estate's

beautiful Georgian

mansion, Malone

House and have a browse in

the Higgin Gallery?

Call 9068 1246 or go to

www.malonehouse.co.uk

Plants and

gardens

Visit the Palm

House and

Tropical Ravine in Botanic

Gardens or the City of

Belfast International Rose

Garden at Sir Thomas and

Lady Dixon Park.

Call 9032 0202 or go to

www.belfastcity.gov.uk/parks

Playgrounds

We manage

more than

70 playgrounds in

Belfast so why not

take your kids along for

some fun!

Call 9032 0202 or go to

www.belfastcity.gov.uk/parks

St George's Market

St George's Market

provides free

entertainment on most

Saturdays, including music

and visits from Ark Farm.

Call 9043 5704 or go to

www.belfastcity.gov.uk/

stgeorgesmarket

Tourism guides

Have a look at our

range of tourism

guides. These guides

include many free

tours and attractions

with free admission.

Call 9024 6609 or go to

www.belfastcity.gov.uk/guides

Ulster Hall

Visit the new interpretive

exhibitions and the Carey

Gallery, or take an audio tour,

delving into the venue's past.

Call 9033 4400 or visit

www.ulsterhall.co.uk

Waterfront

Visit one of the varied art

exhibitions on the concourse

or second floor gallery area

Call 9033 4400 or visit

www.waterfront.co.uk

Go to www.belfastcity.gov.uk/money for more information on ways to save money and cut the cost of your bills.

We've also pulled together advice on housing, consumer issues and jobs.

CityMatters

April 2009

21
---
New ball

machine

The Indoor Tennis Arena and Ozone Complex

has installed a new ball machine.

This unique piece of equipment holds up to 200 balls

with various functions to help improve your tennis shots

and skills. Not only will it help you to develop your game

but it will also provide you with a full physical workout.

Features include:

• varying ball interval feeds from 2 to 12 seconds;

• differing ball paths for ground strokes, volleys

and lobs;

• ball speed from 10 to 70 mph;

• an endless number of drills; and

• top spin and slice to provide

you with a game-like situation.

It's free to use this machine or play tennis if you are

a Maximum Boost member with our Boost leisure

discount scheme. Book early to avoid disappointment.

For more information contact the Indoor Tennis Arena

and Ozone complex on 9045 8024 or go to

www.belfastcity.gov.uk/leisurecentres

22 CityMatters

April 2009

Free family event

at Shankill

Come along to Shankill Leisure

Centre's family day on Saturday

18 April from 10am until 4pm.

Our centre staff have organised this

free event along with the Greater

Shankill Sports Committee. It will

include taster sessions in martial

arts such as judo, karate, Ju-Jitsu and

kick boxing as well as a contest and

displays throughout the day.

Restaurants involved with our

Healthy Choice Chinese Menu

project will also be providing

samples of tasty Chinese cuisine.

You can also take part in Chinese

arts and crafts workshops or even

try your hand at lion dancing.

For more information contact Shankill Leisure Centre on

9091 8750 or go to www.belfastcity.gov.uk/leisurecentres

Titanic Made in

Belfast Festival

11-19 April 2009

Citywide tours and

events

Ballet in

Botanic

3 June, 5pm, Botanic Gardens

Royal Ballet performance live from Covent Garden

Belfast City Carnival

27 June, 1.30pm,

City Centre

Colourful carnival parade

led by the new Lord Mayor

For further information contact the Belfast Welcome

Centre on 9024 6609 or visit our website.

www.belfastcity.gov.uk/events
---
In Gran Torino, starring alongside Clint Eastwood

From Belfast to

the big screen

When your CV boasts working alongside big screen

heavyweights like Sly Stallone and Clint Eastwood, it

would be fair to say you've made it in Hollywood.

It might seem like the pipe dream of any aspiring

young actress, but for Belfast-born and bred

Geraldine Hughes it's a living breathing reality -

though even she has to pinch herself sometimes.

Back in her home city this

month for the premiere of her

latest movie Pumpgirl, based

on the Abbie Spallen play of the

same name, Geraldine talked to

City Matters about her 'unusual

journey' from west Belfast to

the west coast of America.

"My mummy will tell you I was

born acting," giggles Geraldine.

"I think I got the acting bug

when I was cast in Children

in the Crossfire when I was

13-years-old – or wait! Maybe it

was when I played Mary in the

nativity play when I was at St

Joseph's Primary School... yeah,

that was it!"

The Belfast actress has certainly

come a long way since her

early acting days. She was last

seen on the big screen acting

opposite Clint Eastwood in

his latest movie Gran Torino

– billed as the movie legend's

swan song. So how was it

working with such a respected

screen icon?

"It was a privilege, and kind of

dreamy," says Geraldine.

"It never seems real until

you see it on screen then

you think, 'wow, that did

happen?'. He is a gentleman, an

amazing storyteller and very

unassuming."

But Geraldine admits she felt

under more pressure when she

took on the role of Marie in

Rocky Balboa.

"It was more pressure because

of the nature of the role,"

she says.

"Marie was the female

lead and Sylvester

(Stallone) rewrote the

part as we went along,

in accordance with

ideas we both had.

"He's also another legendary

storyteller but again, I didn't

imagine it was all real, until I

see it sometimes on TV over

here and I'm always shocked

to see me."

Although now based in New

York, it's clear Geraldine hasn't

forgotten her roots and if

you're wondering where movie

starlets hang out when they're

In new movie, Pumpgirl

back in Belfast, look no further

than her mummy's kitchen.

"When I'm back home my

favourite places to visit are

my mummy's kitchen for stew

and vegetable soup, and Zen

restaurant," she says.

"I always say 'back home' but

New York City has also become

a wonderful home for me."

Asked if she sees

herself moving

back to Belfast

one day,

Geraldine says:

"I live my life

one day at a

time, tend not to

plan way ahead, and

just live in the moment.

"The change that strikes me

most though when I'm home

is the way people walk, literally.

There is a hopeful stride that

there never was when I was little,

there was so much strife then...."

Armed with an already

impressive CV, Geraldine has her

eye on her next project.

"There's a film that I have co-

Front cover story

written and I'm hoping to shoot

back in Belfast within the year,

and I have some meetings about

television shows," she says.

"There a million actors and

directors that I'd love to work

with but I have to say, Martin

Scorsese would be a dream."

As well as carving out a

successful career in movies,

Geraldine is no stranger to the

stage and loves both in equal

measure.

"I want it all, but if you held a

gun to my head, I'd say... both!"

she jokes.

So what's the secret of her

success?

"I'm lucky to have wonderful

mentors but recently a friend

reminded me that my journey

is, and always has been, different

and unique. I don't fit into a

'mould' in terms of a look

and what I have to offer as

an actress, so I have to wake

up every day and accept the

unusual journey that is mine."

CityMatters

April 2009

23
---
Public toilets

We have 15 public toilets in Belfast and our facilities

have recently won awards for their accessibility,

cleanliness, equipment and ease of use.

Location Opening times

Agnes Street Mon-Sat: 9am-6pm Yes Yes

Antrim Road

(at Waterworks)

24 hour Yes Yes

Arthur Lane Mon-Sat: 9am-6pm,

Thurs: 9am-9pm,

Sun: 9.30am-5.30pm

Yes Yes

Church Lane Mon-Sat: 9am-6pm,

Thurs: 9am-9pm,

Sun: 9.30am-5.30pm

Yes Yes

Clara Street Mon-Sat: 9am-6pm Yes No

Connswater

(Westminster Ave)

Mon-Sat: 9am-6pm Yes Yes

Custom House Square 24 hour Yes Yes

Dublin Road 24 hour Yes Yes

Gasworks 24 hour Yes Yes

Hope Street 24 hour No No

Lisburn Road

Mon-Sat: 9am-6pm, Yes Yes

(Drumglass Park)

Sun: 9.30am-5.30pm

Lombard Street 24 hour Yes Yes

Ormeau Embankment Mon-Sat: 9am-6pm,

Sun: 9.30am-5.30pm

Yes Yes

Shaftesbury Square

(Urilift - male only)

10pm-6am nightly No No

Winetavern Street Mon-Sat: 9am-6pm,

Thurs: 9am-9pm

Sun: 9.30am-5.30pm

Yes Yes

Disabled access Baby changing facilities

For more information call our Wasteline on 0800 032 8100.

You can also find your nearest public toilet by logging on to

www.belfastcity.gov.uk/publictoilets and following the link to

'find your nearest'.

24 CityMatters

April 2009

Web

news

You can now

download some

stories from City

Matters onto your

MP3 player.

Go to www.belfastcity.gov.uk/citymatters and click on the

latest edition.

Easter opening times

The following table gives information on the location,

opening times and disabled access of our toilets. • Belfast Zoo - open as normal

• Belfast Castle and Malone House - open as normal

• Civic amenity sites - closed on Easter Monday and Tuesday

• Community centres - closed on Easter Monday and Tuesday

• Consumer Advice Centre - closed Easter Mon and Tues

• Leisure centres - opening times vary (details online)

• Play centres - closed on Easter Monday and Tuesday

• Recycling centres - closed on Easter Monday and Tuesday

For more information on Easter opening times go

to www.belfastcity.gov.uk/holidayarrangements

Help the environment - travel to the fair by

public transport or cycle.

Limited car parking at Malone Sports Facilities,

Queen's University Belfast. Tel: 028 9091 8768

www.belfastcity.gov.uk/parks
---
Latest

arrival

Belfast Zoo welcomed a new

elephant at the start of the

year. Thirty-two year old Yhetto

joins Tina, one of the zoo's

longest residents.

The zoo will now care for nonbreeding

females and become a type of

'retirement home' for elephants.

According to elephant curator, Alyn

Cairns, the judgement and knowledge

of our keepers is even more important

when caring for animals in their later

years.

"Older elephants have different

behavioural patterns," he explains, "They

also bring new challenges such as health

management and training."

To equip them for this change, the zoo

has taken advice from international

elephant expert, Alan Roocroft. He has

introduced them to new techniques to

enrich the lives of these older elephants.

This includes using hanging feeders,

sanded floors and scratching stations to

stimulate reaching, climbing and digging.

For more information on our

elephants call 9077 6277 or visit

www.belfastzoo.co.uk/news

Stella Tsang

Stella Tsang started a new

life here over 30 years ago.

She ran a Chinese takeaway

to provide for her family

both here and back home.

Since retiring she has been very

active in promoting awareness

of Chinese Culture and running

diversity workshops in schools and

across community groups.

She currently volunteers

for the Chinese Welfare

Association working

on projects such as

integrating Chinese

senior citizens into the

local community.

Originally from Hong

Kong, Stella moved to

Northern Ireland after getting

married in 1974.

As she couldn't speak any English,

she worked in a Chinese take away,

owned by relatives, who'd come to

Belfast two years previously.

"My first impressions of Northern

Ireland was that it was a very cold

and wet country," says Stella.

"I had heard about the Troubles but

I was so scared and shocked to see

soldiers and police with guns."

"I worked very hard, mostly 14

hours per day, seven days a week.

I had no friends, no real social life

and didn't go out, even when I

did have free time. Life was quite

lonely," she confides.

For years she ran a take away in

Belfast and lived with her husband

in the flat above the shop. During

the Troubles, her family in Hong

Kong urged her to come home, but

she persevered and gradually picked

up English thanks to impromptu

lessons from the local counter staff

she employed.

Celebrated citizen

Volunteer, Chinese Welfare Association

'I am now

enjoying my life

in Northern Ireland

and have made so

many friends'

She took a decision to

sell the business when

her husband's health started

to deteriorate seven years ago.

But eager as ever to keep busy, Stella

became involved in voluntary work for

the Chinese Welfare Association.

She now devotes herself to this

cause, helping with outreach activities

involving children, young people, senior

citizens and various other groups.

She is particularly interested in

Chinese art, music and dancing and

shares this passion with the wider

community to increase intercultural

understanding through these art

forms.

After a difficult few decades, Stella

now loves her life in Northern

Ireland. As well as helping others to

overcome some of the difficulties

she faced, she's getting the chance

to learn and experience new things

herself.

"I am now enjoying my life in

Northern Ireland and have made so

many friends. I don't think I would

leave as I consider it my home as

much as Hong Kong. Belfast is a

beautiful city now."

CityMatters

April 2009

25
---
The zoo's new visitor's centre (funded by the council and the Northern Ireland

Tourist Board) is now open for your Easter visit to the zoo.

Happy Birthday

to zoo

Belfast Zoo opened on

28 March 1934, featuring

zoological gardens on either

side of the Bellevue Steps.

It took 150 men to build the 12 acre site and the project cost

Belfast Corporation (now Belfast City Council) £10,000. A

total of 287,307 people visited the zoo in its first year.

We are celebrating the zoo's 75th birthday with a series

of special events. We've already held a special birthday trail

around the zoo and a tour of the old zoo but there's more to

come, including:

• a mural competition which will challenge any community

organisation in Belfast to host a fun animal graphic or picture

in their area; and

• the opening of a new visitors' centre and entrance pavilion

complete with interpretive signage, a new Zoovenir Shop

and four information kiosks.

Can you help us trace her?

During World War II many of the animals in the zoo were

distroyed because of public safety fears during the Blitz. But

one local lady protected a baby elephant by looking after it

in her back garden.

We believe that she lived in the

north Belfast area, but despite

many attempts, we have never

been able to track down the

family of this special lady.

If you have any information

that might help us phone

9077 6277 or email

history@belfastzoo.co.uk

For more information about the zoo's birthday events call

9077 6277 or go to www.belfastzoo.co.uk/birthday

26 CityMatters

April 2009

Shopping

festival

A month-long extravaganza

celebrating Belfast's retail

offering is taking place this

month.

We've organised the event

along with Belfast Visitor and Convention

Bureau, Belfast City Centre Management and

Belfast Chamber of Trade and Commerce.

Over two hundred local businesses

are participating in the festival, which

encompasses a mix of events, competitions,

promotions, street entertainment and instore

activities throughout the entire city.

Belfast has an exceptional array of

independent boutiques, high street retailers,

shopping centres, markets and speciality stores.

So whether it's budget shopping, designer or

couture, the city offers a wealth of choice for

every taste and pocket.

For more information go to www.gotobelfast.

com/belfastshoppingfestival or contact Belfast

Welcome Centre on 9024 6609.

Belfast

Shopping

Festival

1st – 30th April 2009

part of it

The Belfast Shopping Festival will encompass a unique mix of

events, competitions, on-street entertainment and City Markets.

From the City Centre to many neighbourhood shopping areas

including the Lisburn Road, Ormeau Road, Bloomfi eld Avenue,

Belmont Road, Falls Road and Shankill Road.

Pick up your FREE voucher booklet in the Belfast Telegraph

for exclusive offers not to be missed.

For further information contact the Belfast Welcome Centre:

028 9024 6609

www.gotobelfast.com/belfastshoppingfestival
---
Memorial safety

From this month, we are legally

required to test all monuments,

headstones and memorials in

our cemetery grave sites. This

is part of a health and safety

directive to make sure the

monuments don't pose a threat

to public safety.

We are starting this testing

in City Cemetery and expect

the project to last for a year.

We will complete the City

Cemetery work in stages,

starting with the junction at

Falls Road and Whiterock

Road. We'll start testing the

Glenalina section towards the

end of 2009 and then test our

other cemeteries.

If grave sites need attention,

we'll write to the grave owner.

For further information and test results go to

www.belfastcity.gov.uk/memorialsafety

If we find any monuments

to be unsafe, we may take

immediate action until

we can contact registered

grave owners to carry out

the necessary repairs. We'll

only lay monuments flat if

absolutely necessary.

We appreciate the sensitivity

of this matter so any grave

site owners wishing to attend

testing can contact our City

Cemetery office on 9032 3112.

If you own a grave site in any

of our cemeteries, please make

sure that your contact details

are up to date by contacting

our main cemeteries office on

9027 0296.

Do you own a

grave in a Belfast

City Council

cemetery?

From April 2009, we are required to test the stability

of monuments, headstones and other structures in

our cemeteries, starting with City Cemetery.

If any aspect of your memorial is found to be unsafe, we

may have to take immediate action to make it safe. We

will also contact you so you can make arrangements to

rectify the problem.

If you hold the rights to a grave in one of our

cemeteries, please check that your details

are up-to-date with our cemeteries office,

by emailing cemeteries@belfastcity.gov.uk or

phoning 028 9027 0296.

www.belfastcity.gov.uk/cemeteries

Barking mad!

Last year, we received over 1,000 complaints

about barking dogs. To help dog owners combat

problem barking, we're organising two clinics on

Saturday 25 April from 11am to 3pm at:

• Grove Wellbeing Centre

• Ballysillan Leisure Centre

Persistent barking may be down to one of the

following:

• separation anxiety;

• territorial or predatory behaviour;

• attention seeking; and

• frustration or boredom.

Our dog wardens can help you identify these

symptoms and give you advice on how to deal

with them.

So come along and get some advice on reducing

barking and limiting its impact on your neighbours.

You can also talk to our wardens about any other

dog issues.

How we deal with dog

barking complaints

When we receive complaints about barking

dogs, the first stage is to send out our dog

wardens. They visit the dog owner and offer

advice to try to reduce the barking.

If this approach fails, our noise control service will

make a more formal investigation and we'll write

to the dog owner to let them know.

We may ask the person making the complaint

to complete a log sheet over a number of weeks

to provide a record of the noise. This will help us

determine the best time

to witness the noise and

may also act as evidence

later if legal action is

required.

If we agree that the noise

is causing a nuisance,

we will serve the dog

owner with a legal notice,

giving them a time limit to

reduce the noise. If they do

not comply with this notice

they could face prosecution or

a fine of up to £5,000.

For more information call 9027 0431 or go to

www.belfastcity.gov.uk/dogwardens

CityMatters

April 2009

27
---
Consumer advice

Need help with

a consumer

problem?

If you have a consumer problem

and would like some specialist

advice, visit the Consumer

Advice Centre at 14 Wellington

Place, Belfast.

You can pick up information on

consumer issues from here or go

online to www.belfastcity.gov.uk/

consumer

Opening times:

Monday 9.30am - 4.30pm

Tuesday 9.30am - 4.30pm

Wednesday 9.30am - 2.00pm

Thursday 9.30am - 4.30pm

Friday 9.30am - 4.15pm

We are closed at weekends.

You can also telephone 9032 8260

or email your query to

consumeradvice@belfastcity.gov.uk

Go to www.belfastcity.gov.uk/

consumer for more answers to

consumer problems.

28 CityMatters

April 2009

Consumer advice

on companies in administration

Our advisers will make you aware of your legal rights and are happy

to act as mediators on your behalf. All enquiries are treated seriously

and no complaint is considered too trivial. Here we look at a query

on what to do when companies go into administration.

I put a large deposit on

new furniture six weeks

ago. I have just heard in the news

that this company has 'gone into

administration'. What does this

mean and what are my rights?

When a company goes 'into

administration' it means that

it has problems paying its bills. The

administrators will then run the

company to see if it can continue to

trade or if it will have to close down.

Quite often the shops will stay

open while they try to sell off as

much as they can to raise as much

money as they can. You may be able

to ask the staff in the shop about

your order or you may have to

phone a customer helpline.

You may be lucky and get your

goods or you may even get back

your deposit.

However, in some cases the

company may not be able to deliver

your goods and you will have to

contact the administrators to try to

arrange a refund.

This means you are an 'unsecured

creditor' and that you are at the

end of a long list of people who

are owed money. They will get paid

before you.

If you paid the deposit by credit

card and the furniture cost more

than £100 and under £30,000,

then you may be able to claim your

money back from your credit card

company. This is because of the

legal rights that you have under the

Consumer Credit Act. You also have

these rights if you took out a credit

agreement through the shop to pay

for these goods.

Unfortunately you do not have

these rights if you used a debit card.

Some debit card companies have a

'chargeback' scheme, so it is always

worthwhile contacting them to see

if they offer you any protection if

you do not receive your goods.

If you have bought faulty goods

from a company that has ceased

trading then you have to contact

the administrators. You may not

get anything if there is not enough

money left to settle claims. If you

paid by credit card or through

a credit agreement, you can try

to claim against your credit card

company for faulty goods.

If you have bought or ordered

items from a company that has

recently gone into administration,

you can contact us at the

Consumer Advice Centre for advice

on how to deal with your problem.
---
Healthier

Chinese

options

We are now running a

nutrition training project

for Chinese takeaways and

restaurants.

The first set of workshops took place

in February with top tips from celebrity

chef Nancy Lam and the Chinese

National Healthy Living Centre. The

response was overwhelming with a total

of 45 businesses taking part.

Local taste buds may favour high levels

of fat, salt, monosodium glutamate

and sugar but the chefs showed that

it's possible to make meals which are

healthier but just as tasty.

Our food safety officers are now

helping the participating businesses to

implement their new menus.

New advice on

air quality

We have developed a new guidance

document which will help anyone

planning or developing a new building

in the city to follow our Air Quality

Assessment (AQA) procedures.

During the planning process we can ask

developers to submit an AQA. This helps

us determine if the development would have a bad

effect on our current air quality levels.

At this stage in the process, we may ask for certain amendments to

the development if necessary.

The document provides advice and signposts planners and

consultants through the AQA process, ensuring that the planning

process is as smooth as possible.

You can download a copy of the Air Quality Guidance

document from www.belfastcity.gov.uk/airquality or you can

get further advice from our Environmental Protection Unit on

9032 0202.

Celebrity chef Nancy Lam (right), helping local restaurateurs to cook up a healthy option.

So why not give the healthier option a go?

Watch out for the Healthier Menu certificates

displayed in the participatings premises.

Go to www.belfastcity.gov.uk/foodsafety for

a full list of restaurants and takeaways which

have taken part.

We are also planning more

training sessions next year.

If you would like more

information, or if you would

like to register your interest,

please contact Elizabeth

Gilchrist on 9032 0202.

Frequently

asked question

I want to replace my oil tank. Do I need to let

anyone know?

Yes - you must make a building regulations

application to our Building Control Service.

Our surveyor will look at where the oil tank is

to be placed in relation to buildings, boundaries,

drains and water courses.

We will also examine how the tank is constructed

and how it will be connected to the boiler. This is

to prevent pollution from spills and oil leaks and

to protect buildings from the risk of oil tank fires.

Remember that you also need to apply to Building

Control if you are installing a new boiler, central

heating system or replacing a boiler. For more

information contact our technical helpline on

9027 0432.

CityMatters

April 2009

29
---
Smithfield –

an Aladdin's cave

Smithfield Market is at Winetavern Street and West

Street, behind CastleCourt Shopping Centre. It contains

a range of specialist shops and a huge variety of stalls.

In the 18th century, Smithfield Market was famous for

selling cattle, grains and hides. When Belfast Corporation

(now Belfast City Council) bought over all Belfast markets

in 1848, it was replaced with the Smithfield Variety Market.

The Smithfield of this later era is best remembered for its

stalls packed with old books, pictures, records and sundry

items. Renowned for its warm, lively atmosphere, it became

a regular haunt for bookworms and bargain-hunters.

Unfortunately, the much-loved venue was destroyed by a

bomb in 1974. It was replaced by a temporary building in

1976 and the current building opened in 1986.

What's there?

Smithfield Market contains 28 retail units with

different retailers selling an array of goods and

services. Shops sell everything from collectables and

souvenirs to exotic animals, reptiles and amphibians.

And there are a range of services available including

picture framing and bike repairs.

For more information call 9032 3248 or go to

www.belfastcity.gov.uk/smithfield

30 CityMatters

April 2009

Below is a list of shops at Smithfield Market

and what they sell or what services they offer:

Collectibles

and souvenirs

My Old Toy Box

Collectable toys

Lauro

Antiques, coins, medals,

banknotes and jewellery.

Treasure Chest

Irish souvenirs, Guinness

memorabilia, leprechauns

and toys.

Irish Toy Soldier Museum

Collectable toy soldiers -

figures from all regiments

around the world.

Secondhand

goods

Unit 3

CDs, DVDs and games -

bought, sold and exchanged.

Smithfield Buy and Sell

Secondhand furniture,

household goods and

musical instruments.

Food

ToJos Café

Call in for a cup of tea or

coffee and a homemade

scone. Breakfast and lunch

menus available.

Afropean

Carribean and African food

store.

Repairs and

alterations

I Fix Bikes

Bike sales and repairs

Mannequin

Dressmaking and alterations

Sewing Box

All types of alterations

Hair, beauty

and fashion

Chameleon Hair Design

Hair extensions and weaves.

Grotten Emporium

Alternative clothes and

accessories.

Kefi's

Hair extensions and braids.

Jewellery City

Designer and fashion silver

jewellery, accessories and

watches.

Other

Clarkes Picture Design

Picture and framing service.

Smithfield Carpets

Carpets and rugs.

Shop Mobility

Workshop for wheelchairs

and scooters.

Hydroponics

Indoor growing equipment,

organic growing media,

lighting and advice.

Creepy Creatures

Exotic animals, amphibians,

spiders, scorpions, reptiles

and accessories.

MPLEX

Computer sales, repairs and

internet access.

Boxing, martial

arts, army and

camping supplies

Army Navy Supplies

Army and Navy clothing,

hiking and camping supplies

Boxing Supplies

Ultimate Fight Club and

mixed martial arts

Impact Martial Arts

The only dedicated martial

arts shop in Belfast

Smithfield Market is open from 9am to 5.30pm,

Monday to Saturday and is closed on Sundays.
---
The Olympics

The Alps

Mastermind
---
What's on

Your essential guide to

Belfast events

£

April

Titanic: Designed

and Built in Belfast

exhibition £

14 March – 19 April

W5 at Odyssey

Daily 10am-6pm (Sundays

12pm-6pm)

The exhibition gives a sense

of Belfast's industrial history

and heritage and celebrates

the legendary design and

craftsmanship of Titanic.

Call 9046 7700 or visit

www.w5online.co.uk

Easter extravaganza £

10-14 April - Belfast Zoo

Celebrate Easter with our

animal characters. Visit your

favourite animals at feeding

time and take part in our

egg rolls at the lake at

11.30am and 2.30pm.

Call 9077 6277 or visit

www.belfastzoo.co.uk

Titanic Made in Belfast

Festival £

11-19 April

Citywide tours and events

Dynamic celebration of

Belfast's rich and illustrious

maritime past. Includes

boat tours, bus tours (free),

walking tours (free) and

Pump House tour.

Call 028 9024 6609 or visit

www.belfastcity.gov.uk/titanic

Please note all events

are free unless you see

the £ symbol.

32 CityMatters

April 2009

Pam Tillis with Robert

Mizzell (support) £

13 April

Belfast Waterfront

A CMA Female Vocalist

of the Year, Pam Tillis has

written songs for some

of the top singers in and

beyond Nashville, including

more than a few of her own

hits.

Visit www.waterfront.co.uk or

call the Waterfront Box Office

on 9033 4455

Liam Reilly and

Bagatelle £

18-19 April

Belfast Waterfront

Liam Reilly and Bagatelle

have been at the forefront

of the Irish Music scene

for over 40 years and have

shared a stage with icons

such as Bob Marley, Van

Morrison and Bob Dylan.

Call 9033 4455 or visit

www.waterfront.co.uk

Cultural and

Entertainment Festival

of India

19 April, 2pm-5.30pm

St George's Market

A festival of Indian culture and

dance with a variety of food,

craft stalls and entertainment.

Call 9043 5704 or visit

www.belfastcity.gov.uk/

stgeorgesmarket

Special Senses Day (for

people who are deaf or

hard of hearing) £

24 April, 1.30pm

Belfast Zoo

Book your place on our

special senses tour. A

sign language interpreter

is available for a guided

tour of some of the most

endangered animals of the

world. Places are limited, so

you must book your place.

Call 9077 6277 or visit

www.belfastzoo.co.uk

Opening Recital £

22 April, 7.45pm

Ulster Hall

Opening recital concert by

Colm Carey, Belfast City

Organist. Pre-concert talk

at 7pm when Joe McKee

discusses the Ulster Hall

refurbishment.

Tickets cost £8. Call

9033 4455 or go to

www.ulsterhall.co.uk

Full details

of all events are

available on

www.belfastcity.gov.uk/

events or call Belfast

Welcome Centre

on 9024 6609

Brian

Kennedy

The First

Twenty Years £

24 April - Belfast Waterfront

Brian Kennedy has enjoyed

phenomenal success with

his catalogue of best-selling

albums and hits including

Life, Love and Happiness,

Put the Message in the Box

and You Raise Me Up.

Call 9033 4455 or visit

www.waterfront.co.uk

Baby Boom £

24 April - 3 May, Belfast Zoo

Follow the trail around the

zoo and learn more about

the latest babies.

Call 9077 6277 or visit

www.belfastzoo.co.uk

Get the new Belfast

Waterfront and Ulster

Hall entertainment

guides. Call the box office

on 9033 4455 or visit

www.waterfront.co.uk or

www.ulsterhall.co.uk

All details are correct at time of going to press, but we advise you to call in advance to check the details.
---
Spring Fair £

Ulster Orchestra: Mirth

and Melancholy £

24 April - Ulster Hall

Classical concert

conducted by Tuomas

Ollila-Hannikainen.

Call 9033 4455 or visit

www.ulsterhall.co.uk

The Magic of Motown £

25 April - Belfast Waterfront

A spectacular show

faithfully recreating 60s and

70s hits

Call 9033 4455 or visit

www.waterfront.co.uk

Oh, What a Lovely

War! £

26 April - Belfast Waterfront

A moving and funny

satirical musical about the

First World War

Call 9033 4455 or visit

www.waterfront.co.uk

Hope and Reality:

Barack Obama's First

100 Days £

28 April - Belfast Waterfront

Part of the Northern Bank

Lecture Series.

Call 9033 4455 or visit

www.waterfront.co.uk

The zoo is open every

day except Christmas

Day and Boxing Day.

From April to September,

the price of a family

ticket (two adults and

two children) is £22.80.

25 - 26 April, 1.30pm – 5.30pm

Barnett Demesne

A range of environmental activities,

animals, birds of prey displays,

workshops, demonstrations and

entertainment for all the family.

Call 9091 8768 or visit

www.belfastcity.gov.uk/parks

Talon - The Best Of

Eagles £

30 April - Belfast

Waterfront

Talon bring you their

most exciting Eagles

show yet, recreating the

complex melodies and

superb vocal harmonies

with stunning accuracy.

Call 9033 4455 or visit

www.waterfront.co.uk

Rob Brydon plus

support £

27 April - Belfast

Waterfront

The multi award-winning

writer and performer

joins Magners Waterfront

Comedy Club for an

evening of brand new

stand-up comedy. Strictly

over 18s only

Call 9033 4455 or visit

www.waterfront.co.uk

May

Tina's birthday £

2 May - Belfast Zoo, 2 - 4pm

Come along and celebrate

Tina the elephant's birthday

(the longest resident of

the zoo). Highlights include

a sing-a-long, elephant

birthday treats, a birthday

cake and face painting.

Call 9077 6277 or visit

www.belfastzoo.co.uk

Ultravox £

3 May - Belfast Waterfront

Part of their Return To

Eden reunion tour. The

band, which will feature the

original 80s line up of Midge

Ure, Chris Cross, Warren

Cann and Billy Currie.

Call 9033 4455 or visit

www.waterfront.co.uk

Deep RiverRock Belfast

City Marathon 2009

4 May - Belfast City Hall

Last year's event was a huge

success, attracting more

than 15,000 participants.

Sign up this year for the

run, walk, relay, wheelchair

marathon or fun run.

Call 9060 5944 or visit

www.belfastcitymarathon.com

The handy guide whatabout? gives details of events taking

place throughout Belfast – from theatre and exhibitions

to comedy and festivals. Pick up your free copy from the

Belfast Welcome Centre at 47 Donegall Place or call 9024

6609. You can also go online at www.gotobelfast.com

Remember to check all events in advance by contacting the venue and booking well ahead.

African culture day £

4 May - Belfast Zoo

Celebrate African culture

with energetic dance

and song, storytelling and

drumming in two separate

performances at 11am and

2pm. You can also follow our

trail to find out more about

the zoo's African animals.

Call 9077 6277 or visit

www.belfastzoo.co.uk

Ross Noble £

6-7 May - Belfast Waterfront

In this new show, Ross

will be covering the topic

of things - big things and

small things. Things that

have happened to him,

things that have happened

to you. Part of Magners

Waterfront Comedy Club.

Strictly over 16s.

Call 9033 4455 or visit

www.waterfront.co.uk

Ulster Orchestra

Bruckner Six £

8 May - Ulster Hall

With pre-concert talk at

7pm: Kenneth Montgomery

with Pekka Kuusisto.

Call 9033 4455 or visit www.

ulsterhall.co.uk

CityMatters

April 2009

33
---
What's on

Brigham Young

University Singers £

9 May - Ulster Hall

With special guests,

Cappella Caeciliana one of

Northern Ireland's most

original choirs. This concert

is in aid of Marie Curie

Cancer Care.

Call 9033 4455 or visit

www.ulsterhall.co.uk

Polish Cultural Week

7-13 May - Various venues

Polish Cultural Week

is returning for the

third time as a part of

'Polska!Year' with a range

of events to share Polish

culture, arts, heritage and

language.

For more information visit

www.polishculturalweek.com

or www.polskayear.com

Call 9336 4400

Festival of Champions

10 May, 2pm – 5pm

Sir Thomas and Lady

Dixon Park

The annual Music in

the Parks programme

is launched with a band

concert, children's

entertainment and a

display of vintage and

classic cars next to

Wilmont House.

Call 9091 8768 or go to

www.belfastcity.gov.uk/parks

Ulster Orchestra Alfie

Boe in Concert £

15 May - Belfast Waterfront

Tenor Alfie Boe sings

opera arias, Neapolitan

songs and a tribute to

Count John McCormack.

Call 9033 4455 or visit

www.ulsterhall.co.uk

Belfast Children's Festival

22-31 May - Various venues

Packed with an exciting international programme

of music, theatre and art for all the family.

Highlights include Baby Rave – a real child-sized

rave, Kaleidoscope – an interactive labyrinth

theatre and the popular Festival in a Weekend at

Belfast Waterfront Hall.

Call 9033 4455 or go to

www.waterfront.co.uk

Special senses day

(for people with visual

impairments) £

15 May, 1.30pm -

Belfast Zoo

'Touch and smell' day where

you can get close to some

of the zoo's most interesting

animals. Places are limited,

so you must book.

Call 9077 6277 or visit

www.belfastzoo.co.uk

Birds of prey display £

16-17 May, 10.30am-4.30pm

Belfast Zoo

Discover the natural skills of

a bird of prey. See falcons,

hawks, buzzards, vultures,

kestrels, and barn owls.

Call 9077 6277 or visit

www.belfastzoo.co.uk

Ulster Orchestra £

22 May - Ulster Hall

Conducted by Benjamin

Grosvenor.

Call 9033 4455 or visit

www.ulsterhall.co.uk

Collin Raye with support

by Ben Glover £

23 May - Belfast Waterfront

Top American country music

artists performs his top hits in

this electrifying show.

Call 9033 4455 or visit

www.waterfront.co.uk

Let's go batty £

23 May - Belfast Zoo

The popular night walk returns

with an evening search for

bats with the NI Bat Group.

Book your tickets.

Call 9077 6277 or visit

www.belfastzoo.co.uk

Music in the Parks £

23 May, 2-3pm - Belfast Zoo

Call 9077 6277 or visit

www.belfastzoo.co.uk

Rhydian £

27 May - Belfast Waterfront

Enjoy the voice of X Factor

finalist Rhydian Roberts.

Call 9033 4455 or visit

www.waterfront.co.uk

Murder mystery evening £

28 May - Belfast Zoo

Become a detective on our

special evening as you tour

the zoo, ask questions to the

keepers and try to discover

the culprit of a crime at the

zoo. Booking is essential and

places are limited.

Call 9077 6277 or visit

www.belfastzoo.co.uk

An Evening with Jackie

Mason £

31 May - Belfast Waterfront

Jackie Mason is widely

regarded as one of

the greatest stand-up

comedians of all time.

Call 9033 4455 or visit

www.waterfront.co.uk

23rd Annual Belfast

Third World Run

31 May, 3pm - Ormeau Park

The Third World Run has

its origins in the 1986

Ethiopia Emergency Appeal

inspired by Bob Geldof. The

four benefiting charities

are Christian Aid, Concern

Worldwide, Oxfam Ireland

and Trocaire. There are

three separate events – 10k

run, 3k fun run, and a 3k

family fun walk.

Entry forms available at

leisure centres, libraries, any of

the four charities or online at

www.thirdworldrun.org
---
a

b

c

d

e

f

Services directory

A-Z of council services

Have any comments or queries about City Matters?

Call us on 9032 0202 ext 6276 or

email corporatecommunications@belfastcity.gov.uk

Abandoned Vehicles 9027 0656

Asbestos

Household collection 0800 032 8100

Belfast Waterfront

Administration and enquiries 9033 4400

Box Office and bookings 9033 4455

Bin and Container Sales 0800 032 8100

Births - Registration 9027 0274

Blue Bin Enquiries 0800 032 8100

Building Control

General enquiries 9027 0650

Technical helpline 9027 0432

Bulky household waste

and special collections 9027 0230

Cemeteries Office

Mon-Thur 8.30am-5.00pm (Fri 4.30pm)

Sat 8.30am-12.30pm 9027 0296

City Cemetery 9032 3112

City of Belfast Golf Course 9084 3799

Civic Amenity Sites 0800 032 8100

Civil Partnerships 9027 0274

Community Safety 9027 0469

Community Services 9027 0505

Complaints Helpline 9027 0270

Consumer Advice 9032 8260

Consumer Safety 9027 0428

Corporate Plan 9027 0234

Crematorium 9044 8342

Culture and Arts 9027 0461

Dangerous Structures 9027 0650

Dead Animal Removal 9027 0230

Deaths - Registration 9027 0274

District Policing Partnership 9027 0556

Dog Warden Service 9027 0431

Dundonald Cemetery 9048 0193

Economic Development 9027 0482

Entertainment Licensing 9027 0650

Environmental Health 9027 0428

Equality Officer (Freefone) 0800 0855 412

EU Unit 9027 0317

Events

Belfast Welcome Centre 9024 6609

Leisure and Sporting 9027 0345

Parks 9091 8768

Fly Poster Removal 9027 0230

Fly Tipping (Illegal dumping) 9027 0230

Food Safety 9027 0468

Forest of Belfast Officer 9072 6345

Freedom of Information 9027 0639

g Good Relations 9027 0663

Graffiti Removal 9027 0230

h

i

j

l

n

p

r

s

t

u

w

Health and Environmental Services

Emergency (after hours) 07850 499622

Health Education 9027 0469

Home Safety 9027 0469

Industrial Estates 9027 0510

Jobline 9027 0481

www.belfastcity.gov.uk/jobs

Landfill Site and Waste 9037 0301

Transfer Station

Night-time Noise Hotline 9037 3006

Parks 9032 0202

Pest Control 9027 0431

Pollution Control 9027 0428

Port Health 9035 1199

Postal Numbering 9027 0650

Public Toilets 9027 0656

Public Health and Housing 9027 0428

Recycling Centres 0800 0328 100

Recycling Helpline 0800 0328 100

Refuse Collection

Customer Contact Centre 9027 0230

Registration of Births,

Deaths, Marriages and

Civil Partnerships 9027 0274

Regulatory Services 9027 0650

(Enforcement of alcohol, street trading,

tobacco sales and Sunday trading bye-laws)

Roselawn Cemetery 9044 8288

Smoke Hotline 9027 0420

Street Cleansing

Enquiries 9027 0230

Street Naming 9027 0650

Tourism 9024 6609

Ulster Hall 9033 4400

Waste Disposal

Accounts 9027 0657

Waste Management Service 9032 0202

Weddings 9027 0274

www.belfastcity.gov.uk/atoz

Council venues and buildings

Belfast Castle 9077 6925

Belfast Waterfront 9033 4400

Belfast Welcome Centre 9024 6609

Cecil Ward Building 9032 0202

Adelaide Exchange 9032 0202

Adelaide Exchange

(textphone) 9027 0405

Consumer Advice Centre,

14 Wellington Place 9032 8260

Malone House 9068 1246

Smithfield Market 9032 3248

St George's Market 9043 5704

Ulster Hall 9033 4400

Zoo information line 9077 6277

Leisure and recreation centres

Andersonstown Leisure Centre 9072 6311

Avoniel Leisure Centre 9045 1564

Ballysillan Leisure Centre 9091 8731

Falls Leisure Centre 9050 0510

Grove Wellbeing Centre 9072 6363

Indoor Tennis Centre and

Ozone Complex 9045 8024

Loughside Recreation Centre 9078 1524

Olympia Leisure Centre 9091 8746

Outdoor Pitch Hotline 9027 0677

Shankill Leisure Centre 9091 8750

Whiterock Leisure Centre 9023 3239

Some other services for which

the council is not responsible

Department of the Environment (DOE)

Water Pollution 0800 807060

Belfast Health and

Social Care Trust

Belfast Education and

9056 5656

Library Board 9056 4000

DOE Planning Service 9025 2800

Flooding incident line

Rate Collection

0300 2000 100

Land and Property Services 9025 1515

Department for

Regional Development

(DRD) Roads Service 9054 0540

Schools

Belfast Education and

Library Board 9056 4000

Council for Catholic

Maintained Schools 9042 6972

Northern Ireland

Housing Executive 9024 0588

Street Lighting

(Fault Reporting) DRD 9025 3051

Water

Northern Ireland Water

Customer Service Enquiries 08457 440088

Leakline (water mains only) 08000 282011

CityMatters

April 2009

35
---
Spring cleaning?

Use your local recycling centre

Recycling centres:

• Alexandra Park Avenue

• Blackstaff Way

• Palmerston Road

• Ormeau (at Park Road)

Civic amenity sites:

• Agnes Street

• Clara Street

• Springfield Avenue

We are working hard to

cut down on the waste

we produce.

Please help us to make

a difference.

October to March

Mon-Fri 8am-5pm

Sat 9am-5pm

Sun 12pm-5pm

April to September

Mon-Fri 8am-8pm

Sat 9am-5pm

Sun 12pm-5pm

Clara Street is open from

1pm – 5pm on Sundays.

For more information about recycling facilities in Belfast please call

the Wasteline 0800 032 8100