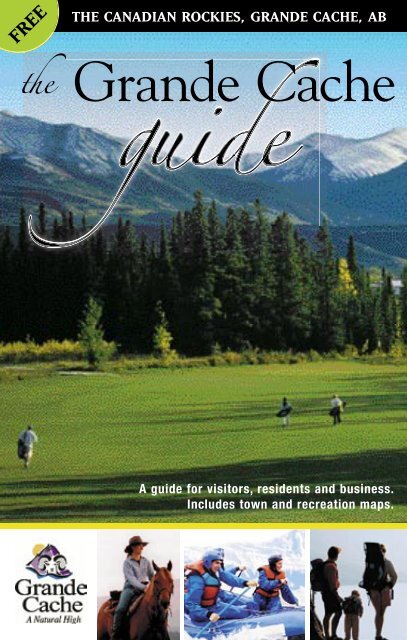 Grande Cache Guide
Grande Cache Guide
Grande Cache Guide
SHOW MORE
SHOW LESS
You also want an ePaper? Increase the reach of your titles
YUMPU automatically turns print PDFs into web optimized ePapers that Google loves.
FREEtheTHE CANADIAN ROCKIES, GRANDE CACHE, ABGrande CacheguideA guide for visitors, residents and business.Includes town and recreation maps.
---
WelcomeMajestic vistas of mountain peaks and valleysencircle a small town sitting high in the front ranges andfoothills of the Canadian Rockies. Grande Cache is a growingcommunity with a wealth of opportunity in tourism, residential and resourceindustry development. Modern living is balanced with mountain wilderness,affordability, and a genuine small-town atmosphere. Built on a mountain plateau,the town faces south towards the Continental Divide and the pristine WillmoreWilderness Park. An elevation of 4200 ft. gives a panoramic view of 21 mountainpeaks and 2 river valleys. Grande Cache offers outstanding outdoor adventure,relaxed lifestyle and unparalleled potential. If you are searching for a quietplace to enjoy the mountains: for living, investing and retiring,come to Grande Cache. It's a Natural High!
---
4 Tourism Centre & EventsVisitingfor info: 1 888 827 3790 web: grandecache.caMaps & info, history & heritage,exhibits, souvenir & gifts. The Tourism & Interpretive Centreis a 'first stop' for travellers. The Centre is located at the south entrance of town onHighway 40 and has extended summer hours. Find maps and information, a Souvenir& Gift Shop, exhibits, displays and local art work. Artifacts, dinosaur tracks, wildlife,heritage, history and geology can all be explored. Outside, enjoy a scenic picnic, see theRanger Cabin & Forestry Lookout and take a short hike around the Aspen Forest Trail,located behind the Centre. The Centre also provides meeting rooms and facilities for avariety of functions. For local and visitor information, stop by, call or visit the townwebsite grandecache.ca.Grande Cache Tourism & Interpretive Centreweb site: grandecache.ca toll free: 1.888.827.3790phone: 780.827.3300 fax: 780.827.4636mail: Box 300, Grande Cache, T0E 0Y0pictures: top right: The Grande Cache Tourism & Interpretive Centreinset right: Interior of Tourism Centre | right: Dinosaur Tracksbelow: Kids finishing the youth version of the Death Race.T. DEAMERA. BENNETTC. WANLESSGRANDE CACHE CALENDAR OF EVENTSC. WANLESSEVENT DATE DESCRIPTION CALL FOR INFOFigure Skating CarnivalMid-MarchLocal Skating ClubRec Centre: 827-2446Metis Local Fish Fry1st Saturday in AprilJoin a traditional feast!Alvin: 827-5309Icebreaker Hockey TournamentLate MarchMemorial fundraiser for charityDoug: 827-2981Metis Talent Show1st Saturday in OctoberFiddlers, jigging and singingAlvin: 827-5309Mixed Slowpitch TournamentMay long weekendOpen co-ed teamsShannon: 827-2446Rocky Mt. Family FestivalVaries: contact 827-2446Activities & exhibits for the familyRec Centre: 827-2446Wild River Rendezvous2nd weekend in JuneOpen event for kayakers & canoeistsDale: 827-5144Canada Day FestivitiesJuly 1stLocal festivities & fireworksRec Centre: 827-2446THE CANADIAN DEATH RACEAUGUST LONG WEEKEND125 km, 24 hr extreme foot raceHot Line: 827-5413Mixed Slowpitch TournamentSeptember Long WeekendOpen co-ed teamsRec Centre: 827-2446Terry Fox Run2nd weekend in SeptemberFund raising 10 km runRec Centre: 827-2446Festival of TreesLast week in NovemberSilent auction for charityHelen: 827-3120
---
Willmore Wilderness Park 5Willmorefor info: 1 888 827 3790 web: grandecache.caA. ZWARTRushing rivers, majestic peaks,green valleys: the purest, wildest and biggest mountain wildernessin Alberta. Willmore is a backcountry enthusiast's paradise. No permanent buildings,roads or motorized vehicles mar the landscape. Travel is by horse, foot, bikes or skis.Few people access the remote area; most lakes and mountains remain unnamed. Stagingareas (see page 6) are traditional access points with well-used trails. Topographic mapscan be obtained from the Grande Cache Tourism & Interpretive Centre. Local guides andoutfitters offer hiking & horseback trips.Willmore Wilderness Park was set aside as a wilderness area in 1959 and is named forthe Honourable Norman A. Willmore, a former Alberta Minister of Lands and Forests. ThePark protects 4,600 sq. km of pristine vital mountain habitat on the eastern slopes of theRockies, just north of Jasper National Park. Traditionally, hunters & trappers used the areaas a means of living. Today, a few hardy souls still continue the old ways. A charitablesociety, the Willmore Wilderness Foundation, is working to preserve trails, historicalinformation and sites, and to keep the Park pristine for future generations.pictures: top: Waterfall on Upper Smoky Riverbelow left: Carving in tree in Willmore Park. Origin unknownbelow: View of a peak in the Persimmon RangeM. SALESSEB. MCFAYDEN-LANDRYwillmore wilderness foundationThe goals of the Foundation are: preserve the history of the area;restore & preserve historical pack-trails & sites; educate the publicabout traditional uses; and enhance the Park for Albertans and visitors.willmorewilderness.com 1.866 WILMORE
---
6 Hiking TrailsHikingfor info: 1 888 827 3790 web: grandecache.caQuiet.Uncrowded.Pristine.From short walks overlooking towering cliffs, deep canyonsand plunging waterfalls to remote backpacking and everything in-between.There are trails for every ability and duration, all with spectacular scenery. Even popularareas are lightly developed and used. Practice a pack-in/pack-out policy so as not todisturb delicate ecosystems. Be bear-aware, make noise and travel in groups.J. DEENIKLocal trail maps are at the Tourism & Interpretive Centre (pg. 4).See next page for the Passport to the Peaks program.For an enriching and educational experience,hire a local hiking guide (see ad pg. 7).Conquer summits the easy way,try heli-hiking!pictures: top: Hiking Griffith Trail by townsiteleft: Backpacking Featherstonehaugh Passin Willmore Parkleft, below: Exploring at Sulphur GatesJ. DEENIKWILLMORE PARK STAGING AREAS, SEE MAP PAGES 46/47STAGING AREA LOCATION TRAILS ACCESSEDSulphur GatesRecreation AreaSulphur Gates Road:6 km North on Hwy 40Eaton Falls / Kvass Flats / MuddyWater River / Upper Smoky ValleyCowlick Creek West off Hwy 40:3.5 km south of Grande CacheMt. Louie / Mountain Trail /Hayden's Ridge / Walton CreekBig BerlandRecreation AreaRock LakeRecreation AreaBerland Campground:62.5 km south on Hwy 40Rock Lake Campground:98 km south on Hwy 40Adams Look Out / Sunset Creek /Jack Knife Pass/ Persimmon RangeBig Grave Flats / Rocky PassRock Lake Look Out / Thoreau CreekEagles Nest Pass / Ancient WallHIKING TRAILS: SEE MAP PAGES 46/47, SEE BIKING TRAILS PAGE 9NAME DISTANCE ELEVATION DIRECTIONS TO TRAILHEADC. WANLESSSulphur RimTwin FallsMt. LouieMt. Stearn7 km/ 3 hrs.round trip1-3 km/ 1-2 hrs.round trip10 km/ 5-7 hrs.round trip6.5 km/ 6-8 hrs.round trip100 ft. loss In town, walk or drive down Hoppe Avenue towards the G.C.Institution. Once past the housing, look left for the trail head sign.150 ft. gain 11.5 km north on Hwy 40. Take road on left, flagged with blue tape.Drive 1.1 km to trail head; it's close to the creek bank and flagged.3700 ft. - 6050 ft. Drive 3.5 km south on Hwy 40, look right for wooden gate with signfor Cowlick Creek.3300 ft. - 6600 ft. Sulphur Gates Staging Area: Drive 6 km north on Hwy 40, turn leftonto Sulphur Gates Road. Drive 3.5 km: marked trail head on right.Lightning Ridge 10 km/10- 12hrs. round trip*good 2-day trip.4850 ft. gain Same as Mt. Stearn, then from a little knoll at the head of the highvalley behind Mt. Stearn, follow the trail west toward Lightning Ridge.Willmore Park750 km of trailsto explore.Varies dependingon trail chosenSee above chart for Staging Areas, see Visitor's Centre for maps.
---
Hiking Programs & Guides 7Peaksfor info: 1 888 827 3790 web: grandecache.capictures: top: Mt. Hamelright: Passport creator Dr. K. Darcel atopAmbler Mt., overlooking the townsitebelow: Mt. MawdsleyT. DEAMERClimb the ring of peaksthat surround the town.Grande Cache is an excellent access point to a panorama of peaks.Passport to the Peaks identifies & maps the mountains visible from town. Each mountainis rated as Bronze, Silver or Gold depending upon the level of difficulty.On each summit is a Cairn Box with an embossing Summit Stamp.This stamp will serve as testimony to your having achieved thesummit. It will also serve as a souvenir to remind you ofyour triumph and the vista at which you marvelled.Register for the program and purchase a guide bookat the Tourism & Interpretive Centre (pg. 3).Catch the Summit Fever!M. SALESSET. DEAMERINTERPRETIVENature Walks · Day Hikes · Heli-hiking · BackpackingBox 795, Grande Cache, Alberta, Canada T0E 0Y0Ph: (780) 827-4250 www.tasteofwilderness.ab.caLearn about our area…as you explore some of our most spectacular wild places
---
8 Horse RidingRidingfor info: 1 888 827 3790 web: grandecache.caS. FEDDEMAFeeling the connection to the land and an age-old way of life.Traveling high mountain passes. Nights by a campfire, horse bells jingling.For untold ages, horses have been used for travel in the mountains. Today, one of the bestways to explore is on the back of a trusty steed. Local stables offer short trail rides for a tasteof this unique adventure. To live the lifestyle, overnight pack trips are a wilderness experiencerich in memories. Trips are available from local outfitters. For horse owners, all area trails aremulti-use and staging areas have corrals. Stay to well-used trails and areas unless hiring aguide. Share the trail and be cautious around pack trains. Remember, the fastest outfit has theright of way! Leave campsites stocked with kindling for the next cowpoke.Happy trails!pictures: top: Kvass Flats, Willmore Parkbelow: Upper Smoky River (above the Jackpine River)S. FEDDEMAU Bar Trail RidesLet us share the Rockies with you.Be awed by the splendour of WillmoreWilderness Park on a horseback trip.Meander through valleys and overspectacular mountain peaks.PHOTO BY MARGARET ABRAHAMU Bar Trail RidesOvernight pack trips and hourly guided trips along mountain trails from ourstables. Our web site contains details on schedules, rates & company profile.Web site: ubartrailrides.com Toll free: 877.666.UBAR (8227) or 780.827.0605
---
C. WANLESSBiking Trails 9Bikingfor info: 1 888 827 3790 web: grandecache.caTechnical twisty single tracks. Heart-thumping down hills.Gentle rolling roads. Grande Cache is a mountain biker's paradise!Incredible scenery surrounds you on every side. With hundreds of kilometres of trails, alllevels of riders will find suitable challenge. Twin and single tracks surround the townsite.Gravel roads offer easy travel, and there is even a BMX track by the ball diamonds.All area trails are multi-use, so be courteous of the hikers and horses you may meet.For fewer surprises, and since this is bear country: travel with a bell on your bike.It's advisable to have warm clothing and a small first-aid kit for longer, more advancedrides. Hiking trail maps can be used, and the Canadian Death Race trail offers verywell-marked routes and rides for every level.pictures: top: Sulphur Gates Roadbelow: Willmore Park, on the MountainTrail, enroute to the Muddywater Riverbelow right: Biking down Grande Mt.S. WELLSD. TUCKBIKING TRAILS: SEE MAP PAGES 46-47, SEE ALSO HIKING TRAILS PAGE 6.NAME DIFFICULTY DISTANCE DIRECTIONS TO TRAILHEADSulphurRimGriffith TrailPhysical: beginnerTechnical: beginnerPhysical: beginnerTechnical: intermediate7 km Sulphur Rim Trailhead: travel down Hoppe Avenue towards the G.C.Institution. Past the housing, look left for the trail head sign. Trail followsSulphur Canyon: 250 ft. gorge. Incredible views.12 km See map pg. 46-47: many access and exit points as the trail loops aroundthe townsite. The closest and most convenient trail. Rolling, scenic terrain.Old MineRoadPhysical: intermediateTechnical: intermediate32 km Elevation:3100 ft. to 3900 ft.1 km north on Hwy 40, turn on gravel road to landfill. Turn right at "Y"junction. Trail marked. Make a loop by travelling Hwy 40 or return.Eaton FallsPhysical: intermediateTechnical: beginner7 km Elevation:3350 ft. to 3600 ft.Sulphur Gates: Drive 6 km north on Hwy 40, turn left and drive to thestaging area. Take the main trail in. Several steep hills, then trail levels out.Turn right at the "Y" with the antler sign to the falls.Grande Mt.LoopPhysical: advancedTechnical: advanced20 km Elevation:3400 ft. to 6520 ft.6.5 km south on Hwy 40, trailhead on left side. Stay right, follow mostdominant trail. Competent downhill skills required. This trail is an old mineexploration and radio tower access road: the views are stunning!Mt. HamellPhysical: advancedTechnical: intermediate20 km Elevation:3100 ft. to 6986 ft.8 km north on Hwy 40 onto Beaverdam Road. Then turn north at 7 km.Hard climb, views worth it! On clear days see Mt. Robson, highest point inthe Rockies. East is a sheer 800 ft. cliff.
---
10 White Water RaftingRapidsfor info: 1 888 827 3790 web: grandecache.caWild rivers that shout and ROAR.Quiet scenic floats. Remote paddling yet so very close. Unknown and unrivalled.Grande Cache has the best selection of white water in the province with an abundanceof class I - V rapids for beginners to seasoned canoeists, kayakers, and rafters. The rivers are allwild and untouched, with the area's best scenery. Best of all, rarely will you see another paddler.See chart next page for river descriptions. Those new to the sport can experience theriver in the hands of professional raft guides. From scenic floats to raging whitewater,there are trips for all ages and abilities. Make the dream a reality!pictures top: Rafting the Sulphur Riverleft: Kayaking Sheep Creekright: The scenic Smoky RiverJ. ZWARTM. GRANTand other adventuresAlberta's Best RaftingClass I-IV. All ages3 hr, 6 hr, OvernightPlus free trip planning:caving, climbing, horses,cabins, camping & moreJoin us– we are out there!– daily, weekly, monthly –Fully Furnished & SuppliedCable / DVD / PlaystationOpen: October to Maywildblueyonder.ca • toll free: 877 WILD RUN (945-3786)In Town 827.5450 • Book at the Grande Cache Hotel
---
Rivers, Lakes & Fishing 11Riversfor info: 1 888 827 3790 web: grandecache.caRIVER CHART: SEE MAP PAGES 46-47RIVER CLASS Gradient/Length PUT-IN/TAKE-OUTJ. DEENIKNOTE: The chart rates the section's most difficult rapids,at normal water levels. Higher water increases rating:use caution when levels are high (usually in June).SmokyRiver1/2 12' /mile16 kmBlue Bridge/ Gravel roadcrossing rail track northon Hwy. 40Beginner. Class 1, one short class 2+ rapid, easily portaged. Takeoutis (16 km) north on Hwy 40. A gravel road crosses rail tracks andgoes to the river. If you miss it, take out at Sheep Creek.SulphurRiver2/3 55' /mile17 kmTurn right onto sm. roadjust before Fireman'sPark, take 2nd left /Blue BridgeIntermediate. Good boat and rescue skills required. Class 2/2+, someclass 3. Technical, many boulders. Goes up a class in high water.Spectacular cliffs & scenery. See the Grande Cache Hotel for a key tothe gate on the road to the access if it's locked.SheepCreek4/5 80' /mile30 kmBeaverdam Road /Sheep Creek CampGroundMost technical, challenging run. Tight, steep and fast, advanced boaterswith rescue skills. Scout major rapids, one class 5+ (portage),consider other spots also. Not recommended for canoeists.MuskegRiver2/331.5'/mile2 kmMuskeg River Bridge /Mason Creek picnic areaA short run, great surfing under Muskeg Bridge. Do not miss thetake-out at Mason Creek campground, after that are two class 5'sand a class 6 UNRUNNABLE waterfall (Muskeg Falls).Muskeg2ndsection2/331.5'/mile22 kmMuskeg Falls / SmokyRiver Coal Mine siteRight after Muskeg Falls, all day or overnight trip. Put-in 1.5 km hike,go left at the trail fork. Two ledges to scout: you may want to portagethe first, and the second in higher water.KakwaRiver3/4+ 50' /mile90 kmBridge crossing Kakwaon Hwy 40 / CanforFlats CampgroundAdvanced, not as technical as Sheep Creek, but bigger volume. Class1/2 for 3 hrs, 1st major rapid is class 4+. SCOUT!! Kakwa feeds intoSmoky River. Ledges above Cutbank River very big in high water.FISHING: SEE MAPS PAGES 46-47LOCATIONTYPE OF FISHC. WANLESSLakes & FishingLakes clear and smooth asglass. Paddling gently or jettingpowerfully across. Launch your canoeon one of the many lakes in the area,spend an afternoon leisurely paddling orgrab your fishing gear. If water skiing is yoursport, head for Grande Cache Lake, the onlyarea where motorized boating is permitted.Victor LakeGrande Cache LakePierre Grey LakesSmoky RiverSheep CreekMuskeg RiverLone Teepee CreekBerland Riverrainbow troutrainbow trout, brook troutrainbow, bull, brook troutbull trout, rainbow troutbull trout, whitefishrainbow, bull trout, arcticgrayling, whitefishrainbow, brook, bull trout,whitefishrainbow, bull trout, whitefishThe fish population (zone 1) includes trout,mountain whitefish, and arctic grayling; wildor stocked. Bull trout are endangered witha catch and release program. Licenses areavailable at local shops. See chart for fishingareas. Hope you catch a big one!pictures: top: The Smoky River towards Mt. Mawdsleyright: Victor Lake in the fall
---
12 Heli-tours & Other AdventuresAdventurefor info: 1 888 827 3790 web: grandecache.caHeli-tours. Wildlife viewing.Paintball. Swimming. Bird watching.Grande Cache offers a wide variety ofadventures. Wildlife viewing is popular;the elusive (and endangered) woodlandcaribou can be seen along Hwy. 40 duringthe winter. Bird species are abundant; visitPeavine Lake for great sightings.Scenic Helicopter ToursThe Grande Cache Recreation Centrealso offers many activities includingcurling, hockey, swimming, as well as afitness centre and sauna. Nearby aretennis & basketball courts and a skateboardpark. A BMX track and baseballdiamonds are located by the local golfcourse. See map pages 46-47.picture: top: Mountain goats are frequently seen atopMt. Hamell & Goat CliffsPacific Western HelicoptersSoar over the spectacular Rocky Mountains: see cascadingwaterfalls and the splendour of Mt. Robson's glaciericefields and lakes. It's a year round adventure! Visit ourweb site for more details: www.helitoursgrandecache.comWinter: Heli-Snowshoe, Heli-Snow Shelter ExperienceSummer: Mountain Top Picnics, Heli-Hiking, Heli-CampingIn-Town Base: 9801 99 Ave., Grande CachePh: 780.827.3911 (24 hrs) Fx: 780.827.3811Email: grandecachebase@pwh.caFitness. Fun. Family.Grande Cache Recreation Centre: ph: 780-827-2446Indoor Heated 25m Swimming Pool - Full Weight & Fitness CentreCurling Rink - Tennis Court - Skateboard Park - Basketball CourtSwim Lessons & Recreation ProgramsRentals: X-Country Skis - Rollerblades - Skates - BasketballsArena & Curling Rink Rentals for Large Functions (April - September)In Grande Cache & AreaLocal Trails • Playgrounds & Parks • Soccer Pitch • Football FieldBMX Track • Ball Diamonds w/dugouts • Grande Cache Lake Beach
---
Golf & Leisure 13Golfingfor info: 1 888 827 3790 web: grandecache.caM. SALESSERolling fairways framed with dark spruce.Majestic mountain backdrops. This is golfing at 4300 feet.Set against the eastern slopes of the Rocky Mountains, Grande Cache's course isa treasure. The course is one of the highest in the Rockies, overlooking mountainsand valleys for miles in all directions.The well-designed course with grass-greens complements the natural splendourof its surroundings. Tee-boxes are elevated for towering tee-shots. Most holeshave large, undulating greens and staggered tee boxes which allow altering thelook of the holes. The layout caters to all levels of skill and features rolling fairwaysbordered by tall stands of pine and spruce.The scenic setting is accented by a comfortable clubhouse and outdoor patio,which includes licensed dining, and a driving range. The course is convenientlylocated only minutes from Town Centre, and is immediately adjacent to theGrande Cache Campground.T. DEAMERGrande Cache Golf & Country ClubPro Shop: 780-827-5151Driving Range | Power Cart & Club RentalsSupplies & Souvenirs | Outdoor PatioClubhouse & Licensed DiningBanquet & BBQ FacilitiesJ. DEENIKLocated Walking Distancefrom Grande Cache Municipal Campground
---
14 Scenic Stops & Picnic SpotsSightsfor info: 1 888 827 3790web: grandecache.caSee mountain splendour.Recharge and soothe your soul.300 ft. cliffs tower over the SmokyRiver, showcasing the broad sweepof the valley and the incredible strata of the Sulphur Canyon. The Sulphur Gates offers maximumscenery with minimum effort! A 15-minute drive from town and a short walk up a wide, groomedgravel trail leads to four viewing platforms. The first two platforms are wheelchair accessible.The thundering spray of Muskeg Falls is another must-see. The falls are 43 ft. in total height, ina spectacular three-tiered descent. It's a 20-minute hike on a small trail to a point above the falls.Stay away from the cliff edges: they are dangerously undercut and do collapse! The lower trailis tricky, requiring agility and sure footing, but time spent at the edge of the falls is magical.Spread a blanket and you have a mountain picnic. The following areas have picnic tables or areProvincial Recreation Areas set up for day use. Please be sure to pick up all refuse whilein the area to maintain the beauty for everyone. Bon Appetit!pictures: top right: the Sulphur Gates | below: path at the Sulphur Gatesbelow right: Grande Cache Lake beachJ. DEENIKC. WANLESSPICNIC & SCENIC: SEE MAP PGS. 46-47PICNIC SPOTSLOCATIONSouthview 54 km North on Hwy 40Sulphur GatesBlue BridgeTown Centre6 km North on Hwy 40, 7.5 km onSulphur Gates Road6 km North on Hwy 40 - sites are riversidePicnic tables are located by the MallTourism Centre South entrance to town on Hwy 40Grande Cache Lake 5 km South of Grande Cache on Hwy 40Mason Creek 21 km South on Hwy 40C. WANLESSSCENIC STOPSSulphur Gates:developed withviewing platformsMuskeg Falls:undeveloped, usecaution near fallsLOCATIONSee above. Drive all the way to the farthestparking area. Walk south to the hitchingrail, a large gravel path leads off to the left.18 km South on Hwy 40. A large pull-outlocated on east side of road. Look for asmall trail heading into the trees.
---
Camping 15Campingfor info: 1 888 827 3790 web: grandecache.caGrande Cache offers a wide selection ofcamping spots: full service RV, tenting,group sites, corrals and more!LOCAL CAMPGROUNDS: SEE MAP PAGES 46-47NAME SITES LOCATION DETAILSGrandeCacheMunicipalCampgroundKakwaRiver77 1 km East of Hwy40 off ShandAvenue.14 85 km North onHwy 40All sites have water & power, 55 also have sewage. Free fire wood, grated firepits, picnic tables, flush toilets, showers, laundry facilities, lit roadways.Treed sites. Hiking trails. Open May to October.Fire wood, grated fire pits, picnic tables, non-flush toilets, well water.Fishing. Riverside sites. Reservations. Seniors discount. Open May to October.Sheep Creek 9 27 km North onHwy 40Fire wood, grated fire pits, picnic tables, non-flush toilets, well water. Sitesadjacent to Smoky River & Sheep Creek. Fishing. Reservations. Seniors discount.Boat Launch into Smoky River. Open May to October.SulphurGatesSmoky RiverSouthPierre Grey'sLakes10 6 km North on Hwy40, end of SulphurGates Road22 4.5 km North onHwy 40 beforeBlue Bridge.83 30 km South onHwy 40Fire wood, grated fire pits, picnic tables, non-flush toilets, well water. Horsecorrals. Staging area for Willmore Park. Adjacent to Sulphur Gates. Reservations.Seniors discount. Open May to October.Fire wood, grated fire pits, picnic tables, non-flush toilets, well water. Circularloop with spacious, well-treed sites. Fishing, hiking trails. Reservations. Seniorsdiscount. Boat Launch. Open year round.Fire wood, grated fire pits, picnic tables, non-flush toilets, well water. Circularloops with spacious, well-treed sites. Fishing, groomed hiking & biking trails.Reservations. Seniors discount. Boat Launch. Day-use shelters, sani-dump.Open year round.Berland 18 62.5 km South onHwy 40Fire wood, grated fire pits, picnic tables, non-flush toilets, well water.Horse corrals. Staging area for Willmore Park. Fishing. Riverside Campsites.Reservations. Seniors discount. Open May to October.Grande Cache Municipal Campground: Full Service Camping780-827-2404• 77 large, treed sites: 55 w/ 30 amp power, water & sewage,22 with water & power, tenting area.• Day Shelter w/ wood stove• Picnic Tables & Fire Pits in all sites – Fire Wood• Laundry Facilities – Showers – Flush Toilets• Onsite Dumping Station – Lit Roadways• Open May to October (winter groomed x-country ski trails)Convenient location near golf course & ball diamonds.NORTH 40WILDERNESSCAMPGROUNDSGRANDE CACHE, ABPhone: 780-827-6521Managers of these Provincial Recreation Areas:• Smoky River South• Sulphur Gates• Sheep Creek• Southview• Kakwa River• Pierre Grey's Lakes• Mason Creek• Berland River
---
16 Off-Road TouringOff-Roadfor info: 1 888 827 3790web: grandecache.caEndless miles. Wild, rugged roads and trails.C. WHITTYUncrowded. For ATV or snowmobile enthusiasts, it's one big playground.Most trails, with the exception of those marked for cross-country skiing, are multi-usetrails allowing motorized vehicles. There are virtually endless amounts of roads, cutlinesand similar areas to explore. Remember, no motorized vehicles are permitted in WillmoreWilderness Park or above treeline in alpine areas. If you are not sure which areas you canride in, check with Alberta Sustainable Resource Development (780-827-3626).Snow conditions in the Grande Cache area can vary greatly throughout the winter months,but you will almost always find snow in the Berland River area or north towards the KakwaRiver. ATV trails are accessible virtually year-round.pictures: above: snowmobiling on the Beaverdam Roadbelow: Overlooking the Smoky River valley from the back-side of Mt. HamelJ. DEENIKPOPULAR LOCAL ATV & SNOWMOBILE TRAILS: SEE MAP PAGES 46-47TRAIL DISTANCE DIRECTIONS TO TRAILHEADA La Pêche 35 km one way Drive south on Hwy 40 to Pierre Grey Lakes Recreation Area. Look for a gravel pitacross from the entrance into Pierre Grey Lakes. The trail leads off the gravel pit.Beaverdam Road toKakwa RiverHuckleberry TowerRoadChase & DonaldFlats55 km one way Drive 8 km north on Hwy 40, turn left onto Beaverdam Road.25 km one way Drive about 50 km south on Hwy 40, past Muskeg River. Look on the left side forthe sign for Huckleberry Tower Road.30 km one way Look for trails branching off from the Huckleberry Tower Road. Directions forHuckleberry Tower Road above.Grande Mountain 10 km one way Drive south on Hwy 40 6.5 km, take the first left after Grande Cache Lake. Takethe trail to the right.Mt. Hamell 10 km one way South access: On Beaverdam Road 8 km north of town. Trail begins at junctionlocated 6.5 km up Beaverdam Road.
---
Winter Activities 17Winterfor info: 1 888 827 3790 web: grandecache.caT. DEAMERSunshine glittering across snow-covered trees. Clean, sharp airexhilarating your senses. Dazzling blue skies overhead. Experience the joyand splendour of a Canadian winter in the mountains.For the cross-country ski enthusiast, Grande Cache is a treasure! The local Smoky RiverNordic Ski Club grooms miles of trails in three spectacular areas, please support theirwork by buying trail passes. Ski at the local campground and golf course and at PierreGrey Lakes, where endless forested loops circle picturesque lakes. Off-track ski touring,telemarking, snowshoeing and snowboarding possibilities abound in the backcountry.Ice climbing in the area offers a progressive system of climbs, from beginner to extremelyadvanced. Below is a table describing climbs in the area. Refer to the Town of GrandeCache's web site (grandecache.ca) for more detailed descriptions.Other winter sports include ice-fishing, skating, curling and,of course, ice-hockey. Get out there and enjoy!pictures: above: view of townbelow: Mt. Hamel and the Smoky River valleyright: cross country skiing is excellent in the areaACTIVITY LOCATION DIRECTIONS & DETAILSJ. DEENIKX-CountrySkiingIce ClimbingGrande CacheCampground &Golf CoursePierre GreyLakesTwin FallsEaton FallsKnuckleGnasherEvergreenGullyGroomed runs - East end of Shand Avenue. Convenient in-town location and diverse terrain.Partly lit, 1 km of night skiing! 6 km total track distance. Golf course groomed with adequatesnow, dogs permitted only on golf course.Groomed runs - 30 km South on Hwy 40. 18 km looped runs, plus a skate section. Wideopen, holds snow well. Warm-up shack, picnic tables, and small toboggan hill. A few hills tochallenge experienced skiers, also good sections for beginners.Beginner. Two small waterfalls 10 -12 m. See hiking trail page 6 for directions. You can topropefrom the top of the first or second falls.A step up from Twin Falls. See Hiking trails, page 6 for directions. Avoid standing under thecliffs, which are very unstable rock, large boulders sometimes drop.Intermediate. 200 - 300 m, depending on ice conditions. 12 km North on Hwy 40, park atgun range. Cross Smoky River downstream from here. (Do not cross the railway bridge.) Walkup the creek to the first pitch– 15 m vertical teardrop ice. More moderate pitches follow.Advanced. 450 m, columns, towers & huge free-hanging icicles. 12 km North on Hwy. 40,west side. Park at gun range, go north along highway to a small creek. A small pitch to easyice, which is the calm before the storm. Go only as far as you feel comfortable.
---
18 Local HistoryHistoryfor info: 1 888 827 3790web: grandecache.caV. MOBERLEYDinosaurs. Ancient Aboriginal sites.Trappers and the fur trade. Coal. The area history encompasses 200 million years.A relatively new town in old land, Grande Cache takes its name from the methods of anIroquois fur trapper. Legend has it that sometime between 1818 and 1821, Ignace Giassonestablished a large fur cache near what is now known as Grande Cache Lake. From thattime on, the general area was known as Grande Cache.Many years earlier, much older history was being created. Dinosaurs were leaving footprintson the shore of a warm, tropical sea. Now uncovered on the local coal-mine site,these tracks are currently being preserved and protected as one of the most significantdinosaur trackway sites in North America. A display of the tracks is at the Grande CacheTourism Centre and the Royal Tyrrell Museum of Palaeontology in Drumheller, Alberta.Tours to see the tracks in their original location are in the developmental stage.pictures: above: Crossing the river long before bridgesbelow left: Paleontologist Rich McRea points to a track froma meat-eating bipedal theropodbelow: Before tipis, wickiups were used by local Aboriginalsfollowing page, top: Moccasin circle at a local cultural eventfollowing page, bottom: Metis dancersT. DEAMERHISTORICAL SITES & POINTS OF INTERESTLOCATIONPierre Grey'sTrading Post RuinsMuskeg RiverGraveyardSusa CreekDIRECTIONS & HISTORICAL NOTESDrive 35.5 km south on Hwy 40. Turn left at the entrance to Pierre Grey Recreation Area. An easy accessis from the boat launch between Moberly & Delorme campgrounds (follow trail left where it crosses boatlaunch area, then branch to right after approx 0.5 km). A signed trail head is in Joachim campground.There are the remains of three buildings and one grave site. Pierre Grey, whose real name was Pierre Gris,was a Metis from Isle Lake. He ran a fur trade post at this site in the 1800's, where he prospered. He wasmarried to a woman from a local family, so the people trusted him and traded with him.Drive south on Hwy 40 for 23 km, look for a hill on the right side of the road. This tiny graveyard is therebecause this was a popular stopping spot for the local aboriginal people.Drive south on Hwy 40 for 11.4 km, then look to your right. The housing area is private property. You willsee the Susa Creek graveyard. You will also notice two churches. Both are named Our Lady of the Rockies.
---
Local Heritage 19Heritagefor info: 1 888 827 3790 web: grandecache.caR. MACDONALDAs long as 10,000 years ago, pre-historic people were staying near Grande Cache Lake, theSulphur and the Smoky Rivers. During the Fur Trade, trappers built cabins and cut trails.Long-abandoned camps still exist in Willmore Park. By the early 1900's, thriving aboriginalsettlements near present day Grande Cache were well established.When Jasper National Park was created in 1910, natives living there were evicted andsome chose to move to the Grande Cache area. Today, the local Aboriginals & Metis aredescendants of original trappers, guides and Rocky Mountain People.In the mid-1900's, as the province became established, the area was mapped and openedby early foresters on horseback. In the forties and fifties, area residents still broughtsupplies by horse-pack trains from Hinton: a two-week return trip.The present town of Grande Cache was established in 1969 in response to world coal pricesand the discovery of high quality coking coal in the area. Once a single industry town,Grande Cache has grown and evolved to boast several key industries and a favourablegrowth economy. See more details about the local economy on page 40.Metis Nationof AlbertaGrande CacheLocal Council #1994780-827-20023300 Pine PlazaP. RUSSELLVisit the local Metis Nation Centre forFun & Cultural Activities. Call for timesand more information:Weekly Bingo: Wednesdays at 6:30 pm.Stew & Bannock: Every 2nd Friday.Fish Fry: 1st Saturday in April.Open Social Gathering for family, fun & fish!Talent Show: 1st Saturday in October.Provincial Competition attracting a variety offiddlers, singers and dancers from across theprovince. Don't miss seeing this one!
---
20 Local Heritagerocky mounAs caretakers of the Earth, we commit toAseniwucheWinewak Nation:Traditional LandsCurrently the Nation holdsonly about 4150 acres ofland, although traditionallythe people utilized an areaof 824,440 acres (39,000 km 2 ).The Nation has never signeda treaty or relinquished rightsto the land. To this day, theAseniwuche Winewak liveas one with the land, inclose relationship withmother earth.
---
Local Heritage 21tain peoplework together: in unity, in faith, for life.The Rocky Mountain People can trace theirroots to Beaver, Sekani, Cree and Iroquois tribeswho intermarried with Stony, Saulteaux,Shuswap and Snake tribes, creating a mosaic of culture thatdefied every traditional label. The People were evicted from theirland around Jasper in the early 1900's to create Jasper NationalPark. They chose to relocate to the Grande Cache area.The Aseniwuche Winewak Nation was incorporated inSeptember 1994 to address the needs of the People. Today, theNation members live on a series of dispersed Cooperatives andEnterprises around Grande Cache. They are without reserves,Indian status or treaties to protect their future.The Nation is striving to attain a standard of living for thePeople that is comparable to that of other Albertans. They worktoward partnerships rather than conflict. With roots firmlyplanted in tradition, the Aseniwuche Winewak Nation is movingprogressively into the future. With a reputation of integrity andperseverance, they work to protect their traditional resources andtheir future in the Rocky Mountains of Canada.Aseniwuche Winewak Nationph: 780-827-5510www.aseniwuche.com10020-99 Street,Grande Cache, AB T0E 0Y0
---
22 Living in Grande CacheLifestylefor info: 1 888 827 3790 web: grandecache.caMornings dazzled by alpen glow.Mountain trails minutes from home. Children playing safely.Pure mountain wilderness and a sense of community. It surrounds us,gives us adventure and fills our souls. Grande Cache is a vibrant community withall the modern conveniences and a mountain playground on our doorstep.T. DEAMERThe weather is moderate. Winters are gentled by frequent, warm Chinook winds. Summersare mild with temperatures ranging between 15 to 25 degrees Celsius. Sunshine fills ourdays– our northern location gives us more than 17 hours of daylight on a summer day.Resource industries are located out of town, leaving an unspoiled scenic environment.A full complement of professional, retail, industrial, medical and community services makea self-sufficient community. The people are warm, friendly and open. Crime is rare andkindness is frequent. And always, the comforting presence and breathtaking beautyof the 21 peaks that encircle the town. If you long for a mountain life-style withoutleaving civilization too far behind, come to Grande Cache and live the dream.pictures: above: A view of Mt. Mawdsley & Mt. McQueen from Town Centrebelow left: Relaxing on Grassy Hill, just a 5-minute walk from townGRANDE CACHEFAST FACTSEstablished: 1969Population: 4000Location: Eastern Slopes,Canadian Rocky MountainsElevation: 1280 m/4200 ftClimate AveragesSummer: 7°C to 20°CRain: 355 mmWinter: -2°C to -12°CSnow: 190 cmYOUTH PHONE ADULT PHONEAkasaka Skating ClubArmy CadetsBeavers & Boy ScoutsMinor BaseballMinor HockeyMinor SoccerOtters Swim ClubADULTCOMMUNITY SPORTS & RECREATIONG.C. Curling ClubG.C. Wado Kai Karate ClubLadies HockeyMens HockeyMuttoneers Hockey ClubSlo-Pitch Mixed LeagueSmoky River Nordic Ski Club827-2446827-5180827-4035827-3215827-2446827-2446827-2446827-2446827-3239827-2499827-4197827-2263827-5559827-5457Beta Sigma PhiBighorn Golden Age ClubBridge ClubFish, Game & Gun ClubG.C. Historical SocietyGrande Theater PlayersInd. Order of ForestersKnights Of ColumbusLions ClubOilmen's AssociationPalette Pals Art ClubRocky Mt. Riding Assc.Royal Canadian Legion827-5298827-3113827-3896827-2719827-2401827-3872827-3498827-3653827-3327827-6061827-3300827-4485827-2362J. WANLESSGrande Cache Rec Centre: 827-2446• Indoor Heated 25m Swimming Pool• Weight & Fitness Centre • Hockey Arena• Curling Rink • Tennis Courts • Fields• Skateboard Park • Basketball Courts• Swim Lessons & Recreation ProgramsRentals:X-Country Skis, Rollerblades, Skates, BallsArena & Curling Rink Rentals (April - Sept.)Outdoor:Local Hiking Trails • Playgrounds & ParksBMX Track • Ball Diamonds w/dugouts
---
Community Services 23Communityfor info: 1 888 827 3790 web: grandecache.caC. WANLESSMedical Services: Community Health Complex, extended-care and seniors residence,ambulance, medical clinic, Mental Health Clinic, Health Unit, chiropractic & massagetherapy, dentist, weekly optometrist and veterinarian.Community Services: Royal Canadian Mounted Police, Volunteer Fire Departmentand Search & Rescue, Family & Community Services, SAFE house, pre-school, 3 publicschools (kindergarten to grade 12), adult education, distance learning. Clubs & groupsinclude the Bighorn Golden Age Club, fine & performing arts groups, saddle and fish/game clubs, army cadets, the Royal Canadian Legion and other special interest clubsand volunteer groups. There are several churches of various denominations.Technology: high-speed internet, cell-phone service, satellite & cable, electronic sales& services. Most types of personal and business services are offered: check pages25 - 39 of this guide for retail shops & services.Sports & Leisure:The Grande Cache Recreation Centre offersmany facilities and activities: see bottom ofprevious page. The town also boasts a 9-holegolf course (page 13). For group functions,there are several halls, the hockey arenaand curling rink. For outdoor functions, tryFireman's Park: large, covered cooking area,group fire-pit, horseshoe pits and playground.Overlooking the Sulphur Canyon, it's a scenicand well-equipped facility minutes from town.Call 780-827-3362 for information.Professional Dog & CatGrooming Services780-827-2706Marianne LetemplierCertified Groomer11500 Manning CrescentM A S S A G E T H E R A P Y C L I N I CRelaxation, Therapeutic, Myofascial ReleaseKari Dennis R.M.T & Dean Provencher R.M.T.Registered Massage Therapists with M.T.A.A.*Open: Tue - Sat • Acorn Mall780-827-4342*MASSAGE THERAPISTS ASSOCIATION OF ALBERTA
---
24 Local Real EstateHomefor info: 1 888 827 3790 web: grandecache.caClean, Quiet & Safe Living.Grande Cache is a perfect choicefor people seeking the comfort ofsmall-town living in a mountainenvironment. Recreational propertybuyers from around the province arelooking at the town for an affordablemountain get-away. Residential lotsare available for building, homes areselling, and future development is avirtual certainty with Alberta'sburgeoning population and affluence.Please contact local realtorsfor more information.How do you find a Great Real Estate Agent?experience theMountain lifestyle— Featuring —• Maintenance Free Living• Modern Urban Design • Gas Fireplace• 5 Appliances • In-Suite Laundry• Theatre Room • Elevator• Underground ParkingGRANDE REALTY780-827-9601location: 2508 Pine Plazaemail: mtuck@telus.netwebsite: www.mls.caPre-Selling for Grande CacheSummer 2005 ConstructionPrices from $116,000 to $168,000780-783-1818Dunelm RealtyBus: 780-827-2155Cell: 780-827-1217Fax: 780-827-2177dunelm@telus.netwww.lcn2000.com/c21dunelmFor All YourReal EstateNeedsMEMBER OFEXECUTIVECLUBMountain RealtyIndependently Owned & Operated(780) 827-2882www.mountainrealtyab.comremax@mountainrealtyab.com
---
Shops & Services 25Shop localfor info: 1 888 827 3790web: grandecache.caPeople having time for people.A mature and modern community, GrandeCache has many commercial and retail services, meeting the needs of residentsand travelers with friendly service. The Town Centre and Industrial area (east & westof Hwy 40, respectively) contain accommodations (see page 26 for listings), eateries(page 32), grocery stores, retail shops, transportation and automotive and other services.Listing charts contain the names of advertisers and their product/service. See displayads for more information and store location. See town map page 47 for general locations.ADVERTISERS99 Cents Plus MoreSERVICESVariety StoreT. DEAMERPg.#37ADVERTISERSJust AngelsSERVICESGifts & CollectablesA&J's Fashions Clothing Store 37 Just Clowning Around Balloons & Costumes 36Advantage Tirecraft Automotive Centre 39 Liquor Warehouse Centre Liquor Store 34Century 21 Dunelm Realty Real Estate Services 24 Michel's Super A Foods Grocery & Cafe 35Chalet Food Store Convenience Store 35 Mt. Oasis Massage Therapy Health Care 23Clean Machine Cleaning Services 37 Petro Canada Food & Gas 38Fas Gas Service Station Food & Gas 38 Photoscapes By Margaret Professional Portraits 36The Flower Garden Flowers & Design 36 Remax Mountain Realty Real Estate Services 24GC Mart Convenience Store 35 Royal Lepage Grande Realty Real Estate Services 24Grand Taxi Taxi Services 38 Scenic Tire Automotive Services 39Grande Estates Luxury Condos 24 Sky Hy Lounge Drinks & Food 34Grande Gifts & Balloons Flowers & Gifts 36 Skyview Place Mini-Storage RV & Storage 41Grandeview Wash Car Wash & Laundry 38 SR Electronics Phone & Electronic 37Guardian Drugs Drugstore & Gifts 37 Tail Waggers Pet Grooming 23Home Furniture Furniture & Appliances 37 Vegas Liquor Liquor Store 34Home Hardware Hardware Store 37 Work World Clothing & Shoes 37JC Automotive Automotive Repair 39 Alberta Treasury Branch Banking Services Phone:827-3606Pg.#36Grande Cache Chamber of Commerce"A Great Place To Do Business"Ph: 780-827-3790 Box 1342, Grande Cache, AB T0E 0Y0
---
26 AccommodationsLodgingsfor info: 1 888 827 3790web: grandecache.caB. BILDSONCozy cabins andjacuzzis. Hotels,motels & vacationsuites. Classic campingor bed & breakfasts.Prices are competitive and theservice is excellent. No matterwhere you choose to stay, thefriendly people and untouchedbeauty of the Rocky Mountainswill surround you. Please seedisplay ads for informationand location (chart at side listspage number). See page 15for campground information.HOTELSRestaurantLoungeKitchenLaundryMtg.RoomPetsGrande Cache Hotel both no yes no 29Grande Mt. Getaways restaurant kitchenette yes inquire 28MOTELSAcorn Motel no both yes yes 30Alpine Lodge restaurant kitchenette no yes 30Big Horn Inn both both no yes 31Misty Mt. Inn & Suites no both no no 27BED & BREAKFASTSEJ's Roost B&B breakfast no no no 31Outback B&B breakfast both no inquire 31WBY Lodging House breakfast kitchen no inquire 10Wild Lily B&B breakfast both no inquire 31CABINSSheep CreekBackcountry Lodgeno kitchen no inquire 26Hide-Away Camp no yes yes yes 26Ad PageNumberFar from the hectic pace of modern life is a quiet,secret place deep in the wilderness. Enjoy andexplore from one of our fully equipped cabins.780-831-1087 sheepcreek.netHide-A-Way Camp: A Tranquil Retreat• 6 Heated Cabins: 3 sets of bunk beds in each• Large Main Lodge: Fully equipped kitchen, washrooms, andshowers. Can accommodate up to 60 people for day use.• Outdoor Recreation: Access to areas for canoeing and fishing,plus a trail network for hiking, biking, and cross-country skiing.Adjacent to Pierre Grey Lakes Recreation Area on Hwy 40.For Information & Reservations: 780-827-3362
---
Accommodations 27MistyMountainYour "Suite" Stay in the RockiesDAILY • WEEKLY • MONTHLY• Fully Equipped Kitchens • High Speed Internet Available• 56 Suites: 1 & 2 Bedroom • Daily Maid Service• Air-Conditioning• On-site Laundromat• Balconies & Plug-Ins• FREE USE of Misty's Gym• Clean, Quiet & Spacious • Locally Owned & Managed2003/2004/2005Toll Free Reservations: 1.877.636.1666local: 780.827.4268 fax: 780.827.2333location: 10110 103 Street, Grande Cache, ABwww.mistymountain.ab.ca
---
28 AccommodationsGrande Mountain GetawaysF U L L S E R V I C E L U X U R Y H O T E LStay in Comfort & StyleVisit and relax in Grande Cache's newest luxuryhotel. Guestrooms & executive suites featuring:•High Speed Internet, In-Room Printing & Faxing•Fridges, Stoves, Microwaves, In-Room Coffee•Fireplaces, Queen & King bedsAlso featuring:• Jacuzzi Suite • Fitness Centre • Hot Tub • Sauna• Guest Internet Kiosk • Sitting Room• 3rd floor Observation Room: Enjoy the view!See It The Best Way:ph: 780-827-3303 fx: 780-827-3334email: b.w.grandecache@telus.netPurple PineR E S TAU R A N T & L O U N G EEnjoy a New Dining Experience!Banquets & Meetings can be Bookedin our Conference Centre780-827-2554
---
Accommodations 29We are here to:REST THE TRAVELLERFEED THE HUNGRYSLEEP THE WEARYLocated in Town CentreReservations & Informationphone: 780-827-337724-hour deskemail: gchotel@telusplanet.netweb site: grandecachehotel.com"Where Good Friends Meet"Mountainview Family RestaurantRockies Bar & GrillHigh Country Steak & AleSmoky River Conference Room
---
30 AccommodationsAlpine LodgeMOTEL & RESTAURANTALBERTA APPROVED ACCOMMODATIONDine in our Solarium Restaurant• Renovated Rooms • Kitchenettes: stove/fridge/microwave• Senior, Corporate & Group Rates • Laundry Service• Free Movie Channel • 24-hr Security • Winter Plug-insRESTAURANTLICENSED, OPEN DAILY5:30 AM TO 11 PMLocated on Hwy 40, 1 block from Town CentreFOR RESERVATIONSPH: 780-827-2450 FAX: 780-827-2666AcornMotelReservations Only:1-888-827-7202Ph: 780-827-2412Email: acorn1@telusplanet.netwebsite:macroproperties.net• 51 Rooms & Suites• In-room ComplimentaryCoffee or Tea• Continental Breakfast• Free Local Calls• Queen Sized Beds• Non-smoking Rooms Available• Guest Coin-Operated Laundry• Remote, Color and Cable TV• Restaurants & Lounge Adjacent• Conference Room• Pet Friendly• Fully Equipped Kitchenettes• Business Suites Available
---
Accommodations 31Inn on the ValleySpend a night, not a fortuneClean, Comfortable Rooms w/KitchenettesKnowledgeable and Friendly StaffReservations:ph: 780-827-2453 fax: 780-827-2455Located on Hwy 40 in Grande CacheEJ's Roost B&Bfor a real sense of homeReservations:780-827-2652 | email: ebryanto@telusplanet.netwebsite: ejsroostbedbreakfast.comComplete Suite or Individual RoomsDelicious Home CookingCable TV in All Rooms - Internet Access10521 99th Avenue, Grande CacheACCOMMODATIONS• Vacation Homes• Bed & Breakfast• Full House - Suites - Roomstoll free: 866.827.4406 • local: 780.827.4406email: outbackstay@hotmail.comMountain Views • Hot TubContinental BreakfastWireless InternetLocal Calls • FaxMovie ChannelBBQ • Tea / Coffee10841 99 AvenueGrande CacheYour Aussie Hosts,Glen & Janelle SladeClean, quiet &comfortable.Location:10019 Hwy 40Grande CacheRestaurant & LoungeRestaurant Open 5:30 amFridges•Coin LaundryKitchenettes•Satellite TVNon-Smoking Rooms•Plug-InsReservations:Ph: 780-827-3744Fax: 780-827-2883www.bighorninn.comthe Wild LilyBED & BREAKFASTIn-house SaunaIndoor Poolph: 780-827-2858 c: 780-827-166110113 - 97 Avenue, Grande Cachewebsite: wildlilyb-b.ca
---
32 EateriesEateriesfor info: 1 888 827 3790web: grandecache.caCulinary, quick or casual.Small-town friendly. Variety.Grande Cache has a selection of cafes,restaurants and fast-food providers.You will find plenty of selection, witheverything from casual dining, buffets,sporty lounges and take-out options.Menus cover specialties such as Chinese,Greek, and of course, Alberta Beef.Banquet and catering services areavailable, with private dining rooms.Local eateries, including facilities inhotels, are listed in the chart below.Please see display ads for moreinformation, phone numbers, hoursof operation and location.EATERIES TYPE Pg.#Green HouseCOFFEE SPOTChinese & Western cuisineeat-in or take-out827-3996Shoppers Park Mall • Mon - Sat, 9 am - 7pm2 for 1PIZZAFREE DELIVERYAlpine Lodge Motel Restaurant 30Big Horn Motor Inn Restaurant/Lounge 31Cafe & Bistro Restaurant 33Grande Cache Hotel: 29Mountainview Restaurant RestaurantHigh Country Steak & Ale Full Menu LoungeSTEAKHOUSE& PIZZAGR EEK • ITA LI A NSE A FOOD • C AJUNDiet & Healthy Menus780-827-2588780-827-2585Located: Willmore InnRockies Bar & GrillFull Menu BarGrande Cache Pizza Restaurant/Delivery 33Grande Cache Subway Fast Food/Take Out 32Grande Mt. Getaways Restaurant 28Grandeview Wash Convenience Foods 38Greenhouse Coffee Spot Fast Food/Take Out 32Michel's Super A Bakery Fast Food/Take Out 35Milos Steak & Pizza Restaurant/Take Out 32Petro-Canada Sub Shop Fast Food/Take Out 38Sky Hy Lounge Full Menu Lounge 34Vegas Pizza & Spaghetti Restaurant/Delivery 33"Where Fresh is the Taste"Try Our Toasted Subs!780-827-2722205 PINE PLAZAOpen 6AM -10PM Daily
---
Eateries 33& SPAGHETTI HOUSE780-827-5444 or 780-827-5445Free Delivery on aLarge Selection of Take Out.Dine in an elegant setting, where service is kingand the food is prepared to perfection.FULLY LICENSED · PIZZA · PASTA · STEAKSANDWICHES · BURGERS · SEAFOOD · GREEKOPEN: 11 am-12 am, Sun: 4-11 pmCafe · BistroAll Food Prepared On-SiteFresh Home CookingLocated in the Acorn MallPh: 780-827-5134Your Hosts, Teri & HenryDine In orTake Out"Always the Best Quality Pizza"Full MenuLoungeLocated in the Shoppers Park MallFeaturing the Sky Hy Lounge(see Sky Hy ad next page)Fully Licensed • Full Menu780-827-3682Free Delivery
---
34 DrinksSky HyLoungeLocated in the Shoppers Park MallNext to Grande Cache Pizza780-827-3682Full Menu • Happy Hour Daily- Smoking Environment -LIQUOR OUTLET780-827-3535fax: 827-3532vegasliquoroutlet@telusplanet.netCold Beer•Fine Wine•Great SpiritsCustom Gift BasketsOPEN 7 DAYS A WEEK · DELIVERY AVAILABLELOCATED BESIDE VEGAS PIZZA, PINE PLAZAMay Our SpiritsBe With You!SPECIAL DAYSOF THE WEEKMonday Morning Madness5% Off Purchases*10 am to 2 pmWine Wednesday10% Off Wine Purchases*All DaySenior's Thursday (55+)10% Off Purchases*All DayCOLD BEER · WINE · SPIRITSOPEN 7 DAYS A WEEKMonday to Saturday: 10 am - MidnightSunday: 11 am - 11 pm_____________LARGEST WALK-IN COLD ROOM WEST OF EDMONTONFREE ICE WITH PURCHASE | AIR MILESSPECIAL EVENTS LICENSES & LIQUOR PERMITSSPECIAL FUNCTIONS: BIG OR SMALL!DELIVERY SERVICE AVAILABLE:6 PM TO 11 PM_____________Located next to Michel's Super Aph:780-827-2345 fax:780-827-2062Email: skit@telusplanet.net* Minimum $15 purchase.We reserve the right to limit quantities
---
GroceriesAn array of food services!A main grocery store is complemented bysmaller corner-store style convenienceshops. Please see display ads for moreinformation and locations.ChaletF O O D S T O R EGroceries 35Open 5 am to MidnightDowntown Mall780-827-3825Convenience Foods-Gifts-LotteryFishing & Hunting LicensesGCMARTOpen 7 days a week5:30 am to MidnightYour ConvenienceStore & MoreLocated in the Heart ofAcorn Plaza near theGrande Cache Hotel780-827-3525We hope you enjoy Grande Cache.Visit OurBakery CafePh: (780) 827-2667Deli • Grocery • Meat • ProduceCustom Meat Cutting AvailablePh: (780) 827-2434 – 3100 Pine Plaza
---
36 Retail ShopsGrandeGifts & Balloons~ LARGE GIFTWARE SELECTION ~Platinum "Willow Tree" Dealer (2003/2004)Exclusive Trisha Romance DealerSOUVENIRS • CUSTOM GIFT BASKETS • BATHNEW BABY • COFFEE • KITCHENFRESH FLOWERS & SILK ARRANGEMENTS780-827-22001317 Shoppers Park MalltheFLOWER GARDENF L O W E R & G I F T S T O R E— Award Winning Full Service Florist —Gifts, Ornaments, Plants & More780-827-5701 ACORN PLAZA MALLGifts & Collectibles~Bradford Exchange Authorized Dealer~TYAcorn Plaza ~ 780-827-5222Photoscapes by Margaret Inc.PORTRAITS • SCENIC PHOTOS • CUSTOM FRAMING • WEDDINGS780-827-3869Margaret Abraham, CPAPhone: 780-827-2271 Email: m.a.abraham@telus.netAccredited Member of the ProfessionalPhotographers of CanadaMember of the Alberta ProfessionalPhotographers AssociationCostume RentalsBirthday PartiesWedding DecorationsBalloon Bouquets & Decorations
---
Retail Shops 37Grande CacheHome FurnitureTELUS MobilityAuthorized Dealer1314 Shoppers Park Mall, Grande Cache780-827-5194780-827-4700Jim & Michelle ScottOwners/DealersStop by anddiscover theHome of GreatInteriors!Shoppers Park MallFree Delivery inGrande Cache & Area99 CentsPlus Morethe store where 99¢gets you more!Shoppers Park Mall, beside the Post OfficeEric & Shirley780-827-4474We're Working For YouShoppers Park Mall780-827-9675Help is Close to Home500 Pine Plaza780-827-5255True-Work Enterprises Ltd.Owners: Mas Saito & Brian DuquetteA & J's FashionsFashion For The Whole FamilyPh: 780-827-22661316 Shoppers' Park MallPrescriptionsPhoto DevelopingCosmetics ı StationeryToys ı GiftwareTOP BRAND NAMESMANAGER JEANS - SILVER JEANS - IKEDAMEXX - NAUTICA - GUESS JEANSLocation: 1306 Shoppers Park MallMon-Fri 9:30am to 6:00pmSat 9:30am to 5:00pmClosed Sunday & HolidaysPh: 780-827-3230COMPLETE CLEANING SERVICESCarpets • Upholstery • Automotive & RVFlood Restoration • Pressure WashingCarpet Repair/Installation • Mat Sales/Rentals780-827-6365 • 780-827-3569
---
38 TransportationMotoringGrande Taxi Ad• Quality• Efficient• 24 hrs• 7 days/week• In Town OR• Out of Town827-1110For All YourTransportationNeeds!C. WANLESSMotoring in the mountains.Staying mobile comes easy inGrande Cache. A variety of automotiveshops offer complete service, and thereis a local taxi company offering friendlyservice 24/7. Keep your vehicle filledand clean with other service providers."Your Stop for Fresh Subs!"Sheila & J.D. FreeleOwner/OperatorsHwy 40Grande CachePh: 780-827-3772Fx: 780-827-3772Cell: 780-827-1221GrandeviewWASH• CAR/TRUCK/RV WASH •6 Bays, Coin-OperatedLAUNDROMATPUBLIC SHOWERSCOFFEE SHOPA Bright & Modern Facility780-827-20508 am - 10 pm DailyLocated next to Fas GasGrande Cache Fas GasHwy 40: 780-827-3654Full ServiceGAS • DIESELSave 2% w/Litre LogHot & Cold Drinks • Gourmet CoffeeConvenience FoodOpen: 5 am - 11 pm • Sun: 6 am - 10 pm
---
Transportation 39AUTO CENTRETIRE COUNTRY ASSOCIATE"FULL SERVICE"780-827-3224Hwy 40, 10013 100 Street• AUTOMOTIVE SERVICING •- HOT SHOT SERVICE -FULL SERVICE AUTOMOTIVE780-827-2590JC Automotive"For all your Automotive needs"827-43309807 Hoppe Avenue• Complete Automotive Repairs• Wheel Alignments• Insurance Inspections• Out-of-Province Inspections• Storage Compound• Towing ServicesJohn & Debbie CoutureCome Visit Us in Our New Shop:1 Block East of Hwy 40 on Hoppe Avenue
---
40 Industry & OpportunityDiversityfor info: 1 888 827 3790 web: grandecache.caM. SALESSEA mountain community brimming with opportunity.Grande Cache's economic potential is attracting attention fromdevelopers and investors from around the province. The town is located onHwy 40 (primary), mid-way between Grande Prairie and Hinton. Built on the southwestshoulder of Grande Mountain, the town-site overlooks the front ranges andfoothills of the Canadian Rockies. The town of Grande Cache was established in theearly seventies to accommodate the development of a resource industry: highqualitycoking coal. It was a planned community with clear municipal developmentthat logistically located its residential, commercial and industrial sectors.Key Industries: oil & gas exploration and development, forestry, coal production,tourism, thermal-electricity generation, and a federal correctional institution. Thereis a varied retail sector servicing residents & visitors, and a growing service sectorsupporting expanding resource industries in the area. As Alberta continues itsenergy boom, Grande Cache benefits from a strong coal market and the rapidexpansion of oil & gas development in the area. Forestry continues throughtimber harvesting and the opening of a value-added lumber mill.Current Growth: The town is experiencing considerable demand for industrial andcommercial land, primarily for the resource industry services sector. The Townof Grande Cache is currently planning major development of additional land toaccommodate anticipated future industrial and commercial growth.pictures Top: Forestry and coal are prime industriesBelow: Townsite of Grande Cache, with the Smoky & SulphurRiver Valleys and Grande Cache and Victor LakesGRANDE CACHE FAST FACTS FOR BUSINESSMajor Industries: oil & gas, forestry, coal, tourism,power generation, and a federal correctional institutionServices: Full telecommunications, financial & legalOperating Costs: Affordable rental & property,see AlbertaFirst.com for current tax & utility ratesC. WANLESSTransportation Services:Ground: Fully-paved primary highway 40 linksnorth to Grande Prairie and south to HintonAir: 1500 m runway, 24 charter & emergency serviceRail: Freight service. Other: Trucking, courier, hot shot
---
Industry & Opportunity 41H.R. MILNERGENERATING STATIONGRANDE ESTATESFuture Growth:Grande Cache owes its existence tothe resource industry, but sees itsfuture in economic diversity.With resource industries locatedwell away from the community,the mountain view is unspoiled andspectacular. Of the eastern slopescommunities in Alberta, GrandeCache is without equal in its potentialas a tourism destination.Leading the Way:Already recognized for outstandingrecreational opportunities in outdooradventure, the community is activelyengaged in attracting further tourismdevelopment investment. The Townof Grande Cache provides financialsupport to tourism and commerceadvocacy groups, and is workingwith the Province of Alberta to builda portfolio of tourism investmentopportunities.SKYLINEP R O P E R T I E SOffice Space & Industrial Bays For Lease.Skyview PlaceR V & M I N I S T O R A G EWeatherproof. Locked. Roll-up Doors.STOP780-827-212910017 99 Street, 2nd FloorA Proud Memberof the Grande CacheCommunityBag 7000, Grande Cache,Alberta T0E 0Y0Bus: (780) 827-7100Fax: (780) 827-7106OILFIELD & INDUSTRIALManned Security GatesIs an Unmanned Gate Stopping You?For the astute entrepreneur, now isthe time to invest in Grande Cache.pictures Top: Golf course expansion and developing upscaleresidential properties are current economic goalsBelow: Grande Cache would like to see the developmentof a year-round mountain resort.Road Use Agreements • Road Bans • UngulatesRoad Maintenance • Tight Holes • Sour WellsSecure Access 24/7M. SALESSEGrande Cache: 780-827-5399cell phone: 780-827-6150Service Masters Security: 403-358-8908NKC Security: 780-933-1599
---
42 Industry
---
Industry 43780.827.9670 | 10020 99 Street | Grande CacheADC is a growing, viable business providing servicesto major resource industries through innovation, localresources and exemplary customer service.ADC is facilitating economic opportunities forAseniwuche Winewak Nation members & entrepreneurs.ADC is leading the way to economicdevelopment and self-reliance.ADC is balancing environmental sensitivity,traditional values and sound economics.General Labour & Construction Services | R.O.W. ClearingLease & Road Building | Security & Access ControlReclamation & Environmental Services
---
44 IndustryThe Crater 'C'sConcern • Commonsense • ConsiderationOffice: 780-827-4944Fax: 780-827-4002Shop: 780-827-2500email: crater1@telusplanet.net10001 99 Street, Box 1020Grande Cache, AB T0E 0Y0ROAD DESIGNLayoutGPS SurveysROAD SURVEYConstructionROW ClearingSubgradeBridges-Supply/InstallFinished GradeErosion ControlTIMBER HARVESTBlock Design & LayoutFull Phase 'Stump to Dump'LOW BEDDINGTridem Dropneck/Jeeps/BoostersPilot CarsHEAVY HAULCoalGravel ProductsLEASE CONSTRUCTIONAccess layoutConstructionReclamationPIPELINE CONSTRUCTIONScoutingEFR'sClearing & GradingReclamationClearing &GrubbingLeaseConstructionSecurityLabour CrewsPhone: 780-827-4049 | Fax: 780-827-405010001 99 Street, Box 1139, Grande Cache, AB T0E 0Y0
---
Neighboring Communities 45You've Seen The Rest Experience the Best!D I S C O V E R T H E G R A N D E P R A I R I E R E G I O NReveal the rich cultural and historical roots of this region,by reliving the past at our many unique museums.Enjoy all the modern attractions andservices our region has to offer!For a FREE Grande Prairie & RegionVisitor's Guide, visit us online:www.northernvisitor.comCall toll-free 1-866-202-2202GRANDE PRAIRIE REGIONALTOURISM ASSOCIATIONPh: 780-539-7688 • Fx: 780-539-0905One Great StoreLeads to Another!11801 100 StreetPHONE Grande 780-532-1810 Prairie, FAX Alberta 780-532-7318Ph. 780-532-1810More than 85 Stores & ServicesUnder One Roof!Mon-Wed & Sat 9:30 am to 6 pmThu & Fri 9:30 am to 9 pmSun & Holidays Noon to 5 pm
---
www.grandecache.ca toll free 1.888.827.3790Grande Cache is on the eastern slopes ofCanada's Rocky Mountains, in the province of Alberta.See inside front cover for distances from other centres.See inside back cover for town and area maps.H O M E O F T H EC. WANLESSFor more information about Grande Cache, pleasecontact the Grande Cache Tourism & Interpretive CentreToll Free: 1-888-827-3790 • Local: 780-827-3300website: grandecache.ca • email: tourism@grandecache.caMail: Box 300, Grande Cache, AB, Canada TOE OYOTown of Grande Cache: 780-827-3362This publicationis funded in partby Travel Alberta