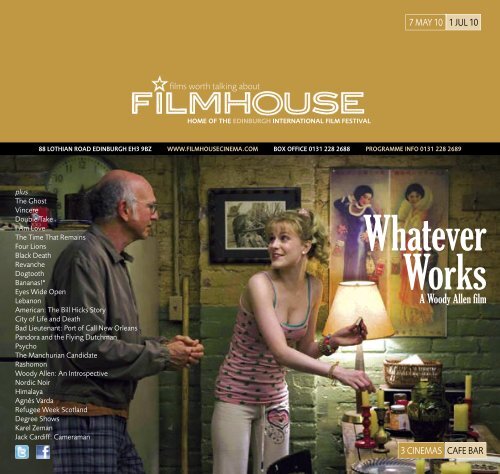 Whatever Works - Filmhouse Cinema Edinburgh
Whatever Works - Filmhouse Cinema Edinburgh
Whatever Works - Filmhouse Cinema Edinburgh
SHOW MORE
SHOW LESS
Create successful ePaper yourself
Turn your PDF publications into a flip-book with our unique Google optimized e-Paper software.
New releases5REVANCHEVINCEREEYES WIDE OPENNEWRELEASERevancheWed 12 to Sun 16 MayGötz Spielmann • Austria 2008 • 2h2m • Digital projectionGerman and Russian with English subtitles15 – Contains strong sex and sex referencesCast: Johannes Krisch, Irina Potapenko, Andreas Lust, UrsulaStrauss, Johannes Thanheiser.At once a gripping thriller and a tragic drama, Revancheis the stunning, Oscar–nominated, internationalbreakthrough film from Austrian filmmaker GötzSpielmann.In a ragged section of Vienna, hardened ex-con Alex(the mesmerising Johannes Krisch) works as an assistantin a brothel, where he falls for Ukrainian hooker Tamara(Irina Potapenko). Their desperate plans for escapeunexpectedly intersect with the lives of a rural cop(Andreas Lust) and his seemingly content wife (UrsulaStrauss).With meticulous, elegant direction, Spielmann creates atense, existential and surprising portrait of vengeance andredemption, and a journey into the darkest forest of humannature, in which violence and beauty exist side by side.NEWRELEASEVincereFri 14 to Thu 27 MayMarco Bellocchio • Italy/France 2009 • 2h5m • Digital projectionItalian and German with English subtitles15 – Contains strong sex and nudityCast: Giovanna Mezzogiorno, Filippo Timi, Corrado Invernizzi,Fausto Russo Alesi, Michela Cescon.Mussolini's early life is the subject of Marco Bellocchio'stough-edged but brilliantly directed film. Choosing to focuson Mussolini as a young man, before he became Il Duce,allows Bellocchio to grapple with some little-known detailsabout the dictator's life, indeed the great secret of his past:early on, he had a wife and a son, both written out of thehistorical record and denied recognition. She was the fiery,erotic Ida Dalser, a woman Mussolini met in 1907 whenhe was a young socialist provocateur. Seven years later,they became lovers, and her overwhelming passion for theyoung journalist helped him start his own newspaper, 'IlPopolo d'Italia'. In 1915, she bore him a son, also namedBenito, and the couple married. But within a very shorttime, she discovered to her shock that her husband hadmarried another woman.Bellocchio superbly dramatises this story while skilfullyweaving astounding archival footage into his narrative, movingfrom the intimate, hot-blooded relationship between Idaand Mussolini to the stirring newsreels of the period as theirrelationship disintegrates. The film has been a revelation forItalians, not only confronting them with the image of the Duce– seen strutting in full-screen bravado – but also provokingcomparisons, vigorously denied by Bellocchio, betweenMussolini and Italy's current prime minister, Berlusconi.NEWRELEASEEyes Wide Open Einaym PkuhotMon 24 to Sat 29 MayHaim Tabakman • Israel/Germany/France 2009 • 1h33mDigital projection • Hebrew and Yiddish with English subtitles • 15Cast: Zohar Strauss, Ran Danker, Tinkerbell, Tzahi Grad, Isaac Sharry.After the death of his father, Aaron, a respectably marriedbutcher working in Jerusalem's Orthodox community, hiresa nomadic young student to assist with his business. Aaronteaches the handsome Ezri the rules of his trade, and letshim stay in the empty room at the back of his shop, but itis not long before the pair recognise that their relationshipis much more than simply master and apprentice, and theycautiously embark on a love affair which must be kepthidden at all costs.Delicately handled by first time director Haim Tabakman,Eyes Wide Open is at heart a beautifully affecting lovestory, which, despite the emotional intensity of the subjectmatter, remains impeccably restrained throughout.Matinee Special!If you're a Senior Citizen you can now go to a matineescreening and get either soup of the day OR a cup oftea or coffee and a traycake for only £6!Offer runs from Mondays to Thursdays inclusive andonly applies to screenings starting before 5.00pm. Buyyour Matinee Special ticket at the box office and you'llreceive a voucher which can be exchanged in the cafébar between 1.30pm and 5.00pm that day only. Offer issubject to availability and only available in person.
---
6 New releasesTHE TIME THAT REMAINSAMERICAN: THE BILL HICKS STORYCITY OF LIFE AND DEATHNEWRELEASEThe Time That RemainsFri 28 May to Thu 10 JunElia Suleiman • UK/Italy/Belgium/France 2009 • 1h49mDigital projection • Hebrew, Arabic and English with English subtitlescert tbcCast: Elia Suleiman, Saleh Bakri, Samar Qudha Tanus, Nati Ravitz,Amer Hlehel.Elia Suleiman delivers his masterpiece with this sweeping,comic and ultimately heartbreaking account of sixty yearsin the life of a Palestinian family.Beginning in 1948, on the day Suleiman's hometown ofNazareth officially surrendered to the Israeli army, andcontinuing through to the most recent Intifada, the filmskilfully interweaves the personal and the political. Justas with his earlier works Chronicle of a Disappearanceand Divine Intervention, The Time That Remains featuresmany of the aesthetic characteristics viewers have cometo associate with Suleiman: the surreal, blackly comicvignettes; a fractured dramatic narrative and, of course,Suleiman himself playing a silent, impassive observer. Whatdoes stand out this time round is the sense of emotionaldepth which the film is rooted in. Suleiman used his ownparents' diaries for inspiration while writing the screenplay,and the film is as much an emotional testament to them asit is a defiant reminder of Palestinian history.NEWRELEASEAmerican: The Bill Hicks StorySat 29 May to Tue 1 JunMatt Harlock & Paul Thomas • UK 2009 • 1h47m • DigiBeta15 – Contains strong language, sex and drug referencesDocumentaryLibertarian, outlaw, shaman, philosopher, romantic,preacher, genius…Bill Hicks was always something otherthan a comedian. His death from cancer in 1994 deprivedthe world of arguably the most iconic and probing voicein American culture of the period. Cleverly shunning aconventional talking-heads approach, American: The BillHicks Story uses an innovative animation technique, somerare and previously unseen performance footage, andtestimonies only from the people who knew him best, hisfamily and close friends, to create a deeply perceptive,fittingly honest celebration of the man occasionally knownas Goatboy.ALSOSCREENINGBill Hicks: Relentless & RevelationsWed 9 & Thu 10 JunVarious • UK 1992 • 1h30m • Beta SP • 18Hicks was an extraordinary talent whose premature deathrobbed the world of one of its most charismatic performers.Thankfully his performances were filmed a number of times,notably by Tiger Aspect Television for Channel Four withthese two electrifying shows: Relentless and Revelations.NEWRELEASECity of Life and DeathNanjing! Nanjing!Sun 30 May to Thu 3 JunLu Chuan • China/Hong Kong 2009 • 2h15mDigital projection Mandarin with English subtitles15 – Contains strong battle violence and sexual violenceCast: Liu Ye, Gao Yuanyuan, Hideo Nakaizumi, Fan Wei, Liu Bin.Nanjing (previously known as Nanking) was China's capitalin the 1930s, until the government and army withdrew toinland areas at the end of 1937 as the invading JapaneseImperial Army advanced. Over the following three months,countless Nanjing civilians were massacred; there werealso many sexual assaults and the city was laid to waste. Tothis day, some in Japan are in denial about what happened.There have been several earlier Chinese movies about 'therape of Nanjing', all full of tears, indomitable bravery andnationalist rhetoric. Lu Chuan's stunning film is the longoverdue corrective. As you'd expect from the directorof Kekexili: Mountain Patrol (also screening this month,see page 30), the approach is unorthodox. There's nooverarching story, except for the fall of the city itself; thefilm is built from vignettes which alternate the broaderpicture with close-ups of individual lives and deaths. Lu letsfaces tell much of the story. The tone, inevitably, is elegiac.
---
8The Shiatsu Centrefor Holistic WellbeingShiatsu acupressure massage treatmentsand training, all lengths and levels, forbabies, children and adultsYoga Chi Chi Gung KarateMassage Homeopathy Gift Vouchers35-37 Bread St Edinburgh EH3 9ALwww.theshiatsucentre.com 07821 264882 / 0131 229 0724English & foreign language courses all year roundConversational courses - Translation - Interpreting0131 220 511929 Hanover Streetwww.inlingua-edinburgh.co.ukORGANICNATURALHEALTH &BEAUTYHere at Neal's Yard Remedies, we like to think ofourselves as pioneers. We were the first UK highstreet retailer to sell essential oils, and have beeninstrumental in making aromatherapy one of themost popular natural medicines today. All ouressential oils are 100% pure and unadulterated.~102 Hanover Street, Edinburgh0131 226 3223www.nealsyardremedies.com
---
New releases9BLACK DEATHBAD LIEUTENANT: PORT OF CALL NEW ORLEANSLEBANONNEWRELEASEBlack DeathFri 11 to Wed 16 JunChristopher Smith • UK/Germany 2010 • 1h42mDigital projection • 15 – Contains strong violenceCast: Sean Bean, Carice Van Houten, Kimberley Nixon, EddieRedmayne, David Warner, Tim McInnerny, John Lynch.Not a film you might readily expect to see gracing aFilmhouse screen, but Christopher (Creep, Severance,Triangle) Smith's intelligent and mature film reaches farbeyond the genre norm and is well worthy of inclusionhere.England, 1348, the height of the bubonic plague. Rumoursabound of a remote group of people untouched by thelethal scourge decimating Europe. The local Abbot (DavidWarner) despatches knight Ulric (a splendidly phlegmaticSean Bean) and his mercenary band to investigate ifnecromancy is indeed holding the pestilence at bay. Theirguide, plucked from a local monastery, is conflicted novicemonk Osmund (Eddie Redmayne), whose forbidden lovefor a fair maiden means his faith will be put to the ultimatetest...Deftly alluding to such contemporary hot potatoes asreligious intolerance/delusion and global pandemic, as wellas the age-old matters of the nature of evil, faith, paganism,superstition and the Crusades, it's a perfectly grottilydesigned, tremendously miasmic evocation of medievaltimes, and very much in the glorious tradition of the likes ofThe Wicker Man and Witchfinder General.NEWRELEASEBad Lieutenant: Port of Call NewOrleansFri 11 to Wed 16 JunWerner Herzog • USA 2009 • 2h2m • 35mmEnglish and Spanish with English subtitles18 – Contains frequent hard drug use, sex and very strong languageCast: Nicolas Cage, Eva Mendes, Val Kilmer, Alvin 'Xzibit' Joiner,Fairuza Balk.When it was announced that one of cinemas greaticonoclasts, Werner Herzog, would be 're-imagining' thework of another by spinning Abel Ferrara's Bad Lieutenantinto something new, its fair to say that eyebrows, not tomention a few hackles, were raised. Yet Herzog is right toinsist this is not a remake, and moving the action from NewYork to New Orleans is indicative of how far apart the filmsare from each other. Nicolas Cage is on electrifying formas Terence McDonagh, one of the few cops left in townafter a post-Katrina exodus, which is enough to get himpromoted. Crippled by a back injury he sustained duringthe hurricane, the prescription drugs do little to ease hispain, so he turns to the hard stuff, often having a snortwith Frankie (Eva Mendes), a high class hooker he thinkshe's protecting, though, more often than not, she endsup looking out for him. When McDonagh is put in chargeof the investigation into the brutal murder of a family, hismoral compass gets lost and his behaviour becomes evermore erratic. Is he out of his depth or out of his mind?The film's audacious humour is its trump card, and whileFerrara's Bad Lieutenant was truly daring and brilliant, itwould be hard to argue that it was ever this much fun.NEWRELEASELebanonSat 12 to Wed 16 JunSamuel Maoz • Germany/Israel/France/Lebanon 2009 • 1h33mDigital projection • Hebrew, Arabic, French and English withEnglish subtitles • 15 – Contains strong language and violenceCast: Itay Tiran, Michael Moshonov, Oshri Cohen, Yoav Donat.Reminiscent of Wolfgang Petersen's classic U-boatsetwar film Das Boot, Israeli director Samuel Maoz'sclaustrophobic Lebanon this time confines the actionalmost entirely to a tank. Based on Maoz's ownexperiences as a young soldier, Lebanon once again findsan Israeli director – after Ari Folman with Waltz With Bashir– analysing his country's ill-fated 1982 invasion of Lebanon.Where Folman's animated documentary tested theboundaries of memory and reality with dazzlingly surrealimagery, Maoz ratchets up the tension by remaining largelywithin the suffocating metal confines of his platoon'sarmoured tank. Inside the tank are four soldiers: Asi theofficer, Yigal the driver, Hertzel the ammunition loader, andShmulik the gunner. Initially the group conforms to the warfilm stereotypes of stoic leader, scared novice, petulantbrat, and conflicted silent type. But as the film progresses,the characters develop a deeper complexity and theirpower structure becomes ambiguous.Largely leaving the wider politics to one side, the directorinstead etches a human portrayal of soldiers and civiliansalike. The horrors of modern urban warfare are made allthe more visceral through the lens of a gun sight, as Maozcreates a haunting examination of young men caught outof their depth in a situation they do not understand.
---
10 New releasesWHATEVER WORKSTHE MILK OF SORROWVIDEOCRACYNEWRELEASEWhatever WorksShowing from Mon 28 JunWoody Allen • USA/France 2009 • 1h32m • 35mm12A – Contains moderate sex references and suicide referencesCast: Larry David, Evan Rachel Wood, Patricia Clarkson, Ed Begley Jr.Has old age turned Woody Allen into an optimist? WhateverWorks, Allen's first movie in five years set in New York City(and all the better for it!), is also among his most upbeat andhopeful – despite centring on a protagonist who addressesthe audience early on to say "Let me tell you right now: I'mnot a likeable guy." His name is Boris Yelnikoff. He's a retiredgenius physicist who was "'almost" nominated for a NobelPeace Prize, and he has a permanent limp after trying tocommit suicide by jumping out a window decades earlier. Ina role he would have played himself at one time (althoughhe actually wrote it for Zero Mostel 30 years ago), Allenhas wisely cast Larry David, who essentially turns Boris intoa meaner, more contemptuous version of his Curb YourEnthusiasm persona. Boris makes a living teaching kids howto play chess, and spends most of his time hanging out at acoffee shop with old pals. But when he reluctantly takes inMelody (Evan Rachel Wood), a naïve teenage runaway fromMississippi, this sets in rotation a wheel of characters (chieflyMelody's parents, played with great relish by Clarkson andBegley) who have more to learn from Boris' world than theymight ever have suspected...Don't expect realism, for this is more morality playthan psychological study, but do expect a whole hostof characteristically hilarious one-liners. And if the filmthreatens to career off the rails at times, it's to Allen's greatcredit that it never actually does.NEWRELEASEThe Milk of Sorrow La teta asustadaMon 28 Jun to Thu 1 JulClaudia Llosa • Spain/Peru 2009 • 1h35m • Digital projectionSpanish and Quechua with English subtitles • cert tbcCast: Magaly Solier, Susi Sánchez, Efraín Solís, Bárbara Lazón, DelciHeredia.Winner of the Golden Bear at last year's Berlin FilmFestival, Claudia Llosa's second feature focuses on a youngPeruvian woman coming to terms with the death of hermother in a country whose recent history has been markedby bloody civil conflict.Fausta, we are told, suffers from 'the milk of sorrow', amelancholy transmitted through her mother's breast milk.For Fausta's mother, like many in her village, was rapedduring the years of Peru's bloody civil conflict in the 1980s,and Fausta still lives with the consequences of the violence.Only Fausta has found a way of protecting herself bothphysically and emotionally to ensure that she doesn't sufferthe same fate as her mother. Her mother's death, however,forces Fausta to make decisions that will impact on how shemakes sense of her past.With The Milk of Sorrow, Peruvian director ClaudiaLlosa expertly crafts a film that functions as a tale both ofindividual trauma and of the wider collective memories andordeals of a nation.NEWRELEASEVideocracyMon 28 Jun to Thu 1 JulErik Gandini • Sweden/Denmark/UK/Finland 2009 • 1h25mDigiBeta • English and Italian with English subtitles • cert tbcDocumentaryWith his broad forehead, closely cropped dark hair andgrey banker's suit, Italian Prime Minister Silvio Berlusconiis the least flashy character in director Erik Gandini'shigh-energy political documentary. Berlusconi may notshare the garish clothes and flamboyant public demeanourof the affluent TV producer, cut-throat paparazzo andyoung females auditioning for spots as TV co-hosts thatmake up Gandini's fascinating and fast-paced film, but thecontroversial Prime Minister is the powerful man behindthe curtain, a TV magnate whose reality shows featuringscantily clad women helped create Italy's chauvinisticmedia culture, and whose family controls several majornewspapers as well as Italy's largest publishing house.Gandini takes the complex issue of how Italy's crass mediaculture led to Berlusconi's political ascendancy, and makesit utterly fascinating and entertaining.
---
Maybe you missed...11I AM LOVEA SINGLE MANAN EDUCATIONKICK-ASSMAYBEYOUMISSEDI Am Love Io sono l'amoreShowing until Thu 13 MayLuca Guadagnino • Italy 2009 • 1h59m • 35mmItalian, Russian and English with English subtitles15 – Contains strong sexCast: Tilda Swinton, Flavio Parenti, Edoardo Gabbriellini, AlbaRohrwacher, Pippo Delbono.Exquisitely shot, beautifully paced and conceived, I AmLove moves through the cultivated world of a wealthyand distinguished industrial family. In a massive Milanesemansion, the Recchi family gathers to celebrate the birthdayof its patriarch. Handsome grandson Edoardo introduces hisnew girlfriend to the family; his sister, Elisabetta, presentsa painting she has made to her grandfather; a young manwho beat the unbeatable Edoardo in a race earlier in the daymakes a surprise appearance on the doorstep; and finally,the grandfather announces his succession plan to his family.All of these events mark the beginning of a narrative thatsees the carefully controlled, hyper-refined sphere of theRecchis come under increasing strain.Director Luca Guadagnino has made a superb film thattouches on many different complexities. While 'King Lear'comes to mind, I Am Love also bears a resemblance toVisconti's The Leopard in more ways than one. Both filmsdepict a world on the cusp of change, the magnificent oldorder struggling to hold its place against the rowdy newchallengers. Sexual and class politics also play a key role,as wonderfully controlled moments of passion and emotionsuddenly trouble the surface placidity. Featuring a castheaded by the ever-brilliant Tilda Swinton (here speakingItalian and Russian), this is a stunning work.MAYBEYOUMISSEDA Single ManFri 14 to Wed 19 MayTom Ford • USA 2009 • 1h41m • 35mm12A – Contains suicide theme, moderate threat, drug referencesand nudityCast: Colin Firth, Julianne Moore, Nicholas Hoult, Matthew Goode.Iconic fashion designer Tom Ford makes his directorialdebut with the richly detailed and aesthetically brilliantA Single Man. Los Angeles 1962, and 52-year-old Britishcollege professor George Falconer (Colin Firth) is strugglingto find meaning in his life after the death of his long timepartner Jim (Matthew Goode). Through the course of oneday, a series of events and encounters cause him to reflecton his past, and consider whether or not he has a future.An EducationTue 25 to Sun 30 May plusMon 31 May (babies & carers only)Lone Scherfig • UK 2009 • 1h40m • 35mm12A – Contains moderate sex referencesCast: Carey Mulligan, Peter Sarsgaard, Alfred Molina, CaraSeymour, Rosamund Pike.A standout performance from the enchanting CareyMulligan is reason alone to see this lively Nick Hornbyscriptedadaptation of Lynn Barber's memoir of growingup in the west London suburbs in the early 1960s.Barber's schoolgirl alter ego, Jenny (Mulligan), falls intoa relationship with the older, more worldly David (PeterSarsgaard), who offers her a window on a more materialworld – clubs, champagne, drives in the country, sex– than her Oxbridge ambitions allow...MAYBEYOUMISSEDKick-AssMon 28 Jun to Thu 1 JulMatthew Vaughn • USA/UK 2010 • 1h57m • 35mm15 – Contains strong language, once very strong, and strongbloody comic violenceCast: Nicolas Cage, Aaron Johnson, Chloe Moretz, Mark Strong,Christopher Mintz-Plasse."How come nobody's ever tried to be a superhero?" Whenordinary New York teenager and rabid comic-book geekDave Lizewski dons a green-and-yellow internet-boughtwetsuit to become the no-nonsense vigilante, Kick-Ass, hesoon finds an answer to his own question: because it hurts.But, overcoming all the odds, the eager yet inexperiencedDave quickly becomes a phenomenon, capturing theimagination of the public. However, he's not the onlysuperhero out there – the fearless and highly-trainedfather-daughter crime-fighting duo, Big Daddy and HitGirl have been slowly but surely taking down the criminalempire of local Mafioso, Frank D'Amico. And, as Kick-Assgets drawn into their no-holds-barred world of bullets andbloodletting, with Frank's son, Chris, now reborn as Kick-Ass's arch-nemesis, Red Mist, the stage is set for a finalshowdown between the forces of good and evil, and theDIY hero will have to live up to his name. Or die trying…AUDIODESCRIPTION/SUBTITLESSee page two for details.
---
12Restored classicsPANDORA AND THE FLYING DUTCHMANTHE MANCHURIAN CANDIDATEPSYCHORASHOMONRESTOREDCLASSICRESTOREDCLASSICRESTOREDCLASSICSPandora and the Flying DutchmanFri 14 to Thu 20 MayAlbert Lewin • UK 1951 • 2h4m • New 35mm printPG – Contains mild violence and references to suicideCast: James Mason, Ava Gardner, Nigel Patrick, Sheila Sim, HaroldWarrender.Albert Lewin's extraordinary 1951 film is based on thelegend about the unfortunate sailor doomed to travel theoceans until he finds a woman who loves him so much thatshe will sacrifice her own life for his salvation. The legend isupdated to a Spanish village in the '30s where various mencompete for the affections of Pandora, a beautiful youngAmerican (Ava Gardner), and where a mysterious yachtputs into harbour...Lewin combines a script of exuberant literacy with avisual splendour often bordering on the surreal; Masonis his usual impeccable self, while Gardner is gloriouslybelievable as a woman for whom any man would beprepared to suffer eternal damnation. Occasionally absurd,always bold, the film tells a lushly romantic story so skilfullythat it possesses the inevitability of myth.The Manchurian CandidateMon 24 to Wed 26 MayJohn Frankenheimer • USA 1962 • 2h6m • Digital projection • 15Cast: Frank Sinatra, Laurence Harvey, Janet Leigh, Angela Lansbury,Henry Silva.Korean War veteran Major Marco (Frank Sinatra) istroubled by a recurring nightmare in which CongressionalMedal of Honor hero Raymond Shaw (Laurence Harvey)carries out Communist instructions to shoot fellowAmerican PoWs. Working for Intelligence, Marco unravelsa cunning Red plot to brainwash his old platoon and to turnShaw into an assassin. Who is Shaw's American control,and when and where are they going to aim him?John Frankenheimer's version of Richard Condon'stragically prophetic novel looks even better now than it didon its original release. Its greatest virtue lies in its brilliantbalancing acts: political satire and nail-biting thriller, thetwin lunacies of the Right and Left, and the outrageouslyfunny dialogue set against the sadness of the unlovableShaw's predicament.Filmhouse email list For a weekly email containing screening times, news and competitions, join ouremail list at www.filmhousecinema.com/email/subscribeFilmhouse mailing list To have this monthly programme sent to you for a year, send £6 (chequespayable to Filmhouse Ltd) with your name and address and the month you wish your subscription to start,or subscribe by phone on 0131 228 2688.Facebook Join our Facebook group for news, updates and competitions: search for 'Filmhouse'Twitter Follow us for regular news and updates: @FilmhousePsychoFri 28 to Mon 31 MayAlfred Hitchcock • USA 1960 • 1h48m • Digital projection • 15Cast: Anthony Perkins, Janet Leigh, Vera Miles, Martin Balsam.If few filmgoers are now unaware of what befalls MarionCrane at the Bates Motel, Psycho still boasts more thanenough richly nuanced details to keep us constantlyamused, intrigued and pleasingly ill-at-ease. Full marksto Janet Leigh, Anthony Perkins et al for unforgettablyfine performances; Bernard Herrmann's unsettling scoreand Joseph Stefano's witty script work wonders, too.In the end, however, demonstrating all his expertise inmischievous audience manipulation, this masterpiece isHitchcock's through and through.RashomonMon 28 Jun to Thu 1 JulAkira Kurosawa • Japan 1950 • 1h28m • Digital projectionJapanese with English subtitles12 – Contains moderate sexual references and violenceCast: Toshiro Mifune, Machiko Kyo, Masayuki Mori, Takashi Shimura.Brimming with action while incisively examining thenature of truth, Rashomon is perhaps the finest film everto investigate the philosophy of justice. Through aningenious use of camera and flashbacks, Kurosawa revealsthe complexities of human nature as four people recountdifferent versions of the story of a man's murder and therape of his wife. The film is much less formally daringthan its literary source, but its virtues are still plentiful:Kurosawa's visual style at its most muscular, rhythmicallynuanced editing, and excellent performances.
---
13Cast Your Vote!On 2 July 2010, Filmhouse is officially 25 years old!HRH the Duke of Edinburgh officially opened thebuilding on the completion of the final phase of theproject, which made Filmhouse a two screen cinemawith Cafe/Bar (our third screen was opened in May1997). Some of you may recall attending Filmhousein varying states of realisation prior to this date, butthe 25th anniversary of the official completion ofthe project that had begun way back in 1979 seemslike the strongest date upon which to hang ourcelebrations. We have a few other dates we couldcall an anniversary (for example the Lothian Roadentrance and the opening of Cinema One happenedon 15 February 1982), though the exact date ofthe first screening here at Lothian Road remainsshrouded in the haar of time...As part of the celebrations, we're putting togethera list of 25 seminal 'Filmhouse' films, one a yearfor each of the 25. We're making the final touchesto that list as we speak and will publish it on ourwebsite on 7 May, and what we'd like from you isfor you to take a look at that list, and let us knowwhat you think we've missed out. The film you thinkshould be on the list but isn't. It could be the film youremember seeing here most fondly, or one you thinksimply deserves a place on our list, and though wehave stuck to films released within the last 25 yearsdon't feel you have to constrain yourselves in such amanner. Anything from the entire history of cinema,that you have loved seeing here, is what we'relooking for, and we'll screen the most-mentionedfilm at a special event in late July. The voting will beopen from 7 May (the day after that other election)to 4 June inclusive, and we very much look forwardto receiving your suggestions.We would love it also if you have any special(concise!) memories of any of the films on our list,send them in and we'll include the best of themin the special 25th Anniversary programme we'replanning for July.P.S. In the meantime, we're closing Cinema Two for aweek from Monday 17 May for a full refurbishment.[About bleedin' time. - Ed.]
---
14Woody Allen: An IntrospectiveSLEEPERWoody Allen:An IntrospectiveWoody Allen is a phenomenon. From his earlyknockabout comedies (Sleeper, Love and Death),his romantic comedies (Annie Hall, Manhattan), hismore serious dramas (Interiors, Stardust Memories),and his later less easily defined dramatic 'comedies'(Crimes and Misdemeanors, Hannah and HerSisters), few in American Cinema have achievedsuch singularity of voice (characterised by anxiety,neurosis, self-doubt and autoanalysis, one wouldnever mistake the work of Woody Allen for that ofanyone else), nor been as prolific (a film a year for40 years, give or take). And while it could be said hismore recent output has not achieved the heights ofthe earlier work featuring in this timely retrospective,it is encouraging that, at the age of 74, 2008's VickyCristina Barcelona and the upcoming WhateverWorks most definitely represent a considerablereturn to form.TICKETDEALSSee any three (or more) films in this season and get 15% offSee any six (or more) films in this season and get 25% offSee any nine (or more) films in this season and get 35% offThese packages are available online, in person and on thephone, on both full price and concession price tickets.Tickets must all be bought at the same time.LOVE AND DEATHSleeperMon 31 May to Wed 2 JunWoody Allen • USA 1973 • 1h29m • 35mm • PGCast: Woody Allen, Diane Keaton, John Beck, Mary Gregory, DonKeefer.Allen's Rip Van Winkle movie, in which his GreenwichVillage jazz musician/health food nut awakes from anaccidental cryogenic immersion to find that he's in 2174,cast reluctantly in the role of Little Man against the FascistState. Plenty of one-liners, and it has the best banana-skinjoke in film history.Love and DeathTue 1 to Thu 3 JunWoody Allen • France/USA 1975 • 1h25m • 35mm • PGCast: Woody Allen, Diane Keaton, Olga Georges-Picot, HaroldGould, Jessica Harper, Alfred Lutter, James TolkanWoody Allen's hilarious satire of classic Russian literaturemight be described as Tolstoy meets the Marx Brothers,as he and Diane Keaton get caught up in an uproariouslyfunny plot to assassinate Napoleon in 1812. In 19thcenturyRussia, Boris Grushenko (Woody Allen) falls in lovewith his beautiful cousin Sonja (Diane Keaton), but she'sin love with his brother Ivan... Love and Death was thefirst film which truly marked Woody Allen's growth from astand-up comic and talented, but amateur, filmmaker, to amature and original comedic director.MANHATTANAnnie HallThu 3 to Sat 5 JunWoody Allen • USA 1977 • 1h33m • 35mm15 – Contains drugs use and referencesCast: Woody Allen, Diane Keaton, Tony Roberts, Carol Kane, PaulSimon.A bittersweet, autobiographical romantic comedy, AnnieHall is the quintessential Woody Allen movie, featuringall the themes – love, relationships, neuroses, fame, guilt,pessimism, his love of New York (and dislike of LA), deathand life – that we have come to expect. Comedian AlvySinger (Allen playing, well, Allen) relates the story of hisfailed love affair with Annie (Diane Keaton), interspersingthe story with asides about his two failed marriages and hisBrooklyn childhood.ManhattanFri 4 to Mon 7 JunWoody Allen • USA 1979 • 1h36m • Digital projection12A – Contains infrequent strong languageCast: Woody Allen, Diane Keaton, Michael Murphy, MarielHemingway, Meryl Streep.Isaac is a television comedy writer nervously contemplatingthe complexities of his life – the triviality of his work, hisambitions, his disastrous relationships with women, andthe imminent betrayal of his best friend. As if these privatemachinations weren't enough, his lesbian ex-wife is aboutto publish a book about their marriage and divorce... Anedgy social comedy framed as a loving tribute to neuroticNew York, overlaid with an evocative Gershwin score, it'sfunny and sad in exactly the right proportions.
---
Woody Allen: An Introspective15STARDUST MEMORIESZELIGBROADWAY DANNY ROSEInteriorsSat 5 & Sun 6 JunWoody Allen • USA 1978 • 1h31m • 35mm • 15Cast: Diane Keaton, Geraldine Page, Maureen Stapleton, EGMarshall, Mary Beth Hurt.In a spectacular change of direction, Allen put together thisbeautifully acted, lyrically written exploration of a middleclass American family whose three grown-up daughtersare thunderstruck when their father trades in his elegantdepressive wife for a lively, but jarringly vulgar, divorcee.The film has moments of humour, but they are integratedinto a totally serious structure which isolates the family'scountervailing tensions with a scalpel-like penetration.Stardust MemoriesSat 5 & Sun 6 JunWoody Allen • USA 1980 • 1h29m • 35mm • 15Cast: Woody Allen, Charlotte Rampling, Jessica Harper,Marie-Christine Barrault, Tony Roberts.Considered by some to be an homage to Fellini's 8 1/2,Stardust Memories is shot in black-and-white in the styleof Fellini's surrealist films of the 1960s, and examinesthe semi-autobiographical story of a famous filmmaker,played by Allen, who is plagued by fans who prefer his"earlier, funnier movies" to his more recent artistic efforts,while he tries to reconcile his conflicting attraction to twovery different women, the mercurial and unstable Dorrie(Charlotte Rampling), and the earnest, intellectual Daisy(Jessica Harper).ZeligTue 8 & Wed 9 JunWoody Allen • USA 1983 • 1h19m • 35mm • PGCast: Woody Allen, Mia Farrow, John Buckwalter, MartinChatinover, Stanley Swerdlow.Leonard Zelig (Allen) becomes a minor celebrity of theDepression era when his desperate need to be acceptedby others manifests itself as an ability to morph to matchwhoever he's with. Allen's character is seamlessly blendedwith archival footage from the 1930s: he appears waitingin the on-deck circle as Babe Ruth is batting, among acrowd of Nazis cheering Hitler, and growing a beard tobecome a Hassidic rabbi. His case captures the imaginationof America, as well as the attentions of a psychiatrist (MiaFarrow) who falls in love with him.Broadway Danny RoseWed 9 & Thu 10 JunWoody Allen • USA 1984 • 1h24m • 35mm • PGCast: Woody Allen, Mia Farrow, Nick Apollo Forte, Sandy Baron,Corbett Monica.A delightful comedy that sees Allen as a no-hope theatricalagent (his clients include balloon twisters, wine-glassplayers and bird trainers, who all leave him when the BigTime beckons) who gets involved with a brassy Mafiawidow (Farrow, unrecognisable). The jokes are firmlyembedded in plot and characterisation, and the film, shotby Gordon Willis in harsh black-and-white, looks terrific;but what makes it work so well is the unsentimentalwarmth pervading every frame.The Purple Rose of CairoThu 10 & Fri 11 Jun plusMon 14 Jun (babies & carers only)Woody Allen • USA 1985 • 1h22m • 35mm • PGCast: Mia Farrow, Jeff Daniels, Danny Aiello, Irving Metzman,Dianne Wiest.During the Depression, downtrodden housewife Farrowso inflames a film's leading man that he climbs down fromthe screen and entices her into a chaotic but charming loveaffair. Allen's deft script investigates every nook and crannyof the couple's bizarre relationship, the irate reactions ofthe characters left up on the screen, and the bewildermentof the actor whose movie persona has miraculously gonewalkies. As the star-struck couple, Farrow and Daniels arewonderful, while Allen's direction invests enough care, witand warmth to make the film genuinely moving.Radio DaysFri 11 & Sat 12 JunWoody Allen • USA 1987 • 1h28m • 35mm • PGCast: Jeff Daniels, Mia Farrow, Seth Green, Julie Kavner, DianneWiest.A warm and nostalgic piece with a wonderful soundtrackthat flits between the Brooklyn of Allen's youth anduptown Manhattan. Joe (Green) is the youthful protagonistwho lives with his parents and extended family. Invoice-over, Allen (who doesn't appear in the film) relatesstories about members of this household. While life goeson in Brooklyn, Allen intercuts stories about radio and itspersonalities, many of the tales focusing on Sally White(Farrow), a cigarette girl with a dreadful accent whodreams of radio stardom.SEASON CONTINUES OVERLEAF
---
16Woody Allen: An Introspective (continued)HANNAH AND HER SISTERSSWEET AND LOWDOWNVICKY CRISTINA BARCELONAHannah and Her SistersFri 11 & Sat 12 JunWoody Allen • USA 1986 • 1h47m • 35mm • 15Cast: Woody Allen, Mia Farrow, Barbara Hershey, Michael Caine,Dianne Wiest, Max von Sydow.Essentially three separate tales that intertwine at times,Hannah and Her Sisters is one of Allen's most complexfilms. Hannah (Farrow) is married to Elliot (Caine), abusiness manager for rock stars, but used to be marriedto Mickey (Allen), a TV producer. Hannah's sisters areLee (Hershey) – who's living with Frederick (von Sydow),a bitter and domineering artist – and Holly (Wiest), anactress who's a bundle of nerves and jealous of Hannah'ssupposedly perfect life. The plot could easily have been asoap opera, but Allen infused it with wit, a superb cast andhis usual "the best direction is the least direction" style, sothat the camera never calls attention to itself.Crimes and MisdemeanorsSat 12 to Mon 14 JunWoody Allen • USA 1989 • 1h44m • 35mm • 15Cast: Martin Landau, Woody Allen, Alan Alda, Anjelica Huston.In the first of two loosely interwoven stories, rich,philanthropic ophthalmologist Judah Rosenthal, afraidhis lover will reveal all to his wife, decides to disposeof the former with the help of a hit-man. In the second,more comic, story, earnest, impoverished documentaristClifford Stern falls for the producer of a TV tribute he hasreluctantly agreed to make about the brother-in-law hehates, a conceited, successful maker of sitcoms. Judahand Clifford meet only in the final scene: what links themthroughout is guilt, stemming from an obsessive interest inmatters of faith and ethics.Husbands and WivesSun 13 & Mon 14 JunWoody Allen • USA 1992 • 1h48m • 35mm • 15Cast: Woody Allen, Mia Farrow, Judy Davis, Sydney Pollack, JulietteLewis.When Sally and Jack announce their amicable break-up,their friends Gabe and Judy start looking at their ownmarriage more critically. Do they keep secrets from eachother? Why have they never had kids? Would Lit lecturerGabe follow Jack's example and fall for a woman half his age– student Rain, for example? Why is Judy so keen to getSally together with her eligible colleague? To put it anotherway, what is this thing called love? So vividly drawn are allthe characters that one becomes wholly caught up in theirtangled whirl of emotional/psychological confusion, andthe film is engrossing from start to finish, with humour that'sall the more effective thanks to its dark, edgy context.Sweet and LowdownTue 15 & Wed 16 JunWoody Allen • USA 1999 • 1h35m • 35mm • PGCast: Sean Penn, Samantha Morton, Uma Thurman, AntonyLaPaglia, Woody Allen.Allen's pseudo-biopic about fictional 1930's jazz guitaristEmmet Ray (Penn) is a personal tribute by the director to aperiod of musical history that has inspired and influencedhim greatly. Penn immerses himself into the role of theboozing, womanising Ray with his usual intensity (this time,with a comic slant), while Samantha Morton quietly stealsthe show as his silently suffering wife.Manhattan Murder MysteryTue 15 & Wed 16 JunWoody Allen • USA 1993 • 1h47m • 35mm • PGCast: Woody Allen, Diane Keaton, Alan Alda, Anjelica Huston,Jerry Adler.Book editor Larry Lipton is married to Carol, who's boredwith her life and thinking about opening a restaurant. Larryis also deflecting the advances of exotic writer Marcia Fox,while Carol flirts half-heartedly with longtime friend Ted.The death of an elderly neighbour, Lillian House, providesthe excitement Carol has been yearning for: she suspectsPaul House of murder, drawing Ted, Marcia, and even thesceptical Larry into her clumsy snooping.Vicky Cristina BarcelonaWed 16 Jun onlyWoody Allen • Spain/USA 2008 • 1h36m • 35mmCatalan, English and Spanish with English subtitles12A – Contains moderate sex references and implied sexCast: Javier Bardem, Penélope Cruz, Scarlett Johansson, RebeccaHall, Patricia Clarkson.Two young American women, Vicky and Cristina, cometo Barcelona for a summer holiday. Vicky is sensible andengaged to be married; Cristina is emotionally and sexuallyadventurous. In Barcelona, they're drawn into a series ofunconventional romantic entanglements with Juan Antonio(Javier Bardem), a charismatic painter, who's still involvedwith his tempestuous ex-wife Maria Elena (Penélope Cruz).Allen's best film in years is a funny, sexy and open-mindedcelebration of love in all its configurations.
---
18FILMHOUSE PROGRAMME 7 May - 1 July 2010 BOX OFFICE 0131 228 2688DAYDATESCREEN NO. &FILM TITLESHOWTIMESDAYDATESCREEN NO. &FILM TITLESHOWTIMESDAYDATESCREEN NO. &FILM TITLESHOWTIMESFri 1 The Girl... Dragon Tattoo (NN) 2.30/8.257 1 The Man on the Roof (NN) 6.00May 2 La Danse 2.00/5.152 I Am Love 8.303 Double Take 1.30/6.153 The Ghost 3.30/8.15Sat 1 I Am Love 2.308 1 The Girl... Dragon Tattoo (NN) 5.00May 1 Insomnia (NN) 8.452 La Danse 2.00/5.152 I Am Love 8.303 Double Take 1.30/6.153 The Ghost 3.30/8.15Sun 1 Planet 51 (WW) 1.009 1 I Am Love 3.00May 1 The Girl... Dragon Tattoo (NN) 5.301 The Girl by the Lake (NN) 8.452 The Ghost 2.302 La Danse 5.152 I Am Love 8.303 Who is Kurt Wallander? (NN) 1.00 (£5.40/£3.50)3 Wallander Double Bill (NN) 2.303 Double Take 6.153 The Ghost 8.15Mon 1 Planet 51 (WW)10.30am10 1 The Girl... Dragon Tattoo (NN) 2.30/8.15May 1 I Am Love 5.452 I Am Love 3.002 Varg Veum – Bitter Flowers (NN) 6.152 The Ghost 8.303 The Ghost 1.303 Double Take 4.15/8.453 Caught Short 6.30Tue 1 The Girl... Dragon Tattoo (NN) 2.30/8.1511 1 Edinburgh Napier Uni (DS) 6.00May 2 I Am Love 3.00/8.302 Jar City (NN) 6.003 The Ghost 1.30/8.153 Double Take 4.15/6.15Wed 1 I Am Love 2.30/5.4512 1 The Girl... Dragon Tattoo (NN) 8.15May 2 Revanche 3.00/8.302 The Ape (NN) 6.303 The Ghost 1.30/8.153 Double Take 4.15/6.15Thu 1 I Am Love 2.30/8.3013 2 Revanche 3.00/5.45May 2 Just Another Love Story (NN) 8.303 The Ghost 1.30/8.153 Double Take 4.15/6.15Fri 1 Vincere 2.30/6.00/8.4014 2 Revanche 1.00/6.10May 2 Himalaya (H) 3.45/8.453 A Single Man 1.15/6.153 Pandora & the Flying Dutchman 3.30/8.30Sat 1 Vincere 2.30/6.00/8.4015 2 Revanche 1.00/6.10May 2 Travellers and Magicians (H) 3.45/8.453 A Single Man 1.15/6.153 Pandora & the Flying Dutchman 3.30/8.30Sun 1 Vincere 2.30/6.00/8.4016 2 Revanche 1.00May 2 Welcome4.00 - Free event2 Pandora & the Flying Dutchman 6.003 The Cup (H) 1.15/6.153 Pandora & the Flying Dutchman 3.303 A Single Man 8.45Mon 1 Percy Jackson and the... (WW) 1.0017 1 Vincere 3.20/6.00/8.40May 3 Pandora... Flying Dutchman (B) 10.30am (babies only)3 Pandora & the Flying Dutchman 3.30/8.303 A Single Man 6.15Tue 1 Percy Jackson and the... (WW) 1.0018 1 Vincere 3.20/6.00/8.40May 3 Pandora & the Flying Dutchman 3.30/8.303 A Single Man 6.15Wed 1 Vincere 2.30/6.00/8.4019 3 Pandora & the Flying Dutchman 3.30/8.30May 3 A Single Man 6.15Thu 1 Vincere 2.30/6.00/8.4020 3 Pandora & the Flying Dutchman 3.30/8.30May 3 Kekexili: Mountain Patrol (H) 6.15Fri 1 Vincere 2.30/6.00/8.4021 3 Cleo from 5 to 7 (AV) 1.45/8.45May 3 Kekexili: Mountain Patrol (H) 3.453 Delamu (H) 6.15Sat 1 Vincere 2.30/6.00/8.4022 3 Co-operative Film Festival 1.00 - Free eventMay 3 Cleo from 5 to 7 (AV) 3.00/8.453 Tibet: Cry of the Snow Lion (H) 6.15Sun 1 Howl's Moving Castle (WW) 1.0023 1 Vincere 3.20/6.00/8.40May 3 Cleo from 5 to 7 (AV) 2.00/4.00/8.453 Tibet: Cry of the Snow Lion (H) 6.15Mon 1 Howl's Moving Castle (WW) 10.30am24 1 Vincere 2.30/6.00/8.40May 2 The Manchurian Candidate 3.15/8.302 Eyes Wide Open 6.153 Cleo from 5 to 7 (AV) 3.30/6.003 Run Lola Run 8.15 + introTue 1 Vincere 2.30/6.00/8.4025 2 Eyes Wide Open 3.15/6.15May 2 The Manchurian Candidate 8.303 Cleo from 5 to 7 (AV) 3.30/8.453 An Education 6.30Wed 1 Vincere 2.30/6.00/8.4026 2 Eyes Wide Open 3.15/6.15May 2 The Manchurian Candidate 8.303 Cleo from 5 to 7 (AV) 3.30/8.453 An Education 6.30Thu 1 Vincere 2.30/6.00/8.4027 2 An Education 3.15/8.30May 2 Eyes Wide Open 6.153 Cleo from 5 to 7 (AV) 3.30/9.003 In Search of Mozart 5.45 + Q&AFri 1 An Education 1.00/6.0028 1 Psycho 3.15/8.15May 2 Eyes Wide Open 1.15/6.002 The Time That Remains 3.30/8.303 In Search of Beethoven 1.003 Le bonheur (AV) 3.50/9.003 In Search of Beethoven 5.45 + Q&ASat 1 An Education 1.00/6.0029 1 Psycho 3.15/8.15May 2 The Fabulous Baron M. (KZ) 1.302 The Time That Remains 3.30/8.302 Eyes Wide Open 6.003 In Search of Mozart 1.003 American: The Bill Hicks Story 3.50/8.153 Le bonheur (AV) 6.15Sun 1 An Education 1.0030 1 Psycho 3.15/8.30May 1 City of Life and Death 5.452 The Tale of John and Marie (KZ) 1.302 The Time That Remains 3.15/8.352 Cameraman... Jack Cardiff (JC) 5.453 In Search of Beethoven 1.003 American: The Bill Hicks Story 3.50/8.453 Vagabond (AV) 6.15Mon 1 An Education (B)10.30am (babies only)31 1 Psycho 3.15/8.30May 1 Sleeper (WA) 6.152 The Time That Remains 3.15/8.452 City of Life and Death 6.003 Vagabond (AV) 3.30/8.103 American: The Bill Hicks Story 5.45Tue 1 Sleeper (WA) 2.301 1 Black Narcissus (JC) 6.30Jun 1 Love and Death (WA) 8.452 The Time That Remains 3.15/6.002 City of Life and Death 8.253 American: The Bill Hicks Story 3.30/8.153 The Gleaners and I (AV) 6.15Wed 1 Love and Death (WA) 2.302 1 Black Narcissus (JC) 6.30Jun 1 Sleeper (WA) 8.452 The Time That Remains 3.15/6.002 City of Life and Death 8.253 The Gleaners and I (AV) 3.303 Dogtooth 6.153 Cinévardaphoto (AV) 8.45Thu 1 Black Narcissus (JC) 3.003 1 Love and Death (WA) 6.30Jun 1 Annie Hall (WA) 8.302 The Time That Remains 3.30/6.002 City of Life and Death 8.253 Dogtooth 3.30/8.453 Cinévardaphoto (AV) 6.15Fri 1 Annie Hall (WA) 1.304 1 A Matter of Life & Death (JC) 3.45/6.00Jun 1 Manhattan (WA) 8.152 24 City 1.00/6.002 The Time That Remains 3.30/8.303 Dogtooth 1.45/6.303 Four Lions 4.00/8.45
---
WWW.FILMHOUSECINEMA.COM 7 May - 1 July 2010 FILMHOUSE PROGRAMME19DAYDATESCREEN NO. &FILM TITLESHOWTIMESSat 1 Interiors (WA) 1.305 1 Stardust Memories (WA) 3.45Jun 1 A Matter of Life & Death (JC) 6.001 Annie Hall (WA) 8.152 An Invention for Destruction (KZ) 1.302 The Time That Remains 3.30/8.302 24 City 6.003 Dogtooth 1.45/6.303 The Beaches of Agnès (AV) 4.003 Four Lions 8.45Sun 1 Hachi: A Dog's Tale (WW) 1.006 1 Manhattan (WA) 3.45Jun 1 Interiors (WA) 6.001 Stardust Memories (WA) 8.152 24 City 1.00/6.002 The Time That Remains 3.30/8.303 The Beaches of Agnès (AV) 1.30/6.153 Four Lions 4.00/8.45Mon 1 Hachi: A Dog's Tale (WW) 10.30am7 1 The Red Shoes (JC) 2.30/8.15Jun 1 Manhattan (WA) 6.002 The Time That Remains 3.30/8.302 24 City 6.003 Four Lions 3.15/9.003 Bananas!* 6.15 + discussionTue 1 The Red Shoes (JC) 2.30/6.008 1 Zelig (WA) 8.45Jun 2 The Time That Remains 3.30/8.302 24 City 6.003 Bananas!* 3.15/6.153 Four Lions 8.45Wed 1 Zelig (WA) 2.309 1 Edinburgh's Telford Coll. (DS) 6.00Jun 1 Broadway Danny Rose (WA) 8.302 The Time That Remains 3.30/8.302 Bill Hicks: Relentless/Revelations 6.003 Bananas!* 3.15/6.153 Four Lions 8.45Thu 1 Broadway Danny Rose (WA) 2.3010 1 Stevenson Coll. Edinburgh (DS) 6.00Jun 1 The Purple Rose of Cairo (WA) 8.302 The Time That Remains 3.30/8.302 Bill Hicks: Relentless/Revelations 6.003 Four Lions 3.15/8.453 Bananas!* 6.15Fri 1 The Purple Rose of Cairo (WA) 1.0011 1 Hannah and Her Sisters (WA) 3.00Jun 2 Follow Me + The Collective 6.151 Radio Days (WA) 8.402 Radio Days (WA) 1.302 Black Death 3.45/8.302 Hannah and Her Sisters (WA) 6.003 Bad Lieutenant: Port of Call N.O. 1.00/3.30/6.10/8.45Sat 1 Radio Days (WA) 3.0012 1 Crimes and Misdemeanors (WA) 6.00Jun 1 Hannah and Her Sisters (WA) 8.302 Lebanon 1.30/6.002 Black Death 3.45/8.303 Bad Lieutenant: Port of Call N.O. 1.00/3.30/6.10/8.45DAYDATESCREEN NO. &FILM TITLESHOWTIMESSun 1 Black Death 1.0013 1 Husbands and Wives (WA) 3.15Jun 1 Baarìa 5.451 Crimes and Misdemeanors (WA) 8.452 Lebanon 1.30/6.002 Black Death 3.45/8.303 Moving to Mars + short (RW) 1.00 + Q&A3 Bad Lieutenant: Port of Call N.O. 6.10/8.45Mon 1 The Purple Rose of Cairo (B) 10.30am (babies only)14 1 Crimes and Misdemeanors (WA) 2.30Jun 1 Husbands and Wives (WA) 6.001 ECA - Animation (DS) 8.302 Black Death 3.30/8.452 Lebanon 6.153 Bad Lieutenant: Port of Call N.O. 3.15/8.153 Unveiled (RW) 6.00Tue 1 Sweet and Lowdown (WA) 2.3015 1 Manhattan Murder Mystery (WA) 6.00Jun 1 ECA - Film & TV (DS) 8.302 Black Death 3.30/8.452 Lebanon 6.153 Bad Lieutenant: Port of Call N.O. 3.15/8.303 Trouble Sleeping (RW) 5.45 + Q&AWed 1 Manhattan Murder Mystery (WA) 2.3016 1 Sweet and Lowdown (WA) 6.00Jun 1 Vicky Cristina Barcelona (WA) 8.152 Black Death 3.30/8.452 Lebanon 6.153 Vicky Cristina Barcelona (WA) 3.153 Bad Lieutenant: Port of Call N.O. 5.45/8.30Thu 17 - Sun 27 June – Edinburgh International Film FestivalMon 1 Whatever Works (B)10.30am (babies only)28 1 Whatever Works 3.00/6.15/8.30Jun 2 The Milk of Sorrow 3.45/6.302 Rashomon 8.453 Kick-Ass (AD) 3.303 Kick-Ass (AD) + (S) 6.00 (subtitled)3 Videocracy 8.30Tue 1 The Princess & the Frog (WW) 1.0029 1 Whatever Works 3.00/6.15/8.30Jun 2 Rashomon 3.45/8.452 The Milk of Sorrow 6.303 Videocracy 3.30/8.303 Kick-Ass (AD) 6.00Wed 1 The Princess & the Frog (WW) 1.0030 1 Whatever Works 3.00/6.15/8.30Jun 2 The Milk of Sorrow 3.45/6.302 Rashomon 8.453 Kick-Ass (AD) 3.30/8.003 Videocracy 6.00Thu 1 The Princess & the Frog (WW) 1.001 1 Whatever Works 3.00/6.15/8.30Jul 2 Rashomon 3.45/8.452 The Milk of Sorrow 6.303 Videocracy 3.30/6.003 Kick-Ass (AD) 8.00TICKET PRICES & INFORMATIONMATINEES (Shows starting prior to 5pm)Mon - Thur £5.40 full price, £3.50 concessionsFriday Bargain Matinees £4.00/£2.50 concessionsSat - Sun £6.90 full price, £5.20 concessionsEVENING SCREENINGS (Starting 5pm and later)£6.90 full price, £5.20 concessionsAll tickets to Weans' World screenings (marked WWon grid) are £2.50. Tickets for children under 12 are£2.50 for any screening.Concessions available for: Students (with current matriculationcard); School pupils (15 - 18 years); Claimants (IncomeSupport/Family Credit payment book); Senior Citizens; Disabilityor Invalidity status; Children (under 15). There are ticket dealsavailable on film seasons, these are detailed on the same page asthe films. All performances are bookable in advance. Tickets maybe reserved for performances and must be collected no laterthan 30 minutes before the performance starts. Tickets may bebooked by credit card on the number below or online at www.filmhousecinema.com. A £1.50 booking charge will be made foreach transaction, unless you are a Filmhouse Member, in whichcase booking is free. Tickets cannot be exchanged nor moneyrefunded except in the event of a cancellation of a performance.Programmes are subject to change, but only in extraordinarycircumstances. All seats are unreserved. If you require seatstogether please arrive in plenty of time. Cinemas will be open15 minutes before the start of each screening. The managementreserves the right of admission and will not admit latecomers.Children under the age of 12 must be accompanied by an adult.Double Bills are shown in the same order as indicated on thesepages. Intervals in Double Bills last 10 minutes.BOX OFFICE: 0131 228 2688Open from 12 noon - 9.00pm dailyBOOK ONLINE: www.filmhousecinema.comKEY:(AD) – Audio Description (see page 2)(B) – Carer & baby screening (see page 2)(S) – Subtitled (see page 2)SEASONS:(AV) – Agnès Varda (pages 22-23)(DS) – The Graduates! Degree Shows (page 28)(H) – Himalaya (pages 30-31)(JC) – Jack Cardiff: Cameraman (page 21)(KZ) – Karel Zeman (page 29)(NN) – Nordic Noir (pages 24-25)(RW) – Refugee Week Scotland (pages 32-33)(WA) – Woody Allen: An Introspective (pages 14-16)(WW) – Weans' World (page 26)Full index of films on page 2
---
Jack Cardiff: Cameraman21CAMERAMAN...BLACK NARCISSUSA MATTER OF LIFE AND DEATHTHE RED SHOESJack Cardiff:CameramanA short season celebrating the work of oneof the finest cinematographers this countryhas ever produced, who died last year atthe age of 94.See also Pandora and the Flying Dutchman(page 12).Cameraman: The Life and Work ofJack CardiffSun 30 May at 5.45pmCraig McCall • UK 2010 • 1h30m • DigiBeta • PG • DocumentaryA celebration of the life and work of cinematographer JackCardiff, whose career spanned an incredible ninety yearsand more than one hundred films, including A Matter ofLife and Death, The Red Shoes and The African Queen.Cameraman features exclusive behind the scenes footageand contributions from Martin Scorsese, Lauren Bacall, KirkDouglas, Charlton Heston and many more.Black NarcissusTue 1 to Thu 3 JunMichael Powell & Emeric Pressburger • UK 1947 • 1h41mDigital projection • PGCast: Deborah Kerr, Kathleen Byron, David Farrar, Flora Robson,Jean Simmons, Sabu.Powell and Pressburger's spellbinding film follows thetortuous emotional journey of a group of Anglican nuns asthey set up a remote convent among the bleak ruins of anabandoned Himalayan harem. It's a first taste of authorityfor Sister Clodagh (Deborah Kerr). As the nuns' leader, herstruggles to maintain moral order and a sense of Christianmission are set against the extremes of the environment,the doubts of her charges, and the beguiling amorality ofthe local inhabitants. Finding themselves disturbed by allmanner of natural phenomena, it's only a matter of timebefore hardship and temptation gradually draw the womenaway from their vocation, and they descend into doubt,jealousy and madness.Smouldering with hysteria and brooding eroticism, BlackNarcissus is a masterly exploration of the dangers ofambition, British reserve, and unbridled emotion.TICKETDEALSSee any three (or more) films in this season (includingPandora and the Flying Dutchman, page 12) and get 15% offThese packages are available online, in person and on thephone, on both full price and concession price tickets.Tickets must all be bought at the same time.A Matter of Life and DeathFri 4 & Sat 5 JunMichael Powell & Emeric Pressburger • UK 1946 • 1h40m35mm • U – Contains mild war horrorCast: David Niven, Kim Hunter, Roger Livesey, Marius Goring.In this delightful, delirious fantasy, David Niven plays anRAF pilot whose plane is shot down over the English coast;ejecting, he leaps to safety – without a parachute. Or doeshe? Before long, he finds himself standing in a celestialcourt, where a jury will decide his fate: to go to Heaven,or remain on Earth. And all the while, he yearns for theAmerican radio operator with whom he fell in love, mereminutes before...The Red ShoesMon 7 & Tue 8 JunMichael Powell & Emeric Pressburger • UK 1948 • 2h15mDigital projection • U – Contains mild threat, injury and smokingCast: Moira Shearer, Anton Walbrook, Marius Goring, RobertHelpmann, Léonide Massine.The Red Shoes is perhaps the definitive ballet movie, butdon't let that put you off if you're not generally a fan ofdance – there's plenty here to keep you utterly spellbound.Moira Shearer stars as Victoria Page, an aspiring dancerwho gets a chance to work with the great ballet directorLermontov (Anton Walbrook), who soon develops a maniacalobsession to mould Vicky into a truly great dancer... Aprofessional ballerina in real life, Moira Shearer gives asublime performance as the eager young Vicky. Walbrook'sLermontov is equally magnetic, with his refined mannerismsthat mask an inhuman drive for perfection. But the true geniusof the film lies elsewhere, in the stunning use of colour, andthe terrific, purely visual imagination of its creators.
---
22Agnès VardaCLEO FROM 5 TO 7 LE BONHEURVAGABOND THE GLEANERS AND IAgnès VardaNow acknowledged as a true pioneer of the NewWave (with La Pointe Courte, 1954), Agnès Vardafirmly takes her place among the major post-warFrench filmmakers. This short season represents theperfect introduction to this most innovative, originaland enduring of filmmakers (she is still working at afeisty 82), featuring three of her best known fictionfilms and three of her documentary essays, the genrein which she is perhaps better known.DIGITAL RESTORATIONCleo from 5 to 7 Cléo de 5 à 7Fri 21 to Thu 27 MayAgnès Varda • France/Italy 1962 • 1h30m • Digital projectionFrench with English subtitlesPG – Contains mild language and infrequent natural nudityCast: Corinne Marchand, Antoine Bourseiller, Dominique Davray,Dorothée Blank, Michel Legrand.Agnès Varda's second feature remains a highlight of theextraordinary outpouring of French movies in the early 60s.It's almost a film about nothing, with French chanteuse Cléo(Corinne Marchand) spending 90 minutes (not quite the 2hours of the title) wandering around Paris before she getsthe results of a medical test which will confirm whether ornot she has cancer. Cléo spends the time going to a fortuneteller, running an errand with a friend, playing her latestsong on a cafe jukebox and hoping someone will recogniseher. She gets no pity from her friends – only a stranger inthe park seems to offer much consolation. And in the end,Cléo has figured out how to face an uncertain future.Le bonheurFri 28 & Sat 29 MayAgnès Varda • France 1965 • 1h20mFrench with English subtitles • 15Cast: Jean-Claude Drouot, Claire Drouot, Marie-France Boyer,Olivier Drouot, Sandrine Drouot.The blissfully married François (French television starDrouot, acting with his own wife and children) startsan affair with Émilie (Boyer) with varied consequences.Under the guise of an apparently banal story of love andadultery, and idyllic surface prettiness, Varda's third featurefilm trenchantly explores the myth of romance and theunderside of the 'perfect' family in 1960s France, with itsunthinking misogyny.Vagabond Sans toit ni loiSun 30 & Mon 31 MayAgnès Varda • France 1985 • 1h46m • 35mmFrench, Arabic and English with English subtitles • 15Cast: Sandrine Bonnaire, Setti Ramdane, Francis Balchère, Jean-Louis Perletti.Deservedly one of Varda's best known films, Vagabond isamong the most powerful portraits of a woman in moderncinema. Mosaic-like, the film reconstructs the last weeks ofrebellious and nihilistic vagrant Mona (the young SandrineBonnaire, in a career-defining performance), inspired bya real case. Mona's identity emerges from her impact onothers, many played by non-professionals. Set in a bleak,wintry South of France, Vagabond embeds Mona's fate inthe region's landscape and customs.The Gleaners and ILes glaneurs et la glaneuseTue 1 & Wed 2 JunAgnès Varda • France 2000 • 1h22mFrench with English subtitles • U • DocumentaryVarda's groundbreaking and hugely successfuldocumentary explores the idea of 'gleaning', from theancient practice enshrined in paintings such as Jean-François Millet's 1857 'Des Glaneuses', to the victims oflate capitalism who scavenge in supermarket bins bothto survive and to denounce consumerist excess. Mixingdocumentary reportage and interviews with art andphotography, Varda's investigation ranges widely acrossFrance, offering a poignant yet heart-lifting discourse onher relationship to others, her practice as a filmmaker andher own ageing.TICKETDEALSSee any three (or more) films in this season and get 15% offSee all six films in this season and get 25% offThese packages are available online, in person and on thephone, on both full price and concession price tickets.Tickets must all be bought at the same time.
---
Agnès Varda/In Search of...23THE BEACHES OF AGNES IN SEARCH OF MOZART IN SEARCH OF BEETHOVENCinévardaphotoWed 2 & Thu 3 JunAgnès Varda • France • 1h34mEnglish and French with English subtitles • 15 • DocumentaryThree Varda films reflecting on some extraordinaryphotography.Salut les Cubains (France 1963, 30min)A montage of photographs taken in Cuba gives anexuberant portrait of the country, set against Cuban music.Ulysse (France 1982, 22min)Varda reflects on a photograph she took in 1954 of a youngSpanish boy.Ydessa, les ours et etc (France, 2004, 42min)Reflections on Ydessa Hendeles's extraordinary 'TeddyBear Project', in which thousands of photographs, allincluding a teddy bear, were exhibited in Munich, inspiredby the photo of a young cousin who died in Auschwitz.The Beaches of AgnèsLes plages d'AgnèsSat 5 & Sun 6 JunAgnès Varda • France 2008 • 1h53m • Digital projectionFrench with English subtitles18 – Contains strong sexualised nudity • DocumentaryVarda's enchanting self-portrait is at once emotional,incisive and self-deprecating. Through a wonderful arrayof images and sounds, living tableaux, interviews and artinstallations, Varda takes the viewer from her childhoodhome in Brussels to her 80th birthday in Paris, via extractsfrom her films and views of her friends, her late husbandJacques Demy, her collaborators and her children.In Search of...Filmmaker Phil Grabsky's two hugely successful documentaries make awelcome return to Filmhouse, accompanied by the director himself.In Search of MozartThu 27 & Sat 29 MayPhil Grabsky • Britain 2005 • 2h8m • DigiBeta • UDocumentaryTo mark the 250th anniversary of Mozart's birth in 2006,In Search of Mozart was the first ever major feature-lengthdocumentary on Mozart's life. Produced in associationwith some of the world's leading orchestras, operahouses and musicians, this is a journey 25,000 milesthrough Europe in search of the real story of Mozart.The film is narrated by Juliet Stevenson, and featureskey performances and interviews with over 70 of theworld's most significant artists – including Renée Fleming,Magdalena Kozená, Angelika Kirchschlager, Louis Langrée,Julian Rachlin, Roger Norrington, Imogen Cooper andmany others. Providing a refreshing and in-depth look atMozart's life, it charts his musical career from first piece tolast, exposing the many myths and exploring his real world.The 5.45pm screening on Thursday 27 May will befollowed by a Q&A with director Phil Grabsky.In Search of BeethovenFri 28 & Sun 30 MayPhil Grabsky • UK 2009 • 2h18m • DigiBeta • 12ADocumentaryFollowing the success of In Search of Mozart, director PhilGrabsky goes looking for the truth about Beethoven...No other composer has been so often quoted, writtenabout, adopted for political and revolutionary causes(ranging from Marxism to fascism) and painted, but whowas the real Beethoven? Who was the man behind theromantic image of the tortured artist with the unrulyhair, unhinged personality and furrowed brow? Thisnew film explores the truth behind the many layers ofmyth and legend surrounding a man hailed not only asthe world's first truly independent composer, but alsothe most important. Featuring exclusive interviews andperformances, this is an absorbing and entertainingjourney.The 5.45pm screening on Friday 28 May will be followedby a Q&A with director Phil Grabsky.
---
24 Nordic NoirTHE GIRL WITH THE DRAGON TATTOO INSOMNIAWALLANDER: THE SECRET WALLANDER: FACELESS KILLERSNordic NoirIt's impossible to ignore the publishing phenomenonthat is Nordic Noir. Crime fiction from Denmark,Finland, Iceland, Norway and Sweden is beingtranslated and published internationally. Althoughsuccessful at home, with a few notable exceptions,the film and television thrillers (both adaptationsand original screenplays) haven't enjoyed the samelevel of attention. But with the critical acclaim forJar City and the popular successes of The Girl Withthe Dragon Tattoo and the BBC's Wallander, is thatabout to change? This season offers the perfectopportunity to take stock before the next crime(fiction) wave crests.This season originated at ScreenLit Festival of Film, TV &Writing, Broadway Cinema, Nottingham. With thanks toLinda Pariser.TICKETDEALSSee any three (or more) films in this season and get 15% offSee any six (or more) films in this season and get 25% offSee any nine (or more) films in this season and get 35% offThese packages are available online, in person and on thephone, on both full price and concession price tickets.Tickets must all be bought at the same time.The Girl With the Dragon TattooMän som hatar kvinnorFri 7 to Wed 12 MayNiels Arden Oplev • Sweden/Denmark/Germany/Norway 20092h33m • 35mm • Swedish with English subtitles18 – Contains scenes of sexual violenceCast: Michael Nyqvist, Noomi Rapace, Lena Endre, Peter Haber.The film version of part one of Stieg Larsson's bestselling'Millennium Trilogy' is a dark-hearted tale full of twists andturns. Disgraced investigative journalist Mikael Blomkvistis hired by the patriarch of a family of wealthy industrialiststo solve the mystery of his niece's disappearance 40 yearsearlier, and, with the help of anti-social hacker LisbethSalander, uncovers a complex series of brutal slayings thatmay or may not involve other relatives.The Man on the Roof Mannen på taketFri 7 May at 6.00pmBo Widerberg • Sweden 1976 • 1h50m • 35mmSwedish with English subtitles • 15Cast: Carl-Gustaf Lindstedt, Sven Wollter, Thomas Hellberg,Håkan Serner, Ingvar Hirdwall.Widerberg made several stylish policiers with politicalmessages, of which this was the most successful. Basedon 'The Abominable Man' by Sjöwall & Wahlöö, it findsMartin Beck organising a vast manhunt for the murdererof a corrupt and brutal policeman. The film culminates ina spectacular set piece, allegedly inspired by The FrenchConnection. Apparently, this is the only one of the Beckadaptations that Sjöwall rates. Check it out for yourself inthis rare screening.Print courtesy of The Swedish Institute.InsomniaSat 8 May at 8.45pmErik Skjoldbjærg • Norway 1997 • 1h36m • 35mmNorwegian and Swedish with English subtitles15 – Contains infrequent moderate sexCast: Stellan Skarsgård, Maria Mathiesen, Sverre Anker Ousdal,Gisken Armand, Kristian Figenschow."Christopher Nolan's American remake was perfectly fine,but it couldn't capture the gut-twisting oppressivenessof Erik Skjoldbjærg's original. Anchored by Skarsgård'simpeccable portrayal of a man drowning in his own sins,this is the neo-noir that truly turned noir on its head:darkness becomes something you pray for, while lightis a straight razor that's found entrance to your brain."(Novelist Dennis Lehane)Print courtesy of Norwegian Film InstituteWho is Kurt Wallander?Sun 9 May at 1.00pm - Tickets £5.40/£3.50Elaine Donnelly Pieper • UK 2008 • 1h • DigiBeta • 15DocumentaryJohn Harvey presents a documentary about internationallybestselling Swedish writer Henning Mankell, creator of theKurt Wallander series. By examining Mankell's anti-hero,it reveals the hidden angst affecting present-day Swedenand attempts to discover how his books inform the rest ofthe world about Scandinavia's largest country.
---
Nordic Noir25THE GIRL BY THE LAKEVARG VEUM – BITTER FLOWERSJAR CITYJUST ANOTHER LOVE STORYWallander Double BillSun 9 May at 2.30pm3h • DigiBeta • 18A double bill of Wallander TV adaptations, one fromSweden and one from the UK.The Secret (Hemligheten)Stephan Apelgren, Sweden 2005, 1h30m, Swedish with English subtitlesCast: Krister Henriksson, Johanna Sällström, Ola Rapace.A boy's body is discovered in an abandoned barn. Themurder shocks Kurt, Linda and Stefan, but the crime andthe suspects don't seem to match...Thanks to BBC Information & Archives / AB Svensk FilmindustriPLUSFaceless Killers Hettie Macdonald, UK 2010, 1h30mCast: Kenneth Branagh, Jeany Spark, Asher Ali, David Warner.Wallander investigates the brutal slaying of an elderly couple.The Girl by the Lake La Ragazza del lagoSun 9 May at 8.45pmAndrea Molaioli • Italy 2007 • 1h35m • 35mmItalian with English subtitles • 15Cast: Toni Servillo, Denis Fasolo, Nello Mascia, Giulia Michelini.Andrea Molaioli's feature debut is an excellent adaptationof Karin Fossum's 'Don't Look Back', translating theNorwegian setting to the Italian Dolomites and InspectorSejer into Inspector Sanzio. In an idyllic village, the nudebody of a beautiful young girl is discovered at the side ofthe lake. Inspector Giovanni Sanzio is summoned fromthe city to aid in the investigation, but the victim proves asmysterious as the crime itself. Meanwhile, Sanzio has hisown problems to solve.Varg Veum – Bitter FlowersVarg Veum – Bitre blomsterMon 10 May at 6.15pmUlrik Imtiaz Rolfsen • Norway/Sweden/Germany 2007 • 1h36m35mm • Norwegian with English subtitles • 15Cast: Trond Espen Seim, Bjørn Floberg, Kathrine Fagerland, EndreHellestveit, Anders Dale.A man vanishes without a trace. His lover, a married,successful politician, discreetly contacts PrivateInvestigator Varg Veum for assistance. When he discoversa body, the case becomes a complicated murder enquirythat implicates the police and branches out far beyond theNorwegian borders. Bitter Flowers is the first in a seriesof six Varg Veum films, adapted from Gunnar Staalesen'snovels.With thanks to the Norwegian Film Institute.Jar City MyrinTue 11 May at 6.00pmBaltasar Kormákur • Iceland/Germany/Denmark 2006 • 1h35m35mm • Icelandic with English subtitles • 15 – Contains strongviolence, sex references & one use of very strong languageCast: Ingvar Eggert Sigurdsson, Agústa Eva Erlendsdóttir, BjörnHlynur Haraldsson, Olafía Hrönn Jónsdóttir, Atli Rafn Sigurdsson.A welcome return for this critically acclaimed adaptation ofArnaldur Indridason's eponymous novel. Two apparentlydifferent deaths, the brutal murder of an old pervert andthe loss of a beloved young daughter to a rare neurologicalcondition, form the central puzzle that Reykjavik detectiveErlendur must solve. Iceland's dramatic landscape andcontemporary events create a chilling context for thisgripping police procedural.The Ape ApanWed 12 May at 6.30pmJesper Ganslandt • Sweden 2009 • 1h21m • DigiBetaSwedish with English subtitles • 18Cast: Olle Sarri, Françoise Joyce, Sean Pietrulewicz, Eva Rexed,Thore Flygel.A man awakes on the bathroom floor, covered with blood.He carries on with his day, but he's irritable and hypersensitive.Slowly, we learn what's behind it all. The Ape isspare and taut in its rigorous aesthetic. Ganslandt directswith icy precision, creating a mood of brooding, implacablethreat. "An enigmatic and ferocious piece of Nordic noirwhich takes a classic thriller blueprint and fearlessly createssomething new and very disturbing from it." (ICA website)Just Another Love StoryKærlighed på filmThu 13 May at 8.30pmOle Bornedal • Denmark 2007 • 1h44m • 35mmDanish with English subtitles18 – Contains very strong violence and strong sexualised nudityCast: Anders W Berthelsen, Rebecka Hemse, Nikolaj Lie Kaas.Contrived excess is rarely as entertaining as it is in theironically titled Just Another Love Story, a frenzied noirishromantic thriller from Danish writer-director Ole Bornedal.The film kicks off with three 'love scenes', played in rapidsuccession: In the first, a man lies bleeding to death whilea woman weeps over him. In the second, a husband andwife enjoy some playful pillow talk, and in the third, twoyoung lovers are involved in a tense standoff with a gun.The connection between these three snapshots – as well asthe implicit connection between passionate romance andviolence – will be made clear by the film's end...
---
26 Weans' WorldPERCY JACKSON AND THE LIGHTNING THIEFHOWL'S MOVING CASTLEHACHI: A DOG'S TALETHE PRINCESS AND THE FROGWeans' WorldFilms for a younger audience. Tickets cost£2.50 per person, big or small!Please note: although we normally disapprove of peopletalking during screenings, these shows areprimarily for kids, so grown-ups should expect some noise!Planet 51Sun 9 May at 1.00pm & Mon 10 May at 10.30amJorge Blanco • Spain/UK/USA 2009 • 1h30m • Digital projectionU – Contains mild comic violenceWith the voices of Dwayne Johnson, Jessica Biel, Justin Long, GaryOldman, John Cleese.American astronaut Captain Charles 'Chuck' Baker landson Planet 51 thinking he's the first person to set foot on it.To his surprise, he finds that the planet is inhabited by littlegreen people who are happily living in a white picket fenceworld reminiscent of 1950s America, whose only fear isthat it will be overrun by alien invaders... like Chuck!Percy Jackson and the LightningThiefMon 17 May at 1.00pm & Tue 18 May at 1.00pmChris Columbus • Canada/USA 2010 • 1h59m • Digital projectionPG – Contains moderate fantasy violence and threatCast: Logan Lerman, Uma Thurman, Pierce Brosnan, Sean Bean,Steve Coogan.New York teenager Percy Jackson discovers that he'sthe son of Greek God Poseidon, and that his best friendGrover is actually his satyr protector, complete with goat'slegs! When Percy's uncle Zeus suspects him of stealing hislightning bolt, Percy has to track down the real lightningthief and return the bolt before it causes a meteorologicalcatastrophe on Earth.Howl's Moving CastleSun 23 May at 1.00pm & Mon 24 May at 10.30amHayao Miyazaki • Japan 2004 • 1h59m • 35mmJapanese with English subtitles • U – Contains mild perilFeaturing the voices of Emily Mortimer, Christian Bale, JeanSimmons, Lauren Bacall, Blythe Danner.In a land of witches, wizards and war, Sophie is a youngmilliner befriended by Howl the wizard. The jealousWitch of the Waste loves Howl, and puts a spell onSophie, turning her into an old lady. Sophie runs awayso her friends can't see the transformation and ends upworking as a cleaning woman in Howl's Moving Castle, theremarkable, magical contraption that walks the land.Hachi: A Dog's TaleSun 6 Jun at 1.00pm & Mon 7 Jun at 10.30amLasse Hallström • USA/UK 2009 • 1h33m • Digital projectionU – Contains no material likely to offend or harmCast: Richard Gere, Sarah Roemer, Joan Allen, Jason Alexander,Robert Capron.Parker, a university professor, finds a lost puppy at a trainstation and takes it home, much to the annoyance of hiswife, who had banned him from having another dog.However, Parker and the dog develop such a remarkablebond that Cate is forced to relent, and Hachi becomes adevoted member of the family and the local community.The Princess and the FrogTue 29 Jun to Thu 8 JulRon Clements & John Musker • USA 2009 • 1h37mDigital projection • U – Contains mild scary scenesWith the voices of Anika Noni Rose, Bruno Campos, OprahWinfrey, Terrence Howard, John Goodman.From Walt Disney Animation Studios comes a modern twiston a classic tale, featuring a beautiful girl named Tiana, afrog prince who desperately wants to be human again, anda fateful kiss that leads them both on a hilarious adventurethrough the mystical bayous of Louisiana.
---
laser skin clinicalphabetvideo & dvdEdinburgh's largest collection of DVD & Videowww.alphabetvideo.co.uk22 Marchmont RdEdinburgh EH9 1HZ0131 229513693 Broughton StreetEdinburgh EH1 3RZ0131 556 186627• Laser hair removal• New! Thermage skin tightening & smoothing• New! Fraxel Laser for scars and skin rejuvenation• Botox, fillers and medical peels2-3 Teviot Place, EdinburghTel: 0131 226 67779 Bruntsfield Place, EdinburghTel: 0131 477 3535www.zen-lifestyle.comCENTRAL TAXISOpen 7 daysearly till lateApply now for coursesstarting Aug/Sept 2010Call 0131 535 47000131 229 2468CHIP, PIN & GO!All Central Taxis acceptCredit & Debit cardsEdinburgh's LARGEST taxi companyFIND YOUR DIRECTION IN LIFEAdd colourto your lifestevenson.ac.ukStevenson College Edinburgh is a registered charity. Charity number SCO21211.
---
28 The Graduates!EDINBURGH NAPIER UNIVERSITYEDINBURGH'S TELFORD COLLEGESTEVENSON COLLEGE EDINBURGHECA - ANIMATIONECA - FILM & TVThe Graduates!The cream of this year's crop ofdramas, documentaries and animationfrom Edinburgh's graduatingstudents.Edinburgh Napier UniversityTue 11 May at 6.00pmVarious • Scotland 2010 • 2h • Various formats • 15What is the secret power exerted by the red doll? Whydoes Mikey need to leave Muirhouse in the middle ofthe night? Is it wise to go so far with your boss? What arethe perfect ingredients for an authentic German café?Why is Luke being told to follow the lady in the red coat?The answers to these and many more questions will berevealed in these Honours year films from EdinburghNapier undergraduate students. There are tales of mysteryand imagination here to satisfy all tastes.TICKETDEALSSee any three (or more) films in this season and get 15% offThis package is available online, in person and on thephone, on both full price and concession price tickets.Tickets must all be bought at the same time.Edinburgh's Telford CollegeWed 9 Jun at 6.00pmVarious • Scotland 2010 • 2h • Various formats • 15Phwoar! Check out the talent (by the way).Edinburgh's Telford College is proud to present this yearscrop of hot young things from the HND Television course.Come along and cop an eyeful of what these local beautiescan show you while they're still relatively unsullied. See asolitary swimmer battling against the odds, discover thesecret life of a foul-mouthed Glasgow postie (is there anyother kind?), hear the hunt for a hidden hamster, enjoythe pain of a father undergoing a midlife crisis, witness asniper's moral dilemma and admire a couple of guys whobuild their own still.Caution: bad language (plenty of it) but no nudity (at timeof going to press).Stevenson College EdinburghThu 10 Jun at 6.00pmVarious • Scotland 2010 • 2h • Various formats • 15A diverse range of films, from short animations to furtherambitious offerings on the themes of passions andobsessions, space, and rhythms and cycles … oh yes, anda cheery look at post-apocalyptic Britain! Edging up onthe outside straight are a collection of story adaptations ofworks ranging from 'Oedipus' and 'Von Ryan's Express'to 'Dante's Inferno'. Eying up the winners enclosurecome a variety of comedies to tickle your funny bone, anddocumentaries on sundry themes from 'Under the Burka'to forbidden love, with a touch of urban mythology andgothic horror along the way.Edinburgh College of Art - AnimationMon 14 Jun at 8.30pmVarious • Scotland 2010 • 2h • Various formats • 15A family sets out for the beach and a jockey crosses thefinishing line. Two men starve in a tent while a fly tries tofeed a grub. A coyote gazes at the stars and a telescopelooks back in time. A slapper staggers into a toilet. A Vikingstumbles in the dark. There's a fumbling explanation of sexand a schoolboy crush. Stick-men follow their noses andan old lady sticks her nose in. Three craws sit on a wall. Awalker takes the pulse of a city while stockings are pulledfrom the ground, a band lets rip and a boy finds more thanhe bargained for in a game of hide-and-seek. Add to thissome television – pre-watershed and post-apocalyptic– and you have some essential viewing from the awardwinningAnimation Department of Edinburgh College of ArtEdinburgh College of Art - Film & TVTue 15 Jun at 8.30pmVarious • Scotland 2010 • 2h • Various formats • 15A vintage year of shorts from graduating students atEdinburgh College of Art's Film & Television department.Among the dramas are tales of love, loneliness, surrealsexual dysfunction and malevolent flatscreen TVs. Thedocumentaries, meanwhile, span hugely contrastingvisions of the world, ranging from the dilemma of a youngman in Malawi who wonders whether to emigrate, to themagical world of make believe which children discover inthe woods at an outdoor nursery in Fife.
---
Karel Zeman/Follow Me + The Collective29THE FABULOUS BARON MUNCHAUSENKarel ZemanA celebration of the centenary of the birth of the greatCzech animator Karel Zeman (1910 – 1989). Zeman,along with Jiri Trnka, is considered the father of Czechanimation, with his marvellously inventive and influentialmix of animation and live action. Zeman's pioneering workset the standard for Czech animation and almost certainlyinfluenced contemporary filmmakers such as Terry Gilliamand Tim Burton.This brief season features three of his films: An Inventionfor Destruction (loosely based on Jules Verne's 'Facing theFlag'); The Fabulous Baron Munchausen (based on theRudolph Erich Raspe novel, with animation inspired byGustav Dore's original illustration for the book); and thecharming The Tale of John and Mary.The Fabulous Baron MunchausenBaron PrasilSat 29 May at 1.30pmKarel Zeman • Czech Republic 1961 • 1h23m • 35mmEnglish language version • PGAn enchanting blend of fantasy and humour, Zeman's film isbased on the story of the legendary liar, Baron Munchausen.The film's mix of stop motion animation, live action, andspecial effects – beautifully depicting the Baron's adventureson the moon, fighting the Turks, in the belly of the whale orriding a cannonball – achieve a timeless quality.THE TALE OF JOHN AND MARIEThe Tale of John and MariePohádka o Honzíkovi a MarenceSun 30 May at 1.30pmKarel Zeman • Czech Republic 1980 • 1h7m • 35mmEnglish language version • PGZeman's final film, inspired by Czech fairy tales andilluminated manuscripts, tells the story of shepherdboy John who sets off on a journey to find happinessand success as a knight. Three elves, his advisors andguardians, help him whilst testing his character withmagic. Falling in love with beautiful fairy Marie, John hasto overcome many obstacles to prove that love is strongerthan magic and offers the greatest happiness.An Invention for DestructionVynález zkázySat 5 Jun at 1.30pmKarl Zeman • Czech Republic 1958 • 1h21m • 35mmEnglish language version • PGZeman's 1958 feature An Invention for Destruction (akaThe Fabulous World of Jules Verne) charmingly blendscartoon, puppets and live action with a style modelledon the steel engravings in Verne's original novels. Zemanretells the story of a mad scientist who seeks to misuse adangerous invention, involving submarines, balloons and agiant octopus.TICKETDEALSSee all three films in this season and get 15% offThis package is available online, in person and on thephone, on both full price and concession price tickets.Tickets must all be bought at the same time.FOLLOW MESPECIALEVENTDOUBLE BILLFri 11 Jun at 6.15pmFollow MeThe Collective • Canada 2010 • 55m • DVD • PG • DocumentaryFollowing the sold out premiere of Seasons here atFilmhouse in 2008, the multi-award-winning team behindThe Collective series of mountain bike films are back withtheir latest feature, Follow Me. Combining the world'smost talented mountain bikers at the very top of their gamewith stunning locations, cinematography and soundtrack,Follow Me is a must for film fans and bike fans alike. Beamong the first in Europe to see it on the big screen. Findout more at www.anthillfilms.comPLUSThe Collective - a Mountain Bike FilmThe Collective • Canada 2005 • 40m • DVD • PG • DocumentaryA unique opportunity to see the multi-award-winningfilm that redefined the concept of what a mountain bikefilm should be. Taking the world's best riders, addingground breaking filming techniques and coupling themwith strong narrative and soundtrack, The Collective hasearned the title of a modern classic. Find out more at www.thecollectivefilm.comN.B. Patrons are advised to purchase tickets in advance asdemand for this event is expected to be high.
---
30 HimalayaHIMALAYAHimalayaFilmhouse and Satsang Productions are proudto present Scotland's first festival of Himalayanfilm and culture, following its hugely successfuldebut in London in February.Celebrating the diversity of the world'smightiest mountain range, the festival will alsofeature photography, art and food at venuesacross Edinburgh. For more information visitwww.himalayafest.org.ukTRAVELLERS AND MAGICIANSHimalayaFri 14 May at 3.45pm + 8.45pmEric Valli • France/UK/Switzerland/Nepal 1999 • 1h49m • 35mmTibetan and German with English subtitles • PGCast: Thilen Lhondup, Gurgon Kyap, Lhakpa Tsamchoe, KarmaWangel, Karma Tensing.High in the mountainous Dolpo region of Nepal, Tinle, anelderly chieftain, learns that his son Lhakpa has died on anexpedition with Karma and other members of the tribe.Stricken with grief, this aged and weather-worn leaderdecides that he will take charge of the animal yak caravan,an arduous journey over the mountains to exchange saltfor grain. An involving human drama, played out on aspectacular stage.KEKEXILI: MOUNTAIN PATROLThe Cup PhörpaSun 16 May at 1.15pm + 6.15pmKhyentse Norbu • Bhutan/Australia 1999 • 1h33m • 35mmHindi and Tibetan with English subtitles • PGCast: Jamyang Lodro, Orgyen Tobgyal, Neten Chokling, LamaChonjor, Lama Godhi.In a remote part of Northern India, two soccer mad youngboys are inducted into a Tibetan monastery in exile.However, the boys' passion for the game and their desireto watch the 1998 World Cup Finals on TV soon disturbsthe tranquility and rigid order of the monks' lives. Anunusual and highly engaging comedy that manages to useits gentle tone and uncomplicated story line to great effect.There will be a Himalaya Exhibition in theCorridor Gallery at Filmhouse from 2-30 May,featuring work by Allan McNally, Sam Kang Liand Magda Rakita.TICKETDEALSSee any three (or more) films in this season and get 15% offSee all six films in this season and get 25% offThese packages are available online, in person and on thephone, on both full price and concession price tickets.Tickets must all be bought at the same time.Travellers and MagiciansSat 15 May at 3.45pm + 8.45pmKhyentse Norbu • Australia/ Bhutan 2003 • 1h48m • DigiBetaDzongkha with English subtitles • PGCast: Tsewang Dandup, Sonam Lhamo, Lhakpa Dorji, DekiYangzom, Sonam Kinga.Dondup, a government official in a small village in themountains of Bhutan, is obsessed with Western culture.When he gets the chance to move to America to makehis fortune, he jumps at it – even if he has to become afarmer there, he can make more in a day than his importantjob in Bhutan pays in a month. But he misses the bus tothe nearest city, and is forced to begin a long road trip,collecting travellers as he goes...Kekexili: Mountain PatrolThu 20 May at 6.15pm & Fri 21 May at 3.45pmLu Chuan • China/Hong Kong 2004 • 1h28m • 35mmMandarin and Tibetan with English subtitles15 – Contains strong violence and moderate horrorCast: Zhang Lei, Qi Liang, Due Bujie, Zhao Xueying, Ma Zhanlin.An absorbing and spectacular drama inspired by a people'sremarkable mission to prevent the illegal poaching ofTibetan antelope in the region of Kekexili, the largestanimal reserve in China. Set against the exquisite backdropof the Qinghai-Tibetan Plateau, director Lu Chuan tells thetale of brave local Tibetans, who face death and starvationto save the endangered antelope herds from a band ofruthless hunters.
---
Himalaya/Science and Film/Baarìa31DELAMUDelamu Cha ma gu dao xi lieFri 21 May at 6.15pmTian Zhuangzhuang • China/Japan 2004 • 1h50m • 35mmMandarin with English subtitles • PG • DocumentaryA remarkable documentary that follows the highest andmost perilous of the world's ancient trading routes, theTea-Horse Road that climbs from Western Yunnan throughthe Himalayas into Tibet, Nepal and Bhutan. For more thantwo thousand years tea was carried through the mountainson mules. Delamu follows this traditional route, mixingspectacularly beautiful images of the wild mountains withinterviews with the inhabitants of the remote villages alongthe way.Tibet: Cry of the Snow LionSat 22 May at 6.15pm & Sun 23 May at 6.15pmTom Peosay • USA 2003 • 1h44m • DigiBeta • 15 • DocumentarySince 1950, when China sent troops to subdue theformerly independent state, Tibetans have lived underthe shadow of Beijing, subjugated by a military authoritythat has banned the Tibetan language in schools, bannedphotos of the Dalai Lama, arrested and tortured monks,killed thousands and repopulated the region with HanChinese. Using archival footage and previously unseen stillphotographs, filmmaker Tom Peosay shows us the reality oflife in Tibet, and interviews monks who fled Tibet for Indiaand other countries. At times disturbing and often moving,this is a stunning piece of filmmaking.RUN LOLA RUNScience and FilmScreenings in association with The British ScienceAssociation, a registered charity which exists toadvance the public understanding, accessibility andaccountability of the sciences andengineering. For further details onThe British Science Association, seewww.britishscienceassociation.orgRun Lola Run Lola renntMon 24 May at 8.15pmTom Tykwer • Germany 1998 • 1h20m • 35mm • German,English and Japanese with English subtitles • 15Cast: Franka Potente, Moritz Bleibtreu, Herbert Knaup, Nina Petri,Armin Rohde.German writer/director Tom Tykwer tells one story threetimes, varying the outcome each time. The constant isresourceful redhead Lola (Franka Potente), a scruffy beautywith a scream that shatters glass and a boyfriend namedManni (Moritz Bleibtreu), who's messed up a job for asmall-time crime lord and better come up with a whole lotof money in 20 minutes or he's dead meat. Manni callsLola, and Lola comes running – literally. Unusually cleverand gleefully anarchic in its mix of colour, B&W, animationand other techniques, this is highly accomplishedfilmmaking, rich in humour, energy and inventiveness.Guest speaker Dr Tillmann Vierkant is a Lecturer inPhilosophy of Mind at the University of Edinburgh. Ina brief presentation he will discuss free will and mentalactions in the context of the film.BAARIASPECIALPREVIEWBaarìaSun 13 Jun at 5.45pmGiuseppe Tornatore • Italy 2009 • 2h30m • 35mmItalian with English subtitles • cert tbcCast: Francesco Scianna, Margareth Made, Angela Molina, Lina Sastri.Cinema Paradiso director Giuseppe Tornatore returns withan epic valentine to his Sicilian heritage. Baarìa is a lushlyromantic tapestry of 20th century Italian life as seen throughthe eyes of a single individual as he grows up, matures,marries and revisits a collection of sentimental memories.Baarìa is the slang term for Tornatore's native Bargheria,and the film unfolds in a hot, dusty Sicilian village wherethe young Peppino's childhood coincides with the rise ofthe Fascists, the declaration of war and the liberation by theAllies. The older Peppino joins the Communist Party and fallsin love with the beautiful Mannina, events that are to shapeand define his adult years. Beautifully photographed byEnrico Lucidi and set to a memorable Ennio Morricone score,Baarìa has been hailed as Tornatore's Amarcord, and was aGolden Globe nominee for Best Foreign Language Film.Dr Luigino Zecchin retired from his post as Director of theItalian Institute earlier this year. He now plans to spendtime between his native Venice and Edinburgh. Filmhouseand the Italian Film Festival (Scotland) would like todedicate this special preview to him in recognition of hismany contributions to the cultural life of Edinburgh. We aregrateful to distributor E1 for allowing us to screen Baarìa.
---
32 Refugee Week ScotlandMOVING TO MARSRefugee WeekScotlandFrom film festivals to football tournaments,comedy nights to carnivals, exhibitions,workshops, parties and much, much more,Refugee Week Scotland (14 - 20 June) is anexciting programme of events happeningacross the country to celebrate diversity andraise awareness of refugee issues. For moreinformation, visit www.refugeeweekscotland.comRefugee Week Scotland is coordinated bythe Scottish Refugee Councilwww.scottishrefugeecouncil.org.ukFor further information about other ReelFestivals events visit www.reelfestivals.orgTICKETDEALSSee all three films in this season and get 15% offThis package is available online, in person and on thephone, on both full price and concession price tickets.Tickets must all be bought at the same time.UNVEILEDMoving to MarsSun 13 Jun at 1.00pmMat Whitecross • UK 2009 • 1h23m • DigiBetaEnglish and Burmese with English subtitles • PG • DocumentaryMoving to Mars follows two refugee families from Burmaover the course of a year that will change their livescompletely. Forced from their homeland by the repressivemilitary junta, they have lived in a Thai refugee campfor many years. A resettlement scheme offers them thechance of a new life, but their new home, in Sheffield, willbe different to everything they have ever known. Withintimate access, this documentary from Mat Whitecross(The Road to Guantanamo) depicts the families' moving andsometimes humorous struggles with 21st century Britain. .FOLLOWED BY SHORTLong Way from Home Anna Jones, UK 2008, 15minProduced in collaboration with the IkaZe Theatre Project andthe Welcoming (Adult Learning Project), this powerful andmoving indictment of the Asylum System in the UK is awelcome return to Edinburgh for filmmaker Anna Jones, whoworked with a group of asylum seekers in the city over a9 month period and produced a wonderful tribute to theintegrity and determination of three people from Rwanda,Colombia and the Sudan, who tell their tale of fightingintolerance with dignity and purpose to become acceptedcitizens.This screening will be followed by a Q&A with guestspeakers.UNVEILEDUnveiled Fremde HautMon 14 Jun at 6.00pmAngelina Maccarone • Germany/Austria 2005 • 1h37m • 35mmGerman, English and Persian with English subtitles • 15Cast: Jasmin Tabatabai, Navíd Akhavan, Bernd Tauber, MajidFarahat, Georg Friedrich.Unveiled begins as the plane carrying Fariba (JasmineTabatabai) to Germany leaves Iranian air space. Sheremoves her headscarf and begins a radical process ofreinvention. A lesbian fleeing persecution because ofher sexuality, Fariba is leaving Tehran to seek asylum.When her neighbour in the internment centre commitssuicide, she assumes his identity to escape repatriation.Living in a hostel for men, her refuge in Germany and herphysical safety amongst the other migrant workers reston her ability to pass as a man. This is an uneasy freedom,made worse when she attracts the attention of a popularlocal woman. Jasmin Tabatabai invests Fariba with a quietintensity reminiscent of Hilary Swank in Boys Don't Cry.Her transformation from confident middle-class womanto invisible male immigrant is believable and says as muchabout the cultural place of strangers as it does aboutsexuality.
---
Refugee Week Scotland/Welcome/Co-operative Film Fest/Caught Short33TROUBLE SLEEPING WELCOME CO-OPERATIVE FILM FESTIVALTrouble SleepingTue 15 Jun at 5.45pmRobert Rae • UK 2008 • 1h42m • DigiBeta • 12ACast: Hassan Naama, Alia Alzougbi, Waseem Uboaklain, OkanYahsi, Robert Softely, Seham Ali, Fouad Cherif, Nihat Kaya, MaherSari, Nabil Shaban, Yousaf Khan Shinwary, Alison Peebles, GaryLewis.Winner of four International Best Film awards this powerfuldrama explores the reality of life for Asylum Seekers andRefugees in Edinburgh. With an award-winning and heartwrenchingperformance from Alia Alzougbi and stunningsupport from the Refugee Community themselves, TroubleSleeping was described by Mark Cousins as being amongstthe films that offered him " the shock of recognition ofsomething true about the country I have adopted as myhome.""This first feature from Theatre Workshop burns withrelevance. Raw-edged, and crafted by passionatecollective effort, it's inspiring, provocative stuff." HannahMcGill, Director EIFFThe screening will be followed by a Q&A with co-writersGhazi Hussein and director Robert Rae. Ghazi is also a poetand was himself a Refugee, who now campaigns on behalfof survivors of torture.SPECIALEVENTWelcomeSun 16 May at 4.00pm - FREE (see below for details)Philippe Lioret • France 2009 • 1h49m • 35mm • French, Kurdishand English with English subtitles • 15 – Contains strong languageCast: Vincent Lindon, Firat Ayverdi, Audrey Dana, Derya Ayverdi.In Calais, illegal immigrant Bilal, a 17-year-old Kurd fromIraq, finds himself stuck amid crowds of illegals in Calaisand desperate to get to England at any price. After anunsuccessful attempt at crossing as a stowaway on a lorry,Bilal conceives the desperate notion that perhaps he canswim to his goal. Enter swimming instructor Simon...This screening of Welcome, winner of the EuropeanParliament's LUX Prize 2009, is hosted by theEuropean Parliament Office in Scotland. It is FREE toattend, but you must register in advance by emailingepedinburgh@europarl.europa.eu or calling 0131 557 7866.The objective of the European Parliament's LUX Prize is topromote public debate on European integration and to increasethe reach of European films in the European Union. The EuropeanParliament is a champion – and a symbol – of cultural diversity.Its very make-up reflects Europe's multiplicity of cultures andlanguages; it has 736 seats and works in 23 languages. One ofthe main criteria in selecting the films short-listed for the LUXPrize has been their success in showing the process of Europeintegration in a different light. It is voted for by Members of theEuropean Parliament and awarded annually; the prize finances thesubtitling and the kinescope recording of the winning film in the23 official EU languages. For more information, please contact theEuropean Parliament Office in Scotland,The Tun, 4 Jackson's Entry,Holyrood Road, Edinburgh EH3 6PXor see www.lux-prize.eu.SPECIALEVENTSCo-operative Film FestivalSat 22 May at 1.00pm - FREE EVENTUK 2009 • 1h45m • DigiBeta • PGEach year The Co-operative encourages young people toexpress themselves and make a short film. The result isthe Co-operative Film Festival. Join us for this special funscreening of Scottish films made by young people aged 8-22, which were entered into the Co-operative Film Festivalin 2009. There are animations, documentaries and dramas,films that are funny, fantastical, thought-provoking andcreative. The screening is supported by Project Ability andThe Co-operative Membership Scotland.Screening 1-2pm, free taster workshops 2-2.45pmwww.youngfilm-makers.coopwww.project-ability.co.ukCaught ShortMon 10 May at 6.30pmVarious • UK • 1h10m • DigiBeta • 15Curated by students from Edinburgh Skillset Screen andMedia Academy, Caught Short is a showcase of shortsfrom emerging filmmakers with a Scottish connection. Theprogramme includes a selection of drama, documentary,animation and experimental works. The guest panellist forthis season's selection is Scottish producer Clare Kerr.
---
34 More Than MoviesEXHIBITION: MILK, TWO SUGARS PLEASEFILMHOUSE CINEMA ONEFILMHOUSE CAFE BARCourses, Workshops and EventsScreenwriters Group19 August, 16 September, 21 October, 18 November, 16 December'Screenwriters, EH' holds free monthly meetings for screenwriters and filmmakers. Meetingsinclude talks from film industry professionals, workshopping with actors, and feedback onmembers' scripts, and always incorporate time for networking and film-related chat.Meetings are from 7pm - 10pm, free and open to all.More information can be found at www.scottishscreenwriters.ning.comExhibitionMilk, Two Sugars Please25 April - 31 MayAn exhibition of paintings by Ernesto Canovas, current MFA student at Slade School of Fine Artin London. Selected by The Royal Scottish Academy for RSA New Contemporaries Show 2010(award winner), he has been succesfully exhibiting in London, Berlin and San Francisco. Theshow brings together a selection of his eye-catching, resin paintings featuring the artist's diverseinfluences such as landscape and popular culture.Venue HireLooking for a unique way to entertain? Filmhouse cinemas are available for hire for privatefunctions and corporate events. We can accomodate a large variety of events, including: privatescreenings; corporate functions; conferences and seminars; meetings and presentations; productlaunches; birthday and surprise parties; film and photo shoots; press conferences; rehearsals;hen and stag nights; children's parties.For further information about venue hires contact Filmhouse Administration on 0131 228 6382 oradmin@filmhousecinema.comFilmhouse Café BarDrop in for a cappuccino, espresso or herbal teaand enjoy one of our superb cakes.Our full menu runs from noon to 10pm sevendays a week!All our dishes are prepared on the premisesusing fresh ingredients.We've an extensive vegetarian range with avariety of daily specials.A glass of wine? Choose from nine! The bar hasreal choice in ales, beers and bottles.A special event? Just ask, we can probably help.Or just come and relax in the ambience!Opening hours:Sunday – Thursday 10am till 11.30pmFriday – Saturday 10am till 12.30am0131 229 5932 cafebar@filmhousecinema.comFilm QuizSunday 16 May & Sun 13 JuneFilmhouse's phenomenally successful(and rather tricky) monthly quiz.Teams of up to eight people tobe seated in the café bar by 9pm.
---
New Bollocks CinemaMAILINGLISTSACCESSSTAFFTo have this monthly brochure sent toyou for a year, send £6 (cheques payableto Filmhouse Ltd) with your name andaddress and the month you wish yoursubscription to start.This brochure is also available todownload as a PDF from our website,www.filmhousecinema.comAlternatively, sign up to our emailing list tofind out what's on when, and hear aboutspecial offers and competitions, by goingto www.filmhousecinema.comThere is a large printversion of the brochureavailable which can beposted to you free ofcharge.FUNDINGFILMHOUSECORPORATEMEMBERSThe Leith AgencyEQSNVast BlueNewhavenLine Digital LtdINFORMATION FOR PATRONS WITHDISABILITIESFilmhouse foyer and box office arereached via a ramped surface fromLothian Road. Our café-bar andaccessible toilet are also at this level. Themajority of seats in the café-bar are notfixed and can be moved.There is wheelchair access to all threescreens. Cinema one has space for twowheelchair users and these places arereached via the passenger lift; cinemastwo and three have one space eachand to get to these you need to use ourplatform lifts. Staff are always on hand tooperate them – please ask at the boxoffice when you purchase your tickets.Advance booking for wheelchair spacesis recommended. A second accessibletoilet is situated at the lower level closeto cinemas two and three. If you needto bring along a helper to assist youin any way, then they will receive acomplimentary ticket.There are induction loops and infra-redin all three screens for those with hearingimpairments. Our brochure carriesinformation on which films havesubtitles.We regularly have screenings with AudioDescription and subtitles for those withhearing difficulties – see page two fordetails of these.Email admin@filmhousecinema.com orcall the Box Office on 0131 228 2688 ifyou require further information.Graham WallaceChief Executive OfficerJames McKenzieChief Operations OfficerRod WhiteHead of ProgrammingDavid BoydChief TechnicianRichard MooreCinema Operations ManagerAllan MacRaildFront of House ManagerRobert HowieCatering ManagerKirsty DicksonMarketing ManagerFiona HendersonEducation OfficerJenny LeaskProgramme CoordinatorJames RiceProgramme CoordinatorJayne FortescueInformation and Events CoordinatorCathi HitchmoughFinance OfficerRELATEDORGANISATIONSEdinburgh International Film FestivalTel: 0131 228 4051 Fax: 0131 229 5501www.edfilmfest.org.ukEdinburgh Film GuildTel: 0131 623 8027www.edinburghfilmguild.com
---
FINDINGFILMHOUSE88 Lothian Road, Edinburgh, EH3 9BZNearest car parks: Morrison Street (next tothe Conference Centre), Castle TerraceBuses: 1, 2, 10, 11, 15, 16, 17, 22, 24,30, 34, 35