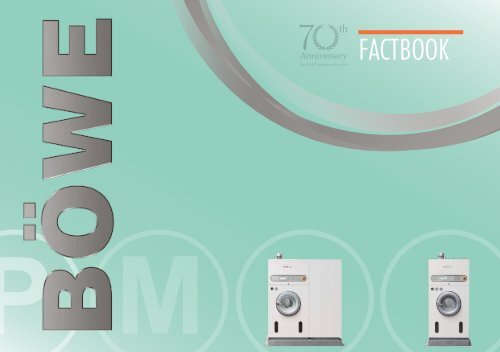 You also want an ePaper? Increase the reach of your titles
YUMPU automatically turns print PDFs into web optimized ePapers that Google loves.
Anniversary

Quality & Competence since 1945

FACTBOOK

M
---
70 years Competence & Quality

BÖWE's innovative ideas and continuous development have ensured the

company's excellent reputation throughout the world.

Today BÖWE delivers high quality PERC and MULTISOLVENT ® dry cleaning

machines to the world.
---
History

BÖWE's history - located in the Black Forest in Germany - started in 1945 with the foundation

of the company by Max Böhler and Ferdinand Weber after the end of the Second World War.

As a supplier for several companies they had the idea of developing dry cleaning machines.

Five years later Böhler and Weber presented the first dry cleaning machine for garments.

That was the beginning of a success story and today BÖWE delivers innovative and high quality

machines to the market throughout the world.

Get the benefit out of dry cleaning machines with over 70 years experience.
---
PREMIUM

WITH THE premium line ASSEMBLY IT IS POSSIBLE TO

CHOOSE BETWEEN TWO DESIGNS IN P/M12-18 MACHINES.

The versatile design of P/M 12-18 machines offers the possibility

to choose between a SLIM or CROSSLINE configuration.

Most compact dry cleaning

machine world wide

⊕⊕

fits through every door

⊕⊕

18 kg capacity within 2m 2

⊕⊕

Distillation behind the machine.

P/M 12-18: 2310mm (90.95´´)

P/M 21-30: 2340mm (92.1´´)

P/M 12-18: 2280mm (89.76´´)

P/M 21-30: 2180mm (85.8´´)

P/M 12-18: 1995mm (83.1´´)

P/M 21-30: 2130mm (83.1´´)

Machine weight

M12/27, P12

1155kg | 2546lb

M15/33, P15

1255kg | 2767lb

M18/40, P18

1355kg | 2987lb

M21/46, P21

2025kg | 4465lb

M26/57, P26

2175kg | 4795lb

M30/66,P30

2325kg | 5005lb

8mm (0.31´´)

P/M 12-18: 1840mm
---
Premium Crossline

Loading capacity

M12/27 | P12 : 12kg/27lb

M15/33 | P15 : 15 kg/33lb

M18/40 | P18 : 18 kg/40lb

M21/46 | P21 : 21 kg/46lb

M26/57 | P26 : 26 kg/57lb

M30/66 | P30 : 30 kg/66lb

Automatic maintenance for

⊕⊕

distillation,

⊕⊕

spin filter,

⊕⊕

Slimsorba (active carbon unit),

⊕⊕

water separator,

⊕⊕

post water separator and

⊕⊕

cleaning of tanks

photo of M18 for demonstration only

P/M 21-30: 2200mm (86.6´´)

removable legs

The dimensions given may differ if special options are used
---
PREMIUM Crossline

M12/27, P12 | M15/33, P15 | M18/40, P18

M21/46, P21 | M26/57, P26 | M30/66, P30

Distillation beside the machine

Depth (mm, inch)

M12/27 | P12 : 1200 (47.2´´)

M15/33 | P15 : 1310 (51.6´´)

M18/40 | P18 : 1420 (55.9´´)

M21/46 | P21 : 1500 (59.1´´)

M26/57 | P26 : 1630 (64.2´´)

M30/66 | P30 : 1735 (68.3´´)
---
Premium Slimline

M12/27, P12 | M15/33, P15 | M18/40, P18

Distillation behind

the machine

P/M 12-18: 2280mm (xx.xx´´)

1995mm (78.5´´)

Depth (mm, inch)

M12/27 | P12

1410 (55.5´´)

M15/33 | P15

M18/40 | P18 : 1540 (60.63´´)

935mm (36.8´´)

143mm (5.6´´)

1076mm (42.5´´)
---
Round shapes

⊕⊕

less welds

⊕⊕

⊕⊕

⊕⊕

⊕⊕

less fatigue breaks

no lint balls

no corners and edges

better airflow

The BÖWE Philosophy

THE ROUND SHAPE OF THE COMPoNENTS

IS A CLEAR BENEFIT FOR THE OPERATION

OF THE MACHINES AND ALSO FOR THE

DAILY MAINTENANCE

Round air duct

Round water separator

Round distillation

Round lint filter and button trap

photo: Black Forest edition
---
Sophisticated Design

Round Distillation

During the distillation process BÖWE machines

pump in a circuit all the time and splash the

sludge and solvent to the bottom of the still to

clean the surface and to ensure good heat transfer.

SLOPING STILL BASE

The sloping bottom of the still makes it is easy to

transport the sludge to the rake out door.

Because sludge creates an insulating layer, the sloping

bottom of the still means that you can keep your

distillation surface clean and save energy.
---
⊕⊕

⊕⊕

⊕⊕

⊕⊕

very quiet

no lint balls

short drying times

no corners and edges

Stainless steel air duct

Round, efficient and aerodynamic.

Developed with the aviation industry.

detergent stroke pump with viton ® seals

Regulates the dosage from 50-150ml
---
Service friendly

Drystat

Capacitive sensors used

only in BÖWE machines.

NEW LEVEL SENSORS

New level sensors check the filling level for

distillation, drystat drying controller, the water

separator and the sludge barrel.

The sensors are maintenance and wear free.

Self-cleaning water separator

The water separator is designed to avoid manual

cleaning. The unit is made in high quality stainless

steel together with big sight glasses.

STAINLESS STEEL PIPES

with conex unions

photo: Black Forest edition
---
Security - 100% save

Independent test carried out by the TBBG Institute in Germany certify that BÖWE MULTI-

SOLVENT ® machines can installed and used without the need of a Nitrogen Bottle according

to the ISO/WD 8230-3.2 applied to dry cleaning machines using flammable solvents.

In BÖWE PREMIUM LINE machines the control systems are serving as explosion

protection and perform automatic checks so that failures cannot lead to unsafe conditions

and explosions. This unique system also safeguards against involuntary maladjustments

or manipulation of sensors and other devices present on the machine during

the cleaning and drying phase. Electrical devices in these machines are checked in

accordance with the EN 50014 – EN 50039.

TBBG German Textile

Garment Trade Association

The BG Energy, Textile media products

(BG ETEM) is a professional

trade association in Germany and

thus the statutory accident insurance.

The BG ETEM is responsible

for 3.8 million policyholders in more

than 200,000 companies in the

electrical industry and electrical

trades, precision engineering,

energy and water industries, Textile

industries, shoes and printing and

paper converting. Headquarters of

the trade association is Cologne.

The BG ETEM awards every two

years the price prevention occupational

health and safety of BG ETEM.
---
Cathaphoresic coating

BÖWE created a very smooth surface by using a special cataphoresic coating by ion

addition in a galvanic process. Thereby we prevent lint at the flange, back plate, cooler

and fan housing, etc.. The result is shorter cycle times and less energy consumption.

Button trap basket

Cooler

drum HOUSING
---
Lint Filter

Lint filter and

button trap one unit

BÖWE machines are equipped with the

biggest lint filter world wide. The lint filter

with huge surface you only have to clean

once a day after 8 cycles. Lint filter and

button trap you can reach through only

one maintenance door. In the button

trap is an additional mesh, to protect the

solvent pump for coins, needles, buttons

etc.

cataphoresic coated

button trap BASKET

photo: Black Forest edition

⊕⊕

⊕⊕

⊕⊕

⊕⊕

less cooling water, steam and

energy consumption

New developed sensor for low level in the

button trap, capacitive, wear and maintenance

free at limited setting

machine starts spinning,

if solvent is drained completely

possibility of controlled pumping time
---
Condenser | Viton ®

5 years warranty

on complete Condenser

and HOusing

⊕⊕

Stainless steel condenser housing

in 316 TI stainless steel

⊕⊕

⊕⊕

⊕⊕

5 years Warranty

•

B Ö W E

•

cooling coil fixed with metal strips,

thereby no vibration, noise and

fatigue breaks

cooling coil with 70 μm zinc coating,

industry standard is 7 μm

big condenser from P/M30 also in

P/M12 – 18, giving cooler solvent.

LONG LASTING (5 YEARS' WARRANTY),

PRECISE SEALING FLAPS MADE OF VITON ®

⊕⊕

drum

⊕⊕

stainless steel air duct

⊕⊕

gaskets for loading door,

⊕⊕

maintenance doors,

⊕⊕

sight glasses,

⊕⊕

button trap,

⊕⊕

distillation

⊕⊕

Airduct seal

Viton ® is a high value material

made of fluor and

caoutchouc. The expensive

Viton ® is well known

as a technical seal with

high thermal and chemical

resistance. Different from

elastomer, it is resistant to

hydro-carbons like oil and

petrol, also at higher temperatures,

it does not swell

or dissolve.
---
Maintenance & Hygenie

Special tank

outlet design

⊕⊕

self cleaning

solvent tanks

PREVENTING BACTERIA AND ODOUR

Sloping tank bottoms prevent dirt and water

accumulating in the tank.
---
Direct Connect | PLC Control

PLC control

Plain text display and advice to guide the operator. Large numbers for the time remain so you can see them from a distance.

Several maintenance programs are combined with the multi maintenance program.

Automatic maintenance for distillation, spin filter, Slimsorba (active carbon unit), water separator, post water separator and cleaning of

tanks working at the same time.

Freely programmable and compatible to Siemens

BÖWE dry cleaning machines are available in the many control languages.

DIRECT CONNECT

⊕⊕

⊕⊕

⊕⊕

⊕⊕

⊕⊕

Quick fault diagnostic without

service technician at site

exactly the right spare parts get ordered

Service avoidance in case of operator or

maintenance error

Router LAN connection required
---
Dynamic airflow

drying system

The patented stainless steel drum with

dynamic drum perforation, less holes

in the front area of the drum and more

holes in the back area and in the back

plate, forces the air the longest way

through the garments.

This produces shorter and more efficient drying

in problem zones, for example on shoulder

pads.
---
Loading door

A big loading door is not only a question of comfort but is also

one of efficiency when loading and unloading.

Drum & Loading doors
---
Multistage Distillation in BÖWE MULTISOLVENT ®

The fractional distillation prevents water accumulation in the solvent tank.

By avoidance of dirt and water in the tank no culture medium is for bacteria.

Distillation

Condenser

Flashtank

solvent

water

waste barrel

sludge

sludge pump
---
Water separator 1

Water separator 2

Clean solvent

back to tank

solvent

water

solvent

water

clean tank

work tank
---
THESE ARE SOME RECENT INSTALLATIONS IN THE USA, GREAT BRITAIN, SWITZERLAND, GERMANY,

THE PHILIPPINES, INDIA, THE UNITED ARAB EMIRATES, THAILAND, MOZAMBIQUE, SRI LANKA,

THE MALDIVES ETC… WITH PREMIUM LINE, COMET LINE MACHINES & INDUSTRIAL INSTALLATIONS.
---
Customers | Partner

Worldwide over 6000 satisfied customers rely on BÖWE machines

AIDA CRUISES | P & O CRUISES | LÜRSSEN YACHTS | ROYAL CARIBBEAN CRUISE LINE

| HILTON | SHERATON | LAGUNA PHUKET | INTERCONTINENTAL | JEBEL ALI GOLF RESORT |

SHANGRI-LA | HYATT | LeMERIDIEN | ROYAL PHUKET | KEMPINSKI | MARRIOT | SKI DUBAI

| KINGDOM OF BAHRAIN MINISTRY OF INTERIOR | HERMÈS | EMIRATES AIRLINES |

BALAKOVSKYA | NUCLEAR POWER PLANT RUSSIA | REGAL DRY CLEANERS | SPARKLE DRY-

CLEANERS | LUFTHANSA | MARC CAIN FASHION CLOTHES | HOHENSTEIN INSTITUTE | etc.

Powered by

© 2015 BÖWE Textile Cleaning BÖWE and Multi Solvent ® are trademarks and logos of BÖWE Textile Cleaning GmbH, Germany, all other trademarks are the property of their respective owners.
---
Solvent Consumption

Lowest solvent consumption on the

10% 7% 4% 2% 1,5% 0,3% 0,25%

1955

1. Generation

market. Approx. 0.25%

1960

2. Generation

(100 kg garments = 250 g solvent

consumption)

1965

3. Generation

1980

4. Generation

1990

5. Generation

2004

6. Generation

2015

7. Generation
---
Solvent Comparison

characteristic

PERC

Perchlorethylen

HC

Hydrocarbon

Silikon D5

Greenearth

HI

G

GENTLE

ON FABRICS

T OUGH

ON STAINS

Solvon K4 Intense Higlo Water

density (kg/m 3 ) 1.62 0,7-0,8 0.95 0.835 0,80 0,78 1

boiling point (°C) 121 170-195 210 180.5 183 184 100

evaporation heat (kJ/kg) 209.8 265 k.A. 246.6 250 250 2257

flash point (°C)

not flammable

55-65 77 62 64 62

not

flammable

Explosibility limit - 0,6 | 7% 0,7% (LEL) 0,65 | 23% 0,6% k.A. -

Kauri-Butanol Value 90 22-30 13 75 45 43 k.A.

Specific Rules

2. BImschV/

VOC

31.

BImschV/

VOC

31.

BImschV/

VOC

31.

BImschV/

VOC

31.

BImschV/

VOC

31.

BImschV/

VOC

BÖWE machine typ P-series M-series M-series M-series M-series M-series

k.A.

laundry

machines, wet

cleaning

(no reponsibility is taken for the correctness of this information)
---
Multisolvent®

MULTISOLVENT ®

Multisolvent ® - Easy conversion to other solvents

By using the parts kit you can convert your BÖWE

Premium Line machine from PERC to Multisolvent ® .

• Trade Mark Reg. No. 1 180 560

•

After the conversion you can use solvents like

⊕⊕

Hydro Carbon (HC)

⊕⊕

Silicone (GreenEarth®), D5

⊕⊕

Solvon (K4)

⊕⊕

Higlo

⊕⊕

Intense

⊕⊕

GENEX

⊕⊕

and more to come

In several countries BÖWE Premium Line machines

work with many alternative solvents. By efficient

drying, round air duct, dynamic drum perforation and

cataphoresic coating a BÖWE M-machine is suited to

use solvent lighter than water.

M
---
BÖWE Showroom | Academy

BÖWE APP

In our APP you will find all information a

professional Dry Cleaner must know. From

technical data to fibres, garments, solvents

etc.. You will find a lot of useful and practical

things for your daily business.

Available for Android and APPLE.

BÖWE Academy

For customers, service technicians and

business partners we brought the BÖWE

showroom and academy to life. You can visit

regularly workshops and education courses.

APPLE

GOOGLE

PANORAMA

VIEW

BÖWE Showroom

In our showroom you can try out our different

types of BÖWE machines in a real working

environment. With many different solvents and

digital consumption for water, energy etc..
---
COMET Slimline

High technology meets low consumption

Perfection in Stainless Steel and round shapes. The COMET is a new BÖWE, attractively priced,

commercial dry cleaning machine. This new development by BÖWE has managed to combine

the high quality standards of BÖWE series of machines with simple and less expensive assembly.

⊕⊕

⊕⊕

⊕⊕

All components in contact with solvent are made from high quality stainless steel.

All gaskets are high quality Viton ® gaskets.

Comet P16XP available in Slimline or Crossline configuration.

The result

⊕⊕

low energy consumption

⊕⊕

lower priced BÖWE machine

⊕⊕

robust design BÖWE quality

⊕⊕

available as COMET M and COMET P

⊕⊕

short cycle time

⊕⊕

low maintenance

⊕⊕

solvent saving
---
Filter variations of CometLine

MultiSolvent ® machines

Depending on the number of loads they last

several weeks and then have to be changed.

The dirt from the garments is collected by

the filter discs which should be washed

with filter powder before so that the dirt and

odour are filtered properly. The filter discs

are cleaned with a special program which

can be selected at any time.

1. Variant: Cartridge filters

With the cartridge filters the solvent is filtered

through high-efficient cartridges. These

cartridge filters bind dirt particles and by

their special construction they absorb pigments

and odorous substances.

Depending on the numbers of charges

they have a standing time of several weeks

and have to be exchanged afterwards.

COMET Crossline

2. Variant: Spin filters

The CometLine M-machines can also be

equipped with spin filters. The dirt of the

garment is being collected by the filter

discs. They should be washed up with filter

powder before so that dirt and odour

are being properly filtered. The filter discs

are being cleaned with a special program

which can be selected any time.

Combined water and air cooling
---
SI70

Loading capacity: 70 kg

Heating: steam

Free programmable

Options: double distillation, self-cleaning button trap etc.

Range of application

⊕⊕

work wear

⊕⊕

cleaning clothes

⊕⊕

gloves

⊕⊕

fur degreasing

⊕⊕

carpets

⊕⊕

textile production

⊕⊕

aviation

⊕⊕

tannery

⊕⊕

etc.
---
Industrial Machines

Biggest and latest dry cleaning machine worldwide

unique and modular

100-200kg loading capacity
---
2015-07 EN

BÖWE Textile Cleaning GmbH

Lochmatt 1A - Industriegebiet West

77880 Sasbach - Germany

T +49 7841 60 02-200 | F +49 7841 60 02-230

info@bowe-germany.de | www.bowe-germany.de