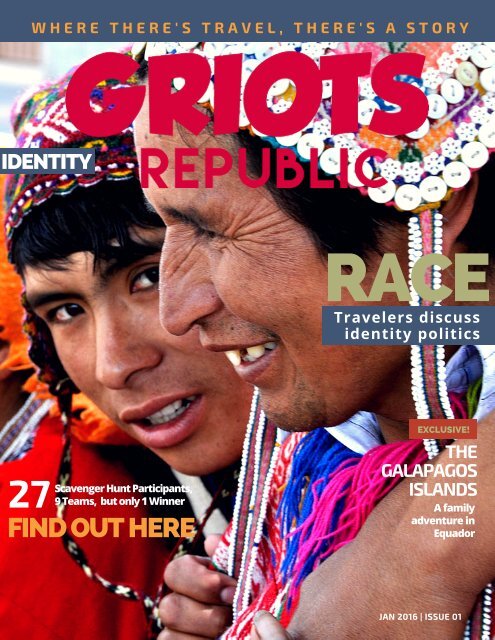 GRIOTS REPUBLIC - An Urban Black Travel Mag - Jan 2016
www.GRIOTSREPUBLIC.com - An Urban Black Travel Mag. It's the stories you want to hear in a voice you recognize.
www.GRIOTSREPUBLIC.com - An Urban Black Travel Mag. It's the stories you want to hear in a voice you recognize.
SHOW MORE
SHOW LESS
You also want an ePaper? Increase the reach of your titles
YUMPU automatically turns print PDFs into web optimized ePapers that Google loves.
W H E R E T H E R E ' S T R A V E L , T H E R E ' S A S T O R Y

IDENTITY

RACE

Travelers discuss

identity politics

27

Scavenger Hunt Participants,

9 Teams, but only 1 Winner

FIND OUT HERE

EXCLUSIVE!

THE

GALAPAGOS

ISLANDS

A family

adventure in

Equador

JAN 2016 | ISSUE 01
---
JOIN

US

EXPERIENCES

OVER EVERYTHING

ad

WWW.TASTEMAKERSAFRICA.COM
---
Archivists Note

From Brazilian Favelas to the streets of Brooklyn and over to the

front lines of conflict, this issue celebrates identity and community

and the many ways they and we interconnect.

What are we? Who are we? What do we stand for? These are all

questions we've had to ask ourselves over the last year while creating

Griots Republic. Take issues surrounding race, ethnicity, gender,

nationality and whole host of other identifying markers and layer on a

rabid case of wanderlust and you easily begin to realize that things are

never just black and white. So let's dive into the grey.

We gathered urban travelers from different walks of life and asked them

for their stories. What we received was a gift. An idea that no matter how

far we travel or how complicated our Identity is, there is single thread

that connects us all... The need for community.

So in the spirit of community we bring you Griots Republic, the digital

magazine for urban travelers. We look forward to exploring more of our

world together, rooting out travelers you want to know and capturing

stories you want to hear. In the interim, welcome to our inaugural issue.

T H E A R C H I V I S T S

Immigration and the

Black British experience,

Jendella Benson's view

should not be missed.

Foodies should love Kelis'

book... Rodney did. Check

out his review in this

issue as well.

We have been stalking

photographer Matika

Wilbur for a minute. We

finally got her to sit long

enough to learn more

about her project.

#Amazing
---
CONTRIBUTORS

For full bios and social media links to all of the writers, photographers,

and editors from this issue. Please visit www.GriotsRepublic.com.
---
IG photographer

R E A D I N G L I S T of insight into the psyche of this

creative force of nature. At some

points, this professed introverts

shedding light on her life almost makes

the reader feel like they are intruding

SAY 'YES' TO

A NEW YEAR

Is this the next book to add you your reading list?

"YES!"

By Rodney Goode

and that makes the reader respect

(even treasure) the gift she is giving

you within its covers.

Without revealing too much, The Year

of Yes begins when her sister mutters

six words under breath:

You never say yes to anything.

From that point, Rhimes walks the

reader through the impact of those

words and all she must overcome to

begin to say 'yes.' She tells the tale of a

lying introvert (this will make more

sense after reading) who says 'yes' to

meeting the President of the United

States, to appearing on Jimmy Kimmel,

and 'yes' in some more personal and

private ways. In many ways the tale is

honest, sobering and sometime

humorous. Rhimes simply wants to do

better, be better.

THE CONCLUSION

THE GIST

There is something intriguing

about the close of an old year and

the onset of the new. For some it

signifies the end of twelve

months of successes and the

mystery of newer and greater

things ahead while for others, it

means putting 365 days of

arduous challenges behind and

the hope of better things to come.

Regardless of how you look at it,

the New Year means just that, a

new year to try again. That's

what makes the first book, "The

Year of Yes" is perfectly timed.

Reading this book with no

knowledge of who Rhimes is will

be a challenge because without

understanding her celebrity, the

journey outlined in this book may

not have the same impact.

However, if you are a fan of Grey's

Anatomy, Scandal, or How to Get

Away With Murder, this book

provides the reader with both

fascinating and interesting tidbits

The Year of Yes will probably be

heralded as a "Self-Help" book, but

arguably it's just an opportunity for

Rhimes to publicly purge, declare her

victory, and celebrate her success.

The best part is it's not preachy like so

many books of this type where the

author, because of their success,

proclaims to be a guru of sorts and

gives the reader a sense that if they do

not learn from the writers errors, the

reader will never be successful, nor is

it a guidebook that gives the reader a

step-by-step process for

improvement. The Year of Yes is simply

an account of an incident that sends

the writer on a different avenue in her

life's journey.

Rhimes' openness is the reader's gain.
---
TYPES OF TRAVEL SUNGLASSES

5By Cabral M'rithi Miller

©Peter McConnochie

Very few statement accessories are

as universal as sunglasses. Since

travel, especially amongst today's

urban millennials, is on the rise,

people are looking to accessories

as the perfect travel companions.

Considered the "AMEX of Travel,"

because one should not leave home

without them, sunglasses can

make or break your experience and

elevate your selfie game!

Here we break down the five types

of sunglasses that are perfect for

your next vacation, whether you

visit The Caribbean, Europe or

choose to luxuriate right here in

The States.
---
Wayfarer

Perfect with any other outfit or occasion,

the Wayfarer is the travel companion you

cannot afford to leave home without.

Tip: Perfect for those avoiding trends and

complimentary for people with small,

oval faces.

Oversized

By Dwayne July

Offering more protection from sunburn

and perhaps the paparazzi, this pair of

ostentatious sunnies are usually round

with a strong feminine brow line and

used to minimize the arch of your noses.

Tip: Works with almost every face type

and great for hiding from your fans or

frenemies.

Aviator

Versatile, with a military vibe, these

pieces are outfitted with bayonet

earpieces and are designed to prevent

light from entering the eye from almost

any angle. Tip: Round or smaller faces

are ideal.

Animal Print

A departure from the basic black these

sunnies are perfect for frolicking on

beaches, perusing down city streets, and

hanging out in fashionable spots around

the world. Tip: Oval faces are benefit and

the pattern brings out the ultrafeminine

side of every woman.

Embellished

Considered works of art, embellishments

are a fast trend that everyone is adopting

especially the accessories and apparel

worlds. Tip: For those who dare to wear

this risky trend these tend be more on

the larger side so try on before

purchasing.

20 20 squats

20 push-ups

1 minute plank

30 secs of rest

Repeat

circuit 4x
---
I G P H O T O O F T H E M O N T H

It was one of the least visited places I have ever

traveled to, but I consider myself a true traveler and

really thrive off the intrigue of undiscovered places.

I've been living in Brunei Darussalam which is on the

large island of Borneo for 4 months and have been

taking advantage of the opportunity by exploring

everything I can in the area. I've traveled to Indonesia

a few times before and realized there's so much more

out there than just the popular destinations like Bali,

Jakarta, and Yogyakarta.

I was in the province of West Papua which is also

known as Irian Jaya for close to a week trekking

through different villages without a guide. There are

about three different tribes who inhabit the villages

around the highlands of The Baliem Valley. In this

photo I was visiting the Dani Tribe.

On the last day of my visit I hired a guide to take me to

a specific village where they perform traditional

war dances. My guide was a local Papuan who

spoke the language and broken English so he was

able to translate. At the end of their dance he told

me that they would allow me to take a picture with

them.

There is only one way to get here which involves a

series of flights and a special travel permit called a

Surat Jalan. There is always a sense of

accomplishment and gratification I get when

arriving to such a remote location that can't be

matched. From staying the night in the local straw

huts which are called "Honais", to shaking every

locals hand I encountered along the path during

the trek, to handing out candies to all the children

of the villages, to the incredible views of the

surrounding mountains of the highlands, this was

one of the most memorable and picturesque trips I

have ever had and am incredibly fortunate to have

had this experience.
---
WWW. REYNOSOPHOTOGRAPHY.COM
---
Sponsored By:

SPYDER MARKETING

SWDCANHELP.COM

Dr. Melva Pinn-Bingham

Health & Wealth Coach

Tickets Available at

EventBrite.com

Union

Baptist

Church

w w w . d o c s w i n e r . c o m
---
Doc Swiner Presents...

New Year,

New You!

WOMEN'S CONFERENCE

SOAR TO

NEW HEIGHTS IN 2016!

Phenomenal Speakers

Excellent Discussions

Great Food

Live Music

More than 20 Vendors

Much More!

Saturday, January 9, 2016

8:30am-1:30pm

Jewish Life Center,

Duke University

1415 Faber Street, Durham, NC

w w w . d o c s w i n e r . c o m
---
© David Loftus.
---
FROM STAGE TO STOVE:

A CULINARY JOURNEY AROUND THE WORLD

A weekend of cooking and reading and here's a review of my

favorite recipes from Kelis Rogers' "My Life on A Plate."

Besides her career in

music, Kelis is a Le

Cordon Bleu trained

chef with multiple

television cooking

specials, and a

burgeoning

entrepreneurial streak

with her Bounty & Full

organic sauce line.

© David Loftus.

It is no surprise in this

entrepreneurial age we live in, that

Rappers and Singers want to be

Actors and Actors want to be singers

(and sometimes Rappers). On

occasion these endeavors are

successful but rarely do you see any

of the above leaving the glam and the

glitz of celebrity to become an

accomplished chef or cookbook

author. Kelis Rogers is the exception.

The ex-wife of superstar rapper,

Nasir Jones a.k.a Nas, Kelis is quite

the accomplished musician herself.

She plays several instruments and is

probably best known for her hit,

"Milkshake." Her recent labor of love,

however is far removed from that lifestyle.

"My Life On a Plate," heralds her successful

ascendency into the ranks of the culinary

royalty.

My Life On a Plate is a global culinary

journey that tells the stories of a world

traveler who enjoys good food. Her

fondness of hole-in-the-wall eateries

combined with her Le Cordon Bleu

education is evident throughout the book

and clearly serves as her inspiration. She

adeptly captures the sights and sound of

exotic locales and provides the reader with

easy to follow instructions that allow you to

taste her journeys via her refined palate.

Foodies who travel will certainly

appreciate her cookbook and the recipes

will transport you there. This is a recipe

source that is sure to be used over and

over again. Two recipes of note that are

certain to be favorites of traveling

foodies, due to their taste and ease of

preparation, are Kelis' Beef Sliders and

Shrimp Alcapurias.
---
Fans of Kelis may be surprised to know that during a

musical hiatus, she worked on a food truck (yes, a food

truck)! In the book she share this story, as well as her

delicious recipe for Beef Sliders. Sliders can be found on

menus in practically any modern eatery, but what makes

Kelis' sliders a new standard for home cooks is not in the

preparation of the beef. Kelis stays true to her roots and

utilizes a traditional Caribbean method of preparation in

need of little improvement. The recipe calls for the

braising of shredded flank steak seasoned in spices

endemic to the region. So what's the game changer you

ask? It is the sauce.

Kelis, a culinary entrepreneur in her own right, has a

unique line of sauces and provides her recipe for a Root

Beer Espresso BBQ sauce that can only be described as

simply delectable. Kelis' Beef Sliders are perfect for a quick

hand-held meal in front of the television or can be easily

used for either a hors d'oeuvre or snack platter.

The second recipe noted is for Shrimp Alcapurias. As an

introduction to the recipe, Kelis shares glimpses of her time

in Puerto Rico and anyone who has been there is certain to

be whisked away again to sand and sun to reminisce of this

beach food favorite. Alcapurias or fritters are a handheld

delicacy from Puerto Rico and while they are quite common

throughout the Caribbean, this version is made with a

batter of taro and/or green bananas. They are usually

stuffed with meat or seafood and the latter, shrimp to be

exact, and are what Kelis utilize in her recipe. Prepared to

her specifics these fritters make a perfect snack or side.

Leftover, they are a welcome addition to any lunchbox.

My Life On A Plate is a cookbook that will make you want to

see, feel, and taste the places Kelis has been for yourself

and if you have been to any one of her destinations

already, be prepared for a wonderful (and tasty) trip back.

Bon Voyage and Bon Appétit.

© David Loftus.
---
Born and raised in Harlem, New York, Kelis

Rogers, better known by just her first name,

first came to prominence singing the hook of

Ol' Dirty Bastard's hit Got Your Money. Years

of chart dominating songs and thrilling,

boundary-pushing music followed resulting

in millions of albums sold and numerous top

10 hits.

She has released six albums, won Brit, Q, and

NME Awards, and been nominated for two

Grammy Awards. Her latest album Food,

made with a live band and horn section,

mints a sound that is rootsy, raw, and soulful

without ever being retro. Upon release the

album was praised as one of her most

adventurous works yet.

Kelis has toured every corner of the world,

performed at every major festival, and

shared the stage with the world's top artists.

A fashion icon and designer muse since the

early days of her career, she is celebrated for

a personal style which is often as creative

and forward-thinking as the music she

makes.

© David Loftus.

Besides her career in music, Kelis is a Le

Cordon Bleu trained chef with multiple

television cooking specials, and a burgeoning

entrepreneurial streak with her Bounty & Full

organic sauce line.

"My Life on a Plate" by Kelis copyright 2015 Kyle Books
---
PROFILES

01

'16
---
RE:UNION Music Fest is a global music

festival aimed to assemble the music of the

African Diaspora into one unforgettable,

unique experience. Hip-hop,

R&B, Reggae, Kompa,

Cuban, Salsa, Afrobeat,

South African House,

and more will be

brought together

on ONE stage to

celebrate our

narrative.

EACH MONTH

RE:UNION

MUSIC FEST

WILL INTRODUCE

GLOBAL MUSIC

ARTISTS TO THE

GRIOTS REPUBLIC

AUDIENCE.
---
Written by Jeremiah Myers

Since I was a child,

I've been taught

that"Black people

everywhere are

one in my family

would impart, "The

only difference between

Black Americans and others of

the Diaspora is that they got off

the boat one stop before us,"

(referring to the route of the

Atlantic Slave Trade). This

message stayed with me

throughout my youth, and now

as an adult fully resonates with

my spirit.

This greater understanding is a

result of two characteristics: I'm

a Black Man and a World

Traveler. As a Black Man I've

learned that resilience and

creativity are my best assets in

the face of struggle. Moreover,

as a World Traveler I've met

countless people from the

African Diaspora that share this

same view. The Rastafarians I

met at "Rebel Salute" in

Jamaica, the South African tour

guide (now friend) who

discussed Apartheid with me in

Johannesburg, and the women

of color living as expats in

Colombia all viewed the world

and our place in it similarly.

That's when I realized something

very simple, yet powerful…

We have a shared story.

That's the reason I decided to

create RE:UNION Music Fest.

We have used music to tell our

shared story for generations.

Hip-hop was born out of the

impoverished housing projects

of underserved black youth in

the Bronx, New York. Bachata's

origins are rooted in the daily

realities of the rural Afro-

Dominican population of the

early 20th century. Kwaito

came to rise during the struggle

of Apartheid in the black

townships of Johannesburg,

South Africa. All of these

sounds are unique

autobiographies telling the

African Diaspora's story of

resilience and creativity. They

are a living (and oftentimes

lively) testament of our

collective experience.

Music has the power to bridge

our worlds – and our people. It

has the power to RE:UNITE. It

is in this vein, RE:UNION Music

Fest finds its inception. By

blending various international

music genres into one amazing

experience, "The World's

Greatest Family Reunion" will

reconnect the African Diaspora.

We're more than music,

we're FAMILY.

This powerful statement

represents RE:UNION Music

Fest. It signifies that while

music will always be a vital

element to the storied culture

and strength of the African

Diaspora, we must never forget

that Family Hood will be what

sustains us. I'm looking forward

to meeting you, my family.
---
On

Familiarity

& Otherness

An insight into Immigrants and Expats:

Black Brits at "Home" and Abroad

Written by Jendella Benson
---
To be Black and British is to have a

strange relationship with

immigration. Not too long ago we

were stoically soldiering on in the

face of cries of "go back to where you

came from!"," spat at us by red-faced

yobs. But now, in light of recent

waves of immigration lapping against

the shores of this small, entitled

island, our otherness is somewhat

more familiar. Our former harassers

have fresher targets for their thinlyveiled

violent and racist rhetoric.

These new immigrants absorb the

frustrations of a beleaguered

working class, whose communities

have been undermined by successive

governments, but have instead been

sold a convenient scapegoat in the

form of immigrants.

While faceless mobs scream about

immigrants stealing jobs, living off

the state, and taking up all the

housing, government ministers

quietly pass legislation to cut state

benefits, sell off affordable housing

to the private sector, and increase

the amount of low-paid, insecure jobs

to add a superficial boost to

employment figures.

If we're honest, some of us Black

Brits are just glad that the heat is no

longer on us and our families. There

are those who try to cement the limp

embrace offered by White Britain by

naively parroting nationalist

sentiment to ward off the asylum

seekers and migrants. It surprises me

how easy it is for some to regurgitate

IDENTITY

ˌīˈden(t)ədē/

noun

the fact of being who

or what a person or

thing is.

"No,

where are

you from,

really?"
---
G R I O T S R E P U B L I C | P
---
the weak justifications once offered in

order to keep our own parents out of

the country. However, there are also

many of us making our own plans to

leave out of choice.

One of the advantages of being in

Europe is the Schengen Agreement.

Back in 1995, an agreement came into

full effect that created an essentially

borderless state within mainland

Europe. People within the Schengen

Area became free to travel between

countries without border controls or

passport checks. While unsurprisingly

the United Kingdom has opted out,

travelling between here and the rest of

Europe is more or less painless anyway,

and once you're over there further

travel is seamless. For many of us, once

we get over the fear of being racially

abused in foreign languages, our

globetrotting dreams begin with

Europe. We refresh our high school

level French, German, or Spanish,

book our budget flights and set off.

Most of our parents never travelled

anywhere but "back home", so for

once we are not the children or

grandchildren of immigrants trying to

carve out an identity from a tangle of

cultures, nor are we the awkward

Westerners temporarily lodged in our

ancestral land for a Christmas or

summer. In these previously

uncharted territories, we are tourists!

Real tourists with cameras, and maps,

and hotel bookings instead of

mattresses on the floors of extended

relatives. What an upgrade!

While the privilege that comes with a

burgundy passport will take you

anywhere, many of us still have our

failsafe tucked away in a drawer

somewhere else. The fact is that

while you may be British, you are not

white and you will never be allowed

to forget that.

"So where are you from?"

"London."

"No, where are you from, really?"

This exchange is so common that

many of us run through it on autopilot.

With our "real" heritage never

far from anyone's mind, it makes

sense that as soon as we were old
---
enough, we gathered the necessary

proof and got ourselves a passport in

new colours for our respective "home"

countries. We often joke amongst

ourselves that when the inevitable

happens and Britain bombs its way into

World War 3, we will avoid the

compulsory military draft by hot-footing

it back to Nigeria, or Kenya, or Jamaica.

You'll find us tweeting armchair

commentary on dispatches from BBC

World Service. "Rah, Big Ben got

bombed? #MadTingSadTing :("

Once upon a time, being "shipped back"

was a threat ominously wielded in the

face of bad behaviour or poor grades,

but such homecomings are now

voluntary. I have friends who have

already beaten the crowds and have

relocated back to the motherland,

reacquainting themselves with their

heritage and culture. I follow their blog

posts and Instagram feeds out of

curiosity and mild envy.

Globalisation means that the motherland
---
19

is not the same motherland from

claustrophobic trips back as a child.

There are marble-floored shopping

centres, red carpet events, socialites

snapping for social media at gallery

openings, and cocktails at sunset. It's

hard not to mentally convert currency

and realise that for what you make here

to scrape by you can go and live the

high life "back home". Forget that half

of your kinfolk still live in abject

poverty, "believe me, there's money to

be made here!" a once-forgotten cousin

tells you.

And even still, we have other options.

Studies, work and play have some

venturing even further afield, outside

the circles of familiarity in Europe,

Africa or the Caribbean, and to

countries where wide-eyed children

stroke brown arms in the street. Those

whose previous experience

of blackness has been limited to the

distant but omnipresent force of hip

hop, or Beyonce, are often astounded at

an actual black person standing before

them.

While the term "expat" was clearly

coined by white people trying to avoid

the stigma they spent years burdening

the word "immigrant" with, young Black

Brits have hijacked the term and ran

with it, setting themselves up in the

Middle East, Australia, Asia and

everywhere else in between.

To b e black and abroad is to inhabit a

very particular space, people will often

assume you're either a poor African or a

rich American, so to be Black and British

is something else entirely. While the

innocent and not-so-innocent ignorance

of strangers may initially be enough to

make your mouse cursor hesitate while

After all, our parents were

the original "expats" – we

learned from the best.

booking your flights, the average Black

Brit will take this all in stride. I mean, we

are from Britain. If we can survive the

passive-aggressive, gas-lighting of the

British stiff upper lip at home, I believe

that we can survive anywhere. We can't

pretend that the international arrogance

that had Britain raping and pillaging its

way across the world hasn't rubbed off on

us. Wherever we land, just give us a bit of

time and we'll have worked out where

to buy our plantain and hair products

from. We do this relocation and adaption

thing very well, and why would we not?

After all, our parents were the original

"expats" – we learned from the best.
---
01

'16

PROFILES
---
ad

501(c)3 nonprofit Mission: To Cultivate Creativity, Civic Pride, and

Emerging artists through Art Outreach in Underserved Areas.

www.RoadToArtdom.org
---
TRAVEL NOTES

GALAPAGOS

ISLANDS
---
The Galapagos Islands are an

archipelago of volcanic islands

straddling the equator in the Pacific

Ocean. They were declared a

province of Ecuador in 1973. About

25,000 people live on 18 primary

islands and 3 smaller ones.
---
The natural beauty, serenity and

mystery of Galapagos juxtaposed

against the sometimes comical and

occasionally frustrating obstacles we

faced during our tour of two of the

islands quickly became the major theme

of our trip, a trip we all agreed was well

worth the inconveniences.

The members of my international crew

included my Ukrainian-American

mother, Christina, who had retired to a

seaside village in Ecuador a few years

ago. Her Ecuadorian friend, Maria,

came up with the idea to make the trip

to the islands (which sit roughly 600

miles off the Ecuadorian coast). It turns

out Maria's parents had actually lived

on one of the islands, Floriana, some 70

years ago when her father worked for

the government. Yet neither Maria nor

my mother had ever been.

Maria's husband, Washington, knew

the Galapagos. He'd been stationed

there while serving in the Ecuadorian

military in the 1970s. Our trip would be

his first time back. Maria and

Washington's adult children, Cristina

and Santiago, were the fourth and fifth

members of the entourage. Cristina

attends university in Germany;

Santiago works in Quito and had visited

the Galapagos as a boy. I flew in from

Washington D.C. and Cristina's friend,

Louis, traveled from the United

Kingdom to make it a lucky seven.

The plan was to spend ten August days

island-hopping, with the goal of seeing

as many of the famously unique species

as we could. According to the

Galapagos Conservancy, about 80

percent of the land birds, 97 percent of

the reptiles and land mammals, and

more than 30 percent of the plants

are endemic. One of our guides,

Dario, said our timing was superb as

the best months to visit are August

through November. "Galapagos is

very beautiful," he told us. "It is one of

the natural marbles of the world and

a wonderful experience to live here

and watch nature."

While the weather in August can be

slightly rainy and the temperature a

tad less tropical than one might

expect (mid- to low-70s), according

to Dario the migratory patterns of

just about all the animals, birds,

reptiles and fish bring them into view

on the islands during this window.

We began our journey in Puerto

Ayora, the most populous town on

Santa Cruz. There we began our love
---
18

affair with Galapagos snorkeling. The

biodiversity was astounding, though

not always what I'd expected. I've

done a lot of snorkeling in warm

water, including the Red Sea, where

colorful fish and plants live among

stunning coral formations. In the

frigid waters off Santa Cruz, the

colors were muted and the sea floor

crowded with starfish, sea cucumbers

and various non-tropical fish species.

In the deep water areas, sharks swam

stealthily below us.

Las Grietas, off Santa Cruz, translates

to The Crevices. It was unforgettable.

After a water taxi ride to Finch Bay

and a 20-or-so-minute hike past a

swanky hotel and idyllic lagoons, we

swam between tall cliffs with rock

walls that plunged deep into water so

crystal-clear you could see right

down to the bottom.

The plan was to spend ten

August days islandhopping,

with the goal of

seeing as many of the

famously unique species

as we could.

affair with Galapagos snorkeling. The

biodiversity was astounding, though

not always what I'd expected. I've

done a lot of snorkeling in warm

water, including the Red Sea, where

colorful fish and plants live among

stunning coral formations. In the

frigid waters off Santa Cruz, the

colors were muted and the sea floor

crowded with starfish, sea cucumbers

and various non-tropical fish species.

In the deep water areas, sharks swam

stealthily below us.

Las Grietas, off Santa Cruz, translates

to The Crevices. It was unforgettable.

After a water taxi ride to Finch Bay

and a 20-or-so-minute hike past a

swanky hotel and idyllic lagoons, we

swam between tall cliffs with rock

walls that plunged deep into water so

crystal-clear you could see right

down to the bottom.
---
A few days later, on Isabela, we

visited the shallower waters of the

Tintoreras inlets situated just off the

island. On the short Panga ride there,

we saw penguins posted up on

volcanic-rock islands and bright red

crabs basking in the sun. Once in the

water, we spotted decades-old sea

turtles floating gracefully near the

sea floor, and sea lions swimming

close enough to grab. "I wasn't

expecting to see the animals so

close," Louis marveled. Louis (who

was half-French) turned out to be our

Jacques Cousteau Jr. His Go-Pro

camera was always pointed at

something and with Cristina's help,

he documented everything we saw

above the water and below. Though

we could get very close to the

wildlife, we respected the admonition

not to touch any animals. Human

scent can cause an animal to be

alienated from its group. That being

said, while snorkeling one day,

Cristina was practically assaulted by

a sea lion determined to play.

"I wasn't touching him…he was

touching me!" she laughed, as we

peeled off our wetsuits.

While on Isabela, we stayed in Puerto

Villamil. It is a sleepy town compared

to Puerta Ayora. On the Sunday we

arrived, all the shops were closed and

it felt nearly uninhabited. We were

lucky to find cold beer and a local

woman under a walkway bridge to

the beach frying up and selling the

most delicious homemade meat or

cheese empanadas. She made them

using cassava dough, which is gluten

free, instead of the flour dough I am

used to in the United States.

We gorged on empanadas as we took

in the spectacular Malecon Cuna del

Sol, a long white-sand beach

surrounded by palm trees and

brackish water lagoons. As I strolled

along the shore later, the black lava

rock barrier between the sand and

surf appeared to move. As I got closer

I saw hundreds of land iguanas

blending right in and sunning

themselves.

Day after day, we ticked off items on

our Galapagos bucket list. We visited
---
Rancho Primicias, a private farm and

tortoise sanctuary where the giant

reptiles have free range. We strolled

barefoot along the beach at

Garrapaterro, where flamingos nest in

the surrounding lagoons. We hiked

nearly 45 minute to Tortuga Bay's

beaches to kayak and watch birds and

iguanas. An 8 mile round-trip walk

brought us to the Wall of Tears, a 20-

foot stone wall stretching more than

300 feet that was built by prisoners at

a penal colony that once existed on

Isabela Island.

We walked nearly everywhere. It

reminded Washington of his days as a

solider on the Galapagos. Weighted

down by a backpack full of gear and a

gun, he recalled using his machete to

hack his way through raw vegetation

to get from shore to shore on just

about all of the islands. Today, long

trails leading to many of the beaches

are laid with paver stones. Other

paths are made of packed earth with

wooden bridges across lagoon

marshes. Though traversing the land

is much easier than when Maria's

parents lived there, or when

Washington was in uniform, one of

the takeaways was that a Galapagos

vacation is an active one. My

mother, who is nearly 70, is in pretty

good health and full of energy. She

observed that many of the activities

may be too challenging for families

with small children or people with a

physical infirmity, even a slight one,

due to some of the terrain like steep

steps, long walks and the need to

constantly climb in and out of small

boats.

While tourism may be the one and

only industry on the islands, the

attitude toward actual tourists can be

uneven. The owner of our hotel on

Santa Cruz barely apologized for

canceling one of our three reserved

rooms, forcing me, my mother,

Washington and Maria to be

roommates for a night.

"The main income for Galapagos is

tourism," Santiago explained, "but

they are not focused on the service

aspect of tourism. Many of the guides

try to trick you in order for you to

hire them for everything, and they

charge you whatever they want."

Unanticipated costs were an
---
UPGRADE

TODAY!

TRAVE LIFE

YOUR

Select one of our memberships and get ready

to take your luxury travel life to the next level.

FREE

MEMBER

MEMBER BENEFITS

Access to the Up in the Air Life Travel Group on Facebook

Access to Lifestyle Events around the United States

Access to book any Up in the Air Life Trip

Discount on Lifestyle Events (Local Meetups)

Access to Lifestyle Experiences (Mini-Trips)

Access to VIP Facebook Group

Early Buy-in to UITAL trips

Discount off UITAL Merchandise

Discount off 1 UITAL trip Annually

www.upintheairlife.com

Choose 1 free swag bag from any trip annually

Personal Trip Consultation Annually (up to 5 days)
---
ISLAM IN

THE SLUMS

©Sarah.Ahearn
---
At approximately 9 pm in a favela, an urban

slum south of Sao Paulo, I was walking with few

of my hosts to buy meat from the butcher. I was

filled with that sense of adventure one gets in a

new environment.

"Hey – this looks safe. Isn't it funny, everyone scared

me of coming to the favelas?," I asked confidently yet

looking at my hosts for confirmation. "You are safe

because you are Kaab's guest. People know that. Just

stay close to us," they said without breaking their

smile.

Back in the summer of 2011, my wanderlust brought

me to Kyrgyzstan. While there, I witnessed a Muslim

family asking God to bless their vodka shots. This

paradox struck a very personal chord- how to define

my own identity in light of conflicting expectations

between my faith and the many cultures that define

me.

So, in the summer of 2015, I decided to travel around

the world visiting lesser-known Muslim communities

to answer my questions about faith,culture, and

personal identity. Brazil was the first stop of 6

countries: Brazil, Senegal, Bosnia, China, Malaysia, and

Japan. I had many plans for Brazil, but at the top of my

list was visiting Kaab Abdul.

Kaab's story had recently taken the Brazilian media by

storm. Major news outlets visited his musalla a prayer

room, at least once a week. He was a former hip-hop

musician and rapper turned Muslim community

leader. I had to meet him, despite the many logistical

challenges. He lives in a favela, generally not known to

be safe for visitors. It is at least an hour bus ride from

Sao Paulo. And most challenging, I don't speak

Portuguese. Kaab does not speak English.

Luckily, I connected with a Portuguese-speaking

Muslim-American PhD student on a field study trip in

Brazil. I asked him to accompany me for the trip.

Getting to Embu das Artes, the favela that Kaab calls
---
ammar asfour

©Ammar Asfour

home, was a challenge. We arrived at the bus station where

we were supposed to meet him after a lengthy bus ride.

After waiting for approximately an hour at the bus station

during which we visited a nearby grocery store to buy some

delicious Brazilian persimmon fruit, Kaab finally met us with

big hugs and genuine warmth that immediately eased any

worries we had.

We just wanted to talk to Kaab, and we were ready to head

back to Sao Paulo a couple of hours later. But Kaab had

other plans.

He first took us to the musalla. He was wearing a black shirt

with a Malcom X picture on it and a journalist vest that had

patches of Middle Eastern countries' flags. The musalla was

a single room at the ground floor of the building Kaab lives

in. It was a humble place, yet it is taken care of meticulously.

A red carpet covers the ground with many individual prayer

rugs around the place. The front wall had a large electronic

clock that keeps track of prayer times and the back wall had

a large flag of Saudi Arabia. "Have you been to Mecca?"

he asked pointing at the Saudi flag. "Yes, I have been!" I

said.

"I have been to hajj. Allhamdulillah," he told me. We

prayed the second daily prayer of the day together, and

then he walked us upstairs to his home.

Kaab was humorous, animated, and energetic. He told us

how his curiosity about Islam was triggered when he

heard the athan, the Muslim call to prayer. In 2008, he

became Muslim after learning more about Islam through

talking online to someone from Egypt. He continued to

rap. He even tried to infuse Islam into his music.

However, he found it conflicting to mix hip-hop and his

newly found faith. He now only performs poetry with no

instrumentals under the name Fragmentos de um

Muçulmano (Fragments of a Muslim).

We sat at the patio of his house overlooking the favela.

Kaab was engaging and captivating. When he was not

sharing deep thoughts about his faith and passion for the
---
ammar asfour

©Ammar Asfour
---
community, he was making us laugh. When it got

dark, we went downstairs and we prayed maghrib,

the first evening prayer, together. We went back

upstairs after that and continued talking. Meanwhile,

many of Kaab's friends began trickling in. Almost

every 30 minutes, my friend and I looked at each

other contemplating leaving, but we were so

entrenched in the conversation that we didn't want

to leave.

Positiv ity, hope, and faith in a better future were

generally the emotions I felt from Kaab, except when

he discussed the challenges he faced learning his

faith. It was clear to me how difficult he found it. He

points to the tattoos on his arms as an example. He

didn't know that tattoos are not permissible in Islam.

For at least a year after he became Muslim, all the

resources he had about Islam were three book s that

his Egyptian friend sent to him. "I don't want others to

face the same struggles," he said with a sense of

responsibility.

"Ammar, we will have churrascaria tonight. You have

to stay the night." Kaab told me.

"Oh. Brazilian bbq?" I asked.

"Yes!" Kaab and his friends replied.

"I love BBQ," I said probably too enthusiastically. I

was sold. We were staying the night at Kaab's.

Honestly though, I enjo yed being there and the food

was a mere excuse. The community was preparing to

celebrate the wedding of a couple of their own the

next day. So many friends and family were gathered.

They tried to teach me Portuguese with very little

luck. They practiced their American accents with

extremely entertaining results. My lack of knowledge

of American hip-hop music heavily disappointed

them. And most of all, the y made fun of my obsession

with taking pictures. All while Kaab was taking charge

of the BBQ pit, producing mouthwatering grilled

beef.

©Ammar Asfour

ammar asfour

These friends made up a tight community of about 20

Muslims- most new to Islam. Some live in the favela. Some

were visiting him from over 3 hours away, because they felt

more welcome in his community. At night, 5 or 6 of us were

to sleep downstairs in the musalla. Kaab stayed up with us

joking, laughing, and stealing our pillows or blankets for

whatever reason. It was clear to me that Kaab was the

anchor of this community. But, how could he do it?

It was then that I understood why. It is because not once

did he assume the role of a religious teacher. In fact, he

made it a point to not lead the prayer every time we prayed

together. He acted only as a humble community servant

leader.

Earlier in the day, I was puzzled by Kaab's emphasis on

helping his community at large. I had asked him if at any

point in his career he thought of leaving the favela. He

responded with an emphatic no. This is his home. "But how

would Kaab heal this community?" I thought to myself. I

knew he

©Ammar Assfour
---
©Ammar Asfour

cared. He genuinely wanted to help not only the

Muslim community, but the larger community of the

favela. But was that enough to make a strong

community?

So, I asked him about his vision. He told me it was to

build a school for the youth in the community. I was

surprised. "Why a school?" I asked. "Most Muslim

community leaders would seek a mosque first!"

He laughed and smiled. But his eyes were serious. He

held my arm and walked me to the edge of the porch,

pointing out at the favela …

"Their way out of here is education not a worship

place," Kaab Abdul pointed at the sprawling houses in

the urban slum. At that moment, a light bulb turned on.

"Their way

out of here is

education not a

worship place."

I've traveled to over 40 countries, and I hope to travel

to more. I will never forget Kaab nor will I forget that

particular moment. It taught me that future

gener ations will struggle with their identities unless

they are empowered through learning. That moment

and that thought shaped the remainder of my trip and

my current curiosity.
---
play clothes for grown folks

2

016

Code

www.codeswitchgear.com

Switch Gear

swd742
---
01

'16

©DominiqueChristina

ammar asfour

PROFILES
---
ad
---
©CamaraClayton

military
---
©CamaraClayton

L I F E

L I M B

L E N S

It usually occurs at the oddest

hour of the day. You've spent

the last eight hours of your

life waiting to board a plane

intended for a foreign country

you cannot pronounce

correctly. You are hungry,

uncomfortable, tired, and

anxious to start out on this

journey. You have trained for

months for this mission, left

family members behind,

missed a few birthdays,

anniversaries, and other

important events.

Nevertheless, this is what you

signed up for, an adventure

like no other to see the world,

interacting with people with

diverse values and cultures.

The adventure you are about

to embark on, even though

exciting, may cost you life or

limb; but despite it all, you

gather your courage because

you are an American Soldier.

For Soldiers across the world,

traveling to distant lands

becomes a modus vivendi.

We can visit countries or

places closed off to the

worldwide public. Since

we frequently operate off

of the beaten path, we see

things that the average

traveler does not. Our

view of the world may be

different from most; after

all, we see humanity at its

extremes, both good and

bad.

I joined the military over

twenty years ago for

patriotic reasons and to

witness history. I picked

up a camera with the goal

of narrating Soldier's

stories through the lens.

It was, also, my way of

safely bringing family and

friends with me on these

risky ventures.

Despite the hostile

environment, I tried to

capture its beauty, the

inwardness of the people

and their culture. I
---
©CamaraClayton

Our view of the world

may be different from

most; after all, we see

humanity at its

extremes, both good

and bad.

attempted to get the viewers to put

themselves, not solely in my shoes but in the

shoes of the subject. I'd hoped that they'd

empathize and relate to a culture and a

lifestyle that is different from theirs.

Despite the social, economic, and religious

differences, I hope my lens is the conduit in

which people can discover that we are

uniquely similar and allow the bond of

humanity to bring us closer together. When

the aforementioned occurs, it allows the

Soldier a way of escaping the hardships of war

and brings them to a place of familiarity.
---
14
---
The morning

after my marriage

was consummated

I didn't feel like it

was something

to celebrate.

A shy smile sneaked from the side

of the clay brick structure. A round

and flawless deep brown face with

mischievous eyes that squinted

whenever she laughed at my

broken attempts at Nyanja. She

held hands with a little boy,

barefoot and eager to run with the

other little children in the distance.

He tugged on her arm and she

finally let him go. She told me his

name was Jacob.

"Is that your brother?" I asked.

Her eyes squinted and she laughed

again. "No, he is mine."

And then it was over. When she

turned, I saw the baby- a lump

beneath red, orange and yellow

printed chitenge material. It was

asleep and all that peeked from the

cloth was a tuft of kinky hair. The

girl I took for an older sister,

somebody's daughter, dutifully

caring for her siblings was in fact a

wife and second time mother, at 16.

This was my introduction to child

marriage, 568 kilometers from

Zambia's capital city of Lusaka. I

was at the end of a seemingly

endless stretch of dry, brown road

that took me to Luangeni village in

Eastern Province's Chipata District.

It is rural, with clusters of mud

brick, thatch-roof homes spread

out between kilometers of miombo

and acacia trees..
---
18

On the drive back, I passed

more villages and the

landscape gradually changed

from rural to town back to the

highway home. I thought

about my childhood dreams of

marriage, a Cinderella-esque

fairy tale long since dissipated

with age. Every young face

and baby-laden frame I

passed now made me wonder.

How old are you? How did you

get here? How has this

changed your dreams?

This was my

introduction to child

marriage, 568

kilometers from

Zambia's capital city of

Lusaka. I was at the end

of a seemingly endless

stretch of dry, brown

road that took me to

Luangeni village in

Eastern Province's

Chipata District.

Three months later, I met Musu

and she told me everything.

Musu Bakoto Sawo stood

amidst a crowd of dignitaries

and delegates from over 40

African nations telling her story

at the first African Girls'

Summit held in Lusaka, Zambia

in late November. She pleaded

for the
---
GRIOTS REPUBLIC | JANUARY 2016 19

end of the tradition and when she

finished and took her seat, she tucked

into her friend's shoulder and cried.

"Let us not call it child marriage

because it's not marriage," said African

Union Goodwill Ambassador and

secretary general of the Young

Women's Christian Association

(YWCA) Nyaradzayi Gumbonzvanda

from the stage. "It is abduction, rape

and a criminal act."

Musu was 10 when she developed a

love for activism, joining the child-led

advocacy group "Voice of the Young" in

her native Gambia.

At 14 years old, her family told her she

was to be married to a man of 27. A

patriarchal society, Gambian fathers

and uncles make these decisions while

most mothers remain quiet- bound by

tradition and often, internal conflict.

Musu was in junior high and thought

her world had come to an end. She

didn't eat for weeks.

"The morning after my marriage was

consummated I didn't feel like it was

something to celebrate. I was hurting,"

she said. "I felt like all my activism

didn't matter since I became a part of

what I was advocating against."

By the age of 22, she was a widowed

mother and a student- a law graduate of

the University of Gambia and then LLM

graduate student at the University of

Pretoria. Her husband died in her third

year of renal failure. This tragedy and

her mandated time of mourning made

her degree completion seem

impossible.

"Never in a million years would I have

It is a double-edged sword of

young advocates opposing

the customs and the older

community seeking a space

for long-entrenched

tradition.

thought I'd come this far," said Musu.

"At 14, I was forced to grow up; I

became someone's wife, but education

was always the main priority of my life."

The social activist and lawyer has now

made it her life's mission to show girls and

women in Gambia that they too can

succeed no matter their circumstances.

Currently the program manager at Think

Young Women, she speaks and works

throughout the country advocating for

women.
---
CONNECT

Think Young Women

It is in her country, Gambia, that 36

percent of women are married by age

18 and 76 percent of women are cut, or

victims of female genital mutilation.

During the conference, the country

made headlines after President Yahya

Jammeh banned female genital

mutilation (FGM) saying it is not

required in Islam. The ban is not a law

and many advocacy organizations hope

the proclamation will lead to a domino

effect amongst other countries on the

continent.

Besides governmental law, the law of

the land makes fighting the issues a

sensitive matter. It is a double-edged

sword of young advocates opposing

the customs and the older community

seeking a space for long-entrenched

tradition. When Musu returned from

Zambia, her mother-in-law was not

interested in discussing child marriage

and specifically FGM.

"You have succeeded in bringing an

end to a culture that we so value,

something that we are religiously

obligated to perform," said her motherin-law.

At Think Young Women (TYW), Musu

and her board advocate for ending

child marriage and FGM in addition to

working women leadership through

outreach and mentoring. It is when

venturing into Gambia's provinces that

they are met with the opinions of older

women.

They are reluctant to talk, seeing TYW

and advocates like them as harbingers of

change and immorality. To these women,

child marriage is tradition and customs

like FGM reduce female promiscuity.

Despite the dispelling of the myth that

FGM is a religious custom, these women

still believe it is an obligation- the

distinction between culture and religion

long ago blurred.

The negative effects of the customs are

undeniable and visible from The Gambia

to Zambia. Girls who marry before age

18 are more likely to experience

unwanted pregnancies and less likely to

complete primary and secondary school.

Musu threatened suicide if her husband

and his family, whom she moved in with

after marriage, didn't allow her to

continue her studies.

The health consequences of early and

forced marriage range from a high

percentage of physical, mental,

emotional and sexual abuse within the

union to obstetric fistulas- a common

condition in young mothers where a

hole between the vagina and rectum or

bladder caused by prolonged

obstructed labor leaves a woman

incontinent of urine or feces or both.

The four types of female genital

mutilation further complicate sex and

delivery.

Practiced in at least 28 countries in sub-

Saharan Africa, the Middle East and

parts of Asia. The circumcisers are

often community women and relatives,

who have themselves been cut in youth.

Although FGM also occurs among
---
"Never in a

million years

would I have

thought I'd

come this far."

Christians, animists and Jews, the

prevalence amongst Muslim-majority

countries had led to the false belief that

it is tied to Islam. FGM actually predates

Islam and the majority of Muslims do not

practice the tradition.

"The Quran preaches peace, not bringing

harm to another person," said lawyer

and author of "Delinking FGM from

Islam" Sheik Ib rahim Lethome. "I cannot

keep quiet when Islam is being misused."

Every time she has a platform, Musu

speaks. She speaks for the 14-year-old

child bride she was and for the young

girls listening who think their marriage

equals the demise of their futures.

E D I T O R I A L

GRIOTSREPUBLIC.COM | January 2016
---
NOMAD

NESSTM

#WhatsNext in Urban Travel

@nomadnesstribe

nomadnesstv.com
---
PROFILES

01

'16
---
DOCUMENTING

NATIVE IDENTITY

captures through her lens and every story that is

shared with her has a sense of beauty but also

urgency. Beauty in that there are people working

to keep the culture thriving, and urgency in that

there are many obstacles in preserving the culture

and educating others about its true history.

When Matika Wilbur set out on her journey across the

country in an RV, her mission was to visit places not

marked on the typical American sightseeing map, to

chart the places filled with just as many artifacts,

culture, and stories waiting to be heard. These are the

stories of a people that make up the 562 Native

American Tribes federally recognized throughout the

United States. Over the course of three years, Wilbur

tasked herself with capturing images of Native people

living in Western Society and exhibiting them in the

aptly named, Project 562.

Throughout her travels the old adage, "There are two

sides to every story" rings true. Every picture she

As cultures are fighting to be heard, to matter, and

for their history not be washed over with stories of

peaceful exchanges rather than the first steps of

erasure, acknowledgements like the recent push to

rename Christopher Columbus Day as Indigenous

People's Day is a step in a different direction.

Wilbur's art makes the Indigenous voice even more

public.

When it comes to the mission of her photography,

Wilbur "always believed that it would be necessary

for our voices to be heard in massive media." Her

work has garnered attention but she insists on the

spotlight being on the work and the issues

effecting Native communities such as student
---
Juanita Toledo (Pueblo of Jemez), 2015

dropouts and the disproportionally

higher rates in which Native women are

sexually assaulted.

"I'm just this girl from the Res exposing

truths from the Res," she said. "I think

that it [the exhibition] has gotten a lot

of exposure because the people need

that."

In an upcoming exhibit, debuting at

Harvard on April 28, 2016, Wilbur will

honor Native women and "give life to

some of the beautiful, powerful, and

profound women in the community

working hard to maintain our

connection to the mother earth." There

will also be a small book that will be

published to coincide with the exhibit to

honor Native women. Other projects

include documenting the work of

the Sierra Seeds Company; a Native

company cultivating Native seed

"Our identity is primarily in the land

and when we respect the mother we

also honor and respect our women," she

said. "What I found all over the country

are stories of people raping and

pillaging the mothers. Lack of access to

clean water, and all of the ways that we

are exploiting the mother earth, I think

is directly connected to the way we

exploit our native women."

Through her art, Wilbur also aims to

expand the education of Native and

non- Native people. It's crucial to not

only to reverse negative images, but

alleviate the pressure of most Native

people who find themselves being the

only representative of their culture in

most educational settings. "A lot of

native people don't go to school

prepared to be an ambassador or

educator to those who are supposed

to be educating them," she said.

Though her mission is selfless, she did

note the physical effects the project

has taken on her. "It's really hard

what I'm doing; the toll that it has

taken on my body to live on people's

couches and in an RV for three

years," she said. "I developed

allergies, I've aged, I don't get to work

out as much as I would like to, but I

see it as there isn't any other option.

We need it. People's minds have to

change about Native America in

order to affect public policy, and

that's something I can do."
---
"What I found all over the country

are stories of people raping and

pillaging the mothers. Lack of

access to clean water, and all of the

ways that we are exploiting the

mother earth, I think is directly

connected to the way we exploit

our native women."

Matika Wilbur

Darkfeather, Bibiana and Eckos Ancheta (Tulalip), 2014.
---
Dr. Mary Evelyn Belgarde (Pueblo of Isleta and Ohkay Owingeh), 2014.

Wilbur also points out that paying for

her trip was no small task. She turned

to crowdfunding to make it possible.

Her project was not only fully funded,

she exceeded her goal, yet it was still

a humbling experience, according to

Wilbur. "You're asking people to

believe in your dreams," she said.

Crowd funding allowed her to

continue working to capture and

highlight the identities of Nat ive

people. In regards to her own identity,

Wilbur describes it as "complex." She

represents her mother's tribe

Swinomish and her father's tribe

Tulalip but is enrolled as a Tulalip due

to a federal policy that allows only

one tribal enrollment.

Despite the hardships associated with

her project, she insists that the people

she has encountered on her journey

have strengthened her resolve, in the

fact, that th ere are many more steps

to be taken in order to educate others

about Indigenous peoples. She

contends that Indigenous people

must also be able to accurately

identify with their own culture in

safe spaces, on and off the

designated areas sanctioned by the

United States.

A long term goal for Wilbur includes

more traveling to discover tribes

around the world and also bringing

her art directly to the public. With

funding, she is looking forward to

the creation of a traveling long

house exhibition, a "nomadic

exhibition that would look like it

belongs in a space of sacredness."

She wants the exhibition to feel

authentic, complete with a "dirt

floor and fire, and stories that are

going to stay with us in a setting

that feels really safe to Indigenous

people."

She dreams of an exhibition space,

"where we can invite kids to see

She wants the

exhibition to feel

authentic, complete

with a "dirt floor and

fire, and stories that

are going to stay with

us in a setting that

feels really safe to

Indigenous people."

it and they are not going to feel like they

are being pushed by white-walled

institutions with track lighting."

To find out more about Matika's art or

to help her create her exhibition by

donating to her project, please visit

MatikaWilbur.com or Project562.com.

You can also follow her journey on

Instagram @MatikaWilbur.

P H O T O G R A P H E R R E V I E W
---
B A R R I S T O U R I S T A
---
scavenger hunt
---
scavenger hunt

1

WINNING

TEAM
---
ack page

www.GriotsRepublic.com