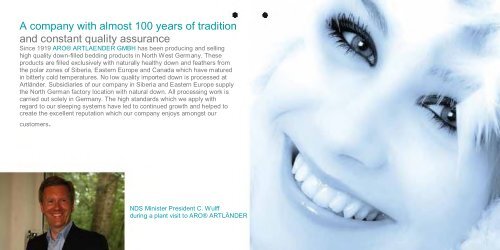 aro artlaender daunenbetten anhaengeheft-english
You also want an ePaper? Increase the reach of your titles
YUMPU automatically turns print PDFs into web optimized ePapers that Google loves.
A company with almost 100 years of tradition

and constant quality assurance

Since 1919 ARO® ARTLAENDER GMBH has been producing and selling

high quality down-filled bedding products in North West Germany. These

products are filled exclusively with naturally healthy down and feathers from

the polar zones of Siberia, Eastern Europe and Canada which have matured

in bitterly cold temperatures. No low quality imported down is processed at

Artländer. Subsidiaries of our company in Siberia and Eastern Europe supply

the North German factory location with natural down. All processing work is

carried out solely in Germany. The high standards which we apply with

regard to our sleeping systems have led to continued growth and helped to

create the excellent reputation which our company enjoys amongst our

customers. Qualität seit 1919 aus Ihrer Region

NDS Minister President C. Wulff

during a plant visit to ARO® ARTLÄNDER
---
Down –

the perfect micro-climate

Did you know that geese give us over half a million feathers for one kilo of down?

And we are not talking about a variety of feathers here, either. Down has no

hard, warm quill. Down is part of the tender plumage which, as a bottom layer of

the breast feathers, always keeps the geese and ducks so beautifully warm and

cosy. This is why it is possible for them to swim even in polar temperatures,

surrounded by snow and ice.

Down is nature's own special version of "haute couture". Around one billion down

feathers are required to fill 1000 kg. A ball of down weighs only 0.001g and is

very similar to a snowflake. Every ounce of snow goose down has about 2 million

fluffy filaments which mesh and interlock with each other and can thus enclose a

maximum of air: the best protection against cold which the world can provide.

Whilst down of inferior quality only has the diameter of a 10 cent piece, the down

of geese from Eastern European countries is often as large as a one euro piece.

Siberian snow goose down is sometimes even as big as a two euro piece: the

perfect climate solution.
---
Down –

warm, hygienic and easy-care

Its three-dimensional structure and elasticity means there is no need to

worry about compressing the down or imposing a burden on it. It requires

no more than a thorough shaking in order to restore it to its original form

which always creates a warm and cosy feeling around your body.

The bedding feathers processed by ARO® Artländer (from the down to the

quilted down covers) are completely washable and therefore especially

hygienic & easy to care for. Please remember always to read the washing

instructions on the individual bedding product.. Qualität seit 1919 aus Ihrer Region
---
Top quality fabric

surrounds our down

Qualität seit 1919 aus Ihrer Region

For ARO® Artländer down bedding products we select the finest fabric from

naturally pure materials, specially produced for fine down and feather fillings.

This means that the weft and warp threads in the fabric are so densely woven

that no down or feather particles can filter through. At the same time the fabric is

also very light and absolutely air-permeable so that a thoroughly pleasant microclimate

is created. A cover which meets these demands can only be produced

from the finest quality cotton. In our Production Department we devote the same

care to high-quality processing of fabric as we do to the down and feathers.
---
Good news for people who suffer from allergies

People suffering from allergies and asthma can breathe a sigh of relief: they can also

enjoy the natural sleep comfort which down and feathers offer. The latest surveys in

the field of allergic disorders show that:

• down and feathers do not cause dust mite allergies, as is often incorrectly

assumed.

• down and feathers do not cause any allergic reactions of the respiratory tracts,

such as asthma and hay fever.

For people suffering from allergies and asthma there is therefore no reason to avoid

down and feathers. Doing so only means missing out on a very comfortable night's

sleep!

Sources:

"Gutachten zur Einschätzung der Relevanz der Bettfedern- (Keratin) Allergie" (Expert Opinion on the Assessment of the Prevalence of Keratin

Allergy 1 )

Prof. Dr. med. Hofmann, Director of the Institute for Pediatrics, University Clinic, Frankfurt a.M.

"House dust mite allergen in pillows", Expert Opinion of Wellington Asthma Research Group, Wellington School of Medicine, New Zealand.

"Ökologische Untersuchungen zur Hausstaubmilbenallergie" (Ecological Investigations into House Dust Mite Allergy), Prof. Dr. Dr. H. W.

Jürgens, Anthropologisches Institut der Universität Kiel (Institute for Anthropology of the University of Kiel). Qualität seit 1919 aus Ihrer Region

1

Translator's note: translation of University of Frankfurt/Main, no liability accepted
---
Qualität seit 1919 aus Ihrer Region

NOMITE Dust mite allergy –

simply not an issue for feather and down

The NOMITE sign indicates that this product is suitable for people suffering

from dust mite allergies. Because bedding products filled with feathers and

down have very favorable heat and climatic conditions for human beings (fast

build-up of heat during sleep, fast reduction of moisture during airing). Such

properties create very unfavorable surroundings for mites which are dependent

on moisture. Furthermore, the special close-woven cover fabric which

counteracts penetration by mites offers additional protection.

The micro-climate under a down duvet

The climate under the duvet, together with the qualities of the mattress,

constitutes the most important criterion for human sleeping comfort. The

interplay of the human and material qualities in the creation of the "bed cave

climate" is determined by the human's heat regulation. Here the preferred

room temperature, the heat radiation of the body as well as the tendency to

perspire, play an important role. The duvet can be "tailored" by varying the

cover size, the filling weight and the quilting.
---
ARO® Artländer duvets –

The choice is yours

Discover our range of high quality down bedding quilts. We are quite sure

that you will be able to find a suitable quilt to meet your personal sleep

requirements within our product range.

1 Cassette duvets produced with inner vertical bands

• with down fillings matured in the intensely cold climates of Siberia,

Eastern Europe or Canada. Only top quality raw feathers, matured on

icy-cold winter days, are used in these quality beds

2 Carré duvets for the light to medium heat category

• the firm quilting of the down is especially suitable for down duvets

which are not so bulgingly filled and also ensures good air circulation

3 Cocoon body zone duvets

• these high-quality duvets follow your body zones by means of an

elaborate inner margins production and surround you at night like a silk

cocoon

4 Silk & Cotton cassette duvets

• This premium down duvet with silk/cotton fabric cover (50/50%) surrounds

the body in an even and suppler way than the cotton fabric. We also export

this product, which is filled with very large flakes of goose down, to Asian

and Arab countries. Here these duvets often serve as a wedding present for

the bride.

5 Eiderdown duvets

• Eiderdown has many thousands of ramifications. Despite its size, it is

lighter and finer than all other types of down. Because of its extreme

capacity to retain heat, less than half of a "normal" filling weight is

needed. The eider duck lives in the cold climate of Iceland and Greenland

and plucks the down from its chest itself (for nest building). After the

breeding period the down is then collected again.
---
ARO® Artländer pillows–

choose what suits you best

Do you sleep on your side, your back or your stomach?

Lying in the wrong position can, in time, lead to health problems – here

the support of the pillow is decisive for the cervical spine and neck area.

The pillow must therefore be selected correctly, depending on the

preferred sleeping position and bed underlay.

1 Classical pillows

• ideal for all sleeping positions – the way it is used is determined by the

filling weight. If it is filled right up it is especially suitable for people who

sleep in the supine position, if it is half-filled it is especially suitable for

people who sleep on their sides and if it is only partially filled it is

especially suitable for people who sleep on their stomachs.

2 Premium 2 in 1

• developed for the comfort sleeper who wishes to sink gently into the

pillow. Here the soft down coating supplies the soft "touch" and the more

solid core filling (feather or feather/down filling) offers sustained rest and

great volume.

3 ThermoCrown 5-Chamber pillow

the super luxe neck-supporting pillow with down filling is the innovation

for the luxury sleeper. The elaborate, hand-filled multi-chamber inner unit

structure combines the soft "touch" of the down with an unusually strong

loft plush. The fixing of the down fillings by the many chambers and the

band separation technology do not permit the down "to move sideways",

as it normally tends to do. Thus the pillow retains its form and the head

receives optimum support - both in the lateral and supine position.
---
ARO® Artländer GmbH

Ankumerstraße12 · 49577 Kettenkamp

Telefon: +49-5436 95000 · Telefax: +49-5436 621

E-Mail: info@artlaender.de

www.artlaender.de