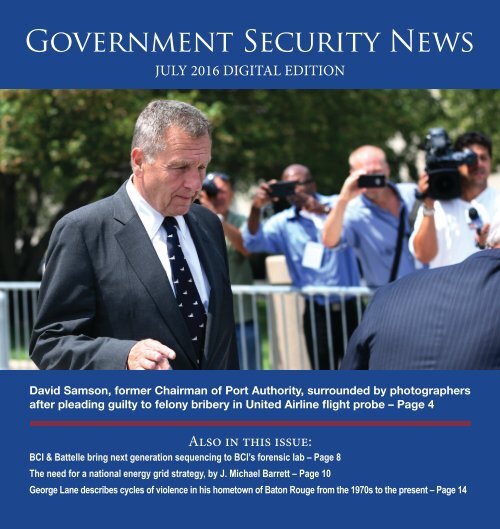 Government Security News July 2016 Digital Edition
Government Security News, founded in 2001 shortly after 9/11, is a news and feature publication covering Homeland Security and Defense. It is read by government executives in federal, state, county, municipal agencies as well as technology vendors and service personnel in Law Enforcement, Airport and Aviation Security, Border Security and Immigration, Maritime and Port Security, Disaster Preparedness and Response, Counter-Terrorism, IT and Cybersecurity and all other branches of Government and the Military. In addition to its daily, weekly and monthly publications and newsletters, Government Security News also operates two awards programs that are well-respected in the U.S. and Internationally.
Government Security News, founded in 2001 shortly after 9/11, is a news and feature publication covering Homeland Security and Defense. It is read by government executives in federal, state, county, municipal agencies as well as technology vendors and service personnel in Law Enforcement, Airport and Aviation Security, Border Security and Immigration, Maritime and Port Security, Disaster Preparedness and Response, Counter-Terrorism, IT and Cybersecurity and all other branches of Government and the Military. In addition to its daily, weekly and monthly publications and newsletters, Government Security News also operates two awards programs that are well-respected in the U.S. and Internationally.
SHOW MORE
SHOW LESS
Create successful ePaper yourself
Turn your PDF publications into a flip-book with our unique Google optimized e-Paper software.
Government Security News

JULY 2016 DIGITAL EDITION

David Samson, former Chairman of Port Authority, surrounded by photographers

after pleading guilty to felony bribery in United Airline flight probe – Page 4

Also in this issue:

BCI & Battelle bring next generation sequencing to BCI's forensic lab – Page 8

The need for a national energy grid strategy, by J. Michael Barrett – Page 10

George Lane describes cycles of violence in his hometown of Baton Rouge from the 1970s to the present – Page 14
---
GSN July 2016 Digital E

NEWS

4

8

10

14

16

18

19

21

David Sampson, former Chairman of Port Authority

of New York and New Jersey,

pleads guilty to felony count of bribery

BCI and Battelle bring next generation

sequencing to BCIS forensic lab

The need for a national Energy Grid Strategy

GSN Columnist George Lane describes

ambush of law enforcement officers

and cycles of violence in his home down of Baton Rouge

FRA and TxDOT outline passenger rail options

between Oklahoma City and Southern Texas

Chemring Countermeaasures USA's Kilgore Flares

awarded $24.9 million US Army

and Air Force contracts

ABB wins 1 st commercial order for

breakthrough 14-second flash changing technology

to enable COZ-free public transport in Geneva, Switzerland

Intellicheck Mobilisa awarded contract

for site secure access control classified Federal facility

LATE NEWS

41

Implant Sciences announces letter of intent

to acquire Zapata Industries; plan to

extinguish debt and uplist to NASDAC

2
---
dition Table of Contents

FEATURES

SPECIAL PRESIDENTIAL RACE SECTION

Immigration and Border Security – Pages 24-31

24

25

26

27

28

29

Tracking record of statements

of Hillary Clinton By Wendy Feliz

What should you know about Mike Pence's

harsh policy on immigrants and refugees? By Wendy Feliz

Supreme Court to hear arguments in class action suit challenging detention of

non-citizens

Most Americans reject Trump's nativist agenda, according

to public surveys

Senator Tim Kaine, Democratic candidate,

supports reforming immigration system

Federal union leader, J. David Cox Sr, says Trump wrong on TSA, wrong on VA

SPECIAL REPORT ON PERIMETER PROTECTION/INTRUSION DETECTION

34

35

37

38

40

Battelle wins major contract to build armored trucks for

US Special Operations Command Force

Cinch Systems producer of award-winning Rampart Vehicle Barrier System,

describes Rampart perimeter protection, intrusion detection, door and gate

control system used by government, military, law enforcement, energy and

other users

Delta Scientific anti-terrorist barriers to protect against

vehicle threats at Democratic Convention

Middle East government agency awards

American Science and Engineering order to upgrade their ZBV fleet

with Tx-View for use in counterterrorism applications

Block MEMS wins $9.8 M government contract for

standoff detection on chemical threats

3
---
Christie appointee David Samson, part-time

Chairman of Port Authority and full-time owner

of law firm doing business with the Port,

pleads guilty to felony count of bribery

By Adrian Courtenay

Back in May 2014, Government Security

News published an article describing

a speech given by NY Senator

Charles Schumer, in which the

Senator called for reforms and Congressional

oversight of the Port Authority

of New York and New Jersey,

which was mired in scandals. These

included the famous "Bridge Gate"

scandal, in which lane closures on

the first day of a new school year

caused a monumental traffic jam

on the George Washington Bridge,

the most heavily traveled bridge

in the world. The traffic jam lasted

four days. One elderly woman died

because they could not get her to a

hospital in time.

It was widely believed that the

shutdown was ordered as a punishment

to the Mayor of Fort Lee,

NJ for not supporting Governor

Christie in a previous election campaign

(even though the mayor was

a Democrat). And as it turned out,

the lane closures had been ordered

by one David Wildstein, a highschool

colleague and appointee of

NJ Governor Christie who worked

at the Port Authority and got paid

very well, despite having no job description.

He later pleaded guilty

to conspiracy to commit fraud and

conspiracy against civil rights. In an

appropriate finale to his memorable

performance at the Port Authority,

Attorney Wildstein agreed to testify

against his colleagues who were involved

in Bridge Gate.

As Senator Schumer described the

4
---
situation, "The Port Authority

has come to be seen as a proverbial

honey pot, a cookie jar,

a rainy day fund – whatever

metaphor you prefer, for state

projects outside the Port's core

mission. Over the years, said

the Senator, the 'honey pot'

mentality has turned the Port

Authority into a 50-50 operation

between two states that

has killed the ability of the Port

Authority to think big and act

big." This was a reference to

the fact that the Port Authority was

governed by the Governors of the

two states, who competed with each

other for how much money they

could take out of the Port Authority

for their states, according to Senator

Schumer.

Decrying the use of the Port Authority

to fund pet state projects,

for example, the Senator cited the

Christie administration's use of $1.8

billion in Port Authority funds to

pay for repairing state roads such

as the Pulaski Skyway. "The Pulaski

Skyway is neither owned nor in any

way operated by the Port Authority,

Schumer pointed out. "It is a state

road system and its maintenance

and development should be funded

as such".

It was all reminiscent of the famous

line from Senator Everett

Dirksen of many years ago: "A few

billion here and a few billion there

and pretty soon you're talking about

real money."

But the revelations about prominent

Christie appointees in top

David Samson, former Chairman of the

Port Authority of New York and New Jersey

5

leadership positions in the

Port Authority of New York

and New Jersey kept coming.

Next, the daily newspapers,

TV stations and online media

started reporting that the

eminent Chairman of the Port

Authority, David Samson, former

Attorney General of New

Jersey and another longstanding

friend (and catastrophic

appointment) of Governor

Christie, had accepted the

chairmanship appointment by

Christie at the $4-billion-plus per

year Port Authority on a part-time

basis, which allowed him to be, according

to Wikipedia, "the leader

of a law firm with clients seeking

favorable outcomes with the Port

Authority".

As later disclosed, Chairman Samson's

law firm, Wolff and Samson,

"had been very close to the state's

government for decades and had

served as outside counsel to state

agencies, and it had also lobbied

agencies on behalf of clients seeking

state contracts, favorable regulation

changes and approval for large development

projects" – which must

be a pretty lucrative job if you're

getting a hefty retainer from your

clients and then walking around to

the other side of desk to sit down in

the Chairman's chair, where you can

give your clients the good news that
---
their project has been approved.

When the Chairman resigned last

year, his partners changed the name

of his law firm to Chiesa, Shahinian

and Giantomasi.

Meanwhile, the largest newspaper

in New Jersey, the Star-Ledger,

found that Chairman Samson voted

at the Port Authority to award

million-dollar contracts to Railroad

Construction Company, Inc, a company

whose owner was represented

by the famous lawyer with a chair

on both sides of his desk --the parttime

Chairman of the Port Authority

and full-time head of Wolf and

Samson -- his honor David Sampson.

But it wasn't the flagrant conflict

of interest in representing legal clients

before the Port of New York and

New Jersey, where he was Chairman,

that brought down the former

Attorney General of New Jersey. It

was the gross misuse of his position

in strong-arming United Airlines to

overturn the cancellation of a route

between Newark Liberty International

Airport and Columbia, South

Carolina – for his personal convenience

and pleasure.

According to the U.S. Attorney

for New Jersey, Paul Fishman, Mr.

Samson threatened United that he

would block the construction of a

maintenance hangar for United at

the airport unless the airline restore

the money-losing flight. When the

Board of commissioners of the Port

Authority recommended that the

Port approve a lease deal, Mr. Samson

pulled the deal off the agenda

(something that he was allowed to

do under the terms of his employment

as established by his pal Governor).

It wasn't long before Mr. Samson

was flying a plane every Thursday

evening from Newark to Columbia,

"a short drive from his home in Aiken,

S.C." according to New York Today.

Samson's contact that he dealt

with at United Airlines was Jamie

Fox, a former Port Authority executive

and traffic commissioner in

New Jersey. Not surprisingly, he had

been appointed for the traffic job by

Governor Christie, whose record

of terrible appointments remained

unblemished. Mr. Fox got into the

habit of referring to the United

flight as "the Chairman's flight" and

"Samson Air."

Here's how the

New York Times wrapped up the

story on July 14, 2016

"David Samson, a longtime friend

of Gov. Chris Christie, pleaded

guilty to a felony count of bribery on

Thursday and admitted that he had

pressured United Airlines to operate

a weekly flight to South Carolina

for his personal convenience.

"The plea, which was offered before

Judge Jose L. Linares of United

6

States District Court in Newark, appears

to have put an end to Mr. Samson's

career as a public official and

power broker. And it casts a shadow

over the political fortunes of Mr.

Christie, a New Jersey Republican

who until this week had been considered

a potential running mate for

Donald J. Trump, the party's presumptive

nominee for president.

"One of the problems with Chris

Christie is there are skeletons in

his closet that still have skin on the

bones," Patrick Murray, director of

the Monmouth University Polling

Institute, said.

"The prosecution of Mr. Samson

grew out of a federal investigation

into the closing of access lanes to

the George Washington Bridge in

2013. Federal prosecutors contend

Paul J. Fishman, United States attorney

for New Jersey
---
that allies of Mr. Christie at the Port

Authority of New York and New

Jersey conspired to tie up traffic on

the New Jersey side of the bridge to

punish a local mayor for declining

to endorse Mr. Christie's bid for reelection

as governor.

"Mr. Samson, who was Mr. Christie's

appointee as chairman of the

Port Authority at the time of the

lane closings, has not been charged

in that case. But two of the governor's

former allies, Bill Baroni and

Bridget Anne Kelly, are scheduled

to stand trial in September for their

alleged roles in the bridge-traffic

scheme. A third, David Wildstein,

has already pleaded guilty in that

case.

"Paul J. Fishman, the United States

attorney for New Jersey, declined to

say whether Mr. Samson was cooperating

with the prosecution of the

lane-closing case. The Port Authority

is the nexus of the two matters

because it operates the bridge and

the three big commercial airports in

the New York City area.

"Mr. Fishman said that Mr. Samson,

76, had abused his position at

the agency by coercing United to

reinstate a canceled route between

Newark Liberty International Airport

and Columbia, S.C., near one

of Mr. Samson's homes. He said Mr.

Samson had threatened to block the

construction of a maintenance hangar

for United at the airport unless

the airline restored the money-losing

flight."

"We're powered by new challenges.

Our experience has made us experts

at providing total security solutions."

PHIL BARRETT

8 years • Power/Utility Business Development

Our high standards help you meet yours. Providing superior

perimeter security solutions is not just our mission.

It's personal. And that mission never stops.

AMERISTARSECURITY.COM | 888-333-3422

7
---
BCI and Battelle bring next generation

sequencing to BCI's forensic lab

LONDON, OH – Ohio Attorney

General Mike DeWine

and Battelle President and

CEO Dr. Jeffrey Wadsworth

announced today a groundbreaking

Next Generation Sequencing

(NGS) project at the

Ohio Attorney General's Bureau

of Criminal Investigation

(BCI) Laboratory in London,

Ohio. NGS will enhance BCI's

DNA testing capabilities in solving

missing persons cases in Ohio.

"This will position BCI to be a

national leader in DNA forensics,"

said Ohio Attorney General Mike

DeWine. "I am proud to work with

Battelle on the future applications

of this cutting-edge technology

because it's a clear benefit to Ohio

families of missing loved ones. With

NGS at BCI, we hope to generate

faster DNA results and obtain an expanded

range of DNA information

to help investigators make identifications."

Headquartered in Columbus, Battelle

has spent five years implementing

NGS technology in the field for

the U.S. Department of Defense and

was chosen to lead a National Institute

of Justice (NIJ) project evaluating

NGS methods in forensic labs

around the country.

BCI and Battelle forensic scientists

are now working together in

the BCI London lab to validate and

implement NGS technology in the

BCI laboratory with the hope that

this new technology can be used

in Ohio missing persons forensic

cases.

"Collaborating with the Ohio Attorney

General's Office and the illustrious

BCI laboratory is a great

opportunity for our scientists who

are advancing this important technology,"

said Dr. Jeffrey Wadsworth.

"It puts Ohio in the leadership position

of doing what others in the

nation have not yet achieved and

aligns with Battelle's core mission

of investing in original research that

8

will provide societal benefits."

Solving missing persons

cases requires testing of DNA

from human remains, often

degraded tissue or weathered

bones. The human remains

are then compared with DNA

samples from potential family

members of missing loved

ones. Specialized DNA testing

required in these cases is not

currently available at BCI. The specialized

testing is done at a federallyfunded

out-of-state lab, which can

take up to six months for results, a

long time for a family to wait.

With this partnership, NGS testing

will be done at the BCI laboratory

in London, speeding up results.

And while the current specialized

testing does not always return results

if samples are extremely degraded,

NGS testing can often do

better and return a DNA profile.

The goal is to solve more missing

persons investigations for Ohio

families. Currently, there are approximately

600 missing children

and 600 missing adults in Ohio.

Click here to download video.

Click here to download Frequently

Asked Questions about this project.
---
To find out more about Ohio's

missing persons, please go to www.

OhioAttorneyGeneral.gov/missingpersons.

About BCI

BCI includes investigations, laboratory

and identification divisions.

Last year, BCI labs (London, Richfield,

and Bowling Green) analyzed

207,830 pieces of evidence for 961

Ohio law enforcement agencies.

blob:https%3A//

BCI operates the Ohio Missing Persons

Unit for the state, tracking

mail.google.com/bebcf019-

f8dd-4b56-8c7c-5daf421140a9

and

trying to locate missing adults and

children.

About Battelle

Every day, the people of Battelle apply

science and technology to solving

what matters most. At major

technology centers and national

laboratories around the world, Battelle

conducts research and development,

designs and manufactures

products, and delivers critical services

for government and commercial

customers. Headquartered in

Columbus, Ohio since its founding

in 1929, Battelle serves the national

security, health and life sciences,

and energy and environmental industries.

For more information, visit

www.battelle.org.

"We aim to protect property, and provide

peace of mind by providing remarkable

perimeter security products and

unrivaled service."

EMILY SULLIVAN

11 years • Mission Critical Business Development

We know people make the difference for your business and ours.

Our experienced team thrives on providing the products and

service that lead to total perimeter security solutions.

AMERISTARSECURITY.COM | 888-333-3422

9
---
The Need for a National Energy

Grid Strategy

by J. Michael Barrett

U.S. energy consumers have been

able to count on reliable, alwayson

and relatively resilient electrical

power for so many decades that for

most people the availability of electrical

power is essentially taken as a

given. And yet there is a looming

sense among many experts of a rise

in systemic risks that have begun to

come into the light, ranging from

threats of physical and cyber attack

to space weather and other natural

phenomenon. Indeed, just last year

the Department of Defense released

a request for proposals involving

resilient electrical power that led to

a recent commentary noting, "The

declaration of DOD is clear:

military bases and the civilian

institutions that they depend

on are overwhelmingly vulnerable

to their own near complete

reliance on unprepared

civilian power grids. The DOD

has already started the process

of changing by developing distributed

energy systems under

their own control."

And yet the U.S. electric

power grid remains indispensable

for continued American prosperity

and well-being, even as the

grid's infrastructure is aging and

increasingly outdated. The massive

capital needs of this enormous

system require constant investment

and occasional system-wide overhauls.

These represent a particular

concern for the investor-owned

electric utilities, for whom making

the business case for higher rates

to enable investments just to tread

water is hard enough, much less investments

meant to innovate and

implement large-scale modernization

programs.

At the same time, the grid is a very

large system, with a long list of items

that need to be replaced for a variety

10

of reasons including: physical wear

and tear, technical obsolescence,

and the critical importance of meeting

the security and power surety

needs of Americans in the 21st century.

This includes everything from

integration of environmentally

friendly alternative means of power

generation to replacing the beyondexpected-service-life

equipment

such as the large power transformers,

as well as the two-way communications

built into smart meters

and making the move towards interchangeable

parts and other standardizations

that increase efficiency

of 'spares and repairs.'

While the concerns over a truly

resilient and "disaster-proof " electrical

power system are on the

rise, however, there is no central

effort to develop a smart

roadmap to get the nation from

where we are to where we need

to be. Part of the problem is

bureaucratic – there are multiple

competing equities among

the Departments of Energy,

Homeland Security, and Defense,

and that is just on the

federal side. The power grid is

More on page 43
---
SECURE CARD READERS

FOR ANY NEED

THE CHERRY LINE OF SECURE KEYBOARDS

AND CARD READERS OFFERS A BROAD

SELECTION TO SUIT YOUR EXACT NEEDS!

LOOKING FOR

VAR / INTEGRATOR

PARTNERS!

Add the Popular CHERRY Line to

Your Portfolio and Increase Your

Business! Download the Details at:

www.cherryamericas.com/partner

SMART CARD READERS

Contact (FIPS 201), contactless

and combination options

BASIC USE

USB SMART CARD READERS

FIPS 201 certified; standalone unit

with weighted base.

HEAVY USE

SMART CARD KEYBOARDS

FIPS 210 certified, PC/SC smart

card reader and secure PIN entry.

MAXIMUM USE

FREE

WHITE

PAPER

THE TRENDS AND

BENEFITS OF SMART CARD

AND BIOMETRIC DE V ICES.

1-800-844-0797

www.cherryamericas.com

http://bit.ly/1C1pnlY

© 2016, Cherry Americas, LLC
---
Ambush of law enforcement officers in

Baton Rouge

Editor's Note: In this article, scientist,

former journalist, lifetime resident

of Baton Rouge and GSN columnist

George Lane describes cycles of

violence in his hometown from the

1970s to the present

This past weekend's ambush and

targeted killings of three law enforcement

officers in Baton Rouge

is part of a recent cycle of violence

that began with a number of shootings

of black citizens by law enforcement,

one here in Baton Rouge

where I live. Sunday's shooting in

Baton Rouge is the latest episode

in a month of violence and extraordinary

racial tension and took

place after Baton Rouge officers

fatally shot Alton Sterling, a black

man who was selling CDs outside

a convenience store on July 5. The

night after Sterling was killed, another

black man was killed by the

police during a traffic stop in a St.

Paul suburb in Minnesota. The next

night five police officers were killed

by a gunman in Dallas who said he

wanted to kill police officers, particularly

white officers.

This weekend brought back painful

memories of similar cycle of

violence in the early 1970's that culminated

in a shootout in downtown

Baton Rouge in which I was an unwilling

participant while working

as a journalist for a Baton Rouge

television station. As media I was

a target in the 1972 shootout by

self-professed Black Muslims from

outside of Baton Rouge. I avoided

injury; however, two East Baton

Rouge Sheriff 's Office deputies were

killed and my friend and anchor of

the television station was viciously

beaten and remained in a coma for

several years, dying in 2010.1 Another

shootout occurred on November

16, 1972 at a local university in

Baton Rouge between students and

law enforcement in which two black

students were killed.2 Then in 1973,

in retribution for the Baton Rouge

shootings, an ex-military sniper,

Mark Essex, terrorized downtown

New Orleans for a week, killing seven

people, including three police officers,

and wounding eight.3

Before the recent ambush, Baton

Rouge Police Department (BRPD)

had said they were investigating a

plot by four people to shoot at police

officers, and they cited the threat to

explain the heavy police presence

14

at protests.

Police said a

17-year-old

was arrested

after running

George Lane

from a burglary

of weapons from a pawn shop in

Baton Rouge. He and three others

were believed to have broken into

the pawnshop. The Baton Rouge

police chief told reporters that the

17-year-old told police "that the

reason the burglary was being done

was to harm police officers."

The chief of BRPD said during a

press conference today that he believes

Long would have continued

to BRPD Headquarters just a handful

of miles away from the site of

the ambush attack had he not been

taken out by a SWAT officer with a

shot from 100 yards away. "This guy

was going to another location," said

the BRPD chief. "He wasn't going to

stop here."

Gavin Eugene Long has been identified

as the gunman who opened fire

in Baton Rouge. Long, described as

a 29-year-old black male from Kansas

City, Missouri, was killed at the

scene of the shooting. Long's birth-

More on page 16
---
FROM OUT Of THE BOX

to STATE OF THE ART.

ID CARD PRINTING INNOVATION.

HID Global is leading the industry with the most robust portfolio of secure ID issuance

solutions in the world. Our FARGO® line of printers and encoders provide governments,

financial institutions and businesses of all sizes fast, efficient and reliable solutions that

are as secure as they are affordable.

You'll call it innovation on demand. We call it, "your security connected."

YOUR SECURITY. CONNECTED | Visit us at hidglobal.com/printers

© 2016 HID Global Corporation/ASSA ABLOY AB. All rights reserved. HID, HID Global, the HID Blue Brick logo, and the Chain Design are trademarks

or registered trademarks of HID Global or its licensor(s)/supplier(s) in the US and other countries and may not be used without permission.
---
Ambush of law enforcement

officers in Baton Rouge

Continued from page 14

day was Sunday, July 17, the day of

the shooting, believed to be a factor

in selecting the date for the ambush.

CBS News reports Long served in

the Marine Corps as a sergeant at

the E-5 level working as a data network

specialist from 2005 to 2010,

including a six-month deployment

in Iraq. He was a sergeant and a data

network specialist who earned several

awards, including one for good

conduct. He was also assigned to

Okinawa, Japan, and several locations

in Southern California. He

received an honorable discharge in

2010, so PTSD does not now appear

to a factor in the shootings.

Long filed court records last year

in Kansas City in which he declared

himself a sovereign citizen and

identified himself as an indigenous

member of the United Washitaw

Nation, comprised of black separatists

claiming to be descended

from pre-Columbian inhabitants of

North America and asserts that it is

independent from the authority of

local, state and federal laws.4 Long

became increasingly outspoken in

the days following the controversial

police shooting of Alton Sterling in

Baton Rouge, and traveled to Dallas

just days after five police officers

were fatally shot there.

FRA and TxDOT outline passenger ra

Oklahoma City and Southern Texas,

WASHINGTON—The U.S. Department

of Transportation's (DOT)

Federal Railroad Administration

(FRA) and the Texas Department of

Transportation (TxDOT) have released

10 service and route options

for new and improved conventional

and high-speed passenger rail service

connecting Oklahoma City,

Fort Worth, Austin, San Antonio,

and South Texas. The options are

evaluated in a Draft Environmental

Impact Statement (DEIS).

"This corridor is home to major

financial, energy, and education

centers that people rely on every

day," said U.S. Transportation Secretary

Anthony Foxx. "Providing

efficient, more reliable, and faster

higher-speed passenger rail options

References:

1. "Officer Down Memorial Page", January 10,

1972, www.odmp.org/officer/14174-deputysheriff-ralph-dwayne-wilder

2. "Shootings on Southern campus in the

'70s", Baton Rouge Advocate, June 20, 2011,

www.theadvocate.com/baton_rouge/opin-

ion/article_5665851c-5585-5dae-a56a-

32630abb3050.html

3. "1973: Mark Essex, the Howard Johnson's

sniper", Times-Picayune newspaper, 2011, www.

nola.com/175years/index.ssf/2011/12/1973_

mark_essex_the_howard_joh.html

16

to move between cities is crucial for

the economy and the population to

thrive. I encourage those along the

I-35 corridor to participate in the

comment and public hearing opportunities

so that they are able to

learn more and share their input."

4. Jim Mustian, "Gavin Long declared himself

a 'sovereign,' legally changed name before Baton

Rouge officer shooting", Baton Rouge Advocate,

July 18, 2016; www.theadvocate.com/baton_

rouge/news/baton_rouge_officer_shooting/

article_aa22ff5e-4cf5-11e6-80c3-4fcddb044245.

html

George Lane, Director Chemical Security,

Emergency Response Technology,

Email, georgelane@hotmail.

com, Cell: 225-281-3141
---
il options between

seek public input

During a 45-day

public comment

period, FRA and

TxDOT will take

comments on the

10 options and the

seven recommended

preferred options

that the two agencies

identified. Four

public hearings will

also be held to give

residents a chance

to learn about the Texas-Oklahoma

Passenger Rail Study, understand

how their communities may be affected,

and provide comments.

Current passenger rail service

along the Interstate 35 (I-35) corridor

includes three intercity Amtrak

services from Oklahoma City

to Fort Worth (Heartland Flyer),

Fort Worth to San Antonio (Texas

Eagle), and Los Angeles to New Orleans

through San Antonio (Sunset

Limited).

The DEIS addresses the relationships

of the major regional markets

within the Texas-Oklahoma Passenger

Rail Program corridor in three

geographic sections, and preferred

alternatives are recommended for

each geographic section separately.

The three sections of study are:

• Northern Section: Edmond,

Oklahoma, to Dallas and Fort

Worth, Texas

• Central Section: Dallas and Fort

Worth to San Antonio

• Southern Section: San Antonio

to south Texas (Corpus Christi,

Brownsville, Laredo, and the Rio

Grande Valley)

More than 10 million people currently

live along the 850-mile corridor,

which is expected to grow by

39 percent in Texas and 25 percent

in Oklahoma City by 2035. As a

state with some of the largest metropolitan

areas in the nation, spread

out over hundreds of miles, Texas is

now in high demand for alternative

modes of transportation. Since the

majority of the state's population is

centered in the eastern half of state,

along I-35 stretching into Oklahoma

City, the highways have experienced

increased congestion.

"More passenger rail service will

help relieve already congested roads

along the I-35 corridor and help

this region manage the significant

population growth on the way,"

said FRA Administrator Sarah E.

Feinberg. "I encourage everyone to

provide feedback on the 10 options

that FRA and the Texas DOT have

presented to continue moving this

effort forward."

In fiscal year 2012, FRA awarded

17

a $5.6 million grant to TxDOT to

fund a study of new and improved

passenger rail service to meet future

intercity travel demand, improve rail

facilities, reduce travel times, and

improve connections with regional

public transit services as an alternative

to bus, plane, and private auto

travel. The Texas-Oklahoma Passenger

Rail Study evaluates routes

and types of service for passenger

rail service between Oklahoma City,

Dallas, Austin, San Antonio, and

South Texas.

More information about the Texas-Oklahoma

Passenger Rail Study

can be found here. The Final EIS

is projected to be released by early

2017.

Three hearings will be held in

Laredo, Austin, and Arlington. The

hearing times and locations are below:

Dates and Locations

August 9: Laredo - TxDOT

Laredo District Office

August 10: Austin - TxDOT

Austin District Office

August 11: Arlington - North

Central Texas Council of

Governments

Times

5:30 p.m.: Open House

6:00 p.m.: Presentation
---
Chemring Countermeasures USA's Kilgore

Flares awarded $24.9 million US Army and

Air Force contract for M206,

MJU-7A/B and MJU-10/B Flares

TOONE, TN – June 8,2016, Kilgore

Flares Company, LLC (KFL)

of Toone, Tennessee, a Chemring

Group PLC ("Chemring") subsidiary,

announces a contract award

by the US Army Contracting Command

at Rock Island Arsenal. The

$24.9M award includes the manufacture

and delivery of M206,

MJU-7A/B and MJU-10/B infrared

decoy flares. These flares are a key

component of aircraft survivability

systems that protect helicopters,

fighters and transport aircraft

against infrared guided missile

threats known as Man Portable

Air Defense systems. All work

will be performed at Kilgore's

facility in Toone, Tennessee.

KFL is a business unit within

Chemring Countermeasures

USA (CCM USA), which also includes

Alloy Surfaces Company,

Inc., located in Chester Township,

18

PA.

K i l g o r e

Flares' President Tank

Williams stated, "We are pleased

with our long standing partnership

with the warfighter and the continued

confidence in our products by

the Department of Defense, the Single

Manager for Conventional Ammunition

and PEO Ammunition.

Our workforce takes great pride

knowing the products we make will

save the lives of our citizens and international

partners that serve in

harm's way."

About Kilgore Flares

Kilgore Flares, LLC and Alloy Surfaces,

Inc. (CCM USA) are industry
---
leaders in the design, development,

and production of F-22, JSF and covert

multi-spectral Special Material

decoys. In addition, Kilgore Flares

produces other ordnance products,

including naval shipboard countermeasures,

marine location markers

and practice bomb signal cartridges.

Additional information

can be found

online at www.

kilgoreflares.com

and www.alloysurfaces.com.

About Chemring

Chemring is a market-leading

manufacturer

supplying hightechnology

electronics

and energetic products

to over sixty countries

around the world.

Chemring has a diverse portfolio of

products that predominantly protect

military personnel and platforms,

providing insurance against

a constantly changing threat. These

range from countermeasures that

protect aircraft, to ground penetrating

radar that protect troops and

vehicles from improvised explosive

devices.

For more information about Chemring,

please go to: www.chemring.co.uk.

ABB wins 1 st commercial order

for breakthrough 15-second flash

charging technology to enable

CO2-free public transport in Geneva

ZURICH, SWITZERLAND, July

15, 2016 – ABB has been awarded

orders totaling more than $16 million

by Transports Publics Genevois

(TPG), Geneva's public transport

operator, and Swiss bus manufacturer

HESS, to provide flash charging

and on-board electric vehicle

technology for 12 TOSA (Trolleybus

Optimisation Système Alimentation)

fully electric buses (e-buses)

which will run on Line 23, connecting

Geneva's airport with suburban

Geneva. The e-buses can help save

as much as 1,000 tons of carbon dioxide

per year, when compared with

existing diesel buses.

ABB will deliver and deploy 13

flash-charging stations along an

urban transit bus route, as well as

three terminal and four depot feeding

stations. This will be the world's

fastest flash-charging connection

technology taking less than 1 second

to connect the bus to the charging

point. The onboard batteries can

then be charged in 15 seconds with

a 600-kilowatt boost of power at the

bus stop. A further 4 to 5 minute

charge at the terminus at the end of

the line enables a full recharge of the

batteries. The innovative technology

was developed by ABB engineers in

Switzerland.

"We are proud of this breakthrough

technology to support

Geneva's vision of providing a silent

and zero-emission urban mass

TOSA bus – Revolutionary technology requires no overhead lines and offers silent and zeroemission

mass transit solution as a viable alternative to diesel buses, providing a model for future

urban transportation

19
---
transportation for the city. It provides

a model for future urban

transport and reinforces our vision

of sustainable mobility for a better

world" said Claudio Facchin, President

of ABB's Power Grids division.

"As part of our Next Level strategy,

we are committed to developing

customer-focused solutions and

technologies that help lower environmental

impact."

The decision to deploy

TOSA on Line 23 was

undertaken after the successful

pilot of the first

such e-bus on the route

from Geneva airport

to the Palexpo exhibition

center. The Line 23

bus route will be slightly

modified in order to provide a fast

connection to Praille-Acacias-

Vernet, a new suburb being built to

accommodate 11,000 flats and office

space for about 11,000 employees.

When fully commissioned in 2018,

the high-capacity articulated buses

will depart from both terminuses

at 10-minute intervals during peak

times. The line carries more than

10,000 passengers a day and the replacement

of diesel buses by TOSA

e-buses reduces noise as well as

greenhouse gas emissions.

As part of a separate award by

HESS, ABB will supply 12 flexible

drivetrain solutions for the buses

including integrated traction and

auxiliary converters, roof-mounted

battery units and energy transfer

systems (ETS), as well as permanent

magnet traction motors. Both

contracts include five-year maintenance

and service agreements to

ensure operational reliability, efficiency

and safety.

"The deployment of TOSA on

Line 23 is the result of the collaborative

efforts of the public and private

sector partners who invested

in this vision. This innovative project

opens the way for the future of

mobility, by providing a sustainable

and environmentally-friendly mass

transport solution for the wellbeing

of our community," said Luc

Barthassat, Geneva's State Councilor

for Transport and Environment.

Geneva is one of the world's leading

cities, recognized as a global

center of diplomacy, a financial hub

and a technology and innovation

center. It is also a popular tourist

destination with a high quality of

life. It hosts the highest number of

international organizations in the

20

world, including global headquarters

of institutions like the United

Nations and the Red Cross.

ABB provides a range of technologies

to support mobility applications

such as railways, metros and electric

buses and vehicles. Transportation

and Infrastructure is one of the

three customer groups, served by

ABB alongside utilities and industry,

and sustainable mobility

is a key focus area

within ABB's Next Level

strategy.

ABB is celebrating

125 years of its legacy

in Switzerland and has

been actively involved in

the transportation sector

including rail. As a recent

example, ABB technologies are

helping to power and ventilate the

recently commissioned 57 km Gotthard

base tunnel through the Alps

– the world's longest railway tunnel.

ABB (www.abb.com) is a leading

global technology company in

power and automation that enables

utility, industry, and transport & infrastructure

customers to improve

their performance while lowering

environmental impact. The ABB

Group of companies operates in

roughly 100 countries and employs

about 135,000 people.
---
Intellicheck Mobilisa awarded contract for site

secure access control at classified Federal facility

JERICHO, NEW YORK - July 20,

2016-Intellicheck Mobilisa, Inc.

(NYSE MKT:IDN), a leader in

threat identification and identity

authentication, verification and validation

technology solutions, today

announced it has been awarded a

federal contract to expand the deployment

of Defense ID® at a highly

classified federal government facility

in the Washington, D.C. area.

The $250,000 purchase will increase

the ability of security personnel to

protect the highly sensitive federal

installation with Intellicheck's realtime

identification authentication

solution.

Dr. William Roof, Intellicheck

CEO, noted, "The world is a very

different place than it was only a few

short years ago as threats of violence

to our citizens at home and abroad

continue to escalate in frequency,

complexity and effectiveness. Defense

ID was designed to address a

security environment that is fluid

and constantly evolving. Our expertise

in addressing security challenges

is reflected in the advanced

features and functionality that make

our application mobile, interoperable

with multiple standard and

proprietary information sources

and responsive with programmable

rules. We are confident that Defense

ID will provide an unprecedented

level of situational awareness and

security driven by real-time ID document

authentication and threat

identification."

Security personnel use Defense

ID to increase situational awareness

and security at restricted facilities

by instantly authenticating the

identification of visitors, vendors,

and employees seeking site access

and by enabling rules-based access

decision support, while improving

operational efficiencies. Deployment

of the field-tested and proven

advanced technology solution provides

security personnel with the

21

ability to maintain uninterrupted

line of sight of an individual seeking

site access as mobile devices scan the

bar code of driver licenses from all

U.S. states and Canadian Provinces,

as well as military and other identification

documents issued by government

agencies. Defense ID alerts

security officers of a potential threat

by comparing a would-be visitor's

identification card information with

information available from public

and government data sources and

other pertinent information contained

in Intellicheck's extensive

proprietary databases. Real-time information

delivery instantly notifies

security personnel if the individual

has presented identification that is
---
fake or stolen, is on a terrorist watch

list, Be-On-the-Look-Out (BOLO)

lists, may be the subject of law enforcement

wants and warrants, or is

listed for military base debarments

and driving suspensions.

In addition to its other computerbased

applications, Defense ID's

advanced rules-based engine can

be set to allow visitation only at certain

pre-designated days and times

to specific parts of a site. Durable

handheld mobile devices assure facility

security personnel maximum

flexibility for patrol and special

event requirements.

"At a time when international terrorism

and civil unrest present unprecedented

challenges, this contract

award underscores the value

and flexibility of Defense ID in protecting

critical facilities and the people

who conduct business at these

facilities. We expect our militarygrade

security technology solution

to see increasing adoption beyond

the 24 military and federal installations

and 16 U.S. ports where it is

already deployed," said Dr. Roof.

Intellicheck's portfolio of 25 patents

includes many pertaining to

identification technology. Its identity

technology solutions support

customers in the national defense,

law enforcement, retail, hospitality

and financial markets. The Company's

products scan, authenticate

and analyze components of identity

documents including driver licenses,

military identification cards

and other government forms of

identification containing magnetic

stripe, barcode and smart chip information.

The information can be

used to provide safety, security and

efficiencies across markets. Unlike

competitive products, Intellicheck's

technology solutions are unique

22

in their ability to provide accurate,

real-time identification authentication

and situational awareness on

both mobile and existing fixed infrastructures

that is fully regulatory

compliant.

About Intellicheck Mobilisa

Intellicheck Mobilisa is an industry

leader in threat identification, identity

authentication, verification and

validation systems. Our technology

makes it possible for our customers

to enhance the safety and awareness

of their facilities and people,

improve customer service, and

increase operational efficiencies.

Founded in 1994, Intellicheck has

grown to serve dozens of Fortune

500 companies including retail and

financial industry clients, national

defense clients at agencies, major

seaports, and military bases, police

departments, and diverse state and

federal government agencies. For

more information on Intellicheck

Mobilisa, please visit http://www.intellicheck.com/.
---
00
---
Immigration and Border Security

Tracking record of statements of Hillary Clinton

on immigration reform

By Wendy Feliz

By 2050, minorities will become the

majority in the United States. This is

the first point Hillary Clinton made

while speaking before the League

of United Latin American Citizens

(LULAC) in Washington D.C. this

week. In a pointed speech, which

she spent much of criticizing her

opponent Donald Trump, Clinton

discussed "ending the vicious debate

about immigration reform"

and made some clear commitments

around what, if elected, she would

do to advance needed changes in

immigration policy.

Most notably, Clinton said at the

beginning of her remarks, and later

repeated, that "in my first 100 days,

as part of my commitment, I will

introduce comprehensive immigration

reform with a path to citizenship"

and will end the practice of

family detention.

She discussed the "growing consensus"

and "greater agreement"

that something must be done on

immigration reform and alluded to

the point that it would only happen

if she was elected, noting "whether

we get it done will depend on this

election."

Clinton went on to

elaborate on what her

vision for immigration

reform would includes:

"…a credible path

forward for reform

that is truly comprehensive,

addressing all

aspects of the system,

including immigrants

living here today, those who wish to

come in the days ahead, from highly

skilled workers to family members

to those seeking refuge from violence

wherever that might occur. "

She then committed to:

"…send a proposal to congress

that will include a path to citizenship

that will fix the family visa backlog

and strengthen our economy and

will enable our country to be what

it has always been, a place where

people from around the world come

to start new businesses, pursue their

dreams, and apply their talents to

American growth and innovation.

And while we are doing that, we

must do everything we can to keep

families already here together."

She also vigorously defended

24

Photo: Courtesy of CBS News

presidential executive actions on

immigration noting:

"DAPA is squarely within the

President's authority and I will keep

saying that and fighting for it. But

there is more we can do. We need

a simple straightforward system

where people with sympathetic cases,

can show a history of service to

their communities can make their

case and be eligible for deferred action.

Like people who experience

and report extreme labor abuses."

Finally she committed to ending

the practice of detaining families

and rounding up refugees in raids.

She said:

"And we must absolutely end

family detention, close private de-

More on page 44
---
What you should know about Mike Pence's

harsh policy record on immigrants and refugees

By Wendy Felix,

American Immigration Council

In Mike Pence, Republican Presidential

candidate Donald Trump

has found a kindred spirit in his crusade

against immigrants. Trump's

get tough approach to immigration

has been no secret and reports of the

Republican's official 2016 platform

note that it includes support for a

border wall and proposing mandatory

prison sentences for deportees

who return to the United States.

They also change the term "illegal

immigrants" to "illegal aliens" in the

platform itself—a highly-offensive

term.

Like Trump, Pence takes a harsh,

enforcement-centric approach to

immigration. Pence's record shows

he used his time in Congress and

as the Governor of Indiana to pursue

extreme and punitive immigration

policies earning him a 100

percent approval rating by the antiimmigration

group, Federation for

American Immigration Reform.

During his term in the U.S. House

of Representatives, Pence voted yes

on H.R. 3722, a 2004 bill that would

"prohibit Federal reimbursement of

hospital-provided emergency

and certain transportation

services to undocumented

aliens" and

allow hospitals to refuse

care to undocumented individuals

if they could be

sent to hospitals in their

home country.

In 2006, he unveiled a

plan which he described Mike Pence, former Governor of Indiana

as "no amnesty immigration

reform" which sought to seal and Deferred Action for Parents of

the U.S. border with Mexico, set up Americans and Lawful Permanent

a limited guest-worker program, Residents (DAPA). He then praised

force all undocumented immigrants the non-decision issued by the Supreme

Court on expanded DACA

to "self-deport" and apply for reentry

from their home countries, and and DAPA, which leaves 4-5 million

end birthright citizenship.

undocumented immigrants in limbo

as the challenge to the initiatives

In 2007, he co-sponsored an English-only

bill.

continue in a lower court.

Later, as governor of Indiana, While Pence's so-called "reform"

Pence ordered state agencies not to bill in Congress went nowhere and

assist in the resettlement of Syrian his efforts to shut out refugees also

refugees, which resulted in a lawsuit

being brought against him by tion policy positions demonstrate

failed miserably, his past immigra-

the American Civil Liberties Union an impractical and uncharitable

which Pence lost.

approach toward immigrants and

As governor, Pence also signed Indiana

on to the Texas lawsuit chal-

well with candidate Trump's.

refugees, but one that seems to align

lenging expanded Deferred Action Despite the fact that anti-immifor

Childhood Arrivals (DACA)

More on page 44

25

Photo: Gage Skidmore
---
Immigration and Border Security

Supreme Court to hear arguments in class action suit brought

by ACLU, Stanford Law School challenging prolonged detection

by DHS of noncitizens, with no right to bond hearing

Last month, the Supreme Court announced

that, in fall 2016, it will hear

arguments in Jennings v. Rodriguez,

a challenge to the prolonged detention

of noncitizens in removal proceedings.

At issue is whether the

government can keep a noncitizen

who is fighting her deportation case

locked up for however long the notoriously

lengthy proceedings last,

or whether she must receive a bond

hearing after she has been detained

for six months, where an immigration

judge will decide, on an individualized

basis, whether continued

detention is necessary.

The case, a class action brought

by the ACLU and the Stanford Law

School Immigrants' Rights Clinic

on behalf of noncitizens in the

Central District of California, challenged

the Department of Homeland

Security's practice of holding

immigrants in prolonged civil detention

without the opportunity for

a bond hearing during their removal

proceedings. Immigration detention

is non-punitive – which means

that the immigrants involved in the

case are locked up not as a punishment

for any crime for which they

have been convicted, but rather as a

preventative measure while courts

consider their deportation cases.

Yet members of the Rodriguez class

have been locked up for months or

years without the opportunity to

argue that their detention was not

justified. Class members were detained,

on average, thirteen months.

Those class members who vigorously

argued that they are entitled to

remain in the United States stayed

locked up for far longer than those

who conceded that they could be

deported, creating an incentive for

immigrants to give up meritorious

claims for relief from deportation.

Last year,

the Ninth Circuit

Court of

Appeals decided

the case

in favor of the

plaintiffs. The

Court held

that the government

must

provide class

members with

26

bond hearings

in front of

immigration

judges after six

months of detention–and,

if they remain detained,

that class members must have additional

bond hearings every six

months. At those hearings, government

attorneys must establish by

clear and convincing evidence that

the particular individual involved

is a flight risk or a danger to the

community in order to justify denial

of bond. The decision does not

require the government to release

any noncitizen held in prolonged

More on page 44

James R. Browning Court of Appeals

Photo: Jeff Kubina
---
Most Americans reject Trump's nativist agenda, according

to survey conducted by Brookings Institution and Public

Religion Research Institute

By Walter Ewing

Republican presidential contender

Donald Trump may claim to

speak in the name of the "American

people," but the fact is that

most Americans continue to reject

his nativist rhetoric of fear

and hate. This is apparent from

the results of a survey conducted

by the Brookings Institution and

Public Religion Research Institute

between April 4 and May

2, 2016. The survey reveals that,

despite a great deal of collective

anxiety over terrorism and the

impact of growing immigrant

communities on U.S. society,

most Americans

do not buy into

harsh views on

immigration.

As a starting

point, the survey

examined how many Americans

are worried about a terrorist attack.

Given the terrorist shootings

in San Bernardino and in Paris at

the end of 2015 (the

survey was conducted

before the Orlando

massacre), it comes as

no surprise that just

over half (51 percent)

of survey respondents

"report feeling somewhat

or very worried that they or

a member of their family will become

a victim of terrorism." This

marks an increase of 18 percentage

points since late 2014, when

only 33 percent of respondents

harbored such a fear.

Yet, despite these fears, most

respondents did not succumb to

the temptation to scapegoat all

immigrants or all

Muslims for the

actions of a relatively

small numbers

of terrorists.

For instance, 58

percent "oppose placing a temporary

ban on Muslims from other

countries entering the U.S.," compared

to 40 percent who support

27

such a measure. Likewise, 55 percent

"oppose passing a law that

would deny Syrian refugees entrance

to the U.S.," while 44 percent

support such a law.

Nor did most respondents buy

into Trump's views on the U.S.-

Mexico border, undocumented

immigration, or the economic

impact of immigrants. Among

the respondents:

• 61 percent "say immigrants

living in the U.S. illegally

should be allowed a way to become

citizens," compared to 21

percent say that they should be

deported.

• 58 percent oppose building a

wall along the U.S.-Mexico bor-

More on page 29
---
Immigration and Border Security

Senator Tim Kaine, Democratic VP candidate,

supports reforming immigration system

Democratic Presidential Candidate,

Hilary Clinton has named Senator

Tim Kaine of Virginia as her Vice-

Presidential running mate.

A look into Tim Kaine's past positions

on immigration reveal that

he has supported steps towards reforming

America's immigration system,

has spoken out against punitive,

anti-immigrant measures at the

state level, and has made significant

efforts to reach out to the immigrant

community.

In 2010, while serving as Chairman

of the Democratic National

Committee he admonished Arizona's

notorious, anti-immigrant

measure SB 1070, calling it "smallminded

and short-sighted."

Tim Kaine also supported the

DREAM Act and as a Senator voted

yes on S. 744, the last immigration

reform bill to pass the senate. He

also famously gave a floor speech on

the need for immigration reform in

fluent Spanish while the debate over

the legislation waged.

In 2015, he made public statements

in support of the Deferred

Action for Childhood Arrivals

(DACA) initiative noting that the

"DACA program announced by the

President has allowed young people

Senator Tim Kaine of Virginia

to contribute to our communities,

live without constant fear of deportation,

keep families together and

provide economic and educational

opportunities for these young recipients."

His current Senate website notes

that he supports the Obama Administration's

ongoing efforts to expand

DACA and implement DAPA.

He writes: "I also support efforts

to expand the Deferred Action for

Childhood Arrivals (DACA) and

Deferred Action for Parental Accountability

(DAPA) programs."

Earlier this year, he participated in

the DAPA dinners campaign where

he shared a meal with a family who

would be eligible for these deferred

action initiatives in an effort to bring

28

attention to the needs and struggles

of mixed-status families.

His Senate website describes his

current vision for reforming immigration:

For far too long, our immigration

system has placed undue burdens

on legal immigrants and kept millions

of others living in the shadows

of our society. I support a bipartisan

approach to immigration reform

that will provide a better visa system

to encourage growth of a talented

workforce, enhance our border security,

create a path to normalizing

the legal status of those here unlawfully

– following compliance with

various requirements such as payment

of taxes and a fine – and establish

a better system for companies

to verify the immigration status of

their employees.

According to the New York Times

"Mrs. Clinton and Mr. Kaine have

similar positions on the issues and

they are said to share an easy rapport

and a love of granular policymaking."

It also seems Ms. Clinton

has found a running mate whose

current thinking on immigration

policy aligns with hers.

Photo: Fort Belvoir Community Hospital
---
Federal union leader J. David Cox Sr.

says Trump wrong on TSA, wrong on VA

WASHINGTON, July 22, 2016 /

PRNewswire-USNewswire/ -- Republican

Party presidential nominee

Donald Trump used his nomination

speech Thursday night to disparage

the dedicated public servants who

deliver health care to our nation's

veterans and ensure the safety of the

flying public, American Federation

of Government Employees National

President J. David Cox Sr. said today.

"Donald Trump's proposals would

endanger the flying public and harm

our veterans, and no one should be

fooled by his smoke and

mirrors magic show,"

Cox said.

"He wants to privatize

veterans' health care,

even though the vast

majority of veterans say

they want their care delivered

by VA doctors and nurses.

Private health care for veterans

would be an expensive disaster, and

no one should be fooled into believing

otherwise," Cox said.

During his nomination speech

Thursday, Trump also called the

Transportation Security Administration

a "total disaster" and vowed

J. David Cox Sr., President, AFGE

to "fix TSA."

"I have no doubt that Donald

Trump's idea of fixing TSA would

be the same as his prescription for

the VA: privatize to the lowest bidder

and to hell with the

safety and security of the

flying public. What the

TSA needs is for Congress

to lift the arbitrary

staffing cap and provide

TSA with a realistic budget

so the agency can

hire the officers it needs to do its

job," Cox said.

The American Federation of Government

Employees (AFGE) is the

largest federal employee union, representing

670,000 workers in the

federal government and the government

of the District of Columbia.

29

Most Americans reject Trump's

nativist agenda

Continued from page 27

der, while 41 percent support

the wall.

• 47 percent believe that "immigrants

strengthen our country

because of their hard work

and talents," while 43 percent

say that "immigrants are a burden

on the country because

they take jobs, housing, and

healthcare."

• 68 percent say that "new immigrants

mostly take jobs

Americans do not want," compared

to 25 percent who believe

that these "immigrants take

jobs away from American citizens."

While these findings are in

some ways welcome, the fact remains

that a significant minority

of respondents believe that immigrants

are an economic drain,

that Muslim immigrants should

be temporarily banned from entering

the country, and that we

should build a wall between the

United States and Mexico. However

these beliefs are built on fear

and ignorance, not evidence.
---
Immigration and Border Security

Senate rejects two anti-immigrant bills before going

out on recess

By Joshua Breisblatt

30

Photo: Nicolas Raymond

Senate defeats cloture on motions

to proceed—a motion to begin debate—on

two "Sanctuary City" bills

sponsored by Senator Pat Toomey

(R-PA) and Senator Ted Cruz (R-

TX). Both bills take an enforcement-only

approach to immigration

reform and fail to address the

nation's outdated immigration laws

or the need to enact comprehensive

reforms.

Senator Toomey's "Stop Dangerous

Sanctuary Cities Act" (S. 3100)

literally transforms state and local

law enforcement officers into federal

immigration enforcement agents

and distracts from their ability to

protect and serve their local community.

The bill also attempts to

punish these so-called sanctuary jurisdictions

by taking away millions

of dollars in federal funding for

programs that make communities

stronger, including the Community

Development Block Grant from

any city, state or county that does

not fully comply with Immigration

and Customs Enforcement (ICE)

detainers and notification requests.

Senator Cruz's bill, the "Stop Illegal

Reentry Act" (S. 2193), would

increase mandatory minimums for

individuals convicted of "illegal reentry"

into the United States.

The term "sanctuary city" is often

used incorrectly to describe a trust

act or community policing policy

that limits entanglement between

local police and federal immigration

authorities. These policies, in

fact, make communities safer and

increase communication between

police and residents without imposing

any restrictions on federal

immigration agents in carrying out

their job of enforcing immigration

laws.

Tom Manger, Chief of Police for

Montgomery County and President

of the Major Cities Chiefs Association,

supports community policing

policies that place limits on how local

law enforcement is asked to enforce

federal immigration laws. He

said:

"To do our job we must have the

trust and respect of the communities

we serve. We fail if the public

fears their police and will not

come forward when we need them.

Whether we seek to stop child predators,

drug dealers, rapists or robbers

–we need the full cooperation

of victims and witness. Cooperation

is not forthcoming from persons

who see their police as immigration

agents. When immigrants come to

view their local police and sheriffs

with distrust because they fear de-

More on page 44
---
Who wins if Donald Trump's views on immigration

policy are accepted by voters in November?

By Wendy Felix

Historically, America has done well

when everyone works together towards

common goals that pool our

collective strengths. We have built a

great nation, and much of our success

continues to derive from the

fact that we are a nation that welcomes

and integrates people from

around the world.

Yet, most of Mr. Trump's

speech at the Republic

National Convention on

Thursday night sought to

convince all who were listening

that none of that

history is true, and Americans

are losing because

someone else is taking

something from them, including

immigrants.

Trump once again cast the foreign-born

as a grave threat to natives,

and he continues to blame

them for unemployment and crime

and proposes that anything short of

mass expulsion of undocumented

immigrants is tantamount to ignoring

the rule of law. He also cast immigration

reform as "amnesty."

Trump's now well-established

views on immigration policy are

not only unsupported by the facts,

but they are dangerous as well. If

Trump's immigration policies were

ever implemented, they would have

devastating impacts on American

society, the economy, and our

standing in the world.

Oddly for a businessman, Trump's

view of the American economy is

that it is finite and cannot be grown

when more workers, taxpayers, and

consumers are added to it. It is nonsensical

to assert that the economic

growth attributed to immigrants (as

found in numerous studies) over

the years does not in any way benefit

native-born workers who participate

in the same economy.

The Republican nominee also

31

Photo: Courtesy of Disney

continues his crusade to cast all immigrants

as criminals even when

there is abundant evidence that immigration

is not linked to higher

crime rates and hasn't been for the

past century.

The truth is, the vast majority of

Americans disagree that immigrants

are the source of our problems,

and a majority from both

political parties support a

more generous and pragmatic

approach towards

immigration policy.

Yet, Trump's commitment

to his uninformed

views on immigration remains

strong. The fact that

he believes natives only do

well when immigrants are

removed from the country

demonstrates not only that

he is out of touch with the majority

of Americans, but that he is a bad

student of history and economics

and is willing to blindly pursue policies

that play well politically among

a small fringe group of his supporters.

Trump's immigration policies, if

implemented, will make losers of us

all.
---
Perimeter Protection/Intrusion Detection

False certifications by under vehicle inspection manufacturers

are putting lives and property at risk, says Chris Millar, who

advises testing all security products before purchase

By Christopher Millar,

CEO, Gatekeeper Security

Over the past few years I

have seen and been personally

involved in debunking

numerous false and I maintain

deliberately misleading

(fraudulent) performance claims

made by many "under vehicle inspection

system" manufacturers.

These fraudulent claims have now

reached epidemic proportion. For

Gatekeeper Security, the only manufacturer

of independently tested

and approved fully automatic under

vehicle inspection systems available

on the market today, it is extremely

alarming to see how many buyers

of under vehicle inspection systems

simply believe the glossy brochures

or the pitch of a sales person without

once requesting independent testing

of equipment prior to purchase.

It is truly amazing to me, and to

many other security professionals I

have discussed this problem with,

how security equipment manufacturers

can blatantly produce deliberately

false compliance certificates

and brochures for the

purpose of selling nonqualifying,

and more

often than not, inferior

equipment. Providing

false, or at best misleading

information

about a technology

affects many parties, all of whom

could easily protect themselves

from such damage by simply testing

the equipment before purchase.

Alternatively, and more practically,

require side by side testing where

all "qualified" manufacturers provide

a system and these systems are

put through the same performance

tests to see which one performs the

best or at the very least, perform the

tasks that are claimed by the manufacturer

they can perform.

What happens in reality is the

purchaser of the equipment, be it

an end user or a system's integrator,

just looks at the price and pays no

attention to the reasonableness of

the compliance certificate – as long

as they have one marked COM-

PLY signed and stamped they are –

"good to go". If you are hoping the

32

consultant will pick up on

the falsified claims you are

wrong, as they too rely on

the compliance certificates.

Therefore, the acquisition

process is in actuality

one of trust, a structure

that is doomed

from the start when

the main player, the equipment

manufacturer, in a number of cases,

is proven to be not trust worthy.

It is my opinion after speaking

with many security professionals

with firsthand experience in these

matters that equipment is rarely,

if ever tested by integrators or end

users prior to purchase. This is because

proof that equipment does not

comply with required specifications

may result in having to pay more for

equipment that does. Failure to test

claimed capabilities puts lives and

property at risk. It is evident, from

my research, that very few purchasers

of non-compliant equipment

ever raise the issue with the manufacturer

of the equipment for fear of

admitting a mistake or of wasting

their employer's money. As budgets

APPROV

THE DEPARTMEN
---
are planned years in advance, the

misuse of funds to purchase noncompliant

equipment results in a

facility going for years without

the necessary security equipment

or until further funds

can be allocated to purchase

qualified equipment.

This concept of cheap is

actually expensive when

a buyer needs to purchase

equipment twice to

achieve the required

security function.

To help combat

this plague of filing false compliance

certificates or producing brochures

about fictional equipment in

the under vehicle inspection business,

Gatekeeper set up a competition

mid 2014 with a USD100,000

prize. Under the competition, system

manufacturers that claim they

can provide all the same features

and have the same environmental

certifications as Gatekeeper equipment

get a chance to prove it and if

successful collect USD100,000 from

Gatekeeper. To date not one manufacturer

has come forward, however

Gatekeeper is in possession of numerous

compliance certificates and

a brochure collected over the same

period where "alternative technologies"

(other under vehicle inspection

systems) have under seal and

ED BY

T OF DEFENSE

signature vowed

they provide the

same, and often better

specifications

to Gatekeeper. Perhaps

it is because

they make so much

money from selling

non-compliant

equipment to naive

end users and/or integrators they

don't need to come and collect the

easy USD100,000 from Gatekeeper.

To provide a snap shot of how

serious this situation has become,

over the last year Gatekeeper has

been provided with the following

amazing claims – in some cases we

were able to convince the end user

to test the claims as they were so

outrageous:

• Running video systems claiming

they can perform automatic

foreign object detection

• Line scanners claiming they

are not affected when a vehicle

is scanned at different speeds or

stops on top of the scanner

• Single 90⁰ view running video

and line scanners providing two

views at 60⁰

• A line scanning company

claiming they have an area scan

system identical to Gatekeeper

and produced a brochure to support

their claim however when

33

the end user called the company

about the technology, was told

they do not have such a system.

• A Singapore company, when

bidding on a transaction in Indonesia,

claimed they manufactured

their systems in the US,

as this was a requirement of the

tender, could not produce the address

of their manufacturing facility

in the US when challenged.

• On a tender in Kenya, one US

running video system manufacturer

made a series of impossible

performance claims, only to have

7 of their 10 claimed performances

proven not to be true after the

end user insisted on testing.

The list goes on and unfortunately

the damage that is caused by such

fraudulent behavior may result in

the loss of lives and property. The

answer is very simple: test all security

equipment before purchase.
---
Perimeter Protection/Intrusion Detection

Battelle Wins Major Contract to Build Armored

Trucks for U.S. Special Operations Command Force

COLUMBUS, OH (July 19, 2016)—

Building on the success of a previous

contract to build Non Standard

Commercial Vehicles (NSCVs),

Battelle has been awarded a second

contract worth $170 million.

The U.S. Special Operations Command

(SOCOM) announced the

award July 14, naming Battelle as

the contract winner in a competitive

procurement.

Under terms of the contract, Battelle

will build armored and unarmored

vehicles for the next five

years at its manufacturing facility in

West Columbus. The contract also

includes an option for two more

years.

For more than 11 years Battelle

has been designing, building and

delivering commercial-style armored

vehicles. The ground vehicle

team takes existing vehicles, reengineers

them with protective armor

and adds other durability features,

such as stronger suspensions for

operations in rugged terrain and

enhanced alternators to withstand

extreme climates. Battelle vehicles

have previously completed formal

durability testing and system level

armor testing.

"Battelle has a proven track record

of performing sophisticated

systems integration for military and

commercial applications," said Fred

Byus, vice president of Battelle's

Mission and Defense Technologies

business. "Under this contract, our

vehicle systems team will execute

on its custom designs and integrate

complex systems to meet mission

requirements—at a competitive

cost."

Battelle's armored vehicles retain

the Original Equipment Manufacturer

(OEM) appearance, whether

Hilux, Land Cruiser and Ford

platforms. The vehicles are re-engineered

with crew protection, enhanced

suspension for improved

off-road mobility, and a reinforced

chassis for durability.

Battelle has a long history of helping

U.S. armed forces with

protected vehicles, all the

way back to its work on tank

armor in World War II. More

recent work has included armoring

High Mobility Multipurpose

Wheeled Vehicles

(HMMWVs) and training

34

military personnel and contractors

to install more than 500 protective

armor kits onto existing vehicles.

Every day, the people of Battelle

apply science and technology to

solving what matters most. At major

technology centers and national

laboratories around the world, Battelle

conducts research and development,

designs and manufactures

products, and delivers critical services

for government and commercial

customers. Headquartered in

Columbus, Ohio since its founding

in 1929, Battelle serves the national

security, health and life sciences,

and energy and environmental industries.

For more information, visit

www.battelle.org.
---
Cinch Systems, producer of the Award-Winning Rampart

Vehicle Barrier System, describes its Vehicle Barrier,

Intrusion Detection, Door and Gate Control systems that are

used by scores of government, military, law enforcement,

energy and other agencies.

ST. MICHAEL, MN – Cinch System's

Rampart Vehicle Barrier System

is a high-security and data logging

system that provides precise vehicle

barrier, bollard, gate/security for access

to the perimeter of high profile

facilities.

"It's all we do," said CEO Joel Christianson.

"When something really

matters, like security… you want the

best – and the most experienced.

CINCH systems products are used

and trusted by: The U.S. Government,

Department of Defense (DOD), U.S.

Department of State, U.S. Supreme

Court, U.S. Army Corp of Engineers,

U.S. Capital Police, GSA Public Building,

Service Government Contractors,

Energy Infrastructure, SCIF's

and Transportation facilities."

The Rampart utilizes patented End-

To-End AES Encryption for secure

system communication with a memory

capacity to log and store 233 million

entry/exit events—delivering reliable,

split-second barrier activation

and forensic data. When a barrier/

bollard is deployed to prevent entry, it

will stop and

render a suspect

vehicle

completely

inoperable.

The Rampart VBS control system is

designed to fit the need for high security

in both retrofit and new installations,"

Christianson added. "Products

feature our patented AES Encrypted

End-To-End communication. This

provides complete data encryption

from the device (sender) with only

the control panel (recipient) able to

decrypt it. Nothing other than the

control panel can read the signal or

tamper with it — eliminating hacking

and tampering directly or via the

internet."

The CINCH systems

Product Portfolio Includes:

• Intrusion Detection Systems

(IDS) – Four platforms ranging

from SCIF to campus style intrusion

products provide an easy to

design with fast implementation to

help ensure project success.

35

• Vehicle Barrier System Controls –

CINCH delivers the industry's first

AES Encrypted End-To-End VBS

controller. Embedded, standardized

and configurable with greater

performance and security integrity

than PLC controls. Scalable to meet

your current and future requirements.

• Door and Security Gate Controls

– An easy to design, configure and

deploy control system with more

processing power than most access

control systems. System success

is ensured for new construction

and retrofit projects with CINCH's

modular design for rapid changeout

with minimal wire requirements.

Products Designed for

High Security:

• Systems Engineered – CINCH
---
Perimeter Protection/Intrusion Detection

evaluates your existing environment

and delivers recommendations

as well as options to meet or

exceed security priorities and requirements

for security scope.

• Security Rationalization – We access

your security infrastructure

needs along with your agency or

corporate standards to optimize a

system designed for high security

and cost containment. Our controls

report and log millions

of discrete recorded and performance

events.

• Infrastructure Positive

– Leverage existing infrastructure

to improve overall

system integrity and security

performance. Gain advantages

in project timelines with easy

to understand system architecture

to meet aggressive deadline schedules.

• Optimal Communication – Ce-

Lan communication evaluates

packet usage to best utilize cable

and automate signal performance

inside your CINCH systems security

solution.

Product Warranty:

Click Here for product warranty.

With over 200 years of combined

high security industry experience,

CINCH systems has some of the

deepest security engineering talent in

the world. This collective experience

has been used for more than 35 years

working on thousands of successful

products and security applications.

CINCH systems security products

are in service in more high security

environments world-wide than any

other. Whether it's in Washington DC

or a US Embassy in the Middle East,

CINCH AES Encrypted Systems are

on-duty protecting people and property.

Experience that pays off for:

• The best practices for the common

to the rarest of security requirements.

• High security in diverse environments

and complex architectures.

• Installations with combinations of

almost every conceivable physical

security product.

• The most challenging security

needs and project timelines.

Whether you are implementing

CINCH systems Intrusion Detection

System, Vehicle Barrier System

or Door/Security Gate control system,

CINCH systems has the security

36

knowledge and application experience

of thousands of demanding and

successful security projects.

To learn more about what Cinch

Systems can do for your organization,

contact the company in St Michael,

MN at http://www.cinchsystems.com/

contact-cinch-systems.html.

About CINCH systems, Inc.

www.cinchsystems.com

CINCH systems, Inc. is a leading

supplier of high security

and life safety technologies

with offices based in St. Michael,

Minnesota. CINCH systems

offers the industry's latest

high security product portfolios,

including intrusion detection

for the U.S. Government, SCIFs

(Sensitive Compartmented Information

Facility), Vehicle Barrier Systems

Controls and Door and Security Gate

Controls. CINCH systems products

provide complete patented End-To-

End AES Encryption, secure fiber

conversion and the industry's easiest

to use touch screen interface. Products

are used to protect people and

property across a wide-range of industries,

U.S. Government, U.S. Military

and law enforcement. For more

information call (763) 497-1059 or

email: info@cinchsystems.com
---
Delta Scientific anti-terrorist barriers to protect

against vehicle threats at Democratic Convention

PALMDALE, CA - July 20, 2016 -

Delta Scientific, the leading manufacturer

of counter-terrorist vehicle

control systems used in the United

States and internationally, today announced

that Delta MP5000 mobile

deployable vehicle crash barriers

were ordered by the Secret Service

for the upcoming Democratic Convention

running July 25-28 in Philadelphia.

As at the GOP Convention

this week, the certified crash

vehicles will protect attendees from

terrorist vehicle attacks and errant

driver mistakes. Provided through

Global Access Control Systems

(Pittsburgh), these mobile deployable

vehicle crash barriers carry a

K8 rating (M40 ASTM rating), stopping

7.5 ton (6400 Kg) vehicles traveling

40 mph (64 kph).

"The fact that these barriers were

ordered well in advance of the tragedy

in Nice is indicative of the great

foresight and planning that is undertaken

by the United States Secret

Service," avows Greg Hamm,

Delta Scientific vice president of

sales and marketing. "Not only are

these portable barriers being used at

this year's conventions, they were at

both political conventions in 2012

in Tampa and Charlotte as well as

at the following Inauguration. Last

September, here in Philadelphia,

they protected the Pope on his visit

to the United States."

The totally self-contained

MP5000s tow into position to control

vehicle access within 15 minutes.

No excavation or sub-surface

preparation is required. Once positioned,

the mobile barricades will

unpack themselves by using hydraulics

to raise and lower the barriers

off their wheels. DC-powered

pumps will then raise or lower the

barriers.

Delta always keeps an inventory

of the MP5000s for purchase and

37

quick delivery at their manufacturing

facility in Palmdale, Calif.

In many cases, they are needed for

events that come up quickly, such

as politician or celebrity visits and

other unexpected incidents.

About Delta Scientific

Delta Scientific Corporation is the

leading manufacturer of vehicle access

control equipment with over

260,000 square feet of production

facilities in Palmdale, Calif. Delta's

three product lines consist of highsecurity

vehicle barricade systems,

parking control equipment and

guard booths. Delta Scientific has

been engineering and manufacturing

vehicle access control equipment

since 1974 and sells its products

worldwide.

Corporate headquarters, equipment

sales, systems engineering

and technical service are located at

40355 Delta Lane, Palmdale, Calif.

93551. Phone is (661) 575-1100.

Website is www.deltascientific.com.

Product installation and maintenance

services are provided through

Delta's Fredericksburg, Va. office.
---
Perimeter Protection/Intrusion Detection

Middle East government agency awards American

Science and Engineering order to upgrade their ZBV fleet

with Tx-View for use in counterterrorism applications

Earlier this year American Science

and Engineering, Inc

(NASDAQ:ASEI) ("AS&E") announced

the receipt of an order

from a Middle East government

agency to upgrade seven of its currently

deployed ZBV® mobile cargo

and vehicle inspection systems

with AS&E's innovative Tx-View

option. The Tx-View option provides

simultaneous dual-energy

transmission imaging to complement

the ZBV system's proven Z

Backscatter® imaging for enhanced

detection of metallic threats. The

ZBV systems with Tx-View will be

utilized in counterterrorism applications

to secure high-threat checkpoints,

facilities, and high-profile

events.

"The Tx-View option enhances

the ZBV system's detection capabilities

for vehicle-borne improvised

explosive devices or VBIEDs, weapons,

and artillery shells, expanding

the application reach for military

and counterterrorism applications,"

said Chuck Dougherty, AS&E's

President and CEO. "Tx-View —

like the CarView portal and the

next generation Z Portal® system

— is another new, multi-technology

offering that leverages our innovative

wavelength-shifting fiber

(WSF) X-ray detector technology

to further differentiate AS&E in the

security detection market."

ZBV with Tx-View: Dual-energy

transmission option for the ZBV

system

AS&E's Tx-View option for ZBV

provides Customs and security officials

with the lowest cost, most

versatile, multi- technology, mobile

cargo and vehicle screening

system available today. Deployed

quickly and easily, the Tx-View option

is completely self-contained in

a trailer for storage and transport.

38

ZBV with Tx-View uses patented

wavelength-shifting fiber (WSF)

X-ray detector technology to provide

dual-energy transmission

imaging for material discrimination.

WSF detector technology

has enabled the development of

more powerful, efficient, compact,

and rugged AS&E X-ray systems.

Watch a single operator set-up the

Tx-View.

ZBV: Proven detection results

and an unmatched reputation for

reliability and effectiveness

The ZBV system is the number-one

selling cargo and vehicle screening

system in the world. With nearly

800 systems sold to date, AS&E's

ZBV system is used by leading government

agencies, border authorities,

law enforcement personnel,

military organizations, and security

agencies in more than 65 countries.

Since its introduction, the ZBV system

has consistently received the

highest marks for quality, reliability,

performance, and safety with a

proven record of detection results.
---
35
---
Perimeter Protection/Intrusion Detection

Block MEMS Wins $9.8M Government

Contract for Standoff Detection of

Chemical Threats

MARLBOROUGH, MA, July 6,

2016 – Block MEMS, a leading developer

of Quantum Cascade Laser

(QCL) based infrared detection

systems, has been awarded a $9.8M

contract from the Intelligence Advanced

Research Projects Activity

(IARPA) to develop a system that

can detect trace quantities of chemicals

at standoff distances of at least

100 ft. The award is part of IARPA's

Standoff Illuminator for Measuring

Absorbance and Reflectance Infrared

Light Signatures (SILMARILS)

program and is managed by the U.S.

Air Force Research Laboratory at

Wright-Patterson Air Force Base,

Ohio.

Dr. Anish Goyal, Block's VP of

Technology and Principal Investigator

of the contract, commented,

"Standoff detection of trace chemicals,

such as explosive residues,

chemical warfare agents and toxic

industrial materials, is a critical

unmet need within the Intelligence

Community, Department of Defense,

and Department of Homeland

Security. There are also many

commercial applications for sensitive,

standoff chemical detection.

Block's QCL technology combined

with advanced data analytics makes

it possible to meet the challenging

performance goals of the SILMAR-

ILS Program."

Under this contract, Block will develop

a new class of widely tunable,

high-pulse energy Quantum Cascade

Lasers and also next-generation

detection algorithms to detect

and identify hundreds of chemicals

on a wide range of surfaces. Block

has previously been successful in

demonstrating standoff chemical

detection capability under several

prior government programs and

this award will significantly advance

the technology for use in real-world

situations.

Dr. Petros Kotidis, CEO of Block,

added, "Block is very pleased to

receive this award and grateful to

IARPA for their confidence in our

40

technologies and products. Block

has strong capabilities in developing

sophisticated standoff chemical

detectors and deep, decades-long

understanding of infrared spectroscopy.

We really look forward to

expanding the operating envelope

of our chemical detection systems

through this award and providing

more tools to the intelligence community

and to the warfighter."

About Block MEMS LLC

Block MEMS, LLC is an engineering

and development company focusing

on the R&D of high performance

Quantum Cascade Lasers (QCLs)

and FTIR spectrometers. Block

MEMS has been awarded numerous

government contracts over the

past decade for the application of its

technologies toward the detection

of explosives, buried IEDs, chemical

warfare agents, toxic industrial

materials and chemical clouds. Both

standoff and sampling systems have

been developed and delivered to the

government for additional testing

and evaluation. For example, Block's

PORTHOS (TM) is a man-portable,

passive FTIR spectrometer system

that remotely detects chemical

threats as far as three miles away

and protects against chemical warfare

agents and weapons of mass

destruction. LaserWarn (TM) is

More on page 45
---
Implant Sciences announces letter of intent to acquire Zapata

Industries, plan to extinguish debt and uplist to NASDAQ

Zapata's breakthrough disruptive technology makes personal flight a commercial

reality - the dawn of an exciting new industry

WILMINGTON, MA, July 21, 2016

/PRNewswire/ – Implant Sciences

Corporation (OTCQB: IMSC), a

leading manufacturer of explosives

trace detection (ETD) solutions for

Department of Homeland Security

(DHS) applications, is pleased to

announce the signing of a letter

of intent to acquire Zapata

Industries SAS of Marseilles,

France. Zapata is a profitable

and debt-free company with

commercial, defense, and

homeland security technology

applications.

Zapata Industries (www.

zapata-industries.com) is

the undisputed leader in developing

and manufacturing single user

hydro-and jet-powered technologies

and products. Zapata's proprietary

methodology, algorithms, and

patented designs are currently commercialized

and in development

within recreation, entertainment,

military, medical, and industrial

sectors.

In 2016 Zapata achieved its proof

of concept milestone by producing

the safest, most reliable, lightest,

fastest, and least expensive personal

flight system ever created with the

unveiling of the Flyboard Air®. The

Flyboard Air® utilizes Zapata Industries'

proprietary algorithms and

balance methodology to direct jet

engines to act both independently

and harmoniously. This unique

technology not only provides unparalleled

maneuverability speed

and ease of use but it also provides

full flight redundancy, making the

platform as safe as any airplane with

as little as 20 hours of training. Zapata

Industries can commercialize

its breakthrough technology

with products ranging from flying

medical stretchers and Jetbikes to

floating rescue stations, scaffoldings

and unmanned heavy payload

41

delivery drones. The performance

parameters of the Flyboard Air®

provide undisputed proof that Zapata

technology is commercially

viable for advanced applications

within the military, industrial, and

medical fields. Aviation Experts see

this revolutionary transportation

platform as meaningfully

disruptive to the air transportation

industry. Early industry

reaction to the Flyboard Air®,

has been overwhelming and the

Flyboard Air® has become an internet

sensation. Digital Trends,

April 14, 2016, calls it "awesome

beyond words … we see no limit

to the future of a device like the

Flyboard Air, including search and

rescue, military applications and of

course, the best way to get to just

about anywhere." (http://www.digitaltrends.com/dt-daily/hoax-orbreakthrough-flyboard-air-videosstun-the-internet/)

See the following video, Zapata

Industries — The Leader in Personal

Flight & Aviation: https://youtu.

be/_A0sdkZ4Vlk

Implant Sciences continues to
---
evolve and innovate to provide leading

edge Homeland and Defense Security

Solutions and has emerged as

the market leader in Explosive Trace

Detection (ETD) technologies. Late

last year, the company announced

that it had begun a process to evaluate

strategic opportunities in response

to its rapid growth (400% in

2016) and changing market conditions.

While the Board continues to

evaluate a number of offers it has received

to sell the ETD business, the

company believes that the opportunity

afforded by the acquisition

of Zapata Industries, with its revolutionary

technology and robust

growth, will build on the success

achieved with the ETD business and

add significant shareholder value to

allow the company to remain a leading

innovator for Homeland Security

and Defense technologies.

The company's agreement with

Zapata, subject to shareholder approval,

positions the company to

emerge debt-free (pending the restructuring

which could include a

sale of the ETD business or a capital

raise) with at least $20 million

in cash for working capital on the

balance sheet in exchange for $15

million, 60% equity and 50 million

warrants exercisable at $1.50 per

share. Upon conclusion of the restructuring

and meeting NASDAQ

listing requirements, the company

will pursue an uplisting to the NAS-

DAQ Marketplace.

Robert Liscouski, President and

Board Member of Implant Sciences,

commented, "The potential

acquisition of

Zapata brings Implant

Sciences a best-in-class

personal balance and

flight technology that

has far reaching military

and consumer applications.

We are beyond

excited to have

visionaries like Franky

Zapata and his team on board and

we are thrilled to allow for shareholders

to benefit from the many

breakthrough products he has already

invented and the new innovations

he will be unveiling in coming

months and years."

Coinciding with this press release,

the company is filing a detailed 8-K

in accordance with SEC guidelines.

About Zapata Industries

Zapata Industries is the undisputed

leader in developing and manufacturing

hydro- and jet-powered technologies

and products. Zapata's proprietary

methodology, algorithms,

and patented designs are currently

commercialized and in development

within the recreation, entertainment,

military, medical, and industrial

sectors.

Zapata Industries' founder, world

champion jetski racer Franky Zapata,

launched Zapata Racing to satisfy

his passion to invent aftermarket

42

Robert Liscouski,

President, Implant Sciences

products to make the world's fastest

personal water craft. With unparalleled

performance,

Zapata products quickly

became a racing requirement

to achieve the competitive

edge necessary

to win. With the desire

to go even faster, Zapata

shifted focus, and began

manufacturing the fastest

sit down and stand

up jetskis in the racing

world.

In 2012 Zapata launched the revolutionary

Flyboard®, kickstarting

a niche $200 million Hydroflight

Sports and Recreation industry. Hydroflight

is still in its earliest stages

of growth and development, and the

unwaning market demand provides

a view for Zapata's opportunity to

further commercialize the industry

in the coming years.

In 2016 Zapata achieved it's proof

of concept goal producing the safest,

most reliable, lightest, fastest,

and least expensive personal flight

system ever created with the unveiling

of the Flyboard Air®. The

Flyboard Air® utilizes Zapata Industries'

proprietary algorithms and

balance methodology to direct jet

engines to act both independently

and harmoniously. The performance

parameters of the Flyboard

Air® provide undisputed proof that

Zapata technology is commercially

viable for advanced applications
---
within the military, industrial, and

medical fields.

About Implant Sciences

Implant Sciences is a leader in developing

and manufacturing advanced

detection capabilities to counter and

eliminate the ever-evolving threats

from explosives and drugs. The

company's team of dedicated trace

detection experts has developed

proprietary technologies used in its

commercial products, thousands of

which have been sold across more

than 70 countries worldwide. The

company's explosive trace detection

products have received approvals

and certifications from several international

regulatory agencies, including

the TSA in the U.S., STAC

in France, the German Ministry of

the Interior, and the Ministry of

Public Safety in China. It also received

a GSN 2013 Homeland Security

Award for "Best Explosives

Detection Solution". All Implant

Sciences products are recognized as

Qualified Anti-Terrorism Technologies

by the Department of Homeland

Security. For further details on

Implant Sciences and its products,

please visit the Company's website

at http://www.implantsciences.com.

The Need for a National Energy

Grid Strategy

Continued from page 10

also awash in competing demands

from state and local regulations as

well as increasing public desires for

"green" energy.

Perhaps more importantly, there

also is a need to modernize the

100-year-old business model of the

industry, one that relies on selling

watts to earn revenue and requires

decades-long massive infrastructure

investments – neither of which fits

the growing imperative to harness

technologies that encourage greater

user efficiency and greater dependence

on distributed energy such as

rooftop solar. And that daunting list

of challenges doesn't even include

the issue of who is going to pay for

the necessary changes – which include

everything from more sensors

and massive data aggregation to the

newly trained grid operators that

can assimilate and make best use of

such data. With estimates of a necessary

expenditure of $2 trillion in

upgrades over the next ten to fifteen

years, surely there should be some

deliberate consideration given to

how best to manage all the potential

promise – and to mitigation of risks

associated with – the already evolving

and newly invigorated U.S. electrical

power delivery system.

What is needed, then, is some sober

analysis and a deliberate plan

43

jointly developed by and agreeable

to industry leaders and the people

they serve. In other words, the grid

represents another complex and

critical area which requires a true

"public-private partnership", one

that can address the issues of system

design, integration of key factors

such as smart meters and alternative

energy sources, and appropriate

cost-sharing over time. To do any

less would be a disservice not only

to the future, but also to the all the

past good that has been enabled by

the revolutionary accomplishments

enabled by widespread and reliable

access to electrical power.

J. Michael Barrett is Director of the

Center for Homeland Security &

Resilience and a former Director of

Strategy for the White House Homeland

Security Council. This article

is drawn from the author's recent

White Paper, "Challenges and Requirements

for Tomorrows Electrical

Power Grid", published by the

Lexington Institute and available at

http://lexingtoninstitute.org/wp-con-

tent/uploads/2016/06/Tomorrows-

Electrical-Power-Grid.pdf.
---
Tracking record of statements of

Clinton on immigration reform

Continued from page 24

tention facilities and stop the raids

and roundups. These actions are

not consistent with our values.

Too many children in our country

say goodbye to their parents every

morning not knowing if mom and

dad will be there when we get home.

I want to do everything I can to keep

families together."

Hilary Clinton clearly understood

what her audience at LULAC

wanted to hear and it's not difficult

to project herself as more progressive

on immigration policy than her

Republican opponent. However,

if elected, the communities she is

making commitments to must hold

her to account and ensure she delivers

on her promises.

What you should know about

Pence's record on immigrants

Continued from page 25

grant policies imperil any campaign

that seeks the Latino and immigrant

vote, and that past presidential campaigns

with a strong anti-immigrant

platform have failed, Trump seems

committed to his impractical and

punishing ways towards immigration

policy. In this regard, Mike

Pence makes the perfect running

mate.

Supreme Court to hear arguments

in class action suit by ACLU

Continued from page 26

detention – it merely requires that

immigrants who have been locked

up for more than six months get a

chance to go before an immigration

judge who will decide whether continued

detention is necessary. Yet

now, the government is challenging

the Ninth Circuit in front of the

Supreme Court, claiming that the

decision interferes with its ability to

"secur[e] the border and remov[e]

serious criminals."

The government's claim is preposterous.

Providing people with a day

in court to challenge prolonged immigration

detention doesn't prevent

the government from seeking to deport

those noncitizens it considers

enforcement priorities. Instead, the

decision at issue in this case ensures

that our immigration courts operate

within the bounds of the Constitution.

Noncitizens held in remote detention

centers are less likely to get

legal help and successfully explain

their cases to immigration judges.

They may give up valid claims simply

to avoid remaining locked up

for months or even years while their

deportation cases proceed through

the courts. Hopefully, the Supreme

Court will recognize that immigrants

in prolonged detention deserve

their day in court for a bond

hearing.

Senate Rejects two anti-immigrant

bills before going out on recess

Continued from page 30

portation, it creates conditions that

encourage criminals to prey upon

victims and witnesses alike."

Community policing policies also

help ensure that law enforcement officers

do not run afoul of the law by

detaining persons they do not have

legal authority to hold (i.e., in violation

of the constitutional requirements

of the Fourth Amendment as

many courts have ruled).

Senator Cruz's bill which seeks

to increase mandatory minimums

for certain immigration penalties,

would further criminalize immigration

which has proven to do nothing

to deter unauthorized immigration

and would cost tax payers billions.

According to the Center for American

Progress (CAP) and the American

Civil Liberties Union (ACLU)

this provision would cost U.S. taxpayers

at least $3.1 billion over the

next decade.

Instead of spinning their wheels

on punitive, piecemeal legislation,

Senators should focus on passing

more meaningful reforms that move

our nation forward.

44
---
Block MEMS Wins $9.8M

Government Contract

Continued from page 38

a QCL-based system that is used

to protect critical facilities against

chemical attacks by establishing a

"chemical trip-wire" using eye-safe

laser beams.

About Block Engineering, LLC

Founded in 1956, Block Engineering,

LLC is a leading manufacturer

and marketer of high performance

Quantum Cascade Laser and Fourier

Transform Infrared analyzers

and spectrometers for commercial,

industrial, military and government

customers. Block's unique

QCL-based analyzers include the

LaserSense (TM) Gas Analyzer for

the detection and quantification of

a wide variety of gases for process

control and field applications in the

oil, gas and chemical industries. In

addition, the LaserWarn (TM) Gas

Analyzer is used for safety, environmental,

and fence-line monitoring

of toxic and fugitive gases over

a large area. The LaserTune (TM)

product line of QCL-based Infrared

Sources is used for corporate research

and academic markets.

Block MEMS and Block Engineering

are affiliated through common

ownership and share headquarters

in Marlborough, Massachusetts,

USA. For more information, visit

http://www.blockeng.com.

Sign-up for Free

GSN Digital Editions

and Email Newsletters

Free subscription to your selection of GSN digital editions

and daily/weekly email newsletters. Add new selections or

opt-out of any selections at any time.

GSN Airport, Seaport, Rail, Border Security Weekly

GSN Daily Insider Newsletter (5 Days Weekly)

GSN Digital Edition

CLICK HERE

The News Leader in Physical, IT and Homeland Security

www.gsnmagazine.com

45
---
The News Leader in Physical, IT and Homeland Security

CEO/Editorial Director

Adrian Courtenay

917-696-5782

acourtenay@gsnmagazine.com

Editor

Steve Bittenbender

502-552-1450

sbittenbender@gsnmagazine.com

Senior Writer

Karen Ferrick-Roman

412-671-1456

karenferrickroman@gmail.com

Columnist

Shawn Campbell

Campbell on Crypto

shawn.campbell@safenetat.com

Columnist

George Lane

Hazmat Science & Public Policy

georgelane@hotmail.com

Contributing Author

Lloyd McCoy Jr

Immix Group

Contributing Author

Walter Ewing

Contributing Author

Wendy Feliz

Contributing Author

Joshua Breisblatt

Contributing Author

J. Michael Barrett

Contributing Author

Christopher Millar

Gatekeeper Security

Art Director

Gerry O'Hara, OHDesign3

gerry@ohd3.com

203-249-0626

Production Manager

Brenden Hitt

Brenden.hitt@gsnmagazine.com

Direct: 203-216-7798

COMING ATTRACTIONS

August

Tech Focus

Access Control/

Biometric ID

Market Sector Focus

Border Security/Immigration

September

Tech Focus

School Safety/Mobile

Surveillance Solutions

Market Sector Focus

Maritime/Coastal/

Port Security

October

Tech Focus

International Threats/

Cyber Intelligence

Market Sector Focus

Oil/Gas/Electricity

Grid Security