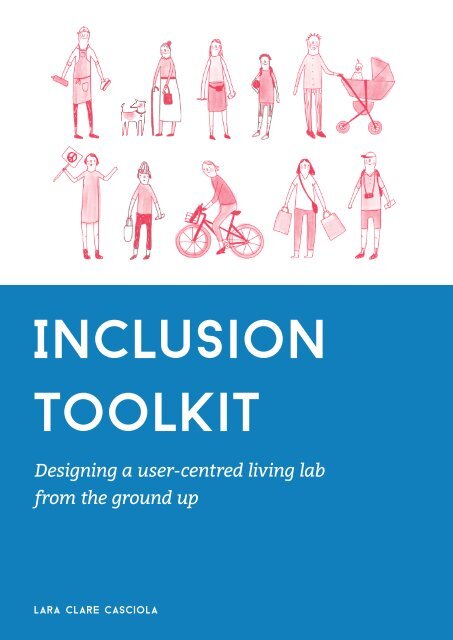 You also want an ePaper? Increase the reach of your titles
YUMPU automatically turns print PDFs into web optimized ePapers that Google loves.
Inclusion

toolkit

Designing a user-centred living lab

from the ground up

lara clare casciola
---
Structure

This toolkit is aimed at street lab or living

lab organizers in general (in particular, of

course, the organizers of Copenhagen Street

Lab), and aims to walk users a few steps

down the path to becoming more usercentred

and inclusive.

This toolkit contains five areas of

recommendation, designed to act as a guide

through five steps towards a more user-centred,

inclusive approach toward developing a living lab.

Each tool contains a description of its intended

purpose, a guide for usage, and the resources

necessary to independently use it. Tools are named

according to their function (Figure 5).

It's important to note that the tools presented

here are by no means 'finished' – as they are put

into use they should be developed, improved, and

adjusted to better fit certain tasks. This process

will hopefully occur in the real world, as they are

shared, adapted, and applied to various projects.

It is not a complete solution – more steps are

required for a lab to become fully inclusive – but it

is designed to be a practical and attainable start.

Figure 1

The tools contained within this toolkit

The toolkit begins by guiding users through

basic user observation, identification, and

categorization processes (observation, interviews,

and personas). It then moves into problem

definition and stakeholder prioritization, and

finally defines a concrete suggestion for increased

diverse stakeholder governance.

This toolkit has been released for public use,

critique and improvement under a Creative

Commons license.

1. getting to know the users

2. keeping users in mind

3. defining real-world problems

4. assessing stakeholder value

5. Sharing responsibility

2 3

inclusion toolkit
---
1. getting to

know the

users

resource 1

citizen

survey

This survey is a first step in getting to know

the users of an urban area. The aim of the

survey is to gather a broad overview over

who is using the space, and for what reasons.

To use: this guide should be used to

structure brief, casual, spontaneous interviews.

To use, walk through an urban area and

approach as many people as possible, filling in

copies of the guide.

In order to better choose projects, and

develop a targeted inclusion strategy, we

need to get to know the potential users

within a local urban space. This includes

identifying their needs, wants, habits

and motivations, as well as their various

demographics.

recommendations

Citizen details

age:

occupation:

Questions

why are you in this area today?

interviewer:

date:

?

The best way to do this is to go out and talk to the

people. Ideally, an individual could be assigned to

this task over a period of several months, building

a detailed body of knowledge about a broad range

of users. One way to accomplish this could be

to assign the task to a student worker or design

research intern.

resources

commuter tourist resident work here other

how often are you here?

how could this part of the city be improved?

Two resources have been developed: a brief citizen

survey guide (R1), and a safari guide (R2).

What do you like about this part of the city?

inclusion toolkit

4 5

inclusion toolkit
---
esource 2

safari

guide

Safari details

time of day:

length of safari:

Observation guide

Safaris (observational walk-throughs) in the

urban area will also help to develop a clearer

picture of user habits. This guide provides an

overview of key things to look out for while

observing in the area.

To use: Simply walk around a specified

area, moving through this guide and noting

the answers to questions. This exercise can be

completed very quickly, or extended for more

detailed observation.

participant:

date:

2. Keeping

users in mind

It's not enough just to know an urban area's

users: we also need to continuously keep

their interests in mind. This means defining

user motivations as clearly as possible, as

well as providing physical reminders within

workspaces.

what kinds of people are here today?

recommendations

what are they doing?

Personas are a perfect tool to fill this role. Putting

a face on a collection of research dramatically

improves ease of use, allowing the research to

more easily enter casual conversation. Printing the

personas and putting them up around the office

space could help to provide a physical reminder to

bear in mind user interests.

resources

what is the physical condition of the area?

Four example personas are included here, based

on my research in Copenhagen Street Lab (R3.1,

R3.2, R3.3, R3.4). A template is also included for

creating more personas (R4).

other noteworthy observations

6 inclusion toolkit

7

inclusion toolkit
---
esource 3.1 - persona

resource 3.3 - persona

ANNA, 24

johan, 30

bio

Anna is a student, who works three days a week at a design agency in

the city centre. On her way to work, Anna bikes through Rådhusplads

twice a day – in the morning and in the evening.

bio

Johan is from Germany, visiting Copenhagen for the first time with

his wife and two young daughters. They're staying for a week, and

their hotel is in the city centre.

interests

• Healthy living. Anna cares about eating well and tries to

excersise several times a week.

• Social connection. Anna has a strong group of friends and

enjoys going out with them on weekends.

• Professional development. Anna is focussed on developing her

career as she studies.

frustrations

• Construction in bike lanes

• Bad weather during her commute

• Crowds and tourists blocking the bike lanes

Interest in Copenhagen's

development

Knowledge about smart

cities & open data

interests

• History. Johan loves learning about the past, and as such makes

an effort to visit historical sites and museums

• Family life. Johan prioritizes his family over all else

• Healthy living. Johan cares about eating well and jogs weekly

frustrations

• Lack of 3G while travelling

• Inability to find good restaurants while abroad

• Crowds of other tourists at major sites

• Difficulty finding child-friendly attractions

Interest in Copenhagen's

development

Knowledge about smart

cities & open data

resource 3.2 - persona

resource 3.4 - persona

dorte, 72

mathias, 45

bio

Dorte has lived on Vester Voldgade for the past 30 years. She is

retired, and lives alone with her small dog.

interests

• Volunteering & community. Dorte belongs to a women's group

and spends several hours a week volunteering at various charity

events

• Her dog. Dorte feels a deep connection with her pet, and spends

much of her day walking it through the neighborhood

• Activism. Dorte is interested in current affairs, and participates

in town hall meetings for various projects and proposals

frustrations

• Speeding cyclists

• Not being able to voice her opinion

• Isn't comfortable with technology

Interest in Copenhagen's

development

Knowledge about smart

cities & open data

bio

Mattias owns a hot dog wagon which he parks daily on Rådhusplads.

He works there from 7-3 daily during the week, and employs a

student worker for the afternoon and weekend shifts.

interests

• Social connection. Mattias has a strong group of friends, who he

sees weekly for card game evenings

• Current events. Mattias enjoys keeping up-to-date with both

global and local news stories, and spends much time reading

news websites

• Family life. Mattias has a girlfriend, and his parents, siblings,

nieces and nephews play a large role in his life

frustrations

• Overly enthusiastic protesters

• Cyclists who ride through Rådhusplads

• Boredom on slow days

Interest in Copenhagen's

development

Knowledge about smart

cities & open data

8 9
---
esource 4

persona

template

Name age

[make these up, appropriate to the persona]

This template should be used to create

personas – imaginary people who exemplify

a collection of researched traits.

To use: Fill in the blanks with information

collected during observations, interviews, or

other research techniques.

3. Defining

real-world

problems

Clearly defining user issues is an extremely

important step in ensuring that solutions

developed and tested in a living lab are

bio

[Write a small sentence about this person's overall occupation, and

why they interact with the urban area]

[choose an

appropriate

representation,

either hand-drawn

or from google

images]

relevant and useful.

recommendations

interests

[Choose four or five interests to highlight, which can be used to

determine motivations and approximate choices]

•

•

•

•

•

frustrations

[Choose 3-5 things that frustrate this persona, which can be used to

indentify problem areas]

•

•

•

•

•

[key differentiating trait]

An 'opportunity bank' could be built up by

consistently assessing user research for potential

problems, defining them, and rephrasing them as

design challenges. These opportunities could be

useful in advising tech companies, setting living

lab goals, and devising inclusion tactics.

Within design, problem statements can be built up

using various frameworks. The 'problem statement

builder' included here is based on IDEO's 'how

might we' method.

resources

A problem statement builder that phrases

identified problems as 'how might we' questions is

included here (R5).

[Choose two key traits to help differentiate

personas. Estimate the level for the two bar

graphs based on research and mark bar]

[key differentiating trait]

10 11

inclusion toolkit
---
esource 5

problem

statement

builder

This guide bridges the gap between observed

issues and user insights, and actionable

problem statements.

To use: Follow the instructions described at

each step.

4. assessing

stakeholder

value

Step 1.

Not every stakeholder can and should be

included in a living lab. As resources are

choose a previously observed and identified problem.

ex. Bike lanes can become congested during peak commuter hours

Step 2.

by adding the phrase 'how might we' and unpacking the problem contents,

create three different statements

ex.

1. How might we reduce the number of cyclists during peak commuter hours?

2. How might we increase the capacity of bike lanes so they can handle more traffic?

3. How might we more evenly distribute bikers around the city during peak hours?

Step 3.

Assess each statement. can you quickly think of any solutions? if not, the

statement may be too narrow. if you can think of a huge range of solutions,

the statement may be too broad. Assess also for strategic impact.

ex. Using the previous three statements:

1. Not strategically ideal as it goes against Copenhagen's goals of a bike-friendly, green city.

2. Probably too narrow a statement.

3. Could result in some interesting solutions - perfect!

Step 4.

Finalise problem statement. ensure that it is clear and contains all necessary

information.

ex. How might we more evenly distribute bikers around the city during peak hours, to reduce bike lane

congestion?

Step 5.

always limited, conscious decisions should

be made with regard to which users are

prioritized. In order to do this, the value that

specific user groups bring to the solution

development process must be defined.

recommendations

In order to ensure that those who are involved in

a living lab provide benefit to the project, value

assessments and a stakeholder prioritization

matrix should be completed for each new

initiative. By clearly defining these areas, we

ensure that the relevant stakeholders are involved,

and we maximize the value these stakeholders can

provide. These tools can also help communicate

between governance partners with regard to the

benefits to user inclusion.

resources

Two resources are included in this section, a value

definition tool (R6), to assist in identifying specific

stakeholder value, and a stakeholder prioritization

matrix (R7).

spread problem statement! pass the design challenge on to students, startups,

and industry.

12 13

inclusion toolkit
---
esource 6

value

definition

This tool can be used to identify the specific

value that stakeholders can provide to living

lab projects, as well as providing advice on

whether or not it is worth including them.

To use: Should be completed at the during

the planning stage of every new product/

service implemented in a living lab. Follow the

two-step process described below.

resource 7

stakeholder

prioritization

Step 1.

identify and list all potential stakeholders – people who interact with the

living lab, or with the potential to impact, or be impacted by, the specific

initiative.

Step 2.

take each stakeholder through the simple flow chart below to determine a

rough overview of value potential.

Start

matrix

This matrix should be used as a second

step, after the value definition tool, to

further define an involvement strategy for

stakeholders deemed relevant.

To use: Place the relevant stakeholders in

the matrix, organized according to the amount

of power they have over the project, and the

amount of interest they have in the project.

The statement in each quadrant then describes

the overall involvement strategy required for

the stakeholders placed these areas (based on

Thompson, 2002).

involve.

Is stakeholder in

project target group?

yes

these stakeholders will

provide feedback and build

up ownership essential for

project success.

no / unsure

high

Will stakeholder be

directly affected in any

way by project?

no / unsure

yes

strongly consider

involvement.

inclusion of these

stakeholders can build up

ownership, and help predict

unintended impacts

keep

satisfied

manage

closely

Is stakeholder easily

accessible?

yes

consider involvement.

accessible stakeholders can

provide a high level of input

for low resource demand

Power

no / unsure

Is stakeholder

currently neglected

with regard to Street

Lab involvement?

yes

consider involvement.

This could be a good

opportunity to build up

relationships with harderto-reach

demographics

monitor

keep

informed

no / unsure

low

low

Interest

high

Stakeholder probably can't

provide much value

14 15
---
5. Sharing

responsibility

Sharing the responsibility for diverse

stakeholder inclusion will both help to

alleviate some of the pressure on living lab

organisers, and safeguard a place for diverse

stakeholders in living lab governance.

resource 8

citizen

panel

blueprint

These two blueprints describe the

recruitment and function of a Street Lab

citizen's panel. The first blueprint (this

page) details the process of determining a

representative group of citizens, briefing

them, and confirming the panel. The second

blueprint (over) details one iteration of how

the panel might function.

To use: Read the blueprint from left to

right. Each row describes the user journey for

a particular stakeholder group, and the arrows

detail interactions. The 'channel' rows indicate

the type of interaction occurring. The 'line of

visibility' denotes the boundary after which

certain stakeholder groups are unaware of

each other.

email

recommendations

Blueprint 1: Building Citizen Panel

face-to-face

web

internal network

One way to add polyphony to a living lab's

governance is to create a panel. This panel could

help to guide the project, ensuring that the

solutions developed genuinely do improve urban

life for the variety of people who live and work

there. Note that although the panel is referred to

'citizen panel', stakeholders with various divergent

viewpoints should be involved – including those

from the private sector (for example, small

business owners).

citizen

channel

pre - service (citizen perspective)

service

completes

online survey

invited to

panel & intro

workshop

participates in

introduction

workshop

commits to

panel

resources

CSL

discusses and

determines

panel

structure

agrees upon

role and

responsablities

surveys

citizens

determines a

representative

sample

contacts

selected

citizens

host

introduction

workshop

finalize panel

The first steps in drafting the structure and

function of this citizen panel have been taken

here, and presented in the form of blueprints (R8).

Though the blueprints specify Copenhagen Street

Lab as their particular focus, the contents can be

extrapolated to other living labs around the world.

channel

municipal

backstage

hosts

survey and

provides tech

infrastructure

provides tech

infrastructure

line of visibility

citizen perspective

records panel

participants

channel

tech

partners

discusses and

determines

panel

structure

agrees upon

role and

responsablities

inclusion toolkit

16 17
---
esource 8

This blueprint shows the potential

functionality of the Street Lab citizen panel.

In the scenario detailed here, a new wave of

smart city technologies is being selected and

developed for implementation and testing in

the lab.

Note that the stakeholders (listed on the left

of the diagram) shown here are different

from in the previous blueprint.

Note also that in this scenario, a positive

outcome is assumed in all cases. For example,

it is assumed that the project proposal

is found to be good strategic fit, and it is

assumed that the citizen panel also has a

positive reaction to the proposal. Obviously,

a project which is deemed incongruent with

Street Lab's strategy, or unfeasible in some

way, would not progress to citizen panel

consultation.

email

face-to-face

Blueprint 2: Citizen Panel Operation

web

internal network

pre-service (panel perspective)

service

post service

citizen

panel

receives &

responds

to feedback

survey

invited to

participate in

focus group

participates

in focus

group

reccomends

most relevant

projects, and

advises on

improvements

receives

newsletter

provides

casual

feedback

for ongoing

projects

channel

CSL

advertises

Street Lab as

tech testing

area

receives

product test

inquiry

initial

determination

of project

stragic fit and

feasibility

discusses

details of

product and

test

determines

if project is

feasable &

strategic fit

prepares

project

summary

& feedback

survey

distributes

survey to

citizen panel

analyses

survey

feedback

collects 5-6

potential

projects

organizes

focus group

with citizen

panel

participants

facilitates

citizen panel

focus group

records citizen

reccomendations

meets with

selected projects

to discuss citizen

feedback

project

implementation

details are

discussed

& project is

confirmed

creates &

distributes

newsletter for

all panelists

to inform of

progress

invites

panelists

to provide

feedback after

project is

implemented

re-assesses

panel and

recruits if

necessary

channel

tech

partners

discusses

details of

product and

test

determines

if project is

feasable &

strategic fit

project

implementation

details are

discussed

& project is

confirmed

channel

smart tech

company

sees

Street Lab

advertising

approaches

CSL with

product test

proposal

discusses

details of

product and

test

receives

citizen

feedback

project

implementation

details are

discussed

& project is

confirmed

organizes and

implements

project

receives ongoing

citizen feedback

18 19
---
20