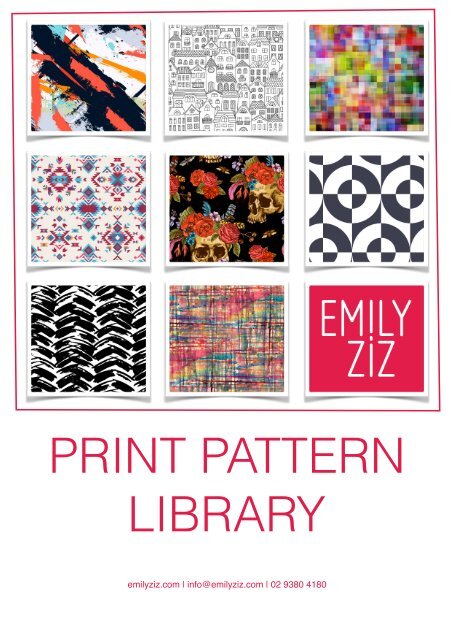 Emily Ziz Pattern Library Catalogue 040517
Create successful ePaper yourself
Turn your PDF publications into a flip-book with our unique Google optimized e-Paper software.
PRINT PATTERN

LIBRARY

emilyziz.com | info@emilyziz.com | 02 9380 4180
---
WHAT IS THE PRINT PATTERN LIBRARY?

Emily Ziz is delighted to offer you exclusive access to our archive library of digital print

patterns. These patterns are not included as part of our curated digital print collections

which are published on emilyziz.com .

These designs can be printed onto any of our digital fabric and wall substrates, and solid

finishes, as would usually be specified by our clients.

The catalogue is categorised by design style. All designs can be custom coloured by

making use of the Emily Ziz Colour Palette. In most cases the scale of the designs can

also be adjusted, and the designs themselves can also be altered and customised.

HOW IT WORKS?

STEP 1: Select your design and advise us of the pattern code

STEP 2: Supply us with a brief as to which colour/s from the Emily Ziz Colour Palette you

would like us to apply to your selected design. Indicate any particular requirements with

regards to the scale of the design, if applicable.

STEP 3: Advise us which substrate you would like the design printed onto:

* FABRICS

* WALLCOVERINGS

* SOLID FINISHES

STEP 4: We will provide you with a digital sample of your design in the colours you have

requested. If you are happy with the layout and colour design we will arrange for a

printed sample as per our standard sampling offering. If you would like some

adjustments, we will work on these adjustments and present you with a new draft to

review, prior to arranging your printed sample.

ANY QUESTIONS?

Contact our showroom or your sales rep for further information or sampling requests.
---
ORIGINAL DESIGN FROM PRINT PATTERN

LIBRARY

DIGITAL SAMPLE: CUSTOM COLOURS APPLIED

FROM EMILY ZIZ PALETTE (STANDARD SCALE)

DIGITAL SAMPLE: CUSTOM COLOURS APPLIED

FROM EMILY ZIZ PALETTE (ENLARGED SCALE)

PRINTED SAMPLES
---
STANDARD COLOUR PALETTE

emilyziz.com | info@emilyziz.com | 02 9380 4180
---
emilyziz.com | info@emilyziz.com | 02 9380 4180
---
DESIGN STYLE CATEGORY OVERVIEW

ABSTRACT ABSTRACT MODERN AFRICAN

ARABIAN ASIAN AUTUMN

AZTEC

CELTIC

CLASSIC

COMPLEX DECO DOT

emilyziz.com | info@emilyziz.com | 02 9380 4180
---
DESIGN STYLE CATEGORY OVERVIEW

EMBROIDERY

ETHNIC

FLORAL

FLOWERS AND NATURE

GEOMETRIC

HAND DRAWN CITIES

INDIAN INDIGENOUS JAPANESE

MANDALA

MODERN

MORROCAN

emilyziz.com | info@emilyziz.com | 02 9380 4180
---
DESIGN STYLE CATEGORY OVERVIEW

PAISLEY

PIXEL STYLE

QUIRKY

RETRO

ROMAN

SOFT

SPRING SQUARE SUMMER

TILE

VINTAGE

WATERCOLOUR

emilyziz.com | info@emilyziz.com | 02 9380 4180
---
DESIGN STYLE CATEGORY OVERVIEW

WAVE

WINTER

DIMENSION

EGYPT

FEATHER

FLEUR

GREEK JACQUARD ORNAMENTAL

LINEAL

NATURE

PATRICK

emilyziz.com | info@emilyziz.com | 02 9380 4180
---
DESIGN STYLE CATEGORY OVERVIEW

TARTAN

MOSAIC

emilyziz.com | info@emilyziz.com | 02 9380 4180
---
ABSTRACT MODERN

Abstract Modern A_1

Abstract Modern A_2

Abstract Modern A_3

Abstract Modern A_4
---
ABSTRACT MODERN

Abstract Modern A_5

Abstract Modern A_6

Abstract Modern A_7

Abstract Modern A_8
---
ABSTRACT MODERN

Abstract Modern A_9

Abstract Modern A_10

Abstract Modern A_11

Abstract Modern A_12
---
ABSTRACT MODERN

Abstract Modern A_13

Abstract Modern A_14

Abstract Modern A_15

Abstract Modern A_16
---
ABSTRACT MODERN

Abstract Modern A_17

Abstract Modern A_18

Abstract Modern A_19

Abstract Modern A_20
---
ABSTRACT MODERN

Abstract Modern A_21

Abstract Modern A_22

Abstract Modern A_23

Abstract Modern A_24
---
ABSTRACT MODERN

Abstract Modern A_25

Abstract Modern A_26

Abstract Modern A_27

Abstract Modern A_28
---
ABSTRACT MODERN

Abstract Modern A_29 Abstract Modern A_30 Abstract Modern A_31 Abstract Modern A_32

Abstract Modern A_33

Abstract Modern A_34
---
ABSTRACT MODERN

Abstract Modern A_35

Abstract Modern A_36

Abstract Modern A_37

Abstract Modern A_38
---
ABSTRACT MODERN

Abstract Modern A_39

Abstract Modern A_40

Abstract Modern A_41

Abstract Modern A_42
---
ABSTRACT MODERN

Abstract Modern A_43

Abstract Modern A_44

Abstract Modern A_45

Abstract Modern A_46
---
ABSTRACT MODERN

Abstract Modern A_47

Abstract Modern A_48

Abstract Modern A_49

Abstract Modern A_50
---
ABSTRACT MODERN

Abstract Modern A_51

Abstract Modern A_52

Abstract Modern A_53

Abstract Modern A_54
---
ABSTRACT MODERN

Abstract Modern A_55

Abstract Modern A_56

Abstract Modern A_57

Abstract Modern A_58
---
ABSTRACT MODERN

Abstract Modern A_59

Abstract Modern A_60

Abstract Modern A_61

Abstract Modern A_62
---
ABSTRACT MODERN

Abstract Modern A_63

Abstract Modern A_64

Abstract Modern A_65

Abstract Modern A_66
---
ABSTRACT MODERN

Abstract Modern A_67

Abstract Modern A_68

Abstract Modern A_69

Abstract Modern A_70
---
ABSTRACT MODERN

Abstract Modern A_71

Abstract Modern A_72

Abstract Modern A_73

Abstract Modern A_74
---
ABSTRACT MODERN

Abstract Modern A_75

Abstract Modern A_76

Abstract Modern A_77

Abstract Modern A_78
---
ABSTRACT MODERN

Abstract Modern A_79

Abstract Modern A_80

Abstract Modern A_81
---
ABSTRACT

Abstract A_1 Abstract A_2 Abstract A_3

Abstract A_4

Abstract A_5

Abstract A_6

Abstract A_7

Abstract A_8
---
ABSTRACT

Abstract A_9 Abstract A_10 Abstract B_1

Abstract B_2

Abstract B_3

Abstract B_4

Abstract B_5

Abstract B_6
---
ABSTRACT

Abstract B_7 Abstract B_8 Abstract B_9

Abstract B_10

Abstract C_1

Abstract C_2

Abstract C_3

Abstract C_4
---
ABSTRACT

Abstract C_5 Abstract C_6 Abstract C_7

Abstract C_8

Abstract C_9

Abstract C_10

Abstract D_1

Abstract D_2
---
ABSTRACT

Abstract D_3 Abstract D_4 Abstract D_5

Abstract D_6

Abstract D_7

Abstract D_8

Abstract D_9

Abstract D_10
---
ABSTRACT

Abstract E_1 Abstract E_2 Abstract E_3

Abstract E_4

Abstract E_5

Abstract E_6

Abstract E_7

Abstract E_8
---
ABSTRACT

Abstract E_9 Abstract E_10 Abstract F_1

Abstract F_2

Abstract F_3

Abstract F_4

Abstract F_5

Abstract F_6
---
ABSTRACT

Abstract F_7 Abstract F_8 Abstract F_9

Abstract F_10
---
AFRICAN

African A_1 African A_2 African A_3

African A_4

African A_5

African A_6

African A_7

African A_8
---
AFRICAN

African A_9

African A_10
---
ARABIAN

Arabian A_1 Arabian A_2 Arabian A_3

Arabian A_4

Arabian A_5

Arabian A_6

Arabian A_7

Arabian A_8
---
ARABIAN

Arabian A_9 Arabian A_10 Arabian B_1

Arabian B_2

Arabian B_3

Arabian B_4

Arabian B_5

Arabian B_6
---
ARABIAN

Arabian B_7 Arabian B_8 Arabian B_9

Arabian B_10

Arabian C_1

Arabian C_2

Arabian C_3

Arabian C_4
---
ARABIAN

Arabian C_5 Arabian C_6 Arabian C_7

Arabian C_8

Arabian C_9

Arabian C_10

Arabian D_1

Arabian D_2
---
ARABIAN

Arabian D_3 Arabian D_4 Arabian D_5

Arabian D_6

Arabian D_7

Arabian D_8

Arabian D_9

Arabian D_10
---
ASIAN

Asia A_1 Asia A_2 Asia A_3

Asia A_4

Asia A_5

Asia A_6

Asia A_7

Asia A_8
---
ASIAN

Asia A_9

Asia A_10
---
AUTUMN

Autumn A_1 Autumn A_2 Autumn A_3

Autumn A_4

Autumn A_5

Autumn A_6

Autumn A_7

Autumn A_8
---
AUTUMN

Autumn A_9 Autumn A_10 Autumn B_1

Autumn B_2

Autumn B_3

Autumn B_4

Autumn B_5

Autumn B_6
---
AUTUMN

Autumn B_7 Autumn B_8 Autumn B_9

Autumn B_10

Autumn C_1

Autumn C_2

Autumn C_3

Autumn C_4
---
AUTUMN

Autumn C_5 Autumn C_6 Autumn C_7

Autumn C_8

Autumn C_9

Autumn C_10
---
AZTEC

Aztec A_1

Aztec A_2

Aztec A_3

Aztec A_4
---
AZTEC

Aztec A_5

Aztec A_6

Aztec A_7

Aztec A_8
---
AZTEC

Aztec A_9

Aztec A_10

Aztec A_11

Aztec A_12
---
AZTEC

Aztec A_13

Aztec A_14

Aztec A_15

Aztec A_16
---
AZTEC

Aztec A_17

Aztec A_18

Aztec A_19

Aztec A_20
---
AZTEC

Aztec A_21

Aztec A_22

Aztec A_23

Aztec A_24
---
AZTEC

Aztec A_25

Aztec A_26

Aztec A_27

Aztec A_28
---
CELTIC

Celtic A_1 Celtic A_2 Celtic A_3

Celtic A_4

Celtic A_5

Celtic A_6

Celtic A_7

Celtic A_8
---
CELTIC

Celtic A_9 Celtic A_10 Celtic B_1

Celtic B_2

Celtic B_3

Celtic B_4

Celtic B_5

Celtic B_6
---
CELTIC

Celtic B_7 Celtic B_8 Celtic B_9

Celtic B_10
---
CLASSIC

Classic A_1 Classic A_2 Classic A_3

Classic A_4

Classic A_5

Classic A_6

Classic A_7

Classic A_8
---
CLASSIC

Classic A_9 Classic A_10 Classic B_1

Classic B_2

Classic B_3

Classic B_4

Classic B_5

Classic B_6
---
CLASSIC

Classic B_7 Classic B_8 Classic B_9

Classic B_10

Classic C_1

Classic C_2

Classic C_3

Classic C_4
---
CLASSIC

Classic C_5 Classic C_6 Classic C_7

Classic C_8

Classic C_9

Classic C_10

Classic D_1

Classic D_2
---
CLASSIC

Classic D_3 Classic D_4 Classic D_5

Classic D_6

Classic D_7

Classic D_8

Classic D_9

Classic D_10
---
COMPLEX

Complex A_1 Complex A_2 Complex A_3

Complex A_4

Complex A_5

Complex A_6

Complex A_7

Complex A_8
---
COMPLEX

Complex A_9

Complex A_10
---
DECO

Deco A_1 Deco A_2 Deco A_3

Deco A_4

Deco A_5

Deco A_6

Deco A_7

Deco A_8
---
DECO

Deco A_9 Deco A_10 Deco B_1

Deco B_2

Deco B_3

Deco B_4

Deco B_5

Deco B_6
---
DECO

Deco B_7 Deco B_8 Deco B_9

Deco B_10

Deco C_1

Deco C_2

Deco C_3

Deco C_4
---
DECO

Deco C_5 Deco C_6 Deco C_7

Deco C_8

Deco C_9

Deco C_10

Deco D_1

Deco D_2
---
DECO

Deco D_3 Deco D_4 Deco D_5

Deco D_6

Deco D_7

Deco D_8

Deco D_9

Deco D_10
---
DECO

Deco E_1 Deco E_2 Deco E_3

Deco E_4

Deco E_5

Deco E_6

Deco E_7

Deco E_8
---
DECO

Deco E_9 Deco E_10 Deco F_1

Deco F_2

Deco F_3

Deco F_4

Deco F_5

Deco F_6
---
DECO

Deco F_7 Deco F_8 Deco F_9

Deco F_10
---
DIMENSION

Dimension A_1 Dimension A_2 Dimension A_3

Dimension A_4

Dimension A_5

Dimension A_6

Dimension A_7

Dimension A_8
---
DIMENSION

Dimension A_9

Dimension A_10
---
DOT

Dot A_1 Dot A_2 Dot A_3

Dot A_4

Dot A_5

Dot A_6

Dot A_7

Dot A_8
---
DOT

Dot A_9 Dot A_10 Dot B_1 Dot B_2

Dot B_4 Dot B_5 Dot B_6 Dot B_7 Dot B_8 Dot B_9
---
DOT

Dot C_1

Dot C_2
---
DOT

Dot C_3 Dot C_4 Dot C_5

Dot C_6

Dot C_7

Dot C_8

Dot C_9

Dot C_10
---
DOT

Dot D_1 Dot D_2 Dot D_3

Dot D_4

Dot D_5

Dot D_6

Dot D_7

Dot D_8
---
DOT

Dot D_9

Dot D_10
---
EGYPT

Egypt A_1 Egypt A_2 Egypt A_3

Egypt A_4

Egypt A_5

Egypt A_6

Egypt A_7

Egypt A_8
---
EGYPT

Egypt A_9

Egypt A_10
---
EMBROIDERY

Embroidery A_1 Embroidery A_2 Embroidery A_3

Embroidery A_4

Embroidery A_5

Embroidery A_6

Embroidery A_7

Embroidery A_8
---
EMBROIDERY

Embroidery A_9

Embroidery A_10
---
ETHNIC

Ethnic A_1 Ethnic A_2 Ethnic A_3

Ethnic A_4

Ethnic A_5

Ethnic A_6

Ethnic A_7

Ethnic A_8
---
ETHNIC

Ethnic A_9 Ethnic A_10 Ethnic B_1

Ethnic B_2

Ethnic B_3

Ethnic B_4

Ethnic B_5

Ethnic B_6
---
ETHNIC

Ethnic B_7 Ethnic B_8 Ethnic B_9

Ethnic B_10

Ethnic C_1

Ethnic C_2

Ethnic C_3

Ethnic C_4
---
ETHNIC

Ethnic C_5 Ethnic C_6 Ethnic C_7

Ethnic C_8

Ethnic C_9

Ethnic C_10

Ethnic D_1

Ethnic D_2
---
ETHNIC

Ethnic D_3 Ethnic D_4 Ethnic D_5

Ethnic D_6

Ethnic D_7

Ethnic D_8

Ethnic D_9

Ethnic D_10
---
ETHNIC

Ethnic E_1 Ethnic E_2 Ethnic E_3

Ethnic E_4

Ethnic E_5

Ethnic E_6

Ethnic E_7

Ethnic E_8
---
ETHNIC

Ethnic E_9 Ethnic E_10 Ethnic F_1

Ethnic F_2

Ethnic F_3

Ethnic F_4

Ethnic F_5

Ethnic F_6
---
ETHNIC

Ethnic F_7 Ethnic F_8 Ethnic F_9

Ethnic F_10

Ethnic G_1

Ethnic G_2

Ethnic G_3

Ethnic G_4
---
ETHNIC

Ethnic G_5 Ethnic G_6 Ethnic G_7

Ethnic G_8

Ethnic G_9

Ethnic G_10

Ethnic H_1

Ethnic H_2
---
ETHNIC

Ethnic H_3 Ethnic H_4 Ethnic H_5

Ethnic H_6

Ethnic H_7

Ethnic H_8

Ethnic H_9

Ethnic H_10
---
ETHNIC

Ethnic I_1 Ethnic I_2 Ethnic I_3

Ethnic I_4

Ethnic I_5

Ethnic I_6

Ethnic I_7

Ethnic I_8
---
ETHNIC

Ethnic I_9 Ethnic I_10 Ethnic J_1

Ethnic J_2

Ethnic J_3

Ethnic J_4

Ethnic J_5

Ethnic J_6
---
ETHNIC

Ethnic J_7 Ethnic J_8 Ethnic J_9

Ethnic J_10

Ethnic K_1

Ethnic K_2

Ethnic K_3

Ethnic K_4
---
ETHNIC

Ethnic K_5 Ethnic K_6 Ethnic K_7

Ethnic K_8

Ethnic K_9

Ethnic K_10

Ethnic L_1

Ethnic L_2
---
ETHNIC

Ethnic L_3 Ethnic L_4 Ethnic L_5

Ethnic L_6

Ethnic L_7

Ethnic L_8

Ethnic L_9

Ethnic L_10
---
ETHNIC

Ethnic M_1 Ethnic M_2 Ethnic M_3

Ethnic M_4

Ethnic M_5

Ethnic M_6

Ethnic M_7

Ethnic M_8
---
ETHNIC

Ethnic M_9

Ethnic M_10
---
FEATHER

Feather A_1

Feather A_2

Feather A_3

Feather A_4
---
FLEUR

Fleur A_1 Fleur A_2 Fleur A_3

Fleur A_4

Fleur A_5

Fleur A_6

Fleur A_7

Fleur A_8
---
FLEUR

Fleur A_9

Fleur A_10
---
FLORAL

Flower A_1 Flower A_2 Flower A_3

Flower A_4

Flower A_5

Flower A_6

Flower A_7

Flower A_8
---
FLORAL

Flower A_9 Flower A_10 Flower B_1

Flower B_2

Flower B_3

Flower B_4

Flower B_5

Flower B_6
---
FLORAL

Flower B_7 Flower B_8 Flower B_9

Flower B_10

Flower C_1

Flower C_2

Flower C_3

Flower C_4
---
FLORAL

Flower C_5 Flower C_6 Flower C_7

Flower C_8

Flower C_9

Flower C_10

Flower D_1

Flower D_2
---
FLORAL

Flower D_3 Flower D_4 Flower D_5

Flower D_6

Flower D_7

Flower D_8

Flower D_9

Flower D_10
---
FLORAL

Flower E_1 Flower E_2 Flower E_3

Flower E_4

Flower E_5

Flower E_6

Flower E_7

Flower E_8
---
FLORAL

Flower E_9 Flower E_10 Flower F_1

Flower F_2

Flower F_3

Flower F_4

Flower F_5

Flower F_6
---
FLORAL

Flower F_7 Flower F_8 Flower F_9

Flower F_10

Flower G_1

Flower G_2

Flower G_3

Flower G_4
---
FLORAL

Flower G_5 Flower G_6 Flower G_7

Flower G_8

Flower G_9

Flower G_10

Flower H_1

Flower H_2
---
FLORAL

Flower H_3 Flower H_4 Flower H_5

Flower H_6

Flower H_7

Flower H_8

Flower H_9

Flower H_10
---
FLORAL

Flower I_1 Flower I_2 Flower I_3

Flower I_4

Flower I_5

Flower I_6

Flower I_7

Flower I_8
---
FLORAL

Flower I_9 Flower I_10 Flower J_1

Flower J_2

Flower J_3

Flower J_4

Flower J_5

Flower J_6
---
FLORAL

Flower J_7 Flower J_8 Flower J_9

Flower J_10

Flower K_1

Flower K_2

Flower K_3

Flower K_4
---
FLORAL

Flower K_5 Flower K_6 Flower K_7

Flower K_8

Flower K_9

Flower K_10

Flower L_1

Flower L_2
---
FLORAL

Flower L_3 Flower L_4 Flower L_5

Flower L_6

Flower L_7

Flower L_8

Flower L_9

Flower L_10
---
FLORAL

Flower M_1 Flower M_2 Flower M_3

Flower M_4

Flower M_5

Flower M_6

Flower M_7

Flower M_8
---
FLORAL

Flower M_9

Flower M_10

Floral A_1

Floral A_2

Floral A_3

Floral A_4

Floral A_5

Floral A_6
---
FLORAL

Floral A_7 Floral A_8 Floral A_9

Floral A_10
---
GARDEN & NATURE

Garden A_1

Garden A_2

Garden A_3

Garden A_4
---
GARDEN & NATURE

Garden A_5

Garden A_6

Garden A_7

Garden A_8
---
GARDEN & NATURE

Garden A_9

Garden A_10

Garden A_11

Garden A_12
---
GARDEN & NATURE

Garden A_13

Garden A_14

Garden A_15

Garden A_16
---
GARDEN & NATURE

Garden A_17

Garden A_18

Garden A_19

Garden A_20
---
GARDEN & NATURE

Garden A_21

Garden A_22

Garden A_23

Garden A_24
---
GARDEN & NATURE

Garden A_25

Garden A_26

Garden A_27

Garden A_28
---
GARDEN & NATURE

Garden A_29

Garden A_30

Garden A_31

Garden A_32
---
GARDEN & NATURE

Garden A_33

Garden A_34

Garden A_35

Garden A_36
---
GARDEN & NATURE

Garden A_37
---
GEOMETRIC

Geometric 1 Geometric 2 Geometric 3

Geometric 4

Geometric 5 Geometric 6

Geometric 7

Geometric 8
---
GEOMETRIC

Geometric 9 Geometric 10 Geometric A_1

Geometric A_2

Geometric A_3

Geometric A_4

Geometric A_5

Geometric A_6
---
GEOMETRIC

Geometric A_7 Geometric A_8 Geometric A_9

Geometric A_10

Geometric AA_1

Geometric AA_2

Geometric AA_3

Geometric AA_4
---
GEOMETRIC

Geometric AA_5 Geometric AA_6 Geometric AA_7

Geometric AA_8

Geometric AA_9

Geometric AA_10

Geometric AB_1

Geometric AB_2
---
GEOMETRIC

Geometric AB_3 Geometric AB_4 Geometric AB_5

Geometric AB_6

Geometric AB_7

Geometric AB_8

Geometric AB_9

Geometric AB_10
---
GEOMETRIC

Geometric B_1 Geometric B_2 Geometric B_3

Geometric B_4

Geometric B_5

Geometric B_6

Geometric B_7

Geometric B_8
---
GEOMETRIC

Geometric B_9 Geometric B_10 Geometric C_1

Geometric C_2

Geometric C_3

Geometric C_4

Geometric C_5

Geometric C_6
---
GEOMETRIC

Geometric C_7 Geometric C_8 Geometric C_9

Geometric C_10

Geometric D_1

Geometric D_2

Geometric D_3

Geometric D_4
---
GEOMETRIC

Geometric D_5

Geometric D_6

Geometric D_7

Geometric D_8

Geometric D_9

Geometric D_10

Geometric E_1

Geometric E_2
---
GEOMETRIC

Geometric E_3 Geometric E_4 Geometric E_5

Geometric E_6

Geometric E_7

Geometric E_8

Geometric E_9

Geometric E_10
---
GEOMETRIC

Geometric F_9 Geometric F_10 Geometric G_1

Geometric G_2

Geometric G_3

Geometric G_4

Geometric G_5

Geometric G_6
---
GEOMETRIC

Geometric F_1

Geometric F_2

Geometric F_3

Geometric F_4

Geometric F_5

Geometric F_6

Geometric F_7

Geometric F_8
---
GEOMETRIC

Geometric G_7

Geometric G_8

Geometric G_9

Geometric G_10

Geometric H_1

Geometric H_2

Geometric H_3

Geometric H_4
---
GEOMETRIC

Geometric H_5 Geometric H_6 Geometric H_7

Geometric H_8

Geometric H_9

Geometric H_10

Geometric I_1

Geometric I_2
---
GEOMETRIC

Geometric I_3

Geometric I_4

Geometric I_5

Geometric I_6

Geometric I_7

Geometric I_8

Geometric I_9

Geometric I_10
---
GEOMETRIC

Geometric J_1

Geometric J_2

Geometric J_3

Geometric J_4

Geometric J_5

Geometric J_6

Geometric J_7

Geometric J_8
---
GEOMETRIC

Geometric J_9

Geometric J_10

Geometric K_1

Geometric K_2

Geometric K_3

Geometric K_4

Geometric K_5

Geometric K_6
---
GEOMETRIC

Geometric K_7

Geometric K_8

Geometric K_9

Geometric K_10

Geometric L_1

Geometric L_2

Geometric L_3

Geometric L_4
---
GEOMETRIC

Geometric L_5

Geometric L_6

Geometric L_7

Geometric L_8

Geometric L_9

Geometric L_10

Geometric M_1

Geometric M_2
---
GEOMETRIC

Geometric M_3

Geometric M_4

Geometric M_5

Geometric M_6

Geometric M_7

Geometric M_8

Geometric M_9

Geometric M_10
---
GEOMETRIC

Geometric N_1

Geometric N_2

Geometric N_3

Geometric N_4

Geometric N_5

Geometric N_6

Geometric N_7

Geometric N_8
---
GEOMETRIC

Geometric N_9

Geometric N_10

Geometric O_1

Geometric O_2

Geometric O_3

Geometric O_4

Geometric O_5

Geometric O_6
---
GEOMETRIC

Geometric O_7

Geometric O_8

Geometric O_9

Geometric O_10

Geometric P_1

Geometric P_2

Geometric P_3

Geometric P_4
---
GEOMETRIC

Geometric P_5

Geometric P_6

Geometric P_7

Geometric P_8

Geometric P_9

Geometric P_10

Geometric Q_1

Geometric Q_2
---
GEOMETRIC

Geometric Q_3

Geometric Q_4

Geometric Q_5

Geometric Q_6

Geometric Q_7

Geometric Q_8

Geometric Q_9

Geometric Q_10
---
GEOMETRIC

Geometric R_1

Geometric R_2

Geometric R_3

Geometric R_4

Geometric R_5

Geometric R_6

Geometric R_7

Geometric R_8
---
GEOMETRIC

Geometric R_9

Geometric R_10

Geometric S_1

Geometric S_2

Geometric S_3

Geometric S_4

Geometric S_5

Geometric S_6
---
GEOMETRIC

Geometric S_7

Geometric S_8

Geometric S_9

Geometric S_10

Geometric T_1

Geometric T_2

Geometric T_3

Geometric T_4
---
GEOMETRIC

Geometric T_5

Geometric T_6

Geometric T_7

Geometric T_8

Geometric T_9

Geometric T_10

Geometric U_1

Geometric U_2
---
GEOMETRIC

Geometric U_3

Geometric U_4

Geometric U_5

Geometric U_6

Geometric U_7

Geometric U_8

Geometric U_9

Geometric U_10
---
GEOMETRIC

Geometric V_1

Geometric V_2

Geometric V_3

Geometric V_4

Geometric V_5

Geometric V_6

Geometric V_7

Geometric V_8
---
GEOMETRIC

Geometric V_9

Geometric V_10

Geometric W_1

Geometric W_2

Geometric W_3

Geometric W_4

Geometric W_5

Geometric W_6
---
GEOMETRIC

Geometric W_7

Geometric W_8

Geometric W_9

Geometric W_10

Geometric X_1

Geometric X_2

Geometric X_3

Geometric X_4
---
GEOMETRIC

Geometric X_5

Geometric X_6

Geometric X_7

Geometric X_8

Geometric X_9

Geometric X_10

Geometric Y_1

Geometric Y_2
---
GEOMETRIC

Geometric Y_3

Geometric Y_4

Geometric Y_5

Geometric Y_6

Geometric Y_7

Geometric Y_8

Geometric Y_9

Geometric Y_10
---
GEOMETRIC

Geometric Z_1

Geometric Z_2

Geometric Z_3

Geometric Z_4

Geometric Z_5

Geometric Z_6

Geometric Z_7

Geometric Z_8
---
GEOMETRIC

Geometric Z_9

Geometric Z_10
---
GREEK

Greek A_1 Greek A_2 Greek A_3

Greek A_4

Greek A_5

Greek A_6

Greek A_7

Greek A_8
---
GREEK

Greek A_9

Greek A_10
---
HAND DRAWN CITIES

Amsterdam

Amsterdam Pattern

Amsterdam Square
---
HAND DRAWN CITIES

Dublin

Dublin Pattern

Dublin Square
---
HAND DRAWN CITIES

NY

NY Pattern

NY Square
---
HAND DRAWN CITIES

Rome

Rome Pattern

Rome Square
---
HAND DRAWN CITIES

San Francisco

San Francisco Pattern

San Francisco Square
---
HAND DRAWN CITIES

Trinidad

Trinidad Pattern

Trinidad Square
---
HAND DRAWN CITIES

Berlin

Berlin Street
---
HAND DRAWN CITIES

Berlin Pattern

Berlin Square

London Pattern

London Square
---
HAND DRAWN CITIES

London

London NY
---
HAND DRAWN CITIES

Paris

Paris Amsterdam
---
HAND DRAWN CITIES

Paris Pattern

Paris Square

City Items
---
HAND DRAWN CITIES

Havana

Havana Trini
---
HAND DRAWN CITIES

Havana Pattern

Yemen Square

Yemen Pattern

Yemen Palm Pattern
---
HAND DRAWN CITIES

Yemen

Tokyo
---
HAND DRAWN CITIES

Houses Banner

Houses

Houses Rows
---
INDIAN

Indian A_1 Indian A_2 Indian A_3

Indian A_4

Indian A_5

Indian A_6

Indian A_7

Indian A_8
---
INDIAN

Indian A_9 Indian A_10 Indian B_1

Indian B_2

Indian B_3

Indian B_4

Indian B_5

Indian B_6
---
INDIAN

Indian B_7 Indian B_8 Indian B_9

Indian B_10

Indian C_1

Indian C_2

Indian C_3

Indian C_4
---
INDIAN

Indian C_5 Indian C_6 Indian C_7

Indian C_8

Indian C_9

Indian C_10

Indian D_1

Indian D_2
---
INDIAN

Indian D_3 Indian D_4 Indian D_5

Indian D_6

Indian D_7

Indian D_8

Indian D_9

Indian D_10
---
INDIGENOUS

Indigenous A_1

Indigenous A_2

Indigenous A_3

Indigenous A_4
---
INDIGENOUS

Indigenous A_5

Indigenous A_6

Indigenous A_7

Indigenous A_8
---
INDIGENOUS

Indigenous A_9

Indigenous A_10

Indigenous A_11

Indigenous A_12
---
INDIGENOUS

Indigenous A_13

Indigenous A_14

Indigenous A_15

Indigenous A_16
---
INDIGENOUS

Indigenous A_17

Indigenous A_18

Indigenous A_19

Indigenous A_20
---
INDIGENOUS

Indigenous A_21

Indigenous A_22

Indigenous A_23

Indigenous A_24
---
INDIGENOUS

Indigenous A_25

Indigenous A_26

Indigenous A_27

Indigenous A_28
---
INDIGENOUS

Indigenous A_29
---
JACQUARD

Jacquard A_1 Jacquard A_2 Jacquard A_3

Jacquard A_4

Jacquard A_5

Jacquard A_6

Jacquard A_7

Jacquard A_8
---
JACQUARD

Jacquard A_9

Jacquard A_10
---
JAPANESE

Japanese A_1 Japanese A_2 Japanese A_3

Japanese A_4

Japanese A_5

Japanese A_6

Japanese A_7

Japanese A_8
---
JAPANESE

Japanese A_9 Japanese A_10 Japanese B_1

Japanese B_2

Japanese B_3

Japanese B_4

Japanese B_5

Japanese B_6
---
JAPANESE

Japanese B_7 Japanese B_8 Japanese B_9

Japanese B_10

Japanese C_1

Japanese C_2

Japanese C_3

Japanese C_4
---
JAPANESE

Japanese C_5 Japanese C_6 Japanese C_7

Japanese C_8

Japanese C_9

Japanese C_10

Japanese D_1

Japanese D_2
---
JAPANESE

Japanese D_3 Japanese D_4 Japanese D_5

Japanese D_6

Japanese D_7

Japanese D_8

Japanese D_9

Japanese D_10
---
JAPANESE

Japanese E_1 Japanese E_2 Japanese E_3

Japanese E_4

Japanese E_5

Japanese E_6

Japanese E_7

Japanese E_8
---
JAPANESE

Japanese E_9 Japanese E_10 Japanese F_1

Japanese F_2

Japanese F_3

Japanese F_4

Japanese F_5

Japanese F_6
---
JAPANESE

Japanese F_7 Japanese F_8 Japanese F_9

Japanese F_10

Japanese G_1

Japanese G_2

Japanese G_3

Japanese G_4
---
JAPANESE

Japanese G_5 Japanese G_6 Japanese G_7

Japanese G_8

Japanese G_9

Japanese G_10

Japanese H_1

Japanese H_2
---
JAPANESE

Japanese H_3 Japanese H_4 Japanese H_5

Japanese H_6

Japanese H_7

Japanese H_8

Japanese H_9

Japanese H_10
---
LINEAL

Lineal A_1

Lineal A_2

Lineal A_3

Lineal A_4

Lineal A_5

Lineal A_6

Lineal A_7

Lineal A_8
---
LINEAL

Lineal A_9

Lineal A_10
---
MANDALA

Mandala A_1

Mandala A_2

Mandala A_3

Mandala A_4
---
MANDALA

Mandala A_5

Mandala A_6

Mandala A_7

Mandala A_8
---
MANDALA

Mandala A_9
---
MODERN

Modern A_1 Modern A_2 Modern A_3

Modern A_4

Modern A_5

Modern A_6

Modern A_7

Modern A_8
---
MODERN

Modern A_9 Modern A_10 Modern B_1

Modern B_2

Modern B_3

Modern B_4

Modern B_5

Modern B_6
---
MODERN

Modern B_7 Modern B_8 Modern B_9

Modern B_10

Modern C_1

Modern C_2

Modern C_3

Modern C_4
---
MODERN

Modern C_5 Modern C_6 Modern C_7

Modern C_8

Modern C_9

Modern C_10

Modern D_1

Modern D_2
---
MODERN

Modern D_3 Modern D_4 Modern D_5

Modern D_6

Modern D_7

Modern D_8

Modern D_9

Modern D_10
---
MOROCCAN

Moroccan A_1 Moroccan A_2 Moroccan A_3

Moroccan A_4

Moroccan A_5

Moroccan A_6

Moroccan A_7

Moroccan A_8
---
MOROCCAN

Moroccan A_9 Moroccan A_10 Moroccan B_1

Moroccan B_2

Moroccan B_3

Moroccan B_4

Moroccan B_5

Moroccan B_6
---
MOROCCAN

Moroccan B_7 Moroccan B_8 Moroccan B_9

Moroccan B_10
---
MOSAIC

Mosaic A_1

Mosaic A_2

Mosaic A_3

Mosaic A_4
---
MOSAIC

Mosaic A_5

Mosaic A_6

Mosaic A_7

Mosaic A_8
---
MOSAIC

Mosaic A_9

Mosaic A_10

Mosaic A_11

Mosaic A_12
---
MOSAIC

Mosaic A_13

Mosaic A_14

Mosaic A_15

Mosaic A_16
---
MOSAIC

Mosaic A_17

Mosaic A_18

Mosaic A_19

Mosaic A_20
---
MOSAIC

Mosaic A_21

Mosaic A_22

Mosaic A_23

Mosaic A_24
---
MOSAIC

Mosaic A_25

Mosaic A_26

Mosaic A_27

Mosaic A_28
---
MOSAIC

Mosaic A_29

Mosaic A_30

Mosaic A_31

Mosaic A_32
---
MOSAIC

Mosaic A_33

Mosaic A_34

Mosaic A_35

Mosaic A_36
---
MOSAIC

Mosaic A_37

Mosaic A_38

Mosaic A_39

Mosaic A_40
---
MOSAIC

Mosaic A_41

Mosaic A_42

Mosaic A_43

Mosaic A_44
---
MOSAIC

Mosaic A_45

Mosaic A_46

Mosaic A_47

Mosaic A_48
---
MOSAIC

Mosaic A_49

Mosaic A_50

Mosaic A_51

Mosaic A_52
---
MOSAIC

Mosaic A_53

Mosaic A_54

Mosaic A_55

Mosaic A_56
---
MOSAIC

Mosaic A_57

Mosaic A_58

Mosaic A_59

Mosaic A_60
---
MOSAIC

Mosaic A_61

Mosaic A_62

Mosaic A_63

Mosaic A_64
---
MOSAIC

Mosaic A_65

Mosaic A_66

Mosaic A_67

Mosaic A_68
---
MOSAIC

Mosaic A_69

Mosaic A_70

Mosaic A_71

Mosaic A_72
---
MOSAIC

Mosaic A_73

Mosaic A_74
---
MOSAIC

Mosaic A_75
---
NATURE

Nature A_1

Nature A_2

Nature A_3

Nature A_4

Nature A_5

Nature A_6

Nature A_7

Nature A_8
---
NATURE

Nature A_9

Nature A_10
---
ORNAMENTAL

Ornamental A_1

Ornamental A_2

Ornamental A_3

Ornamental A_4

Ornamental A_5

Ornamental A_6

Ornamental A_7

Ornamental A_8
---
ORNAMENTAL

Ornamental A_9

Ornamental A_10
---
PAISLEY

Paisley A_1 Paisley A_2 Paisley A_3

Paisley A_4

Paisley A_5

Paisley A_6

Paisley A_7

Paisley A_8
---
PAISLEY

Paisley A_9 Paisley A_10 Paisley B_1

Paisley B_2

Paisley B_3

Paisley B_4

Paisley B_5

Paisley B_6
---
PAISLEY

Paisley B_7 Paisley B_8 Paisley B_9

Paisley B_10
---
PATRICK

Patrick A_1

Patrick A_2

Patrick A_3

Patrick A_4

Patrick A_5

Patrick A_6

Patrick A_7

Patrick A_8
---
PATRICK

Patrick A_9

Patrick A_10
---
PIXEL STYLE

Pixel Style A_1

Pixel Style A_2

Pixel Style A_3

Pixel Style A_4
---
PIXEL STYLE

Pixel Style A_5

Pixel Style A_6
---
QUIRKY

Quirky A_1

Quirky A_2

Quirky A_3

Quirky A_4
---
QUIRKY

Quirky A_5

Quirky A_6

Quirky A_7

Quirky A_8
---
QUIRKY

Quirky A_9

Quirky A_10

Quirky A_11

Quirky A_12
---
QUIRKY

Quirky A_13

Quirky A_14

Quirky A_15

Quirky A_16
---
QUIRKY

Quirky A_17

Quirky A_18

Quirky A_19

Quirky A_20
---
QUIRKY

Quirky A_21

Quirky A_22

Quirky A_23

Quirky A_24
---
RETRO

Retro A_1 Retro A_2 Retro A_3

Retro A_4

Retro A_5

Retro A_6

Retro A_7

Retro A_8
---
RETRO

Retro A_9 Retro A_10 Retro B_1

Retro B_2

Retro B_3

Retro B_4

Retro B_5

Retro B_6
---
RETRO

Retro B_7 Retro B_8 Retro B_9

Retro B_10

Retro C_1

Retro C_2

Retro C_3

Retro C_4
---
RETRO

Retro C_5 Retro C_6 Retro C_7

Retro C_8

Retro C_9

Retro C_10

Retro D_1

Retro D_2
---
RETRO

Retro D_3 Retro D_4 Retro D_5

Retro D_6

Retro D_7

Retro D_8

Retro D_9

Retro D_10
---
RETRO

Retro E_1 Retro E_2 Retro E_3

Retro E_4

Retro E_5

Retro E_6

Retro E_7

Retro E_8
---
RETRO

Retro E_9 Retro E_10 Retro F_1

Retro F_2

Retro F_3

Retro F_4

Retro F_5

Retro F_6
---
RETRO

Retro F_7 Retro F_8 Retro F_9

Retro F_10
---
ROMAN

Roman A_1 Roman A_2 Roman A_3

Roman A_4

Roman A_5

Roman A_6

Roman A_7

Roman A_8
---
ROMAN

Roman A_9

Roman A_10
---
SOFT

Soft A_1 Soft A_2 Soft A_3

Soft A_4

Soft A_5

Soft A_6

Soft A_7

Soft A_8
---
SOFT

Soft A_9 Soft A_10 Soft B_1

Soft B_2

Soft B_3

Soft B_4

Soft B_5

Soft B_6
---
SOFT

Soft B_7 Soft B_8 Soft B_9

Soft B_10

Soft C_1

Soft C_2

Soft C_3

Soft C_4
---
SOFT

Soft C_5 Soft C_6 Soft C_7

Soft C_8

Soft C_9

Soft C_10

Soft D_1

Soft D_2
---
SOFT

Soft D_3 Soft D_4 Soft D_5

Soft D_6

Soft D_7

Soft D_8

Soft D_9

Soft D_10
---
SOFT

Soft E_1 Soft E_2 Soft E_3

Soft E_4

Soft E_5

Soft E_6

Soft E_7

Soft E_8
---
SOFT

Soft E_9

Soft E_10
---
SPRING

Spring A_1 Spring A_2 Spring A_3

Spring A_4

Spring A_5

Spring A_6

Spring A_7

Spring A_8
---
SPRING

Spring A_9 Spring A_10 Spring B_1

Spring B_2

Spring B_3

Spring B_4

Spring B_5

Spring B_6
---
SPRING

Spring B_7 Spring B_8 Spring B_9

Spring B_10

Spring C_1

Spring C_2

Spring C_3

Spring C_4
---
SPRING

Spring C_5 Spring C_6 Spring C_7

Spring C_8

Spring C_9

Spring C_10

Spring D_1

Spring D_2
---
SPRING

Spring D_3 Spring D_4 Spring D_5

Spring D_6

Spring D_7

Spring D_8

Spring D_9

Spring D_10
---
SQUARE

Square A_1 Square A_2 Square A_3

Square A_4

Square A_5

Square A_6

Square A_7

Square A_8
---
SQUARE

Square A_9 Square A_10 Square B_1

Square B_2

Square B_3

Square B_4

Square B_5

Square B_6
---
SQUARE

Square B_7 Square B_8 Square B_9

Square B_10
---
SUMMER

Summer A_1 Summer A_2 Summer A_3

Summer A_4

Summer A_5

Summer A_6

Summer A_7

Summer A_8
---
SUMMER

Summer A_9 Summer A_10 Summer B_1

Summer B_2

Summer B_3

Summer B_4

Summer B_5

Summer B_6
---
SUMMER

Summer B_7 Summer B_8 Summer B_9

Summer B_10

Summer C_1

Summer C_2

Summer C_3

Summer C_4
---
SUMMER

Summer C_5 Summer C_6 Summer C_7

Summer C_8

Summer C_9

Summer C_10

Summer D_1

Summer D_2
---
SUMMER

Summer D_3 Summer D_4 Summer D_5

Summer D_6

Summer D_7

Summer D_8

Summer D_9

Summer D_10
---
SUMMER

Summer E_1 Summer E_2 Summer E_3

Summer E_4

Summer E_5

Summer E_6

Summer E_7

Summer E_8
---
SUMMER

Summer E_9

Summer E_10
---
TARTAN

Tartan A_1

Tartan A_2

Tartan A_3

Tartan A_4

Tartan A_5

Tartan A_6

Tartan A_7

Tartan A_8
---
TARTAN

Tartan A_9

Tartan A_10
---
TILE

Tile A_1 Tile A_2 Tile A_3

Tile A_4

Tile A_5

Tile A_6

Tile A_7

Tile A_8
---
TILE

Tile A_9 Tile A_10 Tile B_1

Tile B_2

Tile B_3

Tile B_4

Tile B_5

Tile B_6
---
TILE

Tile B_7 Tile B_8 Tile B_9

Tile B_10

Tile C_1

Tile C_2

Tile C_3

Tile C_4
---
TILE

Tile C_5 Tile C_6 Tile C_7

Tile C_8

Tile C_9

Tile C_10

Tile D_1

Tile D_2
---
TILE

Tile D_3 Tile D_4 Tile D_5

Tile D_6

Tile D_7

Tile D_8

Tile D_9

Tile D_10
---
TILE

Tile E_1 Tile E_2 Tile E_3

Tile E_4

Tile E_5

Tile E_6

Tile E_7

Tile E_8
---
TILE

Tile E_9 Tile E_10 Tile F_1

Tile F_2

Tile F_3

Tile F_4

Tile F_5

Tile F_6
---
TILE

Tile F_7 Tile F_8 Tile F_9

Tile F_10

Tile G_1

Tile G_2

Tile G_3

Tile G_4
---
TILE

Tile G_5 Tile G_6 Tile G_7

Tile G_8

Tile G_9

Tile G_10

Tile H_1

Tile H_2
---
TILE

Tile H_3 Tile H_4 Tile H_5

Tile H_6

Tile H_7

Tile H_8

Tile H_9

Tile H_10
---
TILE

Tile I_1 Tile I_2 Tile I_3

Tile I_4

Tile I_5

Tile I_6

Tile I_7

Tile I_8
---
TILE

Tile I_9 Tile I_10 Tile J_1

Tile J_2

Tile J_3

Tile J_4

Tile J_5

Tile J_6
---
TILE

Tile J_7 Tile J_8 Tile J_9

Tile J_10

Tile K_1

Tile K_2

Tile K_3

Tile K_4
---
TILE

Tile K_5 Tile K_6 Tile K_7

Tile K_8

Tile K_9

Tile K_10

Tile L_1

Tile L_2
---
TILE

Tile L_3 Tile L_4 Tile L_5

Tile L_6

Tile L_7

Tile L_8

Tile L_9

Tile L_10
---
TILE

Tile M_1 Tile M_2 Tile M_3

Tile M_4

Tile M_5

Tile M_6

Tile M_7

Tile M_8
---
TILE

Tile M_9 Tile M_10 Tile N_1

Tile N_2

Tile N_3

Tile N_4

Tile N_5

Tile N_6
---
TILE

Tile N_7 Tile N_8 Tile N_9

Tile N_10

Tile O_1

Tile O_2

Tile O_3

Tile O_4
---
TILE

Tile O_5 Tile O_6 Tile O_7

Tile O_8

Tile O_9

Tile O_10
---
VINTAGE

Vintage A_1 Vintage A_2 Vintage A_3

Vintage A_4

Vintage A_5

Vintage A_6

Vintage A_7

Vintage A_8
---
VINTAGE

Vintage A_9 Vintage A_10 Vintage B_1

Vintage B_2

Vintage B_3

Vintage B_4

Vintage B_5

Vintage B_6
---
VINTAGE

Vintage B_7 Vintage B_8 Vintage B_9

Vintage B_10

Vintage C_1

Vintage C_2

Vintage C_3

Vintage C_4
---
VINTAGE

Vintage C_5 Vintage C_6 Vintage C_7

Vintage C_8

Vintage C_9

Vintage C_10

Vintage D_1

Vintage D_2
---
VINTAGE

Vintage D_3 Vintage D_4 Vintage D_5

Vintage D_6

Vintage D_7

Vintage D_8

Vintage D_9

Vintage D_10
---
VINTAGE

Vintage E_1 Vintage E_2 Vintage E_3

Vintage E_4

Vintage E_5

Vintage E_6

Vintage E_7

Vintage E_8
---
VINTAGE

Vintage E_9 Vintage E_10 Vintage F_1

Vintage F_2

Vintage F_3

Vintage F_4

Vintage F_5

Vintage F_6
---
VINTAGE

Vintage F_7 Vintage F_8 Vintage F_9

Vintage F_10
---
WATERCOLOUR

Watercolour A_1

Watercolour A_2

Watercolour A_3

Watercolour A_4
---
WATERCOLOUR

Watercolour A_5

Watercolour A_6

Watercolour A_7

Watercolour A_8
---
WATERCOLOUR

Watercolour A_9

Watercolour A_10

Watercolour A_11

Watercolour A_12
---
WATERCOLOUR

Watercolour A_13

Watercolour A_14

Watercolour A_15

Watercolour A_16
---
WATERCOLOUR

Watercolour A_17

Watercolour A_18

Watercolour A_19

Watercolour A_20
---
WATERCOLOUR

Watercolour A_21

Watercolour A_22

Watercolour A_23

Watercolour A_24
---
WATERCOLOUR

Watercolour A_25

Watercolour A_26

Watercolour A_27

Watercolour A_28
---
WATERCOLOUR

Watercolour A_29

Watercolour A_30

Watercolour A_31

Watercolour A_32
---
WATERCOLOUR

Watercolour A_33

Watercolour A_34

Watercolour A_35

Watercolour A_36
---
WATERCOLOUR

Watercolour A_37

Watercolour A_38

Watercolour A_39

Watercolour A_40
---
WATERCOLOUR

Watercolour A_41

Watercolour A_42

Watercolour A_43

Watercolour A_44
---
WATERCOLOUR

Watercolour A_45

Watercolour A_46

Watercolour A_47

Watercolour A_48
---
WATERCOLOUR

Watercolour A_49

Watercolour A_50

Watercolour A_51

Watercolour A_52
---
WATERCOLOUR

Watercolour A_53

Watercolour A_54

Watercolour A_55

Watercolour A_56
---
WATERCOLOUR

Watercolour A_57

Watercolour A_58

Watercolour A_59

Watercolour A_60
---
WATERCOLOUR

Watercolour A_61

Watercolour A_62

Watercolour A_63

Watercolour A_64
---
WATERCOLOUR

Watercolour A_65

Watercolour A_66

Watercolour A_67

Watercolour A_68
---
WAVE

Wave A_1 Wave A_2 Wave A_3

Wave A_4

Wave A_5

Wave A_6

Wave A_7

Wave A_8
---
WAVE

Wave A_9 Wave A_10 Wave B_1

Wave B_2

Wave B_3

Wave B_4

Wave B_5

Wave B_6
---
WAVE

Wave B_7 Wave B_8 Wave B_9

Wave B_10

Wave C_1

Wave C_2

Wave C_3

Wave C_4
---
WAVE

Wave C_5 Wave C_6 Wave C_7

Wave C_8

Wave C_9

Wave C_10
---
WINTER

Winter A_1 Winter A_2 Winter A_3

Winter A_4

Winter A_5

Winter A_6

Winter A_7

Winter A_8
---
WINTER

Winter A_9 Winter A_10 Winter B_1

Winter B_2

Winter B_3

Winter B_4

Winter B_5

Winter B_6
---
WINTER

Winter B_7 Winter B_8 Winter B_9

Winter B_10

Winter C_1

Winter C_2

Winter C_3

Winter C_4
---
WINTER

Winter C_5 Winter C_6 Winter C_7

Winter C_8

Winter C_9

Winter C_10

Winter D_1

Winter D_2
---
WINTER

Winter D_3 Winter D_4 Winter D_5

Winter D_6

Winter D_7

Winter D_8

Winter D_9

Winter D_10
---
WINTER

Winter E_1 Winter E_2 Winter E_3

Winter E_4

Winter E_5

Winter E_6

Winter E_7

Winter E_8
---
WINTER

Winter E_9

Winter E_10