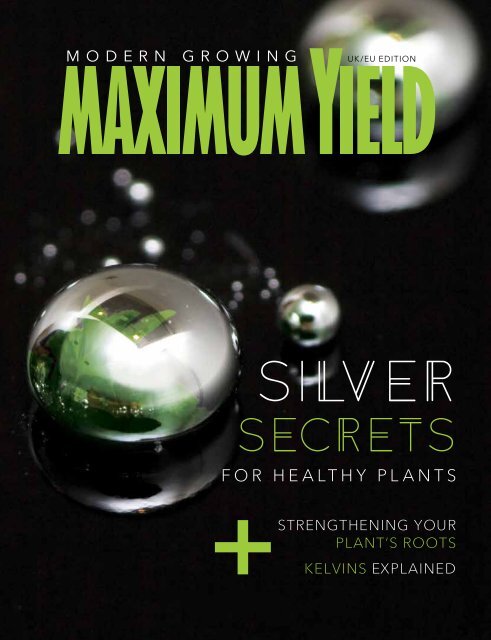 Maximum Yield Modern Growing | UK/EU Edition | January/February 2017
The world of indoor growing is expanding at an incredible rate. No longer the alternative to traditional agriculture, hydroponics is being recognised as beneficial for many important reasons. Hydroponics yields require up to 50 per cent less land to grow the same amount of produce, and as the world's arable lands are diminished from overfarming and climate change, hydroponics takes the pressure off the environment by leaving more land available for wildlife reserves, biospheres, and other protected areas. Drought-ridden areas like California will appreciate the fact hydroponics uses only 10 per cent of the water needed for growing in soil, and far less chemicals and fertilisers-as much as 60 per cent less- are required. By most reports, growing and transporting food around the globe accounts for as much as 30 per cent of all greenhouse gas emissions. With hydroponics, we can grow almost anything right where we live, reducing the need for carbon emissions. This is especially important for people who live in the Far North. More and more, programs are being created to provide fresh produce for those who live in northern communities, reducing the need to ship relatively small amounts of food while providing food security with fresh, inexpensive fruits and vegetables. It is with these shifts in mind that we've made some editorial changes in Maximum Yield. As you may have noticed, on our cover we've changed 'indoor gardening' to 'modern growing'. As the industry evolves, so are we. Our content will include a wider look at the advancements in the growing world, both indoors and out. As we flip the calendar from 2016 to 2017, we are taking a new perspective on the world of modern growing, and we look forward to bringing these stories to you. We also wish you and your loved ones the very best for 2017. In the meantime, we hope you have as much fun reading this issue as we did putting it together. As always, thanks for reading Maximum Yield and if you have any questions feel free to contact us at editor@maximumyield.com.
The world of indoor growing is expanding at an incredible rate. No longer the alternative to traditional agriculture, hydroponics is being recognised as beneficial for many important reasons. Hydroponics yields require up to 50 per cent less land to grow the same amount of produce, and as the world's arable lands are diminished from overfarming and climate change, hydroponics takes the pressure off the environment by leaving more land available for wildlife reserves, biospheres, and other protected areas. Drought-ridden areas like California will appreciate the fact hydroponics uses only 10 per cent of the water needed for growing in soil, and far less chemicals and fertilisers-as much as 60 per cent less- are required. By most reports, growing and transporting food around the globe accounts for as much as 30 per cent of all greenhouse gas emissions. With hydroponics, we can grow almost anything right where we live, reducing the need for carbon emissions. This is especially important for people who live in the Far North. More and more, programs are being created to provide fresh produce for those who live in northern communities, reducing the need to ship relatively small amounts of food while providing food security with fresh, inexpensive fruits and vegetables. It is with these shifts in mind that we've made some editorial changes in Maximum Yield. As you may have noticed, on our cover we've changed 'indoor gardening' to 'modern growing'. As the industry evolves, so are we. Our content will include a wider look at the advancements in the growing world, both indoors and out. As we flip the calendar from 2016 to 2017, we are taking a new perspective on the world of modern growing, and we look forward to bringing these stories to you. We also wish you and your loved ones the very best for 2017. In the meantime, we hope you have as much fun reading this issue as we did putting it together. As always, thanks for reading Maximum Yield and if you have any questions feel free to contact us at editor@maximumyield.com.
SHOW MORE
SHOW LESS
You also want an ePaper? Increase the reach of your titles
YUMPU automatically turns print PDFs into web optimized ePapers that Google loves.
MODERN GROWING

UK/EU EDITION

silver

secrets

FOR HEALTHY PLANTS

STRENGTHENING YOUR

PLANT'S ROOTS

KELVINS EXPLAINED
---
contents

JANUARY/FEBRUARY 2017

FEATURES

22 28 36 42 54

22 Silver Secrets

Kathryn van Druff

28 Cal-Mag Supplements: A

One-Two Punch For Plants

Cory Hughes

42 Balancing Plant Growth

Regulator Principles

Rich Hamilton

52 Same Plant, Different Pots

Grubbycup

54 Who Is This Kelvin Guy?

Sara Elliott

34 10 Ways To Save $$$ At

The Grow Shop

by Shannon McKee

36 Turn Your Weak Roots Into

Strong Survivors

Nicola Mills

DEPARTMENTS

8 From the Editor

48 Movers & Shakers

10 Letters to the Editor

60 You Tell Us

12 Ask the Experts

62 Max Mart

14 Max Facts

64 Distributors

18 Product Spotlight

6 Maximum Yield | January/February 2017
---
from the editor | toby gorman

Our content

will include a

wider look at the

advancements

in the growing

world, both

indoors and out."

The world of indoor growing is expanding at

an incredible rate. No longer the alternative

to traditional agriculture, hydroponics is now

recognised as beneficial for many important

reasons. Hydroponics yields require up to 50 per

cent less land to grow the same amount of produce,

and as the world's arable lands are diminished by

overfarming and climate change, hydroponics takes

the pressure off the environment by leaving more

land available for wildlife reserves, biospheres,

and other protected areas. Drought-ridden areas

like California will appreciate the fact that

hydroponics uses only 10 per cent of the water

needed for growing in soil, and far less chemicals

and fertilisers—as much as 60 per cent less-are

required. Growing and transporting food across

the globe accounts for as much as 30 per cent of

all greenhouse gas emissions. With hydroponics,

we can grow almost anything right where we live,

reducing the need for carbon emissions. This is

especially important for people who live in the

Far North. More and more, programs are being

created to provide fresh produce for those who live

in northern communities, reducing the need to ship

relatively small amounts of food while providing

food security with fresh, inexpensive fruits and

vegetables. It is with these shifts in mind that

we've made some editorial changes in Maximum

Yield. As you may have noticed, on our cover we've

changed 'indoor gardening' to 'modern growing'.

As the industry is evolving, so are we. Our content

will include a wider look at the advancements in

the growing world, both indoors and out. As we flip

the calendar from 2016 to 2017, we are taking a new

perspective on the world of modern growing, and

we look forward to bringing these stories to you. We

also wish you and your loved ones the very best for

2017. In the meantime, we hope you have as much

fun reading this issue as we did putting it together.

As always, thanks for reading Maximum Yield

and if you have any questions feel free to contact

us at editor@maximumyield.com.

January/February 2017

GENERAL MANAGER

Ilona Hawser

EDITORIAL

editor@maximumyield.com

Toby Gorman

Julie McManus

Jessica Skelton

Julie Chadwick

ADVERTISING SALES

250.729.2677

SALES MANAGER

Katie Rey - katie.rey@maximumyield.com

ACCOUNT EXECUTIVES

Jed Walker - jed.walker@maximumyield.com

Michelle Fraser - michelle.fraser@maximumyield.com

Erik Duivenvoorde - erik@maximumyield.com

Courtenay Althouse - courtenay@maximumyield.com

Hailey Woolgar - hailey@maximumyield.com

DESIGN & PRODUCTION

ads@maximumyield.com

ART DIRECTOR

Alice Joe

GRAPHIC DESIGNERS

Jennifer Everts

Dionne Hurd

Jesslyn Dubyna

Holly Anderson

Samira Saoud

ACCOUNTING

Tracy Greeno - accounting@maximumyield.com

Katie LaFrance - ar@maximumyield.com

Maximum Yield is published monthly by Maximum Yield

Inc. No part of this magazine may be reproduced without

permission from the publisher. If undeliverable please

return to the address below. The views expressed by

columnists are personal opinions and do not necessarily

reflect those of Maximum Yield or the editor.

2339 A Delinea Place, Nanaimo, BC V9T 5L9

Phone: 250.729.2677; Fax 250.729.2687

UK DISTRIBUTION

Century Grow Systems • Easy Grow Ltd.

Erith Horticulture • Nutriculture UK • Dutchpro

AUSTRALIAN DISTRIBUTION

Dome Garden Supply • Holland Forge

House N' Garden • Hydroponic Generations

Growlush • Way to Grow • Nutrifield

USA DISTRIBUTION

BWGS • Florida Hydroponics

General Hydroponics • Humbolt Wholesale

Hydrofarm National Garden Wholesale/Sunlight Supply

Nickel City Wholesale Garden Supply

Tradewinds • Urban Agricultural

CANADIAN DISTRIBUTION

Brite-Lite Group • Biofloral Hydrotek

Eddis Wholesale • Green Planet Wholesale

Greenstar Plant Products Inc. • Growers Paradise

8 Maximum Yield | January/February 2017
---
letters to the editor

contributors

Michael Forsberg

Hopelessly Hooked

Getting your feet wet in hydroponics is not easy. However,

when my local shop gave me a copy of your informative

magazine, it answered a lot of questions on how to get

started and what I needed. I am hopelessly hooked on

Maximum Yield now. Thanks!

Michael Forsberg

Editor's Note: Michael has won a cash prize to spend at his

favourite indoor gardening shop, Happy Hydro in St. Louis,

Missouri, for telling us why he loves Maximum Yield.

Cory Hughes is a former police

officer turned full-time commercial

grower in Denver, Colorado.

Sara Elliott Sara Elliott is a

professional writer with extensive

horticultural knowledge acquired

through theoretical study and practical

experience. You can find her gardening

and lifestyle pieces in print and online.

Higher Yields

Maximum Yield is one of the best free gardening magazines I've read. The articles

have given me the confidence to step out of my comfort zone and try new things,

most of which have resulted in higher yields and healthier plants. I always look

forward to my next issue.

Daniel

New Tech

Maximum Yield keeps me updated on all the new technology and gadgets out there.

It's a great magazine for a newbie like myself. Best of all, it's free. Thank you.

Chase

10 Years Strong

I'm a fan of Maximum Yield because of the advice and direction it provides readers. I

have been a grower for 10 years now and thanks to Maximum Yield my harvests are

more beautiful and bountiful than ever.

Troy

Green Living Tips

Maximum Yield is packed full of information on

living a greener lifestyle. I enjoy reading the latest

green tech in an easy-to-digest format with plenty of

detailed illustrations and pictures. I am always learning

something new from Maximum Yield!

Jackson

No Matter the Medium

Maximum Yield offers great articles along

with the newest technological advances.

Each new issue is filled with useful

information on how to help both novice

and expert growers with their gardening

efforts. Regardless of which medium a

grower uses, there are always articles

covering different systems and

styles of cultivation, regardless

of one's setting. My

personal preference is lowmaintenance

indoor systems

and I'm looking forward to

learning from future issues.

Keep up the great work!

Romana

Rich Hamilton has been in the

hydroponics industry for more than

20 years, working originally as a

general manager in a hydroponics

retail outlet before becoming

an account manager at Century

Growsystems. He enjoys working

on a daily basis with shop owners,

manufacturers, distributors and end

users to develop premium products.

Kathryn M. Van Druff (nee

D'Imperio) is a freelance writer and

marketing specialist with her own

business, Dances with Words. She

has years of experience writing

about gardening, landscaping and

home design topics. Kate is also

an avid home gardener, wife, and

mother to two daughters and a

border collie.

Shannon McKee lives in Ohio

and has been a freelance writer for

several years now, including on

her blog, whyiwah.blogspot.com.

Nicknamed a garden hoarder by

loved ones, she grows a wide variety

of plants in her urban garden.

Grubbycup has been an avid indoor

gardener for more than 20 years.

His articles were first published in

the UK, and since then his gardening

advice has been published in French,

Spanish, Italian, Polish, Czech and

German. He is also considered one

of the world's leading authorities on

crochet hydroponics.

Nicci Mills is a self taught

horticulturalist with a keen interest

in alternative growing systems.

She writes for a number of online

publications including GS, the

gardening and sailing blog.

WE WANT TO HEAR FROM YOU!

Did something in this issue of Maximum Yield

catch your eye? Do you have an idea of a topic

you'd like to see covered in a future issue? We

welcome letters to the editor! And if you have

a question or concern about what is

happening with your plants, we'd be

happy to pass on your question to

one of our hydroponics experts. All

comments and inquiries can be sent

to editor@maximumyield.com.

10 Maximum Yield | January/February 2017
---
ask the experts

Q

I'm attempting to grow goldenseal in my aquaponic system,

but the roots of my plants have blackened and there was

some yellow wax oozing out of them. What can I do?

Thanks,

Van

When root systems

become discoloured or

A

darkened this generally

indicates disease.

A common culprit is

Phytophthera species, the

genus of a plant-damaging

water mould. Phytophthera

thrive, grow, reproduce,

and infect plant roots in

water, saturated soil, and along river banks

and ponds. Flooded or saturated soils are not

favourable for plant growth and can predispose

plants to infection. Anywhere significant

quantities of water collect, accumulate or flow,

Phytophthora spp. can be found. The lack of

oxygen in the water is typically what helps

this fungus/mould flourish in ponds. Usually,

because of the root failure, the plants will begin

to wilt or fail completely.

It is possible that your situation could be

a different pest, however. You can bring (or

ship) specimens to a certified laboratory to get

confirmation—just check the associated costs

before proceeding with this. The downside

of mailing away for answers is that diseases

spread quickly, especially to other plants of the

same variety.

The best way to control a phytophthora

disease is before it starts. In the landscape,

water regulation and good drainage is vital.

In an aquaponic set-up, increase the amount

of oxygen in the water with something like

an air pump or air stone. There are meters

available for checking the level of oxygen.

Make sure your pump runs for at least 15

minutes each hour.

Overall, clean stock, crop rotation,

sanitation, chemicals as needed, and host

resistance are among the controls that can be

implemented. Hydrogen peroxide has been

successful in controlling the disease on the

roots; however, in the case of aquaponics it

may not be successful due to dilution issues.

Do some research before trying this method.

Removing an infected plant from the

water and rinsing the roots in a light

concentration of hydrogen peroxide (three

per cent), then returning the plant to

the system might help when done in

conjunction with the addition of extra

oxygen. As prevention is the best way

to treat fungal diseases in the garden,

you may need to remove the infected

plants and discard them while you

work to improve your water quality,

and then re-insert new plants.

Good luck!

Frank Rauscher

Frank Rauscher is a certified horticulturist and consultant for

the hydroponic and landscape industry with a background in

product development. Frank is a member of the Southern Nevada

Landscape Association and is active in the Southern California green

industry, where his focus is drought-tolerant xeriscapes. He specializes in

discovering the "root-cause" of plant stress.

YK?

DYK?

Goldenseal is a small plant with a single hairy stem. It has two jagged five-lobed leaves, small flowers and

raspberry-like fruit. The bitter-tasting rhizome, or root, is bright yellow or brown, twisted and wrinkled. Goldenseal

can be found growing wild in rich, shady soil in the northern United States, but it is now grown mostly on farms.

– University of Maryland Medical Center, (umm.edu)

12 Maximum Yield | January/February 2017
---
Q

What are the maximum light and CO 2

levels that can be applied to a plant before

destroying it? (Please note that limiting

factors are all under control. Thanks!)

Michael

Thanks for writing in. That is a good question. Let's first

look to the sun for some information. The sun is the Earth's

A

grow light and produces more than 100,000 lux, or roughly

10,000 lumens, per square foot. This can be even higher

when under direct sun. Lumens are a measure of the

amount of light cast on one square metre. Most styles of

artificial lighting do not provide anywhere close to that, but

more important than lumens, which refers to the amount of

visible light, is the amount of usable light. Plants see light

differently than we do. They utilise much more of the red

and blue spectrums of light, which the human eye is not as sensitive to.

Plants use light during the process of photosynthesis. For this reason, it is

important that your grow lights produce light waves in the wavelength ranges

that are useful for plants, primarily the 400-700 nanometre range. Most lights

cover all spectrums, but some are manufactured to produce light in certain

spectrums more than others. Let's go back to lumens and how much can be

used. Illuminance is the way most growers judge their light. Most agree that

ideal light levels fall somewhere in the range of 30,000-60,000 lux for vegetative

growth and between 50,000-80,000 lux for the flowering stage. Serious plant

problems surface at light levels above these, not to mention heat.

CO 2, which is also involved in photosynthesis, is essential for plant growth,

but there is a threshold of how much your garden will use. Ambient levels of

CO 2 hover around 400-500 ppm. When you increase that level to around 1,000-

1,500 ppm, you will see an increase in your yields and your plants will be much

healthier. If the level rises to 2,000 ppm or higher, you will begin to see negative

effects such as CO 2 burn. It is best not to allow your CO 2 levels to increase

this high. Doing so not only hurts your garden, but it wastes CO 2 and money.

As far as your choice of products, I would suggest using an all-natural form of

CO 2 production versus a propane burner system or a tank system. The burners

create heat and require the use of fossil fuels and tanks are cumbersome and

must be refilled often.

You should supplement your garden with CO 2 during both the vegetative

stage, as well as the flowering stage. If you encounter high temperatures, CO 2

will help your plants tolerate the high heat. In some instances, it may be what

saves your garden from disaster.

Glen Babcock is the owner of Garden City Fungi and

the founder of ExHale Homegrown CO 2. Glen has been

involved in agriculture his entire life. He graduated from

the University of Montana with a degree in forestry and has

been a mycologist for more than 26 years. His research has

been published in scientific journals worldwide.

LUMENS

The lumen (lm) is a unit of luminous flux; a measure of the total quantity of

visible light emitted by a source. The lumen is a measure of the total amount

of visible light emitted from a given source, dependent on spectrum.

– lumennow.org

Maximum Yield | January/February 2017

13
---
Hydroponics Retailer Sees Opportunity

In the UK, Leeds shops and supermarkets are currently stocking

fruits and vegetables of dismal quality; this is thought to be because

they have now become more difficult to source. In line with this,

one local hydroponic equipment supplier is urging people to grow

their own vegetables. "We anticipate that, going forward, as the

quality of vegetables that can been bought from shops continues

to deteriorate, more and more people are going to be looking for

alternative ways to source their vegetables, with hydroponics being the

most popular choice," says a spokesperson from Leeds Hydro Store. Just

one of the examples of bad-quality produce being sold to the public saw a

Leeds retailer ordered to pay a whopping £3,400 fine after selling rotten fruits

and vegetables that didn't meet basic standards. The director of Leeds City

Stores admitted to breaching EU marketing rules for fresh produce, following

a seven-month investigation by the Rural Payments Agency.

– satprnews.com

UK Students

Create a Bottle

Greenhouse

In Suffolk, UK, students from Laxfield Primary

School children have made a greenhouse out of

recycled bottles. Under the school's Food for Life

program, pupils are encouraged to understand how

food is grown and how a combination of good nutrition

and physical activity contributes to a healthier life. The

school has developed vegetable gardens that feature

tomatoes, chillies, and peppers. "It has been great

creating the garden. It's so fun to do and I have grown

my own vegetables," says Riley Chapman, a pupil in year

five. Lucy Hammond, head of school, adds, "Building the

greenhouse was a real team effort. The parents collected

hundreds of bottles for the school to build it. It was a

fantastic recycling exercise for the children." A similar

greenhouse in Tasmania, Australia, is made from more

than 6,000 plastic water bottles.

– hydroponics.com.au

MAXFACTS

GROWING TIPS, NEWS, AND TRIVIA

Agricool Raising Funds

for Indoor Cultivation

Agricool, the creator of Cooltainers, is a Parisian start-up

company created in 2015 by Gonzague Gru and Guillaume

Fourdinier, sons of farmers who couldn't find any high-quality

fruits and vegetables in the city. Fruits and vegetables sold in

cities don't have any taste and they're full of pesticides, they

say, adding that finding enough space for agriculture in the city

poses a problem. Their solution? Cooltainers, where, inside,

all growing conditions like irrigation, lighting, and CO 2 levels

are optimised. Cooltainers can be placed almost anywhere in

cities and towns and can be managed even by people without

any previous experience in farming. Agricool spent 2016 in a

major R&D phase, going from two employees to 30, and their

harvests have multiplied by 10. Now, Agricool has announced

a €4M fundraising round to help speed up development. The

goal for 2017 is to install 75 Cooltainers, distribute 91 tonnes of

strawberries, and begin work on two new crops.

– agricool.co

14 Maximum Yield | January/February 2017
---
Europe Set

to Host World

Farmers'

Programme 2017

The Worlds Farmers'

Programme will be hosted

at the Jaabeurs Expo

Centre in the Netherlands

on May 9-10, 2017. The

programme is designed

to give farmers access to

technology and expertise to

improve agricultural productivity,

boost investments, and reduce

post-harvest losses. Promoting learning

and interaction amongst farmers and the

developing and developed world, the programme is set to

intrigue people of all ages. Farmers from all over the world will

gather to see how things are done around the world. A spokesperson from UK

hydroponics store Tropicanna Horticulture commented: "It is great to see that

this programme is coming to Europe and we believe that it is most definitely

going to be a huge success. Not only will it be great for UK farmers

to meet other people within the industry and start to build

highly beneficial relationships, but it also will assist

in combatting something incredibly

important—worldwide hunger."

– digitaljournal.com

Tips for

Foliar Spraying

Think you know about foliar spraying? Here

are a few things you may not know. Plants get a lot of

nutrients quickly when you foliar feed. They absorb and

use nutrients sprayed to leaves almost instantly—way more

efficiently than nutrients added to media. Foliar feeding

is a great way to correct deficiencies, bulk up your yield,

improve plant health, and feed plants when roots aren't

performing well. How does it work? Nutrients and

stimulants move into leaves via diffusion. This is where

particles move from an area of high concentration

(the foliar feed) to areas of low concentration (the

leaf). Just remember that diffusion works both ways. If

there's a higher concentration of nutrients in the leaf

cells than in your foliar feed, you can end up pulling

nutrients out of the leaves. That's why you always use a

strong solution when foliar spraying. For more tips on this

fertilisation method, check out the Growell blog.

– growell.co.uk

Maximum Yield | January/February 2017

15
---
max facts growing tips, news, & trivia

Improving Crop-stress Detection Methods

A cutting-edge technology system that can remotely monitor soft fruit crops

for stresses is being developed in the UK through funding via an Innovate UK

consortium, including AHDB Horticulture and the James Hutton Institute. The

automated imaging system will be able to monitor and measure how

plants respond to stresses, such as drought, pests, and diseases. It is

hoped the system will not only enable growers to keep a constant

remote monitor for signs of stress on crops, but could even control

fertigation or alert growers to when crop protection is needed. Julie

Graham, geneticist and project lead at the James Hutton Institute,

says, "Plants adjust stomatal opening to maintain water balance

and nutrient uptake, control leaf temperature, and optimise

photosynthesis. "The effects can be monitored and measured

using imaging technologies. For example, infra-red thermography

can measure leaf temperature, which is related to stomatal

opening and is a reliable indicator of plant physiological status."

– horticulture.ahdb.org.uk

More Rooftop Farming Coming to France

Thirty-three teams have been selected by the City of Paris for the

Parisculteurs project, which aims to use rooftops and car parks in the

capital for vegetable, fish, and hops farming. Among those selected

are landscapers, farmers, architects, associations, and start-ups.

Thirteen of the locations are being made available by the City

of Paris and 20 by partners. Each project shows a huge variety

in farming techniques, including aquaponics, aeroponics,

permaculture, and container gardening. Pénélope Komitès,

assistant to the mayor and in charge of green spaces, says

these are "concrete responses to the climate and food double

challenge that towns and metropolises are faced with." The

5.5 hectares of farmed plots will help to collect rainwater and

reduce urban heat islands. The first farms will be set up at the

beginning of 2017, but the City of Paris is already aiming to

reach 100 hectares of farmed plots by 2020.

– hortidaily.com

Irish Tomato Grower Expands Greenhouse Business

CambridgeHOK is currently in the construction phase of their appointment by Martin Flynn of MF

Nurseries to supply and build the second phase of their business development plan.

The structures will comprise of a 5,120-square-metre Venlo glasshouse and an

880-square-metre packing/storage area to facilitate modern tomato

production. The packing area will be clad with colour-enhanced

insulated panelling and feature aluminium side windows. The

electrically operated Rapid rollup doors will provide fast, easy access

between all working areas. The latest-specification Venlo glasshouse

will ensure all natural light available will be evenly distributed

throughout the entire growing area. The growing area will also

benefit from the installation of a horizontal translucent energysaving

cloth screen system. The unique slipping clutch screen

system can function as either a thermal energy screen and/or

a high light shading system, as is seasonally required.

– cambridgehok.co.uk

16 Maximum Yield | January/February 2017
---
Choose Chicory This Winter

A vegetable and/or salad leaf, chicory has a white bulb with tightly packed

elongated cones and overlapping white leaves with pale yellow tips. The

roots are propagated in warm, moist peat or sand, while the white, fleshy

leaves are left to develop in darkness. Chicory can be eaten raw or cooked

and comes in red and white varieties. Although called chicory in the UK, it is

more commonly known as chicon or witloof (meaning white leaf) in Belgium

and is called endive in the US. Chicory is available throughout the winter

months. Choose chicory with crisp, freshlooking

leaves that are springy to the

touch and tightly packed. Once

picked and exposed to

light, chicory leaves start

to become more bitter,

so they should be stored

wrapped in paper to keep

out the light and eaten

as soon after picking

as possible. Chicory

is particularly good

wrapped in ham, covered

with a Béchamel sauce

and baked in the oven.

– bbc.co.uk/food/chicory

Information Technology Company

Enters Greenhouse Industry

Fujitsu, a leading provider of IT products and services for the global

marketplace, has established a new company in Finland. Fujitsu Greenhouse

Technology Finland Oy has been set up to operate a plant factory equipped

with an agricultural information and communication technology (ICT) system,

and to produce and sell agricultural products. The plant factory is equipped

with the latest technologies, including Fujitsu's food and agricultural cloud

service, artificial lighting such as LEDs, multi-tier growing trays, and full

automation. The new company, jointly financed by Robbe's Little

Garden, which commenced operations in November 2016,

will begin full-scale production in the first half of fiscal

2017. Fujitsu and Robbe's Little Garden

aim to grow and deliver a steady,

year-round supply of vegetables

in Finland, which has few hours

of sunlight during its harsh

winters. Fujitsu also aims to

package its know-how and

cloud services resulting from

this business and deploy

them throughout the

European Union.

– fujitsu.com

Maximum Yield | January/February 2017

17
---
product spotlight

HOTTESTPRODUCTS

ASK FOR THEM AT YOUR LOCAL HYDRO SHOP

ExHale CO 2 Bags

ExHale CO 2 Bags cultivate CO 2 24 hours a day with no need to refill bottles or use

expensive CO 2 production units. The power of ExHale lies in the mycelial mass inside

the vented cultivator, which cultivates CO 2 continually for six months. ExHale Bags come

complete and are cultivating CO 2 even before you get out of the checkout line. No

need to turn it on or off, simply place ExHale in your grow space and leave it alone to

do its job. Placing the ExHale cultivator slightly above the level of your plants will ensure

they receive the CO 2 they need 24 hours a day for six months, guaranteed.

Dutchpro Multi Total

Dutchpro Multi Total is a grow

media improver that aids the

key processes necessary for

turning organic material

from dead plant matter into

beneficial nutrients. It sparks

off significant root growth

by improving the water

retention capabilities of soil

and promoting nutrientproducing

bacterial life in

the substrate. Multi Total

also stimulates the cationic

exchange of minerals

and micronutrients, and

improves plants' resistance

against fungi and stressful

situations. This product is

suitable for every irrigation

system, as well as most soil,

hydro, and coco set-ups.

CANNA CalMag Agent

Water quality can be the single

most important thing for a grower.

Having the best starting point for

your plants can have big impacts

down the line, particularly where

calcium is concerned. If your water

is particularly soft, or you make use

of reverse osmosis water in a hard

water area, it may be nice to drink,

but it may not have the right levels

of salts (particularly calcium and

magnesium) for proper plant growth.

Using CANNA CalMag Agent to treat

your water, and ensuring you have

the correct base on which to apply

your main nutrient line, can reap

huge benefits for your harvests. One

of the strongest concentrations on

the market, CANNA CalMag Agent

is the ideal solution to problems

associated with soft or hard water.

Dutchpro Starter Packs

Dutchpro Starter Packs, available in for both soil and hydro/coco gardens,

contain everything you need to start a small-scale indoor garden, including

one large bottle of Original Grow, one large bottle of Original Bloom, and one

small bottle each of Take Root, Explode, and Multi Total. Feed schedules and

instructions are also included. All Dutchpro nutrients are stable and clear and

contain organic elements to keep plants vital and green.

18 Maximum Yield | January/February 2017
---
Flower Filter

The Flower Filter utilises the finest

virgin Australian RC412 granular

carbon—the best in the world—

removing 99.9 per cent of odours

and impurities from the air. The carbon

is tightly machine packed, which allows

for more carbon and less movement, and its

open-air mesh design maximises airflow. With

the top and base made from 1.6-millimetre

aluminium, and a refined aluminium flange, the

Flower Filter is lightweight and easy to handle.

Flower Filters come with two free pre-filters and

replacement carbon sleeves are available to

purchase for enhanced lifespan.

CANNA

Additives

CANNA additives

are used

alongside the

main CANNA

nutrient line to

improve plant

health and yield.

CANNAZYM

speeds up the

breaking down of dead root material and activates beneficial microorganisms.

CANNA RHIZOTONIC is a powerful, algae-based vegetative

stimulator for plant roots. CANNABOOST increases the uptake of

nutrients by boosting the metabolism of your plants, and CANNA

PK13/14 stimulates flowering. CANNA has more additives available,

just ask for them at your local hydroponics shop.

Nutrilife SM-90

Nutrilife SM-90 is a leading root system/

foliar spray. This multi-purpose wetting

agent can be used in both field and

hydroponic applications. Nutrilife

SM-90 improves spray coverage in soil

and on plants, as well as lengthens

contact and control of sprays. It also

improves the lateral movement of

moisture in soils and increases the

speed of moisture penetration in soils

and growing medias. Additionally, this

product reduces surface tension of

spray nozzles and irrigation systems,

helping to maintain cleaner lines and

drippers. Nutrilife SM-90 is available in

one- and four-litre bottles.

Maximum Yield | January/February 2017

19
---
product spotlight

O 2 Grow 2120-A Spider

The 2120-A Spider from O 2 Grow delivers oxygen directly at the root in

every bucket. This unit was specifically designed for use in deep water

culture systems. Each emitter will supersaturate 8-14 gallons of water

per bucket. The O 2 Grow line of products from the Oxygen Research

Group will raise oxygen saturation levels 50 per cent higher than what air

stones can achieve. The O 2 Grow emitter technology works by electrically

separating the water molecule into hydrogen and oxygen. The pure

oxygen nanobubble is re-absorbed back into the water. Supplemental

oxygen is important whether you are growing hydroponically or in soil.

Oxygen at the root helps prevent root disease, enhances nutrient uptake,

and increases flower and fruit yield. O 2 Grow emitters come in a range

of sizes able to oxygenate water reservoirs from 10 gallons up to 250

gallons. Spider units are available with either 6 or 12 emitters. Get out of

the Stone Age with O 2 Grow.

Dutchpro Original Bloom A+B

Award-winning Dutchpro Original Bloom Hydro/Coco

A+B is a complete bloom feed that is perfect for hydro

and coco growing methods. It has all the essential

macro- and micronutrients necessary for maximum

blooms. Dutchpro

Original Bloom Hydro/

Coco A+B is available in

a variety of sizes and is

included in Dutchpro

Starter Packs. Use

it with Dutchpro

Original Grow

Hydro/Coco A+B for

the best results. All

Dutchpro nutrients

are stable and clear

and contain organic

elements to keep

plants vital and

green for their entire

growth cycle.

Easy Grow

Lightweight

Rope Ratchets

Easy Grow Lightweight

Rope Ratchets allow for

easy hanging of your

growroom equipment. With

a maximum weight capacity

of five kilograms, these

ratchets pull tight, lock

in place, and will never

break, slip, or rust. They

are made with special

composite materials that

are both heat and cold

resistant. Each package

includes eight feet of

braided polypropylene rope with carabiner clips that

provide a secure hold. Rope Ratchets are excellent for

hanging reflectors, light fixtures, carbon filters, ventilation

equipment, and much more. Sold in packs of two.

600W Electronic Ballast

Offering tremendous value for money without compromising on quality, the

new 600W Electronic Ballasts are lightweight and silent-operating. Supplied as a

stand-alone ballast with a flying IEC lead, it means you can add any reflector

fitted with an IEC socket to start growing. They are also supplied with four

rubber feet for floor use. The ballast features dim and boost functions, giving

you the ability to control the light output from your lamp to your plants. There

are two dimmable options (down to 250W and 400W) and a super-lumens

boost option (600W+Boost) which is on average a 10 per cent increase in

output. For best results, always use the correct lamp per wattage setting. It

is recommended to use it with the LUMii SunBlaster Lamp for best results. This

600W Electronic Ballast is sold exclusively by HydroGarden Wholesale Supplies

and will be available soon from all good hydroponic stores near you.

20 Maximum Yield | January/February 2017
---
ilver

ANOTHER WAY TO KILL PATHOGENS

ecrets

by Kathryn Van Druff | Most people don't think of using colloidal silver to cure their own health, so it's

no surprise gardeners don't think of it to improve their plants' health, either. Kathryn Van Druff gives us 10

secret benefits of ionic colloidal silver in the garden that will make you wonder why it's not more common.

22 Maximum Yield | January/February 2017
---
Maximum Yield | January/February 2017

23
---
SILVER SECRETS

You may have heard of colloidal

silver's healing powers in human

health. Some people use it when

they feel a sinus infection coming

on, while others have used colloidal

silver to treat skin conditions and

infections, including bacteria, yeast,

viruses, and parasites. Known as

nature's antibiotic, it's no surprise

that colloidal silver can also offer

preventative, therapeutic, and

restorative properties to our plants

and our gardens.

Colloidal silver is essentially pure

water with ultra-tiny nanoparticles

of silver suspended inside. The ionic

form of silver is capable of killing

more than 650 different pathogens. The

US Environmental Protection Agency

(EPA) named silver as an oligodynamic

biocide, which means it attacks

primitive life forms but doesn't harm

more mature organisms. The beauty

of using colloidal silver in the garden

is that it's very safe for the plants, but

it tenaciously targets the bacteria,

parasites, and other pathogens.

In his published work, Use of

Colloids in Health & Disease,

in 1919, Alfred Searle wrote:

"Applying colloidal silver to

human subjects has been done

in a large number of cases with

astonishingly successful results. For

internal administration, orally or

hypodermically, it has the advantage

of being rapidly fatal to parasites

without toxic action on its host."

From a gardening perspective,

this sort of result opens the door to

remarkable possibilities. In particular,

it suggests a rapid remedy to common

garden pests and problems without

harming the plants, helpful pollinators,

or the humans who consume the

ensuing fruits or vegetables. Here are

some of the top ways your garden can

benefit from a touch of colloidal silver.

An Organic Alternative to Potentially

Harmful Chemicals and Pesticides

Whether you're growing commercially

or simply for your family's dinner table,

no one wants extra chemicals on their

fruits and vegetables. When treated

with pesticides, plants tend to absorb

topical chemicals. Colloidal silver is a

safer, more organic alternative to many

of the poisons marketed for gardens

and farm pest prevention.

Effective Eradication Plants of

Bacteria, Viruses, Fungi, and Eggs

Colloidal silver effectively inactivates

the oxygen metabolism enzyme needed

to sustain life for these undesirable

organisms. Spraying colloidal silver

onto plants infected with bacteria,

fungi, and viruses swiftly causes these

undesirable organisms to suffocate and

perish, all without the negative effects of

traditional pesticides or the toils of other

pest removal methods. An application of

colloidal silver also is reportedly safe for

children and family pets that may come

into contact with the plants.

No Harm to Pollinators

Honeybees, ladybugs, and other beneficial

insects do not seem to have a negative

response to colloidal silver. Whether

it's found in their drinking water or

placed upon surfaces they touch, such as

leaves and blossoms, this eco-friendly

garden enhancer keeps your garden's

pollinators happy and healthy, too.

Bigger Fruits and Vegetables

In a study published in the March

2010 issue of the journal Mycobiology,

green onions were treated with

silver nanoparticles at the roots to

eradicate Sclerotium cepivorum fungal

infections. In addition to clearing up

the fungus, the silver increased the

fresh weight and the dry weight of

the onions, producing larger, more

desirable vegetables.

Greener Leaves and Stronger Roots

Using ionic colloidal silver in the

garden can transform the overall

health of the plant. In addition to

treating and preventing pathogens,

viruses, and fungi, the silver

nanoparticles can impact the strength

of the root system and the size and

hue of the leaves. Large, vibrant green

leaves indicate a truly healthy plant.

Better Plant Immunity and

Improved Cell Rejuvenation

People may turn to colloidal silver

supplements for a variety of illnesses

and infections, from swimmer's ear

to pink eye. The silver is known to

improve a person's immunity, so it

makes sense that plants can also gain

a beneficial immune boost. Colloidal

silver helps to make the plants more

robust in preventing issues before

any problems even occur, but also in

recovering from damage caused by

nuisance organisms.

"KNOWN AS NATURE'S ANTIBIOTIC, IT'S NO

SURPRISE THAT COLLOIDAL SILVER CAN

ALSO OFFER PREVENTATIVE, THERAPEUTIC,

AND RESTORATIVE PROPERTIES TO OUR

PLANTS AND OUR GARDENS."

24 Maximum Yield | January/February 2017
---
SILVER SECRETS

No Pathogen Immunity Over Time

One of the main problems with

traditional antibiotics is that bacteria

can morph over time, becoming immune

or less responsive to the effectiveness

of the drugs. Unlike antibiotics,

pathogens, viruses, fungi, and bacteria

do not develop immunity to silver

nanoparticles. Applying colloidal silver

in the garden should continue to offer

improvements for the foreseeable future.

Safety to Gardeners

Many people ingest colloidal silver

or apply it topically to treat various

conditions. If there is a chance you

ingested colloidal silver, you should

always make absolutely certain

that you are using true colloidal

silver and not silver protein or ionic

silver, as some toxicity may occur,

depending on use. Check the Silver

Safety Council's Silver Safety Pyramid

(silversafety.org) to ensure proper

daily, short-term, and lifetime usage.

"WHETHER IT'S FOUND IN THEIR DRINKING WATER

OR PLACED UPON SURFACES THEY TOUCH, SUCH

AS LEAVES AND BLOSSOMS, THIS ECO-FRIENDLY

GARDEN ENHANCER KEEPS YOUR GARDEN'S

POLLINATORS HAPPY AND HEALTHY, TOO."

Water Purification

Colloidal silver possesses a unique

ability to purify water supplies and

reservoirs. Various airlines employ

silver water filters to keep waterborne

illnesses at bay when airborne. NASA

also leveraged the power of silver for

its purification properties, developing

a copper/silver ionisation process to

sanitise the water. The purification

process removes bacteria and algae

from the water, as evidenced by

its original intended purpose of

dispensing silver ions and killing

bacteria in the potable water supply on

the Apollo spacecraft. Using colloidal

silver in your watering can, rain barrel,

or other water collection system allows

you to ensure the water is free from

bacteria, algae, and pathogens before

you water your garden, giving your

plants pure, healthy water.

No Residue Left Behind

After spraying colloidal silver onto your

plants, you can rest easy knowing that

no residue remains. Your fruits and vegetables

are still perfectly safe and healthy

for your family to enjoy. Colloidal silver

may also be combined with water and

vinegar to create a fruit and vegetable

wash. The Centers for Disease Control

and Prevention reported in its recent

study, "Epidemiology of Foodborne

Norovirus Outbreaks, United States,

2001-2008," that produce accounted for

46 per cent of all foodborne illnesses

across 17 food categories. In terms of

norovirus, more than half of the cases

were tied to produce, particularly leafy

vegetables and fruit. According to a

recent study published in the journal

Applied and Environmental Microbiology

colloidal silver can deactivate murine

norovirus (mouse-based norovirus).

26 Maximum Yield | January/February 2017
---
How to Apply Colloidal

Silver to Your Garden

Colloidal silver works rapidly and

efficiently. In many cases, it needs only

moments of contact with the fungus

spores or other organisms. Applying

colloidal silver to your garden can be

a relatively effortless process.

• Apply small amounts of a diluted

solution to the roots to fortify the

plant while also preventing root rot.

• Mix a diluted solution containing

one tablespoon of colloidal silver

and one litre of water and spray on

the leaves and flowers.

• Add to your watering can at the rate

of one tablespoon per litre of water.

Interestingly, plants may have

the ability to control their rate

of absorption of colloidal silver.

Researchers found that the more

nanosilver they applied to the green

onions, the less the plants absorbed.

This indicates that the plants

absorbed only what they needed to

promote their protection and healing.

One study suggests that, over time,

soil can become contaminated with

the silver particles, causing the

plants and young seedlings to respond

in a certain way. In this study, pine tree

seedlings exhibited reduced growth.

If heavy silver saturation is a concern,

you may find container gardening to be

a good place to start with your silver

application. This way, you can replace

the soil any time you choose if things

aren't going the way you envisioned.

With this in mind, moderation may be

the key to using colloidal silver in your

gardening endeavours.

"AFTER SPRAYING COLLOIDAL

SILVER ONTO YOUR PLANTS,

YOU CAN REST EASY KNOWING

THAT NO RESIDUE REMAINS."

Maximum Yield | January/February 2017

27
---
Cal-Mag Supplements:

A One-Two

Punch

for Plants

by Cory Hughes

If the leaves in your garden are starting to grow in misshapen

patterns or are showing spotty, discoloured patches, odds are

you have a nutrient deficiency. Identifying deficiencies can

be a challenge, but once you have eliminated your primary

macronutrients from the list, your problem probably lies with

your secondary nutrients—calcium and magnesium. Fertilising

your garden with a cal-mag supplement will strengthen your

plants and ensure a lush, green hue returns to your beauties.

28 Maximum Yield | January/February 2017
---
Calcium and magnesium are two of the

three secondary nutrients required by

plants, the third being sulphur. They are

secondary in as far as quantities required

for growth, not importance of function.

Simply put, calcium and magnesium are

necessary for plant growth and development

and are easy to fix in the case of

a deficiency. While nitrogen stands as

requiring the highest levels in a nutrient

feed, secondary nutrients calcium and

magnesium only require about eight to

10 per cent of that amount. While their

required levels are much lower, their

importance can't be understated.

Calcium

Calcium is important for strengthening

a plant's cell walls and maintaining

its structure. The importance of

calcium becomes evident when you

see degradation of the leaves, which

eventually shows up as discolouration

and canker-like sores. When calcium

is absent, the integrity of the cell wall

falls apart. Calcium is not mobile inside

the plant, so the plant cannot borrow

from nearby areas to make up for local

deficiencies. Instead, calcium depends on

transpiration to reach its destination.

"

Calcium is not mobile

inside the plant, so the

plant cannot borrow from

nearby areas to make up

for local deficiencies.

Maximum Yield | January/February 2017

29
---
CAL-MAG SUPPLEMENTS

Once absorbed by the root system,

calcium is then pulled through the plant

and deposited where needed as excess

water, which played a role in the transpiration

process, escapes the plant

through tiny pores called stomata. As

the process depends on the flow of water

through the plant, any factor that affects

hydration levels, such as humidity and

temperature, can have a significant

impact on calcium levels, even if your

feed blend is properly mixed.

Calcium deficiencies also result in

stunted root growth. Many times, even if

the soil is rich in calcium, it may not be

in a form readily available for absorption

by the plant. This is where supplementation

comes in. By supplementing

calcium in a form that is geared

toward maximum uptake, you increase

the amount of bio-available calcium

in the soil, which results in a muchneeded

boost for your plants. A plant

with increased calcium levels will result

in a higher than usual pH in the soil.

However, finding a higher than usual pH

level is not necessarily an indicator of

well-balanced calcium levels.

Magnesium

Magnesium deficiencies are easily identified

by a yellowing of the leaves with

distinct green veins. As magnesium can

float freely throughout the plant, the

veins remain green as newer leaves are

actively sucking up what magnesium is

available. This results primarily in deficiencies

in older leaves.

Magnesium is the key element in chlorophyll,

which gives plants their vibrant

green colour. This secondary plant nutrient

also plays numerous roles in the

photosynthesis process, including the

activation of enzymes and the creation

and transportation of sugars throughout

the plant. The most common cause of

magnesium deficiencies is simply a lack

of adequate application.

Enter the One-Two Punch

Balancing your magnesium and other

secondary nutrients is vital since

disproportional amounts can limit

uptake. Fortunately, treating calcium

and magnesium deficiencies can

be handled in one shot. Adding a

cal-mag supplement to your plants

can help alleviate many of the

symptoms showing up in your

garden. There are a handful

of approaches to cal-mag

supplementation. You

can head to your local

grow shop and pick

up one of a handful

of excellent quality

fertilisers, or you can

mix up a batch at home.

While supplementing

with calcium by itself,

it is possible to use

foliar application, while

the vast majority of

cal-mag supplements

require introduction to

the root system.

a

"

While supplementing

with calcium by itself,

it is possible to use

a foliar application,

while the vast majority

of cal-mag supplements

require introduction to

the root system.

30 Maximum Yield | January/February 2017
---
Maximum Yield | January/February 2017

31
---
CAL-MAG SUPPLEMENTS

Mixing your own cal-mag supplement

at home is as easy as measuring

out raw nutrient salts. Each of the

commercial manufacturers has their

own formulation, but they all follow

similar methods, tweaking things here

and there in order to achieve specific

results. If going the route of mixing up

your own cal-mag, start with magnesium

sulphate, otherwise known as

Epsom salts. Epsom salts are a staple

of the gardening community for

magnesium supplementation

and make the perfect base for

your cal-mag mix.

The next ingredient is

calcium nitrate. Calcium

nitrate is a common plant

fertiliser used in standard feed

mixes. As both calcium and

magnesium come in a chunky,

powdery form, they need to be

dissolved in water at specific ratios.

Taking into consideration personal

preference, your calcium should

be at a parts per million (ppm) of at

least double that of magnesium. One

example of a homemade cal-mag

has a ppm ratio as follows: 120 ppm

magnesium and 260 ppm calcium. This

breaks down, per gallon, to 5.8 grams

of calcium nitrate and 4.6 grams of

magnesium sulphate (Epsom salts).

You can always adjust your mixture to

compensate for specific deficiencies,

depending on the symptoms you are

seeing in your garden.

If all of this sounds like too much work,

there are plenty of cal-mag formulations

out there that are ready to go. Many of

them include additional nutrients like

iron or nitrogen, but they all stay within

certain parameters regarding their

levels of calcium and magnesium.

"

Everything from high

temperature and

humidity to an imbalance

in your fertilser can

result in calcium and

magnesium deficiencies.

Nutrient deficiencies in the garden

can arise for a multitude of reasons.

Everything from high temperature

and humidity to an imbalance in

your fertiliser can result in calcium

and magnesium deficiencies. The

decaying of leaf structure, fading of

leaves, and yellowing with green

veins are indications your calcium and

magnesium levels are low. As these

two nutrients play such an important

role in plant growth and development,

it is important to be able to recognise

the symptoms of deficiency quickly and

respond appropriately. Really coming to

understand the roles that calcium and

magnesium play in your garden is vital

in knowing how to correct problems

that arise from deficiency.

32 Maximum Yield | January/February 2017
---
Maximum Yield | January/February 2017

33
---
y Shannon McKee

Let's face facts. Gardening

in any form takes money,

and often indoor gardening

using hydroponics can be

even more expensive than

just putting a few tomato

plants in your backyard

plot. Finding ways to save

money can help you keep

doing what you love longer,

and may even help you to

expand your efforts. Here are

some pointers on how to save

money the next time you hit

your favourite shop.

1. Talk to the Employees

You may believe that it's against

a shop employee's best interests

to talk to you about ways to save

money, but they know their loyal

customers are hooked on growing

and will come back for more. They

can give you all kinds of tips on

when or how to shop for supplies

based on their upcoming sales,

clearance items, and more.

2. Buyback Programs

Employees are also

knowledgeable about whether or

not the shop may have buyback

opportunities. Some stores will

buy back your old equipment

when you upgrade or downgrade

in order to resell to their bargain

hunters. You can use the cash you

make off your old equipment to get

discounts on newer items, or buy

used equipment if it's been vetted

by the shop employees.

3. Warranties

Warranties can also be a good

thing to look into when buying

your items. Finding an item with

an amazing warranty may not

save you money when you check

out that day, but it will in the future

if something goes wrong and you

can have it fixed or replaced for

free rather than opening up your

wallet to do so yourself.

4. Social Media

Keep an eye on your favourite

local shops on social media, or

sign up for their newsletters.

This is another great way of

staying informed of all the

deals they offer throughout the

year. Plus, some places give

discounts to people who follow

them on social media or sign

up for their emails.

5. Samples

Be sure to ask for samples of

products that you haven't tested

in the past. Many shops will

have samples on hand from their

suppliers behind the counter—all

you have to do is ask. This saves

you from buying a full-sized bottle

and finding that you preferred your

old brand better.

6. Reusable Products

Another way to save money is to

look into the possibility of using

reusable grow media such as

soil, coco coir, or clay pebbles. If

you're able to get a few uses out

of a grow medium, this not only

saves you the money from having

to buy the product as often, but

also time as you won't have to go

to the store as frequently and risk

being tempted to pick up items

you don't really need.

34 Maximum Yield | January/February 2017
---
7. Bulk Buys

Apply some of the money-saving

tricks you've learned at the

grocery store. Look for products

that are shelf-stable and buy

them in bulk. For instance,

you can often get a great deal

on larger packs of light bulbs

where each bulb ends up

cheaper than if you were buying

them in smaller packs.

8. Shelf Life

Another grocery store trick you

should keep in mind is not buying

items that will expire before you

use them up. Yes, you may be

saving money per ounce or item,

but if you end up throwing out a

lot because it's expired, then it's

not really a savings. Consider

going in on buys with a friend

or relative if you are looking to

buy these items with the savings

without having any go to waste.

9. Coupons, Rebates,

& Clearances

Be on the lookout for any way

to save money off the regular

price. Things like coupons, buyone-get-one

(also known as a

BOGO), rebates, and clearance

bins should be like catnip to you.

Use coupons and BOGO deals to

stock up on shelf-stable items.

Rebates are often offered by the

manufacturer, so be sure to pay

close attention to the instructions

on how to get your savings. It may

take a few months before you get

your cheque or gift card, but it's

well worth the little effort you

need to put in. Clearance bins

are often a good way to find items

that may be overstocked, being

cut from the product line, or are

nearing their expiration dates.

10. Make a List

How often do you get to the

store and find that you're buying

more than what you planned on

purchasing, and then you regret

some of your impulse purchases?

Going in with a list can help you

stay on track with your buying

needs and save you money.

These tips and tricks will make a

big difference in your grow budget.

You'll be happier with the amount

of money you've saved, and maybe

you'll be able to save enough cash

to update your equipment or buy

the equipment for the extension that

you've been dreaming about. Happy

bargain shopping!

How do you save money at your

local grow shop? Email us your

tips at editor@maximumyield.com.

Maximum Yield | January/February 2017

35
---
STRONG

Turn Your WEAK Roots into

SURVIVORS

Taking an out-of-sight, out-of-mind

approach to your plants' roots will

only result in weak, rotting roots and

unhealthy plants. To build strong roots,

create a plan for the environment

beneath the soil. Nicola Mills tells us how.

by Nicola Mills

36 Maximum Yield | January/February 2017
---
Plants sometimes need an extra

boost to strengthen or establish

their root systems. Whether starting

from seed or supporting a growing

plant, you need that foundation

to provide structure and pull in

water and nutrients. Most plants

are also unlikely to grow above

their base or crown roots without

a deeper, stronger system below.

When that structure is severed

by transplanting or unearthing,

plants quickly weaken and become

susceptible to diseases like root rot.

Although applying the right balance

of fertiliser and water can help with

recovery from such a shock, the wrong

amount can easily cause fatal problems.

However, when disaster strikes,

applying root stimulators and other

enhancements can help rejuvenate

your soil and the plants that rely on it.

Fundamentally, the best approach to

developing more robust roots is creating

a clear plan for soil and plant

care that is grounded in cultivating a

healthy below-ground environment.

"THE BEST APPROACH TO

DEVELOPING MORE ROBUST

ROOTS IS CREATING A CLEAR

PLAN FOR SOIL AND PLANT

CARE THAT IS GROUNDED

IN CULTIVATING A HEALTHY

BELOW-GROUND ENVIRONMENT."

BUILDING BETTER SOIL

The first step in that plan should be

choosing the right fertiliser or soil

enhancer, and this starts with a soil

test to accurately measure nutrient

levels. Determining your indoor garden's

unique needs is important because

greenhouse-grown plants have only

known the intensive care of their artificial

conditions. As a result, they cannot

handle actual soil and have a harder

time adapting to different environments,

whether that be in one's backyard or

indoors. However, appropriate plant

care can help by mimicking the native

climate for your plants in terms of water,

light, humidity, and temperature.

Maximum Yield | January/February 2017

37
---
STRONG SURVIVORS

After assessing your soil needs, you can then turn

to the plants themselves. In particular, over time,

they will deplete the nutrients originally provided

by their soil, even as regular watering leeches

those resources from the soil. Yet, unlike the great

outdoors, indoor soil can only be replenished with

additives and fertilisers. Traditional fertilisers,

though, have multiple disadvantages, from their

odorous smell to basic costs, seasonal effectiveness,

and storage and use requirements. Soil enhancers

and stimulants, on the other hand, provide easy-touse

alternatives that can save time and money by

helping build soil and root structure in kind.

Both synthetic and natural options within these

categories should be applied according to their

instructions to avoid damage, although natural

products are less likely to harm plant life. In

general, fertilisers and stimulants should be applied

fairly regularly—around once a month or more often

during the hard work of flowering or fruiting and the

fast growth of spring. Be sure to monitor and analyse

changing conditions to help adapt to your plants'

needs, with weak growth and yellow-green colour

specifically signaling poor nourishment.

"WHEN IT COMES TO ROOT

GROWTH, YOU SHOULD AIM

FOR STIMULATING POTASSIUM

AND PHOSPHORUS RATHER

THAN NITROGEN."

REJUVENATE WITH

PHOSPHORUS & POTASSIUM

Plants rely on many naturally occurring micronutrients.

However, nitrogen, potassium, and phosphorus

are vital to overall plant growth, especially photosynthesis,

cell division, and fruit, flower, and seed

development. Accordingly, fertilisers are rated by

an N-P-K ratio for the contained percentage of each.

As these nutrients are used up over time, they will

need to be replenished, and fertilisers provide a

means to prevent deficiencies by doing just that.

When it comes to root growth, you should aim for

stimulating potassium and phosphorus rather than

nitrogen, which promotes growth while weakening

the roots, flowers, and fruits that the previous

encourage. Phosphorus, in particular, not only helps

root systems grow, it also balances high nitrogen

levels resulting from drought and compacted

soil. Potassium, on the other hand, encourages

dense and strong root growth. Both are especially

well-suited for organic gardening and for younger

plants as these additives can easily be naturally

sourced and are not harsh on plant life. At the same

time, fertilisers also carry other nutrients, including

silicon, which improves pest, disease, drought,

heavy metal, and salt resistance.

The main natural sources for these soil

enhancements are phosphorous-laden livestock

manure, high-potassium granite meal and wood

ash, and low-nitrogen rock phosphate and bone

meal. For both phosphorus and potassium,

you can get the same levels of nutrients from

synthetic fertilisers, which are easy-to-use and

ideal for plants already suffering from

deficiencies. In either case, the best

time to apply these nutrients is

before planting by working

fertiliser several inches into

the soil around existing roots.

38 Maximum Yield | January/February 2017
---
Maximum Yield | January/February 2017

39
---
STRONG SURVIVORS

STIMULATE WITH

ROOT BOOSTERS

Root boosters, meanwhile, combine

various vitamins, hormones, and other

elements that support root growth in

order to improve the uptake of nutrients

through existing roots. While these

products often tout the benefits of

vitamin B1 or thiamine, any positive

results are undoubtedly caused by

additives, including humic acids, kelp,

and rhizobacteria like mycorrhizae.

Rhizotonics actually contain myriad

root-stimulating hormones, along

with bacteria that stabilise and

digest nitrogen and minerals in the

soil. Within B1 boosters, it is the root

stimulators like auxins that stimulate

roots, such that water and a small

amount of fertiliser would better boost

growth than thiamine alone.

"BECAUSE PLANTS GET THEIR NUTRIENTS

FROM THEIR ROOT SYSTEMS, ENSURING

ROOT HEALTH IS THE MOST IMPORTANT

PART OF ANY FORM OF GARDENING."

Auxins are naturally occurring plant

hormones that often come as part

of B1 boosters and actively create

strong, deep root systems. Some

examples include indolebutyric acid,

naphthylacetic acid, and indoleacetic

acid, the latter of which specifically

helps plants focus on cell growth.

Auxins stunt crown and other growth

in order to establish lateral roots,

so they can be especially helpful in

nurturing transplants and growing

plants from cuttings. However, they

should not be applied to seedlings, as

doing so will stunt plant and primary

root growth. In bringing together

auxins and other elements, though,

root boosters can improve nutrient

uptake by transplanted or otherwise

severed root systems and so help as

much as initial root growth.

NURTURE WITH

MYCORRHIZAE FUNGUS

Another common ingredient in root

boosters is mycorrhizae, which is a

group of root-colonising fungi found

all over the world except Antarctica.

These fungal growths share a mutually

beneficial, symbiotic relationship

with most of the world's land plants.

Mycorrhizae specifically aids in

the uptake of minor nutrients

and can be traced back to

the earliest fossil records

as filaments that penetrate

and become extensions

of root systems. In so

doing, they help absorb

water and nutrients, deter

bacteria and other fungi, and build

stronger underground structures. Plants

are so dependent upon mycorrhizal

fungi that many woody plants like oak

trees would actually die without them

entangled in their roots.

Mycorrhizae boosters are generally

included with growing media or as

water-soluble mixes to help mimic

the symbiotic relationship found in

pristine soils. Such treatments are

especially well-suited to building

root systems in hydroponic gardens

and rebuilding bacteria populations

within urban soils because they

support adaptation. Furthermore,

this natural soil enhancement

is a great solution for improving

nutrition, drought tolerance, and

overall survival of plants in organic

gardens. More generally, mycorrhizae

boosters can be a strong foundation

for starting and maintaining indoor

plants and gardens.

Because plants get their nutrients

from their root systems, ensuring

root health is the most important

part of any form of gardening.

For indoor gardens, in particular,

mimicking natural conditions can help

strengthen seedlings, transplants, and

established plants alike. However,

using soil enhancements to promote

root growth is not a one-size-fits-all

approach. Instead, you should focus

on adapting to your plant and soil's

unique needs in order to take care of

them when they need it. Proper care

and watering remain the best ways

to maintain plant health, so use the

above information to help balance soil

enhancements and to cultivate strong

roots and healthy plants.

40 Maximum Yield | January/February 2017
---
Maximum Yield | January/February 2017

41
---
alancing

Plant

Growth

Regulator

Plant growth regulators have their benefits,

but they also have their drawbacks that can

include health concerns for people who

consume what they grow. Rich Hamilton

explains what plant growth regulators are,

what they do, and what questions consumers

should be asking when purchasing them.

principles

By Rich Hamilton

42 Maximum Yield | January/February 2017
---
Starting with the basics, PGR

stands for plant growth regulator,

sometimes also referred to as a

plant hormone. Every plant naturally

produces tiny amounts of hormones

to control its normal functions such

as root growth, height, node and

internode growth, flowering, quantity

of flowers, fruit, and any other

developmental growth.

Plant growth regulators are a chemical

or mix of chemicals that make a plant

change beyond its naturally physiological

growth actions, through the

cells, organs, and tissues. It does this by

either slowing down the rate of growth

or maturation, speeding up the rate of

growth or maturation, or altering the

natural behaviour of a plant. Note that

this does not include any substances

that are intended as plant nutrients,

including trace elements, plant inoculants,

or nutritional chemicals.

The term PGR has come to include

many things, and not all of them are

harmful. Some of the major classifications

of plant growth regulators are

auxins, cytokinins, ethylene generators,

gibberellins, and growth inhibitors/retardants.

Auxins elongate shoots.

They are primarily used to increase

growth, flower formation, and root mass.

Plant growth regulators

are a chemical or mix of

chemicals that make a plant

change beyond its naturally

physiological growth actions.

Maximum Yield | January/February 2017

43
---
PGR PRINCIPLES

Cytokinins stimulates cell division

and are primarily used to increase

root mass and new bud growth.

Ethylene generators ripen fruit and

are primarily used to ripen fruit

uniformly, giving the plant consistent

fruit size and weight. Gibberellins

elongate cells and stimulate cell

division and are primarily used to

increase fruit and flower size. Finally,

grow inhibitors and retardants stop or

slow down growth. They are primarily

used to increase flower production by

shortening the internodes, make more

node sites, and/or to completely stop

the lateral growth of a plant.

So, the big question is, are PGRs

illegal? Well, no, not if they are used

on ornamental plants. Without going

too far down the rabbit hole of what

is and isn't legal, what I can say

is that some are prohibited for use

on plants grown and intended for

human consumption.

Good Control

PGRs are a great way to control

plants. They will, if used in the right

mixtures at the correct dosages,

considerably improve the desired

factors. PGRs can help a plant

produce more flowers and fruits and

assist in producing even consistent

flowers and fruits. They can help you

keep plant height consistent and

reduce the time it takes for a plant to

produce its flowers and fruits. They

can also make a plant less susceptible

to fungi, diseases, and pests.

PGRs can control plants in order to

preserve the balance between the

modern world and the natural world.

By that I mean they have been used

to stop growth in trees growing too

high and that otherwise would have

to be destroyed to prevent them from

growing under bridges, telephone

cables, and in other urban locations,

damaging or obstructing footings,

buildings, and foundations.

At the other end of the scale,

they can make houseplants more

manageable and become more

resilient to stress and disease.

PGRs are also used commonly and

successfully within the retail flower

business. They are used to make the

flowers more appealing to the retail

consumer by improving consistency

in flower size and colour.

We've covered the positives, so what

are some of the negatives? As is often

the case, when something seems too

good to be true, it usually is.

PGRs can control plants in

order to preserve the balance

between the modern world

and the natural world.

A Moral Choice

Most people, including shop owners

and customers, would prefer not to sell

or buy products that contain PGRs, if

given a choice, but most do. There are

several reasons for this, the first being

the companies that produce the nutrients

and additives do not always inform shop

owners that their products contain PGRs,

so the shop owner is none the wiser.

On the flip side, some of the products

that contain PGRs are so popular and

sought after, a shop owner may find him

or herself stuck with a moral choice. The

owner can attempt to educate customers

as much as possible on the benefits of

non-PGR products, but the bottom line is

that they are a business, so if they don't

have the PGR products a customer wants

in their store, they run the risk of losing

that customer and sale to a rival.

Finally, there are those people who are

only interested in achieving the heaviest

and most financially rewarding yield

from the plant and are willing to overlook

the health concerns related to PGRs.

44 Maximum Yield | January/February 2017
---
Maximum Yield | January/February 2017

45
---
PGR PRINCIPLES

In reality, PGRs are out there and it is

impossible to tell what plants they are

in and at what levels. But this can all be

taken care of if plants are flushed before

harvest, right?

Wrong.

PGR chemicals are nearly all

systemic, which means that once

they are taken up into the plant,

trace chemicals will always be

in the plant, its flowers, fruits,

roots, tissues, pollen...everything.

Most people, including

hydroponics shop owners and

customers, would prefer not

to sell or buy products that

contain PGRs, if given a choice.

Therefore, it follows that if you cannot

be sure what levels of PGR are

present in the additives you are using

due to the lack of information given

in the ingredients list, then you would

have no idea of the level of potentially

harmful PGRs in any part of your fully

grown plant, including the fruit before

and after harvesting.

The Right Questions

There is a lack of pretty much any

regulation or regulative body on

chemicals used in the hobbyist hydroponics

industry. This means that most

of the nutrient and additive companies

don't have to state whether their

product contains any PGRs, the quantities

contained or specify which PGR

it is. The bad press surrounding PGRs,

most notably that the majority of them

are banned in most countries for use

on plants and their fruits that are

intended for human consumption, only

adds to the desire to keep their presence

in any products a secret.

You're probably thinking that surely

the nutrient companies can't knowingly

put these chemicals in their

products without telling the customer.

However, like antibiotics in meat or

chemical ingredients in packaged

foods, the simple and honest truth is

yes, some of them do. Not only that,

they also don't tell us. Like anything

else you consume, know what you are

buying. Here are a few questions to

ask a retailer or manufacturer when

purchasing nutrients:

● 1 What PGRs, if any, are in the

products you sell?

● 2 What will those PGRs do

to the plant?

● 3 Should they be used on

anything intended to be

consumed by humans?

● 4 What effects will the chemicals

have if the produce of the

plant is consumed?

The bottom line is that the next

time you go to buy nutrients, ask

if the product contains PGRs. Only

by asking and buying better can

we create a better, safer market for

ourselves in the future.

46 Maximum Yield | January/February 2017
---
Maximum Yield | January/February 2017

47
---
movers & shakers

Les Sourciers

LOCATION:

Lagraulet du Gers, France

PHONE:

+33 787116165

WEB:

lessourciers.com

YEARS IN BUSINESS:

3.5

Les Sourciers – Sustainable Hydroponic Microfarming

The founders of

the Les Sourciers

microfarm in the French

countryside admit they

had no agricultural

background before

starting their business,

but that didn't stop

them from pursuing

and profiting from their

new-found passion.

French chefs prefer produce that is

clean, pest-free, good-looking, and

tasty—the more local, the better. In

southwest France, farmers at Les Sourciers,

a hydroponic microfarm that grows

herbs and vegetables, are fulfilling that

demand. In addition to what's growing,

the farmers also provide locals with

lessons in hydroponics on the weekends.

It is just these types of lessons that inspired

the establishment of their business

in the first place.

"My husband and I had no agricultural

background," confesses Les Sourciers

co-founder, Marion Sarlé. "We were

working in the car industry and decided

to take a U-turn with our lives. We took

a hydroponics course and thought

it was fascinating. We met William

and Noucetta from GHE (General

Hydroponics Europe), who encouraged

us to start our own hydroponics business

and become farmers," she adds.

It didn't take long for the pair to find a

650-square-metre greenhouse. At this

time, GHE was just developing a microfarming

department with its AeroFlo

system. "Aero hydroponics is very efficient

and not that common, at least not in

hydroponic food production in France, so

by using this system and GHE's Flora series

nutrient solutions, we knew we could

make a competitive difference. It was

the best way to learn quickly and with a

small upfront investment," says Sarlé.

The Sarlés experienced success almost

immediately. "Our first results were very

good, super-healthy, nutritious, tasty

greens. The chefs immediately loved

our produce for its strong taste and our

business grew very fast," says Sarlé.

"At the beginning, we only aimed to

grow herbs, but the chefs convinced us to

try vegetables, explaining that they can't

stand tasteless tomatoes anymore. It was

good advice! With the combination of

48 Maximum Yield | January/February 2017
---
our heirloom varieties and hydroponic

system, we now offer amazingly tasty tomatoes

and peppers that are good-looking

and clean."

Les Sourciers sells its produce mainly

to high-end restaurants—around 25

chefs to be precise, some of which have

Michelin stars. They offer more than 100

different kinds of herbs, edible flowers,

vegetables like tomatoes and peppers,

and even some microgreens. They also

get a lot of requests for rare, surprising

herbs, such as oyster leaf, cheese plant,

Aztec sweet herb, and Szechuan buttons,

but the items they sell in the highest

quantities are basil and tomatoes.

All of the produce is super fresh,

harvested early in the morning, and

delivered personally to the restaurants

every day before the first lunch

service. "What our clients receive

has been harvested only a few hours

earlier, and their customers can taste

the difference in flavour and crunchiness.

We are always looking for new

varieties that could surprise them;

they love rare greens," Sarlé says.

Before Les Sourciers entered the market,

the chefs in the area would have to

buy herbs that had travelled from Israel,

Spain, or the Netherlands. "The fact that

we grow and sell local really makes a

difference, and also means the chefs can

store produce longer," says

Sarlé. "The chefs want clean,

pest-free, good-looking, and

tasty products. Fortunately

for us, these chefs are ready

to spend more for this kind

of high-quality product,"

she adds. "Working with the

chefs is very rewarding; they

are grateful for our unique

products and communicate a

lot about our farm."

The only downside to all

of this is that because they live in the

deep countryside, they have to drive a lot

to deliver. "We would love to be able to

deliver with drones!" Sarlé jokes.

Les Sourciers view their farm as a

new way of doing hydroponics and

are enjoying changing the image of

"tasteless" hydroponic culture in France.

In France, the majority of the hydroponic

production is done in huge production

greenhouses, using rockwool media

and highly concentrated fertilisation in

an open system. The tomato varieties

are chosen for their yield, resistance

to transportation, and lengthy storage

capabilities; sometimes they are

harvested green, Sarlé explains. "The

result is quantity, not quality, and the

footprint is quite bad for nature," she

adds. "We want to use the hydroponic

technique because we think it is very

clever, but we are trying to do it the other

way, aiming for quality and not quantity

while proving that it is still profitable on

a small scale."

That being said, all the media Les

Sourciers uses is reusable, and no

chemicals are used to clean the clay

pellets. The AeroFlo is a closed-loop

system that allows growers to use a

complete nutrient solution with low

EC. In their system, Les Sourciers grow

heirloom varieties that are harvested

when ready and sold locally the same

day as harvested. "We have observed

that mixing the varieties in the same

systems is very beneficial for pest

control. We use no treatment of any

kind—no chemical treatments and no

organic treatments. Our polyculture

Maximum Yield | January/February 2017

49
---
LES SOURCIERS

methods allow us to do so without big

losses," Sarlé says. "You would think

that because all the roots are floating

in the same water, if one plant gets a

disease, all of the others would too,

but that is not the case. Many times an

outbreak will infect one or two varieties,

but all of the other plants will remain

healthy. So, you have to ask yourself:

Would you rather lose money because of

the two per cent of your plants that got

ill and died, or lose money by buying

preventive products to avoid diseases?"

Another thing boosting the quality

of the produce at Les Sourciers is the

fact that they keep and reuse almost

all of their seeds. "We believe because

they never had any treatments, their

genetics are becoming stronger and

stronger. This is in addition to the

fact that they are every time more

adapted to our water system and to

our climate," explains Sarlé.

After more than three years in

business, Les Sourciers now uses a

quarter of its greenhouse for research,

one quarter for vegetable production,

and one half for herb production. The

owners also added a nursery in order

to go faster with the younger crops.

"After three years, we now know better

what the chefs need, so it is easier for

us to design and plan the correct crop

varieties," says Sarlé. Overall, the goal

of Les Sourciers is to prove that with

their kind of hydroponics, it is possible

to make a living out of a small area,

and that small-scale polyculture allows

you to do it sustainably, with reusable

media and a closed-loop system.

In terms of the near future, Sarlé says

her and her husband are looking into

going even more organic with their

process. "We are very excited about

bioponics," she says, referring to a form

of organic hydroponics based on the use

of BioSevia products developed by GHE

and invented and patented by William

Texier, the man who introduced the

Sarlés to hydroponics initially. "We have

been using bioponics together with other

mineral solutions and the results are

amazing. We believe this kind of mixed

solution has a lots of potential."

Another part of their future plans include

keeping up social media efforts,

pointing to their YouTube tutorials as

an example. "We have realised that

many farmers are doing an amazing

job, but don't communicate much,

so we use social media to share our

discoveries and learn from everyone.

We also have many people who want

to follow our weekend courses. With

the rising interest in vertical farming,

hydroponics in general has become

a real trend. Soon, we will be doing

some consulting for big urban vertical

farming projects in France, so we will

see where that goes!"

Moving forward, the plans aren't

necessarily to grow bigger in one area,

but to branch out into more regions.

"We have had a lot of chefs from bigger

cities (Paris, Marseille, Bordeaux) asking

us for our unique products, but we

"

With the combination

of our heirloom varieties

and hydroponic system,

we now offer amazingly

tasty tomatoes and

peppers that are goodlooking

and clean."

want to stick with our local strategy,"

Sarlé explains. So, instead of posting

them their products, the pair say they

would rather train other people who

are building facilities like theirs in

other cities and regions. "With this

approach, we sincerely hope the entire

industry will benefit from new growers

and shared experiences," says Sarlé.

50 Maximum Yield | January/February 2017
---
Maximum Yield | January/February 2017

51
---
SAME

PLANT

DIFFERENT

POTS

by Grubbycup | While it may not be magic,

it is possible to grow the same plant in

more than one container at the same time.

By layering or by rooting cuttings, plants

that share the same DNA can be produced,

creating on demand identical twins (almost).

Many plants have the ability to

produce roots along their stems and

at budding sites. This is because the

basic building block cells (meristem

cells) of plants are able to develop into

a variety of cells as they mature. The

meristem cells found in the leaves,

stems, and roots all start out the same,

and it is only as they develop that they

grow into specialised leaf cells, stem

cells, and root cells. This is important

because which type of cell a particular

meristem cell will turn into depends in

part on the environment it is in.

Some plants make use of this to extend

their range. Vining plants, in particular,

are often able to make roots along their

stem (especially at budding sites with

their high concentration of undeclared

meristem cells) where the stem comes

in contact with moist soil. This gives

not only additional anchoring points for

the plant, but the roots can help supply

moisture and nutrients along the length.

The same plant may have a central

main root system, and then satellite root

systems at various places.

Since this creates sections of the plant

that have both root systems and shoots,

these sections— once established—

don't need to be connected to the original

plant anymore. If for some reason

the vine is damaged or cut, the satellite

section can continue to grow independently

of the parent plant.

Gardeners can use this property to

propagate such plants. A technique

called simple layering involves

intentionally burying sections of stem

to encourage rooting. Once the roots

are established, the sections are cut

apart. It is important to note that up

until the connection is severed, it

is still all the same plant. Once cut,

while technically they could be called

separate plants, they will share the

same genetic code and gender since

they were originally the same plant.

There are variations on the layering

theme. Sphagnum moss or similar

can be tied to a branch and kept

moist to root above ground branches

(known as air layering), growing

tips can be bent to come into contact

52 Maximum Yield | January/February 2017
---
with soil (tip layering), stems can be

bent horizontally and either partially

buried at several points (serpentine

layering) or buried straight across

in stages (trench layering). All of

these techniques involve getting

roots to develop and then cutting off

the rooted sections of stem to create

"new" plants, which are, in a way,

still the same plant.

Layering methods all basically

involve putting a section of stem

into a growth medium, keeping it

moist enough to encourage roots,

and finally cutting the rooted section

away from the parent plant.

However, there is another way to

vegetatively (non-sexually) propagate

plants, which is very similar to layering

but changes the order. Instead of

separating the new plant after it is

rooted, it is separated first, then placed

into a grow medium, and then roots are

encouraged to develop. This method

is commonly referred to as rooting

cuttings or cloning, in tribute to the

matching DNA of both plants.

Since the cutting is removed from the

parent plant before it has developed a

root system, the stem must be kept moist

so it can supply moisture to the rest of

the plant. Eventually, the meristem cells

in the moistened stem will take their cue

and mature into root cells, forming the

start of a new root system.

At its most basic, cutting the end of a

branch and placing the stem in water

on a windowsill until it roots is a

way to root cuttings. Ways to improve

over this method include aerating the

water (adding an air stone), supplying

stable lighting with an artificial light,

and regulating environmental factors

such as heat and humidity.

Care must be taken not to allow the

stems to dry out, or the plant will go into

terminal wilt and die. Care must also

be taken not to keep the stem too wet

for too long, or it can encourage lethal

fungal growth commonly known as root

rot. Up to a point, the better aerated the

water, the longer contact with the stem

is allowable. There are rooting solutions

on the market that contain hormones to

help convince the meristem cells into

developing into root cells.

While not all plants can be started

from cuttings—some woody plants

are easier to layer than keep cuttings

alive for the length of time needed—for

those that will (tomatoes in particular

are easy to root cuttings from) taking

cuttings tends to be the method of

choice for starting new plants from a

mother plant.

"

Layering methods

all basically

involve putting

a section of

stem into a

growth medium,

then keeping it

moist enough to

encourage roots."

Rooting cuttings has some benefits

over layering: it tends to be less labour

intensive, requires less space, can root

plants quicker, and more plants can be

made from a single parent plant easily.

Trying down branches to layer

takes both effort and time. Wellcared

for cuttings can start to root

days or weeks before their layered

equivalent. Any section with a

growing tip (apical meristem) and

stem section can be attempted to be

used, allowing for several cuttings to

be made from each donor plant.

An advanced form of rooting cuttings,

known as tissue culture, involves using

only small sections of a mother plant,

treating them, and then placing them in

a special sterile grow medium to allow

the meristem cells from any part of the

plant to grow roots (and shoots).

Even for gardeners who specialise in

plants that are usually propagated

by either layering or cloning, there

is value in understanding the

similarities and differences between

the two methods so they have a

better overall understanding of the

mechanisms involved.

Maximum Yield | January/February 2017

53
---
Who is This

Kelvin Guy?

If the Kelvin scale

was a character

in a suspense

novel, he'd be the

misunderstood loner

who possessed

information vital

to untangling the

convoluted plot.

by Sara Elliott

54 Maximum Yield | January/February 2017
---
If you're a little unclear about the

kelvin (K) rating on your grow light,

you're not alone. The Kelvin scale

can be counterintuitive in a couple

of ways, but understanding it is an

important detail when pursuing the

goal of healthy plant development.

Kelvin and Temperature

Let's start with a simple refresher. Kelvin

is a temperature measurement often

preferred in scientific circles because it

can be useful in a number of different

contexts. The bottom of the scale denotes

absolute zero, a condition where there

is no measureable kinetic energy in an

object. It's as cold as it can possibly be.

The coldest objects in the universe will

have a rating of zero on the Kelvin scale.

The incremental measurements when

using kelvin are the same as when

using Celsius (˚C), another type of

temperature scale. Where they differ,

however, is the definition of zero. On the

Celsius scale, zero is the freezing point

of water. As mentioned above, zero on

the Kelvin scale is absolute zero. For

reference, 0 K is equal to -273.15˚C.

The Kelvin Scale

and Colour Temperature

Kelvin is a fundamental unit of

thermodynamic temperature, which

means it measures heat. So, it would

make sense that colour temperature

ratings are really heat ratings, right?

Well, yes and no.

Although kelvin is a heat

measurement, it doesn't quantify

the amount of heat a light fixture is

pumping into your growroom when

applied to colour temperature. Instead,

it measures how closely a light source

approximates full-spectrum sunlight.

The Kelvin scale can be used to do this

by exploiting the colour changes that

occur when an object is heated.

For a real-world example, think of an

incandescent filament. As the filament

gets hotter, it first begins to glow red

then orange, yellow, and so on. These

colour changes are measured as heat

values in kelvin, but correlate to colour

spectrum changes, too. By applying the

Kelvin scale to these specific hues or

colour ranges, it's possible to select light

values favourable for specific phases of

plant photobiology. Kelvin can also be

used to identify full-spectrum lights that

most closely approximate sunlight.

Is Blue Cool or Hot?

Let's look at this concept a little more closely.

Light sources can be somewhat classified

based on their kelvin values using a scale

from 1,000-8,000 K. Here are some general

examples to give you an idea of how the

scale relates to different types of light:

• Candlelight: 1,800-1,930 K

• Sunlight at Sunrise or Sunset: 2,000-3,000 K

• High Pressure Sodium (HPS): 2,200 K

• Incandescent: 2,700-3,000 K

• Compact Fluorescent (CFL): 2,700-6,500 K (various)

• Metal Halide (MH): 3,200-5,500K (various)

• Sunlight at Noon on a Clear Day: 5,000-5,400 K

" In colour psychology, humans tend to associate blue hues

with cooler environments, often defining them as calmer,

chillier shades. However, blue has a higher kelvin rating and

colour temperature than that of red, orange, or yellow light.

"

Maximum Yield | January/February 2017

55
---
WHO IS THIS KELVIN GUY?

As you can see, candlelight, which is

toward the red end of the visual spectrum,

has a lower kelvin rating or range

than light on the white or blue end of the

spectrum, such as that produced by a

fluorescent fixture in an office building.

This is another way in which kelvin

can be confusing. In colour psychology,

humans tend to associate blue hues

with cooler environments, often defining

them as calmer, chillier shades.

However, blue has a higher kelvin rating

and colour temperature than that of red,

orange, or yellow light. Going back to

our incandescent filament example, a

white or blue filament is hotter than a

red or yellow one.

Colour Temperature and

Visible Light Wavelengths

It may seem possible to convert light

wavelengths to colour temperatures.

However, the relationship between the

two isn't as intuitive as it might appear.

Visible light within the electromagnetic

spectrum—that is, all the colours of the

rainbow—has a wavelength range of

390-700 nanometres (nm). For example,

blue light has a wavelength

of around 475 nm and red

light has a wavelength

of about 650 nm. Colour

temperature ratings,

however, don't represent

a single wavelength

value. These ratings

actually contain many,

many wavelengths

that collectively

appear as a

particular hue.

Colour Temperature

and Plants

In nature, plants have access to

balanced, full-spectrum sunlight that

includes all light wavelengths. During

photosynthesis, most plants employ

the entire visible light spectrum. To

perform some other functions, though,

they rely heavily on specific portions

of the light spectrum. For example,

during early growth, light on the blue

end of the spectrum (6,500 K) triggers

leaf, stem, and root development.

Later, an increase in red spectrum

light (2,700-3,000 K) encourages and

sustains flowering and fruiting.

For indoor growers, understanding

how plants use light makes it easier to

manipulate colour temperature and use

lighting efficiently in order to maximise

the developmental potential of plants.

Kelvin colour temperature ratings are

useful measurements when determining

the best light for different phases of

plant development, but there are other

light-related factors to think about, too.

They include, but are not limited to,

light intensity and duration (AKA daily

light integral, or DLI), heat

output, bulb longevity,

equipment cost, and

energy consumption.

For the best results, understand

what type of lighting your

plants will need before you invest

in equipment, and use tools like

colour temperature to fine-tune your

growing strategies.

" It may seem possible to

convert light wavelengths

to colour temperatures.

However, the relationship

between the two isn't as

intuitive as it might appear.

"

56 Maximum Yield | January/February 2017
---
COLOUR

TEMPERATURE

& YOUR HOME

LIGHTING

If you think the value of colour

temperature is limited to the

confines of your growroom,

guess again. The technology

has widespread uses, some

of which touch pretty close to

home. Colour temperature is

used in photography, publishing,

the film industry, and astrophysics.

It is also a key component

in lighting for business

and residential applications.

Take a look at your stash of

everyday lightbulbs and you're

likely to see they include a

kelvin range. Popular ENERGY

STAR* bulbs are rated for both

energy efficiency and colour

temperature. Their colour temperature

ratings can help you

identify and consistently purchase

the light hue, or hues,

that function best for the room

or task you have in mind.

Generally, a colour temperature

range of 2,000-3,000 K produces

warm, cozy yellow light great for a

bedroom, dining room, or family

room. A higher range of 3,100-

4,500 K produces cool white

lighting effective for a kitchen

workstation or a desk lamp.

Lighting in the white, blue range

of 4,600-6,500 K works best in

spaces where visibility is critical,

such as stairways, entryways, and

garage workspaces.

*ENERGY STAR is a joint venture

between the US Environmental

Protection agency (EPA) and the US

Department of Energy (DOE) tasked

with establishing standards for energy

efficient products. Goods that carry

the ENERGY STAR logo can be up

to 30 per cent more energy efficient

than their unrated counterparts.

Maximum Yield | January/February 2017

57
---
GROW WITH US.

Grow. Heal. Live. Enjoy.

MODERN GROWING
---
EXPERIENCE

THE FUTURE

OF GROWING

SAN JOSE, CA

June 3-4, 2017

San Jose McEnery

Convention Center

DETROIT, MI

Sep 30-Oct 1, 2017

Cobo Center

mygrowx.com | #growx2017

Dark orange
---
you tell us

TNB Naturals Inc.

tnbnaturals.com

1-888-543-8988

"There's Nothing Better"

TNB Naturals develops safe,

all-natural products that

are both highly effective

and environmentally

friendly at the same time.

Josh Brazier shares the

company's Reduce, Reuse,

Refill ideology, and how

its premier product—The

Enhancer—can be called

the ultimate green product,

right down to its packaging.

TELL US A BIT ABOUT HOW YOUR

COMPANY GOT STARTED.

Several years ago, longtime gardener

Travis Rypkema created The Enhancer

CO 2 dispersal canister after trying

several other natural CO 2 products on

the market. The Enhancer was developed

in his spare time from his fulltime

job at the local lumber mill of a

town in the Okanagan Valley region of

British Columbia, Canada. Once Travis

had the first version of what is now

known as The Enhancer, he enlisted

my help to expand the product's

presence. The two of us formed TNB

Naturals Inc. together in 2013.

TELL US ABOUT YOUR PREMIER

PRODUCT, THE ENHANCER.

The Enhancer is a highly effective,

user-activated CO 2 canister that delivers

a high rate of CO 2, comparable to

a costly CO 2 system. The Enhancer's

unique features include its ability to

slow the release of CO 2 during the night

cycle, improving overall plant health

and final yield. The Enhancer has a

three-year shelf life and generates some

of the highest ppms in the all-natural

category of CO 2 products. In a 12x12-foot

growroom, gardeners can expect to hit

anywhere between 1,200 and 1,500 ppm,

depending on their set-up, for up to three

weeks. On top of this, The Enhancer is

made from a combination of all-natural,

biodegradable ingredients and it's

packaged in a recyclable bottle—in fact,

when we were first starting out, we were

actually using recycled bottles.

HOW DOES IT BENEFIT

THE ENVIRONMENT?

As much as 40 per cent of all household

waste is typically made up of plastic

from packaging, containers, and other

items. We think all manufacturers need

to be sensitive to this issue and do all

they can to reduce environmentally

harmful packaging. To this end, TNB

has been using a plastic container that

can be recycled. This is much more

beneficial to the environment than

using propane or natural gas.

60 Maximum Yield | January/February 2017
---
THE REFILL PACK

represents a major

step forward in

logistical efficiency

and forwardthinking

packaging."

YOU RECENTLY INTRODUCED A

REFILL PACK FOR THE ENHANCER.

HOW DOES THAT MAKE YOUR

PRODUCT EVEN GREENER?

With the introduction of the refill pack,

we have discovered a way to not only

cut down on packaging, shipping, and

possible waste, but also reduce the

impact on the environment at the same

time. An added bonus is that we can

offer this greener product at a reduced

cost to the consumer.

WHAT INNOVATIVE IDEAS DO

YOU IMPLEMENT FOR RUNNING

A GREEN BUSINESS?

We follow the Reduce, Reuse, Refill

ideology when it comes to manufacturing

our products. The refill packs

represent a major step forward in

logistical efficiency and forward-thinking

packaging. We plan to continue

to work towards developing products

with lower environmental impacts,

products that are both convenient to

use and that reduce household waste.

We hope that customers will co-operate

with us in these efforts through the

use of these refill packs.

WHAT DO YOU DO TO REDUCE YOUR

COMPANY'S CARBON FOOTPRINT?

We began making the easiest changes

first. Similar to most businesses, energy

use is only second to travel as the

largest portion of a company's carbon

footprint. With that in mind, we made

some simple changes around the office,

like turning off and unplugging electronics

when not in use. To make things

simple, we plugged our computers,

printers, and fax machines into a single

power bar. We turn those power bars

off when we leave for the day, further

decreasing our utility bill and impact on

the environment.

We also turn down our thermostat at

night and on weekends, as well as keep

the air conditioning set lower, except

for the hottest part of the summer.

Just recently, we installed LED lights

throughout our facility and offices to

further reduce our energy consumption

and thus, our carbon footprint. By reducing

waste, we create efficiencies and

reduce costs, which allows us to pass

savings on to customers. Finally, we

continually pursue simplification in the

materials we use to make our packaging,

ensuring they can be recycled. As

more consumers recognise and participate

in recycling, there will be less litter,

less waste sent to disposal, less use of

virgin materials, and potential savings

in greenhouse gas emissions.

WHAT'S NEXT FOR TNB?

While we're really excited about

the introduction of the refill

packs, we've actually released

a few additional products in the

meantime, first and foremost, the

highly anticipated Enricher, an allnatural

plant booster and corrective

supplement that can be used from

the first day of vegetation to the last

two weeks of flower. It promotes bigger

yields, greener plants, and bigger buds

while improving flavour, overall plant

health, and resin production. We've

also brought a new pair of lightweight

trimming shears to the market with

a re-enforced spring and soft rubber

grips that cushion the hand. Further

variations will be introduced throughout

the year. Finally, we most recently

released our very own CO 2 Monitor and

Thermo Hygrometer. In addition, we

are currently exploring the feasibility of

marketing several new products under

the TNB brand. Throughout the research

and development stage, emphasis will

continue to be on using materials that

have a lower environmental impact.

Connect With TNB

WEB: tnbnaturals.com | INSTAGRAM: tnb_naturals | FACEBOOK: TNB-Naturals | TWITTER: @tnbnatural

Maximum Yield | January/February 2017

61
---
max mart

To advertise on this page, call 1.250.729.2677

62 Maximum Yield | January/February 2017
---
YOUR AD

COULD

BE HERE!

MYTV

maximumyield.com | 1.250.729.2677

Watch. Learn. Grow.

maximumyield.com

To advertise on this page, call 1.250.729.2677

Maximum Yield | January/February 2017

63
---
maximum yield distributors

Retail stores listed alphabetically by shop name.

Interested in carrying Maximum Yield in your store? Distribution is available by contacting Century Grow Systems, Dutchpro, Easy Grow Ltd., Erith Horticulture, and Nutriculture

UK. Already a distributor? Call 1-250-729-2677 to update your listing.

UNITED KINGDOM

1st Hydroponics

Unit 5 K-Line House, West Rd.

Ipswich, Suffolk

UK IP3 9FG

+44 (0) 1473 279829

Cell: +44 (0) 7847 468 837

1st-hydroponics.co.uk

21st Century Garden

9 Adrian Ave.

London, Greater London

UK NW2 1LX

+44 (0) 2083 614659

21stcenturygarden.co.uk

Ace Hydroponics

Luton St.

Keighley, West Yorkshire

UK BD21 2LE

+44 (0) 1535 958747

ace-hydroponics.co.uk

Acorn Horticulture

65 Deep Ln.

Sheffield

UK 55 ODU

+44 (0) 1142 458581

acornhorticulture.co.uk

Addloes Lighting &

Hydroponics

16-A Maple Rd.

Winton Bourmouth, Dorset

UK BH9 2PN

+44 (0) 1202 524525

addloEst.com

---------------------------------------------

Ahppy Hydro Hydroponics

Wheatley Hall Trade

and Business Centre

Doncaster, South Yorkshire

UK DN2 4QR

+44 (0) 1302 341 004

ahppyhydro.co.uk

---------------------------------------------

Animal and Garden

Supplies Ltd.

Unit 1 Eastlake Cl.

Litchard Ind. Est., Bridgend

South Wales

UK CF31 2AL

+44 (0) 1656 663030

animalandgarden.co.uk

Anglia Hydroponics

62 A Straight Rd.

Boxted, Colchester, Essex

UK C04 5RD

+44 (0) 1206 272677

angliahydroponics.co.uk

Aquatech Horticultural

Lighting

Unit 3F, Spa Fields Ind. Est.

New St. Slaithwait, Huddersfield,

West Yorkshire

UK HD7 5BB

+44 (0) 1484 842632

Ashton Hydroponics Ltd.

Unit 3 Pk. Parade Ind. Est.

Welbeck St. S.

Ashton-Under-Lyne, Manchester

UK OL6 7PP

+44 (0) 1613 391673

ashton-hydroponics.co.uk

---------------------------------------------

Avagrow Ltd.

29B Heaver Trad. Est., Ash Rd.

New Ash Green, Kent

UK TN15 7HJ

+44 (0) 1474 248286

avagrow.co.uk

---------------------------------------------

---------------------------------------------

Avagrow Ltd.

Unit J2 Cuxton Industrial Est.,

Station Rd.

Cuxton Rochester, Kent

UK ME2 1AJ

+44 (0) 1634 787227

avagrow.co.uk

---------------------------------------------

B&M Farm Hydroponics

2A Hollin Hall Farm

Golcar, Huddersfield,

West Yorkshire

UK HD7 4PF

+ 44 (0) 1484 461053

Basement Lighting Ltd.

Unit 3, The Old Maltings, George St.

Newark, Nottinghamshire

UK NG24 1LU

+44 (0) 1636 650189

basementlighting.com

Belfast Indoor Gardening

50/52 Upper Queen St.

Belfast

UK BT1 6FD

+ 44 (0) 2890 232113

thebigshop.com

Big Stone River Garden

Center

Unit 1 East Gate

Grimsby, Lincolnshire

UK DN3 29BA

+44 (0) 1472 241114

---------------------------------------------

Bill & Ben's Hydro World

Unit D15 & D16 Erin Trade Centre

Bumpers Way, Chippenham

Wiltshire,

UK SN14 6LH

+44(0) 1249 447796

billandbens.com

---------------------------------------------

Blooming Borders

Unit 3, Borders Bus. Pk.

Longtown, Carlisle, Cumbria

UK CA6 5TD

+44 (0) 1228 792587

Boss Hydroponics

Unit 79 (A) Carlton Ind. Est.

Barnsley, South Yorkshire

UK S71 3HW

+44 (0) 8456 445544

Bradford Hydroponics

95-97 Manningham Ln.

Bradford, West Yorkshire

UK BD1 3BN

+44 (0) 1274 729205

bradfordhydroponics.co.uk

Branching Out

Unit E, The Old Brewery, Durnford St.

Ashton Gate, Bristol

UK BS3 2AW

+44 (0) 1179 666996

Bright Green UK Ltd.

42-44 Princess Rd.

Hull, Yorkshire

UK HU5 2RD

+44 (0) 1482 341925

brightgreen-uk.co.uk

---------------------------------------------

Brit Crops Ltd

Unit 9 OJ's Ind. Pk. Claybank Rd.

Portsmouth, Hampshire

UK PO3 5SX

+44 (0) 2392 669111

eastlondonhydro@hotmail.com

britcropshydroponics.co.uk

---------------------------------------------

BriteLite Hydroponics

Unit 11 Roman Ind. Est.

Croydon

UK CRO 2DT

+44 (0) 2086 834424

britelite-hydroponics-uk.com

Bub's Allotment

The Rural Granary Bus. Ctr. Unit

18 North St.

Hellingly, East Sussex

UK BN27 4DU

+44 (0) 7528 098103

bubsallotment.co.uk

Bud-eez Hydroponics

137 Broad St.

Dagenham, Essex

UK RM10 9HP

+44 (0) 2082 203757

bud-eez.co.uk

---------------------------------------------

BudMaster LED

Glan Y Mor Rd. Llandudno

Junction Conwy.

Gwynedd North Wales

UK LL31 9RU

+44 (0) 8000 43LEDS

budmaster.co.uk

---------------------------------------------

Castle Hydroponics

Unit 31, Winpenny Rd. Pk.house

Ind. Est. East

Newcastle, Under Lyme

UK ST5 7RH

+44 (0) 1782 576308

castlehydroponics.co.uk

---------------------------------------------

Chesterfield Hydroponics

Centre

Unit 1-6 Ambrose Buildings,

Broombank Rd.

Chesterfield, Derbyshire

UK S41 9QJ

+44 (0) 1246 260874

chesterfieldhydroponics.co.uk

---------------------------------------------

Chrissie's Garden

Unit 33 Portsmouth Enterprise Ctr.

Quartermain Rd.

Portsmouth

UK PO3 5QT

+44 (0) 2392 667887

chrissiesgarden.co.uk

Clockwork Horticulture

Unit 2 New Cravengate

Industrial Estate, Leeds

UK LS11 5NF

+ 44 (0)113 212 78 75

clockworkhorticulture.com

Concept- Indoor Grow Ltd.

Bay 15 Brittanic House, Stirling Way

Borehamwood, Herts

UK WD6 2BT

+44 (0) 7703 700300

indoorgrow.co.uk

Congleton Hydroponics

#3 Silk St.

Congelton, Cheshire

UK CW12 4DH

+44 (0) 1260 2794444

Crofters Bio Gardens

Unit 2 Bloomsgrove Ind.

Es.Ilkeston Rd.

Radford, Nottingham

UK NG7 3JB

+44 (0) 1159 782345

D-Teks Ltd.

Unit 28 & 29 East Coast Bus. Pk.

Kings Lynn, Norfolk

UK PE34 3LW

+44 (0) 1553 770177

d-teks.co.uk

Discount Hydroponics

1 Bus. Bldg. Waltergrave St.

Hastings, East Sussex

UK TN34 1SJ

+44 (0) 1424 428186

DS Progrow

Hydroponics Warehouse

Unit 16 Blaydon Business Centre

Cowen Rd.

Blaydon Newcastle

UK NE21 5TW

+44 (0)792 563 4520

dsprogrow.co.uk

---------------------------------------------

East London Hydro

Unit 12, 4 Raven Rd.

London

UK E18 1HB

+44 (0) 208 504 6644

eastlondonhydro.com

---------------------------------------------

Eastbourne Hydroponics

47 Upperton Rd.

Eastbourne, East Sussex

UK BN21 1LT

+44 (0) 1323 732241

Elements Hydroponics

44 Auster Rd.

Clifton Moor, York

UK YO30 4XA

+44 (0) 1904 479979

elementshydroponics.com

Enhanced Urban Gardening

152 London Rd.

Wokingham, Berkshire

UK RG40 1SU

+44 (0) 1189 890510

enhancedurbangardening.co.uk

Esoteric Hydroponics Ltd.

8 Martyr Rd.

Guildford, Surrey

UK GU1 4LF

+44 (0) 1483 596484

1-hydroponics.co.uk

---------------------------------------------

Essex Hydro-Garden

Unit 3a Tonbridge Works,

Tonbridge Rd.

Harold Hill, Romford Essex

UK RM3 8TS

44 (0) 1708 377617

essexhydro-garden.co.uk

---------------------------------------------

Equip2Gro

24/26 Godstone Rd.

Kenley, Surrey

UK CR8 5JE

+44 (0) 208 660 0467

Fast Grow Hydroponics

Unit 3 Webnor Ind.Est.

West Midlands Wolverhampton

UK WV2 2LD

+44 (0) 1902 404247

fast-grow.com

Forever Green Hydroponics

150 Westmount Rd.

London, Etham

UK SE9 1XA

+44 (0) 2088 500906

---------------------------------------------

Future Garden Ltd.

(Chelmsford)

15 Rob Johns Rd., Widford Ind. Est.

Essex, Chelmsford

UK CM1 3AG

+44 (0) 1245 265929

info@futuregarden.co.uk

futuregarden.co.uk

---------------------------------------------

---------------------------------------------

Future Garden Ltd.

(Chigwell)

Brownings Farm, Gravel Lane

Chigwell, Essex

UK 1G7 6DQ

+44 (0) 2085 027722

info@futuregarden.co.uk

futuregarden.co.uk

---------------------------------------------

Garforth Hydroponics

B/O 11A Main St.

Garforth, Leeds

UK lS25 1DS

+44 (0) 1132 867444

garforthhydroponics.co.uk

The Golden Potter

25 Argyle Way,

Ely Distribution Centre

Cardiff, Wales

UK CF5 5NJ44

(0) 2920 593990

thegoldenpotter.com

Great Stuff Hydroponics

30 C Ellemeres Ct.

Leechmere Ind. Est.

Sunderland

UK SR2 9UA

+44 (0) 1914 474098

hydroponics-hydroponics.com

Great Stuff Hydroponics

24 Collingwood Ct.

Riverside Pk. Industrial Est.

Middlesbrough

UK TS2 1RP

+ 44 (0) 1642 224544

hydroponics-hydroponics.com

---------------------------------------------

Greater Manchester

Hydrogarden

7/8 Chanters Ind. Est.

Atherton, Manchester

UK M46 9BE

+44 (0) 1942 884612

gmhydrogarden.com

---------------------------------------------

Green Daze Hydroponics

Ashington

Unit 9 Waterside Ct.

North Seaton Bus. Pk.

Ashington, Northumberland

UK NE63 0YG

+44 (0) 1670 818003

greendazehydroponics.co.uk

Green Daze Hydroponics-

Gateshead

10 Wellington St.

Gateshead

UK NE8 2AJ

+44 (0) 1914 789107

greendazehydroponics.co.uk

Green Daze Hydroponics

South Shields

79/81 Fowler St.

South Shields

UK NA33 1NT

+44 (0)1914 540746

greendazehydroponics.co.uk

---------------------------------------------

Green Fever

18 Hartshill Rd.

Stoke-on-Trent, Staffordshire

UK ST4 7QU

+44 (0) 1782 414448

green-fever.co.uk

---------------------------------------------

GreenKeeper Hydroponics

141 Brook St.

Chester, Cheshire

UK CH1 3DU

+(44 (0) 1244 630501

greenkeeperhydroponics.com

---------------------------------------------

Green Spirit Hydroponics

Ltd.

Unit 6, Rockingham Bus. Pk.

Rockingham Row, Birdwell

UK S705TW

+44 (0) 1226 399837

greenspirit-hydroponics.com

---------------------------------------------

Green Spirit Hydroponics Ltd.

Unit 5-230 Woodbourn Rd.

Sheffield, South Yorkshire

UK S93LQ

+44 (0) 1142 753353

greenspirit-hydroponics.com

---------------------------------------------

Green Stream

12-14 Vivian Rd.

Harbourne, Birmingham

UK B17 ODS

+44 (0) 1214 262675

greenstream.co.uk

Green World

1618 Market Vaults

Scarborough

UK YO11 1EU

+44 (0) 1723 370900

greenworld.ne.uk

Greener than Life

575- 577 Holderness Rd.

Hull, East Riding

UK HU8 9AA

+44 (0) 1482 374201

Greengrass Indoor

Gardening Supplies

Unit 5A Alexander Ct. Hazleford Way

Newstead, Nottingham

UK NG15 0DQ

+44 (0) 1623 755055

---------------------------------------------

Greenhouse Effect

Unit 2 Eagle Farm Cranfield Rd.

Wavendon, Milton Keynes

UK MK17 8AU

+44 (0) 1908 585283

ghedirect.co.uk

---------------------------------------------

Greenleaf Systems

Unit 2, Millers Bridge Ind. Es

Seymour Liverpool/Bootle

Merseyside

UK L20 1EE

+44 (0) 1519 331113

greenleafsystems.co.uk

The Green Room

(Indoor Gardens) Ltd.

Unit 2, North Point Bus.

Est. Enterprise Cl..

Medway City Estate

Rochester, Kent

UK ME2 4LY

+44 01634 716764

thegreenroomvip.co.uk

Greens Hydroponics

Unit F Totterdown Bridge Trading Est.

Albert Rd.

St. Philips, Bristol, Somerset

UK BS2 0XH

+44 (0) 1179 713000

hydroculture.co.uk

64 Maximum Yield | January/February 2017
---
Greenstream Hydroponics

12-14 Vivian Rd.

Birmingham, Harbourne

UK B17 0DS

+44 (0) 1214 262675

greenstream.co.uk

Greensea Hydroponics

Unit 1G Gregory Rd.

Mildenhall, Suffolk

UK IP28 7DF

+44 (0) 1638 715350

greenseahydroponics.co.uk

Greenthings Hydroponics

Unit 1, Adjewhella Chapel

Barriper Camborne, Cornwall

UK TR14 0QW

+44 (0) 1209 611870

greenthings.co.uk

Grotec Hydroponics

393 Manchester Rd.

Rochdale, Greater Manchester

UK OL11 3PG

+44 (0) 1706 750293

grotec.co.uk

Grotech Ltd.

Unit 21. Saddlers Hall Farm

London Rd.

Basildon, Essex

UK SS13 2HD

+44 (0) 1268 799828

grotechonline.co.uk

Grow 4 Good Ltd.

22i Beehive Workshops

Durham

UK DH1 2XL

+44 (0) 1913 757667

grow4good.net

Grow Better

Unit 76A, Wharfdale Rd.

Tyseley, Birmingham

UK B11 2DE

+44 (0) 121 707 7219

growbetterhydro.com

The Grow Den

2 Hothfield Rd.

Rainham, Kent

UK ME8 8BJ

+44 (0) 1634 239333

Grow Green Ltd.

15-17 Green Ln.

Castle Bromwich, Birmingham

UK B36 0AY

+44 (0) 121 241 6445

grow-green.co.uk

Grown Up Hydroponics

51 Edison Rd. Rabans Lane

Aylesbury, Bucks

UK HP19 8TE

+44 (0) 8000 842 843

grownuphydroponics.com

GroSupplies

Sovereign House, Ellen Terrace

Sulgrave, Washington, Tyne & Wear

UK NE37 3AS

+44 (0) 1914 153345

grosupplies.com

GroWell Hydroponics-

Birmingham

Unit 6 Birmingham One Trad. Est.

Clement St.

Birmingham

UK B1 2SW

+44 (0) 8433 571650

growell.co.uk

GroWell Hydroponics -

Bristol

Unit 1 Day's Rd. Commerical Ctr.

George Jones Rd.

Bristol

UK BS2 0QS

+44 (0) 8452 235088

growell.co.uk

GroWell Hydroponics -

Coleshill

Units 9-11 Coleshill Trade Pk.

Station Rd.

Coleshill, Birmingham

UK B46 1HT

0845 344 2333

growell.co.uk

GroWell Hydroponics -

Dudley

Unit 52 Enterprise Trad. Est.

Hurst Lane, Dudley

UK DY5 1TX

+0845 345 6991

growell.co.uk

GroWell Hydroponics -

Hockley Heath

Ivy House Farm, Grange Rd.

Hockley Heath, Solihull

UK B94 6PR

+44 (0) 8433 571640

growell.co.uk

GroWell Hydroponics -

Sheffield

Unit #3, Pkwy One, Pkwy Dr.

Sheffield, South Yorkshire

UK S9 4WU

+44 (0) 8456 445544

growell.co.uk

GroWell Hydroponics -

South London

Unit 8 Chelsea Fields Ind. Est.

278 Western Rd.

Merton, London

UK SW19 2QD

+44 (0) 8453 455174

growell.co.uk

GroWell Hydroponics -

Wembley

Brent Trad. Est., North Circular Rd.

London

UK NW10 0JF

+44 (0) 0843 357 1642

growell.co.uk

Growing Life

#6 Newington Green Rd.

London

UK N1 4RX

+44 (0) 2070 339541

+44 (0) 800 083 3437

growing-life.com

Growlogic Horticulture

Unit 3 Stafford St.

Dudley, West Midlands

UK DY1 2AA

+44 (0) 1384 256159

growlogichorticulture.co.uk

H2gro

Unit 7, City Bus. Pk., Marshwood Cl.

Canterbury, Kent

UK CT1 1DX

+44 (0) 1227 766113

h2gro.co.uk

H2gro

Unit B, Jarvis and Rowell Est.

Burnham Rd.

Dartford, Kent

UK DA1 5BN

+44 (0) 1322 273444

h2gro.co.uk

Hackney Hydroponics

265 Wick Rd.

Hackney

UK E9 5DG

+44 (0) 20 8533 0497

hackneyhydroponics.co.uk

Halifax Hydroponics

20 Drakes Ind. Est., Shay Ln.

Halifax, West Yorkshire

UK HX3 6RL

+44 (0) 1422 381693

halifaxhydroponics.co.uk

Happy Daze Hydroponics

Unit 4, Craven Ct., Hedon Rd.

Hull

UK HU9 1NQ

+44 (0) 1482 224 299

Happy Gardens Ltd.

Unit 9, Kelham Bank Ind. Est.,

Kelham St.

Doncaster, South Yorkshire

UK DN1 3RE

+44 (0) 1302 761386

happygardensdoncaster.co.uk

Haverhill Hydroponics

Centre

Unit 14 Spring Rise Falconer Rd.

Haverhill, Suffolk

UK CB97XU

+44 (0) 01440709474

haverhillhydro.co.uk

Heavy Harvest Hydroponics

Dalweb Industrial Park, Unit 4

Gravel Ln.

Banks Southport, Merseyside

UK PR9 8DE

+44 (0) 1704 211805

hhhydroponics.com

HFM Pyrotechnics Ltd.

165A Londford Rd.

Cannock, Staffordshire

UK WS11 OLD

+44 (0) 1543 500800

hfmgroup.com

HG Hydroponics

Unit 4, Earlfield Cl.

Lincoln, Lincolnshire

UK 1N6 3RT

+44 (0) 8456 435523

hg-hydroponics.co.uk

Hi9THC Ltd.

Unit 34, Lillyhall Bus. Ctr., Jubilee Rd.

Workington, Cumbria

UK CA14 4HA

+44 (0) 7821 914646

hi9thc.co.uk

High Street Hydroponics

Unit 56 Hebden R., Berkley Ind. Est.

Scunthorpe, North Lincolnshire

UK DN15 8DT

+44(0) 1724 857191

Hippy Heaven

26 High St. Ealing

London

UK W5 5DB

+44 (0) 2088 407717

ouchtattoo.co.uk

Holland Hydroponics

17 Rondin Rd.

Ardwick, Greater Manchester

UK M12 6BF

+44 (0) 8458 720570

hydroponics.co.uk

Holland Hydroponics

Handbridge Mill 5 Parliament St.

Burnley, Lancashire

UK BB11 3JT

+44 (0) 8458 720590

hydroponics.co.uk

Holland Hydroponics

Express

Unit 1 Flint Trade Pk., Holywell Rd.

Flint, Wales

UK CH6 5RR

+44 (0) 8458 720565

hydroponics.co.uk

Holland Hydroponics

Express

Unit 4 Leeds Rd. Trade Pk.,

Leeds Rd.

Huddersfield

UK HD2 1YR

+44 (0) 8458 720580

hydroponics.co.uk

Hollinwood Hydroponics

Unit A Bourne St.

Hollinwood, Oldham

UK OL9 7LX

+44 (0) 161 681 5151

hollinwoodhydro.co.uk

The Home Grower Ltd.

Unit 8, Oak Ct., Crystal Dr.

Smethwick, West Midlands

UK B66 1QG

+44 (0) 1215 411446

---------------------------------------------

Hulton Hydroponics

Wharton House, Wharton Ln.

Little Hulton, Manchester

UK M38 9XF

+44 (0) 7856 398 295

hultonhydroponics.co.uk

---------------------------------------------

Hydro2Grow- Crawley

Unit 15 The Stanley Ctr., Kelvin Way

Crawley, West Sussex

UK RH10 9SE

+44 (0) 1293 535157

hydro2grow.co.uk

Hydro2Grow- Sutton

299 Gander Green Ln.

Sutton, Surrey

UK SM3 9QE

+44 (0) 2086 443780

hydro2grow.co.uk

Hydro 1 Stop

Unit 35 Deykin Pk. Ind. Est.,

Deykin Ave.

Aston, Birmingham

UK B67HN

+44 (0) 1213 280876

hydroponics1shop.co.uk

Hydro Basement

Unit D, Hoyle Head Mills, New St.

Earlsheaton Dewsbury

West Yorkshire

UK WF12 8JJ

+44 (0) 1924 450086

hydrobasement.co.uk

Hydrodaze

Unit 9a, Treloggan Ind. Est.

Newquay, Cornwall

UK TR7 2SX

44 (0) 1637 850770

hydrodaze.co.uk

Hydro Hobby

Unit 4 Brook Farm, Stoneleigh Rd.

Gibbet Hill, Coventry

UK CV4 7AB

+44 (0) 2476 414161

hydrohobby.co.uk

Hydro Station Ltd.

Unit 10 Hillfoot Ind. Est., Hoyland Rd.

Sheffield, South Yorkshire

UK S38AB

+44 (0) 1142 491636

hydrostationltd.co.uk

Hydrodragon Ltd.

113-115 Alfred St. Roath

Cardiff, South Glamorgan

UK CF24 4UA

+44 (0) 2920 490333

hydrodragon.co.uk

Hydroglo Ltd.

The Top Store South Rd.

Towerhamlets, Dover, Kent

UK CT17 OAH

+44 (0) 1304 203199

hydrogloltd.co.uk

Hydrogrow Systems Ltd.

Unit 7, Acton Bus. Pk.

Fields Farm Rd.

Longeaton, Nottingham

UK NG10 3FZ

+44 (0) 1159 730007

hydrogrowsystems.co.uk

Hydrologic Hydroponics

2 Brewery St.

Skegness

UK PE24 5LG

+44 (0)1754 811 961

The Hydroponic Warehouse

Unit 15., Bay Airport Ind. Est.

Kingston Pk.

Newcastle, Tyne and Wear

UK NE3 2EF

+44 (0) 1912 862045

thehydroponicwharhouse.co.uk

Hydroponica

130 Doncaster Rd.

Wakefield, Yorkshire

UK WF1 5JF

+44 (0) 1924 362888

salehydroponics.co.uk

Hydroponica York

Unit 3 Oakwood Bus. Pk.,

Northfield Ln.

Upper Poppington, York

UK YO26 6QZ

+44 (0) 1904 768737

The Hydroponics Centre Ltd.

Unit 24, Port Talbot Bus. Units

Addison Rd.

Port Talbot

UK SA12 6HZ

+44 (0) 1639 888891

thehydroponicscentreltd.co.uk

Hydroponics Superstore

62 Lytham Rd.

Blackpool, Lancashire

UK FY1 6DY

+44 (0) 7852 513375

hydroponicssuperstore.co.uk

Hydroponic Whse

Unit 16 Kensington Bus. Pk.

Ilkeston, Derbyshire

UK DE7 5NY

+44 (0) 115 930 5444

Hydropower

255 Holton Rd.

Barry,Wales

UK CF63 4HT

+44 (0) 7725 551479

hydro-power.biz

Hydrosense

47 Scarrots Ln.

Newport, Isle of Wight

UK PO30 1JD

+44 (0) 1983 522240

---------------------------------------------

HydroZone UK

13 Delacourt Rd.

London

UK SE3 8XA

+44 (0) 20 8858 3503

hydrozoneuk.com

---------------------------------------------

Hygrow Hydroponics

Unit C -55 Sunningdale Rd.

South Pk.

Industrial Estate, Scunthorpe Lincs

UK DN17 2TW

+44 (0) 172 4842 212

Hygrow II

Unit 3&4, 30 Oslo Rd.

Sutton Fields, Hull

UK HU7 0YN

+44 (0) 1482 833643

hygrow.co.uk

Hygrow III

825 Hessle High Rd.

Hull

UK HU4 6QF

+44 (0) 1482 351990

hygrow.co.uk

Hytec Hydroponics

Old Wales Wood Colliery

Mansfield Rd.

Sheffield

UK S26 5PQ

+44 (0) 1909 772872

hytechydroponics.com

The Inner Garden Ltd.

Unit 14., Cornish Way

West, Galmington

Taunton, Somerset

UK TA1 5NA

+44 (0) 1823 274791

theinnergarden.co.uk

J.D.L Hydroponics-

Cheltenham

Unit 2A, The Runnings

Kingsditch Trad. Est.

Cheltenham, Gloucestershire

UK GL51 9NJ

+44 (0) 1242 516131

jdlhydroponics.co.uk

J.D.L Hydroponics-

Gloucester

Unit 52 Space Business Pk.

Olympus Pk.

Quedgeley, Gloucester

UK GL2 4AL

+44 (0) 1452 887255

jdlhydroponics.co.uk

Junction 10 Hydro

Unit 55 Downs Rd.

Willenhall, West Midlands

UK WV13 2PX

+44 (0) 1215 686850

totalhydro.com

Kernow Grow Ltd.

11 D. Kernick Ind. Est.

Penryn, Cornwall

UK TR10 9EP

+44 (0) 3300 104420

kernowgrow.co.uk

King Of Green

18-24 Saint Helens Rd.

Westcliff on Sea

Westcliff, Essex

UK SS0 7LB

+44 (0) 1702 347536

kingofgreen.com

Kitbag Hydroponic

Warehouse

22 Pool Bank St.

Nunaeton, Warwickshire

UK CV11 5DB

+44 (0) 2476 641033

kitbagshop.org

Leeds HydroStore

Unit 5 Felnex Rd.

Leeds, West Yorkshire

UK LS9 0SS

+44 (0)113 249 4730

leedshydrostore.co.uk

Lothian Hydroponics

172 S Mid St.

Bathgate, West Lothian

UK EH48 1DY

+44 (0) 1506 650501

lothianhydroponics.co.uk

Maidstone Hydroponics Ltd.

Unit 6 Boxmend Ind. Est.

Maidstone, Kent

UK ME15 9YG

+44 (0) 1622 692669

maidstonehydroponics.co.uk

Manchester Hydroponics

Unit 1A, Reliance St.

Newton Heath, Manchester

UK M40 3AG

+44 (0) 1616 887333

manchesterhydroponics.co.uk

Med Gardener

Unit 11, Barton Bus. Pk.

Eccles, Manchester

UK M3O OQR

+44 (0) 1617 079860

Mellow Yellow Hydro Ltd.

Unit B1A Towngate Works, Dark Ln.

Mawdesley, Lancashire

UK L40 2QU

+44 (0) 1704 822609

mellowyellowhydro.co.uk

Midland Hydroponics

Russells Garden Ctr.

Baginton Coventry

UK CV8 3AG

+44 (0) 2476 639109

midland-hydroponics.com

Mousehold Garden Centre

63 Mousehold Ln.

Norwich, Norfolk

UK NR7 8HP

+44 (0) 1603 413272

mousehold.net

My Grow Hydroponics

35 Hill Lane Cl., Markfield.

Leicester, Leicestershire

UK LE67 9PY

+44 (0)1530 249 537

NASA—Nature and

Science Agriculture

Unit 4D Thornhill Industrial Estate

Hope St.

Rotherham

UK S60 1LH

+44 (0)1709 829 030

natureandscienceagriculture.co.uk

National Hydroponics

Unit 6, Lark St.

Bolton

UK BL1 2UA

+44 (0) 7754 228930

www.nationalhydroponics.co.uk

New Age Hydroponics Ltd.

Unit 1 Albert Place, Albert Mill

Lower Darwen, Lancashire

UK BB3 0QE

+44 (0) 1254 661177

newagehydro.co.uk

Norfolk Lights

& Hydroponics Centre Ltd.

Unit 2 Guardian Rd., Ind. Est.

Norwich, Norfolk

UK NR5 8PF

+44 (0) 1603 666199

norfolklights.com

---------------------------------------------

Northwich Hydroponics

Centre Ltd.

Unit-7, Kingfisher Ct., Denton Dr.

Northwich Cheshire

UK CW9 7TT

+44 (0)1606 215 585

northwichhydroponics.co.uk

---------------------------------------------

NPK Technology Ltd.

Unit 20, Commerce Way

Upper Parliament St.

Liverpool

UK L8 7BA

+44 (0) 151 228 8306

npktechnology.co.uk

NPK Technology Ltd.

Unit 11 Peninsula Business Park

Reeds Ln.

Moreton Wirral

UK CH46 1DW

+44 (0) 151 678 6000

npktechnology.co.uk

Oasis Hydroponics

Unit 34, Camp Hill Industrial Estate

John Kemp Way

Birmingham, West Midlands

UK B12 0HU

+44 (0) 121 753 5115

oasishydro.co.uk

One Stop Grow Shop

Unit C1 Fenton Trad. Pk.

Dewsbury Rd.

Stoke-On-Trent, Staffordshire

UK ST4 2TE

+44 (0) 1782 749955

onestopgrowshop.co.uk

Peterlee Hydroponics

9 Lister Rd. Peterlee

County Durham

UK SR8 2RB

+44 (0) 191 5861752

peterleehydroponics.co.uk

Maximum Yield | January/February 2017

65
---
maximum yield distributors

The Persy Grow Shop

4 Kings Mews

Brighton, East Sussex

UK BN3 2PA

+44 (0) 1273 777335

persygrowbox.co.uk

Plant Life World

Unit 11 Riverside Wy.

Ravensthorpe Ind Es.

Dewsbury, West Yorkshire

UK WF13 3LG

+44 (0) 1924 492298

plantlife.co.uk

The Plant Pot

69 Ratcliffe Gate

Mansfield, Nottinghamshire

UK NG18 2JB

+44 (0) 1623 422711

theplantpot.co.uk

Plantasia

Brill View Farm Ludgershall Rd.

Bicester, Oxfordshire

UK OX25 1PU

+44 (0) 8707 555225

plantasia.co.uk

Plantwell Hydroponics Ltd.

Unit 3, 50 Village Farm Rd.

Pyle, Bridgend

UK CF33 6BN

+44 (0) 1656 749593

plantwell-hydroponics.co.uk

Plantwell Hydroponics Ltd.

Unit 14, Ely Industrial Estate

Williamstown, Tonypandy

Rhondda, Cynon Taf

UK CF40 1RA

+44 (0) 1443 430045

plantwell-hydroponics.co.uk

Premier Grow Hydroponics

Unit S Tungsten Pk., Maple Dr.

Hinckley

UK LE10 3BE

+44 (0)145 5613888

premiergrow.com

Premier Grow Hydroponics

11 Pinfold Rd.

Leicester

UK LE4 8AS

+44 (0)116 2697580

premiergrow.com

Progrow-Exeter

5 Westwood Units, Alphinbrook Rd.

Marsh Barton Ind. Est.

Exeter, Devon

UK EX2 8QF

44 (0) 1392 276998

progrow.co.uk

Progrow-Plymouth

Unit 63 Christian Mill Bus. Pk.

Tamerton Foliot Rd.

Plymouth Devon

UK PL6 5DS

+44 (0) 1752 771667

progrow.co.uk

Pro Hydro Washington

15 Whitworth Rd.

Armstrong, Washington

Tyne and Wear

UK NE37 1PP

+44 (0)151 4479299

Riverside Hydroponics

Riverside Ind. Est. Bridge Rd.

Littlehampton, West Sussex

UK BN1 75DF

+44 (0) 1903 713777

riverside-hydroponics.co.uk

Rootzone Hydroponics Ltd.

Unit 2 & 3., The Green Bus. Ctr.

The Causeway

Staines, Middlesex

UK TW18 3AL

+44 (0) 1784 490370

hydrowebshop.com

Rotherham Hydroponics

Centre

Unit 8, Springfield Cl.

Rotherham, South Yorkshire

UK S61 4RQ

+44 (0) 1709 252256

rotherhamhydroponicscentre.co.uk

---------------------------------------------

Rutland Horticulture

Unit 6 Station Court, Whissendine Rd.

Ashwell, Rutland

UK LE15 7SP

+44 (0) 1572 723 485

rutlandhorticulture.co.uk

---------------------------------------------

Sale Hydro

71 Dane Rd.

Sale Manchester, Lancashire

UK M33 7BP

+44 (0) 1619 739899

salehydroponics.co.uk

Sale Hydro - (Handforth)

Unit 11 Big Storage, Stanley Cr.

Bus. Pk. Earl Rd.

Cheshire

UK SK86 PT

+44 (0) 161 485 1728

salehydroponics.co.uk

Sea of Green UK

25 Eastcott Hill

Swindon, Wiltshire

UK SN1 3JG

+44 (0) 1793 617046

seaofgreen.co.uk

Seymour Green Hydroponic

Centre

Unit 4, Ford House Rd. Ind. Est.

Steel Dr.

Bushbury, Wolverhampton

UK WV10 9XA

+44 (0) 1902 782900

seymourgreenhydroponiccentre.com

---------------------------------------------

Somerset Hydro

Unit4 Technine, Guard Ave

Houndstone Bus. Pk.

Yeovil Somerset UK BA22 8YE

+44 (0) 1935 420720

somhydro.co.uk

---------------------------------------------

SouthCoast Hydroponics

Unit 8., Enterprise Ind. Est.

Enterprise Rd.

Horndean, Hampshire

UK PO8 0BB

+44 (0) 2392 598853

southcoasthydroponics.com

SouthCoast Hydroponics

269 Commercial Rd.

Portsmouth

UK PO1 4BP

+44 (0) 7899 368 461

southcoasthydroponics.com

Southern Hydro Centre

9 Mamesbury Rd.

Southampton, Hampshire

UK SO15 5FT

+44 (0) 2380 704080

southernhydro.co.uk

Southern Lights

19A Grace Hill

Folkstone, Kent

UK CT2O1HQ

+44 (0) 1303 210003

SRS Hydroponics

260 Manchester Rd.

Walkden, Manchester

UK M28 3TR

+44 (0) 1617 033691

srshydroponics.co.uk

Starlite Systems

226 Albert Rd.

Plymouth, Devon

UK PL2 1AW

+44 (0) 1752 551233

starlitesystems.co.uk

Sub-Garden Supplies

Unit 45J Leyton Ind.

Village Argall Ave.

Leyton, London

UK E10 7QP

+44 (0) 2085 399563

subgardensuppliEst.com

---------------------------------------------

Sunlight Gardens

Unit D3, Hastingwood Trad. Estate.

Harbet Rd.

Edmonton, London

UK N18 3HT

+44 (0) 20 3763 6052

sunlight-gardens.co.uk

---------------------------------------------

Sunrise Hydroponics

127-129 Newcastle St.

Burslem, Stoke on Trent, Staffshire

UK ST6 3QJ

+44 (0) 1782 813814

sunrisehydro.co.uk

Super Hydro Garden

Eagle Centre Way

Luton, Bedfordshire

UK LU4 9US

+44 (0) 1582 561154

TC Hydroponics

247 Camberwell New Rd.

Camberwell

UK SE5 0TH

+44 (0) 2072 773669

tchydroponics.co.uk

The Crop King Grow Shop

88 Trinity St.

Gainsborough

UK DN21 1HS

+44 (0)1427 612 938

thecropking.co.uk

The Green Room

(Indoor Gardens) Ltd.

Unit 2 North Point Bus. Est.

Enterprise Cl.

Medway City Estate

Rochester, Kent

UK ME2 4LY

+44 (0) 1634 716764

thegreenroomvip.co.uk

The Green Machine Ltd.

Unit 1A., Felin Puleston Ind. Est.

Ruabon Rd.

Wrexham

UK L13 7RF

+44 (0) 1978 265090

thegreenmachineonline.com

The Growers Shop

Unit 7 Redcomb Bus. Pk. Desford Rd.

Enderby, Leicester

UK LE19 4AD

+44 (0)116 284 1091

thegrowersshop.co.uk

The Hydro Store

Unit B1 Tenterfields Bus. Pk.

Halifax, West Yorkshire

UK HX2 6EQ

+44 (0)1422 883290

thehydrostore.co.uk

Thetford Urban Gardens Ltd.

25 Brunell Way

Thetford, Norfolk

UK IP24 1HP

+44 (0) 1842 765566

thetford-urban-gardens.com

Top Yield Hydroponics

Unit 5, Oakleigh Farm, Rayleigh Rd.

Hutton, Brentwood, Essex

UK CM13 1SE

+44 (0) 1277 200665

www.topyield.co.uk

Trafford Hydroponics Ltd.

136 Higher Rd.

Urmston Manchester

UK M41 9AZ

+44 (0) 1612 227838

traffordhydroponics.co.uk

Triangle Hydroponics

Unit 6, Bournemouth Central Bus.

Pk. South Cote Rd.

Bournemouth

UK BH1 3SJ

+44 (0) 1202 556661

trianglehydroponics.co.uk

TRU: GROW

789 Lincoln Rd.

Peterborough, Cambridgshire

UK PE1 3HE

+44 (0)1733 891 525

trugrow.co.uk

Ugrow Organic- London

Studio12, Imperial Studios, 3-11

Imperial Rd.

London

UK SW6 2AG

+44 (0) 2073 865559

u-grow.com

Ugrow Organic- Glasgow

11 North Canal Bank St.

Lanarkshire, Glasgow

UK G4 9XT

+44 (0)141 341 3352

u-grow.com

UK GroWorks

94 Upper Wickham Ln.

Welling, Kent

UK DA16 3HQ

+44 (0)208 854 5160

ukgroworks.co.uk

UK GroWorks

Unit 4 Belltower Ind. Est.

Roedean Rd.

Brighton

UK BN2 5RU

+44 (0)127 362 4327

ukgroworks.co.uk

UK GroWorks

Unit F16 Northfleet Ind. Est.

Lower Rd.

Gravesend

UK DA11 9SW

+44 (0)132 283 8131

ukgroworks.co.uk

Warehouse Hydroponic

Yielding

Unit 42 Bank Quay Trad. Est.

Slutchers Ln.

Warrington, Cheshire

UK WA1 1PJ

+44 (0) 1925 637837

warehousehydroponics.co.uk

Wednesfield Hydroponics

11 Bognop Rd.

Wolverhampton, West Midlands

UK WV11 2BA

+44 (0) 1268 784027

Wheatley Hydroponics

& Grow Shop

Wheatley Farm, London Rd.

Rayleigh, Essex

UK SS69ES

+44 (0) 1268 784027

www.wheatleyhydroponics.co.uk

WHF Garden Centre

Shetcliffe Lane

Bradford

UK BD4 6QJ

+44 (0) 1274 652 277

whf-hydro.co.uk

IRELAND

Bloom and Grow

16 Eyre St.

Newbridge County

Kildare Ireland

+353 (04) 543 7639

bloomandgrow.ie

Bloom and Grow

4A Slaney Court, Dublin Ind. Est.

Glasnevin

Dublin 11 Ireland

+353 (01) 860 3917

bloomandgrow.ie

Deep Route Gardening

16 Georges Quay

Cork City

Cork Ireland

+353 (021) 431 1064

deeproutegardening.ie

Deep Route Gardening

Unit 3 Mungret St.

Limerick, Ireland

+353 (06) 141 5810

deeproutegardening.ie

Get Up & Grow Cork

Unit H1 Marina Commercial Pk.

Center Park Rd.

Cork Ireland

+353 (021) 427 8958

getupandgrow.ie

Get Up & Grow Dublin

Units 2-3 Henrietta Pl.

Dublin Ireland

+353 (01) 872 7240

getupandgrow.ie

The Grow Shop

Ardsallagh, Navan

Co. Meath, Ireland

+353 (046) 902 0625

growshop.ie

The Grow Shop

1A Eklad Park, Malahide Rd.

Business Park, Coolock

Dublin Ireland

+353 (01) 867 4978

growshop.ie

The Grow Shop

Unit 1, Doughiska Industrial Estate.

Doughiska Rd.

Galway Ireland

+353 (09) 173 5617

growshop.ie

SCOTLAND

Abergreen Horticulture Ltd

Arch 8 Palmerston Rd.

Aberdeen, Granpian

Scotland AB11 5RE

+44 (0) 1224 574737

abergreen.co.uk

Edinburgh Organics

6C W. Telferton, Edinburgh

Scotland EH7 6UL

+44 (0) 131 669 0493

edinburghorganics.com

EZ Grow Perth

77 Scott St. Perth

Scotland PH2 8JR

+44 (0) 1738 624193

facebook.com/ezgrowperth

Glasgrow

15 Parnie St. Glasgow

Scotland G15RJ

+44 (0) 1415 527522

glasgrowhydroponics.co.uk

---------------------------------------------

Hamilton Hydro Ltd.

Unit 13&16 Murray Ct.

Hillhouse Ind. Est. Hamilton

Scotland ML3 9SL

+44 (0) 1698281148

hamiltonhydro.co.uk

---------------------------------------------

Hydra Hydroponics

41 Tower St.

Edinburgh Scotland EH6 7BN

+44 (0) 1315 611332

hydraonline.co.uk

Premier Hydroponics Ltd.

1 Horsewater Wynd

Hawkhill Dundee

Scotland DD1 5DU

+44 (0) 1382 202 556

premierhydroponics.com

Premier Hydroponics Ltd.

Unit 6, Freskyn Pl.

Broxburn

Scotland EH52 5NF

+44 (0) 1506 852199

premierhydroponics.com

Premier Hydroponics Ltd.

Unit 5 Evans Bus. Ctr., Harvest Rd.

Newbridge

Scotland EH28 8LW

+44 (0) 1313 332 777

premierhydroponics.com

Progrow Scotland

Unit 6., Nasmyth Square Houston

Ind. Est.

Livingston, West Lothian

Scotland EH5 45GG

+44 (0) 1506 430830

progrowscotland.co.uk

The Wee Hydro Shop

Unit #12 Carbery Pl.

Mitchelson Ind. Est.

Kirkcaldy, Fife

Scotland KY1 3NE

+44 (0) 1592 655611

HUNGARY

BABYLON grow

Csurgói street 15.

Budapest, Pest megye

Hungary

+36 (0) 20 381 2802

babylon-grow.eu

Gomoa Trade Kft.

Lágymányosi street 5.

Budapest, Pest megye

Hungary 1111

+36 (0) 20 566 1186

gomoa.net

Gomoa Trade Kft.

Petofi avenue 50.

Szeged, Csongrád megye

Hungary 6725

+36 (0) 20 406 2182

gomoa.net

Gomoa Trade Kft.

Kazinczy street 3.

Pécs, Baranya megye

Hungary 7621

+36 (0) 20 351 4294

gomoa.net

Interested in carrying Maximum Yield in your store? Distribution is available by contacting Century Grow Systems, Dutchpro, Easy Grow Ltd., Erith Horticulture, and Nutriculture

UK. Already a distributor? Call 1-250-729-2677 to update your listing.

66 Maximum Yield | January/February 2017
---
Maximum Yield | January/February 2017

67