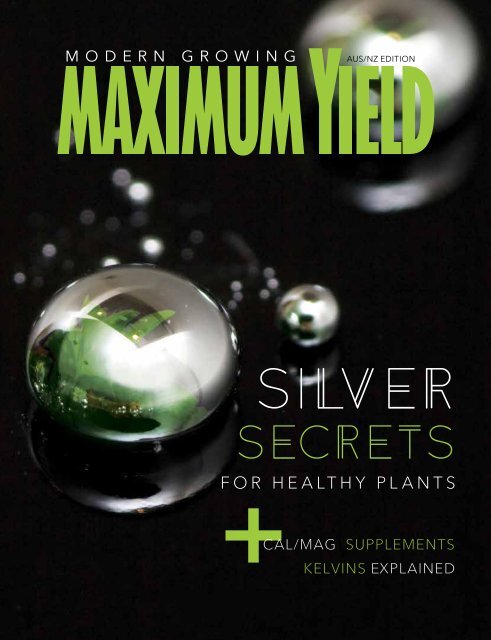 Maximum Yield Modern Growing | AUS/NZ Edition | January/February 2017
The world of indoor growing is expanding at an incredible rate. No longer the alternative to traditional agriculture, hydroponics is being recognised as beneficial for many important reasons. Hydroponics yields require up to 50 per cent less land to grow the same amount of produce, and as the world's arable lands are diminished from overfarming and climate change, hydroponics takes the pressure off the environment by leaving more land available for wildlife reserves, biospheres, and other protected areas. Drought-ridden areas like California will appreciate the fact hydroponics uses only 10 per cent of the water needed for growing in soil, and far less chemicals and fertilisers-as much as 60 per cent less- are required. By most reports, growing and transporting food around the globe accounts for as much as 30 per cent of all greenhouse gas emissions. With hydroponics, we can grow almost anything right where we live, reducing the need for carbon emissions. This is especially important for people who live in the Far North. More and more, programs are being created to provide fresh produce for those who live in northern communities, reducing the need to ship relatively small amounts of food while providing food security with fresh, inexpensive fruits and vegetables. It is with these shifts in mind that we've made some editorial changes in Maximum Yield. As you may have noticed, on our cover we've changed 'indoor gardening' to 'modern growing'. As the industry evolves, so are we. Our content will include a wider look at the advancements in the growing world, both indoors and out. As we flip the calendar from 2016 to 2017, we are taking a new perspective on the world of modern growing, and we look forward to bringing these stories to you. We also wish you and your loved ones the very best for 2017. In the meantime, we hope you have as much fun reading this issue as we did putting it together. As always, thanks for reading Maximum Yield and if you have any questions feel free to contact us at editor@maximumyield.com.
The world of indoor growing is expanding at an incredible rate. No longer the alternative to traditional agriculture, hydroponics is being recognised as beneficial for many important reasons. Hydroponics yields require up to 50 per cent less land to grow the same amount of produce, and as the world's arable lands are diminished from overfarming and climate change, hydroponics takes the pressure off the environment by leaving more land available for wildlife reserves, biospheres, and other protected areas. Drought-ridden areas like California will appreciate the fact hydroponics uses only 10 per cent of the water needed for growing in soil, and far less chemicals and fertilisers-as much as 60 per cent less- are required. By most reports, growing and transporting food around the globe accounts for as much as 30 per cent of all greenhouse gas emissions. With hydroponics, we can grow almost anything right where we live, reducing the need for carbon emissions. This is especially important for people who live in the Far North. More and more, programs are being created to provide fresh produce for those who live in northern communities, reducing the need to ship relatively small amounts of food while providing food security with fresh, inexpensive fruits and vegetables. It is with these shifts in mind that we've made some editorial changes in Maximum Yield. As you may have noticed, on our cover we've changed 'indoor gardening' to 'modern growing'. As the industry evolves, so are we. Our content will include a wider look at the advancements in the growing world, both indoors and out. As we flip the calendar from 2016 to 2017, we are taking a new perspective on the world of modern growing, and we look forward to bringing these stories to you. We also wish you and your loved ones the very best for 2017. In the meantime, we hope you have as much fun reading this issue as we did putting it together. As always, thanks for reading Maximum Yield and if you have any questions feel free to contact us at editor@maximumyield.com.
SHOW MORE
SHOW LESS
Do you know the secret to free website traffic?
Use this trick to increase the number of new potential customers.
MODERN GROWING

AUS/NZ EDITION

silver

secrets

FOR HEALTHY PLANTS

CAL/MAG SUPPLEMENTS

KELVINS EXPLAINED
---
contents

JANUARY/FEBRUARY 2017

FEATURES

24

34 38 44

52

24 Silver Secrets

Kathryn van Druff

30 10 Ways To Save $$$ At The

Grow Shop

Shannon McKee

34 Who Is This Kelvin Guy?

Sara Elliott

38 Balancing Plant Growth

Regulator Principles

Rich Hamilton

42 Growing Something

Out Of Nothing

by Jessica Skelton

44 Strengthening Your

Plant's Roots

Eric Hopper

DEPARTMENTS

6 From the Editor

48 Same Plant, Different Pots

Grubbycup

52 Cal-Mag Supplements: A

One-Two Punch For Plants

Cory Hughes

20 Product Spotlight

8 Letters to the Editor

10 Ask the Experts

56 You Tell Us

60 Distributors

12 Max Facts

4 Maximum Yield | January/February 2017
---
from the editor | toby gorman

With hydroponics,

we can grow almost

anything right

where we live."

The world of indoor growing is expanding at an

incredible rate. No longer the alternative to traditional

agriculture, hydroponics is now recognised as

beneficial for many important reasons. Hydroponics

yields require up to 50 per cent less land to grow the

same amount of produce, and as the world's arable

lands are diminished from overfarming and climate

change, hydroponics takes the pressure off the environment

by leaving more land available for wildlife

reserves, biospheres, and other protected areas.

Drought-ridden areas will appreciate the fact hydroponics

uses only 10 per cent of the water needed for

growing in soil, and far less chemicals and fertilisers—as

much as 60 per cent less—are required. By

most reports, growing and transporting food around

the globe accounts for as much as 30 per cent of all

greenhouse gas emissions. With hydroponics, we can

grow almost anything right where we live, reducing

the need for carbon emissions. This is especially

important for people who live in the Far North. More

and more, programs are being created to provide

fresh produce for those who live in northern communities,

reducing the need to ship relatively small

amounts of food while providing food security with

fresh, inexpensive fruits and vegetables. It is with

these shifts in mind that we've made some editorial

changes in Maximum Yield. As you may have noticed,

on our cover we've changed 'indoor gardening' to

'modern growing'. As the industry evolves, so do we.

Our content will include a wider look at the advancements in the growing world, both

indoors and out. As we flip the calendar to 2017, we are taking a new perspective on

the world of modern growing, and we look forward to bringing these stories to you.

We also wish you and your loved ones the very best for 2017.

In the meantime, we hope you have as much fun

reading this issue as we did putting it together.

As always, thanks for reading Maximum Yield

and if you have any questions feel free to

contact us at editor@maximumyield.com.

VOLUME 14 – NUMBER 5

January/February 2017

GENERAL MANAGER

Ilona Hawser

EDITORIAL

editor@maximumyield.com

Toby Gorman

Julie McManus

Jessica Skelton

Julie Chadwick

ADVERTISING SALES

250.729.2677

Sales Manager

Katie Rey - katie.rey@maximumyield.com

Account Executives

Jed Walker - jed.walker@maximumyield.com

Michelle Fraser - michelle.fraser@maximumyield.com

Erik Duivenvoorde - erik@maximumyield.com

Hailey Woolgar - hailey@maximumyield.com

DESIGN & PRODUCTION

ads@maximumyield.com

Art Director

Alice Joe

Graphic Designers

Jennifer Everts

Dionne Hurd

Holly Anderson

Samira Saoud

ACCOUNTING

Tracy Greeno - accounting@maximumyield.com

Katie LaFrance - ar@maximumyield.com

Maximum Yield is published bi-monthly by Maximum Yield Inc.

No part of this magazine may be reproduced without

permission from the publisher. If undeliverable, please return

to the address below. The views expressed by columnists

are personal opinions and do not necessarily reflect those of

Maximum Yield or the editor.Publication Agreement Number

40739092

2339A Delinea Place, Nanaimo, BC V9T 5L9

Phone: 250.729.2677; Fax: 250.729.2687

PRINTED IN AUSTRALIA

AUSTRALIAN DISTRIBUTION

Dome Garden Supply • Holland Forge

House & Garden • Growlush • Hydroponic Generations

Plant Symbionts • Way to Grow

UK DISTRIBUTION

Nutriculture UK • Dutch Pro

Easy Grow Ltd. • Erith Horticulture

CANADIAN DISTRIBUTION

Brite-Lite Group • Eddis Wholesale

Greenstar Plant Products • Growers Paradise

Quality Wholesale

USA DISTRIBUTION

Aurora Innovations •BWGS •General Hydroponics

Humboldt Wholesale •Hydrofarm •Hydro International

National Garden Wholesale/Sunlight Supply

Tradewinds •Urban Agricultural

6 Maximum Yield | January/February 2017
---
letters to the editor

Hopelessly Hooked

Getting your feet wet in

hydroponics is not easy.

However, when my local

shop gave me a copy of

your informative magazine, it

answered a lot of questions on

how to get started and what I

needed. I am hopelessly hooked

on Maximum Yield now. Thanks!

Michael Forsberg

Editor's Note: Michael has won

Michael Forsberg

a cash prize to spend at his

favourite indoor gardening shop, Happy Hydro in St. Louis,

Missouri, for telling us why he loves Maximum Yield.

Higher Yields

Maximum Yield is one of the best free gardening magazines

I've read. The articles have given me the confidence to step

out of my comfort zone and try new things, most of which have

resulted in higher yields and healthier plants. I always look

forward to my next issue.

Daniel

Good Guides Get Shared

Thanks for sharing our guide about food scraps. I hope your

viewers enjoyed it!

Beth

New Tech

Maximum Yield keeps me updated on all the new technology

and gadgets out there. It's a great magazine for a newbie like

myself. Best of all, it's free. Thank you.

Chase

10 Years Strong

I'm a fan of Maximum Yield because of the advice and direction

it provides readers. I have been a grower for 10 years now and

thanks to Maximum Yield, my harvests are more beautiful and

bountiful than ever.

Troy

contributors

SARA ELLIOTT is a

professional writer with

extensive horticultural

knowledge acquired

through theoretical study

and practical experience.

You can find her gardening

and lifestyle pieces in print and online.

CORY HUGHES is a

former police officer turned

full-time commercial

grower in Denver, Colorado.

SHANNON MCKEE

lives in Ohio and has

been a freelance writer

for several years now,

including on her blog,

whyiwah.blogspot.com.

Nicknamed a garden

hoarder by loved ones, she grows a wide

variety of plants in her urban garden.

RICH HAMILTON has

been in the hydroponics

industry for more than 20

years, working originally

as a general manager in

a hydroponics retail outlet

before becoming an account

manager at Century Growsystems. He enjoys

working on a daily basis with shop owners,

manufacturers, distributors, and end users to

develop premium products.

GRUBBYCUP has been

an avid indoor gardener

for more than 20 years.

His articles were first

published in the UK,

and since then his

gardening advice has

been published in French, Spanish, Italian,

Polish, Czech and German. He is also

considered one of the world's leading

authorities on crochet hydroponics.

JESSICA SKELTON

Jessica Skelton is an editor

at Maximum Yield Inc. on

Vancouver Island, Canada.

Before taking up her

current post, she spent two

years living, working, and

travelling throughout Australia.

ERIC HOPPER'S past

experiences within the indoor

gardening industry, include

being a hydroponic retail

store manager and, owner.

Currently, he works as a

writer, consultant and product

tester for various indoor horticulture companies.

His inquisitive nature keeps him busy seeking

new technologies and methods that could help

maximise a garden's performance.

KATHRYN M. VAN

DRUFF (nee D'Imperio)

is a freelance writer and

marketing specialist with

her own business, Dances

with Words. She has years

of experience writing about

gardening, landscaping, and home design

topics. Kate is also an avid home gardener,

wife, and mother to two daughters and a

border collie.

THIS COULD BE YOU!

Become a Maximum Yield

contributor and have your

articles read by 250,000

readers throughout

the USA, Canada, UK,

Europe, New Zealand,

and Australia. Every issue is available on

maximumyield.com, which gets thousands

of unique visitors monthly.

8 Maximum Yield | January/February 2017
---
ask the experts

Q

What are the maximum light and CO 2 levels that can be

applied to a plant before destroying it? Please note that

limiting factors are all under control. Thanks!

– Michael

A

Thanks for writing in. That is a good

question. Let's first look to the sun

for some information. The sun is the

Earth's grow light and produces more

than 100,000 lux, or roughly 10,000

lumens, per square foot. This can be

even higher when under direct sun.

Lumens are a measure of the amount

of light cast on one square metre.

Most styles of artificial lighting do not

provide anywhere close to that, but

more important than lumens, which

refers to the amount of visible light,

is the amount of usable light. Plants

see light differently than we do. They

utilise much more of the red and blue

spectrums of light, which the human

eye is not as sensitive to.

Plants use light during the process

of photosynthesis. For this reason,

it is important that your grow lights

produce light waves in the wavelength

ranges that are useful for plants,

primarily the 400-700 nanometre range.

Most lights cover all spectrums, but

some are manufactured to produce

light in certain spectrums more than

others. Let's go back to lumens and how

much can be used. Illuminance is the

way most growers judge their light.

Most agree that ideal light levels fall

somewhere in the range of 30,000-60,000

lux for vegetative growth and between

50,000-80,000 lux for the flowering stage.

Serious plant problems surface at light

levels above these, not to mention heat.

CO 2, which is involved in photosynthesis,

is also essential for plant

growth, but there is a threshold of

how much your garden will use.

Ambient levels of CO 2 hover around

400-500 ppm. When you increase that

level to around 1,000-1,500 ppm, you will

see an increase in your yields and your

plants will be much healthier. If the level

rises to 2,000 ppm or higher, you will

begin to see negative effects such as

CO 2 burn. It is best not to allow your CO 2

levels to increase this high. Doing so

not only hurts your garden, but it wastes

CO 2 and money. As far as your choice of

products, I would suggest using an allnatural

form of CO 2 production versus a

propane burner system or a tank system.

The burners create heat and require the

use of fossil fuels and tanks are cumbersome

and must be refilled often.

You should supplement your garden

with CO 2 during both the vegetative

stage, and the flowering stage. If you

encounter high temperatures, CO 2 will

help your plants tolerate the high heat.

In some instances, it may be what saves

your garden from disaster.

Glen Babcock

is the owner

of Garden City

Fungi and the

founder of ExHale

Homegrown

CO 2. Glen has

been involved

in agriculture

his entire life. He graduated from the

University of Montana with a degree in

forestry and has been a mycologist for

more than 26 years. His research has been

published in scientific journals worldwide.

YK?

LUMENS

The lumen (lm) is a unit of luminous flux; a measure of the total quantity of

visible light emitted by a source. Lumens are related to lux in that one lux is

one lumen per square metre. The lumen is a measure of the total amount

of visible light emitted from a given source, dependent on spectrum. Watts

(W) is the measure of the amount of energy required to light a product,

whereas lumens measure the amount of light produced. The more lumens

in a light bulb, the brighter the light.

– lumennow.org

10 Maximum Yield | January/February 2017
---
Group Pushes Ag Tech Use

A new technical advisory group is being created to help the Ministry of Primary

Industries accelerate the use of smart agriculture technology. "Technology

has major potential to support higher productivity and more sustainable

use of natural resources in farming," says Primary Industries Minister

Nathan Guy. "We know there are some exciting advances in agricultural

science and technology coming from our CRIs and universities, as well

as some great commercial tools already available. But for farmers, it can

be difficult to know what tools are right for them, and to judge

how much to invest. We want to understand how we can

better support farmers to make those decisions."

- nzherald.co.nz

MAXFACTS

GROWING TIPS, NEWS, AND TRIVIA

Scurvy Cases Rising in Australia

Scurvy, a disease historically associated with sailors on long voyages, is making a

comeback in Australia. Health officials have reported multiple cases as of late. Now

considered rare, scurvy is reappearing thanks to poor dietary habits, thinks Jenny

Gunton, who heads the Centre for Diabetes, Obesity and Endocrinology research at

the Westmead Institute in Sydney. She noticed the cases after multiple

patients came in with wounds that would not heal on their own.

"When I asked about their diet, one person was eating

little or no fresh fruit and vegetables, but the rest ate fair

amounts of vegetables; they were simply overcooking

them, which destroys the vitamin C," she says.

- scmp.com

App-happy Students Focus on Ag

Instead of coding computer games, a group of Western Australian

students is focusing their skills on an app project with the Department

of Agriculture and Food of Western Australia (DAFWA). "We just join

together … and swap ideas on what to code and how to code it, and

we take [the students'] experience with various bits and pieces of

coding, and bits and pieces of hardware, to make up some real-life

experiences," DAFWA weeds research officer John Moore says.

"So, instead of looking for monsters or other undesirable things

in games, and shooting them, we say, 'Well, go out and look

for some weeds or some snails or some insects or some noxious

weeds and then get a robot to go out and kill them. The sorts of

things you're doing in games we need to do in agriculture."

- abc.net.au

12 Maximum Yield | January/February 2017
---
max facts growing tips, news, & trivia

Superfood Research Boost

Naturally Nutritious, a project to search for new superfoods, has received $10 million in funding. The project, which is led

by Dr Tim O'Hare of Queensland Alliance for Agriculture and Food Innovation, will focus on identifying fruit, vegetables,

and nuts with a potential for health benefits. Once identified, the researchers will develop the variety through various

techniques to promote the element that is beneficial to the consumer. Another part of the project will be clinical trials on

humans to measure how much of a benefit the foods are. Potential candidates for the superfood category could include

strawberries that could improve the growth of unborn babies, macadamias that could improve

cardiovascular health, and capsicums that could improve eyesight. The Queen Garnet

superplum, which has blood pressure lowering properties, and SuperGold

sweet corn, which can protect against macular degeneration, are two recent

developments in the quest to find foods with extra health benefits.

- brisbanetimes.com.au

Honey Bee Husbandry

Second-generation beekeeper Casey Cooper has learned how

to breed bees artificially. It's much like working with cattle or

chickens, except the tools are microscopic. The best drones with

good temperament from suitable hives are milked before virgin

queens are inseminated. "In a year, you can breed up five or six

generations, if you want to," says Cooper, who runs 1,000 hives on

the New England Tablelands and is a finalist in the NSW Farmer of

the Year competition. "You can change a trait very quickly—in three

to four months—provided there is high nutrition and good rainfall. In

a drought, we suffer like anyone else." Cooper says genetic selection

through the generations is similar to all of agriculture with breeders

selecting for productivity, temperament, survivability, and toughness.

- theland.com.au

Almonds, Not Sports Drinks

While avocado and Vegemite on toast and sports drinks are popular ways for

athletes to consume electrolytes after an intense session, a handful of almonds

could provide them as well. Accredited sports dietician Simone Austin gave the

thumbs-up to almonds as an important part of her work with elite sports teams at

the 17 th Australian Almond Conference. "I think there is as huge opportunity to

tap into using nuts as recovery," she says. "Protein foods are a little bit limited and,

again, that's where almonds are fantastic because they are portable, they don't

have to be refrigerated, they can sit in the bottom of the training

bag for a couple of weeks and they are still going to be okay."

According to the nut industry's promotional brand, Nuts for Life,

just 30grams of nuts a day, which is around a handful, can help a

person meet his or her daily nutrient needs and maintain health.

- farmonline.com.au

14 Maximum Yield | January/February 2017
---
max facts growing tips, news, & trivia

Accommodations Lacking for

Seasonal Workers in New Zealand

A study out of the Wester Bay of Plenty Council says nearly half the seasonal

workers coming into service in the horticulture industry sectors such as kiwifruit

have insufficient accommodation. This includes a lack of bedding. "Anecdotal evidence suggests

that there is a shortfall in the quantity of accommodations available for the industry's seasonal

workers," say the study's authors, council analysts Kate Waterhouse and Tony Clow. "Concerns have

also been raised regarding the quality of accommodations available for them. This situation is likely

to be exacerbated by the continuing growth of the kiwifruit industry, which will result in greater

demand for seasonal workers and put further pressure on the already limited housing stock."

- allafrica.com

From Zero to Tomato Hero

Naresh Singh has achieved a lot in his relatively short agriculture

career. The regional winner of the SA grower productivity

segment of the Syngenta Growth Awards moved from India in

the late 1990s with no agricultural experience whatsoever. Fast

forward less than 20 years and Mr Singh is a world leader in

the tomato industry. He constantly tries to push the envelope in

terms of productivity, principally by growing yields and also by

cutting costs. Central to his methods is focusing on increasing

the density of plants, achieving a 25 per cent yield increase in

varieties from the accepted European yield rate. As head grower

for D'VineRipe, he has achieved world-best yields in both the

Dunne and Perino varieties.

- farmonline.com.au

New Weapon Against Australian Fruit Fly

The newest weapon against the Queensland fruit fly, which costs the Australian horticulture

industry more than $300 million a year, has been unveiled in South Australia. The National Sterile

Insect Technology (SIT) Centre will produce 50 million sterile male Queensland fruit flies each

week. These flies will be released to mate with females, collapsing wild populations in

fruit fly affected horticulture growing regions. South Australian Agriculture Minister

Leon Bignell says the new centre would transform the way Queensland fruit flies

are managed around Australia and would help increase global confidence

in South Australia's biosecurity, product integrity, and food safety

standards. "The facility will reinforce South

Australia's enviable status as the only mainland

state in Australia which is fruit fly free," he

says. "It will also help to reduce fruit fly

populations in other major horticulture

regions across Australia."

- freshplaza.com

16 Maximum Yield | January/February 2017
---
product spotlight

HOTTESTPRODUCTS

ASK FOR THEM AT YOUR LOCAL HYDRO SHOP

Skye Instruments Light Radiation Sensors

Skye Instruments has been designing and manufacturing instrumentation for environmental monitoring, plant growth, and

agricultural research since 1983. Its product range includes light radiation sensors and meters for various plant studies

such as underwater measurements, greenhouse studies, controlled environments, and plant growth chambers. Skye

Instruments' PAR Quantum, PAR Energy, and PAR Special sensors all measure the

photosynthetically active radiation between 400-700 nanometres—the part of the solar

spectrum used by plants for photosynthesis and sugar production. Its red/far-red

(RFR) sensor is a two-channel radiometer, which is essentially two sensors in one. The

specially designed light-collecting head is fully cosine-corrected and randomly splits

light between two separately filtered photodiodes, giving a light intensity output for

each of the red and far-red channels that is ideal for measuring the RFR ratio. Skye

manufactures sensors that measure UVB rays up to the shortwave infrared (SWIR).

Arbalette Botanicals Q Series

The Q Series is set to become the definitive LED

cultivation lighting solution. At the heart of the Q Series

is its passive-cooling, aluminum honeycomb chassis

that allows for upgrades as technology progresses.

The Q Onyx is black and fitted with MothWing lenses,

and the Q Sapphire is white and fitted with standard

BatWing lenses. Both models shape the light to

facilitate lateral limb development from the top to

the bottom of the plant. Optional optics packages are

available to allow for better light placement for SCROG

and SOG table and floor arrangements, especially

when differing heights of plants are present. Choose

different packages for three-foot wide continuous

rows, tall and thin species,

short and bushy

species, and

even optics for

vertical living

wall set-ups.

Uber Nutrients Re-Cover

Uber Nutrients Re-Cover is the only

product on the market that was specifically

designed to reverse and correct the

less-than-desirable visual and physical

side effects that can occur with the use of

commonly used height-controlling plant

growth regulators. The use of PGR height

controllers often results in moderate sized

plants with little essential oil production

and compact and hard flowers that are

then susceptible to moulds. Re-Cover fixes

these common symptoms of PGR stress by restarting growth

and development pathways, thus reviving cell division. This

accelerated regeneration gives you yet another big burst in

flower size that returns proper density to the flowers and gives

you sweet-smelling, fully mature plants. Re-Cover is free from

PGRs and harsh chemical agents; it restores your plants through

the use of an acetylated form of lecithin and its unique TRx1

Peptide Suite. Re-Cover your lost sales today!

Fantech FG and FKD fans

For more than 30 years, the team at Fantech has been researching, designing, and bringing

to market superior quality ventilation solutions. Their popular FG and FKD series fans have

been a staple for professional growrooms for years. Fantech offers a full complement of

accessories like speed controls, engineered silencers, and motorised dampers as well.

Fantech manufactures the broadest range of EC fan technology available anywhere.

EC benefits include: Highest CFM per watt performance, exponential energy savings

at lower speeds, no hum or vibration when speed controlled, quieter performance,

and the elimination of VFDs for three-phase units. The EC motor is not harmed in

any way by slowing the speed below 30 per cent. Perfectly matched with EC Fans is

the Aeolus EC Fan Controller launching in early 2017. Fantech represents the latest in

greenhouse and growroom, sensor-based speed control ventilation technology.

20 Maximum Yield | January/February 2017
---
product spotlight

Hydropods Grow Controllers

Hydropods cloud-based Wi-Fi Controllers enable you to monitor, control, and automate

your grow operation from anywhere using your smartphone. The Hydropods Environment

Controller monitors humidity, temperature, and CO 2. With included Remote Power Blocks,

it can wirelessly control devices such as lighting, air conditioning, humidifiers, or an exhaust

fan. The system can be expanded with additional modules available from Hydropods,

including cameras, remote sensors, and additional Power Blocks. The Hydropods Nutrient

Controller provides monitoring of the irrigation system, measuring nutrient levels, pH,

temperature, and water levels. Add up to 16 Hydropods Peristaltic Pump Modules to

automate multi-part dosing and maintain pH. The Hydropods App communicates with the

Hydropods Controllers and allows users to monitor sensor data in real time, view real-time

video, and control connected devices. Users can set up rules including sensor triggers,

timers, and schedules to automate the grow process.

SANlight P4W

The SANlight P4W is one of SANlight's primary

products for greenhouses and professional use.

With its maximum efficiency of 3,2 µmol/J and a

sophisticated lens system for different applications,

it is the market's leading product. SANlight's

technical and theoretical knowledge are the main

reasons the company can assure its users that its

products are of the highest quality. The SANlight

P4W is maintenance-free, waterproof, and comes

with a three-year warranty. It runs for approximately

80,000 hours (L90) while providing growers with

energy savings of up to 50 per cent. Increase your

profitability with the SANlight P4W.

FloraFlex Flora Cap

The FloraFlex FloraCap is a

revolutionary tool for top feeding

that also helps eliminate algae.

Place the six-inch FloraCap on

top of your six-inch rockwool cubes, maximizing your

space in the vegetative cycle. Fill the cap with water and

nutrients by hand or automate with FloraClips. Each cap

features 34 flower-designed louvers that deliver water,

nutrients, and air to the medium while blocking light.

The FloraCap strategically covers the top of the media,

allowing the root zones to dry at a more consistent rate

and delivering the necessary oxygen your plants need to

thrive. Algae disappears, healthy roots fill the medium,

and blossoms multiply. The FloraCap was designed with

the vegetative stage in mind but has proven to be a worthy

tool throughout the flowering stage as well.

O 2 Grow 2120-A Spider

The new 2120-A Spider from O 2 Grow delivers oxygen directly at

the root in every bucket. This unit was specifically designed for use

in deep water culture systems. Each emitter will supersaturate eight

to 14 gallons of water per bucket. The O 2 Grow line of products

from the Oxygen Research Group will raise oxygen saturation

levels 50 per cent higher than what air stones can achieve. The O 2

Grow emitter technology works by electrically separating the water

molecule into hydrogen and oxygen. The pure oxygen nanobubble

is re-absorbed back into the water. Supplemental oxygen is

important whether you are growing hydroponically or in soil.

Oxygen at the root helps prevent root disease, enhances nutrient

uptake, and increases flower and fruit yield. O 2 Grow emitters

come in a range of sizes able to oxygenate water reservoirs from 10

gallons up to 250 gallons. Spider units are available with either six

or 12 emitters. Get out of the Stone Age with O 2 Grow.

22 Maximum Yield | January/February 2017
---
ilver

ANOTHER WAY TO KILL PATHOGENS

ecrets

by Kathryn Van Druff | Most people don't think of using colloidal silver to cure their own health, so it's

no surprise gardeners don't think of it to improve their plants' health, either. Kathryn Van Druff gives us 10

secret benefits of ionic colloidal silver in the garden that will make you wonder why it's not more common.

24 Maximum Yield | January/February 2017
---
SILVER SECRETS

You may have heard of colloidal

silver's healing powers in human

health. Some people use it when they

feel a sinus infection coming on, while

others have used colloidal silver to

treat skin conditions and infections,

including bacteria, yeast, viruses, and

parasites. Known as nature's antibiotic,

it's no surprise that colloidal silver can

also offer preventative, therapeutic,

and restorative properties to our plants

and our gardens.

Colloidal silver is essentially pure

water with ultra-tiny nanoparticles

of silver suspended inside. The ionic

form of silver is capable of killing

more than 650 different pathogens. The

US Environmental Protection Agency

(EPA) named silver as an oligodynamic

biocide, which means it attacks

primitive life forms but doesn't harm

more mature organisms. The beauty of

using colloidal silver in the garden is

that it's very safe for the plants, but it

tenaciously targets the bacteria, parasites,

and other pathogens.

In his published work Use of Colloids

in Health & Disease, in 1919, Alfred

Searle wrote:

"Applying colloidal silver to human

subjects has been done in a large number

of cases with astonishingly successful

results. For internal administration,

orally or hypodermically, it has the

advantage of being rapidly fatal to

parasites without toxic action on its host."

From a gardening perspective, this sort

of result opens the door to remarkable

possibilities. In particular, it suggests

a rapid remedy to common garden

pests and problems without harming

the plants, helpful pollinators, or the

humans who consume the ensuing fruits

or vegetables. Here are some of the top

ways your garden can benefit from a

touch of colloidal silver.

AN ORGANIC ALTERNATIVE

TO POTENTIALLY HARMFUL

CHEMICALS AND PESTICIDES

Whether you're growing commercially

or simply for your family's dinner table,

no one wants extra chemicals on their

fruits and vegetables. When treated

with pesticides, plants tend to absorb

topical chemicals. Colloidal silver is a

safer, more organic alternative to many

of the poisons marketed for gardens

and farm pest prevention.

"KNOWN AS NATURE'S ANTIBIOTIC, IT'S NO

SURPRISE THAT COLLOIDAL SILVER CAN

ALSO OFFER PREVENTATIVE, THERAPEUTIC,

AND RESTORATIVE PROPERTIES TO OUR

PLANTS AND OUR GARDENS."

EFFECTIVE ERADICATION PLANTS OF

BACTERIA, VIRUSES, FUNGI, AND EGGS

Colloidal silver effectively inactivates

the oxygen metabolism enzyme needed

to sustain life for these undesirable

organisms. Spraying colloidal silver

onto plants infected with bacteria, fungi,

and viruses swiftly causes these undesirable

organisms to suffocate and

perish, all without the negative effects of

traditional pesticides or the toils of other

pest removal methods. An application of

colloidal silver also is reportedly safe for

children and family pets that may come

into contact with the plants.

NO HARM TO POLLINATORS

Honeybees, ladybugs, and other beneficial

insects do not seem to have a negative

response to colloidal silver. Whether

it's found in their drinking water or

placed upon surfaces they touch, such as

leaves and blossoms, this eco-friendly

garden enhancer keeps your garden's

pollinators happy and healthy, too.

BIGGER FRUITS AND VEGETABLES

In a study published in the March 2010

issue of the journal Mycobiology, green

onions were treated with silver nanoparticles

at the roots to eradicate Sclerotium

cepivorum fungal infections. In addition

to clearing up the fungus, the silver

increased the fresh weight and the dry

weight of the onions, producing larger,

more desirable vegetables.

GREENER LEAVES AND

STRONGER ROOTS

Using ionic colloidal silver in the garden

can transform the overall health of

the plant. In addition to treating and

preventing pathogens, viruses, and

fungi, the silver nanoparticles can

impact the strength of the root system

and the size and hue of the leaves.

Large, vibrant green leaves indicate a

truly healthy plant.

BETTER PLANT IMMUNITY AND

IMPROVED CELL REJUVENATION

People may turn to colloidal silver

supplements for a variety of illnesses

and infections, from swimmer's ear to

pink eye. The silver is known to improve

a person's immunity, so it makes sense

that plants can also gain a beneficial

immune boost. Colloidal silver helps

to make the plants more robust in

preventing issues before any problems

even occur, but also in recovering from

damage caused by nuisance organisms.

26 Maximum Yield | January/February 2017
---
"WHETHER IT'S FOUND IN THEIR DRINKING

WATER OR PLACED UPON SURFACES THEY

TOUCH, SUCH AS LEAVES AND BLOSSOMS,

THIS ECO-FRIENDLY GARDEN ENHANCER

KEEPS YOUR GARDEN'S POLLINATORS

HAPPY AND HEALTHY, TOO."

NO PATHOGEN IMMUNITY OVER TIME

One of the main problems with traditional

antibiotics is that bacteria can

morph over time, becoming immune

or less responsive to the effectiveness

of the drugs. Unlike antibiotics, pathogens,

viruses, fungi, and bacteria do not

develop immunity to silver nanoparticles.

Applying colloidal silver in the

garden should continue to offer improvements

for the foreseeable future.

SAFETY TO GARDENERS

Many people ingest colloidal silver

or apply it topically to treat various

conditions. If there is a chance you

ingested colloidal silver, you should

always make absolutely certain that

you are using true colloidal silver and

not silver protein or ionic silver, as

some toxicity may occur, depending on

use. Check the Silver Safety Council's

Silver Safety Pyramid (silversafety.org)

to ensure proper daily, short-term and

lifetime usage.

WATER PURIFICATION

Colloidal silver possesses a unique

ability to purify water supplies and

reservoirs. Various airlines employ

silver water filters to keep waterborne

illnesses at bay when airborne.

NASA also leveraged the power of

silver for its purification properties,

developing a copper/silver ionisation

process to sanitise the water.

The purification process removes

bacteria and algae from the water,

as evidenced by its original intended

purpose of dispensing silver ions and

killing bacteria in the potable water

supply on the Apollo spacecraft. Using

colloidal silver in your watering can,

rain barrel, or other water collection

system allows you to ensure the

water is free from bacteria, algae,

and pathogens before you water

your garden, giving your plants pure,

healthy water.

Maximum Yield | January/February 2017

27
---
SILVER SECRETS

"USING COLLOIDAL SILVER IN YOUR

WATERING CAN, RAIN BARREL, OR OTHER

WATER COLLECTION SYSTEM ALLOWS YOU

TO ENSURE THE WATER IS FREE FROM

BACTERIA, ALGAE, AND PATHOGENS BEFORE

YOU WATER YOUR GARDEN, GIVING YOUR

PLANTS PURE, HEALTHY WATER."

NO RESIDUE LEFT BEHIND

After spraying colloidal silver onto your

plants, you can rest easy knowing that no

residue remains. Your fruits and vegetables

are still perfectly safe and healthy

for your family to enjoy. Colloidal silver

may also be combined with water and

vinegar to create a fruit and vegetable

wash. The Centers for Disease Control

and Prevention reported in its recent

study "Epidemiology of Foodborne

Norovirus Outbreaks, United States, 2001-

2008" that produce accounted for 46 per

cent of all foodborne illnesses across 17

food categories. In terms of norovirus,

more than half of the cases were tied to

produce, particularly leafy vegetables

and fruit. According to a recent study

published in the journal Applied and

Environmental Microbiology colloidal

silver can deactivate murine norovirus

(mouse-based norovirus).

HOW TO APPLY COLLOIDAL SILVER TO

YOUR GARDEN

Colloidal silver works rapidly and efficiently.

In many cases, it needs only

moments of contact with the fungus

spores or other organisms. Applying

colloidal silver to your garden can be a

relatively effortless process.

• Apply small amounts of a diluted

solution to the roots to fortify the

plant while also preventing root rot.

• Mix a diluted solution containing

one tablespoon of colloidal silver

and one litre of water and spray on

the leaves and flowers.

• Add to your watering can at the rate

of one tablespoon per litre of water.

Interestingly, plants may have the

ability to control their rate of absorption

of colloidal silver. Researchers

found that the more nanosilver they

applied to the green onions, the less

the plants absorbed. This indicates

that the plants absorbed only what

they needed to promote their protection

and healing.

One study suggests that, over

time, soil can become contaminated

with the silver particles, causing

the plants and young seedlings to

respond in a certain way. In this

study, pine tree seedlings exhibited

reduced growth. If heavy silver saturation

is a concern, you may find

container gardening to be a good

place to start with your silver application.

This way, you can replace the

soil any time you choose if things

aren't going the way you envisioned.

With this in mind, moderation may

be the key to using colloidal silver in

your gardening endeavours.

28 Maximum Yield | January/February 2017
---
y Shannon McKee

Let's face facts. Gardening

in any form takes money,

and often indoor gardening

using hydroponics can be

even more expensive than

just putting a few tomato

plants in your backyard

plot. Finding ways to save

money can help you keep

doing what you love longer

and may even help you to

expand your efforts. Here are

some pointers on how to save

money the next time you hit

your favourite shop.

1. Talk to the Employees

You may believe that it's against

a shop employee's best interests

to talk to you about ways to save

money, but they know their loyal

customers are hooked on growing

and will come back for more. They

can give you all kinds of tips on

when or how to shop for supplies

based on their upcoming sales,

clearance items, and more.

2. Buyback Programs

Employees are also

knowledgeable about whether or

not the shop may have buyback

opportunities. Some stores will

buy back your old equipment

when you upgrade or downgrade

in order to re-sell to their bargain

hunters. You can use the cash you

make off your old equipment to get

discounts on newer items or buy

used equipment if it's been vetted

by the shop employees.

3. Warranties

Warranties can also be a good

thing to look into when buying

your items. Finding an item with

an amazing warranty may not

save you money when you check

out that day, but it will in the future

if something goes wrong and you

can have it fixed or replaced for

free rather than opening up your

wallet to do so yourself.

4. Social Media

Keep an eye on your favourite

local shops on social media

or sign up for their newsletter.

This is another great way of

staying informed of all the

deals they offer throughout the

year. Plus, some places give

discounts to people who follow

them on social media or emails

just to reward the interaction.

5. Samples

Be sure to ask for samples of

products that you haven't tested

in the past. Many shops will

have samples on hand from their

suppliers behind the counter—all

you have to do is ask. This saves

you from buying a full-sized bottle

and finding that you preferred your

old brand better.

6. Reusable Products

Another way to save money is to

look into the possibility of using

reusable grow media such as

soil, coco coir, or clay pebbles. If

you're able to get a few uses out

of a grow medium, this not only

saves you the money from having

to buy the product as often, but

also time, as you won't have to

go to the store as frequently (and

risk being tempted to pick up

items you don't really need).

30 Maximum Yield | January/February 2017
---
7. Bulk Buys

Applying some of the moneysaving

tricks you've learned

at the grocery store can help.

Look for products that are shelfstable

and buy them in bulk. For

instance, you can often get a

great deal on larger packs of light

bulbs where each bulb ends up

cheaper than if you were buying

them in smaller packs.

8. Shelf Life

Another grocery store trick you

should keep in mind is not buying

items that will expire before you

use them up. Yes, you may be

saving money per ounce or item,

but if you end up throwing out a

lot because it's expired, then it's

not really a savings. Consider

going in on buys with a friend

or relative if you are looking to

buy these items with the savings

without having any go to waste.

9. Coupons, Rebates,

& Clearances

Be on the lookout for any way to

save money off the regular price.

Things like coupons, buy-oneget-one

(BOGO), rebates, and

clearance bins should be like

catnip to you. Use coupons and

BOGO deals to stock up on shelfstable

items. Rebates are often

offered by the manufacturer, so

be sure to pay close attention to

the instructions on how to get

your savings. It may take a few

months before you get your check

or gift card, but it's well worth

the little effort you need to put in.

Clearance bins are often a good

way to find items that may be

overstocked, being cut from the

product line, or are nearing their

expiration dates.

10. Make a List

How often do you get to the

store and find that you're buying

more than what you planned on

purchasing and then regret some

of your impulse purchases? Going

in with a list can help you stay on

track with your buying needs and

save you money.

These tips and tricks will make a

big difference in your grow budget.

You'll be happier with the amount

of money you've saved, and maybe

you'll be able to save enough cash

to update your equipment or buy

the equipment for the extension that

you've been dreaming about. Happy

bargain shopping!

How do you save money at your

local grow shop? Email us your tips

at editor@maximumyield.com.

Maximum Yield | January/February 2017

31
---
Who is This

Kelvin Guy?

by Sara Elliott

If the Kelvin scale

was a character in a

suspense novel, he'd

be the misunderstood

loner who possessed

information vital

to untangling the

convoluted plot.

34 Maximum Yield | January/February 2017
---
If you're a little unclear about the kelvin (K) rating on your grow

light, you're not alone. The Kelvin scale can be counterintuitive

in a couple of ways, but understanding it is an important

detail when pursuing the goal of healthy plant development.

Kelvin and Temperature

Let's start with a simple refresher. Kelvin is a temperature

measurement often preferred in scientific circles because it

can be useful in a number of different contexts. The bottom of

the scale denotes absolute zero, a condition where there is no

measureable kinetic energy in an object. It's as cold as it can

possibly be. The coldest objects in the universe will have a

rating of zero on the Kelvin scale.

The incremental measurements when using kelvin are the

same as when using Celsius (˚C), another type of temperature

scale. Where they differ, however, is the definition of zero.

On the Celsius scale, zero is the freezing point of water. As

mentioned above, zero on the Kelvin scale is absolute zero. For

reference, 0 K is equal to -273.15˚C.

The Kelvin Scale and Colour Temperature

Kelvin is a fundamental unit of thermodynamic temperature,

which means it measures heat. So, it would make sense that

colour temperature ratings are really heat ratings, right? Well,

yes and no.

Although kelvin is a heat measurement, it doesn't quantify

the amount of heat a light fixture is pumping into your growroom

when applied to colour temperature. Instead, it measures

how closely a light source approximates full-spectrum

sunlight. The Kelvin scale can be used to do this by exploiting

the colour changes that occur when an object is heated.

For a real-world example, think of an incandescent filament.

As the filament gets hotter, it first begins to glow red then

orange, yellow, and so on. These colour changes are measured

as heat values in kelvin, but correlate to colour spectrum

changes, too. By applying the Kelvin scale to these specific

hues or colour ranges, it's possible to select light values

favourable for specific phases of plant photobiology. Kelvin

can also be used to identify full-spectrum lights that most

closely approximate sunlight.

Is Blue Cool or Hot?

Let's look at this concept a little more closely. Light

sources can be somewhat classified based on their kelvin

values using a scale from 1,000-8,000 K. Here are some

general examples to give you an idea of how the scale

relates to different types of light:

As you can see, candlelight, which is toward the red end of

the visual spectrum, has a lower kelvin rating or range than

light on the white or blue end of the spectrum, such as that

produced by a fluorescent fixture in an office building.

This is another way in which kelvin can be confusing. In

colour psychology, humans tend to associate blue hues with

cooler environments, often defining them as calmer, chillier

shades. However, blue has a higher kelvin rating and colour

temperature than that of red, orange, or yellow light. Going

back to our incandescent filament example, a white or blue

filament is hotter than a red or yellow one.

"

In colour psychology, humans tend

to associate blue hues with cooler

environments, often defining them

as calmer, chillier shades. However,

blue has a higher kelvin rating and

colour temperature than that of red,

orange, or yellow light.

"

• Candlelight: 1,800-1,930 K

• Sunlight at Sunrise or Sunset: 2,000-3,000 K

• High Pressure Sodium (HPS): 2,200 K

• Incandescent: 2,700-3,000 K

• Compact Fluorescent (CFL): 2,700-6,500 K (various)

• Metal Halide (MH): 3,200-5,500 K (various)

• Sunlight at Noon on a Clear Day: 5,000-5,400 K

Maximum Yield | January/February 2017

35
---
WHO IS THIS KELVIN GUY?

It may seem possible to convert

light wavelengths to colour

temperatures. However, the

relationship between the

two isn't as intuitive as

it might appear.

Colour Temperature and Visible

Light Wavelengths

It may seem possible to convert light wavelengths

to colour temperatures. However, the

relationship between the two isn't as intuitive as

it might appear. Visible light within the electromagnetic

spectrum—that is, all the colours of the

rainbow—has a wavelength range of 390-700 nanometres

(nm). For example, blue light has a wavelength of

around 475 nm and red light has a wavelength of about

650 nm. Colour temperature ratings, however, don't represent

a single wavelength value. These ratings actually

contain many, many wavelengths that collectively appear

as a particular hue.

Colour Temperature and Plants

In nature, plants have access to balanced, full-spectrum

sunlight that includes all light wavelengths. During photosynthesis,

most plants employ the entire visible light spectrum.

To perform some other functions, though, they rely heavily on

specific portions of the light spectrum. For example, during

early growth, light on the blue end of the spectrum (6,500 K)

triggers leaf, stem, and root development. Later, an increase

in red spectrum light (2,700-3,000 K) encourages and sustains

flowering and fruiting.

For indoor growers, understanding how plants use light

makes it easier to manipulate colour temperature and use

lighting efficiently in order to maximise the developmental

potential of plants. Kelvin colour temperature ratings are

useful measurements when determining the best light for

different phases of plant development, but there are other

light-related factors to think about, too. They include, but are

not limited to, light intensity and duration (AKA daily light

integral, or DLI), heat output, bulb longevity, equipment cost,

and energy consumption. For best results, understand what

type of lighting your plants will need before you invest in

equipment, and use tools like colour temperature to finetune

your growing strategies.

COLOUR TEMPERATURE & YOUR HOME LIGHTING

If you think the value of colour temperature is limited

to the confines of your growroom, guess again. The

technology has widespread uses, some of which touch

pretty close to home. Colour temperature is used

in photography, publishing, the film industry, and

astrophysics. It is also a key component in lighting for

business and residential applications. Take a look at your

stash of everyday lightbulbs and you're likely to see they

include a kelvin range. Popular ENERGY STAR bulbs are

rated for both energy efficiency and colour temperature.

Their colour temperature ratings can help you identify

and consistently purchase the light hue, or hues, that

function best for the room or task you have in mind.

Generally, a colour temperature range of 2,000-3,000 K

produces warm, cozy yellow light great for a bedroom,

dining room, or family room. A higher range of 3,100-

4,500 K produces cool white lighting effective for a kitchen

workstation or a desk lamp. Lighting in the white, blue range

of 4,600-6,500 K works best in spaces where visibility is

critical, such as stairways, entryways, and garage workspaces.

36 Maximum Yield | January/February 2017
---
alancing

Plant

Growth

Regulator

principles

Plant growth regulators have their benefits,

but they also have their drawbacks that can

include health concerns for people who

consume what they grow. Rich Hamilton

explains what plant growth regulators are,

what they do, and what questions consumers

should be asking when purchasing them.

By Rich Hamilton

38 Maximum Yield | January/February 2017
---
PGR PRINCIPLES

Plant growth

regulators are

a chemical or

mix of chemicals

that make a plant

change beyond

its naturally

physiological

growth actions.

Starting with the basics, PGR stands

for plant growth regulator, sometimes

also referred to as a plant hormone.

Every plant naturally produces tiny

amounts of hormones to control its

normal functions such as root growth,

height, node and internode growth,

flowering, quantity of flowers, fruit, and

any other developmental growth.

Plant growth regulators are a chemical

or mix of chemicals that make a

plant change beyond its naturally physiological

growth actions, through the

cells, organs, and tissues. It does this by

either slowing down the rate of growth

or maturation, speeding up the rate of

growth or maturation, or altering the

natural behaviour of a plant. Note that

this does not include any substances

that are intended as plant nutrients,

including trace elements, plant inoculants,

or nutritional chemicals.

The term PGR has come to include

many things, and not all of them are

harmful. Some of the of major classifications

of plant growth regulators are

auxins, cytokinins, ethylene generators,

gibberellins, and growth inhibitors/retardants.

Auxins elongate shoots.

They are primarily used to increase

growth, flower formation, and root mass.

Cytokinins stimulates cell division

and are primarily used to increase root

mass and new bud growth. Ethylene

generators ripen fruit and are primarily

used to ripen fruit uniformly, giving the

plant consistent fruit size and weight.

Gibberellins elongate cells and stimulate

cell division and are primarily used

to increase fruit and flower size. Finally,

grow inhibitors and retardants stop or

slow down growth. They are primarily

used to increase flower production by

shortening the internodes, make more

node sites, and/or to completely stop the

lateral growth of a plant.

So, the big question is, are PGRs

illegal? Well, no, not if they are used on

ornamental plants. Without going too far

down the rabbit hole of what is and isn't

legal, what I can say is that some are

prohibited for use on plants grown and

intended for human consumption.

Good Control

PGRs are a great way to control plants.

They will, if used in the right mixtures

at the correct dosages, considerably

improve the desired factors. PGRs can

help a plant produce more flowers and

fruits and assist in producing even,

consistent flowers and fruits. They can

help you keep plant height consistent

and reduce the time it takes for a plant

to produce its flowers and fruits. They

can also make a plant less susceptible

to fungi, diseases, and pests.

PGRs can control plants in order to

preserve the balance between the

modern world and the natural world. By

that I mean they have been used to stop

growth in trees growing too high that

otherwise would have to be destroyed

to prevent them from growing under

bridges, telephone cables, and in other

urban locations, damaging or obstructing

footings, buildings, and foundations.

At the other end of the scale, they can

make houseplants more manageable

and become more resilient to stress and

40 Maximum Yield | January/February 2017
---
disease. PGRs are also used commonly

and successfully within the retail flower

business. They are used to make the

flowers more appealing to the retail

consumer by improving consistency in

flower size and colour.

We've covered the positives, so what

are some of the negatives? As is often

the case, when something seems too

good to be true, it usually is.

A Moral Choice

Most people, including shop owners and

customers, would prefer not to sell or

buy products that contain PGRs if given

a choice, but most do. There are several

reasons for this, the first being the

companies that produce the nutrients

and additives do not always inform shop

owners that their products contain PGRs,

so the shop owner is none the wiser.

On the flip side, some of the products

that contain PGRs are so popular and

sought after, a shop owner may find him

or herself stuck with a moral choice. The

owner can attempt to educate customers

as much as possible on the benefits

of non-PGR products, but the bottom line

is that they are a business, so if they

don't have the PGR products a customer

wants in their store, they run the risk of

losing that customer and sale to a rival.

Finally, there are those people who are

only interested in achieving the heaviest

and most financially rewarding yield

from the plant and are willing to overlook

the health concerns related to PGRs.

In reality, PGRs are out there and it is

impossible to tell what plants they are

in and at what levels. But this can all be

taken care of if plants are flushed before

harvest, right?

Wrong.

PGR chemicals are nearly all systemic,

which means that once they are taken

up into the plant, trace chemicals will

always be in the plant, its flowers,

fruits, roots, tissues, pollen...everything.

Therefore, it follows that if you cannot

be sure what levels of PGRs are present

in the additives you are using due to the

lack of information given in the ingredients

list, and then you would have no

idea of the level of potentially harmful

PGRs in any part of your fully grown

plant, including the fruit, before and

after harvesting.

The Right Questions

There is a lack of pretty much any regulation

or regulative body on chemicals

used in the hobbyist hydroponics

industry. This means that most of the

nutrient and additive companies don't

have to state whether their product

contains any PGRs, the quantities

contained, or specify which PGR it is.

The bad press surrounding PGRs, most

notably that the majority of them are

banned in most countries for use on

plants and their fruits that are intended

for human consumption, only adds to

the desire to keep their presence in any

products a secret.

You're probably thinking that surely

the nutrient companies can't knowingly

put these chemicals in their

products without telling the customer.

However, like antibiotics in meat or

chemical ingredients in packaged

foods, the simple and honest truth is

yes, some of them do. Not only that,

they also don't tell us. Like anything

else you consume, know what you are

buying. Here are a few questions to

ask a retailer or manufacturer when

purchasing nutrients:

● What PGRs, if any, are in

the products you sell?

● What will those PGRs

do to the plant?

● Should they be used on

anything intended to be

consumed by humans?

● What effects will the

chemicals have if the

produce of the plant

is consumed?

The bottom line is that the next time you

go to buy nutrients, ask if the product

contains PGRs. Only by asking and

buying better can we create a better,

safer market for ourselves in the future.

PGRs can control

plants in order

to preserve the

balance between

the modern

world and the

natural world.

Maximum Yield | January/February 2017

41
---
Growing

Something

OUT OF NOTHING

Sundrop Farms CEO, Philipp Saumweber

By Jessica Skelton

In 2009, a new ag business decided to develop a sustainable method of

producing high-quality produce anywhere, including places with poor soil, little

freshwater, and limited access to grid energy. Now, they're testing out this system

on a commercial scale by growing tomatoes in the Australian desert.

undrop Farms has figured out how

Sto make the desert bloom using

sunlight, seawater, and little else.

On a 20-hectare plot located in arid

Port Augusta, South Australia, 23,000

mirrors harness the sun's energy to

power a desalination plant. The one

million litres of fresh water created here

each day is then mixed with nutrients

and used to grow hydroponic tomatoes

in the facility's greenhouses, which are

also run on solar energy.

Annually, the farm will produce more

than 15,000 tonnes of truss tomatoes.

"Sundrop Farms' system of farming

was inspired by the need to overcome

water shortage and quality issues in

agriculture," says Sundrop Farms CEO,

Philipp Saumweber. "The Sundrop

system employs existing technologies,

which come together in a unique way

that has not been employed before to

grow produce on this scale."

The $200-million facility isn't entirely

reliant on renewable energy sources just

yet, however. It still uses a small amount

of grid energy as a back-up system and

to help pump seawater to the desalination

plant from the Spencer Gulf, which

is 5.5 kilometres away.

Still, the existing efforts to decouple

farming from the finite resources of

freshwater, fossil fuels, and land will

result in major wins for the planet. The

Port Augusta facility, which opened in

October 2016, will annually save enough

freshwater to fill 180 Olympic swimming

pools, the carbon dioxide equivalent

of 500 cars, and enough diesel to drive

around the equator 500 times, states a

press release from Sundrop.

What's more, the company employs

natural farming practices alongside

its high-yielding space-age technology.

It uses carnivorous bugs to control

pests and no chemical fertilisers, and

employees pick weeds and produce

entirely by hand. While labour intensive,

Saumweber says this results in "significantly

better" fruit for the consumer.

Tomato plants maturing and producing

in Sundrop's hydroponic system

42 Maximum Yield | January/February 2017
---
SundropFarms

has figured out how

to make the desert

bloom using sunlight,

seawater, and little else."

Employees weed and pick produce by hand

Of course, happy customers and a

protected environment aren't the only

goals for Sundrop Farms. The ag business

also aims to produce healthy,

sustainable profits.

To reach its objectives, the company

signed an exclusive, decade-long

contract with Coles.

"Our 10-year partnership with Sundrop

Farms is the longest-term contract we

have ever signed for fresh produce

and is testament to the confidence we

have in the Sundrop team," says Coles

merchandise director, Chris Nichola.

The Australian supermarket chain,

which needed to satisfy an increasing

demand for tomatoes year-round, now

sells produce from the Port Augusta

facility throughout South Australia,

Victoria, and New South Wales.

Coles isn't the only one to have faith

in Sundrop's vision of sustainable

and profitable agriculture. The South

Australian Government granted AUD

$6 million to the Port Augusta facility,

and in 2014, global private equity firm

KKR invested more than US$100 million

to enable Sundrop's expansion both in

Australia and abroad.

"We are always interested in taking our

farms into new markets, and we have

learned that we cannot succeed in this

without the help of partners, both on a

local and global scale," says Sauweber.

Speaking of new markets, the future

is looking bright—or, more accurately,

green—for Sundrop Farms. The organisation

broke ground on two new

operations in 2016, one in Portugal and

one in the US, and Saumweber says it

is also "developing a number of new

projects with partners all around the

globe." Each of these facilities will

be customised to meet its customers'

needs, much like how the Port

Augusta farm works to supply Coles

with tomatoes. As such, the upcoming

projects will vary technology-wise, but

Saumweber says they will all have the

company's "triple bottom line values of

people, planet, and profit at their heart."

On a wider scale, there are some that

believe Sundrop Farms is doing more

than expanding their own business.

Sundrop Farms' managing director for

Australia, Steve Marafiote, says the

company is providing a blueprint for the

future of fresh food production.

"Through the establishment of our

high-tech greenhouse facilities, we are

driving solutions for the production of

healthy food in a manner that eradicates

the impacts of variability to ensure

sufficient supply of produce in line with

consumer expectations, and ultimately

promote long-term viability of farming

in regions facing water and energy

supply constraints," he says.

Only time will tell, however, if more

people will embrace the model and

start growing food with little more than

sunlight and seawater.

Sundrop Farms' Port Augusta facility

Maximum Yield | January/February 2017

43
---
STRENGTHENING YOUR PLANT'S

R

O

O

T

S

BY ERIC HOPPER

The root system of a plant is where essential

nutrients are absorbed and distributed to the rest of

the plant. As a plant grows and develops, so does

the root mass. Indoor horticulturists who focus their

energy on promoting and maintaining a healthy

root system are more likely to have less problems

and larger yields each garden cycle.

44 Maximum Yield | January/February 2017
---
"THERE IS A VAST INVISIBLE

WORLD LIVING IN AND AROUND

THE ROOT SYSTEM OF VIRTUALLY

EVERY PLANT ON THE PLANET."

R O O T S

Indoor horticulturists constantly strive to find techniques

and products that will help increase their garden's yields.

Common sense will tell you that a plant with a strong and

healthy root structure is more likely to have strong and

healthy stems, leaves, and flowers. Simply put, healthy roots

will equate to more bountiful harvests. Unfortunately, indoor

growers do not always give a plant's root system the attention

it deserves. It is like the old saying, "out of sight, out of mind".

Because the roots are generally hidden from a horticulturist's

view, they can often be forgotten. Horticulturists who focus

some of their energy on making the plant's root system thrive

will usually have better yields and less problems overall.

There are a few different ways for an indoor grower to help

stimulate root growth and maintain a healthy root mass.

OXYGEN

Many horticulturists don't think about the important fact that

plants need oxygen to thrive and survive. Most of us think of

plants as living organisms that produce oxygen during photosynthesis

(a process which requires CO 2) and not as organisms

that also need oxygen to grow. However, like other organisms,

plants need oxygen to perform cellular respiration. Roots

grow like other parts of the plant, but since they are under soil

or contained in a hydroponic system, they are not exposed to

light and cannot photosynthesise. Instead, they gain energy

for growth by cellular respiration that requires oxygen and

releases CO 2. This is why a plant's root mass must be exposed

to some form of oxygen. For soil growers, the soil's texture will

determine the amount of open spaces for air (oxygen). In hydroponic

systems, such as deep water culture where the plant's

roots are submersed in water, the roots will rely on dissolved

oxygen found in the nutrient solution. This dissolved oxygen

will need to be replenished as the plant uses it. In both soil

and hydroponic systems, if there is not a sufficient supply of

oxygen, the roots will not be able to survive and will die off,

eventually killing the entire plant.

How to Increase Oxygen in Soil

To increase a soil's oxygen capacity, a grower can add a variety

of soil amendments. Perlite, pumice, hydroton, or any other

porous substance can significantly increase a soil's ability to

harbour oxygen. Coco coir is another soil amendment praised

for its ability to not only hold oxygen, but also have good water

retention. Most prepackaged soil mixes will contain at least

one amendment aimed at increasing aeration. However, it is

not a bad idea for indoor growers to add more aeration amendments

to a soil mix. In fact, well-aerated soil can provide two

advantages. First, well-aerated soil increases the soil's ability to

hold oxygen, thus providing the plant's root system with all the

oxygen it needs to grow and flourish. Second, well-aerated soil

will need to be watered more frequently, which gives the indoor

horticulturist the opportunity to implement a more aggressive

feeding regiment. A good rule of thumb is to mix three to four

parts prepackaged soil to one part perlite or other aerating

amendment. This ratio will create a fast-draining soil that can

hold a high amount of oxygen.

Maximum Yield | January/February 2017

45
---
STRENGTHENING YOUR PLANT'S ROOTS

"BECAUSE THE ROOTS ARE GENERALLY

HIDDEN FROM A HORTICULTURIST'S

VIEW, THEY CAN OFTEN BE FORGOTTEN."

How to Increase Oxygen in a Hydroponic System

It is crucial in hydroponic systems to focus on the temperature

of the nutrient solution and mechanical aeration. The nutrient

solution is usually contained in a reservoir, which needs

to be mechanically aerated. Submersible pumps or air pumps

that inject air into the reservoir are the best ways to replenish

dissolved oxygen. Temperature is another crucial factor

affecting the dissolved oxygen content of the nutrient solution.

The ideal temperature for most hydroponic systems falls

in the 18-21°C range. As the water temperature creeps above

24°C, its ability to hold oxygen diminishes. This is why water

chillers are an essential piece of hardware for any hydroponic

system where the roots are fully submersed. In other hydroponic

systems, the plant's root system will be contained within

some sort of inert medium. There are many different hydroponic

specific media available and they all have one thing in

common: the ability to hold a good amount of oxygen.

NUTRIENTS

Aside from increasing the amount of oxygen provided to a plant's

root system, a grower can pay attention to the nutrients that will

play a role in root health. A good blooming fertiliser will usually

contain the nutrients needed for healthy root growth. Phosphorus

and potassium are the two main nutrients associated with root

growth. Many horticulturists like to use a blooming base fertiliser

in the clone and early growth stages. A blooming base fertiliser

is likely to contain a higher ratio of phosphorus and potassium

to nitrogen than a vegetative base fertiliser. Phosphorus

and potassium encourage plants to put out new root shoots and

help to strengthen existing roots as they continue to develop. A

diluted bloom fertiliser (one-quarter normal strength) makes a

great nutrient solution for aerobic clone machines or for conditioning

stone wool or other clone media.

ROOT STIMULATORS (HORMONES)

Plant hormones, known as auxins, can also be used to stimulate

root growth. A couple of hormones commonly found in

rooting gels are indole butyric acid and naphthylacetic acid.

These two hormones are considered root stimulators. Although

some growers will use these hormones to stimulate root growth

in early vegetative stages, I have only used them to stimulate

new roots on cuttings. Auxins are known to promote lateral root

development, so they are more suitable for cuttings versus seeds.

BENEFICIAL MICROORGANISMS

There is a vast invisible world living in and around the root

system of virtually every plant on the planet. This microscopic

world is made up of millions of bacteria and fungi that have

evolved to have synergistic relationships with plants. Beneficial

microorganisms are associated with root enhancement and

overall plant growth enhancement. The most commonly used

beneficial microorganisms supplemented by indoor horticulturists

are beneficial fungi and beneficial bacteria.

46 Maximum Yield | January/February 2017
---
R O O T S

Mycorrhizae (Fungi)

Mycorrhizae are naturally occurring fungi that form symbiotic

relationships with more than 90 per cent of the world's plant

species. Mycorrhizae have even become a common additive

in gardening products like prepackaged potting soils.

Mycorrhizae fungi become an extension of the root system that

can stretch far into the depths of the soil. This immediately

broadens the plant's access to vital nutrients and, therefore,

increases growth. Mycorrhizae have synergistic relationships

with the plant's roots. The extending web of mycorrhizal fungi

assimilates nutrients for the plant and, in return, the plant's

roots secrete sugars or carbon on which the fungi feed. Since

the relationship between mycorrhizae and the plant's roots is

synergistic, it is safe to say that if a gardener has a healthy

population of mycorrhizae in the soil or medium, he or she will

usually have a healthy root system as well.

Trichoderma (Fungi)

Trichoderma are a group of fungi that are usually used by

horticulturists as a natural defense against root damaging

pathogenic fungi. Trichoderma can work wonders against

pathogenic fungi that could otherwise destroy a healthy root

system. In fact, some of the most powerful root rot treatments

available are formulas rich in trichoderma. Trichoderma can

help maintain a healthy, vibrant root system by fending off

potential threats. In most cases, trichoderma can be added to

a feeding regiment to maintain a healthy trichoderma population.

After all, if there aren't enough pathogens for the trichoderma

to feed on, their population will diminish (not a bad

thing). However, by maintaining a healthy population of trichoderma,

a horticulturist can nip pathogenic fungi in the bud

before they can negatively affect a plant's root system.

Beneficial Bacteria

As with beneficial fungi, bacteria can be added to the soil

or medium to break down organic matter, facilitate nutrient

uptake, and add protection against pathogens. One huge

advantage of using beneficial bacteria in indoor horticulture is

that bacteria can quickly colonise and explode in population.

The larger the population of beneficial bacteria, the quicker

they can destroy pathogenic microorganisms and/or break

down organic matter. As with mycorrhizae, it is safe to say that

if the soil has a bountiful population of beneficial bacteria, it is

more likely to have a healthy root system.

Providing plants with the right nutrients, hormones, and

beneficial microorganisms are ways an indoor gardener can

maximise the strength of a plant's roots. Although mostly

unseen, the root system of a plant is a huge factor in determining

the overall success or failure of an indoor garden.

At the end of the day, growers who spend the extra time on

developing a strong, healthy root structure are more likely to

achieve prolific yields and are less likely to encounter potentially

devastating problems.

Maximum Yield | January/February 2017

47
---
SAME

PLANT

DIFFERENT

POTS

by Grubbycup | While it may not be

magic, it is possible to grow the same

plant in more than one container at

the same time. Using layering or by

rooting cuttings, plants that share the

same DNA can be produced, creating

on demand identical

twins (almost).

48 Maximum Yield | January/February 2017
---
SAME PLANT, DIFFERENT POTS

Many plants can produce roots along

their stems and at budding sites. This

is because the basic building block cells

(meristem cells) of plants can develop

into a variety of cells as they mature.

The meristem cells found in the leaves,

stems, and roots all start out the same,

and it is only as they develop that they

grow into specialised leaf cells, stem

cells, and root cells. This is important

because which type of cell a meristem

cell will turn into depends in part on the

environment it is in.

Some plants make use of this to extend

their range. Vining plants, in particular,

are often able to make roots along their

stem (especially at budding sites with

their high concentration of undeclared

meristem cells) where the stem comes

in contact with moist soil. This gives

not only additional anchoring points for

the plant, but the roots can help supply

moisture and nutrients along the length.

The same plant may have a central

main root system and satellite root

systems at various places.

Since this creates sections of the plant

that have both root systems and shoots,

these sections—once established—

don't need to be connected to the

original plant anymore. If for some

reason the vine is damaged or cut, the

satellite section can continue to grow

independently of the parent plant.

Gardeners can use this property to

propagate such plants. A technique

called simple layering involves intentionally

burying sections of stem to

encourage rooting. Once the roots are

established, the sections are cut apart.

It is important to note that up until the

connection is severed, it is still all the

same plant, and once cut, while technically

they could be called separate

plants, they will share the same genetic

code and gender since they were originally

the same plant.

There are variations on the layering

theme. Sphagnum moss or similar

can be tied to a branch and kept

moist to root above ground branches

(known as air layering), growing tips

can be bent to come into contact with

soil (tip layering), stems can be bent

horizontally and either partially buried

at several points (serpentine layering)

or buried straight across in stages

(trench layering). All of these techniques

involve getting roots to develop, and

then cutting off the rooted sections of

stem to create "new" plants, even if they

are also, in a way, still the same plant.

Layering methods all basically

involve putting a section of stem into a

growth medium, then keeping it moist

enough to encourage roots, and finally

cutting the rooted section away from

the parent plant.

"

All of these techniques involve

getting roots to develop, and

then cutting off the rooted

sections of stem to create "new"

plants, even if they are also, in

a way, still the same plants."

50 Maximum Yield | January/February 2017
---
"

Layering methods all basically

involve putting a section of stem

into a growth medium, then keeping

it moist enough to encourage roots."

However, there is another way to vegetatively

(non-sexually) propagate plants,

which is like layering, but changes the

order. Instead of separating the new

plant after it is rooted, it is separated first

and placed into a grow medium, where

roots are encouraged to develop. This

method is commonly referred to as rooting

cuttings, or cloning, in tribute to the

matching DNA of both plants.

Since the cutting is removed from the

parent plant before it has developed a

root system, the stem must be kept moist

so it can supply moisture to the rest of

the plant. Eventually the meristem cells

in the moistened stem will take their cue

and mature into root cells, forming the

start of a new root system.

At its most basic, cutting the end of a

branch and placing the stem in water

on a windowsill until it roots is a way

to root cuttings. Ways to improve over

this method include aerating the water

(adding an air stone), supplying stable

lighting with an artificial light, and

regulating environmental factors such

as heat and humidity.

Care must be taken not to allow the

stems to dry out or the plant will go into

terminal wilt and die. Care must also be

taken not to keep the stem too wet for too

long, or it can encourage lethal fungal

growth commonly known as root rot. Up

to a point, the better aerated the water,

the longer the contact with the stem is

allowable. There are rooting solutions

on the market that contain hormones to

help convince the meristem cells into

developing into root cells.

While not all plants can be started from

cuttings—some woody plants are easier

to layer than keep cuttings alive for the

length of time needed—for those that will

(tomatoes, for instance) taking cuttings

tends to be the method of choice for starting

new plants from a mother plant.

Rooting cuttings has some benefits over

layering. Rooting cuttings tends to be

less labour intensive, requires less space,

can root plants quicker, and make more

plants from a single parent plant easily.

Trying down branches to layer takes

both effort and time. Well-cared for

cuttings can start to root days or weeks

before their layered equivalent. Any

section with a growing tip (apical meristem)

and stem section can be attempted

to be used, allowing for several cuttings

to be made from each donor plant.

An advanced form of rooting cuttings,

known as tissue culture, involves using

only small sections of a mother plant,

treating them, and then placing them in

a special sterile grow medium to allow

the meristem cells from any part of the

plant to grow roots and shoots.

Even for gardeners who specialise in

plants that are usually propagated by

either layering or cloning, there is value

in understanding the similarities and

differences between the two methods

so growers have a better overall understanding

of the mechanisms involved.

Maximum Yield | January/February 2017

51
---
Cal-Mag Supplements:

A One-Two

Punch

for Plants

by Cory Hughes

If the leaves in your garden are starting to grow in misshapen

patterns or are showing spotty, discoloured patches, odds are

you have a nutrient deficiency. Identifying deficiencies can

be a challenge, but once you have eliminated your primary

macronutrients from the list, your problem probably lies with

your secondary nutrients: calcium and magnesium. Fertilising

your garden with a cal-mag supplement will strengthen your

plants and ensure a lush, green hue returns to your beauties.

52 Maximum Yield | January/February 2017
---
A ONE-TWO PUNCH FOR PLANTS

Calcium and magnesium are two

of the three secondary nutrients

required by plants, the third being

sulphur. They are secondary in as far

as quantities required for growth, not

importance of function. Simply put,

calcium and magnesium are necessary

for plant growth and development and

are easy to fix in the case of a deficiency.

While nitrogen stands as requiring

the highest levels in a nutrient

feed, secondary nutrients calcium and

magnesium only require about eight to

10 per cent of that amount. While their

required levels are much lower, their

importance can't be understated.

Calcium

Calcium is important for strengthening

a plant's cell walls and maintaining

its structure. The importance of calcium

becomes evident when you see degradation

of the leaves, which eventually

shows up as discolouration and cankerlike

sores. When calcium is absent, the

integrity of the cell wall falls apart.

Calcium is not mobile inside the plant,

so the plant cannot borrow from nearby

areas to make up for local deficiencies.

Instead, calcium depends on transpiration

to reach its destination.

Once absorbed by the root system,

calcium is then pulled through the plant

and deposited where needed. Excess

water, which played a role in the transpiration

process, then escapes the plant

"

While supplementing

with calcium by itself,

it is possible to use

a foliar application,

while the vast majority

of cal-mag supplements

require introduction to

the root system. "

through tiny pores called stomata. As

the process depends on the flow of water

through the plant, any factor that affects

hydration levels, such as humidity and

temperature, can have a significant

impact on calcium levels, even if your

feed blend is properly mixed.

Calcium deficiencies also result in

stunted root growth. Many times, even if

the soil is rich in calcium, it may not be

in a form readily available for absorption

by the plant. This is where supplementation

comes in. By supplementing

calcium in a form that is geared toward

maximum uptake, you increase the

amount of bio-available calcium in the

soil, which results in a much-needed

boost for your plants. A plant with

increased calcium levels will result in

higher than usual pH levels in the soil.

However, finding a higher than usual pH

level is not necessarily an indicator of

well-balanced calcium levels.

Magnesium

Magnesium deficiencies are easily identified

by a yellowing of the leaves with

distinct green veins. Since magnesium

can float freely throughout the plant, the

veins remain green as newer leaves are

actively sucking up what magnesium is

available. This results primarily in deficiencies

in older leaves.

Magnesium is the key element in chlorophyll,

which gives plants their vibrant

green colour. This secondary plant

54 Maximum Yield | January/February 2017
---
nutrient also plays numerous roles in

the photosynthesis process, including

the activation of enzymes and the

creation and transportation of sugars

throughout the plant. The most common

cause of magnesium deficiencies is

simply a lack of adequate application.

Enter the One-Two Punch

Balancing your magnesium and other

secondary nutrients is vital since

disproportional amounts can limit

uptake. Fortunately, treating calcium

and magnesium deficiencies can be

handled in one shot. Adding a cal-mag

supplement to your plants can help

alleviate many of the symptoms

showing up in your garden. There are

a handful of approaches to cal-mag

supplementation. You can head to your

local grow shop and pick up one of a

handful of excellent quality fertilisers,

or you can mix up a batch at home.

While supplementing with calcium

by itself, it is possible to use a foliar

application, while the vast majority of

cal-mag supplements require introduction

to the root system.

Mixing your own cal-mag supplement

at home is as easy as measuring

out raw nutrient salts. Each

of the commercial manufacturers

has their own formulation,

but they all follow similar

methods, tweaking things

here and there to achieve

specific results. If you want to mix up

your own cal-mag, start with magnesium

sulphate, otherwise known as Epsom

salts. Epsom salts are a staple of the

gardening community for magnesium

supplementation and make the perfect

base for your cal-mag mix.

The next ingredient is calcium nitrate.

Calcium nitrate is a common plant

fertiliser used in standard feed mixes.

As both calcium and magnesium come

in a chunky, powdery form, they need to

be dissolved in water at specific ratios.

Taking into consideration personal

preference, your calcium should be at a

parts per million (ppm) of at least double

that of magnesium. One example of a

homemade cal-mag has a ppm ratio as

follows: 120 ppm magnesium and 260

ppm calcium. This breaks down, per

gallon, to 5.8 grams of calcium nitrate

and 4.6 grams of magnesium sulphate

"

Calcium is not mobile

inside the plant, so the

plant cannot borrow from

nearby areas to make up

for local deficiencies. "

(Epsom salts). You can always adjust

your mixture to compensate for specific

deficiencies, depending on the symptoms

you see in your garden.

If all of this sounds like too much work,

there are many cal-mag formulations

out there that are ready to go. Many of

them include additional nutrients like

iron or nitrogen, but they all stay within

certain parameters regarding their

levels of calcium and magnesium.

Nutrient deficiencies in the garden

can arise for a multitude of reasons.

Everything from high heat and humidity

to an imbalance in your fertilisers

can result in calcium and magnesium

deficiencies. The decaying of leaf structure,

fading of leaves, and yellowing

with green veins are indications your

calcium and magnesium levels are

low. As these two nutrients play such

an important role in plant growth and

development, it is important to be able

to recognise the symptoms of deficiency

quickly and respond appropriately.

Understanding the roles

calcium and magnesium play in

your garden is vital in knowing

how to correct problems that

arise from deficiencies.

Maximum Yield | January/February 2017

55
---
you tell us

PHYTOPONICS IS A START-UP COMPANY TACKLING FOOD SECURITY AND

SUSTAINABILITY THROUGH A PATENT-PENDING, LOW-COST, EASY-TO-USE AND

ADAPTABLE HYDROPONIC GROW BAG CALLED THE HYDROSAC. PHYTOPONICS

CEO ADAM DIXON TELLS US MORE.

THE HYDROSAC IS THE LOWEST-COST AGGREGATE-FREE

HYDROPONIC SYSTEM ON THE MARKET. IT IS FLEXIBLE AND

MULTIPURPOSE, UNLIKE ANYTHING SEEN BEFORE."

HOW DID YOUR BUSINESS GET ITS START?

I have been doing hydroponics for 10 years, growing

with a variety of systems—bubbleponic, fogponic,

aeroponic and soil. I started the business because I

had an idea for a new type of hydroponic system after

hearing from other growers who wanted systems that

were low cost, productive, easy to use and adaptable.

I teamed up with two close friends and a close

colleague to develop this idea. We all share the same

values and desire to make a real difference in the

world through hydroponics.

HOW HAS THIS IDEA EVOLVED?

In six months, as a team of four, we took a rough

idea and optimised it for manufacture and

growth, achieving multiple awards. We are

now looking to mass manufacture to meet

demand, and are currently tooling up.

WHAT IS YOUR COMPANY'S PHILOSOPHY?

We are a community interest company (CIC) in the

UK, so we are a mixture of for-profit and non-profit. We

want to make low-cost and easy-to-use products to

accelerate the adoption of hydroponics to tackle food

security, global warming, deforestation, water scarcity

and land shortages.

TELL US ABOUT YOUR FLAGSHIP PRODUCT,

THE HYDROSAC.

The Hydrosac is a hydroponic grow bag made from

recycled flexible plastic. It holds water and has

inflatable sides that support a porous growing

platform above water. It has integrated aeration,

with one valve on the end leading to a

bubbler welded onto the bottom that

aerates in an optimal pattern—no

more air stones!

56 Maximum Yield | January/February 2017
---
CARDIFF, UNITED KINGDOM

+44 1291888941

WWW

PHYTOPONICS.COM

WE WANT TO MAKE LOW-COST

AND EASY-TO-USE PRODUCTS

TO ACCELERATE THE ADOPTION

OF HYDROPONICS TO TACKLE

FOOD SECURITY, GLOBAL WARMING, DEFORESTATION, WATER

SCARCITY AND LAND SHORTAGES. "

We make a one-metre Hydrosac that rolls up to the

size of a newspaper roll, and a 10-metre long version

for greenhouses that rolls up to the size of a beer keg.

These are best laid flat and filled with water for deep

water culture or Kratky hydroponics due to low power

and resilience, but can also work on a slope for NFT,

and vertically through aeroponics. For big, heavy

crops, you can hook your growing twines through

the netting to hold up the growing platform while

supporting the plants.

WHAT MAKES YOUR PRODUCTS UNIQUE?

The Hydrosac is the lowest-cost aggregate-free

hydroponic system on the market. It is flexible and

multipurpose, unlike anything seen before, because

it is just a plastic sack with hydroponic parts welded

onto it, making it affordable, repairable and easily

configurable. With our valve ports, you can fit your own

pipes into them through adapters. We make it from

a thick plastic that is puncture resistant, but if you

do drop a razor blade on it, you can duct tape it for a

reinforced fix. It is so small rolled up, users can bring a

quarter-acre capacity in one big truck, so you wouldn't

need to remortgage just for the delivery. We want to

use hydroponics to save lives in disaster relief through

aid—a roll-up, rapid deployable farm could help

people grow crucial food supplies in a short amount of

time or in ruined, unfertile land.

TELL US A BIT ABOUT SOME ADDITIONAL WAYS

HYDROSACS ARE USED.

I think one on my favourite configurations is hanging

fogponics. With Nutramist's new cyclone generator, the

user can blast up a fog through ducting to feed into the top

of our Hydrosac and recirculate the trickle at the bottom

for excellent growing in large curtains of Hydrosacs.

One of the more profitable configurations is the

Kratky, where our porous membrane wicks up water to

germinate seeds resting on the porous layer nesting

under the plastic top. They then grow roots down and hit

the body of water for no-power hydroponics. Hydrosacs

are also suitable for aquaponics. If you need a biofilter,

the Hydrosac can be a good one, and if you are growing

non-spiny fish or shrimp, the Hydrosac can be used in a

pinch to stand in as an aquaculture chamber.

WHERE DO YOU SEE THE COMPANY IN 10 YEARS?

We are looking for experienced growers to test with us

and commercial farmers to buy our Hydrosacs now so

we can make a global impact. In 10 years, we will be a

global farming franchise offering complete hydroponic

farms with highly automated growing systems. We

hope to convert millions of farmers to hydroponics

and bring a new era of low environmental impact

farming. We are also developing HVAC and grow light

technology and have the innovation required to make it

low cost and sustainable.

DO YOU HAVE ANYTHING NEW AND EXCITING AT

THE RESEARCH AND DEVELOPMENT STAGE YOU

CAN SHARE?

We have one crazy idea in our patent filing that

we can share: If we take our Hydrosac and weld

on a polytunnel, we have a low-cost and quickly

deployable farm. Because we have inflatables,

it floats, and if we use the right specification of

polythene, it can be salt and biofouling resistant.

Our idea is so radical we can only share it with the

most informed hydroponics audience here. It is to

put hydroponic farms using fresh water on the sea.

Marine Hydrosacs could be a major solution to the

land and freshwater issue once and for all.

Maximum Yield | January/February 2017

57
---
GROW WITH US.

Grow. Heal. Live. Enjoy.

MODERN GROWING
---
EXPERIENCE

THE FUTURE

OF GROWING

SAN JOSE, CA

June 3-4, 2017

San Jose McEnery

Convention Center

DETROIT, MI

Sep 30-Oct 1, 2017

Cobo Center

mygrowx.com | #growx2017

Dark orange
---
MAXIMUM YIELD DISTRIBUTORS

Retail stores listed alphabetically by state.

Interested in carrying Maximum Yield in your store? Distribution is available by contacting Dome Garden Supply, Holland Forge, House & Garden, Growlush, Hydroponic

Generations, Plant Symbionts, and Way to Grow. Already a distributor? Call 1-250-729-2677 to update your listing.

ACT

South Pacific Hydroponics

#2 - 84 - 86 Wollongong St.

Fyshwick ACT 2609

(02) 6239 2598

South Pacific Hydroponics

70 Oatley Crt.

Belconnen ACT 2617

(02) 6251 0600

NEW SOUTH

WALES

24/7 Hydroponics

151 Wine Country Drive,

Nulkaba NSW 2325

(02) 4990 4291

admin@simplydvine.com.au

99 Trading

57 Hoskins Avenue, Banks Town

NSW 2200

(02) 9790 1525

ABC Aquaculture

54 Wahroonga Rd.

Kanwal NSW 2259

(61) 2 4393 3131

Accent Hydroponics

Unit 1/5 Clerke Place, Kurnell

NSW 2231

(02) 9668 9577

accenthydroponics.com

ASE Hydroponics

Factory 10/45 Leighton Pl.

Hornsby NSW 2077

(02) 9477 3710

Ballina Hydro

3 Ray O'Niell Cres.

Ballina NSW 2478

(02) 6686 7321

Criscete Hydroponics and

Organics

Unit 2/15 Kam Close

Morisset NSW 2264

(02) 4973 5779

Dubbo Hydro

& Tobacconist

42c Victoria St.

Dubbo West NSW 2830

(02) 6885 1616

Earth & Colour Vertical

Gardens and Hydroponic

Supplies

1/43 CorporationCircuit, Tweed

Heads South NSW 2486

(07) 5523 9565

earthandcolour.com.au

Ezi Grow Hydro

Unit 3/84 Bills Line of Road

North Richmond NSW 2754

(02) 4588 5826

Favgro Hydroponics

Growers

107 Glenella Rd.

Batehaven NSW 2536

(02) 4472 7165

Felanza - Hydroponics

140 Princess Hwy.

Arncliffe NSW 2205

(02) 9556 1494

General Hydroponics

7/14 Sunnyholt Rd.

Blacktown NSW 9676

(02) 9676 8682

Grow Your Own

Unit 6/34 Alliance Ave

Morisset NSW 2264

(02) 4973 5179

Home Grown Aquaponics

8A-8B 13 Hartley Drive, Thornton

NSW 2322

(02) 4028 6388

home-grown.net.au

Hong Hung

D5 303 The Horsley Drive,

Fairfield NSW 2165

(02) 8764 1083

Hyalite Kingsgrove

1/4 Wirega Ave.

Kingsgrove NSW 2208

(02) 8068 5896

Hyalite Moorebank

6/376 Newsbridge Rd.

Moorebank NSW 2170

(02) 9824 3400

Hyalite Villawood

2/21 Birmingham Ave.

Villawood NSW 2163

(02) 9723 7199

Hydro Experts

34/2 Railway Parade

Lidcombe NSW 2141

(02) 8041 7959

info@hydroexperts.com.au

hydroexperts.com.au

Hydro Masta

100 Station Rd.

Seven Hills Sydney NSW 2147

(02) 8812 2845

Hydro Place

1/68 Nelson St.

Wallsend NSW 2287

(02) 4965 6595

Hydro Shop Pty Ltd

Unit 1/5-7 Channel Rd.

Mayfield West NSW 2304

(02) 4960 0707

Hydro Supplies

57 Flinders St.

Darlinghurst NSW 2010

(02) 9326 0307

Hygrow Horticulture

(Greenlite)

252 Oxford St.

Bondi Junction NSW 2022

(02) 9369 3928

Indoor Sun Shop

745 Victoria Rd.

Top Ryde NSW 2112

(02) 9808 6511

Indoor Sun Shop

Unit 2/109 Junction Rd.

Moorebank NSW 2170

(02) 9822 4700

International Fans

PO Box 120

St. Mary's NSW 2760

(02) 9833 7500

Kyper's Tools and

Hydroponics

Stuart & Tincogan Sts

Mullumbimby NSW 2482

(02) 6684 4928

Lismore Hydro

1/106 Canway St.

Lismore NSW 2480

(02) 6621 3311

Lismore Hydroponics

Rear of 28 Casino St.

South Lismore NSW 2480

(02) 6621 3311

Lux Cuttings

Shop 2/273 Anzac Parade

Kingsford NSW 2032

(02) 9663 0473

North Coast Hydroponics

2/5 Wallis Ave.

Toormina NSW 2452

(02) 6658 7932

northcoasthydro.com.au

Northern Lights

Hydroponics

6/46 Through St.

South Grafton NSW 2460

(04) 3110 5882

Northern Nursery

Supplies Pty Ltd

14-16 Nance Rd.

Kempsey NSW 2440

(02) 6563 1599

Nowra Hydro

68 Bridge Rd.

Nowra NSW 2541

(02) 4423 3224

Nutriflo Hydroponic

Systems

19/5 Daintree Pl.

Gosford West NSW 2250

(02) 4323 1599

nutriflo.com.au

Outside in Hydroponics &

Organics

2/595 Main Rd.

Glendale NSW 2285

(02) 4956 5676

Parkview Plants

250 Princess Hwy.

Nowra South NSW 2541

(02) 4423 0599

Port Pumps and Irrigation

20 Uralla Rd.

Pt Macquarie NSW 2444

(02) 6581 1272

Quik Grow

510a Great Western Hwy.

Pendle Hill NSW 2145

(02) 9636 7023

Quick Grow

823 King Georges Rd.

S. Hurstville NSW 2221

(02) 9546 8642

Quik Grow Pty Ltd

490 Parramatta Rd.

Petersham NSW 2049

(02) 9568 2900

Richmond Hydroponics

Unit 3/84 Bells Line of Rd., North

Richmond NSW 2754

(02) 4571 1620

richmondhydroponics.com.au

Simple Grow

Hassall St. & Windem

Wetherill Pk NSW 2164

(02) 9604 0469

South Pacific Hydroponics

84-86 Wollongong St, Fyshwick

NSW 2609

(02) 6239 2598

Sydney Garden Supplies

187 Waterloo Rd., Greenacre

NSW 2190

0414 609 241

The Grow Shop

5/5 Forge Dr.

Coff's Harbour NSW 2450

(02) 6651 9992

The Petshop Boyz

Unit 1/ 5-7 Channel Rd., Mayfield

West NSW 2304

(02) 4960 0708

petshopboyz.com.au

TN Hydroponics

1/43 Chadderton St, Cabramatta

NSW 2166

(02) 9724 5692

Tweed Coast Hydroponics

2/58 Machinery Dr.

Tweeds Head South NSW 2486

(07) 5524 8588

Uncle Wal's Gardenland

31 Cres. Ave.

Taree NSW 2430

(02) 6550 0221

VN Hydro

8 Robert St.

Belmore NSW 2192

Home Grown Aquaponics

13/8a-8b Hartley Dr.

Thornton NSW 2322

(02) 4028 6388

Warrawong Hydroponics

Centre

Shop 2B – 72 Cowper St.

Warrawong NSW 2502

(02) 427 48001

warrawonghydro@hotmail.com

Westside Lighting &

Electrical (Ezi Range)

PO Box 274

Mascot NSW 1400

1 800 661 475

Wollongong Hydroponic

Center

318 Crown St.

Wollongong NSW 2500

(02) 4225 8773

NORTHERN

TERRITORY

Darwin Hydroponics

5/8 Andrews St, Berrimah NT 0828

0478 735 165

darwinhydroponics.com

Katherine Hydroponics

Centre

17 Rundle St.

Katherine NT 0850

(08) 8972 1730

Top End Hydroponics

1785 Leonino Rd.

Darwin River NT 0841

(08) 8988 6076

QUEENSLAND

A Happy Medium

Hydroponics

Unit2/10 Central Crt.

Browns Plains QLD 4118

(07) 3809 3322

Advanced horticultural

Supplies - Gold Coast

6/68 Blanck St.

Ormeau QLD 4208

0435 255 856

adhs.com.au

Advanced Horticulture

Supplies - Noosaville

Shop 3 11 A Venture Dr.

Noosaville QLD 4566

(07) 5641 1256

adhs.com.au

Allgrow Hydro

13 - 58 Bullock Head St.

Sumner Park QLD 4074

(07) 3376 7222

Aqua Gardening

Shop 3/73 PIckering St.

Enoggera QLD 4051

(07) 3354 1588

Aquatic Oasis

Unit 2/33 Smith St.

Capalaba QLD 4157

(07) 3245 7777

Billabong Hydroponics

Lot 1 Billabong Crt.

Childers QLD 4660

(07) 4126 3551

D-Bay Hydroponics Shop

5/404 Deception Bay Rd.

Deception Bay QLD 4508

(07) 3204 8324

E.T. Grow Home

Unit 1/4 Windmill St.

Southport QLD 4215

(07) 5591 6501

Eye Lighting Australia Pty Ltd

PO Box 306

Carole Park QLD 4300

(07) 3335 3556

Frans Hydroponics

Shed 3 1191

Anzac Ave. Kallangar QLD 4503

(07) 3285 1355

Gold Coast hydroponics

42 Lawrence Drive

Nerang QLD 4211

(07) 5596 2250

Grow Hydro

22 Mining St.

Bundamba QLD 4304

(07) 3816 3206

H2 Gro Pty Ltd

2 Sonia Crt.

Raceview QLD 4305

(07) 3294 3253

---------------------------------------------

Home Grown Hydroponics

4/9 Barnett Pl.

Moledinar QLD 4214

(07) 5571 6666

---------------------------------------------

Hyalite Varsity

5/11 John Duncan Crt.

Varsity Lakes QLD 4227

(07) 5593 7385

Hydrocenter Hydroponics

26 Spencer Rd.

Nerang QLD 4211

(07) 5527 4155

Hydroponic Roots &

Shoots

Lot 3 Herberton Rd.

Atherton QLD 4883

(07) 4091 3217

Hydroponics & Garden

Supplies

93 Cook St.

Portsmith QLD 4870

(07) 4035 5422

Hydroponics Today

PO Box 785

Stanthorpe QLD 4380

(07) 4683 3133

Indoor Solutions

Unit 2/79 Oxford Tce.

Taringa QLD 4068

J&K Hydroponics

387 Progress Rd.

Wacol QLD 4076

(07) 3271 6210

KY Garden

3/31 Argyle PDE

Darra Brisbane QLD 4076

(07) 3375 9098

Logan Hydroponics

13/22, Allgas St.

Slacks Creek QLD 4127

(07) 3299 1397

loganhydroponics.com.au

North Queensland Hydro

Supplies

Shop 2B/20-22 Fleming St.

Townsville QLD 4810

(07) 4728 3957

Northern Hydroponics

383 Mulgrave Rd.

Cairns QLD 4870

(07) 4054 5884

NQ Hydroponics

31 Casey St.

Aitkenvale QLD 4814

(07) 4728 3957

Pioneer Hydroponics

194 Doyles Rd.

Pleystowe QLD 4741

(07) 4959 2016

Simply Hydroponics Gold

Coast

42 Lawrence Dr.

Nerang QLD 4211

(07) 5596 2250

Slacks Creek Hydroponics

#13/22 Allgas St.

Slacks Creek QLD 4217

(07) 3299 1397

Sunstate Hydroponics

7/10 Fortune St.

Geebung QLD 4034

(07) 3265 3211

------------------------------------------

Sunstate Hydroponics

10/13 Kerryl St.

Kunda Park QLD 4556

(07) 5445 3499

------------------------------------------

Town & Country

Hydroponics

Shop 1/8585 Warrego Hwy.

Withcott QLD 4352

Tumbling Waters

Hydroponics

2 Clarkes Track

Malanda QLD 4885

(07) 4096 6443

Walsh's Seeds

Garden Centre

881 Ruthven St.

Toowoomba QLD 4350

(07) 4636 1077

SOUTH AUSTRALIA

------------------------------------------

Adelaide Hydro

Shop 3.267 Goodwood Rd.

Kings Park SA 5034

(08) 7230 5907

adelaidehydro.com.au

------------------------------------------

Advanced Garden Supplies

3/8 Bredbo St.

Lonsdale SA 5160

(08) 8382 1191

------------------------------------------

Amazon Aquariums &

Gardening

Unit 5 16 Research Rd.

Pooraka SA 5095

(08) 8359 1800

Ascot Park

753 Marion Rd.

Ascot Park SA 5043

(08) 8357 4700

Barry's Hardware

Saints & Main North Rd.

Salisbury Plains SA 5109

(08) 8281 4066

Back Street Traders

Unit 6/8 Lindsey Rd.

Lonsdale SA 5160

(08) 8322 4383

Bloomin' Hydroponics

5/535 Martins Rd.

Parafield Gardens SA 5107

(08) 8281 6395

Bolzon Home & Garden

103 Tolley Rd.

St Agnes SA 5097

(08) 8265 0665

Chocablock Discount Variety

Store

15-17/1220 Grand Junction

Hope Valley SA 5090

(08) 8396 3133

Complete Hydroponics

1581 Main North Rd.

Salisbury East SA 5109

(08) 8258 4022

Country Hydro

434 Saddleback Rd.

Whyalla SA 5600

(08) 8645 3105

D & W Dependable

Hardware

45B Kettering Rd.

Elizabeth South SA 5112

(08) 8287 6399

Every Thing Hydro

Shop 2/494 Main North Rd.

Blair Athol SA 5084

(08) 8260 3335

Festive Hydro

2 Kreig St.

Evanston Park SA 5116

(08) 8523 5100

60 Maximum Yield | January/February 2017
---
Fulham Gardener Nursery

597 Tapleys Hill Rd.

Fulham SA 5024

(08) 8235 2004

Future Garden Concepts

North

Shop 2 21-23 Kreig Rd.

Evanston Park SA 5116

(08) 8523 5100

Futchatec Distribution

4 Symonds St.

Royal Park 5014

(08) 8447-1122

Glandore Hydroponics

644 South Rd.

Glandore SA 5037

(08) 8371 5777

www.glandorehydro.com

Greener than Green

52 - 54 Cliff Ave.

Port Noarlunga South SA 51

(08) 8386 2596

Greenhouse Superstore

Lonsdale

35 to 37 Aldenhoven Rd.

Lonsdale SA 5160

(08) 8382 0100

Greenhouse Superstore

Royal Park

4 Symonds St.

Royal Park SA 5014

(08) 8447 5899

Gro Pro Hydro

3 Kelly Rd.

Willaston SA 5118

(08) 8522 7761

Ground-Up Service

Nursery

3 Copinger Rd.

Pt. Pirie SA 5540

(08) 8264 9455

Gully Hydro

32 Famechon Cres.

Modbury North SA 5092

08 8264 9455

Hackham Garden & Building

Supplies

32 Gates Rd, Hackham SA 5163

(08) 8382 4754

Harvest Time Hydroponics

Shop 3/146-148

Findon Rd. Findon SA 5023

(08) 8244 0222

Hindmarsh Hydroponics

39a Manton St.

Hindmarsh SA 5095

(08) 8346 9461

Highland Grow & Flow

14/1042 Grand Junction Rd.

Holden Hill SA 5088

(08) 8395 4455

Hong Kong Hydro

13 Research Rd.

Pooraka SA 5095

(08) 8260 2000

Hydro Heaven

Kane Motors-Hunt Rd.

Mount Barker SA 5251

(08) 8391 1880

Hydro Sales & Service

1 Salisbury Cres.

Colonel Light SA 5041

(08) 8272 2000

Hydro Technics

321 South Rd.

Croydon SA 5008

(08) 8241 5022

Hydro Technics North

22 Peachey Rd.

Elizabeth West SA 5113

08 8252 7988

Hydro Warehouse

181 Seacombe Rd.

South Brighton SA 5048

(08) 8377 1200

Hydro Wholesalers

181 Seacombe Rd.

South Brighton SA 5048

(08) 8377 1200

Hydro World

40 Folland Ave.

Northfield SA 5085

(08) 8262 8323

hydroworld.com.au

Koko's Hydro Warehouse

Unit 2/2 McGowan St.

Pooraka SA 5095

(08) 8260 5463

Larg's Bay Garden Supply

239 Victoria Rd.

Largs Bay SA 5016

(08) 8242 3788

Martins Rd. Hydro

# 5- 353 Martins Rd.

Parafield Gardens SA 5107

(08) 8283 4011

Mitre 10 Dr. In

152 Hanson Rd.

Mansfield Park SA 5012

(08) 8445 1813

New Age Hydroponics

135-137 Sir Donald Bradman Dr.

Hilton SA 5033

(08) 8351 9100

newagehydro.com

Owen Agencies

17-19 Railway Terr.

Owen SA 5460

(08) 8528 6008

Palms & Plants

175 Salisbury Hwy.

Salisbury SA 5108

(08) 8285 7575

Professional Hydro

4/522 Grange Rd.

Fulham Gardens SA 5024

(08) 8353 0133

Professional Hydro

Shop 5/645 Lower North East Rd.

Paradise SA 5075

(08) 8365 5172

Professional Hydroponics

113 Maurice Rd.

Murray Bridge SA

(08) 8532 3441

Rob's Garden Centre

Shop 3/364 North East Rd.

Windsor Gardens SA 5087

(08) 8369 2498

Seaton Hydroponics

129 Tapleys Hill Rd.

Seaton SA 5023

(08) 82682636

Soladome Aquaculture

& Hydro

44 Chapel St.

Norwood SA 5067

(08) 8362 8042

South Coast Hydroponics

6/25 Gulfview Rd.

Christies Beach SA 5165

(08) 8384 2380

State Hydroponics &

Homebrew Supplies

174 Semaphore Rd.

Exeter SA 5019

(08) 8341 5991

Tea Tree Gully Hydro

32 Famechon Cres.

Modbury North SA 5092

(08) 8264 9455

Two Wells Hardware

86 Old Port Wakefield Rd.

Two Wells SA 5501

(08) 8520 2287

Urban Grow Solutions

1/111 Main Sth Rd.

O'Halloran Hill, S.A 5189

(08) 8322 0040

Waterworld Home & Garden

Supplies

9 Aldershot Rd.

Lonsdale SA 5160

(08) 8326 2444

Warehouse of Garden

89 Helps Rd.

Burton SA 5110

(08) 8280 3314

warehouseofgarden.com.au

West Garden Centre

Peachey Rd.

Elizabeth West SA 5113

(08) 8255 1355

TASMANIA

Advanced Hydroponics

26 Mulgrave St.

South Launceston Tas 7249

(03) 6344 5588

Aqua Hydroponics

Rear 45 Burnett St.

New Norfolk Tas 7140

(03) 6294 9233

Ezy Grow

625 East Derwent Hwy.

Lindisfarne Tas 7015

(03) 6243 9490

Garden World

717 West Tamar Hwy.

Legana Tas 7277

(03) 6330 1177

------------------------------------------

Green Acres Hydroponics

46-48 Bingalong Rd.

Mornington Tas 7018

(03) 6245 1066

sales@greenacreshydroponics.

com.au

------------------------------------------

Growers Choice

225 Main Rd.

Derwent Park Tas 7009

(03) 6273 6088

Hydroponics Systems

131 Main Rd.

Moonah Tas 7009

(03) 6278 3457

Hydroponic World

322 Bass Hwy.

Sulphur Creek Tas 7316

(03) 6435 4411

Lifestyle Gardens

167 Gilbert St.

Latrobe Tas 7307

(03) 6426 2003

Organic Garden Supplies

17 Don Rd.

Devonport Tas 7310

(03) 6424 7815

Tasmanian Hydroponic

Supplies

99 Lampton Ave.

Derwent Park Tas 7009

(03) 6272 2202

The Hydroponic Company

69 Charles St.

Moonah Tas 7009

(03) 6273 1411

The Hydroponics Company

289 Hobart Rd.

Kings Medow Tas 7428

(03) 6340 2222

VICTORIA

99 Garden Services

Unit 31 12-20 James Court

Tottenham VIC 3012

(03) 9314 8088

AAA Lush Hydroponics

2-4 The Arcade, Junction Village

Melbourne Vic 3972

Albury Hydroponics/

Cappers Hydroponics

62 Thomas Mitchell Dr.

Springvale Vic 3171

(02) 6024 4029

All Seasons Hydroponics

3 Springvale Rd.

Springvale Vic 3171

(03) 9540 8000

------------------------------------------

A-Grade Hydroponics

Factory 39 / 148 Chesterville Rd.

Cheltenham Vic 3192

(03) 9555 0228

------------------------------------------

Aquamatic

299 Monbulk Rd.

Monbulk VIC 3793

(03) 9756 6666

aquamatic.com.au

Banksia Greenhouse and

Outdoor Garden

530 Burwood Hwy.

Wantirna Vic 3152

(03) 9801 8070

Barb's Hydro and Nursery

15 Wallace Ave.

Interverloch Vic 3196

(03) 5674 2584

Bayside Hydroponics

5/9 Rutherford Rd.

Seaford, Vic 3198

(03) 9775 0495

Belgrave Hydroponics

5/ 60-68 Colby Dr.

Belgrave Heights Vic 3160

(03) 9754 3712

Brew 'N' Grow

4 - 479 Nepean Hwy.

Edithvale Vic 3199

(03) 9783 3006

Casey Hydroponics

12 The Arcade St.

Cranbourne Vic 3977

(03) 5996 3697

Casey Hydro

78 Spring Square

Hallam Vic 3803

(03) 9796 3776

Central Hydro

Factory 3/9 Mirra Court

Bundoora VIC 3083

(03) 9466 7635

centralhydroponics.com.au

Chronic Hydroponics

31 Anderson St.

Templestowe Vic 3106

(03) 9646 8133

Complete Garden Supplies

580 Ballarat Rd.

Sunshine Vic 3020

(03) 9311 9776

Crown Garden Supplies

8 Glencapel Crt.

Hillside VIC 3037

045 996 6344

Discount Hydroponics

18 Princes Hwy.

Doveton Vic 3177

(03) 9792 2966

Echuca Hydroponic Nursery

& Supplies

23 Ogilvie Ave.

Echuca Vic 3564

(03) 5480 2036

Echuca Pump Shop

128 Ogilvie Ave.

Echuca Vic 3564

(03) 5480 7080

------------------------------------------

Epping Hydroponics

10 Dilop Dr.

Epping Vic 3076

(03) 9408 4677

eppinghydroponics.com.au

------------------------------------------

Excel Distributors Pty Ltd

2/41 Quinn St.

Preston Vic 3072

(03) 9495 0083

F.L.O.W. Plants and

Environments

66B Chapel St.

Windsor Vic 3181

(03) 9510 6832

Fruits of Nature Pty Ltd T/A

Westside Hydroponics

202 Main Rd.

Ballarat, Vic 3350

(03) 5338 7555

Gardensmart/AutoPot

Systems

810 Springvale Rd.

Braeside Vic 3195

(03) 9701 8811

Global Hydroponics

10 Knight Ave.

Sunshine Vic 3020

(03) 9356 9400

Greenleaf Hydroponics

9a Church St.

Traralgon Vic 3844

(03) 5176 0898

Greenleaf Hydroponics

Factory 7, Industrial Park Dr.

Lilydale Vic 3140

(03) 9739 7311

GreenLite - Ringwood

291 Maroondah Hwy.

Ringwood Vic 3134

(03) 9870 8566

Grow 4 XS

Rear 24 Simms Rd.

Greensborough Vic 3088

(03) 9435 6425

------------------------------------------

Growlush Australia

830-850 Princes Hwy.

Springvale Vic, 3171

(03) 9546 9688

www.growlush.com

------------------------------------------

Guerrilla Gardens

factory 1/4 Wren Rd.

Moorabbin VIC 3189

(03) 9912 6090

guerrillagardens.com

Holland Forge Pty Ltd.

5 Hi-tech Pl.

Rowville Vic 3178

(03) 9764 1372

------------------------------------------

Hydroware

1/54 Lara Way.

Campbellfield Vic 3061

(03) 9357 8805

------------------------------------------

Hyalite Airport West

Unit 4/504-506 Fullarton Rd.

Airport West 3042

(03) 9331 5452

Hyalite Bayswater

4/19 Jersey Rd.

Bayswater Vic 3153

(03) 9720 1946

Hyalite Global

10 Knight Ave.

Sunshine North Vic 3020

(03) 9356 9400

Hyalite Westend

3 Third Ave.

Sunshine Vic 3020

(03) 9311 3510

Hydroponic Central

110 Dynon Rd.

West Melbourne Vic 3003

(03) 9376 0447

Hydroware

1/54 Lara Way, Campbellfield

VIC 3061

(03) 9357 8805

Indoor Garden Company

29 Glasgow St.

Collingwood Vic 3066

(03) 9416 1699

Inner City Hydroponics

155 Dardbin Rd.

Thornbury Vic 3071

(03) 9480 1078

Impact Distribution

PO Box 2188

Salisbury Downs 5108

(08) 8250-1515

JB Lighting

492 - 500 Neerim Rd.

Murrumbeena Vic 3163

(03) 9569 4399

------------------------------------------

Just Hydroponics Deer Park

Unit 11 29-39 Westwood Dr.

Deer Park Vic 3023

(03) 8390 0861

justhydroponics.com.au

------------------------------------------

Just Hydroponics Factory

39 Westwood Dr.

Ravenhall VIC 3023

(03) 8390 0861

justhydroponics.com.au

------------------------------------------

------------------------------------------

Just Hydroponics Hoppers

Crossing

3/8 Motto Court

Hoppers Crossing Vic 3029

(03) 8742 2830

justhydroponics.com.au

------------------------------------------

Latrove Valley Home Brew

Supplies

PO Box 802

Morwell Vic 3804

(03) 5133 9140

Living Jungle

345 Sommerville Rd.

Footscray West Vic 3012

(03) 9314 0055

LTM Co

12/87 Hallam South Rd.

Hallam VIC 3803

(03) 8712 2421

Magick Brew

205a Bayview Rd.

Mc Crae VIC 3938

(03) 5981 1160

Melton Hydroponic

Supplies

18/10 Norton Dr.

Melton Vic 3194

(03) 9746 9256

Midtown Hydroponics

Factory 1, 821B Howitt St.

Wendouree Vic 3355

(03) 5339 1300

Mirror Paints

110 Dynon Rd.

West Melbourne VIC 3003

(03) 9376 0447

mirrorpaints.com.au

------------------------------------------

Monster Crop Hydroponics

567 Waterdale Rd.

Heidelberg West Vic 3081

(03) 8528 3474

------------------------------------------

One Stop Sprinklers

1 Burwood Hwy.

Wantirna Vic 3152

(03) 9800 2177

------------------------------------------

Pakenham Hydroponics

1/27-31 Sharnet Circuit

Pakenham Vic 3810

(03) 5940 9047

------------------------------------------

Pam's Home Brew &

Hydroponics

61 McArthur St.

Sale Vic 3850

(03) 5143 1143

Prestige Hydroponics Pty.

Ltd.

S 2.10 Level 2, 343 Little Collins St.

Melbourne Vic 3000

(61) 4187 81083

Shepparton Hydroponics

87A Archer St.

Shepparton Vic 3630

(03) 5831 6433

Simple Grow

Factory 9/1-3 Burke Rd.

Braybrook VIC 3019

------------------------------------------

Simply Hydroponics

5/ 411-413 Old Geelong Rd.

Hoppers Cros. Vic 3029

(03) 9360 9344

------------------------------------------

Maximum Yield | January/February 2017

61
---
DISTRIBUTORS

THE LONGEST RUNNING,

INDUSTRY LEADING,

CONSUMER UNITING,

GROWER INFORMING,

PRODUCT SHOWCASING,

TECHNOLOGY

INSTRUCTING,

GARDEN HARVESTING,

PRINT & DIGITAL

MAGAZINE.

PICK UP A FREE COPY AT YOUR

LOCAL INDOOR GARDENING

STORE OR START YOUR FREE

DIGITAL SUBSCRIPTION NOW!

MAXIMUM YIELD MODERN GROWING

MAGAZINE covers topics such as hydroponics,

aeroponics, aquaponics, and organics as well

as greenhouse, small-space, container, urban,

and vertical growing. Each issue is focused on

showing you how to reach your maximum yield

with informative articles, the latest products and

technologies, how-tos, and tips and tricks from

indoor growing experts.

MAXIMUMYIELD.COM

Smart Hydro Garden

3/4 Lacy St.

Braybook VIC 3019

(03) 9318 8110

St Albans Hydroponic

55 St Albans Rd.

St Albans VIC 3021

(03) 9366 7788

Sunlite Hydroponics

1/104 Shannon Ave.

Geelong West Vic 3281

(03) 5222 6730

Sunray Hydro

157 Tenth St.

Mildura Vic 3500

(03) 5023 6422

Supply Net International P/L

PO Box 171

Highbury Vic 5089

(08) 264-3600

The Hydroponic

Connection

397 Dorset Rd.

Boronia Vic 3155

(03) 9761 0662

Urban Hy

Unit 1-59 Gilbert Park Dr.

Knoxfield VIC 3180

(03) 9764 9400

Vic Garden Pty

31B Slater Parade

Keilor East VIC 3033

0431 605 025

Waterworks Hydroponics

Unit 1, 5 Brand Dr.

Thomastown Vic 3074

(03) 9465 1455

Westside Hydroponics

202 Main Rd.

Ballarat VIC 3350

(03) 533 87555

WESTERN

AUSTRALIA

Accent Hydroponics

Unit 2/141 Russell St.

Morley WA 6062

(08) 9375 9355

Aqua Post

Unit 2B 7 Yampi Way

Willetton WA 6155

(08) 9354 2888

Aquaponics WA

Lot 12 Warton Rd.

Canning Vale WA 6155

1800 640 222

Bloem

PO Box 1816

Subiaco WA 6008

(08) 9217 4400

Bunbury Alternate Growing

Supplies

8/13 Worcestor Bend

Davenport WA 6230

(08) 9725 7020

Creative GRow Store

1/95 Dixon Rd.

Rockingham WA 6168

(08) 9528 1310

Great Southern

Hydroponics

Shop 1, 21 Hennessy Rd.

Bunbury WA 6230

(08) 9721 8322

Greenfingers World of

Hydroponics Maddington

Shop 1, 6-8 Emerald Rd.

Maddington WA 6109

(08) 9452 0546

Greenfingers World of

Hydroponics Midvale

22 Elliot St.

Midvale WA 6056

(08) 9274 8388

Greenlite Hydroponics

4/91 Wanneroo Rd.

Tuart Hill WA 6060

(08) 9345 5321

Growsmart Hydroponics

47768 South Coast Hwy.

Albany WA 6330

(08) 9841 3220

--------------------------------------------

Hydro Hill Hydroponics

9/35 Biscayne Way

Jandakot WA 6164

(08) 6461 6816

hydrohill.com.au

---------------------------------------------

Hydro Nation

41A Rockingham Rd.

Hamilton Hill WA 6163

(08) 9336 7368

Hydroponic Xpress

295 Warton Rd.

Canning Vale WA 6155

1 800 640 222

Hydroponic Solutions

1/1928 Beach Rd.

Malaga WA 6090

(08) 9248 1901

hydroponicsolutions.com.au

Hydroponic Warehouse

Unit 7/627 Wanneroo Rd.

Wanneroo WA 6065

(08) 9206 0188

Hydroponica

317 Guildford Rd.

Maylands WA 6051

(08) 9371 5757

Isabella's Hydroponics

66 Jambanis Rd.

Wanneroo WA 6065

(08) 9306 3028

Johnson's Nursery

Garden Centre

30 Blencowe Rd.

Geralton WA 6530

(08) 9921 6016

Neerabup Organic &

Hydroponic Supplies

Unit 1, 21 Warman St.

Neerabup WA 6031

(08) 9404 7155

One Stop Hydroponics

947 Beaufort St.

Inglewood WA 6053

(08) 9471 7000

Perth Hydroponic Centre

Shop 4, 171-175 Abernathy Rd.

Belmont WA 6104

(08) 9478 1211

Reptile and Grow Store

Unit 7 - 117-119 Dixon Rd.

Rockingham, WA 6168

(08) 9527 2245

reptileandgrow.com

Richo's 4 Hydro

Unit 7/22 Franklin Lane

Joondalup WA 6027

(08) 9301 4462

Southwest Hydroponics

Lot 29, Pinjarra Rd.

Mandurah WA 6210

(08) 9534 8544

The Grow Room

1/1451 Albany Hwy.

Cannington WA 6107

(08) 9356 7044

The Great Indoors

Unit 1/25 Gillam Dr.

Kelmscott WA 6111

(08) 9495 2815

The Watershed Water Systems

150 Russell St.

Morley WA 6062

(08) 9473 1473

The Watershed Water

Systems

2874 Albany Hwy.

Kelmscott WA 6111

(08) 9495 1495

The Watershed Water Systems

1/146 Great Eastern Hwy.

Midland WA 6210

(08) 9274 3232

Tolesas

No. 6 Abbey Rd.

Armandale WA 6112

(08) 9497 3527

tolesasgrowsmart.com.au

Tru Bloomin Hydroponics

7/36 Port Kembla Dr.

Bibra Lake WA 6163

(08) 9434 5118

Water Garden Warehouse

14 Drake St.

Osborne Park WA 6017

(08) 9443 7993

NEW ZEALAND

Easy Grow New Lynn

3018 Gt North Rd.

New Lynn, Auckland

(09) 827 0883

Easy Grow Manukau

15/69 Wiri Station Rd.

Manukau, Auckland

(09) 263 7560

Guru Gardener

14 Molesworth St.

New Plymouth

(06) 758 6661

Otaki Hydroponics

1083 S.H. 1 South Otaki

(06) 364 2206

House of Hydro

221 Waiwhetu Rd.

Lower Hutt, Wellington

Pet and Garden

10 Fitzgerald Ave.

Christ church

(03) 377 2507

Grow and Brew

14a Flexman Pl.

Silverdale, Auckland

(09) 426 2095

Green Day Hydroponics

Cnr of Maunganui Rd. & Tawa St.

Mt Maunganui

(07) 575 4090

Hyalite Christchurch

240 Annex Rd.

Middleton

(03) 338 3762

Hyalite Dunedin

313 King Edward St.

Dunedin

(03) 456 1980

Hyalite Glenfield

7/67 View Rd.

Glenfield

(09) 443 0106

Hyalite Hamilton

1C Sunshine Ave. Te Tapa

Hamilton

(07) 850 8351

Hyalite Hastings

513 Heretaunga St.

West Hastings

(06) 876 7885

Hyalite Henderson

Unit 159 Central Park Dr.

Henderson

(09) 837 1210

Hyalite Linwood

9 Buckleys Rd.

Linwood

(03) 381 0937

Hyalite Manukau

57 Cavendish Dr.

Manukau

(09) 263 4336

Hyalite Nelson

3 Pascoe St.

Nelson

(03) 546 4769

Hyalite Tauranga

427 Cameron Rd.

Tauranga

(07) 579 9840

Hyalite Upper Hutt

1060 Fergusson Dr.

Upper Hutt

(04) 526 3913

Hyalite Wellington

62 Kaiwharawhara Rd.

Wellington

(04) 472 5265

Hyalite Whangarei

189 (Lower) Dent St.

Whangarei

(09) 438 0223

62 Maximum Yield | January/February 2017