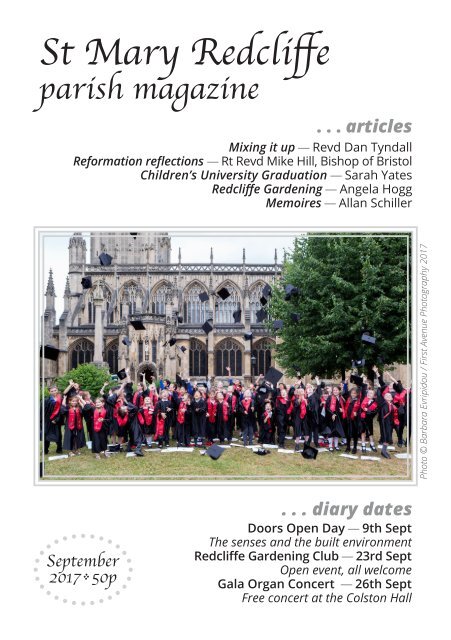 St Mary Redcliffe Church Parish Magazine - September 2017
You also want an ePaper? Increase the reach of your titles
YUMPU automatically turns print PDFs into web optimized ePapers that Google loves.
St Mary Redcliffe

parish magazine

. . . articles

Mixing it up — Revd Dan Tyndall

Reformation reflections — Rt Revd Mike Hill, Bishop of Bristol

Children's University Graduation — Sarah Yates

Redcliffe Gardening — Angela Hogg

Memoires — Allan Schiller

Photo © Barbara Evripidou / First Avenue Photography 2017

September

2017 50 p

. . . diary dates

Doors Open Day — 9th Sept

The senses and the built environment

Redcliffe Gardening Club — 23rd Sept

Open event, all welcome

Gala Organ Concert — 26th Sept

Free concert at the Colston Hall
---
St Mary Redcliffe

With Temple, Bristol & St John the Baptist, Bedminster

vicar

Revd Dan Tyndall: 0117-231 0067

associate vicar

Revd Kat Campion-Spall: 0117-231 0070

associate clergy

Revd Canon Neville Boundy, Revd Canon Peter Dill

Revd Canon John Rogan, Revd Canon Michael Vooght

operations manager

Peter Rignall: 0117-231 0073

admin associate

Pat Terry: 0117-231 0063

vicar's letter

ONE OF THE STRONG FEELINGS that

came out of the parish weekend in

July was of the need to mix things

up a bit. We had a great weekend getting

to know people better: particularly older

members of the church getting to know

younger ones, and newer arrivals getting

to know some of the old hands. This is

critical if we are going to live out vision of

being one, inclusive, diverse community,

and not a gathering of an assortment of

groups. This is one of the reasons why we

are introducing some significant changes,

as an experiment, at the west end of the

church for the 9.30 Sung Eucharist.

MIXING IT UP

— revd dan tyndall

church wardens

Richard James: 0117-966 2291

Elizabeth Shanahan: 07808 505977

admin assistant

Ros Houseago: 0117-231 0064

the parish office

12 Colston Parade, Redcliffe

Bristol BS1 6RA 0117-231 0060

head verger

Matthew Buckmaster: 0117-231 0061

vergers

Carys Underdown: 0117-231 0061

Andy Carruthers: 0117-231 0061

director of music

Andrew Kirk: 0117-231 0065

research assistant

Rhys Williams: 0117-231 0068

education officer

Sarah Yates: 0117-231 0072

assistant organists

Claire and Graham Alsop

For more information about

St Mary Redcliffe visit our website at

www.stmaryredcliffe.co.uk

Any of the staff may be contacted at

parish.office@stmaryredcliffe.co.uk

As with the changes in the content of the service over the last couple

of years, we will introduce some changes and then live with them for a

few weeks before asking people to comment. We will ask for feedback

and I truly hope that you will, either directly to me or via the wardens or

parish office, let me know your opinions. Of course, I am interested to

know how you feel about the changes, but primarily the considerations

will be around whether the changes enable us to be a more thriving

Christian community; a more welcoming heritage destination; a more

effective parish church.

On Sunday 10th September three specific changes that will be introduced:

Family Worship Area; West End chairs; Receiving Communion.

Family Worship Area: The corbels that have been sitting on the shelf

in the north aisle (rather hidden and not easily accessible for people to

enjoy and understand) are being moved to the south transept where

they can be placed more deliberately and given better interpretation.

The Family Worship Area will then be moved from the West End into the

unchaired area of the north aisle. This will, intentionally, be a smaller
---
area and we hope to encourage families to take their place in the pews

within the body of the church rather than to gather there.

West End Chairs: We had, intially, planned to remove all the chairs from

the west end but a number of people have suggested that some chairs

are needed for sidesmen, for visitors and for people who find it hard

to stand for coffee. So we will retain a few chairs at the west end and

place them 'face in' under the War Memorial. This will open up the west

end, allow for greater flow of people and thus, we hope, increase conversation

and connection between people.

Receiving Communion: We are increasingly aware of the difficulty

some people have of getting to the Lady Chapel from the west end of

the church. So we are going to trial moving that Communion station to

St John's Chapel and (in the first instance) this will be set up to receive

Communion standing. People will be directed into the chapel from the

west end and to leave by the north aisle gate. This may not work, for

all sorts of reasons, but we feel that the time is right to trial something

like this. We hope it might enable those who can't currently get to either

station to come to an altar for communion, and those who wish to

kneel are always welcome to make their way to the High Altar.

Some people will find these changes uncomfortable or unwanted. I

want to assure you that this is not about change for change sake,

but — seeking ways of digging deeper into the spiritual well that offers

nourishment; spreading further the hem of the garment that brings healing;

stretching wider the canvas of the tent that offers sanctuary.

On the parish weekend we asked the groups to write Tweets of the day:

short, pithy statements about why it might be worth belonging. They all

talked of the need for this kind of thing as we seek to fully realize our

potential as a thriving Christian community — "See the beauty, hear the

music, be accepted"; "A symphony of stone, song and service embracing

people, place and purpose"; "Come in, connect, come back"; "Community,

connection, care and coffee in our church"; "A safe and welcoming port in

the storm"; "To belong is to be"; "Join our family — enrich your life".

Revd Dan Tyndall; Vicar

LOOKING FURTHER AHEAD . . .

THE CHURCH OF ENGLAND encourages its stipendiary (paid) clergy to

undertake an extended period of ministry development once every ten

years … this used to be called a sabbatical! I last had this kind of leave in

2005 when I spent six seeks in Mauritius (tough posting!!) and then spent

the school summer holiday touring Eastern Europe with the family.

Over the last couple of years the diocese has been increasingly encouraging

me to apply for my next EMDL (Extended Ministry Development Leave)

so I applied to be away from the parish for three months in 2018. This

application has been successful, and I am writing to let you know that I shall be

on extended leave from after Rush Sunday until the end of August next year.

I plan to spend the bulk of the time trying to write hymns which reflect the

charge I was given at my ordination "to preach the gospel afresh in each

generation", that express an understanding of the gospel that is liberal and

inclusive, and which give voice to the exciting (and daunting) journey we are

on as a church.

Kat, Wardens and the PCC have all been consulted along the way and are

keen to support me being away as long as possible!

DAN TYNDALL

St Mary Redcliffe Lent Appeal 2018

EACH YEAR WE CHOOSE A CHARITY TO SUPPORT FOR OUR LENT APPEAL —

it's an opportunity not simply to raise money but also to build new relationships

and raise the profile of a charity not just among our members but across Bristol.

This year we supported Temwa, raising over £7,500 for communities in extremely

deprived remote rural areas of Malawi, to support sustainable development.

We are now inviting applications from charities to be our partner charity for

LENT 2018 — this year we're looking for a charity that benefits people in the

Bristol area; has representatives in or near Bristol who are prepared to work

closely with us on the Appeal; and will make use of our church's potential as a venue

for events and exhibitions, to attract support from across the city and beyond.

If you support a charity that fits these criteria, we would love to hear from them.Please

encourage them to fill in a short application on our website by 24th September — they

can find the form online at: http://www.stmaryredcliffe.co.uk/lent-appeal.html
---
news from the diocese of bristol

UPCOMING EVENTS AND TRAINING

Black Sheep and Prodigals

Wednesday 6 September at 7pm: All Saints Church, Fishponds. Revd Dave

Tomlinson will be talking about his latest book, Black Sheep and Prodigals.

Christians in Science: Professor Alan Millard

Friday 29 September at 7.30pm: Tyndale Baptist Church, Bristol

Professor Alan Millard will be speaking on Debates in Bible Archaeology.

Christians Against Poverty: Regional Church Leaders Day

Wednesday 4 October at 10.30am to 3.30pm: Victoria Park Baptist Church,

Bristol. CAP is a national charity working with churches to bring hope and

transformation for the poor and disadvantaged in our communities.

Read all the latest news from the Diocese of Bristol at our website www.

bristol.anglican.org Details of all events and training can be found at

www.bristol.anglican.org Follow us on Facebook at www.facebook.

com/Diocese.of.Bristol or Twitter at @diobrizzle We love sharing stories

about what our churches are doing — tell us your stories by getting in touch

with our Communications Officer, Ben, at ben.evans@bristoldiocese.org

SUPPORTING SAFEGUARDING — SERVICE AT ST MARY REDCLIFFE

SPEAK OUT for those who cannot speak, for the rights of all the destitute —

Proverbs 31:8. Safeguarding officers and clergy from across the Diocese

gathered in St Mary Redcliffe Church, where they were thanked and

commissioned by Bishop Mike Hill at a service to recognise the centrality

of safeguarding in our churches and in the community. In his address,

Justin Humphreys, Independent Chair of the Diocesan Safeguarding

Steering Group and Executive Director of the Churches' Child Protection

Advisory Service, praised the work of the safeguarding officers, challenging

the church to be "the voice for the voiceless".

Read the full address by Justin Humphreysat www.bristol.anglican.org

REFLECTIONS ON RENEWAL AND THE REFORMATION —

THE BISHOP OF BRISTOL

THE RT REVD MIKE HILL

THIS YEAR marks the 500th anniversary

of the Reformation. In 1517 Martin Luther

posted his 95 theses on the doors of the

Cathedral in Wittenburg. He was truly surprised by

the fuss his actions created. This was the start of a

movement within the Roman Church of events that

deeply re-shaped the Church, and which we refer to

today as the Reformation.

I have heard many times people tell me that the Reformation was the worst

thing that ever happened in the Church. Whilst I understand why people

would say this — splitting the Church was a shocking thing — I have to say

I disagree. Essentially the Reformation was a reaction to a Roman

Catholic Church which at that time had lost its way. Incidentally, I have

never thought of the Church of England as Protestant (much to Professor

Jim Packer's frustration): rather, I think of the Church of England as a

'Reformed Catholic' church.

This was a Church where indulgencies (an indulgence is "a way to reduce

the amount of punishment one has to undergo for sins"; it may reduce the

temporal punishment after death, in the state or process of purification

called Purgatory) had become business. Prior to the Reformation it was not

uncommon for such indulgencies to be bought for money. The Bible was in

Latin and many priests, as well as laity, did not understand it when it was

read. Luther saw that much of what went on was fundamentally wrong.

Of course the Reformers themselves were not without blemish, but the

general direction of the Reformation has to have been right; Luther himself

is attributed with some offensive and anti-Semitic words.

Since the Reformation, the Churches, not least the Roman Catholic Church,

have come a long way. It is surely right that part of our celebrations of

this Anniversary must be that we pray that one day the Churches will be
---
e-united. There was a time when I thought I might see this in my lifetime,

but sadly I think this will not happen. One of my 'memorable moments' of

the past few years was a very happy meeting with the Roman Catholic Bishops

in Birmingham.

But what did the Reformation achieve? I think I can do no more than quote

directly from an essay by Bishop J. C Ryle (1816–1900) on the subject of

what we owe the Reformation:

The Reformation found Englishmen steeped in ignorance and left them

in possession of knowledge; found them without Bibles, and left them

with a Bible in every parish; found them in darkness, and left them in

comparative light; found them priest-ridden and left them enjoying

the liberty which Christ bestows; found them strangers to the blood of

atonement, to faith and grace and holiness and left them with the key

to those things in their hands; found them blind, and left them seeing;

found them slaves and set them free.

.

Some of the Reformers lost their lives to fight for these freedoms. So, in

this 500th Anniversary year let us give thanks for the Reformation, but let us

pray also that the Church Catholic might be re-united and that the principle

of reform and renewal might be a continued process in the Church of God.

By grace alone….

Read Bishop Mike's full article at www.bristol.anglican.org

1517 REFORMATION SPECIAL 2017

Next month's issue of the parish magazine

is dedicated to the Reformation, and the

publication of Martin Luther's 95 articles

in October 1517, which we celebrate with

a feature interview with the Very Revd Dr

David Hoyle, Dean of Bristol, historian of the

Reformation, together with further articles

church matters from the pcc

REPORT ON PCC MEETINGS 3rd & 31st JULY 2017 AT THE MERCURE HOLLAND

HOUSE HOTEL — CHAIR: REVD DAN TYNDALL

PCC MEETING 3rd JULY: THE HOGARTH ALTARPIECE

The PCC met to vote on the motion: "The PCC resolves

that the Hogarth altarpiece is of such significance to our

history and heritage and to the stories we wish to tell

through our facilities development project that we continue

to investigate the possibility of it being part of that project."

The meeting was convened to decide whether to continue including the

Altarpiece in the church's Development Project since the decision affects

all future plans. Present were the Development Project Board (DPB) Chair,

and three-quarters of the PCC membership. An appraisal was given of the

advisory (brainstorming) sessions that had been arranged to inform the

PCC about the potential relevance of the Altarpiece to SMR's mission, and

the feasibility of adopting it in its plans. These were: i) the Hogarth Options

Appraisal Workshop (HOAW) in May convened for those with a professional

interest in the Altarpiece and/or the Development Project, and; ii) the June

DPB meeting convened to formulate a motion for the PCC to vote on, at

which the formal HOAW findings were taken into account. Discussion ended

in a last-minute amendment to the above motion, proposed and adopted in

its stead in a 2–1 majority vote [figures here and below to be confirmed].

The substitute motion "The PCC resolves to continue to explore the possibility

of the Hogarth altarpiece being part of our facilities development project" was

voted on, and carried with a 2–1 majority. The PCC did not rule out including

the Altarpiece in its future Development plans, but the amendment and

majority vote meant that as a body the Council feels that it does not at

present have sufficient data, knowledge or understanding and, therefore,

confidence to be able to judge the value of the work to the church's mission.

Discussion had ranged between considering the elements and histories

of the work itself — art, aesthetic, social, theological, ecclesiastical, Bristol

and parochial — and the practicalities of 'adopting' it. Though members

had been asked to concentrate on the work's attributes (as mentioned) in

from Hogarth's

self-portrait ca. 1735
---
coming to a decision, many viewed the business aspects of the project as

equally important. In that light, queries on the ownership agreements of

the work, its housing, display and conservation, and the funding and futureproofing

of the project were raised and extensively discussed. Concerns

included any ethical issues that might arise given Bristol's 18th century

involvement in the slave trade; being seen to spend on cultural artefacts

in a parish in which the church is surrounded by social disadvantage; and

that the Altarpiece might overshadow existing items in the church's cultural

heritage. Arguments to the contrary were well articulated including, but

not confined to, intelligent curation of the work, the value of it to the local

community in terms of enhancing the profile of the area and raising expectations,

and as part of the output of a respected artist notably engaged in

the social issues of his day. Throughout there was interest and excitement

in the project from many members, and interest in the potential of 'adopting'

the Altarpiece was reported elsewhere in the city. At heart, in considering the

church's strapline Singing a song of faith and justice, the discussion centred

on interpreting the PCC's role as both steward of its heritage and steward of

the community's welfare, and the stories it wishes to tell.

Current statement of position: A Position Paper has been produced

following the meeting, that interprets the result and observes that "It seems

reasonable to conclude that there is a longer and more difficult journey to

navigate from where we currently are to a place in which the PCC has the

confidence to make this most important decision". The Paper notes the

general make-up of PCCs, the background to the inclusion of the Hogarth

in the Development Project, the steps taken to date to advise the PCC, and

those to be taken to assist the Council in its eventual decision.

PCC MEETING 31st JULY: Discursive

Visitors: Helen Bone (Vivid Regeneration); John Swainston (diocesan Director

of Education), Peter Farr (Chair; Foundation Governors SMRT); Angela Hogg

(Foundation Governor SMRP, outgoing); Jenny Hall, Esther Keller (Foundation

Governor candidates SMRP).

Engagement with the local Community

Helen Bone spoke to the PCC about the use of new facilities to increase

engagement with SMR's community. She stressed the importance of clear

messages and signals about the facilities, and of exploring the needs of the

local community. She felt that SMR had an important role in the area of

childhood poverty on the Redcliffe estate. Funders would be particularly

attracted to proposals that avoided duplication of existing effort, and that

showed enthusiasm for working in partnership with existing groups.

Issues of drug and alcohol abuse, and working with other faith and non-faith

groups would be a constructive challenge. The PCC's September meeting

would consider this theme further.

SMR and its Schools; appointment of Foundation Governors at SMRP

John Swainston outlined the characteristics of the Church Schools in the

diocese, and the responsibilities of PCCs in terms of support and in

the appointment of Foundation Governors. Angela Hogg and Peter Farr

spoke on the particular characteristics of SMRP and SMRT. The PCC agreed

that greater engagement between the church and SMRT was desirable, and

that any opportunities for this should be pursued. The PCC thanked Angela

Hogg for her work, and unanimously resolved to approve the appointment

of Esther Keller and Jenny Hall as new Foundation Governors at St Mary

Redcliffe Primary School for a period of five years.

SMR church business

Committee Structure: The Council approved a new committee structure,

designed to meet needs for modernisation to match current working modes,

and ease involvement of younger parishioners. It was unanimously resolved

that the proposed committee structure be adopted, and that a Joint Liaison

Group be established to discuss management and initiation of committees.

Finances: David Harrowes, PCC Treasurer, put forward an action plan that

proposed detailed measures for addressing various shortcomings in the

book-keeping arrangements; these were noted by the Council. Safeguarding:

Keith Donoghue reported to the Council on behalf of the Safeguarding Officer,

who would advise on members whose applications had been completed, and

those still to undertake them. Clergy and Liturgy: The Diocese confirmed

that post of Associate Vicar can be increased from four to six years, and that

the Vicar's sabbatical will take effect from May 2018 for three months. Revd

Tyndall explained that attention is being given to the way the building is used

liturgically now that the new Service booklets are in use.

Both meetings concluded with The Grace

Jane Vousden
---
Postscript — Church business: Minutes of the APCM held at church on 24th April 2017

were not included in the July–August issue of the Magazine; however, printed copies are

available at the back of church, and the Minutes can also be read online.

soundbites music at smr

LOOKING FORWARD

— ANDREW KIRK, DIRECTOR OF MUSIC

HOW QUICKLY TIME FLIES! The choir summer holidays are at an

end and I am greatly looking forward to the next academic year and

some excellent music-making. I would like to take this opportunity

to thank our four visiting choirs — Backwell, Nailsea and Tickenham, Sage

Gateshead Chamber Choir and St Michael's Cathedral, Kelowna, Canada —

as well as the Redcliffe Occasional Choir and their conductors for covering

the six Sundays in July–August.

Whilst mentioning the number six, Gesualdo Six will have performed a

concert in church on Saturday 2 September at 7.30pm. The founder and

leader of the group is Owain Park, a former Head Chorister at St Mary

Redcliffe who has an illustrious musical career ahead of him. This group of

talented young men has performed all over the UK and abroad with regular

appearances on Radio Three.

Recruitment is high on the agenda this term, especially in our back rows

of altos, tenors and basses. We wish Barney Pite, Dafydd Alexander and

Stanley Wilshire well as they take up their places at Oxford University this

autumn. All three have given excellent service to the choir as trebles and

young men — we will miss them.

On Tuesday 26 September at 7.30pm there is a free Organ Concert at Bristol

Colston Hall, in which I will be playing a few pieces along with virtuoso

organist Richard Hills — who is equally at home playing classical, jazz or

other light organ music.

On Saturday 14 October the combined boys and adults of Bath Abbey Choir

and St Mary Redcliffe for Evensong at 3pm in church, followed by a 'friendly'

football match at SMRT school. This is the first time in many years that our

choirs have combined. We will be singing Stanford in C canticles, and his

anthem For Lo I raise up. I hope many of the congregation will be able to

attend this service, especially the Stanford fans (Paul Jenkin and others!)

Andrew Kirk; Director of Music
---
Music Made Me: Allan Schiller; memoires

education smr

Allan Schiller, world-renowned and Bristol-based pianist, who has often

graced SMR with his playing, has published his memoires — read on. . .

Photo © South Bristol Voice 2017

Allan Schiller was a

child prodigy who

achieved astonishing

success in his early years,

playing a Mozart concerto

at the age of ten with the

Halle orchestra conducted

by Sir John Barbirolli. He

was the first English

student to be offered

a scholarship to study

piano technique at the Tchaikovsky Conservatory in Moscow, and

went there in 1962, aged eighteen. He shared grim digs with fellow

musicians from around the world. There was a piano in every room

and no insulation, so when five students were all practising

individually, it was bedlam. He played piano duets with the British

ambassador. He went to concerts and parties with great Russian

musicians and composers. He learned to speak the language. He was

shadowed by KGB heavies. He witnessed the Cuban Missile Crisis

from the other side of the Iron Curtain . . .

. . . on his return to the UK he established himself as a popular and

respected soloist, playing with every major British orchestra, broadcasting

and recording, and touring widely in Europe, Canada and the

USA. He is regarded as one of the finest Mozartians of his generation.

MUSIC MADE ME is Allan Schiller's own story, of a life lived through

music, in his own words; a paperback, 186 pages, with illustrations.

For availability and for further details about the book — including compelling

chapter excerpts and images — visit http://musicmademe.co.uk. Visit also

Allan's website at www.allanschiller.com

CHILDREN'S UNIVERSITY GRADUATION

— sarah yates

education officer

WE WERE THRILLED to host the Graduation Ceremony for

Children's University on behalf of the University of the West

of England (UWE Bristol) on Tuesday 11th July.

OVER SEVENTY CHILDREN from

Bristol and South Gloucestershire

schools came together with

their families to celebrate

their successes in visiting and

completing tasks in many of the

Learning Destinations in the

wider Bristol area.

THE CHILDREN arrived at

9am and were excited to dress

in their gowns and mortar

boards, assisted by student

ambassadors from UWE Bristol.

THE CEREMONY began with a

procession from the West End of

church accompanied by Andrew

Kirk playing a trumpet voluntary

on the organ. Andy Carruthers led

the procession, followed by three

staff from UWE Bristol dressed in

their academic gowns.
---
EACH CHILD mounted the stage

to receive their award, and was

photographed with the dignitaries

from UWE Bristol.

CHILDREN'S UNIVERSITY is an international

critically-acclaimed charity that encourages

all children aged five to fourteen years to try

new experiences, develop new interests and

acquire new skills through participation in

innovative and creative Learning Activities

outside of the school day. At the heart of

its work is the ambition to raise aspirations,

boost achievement, promote social mobility

and foster a love of learning. For further

details visit www.childrensuniversity.co.uk

All photos © Barbara Evripidou / First Avenue Photography 2017

ST MARY REDCLIFFE CHURCH is one of many 'Learning Destinations'

across the wider Bristol area and has a two-fold involvement with

Children's University:

AFTER ALL THE AWARDS had been

given, and a young graduate had

played his trumpet for everyone,

there was a procession into the

South Courtyard Garden for group photographs.

Firstly, any child who has enrolled as a student with CU and who is a member

of one of our choirs will have their hours spent with the choir logged in

their 'Passport to Learning'.

Secondly, we have two trails available on the Stewards' Desk, for £1.00: The

Church Mouse Trail (6–8 years) and The Church Cat's Trail (8–12 years).

Any child completing a Trail will receive an hour's credit in their Passport

to Learning.

Other local Learning Partners range from libraries, sports clubs, heritage

sites, museums and theatres. In fact, whether you are interested in animals,

technology, dance, archery, trampolining, rugby or science, you are bound to

find many activities which you would enjoy and many places to visit.

THE HIGHLIGHT OF THE PHOTOGRAPHIC SESSION for the children

was being able to throw their mortar boards into the air (see the front cover

for a larger picture) — the morning was rounded off with Refreshments in

the South Transept, and the cake was eaten in record time!

The Graduation Ceremony was a wonderful occasion which we were

delighted to host in partnership with UWE Bristol.

Sarah Yates

Education Officer

If you would like to know more about

our Education Work please contact me at the Parish Office

or email me at — sarah.yates@stmary redcliffe.co.uk
---
sunday school smr

BEGINNINGS AND ENDINGS... IN SYTLE !

— becky macron, sunday school leader

SUNDAY SCHOOL certainly ended the summer term in style! We

finished the academic year with our sleepover and sports' day but the

weather was not in our favour on these occasions and, as a consequence,

our sports' day ended up being an indoor event. However, we did

not allow the heavy down pours to dampen our spirits! Whilst our younger

children enjoyed Jackie's very fun activities, the older ones took part in some

classic (but slightly adjusted) sports' day events, including a Story Sack Race

(which involved reading the bible passage to baby Jesus) and the candle and

spoon race. The teachers and parents finished the session by competing in

a rather heated Bible relay race — a fun time was had by all! And, drawing

on the day's Gospel, we all went away for the summer with the very important

message that God loves us, no matter what.

The sleepover — "our champing session" — turned out to be in fact an

overnight stay in the parish office. We did spend some time in church prior

to snuggling down into our sleeping bags. Our focus was "Miracles from

the Bible" and we engaged in a number of miraculous activities — from

turning water to wine to walking on water. After reading about the raising

of Lazarus, the children were challenged to wrap up their own designated

Lazarus as quickly as possible (using toilet roll) and we all enjoyed our

version of the feeding of the five thousand. The ever-growing ice-cream

sundae (even though it was a Friday) was a particular favourite!

Sunday School is now looking forward to the new academic year… and we've

lots of exciting plans in store! Our children's worship begins on Saturday

3rd September with Kat's First Sunday Service. On Saturday 9th September,

we will be joining the rest of the church for Doors Open Day. Along with

our classic and much-loved activity of brass rubbing, throughout the day,

we aim to give a taste of what we do throughout the year at Sunday School.

There will an Epiphany cake to sample, a science experiment to enjoy, some

messy play activities and a fun sensory activity for younger ones to teach

the importance of "being a good neighbour".

Towards the end of the month, we will be joining in with the European

Day of Languages (an initiative of the Council of Europe) to celebrate

linguistic diversity. During our session we will be learning how to welcome

newcomers to our church in their native tongue, and will be encouraging

our children to dress in a national costume or colours of a flag... the

congregation are, of course, welcome to join us!

Becky Macron

Sunday School Leader

parishioner to parishioner msgs

JENNY MARTIN alerts everyone to the Macmillan Coffee mornings on

Friday and Saturday 29th and 30th September in church from 10 till noon.

Please contact her if you can donate a cake, and please COME — you know

it's always the best cake in town and in a good cause! Jenny is also seeking

more knitters for blanket squares. Email: jenniferm_martin@talktalk.net

MARY'S MEALS BACKPACK APPEAL: this year we have ordered

backpacks on line @ £2.99 each in case local supplies are scarce. If

you would like to help this worthy cause to enable children in countries like

Malawi and Liberia to get the best out of school please let Becky Macron or

Marion Durbur know. Cash payments a.s.a.p. please.

Watch as the water turns to wine . . . let's walk on water . . . the winning Lazarus!

P to P messages cont overleaf . . .
---
R

EDCLIFFE LUNCH CLUB — a very warm welcome awaits you! We meet

every Wednesday and provide a two-course meal and a cup of tea for

£4.00. A weekly raffle is held and drawn after the meal, which is followed by

a speaker, a slide show, and a sing-along or music. After a break for August

we meet again on Wednesday 6th September, from 12 noon to 2pm at

Faithspace Hall in Prewett Street. We welcome all our returning members,

and especially look forward to meeting new members — if you would like

to find out more please get in touch with Bobby Bewley on 0117-9864445.

forgotten voices WWI passchendaele 1917

illustration: Furnace © E J Lee 2005

Captain Cyril Dennys, 212 Siege Battalion, Royal Artillery

W

e

Hymn Singalong

First Wednesday in every month

11 am –12 noon, Faithspace Centre

Prewett Street, Redcliffe BS1 68P

are a friendly happy group However we

are not brilliant at singing... but we do enjoy

ourselves ! Please come and join us and help us in

singing all your old well-loved favourite hymns

Tea, coffee, cake and biscuits afterwards Free

of charge, or a small donation

Enquiries to Rosemary

0117–9221627

WE BUILT for each of the four Howitzers a platform. In a

normal battle you would have a gun in a pit, but at Ypres you often

couldn't do that, because the water level was too high. So we used to

make a sandbag, or double sandbag, wall around the edges of the gun pit. In

the Ypres salient, sometimes the ground was so devastated and wrecked that

the usual camouflage netting might give you away. So we would make the position

look as untidy as the surroundings. We used to throw around bits of old

sackcloth, sandbags, half a rum jar — and instead of putting the implements,

the battery and spikes and levers and things in neat order, we used to throw

them about. We were told to do this by the RFC pilots. They said, "For God's

sake don't have any kind or order. Have your battery positions as untidy

as you can and never allow your men to approach the guns along the same track,

or they'll make a path that will be visible from the air".

Voices compiled by Lester Clements, for September 2017

FREE MENTAL HEALTH WORKSHOPS IN SEPTEMBER & OCTOBER

Bedminster, City Centre, St Werburghs, Southmead

BRISTOL WELLBEING COLLEGE IS RUNNING FREE MENTAL HEALTH COURSES AND WORKSHOPS:

Self Awareness; Assertive Communication; Managing Depression; Building Resilience 'Bouncing Back';

Introduction to Confidence Building; Coping with Anxiety; Introduction to Mindfulness; Ways to

Wellbeing — If you receive support around your mental health and would like to enrol visit:

http://www.second-step.co.uk/bristol-wellbeing-college for details. Tel: 0117-914 5498. Email:

bristol.wellingbeing.college@second-step.co.uk.
---
Redcliffe Gardening Club . . .

M

ARIGOLDS, nasturtiums,

sunflowers, tomatoes, chard,

courgettes, parsley and mint

grow below, up or along the railings

on the south side of Somerset Square;

Livingstone daisies, varieties of hebe,

fuchsias and pansies on the west side

rock garden; there's a small orchard

and some rose bushes beside Proctor

House; behind the derelict pub there's a

wildlife garden and next to the Redcliffe

Children's Centre, two new vegetable

plots brimming with herbs, peas, beans

and more root vegetables.

FLOWER POWER

— ANGELA HOGG

ALL THIS GROWTH is thanks to two years' work by Redcliffe Gardening

Club under the guidance of Growing Support, a community gardening

enterprise. The Club is mainly made up of Redcliffe residents, plus some

volunteers from beyond Redcliffe who've heard this Thursday morning

gardening club is one of the friendliest in Bristol. The club's brief is also to

smarten up the environment — politely encouraging local dog owners to

deal with their dog mess, clearing hedges, weeds and nettle clumps and

picking up litter including sharps. (NB One member reports that one or

two teenagers are now coming to tell him if they find hypodermic needles

in the grass — care of the environment is catching on.)

Growing Support finishes its support on 30th September; members

are confident they are a sufficiently trained and committed (albeit

small — twelve or so active members?) to keep going alone but there are

at least two good reasons why some parishioner involvement could make a

powerful difference to joint church and Redcliffe neighbourhood life:

1: A bigger crowd out gardening each Thursday — making a bit more

noise — may encourage more isolated residents in the flats to come and

join in ("safety in numbers; being part of something happening ").

2: Bristol City Council proposes to cut maintenance to parks and outdoor

spaces dramatically — the club needs more person power to help keep

weeds and rubbish down as well as keeping the flower and veggie count up.

3: Digging, weeding, sweeping and sharing out the beetroots etc. is an

easy-going way of getting to know other people. SMR churchgoers living

outside Redcliffe apparently don't know many local parishioners, and

apparently many residents don't know each other either. Is it fanciful to

suppose that some of the tragedies we've heard about recently might be

slightly less likely to happen if more of us chatted to each other over a bed

of spuds?

Angela Hogg

If a weekly commitment is not for you, here are some other ways of

helping over the next year:

When splitting your plant clumps this autumn, please pass any

spares to the club. Ditto if you have extra seeds.

Please consider coming to do a specific one-off heavy task like

digging or turning compost. Requests will be made via the pew leaflet

No tools required — we have them in spades. But do bring your own

gloves. The Gardening Club runs every Thursday 10am to noon, and

meets in Somerset Square, Prewett Street. AND WE HAVE AN OPEN

EVENT ON 23rd SEPTEMBER — see you there!

For further information until 30 September, call Amy Stone: 07410 379704

Thereafter call Angela Hogg: 0117-9734560
---
Parish Weekend snapshots . . .

Sidmouth 14th-16th July: a few impressions plus images

from the altar frontal and stoles made at Saturday's all-age

art workshop for Sunday's service

I really enjoyed myself

... I wasn't sure what to

expect but Dan and Kat

organised the weekend

brilliantly. I loved the

variety of activities

— Angela

The venue and food were

good, lovely gardens ... the

structure was well-planned

and helpful — John

The thing that impressed

me most about the Parish

weekend in Sidmouth was

the way in which people of

different ages interacted...

...it has long been a concern

of mine that this hardly ever

happened in church...

I hope and pray that those of

us who conversed at Sidmouth

(maybe for the first time) will

continue to do so whenever we

can! — Marion

Thought-provoking teaching

on being church plus the chance

to discuss it and get to know

each other a bit — Jane

I enjoyed getting to know people

better whom I just see in church...

I liked coming together for

the service at the end with

the painted stoles and

altar cloth — John

The film

Marvellous was

unforgettable

and the art

workshop was

inspiring

— Jane

Special praise for the handful

of teenagers and early twenty

somethings who braved it

amongst the young families

and "oldies"! They were all

charming and helpful...

...next time let's have all the

young choristers too!

— Angela

A creative and

well-organised

weekend with

lots to think

about, in and

in between

sessions

— Jane

Magic moments?

After a wonderful

coastal path walk

I loved just sitting

down with the

art group and

painting sea

scenes for

a stole

— Angela

Artwork photos Jane Vousden

Photos: Jo Holloway, Becky Macron

Workshop: Roma Widger, Helena Hoyle King
---
diary dates 1st September – 8th October

NB: POLICE BEAT SURGERY DROP-IN occurs every Friday from 1.00–2.00pm at

Faithspace Community Centre — dates for the above period are: 1st, 8th, 15th

22nd, 29th September and 6th October.

SEPTEMBER

2 Concert // 7.30pm — Gesualdo Six — in church

4 Faithfood // 11.00am — Faithspace CC

4 Pot Luck Lunches // 12.30pm —

4 Postcard Club // 7.30pm — Peter Davey: National Service — Faithspace CC

5 Faithspace Coffee Morning // 10am–12pm — Faithspace CC

5 Holy Communion // 12.30pm — Revd Kat Campion-Spall

5 Christian Meditation // 6.30–7.00pm — Faithspace CC

6 Hymn Sing-Along // 11.00 am — Faithspace CC

6 Redcliffe Lunch Club // 12.00–2.00pm — Faithspace CC

6 Redcliffe Care Film Club // 2.30pm —

6 Jazz in the Undercroft // 7.30pm–10.00pm

7 Redcliffe Gardening Group // 10.00am–12.00pm — Somerset Square

7 Holy Communion // 12:30pm — Revd Peter Dill

9 DOORS OPEN DAY

10 PATRONAL FESTIVAL

11 Faithfood // 11.00am — Faithspace CC

12 Faithspace Coffee Morning // 10am–12pm — Faithspace CC

12 Holy Communion // 12.30pm — Revd Kat Campion-Spall

12 Christian Meditation // 6.30–7.00pm — Faithspace CC

13 Redcliffe Lunch Club // 12.00–2.00pm — Faithspace CC

13 Mothers' Union // 2.30pm — Do It Yourself — Faithspace CC

13 Jazz in the Undercroft // 7.30pm–10.00pm

14 Redcliffe Gardening Group // 10.00am–12.00pm — Somerset Square

14 Eucharist with Prayer for Healing // 12:30pm — Revd Dan Tyndall

14 Organ Recital // 1.15pm — Andrew Kirk

14 Seekers Escape from the Pew // 7.30pm — How has Christianity adapted to a

multi-cultural and multi-faith society? — at the Vicarage

18 Faithfood // 11.00am — Faithspace CC

19 Faithspace Coffee Morning // 10am–12pm — Faithspace CC

19 Holy Communion // 12:30pm — Revd Dan Tyndall

19 Christian Meditation // 6.30–7.00pm — Faithspace CC

20 Redcliffe Lunch Club // 12.00–2.00pm — Faithspace CC

20 Redcliffe Care Film Club // 2.30pm —

20 Jazz in the Undercroft // 7.30pm–10.00pm

21 Redcliffe Gardening Group // 10.00am–12.00pm — Somerset Square

21 Holy Communion // 12.30pm — Canon Neville Boundy

21 Organ Recital // 1.15pm — George Castle ; from Winchester Cathedral

25 Faithfood // 11.00am — Faithspace CC

25 PCC Meeting // 7.30pm — Business — at the Mercure

26 Faithspace Coffee Morning // 10am–12pm — Faithspace CC

26 Holy Communion // 12:30pm — Revd Peter Dill

26 Christian Meditation // 6.30–7.00pm — Faithspace CC

27 Redcliffe Lunch Club // 12.00–2.00pm — Faithspace CC

28 Jazz in the Undercroft // 7.30pm–10.00pm

28 Redcliffe Gardening Group // 10.00am–12.00pm — Somerset Square

28 Eucharist with Prayer for Healing // 12:30pm — Revd Peter Dill

28 Organ Recital // 1.15pm — David M Patrick ; from the USA

29 MacMillan Coffee Morning in Church — see Pew Leaflets for details

30 MacMillan Coffee Morning in Church — see Pew Leaflets for details

OCTOBER

1 HARVEST FESTIVAL

2 Faithfood // 11.00am — Faithspace CC

2 Pot Luck Lunches // 12.30pm —

2 Postcard Club // 7.30pm — David Williams : Another Trip around Bristol — Fsp CC

3 RSPCA Pet Blessing (Eve) — details to be confirmed — no cats please

3 Faithspace Coffee Morning // 10am–12pm — Faithspace CC

3 Holy Communion // 12.30pm — Revd Kat Campion-Spall

3 Christian Meditation // 6.30–7.00pm — Faithspace CC

4 Hymn Sing-Along // 11.00 am — Faithspace CC

4 Redcliffe Lunch Club // 12.00–2.00pm — Faithspace CC

4 Redcliffe Care Film Club // 2.30pm —

4 Jazz in the Undercroft // 7.30pm–10.00pm

5 Redcliffe Gardening Group // 10.00am–12.00pm — Somerset Square

5 Holy Communion // 12:30pm — Revd Peter Dill

5 Organ Recital // 1.15pm — Paul Walton ; from Bristol Cathedral
---
morning prayer lectionary september

morning and evening prayer are said daily at 8.30 am & 4.30 pm in the lady chapel

4 —SEP Psalms

Proverbs

Mark

5 Psalm

Proverbs

Mark

6 Psalms

Proverbs

Mark

7 Psalms

Proverbs

Mark

8 Psalm

Proverbs

Mark

9 Psalms

Proverbs

Mark

18 Psalms

Wisdom

or 1 Chronicles

Mark

19 Psalms

Wisdom

or 1 Chronicles

Mark

20 Psalms

Wisdom

or 1 Chronicles

Mark

21

Matthew

Psalms

Kings

2 Timothy

22 Psalms

Wisdom

or 1 Chronicles

Mark

23 Psalms

Wisdom

or 1 Chronicles

Mark

98, 99, 101

14: 31—15: 17

6: 45–end

106

15: 18–end

7: 1–13

110, 111, 112

18: 10–end

7: 14–23

113, 115

20: 1–22

7: 31–end

139

22: 1–16

7: 31–end

120, 121, 122

24: 23–end

8: 1–10

1, 2, 3

1

10: 1—11: 9

9: 38–end

5, 6, (8)

3: 1–9

13

10: 1–16

119: 1–32

3: 1–9

15: 1—16: 3

10: 17–21

49, 117

19: 15–end

3: 14–end

17, 19

5: 1–16

21: 1—22: 1

10: 35–45

20, 21, 23

5: 17—6: 11

22: 2–end

10: 46–end

11 Psalms

Proverbs

Mark

12 Psalms

Proverbs

Mark

13 Psalm

Proverbs

Mark

14

Holy

Cross

Psalms

Genesis

John

15 Psalms

Proverbs

Mark

16 Psalm

Proverbs

Mark

25 Psalms

Wisdom

or 1 Chronicles

Mark

26 Psalms

Wisdom

or 1 Chronicles

Mark

27 Psalms

Wisdom

or 1 Chronicles

Mark

28 Psalms

Wisdom

or 1 Chronicles

Mark

29

Michael

& All

Angels

Psalms

Tobit

or Daniel

Acts

30 Psalms

Wisdom

or 2 Chronicles

Mark

123, 124, 125, 126

25: 1–14

8: 11–21

132, 133

25: 15–end

8: 22–26

119: 153–end

26: 12–end

15: 14–21

2, 8, 146

40

3: 1–15

142, 144

30: 1–9, 24–31

19: 14–29

147

31: 10–end

9: 30–37

27, 30

6: 12–23

28: 1–10

11: 1–11

32, 36

7: 1–14

28: 11–end

11: 12–26

34

12: 1–16

7: 15—8: 4

11: 27–end

37

8: 5–18

29: 10–20

12: 1–12

34, 150

12: 6 end

12: 1–24

12: 1–11

41, 42, 43

10: 15—11: 10

1: 1–13

12: 18–27

Lectionary Notes: If you have internet access, there is a feed on the Church of England

website for the Daily Office. See http://churchofengland.org/prayer-worship/join-us-indaily-prayer.aspx

If you have a smartphone, the CofE has produced apps for Daily

Prayer—These provide the psalm and readings embedded in the daily office (Morning

and Evening Prayer) liturgies. See http://www.chpublishing.co.uk/features/our-apps

parish register for july & august

WEDDINGS

Gareth Alan Roberts and Jennifer Sarah Pomphrey

Thomas Alexander Dunn and Eleanor Rose Barnett

Daniel Tyson Cole and Louise Jackson

Martin Steven Heimann and Cheryl Isip Roman

Phillip Charles Weyman and Susan Melanie Lodge

Oliver Richard Shepherd Willmott and Savita Anne Custead

Song-Hwa Shen and Emi Maruo

THANKSGIVING SERVICE

Graham George Murley Wiltshire

Died 2nd August 2017 aged 86 years

nb editor's note

1st July 2017

8th July 2017

22nd July 2017

5th August 2017

5th August 2017

5th August 2017

19th August 2017

21st August 2017

SUNDAY CHURCH SERVICE ATTENDANCE AND COLLECTIONS

DATE 2017 2 July 9 July 16 July 23 July

8.00am Adult Child Adult Child Adult Child Adult Child

8 13 5 12

9.30am 114 25 97 1 75 92

11.15am 18 11 14 15

6.30pm 25 43 43 31

Collections £547.18 £424.52 £466.89 £569.62

DATE 2017 30 July 6 August 13 August 20 August

8.00am Adult Child Adult Child Adult Child Adult Child

7 8 8 7

9.30am 77 4 88 2 80 3 76 1

11.15am 6 22 14 11

6.30pm 25 49 2 46 30 2

Collections £335.59 £550.86 £411.20 £380.65

NB: Collections refer to plate collections only, both open & planned giving envelopes

Attendance refers to congregation not to clergy, choir, servers or vergers

The parish magazine now has a dedicated email address — please can you contact

me at editor.mag@stmaryredcliffe.co.uk — many thanks, Jane.

The magazine's October issue deadline is Friday 25th September
---
prayers for september

groups within the church

The Presence of God

I pause for a moment

and reflect on God's life-giving presence

in every part of my body, in everything around me,

in the whole of my life.

I pause for a moment

and reflect on my dreams

in every part of my body, in everything around me,

in the whole of my life.

I pause for a moment

and reflect on my relationships

in every part of my body, in everything around me,

in the whole of my life.

I pause for a moment

and reflect on my work

in every part of my body, in everything around me,

in the whole of my life. Amen

Rooted in Love

If you really love, then when you love

you are really doing what you like.

When you keep quiet, do it out of love;

when you cry out, do it out of love;

when you correct someone, do it out of love;

when you forgive someone, do it out of love;

Let your life be utterly rooted in love:

from "An Anthology for the Church Year"

© 2003 Mothers' Union

Augustine of Hippo (August 28th); 354–430

from "The Prayers We Breathe"

© H J Richards 1998 published by Kevin Mayhew Ltd, by kind permission

The regular congregation is large, active and involved. If you would like to

join one of the many groups connected with the Church, please contact the

appropriate group leader:

Head Server

Head Sidesman

Head Steward

PCC Secretary

PCC Treasurer

PCC Safeguarding

PCC Recorder

Sunday School

Faithspace Centre

Lunch Club

Meditation

Mothers Union

Church Flowers

Coffee Rota

Bells Ringers

Canynges Society

Journey into Science

Magazine Editor

Dean Barry

Graham Marsh

Andy Carruthers

Keith Donoghue

David Harrowes

Stephen Brooke

Tal Singh Ajula

Becky Macron

Sarah James

Bobby Bewley

Lewis Semple

Hilda Watts

Mildred Ford

Christine Bush

Gareth Lawson

Pat Terry

Eric Albone

Jane Vousden

0117-9099862

01275-832770

0117-2310061

0117-9422539

0117-9779823

0117-3311260

07429 480397

07443 000420

0117-9258331

0117-9864445

0117-9255763

01275-543588

0117-9666794

0117-9773023

07798 621834

0117-2310060

0117-9247664

0117-9634856

If you or one of your family are sick or have gone into hospital, please let us

know — contact the Clergy or Vergers as soon as possible.

Please consult the Parish Office before making any arrangements for

baptisms, weddings or funerals.
---
sunday services

8.00 am holy communion

9.30 am sung eucharist

With Crèche and Sunday School, and followed by coffee

11.15 am choral mattins

6.30 pm sung evensong

weekday services

holy communion

Tuesdays and Thursdays at 12.30 pm

2nd and 4th Thursdays at 12.30 pm with Prayers for Healing

morning and evening prayer

Monday to Friday at 8.30 am and 4.30 pm in the Lady Chapel

opening times

Weekdays all year round from 8.30 am – 5.00 pm

Bank Holidays 9.00 am – 4.00pm (except New Year's Day)

Sundays 8.00 am – 8.00 pm

The Church is occasionally closed for special events and services

The Arc Café in the Undercroft

Serving home made refreshments all day

Opening hours:

Monday to Friday 8.00 am – 3.00 pm

Lunch served from 12.00 – 2.30 pm