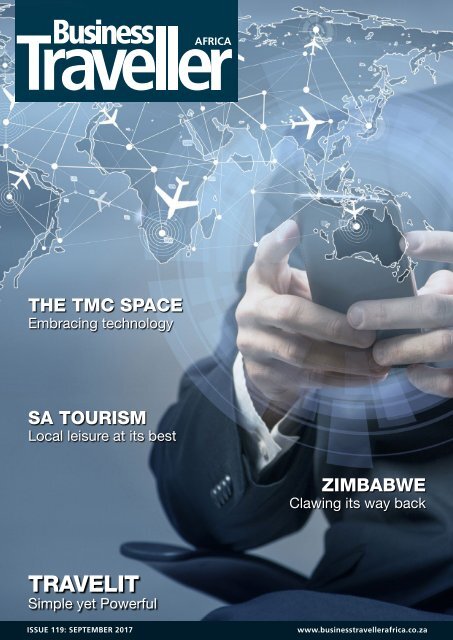 Create successful ePaper yourself
Turn your PDF publications into a flip-book with our unique Google optimized e-Paper software.
THE TMC SPACE

Embracing technology

SA TOURISM

Local leisure at its best

ZIMBABWE

Clawing its way back

TRAVELIT

Simple yet Powerful

ISSUE 119: SEPTEMBER 2017

www.businesstravellerafrica.co.za
---
Thank You

for Voting for Us

Best Airline In Africa

www.ethiopianairlines.com
---
John Smith

@ModernBusinessTraveller

No wonder Silverbirch @

Birchwood won a Certificate of

Excellence from TripAdvisor.

September 2017

Silverbirch @ Birchwood has been specially developed for the discerning and

modern business traveller. 235 beautiful rooms, positioned and designed to

ensure a comfortable and peaceful night's rest. Set apart with access control in a

tranquil part of the Birchwood grounds, far from the conference bustle.

Express Check-in

Exclusive Dining Options

7km from OR Tambo

Free Wi-Fi*

Upmarket Meeting Facilities

Free Shuttle and Airport Waiting Lounge

To experience your finest business stay, call 011 897 0000 or email reservations@birchwoodhotel.co.za.

www.birchwoodhotel.co.za
---
48

Contents

64

58

59

18

Tourvest

Tourvest Travel Services is a leading integrated travel

group, with products and services ranging from travel

management companies through to foreign exchange

bureaux. Its foray into the travel technology space has

involved integrating travel arrangements onto a single

platform by taking industry knowledge and technological

expertise to create Travelit. The online solution drives

cost savings, streamlines booking processes, improves

reporting and provides full visibility of travel spend.

16

20

48

FEATURES

TMCs in Africa

Travel management companies the

world over have had to change the

way they do business and re-look

their models, with technology driving

this change. As a result, TMCs look

a lot different to what they looked like

10 years ago, with a nearly complete

overhaul of the TMC offering.

Zimbabwe

As the country edges closer to its next

general election, the world speculates

about Robert Mugabe's future and the

possibility of a coalition government

strong enough to unseat the long-time

president. Despite rising political tension,

Zimbabwe is still a fairly straightforward

business travel destination to visit.

REGULARS

04

06

16

17

Message from the Team

What's the editor ranting about now?

News

Airline, hotel and other travel news

from Africa and beyond

W Hospitality Column

Managing Director Trevor Ward gives

us his take on the West African hotel

industry

ASATA Column

The latest from Chief Executive Officer

Otto de Vries

58

60

62

64

Tried and Tested

Hotel Check

• Sun Meropa

Flight Check

• Virgin Atlantic

Q & A Interviews

• Sally George – Singapore Airlines

• Andy Hedley – Amadeus

People on the Move

The movers and shakers –

what they're up to now

Bite with the Editor

Neil Bald – aha Hotels & Lodges

Visit businesstravellerafrica.co.za SEPTEMBER2017 | 3
---
ED'S LETTER

Nigeria continues to struggle to bounce back

from the troubles of the past few years.

The latest reminder, a report on travel to

Africa, produced by ForwardKeys, which predicts

future travel patterns by analysing 17 million

booking transactions a day. It showed overall double

digit growth in flight arrivals to Africa for the first

half of this year and little indication that the pace of

growth will slow down soon. The wider report makes

encouraging reading for airlines, governments and

hoteliers, but not for those with a vested interest in

Nigeria.

Looking at Africa's top ten destination countries,

there were stand-out performances from Tunisia

and Egypt, which are recovering from notorious

terrorist attacks two years ago, up 33.5% and 24.8%

respectively. In addition, Morocco and Tunisia

received a huge boost in arrivals from China, up

450% and 250% respectively, after they relaxed visa

restrictions.

Nigeria, though, remains the one disappointment,

thanks to a 0.8% drop in the wake of the recession in

2016 caused by a collapse in the oil price to a 13-year

low. Further to that, if one looks at the scheduled

capacity for the August-December 2017 period for the

top ten airports in Africa, in terms of traffic, Lagos is

the only city showing negative growth. Its domestic

capacity is down 16% and international, 9%.

Elsewhere, the picture is a little rosier.

The report revealed that in the first seven months

of the year, total international flight arrivals grew by

14% over the same period in 2016. Most significantly,

growth was stronger for travel to and from the

continent than within Africa. Arrivals from Europe,

which make up 46% of the market, were up 13.2%.

From the Americas, arrivals were up 17.6%; from the

Middle East, 14% and from Asia Pacific, 18.4%. By

comparison, intra-African air travel, which makes up

26% of the market, was up 12.6%.

Looking ahead, the picture remains an

encouraging one, according to the ForwardKeys

report.

Bookings for flights to Africa were – as of mid-

August – 16.8% ahead of where they were on 31

July, 2016. Bookings from Europe were 17.5% ahead,

from the Americas 26.6% ahead, from Asia Pacific

11.5% ahead, from the Middle East 8.2% ahead, and

bookings for intra-African air travel were 11% ahead.

All of which makes for great reading for those with

a vested interest in Africa and the African business

travel market.

It's been a tough few years and challenges remain,

but reports like the ForwardKeys report are a

reminder that the overall African picture is a positive

one with much potential to still realise.

PUBLISHER

Richard Lendrum

EDITOR

Dylan Rogers

dylan@thefuture.co.za

JOURNALIST

Kate Kennedy

DESIGN AND LAYOUT

Nadette Voogd

SUBSCRIPTIONS AND PRODUCTION

Mabel Ramafoko

mabel@thefuture.co.za

SOUTH AFRICAN OFFICE

Postal Address:

PO Box 1746, Saxonwold, 2132

Physical Address:

247 Jan Smuts Avenue, Randburg

Telephone: +27 11 327 6107

NIGERIAN OFFICE

3rd Floor, EuniBrown House195,

Ikorodu Road, Palmgrove,Lagos, Nigeria

Tel: +234 1 740 3236

Mobile: +234 803 963 0155

PUBLISHER – NORTH & WEST AFRICA

Tope Ogbeni-Awe

tope.ogbeni-awe@topcommng.com

EDITORIAL ASSISTANT

Mohammed Abdullahi

Business Traveller Africa is published under licence from Perry

Publications Limited.

Warwick House, 25 Buckingham Palace Road, London, SW1W 0PP.

Tel: +44 20 7821 2740

www.businesstraveller.com

Dylan Rogers

Editor

dylan@thefuture.co.za

Follow us on:

4 | SEPTEMBER2017 Visit businesstravellerafrica.co.za
---
Visit businesstravellerafrica.co.za SEPTEMBER2017 | 5
---
NEWS

Radisson Red Coming to Cape Town

The V&A Waterfront's newly revamped Silo District, which is shaping up to be a vibrant hive of cultural activity for

travellers and Cape Town locals alike, is home to Africa's very first Radisson RED – a unique hotel culture inspired by

all things art, music and fashion. The hotel is set to shake up the South African hospitality industry with its bold new

philosophy. The hotel offers an exuberant and unique take on modern hospitality as it embraces freedom, flexibility and

fun. Radisson RED is inspired by the trends and lifestyle of the millennial, tapping into modern, high-tech travellers.

In addition to the 252 contemporary rooms and fully equipped gym, the hotel will house four events and games studios

for up to 90 guests – ideal for hosting meetings and social occasions. Guests are encouraged to use the ping pong tables

in the events rooms while listening to their favourite tunes on the record player available. Furthermore, guests will be

able to access super-fast free wi-fi and 24/7 entertainment tech throughout the property. Additional good news for all

animal-lovers out there is that all animals of eight kilograms or under are welcome to stay at the hotel too. For the more

chilled guest, the RED Roof is the ideal early-to-late hangout. Celebrating the best views of Table Mountain, this will be

the spot to sit back and enjoy a local craft beer or take a splash in the pool. While food and drinks can be enjoyed at the

OUIBar and KTCHN, the resident restaurant and bar, there will also be the option to order in via the RED app for those

wanting some down time. The Cape Town Radisson RED Hotel follows successful launches in Brussels, Minneapolis and

Campinas, with Glasgow set to launch soon.

6 | SEPTEMBER2017

For more news, visit businesstravellerafrica.co.za
---
ABTA

Need some inspiration in your

role as a Travel Buyer or Supplier?

Look no further than the African Business Travel Association,

where you can become part of a well-informed and

performance-driven Business Travel community.

Through a variety of ABTA Events and online platforms,

ABTA Members have access to resources, cutting edge developments

and peer-to-peer networking. This access to best practice information

and practical guidance will give you the extra inspiration needed

to perform at the top of your game and demonstrate true value

for your organisation.

ABTA Premium Membership

R2 900.00 / $215.00 per annum

- Complimentary attendance to all relevant local ABTA events

(excl. Conference)

- Individual Membership Certificate

- Access to ABTA's Information Station

- Reduced rates for Visa processing in partnership with Visa's &

Passports Unlimited

- Complimentary Data on Mobile Roaming device in partnership with ExecMobile

- Reduced rate on lost luggage tracker with LugLoc

Sign up online at www.abta.co.za

More information: +27 11 888 8178
---
NEWS

Four-Star Grading for Mayfair Hotel

The Mayfair Hotel in Umtata (Eastern Cape) has been awarded a four-star grading by South Africa's Tourism Grading

Council. This makes the $9.8 million (R130 million) hotel the latest of just a handful of four-star graded establishments

in the city which, until recently, lacked the accommodation and entertainment facilities which larger centres boast. Billion

Group began investing in Mthatha two years ago with the development of the first major shopping centre in the region –

the BT Ngebs City mall. The Mayfair Hotel adjoins the mall, with ground set to break on another first for the region later

this year: a $11.3 million (R150 million) casino and entertainment complex, complete with state-of-the-art cinemas. The

hotel boasts 96 rooms, including a luxury three-room penthouse suite, a two-room presidential suite, two executive suites,

and 88 bed-and-breakfast suites. There are also several well-appointed conference halls.

Air France Offers VR Entertainment

In order to surprise its customers and offer them a new form of entertainment, Air France is rolling out a brand new

immersive entertainment system in partnership with the start-up SkyLights. Customers will be offered a virtual reality

headset in which films and series are screened in 3D or 2D. The system has been tested on the Paris-Charles de Gaulle

– St. Martin and St. Martin – Paris-Charles de Gaulle routes. Customers travelling in business class onboard the A340

operating on this route can now try this new form of in-flight entertainment for themselves. Four headsets will be offered

on board with a selection of 40 films and series. At the end of this test period, this new system could be rolled out on other

flights in the months ahead.

8 | SEPTEMBER2017

For more news, visit businesstravellerafrica.co.za
---
Faircity Hotels

Welcomes Kievits Kroon

Kievits Kroon Country Estate and Spa, situated

in Pretoria to the north of Johannesburg, is now

part of the Faircity portfolio. Negotiations to buy

the property began at the end of 2014 and the

sale was recently finalised. It will take a couple of

months for the property transfer to be completed,

so in addition to the purchase agreement, there is

also a management agreement in place to ensure

continuity for the transition period. Kievits Kroon

– a high-end four-star property – will strengthen

Faircity's footprint in Pretoria, in terms of

conferencing, events and functions. Faircity says it

has big plans for Kievits Kroon, and after a period

of consolidation, the group will start introducing

new things to the hotel's offering. The existing staff

will be retained. Faircity now operates seven hotels

in the Gauteng province.

India Issues Multi-Entry

Visas for SA

The High Commission of India in Pretoria has

announced that the government of India has

decided to issue multi-entry business visas with

10-years validity to South African business people

with immediate effect. The business visa holders

can continuously stay during each visit to India not

exceeding 180 days without registration.

Join the Avis Preferred Loyalty Programme

today. Spend less time filling out forms,

and more time enjoying the benefits of priority

service, upgrades, free additional driver and

free weekend rentals*

Apply today

Visit avis.co.za

*Terms and conditions apply. Excludes contracted rates.

For more news, visit businesstravellerafrica.co.za ASEPTEMBER017 | 9
---
NEWS

Lufthansa Takes A350 to Hong Kong

Lufthansa will be offering flights to Hong Kong on the Airbus A350-900 from 12 September. Due to the flight distance – at

10,000 kilometres – Hong Kong will be served by two aircraft flying alternatively. These will be the fourth and fifth A350-

900 aircraft due to be delivered to Lufthansa on 12 August and 2 September respectively. The A350's maiden flight to Hong

Kong will take off on 12 September at 22h30 and be welcomed for the first time in Hong Kong 11 hours later at 15h35 local

time on 13 September. The first of 15 A350-900's arrived in Munich in February. By September, five of these aircraft will

be taking off from their home base of Munich to fly to Boston, Delhi, Mumbai and Hong Kong. The A350-900 has space

for 293 passengers – 48 in business class, 21 in premium economy and 224 in economy class. It uses 25% less kerosene,

produces 25% fewer emissions and is significantly quieter on take-off than comparable types of aircraft.

Preferred Welcomes

New Hotels

Preferred Hotels & Resorts has announced the

addition of 23 new member hotels and resorts

across 13 different countries. Highlights of

the new hotel additions include Hotel MiM

Sitges in Spain, the Ambassador Chicago

in the United States, the Cerulean Tower

Tokyu Hotel in Japan, the Merchants Manor

Hotel & Spa in the UK and the Iberostar

Grand Hotel Rose Hall in Jamaica. Travellers

can access exclusive member rates and earn

reward points at many of these properties

through the Preferred Hotels & Resorts iPrefer

hotel rewards programme. Free to join, the

programme extends points redeemable towards

free nights and other on-property expenditures,

elite status, and other complimentary benefits

to guests. Bookings can be made online at

PreferredHotels.com or on the iPrefer mobile

app, available on Android and iOS.

10 | SEPTEMBER2017

For more news, visit businesstravellerafrica.co.za
---
Sun

International

Unveils New Hotel

Sun International has opened a new

hotel at the Sun Meropa complex

in the city of Polokwane in South

Africa's Limpopo province. The group

invested R76-million ($5.7 million)

in the project and construction has

been underway since September 2016.

The new Sun Meropa Hotel flows

seamlessly into the casino complex and

has a Moroccan theme to it, reflected

in the architecture and aesthetics.

The hotel boasts 60 rooms, including

four suites and two luxury suites. Sun

Meropa is a vibrant entertainment

hub at the heart of Polokwane.

The complex features the upmarket

Harvest Grill & Wine restaurant; the

contemporary Jembe Tavern which

hosts regular live entertainment; and a

well-equipped and versatile conference

centre. The casino itself boasts 417

slot machines and 17 tables, including

classics like Roulette, Blackjack and

Poker. (See page 58)

Get straight

to business

Same day return flights between

Cape Town and Pretoria

If time is money, we can help you spend it wisely.

Our new weekday 06:45 flight makes travelling to Pretoria's Wonderboom

National Airport easy, quick and convenient, so you can get straight to what

matters - business. Earn or redeem Voyager Miles and book your flight

on www.flyairlink.com

flyairlink.com @fly_airlink Fly Airlink

Visit businesstravellerafrica.co.za SEPTEMBER2017 | 11
---
NEWS

British Airways Invests in First

British Airways is continuing to invest in other improvements to its first class, including a refresh of its flagship Concorde

Room at Heathrow Terminal 5, which is to be unveiled in October. The lounge, which is exclusive to First customers, will

receive an updated look and feel, as well as improvements to the terrace area. Additionally, new Liberty London washbags

have taken to the skies. The kits feature prints from Liberty's vintage textile archive. The gentlemen's washbag features

Refinery's revitalising moisturiser, lip balm, deodorant stick and shave gel, as well as a razor, brush and comb, toothbrush,

toothpaste, eye mask, socks, ear plugs and pen. The ladies' kit includes Aromatherapy Associates triple rose renewing

moisturiser, hydrating hand lotion, renewing cleanser and deodorant stick, along with a lip balm, cotton wool pads,

toothbrush, toothpaste, hairbrush and pen.

XL Sandown Travel

Kopanang BEE

Accreditation

XL Sandown Travel Kopanang has confirmed its

existing Level 1 BEE official SANAS accreditation.

The accreditation was run on the revised Codes

of Good Practice. Servicing the corporate travel

market, the Sandown Travel Group has been in the

industry for over 45 years in South Africa. It is also a

founding member of the XL Travel Group and global

member of ATG international. The XL Sandown

Travel Kopanang offering covers corporate travel,

group and MICE specialist services, VIP and travel

concierge services, travel data management, duty of

care, online booking tools, and in-house visa and

forex provision.

12 | SEPTEMBER2017

For more news, visit businesstravellerafrica.co.za
---
KWAZULU NATAL MIDLANDS

SLOW XS Launches at

Lanseria

Comair Limited has launched SLOW XS, a new

lounge at Lanseria International Airport to the

north-west of Johannesburg. SLOW XS is the latest

addition to the suite of existing SLOW Lounge

experiences across South Africa. It opened at

Lanseria's domestic terminal and will be exclusively

available to qualifying kulula.com, FNB, RMB

and Comair Limited VIP guests. The SLOW XS

concept has been specifically designed to address

the discerning traveller's need for dedicated transit

spaces within smaller airport environments, such

as Lanseria. The spatial constraints of its present

location have led to a paring down of certain services,

such as buffet catering, in-house spa and private

washroom facilities. Partnering with design agency

UNKNOWN in developing and realising the lounge

concept, the notion of scale was extended across a

range of elements, from a limited edition volume of

hand-made guest books and sustainability-sensitive

reusable water bottles to a taster-inspired menu, coldbrewed

coffee selection and boutique, small-batch

alcohol labels from micro-distilleries.

Looking for the ultimate

multifunctional

conference destination?

From high-level board meetings to interactive conferences, the

Agility Hub at Brahman Hills is the first truly multifunctional venue in

the KwaZulu Natal Midlands. With a host of other rooms, venues

and breakaway spaces available on the property, it's no surprise

that Brahman Hills is considered the ultimate conference

destination!

Conference Venues

• The Nguni Room seats up to 20 people

• The Lake House seat seats up to 150 people

• The Glass House seats up to 400 people

• The Stables Boardroom seats up to 18 people

• The Agility Hub seats up to 100 people

Accommodation

60 people (single occupancy) 120 people (shared occupancy)

Accommodation is spread between our hotel rooms and cottages.

+27(0)33 266 6965 reservations@brahmanhills.co.za

For more news, visit businesstravellerafrica.co.za www.brahmanhills.co.za Brahman ASEPTEMBER017 Hills | 13
---
NEWS

Airlink Starts Using New E190 E-Jets

Airlink has put one of its three recently-delivered Embraer E190 E-jets into service, using the aircraft on the

Pietermaritzburg and Bulawayo routes. Airlink's new flagship aircraft type will slowly be phased in to replace the fleet of

12 Avro RJ85s currently used on various routes, including Pietermaritzurg and Bulawayo. The E-Jets provide customers

with additional seat pitch and a business class product that will be introduced on both of these routes. The E-Jets provide

Airlink with superior operational performance range and efficiency, coupled with an enhanced cabin environment. The

cabin layout features two plus two seating, with large eye-level windows. Under-seat areas are free of support railings, so

that passengers can stretch out in greater comfort. The eight rows of economy seats forward of the emergency exit feature

a 33-inch seat pitch, providing added personal space on longer sectors. Airlink will make use of air-bridges at O.R. Tambo

International Airport in Johannesburg to facilitate quick and convenient boarding. The E-Jets are configured with six

business and 92 economy class seats.

Travelport and Mobacar

Extend Partnership

Travelport has extended its partnership with car rental

and ground transportation technology Mobacar. Building

on the success of the existing relationship, this longterm

agreement now makes Mobacar a preferred global

technology partner. Travelport, in partnership with

Mobacar, intends to dramatically increase the global car

rental and ground transportation content available to its

travel agency customers. With this real-time connectivity to

hundreds of car rental and ground transportation suppliers,

Travelport can provide customers with the widest choice

of relevant car transportation offers. With the Smartpoint

tool and UAPI or mobile, Travelport-connected agencies

have a one-stop-shop for their global car supply and

ground transportation needs. The partnership will help

car suppliers and travel agencies add a door-to-door driver

service to the journey.

14 | SEPTEMBER2017

For more news, visit businesstravellerafrica.co.za
---
Mövenpick Ambassador Launches 'Kilo of Kindness'

Mövenpick Ambassador Hotel Accra in Ghana is one of 46 Mövenpick properties around the world calling on guests and

residents to donate food, clothing and educational supplies to help local families in need, as it launches the 2017 'Kilo

of Kindness' charity drive. The global campaign, which marks the UN International Day of Charity on 5 September, will

see donated items distributed to disadvantaged local communities by each hotel's charity partner. Guests and visitors are

invited to drop off at least one kilo of food, clothing and educational supplies in the hotel lobby during the two-week

campaign, which runs from 1-15 September. They will be donated to Chance for Children, a local charity that looks after

street children, keeping them safe and providing them with a school education and professional opportunities, with 150

youngsters currently in its care. To date, more than 60 former street kids have completed school and professional training

with the support of CFC and are now living independently or have been reintegrated into their families. Although each

guest is encouraged to donate a 'Kilo of Kindness', all contributions are welcome. Educational supplies in demand include

books, notebooks and stationery such as pens, pencils, rulers, erasers, sharpeners, glue and scissors. Clothing donations

will be well received too, as well as canned and dried (non-perishable) foods such as rice, beans, oats, pasta, cereals, flour

and powdered milk.

BACK TO BUSINESS

IT'S OUR BUSINESS TO ENSURE YOU HAVE

GREAT VENUES TO ATTEND TO YOUR BUSINESS

Conference with us FROM NGN 12 100 per delegate

TO BOOK visit www.bonhotels.com

BON Hotel Abuja, Maitama

BON Hotel Stratton Asokoro, Abuja

BON Hotel Grand Pela, Abuja

BON Hotel Delta, Warri

Protea Hotel Victoria Island operated by

BON Hotels, Lagos

Protea Hotel Ikeja operated by

BON Hotels, Lagos

Get Social

on Twitter,

Facebook or

Instagram using;

#BONBUZZAfrica

For more news, visit businesstravellerafrica.co.za ASEPTEMBER017 | 15
---
COMMENT

An Eye on

West Africa

Trevor Ward

MD: W Hospitality

Group

There is no doubt that

the arrival of so-called

disruptive business

models like Uber and Airbnb has

generated more heated discussions

on government regulation, ethics

and the limits of free enterprise

than any business model in

history. Not surprising, as these

business models question the very

foundations of commerce as we

have always experienced it. Well…

as we have always experienced it…

that's probably a very subjective

statement given that we evolved

from trading by barter to the

use of standardised, universallyaccepted

currency, a change which

must have been quite disruptive in

its days.

So what exactly is disruptive

about renting an apartment in

Arequito, Bansko or Calapan,

anyway? I'll wager my $10 that

you'd be hard pressed even to find

these cities on a map. But that's

the point. From a consumer's

perspective, perhaps a disruptive

business model is what is needed

to find flexible, convenient and

affordable accommodation in a

little corner of the world. That's

the whole idea. Airbnb, quite

simply, is a means for homeowners

to connect with bargain seekers

for short stay accommodation.

The statistics bear witness to the

fact that more and more people

are buying into the idea. Airbnb

currently operates in 191 countries

(heck, there are only 196) with in

excess of 200 million users to date.

That's roughly the population of

Brazil!

And where does Africa feature

in all of this? There are an

estimated 77,000 property listings

in Africa, according to Airbnb

CEO Brian Chesky. With around

17 countries in Africa operating

on the Airbnb platform, South

Africa is by far the largest market,

where the concept has had a

presence since 2015. Today the

list of African locations includes a

host of cities in Kenya, Morocco,

Nigeria, Ghana, Mozambique,

Namibia, Rwanda…and yes, even

Somalia. Talk about expanding a

global brand into the unknown –

as many people refer to business

in Africa.

If South Africa is the key

player, what do the numbers say

about the West African region?

Well, there are an estimated

2,600 properties listed in the

sub-region, with new ones added

on a daily basis. When you look

at W Hospitality Group's 2017

dataset of rooms in the hotel chain

development pipeline in West

Africa, it stands at a little over

20,000. Working the maths, that

means that the since the launch of

Airbnb on the continent in 2015,

the platform has grown to be over

10% of the planned hotel rooms.

If the number of listings continues

to rise as is predicted, then in the

next two years Airbnb could be

a significant competitor for the

traditional hotel sector.

There are questions about how

sustainable this model is, but

also several reasons why Airbnb

will continue to work in Africa.

The opportunity for homeowners,

up-and-coming entrepreneurs,

to share easily in the economic

benefits of a global brand by

offering their apartments is one,

bringing income direct to the

individual. Nigeria, for instance,

has one of the youngest techsavvy

demographics in the world,

and can readily take advantage of

an online business platform such

as Airbnb. Secondly, adventure

seekers can have a real feel of

what life is like in Africa at

the grass roots, living 'just like

the locals'. And not every city

has a hotel that appeals to the

international traveller, so with

Airbnb visitors have access to

secure and trusted accommodation

almost wherever they choose to

travel. Nicola D'Elia, Airbnb's

Regional Manager for Africa and

Middle East comments: "We want

to bring tourists to parts of the

continent that aren't covered by

traditional accommodations —

only places where you could stay

in other people's homes".

The highly successful model

of sharing one's personal space

with virtual strangers can raise

issues, at least in more developed

countries. In an age when terror

attacks are frequent, communities

which now find themselves

hosting strangers, who have no

ties nor accountability to those

communities, express concerns

relating to the safety and security

of their permanent residents.

This is, of course, not only an

African issue – the Department

of Business Affairs and Consumer

Protection in Chicago recently

announced plans to register

Airbnb hosts, with penalties for

non-compliance.

Opposition from governments

has been rising over the years,

as the number of Airbnb listings

increases. Evidence of this was

clearly shown recently with new

legislation passed in New York

protecting local housing, a move

which is set to redefine the very

business model on which Airbnb

is built. The main reason for the

Nee York law was the misuse of

Airbnb by commercial landlords,

and the loss of badly-needed

residential space in the city centre.

Such regulation has been seen

in other cities such as Berlin and

even San Francisco, the home of

Airbnb.

And the hotel sector complains

about the entry into the market of

accommodation providers who are

not regulated, encounter very few

barriers to entry, and are largely

untaxed.

Whilst Airbnb claims to be

increasing its penetration of

the corporate market, its real

role in Africa is to expand the

reach of product available to

the leisure market. Sadly, many

traditional hotels which are 'off

the beaten track' in West Africa

are sometimes unappealing even

to the hardy backpacker, and the

home stay, with an endorsement

from Airbnb, has the potential to

readily fill that gap, without the

capital investment required to

build a new hotel. C

www.w-hospitalitygroup.com

16 | SEPTEMBER2017 Visit businesstravellerafrica.co.za
---
COMMENT

Does South Africa need its own

'travel warnings'?

The recent release of Stephen

McGowan has prompted

security experts to call upon

the government to do more to warn

South Africans about the dangers

when travelling abroad.

Terrorism expert Jasmine

Opperman told Business Day she

believes the government should

be issuing travel warnings and

advisories to South Africans

travelling to countries such as Mali

and Somalia. Ryan Cummings'

Director at Signal Risk' agreed

with Opperman' saying the South

African government should be

providing information to citizens

about "where it is safe to travel

and where it isn't". However,

the Department of International

Relations and Co-operation (Dirco)

says South Africa doesn't have a

policy to issue travel warnings to

fellow African countries.

Although the government

might not have a policy in place

to issue travel warnings, travel

consultants and TMCs associated

with the Association of Southern

African Travel Agents have a duty

to divulge information about

'dangerous' destinations as well

as unusual threats to their clients.

Your peace of mind when travelling

is a top priority for any ASATAaccredited

travel consultant. That

is why they will make sure they

disclose any red flags or warnings

about a destination, including

terror threats and tropical diseases.

Business travel has grown

significantly over the last decade

with businesses sending employees

to a wider range of territories

including high risk or extreme risk

regions. In these cases, your travel

consultant will be able to update

you on the latest security measures

and highlight risks. However, the

truth is that today even the most

low-risk destinations can become

high-risk in a matter of just a

couple of hours.

When disaster strikes in what is

considered a 'low risk' destination,

it is a huge relief for the traveller

to know that their ASATA travel

consultant is available to assist

with advice and solutions. The

modern 21st century travel agent

has the right expertise and will

endeavour to resolve travel issues

if they arise, including making

alternative travel arrangements,

or at least provide the traveller

with useful information to manage

travel issues and reduce the

travellers' levels of uncertainty and

feelings of helplessness.

So, although travel warnings are

invaluable for business travellers,

what's more important still, is to

have a true travel professional at

their side at all times. C

Otto de Vries

ASATA CEO

Walkersons Hotel & Spa has captivated visitors to Dullstroom

for more than twenty years – the stunning views, the wellstocked

trout dams, the spa, accommodation with all the

modern comforts and fine country dining, make Walkersons a

charming and memorable destination.

This haven of serenity in Mpumalanga, with elegant dining

rooms, a gorgeous terrace, the cosy Peggy's Bar and lovely

lawns leading to the hidden swimming pool and a stylish, old

world country atmosphere, has the perfect balance of proximity

and distance (both Johannesburg and Pretoria being three

hours away), making it an ideal location to hold a conference.

The hotel has two dedicated conference venues available for

use, with the Walker Room able to accommodate a capacity

of up to 100 delegates. Alternatively, retreat to the seclusion of

the Tapestry Room for a more private and exclusive meeting.

Day and overnight special packages are available.

Tel: 013 253 7000 • Email: reservations@walkersons.co.za

• Web: www.walkersons.co.za

Visit businesstravellerafrica.co.za SEPTEMBER2017 | 17
---
ADVERTORIAL

Do you want to save money?

Do it with Travelit

Have you ever wished that you could book all your travel

arrangements on one platform, while remaining within the

guidelines of your company travel policy and savings requirements?

With Travelit, you can do that and more!

Travelit is a revolutionary

online travel management

solution backed by experts

with abundant industry knowledge

and technological expertise. The

solution is delivered on time and

within budget, servicing large and

small businesses.

Through the various operating

brands within Tourvest Travel

Services, Travelit drives cost

savings, streamlines booking

processes, improves reporting and

provides full visibility into every

aspect of your travel spend.

Travelit is Tourvest Travel

Services' online travel

management solution that serves

all its operating brands, namely

American Express Global Business

Travel South Africa, Seekers

Travel, Maties Travel and lndojet.

The online solution offers

one solution to simultaneously

search all airlines, car hire and

accommodation, including hotels,

bed and breakfasts and guest

houses. A simple yet powerful

layout effortlessly displays a price

comparison that includes private,

public, corporate and web rates.

Using an online travel booking

solution makes life easier. Highvolume

domestic and point-topoint

international travel bookings

become simple. Travel documents

are received immediately after

booking approval and bookings

can be changed online without

consultants. Multiple integrations

with suppliers ranging across

flights, car, accommodation,

shuttle services, visa companies,

parking companies, and credit

card companies are possible,

and presenting the data to the

customer's back-office finance

systems is a breeze. All of these

aspects present a holistic endto-end

travel management

programme to complement any

client's requirement.

"We can customise and

integrate the solution to meet your

exact business requirements. We

know that we can deliver savings

on your total cost of travel," says

Morné du Preez, CEO of Tourvest

Travel Services.

Travelit has already racked up

some impressive milestones. There

are currently over 200,000 users

from close to 1,000 corporates,

SMMEs and government

departments. The simple yet

powerful solution boasts a 90%

adoption rate that delivers over

4,500 bookings each day. C

18 | SEPTEMBER2017 Visit businesstravellerafrica.co.za
---
unlimited travel possibilities

now in your hands

Changing the way you think, Changing the way you travel.

our operating brands

For a Full demonstration oF the solution ContaCt debbie van heerden

on 011 790 0000 or sales@travel.Co.za

www.tourvesttravelserviCes.Co.za i a tourvest travel serviCes solution
---
FEATURE – TMCs

Embracing

Technology

The traditional travel management company model has had to evolve,

largely due to the technological advancement that has changed our lives

and changed the way people book and engage in travel.

20 | SEPTEMBER2017 Visit businesstravellerafrica.co.za
---
Visit businesstravellerafrica.co.za SEPTEMBER2017 | 21
---
FEATURE – TMCs

It's a different world out there.

The times are changing

and they are changing

quickly. Technology dominates

our lives and it's technology that

is ever evolving, with increased

information at our fingertips

and trends changing all the

time. Throw in some economic

uncertainty and increased

competition, and you have a

challenging environment in which

to operate.

That applies to just about

every industry, but what does

it mean for the travel industry,

and specifically those in travel

management?

Well, quite simply, the role of

a travel manager has become

increasingly complex. The influx

of online travel agencies and

platforms has meant that more

and more consumers are opting to

be their own travel manager.

The demands of the corporate

traveller are becoming more

challenging too. Budgets have

contracted, yet the travel needs of

businesses have largely remained

the same. In fact, many travel

managers believe the cost of travel

is actually increasing.

So, where does that leave the

travel management company?

"Defining our value as travel

professionals is perhaps the

biggest challenge facing TMCs

today," says Euan McNeil,

General Manager of FCM Travel

Solutions, part of the Flight

Centre group in South Africa.

"Corporate travel agents were

in the past transactional and

earned their revenue based on the

transactions they performed on

behalf of the client – booking a

flight or hotel, changing the date

of a ticket etc. With the advent of

travel technology, customers have

become empowered (although not

necessary inclined) to conclude

some of these transactions

themselves. The result is that the

transactional part of the job of

travel agent has been eroded, and

the requirement by customers is

thus a more consultative approach.

Herein lies the challenge, as TMCs

work to define and communicate

effectively the consultative value

they bring to the end customer

and determine what to charge for

that value."

McNeil touches on the essence

of the thread that will be explored

throughout this piece, as there

is no doubt that technological

advancement has had the greatest

impact on the role that TMCs now

play, as it relates to their clients.

"Every TMC is currently under

" Defining our value as

travel professionals is

perhaps the biggest challenge

facing TMCs today. "

pressure to showcase their

value to clients due to enhanced

technology available in the

market," says Yasmeen Khan,

Head: Business Development,

Corporate at Wings Travel. "This

requires a consistent approach in

terms of managing the clients'

travel spend and demonstrating

in various ways the true value of

our partnership."

"Our challenges are the same

as most TMCs," says Bronwyn

Humphries, Marketing Co-

Ordinator, Harvey World Travel

Franchise Support Team. "This

would be new competitors in

the market as well as online

travel agents. There's also a

definite shift to online tools for

corporate clients, with corporates

more likely to book their own

'bleisure' trips, for example,

along with cutting their costs."

22 | SEPTEMBER2017 Visit businesstravellerafrica.co.za
---
TECHNOLOGY THAT MOVES YOU

FCM Connect is an integrated technology ecosystem housed within a single platform for simplicity,

efficiency and convenience. Accessed via the HUB it delivers a holistic solution from pre-trip approval, profile

management and online booking, to traveller tracking, programme reporting and data analytics.

With customised views for the connected traveller, the connected booker and the connected manager, FCM

Connect is accessible at any time, across any device, anywhere in the world .

Contact us today to unlock the full potential of your travel programme.

Visit fcmtravel.co.za to find out more

Call 0877 40 5151
---
FEATURE – TMCs

TECHNOLOGY

"Corporate travel is finally

starting to learn lessons from the

consumer travel space, mostly

because business travellers have

been trained by their leisure travel

to expect robust booking tools

and more control over their trips,"

says Andrew Sheivachman, Senior

Writer at Skift, an intelligence

platform providing media, insights

and marketing to key sectors of

travel. "The travel management

companies that focus the most on

improving their traveller-facing

technology will win this battle,

and improve their clients' travel

experience in the process."

So, what are TMCs doing to

stay ahead of the game and

remain relevant? Specifically, what

technology and services are they

developing to remain of value to

their clients? One way is to go the

'whole hog' and develop your own

tech.

"At Tourvest Travel Services we

have developed our own online

travel management solution

called Travelit (see page 18), which

was developed not just with the

customer in mind, but also the

travel consultant," says Claude

Vankeirsbilck, Chief Sales &

Marketing Officer. "This means

our travel consultants work on

the same technology platform

as our clients, offering full

transparency and a more efficient

service delivery process. There are

weekly product enhancements and

developments driven by our own

developmental team. This allows

TTS to be more competitive, more

efficient in service delivery, and

ultimately offer more value to

our customers, as our technology

solution adds value to the

customer's bottom line."

That's the key, isn't it?

Adding value by recognising

the complementary relationship

between the TMC and the

technology. It seems almost

obvious to say that those TMCs

who view technology as a threat

are dead in the water. It's all

about embracing the tech out

there, identifying which tech

complements the TMC's existing

offering, and then rolling it out in

a way that provides the customer

with that value and ultimately

strengthens the supplier-customer

relationship.

"One of the biggest challenges

is the accessibility that a traveller

now has to a range of pricing

across various consolidator

websites etc," says Khan. "In

order to be ahead of the game,

Wings Travel Management has

developed its own proprietary

technology in order to integrate

such developments outside of

our normal reservations system,

thereby enhancing content and

ensuring that we offer the best

price to our customers."

The Wings model is slightly

different from other TMC

models in that the group favours

wholly-owned global offices over

franchise agreements, but the

benefits of that model extend into

the tech space.

"Our Wings ® globallyowned

offices allow us to truly

standardise our sales platforms

across the globe by giving our

" Business travellers have

been trained by their leisure

travel to expect robust

booking tools and more

control over their trips. "

24 | SEPTEMBER2017 Visit businesstravellerafrica.co.za
---
Solving your

toughest

travel risk

management

challenges

worldwide

CORPORATE | OIL & GAS | MARINE

www.wings.travel
---
FEATURE – TMCs

clients consistent and reliable

data, and offering them access

to all our proprietary products,"

says Khan. "Wings ® boasts a

reporting tool which is accessible

via URL and includes live data

with many enhanced features,

offering clients a snapshot view of

their travel spend, travel patterns

and detailed insights into traveller

behaviour, allowing a proactive

approach in terms of managing

their spend."

Another area where Wings has

focused its technological efforts

is the increasingly important duty

of care space. It recently launched

goSecure, a risk management

solution for their clientele

that allows them to track and

communicate directly with their

travellers via a mobile application,

coupled with the Wings24

emergency contact centre, which

manages risk and traveller safety

on behalf of Wings' clients.

For McNeil, the technology

has to be complementary, and he

believes a lot more thought needs

to be given to this area before

a TMC rolls out the latest tech.

Specifically, he believes there

almost needs to be a 'division

of labour' between what the

technology can offer and what

the TMC and its staff are best

equipped to focus on.

"To remain relevant and

viable, it is essential that we use

technology to drive automation

and improve service for our

mutual benefit," he says. "Noncomplex

bookings should be

automated, freeing up skilled

travel professionals to focus on

areas in which they can truly add

value beyond the transaction,

for example in the areas of data

analysis, duty of care and supplier

negotiations."

To this end, FCM has developed

a chatbot (see sidebar) in the

United States. It's called 'Sam' and

promises the expertise of a skilled

FCM consultant available at all

times: pre, during, and post-trip.

Sam is a travel-savvy chatbot

that can assist with all aspects of

travel – itineraries, gate changes,

driving directions, weather,

restaurant recommendations and

reservations. There's also 'call or

SMS my consultant' functionality,

which gives travellers access to a

live FCM consultant 24 hours a

day for live assistance on the go.

"Every travel programme should

have technology that clearly

focuses on improving the traveller,

travel booker and travel manager's

experience," says McNeil. "That's

whether it be by improving the

booking experience through

mobile apps, improving security

through better duty of care tools,

or maximising spend visibility

through enhanced data analytics.

As we look to the future, the

discussion around artificial

intelligence (chat bots, virtual

assistants, etc.) is beginning

to become common-place

internationally – once again to

fulfil a certain type of transaction

through technology. This in

turn helps to improve the level

of efficiency for our clients, but

also help to enhance the TMC's

ability to leverage their expertise

and personalise the customer's

experience through technology."

While it's interesting that FCM

has delved into the chatbot space

with Sam, Humphries of Harvey

World Travel makes a telling

observation regarding the uptake

of technology, as it relates to this

group's clients.

" Every travel programme

should have technology

that clearly focuses on

improving the traveller,

travel booker and travel

manager's experience. "

26 | SEPTEMBER2017 Visit businesstravellerafrica.co.za
---
AN ASSOCIATE MEMBER OF THE XL TRAVEL GROUP

TRAVEL

GROUP

O UR M EM BERS

ABSOLUT

TRAVEL

ALGOA BAY

TRAVEL

ALOE

TRAVEL

ASTRA

TRAVEL

BAY

TRAVEL

BOLAND

TRAVEL

BUNDU BASHERS

TRAVEL

DESTINATIONS

TRAVEL

EMBASSY

TRAVEL

FLYWELL

TRAVEL

HOWICK

TRAVEL

FLYNOW

TRAVEL

INTERNATIONAL

TRAVELS

MILLENNIUM

TRAVEL

NEXUS

TRAVEL

NOVO MUNDO

TRAVEL

PROTEA

TRAVEL

ROSEBANK

TRAVEL

R&M GLOBAL

TRAVEL

SANDOWN

TRAVEL

SKYWAYS

TRAVEL

TAMARIN BAY

TRAVEL

THE TRAVEL

COMPANY

THE TRAVEL

PROFESSIONALS

TRAVEL

TODAY

TURBO

TRAVEL

TURNERS

TRAVEL

WILD

TRAVEL

MODERN BUSINESS

TRAVEL MANAGEMENT

Industry leading

technology providing best

end-to-end experience

FAST ACTING

Fast identification of out of

policy behaviour

EXCEPTIONAL CLIENT

EXPERIENCE

From before time of travel

requisition to well after

purchase and travel

DUTY OF CARE

Risk management,

Automated travel advisories

and Travel Alerts

MONITORING MADE EASY

Better tracking of

performance through email

alerts, scheduled reporting

and dynamic reporting

MAXIMISING RETURNS

By best serving our

customers' needs

GLOBAL TRAVEL

MANAGEMENT

Affiliated to Egencia

FLIGHT SPECIALS

BEYOND THE ORDINARY

AN ASSOCIATE MEMBER OF THE XL TRAVEL GROUP

BEYOND TRAVEL MANAGEMENT

O UR A SSO CIATES

g

www.xltravel.co.za
---
FEATURE – TMCs

ABTA SURVEY

Almost 60% of corporates say TMCs

are 'good to great' at helping them

manage compliance within their travel

policy, according to a recent study

conducted by FCM Travel Solutions

and the African Business Travel

Association (ABTA) among travel buyers

in South Africa.

Over 80% of South African corporates

polled in the study indicated that their

employees rarely or only occasionally

booked out of policy and that in most

cases, this non-compliance was from

senior management.

Achieving compliance at a time

when corporate travel is becoming

increasingly consumerised requires a

more flexible approach, according to

ABTA founder Monique Swart.

"Business travellers are demanding

personalisation and relying on the same

tools they use and travel experiences

they have in their personal lives,"

she says. "The indication, thus, that

over 70% of surveyed corporates'

policies are strict or rigid should raise

concerns."

"The survey also indicated that only

30% of corporates actually consider

and cater to the needs of their

business travellers regularly and more

than half were not concerned about

the negative impacts of business travel

on their travelling staff and trying to

mitigate these. Traveller friction has an

impact not only on the staff member,

but also their ability to perform to

achieve company goals."

Among those most-cited areas of

anxiety for South African business

travellers were flight delays, missed

flights and perceived poor service from

airlines and hotels. Corporates that

are aware of the impact of traveller

friction say they are looking at ways in

which to mitigate the effects, including

limiting travel where possible and

introducing traveller-centric policies,

including 'bleisure' and wellness

programmes.

The study further showed that among

those most desired ancillaries by

business travellers in South Africa

are seat selection, access to airport

lounges and good service, with onboard

entertainment and on-board wi-fi

being the least-demanded ancillaries.

From a sharing economy perspective,

almost 90% of business travellers are

using Uber and Airbnb for business

travel purposes, according to the study.

As many as 40% are doing so without

the permission or endorsement of their

companies.

Technology in the corporate travel

space is clearly important to South

African companies.

"The survey found that over 65%

of corporates like to use all the

technology that is relevant to them,"

says Swart. "There is a cost associated

with this, however, and with cost

savings being one of the key objectives

of a company's travel programme,

technology should be used to help with

cost cutting efforts."

"We offer our own in-house

corporate booking tool for clients

who require this," she says.

"However, interestingly, in recent

months we have seen a shift in

business from online travel agents

back to the traditional Harvey

World Travel Stores."

So, whilst technology obviously

has a huge role to play in travel

management going forward, there

are going to be instances where

travel managers and/or travellers

will defer to the consultant for

that human touch. How the two

elements co-exist is explored

further in the chatbot sidebar.

PRESSURE ON FEES

Of course, the threat of, or greater

influence of, technology is not

the only challenge facing travel

management companies.

Spend is down in the corporate

space and TMCs are having

to fight hard to justify their

fees. Again, as is the case with

technology, these TMCs are under

pressure to 'show value' and prove

their worth.

"We do find an extraordinary

amount of focus on a cost that

equates to less than 8% of the

overall total costs of a corporate

travel programme," says

Vankeirsbilck. "Our focus as TTS

is to find value opportunity where

we actively encourage clients to

focus their attention on the overall

cost of their travel programme,

rather than just the service fees,

by focusing on travel policy

adherence, traveller behaviour,

travel supplier consolidation, and

technology solutions, which will

achieve far greater savings on

their total cost of travel rather

than saving a relatively small

amount on service fees. It is

imperative for a TMC to add value

to a client's total cost of travel

programme, and this is where the

true value is derived."

McNeil agrees that the

discussion needs to move away

from the transaction fee.

"In the current economic

environment, procurement

departments are under pressure

to drive cost savings, and one

of the easiest targets within the

travel procurement space is the

28 | SEPTEMBER2017 Visit businesstravellerafrica.co.za
---
Engage

travellers

with options that work

for them and for your

company.

To learn more about how BCD Travel can help you and your organization's

travel programme, contact us at sales@bcdtravel.co.za or on +27 11 274-4000

or visit www.bcdtravel.com

Copyright © 2017 BCD Travel. Unauthorized reproduction strictly prohibited.
---
FEATURE – TMCs

transaction fee," he says. "While

TMCs could add great value in

helping procurement departments

derive savings within their

travel programme by proactively

managing their travel spend,

the knee-jerk requirement to cut

costs sees corporates appointing

TMCs based on the cost of the

transaction fee and the result then

is a zero-sum game where TMCs

are introducing unsustainable

pricing levels just to stay in the

game. Standard annual increases

are becoming harder to pass in

an environment where customer

expectations from their TMCs are

increasing: better service, more

expertise and technology. We are

increasingly seeing customers

wanting commission and override

payments without any expectation

that their TMC's service

fees would have to increase

commensurately."

Ole Mortensen is a partner in

AMM Consulting in Denmark, and

he believes that fee structures need

to change, if TMCs "want to regain

some of the power they've lost."

TRAVEL BOTS

FCM has its own travel bot called Sam, an "itinerary

management tool on steroids", according to Euan McNeil,

FCM GM for South Africa. Sam has been released in the

USA and is expected to be launched early in 2018 in South

Africa.

McNeil believes Sam will be how most business travellers

interact with their travel programme in the future and

explains that corporate travellers can book a car and hotel

themselves and complete the booking without having to

work with a consultant.

Travel policy will also not be a problem for Sam.

"We will have a generic policy based on best practice in

the market," says McNeil. "Then, if customers want to take

their full travel policy and load that into Sam, there will be

a level of commercial uplift."

Ben Lamm, CEO of Conversable, agrees that if successfully

integrated with a company's travel policy, bots will be able

to match the user's preferences and information with the

businesses' requirements around travel.

"To keep track of all travel, most policies require that

travel is booked through a specific company or channel,"

he says. "Because bots serve as a single access point for

multiple sources of information, travellers will be able to

access more options from more places, giving them more

flexibility within the framework of the travel policy."

So, is there a 'shared' future for TMCs and travel bots?

"Travel bots, such as Sam, have been developed to provide

an additional interface for travellers, which will complement

but never replace the skills and insights of the TMC," says

McNeil. "The travel expert will always have a key role to

play when it comes to managing business travel for large

corporations as well as SMEs."

According to Norm Rose, President of Travel Tech

Consulting, travel chatbots could also be deployed to

handle redundant questions such as policy questions,

baggage fees, customer support, and limited booking

capabilities.

"Progressive TMCs could use chatbots to reduce call

volumes by answering simple questions about policy or

travel options," he says.

With smartphone adoption nearing 100% and considering

that an average business traveller checks their smartphone

34 times a day, it's not difficult to understand the

popularity and attraction a mobile or virtual assistant holds.

The nearly ubiquitous adoption of smartphones by the

modern business traveller, says Lamm, means that a digital

solution to travel needs is now a business imperative for

the corporate travel industry.

The travel bot is the perfect technological answer to

address the business traveller's need and desire to manage

their trip on their own, and give them much-needed

freedom within framework. TMCs can make use of bots to

improve their service to travellers in a format the travellers

desire in a cost-effective way.

"If corporations are going to succeed in winning over the

largest generation in the world today and improve retention

rates within a group that is notorious for changing paths

quickly, building in freedom within framework will certainly

be a company imperative," says Lamm.

30 | SEPTEMBER2017 Visit businesstravellerafrica.co.za
---
According to Mortensen,

that 'power' has decreased

substantially because:

- The internet suddenly made

the opaque airfare structure

transparent

- Customers insisted on working

with transparency, showing

and selling net fares

- Online booking engines

enabled the traveller control

over their booking

- Metasearch engines increased

transparency

- Low-cost carriers launched

new business models

"It has become clear that the

business model needs to change

to benefit not only the TMC but

also the airlines, other vendors

and the travel managers," says

Mortensen.

"I still strongly believe in

making a retail multi-source

structure where customers are

forced to compare total price, as

it will benefit the travel managers

and suppliers in the long run.

Travel managers will have a

harder time considering and

identifying the right supplier and

evaluating their offerings and

differential advantages. However,

competition will force TMCs

to develop more products and

services."

In closing, what Mortensen

suggests is the following, in terms

of "future pricing models":

- Subscriptions based on the

hours a travel manager/

company may need for a TMC

- Consulting, including

management information and

other soft services, at hourly

pricing

- If the TMC offers duty of

care, a subscription based on

number of travellers

- Vendor negotiation per hour

- Concierge arranging VIP

and group travel charges

reasonable fee structure

ensuring profit for the vendor

"Many other services have a

similar structure and while it will

move focus away from bookings, it

will start a much-needed change

for the industry," he says.

Food for thought.

CONCLUSION

All of this adds up to a

challenging environment for TMCs

and a difficult one in which to

prosper.

As always, those that survive

and indeed are successful, are

going to be those that embrace the

change that technology offers, use

it to their advantage, and integrate

it in such a way as to remain

relevant and of value to their

customers.

That will be key to the TMC

success of the future. C

MEASURING

PROGRESS,

EXPANDING

OPPORTUNITIES.

Copyright © 2015 CWT

SHINE WITH PROGRAM SERVICES BY CWT

Turning data into information to understand your travel program's performance can be

complex and time‐consuming. Carlson Wagonlit Travel helps you put all the facts into context,

providing insight and analysis to drive action planning for the greatest results. Our teams of

program managers and consultants continually improve how your travellers engage with

your travel program, and how your organisation performs against benchmarks. And we keep

your data organised through an online travel management information centre that visually

illustrates your program's performance in relation to your goals. Let CWT do the hard work for

you and give your organisation the opportunity to shine.

A never‐ending commitment to the perfect trip

Visit carlsonwagonlit.co.za or contact Phumi Mazibuko on

pmazibuko@carlsonwagonlit.co.za or + 27 11 628 2300

LEVEL 1 B-BBEE CERTIFICATION
---
'Local Leisure at its Best'

campaign shows business

travellers the benefits of

taking a relaxing sho't left

southafrica.net

asata.co.za

Visit businesstravellerafrica.co.za SEPTEMBER2017 | 33
---
SOUTH AFRICAN TOURISM PROMOTION

South Africa is a beautiful and multi-faceted country. The sun shines almost all year

round. The beaches, mountains, bushveld, large cities and small towns across all nine

provinces offer unforgettable experiences, and of course, South Africans are friendly and

warm people. Travelling around and exploring our country is the perfect antidote to our

everyday workplace and personal stresses, yet nowhere near enough South Africans take

the time to enjoy a sho't left (a short leisure trip or getaway).

This is exactly what the

'Local Leisure at its

Best' project is all about:

helping to entrench a

culture of holiday travel by adding

a rejuvenating leisure component

to business trips.

Spearheaded by South African

Tourism and the Association of

Southern African Travel Agents

(ASATA), the campaign aims

to show corporates the benefits

of extending their employees'

business trips to include a few

days of leisure experiences by

putting the rejuvenation back

into business travel through a

selection of affordable tailored

travel deals.

"The health and wellness

benefits of leisure travel are well

documented," says Sthembiso

Dlamini, Chief Operating Officer

at South African Tourism.

"People who are encouraged

to take time out to enrich

themselves with holidays – even

short weekend trips – tend to

be more relaxed, motivated and

productive employees. They are

less likely to be stressed and more

likely to stay in the company's

employ, as they feel valued and

incentivised."

She says that business travel

offers the ideal opportunity for

corporates to reward employees

in a cost-effective manner, by

combining business travel with

holiday add-ons.

The campaign started with a

process to upskill more than 50

travel consultants to sell domestic

business-to-leisure travel.

"Equipping these agents, who

traditionally deal with business

travel, with the skills to sell leisure

travel add-ons is immensely

beneficial to their business as

well as enhancing their business

offering," says Dlamini.

The pilot phase of the 'Local

Leisure at its Best' project was

rolled out in Gauteng in the

second half of 2016, and was

so successful that it has now

been extended to the rest of

the country, with dozens of

activations taking place at various

companies between February and

December this year.

"We are very pleased with

the success of this campaign

so far," says Dlamini. "It has

already surpassed its target

of reaching 10,000 potential

business-to-leisure travellers. By

the end of July, we had already

completed 16 on-site activations

at corporates, reaching more than

13,000 prospective travellers and

generating close to 100 enquiries.

Another 16 activations have been

secured for the remaining five

months of the campaign, and

there are over 40 customers in the

pipeline."

The campaign ties in with

South African Tourism's new '5 in

5' strategy to attract five million

tourists (four million additional

international and one million

more domestic) in the next five

years.

Dlamini expressed confidence

that through this partnership and

working with top corporates in

various industries, including the

banking, telecommunications and

government sectors, more South

Africans will get the opportunity

to take a sho't left and enjoy

the country's abundance of

attractions.

" We are very pleased with

the success of this campaign so

far. It has already surpassed

its target of reaching 10,000

potential business-to-leisure

travellers. By the end of July,

we had already completed

16 on-site activations at

corporates, reaching more

than 13,000 prospective

travellers and generating close

to 100 enquiries. Another

16 activations have been

secured for the remaining

five months of the campaign,

and there are over 40

customers in the pipeline. "

September is Tourism Month in South Africa,

making it the perfect time to get out and explore the

country. It overlaps with International Tourism Day

on 27 September, when the whole world highlights

the value of social, cultural, political and economic

tourism.

The timing of World Tourism Day comes at the end

of the northern hemisphere's high season and the

beginning of the season in the southern hemisphere,

when tourism is on the minds of millions of people

worldwide.

34 | SEPTEMBER2017 Visit businesstravellerafrica.co.za
---
Eastern Cape

South Africa's 'wild' province, the Eastern Cape features expanses of untouched beach, bush and forest. This was Nelson

Mandela's home province, and is an area with some enticing attractions – among them the Addo Elephant National Park,

with the densest elephant population in the world; the dramatic Wild Coast; and, of course, Mandela's home at Qunu.

WILD COAST

Tap your inner explorer and head to the Wild Coast,

so named for its rugged natural beauty and myriad of

adrenaline-filled adventures. From fishing expeditions and

horseback rides, to hiking and 4x4 trails, the Wild Coast is

an unspoiled natural treasure. The Wild Coast is also known

for its shipwrecks, a legacy of its wild and tempestuous

nature. Water activities like snorkelling and diving provide

a spectacular view of the world beneath the waves while

spotting lost treasure and other relics from shipwrecks.

HOGSBACK

Named after three distant ridges of the Amathole range

of mountains that resemble the back outlines of running

wild pigs, the little town of Hogsback has become an

arts and crafts colony, a photographer's picture perfect

setting, a nature lover's haunt and romance personified for

honeymooners.

PORT ELIZABETH

With stunning beaches, interesting museums and memorials,

award-winning wildlife destinations, it's easy to see why

Port Elizabeth is home to South Africa's friendliest folk!

This coastal hub has a range of mesmerising cultural and

historical experiences that are worth exploring, including the

Red Location Museum, the Donkin Reserve and the Nelson

Mandela Metropolitan Museum.

ADDO ELEPHANT PARK

The 2,500 hectare Addo Elephant Park near Port Elizabeth

is rated as one of the best places in Africa to see elephants

up close. It is also South Africa's third-largest reserve,

encompassing five of South Africa's nine biomes, with an

enormous diversity of species and vegetation. The park is

also home to buffalo, lion, leopard and rhino, and in the

marine section you will find great white sharks and southern

white whales, which means that South Africa's Addo is one

of the few reserves in the world that can boast having the

Big Seven!

NELSON MANDELA

To give a true overview of Nelson Mandela in all phases of

his life, from his youth in Qunu to his role as statesman,

the Nelson Mandela Museum built in his honour comprises

three separate structures: the Bhunga Building in Mthatha,

accommodates an exhibition tracing Nelson Mandela's

journey, as told in his own words, and narrated in part from

his acclaimed biography A Long Walk to Freedom; the Qunu

component and an open-air museum at Mvezo where Madiba

was born.

Visit businesstravellerafrica.co.za SEPTEMBER2017 | 35
---
Gauteng

Be a GeePee and enjoy South Africa's smallest province, an urban playground with large shopping malls, bars, hotels,

casinos, and a vibrant cultural and entertainment scene. For heritage buffs, there are a myriad of attractions of historical

interest that tell the story of the country's emerging democracy.

THE CRADLE OF HUMANKIND

The Cradle of Humankind, one of eight World Heritage sites

in South Africa, and the only one in Gauteng, is touted as

the place where humankind originated. The area boasts 13

excavation sites that are recognised as national heritage

sites. For those wanting to experience the birthplace of

humankind first-hand, the official visitor centres for the

Cradle of Humankind, Maropeng and the Sterkfontein

Caves, are within an easy hour's drive from Johannesburg.

Maropeng is a world-class exhibition centre that focuses on

the development of humans and our ancestors over the past

few million years.

CULLINAN

The attractive little village of Cullinan, about a 30-minute

drive east of Pretoria, was a pioneering mining settlement

that made its name with the discovery in 1905 of the

world's biggest diamond, the 3,106-carat Cullinan Diamond.

Highlights in Cullinan include rides on the vintage steam

train, Dinokeng's Big Five reserve, adrenalin-filled activities

at the adventure zone and the opportunity to learn about the

area's mining heritage.

SHOPPING

Gauteng is a shopping mecca. From Sandton City to the Mall

of Africa, Menlyn in Pretoria and Maponya in Soweto, there's

a bustling shopping centre to tame your credit card around

every corner. Gauteng hosts an annual shopping festival

every year in September or October, with mall promos held

throughout the year. There are also a range of flea markets

that are definitely worth a visit, the most popular being the

Rosebank Sunday Market, the Neighbourgoods Market in

Braamfontein and the Bryanston Organic Market.

SOWETO

Soweto is a must for people from all over the world, and

all South Africans should visit this iconic township. The

Hector Pieterson Museum recounts the 1976 Soweto Student

uprisings and some of the heroes of the protest and victims

of the aftermath. Nearby is the Mandela House in Vilakazi

Street, the only street in the world that contains the houses

of two Nobel Prize Laureates, the other one being Desmond

Tutu. There is also a string of vibrant restaurants including

Sakhumzi's Restaurant, Nexdor, Thrive Café and the Corner

House which usually have a fascinating variety of regular

patrons plus a vibrant selection of street musicians and

performers who are usually brilliantly entertaining.

APARTHEID MUSEUM & GOLD REEF CITY

Located alongside each other, Gold Reef City and the

Apartheid Museum are both must-visits on any trip to

Gauteng. Modelled to resemble a gold rush town and

showcase the gold-rich history of Johannesburg, Gold Reef

city comprises a theme park, casino, restaurants, movie

theatre and the Lyric Theatre that is well-known for its

live performances. The theme park has some of the most

modern and scariest rides in Africa – such as the Tower of

Terror which has a 50m drop at a speed of 100 kilometres

per hour and a fear factor of 10/10. To remember our past

while moving forward into a more stable political future,

Gauteng's Apartheid Museum serves to document the racial

and economic divide that once plagued our nation. One

cannot visit Gauteng without spending an afternoon at this

incredible place.

36 | SEPTEMBER2017 Visit businesstravellerafrica.co.za
---
Free State

The Free State's appeal lies in its scenic beauty, rural tranquillity and natural attractions. The eastern part of the

province is the most beautiful, with its sandstone rock formations and rolling grassland. It also lies in the heart of South

Africa and it borders six of the country's nine provinces, as well as the kingdom of Lesotho.

CLARENS

The town of Clarens is known as 'The Jewel of the Free

State' and is a must-see on any Free State trip. Take a walk

down the main street and sample eateries, art galleries

and arts and crafts shops galore. If you enjoy the outdoors,

you're in for a treat – experience white water rafting,

4x4 safaris, horse trails and hikes in a truly spectacular

landscape.

BASOTHO CULTURAL VILLAGE

On your way through the Golden Gate Highlands

National Park, pop in at the Basotho Cultural Village for

an interactive tour of traditional Sotho life from the 16th

century to present day. You can also take a two-hour guided

hiking trail to explore a nearby rock-art site and learn about

the area's medicinal plant growth.

VREDEFORT DOME

The oldest and largest crater on earth, the Vredefort Dome

was caused when a massive meteorite struck the earth

2,000 million years ago. The force of the impact caused

the rock layers to bend, resulting in a semi-circular ring of

mountains that are home to abundant bird and plant life –

and the world's only pink granite. Both Parys and Vredefort

are located within the Vredefort Dome's original impact

area.

CHERRY FESTIVAL

Ficksburg presents the spectacular Cherry Festival each

November. With live entertainment provided by well-known

South African artists, festival activities include cherry tours,

a golf classic, a half-marathon, cherry product competitions,

veteran vehicle displays, equestrian events, beerfests and

a food and wine fiesta. Watch the popular 'Ready, Steady,

Bake' competition and see how cherry mampoer is made.

GARIEP DAM

The Gariep Dam is a staggering 100 kilometres long and 24

kilometres wide. Take a guided tour through the passages

inside the wall of South Africa's largest dam, or sample the

many water sport activities on offer: fishing, windsurfing,

sailing, jet skiing, canoeing, rowing… and even gameviewing

by boat! That's right – there's a well-stocked

11,237-hectare game sanctuary on the dam's northern shore.

If you're visiting in February, don't miss the annual Gariep

500 Rubber Duck Race and Watersport Festival.

Visit businesstravellerafrica.co.za SEPTEMBER2017 | 37
---
KwaZulu-Natal

Welcome to the Zulu Kingdom: an enticing, spectacular and fascinating multi-cultural showpiece destination flanked by

the warm Indian Ocean on the east and soaring peaks to the west. KwaZulu-Natal has a wealth of scenic and cultural

attractions that include the country's most popular beaches lying to the south and north of Durban. Add to that its

bushveld reserves to the north, historic battlefields and the dramatic Drakensberg mountains, and you can see why it's

popular with travellers.

BATTLEFIELDS

The battles fought in the rolling hills and valleys of northern

KwaZulu-Natal some 120 years ago changed the course of SA

history and still today, the area now known as the Battlefields

seems to echo with heroic and tragic deeds of the past. The

sites of famous skirmishes that rocked the British, weakened

the Boers and broke the mighty Zulu nation continue to draw

visitors. Isandlwana and Rorke's Drift are two of the most

famous battlefields.

UKHAHLAMBA-DRAKENSBERG

The uKhahlamba-Drakensberg Park is one of the province's

two World Heritage sites. This one is part of a much longer

mountain range that stretches some 1,600 kilometres from

South Africa's northernmost provinces to the Eastern Cape.

Not only does the site protect a stunning natural mountain

wilderness area, it also protects an amazing cultural legacy of

ancient rock art in Africa pained by the San.

ELEPHANT COAST

The Elephant Coast borders Mozambique, Swaziland and the

Indian Ocean. The region comprises 21 different ecosystems

and is a veritable paradise of natural wonders. There are few

places in Africa that can claim to have such an incredible

diversity of fresh water ecosystems, which is why a large

portion of the Elephant Coast, the iSimangaliso Wetland

Park, has been designated a World Heritage site. The coastal

dune system that runs along the 220km stretch of protected

coastline comprises dunes that are among the highest

forested dunes in the world, up to 180 metres high.

DURBAN

There is no city in SA quite like Durban. Due to its

subtropical coastal climate, warm seas, beautiful swimming

beaches and the variety of restaurants and nightlife, Durban

has always been regarded as a holiday city. Durban's rich

cultural diversity is what gives it a vibrancy enjoyed by few

other South African cities. The wonderful food, ceremonies

and festivals have greatly enriched the city's cultural

landscapes.

SOUTH COAST

KZN's south coast, with its string of small villages stretching

from Port Edward in the south to Amanzimtoti in the north,

and its pretty beaches and warm sea, has long been one of

South Africa's favourite year-round holiday destinations.

Many of the south coast's activities revolve around the ocean.

For example, you can go snorkelling or scuba diving, surfing

or whale watching. The Aliwal Shoal off Umkomaas and

Scottburgh, and the Protea Banks off Shelley Beach are rated

as some of the top shark diving sites in the world.

38 | SEPTEMBER2017 Visit businesstravellerafrica.co.za
---
Limpopo

Limpopo has become a sought-after tourist destination for its big game, exceptional birding, untamed bush landscapes

and an ancient African kingdom, the centre of which was located at Mapungubwe National Park. It is also the northern

gateway to the Kruger National Park.

THE WATERBERG

The Waterberg is a true natural wonder, featuring ancient

mountains, a rich tapestry of biodiversity, thousandsyear-old

rock art and a site of critical archaeological and

palaeontological importance. Its rolling savannahs also make

it a popular safari destination where large herds of buck and

the Big Five can be seen.

MAPUNGUBWE

About the time of the Dark Ages of Europe, the royal court

at Mapungubwe in Limpopo welcomed traders and men

of influence from Arabia and the Far East. Only in recent

decades have the fascinating details of this ancient city been

uncovered. The UNESCO World Heritage site of Mapungubwe

was once the capital of a country as large as Swaziland,

surrounded by more than 200 satellite towns. The most

intact artefact found at Mapungubwe is that of a gold rhino

figurine which today is under safekeeping at the University of

Pretoria.

MODJADJI CYCAD RESERVE

The Modjadji Cycad Reserve holds the largest concentration

of a single cycad species in the world. These majestic plants

are some of the oldest and largest of their kind on the planet

and are found in the realm of the legendary Rain Queen. The

Modjadji Cycad Reserve is set in the foothills of blue-green

mountains above the village of Modjadji near Tzaneen. Some

of the cycads here reach heights of 13m and bear cones that

weigh in at a hefty 34 kilograms.

PAFURI

The Kruger National Park is not just about big game. In the

north is the Pafuri region, a wilderness area of great natural

beauty where you can discover ancient forests, brilliant

birding and traces of early humankind. The northern section

of the Kruger National Park is an area of unique biodiversity.

It's one of the few places where fever tree forests grow side by

side with forests of giant baobabs. The trees line the banks of

the Limpopo and Luvuvhu rivers.

PRIVATE GAME RESERVES

Limpopo offers dozens of superlative private game lodges

situated in prime wildlife areas, including the Waterberg,

Welgevonden, Klaserie and Timbavati reserves. Sometimes

more affordable than some of the other lodges in northern

South Africa, these reserves boast game galore, including the

Big Five, scenic beauty and often fewer visitors.

Visit businesstravellerafrica.co.za SEPTEMBER2017 | 39
---
Mpumalanga

Mpumalanga means 'the land of the rising sun' in the local siSwati and Zulu languages, a name it derives from lying

on the eastern border of the country. It is most famous for being the southern gateway to the country's premier wildlife

reserve, the Kruger National Park. It is a place of game, adventure and rich history.

PANORAMA ROUTE

On the Panorama Route in Mpumalanga, with its breathtaking

vistas around every mountain corner, waterfalls

plunging down faces of sheer rock, memories of the gold rush

following you as you meander down an endless river canyon,

and eagles hovering above your head – you can't help walking

with your head in the clouds. Attractions include the Blyde

River Canyon, Bourke's Luck Potholes and God's Window.

KRUGER NATIONAL PARK

The Kruger National Park is renowned not only for its

diversity of wildlife, but also for its conservation record. You

can see the famed Big Five, but you'll also be dazzled by

hundreds of birds, ancient trees, mighty rivers and much,

much more. The Kruger National Park gets over 1.4 million

visitors a year, but because it's so big – 352 kilometres from

north to south, and covering over 1.9 million hectares – you

will be amazed at how often you are alone watching game on

a 2,500-kilometre network of tar and dirt roads.

PILGRIM'S REST

The village of Pilgrim's Rest is a settlement lost in time. Here

you can walk in the footsteps of early gold prospectors and

relive the heady days of pioneers, garter-snapping barmaids

and highway robbers. You can also stay over in an historic

hotel and drink in a legendary bar. Pilgrim's Rest is situated

on the magnificent Panorama Route of the Mpumalanga

province. The entire village is a tourist attraction and was

declared a National Monument in 1986. Today, Pilgrim's Rest

is a living monument to the feverish gold rush days of the late

1800s.

WATERFALL ROUTE

Mpumalanga is one of South Africa's most scenic provinces

and when you drive through the Panorama region or visit

the Blyde River Canyon Nature Reserve, you'll see why. But

it's not only canyons, mountains and seemingly limitless

horizons that are waiting for you, there's also the Sabie

Waterfalls Route. There are more waterfalls here than

anywhere else in southern Africa, and you'll be astonished

by their beauty and diversity. Forget the Big Five and that

magnificent canyon for a while, set aside a day or two, and

take yourself on a waterfalls tour.

BARBERTON

The 'Gold Rush' town of Barberton is situated in the heart of

Mpumalanga's Makhonjwa Mountains. With its mild Lowveld

winters, rich history and wide array of things to see and

do, Barberton is the perfect year-round holiday destination.

Monuments to Barberton's golden past can still be seen along

the Heritage Walk, while mining tours and gold panning

experiences give a taste of what life would be like. Yet there

is more to Barberton than gold. The mountains that surround

Barberton contain some of the rarest rocks on the planet and

the Geotrail transports visitors 3.5 billion years back in time

to witness some of the earliest life on Earth!

40 | SEPTEMBER2017 Visit businesstravellerafrica.co.za
---
North West

The North West province features premier wildlife destinations, among them the Pilanesberg Game Reserve and the

Madikwe Game Reserve; parts of two UNESCO World Heritage sites (the Vredefort Dome and the Taung Fossil Site, part

of the Cradle of Humankind World Heritage Site); and the world-famous Sun City gaming and entertainment resort.

MADIKWE GAME RESERVE

Located near the border of Botswana, Madikwe Game

Reserve, one of South Africa's foremost Big Five malariafree

reserves, was envisaged not by conservationists, but

by economists. They found conservation would create more

income and jobs than the existing land-use, which was cattlefarming.

This successful reserve is now a model that has

inspired South African conservation. The reserve has a host

of private game lodges providing luxurious bush experiences.

PILANESBERG GAME RESERVE

See the Big Five just two hours from Johannesburg and

Pretoria in one of the country's most popular wildlife areas –

Pilanesberg Game Reserve. Set in an ancient volcanic crater,

this well-stocked reserve has a dramatic landscape that

supports a wide variety of plants, animals and birds. As a

true Big Five area it features elephant, lion, buffalo, leopard

and rhino. But there's a lot more wildlife to discover. Some

of the other animals that roam the park include African wild

dogs, brown hyenas and sable antelope.

MAGALIES MEANDER

The Magaliesberg Mountains is home to the inviting Magalies

Meander arts and craft route. You'll also encounter warm

country hospitality when you visit the art galleries, arts and

craft centres and interesting boutiques the area is famed for,

before coming to roost at any one of many attractive lodges

and restaurants along the Magalies Meander. The mountains

are also home to an amazing variety of indigenous woodland,

plants, birds and wildlife – a nature lover's paradise.

SUN CITY

The Sun City theme park in the North West province is part

of the Sun City resort and entertainment complex, offering a

myriad of leisure and recreation options for the entire family.

Known worldwide for its exotic entertainment options, the

Sun City theme park is more a mini-city than a park, with so

many attractions and entertainment options that first-time

visitors may find it pleasantly bewildering. Activities run the

gamut from adventure sports and safari options to a worldfamous

golf course and a wide variety of rides and games to

keep the children happily busy.

HARTBEESPOORT DAM

Hartbeespoort Dam is a popular weekend and day trip. The

dam and surrounding areas offer a host of outdoor activities,

from a variety of water sports to flights of every description.

Hikes, walks and trails complete the region's compelling

outdoor adventure activities. Hartbeespoort Dam is the area's

major attraction and the heart of this tourism region. A

mecca for adventure pursuits, the majority of Hartbeespoort

adventure activities are centred on the dam and its

magnificent mountain and bushveld surrounds.

Visit businesstravellerafrica.co.za SEPTEMBER2017 | 41
---
Northern Cape

The Northern Cape is the largest of South Africa's provinces but has the smallest population, making it one of the more

remote areas of the country. Among its key selling points are its vast, open spaces, unique vegetation – including the

beautiful spring flower spectacle that transforms a semi-desert landscape – and the Kgalagadi Transfrontier Park, which is

famous for its lions.

AUGRABIES FALLS

At the Augrabies Falls you will be awed by the water

thundering down the gorge. Particularly when there has been

plenty of rain and the Orange River is overflowing, you will

experience the full might of the water as it thunders down the

56-metre-high falls. There are also plenty of other attractions

to explore nearby, including a wide variety of flowers and

animals, and the inimitable views from the Moon Rock.

KGALAGADI TRANSFRONTIER PARK

The Kgalagadi Transfrontier Park was declared in 2000,

formalising an ecological entity that was already there.

Tourists love it, but this inspiring wilderness has given rise

to something more. Now there are ideas of linking this

gigantic conservation area to others nearby. The Kgalagadi

Transfrontier Park straddles the border between South Africa

and Botswana, a semi-desert of red dunes and starry skies.

KIMBERLEY

Kimberley, thanks to the fevered diamond rush of the 1870s,

has a glittering past. Take a guided tour of a once-operational

diamond mine, which descends a staggering 840 metres

below the earth. Start your exploration of the city at its main

attraction: the Big Hole. Imagine a hand-dug hole the size of

eight football fields and you have some idea of the labour that

went into creating the Big Hole. Adjacent to the Big Hole is

the Kimberley Mine Museum, which brings to life the way of

the city during the frenetic days of the diamond rush.

NAMAQUALAND

In spring the Namaqua National Park is painted orange by

exuberant daisies. The distant mountains, the roads, the

rocks, the trees and straggly shrubs of the succulent Karoo

are completely transformed by a lively array of spring flowers.

Every year the timing of the flowers and their quantities

vary somewhat. But somewhere between August and the

beginning of October, this dusty stretch of land springs to

flowering life for a few intense weeks.

SUTHERLAND

Sutherland is a world-renowned astronomical centre in South

Africa. The Southern African Large Telescope (SALT) is

situated on a mountain top 14 kilometres out of town and is

known to be one of the best star-viewing destinations in the

southern hemisphere. Sutherland is also a great place from

which to explore the Upper Karoo.

42 | SEPTEMBER2017 Visit businesstravellerafrica.co.za
---
Western Cape

The scenic splendour of the Western Cape has long been a drawcard in South Africa. This is where you'll find the Cape

Winelands and a beautiful stretch of coastline. Most visitors list Table Mountain, Robben Island (where the late Nelson

Mandela was incarcerated) and a visit to the Cape of Good Hope, at the tip of the Cape Peninsula, as priorities.

TABLE MOUNTAIN

Table Mountain is South Africa's best-known landmark, but

what many don't know is that it is also a hiker's paradise

with numerous trails, amazing views and plenty of interesting

facts to learn. Table Mountain has some remarkable features

that make it a great destination for nature-lovers, deserving

of more than just a quick cable car ride to see the view from

the top. The mountain forms part of Table Mountain National

Park, which is globally recognised for its biodiversity, and

contains truly unique fauna and flora.

ROBBEN ISLAND

At times a leper colony, mental hospital and defence training

base, the Robben Island World Heritage site is more famed

as the prison to which anti-apartheid activists, among them

former president Nelson Rolihlahla Mandela, were banished.

Visitors to the island are able to see the cell in which

Mandela, the world's most famous prisoner, as he was known

for many years, spent 18 years of his 27-year incarceration.

GARDEN ROUTE

The Garden Route is a mix of modern golf courses, ancient

forests, secluded artists' communities, retirement estates,

modern malls, craft centres, mountain hideaways and beach

holidays. A large number of interesting and creative people

drawn to this magnificent stretch of coastline have made it

home. The main arterial highway through The Garden Route,

a highlight on most visitors' itineraries, is the N2 stretch

running from Heidelberg in the Southern Cape to Storms

River Village on the Eastern Cape border.

CAPE WINELANDS

The Cape's 18 official wine routes and two brandy routes

are among the most scenic in the world, featuring many

historic wine estates that date back centuries. Take your time

exploring this magnificent part of South Africa's Western

Cape province and enjoy sampling its magnificent wines

and brandies. Most Cape wine estates are characterised by

classic Cape Dutch-style buildings and massive vineyards

with picturesque mountains as a backdrop. Wine tasting,

winemaking tours, excellent cuisine and magnificent scenery

collectively create an irresistible attraction for international

and local travellers alike.

CAPE WHALE ROUTE

The Cape Whale Route is a superb outdoor adventure family

holiday destination. Incorporating towns such as Betty's Bay,

Kleinmond, Hermanus, Pringle Bay, Stanford and Gansbaai,

the route offers some of the best land-based whale-watching

spots on the planet, as well as many activities for the whole

family. The road trip from Betty's Bay along the coast toward

the other towns on the Cape Whale Route is a peaceful

experience, with the Atlantic Ocean on the one side and

mountainous, fynbos terrain on the other.

Visit businesstravellerafrica.co.za SEPTEMBER2017 | 43
---
PACKAGES

EASTERN CAPE

STORMS RIVER ADVENTURE

Spend a day kayaking up the Storms River mouth, under the

suspension bridge and up through the gorge with its ancient

forests and deep caves. Swap from kayaks onto relaxing

inflatable lilos and float deeper into the gorge. For the

adventurer, there is an opportunity to dive off an overhanging

cliff into the cool waters of the river below. Your base for the

weekend is a private log cabin deep in the Tsitsikamma Forest

and we also include a canopy tour through the forest to enjoy

during your stay.

Includes: Two nights' accommodation at the Tsitsikamma Lodge with

breakfast and dinner daily. 2h30 kayak and lilo trip up the Storms

River. 2h30 Tsitsikamma Canopy tour.

TSITSIKAMMA SCUBA

Learn the basics of scuba diving on a visit to the Tsitsikamma

Marine Park situated on the beautiful Garden Route. Spend

two nights staying at the Tsitsikamma Lodge within close

proximity to the many attractions in the area. Take part in a

four-hour beginners scuba course (or book a dive if you are

more experienced) setting off from Storms River mouth, which

will give you a taste for open water diving. It is a real privilege

to dive in the protected marine park and the Tsitsikamma reefs

are abundant with soft corals and fish life.

Includes: Two nights' accommodation at Tsitsikamma Lodge

with breakfast and dinner daily. Half-day introduction to scuba

diving course.

GAUTENG

SANDTON, SUSHI AND SHOPPING

Enjoy a luxurious weekend at the five-star Hilton Hotel in

Sandton, within close proximity to the newly revamped

Sandton City Shopping Complex, one of the most upmarket

malls in Johannesburg. Learn from the head chef at the

hotel's well-known sushi bar how to make beautiful and tasty

creations from basic maki to the more complicated Californian

roll.

Includes: Two nights' accommodation at the five-star Hilton Hotel in

Sandton. R500 per person shopping voucher at Sandton City. Evening

at Lotus Restaurant, including a sushi course, dessert buffet and

certificate.

PRETORIA GASTRO EXPERIENCE

The luxurious Orient Hotel located in the Frankolin

Conservancy in the Crocodile River Valley in Pretoria is a

wonderful spot for a breakaway within easy driving distance of

both Johannesburg and Pretoria. The boutique hotel is furnished

in a Moorish style featuring intricate wooden carvings, temple

pillars, smoky fireplaces and wooden balconies overlooking the

valley. Enjoy nature walks in the conservancy, explore the inhouse

Tienie Pritchard Sculpture Museum and enjoy a meal at

the renowned Mosaic restaurant known for providing ethically

sourced farm to table gastronomic experiences.

Includes: Two nights' bed and breakfast accommodation at The Orient

Hotel. R500 per person voucher towards dinner at Mosaic.

FREE STATE

FICKSBURG STEAM TRAINS

Bright pink cherry blossoms and historic steam trains make

the quaint Eastern Free State town of Ficksburg a popular

weekend holiday hotspot and base from which to explore the

magnificent Maluti mountains. A visit in April or May will

see you exploring all things 'choochoo' at the Steam Heritage

Festival, where you'll have an opportunity to travel aboard the

restored locomotives as the collection sets out on its annual

journey chugging out of Ficksburg and along the tracks that

meander through the mountains. Alternatively, a visit during

November will coincide with the renowned Cherry Festival.

Includes: Two nights' accommodation in a three-star guest house in

Ficksburg with breakfast and dinner daily.

PARYS ART AND ADVENTURE

The home of artists and adventurers – Parys is just a short

hop from Johannesburg and a great spot for a weekend escape.

Visit the many art galleries, antique and craft shops located

in town, enjoy a craft beer at one of the three breweries or try

out the 52 flavours of mampoer available at the local distillery.

The Vaal River and nearby Vredefort Dome offer a plethora

of outdoor and adventure sport opportunities. From golf to

hiking, cycling, rafting, horse riding, fishing, kayaking and

sky diving, there is more than enough to keep one entertained.

Includes: Two nights' accommodation bed and breakfast at a three-star

guest house in Parys. Sunday lunch ferry cruise down the Vaal River.

44 | SEPTEMBER2017 Visit businesstravellerafrica.co.za
---
KWAZULU-NATAL

MIDLANDS BREAK AND BEER TASTING

The rolling green hills of the Natal Midlands offer a meander

with a difference - arts, crafts, leisure and cuisine experiences

for every age and taste abound. Spend the weekend at

Rawdons, a charming country hotel located on the edge of a

lake. Notting Hill Brewery is located in the grounds and offers

brewery tours and tastings of its cheekily named range of

beers including the Pickled Pig Porter, Wobbling Wombat Ale,

Tiddly Toad Lager, Tipsy Tiger IPA and the Pye-Eyed Possum

Pilsner.

Includes: Two nights' bed and breakfast accommodation at Rawdons

Hotel and Estate. Nottingham Road Brewery tour.

SODWANA SCUBA

Sodwana Bay, located on the North Coast of KwaZulu-Natal,

is South Africa's prime diving spot. The warm tropical waters

of the Indian Ocean are home to miles of coral reefs and are

a diver's underwater paradise. Spend five days at this coastal

resort exploring the different reefs underwater. Diving courses

are also available on request.

Includes: Three nights' accommodation in Sodwana in an en suite

cabin. Dinner and breakfast daily, and five dives.

LIMPOPO

GOLF AND GAME

Tee off in paradise, but don't lose your wits or your ball on

the spectacular Extreme 19th Hole, the world's longest and

highest par-3, a 351-metre shot to the green 400 metres below.

Legend Golf and Safari Resort is located within the 22,000

hectare Entabeni Safari Conservancy in the Waterberg Region

of Limpopo Province and offers great golf, as well as luxury

accommodation with sliding glass windows and private patios

offering panoramic views of the African wilderness. Wake up

early for a morning game drive in the Big Five game reserve.

Includes: Two nights' accommodation bed and breakfast at the Legend

Golf and Safari Resort. R1000 per person voucher for golf or game

viewing.

LUXURY TIMBAVATI SAFARI

Situated in the Timbavati Private Nature Reserve, part of the

2.2 million hectare Greater Kruger Park, lies Kings Camp,

an exclusive safari camp facing an open savanna plain and

waterhole. The camp comprises eight suites, featuring Victorian

ball-and-claw bathtubs, indoor and outdoor showers as well as

private verandas with hammocks overlooking the bush. Enjoy

two game drives a day, watching the sun rise and sun set over

the beautiful bushveld. No dining experience is ever the same

at the camp, from fine-service meals to boma braais and bush

breakfasts, every meal is a memorable one.

Includes: Two nights' accommodation at Kings Camp Private Game

Reserve. Three meals and two game activities daily.

MPUMALANGA

DULLSTROOM FISHING

Renowned for its trout fishing and delicious pancakes, the

charming town of Dullstroom is two and a half hours' drive

from Johannesburg. Spend the weekend at Critchley Hackle

Lodge located around a picturesque dam and within easy

walking distance of the quaint town's pubs, craft shops and

restaurants. Enjoy fine dining in the hotel restaurant and

spend your time relaxing or fly fishing at the lake. Each suite

features its own terrace and fireplace to warm the air on chilly

evenings.

Includes: Two nights' accommodation at Savanna Private Game

Reserve. Three meals and two game activities daily.

LUKIMBI LUXURY AT THE KRUGER

Set on a private concession within the Kruger Park, Lukimbi

Safari Lodge offers guests a luxury game safari experience.

The lodge boasts magnificent views over the Lwakahle River,

an award-winning wine list and cellar. The spacious suites

feature romantic mosquito-netted beds, private decks, indoor

and outdoor showers and enormous bathtubs overlooking

the bushveld. Head out on a game drive on one of the open

vehicles or trail through the bush on a guided game walk

through the park.

Includes: Two nights' accommodation at Lukimbi Safari Lodge. Three

meals and two game drives daily.

Visit businesstravellerafrica.co.za SEPTEMBER2017 | 45
---
PACKAGES

NORTH WEST

A PICNIC IN THE MAGALIESBURG

Spend the weekend in peaceful contemplation picnicking on

the banks of a quiet river in the heart of the Magaliesburg

Mountains, an hour's drive from Johannesburg and Pretoria.

Budmarsh Country Lodge, your base from which to explore

the rolling countryside, offers six-course, French-inspired

dinners and a well-stocked cellar, in addition to preparing

lavish champagne picnics for their in-house guests. Enjoy

hikes in the mountains, fishing or explore the craft route of the

Magalies Meander from this quiet country retreat.

Includes: Two nights' bed and breakfast accommodation at the fivestar

Budmarsh Country Lodge. R250 picnic voucher per person.

A BIRD'S-EYE VIEW OVER HARTIES

Wake up early and head off to the balloon launch site where

you watch as the immense, billowy hot air balloons are

inflated in the dark before dawn lights up the sky. Set off on

your balloon safari, sipping champagne and drifting slowly

over the Magaliesburg as the sun rises over the mountain

range. You may catch a glimpse of Hartbeespoort Dam in

the morning light. Return back to base for a hearty cooked

breakfast to finish off the experience.

Includes: Balloon safari for two and breakfast.

NORTHERN CAPE

AUGRABIES FALLS

Hear the thundering waters of the Augrabies Falls which

bring life-giving sustenance to an arid 800km national park

characterised by granite rock and giant aloes. The falls drop an

impressive 60 metres into the gorge below and record a flow

rate more than three times faster than at Niagara Falls. Stay in

a nearby lodge as a base to explore the National Park and take

part in a number of activities such as fishing, nature paddling,

game drives and hot air ballooning.

Includes: Two nights' bed and breakfast accommodation at Dundi

Lodge Augrabies Falls. Hot air balloon trip.

KIMBERLEY BIG HOLE

Gold rush fever may have left the Northern Cape town of

Kimberley, but the icons of its hey-dey have not, most notably

the famous Big Hole, which is an enormous open-pit mine,

reputedly the largest hole ever excavated by hand. Tour the

mine and the old town, perhaps enjoy a meal at the stately

Kimberley Club and photograph the flocks of pink flamingos

that live in the flat pans outside of town.

Includes: Two nights' accommodation at the Protea Hotel Kimberley.

Kimberley Big Hole Tour.

WESTERN CAPE

SEAFOOD AND SURF IN PATERNOSTER

The picturesque seaside town of Paternoster, situated on the

West Coast, is one of the oldest fishing villages in the country.

Characterised by quaint whitewashed cottages, azure sea views

and blindingly white beaches strewn with wooden fishing

boats, Paternoster is one of the prettiest coastal towns in

the country. The town has become increasingly popular as a

seaside getaway and has also become known for the quality of

its seafood restaurants serving freshly caught fish, flavoursome

West Coast oysters and other shellfish.

Includes: Two nights' accommodation in a traditional Paternoster

fishing cottage. Two days Group A car hire including super cover and

200km free per day.

CHEESE, WINE AND CHOCOLATE TOURING

Enjoy some R&R in a quaint country cottage located on the

50-hectare idyllic Chamonix Wine and Game Estate in the

Franschhoek valley. The luxury cottages are set in secluded spots

on the edge of the estate's forest offering breath-taking views of

the mountains for you to enjoy with your complimentary bottle of

fine Chamonix wine. We also include a full-day cheese, wine and

chocolate tour of the winelands including tastings at Fairview

Cheesery, Tokara Wine Farm and the Bilton estate, whose dark

Belgian chocolate tasting is paired with fine wines.

Includes: Two nights' accommodation at Chamonix Estate in

Franschhoek. Two days Group A car hire including super cover and 200km

free per day. Full-day Cheese, Wine and Chocolate tour of the Winelands.

46 | SEPTEMBER2017 Visit businesstravellerafrica.co.za
---
EXPAND YOUR HORIZONS

AND EXPLORE THIS

BEAUTIFUL LAND

From the rolling hills of the Eastern Cape to the

roaming wildlife of the Kruger National Park,

South Africa is an untapped wonderland of

unforgettable experiences. It's all just a Sho't Left away.

Visit businesstravellerafrica.co.za SEPTEMBER2017 | 47
---
FEATURE – ZIMBABWE

Treading

water

48 | SEPTEMBER2017 Visit businesstravellerafrica.co.za
---
Zimbabwe has endured sanctions, an unstable currency, and

continued speculation about its future. However, this land-locked

Southern African country has much untapped potential that

many believe could be harnessed, should Zimbabwe see a political

regime change in the near future.
---
FEATURE – ZIMBABWE

Robert Mugabe has been

Zimbabwe's only ruler

since 1987 and has

dominated the country's political

landscape since independence.

Under his rule, the country has

battled to survive a struggling

economy, widespread shortages

of basic commodities, sporadic

violence and hyperinflation.

The economy of Zimbabwe is

mostly dependent on agriculture

and mineral resources, with

the mining industry the largest

driver, accounting for almost half

of the country's exports. Mass

unemployment, though, is still

rife, and policy inconsistency,

as well as a lack of investment

security, remain huge obstacles

to promoting investment in

Zimbabwe.

Saying this, tourism, led by the

stunning Victoria Falls area, is

seeing a revival.

The big question is, who will

succeed Mugabe, who is already

in his 90s? The veteran leader has

struggled to set the economy right

since his re-election in 2013 and

now faces increasing pressure as

sections of his own Zanu-PF party

appear to be pressing for a change.

FACT FILE

Time zone: GMT+2

Plugs: Three-prong square

Dialling code: +263

Currency: US dollar

Language: English, Shona,

Sindebele

The 2018 general election will

be the second under the new

constitution, which allows a

president to serve for a maximum

of two five-year terms. Mugabe

has, under this new rule, only

served one term, so is eligible

to run, although it's unclear

whether he will pass the baton

of leadership to a party member

or stand himself. Opposition

parties are looking to form a

coalition government to challenge

the reigning leadership, a move

which is gaining support from

Zimbabweans.

All of which makes for a fairly

unstable environment, although

not everyone sees this as a bad

thing.

"Politics play a role in business

travel everywhere, and what

we find is that when a country

is facing challenges politically,

business travel can actually

increase, with NGO, media, and

entrepreneurial opportunists

growing," says Glenn Stutchbury,

CEO of Cresta Hotels.

CITIES

The capital city Harare is the most

populated city in Zimbabwe and

the country's primary business

travel destination. Set in the

natural garden of the Zimbabwe

Highveld, 1,500 metres above sea

level, Harare is a friendly city of

flowering trees and gardens and

a temperate climate. Don't miss

the Harare gardens, Mbare market

and museum on your visit.

Bulawayo is the second largest

city located south-west of Harare.

The Zimbabwe International Trade

Fair is located here and is the

largest intra-regional trade fair

south of the Sahara, providing the

largest, most convenient trade hub

in the region.

Zimbabwe's most popular tourist

and MICE destination is Victoria

Falls, home to the greatest curtain

of falling water in the world. (See

sidebar)

The Great Zimbabwe Ruins in

Masvingo and the Khami Ruins in

Bulawayo are among the world's

most well-preserved ancient cities.

In addition, the Hwange Game

Reserve is the country's largest

wildlife sanctuary and home

to one of the largest elephant

populations in Africa. Lake Kariba

is also a popular destination for

game viewing and fishing.

AIRPORTS

Harare's airport is the largest in

the country, situated 10 kilometres

from the centre of town. There

are shops and small restaurants in

the airport. Most of the airlines,

including Emirates, SAA, BA

(operated by Comair), Kenya

Airways, Air Zimbabwe and

Ethiopian Airlines do offer airside

lounge facilities to their first and

business class passengers. The

airport security and customs x-ray

systems are extremely thorough,

though. Taxis, airport shuttles

and transfers by car are the most

popular forms of transport to and

from the city.

"Harare International is clean

and functional," says Mark

50 | SEPTEMBER2017 Visit businesstravellerafrica.co.za
---
Your AfricA,

our LegAcY...

Business or leisure, our hotels

offer the discerning traveller a

variety of options to suit every

need. Beautiful accommodation,

sumptuous dining and

complimentary Wi-Fi are just a

few ways we'd like to make your

stay a memorable one!

Bookings and Enquiries

Contact Central Reservations

Tel: +27 11 8066888

hotels@legacyhotels.com

www.LegacyHotels.com
---
FEATURE – ZIMBABWE

COMMENT

Mark Havercroft: Business Development & Hospitality

Operations Director: Legacy Hotels & Resorts

The dollarization of the country definitely improved things. However, earning a

stable currency made life really expensive, and a long history of hyperinflation

and daily fluctuation in prices have blinded sellers to the true value of the US

dollar. So they'll casually say there's a 20% increase. That's massive. You need

to understand this to do business in Zimbabwe. Often you can reduce the price

of items by half. The IT industry in Zimbabwe is also on the rise. Three million

people possess smartphones and they've become very tech savvy. The latest

development is a company called Get Cash, which is basically a virtual wallet.

You can pay for goods from your smartphone without the need of physical cash.

Social media is also widely used. It's giving more and more people a voice to

communicate with the rest of the world. It's definitely a growing industry in

Zimbabwe.

Elephant Hills

Monomotapa Hotel

Monomotapa Hotel

Havercroft, Business Development

& Hospitality Operations Director

for Legacy Hotels & Resorts. "The

relevant authorities are efficient

and the services on offer are more

than adequate for all but the most

discerning traveller. There are at

least three business lounges and

countless coffee shops and bars

available in departures."

"The check-in experience can be

long, especially in economy, but

immigration tends to be fast," says

Stutchbury. "The x-ray machines

are set very sensitive at Harare

International, so remove your belt,

shoes, watch and everything from

your pockets and you won't then

be sent back. On your way in,

don't stress that all luggage gets

scanned as you go to the Green

Route, as this is normal for Harare

and moves quickly. The arrivals

hall appears disorganised, but it

flows – just make sure you have

your forms filled out before, know

your visa requirements, and have

exact change for your visa."

Fastjet began operations into

Zimbabwe in 2014 from Dar

es Salaam. The airline set up a

Zimbabwean arm in 2015 and

currently flies internally between

Harare and Vic Falls, as well as

regionally to South Africa and

Tanzania.

Other airlines that land in

Harare include Air Botswana

from Gaborone, Air Namibia

(which also flies to Vic Falls),

from Windhoek, Airlink from

Johannesburg, and LAM from

Mozambique.

As the country's national carrier,

Air Zimbabwe connects Harare,

Bulawayo and Victoria Falls. BA

(operated by Comair) offers flights

to Vic Falls from South Africa,

while SAA reaches Bulawayo and

Vic Falls in addition to Harare.

July saw Airlink add six weekly

flights between Cape Town and

Vic Falls, and the response has

been good.

"The route is proving extremely

popular and we are already

looking at increasing capacity,"

says Rodger Foster, CEO of

Airlink.

The new Victoria Falls

International Airport (see sidebar)

opened last year, and has been

well received.

52 | SEPTEMBER2017 Visit businesstravellerafrica.co.za
---
Welcome to Zimbabwe for

the warmest hospitality

Lodge - Harare

DDH&M/CRE14329

Oasis - Harare

Jameson - Harare

For Reservations contact

Tel: +263 4 788 161/2 or +263 4 487 006/8

Email: reservations@cresta.co.zw

www.crestahotels.com

Lodge - Harare

Sango Conference Centre

Jameson

Oasis

Churchill

Sprayview

Victoria Falls
---
FEATURE – ZIMBABWE

VICTORIA FALLS

Victoria Falls is Zimbabwe's shining light, thanks to its stunning natural beauty

and obvious appeal as a leisure travel and MICE destination.

It already has a number of big events – including this year's EAI International

Conference for Research, Innovation and Development for Africa and the

African Finance Association Conference – on its CV, but the region's new airport

has just added another dimension to the offering, which also has a number of

quality hotel brands represented, in the form of the likes of Legacy Hotels &

Resorts, Cresta Hotels, African Sun and Africa Albida Tourism.

Cresta Hotels CEO Glenn Stutchbury provides an interesting snapshot into just

how Vic Falls' growth compares with that of elsewhere in Zimbabwe.

"The first half of 2017 has been a mixed bag with Harare showing an industry

decline of 2%, Bulawayo an increase of 5% and Victoria Falls a massive growth

of 17%," he says. "The impact of the new airport, additional flights and larger

aircraft has resulted in fantastic growth and the remainder of the year is looking

very strong."

In March, SAA became the first airline to land a wide-bodied aircraft in Victoria

Falls when its Airbus A330-200 touched down from Johannesburg. Also in

March, Ethiopian Airlines launched four weekly flights from Addis Ababa utilising

a Boeing 737, whilst in May, Kenya Airways launched three direct weekly flights

from Nairobi.

"These three airlines alone add 80,000 new seats per annum into Victoria Falls

International Airport and the region, offering a huge opportunity for growth, as

well as connecting new destinations with the incredible Victoria Falls hub and

KAZA tourism region," says Ross Kennedy, Chief Executive at Africa Albida

Tourism.

"The Victoria Falls airport is world class and, outside of South Africa, as good

as any on the continent," says Mark Havercroft, Business Development &

Hospitality Operations Director for Legacy Hotels & Resorts, "although it cannot

be denied that immigration procedures are time consuming for those visitors

requiring visa entry."

HARARE HOTELS

Cresta Hotels has the most

comprehensive Harare offering of

all the hotel groups, with three

establishments in the city. The

centrally-located Cresta Jameson

has a 24-hour front desk, business

centre, conference facilities,

wi-fi connectivity, and a health

and beauty spa, whilst Cresta

Lodge Harare, on the outskirts

of the city centre, has a similar

mid-market, yet solid offering,

in a different setting. The group

also operates the Cresta Oasis,

which is a hotel that also offers

serviced apartments for long-term

stays. Cresta also has the Cresta

Churchill (see sidebar) in Bulawayo

– a 50-room property that

apparently "oozes Tudor charm" –

and Cresta Sprayview in Vic Falls.

The four-star Monomotapa

Hotel, now under the management

of Legacy Hotels & Resorts,

overlooks Harare. It offers a mix

of twin rooms, king leisure rooms

and suites, and enjoys panoramic

views of Harare, right on the

doorstep of the city's Central

Park and Gardens. Zimbabwe's

National Gallery is a five-minute

walk away and the renowned

Botanical Gardens a short

10-minute drive. There is also a

variety of restaurants to choose

from.

Legacy has earmarked funds for

the upgrading of the ground floor

and public areas to the estimated

tune of $22 million.

There are also big plans for the

area surrounding this hotel, with

a vision to turn it into something

akin to Johannesburg's Sandton

City, with offices, hotels, shops

and recreation facilities. The

Harare Gardens are in front of

the hotel, and around the corner

sits the National Art Gallery. The

new owners have done a deal with

the Harare City Council and will

purchase 5.4 hectares of the park

land, which will become part of

the hotel.

"We're going to create a massive

open-air restaurant in one corner,

and then we're going to build an

800-seater convention centre that

links the art gallery to the hotel,"

says Havercroft.

Following a deal concluded with

African Sun in 2015, Legacy now

54 | SEPTEMBER2017 Visit businesstravellerafrica.co.za
---
CRESTA CHURCHILL

REFURBISHMENT

In May, Cresta Churchill in Bulawayo

completed the first phase of renovations

which began earlier this year. This and

further phases aim to modernise the

accommodation offering.

Both standard rooms and suites now

have completely refitted bathrooms,

electronic keys have been introduced,

flat-screen TVs and international plug

points and USB chargers installed,

and there has been the placement of

new bedroom floors and a touch of

repainting.

"Cresta Churchill is the flagship

hotel for Zimbabwe's second city

and this refurbishment will create an

accommodation offering second to

none, suitable for business and leisure

travellers who make this their hotel of

choice," says Glenn Stutchbury, CEO of

Cresta Hotels. "What we have sought

is ease and convenience, as well as a

classy, clean look that suits all travelling

types, both local and international."

Visit businesstravellerafrica.co.za SEPTEMBER2017 | 55
---
FEATURE – ZIMBABWE

manages four other Zimbabwe

hotels – Elephant Hills and The

Kingdom at Victoria Falls, Hwange

Safari Lodge and the Troutbeck

Resort. There are plans to

eventually upgrade and refurbish

all of these properties.

Elephant Hills, with its 276

rooms and conference facilities

for 1,200, will undergo a soft

refurb, with the bathrooms, airconditioning

units and golf course

receiving attention. The nowempty

casino at The Kingdom will

be converted into an 800-seater

auditorium with breakaway

rooms in the next nine months.

In Hwange, a new executive chef

has overhauled the menus and

upgraded the kitchen facilities.

There are also plans to build

conference facilities for 100 people.

Although no management

agreements have been signed

yet, Legacy is set to take over the

management of two more hotels

in the near future – Caribbea Bay

in Kariba and the Great Zimbabwe

Hotel in Masvingo – which will

increase its Zimbabwe portfolio to

seven.

Looking at the other main

hotels in Harare, the Meikles

Hotel is a five-star property set in

a prime location in the centre of

the city. Local tourist attractions

such as Eastgate Centre, African

Unity Square and the National

Art Gallery are not far from the

hotel. Also nearby are the Harare

Gardens, Queen Victoria Museum

and National Museum. Dining

facilities at Meikles include La

Fontaine, a good restaurant worth

trying. The hotel also offers

transportation to/from the airport

for an additional fee.

The Bronte Hotel is renowned for

its beautiful gardens and collection

of Shona sculptures. Centrally

located in the Avenues, within

walking distance of downtown

COMMENT

GLENN STUTCHBURY - CEO: CRESTA HOTELS

Cresta Sprayview

There is no Uber in Zimbabwe and the prices of taxis can be cheeky. There

are taxi ranks at most hotels and it's best to get the rate before you drive.

For businessmen doing many different appointments, sign up a taxi driver,

negotiate a flat day rate and have him as your chauffeur for the day. There is

also a service called G-Taxi which is Zimbabwe's Uber - download the app,

but remember to request a car way in advance and set a time, as cars are not

as frequent as in Johannesburg, for example. Wi-fi hotspots are in shopping

centres and airports, but it isn't fast. Be careful not to incur large roaming

costs. Restaurants vary according to the experience you are looking for and

local knowledge is key, so ask your host and people you meet, as they will

all have their favourites. Things to check before you travel to Zimbabwe:

transfer to and from hotel; wi-fi and charges at hotel; back-up generator at

hotel – there are serious power cuts and we all know what that can do to your

productivity and personality!

Harare, the Bronte offers wellappointed

rooms and executive

suites in a garden setting.

Suited to both the business and

leisure traveller, the amenities

include complimentary wi-fi, two

swimming pools, a fitness centre,

complimentary breakfast buffet,

secure on-site parking and fine

dining at Emmanuel's Restaurant.

On Samora Machel Avenue,

the Holiday Inn Harare is just

200 metres from the CBD and

12 kilometres from Harare

International Airport. Mezzaninefloor

meeting rooms can

accommodate up to 250 guests.

Dining is provided by the Silver

Spur Steak Ranch restaurant, 24-

hour room service, and the hotel

restaurant.

IHG also has the new Holiday

Inn in Mutare, which the group

opened in July. The franchised

property is owned by African Sun

and offers 96 rooms, an outdoor

pool, and a meeting room for up to

250 people.

Rainbow Tourism Group is

represented in Harare by two

hotels. The Rainbow Towers

Hotel and Conference Centre was

refurbished in 2013 and has 304

rooms, wi-fi and 24-hour room

service. Dining is provided by four

eateries – the Harvest Garden

(buffet restaurant); the Kombahari

Restaurant (Afro-Asian fusion);

Teppan Yaki (Far East cuisine);

and La Patiserrie, the hotel's lobby

coffee shop.

Rainbow's second Harare

property, the New Ambassador

Hotel, is located in the CBD,

and is walking distance from

the main financial, commercial

and government institutions, as

well as a host of shops, cinemas,

restaurants, the National Museum

and Art Gallery. It offers 72

rooms, a business centre, wi-fi

connectivity and three dining

options. RTG also has the

Bulawayo Rainbow Hotel – its only

property in that city – and two

hotels in Vic Falls, in the form of

the A'Zambezi River Lodge and the

Victoria Falls Rainbow Hotel.

CARD ACCEPTANCE

The de facto official currency is

the US dollar and it is very much

a cash economy. The South African

56 | SEPTEMBER2017 Visit businesstravellerafrica.co.za
---
and and British pound are also

accepted, but you do not get a

favourable exchange rate. Major

international credit cards (Visa

and MasterCard) are now accepted

in most of the larger hotels,

restaurants and shops, but many

smaller establishments still do not

have credit card facilities. Diners

Club and American Express are

often not accepted.

There is currently a cash flow

problem in the country and ATMs

often restrict withdrawal amounts.

"Currently, the impact of

the cash crisis far outweighs

the political situation," says

Stutchbury. "The key shortage is

cash, and access to cash through

ATMs is non-existent. This

has an impact on the traveller,

as their usual source of local

currency is unavailable. Business

travellers are advised to bring

US dollars with them in smaller

denominations for certain basic

transactions, although swipe

machines are available almost

everywhere and payment by

Visa and Mastercard is easy.

American Express and Diners

should be avoided. Mobile money

transactions are very common."

VISAS

Travellers from the following

African countries do not require

visas to enter Zimbabwe:

Botswana, DRC, Ghana, Kenya,

Lesotho, Malawi, Mauritius,

Mozambique, Namibia, South

Africa, Swaziland, Tanzania, Togo,

Uganda, and Zambia.

African countries whose

nationals are granted visas at the

port of entry on payment of the

requisite visa fees ($30 – single

entry): Egypt and Seychelles.

All other African passport

holders need to apply in advance.

HEALTH

Malaria is prevalent in large parts

of the country, so do take the

necessary precautions.

Private medical centres offer

excellent healthcare, especially in

Harare, where quality treatment

is available 24/7. There are also

several ambulance companies who

can undertake medical evacuation

where necessary.

There are also a number of

emergency clinics offering good

healthcare after hours, if you

prefer avoiding a hospital.

Drinking tap water is not

advisable, although Victoria

Falls does have its own water

purification plant.

CONTACTS

zimbabwetourism.net

gotovictoriafalls.co.za C

Visit businesstravellerafrica.co.za SEPTEMBER2017 | 57
---
TRIED & TESTED/Hotel

POLOKWANE, SOUTH AFRICA

Sun Meropa Hotel

BACKGROUND: The Meropa

Casino and Entertainment World has

been in operation for 15 years with

accommodation supplied by a City

Lodge hotel. In September 2016, Sun

International broke ground on Sun

Meropa and officially opened the hotel

on 29 July with a grand celebration for

its first hotel in the province.

WHERE IS IT? In the Meropa Casino

and Entertainment complex, about

five kilometres from the N1 highway

in Polokwane. It's about a three-hour

drive from Johannesburg.

ROOM FACILITIES: The hotel offers

60 three-star rooms, including six

suites. The decorators went with a

Moroccan theme – dark wood furniture,

blue-and-white patterned tiles, accents

of red splashed through the rooms

– to complement the Moroccan-style

architecture, with the two-storey

hotel built around a central outdoor

pool area. My room was compact and

the space was used well. The work

desk, with multiple easy-to-reach plug

points, and tea-and-coffee station were

separated from the sleeping area in

an alcove by the window. It's a small

detail, but it really made a difference

to the space. The bathroom was snug,

with the shower door very cleverly

doubling as the bathroom door, but it

never felt tight. In the bedroom was a

massive Samsung Smart TV with DStv

which faced a king-sized bed.

RESTAURANTS & BARS: The

Kasbah Restaurant is situated next

to the hotel's reception. Dinner on

this special occasion was a Moroccaninspired

buffet. Appetisers included

a prawn and avo salad, lentil and

blueberry salad and hummus with a

selection of breads served by passing

wait staff. The main course consisted

of dukkha-spiced peri-peri prawns,

corn cakes, spicy pumpkin soup with

croutons and beef and prawn skewers.

The meal was rounded off with towers

of colourful macarons, trifle cups,

profiteroles in chocolate cages and

chocolate mousse with caramel in pastry

casings. The breakfast buffet offered the

usual selection of fruit, cereal, pastries,

cold meats, cheeses, scrambled eggs,

bacon – both shoulder and streaky –

mushrooms, tomatoes, hash browns

and sausages. There was also a flap jack

and waffle station, complete with an

assortment of toppings. While the wait

staff were happy to bring coffee to my

table, I had fun making espressos at the

DIY coffee-pod machine. The Harvest

Wine & Grill, next to the casino floor,

serves a variety of dishes, from aged

steaks and burgers to ribs, wings and

chargrilled chicken. Jembe Tavern serves

authentic African cuisine and offers live

entertainment. The Ngoma Bar is located

on the main casino floor, making it

easy for players to grab a drink without

stepping away from the action.

BUSINESS & MEETING

FACILITIES: There is a conference

centre on site with capacity in the main

hall to accommodate 600 delegates.

The three smaller meeting rooms are

perfect for intimate meetings of up to

20 people. There is a single computer

station next to the conference centre

reception. There is wi-fi throughout

the hotel. Both my Apple and Android

devices picked up the connection

automatically; I didn't need to search or

sign in once to use the service – a real

plus.

LEISURE FACILITIES: The Meropa

entertainment complex offers a number

of ways to unwind. There's the go

kart track for a bit of motorised fun;

a Mangwanani day spa for a bit of

pampering; a mini-golf course; a

cultural village; the Magic Company

with games for the kids; and the

WildThingz bird and snake garden for

a walk through nature. The casino,

operational 24 hours a day, is a big

draw card. It offers 417 slot machines

and 17 gaming tables.

VERDICT: A really great option for

your next trip to Polokwane. Clean,

comfortable accommodation, tasty food

and friendly, helpful staff all make for

an enjoyable stay. C

Kate Kennedy

CONTACT

A: Plot 59, Sterkloop, Roodepoort Rd

T: +27 15 290 5400

E: hellomeropa@suninternational.com

W: suninternational.com/meropa

58 | SEPTEMBER2017 Visit businesstravellerafrica.co.za
---
TRIED & TESTED/Flight

SEATTLE-LONDON HEATHROW

Virgin Atlantic B787 Upper Class

BACKGROUND: Virgin Atlantic flies

to nine destinations in the USA and it

added a tenth, Seattle (Washington),

this year.

CHECK-IN: Check-in desks at Tacoma

International Airport are placed right

at the building entrance, with clear

signage indicating which airlines are

where. The driver dropped us off right

outside the Virgin check-in desk,

which meant that even with two bags,

a backpack and a handbag, I didn't

require a trolley for my luggage. I

wanted to check my bags all the way

through to Johannesburg, and getting

this sorted took a bit of time. I headed

to security with my hand luggage

and was treated to the full US airport

experience. The full-body scan threw

out a warning and I was thoroughly

searched by a security guard before

being allowed to gather my belongings

and head for the boarding gate at

the South Satellite terminal, which is

accessed by means of a short train ride.

LOUNGE & BOARDING: Virgin

makes use of Delta Airlines' lounges

at the Tacoma airport – one in the

main terminal and one at the South

Satellite terminal. Unfortunately, after

my delay at security, I didn't really

have time to enjoy the Delta SkyClub

lounge, but here's what's on offer:

plenty of seating on two levels; airside

views thanks to a two-storey high

window wall; desks and plug points

for laptop users; shower rooms; a spa;

a buffet; and a bar. Boarding was an

orderly affair with passengers called

in sectors – passengers requiring

assistance, families with small

children, Upper Class and premium

economy passengers, and then economy

passengers.

THE SEAT: Upper Class seats

are angled diagonally and give all

passengers aisle access. Seats convert

to fully flat beds and with a mattress

pad, duvet and pillow, make for a great

bed in the sky. Once flat, the pods,

which allow for a lot of privacy, offer

a generous amount of sleeping space.

Unlike other airline beds, you don't

have to cram your feet into a covered

foot well and the arm rests don't cut

into your space. The TV screen is

installed in the front and pops out on a

moveable arm to allow for straight-on

viewing. The in-flight entertainment

system – a touch-screen TV monitor

and handheld console – is easy to use

and the selection of movies, TV shows,

music and games is extensive. The foot

rest, that becomes part of the lie-flat

bed, allows you to put your feet up even

during take-off and landing, a feature I

enjoyed. There are a number of storage

spaces for things like your shoes and

cell phone.

THE FLIGHT: Once I was seated, I

was offered a sleep suit and lavender

pillow spray for the overnight flight,

then champagne and a newspaper.

We pushed back on time and drinks

and snacks were served shortly after

take-off. The dinner service began with

bread rolls after which came the most

delicious beef fillet I can ever recall

tasting, and not just on an aircraft; it

was tender, moist and full of flavour

and served with risotto, asparagus and

a carrot puree. As the flight was full,

the bathrooms were busy and I had to

queue for my evening ablutions. The bar

was also popular and I had to fight my

way through a small crowd to reach the

bathroom. My seat transformed into a

bed with the push of a button and I was

soon fast asleep, despite the revelry at

the bar. I woke in time for a breakfast

of oats, coffee and a croissant.

ARRIVAL: The plane touched down

at Heathrow on time and Upper Class

passengers were the first to disembark.

I was held up at the very strict transit

security (thanks to a pot of jam I

purchased at Tacoma International

without forethought), but was soon on

my way to the Virgin Clubhouse to wait

out the nine-hour layover.

VERDICT: A solid trans-Atlantic

service with a great onboard product,

especially in Upper Class. The Rituals

products in the amenity kits were a real

winner. C

Kate Kennedy

CONTACT

W: virginatlantic.com

Visit businesstravellerafrica.co.za SEPTEMBER2017 | 59
---
Q & A

Milestone achievement

Sally George

Market

Development

Manager:

Singapore Airlines

Singapore Airlines has been flying to South Africa for 25 years, with its first flight landing in Johannesburg on

29 March 1992. It began with a twice-weekly service using a Boeing 747-300 with one stop in Mauritius. Today, the

airline offers a daily direct service between Singapore and Johannesburg; four of these flights extend to Cape Town.

Sally George, Singapore Airlines' Market Development Manager, took some time to answer a few questions about

the airline and its history with Africa.

Q: As it's now 25 years since SIA

first flew to South Africa, what

was the background to the first

flight and viability of the route?

A: Flights were introduced at the

time when South Africa was at

the dawn of a new era and with

the opening up on trade and

travel restrictions.

Q: What 'type' of business travel

do you see on this route?

A: A mixture of corporate and

leisure as well as groups and

incentives.

Q: What was the business case

for SIA bringing the A350 into the

fleet?

A: There was a strong demand

for a bigger business class cabin

as well as a premium economy

product. We've increased our

business class cabin with the

A350 from 25 to 41 seats and

upgraded the product offering.

Q: SIA is expected to re-start its

non-stop Singapore-US Flights?

What has made this possible?

A: Singapore Airlines has

launched its new, daily, nonstop

Singapore-San Francisco

service using an A350-900ULR

aircraft – the longest flight in

our network. Flying time ranges

between 14:35hrs and 17:45hrs

depending on direction and time

of year. Singapore Airlines is the

launch customer for the A350-

900ULR, for which deliveries will

begin in 2018. The aircraft will be

used to re-launch non-stop flights

between Singapore and both New

York and Los Angeles. SIA serves

San Francisco twice-daily, with

the other flights operating via

Hong Kong. Singapore Airlines

also serves Los Angeles via both

Seoul and Tokyo, Houston via

Moscow, and New York JFK via

Frankfurt.

Q: What can passengers expect

in the SIA premium economy

cabin?

A: The cabin is laid out in a 2-4-2

configuration. The seats are 19.5

inches wide with eight inches of

recline and 38 inches of pitch and

offer one power outlet and two

USB ports. The entertainment

system is delivered on a 13.3-

inch touchscreen HD monitor.

Customers receive a 35-kilogram

excess baggage allowance and

priority baggage handling as

well as 110% KrisFlyer miles of

distance travelled. On board,

passengers are offered a choice

of three main meals, champagne

and curated red and white wines.

Q: How popular has premium

economy been since SIA

introduced the product on its

South African route?

A: Extremely. We have strong

load factors with a mixture of

leisure and corporate travel,

especially during the traditional

school holiday periods.

Q: What are you doing to

meet passenger demand for

technological advancement and

digitisation?

A: The free SingaporeAir mobile

app brings you a whole new way

to enjoy KrisWorld. Discover

what is playing on KrisWorld

even before you step on board,

shortlist your favourite movies,

TV or music and control the

media playback right from your

personal electronic device. You

just need to link your device to

your seat, which will also allow

you to view the current flight

path and location and check

updated flight information. This

feature is currently only available

on our A350s and selected B777-

300ER aircraft.

Q: Have you made any changes

to your loyalty programme?

A: There are no recent changes

to the KrisFlyer programme,

however on the PPS Club – for

passengers travelling business

or first class – there are a few

updates. From 1 June, the PPS

value accumulated on your

travels may also earn you PPS

Rewards. Once you've earned a

PPS Reward, it will automatically

appear in your KrisFlyer Account

Summary, ready to be used for

your next flight. Rewards include

Double KrisFlyer Miles vouchers,

which allows you to earn twice the

miles for a single flight segment;

a 50,000-mile discount on your

next award flight or one-cabin

class redemption upgrade; standby

upgrade vouchers; and advanceupgrade

vouchers, which allow

you to apply for a one-cabin class

upgrade at the point of booking.

Q: Are there any plans to expand

your African footprint beyond

South Africa?

A: We will consider venturing into

new territories if it is commercially

viable to operate. Currently we

have a sales executive dedicated to

many off-line territories in Africa

to create more brand and product

awareness in the region.C

60 | SEPTEMBER2017 Visit businesstravellerafrica.co.za
---
Q & A

Tech savvy

Andy Hedley

General Manager:

Amadeus Southern

Africa

Technology is advancing so rapidly that it's hard to stay up-to-date with the ever-evolving nature of it. The technological

applications in the travel sector are no different and we have companies like Amadeus to thank for providing industry

players with ever-improving solutions. Andy Hedley, General Manager: Amadeus Southern Africa, offers some insight

into the world of travel technology.

Q: If Amadeus is no longer a

GDS company, what is it?

A: Amadeus provides the

technology which keeps the travel

sector moving – from an initial

search to making a booking,

from pricing to ticketing, from

managing reservations to

managing check-in and departure

processes. Our ambition is

to facilitate the entire travel

journey from door-to-door,

and in the process improve the

travel experience for hundreds

of millions of people every year.

We do this by connecting key

players in the travel industry; we

give companies the tools to serve

travellers better and to manage

their own businesses more

effectively.

Q: What role does Amadeus

currently play and want to play in

the business travel space?

A: Technology is rapidly

expanding possibilities in global

travel. Tech-savvy business

travellers are demanding a more

connected travel experience.

Amadeus, as the travel IT

partner, delivers a complete travel

management solution; an endto-end

way to control costs and

empower business travellers. We

aim to provide automation tools

that free TMCs up from repetitive

tasks and costly human error

so they can focus on customer

service and business growth,

and communication tools that

allow TMCs to journey with the

customer and personalise their

service. These tools offer TMCs

the opportunity to cross-sell and

up-sell, providing an enhanced

travel experience and thereby

increasing the seat value.

Q: What's your view on the

African market, in terms of the

space that Amadeus plays in?

A: Africa should not be perceived

or related to as if it were one

country. Every country is different

and has its own challenges.

Challenges are sometimes similar,

but never the same. Technology

providers need to ensure good

knowledge of the market

requirements and challenges to

go-to market. Amadeus is careful

to take note of these nuances and

to have customer input on market

requirements to ensure the best

fit for each market and customer.

Q: What do you think business

travellers and bookers are

looking for, nowadays, from an

online travel solution?

A: As travellers, we enjoy the

choice, freedom and personalised

experience of leisure travel. And

today's business traveller expects

something similar from their

business travel programmes…

choice, flexibility and a higher

quality total-trip experience; be

that from searching and booking

to real-time information and

experience 'on the road', right

through to post-trip reporting.

Q: What's the Amadeus view

on 'Big Data' and the role it

is playing and can play in the

business travel space?

A: 'Big Data' in travel comes from

every moment in the traveller's

journey, from airline bookings

to hotel check-in. Their actions

create data which presents an

opportunity for travel companies

to provide better-individualised

services to the traveller and to

improve his or her experience.

Amadeus is well positioned to

make this work.

Q: From where do you think the

next technological breakthrough

for the travel industry will come?

A: Simplifying the options for the

traveller is a good place to start.

Today, travellers need several

different smart apps for different

things. Any breakthrough will

be in the space of enhancing the

experience for the traveller and

enabling the TMC to keep up with

these evolving needs. Specialised

or niche services will secure the

business offering for many travel

agents.

Q: How far do you believe the

personalisation of travel will

evolve?

A: For many clients, their mobile

phone has become who they

are. Therefore, personalisation

equals mobile, with every single

mobile user having a unique

identity. Evolution in travel will

undoubtedly include intuitive

offerings to customers through

their mobile phone. For travellers,

mobile offerings will not only

be something they want, it will

become an expectation.

Q: What are the biggest

challenges faced by those

wanting to push the development

of travel technology?

A: Today, technology is largely

reactive and customer-driven.

Providers must produce quick,

agile technology to respond

to growing needs. TMC and

technology providers must work

together for solutions that will

make the process seamless both

for the TMC and the customer,

and at the same time focus

on building customer loyalty

through better experiences, from

aspiration to book and journey to

on-trip and post-trip sharing. C

Visit businesstravellerafrica.co.za SEPTEMBER2017 | 61
---
PEOPLE ON THE MOVE

Senior Director

InterContinental

Hotels Group has

appointed David

Todd as its new

Senior Director,

New Hotels-IMEA.

Todd previously

worked for IHG

both at the corporate office and at

the company's hotels in the Middle

East. Prior to rejoining IHG, he served

as Vice-President, Operations-MEA

at Millennium Hotels & Resorts.

Todd will streamline and accelerate

IHG's new hotel opening process and

collaborate with various functions

across the corporate offices in Dubai

and Delhi, as well as build on existing

and new relationships with owners and

business partners. He will also serve as

a senior member of IHG's New Hotels

leadership team.

Regional Director

The Carlson Rezidor

Hotel Group has

appointed William

McIntyre as

Regional Director

of Southern Africa.

In his new role,

McIntyre assumes

responsibilities for the following

countries: South Africa, Angola,

Mauritius, Mozambique, Zambia,

Gabon and Rwanda. McIntyre has over

20 years' experience in the hospitality

industry, with his most recent role as

COO for the Hospitality Property Fund.

Director of Sales

The Carlson Rezidor

Hotel Group has

appointed Patrick

Lan as the Regional

Director of Sales,

North Africa & Indian

Ocean. In his new

role, Lan assumes

responsibilities for Morocco, Algeria,

Tunisia, Chad and Cape Verde, while

retaining responsibilities for the Indian

Oceans including Mauritius. Lan

has over 12 years' experience in the

hospitality industry, with a core focus

on sales and marketing. His most recent

roles include Deputy General Manager

at Maritim Hotels and Group Director

of Sales & Marketing at Sun Resorts.

He joined Carlson Rezidor in 2016.

Director, Global Sales

Marriott International has appointed

Brendon Hart as its new Director,

Global Sales – South Africa, Sub-

Saharan Africa &

West Africa. His main

responsibility is to

maintain effective

financial performance

by ensuring that

profitable sales

are generated and

operational controls

are in place within a sales engine of

the global sales organisation. Hart

joined Radisson Blu in 2010 as Sales

Executive before taking the position

Sales and Marketing Director at

Carlson Rezidor in 2011. He moved to

Marriott in 2016 as Director, Global

Sales – Middle East and Africa.

Board Member

WingsNaledi has

appointed Gugu

Sepamla to its board.

Sepamla is co-founder

and principal partner

of Moshe Capital,

and brings 18 years'

senior executive

experience to WingsNaledi, including

12 years in company director roles

on several public and listed boards.

Sepamla served as the Managing

Director and Head of Public Policy and

Government Relations of Barclays Bank

(Africa). She has also been involved

in the successful transformation and

restructuring of various state-owned

entities over a 10-year period.

Board Member

WingsNaledi has

appointed Nicholas

Maweni to its board.

Maweni brings

extensive marketing,

communication and

legal expertise to

the WingsNaledi

board through his experience in

both the private and public sector.

He worked as Chief of Staff for the

Ministry of Arts and Culture and also

for the Ministry of Justice. He was

the Managing Director of the Black

Management Forum and was previously

the Chief Marketing Executive at IBM

Africa.

Marketing Manager

Newly appointed

Group Marketing

Manager of Protea

Hotels by Marriot

and African Pride

Hotels Avukile

Mabombo joins the

group with a wealth

of experience in brand management.

His academic background – in media

studies and brand leadership –

underpin his many roles as a brand

and marketing manager. He worked on

a number of alcohol brands for RGBC

and Brandhouse Beverages before

joining Monster Energy as its Regional

Marketing Manager.

Account Director

Marriott International

has appointed

Jeanette Moloto as

Account Director:

Sub-Saharan Africa.

She is responsible

for managing

and developing

relationships and business within sub-

Saharan Africa across all the Marriott

lodging brands. Moloto has worked in

the travel industry for 13 years, serving

in a range of positions mostly within

the Protea Hotels by Marriott group.

Previously she served as the Regional

Manager, Africa, for the African

Business Travel Association.

General Manager

Protea Hotel Fire

& Ice by Marriott

Cape Town has

appointed Anso

Venter as its new

General Manager.

Venter started out

as a trainee in the

hospitality industry, studying while

working. Following international

experience in England, Scotland and

Dubai, Venter returned to South

Africa in 2005, joining Protea Hotels

by Marriott in 2007. Her first General

Manager role was at the Protea Hotel

by Marriott Cape Town Tyger Valley,

and the three years of experience there

have made her well placed to lead the

popular Cape Town Fire & Ice! Hotel.

62 | SEPTEMBER2017 Visit businesstravellerafrica.co.za
---
BITE WITH THE EDITOR

Strong Growth

Neil Bald

CEO - AHA HOTELS

& LODGES

Aha Hotels & Lodges is Tourvest's accommodation division and is wholly-owned by the South African TMC.

In the past five years it has grown into a significant player in the Southern African hotel industry. CEO

Neil Bald has been at the forefront of that growth, and was happy to unpack some of those details over a coffee

with editor Dylan Rogers in Johannesburg.

Alot has happened since Neil

Bald joined aha five years

ago.

The group has grown its portfolio

from 12 hotels and lodges to over

40, acquired a major competitor

in the form of Three Cities

Hotels, launched a new brand to

the market, and grown its staff

complement to over 60.

All of this adds up to the second

biggest hotel management company

in Southern Africa and the fourth

biggest hotel group in South Africa.

"The plan when I joined was to

grow it considerably and it still is,"

says Bald.

So, it sounds like he is on track.

The aha brand now consists of

a diverse selection of hotels and

lodges spread across South Africa,

Zimbabwe, Zambia, Namibia and

Botswana, with the plan to extend

that footprint into other African

countries.

"Outside of South Africa, our

plan, from a hotel point of view, is

to be represented in capital cities,"

says Bald, whilst acknowledging

that aha Hotels & Lodges still has

some way to go before becoming

a recognisable brand, particularly

to international travellers. As a

result, aha are open to operating

properties under franchise

agreement, if all the right boxes are

ticked.

"We are seeing demand for

regional operators who know the

lay of the land, possibly already

have representation in the area,

and understand how to work with

the local labour force," says Bald

of the international brands who

favour this approach over trying to

make it work on their own.

Besides the countries already

mentioned, aha has fairly recently

gone into Ethiopia with a deal for

a group of properties over a few

years. The first hotel is expected to

be complete in the next year, with

the second one due to start soon

and two more on the cards in the

future.

"It's going to be a very

interesting couple of years," says

Bald, whilst conceding that the

Ethiopian expansion goes a little

against the grain of aha's growth

strategy, which focuses largely on

South Africa and its neighbouring

countries.

"The plan is to grow more than

one property in a destination and

to 'grow countries'," he says. "If

we do that we can start putting in

country management etc."

East Africa, though, also

remains of interest to Bald and

aha, and whilst the group has had

a look at and considered one or

two opportunities in the likes of

Nigeria, Ghana and Angola, one

gets the sense that West Africa is

currently just not as appealing.

"We haven't focused on growth

too far from home, but rather on

neighbouring countries and East

Africa, where there just seems to

be more opportunity than West

Africa," says Bald.

Back home, aha are still

optimistic about their South

African growth in the hotel space,

with Bald citing Johannesburg and

Cape Town as the key locations

from a business travel point of

view, whilst also conceding that

there is currently a hole in their

portfolio.

"To be recognised as a serious

player, you need to have key

locations, and in corporate travel

you have to be in Sandton,

where we currently don't have

representation," he says. "We've

recognised that, although it's not

that simple to get in there, but

we are working on a couple of

options."

From a lodge point of view, the

focus is slightly different.

"Growth outside of South Africa

will more likely come from the

lodge space, and we want to be in

key/iconic locations," says Bald.

"So, it's Etosha, the Serengeti,

Maasai Mara and Kruger National

Park. There is demand for operators

in these locations."

Five years is a nice round number

and, arguably, an opportunity to

reflect for Bald.

Aha Hotels & Lodges have come

a long way since he joined in 2012,

with the Three Cities acquisition in

2014 giving the group the kick-start

it was looking for, catapaulting it

from 20 to 40 properties, giving it

the critical mass Bald wanted, and

establishing aha as a South African

hotel group to be taken seriously.

Now for the next five years… C

64 | SEPTEMBER2017 Visit businesstravellerafrica.co.za