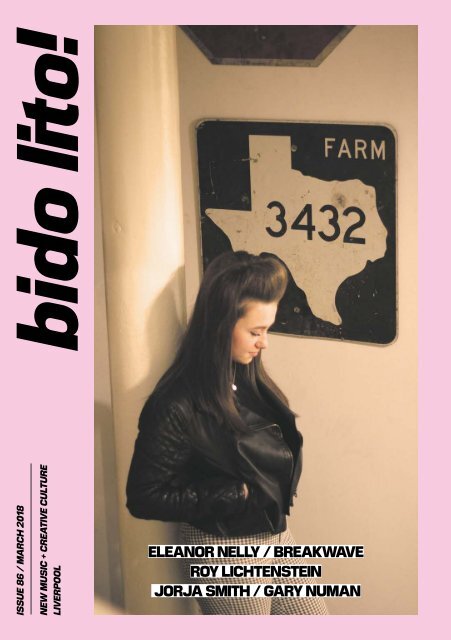 Issue 86 / March 2018
March 2018 issue of Bido Lito! magazine. Featuring: ELEANOR NELLY, BREAK WAVE, FIELD MUSIC, EVERYMAN THEATRE, JORJA SMITH, GARY NUMAN and much more.
March 2018 issue of Bido Lito! magazine. Featuring: ELEANOR NELLY, BREAK WAVE, FIELD MUSIC, EVERYMAN THEATRE, JORJA SMITH, GARY NUMAN and much more.
SHOW MORE
SHOW LESS
Do you know the secret to free website traffic?
Use this trick to increase the number of new potential customers.
ISSUE 86 / MARCH 2018

NEW MUSIC + CREATIVE CULTURE

LIVERPOOL

ELEANOR NELLY / BREAKWAVE

ROY LICHTENSTEIN

JORJA SMITH / GARY NUMAN
---
Sat 3rd Feb • £12 adv

Cash: A Tribute To

The Man In Black

Sun 4th Feb • £18 adv

Rend Collective

Tue 6th Feb • £18.50 adv

Hayseed Dixie

+ Emma McGrath

Fri 9th Feb • £18.50 adv

Alestorm: Piratefest

2018

Mon 12th Feb • £30 adv

Natalie Imbruglia

Fri 16th Feb • £16 adv

British Sea Power

Sun 18th Feb • £17.50 adv

Max & Harvey

Mon19th Feb • SOLD OUT

Dappy

Tue 20th Feb • £8 adv

High Tyde

Fri 23rd Feb • £13 adv

Key West

Sat 24th Feb • £26.50 adv

Scott Bradlee's

Post Modern Jukebox

Sat 24th Feb • £11 adv

Nearly Noel Gallagher's

High Flyin' Birdz

Mon 26th Feb • SOLD OUT

Fredo

Wed 28th Feb • £14 adv

Electric Six

Tue 6th Mar • £27.50 adv

The Stranglers

Wed 7th Mar • £23.50 adv

The Wailers

Thu 8th Mar • £20 adv

Mr Eazi's Life

Is Eazi UK Tour

Sat 10th Mar • £13.50 adv

The Clone Roses &

The Courtbetweeners

Wed 21st Mar • £12 adv

Fickle Friends

Sat 24th Mar • £15 adv

AC/DC UK

& Dizzy Lizzy

ticketmaster.co.uk

o2academyliverpool.co.uk

11-13 Hotham Street, Liverpool L3 5UF

Doors 7pm unless stated

Sat 24th Mar • £29.50 adv

Gary Numan

facebook.com/o2academyliverpool

twitter.com/o2academylpool

instagram.com/o2academyliverpool

youtube.com/o2academytv

Thu 29th Mar • £30 adv

The Wonder Stuff

& Ned's Atomic Dustbin

Love From Stourbridge

+ DJ Graham Crabb (PWEI)

Fri 6th Apr • £22.50 adv

3 Generations of Ska

with Stranger Cole,

Neville Staples Band,

Sugary Staple

Sat 7th Apr • £18.50 adv

Showhawk Duo Live

Sat 7th Apr • £13 adv

The Smyths

Unite & Take Over Tour 2018

Sat 14th Apr • £17.50 adv

Aston Merrygold

Sat 14th Apr • £14 adv

The Amy Winehouse

Experience ...A.K.A

Lioness

Sat 21st Apr • £11 adv

The Verve Experience

Mon 7th May • £27.50 adv

Gomez

Thu 17th May • £10 adv

Tragedy: All Metal

Tribute To The Bee Gees

& Beyond

Sat 26th May • £15 adv

Deep Purple

Family Tree

Fri 1st Jun • £18 adv

The Beat starring

Dave Wakeling

Sat 2nd Jun • £22.50 adv

Nick Heyward

Sat 23rd Jun • £22.50 adv

The Skids

Sat 6th Oct • £12.50 adv

Definitely Mightbe

Fri 12th Oct • £13.50 adv

Elvana: Elvis

Fronted Nirvana

Sat 10th Nov • £12 adv

Antarctic Monkeys

Sat 24th Nov • £15 adv

Pearl Jam UK

Venue box office opening hours:

Mon - Sat 11.30am - 5.30pm

ticketmaster.co.uk • seetickets.com

gigantic.com • ticketweb.co.uk

SAT 20 JAN 7PM

THE STYLE

COUNCILLORS

"OUR

FAVOURITE

SHOP" 2018

THU 25 JAN 11PM

SH*T INDIE

DISCO

THURSDAYS

OASIS

SPECIAL

SAT 27 JAN 7PM

BEN HAENOW

THE RISING TOUR

SAT 3 FEB 7PM SOLD OUT

THE NIGHT

CAFÉ

SUN 4 FEB 7PM

EZRA

FURMAN

WED 7 FEB 7PM

BETH

ORTON

SAT 10 FEB 6PM

BLANK

CHEQUE

+ LUNA

+ ORANJ SON

+ CRAZED

SAT 10 FEB 9PM

HORIZON

15 YEARS OF

PASSION

SAT 17 FEB 11PM

CHOP SUEY!

NU-METAL

ANTHEMS

LINKIN PARK

SPECIAL

TICKETS FOR ALL SHOWS ARE AVAILABLE FROM

TICKETMASTER.CO.UK

90

SEEL STREET, LIVERPOOL, L1 4BH

THU 1 MAR 7PM

SLEEPER

SAT 10 MAR 6.30PM

PINEGROVE

+ PHOEBE

BRIDGERS

TUE 13 MAR 7PM

LEE

'SCRATCH'

PERRY

THU 22 MAR 7PM

FIELD MUSIC

SAT 24 MAR 7PM

BLANCMANGE

WED 28 MAR 7PM

THU 29 MAR 7PM

DEAF

SCHOOL

SAT 21 APR 7PM

COURTNEY

MARIE

ANDREWS

SAT 21 APR 7PM

WEAREYOU

SAT 28 APR 7PM

REEF

THU 17 MAY 7PM

CLAP YOUR

HANDS SAY

YEAH!

SAT 26 MAY 7PM

THE

WEDDING

PRESENT

"TOMMY" 30TH

ANNIVERSARY

TOUR

presents

PLUS SPECIAL GUESTS

MUTANT MONSTER | BRIBES

WEDNESDAY 28th FEBRUARY

0 2 ACADEMY2 LIVERPOOL

TICKETMASTER.CO.UK | ELECTRICSIX.COM
---
BACK TO OUR ROOTS BACK TO THE HEART OF THE CITY

5TH - 6TH MAY • LIVERPOOL BALTIC TRIANGLE

SATURDAY 5TH MAY

DMA'S

THE SLOW READERS CLUB

IDLES • PICTURE THIS

BLACK HONEY • WYE OAK

SUNDAY 6TH MAY

PEACE

SUNSET SONS • BAXTER DURY

THE NIGHT CAFÉ • DERMOT KENNEDY

JAWS • YELLOW DAYS

BILLIE MARTEN • JADE BIRD • LOW ISLAND • MATT MALTESE

NEON WALTZ • NICK ELLIS • PARIS YOUTH FOUNDATION • PUMA BLUE

QUEEN ZEE • SAM FENDER • THE ACADEMIC • THE BLINDERS • THE ORIELLES

AADAE • AIRWAYS • ALASKAALASKA • AMAROUN • ART SCHOOL GIRLFRIEND • ASYLUMS • BANG BANG ROMEO

BENNY MAILS • BEYOND AVERAGE • BILLY CARTER • BILLY LOCKETT • BLOXX • BROOKE BENTHAM • CABEZUDOS

CARMODY • CASSIA • CATHOLIC ACTION • DAMA SCOUT • DANNY BOY AND THE CARRIAGES • DAN STOCK

DANIEL ALEXANDER • DAVE C. RUPERT • DEAD BUTTONS • DISHPIT • FINE CREATURES • GAFFA TAPE SANDY

GEOWULF • GINGER SNAPS • GONNE CHOI • HAARM • HANOVER • HATCHIE • HEY CHARLIE • HOCKEY DAD

HOLIDAY OSCAR • HONEY LUNG • HUSKY LOOPS • INDOOR PETS • JUKE • KATIE MAC • KAWALA • LAURA OAKES

LENNIE DIES • LOVE SSEGA • LUCIA • MALENA ZAVELA • MARSICANS • MODERN STRANGERS • MONKS

NATIONAL PIGEON UNITY • NIGHT FLIGHT • NO HOT ASHES • OLYMPIA • OTZEKI • PARK HOTEL • PLAZA

REDFACES • SAINT PHNX • SAM FRANKL • SEAN MCGOWAN • SHAODOW • SORRY • SPINN • STEREOHONEY

SWIMMING T APES • THE BOHOS • THE HOWL AND THE HUM • THE NINTH WAVE • THE RPM'S • THE WHOLLS

VISTAS • VITAL • VUNDABAR • YUNGBLUD • ZUZU

FESTIVAL VENUES

BALTIC MARKET • BALTIC SOCIAL • BLACK LODGE BREWERY • CAMP & FURNACE

CONSTELLATIONS • CRAFT MINDED • DISTRICT • GREAT BALTIC WAREHOUSE

HANGAR 34 • HINTERLAND • 24 KITCHEN STREET • NORTHERN LIGHTS

RED BRICK VINTAGE • TAP AND STILL • THE TANK ROOM • UNIT 51

2 DAYS & 2 NIGHTS • MANY MORE ARTISTS TBA

DAY TICKETS £29.50 • WEEKEND TICKETS £55

TICKETS ON SALE NOW • SOUNDCITY.UK.COM
---
What's On

Liverpool Philharmonic

March – May

Sunday 4 March 8pm

Music Room

STICK IN THE WHEEL

–

Saturday 24 March 7.30pm

BETH NIELSEN CHAPMAN

–

Thursday 12 April 8pm

Music Room

TALISK

–

Monday 23 April 7.30pm

Film

12A

THE MERCY

–

Thursday 17 May 8pm

NILS LOFGREN

–

Sunday 20 May 7.30pm

Writing on the Wall

THE LIFE AND RHYMES OF

BENJAMIN ZEPHANIAH

Box Office

liverpoolphil.com

0151 709 3789

–

LiverpoolPhilharmonic

liverpoolphil

liverpool_philharmonic

Principal Funders

Principal Partners

Media Partner

Thanks to the City

of Liverpool for its

financial support

Image Benjamin Zephaniah
---
25 Parr St, Ropewalks, Liverpool, L1 4JN

OPEN 12pm - 3am

5pm til 9pm - SUNDAY TO FRIDAY

£2 Slices

£10 Pizzas

2-4-1 cocktails

cheap plonk

12pm 'til 3pm Mon to Fri

Choose 2 Slices
---
EVERY SAT & SUN

BRUNCH

CLUB

NASTY

WOMEN

SATURDAY AY 10AM - 4PM

SUNDAY

10AM - 12.30PM

SUNDAY

ROASTSFROM 1PM

SMALLOR LARGE PARTIES

DOG FRIENDLY

£5

FRIDAY

9TH MARCH

HANNAH'S LITTLE SISTER

JESSICA RAY

ANNA

Art Exhibition & GIG

Doors 6PM

Music 8pm

TS

CONSTELLATIONS PRESENTS

LIVE MUSIC

THURSDAYS

08/03/17: INTERNATIONAL WOMEN'S DAY

SPOKEN WORD TAKEOVER

15/03/17: MONTHLY SPOTLIGHT

REMY JUDE & NU TRIBE

29/03/17: WINTER RESIDENCY

JAM SCONES QUARTET

CONSTELLATIONS

TIONS

a_ Greenland St, Liverpool

w_ constellations.co

e_

info@constellations.co

t_ 0151 3456 302
---
CONTENTS

New Music + Creative Culture

Liverpool

Issue 86 / March 2018

bidolito.co.uk

Second Floor

The Merchant

40-42 Slater Street

Liverpool L1 4BX

Editor

Christopher Torpey - chris@bidolito.co.uk

Editor-In-Chief / Publisher

Craig G Pennington - info@bidolito.co.uk

Media Partnerships and Projects Manager

Sam Turner - sam@bidolito.co.uk

Assistant Editor

Bethany Garrett - editorial@bidolito.co.uk

Reviews Editor

Jonny Winship - live@bidolito.co.uk

Design

Mark McKellier - mark@andmark.co.uk

Branding

Thom Isom - hello@thomisom.com

Student Society Co-Chairs

Daisy Scott - daisy@bidolito.co.uk

Sophie Shields - sophie@bidolito.co.uk

Intern

Maya Jones

Cover Photography

Lauren Jade Keir

Words

Christopher Torpey, Maya Jones, Jessica Greenall,

Nick Booton, Damon Fairclough, James Davidson,

Ian R Abraham, Bethany Garrett, Sam Turner, Sophie

Shields, Richard Lewis, Daisy Scott, Jonny Winship,

Sinéad Nunes, Cath Bore, Glyn Akroyd, Paul Fitzgerald,

Joe Hale, Sophie Brereton, Georgia Turnbull, Conal

Cunningham, Alison McGovern.

Photography, Illustration and Layout

Mark McKellier, Lauren Jade Keir, Adam Szabo, Paul

McCoy, Mook Loxley, Brian Roberts, John Johnson, Tom

Wood, Glyn Akroyd, Stuart Moulding, Day Howarth,

Darren Aston, Gareth Jones, Jerry Kiesewetter.

Distributed by Middle Distance

Print, distribution and events support across

Merseyside and the North West.

middledistance.org.uk

9 / EDITORIAL

Editor Christopher Torpey praises those giving

voice to the working class at a time when our

notions of class structures are more fractured

than ever.

10 / NEWS

The latest announcements, releases and nonfake

news from around the region.

12 / ELEANOR NELLY

Her name may already be familiar to Merseyside

music lovers, but ELEANOR NELLY's journey to

stardom is just getting started.

16 / ROY LICHTENSTEIN

We invite artist and designer Nick Booton to

give his verdict of the pop art maestro, whose

iconic work is showing now in a major exhibition

at Tate Liverpool.

18 / BREAKWAVE

Promoter, producer, tastemaker and DJ: Jessica

Beaumont is using her music to open up space

for innovative new artists and venues.

20 / IN GOOD COMPANY

After a successful return in 2017, The

Everyman's in-house repertory company look

set for another busy year in 2018. Two of the

theatres' directors explain to us why they're

once again going back to the future.

22 / YEP TO REP

As part of their desire to develop their own

homegrown rep company, the Everyman And

Playhouse are investing in some of stage and

screen's future talents.

24 / THE EDGE OF FANTASY

In a world full of noise, contemporary orchestral

troupe MANCHESTER COLLECTIVE are making

a case for music. Will you be moved by their

intensely human experiences?

26 / GARY NUMAN

The electronic music pioneer has endured

some ups and downs across his 40-year career

in music, and is relishing his latest return to

Liverpool to reconnect with his devoted fanbase.

32 / SPOTLIGHT

We take a closer look at some artists who've

been impressing us of late: God On My Right,

Esme Bridie and Wild Fruit Art Collective.

34 / FIELD MUSIC

Over the course of seven albums, Sunderland

brothers David and Peter Brewis have quietly

gone about their business as one of the most

critically admired bands in the UK.

35 / PREVIEWS

Looking ahead to a busy March in Merseyside's

creative and cultural community.

40 / REVIEWS

Born In Flames, Nadine Shah, Ezra Furman and

Nightmares On Wax reviewed by our team of

intrepid reporters.

54 / THE FINAL SAY

On the centenary of women in the UK being

given the right to vote for the first time, MP

for Wirral South Alison McGovern hails the

progress made, and reflects on the continuing

battle for universal acceptance.

The views expressed in Bido Lito! are those of the

respective contributors and do not necessarily

reflect the opinions of the magazine, its staff or the

publishers. All rights reserved.
---
"I had

forgotten

that music

could make

you feel like

that."

MANCHESTER COLLECTIVE

OLIVER COATES

DANIEL ELMS

VESSEL

100 DEMONS

£18/£5

MARCH 2

DOORS 7PM

INVISIBLE WIND FACTORY

manchestercollective.co.uk
---
EDITORIAL

This Is England

"If we're to get away

from a fetishised

view of our class

structures, we need

to hear a wider

variety of voices"

Michael Parkinson's TV interviews were often a sign of a

boring Saturday night in when I was growing up, a brief

period of televisual purgatory before Match Of The Day

came on. Though obviously a master of the one-onone

interview, Parky's technique in teasing out stories from some of

the world's A-listers (and Billy Connolly, every other bloody week,

seemingly) wasn't so complicated that it couldn't be deciphered by

a teenager with even a passing interest. After warming up his guest

with a jovial exchange and a chance to plug their latest vehicle, the

Yorkshire maestro would make his move. Hitching up his trouser legs

to reveal the tops of his socks, Parky would fold his arms and lean

back in his chair as he exhaled, half-conspiratorially, half with the air

of a challenge: "Now, you had a very difficult childhood…"

At first it was amusing how regularly this template was used

as a gateway to more serious territory, a clear signal that we were

transitioning from light-hearted mischief to deep and meaningful

discourse. And then it became kind of weird how similar the ensuing

stories were: a tough upbringing, strong parents, hard work.

Basically, Parky was giving our untouchable celebs a chance to talk

up their humble origins, a free hit. 'Life wasn't easy in that smalltown

rat race – but, underneath all this make up, I'm just like you,

y'know?'

Now, I'm under no illusion that these personal stories are

precisely what we want to hear in these circumstances – the

universal struggle, striving to overcome adversity. It's also part of our

own fascination with the rich and famous. We all want to feel some

sort of connection with celebrities, on a human level; but we're wary

of them spending too much time telling us that they're just 'normal

people' – like us – for fear of them ruining our view that their status

is something to aspire to. When the stars of film and TV hit the red

carpets during awards season, this relationship becomes even more

finely balanced. Not only are these stars expected to look immaculate

in designer clothes, but their speeches need to show us that they're

in touch with the issues of the 'common man'. There's no better

compliment we can find for a performer, while holding aloft their

award – an award they've been given for their talent – than to say

that they're 'down to earth'. Just like one of us.

This, I believe, points to a murky little thought festering in our

collective psyche that we still haven't quite squared ourselves with

– that there's something noble about being at the of bottom of the

ladder looking up. It's a sign of our inverted view of social mobility

that the wealth and fame that comes with achieving success makes

us feel a bit uncomfortable, meaning that those that do manage to

climb a few rungs – get a better job, buy a bigger house – spend an

inordinate amount of time talking up their working-class credentials.

It's part of the reason why certain sections of society scoff at

millennials and their privileges. There's a snooty view that you can't

live comfortably and afford things like cars, holidays and a university

education, and not be working class. More often than not, those that

come in for most ire are the children of people who have worked

their whole lives to create a comfortable existence – and when they

try to relate to their working class background, they're criticised of

virtue signalling and playing down their entitlement.

And still there is even more hypocrisy at play. For every person

who identifies with their working class roots, there is someone ready

and waiting to paint those at the bottom of the societal ladder as

an underclass. "It seems as though working-class people are the

one group in society that you can say practically anything about,"

wrote Owen Jones in his brilliant book Chavs. It's the conflation of

working class with poverty that exacerbates this view, and creates

a polarising vision of a section of society who can be neatly blamed

for, among other things, Brexit's 'howl of rage'.

One way of changing this toxic narrative is to encourage more

voices to be heard. Know Your Place is a collection of essays on the

working class, by the working class – for which one of our regular

contributors, Cath Bore, has written an excellent piece. At the time of

commissioning the book in 2017 – in reaction to a tweet by novelist

Nikesh Shukla – Know Your Place's Editor Nathan Connolly felt that

the post-Brexit, post-Grenfell debate in the country had spiralled

so far away from the point as to being ridiculous. "It felt as though

a lot of commentators felt justified placing their own opinions in the

mouths of the working class," he says in his introduction. "What we

rarely found was the working class allowed to speak for themselves.

An awful lot could be justified in their name without actually giving

them a chance to speak."

Another writer who has contributed an essay to Know Your

Place is the Birmingham-born Kit De Waal, who has set up a

writing scholarship for students from disadvantaged backgrounds.

"Working-class stories are not always tales of the underprivileged

and dispossessed," she wrote in a recent article for the Guardian

calling for publishers and newspapers to make more room for

working class writers. "These are narratives rich in barbed humour,

their technique and vernacular reflecting the depth and texture

of working-class life, the joy and sorrow, the solidarity and the

differences, the everyday wisdom and poetry of the woman at the

bus-stop, the waiter, the hairdresser."

Analysis of the 2014 British Labour Force Survey shows

that publishing is the least socially diverse of all the UK's creative

industries: 43% of people working in publishing, including those

in the influential editorial roles, were from middle-class origins,

with only 12% from working-class backgrounds. Similarly, 47% of

all authors, writers and translators hail from professional, middleclass

backgrounds, compared with just 10% of those with parents

in routine or manual labour. "If the majority of decision makers

– gatekeepers – come from such a narrow social and cultural set

(white, middle-class, good contacts, right accent and cultural

references)," writes De Waal, "then the question of who gets

published and which stories get told is unlikely to change."

I'll be honest with you, I have absolutely no idea whereabouts I

fit into our country's fractured class system – and nor am I bothered.

The fact that I can happily sit in a coffee shop and eat avocado on

toast while working away on my MacBook will undoubtedly make

me middle class in many people's eyes. That's fine with me, as

I'm aware of the privileges that have been afforded me – and my

actions and lived experience will be the ultimate judge of my social

credentials. If we're to get away from a fetishised view of our class

structures, we need to hear a wider variety of voices from those who

identify as working class. Know Your Place is an excellent place to

start.

Christopher Torpey

Editor

09
---
NEWS

Zuzu Headlines Bido Lito! Open Day

Zuzu

For our March Social we're delighted to be joined by power pop star ZUZU, who

has just inked a deal with Virgin Records. The guitarist and songwriter has been

making waves for a couple of years now, and you can catch her on 23rd March

when the Bido Lito! Social checks in at Constellations. PIZZAGIRL and KING

HANNAH also appear on the bill, which follows our first Open Day. If you're

interested in journalism, photography and DIY publication, or you want to come

and get involved with the team, the Open Day will give you a chance to learn

from experts in this field across a series of workshops. Bido Lito! members get

free access to the evening show, as well as a number of events over the coming

months: our Bido Lito! Social live events in April (a special Clockwork Orangethemed

gig at Everyman Bistro) and May (a top secret collaboration which we'll

be announcing soon); plus regular Special Events, such as the members-only tour

of Tate Liverpool's expansive Roy Lichtenstein exhibition, with expert insight from

the gallery's curators. All this action plus the magazine delivered to your doorstep,

a digital bundle of the best new music each month, a Bido record bag and limited

edition free gifts throughout the year makes the Bido Lito! membership one very

attractive offer – find out more at bidolito.co.uk.

Up For Smithdown

SMITHDOWN ROAD FESTIVAL has unveiled its line-up for

the 2018 edition of the South Liverpool extravaganza and

it looks to be their biggest event to-date. BEARDYMAN,

STEALING SHEEP (DJ set) and Dave McCabe's new project

SILENT K are among the names in the first raft of acts

announced to play the free festival on 5th-7th May. Taking

place in bars, cafés and other nooks and crannies along the

Wavertree thoroughfare, organisers are looking to build on

the success of past editions with the introduction of a Big

Top main stage in the Mystery Park. Also announced are

Natalie McCool performing with her new band MEMORY

GIRL, Franz Ferdinand off-shoot MANUELA, and garage

rock juggernauts STRANGE COLLECTIVE.

Beardyman

The Hottest Event In Easter

Walk the Plank

Bringing together some of Liverpool's finest art organisations, FEAST OF FIRE will

provide your Easter with some fiery flair at St. George's Hall between 23rd March and

2nd April. The seven-night spectacular will play host to a medley of world-class fire art,

sculpture and performance, put together by award-winning collective Walk The Plank,

and including collaborations from Africa Oyé and The Kazimier. There's an additional

twist to the Feast Of Fire Lates evening events: SOULFEST kick off the week of

celebrations with Fire In My Soul and MILAPFEST provide the grand finale with a blaze

of colour, music and dance. All events throughout the week aim to raise awareness and

support for the LGBTQ+ community and Liverpool's Mental Health Consortium.

Live Music Innovation On Wirral

WIRRAL NEW MUSIC COLLECTIVE is an independent group of record

labels, music writers, promoters, visual artists, artist managers, magazine

publishers and musicians who believe in music's power to shape a new

future for Wirral. The group is dedicated to nurturing new music, and the

little infrastructure that currently exists in the borough, to support the

local music community, and will do so through its brand new live music

innovation fund. Thanks to The Beautiful Ideas Company and Wirral

Borough Council, the fund has been set up to provide a series of £500

grants for local musicians, promoters or music lovers to help them put on

an innovative live gig in Birkenhead this summer. Any interested parties

should head to wirralnmc.co.uk and fill out the form available.

Building Solid Foundations

MERSEYSIDE ARTS FOUNDATION have been working

tirelessly behind the scenes to support budding

talent and offer artist development to musicians on

Merseyside. Funded by Help Musicians UK, applications

are now open for Round Six of the development

programme, which supports the multifaceted aspects of

the music industry – from studio time to tour subsidies

and help with promotional and equipment costs. Some

of the region's recent breakout acts – including Queen

Zee, She Drew The Gun and Natalie McCool – have

benefited from the programme, which is open to artists

from all genres. If you think you're ready, find out more

and register your interest in the programme by emailing

music@merseysideartsfoundation.org.uk.

Lounge Wizards

We're massively excited to announce a great

partnership with our friends at SAE Institute. In

alternate months we will be inviting one of our

favourite new acts into the studios of their Pall

Mall campus to record a track as part of their

Live Lounge series. You can see the first session

recorded with this month's Spotlight artist GOD

ON MY RIGHT at bidolito.co.uk now. SAE Institute

run courses on a wide range of audio and visual

disciplines with their Liverpool base boasting a

plethora of industry-leading technology with which

students can get to grips while gaining real world

experience. Look out for the next Live Lounge

session coming soon.

Hearing Both Sides Now

Following the large-scale initiative across the North

of England supporting emerging female-identifying

artists and industry professionals, the first OPEN

SPACE event for BOTH SIDES NOW will take place at

Constellations on 17th March. The idea underpinning

Both Sides Now's ethos is to connect women in

music, from the classroom, boardroom and onstage,

while the concept behind the Open Space event is to

welcome conversation from all attendees. The series of

discussions opens the floor to the question of what can

be done to make gender equality in the music industry

a reality. Places are free and you can register to attend

via Eventbrite – food and drink will be provided and

children are welcome to come along too.

10
---
DANSETTE

LAURIE SHAW reveals some of

the inspirational records that

were key touchstones for him

during the making of his new LP,

Weird Weekends.

Binhan

Jake Thackray

Worried Brown

Eyes

EMI

Oyé Additions

Following their bumper 25-year anniversary

celebrations last year, AFRICA OYÉ is showing

few signs of resting on its laurels with three

impressive names announced for their 2018

event. The first trio of names confirmed for the

Sefton Park weekender represent artists who

have transcended the music scenes of their

native countries to perform to huge crowds

around the world. Guinea Bissau's BINHAN,

GUY ONE from Ghana and Gambian artist

SONA JOBARTEH will all arrive in Liverpool for

the weekend of 16th-17th June. More acts are

set to be announced including the coveted Oyé

Introduces slot which is given to a local artist

from the North West's African diaspora.

Where's My Revolutionary Spirit?

Liverpool's musical past has a fierce independent streak

running through it, and a new five-CD boxset from Cherry Red

Records aims to add some detail to that particular narrative.

REVOLUTIONARY SPIRIT: THE SOUND OF LIVERPOOL 1976-

1988 is an extensive collection of gems and rarities from one of

the region's most fertile and productive eras. Artists from the

'second wave' of Merseyside music are featured, ranging from the

cult (YACHTS) to the obvious (ECHO & THE BUNNYMEN) to the

obscure (NIGHTMARES IN WAX). Put together by key observers in

the scene at the time – Bernie Connor, Mike Badger, Yorkie and Joe

McKechnie – the boxset also comes with a 56-page book that goes

into more depth, full of views and insight from the compilers.

Jake Thackray is an underrated British folk singer and

one of the leading lights for me in terms of great northern

storytelling. This song is about a girl writing to an Agony

Aunt column. I think Thackray had a great knack of

immortalising the everyday and he's one of the finest

singers the country has ever produced.

Suede

Stay Together

Nude

One thing I got fascinated with during the recording of

Weird Weekends was the Britpop scene in the 90s. It

seems like it was a rollercoaster of hedonism that came to a

crashing end, but nevertheless it produced some gems, and

one song I heard for the first time when I started the album

was this song.

Gibberish Brewpub

Gloria Gaynor

I Will Survive

Polydor

On The March With EBGBS

Seel Street's basement bolthole has a busy run of gigs

programmed in for March, building on a succession of

intense, sweaty shows over recent months. THE SHEAFS

bring their high-octane indie swagger on 9th March, while

dub degenerates THE WHOLLS swing by on 22nd March

as part of a UK tour in support of their debut, self-titled LP.

Elsewhere, Metal 2 The Masses Merseyside take over the

basement on 23rd March with the first of their regional heats.

You want more? How about RIVAL BONES (3rd), SPARK

(16th), PIST (30th), plus Liquidation every Saturday night?

Sorted.

A Load Of Gibberish

The Baltic Triangle's newest addition Gibberish Brewpub

are hosting a knees-up over the first weekend of the month

with food, booze and music. The Caryl Street venue, set up

by Mad Hatter co-founder Gaz Matthews, is inviting jazzers

BLIND MONK TRIO, bluegrass ensemble DONKEY HOKEY

and other artists to provide the soundtrack as they unveil

their latest batch of brews. There will also be street food from

vegan purveyors Wings And Clay as well as meaty fare from

smokehouse specialists Cowfish. Taking place over the 1st-

3rd March, this is the place to be to sate your gastronomic and

aural appetites.

Partially inspired by the disco-y bits of Separations-era

Pulp, I thought it would be fun to do a more disco-infused

song, which became the seven-minute track Sophistication.

On that song there's definitely a bit in the vocals where I

do a bit of a Gloria Gaynor thing. I like the combination of

telling a pretty grim story over the top of a funky beat.

Blur

Young And Lovely

Food

Damo Suzuki

Competition: Wrong Festival

Invisible Wind Factory, North Shore Troubadour and Drop The

Dumbulls welcome the return of WRONG FESTIVAL on 28th

April, with a line-up that is positively brimming with special

acts from the psych and stoner rock scene. Alt. grunge band

FUTURE OF THE LEFT head up this year's Wrong line-up, with

scene don DAMO SUZUKI joining MUGSTAR, and GNOD, HEY

COLOSSUS and KAGOULE packing out the undercard. We've

got a pair of tickets to the event to give away to one lucky winner

– all you need to do is answer this question: In which band did

Damo Suzuki replace Malcolm Mooney as lead singer? Email

your answers to competition@bidolito.co.uk – the winner will be

notified by email. Good luck!

I feel like this song wears the same kind of trainers as some

of the songs on Weird Weekends. The title track of the

album came about after a few days of hearing this song

quite a lot. Those slightly melancholic chords that Blur

sometimes do definitely crop up, and then the solo is pure

Oasis circa 1995. So in a way I've bridged a gap between

the North and South. Kind of like the M1.

Head to bidolito.co.uk o read (and listen to) more of Laurie

Shaw's selections. Weird Weekends is out now via Black

Leather Soul Music.

NEWS 11
---
12
---
ELEANOR

NELLY

Her name may already be familiar to Merseyside music lovers, but

ELEANOR NELLY's journey to stardom is just getting started.

The years between 16 and 18 are always significant, but

for ELEANOR NELLY they have proved life-changing.

When Bido Lito! first sat down with Eleanor in 2016,

the local singer-songwriter had just been named one

of LIMF Academy's Most Ready artists. Now, she is signed to a

management deal with Decca Records and, with the upcoming

release of her new EP, the incredible pace of the past two years

shows no sign of slowing. People Like Us confirms that Eleanor

Nelly is in it for the long run.

Meeting up with Eleanor during a brief period of down

time, I start by asking her to summarise the past two years. She

describes leaving school – "the biggest relief of my life" – and

the excitement of being signed with a bubbly energy that I come

to realise is something of a signature of hers. Her highlights

from this whirlwind period include writing music in Nashville,

supporting Rhys Lewis on her

first tour and recording in Abbey

Road Studios. It's an impressive

résumé, one that could threaten to

overwhelm your average 18-yearold,

though she is quick to reassure

me. "I've definitely grown up and

found my feet, both in music and

outside of music. It's been hard, but

also the most magical experience."

Eleanor is evidently hardworking

and, while in awe of her success, she

is far from overwhelmed. "It's just

been crazy," is a phrase that Eleanor

repeats throughout our conversation,

but only a fool would think she

couldn't keep up.

Eleanor began gigging around Liverpool at the age of 13,

and she credits the city's supportive music scene as instrumental

to her success. "No one ever held me back and said, 'Oh you're

a bit too young.' Perhaps I was just too persistent; I knew I was

getting into that venue no matter what, and that I would play."

Persistence clearly pays off. At 18, Eleanor's voice is remarkably

mature and confident; this is surely in part because she began

playing live at a young age. Surprisingly, Eleanor tells me that

she had only had six guitar lessons when she started gigging.

"Everyone would be like, 'Try this,' so I learned from older

musicians." This speaks volumes about her ability to throw

herself into and learn from every opportunity. Eleanor's affection

for Liverpool extends to her music taste, which includes local

band Shamona and singer Thom Moorcroft. Particular favourites

are The Hummingbirds, who she has written music with and

supported at the O2 Academy, giving a refreshing outlook of

an artist that remains so invested in local musicians: "The music

scene has changed a lot since I first started gigging but I always

know it's like a second home to me."

In 2015, Eleanor was named One To Watch by LIMF

Academy; the following year, she was one of their Most Ready

artists. "It finally felt like people were taking me seriously," she

tells me of her reaction to the accolades. "I wasn't just some kid

with funny hair who played a guitar that was too big for me." It

would certainly be hard not to take Eleanor seriously once you

hear her voice, but it is a credit to the LIMF Academy programme

for recognising her talent. Eleanor praises LIMF for giving young

musicians in the city a platform: "It's so good to get them into the

public eye in Liverpool, because we're all so supportive."

The Academy experience itself is something that she thinks

will stay with her for a long time, and she's keen to give credit

to the programme for giving her direction when she needed it

most. "Being a part of the masterclass sessions and getting the

"It finally felt like

people were taking me

seriously. I wasn't just

some kid with funny hair

who played a guitar that

was too big for me"

mentoring has been a massive help in me finding my feet, and

working out what route I want to take. You learn things from

industry professionals, from their experiences, that you probably

couldn't learn anywhere else."

"Whether that's exposure, the experience, the mentoring

and masterclasses, or the feedback," she continues, clearly

grateful for both the advice and opportunities afforded to her

through the Academy.

Her performance with the Philharmonic Youth Company at

Liverpool International Music Festival in 2016 remains "the most

surreal experience of my life and forever my favourite memory."

That show, where she worked alongside the composer Katie

Chatburn to perform three songs with the Phil's Youth Orchestra,

showed not only her immense capability in a live setting, but an

ability to be unfazed by performing on such a high-profile stage.

It also showed Eleanor's maturity

when facing a new challenge, and

stood her in good stead for what

was to follow over the next couple of

years, once the doors to the Decca

Family had been thrown open.

As well as her maturity, one

of the first things people comment

on with Eleanor is her enthusiasm,

whether seeing her perform or

meeting her away from the stage.

Her personality is effervescent and

infectious, and you can see her love

for music flowing into everything

she does. But it's more than just an

outlet for her, and has helped her

through difficult times as well as been there to express the good.

"Music is important to me because it dragged me out of a really

dark place when I was younger," she admits. "It [music] helped

me get away from… bad situations, and whatever else the kids

were doing at school. Music saved me from God knows what."

As expected, Eleanor's music has matured over the past two

years since her school days, as the experiences she has been

subjected to have shaped her as an artist. "I think my music has

grown with me; it's developed and matured as I have." People

Like Us places Eleanor firmly alongside today's indie singersongwriters,

who are forging a distinctly modern sound that

borrows from classic country, folk and blues. Eleanor's voice

has also matured and is deceptively rich and warm; it is a softer,

more effortless iteration of her early self, and reminds me of Kate

Stables from This Is The Kit or Louisa Roach from Liverpool's

She Drew The Gun. Vocals take centre stage on this EP, and are

complemented by simple, catchy riffs on guitar or piano. Gone

is the tendency to move wildly between musical genres, which

suited her early gigging days but would perhaps have appeared

disjointed on an EP. Eleanor laughs when I bring this up with

her. "I'm not as extreme as I used to be because I've got people

monitoring it; I used to go from playing AC/DC to, like, Joni

Mitchell."

This is not to say that her new EP lacks variety, and Eleanor

is keen to stress that it has "something for everyone". People

Like Us is no less experimental than her older music, just more

refined. Front Row is the first song Eleanor has written for piano

and it's less country, more acoustic pop; the simple backing

chords accentuate the power of her voice, and the song feels

more emotional than others. By contrast, the title track People

Like Us is an upbeat, bluesy number that reminds me slightly

of Jeff Buckley. This track is also the most interesting lyrically

and best proves her self-declared role as a 'storyteller'. Choke is

one of Eleanor's favourites from the EP, and mine too. Her voice

FEATURE

13
---
effortlessly climbs and falls, and the chorus remains with you

long after the song finishes. All of her tracks achieve that perfect

balance between being innovative and catchy.

Eleanor tells me that she wrote Polaroid, the first track on her

EP, in Nashville. Immediately it's clear that we have arrived at her

favourite discussion topic. The song describes the perfect stillness

depicted in a Polaroid picture. For Eleanor, this picture is Nashville:

"I remember looking out of the window in Nashville and what I was

seeing was the song." Eleanor has been dreaming of a visit to the

city since she was a child obsessed with country musicians and

Texas radio stations. She is evidently still in awe that her dream

came true, and her eyes light up as she describes the trip. "When

I finally got there, I was like 'Yeh, this is what I've been listening

to on the radio, this is what I've been dreaming of'." She tells me

that Nashville was "just lovely, it was warm like Liverpool." Both

cities are famous for having a welcoming musical scene, and have

produced some outstanding musicians. Eleanor agrees "It was

just so musically inclined. Every single bar on all the streets had

a live band playing." She talks of meeting welcoming musicians

who helped her "write some of the most amazing songs I've ever

written". 'Look around here at this place,' she sings in Polaroid, a

tribute to how Nashville has influenced her music.

People Like Us was produced entirely by Cam Blackwood (who

has previously worked with George Ezra, London Grammar and

Florence And The Machine), and Eleanor has had the opportunity

to work with a number of highly successful songwriters over the

past two years. I ask what it felt like working with Sacha Skarbek,

who co-wrote Miley Cyrus's Wrecking Ball and James Blunt's You're

Beautiful. "He had worked with all these amazing people and

then he just had little me in his studio writing. It was surreal," she

exclaims. "I was like, 'Why are you writing with me of all people?'"

It's a question that is obvious to her listeners: at just 18, Eleanor has

a voice and a work ethic to rival most mainstream pop stars. She

may be humble, but she does not pause to wonder at her success.

"I've got to snatch all the opportunities up and get everything I

can from these people that I've always looked up to." It's the same

determination that helped her secure gigs at just 13, and it is bound

to take her even further.

When I ask Eleanor where she imagines it all going, she is

quick to answer: "No idea." She hopes that Decca Records will

become a long-term family for her to grow into, but is aware that

"things like that can end in the blink of an eye". Eleanor takes

nothing for granted; a simple, 20-minute conversation convinces

me that she will make the most of this opportunity. The only

certainty in her future is that she will keep singing: "I wanna be

making music for the rest of my life." If People Like Us is anything

to go by, I certainly hope she will too. !

Words: Maya Jones / @mmayajones

Photography: Lauren Jade Keir / laurenjadekeir.format.com

@eleanor_nelly

Polaroid, the first single from the People Like Us EP, is released on

7th March.

"I wanna be

making music

for the rest

of my life"

14
---
An Arts Council Collection Touring Exhibition presented as part of the National Partners Programme

24 February to 3 June 2018

FREE ENTRY

liverpoolmuseums.org.uk/kaleidoscope

@walkergallery

#kaleidoscope

@A_C_Collection #ACCNationalPartners

Arts Council Collection is managed by Southbank Centre, London on behalf of Arts Council England

Image: Point X, 1965, Phillip King. Arts Council Collection, Southbank Centre, London © the artist
---
We invite artist and designer Nick Booton to give his verdict on the

work of the pop art maestro, whose iconic work is showing now in a

major exhibition at Tate Liverpool.

The current Roy Lichtenstein In Focus exhibition is the latest in Tate Liverpool's in-depth looks at some of the greats of modern

and contemporary art. Lichtenstein's large-scale, comic book style pieces – and the Ben-Day dots technique, which he helped to

popularise – came to be closely identified with the explosion of pop art in the 60s, alongside Andy Warhol and Jasper Johns. Whaam!,

one of his most famous pieces, is on show in Liverpool for the first time since 1993, after being restored to its 1963 glory.

Looking at the breadth and impact of the art on show – which includes some examples of his early interest in landscapes, and his

subsequent fascination for advertising – we were interested to get the perspective of what Lichtenstein's body of work means from an

artist's point of view. So, we asked two of our regular contributors, both designers and illustrators, to give us their own views on what

Lichtenstein – and, indeed, pop art – means to them. Mook Loxley has interpreted some of Lichtenstein's famous comic-style imagery

in his accompanying illustration – and Nick Booton (Bruï Studio) spoke with one of Tate's curatorial team to give an overall perspective

on the exhibition.

"It's not so much the

artist's hand but the

artist's eye where

the value lies"

When I was approached to write something around

Tate's Lichtenstein exhibition, the thing that

attracted me to it was the idea of using my own

artwork as a response and conversation around

the influence of these themes, particularly in the way that visual

artists work now. There are a lot of interesting points that come

out of looking at these types of shows because they can be quite

divisive in some ways, almost a commodity in themselves, but I

think that idea is quite relevant now.

After speaking with Tate's Darren Pih, one of the angles I

was struck by was this idea of Lichtenstein's work being cyclical,

in that it commented on the use of advertising and mass media

but then became so well known that it almost came back into

ownership of the public realm and is mimicked itself within

advertising campaigns today. Darren referenced a Specsavers ad

on a bus that was in a Lichtenstein style, then immediately after

the interview I saw some Northern Rail adverts that hi-jacked

Lichtenstein's distinctive style too. I guess the idea of parody and

ownership is a chicken and egg type situation.

Art and design are merging in the online world and the way

people (inter)act on social media is almost like a brand. Artists

are curators of modern life, choosing what is relevant, humorous

or valuable and finding ways to reflect these ideas through visual

collage. I think the idea of the artist as observer of modern life

is reinforced when we focus on mundane and overlooked ideas

because they take an extra level of attention and intuition to

understand the value in them. This all stems from the pop art

movement and lifestyle artists in New York: their influence is

major, particularly now, so it's a good time to discuss their work

in a modern context.

Could you quickly introduce yourself, and explain your role in

curating this exhibition at Tate Liverpool.

My name is Darren Pih, Exhibitions and Displays Curator at Tate

Liverpool. I curated the Lichtenstein display, which essentially

brings together works from the Artists Rooms collection, which

is a collection of single rooms of works, including artists such as

Andy Warhol, Martin Creed and Louise Bourgeois. Essentially

it consists of 20 works from the early 1960s until the end of

[Lichtenstein's] career in the late 90s, really showcasing his major

themes and preoccupations, as well as his use of drawing on

readymade imagery and comic imagery.

With such a vast archive to pull from, how have you selected

these specific works and what aspects do they communicate

about his practice?

Lichtenstein's interesting because he had a sort of pre-career. He

was a tutor and an abstract painter in the 1950s, but I think it had

to be a survey of the range of subject matter, whether that be

war comics, romantic comics, still life or his later nude series.

You can definitely see the influence of comic strips throughout

his career. When he was searching through reference material,

what was the essence that he was trying to pick out of the

comic frames?

He was selecting an image that was already an emotionally

charged moment or which somehow summarised a narrative that

was ambiguous, and it was a heightened moment of high tension

or drama. It's sort of false as well, somehow, and rendered in an

impersonal style with the way he used this language of painted

dots and stripes.

Removing the visible brush stroke from his work, it's an almost

mechanical reproduction of images, so what value would

people get from seeing this in person rather than through

widely dispersed images online?

I think it's that oscillation between them being machine-made

and man-made. There's an ambiguity in the dots, they're not

perfect and they kind of spill beyond the canvas. That's the

power of the work: they're cheap and expensive, formulaic and

inventive. It's ready-made and hand-made.

He seemed to embrace mechanical processes and new

technology, for instance in the use of projectors to scale his

images up. Would you say in this age he would have worked

digitally?

Definitely, I would think so. There was a sense in which he was

removed from the touch of the artist, I think that was a process

he was working towards. A painted pop brush stroke is really

the ultimate statement of removing yourself. Then it becomes

something that is dispersed and democratised, and somehow

universally meaningful.

He does tend to use a language of images we instantly

recognise, scenes of non-descript romance or banal household

objects. What does he see in these subjects and why are they

presented at such size and scale?

I think it was responding to the ubiquitous power of billboards,

of Hollywood and the silver screen, which was forging a new

language of painting that was larger in scale. The source of

the image would have been minor and very insignificant and

then to monumentalise it asserts the truth of the artificial; mass

16
---
mediated images are somehow of a new nature, it becomes a

new landscape.

It's playfully ironic that there was a higher monetary value to

his larger paintings, this scaling up almost correlated with the

criticism of consumerism.

Ha ha, yes!

So, he moved back to New York around the early 60s, did city

life have an impact on artists like him who may have been

moving away from Abstract Expressionism at the time?

I've no doubt that it did, it [New York] was the centre of the art

world in the early 60s. Art was moving away from something

that is interior, this Rothko idea of spiritual truth, and it was

becoming reflective of something in the world. Art was changing,

it became live, it became performative, it became a critical

reflection of mass media and a subject matter.

I know Lichtenstein described advertising as "a new force",

maybe something to be wary of, which would explain his

fascination with the language of consumer marketing.

It was kitsch as well, he was drawn to cliché subjects. I saw a

Specsavers advert on the side of a bus and it was rendered using

the Ben-Day dots, it looked like a Lichtenstein. It's almost gone

full circle, pop art in turn begins to influence the language in

commercial advertising.

With his subversion of text and image from mass media

sources I wonder if we can see the influence of his one-hit

compositions in today's meme culture, which interestingly, is

heavily informing the landscape of advertising.

I think they're not unrelated. I think with pop art especially there

is this sort of re-dispersal: you're taking very low vernacular

images and then making them monumental and meaningful

and that's not unrelated to the use of memes. It's the power

of the image and I think there's something quite ironic about

Lichtenstein.

He does talk about the separation between himself and the

America he was representing in his images. Do you think the

digital age has increased the cultural gap between the artist

and the subject?

I think it's necessary to critically stand apart and just to be

part of the flux. Maybe that's not such an interesting thing to

be but I think, in a way, Lichtenstein's work is symptomatic of

the use of technology, acceleration of life and the proliferation

of mass media imagery, I think his work is almost like a short

hand for that. In the age of car crash and catastrophe images,

paradoxically people want to see that stuff, which is how

newspapers sell. But, actually, if it's mass reproduced it loses its

charge, you become immune to it – and how do we bring back

the emotional connection?

Maybe it's not so much the artist's hand but the artist's eye

where the value lies and he's able to bring back a human

element to these images. When he came under criticism over

authorship from comic cartoonists, they put on their own pop

art exhibition to demonstrate how easy it was to emulate, but

instead their paintings fell short, maybe lacking this element.

There have been many examples of questions about originality

and authorship, that's why I think Duchamp responded [Duchamp

defended criticisms around authorship by playing up his work's

avant-garde and often obscene nature]. He could see what was

going on and he could see he was part of this lineage.

Do you think rather than the act of painting, it was

Lichtenstein's assemblage of ideas, applicable to a multidisciplinary

audience, that has helped maintain its relevance up

until now?

Of course he is an artist who has had a huge influence on

graphics and interior design so I think you can see he's an artist

whose influence could go beyond art. I think he's still relevant

because it shows how an artist was responding to his age. How

do we make sense of this proliferation, this changing state of

images in the world, how do you create? It's about removing

yourself from the flux of mass media and being able to ironically

make sense of it and to see it for what it is.

Words: Nick Booton / bruistudio.com

Illustration: Mook Loxley / mookloxley.tumblr.com

Photography: Brian Roberts / brianrobertsimages.com

tate.org.uk/liverpool

Artist Rooms: Roy Lichtenstein In Focus is on show at Tate

Liverpool until 17th June, and entrance is free. Bido Lito!

Members will enjoy a curator's tour around the exhibition on 7th

March – full details on how to sign up can be found at

bidolito.co.uk.

FEATURE

17
---
18
---
BREAKWAVE

Promoter, producer, tastemaker and DJ: Jessica Beaumont is using her

music to open up space for innovative new artists and venues, placing

BREAKWAVE at the cutting edge of UK nightlife.

The importance of space and protecting our creative

communities is manifested by Jessica Beaumont's own

organic journey in the music scene. Noting a lack of

creative events and spaces in Liverpool's nightlife, as

well as platforms to promote up-and-coming DJs, Beaumont set

out to fill the void herself. Space is an important element behind

her innovative club night, Meine Nacht, which she started with

Or:la back in 2015 – and she has, in turn, provided opportunities

for the city's grassroots DJs. Her career has naturally progressed

with a bold identity – BREAKWAVE – developing as a result.

Praised for her pulsating sets that have been pumping their

infectious rhythms into venues and onto the radio waves,

Beaumont is currently working on her debut EP that will feature

two tracks on 12" vinyl, set to be released towards the end of this

year.

Informed by the atmosphere she wants to create for her

audiences at Meine Nacht nights, the Breakwave sound is an

extension of what Beaumont has been honing for a number of

years. "It's mainly breakbeat techno and a bit bassy, that's the stuff

I'm producing at the moment and the kind of vibe I want to create,"

she tells me when we meet up to discuss her emergence as one of

the North West's most in-demand DJs. "I get sent a lot of music,

and a lot of good grassroots DJs send me their work, so I'll include

a bit of that in my mixes. Mostly I'll just do my own digging, so I'll

go to record stores and create a mix between ambient techno, the

bassier side of things, breaks and jungle as well. I try to include

a wide variety of genres, so I suppose you could say it's genrespanning.

It makes it harder to mix, but I think it keeps it more fresh

and exciting for the audience."

Beaumont's career started with Meine Nacht, while her own

label (Deep Sea Frequency) and music gradually began to take

shape. The event provided an insight into producing and the

confidence to share her own mixes. "I started making music about

two years ago, but it was just a fun element alongside doing the

event. I didn't play out back then, but I've been DJing since I was

18 when I got my first set of turntables. I was more focused on the

business aspect of it. When I started getting a bit more confident I

kind of launched into my own career: it was pretty steady with the

label, the event was going really well, and I felt more relaxed. That's

when I started taking my own DJing and producing more seriously.

So, it's a recent thing with the production that I'm now going into."

Meine Nacht turns secret, unused spaces into a safe haven

for clubbing communities to enjoy the music they love. Each

event takes place in a different venue, and clubbers don't find

out the location until the night of the show. Beaumont explains

that she started the event at the right time, when it was apparent

that something was lacking in Liverpool's nightlife. Her aim

was to create something that would have a secure spot in the

scene, unlikely to get lost in the noise. "There are so many nights

that start up, say in September when all the students are here,

and then 80% of them drop off. With Meine Nacht, I came up

with the concept of live streaming it in Liverpool when no one

else was doing that. I taught myself how to live stream and

then implemented that into the event, so that's kind of how the

word got out too."

"It doesn't matter

whether you're male

or female, if you're a

good DJ and you're

a good producer,

you're gonna get

somewhere"

Beaumont travels around Liverpool in search of unique

locations to house a more relaxed club night where there are

no overpriced drinks or overwhelming frills. Her experience

of Berlin's nightlife played a great part in how she set up the

event, describing a "more laidback approach and a happier, free

environment" that she wanted to bring a piece of back home to

Liverpool. "Meine Nacht is a more stripped-back approach. No

intense, flashing lights, you know? I don't do it to make money or

show off. I limit the capacity for a reason, because some people

go to big clubs and really enjoy it, but others go and they're really

intimidated and uncomfortable. They have no space to move and

they don't have a good experience. I want the customer to return

and I've been really lucky with that. I do have a loyal fanbase that

attends the parties and that's what keeps it going."

Beaumont has quickly become a pioneer of Liverpool's

underground music scene, catching attention from other events

and venues across the country, as well as worldwide music

platform, Resident Advisor. She is taking part in their Alternate

Cuts Series, which celebrates the UK groups keeping their

local nightlife scene thriving. Sponsored by Absolut, the series

promotes nightlife sustainability and shines a spotlight on the

tireless work done by those at the heart of it.

"They [Resident Advisor] contacted me to collaborate with

them and choose three brands worldwide to take part in this

series. We choose one really big DJ that's current on the scene

[Roman Flügel], someone who wouldn't normally play the set.

It's called Alternate Cuts, because they will be playing music they

wouldn't normally play, so in this instance it's gonna be a 90s rave

set. The focus is on the promoter, so Resident Advisor do a short

film to document their process, and try and get an insight into the

event. When I held my last event at a warehouse in Liverpool on

the dock road, with Courtesy and Skee Mask, they came down

to film that. They also filmed a few other locations that I've used

including an old supermarket, a disused police station and an old

bakery."

As if that wasn't enough to handle, Beaumont has also been

brought in as events programmer at Kitchen Street, and is lining

up a celebration of female musicians alongside The Wonder Pot

for the venue's event for International Women's Day in March.

Even though some semblance of balance is approaching, I wonder

what her experience is as a female in a predominantly male music

scene, and if she's witnessing improvements in gender balance

for line-ups. "I think there's been a shift and I definitely think it's

improving. I haven't experienced any negativity at all. It doesn't

matter whether you're male or female, if you're a good DJ and

you're a good producer, you're gonna get somewhere. It's about

giving people opportunities as well, which is what I'm trying to

do with my night. With places like Kitchen Street giving me a

residency, people are seeing more females playing and performing

and working in the scene, so more and more are wanting to

get involved. That can only get better! There are a lot of female

collectives starting as well, which I notice a lot of, so if I could

give any advice to anyone it's to start a collective: get together, DJ

together, and that'll be another way for girls to get out there."

"The University of Liverpool also asked me to do a

masterclass with them and I've been doing a little more to give

back and inspire the younger generation," Beaumont continues.

"Quite a lot of girls turned up, which was refreshing. I think it's

important to give people an insight into the fact that you can run

your own night, your own label, you can produce, you can do it

all! You just have to manage what you're doing well and have the

confidence to go out and do it, which a lot of people don't."

Striking a balance between ensuring gender equality and

focusing on talent is something that Beaumont thinks is crucial,

even if she's not completely sold on the idea of promoting allfemale

line-ups. "I'm trying to push a lot of women this year on

my line-ups, but maybe not saying it's a 'female only' thing. You

have to be careful with how you word it and ensure there is an

equal balance. In those instances [International Women's Day] it's

good, but other events that are strictly for females only can put

girls off. It shouldn't matter if you're a female: what matters is the

quality of the music you're making, and your technique."

As the conversation comes to a close, I can't help but wonder

the question that's on everyone's mind. How does she gain

access to these quirky locations for Meine Nacht?

"It's about the element of surprise and announcing the

location on the day. People don't even know where they're going

and I sell the tickets, so it works! But then again, that's just the

ethos of my night."

Beaumont may keep her cards close to her chest, but as long

as the appetite for clubbing in unique spaces remains, her work,

and her multifaceted identity as Breakwave, will be at the centre

of Liverpool's vibrant nightlife..!

Words: Jessica Greenall / @jessrg1995

Photography: Paul McCoy / photomccoy.tumblr.com

soundcloud.com/breakwavedj

Alternate Cuts takes place at 24 Kitchen Street on 29th March,

where Breakwave will perform alongside Roman Flügel and

Meine Nacht residents.

FEATURE

19
---
20
---
IN GOOD

COMPANY

2017's return to an in-house repertory company, after a 25-year break,

has been one of Everyman And Playhouse's biggest recent successes.

Two of the theatres' directors explain to us why they're once again

going back to the future.

Sometimes, it turns out the old ways really were the

best. Take theatre for instance. In an age before the

lure of telly and film, most British theatres had their

own permanent teams known as repertory companies.

These tightly-knit groups of actors rattled through productions at

a fearsome rate, sometimes switching shows on a weekly basis.

The work was tough, but the system built strong bonds between

actors and audiences. Famous names like Judi Dench and Ian

McKellen believe it gave them the skills for which they are revered

today.

However, this 'rep' system fell out of favour in the 1970s,

and these days, virtually all British theatres hire actors for one

production at a time. They come in, do the job, then move on.

Liverpool's Everyman Theatre abandoned rep just like

everywhere else, but in 2017 it decided the time was right to

revisit the ways of the past. It had a history of celebrated rep

companies going back decades, with actors including Julie

Walters, Pete Postlethwaite, Alison Steadman and Jonathan

Pryce having made big names for the city, the Everyman and

themselves, and according to the theatre's current Artistic

Director, GEMMA BODINETZ, the rep company dream never died.

"You're always trying to find ways that audiences can

connect with the work you do, and it felt to me that growing a

familiarity with the actors on stage would be a lovely thing to do.

"I'd also observed the director Mike Shepherd working with

his company, Kneehigh, and I could see the rapport he has with

actors, and the shortcuts he can make with a group of people that

trust him. They also share a group responsibility. It's a different

thing when actors feel like they're here for a while, they're part of

the theatre, part of the whole season."

Wanting to capture some of that trust and rapport for itself,

the Everyman recruited 14 actors – including older, experienced

performers and fresh faces straight from drama school – for a

season of five productions, all performed within six hectic months

last year.

And the result? According to NICK BAGNALL, Associate

Director at the Everyman And Playhouse, "it worked beautifully.

We were changing the face of regional theatre, and that was

really exciting."

There were a clutch of prestigious awards too, and The

Stage newspaper said, "Liverpool's Everyman Theatre must

be applauded for resurrecting its repertory company and

repackaging it for the 21st Century".

It should be no surprise, therefore, that the Everyman's rep

company is back for 2018, with seven actors returning and seven

new faces. They launch on 3rd March with the musical Paint Your

Wagon, followed by A Clockwork Orange, Othello and a new

adaptation of Henrik Ibsen's Peer Gynt called The Big I Am.

So why are there four shows this time rather than last year's

five?

"There's been a lot of learning," says Bagnall, "and doing four

shows has already made a big difference. We're not dribbling in

corners with tiredness any more. And also, last year we weren't

able to work in our communities, which a lot of the actors are

really keen on doing. There weren't enough hours in the day."

If the Everyman team was anxious about how its first rep

season would be received, nerves were quickly settled when the

opening production of Fiddler On The Roof went down a storm.

For Bodinetz, who directed the show, it remains a treasured

memory.

"The first preview of Fiddler was the moment I knew we

were doing something special. It was a bit ropey and there were

"You're always

trying to find ways

that audiences

can connect with

the work you do"

things that went wrong, but you could feel something in the

room. You could feel it was a different way of working."

Having successfully resuscitated one magical old musical,

Bodinetz hopes to do it again with Paint Your Wagon. The stage

version of the gold-rush era story is quite different from the

famous film starring Lee Marvin and Clint Eastwood, and it offers

the company of all-rounders plenty of opportunity to let their hair

down. Or hoedown, if you will.

"The palette of musicals we can do is quite limited," says

Bodinetz. "We only have a cast of 14 and a small budget for a

band, and although we choose actors who can sing and move

under the direction of a great choreographer, they aren't musical

theatre specialists. You can't do something like 42nd Street

without exposing them.

"But I was really taken by how funny Paint Your Wagon was,

and there are some really resonant themes in it. For instance,

there's sexism in there, and we're really playing with that. What's

interesting is that the female stories are at the forefront. It's

about women wanting learning, wanting freedom, and it's about

oppression."

Even during the season's planning stages, issues around

sexism have grown in prominence in the public eye, with the

Harvey Weinstein revelations and the #MeToo movement helping

to shift the terms of debate. Something of this mood will also

be reflected in Bodinetz's second show, Shakespeare's Othello,

in which she will be switching the lead character from male to

female.

"I love Othello but I kept thinking that when that first black

general walked onto a Jacobean stage, there must have been

quite a reaction. And I wondered whether that was still true for

a contemporary audience. But I think if a woman turned up in an

army uniform today – a black woman, and a lesbian – she would

be in the same position as that black male in Jacobean England.

"People would ask 'Can she really do what those men do?' or

'Why is Desdemona in love with her and not him?'. I want to take

the audience back to asking some of the questions of themselves

that the original audience might have asked."

The season's other two shows are directed by Nick Bagnall,

who kicks off with Anthony Burgess' infamous A Clockwork

Orange.

"I read the book when I was 16," says Bagnall. "It seemed to

hit me in the stomach. I loved its language, its violence, just the

whole muscle of the book really hit me. When we were thinking

about big titles for this year, I suggested it without really knowing

whether there was a play version of it.

"It turns out that in 1984, Burgess wrote a version for the

stage – a play with music. I read it and realised it's a condensed

version of Stanley Kubrick's film, but it's got a massive

theatricality about it. It moves in and out of music hall, cabaret,

song and dance. No one else has ever done it in its entirety with

Beethoven's music. It's a really big piece of theatre, a proper

Everyman company show. It's incredibly dangerous, but it's also

got a redemptive quality."

The final show is "a massive, open-hearted romp" called The

Big I Am. Freely adapted from Ibsen's Peer Gynt by the Liverpoolbased

writer, Robert Farquhar, Bagnall is excited to be bringing

this fresh new work to the Everyman stage.

"It opens in 1942 when Peer Gynt is born in the north of

England during a bombing raid. It's a story about a man in search

of himself. It all started with a conversation about John Lennon

– the cruel genius. We started thinking about how that tied into

Peer Gynt, and it very much did in the sense that he was a man

who was capable of extreme cruelty but also extreme genius and

extreme questioning.

"It goes everywhere – from Liverpool to Dubai to a hippie

commune to Las Vegas – and we tell the story through 70 years.

It's completely bonkers but also really sad and moving. Bob's

done an amazing job, the dialogue crackles along."

Also integral to the season is the theatre's youth programme,

Young Everyman Playhouse (YEP). Their own show, The City

And The Value of Things, acts as a season opener, and one place

in the main rep company is always reserved for a YEP graduate.

This year, Nadia Anim joins the Everyman's chosen 14.

This integration of youth and experience is clearly important,

with Bodinetz explaining, "Finding meaningful ways that YEP

members can learn from the professionals is hard if actors are just

here for an intense rehearsal and then they're gone." As Bagnall

says, "YEP are involved throughout the whole season, plus all

our assistant directors are from the YEP Directors programme, so

once again they play a big part in it."

If the rep company system pays dividends for the actors and

creative teams, it also gives audiences a unique opportunity to

follow familiar faces through a wide variety of roles.

"You can see an actor go from a Californian gold digger

to playing Iago," says Bagnall, "and just watching how that

development and transformation happens is fascinating. But

you also get a sense of the camaraderie, and you see how an

ensemble can transform throughout the season."

This transformation, it seems, is not confined to the actors

themselves. According to Bagnall, the Everyman as a venue also

enjoys their transformative touch.

"When they arrive they do claim the building, which is great,"

he says. "They create their own special energy, and that's not to

say there aren't loads of bloody problems with people living in

each other's pockets, but the brilliant things outweigh all that,

and we all feel a massive buzz."

Whether the Everyman's 2018 rep season is remembered for

its bloody problems or its massive buzz remains to be seen, but

somewhere in the crack between the two, there's the potential

for magic to be found. After all, rep may be a new way of working

for today's generation, but it remains one of the oldest theatrical

tricks in the book. !

Words: Damon Fairclough / damonfairclough.com

everymanplayhouse.com

The Everyman's new Company season begins with Paint Your

Wagon on 3rd March.

FEATURE

21
---
"It is a great

programme,

it makes

the building

feel alive"

YEP TO REP

As part of their desire to develop a homegrown repertory

company of the future, the Everyman And Playhouse are

investing in some of stage and screen's future talents.

The Everyman And Playhouse theatres' innovative youth

programme, YOUNG EVERYMAN PLAYHOUSE, kicked

off 2018's exciting season of shows with their eyeopening

original production, The City And The Value

Of Things. Entirely their own creation, the performance was

directed, produced and performed by young people between the

age of 14 and 25, allowing budding actors, set designers and

impresarios to get their first taste of a production on the main

stage. The dystopian play not only addressed how we live in

the city, but how we view the people who live within it. Tackling

important issues surrounding homelessness and class, the

students' performances made the audience really question how

much we value the people who populate our cities and what we

can do to help change attitudes.

Noticing some similarities with our own new project focussed

on students, our Student Society Co-Chair, Sophie Shields,

sought out YEP's Director Chris Tomlinson and YEP actors

Leah Gould and Chloe Hughes as they were preparing for their

final performance of The City And The Value Of Things. On the

agenda was the importance of the programme giving young

people the chance to get involved with such a revered artistic

institution.

Would you be able to tell me a bit about the concept of the

Young Everyman Playhouse?

Chris Tomlinson: YEP is a large-scale youth organisation that

we expanded from the Everyman Youth Theatre drama groups.

We went from two to six acting groups, and then from that we

developed the directing and writing courses. It now has producer,

technical and marketing courses. The whole idea of it is to try and

put people at every level and strand of what the main [theatre]

does and seat them within the thinking of the building.

What opportunities do the young people get out of the course?

CT: The actors attend weekly sessions and the main thing they

get out of it is the practical learning of how to devise large-scale

shows for the main stage, and then doing text-driven work for

the Playhouse Studio. On top of that, there are masterclasses

with people who are experts in their field. And then there is just

being in the building – belonging to the space is a cool advantage

to them in terms of learning what the industry is about.

The directing course is a bit different: they undertake a two-year

course that involves a series of masterclasses that culminates in a

festival of their own plays at the end of the year. The production

course is similar: we give them a small budget, they produce a

bi-monthly evening that is completely run by them. Whether it's

poetry nights, spoken word nights, rap battles, it doesn't matter,

we give them the space to try and pull artists in. The writers will

work on a script and it gets passed around the producers and

directors and the actors will perform it, so all the groups work

together to put on the shows. We have a young marketing group

now as well, and they have the same responsibility to promote

their shows as our main communication and marketing teams do.

We get a good age-range of people in: the actors are between

14 and 22; the producers, technicians, writers are a little bit older

due to the nature of the work, so they are between 18 and 25. It

is a great programme, it makes the building feel alive. If we didn't

have it I don't know what we'd do.

Does YEP help work with the main company in any way?

CT: Definitely. There are now 14 professional actors in the rep:

13 recruited nationally, and then there is a space for a YEP actor

for each production. We audition everyone in their classes. It's a

full professional role, paid every week like everyone else [in the

company]. Leah recently got a part in Othello and another one of

our young actors, Phil, is going to take on a part in A Clockwork

Orange.

Have you had anyone gone to achieve success out of the

programme?

CT: I guess it depends on what you measure as success: [if

it's] people going into the industry, yeh, loads! At the moment,

we have one guy from the production course who is on the

producing team for the touring production of Matilda. A few

of our directors have been assistants within the rep company

and are now producing their own shows. We've had actors go

on to drama school or university and are working on becoming

professional actors. A couple of years ago one of our YEP actors

did work with Jeff Young and from that was picked up by an

agent, and now works with The Royal Exchange. It is definitely

successful – the industry experience is something they can take

with them through to university or drama school.

I am working with Bido Lito! on our new Student Society, and

that is very much about providing budding creative people a

chance to get on the ladder. How important do you think it is

to give young people these opportunities?

CT: For me it's a no-brainer, it's vital. Especially at the moment.

Not to get too political about it, but the students are [often]

outpriced out of [higher] education or outpriced [because] of

living costs. The actors pay £4 a session on this course, but

other than that everything at YEP is free. There are even bursary

schemes for people who might need it. To get any form of

training or industry experience for free is vital.

We've got great relationships with LJMU, LIPA, The City Of

Liverpool College and Edge Hill, which help provide somewhere

for these guys to come and be creative. It is so important,

otherwise I don't know what the future is for the next great

play or theatre company in Liverpool. We've got a history here

of creating communities and companies, and, at the moment,

the support isn't huge, which is what YEP is trying to change.

It shows that we value these young people and care about

what they have to say. We also get away with it because of the

beautiful naivety of youth, to get on the stage and just have a go.

I absolutely back that!

Leah and Chloe, do you feel like you have benefitted from the

programme?

Leah Gould: Yes, definitely! Even as a person, my confidence has

grown so much, and just being around like-minded people is

great. Everyone is the same and everyone gets on so there are no

barriers.

Chloe Hughes: Getting your point of view across, how you view

the world and seeing everyone else's point of view is really

helpful, especially when we are devising a piece. It's all about

how people look at life so differently, which really helps to

produce the shows.

What do you hope to be able to achieve from taking part in

YEP?

LG: I've had the opportunity to play Bianca in Othello which I

am so happy about. It's made me believe in myself more, I am so

grateful to be able to get the experience. It's all about meeting

new people as well.

CH: I'm hoping to go to drama school rather than go straight to

university; if not then I want to keep working in theatres, I prefer

them to film.

The production, The City And The Value of Things, was billed

as an episodic drama on the changing face of Liverpool's

cityscape. It all sounds a bit dystopian, doesn't it?

CT: Yes it has definitely got an element of that to it. If you look at

the shows we have produced over the last few years, they have

been based on some big, weighty topics and it all comes from

them [the students]. We felt like this year we wanted to focus on

real life, the everyday and the values of what that is. Liverpool

at the moment is going through yet another facelift in terms of

luxury accommodation and student flats everywhere, which on

one hand is incredible but on the other hand, who is benefitting

from that? !

Words: Sophie Shields

everymanplayhouse.com/yep

22
---
23
---
THE EDGE

OF FANTASY

In a world full of noise,

contemporary orchestral

troupe MANCHESTER

COLLECTIVE are making a

case for music. Will you be

moved by their intensely

human experiences?

In the basement at Invisible Wind Factory, MANCHESTER

COLLECTIVE are playing Henryk Górecki's String Quartet

No. 2, and the audience is spellbound. I've never been to

a performance like this: we're sitting in a circle around the

four musicians, and we are so close that we can follow the silent

communication of their eyes as they challenge and respond to

each other. The show is called The Edge Of Fantasy, and the

quartet are fearless in propelling us across that edge.

From the hypnotic, repeating E note of the cello that underpins

the opening movement, through the jagged rhythms that come

into play, with interludes of hymn-like chordal progression,

Górecki's quartet seems to hint at new potentials in the human

experience, born out of the vast mechanisation of the 20th

Century. We feel the anxiety of something at stake, some vital

essence that might be lost, and yet there is exhilaration in the

sheer scale of the forces set in motion.

"I loved it." ADAM SZABO is the Managing Director of

Manchester Collective. He talks me through the show from the

inside: "The experience feels really raw, it feels really stripped

back. People are super close to the musicians, which does make a

difference. It's kind of a visceral intimacy, which you don't get in a

big concert hall. Most of the work we do is about finding different

ways that our audience can listen to music, and different ways of

listening to music, and different ways of seeing music."

The group will return to Invisible Wind Factory in March,

echoing the idea that they have hit upon a deep connection with

the former wind turbine manufactuary. The venue's low-ceilinged

Substation is exactly the kind of setting where Manchester

Collective feel at home, having previously played in a restored

cotton mill in Manchester, a former steel mill in Sheffield, and a

renovated post office in Hull. "These are cool spaces," Szabo says.

"It feels like you are discovering an authentic part of the city as

well. Invisible Wind Factory feels really kind of Liverpool, to me."

"I suppose part of what we do is about finding the authenticity

in the music, and allowing the audience to feel like they can make

authentic reactions to the music. Everything that we put out –

everything, from the venues, to the players, to what we wear, to

the way that we try and communicate with our audience – has to

come from a place of authenticity."

The experience of classical music in locations of urban

regeneration creates a powerful sense of time and space

unwinding, recycling, and reforming in new figurations. Cellist

Nicholas Trygstad performed at January's event on an instrument

that was made over 200 years ago, making it even older than

the historic building. This is another aspect of the appeal, for

Szabo, in taking classical performance into new spaces. "Most

of the time you only see these instruments in what is basically

a museum environment, a humidity-controlled, well-lit concert

hall environment. They need to be really well looked after, these

instruments, because they're incredibly precious and fragile." No

beer was spilled on the cello at the January event, I am happy to

report.

"It's kind of a

visceral intimacy,

which you don't

get in a big

concert hall"

The collective are hoping to build on the success of The Edge

Of Fantasy for their new show in March, with Szabo pointing

out they're aiming to break through to a different crowd with

this eye-catching offering. "Liverpool is our big project for 2018.

If we get to the end of the year, and nothing else has changed,

but we've built up an amazing grassroots audience here, and we

have a group of people who we can be in dialogue with about the

shows, and discussing how they felt, and talking to them about

programming in the future, then it will be a job well done this year.

That's the mission."

24
---
The new show is a multifaceted beast that features a triple

billing of guest stars, with underground electronic artist VESSEL

opening up proceedings with a collection of live music from his

latest LP, Queen Of Golden Dogs. "Vessel is this really incredible

electronic musician," Szabo explains, visibly excited to bring this

collaboration to Liverpool. "His music, more and more, comes from

a place where he's inspired by classical art and music, and he uses

elements of classical harmony and classical instrumentation. He

also builds a lot of his own instruments."

"The set that he's doing for us combines music for the new

album, mixed with various samples and inspirations that he's used,

and that we have played, so it's a real melting pot."

Fresh from touring with Radiohead – having worked on the

orchestral arrangements for their 2016 album A Moon Shaped

Pool – world-renowned cellist OLIVER COATES will be joining

Manchester Collective's Music Director RAKHI SINGH for the

middle portion of the show – a special set of music for solo violin

and cello, with an added swamp of electronics, including Steve

Reich's celebrated piece Violin Phase. Szabo describes Coates as

"a really incredible cellist, right at the cutting-edge of new music

and the classical world, electronic, and contemporary music. Their

set will be all about finding out how these instruments can work

together."

"The culmination of that half of the show is this piece, Industry,

by Michael Gordon," Szabo continues, "which finishes with this

huge sound, just from one cello, but using this very particular

distortion pedal from the 80s. It'll be good fun."

The performance at Invisible Wind Factory will be the world

premiere of the titular 100 Demons composition, which forms the

main body of the show. A work for electronics and string quartet,

100 Demons has been specially commissioned by Daniel Elms, an

award-winning, contemporary composer from Hull.

"It's a really political piece about fear and manipulation of the

media, and fake news," Szabo says of 100 Demons. The content

chimes with Elms' previous work too, which has been praised for

addressing disparate social, economic, and political relationships

between people and cities. "The setup is that there are speakers

placed around the hall, and the live musicians are there as well, and

it's impossible to tell throughout the piece what sound is coming

from where, what sound is electronic, and what sound is live, being

performed now, in the space. It's a political piece that was born out

of the time it was written in: the Trump era, Brexit, and the whole

fractious political situation. I think it'll be a really exciting work."

"We've built up a wonderful crowd of young people, in both

Liverpool and Manchester," enthuses Szabo when he steps

back to look at what Manchester Collective have achieved over

the past two years. "It's not only an edgy thing, we also have a

bunch of hardcore classical music dudes who come along for

the repertoire, and are like, 'Oh my god, nobody ever plays this

piece!'"

And does Szabo see any conflict in the collective putting

down roots in Liverpool? "We see Liverpool very much as our

sister city. The stuff that is going on here, like the grassroots

music and culture world, is incredible. There's so much that

Manchester can learn from the scene that is going on here.

People want to hear that it's the real deal, and I love that about

this city. People are sceptical and questioning: they don't just take

what they hear on the news and be like, 'Oh yeh, that's definitely

right, let's do that.' People want to know that they're onto a good

thing, and that these guys are for real, and that the music is really

what we say it is. And as the word is starting to get out now – I

hope we can build this into something special."

Audience experience is key to the collective's approach, which

is evident if you've ever attended one of their performances. "Our

mission statement is 'Radical human experiences through live

music,' and everything has to come back to that," Szabo explains.

"It's about not using the music and live performance as kind of a

lukewarm anaesthetic that just blocks out the shit that's going on

in your life. It's not a spa holiday for us. We want people to come

and be moved and changed, and to have a visceral experience.

There's a lot of good stuff on Netflix that you could be watching,

to switch off to for a few hours – but there is this incredible power

in music, where you go and have a shared experience with the

performers and the audience, and you come away feeling like

you're a different person than when you came."

With that sign-off ringing in your ears, you can't really afford

to miss Manchester Collective's next showing. You'll never know

who you might have been by the end of the music. !

Words: James Davidson

Photography: Adam Szabo

manchestercollective.co.uk

100 Demons, featuring music from Vessel and a guest

appearance from Oliver Coates, takes place at Invisible Wind

Factory on 2nd March.

FEATURE

25
---
"Don't accept

the first thing

you come up

with, everything

can be better"

GARY NUMAN

C

M

The electronic music pioneer has endured some ups and downs across his 40-year career in

music, and is relishing his latest return to Liverpool to reconnect with his devoted fanbase.

Y

CM

MY

CY

CMY

It's a Friday night in North London in late 2015. There's a

venue in the area named The Forum. It's open for business,

however the turn on the stage is winding up for the night.

The instruments are silent, the band standing slightly

relaxed, but slightly on edge as there's at least one more song to

perform. The singer clings to his microphone stand and surveys

the 2000-plus people that are stood before him. All of the songs

played in this venue tonight have been drawn from a period

of time that ended a long time ago: 1979-80. All of the songs

played tonight created a household name. All of the songs played

tonight mean so much to the individuals that stand before the

artist.

"I know I don't play these songs very often, but they are quite

good, aren't they?"

The 2000-plus audience howl their appreciation. "Thank you

for coming and thank you for still being there after all this time. I

didn't realise how hard it's been for most of you over the years.

But I do now and I'm very, very grateful."

This is GARY NUMAN, a musician, artist and songwriter with

a devoted fanbase that has strengthened and hardened down

the years. Now, finally, his peers are recognising that consistency

coupled with a belligerent desire to plough his own furrow has

meant that, nearly 40 years after his first release, Numan has

earned the right to be seen as influential. Very influential.

Fronting a punk band, Tubeway Army, Gary Numan nascently

organised his songs into three-chord noises. He picked up the

basic record deal from a fledgling punk label, Beggars Banquet,

and on arriving at Spaceward Studios in Cambridge in late 1978

was astonished to find the previous client had left a synthesiser

in the studio. Switched on and programmed. The teenager

cautiously pressed a key and, without knowing, became one of

the biggest electronic music artists ever.

Numan sits at his desk in his home studio in sunny California.

He relocated with his young family around five years ago and

is currently relaxing before the second half of his Savage tour

begins in Scandinavia and then marches into the UK with a soldout

show at Liverpool O2 Academy (tickets are still available at

Preston Guild Hall, if you fancy a small road trip).

So, with that introduction and an imminent return to the

North West in the offing, is Numan approaching his work in a

different way now than he did, say, 10, 20, 30 or 40 years ago?

"I don't think so," he tells me. "I'm essentially an electronic

music artist so the technology you use is constantly changing

and you have to adapt to that and learn new things with every

album. But, with that requirement understood, it doesn't really

change that much at a basic level. We may record straight to

a hard drive instead of a tape recorder but the process is very

similar: the detail changes but the underlying function is much

the same. You [still] have to write a tune, record it, make it better

with production, mix it and then put it on a format that people

can listen to."

Numan's music has seen artists such as Nine Inch Nails'

Trent Reznor, Dave Grohl, Beck, Marilyn Manson, Billy Corgan

cover and eulogise about the importance of his work. Heck, even

Bowie and Prince have commented on certain areas of his work.

Even with a heavier, industrial music style, has his approach to

songwriting changed today from the very early days of being,

ostensibly, punk?

"Not a great deal. I sit at a piano and come up with tunes.

What happens after that has changed enormously of course but

the basic job of coming up with a tune and structure is much the

same now as it's always been."

"I would suggest don't try to write your version of something

you've heard elsewhere," he continues. "Don't accept the first

thing you come up with, everything can be better. Make melody

the heart of every song you write."

Advice that has been forged through a learning curve that

has seen Numan's album sales veer between the fantastical

and the less so. Yet, for every bump in the road, the journey has

seemed less arduous as the above statement has carried his

expertise into a new generation. A generation that haven't hurled

him into the nostalgia machine. Numan's recent studio album

Splinter (Songs From A Broken Mind), released in 2013, has

arguably some of his best and most complex songwriting of the

last 30 years.

"The bumpier the ride, the more proud you feel to survive

and have worked your way through the more difficult moments.

I've been about as big as you can be, and I've also seen sales

and interest so low it appeared to be all over, more than once.

Coping with success is fairly easy, coping with losing it not so

much. The important thing, the thing that kept me completely

sane and grounded throughout the highs and the lows, is that

it's always been a hobby for me as much as a career. Sometimes

a hobby that paid well, sometimes one that didn't pay at all, but

I've always loved doing it. For me, success is the icing on the

cake, the cherry on top, the cake itself is just being a professional

musician, being in a band and all that entails and that's actually

enough. If you simply enjoy being a part of this, successful or not,

then any extra success that comes your way is just a special treat

once in a while."

After the trials and tribulations of the last 40 years, being

grounded has meant there is a relaxed beauty about how Numan

develops his work. His answers are thoughtful and, for anyone

who has crossed his path, unnervingly honest. Embracing his

fanbase, talking candidly about his back catalogue and attitudes

towards him and his music has seen a gigantic shift from the

loathed to the loved. Something that, during his career, was

absolutely unthinkable. The Ivor Novello awards in 2017 saw

Gary Numan finally get to stand up and be counted. Sharing

an evening of awards dished out to Anne Dudley, Skepta, Bill

Withers, Nitin Sawhney et al, he received one of the coveted little

trophies. "I've been doing this a long time and that was probably

my proudest moment," he admits.

Rising through the tastemaker violence of the music industry

to achieve global success, invoking the chagrin of those that seek

to starmake, Numan has remained. The Ivor Novello Inspiration

Award is years of regeneration finally putting a stamp on an

industry that has mocked and ridiculed his work. To see Numan

lauded and respected in this way is almost payback for some of the

vitriol that he has undertaken to get to this point.

Does he have any idea, I wonder, why he has retained

his popularity in our city? "I don't know. I'm very grateful for it

though," he confesses. "Liverpool is definitely one of those places

that makes playing live such an exciting thing to do. There is an

unbridled enthusiasm you don't always get in some other places.

The Exhibition Centre show was the biggest crowd I'd played to

in Liverpool in decades so that was very exciting. It was the first

show playing songs from the new Savage album, the first time that

my 11-year-old daughter ever performed, so it was quite a night!"

Can you recall a really good show in Liverpool?

"I've played there so many times but I think my favourite was

at the Olympia a few years ago in 2016. I just loved the building

and the crowd seemed particularly up for it."

Liverpool has always embraced artists with creativity and

resilience. After 19 studio albums, two number ones and a UK

albums chart placing of number two for Savage, Gary Numan has

left an indelible mark on an industry that never quite understood

what he was trying to do. That mark is firmly etched on those

that chose to embrace and buy into the otherworldly pop noises

from 1979. It is now 2018 and Gary Numan is still crafting his art,

and finally being recognised for it. Here in Liverpool and across

the globe. !

Words: Ian R. Abraham / @scrash

Photography: John Johnson / johnjohnson-photography.com

garynuman.com

Gary Numan plays O2 Academy on 24th March.

K

26
---
Audio production degrees

and short courses

at your local Liverpool campus

Introduction to Ableton Live

Professional Mixing and Mastering

Electronic Music Production

Songwriting and Music Production

SAE Liverpool

38 Pall Mall

Liverpool

L3 6AL

0151 255 1313

enquiries@sae.edu

www.sae.edu/gbr/audio

@SAEUK

@SAEInstituteUK

@sae_institute_uk

#proudtobecreative
---
Box office:

theatkinson.co.uk

01704 533 333

(Booking fees apply)

–

: TheAtkinson

: @AtkinsonThe

: @TheAtkinsonSouthport

The Atkinson

Lord Street

Southport

PR8 1DB

Music

Woody Guthrie:

Hard Times and Hard Travelin'

Fri 23 February, 7.30pm

Marcus Bonfanti

Fri 2 March, 8pm

Grateful Fred's Presents

Bronwynne Brent

Wed 7 March, 7.30pm

Sam Kelly & the Lost Boys

Sat 10 March, 7.30pm

Moya Brennan

Thu 15 March 7.30pm

Kathryn Roberts and Sean Lakeman

Sat 17 March 7.30pm

Friends of Folk

Julie Felix

Thu 22 March, 7.30pm

Comedy

Phil Wang: Kinabalu

Wed 28 February, 8pm

Laugh Out Loud

Sat 3 March, 8pm

Mitch Benn - I'm Still Here

Fri 9 March, 8pm

Simon Evans: Genius

Thur 15 March, 8pm

Carl Hutchinson Live

Fri 16 March, 7.30pm

David Baddiel My Family:

Not The Sitcom

Sat 17 March 7.30pm

FILM

Sold out

Southport Film Guild

Things to Come (PG-13)

Wed 7 March, 7.30pm

Image: Marcus Bonfanti
---
4th Annual Festival of

Experimental Music and Technology

10th - 14th March 2018

Liverpool

Featuring:

(Mini) Rocket Science

Ensemble 10/10

Cellophonics

Electric Odyssey

Electronic Music and

Video Showcase

Interactive Traces

Emerging Voices

liverpool.ac.uk/music/events/opencircuitfestival
---
We believe passionately in Liverpool's new music and creative culture. As you're

reading this, we're pretty confident that you do too. By becoming a Bido Lito!

Member you'll be joining us to champion the music and culture that makes Liverpool

such a vibrant and exciting place to live and work in. Plus you'll be supporting

independent media, which we believe is more important than ever before.

• BIDO LITO! MAGAZINE DELIVERED to you first every month.

• MONTHLY DIGITAL BUNDLE of the best new Liverpool music,

including brand new tunes, remixes and session tracks.

• FREE ENTRY to our monthly Bido Lito! Social with live sets

from the brightest talent in the coolest venues.

• FREE ENTRY to our regular Special Events – curator's tours,

Q&As, film screenings and more.

• MONTHLY PRINTS by Bido Lito! photographers, illustrators

and designers.

• EXCLUSIVE OFFERS from Liverpool's most exciting cultural

organisations.

• THE BIDO LITO! JOURNAL 2018. A deluxe publication

celebrating 12 months of Liverpool music and culture.

• BIDO LITO! RECORD BAG as a free joining gift.

Sign up now at bidolito.co.uk

30
---
UPCOMING

BIDO LITO! EVENTS

23.03.18

The Bido Lito! Social

ZUZU

PIZZAGIRL

PALE RIDER

Constellations

07.03.18

BIDO LITO!

SPECIAL EVENT

LICHTENSTEIN

IN FOCUS

CURATOR TOUR

Tate Liverpool

19.04.18

The Bido Lito! Social

A CLOCKWORK SOCIAL

EYESORE AND THE JINX

CARTWHEELS ON GLASS

Everyman Bistro

Tate Liverpool curators will

give Bido Lito! members an

exclusive tour of this popular

exhibition of one of the

most influential pop artists

of the 20th Century. As

Lichtenstein's iconic Whaam!

painting joins the exhibition,

Tate staff will set the artist's

works in context and tell the

story behind the pieces in this

fantastic retrospective. Don't

miss the chance to get the full

story of an artist who is up

there with Andy Warhol and

Jasper Johns.

MEMBERSHIP REVIEWS 31
---
SPOTLIGHT

GOD ON MY RIGHT

Liverpool-born brothers Sean and Michael Hollywood are channeling

their inspirations through a fizzing strain of darkwave electronica.

"Music is one of

the purest forms

of art – it's got

the power to bring

people together"

Alternative electronica duo GOD ON MY RIGHT have nailed

their delectably dark aesthetic, and created immersive pop

tunes reverent of late 80s synth-pop. With influences ranging

from Muse, Radiohead and Nine Inch Nails – of whom they both

have matching tattoos in honour – the Liverpool brothers have

made sure their music keeps their inspirations in mind all while

creating something fresh. "Our music is quite direct and focused,

and although often heavy and aggressive, it's more often about

restraint."

Having grown up with a mutual admiration for expressive

musical bombast, it took some time for the pair to put their sibling

chemistry to use on their own projects. "We have always talked

about doing a project like this," says Sean. "We worked together

a lot in the past on film and art projects but lived at opposite

ends of the country, so it's only now that we have finally been in

a position to really do this properly. We've always loved music

though and we have really similar tastes." Deltasonic Records

were suitably impressed by the possibilities that the sibling

powerhouse possess that they released the pair's debut EP,

Swallow, at the end of 2017.

God On My Right's latest single, Not So Young, demonstrates

their ability to keep both electronica and 80s synth pop separate

and conclusive. A mini-manifesto of sorts, the track is indicative

of the duo's outlook on other forms of art – and also the world

about them. "We don't close our eyes to what's happening

around us and feel really strongly about a lot of issues, so that

will always seep into what we are doing in some way."

"I like playing a song we have called Fear," says Sean, "as it's

a chance to let loose a bit and have a bit of a release. Most of our

songs don't allow for that. Black Rope is always great to play,

even on a really bad night we usually get a good reaction from it."

"I enjoy playing Black Rope too," chips in Michael. "Its layers

build to a bit of a frenzy and to feel an audience nodding their

heads to the beat as you play is pretty cool. You have to see us

play these songs live to know what they say about us though."

Both Sean and Michael are intent on their reasoning on why

music is important to them, and ultimately the reasoning abides

by the rolling inspiration to why they continue to make music.

"Music is one of the purest forms of art. Nothing engages with

our emotions as directly and as profoundly as music does – it's

got this amazing power to bring people together."

That pull towards the thrill of a live show is evident in God On

My Right's output, one which is echoed by Sean's outlook. "Every

time I see a great show I get that inspiring feeling again that helps

keep me going." The gripping experience that is a Young Fathers

gig has obviously left a mark on the Hollywood brothers, as they

list the trio from Edinburgh as an ideal act to support in the future.

"We have so much respect for them as artists in terms of what

they stand for." Although, they wouldn't turn down Nine Inch Nails

either. "If Trent ever called, we'd come running without hesitation."

Words: Daisy Scott

godonmyright.com

God On My Right play District on 1st March. Swallow is out now

via Deltasonic Records.

Head to bidolito.co.uk now to watch God On My Right's exclusive

SAE Live Lounge session in association with Bido Lito!

32
---
ESME

BRIDIE

With her first full-length album

due for release in March, this

emotive singer-songwriter is

finally ready to step into the

limelight.

"I definitely

only play songs

that I connect

to lyrically"

If you had to describe your style in a sentence, what would

you say?

I'd say my music style is a combination of contemporary folk

and pop. The folky aspects include storyteller lyrical themes

and intimate vocals, whereas the overall song structures and

arrangements give it an element of pop.

How did you get into music?

I always wanted to be a writer from a young age. I used to write

stories and poems and then when I began learning guitar at 13,

these stories and poems turned into songs. From then on I was

obsessed, and I knew this was what I wanted to do. More than

anything, it's the songwriting that drives me.

Can you pinpoint a live gig or a piece of music that initially

inspired you?

I remember going to see a singer-songwriter called Ingrid

Michaelson when I had just started writing songs. I remember

being completely captivated by her performance. I think that was

the first real live gig I went to see.

Do you have a favourite song or piece of music to perform?

I really love performing a cover of Leonard Cohen's Bird On The

Wire. The lyrics are incredible! I'm not sure what this says about

me, it probably just shows that I find lyrics really important. I

definitely only play songs that I connect to lyrically.

If you could support any artist in the future, who would

it be?

If I could somehow go back in time and support Carole King,

or maybe James Taylor, that would actually be a dream come

true. Of current artists, Laura Marling or The Staves would be

incredible. I would actually cry of happiness if that happened,

ha!

Can you recommend an artist, band or album that Bido Lito!

readers might not have heard?

Anaïs Mitchell is an incredible American singer-songwriter. Her

songs have such intelligent lyrics. I particularly love her album

Hadestown, which follows the ancient Greek myth of Orpheus

and Eurydice. If you like artists that tell stories with their music,

you should definitely give it a listen!

esmebridie.com

Today It Rains is released on 23rd March via Klee Records, with

an album launch at Studio2 on 22nd March.

WILD FRUIT ART

COLLECTIVE

Jamie Roberts from esoteric, guitarjamming

rock curveballs WILD FRUIT

ART COLLECTIVE talks about the

group's "scatty" origins.

"The act of

writing a lyric and

setting it to music

is inherently

political"

Have you always wanted to create music?

I can't pinpoint the moment I knew, but I read guitar magazines

for about seven years before I ever picked up a guitar as my

father was an avid reader, so I guess I must have always intended

to play. It wasn't til I was about 15 my mother showed me how to

play Seven Nation Army. I'd drive her mad playing it constantly;

she always said if I worked as hard in school as I did at guitar I'd

achieve anything I wanted, but all I wanted to do was to play.

Can you pinpoint a live gig or a piece of music that initially

inspired you?

I remember the first time somebody gave me Nirvana's greatest

hits when I was about 10 and that being something that really

excited me. But when we started the band, it was all the

Trashmouth Records stuff that inspired us; we had years of beige

indie dross and all of a sudden there was a vibe of 'scattiness'

that really appealed to us all [as a band]. But since those days

we've found our own thing that's away from that. We have no

intention of replicating anybody else.

What do you think is the overriding influence on your

songwriting: other art, emotions, current affairs – or a mixture

of all of these?

I've become kind of anti-politics in music lately, it's all too easy

to oversimplify just to make people agree, and, if we're honest,

these things are more nuanced than you can explain in a catchy

chorus [so] it kind of seems irresponsible. However, I think the

act of writing a lyric and setting it to music is inherently political.

Writing about being unhappy or happy, hungry or full, awake

or asleep, that is political because when you are describing any

state of being, the question becomes why? And this inevitably

reaches back to politics. I don't claim to have all the answers,

most of the songs are more like investigations.

Do you have a favourite venue you've performed in? If so,

what makes it special?

In Liverpool, District is my home turf. I put on a lot of shows

there and, full disclosure, Jayne and Eric who run it have been

two of my biggest supporters for years, I owe them more than

I could ever repay. The sound there is phenomenal for a band

like us, the big open space complements our layers of noise

excellently.

If you had to describe your music in a sentence, what would

you say?

In a world where the only music that exists is Joy Division, we

want to be Led Zeppelin.

wfac.bandcamp.com

Wild Fruit Art Collective's new single Fabric is out now.

SPOTLIGHT 33
---
PREVIEWS

"There's a kind

of defiance in

playfulness"

GIG

FIELD MUSIC

Arts Club – 22/03

Over the course of seven albums, brothers David

and Peter Brewis have quietly gone about their

business as one of the most critically admired

bands in the UK. Open Here, their latest effort, is

their most expansive to date.

Sunderland was the first region to declare a result in the EU referendum of 2016, giving

us the first sign that the country was lurching towards Brexit. Many people see it as

the first rumbling of the howl of rage that came to define the divisions in the country,

cracks that only seem to have grown wider since. Anger, frustration and a sense of

disenfranchisement all came bubbling to the surface.

That Sunderland became synonymous with the Brexit vote is a little harsh, indicative of the

picture painted by some that working-class northerners were to blame for tipping the balance.

Sunderland is, in fact, no different to dozens of towns and cities across the country who once relied

on industry to power them, and have been left dealing with the consequences of privatisation ever

since. All they did was count the votes the quickest.

It's from under this cloud that Sunderland brothers Peter and David Brewis make their return,

with their seventh LP as FIELD MUSIC. And on first listen to Open Here, you'd be forgiven for

thinking that all the Wearside doom and gloom was blown out of all proportion. It's a joyous prog

pop masterclass, replete with fleet-footed orchestral passages that elevate it beyond the level of

'just another album'. Some critics have already been hailing it as one of the year's best so far, and

it's hard to disagree: the sumptuous production locks together a plethora of inventive ideas from

a rotating cast of musical luminaries from the group's home base of Wearside. Echoes of Peter

Gabriel, Talking Heads and even Madonna abound, making for a bit of a romp – but, scratch beneath

the surface and you'll find that Open Here has a bruised heart.

"I've been down and angry about the state of everything lately," songwriter David admits. "Our

town has become infamous in that it was the first place that voted for Brexit, and that threw into

really stark relief loads of fears I have about where we live. It's been a downtrodden place for quite a

long time and people look for someone to blame."

It's a sentiment that his brother Peter echoes, hinting that the album's surface level brightness

is a mask for something that hits an awful lot deeper. "With some things that have been happening

personally to us recently – and obviously the things happening in the wider world – there's a kind

of defiance in playfulness, and that's what we were trying to capture. It isn't escapism, but it's an

attempt to confront those things with a deliberate sense of fun. Fun in the face of hardship. We set

out to have a good time making this record, in spite of everything."

The album's stand out single, Count It Up, is a case in point: a song born out of frustration, but

with a hook that marks it out as an instant classic. The thread that runs through it – a list of things

that western white men take for granted – is a familiar enough musical trick, layering more and more

privileges over a snaking, funky beat. It's perhaps a bit too obvious to be subversive, but it's still a

statement that leaves its mark.

"I went through a period not long after the global financial crisis when I read a lot about

economics," David continues. "There's a section in a book by Joseph Stiglitz called Making

Globalisation Work about how those on the right hand side of the political spectrum tend to ascribe

their fortunes entirely in the frame of their own talents; if somebody is poor it's because they're

stupid, and if I'm rich it's not because my parents gave me a great start in life, or money, or a great

education, it's because I'm talented and brilliant. I think all of that fed in to this howl of rage set to

what's basically my version of Material Girl."

Field Music came through the indie ranks at roughly the same time as The Futureheads, and the

Brewis brothers' alt. folk/art rock amalgam has stood the test of time much better than their fellow

Wearsiders. The duo's past five albums have all been made in their own studio, a space in a riverside

industrial unit that they were free to shape into their own creative environment – and a studio that

has just been bulldozed. For Peter and David, shaping and playing together in that studio was a

form of joyful exorcism. The space became a sanctuary away from everything political and personal,

a cocoon of creativity – and the eviction notice served to them was the impetus they needed to

finish Open Here, which brought together a host of musician friends and one-off collaborators.

One of the delights of Open Here is the way songs spiral off into lush waltzes of woodwind and

brass. The time limitations imposed on them by the closure of their studio forced David and Peter to

connect with these musicians – Sarah Hayes on flute and piccolo, Liz Corney on vocals, Pete Fraser

on saxophone, Simon Dennis on trumpet and flugelhorn, a Cornshed Sisters choir and the regular

string quartet of Ed Cross, Jo Montgomery, Chrissie Slater and Ele Leckie – in a different way. The

co-collaborators were invited to leave their mark on the music, giving the LP a sense of scale that

couldn't be achieved between the two brothers. A collection of these musical guests, under the

name the Open Here Orchestra, joined the band for two triumphant live shows at Northern Stage in

Newcastle in February, and are set to hook up with them again for a date at The Barbican in May.

Parenthood has also been a touchstone for both Peter and David, with two songs on the LP

directly referencing experiences relating to their young families. Aside from Father And Son, there

aren't too many songs that jump to mind that are built on the experiences of fatherhood. Share

A Pillow is Peter's ode to the bed-hopping ways of a toddler, even if it has often been mistakenly

interpreted as a rant at other bed-hopping ways. And David's powerful No King No Princess,

written in response to the birth of his daughter, rails against society's fascination with gender

stereotypes, and how damaging they can be to young children (sample lyric: "You can dress up how

you want/And you can do the job you want").

"People have a sort of romanticised idea of feelings that are painful or dark, that they are more

meaningful," says Peter, "but when I've been through dark times, I find that there isn't a lot of

romance in that, that I function better and get more meaning out of positive experiences."

The skill with which the Brewis brothers have spun a variety of personal experiences into this

wholesome album is dazzling, tiptoeing along a line between turmoil and joy with what looks to be

great ease. The fact that they've come out of a period of great turbulence with such an optimistic

view is testament to their ability as musicians. Underestimate them at your peril.

Words: Dariusz Kubicki

field-music.co.uk

Field Music play Arts Club on 22nd March. Open Here is out now via Memphis Industries.

34
---
Open Circuit

FESTIVAL

Open Circuit Festival

Victoria Gallery and Museum –

10/03–14/03

Held in the venerable Victoria Gallery and Museum on

Brownlow Hill (the building that coined the term 'Redbrick

University', trivia fans), OPEN CIRCUIT FESTIVAL is

a celebration of avant-garde music. Curated by the

Interdisciplinary Centre for Composition and Technology (ICCaT),

based in the Department Of Music at the University of Liverpool, the

centre specialises in research that investigates the very fabric of sound.

Their ethos sees staff and PhD students working together to explore

how music composition and sonic artforms relate to new technology,

performance and perception.

The 2018 event opens with a sterling double header on Saturday

10th March as (Mini) Rocket Scientist welcomes legendary free jazz

saxophonist EVAN PARKER performing with instrumental mavericks

ROCKET SCIENCE. The evening event sees the Royal Liverpool

Philharmonic Orchestra's ENSEMBLE 10/10 perform a concert of

American and British contemporary music curated by ICCaT in

conjunction with Royal Northern College of Music conductor Clark

Rundell. A new work by Liverpool composer Matthew Fairclough

takes its place alongside contemporary pieces by Wubbels, Meredith,

Mincek and Horne. Alongside this, a new work by French composer and

installation artist GILBERT NOUNO – ICCaT's composer-in-residence

for 2018 – will be on display in the VGM café.

Monday 12th March sees Cellophonics take place as JONATHAN

AASGAARD, principal cellist for the Royal Liverpool Philharmonic, leads

an afternoon concert of virtuosic performance for cello and electronics.

This is followed by an evening concert from PIXELS ENSEMBLE

(ICCaT's ensemble-in-residence for 2018) featuring acclaimed young

guitarist SEAN SHIBE. Tuesday 13th March sees the festival's Electronic

Music And Video Showcase take place, an annual fixture which focuses

on the relationship between audio and visual through fixed media work.

All performances will be projected in the concert hall through multiple

loudspeakers creating a virtual "cinema for the ear". The evening

concert will be centred around interactivity, improvisation and audience

participation as the MERSEYSIDE IMPROVISORS ORCESTRA take to

the stage.

The festival reaches its finale on Wednesday afternoon with

Emerging Voices, as Pixels Ensemble return to perform exciting new

collaborations with PhD candidates from the University Of Liverpool. All

events are free but interested parties are advised to reserve tickets as

places are snapped up swiftly.

Mim Suleiman

GIG

Mim Suleiman

Buyers Club – 09/03

All-female nightlife collective SISBIS touch down at Buyers Club

for their biggest live show yet, with leftfield Afrobeat sensation

MIM SULEIMAN at the helm. The Zanzibar-born singersongwriter

and campaigner – commonly known as Mama

Africa Of The Modern Era – will be filling the dancefloor with a mix of drum

machine beats, ukuleles, percussion and synth magic that will undoubtedly

inspire you to get up and lose yourself in their bouncy grooves.

Suleiman moved to the UK from Zanzibar in the 1980s, teaching

metallurgy at the University Of Birmingham before turning her focus to

music. In a 2017 interview with BeyondSkinMedia, Suleiman credited this

career change as a massive force for good in her life. "[Who] was once a

person of no art has become now an artist within 15 years... it's given me

a depth of life I've never had before."

A passionate collaborator with world-famous artists (Baaba Maal,

Paul McCartney, Amadou & Mariam), Suleiman will be bringing her ultramodern,

Afrobeat-inspired futuristic pop music to Liverpool. The crowd

will be treated to a heady mix of soul, disco and deep house, with songs

that swell with love and affection. Suleiman deftly navigates themes of

freedom and oppression, unity and everyday life, predominantly sung

in her native Swahili, and skilfully accompanied by traditional Tanzanian

percussion. SisBis' resident DJ – the Sicilian-born, adopted Scouser

GIOVANNA – will also contribute an electric DJ set full of Afrobeat and

hip hop to the festivities.

For this show, SisBis are teaming up with Africa Oyé to raise money

in aid of women's refugee charity, MRANG (Merseyside Refugee And

Asylum Seekers Pre And Postnatal Support Group). MRANG work with

asylum seeker and refugee women and their children, including victims

of trafficking, sexual violence, domestic servitude, and other forms of

gender-based violence and human rights abuses. Suleiman's inspiring

lyrics and infectious melodies will no doubt resonate with the themes

of the night, and those of SisBis and Africa Oyé; themes of acceptance,

tolerance, positivity and love.

PREVIEWS 35
---
PREVIEWS

GIG

Lee 'Scratch' Perry

Arts Club – 13/03

Lee 'Scratch' Perry

At 81 years old, LEE 'SCRATCH' PERRY is one of the longestserving

reggae producers and artists of all time – not to mention

one of the most loved. The Jamaican's innovative style and

creative genius have seen him become one of the biggest

reggae influencers in the world, pioneering a distinctive sound

that has formed the basis of decades of exploration in dub. His

2013 remix of Forest Swords' track Thor's Stone showed how

deep his influence stretches, opening up his music to a world

of groundbreaking contemporary electronic artists. With a big

following in Liverpool, 'Scratch' knows he'll feel the love in Arts

Club once more.

CLUB

Eyez

North Shore Troubadour – 09/03

On a mission to revolutionise grime across the UK, fast-rising grime

MC EYEZ is bringing his infectious presence and stage persona to

an intimate Liverpool show from the team behind the successful

Merseygrime nights. Starting in his home town of Derby and

climbing the grime ladder by winning all the rap battles thrown

at him, Eyez is one of the few MCs giving the blossoming genre a

regional voice. After being part of the winning team at the 2016

Red Bull Grime-A-Side – where he was named man of the match in

the final – Eyez went on to host the show in 2017 and now counts

scene don Wiley as one of his fans.

Eyez

EXHIBITION + GIG

Nasty Women Launch

Constellations – 09/03

Constellations is being transformed into an exhibition space for

female-identifying artists as part of the global NASTY WOMEN

movement. Nasty Women is made up of art collectives all over the

world and serves to demonstrate solidarity in the face of threats to

the roll back of women's rights, standing up and speaking out against

intolerance in all its forms. Over 40 artists will be showcasing their

work in the venue, with a line-up of talented musicians slated to play

the exhibition's opening night. HANNAH'S LITTLE SISTER head up

proceedings, with their gravelly, bruised blues rock proving to be the

perfect hors d'oeuvre to what the exhibition has to say.

EXHIBITION

Viking: Rediscover The Legend

The Atkinson – 31/03-07/07

If traditional works of art aren't your thing then ancient Norse artefacts

might just be more up your street. The most significant Viking

treasures ever discovered in Britain will be on display together for the

first time at The Atkinson in Southport. VIKING: REDISCOVER THE

LEGEND will feature historical objects from The British Museum and

The Yorkshire Museum that will offer you a new perspective on how

Vikings shaped every aspect of British life. Featuring one of the UK's

most famous Viking collections – The Vale Of York Viking Hoard – and

showcasing groundbreaking archaeological research, the exhibition

reveals what it was really like to live as a Viking.

CLUB

Onra

24 Kitchen Street – 16/03

Onra

In support of his forthcoming album due to for release in March, a rare appearance from the globetrotting

Parisian beat maker ONRA will take place in the Baltic's disco bolthole. Bringing with him a mix

of jazz through to funk, as well as a multitude of refreshing takes on traditional hip hop, the experimental

DJ and producer is sure to make Kitchen Street his home for the night. With six albums and numerous

EPs already under his belt, Onra is known as one of the most exciting producers around. His Chinoiseries

trilogy will be completed with his upcoming release, with his edits praised for their splicing of traditional

hip hop with Chinese pop influences.

FILM

Doc'N Roll

FACT and British Music Experience – 28/03-01/04

PLAY YOUR GENDER, a film documenting the disparities in the number of

female music producers and the consequences of this for female recording

artists; and SOME OTHER GUYS, a feature looking back at Liverpool's vibrant

music scene in the 1960s, centered around the rise and fall of Merseybeat

group The Big Three, are just two of the films premiering at this year's DOC N'

ROLL FILM FESTIVAL. Alongside some brilliant and thought-provoking music

documentaries, there will also be Q&As with filmmakers and artists as well as

live performances. For the full line-up of events taking place at FACT and the

British Music Experience head to docnrollfestival.com.

Play Your Gender

36
---
GIG

Belle And Sebastian

Philharmonic Hall – 19/03

Glaswegian indie folksters BELLE AND SEBASTIAN

pinpoint Liverpool as the place to end their latest tour, with

the opulence of the Philharmonic Hall joining a list of venues

from across Europe to host indie's cosiest of gems. After

putting out nine high quality LPs over the past 22 years, the

group have decided on a different approach for releasing

their newest material, opting to tease us with one EP a

month. Their most recent single, We Were Beautiful, was

released through the first of these EPs in December 2017,

and is in tune with the quintessential Belle And Sebastian

cinematic slice of life, painting a picture of what it is to be

waking up over a Saturday morning in Glasgow.

GIG

Gnoomes

Buyers Club – 06/03

With 2018 down to be a fallow year for PZYK, there's no doubt

a psych-filled hole in your gig-going schedule – particularly

that of the intercontinental kind. Good job then, that Russian

komische-electronic mash-up trio GNOOMES are stopping off at

Buyers Club this spring. Last year the three-piece released the

universally acclaimed album Tschak! through Rocket Recordings

– praised for the way it progressively uses synths and guitars to

explosive effect, it's possibly, nay, probably, best experienced live.

Support is still to be announced but we imagine it will represent

the best of what Liverpool's artists have to offer on the everexpanding

psych spectrum.

GIG

Shipwrecked IV: Sunstack Jones

Shipping Forecast – 02/03

Don't worry if it feels too wintry right now – the sun is on

its way, because SUNSTACK JONES have a new album in

the pipeline. The group's third LP will arrive just in time for

a spring upturn, full of lush textures and earworm melodies.

2018 has already seen them trial some of the new material

at a number of shows, and this latest event – hosted by THE

SHIPBUILDERS – will give you another chance to catch some

of their golden vibes prior to the album's full release. You want

more? OK – GINTIS will be performing prior to Sunstack and

the night's hosts, and you'll be swooning all over them too

once you've been subjected to their winsome charms.

GIG

Fickle Friends

O2 Academy – 21/03

Named as one of the most essential new British indie-pop bands of 2018,

FICKLE FRIENDS are bringing their debut album You Are Someone Else

to Liverpool as part of a massive UK tour. With a string of tracks in their

wake, from Glue and Hello Hello (both regulars on Radio 1 playlists),

to new single Hard To Be Myself, which exudes all the tell-tale signs

of a classic pop anthem, Fickle Friends effortlessly capture the joy and

uncertainty of growing up in the millennial age. A killer band who have

worked tirelessly to build a loyal fanbase, songs surrounding relationships,

anxiety and pure unadulterated youth will no doubt resonate with

everyone who has experienced the pains of growing up.

Fickle Friends

COMEDY

Mark Thomas: Showtime From The Frontline

The Playhouse Theatre – 08/03-10/03

Mark Thomas

Setting up a comedy club in a refugee camp in Palestine is no mean feat, but

comedian MARK THOMAS managed to do just that. Thomas and his team

travelled to the Palestinian city of Jenin, where they joined forces with The Jenin

Freedom Theatre to get people sharing stories and cracking a good joke. Showtime

From The Frontline tells the story of Thomas, FAISAL ABU ALHAYJAA and ALAA

SHEHADA, two performers and aspiring comics from The Jenin Club, and their

mission to get people laughing in the face of adversity. It's a funny, moving and

much needed story about being yourself in a place that doesn't necessarily allow it.

GIG

Mark Sultan

Drop The Dumbulls – 07/03

As one half of The King Khan & BBQ Show (as well as being a former Spaceshit), MARK

SULTAN is one of a number of cult icons responsible for dragging garage rock 'n' roll kicking

and screaming into the 21st Century. Sultan – AKA Needles, Celeb Prenup, BBQ and a host

of other aliases – is a one-man whirlwind of a show, which he himself describes as "real

rock 'n' roll from the jukebox of Satansville". Dumbulls is the perfect vessel for this night of

debauchery, with MINCEMEAT and EYESORE AND THE JINX setting the scene alongside

first-timers TEENAGE CRIMEWAVE.

Mark Sultan

CLUB

ENRG: Jon Hopkins

Invisible Wind Factory – 30/03

Jon Hopkins

Presenting a series of electronic experiences in the presence of worldclass

DJs is ENRG's MO, and they've nailed it again for their latest effort

(rescheduled from December). Acclaimed recording artist and turntable

wizard JON HOPKINS heads up the main room in the Wind Factory with

his hypnotic grooves, joined by Hot Chip's JOE GODDARD and ENRG

resident BLEHRIN. Along with this celebratory upstairs line-up, IWF's

Substation will be hosting cult DJ collective A LOVE FROM OUTER

SPACE (Andrew Weatherall and Sean Johnston) throughout the night,

an oasis of slow in a world of increasing velocity.

PREVIEWS 37
---
THE

SOCIAL

ZUZU

+PIZZAGIRL

+KING HANNAH

23/03 - 8PM

CONSTELLATIONS

Free entry to Bido Lito!

Members, £7 adv

ticket to non-members

via bidolito.co.uk

Our free open day for music writers and photographers takes place at

the same venue from 6pm - for more info go to bidolito.co.uk
---
E V E N T H I G H L I G H T S

JOIN THE CONVERSATION

@ECHOARENA

Ed Byrne 3 March

40 Years of Disco 18 March

Paul Smith

23, 28-29 June / 18-19 & 25-26 August / 8 December

Russell Brand

19 March 2018

20 March

Cirque du Soleil: Ovo

16-19 August

Jeff Lynne's ELO

23 October

John Bishop - Winging It

30 March

Flight of the Conchords

1 April

Joe Lycett

11 November

Def Leppard

15 December

Roy Orbison:

In Dreams

17 April

5 December

GET YOUR TICKETS AT ECHOARENA.COM | 0344 8000 400
---
REVIEWS

"These women are asking

every venue, bar and cultural

organisation in the city to

question themselves: is

my space truly accessible

to everybody?"

Born In Flames

Grrrl Power and Hannah Bitowski

@ FACT 31/01

By now, many of Liverpool's feminist, queer, and politicallyengaged

twenty- and thirty-somethings will be familiar with

Grrrl Power, a collective of three women collaborating to create a

platform for female creatives in the city and raise awareness about

issues concerning women, especially those from marginalised

communities outside of mainstream conversation.

Much of that activity has been focused on conversation;

creating spaces to discuss the challenges women face daily,

including harassment. Don't Touch Me is a campaign seeking

to target clubs and venues to enforce stricter policies on verbal,

physical and sexual harassment, and to encourage victims to feel

confident in reporting such abuse, as well as giving others the

green light to step in and take action when they see it happening.

Other groups across the UK are doing similar work too, from Pussy

Palace (London) to Come Thru (Leeds), highlighting how this

behaviour has become worryingly normalised until now.

As part of FACT's Refuge season – a programme of events

considering the idea of safe spaces in relation to art and cultural

institutions – Grrrl Power (Olivia Graham, Michelle Houlston, Aoife

Robinson) and Hannah Bitowski (co-founder of Queen Of The

Track, an alternative women's magazine focusing on culture and

gender politics), present Lizzie Borden's polemic BORN IN FLAMES.

Opening the event with an explanation of the collective's

accountability statement, these four women stress the importance

of such guidelines. While I've engaged in conversations with

people who believe such formalities are a case of "political

correctness gone mad", these reference points for respecting one

another's identities can go some way to ensuring people of diverse

backgrounds and experiences feel comfortable in the same place,

and thankfully it's something we're seeing more of in our city's

ever-developing cultural landscape, most notably with LGBTQ+ and

'alternative' events.

And why shouldn't we? It's our collective responsibility as

members of a community, and consumers of culture, to agree to

respect and listen to one another when sharing a space. Such

statements in no way limit enjoyment, or prevent experimentation,

but create an environment where audiences can feel comfortable

to be themselves, and to call out prejudice when they see it.

And so the tone is set for Borden's documentary-style

feminist science-fiction film. The plot follows two New York

feminist groups, each using local pirate radio stations to convey

their message. After a political activist dies mysteriously in police

custody, both groups are galvanised into action, many joining

the Women's Army, whilst being closely watched by the FBI and

a team of journalists. The film splices jarring scenes together,

pairing news reports with police meetings, picket lines with

intimate moments showing the various characters' relationships.

Some of the most arresting scenes occur when Honey and Isabel

– the two group leaders – stare directly into the camera, spitting

into a microphone broadcasting to their radio listeners, melodically

enunciating the issues their communities face, and how they

must overcome. Music is hugely important in the film, with radio

segments pinpointing key plot moments, and the film's title

coming from a song by the psychedelic experimental rock band,

Red Krayola, which punctuates the narrative.

Born In Flames is a stylised art film with a moody new wave

soundtrack and a message; demonstrating that when the police

and patriarchy will not help, women must organise, protest and

ultimately revolt in order to gain justice and safety for themselves.

"Which would you rather see come through the door: one

lion, unified, or five hundred mice? Five hundred mice can do a lot

of damage and destruction."

Borden anticipated the importance of intersectional feminism,

as the film explores race, class and societal oppression against

women in addition to everyday sexism. The director also toys with

our understanding of labour, particularly in a montage sequence

showing female hands doing manual chores, from mundane

factory work, to putting on a condom, setting up the idea that

the Women's Army eventually broadcast for consideration by the

nation: to pay women for housework.

In the same way that Borden created the script for her film,

so do Grrrl Power and Hannah Bitowski create their manifesto;

by inviting their peers to participate in a post-film discussion.

This democratic approach reflects the aim of creating a charter

that works not just to combat sexism, but to address racism,

transphobia, biphobia, homophobia, ableism and ageism too.

In essence, these women are asking every venue, bar and

cultural organisation in the city to question themselves: is my

space truly accessible to everybody? As Houlston admits on the

night, however, this event being hosted in FACT is immediately

problematic, as there are some communities who may not feel

comfortable or welcome in a gallery space, and subsequently that

earlier democratic discussion quickly becomes led by the white,

educated and middle class. I therefore hope that as this project

develops, Grrrl Power are able to reach out to other groups, hold

workshops and talks in more accommodating spaces and truly

listen to the people most affected by these issues, in order to

enact real change. !

Sinéad Nunes / @SineadAWrites

40
---
Nadine Shah (Day Howarth / dayhowarth.com)

Nadine Shah

Harvest Sun @ Leaf

01/02

The last time Liverpool hosted NADINE SHAH, she stole

the ramshackle show that was John Cale's Velvet Underground

Revisited at Clarence Dock. Her interpretation of Femme Fatale

that night leapt out from the rest, a strange and otherworldly

moment when the sound took on a sudden unexpected

clarity and the wind piped down so we all could hear. Divine

intervention? Who knows.

Shah's gig at Leaf some eight months later is sold-out, and

such is her popularity that the BBC are here too, making a radio

documentary about her status as a political songwriter. Her

most recent album, Holiday Destination, has themes around

immigration and class, the latter a topic carrying extra currency

right now, and Shah is knowledgeable and spirited about both

themes.

Tonight we're treated – and it is a bloody treat too – to songs

from Holiday Destination: Place Like This, Jolly Sailor – about

her local pub back home in the North East, where her immigrant

parents have always been welcome – and Yes Men standing out

as particular highlights. That voice of hers is warm and engaging

on record, but tonight it takes on an extra richness and darkness,

and her band throw up flashes of Scott Walker's brilliant and

unsettling Climate Of Hunter, adding to my own personal thrill.

Shah, this expressive, bold woman, conjures and claws at the air

as she sings, and pulls at both the ear and the eye.

She talks, storytelling, explaining her songs, why she wrote

the album, and pays tribute to murdered Labour MP Jo Cox, again

with her trademark passion. She's an admirer of Billy Bragg and

his live delivery, I'm thinking. The two artists are miles away

musically, but as Shah speaks between songs with great emotion

– there's no bullshit here – I can't help but be reminded of a gig

Bragg delivered at the old/new Picket, now District, when the

British National Party were in bloom, instructing us all to spread

the word that racism and injustice are really bad things. Everyone

cheered noisily, and then went home, and along came UKIP.

The crowd tonight agree with everything Shah says and

sings about, and when they file out, they nod heads in approval.

Yet when I talk to the radio documentary people afterwards they

say vox pops from the audience – overwhelmingly of white men

comfortable and content with their lot – have been predictable,

safe within the boundaries, questions left unstretched and

untested. Nadine Shah knows she's preaching to the converted at

Leaf, and at most of her shows. We're of like minds in this room,

both those onstage and off it. Still, she insists that the messages

need saying anyway, and often, until things change. And she's

right.

Cath Bore / @cathbore

Idles (Darren Aston)

Idles

Independent Venue Week @ Studio2

02/02

Let's be honest, punk died years ago, but occasionally its corpse

creaks and twitches. The protagonists of the movement would be

swelling with pride, as Bristol's best go at punk ethic since The Pop

Group are maturing into a vital and exciting act. Seeing them in

this environment before the inevitable rise to longer sets and much

bigger rooms is nervously exciting.

It's the climax of the wonderful Independent Venue Week

2018. BBC 6Music have spent the week touring England and

highlighting the benefits, wonders and issues that running a venue

in these music streaming times presents. The week reaches a

high-point here on Parr Street with a live broadcast from IDLES:

the shouty five-piece are the epitome of what the week stands for.

The venues that have helped them get to this position of being able

to make a career out of what they now do is a testament to what

these places stand for. With studios, rehearsal rooms and venues

being squeezed out of the smaller satellite towns and the bigger

towns downsizing due to cultural austerity, shining a light on what

these places do is essential, and, for the BBC to actively support

and shout about them is one of the most important things for new

music right now.

With Idles being a case in point, one can imagine them jumping

at the chance to get involved. Tonight, the rarefied air of post teatime

is shattered by the aggro-punk every-night-is-bonfire-night

of Idles. 6.30pm on a freezing February evening is one way of kick

starting the weekend. Being broadcast to the nation should give

any band an excuse to temper the show and be a little more careful.

Not here. The band do their required 30 minutes and bounce back

after the broadcast to throw us some more as they don't want to

"rip anyone off".

Studio2 is definitely an intimate show and it more than satisfies

all parties' criteria. You can see the whites of the eyes, smell the

sweat and feel the globs of spittle that frontman Joe gobs in the air

at various points. Although the free tickets given out to Liverpool

postcode holders isn't making the place 'sold-out', it does lend an

air of curiosity from the rather aging crowd which only adds to the

expectation. The performance is so intense that the expectation

is met by the end of Stendhal Syndrome, the opening track. As

the effects of the first pint kick in, the band launch into the brilliant

Well Done and thus make it a more effective stormer. Mother

is self-edited as apparently you can't use the word "fucker" on

daytime radio and kudos to the new song, Lovesong, with the lyrics

affirming the author's love for their partner because they bought

them a card.

Idles are the real thing: they mean it maaaan. They are quite

simply one of the best live bands driving their battered van around

the country right now. And they will only get better. Brilliant.

Ian R Abraham / @scrash

REVIEWS 41
---
REVIEWS

"Their contemporary

and satirical

approach ensures

that this remains a

highly enjoyable and

accessible exhibition"

The King Is Dead Long Live The King (c) The Singh Twins

The Singh Twins: Slaves Of Fashion (Gareth Jones)

The Singh Twins: Slaves Of Fashion

Walker Art Gallery

19/01-20/05

Donald Trump sits on a Wal-Mart throne at fashion week; he is the epitome

of consumerism, the King of Cotton. Theresa May straddles India and the USA,

dousing the former in Scotch whiskey. Bush and Blair shake hands, smiling; they

make a blood pact while the globe they stand on burns.

SLAVES OF FASHION is the latest exhibition by THE SINGH TWINS

to grace the Walker Art Gallery, and it is just as politically engaging and

controversial as I had hoped. The Singh Twins are known for their unflinching

criticism of political corruption, and, in this exhibition, they choose the Indian

textile industry and its relationship with western fashion as their subject.

There is an important history lesson here, but their contemporary and satirical

approach ensures that this remains a highly enjoyable and accessible exhibition.

In recent years, The Singh Twins – Amrit and Rabindra Singh – have

received international recognition for their work. However, their relationship

with the art world and this city has not always been straightforward. While

at the University Of Liverpool, the twins faced prejudice for their interest in

Indian miniature painting, which was deemed traditional and outdated by their

professors. Certain members of the department were reluctant to accept that

non-European artforms had influenced contemporary, western art. The Singh

Twins refused to concede and never graduated. The success of this exhibition

thus feels particularly pertinent.

At the centre of Slaves Of Fashion are 11 large, mixed-media portraits of

historical figures. Each tells the story of a different aspect of the Indian textile

industry, and reveals the human cost behind luxury goods. In Coromandel:

Sugar And Spice, Not So Nice a slave hangs from a tree, barely visible behind

the rich detail and fabrics that dominate the image. In other paper works, The

Singh Twins explore this continuing colonial legacy, which is now manifested in

unethical consumerism. The title of one piece, The Adoration Of Profit Without

Consequence, could sum up the entire exhibition, and is a stark reminder of our

role in this deadly trade.

Though the subject matter of this exhibition is challenging, the aesthetic

appeal of The Singh Twins' work is undeniable. They have revived the Indian

miniature tradition by including modern symbols and themes, creating a unique

style that they label 'past modern'. The intricate detail and eclectic mix of political

references means you could spend hours decoding a single painting. It is

perhaps symbolic that I am initially drawn to their work for its beauty; only upon

closer inspection do I realise that they are telling a painful story.

Slaves Of Fashion is a must-see for anyone interested in colonial history,

traditional Indian art or political satire. Most of all, this is a chance to learn more

about two fascinating women of colour artists, who stuck with their interests

despite condemnation and discouragement. Their success story is truly inspiring.

Maya Jones / @mmayajones

42
---
Side A 33rpm

The UK's Music Documentary Festival returns

for its 3rd annual Liverpool edition! Presenting

7 film premieres + Q&As featuring the following

artists & scenes:

L7

The Big Three

John Coltrane

Ella Fitzgerald

The The

Iranian Techno

Manchester's Infamous Electronic Scene

Tickets via:

Venues:

LISTEN TO THE

LIVERPOOL-IRISH

PLAYLIST AT

BIDOLITO.CO.UK

NOW

COME AND SAY

"HAIGH/HI" TO US AT

THE THREE

FESTIVALS TALL

SHIPS REGATTA

(25-28 MAY 2018)

PROGRAMME TBA SOON

LIVERPOOLIRISHFESTIVAL.COM
---
REVIEWS

Nightmares On Way (Paul McCoy / photomccoy.tumblr.com)

Nightmares On Wax

+ Hector Plimmer

+ MC Nelson

Bam!Bam!Bam! @ Invisible Wind Factory 09/02

Touring his latest album Shape The Future, NIGHTMARES ON WAX (George Evelyn) has

been around for a somewhat astonishing 27 years. He pretty much pre-empted the sound of the

21st Century back in the 90s with the release of three albums that mixed soul, hip hop, and dub

into a chilled soundscape that many have copied and which, given the critical acclaim of his latest

release, is showing no sign of fatigue.

An expectant crowd is filtering into the Invisible Wind Factory as another eclectic and

inspired set by No Fakin' DJs precedes local rapper MC NELSON, who wastes no time in showing

why he is garnering so much attention, his easy flow and jazzy beats setting the tone for the

evening in a well-received set. He is followed by HECTOR PLIMMER who, along with keyboard

player Dave Koor, hits an immediate groove, a rock-solid drum pattern underscoring a melodica

style motif. Things take on a jazzy swing, tempo changes effortlessly executed, and they are

joined by vocalist And Is Phi whose rich, relaxed tones enhance the trip hop vibe, coolly delivered

over a dubby bass, which sees the growing crowd grooving as one.

While we wait for Nightmares On Wax, thunderous bass-heavy dance tunes fight against

a tremendous hubbub from the sell-out crowd and I wonder how they will impose themselves

on this gregarious gathering. George Evelyn takes to the stage and plonks himself down on

the leather couch that sits behind a low coffee table bearing his keyboards and mixers. Having

previously stated "… that's why I don't have a live drummer. The sound of the beats is what

makes Nightmares", it is interesting that he has now decided to test that philosophy with the

inclusion of drummer Grant Kershaw (although I'm not quite sure that a drummer and additional

vocalists equates to the advertised 'full band').

They begin with several numbers from the new album Shape The Future, the first couple of

which do indeed seem to be competing with the crowd. The title track itself seems to hook them

in, floating on an eerie synth wave and exiting on the chanted "Shape the future" refrain via a

soulful introduction to the vocals of Sadie Walker, whose dreamy voice illuminates several songs.

Among them is a superb rendition of Deep Shadows, buoyed by apocalyptic clouds rolling slowly

across the twin video screens onstage. She and vocalist Mozez (Zero7) swap vocal duties with

Evelyn, and the connection between dancefloor and stage is cemented as old favourites Flip Ya

Lid, Les Nuits and You Wish really take the crowd to another level, singing and dancing along. At

this point we can introduce the phrase "couch-dancing" into the vocabulary, as Evelyn bobs and

weaves across the Chesterfield, projecting his spaced-out beats into the ether.

The decision to include a live drummer proves judicious as Kershaw turns in a virtuoso

performance that brings so much to the overall sound – maybe a drum machine can do this but

just to be able to watch Kershaw as his hands fly across the kit in a controlled fury is a joy, and

his playing is sublime throughout.

The images on screen have run the socio-political gamut from Soul Train to starvation, and

though Evelyn's plea for funds for dance music charity lastnightadjsavedmylife.com could have

killed the atmosphere somewhat, the crowd are supportive. An encore of up-tempo grooves – Be

I Do, Da Feelin' and Gotta Smile – ensures that the Invisible Wind Factory feels the bounce. Who

says you can't mix compassion and hedonism?

Glyn Akroyd / @GlynAkroyd

44
---
This Is The Kit

+ Emma Gatrill

Harvest Sun @ Leaf

14/01

They come, hands buried deep in pockets and shoulders hunched against the biting grip of

the January cold. Seeking warmth and welcome, they pack in tight upstairs at Leaf for a soldout

show, one of many on this tour, from THIS IS THE KIT. Caught in their moment, and riding

the crest of a wave created by superb new album Moonshine Freeze, the band's return to the

city feels a lot like a family occasion. And while This Is The Kit holds Kate Stables at its centre,

just watching the interaction between these innately talented musicians enhances that familial

feeling.

This latest record sees Stables' wildly eclectic influences honed into a perfectly positioned,

cohesive whole. From folk to Afrobeat, blues to shiny pop, it is an album so naturally written and

delivered that there is no surprise in the fact the gig sold out so quickly, or that people are so

plainly delighted to be here.

The evening begins with an all-too-short set from EMMA GATRILL. Her voice, graced with

a delicate fragility, carries on waves of harp, piano and bass organ, with Marcus Hamblett's

genteel assistance on guitar. Shockingly for Liverpool, the simple prettiness of their set hushes

the excitable crowd into reverential, pin-drop silence, as songs such as Cocoon, Cast Out and a

wonderful cover of Björk's Hyperballad warm the room and the hearts of the eager crowd.

Stables takes the stage alone for the opener of Easy On The Thieves, circular rolls of banjo

lying under her lilting vocal, borne with the inflections of both her British background and her

current French home. With the gentle underpinning of Rozi Plain's bass and the sparse, spacious

drums of James Whitby Cole, whose playing is essential yet understated throughout, songs such

as Bulletproof, one of Moonshine Freeze's greatest moments, are given room to move, and lend a

sense of space to Stables' vocals.

The new album's title track, with its insistent, loose funk rhythm, all high-end bass and

stripped-back drums, is a true highlight of the set. Stables' vocals dance freely over the top, and

Hamblett and Gatrill's warm brass stylings add flavour.

Two Pence Piece is another album highlight. Set across a bare groove and highlighted

with Neil Smith's spaghetti western guitar strains and close harmonies, it features the intuitive

opening line "Blood in my mouth, tasted of coin". As with so much of Stables' writing, it pulls the

crowd in, involving them in the stories as participants rather than merely observers.

The earthy, woody dance vibes of Magic Spell, from 2015's Bashed Out LP, has the crowd

light on their feet, with Smith's African guitar flavours, and Plain's punchy bassline throbbing its

way through. It's in moments such as these that Stables' well-tuned ability to fluidly arrange the

perfect band around herself for each album shines through once again.

Hotter Colder carries a sense of the campfire, smoky and personal and looped around a great

riff from Stables' ancient Hofner guitar, with the brass bringing that added French jazz vibe. It's

another highlight in a night and a set of real highlights, a wonderful, warm celebration of a fine

band; a friendly welcome to all their listeners, the family they haven't yet met but surely will.

Paul Fitzgerald / @nothingvillem

This Is The Kit (Stuart Moulding / @oohshootstu)

• Journalism

• Photography

• Publishing

The

Open Day

Meet the Bido Lito! team and develop your writing

and photography skills at free workshop sessions.

For more information go to bidolito.co.uk

23.02.18

6pm Constellations

REVIEWS 45
---
REVIEWS

Ezra Furman (Glyn Akroyd / @GlynAkroyd)

Ezra Furman

Arts Club

04/02

An illuminated clock face emblazoned with the word

'Transangelic' dimly lights the front of the room, while I side-step

my way through the huddled crowd, in pursuit of a space with

sufficient oxygen to get me through the next 90 minutes of EZRA

FURMAN's latest visit to the Arts Club. It's the most packed I've

ever seen the venue, yet there seems to be little anticipatory

energy in the room, and one too many comfy, space-engulfing

hiking jackets. Contrastingly adorned in pearls and a kneelength

frock, Furman opens with From A Beach House from

his new album Transangelic Exodus, which serves as a gentler

introduction to his set from what we've come to expect from the

Chicagoan rocker.

It takes a while for things to get going and with a less than

enthusiastic version of Haunted Head, he perhaps displays

early indulgence and fulfilment in tracks from his new album.

Furman's seventh studio album could be described as being more

considered and creatively outreaching; exhibiting an impressive

story-telling dynamic to his songwriting, it details the paranoid,

visceral and supernatural tale of an angelic lover and their

evasion from an oppressive government.

In general, his newer tracks aren't received with any

enthusiasm; No Place, which features bludgeoning toms and

a deep and distorted bassline, ignites a bracing, Iggy Pop-like

rawness in some, but in others it seems to unsettle or irritate.

This irritation seems to resurface at times through the set, as

audible shushing and passive-aggressive remarks are exchanged

between punters packed at the back of the room.

It may be due to the intended lack of support for tonight's

show, but the crowd show very little of the attitude, rawness and

empowering emancipation that emanates from Furman's music.

Fortunately, favourites such as My Zero and Tip Of A Match draw

the crowd in for the carefree cavorting of which you'd expect.

Furman is, as ever, engagingly powerful; his voice commanding,

you feel every word, the pain, the joy, the humour. In between

songs he evokes a fragile, coy, child-like playfulness that is

incredibly endearing.

Furman's new album seems to mark an end of a chapter

musically for the artist, a necessary evolution for artists that like

to stay fulfilled and relevant. Parts of the crowd around me may

not have been ready for their ears to be turned to new sounds,

but there is certainly more to come from Furman, and I'm sure

this will be a defining new chapter in his musical ascent.

Jonny Winship / @jmwinship

Ezra Furman (Glyn Akroyd / @GlynAkroyd)

Moodymann

+ Pooky

Boogaloo x Down To Funk @ Meraki

26/01

For someone who's had such a big part to play in the

progression of house music over the years, MOODYMANN

(Kenny Dixon Jr.) has kept himself out of the limelight. Since the

90s he has gained a staunch, underground following, which

has made him a cult hero in Detroit and worldwide. He has

stayed mysterious yet a name that all music lovers know, which

is something that not many producers and DJs have done so

successfully.

Last year the Detroit spinner played at Invisible Wind

Factory, one of Liverpool's largest venues; this time round, it's set

to be a much more intimate gig at Meraki, one of the city's most

exciting, upcoming venues in the North Docks. The single room

is stripped back and has that raw feeling to it, which a lot of the

best new venues have gone back to nowadays.

Up beforehand is POOKY, and, similar to what we expect

from Moodymann, he's keeping the crowd on their toes with his

selections, switching between acid-infused techno, psychedelic

funk and even shifting on to Thundercat's Friend Zone.

Almost an hour after originally anticipated, Moodymann

makes his way behind the decks. The packed-in crowd are, by

now, eager with anticipation. If you're stranded the back of the

room, there's no way of getting to the front to get a glimpse

of the main man – and even those at the front have to let their

imagination do the work, with Moodymann's bucket hat and

black mask creating an enigmatic façade. "How are you feelin'?"

are the first words we hear from that smooth, velvety voice as he

slides behind the mic as he always does. The crowd is primed.

The selector fires into a set that includes an array of house

tunes, like the flawless Transient by Mr G, before switching up

the set halfway through as he veers into liquid drum 'n' bass.

He keeps things on the right side of party, too, mixing into Kelis'

Millionaire before paying his respect to the city with The Beatles'

classic Come Together. The room stays packed, and no one

leaves until the set finishes. When you experience a night with

Moodymann, you can never be sure what music he will bring with

him, but you can be certain that it will be a night you won't forget

too easily.

Joe Hale

46
---
ROUND UP

A selection of the best of the rest from another busy

month of live action on Merseyside.

Sat 3 Mar to Sat 14 Jul

Lerner and Loewe's

Jorja Smith (Stuart Moulding / @oohshootstu

Some would say her musical style is smooth hip hop, others have called it vintage RnB, even

garage or jazz, but JORJA SMITH doesn't want to be defined by a genre. She simply makes the

music she wants to make. Sophie Brereton finds herself at Invisible Wind Factory, trying to unpick

what her sound is all about.

Support act MAHALIA kicks off the night, and it seems people are just as excited for

her as they are for the headliner. Mahalia makes the stage her own, performing a flawless acoustic

cover of Solange's Cranes In The Sky mashed-up with The Weekend by SZA. She revels in the

reception from her new fans.

Smith opens with Something In The Way, an atmospheric and moody number that makes this

warehouse feel like an intimate club show. An unreleased track, February 3rd, embraces the neosoul

vibe that her work tends to embody and is complimented with a catchy chorus. There's a lot

of love in this room for her, and it's easy to see the passion that Smith bears for each of her songs.

The size of the crowd exhibits the influence this ascendant artist is having on the industry.

Much like his internet-famous artwork, psych-pop musician MONTERO is a rarely wholesome

and relatable songwriter. Georgia Turnbull heads to Shipping Forecast, hoping to find the chilled

out early Neil Young and Nilsson-esque loveliness of his new album Performer. The first act on

the bill is THE WOOLS, who sound like the best of The Coral (that's a big compliment, by the

way). SEATBELTS are one of the highlights of the night; their jangly psychedelia is energetic and

amazing from the get-go. DANYE have a motorik vibe; all the songs melt together into one within

their set, creating a synthy, dreamscape throughout.

Then the main act arrives, without his band – but it's not long before members of the audience

are encouraged up on stage to fill in as his impromptu band. I'm not sure I'll be asked back after

my brief stint behind the drum kit, however. Montero's first ever solo set is ramshackle, witty,

wholesome and full of love for The Beach Boys. If you have a chance to see Montero, you're in for

an experience you won't forget – but for all the right reasons.

After amassing a loyal, cult-like following from 2014's debut album Don't Say That,

SUPERFOOD have transformed from a regular four-piece band into a duo, producing 2017's

critically acclaimed, brilliant Bambino. Conal Cunningham heads to EBGBS where funky basslines

and catchy sing-a-long choruses make it impossible not to let loose, swing your hips and show

your love for the band. The disco-influenced, bassy numbers of Natural Supersoul and Raindance

complement the older, singalong tracks such as TV, You Can Believe and Superfood. The feel-good

atmosphere is infectious and seemingly inevitable at a Superfood gig, and their short, sweet set

only leaves the crowd wanting more.

A musical play

Book and Lyrics by

Alan Jay Lerner

Music by Frederick Loewe

Original dances created by Agnes DeMille

Director Gemma Bodinetz

Designers Molly Lacey Davies & Jocelyn Meall

Musical Director & Orchestrator George Francis

Lighting Designer Kay Haynes

Sound Design Everyman Sound Department

Choreographer Tom Jackson-Greaves

Assistant Designer Natalie Johnson

Casting Director Sophie Parrott

Performed by arrangement with

Music Theatre International (Europe) Limited

Full reviews of all these shows can be found now at bidolito.co.uk.

REVIEWS 47
---
february

14th feb - mellowtone w/ ellie rose smith

16th feb - limf academy showcase

17th feb - life at the arcade (dj set)

18th feb - mike dawes guitar seminar

18th feb - ground floor open mic

21st feb - mellowtone w/ dave o'grady

22nd feb - 'we want women' open mic

23rd feb - brickhouse + guests

24th feb - rats (dj set)

25th feb - ground floor open mic

26th feb - silent movie night

28th feb - mellowtone w/ alan o'hare

thursday 1st march - launch night of

'the underground arts society'

Monday / wednesday / Thursday / friday / saturday / sunday
---
FEBRUARY & march

Feb 16 liverpool Art Society presents 'Date Night'

Feb 17 Strange Bones + Three From Above & more

Feb 18 Mike Dawes + Alx Green, greg larkin

Feb 23 Cabezudos + frazer, monks

Feb 24 28 Costumes album launch

Feb 25 Old Corpse Road + Daemona

march 2 plugger beatz presents satin beige + guests

march 3 rival bones + takotsubo men, mad alice

march 9 sheafs + very special guests

march 10 salvador + phase3, faraday & more

march 16 off axis presents spark + jekyll

march 17 st patricks day special

march 22 the wholls + hello operator, big bambora

march 23 m2tm heat 1 with special guests - prognnosis

march 24 liverpool beard and moustache championships

march 25 hair club live

march 29 vinyl junkie & amp presents broken witt rebels

Tickets available via skiddle.com - all shows 18+
---
BOOK NOW: 0161 832 1111

MANchesteracademy.net

MOOSE BLOOD

SATURDAY 3RD MARCH

MANCHESTER ACADEMY

THE QUIREBOYS

FRIDAY 23RD MARCH

ACADEMY 3

UGLY KID JOE

TUESDAY 17TH APRIL

ACADEMY 2

HOPSIN

TUESDAY 6TH MARCH

ACADEMY 2

THE FRATELLIS

FRIDAY 23RD MARCH

MANCHESTER ACADEMY

TRIVIUM

FRIDAY 20TH APRIL

MANCHESTER ACADEMY

YO LA TENGO

MONDAY 30TH APRIL

ACADEMY 2

COASTS

FRIDAY 20TH APRIL

ACADEMY 2

REEF / THE WILDHEARTS

/ TERRORVISION

FRIDAY 4TH MAY / MCR ACADEMY

TURBOWOLF

FRIDAY 9TH MARCH

ACADEMY 3

PHOENIX

SUNDAY 25TH MARCH

MANCHESTER ACADEMY

RUSS

MONDAY 12TH MARCH

MANCHESTER ACADEMY

NO HOT ASHES

SATURDAY 31ST MARCH

ACADEMY 2

SALAD

SATURDAY 21ST APRIL

ACADEMY 3

NINA NESBITT

SATURDAY 19TH MAY

CLUB ACADEMY

BEN HARPER &

CHARLIE MUSSELWHITE

FRIDAY 6TH APRIL / ACADEMY 2

PROUD MARY

SATURDAY 9TH JUNE

CLIUB ACADEMY

AT THE DRIVE-IN

TUESDAY 13TH MARCH

MANCHESTER ACADEMY

SOLOTOKO

FT. SONNY FODERA

SATURDAY 7TH APRIL / ACADEMY 2

LARKINS

SATURDAY 21ST APRIL

ACADEMY 2

PLASTIC HOUSE

SATURDAY 17TH MARCH

ACADEMY 3

MISTERWIVES

SATURDAY 7TH APRIL

ACADEMY 3

SKINDRED

SUNDAY 22ND APRIL

MANCHESTER ACADEMY

EELS

TUESDAY 3RD JULY

MANCHESTER ACADEMY

KING NO ONE

SATURDAY 17TH MARCH

ACADEMY 2

JOSH ROUSE

THURSDAY 26TH APRIL

ACADEMY 3

CARPENTER BRUT

THURSDAY 22ND MARCH

ACADEMY 2

THE DEAD DAISIES

THURSDAY 12TH APRIL

ACADEMY 2

GEORGE CLINTON &

PARLIAMENT FUNKADELIC

SATURDAY 7TH JULY / MCR ACADEMY

LITTLE COMETS

FRIDAY 13TH APRIL

CLUB ACADEMY

REJJIE SNOW

FRIDAY 27TH APRIL

ACADEMY 2

THEY MIGHT BE GIANTS

THURSDAY 4TH OCTOBER

ACADEMY 2

SANGO

THURSDAY 22ND MARCH

CLUB ACADEMY

THE WONDER YEARS

FRIDAY 13TH APRIL

ACADEMY 2

THE SMITHS LTD

SATURDAY 28TH APRIL

ACADEMY 3

FAT FREDDY'S DROP

SATURDAY 3RD NOVEMBER

MANCHESTER ACADEMY

facebook.com/manchesteracademy @mancacademy FOR UP TO DATE LISTINGS VISIT MANChesteracademy.net
---
Lee 'Scratch'

Perry

Arts Club, Liverpool

Tuesday 13th March

Michael

Chapman

Deaf Institute, Manchester

Sunday 22nd April

Michael

Chapman

Philharmonic Hall,

Liverpool

Thursday 26th April

Courtney

Marie Andrews

Arts Club, Liverpool

Saturday 21st April

Peter Hammill

The Stoller Hall,

Manchester

Wednesday 25th April

Robyn

Hitchcock

Philharmonic Hall,

Liverpool

Wednesday 23rd May

The Rutles

Philharmonic Hall,

Liverpool

Friday 1st June

@Ceremonyconcert / facebook.com/ceremonyconcerts

ceremonyconcerts@gmail.com / seetickets.com

THURSDAY

12 APRIL

LIVERPOOL

OLYMPIA

PLUS SPECIAL GUEST

JANE

WEAVER

AXS.COM GOLDENVOICE.CO.UK LIVERPOOLOLYMPIA.COM

PUBLICSERVICEBROADCASTING.NET

fPUBLICSERVICEBROADCASTING t/PSB_HQ

A GOLDENVOICE PRESENTATION BY ARRANGEMENT WITH ITB

07 MAY

ECHO ARENA

LIVERPOOL

AEGPRESENTS.CO.UK | AXS.COM

NICKELBACK.COM

'FEED THE MACHINE' AVAILABLE NOW

AEG PRESENTS IN ASSOCIATION WITH UNITED TALENT AGENCY
---
SAY

THE FINAL

"The single

hardest right to

exercise is to be

seen as an equal

amongst my

peers"

Photo by Jerry Kiesewetter

On the centenary of the

Representation Of The People

Act, which gave certain eligible

women in the UK the right to

vote for the first time, MP for

Wirral South Alison McGovern

hails the progress made,

but reflects on the implicit

bias that still exists in the

continuing battle for universal

acceptance.

Many of the worst conversations I have about

feminism are with the men I love most in the world.

It is easy to be angry with Donald Trump

when he says feminism is "going too far," after all

he has done for women; it is hard to be angry with your friend

because he has just blamed the female members of juries for

not convicting more rapists. Because even though there may be

evidence of bias of women jurors, the act of men blaming women

for sexism, is, in the end, just more misogyny. It is hard to be

angry with a close family member because they have called your

little girl 'bossy' again. And to make them see that even though

he wants to be kind to her, the constraints he is unwittingly

applying to her behaviour contrast wildly with the easy

acceptance he has of all manner of aggression from little boys.

What's more, it is harder still to challenge the women you

love when they tell you your skirt is too short, that they are really

enjoying their new diet, and that they can't imagine how you

work so late, given how much your child must miss you.

Thankfully, the current centenary of the first women voting

in 1918 will involve no such hard conversations. It will involve

myriad easy conversations. Women should be allowed to

vote. Thankfully, now it is so obvious that this should be the case,

we can gleefully celebrate the 100 years since, and we can gloss

over the fact that 2018 is only the anniversary of middle class

women over 30 getting the vote.

We can have easy conversations about how right the

suffragettes were, even though by today's standards quite a

few of them would still be considered violent arsonists. We can

have easy conversations celebrating the number of women MPs,

while we gloss over the fact that one of our main political parties

can elect two women Prime Ministers but cannot stop making

women in the country financially worse off; and the other main

political party – much though Labour should be proud of – cannot

elect a woman to lead it at all.

We can have easy conversations about the past, because it is

a different country, and no one need think about what they would

have done if in the shoes of men in the House of Commons 100

years ago, even though at the time 55 Members of Parliament (all

men, of course) voted against the bill to give women the vote. We

will gloss over all of this, because it is only right that the people who

gave their lives up to campaign for women to vote are remembered

and properly celebrated. These are the easy conversations, and we

should have them in great volume and length.

Much harder are the conversations about death.

I have heard the often repeated statistic that, 'two women

a week are killed by male violence', so like most of these things

you hear all the time, I assumed it was bullshit. It turns out it

is. It's actually numerically closer to three women a week (the

yearly total in 2017 was 138). I am not an expert, so I cannot

tell you why men kill women. But they do. And hard though that

fact is to face, it must stop. We cannot live anymore in a country

where one of our gender defaults is that women who seek a life

partner take their life in their hands.

I don't think the suffragettes took hammers to smash

Parliament's windows because they thought it was a great way

to raise awareness of their issue; they did it because the power

of that hammer in their hand was the only channel they could

think of capable of expressing their emotional fire at women's

oppression. Imagine how their anger would burn if they knew

that, still, 100 years later, in the minds of many men, women

are expendable. If they knew that, too often, women are just a

feature in a man's control and power over his world. I can tell

you that the people I have met who have suffered from such

abuse are deeply and rightly angry. And anger must not be

wasted so change must come. And we should not hold back in

protesting until it does.

But one thing that I have learnt from my past eight years as

a Member of Parliament is that, whatever my legal rights – to

vote in an election, to be a candidate in an election, to take my

seat in the House of Commons and represent my constituents

– the single hardest right to exercise is the right is to be seen

as an equal amongst my peers. This is the unconscious bias

that holds women back. Whether it is the assumptions that

are made about our knowledge and interests, or the manner in

which we are interrupted, or the frankly patronising tone that

is taken about women who use their position to campaign for

equality, this bias against women is the biggest problem we

face.

And that is what makes it the very hard conversation we

must have this year. The suffragettes won a victory in law: to

make their victory one of lived reality, people who harbour a

bias – conscious or unconscious – against women must leave

that state of mind behind.

Sadly, though, I cannot make that happen. Women cannot

make it happen. It is – as it was in 1918 – in the gift of men to

change their minds. !

54
---
BANK HOLIDAY WEEKEND

5TH - 7TH MAY 2018

OVER 180 BANDS ACROSS 16 STAGES, INCLUDING...

KRAFTY KUTS • BEARDYMAN

[MORE HEADLINERS TO BE ANNOUNCED SOON]

SILENT K (FT. DAVE MCCABE) // STEALING SHEEP (Djs) // TURBOWOLF

SCARLET // HATCHETT // MANUELA // THE CHEAP THRILLS

EDGAR JONES // 28 COSTUMES // TONY WRIGHT (TERRORVISION)

POLO // STRANGE COLLECTIVE // THE LANCASHIRE HOTPOTS

Alex & The Boss Jockeys // BIG BAD NOLAN // BISCH NADAR // BRIBES // Cave Party // COW // CRAPSONS // The Cubical

Dantevilles // DAN & THE COUNTERFACTUALS Darko // DEAD NAKED HIPPIES //THE DEBT STARS // THE Drifting Classroom

DR WELSH // East Cote // FERAL WHEEL // The FernwEh // Fick As Fieves // The FluorescentS // GLENDALE FAMILY // GINTIS

The Golden Age Of TV // The Good Host // Good Grief // Hushtones // I, The Lion // KATIE MAC // KILLAFLAW // Kula Bay

LOOSE MOOSE STRING BAND // Major Major // Mamadou // Memory Girl (ft. Natalie McCool) //The Mexican Walking Fish

ONLY CHILD // OVVLS // PEACH FUZZ // Pete Bentham and The Dinnerladies // PETER AND THE WEREWOLF // Salt the snail

SATURN UNITED // The Shipbuilders // Sheepy // Silverdale // Snakes Everywhere // SPARK // SPQR // SPLINTERED UKES

Stadt Skulls // Turbulence // TV ME // UKEBOX // Vidar Norheim // VIOLETS // Voo // YAMMERER // LOADS LOADS MORE

PLUS: WRESTLING // LIVERPOOL IRISH FESTIVAL // POP UP CINEMA // STREET FOOD STALLS // COMEDY // THEATRE

FREE ENTRY TO ALL STAGES

AFTERPARTY TICKETS £10 - MORE DETAILS COMING SOON

facebook: smithdownfestival // twitter & instagram: smithdownfest

proudly supporting
---
BIOCENTRISM

ENERGY CREW PRESENT

FRI 30 MARCH 2018 ENRG PRES.

GOLDILOCKS PRINCIPLE

JON

HOPKINS

DJ SET

JOE

GODDARD

(HOT CHIP) DJ SET

BLEHRIN

In The Substation all night long, very special guests...

A LOVE FROM OUTER SPACE

ANDREW

WEATHERALL

& SEAN

JOHNSTON

Venue:

Invisible Wind Factory,

2 Regent Road,

Liverpool, L3 7DS

ENRG:

0151 707 5010

info@Energy-Crew.com

Tickets Online:

Ticketarena.co.uk

Residentadvisor.net

Skiddle.com, Dice.fm