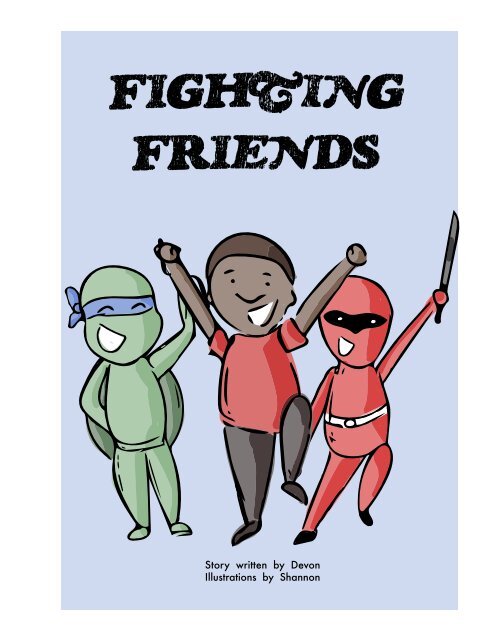 Create successful ePaper yourself
Turn your PDF publications into a flip-book with our unique Google optimized e-Paper software.
FIGHTING

FRIENDS

Story written by Devon

Illustrations by Shannon
---
ii
---
iii
---
iv

Dedicated to Devon,

sorry this isn't movie accurate
---
Fighting Friends

Devon, Leo, and Jason

1
---
Devon, Leo ,and Jason were enjoying their

favorite food- a slice of pepperoni pizza. It had

just stopped raining that day, and three didn't

have much to do.

2
---
"I'm bored!" Devon exclaimed.

Leo replied, "Never say you're bored,

Devon or the world will give you something

to do!"

3
---
Just then, they heard a rumble from outside.

"What did I tell you?!" Leo yelled in Devon's

direction.

4
---
They saw a gigantic reptile foot smash into the

ground right outside the pizza parlor.

"Let's get out of here!" Jason yelled.

5
---
6

Right when they step outside, the

monster smushed Devon under

his gigantic steps.
---
"We have to take this monster down," Jason said

to Leo, who nodded back at him.

7
---
8

The monster was destroying the whole town with his

fire breath, people were running away screaming.

The monster wouldn't stop!
---
9
---
Leo and Jason started throwing

pepperoni pizza at the monsters

face to distract him.

"Aim for his eyes!" They screamed at

each other.

10
---
After at least a dozen misses, the two heroes

finally landed two slices of pizza on the monsters

eyes. He couldn't see, but they had to move fast!

11
---
12

Leo moved towards the monsters legs

and wrapped his nunchucks around

the monsters ankle; he started getting

a little wobbly.
---
Jason jumped to the top of a building,

got a long running start, and jumped

straight into the monster's back,

making him tip foward and smash

onto the ground in front of him.

13
---
The heros high fived and started walking

away from the monster, glad to have that

part of their day over with.

Do you want some pizza?" Jason asked.

"Of course," Leo replied.

14
---
When they got back to the pizza parlor, they walked in and

saw Devon eating a large pepperoni pizza.

"You're alive!" the two ran towards Devon, giving him a big

hug.

"Of course I'm alive, I just didn't want to fight!"

"That's what you get for saying you were bored,"

Leo told Devon, taking a big bite of pizza.

15
---
16

They all laughed and enjoyed the rest

of their day in peace.