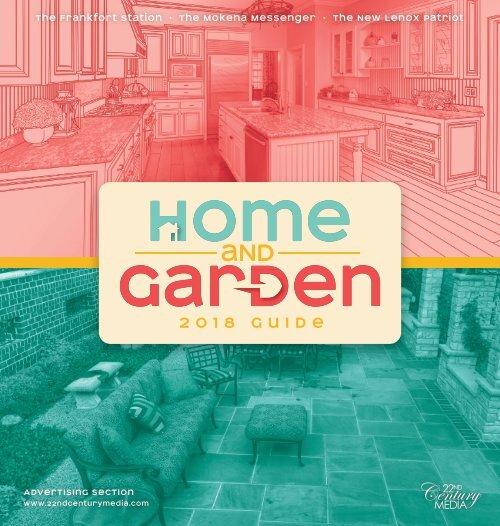 SW_HG_ZC_040518
SW Home & Garden Zone C 040518
SW Home & Garden Zone C 040518
SHOW MORE
SHOW LESS
You also want an ePaper? Increase the reach of your titles
YUMPU automatically turns print PDFs into web optimized ePapers that Google loves.
The Frankfort Station • The Mokena Messenger • The New Lenox Patriot

2018 GuIDe

ADverTIsInG SecTIon

www.22ndcenturymedia.com
---
2 | April 5, 2018 | 22nd century media home & garden

22ndCenturyMedia.com

Ida's Garden Paradise

one of its kind in area

Red, Brown &Black Dyed Mulch

Landscape &PlaygroundMulch

info@rainbowfarmsmulch.co

m

PulverizedTopsoil

Decorative &Construction Stone

Fertilizer,Seed&More

Ever visited Ida's Garden Paradise?

It truly is one of the most unique gift

and boutique stores in the area.

Unlike the big-box stores, it has easy

parking, great customer service and is

the place to go for that unique gift for

that special person.

Ida's has the perfect gift solution for

all "hard-to-buy-for" friends, family

members and loved ones.

It is always expanding its merchandise

to meet customers' needs. This

year, it has added 500 new items, from

home goods to garden items.

Do not forget about decorative landscape

items for a special garden. For

customers' enjoyment, unique solar

lighting will have a garden come alive

in the evening hours.

Wait, oh my! Mother's Day is coming

soon. For sure, area residents will

need to stop in. They will find that perfect

gifts for those special ladies in their

lives.

Ida's Garden Paradise boutique will

bring customers back, and they will be

telling all their friends about their great

shopping experiences at the familyowned

store.

People also should stay tuned for the

Ladies Night Out shopping event coming

soon — lots of fun for everyone,

with great shopping and great pricing.

People also can find Ida's on Facebook

for upcoming events and sales.

Ida's looks forward to seeing new and

returning customers this season for an

enjoyable shopping experience.

Submitted by Ida's Garden Paradise/Dahl

Landscape Company, 14960 W. 159th St. in

Lockport. For more information, call (815)

838-7811 or visit www.idasgardenparadise.

com or www.dahllandscape.com.

Delivery

or

Pick-up

25715 S. Ridgeland Avenue,Monee IL 60449

708-534-1070

www.RainbowFarmsMulch.com

Follow us on Facebook: www.facebook.com/RainbowFarmsMulch

Tinley Park Kitchen &

Bath Shoppe continues

to please customers

The following letter is from Sharon and

Jeff N., whose kitchen appears in the ad

for Tinley Park Kitchen & Bath Shoppe.

The cabinets are Dura Supreme, cherry

cider with Cambria Nevern countertops.

"I want to take a moment to share the

wonderful experience we had in working

with Tinley Park Kitchen & Bath in remodeling

our kitchen. While we were initially

uncertain whether they could meet

our design and quality needs, as we got

to know our designer, Rachel, we grew

increasingly confident in her abilities to

design the kitchen we wanted and their

ability to offer higher-end cabinetry.

"Indeed, as we realized early on, kitchen

remodels can be expensive and create a

great deal of inconvenience. We appreciated

the honesty of our designer, and the

timeline she established for our remodel

was pretty much spot-on perfect in its execution.

We also appreciated her incredible

patience with us. Her professionalism

was beyond compare, and we are

truly grateful for her willingness to help

us through our struggles as we searched

for the highest quality alternatives to meet

our needs. Rachel always brought to the

table numerous alternatives and shared

them with us in such a pleasant and caring

manner.

ALL SEASONS INC.

Serving Suburbs for over 18 years

We Repair

Water Pumps • Pressure Washers

Generators • Tractors • Mowers

19206 85th Ct.

Mokena, IL 60448

708-478-6977

Hours: Tue-Fri 8:30am-5pm

Sat 8:30am-2pm • Closed Sun & Mon

Visa, Mastercard and JCB ACCEPTED

"I would also like to thank the carpentry

team that was assigned to our project.

These two individuals were always polite,

on time and truly expert in their multiple

fields. I cannot overstate how incredibly

exceptional the cuts were in the crown

molding, the cabinetry and the island. Attention

to detail was present every day in

their work. I truly enjoyed having them in

our home.

"With the utmost sincerity and without

hesitation, I would highly recommend

Tinley Park Kitchen & Bath for any customer

looking for a great design partner

who has the capability of providing higher-end

cabinetry. The entire team was incredible."

—Jeff and Sharon

The goal of Tinley Park Kitchen & Bath

Shoppe is to make all of its customers feel

this way. They are committed to customer

service. They love what they do, and

it shows. The business thanks customers

for their confidence and for voting it No.

1 again.

Submitted by Tinley Park Kitchen & Bath

Shoppe, 17050 S. Oak Park Ave. in Tinley

Park. For more information, call (708) 429-

6601 or visit www.tpkitchenandbath.com.

PICK-UP & DELIVERY AVAILABLE!

$10 OFF

any 4 cycle engine tune up

Not valid with any other offer or promotions. Expires 5/5/18.
---
22ndCenturyMedia.com home & garden

22nd century media | April 5, 2018 | 3

Thank YoutoOur Customers ForVoting us #1 Again!"

tpkitchenandbath.com

Kitchens•Custom •Bathrooms •Flooring

708.429.6601

17050 S. Oak Park Ave,

Tinley Park, IL 60477
---
4 | April 5, 2018 | 22nd century media home & garden

22ndCenturyMedia.com

Has the home lost its curb appeal?

A neighbor across the street has been

trying to sell her home for nearly three

years now. Inside, it is beautiful.

Granite countertops, hardwood floors,

multiple fireplaces, updated bathrooms

with the latest fixtures — the list goes on.

People who do the virtual tour or eventually

see the home's interior are duly

impressed. And yet no reasonable offers.

Why?

Even though she is in the real estate

business, she broke a cardinal rule: just

like people, a home makes a first impression,

and its exterior is what does this.

That happens when others pull up a picture

online or get a real-time look from

one's driveway.

In her case, maybe the peeling paint on

the siding or missing and curling shingles

have something to do with it. Or perhaps

it is the porch that looks more like a deck.

Not to overlook the chimney that needs

rebuilding, the 90-foot asphalt driveway

with a half-dozen potholes or the missing

overhead garage doors. And this list goes

on, too.

Let's face it: Improving or maintaining

the exterior of a home is not a priority for

many of us. Its not 'sexy' or very bragworthy

to mention the "beautiful" new

roof one just got, especially when friends

keep going on and on about their new

bathrooms or kitchens.

The choices of different exterior materials

for the middle-class homeowner are

much more limited, when compared to

selections for inside projects. For many

people, there is just not much fun in picking

out siding — and certainly little exercising

or flexing of one's creative muscle.

And then there may be a few other trials.

Everyone has heard horror stories

of the window salesman who would not

leave. Some me even be the victim of one

whose after shave/cologne lingered in the

kitchen for days. Others may have had the

experience of hearing these words from

the foreman, "It's no problem. I will fix."

Taking care of the outside of one's

home is more a need or a necessity than

a want or desire. It is utilitarian to make

sure gutters drain properly, the roof does

not leak or your windows are not wasting

heating dollars.

And yet, there is a certain majesty in

the simplicity of an exterior project well

done. It can be felt when one pulls into

the driveway that first week or two after

its completion. Whether it is pride as a

conscientious homeowner coming out or

just the relief of having handled a longstanding

problem, it is a good feeling.

And those new to choosing a contractor

or completing a project of this sort need

not worry; they are in good hands.

At Lindholm Roofing, it is a desire to

give homeowners this feeling — to make

that exterior remodeling or replacement

project go right. The project coordinators

that come to visit and assist are courteous

and knowledgeable professionals with an

average of nearly 20 years experience in

exterior home improvement.

The company has been in business and

owned by the same family for nearly 70

years. Because of this longevity, its record

of craftsmanship and attention to detail,

as well as its steadfast agreement to

honor warranties, it has earned the respect

of many Village building departments,

leading insurance companies and, most

importantly, tens of thousands of homeowners.

Lindholm would love to be the one to

help with any of these projects and help a

home make a good first impression.

Submitted by Lindholm Roofing. For more

information, visit www.lindholmroofing.com

or call (888) 476-6337.

3 rd Generation Family Owned Roofing Company

Residential and Commercial

• Steep Slope

Roofing

• Gutters &

Downspouts

• Flat Roofing

• Repairs

• Windows & Siding

• Masonry

• Tuckpointing

• Siding

• Soffits

• Fascia

• Storm Damage

• Hail Damage

• Leak Detection

1949
---
22ndCenturyMedia.com home & garden

22nd century media | April 5, 2018 | 5

Jim Melka Landscaping gearing up for spring offerings, events

Jim Melka Landscaping

& Garden Center will be

celebrating 30 years of service

in the community this

year, and its drive for quality

work and professionalism

has never wavered.

Melka Landscaping &

Garden Center offers a

wide range of products

and services, including a

full-service garden center,

tree/shrub nursery, colorful

greenhouses, a Weber

Grill showroom, landscape

design services, plant installation

and lawn maintenance,

brick paver patios,

and landscape lighting.

For those tackling a DIY

project or in need of professional

landscape services,

Melka's is the local

business to contact.

Spring is in the air at

Melka. Flowering annuals,

fresh herbs, custom planters

and hanging baskets in

an abundance of colors will

be arriving weekly. With

Mother's Day approaching

fast, customers can browse

the greenhouses and garden

center for the perfect

gift, or an unexpected treat

for oneself. Gift cards also

are available and make a

great gift for the gardening

enthusiasts in one's life.

Melka Garden Center

also offers a wide variety

of special events throughout

the year. This April,

Melka will be hosting two

free plant seminars.

• On April 7, Flowering

Shrub and Perennial

Seminar by expert Mike

Mennenoh from Mariani

Plants company.

• Also, on April 14, Tree

Care Seminar by the local

Davey Tree care.

Both are a great way to

get ready for spring.

Customers should RSVP

for all seminars or events

on the Melka website.

For more details about

Melka's spring workshops,

seminars and other events,

visit the events page at

www.jimmelkalandscap

ing.com/Events.

Jim Melka Garden Center

is located at 11606

179th St. in Mokena, located

four blocks west of

Wolf Road and just East of

the Metra station.

Open seven days a

week, from April through

December.

For store hours, events,

new plant arrivals, landscape

design photos and

more, visit www.jimmel

kalandscaping.com.

Jim Melka Landscaping

& Garden Center is a onestop

shop for all seasonal

gardening and landscaping

needs.

Submitted by Jim Melka

Landscaping & Garden Center.

For more information,

call (708) 349-6989.

Specials

throughout

the 2 day

celebration!

Grand

ReOpening

of our new

location!

1888 E. Lincoln Hwy., New Lenox, IL 60451

815-463-8330 | www.BellaFioriFlower.com

open house

Friday & Saturday

April 13th & 14th

9:00am -5:00pm
---
6 | April 5, 2018 | 22nd century media home & garden

22ndCenturyMedia.com

DON'T LET YOUR DRYER

START A

FIRE!

New Lenox-based

business works to make

clothes dryers safer

Hidden buildup in clothes

dryer vent is fire hazard

Before

WARNING!

If your dryer takes longer than one cycle

to dry your clothes, then you may have a

fire hazard in your vent.

Dryer Vent Cleaning

Installation

Alteration

Repair

WE ACCEPT

SAVE $ 10

ANY SERVICE!

815-215-2090

www.dryerventwizard.com

Call Today!

After

815-215-2090

www.dryerventwizard.com

Most people know they need to clean

out their dryer lint tray between each

cycle, but what lurks behind the wall is

just as important for safety and avoiding

fire traps, as well as fully efficient dryer

performance.

Joe Enzenberger, owner of Dryer Vent

Wizard, opened his New Lenox-based

business in 2009.

Lint is the villain — lint that has been

allowed to build up and linger too long in

the dryer exhaust vent.

It is estimated by the United States Consumer

Product Safety Commission and

the U.S. Fire Administration that 15,500

fires associated with clothes dryers occur

annually. These fires account for an average

of 20 deaths, 370 injuries and more

than $88 million in property damage.

"Failure to clean the dryer vent" was

the leading factor cited in U.S. Fire Administration

reports.

"It is something very few people know

about or think about," said Enzenberger,

whose company specializes in dryer vent

cleaning, repair, alteration and installation.

"It is the leading cause of dryer

fires."

Lint accumulation also can cause dryers

to stop working or to work inefficiently.

A dryer vent clogged with lint can add

as much as $18-24 per month to energy

costs.

"Improper venting causes problems,

as well," Enzenberger said. "The dryer

exhaust duct and connections should be

made of rigid metal or semi-rigid metal,

and secured with metal heat-resistant tape,

rather than duct tape. I often find plastic

or foil accordion-type material, which can

easily trap lint and is more susceptible to

kinks and crushing."

Warning signs include

• Clothes are taking more than one cycle

to dry, especially jeans and towels

• No lint visible on lint screen

• Dryer repeatedly stops during a cycle

• Clothes have moldy smell after dry cycle

• Clothes are very hot after a dry cycle

• The top of the dryer is hot to the touch

while running

• There is excess lint left on your clothing

"This has been a consumer education

process, but it's hard to get the word out,"

Enzenberger said. "Most don't call until

they have a serious problem with their

dryer."

He suggests people treat clothes dryers

as a household item in need of regular

maintenance. Consumers can protect

dryer performance and promote safety

by cleaning the lint screen between each

use, ensuring the connection between the

dryer and wall is made of compliant material

and remains unkinked, and having

the dryer exhaust duct cleaned regularly.

Dryer manufacturers recommend inspection

and cleaning at least annually.

Something to watch for in spring: Birds

will begin to build nests, and a popular

nesting site for birds is inside dryer vent

lines. Spring is an important time to have

an inspection, and cleaning of clothes dryers

and dryer vent systems.

Another important tip — never let the

clothes dryer run when out of the house

or asleep.

Submitted by Dryer Vent Wizard. For more

information, visit www.willcountydryervent.

com or call (815) 215-2090.
---
22ndCenturyMedia.com home & garden

22nd century media | April 5, 2018 | 7

Harvest the power of Fresh Raised Gardens for healthier living

Fresh Raised Gardens creates

healthy, organic, raised-bed vegetable

gardens and gardening solutions

for families, schools and

community centers.

Its goal is to help people take

control of the foods they eat by

harvesting their own fresh produce

in an easy-to-maintain

raised bed system. This familyowned

business began with the

intention of creating a simple way

to grow safe, fresh food for family

and friends, but Fresh Raised

Gardens soon discovered many

more reasons to help others plant

a garden, too.

Some key reasons to

start a raised-bed garden

• Take control of what the

family eats. By growing food,

people can eliminate chemicals,

pesticides and waxes. Even produce

such as organic citrus fruits,

out-of-season organic cucumbers

and organic apples can be waxed.

Growing fresh food from healthy

soil gives people more control

over its quality, reducing concern

for those with dietary restrictions

and allergies. As a parent, anyone

can take pride in knowing they

are putting earth-friendly foods

into the family's bodies.

• Encourages children of all ages

to eat produce. Fresh Raised

Gardens thank gardening for

the wide range of foods their

children love to eat. It was not

until the children began school

that other parents noticed the

children ate differently. A mother

would call them up after her

child ate dinner at their house,

asking how on earth they could

get her child to eat eggplant,

kohlrabi or Swiss chard.

• Get them outside and engaged. It

is all too easy to get caught up

in this fast-paced world. Sports,

activities and technology can

easily eat up time. Gardening

has helped families regain a

sense of balance and well-being.

It can help slow a family's pace,

if they chose, and allow them

an excuse to put down their

screens and reconnect with each

other. A garden offers a chance

for some light exercise, and

staying active keeps the mind

healthy. Working in the garden

can foster important life skills in

children, such as patience and

delayed gratification. Children

have developed their love of

science in a garden when they

build real connections to topics

such as photosynthesis, worm

composting and the plant life

cycle.

• Fresh is best. Food allowed to

ripen on the vine will develop

its full flavor. If one has ever

eaten a tomato, strawberry or

cucumber straight from the

garden, then one knows the full

flavor and texture is almost impossible

to find in any market.

Vine-ripened foods are allowed

to absorb higher levels on nutrients

and water, making

garden fresh foods higher in nutrition.

In fact, some foods begin

to lose their nutritional value

after they are picked, so eating

food straight from the backyard

also improves its nutrition.

Fresh Raised Gardens specializes

in raised-bed gardening, because

it is a perfect solution to

areas with poor or contaminated

soil, and uneven or wet ground.

A raised bed offers less soil compaction,

allowing for easy drainage

and ideal growing conditions

for root vegetables. The loose,

fertile soil of a raised bed makes

weeding a breeze and helps reduce

or eliminate the need for resorting

to harmful methods, such

as weed killers. In the right location,

a raised-bed garden almost

takes care of itself.

Getting started

Putting in a garden can be a

big undertaking, so Fresh Raised

Harvest your own fresh produce

from your own backyard!

Please see gardens, 8

• Garden consultation,

design, installation

• Fence planters

• Vertical garden boxes

• Rolling gardens for

areas with little space

and lots of shade

• Chicken coops

• Custom built for your

backyard patio and

landscape

• Integrate with

sprinkler system

• Ideas for people of all

ages and abilities

• Fencing Solutions for

deer/rabbits

Chemical free, eco friendly Garden Solutions contact Fresh Raised Gardens!

Mokena, IL • 708-297-7488 • facebook.com/freshraisedgardens

Free garden consultation when you mention this ad.
---
8 | April 5, 2018 | 22nd century media home & garden

22ndCenturyMedia.com

gardens

From Page 7

Gardens have come up with solutions

where they do all of the work.

Fresh Raised Gardens custombuilds

all gardens specifically for

each client. They offer consultations,

design, installation, improvements on

existing gardens, planting suggestions

and even soil care. From strawberry

enclosures, herb gardens, chicken

coops, wheelchair accessible solutions

and planters to full community

gardens, they create gardens for all

ages and abilities.

They meet at homes or businesses,

and discuss growing conditions, assess

the area, and identify potential

barriers, so they can help the garden

succeed. Fresh Raised Gardens address

pest problems, such as rabbits or

deer, location of water and resources,

and understand the gardener's time/

abilities to create a garden that is easy

to reach and tend to.

Once the plans are finalized, the

garden is installed and filled with the

recommended soil mixture, and any

pavers, gravel, arbors, benches, etc. are

completed, and the garden is ready to

plant. They use the highest-quality materials

that will last for years to come.

Fresh Raised Gardens has been

very active in the community. They

have many successful gardens

throughout Will County. They work

closely with the Will County Land

Use Department and have gardens at

the Will County Health Department,

several schools/churches and community

gardens in Forest Park and

Joliet, and this spring they are working

with the Lockport Township

Park District to create a showcase

community garden. Fresh Raised

Gardens has been recognized for

their charitable works with Easter

Seals and other communities in Will

County for providing food solutions

in low-service areas.

Check out Fresh Raised Gardens

on Facebook for more chemical-free,

ecofriendly gardens solutions. Or

send them a message to find out more

information on how to harvest a fresh

raised garden.

Submitted by Fresh Raised Gardens. For

more information, visit facebook.com/fre

shraisedgardens or call (708) 297-7488.

Springtime landscape ambitions:

Spruce up the curb appeal

Many people already may

be making an update list, or

at least have acknowledged

what needs attention.

When does one tackle those

yard projects oneself, and

when should someone hire a

contractor?

Well, people must determine

what they are comfortable

with, but AreA Landscape

Supply Inc. in Mokena,

can lend just the right amount

of help in either situation.

Homeowners planning outdoor

projects can call or stop

inside AreA with their questions.

The experienced sales

staff can help calculate material

needed, recommend the

best product, and even give a

checklist of steps to follow for

installation.

Feeling overwhelmed? The

staff can recommend a suitable

landscaper or contractor

to complete the project successfully.

The Contractor Referral

Center, located inside

the main showroom, contains

photographs of completed

jobs and business cards of local

landscapers.

Top spring projects typically

include products such

as fertilizers and grass seed,

drain tile, mulches, and natural

and decorative stone.

Products are available in

bulk deliveries for large applications

or bagged in small

quantities. When delivering

in bulk, AreA's team of delivery

drivers takes pride in

offering courteous service by

going above and beyond for

the customers by following

specific dumping instructions

and requests. Care and respect

for property is practiced at the

highest level possible.

About AreA Landscape Supply

Area Landscape Supply

is located at 18851 S. Wolf

Road in Mokena. Orders can

be placed quickly and easily

over the phone at (708) 479-

8400.

People can request either

the highly popular same-day

delivery or place and order on

will call for a future delivery.

Customers also can stop in,

see the selection and take an

in-stock choice home immediately.

Submitted by AreA Landscape

Supply. For detailed product

information, visit www.AreaLand

scapeSupply.com, and "like" the

at www.facebook.com/AreA

LandscapeSupply to be notified

of events, special sales and much

more.
---
22ndCenturyMedia.com home & garden

22nd century media | April 5, 2018 | 9

A BETTER

DOOR & WINDOW

Your source for one of America's most trusted

brands of windows and patio doors.

Palos Country Club the

perfect backdrop for any event

Palos Country Club is

proud of its tradition, providing

only the finest quality

food and service.

Its scenic golf course

and classic clubhouse are

sure to provide the perfect

backdrop for any happening

to be a treasured event

to remember.

Golf

Southmoor Gold Club

is currently booking dates

for group outings for the

2018 golf season. It also

is accepting reservations

for membership in golf

leagues and permanent tee

times.

Ken Killian, the course

designer, has designed

prestigious golf courses,

such as Kemper Lakes.

The new nine-hole course

will play as 18 holes with

two tee boxes. It is Chicago

District Golf Association

rated and plays to a

length of 6,275 yards. The

signature 7th hole features

an island green nestled between

existing ponds and

trees.

The club is now accepting

applications for pro

shop cashiers and starters.

For more information,

email pat_pcc@yahoo.

com or call (708) 448-

6550.

Weddings and banquets

Palos offers an extensive

menu of tantalizing cuisine,

and the chef will be

happy to design a customized

menu to better suit

special occasions.

From a champagne luncheon

overlooking the golf

course to an extravagant

reception in the Grand Ball

Room, Palos is pleased to

accommodate a variety of

events. Its banquets rooms

can accommodate 15-400

guests. Its experienced

banquet coordinators are

excited to work with customers

to plan the perfect

celebration.

To request a copy of

menus, call the Banquet

Office at (708) 448-6550.

The Clubhouse

Inn Bar & Grill

Palos offers a package

include two 9-hole green

fees plus cart, one selection

per person from the menu,

and one beverage selection

per person for $60 per couple,

with all taxes included,

after 3 p.m. Fridays and

Saturdays.

Submitted by Palos Country

Club, 13100 Southwest

Highway in Orland Park.

To make a reservation, call

(708) 448-6550.

©2009AndersenCorporation. All rights reserved.

Enhance the comfort and look of your

home with Andersen ® patio doors

If your patio doors have seen better days,it's time to replace them

with Andersen® patio doors. Thanks to High Performance Low-E4

insulating glass, natural wood construction and a tight, long-lasting

seal, Andersen patio doors stand up to nature's elements beautifully

for years.

$100 OFF PATIO DOOR INSTALLATION

Not valid with previous offers or other discounts.

Must mention this ad. Expires 6/01/18 • HG0405

9960 W. 191st St., Mokena

708-479-5559

www.abetterdoorandwindow.com

Do it yourself or professional installation available.

Discover the difference an Andersen patio door can make.

Visit our showroom today.

*See the limited warranty for details.
---
10 | April 5, 2018 | 22nd century media home & garden

22ndCenturyMedia.com

Koreman ready to

create landscapes that

meet customers' needs

Create

your

Ideal Outdoor Space

Design & Installation

Patios, Fire Features, Pool

Decks, Outdoor Kitchens,

Complete Plant Design

And Installation

815.464.5643

www.koremanlandscape.net

Frankfort, IL

Koreman-Greenhouse-and-Landscape-Company/182865775062276

Koreman Landscape

Company designs, installs

and maintains custom outdoor

living spaces, such as

patios, plantings and pool

decks.

The company has served

the Lincolnway community

since 2000. Their

designs and installations

have won awards in Frankfort,

Mokena, Tinley Park

and Chicago.

Koreman Landscape is

owned and operated by

Paul and Melanie Koreman.

They live in Frankfort

with their three daughters.

Paul came into the industry

with a master's degree

in horticulture and a strong

creative drive. Melanie

is a lifelong resident of

Frankfort and deeply understands

the community.

Customers may remember

them from the Frankfort

farmers market, where

they were regular vendors

for more than 10 years.

There are some fundamental

things that people

will always want from

their outdoor space. Privacy,

comfort and resortstyle

living are requests

Koreman hears often. The

days of solid banks of evergreens

along the foundation

and huge swaths of

pavement are gone.

First-time homeowners

and established residents

all ask for a fresh look

for their landscapes. They

want plantings that change

with the seasons and reflect

the native landscape.

Patios and outdoor living

spaces need to flow out

of the house as part of the

total family space. Plants

and shade elements like

pergolas are worked into

the patio, so residents and

party guests are drawn into

the entire property.

Koreman says outdoor

lighting is a great way

to increase the sense of

space and connect the inside

with the outdoors.

These and other modern

design elements are built

into every outdoor living

space designed and installed

by Koreman Landscape.

Koreman's practical

knowledge of outdoor

construction and deep understanding

of how plants

grow in this landscape is

the perfect combination

of skills to create the best

outdoor space to which

friends and family will

want to return.

Submitted by Koreman

Landscape Company. For

more information, visit the

company on Facebook, at

koremanlandscape.net, or

call for a consultation at

(815) 464-5643.
---
22ndCenturyMedia.com home & garden

22nd century media | April 5, 2018 | 11

Izzy's works to make customers look like superstar gift-givers

"Welcome to Izzy's

Gifts!"

That is what customers

will hear when they walk

into the newest addition to

Mokena's small list of gift

boutiques.

Customers might even

be greeted by the fourlegged

owners, Izzy and

Bella, who many might

remember from their previous

gift store, Clock

Tower Gifts. With their

new location, 11318 W.

Lincoln Highway, and

new name, Izzy's Gifts

and Bella's Home Accents,

comes a boutique

that has been missed by

many.

At Izzy's Gifts, customers

can enjoy old-school

retail at its very best. If

one is looking to update a

room in the home, Izzy's

is the place to find a variety

of home decor in today's

styles — wall decor,

tabletop decor, small accent

furniture and lighting.

Patrons can enjoy the

warm, inviting atmosphere

of Izzy's Gifts and

get some inspiration from

numerous beautiful displays

of quality merchandise.

Even if one does not

know what one is looking

for, the experienced (more

than 25 years of gift-giving)

sales staff can help

customers find the perfect

gift for just about anyone

that they will be proud to

give.

Izzy's Gifts has wide

range of prices to fit everyone's

budget. Beautiful

jewelry from less than

$20, collectable art from

Houston Llew, Trollbeads

— a sterling silver, gold

and glass jewelry line that

will share the moments of

life, Mariposa polished

aluminum table servingware

to dress up any

table setting, Lollia and

The Cottage Greenhouse

personal care lines that

help keep skin at its softest,

Voluspa Candles and

Thymes Home Fragrances

will keep homes smelling

great year-round.

People can stop in, welcome

the girls back and

enjoy their new store.

They are located at 11318

W. Lincoln Highway in

Mokena. They are two

doors down from Oberweis.

Hours are 10 a.m.-6

p.m. Monday- Friday, 10

a.m.-5 p.m. Saturday and

11 a.m.-4 p.m. Sunday.

Complimentary gift

wrapping is always available

to make customers

look like superstars.

Submitted by Izzy's Gifts and

Bella's Home Accents. For

more information, call (815)

277-2978.
---
12 | April 5, 2018 | 22nd century media home & garden

22ndCenturyMedia.com

APEK Inc. more than just another roofer

Every year around this

time the usual worries

come up if people are

homeowners, from spring

cleaning inside to updating

or repairing their home on

the outside.

There will always be a

new headache on the horizon

as a homeowner,

which is why APEK Inc. is

here to help.

APEK Inc. specializes

in roofing, siding, soffit,

fascia and gutters. In addition,

it has been completing

on-the-spot repairs

since 2014 with great

success. Located in New

Lenox, it currently has a

10,000-square-foot warehouse

in order to make it

easier and more efficient

to service homeowners

needs.

This year, APEK Inc.

is honored to be receiving

the Southwest Choice

Award for Best Roofing in

the southwest suburbs. It is

a privilege to be surrounded

by a great local community

who truly appreciates

the hard work that is put in

everyday toward meeting

home exterior needs.

APEK does its absolute

best to ensure quality work

is done on the customer's

home and at an affordable

price. It is a familyrun

company that opened

its doors in 2008 and has

been growing and evolving

with the local economy

ever since. APEK

truly understands the value

and investment customers

put into their homes and

strives to ensure customer

satisfaction with each job

that is completed.

When it opened in 2008,

it only had a few employees

but big dreams of helping

homeowners in need

of reaching their home exterior

goals. The owners,

Jim and Becky, have put

in the time and effort every

day since in order for

this company to become

what it is now. The level of

care and expertise found in

APEK Inc. cannot be beat.

Since then, APEK has

gained knowledge and

experience in the industry,

and every year grows

stronger and more efficient

with its workmanship. As a

family-run business, it understands

what customers

want in a roofing company.

It knows what people crave

is the most knowledgeable

salesman, excellent customer

service and genuine

people who will guide

them in the right direction,

especially when making

big decisions about their

homes. This is one of the

major aspects that sets it

apart from the rest.

One thing about which

APEK is excited for this

upcoming season is it soon

will be able to offer financing

with the hope that this

alleviates some stress and

worries that come with big

decisions, such as a new

roof or siding for a customer's

home. APEK does its

best to make sure it can help

in any way possible to make

this an easy and unforgettable

experience for customers.

It is familiar with the

hardships life can throw at

people, and that is why they

want to make a point of going

the extra mile for all of

its customers.

Those looking for work

to be done on their homes'

exteriors then can call

and make an appointment

today for a free estimate

with an APEK salesman.

They will have all of the

information needed and

will be able to answer any

questions about the entire

process, from start to finish.

Make sure to check

them out on Angie's List

and read the reviews, too.

APEK Inc. knows that

updating a home's exterior

is a big project, it is here to

be sure the whole process

goes smoothly.

Submitted by APEK Inc.,

1005 Industry Road in New

Lenox. For more information,

call (815) 774-0900 or

visit www.apekinc.com.

2018

WINNER

10% OFF With Ad!

ADDITIONAL 5% OFF FOR ALL MILITARY, POLICE & FIRE

• Flat & Shingle Roofs

ON THE SPOT

• Soffit/Fascia

REPAIRS!

• Gutters • Siding

FREE ESTIMATES

FAMILY OWNED & OPERATED

815.774.0900 • 708.479.2002

Licensed • Bonded • Insured

License # IL 104015809

Leave the writing

to the pros.

Local writing professionals

for all your copy needs.

BOOST YOUR BUSINESS NOW:

708.329.8594 or content@22ndcm.com

FOR MORE: 22CMBOOST.COM
---
22ndCenturyMedia.com home & garden

22nd century media | April 5, 2018 | 13

Cabinets • Granite • Marble • Tile • Custom Showers • Fireplaces

Stop by and view more than 200 samples!

We have more than 350 full slabs of

natural stone and quartz and thousands

of remnants in our indoor showroom.

State of art precision equipment for a

custom fit. Starting at:

GRANITE

QUARTZ

$

35 sqft

$

39

10 Colors 5 Colors

sqft

(while supplies last, see an associate for details. Restrictions apply. Valid thru 4/30/18.)

FREE estimates and design ideas by our experienced on staff interior designers

FREE

16 Gauge Undermount Stainless

Steel Sinks and 15 Year Sealer*

OR

FREE

removal of your existing

laminate countertops*

The Granite & Marble Depot

*Min. Purchase of 45 sq.ft. of Countertops. Restrictions Apply- See Store for Details.

Valid thru 4/30/18

708-479-7770 • mygranite.com

19636 97th Ave. ~ Suite 1 • Mokena

Showroom Hours

M-F 8am-5pm • Sat. 9am-1pm • Sunday Closed
---
14 | April 5, 2018 | 22nd century media home & garden

22ndCenturyMedia.com

Is the roof ready for spring storms?

Spring is here.

Now is a good time to

check for roof problems

that may have developed

or worsened over the winter

months. It is wise to address

roof problems while

they are still minor, before

they develop into major

problems that can cause

significant damage to the

inside of a home.

Prusak Roofing Inc. developed

this checklist to

ensure the roof is in good

condition to withstand

spring storms.

Outside roof check

• Loose nails, loose or

missing shingles

• Finding nails on the

ground

• Split or curled shingles,

or those missing granules

• Sagging or bulging areas

on the roof

• Signs of animal activity

• Damaged/rusted/missing

flashing

• Damaged gutters or

downspouts

• Rotted or damaged fascia

board

• Hail or wind damaged

areas of roofing, siding

and fascia

Inside roof/attic check

• Leaks around chimney or

vents

• Water stains on ceilings

or walls

• Proper ventilation

• Sagging between rafters

• Visible light from outside

Minor problems can develop

quickly into major

issues with spring storms.

If one suspects there might

be a roof problem, a professional

assessment is

recommended.

Spring storms, with

wind and hail, may cause

both visible and unseen

damage to the roof. Homeowners

should check roofs

and siding following a severe

storm. Finding shingles

on the ground is an indication

of a problem, but

many roof problems are

not detected by the homeowner

until interior damage

occurs. If a homeowner

believes there may be

damage following a storm,

contact Prusak Roofing —

storm damage experts.

The business will respond

quickly, inspect the

roof, show photographs of

any damaged areas and, if

repair is needed, provide

homeowners with an estimate

for repair.

Prusak Roofing is a family-owned

business with

55 years of experience in

roofing, siding and gutters.

The business considers it a

privilege to be able to serve

customers, and realizes the

best recommendation is

when customers refer us to

their families, friends and

neighbors. Prusak Roofing

has an A+ rating with the

Better Business Bureau.

It is licensed, bonded and

insured.

Selecting the right contractor

is the most important

factor to a successful

home repair. Customers

should consider the contractor's

reputation, length

of time in business, quality

of work, the guarantee of

work being completed as

expected, honest and fair

pricing, and the promise

from the company to stand

behind its work. Prusak

Roofing's success have

been built on these principles,

and would like to

show area residents who it

is the company of choice

for thousands of homeowners.

Submitted by Prusak Roofing.

For more information, call

(708) 422-2624 or visit www.

prusakroofing.com.

Granite and Marble Depot offers variety, service

"To establish lasting relationships

with our customers

by exceeding their

expectations and earning

their trust through exceptional

products and performance.

We want you to be

proud."

The Granite & Marble

Depot offers more than

100 species of marble and

more than 200 species of

natural granite, marble,

quartz, limestone, travertine

and slate in a wide variety

of colors to suit most

needs. Its professional and

dedicated staff will assist

customers in the design

and selection process to

ensure the most functional

and pleasing setup.

The business provides

complete and professional

installation in its service

area. Its experienced crew

will ensure customers' utmost

satisfaction.

Easy and quick, GMD

makes it an easy three-step

process.

Step 1 involves choosing

the perfect stone design.

The Granite & Marble Depot

offers a free consultation

at a customer's home,

office or its showroom to

discuss needs and suggest

ideas. GMD highly recommends

that customers

bring a sketch of the project

to its showroom. It is a

good idea to bring a cabinet

sample and paint color,

as well. A GMD consultant

can help customers choose

the right stone, as there are

hundreds of colors from

which to choose.

Step 2 is placing the order.

To place an order with

GMD, it requires customers

to have the following

steps complete in their

home. Cabinets need to be

installed. All of the appliances

in the kitchen need

to be on location. The sink

needs to be on location,

so that GMD may take it

as a template for the sink

cutout.

Once the above requirements

are satisfied, GMD

can come out to measure/

template the kitchen. The

installers will work with

customers to make sure

all the specifications and

technical details are provided.

The last and final step is

the installation. The homeowner

must be present for

installation. GMD will

install the countertop and

backsplash.

Lastly, it will drill the

faucet holes, attach the

sink and mount the dishwasher.

The ownership difference

GMD is committed to

enhancing the home-living

lifestyle. It aims at "Making

You Proud." If customers

wish, GMD can keep

records to inform them

of the latest news about

natural stones. GMD will

always seek feedback so,

it can make the right adjustments

to enhance its

customer satisfaction goal.

The right stone

Having the best quality,

best selection of colors

and fabricating options,

GMD's team of stone enthusiasts

guarantees satisfaction

and maximizes the

experience.

The products

• Granite

• Marble

• Quartz

• Slate

• Travertine

• Limestone

The right price

The All-Inclusive Value

Price gets customers on the

way from Day 1, with no

surprises. The purchase experience

will be as simple as

it is enjoyable.

The delivery difference

When GMD says on

time, it means it. Every

customer receives a professional

orientation on

the features of their stone

and the simple way to care

for it. Customers and their

families will feel very

proud of the investment.

Submitted by The Granite

and Marble Depot, 19636

97th Ave. in Mokena. For

more information, call (708)

479-7770 or visit www.

mygranite.com.
---
22ndCenturyMedia.com home & garden

22nd century media | April 5, 2018 | 15

HAIL AND STORM DAMAGE EXPERTS

(708) 422-2624

SPRING ROOF

DISCOUNT

$500 OFF

Any Roof Over $5,000.

Not Valid with any other offer. Expires 5/31/18

RESIDENTIAL AND COMMERCIAL EXPERTS! 50 YEARS EXPERIENCE

Hail &

Storm Damage

Financing Available!

Free Estimates!
---
16 | April 5, 2018 | 22nd century media home & garden

22ndCenturyMedia.com

Can your home use a makeover? • We make dreams come true

Our team of skilled craftsmen is committed to providing the highest

quality products and services for each and every customer.

Why not join the thousands of satisfied

customers who have chosen us for

their home improvement projects.

Roofing, Siding, Gutters,

Soffit/Fascia... and more!!

Call today for your FREE

in home consultation!

A trusted name for over 25 years.

LOCALLY OWNED AND OPERATED

847.559.9119 • protoproofing.com

Lifetime Warranties •Fully Insured •Financing Available

SPRING

PRICING

SPECIALS

Illinois Unlimited Roofing License #104-008010

Family Owned & Operated Since 1994

WE PUT THE "D" IN DOORS!

• Maintenance

• Repairs

• Installations

• Sales

5030 W. 127th St. • Alsip, IL 60803 • (815) 464-4300 • www.dndoors.com
---
22ndCenturyMedia.com home & garden

22nd century media | April 5, 2018 | 17

Circle Tractor stands behind its service

For more than 33 years, people

from the southwest suburbs

have been coming to Circle

Tractor for the highest-quality

tractors, lawn equipment and attentive

service. That has been a

hallmark of the business.

Circle Tractor offers the widest

selection of cutting-edge

products from the industry-leading

brands — John Deere, Toro,

Honda and the latest addition,

Avant.

The dealership has grown

from a small specialty shop to

one of the largest multi-line

outdoor power equipment dealers

in the area. At Circle Tractor,

the business prides itself on

customer service and the ability

to meet customers' individual

needs. Circle Tractor knows how

important equipment is to its

customers and understands

they want someone they

trust to maintain it.

Its parts department is staffed

by experienced professionals

who want to make sure customers

get the right part when they

need it and at a fair price. Circle

Tractor carries more than 10,000

original equipment manufacturer

parts in stock, and if for any

reason it is not carrying the part

someone needs can gladly have

it shipped to the store within just

a couple days.

Having trouble finding a part?

Customers can come in and talk

to one of Circle Tractor's parts

employees, who will gladly

help customers locate the

proper part needed

for a machine.

The service department is

staffed by factory-trained and

certified professional mechanics.

Circle Tractor pride itself on

thorough inspections and proper

diagnoses of machines, in a timely

manner. The service department

stands behind its work to

ensure customers' equipment is

working properly through

the entire lawn and

garden season.

Submitted by Circle Tractor, 12608

W. 159th St. in Homer Glen. For

more information, call (708)

301-0222 or visit www.

circletractor.

com

Expert solutions and equipment

forabetter-looking lawn.

RESIDENTIAL ZTRAK MOWERS

NO INTEREST

IF PAID IN

FULL WITHIN

12 MONTHS

Interest will be chargedtoyour

accountat17.9% at APRfrom the

purchasedateifthe purchase

balanceisnot not paid in full within

12 months or if your accountis

otherwiseindefault.

12608W.159th 159th St. • 708-301-0222

Visitusonlineat circletractor.com

*Offer valid on purchases made through April 30, 2018. Subject to approved credit on aRevolving Plan account, aservice of John Deere Financial, f.s.b. Forconsumer use only.Nodown

payment required. Interestwill be charged to your account from the purchase date at 17.9% APR if the purchase balance is not paid in full within 12 months or if your account is otherwise

in default. Available at participatingU.S. dealers. Prices and models may vary by dealer. Offers available on new equipment and in the U.S. only.Prices and savings in U.S. dollars.
---
18 | April 5, 2018 | 22nd century media home & garden

22ndCenturyMedia.com

What homeowners should consider when hiring a professional

As we begin to crawl out of

the gaps of a shaken economy,

many are still looking for work

wherever they can find it.

The downside to this fact is

that many people today are hiring

untrained and under-skilled

contractors who think that they

have learned a few things from

a couple DIY Network shows

and are taking jobs as they come

"just for the money."

We have all heard the phrase,

"you get what you pay for," and

it could not be more accurate

when talking about home improvements.

These contractors,

or fly-by-night companies, roll

into the home and shoot a lowball

price one is eager to jump

on because one is trying to spend

with providence (who isn't,

right?), but are unaware that

those steal-of-a-deal prices come

with a hefty drawback.

Many of these businesses fail

to carry the necessary insurance

for their trade, lack continuing

and professional education to

further their skills, and do not involve

themselves with state and

national professional associations,

where industry standards

are set and regulated.

So how do these factors affect

the homeowner?

Certified professionals in their

fields have gone the extra lengths

to learn and apply knowledgeable

skills through written examinations,

showing that they

understand how to solve and

correct problems, and through

hands-on demonstrations evaluated

by industry leaders. They do

this because they not only take

pride in crafting quality work

but also have an aspiration for

enriching the lives of others who

benefit from their applied skills.

Hiring a certified professional

means the project was considered

with the future in mind — a

job that has functional longevity

with products that are engineered

to last. Most projects,

when comparing work done by

certified and untrained professionals,

will come out looking

similar when completed, but the

worst nightmare for any homeowner

who has just invested a

good chunk of change into their

property is to have that project

start to slowly fall apart or fail

on them after only a short time

of use.

These trade workers and their

projects fail mostly because

of improper planning, lack of

knowledge in the specific details

of the job and a willingness to

cut corners to save money, themselves.

These factors usually go

unseen by the homeowner and

are not noticed until it is too late,

resulting in more money for a

correction, or a permanent reminder

of poor-quality work, if

left unfixed.

Three Brothers Landscaping

Inc. provides design, build and

maintenance services that are

structured around integrity and a

strong commitment to customer

service.

They employ several certifications

and designations from

general landscaping and maintenance,

water features, hardscaping

and paving, and more.

With an emphasis on continuing

education, Three Brothers Landscaping

seeks to always be at the

forefront of quality standards

and design trends, and works to

inform clients on how to implement

these features in their projects.

Call for a free consultation

with a representative today, and

begin to think outside.

Submitted by Three Brothers Landscaping

Inc. For more information,

visit www.threebrotherslandscap

ing.net or call (708) 687-8091.

OR VISIT US ON THE WEB AT

708.687.8091 www.threebrotherslandscaping.net

Think Outside

Design • Build • Maintain

•Over 25 Years of Professional Service

•Certified Landscape Technician on Staff

•Full Service Residential and Commercial

Maintenance Programs

We Do:

Patios •Driveways •Walls •Fireplaces

Water Features •Plantings •Outdoor Living
---
22ndCenturyMedia.com home & garden

22nd century media | April 5, 2018 | 19

Taylor Steam

provides superior

cleaning service

10% OFF

When You

Mention

The Code

steam18

CARPET

&

UPHOLSTERY

SAME DAY

OR NEXT

DAY SERVICE

Call for Appointment 708-385-5057

ANY SIZE ROOM

$

20

All work guaranteed to

customer satisfaction

guaranteed!

per room

(2 Rooms Minimum)

For 30 years, Taylor

Steam has been providing

superior service, using

state-of-the-art equipment

to achieve desired goals

and meet its customers'

expectations.

Although there are

many cleaning methods in

the carpet-cleaning industry,

the only one that can

meet expectations is a true

steam cleaning method.

This is the recommended

cleaning method of major

carpet, upholstery and tapestry

manufacturers, who

often void warranty if other

methods are used.

The significant advantages

are as follows.

• Sanitizing and deodorizing

• Water reaching 200 degrees

kills germs, bacteria,

odor, allergens and

toxins

• Less chemicals (This

means you can rest assured

children and pets

are safe when detergents

and cleaners are

added and not removed

properly. Other methods

leave the fabric attracting

even more dirt, and

can make the carpet dirtier

over time, and spots

reappear after cleaning.

Steam cleaning removes

deep dirt and leaves no

residue.)

• Quicker drying time

• Non-damaging and extended

carpet life

Leave the steaming to

Taylor Steam.

Submitted by Taylor Steam.

For more information, call

(708) 385-5057.

WHOLE

HOUSE

$

80

CARPET

CLEANING

Any 6 Rooms *

(IL-Shaped & Great Room

Considered 2 Rooms)

• Some Furniture Moved

• Odor Control Available

• Free Pre-Spot

UPHOLSTERY

CLEANING

Chair

$

15

Loveseat 2 CUSHION

$

25

Sofa 3 CUSHION

$

30

CHIMNEY

$

45

CLEANING

per flue

TILE & GROUT CLEANING

• Deep Clean Extraction

• Free Deodorizer

• Free Color Brightener

WHOLE HOUSE

DUCT CLEANING

Removes Up To 96%

Of All Dust, Dirt,

Pollen, Mold Spores

& Animal Dander

$

95

Unlimited Registers

Single Furnace

Home

• Truck Mount Unit

NO HIDDEN

CHARGES

• INSURED & BONDED • ALL WORK GUARANTEED
---
20 | April 5, 2018 | 22nd century media home & garden

22ndCenturyMedia.com

Call Today to Save 25% and Receive Exclusive DISH Deals!

DISH Special Offer

$

49 99

/mo

for 24 mo.

High Speed Internet

$

14 95

/mo

190+ Channels

Watch all of your favorites

FREE Premium Movies

Get HBO, Showtime & more for 3 months

FREE Next Day Installation!

Scheduling may vary & up to 6 TVs

FREE Hopper HD DVR

Record up to 16 shows at the same time

ADD To Any DISH Package

Easy and flexible package options

SAVE When You Bundle

Apply additional savings when you add Internet

Options Available Nationwide

Pricing and speeds vary

#1 In Customer Satisfaction

2016 independent study

Subject to availability. Restrictions apply.

#1 99.9% NO CONTRACT FREE

In Customer Service! Signal Reliability! Options Available Streaming on Any Devices!

FREE PREMIUM MOVIES

For 3 Months

Discover the Hopper 3

DISH Network's Hopper 3 is the new standard in

Whole Home HD-DVR

Watch and Record over 16 shows at once!

Experience 4k Ultra HD Picture Quality

Integrated Netflix, YouTube, plus dozens more apps!

Call Today & Save Up To 25%! 1-855-399-2230

All offers require credit qualification, 2-Year commitment with early termination fee and eAutoPay. Important Terms and Conditions: Qualification: Advertised price requires credit qualification and eAutoPay. Upfront activation and/or receiver upgrade fees may apply based on

credit qualification. Offer ends 1/15/18. 2-Year Commitment: Early termination fee of $20/mo. remaining applies if you cancel early. Included in 2-year price guarantee at $49.99 advertised price: America's Top 120 programming package, Local channels HD service fees, and

equipment for 1 TV. NOT included in 2-year price guarantee or advertised price (and subject to change): Taxes & surcharges, add-on programming (including premium channels), DISH Protect, and transactional fees. Premium Channels: After 3 mos., you will be billed $55/mo. for

HBO, Cinemax, Showtime, Starz and DISH Movie Pack unless you call to cancel. Other: All packages, programming, features, and functionality and all prices and fees not included in price lock are subject to change without notice. After 6 mos., you will be billed $8.99/mo. for DISH

Protect unless you call to cancel. After 2 years, then-current everyday prices for all services apply. For business customers, additional monthly fees may apply. HBO®, Cinemax® and related channels and service marks are the property of Home Box Office, Inc. SHOWTIME is a

registered trademark of Showtime Networks Inc., a CBS Company. STARZ and related channels and service marks are property of Starz Entertainment, LLC.
---
22ndCenturyMedia.com home & garden

22nd century media | April 5, 2018 | 21

Superior Cabinet Supply's Customers speak for them

Superior Cabinet Supply is

fast approaching its 33nd year

of providing American-made

cabinetry and countertops to

homeowners, contractors and

home builders.

Superior Cabinet's roots

started in Park Forest in May

of 1985, as Superior Cabinet

& Window. In 2006, Frank

Klauck, owner and president,

opened his second location, Superior

Cabinet Supply at 19800

S. Harlem in Frankfort — just

north of Lincoln-Way North

High School in Harlem Crossings

Shopping Center.

Klauck was a carpentry contractor

for 10 years before

starting the cabinet and window

business in Park Forest.

By 1990, he began phasing out

home building and construction

projects, and focused more on

his role as a window contractor

and kitchen and bath dealer who

served homebuilders, contractors

and homeowners directly.

Klauck's wife, Sandy, has

worked with him for 19 years

at both showrooms. She states

word-of-mouth referrals are the

bulk of their business. Approximately

85 percent of their new

customers come from referrals

by homeowners and contractors.

"As humble as we are,

accolades are like receiving an

award, as customer satisfaction

in itself is our reward," Sandy

said.

Here is an email sent to Superior

by a satisfied homeowner

from Tinley Park. This project

was installed by a long-standing

contractor in Tinley Park, Castlebar

Construction.

"Hi Frank, I cannot thank

you and Superior Cabinet Supply

enough! The design of my

kitchen is just perfect for me.

The layout of the cabinets has

a great flow, and everything I

need is at arm's reach. I love my

new kitchen. Frank, I appreciate

your design work and incorporating

everything that I wanted

in my kitchen remodel. My

walk-in pantry is awesome, and

using cabinet doors as an invisible

entrance makes it blend in

beautifully with the utility cabinets

on both sides. This is my

'hidden gem' for storage. The

cabinets with the pull-outs are

great. No more getting down on

the floor to find things.

Thanks again, Frank and Superior

Cabinet, for making this experience

an enjoyable one, and

the finished product a beautiful

kitchen."

—Pat and Ken, Tinley Park

Superior Cabinet offers instore

planning and design consultations,

3-D computer design

and layout, in-home measurements

with order, and delivery

and installation services.

Visit Superior Cabinet's

website at www.SuperiorCabi

netSupply.com for more information

on the cabinetry and

countertops the business carries,

as well as showroom hours.

Submitted by Superior Cabinet

Supply.
---
22 | April 5, 2018 | 22nd century media home & garden

22ndCenturyMedia.com

Tinley Park's Lawn-Tech Ltd. has served

area customers for 34 years

Lawn-Tech Ltd. is a

34-year-old family-owned

business specializing in

the custom application of

fertilizers and pesticides to

lawns, trees and shrubs.

It currently services

12,000 properties in the

southwest suburban area

with 21 service vehicles.

Lawn-Tech uses granular

fertilizer and liquid

weed controls year-round

to care for lawns. Optional

services include preventive

grub control, core aeration,

preventive and curative

insect and disease control,

specialty programs for

diseased lawns, and preemergent

control of weeds

in landscape beds. It offers

flexible programs based on

the customer's expectations

and finances.

Lawn-Tech also offers

tree and shrub fertilization,

treatment for insect and disease

suppression, and specialty

programs if needed

for plant-specific problems.

Lawn-Tech customers receive

newsletters when the

lawn is serviced that discuss

common seasonal problems

customers' lawns may be

experiencing, as well as

guidelines on how to do

their maintenance activities

correctly.

Lawn-Tech dry fertilizers

contain controlled release

nitrogen year-round

to give a more even feeding

over the entire application

period, and to reduce

stress and burn potential

in hot dry weather. Lawn-

Tech thinks this is a major

difference between their

program and others, whose

brochures may only mention

controlled-release nitrogen

in one summer application

to reduce "burn"

potential.

If other companies were

using controlled-release

year-round,that would be a

major selling point, which

one would expect they

would mention. Quickrelease

nitrogen is much

cheaper, which is reflected

in their low prices. If they

offer a free application

when a customer takes full

service, it is probably just

cheap nitrogen and nothing

else.

Lawn-Tech services residential

lawns, as well as

businesses, school districts,

football and baseball fields.

For a no-cost, no-obligation

quote for lawn and landscape

needs, or to receive

10 percent off a spring or

fall core aeration, contact

Lawn-Tech at (708) 532-

7411.

Submitted by Lawn-Tech Ltd.,

7320 Duvan Drive in Tinley

Park. For more information,

call (708) 532-7411 or visit

www.lawntechltd.com.

Schaaf continues to provide best value to customers

Since its inception in

1959, Schaaf Window Co.

Inc. has prided itself on

providing the highest quality

and best valued products

to its customers.

This philosophy has

helped grow Schaaf Window

Co. into an industry

leader, distributing a wide

range of quality windows

and related products

throughout the Chicago

area.

As many satisfied customers

have come to

know, Schaaf Window offers

not only products and

services on which customers

can depend but also a

long-lasting partnership

with every one of its customers,

both builders and

homeowners alike.

A family-owned business,

Schaaf Window

began with a focus on

customer satisfaction. Today,

it maintains that unwavering

commitment to

superior service, offering

a wide range of products

and services to builders,

contractors and homeowners

throughout the Chicago

area.

Schaaf Window is a onestop

distributor of highquality

windows (wood,

wood clad, and vinyl),

exterior doors (wood, fiberglass

and steel, with

many glass options), interior

doors (hardwood,

MDF and molded composite),

skylights, millwork,

mirrors, glass and shower

doors. It backs up its products

with years of technical

experience and a courteous

customer service staff.

Schaaf offers installation

of windows, doors

and shower doors using

its own employees, who

are trained to the manufacturer's

specifications.

They will meet customers

at their homes or job sites

for a no-cost estimate.

From its facility in Tinley

Park, Schaaf serves

homeowners and a wide

range of builders, from

tract to custom to highend.

Its 91,000-squarefoot

facility is a home

base for its employees to

serve all of Chicagoland.

They serve each customer

personally, with a suite of

professional resources to

offer.

As the business has continued

to grow, so has the

reach. Schaaf recently acquired

Area Glass out of

St. John, Indiana, which

has allowed it to reach a

whole new set of customers

and expand the business

capabilities. It also

has moved onto many social

media platforms, such

as Facebook and Instagram,

where it encourages

interested homeowners to

follow and check out the

variety of products it has

to offer.

Submitted by Schaaf Window

Co. Inc., 18445 Thompson

Court in Tinley Park. For

more information, call (708)

342-0900 or visit www.

schaafwindow.com.
---
22ndCenturyMedia.com home & garden

22nd century media | April 5, 2018 | 23

FREE ESTIMATES

LA

Lawn-Tech , LTD. (708) 532-7411

SINCE

1984

2018

WINNER

LAWN CARE

ALL DRY

FERTILIZER

PROGRAMS

• Preventive Grub Control

• Core Aeration

• Weed & Insect Control

• Landscape Weed Control

• Organic-Based & Diseased

Lawn Programs

Tinley Park, IL

TREE &

SHRUB CARE

• Deep Root Feeding

• Insect & Disease Control

• Dormant Oil

• Micronutrients

FIND OUT WHY 12,000 CUSTOMERS IN THE

SOUTHWEST SUBURBS LOOK FORWARD TO

OUR FAMILY OWNED BUSINESS

CARING FOR THEIR PROPERTY

-Mark & Sue Spence, Owners
---
24 | April 5, 2018 | 22nd century media home & garden

22ndCenturyMedia.com

18445 Thompson Ct. Tinley Park, IL

Call: (708) 342.0900

www.schaafwindow.com

Visit our

showroom

to view

our wide

selection

of products

Mention

this ad and

get 10% off

all service

products

• Windows • Interior & Exterior Doors • Mirrors & Glass

• Professional Installation & Service • Reglazing • Shower Doors

For over 50 years, Schaaf has serviced the Chicagoland area with high quality

products designed to improve your home.

Call us today for a free estimate on window replacements.

Follow us on