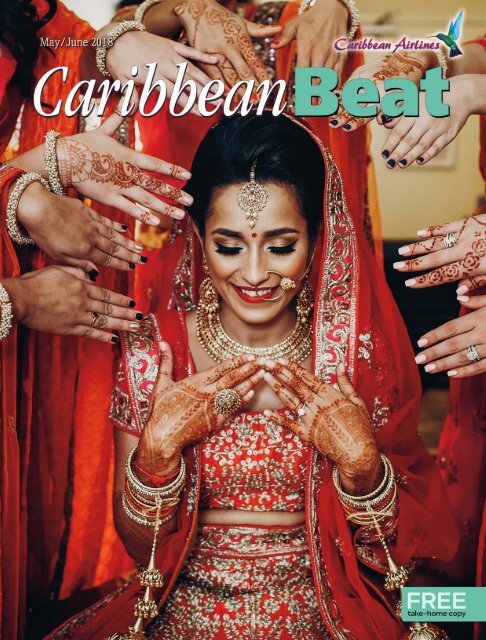 Caribbean Beat — May/June 2018 (#151)
A calendar of events; music, film, and book reviews; travel features; people profiles, and much more.
A calendar of events; music, film, and book reviews; travel features; people profiles, and much more.
SHOW MORE
SHOW LESS
You also want an ePaper? Increase the reach of your titles
YUMPU automatically turns print PDFs into web optimized ePapers that Google loves.
Is your Lady Luck

a princess?

Princess Hotels and Casinos

Belize

Ramada Belize City Princess Hotel

Princess Belize City Casino

Princess Freezone Hotel and Casino

Next Night Club – San Ignacio

Elite Night Club – Belize City

Princess San Ignacio Casino

Dominican Republic

Ramada Santo Domingo Princess Hotel

Princess Santo Domingo Casino

Guatemala

Guyana

Ramada Georgetown Princess Hotel

Princess Georgetown Casino

Princess Cinemas and Arcade

Next Night Club – Georgetown

Nicaragua

Princess Nicaragua Casino

Next Night Club – Managua

Panama

Sercotel Panama Princess Hotel

Princess Casino

Saint Maarten

Princess Coliseum Casino

Princess Tropicana Casino

Suriname

Ramada Paramaribo Princess Hotel

Princess Suriname Casino

Princess Paramaribo Casino

Trinidad

Princess Movietowne – Port of Spain

Princess Price Plaza – Chaguanas

Southpark Princess – San Fernando

Next Night Club – San Fernando

HOTELS &

CASINOS

Guatemala Princess Casino –

Galerias Prima

Princess Port de Plaisance Hotel

and Casino

www.worldofprincess.com

Play responsibly
---
Chanel Gabrielle

Edp VAPO 50ml

$85.00

68.00
---
Expand your world

Experience the limitless

possibilities of our

Visa Platinum Credit Card.

Global acceptance through Chip

and PIN technology.

Receive Republic Bank Bonus Points

with the flexibility to redeem your

points at a wide range of merchants

nationwide.

Get Unlimited Rewards when you

use your Republic Bank Visa Platinum

card ANYWHERE in the world.

Exclusive offers from Visa - visit

www.visa-platinum.com

Sign up today!

republictt.com/visapromotion

email@republictt.com

627-3348
---
Contents

No. 151 • May/June 2018

44

36

50

EMBARK

IMMERSE

18 Wish you were here

Ireng River, Guyana

21 Datebook

Events around the Caribbean in May

and June, from the first-ever Carnival

in Guyana to Trinidad's North Coast

Jazz Festival

28 Word of Mouth

Japan's springtime cherry blossom

festival reminds a visiting Trini of poui

season at home

30 Bookshelf and playlist

This month's reading and listening

picks

32 Cookup

Some like it hot

It may be the quintessential Trini

condiment, and many can't imagine a

meal without pepper sauce. Franka

Philip investigates how T&T's hot

peppers have become internationally

famous for their delicious sear

36 closeup

Full free

Haitian artist Tessa Mars is influenced

by her country's revolutionary

history as much as her own family's

intellectual tradition, and her lifelong

fascination with riddles. Her colourful

paintings often feature a semiautobiographical

character named

Tessalines — and deal in complex

ideas about identity and freedom.

Shereen Ali finds out more

42 snapshot

Caribbean by proxy

For sports fans around the world,

the arrival of June means the start of

the 2018 FIFA World Cup finals. No

Caribbean team qualified this year,

James Ferguson writes, but that

doesn't mean our region won't be

represented

44 backstory

The story of a city

A childhood encounter with a touring

steelband began Stephen Stuempfle's

connection with Trinidad. Now the

US scholar has written an illuminating

history of Port of Spain in the era

before Independence. As Judy

Raymond learns, Stuempfle's research

has only deepened his love for T&T's

capital

ARRIVE

50 round trip

Love is in the air

For many lovebirds around the world,

the idea of a Caribbean wedding —

making vows on the beach, with a

backdrop of glimmering blue sea

— seems like a dream. And it easily

comes true

58 neighbourhood

Kralendijk, Bonaire

The gateway for dive tourists drawn to

Bonaire's pristine waters, the island's

capital has a relaxed charm, and

touches of colourful history

10 WWW.CARIBBEAN-BEAT.COM
---
CaribbeanBeat

An MEP publication

60 personal tour

"Just drive all around the

island"

Artist Suelin Low Chew Tung shares

her Grenada favourites — beaches,

restaurants, relaxation spots, and

where to find the best local chocolate

ENGAGE

66 plugin

Tech to the people

Founded by scholar Schuyler Esprit,

Dominica's Create Caribbean was

well on its way to making tech tools

for education available to all. Then

Hurricane Maria hit. Lisa Allen-

Agostini discovers how the digital

humanities project is putting the pieces

back together

Editor Nicholas Laughlin

General manager Halcyon Salazar

Design artists Kevon Webster & Bridget van Dongen

Web editor Caroline Taylor

Editorial assistant Shelly-Ann Inniss

Business Development Manager,

Business Development

Tobago and International

Representative, Trinidad

Evelyn Chung

Mark-Jason Ramesar

T: (868) 684 4409

T: (868) 775 6110

E: evelyn@meppublishers.com

E: mark@meppublishers.com

Barbados Sales Representative

Shelly-Ann Inniss

T: (246) 232 5517

E: shelly@meppublishers.com

68 discover

uncovering a kingdom

It's one of the Caribbean's most

resonant historic sites, but surprisingly

little is known about the true history

of Sans-Souci, the palace of Henri

Christophe, writes Erline Andrews.

Now a multinational team of

archaeologists are using high-tech tools

to resurvey the site, and perhaps rewrite

Haitian history

Media & Editorial Projects Ltd.

6 Prospect Avenue, Maraval, Port of Spain, Trinidad and Tobago

T: (868) 622 3821/5813/6138 • F: (868) 628 0639

E: caribbean-beat@meppublishers.com

Website: www.meppublishers.com

Read and save issues of Caribbean Beat on your smartphone,

tablet, computer, and favourite digital devices!

70 on this day

sin city

It was once known as "the Sodom of

the New World" — until a catastropic

earthquake sent it tumbling into the

sea. On the 500th anniversary of its

founding, James Ferguson recalls the

history of Jamaica's infamous Port Royal

72 puzzles

Enjoy our crossword, sudoku, and

other brain-teasers!

Printed by Solo Printing Inc., Miami, Florida

Caribbean Beat is published six times a year for Caribbean Airlines by Media & Editorial Projects Ltd. It is also available on

subscription. Copyright © Caribbean Airlines 2018. All rights reserved. ISSN 1680–6158. No part of this magazine may be

reproduced in any form whatsoever without the written permission of the publisher. MEP accepts no responsibility for

content supplied by our advertisers. The views of the advertisers are theirs and do not represent MEP in any way.

Website: www.caribbean-airlines.com

80 classic

A dip into Caribbean Beat's archives:

Attillah Springer's explanation of the

art of the meggie

The Caribbean Airlines logo shows a hummingbird in flight. Native to the Caribbean, the hummingbird represents

flight, travel, vibrancy, and colour. It encompasses the spirit of both the region and Caribbean Airlines.

WWW.CARIBBEAN-AIRLINES.COM

11
---
Cover Caribbean weddings

come in all styles and

traditions — like this Hindu

ceremony, with the bride

garbed in auspicious red

Photo IVASHstudio/

Shutterstock.com

This issue's contributors

include:

Shereen Ali ("Full free", page 36) is a freelance writer

who has covered cultural and social issues in Trinidad

since the 1990s as a reporter for three national

newspapers. She enjoys making masks for Carnival and

loves the creative arts in all their forms. She is also a

graphic designer and illustrator.

Writer and journalist Lisa Allen-Agostini ("Tech to

the people", page 66) co-edited the crime fiction

collection Trinidad Noir (2008) and is the author of

the poetry collection Swallowing the Sky (2015) and

the young adult novel The Chalice Project (2008). Her

latest novel, Home Home, published this year, was a

winner of the 2017 CODE Burt Award for Young Adult

Literature.

Suzanne Bhagan ("A tale of two flowers", page 28)

is a writer from Trinidad and Tobago. She also blogs

about books and meaningful travel at Hot Foot Trini

(hotfoottrini.com).

Franka Philip ("Some like it hot", page 32) loves to find

the story behind the story in the food industry. A journalist

for more than twenty years, she has worked in print,

online, and radio in Trinidad and at the BBC in London. At

the start of 2018, Franka co-founded Trini Good Media, a

website that hosts the podcast Talk 'Bout Us.

Judy Raymond ("The story of a city", page 44) is a

writer and the editor-in-chief of the T&T Newsday, as

well as a former editor of Caribbean Beat. Her most

recent book is The Colour of Shadows: Images of

Caribbean Slavery (2016).

Crown Point, Tobago

Casino/Bar: 868 631-0044/0500

Jade Cafe: 868 6398361

WWW.CARIBBEAN-AIRLINES.COM

13
---
A MESSAGE From OUR CEO

Andrea De Silva/andreadesilva@gmail.com

Dear Caribbean Airlines passengers,

I have been with Caribbean Airlines for

just over six months. In that time, I've met

with employees face to face throughout

our entire network. The interactions

have been enlightening, and the reception

from the teams truly reflected the

professionalism of our people. As we

move forward, we will undertake even

greater innovation which will enable us

to better serve our valued customers

and to attract new customers to experience

the warmth of the Caribbean.

As the airline that knows the

Caribbean best, we actively support

culture in the region and beyond.

So far for 2018, we were the official

airline of the Jamaica and Trinidad and

Tobago Carnivals. We intend to partner

with stakeholders in the destinations

we serve, to be the official airline of

Carnivals and other festivals there.

Please see our Datebook (on page 21)

for a list of Carnivals, festivals and other

events in May and June. Datebook is a

standard feature of this magazine, and

the information is also available online at

www.caribbean-beat.com. Fly with us

to the many events taking place in the

coming months!

In addition to these activities, we are

focused on product development. To

this end, we have introduced Caribbean

Explorer — a fare which allows you to

explore multiple destinations on one

ticket. You may travel using Caribbean

Explorer until 15 June, and again from

Havana, Caribbean Airlines'

newest destination

mid-September, when the fare will

return. This gives you enough time to

plan which islands you will visit!

As you explore, you can do so in

greater comfort using Caribbean Plus.

This extra leg room product within the

economy cabin of the B-737 will afford

you the opportunity to pre-book and

pay for seats with a bit more space. On

the ATR aircraft, you can pre-book and

pay for seats in rows 15 and 16. In addition

to extra leg room, Caribbean Plus

gives you the benefits of earlier boarding,

earlier access to overhead bins,

extra room to recline — and you exit

faster on arrival at your destination.

We are also excited to introduce

Caribbean Upgrade. This easy-touse

service allows economy class

ticket holders to bid for travel on available

Business Class seats. All eligible

customers will receive a Caribbean

Upgrade email seven days prior to

departure, inviting them to bid for available

Business Class seats. All passengers

who bid will be advised 24 to 28

hours before their scheduled departure

whether the bid was successful. Once

the bid is won, the credit card on file will

be charged the relevant amount.

These are some of our value-added

offers to enhance your travel experience.

There will be other promotions as

the year enfolds.

In other news, our "HELLO

CARIBBEAN" campaign, which highlights

the uniqueness of the destinations we

serve, won several advertising awards

from the Caribbean Advertising Federation

(CAF). The CAF awards are the first leg to

competing at the American Advertising

Awards (ADDY) — the world's largest

advertising competition.

Our Cuba route continues to enjoy

healthy passenger loads, and we are

consistently providing desirable offers.

To experience more of Cuba, you may

also take advantage of tour packages

through our network of travel agents.

We are also working with retail partners

in Trinidad and Tobago and Guyana,

where visitors from Cuba can enjoy

special discounts.

Caribbean Airlines is in transition,

and through the above-mentioned and

other initiatives we will focus on enhancing

customer experience, managing

costs, and enhancing revenue through

innovation and improved value.

Please visit our website at www.

caribbean-airlines.com, become a

fan by liking us on Facebook at www.

facebook.com/caribbeanairlines, and

follow us on Twitter @iflycaribbean.

Thank you for choosing Caribbean

Airlines — we value your business, and

it is our privilege to serve you!

Garvin Medera

Chief Executive Officer

14 WWW.CARIBBEAN-AIRLINES.COM
---
ADVERTORIAL

Caribbean

Yard Campus

Disrupting the

motor of history

From outside, the view of the Caribbean is of a

single space strewn with islands across the blue

ocean between Europe and the Americas. But

from within, the Caribbean is Derek Walcott's

broken vase, shards of a fractured past in need of love

and understanding for reassembling the fragments of

a region blown apart by European battles for territory,

conquest, and domination.

More than five hundred years later, the modern

Caribbean still bears the scars of the cataclysmic

encounter between Europe and the Americas from

which it was born. It's there in the outward gaze tied to

the old social and economic European order, in siloed

neighbours still strangers to each other, and in the

languages that separate its people behind the barriers

of English, Spanish, French, Dutch, and the many

Caribbean creoles spawned by their intimacy with the

languages of the First Nation peoples of the region, of

West Africa and of India, among others.

And yet, beneath the division is a longing for

belonging to a united Caribbean at peace with its past

and in harmony with itself.

The quest for integration has been an uphill battle

against a colonial infrastructure that has proven

extraordinarily resistant to change. Disrupting the

divisive motor of Caribbean history is the challenge that

the Trinidad and Tobago-based Caribbean Yard Campus

(CYC) has set itself.

For Caribbean Yard Campus, self-knowledge is

the starting point of change in the Caribbean. In

approaching the challenge, it confronts the hierarchical

structure of the region's educational system with

its design of a decentralised network of traditional

knowledge systems.

Launched at a regional gathering of partners last year

at the Lloyd Best Institute in Tunapuna, Trinidad, CYC is

the brainchild of Rawle Gibbons, arts educator and one

of the Caribbean's foremost playwright/directors. At the

heart of the CYC model is the communal "yard."

"In the movement of peoples throughout the

Americas, the Yard has been at the core of a lifelong

learning space — from womb to wake — and represents,

therefore, a valuable repository of traditional knowledge

which, if tapped, could contribute significantly to a

culturally coherent path for Caribbean development,"

explained Gibbons.

By creating intersections between traditional

knowledge systems/experts and academic workers,

16
---
"In the movement of peoples

throughout the Americas, the

Yard has been at the core of a

lifelong learning space"

Caribbean Yard Campus aims to produce culturally

relevant approaches to development challenges in the

region. This interface involves areas of educational

content, methodology, ownership, authority, and,

ultimately, empowerment in a knowledge-based society.

At its launch last year, CYC established a network

of partnerships with people representing communal

yards across the region. These included Mireille and

Louis Marcelin (Sanba Zao) of Lekol San Basilo in Portau-Prince,

Haiti; Amina Meeks, Jamaican storyteller; Ifna

Vrede of the Saramaca Maroon community in Suriname;

and Ovid Williams of the of the Patamona First Peoples

community of Guyana. Among member-yards in

Trinidad and Tobago are the Keylemanjahro School for

the Arts, the Original Whip Masters, Bois Academy, the

National Ramleela Council, Studio 66 Community Arts

Workshop, Agronomics Institute, Pembroke Saraka Yard

of Tobago, and Jouvay Ayiti.

One year into its programme, Caribbean Yard

Campus has established a slate of short courses. These

include "Now You See Me . . . Preserving Community

Memory", in partnership with the National Archives of

Trinidad and Tobago; "Mas Design and Construction";

a course on traditional medicine titled "Sweet Broom

and Bitter Bush"; two Caribbean languages, Spanish

and Kweyol; and a hands-on holistic agricultural course

titled "Planting People".

In line with its mandate to deepen the links between

Caribbean people, CYC has scheduled educational tours

to Cuba and St Lucia in July this year. It will host its next

Caribbean Convois, a gathering of Caribbean yards, in

Haiti in 2020.

For more information, visit

www.caribbeanyardcampus.org or

write to info@caribbeanyardcampus.com

Photography by Michael London

Opposite page School children are introduced to a

range of medicinal plants and craft items produced by

the Santa Rosa First Nations People of T&T by

Cristo Adonis, peyai of its community

Above Jamaican storyteller Amina Meeks-Blackwood,

left, encounters two characters from the Ramleela

Council of T&T at the opening event of the Caribbean

Convois in March last year

Above right Ovid Williams, a member of the

Patamona First Peoples of Guyana, in a presentation

about his community during Caribbean Convois 2017

Right Members of the Original Jab Jabs of Couva,

Trinidad, put on a demonstration of their artform during

Caribbean Yard Campus's regional launch in Trinidad

17
---
wish you were here

pete oxford

18 WWW.CARIBBEAN-BEAT.COM
---
Ireng River, Guyana

The smooth, dark waters of the Ireng flow

from the Pakaraima Mountains down

through the great savannahs of Guyana and

Brazil, forming the boundary between the

two countries. Eventually it joins Brazil's

Rio Branco, which in turn flows into the Rio

Negro, one of the main tributaries of the

Amazon.

WWW.CARIBBEAN-AIRLINES.COM 19
---
@eldoradorums

eldorado_rum

@eldoradorums
---
datebook

Your guide to Caribbean events in May and June, from Guyana's

debut Carnival to a pineapple festival in the Bahamas

Design Pics Inc/Alamy

Don't miss . . .

Indian Arrival Day

5 June

Suriname

On this day in 1873, the first East Indian

immigrants disembarked from the Lalla Rookh

and set foot in Dutch Guiana — now called

Suriname. For over forty years, until 1916, more

than 34,000 "Hindustani" labourers travelled

to Suriname, many of them remaining after the

period of their indentureship. Over a century

later, Indo-Surinamese preserve their cultural

traditions and celebrate the arrival of their

forefathers. Concerts of baithak gana songs,

the sharing of Indian cuisine, and the laying

of wreaths and flowers at the Babi and Mai

monument in Paramaribo — memorialising the

mythical first "father and mother" to come to

Suriname — are just some of the festivities.

Indian Arrival Day is also commemorated in

Guyana (5 May) and Trinidad and Tobago (30

May): important occasions to contemplate

where our ancestors came from, and where we

are going.

WWW.CARIBBEAN-AIRLINES.COM

21
---
datebook

If you're in . . .

MIAMI

Miami Film Month

Venues around Miami

1 to 30 June

courtesy triniscene.com

Blacqbook/shutterstock.com

TRINIDAD

North Coast Jazz Festival

Blanchisseuse

26 May

northcoastjazz.com

A two-hour drive from Port of Spain

through the verdant hills of the

Northern Range will take you to the

quaint coastal village of Blanchisseuse.

On the surface, the burgeoning bedand-breakfast

community seems

quiet, but it's a hub for adventure —

hikes, fishing trips, kayaking, and also

the annual North Coast Jazz Festival.

With the slogan "Born Here, Play

Here," some of T&T's best musical

acts will perform on stage at the

Blanchisseuse Recreational Ground.

An eclectic combination of artistes

including acoustic bands, soca stars,

jazz sensations, and gospel artistes will

showcase their creativity. Look out for

local favourites Arthur Marcial, Xavier

Strings, Dean Williams and Friends, the

Michael Dingwell Band, Kay Alleyne,

Nyiida Andrews, and Olatunji.

Former Port of Spain mayor Louis

Lee Sing, one of the organisers, says

Blanchisseuse has a lot to offer visitors.

He recommends supporting the art

and craft of the village artisans, trying

Mr Gilbert's pumpkin ice cream, and of

course taking in the rugged beauty of the

north coast. So, jazz enthusiasts: if you're

looking for a beach excursion or weekend

getaway, the friendly villagers await.

GUYANA

Carnival

Venues around Guyana

18 to 27 May

In the beginning there was Mashramani

— and it was so nice they're doing it

twice? Not quite. Guyana's inaugural

Carnival will hit the streets of

Georgetown this May. Although similar

to Mash — the traditional "celebration

after hard work" following Christmas

guruXOX/shutterstock.com

Miami seems to have it all: beautiful

beaches, vivacious nightlife, historic

architecture, and a vibrant arts scene.

Each month of the year is dedicated

to a tempting activity, too. In June,

moviegoers can enjoy discounted

admission at participating cinemas, as

the city celebrates Film Month. Movies

made in Miami and by local filmmakers

will grace the big screens. Are you a

filmmaker yourself? This might be the

perfect time to shoot or pitch your

film project. Industry stakeholders,

film crews, and executives will be

within reach.

During the year, Miami hosts many

film festivals. Just in time for film

month, for example, the American

Black Film Festival runs from 13 to 17

June. Imagine five action-packed days

of red carpet premieres, masterclasses,

celebrity conversations, tech talks,

exclusive parties, and more, as African-

American culture is celebrated through

film. Lights, camera, action!

and culminating on Republic Day (23

February) — Guyana Carival will be its

own thing, with an exuberant array

of all-inclusive parties, concerts, and

boat rides. Of course, jamming behind

the music trucks on a magnificent day

filled with fun, frolic, and attractive

costumes is an inevitable part of the

experience. Prepare to be hooked!

Event previews by Shelly-Ann Inniss

22 WWW.CARIBBEAN-BEAT.COM
---
datebook

Marvellous

May

Grand Bahama Junior

International Rugby Festival

Freeport, the Bahamas

Players aged eight to eighteen engage

in a fun-filled weekend of friendly

competition

[11-14 May]

Sea Wave/shutterstock.com

Grenada Chocolate

Festival

grenadachocolatefest.com

It's the food of the gods.

Experience the infinite

possibilities of the island's

delicious organically produced

cocoa and chocolate

30 01 02 03 04 05 06 07 08 09 10 11 12 13 14 15

30

16

01

17 1

16

17 18 19 20 21 22 23 24 25 26 27 28 29 30

31

24 WWW.CARIBBEAN-BEAT.COM
---
Andrew Bickell courtesy the Segway Polo Club of Barbados

Segway Polo in Paradise

Barbados

segwaypoloclubbarbados.org

Teams from various countries

participate in the traditional sport

with a modern twist

[18-21 May]

IMASUB Underwater

Photography Contest

Cuba

The beauty of aquatic

life is captured in Cuba's

spectacular marine waters

[29 May – 2 June]

Pineapple Festival Bahamas

Gregory Town, North Eleuthera

Four days of pineapple-themed

activities: eating and cooking contests,

pineapple-crazy sports, traditional

games, and more

[31 May – 3 June]

Ends 2 June

maria fernanda gonzalez

Ends 3 June

30 01 02 03 04 05 06 07 08 09 10 11 12 13 14 15

16

17 18 19 20 21 22 23 24 25 26 27 28 29 30

31 30 01 02 0

16

17 18 19

WWW.CARIBBEAN-AIRLINES.COM

25
---
datebook

Joy of June

Calabash Literary Festival

Treasure Beach, Jamaica

calabashfestival.org

Music, readings, and storytelling have

inspired roots in Jamaica, with branches

extending to the wider world

[1-3 June]

Marc Bruxelle/shutterstock.com

Placencia Belize Lobsterfest

Over fifty booths will serve up mouthwatering

Belizean cuisine, including an

extensive menu of lobster dishes

[22-24 June]

Pride Toronto

pridetoronto.com

A special Family Pride programme, Trans Pride, the

Dyke March, and the fabulous Pride Parade are in store

at one of the largest Pride celebrations in the world

[22-24 June]

30 01 02 03 04 05 06 07 08 09 10 11 12 13 14 15

16

17 18 19 20 21 22 23 24 25 26 27 28 29 30

31

Bambú

GIFT SHOP

Rare & exotic arts and crafts

made in the Caribbean

Lovely Caribbean wear, collectibles,

accessories and much more...

#199 Milford Road, Crown Point, Tobago

T. 868-639-8133

E: mariela0767@hotmail.com

EXCELLENT

V I S I O N

OPTOMETRISTS

YOUR BEST EYE CARE PROVIDER

TLH Building, Scarborough. Tobago

Tel. (868) 639-3030

26 WWW.CARIBBEAN-BEAT.COM
---
St Kitts Music Festival

Venues around St Kitts

stkittsmusicfestival.net

A magical extravaganza of music,

featuring Chakademus & Pliers, Patti

Labelle, Fetty Wap, Nailah Blackman,

Kes the Band, and more stellar artistes

[27 June - 1 July]

teeography courtesy question mark entertainment

30 01 02 03 04 05 06 07 08 09 10 11 12 13 14 15

16 17 18 19 20 21 22 23 24 25 26 27 28 29 30 3101

02 0

16

17 18 19

WWW.CARIBBEAN-AIRLINES.COM

27
---
WORD OF MOUTH

Dispatches from our correspondents around the Caribbean and further afield

Shuttertong/shutterstock.com

A tale of

two flowers

On the other side of the world from T&T,

Suzanne Bhagan experiences the Japanese

cherry blossom spring festival, and remembers

the golden poui trees that bloom at home

In the Caribbean, we often take the flowers for granted. They seem to be

always there: hibiscus, bougainvillea, or frangipani blending incongruously

into the tropical landscape. I only realised how much I missed them during

the long, bleak winter months I spent teaching English in Japan.

The Japanese are obsessed with hana, or flowers. Although cherry blossoms

can be found in many temperate regions of the world, they tend to be

synonymous with the land of the rising sun. Every spring, hanami or cherry

blossom viewing becomes a national ritual, and an almost religious experience.

In almost every newspaper or website, you will find meteorological reports

tracking the sakura zensen or cherry blossom front

across the Japanese islands, starting in Okinawa to

the south and ending in Hokkaido to the north.

Hanami is an old Japanese custom that

stretches back to the Nara period (710–794),

when it was enjoyed primarily by members of

the Imperial Court. However, by the Edo period

(1603–1868), cherry blossom mania had caught

on, and it became a popular pastime for regular

Japanese people. During hanami season, locals

flock to parks, castles, and gardens and spread

giant blue tarpaulin sheets under the trees' frothy

petals. Even when rain and wind scatter the petals

and the ground is drizzled with pink, people still

sit under the cherry trees, opening up limitededition

bento boxes for picnics and guzzling

sakura-flavoured beer.

The cherry blossom obsession runs deep in

Japanese culture and tradition, embodying the

Japanese concept of mono no aware, a gentle

acceptance of the fleeting nature of things. The

flower's ephemeral beauty has inspired countless

haiku poems and paintings, including the popular

folk song "Sakura, Sakura":

28 WWW.CARIBBEAN-BEAT.COM
---
sakura sakura

noyama mo sato mo

mi-watasu kagiri

kasumi ka kumo ka

asahi ni niou

sakura sakura

hana zakari

Cherry blossoms, cherry blossoms,

In fields, mountains, and villages

As far as the eye can see.

Is it mist, or clouds?

Fragrant in the morning sun.

Cherry blossoms, cherry blossoms,

Flowers in full bloom.

Sakura is also significant in Japan because it marks the

beginning of the fiscal and school year. The first day of the

school year at my high school in Tottori prefecture brought

new students with flushed faces, swishy haircuts, and pressed

uniforms. The flowers promised them a fresh slate, with a

host of new friends and new teachers.

When I observed these students, I remembered my own

high school days in Trinidad and Tobago. I remembered that

in the Caribbean we also have a tree that blooms during April

and May every year: the poui.

Jamaican poet Lorna Goodison captures the essence of

the poui, likening it to a woman who blooms briefly for a man

who swiftly deflowers her. In "Poui", she writes:

She doesn't put out for anyone.

She waits for HIM

and in the high august heat

he takes her

and their celestial mating

is so intense

that for weeks her rose-gold dress

lies tangled round her feet

and she doesn't even notice

Like Japan's sakura, the Caribbean poui shines briefly

before the rainy season's downpours sweep across

the islands and ruin the bright petals. However, unlike

the sakura's promise of a new beginning, the poui's yellow

or pink petals indicate an end. Goodbye to the dry season:

sun-browned grass, the smell of burned sugarcane, kiteflying,

cricket matches, and picnics under intense blue skies.

In particular, the poui is like a death knoll for Caribbean

high school students, signifying the end of carefree days of

liming and the beginning of cramming for CSEC, CAPE, and

final exams in May and June.

Although the Japanese cherry blossom and Caribbean

poui are found in two distinct pockets of the world, both

remind us of the transition of the seasons and the fragility of

life. If we don't stop to appreciate them, they disappear before

we realise it — and we forever lose the message. n

Roosserie & Grill PLUS

Roosserie Chicken

Pork Chops | Baby Back Ribs

Garlic Chicken | BBQ Pigtail

Grilled Fish | Jerk Wings

Buffalo Wings and more

Located at Pelican Plaza,

Milford Road, Crown Point, Tobago,

Tel. (868) 639-8563

Sister outlets

ANR Robinson airport

639 5000

Shirvan Plaza

631 1000

WWW.CARIBBEAN-AIRLINES.COM

29
---
ookshelf

Tell No-One About This

by Jacob Ross (Peepal Tree Press, 360 pp,

ISBN 9781845233525)

In these collected short stories,

written from 1975 to 2017,

Grenada-born, UK-based

Jacob Ross draws us into

deep contemplations of the

changeable human spirit. His

work reveals a stalwartly feminist

heart: most of the stories busy

themselves with the suffering

and exultation of women.

Some of the best stories layer

intersecting female voices. In

"And There Were No Fireflies",

Mariana, a bellicose schoolgirl, is dragged to Morne Riposte

by her domineering Aunt Dalene, a woman who has the

remedy to the trouble brewing in bellies and hearts. The

women in Ross's fictions know there is more than one way

to sell love, to secure or jettison children, to keep gods

in their prayers and deeds. Tell No-One About This knits

narratives with subtle grace: Ross pays attention, and

omits nothing in his keen sight.

Infidelities

by Sonia Farmer (Poinciana Paper Press, 69 pp,

ISBN 9780998915005)

Bahamian Sonia Farmer's poems

take to the high seas, and take

us along for the journey, giddy

and lustily breathless. Infamous

Irish pirate Anne Bonny, who

plied her trade in the Caribbean

ocean, is immortalised herein:

"She will / let them ask all the

wrong questions because she

will be better at / killing. She will

learn to live in first person." In

these poems, there are powerful

intimations of women's grief, women's erotic navigations,

and women's uncivilian needs. The songs of seductresses,

pioneers, and untethered souls spill into the recesses this

book carves: to receive it is to drink deep from a well of

naked wanting. With her hands on the captain's wheel,

Farmer steers Infidelities towards any reader who has, like

Jean Rhys's Antoinette, asked, "Do you think . . . that I have

slept too long in the moonlight?"

Brother

by David Chariandy (McClelland & Stewart,

192 pp, ISBN 9780771022906)

The tremulous gentleness and

juddering rage of masculinity

lies beneath the surface of

David Chariandy's Brother, a

novel executed with uncommon

carefulness and quiet dynamism.

Brothers Michael and Francis

come of age in Toronto's

Scarborough, a community of

immigrant bodies, a place in

which violence and love jostle

for supremacy. Francis, who

narrates Brother, flips the reader

back and forth in time, revealing staggering loss and

consummate tenderness with the language of a man who

has both gained and lost fortune. Winner of the 2017

Rogers Writers' Trust Fiction Prize, Brother is a novel

that crucibles and elevates the urgencies of our time.

In language that is measured as grains of rice counted

out for hungry mouths, Chariandy presents the truth of

Canadian survival for people of colour, linking Canada to

the Caribbean in roads of abandonment and return.

Sans Espoir

by Kimelene Carr (Sherell Bernard, 94 pp,

ISBN 9789768271235)

Trinidadian Kimelene Carr ushers

her reader into the vibrant,

titillating unpredictability of life

in sweet, sweet T&T. Sans Espoir

explores intersecting vignettes

of machismo, sexual obsession,

religious fervour, and the

tempestuous madness stirring

at the root of so much human

behaviour. Racing through plot

developments with the breakneck

speed of an illegal drag race, Carr's

novella aims for high emotional

stakes, combining intrigue, tabanca, and enough commess

to sustain a Caribbean soap opera. Simmering beneath the

predictable plotlines of this tragicomic tale are an unspoken

discontent with the failures of public office, and resignation

to the status quo: both potent lived realities of everyday

Trinbagonians. As the six principal characters of this slender

drama converge at the fictitious Hope Street Hospital, their

movements mirror the sojourns of so many T&T citizens,

hoping for some respite from criminality and injustice.

Reviews by Shivanee Ramlochan, Bookshelf editor

30 WWW.CARIBBEAN-BEAT.COM
---
playlist

This Is Me

Jeanine S. Ruiz (self-released)

Young Trinidadian keyboardist Jeanine Ruiz

releases her first EP as a musical autobiography

of a life recently begun, and a testament to

her emotional journey thus far. Going through

the song titles — "Ambitious", "Overthinker",

"Impulsive", "Temperamental", and "Dreamer"

— one can gauge how far she has come and

how far she may go. Listening to the music,

one can hear the subtle influences of style that

have touched her compositions: world fusion

has a new advocate. Admittedly influenced by

Japanese jazz pianist Hiromi Uehara, Ruiz has

a sure-handedness in her playing and a keen

sense of timing and cinematic breath in her

arrangements, which catch a number of genres

without being confusing. This is more than

jazz-influenced trio playing — this debut signals

a potential to inspire a waning instrumental

music-listening audience, here and there, to

stick around to track Ruiz's continuing musical

journey.

Singles Spotlight

Bayo

Michael Brun featuring Strong G, Baky,

and J. Perry (Kid Coconut)

"Bayo" in Haitian Kweyol means "to give," and

with this new single from Haiti-born EDM DJ

Michael Brun, Haiti is giving the world a lesson

in what the country is and what it represents

today. A spoken phrase in the song's music

video translates to "Haiti is like a pulse for the

rest of the world," and this new wave of music

talent from the first black republic has taken

that statement to heart. Brun, who has a Haitian

father and Guyanese mother, along with fellow

Haitian MCs Strong G, Baky, and J. Perry, also

represents the multi-hued reality of the people

of the island. Not that it matters much, but this

celebratory dance music fused with elements of

indigenous rara and konpa gives an updated look

and sound to an island that has been a centre

of African diaspora culture for centuries. It

recalibrates our concept of modern Haiti. "Bayo"

is that beauty and potential "sonified."

GEBE Wuk Up

King Kembe (self-released)

Sint Maarten Carnival will happen in May, and

"neither hurricane, nor rain, nor heat, nor

darkness" — with apologies to Herodotus — will

stop the celebrations on the island nation in

its post–Hurricane Irma recovery. And part of

that celebration is the release of new songs

that reflect the Windward Islands' and Dutch

Caribbean's take on soca, driven by a high beatsper-minute

rhythm and urgent authentic vibe

devoid of over-sampled electronic sounds.

"GEBE Wuk Up" is a funny ditty about the

unsure and unfortunate encounters of a couple

dancing right through a seemingly familiar

occurrence of electricity blackouts on the island

— GEBE is the government-owned electricity

company. Nothing stops the "wuk up" in the

dark! Reference to regular power cuts in this

season of renewal in Sint Maarten, when the

power company admits to "doing its best to

restore some normality," is the wry prod that

makes this song unforgettable.

Don't Make Me Wait

Sting and Shaggy (A&M Records)

Sting, frontman for seminal 1980s band The

Police, joins Mr Boombastic himself, Shaggy,

for a collaboration that has super hit potential

written all over it. This first single off the

forthcoming new joint album 44/876 oozes with

a sure-fire confidence and sonic familiarity that

suggests these two stars are on the right path

for crossover success on the reggae and pop

charts. "Don't Make Me Wait" has the feeling

of Marley's "Waiting in Vain" — resisting waiting

must be a Jamaican preoccupation — but the

song lyrics channel the feeling that love can't be

rushed, and when the time is ripe, good things

will come. Sting's voice has that timbre that

whispers sexily and rises to pierce at the higher

registers, while Shaggy's swinging dancehall

chatting has a commanding presence that

makes you listen up and sing along. The result is

a duet that responds positively to the modern

empathetic understanding that all men have to

#WaitForLove.

Reviews by Nigel A. Campbell

WWW.CARIBBEAN-AIRLINES.COM

31
---
cookup

Some

like it

hot

For many Trinis — and

others in the Caribbean — a

meal isn't complete without

one essential condiment:

pepper sauce. And T&T's

hot peppers have become

world famous for their

tongue-searing heat.

Franka Philip reports

Illustration by Shalini Seereeram

Bertie Steuart was an affable Trinidadian

salesman whose passion was sport. He played

cricket, football, table tennis, and tennis. At

the famous Queen's Park Cricket Club, where

he was a member, he was known as "Sporting

Sam," and in his youth he represented Trinidad

and Tobago at hockey. But there was a side to Bertie Steuart that

even his wife didn't know until they'd been married for a long

while — he was a very good cook.

"Bertie had a sweet hand," says his wife Allana. "I didn't even

know he could cook until fifteen years into our marriage." It was

this sweet hand that led Bertie to experiment with making the

product that would come to define his legacy: a tasty pepper

sauce.

It was by accident that Bertie started selling his pepper sauce

in the mid-2000s. When he hired Wayne, a man from his neighbourhood,

as a gardener, he found out he did not have a refrigerator

at home. This bothered Bertie, who decided his family should

raise funds by selling his pepper sauce to buy a fridge for Wayne.

Many hot peppers and three blenders later, Bertie and Allana

realised they were on to something, and decided to start a small

business selling pepper sauce. At first, friends and family were

the main customers, then one day a big restaurant came calling.

"We started by going to small specialty shops, people started

calling us and saying, gosh, I really like the pepper sauce. It

was only when a guy from the American restaurant chain Tony

Roma's came to us and said, 'I like this pepper sauce and I'd like

it in the restaurant,' that we realised how good it really was."

After Bertie died in 2016, Allana kept the business going.

Nowadays, the Steuarts' three products — Original Pepper

Sauce, Scorpion Pepper Sauce, and Pimento Sauce — are found

in supermarkets and gourmet food shops across T&T. Bertie's

is becoming a popular choice for Trinis who live abroad, too,

as more of them take the products back home to colder climes.

Most pepper sauce makers in T&T use Scotch Bonnet,

Scorpion, and Moruga Red peppers. This country's hot

peppers have a fantastic reputation, not just for their

heat, but for their deep flavour.

One farmer who has won international plaudits for his peppers

is Nawaz Karim. The thirty-four-year-old, who supplies

pepper makers like Bertie's, has won awards in North America

for his produce. In a 2016 interview with the T&T Guardian, he

explained the reach of his crop. "Hot peppers from our farm

in Trinidad were voted by buyers as the best in New York and

Miami. Buyers there had also been importing peppers from

Mexico and Costa Rica. We ship out between two hundred and

three hundred forty-pound bags of peppers twice a week. Our

aim is to increase this to between eight hundred and 1,200 bags."

The Moruga Red is a creation of the Caribbean Agricultural

Research and Development Institute (CARDI), which is

dedicated to improving and diversifying strains of agricultural

products in the Caribbean. Karim's Moruga Reds have about

one quarter the heat of the Scorpion, which is listed among the

world's hottest peppers. Karim says they are popular because of

their "nice sting and strong flavour."

32 WWW.CARIBBEAN-BEAT.COM
---
WWW.CARIBBEAN-AIRLINES.COM

33
---
Some of the world's hottest peppers originate in

Trinidad. Websites for hot pepper specialists like

Pepperhead.com and Pepperscale.com have listed

the Moruga Scorpion, Seven-Pot Barrackpore,

Seven-Pot Jonah, Seven-Pot Brain Strain, and

Seven-Pot Douglah (a.k.a. Chocolate Seven-Pot)

varieties as among the world's fiercest. Many of

these peppers are not sold to the public, as they're

used as components of products like pepper spray

and barnacle-resistant paints for the marine

industry.

But Trinidad's peppers are also a huge draw

for pepper sauce makers in other countries,

like the UK.

Hot and spicy peppers have been a longtime

obsession for Mark Gevaux, the East

Londoner known as "The Ribman." I first met

Gevaux in London around 2010, on a trip to

Brick Lane in search of the legendary Jewishstyle

bagel filled with hot salt beef. I got my bagel,

but I also discovered Gevaux's stall, where he sells

pulled pork sandwiches and tasty ribs every Sunday.

What I wasn't prepared for was his exceptional

pepper sauce, with the cheeky name Holy F*ck. It

was one of the best I'd ever tasted.

Some of the world's hottest

peppers originate in

Trinidad. Websites for hot

pepper specialists have

listed the Moruga Scorpion

and other varieties as

among the world's fiercest

"Most of the time I felt like I was born in the

wrong country," says Gevaux of his hot pepper

obsession. "I've always liked hot stuff, but when I

was growing up thirty-five years ago, there wasn't

that much around. You had to go to an Indian

restaurant to get your spice kick."

Gevaux started his business after being let

go from his butchery job. He started selling his

slow-cooked ribs at farmers' markets, and began

making hot sauces when he couldn't find a good

store-bought option. He disliked what he describes

as the overuse of vinegar in most of the sauces on

the shelf, and the taste he was after was simple:

pepper and spices.

By trial and error, he eventually found the right

formula, and the perfect combination of peppers.

That was the product he called Holy F*ck, named

because Gevaux noticed it was "one of the first

How hot is hot?

The Scoville Scale is a measure, named after Wilbur

L. Scoville, of the chilli pepper's heat. Put simply,

it measures the concentration of the chemical

compound capsaicin. Capsaicin is the beautiful

natural chemical that brings the heat and makes

your forehead sweat, your tongue burn, and your

stomach ache. To measure the concentration of

capsaicin, a solution of a chilli pepper's extract is

diluted in sugar water until the "heat" is no longer

detectable to a panel of tasters. A rating of zero

Scoville Heat Units (SHUs) means there is no heat

detectable.

To illustrate how hot some peppers are, pure

capsaicin is 16,000,000 SHU. Relative to that, the

Moruga Scorpion measures 2,009,231 SHU and the

Scotch Bonnet comes in with a rating of 325,000 SHU.

things customers would say after tasting it for the first time."

As his popularity grew, Gevaux needed to quickly find an alternative venue

for making his sauce. "I used to make it at home, about twenty or thirty bottles

at a time. I had to stop, because my neighbours would complain — they'd be

coughing up their lungs in the lift, the pepper was so strong," he says with a

laugh.

Over the years, The Ribman has produced three more pepper sauces,

Christ on a Bike, Holy Mother of God, and Judas Is Scary Hot — the latter

two eliciting raised eyebrows from his Roman Catholic wife. And, of course,

Gevaux uses Caribbean peppers as the base for his sauces.

"The best peppers for many sauces are Scotch Bonnets, because of the

fruity heat. It's just amazing, I love it," he says. "I think most people can tolerate

it if cooked right. Scotch Bonnets are a fantastic and beautiful pepper." He

also uses Trinidad's Moruga Scorpions, Dorset Nagas, and Carolina Reapers.

Gevaux says a lot of his customers are from pepper-loving cultures —

Indians, Africans, and West Indians. He hopes to reach a wider audience, as

his sauces will soon be distributed to butchers' shops all across the UK.

Servicing the diaspora is a tempting prospect for the folks at Bertie's also,

but at the moment they have enough of a challenge to keep the domestic

market satisfied.

In 2017, the supply of fresh peppers in Trinidad was compromised by flooding

caused by Tropical Storm Bret in June and other freak flooding incidents

later in the year. There is also a shortage of foreign exchange that has affected

glass bottle manufacturers.

"If we were lucky enough to get into another market, and they said they

liked the product and wanted a container a month, it's not only the peppers —

where are we getting the bottles, the caps? We would now have to buy years'

supplies of that," Allana Steuart says. "We have to organise ourselves within

this small territory to make sure we have it covered, and start working more

closely with farmers when we see the opportunity."

So for now, foreign-based pepper sauce connoisseurs will just have to ask

for someone to throw a couple of bottles in their suitcase if they want their

Bertie's fix. n

34

WWW.CARIBBEAN-BEAT.COM
---
Immerse

courtesy tessa mars

36 Closeup

Full free

42 Snapshot

Caribbean by proxy

44 Backstory

The story of a city

Pi Piti, by Tessa Mars (2017, mixed media on canvas, 20.32 cm x 15.24 cm)
---
closeup

Full free

The bright colours and apparently quirky

characters in her paintings belie the

complicated ideas — about identity, history,

and freedom — explored by Haitian artist

Tessa Mars. Her country's revolutionary

history and her own family's intellectual

heritage inform Mars's work, writes

Shereen Ali, as does her obsession with

solving problems and riddles

Ideas ripple like silent barracudas beneath the surface of Tessa Mars's paintings.

And those ideas — about identity, womanhood, and Haitian culture — are

challenging some conventions of what it means to be a free woman in Haiti.

In one painting (Dream of Freedom, Dream of Death, 2016), a naked woman

with red horns and blue-green scales on her arms and legs stares at you

squarely in the face, while she holds a machete plunged between her own

breasts. Mysterious stars radiate from behind her back. This startling image is

perhaps Mars's best known. The figure, whom Tessa calls "Tessalines", is based on

a stylised, magical version of the artist herself, merged with Vodou references and

memories of the revolutionary figure of Jean-Jacques Dessalines (1758–1806), the

first ruler of an independent Haiti. And you'd better beware: because Tessalines is a

free warrior woman, with two enormous bull's horns on her head, wielding a sharp

cutlass she is unafraid to use.

"This character of Tessalines I first created in Trinidad, where I spent three

months at a residency at Alice Yard in 2015," says Mars, speaking via Skype from

her home in Port-au-Prince. "Tessalines is an alter ego, a fusion of myself and characteristics

of the father of the Haitian revolution, Dessalines. So she is about finding

my hero, my revolutionary side, and trying to place myself in Haitian history", Mars

explains.

"But in this painting, my starting point was the Declaration of Independence,

when the formerly enslaved people were declaring that they would rather live free or

die. And I was interested in what that might mean for us today.

"What does freedom mean for us in contemporary Haitian society?" asks Mars.

"We have historical freedom from the coloniser, but we are facing new forms of

dependency from outside, whether economic or political . . . I also started to think

about the freedom of self-expression, which is the freedom to express your identity

to the fullest, and the risks that are associated with that, because whatever you may

36 WWW.CARIBBEAN-BEAT.COM
---
Courtesy Tessa Mars

WWW.CARIBBEAN-AIRLINES.COM

37
---
Previous page

Converstion with Hector

H (2015, acrylic on canvas,

65.3 x 65.3 cm)

Above Tessa Mars at work

in her studio

Above right The artist's

mother, writer Kettly Mars

Right Tessa Mars's greatgrandfather,

Jean-Price

Mars

choose to express that is outside of what people

consider the norms, there is potential for [a kind of]

death to come with it, due to misunderstandings or

rejection of what you show to the world."

It can be a social death, or a very literal death,

the artist says, because you can still die in Haiti

today for expressing political views. She mentions

corruption, and how much easier it is to just go

with the flow than to be critical of things that are

going wrong. She says although everyone knows

about some issues, people are afraid to discuss

them out loud. She notes that although Haitian

politicians of today often try to identify with Haiti's

heroic past, it can also be a way to avoid talking

about real issues: patriotic discourse can often

mask issues of present-day poverty and misery.

She asks: "What does Independence translate to

for the youth of Haiti right now? Although we are

fighters, many Haitians are fleeing from the island,

fleeing from the first black republic."

Despite this, Mars feels great pride in her

Haitian identity, and in the proud legacy of

freedom-fighting: Haiti is the only country

in modern times where enslaved people successfully

took their freedom by force, during the Revolution

between 1791 and 1804.

"I was born and raised in Haiti," says Mars. "I

grew up in Port-au-Prince. I still live in the same

home where I was born, which has been in our family

for multiple generations. I grew up in a family of

thinkers in Haiti, and the family name is associated

with literature."

Her mother is the celebrated Haitian poet and

novelist Kettly Mars, whose 2010 novel Saisons

Courtesy Tessa Mars

sauvages (Savage Seasons) explores the malevolent

dictatorship of François Duvalier. Meanwhile, the

famous Haitian ethnographer, doctor, politician,

and diplomat Jean Price-Mars (1876–1969), who

championed the Négritude movement in Haiti

and was the first prominent defender of Vodou as

a religion, was Tessa Mars's great-grandfather on

her father's side.

"The need to connect with the African/

black part of our cultural heritage was one of the

most important aspects of his legacy for me," Mars

says, speaking of his influence. "Jean Price-Mars

studied and did research as a scientist, while

my approach is more intuitive. I am interested

in learning more and understanding where the

traditions come from, and their meaning, but I've

gone 'native' in a way, and I am more interested in

exploring and experiencing them for myself, and

translating this for others through visual means."

This family heritage profoundly shaped how

Mars grew up, how she saw the world, and how

she chose to become an artist at the age of seventeen.

She credits her willingness to explore and

courtesy haitian history blog courtesy wikimedia

38 WWW.CARIBBEAN-BEAT.COM
---
We Are Here II: Dieunie

Taking Root (2016, acrylic

on canvas, 40 x 30 cm)

experiment to the intellectual openness of her

upbringing. "I grew up with the freedom of reading

whatever material I found. I could discover and

understand things for myself. My parents always

encouraged any creative activity, although I didn't

really decide to be an artist until my last day of

high school."

As a child, Mars recalls, she'd always liked making

and fixing things. "I just liked doing things with

my hands . . . If my bicycle was broken, I would

find different tools to make it work. It was never a

good repair, but the bike still worked! I liked to find

solutions to physical problems, and make my own

answers to those riddles."

One of the biggest riddles she addresses in

her artwork is the riddle of her own identity: as

a Haitian, as a woman, as a Vodou believer, and

as an Afro-Caribbean person living in a society

fractured by colonialism and often obsessed with

emigration. Her work through visual metaphors

often confronts thorny issues such as violence, the

need to preserve memories, the risks of expressing

your opinions freely, or the contrast between

Haitians' historical dream of freedom and current

realities.

We Are Here II: Dieunie Taking Root is

a painting Mars made in 2016. It

shows a clothed woman suspended

underground next to large, deep-probing roots.

Tiny shoots emerge from these massive roots,

just starting to sprout. While the woman's head is

barely above the ground, the rest of her body is still

buried beneath the surface. It has a scary, surreal,

drowning feel to it.

This painting happened after Tessa Mars got

to know a Haitian immigrant struggling to make

a new life for herself in Aruba: "She was cleaning

a lady's house where I was doing a residency. I

asked her about her life." The encounter led Mars

to reflect on the challenges of being uprooted, and

the struggle to put down new roots in another

The character of

"Tessalines" is a free warrior

woman, with two enormous

bull's horns on her head,

wielding a sharp cutlass she

is unafraid to use

Courtesy Tessa Mars

society. "It can be like you are drowning . . . Just

keeping your head above water [is difficult]," she

comments.

There are upbeat paintings, too. Mars's 2015

painting Nan Rara (with Marching Band) has a far

more playful, cheeky feel, with a happy, naked

woman celebrating herself — all she wears is a

colourful cloth snake/penis, a shak-shak, a pair

of sunglasses, and a toothy grin. She could be any

happy reveller during Carnival, except for the fact

that she dispenses with a costume, and bares it all.

She seems like a happy, modern, Haitian version of

the Stone Age Venus of Willendorf statuette, a universal

symbol of fertility, confidence, and creative

possibility. Mars says taking pleasure in the flesh

can be part of celebrating a joyful appreciation of

yourself, of taking power, and being whoever you

want to be.

Mars admires other young contemporary

artists from the Caribbean, such as Jamaican

Ebony Patterson, Sheena Rose from Barbados,

and Kelly Sinnapah Mary from Guadeloupe. She's

also influenced by Haitian precursors. Another of

WWW.CARIBBEAN-AIRLINES.COM

39
---
her paintings with beautiful colours and a sense

of magical realism is Conversation with Hector

H, from 2015. It is Mars's homage to one of her

favourite artists, Hector Hyppolite (1894–1948),

who painted Maitresse Erzulie in 1948. Hyppolite

was a third-generation Vodou priest who worked

as a shoemaker and house painter before taking

up fine art. Mars's painting portrays herself connecting

with nature and the spirit world through

a magical-looking tree, on which mysterious,

brightly coloured birds and insects rest.

Mars's formal art career began with a degree

in visual arts from Université Rennes 2 in France,

in 2006. She then worked as a cultural projects

coordinator in Haiti at Fondation AfricAméricA.

Her first exhibit was in 2009, at the Georges

Liautaud Museum in Port-au-Prince, and since

then her work has been shown in Canada, France,

Italy, and the United States. Since 2013 she has

focused on her own artistic career, with recent

work questioning the role of history, customs, and

beliefs in building an individual's identity. She says

her work now also questions notions of patriotism

and sovereignty in Haiti.

"What does Independence translate to for

the youth of Haiti right now?" asks Tessa

Mars. "Although we are fighters, many

Haitians are fleeing from the island, fleeing

from the first black republic"

Above left Grann A (2017,

mixed media on canvas,

20.32 x 20.32 cm)

Above right Grann U

(2017, mixed media on

canvas, 20.32 x 20.32 cm)

Below left Papa (2017,

mixed media on canvas,

20.32 x 15.24 cm)

Courtesy Tessa Mars

Below right Papa R (2017,

mixed media on canvas,

20.32 x 15.24 cm)

All from the series Those I

Know, Those I Don't Know:

Dead Aunts and Uncles

40 WWW.CARIBBEAN-BEAT.COM
---
Courtesy Tessa Mars

yellow ochres, and Caribbean blues. She uses

acrylic paints on canvas in a broadly figurative,

flat, symbolic style, with nods to conventional volume

techniques through light shading. Sometimes

her paintings are made of contour shapes filled

with flat, bright areas of contrasting colours or

textures, rather like a jigsaw puzzle, or even a quilt

stitched together from different elements. At other

times, her images — generally of an individual on

a huge blank or mono-coloured background — are

cartoon-like and graphic, with Vodou, historical,

and personal symbolism converging to declare an

attitude or express a feeling or visual comment.

These paintings summon themes that range

from the very personal need to feel beautiful in

one's own skin, whatever shape or colour that might

Detail and installation view

of Dress Rehearsal (2017,

mixed media on paper,

dimensions variable)

She has benefitted from five short-term arts

residencies in Aruba, Port of Spain, Quebec, Paris,

and New York, which helped her develop her ideas.

Right now, her big project is working towards a

November 2018 solo exhibition in Port-au-Prince,

to showcase work made during foreign residencies.

In March and April 2018, Mars took part in a

group show in Brooklyn, showing work she made

during her New York residency. Among the pieces

she showed there was her Dress Rehearsal, made of

paper-doll versions of Tessalines in different poses,

as she gets ready to wage war. Mars says this work

celebrates the Battle of Vertières, the last major

battle of the Second War of Haitian Independence,

fought on 18 November, 1803, between formerly

enslaved African people and Napoleon's French

forces. But Dress Rehearsal is also about bringing

that heritage into one's own home and daily life,

as we wage our daily battles: "You have the duty of

memory. It is a way of empowering yourself."

Many of Mars's paintings share vibrant reds,

Courtesy Tessa Mars

These paintings summon

themes that range from the

very personal need to feel

beautiful in one's own skin,

to ideas about courage and

overcoming past or present

trauma

be, to ideas about courage and overcoming past or

present trauma. "What interests me about Tessa,"

says veteran artist and arts writer Christopher

Cozier of Trinidad, "is her use of her body and self

as image and sign/symbol to tell her own stories

. . . I think many women in the region have done

this in the past, like, for example, Irénée Shaw's

earlier work that caused so much consternation

and anxiety in the early 1990s. I am interested in

that struggle for women artists, since the time of

Sybil Atteck [1911–1975] here in Trinidad." Cozier

asks: "What happens when women take back their

representation on their own terms?"

For Tessa Mars, the answer is clear: art is her

way to tell stories of female empowerment, as well

as to question the status quo and creatively interrogate

her world. n

WWW.CARIBBEAN-AIRLINES.COM

41
---
snapshot

As the 2018 FIFA

World Cup opens in

June — and despite

recent international

controversies with host

Russia — football fans

across the Caribbean will

be tuned in. Except this

year there's no Caribbean

team to root for — but

there'll certainly be

Caribbean players, writes

James Ferguson

Caribbean

by proxy

Photography by AGIF/Shutterstock.com

Born in Jamaica, Raheem

Sterling played for England

in the 2014 FIFA World Cup

This year's FIFA World Cup finals in Russia have almost everything:

eight groups of four nations playing at twelve venues spread across the

world's largest country, the prospect of controversial video assistant

referee technology, and, finally, a strong whiff of resurrected Cold War

tensions. Only one thing, arguably, is missing — a standard bearer from

the Caribbean.

But, in truth, it has been a while since the region had a representative at a final — in

the shape of Trinidad and Tobago in 2006. And I suppose it's also worth admitting that

participation by Caribbean nations in World Cup finals has been rather patchy. Cuba

was present in France eighty years ago, in 1938 (and received an 8–0 thrashing from

Sweden), while Haiti made it to West Germany in 1974 and briefly led Italy by a goal to

nil before losing 3–1 and then succumbing by 7–0 to Poland. It then took twenty-four

years for Jamaica's Reggae Boyz to qualify for France 1998, ending with a creditable

42 WWW.CARIBBEAN-BEAT.COM
---
2–1 victory over Japan, followed by the

Soca Warriors, who did well to hold Sweden

to a goalless draw before losing twice.

But with no Caribbean nation present

in Russia, there is certainly no shortage of

Caribbean influence among those nations

that have reached the final stages. This

is largely a question of history, with the

countries that once possessed colonies

in the region or who maintain overseas

territories there benefitting from a pool

of Caribbean or Caribbean-descended

footballing talent.

Take England, for example. Although,

at the time of writing, the World Cup

squad has not been officially announced,

it's quite probable that at least six of the

final twenty-three-man group will be of

Caribbean heritage. Manchester City's

Raheem Sterling is one of the few players

to have been born there, originating from

the tough Maverley district of Jamaica's

capital, Kingston, before moving with his

mother to London, aged five. More common

is the experience of a player such

as Daniel Sturridge, currently on loan at

West Bromwich Albion from Liverpool.

All four of his grandparents were Jamaicaborn,

and came to the UK as part of the

"Windrush generation" of Caribbean

migrants who settled in the 1950s and 60s.

Family links remain strong, and Sturridge

is a frequent visitor to Jamaica, where he

has played an important part in funding an

educational charity in Portmore.

The Jamaican football authorities have

sometimes tried to recruit distant but eligible

sons and grandsons into the national

team, as was the case with Robbie Earle

and Jason Euell in the 1998 World Cup

finals. But all too often, the lure of playing

for England is too strong, as when in 2015

left back Danny Rose declined such an

invitation from the Jamaican Football

Federation. He and Kyler Walker, also of

Jamaican heritage, will probably have a

part to play in Russia. But if Jamaica leads

the way in boasting links to the current

England squad — Theo Walcott, Alex

Oxlade-Chamberlain, and Nathan Redmond

are just a few more with such connections

— other Caribbean nations can

also lay claim to generational footballing

pedigree. Liverpool's Nathaniel Clyne,

for instance, is of Grenadian ancestry,

while Ruben Loftus-Cheek, whose father

migrated from Guyana, is part of a larger

footballing family including half-brothers

Carl and Leon Cort, who played for the

Guyana national team.

If most of the

Caribbean's

footballing diaspora

is concentrated in

Europe, there are still

small and sometimes

strange outposts

nearer to home

Where would French football

be, you might ask, without

the input over the years of

Caribbean-born or Caribbean-descended

players such as Thierry Henry, Lilian

Thuram, and William Gallas? Like England,

France was a major protagonist in the

transatlantic slave economy, but rather than

granting its former colonies independence,

it incorporated them into the French nation

as overseas departments. Players born in

Martinique, Guadeloupe, and Guyane, or

with parents or grandparents from these

territories, are hence French, many of the

latter growing up in the gritty workingclass

suburbs that surround Paris. Anthony

Martial, who plays for Manchester United,

is of Guadeloupean descent and was

born in the suburb of Massy, not far from

Thierry Henry's hometown of Les Ulis,

where the local football club has turned

out a succession of stars, including Henry,

Martial, and Senegal-born Patrice Evra.

The current crop of French Caribbean

footballers originates from all over the

French mainland, with most of them

now second-generation migrants from

the overseas departments. Real Madrid

centre-back Raphaël Varane was born

in the northern city of Lille after his

father Gaston left Martinique in search of

work in 1976. Alexandre Lacazette, who

currently plies his trade at Arsenal, is

known by friends as "Gwada", in tribute

to the island of Guadeloupe, from which

his parents Alfred and Rose migrated to

Lyon. But in a more recent development,

players with French Caribbean roots are

now facing increased competition from

those descended from other parts of

France's former empire. Likely starters in

Russia will be a formidable combination

of Paul Pogba (Guinea), Kylian Mbappé

(Cameroon), and N'Golo Kanté (Mali).

Holland's unexpected failure to qualify

means that spectators will miss out on

that country's plethora of Caribbeandescended

talent. Of Surinamese background

are Giorginio Wijnaldum (Liverpool)

and Michel Vorm (Tottenham),

while Leroy Fer (Swansea) has parents

from Curaçao. They follow in an illustrious

line of footballers from Suriname that

includes names such as Edgar Davids,

Frank Rijkaard, and Ruud Gullitt.

If most of the Caribbean's footballing

diaspora is concentrated in Europe,

there are still small and sometimes

strange outposts nearer to home. Firsttime

Central American qualifiers Panama

have recently featured players with such

non-Latin surnames as Harold Cummings,

Armando Cooper, and Alfredo Stephens.

These are the descendants of Jamaicans

who moved to the isthmus in the late

nineteenth and early twentieth centuries

to work on the construction of the Panama

Canal. While many of the estimated

100,000 labourers returned home, some

remained, and became integrated into

Panamanian society. And next door, Costa

Rica's 2018 squad is likely to include

ex-Arsenal forward Joel Campbell and

Rodney Wallace, names that look back

to the nineteenth-century migration of

thousands of Jamaicans to work on a

railway project.

So while there may be no Caribbean

team in Russia this year, there are many

players whose roots lie in the region, and

its long history of movement and migration.

Whoever wins the cup — and France

is among the favourites — there will

be much to interest viewers across the

region, and many will of course support

Brazil. But perhaps we should also not

forget that it was Trinidad and Tobago's

2–1 qualifying round victory that put the

superpower United States out of the finals

for the first time in thirty-two years . . . n

WWW.CARIBBEAN-AIRLINES.COM

43
---
ackstory

The story

of a city

Stephen Stuempfle's connection to Port of Spain

began with a chance childhood encounter with

a touring steelband. Now, decades later, the US

scholar has published an ambitious and highly

readable account of Trinidad and Tobago's capital

from the late nineteenth century to Independence.

As Judy Raymond learns, Stuempfle sees Port of

Spain as a cultural hotbed full of potential

44 WWW.CARIBBEAN-BEAT.COM
---
Eastern downtown Port of

Spain from the Laventille Hills,

in the cocoa boom era. Prince

Street leads to Brunswick

(later renamed Woodford)

Square, with Trinity Cathedral

to the left. Postcard published

by G.G. Belgrave

courtesy historymiami museum/stephen stuempfle

courtesy stephen stuempfle

In the twilight, wild deer tiptoe between the trees outside

Stephen Stuempfle's suburban home in Bloomington, not far

from the sprawling, equally leafy campus of the University

of Indiana, where he works as an ethnomusicologist.

But in his head, Stuempfle walks the streets of Port

of Spain. He's written a book about the city, published in

April by the University of the West Indies Press: Port of Spain:

The Construction of a Caribbean City, 1888–1962. Almost five

hundred pages long, it covers the period from Trinidad's cocoa

boom to Independence, an era that stretched, he explains, from

"the height of British power at the turn of the twentieth century

through decolonisation." Thus Port of Spain's evolution into a

modern capital city "was interrelated, both practically and symbolically,

with the building of a society and a new nation-state."

Though Stuempfle is an academic — and he does include

some theorising about cities and development — this book is

Stuempfle knows Port of Spain well: he

lived in Calcutta Street, in the city's

western St James district, from 1987,

while researching his PhD thesis on

steelpan

hugely readable. It's a compilation of deliciously detailed portraits

of the people, areas, buildings, and events that featured

in Port of Spain's growth and change in that period, such as the

American army taking over King George V Park as a camp in

the Second World War, and the campaign promoting the ultramodern

building materials (reinforced concrete, aluminium

WWW.CARIBBEAN-AIRLINES.COM

45
---
courtesy Alma Jordan Library, University of the West Indies/stephen stuempfle

louvres, and tiled floors!) of Diamond Vale to lure house-buyers

to this spanking-new dormitory suburb. All these vivid minutiae

are set against the social and political events of the day that led

to them.

Stuempfle records, for instance, how engaged the people of

Port of Spain were with plans for a war memorial, eventually

erected in 1924. First came a debate — from 1916 — over

placing it downtown on Broadway or uptown in the "Little

Savannah" (the latter won out; it's now Memorial Park). Then

there were squabbles over whether a black sentry (from the West

India Regiment) or white (from the Merchants' and Planters'

Many of the buildings

Stuempfle writes about

have been torn down or

merely ignored to the

point where they collapse

from sheer neglect; his

book is, inadvertently, a

memorial to many

Contingent) should be posted at a more

prominent corner for the unveiling (the

latter almost refused to turn up at all if

not given pride of place, but eventually conceded). Later there

was ardent discussion of whether citizens should salute or lift

their hats as they passed: the inhabitants, of all classes, were

enormously proud of the memorial.

Stuempfle resurrects the forgotten career of architect Herbert

Brinsley, who changed the city as dramatically as George Brown

before him and Colin Laird afterwards. Brinsley, who flourished

in the 1930s, designed the Globe Cinema, a new hall for Bishop

Anstey High School, the Neal and Massy Garage, the Alston

Building, the Treasury Building, the Electricity Board's transfer

station at Frederick and Park Streets, and many houses. The

Above Marine (later

Independence) Square at

Frederick Street, before

1895. Postcard published

by Muir, Marshall and

Company

Right Plan of barrack yards

inside the block of Queen,

Charlotte, and George

Streets, below the Eastern

Market. Detail from sheet

eight of Insurance Plan of

Port of Spain, Trinidad, by

Chas. E. Goad

46
---
stories of Queen's Hall, the city's cinemas, the Art Deco renovation

of the Queen's Park Hotel, the deep-water harbour, the city

corporation's 1914 silver jubilee celebrations — Stuempfle tells

all with a zeal that makes them fascinating.

He himself knows Port of Spain well: he lived in Calcutta

Street, in the city's western St James district, from 1987,

while researching his PhD thesis on steelpan. He enjoyed

the liveliness of the neighbourhood, "from the late-night food on

the Western Main Road to the annual observance of Hosay." He

got around by taxi, careful to learn the protocols: "I worked hard to

gain competence as a taxi passenger: learning the names of spots

along the road, knowing when to request a drop (not too soon, not

too late), and understanding when to proffer payment (depending

on the size of your bill and other factors)." He also met his future

wife, Denise, during his eighteen months in Trinidad, and though

they live in the US, they return regularly to visit family and friends.

Stuempfle's first, indirect encounter with Trinidad came

much earlier, through steelpan: when he was about ten, Tripoli

came to perform in his home town of Gettysburg, Pennsylvania.

Though not particularly musically talented himself, he was

fascinated. He later began visiting Brooklyn for the Labour

Day Carnival, did a course in the folklore department of the

University of Pennsylvania that included Caribbean music,

and discovered that Tobagonian folklorist and anthropologist

J.D. Elder had done his doctorate on Trinidadian music there.

Stuempfle himself studied the social dynamics and symbolism

of pan; a version of his doctoral thesis was published in 1995 as

The Steelband Movement: The Forging of a National Art in Trinidad

and Tobago. In what reads now like a harbinger of this new

courtesy Digital Library of the Caribbean/stephen stuempfle

book, it begins with an affectionate description of Laventille

Hill and its view over the city, in the days when Desperadoes'

panyard was still perched near the summit, and the panmen —

once regarded as badjohns themselves — hadn't yet fled their

own territory for fear of gang-related crime.

That book is more academic than this one, though Stuempfle

was a curator at the Historical Museum of Southern Florida

in Miami for over a decade, and has been at the University

of Indiana since 2008: it's the headquarters of the Society for

Ethnomusicology, of which he is executive director.

But Port of Spain, though scholarly, is a labour of love.

Stuempfle began researching it (in his own time and at his own

expense) in 2005. At that time, the city was changing rapidly,

and "like many people, I was astonished by the disappearance of

large portions of the built environment. I then tried to figure out

how to write a book that would capture something of the city's

unique geography, architecture, and way of life."

During his earlier sojourn in Trinidad, Stuempfle had spent

time in panyards, gone to steelband events, and interviewed

panmen. The years of work on this book entailed walking the

city streets taking photos, as well as documentary research at

the National Archives, the University of the West Indies, and the

National Library. Military sources at the US National Archives

and the New York Public Library enriched his account of how the

Americans commandeered large chunks of the capital, as well

as the better-remembered airbases in northeast Trinidad and

the naval base at the northwestern peninsula of Chaguaramas.

He draws extensively, too, on local newspapers and on fiction

by V.S. Naipaul, Samuel Selvon, and Ralph de Boissière, as well

as nineteenth-century visitors such as Anthony Trollope and

Charles Kingsley.

Stuempfle began writing in 2012, making time for this private

passion alongside his job on campus. His next project is on

an even grander scale: "a study of general patterns in Trinidad's

basic landscapes, including forests, plantations, villages, and

towns," and examining, as he did with the capital city, how

its people regarded and shaped their environments during the

twentieth century.

The most surprising part of his research, he says, was the

"rhetoric of progress . . . shared by people of very different

socioeconomic backgrounds and political views. Many people

believed they could improve themselves in the city and also

improve the city itself," he found. "There was a strong sense of

civic consciousness and pride."

WWW.CARIBBEAN-AIRLINES.COM

47
---
That optimism is also the most surprising thing about the

book. Although not a native, Stuempfle shares much of

its past inhabitants' feeling about the city — probably

more than many of those who live or work in it now, or the

conservationists close to despair over successive governments'

indifference to the city's and the country's built heritage. Many

of the buildings Stuempfle writes about have been torn down

or merely ignored to the point where they collapse from sheer

neglect; his book is, inadvertently, a memorial to many. Yet he still

sees Port of Spain as "a city of extraordinary cultural vitality," and

writes of it with an undaunted, infectious enthusiasm.

His own favourite area is Belmont, in the nineteenth century

the home of free Africans, and later a respectable working-class

district. Stuempfle admires "its long history of communitybuilding

and its dense landscape of houses and narrow streets,

which helps foster social interaction. Also, my wife grew up

there during the 1950s and 1960s, and I love listening to her stories

about her home on Erthig Road, the neighbourhood families,

the local shops, and the Carnival masquerades."

He also "greatly appreciates" the Botanic Gardens, established

over two hundred years ago by Governor Sir Ralph

Woodford, once a source of great pride, and even now quietly

Above Port of Spain's New City

Hall, completed 1961. Postcard

published by H.O. Thomas

Below Queen's Park Hotel, with

the Art Deco central addition

completed 1939. Postcard

published by Y. De Lima & Co.

Stuempfle's own favourite area is

Belmont, in the nineteenth century

the home of free Africans, and later a

respectable working-class district

courtesy stephen stuempfle

courtesy Alma Jordan Library, University

of the West Indies/ stephen stuempfle

cherished. "The gardens' botanists and caretakers do excellent

work," he says — perhaps overstating the case a little — and

adding, significantly, "the grounds remain the quietest place in

Port of Spain."

Stuempfle retains his touching faith in the city's people

and the theory that, sometimes consciously, sometimes not,

they shaped Port of Spain to suit their needs and desires.

That view of its history also extends to its future. His own

love of the city, he says, "continues to deepen the more I

learn about it," although he understands why living in it

year-round can be stressful (he doesn't list the reasons, such

as crime, potholes, lack of parking space, traffic, inadequate

drainage, an erratic water supply . . . the list can seem

endless). Stuempfle even believes Port of Spain's future is

brighter than its past.

"The goodwill and resourcefulness of the city's inhabitants,"

he says, "will eventually prevail over the violence and destructiveness."

n

48 WWW.CARIBBEAN-BEAT.COM
---
ARRIVE

Oscar C. Williams/shutterstock.com

50

Round Trip

Love is in the air

58 Neighbourhood

Kralendijk, Bonaire

60

Personal Tour

"Just drive all around

the island"

Grenada, the Spice Island, is increasingly famous for its cocoa and chocolate, too
---
ound trip

Love is

in the air

A wedding on the beach, an island

honeymoon — for many people, they

sound like a dream. But in the Caribbean,

it's a dream that easily comes true

Historic Fort King George

overlooking Scarborough in

Tobago makes a regal setting for

any couple's wedding photos

50 WWW.CARIBBEAN-BEAT.COM
---
A

warm breeze blows off

the sea, and the brilliant

blue water is fringed by

gently crashing waves.

Barefoot, sand between

your toes, you gaze into

the eyes of your beloved, and say "I do."

Your friends and family cheer, the rum

punch starts to flow, and you dance the

night away under a canopy of tropical

stars.

It may sound too good to be true, but

here in the Caribbean, it's not. Wedding

tourism is growing across the islands,

and sometimes locals also want the fullblown

romantic experience of reciting

their vows against the backdrop of the

glittering Caribbean Sea.

Luckily, there's any number of hotels

and resorts that can throw you a dream

wedding, professional planners who can

create your own unique special day,

designers to provide dresses and suits

— or bikinis and trunks, if you take a

less formal route — and caterers to keep

you fed and watered, island style.

Then when the big day — and the big

night! — are over, you have your pick

of honeymoon experiences. Maybe you

want to explore a historic city full of

music and art, or get out into nature, or

snuggle into an island cruise. Or maybe

you just want to lock yourself away in

your cabana, answering the door only for

room service. There are so many ways to

make your romantic dream come true.

relatestudios.com

WWW.CARIBBEAN-AIRLINES.COM

51
---
Seventeenth-century St Nicholas

Abbey in Barbados is a storybook

backdrop for an unexpected

proposal

Barbados Tourism Marketing Inc/ visitbarbados.org

52 WWW.CARIBBEAN-BEAT.COM
---
WWW.CARIBBEAN-AIRLINES.COM

53
---
That diamond sparkles even

brighter under the golden

Jamaican sun. Syrece Francis

and her bridesmaids Monique

Donaldson, Keisha Amato, and

Marsha-Lee Hutchinson share

the excitement in Kingston's

Hope Gardens

Kason Stephenson/Kase Studios

54 WWW.CARIBBEAN-BEAT.COM
---
A candlelit dinner for two, on the

beach in Antigua — no better

way to start the honeymoon

JoshoJosho /shutterstock.com

Relax… Rejuvenate… Reconnect

• Warm friendly service

• Peaceful cosy rooms

• Yoga and massage

• Organic herb gardens

• World-renowned restaurant

• Live band on weekends

Come home to yourself… come home

to Kariwak… where Tobago begins.

868 639 8442

info@kariwak.com

www.kariwak.com

@kariwakvillage

When Serenity Beckons, Come to...

Aqua Massage Therapy Detox Programmes

Holiday Rejuvenation & Relaxation Packages

Rest & Relaxation Accomodation

Swedish Massage Wellness Products Wellness Holiday

Silk Cotton Trace, Bon Accord, Tobago

T: (868) 338-3158 E: silkcottonholidayhome@gmail.com

WWW.CARIBBEAN-AIRLINES.COM

55
---
Most Caribbean countries welcome

wedding tourists, but as you plan your

big day, make sure you investigate the

formal requirements to be legally wed,

which vary from country to country.

Your travel agent or the local tourist

board should be able to provide all

the information you need, including

necessary documents. n

IVASHstudio /shutterstock.com

The historic palaces of Old

Havana, alive with the sound

of Cuban music, are even more

exciting to explore with the right

company

56 WWW.CARIBBEAN-BEAT.COM
---
FULL SERVICE

UNCOMPLICATED

TOBAGO

WEDDING CATERING

@cafecocotobago

Take-out | Free Wi-fi

cafe.coco_tobago

HORS D'OEUVRES

DINNER

DESSERT

WEDDING CAKE

868.790.8030

niceandsweettgo@gmail.com

www.niceandsweettgo.com

Weddings,

Romantic Occasions,

Breakfast, Graduations,

Family Reunions, Catering etc.

1st left off Pigeon Point Rd.

Crown Point, Tobago

Tel: (868) 639-0996

reservations@cafe-coco.biz

Intimate Tobago Weddings

create memories in paradise

Book your venue for:

Weddings, Christenings, Anniversaries, and other events

Packages include

* Breathtaking Blooms

* Unique Venues

* Outstanding Menus

* Distinctive Decor

* Professional Vendors

www.tobagoflowersonline.com

(868) 660 7748/395 8330

Black Rock • Tobago • Tel: 868-639-0361

www.stonehavenvillas.com

reservations@stonehavenvillas.com

WWW.CARIBBEAN-AIRLINES.COM

57
---
neighbourhood

andy troy/shutterstock.com

Paulo MIguel costa/shutterstock.com

Kralendijk,

Bonaire

Built around a seventeenth-century fort,

Bonaire's capital is as quiet as it is colourful,

and a gateway for visitors drawn to the island's

extraordinary dive sites

Streetscape

With a population of just over three

thousand and few buildings over two

storeys tall, Kralendijk has an atmosphere

some call sleepy, others call laidback.

The downtown area — "Playa," to

most locals — is a short stretch of often

brightly painted buildings with shops

and offices. On the seafront, Wilheminaplein

— Wilhemina Square, named for

the former Dutch queen — looks over

the turquoise waters of the harbour, and

is also the location of a small vegetable

market with austere columns and arches.

The town lighthouse and the Catholic

church, St Bernard's, are painted the

same eye-catching orange. Just beside

the church, the Terramar Museum gives

a concise overview of Bonaire's history,

including archaeological artefacts.

Saturday excursion

Saturday is market day in many parts

of the Caribbean, and for Bonaireans

that means heading to the small inland

town of Rincon, about seven miles north

of Kralendijk (above left). The weekly

market is a cornucopia of fruits and vegetables,

local delicacies and crafts, flowers

and garden plants, and much more.

When you're done shopping, explore the

town, Bonaire's oldest surviving settlement

(founded in the sixteenth century).

58 WWW.CARIBBEAN-BEAT.COM
---
jung hsuan/shutterstock.com

procy/shutterstock.com

Take the plunge

The pristine waters surrounding the

island — sometimes described as ginclear

— and its coral reefs teeming with

marine species, heavily protected since

the early 1970s, make Bonaire one of the

world's top dive sites, on every scuba

enthusiast's bucket list. Numerous dive

shops in Kralendijk offer equipment, lessons,

and tours — and, of course, snorkelling

is a good option for those who

prefer to stick to the surface. There are

amazing dive experiences to be had even

within sight of the Kralendijk waterfront.

And if you're a sociable diver, there's no

better time to get wet than during the

annual Bonaire Dive Week, running from

26 May to 2 June this year, with a nonstop

programme of activities in and out

of the water.

Look up

An absence of smoke-spewing heavy

industry and relatively little light pollution

mean Bonaire has unusually clear night

skies — so much so that locals talk about

their "Sky Park," the nightly overhead

display of heavenly bodies. The undeveloped

eastern side of the island is the best

place for stargazing, and Bonaire's location

near the equator means that, depending

on the time of year, you can see both

Northern and Southern Hemisphere stars

in a single night. So walk with your star

chart — or the digital equivalent on your

smartphone.

A pinch of salt

The perfect Bonaire souvenir? Locally produced sea salt, from the salt pans on the

coast south of Kralendijk (above). You can buy it coarse or finely ground, in jars,

pouches or boxes — and if you're too useless in the kitchen even to boil water, you

can also find sea salt–infused bath and body products, too. Long after your visit, you

can fill your tub at home and pretend you're soaking in Bonaire's crystal waters.

History

Inhabited since about 1,000 CE by the

indigenous Caiquetios — whose intriguing

petroglyphs and rock paintings are

still to be found in caves around the

island — Bonaire was first visited by the

Spanish in 1499. Seizing the island in

1636, Dutch settlers built Fort Oranje to

protect their new colony, and the town

of Kralendijk — "coral dyke" — grew up

around it. For generations, the harvesting of sea salt

was the leading industry, with backbreaking labour

provided by enslaved Africans, under grim conditions,

until Emancipation in 1862.

During the Second Word War, Bonaire was

the location of a US air base and internment

camp for Germans, and many locals worked

as sailors on board oil tankers. A war memorial

in Kralendijk honours those who lost

their lives in U-boat attacks. After the war,

like many other Caribbean islands, Bonaire

turned towards tourism, with

a special focus on diving.

Co-ordinates

12.1º N 68.25º W

Sea level

BONAIRE

Kralendijk

Caribbean Airlines operates daily flights to and from its headquarters at

Piarco International Airport in Trinidad, with connections on other airlines

to Flamingo International Airport in Bonaire

andy troy/shutterstock.com

gail johnson/shutterstock.com

WWW.CARIBBEAN-AIRLINES.COM

59
---
personal tour

Artist Suelin Low

Chew Tung offers

a tour of her home

island, Grenada, from

beaches to hiking to

the best place to buy

local chocolate

"Just

drive all

around

the island"

charles hossle, courtesy suelin low chew tung

Born and bred in Trinidad,

artist and writer Suelin

Low Chew Tung moved

to Grenada in 1988, and

has become a mover and

shaker in the art scene of

her adopted home.

As a Caribbean person of mixed

heritage — Chinese, African, and Iberian

— Low Chew Tung makes artworks that

revolve around questions of identity,

culture, history, and tradition, and take

the form of mixed media painting, drawings,

and collages. She also illustrates

children's books.

A lover of travel, Low Chew Tung has

participated in artist's residencies all over

the world, where she has successfully

introduced Grenadian art and culture

to broader audiences. One particular

trip proved life-changing: in 2013, on a

residency in Haiti, Low Chew Tung met

the Haitian artist Jean Renel Pierre Louis

(a.k.a. Prensnelo). Inspired to start her

own residency programme in Grenada,

Low Chew Tung invited Prensnelo, who

ended up extending his stay — and the

pair were married in July 2014.

Together they now run San Souci Arts

Studio (SSAS), which provides learning

space, a gallery, and self-directed artists'

residencies, ranging in length from two

weeks to a month. These residencies

help promote transnational creative

exchanges, and allow visiting artists time

to undertake new work in visual arts and

writing.

In her spare time, Low Chew Tung

attempts to grow pakchoi, and enjoys

getting together with her family (all thirty

of them) for marathon lunches.

Here's her personal tour of Grenada.

60 WWW.CARIBBEAN-BEAT.COM
---
Start with a swim

"I prefer to swim at Morne Rouge — the

smaller bay is close to the world-famous

Grand Anse, but I prefer its serenity for

recharging.

"Other beaches I love: La Sagesse,

with its black sand, and Paradise Beach in

Carriacou."

Wilmar Photography/Alamy

WWW.CARIBBEAN-AIRLINES.COM 61
---
courtesy art fabrik

Adventure time

"For a day-trip adventure, I recommend hashing with the Hash House

Harriers on Saturdays. It's a cross-country run-walk that offers many

opportunities for photos of flora, fauna, hidden treasures, and far-flung

places, as well of people falling into rivers and streams — and, at the

end of the course, drinking your fill of beer at a village rumshop. I've

done this trek three times!

"For the not-so-athletic: a tour of our three or four chocolate

factories, and the few ad hoc parish museums, including the one at the

Westerhall rum distillery — with tastings!"

Treat yourself

"The best place to buy a special Grenadian

gift is Art Fabrik on Young Street, in

St George's. Or, for chocoholics, there's

the Grenada House of Chocolate across

the street.

"To see and buy contemporary art, Art

Upstairs Gallery, the Susan Mains Gallery,

and the Grenada Arts Council all offer

shows and events. And of course my studio,

the Sans Souci Arts Studio, is where

people can see and buy my own work."

credit

meagan marchant/shutterstock.com

marci paravia/shutterstock.com

Advertorial

Welcome to the "Spice Isle" of the Caribbean, where everything is

nice! A familiar greeting as you enter the Palladian styled resort. At

the Grenadian by Rex Resorts, a relaxing and memorable stay is

guaranteed as you enjoy this property's sandy white beach, salt water

lakes, hospitable service, and scrumptious food. We'd love to have you

with us.

Hungry yet?

"For a simple lunch, try the special soup

from Chopstix in Grand Anse. Belmont

Estate does a fantastic buffet, and Good

Food in Grenville makes a great take-away

oil down.

"My favourites for a sumptuous dinner:

Le Phare Bleu, Le Chateau, and Coconut

Beach restaurants."

62 WWW.CARIBBEAN-BEAT.COM
---
claudio306/shutterstock.com

Time to unwind

"When I had a car, my favourite way to de-stress

was to just drive all around the island, stopping to

take photos, and buy a drink from the area rumshop

— lots of those! I found that refreshed my spirit and

helped me to reconnect with my island.

"These days I take the local bus to Grand Etang

Forest Reserve, to sit by the lake or walk in the

rainforest, then have tea with my sister, who lives

nearby. She raises chickens, rabbits, and goats,

while her husband makes artisanal bread baked in

a wood-burning oven that they both designed and

built.

"When I'm really in need of a total break, I take

the ferry to Carriacou." n

Caribbean Airlines operates daily flights to

Maurice Bishop International Airport in Grenada,

with connections to other destinations in the

Caribbean and North America

We can make your

dreams of owning a home

in Grenada a Reality.

C 2 1 G R E N A D A . C O M

T. +1 473 440 5227

M. +1 473 415 5228

E. paula@c21grenada.com

Grand Anse, St. George, Grenada

64 WWW.CARIBBEAN-BEAT.COM
---
ENGAGE

Daniel-Alvarez/shutterstock.com

66 Plugin

Tech to the people

68 Discover

Uncovering a kingdom

70

On This Day

Sin city

The palace of Sans-Souci in Haiti, one of the Caribbean's most significant historical sites
---
plugin

Tech

to the

people

Create Caribbean, a digital humanities

project based in Dominica, works to make

tech tools for education and research

available to all. When Hurricane Maria hit

in September 2017, the project lost its

headquarters and equipment — but with

many helping hands, founder Schuyler

Esprit is putting the pieces back together.

Lisa Allen-Agostini reports

Photograph courtesy Schuyler Esprit

Digital humanities are

a blossoming field

in the Caribbean. In

projects like Anthurium,

an open-access

online Caribbean studies

journal, and sx archipelagos, a publishing,

review, and scholarship project of

the print journal Small Axe, scholars have

been steadily increasing their use of technology

in the study and dissemination of

literature, art, history, and other areas in

the humanities.

In Dominica, for example, Create

Caribbean has been doing its part to

use tech to further goals in teaching and

cultural preservation. Dr Schuyler Esprit

founded the NGO at Dominica State

College, and since 2014 it has been a part

of the educational landscape in her home

island and the wider region.

Esprit, who holds a PhD in English

literature from a US university, baffled

her family and friends when she walked

away from her promising teaching

career in Washington, DC, to return to

her homeland after thirteen years away.

But the work she's managed to do in the

intervening years has converted them —

as well as ordinary Dominicans, and the

government, too.

Create Caribbean's projects include

developing apps, games, and technological

solutions to share research and educational

work. Take, for example, the multimedia

Dominica History web project. It targets

users who are in primary and secondary

school, telling stories of Dominica's heritage

with colourful digital artwork and tools

like an interactive timeline. There's also

Create and Code, a camp to teach children

between ages seven and sixteen how to

write code, do digital research, and use

the Internet responsibly. Another project is

Carisealand, a collaboration with Grenadabased

writer Oonya Kempadoo, which

seeks to bring together research on the

Caribbean environment and preservation.

Create Caribbean also provides

research support to the public (for a fee),

and to Dominica State College students,

faculty, and staff (for free), plus grantwriting,

documentation, copywriting,

web development, and design as part of

the services it offers to the public. And all

this work is done with interns, who are

active, highly visible team members.

Esprit teaches digital humanities

research at Dominica State College,

where Create Caribbean is housed, and

where she is also registrar and dean of

academic affairs. She says Create Caribbean

has also been drawing community

support, particularly from her alma

mater, Convent High School.

Then September 2017 brought an

immense setback, as Hurricane

Maria struck Dominica, damaging

or destroying ninety-five per cent of

the island's buildings, including the

Create Caribbean office. It also destroyed

equipment Esprit had paid for out of her

own pocket — the organisation is largely

self-funded. Create Caribbean suffered

US$30,000 in damage, all told.

"When Maria happened and our building

got severely damaged," Esprit recalls,

"Convent High School opened their doors

to me and the Create team, and allowed

me to spend time with the students, getting

[us] back on our feet psychologically and

emotionally, and to motivate us to get back

to our work as part of the recovery and

rebuilding process. We used space at the

school for about six consecutive weeks after

66 WWW.CARIBBEAN-BEAT.COM
---
esearch process, and the presentation.

She felt empowered that she could be on

that stage presenting a project one day."

The result? "She now does much of our

animation work at Create Caribbean."

Esprit's family and friends are over the

shock, and fully supportive of her mission

now. "Once I knew what Create Caribbean

was, what it would look like and how it

would work, they were right on board.

Create Caribbean's comprehensive

web site will include a "Support

Us" page by the time this article

is in print. Following Hurricane

Maria, they need to replace all their

furniture and equipment. The

organisation welcomes donations

of cash and in kind. To give or to

find out more about its work, visit

createcaribbean.org.

All of Create Caribbean's work is done with interns,

who are active, highly visible team members

the storm for our basic operations, and we

continue to use their space for our programming

and showcasing of our projects."

Students feel the love, Esprit explains.

"The relationship between Create Caribbean

and that school is so strong that one

of my current research interns began her

journey to the programme by meeting

me in the hallway during her very first

week of school at Dominica State College,

and asking to become part of what

we do. I asked her what she knew about

us. Although she was not sure exactly

what digital humanities was or how we

tackle research, she was excited by her

experience of seeing the work presented

when she was a student in our audience

at high school. She was especially

fascinated by the way the student interns

had full control of their content, design,

Both my parents were actively involved.

My father built furniture and volunteered

as tour guide on our history/nature hikes,

my mother cooked for our Create and Code

camps, my aunts with whom I was raised

spent a lot of money ensuring that I had

many of the material resources I needed to

make this work, including hosting a group

of seven at their home in New York City for

our college tour and culture exchange trip

in 2016. My siblings are moral support of

the best kind, and my sisters have provided

material and emotional support as I go

through the growing pains."

She adds, "At no time has anyone in

my family questioned my desire to study

literature, my desire to work for a cause

like cultural preservation, that is so

important and passionate to me, or my

choice to live and work in the Caribbean,

even when they were worried and afraid.

And I am immensely grateful for a family

that has proven it's possible to break the

Caribbean stereotype by which parents

measure their children's success — doctor,

lawyer, businessman." n

WWW.CARIBBEAN-AIRLINES.COM

67
---
discover

Uncovering

a kingdom

The ruined palace of Sans-Souci near

Haiti's north coast is one of the Caribbean's

most momentous historical sites — and

surprisingly little is known about life there

under King Henri Christophe in the early

nineteenth century. But now a multinational

team of archaeologists are using high-tech

tools to completely resurvey the site, and

potentially rewrite a chapter of Haitian

history. Erline Andrews finds out more

Image courtesy Katie Simon, Centre for Advanced Spatial Technology,

University of Arkansas

Haiti may have the most

intriguing history of all

the Caribbean islands.

Evidence of this is

in the ruins of lavish

architecture — a palace

and a fortress — strewn across the landscape

of its far north, near the city of Cap-Haïtien.

The Sans-Souci palace stretches

along rolling hills above the town of

Milot. It's one of nine palaces built by

Henri Christophe, the second of three

post-Revolution Haitian monarchs in the

nineteenth century, who fought alongside

Haitian liberator Toussaint L'Ouverture

before establishing the State of Haiti

in the north after the country was split

by civil war. (The Republic of Haiti in

the south was governed by his nemesis

Alexandre Pétion.)

Christophe — or Henri I, as he renamed

himself — set up a feudal system with

its own nobility, and amassed immense

wealth for himself and his kingdom, before

a stroke weakened his ability to maintain

his iron-fist control and he committed

suicide in 1820.

During Christophe's short reign,

Sans-Souci was the site of elaborate

gardens decorated with opulent fountains

and Grecian statues, magnificent balls

attended by splendidly dressed people,

wide and winding staircases, expansive

terraces, ornate furnishings, a large

library with tens of thousands of books

(even though it's said that Christophe was

illiterate), a prince's residence, a network

of administrative buildings, stables, a

hospital, and a prison. They were all the

elements one would have seen in the

royal palaces of Europe. But most of the

residents of Sans-Souci were black.

Much has been written about

Christophe and post-revolutionary Haiti.

He was the subject of the first play written

by Derek Walcott. But many facts remain

disputed, and there's still a lot to learn.

"It's a surprisingly poorly understood

period of Haiti's history," says Professor

J. Cameron Monroe of the University of

California, Santa Cruz. "I say surprising

because it's the moment right after the

Revolution — the most momentous event

in the history of the Western hemisphere."

68 WWW.CARIBBEAN-BEAT.COM
---
Monroe is leading a team of archaeologists

who are currently working to add to

the world's knowledge about that pivotal

period in the first nation to be governed by

the formerly enslaved. "I'm not the only

person who's interested in the kingdom of

Haiti right now," he says. "There are many

historians who are starting to really comb

through the archives for evidence that

people have ignored for quite some time."

The work has more than academic

importance. Sans-Souci and another of

Christophe's edifices, the imposing Citadelle

— located atop the mountain behind

the palace and accessible by hiking or

horseback — were designated UNESCO

World Heritage sites in 1982, and are key

parts of plans to develop the country's

tourism.

Monroe — who specialises in West

Africa and the African diaspora around

the colonial period — was looking for a

new project after wrapping up

years of work on the Dahomey

kingdom in Benin, and pitched a

project on Sans-Souci to Haitian

authorities.

"I said, I don't do tourism.

That's not my skill set. But what

I can do is help you understand

the site," he explains. "I can go in

and map the site and document

the site, and we can excavate in

targeted places. That would give you a

sense of what's there — so, for example, if

you want to develop the site, if you want

to put in the ticket booth, if you want to

put in toilets for tourists, [you'll know]

where to dig or not to dig."

Since 2015, Monroe's team of around

six — made up of Americans

and Haitians— has been working

through funding from US research grants.

It was important to him, Monroe says,

that he didn't look like one of the many

opportunists who descended on the

country after the 2010 earthquake to

"make a buck."

The team have collected more than

fourteen thousand artefact fragments

and around 1,300 animal bone fragments,

pieces of an archaeological puzzle that,

once analysed, will throw light on the

lives of Christophe and his subjects.

"He's building this European-style

palace and he's encouraging everybody

to wear these elaborate European-style

military uniforms and styles of dress,"

says Monroe, explaining one seeming

contraction in Christophe's behaviour.

"He's bringing European music into his

court. He really is sending the message to

everybody around the Atlantic world that

Haiti is a modern nation state on par with

all of its contemporaries.

"But when nobody's looking," Monroe

adds, "he's eating Afro-Caribbean cuisine.

They're cooking food in clay pots

and they're cooking the kinds of food that

people of Afro-Caribbean heritage would

immediately identify as familiar."

The team's work so far — building on

archaeological surveys done in the 1980s

by Haiti's Institute for Protection of the

National Patrimony — has also uncovered

different layers of construction,

which suggest parts of the palace were

built, broken down, and rebuilt. "The

Much has been written about

Henri Christophe and postrevolutionary

Haiti. But many

facts remain disputed, and

there's still a lot to learn

impression I get is that this is a man who

could not stop building, and who could

not be satisfied with anything," Monroe

says of Christophe. "He built something,

changed his mind, built over it, and

changed his mind again. That impresses

me — the fact that he's able to coordinate

enough labour and enough resources to

invest in this massive effort."

In additional to traditional excavation,

Monroe and his team, in collaboration with

experts from the University of Arkansas,

have used technology that facilitates

"non-invasive" archaeology — that is, no

excavating. It's called ground penetrating

radar, or GPR. "It sends a high-density

radar wave into the earth, and then if you

find any walls or foundations or trash pits

or floors — anything archaeological —

under the surface, it bounces back. Then

you can process that radar data into a map

that shows you anomalies across the site,"

Monroe explains.

"We use that strategy so that we don't

have to dig so much. It's a very costeffective

way of going to a site, scanning it

for subsurface remains, and then you can be

very targeted in where you excavate. Otherwise,

you sort of have to dig all over the

place to make sure there's nothing there."

The idea of a kingdom in the

Caribbean may now seem strange and

egomaniacal, but at the time it was what

formerly enslaved Haitians were most

familiar with, both from observing their

past European masters and from how

societies had been organised in Africa.

"At the time, republics were kind

of a weird idea. There were kingdoms

everywhere!" says Monroe. "Napoleon

was an emperor. We don't turn our noses

up at Napoleon for choosing to be an

emperor and for getting rid of the French

Republic."

Christophe's suicide was the end of his

monarchy, and the beginning of the end of

the great structures he built. The

palace was ransacked, parts of it

burned and otherwise destroyed,

tiles and other decorative pieces

of architecture carted off. An

earthquake in 1842 inflicted even

more damage. Monroe found that

for all Christophe's obsession with

buildings, he didn't build them to

withstand strong quakes. "One of

the biggest problems we found is

the foundations are incredibly shallow.

"We were excavating one room — it

was a two-storey building, probably

twenty feet high — and the foundation

went down about five centimetres," Monroe

says. "It was literally just built on top

of a pile of rubble that was used to flatten

the surface, and then they built a tiny,

little foundation and put massive walls on

top of that. So an earthquake hits that and

it's just going to jiggle like jello and the

whole thing falls over."

This made the building vulnerable

then — and now. The destruction of the

magnificent National Palace, the president's

residence in Port-au-Prince, by the

2010 earthquake spurred an interest in

protecting the country's monuments that

helped make Monroe's efforts welcome.

"I'm terrified what would happen if

Cap-Haïtien gets struck by an earthquake

like the one in Port-au-Prince," he says.

"The site might not exist in ten years.

That's a worry of mine." n

WWW.CARIBBEAN-AIRLINES.COM

69
---
on this day

Sin city

Five hundred years ago, in 1518, Spanish colonisers in Jamaica

established a settlement on the sand spit protecting Kingston

Harbour — and thus began the story of Port Royal, "the Sodom of

the New World." James Ferguson recalls its dramatic history

Illustration by Rohan Mitchell

A

forty-minute drive or

ferry ride takes you from

Jamaica's hectic capital

of Kingston to a very

different "city." This

is Port Royal, today a

sleepy and slightly scruffy fishing village,

where half-ruined brick-built forts and

warehouses stand among modest homes

and wharves for vessels both humble

and luxurious. It is situated on the tip

of the nine-mile sand spit known as the

Palisadoes, which offers natural protection

to Kingston's harbour by almost entirely

closing it off from the Caribbean Sea. It is

this strategic position, controlling access

to the city and its port, that has determined

Port Royal's history as a naval base and

pirates' lair, and it is its geological situation

on a narrow sandbar that determined its

catastrophic demise.

Indigenous Taino communities had

established fishing settlements on what

they called Caguay or Caguaya from

time immemorial, but with the arrival of

Christopher Columbus in 1494 and ensuing

Spanish colonisation, they were virtually

extinct within two centuries. The

Spanish recognised that the Palisadoes

was an ideal location for repairing and

cleaning boats' hulls (a process known as

careening), and so in 1518 — precisely five

hundred years ago — the site of presentday

Port Royal was officially founded as

Cayo de Carena, probably little more than

a cluster of timber warehouses.

Spain's colonial plans for Jamaica

were distinctly unambitious, especially

when none of the hoped-for gold was to

be found. There was some agriculture

and small-scale African slavery was

introduced, but the island's main role was

as a refitting and supply base for the more

lucrative colonies on the South American

mainland. It was hence no great surprise

that the small Spanish population put

up scant resistance to an English invasion

in May 1655, led by General Robert

Venables, whose earlier attack on more

populous Spanish Santo Domingo had

been easily repulsed. Jamaica was second

State-sponsored criminality fuelled the

spectacular rise of Port Royal, attracting

merchants and conmen as well as pirates from

many nations

best within the terms of Oliver Cromwell's

land-grabbing "Western Design," but it

gave the English an important toehold in

the New World, and in 1670 the Treaty of

Madrid ceded the island to England.

The arrival of the English rapidly and

dramatically changed the face of the tiny

Spanish settlement on the sand spit. At

first, they anglicised its Taino name to

Cagway (there is still a Cagway Street),

but soon after Cromwell's death in 1658

it was renamed Port Royal. By 1659,

there were reportedly about two hundred

shops, houses, and warehouses built

around a central fort, and thirty years

later six forts were in place to defend the

town from Spanish reprisals and French

invasion. From a population of 740 in

1662, the town had expanded to house

some seven thousand people, including

2,500 slaves. According to UNESCO:

Centred on the slave trade as well as

export of sugar and raw materials, Port

Royal became the mercantile hub of the

Caribbean and the most economically

important English port in the Americas.

The city boasted merchants, artisans,

tradesmen, captains, slaves, and

notorious pirates who all participated

in an expansive business network. It

had a governor's house, king's house

(court of chancery), four churches, and

a cathedral.

Effectively the capital of Jamaica

(Kingston was still open countryside),

Port Royal also enjoyed a less than

salubrious reputation. This was largely

because the town's authorities actively

encouraged privateers or buccaneers

to operate from the protected port,

attacking and looting Spanish, French, or

70 WWW.CARIBBEAN-BEAT.COM
---
Dutch ships. Piracy was hence officially

sanctioned by England, and the booty

was shared between the Crown and the

town's resident buccaneers. One notorious

pirate, Henry Morgan, led successful

assaults on Spanish settlements such as

Portobello on the mainland, returning

with huge amounts of money and valuables.

He was rewarded by being made

lieutenant governor of Jamaica.

State-sponsored criminality fuelled

the spectacular rise of Port Royal,

attracting merchants and conmen as

well as pirates from many nations.

Writing in 1682, Francis Hanson was

amazed at the wealth he observed: "bars

and cakes of Gold, wedges and pigs

of Silver, Pistoles, Pieces of Eight and

several other Coyns of both Mettles,

with store of wrought Plate, Jewels, rich

Pearl Necklaces and of Pearl unsorted or

undrill'd several Bushels . . ." Needless

to say, such ostentatious opulence did

little to promote good behaviour, and the

town became a byword for immorality

and decadence, "the Sodom of the New

World," filled with cutthroats and prostitutes.

A disapproving historian, Charles

Leslie, noted of the privateers:

Wine and women drained their wealth

to such a degree that . . . some of them

became reduced to beggary. They have

been known to spend 2 or 3,000 pieces

of eight in one night; and one gave

a strumpet 500 to see her naked. They

used to buy a pipe of wine, place it in the

street, and oblige everyone that passed

to drink.

With the appointment of Henry Morgan

as lieutenant governor, pirate culture

ironically began to decline, and antipiracy

legislation was harshly enforced

with the hangings of Calico Jack and others.

The slave trade became increasingly

important as privateering diminished,

while the arrival of facilities for the Royal

Navy suggested that Port Royal was facing

a very different future.

Nature, it seemed, had other ideas.

On 7 June, 1672, a massive

earthquake hit the whole of

Jamaica, causing extensive damage and

loss of life. But Port Royal, on its sand

spit, was particularly vulnerable, as the

quake was followed by a violent tsunami

which swept through the town. The heavy

brick buildings whose foundations stood

on sand often collapsed as large parts

of the Palisadoes were washed away.

In what scientists call liquefaction, the

ground became a saturated quicksand,

as a survivor reported: "I saw the earth

open and swallow a multitude of people;

and the sea mounting in upon us over

the fortification." At least three thousand

people perished immediately, with

perhaps as many again in ensuing

epidemics. Only a third of the town

remained unsubmerged.

Many believed that divine retribution

had been visited

on the "wickedest

city on

earth." Whatever

the case, the

disaster was certainly exacerbated by an

unstable geological situation, overcrowding,

and inappropriate architecture. Port

Royal was quite literally built on shifting

sands. As a result, the focus of urban

development shifted to the more solid site

of Kingston, founded that year as a tented

camp for homeless survivors. By 1716, it

was the largest town in Jamaica, and in

1872 it became the island's capital.

Attempts to rebuild Port Royal were

obstructed by fire, hurricanes, and cholera.

The Royal Navy, however, viewed

the site as strategically important, and a

dockyard, hospital, and warehouses were

built in the eighteenth and early nineteenth

centuries. But the end came on 14

January, 1907, with another earthquake,

which shattered the remaining buildings,

shaking one — the so-called Giddy House

— into a bizarre tilted posture.

Today, half a millennium after its

founding, Port Royal remains a rather

melancholy place, but a treasure trove for

underwater archaeologists. It may have

failed in its bid to become a UNESCO

World Heritage Site, but its historic associations

and aura of nefariousness remain

compelling. n

WWW.CARIBBEAN-AIRLINES.COM

71
---
puzzles

1 2 3 4 5

Caribbean Crossword

6 7 8

9

Across

6 Palace of a Haitian king [4,5]

8 This letter comes first, in Greek [4]

10 Random knowledge [5]

11 Filled pasta [7]

12 Most moist and soft [9]

14 Consumed [3]

16 Gratifies [7]

17 Tells again [6]

19 What's left after fire [3]

20 Pirate [8]

24 Whirling sufi [7]

25 A bee's home, maybe? [6]

27 Beelzebub, for instance [5]

28 After-wedding vacation [9]

Down

1 Den [4]

2 Ladies' man [9]

3 Baby oaks [6]

4 It runs in your veins [5]

5 Haitian general who became Henri I [10]

7 Port of Spain's main park [8]

9 Adam's wife [3]

13 In Kingston Harbour, location of Port Royal [10]

15 Undersea ruins [9]

10 11

12 13 14

16 17 18

19 20 21

22 23

24 25 26

27 28

18 Verify [7]

21 Loosen, as in bra [6]

22 Fiery crime [5]

23 Emcee prop [3]

26 Hotel accommodation [4]

15

Spot the Difference

by James Hackett

There are 10 differences

between these two

pictures. How many can

you spot?

Spot the Difference andswers

The colours of the roof are different; there are more details on the rooftop; the porch has different colour paint; there are details on the banana

leaves; there are more plants in the image on the right; there is more detail on one of the porch doors; the rain is falling in different directions; one

of the bushes on the right has more texture; the clouds in the background are different; there is a line below the porch in the image on the left.

72 WWW.CARIBBEAN-BEAT.COM
---
Word Search

archeological

arrival

bridesmaid

canvas

caterer

doppelgängers

earthquake

festival

filmmaker

folklore

George

Haitian

king

memorial

midwife

panyard

penalty

pepper

Port Royal

poui

radar

referree

Russia

scorpion

Scoville

studio

Suriname

taxi

tongue

World Cup

D S F E S T I V A L K C M T E

O C O F O L K L O R E A I A A

P O W O R L D C U P B N D X R

P V P H H A I T I A N V W I T

E I O N B R I D E S M A I D H

L L U T O N G U E P H S F B Q

G L I S C O R P I O N M E F U

Ä E I P P A N Y A R D E Q I A

N S U R I N A M E T R M A L K

G S T U D I O O U R U O R M E

E P E N A L T Y E O S R R M R

R P E P P E R F K Y S I I A A

S C A T E R E R I A I A V K D

F Q G E O R G E N L A L A E A

A R C H E O L O G I C A L R R

Sudoku

Caribbean Beat Magazine

Very easy 9x9 sudoku puzzle

Sudoku 9x9 - Puzzle 4 of 5 - Very Easy

Caribbean Beat Magazine

Hard 6x6 mini sudoku puzzle

Sudoku 6x6 - Puzzle 4 of 5 - Hard

by www.sudoku-puzzle.net

Fill the empty square with numbers

from 1 to 9 so that each row, each

column, and each 3x3 box contains

all of the numbers from 1 to 9. For

the mini sudoku use numbers from

1 to 6.

If the puzzle you want to do

has already been filled in, just

ask your flight attendant for a

new copy of the magazine!

7 2 6 4

5 6 9 1 8

1 9 7

4 3 9 6 1

6 2 8

2 5 8 1 4

3 9 1

4 9 8 7 3

8 4 5 9

www.sudoku-puzzles.net

3

2 1

5 6

4

5 4 6

www.sudoku-puzzles.net

www.sudoku-puzzle.net

Solutions

Caribbean Crossword

Word Search

Sudoku

Mini Sudoku

Sudoku 6x6 - Solution 4 of 5 - Hard

Sudoku 9x9 - Solution 4 of 5 - Very Easy

5 2 6 4 1 3

3 4 1 2 6 5

9 3 7 2 8 6 1 4 5

5 4 6 9 1 7 8 3 2

S N K S M

8 1 2 5 4 3 6 9 7

4 7 8 3 5 9 2 6 1

1 6 3 7 2 4 5 8 9

2 5 9 8 6 1 3 7 4

3 9 5 6 7 2 4 1 8

6 2 4 1 9 8 7 5 3

7 8 1 4 3 5 9 2 6

www.sudoku-puzzles.net

D S F E S T I V A L K C M T E

O C O F O L K L O R E A I A A

P O W O R L D C U P B N D X R

1 5 2 6 3 4

6 3 4 1 5 2

4 6 5 3 2 1

2 1 3 5 4 6

E M O N 28 H O N E Y M O O N

www.sudoku-puzzles.net

P V P H H A I T I A N V W I T

S

6

T

10

1

L

W

2

A

3

A N 7 S S O U C I 8 A L P H A

I A M O 9 E O R

R I V I A 11 R A V I O L I

B

4

C

5

E I O N B R I D E S M A I D H

L L U T O N G U E P H S F B Q

S

12

P

16

P

13

A N N E D S

O N G I E S T 14 A T E

A N S W

15 O

L E A S E S 17 R E 18 C A P S

A

19

I H R E O H

S H B

20 U

21 C C A N E E R

D

24

A A

22 M

23 N K F

E R V I S H 25 A P I A R

O S C O G R O

D

27

26 Y

A R C H E O L O G I C A L R R

F Q G E O R G E N L A L A E A

G L I S C O R P I O N M E F U

Ä E I P P A N Y A R D E Q I A

N S U R I N A M E T R M A L K

G S T U D I O O U R U O R M E

E P E N A L T Y E O S R R M R

R P E P P E R F K Y S I I A A

S C A T E R E R I A I A V K D

Caribbean Beat Magazine

WWW.CARIBBEAN-AIRLINES.COM

Caribbean Beat Magazine

73
---
85% (2018 year-to-date: 30 March)
---
Caribbean Airlines

CARIBBEAN

Trinidad Head Office

Airport: Piarco International

Reservations & information:

+ 868 625 7200 (local)

Ticket offices: Mezzanine Level, The Parkade,

Corner of Queen and Richmond Streets,

Port-of-Spain;

Golden Grove Road, Piarco;

Carlton Centre, San Fernando

Baggage: + 868 669 3000 Ext 7513/4

Antigua

Airport: VC Bird International

Reservations & information:

+ 800 744 2225 (toll free)

Ticketing: VC Bird International Airport

Hours: Mon – Fri 8 am – 4 pm

Baggage: + 268-480-5705 Tues, Thurs, Fri, Sun,

or + 268 462 0528 Mon, Wed, Sat.

Hours: Mon – Fri 4 am – 10 pm

Barbados

Airport: Grantley Adams International

Reservations & information: 1 246 429 5929 /

1 800 744 2225 (toll free)

City Ticket Office: 1st Floor Norman Centre Building,

Broad Street, Bridgetown, Barbados

Ticket office hours: 6 am – 10 am & 11 am –

7 pm daily

Flight Information: + 1 800 744 2225

Baggage: + 1 246 428 1650/1 or + 1 246 428 7101

ext. 4628

Cuba (Havana)

Airport: José Martí International

Reservations and baggage: +1 800 920 4225

Ticket office: Commercial Take Off

Calle 23 No. 113, Esquina A Ovedado

Plaza de la Revolución

Havana, Cuba

Grenada

Airport: Maurice Bishop International

Reservations & Information:

1 800 744 2225 (toll free)

Ticketing: Maurice Bishop International Main

Terminal

Baggage: + 473 439 0681

Jamaica (Kingston)

Airport: Norman Manley International

Reservations & information: + 800 523 5585 (International);

1 888 359 2475 (Local)

City Ticket Office: 128 Old Hope Road, Kingston 6

Hours: Mon-Fri 7.30 am – 5.30 pm,

Saturdays 10 am – 4 pm

Airport Ticket Office: Norman Manley Airport

Counter #1

Hours: 3.30 am – 8 pm daily

Baggage: + 876 924 8500

Jamaica (Montego Bay)

Airport: Sangster International

Reservations & information:

/

Across the World

+ 800 744 2225 (toll free)

Ticketing at check-in counter:

8.30 am – 6 pm daily

Baggage: + 876 363 6433

Nassau

Airport: Lynden Pindling International

Terminal: Concourse 2

Reservations & information: + 1 242 377 3300

(local)

Airport Ticket Office: Terminal A-East Departure

Hours: Flight days – Sat, Mon, Thurs 10 am – 4 pm

Non-flight days – Tues, Wed, Fri 10 am – 4 pm

Flight Information: + 1 242 377 3300 (local)

Baggage: + 1 242 377 7035 Ext 255

9 am – 5 pm daily

St Maarten

Airport: Princess Juliana International

Reservations & information: + 1721 546 7660/7661

(local)

Ticket office: PJIA Departure Concourse

Baggage: + 1721 546 7660/3

Hours: Mon – Fri 9 am – 5 pm / Sat 9 am – 6 pm

St Lucia

Airport: George F L Charles

Reservations & information: 1 800 744 2225

Ticket office: George F.L. Charles Airport

Ticket office hours: 10 am – 4 pm

Baggage contact number: 1 758 452 2789

or 1 758 451 7269

St Vincent and the Grenadines

Airport: Argyle International

Reservations & information: + 800 744 2225

Ticketing: Argyle International Airport (during flight

check-in ONLY)

Tobago

Airport: ANR Robinson International

Reservations & information: + 868 660 7200 (local)

Ticket office: ANR Robinson International Airport

Baggage: + 639 0595 / 631 8023

Flight information: + 868 669 3000

NORTH AMERICA

Fort Lauderdale

Airport: Hollywood Fort Lauderdale International

Reservations & information: + 800 920 4225

(toll free)

Ticketing: Terminal 4 – departures level (during

flight check-in ONLY – 7.30 am to 7 pm)

Baggage: + 954 359 4487

Miami

Airport: Miami International

Reservations & information: + 800 920 4225

(toll free)

Ticketing: South Terminal J – departures level (during

flight check-in ONLY – 12 pm to 3.00 pm);

Baggage: + 305 869 3795

Orlando

Airport: Orlando International

Reservations & information:

+ 800 920 4225 (toll free)

Ticketing: Terminal A – departures level

(during flight check-in ONLY – Mon/Fri 11:30 am

– 2.15 pm)

Baggage: + 407 825 3482

New York

Airport: John F Kennedy International

Reservations & information: + 800 920 4225

(toll free)

Ticketing: Concourse B, Terminal 4, JFK

International – open 24 hours (situated at departures,

4th floor)

Baggage: + 718 360 8930

Toronto

Airport: Lester B Pearson International

Reservations & information: + 800 920 4225

(toll free)

Ticket office: Terminal 3

Ticketing available daily at check-in counters

422 and 423. Available 3 hours prior to

departure times

Baggage: + 905 672 9991

SOUTH AMERICA

Caracas

Airport: Simón Bolívar International

Reservations & information:

+ 58 212 3552880

Ticketing: Simón Bolívar International Level 2 –

East Sector

Hours: 7 am – 11 pm

City Ticket Office: Sabana Grande Boulevard,

Building "Galerias Bolivar", 1st Floor, office 11-A,

Caracas, Distrito Capital

+ 58 212 762 4389 / 762 0231

Baggage: + 58 424 1065937

Guyana

Airport: Cheddi Jagan International

Reservations & information: + 800 744 2225

(toll free)

Ticket office: 91-92 Avenue of the Republic,

Georgetown

Baggage: + 011 592 261 2202

Suriname

Airport: Johan Adolf Pengel International

Reservations & information: + 597 52 0034/0035

(local); 1 868 625 6200 (Trinidad)

Ticket Office: Paramaribo Express, N.V. Wagenwegstraat

36, Paramaribo

Baggage: + 597 325 437
---
Northbound

737 onboard Entertainment

MAY

Southbound

Marvel Studios' Black Panther

T'Challa returns home to Wakanda to take his place as king,

but when a powerful old enemy reappears, his mettle as king

— and Black Panther — is tested.

Chadwick Boseman, Michael B. Jordan, Lupita Nyong'o • director: Ryan

Coogler • action, adventure • PG-13 • 134 minutes

Peter Rabbit

When Old McGregor dies, Peter Rabbit takes over his house.

But chaos ensues when McGregor's nephew comes to claim

his inheritance.

Daisy Ridley, Margot Robbie, Ross Byrne • director: Will Gluck • family,

animation • PG • 95 minutes

Northbound

JUNE

Southbound

The Greatest Showman

P.T. Barnum rises from rags to riches in this musical spectacular,

busting through the drudgery of everyday life into a

realm of wonder and joy.

Hugh Jackman, Zac Efron, Michelle Williams • director: Michael Gracey •

drama, musical • PG • 104 minutes

The Post

Katherine Graham and Ben Bradlee race to expose a massive

cover-up of government secrets that spans three decades

and four US presidents.

Meryl Streep, Tom Hanks, Sarah Paulson • director: Steven Spielberg •

drama, thriller • PG-13 • 115 minutes

Channel 5 • The Hits

Channel 6 • Soft Hits

Channel 7 • Concert Hall

Audio Channels

Channel 8 • East Indian Fusion

Channel 9 • Irie Vibes

Channel 10 • Jazz Sessions

Channel 11 • Kaiso Kaiso

Channel 12 • Steelband Jamboree
---
classic

Meggie 101

Illustration by

James Hackett

A dip into the magazine archives: first published

in May/June 2004, here's Attillah Springer on

the art of the meggie

My name is Attillah,

and I love to give

meggies. Don't look

surprised. I'm not the

only one. Meggiemania

is alive and

well in Trinidad, and spreading across

the Trini diaspora — and also infecting

those unfortunate foreign souls who find

themselves liming with meggie masters

like myself.

If you don't know what a meggie is,

take a look at the illustration. The meggie

is a gesture produced by bringing the tips

of the thumb and four slightly arched

fingers together, which is then pointed in

the direction of the recipient — a simple

yet deadly tool of subterfuge and derision.

Trinidad and Tobago is a country that

seems obsessed with insults, considering

the many words we have to describe various

forms of put-down: picong, fatigue,

mamaguy. But in the face of robber talk

and rum shop antics, the meggie stands

out as a means of effectively silencing

your opponent — or at least refocusing

the laughter away from your bad hair day,

or the toothless granny who is giving you

all her attention. In other words, sticks

and stones can break your bones, and

sometimes words can hurt too. But a

perfectly-timed meggie — well, that can

just be a stroke of pure genius.

As the megg-er, the aim is to make

the megg-ee (that is, the person being

megged) actually look at your hand —

take the meggie right in the face. This

only sounds easy. New ways must be

found to catch a master of the meggie

arts, the professional always on the lookout

for a surprise meg.

What I especially love to do is meg

someone who hasn't been megged in a

while (perhaps their friends are not cool

enough, or perhaps they've lived away from

other idle Trinis for way too long). They

are easy targets. You can catch them with

the simplest of lines. "Aye, this is yours?"

You look a little concerned, gesture with

your head, and position your hand in a

way suggesting that they have forgotten a

particularly valuable possession. Then bam!

They catch sight of the meg formation.

There is a fleeting look of shock, their

mouths form perfect "O"s, and you can

almost see their minds flashing back to

their last meggie, which they probably

got from a little girl with two plaits in a

schoolyard.

They may say, in a particularly annoying

imitation of a seven-year-old voice,

"That's four fingers and a thumb, and

that's dumb," but they don't really mean it.

Secretly, they are plotting revenge,

thinking of ways to get you back.

If you know what a meggie is, you'd

assume that I'd have left this unhealthy

obsession behind when I graduated from

primary school. In fact, it was when I

came into the working world that the

meggie became an invaluable form of

entertainment and solace, a harmless

enough way to get back at colleagues and

also infuriate friends.

A fellow meggie master in London

advised me the other day that I needed

to find out more about the origins of my

pastime. For some mysterious reason,

there seems to be no serious academic

research into the meggie phenomenon.

Perhaps someone at UWI needs to rectify

this. What's certain is that, considering the

demographics of most meggie masters,

the meg evolved in some Trini schoolyard

sometime in the 1970s, and by the 1980s

was universally recognised by undertwenties.

And chances are that anywhere a

few idle young Trinbagonians are gathered

you will find an outbreak of meggies.

Apart from the ordinary meggie,

there are interesting hybrids. Meggie-bysatellite

and super-meggie, as well as the

more eclectic meggie-doing-sit-ups-on-amirror,

or meggie-drinking-orange-juicethrough-a-straw.

Meggies have gone tech

too. There are text-megs, e-megs, and I've

just finished drafting a letter lobbying for

a meggie emoticon.

I've also decided that the meggie needs

to tour the world, and am in the process of

photographing it at major landmarks. So

far I have meggie climbs the Great Wall of

China, meggie sails the Adriatic, meggie

does Habana Vieja, meggie on the cycle

track at the Queen's Park Oval, meggie in

Halfway Tree, and meggie on the London

Underground.

One thing, though — they can make

you a little paranoid. Forget worms and

viruses. I'm loath to open attachments

lest there be a meggie lurking within. n

80 WWW.CARIBBEAN-BEAT.COM