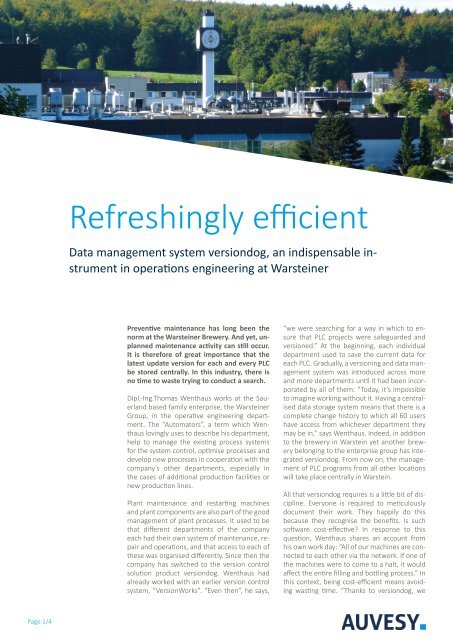 Case Study - versiondog in use at Warsteiner
Create successful ePaper yourself
Turn your PDF publications into a flip-book with our unique Google optimized e-Paper software.
CASE STUDY

Warsteiner Brewery

Refreshingly efficient

Data management system versiondog, an indispensable instrument

in operaons engineering at Warsteiner

Prevenve maintenance has long been the

norm at the Warsteiner Brewery. And yet, unplanned

maintenance acvity can sll occur.

It is therefore of great importance that the

latest update version for each and every PLC

be stored centrally. In this industry, there is

no me to waste trying to conduct a search.

Dipl.-Ing.Thomas Wenthaus works at the Sauerland

based family enterprise, the Warsteiner

Group, in the operave engineering department.

The "Automators", a term which Wenthaus

lovingly uses to describe his department,

help to manage the exisng process systems

for the system control, opmise processes and

develop new processes in cooperaon with the

company's other departments, especially in

the cases of addional producon facilies or

new producon lines.

Plant maintenance and restarng machines

and plant components are also part of the good

management of plant processes. It used to be

that different departments of the company

each had their own system of maintenance, repair

and operaons, and that access to each of

these was organised differently. Since then the

company has switched to the version control

soluon product versiondog. Wenthaus had

already worked with an earlier version control

system, "VersionWorks". "Even then", he says,

"we were searching for a way in which to ensure

that PLC projects were safeguarded and

versioned." At the beginning, each individual

department used to save the current data for

each PLC. Gradually, a versioning and data management

system was introduced across more

and more departments unl it had been incorporated

by all of them: "Today, it's impossible

to imagine working without it. Having a centralised

data storage system means that there is a

complete change history to which all 60 users

have access from whichever department they

may be in," says Wenthaus. Indeed, in addion

to the brewery in Warstein yet another brewery

belonging to the enterprise group has integrated

versiondog. From now on, the management

of PLC programs from all other locaons

will take place centrally in Warstein.

All that versiondog requires is a lile bit of discipline.

Everyone is required to meculously

document their work. They happily do this

because they recognise the benefits. Is such

soware cost-effecve? In response to this

queson, Wenthaus shares an account from

his own work day: "All of our machines are connected

to each other via the network. If one of

the machines were to come to a halt, it would

affect the enre filling and boling process." In

this context, being cost-efficient means avoiding

wasng me. "Thanks to versiondog, we

Page 1/4
---
CASE STUDY

Warsteiner Brewery

are able to rapidly localise errors and get the

plant back up and running again." He goes on

to tell us that it is difficult to precisely esmate

exactly how much me is saved. This is because

so much depends upon where exactly the errors

occur. But, he adds: "With versiondog we

have the tool we need."

And the same goes for Warsteiner's robots.

"One wrong piece of data and the configura-

on work of what may amount to weeks flies

out the window", Wenthaus says. "When this

"Thanks to versiondog, we are able to rapidly

localise errors and get the plant back up

and running again.

The wonderful thing about versiondog is

that fact that you know when exactly a par-

cular change was made, who made it, and

why it was made."

Dipl.-Ing.Thomas Wenthaus works at the Warsteiner Group

in the operave engineering department

happens, a robot is liable to make a wrong

move." As such, the calibraon data required

for packaging machines necessitates precise

work that leaves lile room for error. "The

wonderful thing about versiondog is that

fact that you know when exactly a parcular

change was made, who made it, and why it was

made." All processes involved in producon

are controlled via a central control system. This

presents a parcular challenge in the filling and

boling process because not only is there a

comparavely large number of individual machines,

but these machines are also connected

to each other. All data is centrally available for

comparison. For the members of maintenance

staff, this has a definite praccal use. Comparison

allows for errors to be detected and for the

causes of malfuncons to be resolved accordingly.

Managing process data in this way via a

process control system is now the norm.

versions are indispensable for fast and efficient

disaster recovery. The data from all controllers

is stored by versiondog so that it cannot

be lost. In the event that an error occurs on

the assembly line or if the assembly line itself

suddenly stops, me becomes of the essence.

Rather than wasng it looking for the problem,

the malfunconing component will be immediately

swapped out. Then the appropriate

soware will be taken from the server with

confidence, applied - and the staon or plant

can be restarted immediately. Being able to do

this necessitates a certain amount of discipline

when changing or customising a PLC: "Several

colleagues of mine have had to adapt to this.

But as soon as they saw how brilliant it was to

be able to centrally access single project data,

they accepted 'versiondog'."

The server-client structure allows for any computer

or programming device to be connected

in order to access the data or soware versions

on the central server. Working with versiondog

is very simple. One big benefit is that projects

cannot be easily deleted. If the user has problems

at first while building experience, "there

is always the support hotline at AUVESY, who

are there to provide immediate help." That

being said: "We seldom come across any real

problems. The system is very stable."

No missed backups

In the brewery's processes there is no way

now that backups can be missed and data

can be lost. Using the benefit of his experience,

Thomas Wenthaus stresses that effec-

vely safeguarding data and regularly creang

Page 2/4
---
CASE STUDY

Warsteiner Brewery

The change history in versiondog shows clearly, who changed

when what where and why.

versiondog also provides addional help by

storing versions of device data used in the

construcon of a facility, including Excel documents,

data lists and networking plans. This

means that even when problems occur in the

middle of the night, it is possible to download

specific detailed plans, view connecon details

such as bus components and quickly fix

producon malfuncons without delay or addional

help.

The need for backups depends on the relevance

of the device. Not all PLCs are backed

up on a daily basis. The number of backups per

average day is around 40. However, per week

the number can be anywhere between 300 and

400. The "UserClient" is used to manage versions

and create new projects. "We do a lot of

work with the UserClient every day", Wenthaus

says. In addion to using the UserClient, he also

keeps a close eye on the "ReportClient", which

helps when searching in detail for errors. And,

as the administrator of process systems, he

regularly works with the "AdminClient" in order

to configure automac backups and carry out

user administraon tasks. versiondog allows for

a wide variety of permutaons of access rights,

depending on the work area and the decisionmaking

hierarchy. Thanks to versiondog and

the "Supplier Check-Out", collaboraon with

external companies, e.g when construcng

new producon facilies, runs smoother than

ever. And each authorised user is able to use

this funcon.

Working with versiondog over the years has

produced one notable and useful side-effect,

even if, in hindsight, it might sound somewhat

obvious. For new projects or producon lines,

operave engineers now always make sure that

all the controllers are networked. "It's a great

thing for our processes that all members of

staff constantly have access to the latest data."

adds Wenthaus. "Connecng all devices to the

network means that we can easily check from

the office which control programs are running

on which devices and work on them as necessary.

That saves resources and a lot of me."

eite 2/4

Seite 2/4

Page 3/4
---
About AUVESY

AUVESY (AUtomated VErsioning SYstems) is the world's leading version control &

data management system for automaon. The company has grown steadily since it

was founded in 2007 and it connues to go from strength to strength.

With a team of around 80 employees and 30 internaonal sales partners, AUVESY

looks aer more than 700 customers from across the industrial spectrum and in

more than 40 countries.

Over 900 versiondog soware systems are currently in place helping customers

to safeguard their data, simplify their data management and opmise their workfl

o w s .

Page 4/4 - © AUVESY GmbH

German Office

AUVESY GmbH

Fichtenstraße 38 B

76829 Landau in der Pfalz

P +49 6341 6810-300

F +49 6341 6810-311

E info@auvesy.com

Web www.auvesy.com

US Office

AUVESY INC

146 Monroe Center St NW

Suite 1210

MI 49503 Grand Rapids

P +1-616.888.3770

F +1-616.888.3769

E info@auvesy.com

Web www.auvesy.us