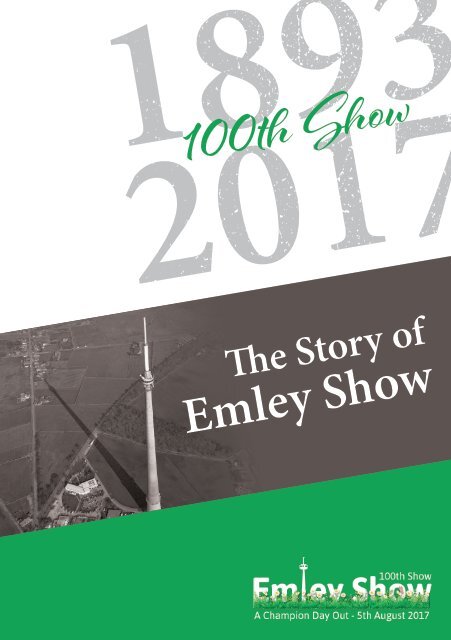 The Story of Emley Show
A programme we produced for the 100th Emley show
A programme we produced for the 100th Emley show
SHOW MORE
SHOW LESS
You also want an ePaper? Increase the reach of your titles
YUMPU automatically turns print PDFs into web optimized ePapers that Google loves.
1893

2017

100th Show

The Story of

Emley Show
---
Foreword

Over 40 years have passed since I

became involved in the organisation of

Emley Show. During that time I have seen

it grow to the huge charitable company

that exists today, enabling exhibitors and

contestants to present to the general

public with a showpiece of the very best

of countryside pursuits, occupations,

interests and craftsmanship.

I am delighted and feel honoured to be

elected as your President for the year

of the 100th Show and look forward to

meeting as many of the society's guests,

members, exhibitors and visitors as

possible on Show Day.

I often wonder what the villagers of the

first little Show in 1893 on a football field

on Emley Moor would think of us if they

were here. I hope they would be pleased

with what they had started.

Michael Hull

President, Emley Show Society 2017

An Early History of Emley

Emley is a village in West Yorkshire

between Huddersfield and Wakefield. In

the Domesday Book of 1086 it was listed

as 'Amalaie' and dates back to Anglo-

Saxon times. As well as Emley Show,

Emley is also famous for the Emley Moor

Transmitter Mast, Emley Football Club and

the Emley Boundary Walk.

The Emley Boundary Walk is a traditional

event that began in 1857 and happens

every 7 years. It involves a walk of

approximately 13 miles around the

boundary of Emley. The 2014 walk was a

very successful event, albeit a very wet

one.

Emley is also home to AFC Emley – a

non-league football club that made

national headlines when they progressed

to the 3rd round of the FA Cup, beating

Morecambe and Lincoln City en route.

The team moved to Wakefield in 2000

and became Wakefield & Emley FC but

returned as AFC Emley in 2005 to the

village's Welfare Ground.

Emley Moor Transmitting Station

(also known as Emley Moor Mast) is a

broadcasting and telecommunications

facility based just outside the village of

Emley. It is a Grade II concrete tower and

is the tallest free standing structure in the

UK – being visible from all across West

Yorkshire. It is also well known for its

failure in 1969 when the cylindrical steel

mast was catastrophically brought down

by a combination of high winds and a

coating of ice.

held in 1893, however during wartime

periods and because of animal diseases

and inclement weather, the Show was not

always able to go ahead, therefore, we

celebrate our 100th Show this year (2017).

Over the years, the Show has been held

on several different sites around the

village to accommodate it's growing size

and visitor numbers.

Emley may only be a relatively small

village but our Show is acknowledged as

an important event in the Show Calendar.

Our site on Emley Moor is acclaimed for

the magnificent panoramic views of the

Pennines; these particular views can only

be accessed on Show Day.

The Emley Show society exists to

promote agricultural interests and raise

funds to support local enterprises and

individuals. At the same time we hope

we are providing an enjoyable family day

out for the wider community. The Show is

over 120 years old – with the first Show
---
Early Show Reports

Although the Show started in 1893

early reports are limited. This one from

1899 illustrates how both the Show has

changed as well as use of the English

language.

centred in the horse and cattle sections, which

although not particularly well filled, included

some good stock, especially in the class for

draught horses. The horticultural classes were

all open, but they only attracted local growers,

and the quality generally was mediocre.

Foremost among the successful exhibitors

were Messers, B. Mountain, T. Wilson, R.

Micklethwaite, G. Smith, Gen, H. Bedford,

Allen Hadley, J. Robinson and A Oldroyd.'

Our Centennial Show

The Show you will see today would

be unrecognisable to our forebears;

established by our late Victorian tenant

farmers and their families, who would

also have made up the bulk of both the

competitors and the visitors, more than

likely it would have fitted into one field.

The timing of the Show was dependant on

the type of farm that was offering to host it

that year.

EMLEY AGRICULTURAL SHOW

Yorkshire Post and Leeds Intelligencer

(Tuesday 5th September 1899)

'The sixth annual show promoted by

the Emley and District Agricultural and

Horticultural Society was held in the Cricket

Field on Saturday afternoon, and was well

attended. Amid the exigencies (an urgent

need or demand) of Sunday railway traffic

report, which should have appeared yesterday,

miscarried. Most of the interest appeared to be

An extract from the 27th annual Show, at

this point the Show was held in Blacker's

Field, Emley, Wakefield.

So, by the 1970s the Show had outgrown

the single field offering available in the

village and moved down into the valley

bottom. Our hosts there were the Gill

brothers, Frank (of White Cross Farm) and

David (of Yew Farm). It remained there

for 30 years before the Show outgrew its

warm embrace.

It was only a matter of time before we

either outgrew the land, or the land forced

us off. In 2007, during the week preceding

the Show, torrential rain caused the slope

of the hill on one side of the showground

to overwhelm the land drains and it was

soon obvious to all that the Show would

have to be cancelled.

1988 Show

So, like Noah before us, we sought the

sanctuary of higher ground and in 2008

accepted the offer of the Hampshire

family to use their land "At the foot of the

mast".

So, we arrive at today's Show Ground and

the hospitality of Mrs Pat Hampshire BEM;

with her son Richard of Factory Farm, on

Emley Moor.

1893

The first Emley Show took place.

It has since grown to be one of

the best attended and respected

agricultural days out in Yorkshire.

1918

The First World War ended on

11th November, after 4 years, 3

months and 2 weeks of fighting.

1945

The Second World War ended

on 2nd September, after 6 years

and 1 day.

1914

On the 28th July the First World

War started. During wartime

periods the Show didn't go

ahead.

1939

On the 1st September the

Second World War started, again

the Emley Show didn't go ahead

during this period.
---
Sylvia Edmondson's Recollections of Emley Show (2004)

"In 1940 Britain was at war again; all

towns and villages were asked to provide

some entertainment because the war

news was very depressing at this time".

The Emley Show was held on the (old)

village cricket field, Sylvia remembers

her brother being dragged across the

field by a bull calf. In attendance that

year, showing a pen full of sheep, was an

11yr old David Gill, who later became a

member and eventually Chairman of the

Society.

After the war things seemed to have

become a little more organised, however

there was no 'legacy' money from before

the war so some serious fundraising

had to take place in order for a Show

to go ahead at all. But it wasn't just the

farmers and equestrian fraternity who

supported the Show, local villagers had

developed a strong interest in poultry and

rabbits, as well as other small livestock, to

supplement their rations during the war.

In 1948 Sylvia was asked by the then

Chairman; Mr Horton (Land Agent for

Savile Agent), to form a Ladies Section.

Although Sylvia was a Section Secretary

she wasn't invited to attend meetings, as

they were inevitably held in pubs, from

which single ladies were discouraged

from entering!

Sylvia's Father, John Moorhouse, was

Treasurer by now but never lost his

passion for the Cattle classes and

debating their attributes with his cronies.

As the Show got bigger he had more

money to deal with, so he sought

the help of his local bank manager in

Skelmanthorpe who put him on to the

Main Office in Huddersfield. Very shortly

after these introductions John Moorhouse

was supplied with two young men to

handle and guard the money every Show

day. Right from the start of his involvement

John had invited Judges, friends etc.

back to his house for tea, it had always

been a full house, most of them complete

strangers to Sylvia and her Mother, so

it was nothing out of the ordinary for

these two young men to be invited

back also. They had their tea sitting on

the bag of money, taking it to the night

safe in Huddersfield afterwards. They

then returned to spend the rest of the

evening over a bottle of beer with Sylvia's

Father and she had hoped they would

accompany her to the Young Farmers

dance... but no such luck.

Sylvia's Father died in 1956 and Sylvia

remembers these two lads still helping

out. That year the Show took place in

one of the Moorhouses' fields, thus it

was very convenient to nip home rather

than use the basic facilities of the Show.

Upon arriving home she found the front

door wide open and three men queuing

up to use the phone, they were reporters

phoning in the results to their respective

papers! In the front room was Lord Savile

sitting in splendid isolation watching the

cricket on their television.

These can only be, of course, a fragment

of the memories Sylvia had of her

involvement with the Show, over 50 years

worth, regrettably we never got round to

interviewing her again before her death in

2015.

"An awful lot of hard work, effort and ones

own money was contributed to get this

Show off the ground after the war and

I wish they could see it now, but I hope

you continue the hard work and make

the effort so that the Show goes from

strength to strength, thank you all for

aiming to achieve this - All Best Wishes

for the future." - Sylvia Edmondson nee

Moorhouse.

For her many years of service, The Emley

Show Society bestowed on Sylvia the role

of Vice President for Life.

1948

Emley Moor Colliery was

opened. By the following year it

employed over 500 people.

1956

The original 135-metre lattice

tower was erected to provide

Independent Television

broadcasts to the Yorkshire area.

385.5

METRES

1969

On 19 March, strong winds and

the weight of ice that had formed

around the top of the mast forced

the structure to collapse.

1954

The costs associated with the

Show were around £756, the

equivalent to around £8,000

today.

1964

The original mast was replaced

by a taller 385.5 metre guyed

mast, identical to the structure at

Belmont transmitting station in

Lincolnshire.
---
Heroes of the Black Stuff

Our Show has and is very much about

celebrating farming and its related

activities but not everyone in the area was

involved in farming. This part of Yorkshire

has long had a tradition in another

industry that was key to the growth of this

great nation and sustainability during the

industrial revolution and the great wars.

During the 16th century there were

several small mines at work in and around

Emley. The coal seams in this part of the

Pennine foothills are thin and throughout

the eighteenth century the mines were

operated by a few men, usually not more

than six per mine. In the 1939 to 1945 war,

and in the 1950's and 1960's, open cast

mining became a common sight in the

area.

Emley Moor was a smaller colliery which

opened in 1948. By the following year, it

employed 402 underground and 116 on

the surface. It had the distinction of being

the last in Yorkshire to use a pick and

shovel to extract coal, with the last face

being mechanised around 1983.

Sadly, the mining industry is all but gone.

However, we should not forget all those

individuals who worked so hard above

and below ground to keep the nation

fuelled. Many of those men attended the

Emley Show for years as a relaxing day

away from the darkness and grime of

their workplace. We should also take the

opportunity to pay homage to those who

lost their lives in this dangerous industry.

100th Show

Pull-out Program

RING ONE (All times are approximate)

11:00 Welcome from the Organisers followed by Emley Band :

11:10 Display by Wise Owl Birds of Prey Rescue Centre

11:30 Knights of the Crusades

12:15 Ferret World Road Show

12:50 Vintage Tractor Parade or Vintage Cars

13:15 Rockwood Harriers

13:40 Children's Ridden Fancy Dress

14:05 Driven Donkey Classes

14:30 Display of Wise Owl Birds of Prey Rescue Centre

14:50 Ferret World Road Show

15:25 Grand Parade – Shire Horses, Champions of Cattle, Sheep and Goats Classes

16:00 Knights of the Crusades
---
RED CAR PARK &

MEMBERS PARKING

JAGGER LANE TURNS RIGHT

WC

W

FUN FAIR

FOOD

COURT

EXHIBITORS

CAR PARK

£R

TRADES

VEHICLE

STANDS

FOOD

HALL

TRADES

BAR &

CAFE

TRADES

CATTLE

CRAFT

(ARTISANS)

WC

MEMBERS

X

MAIN RING

SHEEP

GOATS

TRAILER PARKING

FOR LIVESTOCK SECTION

GRANDSTAND

E P R H CB B

WC

W

ALPACAS

VINTAGE

TRACTORS

HSW

CCAP

DOG SHOW

TRADE

STANDS

TRADE STANDS

TRADE STANDS

TRADE STANDS

£B

W

WC

EQUINE

ACTIVITIES

& DEMOS

FACTORY

FARM

2 3 4 5

FOOD

SHOW MAP

TO WHITE CAR PARK

6

NOT TO SCALE

HS

W

WC

£W

SHEEPCOTE

FARM

P

HORSE BOX

PARKING

FACTORY LANE

FREE BUS STOP

FACTORY LANE

WC

W

X

HS

B

CCAP

E

P

R

H

CB

HSW

TOILETS

HAND WASHING

SHOW SECRETARY

HORSE SECRETARY

EMLEY BRASS BAND

COOKERY, CRAFTS, ART & PHOTOGRAPHY

EGG SHOW

PIGEONS

RABBITS

HAMSTERS

CAGED BIRDS

HONEY, STICKS & WOODTURNING

£R

£B

£W

RED PAY GATE

BLUE PAY GATE

WHITE PAY GATE

There is a Free Bus Service to Emley Cross every hour

after 09:00am and every half hour after 11:00am. Last

Bus from here is 17:45pm.

Hand wash Stations are situated close by all the large

livestock areas. If you stroke or pet any of these, for their

sake as much as yours, please wash your hands.

P

BLUE CAR PARK
---
Things to do

away from the Ring

We are pleased and proud to welcome representatives from Huddersfield Town Football

Club, along with their recently won Championship Trophy and their mascot, who will be

available for photographs with YOU!!!

This years Show sees an impressive extension to our equestrian rings with additional

events and attractions. We are delighted to have two new prestigious qualifying classes

in our horse section. Retraining of Racehorses (RoR) are sponsoring both the RoR Open

in hand Class 39a and the RoR Amateur Ridden Class 42. Staying with the equestrian

theme we are proud to have The Northern Racing College at this years Show, along with

their 'equiciser,' so come along and test your skills as a jockey, wear the silks and take the

photos!

Other attractions away from the main ring include Cookery, Craft, Art & Photography

Sections, Vintage Tractors, Horticulture & Stickmaking Classes.

For the kids and young at heart, watch out for PC's Bluey & Konk strolling around or visit

the fairground with rides suitable for all ages along with dodgems, go-karts, bouncy bungee

trampoline, Red Arrows simulator, climbing wall and supervised krazy play sessions. Also

come along and see our Alpacas, Donkeys, Birds of Prey and Wise Owls.

Food is available at the tapas cafe, near the bar area and throughout the site with stalls

selling sandwiches, nachos, fish & chips and burgers. Also look out for Charlotte's

ice-cream and the public bar.

From Emley Moor to Upton Park

Emley Show has always been about

competition and over the years there

have been some great battles both in and

out of the Show rings. Cries of support

have filled many a field, but one game

in particular has been a favourite of the

locals for years.

Almost 20 years ago, our village football

team took a couple of thousand followers

to the east end of London. After battling

their way through four qualifying rounds,

Ronnie Glavin's side found themselves in

the third round of the F.A Cup, with Harry

Redknapp's West Ham United lining up

beside them in the tunnel at Upton Park.

Five Divisions and 116 League places

separated them from their opposition; this

was Emley's Cup Final.

Just four minutes in, future England

international Frank Lampard put the

hosts ahead. Perhaps West Ham were a

touch complacent on the day, failing to

capitalise on their early lead as many may

have expected, or was it the horrendous

conditions halted their superiority? Either

way Emley never thought of themselves

as inferior. Cue Paul David's header in the

56th minute. It was 1-1; the improbable had

happened and as things stood a home

replay was on the cards.

There were big names present in the

West Ham side that day; Rio Ferdinand,

Stan Lazaridis and John Hartson to name

a few. Just imagine the headlines, the

tale of village underdogs managing a 1-1

draw against Premier League opposition.

A replay could have been the perfect

opportunity for Glavin to mastermind a

giant killing.

The second leg was in touching distance,

the fans could already smell the match

day hot dogs and the anticipation of what

they were about to achieve hung in the air

at Upton Park.

Sadly, it was all too good to be true. Wales

international John Hartson stepped up

in the 82nd minute to dash all hopes of

Emley securing the replay they wanted

so badly. Emley were beaten, but not

embarrassed.

A passionate team of local blokes gave

their all that day and it didn't go unnoticed.

Harry Redknapp himself stated, "They

worked their socks off and played some

good football. They were tremendous.

They were outstanding. If I said I knew we

were in control and just waiting for us to

score the winner, I'd be lying."

An extremely proud day for the village and

all those involved.

To find out where all of today's activities are, please refer to the map located

inside this pull-out program.
---
Tale of the Tower

The bitter cold weather of March 1969 had

started to take its toll on the iconic mast

situated on Emley Moor. Large formations

of ice had accumulated resulting in the

tower becoming too heavy, with days of

freezing wind finally blowing the tower

over. This immediately cut off 6 million ITV

viewers and reduced BBC to black and

white.

By 3am an emergency tower was on its

way from Lichfield. It was quickly erected

and partial service was resumed, however

as it was only 200 feet high much of

Yorkshire was only able to receive black

and white pictures. A taller mast was

needed urgently.

One was found in a Swedish Air Force

warehouse, the base and other important

parts were flown to Manchester Airport.

The rest of the kit was despatched by sea

to the port of Hull. When all of the parts

arrived on site, the base had already been

readied and a Leeds based crew of Polish

fitters set to work erecting the 700 foot

tower in a world record time of 27 days.

The solution was the construction of

the iconic Grade II listed Emley Moor

transmitting station, with its 1,084 feet tall

concrete tower; weighing 14,000 tonnes.

Officially named Arqiva Tower, it is the

tallest free standing structure in the

United Kingdom, fourth tallest tower in the

European Union and 24th tallest tower

in the world. It is the same height as the

Blackpool Tower and stands taller than

The Shard.

Today it receives signals from most of

the terrestrial TV stations plus almost all

signals from Europe and boosts them on

to hundreds of smaller transmitters.

It also routes mobile phone 4G

transmissions and lends its height

to smaller transmitters which send

instructions to utility resources such as

sluice gates at reservoirs.

Wider coverage established, but still no

colour.

1971

Work started on the construction

of the current Emley mast in 1969

and transmissions commenced on

21st January.

1985

Emley Moor Colliery closed after

the year long miner's strike.

The site is now a business park.

1998

A.F.C Emley reached the third

round of the FA Cup. They lost

2-1 against West Ham United at

Upton Park.

1973

The admission cost for the

Emley Show was 25p.

1988

Emley reached the final of the FA

Vase and took 10,000 supporters

to Wembley. Unfortunately they

lost 1-0 on the day against

Colne Dynamoes.
---
That was then...

From horse drawn ploughs to

high powered combine harvesters

costing £100,000, glass plate

photography to the digital age,

Emley has seen many social and

technological changes.

...This is now

Times change and technology

advances, but The Emley Show

remains one of the best attended

and well respected agricultural

days out in Yorkshire.

124 years, 100 shows, thousands of

memories and many tales to tell.

Photos donated by Mr Eddy Hudson
---
Did you know?

Less than 15 mins walk North East of the

village centre is a lane called 'Leisure

Lane,' but all is not as it seems. During the

13th Century, there was a monk's hospice

or infirmary for the poor and lepers of

Emley, which was situated to the bottom

of Leisure (Lezzes) Lane. The Hospice was

known as 'Lezzes' or 'Lazar's' taking its

name from Lazarus who was brought back

from the dead by Jesus, hence the name

'Leisure Lane.'

Way back in 1217, the then Lord of the

Manor, Sir William Fitzwilliam (the first

lord of the manor to adopt the name

Fitzwilliam) granted the first mining licence

to the monks of Byland Abbey. Iron ore

had been discovered around Bentley

Grange which prompted the monks to

apply for the licence. Iron ore needs to

be smelted in a forge that in turn needed

coal. The license was further endorsed by

his son Sir Thomas Fitzwilliam in 1237.

'Cole mynes' at Emley Woodhouse were

operating from around 1597 and possibly

from shallow shafts on Emley Moor in the

17th century. The Jagger family were the

owners of Emley Moor Colliery in 1821

when winding was done by a horse gin.

Mining remained a source of employment

until 1985 when Emley Moor Colliery

closed after the year-long miners' strike.

You can walk the 3 mile Emley Trail that

will take you past many of these ancient

sites.

That is just a couple of examples of the

hidden history of Emley and surrounding

areas that stretch back almost 1000 years.

A rich history that this Show is just a small

part of.

124 years and 100 Emley Shows

Over 124 years ago somebody had an

idea. We don't know who it was or exactly

when it was. We can't describe it as a

vision or an epiphany but it certainly was

a great idea. It may have gone along the

lines of a conversation in a pub or leaning

on a fence at a market, possibly across a

dry-stone wall. Nobody knows and to be

honest it's probably better that we don't,

what is for certain is that 124 years later

we have the modern incarnation of the

Show that we are all enjoying here today

at Emley.

We hope you have enjoyed reading this

potted history of 100 Emley Shows. The

one thing that has been common across

all of the Shows is the need for Volunteers

to take on the dozens of roles that make

a great day like today run seamlessly.

As our members become older, we as a

committee realise that the future of the

Show and its 100 plus years of history

rests firmly in the hands of the young. That

is why we are on the hunt for the next

generation of trustees to carry forward this

great event.

Remember, next year's Show starts today

and we would love you to be part of it!

If you would like to find out more about

volunteering then please call me on

07736 677700 or email me at

secretary@emleyshow.co.uk.

Many thanks for your support at the 100th

Emley Show.

Sue Britton

Show Secretary

2002

English Heritage granted the

Emley tower a Grade II listed

building status for its 'significant

architectural or historic interest.'

2015

The organisers of the Show

made the decision to cancel the

poultry and egg section after an

avian flu scare.

2017

Saturday 5th August

The 100th Emley Show

A Champion Day Out!

2008

Lord Savile, a Patron of the Show

sadly passed away, aged 89 and

the Show moved to it's wonderful

new site, at Factory Farm.

2016

The costs associated with the

Emley Show reached almost

£80,000.

1893

2017

100th Show
---
Get involved

Pest Control

Call Tom today on - 07805603608

tomthemoleman

If you have any photographs, interesting

facts or stories related to the Emley Show

that you would like to share with us please

email us on: info@emleyshow.co.uk

Designed & produced by

Emley Show Society is registered as a Charity. No: 1013141 and as a Company, limited by guarantee in England - No: 2731384. Registered Office: 14 High Street, Huddersfield, HD1 2HA