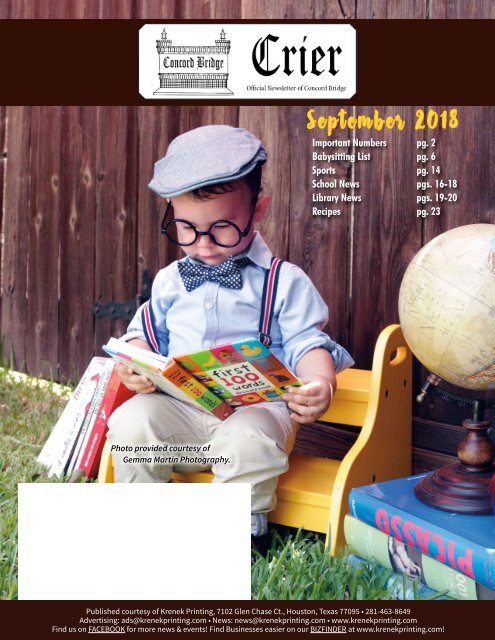 Concord Bridge September 2018
Create successful ePaper yourself
Turn your PDF publications into a flip-book with our unique Google optimized e-Paper software.
September 2018

Important Numbers pg. 2

Babysitting List pg. 6

Sports pg. 14

School News pgs. 16-18

Library News pgs. 19-20

Recipes pg. 23

Photo provided courtesy of

Gemma Martin Photography.

Published courtesy of Krenek Printing, 7102 Glen Chase Ct., Houston, Texas 77095 • 281-463-8649

Advertising: ads@krenekprinting.com • News: news@krenekprinting.com • www.krenekprinting.com

Find us on FACEBOOK for more news & events! Find Businesses easier on our BIZFINDER at www.krenekprinting.com!
---
HELPFUL NUMBERS

Preferred Management Services, AAMC®

P.O. Box 690269 Houston, TX 77269

281-897-8808

Beverly Carroll, CMCA®, AMS®, PCAM®, Property Manager

CONCORD BRIDGE BOARD MEMBERS

Mary Ann Harvey, President

Maria Cutlip VicePres.

Sandra Peters,, Secretary

Trudy Culp, Treasurer

Margarita Engebretson, Member at Large

*Mail all Board correspondence to

CB Board of Directors,

c/o Preferred Management Services

P.O. Box 690269 Houston, TX 77269

CONCORD BRIDGE WEBSITE www.preferredmgt.com/concordbridge

NEWSLETTER CHAIRPERSON

Sandra Peters 713-806-3886

Krenek Printing Co. www.krenekprinting.com 281-463-8649

Concord Bridge Pet Hotline 281-468-9414

www.facebook.com/#!/Concord Bridge PetHotline

SWIM TEAM INFORMATION

Sharlondrea Basquine-Franklin, Board Pres. 713-931-7066

UTILITIES

CenterPoint Energy 713-659-2111

Horsepen Bayou- MUD

Billing Questions 281-290-6500

Service & Repair 281-290-6503

Comcast Communications 713-341-1000

Reliant Energy 713-207-2222

1-800-332-7143

WCA Waste Corporation of Texas 281-368-8397

Texas Pride Disposal- Horsepen Bayou MUD

EMERGENCY NUMBERS

Emergency 911

Constable, Contract 99 281-463-6666

Cy-Fair Fire Dept. 911

Non Emergency 713-466-4073

MUD 102 Harris County Sheriff Office 713-221-6000

Horsepen Bayou MUD-Constable Precinct 5 281-463-6666

MISCELLANEOUS

Cy-Fair Hospital 281-890-4285

Memorial City Hospital 713-932-3000

Poison Control Center 1-800-764-7661

Post Office-Griffith Station 1-800-275-8777

SCHOOLS

Lee Elementary 713-849-8281

Hairgrove Elementary 713-896-5015

Truitt Middle School 281-856-1100

Cypress Ridge HS 281-807-8000

SWIM SEASON

The pool will be open weekends through September 30, 2018. Pool hours

will be 11 AM to 8 PM. Each pool tag admits one resident and one guest.

Children under 10 will not be issued pool tags but must be accompanied by

an adult with a pool tag.

DEED RESTRICTIONS

Deed restrictions are in place to maintain continuity within the neighborhood.

Without these standards, a home could be left in disrepair or abandoned

and could become a plight to our neighborhood. At entrances to

the neighborhood, there are signs declaring deed restrictions are strictly

enforced and when you purchased the home you were given a copy of the

deed restrictions. Please remember, this is a legal document in place to

protect the value of your home.

If your home is not in good repair, it not only affects the value of it, but the

surrounding homes. In order to maintain our values, it is mandatory that

everyone make the necessary repairs, remove the mildew and/or paint as

needed.

Inoperable vehicles are to be repaired or removed. Covering them with

covers or tarps does not change the fact that they are not in compliance

with the deed restrictions. Motorized vehicles cannot be parked in the yard

or on your porch.

Preferred Management handles most of the business transactions for

Concord Bridge under the direction of your Board of Directors. If you don't

understand any correspondence from Preferred Management, please call

for clarification. The homeowners association pays for all correspondence

related to deed restrictions, therefore duplicate letters cost all of us additional

fees. Do not ignore correspondence from Preferred Management!

DO NOT IGNORE VIOLATION LETTERS.

CONCORD BRIDGE SERVICES

Services in Concord Bridge are provided by two different municipal

utility districts. Areas covered and service providers are shown

below. The overhead power lines running north and south through

the subdivision is the dividing line between the MUD district responsibilities.

HORSEPEN BAYOU MUD

Concord Bridge Sections 1 through 5 and

Concord Bridge North, Sections 2 and 3.

• Law Enforcement Patrol - Harris County Constable

Precinct 5 - 281-463-6666

• Water & Sewer Services - Municipal District Services, LLC

Billing, new service, disconnect questions - 281-290-6507

Problems - 281-290-6503

• Trash collection and recycling - Texas Pride Disposal

Recycle Day is Monday

HARRIS COUNTY MUD 102

Concord Bridge Section 6 and Concord Bridge North Section 1.

• Law Enforcement Patrol - Harris County Sheriff's Office -

713-221-6000

• Water & Sewer Services - Municipal District Services, LLC

Billing, new service, disconnect questions -

281-290-6507

Problems - 281-290-6503

• Trash Collection and recycling - WCA Waste Corporation

of Texas - 281-368-8397 Recycle Day is Monday

2 September 2018 | Concord Bridge Community Newsletter
---
NEXT GARAGE SALE DATE

Saturday, October 6, 2018, 8 AM to 2 PM

281-468-9414

PET HOTLINE

CONCORD BRIDGE PET HOTLINE IS ON FACEBOOK

www.facebook.com/#!/ConcordBridgePetHotline

PRESENTS THEIR ANNUAL FUNDRAISER

HOLIDAY DECORATIONS JUDGES

Would you like to judge the holiday decorations this year? Usually we

ask everyone to be sure to turn their lights on the 2 nd or 3 rd weekend

of December. The date will be determined by the judges and posted

online and on the marquees. If you are interested, please contact Preferred

Management Services at 281-897-8808.

HARRIS COUNTY CONSTABLE PRECINCT 5

www.constablepct5.com

Many services are offered by Precinct 5 that you may not be aware of.

Following is a brief description of some of these services and information

on how to find out more.

Crime Alerts

You can sign up on the Precinct 5 website and receive a text message

or email when important events are taking place in your district. The

alerts will contain relevant information regarding events. You may

unsubscribe at any time.

Citizen's Police Academy

Learn about the various aspects of being a police officer. Some classes

will include hands on participation. The course is held two and a half

hours once a week for nine weeks. You must be 21 age and up in order

to participate. There is an application on the Precinct 5 website.

www.cyfairwomensclub.org

35o+ Vendors | Free Parking | Free Admission

the berry center | 8877 barker cypress rd.

SEPT. 8TH | 9AM - 5PM

SPONSORED BY:

BETTER HOMES AND GARDENS- GARY GREEN, THE ROEHM TEAM

H-E-B

BRIDGELAND

VILLASPORT ATHLETIC CLUB AND SPA

NEW!

TEA ROOM &

MORE VENDORS

ON THE SECOND FLOOR!

cwcshoptilyoudrop

Operation Safe Child

Precinct 5 has two certified child safety technicians who are partnering

with Texas Children's Hospital to demonstrate the proper usage and

installation of car seats. They have current information regarding

styles, brands, recalls and the proper way to secure a child based on

age, height and weight. There will be quarterly sessions where you can

bring your child and their child seat to learn the proper way to install

and remove it. For more information and to sign up go to the website.

Home Safety Inspections

Upon your request, Precinct 5 will schedule a free home inspection

with one their certified Crime Prevention Specialists. These officers,

certified in both home and commercial inspections, will make simple

suggestions on how to better secure your home. This inspection could

save you 5% to 10% on your homeowners insurance. To participate,

contact Deputy John Jerome Kovar at 281-642-8814 or by email at john.

kovar@cn5.hctx.net.

There are other services available to local citizens. You can visit the website

for additional information and to sign up for the available services.

MOBILE APP AND WEBSITE

Preferred Management Services AAMC has created Preferred Link,

a mobile app and website for your community.

Get important HOA information and connect with your association.

Multiple ways to join:

• Text "preferredlink" to 59248 and receive a text back with

a mobile app download link.

• Search for the mobile app "Preferredlink" in Google Play store.

• On your computer log in to: https://concordbridge.nabrnetwork.com/

and follow the directions.

Concord Bridge Community Newsletter | September 2018

3
---
BOAT & R.V.

STORAGE

Convenient 24 Hr. Access • 13 514 Wieman Rd.

Prices start at $ 50. 00

281-550-1136

Gina Baroski Janneck

Realtor ®

TOP PRODUCER IN

CONCORD BRIDGE WITH

NEIGHBORLY SERVICE

Concord Bridge

Area Specialist & Resident

36 Years Experience

Cell

713-492-9108

rjanneck@sbcglobal.net

Hwy. 6

WIL-STOR

&

Wieman

Eldridge Rd.

West Little York

Clay Rd.

THE TEXAS DOOR EXPERT

Repair - Replace

ANY DOOR

48 Years Experience

832-302-0069

www.txdoorexpert.com

N

290

529

I-10

HOMEOWNERS RESPONSIBILITIES

As a homeowner you have certainly responsibilities. You are obligated

to pay taxes and homeowners association fees. Often people assume

that is the extent of their responsibilities.

There were deed restrictions set forth by the developer of the subdivision

with the intent of maintaining your home's value.

As many of us have realized recently, these responsibilities often seem

to encroach on our ability to maintain our home in any manner we

wish. However, these deed restrictions are registered with the county

and your association has the obligation to remind us when they are

not observed.

Sidewalks are a topic that has been discussed a lot recently. In years

past, the county had often repaired them. However, these are a part

of the homeowner's responsibility. This work is not the responsibility

of Harris County or Concord Bridge HOA. Homeowners must have and

must maintain the sidewalk on their property.

If you do not have a copy of the deed restrictions for your section in

Concord Bridge, please contact Preferred Management Services and

request a copy.

Harris County Constables Office

Precinct 5 - Patrol Stats

July 2018

911 Hang up 2 Accident/Auto-Pedest 0 Accident/FSGI 3

Acci/Unk Maj Min 1 Accident/Major 2 Accident/Minor 8

Accidental Injury 0 Alarm Holdup 0 Alarm Local 31

Alarm/Rep. Site 3 Alarm Vehicle 0 Alarm/Sil/Pan/Hu 0

Animal Aggressive 1 Animal/Humane 2 Animal/Livestock 0

Arson/Fire 0 Assault 0 Assault/Family 1

Burglary/Business 0 Burglary/Hab 2 Burglary/Motor Vehicle 7

Car-Jacking 0 Check Business 150 Check Park 0

Check School 0 Child Cusdy Disp 1 Compliance Check 1

Contract Check 358 Credit Card Abuse 2 Criminal Mischief 5

Discharge Firearm 0 Dist/Family 5 Dist/Fireworks 0

Dist/weapon 1 Dist/Loud Noise 1 Dist/Other 5

Domestic/Prevent 3 DOA 0 Drug/OD/Poss 0

DWI 1 Follow Up 14 Forgery 0

Fraudulent Use ID 2 In Progress 1 Indecent Exposure 0

Incident Report 6 Information Call 28 K9 Deployment 1

Meet the Citizen 17 Mental Case 0 Missing Person 0

MUD Building Check 25 Neighborhood Check 1 Out to Lunch 2

Parking Lot Check 6 Private Party Tow 1 Probation Verification 0

Property Found/Lost 0 Referred External 0 Referred Internal 0

Road Rage 2 Robery Individual 0 Runaway 0

Solicitors 1 Special Assignment 1 Stranded Motor Vehicle 1

Subject Stop 0 Susp Person 8 Telephone Harassment 2

Terroristic Threat 0 Theft/Business 1 Theft/Other 0

Theft/Residence 2 Theft/Shoplifter 0 Traffic Initiative 7

Traffic Hazard 7 Traffic Stop 39 Traffic Pursuit 0

Unknown Med Emerg. 0 Vacation Watch 92 Van Run 0

Vehicle Abandoned 3 Vehicle Repossession 0 Vehicle Speeding 0

Vehicle Stickered 0 Vehicle Stolen 0 Vehicle Suspicious 24

Vehicle Recovery 0 Warrant Service 1 Welfare Check 4

Writ Check 0

These numbers are based on a report of calls made by the Horsepen Bayou MUD contract officers. This

covers a large portion of Concord Bridge, Eldridge Park, McKindrie Park and various business areas

within the Horsepen Bayou MUD district.

Our contract program is successful with the cooperation of residents and officers. If you have

information regarding illegal or suspicious activities, contact the dispatcher, or flag down one of our

patrolling officers. Dispatch # 281-463-6666.

VACATION WATCH

Remember that our constables offer this valuable service. School is out

and the kids are bored. They often are unsupervised and seek thrills in

Page 1 of 1

dangerous and malicious ways. If your home will be unoccupied while

your family is enjoying a vacation, you can complete a vacation watch

form and submit it to one of the officers patrolling in the neighborhood.

There are other services available to local citizens. You can visit the

appropriate website for additional information and to sign up for the

available services.

www.constablepct5.com

4 September 2018 | Concord Bridge Community Newsletter
---
HARRIS COUNTY ALARM PERMIT

A permit is required for all alarms in Harris County. Obtaining the required

permit will avoid the issuance of a citation and excessive false alarm fees.

The permit application can be downloaded from the Harris County

Sheriff's Office website at www.hcso.hctx.net and click on forms. The

application should be completed and mailed with the appropriate fees

to the address shown on the application. A new permit will cost $35 and

annual renewals are $10. Should you have any questions, please contact

the Alarm Detail office at 713-755-4600 during normal business hours.

CONCORD BRIDGE PETS

Have you lost a pet or found a dog or cat? You can contact the Concord

Bridge Pet Hotline at 281-468-9414 and on the Facebook account, www.

facebook.com/#!/Concordbridgehotline.

You can use this source to report lost and found animals. This has been

a great help in returning lost and found animals to their owners. Even

if you don't have access to Facebook, you can call 281-468-9414. It is

far more efficient than posting illegal signs all over the neighborhood.

Another great source for finding a lost pet or reporting a rescued one

is nextdoor.com/concordbridge.

Harris County requires that all pets be on a leash or confined within your

yard. Unleashed dogs are a nuisance to your neighbors and other pets.

Please pick up all dog waste and dispose of it properly. Remember, our

children play in the park areas and their yards. It's very inconsiderate of you

to allow your dog to defecate if others yards and the parks. When walking

your dogs, please be prepared to remove any waste they may leave behind.

TRASH PICK UP

Please remember that our trash pick up days are Monday and Thursday.

Heavy trash day is Thursday and the trash company is required to

pick up heavy items approved on their retrieval list. If a holiday falls

on trash day, it will not be picked up the next day. It will be picked

up the next scheduled pick up day.

RECYCLING IS IMPORTANT

MONDAY is recycle day for ALL SECTIONS of Concord Bridge. The bins

provided by Texas Pride Disposal are to be used for recycle only!

MPL#40046

For all of your plumbing needs! ONE CALL DOES IT ALL!

info@petersplumbingtx.com

Any job

over $95

Sewer Camera Inspection and Drain Cleaning

Garbage Disposal and Faucet • Water Heater • Repipe

Water Leak Detection • Pipe Repair • Toilet Installation

Follow me on

Licensed and Insured

FREE ESTIMATES

Low Price Guarantee

Joel Muller

281-304-9488

11740 Barker Cypress

www.joelmuller.com

Hablamos Español

Providing Insurance

and Financial Services

Home Office: Bloomington, Illinois 61710

VICTORY PAINTING

& WOOD ROT REPLACEMENT

PR O MPT - RELIABLE - AFFORDABLE - SINCE 1993

Interior & Exterior Painting • Storm Damage Repair

Siding Replacement • Custom Woodwork

Extensive References • Free Estimates

Will Meet or Beat Competitor's Prices • Satisfaction Guaranteed

www.VictoryPaintingTx.com • VicNewman@Mail.com

281-853-4575

If you have old paint buckets, water based, enamel, stains and sealers,

they can be taken to the Harris County Paint Disposal site, 11500 South

Post Oak Rd., 713-551-7355. This is a free service offered by the county.

The hours are Tuesdays and Wednesdays from 9 AM to 3 PM. You need

a copy of your water bill to verify your address.

There is also Harris County Hazardous Waste Collection Facility located

at 6900 Hahl Rd. Hahl Rd. is off W. Little York, just east of Hwy 290. This

facility is open Wednesday from 9 AM to 2 PM and every 2 nd Saturday

from 9 AM to 2 PM. It is open on the 4 th Saturday as shown on their

calendar. You can access this information at www.eng.hctx.net.

Click on the HHW in the list of departments.

STREETLIGHT OUTAGE

CenterPoint Energy depends on the assistance of customers to help

identify streetlights in need of repair. If you notice a streetlight outage

or a streetlight on during daylight hours, visit CenterPoint Energy's

website https://slo.centerpointenergy.com to report the issue.

You may also call 713-207-2222 to report an outage.

When reporting a streetlight in need of repair,

it is important to provide the following:

• Light number

• Location description

• Streetlight address, city, state and zip

• Problem description

SPR I N K L E R S

Concord Bridge Community Newsletter | September 2018

5
---
• Fences/Decks

• Arbors/Patio Covers

• Painting Int/Ext

Specializing in Residential

Home Improvement Projects

713-416-79 81

www.shaffer.cc

Serving your community for over 20 years!

Law Offices Of

candace L. Kunz-freed, PLLc

9545 Katy Freeway, Ste. 400 • Houston, TX 77024

713.467.1060 FAX: 713.467.9191

www.FREEDLAWYER.COM

Do You Have An Estate Plan?

A well-designed and up to date estate plan can

provide peace of mind for you and your family.

CALL FOR A CONSULTATION TODAY!

• Bathroom Remodels

• Kitchen Remodels

• Home Repairs Int/Ext

ESTATE PLANNING AND ADMINISTRATION

WILLS, TRUSTS, PROBATE, TRUST ADMINISTRATION, GUARDIANSHIP, ASSET PROTECTION, ESTATE & GIFT TAX PLANNING,

HEIRSHIP, MEDICAL DOCUMENTS, LIVING WILLS, BUSINESS ENTITY FORMATION AND SUCCESSION PLANNING

CONCORD BRIDGE TEENAGE JOB SEEKERS

If you are between 12 and 18 and would like to be added to the teenage

job seeker's list, please fill out the form on our website (www.krenekprinting.com,

click submissions and choose Jobseekers) with your

name, birthdate (mo. & yr.), phone number, year you will graduate and

the name of your newsletter/subdivision. Check the list of jobs you want

on your form. Please make sure your email is correct, we send emails

in the summer to make sure all the info is still good and that you want

to stay on the list. If we do not hear back from you after 3 tries, we will

remove you from the list until we do. Must have parent(s) permission.

DISCLAIMER

Neither the subdivision, nor Krenek Printing is responsible for those

listed on the Teenage Job Seeker List. Please ask for and check out

references if you do not personally know those listed. This is just a

list of teenagers from the subdivision who wish to find part time jobs.

Responsibility for any work done by these teenagers is between those

seeking helpers and the teens and their parents.

CODE KEY:

B - BABYSITTING, CPR - CPR CERT., FAC - FIRST AID CERT., RCC - RED CROSS CERT.,

SS - SAFE SITTER, SL - SWIM LESSONS, PP - PET/PLANT SITTER, P - PET CARE ONLY,

H - HOUSE CARE, L - LAWN CARE, C- CAR CARE/DETAILING, T - TUTORING

TEENAGE JOB SEEKER'S LIST MAY NOT BE VIEWED ONLINE

AVAILABLE IN PRINTED NEWSLETTERS ONLY

Always there for you!

MPL#40815

Water Heaters • Drain Problems

Faucet Installation & Repair

Gas Test • Water Leaks & Much More

35+ Years Experience

832-890-8449

info@tonysplumbingtx.com

www.tonysplumbingtx.com

C. Paul Shubert, P.C.

Certified Public Accountants

Income Tax Preparation

• INDIVIDUALS • CORPORATIONS • PARTNERSHIPS • ESTATES

Discount Fence Company

"When a good job really matters."

Residential and Commercial Fences

• Wood Privacy Fences

• Chain Link Fences

• Fence Repairs

• Insured and Bonded

• Free Estimates

• Tree Trimming (Certified Arborist)

Weekend and Evening Appointments Available

4654 Hwy. 6 N. Suite 101 281-556-1040

No Job Too Big

or Too Small

$30 off

any Job

Over $95

Low Price Guarantee

Licensed & Insured

FREE ESTIMATES

Daniel Burgess

832-378-2337

Give the

Gift of Life!

Be a Living Donor

A local Cypress area resident, Laura Mullaney,

is in need of a kidney. Laura has been on

dialysis for 5 years. She has type O blood, but

with the paired donor program, anyone can

donate and it would benefit Laura.

If you would consider being a Living Donor/Paired

Donor, please contact Methodist Transplant Center

at 713-441-5451 and give them Laura's name or you

can call Laura direct at 240-818-1121.

6 September 2018 | Concord Bridge Community Newsletter
---
September Events

YORKTOWN COMMUNITY GARAGE SALE

West Little York between Eldridge and Hwy 6

September 28 th and 29 th

VISIT THE 2018 ST. MARY'S FALL GIFT MARKET!

On Friday, September 28 th and Saturday, September 29 th from 9 AM to 4 PM,

St. Mary's Episcopal Church is hosting its 13 th annual Fall Gift Market. This is the

ideal event to kick off your holiday shopping and decorating! The convenient

location at the corner of Louetta Road and N. Eldridge Parkway makes it easy

to shop the selection of unique jewelry, home decor, creative toys, handcrafted

gifts, collectibles, pottery, candles and trendy clothing for ladies and children.

The Fall Gift Market also features The Tea Room offering the famous taco soup,

sandwiches, desserts and homemade baked goods, plus the Silent Auction

benefiting church-affiliated projects and outreach. For more information,

please visit stmaryscypress.org or call Michelle at 832-559-8726.

1 ST ANNUAL RUN WILD RUN FREE 5K RUN/WALK

Hey Runners! Come Run Wild with TWRC Wildlife Center at our 1 st Annual

Run Wild Run Free 5K Run/Walk, September 8, 2018 at Burroughs Park

in Tomball, Texas. Proceeds will help with the care and rehabilitation

of Texas Wildlife right here in Houston. There will be prizes for top

male and female runners, best wildlife costume, face painting for the

kids and much more. This will be fun for the whole family. Register at

www.twrcwildlifecenter.org/5k-walk-run-registration.

SHOTS FOR HOLLY SLATES ANNUAL KICKOFF

Flu season is around the corner and the Shots for Holly crew is gearing

up for its busiest time of the year. Founder and president, Dr. Michelle

Becker, said the group's annual kickoff party is slated for Saturday,

September 8 th , 2-5 PM at Creekwood Grill, 12710 Telge Road, Cypress,

Texas 77429. A kickoff party might seem odd for flu season, but this is

the fifth year the organization has held such an event.

There will be a few silent auction items and Chinese raffle items. Proceeds from

the auction and raffle will help us cover the cost of flu shots for those in need. The

band SoulShine will be on-hand to provide the soundtrack for the afternoon.

Shots for Holly is a 501(c)(3) charity organization. In 2018, Shots for Holly

was named the CyFair Houston Chamber of Commerce's Nonprofit of

the Year. For more information, go to www.shotsforholly.org.

ST. CUTHBERT EPISCOPAL CHURCH BLOOD DRIVE

St. Cuthbert Episcopal Church will be hosting a Blood Drive on Sunday,

September 30 th beginning at 8:30 AM. A mobile unit will be in the parking

lot until 12:30 PM. To donate, you must be a least 17 years of age,

at least 110 lbs. and in good general health. If just 20 people donate,

we can save 60 lives! It only takes about 15 minutes, so please stop by.

Save a life - donate blood. St. Cuthbert is located at 17020 West Road

(at Queenston). For more information, visit us at www.st.cuthbert.org.

BACK TO SCHOOL PARENT EMPOWERMENT SEMINAR

Saturday, September 8, 2018

Wyndham Energy Corridor, 14703 Park Row Drive,

Houston Texas 77079

8:30 AM: Open Registration

9:30 AM-2:30 PM: Instruction 2:30-3 PM: Audience Q&A

Lunch Provided

Register on Enentbrite at www.enentbrite.com,

search for "Childproof America."

Childproof America-Safeguarding Children against sex trafficking -

www.childproofamerica.org.

Disney Raffle for the benefit of

Magnificat Houses

Since 1968, Magnificat Houses, Inc. (MHI) a non-profit organization has offered an

alternative to the streets, providing shelter, meals, clothing, community and guidance

towards a brighter future to Houstons homeless and mentally ill.

ONLY 300 TICKETS WILL BE SOLD

$100 PER TICKET

Your choice Disneyland California or Disney World

Orlando

6 Days and 5 Nights stay at your choice of a Disney

Resort (Subject to Resort Availability)

2 Bedroom Villa, depending on resort can sleep up

to 8 people

Disney Theme Park Tickets for 4 people for 5 days

$1000 Visa Gift Card to be used however you want

Disney Magical Express, transportation from Orlando International

Airport to your resort

Transportation to Resort and parks included via Disney Transportation

Enjoy "Magic Hours" - extra time at the park before or after it closes to

the general public

Disney Fast Pass - Complimentary Magic Bands

Must be used by 05/31/2019, NO BLACKOUT DATES!!!

Drawing will be held at the Magnificat House Gala and Auction on

Saturday, Oct. 6th 2018

Need not be present to win

$7,500

Value

to purchase tickets go to:

https://one.bidpal.net/mhigala2018/browse/featured(details:item/9)

Concord Bridge Community Newsletter | September 2018

7
---
Krenek Printing

NEIGHBORHOOD NEWSLETTERS

www.krenekprinting.com

281-463-8649

RESIDENTS:

Please support the businesses within

this newsletter. It is because of their support

that you receive this paper at no charge

to you or your HOA.

Share your community news with us.

Non-profit, scouts, school, dated events, etc.

send to news@krenekprinting.com

ADVERTISERS:

Want your ad to be placed in this newsletter

and mailed to the homeowners every month?

For more information, pricing or to view

newsletters online please visit

www.krenekprinting.com or email

ads@krenekprinting.com

BUSINESS FINDER:

Search for businesses in your local area

and find great deals on the goods and

services you are looking for!

NEWSLETTERS:

View your newsletter online! You can

read your community news on our website

or download it to take with you and print.

Archived issues are also available.

LLC

MOBILE:

You now have access to our full website optimized for

your mobile device, making it even easier to find the

things you need on the go!

MORE:

Find information about advertising

opportunities, article submissions, our

company, frequently asked questions,

and submit your classified ads online.

NOW OFFERING FULL COLOR

PRINTING SERVICES!

Call today for a quote!

WASHINGTON COUNTY FAIR SESQUICENTENNIAL CELEBRATION

September 15-22, 2018

County Fair celebrates 150 Years of Texas History! Oldest county fair still going

strong! The Washington County Fair Association will celebrate the Washington

County Fair Sesquicentennial Celebration September 15-22, 2018 in Brenham, TX.

The Association and Long Films Studios will commemorate Texas's oldest county

fair through a locally produced documentary of former residents, multi-generational

family accounts, fair visitors, historians and participants to share their stories and

experiences. In addition, any newspaper, historical documents or former exhibits

have been shared for history recording purposes. The 2018 Washington County

Fair will be held in Brenham, TX. For full lineup and complete details, please visit

www.washingtoncofair.com.

Anyone with supporting information that is interested in participating is being encouraged

to attend the fair this year and to schedule an interview time by calling Anita Long

at 713-677-9736 or going to www.longfilmsstudio.com. For additional information,

please contact Anita Long, 713-677-9736 or Roger Chambers at 979-830-7708.

October Events

MAGNIFICAT HOUSES, INC.

50 YEAR CELEBRATION GALA AND AUCTION

Saturday, October 6, 2018, 6:30 PM

The Bell Tower on 34 th , 901 W. 34 th St., Houston, TX 77018

Please join us for cocktails, dinner, auction and celebrating founder Rose Mary

Badami who at 94 years old, started Magnificat House 50 years ago.

The 50 th Anniversary Magnificat House Gala Celebration will feature honorary Chair

Mayor Sylvester Turner and aims to raise funds for Magnificat House. Magnificat

House has been a Houston institution for 50 years, offering faith, hope and charity

by providing housing, food, work and spiritual support while our residents - of all

races and creeds - build their lives in community. For more information on Magnificat

House, Inc. and tickets for the 50 th Year Celebration Gala and Auction visit

www.mhihouston.org.

GARAGE SALES

CONCORD BRIDGE NEIGHBORHOOD GARAGE SALE

West Little York between Eldridge and Hwy 6

Saturday, October 6, 2018, 8 AM to 2 PM

COPPERBROOK NEIGHBORHOOD GARAGE SALE

West Rd - east of Hwy 6

Saturday, October 6, 2018

SOUTHDOWN COMMUNITY GARAGE SALE

Saturday, October 6 th , 8 AM-12 Noon

Rain date will be October 13 th .

STONE GATE FALL COMMUNITY GARAGE SALE

Located off Queenston between Barker Cypress and West Road

Saturday, October 6 th , 7 AM-12 Noon

COPPER VILLAGE GARAGE SALE

West Road - between Hwy 6 & Queenston

Saturday, October 13 th , 8 AM-12 Noon

MIDDLEGATE VILLAGE FALL GARAGE SALE

Saturday October 13, 2018, 7 AM-3 PM

8 September 2018 | Concord Bridge Community Newsletter
---
NORTHMEAD VILLAGE FALL COMMUNITY GARAGE SALE

The Northmead Village Community Garage Sale will be held on Saturday,

October 13, 2018 from 7 AM until 4 PM. Signs will be posted

throughout the community one week prior to the event. Residents

who wish to participate should set-up in their respective driveways.

Off West Rd, near Hwy 6.

WESTGATE FALL GARAGE SALE

Located off of Barker Cypress between Longenbaugh and FM529.

October 13, 2018

COPPERFIELD PLACE VILLAGE GARAGE SALE

Date: Saturday, October 20 th , 7 AM-5 PM

SYDNEY HARBOUR FALL GARAGE SALE

Cypress Rosehill and Huffmeister

Saturday, October 20, 2018, 8 AM-12 noon

ABERDEEN GREEN NEIGHBORHOOD FALL GARAGE SALE

Come shop for great deals throughout the neighborhood as Aberdeen

Green residents have their huge Semi-annual Community Garage Sale

on Saturday, October 27 th from 7 AM until 2 PM! Aberdeen Green is

located on Telge Road at West Road, south of Hwy. 290.

CRAFT SHOWS / FESTIVALS

6 TH ANNUAL ST PAUL'S EPISCOPAL CHURCH

FALL FESTIVAL & CRAFT SHOW

Please join us for our 6 th Annual St Paul's Episcopal Church Fall Festival &

Craft Show. Grab a friend and join us for shopping, children's activities,

Petting Zoo and BBQ. Special Guests include the Katy Fire Department

& Katy Police department!!

ADVANCED

HOME EXTERIORS

WE DON'T TRY TO DO IT ALL...

WE ONLY DO WHAT WE DO BEST!

SIDING, WINDOWS & ROOFING

HardiePlank Siding & Exterior Painting

Energy Efficient Replacement Windows

Re-Roofing -- Patio Covers & Pergolas

$500 OFF *

HardiePlank and Window Replacement

*Minimum purchase required

Hardie ColorPlus from

Advanced Home Exteriors

is recommended by

Tom Tynan, HomeShow Radio

Financing Available

Call Today for Your Free Estimate!

832-363-3772

Saturday, October 6, 2018 at 5373 Franz Road, from 9 AM to 4 PM.

FREE admission! Interested vendors please contact Mary at

saintpaulschurch@charter.net.

ST. EDITH STEIN FALL FESTIVAL

SATURDAY, OCTOBER 6, 2018, Noon to 8 pm

Food, games, beer, bingo, live music and shopping.

Located at St. Edith Stein Catholic Church,

3311 N. Fry Road, Katy, TX 77449.

26 TH ANNUAL GINGERBREAD VILLAGE HOLIDAY MARKET

October 27, 2018

The Ladies Auxiliary from St. Elizabeth Ann Seton is holding their 26 th

annual Gingerbread Village Holiday Market on October 27, 2018.

We are located at 6646 Addicks Satsuma Road, Houston, 77084.

Featuring arts, crafts, specialty foods, fashion good and more!

SAINT AIDAN'S EPISCOPAL CHURCH

FALL FESTIVAL AND HOLIDAY MARKET

Sunday, October, 28 th , 10 AM-5 PM

13131 Fry Road, Cypress, TX

St. Aidan's Episcopal Church will hold its 5 th Annual Fall Festival and

Holiday Market on Sunday, October, 28 th at 13131 Fry Road just South of

290. Our festival features Market Booths, Children's Area, Food Trucks,

Silent Auction, Live Music throughout the day, Cake Walk, Trunk N Treat

at 3 PM, Blessing of Animals at 4 PM. Lots of vendors with a variety of

goods for sale. We look forward to seeing you all there!

Interested in being a vendor? For additional information and register

online, visit our website http://aidanschurch.org/fallfest. If you prefer

to mail in your registration, you can obtain a Booth Reservation form

by contacting us at 281-373-3203 or email fallfest@aidanschurch.org.

Concord Bridge Community Newsletter | September 2018

9
---
STEVE TOUCHY

Attorney At Law

Serving Businesses and Families Since 1983

Copperfield/Cypress

• Wills • Trusts • Probate

• Divorce • Employment

• Adoption • Consumer Law

• Incorporation • Collections

• Partnership • Liens

• Real Estate • Commercial Law

281-858-0700

stevetouchy@yahoo.com

15840 FM 529, Suite 280

Houston, Texas 77095

Located in the Chase Bank Building on FM 529

October Events

HOLIDAY MARKET VENDOR OPPORTUNITY AWAITS

The Ladies Auxiliary from St. Elizabeth Ann Seton is holding their 26 th

annual Gingerbread Village Holiday Market on October 27, 2018. We

are located at 6646 Addicks Satsuma Road, Houston, 77084. If you are

a vendor who would like to showcase your arts, crafts, seasonal décor,

etc. at our event, please email: gingerbreadvillage@yahoo.com for more

information or application.

VENDOR REGISTRATION NOW OPEN!

Are you crafty? Are you a distributor for a specialty item? Saint Aidan's

Episcopal Church's ACE Committee has opened vendor registration for

our 5 th Annual Fall Festival and Holiday Market! The Market will be held

Sunday, October 28, 2018 from 10 AM-5 PM. Saint Aidan's is located in

Cypress at 13131 Fry Road - just south of Hwy 290. Our festival features

Market Booths, Children's Area, Food Trucks, Silent Auction, Live Music

throughout the day, Cake Walk, Gulf Coast Regional Blood Drive, Trunk

N Treat and Blessing of Animals. For more information and to register

online, visit our website at http://aidanschurch.org/fallfest, email

fallfest@aidanschurch.org or call 281-373-3203 for a registration form.

BRIDGELAND COMMUNITY

FUN RUN/WALK FOR HEROES

The purpose of The Bridgeland Community Fun Run/Walk for Heroes

fundraiser is to 1) Raise Funds to Build a $1.5 million dollar Veterans

Memorial in the Bridgeland Community in Cypress, Texas, 2) Support

Immediate needs for Veterans in the Community and 3) Continue our

Bridgeland Veterans Memorial Day, Bridgeland Veterans Day Festivals

and Christmas Toys for Veterans' Children Programs. Please see our

amazing conceptional design video for the Memorial Site at: www.

youtube.com/watch?v=mDsCn_7brn0 or by searching for

"The Veterans Memorial at Bridgeland" on youtube.com.

The Bridgeland Community Fun Run/Walk for Heroes will be held

October 20, 2018, at 8 AM at Bridgeland's Festival Park in Cypress, TX.

The event will include a 5k walk/run and a 9 AM children's superhero

costume 1k run/walk, along with booth vendors, entertainment and

activities for the children. The children's walk is open to strollers and

wagons. The event is open to anyone. Please register for the event

at bridgelandrunforheroes2018.eventbrite.com or make a monetary

contribution. We know this will be an exciting and fun family event,

but we need your help! Any item, service or monetary donation you

contribute is greatly appreciated. In exchange, you will receive excellent

community exposure. We provide great sponsorship benefits as well.

The Bridgeland Community Supports Veterans, Inc. is an IRS approved

501(c) (3) tax-exempt corporation. If you would like more information,

please contact Kay at kayburkhalter@sbcglobal.net.

GOLF TOURNAMENTS

14 TH ANNUAL RELAY FOR LIFE OF CY-FAIR

GOLF TOURNAMENT

Benefiting the American Cancer Society

Come join us on Thursday, October 4, 2018 at 1 PM for our

14 th Annual Golf Tournament at Windrose Golf Club. Create a team, join

as an individual, challenge your co-workers, make it a group outing!

Tournament Entry Fee: $100/Person or $400/Team.

Checks made payable: HP Relay For Life

Checks mailed to Stacie Hemann: Attn: 14 th Annual Golf Tournament

10 September 2018 | Concord Bridge Community Newsletter
---
FIND OUT IF SURGICAL WEIGHT LOSS

IS RIGHT FOR YOU

The answers you need to start your weight loss journey.

Our team of experts at Houston Methodist West includes bariatric surgeons, counselors,

nurses and an exercise physiologist. Working together, they ensure you receive the exceptional,

personalized care needed to achieve long-term success.

Dr. Choi uses a highly individualized approach to help you achieve a specific goal, whether it is

improving quality of life or providing drastic life change through surgical weight loss.

Dr. Laura Choi

bariatric surgeon

Attend one of our free information sessions from 12 –1 p.m.:

September 7

September 21

Registration is required.

Visit houstonmethodist.org/events or call 832.667.5673.

Houston Methodist West Hospital

18500 Katy Freeway

Houston, TX 77094

14715 Hawksmoor Court, Cypress TX 77429

Team Size: 1 Team = 4 Persons

Registration: www.hprelayforlife.com/registration.php

Location: Windrose Golf Club, 6235 Pine Lakes Blvd., Spring, TX 77379

Time: Shot Gun Start at 1 PM

Includes: Green Fee, Cart & Range Balls, Lunch & Dinner, 4 Drinks Tickets

Awards: 1 st Place, 2 nd Place, 3 rd Place Teams, Most Honest Team, Closest

To Pin (4 Different Holes) & Longest Drive (3 Different Holes)

BIRDIES "FORE" THE CHILDREN 7 TH ANNUAL

CHARITY GOLF TOURNAMENT

We are excited to invite you to participate in the Birdies "Fore" the

Children 7 th Annual Charity Golf Tournament 2018 benefiting Shriner's

Hospital for burned children in Galveston, Texas. This tournament will be

held at Tour 18 Golf Course, on Saturday October 27, 2018. Registration

begins now online. Registration and breakfast will start at 6:30 AM. The

tournament will start at 8 AM sharp. Our goal is to raise $50,000 to provide

funds for the tissue bank at Shriner's Hospital. Our sponsors and players

truly help us provide funds that directly go to Shriner's Tissue Bank where

hundreds of patients receive life-saving tissue which helps the children

not only survive but also return home to their families! Thanks to all our

friends and family for helping us reach $167,360 since 2011.

In order to speed up the registration process the morning of the tournament,

we have added the ability to pay by card on our website. This payment

method will be shown once you complete your online registration.

If you plan to pay by check, please mail in your checks to the address

listed on your invoice as quickly as you can. We are still accepting cash,

checks and cards at the tournament for registration, but, we ask that

you please pay upfront before the tournament. We are looking forward

to spending the day with all of our supporters and players, we look forward

to seeing you out there and having a great 2018 golf tournament.

GO HERE TO REGISTER: http://birdeasepro.com/birdiesforethechildren

Concord Bridge Community Newsletter | September 2018

November Events

CHURCH GARAGE SALE CYPRESS FAMILY FELLOWSHIP

Saturday, November 3 rd , 7 AM-1 PM

17330 West Little York Rd., Houston TX 77084

Rain or shine, this is an inside Garage Sale! Lots and lots of treasures,

priced to sell. Proceeds will benefit our missions work in Mexico, including

a Children's Home, building more dormitory's to house children, youth

and adults for camps and retreats and to support missionaries there.

4 TH ANNUAL MISTLETOE MARKET

The St. Faustina Women of Mercy cordially invite you to their 4 th Annual

Mistletoe Market. Saturday, November 3, 2018, 9 AM to 4 PM. Westlake

Preparatory Lutheran Academy, 23300 Bellaire Blvd, Richmond,

TX 77406. (Do NOT call the school about booths or questions.) Come

enjoy THE BEST SHOPPING experience Christmas can bring! As always,

Santa will make a surprise guest appearance! All booth inquiries, please

email Lisa Thigpen at Lisab0912@gmail.com.

ST. CUTHBERT CHURCH IS SEEKING VENDORS

St. Cuthbert Church, located at 17020 West Road, is seeking vendors for

our Thirteenth Annual International Festival on Saturday, November

3 rd . The Festival honors all of the different countries, heritages and

backgrounds represented in our very unique and diverse congregation.

The Festival includes food, entertainment, activities for children and

youth and so much more to learn about our world. We are especially

interested in showcasing vendors with wares from other countries and

cultures in addition to arts, crafts and seasonal décor. Contact sally@

stcuthbert.org for more information and/or an application.

11
---
A.A.A.

Tree Services

& Landscaping

925 South Mason Rd. P.M.B. 239

Katy, TX 77450

281-798-5224

a.a.a.landscaping.2005@gmail.com

• Tree Removal

• Tree Trimming

• Palm Tree Trimming

• Stump Removal

• Lots Cleaned Up

• Landscaping Designs

15% OFF

Any Service

With this ad.

Fence

Installation

Special

Music All Ages!

Kindermusik

Piano

Guitar

Drums

Voice

Violin

Viola

Cello

Art Classes!

For ages 4-13

Student Art Shows

Each Semester!

Drama Kids!

For PreK-Grade 12

Acting develops confidence!

• Flagstone & Paver Patios

• Sod Replacement

• Sprinklers Repair

• Fence Installation & Repair

• Mulch

• Monthly Packages

• Drainage System

Enroll Today!

Hwy 6, Cypress, Spring,

Tomball Drama Locations!

20 TH ANNIVERSARY ADAM J SKINNER

MEMORIAL GOLF TOURNAMENT

November 8, 2018

Register Now:

https://cyfairhoustonchamber.chambermaster.com/

eventregistration/register/31913.

Shotgun start 11 AM. This annual golf tournament benefits

the Adam J. Skinner Memorial Scholarship of the

Cy-Fair Educational Foundation. In the 20 years since the

tournament was established, more than $111,000 has

been given to the Adam Skinner Memorial Scholarship.

The Cypress-Fairbanks Educational Foundation

(CFEF) makes it possible to award the scholarship in Adam's

name for years to come. The scholarship is funded

by family and friends on holidays and Adam's birthday

and a large portion has been donated from some of the

proceeds from the Adam J. Skinner Memorial Golf Tournament

every year. The Skinners wanted the scholarship

to be given to a student who emulates some of Adam's

traits and interests, someone who is outgoing, optimistic

and extremely energetic, possibly playing team sports,

choir, high school drama, debate or Boy Scouts of America

participation. Thanks to these golf tournaments, the

scholarship amount was increased to $12,000 in 2017

and is available to any eligible Cypress-Fairbanks ISD

graduating student.

Location:

Blackhorse Golf Club 12205 Fry Rd. Cypress, TX 77433

Format for the day:

9 AM: Registration & Lunch

11 AM: Scramble-Shotgun Start

4 PM: Awards Dinner

Contact Information: Co-Chair Mark McShaffry, The

Backyard Grill 281-897-9200; Eric Dunlap, Cy-Fair Houston

Chamber of Commerce 281-373-1390

$25 DINNER ONLY (at Awards Dinner)

RAFFLE TICKETS - $10 EACH, 6 FOR $50 or 15 FOR $100

THEATER/ARTS

APOLLO CHAMBER PLAYERS

Tuesday, September 11, 2018, 3 PM

Apollo Chamber Players sees a unique opportunity to challenge the traditional notions

of classical chamber music presentation and audience engagement by highlighting

the rich cultural influences and folkloric traditions of various world cultures. Their

program will feature: a selection from Villa Lobos and Leo Brouwer string quartets,

as well as a work by a Brazilian film composer Marcelo Zarvos and Barber's 'Adagio

for Strings' in observation of 9/11.

Performance location: John Wesley United Methodist Church, 5830 Bermuda Dunes

Dr., Houston TX 77069. Tickets: $12 adult, $10 senior, $6 student/child

This is a child friendly performance. All ages are welcome. For tickets: online at www.

cypresscreekface.org or call 281-440-4850

HNAM FIRE DANCES CONCERT

The Houston New Arts Movement explores the fiery and passionate music from South

American and Spanish origins in the third concert of their Light and Shadows season, Fire

Dances, September 8 th and September 14 th at 7 PM, at St. Cyril of Alexandria Catholic Church

and Houston Piano Company, respectively. (Tickets available at www.artsmove.net).

Fire Dances brings to life works of Spanish composers and music inspired by the sounds

that are traditionally Spanish and/or Latin-American in nature.

A.D PLAYERS AT THE GEORGE THEATER

5420 Westheimer Rd, Houston, TX 77056

Around the World in 80 Days - September 14 th -30 th (Previews September 12 th -13 th )

Showtimes are Thursday-Saturday 7:30 PM and Sunday 2 PM.

Box Office: 713-526-2721

Hours: 10 AM-6 PM, Monday-Friday

STAGEWORKS THEATRE

10760 Grant Road, Houston, TX 77070

Five Women Wearing the Same Dress: September 7-30, 2018

Fridays and Saturdays at 7:30 PM

Website: www.stageworkshouston.org.

Sunday matinees at 3 PM

12 September 2018 | Concord Bridge Community Newsletter
---
MILDRED'S UMBRELLA THEATER CO.

MAINSTAGE SEASON

Chelsea Market Theater, 4617 Montrose Blvd. #100, Houston, TX 77006

THE MOORS: August 30-September 15, 2018 - Thursdays-Saturdays at

8 PM; Sunday, September 9, 2018 at 3 PM and Monday, September 10,

2018 at 8 PM

Cost: All Shows Pay What You Can

MORE INFO/RESERVATIONS: www.mildredsumbrella.com,

info@mildredsumbrella.com or 832-463-0409.

CYPRESS CREEK FACE

Box Office: 281-440-4850 www.CypressCreekFACE.org

ART COLONY ASSOCIATION TO CELEBRATE 47 YEARS

WITH BAYOU CITY ART FESTIVAL DOWNTOWN

The Art Colony Association, Inc. (ACA) will celebrate 47 years of fine

art and giving back to local non-profits as it spotlights 300 artists at

Bayou City Art Festival in Downtown Houston, Saturday and Sunday,

October 13-14, 2018, 10 AM - 6 PM at 901 Bagby Street. Cost $12 online

and $15 at the gate.

The sophisticated gallery will transform the streets of Downtown into

artistic avenues bursting with colors and culture. As one of the top

outdoor fine art festivals in the U.S., the weekend festival will provide

guests with the opportunity to see and purchase unique, custom art

under the iconic Houston skyline. Bayou City Art Festival Downtown will

benefit local non-profits and feature live music in front of City Hall and

throughout the festival along with entertainment, beverage stations,

food trucks and much more for patrons to enjoy. In the Children's Creative

Zone, the festival's non-profit partners will host art activities for

all ages and include a cool interactive place to hang out.

Chelsie's Cleaning Service

Commercial & Residential

Cleaning Service

• Reliable

• Thorough

• Punctual

• Charismatic

• Flexible Hours

Call now!

832-941-2009

Your Neighborhood Plumber

Aaron's

Up-front Pricing

Free

Quote!

$25 OFF

With this Ad

Since 1974

LIC. 17773

Complete Plumbing & Drain Service

We Welcome Your Questions • Open 7 Days a Week

281-444-2000 www.aarons-plumbing.com

Celebrating 47 years since the founding of the Westheimer Art Festival,

now known as Bayou City Art Festival, ACA has provided a venue for over

20,000 artists to showcase their work to thousands of art lovers from

all over the world. Every year, a new jury selects participating artists,

some new and some returning. This helps create a fresh and different

festival year after year.

For updates on social media, follow the official event hashtag #HouArtFest,

like the Facebook page or follow on Twitter and Instagram. Also, you can

subscribe to our newsletter here: http://artcolonyassociation.us3.list-manage.com/subscribe/post?u=748035e06d248e81e269eb2d7&id=c50e0ad242.

HARRIS COUNTY MASTER GARDENER

The Texas A&M AgriLife extension Service and the Harris County Master

Gardeners are pleased to offer the Green Thumb Gardening Series of

Lectures. These presentations are free and there are no reservations.

For questions please call 713-274-0950.

GREEN THUMB GARDENING SERIES OF LECTURES

ROSES: PLANTING, GROWING & UPKEEP

September 15, 2018: 10:30 AM-12:30 PM.

Maud Smith Marks Library, 1815 Westgreen Blvd. Katy.

September 18, 2018: 6:30-8:30 PM.

Spring Branch Memorial Library, 930 Corbindale.

Due to Harvey damage, there is no access to the Bear Creek Extension.

Open Garden Day has been relocated to the Weekley Community Center

at 8440 Greenhouse Road, Houston. We won't have outdoor gardens, so

the activities will focus on nature crafts, small plants in pots and games.

OPEN GARDEN DAY, CHILDREN'S ACTIVITIES

September 25, 2018: 10-11:15 AM. Weekley Community Center,

8440 Greenhouse Rd. Free. Registration required by

Sunday, September 23rd to ogd.harrishort@gmail.com.

Concord Bridge Community Newsletter | September 2018

The Memory Tree

Where your memories are preserved for years to come

• Photos

• Slides

• Negatives Digitized

• Old Photos Restored

• Photo Books Created

832-220-8034

Call Dianne dglenn@photomemorytree.com

http://www.photomemorytree.com

13
---
LW SPORTS KIDS VOLLEYBALL AND

NFL FLAG FOOTBALL

NFL Flag Football

Ages: 3-13 (co-ed)

Each paid participant receives:

reversible NFL Flag jersey and flags

Volleyball

Ages: 8-15 (co-ed)

Each participant will receive a jersey

Dates: October-December

Cost: $75

For more information go to:

www.myLWSports.com or call 281-500-8913!

HCYA HOMESCHOOL BASKETBALL

Registration is now open for the

2018-2019 Season

HYCA (Homeschool Christian Youth Association)

is now accepting registrations through

October 15 th for the 2018-2019 season. The

organization has been in existence for more

than 25 years and our coaching staff has over

30 years of total experience with HCYA. We

have a number of teams to accommodate

boys ages 8 through the Varsity Level. We compete

against private schools, public schools

and home school organizations. We practice

at Katy Hustle gym.

Visit our website at www.hcyawarriors.com

for more information.

HOMESCHOOL BASEBALL

The West Houston Thunder is a baseball program

for homeschool boys between the ages

of 8-18. Spring try-outs will be the week of

November 12 th . Spring registration will be in

January. We offer baseball programs for Elementary,

Middle School and High School level

competition. We regularly compete against

schools, leagues, select teams and other homeschool

teams. Our practice location is Memorial

Ashford Little League, 12900 Westmere

Drive, Houston. Contact info@WestHouston-

Thunder.org for more information or go to

our website at www.westhoustonthunder.org.

KIDS' RUNNING TEAM REGISTRATION

STARTS SEPTEMBER 10 TH

The Northwest Flyers Track Club Youth Cross

Country Team kicks off the fall season with a

mandatory orientation meeting for parents

and athletes on Tuesday, September 10,

2018 at 6:30 PM at the D. Bradley McWilliams

YMCA at Cypress Creek outdoor pavilion,

19915 TX-249, Houston, TX. Registration starts

online September 1 st at www.northwestflyers.

org. Practices are held at the YMCA, Kickerillo

Mischer Park and at Spring Creek Park in

Tomball.

Sport News

The Northwest Flyers Track Club is a member

program of USA Track and Field (USATF), the

national governing body for track and cross

country. The club is celebrating its 31 st year

in the northwest Houston area. Ages 6-18 may

participate in the team and both beginners

and experienced runners are welcome. Middle

school and high school cross country athletes

can also register, but should compete after

their school cross country season is over. For

more information contact Coach Genia English

at 818-223-1618 or genia.english@gmail.com.

Visit www.northwestflyers.org to get updates

and learn more about the team.

FALL SOCCER SIGN UPS - CY-FAIR/

MAGNOLIA/TOMBALL/SPRING KLEIN

REGISTRATION - NOW OPEN!

Registration for Fun, Fair, Positive Soccer

(FFPS) is open for boys and girls ages 4 to 18

for the fall Season. Games start on October 6,

2018. FFPS is a non-profit youth soccer program

dedicated to providing a positive youth

sports experience for all children. Founded

in 1986 in Katy, Texas, FFPS has grown to 22

leagues and 16,000 players throughout the

Greater Houston area. FFPS offers children a

fun and fair experience, including one practice

per week, a full uniform and trophy for every

player, equal playing time and play every position,

co-ed/balanced teams, positive coaching

and more. No tryouts are required.

Online Registration schedule and fees

(sign up early and save):

Through September 17 th : $124

September 18 th until teams full: $129

Go to www.FFPS.org to sign up. Registration

fee includes a full uniform (jersey, shorts and

socks), trophy, trained positive coaches, nice

fields and background checks on all volunteers.

Coaches will call players to schedule practice

by October 2 nd . Practice times and location

will be determined by the coach and team. The

schedule includes eight games, played locally

on Saturdays, October 6 th to December 1 st .

Our Cy-Fair North league plays at Matzke Elementary

(13102 Jones Rd). Our Cy-Fair South

league plays at Windfern School of Choice

(12630 Windfern Rod.). Our Cy-Fair West league

plays at Horne Elementary (14950 W Little York).

Our Tomball League plays at Tomball Alternative

Education Center (1302 Keefer Rd). Our

Magnolia League pays at Magnolia Elementary

(31900 Nichols Sawmill Rd). Our Spring/Klein

League plays at Wells Middle School (4033

Gladeridge Dr). For more information, maps of

all locations or to sign up, visit www.FFPS.org

or call 1-800-828-PLAY (7529).

AHFC JUNIOR HURRICANES (JHSL)

Registration For Fall 2018 Now Open

The Junior Hurricanes Soccer League (JHSL) is

led by professional United States Soccer Federation

(USSF) licensed staff and is designed

for boys & girls who want to play and have fun

in a safe and developmentally appropriate environment.

The JHSL program is being offered

at multiple locations and in conjunction with

CFSA at the Schiel Road Complex. To learn

more about each location and to register

please visit www.albionhurricanes.org.

Season begins in September!

For those wishing only to train, join us in Katy

for AHFC Friday Night Academy. Visit Katy

Youth Soccer to register for this Friday Fun

Program. AHFC is proud to partner with New

Territory and offer New Territory Thursday

Night Academy, a 5-week Skills Program.

Email us at jhsl@albionhurricanes.org for

more information or questions.

Want a more competitive program? Join AHFC!

Call us and we can find you a team: 713-939-

7473. Website: www.albionhurricanes.org.

LADIES GOLF

A new ladies golf group is now forming at Cypress

Lakes Golf Club. No handicaps required.

This will be a casual ladies golf outing to improve

your game and make some new friends.

Play will be on Thursday mornings at 9. For

information please email ladiesgolf4fun@

gmail.com or call Cypress Lakes Golf Club at

281-304-8515.

NETBALL CLUBS

Houston Shooting Stars welcomes ladies, men

and youth to join in, play and learn netball,

Tuesday nights at The British School of Houston.

We are also looking for interested players,

adults and youth to play in a new Katy Netball

club. No experience necessary. For more information,

go to our facebook page, Houston

Shooting Stars Netball Club or www.netballamerica.com

or contact houstonnetball@

netballamerica.com for further information.

CY-FAIR SPORTS ASSOCIATION

Cy-Fair Sports Association is having registration

for baseball, football, cheerleading

and soccer. Please see our website for more

information www.cy-fairsports.org.

WESTSIDE GOLF LEAGUE

Westside Golf League is actively encouraging

new members. We invite you to join us every

Tuesday morning at Cinco Ranch Golf Club.

Our purpose is to allow ladies of all levels

to meet new friends and have fun while improving

golfing skills. For more information,

contact Sue Crookson at 281-392-4913 scrookson@houston.rr.com

or Yana Dommert at

281-394-2481 yana@entouch.net.

14 September 2018 | Concord Bridge Community Newsletter
---
School News

Langham Creek High School

2018 Cheer Clinic

Saturday, Sept. 22, 2018

9:00am – 12:30pm

Details & Registration at

www.langhamcreekcheer.com

Open to all girls & boys (ages 4 & older)

Cheers, Jumps, Stunting,

Dance & Tumbling

Bailadora Dance Clinic

Saturday, September 29, 2018

9:30 am - 1:30 pm

Langham Creek High School

CY-RIDGE HIGH SCHOOL

BOOSTER CLUB MEMBERSHIP UNDERWAY!!!

The Cypress Ridge Athletic Booster Club's (CRABC) membership

drive is underway! CRABC has one purpose and that is to support all

student athletes at Cy-Ridge High School - football, track, softball,

volleyball, basketball, cheering, swimming, soccer, wrestling, golf

and tennis.

Our goal is the betterment of all athletic departments along with two

scholarships awarded each year to two of our graduating athletes.

Each sport incurs costs for their equipment, repairs, banquets,

tournament entry fees and much more. In addition to these costs,

we have maintenance on equipment and fields, new equipment

needs, training equipment and changing technology needs. The

CRABC strives to help cover as much of these costs as possible.

Cy-Ridge High School Campus Athletic Coordinator, Coach Gary Thiebaud,

fondly known as "Coach T" is excited about a winning season

in 2018-2019 with an inspiring slogan of "Be 100" on court and off.

This past school year, CRABC funded over $10,000 to Cy-Ridge High

School for the school's athletic needs. With your help, we will be able

to do so much more for our school, coaches and athletes. It is our

hope that your involvement will forge new relationships between

Cy-Ridge High School, parents and the businesses in the area.

Parents of Cy-Ridge High School students are invited to join for as

little as $20 to $100.

Businesses can become members for donations ranging from $100

to $1,000.

The WORLD is

Your STAGE

Register at www.bailadoras.com

Walk-ins Welcome

There are many wonderful opportunities to interact with the Cy-

Ridge staff, coaches, trainers and the budding athletes themselves.

This is an exciting time for the athletes and it is a joy and delight

to be around them as they develop into successful young adults.

Want more information? Contact: Juanita Shihadeh - juanita.shihadeh@yahoo.com

or Brenda Stancik - bjstancik@outlook.com.

To download membership forms: www.goramsathletics.com. Then

click on "More."

The Cypress Ridge Athletic Booster Club, Inc. is a not-for-profit IRS

501(c)(3) organization - # 04-3634442.

Go Rams!

16 September 2018 | Concord Bridge Community Newsletter
---
Air Conditioning Contractors of America

CYPRESS-FAIRBANKS I.S.D.

WWW.CFISD.NET

IMPORTANT DATES

September 3 rd - Student/Staff Holiday

CFISD BRINGS SAFETY AND SECURITY

TO FOREFRONT WITH 2018-2019 ACTION PLAN

Following a summer of planning, the Cypress-Fairbanks ISD safety and security

committee unveiled its 2018-2019 Safety and Security Action Plan

at the Board of Trustees committee-of-the-whole meeting on Aug. 9 th .

Comprised of representatives of the CFISD leadership team, the committee

hosted a series of meetings throughout June and July to review

current security initiatives that are already in place as well as explore

what additional layers could be implemented for the district this year.

Featuring roundtable discussions with experts as well as input from

all campus principals and the Community Leadership Committee, the

meetings resulted in an action plan focused on prevention of, identification

and intervention of and response to potential security threats

during a time when the nationwide focus is on school safety.

Extend Life Service A/C Save Money

281-394-0340

Free estimate or 2 nd opinion

$25 off

any

repair

License TACLB 24777E and Insured

Expires 9/30/18

FREE

Duct Inspection

with tune-up

• Annual

Maintenance

Programs

• All repairs

guaranteed

• Serving area

since 1994

0% Interest

financing available

Expires 9/30/18 WAC

Expires 9/30/18

IdealAirServices.com

Texas Gov. Greg Abbott's School and Firearm Safety Action Plan, released

on May 30 th , was used by the committee as a baseline to review

school safety and implement recommended strategies.

The following summary of the safety and security committee's action

plan can be found in more detail on the district website under the

"Safety for All" block:

Prevention

The CFISD police department has increased its number of commissioned

police officers from 86 in 2017 to 108 for 2018-2019. The department

will also implement three K-9 units trained in narcotics and nitrate

detection. Two police officers will transition into mental health officer

positions to assist the guidance and counseling and psychological services

departments in addressing mental health concerns on campuses.

Safety and security upgrades funded by the 2014 Bond Program continue

to roll out at campuses, including secured entry vestibules, bullet-resistant

glass, additional security cameras and emergency call stations.

Panic buttons will be installed in all portable buildings in 2018-2019.

All students in grades 6-12 will be required to wear a student ID badge

during the instructional day and will join elementary students in

wearing the badges on board school buses. All school visitors will be

distinguished by a visitor badge issued at check-in.

Backpacks worn by secondary students on school property are required

to be clear backpacks. Belongings carried inside or outside of the

backpack are limited to no more than two non-transparent 6- by 9-inch

purse(s) or similar bag(s). Approved extracurricular bags including

instrument cases are permitted in the building but must be stored in

respective areas during the instructional day. Visitors to Cy-Fair FCU and

Pridgeon stadiums in 2018-2019 will be required to limit bags to clear

bags or a non-transparent 6-by-9-inch purse or similar bag.

All campuses will implement procedures for limiting entry points for faculty,

students and visitors. The district will also continue to explore the possibility

of identifying exit-only doors and removing door handles on certain doors.

Food deliveries for students will be prohibited by fast food delivery drivers.

Identification and Intervention

Campuses will continue to advertise the Cy-Fair Tipline for students,

an internal and anonymous reporting system. A visible button will

be added to each campus website for easy sharing with the CFPD

Concord Bridge Community Newsletter | September 2018

and campus administration. The CFPD will continue to work with the

Houston Regional Intelligence Service Center to identify potential threats

on social media.

Two mental health intervention teams, each consisting of two licensed

professional counselors, a licensed specialist in school psychology and

a mental health school resource officer, have been developed to assist

students, administration and parents in developing a positive and proactive

plan for mental health. All teachers, counselors, district and campus

administrators, transportation and community programs staff will undergo

mental health assessment training prior to the start of the school year.

All elementary and secondary counselors will be trained on completing

threat assessment interviews.

Response

CFISD's school safety and security committee will meet three times per

year and provide updates and reports to the Board of Trustees twice a year.

All campuses will continue to implement and practice emergency operations

plans, based on a template provided by the Texas School Safety

Center. All campus and district administrators will be trained in the Standard

Response Protocol and Standard Reunification Method prior to the

start of the school year.

All staff members will receive active shooter training prior to the start of the

school year, while all CFPD officers are required to complete active shooter

trainings such as ALERRT and ERASE as well as crisis intervention training.

A mental health crisis response team consisting of licensed behavior

health professionals has been formed to respond during critical incidents.

View the Safety and Security Action Plan presented during the Aug. 9 th

Board of Trustees work session on the CFISD YouTube channel. For all

safety- and security-related details in Cypress-Fairbanks ISD, visit

www.cfisd.net/safety.

17
---
s

TOUCH A TRUCK

Join us Saturday, September 29 th , from 10 AM to 2 PM for St. Cuthbert

School's Eleventh Annual Touch A Truck. Touch A Truck is a hands-on

event where kids and adults of all ages can explore and learn about

vehicles of all shapes and sizes - from emergency vehicles to construction

equipment to really cool cars! Admission is only $2. Touch A

Truck will be held at St. Cuthbert Church located at 17020 West Road,

Houston, 77095, at the corner of West Road and Queenston. For more

information, visit our website at stcuthbert.org.

EPIPHANY FALL PRE-REGISTRATION

FOR 2018-19 SCHOOL YEAR

If you are interested in our 18 month through Pre-K 4/5's classes OR our

School (K-8 th grade) classes for the Fall of 2018, we would love for you

to join us. For more information visit our website at www.epiphanylutheranschool.org

or call 713-896-1843 for (K-8 th grade) OR 713-896-1316

for (18 mo. through Pre-Kindergarten classes). We would love for you to

join our school family. We are located at 14423 West Rd. @ Jackrabbit.

LITTLE RAMS PRESCHOOL

Cost friendly, full day, preschool for 3 & 4 year olds at Cypress Ridge

High School. Requirements: Must be 3 by September 1 st , live in/or

work for CFISD and be fully potty trained. Our times are 8:30 AM-2 PM

Tuesday-Thursday. We incorporate circle time, learning centers, core

learning and field trips. We are now registering for the 2018-2019 school

year, which begins in October and ends in May. For more information

or to register please contact Rachel Campise - Director by email at

rachel.campise@cfisd.

PERSPECTIVE

9191 Barker Cypress Rd.

IT'S NOT TOO LATE TO REGISTER FOR FALL!

LSC-CyFair offers affordable and flexible options to earn degrees,

workforce certificates and more with classes available day, night,

weekends, on campus or online. Registration continues for fall semester

with Late Start classes. Register now at the Barker Cypress

campus located at 9191 Barker Cypress, the LSC-Fairbanks Center

located at 14955 Northwest Freeway or the LSC-Cypress Center

located at 19710 Clay Road. Registration is also available online at

LoneStar.edu/registration or call 281-290-3200 or 832-782-5000 for

information. For Weekend College information, call 832-482-1070

or go to LoneStar.edu/weekend-college.

IN THE ART GALLERY

Stop by the Bosque Gallery to see Thomas Austin's collection of

abstracts in this "Embryonic Journey" art exhibition on display

through October 4 th . Two artist talks will be held at 6:20 PM and 7

PM during the opening reception set from 5-8 PM Thursday, September

6 th . In addition, a "Tea + Art + Talk" is set from 1:30-2:15 PM

Tuesday, September 18 th . For information, go to

LoneStar.edu/BosqueGallery.

L.I.F.E. LESSONS FOR SEPTEMBER

The Learning, Inspiration, Friendship and Enrichment (L.I.F.E.)

programs are free and held Wednesdays at 10 AM in the Lone Star

College-CyFair Branch Library (Room 131.) Programs in September

are "Coupons, Codes, & Apps" September 12 th , "I Like to Move It,

Move It" September 19 th and "Another Side of Sicily" September

26 th . Call the library at 281-290-3214 for L.I.F.E. program information.

AN ATTITUDE OF GRATITUDE

An attitude of gratitude means making it a habit to express thankfulness

and appreciation in all parts of your life, on a regular basis, for both

the big and small things alike. Here is a menu of tactics to develop

this mindset:

• Wake up every day and express to yourself what you are grateful for.

• Tell whomever you are with at the end of the day the 3 things you are

most grateful for.

• Tell whomever you are with right now (significant other, friend, family

member, etc.) the 3 things that you are most grateful for in this moment.

• Start a gratitude journal - Express gratitude in this journal every night

by noting the things that you are grateful for, proud of and excited

about.

• Acknowledge yourself for what you have done and accomplished in

the last day/week/month/year. Instead of comparing yourself to others,

give yourself credit for the big and small things you have been doing!

• Acknowledge other people and thank them for inspiring/helping/

supporting you - oftentimes people wait their whole lives to be acknowledged

(and yet it happens far too infrequently)!

Courtesy of: www.huffingtonpost.com/andrew-merle/how-to-havean-attitude-of-gratitude_b_8644102.html

18 September 2018 | Concord Bridge Community Newsletter
---
HOW TO CELEBRATE READ A BOOK DAY

Read a Book Day comes to us every September 6 th . It may seem strange

to celebrate an activity that plenty of us enjoy many, if not most, days

of the year. But it never hurts to indulge in something extra to make a

cherished activity more enjoyable. You can read outside, enjoy a snack,

reflect on what a favorite book means to you and more. Here are five

ideas to celebrate Read a Book Day.

Read Outside

Read a Book Day fortunately coincides with a time of year that for much

of the globe brings pleasant weather. Late summer often provides the

right amount of sun and heat, begging a reader to bring books outside.

Granted, that's a bit difficult for those of us who have to spend prime

daylight hours at work or in school, but you can always sneak some

reading time in the early morning, late afternoon or evening. Take your

book to the beach, an outdoor table, the porch or anywhere else that

makes your day of reading a little more special.

Enjoy a Book With Good Food (or a Drink)

C.S. Lewis said that "Eating and reading are two pleasures that combine

admirably." We might take this as a cue for our own Read a Book Day

celebration. There are some things to consider, though. I, for one, traditionally

have trouble finding the right food to eat while reading (fruit like

grapes and strawberries wet my fingers and the pages and large meals

involving fork and knife make holding the book open unwieldy). But for

Read a Book Day, I might put those past failures behind me. Baked goods

like cookies and pastries make for great company, while coffee and tea

are always enhancements to a good story. Heck, it's the summer. You

might even celebrate the day with a glass of wine or a special cocktail.

Share a Quote or Reflection on Social Media

Many a book goes unread because it gets lost in the noise. It can be

hard to know what's worth our attention in the dizzying selection of

books we have available and one of the most important resources we

have as readers is a good recommendation. You can celebrate reading

by excerpting a favorite quote from a book and sharing it on Facebook

or Twitter. If you want to go the extra mile, dress up a favorite title for

a photo on Instagram and caption it with why it means something to

you. Picking the right book intimidates more people than you think

and you never know who you're helping and who might add your

recommendation to their reading list.

Go Outside of Your Typical Selection Habits

Some readers want to own their books and love bookstores. Some readers

prefer the different selection and freedom of a library. Others prefer shopping

online. All of these habits are great, but it can be rewarding to try something

new. Does your community have a used bookstore? There's a lot that might

surprise you, especially if you're used to going to Barnes & Noble. Do you

like to shop online for books? There are plenty of places where you can get

old, unusual, rare or interesting editions that the major vendors won't have.

Plus, it always pays to visit your local library. A little difference can go a long

way in reminding you of the wide cultural world of books.

Ask Someone for a Recommendation

Celebrating books goes the other way, too. It's always good to make

something solitary, like reading, more social. A good way to do this is to

reach out to someone who could give you a recommendation. People

are always happy to share their favorite titles and it's a nice way to

reconnect with someone over books. After all, a book's very purpose

is to connect us better to the world in the first place.

Source: https://blog.bookstellyouwhy.com/how-to-celebrate-read-a-book-day

Concord Bridge Community Newsletter | September 2018

LIBRARY NEWS

KATHERINE TYRA (BEAR CREEK) PUBLIC LIBRARY

16719 Clay Road, Houston, TX 77084, 281-550-0885

Our hours are: Monday - 1 PM - 8 PM,

Tuesday/Thursday - 10 AM - 6 PM, Wednesday -10 AM - 8 PM,

Friday - 1 PM - 6 PM, Saturday - 10 AM - 5 PM.

LIBRARY CLOSED:

Labor Day Holiday, Monday, September 3 rd

• WELLNESS CLUB - Tuesday, September 4 th and 18 th , 1 PM. Join us for

our new Wellness Club! We will discuss topics related to healthy living

and share our experiences with each other. Learn from your neighbors

about how you can strive to stay well!

• SPECIAL TEEN PROGRAMS - Wednesday, September 5 th and 19 th ,

6 PM and Monday, September 24 th , 4:30 PM. Want to meet some new

friends and have a great time? Come to our special teen events! Topics

still TBD. Call the library for more information.

• POKÉMON CLUB AT CLAY'S RESTAURANT - 1 st Thursday of the

month, 4:30 PM. All school age children are invited to come and bring

their Pokémon Cards or Nintendo DS for this event. We ask that parents

remain at Clay's for the duration of the program. We hope to see you

there! Clay's Restaurant is located at

17717 Clay Road, Houston, TX 77084.

• GAME NIGHT AT CLAY'S RESTAURANT - 1 st Thursday of the month,

6 PM, 17717 Clay Rd., Houston, TX 77084. Bring the whole family to play

games with us at Clay's Restaurant! We will have several board games

to play or bring your own!

• FALL VEGETABLE GARDENING - Saturday, September 8 th , 2 PM. Come

learn how to grow a vibrant vegetable garden in the fall from Master

Gardener Teresa See. She will bring expert advice from her gardening

experience. She is a speaker with Texas A&M Agrilife Extension Service

and can help answer your vegetable gardening questions.

• PASSPORT SERVICES - Mondays, September 10 th and 27 th , 12 PM to

6:30 PM. Come to the library to apply for your passport or renew one.

The person receiving the passport must be present. Call the District

Clerk's Office at 832-927-5690 to make an appointment or for more

information. Walk-ins are also accepted.

• WRITERS' WORKSHOP WITH HOUSTON WRITERS GUILD "CREATING

TENSION" - Saturday, September 22 nd , 10:30 AM-12 PM. Come to the

library to develop your writing skills with excellent advice from the

Houston Writers Guild! Today the focus will be on creating tension. Fine

tune your work with these tips for a more captivating piece.

• FIRST TIME HOME BUYING SEMINAR - Saturday, September 22 nd , 1:30

PM. Come to this free seminar to learn the basic steps when buying a new

home. The prequalification process, inspections and appraisals and more.

• SAVVY SOCIAL SECURITY PLANNING FOR BOOMERS - Saturday,

September 29 th , 10 AM. Come to hear financial planner Karin Tyson

explain how to get the most out of Social Security. Bring your questions!

She will discuss Social Security's many aspects. You will learn

five important factors & strategies to consider when deciding to apply

for benefits, including:

When it makes sense to delay benefits-and when it does not

Why you should always check your earnings record for accuracy

How to estimate your benefits

Innovative strategies for coordinating benefits with your spouse

How to minimize taxes on Social Security benefits

How to coordinate Social Security with your other forms

of retirement income.

19
---
• CONVERSATIONAL ESL - Thursdays, 2 PM. Join our free Conversational

ESL class each week. Attendees will need to fill out an application.

Everyone is welcome. Please join us!

• SAVVY STITCHERS - Thursdays, 3:30 PM. The Savvy Stitchers is a

place to share ideas for different crafts such as knitting and crochet!

Don't miss out on the weekly fun! Make sure to bring your needles and

yarn. All ages welcome.

• SOCIAL CRAFTERS - Saturdays at 10 AM. Join our new social crafting

group! Are you working on a craft or fabric arts project now? Bring a

project to the library and share your ideas with others. Or, just come to

learn more about crafts you may want to try. All are welcome!

• MYSTERY BOOK CLUB - Join us for our monthly mystery book discussion

at the library. This month we are reading Conspiracy of Faith by

Jussi Adler-Olsen. Or, check out an e-book or e-audiobook through the

library's Overdrive collection. The mystery book club meets the third

Thursday of each month at 11 AM.

CHILDREN

• PARA LOS NINOS BILINGUAL STORYTIME - Friday, September 28 th ,

1:30 PM. Bilingual storytime and activities for children 3-7 and their

parent/caregivers. Please join us!

• PRESCHOOL STORYTIME - Tuesdays at 10:30 AM. Early literacy

program with stories, songs, finger plays and the occasional craft

geared towards preschoolers aged 3-6 yrs old. In order to ensure the

safety of our youngest patrons, this is a ticketed program. Free tickets

are available on the morning of the program. First come, first served.

• INFANT STORY TIME - Wednesdays, at 10:30 AM. Infant Time is an

early literacy program for the children ages birth to 18 months. Please

join us as we share literacy tips, stories, songs, fingerplays, bubbles

and books. In order to ensure the safety of our youngest patrons this

is a ticketed program. Free ticket available on the morning of the

program in the library.

• COMMUNITY STORYTIME AT CLAY'S RESTAURANT - Wednesdays, at

2:30 PM. Community Storytime is an early literacy program for children

ages 18 months to 6 years. Come join us at Clay's Restaurant, 17717

Clay Road, as we share literacy tips, stories, songs and fingerplays. Each

week this storytime will be an adaption of our library's preschool or

toddler program. We want to thank Clay's Restaurant for partnering

with us in providing community storytime.

• TODDLER TIME - Thursdays, at 10:30 AM. Toddler Time is an early

literacy program for children ages 18 months to 3 years of age. Please

join us as we share literacy tips, stories, songs and fingerplays. In order

to ensure the safety of our youngest patrons this is a ticketed program.

Free tickets are available on the morning of the program in the library.

All programs are free and open to the public. For more information call

281-550-0885 or log on to www.hcpl.net.

LONE STAR COLLEGE - CY-FAIR LIBRARY

9191 Barker-Cypress Road, Cypress, TX 77433

281-290-3210

HOURS: Monday through Thursday, 7 AM-10 PM,

Friday-Saturday, 8 AM-6 PM and Sunday, 1 PM-6 PM.

• FRIENDS OF THE LIBRARY - The LSC-CyFair Friends Bookstore

accepts gently used books year-round, offering them to the public

for a set donation amount. The store is open six days a week and

staffed by volunteers. Proceeds support library programs. Help

support our community library.

• CYFAIR LIBRARY BRANCH BLOG PAGE at http://hcpl.net/location/

cy-fair-college-library, for news and events about the library and

college and in the community.

• FACEBOOK at LSC-CyFair Branch Library.

• WEEKLY EVENTS & PROGRAMS EMAIL REMINDER, the Library

eUpdate: subscribe at LoneStar.edu/library/16099.

ADULT EVENTS & PROGRAMS

BOOK CLUBS: BACK IN TIME: HISTORICAL FICTION BOOK CLUB -

1 PM, LRNC 131

BOOK CLUBS: BOOKS WITHOUT BORDERS – 1 PM, LRNC 131

or 7 PM, LRNC 215

BOOK CLUBS: I LOVE A MYSTERY BOOK CLUB - 12 PM, LRNC 131

Common Thread: Knitting, Crocheting and Needlework Group

Tuesdays: 9-10:30 AM, LRNC 116.

COMPUTER WORKSHOPS, LRNC 105

Call for info.

eBOOK/eREADER WORKSHOPS

eBooks Appointments now available. Make an appointment

at LoneStar.edu/library/15938.

ESL: TALK TIME - LoneStar.edu/library/15209

Mondays, 1-2 PM, LRNC 215

Tuesdays, 2:45-3:45 PM, LRC 215

SPANISH CONVERSATION CLUB

Mondays, 1-3 PM, LRNC 131

Wednesdays, 6:30-7:30 PM, LRNC 118

ADULT LIBRARY PROGRAMS

See the full schedule of Adult Programs and Activities at LoneStar.edu/

library/cyfair-adults-LoneStar.edu/library/cyfair-adults-services or call

281-290-3214/3218.

Note: All programs are subject to change. Please contact the library or

visit the website for up-to-date information.

TEEN EVENTS & PROGRAMS

BOOK CLUB: (Registration required)

SCREEN - PLAY:

Tweens & Teens only (ages 10 - 18) 5-6 PM: Games, 6 PM: Movie -

Teen Room.

See the full schedule of Teen's Programs and Activities at

LoneStar.edu/library/cyfair-children-services.

CHILDREN EVENTS & PROGRAMS

• Mondays: BABY TIME (6-24 months) - 9:30 AM, 10:30 AM, 11:30 AM.

• Tuesdays: Toddler Time (2-3 1/2 years) - 9:30 AM, 10:30 AM, 11:30 AM.

• Wednesdays: Preschool Time (3-6 years) - 9:30 AM, 10:30 AM, 11:30 AM.

• Thursdays: Spanish Time/Tiempo de cuentos (2-6 years) - 11 AM

BABY PAJAMA TIME:

1 st Tuesday, 6 PM (up to 24 months)

FAMILY STORYTIME:

2 nd Tuesday, 6:30 PM (all ages)

FAMILY FUN ACTIVITIES, 5 PM:

Thursdays, for children of all ages. Limited to 40 children.

FAMILY GAME NIGHT:

Thursdays at 6:30 PM. For children of all ages. Limited to 40 children.

See the full schedule of Children's Programs and Activities at LoneStar.

edu/library/cyfair-children-services. All programs are free and open

to the public.

Note: All programs are subject to change. Please contact the library

or visit the website for up-to-date information.

20 September 2018 | Concord Bridge Community Newsletter
---
YDR SERVICES

Owner Operated

LAWN & LANDSCAPE

• LAWN AERATION

• LAWN DETHATCHING

• LAWN MAINTENANCE

• LANDSCAPE DESIGN

• YARD CLEAN-UPS

• BED MULCHING

• SPRINKLERS INSTALLED

LI#8966

• PONDS/PATIOS

Free

Estimates!

Pool Cleaning

Maidservice/House Cleaning

LAWN MAINTENANCE

• Basic Service $ 28

• Full Service $ 38

GRASS $ 229

Per Pallet Installet

281-788-2047

BEAR CREEK COMMUNITY CENTER

281-859-1566 • 713-274-3190

Houston, TX 77084

www.pct3.hctx.net

The Bear Creek Community Center will be temporarily

housed and have limited classes/events at the Glazier

Senior Education Center, 16600 Pine Forest Lane, Houston,

Texas 77084

In addition to scheduled activities on the Bear Creek

Community Center, Commissioner Steve Radack's Bear

Creek Community Center is now offering the following

upcoming events and activities for the summer. Please

call 713-274-3190 to register for any of these events.

INTERMEDIATE CONVERSATIONAL SPANISH: Has it been

awhile since you spoke Spanish? Maybe you want to refresh

your skills because you are taking a trip? Join Maria

Venegas every Friday, 9:30-10:20 AM. You must have

some knowledge of Spanish before starting this class.

FAMILY ZUMBA: All ages are welcome to this high-energy

cardio class. Everyone will enjoy this mix of Latin and International

dance moves. Classes are 6-7 PM on Mondays

and Wednesdays.

TAI CHI: Every Saturday morning 8:30-9:30 AM. Learn

this ancient Chinese art that integrates and strengthens

mind & body through slow, practiced movements that

help to lower stress and blood pressure.

CHAIR YOGA: This class is perfect for anyone with mobility

or balance limitations. Chair yoga involves performing

specific poses while using the support of a chair. The class

meets every Friday, 10-11 AM.

Special note: Advance registration for activities is typically

requested. An adult must accompany and remain with

anyone under the age of 18 visiting the center. A calendar

of events is available at the Harris County Precinct Three

website at www.pct3.com.

Concord Bridge Community Newsletter | September 2018

GARDEN TIPS FOR SEPTEMBER

Time now to make plans for fall landscaping projects.

• Clean up flowerbeds of fallen foliage, yellowed leaves and dead wood.

Light green leaves may signify lack of iron (chlorosis). Correct with iron cheleates.

• Cut off old dead foliage on irises. Scratch in a little bone meal around the roots.

• Prune roses to reshape and groom plants for fall growth. Follow up with a dose

of fertilizer the first week of September.

• Plants come out of summer rest and go crazy. Insect populations explode as we

get into cooler temperatures. Diseases that have been dormant wake up.

- Citrus, croton, avocado and mango are susceptible to spider mites and thrips.

Discourage them with a strong jet of water from a hose directed to the

undersides of the leaves.

- Hibiscus, citrus, palms, gardenia and ixora are susceptible to scale and mealybug.

• Winter vegetable gardens and perennials get planted.

• Wait until November to plant petunias and pansies.

• Fire ants baits should be put out in September-October to lessen the number

of eggs that make it to Spring.

• St. Augustine grass gets its fall fertilizer during September. Continue to mow at

maximum height. You want to leave a lot of leaf surface to produce carbohydrate

reserves for the winter.

• Keep an eye out for sod webworms. First sign of them is grass that appears to stop

growing. You need to get them early for biological controls to work. When the

caterpillars are only 1/4 inch, Bacillus thuringiensis applications can slow them.

Bt is a bacteria that works on the caterpillars' digestive systems and makes them

stop feeding. Do the application late in the day. The larvae feed at night and you

want them to get nice fresh Bt.

• When the heat and drought end, the weather could bring brown patch disease in the

St. Augustine grass. Watch for yellowish spots if the nights drop into the 60's and days

stay in the 80's.

• Get any pruning of hedges and such done now. You want the flush of new growth

to be hardened-off before the end of October. Tree pruning should be put off

until winter, when the trees are dormant.

• Pre-emerge herbicide applications targeting annual bluegrass and the earliergerminating

winter broadleaf weeds needed to be put out starting in mid-August.

21
---
A BIG THANK YOU

A Big THANK YOU to Cy-Fair Women's Club for the awarding of their 2018

Adopt a Cause Award to MESA-OUTREACH for our upcoming November

2018 Share the Table Event. This is a Community Outreach Event with

Food Boxes, Gift Cards, New Underwear and Used Coats to assist the

needy families in our area before Thanksgiving. They awarded this to us

on Tuesday evening, July 24, 2018 at the MESA-FOOD PANTRY located

at BCUMC 16000 Rippling Water Dr., Houston, TX 77084.

DISCLAIMER: Articles and ads in this newsletter express the opinions

of their authors and do not necessarily reflect to opinions of Krenek

Printing Co. or its employees. Krenek Printing is not responsible for the

accuracy of any facts stated in articles submitted by others. The publisher

also assumes no responsibility for the advertising content with in this

publication. All warranties and representations make in the advertising

content are solely that of the advertiser and any such claims regarding its

content should be taken up with the advertiser.

The publisher assumes no liability with regard to its advertisers for

misprints or failure to place advertising in this publication except for the

actual cost of such advertising.

Although every effort is taken to avoid mistakes and/or misprints in this

publication the publisher assumes no responsibility for any errors of information

or typographical mistakes, except as limited to the cost of advertising as stated

above or in the case of misinformation, a printed retraction/correction. Under no

circumstances shall the publisher be held liable for incidental or consequential

damages, inconvenience, loss of business or services, or any other liabilities from

failure to publish, or from failure to publish in a timely manner, except as limited

to liabilities stated above.

Published by: KRENEK PRINTING CO.

www.krenekprinting.com

MESA-OUTREACH, INC.

HOLDS ITS 5 TH ANNUAL

STUFF THE BUS SCHOOL

SUPPLY EVENT

On August 7, 2018, Mesa Outreach served

180 families with 445 students receiving

school supplies for K-12 grade. A total

of 317 pairs of shoes were distributed,

655 pairs of socks, 722 children's books

and 300 Texas Children's Health Plan

Backpacks filled with supplies, 1100

bags of popcorn, countless bottles of

water and 189 volunteers logged 512

volunteer hours for the 2 nights of Stuff the Bus (Prep & Event). Special

thanks to all our volunteers from NCL-Cypress Belles, NCL-Yellow Roses,

Skyline Rotarians, Just Serve, St. Aidan's Episcopal Church, Bear Creek

UMC, Addicks UMC, Peace Community Church and many other individual

volunteers! We could not have done this without you! We are so grateful

for all your support of MESA-OUTREACH and Stuff the Bus 2018!

HABITAT FOR HUMANITY NORTHWEST HARRIS COUNTY

If you are a homeowner in the Northwest Harris County area and are still

in need of home repair from damage experienced by Hurricane Harvey,

you may qualify for Habitat for Humanity's Northwest Harris County

Hurricane Harvey Disaster Recovery Home Repair program. This is at no

cost to you and is made possible by the Hurricane Harvey Relief Fund.

To submit an application, contact Robert at 281-477-0460 or visit www.

HarveyHomeConnect.org. Apply today as limited funding is available.

You can support Habitat by sponsorship, monetary donations and/or

volunteer by assisting with the construction of a new home for a deserving

family, repair an existing home, serve lunch, assist with events and

much more. If your business or organization is seeking a fun, energetic

teambuilding event, we can customize an onsite construction project.

Habitat is a non-profit, faith based and volunteer driven organization

dedicated to advocating for families who currently reside in sub-standard

housing within the Northwest Harris County area. Our mission

is to provide safe, decent and affordable housing to those in need by

partnering with qualified families in the building of their new home.

For volunteer opportunities, call 281-477-0460. Donations can be mailed

to Habitat for Humanity Northwest Harris County, PO Box 682785,

Houston, TX 77268-2785 or dropped off at our office at

13350 Jones Rd., Houston.

22 September 2018 | Concord Bridge Community Newsletter
---
RECIPES

ITALIAN WEDDING SOUP

Made with the most perfectly tender,

juicy, chicken meatballs! So hearty

and flavorful. Not to mention, it's

simple, quick and easy!

Ingredients:

2 tablespoons olive oil, divided

3 cloves garlic, minced

1 onion, diced

3 carrots, peeled and diced

2 stalks celery, diced

1/2 teaspoon dried thyme

8 cups chicken stock

2 bay leaves

1/2 cup uncooked acini di pepe pasta

1 sprig rosemary

3 cups baby spinach, chopped

1 tablespoon freshly squeezed lemon juice

2 tablespoons chopped fresh parsley leaves

Kosher salt and freshly ground black pepper, to taste

1/4 cup freshly grated Parmesan

For the chicken meatballs

1/2 pound ground chicken

1/2 pound chicken sausage, casing removed

1/3 cup Panko

1/4 cup freshly grated Parmesan

1 large egg

1/2 teaspoon dried oregano

1/2 teaspoon dried basil

1/2 teaspoon dried parsley

1/4 teaspoon garlic powder

Kosher salt and freshly ground black pepper, to taste

Directions:

In a large bowl, combine ground chicken, chicken sausage, Panko,

Parmesan, egg, oregano, basil, parsley and garlic powder; season

with salt and pepper, to taste. Using a wooden spoon or clean hands,

stir until well combined. Roll the mixture into 3/4-to-1-inch meatballs,

forming about 25-30 meatballs.

• Heat 1 tablespoon olive oil in a large stockpot or Dutch oven over

medium heat. Add meatballs, in batches, and cook until all sides

are browned, about 2-3 minutes. Transfer to a paper towel-lined

plate; set aside.

• Add remaining 1 tablespoon olive oil to the stockpot. Add garlic,

onion, carrots and celery. Cook, stirring occasionally, until tender,

about 3-4 minutes. Stir in thyme until fragrant, about 1 minute.

• Whisk in chicken stock and bay leaves; bring to a boil. Stir in acini di

pepe, rosemary and meatballs; reduce heat and simmer until pasta

is tender and meatballs are cooked through, about 9-12 minutes.

• Stir in spinach, lemon juice and parsley until spinach has wilted,

about 2 minutes; season with salt and pepper, to taste.

• Serve immediately, garnished with Parmesan, if desired.

This delicious recipe brought to you by Damn Delicious

https://damndelicious.net/2018/07/29/italian-wedding-soup/

Concord Bridge Community Newsletter | September 2018

APPLE DUMPLING

You could make this on National Apple Dumpling Day September 17 th !

INGREDIENTS:

1 pastry for double-crust pie

6 large Granny Smith apples, peeled and cored

1/2 cup butter

3/4 cup brown sugar

1 teaspoon ground cinnamon

1/2 teaspoon ground nutmeg

3 cups water

2 cups white sugar

1 teaspoon vanilla extract

DIRECTIONS:

Preheat oven to 400 degrees F (200 degrees C).

Butter a 9x13 inch pan.

On a lightly floured surface, roll pastry into a large rectangle, about 24 by

16 inches. Cut into 6 square pieces. Place an apple on each pastry square

with the cored opening facing upward. Cut butter into 8 pieces. Place 1

piece of butter in the opening of each apple; reserve remaining butter for

sauce. Divide brown sugar between apples, poking some inside each cored

opening and the rest around the base of each apple. Sprinkle cinnamon and

nutmeg over the apples.

With slightly wet fingertips, bring one corner of pastry square up to the top

of the apple, then bring the opposite corner to the top and press together.

Bring up the two remaining corners and seal. Slightly pinch the dough at

the sides to completely seal in the apple. Repeat with the remaining apples.

Place in prepared baking dish.

In a saucepan, combine water, white sugar, vanilla extract and reserved butter.

Place over medium heat and bring to a boil in a large saucepan. Boil for 5

minutes or until sugar is dissolved. Carefully pour over dumplings.

Bake in preheated oven for 50 to 60 minutes. Place each apple dumpling in

a dessert bowl and spoon some sauce over the top.

Source: http://allrecipes.com/

HOAGIE DIP

You could make this on National Eat a Hoagie Day September 14 th !

INGREDIENTS:

1/2 pound cooked ham, thinly sliced

1/2 pound Genoa salami, thinly sliced

1 pound processed American cheese, sliced

2 cups mayonnaise

2 teaspoons dried oregano

1 onion, chopped

1/2 head iceberg lettuce, shredded

2 tomatoes, diced

12 hoagie rolls, torn into pieces for dipping

DIRECTIONS:

Tear the ham, salami and

American cheese into small pieces.

Place in a large bowl.

In a medium bowl, blend the mayonnaise and oregano.

Mix the mayonnaise mixture into the ham mixture 1/2 cup at a time,

until meats and cheese are well coated. Mix in the onion.

Before serving, mix in the lettuce and tomatoes.

Serve with the hoagie roll pieces for dipping.

Source: http://allrecipes.com/

23
---
STEVE HARDCASTLE

Each Office Independently Owned & Operated.

Your Concord Bridge Realtor

• #1 In 77041 SALES (For the last 15 years; per HAR)

• BROKER, Over 30 Years Full Time Experience

• Hall of Fame, Lifetime Achievement Award, Circle of Legends

• Top 1% of all Realtors in North America

• www.stevehardcastle.com

Email: hardcastleteam@gmail.com

!

936-777-5992

2018

Texas Monthly 5 Star Award (8 years in a row)

RE/MAX

Westside

713-678-0509

ARBOR WORKS

Arborist with 40+ Years Experience

Tree Trimmings•Removals

Stump Grinding•Root Barriers

"The Smart Choice"

Spraying•Fertilization of Lawns & Trees

Free Estimates

• Bonded

• One Million Liability Insurance

SIRBTS1@sbcglobal.net

• Worker's Comp

"B" Smart! Call Brad Smart for all your tree needs.

Whether you need advertising, printed materials, branded merchandise,

a website or other marketing for your business...

We Have The Solution For Your Business!

Krenek Printing

NEIGHBORHOOD NEWSLETTERS

LLC

SERVICES:

Advertising • Layout Design

Printing Services

Flyers • Brochures • Pamphlets

Newsletters • Postcards • Envelopes

Mailing Services

Direct (EDDM) • Bulk • First Class

Branded Merchandise • Marketing Services

YOUR AD COULD

BE HERE!

281-463-8649 • 7102 Glen Chase Ct, Houston, Texas 77095 • www.KrenekPrinting.com