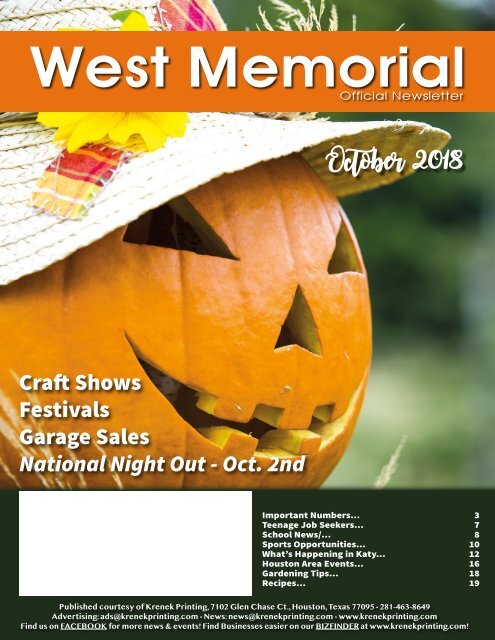 West Memorial October 2018
Create successful ePaper yourself
Turn your PDF publications into a flip-book with our unique Google optimized e-Paper software.
West Memorial

Official Newsletter

October 2018

Craft Shows

Festivals

Garage Sales

National Night Out - Oct. 2nd

Important Numbers... 3

Teenage Job Seekers... 7

School News/... 8

Sports Opportunities... 10

What's Happening in Katy... 12

Houston Area Events... 16

Gardening Tips... 18

Recipes... 19

Published courtesy of Krenek Printing, 7102 Glen Chase Ct., Houston, Texas 77095 • 281-463-8649

Advertising: ads@krenekprinting.com • News: news@krenekprinting.com • www.krenekprinting.com

Find West us Memorial on FACEBOOK | October for 2018 more news & events! Find Businesses easier on our BIZFINDER at www.krenekprinting.com! 1
---
When it needs more than a band-aid,

Urgent Care vs. Emergency Room?

Did you know a visit to the ER can cost as much as five times

more than a visit to Excel Urgent Care, for the same problem?

$$

$$

$

$ - $$

$$

$$

VS.

Sprains

Minor Lacerations

Cold, Flu, Fever

Occupational Medicine

Lab & Drug Screen (on site)

X-Ray

Emergency

Room

$$$$

$$$$

$$$$

$$$$

$$$$

$$$$

855-EXCEL-UC

www.excelurgentcare.com

Serving Cypress, Missouri City & Katy Areas

Open Everyday 9am - 9pm No appointment needed.

Save time and money at...

19450 Katy Freeway

Houston, TX 77094

281-829-9900

2

October 2018 | West Memorial
---
Halloween Safety Tips

Walk Safely: Cross the street at corners, using traffic signals and crosswalks.

Look left, right and left again when crossing and keep looking as you cross. Put

electronic devices down and keep heads up and walk, don't run, across the street.

Teach children to make eye contact with drivers before crossing in front of them.

Always walk on sidewalks or paths. If there are no sidewalks, walk facing traffic as

far to the left as possible. Children should walk on direct routes with the fewest

street crossings. Watch for cars that are turning or backing up. Teach children to

never dart out into the street or cross between parked cars.

Trick or Treat with an Adult: Children under the age of 12 should not be alone

at night without adult supervision. If kids are mature enough to be out without

supervision, they should stick to familiar areas that are well lit and trick-or-treat

in groups.

Keep Costumes Both Creative and Safe: Decorate costumes and bags with

reflective tape or stickers and if possible, choose light colors. Choose face paint

and makeup whenever possible instead of masks, which can obstruct a child's

vision. Have kids carry glow sticks or flashlights to help them see and be seen by

drivers. When selecting a costume, make sure it is the right size to prevent trips

and falls.

Drive Extra Safely on Halloween: Slow down and be especially alert in residential

neighborhoods. Children are excited on Halloween and may move in unpredictable

ways. Take extra time to look for kids at intersections, on medians and on curbs.

Enter and exit driveways and alleys slowly and carefully. Eliminate any distractions

inside your car so you can concentrate on the road and your surroundings. Drive

slowly, anticipate heavy pedestrian traffic and turn your headlights on earlier in the

day to spot children from greater distances. Popular trick-or-treating hours are 5:30

PM to 9:30 PM so be especially alert for kids during those hours.

WEST MEMORIAL IMPORTANT NUMBERS

West Memorial Mailing Address:

c/o High Sierra Management

722 Pin Oak Road, Katy, TX 77494 ª 1-866-844-3933

SECURITY (CONTRACT #83)

EMERGENCY (Police, Fire, Medical) 911

NON-EMERGENCY:

Constables Office 281-463-6666

Harris County Precinct 3 713-755-6306

Crime Stoppers

713-222-TIPS

HCE SD FIRE DEPT. 48 281-599-8888

SCHOOLS

KISD Administration 281-396-6000

KISD Security 281-396-7560

KISD Transportation Dept. 281-396-6220

West Memorial Elementary 281-237-6600

West Memorial Jr. High 281-237-6400

Katy High School 281-237-6700

IMPORTANT NUMBERS

Poison Control Center 800-764-7661

Animal Control 281-999-3191

Memorial Hermann Katy Hosp. 281-644-7000

Houston Methodist W. Hospital 832-522-5522

Manager: Sherri Carey

www.westmemorial.org

PARK HOURS:

8 AM - Dusk, 7 days a week

TRASH PICK UP: Wednesday & Saturday

Texas Children's Hospital West 832-227-1000

Children's Protective Svs. 713-394-4000

Harris Co. Public Health & Environment 713-439-6000

Comcast Cable 713-341-1000

Reliant Energy 713-207-7777

Centerpoint Energy 713-207-2222

www.ceneterpointenergy.com/outage

West Memorial MUD 281-392-2290

WCA 281-368-8397

BOARD OF DIRECTORS

President

Pat Leo

Secretary

Lindy Rajput

Treasurer

Jerry Wells

Director

Ishmael Gantt

Director

Joel Kahn

Director

Pat Wilson

Director

Harry Woodstrom

WEST MEMORIAL BOARD MEETINGS ARE THE

4TH TUESDAY OF EACH MONTH AT 7 PM AT THE CIVIC CENTER

WEST MEMORIAL SWIM TEAM WEBSITE

www.wmst.swimtopia.com

Newsletter published courtesy of Krenek Printing Company

7102 Glen Chase Ct., Houston, Texas 77095 281-463-8649

news@krenekprinting.com • www.krenekprinting.com

West Memorial | October 2018 3
---
Upcoming Events

National Night Out will be on October 2 nd , 6-8 PM. We will have a the

firetruck and police officers in attendance. Join us and meet your

neighbors and pick up safety tips.

Seeking Volunteers

Yard of the month club: We need several people to select yard based

on the landscaping. Our volunteers would award the yards with the yard

of the month sign and possible gift card for Houston Garden Center or

Home Improvement Center

Welcome Committee: We need several people to welcome new

neighbors. The committee will introduce themselves and provide a

welcome packet. We need help assembling the welcome packets.

Neighbors helping Neighbors: We are seeking contractors and people

in the housing industry.

Park Beautification Project: We need several people to help monitor

the park to insure it remains well kept.

Please email volunteers@westmemorial.org for more information or

questions.

The West Memorial Civic Association

Management COMPANY High Sierra Management, Inc

Sherri Carey is the Association's Manager. The Association has a direct

phone number for your convenience. The number is 1-866-844-3933 and

will direct you to whomever in the management staff you wish to speak

with; manager, administrative staff, accounting and the work order

department. Please allow the property manager, unless of urgent need,

twenty four to forty eight hours to respond to your correspondence.

When contacting the office or speaking with the answering service,

please be sure to give your name, homeowner association, address and

telephone number where the call can be returned. The management

office is located at 722 Pin Oak Road, Katy, Texas 77494 and office hours

are Monday through Friday 8 AM to 5 PM.

You may also contact your management team by visiting the High Sierra

Management website at www.highsierramanagement.com and selecting

"Online Requests."

High Sierra Management will be performing the monthly deed restriction

inspections and citing all violations of the governing documents. If you do

not have the rules and regulations, you may download a copy from www.

WestMemorial.org or contact the management company and request a

copy. We are sure you are all eager to help maintain the property values

and exterior appearance of our community and hope we can count on

your continued support in this effort. As a reminder, West Memorial Civic

Association is a deed restricted community and all changes or additions

to the exterior of the home must be approved by the Association prior

to any work commencing. Requests for home improvements can be

obtained through management.

The Board of Directors meetings are held monthly in the association

clubhouse (by the pool) on the fourth Tuesday at 7 PM and all

homeowners are welcome to attend. You may also email or call with any

questions or concerns at any time. We thank you all in advance for your

kind cooperation and continued help in making West Memorial a great

place to live!

Respectfully,

The West Memorial Civic Association

Board of Directors

West Memorial Park

Our community park is located at 22415 Kingsland and is open to all West

Memorial residents for outdoor activities. It has playground equipment

and a large sheltered pavilion.

4

West Memorial Email Alert

& Notification System

West Memorial has a new alert and notification system that works with

email. The alerts are for emergency notifications, security alerts and

messages from our constables. The notifications are for neighborhood

events, meetings and issues.

To be a part of the system, you must request the service. If you are

interested, open our web site at www.westmemorial.org and locate the

Sign-Up icon on the right side of the main page. Follow the instructions

and you will receive all future alerts and notifications.

Anyone wishing to send an alert or notification should submit the

message to westmemorial@westmemorial.org for approval, posting and

transmission. Please direct any questions to harry@westmemorial.org.

Trash Service

WCA Waste (WCA) is your trash collection provider. Trash service days are

Wednesday and Saturday. Please have trash out at curb by 7 AM each

pick up day. Heavy Trash and/or extra bags are picked up on both pick-up

days, Wednesday and Saturday.

RECYCLING IS EVERY SATURDAY

WCA takes great pride in our recycling program and efforts. Ensuring the

best recycle program for our customers takes time and effort on both

sides. Please remove caps, liquids and food products from inside the

containers. Please only use the recycle bins for recyclable materials, not

as an extra trash container.

WCA will collect papers, plastics, aluminum and tin cans that are placed

within the provided recycling bin. If items exceed container capacity,

please place them adjacent to bin.

WCA will provide each current residence with one recycling bin. WCA will

replace any bins that are defective or otherwise become unusable due

to normal wear and tear. Theft, lost or additional bins can be replaced

at $8 each.

If you find items left in your bin that are not recyclable please dispose of

these items in your trash container for the next scheduled pick up.

HOLIDAYS

When regular pick-up falls on a holiday, New Year's Day, Memorial Day,

July 4 th (Independence Day), Labor Day, Thanksgiving Day, and Christmas

Day, the pick-up will be made on the next regular scheduled pick-up day.

If your recycling day falls on a holiday it will be picked up the next week

on your normal scheduled recycle day.

BILLING

WCA will invoice each individual residence on a quarterly basis. Bills

are due 30 days after receipt. Any residents failing to pay will receive a

statement, have services discontinued and incur a $25 late/reconnect

service fee.

CONTACT INFORMATION

Waste Corporation of Texas

8515 Highway 6 South

Houston, TX 77083

Ph: 281-368-8397

Soliciting

Soliciting is prohibited in West Memorial Subdivision. Please make

sure you have a sign posted on your residence for no soliciting. If you

are approached by a solicitor, please call the Constable's office at 281-

463-6666. Continue to call this number if you see suspicious person or

vehicles.

October 2018 | West Memorial
---
Air Conditioning Contractors of America

Stray Animals

Do not hesitate to call Harris County Animal Control at 281-999-3191, if

you see animals that are roaming the neighborhood unleashed.

West Memorial Constables

Please make sure you call and report any suspicious behavior. Please file

a report for any stolen or missing property we need to know what is going

on in the neighborhood. Our Constables patrol our subdivision 24 hours

a day/seven days a week. Please call them at 281-463-6666 to report any

disturbance or to request vacation patrols.

West Memorial Website

www.westmemorial.org is the address for West Memorial information

on the internet. The web site contains pool information, Board member

contacts and complete documentation of your deed restrictions. It

also contains neighborhood information, including schools, security,

recreation and local worship centers. Check it out, you might find

something you have been looking for.

Deed Restrictions

The purpose of Deed Restrictions in your neighborhood is to protect and

enhance property values. They set guidelines for initial construction,

perpetual maintenance and property use. As residents agree to abide

by the majority view; the style and standards of a community are

established and everyone benefits. For your information, restrictions

are written by the developer before the first home is constructed and

the Association is then charged with the on-going responsibility of

enforcing them. They can be changed, but a very large percentage vote of

homeowners is required to do so. Please let us know if you see a problem

in the neighborhood.

Quiz:

1) You can keep rabbits on your property:

True False

2) You can keep chickens on your property:

True False

3) WMCA Board Members are volunteers and receive no compensation:

True False

4) The exterior walls of all residences shall be at least 50% masonry:

True False

5) You can build a duplex house on your West Memorial lot:

True False

Be Safe! Service Heater Protect Home

281-394-0028

Free estimate or 2 nd opinion

$25 off

any

repair

License TACLB 24777E and Insured

Expires 10/31/18

FREE

Wi-fi thermostat

w/ equipment purchase

• Annual

Maintenance

Programs

• All repairs

guaranteed

• Serving area

since 1994

0% Interest

financing available

Expires 10/31/18 WAC

Expires 10/31/18

IdealAirServices.com

HHHHHHHHHHHHHHHHHHHHHHHHHH

H

H

H WIZARD REMODELING H

H

There's no place like home. H

H

H Kitchens and Baths

H

H

H Home Additions

H

H

Mr. OZ

H Patio Covers and Decks

H

H

H Siding, Painting, Concrete and Roofing H

H

All Your Home Remodeling and Repair Needs H

H

Interior/Exterior, Large or Small, We Handle It All! H

H 30 Years Experience

H

H Free Estimates Jim Mroz 281-773-9275 H

HHHHHHHHHHHHHHHHHHHHHHHHHH

Discount Fence Company

"When a good job really matters."

Residential and Commercial Fences

• Wood Privacy Fences

• Chain Link Fences

• Fence Repairs

• Insured and Bonded

• Free Estimates

• Tree Trimming (Certified Arborist)

No Job Too Big

or Too Small

Daniel Burgess

832-378-2337

6) If you fail to maintain your lawn, WMCA can do it for you and send you

a bill:

True False

7) You can open an automobile repair shop in your garage:

True False

8) You may build a tiny house (less than 1500 square feet) on your West

Memorial lot:

True False

9) If your house burns and you want to rebuild, you must submit complete

plans and specifications to the Architectural Control Committee:

True False

10) You may have a rainwater harvesting system:

True False

Answers: 1) f, 2) f, 3) t, 4) t, 5) f, 6) t, 7) f, 8) f, 9) t, 10) t

Roof Leaking?

Specialized in Roof Repairs

Our Family Trade Since 1945

• Whole Roofs & Roof Repairs

• Seamless Gutters & Downspouts

• Wall Flashing

• Soffit & Fascia

• Skylights & Chimneys

• Window Replacement

• Other Difficult Repairs

281-391-8257

www.callenroofing.com

WE FIX IT RIGHT

THE FIRST TIME!

West Memorial | October 2018 5
---
Reward

West Memorial Civic Association's Board has approved the following:

A $250 reward to anyone providing information leading to the arrest

and prosecution of person or persons vandalizing or destroying West

Memorial Civic Association property.

Clubhouse Rental

If you are interested in renting the clubhouse, please call Dannielle

Raper at 1-866-844-3933. At the time your call is returned, the

guidelines for renting and using the clubhouse will be provided. Be

sure you allow yourself plenty of time to fulfill the requirements, such

as hiring security officers. You will be provided with the names and

phone numbers of the individuals to contact to make the necessary

arrangements.

MPL#40046

For all of your plumbing needs! ONE CALL DOES IT ALL!

info@petersplumbingtx.com

ADVANCED

HOME EXTERIORS

WE DON'T TRY TO DO IT ALL...

WE ONLY DO WHAT WE DO BEST!

SIDING, WINDOWS & ROOFING

HardiePlank Siding & Exterior Painting

$500 OFF *

HardiePlank and Window Replacement

*Minimum purchase required

Hardie ColorPlus from

Advanced Home Exteriors

is recommended by

Tom Tynan, HomeShow Radio

Any job

over $95

Sewer Camera Inspection and Drain Cleaning

Garbage Disposal and Faucet • Water Heater • Repipe

Water Leak Detection • Pipe Repair • Toilet Installation

Follow me on

Licensed and Insured

FREE ESTIMATES

Low Price Guarantee

Financing Available

Call Today for Your Free Estimate!

832-363-3772

A few, but not all, of the guidelines are listed below:

1. There is no smoking in the clubhouse.

2. Residents must have all dues/assessments paid prior to booking the

clubhouse.

3. A certified check for all rental fees and deposits is required 30 days in

advance.

4. The security deposit will be returned within 30 days after the date of

the event based on the condition the premises was left in.

5. Renter is responsible for the conduct of all attendees.

6. Police Officers are required at all functions of 50 or more attendees or

at any event in which alcohol will be served. Arrangements and payment,

for the officers, are to be made by the renter.

Rental rates are as follows:

Resident $175

Non-resident $525

Security deposit $300

Street Lights

Your Association pays for streetlights from your annual dues, whether

they work or not. If a light is out in your area, please call 713-207-2222 and

report it. You may also report outages online at www.centerpointenergy.

com/outage. Each light has a number on it. When reporting the out light,

give the pole number and street location. We want all lights to work. A

lighted area is a safer area.

Leash Law "Harris County"

Animals that are not properly restrained pose a threat to all our residents.

While you may know your pet is friendly, an animal running at someone

who is walking by is very scary for that person. Many children are afraid

of animals and become frightened, which could result in the child getting

hurt trying to avoid the animal.

Veterinary Public Health (formerly called Harris County Animal Control)

advises that "All dogs and cats must be kept under restraint while in the

unincorporated areas of Harris County, Texas. The custodian of a dog or

cat is not authorized to have, harbor or keep any unlicensed dog or cat,

nor to allow any dog or cat to become a stray."

Restraint is defined as "the control of a dog or cat under the following

circumstances:

1. When it is controlled by a line or leash not more than six (6) feet in

length, if the line or leash is held by a human being, who is capable of

controlling or governing the dog or cat in question.

2. When it is within a fully enclosed vehicle.

3. When it is on the premise of the custodian and the animal does not

have access to sidewalk or street."

While it may be nice to have your animal out in the yard while you work or

play, it is against the law, unless the animal is properly restrained.

6

October 2018 | West Memorial
---
Let's all help keep our community a safe and comfortable place for all

our residents by being responsible pet owners. This will not only protect

anyone who may be walking or bicycling in the area, but also the pet

owner who could be held legally responsible or possibly sued for failing

to properly restrain their pet.

Homeschooling In The Katy Area?

Want to get out, socialize and meet other homeschoolers who are of

elementary age (6 to 10 year olds)? Then head over to our house, 22739

Merrymount, on Thursday afternoons all semester long. We have lots

of great games, fun activities and tons of imagination to keep the kids

learning and exploring. Please call Margaret for more information at 713-

548-4805.

Panel Upgrades & Installs

Home Generators

Home Inspections

Landscape Lighting

Recessed Lighting

Troubleshooting

Ceiling Fans

5-Year

Warranty

$25 OFF

$25

ANY

SERVICE CALL!

ANY TIME!

Expires 12/31/18

RESIDENTIAL & COMMERCIAL

24 HRS A DAY / 7 DAYS A WEEK

713-467-1125

www.wiredes.com

100% Customer Satisfaction Guaranteed!

Master #100394-TECL #22809

Teenage Job Seekers

If you are between 12 and 18 and would like to be added to the

teenage job seeker's list, please fill out the form on our website (www.

krenekprinting.com, click submissions and choose Jobseekers) with

your name, birthdate (mo. & yr.), phone number, year you will graduate

and the name of your newsletter/subdivision. Check the list of jobs you

want on your form. Please make sure your email is correct, we send

emails in the summer to make sure all the info is still good and that you

want to stay on the list. If we do not hear back from you after 3 tries, we

will remove you from the list until we do. Must have parent(s) permission.

DISCLAIMER

Neither the subdivision, nor Krenek Printing is responsible for those listed

on the Teenage Job Seeker List. Please ask for and check out references

if you do not personally know those listed. This is just a list of teenagers

from the subdivision who wish to find part time jobs. Responsibility for

any work done by these teenagers is between those seeking helpers and

the teens and their parents.

CODE KEY:

B - BABYSITTING, CPR - CPR CERT., FAC - FIRST AID CERT., RCC - RED

CROSS CERT., SS - SAFE SITTER, SL - SWIM LESSONS, PP - PET/PLANT

SITTER, P - PET CARE ONLY, H - HOUSE CARE, L - LAWN CARE, C- CAR

CARE/DETAILING, T - TUTORING

Behlmann Law Firm, LP

Estate Planning & Asset Protection

Board Certified in Estate Planning & Probate

Law by the Texas Board of Legal Specialization

• Probate Specialist

• Living Trusts & Wills

• Powers of Attorney & Health Care Directives

• Medicaid Trusts, Elder Law, Medicaid Planning

• Special Needs Planning & Guardianships

• LLC's, Family LLC's & Limited Partnerships

• Business Formation & Planning

Richard Behlmann

Founder

Free Initial Estate Planning & Probate Consultations

www.behlmannlaw.com

281-398-0088

21218 Kingsland Blvd., Katy, Texas 77450

Local Utility Rebates Now Available

TEENAGE JOB SEEKERS

NOT AVAILABLE ONLINE

Call Anytime!

TACLB019260E

HEATING • AIR CONDITIONING

UP TO $ 1100 REBATE

$

35 OFF

on a New A/C & Heating System

0% Interest Payment Plans

Qualifying Models only. Call for Details.

Must present at time of service. Expires 10/31/18.

Any Repair

Cannot be combined with any other offer.

Must present at time of service. Expires 10/31/18.

281-492-3450 myACandHEAT.com

FREE ESTIMATES on New Equipment

Same-Day Service

West Memorial | October 2018 7
---
School News

KATY INDEPENDENT SCHOOL DISTRICT

WWW.KATYISD.ORG

IMPORTANT DATES

October 8 th - Early Dismissal - Elementary Parent Conference and Secondary Professional Learning

October 17 th - Family Night (No Homework Assigned)

October 19 th - Early Dismissal - Elementary Parent Conference and Secondary Professional Learning

February 6, 2019 - My Childhood Addiction - Parenting in a Digital Age -

Registration Required

February 27, 2019 - Is It Mean? Is It Rude? Is It Bullying? - Registration

Required

Wednesday, March 20, 2019 - College Prep 101 for Parents - Registration

Required

Wednesday, April 24, 2019 - Human Trafficking -Registration Required

Legacy Parent Academy

The Katy ISD Legacy Parent Academy is a series of informational

sessions specifically designed to assist parents by providing valuable

information that relates to topics that go beyond the academic experience.

In today's world, we know parents and guardians are faced with decisions

that will profoundly impact the future growth and development of their

student. The goal of the Katy ISD Legacy Parent Academy is to equip

parents with strategies and techniques to support their students. All

parents and guardians of Katy ISD students are welcome to attend. ​

The 2018-19 sessions will feature presentations from experts in topics

that address emotional well-being, college preparedness and financial aid

for college, amongst others. Learn more about our​ sessions​, view a title a

see full story​for more information and to access the session's registration

form. Registration for each session will open two weeks prior to the event.

Legacy Parent Academy 2018-2019 Sessions​

​October 3, 2018 - Katy ISD College & Career Night

October 24, 2018 - Mental Health Services in Texas - Registration

Required

November 7, 2018 - Understanding High School Credits, GPA and Class

Rank - Registration Required

November 7, 2018 - Transitioning from Elementary to Junior High

School - Registration Required

November 14, 2018 - Military Academies Night

November or early December - Financial Information Academy

8

Confirm Attendance : We kindly ask that you confirm your attendance.

This will help us prepare enough brochures and/or other materials

related to this session.

Private & Pre-Schools

St. Bartholomew Catholic Preschool

St. Bartholomew Catholic Preschool has been designed to:

• Nurture Catholic faith development in each child and in each child's

family.

• Teach students about prayer and to respect the world around

them.

• Allow opportunities for young children to learn socialization skills.

• Encourage self-esteem while teaching acceptable behavior.

• Provide a low teacher-child ratio with caring, experienced staff.

• Offer a curriculum that will help prepare our students for Kindergarten

and the world.

• Expose the children to a variety of learning opportunities like Spanish,

motor lab, and music.

• Foster an appreciation of others through charitable acts of kindness.

We have openings in our M/W and T/Th 18 month Class, 2 spots in our

2's class and 4 spots left in our 4's class. Please email Rose Stornello at

rose@st-bart.org or Juli Ondrush at juli@st-bart.org or call the preschool

office at 281-391-0993.

October 2018 | West Memorial
---
Whether you need advertising, printed materials, branded merchandise,

a website or other marketing for your business...

We Have The Solution For Your Business!

Krenek Printing

NEIGHBORHOOD NEWSLETTERS

LLC

SERVICES:

Advertising • Layout Design

Printing Services

Flyers • Brochures • Pamphlets

Newsletters • Postcards • Envelopes

Mailing Services

Direct (EDDM) • Bulk • First Class

Branded Merchandise • Marketing Services

YOUR AD COULD

BE HERE!

281-463-8649 • 7102 Glen Chase Ct, Houston, Texas 77095 • www.KrenekPrinting.com

Protect

your world

Auto • Home • Life • Retirement

Call me today to discuss your options.

Some people think Allstate only protects your

car. Truth is, Allstate can also protect your

home or apartment, your boat, motorcycle -

even your retirement and your life. And the

more of your world you put in Good Hands®,

the more you can save.

Warren Sloan

713-464-4442

1400 W. Sam Houston Pkwy. N.

Houston

warrensloan@allstate.com

Insurance subject to terms, qualifications and availability. Allstate Property and Casualty Insurance Co.,

Allstate Fire and Casualty Insurance Co., Allstate Insurance Co., Allstate Texas Lloyd's, Allstate Indemnity

Co., Allstate Vehicle and Property Insurance Co. Life insurance offered through Allstate Life Ins. Co. &

Allstate Assurance Co. Northbrook, IL; Lincoln Benefit Life Co., Lincoln, NE; and American Heritage Life

Insurance Co., Jacksonville, FL. Securities offered by Personal Financial Representatives through Allstate

Financial Services, LLC (LSA Securities in LA and PA). Registered Broker-Dealer. Member FINRA, SIPC.

Main Office: 2920 South 84th Street, Lincoln, NE 68506. (877) 525-5727. © 2010 Allstate Insurance Co.

200227

West Memorial | October 2018 9
---
10

Forever Landscape

• Tree Trimming

• Tree Removal

• Tree Fertilizer

• Trim Bushes

• Flower Bed Design

• Planting, Renovation

• Stone Border

• Pavers

Call Everth

Amelia Norabuena

281-891-0370

Visit us at

• Flat Stones

• Drain System

• Garden Soil, Top Soil

• Grass Installation

• Lawn Aeration

• Lawn Dethatcher

• Mulch

• Clean Gutters

www.foreverlandscape.com

Fully insured for your protection.

Free

Estimates

MAID SERVICES

281-912-5036

Select Renovation is a full service, insured renovation company for the Katy

and Greater Houston area. Free estimates are provided. Services include:

Make Ready

HVAC

Plumbing

Electrical

Garage Door Repair

MPL#40815

Water Heaters • Drain Problems

Faucet Installation & Repair

Gas Test • Water Leaks & Much More

35+ Years Experience

832-890-8449

info@tonysplumbingtx.com

www.tonysplumbingtx.com

Flooring

Drywall Repair

Painting

Fencing

Landscaping

832-808-1906

Renovation - Restoration - Remodeling

jarrett@selectrenovationtx.com

Always there for you!

$30 off

any Job

Over $95

Low Price Guarantee

Licensed & Insured

FREE ESTIMATES

Sports

Opportunities

HCYA Homeschool Basketball

Registration is now open for the 2018-2019 Season. HYCA (Homeschool

Christian Youth Association) is now accepting registrations through

October 15 th for the 2018-2019 season. The organization has been

in existence for more than 25 years and our coaching staff has over

30 years of total experience with HCYA. We have a number of teams

to accommodate boys ages 8 through the Varsity Level. We compete

against private schools, public schools and home school organizations.

We practice at Katy Hustle gym. Visit our website at www.hcyawarriors.

com for more information.

West Houston Rugby Club

West Houston Rugby Club offers excellent opportunities for players of

all ages from minis to adults to participate in one of America's fastest

growing sports. Our coaches are fully accredited with USA Rugby and

include former European premiership players. We are a not for profit club

with a mission to provide outstanding club management, a fun social

environment and the feeling of a rugby family. Registration is now open

for the 2018 season at www.westhoustonrugby.com. Enquiries may be

sent to info@westhoustonrugby.com. Come and join the fastest growing

club in Houston!

Katy Area Running Club

The Katy Area Running Club is a 501(c)3 non-profit corporation which

exists to serve people living in and around Katy, Texas who have

an interest in running. We are a community of people of all ages,

backgrounds, heritages and abilities who share a common interest -

running! Our focus is on group runs, having fun, socializing and sharing

our knowledge and experience with our members and the public. We

welcome all who are interested in joining us. We have a full calendar of

runs, events and socials. We hold group runs every Saturday morning

at the Sergeant Hatch Sports Park off the south I-10 feeder road just east

of Barker Cypress Rd. On Tuesdays (5 AM and 6:30 PM) we meet at one

of the KISD junior high tracks for speedwork and on Thursday (6:30 PM)

we meet at Crosspoint Community Church for tempo runs of various

distances and paces. To find out more and to join our club, visit www.

KatyAreaRunningClub.com.

Track Houston/Youth Track Club

Track Houston is the nation's largest and most successful youth track

and field organization. Our goal is to assist interested boys and girls ages

6 to18 years old in improving their physical fitness and mental stamina.

We have multiple practice sites in the Greater Houston area including

McMeans Junior High School in Katy and Cypress Lakes High School in

Cypress. Visit www.trackhouston.com to register for a location near you.

October 2018 | West Memorial
---
Katy Canoe & Kayak Club

Established March of 2014 (Over 200 Members). Never paddled before,

that's okay too! We don't own a store, don't purchase anything yet! Join

our meetings and we can answer your questions and/or assist you in

trying out new gear and equipment. KC/KC is a non-profit organization

with major Sponsors. Must be at least 21 years of age to join. LIFE VEST/

PFD IS A MUST!!!! We meet every 3 rd Wednesday of each month at

24638 Kingsland Blvd., Katy TX 77494 (Manta Ray Enterprises, Inc.), 7-9

PM. For more information, call Philip at 713-826-5705 or 281-782-7252.

"Remember-Think Safe, Paddle Safe"

Netball Clubs

Katy Swifts Netball Club invites people to come and learn about netball

and have some fun playing a great team sport. Open to everyone from

eight years and up including adults. Contact katynetball@netballamerica

for further information. Houston Shooting Stars welcomes ladies, men

and youth to join in, play and learn netball, Tuesday nights at The British

School of Houston. Contact houstonnetball@netballamerica.com for

further information.

You can also "like" the Texas Netball Association on Facebook to see

regular announcements about netball in the Lonestar State! Also visit

netballamerica.com for general information about netball in America.

Do You

Want To

Party?

Mason Creek Community Center

provides downtown ambiance

with neighborhood convenience.

A wonderful location for

school events, graduation,

office parties, weddings,

family gatherings, or any

holiday event.

• Sound System • Covered Patio

Let us help you to make

your special occasion a

memorable one.

Click on Community Center

www.mcud.com

For more info call

281-578-7272

Women's Flat Track Roller Derby

Southwest Houston's own brand new women's flat track roller derby

team is now forming. This isn't the old school roller derby you've seen in

the past. We train derby athletes to compete according to the rules and

guidelines set forth by WFTDA, the Women's Flat Track Derby Association.

We are actively recruiting skaters, referees and volunteers. Skaters must

be female and 18 or older. Referees and volunteers must be 18 or older.

Email us at yellowrosederbygirls@yahoo.com for more information. You

can also find us at www.yellowrosederbygirls.com and on Facebook. Join

up now to become an integral part in founding and building our league.

Volleyball

Please contact Dean at volleyballkaty@yahoo.com if you are interested in

playing volleyball. You must be at least 18 years old and be able to play at

intermediate level. We play at different locations in and around Katy area.

Katy Rugby Club

Want to learn the newest Olympic Sport - Rugby? All ages welcome - boys

& girls, Training every Sunday 2-4 PM at Cinco Ranch High School, For

more information, please visit www.katyrugbyclub.com.

Katy Cavalier Lacrosse Club

The Katy Cavalier Lacrosse Club invites you to come and see what Lacrosse

is all about. Join us as we continue to bring one of the fastest growing

team sports in the United States to the youth of Katy. Katy Cavalier

Lacrosse Club offers lacrosse for boys and girls from Kindergarten thru

High School. No experience needed. For more information visit our

website, www.katycavalierlacrosse.org.

Did you play Lacrosse in college, coached lacrosse or just love the sport?

We are looking for Coaches for boys and girls. Please contact us for more

information if you would like to volunteer and be a part of the Katy

Cavalier Lacrosse Club, 281-942-8822.

Westside Golf League

Westside Golf League is actively encouraging new members. We invite

you to join us every Tuesday morning at Cinco Ranch Golf Club. Our

purpose is to allow ladies of all levels to meet new friends and have fun

while improving golfing skills. For more information, contact the Pro

Shop at Cinco Ranch, 281-395-4653.

KEEP YOUR FAMILY HEALTHY

WITH HOUSTON METHODIST

PRIMARY CARE

Our primary care doctors make your family

their top priority.

We provide personalized care for your whole family, including

physicals, immunizations and preventive care.

Many of our practices:

• Provide online scheduling

• Offer same-day appointments

• Are conveniently located close to work or home

• Accept most major insurance plans

houstonmethodist.org/pcg/west

713.394.6638

West Memorial | October 2018 11
---
What's Happening Around Katy...

12

cRAFT SHOWS/FESTIVALS

6th Annual St Paul's Episcopal Church

Fall Festival & Craft Show

Please join us for our 6 th Annual St Paul's Episcopal Church Fall Festival &

Craft Show. Grab a friend and join us for shopping, children's activities,

Petting Zoo and BBQ. Special Guests include the Katy Fire Department &

Katy Police department!! Saturday, October 6, 2018 at 5373 Franz Road,

from 9 AM to 4 PM. FREE admission! Interested vendors please contact

Mary at saintpaulschurch@charter.net.

2nd Annual Westland's

Welcome Home Craft Show

The 2 nd Annual Westland's Welcome Home Craft Show will be held

October 6, 2018 at Westland Baptist Church. We are located at 1407 W

Grand Parkway South in Katy.

St. Edith Stein Fall Festival

SATURDAY, OCTOBER 6, 2018, Noon to 8 pm

Food, games, beer, bingo, live music and shopping. Located

at St. Edith Stein Catholic Church, 3311 N. Fry Road, Katy, TX 77449.

2018 Hearts & Hands

A Holiday Market

Monday, October 22-Wednesday, October 24, 2018

Presented by: Memorial Drive United Methodist Women,

October 22 nd : Preview Party*- 5:30-8 PM

October 23 rd : Shopping - 9 AM-6 PM

October 24 th : Shopping - 9 AM-3 PM

Proceeds benefit missions for women, children and youth

70+ exciting favorite and new vendors

Boxed Lunches · Bake Sale · Premium Coffee · Silent Auction

If you have any questions, contact heartshandsmdumc@gmail.com

*Preview Party tickets are $12 in advance and $15 at the door

Memorial Drive United Methodist Church

12955 Memorial Drive Houston, TX 77079

713-468-8356 • www.mdumc.org

American Legion Post

200 Arts/Craft Show

Wallis American Legion Post 200

330 Legion Road, Wallis, TX

Saturday October 27, 2018 (9 AM-5 PM)

Sunday October 28, 2018 (10 AM-4 PM)

Hamburgers and Chopped BBQ on Bun

Desserts & Drinks

$1 Admission-Hourly Door Prizes

For more information, call 281-743-3678

26th annual

Gingerbread Village

Holiday Market

October 27, 2018

The Ladies Auxiliary from St. Elizabeth Ann

Seton is holding their 26 th annual Gingerbread

Village Holiday Market on October 27, 2018.

We are located at 6646 Addicks Satsuma

Road, Houston, 77084. Featuring arts, crafts,

specialty foods, fashion good and more!

7th Annual This

& That Craft

Extravaganza

Saturday, October 13 th

Briscoe Jr. High • 9 AM to 4 PM

FREE Admission

4300 FM 723

Richmond, TX 77406

For vendor info

email stamez@lcisd.org

October 2018 | West Memorial
---
Saint Aidan's Episcopal Church Fall

Festival and Holiday Market

Sunday, October, 28 th , 10 AM-5 PM

13131 Fry Road, Cypress, TX

St. Aidan's Episcopal Church will hold its 5 th Annual Fall Festival and

Holiday Market on Sunday, October, 28 th at 13131 Fry Road just South

of 290. Our festival features Market Booths, Children's Area, Food Trucks,

Silent Auction, Live Music throughout the day, Cake Walk, Trunk N Treat

at 3 PM, Blessing of Animals at 4 PM. Lots of vendors with a variety of

goods for sale. We look forward to seeing you all there!

Interested in being a vendor? For additional information and register

online, visit our website http://aidanschurch.org/fallfest. If you prefer to

mail in your registration, you can obtain a Booth Reservation form by

contacting us at 281-373-3203 or email fallfest@aidanschurch.org.

4th Annual Mistletoe Market

The St. Faustina Women of Mercy cordially invite you to their 4 th Annual

Mistletoe Market. Saturday, November 3, 2018, 9 AM to 4 PM. Westlake

Preparatory Lutheran Academy, 23300 Bellaire Blvd, Richmond, TX

77406. (Do NOT call the school about booths or questions.) Come enjoy

THE BEST SHOPPING experience Christmas can bring! As always, Santa

will make a surprise guest appearance! All booth inquiries, please email

Lisa Thigpen at Lisab0912@gmail.com.

Holy CovenantUMC Presents

29th Annual Heartwarming

Christmas Craft Show

November 10, 2018, 9 AM-4 PM

22111 Morton Ranch Road, Katy, TX 77449

Katy's Largest Gift Market at the

Katy Merrell Center

The 11 th Annual Home for the Holidays Gift Market will take place

November 16-18, 2018. We are excited to be back in the arena this year

as well as the pavilion. 180 vendors in 2 buildings! Show hours: First

Call Shopping Hours 10 AM to 1 PM. General Admission: Friday 1-8 PM.

Saturday 10 AM-6 PM & Sunday 11 AM-4 PM. Follow us on Facebook

to get up to date contest, coupons, vendor introductions and more.

Facebook: Home for the Holidays Gift Market.

Contact information: 281-788-4297 Stacie, Katelyn or Lynnie. Email

HomefortheHolidaysGiftMarket@yahoo.com.

Also, Cinco Ranch Wonderland Market is Saturday, October 27 th at Cinco

Ranch High School 10 AM-5 PM and Home for the Holidays Galveston

Moody Gardens Convention Center is Friday, November 23 rd 12-8 PM

and Saturday, November 24 th 10 AM-6 PM.

24th Annual Frostyfest Craft Fair

December 1, 2018

The 24 th Annual Frostyfest Craft Fair will be held on December 1, 2018, at

Epiphany of the Lord Catholic Church, 1530 Norwalk Drive, in Katy, Texas

77450, from 9 AM to 3 PM. There will be over eighty top Texan vendors

selling HANDCRAFTED merchandise. Santa Claus is coming to Frostyfest

for pictures presented by Boy Scouts of Katy.

Refreshments will be sold by the Knights of Columbus all day starting

with breakfast tacos. Ladies Club will be having a bake sale and also a

Silent Auction run by the Craft Club.

All proceeds will be benefitting the new Epiphany Catholic School. For

more information contact Brenda Cason at 281-346-8009.

LICENSED

HEAT

FREE 1st lb. Freon (R410 only)

1/2 Priced Condenser Coil Cleaning

1 Yr. Warranty On Parts Changed

We Value Your Business

All Brands Serviced

Local Neighborhood Company

Fast Personalized Service

We Will Heat & Cool Your Castle!

TACLB021058E

INSURED

COOL

West Memorial | October 2018 13
---
WALKS/RUNs

Run4TheChildren

November 3, 2018, 9 AM

The Fellowship, 22765 Westheimer Pkwy

www.run4thechildren.org

Created several years ago, Run4TheChildren is a fundraiser for families

interested in adoption to assist with the financial burden of adopting.

This is a 4 mile run located in the heart of Cinco Ranch with a shorter

course for those looking unable to complete the entire 4 miles. This event

is family friendly. To date, we have assisted 22 children find their forever

families.

GARAGE SALES

Seven Meadows Fall Garage Sale

October 6, 2018

Near 1093 and Grand Parkway.

Westlake and Westlake Forest

Community Garage Sale

October 13, 2018

Off of Saums Road

Grayson Lakes Garage Sale

October 20, 2018

Held in the Clubhouse. Grayson Lakes is located off Katy Flewellen Road.

Lost Creek Fall Garage Sale

October 20, 2018

Lost Creek is located off of 1093, east of 99.

Governor's Place Garage Sale

October 20, 2018

Located off Kingsland.

Westheimer Lakes Garage Sale

Saturday, November 3 rd , 7 AM-12 Noon

Near 1093 and Grand Parkway

GOLF TOURNAMENTS

5Th Annual Honor Flight

Houston Golf Tournament

OCTOBER 4, 2018

Meadowbrook Farms Golf Course: Honor Flight Houston is a non-profit

organization 501 (c)(3) and a proud member of the Honor Flight Network,

created solely to honor America's veterans for all their sacrifices. Honor

Flight Houston transports our heroes from Houston, Texas, to Washington

D.C. to visit and reflect at their memorials. The flights and tours that

Honor Flight Houston provides World War II veterans are absolutely

FREE. Honor Flight Houston is our way of paying a tribute to those who

gave so much - a memorable and rewarding TOUR of HONOR! This year,

51 veterans were sent to Washington D.C. and 50 more are scheduled to

depart by the of October.

Of all of the war in recent memory, it was World War II that truly

threatened our very existence as a nation and as a culturally diverse,

free society. Now with more than 1,000 World War II veterans passing

each day, our time to express our thanks to these brave men and

women (The Greatest Generation) is running out. For information,

please contact Jerry Pinto at 281-578-6306H, or 713-594-3553C or

jerrympinto@sbcglobal.net.

Birdies "Fore" the Children 7th

Annual Charity Golf Tournament

We are excited to invite you to participate in the Birdies "Fore" the

Children 7 th Annual Charity Golf Tournament 2018 benefiting Shriner's

Hospital for burned children in Galveston, Texas. This tournament will be

held at Tour 18 Golf Course, on Saturday October 27, 2018. Registration

begins now online. Registration and breakfast will start at 6:30 AM. The

tournament will start at 8 AM sharp. Our goal is to raise $50,000 to provide

14

October 2018 | West Memorial
---
funds for the tissue bank at Shriner's Hospital. Our sponsors and players

truly help us provide funds that directly go to Shriner's Tissue Bank where

hundreds of patients receive life-saving tissue which helps the children

not only survive but also return home to their families! Thanks to all our

friends and family for helping us reach $167,360 since 2011.

In order to speed up the registration process the morning of the

tournament, we have added the ability to pay by card on our website.

This payment method will be shown once you complete your online

registration. If you plan to pay by check, please mail in your checks to

the address listed on your invoice as quickly as you can. We are still

accepting cash, checks and cards at the tournament for registration, but,

we ask that you please pay upfront before the tournament.

We are looking forward to spending the day with all of our supporters

and players, we look forward to seeing you out there and having a great

2018 golf tournament.

GO HERE TO REGISTER: http://birdeasepro.com/birdiesforethechildren

Fundraisers

Magnificat Houses, Inc. 50 Year

Celebration Gala and Auction

Saturday, October 6, 2018, 6:30 PM

The Bell Tower on 34 th , 901 W. 34 th St., Houston, TX 77018. Please join us

for cocktails, dinner, auction and celebrating founder Rose Mary Badami

who at 94 years old, started Magnificat House 50 years ago.

The 50 th Anniversary Magnificat House Gala Celebration will feature

honorary Chair Mayor Sylvester Turner and aims to raise funds for

Magnificat House. Magnificat House has been a Houston institution for

50 years, offering faith, hope and charity by providing housing, food,

work and spiritual support while our residents - of all races and creeds

- build their lives in community. For more information on Magnificat

House, Inc. and tickets for the 50 th Year Celebration Gala and Auction visit

www.mhihouston.org.

Mesa Outreach Sharing and

Shooting Sporting Clay Tournament

November 7, 2018

Westside Sporting Grounds, 10120 Pattison Road, Katy TX 77493

Sign-in 11:30 AM | Shotgun Start: 1 PM

There will also be a raffle and silent auction. For more info, go to www.

mesa-outreach.org.

VEndor Opportunities

Vendors Needed

The 2 nd Annual Westland's Welcome Home Craft Show will be held

October 6, 2018 at Westland Baptist Church. We are located at 1407 W

Grand Parkway South in Katy. Interested vendors should send an email

to Martha Wells at westlandcraftshow@gmail.com with a description of

what you are selling. A 10x10 booth space is $60. Only one national/retail

rep will be accepted on a first come basis.

Vendors Wanted

THINKING HOLIDAYS?! The Ladies Auxiliary from St. Elizabeth Ann Seton

Catholic Church will hold their 26 th Annual Gingerbread Village Holiday

Market on October 27, 2018. If you are interested in showcasing your

arts, craft, products, etc., consider joining us as a vendor this year! For

an application or more information regarding this event, please email:

gingerbreadvillage@yahoo.com.

A.A.A.

Tree Services

& Landscaping

925 South Mason Rd. P.M.B. 239

Katy, TX 77450

281-798-5224

a.a.a.landscaping.2005@gmail.com

• Tree Removal

• Tree Trimming

• Palm Tree Trimming

• Stump Removal

• Lots Cleaned Up

• Landscaping Designs

15% OFF

Any Service

With this ad.

Fence

Installation

Special

• Flagstone & Paver Patios

• Sod Replacement

• Sprinklers Repair

• Fence Installation & Repair

• Mulch

• Monthly Packages

• Drainage System

West Memorial | October 2018 15
---
OCTOBER 2018 HOUSTON AREA EVENTS AND ROAD TRIPS

16

Original Greek Festival - October 4-7, 2018, Annunciation Greek Orthodox

Cathedral, 3511 Yoakum Blvd., Houston, TX 77006. Times: Thurs. 5-10 PM, Fri.

11 AM-10 PM, Sat. 11 AM-10 PM, Sun. 11 AM-6 PM. Admission: $5, Under 12 free.

Celebrate the Annual Houston Greek Festival on the grounds of the Annunciation

Greek Orthodox Cathedral. Authentic Greek food, wine, dancing and artifacts are

fun for the entire family.

Pearland Art & Crafts on the Pavilion - October 6-7, 2018, Daily 10 AM-5 PM, free.

Pearland Town Center, 11200 Broadway Street, Pearland, TX 77584. Abstract art,

handcrafted jewelry, pottery and wooden treasure boxes are just a few of the unique

items you'll find. The FREE, juried art show offers visitors an opportunity to shop

for unique art and handcrafted pieces created by local artists and artisans. NEW: A

singer/songwriter showcase featuring artists performing original music rounds out

the live music stage. Live music, a food truck court, pop-up paint studio and kid's

interactive art station are part of the family-friendly fun. Check out visitpearland.

com/artshow2018 for details.

moonGARDEN - Thru October 7, 2018, Daily 6 PM-Midnight, Discovery Green, 1500

McKinney Street, Houston, TX 77010. Admission is FREE. A series of 22 illuminated

spheres transform Discovery Green and Avenida Houston into a magical moonscape.

Ranging in size from six to 30 feet in diameter, moonGARDEN features 11

shadow "theaters" that tell the diverse, dynamic story of Houston and Discovery

Green, as well as interactive works that allow visitors to become part of the experience.

This is the largest ever created by Lucion Traveling Light of Montreal. Free.

Visible during all park hours; activated nightly 6 PM-Midnight. On October 5 th , there

will be a pajama party. Milk and cookies will be served, celebrity readers will share

the beloved children's book in the languages of Houston. The Astrological Society

will be on hand with telescopes for star-gazing. 7-9 PM.

40 th Houston Italian Festival - October 11-14, 2018. University Of St. Thomas,

3800 Montrose Blvd., Houston, TX 77006. Times: Thurs. 5-10 PM, Fri. 11 AM-10 PM,

Sat. 11 AM-10 PM, Sun. 11 AM-6 PM. Free Admission Thurs. night and Fri. until 4

PM, otherwise it is $5-$25. This year's festival features: Live Music, Wine and beer

tastings, Film screenings, Cooking classes for children, Italian language classes,

Marionette puppet shows, Interactive sidewalk art, Pasta eating contests, grape

stomps and a bocce ball tournament, Classic Car Show and so much more!

For more information, visit www.houstonitalianfestival.com.

Texian Market Days Festival - October 20, 2018, 9 AM-5 PM, George Ranch Historical

Park, 10215 FM 762, Richmond, TX 77469. Admission $10-$20. It's cannon time!

The Fort Bend History Association is proud to present the 35 th annual Texian Market

Days festival, held at the George Ranch Historical Park. Bring the whole family to

discover more than 150 years of Texas history! Enjoy hands-on activities, battle

re-enactments, live entertainment, first-person costumed interpreters, historic

home tours, games, cowboys, vintage vehicles, food, craft vendors and more. Texian

Market Days is our biggest living history event of the year - you don't want to miss it!

Wings Over Houston Airshow - October 20-21, 2018, 10 AM-6 PM, Ellington

Airport, 11210 Blume Ave, Houston, TX 77034. Wings Over Houston Airshow is

celebrating its 34 th year at Ellington Airport with the US Navy Blue Angels, as well

as nearly five more hours worth of thrilling aerial shows from some of the world's

greatest military and civilian pilots. Ranked as one of the top airshows in the country,

Wings Over Houston also offers great ground attractions, such as simulators,

ride and drive opportunities and nearly 100 static aircraft to view.

Unplugged at Discovery Green - October 21, 2018, 5-9 PM, Discovery Green, 1500

McKinney Street, Houston, TX 77010. Admission is FREE. An evening of acoustic

music from some of Houston's top talent on the Grace Event Lawn. This much loved

local series challenges bands to rearrange and reimagine songs using acoustic

instruments only; resulting in unique, intimate and soulful performances.

Scream on the Green® - October 26, 2018, 6-10 PM, Discovery Green, 1500 McKinney

Street, Houston, TX 77010. Admission is FREE. Visitors will have a spooky good

time at Houston's citywide costume contest and Halloween celebration for the

whole family! There will be prizes, Halloween spectacle, a movie, performances,

living statues, music and more! Visitors can win candy and prizes playing our FREE

games! Enjoy watching E.T. the Extra-Terrestrial on the big screen at 7:30 PM. Costume

Contest: Registration will take place on-site near the Anheuser-Busch stage

before the contest and winners will be announced after. Prizes were awarded to

1 st , 2 nd and 3 rd place in each category. (Infant-8 years, 9-17 years, Best Male 18+,

Best Female 18+, Best Family and Best Dog.) Costume contest registration opens

at 6:45 PM (at the side of the Anheuser Busch stage), contest begins at 7 PM. Registration

will close at 8 PM.

The 2018 Houston AfriFEST-Festival of African Arts Culture and Entertainment

- October 27, 2018, 12-8 PM, Houston Baptist University Holcombe Mall, 7502

Fondren Road | Houston, Tx 77074. Admission $5 entry through October 20 th , $10

entry after October 21 st , kids, students and seniors are free. Africans are colorful,

vibrant and full of expression! We will take you on a cultural journey through Africa

to celebrate her rich diversity in a typical African open market setting featuring

special live performances, a tour of country arts and crafts, ethnic cuisines from

different regions, Ankara fashion, folklore tales, kids' activities and a lot more.

Puerto Rican, Cuban and Dominican Fest 2018 - October 27, 2018, 12 Noon-10

PM, Midtown Park, 2811 Travis Street, Houston, TX 77006. Admission $15-$200.

This festival is done annually to support the continuous efforts to disseminate

the Puerto Rican and Cuban cultures within the city of Houston. We also want to

teach our children about our roots, assisting them with their self-esteem, identity

and letting them know that they have a strong support group. Additionally, we are

educating the citizens of the City of Houston about who we are and asking them

to embrace our cultures in a friendly and festive environment.

Texas Renaissance Festival - Weekends thru November 25, 2018, 9 AM-8 PM,

21778 FM 1774, Todd Mission, TX 77363. Admission varies. The Texas Renaissance

Festival is an interactive theme park that embraces different eras, including the

16 th century and beyond. The 55-acre theater is filled with live entertainment, food

and shops. The enchanted 55-acre village comes to life as all of Europe comes to

pay homage to the King and Queen with Eight Themed Weekends. Hundreds of

costumed performers are showcased in over 200 daily performances. Visitors meander

along shaded cobblestone walkways visiting almost 400 shoppes overflowing

with unique arts and crafts of offering delicious foods and beverages. All ages will

be amused by the games of skill and human-powered rides.

6 th Annual Fall Fest - Fridays, 12-7 PM, North Shore Rotary Pavilion, 14350 1/2

Wallisville Rd., Houston, TX 77049. Part food festival, part music festival, CTC's

"Fall Fest" is an excellent opportunity to bring a taste of Chicago to Houston area

residents. This one-day, Chicago, cultural festival features several food vendors,

who offer Chicago culinary classics. Additionally, the event features DJs who will

spin a variety of music types including: House music, which is an internationally

known style of music born in Chicago which gave birth to techno and EDM. Also,

the event hosts a dance lounge where attendees can learn Stepping which is a nationally

known dance style born in Chicago and similar to this area's two-step and

swing out dance styles. Event entry tickets for ages 14 & up are only $5 advanced,

$10 at the gate. It is FREE for attendees age 13 and under.

Comedy Night at HPL - Monthly on the 3 rd Thursday, 6-8 PM. Houston Public

Library, 500 Mckinney Avenue, Houston, TX 77002. Admission is free. The Houston

Public Library offers "Open Mic" comedy night where local and non local comedians,

comediennes, ventriloquists and impressionists of ALL ages present family

comedy to the audience. Improv Performers from Station Theater closes out the

night with games that involve the audience. Everyone who participates in at least

one open mic throughout the year become eligible to participate in the Annual

Comedy competition which is held in December. Prizes in the amounts of $100

and $75 gift cards are given to the 4 winners. Two adult and two youth. Event is

free and open to the public. Food and non alcoholic beverages are allowed in the

sitting area during this event only. You can bring your own food and order from

many of the surrounding food places. All ages.

Flea by Night - third Saturday of every month unless affected by weather, 6-10

PM, Discovery Green, 1500 McKinney Street, Houston, TX 77010. Treasure-hunt at

this monthly, one-of-a-kind market nestled in the southeast end of the downtown

park. The destination market features an array of artful kitsch, vintage items,

mid-century modern furniture, recycled and repurposed items and collectibles

October 2018 | West Memorial
---
and crafts by local artisans and designers. Whether you are a bargain hunter or

an eco-sensitive collector dedicated to repurposing and reusing, seek and find at

Discovery Green Flea by Night while enjoying light bites and local entertainment.

The event is free to attend and open to the public.

Carlos Cruz-Diez at the Cistern: Spatial Chromointerference - Weekly through

January 13, 2019. Cistern At Buffalo Bayou Park, 105 Sabine Street, Houston, TX

77007. Times: Wednesday through Friday - 3:30-6 PM; Saturday and Sunday - 11

AM-6 PM. Admission: $10 per person; $8 for Seniors, Youth and Students. The Cistern's

distinctive architecture as well as its sheer size and raw interior, punctuated

by a series of rhythmical columns, will make for an intriguing and interactive experience.

Visitors to Carlos Cruz-Diez at the Cistern: Spatial Chromointerference will

be encouraged to wear white or light colored clothing and will actively participate

in viewing as the color changes creating a sensation of movement.

Open House - Daily from dawn until dusk through February 28, 2019, admission

free. Sam Houston Park, 1100 Bagby, Houston, TX 77002. The artistic duo, Havel

Ruck Projects, made up of local artists, Dan Havel and Dean Ruck, transformed

a previously abandoned house into an interactive temporary public sculpture.

Sourced from Cherry House Moving Company, the 1940s-era house was originally

located in Santa Fe, Texas. After moving the home to Sam Houston Park in April,

Havel and Ruck stripped the structure's interior and exterior using drill saws and

other tools. They cut circular holes into the walls and filled them with PVC pipe to

create a "Swiss cheese" or "lace" appearance and collaged the interior walls with

vintage images sourced from family, friends and local resale shops representing

the city's people, places and past.

Cars and Coffee - through December 29, 2018, 9 AM-12 PM. Gateway Classic Cars

Of Houston, 1910 Cypress Station Drive, Suite 200, Houston, TX 77090. Admission is

free. Cruise in to Gateway Classic Cars every last Saturday of the month for Cars

& Coffee. So far we have had some amazing turnouts, but we want to continue to

grow! Enjoy delicious donuts, coffee and all of our sweet rides! No Admission fee

and everyone is welcome! No cruiser? No sweat bring the daily driver. Hope to see

you there. 250+ classic & exotics.

Farmers Market at Imperial - Saturdays through December 29, 2018, 9 AM-1

PM, 234 Matlage Way, Sugar Land, TX 77478. Admission is free. In addition to a

wonderful selection of vendors, the Farmers Market brings you family fun! Each

week, the Market features live music, cooking demonstrations or other seasonal

entertainment. Presented by the Fort Bend Chamber of Commerce.

Aggie Habitat for Humanity Pumpkin Patch - The Aggie Habitat Pumpkin Patch

site is located on Covenant Presbyterian Church's grounds in College Station at

220 Rock Prairie Rd and sells over 3,000 pumpkins of all shapes and sizes every

year! The pumpkin patch is open thru October 31 st . If you would like to schedule a

school field trip or have a pumpkin carving social, please send request to events@

aggiehabitat.org.

Fall Festival and Pumpkin Patch 2018 - thru Nov. 10, 2018, Fri. 9 AM-3 PM,

Sat.-Sun. 10 AM-5 PM - Open to the Public. Blessington Farms, 510 Chisolm Trail,

Simonton, TX 77476. Phone: 832-444-8717. Email: info@blessingtonfarms.com.

Payment: Cash, Debit cards, Visa/MasterCard, Discover, AmEx.

Fearshire Farms-Haunted corn maze, haunted field, haunted house - 1100 S

Walker St, Angleton, TX 77515. Phone: 979-848-3327. Email: info@fearshirefarms.

com. Open October 5 th -November 2 nd , Fridays and Saturdays 7-11 PM, plus October

25 th and 31 st 7-9 PM. Haunting starts at dark. We keep haunting until we've

scared all of the ticket-holders off of the property (or buried the ones that didn't

survive!) Directions: From Houston; Take 288 South to Angleton. Pass Angleton

West Columbia exit and taking next exit CR 290. Take left at stop sign. Follow CR

290 watching for Fearshire Farms signs. We have Haunted Attractions for thrill

seekers of every level. Fearson's Farm House and Dead End Corn Maze are for the

strong of heart. The Curtain Chaoz and Haunted Hay Ride are great family fun for

all ages. New this year is Spooky Jacks, a corn maze designed for younger guest

in the spirit of the Halloween Season. While you are waiting on your friends to

regroup you can roast marshmallows for Smores at the Community Campfire or

enjoy watching a classic scary movie under our covered pavilion. Visit venders

booths like Temporary Tattoos or Shoot the Corn Cannon ($1 for 3 shots). Food

and Drinks are available at our ticket booth and Food Vendor tents. *No outside

food or drinks allowed.

Phobia Haunted Houses-8 haunts, 1 location - Open Weekends in October - Located

on Beltway 8 South, between 288 and I-45, Phobia operates multiple great

haunted houses. Phobia employs hundreds of actors at its massive ScreamPark in

Houston. Tour the Darke hallways of Phobia Haunted Houses weekends in October.

Texas' scariest haunt is open Friday, Saturday and Sundays through Halloween.

Tickets start at $15 per person for one great haunted house. See more killer haunts

for discounted multi attraction pricing. For the biggest world of scream in Houston,

checkout Phobia's the Darke Institute, Mind Control, Clown Mania, Exile, Savage

Ground, Contagion, DarkeWorld, Dawn of the Machine and Genetic Nightmare,

the creepy haunted house. Under 12 bring a parent. Over 12, get ready for a scary

haunted house. For more info,www.darke.com.

West Memorial | October 2018 17
---
Krenek Printing

NEIGHBORHOOD NEWSLETTERS

www.krenekprinting.com

281-463-8649

LLC

18

RESIDENTS:

Please support the businesses within

this newsletter. It is because of their support

that you receive this paper at no charge

to you or your HOA.

Share your community news with us. Non-profit,

scouts, school, dated events, etc. send to

news@krenekprinting.com. The next deadline

is Oct. 25th for the December newsletter

(delivered end of November)

ADVERTISERS:

Want your ad to be placed in this newsletter

and mailed to the homeowners every month?

For more information, pricing or to view newsletters

online please visit www.krenekprinting.com

or email ads@krenekprinting.com

BUSINESS FINDER:

Search for businesses in your local area

and find great deals on the goods and

services you are looking for!

NEWSLETTERS:

View your newsletter online! You can read your

community news on our website or download it to

take with you and print. Archived issues are also

available.

MOBILE:

You now have access to our full website optimized for

your mobile device, making it even easier to find the

things you need on the go!

MORE:

Find information about advertising opportunities,

article submissions, our company, and

frequently asked questions.

NOW OFFERING FULL COLOR

PRINTING SERVICES!

Call today for a quote!

Gardening Tips For October

• Dig and store caladiums before the foliage dies. Allow the bulbs to dry in the

shade, shake off the dried soil and dust with sulphur to control fungus. Store by

hanging in open mesh bags or old panty hose.

• Flowers planted for spring can begin when the temperatures are going to stay

cooler. Shrubs and trees can be planted now. Woody plants concentrate on root

growth through the winter and the more headstart they can get before summer,

the better.

• October 15th is about the time for dividing and planting daylilies.

• Watch out for brown patch in St. Augustine grass. These circular brown patches

are caused by a fungus that is activated by moist cool weather. Control with

Daconil.

• If you need to do any pruning, do it early in the month. The re-growth stimulated

by pruning needs to harden off before that odd-ball frost of Halloween. Prune

fruit trees when leaves begin to fall. Remove all dead, weak and over-crowded

growth. Tip back main branches to control size and shape. Spray w/dormant oil

when temperature is between 30-60 degrees.

• Cut back tops of perennials after they have bloomed. Divide roots and transplant

anytime from now until March, the earlier the better.

• Get the ant baits down. This will greatly reduce your spring populations.

• Clover left over from last year may be growing. It's best to hit it with the postemerge

herbicides in October and November. At least two applications are usually

needed, even if done this early.

• For color throughout the winter, begin planting pansies.

DISCLAIMER: Articles and ads in this newsletter express the

opinions of their authors and do not necessarily reflect the

opinions of Krenek Printing Co. or its employees. Krenek Printing

is not responsible for the accuracy of any facts stated in articles

submitted by others. The publisher also assumes no responsibility

for the advertising content within this publication. All warranties

and representations made in the advertising content are solely

that of the advertiser and any such claims regarding its content

should be taken up with the advertiser.

The publisher assumes no liability with regard to its advertisers for

misprints or failure to place advertising in this publication except

for the actual cost of such advertising.

Although every effort is taken to avoid mistakes and/or misprints

in this publication the publisher assumes no responsibility for

any errors of information or typographical mistakes, except as

limited to the cost of advertising as stated above or in the case

of misinformation, a printed retraction/correction. Under no

circumstances shall the publisher be held liable for incidental

or consequential damages, inconvenience, loss of business or

services, or any other liabilities from failure to publish, or from

failure to publish in a timely manner, except as limited to liabilities

stated above.

Published by: KRENEK PRINTING CO.

7102 Glen Chase Ct., Houston, TX, 77095

281-463-8649 • news@krenekprinting.com

October 2018 | West Memorial
---
OCTOBER RECIPES

CAJUN CHICKEN AND SAUSAGE GUMBO

You could make this on National Gumbo Day October 12 th !

INGREDIENTS

1 cup vegetable oil

1 cup all-purpose flour

1 large onion, chopped

1 large green bell pepper, chopped

2 celery stalks, chopped

1 pound andouille or smoked sausage, sliced 1/4 inch thick

4 cloves garlic, minced

salt and pepper to taste

Creole seasoning to taste

6 cups chicken broth

1 bay leaf

1 rotisserie chicken, boned and shredded

DIRECTIONS

Heat the oil in a Dutch oven over medium heat. When hot, whisk in flour.

Continue whisking until the roux has cooked to the color of chocolate

milk, 8 to 10 minutes. Be careful not to burn the roux. If you see black

specks in the mixture, start over.

Stir onion, bell pepper, celery and sausage into the roux; cook 5 minutes.

Stir in the garlic and cook another 5 minutes. Season with salt,

pepper and Creole seasoning; blend thoroughly. Pour in the chicken

broth and add the bay leaf. Bring to a boil over high heat, then reduce

heat to medium-low and simmer, uncovered, for 1 hour, stirring occasionally.

Stir in the chicken and simmer 1 hour more. Skim off any

foam that floats to the top during the last hour.

http://allrecipes.com/

KOREAN CHICKEN KABOBS

An amazing combination of sweet and spicy! And the chicken comes

out perfectly tender and juicy with a finger-licking sticky glaze!

INGREDIENTS:

1/4 cup gochujang (Korean red pepper paste)

1/4 cup reduced sodium soy sauce

2 tablespoons seasoned rice wine vinegar

2 tablespoons light brown sugar

1 tablespoon toasted sesame oil

1 tablespoon freshly grated ginger

3 cloves garlic, minced

2 pounds boneless, skinless chicken breasts,

cut into 1-inch chunks

1 1/2 tablespoons canola oil

1 green onion, thinly sliced

1/2 teaspoon toasted sesame seeds

DIRECTIONS:

In a medium bowl, combine gochujang, soy sauce, rice wine vinegar,

brown sugar, sesame oil, ginger and garlic. Reserve 2 tablespoons

and set aside.

In a gallon size Ziploc bag or large bowl, combine gochujang mixture

and chicken; marinate for at least 2 hours to overnight, up to 8 hours,

turning the bag occasionally. Drain the chicken from the marinade,

discarding the marinade.

Preheat grill to medium high heat. Thread chicken onto skewers;

brush with canola oil.

Add skewers to grill, and cook, turning occasionally, until the chicken

is completely cooked through, reaching an internal temperature

of 165 degrees F, about 10 minutes. Brush skewers with reserved

gochujang mixture, cooking for an additional 1-2 minutes.

Serve immediately, garnished with green onion and sesame seeds.

DOUBLE LAYER PUMPKIN CHEESECAKE

You could bake these on National Pumpkin

Cheesecake Day October 21 st !

This delicious recipe brought to you by Damn Delicious

https://damndelicious.net/2018/08/19/korean-chicken-kabobs/

DIRECTIONS

Preheat oven to 325 degrees F (165 degrees C). In a

large bowl, combine cream cheese, sugar and vanilla.

Beat until smooth. Blend in eggs one at a time.

Remove 1 cup of batter and spread into bottom of

crust; set aside.

INGREDIENTS

2 (8 ounce) packages cream cheese, softened

1/2 cup white sugar

Add pumpkin, cinnamon, cloves and nutmeg to the

1/2 teaspoon vanilla extract

remaining batter and stir gently until well blended.

2 eggs

Carefully spread over the batter in the crust.

1 (9 inch) prepared graham cracker crust

1/2 cup pumpkin puree

Bake in preheated oven for 35 to 40 minutes or until

1/2 teaspoon ground cinnamon

center is almost set. Allow to cool, then refrigerate

1 pinch ground cloves

for 3 hours or overnight. Cover with whipped topping

1 pinch ground nutmeg

before serving. http://allrecipes.com/

1/2 cup frozen whipped topping, thawed

West Memorial | October 2018 19
---
A Night of Positively Pink at LaCenterra

Hosted by

Houston Methodist West Hospital

Friday, Oct. 12 | 6-9 P.M.

LaCenterra at Cinco Ranch Courtyard

23501 Cinco Ranch Blvd., Katy, TX 77494

Join us and bring your family for a night of Positively

Pink, a breast cancer awareness celebration.

At this fun and educational event, you will:

• Meet our Breast Care Center team and women's

health specialists

• Receive breast health information

• Enjoy live music by The Mockingbirds Band

• Get free giveaway items and much more!

The event is free. For more information, visit

events.houstonmethodist.org/west-pink

or call 832.522.5522.

20

October 2018 | West Memorial