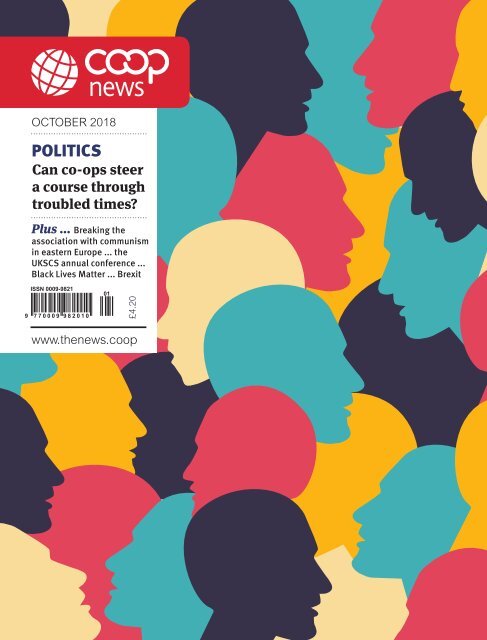 OCTOBER 2018
The October 2018 edition of Co-op News is all about politics: Can cop-operatives steer a course through troubled times? Plus... breaking the association with Communism in eastern Europe / co-ops and the civil rights movement in the USA / the UKSCS conference / MEET... Co-op Party stalwart, Lord Graham of Edmonton
The October 2018 edition of Co-op News is all about politics: Can cop-operatives steer a course through troubled times? Plus... breaking the association with Communism in eastern Europe / co-ops and the civil rights movement in the USA / the UKSCS conference / MEET... Co-op Party stalwart, Lord Graham of Edmonton
SHOW MORE
SHOW LESS
You also want an ePaper? Increase the reach of your titles
YUMPU automatically turns print PDFs into web optimized ePapers that Google loves.
OCTOBER 2018

POLITICS

Can co-ops steer

a course through

troubled times?

Plus ... Breaking the

association with communism

in eastern Europe ... the

UKSCS annual conference ...

Black Lives Matter ... Brexit

ISSN 0009-9821

9 770009 982010

01

£4.20

www.thenews.coop
---
Don't just change your phone.

Change the world.

Only £32.50

per month

with 1 GB data

and unlimited

minutes & texts

A sustainable

supply chain with

improved working

conditions

A modular,

dual-SIM phone

that's built

to last

Fairphone

2 now with

Android 7

Next time you change your phone – make it a change for good.

Choose the world's most ethical smartphone from the UK's only telecoms

co-operative and we'll donate a share of every bill to Co-op News.

www.thephone.coop/coopnews | 01608 434 040
---
news

Is the future of the world

a co-operative one?

CONNECTING, CHAMPIONING AND

CHALLENGING THE GLOBAL CO-OP

MOVEMENT SINCE 1871

Holyoake House, Hanover Street,

Manchester M60 0AS

(00) 44 161 214 0870

www.thenews.coop

editorial@thenews.coop

EXECUTIVE EDITOR

Rebecca Harvey

rebecca@thenews.coop

INTERNATIONAL EDITOR

Anca Voinea | anca@thenews.coop

DIGITAL EDITOR

Miles Hadfield | miles@thenews.coop

EDITORIAL

Jen Banks | jen@thenews.coop

DESIGN:

Keir Mucklestone-Barnett

DIRECTORS

Elaine Dean (chair), David Paterson

(vice-chair), Sofygil Crew, Gavin

Ewing, Tim Hartley, Beverley

Perkins and Barbara Rainford.

Secretary: Richard Bickle

Established in 1871, Co-operative

News is published by Co-operative

Press Ltd, a registered society under

the Co-operative and Community

Benefit Society Act 2014. It is printed

every month by Buxton Press, Palace

Road, Buxton, Derbyshire SK17 6AE.

Membership of Co-operative Press is

open to individual readers as well as

to other co-operatives, corporate bodies

and unincorporated organisations.

The Co-operative News mission statement

is to connect, champion and challenge

the global co-operative movement,

through fair and objective journalism

and open and honest comment and

debate. Co-op News is, on occasion,

supported by co-operatives, but

final editorial control remains with

Co-operative News unless specifically

labelled 'advertorial'. The information

and views set out in opinion articles

and letters do not necessarily reflect

the opinion of Co-operative News.

@coopnews

cooperativenews

With far right parties making electoral gains in Europe, the Trump

administration widening divisions in the USA and the Brexit process

in stalemate (p46-47), there seems no end in sight to the political

fallout from the global financial crisis of 2008.

It's a worrying and uncertain situation – but arguably, it is one which

opens up space for new, more progressive ideas to flourish and replace

the prevailing neoliberal economics. If so, that makes it the perfect

time to make the case for the democratic ownership models offered

by the co-op movement.

In the UK, these ideas are gaining traction with grassroots movements

and thinktank reports looking at applying co-op and mutual ideas

to energy, housing, transport and employment (p44-45). The

Co-operative Party, formed to represent the movement 100 years ago,

will be presenting its own ideas for the UK economy at its annual

conference in Bristol, from 12-14 October (p42-43).

The co-op movement is being revitalised elsewhere in the world,

too – whether it is being harnessed to the Civil Rights movement in the

USA (p40-41), working with government to improve living standards in

Malawi (p36-37) or shaking off associations with discredited regimes

in eastern Europe to build new enterprises (p34-35).

But does this mean co-op models can build a convincing argument

to counter the reactionary politics offered by right wing populists?

We speak to Ariel Guarco, president of the International Co-operative

Alliance, and US grassroots organiser John Duda – who makes the

case for a more progressive populist tradition which has existed in the

USA, and calls for a pluralist system of ownership models to create a

more inclusive economy (p38-39).

Hopefully these ideas can grow and offer more democratic solutions

to the economic and environmental problems facing the world.

MILES HADFIELD - DIGITAL EDITOR

Co-operative News is printed using vegetable oil-based

inks on 80% recycled paper (with 60% from post-consumer

waste) with the remaining 20% produced from FSC or PEFC

certified sources. It is made in a totally chlorine free process.

OCTOBER 2018 | 3
---
association with communism

in eastern Europe ... the

UKSCS annual conference ...

Black Lives Matter ... Brexit

ISSN 0009-9821

01

9 770009 982010

THIS ISSUE

CLOCKWISE FROM FAR LEFT

Claire McCarthy, general secretary of the Co-op

Party, looks ahead to its annual conference

(p42-43); the month's news includes a strong

half-year for the Co-op Group (p6); we speak

to veteran co-operator Lord Graham (p26-27);

and the late Chokwe Lumumba, a leading light

of African-American co-operation (p40-41)

news Issue #7300 OCTOBER 2018

Connecting, championing, challenging

OCTOBER 2018

POLITICS

Can co-ops steer

a course through

troubled times?

Plus ... Breaking the

£4.20

www.thenews.coop

COVER: There's a wave

of reactionary populism

dominating world politics

– but can co-ops work with

people in a more

meaningful way?

Read more: p32-47

25 CO-OPERATIVE HERITAGE TRUST

A final update on the Working Together

project to build an archive of UK worker

co-op history

26-27 MEET ... LORD GRAHAM

OF EDMONTON

The stalwart of the Co-op Party and

movement, now 93, looks back on his

career and the state of co-operation

28-31 THE UK SOCIETY FOR

CO-OPERATIVE STUDIES

Full reports from the UKSCS annual

conference in Sheffield, including the

society's annual report

32-47 POLITICS SPECIAL

32-33 POPULISM AND THE

NEW ECONOMY

The financial crisis has broken the

neoliberal consensus – but which ideas

will fill the gap it has left?

34-35 EASTERN EUROPE

After the fall of communism, co-ops

suffered from their association with the

old regimes – but now there are signs of a

revival for the movement

36-37 MALAWI

The co-op movement has close ties to

the government as efforts are made to

drive development. And the Co-operative

College is working with co-ops there, too

38-39 Q&A: A CO-OP RESPONSE

Ariel Guarco from the International

Co-operative Alliance and US activist John

Duda discuss the ways co-ops can offer a

way forward through difficult times

40-41 CIVIL RIGHTS

The African American community has a

proud co-operative heritage. It is now

building a path to economic selfdetermination

amid renewed activism

42-43 CO-OP PARTY CONFERENCE

Preview of this year's event, where the

Party will discuss Brexit and its plans to

reshape the economy and double the size

of the co-op sector. We speak to Party chair

Gareth Thomas MP and general secretary

Claire McCarthy

44-45 THINKTANK REPORT

The Institute for Public Policy Research has

issued a report on the UK economy, which

calls for more worker representation.

46-47 BREXIT

As the UK's departure from the EU

continues to dominate the landscape, just

how well prepared are co-op businesses?

REGULARS

6-14 UK updates

15-22 Global updates

24 Letters

48-49 Books

OCTOBER 2018 | 5
---
NEWS

CO-OP GROUP

Co-op Group returns to pharmacy sector as half-year profits rise by £12m

The Co-op Group's has reported pre-tax

profits of £26m (2017: £14m) in its interim

results for the six months to 7 July.

Revenues rose 10% from £4.5bn to

£5bn, underlying profit before tax was up

from £3m to £10m, and net debt fell from

£775m to £707m.

The Group said a strong sales

performance and the purchase of Nisa had

driven the figures. Food like-for-like sales

were up 4.4% and the Group, which noted

positive trading factors such as the World

Cup and the summer heatwave, has now

enjoyed 18 consecutive quarters of likefor-like

sales growth.

CEO Steve Murrells confirmed the

purchase of prescriptions app Dimec,

which allows the management of repeat

NHS prescriptions.

The deal marks a return to the

healthcare sector for the Group, which

sold its pharmacies in 2014 as it recovered

from its financial crisis. Mr Murrells said

it would allow the Group "to accelerate

the development of our healthcare

proposition, and provides the digital

platform to help customers conveniently

access and link their healthcare needs,

including interacting with their NHS GP".

This emphasis on health and wellness

ties in to the Group's Food business, with

healthy-eating and free-from ranges.

Mr Murrells told a press conference call

he hoped this would "nudge" people to

healthier lifestyles and reduce future

pressure on the NHS.

The Group said it had delivered £35m

of member value through the "5+1"

membership scheme, alongside price

offers on home insurance and funerals.

It added: "Our Co-op presence is

p The World Cup and summer heatwave helped boost sales

strengthened through the acquisition of

Nisa and the Co-op now supplies food to

over 7,700 stores. By the end of 2018 we

will supply 850 Co-op own-brand product

lines to our Nisa partners.

"Co-op continues to lead the way in the

Funeral sector via numerous measures

to tackle funeral affordability ... Our

Co-op social impact also increases with

over 12,000 local community projects

having now benefited from our member

reward scheme and over a dozen business

partners having joined our Bright Future

programme to tackle modern slavery."

Asked about the Group's contingency

plans for a no-deal Brexit, Mr Murrells

said the Group was "in good shape" to

meet the challenges of Brexit but "we

want certainty and no surprises", adding

that he wanted assurances on migrant

labour to protect colleagues working at

the Group.

Jo Whitfield, chief executive of the Food

business, said the Group's commitment

to British suppliers offered it some

protection, but called for "certainty" from

the government on its supply chains.

"It's tough because people are working

in uncertain conditions," she said, adding

that there was still not enough information

to draw up contingency plans.

Asked if there plans to store food, Mr

Murrells said the Group had the capacity

to stockpile longer shelf-life products but

warned that the real area of need would

be on fresh produce, affecting its imports

of fruit and other short-life products.

"Even if we were to quadruple our

chilled storage at docks for fresh food, it

would not be enough," he said.

"We are nimble and agile enough to do

the right thing to protect availability, but

we are keen that the government hears

our concerns."

Beefed up ethical policy sees an end to single-use plastic bags

The Co-op Group has announced an end

to single-use plastic, with the removal of

60 million plastic carrier bags in a phased

rollout of an environmentally friendly

alternative.

The move is part of a radical new ethical

strategy at the Group, which will also

tackle food waste, healthy eating, saving

energy and trading fairly. It sets out how

the retailer will ban single-use own-brand

plastic products and reduce its overall

use of plastic packaging within five years,

and cut out hard to recycle materials, like

black plastic.

Lightweight compostable carrier bags,

which can be used to carry shopping home

and re-used as waste bags, will be rolled

out to almost 1,400 Co-op food stores

across England, Scotland and Wales.

The Group's pledge on plastic will see

all its own-brand packaging become easy

to recycle by 2023. It has promised to use

a minimum of 50% recycled plastic in

bottles, pots, trays and punnets by 2021.

6 | OCTOBER 2018
---
Co-op Group staff

protest against

'dangerous' one-on-one

food store shifts

A group of Co-op Group workers have

handed a petition to the retailer's head

office in Manchester to complain about

one-on-one shifts, where just two staff are

on duty in a store.

The petition, addressed to chief

executive Steve Murrells, calls on the

Group to: "Put an end to one-on-one

shifts and have at least three staff for all

shifts. Having just two staff is not enough

to do all the work required whilst keeping

customers happy."

It adds: "It's unsafe to have just one

member of staff on the shop floor and one

in the back in case of an accident. Please

put an end to one-on-one shifts and replace

them with something safer, better for the

customer and manageable for your staff."

The staff members – working with

workplace campaign group Organise –

met the Group's head of retail PR Craig

Noonan to discuss the issue, and handed

out a booklet to staff in the lobby, which

contained accounts of incidents including

armed robberies at Co-op stores, a lack

of security, and too much work being

expected of staff, the petition says.

The petition, which has attracted

5,904 signatures, adds: "We frequently

have customers complaining about

having to queue, about the lack of stock

on the shelves and the fact that there

are never staff members on the shop

floor to help customers. This not only

puts stress on the manager but also on

the rest of the staff, which leads to low

staff morale and staff members going

off sick. It also means good staff leaving

the company.

p Staff present the petition at the Group's Manchester head office

"One-on-one shifts also cause problems

for health and safety as often there is

only one member of staff on shop floor,

leaving them vulnerable. The staff

member at the back of the store could also

have an accident; by the time the other

staff member realises, it might be too

late to help."

A Group colleague at a store in

Maidstone, Kent, wrote: "I have been

held up at gun point before, and also a

machete. I've had altercations with plenty

of thieves and drunken people."

From Wokingham, a colleague wrote:

"We have robbers come in to check out

how many people are on the shop floor

and then we get robbed! We regularly

have shoplifters but we are able to stop

them if we are not one-on-one."

And in Greater Manchester, a worker

with type-1 diabetes wrote: "I have had

hypos due to not being able to have

a break being one-on-one. The fear

comes into play because of the dangers

if I pass out while in the warehouse and

the other member of staff is unaware."

Other store colleagues complained of

customers being kept waiting because of

the short staffing, and said tasks had not

been completed efficiently.

A team member from Great Yarmouth

wrote: "If both myself and a team leader

are on the till, the shop floor itself is

not being correctly supervised and

monitored ... Staff are always going home

later than their shift."

A Co-op Group spokesperson said:

"Safety of colleagues is our number one

priority and our policy is not to have lone

workers in any store."

They added that the Group works

closely with police and other crime

prevention bodies to implement a range

of measures designed to deter and disrupt

criminal activity, while increasing the

likelihood of convictions.

All own-brand black and dark plastic

packaging, including black ready meal

trays, will be eliminated by 2020.

Jo Whitfield, head of Co-op Food,, said:

"The Co-op was founded on righting

wrongs, and we first campaigned to stop

food fraud. Now we face huge global

challenges and have created a recipe

for sustainability to source responsibly,

treat people with fairness and produce

products which have minimal impact on

the planet.

"We can't do it alone, which is why

partnerships are key to our plan."

The Future of Food report will be

unveiled at a supplier conference on 27

September. It has been developed to meet

the UN's sustainable development goals

to end poverty, protect the planet and

ensure prosperity for all by 2030.

The Group already sources 100%

renewable energy for its stores, but will

go on to tackle greenhouse emissions at

its logistics operation and reduce energy,

water and waste in its supply chain.

It will continue to campaign for the

rights of workers in its supply chain,

having raised the issue of modern slavery,

and will raise funds to bring clean water

to communities in developing countries.

OCTOBER 2018 | 7
---
RETAIL

Profits at John Lewis

drop 99% amid tough

times on the high street

Profits at worker-owned retailer John

Lewis Partnership have fallen 99% before

tax and exceptional items in its half-year

results to 27 July, with chair Sir Charlie

Mayfield warning: "These are challenging

times in retail."

The figure slumped to £1.2m from

£83m a year earlier. Gross sales were up

1.6% to £5,486.6m, revenue rose 1.5% to

£4,856.7m and profit before tax fell 80.5%

to £6m, with the results in line with a

warning made by the company in its

strategy update in June.

Profits for the full-year would be

"substantially lower", it added, pointing

to uncertainty over Brexit negotiations.

The news comes a week after the

retailer launched a rebrand, accompanied

by a glossy TV ad, to emphasise its

partnership model. This saw the words "&

Partners" added to the Waitrose and John

Lewis brands.

But the Partnership also announced

around 200 job cuts to its back office,

with reports claiming that IT, finance and

store security staff will be affected. It also

revealed that 1,838 people had been made

redundant in the past year, 289% more

than in the previous 12 months.

New jobs have been created – including

600 staff hired when it opened its new

Westfield store in White City, London,

and grew its own-label design and

buying teams. In total, there are 700 fewer

employees across the group than a year

ago, and it has just over 83,000 staff.

The Partnership said: "Profits before

exceptionals are always lower and more

volatile in the first

half than the second

half. It is especially so

this half year, driven

mainly by John Lewis

& Partners where

gross margin has been

squeezed.

"The pressure on

gross margin has

predominantly been

from our commitment

to maintain price

competitiveness.

"We have seen an

unprecedented level

of price matching as

other retailers have

discounted heavily.

"Gross margin was

also affected by a sales

mix shift towards

electronics rather

than big ticket items

in Home. In addition,

John Lewis & Partners

profits were impacted

by the costs of new

shops and higher IT

costs as we continued to invest for future

growth, and from lower property profits

compared to last year."

At Waitrose & Partners, profits were

down on last year, but the report added:

"From Q1 to Q2 there has been marked

improvement in like-for-like sales as

well as good progress in rebuilding gross

margin, and we are on track for profit

growth for the full year."

With the "level of uncertainty facing

consumers and the economy, in part

due to ongoing Brexit negotiations", the

Partnership said it was hard to forecast

the next six months, but that it expected

profits to be down.

Sir Charlie told BBC Radio 4's Today

programme that the weak pound

following the Brexit vote had increased

costs, and warned that a no-deal Brexit

"would be a very bad outcome for the

UK and the consequences are extremely

unpredictable".

He added that Waitrose would not

be able to stockpile goods in case food

deliveries from the EU were interrupted,

adding: "It rots, and you waste it."

The Partnership said there had been

extra costs including investment in cyber

security and data protection, but "total

net debts are £700m less than last year

and we continue to maintain a strong

liquidity position.

"This is all consistent with our plans to

ensure a strong financial position in order

to invest in our strategy of differentiation

at a rate of £400m-£500m per year."

It added: "Our Partnership structure

and our Partners are key differentiators for

us in a highly competitive and changing

retail market.

"The launch last week of John Lewis &

Partners and Waitrose & Partners reflects

our ambition for the future."

8 | OCTOBER 2018
---
COMMUNITY SHARES

Standard bearer for community shares notches up a century

p Eden-Rose Community Ltd, the 100th organisation to win the mark

The Community Shares Standard Mark –

the 'rubber stamp' for community shares

– has issued its 100th certificate, to a

charity set up to help people with lifelimiting

conditions.

Launched in 2015, the Standard

Mark was developed by the Community

Shares Unit, run by Co-operatives UK

and Locality, with early support from the

Financial Conduct Authority (FCA).

The scheme assesses and certifies the

quality and viability of share offers and is

presented to community share offers that

meet national standards of good practice.

The 100th certificate was presented

to Eden-Rose Community Ltd, a Suffolkbased

charity, during Communities Week

2018 (10-17 September).

The organisation aims to raise £80,000

from the local community to support its

mission to use woodlands and the natural

environment as a way to provide support

to children and adults with life-limiting

illnesses such as cancer.

"We're thrilled to find out that our

forthcoming share offer received the 100th

Standard Mark," said Jo Brookes from

Eden-Rose.

"Going through the Standard Mark

process was crucial for our organisation

as we develop our community business

offer to actively complement the front-line

work of our charity."

The charity is also receiving support

from the Booster Programme, another

scheme run by the Community Shares

Unit and backed by Power to Change.

The Booster Programme provides

development grants of up to £10,000

and invests equity of up to £100,000 to

match community shares in societies that

can demonstrate higher than average

levels of community impact, innovation

and engagement.

In September, Co-operatives UK

unveiled research showing that one in

four people would invest money or time

to help save a local community asset; 23%

would be likely to invest to help save their

local pub from closure, and they would

give time and energy to help run other

local assets such as a local park or public

space (25%), historical site or building

(24%) or cinema or theatre (16%).

"It's so inspiring to see communities

responding in such a proactive way

to the challenges they face, and using

community share offers to achieve their

dreams," said Ed Mayo, secretary general

of Co-operatives UK.

"As well as helping to save and develop

local assets, community shareholders

become co-owners with an equal say in

how the enterprise is run. We encourage

other communities to be inspired by

the likes of Eden-Community Ltd.

WHAT ARE COMMUNITY SHARES?

Community shares are a way for

communities to crowdfund to save,

launch or develop enterprises,

such as pubs or renewable energy

projects, by investing often small

sums of money and becoming

co-owners in the process.

Community shares are a type

of withdrawable share capital

unique to co-operative and

community benefit societies; this

type of share capital can only be

issued by co-operative societies,

community benefit societies and

charitable community benefit

societies.

Since 2009, almost 120,000

people across the UK have

raised more than £100m through

community shares to save or

create 350 local assets.

The support is out there – what can

your community achieve together?"

Communities wanting to find

out more or who are considering

community share offers should

contact: communityshares@uk.coop

OCTOBER 2018 | 9
---
FINANCE

Two more credit

unions awarded 5-star

Fairbanking Mark

Clockwise Credit Union and Transave

Credit Union have received the 5-star

Fairbanking Mark for their loan products.

This means 17 credit unions across

Britain have received the mark from

the Fairbanking Foundation, which

was established in 2008 to encourage

and assist the development of banking

products that improve the financial

wellbeing of their users by enabling them

to manage their money better.

Clockwise's general manager, Teresa

Manning, said: "We are absolutely

delighted. We are proud to be part of the

credit union community and fostering

the credit union ethos. We passionately

believe in putting our members' needs at

the heart of all we do.

"This award reflects our commitment

to leading the way in improving the

financial wellbeing of our community

and its people with a quality loan product

appropriate to their needs, and providing

first class customer service."

Rachael Hardman-Jones, chief

executive of Transave, said: "Everyone

at Transave Credit Union is overjoyed.

Obviously, this achievement reflects very

well on those connected with the credit

union, their hard work and dedication.

But more importantly, it is recognition that

the financial wellbeing of its members is

hardwired into Transave's DNA."

Aidene Walsh, chief executive of the

Fairbanking Foundation, said: "We're

delighted to recognise the effectiveness

of the personal loans of Clockwise and

Transave Credit Unions.

"We have now assessed the personal

loan products of 17 credit unions and

evidence shows that credit unions are

playing an increasingly important role

in people's financial lives in the UK.

Fairbanking looks forward to certifying

more credit unions across all products

in 2018."

Central England's new

Food store in Ashby

RETAIL

Strong results

for Central

England

Central England Co-operative

has announced a strong

financial performance for the

first half of 2018. The society's

interim results show sales

grew by 3.6% to £476.9m

compared with the same

period last year, with trading

profit rising by £1m (8%) to

£12.9m.

In the first six months, the business invested £12.4m in a

growth strategy which includes the opening of six new Food

Stores, one new Funeral Home and two New Funeral Booking

Offices alongside the renovation of another 32 sites.

Martyn Cheatle, Central England chief executive, said the

results were "encouraging" and reflected the "hard work of our

colleagues" and continued focus across the Society on providing

great service and products to members and customers.

"Our performance so far in 2018 has again demonstrated the

Society's resilience as a strong and successful independent cooperative

business," he said.

RETAIL

Co-op Group and Scotmid salute

Scottish food and drink suppliers

Scotland's farmers, food and drink manufacturers and suppliers

were honoured at the first ever Co-op Scottish Supplier Awards..

The event was jointly organised by the Co-op Group and

Scotmid Co-op as part of Scottish Food and Drink Fortnight

(1-16 September). Between them, the retailers stock more than

1,800 Scottish lines in their stores.

The winners are:

• Bakery of the Year – Stag Bakeries Ltd

• Beers, Wines and Spirit Product of the Year – Rock Rose Gin

by Dunnet Bay Distellers and Innis and Gunn's Craft Brewed

Lager

• Best Agricultural Initiative – Rattlerow Scotland Ltd

• Fresh Product of the Year – AVA Rosa Strawberries by Angus

Soft Fruits

• Grocery Product of the Year – Equi's Isle of Skye Sea Salt and

Caramel Ice Cream

• Investor in Scottish Communities – Malcolm Allan Ltd Family

Butcher and Tennent's Lager

• Local Supplier of the Year – Equi's Ice Cream

• Most Sustainable Supplier – We Hae Meat Ltd

• New Product of the Year – Protein 22 by Graham's Family Dairy

• Own-label supplier of the Year – Angus Soft Fruits

• Supplier of the Year (Judges' Choice) – A. G Barr soft drinks

10 | OCTOBER 2018
---
East of England scores with anti-social behaviour scheme

MEDIA

New Internationalist

relaunches print mag

The New Internationalist magazine will

come in a new format from September, as

a bimonthly publication of 84 pages.

Based in Oxford, New Internationalist

was set up 44 years ago as a worker co-op.

Last year it changed its legal structure from

a worker co-op registered as a company to a

co-operative society.

During the conversion, the New

Internationalist received financial

support from the Hive and the Community

Shares Company, while around 3,400

readers bought £700,000 worth

of shares, becoming co-owners in the New

Internationalist Co-operative. It is now the

UK's largest media co-op.

The new-look New Internationalist

includes more in-depth features and

investigative articles as well as underreported

stories from the Global South.

The September edition is themed around

peace and looks at the struggle against

Boko Haram in Nigeria, Colombia's

fragile transition from conflict, the role

of traditional diplomacy in the age of

Twitter, and potential routes to peace.

"This is a great time to relaunch," said

co-editor Hazel Healy. "People want a

progressive, trusted publication to help

make sense of the world. With more space

and a sharper design, we can go further

in-depth and appeal to new audiences

who might not have heard of us."

Co-editor Dinyar Godrej added: "In the

last few years, we have been focusing

more than ever on the kind of coverage

that our readers hold dear – out-of-thebox

thinking, providing a platform for

vital but often marginalised voices and

grappling with the issues that matter

rather than what's currently trending.

"Now, we feel, we have a form that fits."

Co-op Secure Response – part of the East

of England Co-op – has run a programme

of football games to help young people

engage with local authorities. The

project was the joint initiative of Co-op

Secure Response, Suffolk Police, Chantry

Academy and Suffolk County Council. It

was designed to discourage anti-social

behaviour by providing a positive activity

for young people to take part in.

Scotmid to mark 160th anniversary with new store

Scotmid Co-op is building a state-of-theart

convenience store in Drumnadrochit

to celebrate its 160th anniversary. The

4,500 sq ft store will open in the new year.

The society wants to enhance customers'

shopping experience at the store with

a tailored architectural structure and

spacious layout. It is also continuing the

rollout of its remodelled stores.

Midcounties Co-op Fun Day raises £20,000 for charity

A fun day organised by Midcounties

Co-op on 19 August raised £20,000 for

local charities and community groups.

The event featured a cast of popular

characters – including Chewbacca

and stormtroopers from Star Wars and

children's cartoon favourites Peppa Pig

and Cat Boy from PJ Mask. Attractions

included a fun fair, and BMX stunts.

Anthony Collins Solicitors to give legal support to co-ops

Anthony Collins Solicitors has won a threeyear

contract to provide legal support

to eligible members of Co-operatives

UK. Their role will include advising

co-ops from different sectors on a range

of matters under a legal surgery service,

including commercial advice, contract

matters, property and co-op law.

Central England Co-op acquires six travel shops

Central England Co-op has agreed to take

on six travel branches from Thomas Cook,

bringing the number of travel branches

operated by the society to 26. The six

sites, which are already based in the

society's food stores in Atherstone,

Oakham, Stirchley, Castle Donington,

Glenfield and Ibstock.

OCTOBER 2018 | 11
---
COMMUNITY PUBS

Ambitious plan will see burnt-out pub rise from the ashes

The people of a picturesque but deprived

village in Cornwall are preparing to

rebuild and reopen a derelict pub that

burnt down five years ago.

The Old Ship in Cawsand has been

bought by a community benefit society

with support from Co-operative &

Community Finance, Plunkett Foundation,

and the More Than a Pub programme. The

society wants to rebuild the pub, create

new community facilities and provide

affordable rented accommodation.

Cawsand is on the Rame Peninsula

in the south-eastern corner of Cornwall

near the Devon border; the rural area

comprises seven village, and has suffered

from the decline in dockyard employment

in nearby Plymouth alongside a lack of

affordable housing.

In response, community organisation

the Peninsula Trust has undertaken a

number of initiatives to improve local

prospects, and has become involved in the

restoration of the Old Ship. Co-operative

& Community Finance has helped fund

three of the trust's previous projects,

including the buying and conversion of a

disused bank building.

p The society wants to restore the historic site as a community hub

Simon Ryan, one of the founders of the

community benefit society, said: "We will

work closely with heritage specialists to

retain and show as much of the original

fabric as we can. There is a smuggler's

tunnel in there somewhere. The Old

Ship was one of Cawsand's oldest pubs.

We want to bring it back to life under

community ownership.

"Housing is the biggest problem

affecting our community. Unless

something changes, the heart of the

village will disappear because people,

especially the young, can't find anywhere

to live at a price they can afford – so they

leave and the village loses out. We want to

build five flats on the upper floors, to be let

at reasonable rents on secure tenancies.

"On the ground floor, we want to

recreate the bar area, using the memories

and photos of the older local people. We

will add a café with a large children's area

and also include a village information

section for locals and visitors. At the rear,

we're hoping to build a small Heritage

Centre, supported by local experts."

Over 300 people have bought shares

in The Old Ship Inn Cawsand Ltd, raising

over £137,500. The target date for

reopening the pub is June 2019.

MUSIC

Community shares bid

to keep a threatened

gig venue rocking

A Bristol music venue is selling shares to

the public in a bid to secure its future as a

community-owned co-operative.

The Exchange, in the city's Old Market,

announced last month that it was facing

financial difficulties and in response has

put forward the community shares offer to

protect its future.

The 250-capacity venue hopes to raise

£250,000 after putting shares on sale to

the public 4 September – marked by a

publicity event at the Exchange.

Matt Otridge, one of the Exchange's

three directors, said: "We are in this

industry because we are music fans. At the

moment, we tick along and make a little

bit of money but every year people like

myself are required to give up our time for

free and we just can't carry on like that.

"A venue is bigger than its directors

and its future shouldn't be tied to them.

By doing this we can ensure that the

Exchange continues to exist as a music

venue and also bring new blood and ideas

into the decision-making process."

If successful, the campaign will see

the Exchange become the country's first

community-owned music-only venue. The

project has already gained considerable

backing, with messages of support

and pledges coming in from singersongwriter

Frank Turner and Geoff Barrow

of Portishead.

The minimum share price of £250

entitles the shareholder to a vote at the

AGM where they can influence how all

aspects of the business are run, including

the programme and scheduling. Shares

are limited to one per investor, regardless

of the amount invested, and investors will

see an annual return of 3% cash or 6%

in-store credit.

Since opening in 2012, the Exchange

has become Bristol's go-to venue for punk

and hardcore acts. Anyone wishing to

participate in its new business model can

enquire about shares online.

12 | OCTOBER 2018
---
CREDIT UNIONS

As Wonga goes to the wall, can credit unions seize the moment?

With payday lender Wonga entering

administration, the Association of British

Credit Unions (Abcul) has highlighted

credit unions' role in providing an

alternative to high-cost creditors.

In spite of the payday lender's collapse,

customers will still make any outstanding

payments in the normal way. Around

200,000 Wonga customers owe more than

£400m in short-term loans.

In a statement published on 30 August,

the FCA confirmed that all existing

agreements remained in place and would

not be affected by the administration.

However, the firm is no longer able

to issue new loans. The repayments

will be overseen by administrators

Grant Thornton.

Wonga was the UK's biggest payday

lender. In 2014 the FCA ordered the

business to pay £2.6m to 45,000 customers

for "unfair practices". New payday loan

regulations introduced in 2015 required

all online lenders to advertise on at least

one price comparison website. The FCA

also imposed a cap on fees and charges

on payday loans at double what was

borrowed, which affected Wonga's profits.

In 2016, the payday lender reported pretax

losses of nearly £65m.

Abcul's head of policy and

communication, Matt Bland, warned

that the closure of Wonga should not

be confused with the end of high-cost

lending or payday lending.

He said: "The interest rate cap regime

has caused most short-term lenders

to adapt their lending practices and

many now offer loans on instalment

repayment plans which, while still very

expensive, are much better for consumers.

And while the FCA's consumer credit

regime had produced improvements

in practices in many respects, lenders

continue to grow and lend to people

who find difficulty accessing credit from

the mainstream.

"Credit unions offer an alternative

to these high-cost creditors which puts

people's long-term financial resilience at

its heart. They will lend people the smaller

sums that banks won't consider but at

reasonable rates of interest. At the same

time they encourage people to save, which

is the only long-term route out of a cycle of

p Stella Creasy has been campaigning against payday lenders (Photo: Andrew Wiard/Co-op Party)

debt. The Fairbanking Foundation's Save

As You Borrow report demonstrates the

power of this method.

Stats published by the Bank of England

in September show that credit unions

have two million members across the UK.

Total assets reported also reached £3.2bn,

2% higher for the first quarter of 2018,

compared to the same period last year.

Mr Bland says Abcul is working closely

with the government, regulators, banks

and others to support the sector.

"With changes to legislation and

regulation, and some targeted investment

and partnerships with employers to

deliver services in the workplace, credit

unions could become an even more

significant force in providing an ethical

source of credit," he added.

Writing for the Guardian, Labour/Co-op

MP Stella Creasy, who has been leading a

campaign against payday lenders, warned

that Wonga's demise would not lead to

an end of "legal loan sharking". She

pointed out that the number of payday

lenders had fallen but 150 such lenders

continued to operate in the UK. She added

that some lenders offer high cost credit

cards while others ask for guarantors to

chase more people for the same debt.

Actor and activist Michael Sheen also

called on the government to ensure that

Wonga would be sold to an ethical lender.

In March 2018 Mr Sheen launched the

End of High Cost Credit Alliance, which

promotes affordable alternatives, such as

credit unions. Speaking to the Observer,

he added that the collapse of Wonga

was an opportunity for the government

to support "fair and responsible"

credit providers.

Meanwhile, the Scottish government

has pledged to continue its efforts to grow

the credit union sector in its programme

for 2018/2019.

"We know that accessing affordable

credit is a concern generally across

Scotland," it says. "That is why we are

investing £1m in the Affordable Credit

Fund, working with the Carnegie UK Trust

to reduce the 'poverty premium' lowincome

households often have to pay.

"Care-experienced young people,

in particular, can face considerable

challenges to borrow money. We want to

help. Over the next year, we will work with

the Care Review to develop options which

will help these young people increase

access to financial services."

Karen Hurst, Scottish policy officer

for Abcul, said: "We've been working

closely with the Scottish government on

developing the campaign, and are really

excited to see it launch in November."

OCTOBER 2018 | 13
---
CO-OP LAW

Building a co-op

commonwealth: UK

movement calls for

a supportive legal

environment

UK co-ops operate in one of the least

supportive legal systems in the EU,

co-op law specialist Cliff Mills told the UK

Society for Co-operative Studies annual

conference in Sheffield last month.

Mr Mills, a consultant with Anthony

Collins Solicitors and principal associate

at sector advocate Mutuo, presented a

study of the laws of Norway and all EU

member states apart from Luxembourg

and Slovenia.

One issue he highlighted was indivisible

reserves – funds set aside from the

surplus, not available for distribution to

members, but owned collectively by them.

These reserves can absorb trading losses

and fund training and development.

This type of ownership is not very

familiar to the UK, where there is a

more individualistic understanding of

ownership, he added. "We see it as a

restriction on an individual's rights if

something is indivisible," he said.

But some EU states make it compulsory

for co-ops to set funds aside, and the third

co-op principle says members should

allocate surpluses, "possibly by setting up

reserves, part of which at least would be

indivisible".

Six states refer to co-ops in their

national constitutions: Bulgaria, Greece,

Italy, Malta, Portugal and Spain.

But the UK is one of five EU states –

alongside Denmark, Estonia, Ireland and

the Netherlands – with no separate law

for co-ops. It has the Co-operative and

Community Benefit Societies Act of 2014,

but this is not a co-op law in the sense that

some EU states have one. And the lack of a

co-op status in UK law hinders legal

practitioners from exploring the model.

Most EU states define co-ops – but again,

the UK is one of four that do not, alongside

Estonia, Ireland and the Netherlands. And

it is one of six states which do not require

a proportion of surplus to be set aside

for reserves – alongside Austria, Czech

Republic, Denmark, Ireland and Norway.

p Cliff Mills, a specialist in co-op law

Mr Mills said the most supportive states

in terms of co-op legislation were Greece,

Italy, Malta, Portugal, Spain, Croatia,

Cyprus, France, Hungary and Romania.

The least supportive were in Austria,

the Czech Republic, Denmark, Estonia,

Ireland, the Netherlands and the UK.

He said the UK sector needs a

conversation about indivisible reserves

and making a common cause with other

states that do not have co-operative law to

get recognition at higher level.

Mr Mills' remarks echo other calls from

the movement for a more conducive legal

environment. Co-operatives UK is asking

Companies House to change its co-op

definition to draw more directly on the

International Co-operative Alliance's

Statement on the Co-operative Identity.

By law companies can only use the word

"co-operative" in their name if they satisfy

Companies House that they meet certain

criteria. These include being owned and

controlled by members who participate

in the economic activity of the business,

having voluntary and open membership,

and distributing profits equally among the

members, or at least in proportion to the

extent each member has participated.

Co-ops can also register as societies with

the Financial Conduct Authority. In this

case, the main criterion is being a bona

fide co-op – "an autonomous association

of persons united voluntarily to meet their

common economic, social and cultural

needs and aspirations through a jointly

owned and democratically controlled

enterprise". Notable exceptions include

the Co-op Bank.

James Wright, policy officer at

Co-operatives UK, said: "For a couple

of years we've been working with our

members to establish the case for statutory,

but optional, 'asset lock' mechanisms for

co-ops, including indivisible reserves and

disinterested distribution at windup. These

tools could help create a 'commonwealth'

model for UK co-ops: providing a

better basis for capital to be pooled in

co-ops, built up over time, invested in

other co-ops, and, if a co-op comes to an

end, recycled in the co-op economy.

"A consultation we ran with members

in 2016 suggested we should anticipate

broad and strong demand for optional

statutory 'asset lock' tools. But we should

anticipate some strong opposition too –

on the grounds that these measures would

be undemocratic and/or unnecessary."

But Mr Wright warned against "rushing

ahead with legislative projects that end

up suffering from too little consultation or

scrutiny" and instead look at what works

– and what doesn't work – abroad.

"We can also learn from our experiences

in the UK," he said. "For example, while

it has proven extremely useful, the asset

lock for community benefit societies is

increasingly understood to contain some

difficult dysfunctions. We can't afford

more sub-optimal legislation."

He added: "Our advocacy has recently

led the New Economics Foundation to

make commonwealth reforms a priority

in co-op policy. And there may soon be

opportunities to progress to legislative

design with government support, but coproduction

with the sector must be central

to this, not an adjunct."

u More reports from the UKSCS annual

conference, pages 28-31

14 | OCTOBER 2018
---
GLOBAL UPDATES

USA

Electric co-ops feel the force of Hurricane Florence

With Hurricane Florence set to make

landfall on the Carolina coastline, electric

co-ops in the US have made preparations

to deal with the emergency.

The storm is expected to make landfall

at noon local time on Friday and is moving

at wind speeds of 90mph, threatening

power outages which could last

for weeks.

The National Hurricane Center says

the storm is an extremely dangerous one,

bringing a high volume of rainfall and

storm surges, with the threat of a serious

death toll from inland flooding.

Georgia, North and South Carolina,

Virginia and Maryland have declared

a state of emergency and sea water is

washing through coastal streets.

NRECA, the national body for the

USA's electric co-ops, said the storm has

already caused power outages for co-op

members, with crews standing down until

conditions are safe to carry out repairs.

The organisation says it is closely

monitoring the situation and supporting

co-ops in North Carolina, South Carolina,

Georgia and Virginia.

NRECA's communications and

government relations departments are

leading the effort, which is designed to

provide resources to electric co-ops as

they respond to the storm.

During Hurricanes Harvey, Irma and

Maria, NRECA says supported affected

p A team from Tennessee's Sequachee Valley Electric Cooperative takes men and equipment to

assist co-op recovery efforts in North Caroline (Photo: Sequachee Valley Electric Cooperative)

co-ops by providing talking points, social

media guidance, and media outreach.

NRECA also coordinates with the

Federal Emergency Management Agency,

the Department of Energy and other

federal agencies during extreme weather

events, keeping them updated on its

members' response to the storm.

Power outages are expected to be

widespread, with hurricane and tropicalstorm-force

winds hitting some areas for

36 to 48 hours or longer.

Lisa Galizia, communications director

of Carteret-Craven Electric Cooperative,

based in Newport, NC, told NRECA's

website: "We will not put our crews

in harm's way, and we will not send

anyone out to assess damages and begin

repairs until it is safe to do so.

"People need to remember, too, that

damage may cause outages to systems

up the line from us, such as transmission

lines, which we cannot control."

The co-operative said that power was

out to thousands of its meters as the storm

set in.

Crews could be forced to sit the storm

out until winds subside to under 35

sustained mph, due to safety concern.

They will not be able to deploy bucket

trucks and are also at risk from falling

trees and windblown debris.

PUERTO RICO

New legal framework eases the way for energy co-ops

Puerto Rico's state senate has taken steps

to diversify its energy industry by passing

a law on 27 August to provide a framework

for co-ops in the sector.

The legislation aims to transform

the territory's energy sector and help

communities become more resilient by

forming co-operatives.

Under the rules, an energy co-op will

require a minimum of five members before

setting up. People will be able to develop

co-ops to generate energy for themselves,

as well as distribute it or sell it to the grid.

The law mentions that electric co-ops will

also need to ensure they charge fair tariffs.

The general law of co-operative

societies has also been amended to

include renewable energy co-ops.

In a report to the senate, the

government's energy department said the

changes are a response to Puerto Rico's

financial crisis and the need to rebuild

after Hurricane María, which devastated

the island last September.

The territory's renewable energy

association says the law should be used to

develop renewable energy co-operatives

rather than fossil fuel co-ops.

The Coalition for Economic

Co-operation of Puerto Rico welcomed

the law, which it sees as an opportunity

to develop a decentralised energy system.

Larry Seilhamer, president of the

special energy commission, said: "In

the current environment faced by Puerto

Rico, it is necessary and worthy to enable

communities to explore alternatives to

generate, transmit and distribute their

energy. In this sense, energy public policy

needs to grant communities more access

to this essential type of service. The

co-operative model is ideal."

OCTOBER 2018 | 15
---
DENMARK

Dairy co-op Arla will give entire 2018 profit to farmers hit by drought

p Dead cornfields in the Netherlands – a typical sight in Europe during the drought

Arla Foods, one of the world's biggest

dairy firms, is to pay out its entire 2018

net profit of up to €310m (£278.48m) to

its members after one of the hottest and

driest summers on record.

The proposal from the agri co-op's

board follows significant improvement in

Arla's finances over recent years.

The firm, owned by 11,200 farmers in

Denmark, Sweden, Germany, Britain,

Luxembourg, the Netherlands and

Belgium, traditionally pays only a part of

its profit to owners, but said it would make

an exception this year.

Company chair Jan Toft Nørgaard

said: "The board recognises that many

Arla farmers are facing a tough financial

situation due to this summer's drought in

Europe, and that it is in Arla's best interest

for this year's net profit to be paid out to

the farmers.

"Arla's board of directors has discussed

and agreed on a proposal for the

company's supreme governing body,

the board of representatives, to pay out

the entire net profit from 2018 when

the annual results are approved early

next year, thus making a one-year only

deviation from the company's usual profit

appropriation policy."

He added: "As a farmer-owned dairy

company, we care deeply about the

livelihood of our farmers and we recognise

that this summer's drought in Europe has

been extraordinary.

"We are proposing that extraordinary

measures be taken in this situation,

and the board is satisfied with the

improvement in the company's finances,

which makes this proposal possible."

The move comes as farmers across

Europe try to recoup losses after the

heatwave hit cereal harvests and dried

out pastures, leaving some on the edge

of bankruptcy and shutting the EU out of

lucrative export markets.

"It is obvious farmers have had a tough

time acquiring fodder, and it's been more

expensive. This puts the farmers' economy

under pressure," Arla chief executive

Peder Tuborgh told Reuters press agency.

The proposal will be discussed at the

next board of representatives meeting in

October, and brought forward for a final

decision at the meeting in February 2019

when the annual results are approved.

A statement from Arla added that the

amount of this payout remains subject to

there being no material changes to the

profit level or financial outlook at the end

of the year.

If approved, the extraordinary payment

will follow Arla's regular supplementary

payment timetable with money being paid

out in March 2019.

The company says it will return to

its existing retainment policy for the

remainder of the current strategic period,

affecting the financial years of 2019

and 2020.

"Our balance sheet has improved

significantly over the last few years,"

said Mr Tuborgh, "and the strength

of our balance sheet makes room for

this extraordinary initiative while still

maintaining our investment plans

for the continued future growth of

the company."

16 | OCTOBER 2018
---
SPAIN

DCOOP Group

acquires

20% stake in US olive

producer Bell-Carter

Agri-food business DCOOP has acquired a

20% stake in Bell-Carter, the largest table

olive producer in the US and the second

largest in the world.

As part of the deal, DCOOP's USA

branch, Acorsa USA, will be integrated

into the Bell-Carter structure, with the

aim of strengthening its position in the

USA market.

Bell-Carter produces and sells over

half of all California olives, processing

between 40,000 and 60,000 tons of olives

each year.

The DCOOP Group includes 180 co-ops

with 75,000 families and two production

plants, which process a total of 100,000

tons a year.

In 2017, the value of the co-op's total

exports amounted to €541m, a 10.5%

increase from 2016. The co-op exports

to 72 countries, the USA being its third

biggest olive oil market after Europe

and Japan.

Last year, DCOOP, which is the largest

olive oil co-operative in the world,

signed an agreement with Pompeian

Group, a Baltimore-based importer

and manufacturer of olive oil. The deal

increased the companies' stakes in one

another from 20% to 50%.

A spokesperson for the co-op said: "We

are farmers and we want our products to

be marketed all over the world. The US

is an important market where we have

already been selling olives and oil, as part

of the Pompeian project.

"With this agreement, we intend to

encourage the consumption of more olives

in the US and we believe the alliance with

leading company Bell-Carter will help in

that respect. We are very excited about

the partnership and we now have to work

together to drive olive consumption in the

USA and around the world."

The collaboration with Bell-Carter

comes at a time when Spanish olives

are facing total taxes of 34.75% to enter

the USA's market. By buying a share in

the business, DCOOP has ensured it will

continue to grow in the USA.

According to Copa Cogeca, the

organisations representing European

farmers and agri co-operatives, Spanish

imports have already faced additional

duties totalling 21.6% since January this

year, causing Spanish exports to the USA

to drop by as much as 42.4% in the first

quarter of 2018.

Agrosevilla, a Spanish group of 12

co-operatives and 4,000 producers,

announced restructuring plans to cope

with the USA's tariffs. The group is Spain's

largest olive oil co-operative exporter.

The right ingredients

/sumawholefoods

Perfected over 40 years of worker co-operation

Find us in your nearest independent grocery store

OCTOBER 2018 | 17
---
EUROPE

Cooperatives Europe wants young co-op

entrepreneurs to share their stories

Cooperatives Europe is calling on young

co-operative entrepreneurs to share their

stories in short videos.

It hopes to collect 10-20 short videos to

share on social media under the hashtag

#ImACoopStarter. Young co-operators

wishing to take part have to introduce

themselves and their business, say why

they chose the co-op model, and what

advice they would give other young

people thinking of starting a co-op.

Each answer must be maximum of 20

seconds long.

The films are part of the Coop Starter 2.0.

project, a European initiative launched

last year to mobilise youth around

co-operative entrepreneurship.

The programme is funded by the

European Commission and builds on the

previous CoopStarter project, created

by eight partner organisations across

Europe to teach younger people about the

co-operative business model.

Cooperatives Europe is the regional

office of the International Co-operative

Alliance and one of the partner

organisations. The others are Legacoop

Liguria (Italy), Kooperationen (Denmark),

K.A.P.A Network (Greece), Promo

Jeunes ASBL (Belgium), CJDES (France),

AEGEE (Belgium) and the Co-operative

College (UK).

Video submissions can be

sent to: e.rosenberg@coopseurope.coop

Participants also need to post on social

media using the hashtag #CoopStarter

and mentioning @coopseurope. More

details on Cooperatives Europe's website.

USA

Going global: Skincare co-op

takes its healthy message to the States

Skin health co-op JooMo presented its

research on microbiomes in San Francisco

last month.

Working with the Medical University of

Graz, in Austria, JooMo is looking at the

possible link between cosmetics and the

enormous rise in skin allergy problems in

the western world. It focuses on the effect

of cosmetics on human skin microbiomes

– communities of micro-organisms.

JooMo, which unveiled the findings at

the Global Skin Microbiome Congress,

says the trials show how high street

cosmetics appear to maintain the depleted

western microbiome, while third-wave

microbiome-friendly products like JooMo

increase skin microbiome biodiversity,

which improves skin health.

Everyday cosmetics were also shown

to greatly de-moisturise the skin, a key

reason why skin becomes damaged, the

co-op says – while its own third-wave

technology makes it "the only product to

maintain skin moisture".

Kit Wallen Russell – research coordinator

and lead author of the peer-reviewed

2017 paper Meta Analysis of the Skin

Microbiome – said: "The terrifying rise in

skin allergies has led many to speculate

whether regular contact with everyday

cosmetics are a major contributor to this

problem."

"These results, coupled with other

complementary research, are now

suggesting a definitive link."

This should not really come as any great

surprise, he adds, pointing out that the

food industry has been restricting the use

of additives for many decades.

"Cosmetics consumers are finally

cottoning on to the fact that covering their

bodies with harsh unfamiliar chemicals

every day probably isn't a good idea,"

he said.

"These results show how the cosmetics

industry must urgently introduce the same

safety standards as the food industry,

including the ending of misleading

labelling and the severe restriction in the

use of chemical additives."

JooMo, which is based in Reading, UK,

was formed in response to an increase in

childhood skin problems and developed a

100% natural preservative-free face wash.

p JooMo offers all-natural products

18 | OCTOBER 2018
---
CHILE

Laying the

groundwork for an

agri co-op revival

Chile's agriculture minister Antonio

Walker has announced a meeting of

Congress in October to explore "the

best legislation to reinvigorate modern

co-operativism in Chile".

Speaking at a special session on

co-operatives, organised by the senator

of the Los Ríos region, Alfonso de

Urresti, the minister said: "Co-operatives

represent the most important opportunity

for the development of the economy and

our agriculture."

Of Chile's 300,000 farmers in Chile,

285,000 work at small scale, and Mr

Walker is calling for greater co-operation

and collaboration within the sector.

"The ministry of agriculture strongly

advocates modern co-operativism,

productive alliances, forming teams and

breaking individualism, because this

game is won as a team – and the way to

do that is by promoting co-operation,"

he said. "We have a very demanding

international market in terms of volume

and quality, and for that we have to

unite, we have to come together – and

co-operativism is a central issue."

The session, held at Chile's national

Congress, was also attended by the

president of the Senate, Carlos Montes,

and the president of the agriculture

committee, Carmen Gloria Aravena.

Mr Walker said initiatives to unite

farmers and encourage co-operation

"are in line with what we want to

p A vineyard in the Coquimbo region

develop ... We have to form a team to

adapt Chilean agriculture to the modern

co-operativism that's working in other

parts of the world.

"We're working on this – it's a very

important focus for our ministry and we

are going to hold an international congress

on October 3 and 4, where we are inviting

senators to participate and support us

to explore what is the best legislation to

reinvigorate modern co-operativism

in Chile."

FRANCE

Co-op champers beats the big-name bubblies in taste test

A blind tasting of Champagnes, held by

industry magazine The Drinks Business

last month, saw lesser-known labels from

the region's co-ops outdo famous rivals.

Among the seven Champagnes that

gained a Gold medal or higher in the Brut

Non-Vintage category were Champagnes

Palmer and Pannier, two brands owned

and run by co-ops. They were placed

above celebrated – and more expensive

– labels, such as Champagnes Pommery

and Laurent-Perrier.

Co-op label Champagne Castelnau

achieved a near-perfect score in the

vintage Champagne category, for its

release from the 2006 harvest. The same

category saw the 2008 vintage from

Champagne Chassenay d'Arce – a growers'

co-op in the Aube – pick up a Gold.

Finally, one of the highest-scoring

Champagnes of the day's tasting – which

saw almost 200 bottles sampled blind

by experienced judges – was Egérie

p Egérie de Pannier 2006

de Pannier 2006, the top cuvée from

Pannier co-op. Gaining 97 points out of

100, it was praised for its combination of

complementary flavours, from lemon and

honey, to toast and grilled nuts, along with

an uplifting, lasting and very fresh, dry

finish. It costs £75, but the Drinks Business

says this is "amazing value relative to

other special blends in this top-end

Champagne category, from Dom Pérignon

to Cristal, which can retail for almost

double the price".

Among other co-op Champagnes that

performed well were labels from Nicolas

Feuillatte, Montandon and Jacquart, each

picking up Silver medals for a range of

cuvées.

The Drinks Business added: "Although

Champagnes sourced from growers'

co-operatives are often believed to be

of lesser quality, the tasting in August

proved that such producers can achieve

outstanding results, and even make

superior cuvées than the famous Grandes

Marques, despite the lower prices.

"For those who know the Champagne

region well, however, such an outcome

may not surprise, with co-operatives

being major suppliers of grapes and wine

to many well-known names in the region,

who own few vineyards themselves."

OCTOBER 2018 | 19
---
EUROPE

Mixed co-op reaction to Juncker's State of the Union speech

The co-operative sector has responded

to the State of the Union speech delivered

on 12 September by president of the

European Commission, Jean-Claude

Juncker.

Addressing the European Parliament,

Mr Juncker announced a series of policy

proposals around immigration, Brexit,

the economy, the 2019 elections and

strengthening the union's partnership

with Africa.

Responding to the speech, Cooperatives

Europe, the regional organisation of the

International Co-operative Alliance, said

it agrees with president Juncker on the

need for "a strong and united Europe"

but argued this would only be achieved by

ensuring strong links with citizens.

And it regrets the omission of the

White Paper on the Future of Europe, an

initiative that puts citizens at the heart of

building and determining the future path

for Europe.

In February, Cooperatives Europe

stressed the importance of co-ops

in achieving a "more inclusive and

sustainable Europe", as set out in

the Future of Europe white paper.

The organisation also argued that the

speech had not adequately addressed

the Sustainable Development

Goals theme.

Jean-Louis Bancel, president

of Cooperatives Europe, said: "As

Europe faces numerous challenges,

co-operative, as well as social economy

enterprises, must be seen as key partners

for the EU in offering solutions that put

the focus back on the people and back

on our values. To move forward, we now

need a stronger commitment from the

European institutions to our movement,

p Mr Juncker delivers his speech

as together we preserve the diversity

and richness of Europe."

Mr Juncker also proposed a new Alliance

for Sustainable Investment and Jobs

between Europe and Africa. Cooperatives

Europe is currently engaged in discussions

on the EU External Investment Plan.

The Commission president also called

for stronger anti-money laundering

supervision and enhancing the role of the

European Banking Authority.

GLOBAL

Co-operation can get the world's small

farmers a better deal, says Oxfam report

Farmers around the world can earn a

higher share of consumer price if they

collaborate, says Oxfam.

The charity's new report, Ripe for

Change, undertaken by the Bureau

for the Appraisal of Social Impacts for

Citizen Information, found small-scale

farmers benefit from much higher shares

of the end consumer price − around 26%

− where they are organised in co-ops.

Farmers who are not organised in

co-ops retain only around 4% of the end

consumer price, it adds.

The study analysed the value chains

of 12 common products sourced by

supermarkets around the world, from

producing countries in Asia, Africa and

Latin America.

It found producer co-ops add value by

aggregating their produce, supporting

marketing, sharing risks, and amassing

stronger bargaining powers.

One example is the Alaznistavi

Cheese Cooperative in Georgia,

which has allowed members to gain

a higher share of the end consumer

price through niche production of

high quality handmade cheese for

distribution through supermarkets in the

capital, Tbilisi.

Another case study in the report is

Divine Chocolate in the UK, which is 44%

owned by a cocoa co-op in Ghana.

"Consumer-facing companies such as

Divine Chocolate and Cafédirect – which

are both jointly owned by producers

in developing countries – each have

a turnover of $15m per annum," the

report says.

But the study found that women in

some co-ops do not feel on an equal level

with men. While women in large and

often mixed-gender co-operatives often

gain access to agricultural inputs and

services, they enjoy only a limited role in

decision-making, it said.

"By contrast, small, more informal

women-only groups typically allow

women to build confidence, leadership,

skills and savings," the report added.

Ripe for Change argues that these

business models do not have to be niche

– and could be taken to scale. Producerled

Kaira District Cooperative Milk

Producers Chain in India, also known

as Amul, is jointly owned by 3.6 million

SUMMARY ................................

RIPE

FOR

CHANGE

ENDING HUMAN SUFFERING IN

SUPERMARKET SUPPLY CHAINS

p Oxfam's latest report

milk producers in Gujurat, with a sales

turnover of $736m in 2016.

The report urged supermarkets to

place a focus on sourcing from business

structures that aim to share value

with farmers and workers, such as cooperative

groups or women's collective

enterprise, and use prominent shelf

positioning to promote these products.

20 | OCTOBER 2018
---
SAO TOME AND PRINCIPE

Rebirth of cocoa

industry based on co-op

values and high quality

p Producers from CECAQ-11

A farmers' co-op in São Tomé and Príncipe

is producing a superior crop of beans to

gain an advantage in the world market.

The country – a set of islands in Africa's

Gulf of Guinea – was once one of the

world's biggest cocoa producers but its

industry has collapsed in recent decades.

Today, farmers on the island of São Tomé

are working to revive the crop's reputation,

and have organised themselves into

co-operatives with a shared pride in the

excellence of their crop.

Charlotte Borger, of farmer-owned

Divine Chocolate, wrote on the its blog:

"Spending time with the members of the

CECAQ-11 co-operative, we saw and heard

evidence of this pride every day.

"Cocoa growing, especially on the

steep slopes of the island, is a labour

-intensive affair, but these farmers can see

the benefit of being more meticulous and

skilled in how they manage their farms.

"They have been trained in better

pruning methods, in shade management

(cocoa grows best in the humid shade of

the rainforest canopy), and in grafting

seedlings to combine quality with

higher productivity."

She added: "The farmers are developing

their own improved version of amelonado,

a sub-species of forastero, that delivers a

distinctive depth of flavour with woody,

spicy notes. Their care with harvesting,

natural fermenting and drying ensure

they are extracting the best from their

beans, while the new techniques they

are learning will help with the increased

productivity they urgently need to meet

demand, and grow their income."

Sad end to Galicia's clothing co-op movement

Co-op forest plan to tackle climate change

Confecciones Corcubión, the last

remaining clothing manufacturing co-op

on the Costa da Morte in Galicia, north

west Spain has ceased operation after more

than 30 years. The closure came about

after a change in management at Inditex

which saw Confecciones Corcubión receive

orders for women's clothing – which the

worker members didn't have the skills or

machinery to produce. The co-op will be

dissolved at the end of the month.

A Canadian co-operative is pioneering

a new approach to carbon offsetting,

with a focus on the social aspect

of planting trees. Set up as a co-operative

in 2016, Arbre-Évolution has recently

become a certified partner of Coop

Carbone, which works with enterprises

to identify, develop and fund carbonoffsetting

projects.

42 member-owned companies on Australia's top 500 list

Australia's co-op and mutuals sector has

a strong showing in the 2018 IbisWorld

Index, with 42 businesses from the

sector making the top 500. The results

show the resilience of the model, says

Melina Morrison, chief executive of

national sector body the Business Council

of Co-operatives and Mutuals

Dominican Republic backs sector with co-op fair

The Dominican Republic's National

Council of Co-operatives is hosting

the country's first co-op fair from 15-

18 November. The event – Expo Coop

2018 – will bring more than 100 of the

country's leading co-ops together for

a programme of workshops, talks,

presentations and networking.

WOCCU calls to reduce CU capital requirements

The World Council of Credit Unions is

asking international standard setting

agencies for regulatory changes to provide

a level playing field for credit unions and

community based financial institutions.

The consultation on its report 'Incentives

to centrally clear over-the-counter

derivatives' can be read at: s.coop/2aocz

OCTOBER 2018 | 21
---
NEW ZEALAND

Fonterra dairy

falls into the red and

re-asseses investments

Dairy giant Fonterra has reported a yearly

loss of NZ $196m (£98m) – compared to

last year's profit of $745m (£373m).

The co-op, New Zealand's largest

company, blamed the results on high

butter prices, which impacted volumes

and margins; the increase in the forecast

farmgate milk price late in the season; and

higher costs in its ingredients business.

Other factors were higher costs as

Fonterra expanded in Australia, and

increased IT and R&D expenditure to

support development.

Its performance was also affected

by a write-down of $405m (£203m) in

Fonterra's Beingmate investment in China

and the pay out of $183m (£91m) to global

infant formula maker Danone for the 2012

botulism scare.

In August, Fonterra reduced last

season's farmgate milk price to $6.70

(£3.36) per kg of milk solids from $6.75

(£3.39). "Our farmers rely on accurate

forecasting when planning. Our decision

to update our earnings guidance and

reduce our 2017/18 forecast Farmgate Milk

Price late in the year was frustrating but

necessary to protect the balance sheet,"

wrote chair John Monaghan in the report.

More accurate earnings forecasts was

an "obvious priority" for 2019, he added.

Interim chief executive Miles Hurrell,

who took over the business after former

boss Theo Spierings resigned in March,

said: "We entered the second half of this

year expecting our performance to be

weighted to the second half.

"The reality is, for this to have happened

we needed an outstanding third and

fourth quarter after an extremely strong

second quarter for sales and earnings.

Unfortunately, this didn't eventuate.

Forecasting is never easy, but ours wasn't

on the mark and proved to be optimistic."

The Kiwi co-op plans to re-evaluate

investments, major assets and

partnerships, including its Beingmate

investment in China, to ensure they still

meet the co-operative's needs.

"This will involve a thorough analysis

of whether they directly support the

strategy, are hitting their target return on

capital and whether we can scale them up

and grow more value over the next two to

three years," said Mr Hurrell.

Craig Presland, chief excutive of

Cooperative Business New Zealand, which

represents the national co-op sector, said

the performance had not been impacted

by its co-operative status.

He added that the co-op model remains

"a key strength and founding pillar of the

organisation – with financial benefits for

milk supplied provided to its shareholders

(members) only, profits retained locally

and, most importantly, 100% local

shareholder ownership and control of

the organisation.

"Fonterra remains solely within the

control and hands of its dairy farmers and

long may that continue."

AUSTRALIA

Digital innovation drives growth at Credit Union Australia

Australia's largest credit union witnessed

a small drop in profit for the year ended 30

June 2018 following investment in digital

technologies.

Credit Union Australia, which provides

financial, health and insurance services

to around 470,000 Australians, reported a

net profit of AU$54.79m (£30.14m), down

1.9% from the previous year.

Retail deposits grew 5.3% for the year

to a record $9.22bn (£5.07bn) while loans

under management were up 6.7% to

$12.30bn (£6.7bn).

Banking membership grew by a net

20,008, which CEO Rob Goudswaard said

was driven by the digital changes and

brand awareness campaigns.

"We now offer a full suite of digital

wallets," he added. "We've delivered an

updated mobile banking app provided by

Kony ... Members are benefiting from faster

payments through CUA being an early

adopter of the New Payments Platform

(NPP), with 16,500 PayIDs registered by

our members in the first four months. And

we've had outstanding feedback from the

2,000 members piloting our messaging

app from Pivotus Inc, the international

banking collaboration we joined this

year."

Meanwhile its insurance arm CUA

Health saw an increase of $1.49m (£8.2m)

on its previous full-year result, to a $8.99m

(£494m) net profit after tax. The company

also passed on its lowest average premium

increase in almost two decades.

Digital innovation saw the roll-out of a

refreshed health mobile app, and the pilot

of a chatbot to supplement its human

service team.

CUA Health also launched three new

lower cost hospital cover products this

year, including a new hospital and extras

package, aimed at first time buyers and

young people.

22 | OCTOBER 2018
---
New book chronicles the crisis

at the Co-op Bank

To purchase: thenews.coop/fall
---
YOUR VIEWS

WAKE UP, GOVERNMENT!

Game changing is the challenge, so

why the John Lewis Partnership name

change? Part of Co-operatives UK – with

Waitrose – it has a larger turnover than the

Co-operative Group.

Bonuses for never knowingly undersold

partners have gone down these past five

years with growing online competition

from the likes of Amazon. Spending

millions on changing the organisation's

name to John Lewis and Partners hardly

seems the priority (although consultants

may benefit).

The priority is surely for the government

to get its act together on retail taxation.

Amazon, with revenues in billions, pays but

millions in tax. Delivering to the customer

increases road traffic and maintenance,

not to mention the disposal of cardboard

waste at public expense.

As more high street retailers vanish,

less money will come in from business

rates and local taxation – and the onliners

replacing them do not contribute much.

Jim Craigen

Edinburgh

RE: WORKER OWNERSHIP ON THE

AGENDA AS MCDONNELL WELCOMES

THINKTANK REPORT (P42-43)

Sorry John McD, instead of putting

a sticking plaster on the failing and

discredited capitalist system, why not get

behind an all-out drive to promote the

co-operative model?

The people want democratically owned

ethical organisations. While at school,

college or university, students learn

nothing about the alternative to the corrupt

capitalist model which offers wealth for

the few. It's time not just for a level

playing field, but for a system that

redresses the balance.

No one should leave public or private

education without a full understanding of

the different models – with every hour of

brainwashing on capitalism to be matched

by three on co-operation.

All public employees – both existing

and new recruits – should have at least a

week's training on the co-operative model

and its benefits. The ease with which

co-operatives can be established should

be made to match that of setting up a as

a self-employed person / partnership / or

private company. The first two can be set

up almost instantly, with no paperwork;

the second takes about half an hour online

and costs nothing.

But to establish a co-operative takes

weeks and costs hundreds of pounds –

and people will try to persuade you not

to do it.

Professional bodies such as lawyers and

accountants should be required to include

the co-operative model in their syllabuses;

at the moment I am told there is nothing.

The UK has a small co-op sector because it

is 100 years behind other countries.

John Harrington

via Facebook

CO-OP GROUP STAFF PROTEST

AGAINST 'DANGEROUS' ONE-ON-ONE

SHIFTS (P7)

All comments via Facebook

After being in store during an armed

robbery I know how important staff safety

is. I wish head office would rethink the

one-on-one system.

Gordon Lindsay

I fully support the staff in their quest to

ensure minimum staffing levels in stores.

Risk assessments should be conducted

regularly and ALL incidents should be

recorded for future reference. Staff safety

cannot be compromised in order to

increase profitability.

Christopher Rawlinson

In some cases I agree that workload

and colleagues can be rescheduled to

ensure more even cover, but in certain

cases this extra cost could make some

stores unprofitable and therefore at

risk of closure or disposal. Some of our

competitors operate with only one person

on site during certain hours.

Mark Sanderson

Have your say

Add your comments to our stories

online at www.thenews.coop, get

in touch via social media, or send

us a letter. If sending a letter, please

include your address and contact

number. Letters may be edited

and no longer than 350 words.

Co-operative News, Holyoake

House, Hanover Street,

Manchester M60 0AS

letters@thenews.coop

@coopnews

Co-operative News

My daughter used to have to do this

regularly for another chain, including

shifts that finished at 11pm. She was

generally OK about the workload but was

concerned about safety on the nights

the security guard wasn't on (very rough

area with lots of bars and takeaways).

I also have a friend in a newsagents chain

who is often completely alone, never

more than two, working 11 hour shifts. It

appears to be an industry thing for the

small stores. On the one hand, it would

be good for the Co-op to take the lead

in ending the bad practice – but on the

other, how do you stay competitive in a

crowded market if the wage bill for each

store is increased?

Linda Smith

p Craig Noonan (right), the Group's head of

retail PR, discusses the issue with staff

24 | OCTOBER 2018
---
WORKING TOGETHER:

A final update from the Co-operative Heritage Trust

In 2017 the Co-operative Heritage Trust launched

Working Together, a project to find record and

preserve the heritage of the worker co-op movement

of the 1970s-1990s. As the project draws to a close,

archivist Philippa Lewis gives a final update...

SCOPING AND COLLATING MATERIAL

The first stage of the project involved finding out

what material existed – and where it was. Many

items were still held by individuals, often packed

away and forgotten in cupboards or attics.

Working with members of the project steering

committee (who have all been active participants in

the workers' co-operative movement), we were able

to draw up a list of individuals and co-operatives to

contact. The scoping exercise escalated from this

original list of contacts, with people passing details

of the project to others involved in the worker

co-operative movement.

In total, we contacted over 300 co-operatives or

individuals, many of whom held material relating to

workers' co-ops that they were keen to deposit with

us at the National Co-operative Archive.

ORAL HISTORIES

Alongside physical items – like banners, bags,

minutes and leaflets – we also spoke with some

of the people involved in worker co-ops during the

1970s, 80s and 90s, which allowed more personal

recollections to be recorded.

In total, staff and volunteers undertook 26

interviews across the UK, with people associated

with, for example, Unicorn, the 8th Day and

Delta-T Devices.

MAKING OUR FINDINGS ACCESSIBLE

From the outset, the aim of the project was not just

to collect material, but to make it accessible to as

large an audience as possible.

Material deposited at the National Co-operative

Archive has now been catalogued, with descriptions

available on the archive catalogue online. This

catalogue will allow researchers to search for

workers' co-operative collections and choose

material to access in the National Co-operative

Archive reading room in Manchester.

However, it was also recognised that, as a

national project, it was important that material

was also made accessible online, for people who

cannot visit. One way we have done this is to display

workers' co-operative images on a dedicated Flickr

account, which allows images to be uploaded and

shared, with others able to tag and engage with the

images.

To make the oral histories more accessible, full

transcripts and summaries of the interviews have

been created (many of which were completed by

project volunteers). These have been uploaded

with the recordings to the National Co-operative

Archive website.

A travelling exhibition has also been developed

to showcase some of the findings of the project.

This has been displayed at various venues including

Manchester Central Library and Warwick Modern

Records Centre, and is now at the Rochdale

Pioneers Museum.

INTO THE FUTURE

Although the project itself is coming to an end, the

material and lessons learned from it will live on in

the wider collections of the National Co-operative

Archive. Another long-term aim of the project

is to ensure that workers' co-operative material

continues to be deposited at the archive.

This will ensure that the heritage of this key part

of the co-operative movement will be preserved

and made accessible to current and future

researchers alike.

The Working Together

exhibition is available for

display at co-operative

events and venues in

the future. If you would

like to know more about

the project, hosting the

exhibition or have some

material you would like

to donate please visit

the National Co-operative

Archive website, contact

us or tweet us.

archive@co-op.ac.uk

@cooparchive

OCTOBER 2018 | 25
---
MEET...

The Right Honourable The

Lord Graham of Edmonton PC

Thomas Edward 'Ted' Graham was born in Newcastle in 1925 and started

working at the Newcastle-upon-Tyne Co-operative at the age of 13. He served

in the Royal Marines from 1943, but was severely wounded when taking part

in an exercise in 1944 and returned to the co-operative movement in 1946. He

studied by correspondence courses and at night school and earned certificates

from the Co-operative College. Ted became prime minister of the Tyneside

Youth Parliament and held several positions in the co-operative movement,

being appointed southern section officer of the Co-operative Union and

national secretary for the Co-operative Party. He was the Labour and Cooperative

MP for Edmonton from February 1974; he lost his seat in 1983 but was

created a life peer as Baron Graham of Edmonton. He was Labour chief whip

from 1990-97 and chair of the Co-operative Council, and served as president of

the 1987 Co-operative Congress.

I FIRST GOT INVOLVED IN CO-OPS in the 1940s. As I

am now 93 years of age and joined the Co-operative

Party and the Newcastle Co-operative Society

when I was 17, I can modestly claim to have been

around the course! I first became an addict of the

Co-operative News in the years when it was a vastly

different 'News'. The year was 1942 and the first

editors that I can recall were Billy Richardson and

Frank Buckshaw, who brought reading pleasure to

thousands of co-operative enthusiasts. But just as

the clientele has changed, so has the congregation

it seeks to serve. The movement as I remember it

has changed out of all shape and size!

I SENSE A FEELING that the future of co-operatives

is full of danger – much of it of our own making.

Let me begin by remembering that the Co-op was

the first retailer to produce what turned out to be

self-service stores. The London Co-op Society (LCS)

led the way. This was one of the biggest of changes

as it engaged the shopper within the democratic

framework of managing the business.

The democracy extended to member meetings. In

the 1940s, gatherings for the Newcastle Society

in the City Hall, which held over 1,000, was often

overflowing. A dividend announcement or a fiercely

fought local issue could draw vast attendance.

There was an air of excitement – the reduction in

the dividend declared could create a riot! Where

are these members now?

THE BEDROCK OF CO-OPERATIVE DEMOCRACY was

epitomised by the strength of the auxiliary bodies

– the Women's Guild, the Men's Guilds, the Mixed

Guilds, the BFYC (Young Co-operators). We boasted

what were called 'activists', who were active in the

... THE MOVEMENT AS I REMEMBER IT HAS

CHANGED OUT OF ALL SHAPE AND SIZE

... I SENSE A FEELING THAT THE FUTURE

OF CO-OPERATIVES IS FULL OF DANGER –

MUCH OF IT OF OUR OWN MAKING

26 | OCTOBER 2018
---
ISSN 0009-9821

9 770009 982010

01

years following the Rochdale Pioneers. At one time

in the past 100 years we could rely on the guilds to

democratically keep the board on their toes. But all

of these are gone now too, save spasmodic efforts

to stay alive.

Your co-operatives.

Your Co-op news.

ANOTHER DANGER I SEE is the result of decades of

co-operative mergers.

In Newcastle, for example, I witnessed co-operative

societies clustered around the city merging into a

regional society; thus a modest congregation in a

district was submerged. Over 30 separate societies

merged into one, 30 groups that were whittled

away as their fates were thrown in with other

nearby societies. This meant fewer co-ops. But is

this a good thing?

Whatever happened to the hundreds of oncethriving

societies we were once proud of, their

purpose lost in a morass of fighting for their lives?

Playing the game of expansion does not signal

success but instead we find the very foundations

on which a co-op is built, being eroded away.

news Issue #7294 APRIL 2018

Connecting, championing, challenging

APRIL 2018

EDUCATION

Co-op learning:

principle five

in action

Plus ... 150 years

of East of England ...

and updates from the

Co-op Retail and Abcul

conferences

£4.20

www.thenews.coop

THE WINNING INGREDIENT isn't necessarily scale

(look at our large competitors who are fighting

to survive) – it rests substantially more on the

quality of management.

Size and business strength does not bring the

success we could once achieve. And although we

cannot match the access to hard capital of our

main competitors, all is not lost. The success of

co-operatives over the last century tells us that the

co-operative principles can be at least one secret to

winning.

THE CO-OPERATIVE NEWS is a great canvas to

reflect on how the new co-operative movement is

emerging, based on men and women with the right

principles at heart. It is full of splendid history

and stories of progress. Modestly, I am likely to

be among the elite who have read the News for a

very long time. I very much welcome the coverage

of world events and recent issues have opened

my eyes to new forms of co-operative, mainly and

strongly worker co-operatives.

Anthony Murray (the previous editor) sailed the

ship in the right direction. Sincere congratulations

to Rebecca Harvey, new editor of the News. I will

read every page of future editions, and anticipate

that it will stimulate more readers, more cooperators

and more appreciation for the vital part

the Co-op News has played for many years. Long

may it do so!

OCTOBER 2018 | 27
---
UKSCS annual conference

The UK Society for Co-operative Studies (UKSCS) held its annual conference

in Sheffield from 31 August – 2 September, bringing together a range of

expert research. Anca Voinea reports on discussions including worker co-op

funds, FairShares and modern slavery ...

Annual report

The UKSCS reported positive financial results

for the year ending 10 April 2018, with increased

income from events and the sale of its Journal of

Co-operative Studies.

Over the past 12 months, UKSCS has changed

its legal structure from an unincorporated charity

to a charitable incorporated organisation.

Chair Ian Adderley told the AGM the organisation

was in a much healthier position, and had been

financially restored by a successful 2017 annual

conference. The organisation also hosted an

annual lecture, which was livestreamed, and two

law seminars in collaboration with Anthony Collins

Solicitors. "Cash in" increased from £17,097 in

2017 to £19,007 in 2018 while "cash out" rose from

£4,383 to £7,141.

Crowdsourcing meets

co-op development

"The events helped to

educate people about

co-operative forms and

structures and brought in revenue for the society,"

said Mr Adderley.

The UKSCS now has 81 members, and the

journal is bought by around 110 universities, with

subscribers around the world, including in Europe,

Japan, Indonesia, the USA, Canada and Thailand.

The increased income have allowed the

organisation to set up designated funds and

general reserves, and allocate bursaries for those

wishing to attend its annual conference.

Looking ahead, the UKSCS aims to work on

communication and its website.

The AGM also awarded Richard Bickle, who

retired from the board of trustees, an honorary life

membership of the organisation.

p Richard Bickle receives

his honorary membership

of the UKSCS

A fund created four years ago to support the UK

worker co-op sector has reached £76,203, a

session at the conference was told.

The Worker Co-op Solidarity Fund – run by

Solid Fund, an unincorporated collective with 581

contributing members – emerged from a discussion

about a possible development fund at the Worker

Co-op Weekend in 2014.

"Anybody who pays into the fund is a member,"

said Siôn Whellens, a member of design and

print enterprise Calverts, one of the contributing

worker co-ops.

Mr Whellens said there is growing appetite for

industrial democracy within the tech sector, and

most new members are not employees of worker

co-ops but supporters of industrial democracy.

Each member of the fund, whether individual or

corporate, has one vote. It is run on a voluntary

basis, with individual members contributing £1

a week, while worker co-ops pay on behalf of

their members – in some cases through payroll

deduction.

The decisions regarding the allocation of

funding are made collectively through Loomio, an

online collective decision-making tool developed

by a worker co-op in New Zealand.

Around 150 people are active in the Loomio

group, through which Solid Fund makes all

decisions, with 60 members exercising their

voting rights.

Members propose projects for support, which

are discussed and voted on. A number of projects

have already won support, with £3,750 going to

the Creative Workers Co-operative (CWC) for the

purchase of video production equipment.

Last year, a grant went to the successful CoTech

retreat and £6,600 was allocated to find the next

generation of worker co-op development advisers.

"We are now trying to reflect on why this

has this worked and how to make it better," said

Mr Whellens.

p Siôn Whellens

discusses efforts to fund a

new wave of co-operation

28 | OCTOBER 2018
---
Where do co-ops fit within the FairShares model of enterprise?

p Prof Ridley-Duff

explaining the main

characteristics of

the FairShares multistakeholder

mode

A diverse co-op movement needs a variety of legal

forms – and for multi-stakeholder co-ops, these

include the FairShares model, says Prof Rory

Ridley-Duff.

Prof Ridley-Duff, in his a keynote presentation

at the conference, invited delegates to switch to a

multi-stakeholder mindset and look at how co-ops

can support solidarity enterprises.

He said the FairShares model is based on

the assumption that the exclusion of primary

stakeholders from member-ownership is a cause

of contemporary poverty.

The approach aims to bring together the people

who established the organisation; the people who

provide the labour; those who use the products

and services; and the financial investors. All

of them are investing different types of capital, be

it financial, social or labour. A person could also

invest different forms of capital into the business.

Governance and legal systems need to

recognise these contributions and reward them

accordingly, said Prof Ridley-Duff, adding: "If you

are constituted appropriately, you can offer shares

to raise financial capital from the people inside

and outside the organisation.

"You can be a company or a co-operative to

do that. And you can adopt this mindset across

different legal traditions."

As a result, entrepreneurs get Founder Shares

(or membership); workers get Labour Shares

(or membership); trading commitments are

rewarded with User Shares (or membership);

and financial capital creation is rewarded with

Investor Shares (or restricted funds to organise

investments in the well-being of employees, user

communities and/or public benefit).

Prof Ridley-Duff argued that the FairShares

model promoted by the Fair Shares Association

was rooted in the history of co-operatives.

The three models of thinking around consumer

co-operation, social entrepreneurship and

worker co-operation are key concepts within the

FairShares model, he said.

However, the FairShares model has its own

values and principles. These are wealth and power

sharing with primary stakeholders; specification

of social purposes and auditing of social impacts;

ethical review of the choices of goods and

services offered, as well as the production and

retailing processes; and social democratic models

of ownership, governance and management.

Some groups are already using FairShares

models while operating as co-operatives. One

example is Anyshares, a United States company

that includes all stakeholder groups in voting

and dividend profit sharing. The business aims to

position itself as an alternative platform bringing

together users and service providers.

Similarly, Resonate, a co-op owned music

streaming service, is jointly owned and managed

by artists, listeners and record labels. Users pay

to listen to a song – and after they pay to listen

to it nine times, they can download it. With other

providers, listeners have to listen to a song over

100 times to own it. A platform co-op, Resonate

also uses Blockchain technology to track and

distribute payments.

According to Prof Ridley-Duff, co-operative

social entrepreneurship is more rooted in

mutuality than in philanthropy. It also tends to be

explored more within multi-stakeholder co-ops

than the rest of the movement.

"It is closely aligned with the development

of a social and solidarity economy. It's supportive

of member participation in ownership and

it expands the notion of trading beyond

commodities and market," he said, adding

that the UK had yet to fully grasp the concept

of multi-stakeholder ownership.

He said that more studies and legislation were

required to support the model, as well as having it

included in education curricula.

In his view, the FairShares model is a philosophy

for creating and sustaining networks of solidarity

enterprises that share power and wealth among

their entrepreneurs, producers, consumers

and investors.

OCTOBER 2018 | 29
---
Denmark's co-op movement looking for formal recognition

While 37% of all housing in Denmark is provided

through co-ops, re-marketing co-ops remains a

big challenge for the movement.

The CEO of co-op federation Kooperationen,

Susanne Westhausen, spoke about the sector at

the UKSCS conference in Sheffield, and said the

challenges faced by co-ops in Denmark are similar

to those in the UK.

The country has no co-operative legislation,

which means co-ops can register in any form

they want and set out co-operative principles in

their by-laws.

Worker co-ops in particular are being perceived

as old-fashioned but continue to enjoy a close

relationship with trade unions.

On the other hand, Denmark is home to some

16,500 voluntary clubs and associations. There

is a joke that if two Danes sit together for five

minutes, they will start an association.

"Denmark is the country of associations

but people do not perceive them as business

models, again due to a lack of legislation," said

Ms Westhausen. She explained that some co-ops

were losing members and board members and

then being sold. For consumer co-ops, a key issue

is explaining to customers that being a member is

different from just having a loyalty card.

On the other hand, the young generation likes

the idea of working together across countries.

"The best way for them to learn is by doing trips

to co-ops to get a co-operative experience," she

added. The country is also moving away from the

welfare state, which could open the healthcare

sector to co-ops and mutuals.

In the absence of a legal definition of the social

economy, allocating specific funding to co-ops

is not possible, even when political players are

in favour of promoting the sector, added Ms

Westhausen.

She thinks that in spite of these barriers, there

are opportunities for the sector. Changes brought

by the fourth industrial revolution are expected to

result in higher numbers of people working part

time or as freelancers – and co-ops can help them

have more bargaining power.

The UN's Sustainable Development agenda

gives co-operatives the chance to show how

they can make a difference. New organic farming

co-ops are also taking off in Denmark, where

people are more familiar with organic products

than they are with co-ops.

Kooperationen is currently working on creating

a co-operative certificate. The federation is a

network of 92 member enterprises and 14,000

employees, being the country's main apex

organisation for co-operatives. It provides

professional legal advice and counselling within

areas such as employment law, company law and

construction law.

p Susanne Westhausen

shares the lessons of

Danish co-operation

qCopenhagen, a city in a

'country of associations'

30 | OCTOBER 2018
---
The past informs the present

– The co-operative movement and anti-slavery

At this year's conference of the UK Society

for Co-operative Studies, Nick Matthews,

chair of Co-operatives UK and representative

on the Co-op Group members' council,

gave a presentation inspired by the Group's

campaign against modern slavery. Its

efforts have seen it lobby government and

businesses to tackle the rise in forced labour,

and devise the Bright Future programme,

which offers work opportunities to survivors

of the crime. Here, Mr Matthews argues that

this anti-slavery ethos is embedded in the

co-op movement's history ...

Last year, when the Co-op Group was awarded

the Thomson-Reuters Stop Slavery Award for the

great work of the Bright Futures programme in

supporting former slaves, I wondered what our

founders would have thought. Delighted that our

values were still intact or horrified that slavery

still existed?

p The iconic CWS wheatsheaf

I thought about the early trademark of

the Co-operative Wholesale Society, the

wheatsheaf with the motto "Labor and

Wait". Labor stood out because it was in the

American spelling. It was suggested that this was

a demonstration by the founders of the CWS of

their commitment to the emancipation movement.

It is generally accepted that 'labor and wait'

comes from the last line of the Longfellow poem

the Psalm of Life.

This raises a series of questions: were the

early co-operators supporters of Lincoln and the

Union forces? If the phrase was from Longfellow,

why was it important and would anyone seeing it

understand what it meant?

In short, this is what I have found. Two ideological

strands feed the early movement – Chartism and

Christian Socialism. Both had a commitment to

equality and extending the franchise at home and

against slavery.

The backdrop to the whole process of the

formation of the CWS was the US Civil War and the

blockade of the Southern ports by the Union navy.

This prevented the export of cotton to Manchester

and Liverpool. Prior to the civil war, there were over

half a million operatives in the cotton districts in

Lancashire and Yorkshire. By November 1862, over

two thirds of them had been laid off. The misery

caused has been referred to ever since as the

Lancashire Cotton Famine.

Co-ops were not immune to this economic

pressure. There were around 120 co-op societies

in the cotton districts. All lost trade and members.

Some collapsed. I believe this must have been

part of the pressure to form a Wholesale Society.

The Manchester campaign in support of the

Union came to a crescendo on New Year's Eve in

1862 as Lincoln's proclamation freeing the slaves

came into force on New Year's Day. Two founders

of the CWS, John Cooper of Rochdale Co-op and

Edward Hoosen of Manchester Co-op, had called

the meeting, and some 6,000 people turned up

at the Free Trade Hall for the first meeting of what

became the Union and Emancipation Society. They

went in to be on the founding board of the CWS.

So their anti-slavery credentials are clear. How

well did they know Longfellow? Now, it is hard

to appreciate just how popular he was. Before

effective copyright law, huge quantities of his

work were sold. He was the most popular poet in

the country, with over 20 British publishers, easily

outselling the likes of Wordsworth and Tennyson.

His style of morally uplifting verse fitted the

mood of the times. It is astonishing how many of

his phrases have entered our language and there

is no doubt the founders of the CWS would have

been familiar with his work.

So, it seems that it is true that as George Jacob

Holyoake wrote, "Co-operative societies had no

small share in enabling the people of the two great

cotton spinning counties to resist the recognition

of a slave dominion."

OCTOBER 2018 | 31
---
It has become a familiar story: political fault-lines are opening up around

the world, huge sections of the population are feeling disenfranchised,

and reactionary populist movements are moving to fill the vacuum.

Introduction by Miles Hadfield

32 | OCTOBER 2018
---
The upheaval following the 2008 crisis has led

to the Brexit vote (see page 46-47), the election

of Donald Trump, the electoral successes of far

right parties across Europe, and the hold on power

enjoyed by political "strongmen" such as Vladimir

Putin, Recep Erdogan and Rodrigo Duterte.

These all represent variations on populism –

characterised by political academics such as Jan-

Werner Muller as a form of identity politics that is

critical of elites, anti-pluralist, and makes moral

claim of representation.

In his book, What is Populism, Muller warns:

"The notion that we move closer to democracy

by pitting a 'silent majority', which supposedly is

being ignored by elites, against elected politicians

is not just an illusion, it is a politically pernicious

thought ... Populism is something like a permanent

shadow of modern representative democracy, and

a constant peril."

But there is also a more progressive strain of

populism, as seen in the huge grassroots support

Jeremy Corbyn in the UK, Bernie Sanders in the

US, and the Syriza and Podemos parties in Greece

and Spain.

Muller points out that in North, Central, and

South America, there has always been progressive

strand of populism. This has influenced co-op

history in these regions – for instance, in the US,

a wave of co-operativism emerged from the 1880s

populist movement The Knights of Labor.

"The populists' basic premise,' writes Nathan

Schneider in his new book Everything for Everyone

(review, p48), is that opposing entrenched power

and creating co-ops went hand in hand."

Now, the movement is developing its own

radical responses to the world's challenges, from

the Cleveland model of local co-op economies, to

the development of the platform co-op model to

disrupt the tech economy. Meanwhile, the racial

tensions in the US, which have worsened since

Trump's election victory in 2016, have seen a

resurgence in the African American co-operative

movement (p 44-45).

But can these diverse strands be built into

a coherent political programme? The co-op

movement has been using the crisis to push its

own cause, arguing for more democratic models

of ownership in housing, transport, utilities and

business. The hope is that co-operative ways of

working, focused on potential employment growth

sectors such as care work and the knowledge

economy, can deliver a more stable future, with

less inequality.

In the UK, thinktanks have produced a series

of policy documents for a reshaped economy,

most recently last month's report by the Institute

for Public Policy Research (IPPR) Commission

on Economic Justice (page 44-45). These ideas

are being echoed in grassroots meetings around

the country. Last week in Manchester, there

was an event discussing alternative models of

home ownership, from campaign group Housing

Futures.

Salford's Labour MP Rebecca Long-

Bailey, the shadow business secretary,

said "the housing crisis exemplifies

inequality" in the UK. She said Labour

planned to build a million new homes –

half of them social housing – if elected,

but that this would not be enough on

its own."We also need to investigate

new models", she said, such as co-op

housing and co-ownership. This was

part of plan to "diversify the economy".

"We need to investigate who

owns the economy, and investigate

whose interests it is run for,"

she added.

Neil McInroy, chief executive of the

Centre for Local Economic Strategies

thinktank, agreed there was a need

for a variety of ownership models. "We

need a plurality of forms to ensure

there is not one monolithic entity to

extract the wealth."

He told the meeting the global

crisis had discredited the neoliberal

consensus and left an "interregnum of

ideas" – offering a space of alternative

ideas of ownership to develop.

"Things are coming together," he

said, "but we're not there yet."

But will this be enough? Mr McInroy warned

that such models need a supportive environment,

arguing that community asset transfers, which

had given responsibility to social housing tenants,

had not worked.

"It's a good idea," he said, "But in a time of

austerity, it's just an exercise in passing the buck."

He added: "We've got to listen more and try to

co-design and co-produce" policies with people

who had previously "had things done to them."

"The housing crisis exemplifies

inequality ... We need to

investigate who owns the

economy, and investigate

whose interests it is run for"

Above: Rebecca Long-

Bailey and Neil McInroy

OCTOBER 2018 | 33
---
CZECH COFFEE CO-OP AIMS TO PROVE THAT

CO-OPERATION WORKS

As with in other east European countries, many

people in the Czech Republic associate co-ops with

the former communist regime. Some still perceive

co-operatives as old-fashioned, state-owned,

unproductive enterprises.

But in the small town of Kostelec nad Labem, in

Central Bohemia, a coffee co-op is trying to show

that co-operation works. The founders of Fair &

Bio Coffee Roasters wanted to process Fairtrade

coffee in the Czech Republic, rather than have it

imported. In doing so, they are also reviving the

co-operative business model.

"The image of co-ops was very

much damaged. Until now,

they have been disregarded.

There was a misconception that

co-operation doesn't work and

co-ops were rejected. It is

getting better. Over the past

five years, things have changed.

People don't laugh at us

anymore," she adds."

The Czech co-op movement dates back to

1847, with the formation of the Prague Food and

Savings Society. Its purpose was similar to that of

the Rochdale Pioneers – to provide high-quality,

affordable food to people in industrial areas. Soon

after, credit, agricultural and housing co-ops

formed in Bohemia and Moravia.

The downfall of the co-operative sector in the

region started with World War II. Co-op staff were

targeted and executed by the Nazi regime. And

when the communists came to power in 1948,

co-ops lost their autonomy and independence,

becoming state-owned. New co-ops were set up

but they belonged to the state and lacked the

entrepreneurial aspect of the old societies. After

communism fell in 1989, some co-ops did not

manage to obtain ownership of their former assets

and were disbanded.

"In 1989, the collective way of doing

things was rejected," says Marketa

Vinkelhoferová, a member and director

of the Fair & Bio Coffee roasters. "We are now trying

to explain that the collective democratic form of

doing business is not evil and that co-operation is

necessary for a successful way of doing anything.

Not many people know that co-operative history is

so rich."

She adds: "The image of co-ops was very

much damaged. Until now, they have been

disregarded. There was a misconception

that co-operation doesn't work and

co-ops were rejected. It is getting better. Over the

past five years, things have changed. People don't

laugh at us any more."

The multi stakeholder co-op has 25 members,

some of them employees. There 12 workers, nine of

whom have disabilities.

"I like working in the roastery because of the

beautiful smell of coffee," says Filip, one of the

employees with learning disabilities, who has

been there since the start. His colleague, Lukáš,

adds: "I love the friendly and relaxed atmosphere

of the workplace."

Marketa is the president of the co-op's board,

which includes two other members. Regular

members are also involved on a voluntary basis,

helping out during busy periods, particularly at

Christmas. To join the co-op, members have to

invest €200 in the business.

"We don't recruit members. We work with

people who want to become members and are

highly motivated. We want committed members

rather than a big membership pool. We expect

support and involvement from them, as well as an

understanding of our values.

"We are part of the wider movement and we

aim to create international contacts. Not much is

known about co-ops in Central and East-European

countries. We would like to let the world know."

CZ, Kostelec

nad Labem,

Central Bohemia

25 members,

12 workers

Roasted in the

Italian Style

34 | OCTOBER 2018
---
The co-op is a member of the Union of Czech

and Moravian Manufacturing Cooperatives,

the Association of Social Responsibility, the

Decent Company platform, and RIPESS, the

intercontinental network for the promotion of

social solidarity economy.

Ecumenical Academy – the non-governmental

organisation that co-established the co-op –

was a partner organisation in SUSY, a European

initiative to promote the social and solidarity

economy. Ecumenical Academy supports

alternative solutions to the current economic,

social and environmental issues both in local

communities and at global level.

Fair & Bio Roastery was one of the good practice

examples included in the scheme. As part of the

initiative, the partner organisations launched a

series of videos showcasing good practices in the

social and solidarity economy around the world.

The co-op roasts around five tonnes of coffee per

year. The coffee sold by Fair & Bio Roastery is 100%

Arabica and comes from Latin America, Africa

and Asia. It also offers a blend with Robusta. All

coffee is Fairtrade certified and a large part of it

is organic.

Products include Italian-style roasted espresso

and third-wave coffee, which is roasted less and

emphasises floral and fruity flavours. The products

are sold online, as well as to local businesses and

shops, including zero-waste retailers. A significant

percentage of customers are companies – who buy

the coffee for gift sets or for their staff.

"There is a lot more acknowledgement of

Fairtrade than 10 years ago," says Marketa.

"People also respect the concept of organic

agriculture. We don't want to make ourselves

cheaper to be more competitive because we

"We combine global sustainability through our

Fairtrade sourcing and transparent supply chains

with local sustainability by providing jobs for local

people and those disadvantaged"

would need to save money from somewhere and

we don't want to abandon some of our values."

One of the main challenges faced when setting

up was the lack of support available for co-ops,

particularly in terms of access to capital, with a

lack of ethical finance in the Czech Republic.

Acquiring the roasting machine and other

equipment required investment; the co-op

obtained a grant from the EU Social Fund, but that

did not cover the full cost.

"Many people tend to say that grants are not

good but we saw it as an initial investment. Social

and solidarity economy enterprises, like us, have

to be economically sustainable and cannot be

running on grants," says Marketa .

Looking ahead, the co-op plans to grow

sustainably, roast more coffee and increase the

number of employees.

"We would like to expand our offer one day to

neighbouring countries like Poland, or Slovakia,

but there are many more opportunities to take

in our own country first. The environment is

much friendlier now. More people are aware

of environmental issues, especially after this

hot summer. They are also supportive of local

economies. We combine global sustainability

through our Fairtrade sourcing and transparent

supply chains with local sustainability

by providing jobs for local people and

those disadvantaged," says Marketa.

Members of the Fair

& Bio team enjoy the

relaxed and friendly

atmosphere that comes

from its co-op ethos

OCTOBER 2018 | 35
---
WHERE STATE AND CO-OPERATION MEET

Above and below: A

co-operative training

session in Malawi

(Photo: Co-operative

College)

"The 21st century provides the African cooperative

movement with exciting and critical

opportunities as the continent becomes the world's

second fastest-growing region." So wrote the

Honourable Vincent T. Seretse, chair of the Africa

Co-operative Ministerial Conference, introducing

the International Co-operative Alliance – Africa

Co-operative Development Strategy 2017-2020.

"If the movement and governments work

together to support the co-operative enterprises,

the industry will realise sustainable growth and

development, and inspire Africa's performance in

distinct segments of the movement."

However, for many years, co-operatives in Africa

struggled with a legacy of government intervention

from both the colonial and post-colonial period.

As noted by Hazel Johnson (Development Policy

and Practice, The Open University) and Linda

Shaw (the Co-operative College) in their 2014 paper

'Rethinking rural co-operatives in development:

introduction to the policy arena', this legacy had

an long-lasting impact on their performance and

limited their effectiveness.

"Many co-operatives functioned as para-statals

and were frequently captured by local elites," they

wrote. "Liberalisation and structural adjustment

further weakened co-operatives that were

previously dependent on the state."

They add that African co-operatives have

remained strongly marked by their colonial

legacies – not only in terms of the legal and policy

environment but also by the sectors in which

they operate. In eastern Africa, until recently,

the dominant types of co-op have been those

specialising in export crops such as coffee and

cotton.

Dr Johnson and Dr Shaw highlight a study of

contemporary co-operatives in Africa published

by the International Labour Organization which

"argues that the British, Belgian and French

colonial regimes left behind distinct legal

frameworks, which are still apparent today. The

A CASE STUDY FROM MALAWI

Over the last six years, the co-operative movement in Malawi

has been working to develop a national apex body, known as

the Malawi Federation of Co-operatives (MAFECO) ... writes

Dr Amanda Benson, research and projects officer at the

Co-operative College. Supporting this project, among

others, has been the Co-operative College, firstly through its

Supporting Co-operatives in Malawi project (2012-2015) funded

by the Scottish government, and, more recently, through the

CEPEESM project (2015-2018).

On a recent visit to the country, we (myself and Dr Sarah

Alldred) met with the Malawi government's registrar of cooperatives,

Wisikesi Mkombezi, and his team to discuss the

ongoing development of the country's co-op movement.

According to Mr Mkombezi, there are great changes taking

place in the regulation of co-operatives; the Malawian

government has ambitious plans to double the numbers of

co-op members, driven in part from the top by ministers who

attended the National Agricultural Fair and were impressed with

how co-ops have been performing, especially in rural areas.

"Every politician is talking about co-operatives, especially

when they have visited co-ops and have seen how they are

changing people's lives," he says. "Then they see them as a

vehicle to change people's lives for the better."

However, he is aware that the co-operative movement

needs to be independent and not hampered by politics, and

acknowledges that one of its strengths is that it does work

independently.

But this message of independence also needs to be received

by members of the co-ops: that they are the owners and

decision-makers behind the co-op movement, and that it is not

controlled by government – there is sometimes a misconception

that co-operatives are another wing of the government.

Mr Mkombezi emphasises that even MAFECO is memberbased,

and the co-op movement can put who they want at the

head of the board: it's in their power to act. "But you can't force

a concept on the people," he adds. "First they must understand

what a co-operative is."

Co-operatives are still used as a tool by the government.

Their popularity has in resulted in a boost of support in using

co-operatives to build primary industry, and has united the

efforts of the Ministry of Industry, Trade and Tourism, the

Ministry of Water, Agriculture, Irrigation and Water and the

36 | OCTOBER 2018
---
British model has been characterised as a 'unified

model', for example, with one law for all types of

co-operatives, a separate co-operatives ministry

and a single national apex body."

They add: "Co-operatives were often co-opted by

political parties. In socialist countries they became

integrated into state-dominated agricultural

systems while, in other countries, many

agricultural co-operatives became dominated

by big landowners and large scale farmers [...]

However those agricultural co-operatives closely

associated with the state suffered as a result of

the withdrawal of state support and structural

adjustment policies from the 1980s onwards

with many failing or considerably reducing their

activities."

The shift away from a government-led and

controlled co-operative sector began in the

1980s and 90s, with the liberalisation policies

that started to remove government support and

subsidy from co-operatives in many countries.

And this was furthered in 1995 when, at its

conference in Manchester, the International Cooperative

Alliance adopted a Statement on the

Co-operative Identity which firmly situated cooperatives

as member-owned, democratically run

and autonomous enterprises.

In Africa, small-scale financial co-operatives,

such as credit unions, developed later as

relatively autonomous organisations – and more

recently, the region has witnessed a 'co-operative

renaissance', with the number of memberships

and active co-ops growing significantly.

According to the ICA – Africa, there are

now three things that are fundamental to the

future success of co-operative enterprises in

the continent: data; cultural environment; and

research and innovation.

"We need a comprehensive, internationally

comparable and consistent data set that adequately

reflects the economic activity of the sector," said

outgoing ICA – Africa president, Stanley Muchiri.

Mr Muchiri, who is also the chair of the Cooperative

Bank of Kenya and vice-president of the

ICA, adds that while "African governments now

have a standard definition of what we mean by a

Co-operative, they fail in providing guidelines on

how it will be officially measured".

To resolve this, the Africa Co-operative

Development Strategy 2017-2020 aims to engage

governments to ensure government information

accurately reflects all parts of the sector and does

not exclude the large proportion of the industry

that exports goods and services.

"Diversity and innovation will define the future

strategic growth of the co-operative movement,"

he said.

"This requires that we build on our long history

of excellence in the arts and culture, sports, and

the talent it nurtures, to develop an ecosystem that

brings together co-operatives and culture with

technology, research, and innovation."

Ministry of Finance to drive the rural industrialisation of

Malawi. Mr Mkombezi acknowledges that one challenge facing

the movement is resources.

Co-ops have been singled out as a critical tool for Malawi's

development, but they are very under-resourced – and the

resources that are available are spread out between lots of

different organisations.

John Mulangeni, our project manager in Malawi, said that one

of the issues for the movement, and for joined-up approaches,

is that there is no centralised point that holds data on cooperatives

in the same way that data is collected on other

enterprises (such as figures on membership, capital, how do

they manage their post-harvest production activities etc).

The ministry staff work in a very centralised way and this

presents challenges when reaching out to the more rural areas.

Mr Mulangeni believes the co-op movement in Malawi could

learn a lot from the Tanzanian model, which is developing and

moving forwards, especially as Malawi is currently updating

its 1998 Co-operative Act. The draft Co-operative Bill is being

debated and it is expected to be passed by the end of this

financial year.

The government's policy is to promote co-ops, and while

they still support other associations, they do emphasise

that the preferred organisation is a co-operative one. A great

recent example of this is the help that was given to a leather

association. This enabled them to create a design studio, but

also encouraged them to become a co-operative too. They

certainly don't hide their preference for organisations to be cooperatives

to access support.

OCTOBER 2018 | 37
---
AS THE WORLD BECOMES MORE POLARISED,

CAN CO-OPERATIVE POLITICS OFFER HOPE?

ARIEL GUARCO

Across the world, we see economic inequality

leading to disaffected populations. What is the

role of co-operatives in offering an alternative

to these people? Can co-operatives create a

sense of belonging in these disadvantaged

communities?

We live in a time of enormous global challenges,

in all kinds of areas: the environment, population,

work, production, health and education. At

the same time, we face challenges with citizen

participation and political representation.

For more than 120 years, the International

Co-operative Alliance has upheld values and

principles that promote the development of

communities within a framework of democracy,

justice and peace.

"The world urgently needs

forms of social organisation

that prioritise caring for the

environment and putting

people at the centre of the

economy. Otherwise, damage

will be irreversible"

With the aim of promoting strategic alliances,

we've been talking to various international

organisations. And by doing this, we have

strengthened our relationship with the ILO and

FAO – and we're committed to the 17 Sustainable

Development Goals.

We know that there are more than one billion

members of co-ops worldwide, and we have a

presence on every continent and in almost all

sectors of the economy.

That's why we set out to improve region and

sector integration; engage with members to better

understand their suggestions and concerns, and

make an impact on the public sector to create

better policies and legal frameworks to develop

co-operative enterprise.

Additionally, we're re-evaluating the role of

data and statistics to get a better picture of our

economic and social contribution in various parts

of the world.

Anca Voinea speaks to Ariel Guarco, president of

the International Co-operative Alliance, and John

Duda of US thinktank Democracy Collaborative,

about the potential of the co-op alternative

If we are an integrated movement, united

in all its diversity, we will be in a stronger

position for governments and other international

organisations to listen to our proposals and

warnings about the global situation.

We can't stress

enough that the world

urgently needs forms

of social organisation

that prioritise caring for

the environment and

putting people at the

centre of the economy.

Otherwise, social and

environmental damage

will be increasingly

irreversible.

Since the founding

of the Alliance in

1895, right up until

today, co-operatives

have transcended

wars, economic crises,

different political

regimes and natural

disasters. And in all

these years they have

demonstrated that,

in the midsts of many

different circumstances,

they always serve people

and their communities.

In 2012, the United

Nations recognised

that co-operatives can

help build a better world. We have demonstrated

the ability to generate work, produce goods and

services, distribute wealth and improve people's

quality of life. We do it with our own resources

and tools, and sometimes in association with our

governments.

Clearly, the current economic model will

not solve the inequalities that it has created,

and governments alone cannot provide all the

answers. So co-operatives remain a genuine and

effective tool for achieving a sustainable world.

Ariel Guarco, president

of the International

Co-operative Alliance

38 | OCTOBER 2018
---
JOHN DUDA

There is confusion over what populism is –

some politicians use populist speeches but

implement policies that help corporations –

such as tax cuts. How would you define it?

Populism is a response to a situation when the

power to establish political reality shifts away from

being managed entirely through elite governance

and towards "the people".

That doesn't mean that elites are necessarily

out of the loop in a populist moment, it just means

that the centre of gravity has shifted to a broader

mass of people, and that elites can continue to

do quite well by adopting strategies that ground

legitimation for their programme in this mass.

But populism isn't always just a strategy of elite

capture – the Populist movement in the late 19th

Century in the US, for instance, was an impressive

bottom-up movement for a systemic alternative,

"the co-operative commonwealth".

Ultimately, it matters who "the people" are

in a populist moment — and who is left out.

Certainly, the more reactionary and xenophobic

populist strategies on both sides of the Atlantic

are terrifying. But after decades of a technocratic

neoliberal consensus about the acceptable

boundaries for the political imaginary, it's a relief

to see truly just and equitable systemic alternatives

on the table as well — and it's populism that's

made this possible: a moment of delegitimisation

and danger that's also an incredible opportunity.

Are we witnessing a return of the "isms"? And

does this pose a threat to liberal democracy?

It depends on what "isms" you mean. Certainly

a well-organised, well-resourced, and chillingly

effective strain of authoritarianism is on the

march: it's a real threat to democracy, and should

be confronted and fought.

But I'm more ambivalent about liberalism, which

is also, of course, an "ism". The reliance on the

market as the core institution of civil society has

not proved capable of uniformly delivering results

that are compatible with equity or democracy, let

alone ecological survival. A return of some kind of

socialism is not just compatible with democracy, it

may well be the precondition for its survival.

What's needed is a re-envisioned political

economy built around democratic outcomes as a

consequence of its structure and operation – not

trying to retrofit democracy on top of an economic

system programmed to concentrate power.

Because we are talking about a complex

system with a lot of different operative scales,

this means, for me, the least problematic of all

the "isms" – pluralism. Democratised ownership

and control of many kinds, interlocking and

overlapping – nationalisation, municipal "sewer"

socialism, worker co-ops, consumer co-ops, multistakeholder

co-ops, public/co-op partnerships,

and so on, all at different scales regrounding

the economy in the lives of the public and in

communities. Our current system is in crisis

because a financialised liberalism can't really

deliver public welfare or sustain communities,

so the choice increasingly becomes one between

a politics based in reactionary hatred and fear

defending what has yet to be stripped away,

or a movement reconstruction of the economic

foundations of democratic life.

Can co-ops create a sense of belonging for

alienated communities? Has this happened

in Cleveland, where Democracy Collaborative

helped establish the Evergreen Cooperatives?

Certainly they can! Co-operatives are an economic

foundation for democracy precisely because they

carve out a space of autonomy and control that

undercuts the fear inherent in precarious life in

a failing system. But to do so, they've got to be

designed with inclusion in mind.

In Evergreen, there's been a decision to include

the excluded in the hiring and membership

process. That mean working to develop pipelines

and supports for people with barriers to

employment – who may have been incarcerated,

or are refugees, or have simply been long-term

unemployed, with a job and additional benefits.

The challenge is scale – Evergreen is growing,

but it's just a couple of hundred workers. If we

want to truly work at the scale of communities, we

need solutions that give everyone that same sense

of economic security and agency. So that means

more and bigger co-ops, certainly, but also all the

other institutions of the democratic economy we

can build, as quickly as we can build them.

Democracy

Collaborative hosted

a roundtable in

Cleveland, Ohio,

which blossomed into

birthed an economic

inclusion strategy in

the city's low income

communities known

as the Evergreen

Cooperative Initiative

OCTOBER 2018 | 39
---
CO-OPERATION AND CIVIL RIGHTS: BUILDING

BLACK ECONOMIC POWER IN THE USA

This month, NCBA-CLUSA, the apex body for

co-ops in the USA, hosts its Impact Conference –

including a session on the way "communities of

colour are increasingly utilising the co-op model to

meet their needs and create their own solutions".

Conference organisers note: "The need for an

economic renaissance is already dire, and the

data shows that the racial wealth gap continues

to grow. Innovative strategies are necessary to

address complex disparities around access to

food, housing, financing and employment."

The event brings together several co-ops

from communities of colour including the

Association for Black Economic Power (ABEP),

which is working to establish the Village Trust

Financial Cooperative, Minnesota's only black-led

financial institution.

"The need for an economic

renaissance is already dire,

and the data shows that the

racial wealth gap continues to

grow. Innovative strategies are

necessary to address complex

disparities around access to

food, housing, financing

and employment"

formed around Birmingham, Alabama in the

1880s, a decade which also saw the Colored

Farmers' Alliance, grow out of populist labour

organisations like the Knights of Labor.

A key figure in the movement's history, W E B

Du Bois, rose to prominence in the early 20th

century. A civil rights icon who helped found

the National Association for the Advancement

of Colored People in 1909, he carried out a study

of black co-operation, and formed the Negro

Co-operative Guild in 1918. More associations

followed, such as the Young Negroes' Co-operative

League in 1930 and over the following decades,

farmer's co-ops, credit unions, buyers clubs,

and health insurance mutuals were established.

Formed in 1967, the Federation of Southern

Cooperatives has helped create and/or support

more than 200 co-ops and credit unions.

If these co-ops were a response to troubled

political and economic conditions, they often met

with more oppression. Dr Gordon Nembhard has

described how these efforts often met with hostility

Black selfdetermination

through worker

co-operatives

W E B Du Bois, a key

figure in the history of

African American

co-operation

Established last year "as a way to use our

economic power as a form of resistance, to build

the financial resilience of our communities, and

insulate against extraction and divestment",

the project is a response to the fatal shooting of

Philando Castile, a 32-year-old-black man, by a

police officer in July 2016, in St Paul, Minnesota.

Black co-operation is enjoying a resurgence in

the US, with notable examples such as Cooperation

Jackson, which is working to create a new economy

in the Mississippi city.

But, as academic Dr Jessica Gordon Nembhard,

an expert on African American co-operation, has

pointed out: "African Americans have a strong but

hidden history of co-operative ownership in the

face of market failure and racial discrimination."

This developed through the second half of the

19th century, with co-ops such as the Chesapeake

Marine Railway and Dry Dock Company,

established in 1865. Black co-op villages were

40 | OCTOBER 2018
---
– whether in the form of increased rents or refused

bank loans, or acts of violence and murder.

This is a situation which persists: in her foreword

to Jackson Rising, a study of the Cooperation

Jackson movement, Rukia Lumumba describes

efforts by the Mississippi state government to

"remove local control from the hands of the largely

black city council of Jackson".

But efforts continue

to create a co-operative

city economy, run on

radical lines, with black

self-determination

in Jackson. A leading

light of the movement,

Chokwe Lumumba,

served briefly as mayor

from 2013 until his death

the following year. Last

year, his son Chokwe

Antar Lumumba was

elected to the office.

Just before his death,

Chokwe Lumumba said: Chokwe Lumumba

"We want to accomplish

a revolutionary

transformation. We are party to statistics which

demonstrate that our people, black people in

particular and probably the majority of the

Mississippi population, are at the worst end

of all the vital statistics. When it comes to the

discussion of oppression in America, we've been

experiencing the worst of it for a long time. What's

exciting to me is the prospect of going from worst

to first in a forward-moving transformation which

is going to take groups of dispossessed black

folks here – and others – and make us controllers

of our own destiny.

"We are not foolish enough to think that it is a

mission that can probably be accomplished here in

the absence of fundamental movement in the rest

the world, but we think we can start that movement

and help carry it forward, and help advance it in a

really powerful way. So that's what excites us."

" When it comes to the discussion

of oppression in America, we've been

experiencing the worst of it for a long

time. What's exciting to me is the

prospect of going from worst to first

in a forward-moving transformation

which is going to take groups of

dispossessed black folks here

and make us controllers of

our own destiny"

Asked last year how the movement

should respond to the Trump administration, Dr

Gordon Nembhard said: "We can survive with

strong Black organisations promoting and

educating about co-ops and providing co-op

business education and development at local

levels; and by creating co-ops that support and

supply each other regionally and nationally;

and engage in federations that provide needed

financial, educational, distribution, marketing,

and policy support."

Below: Mandela

Grocery was set up to

in a neighbourhood

in West Oakland,

California, where there

was a lack of healthy

food stores

OCTOBER 2018 | 41
---
HOW TO UNLEASH A NEW ECONOMY? CO-OP

PARTY PREPARES FOR ANNUAL CONFERENCE

October 2018

The Co-op Party hosts

its annual conference

from 12-14 October, to

discuss ways to meet

its goal of doubling the

size of the co-operative

economy.

Earlier

this

year, the Party

commissioned a report

by the New Economics Foundation (NEF),

Co-operatives Unleashed, which identified policy

areas for achieving this target, and it will discuss

these ideas further at the conference. .

It will also present "a new generation of cooperatives

who are expanding the co-operative

movement into new and innovative areas of

business and the economy", alongside sessions on

housing and energy, schools and social enterprise.

On Brexit, members given a chance to vote on

the Party's policy. At a fringe breakfast event on

Saturday, Andrew Adonis and Eloise Todd make

the case for a people's vote on the final deal,

followed by a debate.

Party chair Gareth Thomas MP told the News:

"Given the significance for the country it's only

right our members should have a vote to give them

a say."

He said the other the big issue on the agenda is

the economy. "We'll discuss the NEF report, plus

our work on community wealth building."

The Party had taken shadow chancellor John

McDonnell to Preston to see some of the being done

work there under the co-op council model of local

service commissioning, said Mr Thomas. "We'll

update on this in the economy debate."

He added: "The scale of inequality in the country

is that something has got to change. The levels of

inequality, is one of the contributory factors to the

divisive politics we've got at the moment.

"Part of the response, until we can get a Labour/

Co-operative government, is encouraging local

councils to do what they can to make a difference:

the community wealth building being done in

Preston is impressive. In government we will want

to make it easier for councils to keep their wealth

local."

Mr Thomas said the Party wanted to "democratise

the utilities", bringing mutual principles to the

water and energy industries "reflecting what has

happened in the US and Germany that would help

keep more of the wealth that's generated in local

people's hands".

He added: "We

have dialogue within

the shadow cab. John

McDonnell said two

weeks ago he would take

on board our idea for

companies with more

than 250 employers to

give an ownership stake

to workers.

"The NEF report is our

effort to get some input

into how you do that.

We are now taking that

document out to the rest

of the co-op movement

to see how you would do

that on a practical basis.

"That also involves

talking to [shadow

business secretary

Rebecca Long-Bailey, to Jeremy Corbyn, about

getting those ideas into the next Labour manifesto.

We're also getting those ideas a proper airing in

Parliament, and it would be nice to get broadcasters

to give us party political broadcasts so we can bring

those ideas forward.

"We've got good relations with the Labour Party

to get those ideas adopted."

Keynote speakers at the conference are:

Vaughan Gething AM,

Welsh government cabinet secretary for health

and social services

Rebecca Long-Bailey MP,

Shadow chief secretary to the Treasury

Marvin Rees,

Mayor of Bristol

Paddy Lillis,

General secretary, Usdaw trade union

The main guest at the evening party will be:

Carolyn Harris,

Deputy leader, Welsh Labour

42 | OCTOBER 2018
---
To find out more details of what's

happening at the conference and to register

for tickets, visit: s.coop/cooppartyconf18

WORK TO BE DONE BUT ALSO HUGE OPPORTUNITIES

Claire McCarthy

General secretary

We always thought it would be tough to top

our centenary conference but with the Party

continuing to grow in size, profile and influence

we look ahead to this year's conference – entitled

'Unleashed' - with ambition and purpose.

The Party is unashamedly ambitious for

the co-operative movement. We believe that a

substantially larger co-operative sector in the UK is

critical to building an economy where wealth and

power are shared; and where the rewards for hard

work are distributed more fairly. That is why, earlier

in the year, we commissioned the New Economics

Foundation think tank to do an independent

report setting out a roadmap for doubling the

size of the co-operative sector. Their report

'Co-operatives Unleashed' sets out a radical but

practical way forward.

It has been exciting over the last few months

to see the ideas in the NEF report being debated

and adopted beyond the co-operative movement,

including in the recent proposals from the

Commission for Economic Justice. The power

of collective ownership is coming into the

mainstream – it is being unleashed.

It is that sense of radical yet practical ambition

that is our inspiration as a Party and is at the heart

of this year's conference. We want our delegates,

visitors, speakers and other participants to come

to the event ready to think big for our Party and

our movement and to leave on Sunday inspired

and equipped to make change happen.

During the weekend, we will have an important

discussion about Britain's future relationship with

our European neighbours. We will debate a detailed

document that seeks to address the key issues for

the movement, and for our communities, arising

from some of Brexit scenarios. In addition, the

Party's NEC want to hear the views of our members,

on how we should deploy our campaigning

resources going forward, including whether the

Party should support a public vote on the decision

to leave the EU on the final terms proposed

by the government.

So, as we approach our first conference of our

second century there is a great deal of work to

be done, but also huge opportunities ahead.

We wouldn't have it any other way.

OCTOBER 2018 | 43
---
WORKER OWNERSHIP ON THE AGENDA AS

MCDONNELL WELCOMES THINKTANK REPORT

New plans

would require

all companies

employing

more than 250

workers to set up

ownership funds

Labour has announced plans to require all

companies employing more than 250 people to set

up "ownership funds", giving workers financial

stakes in their firms and increasing their influence

over how they are run.

Shadow chancellor John McDonnell told the

Observer newspaper the move would deliver

greater equality by forcing an "irreversible

shift in wealth and power in favour of

working people".

Mr McDonnell, who said turmoil over

Brexit could trigger another general election,

"The aim would be to

give more people a share

of capital and to spread

economic power and

control in the economy

by expanding the decision

rights of employees in the

management of companies".

wants to introduce the legislation in his first

year as chancellor. He will outline the plans,

which could mean workers receiving dividends

to boost their incomes, in a speech to the

TUC conference in Manchester on Tuesday.

He said the move "will ensure that in large

companies, in addition to rewarding workers with

wages, they will reward them with shares that

will go into a pool that will allow them to have an

ownership role".

Announcing his plans – which follow lobbying

from MPs in Labour's sister party, the Co-op

Party – Mr McDonnell cited a report published

by the Institute for Public Policy Research (IPPR)

Commission on Economic Justice last week which

included ideas to give millions of people "a greater

stake and voice in their workplaces".

The IPPR said "the aim would be to give more

people a share of capital and to spread economic

power and control in the economy by expanding the

decision rights of employees in the management

of companies".

Alongside proposals to rebalance the economy,

such as the establishment of a national investment

bank and the creation of clusters of tech

industries around the country, the IPPR says all

IPPR also

suggests having

two worker

representatives

with companies

with more than

250 employees

44 | OCTOBER 2018
---
"If the commission can attract

pluralistic, non-partisan

political support for its

plan then there is real hope.

We share the commission's

understanding of where co-ops

fit into this wider agenda

for economic reformation"

The report can be

downloaded at:

www.ippr.org/research/

publications/prosperityand-justice

companies with more than 250 employees should

have at least two worker representatives on

the board.

The report also suggests firms should be

required to put a percentage of profits into an

employee fund that would build up over time,

giving the workforce an increasing say in key

decisions. Workers would not be able to cash in

shares, but could receive dividends from the fund

to boost their pay.

The discussion puts employee ownership

models back in the spotlight. The Conservative

Party had briefly flirted with the idea of worker

representation on company boards, with

Theresa May advocating the model during

her leadership pitch before backtracking last

year. And Labour had included plans for more

democratic ownership structures in its 2017

general election manifesto.

The ideas in the IPPR report have already

received support – with some caveats – from the

co-operative movement.

James Wright, policy officer at apex body

Co-operatives UK, which was consulted for the

report, said: "It was important to represent the

co-op sector through our response to the

commission's call for evidence – and we're

delighted to see our positive influence manifest

itself in the final report. We certainly applaud

the commission for its ambition and for

emphasising the intrinsic links between inclusive

economics, ecology, productivity and wellbeing.

"If the commission can attract pluralistic,

non-partisan political support for its plan then

there is real hope. We share the commission's

understanding of where co-ops fit into this wider

agenda for economic reformation."

He added: "We agree with some aspects

of the policy prescriptions for co-ops; for

example on legislative reform, buyouts and

common wealth creation. But what's missing

is a clearer emphasis on behavioural change

and improving co-op knowledge and know-how

in business ecosystems and communities."

The Employee Ownership Association said

that having a greater range of business

ownership structures is "key" to developing

a thriving UK economy. It said: "Start by

empowering the individual with a ripple effect

on productivity and resilience for businesses,

regional economies and the wider economy."

"What's missing is a clearer emphasis on behavioural change

and improving co-op knowledge and know-how in business

ecosystems and communities."

OCTOBER 2018 | 45
---
TIME IS TICKING FOR BREXIT

– BUT CAN IT BRING A NEW CO-OP VISION?

The clock is ticking towards 29 March 2019

when – barring a political earthquake – Britain

will leave the EU.

As uncertainty grows over what kind of deal

– if any – will be forthcoming, leading figures in

the co-op movement are taking steps to lessen the

impact on the retail sector, where there is a fear

profits will slump if supply chains dry up.

Since the Leave vote in 2016, the Co-operative

Group has kept a close eye on developments and

has lobbied for a 'co-operative Brexit' – making the

best of the situation while taking steps to mitigate

the consequences on the movement as a whole.

A spokesperson said: "We're monitoring the

progress of Brexit, as any responsible business

would – but there is a lot of uncertainty in the market

and it's clearly in everyone's interests for a deal to be

agreed which is mutually agreeable to both the UK

and the EU.

"That said we believe the Co-op has some degree

of protection, even from a hard Brexit. Our fresh

meat is 100% British. That flows across ingredients

and in some of the core areas like ready meals

and sandwiches.

"We are also working closely with suppliers on

the contingency plans they have. This can give us

assurance and also influence how we may adapt

our promotions, offers and ensure that we can

keep our shelves stocked as best we can in any

degree of disruption that may emerge."

"Our analysis suggests the impact on co-ops

of Brexit is not too different from the impact on

business as a whole. But there are particular risks

for key sectors in which co-operatives are strong,

notably farming and retail, which does mean the

challenge of Brexit is a challenge to the wider

health of the co-operative movement"

The Co-operative Group is also seeking

approval from the government as an Authorised

Economic Operator, giving quicker access

to customs procedures and the right to fasttrack

shipments through security both in

and outside the EU, avoiding border delays

in the event of a hard Brexit

Jo Whitfield, CEO Co-op Food said: "Since the

Leave vote was announced we've extolled the

virtues of a co-operative Brexit, one which would

"We have to co-operate in our supply chains,

we have to co-operate to compete, we have

to co-operate to go sustainable, and we have

to co-operate to survive"

provide clarity and fairness in terms of trade and

labour movements between the UK and the EU.

That view has strengthened over the subsequent

months and our hope remains that a deal will still

be reached.

"If a no-deal Brexit occurs, the view from many

industry commentators is there may be impacts to

food supply over the short-term. As such we, like

the rest of the retail sector, are taking prudent

steps to mitigate the impact for our customers and

members, over and above the existing protection we

have in place."

Co-operatives UK secretary general Ed Mayo and

his team have been lobbying government on behalf

of members since the referendum, developing

a positive scenario for how co-operatives can

flourish in a post-Brexit UK and articulating a

series of key forward-looking principles to be

respected in negotiations.

He says: "Our analysis suggests the impact on

co-ops of Brexit is not too different from the impact

on business as a whole. But there are particular

risks for key sectors in

which co-operatives are

strong, notably farming

and retail, which does

mean the challenge of

Brexit is a challenge to

the wider health of the

co-operative movement.

"The retail sector

faces the challenge

of securing supply

chains in the absence

of information on what

will happen to produce at the border. As a nation,

we eat around half of what we produce. If crisis hit,

we could produce maybe 70% but not all we would

need to get by. At present, 80% of fresh vegetables

and 30% of fresh fruit is imported from the EU.

That is an opportunity for UK farmer co-ops and

retail co-ops to connect."

He added: "The decision by the Co-op CEO, Steve

Murrells, early in his leadership to move to 100%

British meat in own-brand products, is looking

Britain will

leave the EU

Uncertainty

remains: will we

strike a deal?

No-deal is

expected to

have a dramatic

instant impact

on food supplies

46 | OCTOBER 2018
---
like an inspired move, giving the Co-op something

of an advantage."

Back in March, Co-operatives UK organised

a roundtable so agri-co-ops could meet the

farming minister, DEFRA and industry experts,

and won the case for a new £10m fund for farmer

co-operatives. According to Mr Mayo, the new

Agriculture Bill mapping the future of farming

outside the EU reflects both positive wins for the

sector and continuing areas of risk.

With the possibility of a no-deal Brexit looming,

last month, Co-operatives UK issued guidelines for

all co-operatives, large or small, recommending

boards consider the risk of a "disorderly" Brexit.

These include looking at sales, marketing,

logistics, legalities, tax, HR and the implications

of recruiting or employing EU nationals, as well as

cross-border trade with EU countries and the risk

of obstacles to supply chains.

Official advice from the EU on Brexit and UK

business echoes the call from Co-operatives UK

for contingency plans and preparation for possible

short or medium-term disruption to supply

chains and revenues. Across the country that is

now being taken on board by the co-operative

movement with the focus on partnership working

across the movement as key to survival in a

post-Brexit world.

Mr Mayo said: "A no-deal is expected to have a

dramatic instant impact on food supplies in the

UK. The retail sector is one of those which will

be impacted and knock-on implications in terms

of food availability and consumer behaviour are

ones that start to move into uncharted territory.

"There is no co-op crystal ball, and the effect

Brexit negotiations seem to have had on experts

is to leave them equally unsighted and uncertain

on what will come next. At the same time, it

is interesting and hopeful that a debate has

started on the future of food and farming beyond

Brexit – one we have contributed to on behalf of

our members.

"We have to co-operate in our supply chains,

we have to co-operate to compete, we have to

co-operate to go sustainable, and we have to

co-operate to survive."

80% of fresh

vegetables and

30% of fresh

fruit is imported

from the EU

The Co-op

Group uses

100% British

meat in ownbrand

products

OCTOBER 2018 | 47
---
BOOKS

Travelling the world to find a new co-operative commonwealth

Everything For

Everyone:

The radical

tradition that is

shaping the next

economy

Nathan Schneider

(Nation Books,

2018) £21.50

Below: Prime Produce,

is a cooperativelyrun,

multi-use space

in New York. (Photo:

primeproduce.coop)

Right: unMonastery.

(Photo: unMonastery)

The notion of a global co-operative effort to

democratise economies and meet the economic

and environmental crises facing the world is an

exciting one – but it begs certain questions. For

instance, how do we convince young activists

looking for an alternative that co-operativism is the

answer? How do we link the small platform start-up

in Europe and an agri-co-op giant in the USA into a

single movement?

There are some answers in Nathan Schneider's

new book, where he looks for a new co-operative

commonwealth. It's a lively read, fizzing with

ideas, mixing familiar reference points such as the

Rochdale Pioneers with more obscure examples of

co-operation, going all the way back to prehistory,

but it never loses sight of the seriousness of the

task in hand. "If we're to take on existential market

externalities such as poverty and climate change,"

he warns, "we need companies capable of seeing

the world in the way people do."

Times are promising for the co-op model.

Schneider points out that it is well suited to digital

ways of working, while grassroots activism has used

the language of co-operation – from the Movement

for Black Lives and environmental campaigners to

the "upstart politicians" of the resurgent left like

Jeremy Corbyn and Bernie Sanders.

But he warns that while digital networks can

empower peer producers, they are also leading to

"unprecedented global monopolies and previously

unimaginable feats of surveillance". So how can

the co-op commonwealth win the day?

To answer that question Schneider goes searching

through history, and around the world. He finds

co-operative ideas woven into the early Christian

church – and draws a line to the unMonastery, a

commune of tech researchers formed in 2014, which

installed itself, along Benedictine lines, in the

ancient Unesco site of Matera in Italy, and tried to

devise better ways of organising the world.

The unMonks brought together a range of

cultures – from art to protest – but although

Schneider finds a lack of clarity to their project, he

adds: "I don't think we can ... imagine a co-operative

future without these errant, fumbling stories".

He finds other historical models revived by

co-operators alongside the monastic tradition,

describing how New York non-profit Prime Produce

harks back to the medieval workers' guilds to create

– in its own words – "wholeheartedly organised

co-op supporting entrepreneurs, educators, and

artists who share values of service and hospitality".

He ties these stories in with more familiar chapters

from co-operative history – the radicalism of Robert

Owen, George Jacob Holyoake or Horace Greeley;

the co-operative response to the Great Depression

in the 1930s; the strong element of co-operation

in the African American civil rights movement, as

inspired in the early 20th century by W E B Du Bois,

and follows these threads to the present day, with

platform co-ops and other co-op disruptors and

entrepreneurs, or the activism of the Co-operation

Jackson movement.

Can these ideals coalesce into a new

co-operative commonwealth? Schneider sees

contradictions, pointing to the "unapologetic

consumerism" encouraged by major players like

Coop Italia's Ipercoop stores, and to the subsidiaries

of multinational worker co-ops like Bologna-based

SACMI where co-op values are not promoted.

But he adds: "Constructing a commonwealth

means insisting on principles while tolerating

compromise."

And he argues that old established co-ops offer

lessons from across the years to a new generation.

"Co-operators today neglect the local, diverse,

compromised legacies at their peril."

48 | OCTOBER 2018
---
EXTRACT: The Fall of the Ethical Bank

Paul Gosling's The Fall of the Ethical Bank, has just been published by Co-op Press. In this extract,

he examines the links between the Co-op Bank and government. He looks at lobbying efforts for new

legislation to benefit the co-op movement - which had some unfortunate, unforeseen consequences when

it came to the Bank's ruinous takeover of the Britannia Building Society in 2009 ...

The evidence that there had been long-term thinking

behind [the Co-op Bank's takeover of the Britannia

Building Society] comes from the passing of the socalled

Butterfill Act (properly called the Building

Societies (Funding) and Mutual Societies (Transfers)

Act 2007).

This piece of legislation allowed, for the first time,

different types of mutuals to merge. The proposer of

the Bill was Sir John Butterfill. When interviewed by

the author he declined to say who was behind the

legislation, simply indicating that his constituency

contained business operations owned by large

mutuals, which needed greater flexibility.

This was true – he represented Bournemouth,

which was home to a very large call centre run by

the Liverpool Victoria Friendly Society. However,

Liverpool Victoria denied to the author that it had

any involvement or interest in the Act.

Sir John told me (for an article in Co-operative

News) that the link-up between Co-operative

Financial Services (CFS) and Britannia is "absolutely

the type of thing we are looking at". He added: "I

don't think you will find them alone."

But behind the scenes, one well-placed source

said, it was the Co-op Group that had pushed to

ensure the Bill was drafted and then enacted.

And the Group (through its Co-operative Financial

Services subsidiary, which owned the Co-op Bank)

was one of only two institutions to use the Act.

In fact, it might be said that the Act has been a

disaster for the co-operative and mutual movement.

While the intentions were good, the applications

have been bad.

It certainly seemed to make sense for friendly

societies and building societies to merge, for

example – except that there is no sign that there is

any interest in those two sectors in coming together.

The lesser-known application of the Butterfill

Act involved the Kent Reliance Building Society,

a struggling organisation that over-loaned in the

boom times and then was at risk when the downturn

came.

While other damaged building societies sought

rescues within the sector, Kent Reliance used the

Butterfill Act in a very different way.

The private equity business JC Flowers had sought

entry into the UK's banking market. In order to do

this, it established a supposedly mutual subsidiary,

which then effectively took over Kent Reliance. This

combined business now operates as OneSavings

Bank and is a FTSE 250 plc. The Butterfill Act had

demutualised a building society – not at all what

lawmakers had been told it would be used for.

The second application of the Butterfill Act was

the Co-op Bank's takeover of the Britannia Building

Society.

The Fall of the Ethical Bank is out now. More details at

THENEWS.COOP/FALLOFTHEETHICALBANK

OCTOBER 2018 | 49
---
DIARY

FROM LEFT: Lord Victor Adebowale CBE,

Co-op Group director and CEO of Turning

Point, is the keynote speaker at Cooperatives

UK's Practitioners Forum (22

Nov); Rebecca Long-Bailey MP will speak

at the Co-op Party Conference (12-14

Oct); City Hall, Cardiff, is the venue for

the Social Business Wales Conference

(27 Sep); and Stir to Action's What If We

Ran It Ourselves? Community Ownership

workshop is on 27 Oct

27 Sep: Social Business Wales

Conference 2018

A free annual conference to support

local businesses with aspirations to

grow and be more sustainable. Speakers

include Dai Powell (HCT Group), Guy

Singh-Watson (founder, Riverford Organic

Farmers) and Ken Skates (economy

secretary for Wales).

WHERE: City Hall, Cardiff

INFO: wales.coop/sbwc2018

4 Oct: Co-operative Councils' Innovation

Network Annual Conference

A chance to hear how co-operative

councils across the country are working

with local people to build strong and

resilient neighbourhoods. Including a

keynote from Steve Reed,MP – honorary

president of the CCIN and shadow

minister (digital, culture, media

and sport).

WHERE: Croydon

INFO: ccin2018.eventbrite.co.uk

12-14 Oct: Co-operative Party Conference

A weekend of inspiring stories, practical

ideas and skills you can use to begin

transforming your communities,

unleashing the power of ideas to

build a fairer, stronger Britain.

WHERE: Mercure Bristol Grand Hotel

INFO: s.coop/cooppartyconf18

13 Oct: Social Saturday

Social Saturday champions social

enterprises that are making a difference

in communities, set up to trade for a

social purpose and using business to

create a more equal society. Events will

be held around the country.

INFO: socialenterprise.org.uk/

socialsaturday

18 Oct: International Credit Union Day

A day to reflect on the credit union

movement's history, promote its

achievements, recognise the hard work

and share member experiences.

The 2018 theme is 'Find Your

Platinum Lining'.

INFO: woccu.org/events_and_

engagement/icuday

25 -28 Oct: Social Cooperative

International School

#SCIS2018 consists of three thematic

sessions and one international seminar.

Each thematic session consists of a

theoretic introduction on the topic,

the presentation of best practices and

a workshop to deepen the participants'

knowledge on different aspects of

social co-operative and social

enterprise activities.

WHERE: Hotel Royal Continental, Naples

INFO: s.coop/2ai3t

27 Oct: What If We Ran It Ourselves?

Community Ownership

What are community businesses and why

are they on the rise? How can you work

out if you could start one (or more!) in

your community? How can you fund them

to get going and keep going? And what

challenges will you face along the way?

Hosted by Stir to Action.

WHERE: Restore, Oxford

INFO: www.stirtoaction.com/workshops

7-8 Nov: Locality Convention

Join hundreds of inspiring members,

partners and people working in the

community, voluntary and social

enterprise sectors to unlock the

power of community.

WHERE: Bristol Marriott City Centre

INFO: locality.org.uk/events/convention/

22 Nov: Co-operatives UK

Practitioners Forum

The Practitioners Forum offers

professional training for people operating

in key roles in co-operative businesses.

The event is made up of a series of

specialist forums: communications;

finance; governance; HR; and

membership. This year's keynote speaker

is Lord Victor Adebowale CBE.

WHERE: The Studio, Manchester

INFO: s.coop/29xlr

50 | OCTOBER 2018
---
Tickets

from

£120

Practitioners Forum

Training and networking for co-op

professionals operating in communications,

finance, governance, HR and membership.

22 November, The Studio, Manchester

www.uk.coop/pf
---
Be in charge of your

energy today

We're a member-owned business, which

means for just £1 you could own your own

energy supplier.

Have a say in the decisions your energy

supplier makes. Join us.

www.cooperativeenergy.coop/coopnewsoctober