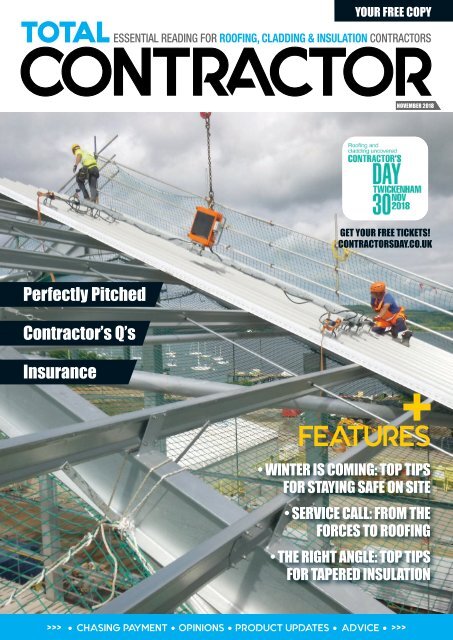 You also want an ePaper? Increase the reach of your titles
YUMPU automatically turns print PDFs into web optimized ePapers that Google loves.
NOVEMBER 2018

GET YOUR FREE TICKETS!

CONTRACTORSDAY.CO.UK

Perfectly Pitched

Contractor's Q's

Insurance

FEATURES

• WINTER IS COMING: TOP TIPS

FOR STAYING SAFE ON SITE

• SERVICE CALL: FROM THE

FORCES TO ROOFING

• THE RIGHT ANGLE: TOP TIPS

FOR TAPERED INSULATION

>>> • CHASING PAYMENT • OPINIONS • PRODUCT UPDATES • ADVICE • >>>
---
CONTRACTOR'S

FRIDAY 30TH

NOVEMBER

TWICKENHAM STADIUM

9:30 – 4:30

TEST YOUR

CONTRACTOR'S

KNOWLEDGE

DAY

IN THE BMI SKILLS ZONE

FRIDAY 30TH

NOVEMBER AND WIN

TWICKENHAM STADIUM

UP 9:30 – TO 4:30£250!*

FREE ENTRY

TEST YOUR

KNOWLEDGE

IN THE BMI SKILLS ZONE

AND WIN

UP TO £250!*

DAY

30 TWICKENHAM

NOV

2018

30 TWICKENHAM

NOV

2018

Register today

www.contractorsday.co.uk

FREE ENTRY

The ideal event for Register roofing today and cladding

www.contractorsday.co.uk

contractors operating in the residential,

commercial and industrial sectors.

The ideal event for roofing and cladding

contractors operating in the residential,

commercial and industrial sectors.

• Innovation & Products – Source new products and materials from over 60

leading manufacturers and suppliers to help you on your projects

• Industry Experts – Contractor-focussed seminars and debates in two theatres

throughout the day

• NFRC CPD Accreditation

leading manufacturers and suppliers to help you on your projects

• Free entry and parking

• Innovation & Products – Source new products and materials from over 60

• Industry Experts – Contractor-focussed seminars and debates in two theatres

throughout the day

• NFRC CPD Accreditation

• REGISTER Free entry and parking

FOLLOW

TO VISIT www.contractorsday.co.uk ON SOCIAL

#contractorsday

REGISTER

TO VISIT

www.contractorsday.co.uk

FOLLOW

ON SOCIAL

#contractorsday

BROUGHT TO YOU BY

BROUGHT TO YOU BY

SHOW SPONSORS

SHOW SPONSORS

* T&Cs apply

* T&Cs apply

ROOFING

ROOFING
---
Editor's Comment

MATT DOWNS

EDITORIAL DIRECTOR

MATTDOWNS@MEDIA-NOW.CO.UK

07963 330774

The Autumn Internationals aren't the only big events taking place

at Twickenham this November! 30th November sees Twickenham

Stadium play host to the inaugural Contractor's Day, a new oneday

event from the NFRC and Total Contractor exclusively targeted

at contractors who work with roofing, cladding and associated

materials.

Visitors will be able to get up close and see the latest offerings from

over 65 of the leading manufacturers and suppliers; hear dedicated

seminars on issues affecting them on projects and as businesses –

including an exclusive presentation on RoofCERT from John Vanstone –

and test their knowledge and roofing skills in the Skills Zone.

COVER PIC:

COURTESY OF KINGSPAN

INSULATED PANELS

Steve Ball looks at health and safety rules and regulations and asks where

does the responsibility lie when working at height? p.62.

FOLLOW US @TOTCONTRACTORUK

SIGN UP FOR YOUR WEEKLY E-BLAST AT

WWW.TOTAL-CONTRACTOR.CO.UK

As NFRC's James Talman explains in his Show Guide intro, Contractor's

Day couldn't have come at a better time: "As the Chief Executive of the

premier roofing trade federation in the UK, I'm passionate about

promoting best practice and technical excellence and this event is a

timely one.

Advertising:

Publishing Director: Andy Dunn:

DD: 01892 732 047

Mob: 07963 330777

Email: andydunn@media-now.co.uk

Commercial Manager: Jake Roxborough

DD: 01892 732 047

Mob: 07956 133314

Email: jakeroxborough@media-now.co.uk

"From increased public scrutiny over quality and safety, to problems of

attracting a new crop of talent, roofers and cladders face a variety of

challenges in today's market – Contractor's Day enables visitors to

gain access to the information that will help their businesses to meet

these challenges."

So visit www.contractorsday.co.uk to register for your FREE tickets and

we look forward to seeing you at Twickenham on the 30th!

NEW

A PRIC

C£C£OMP£GET £AY£DA£O£T£D£ARISO £PA ON

£T

Matt

LOW PRICE

The content of Total Contractor magazine (and website) does not necessarily reflect the views of the editor or publishers and

are the views of its contributors and advertisers. The digital edition may include hyperlinks to third-party content, advertising,

or websites, provided for the sake of convenience and interest. The publishers accept no legal responsibility for loss arising

from information in this publication and do not endorse any advertising or products available from external sources. No part

of this publication may be reproduced or stored in a retrieval system without the written consent of the publishers. All rights

reserved.

Registered office: 1 Forstal Road, Aylesford, Kent, ME20 7AU

NOW

FROM ONL LY

£3 Y

45

*

per leaf

Including

deliv

very

Supported by:

ORDER 10

TO DELIVERY FROM A FAS

T

T D W

im

a

o

me

yrking s Lead

*

Be choose Made for Trade

G CE Email: bif

Call: 01642 610799

Aluminium Bi-F old Doors olds@madefortrade.co

Fax: 01642 671026

www.madefortrade.co

* Per leaf price is unglazed and may vary depending on size and spec cification of the door. Lead time is based on a standard colour.

NOVEMBER 2018 TC 3
---
Contents

FROM THE COVER

32 WINTER WORK

Pete Flynn offers his top tips for working safely

on site in poor weather

46 SERVICES TO ROOFING

We talk to three BMI AOTY finalists who made

the move from the military to roofing

52 TAPERED TIPS

Neil Talmage provides his top tips to get your

tapered project correct first time

CONTRACTOR'S DAY!

This month Twickenham Stadium opens

its doors for Contractor's Day! Register for

your FREE tickets at www.contractorsday.co.uk

FEATURES

26 AVOID LATE PAYMENT

Matthew Jones outlines his advice for putting better

payment processes into practice

38 PERFECTLY PITCHED

In his latest article, John Mercer explains how to

control condensation

48 LET THERE BE NATURAL LIGHT

Scott Leeder says contractors need to be aware of

the right products for achieving natural light

58 SUPPORT IN THE FIELD

We talk to Field Techs about their jobs and how they

work with contractors on projects

62 A HEAD FOR HEIGHTS

Steve Ball assesses where the responsibility lies when it

comes to working at height

92 REMOTE CONTROL

Jackie Biswell explains why trust, communication and

self-discipline are key to remote working

4 TC NOVEMBER 2018
---
REGULARS

16 NFRC TECH TALK

Bob Richardson gives the lowdown on installing

underlay to the revised code of practice

18 CONTRACT TALK

Richard Kendrick looks at the training

opportunities available in roofing

20 AN INSPECTOR CALLS

This month the Inspector warms to the task of

installing cold applied liquids

INDUSTRY NEWS

08 EDILIANS ENTERS THE MARKET

A focus on new areas of the market in addition to tiles at

Imerys has seen the company re-brand as EDILIANS

10 UK INSULATION PLANT OPENS

IKO Insulations has opened the doors of its Alconburybased

enertherm insulation manufacturing facility

10

42 CONTRACTOR'S Q'S

Peter Mably talks late payment, building a

business and difficult customers

SECTIONS

WWW.TOTAL-CONTRACTOR.CO.UK

32

TOTAL

ROOFING

74 TOTAL

CLADDING

86 TOTAL

INSULATION

26

NOVEMBER 2018 TC 5
---
Industry News

100% HACKITT

LAUNCHED

100% Hackitt – an industry initiative to

encourage the government to deliver all of

the recommendations contained within

Dame Judith's report – was launched in

Westminster on 22nd October by Local

Authority Building Control (LABC) and the

British Board of Agrément (BBA).

These two organisations have united to bring

focus to industry calls for a full adoption of

Dame Judith's Independent Review of

Building Regulations and Fire Safety; together

they are launching a new website www.100-

hackitt.co.uk, producing 'pledge cards' for

supporters to sign up to the initiative and

pushing for an Early Day Motion debate in the

House of Commons.

Dame Judith attended the launch, delivering

a keynote speech to a large number of crossparty

politicians, policy advisors and industry

body representatives, telling them there was

'massive need' for culture change throughout

the industry, with responsibilities clearly

defined at every stage of a building's

lifecycle. "Much remains to be done to bring

the construction industry up to the standards

of other industries in terms of accountability,

transparency and record keeping," she said.

"Don't tinker, don't tweak, it has to be

fundamental."

NEW ADDITIONS TO CONTRACTOR'S DAY!

Midland Lead is the latest big name from the one. From increased public scrutiny over quality

roofing sector to sign up as an Event

and safety, to problems of attracting a new crop

Supporter for Contractor's Day, the new oneday

event from the NFRC and Total Contractor challenges in today's market, and Contractor's

of talent, roofers and cladders face a variety of

for contractors operating in the roofing, Day enables visitors to gain access to the

cladding and insulation sectors, which takes information that will help their businesses to

place at Twickenham Stadium on 30th

meet these challenges. So please take the

November 2018.

opportunity to gain new knowledge as well as

meet with over 65 of the UK's leading suppliers of

The lead manufacturer joins Knowledge Partner

roofing products and services."

SIG Roofing, Skills Partner BMI UK & Irelend and

Event Supporters Marley Eternit, Bauder and Brett Matt Downs, Editorial Director at Total Contractor

Martin Daylight Systems, in supporting this magazine, explained: "We're thrilled that Midland

exciting, new event which will provide a

Lead has completed our stellar list of Event

showcase for new products, systems and

Supporters and alongside the FTMRC and Paslode

knowledge to assist contractors both on site and added to our extensive list of exhibitors. We now

in their businesses.

have over 65 exhibitors with a fantastic mix of

representation from the roofing, cladding and

The Federation of Traditional Metal Roofing

insulation sectors.

Contractors and tool manufacturer Paslode are

the latest exhibitors to join a list of over 65 of the "In just one day visitors to Twickenham will be

leading manufacturers and suppliers who will be able to see the latest offerings from the key

on show at Contractor's Day.

players in their market, hear valuable discussion

on the big issues that will affect them going

James Talman, Chief Executive of the NFRC,

forward, plus get interactive and test their

explained why Contractor's Day is a key event for

knowledge in the Skills Zone."

the roofing sector: "As the Chief Executive of the

premier roofing trade federation in the UK, I'm To find out more about Contractor's Day and

passionate about promoting best practice and register for your FREE tickets visit:

technical excellence and this event is a timely www.contractorsday.co.uk

KNAUF CELEBRATES SUPAFIL ANNIVERSARY

Claire Curtis-Thomas, BBA Chief Executive,

described the 100% Hackitt initiative as 'the

best thing for the British construction

industry in a generation', adding: "The BBA is

backing this initiative as strongly as we

possibly can because we want to see bad

practices in the industry eliminated and

protection for the public and companies that

are fully committed to high standards of

delivery."

www.100-hackitt.co.uk

Knauf Insulation is celebrating the thirtieth

anniversary of the launch of Supafil, its Glass

Mineral Blowing Wool insulation solution,

which it says has transformed the energy

performance of millions

of UK homes.

Graham Mortin, Product

Development Manager at

Knauf Insulation, said:

"Thirty years ago, we

launched Supafil to respond

to the market demand for

insulation and to provide lower U-values – and it

took the industry by storm.

"Today, we continue to put our customers' needs at

the heart of our product

development programme. As

a result, Supafil continues to

be a game changer as we

have expanded the range to

fulfil a variety of applications

and markets."

Left: Knauf Insulation is

celebrating 30 years of Supafil.

6 TC NOVEMBER 2018
---
passionate about slate

one name

SEE US AT

As the UK's leading merchant of roofing products

and services, we supply industry leading ranges

of roofing slate, setting the benchmark in natural

slate with our SIGA Natural Slate.

SIGA carefully manages every step of the journey from the quarry

to the roof, bringing you:

n Consistency of quality and supply

n Complete traceability

n Choice and variety

n Warranties up to 75 years

With a wide range of accessories and fittings, including:

www.sigroofing.co.uk

TIMBER SPECIALISTS

Visit your local SIG Roofing branch for more info or find

out more at www.sigroofing.co.uk

PITCHED ROOFING

FLAT ROOFING

INDUSTRIAL ROOFING
---
Industry News

FINE FOR FRAGILE

ROOF FALL

A North Devon-based steel fabricator has

been sentenced after a young employee

fell through a fragile roof whilst at work.

Plymouth Magistrates' Court heard how, on

23rd August 2017, a 19-year old employed

by Mark Dayment, trading as Langaton Steel

Fabrications, was on his first day of working

on a roof replacement project at a petrol

filling station in Barnstaple. Whilst assisting

another worker, he took a few steps off the

walkway and fell 7.5 metres through a thin

metal sheet onto the concrete forecourt

below. The young worker suffered serious

head injuries, a broken pelvis and a broken

wrist as a result of the fall.

An investigation by the Health and Safety

Executive (HSE) found the work was not

properly planned, appropriately supervised or

carried out in a safe manner when the

incident occurred. Mr Dayment, had a duty to

control how the work was carried out,

including staff supervision.

NEW FOCUS: IMERYS BECOMES EDILIANS

IMERYS Toiture has announced that it has

"changed its name to EDILIANS".

Discussing the name change, a spokesperson at

EDILIANS, said: "It is true that in the design phase

of construction, we are now talking about solutions

it has a real growth opportunity to become a

more than products, on the roof as well as the

leader in roofing and façade solutions in Europe.

facade. And the more we offer systems to create

roofing and cladding solutions, the further away When announcing that EDILIANS, is no longer a

from IMERYS' core activities we moved – it was part of the IMERYS Group, Pierre Jonnard, President

time for the company's common journey to end." and Founder of the company explained: "The visual

identity of the company (logo) is symbolized by a

EDILIANS says it has two objectives going

shell that represents the protection and the

forward; to expand its roofing, solar, cladding and

envelope of the habitat. Its sleek shape highlights

insulation ranges, and to increase its

all of our activities. The spiral shows that we will

international sales.

be constantly evolving and adapting to the markets

Imerys has been offering roofing solutions for and needs of our customers.

several years now, which has enabled it to gain a

"Heritage and wealth of the company, the historic

foothold in a rapidly changing building market.

and iconic brands of the tiles (Ste Foy, Huguenot)

The manufacturer says Imerys Toiture is far remain. These are symbols of the links established

removed from the Imerys Group core strategy, with our customers and they demonstrate the

therefore under the new ownership as EDILIANS, roots of the company," he concluded.

DRONES: MORE WOMEN REACH FOR THE SKY

Mark Dayment of North Road, South Moulton

pleaded guilty to breaching Section 4 (1) of

the Work at Height Regs 2005, and has been

fined £12,000 and ordered to pay costs of

£2,228.70.

Speaking after the hearing, HSE inspector

Nicole Buchanan said: "This young man's

injuries were life-changing and he could have

easily been killed. This serious incident and

devastation could have been avoided if basic

safeguards had been put in place.

"Falls from height remain one of the most

common causes of work-related fatalities

and injuries in this country, and the risks

associated with working at height are wellknown."

More women are reaching for the

stars in 2018 than ever before as

the UK's leading drone training

experts reveal a dramatic

increase in women enrolling on its

courses.

RUSTA, which offers Civil Aviation Authority (CAA)

approved National Qualified Entity (NQE) training

courses covering a wide range of commercial

industries and backgrounds, noticed an upsurge

in women across the UK registering on its courses

in the last 12 months.

Sion Roberts, Managing Director of RUSTA, said:

"As one of the longest-running NQE academies in

the UK, the last three and a half years have given

us a wealth of data that we've used to examine

the demographic of operators. What we

discovered is that male operators have vastly

outnumbered their female counterparts.

However, this domination may be

coming to an end. Over the last

twelve months more women have

been attending our five-star courses,

but even more encouragingly, they have

been outperforming their male peers.

Sophie Harwood, who recently completed her NVQ

Level 4 diploma with RUSTA, uses the knowledge

gained to enhance her skills as a UAV Digital

Capture Specialist at engineering consultancy,

Waldeck Consulting.

As part of the role, Sophie deploys drones on new

and existing construction projects providing a

variety of services such as; live site monitoring,

3D models, stockpile management, topographical

surveying, inspection, photography and

videography.

8 TC NOVEMBER 2018
---
ALL ALUMINIUM

LANTERN ROOF

FITTED IN MINUTES

FASTEST

Glazed in seconds

No cutting or drilling onsite,

without silicone, clip fit

finishing caps – Fastest fit on

the market

As featured at the FITShow,

search for our YouTube

video and see the

Korniche fully fitted

in under 6 minutes

Under

6 mins

SLIMMEST

Uninterrupted Sight

Lines

Patent pending end boss

enabling hips to merge into ridge

Traditional features in

contemporary design give

'Timber' like looks suitable for all

properties

Narrowest external ridge profile

Email: sales@korniche.co.uk

Tel: 01642 610799

Fax: 01642 615854

STRONGEST

Performance

Engineering

Ability to withstand 'Live' loads

over twice that of the leading

competitor. A 6x4m roof can

support up to 8 tonnes

Up to 3m x 2.5m with

no rafters

No tie bars required

www.korniche.co.uk

3.5kN

/m2

SUPPORT

Best for specifiers -

the ideal trade

lantern

Brand, point of sale and

marketing support helping save

time and maximise profit from

sales and on-site.

TM

Online trade KwikQuote tool

WARMEST

Fully thermally

broken construction

Thermal PVC T Bar, Thermally

broken eaves beam and industry

leading Q-Lon Gaskets.

U Value from 1.2

PLUS

FROM ONLY

5 WORKING

DAYS LEAD

TIME

FULL SALES SUPPORT

AND NATIONWIDE

DELIVERY

CONTACT US TODAY

FOR A QUOTE
---
Industry News

THEFT FROM VANS

EVERY 23 MINS

50% of tradespeople who've experienced tool theft

couldn't work the next day.

Research from Powertools2U reveals that

the average tool theft claim costs the

tradesperson £1,692 – a figure that

unfortunately can sometimes be doubled

with 50% of victims having had their tools

stolen at least twice.

The results of the Tool Theft Epidemic report

from Powertools2U show that:

• In 2017, the average value of theft claims

rose to £1,692, which was an increase of

£253 from the year before.

• 50% of tradespeople who've experienced

tool theft couldn't work the next day, with

some workers having to take a fortnight off.

• Being unable to work costs 50% of

tradespeople at least £500.

• 75% of reported vehicle thefts are closed

without identifying a suspect.

• Tool theft costs Britain's tradespeople

nearly £100 million a year.

IKO STRENGTHENS INSULATION OFFERING

IKO Insulations has opened its first insulation

plant at Alconbury, Cambridgeshire. The new

factory was officially opened on Thursday 4

October 2018, by key figures from IKO

including Hartley Koschitzky, Co-Chairman

IKO Group and CEO IKO Europe; Jonathan

Koschitzky Director of European

Manufacturing; Dirk Theuns, CEO IKO

Insulations Europe; and Anthony Carlyle,

Group Managing Director IKO PLC.

The factory manufactures IKO enertherm

Polyisocyanurate (PIR) insulation boards which

can be used in cavity walls, external walls, floors

and roofs and more. Alconbury will have capacity

to insulate up to 40,000 homes per year, helping

to cut fuel bills and contribute towards achieving

the Climate Change Act's target of an 80%

reduction in carbon emissions by 2050.

Completed in just 12 months, the 60,000m² site

was an operational air base between 1938 and

1995, used by both the British and American Air

Force. Now under the ownership of IKO

Insulations, the factory will make a significant

contribution to the construction industry and local

community, creating up to 160 jobs in the area.

IKO's management team opened the new enertherm

insulation facility at Alconbury.

Commenting on the factory opening, Hartley

Koschitzky, Co-Chairman IKO Group and CEO IKO

Europe, said: "2018 will be another groundbreaking

year in the history of IKO, as we open our

first insulation plant in the UK. This facility will be

our third PIR factory in Europe and fifth

worldwide. The new factory represents a

significant investment for IKO that will enhance

our leading position as a supplier of choice for

contractors and building materials merchants

throughout the UK. We are excited to be here in

Alconbury and look forward to being an active

part of the community."

Anthony Carlyle, Group Managing Director IKO

PLC, added: "The IKO Group produces roofing,

waterproofing and insulation products and

already has three manufacturing factories around

the UK. 130 years of experience in designing and

manufacturing roofing, waterproofing and

insulation systems and a commitment to invest in

product solutions helps IKO set the standard

within the industry. This facility strengthens IKO's

position within the UK and the insulation market

nationally and internationally."

GET THE PICTURE WITH ARP PHOTO COMP

With van break-ins becoming a bigger

problem for tradespeople, Powertools2U have

uncovered the worst cities for tool theft

across the UK.

The report states that the top three UK tool

theft hotspots are: London, Sheffield and

Birmingham.

ARP has launched its new

photography competition.

All entrants need to do to

win one of five Google Home

Devices is take some quality

images of any ARP products which have been

fitted, and send them into ARP.

Products can be gutters, fascias and soffits,

copings, other bespoke pressings and downpipes

in either aluminium or cast iron. Winners will be

chosen based on the best images and all those

who enter will receive a free

thermal mug as a thank you.

The competition runs from

now until 14th December,

with two Google home

devices being won in October, two in November

and one in December, giving entrants plenty of

time to get their images in. Full terms and

conditions and entry details can be found on the

ARP website at:

www.arp-ltd.com/photo-competition/

10 TC NOVEMBER 2018
---
SEE US AT

Handrails:- EasyGuard

free-standing Guardrails

*CurveyGuard – an aesthetically pleasing curved rail.

*EasyGuard – raked or straight legs dependant on

application. *FoldGuard – folding handrail.

Trip hazard reduction – long thin base-plates with

Counterweights used on un-secured ends only. Placed at 2m

centres maximum to enable use for leading edge protection.

Galvanised or powder coated finish. Protective mats 5mm

bonded to the base plates.

Standards – Exceeds Class A EN13374- Class A; For

leading edge protection HSE/SR 15, September 1988.

Nationwide delivery or contract installation. – Free material

quantifying service – info@safetyworksandsolutions.co.uk

Ladders:- Easy Fit

Compliant to both BS/EN 5395 and 14122 –

To comply with the standards for

permanent ladders all mild steel then hot

dipped galvanised to BS/EN 1461.

All typical ladders bespoke – email

info@safetyworksandsolutions.co.uk for a

survey check sheet.

Easy Fit, all ladder components are Easy

to assembly; in manageable parts Easy to

handle and install.

Rest Platforms and ladders with special

fixing requirements; solutions provided by

Safetyworks in house.

(All components for British Standard

compliant ladders require steel components

with timber and aluminium recommended

for temporary use only)

HANDRAILS

-

LIFELINES

-

WALKWAYS

-

FALL GUARDS

-

FLEXIDECK

-

DEMARKATION

-

LADDERS

-

STEELWORK

-

Tel: 01487 841400

www.safetyworksandsolutions.co.uk
---
Industry News

PRODUCT EXCELLENCE PROGRAMME LAUNCHED BY BBA

The British Board of Agrément (BBA) has

announced an initiative to provide additional

assurance that the building solutions being used

on projects are technically outstanding and of a

consistently high quality.

Its Product Excellence Programme (PEP) was

officially launched during a Westminster

Sustainable Business Forum (WSBF) event at the

Houses of Parliament, during which quality in

construction was the focus.

The BBA says its PEP raises the UK certification

bar, offering an unparalleled level of product

assessment, testing and monitoring, which it

believes will give contractors, designers, specifiers,

building inspectors, insurers and end users

increased confidence about building solutions.

Brian Moore, BBA Deputy CEO, said: "PEP is an

enhancement to the proven audit and inspection

service that the BBA has provided for many years,

bringing additional rigour and excellence to the

process. Post-Grenfell, consumers are looking for

a higher degree of reassurance and expect

products to be tested regularly by a trustworthy

and externally assessed independent body such

as the BBA, which is UKAS accredited."

Martin Taylor Commercial Director of the Local

Authority Building Control, noted: "Significant

changes in building regulations often follow

disasters, but we should be more proactive and

look to solve these problems before they occur,"

and he believes one such proactive step is the

BBA Product Excellence Programme.

Currently, BBA Management Systems Auditors

visit client manufacturing facilities every six

months to ensure that BBA certified products

continue to be manufactured in line with the

agreed quality plan. PEP introduces a product

testing regime to this process:

• Complexity 1 products – those which possess

fire or structural type characteristics – will be

tested annually.

• Complexity 2 products – those which do not

possess fire or structural type characteristics –

will be tested every three years.

For both complexities, the BBA will randomly select

products for testing during audits of manufacturing

facilities and send them to its Product Excellence

Test Centre in Watford. If a product tested does not

meet the agreed specifications, it will be subject to

immediate further investigation. Companies unable

to address the source of failure will have their BBA

Certificate withdrawn.

ROOFERS ENJOY BATH BRANCH REOPENING

Hundreds of local roofing contractors

turned out to celebrate the official relaunch

of SIG Roofing's Bath branch

following a major refurbishment of the

outlet.

The special open day gave roofers the opportunity

to see the significant improvements that have

been made to the branch as part of SIG Roofing's

commitment to enhance the quality of service it

provides its customers.

The new look branch features a brand new

showroom and trade counter, showcasing the

wide range of roofing solutions that SIG supplies

the local market.

Nathan Goddard, assistant branch manager at

SIG Roofing Bath, said: "We were absolutely

delighted with the number of customers that

joined us on our open day to celebrate the branch

refurbishment and to enjoy a bacon butty and a

cup of tea with us!

"We now have an extensive range of roofing

SIG Roofing's Bath branch has reopened with a new

showroom and trade counter. Suppliers Velux and FIX-R were

on hand doing product demonstrations.

solutions on display in-store, improving the

quality of the service we can provide our

customers. The feedback we have received from

our customers on the work that has been carried

out has been fantastic."

As well as SIG Roofing's range of roofing

products, a number of fantastic promotional

offers were available on the day for customers to

take advantage of, with suppliers including Velux

and FIX-R also on-hand doing product

demonstrations.

JAMIESON RETIRES ON

A HIGH AFTER 44 YRS

Russell Roof Tiles has celebrated John

Jamieson, one of its longest serving

employees, following his retirement after a

fruitful 44 years at the roof tile

manufacturer.

John, aged 65, joined the manufacturer in

1974 aged 21, where he went on to build a

successful career. He first began his career

as a lorry driver at the Lochmaben site but

developed quickly to undertake positions in

Quality Control and Yard Management. John

was then promoted to Stock Control before

taking up a role in Production Planning,

where he remained until his retirement.

Bruce Laidlaw, Production Director at

Russell Roof Tiles, said: "As a thank you

from us, John was presented with a watch,

an engraved tankard and holiday vouchers.

We wish him the best of luck in his

retirement."

12 TC NOVEMBER 2018
---
SEE US AT
---
Industry News

SPAIN QUARRY TRIP

FOR APPRENTICES

Two Leeds College of Building apprentices

have just from the trip of a lifetime after

winning a competition to go on an allexpenses-paid

journey to northern Spain

for three days.

The students flew to Madrid and then on to

the famous CUPA PIZARRAS quarries –

reportedly the biggest tectonic natural slate

reserves in the world – to see first-hand

where slate is excavated and manufactured

for international distribution.

Daniel Williams (18) who works for St. Leger

Homes in Doncaster, and Jacob Brain (19)

who works for WDH in Wakefield, were

selected for their exceptional standard of

work and commitment to their training over

the last academic year.

The competition is sponsored by longstanding

partner CUPA PIZARRAS, who

supports the College and donates roofing

supplies (including its natural slate range)

through Burton Roofing Merchants.

Accompanied by roofing lecturers Chris

Messenger and Tim Donegan, the students

saw for themselves the production of slate on

a massive scale at CUPA's world-leading

quarries. The students observed how stone is

extracted from the ground, selected, and

hand-split ready for transport to roofing

markets around the world.

FLAT & PITCHED TRAINING AT ONE VENUE

Following the completion of a new BMI Icopal

flat roofing training area, and the

refurbishment of the existing BMI Redland

pitched training facility, the BMI National

Training Centre is now able to offer

contractors, developers, merchants and

students an extensive range of both pitched

and flat roof courses at the one location.

Located in South Cerney, Gloucestershire, the

National Training Centre boasts possibly the most

comprehensive training resource in the country.

The pitched roof area comprises a variety of rigs

including: a gable-to-gable rig, life-size hip and

valley rig, life-size monopitch with top edge

abutment rig, and a plain tile detail rig for full

system installation. These are complemented by

a variety of mobile rigs outside.

The training area for flat roofs is similarly well

equipped with several liquid waterproofing rigs,

two single ply detail rigs, a life-size flat roof and

six demonstration tables for single ply and liquids

detail work, along with a large external bitumen

rig to allow torch on and pour and roll training.

IKO Polymeric will be Headline Sponsor for

SPRA Events 2019.

Competition for Headline Sponsor was very strong

this year with Bauder, Gradient, IKO Polymeric and

SFS Group all wanting the top slot. SPRA says the

only fair way was to hold a draw! Bill Hill, CEO of

the Lighthouse Construction Industry Charity made

the draw before presenting on Mental Health at the

SPRA Member Workshop held on the 9th of October

at the NEC.

Stuart Turnbull, National Sales Manager for IKO

Polymeric, said: "We are delighted to be SPRA

Headline Sponsor for 2019. We see SPRA

membership as a key element of our business as it

demonstrates our commitment to high standards

Courses offered range from the BMI Basic Roofing course (flat

and pitched), to the higher-level courses, such as the Bespoke

Standards & Workmanship course for pitched roofing.

Mat Woodyatt, BMI Technical Training Manager, is

excited with what the National Training Centre can

now offer: "With the investment we have made in

the new flat roofing facility and the improvements

made to the pitched roof area, we are in a great

position to offer the most comprehensive training

available in the UK. Since opening over 45,000

delegates have enjoyed coming here and learning

a new skill, or even just brushing up on an existing

skill. Now we can look forward to the next 45,000

and offer them even more. Our commitment to

training has never wavered and being able to run

courses in both pitched and flat disciplines will

help us cater for the needs of the contractor,

merchant and student in a more cohesive and

flexible manner", he added.

IKO POLYMERIC HEADLINES SPRA EVENTS

and quality. It's also important to us that we give

something back to the single ply industry and

support the excellent work that SPRA does."

Such is their support, that Bauder, Gradient and SFS

have all chosen to take Gold sponsorship. SIKA and

EJOT UK have also taken Gold sponsorship which

has already sold out this category!

Cathie Clarke, SPRA CEO, said: "I am completely

blown away by the level of support we have already

received for next year. It shows that the hard work of

the SPRA team to increase SPRA and our members'

profiles throughout the industry and our efforts to

improve quality, productivity and sustainability

through education, influence and support across the

sector are recognised and appreciated."

14 TC NOVEMBER 2018
---
#ejot-totalsupport

Every fastener we make

comes with EJOT technical support

Because worldwide, EJOT manufactures fastening solutions for every

kind of construction application, you can rely on products that are

designed for correct installation and lifetime performance.

And behind every fastener specification, there is a world of design and

manufacturing expertise to ensure your choice is an informed choice...

from the most complex to the most routine applications.

Fasteners and

Accessories for

Roofing & Cladding

New Catalogue

available now

EJOT® the quality connection

Call 01977 68 70 40 email: info@ejot.co.uk

www.ejot.co.uk /building
---
NFRC Technical Talk

THE LOWDOWN ON UNDERLAY

Bob Richardson, NFRC's Head of Technical, gives you the lowdown on installing underlay to

the revised code of practice.

By now, most Total Contractor readers will

have heard about the revisions to the BS

5534 code of practice for installing slates

and tiles to new-build pitched roofs and vertical

cladding. Although it's not a legal requirement, a

roof specified to BS 5534 can be upheld by law,

so you should refer to the complete BS 5534

document or seek advice from the manufacturer.

Nevertheless, it's important to understand the

basics and in the first of a series of articles

based on the key tasks, we look at underlay.

Why you should always use underlay

BS 5534 recommends that you should always use

underlay beneath tiles and slates to provide a

continuous barrier against wind uplift, and as a

secondary barrier against wind-driven rain, snow

or dust. In fact, underlay takes on about 50% of a

roof covering's total wind load.

The underlay can also move any moisture

deposits into the roof drainage system and

provide temporary weather protection before

slates and tiles are installed. However, they

generally shouldn't be exposed for more than a

few days if there is persistent heavy rainfall or a

severe freeze. Exposure to UV light can also lead

to a premature failure, so if you can't avoid

leaving the underlay exposed, then protect it with

a tarpaulin or ensure that you comply with the

manufacturer's recommendations.

Types of underlay

There are two types of underlay:

1. High Water Vapour Resistance (HR) is a

'non-breathable' type typically made of

bituminous and impermeable plastic material,

providing a strong barrier against wind and water.

2. Low Water Vapour Resistance (LR) This

'vapour permeable' type of

underlay will not generally

provide ventilation but will allow

water vapour to pass through.

LR underlay can be sub-divided into:

• Airtight underlays are vapour-open, yet

don't let air through.

• Air permeable or air open underlays allow both

water and air to pass through so may not require

further ventilation.

Wind zones

The UK has five wind zones that indicate the

strength of the wind in each given area. Always

check with the manufacturer or utilise an

approved calculator to make sure the underlay

can be used in a particular zone. However, the

wind zone suitability for underlays is generally

given, subject to the following:

• The ridge height is not greater than 15m

• The roof pitch is between 12.5° and 75°

• The site altitude is not greater than 100m

• The site is not more than halfway up a hill or

escarpment / cliff with more than 5% gradient.

Unsupported & fully-supported underlay

• Unsupported underlay

You can drape underlays over rafters or counterbattens,

but they must be suitably strong, waterresistant

and durable. Some drape between

rafters or counter battens is needed to help drain

moisture away from the fixing holes at the rafters

or other supports. However, a drape of 15mm can

create noise caused by the wind flapping the

underlay and can transfer the wind loads to the

roof covering.

Left: Bob Richardson, NFRC.

• Fully-supported underlay

Underlays can also be laid fully

supported over various boarding

types including rigid insulation

boards.

Underlay laps

The underlay lap length depends on the

application and roof pitch.

• Unsupported underlays should generally be laid

with a minimum 150mm horizontal lap, increased

to 225mm below 15° roof pitches. You should

restrain the horizontal lap with a batten or seal it

using either integral lap tapes or proprietary lap

sealant tapes with the same durability as the

underlay. The minimum sealed lap lengths are

usually at least 100mm.

•Fully supported underlays should generally be

laid with a minimum 100mm horizontal lap,

increased to 150mm for roof pitches below 15°.

Fixing the underlay

Always mechanically fix underlays using clout nails.

Avoid using staples to fix the underlay as they are

less effective and increase the risk of water

penetration, and the projection of the underlay

below the batten should be between 25-75mm.

Working around roof penetrations

Roof penetrations, which could include roof

windows, pipes and chimneys, should be sealed

appropriately to prevent water ingress..

Contact the NFRC

020 7638 7663

www.nfrc.co.uk

@TheNFRC

16 TC NOVEMBER 2018
---
Complete Building

Envelope Solutions

featuring Kingspan RW

Pitched Roof System

Superior build

speed

Options for PV

integration

Precision extruded

daylighting

LPCB-approved membranelined

insulated gutters

Height safety and

fall arrest systems

Specialist support from

Kingspan Technical Services

Bespoke flashings and

fabrications for design flexibility

Kingspan's own complete range

of structural steel products

Kingspan Insulated Panels RW Roof system is a factory-engineered

single component system for very fast installation.

The system comprises a complete range of structural steel products, high performance

panels, insulated gutters, superior polycarbonate daylighting, height-safety systems

and a bespoke range of corners and flashings. As a manufacturer of the complete roof

system including all components, we're with you all the way with services to help save

time and maximise project value and performance.

The system can be protected by the Kingspan Warranty.

SEE US AT

Kingspan Insulated Panels

Greenfield Business Park No.2, Holywell, Flintshire CH8 7GJ

Tel: +44 (0) 1352 716100 www.kingspanpanels.co.uk
---
Contract Talk

KEEPING TRAINING FRONT OF MIND

As the demand for skilled workers in the construction industry continues to rise, Richard

Kendrick, Marketing Manager at SIG Roofing, looks at the training opportunities available

that could help to close the existing skills gap and bring more people into the industry.

The lack of proper training is a key factor in

the current skills shortage faced by the

construction industry, not least in the

roofing sector. As we recover from the impact of

the 2008 financial crash, we're seeing a steep

increase in demand for skilled labour that our

current workforce is unable to meet. With

ambitious targets laid out in the government's

Construction 2020 scheme – which aims to

reduce costs by 33% and product delivery times

by 50% by 2020, all the time increasing output

significantly – closing the skills gap is more

critical than ever.

However, with the government pledging to invest

significantly into apprenticeship training, and

multiple training programmes available from the

likes of industry bodies, manufacturers and

colleges, it is possible to get new and existing

roofers the training they require to develop the

skills the industry so desperately needs.

So what are the options?

Apprenticeships

The obvious way to increase the skilled talent in

the industry is to recruit more young people.

Under plans set out by the government in 2016,

businesses with a pay bill of less than £3 million

per year (approximately 98% of UK businesses)

will have 90% of their apprenticeship costs

funded by an apprenticeship levy. The levy will be

paid by those with a pay bill of more than £3

million, at 0.5% of their total annual pay bill per

year. This means that apprenticeships are now

much more feasible for businesses of all sizes.

The new schemes combine classroom study with

time spent on site with a roofing company,

providing the practical and theoretical knowledge

required for achieving the relevant qualification.

Apprenticeships are run through

colleges all over the country in

partnership with employers keen

to take on young apprentices and

train them up through their ranks.

The colleges offer ongoing support

for both apprentices and employers and

are responsible for awarding the final

qualification.

On-site assessment and training (OSAT)

For experienced roofers, on-site assessment and

training is a cost-effective method of bringing

skills up to the industry's national occupational

standards. Whilst many roofers may have learned

their craft through experience alone, it is

important to invest in proper standardised

training in order to ensure they are compliant with

health and safety legislation and are able to prove

their competence. OSAT is available through

colleges, regional roofing training groups,

manufacturers, contractors, national construction

college courses and mobile rigs.

Specialist Upskilling Programme (SUP)

The specialist upskilling programme is run

"All come with the

same advantage of

strengthening skills

and proving

competence when

using the relevant

equipment, which can

be crucial in setting

you apart from your

competitors"

Left: Richard Kendrick, Marketing Manager,

SIG Roofing.

through Construction Industry

Training Board (CITB) training

providers and is designed for

roofing workers with no formal skill

but some basic site experience. It gives

them the opportunity to learn a formal skill

through the combination of classroom study and /

or on-site training and experience. The training

can last for up to 12 months, and upon

successful completion, the operative could attain

an N/SVQ Level 2 and qualify for a Construction

Skills Certification Scheme (CSCS) card.

Manufacturer training opportunities

Most roofing materials and equipment

manufacturers hold their own training

programmes to bring roofing workers up to speed

on how to correctly use the products, in turn

minimising risk and increasing competence.

There are manufacturer courses available for

different areas of the industry, including for

pitched roofs, flat roofs and industrial roofs, along

with specific equipment training too. Often the

courses will take place on-site at a

manufacturer's main facility, or they can also

take place at colleges too. The qualifications

obtained upon completion can differ from course

to course, but all come with the same advantage

of strengthening skills in a specific area and

proving competence when using the relevant

equipment, which can be crucial in setting you

apart from your competitors.

Contact SIG Roofing

0845 612 4304

www.sigroofing.co.uk

@SIGRoofing

18 TC NOVEMBER 2018
---
SEE US AT

HERE'S YOUR

COMPETITIVE EDGE.

EDGEMERE

INTERLOCKING SLATES.

With their natural slate appearance, Edgemere interlocking

slates are 40% thinner than standard interlocking tiles.

In three authentic fi nishes, Edgemere is easy and

cost-effective to install, with a low pitch of 17.5° for a

variety of installations and coverage of 10 slates per m 2 .

Discover our Edgemere range (and order free samples) at

marleyeternit.co.uk/edgemere

Or call us on 01283 722588

Marley Eternit. The roof system others look up to.
---
An Inspector Calls

COLD CALLING – APPLYING LIQUIDS

In a regular monthly column – 'An Inspector calls' – Total Contractor has teamed up with the

experts at BMI Icopal to help you achieve roofing success and avoid the common pitfalls

that can often cost you both time and money.

This month the Inspector warms to the

task of how best install cold applied

liquids.

Cold applied liquids are fast becoming the

solution of choice – particularly in the domestic

flat roofing market – as they provide quick and

effective answers to both repair and

refurbishment scenarios. Ideal for extending the

life of tired and ageing roofs, they also provide

solutions for new projects as they now achieve

guarantees comparable to bitumen and single-ply

membranes. This, however, as always, is

dependent on the correct preparation and

application of the waterproofing system by the

contractor.

Whilst they offer a speedy installation (when

compared to other systems), it by no means

implies they should be applied quickly. Far too

often we see the threat of inclement weather

force the contractor into rushing the installation

where the manufacturer's recommended

coverage rates are not observed, primers are illapplied

and substrates are ill-prepared. Our very

"Far too often we see the threat of inclement

weather force the contractor into rushing the

installation"

Below: Image 1, the reinforcing fabrics are still visible beneath the liquid.

"Another issue that we

commonly find is the

system being applied

onto substrates that

are still wet or damp"

first column on substrate preparation (Total

Contractor - April) should be heeded here; now is

a good time to re-emphasise its importance and

that by failing to prepare you are effectively

preparing to fail.

Is the forecast good?

Of course the success of liquid applied systems is

subject to friendly weather, but it is equally

dependent on the care and attention of the

installing contractor. It is essential that you check

the weather before starting a project of this

nature as rainfall will most certainly compromise

the system's integrity and will also effect its

curing potential, which can mean the whole

system needs reapplying in its entirety – a costly

mistake to make for any contractor who makes

naive assumptions about the UK's weather.

Curing stages

There are usually various curing stages so it is

also essential the manufacturer's guidance and

recommendations are followed. Some products

may be 'rain proof' after a few hours, they may

be considered suitable to receive foot traffic

several hours after that, but their fully cured state

may not actually be achieved until 24 hours after

initial application. Manufacturers may give advice

on a product's colour, tackiness or odour to

identify these particular stages, so please check

the relevant literature for confirmation.

Measures

It is also essential that the liquid be measured

out accurately prior to application, as coverage

rates will often determine guarantee lengths. If

insufficient liquid is applied, a guarantee may not

be awarded for the project and the system itself

may still be vulnerable to ingress, particularly if

20 TC NOVEMBER 2018
---
einforcing fabrics are still

visible beneath the liquid,

which is something we

still see quite regularly,

as shown in the

accompanying image

(image 1, prev page).

Substrates

Another issue that we commonly

find is the system being applied onto

substrates that are still wet or damp. Whilst the

waterproofing system itself is wet on application,

it does not mean the substrate receiving the

liquid can be wet too. Any retained moisture will

provide a barrier between the surface and the

"Installing the

incorrect primer could

lead to full system delamination"

Left: Image 2, any retained moisture

will provide a barrier between the

surface and the waterproofing;

this may result in pockets of

un-bonded system.

waterproofing; this may

result in pockets of unbonded

system being

present which could lead to

blisters and system

delamination, as illustrated in the

picture above (image 2). This is not aesthetically

pleasing and damage to these pockets could

result in a system breach.

This can also occur if the wrong primer is used on

the wrong substrate. Most liquid systems have

substrate specific primers, so the primer for a

timber substrate may be different to the primer

for a PVC membrane. Installing the incorrect

primer could lead to full system de-lamination

and therefore full system failure!

When a liquid system is applied correctly, it will

Five steps to success:

• Check the weather forecast before

starting

• Ensure all substrates are dry

• Use the correct primer

• Ensure the correct coverage rates are

measured and observed

• If in doubt, consult the manufacturer

provide a long-lasting and durable finish with no

side or head laps which naturally improves its

integrity. A seamless product has the ability to

offer a seamless installation when applied

correctly.

Contact Icopal's Technical Team

0161 865 4444

www.icopal.co.uk

@Icopal_UK

More than 140 years

of waterproofing

know-how

As a world leader in the manufacture of roofing and waterproofing systems, BMI Icopal is working continuously to innovate and develop its role as the

partner of choice for building projects of any size and type. Our extensive range of products include bitumen, single ply, liquid applied waterproofing,

lightweight roof tile systems, structural waterproofing and scaffold sheeting. Add to that, over 140 years of knowledge and expertise, plus an industry

leading level of warranty, there can be no other choice than BMI Icopal.

www.bmigroup.com/uk

Email: sales.admin@bmigroup.com

NOVEMBER 2018 TC 21
---
SPRA Update

CALLING ALL SINGLE PLY SPECIALISTS

Cathie Clarke, SPRA CEO, talks about some of the initiatives the Association has undertaken

recently to help its members progress, plus its upcoming appearance at Contractor's Day

where visitors can find out more about the ways it supports its members.

The Single Ply Roofing Association (SPRA)

will be exhibiting and speaking at the new

Contractor's Day event being held at

Twickenham Stadium on the 30th of November

2018, to highlight the work that we do on behalf

of our members and the wider flat roofing

industry. Come along and see us on Stand 24!

This specialist trade association is not just about

'the badge' – although the SPRA logo is a

powerful symbol of quality and demonstrates a

commitment to do a good job. SPRA says quality

because all members are audited against a range

of criteria to ensure that they take their business

– and client's projects – seriously.

Quality audits are not a one-off activity. SPRA

audits its members on an annual basis to ensure

that the high standards it demands continue to be

met. And that's what sets single ply specialist

companies who are SPRA members apart from

those that just say they do some single ply work.

"SPRA audits its

members on an annual

basis to ensure that the

high standards it

demands continue to

be met"

Such is the value of the SPRA logo that some

companies will claim to be SPRA members to get

work when they aren't. Well, there is a really easy

way to find out if they are or not…simply go to

the SPRA website and double check.

www.spra.co.uk/find-a-member/ If they are not

listed, they are not members!

As mentioned earlier, SPRA membership is about

so much more than just being able to use the

logo. For instance, SPRA offers significant

discounts on its training. SPRA is the only

organisation in the UK to offer specialist single ply

apprenticeship training – called the Specialist

Applied-Skills Programme, or SAP for short – and

can also offer bespoke short course training too.

In addition, SPRA has worked together with the

CITB to create a series of short courses that are

all approved for CITB grants. SPRA has also

created a new course for managers and

professionals to provide a new training route for

site managers, supervisors and roof inspectors.

The new course is being piloted this autumn and

will be available through the CITB Training

Directory in the New Year.

Being a SPRA member is being part of the SPRA

community; it's a two-way relationship. SPRA

likes to understand the needs of its members and

holds workshops to not only inform contractors

about the work that it is doing on their behalf, but

also to collect feedback from contractors on

issues affecting them, and to work together to

develop services and projects that address these

issues. For instance, at a workshop held in

October, SPRA spoke about the work that it is

doing with Build UK and the Construction

Products Association (CPA) on influencing post-

Hackitt recommendations and potential changes

to building regulations; and its role in the

development of a simplified and fairer PQ

Standard. In addition, SPRA took the opportunity

to hold a special session delivered by the CEO of

the Lighthouse Construction Charity on mental

health support and raised awareness of new

funding to support Mental Health First Aid

training.

The workshop was also used to explain in more

SPRA holds workshops to not only inform contractors about

the work that it is doing on their behalf, but also to collect

feedback from contractors on issues affecting them.

"The workshop was

also used to explain in

more detail both

Trailblazer Standards

and the new RoofCERT

accreditation being

developed by the NFRC"

detail both Trailblazer Standards and the new

RoofCERT accreditation being developed by the

NFRC. Helping to make sense of these external

initiatives and the impact they may have on a

contractor's business is seen as a key role and

membership benefit by the Single Ply Roofing

Association.

If you want to demonstrate that you are a high

quality specialist in the single ply roofing industry,

isn't it time you became a member of this proactive

trade association? Visit us on Stand 24 at

Contractor's Day to find out more.

Contact SPRA

0845 154 7188

www.spra.co.uk

@singleply

22 TC NOVEMBER 2018
---
Whatever the weather,

Alumasc's metal rainwater systems

outperform all others

SEE US AT

Aluminium

Cast Iron

Steel

www.alumascrainwater.co.uk info@alumascwms.co.uk
---
M25

M25

Measurements provided by www.eagleview.com

www.eagleview.com/Guarantee.aspx

© 2008-2017 Eagle View Technologies, Inc. and Pictometry International Corp. – All Rights Reserved – Covered by one or more of U.S. Patent Nos. 8,078,436; 8,145,578; 8,170,840; 8,209,152; 8,515,125; 8,825,454; 9,135,737; 8,670,961;

9,514,568; 8,818,770; 8,542,880; 9,244,589; 9,329,749. Other Patents Pending.

In this 3D model, facets appear as semi-transparent to reveal overhangs.

321 King St.

London, A1 B2C

555-555-5555

TABLE OF CONTENTS

Premium Report

06/09/2017

Report:

Images .....................................................................1

Length Diagram .........................................................4

Pitch Diagram ............................................................5

Area Diagram ............................................................6

Notes Diagram...........................................................7

Penetrations Diagram.................................................8

Report Summary........................................................9

MEASUREMENTS

Total Roof Area =467.95 sq m

Total Roof Facets =24

Predominant Pitch =45°

Number of Storeys >1

Total Ridges/Hips =84.43 m

Total Valleys =17.07 m

Total Verges =14.63 m

Total Eaves =111.86 m

Total Penetrations =14

Total Penetrations Perimeter = 34.75 m

Total Penetrations Area = 9.48 sq m

Measurements provided bywww.eagleview.com

www.eagleview.com/Guarantee.aspx

Technologies, Inc. and Pictometry International Corp. – All Rights Reserved – Covered by one or more of

U.S. Patent Nos. 8,078,436; 8,145,578; 8,170,840; 8,209,152; 8,515,125; 8,825,454; 9,135,737; 8,670,961;

9,514,568; 8,818,770; 8,542,880; 9,244,589; 9,329,749. Other Patents Pending.

EAGLEVIEW IN FOCUS

The hi-res imagery that's

re-engineering roofing

By Kay Rose FIoR National Sales Director, EagleView.

If you're a roofing professional, imagine

how much easier your job would be if

you had a full overview of the roof even

before visiting the site.

Imagine if – with just a few clicks of

your mouse – you could order a full roof

measurement report that includes high-resolution

images and precise dimensions

of all the areas. Imagine being able to

order materials without the worry of

over- or under-ordering – no need to do

a "guesstimate and

add some" to cover

yourself.

EagleView ® makes

all of this a reality.

Established in the

US in 2008 and

launched in the UK

in November 2017,

the world's first-ever

remote aerial roof

measurement service

creates 3D models that

deliver highly accurate

and detailed roof

measurements.

Proven

technology

At its core lies the

patented Pictometry ®

technology which

produces high-resolution

imagery

showing the fronts and sides of

buildings. Pictometry imagery

provides oblique perspectives

from 40 to 45-degree angles as

well as an overhead view.

PREMIUM ROOF REPORT PREPARATION

LONDON

COVERAGE

MAP

HIGH RESOLUTION

TOTAL LINE LENGTHS

Ridges 30.48 m

Hips 53.95 m

Valleys 17.07 m

Verges 14.63 m

These images are then stored

and, when an EagleView

roofing report is requested,

advanced algorithms and data

analytics are used to translate

them into a highly accurate

model of the property in

question. These models then

enable detailed structural

measurements to be derived –

including eaves, flashing, hips,

verges, ridges and valleys. The reports are

produced quickly – in a matter of hours –

and available in a variety of file formats.

Reducing risk, saving time

Conducting a manual roof survey involves

time travelling to and from the site,

getting safe access to the roof and taking

measurements, and then further time to create

precise dimensional drawings. By replacing

this manual approach with an EagleView

PremiumReport , that time is freed up for

managing active contracts and pursuing new

leads. And, not only does an EagleView

11.1m

4.6m

8.6m

8.6m

4.6m

2.8m

1.8m

1.8m

5.5m

1.8m

3.4m

3.2m

5.5m

5.3m

5.9m

2.8m

8.2m

3.9m

2.8m

1.8m

3.1m

6.2m

6.6m

3.0m

6.6m

6.2m

9.8m

7.1m

6.3m

1.0m

3.8m

7.1m

4.9m

6.2m

5.6m

7.0m

6.2m

18.6m

4.9m

5.0m

2.0m

MATERIALS CALCULATION

10.1m

ROOF DIAGRAMS

Premium Report

06/09/2017

123 Main St., Tadworth, A1B2 C3D Report: 12345678

In this 3D model, facets appear as semi-transparent to reveal overhangs.

PREPARED FOR

Contact:

Company:

Exteriors Company

Address:

321 King St.

London, A1 B2C

Phone: 555-555-5555

TABLE OF CONTENTS

PremiumReport accelerate workflow, its

accuracy greatly reduces the risk of costly

material miscalculations.

Wider impact

Images .....................................................................1

Length Diagram .........................................................4

Pitch Diagram ............................................................5

REPORT PREPARATION IN PROGRESS

Area Diagram ............................................................6

Notes Diagram...........................................................7

Penetrations Diagram.................................................8

Report Summary........................................................9

TOTAL LINE LENGTHS

Eaves 111.86

MEASUREMENTS

Total Roof Area =467.95 sq m

Flashing 14.63 m

Total Roof Facets =24

Predominant Pitch =45°

Step flash 26.21 m

Number of Storeys >1

Total Ridges/Hips =84.43 m

Parapets 38.10 m

Total Valleys =17.07 m

Total Verges =14.63 m

Total Eaves =111.86 m

Total Penetrations =14

Total Penetrations Perimeter = 34.75 m

Total Penetrations Area = 9.48 sq m

In the few years since EagleView was first

established in the US, it has become the

industry standard in aerial roof measurements.

Roofing contractors throughout North

America have quickly caught on to the

resource and safety benefits,

and increased number of

contracts they win by using

EagleView PremiumReports.

Insurance companies and

adjusters across the US have

also embraced EagleView

PremiumReports. In fact,

following the wildfires that

ravaged much of California

during December 2017,

EagleView captured and

delivered high-resolution

aerial images of the

devastation in San Diego

County so quickly that its

insurance carrier partners

were able to start viewing

and responding to areas

of severe need before the

residents had even returned

home.

First in the UK

The EagleView

PremiumReport is a ground-breaking

new offering, and there's nothing else

like it in the UK. It's currently available

for sites across London (within the

M25), and Bristol and other major

cities are following close behind. It's

a truly pioneering technology that

stands to benefit anyone involved in

the roofing industry. However, as with

any successful technology, it's the early

adopters that will gain a competitive

advantage.

To find out more about EagleView

Premium Reports go to eagleview.co.uk

or call 0800 069 8405.

CERTIFIED ACCURATE
---
QUICK,

COST EFFECTIVE

ROOF REPORTS

A CLEARER

VISION FOR

YOUR BUSINESS

When tendering for roofing contracts, accurate

aerial measurement can be the difference between

profit and loss. With EagleView, you can have

complete confidence in the measurements you base

your tender on.

By combining multi-angle aerial images with

advanced analytics, our reports provide precise area,

pitch and length measurements. Colour coding

distinguishes every detail, from ridges, hips and

valleys to verges, eaves and flashings.

Premium Report

06/09/2017

123 Main St., Tadworth, A1B2 C3D Report: 12345678

TABLE OF CONTENTS

Fast report turnaround saves you time. High

resolution aerial views and 3D diagrams make your

bid stand out. And accurate material ordering helps

protect your profit.

To see more, visit eagleview.co.uk

or call 0800-069-8405

Images .....................................................................1

Length Diagram .........................................................4

Pitch Diagram ............................................................5

Area Diagram ............................................................6

Notes Diagram...........................................................7

Penetrations Diagram.................................................8

Report Summary........................................................9

MEASUREMENTS

SEE US AT

Total Roo f Area = 467.95 sq m

Total Roof Facets =24

Predominant Pitch = 45°

Numb er of Storeys > 1

Total Ridges/Hips = 84.43m

Total Valleys

= 17.07m

Tota l Verges = 14.63m

=111.86 m
---
Poor Payment

3 WAYS TO AVOID LATE PAYMENT

Since news emerged at the start of the year regarding the liquidation of construction giant

Carillion, there has been a crackdown on late payments, with the government releasing

regulations in an attempt to resolve the delayed payment crisis. But what are the solutions

to stop late payments from occurring? Matthew Jones, CEO of Open ECX, discusses how the

industry might tackle this issue collectively to put better payment processes into practice.

1. Online solutions to manage

applications for payment

A potential solution is to digitise all payment and

invoice processes so that contractors pay their

subcontractors in a timely fashion whilst

maintaining a healthy, risk-free environment for

themselves.

Designed for medium to large contractors,

systems such as our WebContractor, for example,

manage the subcontractor applications for

payment process, as well as other subcontractor

concerns; insurances and bonds, self-billing

invoices, authenticated VAT receipts, minor works

and work order instructions for example, offering

a great solution for the industry as a whole.

Subcontractors access an online portal for easy

and timely submission of payment applications

while contractors take advantage of the workflow

and reminder features designed to streamline the

management of approvals. For contractors, this is

a great support mechanism, designed to enhance

"With the right

technology, processes

associated with

applications for

payment can become

efficient, standardised,

transparent and quick"

visibility, control and compliance of the

subcontractor application process, lightening the

associated administrative workload.

Contractors benefit from increased efficiencies,

improved clarity around cash flow, and a far more

accurate understanding of their liabilities at any

given time. Potential risks, such as litigation, can

potentially be avoided as businesses ensure

better traceability and reliability when using

online software.

With the right technology, processes associated

with applications for payment can become

efficient, standardised, transparent and quick.

Most importantly, the automation of these

processes can allow for tracking and

26 TC NOVEMBER 2018
---
SEE US AT

Have you heard?

The ultimate affordable glass

rooflight is now available in RAL 9010

White and RAL 7016 Anthracite Grey.

Discover more about Raylux with our online

configurator, visit whitesales.co.uk/RUFUS

www.whitesales.co.uk I sales@whitesales.co.uk I 01483 271371
---
Poor Payment

management across the whole supply chain,

which reduces risk and helps to build a clear and

transparent picture of the finances affecting the

business.

2. eInvoicing

Another online solution which streamlines

payment processes is eInvoicing. Sending and

receiving invoices electronically is one of the

safest, most efficient ways to combat late

payments. eInvoicing offers companies numerous

strategic benefits including significant reduction

in the rekeying of information, automated invoice

validation and integration with back office

accounting systems, while reducing costs and

paperwork.

It is a great solution across the entire

construction supply chain for

streamlining the management and

payment of invoices. eInvoicing

improves accuracy and cash

flow, ensuring companies

manage their payment

processes effectively and

increase their liklihood of receiving

supplier discounts.

Not only do digital processes alleviate any messy

paperwork from mounting up, they ensure both

contractor and subcontractor are kept up to date

with payments and invoices. Time is always of

the essence, especially in terms of managing

cash flow, meaning digital platforms are a

sensible and necessary solution to combating late

payments.

3. Government support

Pledges were made in April 2018 in lieu of

Cabinet Minister Oliver Dowden's decision to

crack down on late payments. Since this decision,

Build UK published information from data

submitted under the Duty to Report on Payment

Practices and Performance, highlighting the top

contractors responsible for late payments.

In order to prevent late payments, the government

will offer advisory, constructive workshops to help

companies with their project management and

"Sending and receiving invoices electronically is one of the safest, most efficient ways to combat late payments."

payment plans. Solutions such as

these should help prevent any

delayed payments, allowing

contractors the time to

consider the impact of their

delay, providing contractors

with helpful advice to better

manage their current payment

processes. Overall, this initiative

will ensure employees and businesses will

not suffer as a consequence.

"Not only do digital

processes alleviate any

messy paperwork from

mounting up, they

ensure both contractor

and subcontractor are

kept up to date with

payments and invoices"

Even though it was a dark time for the

construction industry, many positive lessons for

the future can be learnt from Carillion's collapse.

Seeing the implementation of government

intervention signifies the level of support it is

willing to give the industry.

"Turning to more

rigorous, digital

payment processes

will preserve

contractor and

subcontractor integrity

and the wider

construction industry

as a whole"

But internal measures must also be taken by

the industry itself, where digital application for

payment and subcontractor management

platforms are a worthy solution. Not only do

these systems ensure subcontractors get paid

on time, they reduce risk to contractors'

businesses.

Turning to more rigorous, digital payment

processes will preserve contractor and

subcontractor integrity and the wider

construction industry as a whole.

Contact Open ECX

01254 915 187

www.openecx.co.uk

@openECX

28 TC NOVEMBER 2018
---
We'll bring your

roof to life!

SEE US AT

We green

rooftops for

roofers - any

size, any system,

anywhere!

www.gardensinthesky.co.uk

For furth

er information

or a hire quotation call

01858

8 410372

NOVEMBER 2018 TC 29
---
Insurance Focus

SAFETY FIRST: DON'T GET CAUGHT

OUT IN THE BAD WEATHER

By Richard Forrest Smith, CEO, ECIC.

It is difficult to know what this winter will

bring, although some reports suggest we may

see the El Nino effect in snow and colder

temperatures across Europe. Undertaking roofing

work in winter might be preferable to the

sustained period of scorching heat we

experienced this summer, but poor winter weather

does bring increased risks.

While some serious weather conditions should

halt work being carried out on roofs – high winds,

ice, snow, torrential rain – there are inevitably

times when workers are either caught out by a

sudden change in the weather or are under time

pressure to get contracts completed, choosing to

work in challenging conditions that may expose

them to a higher risk of a fall from height.

Therefore, as we enter the colder months it is

worth preparing for the worst the UK climate can

throw at us, and just remind workers of the health

and safety procedures in place that should be

followed to the letter.

Too late

As a specialist insurer for the roofing contracting

sector, all too often at ECIC we find 'Toolbox Talks'

come too late and follow an accident on site that

could, in most cases, have been prevented.

Workplace fatality figures speak for themselves;

35 of 144 worker deaths in 2017/18 came from

falls and the yearly average over five years

starting from 2012/13 was 40 people per year.

7% of all injuries (including non-fatal) came from

falling from heights.

Looking specifically at the construction sector, a

fall from height is the most common reason for a

workplace fatality. Over the last 5 years, 196

people died in the construction sector due to an

accident at work and almost half of

the deaths – 96 – were due to

falls from height.

A workplace accident or fatality is a

nightmare scenario for any business

owner. While in the roofing sector, a fall from

height is an inherent risk of the job, it is also

almost completely preventable.

"A snow covered roof

surface can cover a

skylight from sight"

Sometimes it comes down to common sense,

such as checking ladders and scaffolding for ice

before use, gritting areas in use and clearing ice

and snow from areas being worked on. A snow

covered roof surface can cover a skylight from

sight along with all manner of slip hazards.

Employing fall and roof edge protection systems

is vital and never more so than in winter, as is the

training of workers to properly use these systems.

Legally obliged

Contractors are legally obliged to create and

maintain a culture of health and safety amongst

workers. Aside from the emotional cost, an

accident on site could have serious financial and

reputational implications. Fines for

HSE prosecutions have risen steeply

in the past year due to changes to the

sentencing guidelines used by the Courts in

England and Wales, and there is a high risk of jail

term for an employer found guilty of health and

safety negligence.

It is therefore vital to properly evaluate all risks

on site and all weather situations and have clear

procedures and method statements in place to

deal with those specific risks. Communication is

key – every worker should be made aware of the

risks, the control measures in place and the

protective equipment they should be using.

Furthermore, at the outset of each job, every

worker should sign a site specific health and

safety assessment form confirming they

understand the risks and will use the measures in

place to protect them.

Drum home

A Toolbox Talk is effective in communicating the

risks, but signing a form to confirm those risks

are understood really helps to drum home the

importance of site safety and can help protect the

main contractor should an accident happen.

With the construction sector already facing a

multitude of challenges around material costs,

skills, retentions and the uncertainties created by

Brexit, let's hope this winter is a benign one.

Contact ECIC

0330 221 0250

www.ecic.co.uk

Left: Richard Forrest Smith, CEO

of ECIC.

30 TC NOVEMBER 2018
---
PREFA TRAINING

PROGRAMME FOR

PROFESSIONALS

ALUMINIUM ROOF & FAÇADE SYSTEMS

PREFA products must only be installed by trained craftsmen.

We offer contractors a wide range of training opportunities, especially

on traditional metal roofing techniques (standing seam & welting

techniques). Due to the success of our training we decided to offer

two different levels of training in the future so beginners and

advanced roofers will be trained at their respective level.

The practical training of participants is the main focus of all our

workshops. The easy-to understand theoretical part of the course

covers the main fundamentals of application technology and is

complemented by a range of practical exercises.

Speak to our staff directly about the next training courses or visit

our website for more information.

Chris Murphy

Gregor Lang

England & Wales

Scotland & Ireland

Tel.: +44 7387 106 319 Tel.: +44 7387 106 320

Email: chris.murphy@prefa.com Email: gregor.lang@prefa.com

office.uk@prefa.com

www.prefa.com

* The colour guarantee ensures that the painted surface is protected from chips and blistering under the terms specified in the guarantee certificate.

You can find more information about the material and colour guarantee at www.prefa.com/guarantee

WWW.PREFA.COM
---
Winter Work

WINTER WEATHER WORKING:

PREPARATION IS KEY

With some meteorologists predicting the coldest winter for a decade, Pete Flynn, Health and

Safety Advisor at Marley Eternit, gives contractors some top tips for staying safe in the snow.

Recent long range weather forecasts have suggested the UK could be facing the coldest and

harshest winter for almost a decade and be blanketed in snow for months. While there may be

some scepticism about these dramatic predictions – in the same way that we never quite

believe the media reports that promise a BBQ summer – it is important for contractors to make sure

they are prepared for freezing winter temperatures.

We all know that even the smallest amount of snow or ice and stormy weather can create major hazards

for roofers on site, with slippy surfaces increasing the risk of falls; gusts of wind making it difficult to

balance and prolonged exposure to cold causing health problems, such as painful joints and illness.

This means it may be unsuitable for roofing work to be carried out in winter, when other trades at ground

level could continue. That's why it is vital that roofing contractors carry out their own thermal risk

assessments and follow health and safety procedures.

So, how should contractors prepare for winter weather?

For managers / supervisors …

1: Monitor the weather forecast so you can

anticipate and be prepared for poor weather

conditions. Carry out a risk assessment every day

to check that it is safe to work and that

conditions haven't changed. Pay particular

attention to working at height platforms and do

not work on roofs in icy conditions – this is a

requirement of the Working at Height Regulations

2005.

2: Make sure workers are trained on winter

hazards and ensure they have the appropriate

PPE. If it is windy, HSE recommends that roofers

should check wind speeds with a hand held

anemometer and refer to the NFRC guidance,

which states that:

• All laying or handling of slates, tiles, battens

and felt at roof level should cease when the

(average) mean wind speed reaches 23 mph

(gusting to 35 mph or over).

• When handling rolls of felt at roof level,

extreme care should be taken when the mean

wind speeds are in the region of 17 mph (gusting

to 26 mph or over).

3: Limit worker exposure to cold through job

rotation and provide plenty of breaks in heated

areas with hot drinks available.

For roofers …

1: Make sure you are wearing the right PPE and

extra clothing suitable for the job and the weather

conditions. This usually involves using several

layers of clothing, as well as waterproofs or wind

resistant fabrics where necessary.

Also, choose water resistant footwear, with

enhanced slip resistance or ice grips if required.

2: Wear gloves when fine manual dexterity is not

required and the temperature drops below 4°C.

3: Cold weather increases the risk of hand-arm

vibration syndrome, so keep your hands and arms

warm when using vibratory equipment such as

drills, nails guns and even hand tools, such as

hammers.

4: Choose hats that work with safety headgear and

don't compromise any eye or hearing protection.

To help you prepare for freezing

temperatures, Marley Eternit is giving

away hundreds of winter goodies. To apply

for one of 500 free flasks, heat pads or ear

bands, visit:

www.marleyeternit.co.uk/wintercampaign

and fill in your details.

5: Be aware of the symptoms of cold exposure –

heavy shivering, uncomfortable coldness,

numbness, aching, severe fatigue, confusion,

drowsiness and / or euphoria.

6: With reduced daylight hours, visibility can be a

problem, so wear reflective PPE.

7: Take breaks in heated areas and drink plenty

of fluids, including water and warm beverages.

8: Report any hazardous areas to the site

manager and do not put yourself at risk just to

complete a job.

Contact Marley Eternit

01283 722 588

www.marleyeternit.co.uk

@MarleyEternit

32 TC NOVEMBER 2018
---
edilians.co.uk

OUR SOLUTIONS

Roofing

Facade

Eco-housing

Growing

TO

better

support you

IMERYS Rooftiles

becomes EDILIANS

We continue to grow and expand beyond all barriers,

to support you with complete global solutions for roofs

and facades.

We place at your disposal our whole company, stronger

thanks to the alliance of our great expertise, our technology

and most of all, our people, to support you in your daily

work.

THE NEW BRAND OF IMERYS TOITURE
---
Natural Slate: Opinion

"BEING A NATURAL PRODUCT,

SLATE QUALITY CAN BE VARIABLE"

By Phil Wilden of Cembrit UK.

Attractive, durable and requiring minimal

maintenance, slate has long been

considered one of the finest natural roofing

products available. Indeed, as long ago as the

third century CE, the Romans were using it as a

roofing material at several sites in North Wales. In

more recent times, the emerging UK trend for the

use of environmentally friendly construction

materials, combined with the emergence of new

sources has seen slate enjoy a wide-ranging and

popular renaissance.

The popularity of natural slate is explained by its

unique combination of aesthetic appeal,

exceptional durability and low carbon footprint.

Natural slate is beautiful to look at and full of

character that suits many of our traditional

architectural styles. It is this character, mixed

with authenticity, that when combined with

premium quality and long life, makes natural

slate an obvious choice for the roofing contractor,

the local authority planner, architect and the

stockist.

"Issues with the quality

of the roof do not

emerge until

installation or even

after completion when

rectification becomes

expensive and

contentious"

Slate quality can vary

The selection of natural slate can be influenced

by local building traditions, particularly where a

specific heritage is to be maintained, or more

generally where a non-specific slate roof is

desired. Being a natural product, slate quality

can be variable. This is not necessarily a

problem, as long as the slate's provenance is

known. However, the UK market receives slates

from multiple sources with similar products.

These are purchased by many suppliers, some of

whom buy on the "spot" market. Traceability can

be difficult which can mean that the identity –

and hence quality – of the slate can be

compromised. As the natural roof slate product

standards and classification system is not well

understood by the client, issues with the quality

of the roof do not emerge until installation or even

after completion when rectification becomes

expensive and contentious. As a producer with

considerable experience in sourcing natural slate,

we have come to uniquely understand the criteria

required for successful sourcing of quality slate.

Slates from…

Curently available on the UK market are slates

that are imported from countries such as Brazil,

China and India, all of which have their own

specific colour and aesthetic appeal. There is also

the hugley popular Spanish natural slate that has

captured a large slice of the UK market due to its

ready availability and competitive price. While

natural slate from Spain is easy to come by, it

does have a complex supply chain.

Natural slate, tested to BS EN 12326-1:2014 and

meeting the highest relevant ratings, will be

unaffected by normal extremes of temperature,

and highly resistant to acids, alkalis and other

chemicals. Our Glendyne slate imported from

Canada meets all the above criteria.

The slate deposit from which Glendyne is

extracted has two key advantages over other

locations. The regularity of the bedding produces

a more consistent slate, increasing the volume of

Above: Experienced splitters are selected to go into the

quarry to access the best rock and know how it should be

cut into blocks to optimise slate output yield.

useable slate produced. The slate beds have only

recently started to be be exploited. Being close to

the surface there is less top-soil to be removed

and the splitting workshops are within easy reach

of the slate beds, reducing extraction costs. Being

new also means that the production side of the

operation can benefit from the latest technology

and best practises developed in other locations.

All of this, in my opinion, means the yield from

Glendyne is superior to other natural slate

sources. The result is more resource is put into

quality control, producing a top of the range slate,

with clear traceability at a competitive price.

The quarry operates a quality management

system based on EN ISO 9001 which is externally

audited. This standard is adhered to rigidly, as

are all quality standard procedures required by

each regional market the quarry supplies. It is a

high-quality slate that combines first-class

performance with all the inherent beauty of

natural slate, making it the ideal natural choice

for specifiers and roofers.

Contact Cembrit UK

0203 372 2300

www.cembrit.co.uk

@CembritUK

34 TC NOVEMBER 2018
---
Focus...

on results

When you need a reliable solution, you need a team behind you

with experience, dedication and quality unrivalled in the delivery

of industry leading products. At SR Timber we FOCUS on:

SEE US AT

n Product quality and distribution

n Sustainability, Certification and British Standards

n Continued investment and ranges

With decades of experience, our team is more

passionate than ever, offering you expertise,

independent advice, experience and industry support.

TEL: 01623 446 800

sales@sr-timber.co.uk

www.sr-timber.co.uk
---
Digital Tools

HOW ONLINE TOOLS CAN MAKE A

CONTRACTOR'S JOB EASIER

By Richard Bishop, Category Marketing Manager – Roof, Wienerberger.

Information about the world is more accessible

than ever now that we have incredible

technology available in the palms of our

hands. Internet users have an expectation that

they should be able to find the answer to their

query in a matter of clicks, and this has meant

that companies from all industries have had to

focus on how their online customer service can

improve and deliver quick answers for busy

people.

At Wienerberger we have invested time and

resources in creating digital tools to benefit the

roofing industry and the customers who buy,

install or sell our products. Roofing contractors

want high quality products at a competitive price,

but what truly sets manufacturers apart is the

level of customer service they provide, both

online and offline.

Instant response

In the past, technical teams at tile manufacturing

companies would have been inundated with

queries, so a customer may expect to receive a

response within a couple of days. Thanks to the

digital tools that are now freely available online,

contractors are able to raise an enquiry online

from site, their office or home, at any time of day

and receive instant results. As a manufacturer,

we receive a huge number of customer enquiries,

so where we can help a customer help

themselves and gain assistance quickly, we strive

to do so.

Fast-paced, ever-changing market

A good digital tool should be easy to use and

provide a quick, focussed result that gives the

user all the information they need. Making indepth

product information easy to access is

incredibly important for manufacturers in this

"Digital tools aren't

about cutting corners

to get a quick result,

they encourage users

to work smarter rather

than harder"

fast-paced, ever-changing market. Wienerberger

has recently developed its own app which can be

used on mobile phones and tablets, making it

easier than ever for contractors to find the right

product for their project, read technical data,

order samples and browse case studies.

Correct estimating and specification are integral

to the construction of a well-designed,

weatherproof and durable roof, and this involves

multiple tile types, systems, accessories and

fixings. The technical aspects of roofing and the

sheer amount of products available can be

incredibly complicated and overwhelming, so

helpful online tools are ideal for this industry. This

is why Wienerberger has developed a suite of

estimating and specification tools to assist

roofing contractors, with other online options also

available in the market.

Instant quote

QuantSpec is a quick quantity estimator which

can be used for simple roof shapes and

extensions. The tool gives an instant quote

including all roofing components such as tiles,

underlay, battens and dry fix systems. Use of this

type of tool benefits roofing contractors as all the

required roofing elements should be on site ready

for installation, reducing downtime spent having

to return to the merchants to acquire parts that

have been forgotten.

Time-saver

As providing a fixing calculation is part of the BS

5334 British Standard for Slating and Tiling,

online fixing calculator tools such as FixSpec are

a great time-saver for contractors. By adding

information such as postcode, tile type, roof pitch

and building dimensions, online tools take the

pain out of working out the complex calculations

and provide an immediate result.

Peace of mind

Specification tools such as RoofSpec can offer an

instant comprehensive specification and a

guarantee certificate for contractor and customer

peace of mind. The software has safeguards in

place to avoid inappropriate specifications, for

example if your chosen tile is unsuitable for a roof

at the stated pitch, RoofSpec will tell you. The

guarantee ensures that the specified roof is fit for

purpose and no maintenance will be required for

at least the period of the guarantee.

Digital tools aren't about cutting corners to get a

quick result, they encourage users to work

smarter rather than harder. This is why they are

becoming increasingly popular amongst roofing

contractors who want to work as efficiently as

possible.

Wienerberger are always looking at ways in which

we can make contractors' lives easier with online

software, so if you have any feedback about our

current tools or an aspect of roof installation that

you think could benefit from a digital solution,

please get in touch as we'd love to hear your

opinions.

Contact Wienerberger

0845 303 2524

www.wienerberger.co.uk/apps

@wienerbergeruk

36 TC NOVEMBER 2018
---
Innovative upgrade & refurbishment solutions for profiled fibre cement or metal roofs & cladding

SEE US AT

Fragile roofs are only unsafe

if you walk on them.

Replace rooflights and sheets from below with Fixsafe.

Figures published by the Health & Safety Executive show that falls through fragile roof

materials caused over one quarter of fatal accidents in the construction industry.

Fixsafe addresses the problem and is playing a major role in reducing this statistic.

Fixsafe allows sheets to be replaced from below, eliminating the need to access fragile

roofs and thereby greatly increasing site safety. By removing the requirement for costly

safety netting, roof staging or external scaffolding, on-site time is reduced and access

equipment costs are minimised.

Replacing rooflights from below is an HSE recommended method and complies with

Regulation 9 of the Work At Height Regulations 2005. Protect your roofers and yourself and

your team by repairing or replacing rooflights and roof sheets with Fixsafe.

We also offer: • Insulated rooflights for energy-saving upgrades and refurbishment

• Lightweight over-roofing for cost-effective roof refurb with minimal disruption.

For details, please call us on 01543 687300 or visit www.filon.co.uk

Filon Fixsafe allows replacement rooflights

or roof sheets to be installed from below,

avoiding the need to access fragile roofs

Filon Products Ltd, Unit 3 Ring Road, Zone 2, Burntwood Business Park, Burntwood, Staffs WS7 3JQ
---
Perfectly Pitched

THE RIGHT INFORMATION TO

CONTROL CONDENSATION

In his latest column, pitched roofing expert and consultant John Mercer – writing on behalf

of EDILIANS (formerly Imerys Roof Tiles) – explains how to control and prevent

condensation in pitched roofs.

As we strive to improve the energy

efficiency of our homes, greater levels of

thermal insulation and air tightness reduce

the average temperatures within the roof

structure. Warm, moist air generated within the

living spaces can find its way through the ceiling

into the cold roof space. Controlling condensation

within our buildings remains one of our key goals

to ensure we live and work comfortably, healthily

and to prevent damage to the building fabric.

The ability of air to hold moisture reduces as it

cools and it will then deposit the moisture onto

cold surfaces in the form of condensation. For

example, in a two-storey house with a floor plan

of 100m², there is around 420 cu metres of air,

which, at 20 degrees, could potentially hold up to

8.4 litres of water vapour. If this warm air passes

through the ceiling into the roof space and cools

down to 10 degrees, it can then only hold 3.4

litres of water vapour. This means that 5 litres of

water will be deposited somewhere if it is not

allowed to escape from the roof space. It may not

be as dramatic as that in practice, but it

illustrates the potential risks.

The development of vapour-permeable and airpermeable

roofing underlays has been greatly

beneficial in helping to prevent harmful levels of

condensation from building up in the roof space.

However, it is important to use these products

correctly, in accordance with the guidance given in

BS 5250 and with the information contained in the

underlay manufacturer's accreditation certificate.

Two ways to control the risk

Essentially, in simple terms, there are two ways

we can control the risk of condensation build up

in the roofspace; i.e we either

prevent water vapour from

reaching the loft space in the

first place, or we remove it once

it gets there before it has a chance

to build up to harmful levels.

"We either prevent

water vapour from

reaching the loft space

in the first place, or we

remove it once it gets

there before it has a

chance to build up"

To prevent the water vapour passing from the

living space into the cold roof space, it is

necessary to install effective vapour barriers. It is

difficult, if not impossible to construct a totally air

and vapour-tight ceiling, so British Standard BS

9250 gives guidance on minimising air leakage

through junctions and penetrations such as light

fittings, loft hatches etc. to create a 'continuous'

ceiling. We now have well-documented methods

to achieve this in new buildings, though it is

generally more difficult in existing buildings.

Greater energy efficiency is achieved and the risk

Left: John Mercer, Roofing Consultant.

Below: Warm to cold illustration.

of condensation reduced if we

prevent air leakage through the

ceiling. However, where this is not

practical we must use adequate

ventilation to remove the water vapour from

the roof space.

"We now have welldocumented

methods

to achieve this in new

buildings, though it is

generally more

difficult in existing

buildings"

Minimum requirements: BS 5250

BS 5250 sets out the minimum requirements for

roof space ventilation. For example, in the

average house with a cold loft, there should be a

minimum of a 7mm continuous ventilation gap at

eaves when using a vapour permeable underlay

with a normal, or 'discontinuous' ceiling. With all

the well documented benefits of dry fix systems,

it makes perfect sense to supplement eaves

ventilation with high-level ventilation using a dry

ridge system. Although eaves to eaves ventilation

works well in theory, it relies on external air

movement and may not work so well in practice if

the house is too close to adjacent properties or if

the loft is full of items blocking the air flow.

Alternatively, air-permeable underlays can be used,

in many circumstances without any traditional

ventilation, though it is important to follow the

manufacturer's installation guidance.

38 TC NOVEMBER 2018
---
Innofix, the simplest and

quickest tile clip ever

Clip over tile

Push down under batten

and wait for the 'click'

Fixed in a click

You don't need tools to clip your tiles with BMI Redland Innofix

Clip. It's the quickest ever clip to fix, you'll end up with far fewer

broken tiles and you don't have to worry about tangling – there's

a magazine that holds clips ready. So you'll have the roof locked

up securely up to 40% faster than using clips and nails.

bmigroup.com/uk
---
Perfectly Pitched

Err on the side of caution

In roofs where the insulation is located parallel

with the rafters and a vapour permeable underlay

is installed in conjunction with an effective air

and vapour control layer and continuous ceiling,

roof space ventilation is not required. Otherwise,

eaves to ridge ventilation should be installed,

with clear airways in all rafter voids between the

insulation and underlay.

It is worth considering when designing a building

that occupants may not always use the building

in the way it was intended, so err on the side of

caution and provide robust solutions. For

example, a family with several young children

may generate far more condensation than a

single person, pushing ventilation systems

beyond their limits; particularly in winter.

Building Regulations and BS 5250 recognise that

temporary condensation may occur during

adverse climatic and internal conditions (e.g very

"Controlling

condensation within

our buildings remains

one of our key goals to

ensure we live and

work comfortably,

healthily and to

prevent damage to the

building fabric"

cold outside with little or no air movement, warm

indoors with no windows open). It is common to

see temporary overloads of condensation appearing

on the underlay, which dissipates within a few days

with no harm done – usually during very cold but

still weather conditions. Any temporary

condensation must not be severe enough to cause

damp or staining on internal surfaces or cause

damage to the structure generally.

Summary

• In new build homes we must strive to

minimise air leakage through ceilings with

efficient continuous ceilings and air and

vapour control layers.

• In older properties we must accept that air

leakage happens and adequately ventilate

the roofspace to prevent harmful

condensation forming.

• In extremes of cold / still air condensation

'overload' may occur, even where the roofspace

ventilation complies with the guidance given in

BS 5250; so supplement eaves ventilation with

high level ventilation for greater efficiency.

Contact EDILIANS (formerly Imerys) / John Mercer

www.imerys-roof-tiles.com

@imerys

@johnmercer3

Illustration: Warm moist air can form condensation which, if left, can be harmful to occupants and the building fabric.

40 TC NOVEMBER 2018
---
Take a 'peep'

at our new products...

We have extended our

product range and

are pleased to announce that we now manufacture and

distribute Weep Vents and Peep Vents.

• The Weep Vents have an integral grill design to prevent rain ingress during

high winds and a lip to ease positioning during use. It is wide enough not to

become blocked by day to day debris yet small enough to prevent access of

large insects.

• The Peep Vents provide cavity wall drainage solutions, allowing rain water to

easily escape the cavity wall via a discreet aperture in the vent.

• Available in a range of colours including: Black, Terracotta, Grey, Brown,

Clear, Buff and White.

Our full ventilation range consists of Over Fascia Vents, Continuous Rafter

Trays, 2-in-1 and 3-in-1 Felt Support Trays, Eaves Comb,

Circular Soffit Vents, Eaves Protection Strip, Tile Vents, Air Bricks,

Telescopic Underfloor Vents, Cavity Sleeves and Extensions, plus much more...

Contact us to request a copy of our new

comprehensive 52 page Product Guide

t 0845 034 6008 f 0845 034 6010

12B Metcalf Drive, Altham Industrial Estate, Altham,

Lancashire, BB5 5TU, Great Britain

www.easy-trim.co.uk
---
Contractor's Q's

THE MOST FRUSTRATING THING?

"TWO WORDS – LATE PAYMENT"

Like many in the roofing industry, Peter Mably's path into roofing wasn't planned – but after a chance

meeting at a local rugby club more than 30 years ago that saw him then "moving slabs and sand" on

site, Peter has forged an long and successful career and progressed to Director of Owlsworth Roofing.

We hear Peter's views including his thoughts on late payment, partnering with the right person in business,

dealing with difficult customers and using any means necessary to get to projects!

10

questions for Peter Mably

"Persistent wet

weather hampered our

progress – at one stage

the only way we could

reach site was by

rowing boat, but we

battled on"

TC: What was your path into roofing and

to your current position?

PM: Having been born and raised in what was

then the quiet little village of Rock in Cornwall,

the construction industry was not even on the

radar of the school careers officer, so my route

into construction was much more by chance than

design. Having paid too much attention to beer

and rugby during my first year at Coventry

Polytechnic in the very late '70s, I wasn't invited

back for a second year so the prospect of finding

a job came as a bit of a shock.

I made my way to Bracknell in Berkshire and the

home of a girlfriend I had met in Cornwall. This

time rugby came to my rescue and a builder

playing at Bracknell Rugby Club offered me a

labouring job on a building site.

The project was the refurbishment of the P&O

building in the City of London which had just been

bought by The Union Bank of Switzerland (UBS).

My job was to move the slabs and sand from the

old asphalt roof to allow a new Sarnafil

membrane (which would go on to become Sika

Sarnafil) to be installed over the existing asphalt

substrate – and I would then install new slabs

and cobbles over the Sarnafil. The Union Bank of

Switzerland saw the Swiss manufactured Sarnafil

system as the ideal product to keep those newfangled

computers warm and dry, and I remember

thinking that there might just be a future in it.

Within a year I was installing Sarnafil for the

Reading-based single ply roofing company where

I was to spend the next 25 years working my way

around various departments including single ply,

felt and hot melt and into the boardroom. As the

credit crunch hit the construction industry in

2008 however, I was made redundant and left

with a big decision to make. Should I trust my

instincts and set up my own roofing company or

should I find another established roofing company

to work for. I'm pleased to say that, with a large

chunk of assistance from my current business

partner, we set up Owlsworth Roofing Ltd and are

about to celebrate our 10th Anniversary.

TC: If you had one piece of advice about

starting a roofing business, what would it

be?

PM: My best advice would be to go into business

with a good finance man as your partner. I have

been able to concentrate on developing the

roofing side of Owlsworth Roofing in the

knowledge that the finance side is in safe hands.

Unless you are fortunate enough to 'inherit' a

roofing business it is unlikely that you will have

the right mix of roofing knowledge and financial

experience. When it comes to money, construction

is a cut throat business and you need to build up

some financial security, understand the risks and

know how to work around them.

TC: Tell us about a current project you're

working on…

PM: Owlsworth Roofing is currently working for

Peter Mably is a Director at Owlsworth Roofing.

ISG on the £40 million refurbishment of the

University of Reading Library. The library roof is

entirely flat with approximately 3,000m² over 12

different roof areas and a combination of strip

and recover, fully adhered overlay, mechanically

fastened overlay and new build – all covered in

Sika Sarnafil membrane and all less than three

miles from our offices in Caversham. One of the

greatest challenges on projects of this kind,

where all the flat areas on the building are

covered in Sarnafil, is trying to persuade the

cladders, scaffolders and M&E contractors to

carry out their works and store their materials

with due care and attention. We started on site in

May 2017 and expect to be finished early in 2019

TC: You must have worked on some

difficult projects over the years. Does one

in particular stand out?

PM: Owlsworth Roofing has carried out a number

of roof refurbishment projects at the Atomic

Weapons Establishment facilities (AWE) in

Aldermaston and Burghfield. Some of the

42 TC NOVEMBER 2018
---
SEE US AT

State-of-the-art

training centre

NCTS trainers deliver...

l Slating & Tiling

l Lead & Hard Metals

l NVQ's & Apprenticeships

p

l Liquid & Bituminous Waterproofing

l On-site Assessment Training (OSAT)

l Basic Competency Programmes (BCP)

for Lead & Stainless Steel

How can I book?

Booking is simple. You can book your course

through the NCTS website

www.ncts.org.uk

Or contact us on 01480 501011

National Construction Training Services @NCTS_2017

NCTS

Basic Lead Welding and Bossing

8 – 12 October

Bespoke Hard Metal

15 – 19 October

Lead Intermediate

22 – 26 October

Slating & Tiling Bespoke

29 October – 2 November

Slate Repair Hook

A permanent, secret and fail safe device that should be used when replacing a broken slate

The patented Hallhook can be used for general repair, after solar panel bracket mounting, after roof

light/window installation and after installing slate vents. On a heritage or listed building a repair

doesn't need to involve a re-roof or invasive repair.

For further information about these and our other products please visit our website or give us a good old fashioned call:

T: 01257 793113 sales@geniusroofsolutions.com www.geniusroofsolutions.com

NOVEMBER 2018 TC 43
---
Contractor's Q's

buildings have been retro-fitted with complex air

handling systems since they were first built in the

50s and 60s, and the plant and equipment was

routinely placed on the flat roof area with little

consideration for roof refurbishment. On one

particular roof, the roof mounted units were so

large and low to the roof surface that it was

impossible to weather underneath them. The

problem was that the remainder of the roof

drained underneath the units to a gutter on the

far side and we had to maintain a free draining

roof. The solution was to box in the steel support

framework while retaining sealed drainage routes

through the boxing and out the other side. After

numerous sketches and the taking of endless

dimensions, a complicated series of Sarnafil

scuppers and an extended network of drainage

pipework completely sealed on the inlet side and

the outlet side did the trick.

TC: What about difficult customers? Any

situations that stand out that you can tell

us about?

PM: I do recall one particular customer who was

unhappy with the finish of the Sarnafil roof we

had installed. The site was a new build project on

a flood plain of the River Thames between Henley

and Marlow. Persistent wet weather hampered

our progress on site to such a degree that at one

stage the only way we could reach site was by

rowing boat, but we battled on and in between the

showers we insulated the soggy timber framed

building and encapsulated it in Sarnafil. Several

months later the customer complained that some

minor stress lines had appeared in the Sarnafil in

the extreme corners of the roof. When I suggested

that the lines could be due to building movement

as the structure dried out below the watertight

roof coverings, I was told in no uncertain terms

that my excuses were "ridiculous". Our

relationship deteriorated over the following

months, we were threatened with legal action and

a suggestion was even made that a website

would be started to highlight Owlsworth Roofing's

incompetence, but I am pleased to say that the

roof remains watertight, is still under guarantee

and we have had no further complaints.

"One of the greatest

challenges is trying to

persuade the cladders,

scaffolders and M&E

contractors to carry out

their works and store

their materials with

due care and attention"

TC: What's the most frustrating thing

about your job?

PM: Two words – late payment. Late payment of

invoices, late payment of partial release of

retentions and late payment of final retentions –

if they get paid at all. We spend hours negotiating

the terms of the orders we receive, which when it

boils down to it are: we install your roof and then

you pay us – how difficult can that be? It seems

to me that there are people employed just to

make sure it is difficult. The excuses are

repetitive and tiresome – 'the payment is on the

system, but there is no-one in the office to

authorise it…' or 'the accounts office is only

open between 12.00 and 2.00pm on a Friday so

please call back later…' and there are a lot more

like that! I know that the industry and government

are working on it but if someone wants to keep

your hard-earned money just a few weeks longer

there is very little you can do about it.

TC: And the most satisfying?

PM: I still remember standing on one of my first

Sarnafil roofs in the mid 80s as it started to rain,

watching globules of water collecting on the shiny

new membrane, then slowly merging, forming tiny

little streams that snake their way down the slope

of the roof and finally join other little streams and

disappear into the rainwater outlet. I don't do the

installing any more but I still get satisfaction from

the combination of a well installed Sarnafil roof, a

satisfied customer and the knowledge that the

roof has got another 40 years' service ahead of it

TC: What's your most important tool as a

roofing contractor – in the office or on site?

PM: I'm old school. We have a brilliant pdf

measuring system that we use for estimating but

you will very rarely find me on a roof without my

tape measure. I probably have seven or eight of

various ages, shapes and sizes in the boot of my

car right now.

TC: What's the best social media platform

for you as a roofing contractor?

PM: Being old school, it would be easy to dismiss

social media as a time-consuming distraction

that will be of little benefit to the average roofing

contractor – but I come from an era when you

used to dictate letters for a secretary to type up.

Back then, some said the same about emails and

where would we be now without them? Owlsworth

Roofing has a website, Twitter and Instagram

accounts which I am guessing will become more

and more important in the years to come but at

present, the hard yards are done by our employees

producing consistently high quality, problem-free

roofing systems and encouraging the clients to

come back to us time and time again.

TC: How do you feel your sector's shaping

up in 2018? Are there reasons to be

positive?

PM: My gut feeling is that there is a pre-Brexit

pause by some of the decision makers in big

business and this is having a trickle-down effect

and a consequential slow-down on commercial

building development country-wide. If I'm right, I

also think that this will result in a post-Brexit

upturn in the same area. Not everything in the

construction sector is based around international

trade however, so having said that life goes on in

the real world and there will always be

opportunities for competent roofing contractors.

I'm confident that the quality partnership that has

been built between Owlsworth Roofing and Sika

Sarnafil over the last 10 years is set to go from

strength to strength.

Contact Owlsworth Roofing

0118 946 9160

www.owlsworthroofing.co.uk

@OwlsworthRoof

44 TC NOVEMBER 2018
---
There's more to

some breather

membranes than

just colour

It's blue It's green It's Permo® air

It's enough to turn our competitors green

with envy.

Permo® air is a roofers' favourite because of

its exceptional level of breathability (look on

our website if sd-values are your thing), and

its strength, which means it doesn't tear and

doesn't need support every few inches. Our

best performing underlay is UV-stable, so it

can be left on-site before using, with windresistance

that means you can use it almost

anywhere. And unlike lesser membranes,

it won't leave you red-faced and having to

explain a damp problem.

Trust Klober. Find out more at klober.co.uk

UNDERLAYS DRY VERGE TILE VENTS DRY FIX LEAD-FREE FLASHING

WWW.KLOBER.CO.UK
---
Forces to Roofing

BUILDING FUTURES FOR VETERANS

Can former service personnel help plug the construction skills gap? Total Contractor met up

with three finalists from the recent BMI Redland and Icopal Apprentice of the Year

competition – all ex-armed forces – to find out more about their experiences.

Every year, 14,000 service personnel leave

the armed forces. Many of them struggle to

find jobs, often because would-be

employers dismiss their military experience as

irrelevant for roles in civilian life.

However, now the construction industry is looking

to plug into this largely untapped resource to help

it meet its skills shortages. Organisations such as

BuildForce and CTP (see box) are working to link

individuals with the right roles. They feel that

former service personnel possess a host of skills

and behaviours that can be successfully applied

on construction projects and can make very

motivated and focussed employees.

Evidence of this came in the list of finalists in this

year's BMI Apprentice of the Year competition,

where three of the finalists had come from

careers in the armed forces. Their stories

illustrate why construction and ex-service

personnel can be a good fit.

"I'm motivated to do my best"

Oliver Drew made a conscious decision to leave

the army in search of a trade. As a Scots Guard

based in London, he was missing his home in

County Durham. As well as being part of a

reconnaissance and sniper platoon, his role

included guarding Buckingham Palace and

Trooping the Colour.

One of the attributes that his five years in the

army gave him is the determination to succeed.

"I'm motivated to do my best, no matter what I

am doing in life," he explained.

He found roofing almost by chance, when a friend

suggested that he should apply to the roofing firm

he was working for, Stanley firm Hodgson-Sayers.

Oliver won an apprenticeship after three rounds

Top left: Ceiran Peel-Price spent four years as a gunner in a

tank regiment and has since set up Peel-Price Construction.

Above right: Oliver Drew (centre), was a Scots Guard but

since leaving won an apprenticeship with Hodgson-Sayers

and hasn't looked back. Right: Tom Thompson suffered PTSD

after leaving the army but found roofing work with A. L. King

and is enjoying a successful career.

of selection at Hodgson-Sayers, thanks in part to

the behaviours he had learnt in the army. "Timekeeping,

good presentation, quality workmanship

and a good standard of dress are all important,"

said Glyn Neasham, the Regulatory Affairs

Manager who manages the Hodgson-Sayers

apprenticeship programme.

Oliver recognises many similarities between his

former and current roles. "I love working outdoors

and I like hard work," he told us. "All the things

I've learnt are useful, like punctuality and

discipline – you need that to make sure you're

safe while working."

"There are so many transferable skills"

Ceiran Peel-Price had always wanted to join the

army, and he hugely enjoyed the four years he

spent as a gunner in a tank regiment. However,

injuries to his knees while on active duty put paid

to his dream career.

Ceiran's route to roofing was through DIY. He and

his wife bought a 1940's house on the Wirral

which needed updating. They hired a builder to

complete the work and Ceiran started to labour

for him to save on costs and found that he

enjoyed the work.

In and amongst a series of four knee operations,

Ceiran completed a bricklaying course at his

Bolton College – while simultaneously holding an

apprenticeship with Les Perry Roofing Contractors

which operates in the Wirral.

Now Ceiran runs his own business, Peel-Price

Construction. "It's a no-brainer for service people

really, there are so many transferable skills", he

explained about his move from armed forces to

roofing.

"I thought that's it: active, fast, skilled

and a team!"

Tom Thompson's story illustrates some of the

challenges that ex-service people face. Many of

them are left with mental wounds that can often

be exacerbated by the lack of a job to occupy

mind and body.

46 TC NOVEMBER 2018
---
Former Scots Guard Oliver Drew says the discipline he

learned in the army helps keep him safe on site.

Ceiran Peel-Price now runs Peel-Price Construction and says

"there are so many transferrable skills" from army to roofing.

Tom Thompson receives his BMI Redland Apprentice of the

Year Highly Commended Award from Andy Dennis.

"All the things I've

learnt are useful, like

punctuality and

discipline – you need

that to make sure

you're safe while

working"

Tom's army career ended as the result of a hugely

traumatic event that left him, and many of his

fellow soldiers, suffering from post-traumatic

stress disorder (PTSD). On July 10th 2009,

soldiers from Tom's unit – 9 Platoon, C Company,

2 Rifles – started out on a routine patrol from

Forward Operating Base Wishtan, Sangin,

Afghanistan, but after only a short time were hit

by a 'daisy chain' of Improvised Explosive Devices

(IEDs).

On hearing the explosions, other members of 9

Platoon raced to the aid of their comrades.

Having retrieved the wounded, the group was

returning to base when it was hit by a second IED

daisy chain. In a few short minutes, almost half

of 9 Platoon's strength of 30 had been killed or

injured, with five men dead.

Tom's PTSD meant that he was unable to

continue in active service, so he switched to the

role of physical training instructor and left the

army at the end of his contract. He spent a

difficult first six months, struggling to sleep,

spending long hours in the gym and sometimes

drinking too much. However, he then spotted a

career in roofing – quite literally – through his

window at home, while watching two roofers at

"It's a no-brainer for

service people really,

there are so many

transferable skills"

work: "I thought that's it: active, fast, skilled and

a team! This is what I'm looking for," explained

Tom. Tom found Melksham-based A. L. King,

which was able to take Tom on as an apprentice.

He did extremely well, even coming second in the

national SkillBuild finals in 2017. He followed this

up in 2018 with a Highly Commended place in the

Pitched Roof category of the BMI Apprentice of

the Year competition in June.

Tom explained why roofing works for him: "I knew I

didn't want a job that was nine-to-five and I knew I

needed a trade. I was looking for something that

kept my mind working, hands busy and where I

could be proud of the finished product.

"I would recommend it to anyone coming out of

the services – and would say, never be afraid to

re-train. There's a lot of support available – I got

tons from my tutor and training is there from

manufacturers like BMI too."

What these individuals' stories illustrate is that

there are plenty of similarities between

construction and military careers. Both tend to

involve a series of projects or postings. Both

require punctuality, reliability and the ability to

follow rules and procedures. Both require strong

team work to deliver successful outcomes.

For companies reading this who are looking to

recruit motivated, hard-working team members, exservice

people are definitely worth a second look.

"I was looking for

something that kept my

mind working, hands

busy and where I could

be proud of the

finished product"

Where to look

If your business could benefit from the skills

and experience that ex-service personnel could

bring, there are several organisations that can

help make a match. It's not just trade level roles

that could be filled; there are people who could

be managers, HR professionals, trainers,

logistics experts, to name just a few.

Government-sponsored recruiter Career

Transition Partnership (CTP) targets

construction with its Forces in Construction

Insight days. A recent one was held in North

Wales in October in partnership with CITB,

Coleg Cambria and Kier, and backed by a huge

number construction companies including BMI.

BuildForce was set up in January 2017 with the

remit of connecting ex service personnel with the

relevant job vacancies construction companies.

It now has nearly 70 members, among them

main contractors, trade contractors, trade and

professional organisations and charities.

www.ctp.org.uk / www.buildforce.org.uk

Contact BMI UK & Ireland

www.bmigroup.com/uk/

@_Redland

@Icopal_UK

NOVEMBER 2018 TC 47
---
Daylighting

LET THERE BE NATURAL LIGHT

The benefits and demand for natural light in residential and commercial properties mean

contractors should be aware of the right products to achieve this, according to Scott Leeder,

Commercial Director at VELUX Modular Skylights.

According to several studies carried out over

the years, including the 'Distinctive Benefits

of Glazing' by Visiting Professor at the

Oxford Institute for Sustainable Development,

David Strong, the levels of natural light that we are

exposed to have profound implications on our

health, happiness and productivity. As most people

spend over 80% of their lives indoors, the amount

of glazing on a building can affect our quality of life.

It is valuable for specifiers and project partners

such as architects, contractors, and site

managers to be aware of these benefits as they

apply to buildings in a wide range of sectors. For

example, in healthcare, research findings

demonstrate that access to adequate daylight

provides; a reduction in the average length of

hospital stay, quicker post-operative recovery,

reduced requirements for pain relief, quicker

recovery from depressive illness and disinfectant

qualities. Beyond its health and wellbeing

benefits, using daylight to illuminate facilities can

also reduce energy use by avoiding over reliance

on artificial lighting.

Optimising light and ventilation

As such it is essential that commercial buildings,

including educational, healthcare, retail and office

facilities, incorporate optimum levels of natural

light and ventilation. Critical to this is the amount

of and positioning of the glazing, rooflights and

skylights. Equally important is the position and

orientation of the rooflight and a knowledgeable

rooflight manufacturer should be able to work

with you to optimise the position and orientation

of skylights. Our prefabricated skylight system,

for example, can be fitted together in multiple

ways, with eight different sizes to deliver

flexibility for a wide variety of commercial

projects.

"VELUX Modular

Skylights can be fitted

up to three times faster

than a traditional

installation,

minimising time spent

on the roof and

ensuring a watertight

seal"

Developed in collaboration with architects Foster

+ Partners, our modular skylights feature a

minimalist design with super-slim profiles and

they are fully prefabricated in a factory controlled

environment, so they are quick and easy to

assemble on site.

In fact, VELUX Modular Skylights can be fitted up

to three times faster than a traditional installation,

minimising time spent on the roof and ensuring a

watertight seal is achieved exceptionally quickly,

so rain won't hold up the installation. This is vital

for developments where time and budget

constraints can put a strain on schedulers and

builders alike. The prefabricated design reduces

the time required working at height, too.

Distinctly different

With regular access to natural light and ventilation

having an impact on our happiness, ability to heal,

wellbeing, learning performance and productivity,

a growing number of building designers are

incorporating skylights into their developments.

Our prefabricated modular skylights are

revolutionising both how skylights look – and how

they're installed. Created with both architects and

installers in mind, the striking design allows for

more daylight and more fresh air, which is matched

by their performance and vastly improved

installation. Our enlightening eBook, '10 reasons

why prefabricated VELUX Modular Skylights will

transform your next project', provides further

details on this. The eBook is available to download

free from the VELUX website.

Contact VELUX

01592 778225

www.velux.co.uk

@VELUXGBI

48 TC NOVEMBER 2018
---
Blue Roofs

THE FORECAST IS GOOD!

By Daniel Ashley, Managing Director, Protan UK.

The weather – it's Britons' favourite topic of

conversation. Whatever your views of

climate change, our recent wet winters

mean the weather needs to be discussed,

particularly when building or refurbishing a roof.

According to Met Office data: there is a

significant increase in the intensity of UK rainfall.

Now there is a 1 in 3 chance of record rainfall.

Our green spaces, which usually would absorb

that water, are being covered at a rate of knots: in

London alone, the green equivalent of 2.5 Hyde

Parks is lost each year.

Blue roofs can play a key role in addressing

flooding scenarios. They can be a cost-effective

and efficient solution and they can be simple to

install.

Firstly, consider the blue roof's purpose: is it to

be one component of the overall SUDS

(sustainable urban drainage system), or a standalone

solution?

In a new build, it is worth tabling that latter

option in design discussions. To cite a real

example, a 2,500m² roof can store up to 70

tonnes of water; to construct a ground water

attenuation pool for the same capacity would

involve excavating 100m³ of soil – dozens of

truck loads.

Design and performance spec

For the design and performance specification,

bear in mind that most options on the market

require, in effect, two roofs: a blue roof, laid

under a green or ballasted roof. That impacts on

structural support specification and cost. It

means the roof is in effect laid twice, impacting

on material and labour costs. The structural load

is going to be increased to bear the potential

water load (1m³ of water weighs a 1 ton), so why

add even more to that?

Even the drain time varies, which can also impact

on the structural load. The NFRC Technical

Guidance Note for blue roofs requires the roof to

be at least half voided in 12 hours, and

completely void of rainfall within 24 hours. The

rainfall attenuation offered varies from

manufacturer to manufacturer. The discharge rate

needs to meet the individual site discharge

design.

Reputable manufacturers offer software solutions

to calculate the appropriate flow capacities,

number of outlets required, location of each

outlet, and appropriate parapet overflow.

Membrane quality

You must choose a quality membrane. Membrane

failure is always a dire consequence. It is more

so if the membrane fails when there has been a

rainstorm, or thaw after heavy snow. The majority

of single ply blue roofs focus on a conventional

green or ballasted roof construction, a void space

to hold the water whilst it attenuates through

outlets, and an underlayer. Protan is the only

leading single ply membrane manufacturer to

engineer bespoke membranes for its stand-alone

blue roof system, requiring just one membrane /

one roof to be laid.

Fixing considerations

The majority of blue roofs are mechanically fixed.

Watertightness is even more critical on a blue roof:

penetrations need to be minimised, and welds

perfect! It may seem like I'm stating the obvious,

but every fixing penetrates the roof. An adhered

solution overcomes that issue, but is still very

dependent on quality of workmanship. A vacuum

system overcomes the issues faced with laying

an adhered roof, and significantly reduces the

penetration considerations of a mechanical roof:

it is fixed only at the perimeter and relies on air

pressure to 'suck' the roof membrane to the deck.

"For the design and

performance

specification, bear in

mind that most options

on the market require,

in effect, two roofs: a

blue roof, laid under a

green or ballasted

roof"

Prefabricated details simplify the process on site,

and deliver a quality assurance. It is worth

verifying the range available: is it just the outlet,

or other detailing such as corners (internals and

externals), parapet skirts, all of which could affect

the performance of the roof if not fully watertight.

When welding seams or details, bear in mind that

the roof is going to be exposed to greater loads,

so extra care needs to be taken, and factor in as

large a safety margin as possible. Apply extra

pressure over T joints, and, to be double sure,

even weld an extra membrane reinforcement over

those sections. It will help ensure the roof

performance, yet makes no significant difference

to material and labour costs.

And ensure the outlets are fixed to the roof deck,

not just the membrane!

There are some who say blue roofs should be

avoided. A well-specified, well-constructed blue

roof can play a key role in avoiding flooding, and

makes use of what is an underused space. It is

about managing our resources and making best

use of them achieving best value.

Contact Protan

01925 658001

www.protan.co.uk

@ProtanUK

50 TC NOVEMBER 2018
---
SEE US AT
---
Article

Tapered Insulation

TALE OF THE TAPERED PROJECT

With 16 years' experience in the design and fabrication of tapered insulation, Neil Talmage,

Head of Technical and Design at TaperedPlus, explains his Top 5 Tips to consider when

installing tapered insulation.

Although tapered Insulation has always contractors and specifiers now recognising the

been considered the more complicated advantages of the cut to falls system, we at

method to drain a flat roof of its rainwater TaperedPlus are collaborating to upskill and

when compared to timber firings and concrete educate all our partners in tapered insulation

screeds, it has many advantages which far solutions.

outreach these traditional methods on both

With every bespoke tapered insulation project

technical and practical merit. Architects and

designed and specified by TaperedPlus, a full

specifiers are choosing the cut to fall insulation

scheme drawing showing design falls will be

methods more and more each day as a drainage

issued and approved prior to the delivery of the

solution for their flat roofs, as buildings not only

insulation to site. Roofing contractors should take

become more ornate in design, but also have high

this time to familiarise themselves with the

technical requirements. Tapered insulation

design and the roof in hand, taking the

doesn't have to be any more complicated than

opportunity to check dimensions and upstand

installing a simple uniform thickness of insulation

heights along with proposed drainage locations

on a flat roof with a deck to fall. With many

Neil's Top 5 Tips for your tapered insulation project:

"Roofing contractors

should take this time to

familiarise themselves

with the design and the

roof in hand"

and any roof deck penetrations. Especially with

new build projects, variations may occur where

the 'as built' structure varies from the

architectural plans.

If, for any reason, an issue does occur, then it is

very important we know about them prior to the

delivery.

Tip 1: Preparation

After making sure the substrate is clean, dry of

any debris and moisture, it's important to assess

whether the deck is flat and if any back falls /

hollows / deflected deck need to be corrected. If it

is a refurbishment project with existing falls,

please ensure the proposed scheme allows for

the existing falls prior to install, especially if the

roof has been stripped post survey.

When the insulation is delivered to site, it is the

responsibility of the roofing contractor to ensure it

is stored in a dry place and is always protected

from the weather. Planning where you are going to

store your cut to fall insulation is important, so

you can access it quickly and safely.

Tip 2: Choosing where to start

At TaperedPlus, all our Technical Designers have

been trained to not only design cut to fall

schemes that meet all the drainage and thermal

requirements, but to also have

the installer in mind in terms

of practicality and simplicity.

Why make a tapered

insulation scheme more

complicated than it needs to

be?

Contractor set-out points (see below)

are provided on all our tapered insulation scheme

designs once ordered, advising the installer on

Left: Neil Talmage, Head of Technical

and Design at TaperedPlus.

site where to start laying the

tapered insulation design

from.

Set-out points will normally

follow on with a full uncut board of

insulation, usually from the thickest part

of the scheme, working down toward the

drainage location, therefore any cutting of the

insulation is done at the thin end as opposed to

the thickest part of the insulation which reduces

wastage.

On certain occasions it may be more practical for

the tapered insulation to be set out from a gutter.

In this instance the gutter width dimension will be

shown.

52 TC NOVEMBER 2018
---
SEE US AT

IT DOESN'T JUST LET OUT SMOKE

That hatch with the ladder running up to it? Yes, it's a Bilco smoke vent.

Now, you may know it as one of the best smoke vents on the market (CE-marked,

self-actuating in less than a minute, excellent thermal properties, and so on).

But simply add a fixed ladder with the optional LadderUp® Safety Post, and you also

have a safe exit out onto the roof.

So the next time you specify a smoke vent, make sure it's a Bilco.

As both a smoke vent and an access hatch, you get two solutions for the price of one.

To find out more, call us on 01284 701696 or visit www.bilcouk.co.uk

incorporating

SAFE ACCESS ALL AREAS

WORLD CLASS FLOOR ACCESS COVERS

Bilco UK and Howe Green are part of the ERA Group
---
Tapered Insulation

"Often we come across

buildings that are not

always full of right

angles, and for these

instances the installer

may need to cut a

bespoke angle on site"

Above: With every bespoke tapered insulation project designed and specified by TaperedPlus, a full scheme drawing showing

design falls will be issued and approved prior to the delivery of the insulation to site.

Tip 3: The good practice method

As an established roofing contractor, the same

good practice methods should also be applied

with the use of day joints, ensuring the system is

not subject to any moisture between installation

breaks (e.g. at night, over weekends etc.)

With multi layered tapered systems, staggering

the joints when installing the insulation is a

practical must. With any type of flat slabbed

insulation, staggering the joints improves the

system's stability and performance whilst

eliminating the risk of cold spots between the

deck and the membrane.

"Taking measurements

from the design will

enable the installer to

chalk the line onto the

deck, mirroring the

angles that need to be

cut in the tapered

insulation"

Timber hard edges again are a must when

complying with a good method of practice. These

help to protect the edge of the tapered insulation

from being crushed by foot traffic or other roof

trades during and after the installation.

Timber hard edges are normally 5mm thinner

than the adjacent insulation board; this allows

an easy dress down detail of the membrane

and ensures the life expectancy of the

waterproofing system.

Tip 4: Hip & Valley mitre lines made simple

Tapered insulation systems are specified for

many reasons. One of the main advantages is

having the ability to drain a flat roof of its

rainwater in several directions in one complete

layer of insulation. Systems designed and

supplied by TaperedPlus can be provided with

factory pre-cut mitres. These are provided for 45-

degree angles in both a Hip and Valley variation.

They are also clearly marked with directional

arrows on all scheme designs. Just check the

arrows are on all mitred boards.

Quite often we come across buildings that are not

always full of right angles and for these instances

the installer may need to cut a bespoke angle on

site. Now, without hiding behind the nearest tank

room, cutting this angle is not as tasking as it

looks on paper. As long as you have a tape

measure and chalk line, this process can run as

smooth as installing any factory pre-cut mitre.

Taking measurements from the design will enable

the installer to chalk the line onto the deck,

mirroring the angles that need to be cut in the

tapered insulation.

Tip 5: Saving the offcuts

All multi-layer tapered insulation designs will

show an insulation section build-up. These will

include any packer boards needed or show how

tapered board layers can be overlaid or underlaid

with a uniform insulation thickness.

Tapered boards are typically supplied in their full

form and like any installation of ridge slab type

insulation, a certain amount of on-site cutting is

required by the contractor. It is important for the

"A certain amount of

on-site cutting is

required by the

contractor. It is

important for the

installer to save all offcuts

until the complete

scheme has been

installed"

installer to save all off-cuts until the complete

scheme has been installed. At TaperedPlus we

aim to reduce any waste where possible. Saving

all offcuts could also enable the correction of any

unforeseen circumstances that may occur.

We offer pre-onsite meetings with roofing

contractors prior to installation, alongside always

being available to discuss any scheme designs over

the telephone / email, answering any questions.

Who better than to talk to the designer themselves

to make the installation process trouble free?

"Especially with new

build projects,

variations may occur

where the 'as built'

structure varies from

the architectural

plans"

Contact TaperedPlus

01642 677342

www.taperedplus.co.uk

@TaperedPlus

54 TC NOVEMBER 2018
---
NOVEMBER 2018 TC 55
---
Project Focus

CENTRE OF ATTENTION: AESTHETICS

& PERFORMANCE PROVE A POINT

When timescales are tight and waterproofing solutions need to be versatile for a prestigious

project at one of London West End's best-known landmarks, innovative thinking is required.

Ross Finnie, Sales Director at SIG Design & Technology, explains how his team delivered at

Centre Point…

Standing 117 metres above the streets of

the West End, Centre Point's Tower is an

unmissable landmark and one of London's

first skyscrapers. It's part of a wider complex

which is used for retail and residential purposes.

Although long since eclipsed in height by newer

buildings, the Grade II listed 34 storey structure

cuts an impressive architectural figure. Soughtafter

residential accommodation in its

rejuvenated tower comes at an exclusive price.

SIG Design & Technology's (D&T) proven

capabilities in providing effective roofing solutions

for listed buildings meant its specification

expertise was invaluable in meeting the various

challenges.

The refurbishment project saw eight separate

areas at Centre Point being waterproofed to SIG

D&T's design specification.

Visibility

For the iconic tower itself, the aesthetic

requirement from the architect and client stated

that no waterproofing on the terrace areas should

be visible.

Having a waterproofing solution that could detail

at interfaces and upstands with liquid and tight

detail that was both compatible with the existing

design while offering a guaranteed solution was

also critical. Working with specialist subcontractors,

AC PLC, SIG advised on

waterproofing for window façades in part of the

tower.

The waterproofing needed to be versatile enough

to work on the areas being refurbished, as well as

the interface with the diamond shaped concrete

window frames.

IKO's Polimar FCS Roof Waterproofing was chosen

as a highly durable system which offers the

additional benefit of rapid curing. Polimar liquid is

specifically designed as a highly durable system

for flat roofs.

Cracked asphalt

At Centre Point, existing asphalt had cracked and

failed over the years, allowing for water ingress.

Water was leaking down to ground floor level

which caused problems during the strip-out of

the existing ground floor by main contractor

Multiplex.

The Centre Point complex has terraces both to

east and west of the main tower, three storeys

above the ground level, known as Centre Point

East and Centre Point West.

Both terraces benefitted from the same build-up.

From the top to its base, this comprised of highperformance

decking on top of an appropriate

protection layer; IKO Ultra Prevent waterproofing;

tapered insulation; IKO self-adhered vapour

control layer, IKO primer and a concrete deck.

Fourteen storeys above ground, the new Centre

Point House roof was capped with ballast and

paving. Below this, a new build-up comprised an

appropriate protective layer; IKO Ultra Prevent

waterproofing; tapered insulation; IKO selfadhered

vapour control layer, IKO primer and a

concrete deck.

Controlling the run-off of stormwater from the

roof had become an issue. SIG D&T specified a

build-up which will contribute to a sustainable

urban drainage system (SUDS) including two

green roofs, in order to slow down the release of

surface water run-off.

Two sedum vaulted green roofs were installed

adjacent to each other on the south side of Centre

Point House and the first is approximately 400m²

in size. The second roof, approximately 100

metres² in size, is flat in profile and biodiverse.

Christian Bartens, Contracts Manager at AC

PLC's Waterproofing Division, explained: "SIG

D&T came up with an appropriate design and

specification and their work facilitated the ease of

installation for both the roofers and the main

contractor."

Versatility and aesthetics

Ross Finnie, Sales Director at SIG Design &

Technology, commented: "Not only did the

waterproofing systems we specified need to be

versatile and work within different areas of the

Centre Point building envelope, but meeting

aesthetic demands at this listed building was

also important. We were required to provide a

cost-effective system that was sufficiently robust

to carry the weight of the timber decking and

quick to install so as not to delay the work

programme of following trades."

Contact SIG Design & Technology

0844 443 4778

www.singleply.co.uk

@SIGDesignTech

56 TC NOVEMBER 2018
---
STATUS

CREDIT INSURANCE BROKERS

Subbies – Protect your company

against non-payment from the

main contractor.

Increase your confidence to take on new contracts

knowing that should the main contractor fail; your

business will be protected.

If you supply, or supply & install to the construction

sector, then request our Free Guide – A sub-contractors

guide to protection against bad debt.

Retentions; Final accounts; Work done but not

certified; variations; design fees and much more

will be protected with our specialist credit construction

policy underwritten by a specialist construction

insurer with an AA rating.

If you want to have an informal chat, then call

Lance Attwell on 01342 302 566, email him on

lance.attwell@statuscreditinsurance.co.uk

or request our Free Guide by visiting our website.

www.roofingsubbiecreditinsurance.co.uk

www.rooflights-skylights.co.uk

THE ONE-STOP-SHOP FOR ALL

YOUR ROOFLIGHTING NEEDS!

VISIT OUR NEW WEBSHOP!

FREE Mainland

UK Delivery

• Rooflights & Skylights at discounted prices

• A large selection of polycarbonate and glass units

• We will match any like-for-like competitor's quote

• Next Day Delivery available on many stock units

Tel: 0800 019 4493

www.rooflights-skylights.co.uk
---
Field Techs

SUPPORT IN THE FIELD: WORKING

WITH THE CONTRACTOR

Sika's roofing brands work with Sika-trained contractors across each job, who benefit from

site monitoring service across the project lifecycle. Supporting contractors throughout every

stage of the installation is a role that falls to the Field Technician, so Total Contractor caught

up with Field Technicians Craig Smith and Steve Jasper to find out more about their day-today

job, and how they work with contractors to ensure a trouble-free installation.

we're needed, whatever

the task, we're there to help,

"Wherever

provide advice, work with the

contractor to develop a solution or just listen,"

explaind Craig. "We work for the system provider

Sika – but we're really an extra member of the

contractor's team. And, because many Sika Field

Technicians have worked as contractors

themselves or with them extensively, we can

really empathise and relate to the challenges of

working on site."

Craig worked in roofing contracting for 16 years

before taking on his current role as a Field

Technician, so he's had all kinds of site-based

roles, including labourer, installer, Foreman and

Contracts Manager.

"Part of what we bring to site is an understanding

of the challenges of working on roofing projects

and ideas on how to overcome all kinds of

installation issues; from tricky detailing to

extreme weather conditions. We know a lot of the

contractors personally and we talk their language,

often working collaboratively with the installation

team to pool our experience and come up with a

workable solution for the technical demands of

the project.

Steve Jasper, agrees: "I started working on site in

1984 and I've been with Sika's roofing team for

13 years, so I understand both the obstacles

installers face on site and the solutions in our

product portfolio to meet their needs."

"It's very much a collaboration

between the Field Technician and

the site team," Craig continued,

"because, ultimately, we all want

a professional job that passes the

final inspection with no snagging and

offers the end user a robust roof with an

extended service life. Lots of Sika

Liquid Plastics' refurbishment jobs

involve heritage buildings or

challenges with plant on the roof,

where our troubleshooting input

is really valuable to the contractor.

There's often more than one possible

approach and part of our job is to make

sure we select the best option for the specific job

in question.

"Sika's Field Technicians even have an online

closed user group," added Steve, "where we can

ask each other technical questions and use the

power of the Sika-hive mind to help contractors

out on site."

Planning & troubleshooting

As providing the client with the safest, most

robust specification advice is a full-team

responsibility across all of Sika's roofing brands,

Craig and Steve often accompany the Area

Technical Manager on site visits to carry out

initial site audits or condition surveys, which

inform the technical specification process.

Left: Craig Smith – below: Steve Jasper;

both are Field Technicians for Sika.

Craig continued: "We get involved

with the contractor right from the

planning stage. We can help ensure

that they have good methods of working,

sort out training for any of the team that

needs it and help them schedule the

job.

"One of the constant challenges for

any roofing contractor is the

weather, so simply by sharing our

experience, helping them plan out how

much wet weather work is involved and

using that knowledge to help them schedule, we

can add value and help the contractor avoid delays.

"In the winter months, even simple advice like

covering the roof to avoid any frost can help the

contractor save time, and that's what we're all

about; helping the contractor do a great job so

that they can complete within programme and

move on to the next project."

Training & support

It's a role that involves a meticulous approach to

planning the diary while maintaining the flexibility

to respond quickly to contractor requirements.

"I'm usually on the road early," Steve continued,

"and can often do three or four appointments

during the course of a day depending on the

distance between sites. My week varies

58 TC NOVEMBER 2018
---
FIT IT.

FORGET IT.

Looking for safe rapid

access on fragile roofs?

Then get our

Board-Walk system

Trust Ubbink for quality roofing

products to make your life easier

Looking for safe rapid access?

SEE US AT

The Easi-Dec Board-Walk system is an open

mesh walkway which complies with EN 12811-1.

The system allows access from the eaves to the ridge,

whilst spreading the load onto the support battens

to provide the user with a safer working position on

fragile roof surfaces.

Board-Walk is a modular system which features 2m,

3m and 4m sections that are easily linked together

and, an integral length work positioning line.

For further information visit our website

at www.easi-dec.co.uk

Call 01767 691812

or email info@easi-dec.com

Call us on 01604 433000 or

visit our website for more details.

• VENTS • TERMINALS • NON-LEAD FLASHING

• ROOFLINE PRODUCTS • & MORE

www.ubbink.co.uk
---
Field Techs

between planned interim visits to check progress

and workmanship, and ad-hoc visits where I

might be troubleshooting on difficult detailing."

Craig added: "Our interim visits are to check that

the system is being installed to spec and to the

required quality standards, but we're basically

there to cover off anything the contractor team

needs us for.

"On troubleshooting visits, if we spot that one of

the team may require further training support,

we'll offer to arrange training, either on site or at

our training centre."

One asset at the Sika Field Technicians' disposal

for training are the company's TSVs – Training

Support Vehicles – which mean that they can

demo products and installation techniques on site.

"Training is a continuous process," Steve

continued, "We're all still learning and one of the

benefits of the Field Technician visits is that we

get tips from contractors all the time and can

"Wherever we're

needed, whatever the

task, we're there to

help"

pass that knowledge on."

"We also use our site visits to showcase new

products and new installation techniques," Craig

added. "For example, we took our Sika Power

Roller to live sites so that contractors could try it

out with our Sika Liquid Plastics systems before

we launched it. It's all part of a joined up

approach to making sure we work together as a

supply chain, ensuring the client gets the best

possible results on their roof.

And of course, we take contractors' suggestions

on board too," Steve explained. "Our role is the

interface between the contractor and R&D so we

can help make sure that new products answer the

requirements for real contractors on real jobs."

Complete quality assurance

After regular contact throughout each project, the

final task of the Field Technician is to sign off on

the guarantee for the project. Craig added:

"Because we've been involved throughout, the

final inspection – which includes a walk round

with the contractor and the client – should just be

a formality. For us, quality assurance is not just

something that happens on completion, it's a

process we support throughout the job."

Contact Sika Liquid Plastics

01772 259781

gbr.liquidplastics.sika.com/

@LiquidPlastics

£75

...on every VELUX INTEGRA ® curved

glass flat roof window combination

rewards...

Terms and conditions apply – claim by 18.01.19

Sign up at velux.co.uk/rewards

Oct –

Dec 2018

only!

60 TC NOVEMBER 2018
---
Safety at Height

A HEAD FOR HEIGHTS: WHERE DOES

THE RESPONSIBILITY LIE?

By Steve Ball, Field Service Manager, Kingspan Insulated Panels.

We might grumble about health and

safety rules and regulations, but there

is no question that they help save lives.

The latest confirmed figures back this up, with 30

fatal injuries in 2016/17, the lowest in the last

five years. However, 30 deaths is 30 too many,

and with almost half of those coming from falls at

height there is clearly still work to be done.

Who is responsible?

Under the Construction (Design and

Management) Regulations 2015 (CDM), building

designers must "eliminate, reduce or control

foreseeable risk" that may arise during the

construction, maintenance and use of the

completed building when preparing or modifying

their plans. This includes the handling and

installation of roofing materials. Meanwhile, the

'client' – the one

commissioning the new

or refurbished roof – is

ultimately responsible

for site safety. They are

expected to provide

adequate time and

resources to ensure all

work can be carried out

safely and to a high standard.

These are the main people responsible

for putting the right safeguards in place and

reducing risk.

However, it is the individuals who are carrying out

the work who must take responsibility for their

own safety and that of their workmates, by

observing any measures that are in place, doing

Left: One of the best ways of

protecting workers on roofs is to

install and operate fall

protection systems, which

are easily integrated with

insulated panel systems.

training when it is

available, and being

aware of the dangers

involved in working at height.

What can help?

Metal-faced PIR insulated panels have been used

in roofing applications for decades due to their

excellent levels of thermal, structural and fire

performance. Combining internal and external

metal facings, insulation and waterproofing in a

single rigid panel, these products can be used to

create a wide range of roof types, from typical flat

or pitched roofs to dynamic curved designs.

As there is no need for multiple layers to be

assembled, the panels provide a safe, walkable

platform as soon as they are fixed to the

supporting steelwork. They are also quick to

install, reducing the amount of time spent

working at height.

Another thing that can speed the job up is the

size of panels available. Up to 2 metres wide

Kingspan Saferidge is a unique fall protection system from Kingspan Insulated Panels.

"Whether you're an

experienced

contractor or an

apprentice roofer, it

can be tempting

sometimes to take

short-cuts and take the

odd risk"

62 TC NOVEMBER 2018
---
Complex Worksites.

Simplified Safety Solutions.

The training you need.

The products you want.

The knowledge you trust.

Virtual Reality

Experience the

hazard without

the risk!

STAND 56

VISIT US AT STAND 56!

MSAsafety.com
---
Safety at Height

"Whilst this is the

responsibility of the

specifier, building

owner and installer of

the safety equipment, at

the end of the day it is

only effective if it is

used correctly by the

people working on the

roof"

Above: Mechanical handling equipment is essential for these larger panels; Below: Kingspan KS2000RW two metre wide panels

are available in lengths up to 20 metres.

and 20 metres long, large areas can be covered in

a relatively short space of time. Mechanical

handling equipment is essential for these larger

panels, and has also become the standard for

most insulated panel system installations, with

roof panels typically being craned in to place. In

turn, this reduces the risk of injury from manual

handling and further speeds up the work.

However, it is essential that installers are

properly trained in the use of such equipment,

and competent to safely lift and secure the panels

in place.

Lifelong safety

No matter how robust the roof itself may be to

walk on, there is always the risk of a slip, trip or

fall, both during construction and during any

maintenance that may need to be carried out over

the life of the building.

One of the best ways of protecting workers on

roofs is to install and operate fall arrest systems,

from simple passive barriers installed around the

perimeter of a flat roof, to rail-based anchor

systems designed to provide personal protection

across the whole roof area. These are typically

fixed to the top skin of the panel, which

minimises the dynamic load on the roof in the

event of a fall and avoids penetrating the

insulation layer and causing a thermal bridge.

They are easy to integrate with insulated panel

systems and should be regarded as an essential

part of any new roofing system. They can also

generally be retrofitted to existing roofs.

As always, it is important that such equipment is

properly installed, suitable for the application and

tested to the appropriate third-party standards.

Whilst this is the responsibility of the specifier,

building owner, and installer of the safety

equipment, at the end of the day it is only

effective if it is used correctly by the people

working on the roof.

Don't fall for it

Whether you're an experienced contractor or an

apprentice roofer, it can be tempting sometimes

to take short-cuts and take the odd risk. Don't fall

for the idea that health and safety doesn't matter

and is just a box to be ticked. The CDM

Regulations are there to protect your life and your

co-workers' lives. Use solutions that help to keep

you safe, and don't become one of those

increasingly rare statistics appearing in the

Health and Safety Executive reports each year.

Contact Kingspan Insulated Panels

01352 717 251

www.kingspanpanels.co.uk

@KingspanIP_UK

64 TC NOVEMBER 2018
---
Come rain or shine,

our rooflights won't

let you down

Patented

Thermal Membrane

Reinforced

End Filler

Non-fragile

weather sheet

We like to think we know quite a bit about daylight. As the UK's longest

established manufacturer of rooflights and with an extensive range of

tried and tested profiles, we've perfected their design and manufacture.

Our GRP Energysaver factory assembled rooflights, offer exceptional

performance – weathertight, easy to install and achieving maximum

daylight – they won't let you down.

To find out how we can help you maximise daylight when you're specifying a composite panel roof, visit our

technical bulletin library: www.energysaverrooflights.com

To find out more visit www.brettmartin.com

or call 024 7660 2022 or email daylight@brettmartin.com
---
Rooflights

THE RIGHT SIDE OF ROOFLIGHT REGS

As homeowners increasingly look to cut their heating costs and the government continues to

place pressure on UK businesses to reduce their energy usage through the European Energy

Directive, Sabahudin Medic, Head of Engineering and Quality at Roof Maker, explores how

adhering to Document L1B will not only ensure you're legally compliant, but enable you to

offer customers the most thermally efficient rooflights available.

Whilst Document N explores the

protection against manifestation and

impact of glazing, the suitability and

requirement of opening rooflights and safe access

for cleaning, Document L1B is a key reference

when ensuring the correct U-value and suitability

of the rooflights you are looking to install in both

commercial and residential builds. The current

L1B Building Regulations were last updated in

2016, and below I explore the key considerations

you should explore.

Approved Document L1B places rooflights under

the umbrella of 'controlled fittings', which

includes a new window, roof window, rooflight or

door that also incorporates a new frame. In the

event that glazing is replaced in an existing

dwelling but the existing framework is

maintained, this is not regarded as a controlled

fitting and, as such, is not notifiable and does not

have to meet Part L standards.

The maximum allowable U-values are specified in

Approved Document L, which deals with the

conservation of fuel and power. The following

maximum U-values are taken from Table 2, which

can be found on page 15 of the Approved

Document L1B.

For notional domestic buildings, to conform to the

CO ²

and fabric energy efficiency targets and the

limiting values for individual fabric elements and

building services, the following U-values must be

adhered to. These U-values are substantially

reduced when compared to the maximum

allowable.

The U-values for the notional domestic building

are as follows:

Here you should note that the U-values for

rooflights given in Approved Document L1B are

based on the U-value having been assessed in

the vertical position. For units assessed in a

plane other than a vertical position, the standards

within Approved Document L1B should be

modified by making adjustments in relation to the

slope of the unit as noted in BR 443.

In addition, Approved Document L1B states that if

a window is enlarged – or a new one is created –

the area of rooflights should not exceed 25% of

the total floor area of the dwelling, unless

compensating measures are incorporated

elsewhere in the project. This must be considered

within the planning process.

If contractors want to take this one step further,

the BREEAM 'Excellent Rating' is considered the

water mark for buildings wanting to achieve

better ratings, and the minimum standards for

roofs are 0.16 W/m² K.

With regard to notional domestic buildings and U-

values in particular, a U-value of 1.4 can easily

be achieved by specifying and installing rooflights

that feature triple glazing. Triple glazing has been

a point of contention within the industry for years,

however, it offers enhanced thermal performance

and reduced noise pollution, without making the

product significantly heavier or more expensive.

Another area installers should consider when

trying to improve the energy efficiency of a

client's home when recommending rooflights is

the addition of an insulated aluminium frame.

Combined with triple glazing, these rooflights will

easily surpass the regulations of Document L, a

benefit that customers will be pleased to know

will help to contribute to a decrease in their

quarterly energy bills.

Roof Maker's range of flat, pitched, fixed and

opening rooflights range between 0.6W/m²K -

1.0W/m²K, providing a range of products that are

way below the industry recommendations.

Contact Roof Maker

0116 214 7099

www.roof-maker.co.uk

@roof_maker

66 TC NOVEMBER 2018
---
SEE US AT

The Lead Sheet Training Academy - formerly the Lead Sheet

training in lead and hard metals.

•

•

•

•

What are you waiting for? Book your training today

and become part of the next generation of skilled

craftsmen in the construction industry.

T: 01622 872432

E: info@leadsheet.co.uk

www.leadsheet.co.uk

Firestone RubberGard

The EPDM reference for professionals

E

Proven performance in all climates

D

M

RubberGard

NOVEMBER 2018 TC 67
---
Project Focus

TORCH SYSTEM SHOWS THE WAY

Langley Waterproofing Systems delivered its TA-20 torch applied system to the Girdlestone

Estate in Islington, London – resolving the water ingress issues. The success of this

refurbishment project was recognised at the 2018 Roofing Awards, with the project winning

the Reinforced Bitumen Membranes category.

During the 1990s, a shallow pitched metal

butterfly roof with in-built gutters was

installed onto all Girdlestone Estate

properties. However, defects in the roof's design,

combined with the age of the system, led to

leaks, affecting both the homes and their

occupants. Despite continual repair work, issues

with the roof persisted. Islington Council therefore

decided that a full replacement of the 3,600m²

roof would need to be undertaken, in order to

permanently fix Girdlestone Estate's failing

system.

Informed decision

In order to make an informed decision about the

type of roofing system that should be installed,

Langley, along with its approved contractors,

conducted a full assessment of the existing roof.

The team removed a section of the roof to inspect

its state and decipher the best way of approaching

the project – they discovered that the mineral

wool insulation within the old system was

completely saturated and needed to be replaced.

Langley's TA-20 – a premium high-performance

torch applied SBS elastomeric membrane for

warm roofs – was the chosen solution. Due to the

water damage found on the original roof, the new

system had to be carefully considered to ensure

that no further issues would ensue. The TA-20,

which is part of the Langley Parafor range, is

durable, yet flexible and the heavy-duty polyester

composite metal lined vapour barrier provides a

robust, watertight layer, preventing water damage

and any leaks to the below structure, whilst the

works are ongoing.

The system's 40 year life expectancy was a key

consideration in the decision for TA-20, along

with its certifications; the membranes used for

TA-20 are covered by MOAT 31, the assessment

for Reinforced Homogeneous Waterproof

Coverings of SBS Elastomer Bitumen, and the

Parafor Solo Cap Sheet, which is the outer layer

of the TA-20 system, achieves a "resistance to

damage" rating of R4 under MOAT 31. The

system also carries a 20 year independently

insured guarantee for both materials, design and

workmanship.

Gary Chapman, Group Leader, Capital Programme

Delivery at Islington Council, said: "The

Girdlestone Estate has been a priority for the

council and we knew that Langley – working with

our service provider Mears – could be trusted to

work closely with our technical team to carry out

an extensive survey to reveal the underlying

issues with the roof."

Work on the roof took place as part of a broader

refurbishment of the Girdlestone Estate, with

Mears Group Plc carrying out the external works

at the same time. The project as a whole was

completed on a tight time schedule, which made

lead times a major challenge for Langley.

Langley was able to put a plan in place and keep

the work running to schedule and without

problems. Langley used the initial block, as well

"The team removed a section of the roof to

inspect its state – the mineral wool insulation

within the old system was completely saturated"

Above: The Girdlestone Estate, Islington project.

as its extensive knowledge of roof types across

London, to gain calculations for the tapered

insulation, rooflights and outlets. The team could

then create these elements for the remaining 19

blocks ahead of time. This ensured that the

construction team could remove the existing

metal butterfly roof and instantly replace it with

the new TA-20 system, without the need for a

temporary solution.

Rolling programme

The team also utilised a rolling programme, which

enabled communication between the client and

contractor. This was vital for the success of the

build and allowed for the original roof to be

inspected on the day that it was being replaced.

The team was then able to make adjustments

without causing major disruption to timescales.

David Hodgson, Executive Managing Director at

Mears Group, added: "With such a challenging

project, Langley's support throughout the

refurbishment was invaluable and the solution

they provided will ensure that the estate's roofs

are protected from any future problems."

Contact Langley Waterproofing Systems

01327 704778

www.langley.co.uk/

68 TC NOVEMBER 2018
---
SEE US AT

PROTAN BLUEPROOF – A ROOF FOR THE FUTURE

CAN YOU AFFORD TO LET

YOUR ROOF BE JUST A ROOF?

A roof represents exciting opportunities

for architects and property developers.

If you are on top of a tall building and looking out over the

urban landscape, you will see a lot of unutilised space.

Architects and property developers can no longer afford to

use the roof just to keep the rain and snow out and protect

your contents.

Using the roof for other functions creates additional values.

These values not only allow for increased profits, but also

add value to society at large and for the people living in

and around these buildings.

The roof can be a place where people can spend recreational

time, grow flowers and encourage wildlife. The roof can

also be utilised to solve other tasks that could be profitable

for the building project, such as generating electricity with

solar panels or taking control of heavy rainfall.

Protan has developed a unique BlueProof roofing solution

to avoid creating dead space on top of a building, enabling

use that space for water attenuation. That is both smart

and sustainable. The BlueProof system works equally well

for new buildings and refurbishment projects, and can be

combined with recreational areas, eco-friendly features

and energy production.

Protan BlueProof – coming to a roof near you soon.

Safe

Sustainable

Cost effective

Space efficient

protan.co.uk
---
Roofing Updates

For further info on all these roofing updates and more, visit www.total-contractor.co.uk

'ROOFSHIELD TO THE RESCUE'

When the residents of Ecclesmachan, in West Lothian, had all but lost hope of restoring the roof of the historic

local village hall due to a lack of funding, a solution was found in the form of Roofshield. The A. Proctor Group's

"Roofshield to the Rescue" promotion offered community halls and centres up and down the country the chance

of up to £10,000 of support towards the restoration of a community roofing project.

The successful nomination was awarded to the Ecclesmachan & Threemiletown Village Hall. The original building

was a single Victorian school with ancillary accommodation. The pitched roofs, which were in urgent need of repair,

consisted of a timber hand cut joists and truss design, with sarking, and a slate roof finish.

Slorach Wood Architects were commissioned to prepare plans and oversee all works which included removal of the existing roof slates down to the sarking

boards, examination and replacement of sarking where required, replacing all lead valleys and flashings, and application of the Roofshield membrane, and

then re-slated. Walter Wood, Director for Slorach Wood Architects, commented: "Without the generous help of the A. Proctor Group the roofing works may not

have been able to go ahead due to a lack of available funding." www.proctorgroup.com

HIGH PRAISE FOR CHAPEL PROJECT

Cembrit Glendyne natural slates have been specified and installed on a unique renovation project

for the Historic Hampshire landmark, Netley Chapel, which saw the local community contributing

financially to the restoration project.

Above: Royal Victoria Country Park was

once the site of the world's largest military

hospital, the Royal Victoria Hospital (or

Netley Hospital). Visit www.totalcontractor.co.uk

to watch a video on the

restoration project.

Before slating began, the public were invited to site to mark the occasion and "sponsor a slate". For a

small donation, visitors wrote a message and signed the reverse of a roof slate. More than 900 Glendyne

slates were decorated, raising £6,600 for the friends of the Royal Victoria Country Park. These slates were

then installed on the roof of the chapel by Elliotts Premier Roofing of Southampton. www.cembrit.co.uk

PROJECT USES 290,000 HEAVY 3 SLATES

CUPA PIZARRAS' Heavy 3 slate has been specified and installed by three housebuilders for the roofing at Chapelton – a

new £1 billion town being built from scratch near Aberdeen.

The new Chapelton site.

With Phase 1 now complete, and Phase 2 underway, over 290,000 Heavy 3 slates have been used across the 126 units

built to date. Installer on the Chapelton site for all three developers - ZeroC, sister company Brio Retirement Living and A &

J Stephen (Builders) Ltd - Steve Scott, Managing Director at Forster Roofing commented: "We are long time advocates of

Heavy 3. For this project, it was selected for its heavier weight. Each roof sub structure is timber sarked with a felt layer

and the Heavy 3 slate double nailed and finished with zinc ridging and flashing." www.cupapizarras.com/uk

ROOF TRUST OPTS FOR DAKEA ULTIMA

North East-based roofing company Roof Trust has opted for the Dakea Ultima roof windows to ensure high quality

installations on a number of residential refurbishment properties. Easy to install, Ultima windows provide a range of

benefits for the homeowner, including reducing external noise by as much as 50% when compared to other standard

windows on the market.

David Bruce, Managing Director of Roof Trust, said: "When looking at the options on the market, we were keen to find a

manufacturer whose products would meet the homeowner requirements as well as provide a simple installation."

www.dakea.com

70 TC NOVEMBER 2018
---
CUT IN DELIVERY LEAD TIMES

Marley Alutec has announced a major cut in the delivery lead times of its top selling products.

With immediate effect, the lead time for stocked Heritage Black and Anthracite Grey (RAL7016) goods will reduce to

five working days, while all standard colour products will be delivered within ten working days of order.

The new five-day lead times apply to Alutec's easy to install Evolve range of gutter systems in Heritage Black and

Anthracite Grey (RAL7016). Also benefiting from the reduced lead times are a select number of popular sizes in the

Traditional Half Round, Moulded Ogee, and Alligator Classic gutter systems, and Evolve, Alligator Classic, Tudor, and Marley Alutec has a wide range of sustainable

Flushfit downpipes. Popular sized Flushfit downpipes in Anthracite Grey will also be available for delivery in this time frame. marine grade aluminium products, suitable for

projects from new build through to heritage and

listed buildings.

Kevin Stanley, Marley Alutec, commented: "We realise that the nature of the market dictates not all products can be

ordered weeks in advance, and that there is often a necessity to receive rainwater goods at short notice. By investing in our stock and delivery systems, we

can provide a much quicker and efficient supply of products to merchants and contractors. This enhancement continues our commitment to outstanding

service by working closely with our customers to understand their needs and pressure points." www.marleyalutec.co.uk

SAFETY AT 'WORLD'S LARGEST AIRPORT'

SFS Fall Protection Systems have been used as the roofing fall protection solution for the first and most significant

phase of the Istanbul New Airport, a new 'mega-airport', replacing the city's Atatürk Airport.

An illustration of Istanbul New

Airport: SFS's Horizontal

Lifeline system was used

across the 400,000m²

standing seam roof, with

2,200 high load posts

The scale of the €7bn project is illustrated by the fact that 20,000 workers were employed on site at one time, supported

by 58 cranes. To protect workers and maintenance teams with both restraint and fall arrest capabilities, the responsible

contractor selected to use the Horizontal Lifeline system from SFS. The system was part of a package of building envelope

solutions provided by the SFS Group. This included a range of high performance SFS SL2, SD6 and SD14 fasteners for the

standing seam roof, plus thousands of GESIPA BULB-TITE blind rivets. www.sfsintec.co.uk.

FIRE TEST EVIDENCE FOR PLYGENE

Following recent work with Exova, Sharmans is pleased to announce it has gained an

independent assessment and test evidence for its Plygene Gutterline system in relation to

the spread of fire.

Plygene Gutterline is the only BBA approved gutter lining

system specifically engineered to guarantee leak

prevention and preserve gutter performance for both

industrial and commercial buildings.

Exova conducted an Ignitability Test – EN 11925-2 on their two key system components, namely the

thermoplastic membrane and the material used to form the bespoke moulded units. Upon passing

this test, the products have also obtained a Euro-classification 'E' to the harmonised European

standard EN 13501-1. www.hdsharman.co.uk

ARP RISES TO CURVED CHALLENGE

Kennett Brothers' latest project involved major remodelling of an existing property in Sevenoaks, Kent.

The client's main challenge was to find a rainwater solution that dispersed the rainwater effectively and fit the

curved fascia detail on the newly built orangery extension.

"I am very pleased with the colour and look of the

gutters and the way they blend into the fascia, in

particular, the curved guttering on the Orangery"

ARP's Legion pressed aluminium box gutter and Colonnade aluminium flushjoint downpipes, both Polyester

Powder Coated (PPC) in RAL 9005 black matt finish were the products chosen and samples of the product and

PPC colours were supplied to the client, so he could be assured of the quality. www.arp-ltd.com

NOVEMBER 2018 TC 71
---
Roofing Updates

For further info on all these roofing updates and more, visit www.total-contractor.co.uk

ALL ROUND BENEFITS

Are you prepared for the winter rain and wind? Well, Snickers' new waterproof jackets will keep you warm and

dry – all day, every day!

You can count on year-round comfort and protection with Snickers Workwear's new AllRoundWork Waterproof Jackets.

They'll make your working day easier and more comfortable with built-in quality, functionality and high performance

features to cope with the very worst that the weather can throw at you.

With lightweight and heavier-duty designs and styles for professional tradesmen and women, these jackets are 100% waterproof. The insides are fully

sealed from the worst of the weather and every seam is taped or sealed. Even the pockets and cuffs are specially designed to keep the weather out and dry

warmth in.

There's a host of designs, styles and extensive size options so you can select just the right jacket for you and your job. To back them up, Snickers has a great

range of Winter Vests and Bodywarmers, even a Body Mapping Micro Fleece, so you'll be well looked after all day, every day. www.snickersworkwear.co.uk

QUICK, COMPETITIVE SOLUTIONS

Rooflights & Skylights, a new online store has launched offering rooflights or skylights

with fast delivery at competitive prices.

Rooflights & Skylights offers a comprehensive range of discounted and competitively-priced

polycarbonate and glass solutions, with next-day delivery on many stocked units. Developed

by National Domelight Company (NDC), Rooflights & Skylights has an intuitive navigation, clear

product images, transparent unit prices and detailed technical and delivery information for

easy selection of the most suitable rooflight. www.rooflights-skylights.co.uk

CORDLESS CREATIVITY

Having launched new cordless grinders, and a hammer drill earlier in the year, FEIN is

extending its 18V product range with the ASCM 18 QSW 4-speed cordless drill/driver.

FEIN: The electric drill inventor keeps fuelling its cordless

revolution.

This is an alternate version of the 12 and 18 volt ASCM machine, already popular within the

community but with two new benefits. Firstly, the Multi-Volt feature allows the machine to be

powered by a 12 to 18 V lithium-ion battery, and secondly the body is lighter and more

compact, weighing just 1.7kg. https://fein.com/en_uk/

CHURCH'S CROWNING GLORY

Craftsmanship and attention to detail received their just reward when the re-roofing of Shettleston New

Parish Church in Glasgow's East End won the Roof Tiling category in the UK Roofing Awards. The award was

made to DM Roofing & Roughcasting, working with BMI Redland. Architect Peter Drummond, initially specified

an alternative clay tile while DM Roofing lobbied to use BMI Redland's Rosemary clay tile:

Two turrets were major

challenges in the project.

"We're used to using the Redland tile and find them better to work with. They give a sharper finish," explained director

Michael McCabe. "I agreed at once," said Drummond. "BMI Redland are a respected manufacturer. In fact, Rosemary's

pretty much the go-to name, especially when you want tiles for a restoration project". www.redland.co.uk

72 TC NOVEMBER 2018
---
TruTool

Profi le Nibbler

• One machine – three tools

• Cuts mild steel up to

2mm thick

• Easy to manoeuvre, even

on corrugated roofi ng

• The fastest of its class

Perfect cuts

The new TRUMPF TPC panel cutter and profile nibbler

TruTool

Panel Cutter

• Precisely dimensioned,

right-angle cut outs

• Work completed in one

operation, no fi nishing

work needed

• Cuts pre-assembled panels

• Easy, non-fatigue operation

www.trumpf.com

President Way, Luton LU2 9NL | 01582 725335
---
Cladding & Sheeting

A GUARANTEED FINISH

Thanks to technological advances and research and development, pre-finished steel has

come a long way since it was pioneered back in the 1930s. But have you ever wondered

why some manufacturers can offer better guarantees than others? Dr. Peter Barker, Manager

of New Product Development at Tata Steel, gives his view.

Since the launch of pre-finished steel, it has

become one of the most popular envelope

solutions worldwide, thanks to the array of

design advantages and maintenance benefits it

can deliver throughout the whole lifespan of a

building.

However, not all products have the same

performance level, and this is particularly

apparent when you look at the length and how

comprehensive the guarantees are which

accompany them. What's more, distinguishing

between guarantees based on technical ability

and those which are given because of commercial

necessity can often be difficult.

In fact, guarantees for pre-finished steel are

determined by a number of factors, including

what application the product is used for, the

metallic coating used with the steel substrate, the

paint type and the testing it is subjected to.

"It is vital that the

performance of the

product and the

guarantee is fully taken

into consideration"

The combination of all these layers of prefinished

steel not only have aesthetic

considerations, but they can be indicators of the

durability of a product, which will translate to the

guarantee it offers. Product durability can be

defined by the ability of the pre-finished steel to

have resistance from a number of sources,

including marine environments, chemicals,

abrasives and sunlight. The ultraviolet rays from

sunlight are the most destructive to coatings as

they are directly absorbed. When

exposed to sunlight, prefinished

steel firstly loses its

gloss, chalking occurs and

micro-cracking can appear

on the surface.

Tests

In order to understand how prefinished

steel reacts to certain elements,

there are a number of tests that pre-finished

steel manufacturers should perform. For example,

in accelerated corrosion tests – which are

undertaken in UKAS accredited laboratories – the

product is subjected to salt spray, prohesion,

watersoak and humidity procedures and within UV

testing, pre-finished steel is exposed to artificial

UVA, UVB, high temperature UVA and Xenon to

assess the extent of colour and gloss retention.

Ensuring you choose a pre-finished steel that has

been tested for all of the above will not only result

in the end client receiving a building envelope

that is aesthetically pleasing, but they can rest

assured it will remain looking 'good as new' for

years to come – reducing the need for costly

replacements in the building's lifespan.

Colorcoat Prisma

There are products available on the market which

have reputable guarantees as they combine all of

the above strengths. For example, our Colorcoat

Prisma includes a cutting-edge three-layer

technology, which provides superior ultraviolet

(UV) resistance that maintains the colour and

long-term aesthetic appearance of the product.

This then translates into being able to offer a

market leading guarantee. The Confidex

Left: Tata Steel Colorcoat Prisma.

Guarantee is the product

performance guarantee for

Colorcoat HPS200 Ultra and

Colorcoat Prisma. It offers up

to 40 years of protection when

used in external conventional

building envelope applications – namely

roof and wall cladding – using single skin, builtup

or composite panel construction in industrial

and commercial applications.

Provided directly to the building owner, the

guarantee creates a contractual relationship

between the building owner and Tata Steel,

removing the need for a property owner to

navigate the supply chain in the unlikely event of

a claim.

Requiring no maintenance and inspection to

maintain its validity, the Confidex Guarantee also

reduces the need to go onto the roof of a property,

minimising maintenance costs and improving

safety. Furthermore, the Confidex Guarantee

ensures full rectification in the unlikely event of a

failure from year one to year 40.

When choosing a pre-finished steel building

envelope product for your next project, it is vital

that the performance of the product and the

guarantee is fully taken into consideration. This is

the only way to be truly sure you will meet the

expectations of your client.

Contact Tata Steel

01244 892434

www.colorcoat-online.com

@TataSteelConstr

74 TC NOVEMBER 2018
---
Uniquely

breathable

Roofshield

Roofshield: with its unique air permeability,

plus high vapour transmission rate,

Roofshield provides a fully ventilated

roof without the need for any

ventilation accessories.

Red-Eyed Tree frog - Like all amphibians, oxygen can

pass through the frog's highly permeable skin. This

unique feature allows frogs to "breathe" through

their skin.

Get in touch to find out more about Roofshield

01250 872 261 contact@proctorgroup.com

www.proctorgroup.com

Group
---
Project Focus

PICKING A WINNER: THE RIGHT

CHOICE FOR RACECOURSE HOTEL

Total Contractor hears why Shackerley's SureClad System was the perfect choice for the new

hotel at Doncaster Racecourse.

One of the oldest horse racing venues in the UK, Doncaster Racecourse hosts 36 race fixtures

each year, is home to the William Hill St Leger Festival and provides a venue for all kinds of

events and occasions, from concerts to conferences.

The Racecourse's packed year-round calendar means that high quality accommodation, corporate

hospitality and events space close to the racecourse are always in high demand, making it an ideal

location for development of the new Hilton Garden Inn.

Designed by KKA Architecture, the eight-storey project features Shackerley's SureClad ceramic granite

ventilated façade system across all eight storeys; so what were the benefits of specifying the SureClad

system and what buildability benefits did it offer the contractor?

Below we hear 5 key points from this interesting project:

Shackerley's SureClad system was used at the new hotel on

Doncaster Racecourse.

1. Specification of the Shackerley ventilated

façade system took advantage of the variety

available within the SureClad ceramic granite

range, combining a natural cream finish with a

distinctive grain with a highly-polished black

ceramic granite that complements the curtainwalled

elevation facing the racecourse and

provides dramatic, elegant contrast.

2. The system has been used to deliver a

contemporary, minimalist aesthetic, while

providing materiality that creates an impression

of natural stone, answering planning authority

requirements by referencing local built

environment context. As Alex Geddes from KKA

Architecture commented: "The Shackerley 'Lopar'

range of ceramic granite with its natural cream

finish and subtle graining provides a fantastic

alternative to natural stone, offering us the design

flexibility to create strikingly different facades for

the front, rear and side elevations."

3. In addition to achieving the project's aesthetic

goals and creating the required impression of

quality, the relatively lightweight SureClad

ceramic granite system also provided an ideal

response to the loading requirements for the

building. The Racecourse elevation features a

dark façade of curtain walling framed by cream

ceramic granite and side elevations feature a long

column clad in the cream-coloured SureClad

ceramic granite to create the frame for the

Racecourse elevation, giving the building a

delicate appearance.

4. Halcyon, the cladding contractor, has its own

design team so the company produced detailed

installation plans and shared these with

Shackerley who produced panels to the

programme provided. Because the Queen's Award

Winning SureClad Access installation system

enables non-sequential installation, the

installation team was able to work around other

activity on site, ensuring maximum flexibility and

ease of buildability.

5. An exceptionally hard and durable material

with excellent freeze-thaw resistance,

Shackerley's ceramic granite is impermeable,

helping to ensure it does not degrade over time.

Resistant to abrasion, algae, graffiti and UV light,

ceramic granite is non-combustible to Class A1 in

accordance with BS EN 13501-1.

Contact Shackerley

01257 273114

www.shackerley.com

76 TC NOVEMBER 2018
---
Timelessly beautiful facades

With the visual appeal of natural timber, simplicity of installation and resistance to rot, the

Cedral range offers an attractive, low maintenance alternative to traditional weatherboard

cladding materials.

Marley Eternit Limited Lichfield Road | Branston | Burton-upon-Trent | DE14 3HD

Request your free Cedral samples at:

www.cedralsidings.com
---
Fixings Q&A

"EXPECTATIONS AND PRESSURES ON

CONTRACTORS ARE ALWAYS HIGH"

Total Contractor caught up with Ian Hill, Managing Director of Fixing Point, to talk about the

company's imminent move to new premises and what this will mean for customers...

TC. You're about to move to a new

headquarters building, what prompted the

move?

IH. We have seen significant growth in our

business over the last year, and we aim to build

on this. We have big ambitions for the next fiveyear

period, and moving to a new, larger building

with excellent facilities is an integral part of our

strategy. The move will allow us to offer the

widest range of products and the best solutions

possible across a variety of applications, backed

up by speedy delivery when and where our

customers want.

TC. What new capabilities will the new

building offer you as a business?

IH. The new building includes open-plan office

space for our growing sales and technical team,

training and conference facilities, staff recreation

rooms, larger production area and a laboratory

where products will undergo rigorous quality

testing. We will also manufacture a growing range

of products on-site including our moulded head

range and Gridtite spacer systems. Also, as well

as our current range of powder coated fixings, we

will be powder coating our hex head fixing range.

This in-house manufacturing capability and a

larger production area will allow us to effectively

manage stock and production, reducing lead

times for customers.

TC. How will the move develop your

relationship, offering and interaction with

your customers?

IH. We have incorporated training and conference

rooms where we can hold client meetings and

presentations. This is important as we will be

able to provide training support to our customers

on the benefits and potential applications of our

products in a face-to-face setting. On another

note, our new head office provides a fantastic

working environment for our hard-working team.

A happy workforce provides better service and

that's important because service is at the heart

of all we do here at Fixing Point.

TC: We are expecting more from our

buildings in terms of performance and

aesthetics; how does this impact you as a

manufacturer / supplier and your installer

customers?

IH. This is certainly true, and we are constantly

evolving and improving our offer to help our

clients deliver buildings that excel on both fronts.

Due to thicker insulation and composite panels

being specified more regularly, our product range

has had to evolve to keep up with these market

patterns. This means we now offer longer fixings

and new, improved brackets for our spacer

system amongst other products.

Our stainless steel range has also increased to

keep up with our customers' requirements and

we have invested in a new powder coating facility

to keep up with the demand for powder coated

fixings as some contractors prefer this option.

As mentioned previously, we will also be powder

coating our hexagon-headed fixings due to

popular demand for this finish. We are also

seeing an increase in demand for coloured

fixings; with more colours being used in the

market, our colour matching service ensures our

fixings match the finish of the building.

TC: What should contractors look for

when appointing their fixings and

fasteners supplier?

IH. Building a constructive relationship with your

fixings and fasteners supplier can be crucial to

the overall success of a project. Contractors

should always seek advice from their supplier on

technical performance specifications.

Understanding the intended application of

products is essential to this process, so it's

78 TC NOVEMBER 2018
---
important to have a two-way dialogue.

Sharing all the key information about the project

at the outset is the best way to ensure your

supplier can recommend the best solution. A key

question to ask is whether the supplier can

advise on the correct fixings and procedures not

only at the outset of a project, but during the

construction phase. Ensuring you have support

from your supplier for the duration of a project is

essential to resolving any on-site application

problems. Maintaining regular contact and

updating them with information on the materials

you are using at each stage means they can offer

appropriate advice throughout.

"We've been privileged to work on some really interesting high-profile projects"

Another thing to ask your supplier about is the

warranty and guarantee they offer on products.

These can vary significantly from product to

product, and you must decide whether a

fastener's life expectancy is suitable for its

intended application. At Fixing Point we offer life

expectancy statements tailored to the specifics of

a project, and if your project is particularly

complex you should discuss this with your

supplier so you can fully understand your options.

TC: What are some of the main issues

affecting your contractor customers?

IH: Expectations and pressures on contractors to

deliver projects on time and to tight budgets are

always high, and never more so than in the

current climate. It's not surprising, therefore, that

some contractors may feel tempted to take

measures to save project time by cutting crucial

corners or opting for cheaper materials.

But when it comes to fixings and fasteners, the

temptation to substitute products with cheaper,

more accessible or non-compliant alternatives

can risk early failure and costly remedial work.

Communication is key throughout every phase of

the building process and it's really important to

ask questions if you're in doubt about any

quotations or drawings provided in the

specifications.

We always advise caution when checking the

specifications of panels and fixings, and urge

contractors to ensure that all quotes meet the

required standard and are genuinely like-for-like.

Architects and clients rightly expect their

buildings or installations to be guaranteed and to

last, so our advice is to ensure enough time and

attention is given to the fixtures and fittings

element. Every job is different, so specialist

suppliers who know their products and their

applications well are your friend!

TC: Can you describe some of the more

interesting projects or jobs your products

have been used on?

IH: We've been privileged to work on some really

interesting high-profile projects. For example, the

£28 million Derby Arena Velodrome in Pride Park

is one of the few multisport velodromes in the

country, with a 250m indoor cycling track, a 12-

court sports hall, a gym and a 5,000-seat arena.

It was one of the first Olympics legacy projects to

get underway following London 2012, and it's

aesthetically very impressive so that was a lovely

project to be involved with.

Another example is Imperial Park in Coventry,

which was developed to meet the growing

demand for high quality distribution warehouses

within easy reach of the UK's major regions and

big cities.

Owned by M&G Real Estate, the development has

started letting space to some key distribution

firms. Other recent projects include Gloucester

Rugby Club and Jaguar Land Rover. No matter

how big or small the job, or the challenges they

can present, we love playing our part in bringing

buildings and developments to life safely and

securely.

TC: The move to your new building follows

on from your recent rebrand which was

unveiled in 2017; do you now feel that

everything is in place to really kick on as

a company and what can we expect from

Fixing Point in 2019?

IH: The rebrand and move have been a great start

to our journey. We have achieved a lot recently,

including growing our sales and marketing team,

investing in technical support, training and staff

development, plus unveiling a new website and

product brochures.

We believe 2019 is going to be another exciting

year for Fixing Point. Our focus will be increasing

awareness of our full product range, product

development, establishing a distribution unit in

Scotland, continuing to grow our team and

growing our market share. So while we certainly

feel that the fundamentals are now in place, there

is still work to do. We don't believe in resting on

our laurels!

Contact Fixing Point

01242 265100

www.fixingpoint.com

@FixingPoint

NOVEMBER 2018 TC 79
---
How To:

CHOOSE THE RIGHT MEMBRANE FOR

OPEN-JOINTED CLADDING

The technical team at A. Proctor Group discuss the considerations that should be made

when choosing the right membrane for open-jointed cladding.

Rainscreen cladding, a construction type

that first appeared on Norwegian barns

around 100 years ago, has now become

an industry standard for protecting and finishing

buildings of all shapes and sizes in the UK. The

more recent trend towards open-jointed cladding

has produced not only unique architecturally

aesthetic designs, but has also sparked new

advancements in rainscreen membrane

technology.

The purpose of exterior cladding in a closedjointed

system is to protect underlying structures

from the elements, primarily wind, water, UV rays

and fire. Contractors that specify open-jointed

systems should understand that the porous

nature of open-jointed cladding effectively

removes its ability to protect.

In order for open-jointed rainscreens to be

successful i.e. for buildings with open-jointed

cladding not to be leaky, drafty or moldy, and to

Above: A. Proctor's Fireshield, front and back.

"The design of the

exterior structure must

account for the lack of

protection the outer

cladding would provide"

alleviate fire-risk, the design of the exterior

structure must account for the lack of protection

the outer cladding would otherwise provide.

Some designs transfer this responsibility to

deeper layers in the build-up. Strategies include

doubling up of the weather resistant walling

underlay, using UV-rated insulation directly

behind the cladding, significantly increasing the

depth of the cavity to mitigate UV damage to the

protective membrane, and even simulating openjoints

by fixing panels or cultured stone back to a

dark substrate to suggest a "shadow". While

there are few case studies on the effectiveness of

these methods, the potential downsides include

increased material and labour costs, complicated

detailing, and an increase in building footprint,

making these options less than ideal.

The introduction of airtight, vapour permeable

walling underlays that are water resistant, fire

resistant and, importantly, UV stable so they can

work behind open-jointed cladding has been a

game-changing innovation to the industry.

These membranes are performance-tested well in

excess of conventional breather membranes. A

membrane that is deemed suitable for use under

open-jointed rainscreens should have the

following test profile:

• Complies with all BS 5250, BS 4016 & NHBC

requirements for vapour permeable walling

underlays

• Resistance to water penetration: Class W1 (EN

1908 / EN 13859-2)

• Resistance to air penetration:

---
QUALITY

YOU CAN TRUST

Kee®Cover range of rooflight protection is a modular and easy to install

solution designed to cover rooflights and skylights on trapezoidal and

standing seam roofs. The covers are designed to provide a robust

effective solution without blocking out the light into the building.

The range is component based, making it easier to transport to the roof

and assemble on site. Standard mesh panels are supplied 2m long

and 1m wide and sit onto the metal frame which is constructed from

Kee Klamp®fittings. Extension panels are available for larger rooflights

and skylights.

Features and Benefits:

• Effective safety solution for rooflight protection

• Easily assembled and fitted while on the roof

• Component based system for ease of transportation

• Components and mesh hot dip galvanised for superior durability

• Extension panels available for larger rooflights and skylights

• Variable height caters for different shaped rooflights

• Tube can be colour coated for greater visibility

• Tested following requirements of ACR Red Book

www.safesite.co.uk

Tel: 01293 529977

Email: info@safesite.co.uk
---
How To:

for use under open-jointed rainscreens. Both

have Class B fire performance, which is one of

the highest classifications for construction

membranes, with Fireshield having the added

benefit of an intumescent coating which actively

reacts to prevent fire from taking hold. Fireshield

and Façadeshield UV are dark grey to black in

colour to produce the desired "shadow" aesthetic

behind open-jointed cladding, and are installed in

the same manner as traditional breather

membranes.

"Contractors that

specify open-jointed

systems should

understand that the

porous nature of openjointed

cladding

effectively removes its

ability to protect"

Step-by-Step: Fireshield and Façadeshield UV membrane installation

1. To protect the membrane from mechanical ensuring the membrane is as dust and grease

damage, open-joints in the cladding must be a free as possible and the substrate dry and

max. 50mm wide and not more than 50% of the stable. Place fixings at centres not greater than

total façade area.

500mm.

2. The membrane is fixed to the supporting 4. Lap the membrane

construction mechanically using fixings 100mm horizontally and

appropriate to the substrate. Consideration 150mm vertically.

should be made of the fire performance of the Ensure vertical overlaps

fixings.

are staggered and

horizontal overlaps are

3. Unroll the membrane and fix directly to the

shingled to shed water away from the

substrate i.e. insulation / sheathing board

sheathing. At external corners return the

membrane by 300mm.

5. Detail the membrane into openings to ensure

the return provides sufficient lap and

weathering protection for the proposed framing.

Reflectafoil Tape, Façadeshield Tape or Flextite

UV Tape may be used to seal the corners.

6. Lap membrane at

cavity barriers and trays

by a min. 100mm

horizontally and 150mm

vertically.

7. Seal around penetrations through membrane

with Reflectafoil Tape, Façadeshield Tape or

Flextite UV Tape.

*This guidance is a summary only. Please

contact the A. Proctor Group for complete

installation advice.

"Fireshield and Façadeshield UV are dark grey to

black in colour to produce the desired 'shadow'

aesthetic behind open-jointed cladding"

Contact A. Proctor Group

01250 872 261

www.proctorgroup.com

@proctorgroup

82 TC NOVEMBER 2018
---
THE REVOLUTION IN

LEAD REPLACEMENT

FLASHINGS IS HERE!

SUPER SAFE FLASHING

●

●

●

●

●

●

●

●

●

●

●

●

DIFFERS FROM ALL OTHER LEAD REPLACEMENT

FLASHINGS ON THE MARKET.

NEW AND UNIQUE SAFE FLASHING PRODUCT.

IS 100% METAL PRODUCT.

PERFORMS LIKE LEAD AND IS FIXED LIKE LEAD.

SPECIAL SOFT ZINC ALLOY.

BBA CERTIFIED.

CLASS A1 FIRE CERTIFICATE.

NO THEFT PROBLEM.

MEETS NHBC FLASHING REQUIREMENTS.

MALLEABLE FOR DETAILING.

GREY SURFACE FINISH.

ROLL WIDTHS 150MM, 240MM, 300MM, 440MM

SEE US AT

Approved Product CF 5639 18/5531

LEAD

TOXIC MATERIAL

HEAVY PRODUCT

HIGH SCRAP VALUE

NO FIRE CERTIFICATES

REQUIRES NAKED FLAME TO WELD

BAD FOR THE ENVIRONMENT

INSTALLER TRAINING REQUIRED

METZ

NON-TOXIC

75% LIGHTER THAN CODE 4 LEAD

MINIMAL SCRAP VALUE

CLASS A1 FIRE CERTIFICATE 2018

BONDS TO ITSELF

ENVIRONMENTALLY FRIENDLY

INSTALLATION BY ANY COMPETENT PERSON

METZ IS DISTRIBUTED BY:

METRA NON-FERROUS METALS LTD.

UNIT N7, RD PARK, ESSEX ROAD,

HODDESDON, HERTS, EN11 OFB

01992 460455

ENQUIRIES@METRA-METALS.CO.UK

PLEASE CONTACT METRA FOR

STOCKIST DETAILS OR IF YOU WOULD

LIKE TO BECOME A STOCKIST

MANUFATURED BY GRILLO WERKE AG

METAL DIVISION

WESELER STR. 1 • D-47169 DUISBURG

CERTIFIED MANAGEMENT

SYSTEM ACCORDING TO:
---
Cladding Updates

For further info on all these cladding updates and more, visit www.total-contractor.co.uk

FIXINGS FOR PRESTIGIOUS PROJECT

High performance A4 austenitic stainless fasteners by SFS will play a vital role in ensuring that the

stunning new V&A Dundee will retain its superb visual appeal throughout its lifespan.

SFS has partnered with Sika Sarnafil and Q9 Cladding Solutions to deliver a secure and durable warm roof for

the highly acclaimed museum, which is the first V&A outside London and explores Scotland's design heritage

past, present and future. Their comprehensive building envelope package will ensure the visually stunning

façade delivers on the architect's aesthetic goals throughout its lifespan.

Designed by globally acclaimed Japanese architects Kengo Kuma & Associates following an international

competition, the V&A Dundee is an eye-catching 8,000m² building. A total of 2,466 huge cast stone panels,

weighing 3000kg each and spanning up to 4m wide, wrap around the museum's façade, the design of which was

inspired by the coastal cliffs of the North East of Scotland. SFS worked closely with membrane manufacturer

Sika Sarnafil to ensure that the innovative design of the V&A warm roofs could be delivered sustainably, and to a

superior build quality for maximum longevity. www.sfsintec.co.uk

The V&A Dundee: Sika Sarnafil S327 membrane was

installed with the Sarnafast fastening system, which

includes thermally broken SFT sleeves and SFS's BS-

S-4,8 austenitic stainless steel grade A4 (316)

fasteners. The tapered insulation system was also

installed with BS-S-4,8 fasteners which were

combined with Sika SBT sleeves and SBIW insulation

washers.

Lightweight, easy to install and moisture

resistant, VIVIX Lap cladding does not

require pre or post installation

treatments or need to be painted during

its lifetime.

SCANDI-STYLE CLADDING FOR THE UK

Formica Group has continued its innovative approach to rainscreen cladding, with the introduction

of new VIVIX Lap high performance exterior weatherboard cladding. VIVIX Lap is a modern

alternative to wood and fibre cement plank cladding, providing great looks, quick and simple

installation and requiring little ongoing maintenance.

Pre-cut VIVIX Lap planks are applied in an overlap arrangement, providing a classic cladding style, with a

modern twist. VIVIX Lap planks can be applied to everything from new build housing and renovation projects,

garden offices, sheds and garages, to commercial business parks and retail outlets. www.formica.com

THE PERFECT PARTNERSHIP

Freefoam Building Products has launched a new video testimonial from Freefoam Registered

Installer The Bristol Fascia Company. Working in partnership with installation companies is key to

Freefoam's success and this video illustrates the benefits to both.

Matt Brazeley, The Bristol Fascia Company.

Using a recent installation project featuring contemporary looking Anthracite Grey fascia and soffit, the

film features fitter Matt Brazeley explaining how the product range and partnership with Freefoam works

for them. Matt explained: "All our fitting teams like the quality of the Freefoam range, it's easy to fit, the

boards are stable and the accessories are sturdy." www.freefoam.com

MYCLADDING WEBSITE

Freefoam Building Products is pleased to announce a new video testimonial to highlight the

support it gives installers and consumers.

Visit www.total-contractor.co.uk to view Mr

Bellringer's full testimonial: "Freefoam sent us

samples of the X-Wood Cladding and arranged for

Freefoam Stockist and Installer Tru Plastics to quote

for supply and fit."

Homeowner Mr Eddie Bellringer wanted to replace old and tired looking render on his home and

turned to Freefoam's consumer-focussed site mycladding.com. Offering information about cladding

styles, designs and colours with the opportunity to receive samples and an installation quote from a

local company, the site is designed to give homeowners all the tools and support they need in one

place. www.freefoam.com

84 TC NOVEMBER 2018
---
ADD A LITTLE

EXTRA SPARKLE

As Tata Steel's Colorcoat Prisma pre-finished steel continues to increase in

popularity, the manufacturer has seen a demand for further colours to be

introduced to the market. In response, three new 'sparkle' colours have been

launched for its Colorcoat Prisma standard Elements range.

The three new colours – Sirius Sparkle, Orion Sparkle and Zeus Sparkle – have all been

developed with an enhanced metallic sparkle effect, which provides a premium finish ideal for

wall façades. Tata Steel's Colorcoat Prisma pre-finished steel offers superior ultraviolet (UV)

resistance and corrosion protection, exceeding the highest European Standard requirements.

www.colorcoat-online.com

"THREE NEW 'SPARKLE'

COLOURS HAVE BEEN LAUNCHED

FOR ITS ELEMENTS RANGE"

X-WOOD: THE NATURAL CHOICE

X-Wood Cladding from Freefoam Building Products has been used as a contemporary

feature to the front and rear elevation of a stunning new home on the outskirts of York.

Homeowner Peter Jennings explained: "The cladding feature was originally specified as timber,

but with a busy professional and home life it was critical to make this home as low

maintenance as possible. We were introduced to the Freefoam cladding range from a local

supplier, Revival Building Products Ltd, and immediately liked the X-Wood range."

www.freefoam.com

ROOFDEC DELIVERS

Roofdec has chosen rainscreen support and fastening solutions from SFS for major new

building projects as part of its record £9m cladding contract for The Springs, a new

retail and leisure development at Thorpe Park Leeds.

www.sfsintec.co.uk / www.nvelope.com

Roofdec's contract involved 26,000m² of roofing, with an external envelope utilising highspecification

cladding including the Kingspan Benchmark Karrier system and granite and limestone

rainscreen. 4,500m² of aluminium rainscreen and 3,000m² of stainless steel panels complete the

contract, plus column casings together with other areas of Rodeca and aluminium plank systems.

NEW FACES AT CATNIC

Catnic has expanded its experienced sales teams in both England and France by

welcoming David Protheroe as its new Area Sales Manager for the East and West

Midlands region, and Julie Carlier to the team covering the North of France. With over 20

years experience in the industry, both David and Julie will bring valuable knowledge and

expertise to the Catnic team.

Julie Carlier and David Protheroe have joined Catnic.

David previously worked as a Business Development Manager at Norbord UK and Julie

previously worked as a Sales Representative at BASF France.

NOVEMBER 2018 TC 85
---
External Wall Insulation

EDUCATION AND EWI WITH BAUMIT

Since its opening in February 2018, Baumit Training Academy has gone from strength-tostrength,

providing vital theoretical and practical experience in EWI systems. Ben Warren,

Managing Director at Baumit, reflects on the academy's success this year, giving a glimpse

into the company's future plans for its 'industry-defining EWI education'.

What does the academy offer?

Here at Baumit, one of our key drivers is to

make beautiful, healthy homes for people

to live in. Whether that is striking exteriors

or interiors, we provide solutions that ensure

buildings are made to last.

This philosophy – to give relevant tradespeople

the opportunity to create better spaces for their

clients, is at the heart of our on-site, purposebuilt

training academy based at Baumit HQ

Aylesford, Kent. Yet, the other element of our

academy is, of course, to enable companies to

add another area of expertise to their business.

Not only are companies providing their customers

with the most reliable and advanced EWI

solutions on the market, they are widening their

individual skillsets, adding vital strings to their

bow.

As such, the 62 people who have walked through

Baumit's doors to complete either a bronze, silver

or gold course have gone on to significantly

improve their offering. Those who finished the

bronze course have expanded their practical and

theoretical rendering knowledge and plan on

returning to participate in the silver course to

become a Baumit-approved installer. For those

who have become Baumit-certified on completion

of the gold course, they are now looking to partner

with us in the future as Baumit-approved

partners.

We have developed these courses to reflect the

industry's evolving diversity. Our range of courses

are designed to meet everyone's criteria; whether

you're just starting out in EWI or want to grow and

develop your business to work with one of the

largest EWI manufacturers in the world. These

"Another larger

ambition is to get the

course into colleges"

site-based scenarios provide hands-on, 'real-life

experience' in dealing with regular challenges

faced by installers.

Where is the academy heading?

Looking into the future of Baumit's training

academy, there are plenty of exciting prospects

emerging on our horizons.

First and foremost, we wish to build on the great

foundations we have laid, as the training

academy has been an even greater success than

we initially hoped.

In its current form, the academy is at the stage it

needs to be. We invested a huge amount of time

refining the course structure, so we hope to

continue on this path to ensure we create the

best learning environment for our participants.

In terms of the future, we hope to continue to

attract new people to the course, where another

key focus will be on previous applicants and

people in associated trades. We have plans to

widen our pool of interest, encouraging the latter

to apply to the silver or gold course to become

future partners and give clients the most supreme

EWI solutions on the market.

Another larger ambition is to get the course into

colleges, to define a new generation of

tradespeople using Baumit's application and

products. Although this will take some time and

investment, one day we hope to teach students a

new way to hone their skills, inspiring future

Training at Baumit's facility in Aylesford.

generations of EWI installers.

Lastly, we have to give attention where it is due to

course leader Chris Kendall, Field Engineer at

Baumit. With 30 years of experience working as a

contractor, Chris has been at Baumit since March

2017 and is a crucial part of the training

academy. His expertise, experience, and

constructive teaching techniques are second to

none, where his involvement has been hugely

instrumental in the current success of the

training academy.

Overall, 2018 been a great year for Baumit and

we look forward to welcoming the academy's

future participants in the New Year.

Contact Baumit

01622 710 763

www.baumit.co.uk

@BaumitUKLtd

86 TC NOVEMBER 2018
---
VALUE

YOUR

U-VALUE

THE CTF Ultra ®

VACUUM PANEL RANGE

The CTF Ultra® Vacuum Panel Range offers a number of systems

for use in flat roof specifications, achieving the

lowest thermal conductivity with

minimal thickness.

Thermal Conductivity: 0.007 W/m 2 k

Contact us for more information on

our full range of products and

services:

0333 207 0870

office@ctfinsulation.co.uk

www.ctfinsulation.co.uk

As with all CTF products, each

system is tailored to your needs

and upheld through our services

in; design, u-Value calculation,

site survey and delivery.

CTF Ultra VIP System: Combined thickness

of 60mm system will achieve 0.18 W/m 2 k
---
Reflective Insulation

SHINING A LIGHT ON INSULATION

By Martin Oxley, BBA Project Manager.

Reflective insulation offers attractive

benefits to contractors – it is light, easy to

handle on site, doesn't require protective

clothing, can offer reduced installation times, is

perfect for restricted spaces and suitable for both

new-build and retrofit.

Products are usually manufactured from

aluminium foil or aluminised polyester and are

effective at keeping buildings warm in winter and

cool in summer.

The British Board of Agrément has been certifying

them in many different applications, such as

roofs, floors and walls for more than 17 years.

But how these products work is different to

conventional approaches and needs to be

considered to ensure correct specification and

installation. In addition, some products are also

classed as a vapour control layer because they

offer a high degree of moisture resistance and

must be used on the warm side of any proposed

system to reduce the risk of interstitial

condensation. Others are classed as breathable

because they are perforated through all layers to

allow moisture build-up to pass through the

material and dissipate on the other side, typically

in the form of a ventilated cavity in a warm

pitched roof.

Heat flow

Insulation works by reducing heat flow in one or

more of three ways: conduction (via solid

materials), convection (via liquids and gases) or

radiation (via electromagnetic waves). Heat

movement in buildings is generally via conduction

and radiation (air leakage aside). Reflective

insulation solutions – also known as radiant

barriers or foil insulation – reduce radiant heat

transfer but only when used in conjunction with a

still air gap in front, and sometimes behind, the

inclusion of which cannot be overlooked. The

reflective surface continually bounces the heat

Reflective insulation is light, easy to handle on site and can

offer reduced installation times.

back into this air gap.

The reflective performance of the insulation is

measured as an emissivity value (a surface

measurement of a product's ability to emit radiant

energy). Emissivity is given as a value between

zero and one. Zero indicates that all the energy is

reflected and none is absorbed – the best result.

A value of one denotes that none of the energy is

reflected and all is absorbed. For a typical

reflective insulation product the aluminium foil

outer surface would have a declared aged

emissivity of around 0.05, meaning that the

significant majority of energy is not absorbed. In

comparison, a typical brown house brick would

have an emissivity value of around 0.90.

Because emissivity is a ratio of energy, the

temperature and direction of measurement are

important functions; even the surface texture or

print of the sample can affect the result, and so

testing must be carried out accurately. Because

this product group has very low emissivity values

working at the limits of instrumentation, using an

experienced, independent testing laboratory such

as the BBA is vital to obtain accurate, precise

and credible results that can be relied upon by

contractors and their clients. Also note that the

test results should be 'aged' to take into effect

the material's ability to resist oxidation /

corrosion from moisture in the air and indicate

how the product will perform over time rather

than just initially.

As with all building products, correct installation

is vital to performance – especially the size of the

air cavity in front, and / or behind the insulation.

Contractors may only be required to attend a oneday

manufacturer's training course to become

approved. The focus, therefore, is for

manufacturers to provide comprehensive

technical literature as well as detailed installation

guidance. The BBA's auditing and inspection

team has a huge wealth of knowledge and

experience of the whole spectrum of on-site

insulation installations, from the very best to the

very worst, so it can offer a valuable resource for

those looking to ensure that the product is

installed correctly. Each BBA certificate has a

scope of use that lists what the product is, its

technical performance, how it complies with

Building Regulations and where it can be used.

Standards

This product group currently lacks a harmonised

European Product Standard, which means that CE

marking is not mandatory. A draft product

standard has been developed and is currently

progressing through the issuing process by the

relevant technical committee. There is, however,

BS EN 16012: 2012 +A1: 2015 Thermal

insulation for buildings – Reflective insulation

products – Determination of the declared thermal

performance (http://bit.ly/2bramb2). This allows

users to compare product performance of

reflective insulants and was introduced following

work amongst leading test houses in Europe. This

standard, coupled with product certification from

a UKAS-accredited organisation such as the BBA,

provides the market with the assurances that the

product is 'fit for purpose'.

Contact BBA

01923 665300

www.bbacerts.co.uk

@BBAguru

88 TC NOVEMBER 2018
---
Insulation Updates

'NOISE OSCAR' AWARDED

ROCKWOOL was proud to present the London Borough of Ealing Council and National Grid with the prestigious Local

Authority Award at this year's John Connell Awards, organised by the Noise Abatement Society (NAS).

Held at the Palace of Westminster on the 24th October and known as the 'Noise Oscars', these unique annual awards are now in

their 17th year. They acknowledge the importance of the quality of sound in our lives, and champion vital advances in reducing the

negative impact of unnecessary and unwanted noise for the benefit of the public.

ROCKWOOL's report Good

Growth, Quiet Buildings is

The London Borough of Ealing Council and National Grid were crowned winners of the award for their ambitious re-development available to download at:

http://static.rockwool.com/glo

and co-created noise abatement and management system for Almond Avenue Substation. The Almond Avenue substation is balassets/rockwool-

critical, both locally and nationally, in the supply of electricity to over 200,000 homes. However, loud, intrusive, humming noise was uk/news/noise-report/good-

growth-quiet-buildings.pdf.

causing widespread disturbance to residents and threatened the plant's on-going viability. Taking the strategic decision to avoid

enforcement action and prolonged court proceedings, the council worked collaboratively with operators and residents to achieve a sustainable solution: a codesigned,

visually appealing noise barrier which was erected around this extremely challenging, high voltage 15,000m² site, successfully mitigating the noise.

www.rockwoolgroup.com

ENCON'S ON THE TOP TRACK!

The Encon Group is celebrating another year of fantastic success after ranking 98th in the 14th annual Sunday

Times Grant Thornton Top Track 250 League Table.

This prestigious index lists the top 250 private mid-market growth companies in Britain who have achieved the biggest

sales by managing risk and choosing the right strategic options. Encon ranks alongside businesses such as

housebuilders the Stewart Milne Group, Keepmoat Homes, as well as Waterstones, Holland and Barrett. Stuart Moore,

Chief Executive, said: "The previous few months have been positive for our business, despite the building industry still

experiencing a slight nervousness with investors and political uncertainty." www.encon.co.uk

GREEN GB WEEK: NIA PROMOTES INSULATION BENEFITS

Green GB Week is designed to highlight the opportunities clean growth offers the UK and raise understanding of how business and the public can

contribute to tackling climate change.

During Green GB week, the NIA was promoting its members and raising awareness of the multiple benefits of insulation including Cavity Wall Insulation

(CWI) which can pay for itself in less than 3 years, to External Wall Insulation (EWI) which can transform the appearance and kerb appeal of a home

whilst reducing bills and making them warmer, to Internal Wall Insulation (IWI) which enables homes that do not have cavity walls and cannot be treated

with EWI to benefit.

www.nia-uk.org

'BUSINESS LEADERS NEED TO MAKE BOLD DECISIONS'

The UK Green Building Council (UKGBC) has responded to The Intergovernmental Panel on Climate Change's (IPCC) Special Report Global

Warming of 1.5ºC.

Julie Hirigoyen, Chief Executive at UKGBC, said: "This report from the IPCC is a wake-up call for governments and businesses across the globe. One of

the goals of the international 2015 COP21 climate deal was to limit the temperature increase to 1.5°C above pre-industrial levels, recognising that this

would significantly reduce the risks and impacts of climate change. This latest IPCC report points to the urgency and scale of action required to achieve

this, which should be keenly reviewed by every single boardroom. There is no doubt that business leaders need to make bold decisions today to

transition to a low/no carbon economy that can sustain future generations.

90 TC NOVEMBER 2018
---
SEE US AT
---
The Apex

SITE WORKERS: REMOTE CONTROL

More and more businesses are making the shift from having traditional, office-based

workers to managing dispersed teams. But in construction and roofing, this is nothing new.

Here, industry expert Jackie Biswell explains why trust, communication and self-discipline

are key to making remote workers work for you.

In yesterday's workplace everyone came in at

nine and clocked off at five. They sat at desks

and workplace boundaries were clear.

But today's norm centres around flexibility, and

as a result many employees now work remotely.

In the roofing industry this isn't really anything new.

We have always had teams in the field. After all,

we can't repair or construct a roof without being on

site. Often this means overseeing dozens of

projects and dozens of teams at a distance –

including subcontractors and individuals from

different disciplines, and boasting a range of skills.

Of course this can pose challenges. Some can be

easily ironed out and some require a bit of

forethought. In some cases there isn't a quick fix

either. You must work to find a long-term solution.

That is why we are currently looking at

introducing digital processes to streamline HR

procedures and keep on top of work programmes

and responsibilities across the multiple projects

we are involved in at one time.

While we wouldn't pretend our systems are foolproof,

what we can say is that any business

looking to introduce remote working practices can

pick up some top tips from the built environment.

Making it work

Proper employee mindset, the right tools and a

fantastic employer-employee relationship are all

extremely important factors to take into

consideration if businesses want to get the most

out of their field teams.

Our top tips are:

1. Pick the right employees for your team. They

need self-discipline, strong communication skills

and the ability to think on their feet.

2. Give employees the tools they need. Having

the right characteristics amounts to nothing if

employees can't do their job efficiently. Make sure

your communication network gets your suppliers

working to the same schedule as your workers.

3. Keep on top of activity. There is field activity

management software available which can

monitor field teams and help operations run more

smoothly. This can include workforce tracking to

create team accountability, or instant messaging

to keep office teams connected to those outside

the premises.

4. Build field teams into your company vision. To

avoid making representatives in the field feel

isolated or lonely, field team managers should

work to increase communication between coworkers.

They all need to understand your

business ethos – for instance, putting quality

ahead of everything else.

5. Know your staff. It's imperative to get to know

every individual worker to get the measure of

their strengths and weaknesses. You'll have to

adjust your management style to suit every

worker because not everyone will respond to the

same approach. Of course, this isn't always

possible if you work with subcontractors but do

your best to research their company background

before work commences.

6. Don't micro-manage. You must have a certain

amount of trust in your field teams to carry out

the job at hand.

7. Communicate and coordinate. The routine of

the field worker is always susceptible to rapid

Jackie Biswell, Apex Roofing.

change. Clients cancel, jobs run over, and

unforeseen circumstances occur. Manage these

fluctuations efficiently by encouraging clear

communication throughout the day.

A common goal

In the built environment you may be managing

field teams of your own or teams of

subcontractors you may not know so well.

To help you manage your subcontractors, keep on

top of contracts, make your expectations clear

and stick to a schedule.

While your subcontractors may be out in the field,

hold regular meetings and provide a platform to

express any concerns or matters regarding safety,

quality of work, general project issues and

potential disputes.

Above all else, remember you're working as a

team. You may be in different places with slightly

different roles and responsibilities, but you all

have a common goal.

Contact Apex Roofing

01502 537129

www.apexroofinguk.com

@ApexAnglia

92 TC NOVEMBER 2018
---
CONSTRUCTION INSURANCE

OUR COVER IS

BUILT ON OVER 30

YEARS' EXPERIENCE

When Joe Kelliher established Kerry London in 1986 it was to provide the construction

industry with specialist insurance and personal service. Since then our approach, and

our reputation as an independent Lloyd's accredited insurance broker, has helped us

build long-lasting relationships with a wide range of clients across your industry, from

builders to demolition experts, scaffolders to 2nd fix contractors. No matter what cover

you need, we will invest our time to understand your business and how best to protect

it. Our covers include:

•

•

•

•

Contractor's All Risks

Liability Insurance

Latent Defects

Professional Indemnity

•

•

•

•

Project Insurance

Surety Bonds

Environmental Impairment

Cyber

There's no need to choose between experience and personal service, with Kerry

London you can have both.

Call us today on 020 8225 1165

email construction@kerrylondon.co.uk

visit kerrylondon.co.uk/construction

KL0205-1809
---
Business Talk

IT'S BEGINNING TO LOOK A LOT LIKE

CHRISTMAS: SO BE PREPARED!

Avoid the rush, plan ahead and watch your accounts – but we're not talking about

Christmas shopping! There are a number of considerations businesses should make in the

run-up to Christmas, and we take a look at a few of them below...

In not too long, thoughts will turn to Christmas

where the season's festivities mean a change

to routine. While the season can be busy, it

needs planning for.

Royal Mail posting dates

With the growth of the web and email, the world

has become very reliant on instant service and

next day delivery – especially with (business)

gifts that need to arrive before 25th December.

With such a deluge in mail that needs to meet a

finite date, Royal Mail tries to help by listing the

last recommended posting dates for items to

reach far-flung parts of the UK (and the world).

The detail is available at

http://www.royalmail.com/greetings.

To arrive in time for Christmas, inland 2nd class

has to be sent by 18th December, while Special

Delivery needs to be posted by 22nd December. A

full list for overseas destinations is at the bottom

of the webpage.

Of course, you may use other firms to send your

items, personal or business; if so, check and

diarise their delivery cut off.

Bank holidays

While online banking is almost ubiquitous, you

need to be aware of the disruption to the banking

schedule over the period.

Christmas Day falls on a Tuesday, while

predictably Boxing Day is a Wednesday and New

Year's Day is the following Tuesday (Wednesday

in Scotland too). This means deposits will take

much longer to clear than normal. HSBC, for

example, doesn't send automated electronic

payments on non-working days. With cheques,

funds are generally available on the third working

day after deposit, but it's not until the sixth day

after deposit that funds become non-returnable.

That said, some banks are now allowing images

of cheques to be banked electronically. With this

new process, a cheque submitted on one

weekday should become cleared funds the next

working day. See

https://www.chequeandcredit.co.uk/informationhub/faqs/cheque-imaging

.

An alternative that has gained significant traction

is the use of the (free) Faster Payment Service

offered by most, but not all, banks. The service

means that a Faster Payment should go through

within two hours, but generally instantly, without

charge. However – and there's always a catch –

a Faster Payment can take until the following day

to show up in an account. A wise business moves

monies a day or so earlier than needed,

especially when salaries need paying between

Christmas and New Year.

Remember to take account of your tax bill

payment deadlines. For example, if your tax year

ends on 31st March, your Corporation Tax bill is

due on 1st January – nine months and a day after

the year end. With Christmas and the New Year

bank holidays you should definitely plan ahead.

Consider adding extra time to the payment

process – as a number of banks including TSB

and to a lesser extent, NatWest and Barclays,

have illustrated, systems failure can leave

customers high and dry and unable to access

their accounts. Missed payments garner

automatic penalties and give HMRC an excuse to

investigate the business.

Remember to exercise caution with Faster

Payments. A destination bank account that is

mis-keyed can mean money goes to the wrong

destination, instantly, and because of

confidentiality can be difficult to retrieve.

Details on the institutions that are part of the

Faster Payment Service can be seen at

http://www.fasterpayments.org.uk/aboutus/current-participants.

The dates of forthcoming

Bank holidays are available on the government

website at https://www.gov.uk/bank-holidays.

Be festive, but make it count

Christmas is a time for giving and you may feel

that you want to spread some Christmas cheer

with small token gifts to staff. However, little

escapes HMRC and rules need following if staff

are not to be hit with a tax bill for receiving your

gift. HMRC classes certain items such as

chocolate and wine or a Christmas pudding as

'trivial', and therefore outside of tax reporting. Do

note that the recipient's taste may not be yours.

The key points to remember here are that gifts

should be under £50, shouldn't be cash or a cash

voucher, there should be no contractual right to

the gift, and the gift should not be a reward for

good service.

HMRC's guidance on this is at

https://www.gov.uk/hmrc-internalmanuals/employment-incomemanual/eim21864.

Some firms choose to give gifts that incorporate a

conspicuous advertisement for the business

94 TC NOVEMBER 2018
---
Whatever your flat roofing requirement,

you will be safe in the knowledge that a

RubberBond FleeceBack installation will

provide you with the highest quality,

long term flat roofing solution.

SEE US AT

n Strength of FleeceBack Single Ply EPDM

n Speed of Factory Applied Tape

n Clean - No mixing of chemicals or liquids

n Versatile - Install on new build or

refurbishment projects

n Smooth, slate grey finish

n Simple application - No heat or welding

Contact us for:

Contractor training or to

request your sample pack.

Tel: 01494 448792

Email: enq@flex-r.co.uk

Flat Roofing Solutions
---
Business Talk

– for example, a branded golf umbrella, mouse

mat or diary. These items would be fine and

should be tax deductible. However, if the gifts

consist of food, drink, tobacco, or any voucher

that can be exchanged for goods, then that is not

tax deductible, even if the festive chocolates are

emblazoned with the business logo. There is a

further restriction in that the cost of the gift

cannot exceed £50.

There is a relaxation of the rules where a

company makes a gift of one of their products,

and the item is given away during the ordinary

course of that business, to advertise to the public

generally. For example, if the business is a

chocolatier, then it could make a Christmas gift of

chocolates to the general public for promotional

purposes and obtain a tax deduction for the cost

of the chocolates. Clearly that's not likely to apply

to roofers.

Christmas gifts to charities are also tax

deductible.

And while on being festive, if you want to play

music in the business – especially at base –

from an iPhone, internet stream, CD, or the radio,

you'll probably need a PRS for Music licence. PRS

for Music collects and distributes money for the

"Follow the rules and

note key dates in your

diary and you'll gain tax

relief on what you

spend"

use of the musical composition and lyrics on

behalf of authors, songwriters, composers and

publishers. You may also need a PPL

(Phonographic Performance Ltd) licence to legally

play recorded music in public.

PPL collects and distributes money for the use of

recorded music on behalf of record companies

and performers. See

https://www.gov.uk/licences-to-playbackground-music

for more detail.

Staff Christmas party

There is no specific allowance for a 'Christmas

party' as such, however HMRC does provide

limited tax relief for the cost of holding an 'annual

event', providing certain conditions are met.

Your business is entitled to provide an annual

event for yourself, any staff you employ, and your

partner, and reclaim the costs against the

company, as long as the cost per head does not

exceed £150 (including VAT).

The cost per head can include accommodation,

transport, and food and drink – but must not

exceed the £150 threshold, even by a penny, and

the event must also be open to all staff.

You may decide to hold several events throughout

the year, but the total claim for all events must

not exceed this threshold.

Importantly, as with all expense claims, you do

actually have to hold an event in order to reclaim

the costs against your company. You can't simply

make a cash claim for £150.

To calculate the cost per head, HMRC states that

you should 'divide the total cost of each function

by the total number of people (including nonemployees)

who attend in order to arrive at the

cost per head. The detail is at

https://www.gov.uk/expenses-benefits-socialfunctions-parties.

Remember, as if it really needs saying, Christmas

should be a time of goodwill. Follow the rules and

note key dates in your diary and you'll gain tax

relief on what you spend without missing

deadlines.

96 TC NOVEMBER 2018
---
BCP

Training Course

Now Available

enquiries@kempersystem.co.uk

SEE US AT

KEMPEROL ®

Liquid Waterproofing

Long term protection for flat roofs,

buildings and critical structures

Warm roofs, inverted roofs, green roofs,

podium decks, walkways, balconies,

terraces, car parks...

• No hot works

• Sustainable

• Solvent-free

• Odourless

Whatever your

requirements, we have

a certified and proven

solution to meet your

needs.

Contact us to discuss

your next project.

KEMPER SYSTEM

Tel: 01925 445532

enquiries@kempersystem.co.uk

www.kempersystem.co.uk

Kemperol Liquid Waterproofing
---
Site Control

A SITE FOR SORE EYES?

Ed Barnes, Traffic Innovation Manager at workplace health and safety expert and supplier,

Seton, discusses what can be done to minimise the risk of accidents through the use of

effective transport management and what new technologies and product advancements

exist to support this.

Duty of care

All employers, including construction site

managers, have a legal obligation under the

Construction Design and Management Regulations

and duty of care to ensure their workplace

facilities are safe for employees and visitors. It

should be a priority for any contractor to make

sure those working on site have the necessary

precautions to protect them against danger.

Failure to maintain a safe working environment

could result in citations and penalties. In order to

comply with health and safety regulations, regular

maintenance and monitoring of facilities is

needed.

Effective planning

A construction site must be organised and

structured to ensure both vehicles and

pedestrians using it can do so safely. Effectively

planning your transport operations throughout the

different phases of the construction process is

vital in order to minimise the opportunity for onsite

vehicle incidents.

Separating pedestrians and vehicles

In the planning stages, it is important to consider

whether there is sufficient separation between

pedestrians and site vehicles. Considerations

should include separate entry and exits, specific

pedestrian walkways, clearly labelled crossings

and barriers.

Traffic calming measures

Installing traffic calming measures, such as the

Seton Speed Bump, can provide site managers

with the reassurance that their site is safer,

helping it to be compliant, while ensuring those

working and visiting the site are travelling at a

suitable speed suitable at all times.

Limited number of vehicles

Limiting the number of vehicles permitted to the

site will automatically reduce the number of

potential accidents. Offering designated

workforce and visitor parking away from the site

is one way to achieve this, as well as providing

off-site storage areas so that deliveries do not

have to use the site.

Employee capabilities

Site managers should make sure all employees

are authorised and able to operate the different

vehicles and machinery on site. Part of this is

ensuring the relevant training has been

completed, and where a gap is identified, training

is provided before the worker can operate the

vehicle or machinery. Controlling access to

vehicles is an important aspect of a site

manager's role.

Install a one-way system

Turning or reversing vehicles are one of the major

causes of fatal accidents on site. As such, site

managers should consider implementing a oneway

system or turning circle to help minimise or

eliminate the danger.

Signage

Site managers need to ensure that people on site

know and understand the traffic rules and routes.

To help achieve this, effective and prominent

signage is a must, allowing workers and visitors

to see clearly the safest way of navigating and

working on site.

"Effective and

prominent signage is a

must, allowing workers

and visitors to see

clearly the safest way

of navigating and

working on site"

Working with heavy machinery

Sites operating heavy machinery require strict

guidelines to avoid workers sustaining injuries.

You should ensure machinery is safe to use, and

that all materials are handled, stored and used

safely. Safe storage is important to avoid heavy

things falling and hitting someone on the head.

Manual handling of heavy objects should be

avoided, but if that is not possible, adequate

precautions should be taken to reduce risk of

injury.

Preventing hazards

Site managers have a duty to inform employees

of any potential hazards and give them

information, instructions, supervision and training

to handle them safely.

It is important to ensure safe working practises

are set up and followed, and that correct warning

signs are provided and maintained. Protective

clothing or equipment must also be provided free

of charge.

Contact Seton

0800 316 9700

www.seton.co.uk

@seton_uk

98 TC NOVEMBER 2018
---
COMING TO A VENUE NEAR YOU!

Roofing and

cladding uncovered

NORTH AND SOUTH 2019

VENUES AND DATES TO BE CONFIRMED

WWW.CONTRACTORSDAY.CO.UK

BROUGHT TO YOU BY
---
6 338

SEE US AT