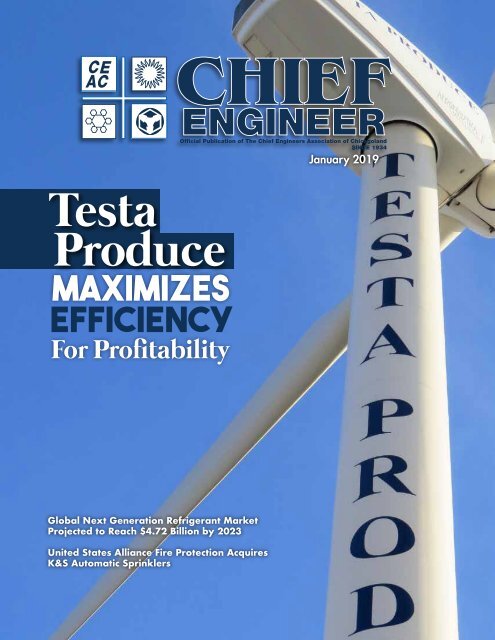 You also want an ePaper? Increase the reach of your titles
YUMPU automatically turns print PDFs into web optimized ePapers that Google loves.
January 2019

Testa

Produce

Maximizes

Efficiency

For Profitability

Global Next Generation Refrigerant Market

Projected to Reach $4.72 Billion by 2023

United States Alliance Fire Protection Acquires

K&S Automatic Sprinklers

Volume 84 · Number 1 | 1
---
1+1 = 2

Two portable heat sources

are so much better

than one!

When you're twice

as cold you need twice

the heat! Our special cold

weather duo will keep

you warm through

the coldest days

of winter

THE DYNAMIC

DUO!

• Maximize limited electrical service

by combining electric and heat pump units

• Provide"Hot" heat to sensitive areas

• Heat pumps circulate the air and raise

overall air volume temperature

• These units are perfect for spaces

where only 115v is available

January 2019

VOLUME 84 • Number 1

Official Magazine of

Founded 1934

Dedicated to the Precept "That Anything Being

Done - Can Be Done Better"

Business and Editorial Office:

4701 Midlothian Turnpike, Ste. 4

Crestwood, IL 60418

Phone: 708-293-1720 | Fax: 708-293-1432

E-mail: info@chiefengineer.org

www.chiefengineer.org

Chief Engineer magazine

(ISSN 1553-5797) is published 12 times per year

for Chief Engineers Association of

Chicagoland by:

Fanning Communications

4701 Midlothian Turnpike, Ste 4

Crestwood, IL 60418

www.fanningcommunications.com

38

17

46

cover story:

Testa Produce Maximizes Efficiency

for Profitability

Peter Testa had an idea to grow his business while limiting

the growth of his operating expenses. The solution was to

invest in green technologies.

Global Next Generation

Refrigerant Market Projected to

Reach $4.72 Billion by 2023

According to a new market intelligence report, the global

refrigeration market is expected to expand to $4.72 billion

by 2023.

United States Alliance Fire

Protection Acquires K&S

Automatic Sprinklers

USA Fire Protection recently announced its acquisition of

the very highly respected K&S Automatic Sprinklers.

Rentals and Sales

Portable Air Conditioning and Heating

800.367.8675

www.spot-coolers.com

Publisher

John J. Fanning

john@chiefengineer.org

Editor In Chief

Karl J. Paloucek

karlp@chiefengineer.org

Editor/Graphic Designer

Mariah M. Beavers

mariahb@chiefengineer.org

Editor/Graphic Designer

De'Anna Clark

deannac@chiefengineer.org

Event Planner/Public

Relations

Alex Boerner

alexb@chiefengineer.org

Applications Programmer

Joseph Neathawk

josephn@chiefengineer.org

Accounting/Billing

Jan Klos

jan@chiefengineer.org

Account Rep

Shannon Ward

shannonw@chiefengineer.

org

Subscription rate is $36.00 per year in the United States and Canada;

$110.00 per year in all other foreign countries. POSTMASTER: Send address

changes to 4701 Midlothian Tpk, Ste. 4, Crestwood, IL 604418.

All statements, including product claims, are those of the person or

organization making the statement or claim. The publisher does not adopt any

such statements as its own, and any such statement or claim does not necessarily

reflect the opinion of the publisher © 2019 Fanning Communications.

5 president's message

6 in brief

9 news

46 member news

50 techline

58 new products

62 events

64 ashrae update

66 american street guide

69 boiler room annex

70 advertisers list

MovinCool, SpotCool, Office Pro and Climate Pro

are registered trademarks of DENSO Corporation.

2 | Chief Engineer

Volume 84 · Number 1 | 3
---
PRESIDENT'S MESSAGE

time:

5:00 pm

location:

Meeting & Happy Hour Event

115 BOURBON STREET

3359 W 115TH ST,

MERRIONETTE PARK, IL 60803

Alex Boerner at

aboerner@chiefengineer.org

SIGN-UP ONLINE

www.chiefengineer.org

PRESENTING SPONSOR

PRESENTING ON POWERS

DIGITAL THERMOSTATIC MIXING VALVE

CO SPONSORS

or call 708.293.1720

Board of Directors | OFFICERS

Brian Staunton

Doorkeeper

312-768-6451

Kevin Kenzinger

Doorkeeper

312-296-5603

Brian Keaty

Warden

708-952-0195

Larry McMahon

Corresponding

Secretary

708-535-7003

Brendan Winters

Sergeant-At-Arms

773-457-6403

Mike Collins

Warden

708-712-0126

Daniel Carey

President

312-744-2672

Thomas Phillips

Vice President

312-617-7563

William Rowan

Vice President

773-239-6189

John Hickey

Recording Secretary

815-582-3731

Kenneth Botta

Treasurer

708-952-1879

Doug Kruczek

Financial Secretary

312-287-4915

Daniel T Carey

4 | Chief Engineer

Volume 84 · Number 1 | 5

DIRECTORS

Barbara Hickey

Curator

773-350-9673

Bryan McLaughlin

Warden

708-687-6254

Brock Sharapata

Warden

312-617-7115

Ralph White

Warden

708-579-0259

Robert Jones

Warden

773-407-5111

James Cacciottolo

Trustee

312-307-4333

Greetings,

I hope everyone had a wonderful

holiday season with their loved

ones. It's hard to believe we

are past the holidays and into

January already! December

always seems to fly by with

endless parties, shopping and

family time. The CEAC annual

holiday party at the Sheraton

was a huge success. Thanks to

all who attended! It was great

to see some new faces and

old friends fill the room as we

enjoyed the musical stylings

of member Jim Barrett and his

Jazz Band. I would also like to

thank our vendor sponsors, Air

Comfort, Bear Construction, F.E. Moran, LionHeart and JOS Services.

They are such valued partners of the Chief Engineers Association and

we are lucky to have dedicated expert vendors as a resource for our

members.

At the December meeting we collected donations for our charity

partner, A New Direction. A big thank-you to all who donated gift

cards or made monetary donations! We collected a record amount,

and I know many people will benefit from our contributions. Jessica

McCarihan, Board President, was on hand to accept our donation, and

was extremely grateful for the assistance they will be able to provide to

the women and families in need.

The association has a busy and exciting 2019 planned. We kick off the

year with an educational general meeting on Jan. 16. We will have a

presentation by Mid-Continent Marketing and they will be discussing

power digital thermostatic mixing valves. Make sure you get there in

time for the presentation! These are very informative overviews that

provide solutions for running efficient and effective building operations.

The next event, the annual Skatefest, is Sunday, Feb. 16 at the Morgan

Park Sports Center. This is a great event for families and is free for

all members! This year is also the year of the Vendor Fair on April 17.

This trade show event is the perfect place for vendors to exhibit their

products and services, and for our Chief Engineer members to gather

resources and learn about what they offer.

While we are well on our way into the winter season, good ole Chicago

weather will be sticking around for a while. This is a difficult time as

engineers ensure tenant's comfort levels as well as dealing with the

winter elements. Hang in there as we progress through the season and

always remember to reach out to our Associate Members as expert

resources. You can find all the contact information for the vendors in

the Quick Shopper guide on the website (chiefengineer.org).

I am looking forward to a very successful 2019!

Sincerely,
---
In Brief

Fight Brewing Over Prospect of Nuclear

Power Plant Shutdowns

HARRISBURG, Pa. (AP) — Pennsylvania lawmakers sympathetic

to nuclear power plants are making a push

for state action to bail out plants whose shutdown is

being threatened by their energy company owners.

Four lawmakers released a 44-page report Nov. 29,

calling for action to avoid plants shutting down.

Their ideas include requiring utilities to buy a certain

amount of nuclear power or imposing a fee on carbon

emissions.

Both ideas are designed to make the cost of nuclear

power more competitive, as it faces pressure from a

booming natural gas industry.

The prospect of a bailout has drawn opposition from

large industrial electricity users, ratepayer advocates,

the natural gas industry, the AARP, the National Federation

of Independent Business and anti-nuclear power

activists.

States including Illinois, New York and New Jersey have

approved subsidies. — Marc Levy

Army Corps to Spend $32M on Soo

Locks Channel Deepening

DETROIT (AP) — The U.S. Army Corps of Engineers

says it will spend $32.4 million in the coming year for

a channel deepening project that will be an important

step toward construction of a new Great Lakes shipping

lock.

The funds will be used to finish design and begin construction

work on the upstream approach channel of

the Soo Locks complex at Sault Ste. Marie, Michigan.

The locks raise and lower vessels on the St. Marys River,

enabling passage between Lakes Huron and Superior.

Just one of them can accommodate large freighters

that haul iron ore, coal and other bulk commodities.

The Corps last year endorsed construction of a second

large-sized lock.

The $1 billion project could be finished in seven years

if Congress continues to provide funding.

Environmentalists: Coal Plant Waste

Puts Water at Risk

SPRINGFIELD, Ill. (AP) — Several environmental groups

say coal ash dump sites at power plants across Illinois

have contaminated the water sources of nearby communities.

The report by the Environmental Integrity Project,

Earthjustice, Prairie Rivers Network and the Sierra Club

released Nov. 28 indicates toxic pollutants emanate

from 22 of 24 coal ash dump sites.

The data cited by the groups came largely from the

results of tests conducted by the companies that own

the power plants.

The groups behind the report are urging Governor-elect

J.B. Pritzker to require coal-plant owners to

stop polluting the state's protected waters and to set

aside money to clean up their pits of hazardous coal

ash.

New Jersey-based NRG owns several coal-fired power

plants. Spokesman David Knox takes issue with the

methodology used by the report's authors and said

some of the contamination could come from other

sources, not the company's coal ash dumps.

Utility Reaches $2B Settlement Over

Failed Nuclear Plants

CAYCE, S.C. (AP) — Troubled utility SCANA has reached

a $2 billion settlement with the South Carolina customers

who sued after they were charged high rates

to pay for the company's failed nuclear construction

project.

SCANA announced the agreement in a news release

Nov. 23. As part of the settlement, South Carolina Electric

& Gas Co. customers will also receive $115 million

that The State newspaper reports had been set aside

for soon-to-be-ousted SCANA executives.

Before the settlement can be finalized, it must receive

the approval of a judge and the S.C. Public Service

Commission must also approve Virginia-based Dominion

Energy's proposed buyout of SCANA, SCE&G's

parent company.

Santee Cooper and South Carolina Electric & Gas Co.

abandoned the V.C. Summer Nuclear Station expansion

project near Columbia in 2017 following the bankruptcy

of lead contractor Westinghouse.

With NEXUS Gas Pipeline Built, Some

Restoration Work Remains

AKRON, Ohio (AP) — A new high-pressure natural gas

pipeline crossing northern Ohio has been completed,

but work to finish restoring the landscape disturbed by

the construction along some of the 255-mile (410-kilometer)

route will wait until after winter.

A spokesman for the NEXUS Gas Transmission project

says heavy rain made some of that property too wet to

be restored this fall as planned.

The Akron Beacon Journal reports the delay has left

some landowners along the route unhappy.

Project spokesman Adam Parker says the plan is to

finish the restoration work in the spring.

The 3-foot-wide, $2.1 billion pipeline was built to carry

gas from Appalachian shale fields across northern Ohio

into Michigan and Canada. NEXUS is a partnership

between Canadian energy firm Enbridge and Detroit's

DTE Energy.

Energy Company Gets Time to Work

Out Deal Over Wind Farm

PROVIDENCE, R.I. (AP) — Rhode Island regulators are

giving an energy company more time to reach an

agreement with fishermen over a proposed 800-megawatt

wind farm off Rhode Island and Massachusetts.

The Providence Journal reports that the Rhode Island

Coastal Resources Management Council agreed to

postpone its decision to grant a "consistency certification"

for Vineyard Wind until the end of January.

The delay follows the Fishermen's Advisory Board's

denial of support for the project.

Fishermen fear the project's 84 turbines will close lucrative

commercial fishing grounds.

Even though the project would supply power to Massachusetts

and be located in federal waters, Rhode

Island has some jurisdiction.

If Rhode Island denies certification, Vineyard Wind

could appeal to the National Oceanic and Atmospheric

Administration.

Vineyard Wind CEO Lars Pedersen believes the company

can work out an agreement.

Pipeline Company to Pay $122K for

Environmental Violations

CHARLESTON, W.Va. (AP) — A company building a

natural gas pipeline in West Virginia has agreed to pay

$122,350 for environmental violations.

The Charleston Gazette-Mail cited a consent order

made public Nov. 26 in reporting that Columbia Gas

Transmission agreed to pay the amount to the West

Virginia Department of Environmental Protection for

16 violations while building the Mountaineer Xpress

Pipeline.

Columbia Gas Transmission is a subsidiary of TransCanada

and will operate the Mountaineer Xpress Pipeline

when it's completed.

TransCanada spokesman Scott Castleman said that the

company implemented measures to address each environmental

issue as it arose and has accepted the draft

consent order.

The pipeline is one of many being built in the region

and would run 170 miles (274 kilometers) from Marshall

County to Wayne County.

New Joint Venture Formed to Convert

Pig Waste to Power

RICHMOND, Va. (AP) — The world's largest pork company

is teaming up with a major energy company to

turn pig manure into renewable natural gas.

Smithfield Foods and Dominion Energy announced

a joint venture partnership Nov. 27 to trap methane

from hog waste and convert it into power for heating

homes and generating electricity.

Smithfield previously announced that its company-owned

and contract farms over the next decade

will cover waste-treatment pits to capture the gas and

keep out rainwater. The gas will be channeled to processing

centers and converted into natural gas.

The joint venture with Dominion will operate initially

in North Carolina, Virginia and Utah. The first projects

are scheduled to be operating by late 2019.

sulfur dioxide annually.

6 | Chief Engineer

Volume 84 · Number 1 | 7
---
Representing Quality Manufacturer's Since 1959

New Equipment & Factory Authorized OEM Parts

7030 N. Austin Avenue

Niles, IL 60714

847.588.3170

www.imbertcorp.com

NEWS

Work Begins on $555M Michigan Dairy

Processing Plant

Aftermarket Parts 877-312-HVAC (4822)

Plate & Frame Heat Exchangers

Pipe Expansion Joints

Cooling Towers, Fluid Coolers

Fan Coils / Blower Coils

Chemical Free Water Treatment

Custom Air Handling Units

Modular Chillers

Vibration / Seismic Isolation

Custom Air Handling Units

Air Cooled Chillers, Custom

DX RTU's and DOAS Units

Water Source Heat Pumps

Separators, Sand Filters

Humidification Systems

VRF | Split Systems

Flow Control Valves

Dehumidification Systems

■ Maintenance Programs

■ Replacements Parts

■ Tower Upgrades

■ Local Parts Inventory

■ Vibration Isolation Products

7030 N. Austin Ave

Niles IL 60714

Phone: 847.647.7610

Contact: Tim Schaffer

Complete Cooling Tower Repair and Rebuild Services

■ Factory Trained Technicians

■ Seasonal Tower Start- Up

and Shut Down Services

■ Eaton VFD Start-Up

■ Free Cooling Tower Inspections

Project Manager John Murphy talks about the special fill dirt used for the new cheese and dairy processing plant being built in Bingham Township in St.

Johns, Mich. (Robert Killips/Lansing State Journal via AP)

ST. JOHNS, Mich. (AP) — Construction has begun in central

Michigan on a $555 million diary processing plant that will

have the capacity to process a quarter of the milk produced

in the state each year.

Irish food and nutrition company Glanbia in August announced

plans for a cheese plant in St. Johns industrial park,

The Lansing State Journal reported. The project also includes

an adjacent facility belonging to Iowa-based Proliant Dairy

Ingredients.

The facility will employ more than 250 people, though local

officials believe it could generate an additional 600 jobs

through related businesses and increased demand for retailers

and services.

"The job seekers are very excited about this facility," said Rachel

Rosendale, executive director of the Clinton Task Force

on Employment at Capital Area Michigan Works. "This is big

stuff, and it's opening up opportunities."

It will be about a year before the plant starts hiring, said

John Dardis, senior vice president of U.S. corporate affairs for

Glanbia. Many of the positions in maintenance, safety, lab

work and automation will need certifications, while other

jobs will require bachelor's or master's degrees, he said.

"It's a mixed bag of needs," he said. "Most importantly, it's

just an aptitude and a willingness to learn."

City and county leaders expect the project to attract new

housing, businesses and families to the area.

"There's going to be a lot of people who move here or come

here from outlying areas," said St. Johns Mayor Dana Beaman.

"We anticipate an influx of people."

The plant is projected to produce 300 million pounds of

cheese annually, with the bulk of the product being American-style

cheddar cheese.

8 | Chief Engineer

Volume 84 · Number 1 | 9
---
NEWS

Blockages Gone, Fish Back in Post-

Sandy Projects in 6 States By Wayne Parry

Brook trout, sea run brown trout, sea lamprey, American eel

and river herring.

One of the first and most successful projects happened in

Spring Lake, New Jersey's Wreck Pond. For years, the conflicting

goals of protecting the environment and some of

the New Jersey shore's priciest real estate from storms have

bedeviled the pond.

Storms sometimes open a channel between the 48-acre tidal

pond and the ocean, but governments keep sealing it shut

to protect homes from flooding. The result was poor water

quality and much narrower access to the ocean, which hurts

fish that travel from ocean to pond to breed.

The American Littoral Society oversaw construction of a

concrete culvert between the pond and the ocean to make it

easier for fish, including herring, to reach the sea. In addition

to letting fish in and out more easily, the culvert can be

opened or closed as needed during storms to control flooding.

It succeeded at both goals, said Tim Dillingham, the group's

executive director.

"The restoration of connectivity to allow fish to return and

spawn has been a great success," he said. "We're seeing fish

come back in numbers we hadn't seen before. And it has also

added to the resiliency of the area during storms, by adding

capacity to deal with flooding."

GOT A STORY

TO TELL?

HAVE YOU BEEN PART OF A PROJECT MAKING A

BUILDING MORE EFFICIENT OR SAFER?

DO YOU HAVE A NEW PRODUCT OR SERVICE YOU

THINK CHIEF ENGINEERS NEED TO KNOW ABOUT?

DO YOU KNOW A LONG-TIME MEMBER WHO'S

WORK SHOULD BE SPOTLIGHTED?

WE WANT TO KNOW!

CALL CHIEF ENGINEER AT

708-293-1720 OR SEND AN EMAIL TO

EDITOR@CHIEFENGINEER.ORG

AND LET US KNOW ABOUT YOUR

PROJECT, PRODUCT, SERVICE OR

ANYTHING OTHER INDUSTRY NEWS YOU

THINK CHIEF ENGINEERS NEED TO KNOW

ABOUT

Pim Van Hemmen, left, and Al Modjeski, right, of the American Littoral Society environmental group, stretch large fish nets under a railroad overpass at

Wreck Pond in Spring Lake, N.J. Billions of dollars have been spent on the recovery from Superstorm Sandy to help people get their lives back together, but

a little-noticed portion of that effort is quietly helping another population along the shoreline: fish that need to migrate from coastal rivers out to the sea

and back. (AP Photo/Wayne Parry, File)

SPRING LAKE, N.J. (AP) — Billions of dollars have been spent

on the recovery from Superstorm Sandy to help people get

their lives back together, but a little-noticed portion of that

effort is quietly helping another population along the shoreline:

fish that need to migrate from coastal rivers out to the

sea and back.

After the 2012 storm, the U.S. Fish and Wildlife Service spent

nearly $11 million on a series of projects to remove dams and

other blockages from coastal waters in six states, partnering

with local environmental groups. Fish species that were

scarce or entirely absent from those waterways for years

soon began showing up again.

The so-called "aquatic connectivity" projects in Massachusetts,

Connecticut, Rhode Island, New Jersey, Maryland and

Virginia were part of a $105 million effort not only to fix

what was damaged by Sandy, but also to improve environmental

conditions in places where recreational benefits could

help tourism and the economy, as well. While the storm did

its worst damage in New York and New Jersey, its effects

were felt in many states along the East Coast.

"The idea was not only to do good things for fish and wildlife,

but to provide community benefits and make communities

more resilient," said Rick Bennett, a scientist with the

Fish and Wildlife Service in Massachusetts. "By removing

dams, you also reduce flooding, especially upstream."

Aquatic species benefiting from the work include the Eastern

Other similar work includes:

• The 2016 removal of the Hughesville Dam on the Musconetcong

River in New Jersey. In just a few months, an

American shad was found upstream of the former dam

site, which environmental officials say could be the first to

make it that far since the dam was built in 1889.

• The removal from 2013 to 2018 of the West Britannia Dam

in Taunton, Massachusetts. Within months, an underwater

camera spotted a river herring using the fish ladder at Lake

Sabbatia, the first one of its species to enter the lake in

200 years, the wildlife service said. Before spawning season

was done, at least 1,200 herring swam through.

• Removal of 10 dams in Rhode Island and Connecticut that

helped restore fish populations to the Pawcatuck, West

and Jeremy rivers, and the Whitford Brook, allowing fish

species including alewives to return in greater numbers.

• The removal of the Centreville (2015) and Bloede dams

(started in September 2018) along the Corsica and Patapsco

rivers Maryland to help the movement of eel and river

herring, and reduce flooding.

• The 2016 restoration of part of Dewey's Creek in Dumfries,

Virginia, that became clogged with sediment during Sandy.

Two other dam removal projects on the Coonamessett River

in Falmouth, Massachusetts, and the Chester River in Millington,

Maryland, are just getting underway.

The feds will monitor conditions and the resulting benefits to

communities for the next five years.

10 | Chief Engineer

Volume 84 · Number 1 | 11
---
NEWS

The Mackinac Bridge that spans the Straits of Mackinac from Mackinaw City, Mich. Michigan Gov. Rick Snyder hopes to use the final weeks of his tenure

to lock in a deal allowing construction of a hotly debated oil pipeline tunnel beneath a channel linking two of the Great Lakes — a plan his successor

opposes but may be powerless to stop. The Republican and his team are working on several fronts to seal an agreement with Canadian oil transport giant

Enbridge for replacing the underwater segment of its Line 5, which carries oil and natural gas liquids between Wisconsin and Ontario and traverses northern

Michigan. (AP Photo/Carlos Osorio, File)

Snyder Drops Plan to Task Bridge Panel

With Tunnel Oversight By David Eggert

LANSING, Mich. (AP) — Gov. Rick Snyder has abandoned

his proposal to have Michigan's Mackinac Bridge Authority

oversee the construction and operation of a tunnel to house

a replacement for a controversial oil pipeline in the Great

Lakes, noting that the proposal did not have enough legislative

support.

Have a Problem?

Choose Experience.

Water Treatment Experts in:

Water Safety Programs (1000+ implemented),

Legionella Testing & Remediation, Boiler/Cooling/

Waste/Process Water, Bioaugmentation, Consulting

The outgoing Republican governor said he supports the

creation of a new state authority to handle the functions instead.

His move came days after the Senate put on hold a bill

that would have tasked the seven-member bridge authority

with the additional responsibilities in the Straits of Mackinac,

the convergence between Lakes Huron and Michigan.

"The target in all of this hasn't been the oversight decision

but rather doing all we can to protect the Straits of Mackinac

and the Great Lakes while ensuring energy stability for

Michigan," said Snyder's spokesman Ari Adler.

Snyder and his team are working on several fronts to finalize

an agreement with Canadian oil transport giant Enbridge to

replace the underwater segment of its Line 5, which carries

about 23 million gallons (87 million liters) of oil and natural

gas liquids daily between Superior, Wisconsin, and Sarnia,

Ontario, traversing large sections of northern Michigan. A

more than 4-mile-long (6.4-kilometer) section, divided into

two pipes, lies on the floor of the churning Straits of Mackinac.

Environmentalists, native tribes, tourism-related businesses

and other critics say the twin pipelines, which were laid in

1953, are ripe for a spill that could inflict catastrophic damage

on the lakes and region's economy.

Key members of the Republican-led Legislature support the

tunnel that would be leased to Enbridge and potentially

other users such as electric cable companies. But they said

Monday they oppose involving the bridge authority in the

project that is projected to take seven to 10 years and cost

Enbridge $350 million to $500 million.

"I do not wish to see them distracted by another job, and

because of that, I am pushing to create an entity that can

meet this obligation instead of the bridge authority," GOP

Rep. Lee Chatfield of Levering said on Facebook. Chatfield's

district includes the Mackinac Bridge and he will be House

speaker in the two-year term that starts in January.

"The most important thing is that we protect our beautiful

Great Lakes and give northern Michigan families the ability

to heat their homes this winter," Chatfield said. "I am doing

all that I can to place a solution on Governor Snyder's desk

that enables the construction of an underground infrastructure

corridor with the proper oversight to hold all parties

accountable."

Critics told a Senate committee last week that the legislation

— if not rewritten to establish a new authority — should at

the very least be revised to protect the bridge entity from

legal costs and to ensure that Enbridge makes payments in

lieu of taxes. Environmental groups continue to oppose the

tunnel deal because the existing pipeline would keep operating

for up to a decade.

CHICAGOLAND'S AIR FILTER COMPANY

FORMERLY P&M FILTERS

The FOX VALLEY Filter Difference:

On site order delivery

Convenient office location

Dedicated account management

Extensive industry partnerships

Over 20 years Chicagoland experience

Air Filters

Water Filters

Hood Filters

Belts

and MORE!

WE CARE ABOUT THE AIR YOU BREATHE!

garrattcallahan.com

P: 630-715-7440

1-630-238-0011 www.foxvalleyfilter.com

12 | Chief Engineer

Volume 84 · Number 1 | 13
---
NEWS

Global HVAC Systems Market Report

2018 Released

DUBLIN /PRNewswire/ — The Global HVAC systems market

is poised to grow strong during the forecast period 2017

to 2027. Some of the prominent trends that the market is

increasing include penetration of variable refrigerant flow

(VRF) systems in residential applications and growing investments

in the construction sector.

This industry report analyzes the market estimates and forecasts

of all the given segments on global as well as regional

levels presented in the research scope. The study provides

historical market data for 2015, 2016 revenue estimations are

presented for 2017 and forecasts from 2018 till 2027.

The study focuses on market trends, leading players, supply

chain trends, technological innovations, key developments,

and future strategies. With comprehensive market assessment

across the major geographies such as North America,

Europe, Asia Pacific, Middle East, Latin America and Rest of

the world the report is a valuable asset for the existing players,

new entrants and the future investors.

The study presents detailed market analysis with inputs

derived from industry professionals across the value chain.

A special focus has been made on 23 countries such as U.S.,

Canada, Mexico, U.K., Germany, Spain, France, Italy, China,

Brazil, Saudi Arabia, South Africa, etc.

Scope of the Report

• Based on Implementation Type, the market is categorized

retrofit and new construction.

• By Cooling Equipment, the market is divided into VRF

systems, cooling towers, coolers, chillers, unitary air conditioners

and room air conditioners.

• In addition cooling towers is segmented into hybrid cooling

towers, dry cooling towers and evaporative cooling

towers.

• Further coolers are segregated into window coolers and

ducted coolers.

• Moreover, Chillers are bifurcated into absorption chillers,

reciprocating chillers, centrifugal chillers, screw chillers and

scroll chillers.

• Further unitary air conditioners are segmented into packaged

air conditioners and split air conditioners.

• On the basis of Ventilation Equipment the market is categorized

into air handling units, air filters, ventilation fans,

air purifiers, humidifiers and dehumidifiers.

• Moreover, ventilation fans are segregated into power roof

fans, range hood fans, domestic fans, centrifugal fans,

axial fans and crossflow fans.

• Further, air purifiers are divided into ionic air purifiers,

electrostatic air purifiers, activated carbon air purifiers and

hepa air purifiers.

• In addition, humidifiers are bifurcated into cool-mist

humidifiers, ultrasonic humidifiers and warm-mist humidifiers.

• Further, dehumidifiers are divided into absorption dehumidifiers

and refrigeration dehumidifiers.

• Amongst Heating Equipment is categorized into unitary

heaters, boilers, furnaces and heat pumps.

• Further, Unitary Heaters are divided into electric unit heaters,

oil-fired unit heaters and gas unit heaters.

• In addition boilers are segmented into hot water boilers

and steam boilers.

• Moreover, Furnaces are segmented into oil furnaces, electric

furnaces and gas furnaces.

'Heated' about your chiller's performance?

CHILL OUT

We've got you covered with

50 TECHNICIANS

and 80 YEARS

OF EXPERIENCE!

HVAC SERVICES

MAINTENANCE

DESIGN/BUILD SOLUTIONS

RETROFIT SOLUTIONS

• In addition Heat Pumps are bifurcated into water-to-water

heat pumps, air-to-water heat pumps and air-to-air heat

pumps.

• By Application the market is divided into industrial, residential

and commercial.

• Further Commercial is segregated into retail, airport, office,

government, education and healthcare.

For more information or to purchase the complete report,

visit www.researchandmarkets.com/research/dgtrwj/global_hvac?w=5

Report Highlights:

• The report provides a detailed analysis on current and future

market trends to identify the investment opportunities

• Market forecasts till 2027, using estimated market values as

the base numbers

• Key market trends across the business segments, Regions

and Countries

• Key developments and strategies observed in the market

• Market Dynamics such as Drivers, Restraints, Opportunities

and other trends

• In-depth company profiles of key players and upcoming

prominent players

• Growth prospects among the emerging nations through

2027

• Market opportunities and recommendations for new investments

708-345-1900 | AIRCOMFORT.COM

14 | Chief Engineer

Volume 84 · Number 1 | 15
---
C o m E d ENE R G Y MAN A G E M ENT T OOLS W I LL CRUNCH

Y OUR D ATA T O FIND W A Y S T O R E DUCE Y OUR ENER G Y

U S A GE AND S A V E Y OU MONEY. T H A T ' S ONE L ESS THI NG

F O R Y OU T O W ORR Y ABOUT, SO Y OU C A N DO M O R E

I M P O R T ANT THING S , LI K E TH E RE S T OF Y OUR JOB.

Learn more at

ComEd.com/EnergyTools

ComEd.com/PublicSectorEE

Global Next Generation Refrigerant

Market Projected to Reach $4.72 Billion

by 2023

FREMONT, California /PRNewswire/ — According to a new

market intelligence report by BIS Research, titled Global Next

Generation Refrigerant Market - Analysis and Forecast, 2018-

2023 the global next generation refrigerant market is expected

to reach to $4.72 billion by 2023, growing at a CAGR of

8.11 percent and 10.52 percent during the forecast period

from 2018 to 2023 in terms of value and volume, respectively.

Europe accounted for 53.94 percent of the total next generation

refrigerant market in 2017. The rise in government

initiatives, such as F-Gas regulation against hydrofluorocarbons

(HFCs) and hydrochlorofluorocarbons (HCFCs), has led

to an increase in the demand for natural refrigerants and

hydrofluoric olefin (HFO) in the region. Additionally, commercial

supermarkets have mainly taken over the usage of

carbon dioxide as a refrigerant in their refrigeration and air

conditioning systems. These factors are further expected to

increase the demand for natural refrigerants in the region.

The Asia-Pacific region accounted for 32.00 percent (by

volume) of the next generation refrigerant market in 2017.

The next generation refrigerant market in Asia-Pacific is expected

to grow at a rate of 9.50 percent (by volume) during

the forecast period. This potential growth is supported by a

strong industrial base, encouraging government policies, and

financial support in research and development in this region.

According to Arpit Benjwal, Lead Analyst at BIS Research,

"Japan dominated the next generation refrigerant market

in Asia-Pacific in 2017. The next generation refrigerant

market in Japan by type in terms of volume is dominated by

the natural refrigerants, followed by HFO." The key factors

driving the demand for natural refrigerants in Japan are

the increased government initiatives in reducing the use of

fluorinated gases as refrigerants along with the promotion

of natural refrigerants by offering subsidies and energy-efficient

benefits of natural refrigerants. Natural refrigerants are

also commonly used in vending machines in Japan.

According to Maitreyee Dey, Research Associate at BIS Research,

"The refrigeration end user segment is expected to

witness the fastest growth in the market." Natural refrigerants

are extensively used in industrial and commercial refrigeration.

Ammonia or R-717 is one of the preferred choices

for large installations, whereas ozone-depleting substances

such as CFCs, HCFCs and other high global warming potential

refrigerants, have been ruled out under international

agreements. In Europe, ammonia has been widely adopted

for industrial refrigeration in the U.K. and Germany, owing

to the usage restrictions and taxation on greenhouse gases

(Continued on page 18)

© Commonwealth Edison Company, 2018

The ComEd Energy Efficiency Program is funded in compliance with state law.

16 | Chief Engineer

Volume 84 · Number 1 | 17
---
in the countries.

NEWS

Some of the key players operating in the next generation

refrigerant market include AGC Inc., Arkema SA, ASPENRefrigerants,

Inc., Daikin Industries, Ltd., Global Refrigerants,

Harp International Ltd., Honeywell International Inc., SRF

Limited, Tazzetti S.p.A., The Chemours Company, and The

Linde Group, among others. The key players operating in

this market have increased their business expansion activities

over the years to generate public awareness about their

existing and new products and technologies and to compete

with the competitors' product portfolio. Out of the total

development, 38.89 percent of the developmental strategies

have been product launches.

Driven by the rapid evolution of the next generation refrigerant,

there has been a sudden growth in the research and

development activities by many important players in this

market, leading to an increase in the number of business

expansions over the last three years. For instance, Honeywell

International started a new plant in Geismar, Louisiana, in

the U.S. to produce R-1234yf type of refrigerant. It is a $300

million project whereby the company started the production

of Solstice products in May 2017.

This report is a meticulous compilation of research on more

than 100 players in the next generation refrigerant market

and draws upon the insights from in-depth interviews with

the key opinion leaders from more than 50 leading companies,

market participants, and vendors. The report also

profiles approximately 15 companies including supplier and

customer profiles. The supplier profiles offered in the report

are AGC Inc., Arkema SA, ASPEN Refrigerants, Inc., Daikin

Industries, Ltd., Global Refrigerants, Harp International Ltd.,

Honeywell International Inc., SRF Limited, Tazzetti S.p.A., The

Chemours Company, and The Linde Group, among others.

The key end user companies profiled in the report include

Carrier Corporation, Panasonic Corporation, Samsung Electronics,

Ltd., and Trane Inc.

Key questions answered in the report:

What is the global next generation refrigerant market size in

terms of value ($Million) and volume (Kilotons) from 2016-

2023 along with the CAGR from 2018 to 2023?

• What are the different types of next generation refrigerants

and their growth pattern in terms of value and

volume across regions and countries?

• What are the major end user industries for next generation

refrigerants across the globe in terms of volume

consumption and revenue generation?

• What is the consumption pattern of the next generation

refrigerants in its end users across different regions and

countries?

• Which are the major regions and countries that provide

growth opportunities for the next generation refrigerant

market?

• What is the revenue generation and volume consumption

of the next generation refrigerants for various applications

across different countries?

• What is the competitive strength of the key players in the

next generation refrigerant market based on their recent

developments, product offerings, and regional presence?

• Who are the key players (along with their detailed

analysis and profiles including their financials, company

snapshots, key products and services, and SWOT analysis)

in the market?

For more information, to request a sample, or to purchase

the complete report, visit bisresearch.com/industry-report/

next-generation-refrigerant-market.html

Minnesota Electric Co-Ops Fail to

Disclose Info Online By Frank Jossi of Energy News Network

ST. PAUL, Minn. (AP) — Finding out where Minnesota electric

cooperatives get their power from requires more legwork

than simply logging on to a website.

A new report by rural environmental group CURE looks at

data available on the websites of Minnesota's 44 rural electric

cooperatives and found none of them include information

about generation portfolios.

Most of the sites also lacked information on upcoming board

meetings and how to contact board members or participate

in board elections.

A representative of the Minnesota Rural Electric Association

disputed a suggestion that the lack of online information

equals a lack of transparency. The survey does little, though,

to dissuade clean energy advocates who have long criticized

co-ops for being insular and closed off to members.

"Co-ops are not doing a great job in getting information

to their members on websites," said Erik Hatlestad, energy

democracy organizer for CURE. Most people today use the

web to retrieve common data from service providers and

generally do not have time to stop by the co-op office for

information, he said.

Surveys show most rural residents support clean energy, yet

their electricity providers do not list the mix of generation

sources they use.

"I'm surprised none of them listed their energy mix," Hatlestad

said. "They're really just not being forthcoming with

their member-owners even though they have demonstrated

they're supportive of clean energy. ... The information just

isn't out there."

The lack of transparency comes as no surprise to John Farrell,

who heads the Energy Democracy Initiative for the Institute

for Local Self-Reliance. He found largely the same issues

when studying co-ops around the country.

"The thing you hear most from rural electric cooperatives

in public forums is that they are member-owned and represent

their members' interests," he said. "CURE's report card

suggests a gap between the promise and reality. It's also a

warning that co-ops must do better to deliver a level of fair

and open democratic process that matches their high-minded

rhetoric."

Joyce Peppin, director of government affairs and general

counsel for the Minnesota Rural Electric Association, said the

lack of information on co-op websites does not indicate a

lack of transparency.

"I would say electric co-ops in Minnesota are very transparent

but maybe not in all cases on their websites," she said.

"But they send out newsletters about board elections and

describe how to vote. They have annual reports and annual

meetings."

Members can drop in to their local co-ops or call to get an

explanation of the information they need.

"All the co-ops strive to be responsive to their members because

they're locally owned," she said. "They're transparent

and open to the public."

All the information detailed in the report is available by mail

or by request, said Peppin, a former legislator. Many co-ops

have few staff members and may not have a person dedicated

to updating and adding content to websites.

"Resources aren't always available for website updates,"

(Continued on page 20)

VENDOR-NEUTRAL, UNBIASED CORROSION

AND PAINTING CONSULTING:

TANK LINING

SWIMMING POOLS

FLOORS

MASONRY

WATERPROOFING

CALL TODAY FOR DETAILS

847-423-2167 | FAX: 847-423-2176

WWW.CHICAGOCORROSIONGROUP.COM

18 | Chief Engineer

Volume 84 · Number 1 | 19
---
NEWS

she said. "But all the information is available in some form

or another. It's a resource question when dealing with the

websites."

The association in the future may look at training to improve

websites, she said. In addition, many co-ops purchase their

electricity from Great River Energy, and they could link its

website for showing members their energy mix, Peppin said.

"It would be nice to have a link that says what the energy

mix is, because they're not producing it themselves," she

said. "They would have to see if it makes sense to link their

website to that information."

The survey found Dakota Electric Association lacking in just

three areas, though spokesman Joe Miller questioned the

findings. Dakota Electric lists board members with photos.

However, it requires members to call Dakota Electric for

information on how to get in touch with them.

The website has a bill explainer, he said, and offers information

on its energy mix under "generating your electricity."

(Coal generates 46 percent of its electricity; followed by

renewables at 22 percent; purchased market energy, 13.7

percent; hydro and natural gas represented the rest.)

"I think CURE is trying to do a good thing," Miller said. "Coops

are about serving their membership and they should be

providing this information."

That said, Dakota Electric tracks what members look for on

its website and places the most common items on the home

page and in the various sections. The items in the CURE survey

do not rank highly on searches.

"We generally know what people are looking for on our

site," Miller said. "Our goal is to help them find it."

The idea for CURE's survey came during a debate over fees

some cooperatives were charging members who had solar

installations. One argument co-ops made is that they did not

need regulatory oversight because they were democratic

institutions with member-owners who had opportunities for

input.

Hatlestad said CURE supports co-ops but believes they can do

a better job.

"The big thing we want to get across is we're not making a

critique of cooperatives as a model of organizing a utility,"

he said. "We're pro-cooperative but we want to see a re-centering

of democratic values in our rural electric co-ops."

FINALLY

A WiFi thermostat

for fan coil units

3 Fan Speeds

Com-Ed Rebate Eligible

Remote Access Phone App

Line Voltage Conversion Kit Available

THE CHIEF ENGINEERS ASSOCIATION OF CHICAGOLAND

save the date

event sponsored by

Date

Location

February 16, 2019

Time

Morgan Park Sports Center

11505 S Western Ave, Chicago, IL 60643

12:30pm-4:30pm

Bring your family and friends and

join The Chief Engineers Association for a

family fun event! FREE skate rental, food and

drinks. Contact the office with any questions

at (708) 293-1720

Sign your building up today, contact :

Nest@AffiliatedParts.com

630.590.6944

AFFILIATEDPARTS.COM

20 | Chief Engineer

Volume 84 · Number 1 | 21

650 W. GRAND AVE, ELMHURST IL
---
NEWS

Michigan Businesses Discharging

Contaminants Into Water

DETROIT (AP) — Michigan businesses are discharging large

amounts of chemical contaminants into the state's waterways

every day, according to a newspaper investigation.

State officials began testing 93 treatment plants in February

through an Industrial Pretreatment Program to examine

discharge being sent by commercial customers.

MLive.com obtained documents through the Freedom of Information

Act that show that 16 of the plants received written

orders over the past year to reduce industrial sources of

perfluorinated chemicals, or PFAS, found in their discharges.

Exposure to PFAS has been linked in epidemiological studies

to some cancers, thyroid disorders, low birth weights, elevated

cholesterol and other chronic diseases.

At least 130 businesses have been considered as potential

sources of PFAS. Many of the businesses releasing chemicals

are plating companies that make chrome parts for the auto

industry.

"We haven't used it in almost six years," Lacks Enterprises

CEO Nick Hrynyk said of the chemicals. "But it's still there

because it just clings."

The highest recorded discharge level was 240,000-ppt of

PFAS from Bronson Plating to the Bronson wastewater plant,

which is about 25 miles south of Battle Creek. The plant

discharges into Swan Creek, which connects to the St. Joseph

River and Lake Michigan.

Environmental advocates say the numbers are concerning.

"(Levels that high) could take years to move through the system,

and could cause significant public health impacts during

that time," said James Clift, policy director of the Michigan

Environmental Council.

Teresa Seidel, director of the Water Resources Division of

the Michigan Department of Environmental Quality, said the

state is working to stop contamination from both manufacturers

and the treatment plants.

Equipment used to test for PFAS (per- and polyfluoroalkyl chemicals) in drinking water at Trident Laboratories in Holland, Mich. Documents obtained by

MLive.com via a FOIA search reveal that 16 plants received written orders over the past year to reduce the discharge of PFAS. (Cory Morse/The Grand

Rapids Press via AP)

"We want to see reasonable progress, reasonable growth,

reasonable improvement in the system," Seidel said. "We're

seeing that from everyone we've asked to step forward and

work on this."

Hill Fire Protection is your

single-source provider for all

your fire protection needs.

CONSTRUCTION SERVICE 24/7

24/7 Emergency Service: 847.288.5100

Services

Fire Sprinkler Installation

System Retrofits

Inspection & Service

Fire Pump Testing

Detection Systems

Fire Extinguishers

Fire Equipment

Hood Systems

Seidel said state officials hope that the steps taken to reduce

pollution don't come with "a whole lot of extra regulatory

oversight. She said it's important efforts don't put "Michigan

at a disadvantage against other states for economic growth

and development, and will still be protective of the environment."

11045 Gage Ave, Franklin Park, IL 60131 hillgrp.com

United Radio

Communications

800.804.URCI

www.URCI.com

TEAM Communications

• Instant Communication

• Smartphone Interface

• PC Dispatch

THE POWER OF NOW

Dynamic Building Restoration, Inc

Full Service Masonry Restoration Contractor

Tuckpointing & Brick repair

Lintel & Shelf Angel

replacement

Caulking repairs

Concrete repairs

DYNAMICBUILDINGRESTORATION.COM

P 708-465-4455 F 708-925-9237

chris@dynamicbrinc.com

Terra Cotta/

Limestone repairs

Façade inspections

Façade condition

reports

12007 S Laramie Ave

Alsip, IL 60803

22 | Chief Engineer

Volume 84 · Number 1 | 23
---
NEWS

Fight Brewing Over Prospect of Nuclear

Power Plant Shutdowns By Marc Levy

HARRISBURG, Pa. (AP) — Pennsylvania lawmakers sympathetic

to nuclear power plants are making a push for state action

to rescue plants at risk of being shut down by their energy

company owners.

Four lawmakers calling themselves the Nuclear Energy

Caucus released a 44-page report Thursday, Nov. 29, calling

for action to avoid plants shutting down and warning that

shutdowns would devastate communities that depend on the

plants' jobs and property taxes.

The prospect of bailing out nuclear power plants is spurring

a debate over why Pennsylvania ratepayers should foot the

cost and whether nuclear power provides an environmental

benefit in the age of global warming.

Three Mile Island's owner, Chicago-based Exelon Corp.,

announced last year that the plant that was the site of a

terrifying partial meltdown in 1979 will close in 2019 unless

Pennsylvania comes to its financial rescue. Earlier this year,

Ohio-based FirstEnergy Corp. said it will shut down its Beaver

Chicago-based Exelon Corp., owners of Middleton, Pennsylvania's Three

Mile Island — site of the nation's worst nuclear accident — will close in

2019 unless the state comes to its financial rescue. (AP Photo/Carolyn

Kaster)

would support, he coupled that sentiment with his desire to

advance the cause of cleaner energy.

"Governor Wolf believes we need a robust conversation

about our energy economy and looks forward to engaging

with the General Assembly about what direction Pennsylvania

will go in regards to its energy sector, including the

future of nuclearpower and the value of lower emission

energy for Pennsylvania's economy and environment," Wolf's

office said.

Nuclear power plants are being buffeted by a flood of natural

gas plants coming online, relatively flat post-recession

electricity demand and states putting more emphasis on

renewable energy and efficiency.

PJM Interconnection, which operates the electric grid covering

Pennsylvania and the 65 million people from Illinois east

to Washington, says those four nuclear power plant closings

— two in Pennsylvania and two in Ohio — won't affect the

availability of electricity.

"We have studied that and analyzed that and yes, we will

maintain reliability," said Stu Bressler, PJM's senior vice president

for operations and markets.

The prospect of a bailout is drawing opposition from large

industrial electricity users, ratepayer advocates, the natural

gas industry, the AARP, the National Federation of Independent

Business and anti-nuclear power activists.

Pennsylvania is the nation's No. 2 nuclear power state. The

owners of its five nuclear power plants — primarily Exelon,

FirstEnergy and Allentown-based Talen Energy — are part

of a coalition backing Thursday's report that includes labor

unions and some local chambers of commerce, including the

Philadelphia-area chamber.

A push for a carbon tax could be aided by some environmental

groups, which are pressing for such a concept in Pennsylvania.

Illinois, New York and New Jersey have approved

subsidies in the past two years to bail out nuclear plants,

assembling compromise packages that brought environmental

or ratepayer groups on board by advancing renewable

energy or energy efficiency goals.

The caucus' report suggests that other nuclear power plants

in Pennsylvania could start losing money and face premature

shutdowns.

Valley nuclear power plant in Pennsylvania — as well as two

nuclear plants in Ohio — within the next three years unless

Pennsylvania steps up.

Proposals in the report include requiring utilities to buy

a certain amount of nuclear power or imposing a fee on

carbon emissions, ideas designed to make the cost of nuclear

power more competitive as it faces pressure from a booming

natural gas industry.

Gov. Tom Wolf, a Democrat whose home is barely 10 miles

(16 kilometers) from Three Mile Island, said in a statement

from his office that he is concerned about layoffs at the

power plants. While he gave no promises about what he

24 | Chief Engineer

Volume 84 · Number 1 | 25
---
NEWS

The National Academies of Sciences, Engineering, and Medicine

released a preliminary report on the U.S. government's

plan, which calls for diluting 34 metric tons of plutonium and

shipping it to the Waste Isolation Pilot Plant in southern New

Mexico.

The purpose of the work would be to satisfy a nonproliferation

agreement with Russia.

Another challenge, the scientists say, would be getting

officials in that country to approve of the dilution of the

materials.

The pact between the two countries was initially based on

a proposal for turning the surplus plutonium into fuel that

could be used for commercial nuclear reactors. That project,

beset by years of delays and cost overruns, was cancelled

earlier last year.

The review of the plan that calls for shipping the plutonium

to New Mexico was requested by Congress. A final report

from the National Academies is expected next summer.

The U.S. Energy Department's Office of Environmental Management

has demonstrated that diluting the plutonium is

possible by working with a separate batch of material. However,

citing a lack of information, the scientists did not study

the agency's ability to scale up that process to handle the 34

metric tons that are part of the nonproliferation agreement.

If the plan were to be approved, the Energy Department

has estimated that it would take 31 years to dilute and

dispose of all 34 metric tons. The work would involve four

sites around the U.S. — the Pantex Plant in West Texas, the

Savannah River Site in South Carolina, Los Alamos National

Laboratory in northern New Mexico and the Waste Isolation

Pilot Plant.

The panel of scientists found that the agency doesn't have a

well-developed plan for reaching out to those host sites and

stressed that public trust would have to be developed and

maintained over the life of the project.

A continuous miner performing mining activities in the Waste Isolation Pilot Plant near Carlsbad, N.M. Scientists and other experts are looking at the challenges

— including space limitations — of disposing tons of plutonium at the site. (David X. Tejada/U.S. Department of Energy via AP, File)

Scientists: Capacity at US Nuclear Waste

Dump a Challenge

ALBUQUERQUE, N.M. (AP) — The lack of space at the federal

government's only underground nuclear waste repository

is among several challenges identified Friday, Nov. 30, by a

group of scientists and other experts who are looking at the

viability of disposing tons of weapons-grade plutonium at

the desert location.

Christopher

GLASS & ALUMINUM, Inc.

24/7 Emergency Service—Board Up

Complete Door Maintenance—Revolving Entrances

Glass Replacement—Storefronts—Curtainwalls

Mirrors—Interior Glass Doors—Sidelites

2 Locations to Serve You Better—Chicago & Elmhurst

312-256-8500

26 | Chief Engineer

Volume 84 · Number 1 | 27
---
NEWS

No Answers Yet to Gas Leak That

Disrupted Bridge Traffic By Randall Chase

da production facility on Sunday forced the precautionary

closure of the Delaware Memorial Bridge for more than six

hours as the Thanksgiving holiday weekend wound down.

The bridge carries traffic along Interstate 295, a major East

Coast artery, with a daily volume of about 80,000 vehicles.

Cara Eaton, a Croda spokeswoman, said in an email Nov. 26

that the company was focused on investigating the matter

and that officials were not available for interviews.

A company statement earlier that day said the Atlas Point

facility at the base of the bridge was shut down safely, and

that final preparations were being made for an inspection of

the plant, so that an investigation can proceed.

"We would like to reassure the public that gas levels were

independently monitored during and after the incident and

we can confirm that there was no point at which there was

an unsafe level detected," the statement read. The company,

which is based in the United Kingdom, also said one employee

working on the plant at the time decided to seek medical

advice as a precaution and was under observation.

(Continued on page 30)

Southbound traffic on New Jersey Turnpike backs up on the Delaware Memorial Bridge in New Jersey on Sunday, Nov. 25, 2018. A chemical leak shut

down the bridge in both directions that evening, bringing traffic on a major East Coast artery to a standstill on one of the busiest travel days of the year.

(Elizabeth Robertson/The Philadelphia Inquirer via AP)

DOVER, Del. (AP) — Officials are trying to determine what

caused a chemical gas leak that forced the temporary closure

of a heavily used bridge connecting Delaware and New Jersey

on one of the busiest travel days of the year.

The leak of highly flammable ethylene oxide from a Cro-

HUDSON BOILER & TANK CO.

BOILER & PRESSURE VESSEL REPAIRS -- REFRACTORY REPAIR

STACKS -- BREECHINGS -- DUCTS -- STEEL PLATE FABRICATORS & ERECTORS

TANKS -- SHOP BUILT AND/OR FIELD ERECTED

ASME OR NON-CODE, STATE & CITY LICENSED AND INSURED

3101 S. State St. ---- Lockport, IL 60441

(312)666-4780 -- FAX (312)666-5145 -- Website: www.hudsonboiler.com

Info@Hudsonboiler.com

MORE THAN PARTS.

WE'RE YOUR PARTNER.

AUTOMATION I CUSTOMIZED SOLUTIONS I DATACOMM I ELECTRICAL I ENERGY I LIGHTING I UTILITY

217 North Western Ave, Chicago, IL 60612

1-800-247-1410 vanmeterinc.com Everything you need to succeed.

28 | Chief Engineer

Volume 84 · Number 1 | 29
---
NEWS

"We are very sorry for the significant inconvenience that

this had on the community and those travelling nearby," the

statement added.

Meanwhile, Delaware environmental secretary Shawn Garvin

said state officials, who oversee operations at the facility, do

not yet know what happened.

"We are investigating, along with the company, to make

some determinations as to what actually did go wrong,"

Garvin said, adding that the leak apparently was restricted to

ethylene oxide.

Ethylene oxide is an ingredient in the production of several

industrial chemicals, including ethylene glycol, a compound

found in automotive antifreeze and brake fluids, solvents,

paints and other industrial and commercial products.

Ethylene oxide, which is also used as an agricultural fumigant

and sterilizing agent for medical equipment and supplies, is

highly flammable and reactive. Acute exposure can cause respiratory

and skin irritation, while chronic exposure has been

associated with cancer.

In 2015, Croda was granted a permit under Delaware's

Coastal Zone Act, which limits heavy industry in designated

coastal areas, to manufacture ethylene oxide from cornbased

ethanol. In seeking the permit, the company touted

the environmental sustainability benefits of using ethanol

instead of petroleum products in the manufacturing process.

It also noted that production would eliminate the safety risks

involved in transporting ethylene oxide by railcar from the

Gulf Coast.

"The process safety aspects of this project have been thoroughly

analyzed and addressed," the company said in a slide

presentation on its permit request. It also noted that it was

following industry standards to guard against accidental

chemical releases and would rely on redundant detection

systems and use of automated computer control systems to

help eliminate human errors.

Croda began production of ethylene oxide on Aug. 24, four

days after state officials conducted a partial compliance evaluation

of boilers and generators at the facility. In a Sept. 21

letter, a state environmental engineer informed Croda that

the August evaluation resulted in an "excellent inspection."

Earlier in November, however, Croda sought a permit modification

regarding particulate emissions for a temporary boiler

the company was planning to use during maintenance and

repair work on two primary boilers.

Croda acquired the Atlas Point site in 2006 from another

chemical company, UiQema.

Trust your Cooling Tower with

the Professionals...

We provide Engineered Solutions to

optimize your towers performance

and provide energy savings.

Bullock, Logan

& Associates, Inc.

COOLING TOWER REPAIR & PARTS

Celebrating

25 Years

Bullock, Logan & Associates, Inc.

In Industry Cooling &

Heat Transfer Excellence

cbullockjr@bullocklogan.com

bbullock@bullocklogan.com

www.bullocklogan.com | P: 847-434-1200

30 | Chief Engineer

Volume 84 · Number 1 | 31
---
®

Solar Advocates Stress Net Metering Not

Dead in Indiana By Seth Slabaugh

This photo shows the solar panel array at Sheridan Elementary School in

Sheridan, Ind., that was installed by Johnson-Melloh ahead of changes in

the Indiana's net metering law in 2018. Now the challenge is informing

residents that net metering still exists in Indiana. (Don Knight/The Herald-Bulletin

via AP)

MUNCIE, Ind. (AP) — Retired Ball State University professors

Carolyn and John Vann used to attract crowds of several dozen

people to meetings at which the couple would sign some

up to add solar panels to their homes.

Nowadays, the two grass roots solar advocates are frustrated.

"We hold a meeting and no one comes," Carolyn Vann said.

A recent meeting at the Kennedy Library drew an audience

of just two people, and they were invited by John Vann, who

knew them from the YMCA.

Brands YOU Count On,

People You TRUST.

When you choose Motion Industries as your industrial parts

supplier, you're choosing North America's #1 MRO partner.

Over 3,300 representatives are trained to help you solve your

part, supply, repair and fabrication, inventory and storeroom

management needs.

Representing North America's leading brands in Industrial Supplies,

Motion Industries is committed to offering its customers the

highest quality, most reliable MRO replacement parts and

supplies in the industry.

Industrial Supplies

The Vanns set up for a presentation in Yorktown and no one

attended.

The couple attributes the lack of solar interest/awareness

to net metering, which Indiana's Senate Bill 309 changed in

2017.

"That's one of the things that has made it more difficult for

us," John Vann said. "There was so much press coverage of

the bill and so much debate, and now no one's talking about

it."

When Vann spoke to some BSU faculty members recently

about going solar, he learned they mistakenly believed "you

don't get net metering any more."

32 | Chief Engineer

6/12/18 4:06 PM

Volume 84 · Number 1 | 33

2018 CEAd series.indd 4
---
NEWS

In fact, SB 309, championed by the state's powerful utility

industry, phases out net metering — which requires utilities

to pay solar users for any excess energy that is created by

their solar panels — but it didn't immediately eliminate net

metering.

The program was intended to provide an important incentive

for Hoosiers to install expensive solar panels and produce

their own energy that is better for the environment.

Thanks to SB 309, there was a rush to install solar panels

before December of 2017 because customers who entered

into net metering contracts before that date were able to

continue their contracts for 30 years (until July 1, 2047).

But customers who still sign up before July 1, 2022, can

continue net metering until July 1, 2032 — or 13 years from

now, or 12 years from next year and so on until 2022, when

the benefit would amount to 10 years.

It's important for potential solar customers to know three

things, John Vann said. Carolyn listed them: Net metering it

still available; a federal solar tax credit allows you to deduct

30 percent of the cost of installing a solar energy system

from your federal taxes (the deduction drops to 26 percent

for systems placed in service after the end of 2019 and to 22

percent for systems placed in service after the end of 2020);

and you can get a group discount of 20 percent by purchasing

a solar system through Solarize ECI.

"Then there are four things," John Vann added. "The fourth

is: businesses, including farms, can depreciate the solar system.

So they get the federal tax credit and can depreciate it

in as little as one year."

There are really more than three or four benefits to going

solar. For example, solar installations don't increase the

assessed value of a home for property taxation purposes but

typically add 15 percent to the sales price of a home, according

to the Vanns.

Carolyn Vann is a retired biology professor. John, her husband,

is a retired marketing professor. Both are deeply

concerned about climate change. During a recent interview,

Carolyn said, in reference to the phase-out of net metering

in 2032, "We'll be dead by then," referring to death from

climate change, not natural causes.

In 2006, when John Vann met and became one of former

Vice President Al Gore's climate-change messengers, he told

The Star Press, "I've become convinced there is nothing more

important as a threat to humanity than global warming."

The Vanns were invited last year to Indianapolis for an organizational

meeting of Solarize Indiana. "We went seeking

more information, not thinking of starting a unit here," John

Vann said. Muncie surgeon John Eliades also attended.

"It started in Bloomington," Carolyn Vann said of the Solarize

initiative. "They're way ahead of this stuff. They've done

hundreds of installations."

Solarize ECI was an offshoot started and operated by the

Vanns and other grass roots volunteers who are unpaid. The

Vanns pay expenses out of their own pockets and have had

trouble finding meeting places at no cost.

Solarize Indiana sent out requests for proposals to solar

companies in the Midwest, looking at reliability, product

quality, tenure in business and lowest group pricing. From

those companies, Solarize ECI chose to work with Icon Solar,

Cincinnati.

More than 40 homeowners in East Central Indiana have

installed solar panels through Solarize ECI, receiving group

pricing 20 percent below what they would have to pay if

they didn't go through Solarize ECI.

The Vanns themselves participated, getting 30 solar panels,

for which they paid about $26,000 before the federal tax

credit; they will end up paying about $16,000. The couple

live in Henry County and had their panels mounted on a

barn, though they provide electricity to their house.

Solar panels also can be mounted on the rooftops of garages,

houses and other buildings (not on a north-facing,

however) or ground mounted.

The Vanns say they installed more solar panels than normal

for a residence.

For example, Solarize ECI volunteer Sheryl Swingley, a lecturer

in the journalism department at Ball State, paid a more

typical $12,000 for her residential solar system and received a

$3,600 tax credit.

John Vann contacted The Star Press after being interviewed

to add this thought: "I know we talked a lot about the financial

benefits of solar, but our major motivation is to reduce

greenhouse gas emissions."

Outgoing Michigan Governor Pushing

for Great Lakes Pipeline

By John Flesher and David Eggert

LANSING, Mich. (AP) — Michigan Gov. Rick Snyder hopes to

use the final weeks of his tenure to lock in a deal allowing

construction of a hotly debated oil pipeline tunnel beneath a

channel linking two of the Great Lakes — a plan his successor

opposes but may be powerless to stop.

At press time, the two-term Republican and his team are

working on several fronts to seal an agreement with Canadian

oil transport giant Enbridge for replacing the underwater

segment of its Line 5, which carries about 23 million gallons

(87 million liters) of oil and natural gas liquids daily between

Superior, Wisconsin, and Sarnia, Ontario, traversing large

sections of northern Michigan.

A more than 4-mile-long (6.4-kilometer) section, divided into

two pipes, lies on the floor of the churning Straits of Mackinac,

the convergence between Lakes Huron and Michigan.

Laid in 1953, the twin pipelines have become a target of

environmentalists, native tribes, tourism-related businesses

and other critics who say it's ripe for a spill that could do catastrophic

damage to the lakes and the regional economy.

While insisting they're in sound condition, Enbridge reached

an agreement with Snyder's administration in October to

decommission the pipes and drill a tunnel for a new line

through bedrock below the straits. The project would take

seven to 10 years and cost $350 million to $500 million,

which Enbridge would pay.

Gov.-elect Gretchen Whitmer, elected this month, pledged

during her campaign to shut down Line 5 and criticized the

tunnel plan — as did fellow Democrat Dana Nessel, who won

the race for attorney general. Both take office in January

and have said the Snyder administration should not steamroll

the plan to enactment in the meantime.

A spokeswoman for Nessel said she was "deeply concerned

and troubled by the hasty legislative rush-to-judgment efforts

to push through a proposal that has not been properly

vetted, that handcuffs Governor-elect Whitmer and Attorney

General-elect Nessel before they even take office, and will

have negative repercussions on the state of Michigan and its

residents for generations."

But Snyder's team is plowing ahead. Keith Creagh, director

of the Department of Natural Resources, told The Associated

Press this week that he expects the final steps to be completed

before Snyder leaves office.

"This is not a rush to finish," Creagh said. "This is a culmination

of four-plus years of looking at a very complex issue."

(Continued on page 43)

34 | Chief Engineer

Volume 84 · Number 1 | 35
---
12.12.18

Annual

CHRISTMAS

PARTY

Happy New Year to all members of the Chief Engineer Association of

Chicagoland. We had a great time at the Sheraton Grand Chicago,

and thanks to your generosity, those at A New Direction Beverly

Morgan Park's crisis intervention facility had their Christmas made just

a bit merrier. The event itself was a tremendous success, with great

food, great company, all accompanied to the wonderful sounds of Jim

Barrett's Juggernaut Jazz Band.

As always, we extend our deepest thanks to our benevolent sponsors,

without whom events like last month's Christmas dinner would not be

possible. Our gratitude goes out to Air Comfort, BEAR Construction,

F.E. Moran and LionHeart for their contribution to giving our lives and

those victims at A New Direction a bit of extra glow during the holiday

season. We also thank Alex Boerner for her work in bringing this event

together, and to the folks at Fanning Communications for helping to

streamline the registration process for this event.

We are still looking for sponsors for upcoming meetings. If your

organization is interested in sponsoring any of the events coming

up in the near future, please reach out to Alex Boerner at AlexB@

chiefengineer.org.

36 | Chief Engineer

Volume 84 · Number 1 | 37
---
Testa

Produce

Maximizes

Efficiency

for Profitability

There's a lot to envy about Peter Testa's situation. As President

and CEO of Testa Produce in Chicago's Back of the Yards

neighborhood, he sits atop a successful business established

by his grandfather 106 years ago. He grew up in the family

business, and still loves going to work every day, even

though he comes in at 3:00am. The job has its challenges, but

worrying about the rising costs of his operating expenses is

not high among them. Why? Because in designing the facility

that currently houses his business, he invested heavily in renewable

energy technologies, turning foresight into savings

that keep giving year after year.

We caught up with Testa and his company's marketing coordinator,

Katie Lingle, to tour the building and see firsthand

the innovation that has earned this facility its reputation as

a paragon of efficiency, as well as its LEED Platinum designation.

Driving up to the building, it's evident that this is no ordinary

produce facility. A 283-foot turbine towers above the property

— the first freestanding turbine in the city of Chicago, for

which Testa had to write the initial city code himself, as none

existed at the time — and the building's green roof curves

downward, covering the façade in a lush lawn that makes a

bold statement about its owner's philosophy and his vision

for his business.

"Efficiency is my number one goal," Testa declares. "In any

type of produce operation, efficiency is your number one

goal, because you're dealing with product that has to move,

and has to move very quickly. The faster you move it, the

better you keep it, the quicker it gets out of the building —

that's the number one driver.

"The cost of doing business is your number two driver," he

continues. "The cost of doing business in every place I was

at before always got much more expensive over time," Testa

recalls. "And that was always a problem. So I always said to

myself, if I could figure out a way to make it less expensive

over time, how much better is that?"

So Testa challenged himself to come up with a building

design that would maximize utility, efficiency and renewable

The floor covering in the exercise room at Testa Produce is coated

with a compound fabricated from recycled tire materials.

Two diagonally placed soltar panels on the roof account for a

huge volume of savings on Testa Produce's electric bills each

month.

The variable temperatures in the warehouses at Testa Produce

meant that they had to make a concession to electric pickers and

forklifts, as condensation build-up in fossil-fuel cell variations

proved them to be unreliable.

Peter Testa, third-generation CEO of Testa Produce and visionary

behind one of Chicago's most innovative and efficient commercial

properties.

38 | Chief Engineer

Volume 84 · Number 1 | 39
---
"

"When you ask them the question, 'Well why wouldn't you do this?'

'Well, it's too expensive.' No, it's not. Do the math. You do the math."

— Peter Testa, President and CEO, Testa Produce

"

to reduce energy consumption and, naturally, attendant expenses.

"We have solar panels on our roof," she begins. "We

have solar panels — photovoltaic — throughout our parking

lot and on our receiving dock. But on our roof we have solar

thermal, which creates all of our hot water." (The bubbling

sound came from the holding tank — simply the result of

generating more hot water than is being used.)

The main conference room features bamboo floors and is the only room in

the building that does not employ motion-sensor lighting.

Efficiency of moving produce in and out of the building with the greatest

speed is the number one driving force at Testa Produce, and the building's

flow is designed to go in one direction in keeping with that mission.

sources of energy. He succeeded. Spectacularly so.

A Catalogue of Innovations

As Lingle led us through the offices, a distinct popping and

gurgling sound could be heard. This was the start of what

would be a litany of innovations employed at Testa Produce

An onsite fitness center sports a floor covering made from

recycled tire materials. "The floor is very similar to that in the

newer parks nowadays, that have that spongier material,"

Lingle says, before showing us across the hall, where the

restrooms feature stalls made of recycled milk jug material,

and the water used in the toilets is harvested from the roof.

"What we do is, any access water the plants don't need, we

harvest it downstairs in our cistern, and then we re-use the

water in our first back of bathrooms, for the toilets.

"We have bioswales on each side, as well, that flow into our

retention pond," she adds. "The cistern and the pond are

both connected, as well, so if one level were to get too high,

it just basically avoids any precipitation or grey water from

going into the city sewer systems. The only thing that goes

into our city sewer systems is our waste."

Because of the fitness center and the company's encouragement

of its employees to be active, there are showers in

each, and the women's room features a washer/dryer for the

cleaning staff, who use them to launder mop heads and towels

for re-use. All of the cleaners used onsite are all natural,

as well.

"All of our rooms except for one have motion-sensor lighting,

so in addition to all of the windows that we try and

utilize as much as possible with all of the natural light, we

have skylights and LED lights throughout," Lingle explains.

"Our main conference room is the only room or office that

doesn't have the motion sensor lighting, so that saves down

our energy a lot. Thirty-one percent of this building is made

from recycled materials. … We use bamboo in our flooring

for our offices, and wood flooring. Even a percentage of the

wallpaper is made from recycled material."

Up on the roof, Lingle points out the solar thermal panels

that are used for heating the water that we heard popping

in the holding tank. They're much smaller than one might

expect. For now, they're up there on their own, but the

building was designed to accommodate more panels as the

company's growth should require. "They actually built the

roof here to be about 30 percent stronger than it needed to

be, so that if he wanted to, he could put a solar field over

here," Lingle says. "It's also a box-in-box design, so what

we're standing on is not the top of the warehouse — there

is about six feet of insulation. So that definitely helps our

energy costs, as well, and to keep it cold all year round."

On the way back down, Lingle points out the efficiency of

the natural lighting that illuminates the stairwell. "The solar

tracking skylights actually create a majority of the light in

the whole stairwell going all the way down," she says. "All

the lights you see are just these little rectangle lights. So it's

kind of crazy, I think, that something so little goes so far, and

This cistern collects the excess rainwater from the roof, which passes

through a UV filter and the water is subsequently used to flush the building's

toilets.

you see all of these kind of combined into our building. It's

pretty amazing."

At nearly every turn, something in the building or the business's

design is turned toward maximizing efficiency. That

said, there did have to be one or two concessions to the

nature of the produce business. "[The pickers/forklifts] are

electric," Lingle concedes. "Peter did try fossil fuel cell, but

unfortunately, going from all of the different-temperature

rooms, because all of our rooms are different temperatures,

and then the freezer, the condensation built up in the cell. …

Unfortunately, it's one of those things that was not able to

be as successful as planned."

But just the idea of reaching for fossil fuel cell-driven forklifts

shows the care and commitment to efficiency and environmentalism

exhibited by Testa in his operational planning,

as well as the detail involved in managing every aspect of

the business's efficiency. "Peter actually designed a way that

— some of our products arrive with ice in them, things that

need to be kept cold — so he designed a drainage system

that doesn't drip down to the next level. It just kind of goes

down and into the drain" to protect the produce beneath.

The Price of Staying Ahead

The Testa Produce building is a wonder to behold in so many

ways, and one that sets a firm benchmark for other businesses

to consider when re-designing or retrofitting their own

facilities. For Peter Testa, every option to make things more

environmentally friendly, more efficient and cost-effective

was worth considering, even if the initial cost outlay was

much more than it otherwise might have been.

"The thing is, I believe in all of the renewable technological

side — I actually believe in all of that," Testa says. "I actually

put credence into that. I think it's very good for the environment.

I think it's very good for business in general, which

seems to be a hard concept for people to get — that it's

good for business."

Testa is both adamant and passionate about the benefits of

doing business in an efficient and environmentally sound

fashion — so much so, that we had to delete some of his

saltier language from this story. But his intent still comes

through with firmness and conviction. "Some of this stuff is

just dumb," he says, frankly. "And talking to people when

you ask them the question, 'Well why wouldn't you do this?'

'Well, it's too expensive.' No, it's not. Do the math. You do

the math. If you put up a solar field, and it costs x amount,

the government gives you x amount as a rebate for it, and

you get the power for the rest of the time, the solar panels

last for 25 … years, and you put a big enough piece up there

on the [roof] — your entire building doesn't get an electrical

bill for the next 20 years, and you're going to tell me it's not

cost efficient? You're dead wrong.

"That doesn't even take into calculations the actual physical

of your employees," he continues. More than just the

ongoing cost savings, Testa is also insistent about the positive

effect of doing business his way on the people who work for

his company. "They're not coming to a … hole every morning.

They're coming to the best facility in the United States.

What is that worth? Where is the money in that? If you can't

quantify that in a corporate environment — 'It doesn't count

for anything' — you're out of your … mind if you think it

doesn't count for anything. It's called retention. It's called

employee happiness. It's called employees' work ethic."

Testa acknowledges the hesitation that comes with the big

upfront price tag where a a lot of renewable technologies

are concerned. "The upfront money is the big problem," he

says. "Everyone looks at it and, 'Oh, I've got to spend a million

dollars.' Yes, you're going to spend a million dollars, but

when you spend that million dollars, you're going to get x

amount back in savings that will take a long period of time."

That initial upfront cost was heavy for Testa, he readily

admits. But he has no regrets about doing what he felt was

the right thing, and running his business in a way in which

he and his employees can feel good about it for years to

come. "The upfront costs for me, yes. They were more money

than I probably should have spent or wanted to spend," he

says, "but the environmental impact has been tremendous;

the customer impact has been tremendous; the cost savings

have been very good — what I consider to be very good. And

they've actually stayed the same or gone down. … So I've accomplished

my goal, to keep the expenses from my building

at a relatively low cost."

40 | Chief Engineer

Volume 84 · Number 1 | 41
---
Announcing a New

CHIEFENGINEER.ORG

EXPERIENCE!

SIGN-UP ONLINE @ www.chiefengineer.org

Create an Account

In order to streamline the event registration and dues-paying

processes, the Chief Engineers Association of Chicagoland

has migrated its member database to a new and

much more flexible online system. If you're an Active or

Associate member, you will now be able to conveniently

register for monthly meetings and events online from your

phones or other devices.

What does this mean for you?

The new system enables you to manage your Chief

Engineer account and your entire online experience.

You will be able to register on your phone or other device,

in real time, right up to the start of — and during — the

event, shortening event registration lines.

Auto-renewal of your annual membership is now available

and easily managed from your phone or other device.

What do I need to do?

To take advantage of the convenience of the newly streamlined

system, and to register for all upcoming events, you must

create a new account at the chiefengineer.org website. Log

on to www.chiefengineer.org/home/help and:

Follow the instructions to CREATE a new account.

Once you have created your account and clicked on

SUBSCRIBE, you may, if you choose, enroll in automatic

annual membership renewal.

Once you've subscribed to the new system, don't forget to

REGISTER for the next meeting or event, typically held on

the 3rd Wednesday of the month!

LOg-IN To

ACCESS EVENTS

Fresh nuts, bolts and fittings are ready to be added to the east leg of the pipeline near St. Ignace, Mich., as Enbridge prepares to test the east and west

sides of the Line 5 pipeline under the Straits of Mackinac in Mackinaw City, Mich. Gov. Rick Snyder hoped to use the final weeks of his tenure to lock in

a deal allowing construction of a hotly debated oil pipeline tunnel beneath a channel linking two of the Great Lakes. (Dale G Young/Detroit News via AP,

File)

A Republican-backed bill would designate the Mackinac

Bridge Authority as owner of the tunnel, with responsibility

for overseeing construction and managing its operations

while leasing it to Enbridge and other potential users, such

as electric cable companies. Snyder's office is also requesting

$4.5 million for startup administrative costs and radar to

monitor wave heights in the straits.

The seven-member bridge authority, whose sole responsibility

since its creation in the 1950s has been to maintain the

vehicular bridge that crosses the straits and links Michigan's

two peninsulas, heard from supporters and opponents Nov. 8

(Continued on page 44)

MADDOCKINDUSTRIES.COM (773) 486-1000

Armstrong pumps with

integrated connected

controls reduce energy

as much as 75% compared

to traditional constant

speed installations, as

well as space-saving

installation and ease

of service.

42 | Chief Engineer

Volume 84 · Number 1 | 43
---
NEWS

but took no action. Its next scheduled meeting is in February,

but Creagh said he hopes the group will convene before

January to ratify the tunnel plan. Snyder recently filled four

vacancies on the authority, giving his appointees the majority.

The authority's Democratic chairman, Patrick "Shorty" Gleason,

signaled that he has little interest in calling a special

meeting in December to accept oversight responsibility for

the proposed structure before the governorship changes

hands.

"If they think I or any member of the Mackinac Bridge

Authority can be given an agreement with absolutely no negotiations

or discussions with Enbridge and have it resolved

within a couple weeks, there's no way that's possible," he

said. Gleason said the incoming administration's views are

"equally important," and he hopes Snyder and Whitmer

discuss the issue.

Opponents hope concerns about altering the bridge agency's

mission so significantly — raised even by people who don't

necessarily oppose the tunnel — will persuade the panel to

delay a decision.

"We re living in a moment of energy transition and the idea

of building a tunnel under the Great Lakes for a foreign oil

company to use for the next century has not been given the

forethought and due diligence that the public demands,"

executive director Liz Kirkwood said.

Creagh said the bridge authority was the logical choice to

oversee the tunnel.

"They have an impeccable record, they've done a great job

with the bridge," he said. "They've been bipartisan, looked

out not just for the bridge, but for the straits."

Enbridge spokesman Ryan Duffy declined to speculate about

the fate of the agreement if it isn't completed before Whitmer

becomes governor.

"We believe now is the time to build for the future," Duffy

said. "That's what our agreement with the state is about —

protecting the straits and having energy independence."

Keystone XL Pipeline Builder Asks Judge

to Allow Some Work By Matt Volz

William Gnodtke, the outgoing chairman who was appointed

by former Republican Gov. John Engler, and seven other

former members issued a statement saying the plan "would

mean a major dilution of the authority's focus on the bridge"

and "has the potential to seriously compromise its effectiveness

in managing Michigan's single largest asset."

Gnodtke and current bridge authority member Barbara

Brown are among leaders of the newly formed Friends of

Mackinac Bridge, which will lobby state officials to slow

things down and establish a separate agency to manage the

tunnel if one is built, said Jim Lively of the Traverse Citybased

Groundworks Center for Resilient Communities.

For Love of Water, an environmental group, contends the

plan would expose the bridge authority to financial and

legal liability in the event of a rupture or other disaster, despite

a provision in the agreement that Enbridge would pony

up at least $1.8 billion to deal with potential spills.

The Keystone Steele City pumping station, into which the planned Keystone XL pipeline is to connect, is seen in Steele City, Neb. The company that wants

to build the Keystone XL pipeline is asking a Montana judge to change his order blocking the project to allow pre-construction work to continue, such as

purchasing materials and finalizing contracts. Attorneys for the company were to argue in a Wed. Nov.28, 2018, telephone conference that U.S. District

Judge Brian Morris should clarify or amend his ruling to say the injunction does not apply to activities such as finalizing contracts, purchasing materials,

conducting land surveys and discussing federal permits. (AP Photo/Nati Harnik, File)

HELENA, Mont. (AP) — The company that wants to build the

Keystone XL pipeline is asking a judge to change his order

blocking the project to allow pre-construction work to continue,

such as purchasing materials and finalizing contracts.

Attorneys for the company were to argue in a Nov. 28

telephone conference that U.S. District Judge Brian Morris

should clarify or amend his ruling to say the injunction does

not apply to activities such as finalizing contracts, purchasing

materials, conducting land surveys and discussing federal

permits.

TransCanada wants to keep that preliminary work on track

so that the Calgary-based company can be prepared to start

pipeline construction as early as mid-February.

Blocking the pre-construction work even for several weeks

would likely cause the company to miss the entire 2019

construction season and delay its 2021 target for oil to start

flowing through the pipeline.

"A one-year delay in construction of the pipeline would result

in substantial harm to TransCanada, as well was to United

States workers, and to TransCanada's customers relying

on the current in-service date of the project," TransCanada

Pipelines Limited Senior Vice President Norrie Ramsay said in

a written statement to the court.

A yearlong delay would cost TransCanada $949 million in

earnings and put off the hiring of about 6,600 workers for

construction, Ramsay said.

On Nov. 8, Morris blocked TransCanada's permit to build the

pipeline from Alberta's oil sands through a half-dozen U.S.

states to the Gulf of Mexico.

The judge had ruled the Trump administration had not fully

considered the environmental effects of the pipeline.

TransCanada's attorneys say the company is considering

appealing Morris' order. Ramsay also estimates that it could

take as long as the first quarter of 2019 for federal agencies

to complete the review that Morris ordered.

One group that sued to block the pipeline project, the Northern

Plains Resource Council, declined comment on TransCanada's

request, spokesman Dustin Ogdin said.

The attorney for another plaintiff, Indigenous Environmental

Network, did not respond to a voicemail requesting comment.

44 | Chief Engineer

Volume 84 · Number 1 | 45
---
Member News

United States Alliance Fire Protection

Acquires K&S Automatic Sprinklers

LAKE FOREST, ILL. — United States Alliance Fire Protection

(USAFP), the largest full service fire protection solution provider

in the Midwest, announced it has acquired K&S Automatic

Sprinklers Inc. The move strengthens USAFP's array of

commercial, residential and tenant improvement solutions.

K&S Automatic Sprinklers Inc. has a historic legacy serving

the Chicago area. As one of the original eight fire safety

companies to serve the Chicagoland area, K&S has provided

consistent, attentive service to its customers.

"We have a great team at USAFP, and this acquisition allows

us to further strengthen our capabilities and continue to

deliver reliable and efficient service to our customers," said

Chad Huennekens, president of United States Alliance Fire

Protection.

Established in 1986, United States Alliance Fire Protection is a

licensed, insured and financially solid contractor specializing

in all aspects of fixed fire protection systems. USAFP will continue

to provide its full range of services from engineering

USA Fire Protection celebrates its acquisition of K&S Automatic Sprinklers.

and design to inspections, testing and maintenance.

United States Alliance Fire Protection is a subsidiary of APi

Group, Inc. For more information, visit www.usafireprotectioninc.com.

Mike Doorhy Joins Weil-McLain® as Vice

President/General Manager

"Mike's proven track record in leading growth transformations,

his deep understanding of critical building infrastructure

applications, and his strong technical skills in managing

complex channel structures and highly engineered product

categories will be tremendous assets to Weil-McLain," said

John Swann, president of Weil-McLain. "His experience is an

ideal fit as we accelerate our investment and growth across

both residential and commercial heating segments, with a

strong focus on high efficiency products, advanced controls

and other emerging technologies."

Most recently, Doorhy served as Executive Vice President for

the largest business unit within Panduit, a global manufacturer

of physical infrastructure equipment supporting power,

communications, control and security systems. At Panduit,

Doorhy also held leadership positions in engineering, product

management, operations and business development.

Doorhy has a bachelor's degree in mechanical engineering

from Marquette University, a master's in electrical engineering

from the Illinois Institute of Technology, and a MBA from

DePaul University.

Mike Doorhy

BURR RIDGE, Ill. — Weil-McLain®, a leading designer and

manufacturer of hydronic comfort heating systems for residential,

commercial and institutional buildings, announces

the appointment of Mike Doorhy as Vice President / General

Manager. In this important leadership role, Mike will be

responsible for executing Weil-McLain's ongoing product

line expansion, channel management and customer support

strategies designed to meet the evolving needs of building

owners, installers, specifiers and channel partners.

46 | Chief Engineer

Volume 84 · Number 1 | 47
---
Member NEWS

Mortenson's Greg Werner Receives

Highest Honor from City of Hope

Pictured from left to right: Andy Stapleton, Greg Werner,

Dan Johnson (Credit: City of Hope)

CHICAGO — Greg Werner, senior vice president

for national builder and developer

Mortenson, has received the 2018 Spirit of

Life® Award for his service to City of Hope,

a world-renowned research and treatment

center for cancer, diabetes and other serious

diseases. The annual award, the City of Hope's

highest honor, recognizes philanthropic leaders

who make important contributions to their

profession and to the communities in which

they live and work.

Werner, an active member of the City of Hope

Chicago Construction and Real Estate Council

for more than a decade, was honored at the

annual Chicago City of Hope gala on November

8. Werner also led the Chicago council's

2018 City of Hope fundraising campaign,

along with co-chairs Dan Johnson, Mortenson

president and CEO, and Andy Stapleton, general

manager of Mortenson's Chicago office.

The Spirit of Life dinner raised $452,000,

including an all-time record for the Fund-A-

Need auction. The group has raised more than

$12 million for City of Hope since its founding

in 1992.

"Greg is a leader in both the construction

industry and in his commitment to giving back

to the community. He exemplifies professionalism,

integrity and stewardship," said Joe

Cushing, president of the City of Hope Chicago

24-HR

EMERGENCY

SERVICE

High Speed

Rolling Steel

BROKEN SPRINGS

HIT DOORS

SNAPPED CABLES

LEAKY DOOR CLOSERS

SAGGING HINGES

WEATHERSTRIPPING

Glass & Aluminum

Docks and Levelers

THE IDC SOLUTION

Entrance Frustrations?

Inspection Failures?

Safety Concerns?

Call the right company+

the first time– Rely on our

expertise to eliminate

your door problems

High Speed

Sectional

Swing Doors

- : to B hours response time

- Company owned crane trucks+ boom trucks+ lift trucks+

scissor lifts delivered to job site on company-owned vehicles

- AP0 years of experience in a variety of doors and gates– We

have seen it all – poor installations+ old buildings overdue for

renovation+ doors not up for the task+ and wrecked doors from

careless owners and guestsU

-Pre-qualified and accredited with major screening services7

PICS+ ISNET+ ARRIBA+ BROWZ+ BBB

WWW–INDUSTRIALDOOR–COM

idc@industrialdoor–com

v(B@j :Z( - ZM:P

"We take care of doors

so you can take care of

business"

The campaign reached an all-time record for the Fund-A-Need auction. (Credit: City of Hope)

Construction and Real Estate Council and executive vice president

of Cushing & Co.

Werner's community involvement is part of a long tradition

of philanthropy at Mortenson, a private, family-owned business

based in Minneapolis that has given 5 percent of annual

pretax profits to its communities for more than 25 years.

"I have had the pleasure of working closely with Greg for

over two decades. His unwavering commitment to serve our

customers and our communities with passion and energy

have been hallmarks of his success as a business leader," said

David Mortenson, chairman of Mortenson.

Werner joined Mortenson's Milwaukee office as a project

engineer in 1990. He spent five years in San Francisco as

construction executive before moving to Chicago to open

a new office for Mortenson in 2000. He was promoted to

senior vice president in 2016 and now oversees the company's

Chicago and Milwaukee offices. Werner holds a Bachelor

of Science in construction management from the University

of Wisconsin-Madison. In addition to serving on the Chicago

Construction and Real Estate Council for City of Hope, he is a

board director of the Harper College Educational Foundation

and Barrington Children's Charities.

"I am honored and humbled to receive the Spirit of Life

» Boilers - High & Low Pressure

» Deaerator Installations & Service

» Feed Water Systems

» Chillers

award. I've spent time at City of Hope's medical and research

campus, and I've seen first-hand how vital and life-changing

the work is. I am proud to be able to support their mission

through the Chicago construction council," said Werner.

Pictured from left to right: Andy Stapleton, Dan Johnson, Leo Wang M.D.,

PH.D., Greg Werner, Sara Werner, Elizabeth Werner (Credit: City of Hope)

Equipped to Handle All your

Piping and Mechanical

Installation Needs

» Steam, Gas, Oil & Process Piping

» Steam Reheating & Sparge Systems

» Vacuum Condensate Return Systems

» And more...

24 HOUR EMERGENCY SERVICE www.ACSIgroup.com 773.737.9200

48 | Chief Engineer

Volume 84 · Number 1 | 49
---
Techline

New FLIR InSite Mobile Application

Simplifies Inspection Management

WILSONVILLE, Ore. — FLIR Systems, Inc. (NASDAQ: FLIR) recently

announced the launch of FLIR InSite, a new mobile

application and Web portal for organizing client information

and thermal inspection data in one location that is easy to

access, manage and share. Ideal for electricians, electrical

contractors, and thermography service professionals, the FLIR

InSite workflow management tool reduces inspection preparation

time, increases efficiency, and helps deliver results

quickly. With FLIR InSite, inspection professionals deliver a

better customer experience and can visually demonstrate the

value of their services.

FLIR InSite application helps users effectively plan and prepare

for their work before beginning the day's inspection.

Working seamlessly with FLIR thermal imaging cameras and

tools, the app collects all the images and data needed for

an inspection report, while also reducing administrative

workload. For reporting, the application provides real-time

updates and delivers images, inspection data, and reports

through a secure and private client portal.

The feature-rich FLIR InSite app includes a client registry for

customer accounts, sites and assets. Additionally, it helps

with planning optimal inspection routes, and connectivity

with thermal imaging cameras and METERLiNK®-capable

meters to immediately associate photos and data with the

asset being inspected. Once the inspection is complete, the

secure FLIR InSite client portal enables image sharing, and

inspection data and recommendations with a team, clients,

or anyone subscribing to the portal. FLIR InSite also organizes

and stores all data for quick access to status summaries on

any electrical asset.

The FLIR InSite app is available as a free download through

the Apple Store and on the FLIR website. For more information,

visit www.flir.com/InSite.

About FLIR Systems, Inc.

Founded in 1978 and headquartered in Wilsonville, Ore.,

FLIR Systems is a world-leading maker of sensor systems that

enhance perception and heighten awareness, helping to save

lives, improve productivity, and protect the environment.

Through its nearly 3,500 employees, FLIR's vision is to be

"The World's Sixth Sense" by leveraging thermal imaging

and adjacent technologies to provide innovative, intelligent

solutions for security and surveillance, environmental and

condition monitoring, outdoor recreation, machine vision,

navigation, and advanced threat detection. For more information,

please visit www.flir.com and follow @flir.

DID YOU

KNOW?

YOU CAN VIEW, DOWNLOAD AND PRINT PHOTOS

FROM CHIEF ENGINEERS ASSOCIATION OF

CHICAGOLAND MEETINGS ONLINE.

JUST VISIT HTTP://WWW.FLICKR.COM/-

PHOTOS/37163962@N02/SETS/

OR VISIT

CHIEFENGINEER.ORG AND CLICK ON THE

IMAGES ON THE BOTTOM OF THE PAGE.

FLIR's InSite mobile application streamlines the thermal inspection process,

50 | Chief Engineer

Volume 84 · Number 1 | 51
---
Techline

form, allowing architectural and engineering firms to design

with REHAU PEXa plumbing and radiant heating/cooling

content directly in Autodesk® Revit® models.

Subscribers to the cloud-based platform UNIFI Connect can

locate and adopt manufacturer content into their internal libraries.

Collaboration and data exchange between all parties

is reliable because data is accessed and updated in real time.

BIM library administrators are alerted when manufacturers

update their content libraries, facilitating timely updates

within their open projects and their internal libraries.

"Our new BIM library is a great addition to our technical

services, which include continuing education training, design

and takeoff software for material estimating, specifications

and radiant heating/cooling design services," said Jonathan

Bittenbender, director of engineering for REHAU's building

solutions division. "With this array of online and staff services,

architects and engineers can be assured of the support

they need to successfully specify and implement REHAU

systems."

Designers can access the REHAU BIM library through UNIFI

at http://unifilabs.com or download files from the REHAU

Resource Center at: http://www.na.rehau.com/bim. Designers

who do not already have a UNIFI subscription can request a

free trial at http://unifilabs.com/free-trial.

For more information, contact REHAU, 1501 Edwards Ferry

Rd., N.E., Leesburg, Va., 20176. Phone: 1.800.247.9445. Fax:

1.800.627.3428. E-mail: rehau.mailbox@rehau.com. Web site:

http://www.na.rehau.com/mp.

About REHAU

REHAU delivers "Unlimited Polymer Solutions," and is the

premium worldwide brand for polymer-based innovations

and systems in construction, automotive and industry. The

company generates continuous growth through its expertise

and innovative capabilities in materials development, systems

design and surface technology. Approximately 20,000 employees

at more than 170 locations around the world ensure

success of the independent, privately held company.

Among the components in the REHAU BIM library are the

RAUPEX® crosslinked polyethylene (PEXa) pipe, EVER-

LOC+TM polymer and lead-free brass compression-sleeve

fittings and radiant distribution manifolds offered throughout

the United States and Canada.

FLIR's InSite mobile application streamlines the thermal inspection process, and simplifies data collection and result sharing.

REHAU Offers BIM Files for Plumbing

and Mechanical Systems Through UNIFI

Platform

LEESBURG, Va. — The REHAU BIM library is now available on

GENERAL CONTRACTING & CONSTRUCTION MANAGEMENT

UNIFI, the industry-leading BIM content management plat-

WWW.SCRAPMANCHICAGO.COM

1.888.4SCRAP WIRE

(708) 239-0101

OFFICE

Copper Wire Specialists | Electrical Contractors

Roll-Off Services | Plumbers | Pipefitters

Building Engineers

3837 W. 127th Street

Alsip, IL 60803

Picked up and Weighed on Site | Paid cash

We're Here When

You Need a Lift

Turnkey lifting solutions

24 - hour emergency services

State-of-the-art equipment ranging from

15-600 ton

AutoCAD and 3D lift plans

GRP - Ground Penetrating Radar services

PROUD UNION CONTRACTOR SUPPORTING LOCAL 399

www.BEARCC.com TRUSTED SINCE 1984

1-888-HOIST-IT

7500 W. IMPERIAL DRIVE, BRIDGEVIEW, IL 60555

www.imperialcrane.com

52 | Chief Engineer

Volume 84 · Number 1 | 53
---
Techline

Smartphone Makers Bet on Foldable

Screens as Next Big Thing By Michael Liedtke

Samsung and several rivals are preparing to roll out such

screens to make devices more versatile for work and pleasure.

The foldable screens could increase display space to the

size of a mini-tablet, but fold like a wallet so they revert to

the size of regular phones. But there are questions about

price and durability.

If the new phones fulfill their makers' ambitions, they will

become a leap ahead for an industry whose origins can be

traced to the old flip phones that consumers once embraced

as cool and convenient. Foldable-screen phones, though,

won't need hinges because they have continuous displays

that can bend.

In an indication of how difficult it is to make a flexible screen

that's also durable, Samsung first announced plans to build

a folding-screen phone five years ago. It wasn't until late

last year, though, that Samsung finally provided a glimpse at

what it's been working on.

"We have been living in a world where the size of a screen

could only be as large as the device itself," said Justin

Denison, Samsung's senior vice president of mobile product

marketing. "We have just entered a new dimension."

Except for a fleeting look at a device he held in a hand, Denison

provided scant information about the phone. Samsung

says it will be ready to hit the market at some point next

year.

Smartphone makers are looking for something to excite

consumers as they replace phones less often because new

models are pricey and aren't that much different from their

predecessors beyond slightly better cameras and batteries.

That's the main reason worldwide smartphone sales have

fallen from the previous year for four consecutive quarters,

according to IDC. Add it all up, and smartphone sales declined

by 4 percent during 12 months ending in September.

Samsung, the world's leading seller of smartphones, suffered

a 7 percent decline in shipments during that period, based

on IDC's calculations.

But it's not clear whether flexible-screen phones will have

mass appeal, especially when the bendy devices are expected

to cost more than $1,000. Royole Corp., a small Silicon Valley

company, is hoping to sell early versions of its FlexPai foldable-screen

phone for $1,300 to $1,500 once it comes to the

U.S. — something that won't happen until next year, at the

earliest. For now, it will be available in China starting next

month, at a price equivalent to about $1,300.

While the idea of a device being able to bend into different

shapes may sound good, IDC analyst Ramon Llamas is skeptical

about how practical and durable they will be. One of the

biggest questions is whether the quality of the screens will

degrade as they get repeatedly folded. "Are people really

going to want to watch a Netflix show on these devices if

there is a crease down the middle of it?" Llamas said.

Royole said its FlexPai can be bent more than 200,000 times

without deteriorating.

Other foldable-screen phones running Google's Android software

are expected to be available, too. Huawei confirmed

last month that it is working on a phone with a flexible

screen. LG Electronics is widely expected to unveil one at the

CES gadget show in Las Vegas in January. LG didn't respond

to a request for comment.

"Everyone has been thinking about the same question:

'What's next? Is there nothing more from a smartphone?"'

Royole CEO Bill Liu said.

INSULATION CONTRACTOR

FALLS MECHANICAL

INSULATION, INC.

SPECIALIZING IN INSULATION OF PLUMBING,

HEATING, AND COOLING SYSTEMS

50 YEARS OF QUALITY SERVICE

WITH LOCAL 17 HEAT & FROST INSULATORS

7703 W. 99th Street • Hickory Hills, IL 60457

708.599.4700 • Fax 708.599.4769

Email: fallinsulation@sbcglobal.net

FlexPai smartphone with a flexible screen displayed in San Francisco. Royole

Corp. recently unveiled what it is billing to be the world's first smartphone

with a flexible screen so the device can be folded like a billfold. The phone

will go on sale next month in China only, but Royole hopes to release it in

the U.S. next year. Samsung announced its plans for its own foldable-screen

phone in San Francisco in October. (AP Photo/Michael Liedtke)

AND CRE

ENGINEERING

SAN FRANCISCO (AP) — For the past few years, the smartphone

industry has been searching for a breakthrough to

revive a market mired in an innovation lull and a sales slump.

A potential catalyst is on the horizon in the form of flexible

screens that can be folded in half without breaking.

STAFFING

EXPERTS

BG-TALENT.COM

54 | Chief Engineer

Volume 84 · Number 1 | 55
---
Techline

Mountain Home Firefighters Get Real-Time

Mapping System By Josh Dooley | The Baxter Bulletin

MOUNTAIN HOME, Ark. (AP) — The days of Mountain Home

firefighters potentially getting lost when responding to an

emergency are now numbered. Thanks to a new system

being put into place, the firefighters will be given directions

and a host of other information in real time.

The system is called Active911 and involves software loaded

on smartphones and tablets. The fire department is in the

process of mounting iPads in firetrucks to accommodate the

new software, the Baxter Bulletin reported.

As an example, let's say there is an accident on the

Sheid-Hopper Bypass. A witness with a cellphone calls 911

and says the accident is on the bypass "near" College Street.

of fire hydrants nearby.

Let's say Engine 1 responds to the accident scene with four

firefighters aboard, all of whom have the Active911 application

on their smartphones. Any firefighter who opens the

application on a phone or tablet will be able to see Engine

1 and the four firefighters traveling across the map in real

time.

Now, let's say Engine 2 responds from a different location.

Meanwhile, Engine 1 discovers the accident is not really

"near" College Street, but rather half a mile east of the

street. And the accident is not in the westbound lanes as

reported by the caller but in the eastbound lanes.

Cpt. Kris Quick who's heading up the effort to bring the

system on line.

"It's also easy to forget where a street is. It's great to have

the route just pop up on the screen," Quick said.

The system provides the quickest route available, but cannot

take into account given conditions on any random day.

"Let's say we've got multiple trucks responding to an incident

and the first truck in encounters construction," Quick

said. "They can alter the route and other responding units

will go around the obstruction."

Maps with real-time locations of people and trucks aren't

the only pieces of information the system conveys.

Thanks to the Mountain Home Street Department, every fire

hydrant in the city is now mapped out. When the fire department

got the new software, the water department gave

them precise GPS locations to all the fire hydrants.

enter the flow ratings for each hydrant. If two fire hydrants

are near a home on fire and one hydrant can provide 2,000

gallons per minute while the other can only provide 500,

firefighters can choose the hydrant based on the size of the

blaze.

In the future, the system will improve as firefighters enter

more data about specific locations. One of the improvements

they hope to make is to replace the Google mapping with

the local 911 mapping, a more accurate and up-to-date rendering

of local roads.

"This system will get better and better as the years go by

and we add more information," Quick said. "There are cities

that have been using it for several years and they say it gets

better over time as you add more data to it, so it will always

be a work in progress."

The 911 system pings the person's cellphone and gets the

address of the nearest cell tower. When they dispatch the

Mountain Home Fire Department, the address of that cell

tower will populate on the iPads in the trucks and on any

firefighter's smartphone.

Additionally, the map firefighters see will show the location

Engine 1 stops at the accident and reports they are on scene.

Now, Engine 2 knows exactly where the accident is because

they can see on their map where Engine 1 has stopped, thus

saving them time in locating the accident.

"It doesn't matter how long you've lived here, you're always

going to come across streets you've never heard of," said

Other information is being added to the system as time allows.

Plans of buildings can be entered, along with locations

of hazardous materials, drawings, pictures and other information

about specific addresses.

In the case of fire hydrants, the department will eventually

Over 35 YEARS of Excellence in

F I R E A L A R M

Sales Service Testing Installation Monitoring

Serving the Entire Chicago Metropolitan Area

OFFERING A STRONG DIVERSITY OF MECHANICAL SERVICES

hvac plumbing electrical process piping bas/systems integration energy management

Customer Service, Inc.

Phone: (630) 434-7900

WEB: affiliatedinc.com

E-MAIL: info@affiliatedinc.com

LISTED

GAMEWELL-FCI AWARD WINNING DISTRIBUTOR

Members

COMMERCIAL HEAVY INDUSTRIAL INDUSTRIAL REFRIGERATION FOOD PROCESSING SAFETY

One Vision with Proven Solutions For Over 50 Years

AMS Mechanical Systems, Inc. provides full-service MEP construction. We are passionately

committed to our customers, the industry and each other. Our dedication to client priorities,

ethical business practices, and on-time, safe performance has built our reputation over five

decades as a full service, diversified mechanical contractor. We demonstrate honesty,

integrity, and professionalism at all times.

24 Hour Emergency Service 800.794.5033 amsmechanicalsystems.com

56 | Chief Engineer

Volume 84 · Number 1 | 57
---
New Products

Weil-McLain® Introduces Advanced,

Energy Efficient Stainless Steel Vertical

Firetube Commercial Boiler

Weil-Mclain's new state-of-the-art boiler line features industry-leading

thermal efficiencies, contractor-friendly controls and durable design for all

commercial applications.

BURR RIDGE, Ill. — Hydronic comfort heating leader Weil-Mc-

Lain® now offers its most advanced commercial stainless

steel boiler. The new Stainless Steel Vertical Firetube (SVF)

features industry-leading thermal efficiency up to 97.1

percent, unrivaled ease of installation and maintenance,

the intuitive and user-friendly Unity control system, and

Weil-McLain boiler design reliability and longevity.

"The SVF boiler line was developed with the contractor in

mind and utilizing extensive market research and testing to

help shape design and functionality," said John Miller, senior

product manager with Weil-McLain. "The result is firetube

performance, perfected. The new SVF showcases the quality,

durability, serviceability and innovation that contractors have

come to expect from Weil-McLain, and demonstrates our

commitment to industry-leading hydronic heating performance."

Available in 750 and 1100 models, the SVF line features a

clover-shaped stainless steel fire tube heat exchanger for

best-in-class corrosion resistance, a new and bold exterior

look, and simple, user-friendly controls to make installation

and operation easy. With superior thermal efficiencies, the

SVF line offers cost savings and energy efficiencies that could

allow owners to qualify for local utility rebates, if available.

The unit meets all market-driven bid specifications, and is

designed for most heating needs including applications in

schools and other educational facilities, public institutions,

healthcare buildings, offices, hotels, multi-family, churches

and more.

Time-saving installation features including heavy-duty roller

casters for improved maneuverability in confined spaces,

industrial-grade leveling legs, an end-shot burner design

requiring only 18 inches overhead space, and the advanced

Unity control set-up wizard.

"The Unity Controller is designed to reduce installation and

set-up time for contractors, simplify boiler system design for

Weil-Mclain's new state-of-the-art boiler line features industry-leading

thermal efficiencies, contractor-friendly controls and durable design for all

commercial applications.

specifying engineers, and improve control interface commonality

and communication across the entire Weil-McLain high

efficiency boiler line," said Miller.

For ease of service, the SVF features a hinged cover plate

with quick access to the burner and fire tubes for simple heat

exchanger wash-down with no need for additional disassembly,

and an open back panel design with no side access

required for service. The unit also features a removable and

replaceable condensate base.

Other key features include:

• 70 to 2,0000 MBH compatibility

• 160 psi working pressure

• Natural gas or propane fuel options

• Modbus communication with BACet/Lonworks compatibility

• Low NOX

• Full line of venting options

The SVF also is ideal for applications calling for a cast iron

boiler complement, and joins the Weil-McLain family of boilers

that includes the industry's widest selection of high-efficiency

gas and oil-fired boilers for residential, commercial

and institutional needs.

To learn more about the SVF Unity boilers, visit https://

www.weil-mclain.com/products/residential-boilers or contact

a Weil-McLain regional sales office at www.weil-mclain.com/

en/weil-mclain/about-us/locations/.

DID YOU

KNOW?

YOU CAN VIEW, DOWNLOAD AND PRINT PHOTOS

FROM CHIEF ENGINEERS ASSOCIATION OF

CHICAGOLAND MEETINGS ONLINE.

JUST VISIT HTTP://WWW.FLICKR.COM/-

PHOTOS/37163962@N02/SETS/

OR VISIT

CHIEFENGINEER.ORG AND CLICK ON THE

IMAGES ON THE BOTTOM OF THE PAGE.

58 | Chief Engineer

Volume 84 · Number 1 | 59
---
New Products

Big Engines Mean Lots of Soot

because the centrifuge removes contaminants from the oil

flow altogether. Filters take out solids and hold them from

circulating further but plug and reduce oil flow and eventually

reach the point of not working. The cleaning efficiency

remains constant in a centrifuge, where in a filter it drops off

as the filter plugs.

Taco Introduces Hot-LinkPlus-e ECM

Recirculation System

With Dieselcraft Centrifuges, extending drains doesn't mean

a few extra hours between oil changes. It means multiplying

your current interval by two, three — even four times. All

while protecting your engine better than ever before.

The Model 500 centrifuge is designed with the CAT 3500

engine in mind. Dieselcraft offers two mounting options to

fit any applications.

Dieselcraft has many testimonials and third-party test results

to document the savings.

See the company website at www.dieselcraft.com.

Dieselcraft Centrifuges can extend the interval between oil changes by as

much as four times.

If it is a marine application or land fill gas/generator this

system will surprise you with the soot the current filter is not

catching.

Dieselcraft Centrifuges have more than five times the debris-holding

capacity of any "filters" on the market. This is

Taco's Hot-LinkPlus-e ECM recirculation system offers high-efficiency domestic

hot water recirculation ideal for retrofit applications.

Hot-LinkPlus-e by Taco Comfort Solutions® offers high-efficiency,

intelligent domestic hot water recirculation ideal for

retrofit applications. A dedicated return line is not required.

The HotLinkPlus-e combines a 006e3 ECM hot water circulator

with Taco's Hot-Link® Valve and Smart Plug Instant Hot

Water Control® in one easily installed package. The Hot-Link

Valve, installed at the building's furthest water fixture, sends

cooled water back to the water heater so hot water lines

remain hot.

The 006e3 circulator that comes in the Hot-LinkPlus-e package

uses up to 85 percent less electricity than a conventional

circulator. It has three performance curves to best match the

application, and a setting selection guide to make the choice

simple. The Smart Plug learns hot water usage patterns and

delivers hot water when it's needed, reducing energy use

and extending the life of the water heater.

The entire package is compact, making it ideal for tight spaces.

Multiple connection options are available. A temperature

sensor is included.

For more information, visit www.TacoComfort.com

SWITCHGEAR & POWER DESIGN SOLUTIONS

• Design & build engineering assistance

• Plan & specification take-off services

for project quotations

• Coordination of switchgear projects

directly with manufacturers

• Mechanical–HVAC

• Residential

1-800-STEINER • steinerelectric.com

60 | Chief Engineer

Volume 84 · Number 1 | 61

STNR-0024-18_Chief Engineer Gear_v4.indd 1

3/15/18 2:09 PM
---
Events

CRCA Trade Show & Seminars

Jan. 16-18, 2019

Drury Lane Conference Center

100 Drury Lane, Oakbrook Terrace

Since 1983 the CRCA Trade Show & Seminars has provided a

venue for Roofing and Waterproofing Contractors to expand

their knowledge in technology, safety, product and service

enhancements to develop the highest level of Roofing and

Waterproofing Professionals.

This three-day event includes two days of more than 130

manufacturers and suppliers displaying, demonstrating and

promoting the newest products and technology in the roofing

and waterproofing industries, and three days of educational

seminars.

Attendees can look forward to the following seminars,

among others:

Workforce Recruitment, Retention and Development– Finding

And Keeping Your Labor Force Now

Speaker: Kevin Dougherty

Simply

Intuitive.

MetroMix Prefabricated Hot Water

Temperature Control System

• Safeguard against high temperature system

conditions.

• Internet & BACnet communication capability.

• Optional power / communication loss protection.

• Stainless steel valve body provides lead-free

domestic hot water use.

Let's work together to customize a packaged

temperature control system tailored to your project.

The recession of 2007-2008 drained the construction industry

of a lot of talent. People found new work in other industries

or retired. Whether a roofing contractor, roofing consultancy,

design company or building department, we all have

challenges finding and keeping staff to replace the talent

that left. Dougherty covers critical issues in recruiting and

retaining workers for your business.

Roof Replacement Process and Design Liability

Speakers: Kevin Froeter (Sterling Commercial Roofing), Stephen

Phillips (Hendrick Phillips) and Carole Ceja (RRJ)

Ever involved in specifying a roof replacement for a building

owner without a licensed professional? Roofing accounts for

a big percentage of construction litigation while it gets little

attention due to being 'out of sight, out of mind'. Hear from

a panel of a roof consultant specifier, roofing contractor, and

roofing specialist lawyer about possible liability in the roof

replacement process. From Roofing specifications to installation

and inspection, they'll cover issues that will keep you

out of court.

Roofing Over Concrete Decks – Centuries of Use, New Prob-

INTRODUCING

MetroMix

Electronic Mixing Valve

with Safeguard

Safeguard against high

temperature system conditions.

Internet & BACnet

communication capability.

Optional Power / communication

loss protection

Stainles steel valve body provides

lead-free domestic hot water use.

Lets work together to build & sell

smart products for the future.

815-886-9200 or metropolitanind.com

815-886-9200 • metropolitanind.com • metromix@metropolitanind.com

lems & Solutions

Speaker: Matt Dupuis (SRI)

What's the latest guidance when roofing over concrete

decks? This program wraps up the three-year research

project funded by CRCA, CRC, NRCA and others. Using data

from the research, Matt Dupuis, PhD, PE will share findings

and critical recommendations about today's roofing systems

when applied over concrete.

Common Solutions for Steep Slope Roof Problems

Speaker: Nick Sabino (Deer Park Roofing & NRCA Chairman

Elect)

Nick speaks about common problems and solutions for steep

slope roofs during this fast-moving program. He'll cover

why ice dams form and how to prevent leaks from them,

what happens when there is not enough insulation in the

attic, when ventilation is inadequate, bad flashing and edge,

gutter details. He'll provide possible solutions for these issues

and many more.

For more information or to register, visit crca.org/crca_events/

trade.htm

National HVACR Educators and

Trainers

March 3-5, 2019

South Point Hotel

Las Vegas, NV

You are cordially invited to the 2019 National HVACR Educators

and Trainers Conference. This is the only conference created

exclusively for HVACR instructors. Instructors can attend

knowing that the sessions are conducted by professionals

who are involved in many aspects of the HVACR industry, including

teaching, manufacturing, designing and engineering.

This conference helps HVACR instructors to improve their

understanding of the physics and theories needed for teaching,

incorporate emerging technologies into the classroom,

gain the knowledge to improve student outcomes, learn

about new educational delivery methodologies, understand

regulatory changes, and to network with peers to discuss

approaches for incorporating these technologies, methods

and concepts into their own programs back home.

• Professional development for HVACR instructors.

• 50+ sessions to attend.

• Gain the knowledge to improve the training you offer.

• Test your knowledge with free educator credentialing

exams.

• Exposition showcasing new technology, equipment, tools

& teaching aids.

• Put your skills to the test in the instructor competition.

• Three plated meals and three continental breakfasts are

included.

• Earn continuing education units/hours.

• Meet instructors who share common goals.

• Network and exchange ideas.

• Stay an extra day for VRV Training on March 6th.

The conference is open to anyone involved in training

current or future HVACR workforce. This includes but is not

limited to: HVACR instructors, utility trainers, technical service

advisors, manufacturers, corporate trainers, and administrators.

More Reasons to Attend

Professional development is an ongoing process where

instructors learn about technological advancements, educational

delivery systems, and critical issues that directly relate

to the curriculum they teach.

For HVACR instructors to receive professional development

that keeps them appraised of emerging technologies and

regulatory updates necessary to align their program with industry

needs, they need continuing education that is created

exclusively for them. The HVAC Excellence National HVACR

Educators and Trainers Conference offers this and much

more.

Instructors can participate knowing that the sessions are

conducted by professionals who are involved in many aspects

of the HVACR industry, including: manufacturing, designing,

engineering, or teaching.

This conference offers professional development specifically

designed for HVACR instructors by HVACR instructors, to

meet the continually changing needs of the HVACR industry.

• Attend knowing that the sessions offered were created

with the instructor in mind.

• Immediately feel confident to incorporate concepts from

sessions into one's training program.

• Learn how to incorporate emerging technologies into the

classroom.

• Discover new educational delivery systems to connect with

Generation Z, as each generational change comes a pedagogical

shift.

• Network with peers from across North America to share

ideas, gain new skills and become a better instructor.

• Discover innovative approaches to teaching the same

curriculum.

• Improve your knowledge of the subject matter required to

teach your curriculum.

• Learn new teaching techniques that can improve student

outcomes.

• Earn continuing education units that directly relate to the

curriculum you teach.

• Take educator-credentialing exams specifically designed

for HVACR instructors free of charge.

Our speakers will inspire and motivate you while our slate of

over 50 sessions will bring you knowledge and skills you can

begin implementing immediately.

For more information or to register, visit www.escogroup.org

and click on "Conference."

62 | Chief Engineer

Volume 84 · Number 1 | 63
---
Ashrae Update

ASHRAE Leadership Addresses Canada

House of Commons Standing Committee

on Natural Resources

ATLANTA — Sheila J. Hayter, P.E. 2018-2019 ASHRAE president,

and Darryl K. Boyce, P.Eng., 2018-2019 ASHRAE president-elect,

testified before the Standing Committee on

Natural Resources at the House of Commons of Canada on

Tuesday, Nov. 20.

The committee is currently studying economic opportunities

for energy efficiency in Canada. ASHRAE provided testimony

focused on the technical tools, standards and guidelines it

develops that can help government — and the private sector

— deliver on energy efficiency and building performance.

During the hearing, Hayter highlighted how ASHRAE resources

can help drive sound energy policy, and aid Canada

in its development of a nationwide net-zero energy building

code, which it aims to complete by 2030, with all provinces

and territories adopting and implementing it by 2040.

Hayter shared that ASHRAE is reviewing its existing portfolio

of standards to determine the best way to create a zero-energy

building standard and would happily share the Society's

knowledge in the area.

"ASHRAE is honored to have had the opportunity to testify

before the Standing Committee on Natural Resources," said

Hayter. "We take immense pride in being invited into these

important discussions while we work as a Society to spearhead

the efforts toward building a new energy future. As

Canada moves toward a smart grid, we welcome the opportunity

to continue sharing our technical expertise to ensure

this transition is done effectively and efficiently, and to also

assist in providing the tools, resources, and knowledge to

ensure proper operation of buildings in this new paradigm."

During his testimony, Boyce passionately articulated the importance

of optimizing the performance of Canada's existing

buildings, sharing that every $1 million invested in energy

efficiency results in $3 to $4 million in economic growth,

according to the Pembina Institute. Boyce also emphasized

the need to focus on building operations to ensure optimal

performance.

"Optimizing Canada's existing buildings and ensuring effective

building operations are key to meeting Canada's energy

and climate commitments," said Boyce. "Investments in these

buildings can also generate solid economic benefits for those

who own, operate, live and work in these buildings — and

ASHRAE has the resources and tools to help achieve those

benefits."

Boyce particularly pointed out the following tools as resources

well equipped to help Canada achieve its goals.

• ASHRAE Standard 100, Energy Efficiency in Existing Buildings,

which sets criteria to reduce energy consumption

through improved energy efficiency and performance.

• ANSI/ACCA/ASHRAE Standard 211, Standard for Commercial

Building Energy Audits, which outlines the requirements

for ASHRAE Level 1, Level 2, and Level 3 energy

audits.

• ASHRAE Building EQ, which is a building energy rating

program that provides both an operational and asset

rating to assess a building's energy performance. Beyond

providing a score, Building EQ can help improve a

building's energy performance after the benchmarking

is completed. The Building EQ-In Operation rating assists

with an ASHRAE Level 1 energy audit and provides both a

standardized process and actionable recommendations for

the building.

• ASHRAE Standard 135, BACNET® — A Data Communication

Protocol for Building Automation and Control

Networks, which defines data communication services

and protocols for information technology used to monitor

building systems and to ensure all building automation

systems can "talk" to one another.

ASHRAE and Partners

Release 2018 International Green

Construction Code

ATLANTA – ASHRAE has announced the release of the 2018

International Green Construction Code® (2018 IgCC®). The

2018 IgCC is a joint initiative of the U.S. Green Building

Council (USGBC), International Code Council (ICC), ASHRAE

and the Illuminating Engineering Society (IES).

The 2018 IgCC aligns the technical requirements of ANSI/

ASHRAE/ICC/USGBC/IES 189.1-2017-Standard for the Design

of High-Performance Green Buildings Except Low Rise Residential

Buildings, with ICC's multi-stakeholder IgCC. Goals of

the updated code are to help governments streamline code

development and adoption and improve building industry

standardization by integrating the two previously separate

guidance documents. As a result, the 2018 IgCC is now a unified

code that emphasizes adoption, ease of use and enforcement

for building projects.

"The 2018 IgCC leverages ASHRAE's technical expertise to

offer a comprehensive tool that has a direct effect on how

green building strategies are implemented," said Sheila J.

Hayter, 2018-2019 ASHRAE President. "Improving energy

efficiency, building performance and indoor air quality are

at the core of ASHRAE's mission and we are encouraged by

the impact of this landmark model towards realizing more a

sustainable future for us all."

As a standing project committee, ASHRAE SSPC 189.1 updated

the technical aspects of Standard 189.1-2014 using

ASHRAE's continuous maintenance procedures. The final set

of changes to the 2017 edition of Standard 189.1 provided

the foundation for ICC to develop the administrative procedures

for the technical content and codify of the document

into the 2018 IgCC.

"Our hope is that building professionals and policymakers

alike adopt better, greener building strategies that help

them better implement LEED® and achieve higher performance

in sustainability," said Mahesh Ramanujam, president

and CEO, USGBC.

•

64 | Chief Engineer

Volume 84 · Number 1 | 65
---
American Street Guide

Owner of Windmill Property Considers

Future By Mary O'Leary | New Haven Register

Brian Driscoll, owner of the Phoenix Press, is photographed in the bindery

section of the printing company in New Haven, Conn., on Nov. 14, 2018.

(Arnold Gold/Hearst Connecticut Media via AP)

NEW HAVEN, Conn. (AP) — Brian Driscoll loves his view of

New Haven Harbor, the organic farm behind his plant and

watching the wind turbine he erected steadily create green

energy.

But the longtime owner of the Phoenix Press feels it is time

to look for a more compact space for his business or sell the

2.5-acre site and lease back a portion of it to fit his needs.

For $3.9 million you could own: the 100-kilowatt turbine that

can be viewed from Interstate 95, the long one-story building

that extends from 5 James St. to 17 James St., and a dock.

"I make jokes saying 'this is my bridge,' because every day

basically, I was here watching the construction going on.

They did a marvelous job," Driscoll said of the structure he,

like most residents, refers to as the "Q Bridge," although the

proper name is the Pearl Harbor Memorial Bridge.

"With what they had to work with, with the old bridge in

the way and chopping out half of the bridge and then going

back and building the rest of it, it was amazing," he said.

If he can't stay where he is now, Driscoll's next choice would

be to go somewhere else in New Haven. He kept emphasizing

that the business is not closing, only possibly relocating.

Driscoll said he has had a lot of people show interest in the

property.

The building is a series of bays that over time housed several

businesses and could do so again.

Driscoll originally bought the site with his brothers, Tony and

Kevin.

New Haven Farms is located on his property, a successful

nonprofit that works in conjunction with the Fair Haven

Community Health Clinic on a wellness program that teaches

diabetes patients good eating habits.

In exchange for working on the farm, listening to health and

cooking lessons, they get a share of the crop.

Driscoll said if a buyer comes along during the growing

season, he would make it a condition of the sale to let them

finish the season.

For the first couple of years, Driscoll picked up the cost of

the water and electricity for the farm, but more recently, the

farm has been making a contribution.

He said he will miss the beekeepers on the property, as well

as Peels and Wheels run by Domingo A. Medina, who picks

up vegetable waste from area residents who want to contribute

to the farm's compost pile.

The local entrepreneur travels once a week to homes on his

bicycle, which is attached to a cart where he can carry up to

16 buckets at a time.

many sites in New Haven have been contaminated by metals

traced back to the city's industrial heyday.

Jacqueline Maisonpierre, the executive director of New Haven

Farms, who previously was the farm manager, said they

are so grateful for Driscoll's generosity over the past six years

in allowing them to operate there.

"It has been fabulous," she said.

They don't have a lease because it was always understood

that at some point he might want to sell.

"We knew it would not be permanent," Maisonpierre said.

She said being so close to the Quinnipiac River is also problematic,

although the property has not flooded in recent

years.

She said they will move the soil and all the structures elsewhere

if they need to, although it is "heartbreaking" to

contemplate.

Maisonpierre said she hopes a new buyer might also see the

value of the community contribution the present use embodies

and "maybe prioritize that kind of community impact."

They start growing seedlings in a greenhouse in February

and plant in March. Currently they still are growing hardy

vegetables, such as beets, kale and turnips.

"It is a unique community," she said.

They have been working most recently with the New Haven

Land Trust and City Seed on future projects.

Driscoll said his off-set printing business, which the brothers

started 37 years ago, is doing well as is the digital printing

component that was added some 25 years ago.

They used to have two large presses, but their footprint has

dropped to one press because of their digital business.

Driscoll said his real incentive to move is to turn the maintenance

over to someone else.

"I'm no spring chicken. I used to climb all over the building.

I used to jump up on the roof if something was going on up

there," he said, a task he would rather turn over to a new

owner.

Driscoll, 66, said if he moves he will continue to buy energy

from wind farms; he just won't be generating it himself.

"I'm still committed to renewable energy and clean business.

I will do what I can," he said. "It's what I have become."

The logo, which features a wind turbine, says 'Phoenix Press

- Wind to Print.'

"We can still say that. We just won't be able to say printed

using clean renewable energy generated from an on-site

wind turbine," Driscoll said. It will just clarify that the energy

is generated off-site.

He said the turbine never gives them any trouble and it

saves the company between $20,000 and $25,000 a year on

electricity.

"Literally, it spins our meter backward when we go out to

the grid," where they get a credit for any electricity they

generate. "It's nice; we have something no one else has."

Driscoll said he has only superficially looked for a replacement

site, but has been in touch with city officials and will

get serious if a deal to sell the property comes together

quickly.

The biweekly Yale New Haven Hospital bulletin was being

printed that morning, a job Phoenix Press has been doing for

30 years.

"We never missed a date," he said.

Medina said he calls the area "the corner of sustainability,"

given the wind turbine, the farm and his own composting

business. The compost is continuously added to the soil at

this site and other farms they run, as the natural soils of

66 | Chief Engineer

Volume 84 · Number 1 | 67
---
Boiler Room Annex

Risk vs. Reward

Source: http://members.tripod.com/~B_u_d/engineerjokes.

html

Engineers hate risk. They try to eliminate it whenever they

can. This is understandable, given that when an engineer

makes one little mistake, the media often treats it like it's a

big deal or something. For example:

• The Hindenburg

• The Space Shuttle Challenger

• SPANet

• The Hubble Space Telescope

• Apollo 13

• The Titanic

• The Ford Pinto

• The Chevy Corvair

The risk/reward calculation for engineers looks something

like this:

RISK: Public humiliation and the death of thousands of innocent

people.

REWARD: A certificate of appreciation in a handsome plastic

frame.

Being practical people, engineers evaluate this balance of

risks and rewards and decide that risk is not a good thing.

The best way to avoid risk is by advising that any activity is

technically impossible for reasons that are far too complicated

to explain.

If that approach is not sufficient to halt a project, then the

engineer will fall back to

Strong and Dumb vs. an Engineer

Source: www.grahamnasby.com

A big buffoon, sick of working at McDonald's for what had

seemed an eternity, decided to get a job working as a laborer

at a construction site. Being overconfident, he soon began to

brag to the other workers about all sorts of things. One day

bragged that he could outdo anyone in a feat of strength. He

DECEMBER SOLUTION

made a special case of making fun of the wiry engineer on

the site. After several minutes, the engineer had had enough.

"Why don't you put your money where your mouth is?" said

the engineer. "I will bet a week's wages that I can haul something

in a wheelbarrow over to that outbuilding that you

won't be able to wheel back."

"You're on, little guy!" the braggart replied. "Let's see what

you got."

The engineer reached out and grabbed the wheelbarrow by

the handles. Then, nodding to the young man, he said, "All

right: Get in."

68 | Chief Engineer

Volume 84 · Number 1 | 69
---
Dependable Sources

Abron Filter and Supply 30

Addison Electric Motors & Drives 67

Admiral Heating & Ventilating, Inc. 55

Advanced Boiler Control Services 50

Affiliated Customer Service 57

Affiliated Parts 21

Affiliated Steam Equipment Co. 60

Air Comfort 15

Air Filter Engineers

Back Cover

Airways Systems 57

American Combustion Service Inc. 56

American Scrap Metal 53

AMS Mechanical Systems, Inc. 52

Anagnos Door Co. 65

Anchor Mechanical 52

Apex Pumping Equipment 47

Arlington Glass & Mirror 64

Armstrong Fluid Technologies 43

Atomatic Mechanical Services 52

Automatic Building Controls 59

Bell Fuels

Inside Back Cover

Bear Construction 52

Beverly Companies 44

BG Talent 55

BMS Cat of Illinois 64

Bornquist 46

Breakthru Enterprise 12

Bullock, Logan & Assoc. 30

Chicago Corrosion Group 19

Christopher Glass 26

Chicago Backflow 60

Citywide Pool & Spa 34

Competitive Piping Systems 47

Contech 29

Core Mechanical 14

Dar Pro 11

Door Service, Inc. 53

Dynamic Building Restoration 23

Dynamic Door Service, Ltd. 54

Earthwise Environmental 51

Eastland Industries 65

E/C Vibration 64

Edwards Engineering 66

Energy Improvement Products 16

Exelon Energy ComEd 16

Falls Mechanical 55

Fox Valley Filters 13

Franklin Energy 27

Garratt Callahan 12

Hard Rock Concrete 15

Hart, Travers & Assoc. 35

Hayes Mechanical 24

Hill Fire Protection 22

Hudson Boiler & Tank 28

Imbert International 8

Imperial Crane 53

Industrial Door Company 48

J & L Cooling Towers 55

Johnstone Supply 58

JLS Industries 57

Just In Time Pool & Spa 43

Kent Consulting Engineers 29

Kroeschell, Inc 14

Litgen Concrete Cutting 18

Metropolitan Industries 62

Mercpak 17

M & O Insulation Company 22

Motion Industries 33

A.Messe 27

MVB Services 17

National Security Window & Filming 51

Nalco 30

Neuco 25

NIULPE, Inc. 35

Newmark Construction 58

Preservation Services 50

Prime Energy 59

Q.C. Enterprises, Inc. 24

Rice Mechanical 26

Reliable Fire Equipment Co. 51

Rotating Equipment Specialists 23

Spot Coolers

Inside Front Cover

Sprinkler Fitters Local 281 31 & 32

Steiner Electric Company 61

Synergy Mechanical 18

United Radio Communications, Inc. 22

USA Fire Protection 44

W.J. O'Neil Chicago LLC 13

Van Meter 29

Providing the diesel fuel supply

needed to get through any outage.

Bell Fuels' "Fuel Assurance Program" gives operators of

emergency generators the benefit of guaranteed timely

diesel fuel deliveries. If your facility loses power, you have the

certainty of your diesel fuel supply needs being met

throughout the outage.

Our "Fuel Assurance Program" sets us apart

as the industry leader in this time-sensitive business.

The timing is right and we're ready to deliver!

Call 800.244.0148 to schedule

a no cost fuel analysis!

Bellfuels.com

70 | Chief Engineer

Volume 84 · Number 1 | 71
---
4701 Midlothian Turnpike, Suite 4 • Crestwood, IL 60418

708-293-1720

PRSRT STD

U S Postage

PAID

Orland Park, IL

Permit No. 77

72

| Chief Engineer