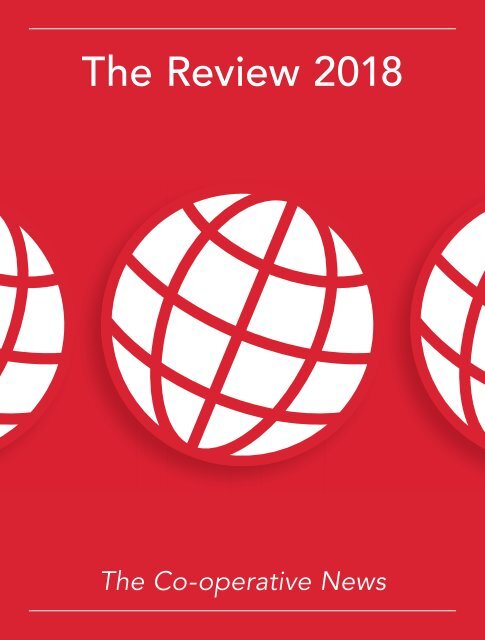 REVIEW OF 2018
The Co-operative News Review of 2018
The Co-operative News Review of 2018
SHOW MORE
SHOW LESS
You also want an ePaper? Increase the reach of your titles
YUMPU automatically turns print PDFs into web optimized ePapers that Google loves.
The Review 2018

The Co-operative News

Review 2018 1
---
2 Review 2018
---
Contents

Message from the Chair & Executive Editor

Time-line

Most popular stories of 2018

Anniversaries

Obituaries

Q&A – Ed Mayo

Q&A – Ariel Guarco

Sectors

Technology: Polly Robbins

Healthcare: Carlos Zarco

Legal: David Alcock

Politics: Claire McCarthy

Channel Islands: Colin Macleod

Agriculture: Umberto Di Pasquo

Education: Simon Parkinson

Credit Unions: Matt Bland

Worker Co-op: Siôn Whellens

Energy: Mark Luntley & John Malone

Regions

Singapore: Dolly Goh

Wales: Derek Walker

Northern Ireland: Tiziana O'Hara

Africa: Dr Chiyoge Sifa

Australia: Melina Morrison

4 – 5

6 – 8

9 – 11

12

13

14 – 15

16 – 17

18 – 27

18

19

20

21

22

23

24

25

26

27

28 – 30

28

29

30

31

31

Review 2018 3
---
A message from the Chair,

Elaine Dean

I believe the UK is facing the biggest political crisis

of my lifetime. Whatever your personal beliefs and

opinions on the matter or your preferred outcome,

Brexit has caused uncertainty and infighting at

a time the country can ill afford it.

One thing that it has brought to light, however, is that

co-operatives can provide an oasis of calm in this storm.

Not only through the work that they do for members,

colleagues, and customers, but also in their very approach

to this work. We are stronger together – and together,

we need to remember that.

This philosophy doesn't just apply to retailers,

housing co-ops, credit unions or worker co-operatives,

either. Core support agencies – such as your Co-op

News, sector body Co-operatives UK and educational

charity the Co-operative College – have a duty of care

and responsibility to work together for the good of

the wider movement.

Over the last few months Co-op News, Co-operatives

UK and the College have been working jointly to develop

a New Force for Co-operation – a plan of action to make

sure the different pieces of work each organisation does

is as efficient and effective for the wider movement

as possible.

What does the co-operative movement actually want

and need from its support organisations? How can we

fulfil those needs to the best of our abilities, making

the most of our mutual skills, experience and networks?

How can we work better together to make this happen?

Feeding into this and informed by the ongoing New

Force work is our own strategy for the future of

Co-operative Press – the co-operative which publishes

Co-op News. In 2014 we developed a 3-5 year strategy,

prompted by significant changes in the movement;

we are now reviewing that strategy in light of further

changes and renewed expectations of what a modern,

thriving Co-operative Press should look like. How can

we best serve the 21st century co-op movement?

This strategy will explore digital solutions that

are immediate, accessible, personal and sustainable

(from both a financial and environmental perspective).

It will also look at the relationship we have with

our members, providing insight through engaging

our readers in dialogue, building knowledge

and understanding.

2018 has seen significant changes at Co-op News

– not least a change in executive editor following

the departure of Anthony Murray in the spring,

and the appointment of his successor, Rebecca Harvey.

But as we approach 2021 and our 150th anniversary,

we can look forward with confidence and clarity to

the next 150, and the challenges it will bring long after

Brexit has been and gone.

4 Review 2018
---
& the Executive Editor,

Rebecca Harvey

The co-op movement is a strange and wonderful beast,

populated by people doing some quite incredible things.

On 21 December 1844 – nearly 175 years ago – the Rochdale

Pioneers set out to change the status quo by opening the

doors to their co-operative store at 31 Toad Lane; today

that pioneering spirit is still demonstrated in every sector

and on every continent, driven by people doing things to

make a difference.

2018 has been a year of huge change at Co-op News,

as the organisation settles into new leadership and we,

as a team, strive to work more effectively and efficiently

with other co-operative support agencies. But one thing

that hasn't changed is our commitment to connect,

champion and challenge the co-ops that make up our

movement around the world.

This includes the people behind them, too. So in

this review of 2018, we hand a lot of the pages over the

individuals working at the sharp end of co-operation.

The people working in co-operative education and

lobbying, in retail and politics – and in co-operative

communities that are separated by large distances,

but certainly not by their values or principles.

Over the last 12 months our journalists and analysts

have been giving voice to co-op stories around the world

– enabling mutual learning through the sharing of ideas,

information and best practice. Our networks of experts

have been working together to create content that is

relevant to our readers and members, feeding into a

forum of ideas to help grow the co-operative sector

around the world.

We'll continue to do this in 2019, while we'll also be

helping the Co-operative College celebrate its centenary.

The year after, in 2020, Co-operatives UK turns 150 and

then in 2021 it is our own 150th anniversary. That will be

a time of celebration as we look forward to the next 150

years, and the huge potential of co-operatives to pioneer

a new way forward.

Review 2018 5
---
2018 Time-line

JAN

A report by the IPPR

Commission on Economic

Justice suggests expanding

employee ownership trusts

to create three million

employee owners by 2030.

The Co-op Group

announces plans for 100

new stores with a £160m

investment, alongside

a £50m put into price

cuts for everyday food

items, which the retailer

said could save shoppers

£120 a year, and a trial

delivery service in Greater

Manchester with Deliveroo.

Bruno Roelants is

appointed director

general of the International

Co-operative Alliance,

following the retirement

of his predecessor

Charles Gould.

FEB

discussions of tech co-ops

and public service mutuals,

and a keynote speech from

shadow business secretary

Rebecca Long-Bailey.

Rabobank National

Association pays

US$360m to settle a

money laundering case.

A subsidiary of the Dutch

financial co-operative,

it pleaded guilty after

an investigation into its

operations in California.

MAR

Student Co-op Homes,

a national body to address

problems in the housing

sector, is launched. It

aims to increase national

capacity from 150 to 10,000

beds in the next five years.

continue, Labour and Co-op

councils sign a charter

committing them to rooting

out exploitation in their

supply chains, at a round

table event with Labour

leader Jeremy Corbyn.

Japan's co-ops reorganise

into a new federal body,

the Japan Co-operative

Alliance (JCA).

The Association of

British Credit Unions

(Abcul) AGM. Hot topics

include digital marketing

innovation and calls

by Nick Crofts from the

Co-op Group and Greater

Manchester mayor Andy

Burnham for credit unions

to work with co-ops and

local authorities to tackle

economic inequality.

AGM, chief executive Steve

Murrells announces the

"Stronger Co-op, Stronger

Communities" campaign,

which will see the retailer

invest in local community

projects.

The year also sees positive

results for independent

retail co-ops, with Central

England, Scotmid, Heart

of England, Southern, East

of England, Chelmsford Star

and Midcounties among

those reporting surpluses

despite the challenging

retail environment.

The Phone Co-op agrees

a transfer of engagements

to Midcounties Co-op at its

special meeting in Sheffield.

Operations will continue

from its existing office but

the deal brings an end to

the Phone Co-op as

a distinct entity with

a distinct board.

The Phone Co-op holds

its AGM, and finds its

growth strategy – which

involves major investments

– subject to fierce debate.

A special meeting is

scheduled for April.

The Ways Forward 6

Conference is held in

Manchester, with debate on

how the co-op model can be

used to transform the UK

economy. Sessions include

The government

announces a £10m fund

for new forms of farmer

co-operation, as well as

the development of existing

farm co-operatives.

Efforts by the movement to

eradicate modern slavery

APR

The Co-op Group returns

to the black in its annual

results, with a pre-tax

profit of £72m, up from

a £132m loss the year

before. At the Group's

Phil Ponsonby is named

new group CEO of

Midcounties after the

retirement of Ben Reid

6 Review 2018
---
MAY

At its annual conference,

the Co-op College hosts

discussions of issues

around co-op training,

plans for a co-operative

university, and how to

answer the challenges

of the digital age. Keynote

speakers include Ariel

Guarco, president

of the ICA.

Mark Lyonette steps down

as CEO of the Association

of British Credit Unions

(Abcul) to take up a role

in the National Pharmacy

Association (NPA).

There are celebrations at the

Co-operative Party as the

local elections see a record

number of Labour/Co-op

candidates win seats.

Dan Jarvis becomes the

first mayor of the devolved

Sheffield City Region.

JUN

Co-operatives Fortnight

starts on 23 June, with the

launch of the Economy

Report highlighting the

strength of the co-operative

model, and co-ops

encouraged to show how

they make a difference.

Cyprus Co-operative Bank,

which was bailed out by its

government in 2013 after

running into trouble with

bad loans, is sold to the

Hellenic Bank.

JUL

A policy document

from the New Economics

Foundation, commissioned

by the Co-op Party,

is launched at Westminster.

Welcomed by shadow

chancellor John McDonnell,

the report calls for a portion

of large company profits

to be transferred into a

worker-owned trust,

and formeasures to help

businesses transition

to employee-ownership

as their existing

owners retire.

The Community Energy

Conference 2018 in

Manchester brings the

sector together, with a call

to lobby the government

to produces a less hostile

legislative and regulatory

regime for community

renewables.

At Co-operative

Congress in London,

the Co-operatives of the

Year awards go to London

creative co-op The Service,

the Foster Care Co-op,

Midcounties Co-op and

Cardiff Council.

Platform co-ops are

discussed at the

Open 2018 Conference

in London, organised by

the Open Co-operative,

with discussion of co-op

cryptocurrencies and

ways the movement can

encourage grassroots rivals

to online tech giants.

A question mark hangs

over the mutual status

of fan-ownership

organisation Supporters

Direct after it agrees a

merger with the Football

Supporters Federation.

A new council body will

look at options for the new

organisation in early 2019.

AUG

The government releases

its Civil Society Strategy

and a green paper on

social housing, both

of which focus on

community empowerment.

But the documents meet a

mixed reception from the

co-op movement.

The UK Society for Co-op

Studies holds its annual

conference in Sheffield,

reporting positive financial

results and discussing

issues such as the Worker

Co-op Solidarity Fund

and modern slavery.

SEP

The Co-op Group

announces strong interim

results and a return to the

pharmacy sector, with the

purchase of prescriptions

app Dimec. It also beefs

up its ethical policy with

a crackdown on single use

plastics – but also receives

protests from shop workers

over low staffing levels on

evening shifts.

As concern mounts over

climate change, dairy

co-op Arla agrees to

give all of its 2018 profit

to farmers affected by

drought in the 2018

heatwave – while in the US,

electric co-ops scramble to

Review 2018 7
---
u help communities hit by

Hurricane Florence.

Another UK thinktank

issues a report advocating

co-operative policies.

The Institute for Public

Policy Research document

calls for increased worker

representation on company

boards – and comes as the

Labour Party unveils plans

to require all companies

with more than 250 workers

to set up ownership funds.

The Platform Co-op

Conference in Hong Kong

hears stories from tech

co-ops around the

world and calls for the

development of a global

commons, and co-op

hardware to support it.

OCT

The Co-operative Councils

Innovation Network

meets in Croydon to

discuss mutual models of

service delivery and local

democracy, and how these

can be used to meet the

challenges of austerity

and Brexit, and move the

UK towards a co-operative

commonwealth. Similar

ideas to reshape the

economy are discussed

at the Co-op Party

Conference in Bristol and

– at the end of September

– the Social Business

Wales 2018 conference.

Social Saturday, on 13

October, celebrates the

work of social enterprise

in the UK. In Manchester,

actor and comedian Chris

Addison joins the Co-op

Group and Social Enterprise

UK for a tour of social

enterprises in the area.

Lincolnshire Co-operative

reports a 10% increase in

trading surplus in its

full-year results.

On 18 October, the

movement marks Anti

-Slavery Day with more

co-op councils signing up

to the Co-op Party's charter

on modern slavery and the

Co-op Group continuing

its campaign with national

press ads.

The International

Co-operative Alliance

gathers in Buenos Aires

for its General Assembly,

announcing a US$250,000

fund for young co-operators

and releasing its annual

World Co-operative Monitor,

which reveals the world's

top 300 co-ops have

a combined turnover

of $2.01tn.

The US co-op movement

holds its annual Co-op

IMPACT conference, as part

of National Co-op Month,

celebrating the role of the

country's 40,000 co-ops in

creating stable jobs and a

sustainable economy.

NOV

Central England Co-op

appoints Debbie Robinson,

managing director of Spar,

as its new chief executive,

following the retirement

of Martyn Cheatle.

Co-operatives UK hosts

the Practitioners Forum

in Manchester, where

co-operative leaders

discussed digital marketing,

key performance indicators

and youth engagement.

DEC

A deal is struck with

the Internet Corporation

for Assigned Names and

Numbers to renew the

.coop domain. The domain,

an initiative of the National

Cooperative Business

Association and the

International Co-operative

Alliance, will remain the

exclusive domain name

for the movement for

another 10 years.

Suma Wholefoods Co-op

launches new branding

and logo by Pearlfisher

to create a more coherent

visual identity and

emphasise its worker

co-operative credentials.

8 Review 2018
---
Most popular stories of the year

From energy drinks to robotic wolves, Co-op News

readers enjoyed a lot of very different stories in 2018.

Several of the most popular focused on activities of

the Co-op Group, but there were a lot of international

stories which were popular, too. Fairtrade, and issues

of climate change and inequality were some of the most

read – while politics, credit unions and the gig economy

also got a look in.

CO-OP GROUP BANS SALE OF ENERGY

DRINKS TO CHILDREN

The Co-op Group is to impose a voluntary ban on the

sale of energy drinks to under-16s, amid health concerns.

The age restriction, which will apply to 39 products

containing more than 150mg of caffeine per litre,

will come into force in March 2018. Once the ban is

implemented, customers wishing to buy these products

will need to show appropriate ID.

Michael Fletcher, commercial director at the Group,

said: "There is growing concern about the consumption

of energy drinks among young people and we recognise

that we must act. It's a balance between offering choice

whilst doing the right thing and we have listened to

parents and teachers who want to limit young peoples'

access to high caffeine drinks."

The age restriction will be applied in 2,700 Co-op Group

stores and over 1,000 independent co-op society stores.

The move follows growing concern over possible health

risks from the high caffeine and sugar content of energy

drinks. A 2014 report from the World Health Organization

concluded: "As energy drink sales are rarely regulated

by age … and there is a proven negative effect of caffeine

on children, there is the potential for a significant public

health problem in future."

LONDON TAXI CO-OP LAUNCHES NEW APP

TO CHALLENGE THE GIG ECONOMY

Taxiapp UK, the non-for-profit app run by London's

black cab drivers, has launched a new and improved app

following a surge of interest in its ethical business model.

The app is the first of its kind, with the stated intention

of "providing a sustainable and socially invested

alternative to the widely scrutinised transport platforms

that continue to shake the foundations of London's

transport industry".

The tech, funded and run by a co-operative

of drivers, aims to modernise the black cab sector.

It is fully accredited by Transport for London and uses

black cab drivers fully versed in 'The Knowledge', the

famous London taxi test which calls on them to commit

25,000 of the capital's streets to memory.

Founder member Sean Paul Day said: "This a crucial

time for tech starts-up like Taxiapp, who continue to

prove more self-sufficient than established alternatives."

Review 2018 9
---
OXFAM REPORT ON GLOBAL INEQUALITY

CRISIS POINTS TO CO-OPERATIVE SOLUTIONS

HOW MUCH DIFFERENCE DOES

FAIRTRADE MAKE?

A key part of Fairtrade is that a minimum price is paid

to certified producers for certified products. Minimum

prices are set and adjusted periodically for specific

regions, based on a methodology estimating the average

cost of sustainable production. They are designed as

a safety net for producers when market prices are low.

But when Fairtrade-certified producers enjoy higher

prices than non-certified farmers, it can be hard to isolate

the factors behind this differential Price mechanism.

Oxfam's new report, Reward Work, Not Wealth, says

co-ops can offer a solution to the world's "inequality

crisis". It shows that last year a new billionaire was

created every two days, with dangerous, poorly paid

work supporting the extreme wealth of the few. 82% of all

wealth created last year went to the top 1%. This amount

was enough to end world poverty seven times over.

Women overwhelmingly experience the worst working

conditions, it says, while nine out of 10 billionaires are

men. But the report adds that co-ops are one of the most

important of the alternative models available for designing

a fair economy.

JOHN MCDONNELL ANNOUNCES

FORMATION OF COMMUNITY WEALTH UNIT

The Labour Party is setting up a Community Wealth

Building Unit to support co-operatives and mutuals

as a means of driving local economic growth.

Speaking at an event in Preston, shadow chancellor John

McDonnell said Labour would work with the Co-op Party,

trade unions and thinktanks to implement the community

wealth building model across the UK.

Over the last couple of years, Preston City Council

–inspired by the example of Cleveland in the USA –

has been pioneering the model in the UK, through

collaboration and procurement practices.

DESJARDINS ADOPTS POLICY TO COMBAT

CLIMATE CHANGE

Canadian financial co-op Desjardins Group announced a

series of measures to help it tackle climate change, with a

new set of targets set to go into its team annual report from

2018 onwards. With assets of CAD $276.3bn, Desjardins is

the country's largest co-operative financial group and the

largest association of credit unions in North America.

"As a financial co-operative, we can lead by example

and encourage the transition to a greener economy,"

said Guy Cormier, president and chief executive.

10 Review 2018
---
US SENATOR STIRS DEBATE OVER TAX

EXEMPTION FOR FEDERAL CREDIT UNIONS

Credit unions in the USA are defending their right

to federal tax exemption, following questions raised

by Senate Finance Committee chair, Orrin Hatch.

Federal credit unions across the country are currently

exempt from federal corporate income tax on the grounds

that they operate on a not for profit basis, are organised

without capital stock, and operate for mutual purposes.

However, state credit unions pay unrelated business

income tax on income from activities not related to

their tax-exempt purpose. The tax exemption is valued

at $2.9bn a year, according to the Joint Committee

on Taxation.

FARM CO-OP USES SOLAR POWERED

'SUPER MONSTER WOLF' TO PROTECT CROPS

A robot wolf tested by Japan Agricultural Co-ops as

a way of protecting crops is going into mass production.

The Super Monster Wolf, a 65cm-long, 50cm-tall

animatronic beast, is powered by solar-rechargeable

batteries. With realistic-looking fur, sharp fangs and

glaring red eyes, it was developed to scare wild boar

away from rice and chestnut crops. When it detects an

approaching animal, its eyes start flashing and it lets

out a range of terrifying howls.

COMPETITION MARKET AUTHORITY

OPENS INQUIRY INTO CO-OP GROUP TAKEOVER

OF NISA

The Competition Market Authority has started an

investigation into the anticipated acquisition by the

Co-operative Group of Nisa Retail Limited.

Launched on 22 February, the first phase of the inquiry

is an invitation to comment, which will be open until

9 March 2018.

The regulator is examining whether the transaction,

if carried into effect, would result in the creation of a

relevant merger situation which might cause "substantial

lessening" of competition within the markets. The CMA

will take a decision by 23 April.

Nisa members approved the Co-op Group's offer to buy

the business for £137.5m in November last year but the

offer requires the approval of CMA.

Nisa is a brand and buying group of independent

retailers and wholesalers in the UK.

The Group became the exclusive bidder for Nisa after

Sainsbury's dropped out, arguably due to concerns that

CMA could block the acquisition.

Also a mutual, Nisa includes members who own

convenience stores, with their stake based on how many

stores they own. It provides a franchise model for 3,466

convenience stores owned by 1,300 members. At the

time the deal was reached, Nisa chair Peter Hartley said

the Group would add buying power and product range

to the mutual's offering, while respecting its culture

of independence. The Group would also take on Nisa's

existing debt of £105m.

Last year Nisa reported annual sales totalling £728m

for the 26 weeks to October 2017, up by 12.4% from the

previous year.

Review 2018 11
---
Anniversaries

150 YEARS

East of England Co-operative

The retailer can trace its roots to March 1868, when local

people in the region came together to set up a shop selling

quality food at affordable prices.

Today's society is an amalgamation of smaller societies

from across East Anglia, including the Clacton, Coggeshall

and Maldon societies. Now East of England has over 230

stores and branches across Suffolk, Norfolk, Essex and

Cambridgeshire, over 4,000 employees and

288,000 members.

Radstock Co-operative

The society traces its roots back to March 1868,

when there was a preliminary meeting at the town's

Workingman's Hall to establish the Radstock Co-op

and Industrial Society, to look after the interests

of mining families.

It began trading the following year from a purpose

-built store at 3 Wells Road – still the location of the

current head office.

OTHER NOTABLE MILESTONES

170 YEARS

Burgesses' and Trades' Poor

Box of Anstruther-Easter

Friendly Society

160 YEARS

Kingston Unity Friendly

Society Limited

140 YEARS

Railway Enginemen's

Assurance Society Limited

120 YEARS

Fivemiletown And

Brookeborough Co-op

Agricultural And Dairy

Society Limited

100 YEARS

South Norwood Allotment

Holders Association,

Gwinear Holdings, Graiseley

and District Co-operative

Allotment Society, Coseley

Allotment and Smallholders

Co-operative Society

Limited, Torquay Allotment

Holders' Co-operative

Association, Castleford

and District Allotments

Federation, Dunstable

Victoria Club and Institute,

Hayes Working Men's Club

and Institute Limited

50 YEARS

Mudeford and District

Fishermen's Association,

Warwickshire Country

Markets Limited, Greenwich

Leisure, London Federation

of Housing Co-operatives,

Mzough U Tiv Uk Benevolent

Society, Flamesavers Credit

Union, Calderdale Credit

Union, Tees Credit Union,

Plane Saver Credit

Union, All Flintshire Credit

Union, St John's Hill Credit

Union, First Choice Credit

Union, Castle & Crystal

Credit Union, Partners

Credit Union, Steam

Ahead Credit Union, South

Central Middlesbrough

Credit Union, Irlam and

Cadishead Savings and

Credit Union, Lagan Valley

Credit Union, Lecale Credit

Union, Star Credit Union,

Newtownbutler Credit

Union, South Fermanagh

Credit Union, Muckamore

Credit Union.

12 Review 2018
---
Obituaries

BILL HALL, 86

Died on 3 January

Bill Hall served as main

board member of the former

Derby & Burton, East

Midlands, Central Midlands

and Midlands Co-operative

Societies, and was chair

of the Derby Co-operative

Party over several decades.

JACQUI FORSTER, 55

Died on 22 April

A legal practitioner, Jacqui

Forster was a leading light

in the supporters' trust

movement. A lifelong fan

of Altrincham FC, she

helped set up a supporters'

trust for the club and later

became its vice president.

Her involvement in the

co-op movement started

in 2003, when she joined

Supporters Direct. As

head of casework and

constitutional affairs,

she worked with supporters

to purchase and develop

community-owned clubs.

In December 2015,

she was given just months

to live but continued her

work. In January 2017

she set up Women at the

Game, to bring women fans

together to attend matches.

BRUCE THORDARSON,

69 Died on 1 April

As director general of the

International Co-operative

Alliance from 1988-2001,

Bruce Thordarson played

a leading role in drafting

the Statement on the

Co-operative Identity, which

was released in 1995. He

also served in various in the

Canadian co-op movement.

BURT CROSS, 97

Died on 15 May

Burt Cross joined CWS in

1937, rising through the

ranks from his first role in

the postal department and

taking an economics degree

through a Co-operative

College scholarship.

In 1966 he became head

of marketing for CWS and

was involved in the rollout

of the iconic cloverleaf logo.

LORD THOMAS

OF MACCLESFIELD, 80

Died on 1 July

A former managing

director of the Co-op

Bank, he established

a new approach to

banking, committing

the organisation to its

customer-led ethical policy

in 1992. Paul Monaghan,

chief executive of the

Fair Tax Mark and former

head of sustainability at

the Co-op Group, said:

"Before him, the UK's co-op

movement was shrinking

into irrelevance... but

he demonstrated what

co-operative values and

principles looked like in

a modern context."

STANLEY MUCHIRI, 72

Died on 6 October

A former president of the

International Co-operative

Alliance's regional office

for Africa (ICA Africa),

Stanley Muchiri was first

elected in 2003.

Under his mandate,

the ICA held its 2013 Global

Conference and General

Assembly in Cape Town.

It was the first time in the

organisation's long history

that the event took place on

the continent. At the time

of his death, Mr Muchiri,

who dedicated four decades

of his life to Kenya's co-op

movement, was attending

the Ministerial Conference

of ICA Africa.

LEO BARCHAM, 96

Died on 6 October

Leo Barcham helped

found Queenslanders Credit

Union in Australia in 1963

after noticing colleagues

struggling with their

finances. His efforts were

later honoured with a

Pioneer Award at the

Australian Credit

Union Convention.

SIR DENNIS LANDAU, 91

Died on 27 October

Sir Dennis joined the CWS

in 1970 as food controller

and was deputy chief

executive from 1974 to 1980

and chief executive from

1980 to 1992. As deputy CEO,

he played a leading role in

the rationalisation

of CWS's activities in

the 1970s, with efforts to

modernise production and

increase productivity.

As chief executive,

he tried to improve CWS's

performance by increasing

integration of the its retail

activities, developing closer

links with the retail societies

and renationalising its

production and

distribution activities.

Review 2018 13
---
Q&A – Ed Mayo

Co-operatives UK is the umbrella organisation for

the sector, representing Britain's thousands of co-op

businesses. Ed Mayo has been leading the organisation

since 2009, when he took over from Pauline Green. Prior

to this, he was chief executive of the National Consumer

Council and director of the New Economics Foundation.

Here he examines what 2019 could bring for co-ops

across the country – the challenges posed by Brexit,

as well as potential opportunities for co-ops to present

themselves as alternative business models.

How was 2018 for Cooperatives UK?

We had a tremendous year with more co-ops than

ever in membership, some important policy wins and

pioneering innovation and growth within the movement.

Together with our members, we've helped develop the

UK's first platform co-ops, launched a new body (Student

Co-op Homes) and supported over 160 groups through our

co-op development programme, The Hive – which this

year received extended support from The Co-operative

Bank until 2020. This is in line with the National

Co-operative Development Strategy.

We influenced farming policy with the creation of a

£10m collaboration fund, safeguarding farmers' ability

to co-operate through amendments to Brexit legislation.

A commitment was secured from government to review

legal regulations for societies, while our campaigning

resulted in the FCA proposing to abolish annual fees for

societies – with potential savings of up to £495 a year

per society.

Every year Co-operatives UK publishes a report on

the country's co-operative economy. What did this year's

report reveal about the state of the sector?

In 2018, we identified that new co-ops are almost

twice as likely as start-up companies to survive their first

five years. Just 44% of companies survive the difficult early

years while 80% of co-operatives are still going strong.

Co-operatives are resilient and sustainable businesses

and the Co-op Economy data reinforces that view.

The report also showed that the UK's 7,226 independent

co-operatives contribute £36.1bn a year to the UK economy

and employ 235,000 people. The number of active members

continues to grow, reaching 13.1 million.

How did co-operatives make a difference in 2018?

We've seen continued growth in community benefit

societies launching successful community share offers

to save local shops and pubs, finance renewal energy

schemes, transform community facilities, support local

food growing, restore heritage buildings and much more.

In 2018 we were delighted to award the 100th Community

Shares Mark to Eden Rose Community, an organisation

benefiting people with life limiting conditions. We've

supported 33 inspiring community groups with nearly

£1m in supplementary investment income through the

Power to Change-funded Booster programme.

What will be the main challenges for co-ops in 2019

and what can they do to prepare for these?

The B word is unavoidable, sorry! Brexit and the

uncertainty it brings will be a challenge for co-ops

– and businesses of all types. We're now lobbying for

co-ops as government designs the UK's replacement for

EU funds. As we move into 2019 we'll be campaigning

alongside partners for more government spending on

programmes which broaden ownership in the economy.

In terms of preparation, the first step for any co-op is

to identify and review key risks to decide what your co-op

should do in a range of scenarios. It's not all doom and

gloom, as we all know that co-ops often spring up as a

solution to broken markets and there is an opportunity

to 'do it ourselves' in 2019.

14 Review 2018
---
Credit: Co-operatives UK
---
Q&A – Ariel Guarco

Ariel Guarco took over as president of the International

Co-operative Alliance following his election at the

organisation's General Assembly in Kuala Lumpur

in November 2017. He has been a board member

of the Alliance since 2013 and is also president

How was 2018 for you and for the global co-operative

sector more generally?

We are at the end of a very positive year in which

we were able to carry out many of the actions we had

set out to do. I am very satisfied with the performance

of the Alliance's staff headed by its director general

Bruno Roelants.

In the same sense, we are achieving the desired synergy

between the board, the regions and the sectors. Through

a meeting that took place during the first months of the

year we were able to get a clear picture of the issues and

needs of our members and we are laying the groundwork

for elaborating a ten-year strategy. Furthermore, we have

increased our membership, going from 305 to 313 members

spread across 110 countries and 5 continents – and have

been in contact with many of them. Personally, I travelled

to 20 countries, sharing with colleagues the vision of the

role we need to play as a global movement. I also met with

leaders of other organisations, such as the ILO, the FAO

and IFAD. This helped us position ourselves more clearly

within the framework of the 2030 agenda of the United

Nations and become a key figure in the Global Sustainable

Development Alliance.

What were the most important events for

co-operatives in 2018?

There were numerous events and we value each

meeting that will enable us to strengthen the integration

and presence of co-operatives at local, regional and global

levels. Personally, I was touched by participating in the

International Day of Co-operatives celebration at the

United Nations again, along with the Committee for the

Advancement and Promotion of Co-operatives (Copac).

This, along with other exchanges, confirmed that the

International Co-operative Alliance is valued and listened

to at the United Nations.

We also arranged four board meetings in Brussels, Paris,

Birmingham and Buenos Aires, which were very important

for generating action plans within the framework of the

of Cooperar, the Co-operative Confederation

of Argentina. Co-op News caught up with him to

find out how his first year in this role was and what

the movement should look forward to in 2019.

2030 Agenda for Sustainable Development and setting

out a strategy for the next decade. I would like to also

highlight that in Buenos Aires we brought together some

of the strongest co-operatives and co-operative groups from

across the world to launch the International Co-operative

Entrepreneurship Think Tank. Finally, I shared many good

moments with colleagues from many countries I was able

to visit, such as Nepal, India, Germany, the UK, France,

Spain, Italy, Denmark, the USA, Brazil, El Salvador, Puerto

Rico, Mexico, Jamaica, Uruguay, Paraguay, Dominican

Republic, Ecuador and Bolivia, among others. Next

year, we will organise our General Assembly in Rwanda,

Africa, which will be a great opportunity to showcase the

continent's co-operatives and help to position the African

co-operative movement on the global scene.

What will be the main challenges for co-ops in 2019?

Co-operatives exist within the same world as

other enterprises and suffer the same consequences.

But how they face these challenges is what sets them

apart. Intercooperation and creating strategic partnerships

are perhaps the greatest challenges as a movement.

Could you give us any details about the Alliance's

projects for 2019?

Efforts to increase the visibility of co-ops as sustainable

development goals (SDG) actors will be central to our work

in 2019. It is something our members have asked for in the

survey we carried out at the beginning of this year and we

have taken that into account. The ICA team is working on

building a multi-year campaign until 2030 focused on this

theme. And in June we will organise a conference in Geneva

with the ILO, which will be themed around The Future

of Work, within the framework of the centenary of the

Alliance. A few days after, on 6 July, all co-operators will

celebrate the International Day of Co-operatives. Guests

are invited! In October we will be in Kigali for our Global

Conference and General Assembly, which will be focused

on sustainable development.

16 Review 2018
---
Credit: The Co-operative College
---
Technology: Polly Robbins

Co-working space and events manager at tech worker co-operative Outlandish

How was 2018 for your co-op and the tech co-op

sector in general?

Good for collaborations: our CoTech network

continues to grow and we are able to take on bigger and

more complex projects by teaming up with other co-ops

with different specialisms. Collaborations this year include

new iterations of washdata.org and schoolcuts.org.uk

Travel abroad: one of our members spoke at the UN in

Istanbul about a technology we are using; another spoke

in Norway to share learning about how the co-operative

model works.

We have faced a serious challenge around banking,

though – we have struggled to find a bank that

understands our co-op structure. The Co-op Bank itself

only recently started catering for organisations with

our particular legal structure, and still then is not very

confident dealing with it. We are also struggling to find

accountants who understand the company and the logic

behind it!

While the CoTech network has a lot of potential,

it's also challenging as few of the co-ops have enough

work or financial growth to put the money and/or time

into growing the initiative.

we can continue to provide low and no-cost space to

people who need it).

Getting ready for an election, particularly with the

campaign sites that we win. We're talking to the Labour

Party and policy makers about what co-ops are, and why

they support the economy, so that when there is a new

government co-ops will be supported to grow.

How did your co-op make a difference in 2018?

We grew Space4, our co-working and events space.

We have brought more than 500 people to the space

through events and workshops, all of whom have learnt

about what co-ops are, and that the tech co-op sector

exists. This initiative has also supported the development

of four new co-ops, which are given free space, plus

advice and support to become a co-op.

London Tech-Week – we hosted a big event with

publicity alongside it. This attracted people from the

UK government, international governments and the

corporate tech sector. We showed them that co-ops are

capable of creating amazing technology and services.

How is your co-operative preparing for the

challenges ahead?

Continuing collaborations, so that we draw on

the strengths of the whole co-operative sector.

Looking into alternative funding for Space4, so that

we're not reliant on sales in order to grow (meaning

An event held by Outlandish. Credit: Soda Visual

18 Review 2018
---
Healthcare: Carlos Zarco

President of the International Health Co-operative Organisation (IHCO)

How was 2018 for IHCO and the global health

co-operative sector?

It has been an important year for the health co-op

sector. The study we did in collaboration with Euricse

confirmed that around 100 million places across the

world have access to health services through co-ops

and over the past 30 years the sector consolidated in

response to the difficulties faced by health systems,

having to come with an increase in demand and

health expenses.

We have examples such as Unimed in Brazil, which

boasts 345 health co-ops and 114,000 doctors, which this

year alone has served 38% of the country's population.

Another relevant case study is in the Philippines,

where 1Coop Health reached an agreement with a network

of health centres to provide affordable health plans and

services, which facilitates the access to health services

for more and more people.

Health co-operatives share a strong presence in

Europe as well. In Spain, which according to a report

by Bloomberg has the most efficient health system on

the continent, more than 2.2 million people have benefited

from healthcare from a co-operative. This helps ease

pressure on public services, which in turn benefits

the general public.

Could you give us any details about IHCO's

projects for 2019?

In our working plan for 2019 we have included

actions to reinforce collaboration with international

bodies such as the World Health Organization (WHO),

the International Labour Organization (ILO), the G20

and B20 and the Alliance for Health Promotion, with the

objective of improving the visibility of the values of health

co-operatives. We want to be present and participate in

the relevant forums to ensure the IHCO and its members

are well represented.

We also want to raise awareness about the role

health co-operatives play in the UN's Agenda for 2030

and their contribution to attaining universal health

coverage. More specifically, we are working with the ILO

and the Swiss Agency for Development and Cooperation

to create a platform to raise awareness about health

co-operatives, which will include case studies of good

practices and training tools as well as a database on

health co-ops, which can bring their experience in the

development of co-operative healthcare in low and

middle income countries.

What will be the main challenges for health

co-operatives in 2019?

Health co-operatives must use their full potential

to position the co-operative model on the agenda

of governments as an important tool in dealing with

issues such as an ageing population, the chronification

of diseases and the sustainability of healthcare systems.

Health co-operatives are an enterprise model that are

economically viable, which compete on the market to the

same extent if not more than other types of enterprises,

and which are also socially responsible and have a

long-term perspective, which favours sustainability.

For decades, health co-operatives have proven their

ability to adapt to different socio-economic contexts,

to respond to the new necessities that emerge in society

and bring resources that would otherwise not be allocated

to health and wellbeing.

Review 2018 19
---
Legal: David Alcock

Partner at Anthony Collins Solicitors LLP

How was 2018 for your organisation and the co-op

sector in general?

For Anthony Collins Solicitors, 2018 was a good year;

we are opening an office in Manchester, which we are very

excited about. It's the first time we've had a base outside

Birmingham and represents a real step change. We were

also delighted to get the Co-operatives UK legal surgery

contract this year – it's already meant that we've been

able to support many more co-ops.

For the sector in general, I think it's a really mixed

picture. Trading conditions are tricky for all sorts

of organisations and while co-ops are very resilient,

I think it's been a challenging time. But there's been

lots of interest in mutuality and better ways of doing

business, so that's great.

What were the key legal issues co-ops have

campaigned for this year?

It's been an interesting year from that perspective.

Particular sectors have been very busy; co-operative

and community-led housing organisations have been

successful in lobbying for the Community Housing

Fund, which is very significant for that movement

and gives some real opportunities in the next two

years. It's a short timescale but worth a go!

More generally, it was good to see Co-operatives

UK talking to the sector about possible legal changes

across the board. At ACS we have argued strongly for

the introduction of an "indivisible reserve" for societies,

ensuring that part of the value generated from a co-op's

work can be held for the growth of the movement or

particular initiatives.

With Brexit due to take place next year, what

challenges will co-ops face in terms of legislation?

I think the immediate implications (depending on

what kind of deal we get) are practical rather than legal.

All we know for certain is that the legal framework itself

will not change on 1 April 2019, as the EU Withdrawal

Act takes EU law just before we exit and applies it to

our law the following day – just so the law doesn't

fall off a cliff.

Beyond that, as the change starts to take effect, we

will see very major changes in agricultural policy and

subsidy, which will significantly affect co-ops in that

sector. We're also likely to see changes in consumer

protection law and policy, employment law, and

many other areas where EU involvement has been

very significant. Essentially – watch this space.

It's going to be an interesting ride.

20 Review 2018
---
Politics: Claire McCarthy

General secretary of the Co-operative Party

How was 2018 for the Co-operative Party?

The Co-operative Party had another busy and

successful year. We continue to grow our membership

and our impact.

We have continued to drive forward on the growth

agenda. We were delighted to commission the New

Economics Foundation to write an independent report

on what steps it would take to double the size of the

co-operative sector. Co-ops Unleashed sets out an exciting

blueprint for future action. Our implementation group has

begun consulting the movement on the proposals in the

report, not least what a co-operative development agency

for England would look like.

We made another big step forward in our work in

local government this year. A record number of Labour

& Co-operative councillors were elected across England

in May – including more than 200 in London, where we

now have more Councillors than the Lib Dems. The Labour

& Co-operative Metro Mayors – Andy Burnham and Dan

Jarvis – have both begun work to investigate the full

potential of co-operation in their city regions.

More than 70 local authorities across Britain have

signed up to the Party's charter against modern slavery

ensuring that there is no place to hide for exploitation

in council supply chains. This includes councils run

by the Conservatives and the SNP and in many cases

approval for the charter has been passed unanimously

in council chambers.

government, led by Co-operative politicians, including

the London Assembly, Welsh Assembly, Scottish

Parliament, Westminster and the European Parliament.

What are the main challenges ahead for 2019

and how is the Party preparing for them?

It's hard to look ahead without mentioning Brexit.

The Party is working with the movement to make the case

against a damaging No Deal Brexit; as well as working to

ensure co-operation can play a bigger role going forward,

most recently in the passage of the Agriculture and

Fisheries Bills.

Beyond Brexit, there is important work to do that we

won't neglect. One focus will be working with our newest

organisational member – Usdaw – and the retail societies

on strengthening the protections for shopworkers that are

threatened or attacked during the course of their work.

Shopworkers do an important job for us all in enforcing

the law and we must collectively have their backs.

What were the key issues Co-op Party MPs have

campaigned for this year?

Labour & Co-operative MPs, peers, Welsh Assembly

Members (AMs) and Members of the Scottish Parliament

(MSPs) were active across a wide range of issues of

importance to the movement including community

energy, the expansion of credit unions, the regulatory

environment for co-ops, support for employee ownership

and employee share ownership, the contribution of the

co-op sector to the British economy and Fairtrade.

In addition, they have played a key role in our

campaigns on tackling modern slavery and, in just the

last few weeks, on tackling violence against shopworkers.

During our month of action against modern slavery

in the autumn there was activity at every level of

Review 2018 21
---
Channel Islands: Colin Macleod

Chief executive of the Channel Islands Co-operative Society

How was 2018 for your co-op and your sector?

Despite challenging trading conditions and the

introduction of Morrisons to the islands we are fortunate

to have had another year of solid progress. Our food and

travel businesses delivered a strong uplift in sales and

our care businesses (medical, pharmacy and funeral)

continue to grow.

We opened two new convenience stores, Locale

Charing Cross in Jersey and Locale The Bridge in

Guernsey, and we continue to invest in our society

to ensure that our range of services are relevant and

appealing to our pan-island members.

How did your co-op make a difference in 2018?

In early 2018 we launched our 'Belonging is

everything campaign'. Believing in the value of belonging

has shaped our society since opening our first store in

the Channel Islands in 1919 and making a difference to

the communities we serve is at the heart of everything

we do.

In 2018 we:

• returned £8m to local member owners in dividend

• purchased £11m worth of goods from over 40

local producers

• donated £230,000 to over 500 local community projects

• have phased out the use of single-use plastic carrier bags

and, are working alongside the Co-op Group and local

suppliers to reduce the amount of plastic usage

and increase recycling opportunities.

How is your co-operative preparing for the

challenges ahead?

Following a significant strategic planning exercise

in 2018 we are very much looking forward to bringing

our Belonging message to life. Next year, significant

investment in transformation will start to yield benefits

as we become far better equipped with insight. We believe

we have a clear and compelling view on how to build

emotional connection with our owners in the digital

age and we are excited about the future.

22 Review 2018
---
Agriculture: Umberto Di Pasquo

Senior policy advisor at European agri-cooperatives and farmers apex body Copa-Cogeca

How was 2018 for your organisation and European

agri co-ops in general?

2018 was a productive and dynamic year here.

Together with our members, staff worked with dedication

and ambition to keep EU agri-co-operatives and farmers

informed and their positions heard and represented.

We have continued pushing for a strong and sustainable

future CAP that benefits our farmers, their co-operatives

and consumers, ensuring vibrant rural areas across the

EU. In particular, we have advocated for a truly common

CAP with a strong budget, because EU farming can make

a significant contribution to combating climate

change – but only if we can ensure the economic

viability of farmers. The use of new technologies, better

functioning agri-food value chain and investments to

ensure competitiveness of the sector in the eyes of the

young are just some elements that we are focusing on

in this regard. Additionally, we are also encouraging

the creation and development of professional, well-run

and competitive processing and distribution structures

operated by producers and their co-operatives.

Recognising the specificities of the agricultural sector

and allowing farmers to work collectively to pursue their

economic objectives are two essential preconditions for

strengthening farmers' position in the food supply chain

and thus improving their bargaining power.

We succeeded with our advocacy for EU legislation

to counter Unfair Trading Practices (UTPs) in the Food

Supply Chain, while another focus was on the opening of

new markets and promoting our high European standards

of production abroad. In the secretariat during the past

year we have actively

followed and contributed

to all EU trade negotiations

and engaged in talks with

our respective counterparts

across the world.

Finally, Brexit has

certainly been one of the

main topics on the Brussels

agenda this past year and

in Copa and Cogeca it

was no different. The UK

represents a significant

part of the EU single market. Additionally, besides the

many international European agri-co-operatives that have

proceeded with classical foreign investment strategies in

Great Britain and Northern Ireland (exporting, licensing

and franchising, strategic alliances, joint ventures and

FDI), some agri-co-operatives have established either

supplier relations or even co-operative member relations

with British farmers in the UK. Several transnational

co-ops have mother companies in Northwest Europe,

particularly in the Republic of Ireland, the Netherlands

and Denmark. The combination of small home markets

and high market integration with neighbouring UK

has often driven the internationalisation strategies

of these organisations. Economic ties between the UK

and continental EU are strong. European farmers and agri

co-operatives from the EU and the UK will be hit hard by

Brexit. We have been following the developments very

closely and met the EU chief negotiator Michael Barnier

and his team on numerous occasions to be fully informed

about the negotiation process and to raise our concerns.

How did agri co-ops make a difference in 2018?

Agri-co-operatives are businesses that survive or fail

based on their ability to provide services or goods to their

farmer members, who own the enterprises.

They are entrepreneurial and must compete with other

forms of business. They have ensured the sustainability

and competitiveness of the sector, by serving farmer

members and understanding consumer demand, by

supporting farmers in rebalancing their position in the

food chain, by pooling existing processing assets and

keeping them in the hands of their farmer members,

by moving the sector from resilience to anti-fragility,

by creating job and boosting growth in rural areas.

How can co-ops prepare for the challenges ahead?

Agri-cooperatives should focus their strategic

operational priorities on: a) continuing to empower farmer

members by providing tools to thrive in a circular, resilient

and innovative agricultural economy; b) going beyond

resilience or robustness and learning how to gain from

unexpected stress or from volatility; c) creating value

-added economies of scale, increased market position

and consolidation.

Review 2018 23
---
Education: Simon Parkinson

Principal and chief executive of the Co-operative College

How was 2018 for your organisation and your sector?

2018 was an exciting year for the Co-operative College.

We extended our charitable registration to Scotland

and have expanded our UK project base throughout

the year. We have also re-positioned and re-established

our accredited learning offer and have delivered a

number of new courses in the UK and internationally.

In a year where there were serious concerns raised about

the practices at a number of international development

NGOs, we have worked with other members of the

European Co-operative Development Platform (ECDP)

and the International Co-operative Development

Platform (ICDP) to demonstrate the benefits a co-op

approach to can bring. Education has been at the core

of all our activities throughout 2018 and we're determined

to change things for the better. We believe that the funding

model for higher education in the UK is broken and we're

committed to doing something about it. That's why we're

working on developing a Co-operative University that

places students right at its heart, and we've made huge

strides so far. We want to challenge the current status

quo, shake up the sector and offer something that's

truly unique.

How has the College made a difference?

As the education charity of the UK movement,

our impact is clear, with project work that transforms

the lives of individuals here in the UK and across the

globe. Our work with young care leavers and young

people with learning disabilities has seen the confidence

of all those involved improve drastically, offering

them new opportunities that not only transform their

lives but also have a hugely positive effect on their

local communities. Our established programme of

international work also continues to yield incredible

results, as highlighted by our Co-operative Pathways

project in Malawi. Since 2012 we have now directly helped

over 30,000 people as they establish or improve their

own co-operative enterprises, a stunning impact that's

transformed communities right across the country.

What are you most looking forward to in 2019?

Founded in 1919, next year marks our 100th birthday,

a landmark moment in our history. We have a series

of events planned, all building towards our Centenary

Conference at Rochdale Town Hall in November. We want

to use our centenary to build on existing relationships and

partnerships, while establishing new relationships across

the UK and internationally. We need the support of the UK

co-operative movement more than ever in our 100th year

and there are a huge number of ways to get involved. From

joining us as an individual or organisational membership

to attending one of our new accredited courses, there has

never been a better time to join our fight in building a

fairer world for everyone.

Can you tell us more about any of the College's

upcoming projects?

Our Together Enterprise project in Scotland starts

early next year and will transform the lives of young

people in some of the most deprived areas of the country.

We will also be launching an Anglo/German partnership

with DGRV (the apex association of German co-operatives)

to expand our work in Malawi. Our strong partnerships

with organisations such as the Co-operative Foundation

and the Potterspury Lodge Trust will also ensure that

our charitable work goes from strength to strength,

however we will need the support of the co-operative

movement and beyond to ensure we can continue

empowering people to make a real positive difference

in their communities.

24 Review 2018
---
Credit unions: Matt Bland

Head of policy and communications at the Association of British Credit Unions Ltd (Abcul)

How was 2018 for your organisation and your sector?

It's fair to say that 2018 has been a challenging

year for the credit union sector. Though credit unions

continue to grow and strengthen overall, very sadly

there has been a higher than usual number of failed credit

unions. This demonstrates the challenging environment

credit unions are operating in as regulatory burdens

increase, the expectations of consumers expand and

technological innovation becomes ever more imperative.

For Abcul it has been a year of change as we

welcomed a new chief executive (Robert Kelly) and a

new president of the association's board (Karen Bennett).

With new leadership there are new ideas about how to

take the sector forward and there are exciting

opportunities on the horizon.

How did British credit unions make a difference

in 2018?

Credit unions continue to be the primary vehicle

for the delivery of inclusive financial services in the

country. We have conducted analysis this year on those

credit unions that use our subsidiary's ALD credit decision

tool which demonstrates the depth and breadth of credit

unions' lending to those at the margins of the financial

system. Credit unions are lending heavily, for instance,

into all of the 10 most deprived communities according

to the indices of multiple deprivation and consider loans

that few other lenders would in terms of amount or

applicants' credit scores while charging considerably

less than any other lender to these groups. We also see

patterns of improvement among the credit profiles

of credit union borrowers.

2018 was an exciting year given the profile and

prominence of issues of financial exclusion and

over-indebtedness from government, the regulatory

authorities and people like Michael Sheen and

his new End High Cost Credit Alliance. There is a

groundswell of support for action to promote the likes

of credit unions and we are keen to see the warm words

and rhetoric of 2018 turn into concrete action in 2019.

What are the key challenges for credit unions in 2019

and how can they prepare for these?

Credit unions' big challenge is that of relevance.

We know that credit unions' values resonate with

millennial consumers but today too many credit unions

fall short of that generation's expectations in terms of

digital accessibility and convenience. Transforming the

way that credit unions can be accessed by their members

will be critical to securing their future. But there are

lots of exciting developments in the fintech space which

present opportunities for credit unions to tackle this

head on.

For Abcul we have some ambitions in the policy space

to provide an environment in which credit unions can

flourish and we are hopeful 2019 will be a year of progress

in that respect. We'd like to see government legislate to

enable credit union innovation in lending, the Bank of

England review its upper capital requirements to unlock

latent growth in the sector and the proposed new Financial

Inclusion Organisation to begin investing in ambitious,

growing credit unions.

Credit unions have much to be optimistic about despite

the many challenges they face. Abcul will be launching

a major town hall consultation at our annual conference

in March to set the vision for the next five years of our

movement and to provide clarity of purpose in terms of the

sector's ambition, our shared strategy for achieving it and

the ways in which those with a stake in our future

can support us to get there.

Review 2018 25
---
Worker co-op: Siôn Whellens

Member of Calverts design and print co-operative

How was 2018 for your co-operative and your sector?

Exciting and a bit nervous-making! We've done some

great creative work, including designing and producing

Co-operatives UK's strategy pack. The mood among our

members is upbeat. There are big challenges, because

the market for high-end print – one half of our business

– has shrunk so much. Few of our local competitors are

left, so we're up against businesses outside London and

elsewhere in Europe. We're still very much a 'movement'

communication design and production house. We're doing

less with charities and campaigns, which have switched

their investment towards web-based communication.

On the other hand, we're increasingly working

with niche brands in sectors like fashion and jewellery.

We're also doing more in the higher education and

radical publishing sectors.

Calverts is a contributing member of the Worker

Co-op Solidarity Fund. How has the fund made

a difference in 2018?

Solidfund proved it's possible for co-operators to

generate resources for development using web-based tools.

The new Principle 6 platform was inspired by it. Secondly,

it increased the confidence and autonomy of the worker

co-op network. Over 600 members have generated more

than £110,000 – all individuals, not co-ops, which is

significant. And not all Solidfund supporters are worker

co-operators, so it's shown that there's wider support

for industrial democracy and worker self-management.

Solidfund supported a number of projects in 2018,

including the Barefoot Coop Developer days aimed

at creating a new generation

of worker co-op organisers.

It also supported

individuals to attend

trainings and conferences

such as Open:2018, and

made small but important

donations to underresourced

co-ops or

startups like Creative

Workers Coop in Belfast,

and Kitty's Laundrette

in Liverpool – a workercommunity

co-op which is creating a social and arts

space, as well as a decent eco-laundry, in a deprived

part of the city.

How is Calverts preparing for the challenges ahead?

We've mainly focused on improving our strategic

marketing focus and activity. We built a completely new,

and rather fantastic, website that we think articulates

Calverts' values and commercial proposition in exactly

the right way, with a strong focus on visual content

and a design that embodies our claim to be a creative,

authoritative and expert resource for our clients.

In October we recruited Sarah Jackson, a brilliant

marketing communicator, to lead on Calverts' new

business strategy, and we're always looking to bring in

new ideas and talent – both as a succession strategy and

to be able to think sideways about how we not just survive

but thrive in a very competitive industry.

Left: Sion Whellens, above: Paper Doll printed by Calverts

26 Review 2018
---
Energy: Mark Luntley & John Malone

Director and development director at Energy4All, an umbrella body facilitating new energy co-ops

How was 2018 for you and your sector?

The whole energy sector is undergoing massive shifts

as technology allows societies to change from dirty fossil

-fuelled power generation to clean green energy.

The pace of that transition is accelerating.

There are now 228 active community energy

organisations in England, Wales and NI – which is

great news. However the growth of community energy

groups has stalled in the UK, largely because of a less

supportive government framework.

2018 was also an incredibly busy year at Energy4All.

We've raised over £4.6m in capital in the last two years.

We have a series of projects in Scotland where the national

government is more supportive of community energy.

In spite of the hostile government framework there's

a real sense of enthusiasm and entrepreneurialism among

our existing and new co-operatives. We've developed two

hydro schemes, and refinanced a key scheme at Mean

Moor. We've also been elected to the board of European

co-ops and have been supporting their work.

How did renewable energy co-ops make a difference

in 2018?

Community Energy England highlight that in 2017,

community energy capacity in England, Wales and NI

totalled around 169MW – with 33.5MW added in the

year. That's enough to power 67,000 homes.

But co-operatives make more difference than the

energy generated: co-operatively owned community

projects put people, typically local people, in genuine

control of how their money is used to create democratically

controlled energy. This is in sharp contrast to the

existing models which seek to relegate citizens to the

role of passive, uninformed consumers. We believe that

community ownership is creating a growing band of

people informed about how their energy is generated,

and interested in making other changes in their lives

as a result. We are supporting independent academic

research to establish just how strong this relationship

is among the Energy4All co-ops and their members.

Renewable energy is one of the most popular ways

of generating electricity and community projects are

even more popular. If we want more projects to go

ahead, one key way of achieving this is to make sure

they are genuinely community owned.

How can renewable energy co-ops prepare for

the challenges ahead?

Putting individuals at the heart of the energy

transition is key. Umbrella organisations like

Energy4All help individuals and communities to

take control of energy generation by sharing skills

and expertise.

One opportunity is that the grid is becoming smarter

and energy storage is becoming cheaper. If we want

the public to embrace these technologies, we should

put communities – through co-operatives – at the heart

of these changes, as is happening in several other

European countries.

John Malone, and Mark Luntley

Review 2018 27
---
Singapore: Dolly Goh

Chief executive of the Singapore National Consumer Federation (SNCF)

How was 2018 for you and your organisation?

2018 has been a year of changes. The Singapore

National Co-operative Federation (SNCF), through

discussions with its affiliates, provided feedback to

the regulator which impacted the final outcome of the

amended Co-operative Societies Act which came into

operation in April. Some of the positive outcomes are that

the number of individuals needed to set up a co-op has

been reduced from 10 to five; and outdated membership

prohibitions and rules were amended to help facilitate

development of the co-operatives to encourage formation

of new co-ops.

SNCF has also been steadily nurturing Singapore's

youths in understanding co-operatives and that the

co-operative path is a viable and fulfilling one. Our

youth programmes – such as co-op clubs, Learning

Journey to Co-ops, SCOOP Trail – help foster students'

interests. In 2018 we reached out to over 40,000 youths.

In 2019, Singapore will commemorate its bicentennial.

As part of the celebrations, SNCF is organising a series

of activities themed Coming Together As One Through Art,

from September 2018 to October 2019. This will show how

the man in the street has benefited from the social and

economic impact that co-operatives have created. It will

also promote co-ops as an alternative you can turn to in

times of need, and inspire people, particular youth, to use

the co-operative model in doing well. SNCF worked with

our credit affiliates to launch the first pop-up art event

in September 2018 which focused on the topic of money

and the social issues related to it, such as money-lending

and financial inclusion. The event drew more than 7,000

people – 10% posted their visit on Instagram.

How did co-ops in Singapore make a difference

in 2018?

In 2018, co-operatives provided job opportunities for

more than 18,000 people in Singapore, and they continue

to deliver social impact. SNCF, together with some of the

affiliates from the credit sector, celebrated International

Credit Union Day by volunteering at NTUC Health

Co-operative's Nursing Home. SNCF also worked with

other affiliates to support Silver Caregivers Co-operative

(SCCL) in its first Caregivers Carnival in November 2018.

SSBEC launched their first ever community outreach

initiative, "Giving Back to the Society" in September 2018,

and NTUC FairPrice Co-operative donated S$1.2m to the

FairPrice Food Voucher scheme to help more than 20,000

needy families alleviate their daily cost of living in 2018.

How are co-ops preparing for the challenges ahead?

Challenges will continue to plague businesses,

more so for those who serve social needs of communities.

Social needs evolve over generations so while co-ops

prepare themselves to overcome business challenges,

they also need to be in touch with the changing social

needs of communities and keep connected, adaptable and

possess the political will to ensure co-operatives are kept

relevant to run sustainable businesses for social good.

Co-operatives in Singapore will continue to drive

support for the Sustainable Development Goals,

will explore regional and international collaboration

and use technology for efficiency and increased

productivity. This will help co-operatives serve their

members more effectively especially with a younger

generation of membership.

Therefore, SNCF and its affiliates will focus more on

more effective use of social media to reach out to

create awareness.

28 Review 2018
---
Wales: Derek Walker

Chief executive of the Wales Co-operative Centre

How was 2018 for your organisation and

co-operatives in Wales?

2018 was a good year for the co-op movement in

Wales. Highlights include an emerging strategy for the

future growth of co-operatives to deliver social care.

In addition there has been excellent progress in taking

forward the concept of a community bank of Wales to be

owned by its members, on a one-member, one-vote basis,

offering current accounts and making funds available

locally to small businesses.

Programmes delivered by the Wales Co-operative

Centre continued to do well and to attract support.

Over the past 12 months we have helped create a more

prosperous Wales through the expert support we give

to co-ops and social businesses. This year we were

instrumental in managing the conversion of national

TV Production company, Cwmni Da, to an employeeowned

trust. The managing director wanted to ensure

Cwmni Da remained in the hands of the 50 strong

workforce who have all contributed to its success.

Wales is also more equal as a result of our

pioneering work to end digital and financial exclusion.

Our communities are more cohesive because we bring

people together to tackle the issues that matter to them,

from building new housing to keeping open their local

pub, shop or leisure centre. You can find out more about

our work in our latest Impact Report.

from the Welsh Assembly Commission. Transport for Wales

has also stipulated the use of this factory for their signage

requirements, and meetings are currently underway for

opportunities during the mobilisation stage of the new

train operator contract.

What are the challenges ahead?

In 2019 the Wales Co-operative Centre will be working

with partners to develop a vision for the sector for the next

10 years. We believe there is a need for a new vision and

an action plan to unite and steer the social economy sector

in Wales to address challenges, seize opportunities and to

foresee and capitalise on future trends. We want to create

a positive vision for Wales' future, clearly demonstrating

where and how the social economy can contribute.

The timing is good as Wales has a new first minister,

Mark Drakeford. In his leadership manifesto he stated he

believes "our most radical days are ahead of us". On the

economy he has nailed his colours to the mast and has

firmly committed to building a socially just economy and

a common partnership for inclusive growth. He has also

made a firm commitment to stepping up efforts to promote

co-operative provision in social care. So 2019 promises to

be a year of opportunity for the co-operative sector

in Wales.

What were the key issues you have campaigned

for this year?

One of the campaigns we have stepped up this year

has been about persuading public sector bodies to buy

from social enterprises and co-operatives. The Wellbeing

of Future Generations Act has created much more

enthusiasm from Welsh public bodies to 'buy social'.

Watch out for a new initiative to launch in spring.

EBO Signs is an example of this greater appetite for

social value from public bodies. EBO Signs is a social

enterprise in Ebbw Vale that employs local people with

disabilities. It produces traffic and commercial signage

such as highway signs, street nameplates, safety signs

and hoarding boards. Extra demand for their products

has already resulted in orders placed with the factory

from two local authority main contractors as well as

Review 2018 29
---
Northern Ireland: Tiziana O'Hara

Founder member of Co-operative Alternatives

How was 2018 for co-ops in Northern Ireland?

This year Ballymacash Sports Academy, a community

benefit society, and Loveworks Co-operative, a worker

co-operative, have both raised the profile of co-operatives

at the Northern Ireland Social Enterprise Awards 2018,

one of the largest events in the region. The co-operatives

have been recognised respectively in the newly

established category for the innovative way in which

they raised share capital and in the education, training

and jobs category for offering dignified and sustainable

jobs within worker owned enterprises. The established

Coalisland Credit Union was also recognised, being

named credit union of the year.

Supporting Emerging Co-operatives, the five-year

progress report published by Co-operative Alternatives,

helped to provide a clearer picture on how co-operatives

have sprung up in a variety of sectors and the needs that

they now have to continue to prosper and develop. This

also confirmed the view that a co-operative development

agency in Northern Ireland is essential to the emerging

co-operative sector.

of Ireland, replaced the previously existing single

market SEM and went live on 1 October 2018. On one

hand, this will have undefined consequences on

market linked electricity prices under a Brexit scenario,

but on the other hand, this is a decision motivated by

the necessity for sharing and optimising resources

between north and south with the view of benefiting

the economies of both subregions despite the looming

events. The farming sector is also concerned about what

would be our future relationship with Europe in general

and not only for the cross-border activities that they

perform daily. However, the biggest impact in 2018 in

Northern Ireland on the co-operative sector has been

the absence of a national executive; without a devolved

Assembly in Northern Ireland for almost two years,

important decisions on budgets and priorities for the

economy of the region have not been taken.

What were the key issues co-ops have campaigned

for this year?

The main event for co-ops in Northern Ireland has

been the migration of the registration function, until

now performed within the local Department for the

Economy, to the Financial Conduct Authority in London.

This brought the introduction of an annual fee based on

assets (which was beforehand balanced out by higher

administration and registration fees compared to the rest

of the UK) but also triggered the long-waited final updates

to the Co-operatives and Community Benefit Society Act

(2016) Northern Ireland.

With Brexit due to take place next year, how

can co-ops in Northern Ireland prepare for the

challenges ahead?

Great uncertainty is dominating the years ahead.

Brexit will undoubtedly change trading and relationships

on this island. The situation on the ground is complex

and interdependent. For instance, the new electricity

market I-SEM or Integrated Single Electricity Market,

the wholesale market for electricity for the island

30 Review 2018
---
Africa: Dr Chiyoge Sifa

Regional director, International Co-operative Alliance-Africa

How was 2018 for you and your organisation?

2018 was a year of mixed feelings, both to me

personally and for our organisation. We started the year

on a high note emanating from good results – both

financial and benefits-wise – to our members, which

resulted in increased membership for the region. We

also had a new chairperson for our Africa Ministerial

Co-operative Conference and for the regional board.

However, three days after the by-elections which saw our

long serving regional board chairperson, Stanley Muchiri,

retire, he passed on. This was a big loss both to our

organisation and to myself as we lost a great co-operator

and wonderful mentor.

How did co-ops in the Africa region make

a difference in 2018?

The big difference they made was to serve their

members better with limited resources and renewed

impetus. As we offered

more knowledge-sharing

experiences and capacity

building to our members,

this in turn was translated

into improved services.

How are co-ops

preparing for the

challenges ahead?

We have learned a lot

through these past years.

We have a new vision

anchored in our Abuja 2018 Declaration and we do

believe that the conclusions and recommendations from

our Regional Assembly and Africa Ministerial Co-operative

Conference are robust and able to make final strides to our

turnaround strategy for the continent.

Australia: Melina Morrison

Chief executive of the Australian Business Council for Co-operatives and Mutuals (BCCM)

How was 2018 for co-ops and mutuals in Australia?

2018 was a great year for co-operative and mutual

businesses in Australia. After 2017, which saw the

demutualisation of Murray Goulburn, one of our largest

co-ops, the sector has seen a resurgence in 2018.

We have seen significant progress in the flagship

project to implement legislative reform allowing mutual

businesses to raise external capital. We came tantalisingly

close to seeing the legislation enter parliament this year,

and hope that this will be finalised in early 2019.

In another first, the BCCM developed the first set

of bespoke governance principles for Australian co-ops

and mutuals.

How did co-ops make a difference in 2018?

There has been a resurgence in interest in the

business model to support regional and rural

communities, especially in the delivery of local jobs,

a sustainable local economy and provision of health

and other vital services in thinner markets. Organisations

working in social services have also continued to thrive to

support vulnerable people. Co-operatives have emerged

as a new business model for consumers trying to exercise

choice and control with personalised budgets for disability

and aged care.

How can co-ops prepare

for the challenges ahead?

Co-operative and

mutual businesses are

ideally placed to address

future challenges. As a

business model that takes

a long-term, sustainable

view, they will be able

to weather challenges in

the domestic and global

economic environments.

Review 2018 31
---
32 Review 2018