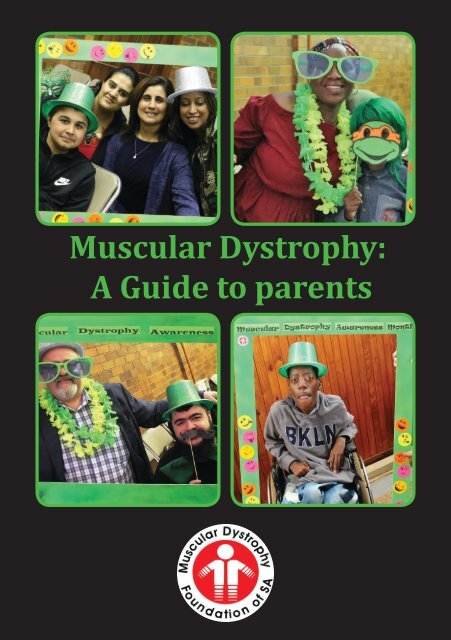 Muscular Dystrophy A Guide to parents
Create successful ePaper yourself
Turn your PDF publications into a flip-book with our unique Google optimized e-Paper software.
Muscular Dystrophy:

A Guide to parents

1
---
Contents

1. Introductory comments ................................................................................... 3

2. The causes of muscular dystrophy ................................................................... 3

3. Diagnosing muscular dystrophy ....................................................................... 4

4. Treatment ......................................................................................................... 5

4.1. General health ........................................................................................... 5

4.2. Physical therapy and exercise .................................................................... 5

4.3. Drug therapy .............................................................................................. 6

4.4. Assisted devices and support aids ............................................................. 6

4.5. Dietary changes ......................................................................................... 6

4.6. Occupational therapy ................................................................................ 6

4.7. Corrective surgery ...................................................................................... 7

5. Emotional support ............................................................................................ 7

5.1. Parents ....................................................................................................... 7

5.2. Siblings ....................................................................................................... 8

5.3. Affected child ............................................................................................. 9

5.4. The school situation ................................................................................. 10

5.5. Socialisation ..............................................................................................10

5.6. Counselling .............................................................................................. 11

6. Conclusion ..................................................................................................... 11

7. Bibliography ................................................................................................... 12
---
ABOUT THE MUSCULAR DYSTROPHY FOUNDATION OF

SOUTH AFRICA

The Muscular Dystrophy Research Foundation of South Africa was founded in 1974 by

Mr and Mrs Newton Walker of Potchefstroom, who at the time had a son affected with

Duchenne muscular dystrophy. They felt there was a need to reach out to other parents

and families in a similar situation and also to support research into this disease with the

ultimate goal of finding a cure.

Today the Muscular Dystrophy Foundation of South Africa (MDFSA) is a registered

non-profit organisation – Reg. No. 004-152 NPO – consisting of a national office and

three branches (Roodepoort, Cape Town and Durban) which operate in the nine

provinces of South Africa.

The mission of the Foundation is to support people affected by muscular dystrophy

and neuromuscular disorders and endeavour to improve the quality of life of its

members. We assist affected persons and their families by providing access to international

information regarding specific dystrophies, workshops, support groups, referral to

genetic counselling and health facilities, and providing assistive devices when funding is

available. We also strive to keep our members updated via the MDF website, Facebook

page and in-house magazine.

National Office

12 Botes Street, Florida Park

Tel 011 472-9703

Website: www.mdsa.org.za

Facebook: Muscular Dystrophy Foundation of South Africa

Gauteng Branch (Gauteng, Free State, Mpumalanga, Limpopo and North West

12 Botes Street, Florida Park

Tel 011 472-9824

KZN Branch (KwaZulu Natal and part of Eastern Cape)

Office 7, 24 Somtseu Road, Durban

Tel 031 332-0211

Cape Town Branch (Western Cape, Northern Cape and part of Eastern Cape)

3 Wiener Street, Goodwood

Tel 021 592-7306

2
---
1. Introductory comments

Every new day holds promise for children everywhere, even for youngsters affected

with muscular dystrophy. The only difference is that children with muscular dystrophy

cannot do things they enjoy without your assistance, patience and understanding and

an ever-present helping hand. They will be whatever you enable them to be. Your role

will not be easy, but remember that you can find the strength and guidance to care for

them. Parents' natural grief upon learning that their child has muscular dystrophy can

make it difficult to absorb all the implications at once. It is therefore important to visit

the doctor, counsellor or social worker to discuss the matters of importance to you.

Genetic counselling may also be discussed, especially after the initial implications of the

diagnosis have sunk in.

2. Causes of muscular dystrophy

Muscular dystrophy (pronounced "dis-tro-fee") is the name given to a group of more

than 70 different neuromuscular disorders causing progressive wasting and weakness

of the muscles. Each type presents differently and with its own levels of severity and

complexity. They are characterised primarily by progressive muscle weakness, leading

to secondary effects such as fatigue, increasingly limited physical activity, impaired

balance and often collapsing. The prognosis varies according to the type of muscular

dystrophy and the speed of progression. Some types are mild and progress very slowly,

allowing normal life expectancy, while others are more severe and result in functional

disability and loss of the ability to walk. Life expectancy may depend on the degree of

muscle weakness and any respiratory or cardiac complications.

These disorders affect about 1 in 1 200 people in the general population, including

children and adults of every race. The disorders are usually inherited, with the

defective gene responsible for the weakening of the muscles being passed on from one

generation to the next. However, muscular dystrophy can also occur in families

where there is no prior history of the condition. Respiratory and cardiac diseases are

common, and some patients may develop a swallowing disorder. Muscular dystrophy is not

contagious and cannot be brought on by injury or activity.

All of the muscular dystrophies result from a mutation in one of the thousands

of genes that program the proteins that are critical for normal muscle health and

development. The body's cells do not work properly when a protein is altered or produced in

insufficient quantity or sometimes missing completely. Genes are like blueprints: they

contain coded messages that determine a person's characteristics or traits. They are

arranged along 23 rod-like pairs of chromosomes, with one half of each pair being

inherited from each parent. Each half of a chromosome pair is similar to the other,

except for one pair, which determines the sex of the individual.

3
---
Muscular dystrophies can be inherited in three ways:

• Autosomal dominant inheritance occurs when a child receives a normal gene from

one parent and a defective gene from the other parent.

• Autosomal recessive inheritance means that both parents must carry and pass on

the faulty gene. The parents each have one defective gene but are not affected by

the disorder. Children of either sex can be affected by this pattern of inheritance.

• X-linked (or sex-linked) recessive inheritance occurs when a mother carries the

affected gene on one of her two X chromosomes and passes it to her son (males

always inherit an X chromosome from their mother and a Y chromosome from their

father, while daughters inherit an X chromosome from each parent).

3. Diagnosing muscular dystrophy

Muscular dystrophy is diagnosed through a physical exam, a family medical history, and

tests.

These might include the following:

• Muscle biopsy – Muscle from patients with muscular dystrophy looks different from

normal muscle, when seen under a microscope. The small piece of muscle that is

removed during the biopsy is cut into very thin slices, stained with a series of special

dyes to show the different types of muscle fibres and studied by a pathologist.

• Genetic testing – This looks for genes known to either cause or be associated with

inherited muscle disease. DNA analysis and enzyme assays (measurements of

enzyme activity) can confirm the diagnosis of certain neuromuscular diseases,

including muscular dystrophy. Genetic linkage studies can identify whether a

specific genetic marker on a chromosome and a disease are inherited together.

• Electromyography - When muscles contract (shorten) there is electricity

flowing through the muscle tissue. An abnormal muscle has an abnormal pattern of

electricity that can be recognised and recorded using special equipment. An EMG

test involves putting a small needle through the skin into a muscle and recording

the pattern of electricity in the muscle when it is contracting.

• Blood and enzyme tests – These can detect defective genes and help identify

specific neuromuscular disorders. CK is an enzyme (protein) that is important for

energy production within muscle fibres. If a muscle fibre is damaged by a disease

process such as muscular dystrophy, some of the CK leaks out into the blood.

Normally only a small amount is in the blood, but in muscular dystrophy there may

be 10 to 100 times the normal amount. Very few other disease processes cause

such a high level of CK in the blood.

4
---
4. Treatment

4.1. General health

Your child's general health is not necessarily affected by their muscular dystrophy

condition, but the following points should be noted:

• Affected children will be very susceptible to colds, which could lead to bronchitis

and pneumonia. This is dangerous as their muscle weakness makes them less able to

cough effectively. If you are worried, call a doctor. Never neglect a cold. Act swiftly.

• It is important to avoid unnecessary bed rest or other forms of immobility, as this

could in fact speed up the weakening of the muscles.

• Obesity is a common and very trying problem. Generally it is due to the inevitable

lack of muscular activity to "burn up" the excess intake. Everybody feels sorry for

affected children, and too many people can think of no better way to express their

feelings than to provide the child with sweets and luxuries. There could be no more

misplaced kindness. Excess weight restricts mobility even more and puts further

strain on the carers. Restrict carbohydrate foods and if possible improve protein

intake. If these habits are followed from an early age, no sudden changes will need to

be made during the early teen years, when other frustrations are already occurring.

• Normal routine immunisations should be carried out. Doctors also recommend the

influenza vaccine annually.

4.2. 4.2. Physical therapy and exercise

Physical therapy and exercise can minimise abnormal or painful positioning of the joints

and prevent or delay deformities such as curvature of the spine. Regular, moderate

exercise can improve movement and muscle strength, help maintain a range of motion,

and keep muscles as flexible and strong as possible. These physical interventions help to

prevent muscle atrophy and delay the development of contractures.

A programme is normally developed to meet the individual's needs. For example:

• Respiratory care, deep breathing, and coughing exercises may be recommended for

persons with a weakened diaphragm. Coughing and deep breathing exercises are

designed to keep the lungs fully expanded.

• Speech therapy may help those whose facial and throat muscles have weakened.

The affected person can learn to use special communication devices, such as a

computer with voice synthesiser.

• Special exercises together with a special diet and feeding techniques may be

recommended for people who have a swallowing disorder and struggle to convey

food or liquid from the mouth to the stomach.

• Repeated low-frequency bursts of electrical stimulation to the thigh muscles can

produce a slight increase in strength in boys with Duchenne muscular dystrophy.

• Exercise options include passive stretching and postural correction exercises.

Therapy should begin as soon as possible following diagnosis, before there is joint

or muscle tightness.

5
---
6

4.3. Drug therapy

Sadly there is still no definite cure for muscular dystrophy, although research is

being conducted across the world to understand the disease better and ultimately find

a cure. In some cases of muscular dystrophy, medicine may be prescribed to relieve

symptoms or delay disease progression and muscle degeneration. Corticosteroids such as

prednisone, for example, can slow the rate of muscle deterioration in Duchenne

muscular dystrophy and help children retain strength and prolong independent

walking by as much as several years. Respiratory infections may be treated with

antibiotics. Medications also can be prescribed for some muscular dystrophy -related

heart problems.

4.4. Assistive devices and support aids

Various assistive devices are needed to help maintain mobility and independence

as the physical condition of a person deteriorates. Examples include canes, walkers,

motorised wheelchairs, splints and braces, bath lifts, raised toilet seats, pressure

regulating mattresses, pressure care cushions, ventilators, speech aids, electric patient

hoists, overhead bed bars (trapezes), orthopaedic appliances and other rehabilitative

devices.

Mobility is also linked to accessibility. Building alterations become necessary for this

purpose, such as installing wheelchair ramps at entrances and modifying bathrooms to

accommodate wheelchair manoeuvres.

4.5. Dietary changes

Changes to the diet of those with muscular dystrophy have not been shown to slow

the progression of the disease. Proper nutrition is essential, however, for overall

health. Limited mobility or inactivity resulting from muscle weakness can contribute to

obesity, dehydration and constipation. A high-fibre, high-protein, low-calorie diet

combined with recommended fluid intake may help. Muscular dystrophy patients with

swallowing or breathing disorders and those persons who have lost the ability to walk

independently should be monitored for signs of malnutrition.

4.6. Occupational therapy

Occupational therapy attempts to help people maintain their normal skills and activities

at work or in other spheres. By so doing it can help some people with muscular dystrophy

to deal with progressive weakness and loss of mobility. Some individuals may need to

learn new job skills or new ways to perform tasks, while other persons may need to change

jobs. Assistive technology may include modifications to home and workplace settings

and the use of motorised wheelchairs, wheelchair accessories, and adaptive utensils.
---
4.7. Corrective surgery

Surgery may be performed to ease complications from muscular dystrophy. Surgery to

reduce the pain and postural imbalance caused by scoliosis may help some patients.

Scoliosis occurs when the muscles that support the spine begin to weaken and can

no longer keep the spine straight. The spinal curve, if too great, can interfere with

breathing and posture, causing pain. Another option is spinal fusion, in which bone is

inserted between the vertebrae in the spine and allowed to grow, fusing the vertebrae

together to increase spinal stability.

5. Emotional support

5.1. Parents

People react to this diagnosis differently. Each has his or her own strengths,

resources, networks and ways of coping. Some may take weeks or months to adjust to the

diagnosis, hoping the terrible prognosis will go away. Others understandably react

with shock, anger and sadness. They may be angry with the doctor who gave them the

diagnosis, angry with their spouse or with themselves. It may take some time

before a family develops its own way of living with a family member who has muscular

dystrophy and is able to deal with the issues this brings. The process of coping is

continuous and will vary over time in response to the changes and needs of the

situation. There will be highs and lows, and as long as the way used to cope by the

family is not self-destructive and does not hurt anyone, then it is appropriate and should

be respected. There is no right or wrong way and each family will find what works for them.

Drawing on their own resources and the support and experience of others can be useful.

The natural inclination of parents is to protect their disabled child from

knowledge of the disorder and from the apparent cruelty of the outside world, but this

could lead to overprotection. This may frustrate the child's normal impulse towards

independence, especially in early adolescence, and may hamper their ability to

make friends. Friendship both within the family and outside is very important for

the affected person. Parents should not be embarrassed about exposing their

child within the community. In this respect, young disabled adolescents should be

granted the space and independence to test their own emotions, creativity, and

social capability and be encouraged and supported to develop their leadership abilities.

Looking after a disabled youngster is not an easy task and there are more than the

normal share of problems. One parent-made problem is the tendency to be too

anxiously sympathetic. A feeling of self-sufficiency and independence is so necessary for

the child's mental health. The parent should institute a schedule of everyday activities

– simple things that the child knows they can do with little or no help. They will learn

self-respect that comes from achievement, which is so vital for maintaining an interest

in life.

7
---
This brings us to the point of your own needs. In your devotion to looking

after your disabled child, do not forget your own needs. Try to stay involved

with social, community or other matters of interest to you. Allow yourself short

breaks of a few hours every week. You need time off to retain perspective.

Naturally, at times, feelings of depression could occur within the family, but it is

not common for children who have muscular dystrophy. Parental feelings of guilt

and a tendency to blame oneself is often the reason for depression. The sooner

you rid yourself of this blame the better. Nothing about the situation is your fault.

Plan for the future. Even if you have few assets, it's important to draw up a will, appoint

guardians, outline your wishes for your affected child's care, and establish a special

needs trust, in case your child outlives you (Medvescec, 2004).

5.2. Siblings

Because special attention is given to the affected child, other children within the

family may feel jealous. Obviously everyone wishes a disabled child to live the fullest life

possible, and the nature of muscular dystrophy and the deterioration of strength make

more attention and assistance necessary for the affected child. This is not favouritism

but essential care, and this should be carefully explained to the child's siblings. It is

therefore important to help brothers and sisters realise that they are equally loved and

encourage them to have empathy with the affected child and behave lovingly towards them.

Christina Medvescek (2004) writes as follows about siblings in this situation:

8

… the sibling experience isn't easy, especially as children see their affected brother or

sister decline physically. Sadness, resentment, jealousy, embarrassment, frustration,

guilt and not a little fear — all are part of the story.

Siblings usually have the longest-lasting relationships in a family. It's not uncommon

for an adult sibling, having outlived the parents, to take on caregiving responsibilities

for an affected brother or sister.

Families that foster a climate of security, belonging, love and caring — all the positives

of a healthy family system — generally have children who cope well with the daily

realities of neuromuscular disease, says Arden Peters, a psychologist… .

But a good family climate can't guarantee that kids won't struggle with their

difficult roles. Signs that siblings may be having trouble coping include: greater-than-normal

bickering, anger, jealousy and complaining; acting out at school or home; sleep

disturbances; clinging; and (ironically) overachieving and trying to be "perfect

How do you set a good family climate?

• Be open and honest with children about the disability. "Parents should openly

communicate about the disease process, treatment regime and especially their

feelings," says Laura Frobel, a social worker… .

When younger children start asking questions about death, they're ready to begin
---
talking about it. If older children haven't asked about death, maybe they're worried

they'll cause something bad to happen by bringing it up.

"Children need to know that when parents cry about such things, it's a sign of love

and the children have done the right thing, not the wrong thing, in talking about

it," says Peters. …

• Listen. Children don't always need you to fix things. A sympathetic ear and a hug

can go a long way. Be strong enough to bear their "bad" feelings. Counselling can be

a valuable tool for some children, but non-talkative children may just need to know

they can talk to you if they need to. …

• Treat them as individuals. … Don't lay on guilt by emphasizing how much luckier

they are than their affected siblings. Find time to connect privately with each child.

Give them private space. Take vacations that cater to their interests, not just built

around hospital visits or physical limitations. Help them connect with a caring adult

who is there just for them. Let overachievers know you love them for who they are,

not what they do.

• Don't expect children to assume adult roles. Caregiving is a character-building

experience and many siblings say they've benefited from it. Too much caregiver

responsibility robs siblings of their growing-up experiences, and can make them

bossy and authoritarian. How much is too much? The key is that the parents remain

in charge, and that they ensure helper siblings get to be kids too.

• Remember they're young. Even though they understand intellectually that

their siblings with disabilities need more attention, children don't yet have good

emotional control and often act immaturely. Be patient.

5.3. Affected Child

Very young children will not understand any details of the diagnosis, but those who

are already aware of their problem will welcome an opportunity to discuss what is

happening to them. How much a child should be told depends on their own

curiosity and emotional make-up. Your child's questions should be a good indicator of

what he or she is ready to hear. As a general rule, do not volunteer disturbing information

needlessly. It is recommended that you are open and honest from the very beginning.

I was officially diagnosed with congenital muscular dystrophy at age 4, but I was

always aware of my disability. I recognised that I was different from my peers – I

was unable to walk, run and climb steps. I also looked different – I was very thin

as a child, I had contractures and scoliosis causing asymmetry of the torso. My

parents told us that I have something called muscular dystrophy, meaning I have

much weaker muscles than other children. At that age, this was enough knowledge

for me. For many years, when other children would ask the inevitable question,

'what's wrong with you? 'I would simply answer, 'I've got muscular dystrophy so I

can't walk like you'.

9
---
10

It is also important to consider siblings, as they should be included in any discussions

you have as a family. However, refrain from telling siblings more about the condition

than the affected child. Any information you choose to share with your children should

be fair and equal.

Independence and confidence is a very important skill, particularly in coping with a

variety of people and situations. It is therefore important for your child to participate

in activities outside the home. Not only does participation develop independence

and a positive self-image, but the activities themselves provide a wonderful source of

pleasure and enjoyment.

Above all else your child must feel loved and supported by you and your family.

Sometimes the comfort of a loving hug is all the reassurance they want and need.

5.4. Education

Education is important to everyone, including disabled individuals, who have

the same potential as anyone intellectually. Physical challenges at school such as

moving from class to class, climbing stairs and carrying a suitcase should be overcome by

arrangement with the principal, teacher and schoolmates. The presence of

occasional pupils in wheelchairs in any mainstream school may in fact be an advantage to

everyone, giving the affected children the opportunity to live in a regular environment,

and their schoolmates the opportunity to recognise the problems of the disabled.

Special schools for the disabled, however, give them opportunities to see themselves as

only one of a great many disabled people. Another advantage of special schools could

be the services available, such as physiotherapy, nursing supervision and a chance to

learn to use special equipment and techniques to overcome physical difficulties. The

best solution should be sought for each individual child. Often the child will first attend

a mainstream school (the so-called 'normal') school, but they should change to a special

needs school before their needs become critical and result in an emergency situation.

As previously mentioned, the diagnosis could reduce life expectancy or result in

functional disability. Despite this prognosis it is important that children do attend

school that provide educational programs to enable them to find meaningful work once

they have left school.

5.5. Socialisation

It is important that your child has contact with a broad range of people for his or her

development. Contact with those who do not have the disorder will help your child to

not feel different, while contact with other children with muscular dystrophy will give

him or her opportunity to be themselves.
---
A group of children diagnosed with muscular dystrophy can talk about how they feel

and how they deal with certain situations in a way that is different from talking with

their parents. This peer support is invaluable, something which plays a big role in the

life of any teenager or young adult.

5.6. Counselling

Given the demands and challenges of situations they meet, at times a family may find

it useful to seek professional counselling and assistance. This should be thought of as a

positive and constructive action rather than a failure or weakness.

The Muscular Dystrophy Foundation of South Africa will give you as much support

as it can. Join the Foundation and our social work team can provide support in terms

of individual therapy, family therapy, or group therapy; or you can just simply meet

others with similar problems to comfort and advise each other by telephone or through

support group meetings.

6. Conclusion

There cannot, of course, be a single right answer to every problem. Every child's set of

circumstances is different, and the advice given should be shaped to fit the individual.

But remember that you are not alone with your problem.

11
---
7. Bibliography

Life on the slow lane. Disability & lifestyle blog. http://www.lifeontheslowlane.co.uk/

Medvescek, C. 2004. "The other children in the family", Quest, January–February 2004,

as excerpted online by the Muscular Dystrophy Association in Learning to live with

neuromuscular disease: A message for parents. https://www.mda.org/sites/default/

files/publications/Learning_to_Live_P-195.pdf

Muscular Dystrophy Association. 2011. Learning to live with neuromuscular disease:

A message for parents. www.mda.org/sites/default/files/publications/Learning_to_

Live_P-195.pdf

Muscular Dystrophy Association / Muscular Dystrophy Australia. 2018. DMD – A guide

for parents. https://www.mda.org.au/wp-content/uploads/2018/07/DMD_A-Guide_

for_Parents.pdf

Muscular Dystrophy Foundation of South Africa. A guide to parents. http://www.mdsa.

org.za

Muscular Dystrophy Foundation of South Africa. 2016. Orientation programme, 30

June. Florida.

PLEASE NOTE

12

The treatments and drugs mentioned in this fact sheet are for information purposes

ONLY. Please consult your physician or other health care specialist for information

regarding the use of any of the above.
---
A heartfelt thank you to FC Robb Charitable Trust for donating the funding to make this

book possible.
---
14