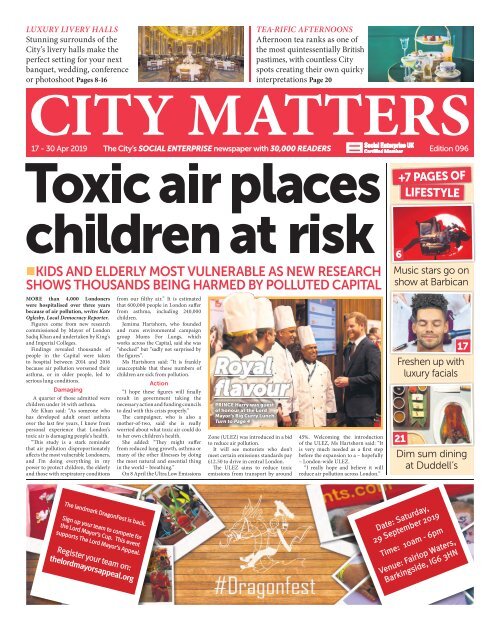 Create successful ePaper yourself
Turn your PDF publications into a flip-book with our unique Google optimized e-Paper software.
For more information on these events

and a whole lot more:

The City Information Centre,

St Paul's Churchyard EC4M 8BX

www.visitthecity.co.uk

@visitthecity | @visitthecity | visitthecity
---
Page 12 | 17 - 30 April 2019

city_matters

CITYMATTERS.LONDON

#MAKE YOUR

STAGE MATTER

NOT ALL EVENTS ARE CREATED EQUAL.

CHOOSE THE RIGHT VENUE AND

RAISE YOUR EVENTS GAME.

QUOTE 'CITY STAGE MATTERS' ON ENQUIRY

TO RECEIVE YOUR 10% SAVING ON VENUE HIRE.

020 7871 0577 | HELLOITA@CHANDCOGROUP.COM

ITAVENUES.CO.UK |

#MAKEYOURSTAGEMATTER | #TIMETOSHINE | #RAISEYOUREVENTSGAME
---
EXQUISITE HISTORIC LIVERY HALL COLLECTION | INSPIRING CATERING

| FREE VENUE FINDING | CREATIVE EVENT SOLUTIONS | SPECIALIST EVENTS TEAM

BREWERS' HALL

CLOTHWORKERS' HALL

BY ITA VENUES

EC2V 7HR MOORGATE MAX STANDING 120 MAX SEATED 80

EC3R 7AH BANK MAX STANDING 350 MAX SEATED 224

COOPERS' HALL

FOUNDERS' HALL

EC2M 4TH LIVERPOOL ST MAX STANDING 90 MAX SEATED 34

EC1A 7JQ BARBICAN MAX STANDING 120 MAX SEATED 64

GOLDSMITHS' HALL

HABERDASHERS' HALL

EC2V 6BN ST PAUL'S MAX STANDING 300 MAX SEATED 180

EC1A 9HQ BARBICAN MAX STANDING 450 MAX SEATED 186

IRONMONGERS' HALL

STATIONERS' HALL

EC2Y 8AA BARBICAN MAX STANDING 230 MAX SEATED 150

EC4M 7DD ST PAUL'S MAX STANDING 450 MAX SEATED 200

MEETINGS & CONFERENCES | RECEPTIONS | FINE DINING | EXHIBITIONS |

PRODUCT LAUNCHES | ROADSHOWS | SUMMER & CHRISTMAS PARTIES
---
THREADNEEDLE

CITY OF LONDON

STREET

EC2
---
Notice is hereby given that V69 Ltd has applied

in respect of V69 Coffee, Bespoke, 30 Gresham

Street (Corner Of Milk Street And Russia Row)

for the grant of a New Premises Licence under

the Licensing Act 2003 to permit the following:

The sale and supply of alcohol (on and off-sales)

from 11:00 to 19:00 daily Monday to Saturday.

Representations to this application must be

made in writing, by the end of 7 May 2019, to the

City of London Corporation Licensing Authority

at PO Box 270, Guildhall, London, EC2P 2EJ

where the register of licensing applications can

be inspected during office hours and/or at

http://www.cityoflondon.gov.uk.

It is an offence to knowingly or recklessly

make a false statement in connection with

this application. Persons will be liable on

summary conviction to an unlimited fine.

TLT Solicitors
---
Welcome home ...

SHOREDITCH APARTMENTS BY LONG & WATERSON

1-3 BED APARTMENTS AVAILABLE I PRICES FROM £665,000

Our vision was to create stunning homes that make people feel good.

Luxury amenities, spacious layouts and unrivalled specification, and

just moments from The City, make L&W the place you want to be.

Gym I Spa I Cinema I Private Gardens I Concierge I Library

MOVE IN THIS SPRING

All prices correct at time of going to press.

Indicative CGI of Long & Waterson

exterior, sundeck and view of the city. I

GI I

1zAK1 GRoup "Knight

,NvEsTMENTs I u,

M Frank 020 7205 4192 I LONGANDWATERSON.COM
---
9

4

1

3

4 8

9

6

5

8

7

2

7

5

1

2

LEVEL ONE

18

LEVEL TWO

98

LEVEL THREE

133

+4 -7 ÷3

➥

÷2

➥

x3

➥

x2

➥ ➥ ➥

+12

➥

-47

➥

-3

➥

75%

OF THIS

➥

+6

➥

÷8

➥

TIMES

ITSELF

➥

1/2

OF THIS

➥

-19

➥

-60

➥

-16

➥

TIMES

ITSELF

➥

÷5

➥

÷4

➥

-79

➥

1/2

OF THIS

➥

+3

➥

2/3

OF THIS

➥

+9

➥

TIMES

ITSELF

➥

x2

➥

ANSWER

ANSWER

ANSWER

6

2

6

1

5

1

7