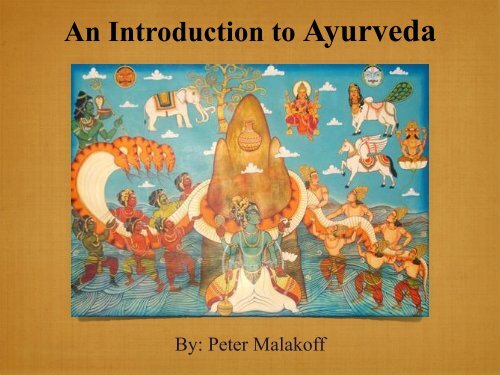 INTRODUCTION to AYURVEDA 12/17/19 DA
This is an Introductory Presentation on Ayurveda containing nearly 600 slides. I put this course together over the past fifteen years and have used it in Yoga Teacher Training programs in the United States as well as Introductory classes on Ayurveda for the general public in India. The slides are like sutras (threads), meant to be commented on and expanded. Each slide is 'unpacked' and commented on and like a 'sutra,' and all will be strung together as beads on a string. I offer a wide-ranging commentary during a 7-10 day training considering many of the fundamental principles, concepts and practices of Ayurveda and the Vedic-Sankhya-Yoga tradition on which it is based- I have a degree in religious studies from UCSB where I focused on Hinduism, Buddhism, World Mythology and Hermeneutics. I am thankful to my Ayurveda teacher, Dr. Sunil Joshi, for sharing this great Vidya (Wisdom tradition) with me in the United States and at Kalidas Sanskrit University in Nagpur, India, from which I graduated in 2004. There are different fields of focus in Ayurveda and every practitioner has his or her area of expertise. As for myself, I concentrate on preventing disease rather than treating illness. There is a saying in Ayurveda: "If a person's diet and lifestyle are wrong, what good are herbs or medicines? If a person's diet and lifestyle are good, what need are herbs and medicines?" Here are a few quotations from medical traditions that were influenced by Ayurveda and may help to clarify my approach: "The sages did not treat those who were already ill, they instructed those who were not yet ill. To administer medicines to diseases which have already developed is comparable to the behavior of a person who begins to dig a well after they have become thirsty. Would this not be too late?" - Yellow Emperors Medical Treatise (300 BC) In my practice and teachings I also concur with Maimonides, the 12th century Jewish physician,honored by Jews, Moslems and Christians in the Middle East: "The physician should not treat the disease but the patient who is suffering from it, and no disease that can be treated by diet should be treated with any other means." ​If you are interested in having me present this course, please contact me: Peter Malakoff petermalakoff@gmail.com www.petermalakoff.com
This is an Introductory Presentation on Ayurveda containing nearly 600 slides. I put this course together over the past fifteen years and have used it in Yoga Teacher Training programs in the United States as well as Introductory classes on Ayurveda for the general public in India.

The slides are like sutras (threads), meant to be commented on and expanded. Each slide is 'unpacked' and commented on and like a 'sutra,' and all will be strung together as beads on a string.

I offer a wide-ranging commentary during a 7-10 day training considering many of the fundamental principles, concepts and practices of Ayurveda and the Vedic-Sankhya-Yoga tradition on which it is based- I have a degree in religious studies from UCSB where I focused on Hinduism, Buddhism, World Mythology and Hermeneutics.

I am thankful to my Ayurveda teacher, Dr. Sunil Joshi, for sharing this great Vidya (Wisdom tradition) with me in the United States and at Kalidas Sanskrit University in Nagpur, India, from which I graduated in 2004.

There are different fields of focus in Ayurveda and every practitioner has his or her area of expertise. As for myself, I concentrate on preventing disease rather than treating illness. There is a saying in Ayurveda:

"If a person's diet and lifestyle are wrong, what good are herbs or medicines? If a person's diet and lifestyle are good, what need are herbs and medicines?"

Here are a few quotations from medical traditions that were influenced by Ayurveda and may help to clarify my approach:

"The sages did not treat those who were already ill, they instructed those who were not yet ill. To administer medicines to diseases which have already developed is comparable to the behavior of a person who begins to dig a well after they have become thirsty. Would this not be too late?"
- Yellow Emperors Medical Treatise (300 BC)

In my practice and teachings I also concur with Maimonides, the 12th century Jewish physician,honored by Jews, Moslems and Christians in the Middle East:

"The physician should not treat the disease but the patient who is suffering from it, and no disease that can be treated by diet should be treated with any other means."

​If you are interested in having me present this course, please contact me:

Peter Malakoff
petermalakoff@gmail.com
www.petermalakoff.com
SHOW MORE
SHOW LESS
Create successful ePaper yourself
Turn your PDF publications into a flip-book with our unique Google optimized e-Paper software.
An Introduction to Ayurveda

By: Peter Malakoff
---
AYURVEDA
---
"The aim of Ayurveda is to maintain

the health of the healthy and

cure those who are sick"

– Caraka Samhita
---
"That is said to be Ayurveda which

evaluates the beneficial and

harmful, the happy and unhappy,

the wholesome and unwholesome

factors of life and the lifespan"

– Caraka Samhita
---
"It is called Ayurveda, because it

tells us which substances,

qualities and actions are life

enhancing and which are not"

-Caraka Samhita
---
"THOSE DESIROUS OF A LONG HEALTHY LIFE,

(WHICH IS) THE MEANS OF THE

ACHIEVEMENT OF:

DHARMA (RIGHT ACTION)

ARTHA (WEALTH AND PROSPERITY)

AND SUKHA (HAPPINESS)

SHOULD GIVE THEIR UTMOST ATTENTION

AND APPLY THEMSELVES FULL TO THE

TEACHINGS OF AYURVEDA

– Caraka Samhita
---
ayurveda

is the science (veda)

of understanding

the nature of Life (Ayu)
---
ayurveda

defines Life (Ayu) as

the intelligent

coordination of four

principles
---
Atma

Manas

Indriyas

Sharira
---
Ayurveda

is the oldest medical system

in the world
---
The custodian of Ayurveda

has been the vedic tradition

of india
---
Ayurveda

is considered to be a natural system

Just like gravity is natural

Gravity is inherent

in the nature of the universe

ayurveda is inherent

in the very nature of life itself
---
Ayurveda was not invented

Like Gravity it was discovered or

revealed

to the vision of the rishis or seers
---
Like Gravity

Ayurveda

has remained unchanged

for billions of year
---
the buddha practiced ayurveda

buddhist monks carried the

principles and practice of

ayurveda throughout

southeast asia
---
Angkor Wat, Cambodia, is the

largest religious temple in the

world
---
On either side of the entrance are huge statues

of the gods and demons

churning the ocean of milk
---
the gods or devas pulling on the snake
---
on the other side

the demons or asuras
---
-How did Ayurveda come to the west?

-India was the oldest civilization in the world

-India, Ladakh was at the center of the Silk

Road and China had much cultural exchange

with India

-Persia had large cultural exchange with

India and Persia with Greece

-Rome had tremendous exchange with India

Trade links flourished between India and the

Roman Empire, particularly in the first and

second century AD. Caches of Roman coins

have been discovered across the Indian

peninsula

-The Library of Alexandria facilitated

knowledge exchange between the east and

west
---
In 50CE, the Persian King Khosrau,

Called by Plato the 'philosopher king,'

became greatly interested in Indian

philosophy, science, mathematics, and

ayurvedic medicine. He sent multiple

embassies and gifts to the Indian court

and requested them to send back

philosophers to teach in his kingdom.
---
Dioscorides the Greek

physician and teacher of

Hippocrates wrote a

Materia Medica in 50CE

with large numbers of

Indian herbs, medicines

and spices
---
There are tremendous

similarities between the

ancient medical system of

Ayurveda and the Greek

medical system of Hippocrates
---
Spices, herbs, medicinal drugs and

general trade with India ended with the

Christianization of Rome around 330AD

and this coincided with the beginning of

the Dark Ages, a period of intellectual

darkness and barbarity coinciding with

the movement of so-called barbarian

peoples—including the Huns, Goths,

Vandals, Bulgars, Alani, Suebi, and

Franks—into what had been the Western

Roman Empire.

Along with this came a rejection of the

knowledge of Greece and India
---
In the Taming of the Shrew,

Shakespeare has Petruchio

speak of 'Giving her a taste of

her own medicine'

This shows how the 5 element

theory and three doshas or

humors had come all the way

to England and entered into

common language
---
AYURVEDA

5 Elements:

ether, air, fire,

water, earth

3 Types:

Vata, Pitta,

Kapha

The principles of the

elements/types/doshas

were used to describe

herbs and medicines in

the spice trade

Air

Ether

VATA

KAPHA

Earth

HOT

FIRE

DRY

PITTA

Fire

Water

AIR

EARTH

HIPPOCRATES

WET

WATER

4 Elements:

air, fire, water,

earth

COLD

4 Types:

Blood-Air

Phlegm-Water

Yellow Bile-Fire

Black Bile- Earth
---
Chinese Five Element Chart
---
The Five Elements

Panchamahabhutas
---
yat brahmaande tad pinde

(as in the cosmos, so in the body)

-Vedas

The individual is the epitome

of the universe

as all the material and spiritual

phenomena of the universe

are present in the individual

and everything present in the

individual

is also contained

in the universe

- Charak Samhita
---
"One must master the

understanding of the

elements in order to be a

physician"

-Charak Samhita
---
One must Master and

understand:

The Nature of the person in

terms of the 5 elements

The nature of the disease in

terms of the 5 elements

The nature of the remedial

factors in terms of the 5

elements
---
Within our body and in our environment
---
Ether provides space which allows for

movement

Air provides the driving force behind all

movement

Fire is the force of transformation and

illumination

water provides moisture and is cooling and

lubricating

earth provides structure, form and

stability
---
everything in creation is made

up of differing combinations

of all the five elements

together
---
Our body and mind, are 'part' of

the universe

The same elements which

constitute the universe

also

constitute our body and mind
---
the quantity, quality and

proportion of the elements

always show themselves in

the

nature of a thing

-charak samhita
---
There are a variety of

environments where humans live:

Tundra

Desert

Subtropics

Tropics

Rainforests

Pampas

Savannah

Alpine Forest

Coniferous

Polar
---
56
---
56
---
We not only

Live in the universe

We live in a particular

neighborhood, geography,

climate,

season and time

of universe
---
ecause of the varying climates and

conditions all around the world

ayurveda advises people to eat

locally and seasonally

ayurveda was concerned with the

balance of the individual with their

environment

this is the ayurvedic reasoning

to eat locally and seasonally
---
let's look at some of the varying diets

of people around the world.

the following pictures are from the

book:

The Hungry Planet

By: Faith D'Aluisio and Peter Menzel

each picture depicts everything that

family consumes in a given week.
---
After most of the slides are presentedinformation

on the prevalence of

various types of diseases in that

country are shown.

This information needs to be taken with

much salt to make any conclusions as

there are so many variables in diet and

lifestyle amongst the different

peoples of the different countries
---
"First, nutrition is the master key to

human health.

Second, what most of us think of as

proper nutrition—isn't."

"Population studies begun forty to

fifty years ago show that when people

migrate from one country to another,

they acquire the cancer rate of the

country to which they move, despite the

fact their genes remain the same."

― T. Colin Campbell, author of:

The China Study
---
AMERICA

Pictures from the book: The Hungry Planet
---
USA

Americans suffer from an epidemic

of food-related diseases, such as

obesity; type 2 diabetes;

cardiovascular, liver and kidney

diseases; some types of

cancer, and Alzheimer's disease.
---
GERMANY
---
Germany

ischemic heart disease, trachea,

bronchial, and lung cancers, and

cerebrovascular disease were

the highest ranking causes of

death
---
NORWAY
---
Norway

The three most common causes of

death are cardiovascular

disease, cancer and neurological

diseases (mainly dementia).

71 % of all deaths are due to

these three causes.
---
JAPAN
---
Japan

Cancer is the leading cause of

death among Japanese, followed

by heart disease and pneumonia,

according to a Ministry of

Health, Labor, and Welfare

report.
---
ITALY
---
Italy

Italy was deemed the healthiest country in the

world with a life expectancy over 80 years. Very

healthy fresh ingredients, high quality of food, in

moderate to small portions. Italians really don't

like over-eating or use many heavy sauces,

compared to most other places I have lived. Their

food isn't always healthy but they don't eat too

much of the bad stuff. A small gelato wouldn't

qualify for a sample taste in in the U.S. wine and

beer is not consumed to excess, lot's of vegetables,

fish, and in general it's pretty healthy (although a

little carb- heavy). Portion control, olive oil,

fresh healthy foods. The younger generations are

starting to eat Mcdonald's and almost always

order french fries at meals. so there may be a

change as it slowly adopts a more american diet.
---
CHAD
---
Chad

As one of the poorest countries in the world,

Chad has very limited health care resources,

with only 4 physicians per 100,000 population.

the most common diseases are schistosomiasis,

leprosy, tuberculosis, malaria, tuberculosis,

measles, tetanus and diptheria
---
KUWAIT
---
Kuwait

15% of the adult population has

diabetes, with 50% of adults over 45

live with the disease.
---
AMERICA
---
The No. 1 health condition in the U.S.

is heart disease. It is one of the leading

causes of death, comprising more than a

quarter of all deaths annually. It is

estimated that someone has a heart

attack in the U.S. every 43 seconds.

Cancer is the second leading cause of

death with iatrogenic disease

(treatment by a doctor) being the the

third leading cause of death
---
MEXICO
---
MEXICO

diabetes is the leading cause of death in

Mexico, being responsible for with 14.7%

of Mexico's deaths and taking over 76,000 lives

a year.

Three-quarters of Mexicans over the age of 20

are obese.

- Center for Disease Control
---
CHINA
---
China

Nearly one-third, 28%, of all deaths in China are caused

by malignant neoplasms or cancerous tumors. Of the

cancers that affect the Chinese population, lung cancer

is the most common. This disease is a result of the

widespread practice of tobacco smoking, a habit the

government is not keen on preventing given that the state

tobacco corporation provides between 7% and 10% of the

national revenue.

Cardiovascular disease is the second ranked killer in the

country and is responsible for 21% of the lives lost

every year. Unfortunately, this disease is expected to

increase as a result of an aging population. Controllable

factors that contribute to the development of heart

disease in China include high cholesterol, smoking,

diabetes, and high blood pressure. These are mainly

preventable (with the exception of genetically inherited

diabetes) and are a reflection of lifestyle choices.
---
POLAND
---
Poland

According to the National Health Situation Report

2016, the main causes of death are:

Cardiovascular diseases (45% of all deaths)

Cancer(25,4% of all deaths)

Other external reasons: suicide, communication

injuries and falls (5,7% of all deaths)
---
EGYPT
---
EGYPT

the four most common

diseases in Egypt are bacterial

diarrhea, typhoid fever, hepatitis A and

schistosomiasis (parasitic flatworms).
---
ECUADOR
---
ECUADOR

There are many prevalent diseases in

Ecuador, mainly due to environmental

conditions, geographical location, and

lack of health care. Specific health

problems that are common in Ecuador:

infant mortality, acute respiratory

infection, diarrhetic diseases, dengue

fever, malaria, tuberculosis, HIV/

AIDS, health problems due to smoking,

malnutrition.
---
MONGOLIA
---
Mongolia

Top 6 causes of death:

Respiratory Infection

Encepahlotomy (Brain disease)

Coronary heart disease

Stroke

Preterm Birth Complications

Congenital Anomalies
---
GREAT BRITAIN
---
Great Britain

Five big killers - heart disease, stroke,

cancer, lung and liver disease - account for

more than 150,000 deaths a year among

under-75s in England alone and their

Department of Health estimates 30,000 of

these are entirely preventable
---
BHUTAN
---
BHUTAN

Widespread health concerns

included diarrhea (2,892 per 10,000 people)

and pneumonia (1,031) among children under

age 5; skin infections (1,322); conjunctivitis

(542); hypertension (310); and intestinal

worms (170).

Less widespread were diabetes (38 per 10,000

people); alcohol-related liver disease (23);

and cancer (17). Incidence

of malaria and tuberculosis was generally

low, at 10 and 15 cases per 10,000 people,

respectively.
---
AUSTRALIA
---
Australia

The 6 top chronic health

issues affecting Australians.

Hypertension (high blood pressure),

osteoarthritis, hyperlipidaemia (high

cholesterol), depression, anxiety, and

asthma are the six most common

chronic health conditions

affecting Australians
---
NORWAY
---
NORWAY

One of the major findings from the report (2016), is

that an unhealthy diet is the most important risk

factor for premature deaths in Norway.

"46 per cent of all deaths before the age of 70 in

Norway can be explained by behavioural factors

such as unhealthy diet, obesity, low physical

activity and the use of alcohol, tobacco and drugs"

says Professor Stein Emil Vollset, Director of the

newly established Centre for Burden of Disease at

the Norwegian Institute of Public Health.

"If we consider the population as a whole, it appears

that an unhealthy diet represents a greater risk to

public health than smoking. This is not because an

unhealthy diet is more dangerous than smoking but

because fewer Norwegians now smoke. Since 1990,

the percentage of smokers in Norway has decreased

from 35 per cent to 13 per cent"
---
GUATEMALA
---
Guatemala

Widespread health concerns

included diarrhea (2,892 per 10,000

people) and pneumonia (1,031) among

children under age 5; skin infections

(1,322); conjunctivitis (542);

hypertension (310); and intestinal worms

(170).

Less widespread were diabetes (38 per

10,000 people); alcohol-related liver

disease (23); and cancer (17). Incidence

of malaria and tuberculosis was

generally low, at 10 and 15 cases per

10,000 people, respectively.
---
LUXEMBOURG
---
Luxembourg

Across Luxembourg one of the greatest

problems to the nations's health has

been the high number of deaths from

non-communicable diseases such

as cancer, diabetes, cardiovascular

disease, and chronic respiratory

diseases, arising from a variety of

factors, though most notably

from substance abuse.
---
INDIA
---
India

India, is facing a growing obesity epidemic. India is home

to the third-largest number of obese people i the

world. By 2025, India will be home to an estimated 65

million obese people, including seventeen million obese

children. Rising obesity rates are associated with the

country's rapidly growing epidemic of NCD's which

account for 61% of deaths in the country.

Conditions like cancer, heart disease, diabetes and

hypertension are becoming ever-more prevalent and

costly. Estimates suggest India could lose between

US$4.58 trillion and US$6.2 trillion before 2030 due to

NCDs, including mental health disorders.

That NCDs (non-communicable diseases) now dominate

India's disease burden in lieu of infectious diseases is

indicative of an epidemiological transition. As the study

notes, driving this – at least in part – is a transition in

dietary habits.
---
UNITED STATES
---
USA

Americans suffer from an epidemic

of food-related diseases, such as

obesity; type 2 diabetes;

cardiovascular, liver and kidney

diseases; some types of

cancer, and Alzheimer's disease.
---
MALI
---
MALI

Malaria and other arthropod-borne

diseases are prevalent in Mali, as are

a number of infectious diseases such

as cholera, hepatitis, meningitis,

Polio, rabies, malaria, and

tuberculosis.
---
CANADA
---
CANADA

Too many calories (and too much fat and

simple sugars) A big part of the problem is

too much fat consumption. One quarter of

children's caloric intake comes from food

products not found within Canada's Food

Guide. For middle aged adults, some 30% are

consuming fat above the recommended

levels. The main contributors to excess fat

consumption are meat, fats and oils, sugars,

snacking and eating fast food. For older

Canadians, sixty per cent of the calories

consumed come from ultra-processed food i.e.

packaged salty oily snacks, confectionary,

soft drinks, frozen breakfast foods,

packaged pizzas, and instant noodles). A

quarter of Canadian adults and ten per cent

of Canadian children are obese.
---
FRANCE
---
FRANCE

Cancer is the leading cause of death in

France, accounting for 28.5% of all deaths in

2014, followed by cardiovascular diseases,

which accounted for 25%.
---
GREENLAND
---
Greenland

Mortality and disease patterns in

Greenland have greatly changed

since the 1950s. Infectious diseases

have decreased markedly; chronic

diseases, suicides and violent deaths

have increased.
---
TURKEY
---
the Law of Karma
---
When this is, that is

This arising, That arises

When this is not, that is

not

This ceasing, that ceases

-Buddha
---
DISEASE

Karma Phala

Transgression of Dharma

Unwholesome

Diet

Ayurveda to cure

Cure through

Prayaschitta

(Making good what was

broken)

Atonement, penance, for

expiation of sin
---
"Just as a calf can find its

mother in a herd of thousands of

cows, your karmas follow you in

every birth you take."

- Lord Krishna

Bhagavad-Gita
---
Ayurveda in Nature
---
since we are talking about trees

Lets look at a well known

recent and ongoing occurrence

in the

local environment

of california

SUDDEN OAK DEATH
---
The CONFUSION OF CAUSE AND

EFFECT STANDS

AT THE HEART OF WESTERN

MEDICINE

AS IT IS PRACTICED

IN AMERICA TODAY

OUR MEDICAL ESTABLISHMENT IN ITS

PHILOSOPHY AND PRACTICE

SEEKS

TO REMOVE OR PALLIATE THE EFFECTS

NOT

REMOVE THE CAUSE

THIS WAY OF THINKING IS BACKWARDS

AND CAN BE HARMFUL
---
ACCORDING TO THE

AMERICAN MEDICAL ASSOCIATION

THE THIRD LEADING CAUSE OF DEATH

IN AMERICA TODAY

AFTER HEART DISEASE AND CANCER

IS IATROGENIC DISEASE

IATROGENIC MEANS :

TREATMENT BY A DOCTOR
---
"Todays scientists have substituted

mathematics for experiments and

they wonder off through equation

after equation and eventually build

a structure which has no relation to

reality."

–Nikola Tesla

In a similar way this is what has

happened with western medicine

regarding organic disease
---
"A treatment is not ideal, if it

cures one disease and causes

the increase of another

disease at one and the same

time."

- Astanga Samgraha of

Vagbhata
---
TRIDOSHA SIDDHANTA

THREE DOSHAS
---
"Neither in theory nor in

fact is there a physical

manifestation that cannot

be accounted for by the

concept of tridosha"

– Carak Samhita
---
"If you want to find the secrets

of the universe, think in terms

of energy, frequency and

vibration"

– Nikola Tesla
---
If you want to find the

secrets of the body,

think in terms of

Dosha"
---
THE 'NATURE' or quality

OF a THING

OR more commonly

THE Body

IS CALLED:

DOSHA
---
When we consider

the Five Elements

in terms of the body

then they are called

the doshas
---
DOSHA

MEANS

THAT WHICH

VITIATES OR AGGRAVATES

darkens, spoils

or

causes things to decay
---
The Doshas are composed of

or made up of

the Mahabhutas

or

the five elements:

Ether

Air

Fire

Water

Earth
---
The elemental make-up

that a person is born with

is called

PRAKRUTI
---
The elemental make-up

that a person becomes

through living and exposure

to various types of outside

and self-caused influences is

called:

VIKRUTI
---
Vikruti

means that which

'covers over'

prakruti
---
THERE IS THE DOSHA

OF YOUR PRAKRUTI

AND THE DOSHA

OF YOUR VIKRUTI

THEY ARE NOT NECESSARILY

THE SAME
---
Vata is the biological air humor,

also translated as 'wind.'

it means:

'that which moves things'

Vata dosha is the motivating

force behind the two other

DOSHAS, both of which are lame

or incapable of movement.
---
there is a saying in Ayurveda:

"Pitta and Kapha are lame and

cannot move. Only Vata has legs.

If Pitta and Kapha are going to

go anywhere, Vata has to take

them"
---
Pitta

is the biological fire humor, also

translated as bile.

It's meaning is"

'That which digests things'

Pitta dosha is responsible for all

chemical and metabolic

transformations in the body.

it also governs our mental

digestion of ideas and experiences

and our ability to perceive and

understand things as they are
---
Kapha is the biological water humor

translated as 'phlegm'

It means:

'that which holds things together'

Kapha dosha provides substance and

gives support and makes up the bulk

of our bodily tissues.

It provides our emotional support in

life and relates to positive emotional

traits like love, compassion, modesty

patience and forgiveness
---
Vata

air is contained in ether.

it resides in the empty

spaces of the body and the

universe
---
Vata is located in the colon,

thighs, hips , ears, bones and

organ of touch
---
The primary site of

Vata

is

in the colon
---
If a person was born with

the fire element

predominating

we call them

PITTA
---
Pitta

Fire,

exists in the body as water

or oil. It exists mainly in

an acid form as fire

cannot exist directly in

the body without

destroying it
---
Pitta

is primarily located in the

skin, small intestine,

stomach, sweat sebaceous

glands, blood, lymph and

eyes
---
The Primary site of

Pitta

is in the small intestine
---
Pitta

is produced in the middle as

bile and

acids from the liver

and

small intestine
---
If a person was born

with earth and water

elements predominating

we call them

kapha
---
Kapha- Water and Earth

Water exists in the medium

of earth which contains it.

Our physical composition

is mainly water

contained within the

boundaries of our skin

and mucus

membranes(earth)
---
A Kapha and a Vata
---
Kapha

is located in the

chest, throat, head , pancreas, lymph,

sides, fat, nose

and tongue
---
The primary location of

kapha

is the stomach
---
Kapha

is produced as phlegm

in the lungs
---
DOSHAS

ARE AGENTS OF CHANGE IN THE

BODY

THEY MAKE THINGS HAPPEN

THEY ARE THE UNSEEN FORCES

THAT DO ALL THE TRANSPORTING,

CONVERSION AND PACKAGING OF

ALL AND EVERYTHING IN THE BODY
---
VATA

CARRIES NUTRIENTS FROM ONE

STAGE OF DIGESTION TO THE NEXT.

VATA COLLECTS WASTE PRODUCTS

FROM EVERY STAGE OF METABOLISM

AND RETURNS THEM TO THE

GASTROINTESTINAL TRACT FOR

ELIMINATION
---
PITTA

TRANSFORMS THE FOOD

SUBSTANCES THAT ARE BROUGHT

TO IT BY VATA INTO NOURISHMENT

WHICH VATA THEN DISTRIBUTES TO

THE DHATUS
---
KAPHA

SERVES AS A MEDIUM OF

TRANSPORT, BINDING TOGETHER

FOOD-STUFFS TO BE TRANSFORMED,

NUTRIENTS READY TO BE

DISTRIBUTED AND WASTE PRODUCTS

READY TO BE EXPELLED
---
Dosha, Dhatu, Mala
---
"Dosa dhatu mala mulam

hi sariram."

"DOSHA DHATU and MALA

THIS IS THE BODY"
---
There are three basic systems in the body

Dhatus: the tissues that are retained in the body

Malas: the wastes that are excreted from the body

Doshas: responsible for coordinating and directing all

the structures and substances of the body
---
The Seven Dhatus
---
The Malas are excreted
---
Kapha Zone

Pitta Zone

Vata Zone

The Three Doshic Zones of the Body
---
Mouth

Tongue

Larynx

Pharynx

Nose

Throat

Esophagus

Trachea

Lungs

Bronchi

Heart

Pericardium

Upper Stomach

The Kapha Zone
---
Lower stomach

Small Intestine

Liver

Pancreas

Gallbladder

Spleen

The Pitta Zone
---
Large Intestine

Reproductive Organs

Organs of Elimination

Legs-Thighs

Absorption

Holding

The Vata Zone
---
FUNCTIONS

OF THE DOSHAS
---
DOSHA'S FUNCTION with the

DHATUS AND MALAS, INFLUENCING

THEIR CONDITION AND STATUS IN

THE BODY.

DOSHA COMBINES WITH DHATU

AND MALA WITHOUT ITSELF BEING

CHANGED OR HARMED
---
UNLIKE THE MALAS, THE DOSHAS

CAN MOVE FROM THE

GASTROINTESTINAL TRACT TO THE

DHATUS AND THE DHATUS TO THE

GASTROINTESTINAL TRACT

THEY COMBINE WITH DHATU AND

MALAS WITHOUT THEMSELVES

BEING HARMED OR CHANGED
---
Again: UNLIKE THE DHATUS, THE

DOSHAS CAN MOVE FROM THE

DHATUS TO THE

GASTROINTESTINAL TRACT.

DOSHAS CAN ACT IN UNISON TO

TRANSPORT METABOLIC BY-

PRODUCTS AND TOXINS FROM THE

DHATUS TO THE INTERNAL MUCUS

MEMBRANES FOR ELIMINATION
---
DOSHA-GATI:

THE MOVEMENT OF THE DOSHAS

BACK AND FORTH BETWEEN THE

DOSHAS AND MORE SOLID

STRUCTURES AND THE MORE

HOLLOW STRUCTURES.
---
EACH DOSHA DISPLAYS A TWICE

DAILY CYCLE OF PREDOMINANCE,

REFLECTING THE INFLUENCE OF

ITS BHUTA OR ELEMENT.

WHAN A DOSHA'S DOMINANCE

CONTINUES OUTSIDE OF THE

NORMAL TIME PERIOD, ITS

INFLUENCE BECOMES

AGGRAVATED (PRAKOP)
---
AN AGGRAVATED DOSHA NO

LONGER INTERACTS WITH THE

OTHER TWO DOSHAS PROPERLY IN

A BALANCED MANNER.

IT OVERWHELMS THEM AND

INHIBITS THEIR ABILITY TO

PERFORM THEIR RESPECTIVE

ACTIONS.
---
EXCESS DOSHA
---
Vata

in excess

causes emaciation,

debility, liking of warmth,

tremors, distention and

constipation as well as

insomnia, sensory

disorientation, incoherent

speech, dizziness,

confusion and depression
---
Pitta

in excess

causes yellow color of stool,

urine, eyes and skin as well as

hunger, thirst, burning sensation

and difficulty sleeping
---
Kapha

in excess

causes depression of the

digestive fire, nausea, lethargy,

heaviness, white color, chills,

looseness of the limbs, cough,

difficult breathing and excessive

sleeping
---
Primary attributes (GUNAS) of the Doshas

Vata dry cold light

Pitta moist hot light

Kapha moist cold heavy
---
THE DOSHAS CAN MOVE ANYWHERE

IN THE BODY, FROM THE DEEPEST

STRUCTURES OF BONE MARROW

AND REPRODUCTIVE TISSUE TO THE

SURFACE OF THE SKIN AND BACK

AGAIN
---
THE DOSHAS HAVE INTELLIGENCE

WHICH DISCRIMINATES BETWEEN

WHAT THE BODY SHOULD RETAIN

AND WHAT IT SHOULD ELIMINATE

AND ACT ACCORDINGLY
---
EACH DOSHA IS MOST EFFICIENT IN

ELIMINATING IMPURITIES THAT

ACCUMULATE IN ITS OWN ZONE OF

FUNCTIONING AS WELL AS

PROMOTING NUTRITION IN THAT

PARTICULAR ZONE
---
THE DOSHA'S TWICE DAILY

MIGRATION PERIODS (DOSHA GATI)

ARE THE BEST TIMES FOR THE

MOVEMENT OF WASTE PRODUCTS

FROM THE BODY'S DEEPER

STRUCTURES TO ITS HOLLOW

STRUCTURES AND THE MOVEMENT

OF NUTRITIONAL PRODUCTS FROM

THE GI TRACT TO THE DEEP

TISSUES
---
"the root of the doshas,

tissues (DHATUS) and

waste materials (AMA)

is VATA.

SEPARATION- MOVEMENT.

"In it's natural state Vata sustains

effort, exhalation, inhalation,

movement and discharge of impulses,

the equilibrium of the tissues and the

coordination of the senses"

-Ashtanga Hridaya
---
Pitta

CONVERSION-transformation

governs digestion, heat, visual

perception, hunger, thirst, luster,

complexion, understanding,

intelligence, courage and softness

of the body

-Ashtanga Hridaya
---
Kapha

COHESION-LIQUIDITY

gives stability,

lubrication, holding

together of the joints

and

such qualities as patience

-Ashtanga Hridaya
---
The Cause and Causes of Disease
---
It is in the protocol of the

wise physician to give health

back to the sick and maintain

the well-being of the healthy.

– Lord Brahma
---
"The sages did not treat those

who were already ill,

they instructed those who were

not yet ill.

To administer medicines to

diseases which have already

developed is comparable to the

behavior of a person who begins

to dig a well after they have

become thirsty.

Would this not be too late?"

-Yellow emperors medical treatise
---
PRAGYAN APARADH

(Mistakes of the intellect)

1) Buddhi Vibrhramsh

is the disturbed intellect. In this

condition one sees that which is

harmful as useful.
---
2. Dhriti Bhramsha

is disturbed self-control where

one cannot be restrained from

that which is asatmya

(unwholesome), or that which

deranges the mind.
---
3. Smriti Bhramsha

is disturbed memory, where the

texts say that the Self (sattwa)

is covered by rajas and tamas.
---
The Sanskrit word for 'Cause' is

'Hetu'

Ayurveda is based

on the law of karma which says

"if you do not want the effect,

Remove the cause."
---
Avidya shows itself in the makeup of

our psyche and our reactions to our

environment

There are both distant and proximate

Avidya or causes of disease

The distant cause of disease is our

past karmas 'fruiting' which

shows themselves in the qualities of

our mind and body (Dosha)
---
the Proximate cause of disease is

our psychology and attention

expressing itself in diet and

lifestyle.

Proximal causes are composed of

the results of years and/or

lifetimes of reaction to distant

factors
---
There is a relationship between

cause and effect and the

difference is subtle:

"The cause is hidden in the effect

the effect is the cause revealed"
---
The secondary causes of disease are:

1) Karmaphala or the fruit of Past Life Karmas

No control

2) Changes of time and season

3) Wrong actions or lifestyle

Control

4) Improper Diet

We have no control over our past life

or the passage of time and seasons

We have control over our diet and lifestyle
---
Avidya is fundamentally

'ignorance'

when ignorance is expressed

it shows up as

delusion, anger, craving
---
According to the Tibetan tradition, they

believe that sickness is caused by karma.

These results of past life karmas are called

the Three Poisons:

There are over 400 types of illness said to

be illnesses just within this lifetime which

arise due to circumstances within this life.

These illnesses arise within this life and

finish in this life, so, in that case you don't

speak of karmas passing from one lifetime to

another.
---
There is a sub-class of illness that

includes serious illnesses that arise as a

result of karma from lifetime to lifetime.

These are karmically induced illnesses; but

in some cases, if the patient engages in very,

very, strong purifying practices and creates

a great deal of merit, in some cases, even

those can be cured. The Tibetan customs and

treatments are based on these beliefs.
---
"I bow down to that unparalleled

physician who has completely destroyed

diseases like passion or desire,

arrogance, hatred, jealousy, fear,

greed or anger which are always

associated with and spread all over the

body, giving rise to anxiety, delusion

and restlessness."

-Vagbhatta
---
this merging together of cause

and effect is

"the Root" of

Buddhist teachings

That trace back

the origin of most bodily

illness

to Avidya or ignorance

This is illustrated in the wellknown

bhavachakra or wheel

of life
---
Bhavachakra

the wheel of life

this

representation is

shown at the

front door of

every Tibetan

Buddhist

monastery
---
The wheel is being held by a

fearsome figure who represents

impermanence.

The Dalai Lama said:

The fierce being holding the

wheel symbolizes impermanence,

which is why the being is a

wrathful monster as it destroys

all ideas, hopes and appearances

of anything lasting forever
---
Yama has the following

attributes:

He wears of crown of five

skulls that symbolize the

impermanence of the five

aggregates. (The skulls are

also said to symbolize the five

poisons of the five elements)
---
The demon has a third eye that

symbolizes the wisdom of

understanding impermanence.
---
He is sometimes shown

adorned with a tiger skin,

which symbolizes

fearlessness.

(The tiger skin is typically

seen hanging beneath the

wheel.)
---
His four limbs (that are

clutching the wheel)

symbolize the sufferings of

birth, old age, sickness, and

death
---
The three states of

1) delusion or stupidity

2) anger or aggression

and

3)craving or passion

are

Found at the hub of this

wheel

They are the cause of all

illness

according to the buddha
---
Pig-Ignorance/Delusion/ Moha

Snake- Anger/Hate/ Dvesha

Rooster- Greed/Desire/ Lobha
---
In the hub of the wheel are

three animals:

a pig, a snake, and a bird.

They represent the three

poisons of ignorance,

attachment, and aversion.
---
The pig stands for ignorance; A

comparison based on the Indian

concept of a pig being the most

foolish of animals; since it

sleeps in the dirtiest places and

eats whatever comes to its

mouth.

Pig
---
Snake

The snake represents

aversion or anger; this is

because it will be aroused

and strike at the slightest

touch.
---
The bird represents attachment

(also translated as desire or

clinging). The particular bird used

in this diagram represents an

Indian bird that is very attached to

its partner.

Bird
---
These three animals represent

the three poisons.

They are the core of the

bhavachakra.

From these three poisons, the

whole cycle of our existence

evolves
---
Buddha, Dharma

and Sangha are

considered to be

the supreme

medicine

The Healing Buddha

Bhaisyaguru
---
AVIDYA or ignorance

gives rise to wrong conception

which gives rise to wrong thoughts

which give rise to wrong actions

which lead to all the symptoms

of illness and suffering
---
the distant cause of illness

is

ignorance of ones own nature

the immediate cause of illness

is

disturbance of the bodily humors

or Doshas
---
Pragya Aparadha

and

unmaada

Destruction of the

intellect

and

madness
---
Pragya aparadh means:

"the mistaken intellect,"

a mind isolated

from the rest of the universe.

It is the first expression of

ignorance–

the root cause of all disease and

problems in life.
---
Through 'the mistake of the

intellect,'

our physiology forgets its

basis in the unmanifest,

unified state of pure

consciousness.
---
There are three key

elements to

Pragya aparadh
---
1) Buddhi Vibramsh

is the disturbed intellect.

In this condition one sees that which is

harmful as useful.
---
2) Dhriti Bhramsha

disturbed self-control where

one cannot be restrained

from that which is asatmya

(unwholesome), or that which

deranges the mind.
---
3) Smriti Bhramsha

disturbed memory,

where the texts say

that the Self(sattwa)

is covered

by rajas and tamas
---
In Ayurveda,

the Sanskrit term

Unmaada

means

"a profound impairment of

judgement, perception and

clarity."
---
The causes of

unmaada

are many
---
-The aggravation of the doshas

-Regimens not conducive to health

-Uses of substances or behaviors not

conducive to health

These conditions can cause the mind and

intellect to lose their state of balance.

Unmaada is characterized by

perversion of the mind, intellect,

consciousness, memory, desire, manners,

behavior and conduct.
---
Unmaada

is classified

according to it's dosha:
---
Vata unmaada

characterized by longing for

eatables not available.

out-of-context or inappropriate

incoherence in speech, smiling,

laughing, dancing and singing.
---
Pitta unmaada

shows excitement,

on inappropriate occasions,

about hazardous or harmful

activities; or becoming

amotivational
---
Kapha unmaada

is seen as becoming slothful and

sleepy, developing an aversion to

cleanliness, staying in one place,

inappropriate silence and

sluggishness in speech and manner
---
BEEJA – BHUMI

The Seed and the Soil
---
There is a theory of immunity in

ayurveda called the beej-bhumi

theory, which means:

"seed (Bija) and Soil (earth)

In this case, the body is

analogous to the land or the

soil

and the infection

(Virus, Bacteria) or "bugs"

are like seeds.
---
If the body is filled with

ama

and lacking in ojas,

an infection will find

fertile ground for

spreading

A land that is fertile will

sprout many seeds.
---
What is Ojas?

It maintains living beings by [its]

saturation; Without ojas no life of

creatures exists, It is the initial

essence of embryo and also the essence

of the embryo's nourishing material, It

enters into the cardiac cycle first, If it

is destroyed, it leads to destruction of

that person, It is the sustainer It is

located in the heart, It is the cream of

the nutrient fluid in the body, It is

where vital factors are established and

it is the fruit of them.

- Charaka Samhita
---
The Seven Dhatus
---
If digestion is strong, and ojas

rather than ama predominates in

the body,

then the seeds of infection will

not be able to take hold,

just as seeds will not take root in

land that is infertile.
---
All diseases are rooted in the

mind before manifesting

-Caraka
---
Fate and Free Will
---
ayurveda

is based on the law of karma

this means

fate is taken into account

and

free will is taken into account

and

both are true
---
Free Will

demands

Vidya- Knowledge

By Avidya- Ignorance

Our choices are limited

and

We only think we have

Free Will
---
one of the ways i learned

about

fate and free will was quite

extraordinary

let me tell you about it . . .
---
Then,

they went on to tell me all about

my past life and future life

of course

i could not verify what they told me

about my past of future

But they were accurate about the present

How could this be true if I had free will?

How could they of known this centuries or

ages before I came there?

What is the real nature of Free Will?
---
Limitation
---
"There is no sound

that does not have a meaning

There is no plant

that does not have a medicinal

value

there is no person

that does not have a dharma"
---
on my first day of class

in ayurveda

my teacher said

"everything in the world

is medicinal

and everything in the

world

is poisonous"
---
something good for you

at one time

is not good

at another
---
that 'context' is found

by taking into account

our own

elemental make-up

and

that of our environment
---
ayurveda recognizesthe

unique limitations

of each person

as well as

the unique limitations and qualities

of that person's environment

once we know

these unique and specific qualities

or limitations

then we can create

balance or health
---
the Dynamics of the Elements
---
The Hermeneutics

of Ayurveda

how we understand . . .
---
Ayurveda is based on Three

of the Six Systems of

Indian Philosophy-

Nyaya, Vaisheshika and

Sandhya
---
NYAYA says all truth is

not intrinsically valid

and that

truth exists

whether we know it or not
---
Vaisheshika

is based on direct

perception, observation and

inference- conclusions

based on evidence and

reasoning
---
Sankhya

is the systematic

enumeration of what is

observed
---
Sankhya

lays out the world in a

dualistic philosophy

the fundamental

dualism of Sankhya is:

purusha and prakriti
---
According to Sankhya

Philosophy-

All material creation is made

up of different combinations

of the

three gunas
---
TWENTY QUALITIES OR GUNAS OF AYURVEDA

Heavy – Light

Cold – Hot

Unctuous – Dry

Slow – Sharp

Stable – Mobile

Soft – Hard

Slimy – Rough

Viscous – Liquid

Gross – Subtle

Cloudy – Clear
---
Those three gunas

of the Sankhya-Yoga

system

are:

sattva

rajas

tamas
---
The 5-elements make up the

physical content and

intelligent principles

of a person and all of life

The subtle, functional, and

qualitative

determination of these

elements is described in terms

of the three gunas
---
the mind (Manas) is

elemental in composition

but not in its function

The three gunas are the

words used to describe the

mental functioning quality

or

what is called the:

manas prakruti
---
The gunas

are also used to

describe

the functional quality

of the elements
---
mental prakruti is characterized by

The three Gunas

sattva

rajas

Tamas

They are all present

all the time

in every thing
---
The predominance of one or the

other guna tells us much about the

quality of that person and their

environment

This applies to food, emotions,

actions, religious practice, sex,

money and relationship to others

Every aspect of life is

characterized by the three gunas
---
Sattva rajas tamas

correspond to:

creation

preservation

destruction
---
Sattva is clarity, awareness

and balance

rajas is perception, action

passion and feeling

Tamas is the gross elemental

concrete level of life
---
The spiritual Goal of life

as well as the attainment

of health and longetivity

always seeks

to increase sattva

by balancing- rajas and tamas

(traditionally)
---
Samanya

Vishesha

'Like Increases Like

and opposites

decrease one another'

this is the 'principle

of how to remedy

anything that is out of balance
---
This is the principle behind

the religious practice of the

Aghoris:
---
Agni
---
one of the unique

contributions

of

ayurveda

for

understanding disease and

diet

relative to our health

is the concept of

agni
---
Life-span, complexion, strength, health,

enthusiasm, corpulence, luster, immunity,

energy, heat processes and vital breath –

all these depend on body fire (Agni).

One dies if this body fire is extinguished,

lives long free from disorders if it is

functioning properly, gets ill if it is

deranged,

hence Agni is the root cause of all.

- Caraka Samhita
---
The digestive fire in the intestines

(jataragni) is the root of all the

digestive fires in the body. As it

causes the increase or decrease of

the elemental and tissue digestive

fires it should be treated with great

care."

- Ashtanga Hridaya Samhita
---
Agni

can get out of balance due to

stress or change of any kind:

emotional

psychological

passage of time

change of seasons

inappropriate food

wrong use of the senses

wrong use of a thing

too much or too little of anything
---
agni is disturbed by the doshas

or elements

and

if agni is disturbed

agni will in turn disturb the

elemental makeup of the body

they are like two legs of a chair

pull one

and the other will move

along with it
---
if the agni is very strong

it can take more disturbance

from the elements without itself

being diminished

if the elements are

overwhelming

they will overpower agni
---
agni

can be likened to the

fire of digestion

if you do not have good agni

you will not have good digestion

if you do not have good digestion

you will not have good health
---
"It is obvious that that the

bodily tissues cannot be

nourished and developed

when food is not properly

digested

by agni"

-Chikitsa Sthana
---
"The body is the outcome of food.

Just so,

disease is the outcome of food.

The distinction between ease

and disease arises on account of

wholesome nutrition,

or the lack of it respectively. "

- Charaka Samhita
---
a) All forms of imbalanced agni create

ama which is undigested food that

forms toxins that act as poisons to the

body. In chronic conditions ama can

manifest as high cholesterol, blood

disorders, fatigue syndromes, tumors,

cysts, skin conditions.

b) Ama causes the doshas to accumulate

at their site; kapha in stomach, pitta in

the abdomen, vata in the colon.

c) If left untreated the accumulated

doshas can become aggravated and start

to overflow.
---
Indigestion is the inability to

Digest, transform and

assimilate

food

and

the inability to to eliminate

metabolic waste products

that result from the

digestive process
---
The overflowing of Ama is a very

dangerous situation for the balance

of health.

- Kapha Ama displays mucus, coughs,

asthma, diabetes, obesity.

- Pitta Ama manifests as skin

problems, heart problems,

inflammatory problems.

- Vata Ama can become bone

problems, nervous conditions,

degenerative conditions.
---
The four types of agni

Ayurveda classifies four different states of agni that

point to certain constitutional tendencies. We each have

digestive tendencies that can be regulated with

appropriate diet and herbs.

1. Visham agni: These people are prone to have an

irregular appetite and digestive system with signs of

variable hunger, bloating, indigestion, intestinal cramps,

constipation, dry stool, borborygmus and gas. It is common

in vata types who are easily disturbed by nervous tension.

Use sweet and pungent flavors in your diet. This means

eating cooked food that is soft and easy to digest with mild

spices such as fresh ginger, cumin and fennel. Taking

Asafoetida formula (Hingvashtaka) or Trikatu (Long

pepper, Black pepper and Ginger) before you eat can help

to balance erratic digestion. Large meals, eating when

busy and too many raw foods should be avoided.
---
Tikshna agni: Intense hunger but with poor

digestion is a pitta sign. Also thirst, parched

mouth, dry throat, loose stool, low blood

sugar levels and a burning sensation in

intestines. This is common in pitta types who

can be intense and irritable.

Use mild sour flavors to dilute the excess acid.

This means taking diluted yoghurt with food to

prevent some of the hot acid symptoms. People

with this type of digestion should eat small

and regular meals using complex

carbohydrates to balance blood sugar levels.

Include Shatavari (Asparagus racemosa),

Guduchi (Tinosporia cordifolia) and Amalaki

formula to balance pitta. Too many hot spices,

fried foods, coffee and alcohol should be

avoided.
---
Mandagni: This means slow digestion and is

commonly a kapha sign. Also weak hunger,

heavyness after a meal, tiredness after eating,

sluggish bowels, bulky stool, feeling cold,

sweet craving, stimulant craving.

Use pungent and bitter flavors. This means

that meals should help to stimulate the

digestive process by including light foods that

are easy to digest with dry ginger, cinnamon

and black pepper in the diet. Include Trikatu

(Long pepper, Black pepper and Ginger) or

Cinnamon to boost agni. Heavy substances such

as wheat, dairy and excess sweets should be

avoided.
---
Samagni: Balanced hunger and digestion;

food is digested within 4 hours with no

excess craving or lack of interest in food.

Use all 6 flavors and a balanced diet to

maintain samagni. This is perfect digestion

and should be sought by everyone. It is

gained by following sensible eating habits

and developing awareness so that you

understand your body's needs.

A teacher of mine always told me "graze like

a cow and let your spirit soar" or to

translate, "don't eat too much ay any one

time, follow the needs of your body and let

your consciousness guide you."
---
AMA
---
In both

body and mind

whatever you do not digest

becomes toxic

ayurveda calls

undigested or improperly

digested food:

ama
---
When Ama develops it

is a sign that the

digestive capability of

the body has been

overwhelmed
---
If it is undigested food

it is called AMA

If it is undigested experience

it is called trauma
---
Ama is deposited in different

places throughout the body.

the location of the deposition of

ama is according to genetics,

circumstances and trauma.

this 'weak-point' is called the

'kaivagunya'

Once ama is deposited, there are

harmful effects on the

tissues and functions
---
Ama is deposited in the Tissues of

the body and gives rise to physical

diseases

Trauma is held unprocessed in the

psyche and impairs the

functioning of the psyche
---
Ama accumulation at the subtle

level – negative thoughts in the

mind such as excess lust, anger,

greediness, manifestations of the

ego, jealousy, etc. are responsible

for the formation of Ama at the

psychological level.
---
This Ama blocks the proper thinking

process. Common manifestations

include psychological problems

such as anxiety, depression,

schizophrenia, etc. Ayurveda

believes in the intimate relation

between body and mind.
---
• The first and most

fundamental treatment of Ama

is Langhana (Fasting) until

the digestive fire

(Agni) becomes normal.

• It then reduces the obstructions

in the channels and digests the

Ama, reducing all signs and

symptoms produced thereby.
---
there is always

waste (MALA) in the body

but

there is a difference

between ama and mala
---
mala
---
The Tri Malas (The Three Wastes)

The word "Mala" in Sanskrit means

"dirt or waste".

There are three malas or

metabolic wastes.

They are:

Mootra - urine

Sakrt - faeces

Sveda - sweat

The elimination of these wastes is important

for the maintainance of good health; but

AMA IS NOT MALA. . .
---
Indigestion and Ama

Most people would define

indigestion as the temporary

inconvenience or discomfort that

arises from eating too much food

or eating foods that are too rich

or spicy for our digestive process

to handle.
---
Ayurveda says that

indigestion is both the

inability to transform and

assimilate food and the

inability to eliminate

metabolic waste products that

result from the digestive

process
---
Several things occur as a

result of poor digestion:

First, ama forms in the G-I

tract. Ama is food which

remains in and/or passes

through the gastrointestinal

tract in undigested form.
---
Ama is different from mala,

which is the natural, unusable

waste-product resulting from

healthy metabolism.

If the toxic sticky residue of

incomplete metabolism (ama) is

not quickly burned up by the

digestive fire, it will

accumulate in the G-I tract.
---
When ama becomes too

plentiful in this area, it will

naturally be removed by the

doshas and transported to the

dhatus by the action of dosha

gati - the twice-daily movement

of the doshas from the G-I

tract to the deeper tissues of

the body.
---
Once ama is deposited in the

dhatus, it begins a chain of

events that debilitates them

and impairs their function. This

results in a weakened immune

system that makes the dhatus

susceptible to infection and

degenerative disease.
---
Secondly, ama interferes with or

"spoils" the functioning of the

doshas, leading to a breakdown in

their coordination.

This dysfunction especially disturbs

or depletes the strength of the

digestive agni which becomes

responsible for the creation of even

more ama - undigested food stuff.
---
Third, when digestion is impaired,

nutritional products are not

available to nourish the dhatus.

Metabolism and assimilation of

nutrients for dhatu development

happens sequentially. When the

refinement process breaks down

in one stage, all succeeding

stages are adversely affected.
---
Fourth- the natural doshic processes

that eliminate mala get disturbed.

As a result of an imbalance in vata

functioning caused by ama, metabolic

waste products can no longer be

properly removed from the dhatus and

carried back to the G-I tract for

elimination.

This accumulation of waste further

weakens and damages the dhatus.
---
Lastly, the ama and mala which have

accumulated block the dhatus

ability to assimilate food and

medicine, so it becomes difficult for

them to regain their healthy status.

Ama can remain in the dhatus for

years and tends to accumulate in

those dhatus which are congenitally

weak or have been most damaged by

ama's influence in the past.
---
All these factors contribute

to dhatus impairment and

constitute the root cause of

most degenerative diseases.
---
Samprapti- The Six Stages of Disease
---
When disease develops,

it is like a child

and goes through its own

progressive stages within the womb

of the body

Those states are the pathogenesis

or

'birth of pain'

what ayurveda calls:

The Six Stages of Disease
---
These six stages are called:

Samprapti

Disease begins with disturbance in

the balance of the doshas

Temporary imbalance is normal;

it stays within the digestive

system

and

does not lead to disease
---
Doshas regularly go through

a process of:

accumulation

provocation

aggravation

and then

pacification.

This need not lead to disease
---
When the doshas undergo increase as a

result of aggravating factors

(diet, life-style, exercise, climate,

emotional stress, seasons, etc.),

each dosha will initially accumulate in an

area of the body which is its respective

'home'

or normal site:

Vata = colon, mind, heart

Pitta = small intestines, blood, liver, skin

Kapha = stomach, lungs, joints.)
---
Stage 1:

sanchaya

(This is accumulation )
---
If the body cannot eliminate the

increasing dosha(s) and maintain

homeostasis, the dosha(s) will

begin to accumulate and that

begins the sanchaya stage.

This is the earliest stage of

vikruti or the 'covering over' of

Prakruti, the elemental make-up

we are born with
---
This Accumulation of the Doshas

most often happens slowly and in

small quantity.

The usual reason accumulation

begins is that agni becomes low

(mandagni) or irregular (vishagni)

and ama begins to form in the

body.
---
Ama causes the Agni/metabolism

to become inefficient and also

creates an obstruction in the

srotas (subtle channels of the

body). This interferes with the

normal processes of elimination

of the doshas and initiates the

sanchaya stage.

this is the earliest stage of

vikruti,

and is almost always unnoticed

by western medicine
---
Each Dosha accumulates

in a particular place:
---
the colon overflows with vata

the intestines fill up with pitta

the stomach gets full of kapha
---
"Like increases like

Opposites decrease one another"

Remember this as we consider the

following ways

the

Doshas

are increased
---
Accumulation Of Vata Dosha:

the doshas are increased by certain

lifestyle factors of food and behavior.

For example, factors which promote and

increase vata qualities

(dry. light, rough, subtle, cold, mobile)

are foods which have predominately

pungent, bitter, and astringent tastes.

Green leafy vegetables, legumes, beans

and peas tend to increase the dry and

rough qualities of vata which tend to

produce symptoms of constipation,

abdominal distention, and excess gas

production in the colon.
---
Accumulation Of Pitta Dosha:

Food which is predominately pungent,

salty, sour and hot in potency tends to

promote the intrinsic qualities of pitta

[hot, sharp, light, liquid, oily] and

therefore increases pitta dosha.

Similarly, certain lifestyle

considerations such as emotional states

(anger and grief) and seasonal/

environmental factors (summer season,

midday/noon, mid-digestion issues) also

tend to increase pitta dosha within the

body and produce symptoms of heat/

burning sensation and slight

discoloration of yellow in the white of

the eyes.
---
Accumulation Of Kapha Dosha:

Food that has predominately sweet,

sour, and salty tastes with oily and

heavy qualities [i.e. cheese, cream,

butter, ghee etc.] tends to increase the

intrinsic qualities of kapha -heavy, cold,

dense, oily, liquid and therefore kapha

increases within kapha's primary

location- the stomach. Increase and

accumulation of kapha produce

symptoms of heaviness, lethargy,

fullness of stomach and low appetite.
---
At this stage the body's

intelligence may create an

aversion to the causative factor

and one will be attracted to

foods, environments that balance

the underlying imbalance

However

One must also take into account

'the perversion of the senses'

where one is attracted to

exactly the wrong foods and

lifestyles
---
It is easy to restore balance to the

affected dosas at this point:

(Sanchaya)
---
Stage 2:

prakopa
---
Stage 2: prakopa

If no action is taken to correct the

situation, the process continues into the

next stage - prakopa, in which the

accumulated doshas become aggravated

and irritate the local tissues. During

this stage the doshas not only increase

and become abnormal in quantity, but

they also change with regard to quality

and vitiation or the 'spoiling of their

quality' begins.

The symptoms exhibit an increase of the

already present symptoms already

discussed
---
During this stage the doshas not

only increase and become abnormal

in quantity, but also begin to show

effects in regard to quality, and

vitiation or the 'spoiling of their

nature' begins. as the ability of the

tissues to nourish themselves and

eliminate waste are impaired.
---
Vata will show increasing pain in the

flanks or mid-back, hyperistalsis,

gurgling of the intestines and even

breathlessness
---
Pitta

will show increasing indigestion and

heartburn or skin rashes
---
Kapha

will show cough, congestion

and heaviness
---
Although the Doshas have become

aggravated, they still remain in the

digestive tract and are thus still

relatively easy to remove. However,

once the doshas start to spread from

the digestive tract into general

circulation and peripheral body, the

situation becomes more difficult and

complex.

this next stage is called:

Prasara or 'Spreading'
---
During prakopa, the aggravated

doshas remain in their usual and

normal sites and have not yet

spread. There are subtle physical

and mental pre-symptoms but no

recognizable features of any

specific disease, and this is a fully

reversible stage.
---
Stage 3: PRASARA
---
When the doshas reach the maximum

capacity of their respective sites … and

are already aggravated/provoked, they

spread or move from the

gastrointestinal tract into the general

circulation.

Due to the 'affinity' of qualities

'like increases like'

the doshas now spread (PRASARA) to

their

'secondary sites'

(sites ruled by that Dosha)
---
In Prasara

vata overflows the bowels into

the ears, skin, bones and thighs.

there may be ringing in the ears,

dry skin and cracking, popping and

pain in the joints
---
In Prasara

the intestines fill with pitta

and overflow into the stomach

and gall bladder. Pitta Dosha

spreads to the stomach, eyes,

sweet glands, skin and

subcutaneous fat tissue and

create symptoms such as nausea,

acid indigestion, burning and

irritation of the eyes,

inflammatory skin conditions such

as rash, hives, urticaria and

eczema.
---
In Prasara

The stomach (Kapha) overflows

into the lungs, sinuses, lymphatic

system, breast tissue and the

mouth and head will exhibit

symptoms such as congestion,

runny nose, lymphedema,

swelling and lethargy
---
In Prasara

The condition is still curable
---
Stage 4)

Sthana Samshraya

or

Deposition
---
Disease progresses in

pathogenesis

now there is a deposition or

localization of the dosha in a

kaivagunya

kaivagunya is an organ, tissue or

system that is weak or defective

due to genetics, trauma, emotional

stress, repressed emotions or

other factors
---
The newly arrived aggravated

dosha vitiates the structure and

intelligence of the weakened

tissue (kaivagunya) and

overwhelms it.

The aggravated dosha supresses

the normal qualities of the tissue

and combines with it, changing the

structure and the function of that

tissue

this is how the seeds of disease

begin to sprout
---
There is now a combination of

Dosha

and

Dhatu (Tissue)
---
Up to this point, the disease has

not arrived on the surface of the

body.

Unless the disease 'process' is

stopped at this point it will turn

into a full blown disease.

From here on, the function of the

tissues and the bodily system begin

to be disturbed
---
5) Manifestation- Vyakti

Signs and symptoms of actual

disease appear and the person

becomes sick.

The qualities of the aggravated

dosha now override the functions

of the tissues of the body and

manifest the symptoms of a

particular disease
---
Signs and symptoms of actual

disease appear and the person

becomes sick.

It is only a this stage that

Western Medicine diagnoses a

disease and steps in.

Modern Medicine does not

recognize:

Sanchaya, prakopa, Prasara

or even Sthana Samshraya

as disease
---
6) BHEDA:

Differentiation and destruction

of tissue

Signs and symptoms of actual

disease appear and the person

becomes sick.
---
6) Cellular deformity leading to

structural changes and

destruction- Bheda

This is the stage in which disease is

most difficult to treat

Structure of tissue is affected

This is like cancer due to smoking

at this stage, you not only need to

stop smoking

you need to treat the cancer as

well
---
In these later stages of disease,

the detoxification programs

of

panchakarma

become necessary
---
Knowledge or Vidya
---
"The ability of the physician

to prevent illness is greater

proof of his skill than to

cure someone who is already

sick"

- Maimonides, 11th century

Jewish physician to the sultan

of Egypt
---
"Diseases pacified by the medicines

and other ways, can appear again.

But the diseases eradicated by

Detoxification will never recur"

-Charak Samhita
---
"Ayurveda, when followed fully,

will not bring about an imbalance

in your body while balancing a

different condition."

-Charak Samhita
---
In order to treat someone

there are three things you need

to know first:

1) The elemental nature of the

patient

2) the elemental nature of the

imbalance or disease

3) the elemental nature of the

food, herbs, therapy and medicine
---
There are three forms of

Diagnosis in Ayurveda:

Darsana- Observing the physical

signs of a person, color of skin,

hair, eyes, bodily condition

Prasna: Asking of questions in

minute detail

Sparsana: Pulse diagnosis
---
The Qualities

of the Environment
---
Vidya

knowledge

and

discrimination

allows us to tell

whether something is

medicinal or poisonous
---
TO tell whether something is medicinal or

poisonous

we must recognize and attune our life to the

different qualities and times

of our environment:

DINACHARYA

practices that vary according to the time of day

RTUCHARYA

Practices that vary according to season

ASRAMAS

Practices that vary according to stage of life
---
Vata, Pitta and Kapha

are sequentially predominant

in the beginning, middle and end

of aging

day and night,

seasonally

and after meals

-Ashtanga Hridayam
---
Yatha Loka Tatha Pindam

The life of the individual entity is

similar to a full day of the world
---
JALA-KAPHA (6-10)
---
AGNI- PITTA (10-2)
---
VAYU COOL, DRY, WINDY (2-6)
---
6-10 Kapha 10-2 Pitta 2-6 Vata
---
The consideration of the

seasons of the year

is called in Ayurveda:

Ritucharya
---
Those, who do not follow healthy

daily and seasonal habits

are prone to diseases.

Hence, a healthy person should follow

proper daily and seasonal regimens

for the maintenance of good health.

– Charaka Samhita Sutrasthana 7. 45
---
"Whoever wishes to investigate

medicine properly should proceed

thus in the first place to consider

the seasons of the year and what

affect each of them produces."

- Hippocrates
---
In the Tibetan system of medicine,

seasons are regarded as one of the

fundamental factors in etiology

and pathology, and a powerful

instrument in the prevention of

diseases.
---
"The Ayurvedic texts say that a

disease can take root in the body

only during the junctions between

the seasons, when all nature is in

flux. Because of the upheaval

dominating these junctions, the

body's natural immunity becomes

virtually defenseless against

impending disease."

-Maya Tiwari
---
There are a variety of Seasons in

which humans live:

Dry Season

Wet Season

Spring

Summer

Fall

Winter
---
SPRING

KAPHA-VATA
---
Vasanta (Spring)

Season of flowering and new leaves

The predominant Rasa is Kashaya

(astringent) and predominant Mahabhuta is

Prithivi (Earth) and Vayu (Air).

the strength of the person is medium,

Kapha dosha decreases and Agni is low
---
SUMMER- PITTA
---
Grishma (Summer)

During summer the environment is hot with

unhealthy winds. The river bodies dry and

plants can appear lifeless (India)

The predominant Rasa is Katu (Pungent) and

predominant

Mahabhuta is Agni and Vayu (Wind).

the strength of the person is lessened,

there is deposition of Vata dosha and Agni

remains in mild state
---
FALL-VATA
---
Hemanta (Fall)

Blowing of cold winds begins and chilliness

is felt.

The predominant Rasa is Madhura (sweet)

and predominant Mahabhuta are

Prithivi (earth) and Apa (water).

the strength of the person is maximum,

Pitta dosha is pacified and Agni increases
---
WINTER-KAPHA
---
Shishira Rtu (Winter)

During winter the environment is cold with

cold winds.

The predominant Rasa is Tikta (bitter) and

predominant Mahabhuta is Akasha (Ether).

the strength of the person is lessened,

Kapha dosha accumulates and Agni remains

in high state
---
"In short, take warm food and drink

during the monsoon and winter, easy to

digest nourishment in the spring and

cool food in the early summer and

autumn.

During the monsoon take foods having the

tastes of sour, salty and sweet, in the

spring, bitter, hot and astringent and in

the autumn having the tastes of sweet

bitter and astringent"

- Ambrosia Heart Tantra

Tibetan Medicine Text
---
KAPHA

K
---
PITTA
---
PITTA
---
PITTA - VATA
---
VATA
---
VATA
---
Food
---
"Annam is Brahman"

"Food is Everything"
---
Food

is the

'the journey

of consciousness

to consciousness'
---
Ayurveda is based on Sankhya

philosophy

Atma- Unmanifest Self or

Consciousness

Akasa- Space

Vayu- Wind

Agni- Fire

Apas- Water

Bhumi -Earth

Plants which become Food

which through digestion

becomes

Atma
---
Food is the link between

the manifest and the

unmanifest
---
"There is no plant that is

not medicine"

- Jivaka
---
"Of all the factors that are

responsible for the growth

and development

of the human body,

FOOD/ AHAR

is the most important."

- Charak Samhita
---
"Shareeram dharayenthe

dhatvaharashcha sarvada"

"the support of the human body is

accomplished entirely

By- dhatu and ahara

(tissues and food)"

- Charak Samhita
---
It is only hitaahaar

(Beneficial Diet and Food)

that is solely responsible

for SARIRA vriddhi

(growth and development of the

body)

and maintenance of health.

- Charak Samhita
---
"On the contrary,

ahitaahaar (inconducive diet)

is responsible for disease

development.

Although there are other

factors in the development of the

body, aahaar is the most

important"

- Charak Samhita
---
Ayurveda speaks of a great

meeting of Rishis in the Himalayas,

several thousand years ago.

Their topic was an increasing

prevalence of disease amongst the

people and what to do about it
---
Atreya, one of the rishis

said:

"It is the wholesome use of

food that promotes the

health of a person and that

which is unwholesome is the

cause of disease".
---
One should not use food articles

from either attachment or

ignorance;

rather one should use wholesome

food after examination and

consideration

because

the body is a product of food

- Caraka Samhita
---
So important is diet or

food that the

Ayurvedic vaidyas or

practitioners of old

used to say:

"If you will not eat my

diet, do not take my

medicines"
---
"An appropriate and suitable diet

in a disease

is equivalent to a hundred drugs (Herbs)

and any quantity of drugs (Herbs)

hardly compares to

good results in disease

without following proper dietetic regimen"

" When diet is wrong, medicine is of no use.

When diet is correct, medicine is of no need. "

- Charak Samhita
---
Ahar or food

builds tissues

medicines

do not build tissues
---
With this in mind

lets consider food
---
Is milk good for me?

What is your dosha?

How old are you?

What season is it?

What are you taking the milk with?

What kind of milk?

What were the animals eating?

Is the milk homogenized?

Pasteurized?

Is the milk hot? Spiced?
---
Ayurveda always recommends we consume

Milk with some green cardamom pods, some

fresh ginger, or cinnamon stick. These

spices help break down the sugar and

protein molecules that make milk the rich

clogging food item that it is.

When an "abhishandhi" (Clogging) food

item is consumed without the support of

spices, it slows down or may totally shut

down the digestive process, based on an

individual case, and partial or badly

digested food results in the build-up of

ama, toxins.
---
Foods are classified in

ayurveda according to the

three gunas

Sattva, Rajas and Tamas
---
Foods which slow digestion,

reduce agni and induce

depression are said to be

tamasic
---
Tamasic foods

are highly processed, frozen,

fried, high in sugar

drugs and chemicals

they increase lethargy in body

and mind and induce sleep
---
Tamasic foods

Beef, Lamb, Pork, Cheese,

wheat brown rice, mushrooms,

black beans, pinto beans, urad

dal, avocado, watermelon,

plums, apricots
---
Tamasic foods

in moderation are grounding

and promote stability
---
Rajasic foods

make the mind more agitated

and susceptible to

anger, hate and desire.

Rajasic foods are hot, spicy

and salty

They are irritants and

stimulants
---
Rajasic Foods

Heavily Spiced foods, hot

pickles and chutneys

stimulate the senses. Alcohol,

marijuana, deadly

nightshades, sour foods, meat,

tamarind, sour milk or cream,

spinach
---
Sattvic Foods

Are light and easy to digest

they bring clarity and

right perception

unfold love and compassion

promote forgiveness and

compassion

contentment
---
Sattvic Foods

Mango, pomegranate, coconut,

figs, peaches, pears

rice, tapioca, blue corn, sweet

potato, lettuce, parsley,

sprouts, yellow squash, mung

and lima beans, yellow

lentils, kidney beans, milk

fresh yogurt
---
Mental illness is said to arise

as a result of the interplay

between the biological dosha

and the psychological

qualities of the three gunas.
---
Vata

is associated with fear and

anxiety

Pitta

is associated with strong

emotions such as anger

Kapha

is associated with passivity,

lethargy and depression
---
All of these mental states or

emotional tendencies

are associated with the gut

and all of these relationships

are bi-directional,

they each affect the other
---
"Leave your drugs in the

chemists pot if you can heal

the patient with food"

- Hippocrates
---
Any and every food

must be considered

always in context

one of those 'contexts'

is a person's

dosha
---
Ayurveda considers food

in terms of the six tastes

which are made up of

differing combinations of

the Panchamahabhutas

the 5 elements
---
The SIX TASTES
---
Sweet- Earth and water

Sour- Fire and Earth

Salty- Fire and Water

Pungent- Fire and Air

Astringent- Air and Earth

Bitter- Air and Ether
---
SWEET

(Earth and water)

People are habituated to the sweet taste

from birth and it makes the strength of

the bodily tissue very powerful. It is very

good for children, old people, the

wounded and the wasted. it is good for the

complexion, the hair , the sense organs and

for energy.

it is restorative, good for the throat, the

breasts, for making things join together

and it is heavy. it increases the length of

life and vitality, it is smooth and it

removes wind and poison.
---
If the sweet taste is used too much, it

causes diseases that arise from fat and

phlegm such as weight gain, low agni,

lassitude, urinary disorder (diabetes),

goiter, lumps and so forth.

Colds, congestion, heaviness, loss of

appetite, laziness, obesity, lymphatic

congestion and fibrocystic changes in

the breast
---
SOUR

Fire and Earth

the sour taste makes the digestive

fire burn bright. It is soothing, as

well as good for the heart,

digestion and appetite. Its potency is

heating, but it is cold to the touch.

It is filling, moistening and light. It

causes phlegm, choler, and blood

and corrects the flow of sluggish

wind
---
"The sour taste is found in foods such

as citrus fruits, sour cream, yogurt,

vinegar, cheese, lemon, green grapes,

and fermented food. Sour substances

are liquid, light, heating, and oily in

nature.

When used in moderation, they are

refreshing and delicious, stimulate

appetite and salivation, improve

digestion, energize the body, nourish

the heart, and enlighten the mind."
---
If one uses the sour taste in excess, it

can cause excessive thirst, hyperacidity,

heartburn, acid indigestion, ulcers, and

sensitive teeth.

As it has a fermenting action, it may be

toxic to the blood and can cause skin

conditions such as dermatitis, acne,

eczema, boils, and psoriasis.

The hot quality may lead to an acid pH in

the body and may cause burning in the

throat, chest, heart, bladder, and

urethra.
---
SALT

Fire and Water

Sea salt, rock salt, and kelp are examples

of the salty taste. Salt is heating, heavy,

and oily.

Used moderately, it relieves vata and

increases pitta and kapha.

Due to its water element, it is laxative, and

due to its fire element, it lessens spasm

and pain of the colon. In moderation it

promotes growth and maintains water

electrolyte balance. It stimulates

salivation, improves the flavor of food,

and aids in digestion, absorption, and the

elimination of wastes.
---
Too much salt in the diet may cause

aggravation of pitta and kapha. It makes

the blood thick and viscous, causes

hypertension, and worsens skin

conditions. Feeling hot, fainting, skin

wrinkling, and baldness may be due to

excessive use of the salty taste.

Salt may also induce water retention and

edema. Patchy hair loss, ulcers, bleeding

disorders, skin eruptions, and hyperacidity

may all result from overuse of the salty

taste.
---
Bitter

Air and Ether

The bitter taste is unpleasant on its own.

It overcomes the loss of appetite, worms,

thirst and poisoning. It overcomes leprosy,

fainting, fever, pain, a burning feeling,

choler and phlegm. It dries up moisture,

fat, grease, marrow, feces and urine.

It is light and good for the intelligence. It

is cold, dry and clears the throat and

breastmilk.
---
The Bitter taste is found in coffee,

bitter melon, aloe vera, rhubarb, and

the herbs yellow dock, fenugreek,

turmeric root, dandelion root, and

sandalwood. Bitter is the taste most

lacking in the western diet.

If the bitter taste is used too much, it

makes the bodily tissues shrivel and

causes diseases of vata.
---
Pungent

Fire and Air

The pungent taste overcomes throat

disease, colds and swelling. it reduces

the size of wounds. it dries out oil, fat

and moisture. It stimulates the digestive

fire, is digestive, an appetizer and an

evacuant. It dries out food. It cuts

through blockages, opens up channels and

removes phlegm.
---
The pungent taste is present in various

hot peppers (cayenne, chili, black), as well

as in onions, radishes, garlic, mustard, and

ginger.

It is light, drying, and heating in nature.

Used in moderation, it improves digestion

and absorption and cleans the mouth. It

clears the sinuses by stimulating nasal

secretions and tearing of the eyes. The

pungent taste aids circulation, breaks up

clots, helps in the elimination of waste

products, and kills germs and parasites. It

brings clarity of perception.
---
If the pungent taste is used too much, it

causes thirst, a diminution of seed and

strength, fainting, cramps, trembling and

pain in the waist and back.

overuse of the pungent taste in the daily

diet may cause negative reactions. It can kill

sperm and ova, causing sexual debility in

both sexes. It may induce burning, choking,

fainting, and fatigue with feelings of heat

and thirst. By aggravating pitta, it can

cause diarrhea, heartburn, and nausea.

Pungency can also aggravate vata (it is

derived from both the fire and air elements),

resulting in giddiness, tremors, insomnia, or

pain in the leg muscles. Peptic ulcers,

asthma, colitis, and skin conditions may

result from excessive use.
---
Astringent

Air and Earth

The astringent taste is present in unripe

bananas, pomegranates, chickpeas, green

beans, yellow split peas, okra, alfalfa

sprouts, and the herbs goldenseal,

turmeric, lotus seed, arjuna, and alum. It

is cooling, drying, and heavy in nature and

produces a dry, choking sensation in the

throat.

Taken in moderation, the astringent taste

calms pitta and kapha but excites vata. It

helps in the healing of ulcers and stops

bleeding by promoting clotting.
---
If the astringent taste is used habitually, it

causes constipation, flatulence and heartburn.

It causes hunger, thinness, loss of manhood,

blockage of the tubes and accumulation of

impurities.

Excess use may cause dryness in the mouth,

difficulty in speech, and constipation, as well

as abdominal distention, heart spasms, and

stagnation of circulation. It may affect the sex

drive and lead to depletion of sperm. It can give

rise to emaciation, convulsions, Bell's palsy,

stroke paralysis, and other neuromuscular

vata disorders.
---
for

Vata

Maximize:

sweet, sour and Salty

Minimize:

Pungent, bitter and

Astringent
---
for

Pitta

Maximise:

Sweet, Astringent and

Bitter

Minimize:

Sour, Salty and Pungent
---
for

Kapha

Maximise:

Pungent, Astringent,

Bitter

Minimize

Sweet, sour and Salty
---
According to Ayurveda, every

food has its own taste (rasa), a

heating or cooling energy

(virya) and a post digestive

effect (vipaka).

Some foods also possess a

Prabhava or unexplained

effect.
---
while it is true that an individuals

agni largely determines how well or

poorly food is digested,

food combinations are also of great

importance.
---
When two or more foods having

different taste, energy and post

digestive effect are combined, agni

can become overloaded, inhibiting the

enzyme system and resulting in the

production of toxins.

Yet, these same foods, if eaten

separately, might stimulate agni, be

digested more quickly and even help to

burn ama.
---
"Food and Drink are relied upon to

nourish life. But, if one does not know

that the natures of varying substances

may be opposed to each other and one

consumes them indiscriminately, the vital

organs will be thrown out of harmony and

disastrous consequences will soon arise.

Therefore, those who wish to nurture

their lives must carefully avoid doing

such damage to themselves."

- Chia Ming, Essential knowledge for

eating and drinking 1368
---
the Doshas . . . again
---
Lets take a

test to determine our dosha

We will look at the varying

qualities (GUNAS) that pertain

to each dosha type
---
tsunami
---
"how do you

personalize your love life

with Ayurveda?

First, Ayurveda suggests a spouse of a

different constitution. (That

eliminates a third of the pool,

already) This helps you balance each

other in the relationship, and

prevents your offspring from being

too extreme in any one dosha. Two

Vatas produce a child who is doubly

Vata, for example- much harder to

keep in emotional and physical

balance."
---
All this boils down to the idea that

Kaphas and Vatas do best when

married to each other, and Pitta

does best when married to Vata or

Kapha.

- Taken From: Whats Your Dosha

Baby?
---
Let's take a quick look at the

combinations:

• Vata with Vata- Neither of you

balances the checkbook

• Vata with Pitta- Cold balances

hot. Good.

• Vata with Kapha- Light balances

heavy. Best.

• Pitta with Pitta- Kitchen warfare!

Likely the worst.

• Pitta with Kapha- Hot balances

cold. Good.

• Kapha with Kapha. Neither of you

gets out of the double wide recliner.
---
Summary Considerations
---
Definition of Health in Ayurveda:

One who has balance in his Doshas

Balance in his Digestive abilities (Agni)

Balance in his Tissues (Dhatus)

Balanced Elimination (Malas)

and whose soul, senses and mind are

content (Blissful)

is considered healthy

- Charak Samhita
---
The order or process of

healing is always:

1) Detoxification/

Elimination

2) Rebalancing

3) Rejuvenation
---
"In a person whose body has been

cleansed and purified, the metabolism

becomes optimized, disease is weakened,

and normal health is maintained. Sense

organs, mind, intellect and complexion

are improved; strength, nourishment,

healthy offspring and potency are the

result.

Symptoms of aging do not appear so

easily and the person lives long and free

from disorders. For this reason,

elimination therapies should be

performed correctly and at the proper

time."

- Charaka Samhita
---
The following is a story told by

Yeshe Donden, the doctor of the Dalai Lama

"Some years ago there were two Indian

brothers, one in his 20's and the other was

double his age. Both simultaneously came

down with brain tumors. They were diagnosed

and the doctors told them, "You should both

have operations to have these things

surgically removed." The older brother said,

"Well look, there's no problem if I die before

my younger brother; after all, I'm older; so

let him have the finer treatment." They

couldn't afford two operations.
---
"I said, "What I suggest is maybe why don't

you both hold off on the operation and just

give Tibetan medicine a try." These two

brothers decided the older brother would

sacrifice the hospital treatment and surgical

procedure for the sake of his younger

brother. He wanted to make sure he had the

best of everything. The younger brother then

went to the hospital and had his tumor

surgically removed and the older brother

took Tibetan medicine.
---
"Well, it looked for a while like the younger

brother was doing pretty well and the older

brother was doing pretty well. But then, in

the case of the younger brother, another

tumor formed, he had to go for another

surgical operation, and then he died. The

older brother never had an operation, he

only had Tibetan medicine, and now he's into

his 60's."

- Dr Yeshe Dhonden, physician to the Dalai

Lama
---
One is in perfect health when the Three

doshas ( vata, pitta and Kapha) Digestive fire (

digestion, assimilation and metabolism) all the

body tissues & components (Dhatus) (the

entire physical body) all the excretory

functions (the physiological functions of

urination and defecation) are in perfect order

with a blissfully disposed and contented mind,

senses and spirit.

- Sushruta Samhita
---
SEXUALITY

"All the best medicines and good

food in the world cannot help

one achieve longevity unless one

knows and practices the Tao of

Yin and Yang."

Ko Hung- The Yellow Emperor's

Medical Treatise
---
SLEEP

"Sleep is the interest we have

to pay on the capital (of Life)

which is called in at death;

and the higher the rate of

interest and the more

regularly it is paid,

the further the date of

redemption is postponed."

~Arthur Schopenhauer
---
This does not mean that access to

Ayurveda was preserved . . .

In the late 1800's-1920 Ayurveda

colleges throughout Inida

(Pondicherry, Madras, Calcutta)

were prohibited from teaching

Ayurveda by the British who

would not allow Ayurveda to be

taught in Medical schools
---
The world is comprised of

teachers for the wise and

enemies for the fools.

Knowledge about health and

longevity... should be received,

assimilated and utilized with

earnestness and appreciation.

- Charaka Samhita
---
"Ayurveda is beyond

beginning and ending.

A science of eternal healing,

it is compared to a vast ocean,

and studying Ayurveda

to swimming across it.

A true teacher can teach one how to

swim, but the swimming is up to the

student; …

it is a lifelong journey."

-Charaka Samhita
---
Rasayana

literally: The way of Rasa

Long life (good), memory, (great)

intelligence, (perfect) health,

youthfulness, (bright) complexion and

color, (bold) voice and magnanimity,

increase of strength of the body and

the sense organs, perfection in speech,

sexual prowess and brilliance – all are

obtained from Rasayana therapy. It is

the best means of keeping the rasa and

other dhatus in excellent condition [4

— Astanga Hrdayam
---
let us go forward to

dancing

and laughter

assuming a longer

and

better life

-rig veda
---
Slideshow created by: Peter Malakoff

Certified Ayurvedic Practitioner

Kalidas Sanskrit University

Nagpur, India

2004
---
to my Brilliant

Ayurveda Guru

and Teacher

Dr. Sunil Joshi

Thank you
---
Yatha pinde, tatha Brahmande

'As is the atom, so is the universe;

as is the body, so is the body of

the cosmos'
---
The individual is non-different

from the universe. All natural

phenomena in the universe exist in

the individual.

The wise desire to perceive all

phenomena in this way.

- Charak Samhita
---
Dhanvantari
---
I bow to Lord Dhanvantari holding in his

graceful four hands a Conch shell, a Wheel,

a Leech and a pot of Amrita.

Within whose heart shines the most pure and

gentle beautiful blaze of light, which

surrounds his head and emanates from his

lotus eyes.

On the dark water whose body is luminous

and gleaming.

Waist and thighs are covered in yellow cloth

and by whose mere play

All diseases are vanquished as if by a mighty

forest fire.
---
Maimonides, Mishnah Torah - concluding verse

O G‐d, Thou has formed the body of man with infinite goodness; Thou

has united in him innumerable forces incessantly at work like so many

instruments so as to preserve in its entirety this beautiful house

containing his immortal soul, and these forces act with all the order,

concord, and harmony imaginable. But if weakness or violent passion

disturb this harmony, these forces act against one another and the

body returns to the dust whence it came. Thou sendest then to man

Thy messengers, the diseases which announce the approach of

danger, and bid him prepare to overcome them.

The Eternal Providence has appointed me to, watch over the life and

health of Thy creatures. May the love of my art actuate me at all times,

may neither avarice, or miserliness, nor the thirst for glory or a great

reputation engage my mind; for, enemies of truth and philanthropy, they

could easily deceive me and make me forgetful of my lofty aim of doing

good to Thy children. Endow me with strength of heart and mind, so

that both may be ready to serve the rich and the poor, the good and

the wicked, friend and enemy, and that I may never see in the patient

anything else but a fellow creature in pain.
---
If physicians more learned than I wish to counsel me, inspire me with

confidence in and obedience toward the recognition of them, for the

study of the science is great. It is not given to one alone to see all

that others see.

May I be moderate in everything except in the knowledge of this

science; so far as it is concerned, may I be insatiable; grant me the

strength and opportunity always to correct what I have acquired,

always to extend its domain; for knowledge is boundless and the

spirit of man can also extend infinitely, daily to enrich itself with new

acquirements. Today he can discover his errors of yesterday, and

tomorrow he may obtain new light on what he thinks himself sure of

today.

G‐d, Thou hast appointed me to watch over the life and death of Thy

creatures: here am I ready for my vocation

- Maimonides
---
References and Sources:

Hungry Planet: Peter Menzel and Faith D'Aluisio. They produced the

exquisite book of photographs on what different cultures eat

Astanga Hradayam of Vagbhata. Translated by Prof. K. R. Murthy

(Chaukambha Krishnadas Academy)

The Legacy Of Charaka by M. S. Valiathan (Orient Longman)

Ayurvedic Medicine by Sebastian Pole (Churchill Livingstone,

Elsevier)

Dr. Vasant Lad: Lectures and notes

American Institute of Vedic Studies: Ayurvedic Healing Course Part II

by Dr. David Frawley)

Ayurveda: The Science Of Self-Healing by Dr. Vasant Lad

Lessons and Lectures on Ayurveda by Dr. Robert Svoboda

Ayurveda Institute of America: Study Course

Awakening Nature's Healing Intelligence by Hari Sharma, MD (Lotus

Press)

Ayurveda and Panchakarma by Sunil Joshi (Lotus Press)

Patanjali and Ayurvedic Yoga by Vinod Verma (Motilal Banarsidas)

A Life Of Balance by Maya Tiwari (Healing Arts Press)

The Hidden Secret of Ayurveda by Dr. Robert Svoboda (Ayurvedic

Press)

The Ayurvedic Cookbook by Amadea Morningstar and Urmila Desai

(Lotus Press)

Ayurvedic Cooking For Self-Healing by Usha Lad and Dr. Vasant Lad

(Ayurvedic Press)

Arun Deva: Article on Agni